BLUES SATISFIED
April 3, 1952. The Liverpool Echo
Everton Make No Changes
Reserve Side Fills Saturday Blank In Vital Championship Game
Ranger's Notes
Everton will laid an unchanged side for their visit on Saturday to Coventry City which is a game of vital importance to the home team because of their anxiety regarding the retention of their Second Division status. With Everton's chances of promotion now only a memory, the Blues sole hope this season is that they may improve their League position in what little remains to be fulfilled of the current programme. There is still a very slight outside possibility that Everton might force their way into fourth position and this earn talent money, but to do this, not only will they have to get most of the points from their remaining matches, but those above them will have to suffer quite a few setbacks. The chance seem almost too slender for practical purposes. Coventry are sure to fight hard for victory, however, for their position is decidedly precarious and they want all they can get to avoid dropping to the Third Division. The problem of relegation in the Second Division is now a little clearer than a few weeks ago though half-a-dozen clubs are still beset with anxiety. The eventual outcome may not be known until the last day of the season. Everton; O'Neill; Clinton, Lindsay; Farrell, Jones, Lello; McNamara, Fielding, Hickson, Parker, Eglington.
Reserve Game
Everton's Reserve match against Bury at Goodison Park which starts at 3.15. Everton Reserves are making a bold bid to life the Central League championship and at the moment are a point behind the joint leaders, Wolves and Preston North End, but with a game in hand. They play Preston twice over the Easter holidays. Everton Reserves; Leyland; Moore, Rankin; Donovan, Woods, Grant; Harris, Cummins, Lewis, Buckle, Easthope.
Ronny Saunder's Success
Everton followers will be pleased to hear of the success which has been achieved this season by Ronnie Saunders a former Birkenhead Park High school boy. Saunders scored over 60 goals for Everton "A" and "B" sides and in representative games last season, including four in a youth international game for England against Scotland. He joined the Army for his National Service period just over a year ago and has been continuing his scoring exploits at centre forward in his R.A.S.C until side which plays in the South Devon League. He has netted 53 goals in 25 league and cup games and last week got the three goals which enabled his team to win the Southern Command Cup.
ONE WOULD DO
April 4, 1952. The Liverpool Echo
Ranger's Notes
Everton away to Coventry City, will do will do well if they bring back a point for the home side are desperately striving to avoid relegation and no teams no matter how lowly is easily beaten when the threat of a lower sphere looms on the horizon to add the spur of desperation. Like Liverpool, Everton lately have had less anxiety regarding their defence than attack. It was not always so. At one period earlier this season and in the two previous ones, manager Cliff Britton was mainly concerned to stiffen the Blues' rearguard. The association of Lindsay and Clinton, the good work of O'Neill and the return of Lello has achieved its object. Now Everton's problem is to transform the forward line into a unit which can add the right finishing touch to its often very good approach work. Once the two departments start to function fully simultananeously. Everton will be due for brighter days, Hickson very promising as a leader might do better if he could curb his natural impetuosity just a trifle and Eglington's speed skill and positional sense will be of greater use to the side when accuracy in shooting is substituted for the desire to make a hole in the back of the net. With nothing to fear and little to aim at beyond improving their position in the table Everton have the opportunity in their remaining fixtures to stake chances which were not possible earlier on. It might pay them to "press" a little less keenly and concentrate more on making the utmost of their chances in front of goal. Coventry have dropped Bryn Allen their Welsh international forward whose place will be filled by Jamieson a young Scott. Kirk and Brown recent signings from Leeds and Southampton are also in the side. Coventry City- Gilbert; McDonnell, Mason; Dorman, Kirk, Cook; Warner, Jamieson, Brown, Lowrie, Lockhart. Everton; O'Neill; Clinton, Lindsay; Farrell, Jones, Lello; McNamara, Fielding, Hickson, Parker, Eglington.
Everton Reserve Game
While most folk will be wending their way to Aintree tomorrow afternoon, those whose tastes do not lie in the direction should note that there is an attractive Central League game at Goodison Park (kick-off 2-15) between Everton Reserves and Bury Reserves. The Goodison Park second string have a splendid chance of preventing Wolves from Registering their second successive Central League championship and a win tomorrow can help the Blues towards achieving their own title ambition.
COVENTRY'S RIDE TO VICTORY WAS A LAST DESPERATE FLING
April 5, 1952. The Liverpool Football Echo
Coventry City 2, Everton 1
By Ranger
Everton had to bow the knee to a determined side which was spurred on by the grim necessity of obtaining every possible point to avoid relegation. Both sides had enough chances to store half a dozen goals. Everton played the more attractive football, but were inclined to hold the ball too closely on a pitch which was of glue-pet texture. Coventry City; Gilbert, goal; McDonnell, and Mason, backs; Dorman, Kirk and Cook, half-backs; Warner, Jamieson, Brown, Lowrie, and Lockhart, forwards. Everton' O'Neill, goal; Clinton and Lindsay, backs; Farrell (captain), Jones and Lello, half-backs; McNamara, Fielding, Hickson, Parker, and Eglington, forwards. Referee; Mr. A. Holland (Barnsley). The weather was dull and wet and the attendance at the start could not have been more than 10,000. Everton played in an entirely new strip of canary yellow with back facings and black shorts, instead of the normal change of white. The first ten minutes produced three Everton shots, each the result of good combined work, but none of them on the target. The best was a sizzler by Eglington –following the prompting of Fielding –which was only a foot over the bar. Coventry's excursions into the Everton penalty area were cut short by the keen tackling of Clinton and the coolness of Lindsay, and Everton back on the attack again were unlucky when Hickson from a narrow angle shot against the side nettings. Hickson made the chance himself by his speed and the determination to follow up what at first looked a forlorn hope. The ground was very slippery another Hickson effort came to nothing when the Everton forward lost his footing and slid several yards.
Tipped over
It was Hickson again who came into the picture with a beautiful headed flick to McNamara which left the latter with an unimpeded avenue to goal. He was a little slow in getting the ball to his liking, but his final shot was nicely placed and caused Gilbert to tip over the bar for a corner. It was as the result of this that Everton took the lead in fifteen minutes. The ball had bounced about in the Coventry penalty area for some seconds when Farrell picked it up and out it straight along the ground, rather strongly to Parker. Parker, with the back to goal, hit it first time with a semi-side-ways flick which beat Gilbert all the way. It was one of the most smartly taken goals I have seen for some time. Everton continued to retain the initiative. McDonnell who was at one time on Everton's books as an amateur and also with Southport, set his forwards going after he had taken the ball well unfield but Jones was there to head away at the critical moment. Coventry were now beginning to have a more of the game and for some minutes the Everton defence had its work cut out to hold the home forward in check. Twice Farrell intercepted passes intended for Lockhart and once Jones took the ball right off the foot of Brown. Both sides were finding it difficult to control the ball and keep their footing but Everton at least were keeping it on the ground, whereas much of Coventry afford was wasted by haphazard passes and too much air ball.
Slippery Turf
The slippery state of the turf was partly responsible for Coventry equalizing at the 33rd minute. Clinton slipped when tackling Lockhart just on the half-way line, and the Irish winger took the ball well up before putting Jamieson in possession. The latter pulled his centre back behind the Everton defenders and all his colleagues except Warner, who collected clear of all opposition and from the edge of the penalty area slotted the ball safely home. O'Neill was probably unsighted. Everton who had been taking things rather easily now buckled down, to their task again, and Hickson and Parker in quick succession had good efforts saved by Glibert. Fielding and Farrell were working hard to put a little more method into the Everton attack but at the moment Coventry were well on top. Lockhart got clean through again, but his pass travelled right across goal without a colleague being within connecting distance which was fortunate for Everton for the defence was well spread-eagled.
Lockhart Threat
Hickson was working with his customary vigour and persistence and when he ran half the length of the field and pulled the ball back to Parker there should have been no doubt about a goal. Parker, however, sliced his efforts from eight yards range so acutely that the ball went out of play near the corner flag. Coventry, who badly needed points in their struggle against relegation were certainly fighting desperately Lockhart was a frequently source of danger, and if Coventry's shooting had been better they might now have been in the lead.
Half-time; Coventry City 1, Everton 1.
Coventry started off the second half in lively manner, and it took some determined work by Lello and Lindsay to hold up the home right flank.
Tackling Strongly
Everton were now more in the game than at any time this half but the Coventry defence was tackling strongly and giving the visitors neither time nor space to produce any outstanding combined moves. Coventry were unfortunate when a shot from Lowrie, which had O'Neill beaten all the way hit the upright and came back into play to be eventually cleared. Hickson bored a way through despite the challenge of two defenders then found himself so narrowly angled that his shot sped across the face of the goal. An Eglington effort also from a fine angle, was so strong that it look Gilbert two attempts to scramble it away. Straight from this incident Coventry dashed away and took the lead at the 75th minute. It was Brown's speed that led the way the scorer the inside man running the ball safely home from the rebound after O'Neill had partially saved Brown's close-range effort. Everton were fighting hard for the equalizer and for some minutes had kept Coventry penned in their own half. The home goal had a succession of narrow escapes the nearest being when a shot by Hickson ran across the face of goal and almost crept in at the far post. Farrell had one good effort saved by Gilbert, and Fielding though not in the shooting mood, was serving up some beautiful judged passes. Despite all the pressure however Everton could not break down Coventry's defence, which was contesting every inch of ground. In one isolated raid by the home side O'Neill brought off a splendid save from Brown. Final; Coventry City 2, Everton 1.
EVERTON RES V BURY RES
April 5, 1952. The Liverpool Football Echo
Bury were much the more dangerous side and Leyland was kept continually busy in dealing with good shots from May. Moore and Fletcher. Everton's only real shots of note were by Lewis and Donovan, both of which were well dealt with by Kirk. The Blues should have taken the lead in the 35th minute, when Cummins missed a sitter from Easthope's centre. Half-time; Everton Res nil, Bury Res nil
Everton improved in the second half and for a time the Bury goal bore a charmed life. Bury were now playing a defensive role, with Massey and Griffiths proving two real stalwarts. Everton continued to press, but sadly failed when they came within firing distance.
THEIR TACTICS WERE WRONG
April 7, 1952. The Liverpool Daily Post
By Ranger
Coventry City 2, Everton 1
Once again Everton found themselves on the losing end after having enough of the play and sufficient scoring chances to have earned both points. Although they were up against a rugged and purposeful side which fought desperately. Everton could still have made the issue secure had they been better equipped in striking power and adopted the open tactics which the muddy conditions demanded. Instead they often hugged the ball too close and both forwards and defenders frequently got bunched together and in one another's way. Despite their faults, however, the visitors would have got a point, but for a momentary hesitation in the defence a quarter of an hour from the end which resulted in Coventry getting the winning goal in a breakaway after an Everton attack the ball was booted haphazardly up the centre Jones and Farrell leaving it to one another hesitated just that fraction of a second which enabled Brown, whose speed on the heavy turf was amazing to dart through and shoot at point-blank range. O'Neill palmed away his shot but fell in doing so, and Lowrie had only to ram the ball home into an empty net.
Surprise Touch
Prior to this Everton had taken the lead after 15 minutes through Parker, who executed a dainty semi-back-heel off a pass by Farrell, which look everybody by surprise and Warner equalized at the thirty-third minute. No superlatives are needed to describe either the general play or individuals. It was rather a drab game with the slippery state of the surface all against sustained combination. Hickson and Everton's best forward and their most potent force in front of goal, though even he missed a couple of good chances. Fielding excelled in the creation of clever passes and opening up the game but the front line as a whole did not function decisively enough. Everton could not complain of lack of support from their wing halves for Farrell and Lello both played well and there were times when even Lindsay and Clinton came up on the heels of the forwards. Jones put up a good show against Brown, who wanted careful watching, but Kirk was never happy against the dashing Hickson.
EVERTON RES 1, BURY RES 0
April 7, 1952. The Liverpool Daily Post
A solitary goal, scored by Buckle in the 65th minute, enabled Everton to consolidate their position in the league after a scrappy game at Goodison Park. Bury were a much faster side, their positional play being superior and it was only Leyland's brilliance in goal that prevented them from scoring on more than one occasion.
EVERTON'S SHORTCOMINGS
April 7, 1952. The Liverpool Echo
Ranger's Notes
I rubbed my eyes at Coventry on Saturday when Everton ran on to the field for the Goodison players were decked out in a new yellow strip with black facings. Officially it is supposed to be old gold, but, unless I'm colour-blind it struck me more as canary yellow. Reason for the departure was that the referee decided the normal first change of white was likely to clash with Coventry's blue-and-white stripes. Everton had guarded against this possibility y taking the new strip with them. The muddy state of the ground proved them right, for the yellow –or old gold if you like – stood out well even when mud was liberally plastered over most of the players. Everton should have won this game, I wonder how often in past months I have had to make this same remark? The reason they did not was that they either tried to walk the ball into the net or else went to the other extreme and shot too hurriedly. Several good chances went begging through both these weaknesses. On other occasions the forwards erred in hugging the ball too close, tactics which were not calculated to pay dividends on such a glue-pot surface.
Assiduous Hickson
Hickson was a great worker and the most dangerous forward. He gave Kirk, the former Leeds United pivot, a weary job chasing him, for Hickson was no slave to the middle. He foraged assiduously from start to finish. Fielding was the arch-schemer, but the winger were not over-impressive. Parker's goal was a gem of quick thinking and a canny flick which left the Coventry goalkeeper against. The Coventry equalizer was a trifle lucky, for it was a bad pass which led to it, and a spilt second's hesitation in the Everton defence brought about the winning goal after O'Neill had saved well from point blank range from Brown and was lying on the ground when Lowrie rammed the ball home as it rebounded to his feet. Apart from occasional slips due to the treacherous turf the Everton defence was rarely at fault, and Jones gave a very sound display against Brown, whose turn of speed over an short distance was amazing. The wing halves were excellent throughout and in the first portion in particular kept up a good supply of passes to their colleagues in front.
Coventry's biggest assets were strong first-time tackling and fighting determination. They contested every inch of ground, and after Warner had equalized one sensed their belief that they could capture the two points which may yet be invaluable to them in their struggle relegation. On the score of football skill Coventry were not up to Everton's class, but they had a greater incentive and in the long run their dogged determination brought them reward.
Everton will decide at their next Board meeting whether to undertake a Continental tour during the close season. Some attractive offers have been made, including a trip to Greece.
EVERTON UNCHANGED
April 9, 1952. The Liverpool Echo
Ranger's Notes
Everton have another tussle on Good Friday with a side desperately in need of points to avoid relagtion. Hull City are the visitors and as Everton have found out more than once recently, lowly clubs are not automatic providers of points. On the contrary at this stage of the season it is sometimes an easier task to meet a side so comfortably placed that neither defeat nor victory has any particular significance apart from a £1 a point which goes into the player's wage packets. Everton's home record, however, is sufficiently good t encourage hope that the Blues may win, though to do so they must not be so profligate with easy chances as they were last week at Coventry. The return game will be at Hull on Easter Monday, with a visit from West Ham on Saturday completing Everton's Easter programme. Everton; O'Neill; Clinton, Lindsay; Farrell, Jones, Lello; McNamara, Fielding, Hickson, Parker, Eglington.
Everton Res (v. Preston North End away); Sagar; Moore, Rankin; Donovan, Woods, Grant; Harris, Cummins, Lewis, Buckle, Easthope.
MAY BE "TIGERISH"
April 10, 1952. The Liverpool Echo
Ranger's Notes
Everton have two home games and one away over the holidays. The Blues entertain Hull City on Good Friday (Kick-off 3 p.m.) and are likely to find the "Tigers" in a mood consistent with their nick-name for Hull must go all out for maximum points from now to the end of the campaign to preserve their status. This is Hull City's third season of post-war association with Second Division football. Last time they were in the same sphere they lasted only three seasons. Is history to repeat itself? The Yorkshire club, under the player-manager guidance of Raich Carter, started off in great style after first gaining promotion, but a rift in the lute between Carter and his club seems to have had an adverse effect, and Hull today are struggling hard at the wrong end of the table.
On Top Form
Teams in this plight are seldom easy to beat, and if Everton wish to add another home victory to their list they will have to be right on top of their form. They were not in the mood at Coventry. The Blues can be very perverse at times. It is tantalizing to say the least, to see excellent approach work wasted when the goals are there to be taken if only the shooting is accurate, but that has been their falling recently. If it persists against Hull, there may be trouble in the offing, for Carter's lads have been playing much better of late and have suffered only one defeat in their last nine outings. On Saturday Everton are home to West Ham. The side for that game will depend on what transpires on Friday, of course, and although the Hammers are not in danger of relegation they will be no more anxious to make a present of the points to Everton than Hull. On Easter Monday the Blues will be at Hull for the return game. The team for Friday reads;- Everton; O'Neill; Clinton, Lindsay; Farrell, Jones, Lello; McNamara, Fielding, Hickson, Parker, Eglington.
HORATIO STANDS NOT WHERE…
April 12, 1952. The Liverpool Daily Post
Everton 5, Hull City 0
By Leslie Edwards
In Football you play as well as the others allow. That is why part of the victory must be taken with reservation. Hull City not only gave no hint of being of ordinary Division 2 class, but were palpably the good Third Division team of the future. The game Horatio Carter and Neil Franklin retain their glamour but that is not to say that either is measurably as he was. Indeed the thought crossed my mind more than once that there should be a law against former England players prolonging their careers to the point at which they gently fade away, showing no hint of the greatness they once possessed. Horatio stands not where he did. Carter may be his side's captain and counselor, but there is a point when action speak louder than words, and here despite moments of tactics triumph (mostly in the throw-in_ Carter showed that he has lost the five-yard zip which characterized his play when he was at the top. Franklin's game, too, showed signs of weakness in a defence which was already at full stretch to try to cope with an Everton attack which for once, moved unitedly attractively and mostly very practicably.
Mustard "Strip"
For ten minutes Hull City looked as hot as their mustard-coloured "strips." That period gone it was mostly, steady Everton pressure. In the end they were trying to tee-up a goal for Fielding, whose shooting merited more than the solitary point to his credit. Five nil did not over-rate Everton; this was their best work for months. Most of the goals were odd in the taking, if not the making. At twenty minutes Parker nodded the ball against the upright. It rebounded to him and he shot it home impudently. Sixteen minutes later Hickson went to the left-wing centred and Fielding with perfect control "killed" the ball and hit it almost in the same movement. At the hour it was Parker again this time with a scissor movement of his feet when standing with his back to goal. The sequel was that Bly covering Hickson's shot was completely taken by surprise. Bly saved magnificently from Eglington, but Hickson rocketed the ball back into the net for the fourth goal (Eighty minutes) and a minute later Hickson, this time in a right wing dribble produced for Parker a chance which could scarely be missed.
Captain Bly
Of all the Hull players Bly, least deserved to be on a side beaten 5-0. He took some hard knocks, too. The hard-working Jensen and left half Durham did not fall short of required standards but Burbanks and occasionally Gerrie apart the Hull attack was almost negligible. Lindsay will rarely have an easier match and O'Neill except from the save of the day when Gerrie unexpectedly back headed and a number of safely made catches was never in difficulties. Both Eglington and McNamara had unusually good games Eglington cross-field passes to the other wing were welcome variation of approach. McNamara with greater confidence and knitting with Fielding nicely, could hardly have done more. All the Everton half-backs, particularly Lello reveled in their task. The team played some inspired stuff, but I would like to see them produce this football against better opposition than Hull City. Until they do none can be sure that this virtuosity was not more due to Hull City's weaknesses than to their own positive virtues. The attendance was 42,000. Everton; O'Neill, goal; Clinton and Lindsay, backs; Farrell (captain), Jones and Lello, half-backs; McNamara, Fielding, Hickson, Parker and Eglington, forwards. Hull City; Bly, goal; Halsall and Phillips, backs; Jensen, Franklin, and Durban, half-backs; Harrison, Harris, Gerrie, Carter, and Burbanks, forwards. Referee; Mr. B.J. Flanagan.
DESERVED POINTS
April 12, 1952. The Liverpool Daily Post
Preston N.E 0, Everton 2
Everton Reserves defeated their Central League championship rival, Preston North End Reserves 2-0 at Deepdale yesterday. The home side had the better of the first half but Everton took their chances, after the interval and scored fine goals through Easthope and Lewis. The visitors were well on top at the end and deserved the points.
EVERTON MAKE EASTER A GALA OF HOME WINS ON BRIGHT DISPLAY
April 12, 1952. The Liverpool Football Echo
Everton 2, West Ham nil
By Contact
A disputed penalty goal was the crux of the match, Kinsell was involved in a handling offence which was plainly not intentional. Clinton scored from the spot. A spectacular headed goal by Hickson killed West Ham's chances. Few Division 2 clubs have wingers as talented as Andrews and Woodgate, but few attacks finished so badly as West Ham did here today. Everton; O'Neill, goal; Clinton and Lindsay, backs; Farrell (captain), Jones and Lello, half-backs; McNamara, Fielding, Hickson, Parker and Eglington, forwards. West Ham; Gregory, goal; Wright and Kinsell (captain), backs; Parker (D.), Allison, and O'Farrell, half-backs; Woodgate, Barrett, Hawkins, Gazzard and Andrews, forwards. Referee –Mr. R.J. Leafe (Nottingham). The attendance for the West Ham match did not seem in its early stages as large as yesterday's West Ham brought in Woodgate at outside right and Parker at right half-back. Everton were unchanged. It was early evident that West Ham were a vastly different side from Hull City. They began with one of the most prolonged and attractive attacking movements in which the ball went from centre half Allison to Woodgate and then over to the left wing with a series of spending passes and even the home crowd was forced to applaud its merits.
A Wonderful Chance
In the first ten minutes it was a game of good football and much excitement. Hickson chasing a long clearance almost beat Allison for possession and it must have been a relieved Gregory who picked up with Hickson only a few feet away. Barrett had both Lindsay and Lello guessing at the right wing touchline and his centre was beautifully placed to Gazzard whose header was so angled that it passed outside the post. Hickson refused a wonderful chance from a centre pulled back squarely by McNamara when he blazed the ball yards over the bar. While Hickson was going on in the penalty area by an intentional handling of the ball Woodgate by injured and could only resume after the trainer's attention.
Off The Mark
A free kick given for an offence by Allison two yards outside the penalty area was taken quickly by Eglington who tapped the ball to Farrell while the West Ham defenders were busily engaged in lining up. Unfortunately for Everton, Farrell's hasty shot was completely off the mark. Little Andrews who made his debut against Everton at West Ham this season showed speed in out-distancing Clinton. When he won a free kick against the full back this meant a packet of trouble for O'Neill who received a blow in the mouth. Hickson headed on to the bar from an offside position and at this stage the West Ham defence was inclined to panic unnecessarily. Surely there was never a more unusual free kick than that conceded no Everton player near them. They both stood under a dropping header and the verdict was a free kick, one of them handling as they collided. Jones was having a very good match but when he and the rest of the Everton defence retired on masses against the oncoming O'Farrell that player could go on at his leisure and make his shot undisputed. He might have done better than screw the ball wide.
Jittery Defence
Everton for a time were on top and the West Ham full back Wright was jittery and seemed incapable at times of keeping the ball in play with his clearance. "Old Man Woodgate" was the enlivening factor in the West Ham attack, and with a first rate cross field pass to Andrews he led to the development of a move in which an Andrews shot which proved so troublesome to O'Neill that it spun from his hands and very nearly gave Hawkins and Barrett the easiest of rebound chances. Eglington was again in confident mood, and it was his prompting which eventually led to Fielding flashing in a right foot shot which O'Farrell turned over the bar with a galliant nod of the head.
High Over The Bar
Hickson did well to beat Allison and Wright before clearing to gave Eglington a shooting chance which he used badly, scooping the ball high over the bar. Eglington did better with a long distance shot which was deflected and which Gregory picked up only at the second attempt.
Half-time; Everton nil, West Ham nil.
Although the game had not developed as it promised it would in its early part it was still entertaining and when Hickson shook off Allison near the right hand touchline and burst through to head of J.W. Parker, Gregory went down full stretch to a ball which bounded within a few inches of the far post. Both Andrews and Woodgate were gentlemanly enough to retrieve the ball for Everton's free kick and the crowd were not slow to show their appreciation of this gentlemanly quality.
Nearly An "Own Goal."
Barrett had snatches of real brilliance and in one of them he beat Lindsay comfortably and centred so close that Jones was glad to steer the ball for a corner with his head and in so doing nearly put through his own goal. Everton got a surprise penalty when Kinsell played Farrell's centre with his foot and the ball rebounded to his hand. Kinsell was as amazed as I was, because the referee, who was perfectly well placed to see what happened, awarded a penalty kick for this palpably accidental handling. In vain did West Ham appeal against the injustice of the decision, Clinton's kick from the spot flew straight to the back of the net, and had the mountainous Gregory stayed where he stood he must have had a chance with it. This goal came at 53 minutes. Everton would have gone two up when Hickson hit a tremendous angle shot and Gregory was saved by a spectacular header by Wright who stood plumb on the goal line for this bit of splendid retrieving.
Ruffling The Defence
Largely through the penalty incident the game developed some bite, and when O'Farrell strolled through, warding off all tackles and shot unexpectedly, O'Neill followed his great save of yesterday with one almost equally as good. Again he edged the ball over the top. O'Neill made yet another first rate save when he caught and held a nicely glided header by little Andrews from a centre by Woodgate. The West Ham defence was often in difficulty, but they frequently got themselves out of trouble quite easily though Allison who had started so well, was plainly ruffied by the stampeding tactics of Hickson. Hickson was damaged and the game was stopped while his leg injury was plastered. He continued at outside left with Eglington in the centre. West Ham were unlucky when Gazzard hit the bar from an Andrews pass and with O'Neill out of position Hawkins made a most praiseworthy effort to head a goal when the ball came to him unexpectedly.
Out of Control?
At one stage Kinsell as West Ham captain, remonstrated with Mr. Leafe for a free kick given against Allison for an offence on Hickson, and there were times when the game seemed to get a little out of official control. Both Eglington and Parker went near with headers, but West Ham at this point seemed to be returning to their excellence in the first ten minutes though their shooting was negligible. Hickson's goal at 76 minutes came completely out of the blue. Eglington's centre swerved inwards towards the far side of Gregory's charge and when it seemed certain to pass out of play Hickson arrived from nowhere to nod, the ball home through an angle which could have been scarcely wide than a couple of feet. Final; Everton 2, West Ham nil. Official attendance -36,498.
ASTON VILLA RES V EVERTON RES
April 12, 1952. The Liverpool Football Echo
Aston Villa Res; Richardson, goal; Aldis and Vinall, backs; Lamb, A. Moss. And Canning, half-backs; H. Smith, Gibson, Pace, Simpson, and L. Smith, forwards. Everton Res; Leyland, goal; Woods and Moore, backs; Grant, Lindley, and Melville, half-backs; Easthope, Donovan, Lewis, Cummins, and Buckle, forwards. Referee; Mr. W. Ratcliffe (Leek). Villa had the better of the opening play and the two Smiths were dangerous on the wing. Pace was unlucky to see his shot pass inches wide with Leyland out of position. Buckle was the best of the visiting forwards and he twice narrowly missed scoring with splendid drives. Leyland saved brilliantly from Gibson then a shot from pace hit the crossbar to drop apparently over the line but the referee negative the appeal for a goal.
Half-time Aston Villa Reserves nil, Everton Reserves nil.
Villa continued to hold the upper hand but Leyland was very safe in the Everton goal and Lindley at centre half cleared some threatening situations. Everton made a few spasmodic raids, but the Villa gave them no latitude.
Stork v Everton "A"
Cooper Thelwell and Crebbin were responsible for checking early attacks by the Everton forwards and Stork scored through Greatbanks. Near the interval Cronin equalized for Everton.
Half-time; Stork 1, Everton "A" 1
EVERTON 2 WEST HAM 0
April 14, 1892. The Liverpool Daily Post
By Leslie Edwards
At Goodison Park on Saturday West Ham lost all their "stuffing" as a result of a decision which to my mind was as wrong as any could be. The West Ham captain Kinsell, playing a centre delivered by Farrell; mis-kicked and the ball shot across his body and against his left hand. Referee Leafe, of Nottingham could scarcely have been better-placed to see what happened but the decision was a penalty. Kinsell and other protested as strongly as they dare. Clinton scored from the spot and that was virtually the end of West Ham's not inconsiderable chances of a point if not two.
Surely Not?
The point I make is that if this handling were intentional, Kinsell not only knew that he was about to miskick but reacted with lightning quickness to cover his mistake by handling Kinsell and referee Leafe were in conversation as they walked from the field. I wonder how West Ham's referee report will read. It did not take West Ham long to prove they were of sterner stuff than Hull City. Everton won by two goals to nil, but play was little hint of this ending. Given a different decision in the Kinsell "offence" the game might have run much differently. For West Ham the second killing blow came when Hickson somehow contrived to head the ball between the post and goalkeeper Gregory when the angle was prohibitively fine. This was a splendidly taken, if unexpected, goal, and Hickson must have full marks for daring and judging when the ball was swerving considerably. Everton were not happy in meeting the challenge from the West Ham wings. On one side there was Andrews –dummy-sized, dummy salesman –who made his first English appearance against Everton earlier in the season and on the other was neat veteran Woodgate who is the kind of player whose inspired winging can set an attack "alight."
Indifferent Inside
Lindsay and Clinton never got to grips with their job and had West Ham shot as accurately as they did frequently they must have scored. But the West Ham inside men were not good, except for the occasional brilliance of Barrett and the Everton half-backs line, playing solidly and well must have credit for keeping them that way. The same thing was happening elsewhere. Everton forwards who had done as they pleased with Hull City, found West Ham a different proposition. McNamara reverted to more normal form. Eglington was not allowed much rope through Wright at times seemed incapable of keeping a clearance in play. The battle between Hickson and Allison was as continuous as it was hard. Hickson eventually suffered injury, but after having the damaged leg plastered he continued and was still the Everton forward carrying the line's punch. On a hard ground and remembering that it was the second game in consecutive days the match produced first rate entertainment. West Ham play belied their position. That calamitous penalty was the thing which went furthest towards ensuring that Everton won.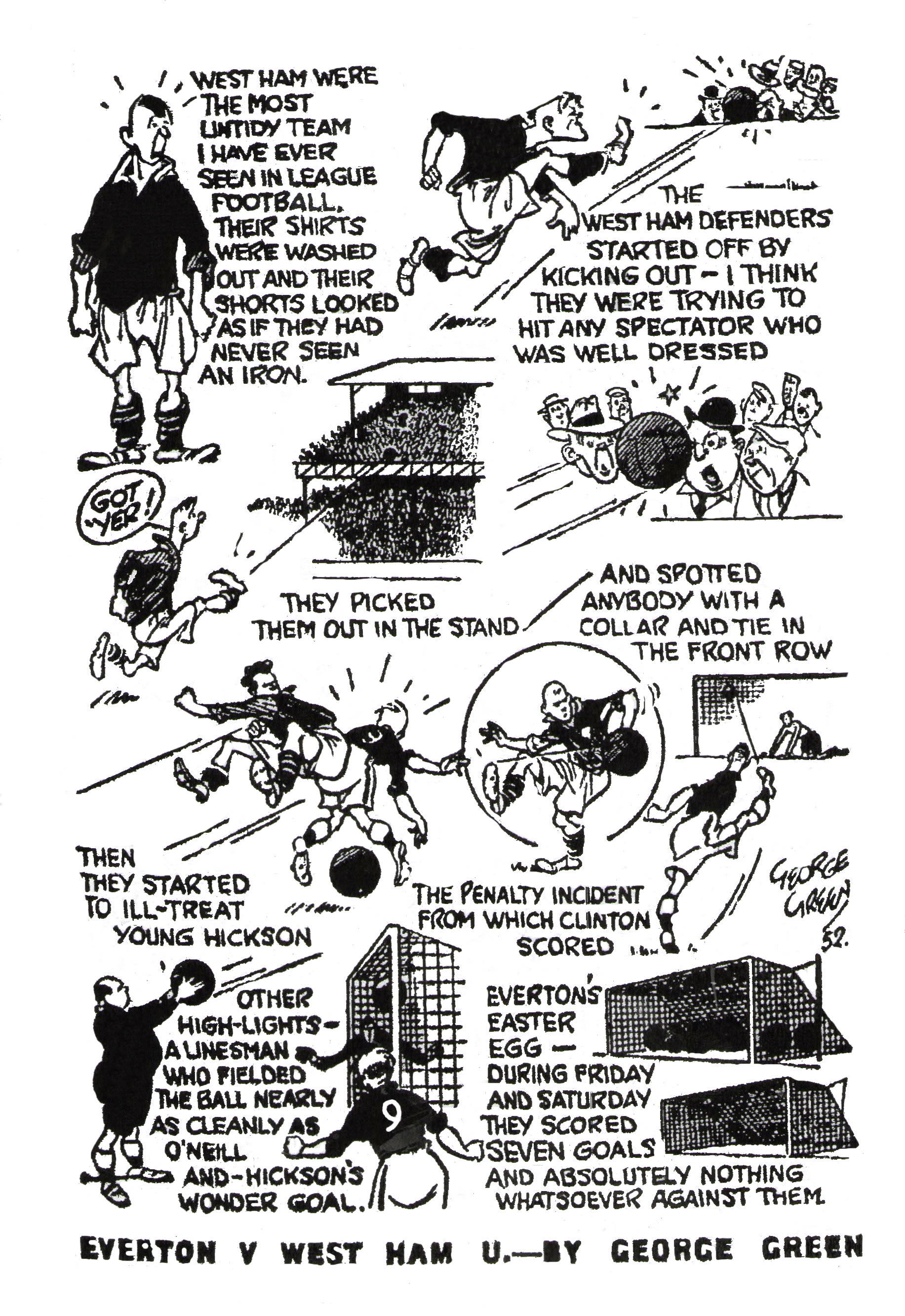 LEYLAND IN FORM
April 14, 1952. The Liverpool Daily Post
Aston Villa Res 1, Everton Res 0
The Everton Reserves side hardly looked potential Central League champions at Villa Park on Saturday. Only a superlative second half display by Leyland saved them from a heavier defeat and H. Smith's goal ten minutes from the end was thoroughly deserved. Apart from Buckle the attack seldom troubled Richardson in the home goal but Lindley earned full marks as a defender.
• Stork 1, Everton "A" 1
• Everton "B" 2, Hoylake Ath Res 2
GOODISON PROVIDED DEBATABLE POINT
April 14, 1952. The Liverpool Football Echo
Penalty Award Against Kinsell was Harsh
Decision Which Upset The West Ham Team
Ranger's Notes
Arguments are the lifeblood of most games. No game provides more heated controversies than soccer. We had one example at Goodison Park on Saturday, which will be talked of until something more controversial takes its place. The point at issue was the award by Referee Leafe, of Nottingham, of a penalty against Kinsell, which enabled Clinton to gibe Everton the lead just on the hour. Even the most loyal Evertonians must have felt in his heart however, much he welcomed the help to the Blues that this was a very harsh decision if ever there was a clear cut case of ball to hand this was it Kinsell lifted his foot to arrest a centre by Farrell and the ball bounced from his foot to his outstretched hand. In my view and that of everybody around me there was no deliberate intent t handle, which is one of the essentials for the award of a penalty. Fortunately for West Ham, they are in no danger of relegation. Had they been this decision might have been almost as vital to them as the debated goal in the Tottenham-Huddersfield game at White Hart Lane a fortnight ago of which we have not yet heard the last. As things turned out Everton got a second goal 13 minutes from the finish due to a slip by Gregory and Hickson's anticipation of such a possibility which enabled him to be on the spot to head in almost from the goal line. The Hammers therefore cannot complain that the penalty award lost them a point, but it was obvious it upset them badly and appeared to take some of the fighting spirit out of them. Up to that point they had been as good as they eventual masters, and though they struggled on gamely for a while towards the finish they appeared to give up the ghost and resign themselves to being on the losing end. For an hour they seemed almost assured of a draw and at times had promised even to take both points. Their approach work was excellent they were often quicker to the ball than Everton and had two grand wingers in Andrews and Woodgate who were always threatening danger. Their inside forwards shot often enough but sometimes their marksmanship was well off the target. Allison incurred to the displeasure of the home crowd on several occasions though at times I felt he was unfortunate in this, for occasionally he appeared to be penalized when it seemed he was more sinned against than sinning. Hickson was in his most bustling mood and now and again appeared to be just as much as fault as Allison. Everton's defence was sound with Jones again having a good game and making good use of nearly every ball. The backs were solid considering what they were up against and O'Neill effected some brilliant saves. The wing halves on both sides provided quite a good proportion of attractive constructive play with Farrell outstanding. McNamara and Parker were patchy, alternating periods of promise with others when they were too easily beaten to the ball by speedier opponents.
HULL SUFFERED FROM THE BLUES –AND THE BLUES FROM HULL
April 14, 1952. The Liverpool Football Echo
Hull City 1, Everton Nil
By Stork
Hull City; Robinson, goal; Hassell and Jensen, backs; Harris, Berry and Durham, half-backs; Harrison, Murray, Gerrie, Carter (captain), and Burbanks, forwards. Everton; O'Neill, goal; Clinton and Lindsay, backs; Farrell (captain), Jones and Lello, half-backs; McNamara, Fieldings, Hickson, Parker and Eglington, forwards. Referee; Mr. B.J. Flanagan (Sheffield).
Hull City were in the doldrums about their League position, and their Easter holiday experience had not helped them at all. Prior to the week-end, their form had been distinctly promising, but two successive defeats had put them in an unenviable position. They made several changes from the team which lost to Everton at Goodison Park. Bly was unable to take his place in goal, and Robinson deputized. Jensen fell back from half to full, and Harris took over at right half. Murray was at inside right, and Berry came in for Franklin. The doubt about the fitness of Wally Fielding, who had a crushed toe, was cleared up during the morning so the team which had beaten Hull City and West Ham remained intact. It was like a midsummer day warm and sunny. The ground was hard and play was likely to be lively with the ball cutting capers.
Into The Attack
The City jumped right into the attack and Murray who was making his first team debut was responsible for putting Everton's defence on double shift from the word "Go." For some minutes Hull Swarmed round the Everton goal, and it was some time before they were given out, not before O'Neill had to make a catch a Berry shot. Everton, when they broke away from Hull's grip of things, did not stay in the City half many moments and the City were certainly making the most of things. A Carter pass to Burbanks saw the winger centre close in, and O'Neill fumbled the ball, lost it and the gaping goal was left open to any Hull player who might have been near. It was fortunate for Everton that there was no such person present. Everton having felt the strain got moving in something like their usual order. Their passing was accurate and they had one shot which passed over, but it was Hull who came near to scoring when Gerrie forced O'Neill to make a good catch. Burbanks was sending along some fine centres and O'Neill had to punch one away. So far Hull had been well on top and they were not loath to shoot even though their efforts were often directed over the bar.
Perfect Pass
Everton won a corner and McNamara's flag kick eluded Robinson, but something must have happened close to goal for the City were awarded a free kick. Carter may have slowed down, but his football brain was as fast as ever and one pass to Harrison was perfection. Harrison got the ball across and Burbanks hit it into the goalmouth for O'Neill to catch and clear. Eglington after making a long dribble tried to get the ball out to Hickson who had moved to the outside left position, but Halsall stepped in to take the pass and so cut down a promising Everton movement. Fielding, Farrell and McNamara produced a round of passing which got the better of the Hull defence, but when Hickson tried to push the ball into the middle he put it right among a host of Hull defenders. O'Neill, who had much more to do than Robinson rushed among a collection of Hull forwards and snapped the ball out of the air in amazing manner. Everton were producing good football when they got the opportunity and Fielding had three shots at goal, the first two being intercepted but his final shot brought out a good save from Robinson. Hull were more straightforward in their methods and when Carter lofted a ball into the Everton goalmouth. O'Neill pushed the ball away. Carter drove fiercely across goal but the Everton defence survived because of its good covering tactics. Hickson after quickly getting the ball under control released a quick shot and Robinson had to move smartly to keep the ball out. It was a really good effort.
Two Hurt
Carter out for the half chance, brushed his way through the Everton defence and when half a dozen yards out let fly. He pulled the ball a shade and it passed outside the far post. Gerrie and Harrison joined hands to force a corner kick. Lindsay being hurt when struck by the ball. He received attention on the field. The corner caused a spot of trouble and a slight injury to O'Neill who, however, refused attention. Gerrie shot outside from short range and Murray slipped one right across the Everton goal, but Jones was their with his head to beat Harrison. Everton had an escape when Gerrie made a header and O'Neill patted the ball down. Instead of going out, it turned inwards towards the net and was going merrily in when O'Neill dashed back and scooped the ball away. Hull had certainly had their chances but had failed to take them.
Half-time; Hull City nil, Everton nil.
Eglington nicely plied Fielding who won a corner, and this led to Everton pressure without any call being made on Robinson. A free kick in Fielding's favour almost brought the downfall of Hull, for Hickson's header hit the bar, dropped down in front of goal and was cleared. This was a slice of luck for City. Everton were now having more of the attack, but Carter was always dangerous when he possession.
Poor Marksmanship
Hull got back on the attack and Murray headed a foot wide of the far post. Poor marksmanship was one of their fallings. A perfect example of missed chances came when Carter laid one on a plate for Burbanks, but the winger put his shot well wide of the target. Eglington snapped up a clearance by Hassell and his centre was headed over by Hickson. Murray, after taking the ball to the goalline, sent it right across towards the far post. Harrison returned the ball to the middle, but Jones cleared. Murray was moving to all parts and his centres were nearly always of a good length. O'Neill made a sweeping save from Burbanks but that vital goal would not come. The City were crowding on all they knew, and a corner well taken by Harrison was securely held by O'Neill. Two free-kicks against Everton both of no materials value except they brought more work to a defence which had been hard-pressed for practically all the second half. Hull City scored, Gerrie headed it in seven minutes from the end. Final; Hull City 1, Everton nil.
EVERTON RES V PRESTON RES
April 14, 1952. The Liverpool Football Echo
Everton Reserves; Leyland, goal; Woods and Moore, backs; Grant, Lindley and Melville, half-backs; Hampson, Donovan, Lewis, Buckle, and Easthope, forwards. Preston North End Reserves; Gooch, goal; Wilson and Scott, backs; Dougall, Matinson, and Robertson, half-backs; Anders, Horton, Halsall, Jones, and Kalie, forwards. Referee; Mr. G. Clark. Preston were the more dangerous and scored in the tenth minute through Hatsell, who gave Leyland no chance. Everton had bad luck at times with Gooch keeping a good goal. But Leyland had the most to do and did well to prevent Preston increasing their lead. Half-time; Everton Reserves nil, Preston N.E Reserves 1. After the restart the game was fought at a cracking pace, with Preston still being more dangerous. But in the 55th minute Everton gained the equalizer through Donovan.
HULL CITY STILL FIGHTING
April 15, 1952. The Liverpool Daily Post
By Stork
Hull City 1, Everton 0
Just when we were pluming ourselves that Everton had a 100 per cent Easter holiday, a disaster came seven minutes from the end of the game at Boothferry Park, yesterday. That was irritating enough, but the most annoying thing was that the goal should come from a trifling handling case by Lello. Actually I thought Lello put his hands up to shield his face, rather than to handle intentionally. However the referee decided on a free kick. Burbanks took the kick and Gerrie headed into the Everton net much to the joy of home supporters. These points may keep Hull in the Second Division. The Everton defence had battled galliantly against a side which threw everything into attack. It stood its ground magnificently most the time, but there was little chance that their attack would break down the stubborn Hull defence. True a Hickson shot struck the cross-bar but in the main most of the play took part inside Everton's half.
Busy O'Neill
On football ability, Everton were slightly ahead. Their approach work was of much better quality and they had several good shots turned aside but as against that O'Neill was an exceptional busy goalkeeper as compared to Robinson. There was no disputing that on the balance of play Hull should have had the game sewn-up long before they did. How they came to miss some of the chances that came their way was astonishing. Such experienced players as Carter and Burbanks missed opportunities they would not have missed once in a hundred times. The Everton defence was always more or less on the collar, and Jones, Farrell, and Lello all played their part in clamping down a sprightly City attack. Hickson tried his utmost but found Berry a stumbling block, Fielding was the best Everton forward. Carter has lost some of his speed, but little of the craft. He was confidently opening the way for his colleagues with astute passes. One of Hull's main faults was their poor marksmanship. They were inclined to do things too hurriedly.
EVERTON RES 1, PRESTON N.E. RES 1
APRIL 15, 1952. The Liverpool Daily Post
On the run of play Everton Reserves were lucky to divide the points at Goodison Park yesterday. Preston were a more thrustful and faster side with Halsall a capable leader. Heavy rain fell in the second half which had an adverse effect on the game. Leyland played well in goal for Everton and saved his side on many occasions. Halsall scored for Preston in the tenth minute. Donovan replying in the fifth-fifth minute.
• Brenka 1, Everton "B" 4
POOR COMPENSATION
April 15, 1952. The Liverpool Echo
By Stork
Without attempting to take away any of the honours of victory from Hull City. I think they were fortunate to score that winning goal for the free kick which led up to it was I am sure a case of ball to hand and not hand to ball. Lello raised his hands to cover his face to prevent injury, but the referee decided against him and Burbanks lobbed his free kick so that Gerrie could run in and head the ball home seven minutes from the end. This was poor compensation to the Everton defence, which had battled gloriously for 83 minutes without suffering hurt. Don't misunderstand me. Hull City fully deserved their success for they attacked for 80 per cent of the game, missed many good chances, and should have had the points safely tucked away in their pocket long before the end. I did not see the first meeting at Goodison Park, but they tell me that Hull showed more spirit and fight at Boothferry Road. Their football may not have been classical; but it was just the sort played by a side fighting a grim relegation battle. Finesse was cut to the bone for straight forward methods although Carter showed those masterly touches which has made him one of the greatest inside forwards of his day. "Raich" may have slowed down, but his brain still works at top speed while his positional play was an object lesson to the young members of the game. It had to be two points for Hull to give them a sense of security. One was welcome but it was two they were after and they got them, but it was touch and go for them. Robinson in the City goal had little to do as compared with O'Neill whose catching of the ball was excellent but even he couldn't have done what he did had he not been so well covered. Everton fought grimly, but their forwards rarely got a chance. Hickson pulled his weight but found Berry a much more difficult proposition than Franklin. Berry was so good in the air. Fielding was Everton's best forward. He was the Cater "of the line," but so much attention had to be paid to defence that the forwards had little chance to show their worth. As I have already told you they had brilliant spells but they did not last long.
EVERTON SATISFIED
April 17, 1952. The Liverpool Echo
Stork's Notes
Everton make no change from the team which collected four points out of a possible six over the Easter holidays for their visit to Bramell Lane to meet Sheffield United on Saturday. This will be Everton's last away trip of the season and it is a difficult assignment for Jimmy Hagan's boys are a fairly "hot number" on their own ground. Everton; O'Neill; Clinton, Lindsay; Farrell, Jones, Lello; McNamara, Fielding, Hickson, Parker, Eglington.
The Reserves team to meet Derby County Reserves at Goodison Park is; Leyland; Moore, Rankin; Donovan, Woods, Melville; Gibson, Cummins, Lewis, Buckle, Easthope.
FIELDING'S RECOVERY
April 17, 1952. The Evening Express
Everton have decided to play the team which gained four of the six Eastertide points when they visit Sheffield United at Bramell Lane on Saturday. This means that Fielding has made a complete recovery from the heel soreness which troubled him in the game against West Ham last Saturday. This will be Everton's first visit to Bramell-lane since season 1949-50 and they are in line for another "double" having defeated the United at Goodison Park 1-0. Everton; O'Neill; Clinton, Lindsay; Farrell, Jones, Lello; McNamara, Fielding, Hickson, Parker, Eglington.
Everton Reserves face Derby County at Goodison Park at 3.15 p.m. with Moore and Rankin at full back and Woods returning to centre half. Everton Reserves; Leyland; Moore, Rankin; Donovan, Woods, Melville; Gibson, Cummins, Lewis, Buckle, Easthope.
Reds, Blues 'Derby' on April 30
Goodison Park Battle in the Senior Cup
The only Senior Merseyside "Derby" of the season between Liverpool and Everton will take place at Goodison Park on Wednesday week, April 30, at seven o'clock. This was decided last night, after Liverpool had beaten Southport 4-1, at Anfield, in the semi-final of the Liverpool Senior Cup.
After the game at Anfield, in which Southport were always pursuing a hopless quest against the superior Liverpool, Mr. George A. Richards, chairman of Liverpool and Mr. Ernest Green, the senior director of Everton tossed for choice of ground for the final of the cup at present held by Liverpool. Mr. Richards spun the coin and Mr. Green calling "Heads" was correct, so to Goodison Park goes this match which should break all records for a Liverpool senior Cup final. This will be a full parade of the first teams to ensure that it is a real test of merits. By then both clubs will have concluded their Football League programme. So this will come as a welcome "finale" to the season.
RESERVES TITLE TESTS
April 18, 1952. Evening Express
Pilot's Log (Don Kendall)
Everton cannot afford to drop another point if they are to become champions of the Central League for the Third time in history. Not only must they win their three remaining matches, but must do so convincingly. At the moment the Wolves are slight favourities, being three points ahead of the Blues, who, however, have one match in hand. Everton play Derby County at Goodison Park tomorrow, visit Manchester City on April 26, and conclude at Goodison Park on May 3 against Burnley. The Wolves got to West Bromwich Albion tomorrow, and then end with a home game against Newcastle United on April 26, neither being "easy" games. Wolves can secure 60 points and so can Everton, so as the Wolves at present have a slightly better goal average Everton must collect goals as well as points in these remaining games. Everton Reserves; Leyland; Moore, Rankin; Grant, Woods, Melville; Gibson, Cummins, Lewis, Buckle, Easthope.
EVERTON AT SHEFFIELD
April 18, 1952. The Liverpool Echo
Stork's Notes
Everton put up a galliant fight at Hull on Easter Monday, although it was a purely defensive one. There was still no thrust in the forward line. Sheffield are a powerful team on their own ground, where they have scored 55 goals this season including several 6's and a number of 5's. They are below Everton in the table, but are out to improve their position. Their chief scorer is Ringstead who has 22 goals to his credit. He hails from the same team as Dave Hickson, Ellesmere Port. He has been playing at inside forward in recent games. The United have lost only four games at home winning 13, so you see Everton have a difficult task ahead of them. Everton can upset calculations if they will realize that it is the forwards duty to shoot and shoot often. Their attractive approach work was greatly admired at Boothferry Park, but as there was nothing to follow on it lost its value. They make no chance in the team which picked up four points out of a possible six over the holidays so that the team lines up as follows;- O'Neill; Clinton, Lindsay; Farrell, Jones, Lello; McNamara, Fielding, Hickson, Parker, Eglington.
SHEFFIELD STEAL EARLY LEAD BUT EVERTON WERE ON THEIR METTLE
April 19, 1952. The Liverpool Football Echo
Sheff United 1, Everton 2
By Contact
Clinton's penalty goal and a quickly taken shot by Eglington which seemed to take Burgin by surprise discounted United's first half lead in a game which looked as though it might be the last of the season, so little enthusiasm did it create for the Bramell Lane crowd. Fielding and Hagan were stars in their own right, but even for Division 2 this was a game of much indifferent football. Sheffield United;- Burgin, goal; Furniss and McLafferty, backs; Toner, Hitchen, and Shaw (J.) half-backs; Ringstead, Smith (F.A.), Bottom, Hagan, and Hawksworth, forwards. Everton; O'Neill, goal; Clinton and Lindsay, backs; Farrell (captain), Jones and Lello, half-backs; McNamara, Fielding, Hickson, Parker, and Eglington, forwards. Referee; Mr. G. Gibson (Preston). Everton at Sheffield found the weather more suitable to Test crocket than to football and but for a breeze the Bramell Lane ground would have been a hot-house. United had several changes Hitchean being at centre half and Bottom at centre forward. Bottom is a former ball boy and was making his second first team appearance. Losing the toss, meant that Everton faced the sun and the wind. Five minutes at least, there was scarcely a move by either attack to finish anything like convincingly. O'Neill's only job was to pick out the air a swerving centre by Hawksworth and the only time Everton looked dangerous came when Hickson almost bustled past Hitchean in a down-the-middle effort, the United centre half producing a splendid tackle at the critical moment. Hagan was plainly the brain power behind the United attack but it was equally plain that the people alongside him were scarcely up to making use of many of his excellent passes. The football was fast, but not impressive and Everton were really dangerous for the first time when Parker nodded down a through pass from Farrell, and went on to hit a near shot from twenty yards. The ball rose far too high for Burgin to have the slightest worry.
Blow to Face
Burgin was in trouble in more ways than one when dispossessed by the challenging Hickson. Besides losing the ball, which travelled on to a United defender, he took a blow to the face. A moment later Hickson fell heavily in turning the ball with his head to Parker, standing not more than 10 yards out and was injured. Parker's header had Burgin almost colliding with the far post in his anxiety to cover it as it ran wide. Everton's best attack was a right wing one in which McNamara first lost the ball to McLafferty and then won it back again to centre to where Hickson was splendidly placed to shoot. Toner crowded the shot out before it travelled a foot and so United were saved when things looked bad indeed. Fielding took a nasty low to the face when F.A. Smith volleyed the ball on to him but was able to resume after attention. It was still a rather lethargic uninteresting sort of match, though Everton had done enough so far to indicate that their chances were reasonable.
A Hawksworth centre headed almost on to the line by Ringstead was stopped by the outstretched foot of Jones, who had time to recover and get the ball clear. Toner's free kick seemed harmless, but actually it swung within a few inches of the post, and O'Neill had to move at the last second to cover it.
Bounced Twice
To show the extent of the wind I put on record the fact that Burgin almost got himself on the scoring register. His down-the-field clearance bounced twice before O'Neill rather anxiously got it over the crossbar. Bottom had done little or nothing until the 30th minute, when he went to outside right and began the move from which Ringstead scored. Not for the first time the ball seemed to be out of play when it was at his feet but the linesman was right on the spot and evidently the whole of the ball was not over. Bottom's pass inside to Ringstead gave that player only a fine angle down which to shoot but a deflection against O'Neill helped and there was the leading goal. Hawksworth moved the ball nicely after a clever reverse pass by Hagan and hit the post and only misfortune prevented Ringstead from picking up the rebound which came to him unexpectedly. United were now doing much better, and an Everton defence that started well was showing signs of indecision, especially as Hagan was now getting to grips with his real game. Burgin took a tumble when Parker got his body under as he made a catch and then Bottom moved promisingly and with any power of finish must have made it 2-0 instead of shooting wide. A Hawksworth header was not far from the inside of the post, too.
Half-time; Sheffield United 1, Everton nil.
The game had gone three minutes after the interval when Everton equalized. Hickson was characteristically bustling his way past Toner when the half back tripped him from behind a yard inside the penalty area. The only doubt about it being a penalty was whether it was in the box or not, and when Referee Gibson decided in Everton's favour Clinton made the long trip up from full back to score with an impudent shot. I don't think he has missed one since Everton decided to make him their penalty king. Eglington several times beat Furniss for speed but at least once his centre was too square to be of any use. United went nearest to restoring their lead when Ringstead almost parted his hair on a post when turning a centre from Hawksworth of goal by a few inches.
Eglington's Goal
Everton did little with Fielding's excellent prompting and a draw at this point seemed as equitable as anything. Yet at 62 minutes Everton went ahead by an Eglington goal, United were dealing very tentatively with a scrambling sort of Everton attack when the ball went to Eglington, standing five yards outside the penalty area and almost in the centre forward position. His good left-foot shot seemed to take Burgin by surprise and the goalkeeper though going up for it, could not prevent it passing over his head. A shower sent spectators scurrying for shelter, having slaked the dust of the pitch, but not the players thrust. Hagan made an awful hash of a good chance right in front of goal hitting his shot at the roof of the stand. Eglington who was a menace to both Toner and Furniss beat both of them and then finished with a rather tame shot straight to Burgin's hands. It was a most unsatisfying game and Fielding and Hagan apart there was scarcely anyone in either forward line who was having a good day. O'Neill made a catch from Ringstead and was adjudged to have carried the ball over the line, and Hitchean came up for Ringstead corner which O'Neill caught overhead in his best style. Final; Sheffield United 1, Everton 2.
EVERTON RES V DERBY RES
April 19, 1952. The Liverpool Football Echo
Everton Res;- Leyland, goal; Moore and Rankin, backs; Donovan, Woods, and Melville, half-backs; Gibson, Cummins, Lewis, Buckle, and Easthope, forwards. Derby County Res;- Townsend, goal; Rowe, and Revill, backs; G. Davies, Oliver, and K. Davies, half-backs; Wheatley, Morris, Lee, McLaren, and Mynard, forwards. Referee; Mr. F. Collinge (Rochdale).
Everton were continually bombarding the Derby quarters where many good opportunities went to waste through lack of steadiness in front of goal. Derby only made periodical raids, in which Lee and Mynard caused the most danger to Leyland. In the thirty-fifth minute Lewis missed a sitter and two minutes later Derby who were now playing with ten men, took the lead through McLaren. Half-time; Everton Res nil, Derby County Res 1. Derby commenced the second half with a full complement, and were soon on the defensive, but Townsend came out of the fray with flying colours. The visitors goal now bore a charmed life, with Lewis and Cummins missing excellent openings. McLaren increased the Derby lead.
AIR OF UNREALITY
April 21, 1952. The Liverpool Daily Post
By Leslie Edwards
Everton's 2-1 victory at Sheffield was a handsome is as handsome does affair I thought. It's main satisfaction came from points won rather than from the football played. In an atmosphere more suited to cricket game and spectators were suitably somnolent, through the fact that the Press Box is so far from the playing pitch and high above it may have lent an air of unreality to spectators. Height and distance, however, did not prevent a view of the ball too frequently in the air and moves too frequently breaking down not so much through good tackling as bad passing. United looked a moderate team mostly unable to keep time with the heady inside forward play of Hagan and Everton except for a late spell played unconvincingly. The goal by which they countered Ringstead's came from the penalty spot from the foot of Clinton (who stands on no ceremonony, but punches the ball good and hard) and the winning one was for Burgin, unexpected and from the foot of Eglington. Fielding's beautifully laid on passes were not always put to good use and remembering how well they were supported by Lello and Farrell, more could have been expected from the forwards. Hickson was always strong and purposeful but his part in the penalty apart –he was the victim –he was not impressive with the ball at his feet.
The Everton-Liverpool Senior Cup final a week on Wednesday is intriguing followers of the clubs more than anything since the F.A cup-ties. What a duel it is likely to be between Hickson and the man whose work against Spurs earned for him the everlasting pseudonym of "Cucumber" Jones.
Everton Players Honoured
Everton players Farrell (half-back) and Eglington (outside left) have been chosen to play for Ireland in matches v . Germany in Cologne on may 4, and v. Austria in Vienna on May 7. Another Everton player, Clinton (full back) is reserve.
• Everton Reserves 1, Derby County Reserves 3
• Burscough Res 2, Everton "B" 5
• Holy Cross 0, Everton "C" 10
EVERTON LOOK FORWARD
April 21, 1952. The Liverpool Echo
Ranger's Notes
Following a successful Easter and victory on Saturday over Sheffield United at Sheffield. Everton are looking forward eagerly to the Liverpool Senior Cup final next week with their Anfield neightbours. This may show a gulf between Division 1 and Division 2 or possibly that standards are little different. Everton's win looked better on the score sheet than it did in the playing, though it is true they wound up slightly the better side. No one could say it was a good game, however, and the 22,000 spectators must have pined for some lively cricket in place of the end-of-season stuff they saw. Ringstead, the Ellesmere Port boy, was like Fielding, schemed well, but allowing that and giving Everton credit for a sound half back line the match contained little to create enthusiasm. United's goal came to Ringstead and then Clinton converted the penalty kick awarded when Toner fouled Hickson in the box. Eglington came along with the decisive goal from a fine shot taken so quickly that Burgin could hardly have anticipated it.
EVERTON SUPPORTERS
April 22, 1952. The Liverpool Echo
Ranger's Notes
Everton Supporters Federation hold a district meeting at the West Derby Conservative Rooms, Green Lane on Monday next (8 p.m.) All Everton shareholders and supporters are welcome. The Federation's first annual dance is at the Grafton Rooms on Tuesday May 13.
The Original Association
Everton F.C Shareholders Association (the original organization) are having another Members who haven't got their tickets should write Mr. D. Richardson,9 Beech Green, Liverpool 12 without delay a good attendance is desired.
EVERTON'S NEW CHAIRMAN
April 23, 1952. The Liverpool Echo
Mr. E. Green Succeeds Mr. Williams, Who Retires Through Ill-Health
Ranger's Notes
Mr. W.R. Williams, chairman of Everton since June, 1950, last night notified the board of his desire to be relieved of his duties in this respect, due to health reasons, and after accepting his resignation with much regret, the board unanimously elected Mr. Ernest Green as chairman in his stead. It is good to know that Mr. Williams is not completely severing his connecting with the club. He will continue as a director and I trust that he will soon be completely restored in health. Since his appointment as chairman, and up to a few months ago. Mr. Williams attended Goodison almost every day, during the football season, and nobody could have worked harder for the success of Everton. Unfortunately he has been confined to his home since January with chest trouble, and on medical advice has decided to cut down some of his activities. During his twelve years on the board Mr. Williams has given Everton splendid service. It must have been a big wrench to him to come to this decision, but his health must be the first consideration. although always kindly and courteous and ever ready to see both sides of any contentious topic Dickie Williams as he was known to his friends, was nevertheless a firm unholder of his principles and beliefs in which the well-being of Everton came before all other considerations.
The New Chairman
While regretting his decision there is consolation in the fact that the reins will now be taken over by Mr. Ernest Green, who is one of the shrewdest judges I know of the game and players and has a wealth of administrative and legislative experience. Mr. Green has had a lifetime's connection with Liverpool sport and not solely confined to football. As a youth he was well known as a sprinter as well as an amateur soccer player. He won his first football medal in 1898 when he played for Liverpool College against Liverpool institute in the final of the Everton Secondary Schools Shield. He took part in the A.A.A championship of 1904, being beaten by only a yard in the 100 yards event by Duffy, the American flyer in ten seconds. Formerly a schoolmaster –he has been retired now for some years – he will shortly complete 40 years' service as an Everton director. There are very few directors in the county with so long a directorial association with the game and none with more energy or foresight or whose popularity is greater among clubs and officials. Mr. Green has had one previous terms as chairman –in the last prewar season when Everton won the First Division championship. It would be a happy celebration of his return to the head of affairs if the Blues could lift the Second Division title next season. Here's hoping!
EVERTON UNCHANGED
April 23, 1952. The Liverpool Echo
Ranger's Notes
Everton wind up the season against Barnsley at Goodison Park by fielding the same side as brought back both points last week from Sheffield United. The Blues on recent form, should bring down the curtain with a victory, but Barnsley still need a couple of points to make sure that relegation is avoided and they will not be beaten without a hard struggle. Barnsley also are unchanged and again include Smillie an 18-year-old winger and former schoolboy international who made his senior debut last week. Everton; O'Neill; Clinton, Lindsay; Farrell, Jones, Lello; McNamara, Fielding, Hickson, Parker, Eglington. Barnsley; Hough; Glover, Hudson; Normanton, McNeill, Baxter; Kaye, Lumley, McMorran, Wood, Smillie.
Everton Reserves; (v. Manchester City Reserves away); Sagar; Moore, Rankin; Donovan, Woods, Grant; Harris, Cummins, Lewis, Buckle, Easthope.
LIDDELL IN DOUR TUSSLE
April 24, 1952. The Liverpool Daily Post
Bangor 1, Everton & Liverpool x1 3
Bangor were never out played by a side which included Liddell, Done, Balmer and Sagar. Towards the end there was some undeniably hard play and something like the true strength of the visiting side became apparent. Bangor scored first when Corr beat Lambert and centred to Higgins who beat Sagar. Done and W.H. Jones excelled and Cadden equalized after a goalmouth struggle. Feature of the second half was the dour struggle. Boyle the Bangor left back, had with Liddell. Eventually Liddell broke away to centre to Lewis, the Bangor boy now with Everton who scored. Liddell got the third this time with a clean centre from Merfyn Jones. The Bangor attack was not easily subdued though Hacking (Southport) and Falder (Everton) kept Wyles perhaps the most forceful forward in check. The game was a benefit for Fazackerley the former Liverpool right back who has been with Bangor since 1947. He has played over 270 games for Bangor and he was in storming form in this occasion.
• Everton "B" 4, Alhambra 3
EVERTON'S SEVENTH 'ERA' IN 20TH CENTURY
April 24, 1952. Evening Express
By Pilot (Don Kendall)
Past results Promise One Of The Brightest
Another era, the seventh in the present century, has dawned for Everton Football Club and it is one which if past results can be accepted as a true criterion, will be one of the brightest in the history of the club. Recalled to the chairmanship on the enforced resignation owing to ill-health of Mr. W.R. (Dickie) Williams is the senior director, Mr. Ernest Green, who at the next annual meeting will complete 40 years of service on the Board. This is the seventh 'era' since the late Mr. W.C. Cuff went into the chair to serve for 17 years with Mr. Green as his vice chairman throughout that period. Mr. Green was elevated to the chairmanship in 1938, when Everton played in an international tournament in Glasgow losing by the only goal in the final to Celtic. Mr. Green said right away that this Everton combination was good enough for honours. Others shook their heads and said; "This team will get you nowhere." Well, Mr. Green, backed by his colleagues had the utmost faith in the lads who responded to that loyalty by going off to win the first six matches of the season 1938-39 season which stands as a record for the First Division. Everton kept bang there throughout the season, to win the championship by four points from the Wolves, who had their revenge by ending Everton's Cup hopes. Mr. Green was succeeded by the late Mr. Andrew Coffey, as chairman but Mr. Coffey had to relinquish the office owing to ill health and Mr. W.C. Gibbins held office for most of the wartime period. Dr. Cecil S. Baxter succeeded Mr. Gibbins and in 1950 Mr. Dickie Williams became chairman, for what was perhaps the most worrying period in Everton history.
Fine Leader
There was little peace for Mr. Williams, but the way in which he handled the affairs of the club so brilliantly and tactfully during difficult times, showed his love for the club, his extreme patience and wisdom. Everton could have had no better leader during these days, and that the club cam look forward to happy times is due in no small measure to Mr. Williams who continues to serve on the Board. Mr. Green is a director who has really worked for the club. He has travelled thousands of miles spotting talent; devoted limitless time to the younger players and has this season in fact been a regularly traveled with the Central League team. He felt that many young players needed encouragement and they responded by gaining second place in the League. The chairman has the utmost faith not only in Manager Cliff Britton but in Mr. Britton's policy and with so many brilliant young players at the command of the club.
BARNSLEY CLOSE BLUES' LEAGUE SEASON
April 25, 1952. The Evening Express
Everton Hope To Make It 13 Tomorrow
By Pilot (Don Kendall)
Everton take a hand in the relegation problem tomorrow, when at Goodison Park, they complete their Football League programme by entertaining Barnsley, who are only one point above a relegation position. Barnsley will be paying their second visit to the ground in the Second Division. When they were there 20 years ago, they lost 5-2. However, in the transitional season immediately following the war, they scored a four goal win here. The Yorkshiremen are far from being comfortable, for while they are five points ahead of Q.P.R for level games, they are only a point ahead of Swansea and Coventry but have a match in hand. They will fight hard to prevent Everton ending the programme with a great "double," over Yorkshire clubs. The Blues won at Sheffield Utd last week, and will be represented by the winning combination. Barnsley have a double to gain tomorrow too. They made McMorran's goal suffice at Oakwell to give them victory. Only one club has succeeded in taking four points from Everton –Blackburn Rovers. Barnsley have won only three away games and the Blues seeking their 13th home win have lost here four times. Barnsley bring the team which drew with Doncaster Rovers a week ago, and so give 20-year-old outside left Bob Smilie another opportunity. Eddie McMorran, the Barnsley leader, was a strong Everton fancy about five years ago. Everton; O'Neill; Clinton, Lindsay; Farrell, Jones, Lello; McNamara, Fielding, Hickson, Parker, Eglington. Barnsley; Hough; Glover, Hudson; Normanton, McNeill, Baxter; Kaye, Lumley, McMorran, Wood, Smillie.
DOWN COMES THE CURTAIN
April 25, 1952. The Liverpool Echo
Everton End Their Football League Programme
Ranger's Notes
The curtain will descend tomorrow on League football in this city when Everton fulfil their final fixture with a visit from relegation fighting Barnsley. It would be a nice incoming to Mr. Ernest Green, Everton's new Chairman, if the Blues would up tomorrow with a solid victory. To do that they will need to be on top of their form both constructively and defensively, for Barnsley who have another away fixture to fulfil next week, are not safe from relegation. They need the points badly. Renowed for their fighting qualities, Barnsley will lack no incentive tomorrow. Their recent performances, however, have been disappointing. They have registered only one victory in their last 10 matches, which have brought them five points and their descent in the table has been something like a landside. They have been badly hit from time to time by injuries to first team players with consequent enforced changes in the side which are always a handicap. Latterly however they have fielded a more settled formation and the signing of Lumley from Charlton has put a little extra punch into the attack. Yet it still falls short of requirements, especially when the Second Division table shows such a slender point difference between a safe position in the middle and a precarious one at the tail end of affairs. Everton's home record this season has been reasonably good. They have suffered only four defeats at Goodison and despite Barnsley's desperate need I do not think the Yorkshire side will increase that total tomorrow. In the earlier match at Oakwell ground Barnsley won by the only goal of the day. Everton; O'Neill; Clinton, Lindsay; Farrell, Jones, Lello; McNamara, Fielding, Hickson, Parker, Eglington. Barnsley; Hough; Glover, Hudson; Normanton, McNeill, Baxter; Kaye, Lumley, McMorran, Wood, Smillie.
FINAL GAME AT GOODISON WAS NO WALK-OVER FOR EVERTON
April 26, 1952. The Liverpool Football Echo
By Contact
Everton 1, Barnsley 1
A draw was a good verdict at Goodison Park, where we saw a fine display by 19-year-old Kaye at outside right and some refereeing which caused discontent among the Everton crowd. Referee Wood, standing by the subway at the end to see O'Neill off the field was struck by a piece of orange peel. It was not Everton's day, and to Barnsley, who recovered after a shaky start, it was an invaluable point. Everton; O'Neill, goal; Clinton and Lindsay, backs; Farrell (captain), Jones and Lello, half-backs; McNamara, Fielding, Hickson, Parker, and Eglington, forwards. Barnsley; Hough, goal; Glover and Hudson, backs; Mormanton, McNeil and Ward, half-backs; Kaye, Lumley, Wood, Baxter and Smillie, forwards. Referee; Mr. R. Wood (Sunderland). There was the shape of things to come at Goodison Park when Barnsley turned out in a Liverpool red. There was about 25,000 present at the start. Fortunately the ground had been considerably watered on the grassless patch down the centre. Barnsley looked an exceptionally small side, though McNeil towered over Hickson. In the opening minutes Everton best move was a duet between Parker and Hickson. It had the Barnsley defenders going the wrong way, it finished with a cross shot by Hickson and although there was a lot of spin on it Hough seized it easily. Clinton and Jones got themselves out of trouble against Wood and Smillie in Barnsley's first real attack, and Lello gave a corner immediately afterwards from Lumley's shot. Hickson's head reached an Eglington corner kick with full force, and Hough was very late moving to it as it sped over the bar. Barnsley soon settled down, although Everton did most of the prompting. Lindsay made a mistake but recovered himself quickly to tackle Lumley and make a clearance. The Lindsay, Lello and Eglington had little Kaye running between their triangle without ever being able to reach the ball. A slip in the physical sense by Jim Ward let in McNamara who went on to get in a big shot –one which, evidently took the crowd by surprise. Unfortunately for McNamara it got up over the goal angle.
Barnsley Unlucky
Barnsley were unlucky not to score when Lumley disregarding Everton call's for offside moved up quickly from a pass after Lello had been dispossessed and he shot against the oncoming O'Neill. Lumley's hard hit pass to Kaye gave that winger an opportunity to beat Lindsay at close quarters and all manner of trouble failed to beat the Everton defence after Kaye had centred. Everton's moves were good up to a point, but there was nothing practical about them.
McNamara Wide
McNamara with a flick of the foot and a nod of the head went sailing past Hudson to make a centre which was only half cleared and which came back to him allowing him to make a terrific shot at close range but once again a wide one. Always being the purveyor of chances, Fielding after appearing certain to bring McNamara into the game with a pass, put a lovely shot over the top. Eglington's shot which cannoned from the body of McNeil was more than a rib-tickler, it was more of a rib-breaker, and Referee Wood inquired from McNeil whether he was all right as the ball had gone dead.
A Near Miss
Only the fact that Wood slipped saved Everton when he shaped to take up a close in free kick and the Everton defence all at sea. Had the centre forward remained upright, he must have beaten O'Neill but his footing gave way and before Lumley could move the ball O'Neill had picked it up. McNeil was standing in no ceremony with Hickson and at this point kicked the ball so high it almost got mixed up with a barrage balloon which was showing in these parts to day for the first time since the war. Kaye did not always get the better of Lindsay, but he did at the half hour and left Lindsay behind. When he was close in he shot a low ball to the near post, and O'Neill could only stop the ball on the line, with the result that before he could recover Lumley had poked it in for a goal.
Visitors Confident
Barnsley became much more confident after this unexpected success, and O'Neill had to make a quick catch from a fast moving centre by Kaye and then Hickson taking the weight of the Barnsley defence with him turned the ball back to Eglington whose right foot shot was yards wide of the target. O'Neill had to knock down a particularly fierce shot from Baxter so that Barnsley inside forwards were now much in the picture with shooting that carried weight and accuracy. The first stoppage was due to a shin injury to Clinton. A blunder by Hudson failed to pick-up a long clearance kick by O'Neill and McNamara tried a shot which was off target. Watching parachutists from the barrage balloon behind the goal is now a more exciting pastime than watching the game and the Everton contingent had gone very quiet. Half-time; Everton nil, Barnsley 1.
McNeill made more friends as the game wore on and so did Kaye whose right wing for a 19-year-old was full of promise. After a right wing attack had fizzled out the ball was passed up Eglington, who came inside and with a swerving shot, seemed to completely deceive Hough to register an equalizer after 48 minutes.
Free Kick Incident
The crowd was incensed over a free kick decision against Everton when the referee had a word with Eglington. Everton now played with more confidence and with more ability and had Fleming been able to get the full force of his boot to a difficult ball Hickson might have scored. Kaye now varied his approach and after hugging the touchline came inside and ventured on a solid shot which O'Neill caught as it was going away from him. Yet another offside decision against Eglington and this time there was no doubt the referee was right, but Peter Farrell came running yards upfield to have words with Mr. Woods. The referee also came in for cristism for speaking to Clinton after a foul on Smillie.
A Swirling Shot
Immediately following this McNamara at last got on the mark with a swirling shot and Hough did splendidly to turn the ball round the post at full stretch. Hickson was knocked out immediately after the corner had been taken, getting a blow to the head and needed attention. Barnsley's kicking was not good at the moment although their approach play had the soundest of principles.
Referee Trouble
Hough never did better than when he saved a McNamara shot from close in, on the line, and regained his grasp of the ball at his second attempt. Much of the Everton danger now came from Fielding moving to outside left and delivering dangerous centres. The referee turned down a plea for a penalty against McNeil and rightly in my view. Again Farrell made verbal protest to the official in charge.
Over Again
The game died away, and there was nothing for a while and only came to life on a full blooded shot by Hickson. Again the crossbar seemed to breathe in while this one passed overhead. Final; Everton 1, Barnsley 1. Official attendance 26, 566.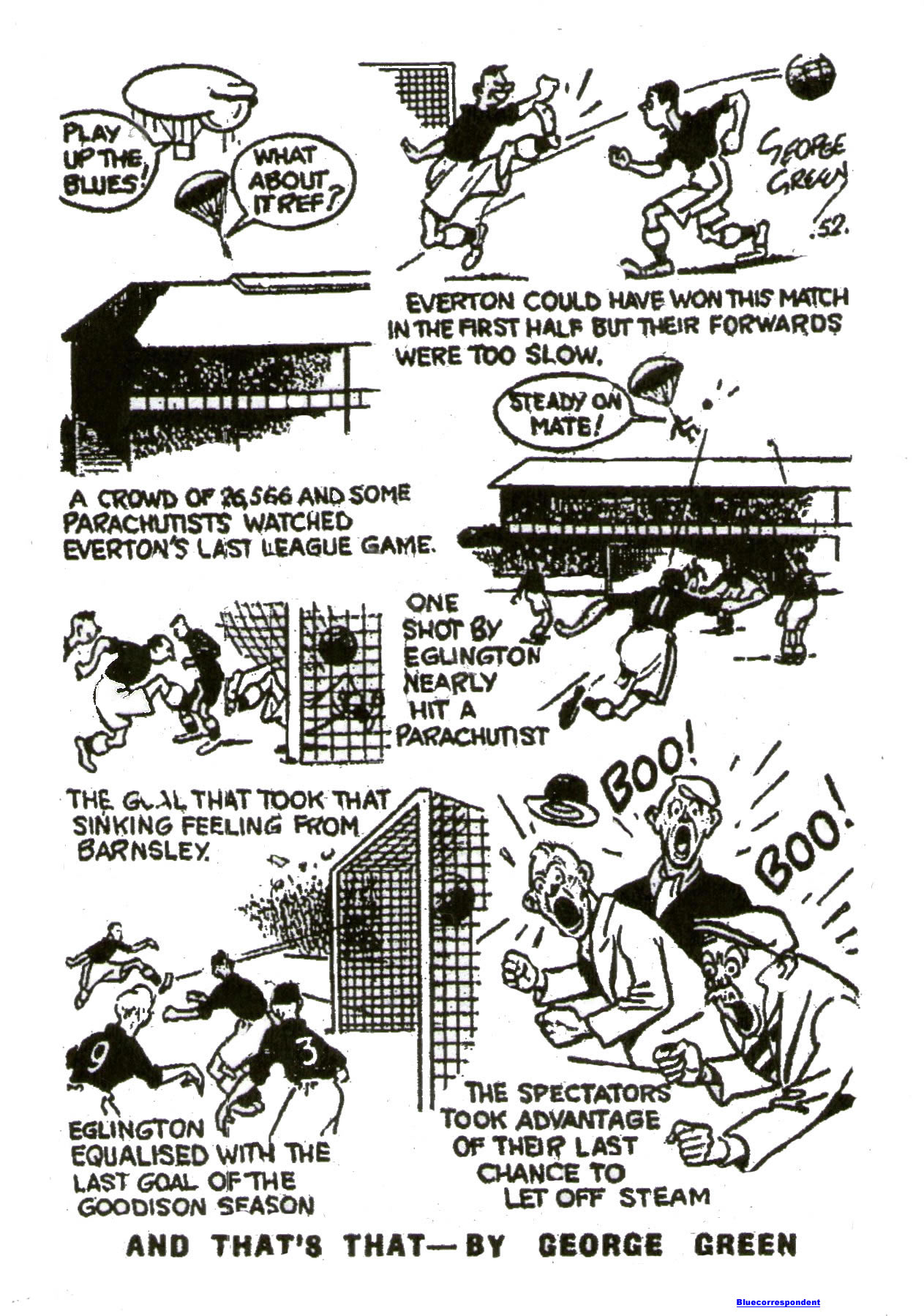 MAN CITY RES V EVERTON RES
April 26, 1952. The Liverpool Football Echo
Manchester City Res; Powell, goal; Hannaway, and Little backs; Spurdle, Fowler, and Evans, half-backs; Gunning, Alison, Sowden, Davies, and Cunliffe, forwards. Everton Res; Sagar, goal; Moore and Rankin, backs; Donovan, Woods, and Grant, half-backs; Harris, Cummins, Lewis, Buckle and Easthope, forwards. Referee; Mr. H.E. Lambert (Blackburn). Everton Reserves moved nicely against Manchester City Reserves. Twice Powell was forced into action by Lewis, then Cummins sent one whizzling by the far post. A centre by Easthope let in Harris after 11 minutes and this player crashed the ball home. Despite repeated attacks, and good efforts from Buckle, Lewis, and Harris, Sowden put Manchester level just before the interval. Half-time; Manchester City Res 1, Everton Res 1.
TOO INCONCLUSIVE
April 28, 1952. The Liverpool Daily Post
Everton 1, Barnsley 1
By Leslie Edwards
The official Everton season ended too inconclusively. No promotion and not even full points against Barnsley. And worse, poor sportsmanship by 26,000 people whose angle at some of referee Wood's decisions was as ill-founded as it was vociferous. Yet, after one incident late in the game, when Everton players were guilty of a foul there was not the ghost of a whisper of disapproval. Everton have the hard-won reputation for being one of the few modern clubs to maintain splendid standards of clean play and sportsmanship. This distinction has been built over many years. It is not something which has come with one match or two or even a season's. And it will be lost and quickly if the present trend of wanting referees to whistle one-way continues. Here we had a wail for a penalty when it was obvious that intent to handle was not there; here we had offside decision's questioned and questioned again when linesmen, whose business it is to adjudge these matters were satisfied about the infringement. If the disgruntled Evertonians is better able to gauge a player offside than the official appointed and trained for the purpose, then we had better dispense with them forthwith.
Good Mark
My belief which is only my opinion against the next man's is that referee Wood not only controlled this game well but scrupulously fairly. And that he was prepared to stand by and accept the taunts (and one missile) in order to see all his players off the field earned him yet another good mark. Barnsley may have been over awed by the magnificence of Goodison Park or may have started nervously because of the relegation danger but that they were worth a 1-1 draw was undeniable. They had in the tall but sure McNeill a better than ordinary centre half and the nineteen-year-old Kaye on the right, looked to have a great future. With the white bands of his stockings so near his boots they looked like a killed piper's spats, he nearly always had a trick too many for Lindsay, usually pretty confident in his treatment of men who think can beat him. Chumley ex-Charlton too showed up particularly well; never more than when he moved quickly to convert O'Neill's half-save into a leading goal. Though the ground had been watered and we had looked to a better performance from Everton than at Sheffield, we were disappointed. McNamara, while shooting very strongly was not accurate and others joined him in plastering shot's everywhere except where Hough needed to save them. Hough brought off one particularly good round-the-post save but he should have been beaten oftener than once and the Barnsley defence could lay little claim to their part in the situation.
• Everton "A" 4, Marine Res 1
• April 30-Everton "B" 3 Fleetwood Heskith 0-Wavertree Cup final
CLINTON, PAISLEY DOUBTFULS
April 28, 1952. The Liverpool Daily Post
Rivalry between Everton and Liverpool, which has merely summered space the parting of the Divisional ways twelve months ago, bubbles and boils again at the prospect on Wednesday, of the clubs' only meeting this season. It may only be the final of the Liverpool Senior Cup, but it's all the world to us. Unhappily after we had expected full strength on both sides this may not be the case when they line up at Goodison Park at seven o'clock. Ton Clinton has ankle trouble and Liddelpool becomes Liverpool through the Scot's absence at Glasgow where he plays for his country against the Americans. Also Bob Paisley fell heavily at Preston and may have broken a small wrist bone. For Liverpool it will be the busiest season's end. They play Everton on Wednesday, travel to Portsmouth on Friday for a friendly and take their places with players of other League clubs as spectators of the F.A. Cup final at Wembley on Saturday. The later Final date gives the one-time donors of the feast a chance to see the great occasion in comfort and with stomach butterflies comfortably dormant. I gather Liddell may not appear in the match at Portsmouth. When one considers the travelling involved in getting to Scotland and then to Portsmouth and back to London, his disinclination against playing is understandable.
GOODISON GALA NIGHT
April 28, 1952. The Liverpool Echo
Ranger's Notes
All Pay at the Gate For Wednesday's "Liverton" Meeting
The answer is "No" to readers who have asked whether seats can be brought in advance for the Everton-Liverpool game at Goodison Park on Wednesday when these old but now friendly rivals –it wasn't always so –oppose one another in the final of the Liverpool Senior Cup.
It will be a case of all pay at the gate, and there will be ample room for all-comers I visualize an attendance of somewhere around 40,000 maybe a little more if the weather is good but Goodison Park with its 80-odd turnstiles can pack that number in quickly, and everybody will get a good view. The Corporation Transport Department is making special arrangement to cope with the big crowd expected. There will be special services from Bankhall, Old Swan and the city centre. Apart from the fact that Billy Liddell will be on duty for Scotland against the American touring side, and that Paisley is doubtful, both clubs will turn out their strongest possible teams. X-ray examination has disclosed that Paisley has cracked a bone in his wrist. He is seeing a specialist later today and it depends on what sort of dressing is put on whether he will be able to play. If it is a plastic one he may turn out but if it has to be plaster, which might be dangerous to others, he will have to drop out. Everton expect to field the same eleven as on Saturday. Tommy Clinton is having treatment for a sight injury, but that is the only doubt, and even that is so slender that it can be practically ignored. This will be the last senior game of the season on Merseyside. There could be no more fitting finale. Don't ask me for a forecast of the probable result. When Everton and Liverrpool meet anything can happen. I wouldn't be surprised if the Blues lifted the trophy. They certainly mean to make a strong effort to put it over on their Anfield rivals. Liverpool are just as determined so it looks as though we are in for a keen and entertaining game. Everton's first team can set a good example to their many junior sides, who between them could this season lift no fewer than 11 minor cup or championship honours not counting the runners-up position gained by the Central League side. considering that Everton have used the Central League team largely as a means of providing experience for their younger players, and also for various positional experiments to finish second to Wolverhampton, who have frequently had a big sprinkling of internationals on view is a particular good performance. Some idea of the extent to which Manager Cliff Britton has utilized the second team as a training ground can be gathered from the fact that no fewer than 40 players have figured in Central League matches this season. For comparison purposes, 25 players have been sufficient to complete the Second Division fixtures.
One Point –Four Places
The keenness of Second Division warfare this season is emphasized by the fact that although Everton finished up on Saturday with only one point more than Liverpool, they stood seventh in the table, compared with the Anfielders eleventh. Had there been more at stake from Everton's viewpoint they might have taken both points from Barnsley. As it was, the Yorkshire side deserved their half share particularly in view of the late changes they had to make. Everton started off well, but missed their way by fault finishing and hesitancy, and once Barnsley had weathered the early storm they improved more the longer the game went. Eglington's goal, equalizing that scored by Lumley in the first half was the starting point of improved shooting by the Blues but Hough was in a grand form, making several excellent saves, and none better than the one from McNamara's pile-driver, which he tipped round the post. Towards the finish the play deteriorated and became rather aimless and scrappy. Everton were content with a point, and so were Barnsley who knew that goal average would see them safe so long as they drew no matter what Coventry City did.
GRAND FINALE
April 29, 1952. The Liverpool Echo
Tomorrow's Tit-Bit
Senior Cup Final Provides Attractive Wind Up For The Soccer Season
Ranger's Notes
The soccer season could not be ushered out with a better tit-bit that we have at Goodison park tomorrow evening when Everton and Liverpool meet for the first time this campaign in a game which should attract a big crowd. The Liverpool Senior Cup, which is the prize at stake is a more handsome trophy than the F.A Cup worthy to grace the boardroom of any team. The absence of an Everton-Liverpool meeting would have left something missing in the season now about to close. That it comes after all, even at this late period pleases supporters of both clubs. The game will give Everton enthusiasts a good line as to what the Blues can do against senior opposition for though Liverpool have no finished among the leading clubs, they have proved themselves to be as hard to beat as any side in the land. Their fighting spirit and determination has pulled them out of many a tight corner. The Liverpool Senior Cup is one of the oldest County F.A. competitions in the Country. In past years Everton have lifted the trophy on 27 occasions and Liverpool 22, while three times they have held the title jointly. The first winners, away back in 1882-83 were Bootle.
In addition to the normal bonus for a win or draw the players on both sides receive handsome sourvnirs. Extra time will be played in the event of a draw after 90 minutes and the Lord Major of Liverpool (Alderman Vere E. Cotton) will present the trophy and prizes. The referee will be Mr. W.H.E Evans of Liverpool, who in the opinion of many good judges has done more than enough in post-war football to have had the honour of the middle at Wembley instead of the line, particularly in view of the fact that next season will be his last as a Football League referee.
Blues One Change
Everton make one change from the side which drew with Barnsley on Saturday, as Lindsay is not fit due to a groin injury, Rankin takes his place. Clinton is having a further test tomorrow morning. There is still hope be may be able to play. Everton; O'Neill; Clinton, Rankin; Farrell, Jones, Lello; McNamara, Fielding, Hickson, Parker, Eglington.