PARKER PIERCES THE BURGIN BARRIER, GIVES EVERTON MERITED WIN
December 1, 1951.
The Liverpool Football Echo
Everton 1, Sheffield United 0
By Ranger
Only for some wonderful saves by Burgin, Everton would have won by a much greater margin than one goal. For long periods they had the visitors completely tied up, but Burgin nearly always came to the rescue. Everton hit the woodwork once and had another effort headed away off the goal line. All round they were the more forceful side, but in extenuation for Sheffield it must be remembered that they were without four regular first teamers. Everton; O'Neill, goal; Clinton and Lindsay, backs; Donovan, Jones and Farrell (captain), half-backs; McNamara, Fielding, Hickson, Parker, and Eglington, forwards. Sheffield United; Burgin, goal; Furness, and McLafferty, backs; Hitchen (captain), Johnson, and Toner, half-backs; Ringstead, E.A. Smith, Browning, Brook, and Hawksworth, forwards. Referee; Mr. G. Gibson (Urmson). Sheffield United for successive weeks were without four of their regular first team players, through injury or illness. These were Cox, Latham, Shaw and Hagan. News from the Everton camp is that contrary to earlier expectations. Eric Moore will, after all have to undergo a cartilage operation. He will probably go into hospital early next week. Sheffield closed their defensive ranks well when Hickson and McNamara produced an early move of promise. Johnson's intention of keeping a close match on Hickson was soon evident but Fielding cannily began switching his passes to the wings instead of down the middle. Sheffield's first venture into Everton's territory was brief, a good tackle and clearance by Jones quickly cutting it off. It was a long clearance by Jones a few moments later –again under a smart tackle on Browning –which produced the first thrill of note. Hickson's effort, however never looked likely to beat Burgin.

Second Attempt Save
McNamara was a much better one for when the winger switched over to the middle he let drive a real snorter of such power that although Burgh caught it, at spun right out of his grasp and he had to fling himself full length to make sure at the second attempt. Hickson was grassed by Johnson a couple of yards outside the penalty area, near the dead ball line, but Fielding's free kick was a little too strong and brought no grist to Everton when it passed over the heads of the inside men. Another free kick to Everton just outside the penalty area saw Fielding make a better use of the ball. This time all strong pile-driver sizzled a matter of inches only n the wrong side of the bar.

McNamara Injured
Again Hawksworth should have made better use of the ball when he picked up a partial clearance by Clinton and with the Everton defence backing away from him, took the ball up towards the penalty area and then shot erratically yards wide. During these hectic moments McNamara laid on the ground obviously in pain from a crack on the knee, and Hitchen, a Bottle born player who used to be with New Brighton earned a cheer from the crowd when he kicked the ball square into touch in order that the game could cease while McNamara had attention. United still continued their tip-tapping ideas and it seemed certain that sooner or later Everton must find a way through. Twice Burgin made good saves –one from Farrell in particular being high-class. At last United got away out of their own half and a neat move in which Smith and Browning took part resulted finally in O'Neill making a splendid save from Ringstead's header.

United Settle Down
United had been so over played thus far that we had seen little of the former Ellesmere Port and Northwich winger but his "Townie" Hickson was giving Johnson some anxious moments. Hickson was twice in the wars again but soon recovered. United had taken a long time to settle down but at long last, they began to show a little more method in attack. Smith headed a Ringstead centre down to the feet of Browning. Unfortunately for United the former Leeds player, whose second match this was for his new club was not quite quick enough to get in his shot. Another dangerous looking Sheffield attack was rendered innocuous by a great tackle by Lindsay which robbed Ringstead.

Good Chance Missed
Donovan did send Hickson away on a lone raid which looked decidedly promising until a late tackle saved an awkward situation. Everton's best chance so far came after a McNamara run and centre but though Parker hit the ball strongly and tried to put it out of Burgin's reach the Sheffield goalkeeper made a prodigious leap and just turned it round the post. This really should have been a goal.
Half-time; Everton nil, Sheffield United nil.
Burgin started the second half as he had finished off the first by making a glorious save, from Fielding. Twice he was called into action again during hot Everton assaults, before he was finally deceived by a long free kick by Clinton from near the half way-line. Fortunately for United, however, the ball hit the upright, rebounded just out of Hickson's reach, and was booted away to safety by Johnson. This was a very narrow escape.

Burgin to the Rescue
Donovan put Hickson through for the Everton leader to beat Johnson and McLafferty before finally being foiled by Burgin, who was injured in the process when he dashed out of goal and kicked away at the same second that Hickson tried to stab the ball goalwards. Burgin resumed after attention but was limping. All the narrow escapes were not confined to one end. When Jones was beaten by an awkwardly bouncing ball as he was harassed by Browning, the Sheffield pivoted round and hit a first timer which was only just a trifle too high to count.

Staunch Defenders
A foolish pass back by Furness from near the half-way mark set Everton on the attack again, but do what they would they could not find a clear way through. Sheffield's staunch defenders were still being rescued by good fortune when they could not achieve their purpose by their own efforts. The game had now become much more scrappy, being characterized more by sheer determination and effort than the earlier touch of class. Just when it looked as though this match might taper out into an unsatisfistying draw, Parker brought it to light by putting Everton in front at the 66th minute. A clearance by Lindsay was moved further upfield by Eglington, Parker nodding the ball downwards to round Johnson. Parker then took it up, drew Burgin out of goal before flashing the ball into the back of the net. Everton had certainly deserved the lead, but it had taken then a long time to get it.

Another Great Save
Burgin saved brilliantly from Hickson from short range after the home centre-forward and Parker had taken the ball up together in a "you-to-me ad me-to-you" act. If ever a man deserved a goal Eglington did when he had first a shot and then a header saved in successive seconds after he had come chasing into the middle. Six minutes from the end Parker was "robbed" of a second goal following a corner when McLafferty headed away off the goal line with Burgin hopelessly beaten. Everton were leaving nothing to chance. They fought hard for another goal to put the issue beyond doubt. Parker almost got it for the second time, when Eglington feed the ball up for him but his drive struck a defender. Final; Everton 1, Sheffield United nil.

DERBY COUNTY RES V EVERTON RES
December 3, 1951.
The Liverpool Football Echo
Derby County Res; Townsend, goal, Parr and not-known, backs; Davies, Mays, and Masson, half-backs; Wright, Stamps, Les, Powell, and Law, forward. Everton Res; Leyland, goal; Saunders and Rankin, backs; Grant, Wood, and Lello, half-backs; Gibson, Potts, Lewis, Cummins, and Easthope, forwards. Referee; Mr. H. Pettybridge (Manchester). After a period of Everton's superiority in which Lewis hooked a ball over the bar. Townsend scored an own goal. The goal was disputed by Derby as it was scored when Townsend was charged by Lewis and fell into the back of the net holding the ball. Everton's lead was short-lived and within six minutes Stamps flicked the ball pass Leyland to equalizer. In the earlier stages when Derby were on top, Leyland was the Everton's hero. Half-time; Derby County Res 1, Everton Res 1.
Everton quickly took the lead in the second half through Lewis. The centre forward scored when Townsend dropped the ball after a low centre from Gibson. Like the first goal, it was against the run of play and Derby continued to be on top but failed to take their chances. Everton almost increased their lead when Gibson headed in a centre from the left wing, but Townsend, gathered the ball safely. Several chances for the Derby forwards were spoiled by the agility of Leyland.
Reserve were foiled by goalkeeper
December 3, 1952 Burnley Express
Everton Reserves 1, Burnley Reserves (0) 1.
Burnley Reserves were on top at the start their match at Goodison Park against a strong Everton Reserve side which included Lello, Wainwnght Fielding and Buckle. After Burnley's early raids had been held, Everton brought Thompson into action but returned the attack to cause the home defence considerable worry. Morris. Samuels. Stephenson and Hapgood all had shots saved. Just before the interval BUCKLE gave Everton the lead from a centre Wainwright. Burnley's forward play was clever with swift inter-passing. Morris dictating the direction the attack. The inside man had a fine shot turned Layland for corner. Then STEPHENSON levelled the scores from Samuel's pass. The Clarets played some splendid football and were unfortunate not gain both points. Everton Reserves. Leyland, Tansev, Rankin. Lello. Woods. Melville. Harris. Lewis, Wainwright, Lewis, Fielding. Buckle Burnley Reserves: Thompson; Binns, Sheridan. Rudman. Waring. Brown Hapgood. Stephenson. Samuel. , Morris, Pilkington. Referee. Mr. JS. McLaughlin

BURGIN'S WONDER GOALKEEPING
December 1, 1951.
The Evening Express
Great Saves, Then Parker Goal
Everton served up Football That Thrilled The Crowd
By Pilot (Don Kendall)
Parker's grand goal in 67 minutes placed Everton on the victory trail against Sheffield United at Goodison Park today, after Burgin had given one of the greatest exhibitions of goalkeeping seen at the ground this season. That is high praise. Everton played magnificent football both in attack and defence; shooting magnificently and showing that cover in defence assented to cope with the fast-moving opposition. Hickson was a magnificent Everton leader, with Lindsay the controlling influence in a defence quick in action and deliberate in its work. This will be the sixth game in succession in which Everton have remained unbeaten and the first time since September 5, when they beat Notts Forest, that they had not conceded a goal. Everton; O'Neill, goal; Clinton and Lindsay, backs; Donovan, Jones and Farrell (captain), half-backs; McNamara, Fielding, Hickson, Parker, and Eglington, forwards. Sheffield United; Burgin, goal; Furness, and McLafferty, backs; Hitchen (captain), Johnson, and Toner, half-backs; Ringstead, E.A. Smith, Browning, Brook, and Hawksworth, forwards. Referee; Mr. G. Gibson (Urmston). The United captained by Hitchen, the former New Brighton player, who won the toss to defend the Park goal and so gain advantage of the dazzling sun. The opening play was more destructive than constructive but eventually Eglington and Fielding particularly in some perfect short passing until Fielding made the swinging pass to McNamara who, not for the first time allowed the ball to run to touch, to bring groans from the watchers. McNamara set the crowd alight when he came inside to Donovan's pass and from 30 yards made a glorious left foot shot which Burgin saved by driving to the right. Burgin could not hold the ball which bounced away off the chest but the followed up to dive on it, and sent the United away with quick passing which broke down on the Lindsay barrier. Hickson was dating past Furness when he was brought down from behind, but Fielding's short free kick was placed too hard for Eglington. Fielding was opening up the game beautifully with cross-field passes, and after getting McNamara away, Eglington came in with a fast rising shot which skimmed the top. Then McNamara came again, Burgin diving out to fist away the centre, and to add to the thrills Farrell went through with a shot which struck Hickson and bounded away. The first quarter of an hour had been Everton's all the way. In fact the attack was concentrated in front of Burgin, who had to move quickly to pick up a back-header from Furness, who took the line of least resistance when the ball was whipped into the centre by McNamara. Hickson was fouled just outside the penalty area by Johnson, and Fielding deceived everyone with his free kick. Even Everton must have expected a lobbed centre, but instead Fielding hit a terrific right-foot shot from standing position, and the ball almost scraped the whitewash from the bar as it sizzled over. Eglington pushed the ball up to Hickson who headed it forward for Parker to race in but Burgin ran out to dive at his feet and emerge with the ball. The United defence was looking anything but certain against the fast-moving Everton forwards who were repeatedly doing the expected and cobbling the Blades on one foot. Parker burst through after receiving from Eglington and after swerving past Furness let go a right foot shot which speed across the face of the goal. McNamara was nudged as he was going through and fell with an injured right leg and Hitchen, the only man so far to give O'Neill a shot was applauded when he booted the ball into touch, so that McNamara could be given attention.
Attack In Force
Everton attacked in force and although the United managed to close shooting gaps, Fielding broke through and Burgin had to double fist away when looking anything but happy. Everton had a penalty line free kick, and this Eglington side, tapped to Farrell, whose right foot shot was speeding just inside the post when Burgin dived out to save it aside for a corner. Talk about thrills, the game ripped with them, with Everton much the superior side. They seemed stronger than the United and more fertile in ideas. Everton should have been two up at least in the first half hour, and ten almost found themselves a goal down, in fact they could have been but for O'Neill. Ringstead from almost under the bar headed in cleverly. O'Neill seemed beaten, but he leapt upwards and across to his right, and just managed to flick the ball away with one hand. O'Neill came out just afterwards to pull down a Ringstead centre magnificently. Lindsay was at the top of his form, and put paid to Ringstead's effort to pick up the through ball and then Farrell raced forward to provide a shooting chance for Eglington but the right foot shot found Burgin driving to catch. Burgin had to look slippy to make a high save off his challenger Jock Smith who sent it back hard to relieve pressure. Browning was just wide with a header from Ringsteam's centre before Hickson left Johnson flundering but his attempt to slip the ball back along the floor was intercepted. McNamara then passed McLafferty, pushed it inside for Parker to hit a right foot shot of power but once again Burgin dived to his left to make another perfect save. Their was no doubt that Burgin was the reason that Everton were still seeking the goal they so richly deserved.
Half-time; Everton 0, Sheffield United 0.
Thrills Galore
If the thrills came fast in the first half, they came thick and heavy in the second when Everton again took command, Burgin the luckiest man in the world to find a free kick which paved beyond him coming back of the upright. The United were lucky when Burgin just managed to come out and beat away a centre by Eglington as Everton literally swarmed around the United goal. Honestly this was a flash back to the early days of the season when Everton had all the play and yet could not get the goals. That was just what was happening today. They were doing everything but score. Then as luck would have it the United broke away to almost take the lead when Hawkesworth was allowed to get away and his low centre was outrunning O'Neill. Browning had all the goal to shoot at from six yards but delayed that fraction of a second and when he did shoot Donovan got his body in the way. This was an escape but so was that of the Blades when Hickson darted through leaving Johnson on his tail and Burgin had to come dashing out. Burgin just managed to touch the ball as Hickson fell and it went away for a corner, Burgin paying for his save with an injury, but he was able to carry on. Fielding initiated the attack on which Parker and Hickson combined excellently for Hickson to shoot as he fell, the ball going just over the top. In 67 minutes Everton got no more than they deserved when they took the lead through Parker. Lindsay, who had been using every clearance with such consideration pushed the ball up and Eglington flicked it through cleverly for Parker in the centre forward position to nod the ball down and go on to cleverly lift the ball over the head of Burgin and into the net. He cheer which greeted this goal brought back memories of the Cup tie –it was terrific. Only Burgin's brilliance prevented Hickson from making it two when Davy shot from six yards. Burgin was the wonder man and after another joyous Everton attack he made a point blank save from Eglington. Final; Everton 1, Sheffield United 0.

DERBY COUNTY RES V EVERTON RES
December 1, 1951.
The Evening Express
After being out played for most of the first half hour, Everton took the lead with a goal which was strongly disputed by Derby. As Townsend caught a high centre from Gibson, he was charged heavily by Lewis and ended in the back of of his own goal. Early only Leyland stood between Derby and several certain goals. Lewis was the only Everton forward to adapt himself fully to the heavy conditions and he came close on two occasions. Stamps equalized for Derby after 36 minutes from a pass from South African winger Law. Half-time. Derby Res 1, Everton Res 1.
A bad mistake by Townsend gave Everton a second goal in the 52nd minute. He dropped the ball at the feet of centre forward Lewis who scored easily. Final; Derby Res 1, Everton Res 2.

A PERFORMING TIGER
December 3, 1951.
The Liverpool Daily Post
By Leslie Edwards
Everton 1, Sheffield United 0
Sheffield United unleashed, at Goodison Park, a veritable tiger among goalkeepers. This man Burgin leapt like a tiger and clawed the ball from the air so often I would not be surprised if the leather-casing showed the marks. Everton followers, in expansive mood stayed to the end for the joy of adding their handclap to the wonderful reception Burgin had as he walked towards the subway. It was not so much the number of saves his made as their quality and his sure touch, which was so impressive. England selectors who had him ready to go in case of need at Wembley last Wednesday certainly chose well. Burgin here, was in world class. Sometimes the shot he reached was too fierce to hold. Burgin was on the rebound like a demon as it spun from him. To cap everything he saved an Eglington shot and while still on his knees, collected the same player's follow-up header –a two-saves-in-one thrill which established him forever in our hearts. It was not Burgin's fault that Everton won 1-0; nor would it have been if they had won 5-0. It was not Burgin's fault his own forwards went goal-less. He made sufficient clearances three parts of the length of the field to have provided at least one scoring chance.
Full of Zip
Everton won handsomely, despite Burgin. It really seems as though the players have at least found belief in themselves and in the policy laid down. They were all full of zip and O'Neill's most excellent return to goal, must have had its bracing effect almost from the start. Shooting as they did the line was entitled to say "We would have won 4-0 except for Burgin." Ellesmere Port, who contributed some thousands of those who attended, would doubtless warm to a game so satisfying, but they would have moments of disappointment over townies, Ringstead and Hickson. Ringstead did in creditably well in the first half hour when his wrong-foot centres swung in dangerously, but from that moment he was hardly ever seen largely because Browning made little use of a number of good chances, and partly because Lindsay kept close at hand. Hickson shone less in this match than in others because the supporting pass rarely found him. Instead Hickson created with head and foot, chances for others, not all of them accepted.
Parker's Piece
The goal, by Parker, was a good one because it needed a quick and brave downward nod of the head to bring the ball under control when the defence challenged. Parker did this supremely well and literally strolled on, unopposed to place his shot. Yet I gather Burgin felt he might have stopped this one, given a bit of luck. Fielding, who had left-thigh trouble after the first five minutes, again organized the Everton attack. McNamara, maybe, was not at his best, but the line approached his "away" form. Jones not unexpectedly had the lathy Browning under complete control and the fiery Smith was too busily engaged in, chattering to be really effective. A lucky thing for him his random "shot" was low enough to catch the concrete surround, instead of the spectators behind it. Small, But Gallant
I should like to have seen more of Ringstead, but on the only available evidence he proved his claims to greatness. He is small, but galliant as his propensity for crowding-out clearances proved. On this match Sheffield United are hardly likely to make Division 1. On the contrary Everton might well have beaten and Division 1 side. The Everton results between now and New Year may yet put them in a position to challenge for a place at the top. In short the five-year plan may be a one-year one. Meantime football in this city is itself again. Followers of our two clubs have begun to argue again.

DERBY RES 1, EVERTON RES 2
December 3, 1951.
The Liverpool Daily Post
Two goalkeepers mistakes by Townsend gave Everton reserves victory in a match in which they were outplayed most of the time. First he allowed himself to be bandled into the back of the net, carrying the ball and then dropped at the feet of Lewis who scored easily. Derby had many chances to make the game safe, but Leyland defended well for Everton. Scorers;- Townsend (Own goal), and Lewis for Everton, and Stamp for Derby.
• Maghull B.C. 0 Everton "C" 7
• Bootle Ath Res 2, Everton "A" 1

EVERTON'S IMPROVEMENT
December 3, 1951.
The Liverpool Echo
Points "Bag" Jumps From 25 Per Cent to 75 Per Cent
Ranger's Notes
It's an old Soccer saying that the more points a club gets before Christmas the happier the New Year is going to be. On recent displays both Everton and Liverpool look like greeting 1952 with smiles. Everton's improvement has been particularly marked. By taking nine points from the last twelve at stake, compared with only four from the previous sixteen played for, they have stepped up their return from a meagre 25 per cent to 75 per cent. A few weeks ago such a quick revival never looked on the cards. It has come about largely because each forward is shooting oftener and more accurately, and not shifting the onus to someone else. This is something for which this column frequently pleaded. So long as they keep it up the outlook should continue fair. The defence is also tackling more quickly, not back pedding as it used to another improvement advocated here, which is playing good individends.
Hickson Has Helped
The recent revival dates from the recall of Dave Hickson to the attack. It is idle to speculate on what the position might have been today had Hickson been preserved with "Nobody can say." "Certainly he puts more life and fire into the front line. His bustling tactics speed unsettle opposing defences with consequent greater opportunities, for his inside colleagues. His value is not to be measured in goals alone. It is interesting to note by the way that he has only once been on the losing side in ten outings. This should not be construed as singling out Hickson for an undue share of the credit for the recent improvement. It has been largely the result of better all round team work –the return of Fielding to his best form, the steady improvement of McNamara and Donovan, and the other contributory tactical factors named above. Whatever the causes the result is gratifying and the longer it continues happier things will be. Nothing succeeds like success, for a good run brings added confidence which in turn helps to consolidate the brighter outlook.
Burgin's Great Saves
Victory over injury ridden Sheffield United by a single goal may not sound too convincing to those who did not see the game. Actually it would not have flattered Everton had they won by four or five goals. That they did not was due largely to the great goalkeeping of Ted Burgin, who foiled the home forwards so many times that they must almost have despaired of ever getting the ball past him. In addition to Parker's winning goal, so cleverly worked and taken by the scorer, Clinton hit the wood work with a free kick and McLafferty headed another off the goalline. Everton shot more often and more strongly than I have seen them do for some time, even when they have scored three or four goals, and the wing halves gave the forwards splendid support. I like the way Donovan lays on his passes along the ground whenever possible and puts them where a colleague can run on to them instead of direct to their feet. Lindsay was the best back on the field, stylish and constructive in all his work when construction was possible but strong in the tackle and quick to recover on the few occasions he was beaten.
O'Neill Should Do
O'Neill's return to goal did not provide him with an over plus of work but he did all he was called upon to do with a safe pair of hands and plenty of confidence. He also showed intelligence when it came to deciding whether to stay in or come out. I liked what I saw of O'Neill last season. Saturday's display conformed that view, though we shall have to wait and see how he fares to subsequent games. If Sheffield United did not live up to expectations, perhaps that was hardly surprising in view of the absence of four of their regular players. Even so, they hardly made the best of their chances. In defence they dilly-dallied with short passes when a full-blooded clearance was the obvious thing and in attack they failed to exploit their wingers as one would expect from a side which has got over 20 goals from the extreme positions. Ringstead in particular was starved for long periods, despite the fact that in one brief spell just before half-time he had made it dear that properly fed he could be the biggest source of danger. Hagan might have knit the line together. As it was too disjointed and lacking in sustained combination to have much hope.

EVERTON PLAYER AND CREWE POST
December 4,
1951 Evening Express
By Pilot (Don Kendall)
Harry Catterick, the Everton centre forward, has been interviewed by the directors of Crewe Alexandra F.C with a view to accepting the position of player manager, which has been vacant since Mr. Arthur Turner left Gresty road. Catterick has been with Everton for 14 seasons and began this season as the Blues centre forward. Recently Everton circulated clubs that they were prepared to receive offers for Harry, who, however, was not placed on the transfer list. Catterick signed for Everton on April 24, 1937 as an amateur from Stockport and after making nine appearances in 1947-48 for two goals and one cup goal, he made ten appearances in 1948-49 for three goals. In 1949-50 Catterick had 20 first team appearances scoring eight League and one Cup goal. Last season Harry's 13 appearances brought 4 goals.

CATTERICK'S FUTURE
December 5, 1951.
The Liverpool Echo
Ranger's Notes
Moves behind the scenes may shortly result in the departure of Harry Catterick from Everton. Crewe have been in touch with Goodison Park regarding him, and two others of the Third Divisions clubs are interested. Crewe would like Catterick as player-Manager and although at the moment there is a slight hitch in the negotiations I understand that the point at issue does not present any major difficulty. It is possible that a compromise might be acceptable to both sides but meantime Catterick did not attend the meeting of the Crewe board today, and the club may make inquiries in another direction before considering the resumption of negotiations with the Everton player. So far as Catterick is concerned he does not regard the matter as definitely broken off. I understand from Crewe that they had already come to terms with Everton, but no confirmation of this was forthcoming on inquiry at Goodison Park. Everton have been open to consider offers for the player since the early part of the season, when clubs were circulated to the effect. The strange thing is that Catterick has not been fixed up before this. He would do some Third Division club a power of good.

EVERTON MAKE ONE CHANGE
December 6, 1951.
Evening Express
By Pilot (Don Kendall)
Dave Gibson, the 20-year-old local product makes his Second Division debut when he plays outside-right for Everton against Barnsley at Oakwell, on Saturday. His will be the only change in the side which defeated Sheffield United, and it is enforced because Tom McNamara is suffering from a pulled muscle. This will be Tony's first miss since coming into the side for Everton's last visit to Yorkshire –against Leeds United at Elland road. That means he has appeared in 16 matches without a break. It will be Gibson's second first team game since signing for the club on August 1 last year. He made his debut in the match against Derby County at the Baseball Ground and Everton won 1-0. Gibson went to Goodison Park straight from local amateur circles, and has been playing exceptionally well with the Central League and getting the odd goal. The advance of Gibson to the first team means that young John Tomlinson gets another opportunity in the reserves team to face Manchester City at Goodison Park. Harry Leyland, the goalkeeper, has made a remarkably quick recovery from the face injury received at Derby last week. At first it was feared his nose was broken, but this proved to be only a dislocation which has yielded to treatment and he will be able to play at Goodison. Everton; O'Neill; Clinton, Lindsay; Donovan, Jones, Farrell; Gibson, Fielding, Hickson, Parker, Eglington. Everton Reserves Leyland; Saunders, Rankin; Grant, Woods, Lello; J. Tomlinson, Potts, Lewis, Cummins, Easthope.

GIBSON GETS HIS CHANCE
December 6, 1951.
The Liverpool Echo
Ranger's Notes
McNamara Unfit, Ill-Luck and Injuries Hit Barnsley Badly
Everton unchanged in their last three games apart from goal, have to make an enforced alteration for their visit to Barnsley on Saturday. As McNamara is unfit with a pulled thigh muscle, Gibson comes in at outside right. Elsewhere the side is the same as that which defeated Sheffield United. Gibson has made one previous first team appearance when he was included against Derby County at Derby on April 28 last. He is 20, and an apprentice fitter temporarily deferred from National Service. This season he has made 14 Central League appearances all at outside right and scored two goals. Last winter he had 11 reserve team outings and scored once. Barnsley will not choose their side definitely until a couple of their players have had further fitness tests, but they hope to limit the enforced changes to one.
Barnsley's Injuries
This meeting brings together two sides whose fortune of recent weeks has been of very contrasting nature. At long last the ball has started to run kindly for Everton, and injuries have been comparatively few. For Barnsley nothing seems to have gone right. Not only have most of the "rubs of the green" gone against them, but they have also struck a succession of injuries sufficient to take the heart out of almost any team though manager Angus Seed was as cheery and optimistic as ever when I chatted with him this morning. In all no fewer than 25 players have already been called upon, only one less than for the whole of last season, and almost every week two or three enforced changes have been necessary. Assuming that their doubtful players pass muster, Barnsley only change from the side which won at Doncaster last week will be that Eddie Murphy, normally at inside right, takes over from Deakin at outside left. The latter has a pulled muscle and is a definite non-starter. Now that McCormick has gone to Notts County, Barnsley's leading marksman is Eddie McMorran, the former Belfast Celtic and Manchester City centre forward, whom Everton attempted to sign as successor to Tommy Lawton before Jack Dodds was obtained. McMorran has nine goals to his credit. He has figured as leader of the attack on five occasions. Previously he was inside right to McCormick. Barnsley; Hough; Pallistar, Farrell; Jarman, McNeil, Nortmanston, Smith, Wood, McMorran, Baxter, Murphy. Everton; O'Neill;' Clinton, Lindsay; Donovan, Jones, Farrell; Gibson, Fielding, Hickson, Parker, Eglington. Rather than subject the team to a long coach journey on the morning of the match Everton are going tomorrow to Sheffield, leaving only the short trip over to Barnsley prior to the game. Leyland Fit Again Leyland has made an unexpected quick recovery after receiving a dislocated nose in last week's reserve game and will be fit to take his place in goal for the Central league game against Manchester City at Goodison Park when the team will be;- Leyland; Saunders, Rankin; Grant, Woods, Lello; J. Tomlinson, Potts, Lewis, Cummins, Easthope.

EVERTON AT BARNSLEY
December 7, 1951.
The Evening Express
By Pilot
Everton are playing with renewed spirit and confidence, and I expect them to record their fourth away success of the season against a strong, direct side who have been beaten at home twice. Wally Fielding failed to pass a fitness test this morning for a bruised thigh, while Everton will miss Wally's creative genius, they were fortunate in having such a constructive and penetrative deputy as £20,000 Harry Potts. A matter of fact, Potts and Gibson have been playing great football as Partner in the Central League side and at Barnsley quite recently. Everton; O'Neill; Clinton, Lindsay; Donovan, Jones, Farrell; Gibson, Potts, Hickson, Parker, Eglington.

HELPFUL FACTORS
December 7, 1951.
The Liverpool Echo
Ranger's Notes
Everton, away to Barnsley, can take heart from two factors. Firstly, there is their own splendid achievement of having gone through five successive away games without defeat –from which they have taken seven points –and, secondly, the fact that Barnsley once feared by all on their own ground, are these days nothing like the rugged and busting combination they used to be. Barnsley have been badly, hit by a succession of injuries this season. Enforced changes have largely nuffified. Manager Angus Seed's attempts to weld the team into a more effective combination. All the same the Yorkshire club has not got too bad a home record. Only two sides have succeeded in winning at Oakwell this season and both did it in the first week of September. Since then, Barnsley have dropped only three home points in seven games. To hold Brentford to a goalless draw, as they did a fortnight ago, was quite a good performance all things considered. The Yorkshire club these days are without Cecil McCormack transferred to Notts County. Barnsley did not wish to part but financial stringency plus the fact that the player himself was anxious to get away, led to his departure. Barsnley's gates this season. Manager Seed's tells me, have been most disappointing. Everton lately have found the ball running more kindly for them that it used to do. This, plus better and more frequent shooting by the attack, and quicker tackling by the defence, has transformed the Goodison outlook. On paper, at least they look likely to get a point from Barnsley and possibly a victory if Potts can prove the same schemer and supplier of passes that Fielding has been lately. Barnsley; Hugh; Pallister, Farrell; Jarman, McNeill, Mormanton; Smith, Wood, McMorran, Baxter, Murphy. Everton; O'Neill; Clinton, Lindsay; Donovan, Jones, Farrell; Gibson, Potts, Hickson, Parker, Eglington.

BARNSLEY'S TEN MEN HELD THE LINE AGAINST A CLASSICAL EVERTON
December 8, 1951.
The Liverpool Football Echo
Barnsley 1, Everton nil
By Stork
McMorran's goal in four minutes stopped Everton's good's run which has lasted six games. Everton played the better football had 75 per cent of the game, but they could not bring about the downfall of the Barnsley defences, heroes all. Ground conditions were difficult and later on in the game it was hard to see the play. Barnsley; Hough, goal; Farrell and Pallister, backs; Jarman, McNeill, and Normanton, half-backs; Smith, Wood, McMorran, Baxter and Deakin, forwards. Everton; O'Neill, goal; Clinton and Lindsay, backs; Donovan, Jones and Farrell (captain), half-backs; Gibson, Potts, Hickson, Parker and Eglington, forwards. Referee; Mr. R. Wood, (Sunderland). The conditions were just about as bad as they could be at the Oakwell ground. Barnsley today. The recent heavy rains had saturated the pitch. With the limited stand accommodation there was only a small crowd for the terraces were practically empty. Both teams showed a change as per programme, Potts coming in for Fielding, who has an injured thigh muscle, and Deakin operated on the Barnsley wing in place of Murphy. This was Potts first appearance in the senior side since his injury against Rotherham in September. Gibson who is said to have been playing very well in Everton's Central League side made his first appearance of the season in the first eleven, but it was not his debut for he had a game with the seniors last year. Barnsley soon got off the mark, and by sweeping football made contact with the Everton defence which, however, stood firm. There was little run to the ball on the waterlogged turf, but even Smith on the Barnsley right moved down his wing he pushed the ball neatly inside Jones so that McMorran was able to step in, ward off the challenge by Jones, and with his left foot crack the ball to the back of the net, O'Neill having no chance. It was a neatly made goal, and showed that first time passing and shooting should be the order of the day with the conditions as they were. This goal came at four minutes. Barnsley continued dominant and it took some stern defence on the part of the fine Everton boys to hold down their rather live forward line.
Shorter Passes
Potts and Gibson worker out a corner for Everton but this was headed away by McNeill, who put up a very solid front to any Everton advance. Everton were much shorter in their passing then Barnsley. The Barnsley goal had another escape when a shot by Eglington forced Hough to again tip the ball over his crossbar. Everton were now running more to form and a free kick against Arthur Farrell was taken by Eglington and although McNeill got his head to the ball is eventually went over for another corner. The terraces were so empty that Gibson had twice to jump over the wall to retrieve the ball. On this occasion Gibson put his flag kick behind. Accurate control was a difficult problem. The ball slithered and skidded all over the park. It needed plenty of boot to send it any distance. Smith was hurt in a collision and had to be carried off. He was taken to the trainer's shelter on the touchline but apparently his injury was such that it was thought necessary to take him to the dressing room. Everton were now making their class tell. Although they were not having it entirely their own way their better combination and ground passing often had the Barnsley defence in "queer street."
Reorganised Attack
Barnsley reorganized their attack and Wood went centre forward with McMorran at inside right. It was hard going for both sides McMorran who was moving to all parts of the ground in an effort to break down the Everton defence tried a long shot which never reached its mark because the ball almost stood still in the mud. Everton were now well on top even allowing for the absence of Smith. They had been the more methodical and practical side and Hough had to step smartly across his goalmouth to keep out a shot by Parker. After Barnsley had been kept strictly to defence for a time, they suddenly broke loose and Deakin closed in and made a grand shot which O'Neill turned round the post. Everton shortly afterwards gave away two free kicks in succession but as the interval drew near they were again attacking strongly. Half-time; Barnsley 1, Everton nil.
I learned during the interval that Smith was suffering from concussion and a kidney injury and was being taken to the local hospital. Barnsley were concerned for their injury list us already fulfil to overflowing. Everton immediately went into the attack and Parker shot outside.
On Defence
With only ten men it was to be expected that Barnsley would be forced on the defence and Everton attacked persistently without bringing that all important goal. Hough saved from Eglington who made a long run, passing several opponents. It had been a grim tussle for there was still plenty of fight about the Barnsley lads. They had to shoulder a heavy burden, a man short, but they got down to their work with determination. But it was Everton who were playing the football. At times I thought they attempted too much on the rain sodden ground. McMorran had two long shots and so did Wood, and this was good policy in my view for the ball was slippers and elusive. McNeill was a stalwart in the Barnsley defence. I noticed that young Gibson had obviously been injured. I think Barnsley had made about four attacks in this half which tells in a nutshell how dominating Everton were. But that elusive goal was still beyond their reach. Most of the players were covered with patches of mud and yet the fight went on –a galliant Barnsley against a more classical Everton whose approach work was by far and away better than that of their rivals. Gibson forced a comer, but was unable to take it himself. Potts being allocated the job, and his centre which was headed away by Pallister knocked the Barnsley full back on his back and dazed him. Received attention on the field, and the game continued inside a minute. We would have done with a white ball now for it was not easy to follow its fight. Pallister had not fully recovered and the trainer was call again. Hardly had I mentioned a white ball than it appeared but even so the light had become so bad now that the run of the play required close watching Barnsley were still defending stubbornly and when Potts tried a shot in the gloom Hough made quite a good save. It had been a battle of Everton's attack versus Barnsley's defence and considering they had played a man short for over an hour the Yorkshire lads must be given high praise of their efforts. Final; Barnsley 1, Everton nil, Attendance 7,946.
• Everton Reserves v. Manchester City Reserves, match off
• Everton "A" 2, Burscough 2

JUST NOW THE BALL IS RUNNING FOR THEM AND –BIG-HAND –THEY'RE USING IT
December 8, 1951.
The Liverpool Football Echo
Mr. Tom Nuttall's Tribute to "C.B." and Players
What Ranger Has To Say About Everton Today
Well, what have you to say about Everton now?" demands a reader this week. He is evidently a trifle wrathful, for he goes on to add; Don't you think you would have done better to keep your big mouth shut, and not have written your "open letter? I'll bet you wish you hadn't." Well, he's wrong, I wrote what I sincerely believed at the time, and under similar circumstances would, but do the same again. Anybody can was concerned they were now be wise after the event. It's the thing of the past. The Board to-day easiest thing in the world. The most fervent Everton fan is no more pleased than I am at Everton's recent improvement. But who having seen their pitiable performance against Brentford, and the not very much better ones against Birmingham. Rotherham, Notts County and others would have had much hope for the future immediately afterwards? In past years there has been too much whitewashing by some critics too much wishful thinking and a decided tendency to refrain from pointing out unpalatable facts. Don't think I get any pleasure out of tackling the job. I don't. Rightly or wrongly though this column to reflect what I honestly believe as it has always done in past seasons, and as it did with equal honesty a few weeks back. At the time I wrote the open letter to which my readers refers- incidentally he doesn't give his name, so I cannot address him personally –Everton had obtained only four points from eight matches, with an adverse goal average of 12-23, had been humiliated by Notts County, and had given no concrete sign of any impending improvement of sufficient magnitude to warrant optimism for the future. I'm not so foolish as to claim always to be right. I've made mistakes in the past, and shall make more in the future unless I'm very fortunate. Whether right or wrong though what I put into print is always my honest conviction.
Effective Changes
Any writer who does otherwise is asking for trouble. If he curries favour he only loses the confidence and respect of his readers, if he writes what he doesn't believe he has to have a good memory to avoid contradicting himself. Since my criticism of Everton there have been several important changes which have helped to bring about the present more encouraging aspect of affairs. I don't delude myself into the belief that what I said had anything to do with them, but it is not without interest to note that some relate to matters upon which I expressed rather strong opinions. The defence has largely though not completely jettisoned the back pedaling system which delayed a challenge for possession until an opponent got so near goal without being tackled that a quick shot had a chance of finishing the back of the net. That "back pedaling" was something I have criticized many times last season and this. Then there has been the greater willingness of the forwards to shoot, even if they sometimes miss which is a point I have written about so often that I was afraid one night I d find myself repeating it in my sleep. Nowadays all the forwards are ready to "have a go." That is a welcome change from the time when most of them preferred to pass the buck to somebody else.
Fielding's Improvement
Then, don't forget my anonymous friend that there have been changes in the side, and particularly the recall of Hickson, whose dropping after one indifferent game a Nottingham I also criticized. Next there has been the tremendous improvement in the form of Wally Fielding who today must rank with the best of inside forwards. First Division included Wally has forsaken his lateral meanderings for more direct methods. He is laying on passes to his colleagues which are full of potentialities for those who can make the most of them, and also shooting much oftener himself which is something I have often asked to see from him. There has also been the switching of Buckle from outside right to inside left. Buckle had been operating on his wrong flank far too long. Now up to the time of his injury, he has been showing what he can do. Just as a matter of interest and not to justify my earlier writing let me point out that had Everton continued for the rest of the season as they were doing during their learn spell, they would have finished the season with under 30 points! If that didn't require somebody to speak his mind, then I don't know what does. Similarly let's be fair and point out that if the Blues carry on now for the rest of the campaign as they have done in their last six matches they will end up with 53 points which has been good enough on two occasions since the war to secure promotion. If they do, I'll throw up my hat with the rest of you and be only too happy to admit that my forebodings were ill-founded. Still Unrepentant
But that still doesn't say I'm repentant. Maybe I'm a cussed sort of cover but there's been so much complacency in the past that a little douch of realism which looks unpalatable but possible facts in the face –even if they don't later come home to most –doesn't seem to me to be out of place. Now a word of praise to the players for their great efforts. They have had a tough task for a long time, I'm not saying anything about the occasions when the ball hasn't run kindly for them, because as a rule that sort of thing levels itself up in the course of a season and sometimes too many excuses of that kind have been advanced for rank bad play. Just now the ball is running for them and it makes a tremendous difference. They have fought well and are deserving of every encouragement. Long may their run of success continue. Finally, don't think I'm being parsimonious in praise if I add a last word to the effect that there are still one or two positions where the side even yet is not quite up to scratch. I am enlarging on this aspect because I don't wish to discourage players who are doing their best and not making too had a show of it, but those who watch the team regularly will know that what I say is correct. With added experience plus the psycholologial help which undoubtedly comes from a continued run of success, possibly the players concerned will eventually fill the bill completely I hope so.
Everton Shareholders
The above article was written yesterday afternoon, before I attended the hot-pot supper and smoking concert of the Everton Shareholders Association last evening at which Mr. Tom Nutall who was elected to the Goodison board at the last annual meeting made some most interesting remarks. Let me start the report of this meeting with the last sentence of Mr. Nuttall's trenchant speech which in effect would up all that went before. He said; "I believe the time will come when Mr. Cliff Britton among the finest servants Everton have ever had, both as player and manager, will be acclaimed as one of the greatest managers football has ever produced."
Mr. Nuttall started off by referring to past differences among shareholders and on the Board but said that so far as the latter was concerned they were now a thing of the past. The Board to-day was a very happy and United one. Regarding shareholders however there was an attempt to create a new organization known as the Everton Shareholders and Supporters Association. He considered such an organization unnecessary and he hoped the attempts being made by certain people to acquire Everton shares would cease. He appealed to any shareholders whether a member of the old association or not who for any reason desired to sell his or her shares, to acquaint the secretary of Everton with that fact. That was the only thing to do in the best interests of the club and they could rely on being fairly dealt with. With regard to the playing policy of the club, it was very evident to all. The board did not object to fair criticism and he (Mr. Nuttall) was not there to stiff defend Mr. Britton –who was quite capable of doing that himself –but in his view Mr. Britton was doing his duty conscientiously and well. "You have seen the team and the improvement that has taken place lately," he continued. "I hope that will go on. The players have fought hard and will continue to do so. The club has never had a better behaved set of players on their books. They are a credit to Everton and to the city (applause). Junior Talent
Apart from the first and second teams, there is an array of talent in the five junior side sufficient to keep Everton in a very respectable position for the next ten years, none of whom will have cost more than the £10 signing on fee. Very few clubs say that today." Referring to the acquisition of ready-made players. Mr. Nuttall stressed the economic factor and said that even if the club spent £100,000 –and incidentally thus whittled away a quarter of their assets –there would still be no assurance that the newcomers would fill the bill. His considered view was that it was infinitely better to go on as they were doing, and put their faith in their junior players. "I have every confidence that they will put us back in the First Division," he added among applause at which stage he then added the tribute to Manager Britton reported above. Mr. Alec Lomax, president of the Association said that the relationship between the executive of the Shareholder's Association and the board of directors was now extremely harmonious. Mr. Jack Taylor (chairman) made a short speech of welcome to the members and guests in which he paid tribute to the young players who are now making a name for themselves. Mr. Bob Thompson a former player, expressed the view that Everton was still the finest club in the country with which to be associated, as it was in his days. He could not refrain from a sly dig however, at the almost entire absence of Scottish players on the staff, and said that the acquisition of two or three from the north of the border would be a useful move. Altogether this was a happy and cheerful evening –largely thanks to the recent improvement in Everton's playing –and was a big change from many I have attended. A welcome one too. As comedian Len Annett shrewdly remarked in his splendid turn the shareholders were looking much more contented than they were a couple of months ago; when Tranmere Rovers stared you in the face for next season. All's well that ends well so here's hoping that an equally happy spirit pervades the scene next April.

BLUES HAVE FIFTH MINUTE SHOCK
December 8, 1951.
Evening Express
Jones Slips on Turf, Barnsley Go On To Score
By Radar
Despite the fact that Barnsley had to play for three parts of the game with only ten men, Everton failed to offset a goal scored by Eddie McMorran in the first five minutes, and were beaten at Oakwell today. This was Everton's first away defeat since September 15. It was due mainly to the fact that they played too close on the mud-bound surface, and the fact that generally speaking, there was lick of punch in attack. The creative inspiration of Fielding was undoubtedly missed, despite the fact that Potts tried hard to get his forces moving with some semblance of Rhythm. Gibson had a disappointing outing, but the defence generally did its work reasonably well. Fewer then 8,000 spectators saw a game in which the Barnsley defence fought magnificently in the second half. Smith the Barnsley outside right, had to be taken to hospital suffering from confusion and an injury to the kidneys. The attendance was badly affected by the rain. Barnsley; Hough, goal; Farrell and Pallister, backs; Jarman, McNeill, and Normanton, half-backs; Smith, Wood, McMorran, Baxter and Deakin, forwards. Everton; O'Neill, goal; Clinton and Lindsay, backs; Donovan, Jones and Farrell (captain), half-backs; Gibson, Potts, Hickson, Parker and Eglington, forwards. Referee; Mr. R. Wood, (Sunderland). Everton playing in their own colours away from home "for a change," made early progress through Eglington, but the move came to grief when Donovan just failed to find Gibson. Everton's Farrell had to nip in quickly to dispossesses Smith when the Barnsley right winger looked dangerous following a quickly taken throw-in. Everton, however, were soon back on the offensive and Gibson came into the picture with a deceptive centre-cum-shot which Hough only managed to turn over the top. Next, hesitancy on the part of Lindsay enabled Smith to slip the ball through invitingly, but Wood over hit the ball which passed tamely outside.
Burst Through
Immediately afterwards and much to Everton's surprise Barnsley took the lead, and this time it was a slip on the treacherous turf by Jones which enabled McMorran to burst through just inside the penalty area and go on to give O'Neill no possible chance with a vicious right-footer. Time Five minutes. Smith dropped an awkward centre too near to the angle of the post for O'Neill's liking and then Farrrell's free kick taken quickly, came to nothing. So far Barnsley were quicker on the ball, but when McMorran moved out to the left he hit his centre so strongly that despite the fact that Smith chased it at top speed, it rolled over the line on the far side of the field. Everton began to liven up and Eglington from the inside left position, hit an excellent rising drive from 20 yards which almost took Hough by surprise. Hough could only punch Gibson corner straight up in the air and Parker was slow to take advantage of the possible chance which resulted. In quick succession Hickson drove a yard wide –a splendid effort considering the fact that he was awkwardly positioned –and Potts headed a yard wide of the post with Hough scrambling. Parker had to call for attention when he was hurt in a close tackle and he recovered to see O'Neill punch clear from Deakin. For a time Everton monopolished play, but although their midfield football was good, the final pass was inclined to go astray. Two free kicks in quick succession mid-way inside the Barnsley half led to a corner when McNeill diverted the ball behind, but Gibson made poor use of this.
Smith Hurt
A certain amount of heat crept into the game at this stage and the referee spoke to Clinton and Deakin when they got ay cross-purpose, after which Parker also received a cautionary word. Next Smith was injured, following a tackle, and he had to be carried to the trainer box. There were possibilities from an Everton viewpoint when Gibson cleverly threaded his way round formation, but the shot from long range was lacking in accuracy. There was a close call for Barnsley when Eglington cut into the line to level a short centre, but Jarman saved the day by leaping in to head the ball behind for a corner which thought no tangible result. Eglington again used his speed on the dry patch to outwit Arthur Farrell but no shot was forthcoming. Following this McNeill concerned a corner in the same way as Jarman had done but Still Hough was not called upon to save. Barnsley's hard-tackling fought hard but even so Arthur Farrell flipped to head the ball quickly back into his goalkeeper's hands to prevent Eglington connecting with a side headed pass from Hickson, who was unfortunate just afterwards to see his sweeping right foot shot charged down by McNeill. Midfield play was the order for a spell, but Parker set his colleagues the example under the prevailing conditions when he tried a surprise shot from 20 yards, which had the diving Hough more than a little worried. Deakin enlivened matters at the other end when he hook over from Baxter to let go a sharp left-footer which O'Neill did well to edge round the foot of the post at full length. Everton continued to have the better of matters but the vital pass was still going astray against the quick-tackling Barnsley rearguard. Hickson showed enterprise with a glancing header from Clinton's free kick, but it swerved well wide of goal.
Half-time; Barnsley 1, Everton 0
I learned during the interval that Smith was suffering from concussion. He had not then recovered and was to be sent to hospital. Everton went straight to the attack on resumption and Parker pushed the ball just too far forward for Hickson to reach and Hough was able to pick up comfortably. Hickson attempt to be obstructed when he snapped up Eglington's long pass and tried to bore through, but the referee saw an infringement. Not unnaturally Everton had complete command against the depleted Barnsley side and Parker was unfortunate when he picked up a through ball from Hickson and drove a powerful left footer just wide. Wood was only narrowly off the mark with a left footer during one of Barnsley's infrequent raids, and Hough did well to smother a flashing grounder from the enthusiastic Hickson. Hickson managed to flick the ball towards goal, but could not get sufficient power behind it to turn it over the line. Everton seemed to despair of breaking down the mighty Barnsley defence and the Barnsley forwards began to take a livelier interest. Wood drove narrowly wide from close quarters and then McMorran after beating two men tried a lone range shot which went just wide. In a quickly worsing light Hough saved from Gibson who so far had been completely mastered by Pallister. With less than 16 minutes remaining the referee called for a white ball. When Everton gained a free kick ten yards inside the Barnsley half, the entire Barnsley side packed their goal and the measure proved successful against an Everton attack which lacked punch. The light was so bad that it was more a matter of conjecture as to which individuals were playing the ball. Everton's best scoring effort in the closing stages was a left-foot driver by Eglington who had cut into the middle but Hough was in line to have with comparative ease. Barnsley had the better of matters towards the end against an Everton side which seemed to have lost heart. Final; Barnsley 1, Everton 0.

EVERTON HAD CRAFT, BUT FEW SHOTS
December 10, 1951.
The Liverpool Daily Post
By Stork
Barnsley 1, Everton 0
Everton tried to be too clever in their game with Barnsley at Oakwell, in conditions which suggested that a cut in finesse and more opening formation should have been the order. I have not seen a game so devoid of scoring. Apart from the goal and a shot late on, Barnsley's attack did not trouble O'Neill. Everton, with 80 per cent of the play, were unable to produce a goal to save defeat. Water lodged on many parts of the ground and it was soon apparent that the ball would have to be given some "stick" if it were to reach the required point. Everton should have won hands0mely for apart from the amount of pressing they did. Barnsley suffered a blow when Smith was carried off at the 25th minute and did not return. Smith a concussion case and in hospital was last night reported "comfortable." Every credit must be given to the Yorkshire side for their stubborn defence and their magnificent fighting spirit. They faced their difficulties manfully. Everton had the craft, but near goal they could not produce any shot to beat Hough.
Emphasis on Defence
With their depleted force it was natural that Barnsley should become defensive. They put up a fine stand, but Everton have themselves to blame for not bringing two points. If I were asked who saved Barnsley I would say Pallister who seemed to hypnotise the ball in his direction, McNeill and Hough. They were as rock of Gibraltar. McMorran's goal was excellently taken. It started with a faulty goal-kick by O'Neill; Smith put up the ball and slipped it through to McMorran, who slapped it into the net in brilliant style. That should have taught Everton a lesson. It did not.

McNAMARA IN TRAINING
December 10, 1951.
The Evening Express
Pilot's Log (Don Kendall)
Tony McNamara, the Everton out-right, resumed training at Goodison Park today, and Wally Fielding the inside-right reported excellent progress towards recovery from his bruised muscle. Manager Cliff Britton who had a slight injury, to Dave Gibson to report after the week-end games, hopes that Fielding will be resuming training tomorrow, as well as Ted Buckle, who has been off with a knee injury and a cold. Jimmy McIntosh who also has had a chill reported back to duty today and Harris, the outside-right who had a long lay-off following appendicitis, played with the "A" team last Saturday. Altogether the Goodison outlook is much improved. Everton's run without defeat was smashed by the lone goal defeat at Barnsley, where they had all the game but simply would not get a goal.
Tactics Failure
By Radar
It was Everton's disruclination to adopt their tactics to the tremendous slippy turf, which upset them, losing at Barnsley. Of course, one cannot reasonably express a side to remain undefeated away from home forever but it must be admitted that this was a game the Blues should have won. Barnsley whose defence acquired itself so nobly had only ten men for two-thirds of the time, and logically, eleven man ought always to best ten. Everton failed because they persistently used the short ball in the centre-field morass, and because the final pass invariably was lacking in accuracy. After Eddie McMorran had eluded Jones to score the vital goal in the fifth minute –this was Jones's only real lapse in a sound performances –Everton, the more artistic force, took command. From the time Barnsley lost Smith it was largely a question of one-way traffic. Yet apart from one or two near-misses by the lion-hearted Hickson who I exempt from criticism, Everton rarely looked like scoring. Hard as Potts worked in his reappearances the inspired scheming of Fielding was missed and young Gibson faded out of the picture after a promising opening. Eglington spoiled much good work by a tendency to hold on to the ball and cut into the middle where the conditions were worst, instead of using his speed to outwit Arthur Farrell and Parker did not have one of his best days. No real fault could be pin-pointed as far as the remainder of the side was concerned for Donovan and Farrell contributed invaluable work in defence and attack, and O'Neill Clinton and Lindsay did most of what they had to do efficiently.
• Marlborgh v Everton "B" P.P
NO SHOTS AT BARNSLEY
December 10, 1951.
The Liverpool Echo
By Stork
Is it possible to play too much good football to your own demesne? "I got the answer at Barnsley on Saturday when Everton lost their game because they put good football before everything else." They were too clever and so missed the substance for the shadow. Oakwell was a saturated playing field. Not a good setting for clever football, put a condition when one had to adopt the right tactics to meet the occasion. On a normal ground Everton Football would have been entrancing are probable affective but on this mud park its tumbled down at the vital point –the goal area. Had I been captain of the side I would have instilled it into my colleagues the need to "have a go" when the goalpost were sighted. The greasy ball was difficult to handle football treacherous and a ball which would only do your bidding it used it determinedly. It needed punts for patches of water it slow it down so quickly that it would not run a yard. Such conditions were not conductive football finesses yet Everton pulled a lot of good stuff out of their bag to keep Barnsley battened down to defence for fully 80 per cent of the game. But where was the shot to round off such capable by play? It was not there, for the forwards refused to try a bow at a venture when the circumstances suggested that this was the correct procedure. It was tantalizing to see Everton camped down near the Barnsley penalty area almost throughout the match and then fail to get any reward for their approach work. When Smith was carried off the field with concussion at the 25th minute, I thought Barnsley had "had it" for ten men could hardly hope to cope with an Everton which had many more tricks up their sleeves but they did and so "too much football" had paid its penalty. Years ago Barnsley were famed for snatching a goal and then concentrating on defence. It won them many a cup-tie and once took them up to the final. They have not forgotten the lesson for they took a goal in four minutes and then fell back on defence to bring off a victory which never looked on the card. It was a gallant effort to stand up against the incessant attack of the much cleverer Everton who however, contributed to their own downfall because they would not take a reasonable chance near goal. Shoot and shoot often would have been my policy for a goalkeeper's job was not a happy one, or should not have been. At it turned out O'Neill and Hough had a fairly easy time especially the Everton man. Hough had a few shots to cope with one exceptionally good one by Parker, but in the main there was little trouble to either. Hough slipped two over his bar and O'Neill turned one round his post-near the end but the shots of both skies could be counted on the fingers of one hand. The goal was well taken by McMorran at the fourth minute but even this had its starting point at O'Neill who was not strong enough with his goal kick, which landed at the foot of Smith, who slipped the ball inside Jones for the Irishman to run in and shoot just inside the upright with O'Neill unable to do anything about it. That and the late on shot was all that O'Neill had to worry about. Barnsley were much more straight forward in their methods; nothing subtle about them, but fighters all. I thought Eglington Everton's best forward although Hickson was always menacing the Barnsley defence. Gibson started well, but then got a knock on the leg which cut his effectiveness down 50 per cent. The defence was sound with Lindsay outstanding but I still maintain that had Everton "had a go" they would have won.

EVERTON'S OPPONENTS
December 12, 1951.
The Liverpool Echo
Ranger's Notes
Everton home to Southampton on Saturday, are likely to find the Saints rather a stronger lot than one would think from their lowly League position. My Southampton correspondent tells me that the changes against Sheffield United last week –there were no fewer than five –made the team look far more workmanlike, and with the signing of Tommy Bogan from Aberdeen, formerly with Manchester United and Preston, Southampton hope they have further strengthened their attack. Kiernan the Eire international goalkeeper, obtained from Shamrock Rovers, three months ago has settle down well and though the Saints have concerned a lot of goals this season, the defence is improving. Sillett now in the R.A.F is a rapidly developing six foot defender. Star of the half-backs line is Joe Mallett who has been associated with all this club's post-war promotion bids, while centre-half Wilkins is coming to his best just now. The improvement against Sheffield United was mostly in attack. Curtis on the transfer list at his own request, who returned at inside right after being out since September, brought better cohesion to the line and the experiment of moving wing-half Horton to inside left proved successful. Brown the former Preston North End centre forward is having a good season and will be the biggest danger to Everton. On the whole if the Saints form at Sheffield was not just a flash in the pan, it looks as though Saturday's visitors will provide Everton with a stiffer task than appears at first glance.

CATTERICK SIGNS FOR CREWE
December 13,
1951 The Liverpool Echo
Takes Over Player-Manager
by Ranger
Harry Catterick, Everton's reserve centre forward, this afternoon signed as player-manager for Crewe and will play for them against Darlington (away) on Saturday. Curiously enough Catterick was born at Darlington, not Stockport as is generally supposed, though he has spent most of his life at Stockport. Catterick should do well in his new position. He is a very steady type, and apart from his playing ability is admirably equipped to take on the additional duties involved in the double post. These will include coaching, training supervision, and all that come into the managerial orbit. Catterick has been a good servant to Everton. He joined them on March 3, 1937, when 17, coming from Cheadie Heath Nomads. His father a former Stockport player, was at that time Stockport's assistant trainer. Catterick made his senior debut for Everton in war-time football on March 9, 1940 and was a consistent scorer in regional games. Since the war, he has not been a regular first team player, but always gave a wholehearted display when called upon. Of recent years he has been sought by several clubs, including Notts Forest and Stoke City, as well as Third Division teams.

FIELDING, McNAMARA FIR FOR SATURDAY
December 13, 1951.
The Evening Express
Everton Chosen
By Pilot (Don Kendall)
Wally Fielding and Tony McNamara return to Everton's team to meet Southampton at Goodison Park on Saturday, these being the only changes. Fielding and McNamara unable to play at Barnsley, came through fitness tests this morning and form the right wing in place of Gibson and Potts. Everton; O'Neill; Clinton, Lindsay; Donovan, Jones, Farrell; McNamara, Fielding, Hickson, Parker, Eglington.
Everton Reserves ; Leyland; Saunders, Rankin; Grant, Woods, Lello; Gibson, Potts, Lewis, Cummins, Buckle.

EVERTON TASK AT GOODISON
December 14, 1951.
The Evening Express
By Pilot (Don Kendall).
Southampton will be at Goodison Park for the second time in history on League business and if they win they will be the first club to record the "double" over the Blues. The Saints have a tremendous task on hand for they will find Everton a team with new heart and new ability as compared with the game at "The Bell" on August 18, when the Saints won by Day's goal. Only four of the Blues of that game will be on parade tomorrow. Lindsay, Jones, Farrell and Eglington. Even Farrell will be in a different position for he was then at inside left and now plays on his best role of left half-back. Everton smashed their run of ill-luck by going through six matches without a defeat a run which was broken by the lone goal at Barnsley last Saturday.
Resume Partnership Now the Blues revert to the right wing which played such an important part in the revival for Tony McNamara and Wally Fielding pass through fitness test yesterday and so resume their happy partnership, I regard "Fielding" return as having a tremendous bearing on the game. Fielding has been in brilliant form of late. The Saints may will not decide on their team until tomorrow morning, but it is expected that Tommy Bogen the Scottish international, signed from Aberdeen this week will be making his debut at outside right. Tommy was previously with Preston and Manchester United, so is no stranger to English football or Goodison Park. This match starts at 3.15 p.m. and I am confident that the Blues can win and get back to the point per match level. Everton; O'Neill; Clinton, Lindsay; Donovan, Jones, Farrell; McNamara, Fielding, Hickson, Parker, Eglington.

EVERTON SHOULD WIN AGAIN
December 14, 1951.
The Liverpool Echo
Ranger's Notes
Everton will be anxious to return to winning ways after the check last week at Barnsley. There is no reason when they should not do so if they go the right way about it, for Southampton, though never a side to hold cheaply are not exactly in the world beating class at the moment. The Blues made the mistake of trying to "walk" the ball into the net on the glue-pot Oakwell pitch. These tactics not only simplify the task of any defence, but are unfitted to sticky conditions. Everton are not likely to make the same mistake again. Lately they have shown a readiness to profit from previous errors, always a good sign and if they shoot as strongly and as often as they had been doing prior to the Barnsley match, Southampton are not likely to get even a half-share of the spoils. Yet the visitors are not likely to prove easy victims. I'm advised by one who follows then regularly that they have been playing better than seems apparent from their record, and that the attack lately has shown an encouraging improvement particularly against Sheffield United last week. They have averaged a point a game from their last five away matches which is actually reckoned pretty satisfactory.
Everton; O'Neill; Clinton, Lindsay; Donovan, Jones, Farrell; McNamara, Fielding, Hickson, Parker, Eglington. Southampton; Kiernan; Ellerington, Sillet; Elliott, Wilkins, Mafflett; Day, Curtis, Brown, Horton, Dudley.

EVERTON HEADED SOUTHAMPTON OUT OF THE GAME AT GOODISON
December 15, 1951. The Liverpool Football Echo
Everton 3, Southampton 0
By Stork
One of the easiest matches Everton will be called upon to win. They won readily enough by a grand first half display when they cut the Southampton defence to ribbons. It was too one-sided to be classed as a really good game, Fielding's return made all the difference. Everton; O'Neill, goal; Clinton and Lindsay, backs; Donovan, Jones and Farrell (captain), half-backs; McNamara, Fielding, Hickson, Parker, and Eglington, forwards. Southampton; Kiernan, goal; Ellerington and Silllett, backs; Elliott, Wilkes, and Mallet, half-backs; Day, Curtis, Brown, Horton, and Dudley, forwards. Referee; Mr. F.S. Flander (Bucks). Fielding's value in the Everton attack was seen in the very first minute. He put a ball out to McNamara and this culminated in a centre which Parker headed strongly for goal, but Kiernan made an excellent save when he tipped the ball over the bar. The corner was easily cleared but Fielding was there again with another pass to McNamara. This time the Everton winger could not get in his centre because of the tackle. Everton's opening had been extremely promising at the same time being troublesome to the Southampton defence.
An Early Goal
There was no doubt that Everton were right on their toes and when Eglington and Parker interchanged positions with great brilliance. Eglington who had cut into inside left, tried a shot but the ball spun away from his foot and went to McNamara. He took his time with his centre and landed the ball right on the forehead of the incoming Hickson who with great power, headed the ball into the back of the net. At long last, Southampton broke away and Horton tried a shot which passed wide. But Everton were soon back testing a Southampton defence. Hickson went very, very close with another header. Kiernan was hurt in collision with Parker but he resumed in time to see Hickson's effort pass not more than three inches over the bar. Parker Makes It Two Kiernan once had to race out of his goal to kick the ball away from Hickson who was tearing down on him. So far Southampton had paid three visits to the Everton goal area. At the 18th minute a movement by Eglington and Parker completely blotted out the Southampton defences, which was beaten to pieces by a header from Parker, who accepted Eglington's "heady" pass like a flash to nod the ball beyond Kiernan. Southampton swung the ball about in an effort to outwit the Everton defence but it was not very effective for Clinton was there when things looked dangerous. O'Neill was hurt in rushing out to make a save but he soon returned to the fray, rubbing his thigh. This produced a showdown in the Everton penalty area, but they got the better of it. They were soon involved in a corner kick, which Fielding took. He pulled this one rather too far back, and after a bout of Everton passing the same player shot wildly outside. Another Hickson Header
O'Neill's next duty was to cut out a ball from Day, the outside right. He was charged as he caught the ball, but he eventually cleared for safely. Immediately following this came Everton's third goal. Once again it was the McNamara-Hickson combination. It was a similar goal to Hickson's first one, for McNamara found a true length with his centre, and Hickson was there to meet it with his powerful forehead. This was at the 25th minute. Brown went close in to the Everton goal, but found his short range shot turned away for a corner. All Everton's goals so far had been scored with the head, but Hickson when he cleverly nipped behind Wilkins might easily have got a footed goal had not Wilkins realized his danger and kicked away immediately. Hickson Near Again
Hickson made a valiant effort to mark up his third goal when he put everything he had behind Fielding's flag kick. This time Kiernan was able to save. When Fielding seemed to be pushed off the ball it opened the way for Hickson. It was not an easy chance as the centre forward was partly off balance but he turned quickly and with his left foot let go with a fierce drive which almost grazed the outside edge of the upright. O'Neill caught a corner kick taken by Dudley and hen when attempting to kick the ball out to Eglington he did not realize the presence of Elliott who collected and lobbed the ball goalwards. Half-time; Everton 3, Southampton nil.
Admitting that the Southampton defence was one of the poorest I have seen this season this could not take the credit away from Everton who had taken all their goals exceedingly well and in the second half they set with an attack which ended when Fielding pushed the ball wide of the upright, just as he was challenged. Southampton then cut in and got a corner at their reward, but O'Neill came out and made a very confident punch away. Fielding Again
Lindsay was hurt and had to receive attention. The next few minutes play was confined to midfield, but eventually Fielding changed all this with a long pass out to Eglington who centred over everyone's head to McNamara. Everton were still in command without making too many calls on Kirrnan while O'Neill caught a centre from Day in cricket fashion. Everton on Top
Everton were so much the better side and so much on the attack that the game became rather monotonous with its one-way traffic. I've never seen a defence so easily beaten as Southampton's. Even when the ball was in the air they could do nothing with it and they had the advantage in height, for they all looked six-footers. Clinton was putting up a grand defensive barrier and Eglington from the inside right position, saw Kiernan save his shot which was slightly deflected.
Tame Brown Shot
When Brown, the Southampton leader, did get a chance he shot tamely and O'Neill had no difficulty in saving. A Parker header went over and Fielding once again set the Everton machine in motion with a quick ball to Eglington, whose centre was just a shade out for his colleagues stationed near the Southampton goal. Two quick corners to Everton suffered the usual fate that corners do these days, although Hickson had bad luck when he saw Kiernan come down on his header to save at the expense of yet another corner. Eglington tried to charge goalkeeper Kiernan over the line, but failed in his mission. It did have one effect however for he opened the way to a Parker shot which Ellerington took on the volley. Still A Menace
Southampton had made a change in their formation, but it brought them no success, although it did stiffen the defence a little, yet they could not keep the ever progressive Everton from being a continual menace. Kiernan had to save a long oblique shot from Fielding when Dudley caught Tommy Jones on the wrong foot there appeared to be a chance of a Southampton goal, but after Dudley had taken the ball closer he screwed his shot well behind. Not so Mallett, who from long range, dropped one right under neath the Everton bar, where O'Neill made the catch of the season. Great Chance Missed
After Donovan had shot over the bar, Hickson had a chance of a life-time when his challenge slipped up and left him entirely unattended. Hickson would have done well to have shot immediately instead of which he slipped and then tried to hook the ball into the net but he hooked it wide. Farrell came into the shooting business but he was well off the mark. On this form am afraid Southampton are in for a very worrying time for they are the poorest side I have seen this season and I say this without taking any glory from Everton's success. With ordinary luck and a less capable goalkeeper, Everton's tally would have been greatly increased.
Chance was Missed
Even when Southampton were offered a reasonable scoring opportunity they refused it. Brown, for instance had a chance that any forward would have accepted with pleasure, but he scooped the ball yards wide of the target. Final; Everton 3, Southampton nil.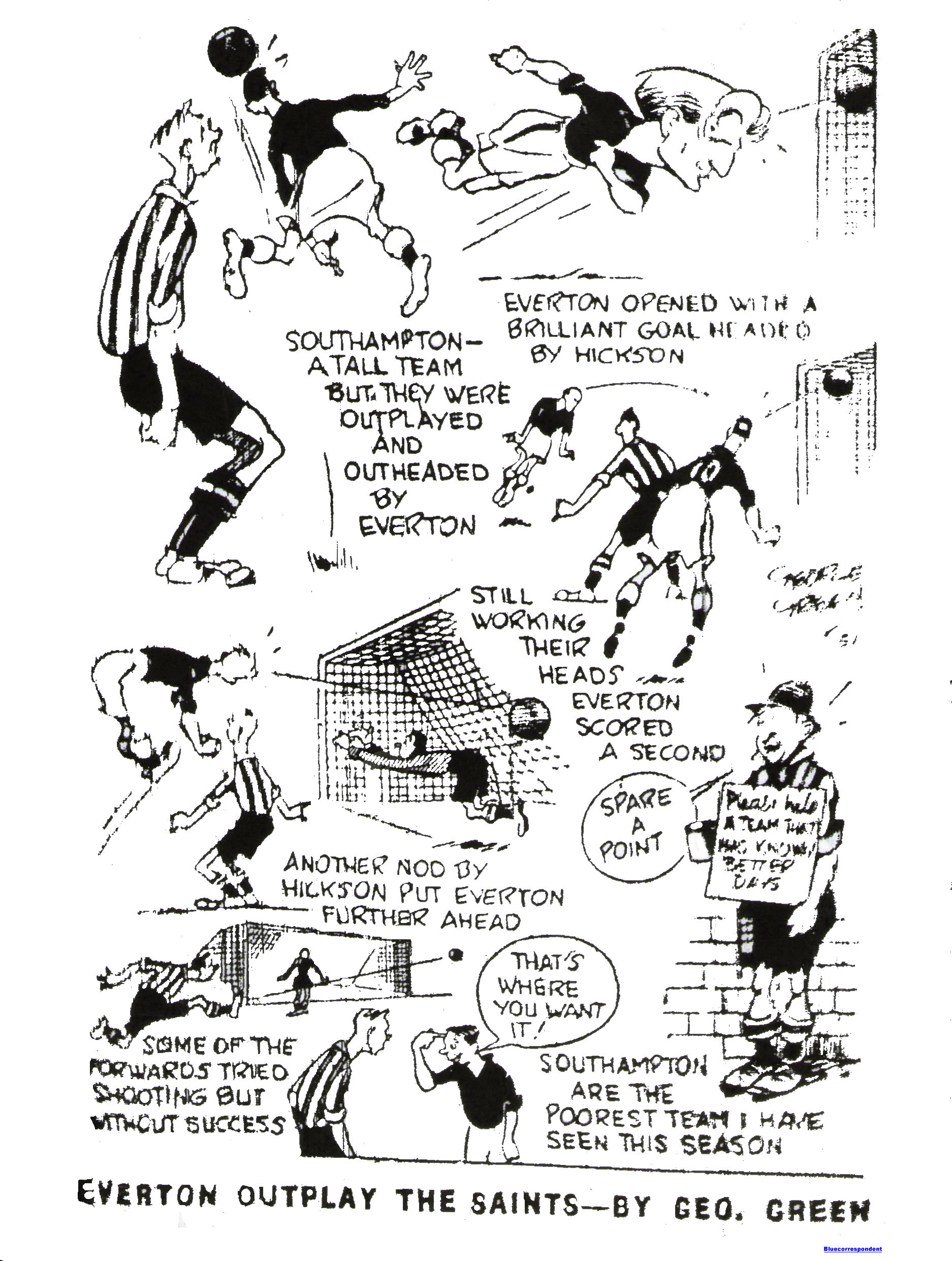 LEEDS RES V EVERTON RES
December 15, 1951.
The Liverpool Football Echo
Leeds Res; Scott, goal; Ross and Milburn, backs; Barker, Marsden and Mollat, half-backs; Hudson, Miller, Barrett, Stevenson, and Tyrer, forwards. Everton Res; Leyland, goal; Saunders and Rankin, backs; Grant, Woods, and Lello, half-backs; Gibson, Potts, Lewis, Cummins, and Buckle, forwards. Referee; Mr. F. Collinge (Rochdale). Everton scored after 10 minutes, Buckle beating Scott with a grand shot. Barritt equalized for Leeds. Lewis put Everton in the lead, but within two minutes Miller brought the scores level. Another goal by Lewis after 35 minutes and Everton were again leading. Before the interval Miller and Cummins were sent off. Half-time; Leeds United Res2, Everton Res 3. In the second half nearly all the play was in the Everton quarters but Leyland continued to give a brilliant display, saving all manner of shots in masterly fashion. When Everton endeavored to make headway they found the Leeds defence in a stubborn mood. Lewis scored the fourth goal for Everton after 80 minutes. Final; Leeds Res 2, Everton Res 4. • Crompton's Rec 1, Everton "A" 8
BLUES THREE UP IN 24 MINUTES
December 18, 1951.
The Evening Express
The Accuracy of Everton Was Too Much For Saints
By Pilot (Don Kendall)
The scored their third successful home win when easily defeating Southampton 3-0 at Goodison Park today in a game of two parts. In the first half Everton sparkled to take three goals in 24 minutes, two by Hickson and one by Parker, each being headed. Southampton were outclassed and outpaced, but with Everton inclined to ease up in the second half and the Saints moving Horton to centre half, the Southerners came more into the picture in the second half. Yet it was still a case of the Everton forwards battering a strong Southampton defence. Everton; O'Neill, goal; Clinton and Lindsay, backs; Donovan, Jones and Farrell (captain), half-backs; McNamara, Fielding, Hickson, Parker, and Eglington, forwards. Southampton; Kiernan, goal; Ellerington and Silllett, backs; Elliott, Wilkes, and Mallet, half-backs; Day, Curtis, Brown, Horton, and Dudley, forwards. Referee; Mr. F.S. Flander (Bucks). We had a thrill right at the start for from Donovan's quick throw-in McNamara pushed the ball back to him and he made a quick looping centre which Parker met perfectly with his head and the ball was passing under the bar when Kiernan leapt to his left to push the ball aside. Horton began a delightful Southampton passing movement in which Curtis joined to push the ball down the middle. Lindsay relieving by calling upon O'Neill. Then Everton went away to take the lead in four minutes with a spectacular Hickson goal. It all began with Eglington's shrewd pass which was turned aside to McNamara who was immediately challenged by Sillett. McNamara pulled the ball back and then cut inside giving Kiernan the impression that he was going to try a left-foot shot. Kiernan moved towards the near post and McNamara quickly lobbed it into the middle for Hickson to dive forward and head the ball into the net before Kiernan could regain position. The Saints struck back immediately, Brown letting go a left foot shot from the edge of the penalty area which however swung well wide. Kiernan came dashing out as Parker ore through to McNamara's pass and they collided just as Kiernan kicked the ball to touch. He injured his right knee in the process but was able to resume to see Donovan force a corner which Fielding placed ideally for Hickson to head inches over the top. McNamara robbed Sillett and turned the ball in for Parker to take deliberate aim, but his shot swing high just outside the far post. Dudley's corner led to three minutes strong Southampton pressure but without a shot forth coming, and then Hickson raced away to a long ball up the middle. Kiernan once again dashing out to kick clear.
Grand Soccer
Everton were playing grand football no players attempting to do too much, and finding the open spaces with refreshing precision. What added to the delights was the fact that the Everton forwards had such a mastery of position that they were there in a split second to take full advantage. Dudley who used to be a centre forward, now cut into the centre to try a right-foot shot which sizzled over the top. In 15 minutes Everton increased their lead through Parker. McNamara centre to the goalmouth and just beyond a group of players and Eglington leapt up to make a header which actually was falling shot. Before the Saints could do anything about it, Parker had nipped in and made it a certainly with a neat flick of the head. Everton really were hitting the high spots and when Hickson headed the ball over Wilkins, Parker tried an overhead shot which went just by the post. When Horton headed on Sillett's free kick, Brown dashed in as O'Neill caught the ball and O'Neill had to have attention to his right knee. The ball was dropped inside the penalty area and from this Horton shot outside. Everton made it three in 24 minutes –a hat-trick of headed goals. This was another peach –by Hickson, who from just on the edge of the goal area, headed a McNamara centre into the net corner as neatly as if he had carried it there. McNamara was making grand use of every ball and making every centre a potential goal by placing them just beyond the group of defenders Hickson's header was of such power and accuracy that it would have taken two goalkeepers, let alone one to save it. The Saint came back and Brown tried to make a half chance into a full charge with a quick right foot shot, which Farrell just managed to turn aide for a corner. The accuracy of the Everton football was making the Saints appear a power side than was actually the case. The Saints were the bigger side, but physique was almost a handicap against the nippiness of the Blues. Fielding and Hickson burst through to Clintons long pass, and after Fielding had been baulked of a shot, he managed to get the ball to Hickson whose quick left foot shot was inches outside.
Hickson Miss
Hickson should have made it four when Parker stabled the ball to him on the penalty spot. Hickson had all the time in the world to place his shot but made a buried left footer outside as he was Kiernan move out and he scratched his head in bewilderment. Every time Everton moved they looked like taking a goal and now Hickson slipped the ball through for Parker but the fearless Kiernan raced out to kick away for the third line. Eglington came far across field to enable McNamara to centre again and Fielding, Parker and Hickson all trade efforts, but no sufficiently good to get on the mark. Three goals down the Saints were still putting on a good shot, pressing every advantage of Everton's misplacing their clearances. Half-time; Everton 3, Southampton 0. The while ball was brought on for the second half, a fact which was cheered for the light was far from good. Southampton rearranged their team with a hope of gaining better results. Horton going centre half, and Mellett inside left. The Saints reopened with some fast football but when Day centre O'Neill double fielded to safetly. Then Horton did well to hold off Hickson's burst through the middle Kiernan saved the Saints when the Eglington centre McNamara pushed the half-back for Fielding to shoot with his right foot towards the far corner. Kiernan diving to save with his right hand. Everton were hardly maintaining their first half sparkle and in fact almost conceded a goal when Day chased a ball which seemed to be going outside. He centred well towards the far post but an Everton head was first on the scene Jones who incidentally was having a grand game, completed the clearance. Everton's quickly taken free kick became Southampton property and Brown was able to race away. He tried to shoot past the out-running O'Neill who, however fell to his right to save comfortably. Everton were having so much of the attack that the Saints found themselves limited to only two actual forwards Day and Brown. Parker made a quick shot with his left foot after Kiernan had fisted away a header from Eglington but Ellerington's long leg took charge. When Mallett tried a quick shot from the wing O'Neill coolly watched it come and then picked it down with both hands just as it was passing under the bar. Everton feeling confident in their lead, were inclined to take liberties and consequently error crept into their work but without jeopardizing O'Neill's security. In one of those swift attacks which had proved so effective in the first half, Eglington swept by Ellerington and forced Kiernan to save at full length. Give Southampton their due although in a hopeless position they were still fighting hard. Final; Everton 3, Southampton 0. Official attendance 32,017.
LEEDS U RES V EVERTON RES
December 15, 1951.
Evening Express
Surviving a strong opening attack. Everton went ahead after ten minutes when Buckle raced through the opposition to score. This was after he had failed with as simple chance. Leeds immediately retaliated and Leyland was called upon to save several dangerous situations. In a raid on the Leeds goal Gibson had bad luck when his header ran along the crossbar. Leeds equalized in the 25th minute, when Barritt give Leyland no chance with a line shot from close range. Everton again went ahead after 30 minutes, a mistake by the Leeds goalie giving Lewis an easy chance. Within two minutes drew level, Miller beating Leyland after a brilliant movement. Everton once more took the lead when Lewis crashed the ball into the net from short range. Shortly before half-time Miller of Leeds and Cummins of Everton were sent off the field. Half-time; Leeds Res 2, Everton Res 3.
SANP DECISION WAS RIGHT
December 17, 1951.
The Liverpool Daily Post
Everton 3, Southampton 0
By Leslie Edwards
But nothing shall dim the brilliance of those headers by Hickson and Parker. They Hickson's first which he took by head-long dive was followed by a jack-knife movement of the body which sent the ball hurtling no less, beyond Kiernan for the second. If any Everton player since Dean has played himself into the hearts of the crowd at Goodison Park it is this young and virile young man from Ellesmere Port, whose heading power is as abnormal as Dean's. he has much to learn with the ball at his feet, at least twice he missed openings from which he should have scored but this obvious despite to break the net is excusable in the so young and enthusiastic.
Parker's Piece
He Parker should have scored others what of Parker. This tall, stylish who appears to do nothing in a hurry, headed a goal brought two back-breaking saves from Kiernan and was denied at other times by the full back boot from the line. All-told the Everton attack even allowing for McNamara's moments of indecision, functioned smoothly and with power and in three quick thrusts had their game won beyond doubt in the first 25 minutes. People came away with a live opinion of Everton's promotion chances. The possibility is there but I would like to see Everton further before I would be confident. One must measure the opposition truly to form an opinion on this game and Southampton were probably the worst Division 2 side we have seen here this season. Big but unwieldy they never began to play well until some drastic second half changes worked a miracle. Ellerington, for instance went from right back to outside right. Horton from the forward line to the half-back line and Wilkins from centre half to inside left. While Fielding continues to play so well Everton must succeed. His far flung passes, hit instantly the ball reaches him, are superb though they are so sure and so "heady" the intent to whom they are directed are sometimes taken off guard.
Clinton Arrives
Another member of the side Clinton has emerged as a quieter more effective full back with a sure punt which carries the ball Cresswell lengths. Allowing for Southampton's weakness Everton played extremely well while the need was there, and were value for nearer six goals than three. Donovan's work was first class. He gets up to the ball well (if sometimes dangerously to himself) and with Lindsay also seeking always the constructive pass it is not surprising Everton are beginning to feel confident of themselves. The Christmas period is likely to prove conclusively what chances Everton have of climbling back this season. There is such solidity and confidence about them one cannot but feel optimistic especially as they have Buckle almost ready to come back and show how his shooting can play a team which is playing well.
• Everton five junior teams triumphed, the "A" won 8-1, "B" 9-1, "C" 7-1, "D" 17-0, and Colts 3-1
SOON SETTLED
December 17, 1951.
The Evening Express
By Pilot (Don Kendall)
Everton, playing brilliant football and that accuracy of finish which has been such a feature of their play throughout the season, soon had Southampton settled at Goodison Park. Everton always have been finishing with precision in fact, no team could have made more scoring efforts. The trouble was that early on it was not coming off, whereas today it is. That is the only difference. The Blues took exactly 24 minutes to ensure that Saints were licked, three McNamara centres bringing headed goals. Hickson's two went in like bullets, while Parker's was a splendid example of quick thinking and timing. Eglington tried a header, but positioned as he was could not get sufficient power behind it. This was to have been Kiernan's ball without a doubt, and Parker realized it. He leapt it and headed it to the spot where Kiernan was not. Kiernan saves and Saints' firmer defence, after the reshuffle were mainly responsible for the fact that Everton did not add to those goals, but the Blues battered away at the southern defence for prolonged periods throughout the second half, so much so in fact, that it bordered on the monotonous. Not so the versatility of the Everton team, which did not reveal a single flaw, either in individual ability, tactics or combined skill. Believe me this is a really grand side now only five points behind the joints leaders. Donovan, Jones and Farrell presented a half-back power which stripped the Saints attack of the grace and penetrative skill, and provided the Blues, forwards with the right material with which to construct their quickly-developed attacks Donovan has never played better than this; Farrell has come right back to his sparkling best, and Jones, like Tommy Clinton seems to have become affected by Lindsay's coolness and constructive urge. That was just it. Everton always seemed to have the time to spare to do what they wanted, and while the Saints reshuffled their team, it was of no avail except to keep the score down. Eglington and McNamara are brilliant wingers, with Parker a great success with that little extra speed; Fielding the architect, and Hickson, a splendid leader, sure with foot and head and always moving away from trouble to make the most of centre. So good were the Blues that this was quite an easy day for Jimmy O'Neill.
EVERTON PROSPECTS
December 17, 1951.
The Liverpool Echo
By Stork
Everton were much too good for Southampton at Goodison Park in fact they would be much too good for the average team in Division 2 on their present form, for they are a confident team at the moment playing with a belief in themselves. Their football against the Southerners, particularly in the first half, was top class as it has been in the last three games as the outlook is rosy. They are not so far behind the leaders and the suggestion that they may earn promotion is not just "wishful thinking." I have been one of Everton's keenest critics, but on what I saw at Barnsley and against Southampton –I did not see their game against Sheffield United – I think they have a reasonably good chance of getting back to their rightful place next year. I may be sticking my neck out in making this assertion, for there is still a long way to go, but the calibre of the majority of teams in Division 2 is not very high. Not too high to visualize them as invincible. Early this season there was a cloud handing over the Everton "boys" which they could not shake off and their confidence was suffering. "Won't things ever go right for us?" they said. Home points were being lost – that is a serious thing in football but they have now turned the corner and are playing good football and reaping the rewards that go with it. It was not always so. They simply made Southampton look small beer at Goodison on Saturday. Some people blamed the Southern defence. Could it not have been Everton's skill that made them look so bad? I fancy that had a lot to do with it.
Vital Importance
A three clear goals victory is satisfying enough, but goal average is of such vital importance these days that a half dozen would have been better and it should have been that without any difficulty. I will admit that the Southampton defenders were weak and panicky; made so by the brilliant moves of the Everton forwards, who found the open spaces and slipped through them like eels. I am not bolstering up Everton but I must go on what I see, and I saw a really clever Everton attack which riddled and raddled the Southampton defence by sheer skill. What other way is there of reducing a defence to ribbons making it uncertain of itself, and slipping into mistakes. It was really a too one-sided affair to be classed a good game for Southampton never suggested that they would spring a surprise. They hardly had a shot at O'Neill so busy were they in other matters –matters defensive I can only recall O'Neill making one real save from a worthy shot. On the other hand Kiernan was a busy little chappie who had a great deal to do with the keeping of Everton score down to three goals. "Soton"Scuttled
Fielding made a whole lot of difference. He looked after both wings, delivered the ball with the accuracy of a Brisley marksman and had something to do with all three goals. Hickson two headers had their starting point at Fielding, but it was McNamara's lovely centres which scuttled the Southampton ship. Hickson drove those headers like a bullet into the net. Parker's goal was also a "heady" affair for "John Willie" helped Eglington's header into the net. There should have been other goals, but let us forgive those misses, and remember the way the line responded to Fielding's promptings. This chirpy little "Cockney" was the keynote of his side's success and England selectors could do worse than take a peep at him, for he is in great form. Donovan and Farrell helped along the good work and the dove-tailing of Clinton and Lindsay reminded me somewhat of Cook and Cresswell –Clinton's stern kicking and Lindsay's more studied defensive measures. Southampton on this form are in for a hard time. Wilkins was too easily beaten by Hickson who found Horton who ultimately look over the centre half position a header proposition. This experiment may have solved one if Southampton's greatest problems.
'BLUE PRINT' FOR THE BLUES CUP-TIE
December 18, 1951.
The Evening Express
Manager Britton at Leyton
By Pilot (Don Kendall)
Everton's blue-print for their F.A. Cup third round tie on January 12 will be drawn up at Brisbane road tomorrow, when Manager Cliff Britton will watch the replay between Leyton Orient and Wrexham. Although the form of the Orient and Wrexham is well-known to Manager Britton he will not miss the chance of running the rule over the teams for there may have been important changes in personnel and modus operated. There is one Orient player shout whom Cliff knows everything –Don Woan, whom he had watched before Don went to Anfield. It is the others on whom Cliff will have a keen eye ad he will have his chart book handy, so that on his return to Goodison he can draw up the final plans. Everton, like everyone in North Wales, are hoping that Wrexham will pull through, despite the fact that the Welshmen have not yet won an away match this season in the Northern Section. Should Wrexham win then Everton will be able to play in their own colours on January 12 but the Blues will have to change should Leyton win because Leyton also wear blue.
EVERTON TO VISIT LEYTON
December 19, 1951.
The Evening Express
There were about 10,000 present at the start of the F.A cup second round replay at Leyton between Leyton Orient and Wrexham. The winners are at home to Everton in the third round and the game was watched by Mr. Cliff Britton, Everton manager. Orient winning 3-2.
EVERTON ONE CHANGE
December 20, 1951.
The Liverpool Echo
Ranger's Notes
Everton made one change, Dave Gibson takes the place of McNamara at outside right. McNamara is still feeling the effects of his pulled muscle which kept him out of the side at Barnsley. He played against Southampton but was in pain during the game. Sheff Wed; McIntosh; Bannister, Kenny; Gannon, O'Donnell, Davies; Finney, Sewell, Dooley, Froggatt, Rickett. Everton; O'Neill; Clinton, Lindsay; Donovan, Jones, Farrell; Gibson, Fielding, Hickson, Parker, Eglington. Reserves team against Bolton Wanderers at Goodison Park is; Leyland; Saunders, Rankin; Grant, Lindley, Melville, Harris, Hampson, Lewis, Cummins, Buckle. Part-Ticket Match
Leyton Orient's third round F.A. Cup with Everton at Leyton on January 12 will be a part-ticket match. The Orient announced today that admission to the east and west enclosures will be by ticket (3s) stand seats at 6s are also bookable. Admission to other parts of the ground will be 2s boys 1st.
BLUES SEEK REVENGE
December 21, 1951,
The Liverpool Echo
Ranger's Notes
Everton's improved form encourages hopes that they may at least avoid defeat against Sheffield Wednesday at Hillsborough and possibly extract "revenge" for the indignity which Wednesday heaped on them in the final match of last season which thrust Everton into the Second Division. After that game I labeled the Sheffield club as a very live prospect for promotion this season. For a time it looked as though I was going to be well out, but Wednesday have been going all one way since October. Now they are level on points with the League leaders. There is still a long way to go before promotion issues are settled. Everton themselves may yet be in the running, impossible as that looked at one time. Sheffield Wednesday have taken 18 points out of the last 22 played for, with a goal average of 30 for and 12 against. That looks as near the promotion form as makes no difference. Whether they can keep it up, however, remains to be seen. Over the same period Everton have gathered 12 points, ten of these from their last seven games. Several returns to the home attack after his month's rest, but on recent displays it seems that the biggest danger to Everton will be the massive Dooley at centre forward, who has scored 20 goals in eleven outings. If Jones and his colleagues can put the stopper on this young giant then Everton's chances will e considerably enhanced. The Blues attack recently has been distinguishing itself in no uncertain manner, while the defence also has improved almost out of recognition compared with its one time shaky period. Sheff Wed; McIntosh; Bannister, Kenny; Gannon, O'Donnell, Davies; Finney, Sewell, Dooley, Froggatt, Rickett. Everton; O'Neill; Clinton, Lindsay; Donovan, Jones, Farrell; Gibson, Fielding, Hickson, Parker, Eglington.
FIFTH ATTEMPT
December 21, 1951.
The Evening Express
By Pilot (Don Kendall)
Everton will be making their fifth attempt since the war to defeat Sheffield Wednesday. They failed at Hillsborough in a Cup-tie, gained only one point out of the four last season and dropped another point to the Yorkshiremen early this season at Goodison Park, when, after leading 2-0 and then 3-2, Wednesday still contrived to fight back to win a point. Tomorrow Sheffield will be facing a far different Everton from that they encountered in August; in fact the present Blues' combination seems to be good enough for a point at least. Everton are playing with such expert confidence that they are capable of defeating any side. Everything depends on the ability of Everton's quick-covering defence, for Wednesday have two potential match winners in Jack Sewell and 17-year-old Derek Dooley, who has scored more than two goals a match in 19 games. I fancy the Everton forwards will be among the goals, and it remains to be seen whether the defence can hold the quick-shooting Wednesday attackers. Everton; O'Neill; Clinton, Lindsay; Donovan, Jones, Farrell; Gibson, Fielding, Hickson, Parker, Eglington.
EVERTON HAVE CAUSE TO REMEMBER A MAN NAMED DOOLEY
December 22, 1951. The Liverpool Football Echo
Sheff Wed 4, Everton 0
By Contact
If all the good chances of this game had been taken the score would have been nearer 10-7 then 4-0, but Dooley, who scored the game's four goals, missed two wonderful first half chances, and others in the Wednesday attack were not without blame. Eighteen-years-old Finney on the Wednesday right wing as an affrication to the Everton defence, and made at least three of the goals. Everton had Eglington limping at centre forward all the second half, but there was no hint of 4-0 beating until O'Neill blundered badly and the defence as a whole lost its grip. Sheffield Wednesday; McIntosh, goal; Bannister and Kenny, backs; Gannon, O'Donnell, and Davies, half-backs; Finney, Sewell(captain), Dooley, Froggatt and Rickett, forwards. Everton; O'Neill, goal; Clinton and Lindsay, backs; Donovan, Jones and Farrell (captain), half-backs; Gibson, Fielding, Hickson, Parker, and Eglington, forwards. Referee; Mr. J. Bell (Seaton DeLevall). McNamara was unfit and young Gibson took his place at outside right. The conditions were perfect. Everton played in white and there was a crowd of about 30,000 at the start. Wednesday brought back Sewell. They have lost only once at home this season in September. Sewell won the toss and elected to kick against the slight but noticeable slope. Gibson made two side-of-the-foot passes in the first minute which at last stamped him as a thoughtful type. Everton's first goal attack brought Hickson into the picture with a downward header to Parker whose return pass he slamped hard and fast over the bar from 25 yards out. Clinton went up to inside left to engineer a movement which finished with Fielding centering out of play. Everton were on the defensive for some minutes and were fortunate not to be a goal or two down. The tall and competent Dooley took a through-pass from Froggatt which left the Everton defence wide open and sailed through apparently to score as he pleased.
The Wrong Side
In taking the ball close he gave O'Neill sufficient time to come out and Dooley's side foot shot aimed at just inside the post, passed a feet or two on the wrong side of the upright. Hickson was beaten by the spin of the ball after a clinch between Parker and Kenny and then Gannon finding the ball at his feet close in put the ball over the top from a standing start. Farrell came to his side's aid by getting his body in front of two dangerous shots and then Froggatt shot against O'Neill following a corner by Rickett. Wednesday were playing confidently and O'Neill had to bring off a magnificent one-handed save from Davies getting the ball round the post when it seemed certain to cross the line. Gibson play although Fielding often had to go to the other wing was first-rate but the story was again one of Wednesday on the attack when Rickett's centre was none too surely punched away by O'Neill. Froggatt virtually heading over an open goal from not more than a few yards. In the first 20 minutes Wednesday and missed two wonderful chances. Hickson moved fast on the rather dead ground and it was his sharpness to get into his stride which almost brought him a goal after Gibson and Fielding had done the donkey work. McIntosh stretched out his hand and stopped the flight of Hickson's shot within few feet of the shooter's boot, otherwise Everton must have scored. Parker, refusing to lose possession, succeeded in getting up his pass to Eglington that player scurving down his wing and beating his man before centring for Hickson to head wide. A good tackle by Gannon stopped Parker when he and Hickson combined nicely. O'Neill misfielded a corner kick smothered Rickett's shot and then took a sure grasp on the ball as Sewell bored into him.
Saved Situation
Hickson got up to the few Everton centres really well and turned one just wide after Gibson had done a big share of the approach work. Gannon's wonderful run led to Clinton having to head for a corner. Finney's dangerous centre and from this O'Neill was caught in possession by a charge by Dooley. The goalkeeper was sent back a yard or two but held the ball out in front of him on the right side of the line and the scramble for possession was getting hot when the referee's whistle for a free kick saved the situation. Parker was beaten by inches for possession in a race against the out coming McIntosh. The goalless situation was incredible with the number of chances both sides had enjoyed. The tale of blunders in front of goal continued by Hickson was unlucky not to get on the register after a first rate Everton move which ended with him lobbing the ball over McIntosh who had come ten yards out. The ball would certainly have crossed the line, but for Davies dropping back and slamming it away when all seemed lost. Dooley, who has a cracking shot in either foot again made the mistake of taking the ball in too close after beating Jones and had he managed to mashie nib lick his shot over the top when not more than five yards out is a mystery. He almost tore his ginger hair in despair. Eglington was now limping and Wednesday players went up one by one to commiserate with Dooley as he left the field at the interval. Half-time –Sheffield Wednesday nil, Everton nil. Everton took a leaf out of the Don Welsh book by playing a limping Eglington at centre forward in the second half with Parker at outside left and Hickson as his partner. But Wednesday took the lead in 50 minutes through Dooley. Froggatt had made a brilliant left wing run before the ball hung for a moment in the region of the penalty spot with Everton unable to get it clear. Dooley festered on it, pivoted quickly and hit a good shot to reestablish himself after those first half misses. Though handicapped Everton played better in their new formation and Gibson who had fallen away sadly after a good start at least retrieved himself by showing his speed in outpacing Kenny and then centering so accurately that Bannister headed for a corner, otherwise Hickson, standing behind him, must have headed a goal.
Free Kick Ruse
Farrell and Eglington used a free kick ruse to good effect the Eglington shot being collected at the foot of the post by McIntosh. Hickson starting almost at outside right, went in close and shot too hastily to get in target. A splendid chance missed. Everton showed plenty of fight and Welsh's plan for centre forward passengers was paying even though they had not so far got on terms. O'Neill made yet one more mistake, this time with a Rickett centre which he failed to catch before Wednesday went two up at the 69th minute. Froggatt had a moment of inspiration in another of his long dribbles. Sewell took, over near the end to slip the ball out to Finney, and Finney's immediate centre, Dooley converted with the thrust of a long leg. Everton were luckless with an Eglington header which McIntosh only half saved, the ball spinning onto the inside of the post before he was able to grasp it at the second attempt. It seemed to me that at least part of the ball was over the line but the rules are that the full ball must be over. Parker had the ball in the net after being given offside a decision about when Farrell and company made a strong protest –not without reason. Everton survived a third goal in an amazing escape in which Dooley appeared to hit the goalkeeper with a close-in shot and Sewell certainly hit the post from the rebound. Hickson was playing magnificent, but with no luck and his header from a Clinton free kick was only fractionally wide. Dooley completed his hat-trick at 82 minutes. O'Neill tumbled Finney's shot the ball spun from his arms to Dooley, standing close in, who had the easiest of jobs to score. Dooley almost made his tally four a moment late yet on today's play I still take Hickson as being the centre forward with a greater football potential. Parker played better at outside. At 87 minutes, Finney beat O'Neill and the ball was in the region of the far post when Dooley strode up for goal number 4. Final; Sheffield Wednesday 4, Everton nil. Attendance 38,986. • Skelmersdale 1 Everton "A" 2
DOOLEY 'ATONES' AGAINST BLUES
December 22, 1951. The Evening Express
Four Goals For Wednesday After Missing East Chances
By Radar
Derek Dooley, Sheffield Wednesday's sensational new marksman, again helped himself to a toast of goals today. Dooley scored all four during the second half in the defeat of Everton at Hillsbrough. Everton who had Eglington limping and operating at centre forward for almost the whole of the second half held their own in the first half and contributed some bonny football movements after the interval, but they had nothing to show for them against a rugged Wednesday defence and the safe goalkeeping of McIntosh. Dooley, who missed three glorious chances in the first half, came into his own after the interval, during which the Everton defence "caved in" under the weight of the Wednesday bombardment. Everton, when two goals down, were unlucky to find the referee ruling against them after an Eglington header had seemed to cross the line, but they were a well beaten side in the end. Sheffield Wednesday; McIntosh, goal; Bannister and Kenny, backs; Gannon, O'Donnell, and Davies, half-backs; Finney, Sewell(captain), Dooley, Froggatt and Rickett, forwards. Everton; O'Neill, goal; Clinton and Lindsay, backs; Donovan, Jones and Farrell (captain), half-backs; Gibson, Fielding, Hickson, Parker, and Eglington, forwards. Referee; Mr. J. Bell (Seaton DeLevall). Although O'Neill had to run out and pick up from Finney in the first minute, the opening passes ran in Everton's favour. Playing with the advantage of the slight slope, Fielding took over from Donovan in midfield and tried one from 25 yards, but it lacked power and accuracy. Next Parker and Hickson linked up, for Hickson to drive in fiercely but his shot hurtled over the top. Everton kept up the good work and on one occasion Clinton strode right up towards the Wednesday penalty area before transferring to Eglington. Fielding took charge of Eglington's square centre, but turned the ball behind.
Narrow Escape Then came an amazing left off for Everton. With the defence rather hesitant Dooley and Sewell interpassed in the middle of the penalty box for Dooley to move forward unchallenged. With only O'Neill to beat, however, Dooley trickled the ball tamely a yard wide from no more than six yards. Wednesday now came more into the game, and after Lindsay had headed away a dangerous centre from Rickett, Gannon came striding through to shoot high over the top. Wednesday tried again this time on their left flank and it required good defensive measures to keep them at bay. A Rickett cross-shot was charged down, after which Everton went away on their right flank for Parker to wheel round and shoot narrowly wide from an awkward angle. A free kick to Sheffield on the edge of the penalty area produced a strong left-foot drive by Davies which O'Neill did well to turn round the upright at full length. The corner led to a scramble in the Everton goalmouth, but O'Neill was not called into action. Gibson showed enterprise when he worked his way through and then flicked the ball outside to Parker and McIntosh had all his work cut out to finer Parker's oblique shot round the angle of the bar. Froggatt headed weakly over the top from close range after Rickett had taken Sewell's pass in his stride and swept the ball to the far post. Hickson who was leading the line with tremendous dash, just failed to convert a first-time centre from Eglington, but in any case the whistle had blown for offside. A much closer call for Wednesday arose when Eglington took charge of Gibson's cross and again slipped the ball into the goalmouth first time. Hickson was on it like a flash but did not fasten on to the ball properly and McIntosh was able to race out and partially jam the shot with his legs, Bannister completing the clearance. Farrell had to call for attention for a minor injury but was soon back to see O'Neill lave his goal to parry, at the second attempt a quickly taken left footer from Rickett. Hickson again went close with a sharp header when Eglington lobbed the ball back into the goalmouth. Parker having defeated it onwards from a Gibson centre. Sheffield had a turn again through Gannon who went through and give Finney the chance to drop the ball into the goalmouth. Clinton headed the ball over the top. From the corner Dooley came close to forcing O'Neill over the line with a full-blooded charge as he pulled the ball down.
Shot Delayed Wednesday claimed a goal, but the referee awarded a free kick against Dooley. Everton should have taken the lead, thanks to a cute Hickson through pass from Clinton's clearance, but Parker delayed his shot and McIntosh was able to come out and fling himself at the ball just managing to smother it. Everton once again, playing in their white shirts continued to be the more methodical force, and from a Jones free kick Farrell raced through to let go a powerful right footer which thudded against the concrete surround a yard the wrong side of the post. Yet again the Wednesday goal escaped more by good luck than by good judgment when Hickson hooked the ball towards the empty goal from Fielding's spilt-second through pass. A goal seemed certain but O'Donnell came from nowhere to hook the ball off the line. Next it was Everton's turn to enjoy another remarkable let-off. Dooley got the better of Jones and raced to within five yards of goal. Then to his own and everyone else's amazement he contrived to lift the ball a good four yards over the top. Half-time; Sheffield Wednesday 0, Everton 0. In resuming a quick through pass by Fielding enabled Gibson to force a corner off Kenny but this produced nothing. Much more dangerous was a left footer from Wednesday's Davies when he beat Fielding to possession, the ball just rolling wide of the post. Clinton came right across field, chasing Rickett and was penalized for a foul, but nothing came of the free kick. Eglington was limping and look over at centre-forward. Wednesday so far this half had been much quicker to the ball, and in the 55th minute Dooley atoned for his previous lapses to gave Sheffield the lead. Froggatt "made" the goal, beating two opponents cleverly in a long individual run. Eventually Rickett slipped the ball into the middle and with Jones holding off the tackle Dooley, from near the penalty spot made no mistake. Immediately afterwards Froggatt came through again, to unleash a mightily drive which flashed across the face of the goal. Gibson spear-headed a dangerous Everton raid and crossed a perfect ball, but Bannister nipped in to prevent Hickson making contact a vital intervention for the Wednesday, for this must have been a goal had Hickson connected. Eglington was similarly hauled by Kenny when Hickson moved out to the left to cross a similar ball. McIntosh had to move sharply to hold an Eglington left-footer from the edge of the penalty area, following a free kick and then the Wednesday goalkeeper flung himself outwards to take another Hickson cross to his chest. Everton had another anxious moment when O'Neill dropped the ball from Rickett corner, but happily Donovan was standing on the goalline and was able to hook the ball clear. Everton had been having rather the better of making for a time but when Wednesday broke away again in the 68th minute they increased their lead, and again Dooley was marksmam. Finney made tracks and swerved a low ball close in to goal. With the Everton defence wide apart Dooley, who had moved to quickly had an easy task to force the ball over the line. It struck O'Neill's leg before going in. Immediately after this there came some bad luck for Everton. Gibson moved through quickly after out-witting his man and leveled a perfect centre, for Eglington to head in accurately. McIntosh, at full stretch, partly stopped the ball but it appeared to me that it rolled over the line just inside the upright, before it was scrambled clear. The referee, however, waved play on and Everton's protest was not particularly strong. Everton had the ball in the net again directly after this, when Parker converted a pass from Eglington, but this time the whistle had blown for offside. This was indeed a remarkable game for the number of chances missed –almost all of them by the Wednesday forwards. Now we saw both Dooley and Sewell fail completely, no more than two yards from goal, with only O'Neill to beat, Sewell striking the foot of the post, before the ball was forced away.
Unlucky Hickson Hickson was a luckless marksman if ever there was one and as Everton returned to the attack he headed no more than six inches wide from Clinton's long ball into the goalmouth. The Everton completely collapsed in the closing stages and Dooley completed his hat-trick from Finney's pass in the 82nd minute. Five minutes later the same player repeated the performance. Finney walking his way through the Everton defence before slipping the ball into the middle for Dooley to send it home. Final; Sheffield Wednesday 4, Everton 0.
EVERTON RES V BOLTON RES
December 22, 1951. The Evening Express
Everton were strongly represented with the return of Harris and with Buckle on the opposite wing. The first real danger came from Everton when Buckle got home a lovely shot, which Barnard judged to a nicety. Harris and Buckle were good winger for the Blues, the latter in particularly sending in many accurate centres, of which many were not taken full advantage. The visitors were now displaying fine tactics. Saunders and Rankin had quite a harassing time of it. Half-time; Everton Res nil, Bolton W Res 0.
FINNEY'S THE MAN, NOT DOOLEY
December 24, 1951, The Liverpool Daily Post
By Leslie Edwards
Sheffield Wednesday 4, Everton 0
Without wishing to be captious I fancy the Football public is getting a wrong impression about this fellow, Dooley, whose four second half goals against Everton stuffed the Goodison Park atmosphere as much as it ruffled the defence. Everyone seems to take it for granted that Dooley is a world beating centre forward, whereas this match at Hillsborough proved nothing of the sort. I give Dooley credit for being in the right place to put the ball into the net four times, but who could have missed from such positions? And who, but Dooley, could have hit the post from two feet out and put the ball over the bar or on the wrong side of the post on other occasions?
Class at 18
Given similar opportunities Hickson, of Everton would probably have been disappointed if he had not scored half a dozen times. If I had my choice between this pair I should take Hickson and be confident about my choice. No Sheffield Wednesday's rise, and their victory was not due to Dooley, but to a less publicized but more complete footballer, the eighteen-year-old Finney on the right wing. He may yet shadow his Preston namesake into an England position. With his patent leather hair and his patent methods of wheeling his way round or through the defence, Finney looks to be a Matthews in the making. His centres provided nearly all Dooley's chance and what made the goals easier was the fact that goalkeeping blunders meant that Dooley had only to tap a slow-moving ball over the line. Dooley is tall, well built, ginger haired, a hero at the moment and a crack shot, they say, though we did not see any fire from him in this game. He does not head the ball particularly well, nor even pass it with that sure crispness which marks the great player. He may yet many goals, he may prove himself to be as good as everyone thinks he is, but Hickson though goalless played better and Finney was best of them all. Eglington's pulled muscle shortly before the interval disorganized Everton, though playing him at centre-forward, they had one wonderful second half spell when they deserved goals. It was a tragic result from Everton's point of view because the game was so level for so long and 4-0 did not represent it.
Lucky Escapes
Hickson was twice unlucky. Once when McIntosh took the ball off his foot as he shot again when he beat McIntosh with a lob and half-back Davies rescued the ball from the line. Everton had other good chances, too, more punishing finishing by both sides on a ground which looked good but was desperately "dead" would have left us gasping with a 10-7 result. This was my first view of Gibson. He is sometimes slow moving and slow thinking but the evidence of football ability is there. It seems that Everton have produced yet again a young local who will make his mark I know Gibson did many things badly but he showed signs, very often, of football "nous." One point about the switching of injured, Eglington to centre forward. The novel notion did not work out well at first because Eglington lay back and could not get into position in time to be useful. When he stayed where his limited fitness insisted he should, he did gallantly and well. Gannon, with Hickson perforce at inside left, was an inspiring force and he and Froggatt and Finney eventually made gaps in an Everton defence which completely lost its poise. Fielding played well until the utter hopelessness of the situation was borne on him and Parker, I thought was better on the wing than he had been inside, good as he was there.
EVERTON RES 2 BOLTON WANDERERS RES 0
December 24, 1951. The Liverpool Daily Post
Everton Reserves did not have an early taste in overcoming a clever Bolton Wanderers side in the Central League game at Goodsion Park on Saturday. The opening half, which favoured the visitors was goalless. Saunders and Rankin excelling in clever defence were outstanding in the heavy conditions. Everton were a different side afterwards, Cummins opened the account in the sixty second minute and thirteen minutes later Lewis added a second goal. Buckle was the winners outstanding forward. • Skelmersdale 1, Everton "A" 2 • Everton "B" 3, Stork Res 0 • Everton "D" 21, Ranworth B.C. 0
CONTRAST
December 24, 1951.
The Evening Express
Pilot's Log (Don Kendall)
"Contrast in fortunes. At Hillsborough, Everton centre-forward Dave Hickson would have been flattered in the slightest had the enjoyed a personnel triumph and helped himself to four goals. Not a single one came Hickson's way. Yet Derek Dooley, the tall Wednesday leader, who did not reveal Hickson's ability, go four. "Give Dooley credit for his positional sense, but commiserate with Hickson for having nothing to show for a highly commendable display of leadership. Here was a game which was anybody's with the score nil-nil at the interval. Although Dooley had missed two "sitters" the Wednesday goal had survived more than once with equal good fortune. "Certainly Everton were never four goals the inferior side. The trouble started after the interval when Eglington, quite a success in the centre-forward role was injured. This took Parker to the wing and gave the thrusting Gannon the chance to come through and open the way for his wingers. "Clinton and Lindsay were unable to quell Rickett and Finney, and the 18-year-old Finney "made" three of Dooley's goals. Some were disposed to criticize O'Neill but I would not condemn him for this defeat, any more than I would unduly vilify Jones who got through tremendous amount of valuable work. Gibson was still inclined to be too timed in the tackle, but all-round I thought this was one of those days when Everton ran up against a side for whom the ball always ran kindly. They were beaten but far from disgraced.
EVERTON IN YORKSHIRE
December 24, 1951
The Evening Express
By Pilot (Don Kendall)
Everton set out today for Yorkshire, where tomorrow they will play their first-ever Football League match with Doncaster Rovers. Boxing Day will see the return game, for Doncaster will be at Goodison Park for their second visit (the first in a pre-war Cup-tie). Everton's trip into Yorkshire so far have brought two points out of six, but if they play as good football at Belle Vue as they did at Hillisbrough and reveal their recent willingness to be first to the ball, they should supplement that total. The Rovers only advantage over Everton lies in goal-average for each has 22 points from 23 games. The Blues have scored more goals, but have conceded more. Tommy Eglington definitely is unfit and so Everton have taken six forwards from whom they will select. They include McNamara, Buckle, and young George Cummins, the Irish inside left, who has been playing brilliantly with the Reserves, and who has yet to make his senior debut. Everton; O'Neill; Clinton, Lindsay; Donovan, Jones, Farrell; from; McNamara, Fielding, Hickson, Parker, Buckle, Cummins. Everton Reserves (v. Chesterfield at Goodison Park 2.15 p.m.) Leyland; Saunders, Rankin; Grant, Woods, Melville; Harris, Hold, Lewis, Hampson, Easthope.
DOHERTY MAY PLAY IN GAME WITH EVERTON
December 24, 1951. The Yorkshire Evening Post
Patterson, Jones, Giles Hurt
By Hughie Goodall
It can be regarded as almost certain that player-Manager Peter Doherty will turn out for Doncaster Rovers in their home game against Everton tomorrow morning (k.o. 11 a.m.) I saw him in town today just before he took the rest of the Rovers party to a Bawtry hotel for Christmas and with that merry twinkle in his eye, he diplomatically left it to me to decide whether he will play. My tip is that he will be wearing the Rovers colours tomorrow. With three players injured, the team to meet Everton will not be known until just before the kick-off. On the injured list are centre half Paterson, wing half Jones and winger Giles. It is hoped, however, that all three will be declared fit. Again, the Rovers' team for the return game at Goodison Park on Boxing Day will depend on tomorrow's game. The Rovers will leave for Liverpool soon after the match tomorrow. Everton; O'Neill; Clinton, Lindsay; Donovan, Jones, Farrell; from; McNamara, Fielding, Hickson, Parker, Buckle, Cummins.
• Thanks to Keith Shaul for sending me this
HIT AND MIS BY DOHERTY
December 27, 1951.
The Liverpool Daily Post
Doncaster Rovers 3, Everton 1
Everton at Doncaster on Christmas Day, caught Doncaster in improved form, inspired by Doherty, who made one of his intermittent appearances. Buckle scored with a great drive from twenty yards after two minutes, and for some time Everton had the better of matters, but gradually Doncaster wore them down. When Tindill equalized he and Donovan collided and both received attention for head injuries. Doherty hit the post with a penalty kick but scored from a free kick. Harrison scored the third goal. Everton's most enterprising forward was Buckle, who shot with power, but the forwards as a line were not well combined and were too easily robbed by a robust defence. McNamara was occasionally in the picture with some lively raiding and well directed shots from the wing. Parker too sometimes outwitted the defence smartly, and cut in dangerously. Everton; O'Neill, goal; Clinton and Lindsay, backs; Donovan, Jones and Farrell (captain), half-backs; McNamara, Buckle, Hickson, Cummin, and Parker, forwards.
THIS WAS JUST "TOO TWO"
December 27, 1951.
The Liverpool Daily Post
And Makepeace Didn't
Everton 1, Doncaster 1
By Leslie Edwards
This match, at Goodison Park, yesterday was just too two. We had two of everything –two players (Parker and Bycroft) sent off, two spectators hauled off, two goals and too much foul play –by both sides. Maybe if referee Hartley, of Burnley, had called the teams together before the real trouble began, and had reminded them of this season of good will the game would not have developed as it did. As it was it was inevitable that someone should be ordered from the field. On second thoughts, perhaps, it is wrong to describe it as a match. It became 90 minutes of foul play punctuated by moments of consecutive football. A draw, in the circumstances was equitable. Everton missed more than Parker, they missed a penalty, Hickson with three defenders all tackling him concurrently was brought down early in the second half and Buckle who took the penalty was victim of some byplay, before he shot, by Doherty. With the ball on the spot and Buckle waiting to shoot it Doherty held long conversation with goalkeeper Hardwick on the goal-line. The gist plainly wads that Buckle shot would be directed to Hardwick's right –or maybe Doherty only intended to convey that to Buckle. When the shot came it was to the left and Hardwick was at that side to watch it round the post.
Tacky Mud
At 10 minutes Hickson had got up beautifully to nod Parker's carefully-lofted centre home (via Hardwick's hands) for a leading goal and Martin, with a right foot shot ten minutes later equalized. Leyland too, making slight contact with hand outstretched. At this point the game was hard, but watchable if only for its thrills. Only later did it toughen on a ground inches deep in the centre in tacky mud. With 25 minutes to go trouble flared up between Parker and Makepeace. The foul by Bycroft against Hickson came next and it was while running upfield for the free kick to be taken that Parker and Makepeace indulged in further display of temper. The referee saw Parker's raised hand and what followed and Parker left the field to the accompaniment of cheers. Extra police patrolled the ground after two spectators had been escorted from the field. Twelve minutes from the end Bycroft who was adjudged to have fouled Hickson was ordered off. He was pelted with orange peel as he neared the subway. Referee Hartley issued cautions and took players names frequently. A general caution earlier might have been more effective, but I would not be certain of it –it was the kind of game which started on the wrong foot and seemed destined to keep on the wrong foot.
Farrell As Forward
Everton Christmas indeed the city's as a whole has been a dismal one. Here we had Grant and Lello coming into the half-back line with Farrell at inside left and Parker as his partner, and well as Everton played in the first half, when Hickson's heading was superb they did not stay well. The move which presaged Hickson's goal was a beautiful one, but this big and tough Doncaster defence was no oftener in trouble than were Leyland and company. Lindsay's thoughtfulness was a feature and Doherty, who appeared on the programme at inside forward but played on the right wing, only rarely showed his artistry. Harrison a centre was more direct and more effective and Martin of the light hair also played with distinction. This is a game best forgotten. For its foulness for its many delays, for the chanting of the boys choir (a boo and a cheer followed in successive seconds) and for the damage it does to the game to people who are tempted to attend only on special occasions. Not since the bad old days when every fixture was home and away by successive Saturdays have we experienced such fire from players. Better to "stagger" the holiday fixtures, too, even if it meant a good deal more travelling. Leyland, goal; Clinton and Lindsay, backs; Grant, Jones and Lello, half-backs; Buckle, Fielding, Hickson, Farrell (captain), and Parker, forwards.
INCIDENT MAR EVERTON GAME
December 27, 1951 The Yorkshire Evening Post
By Hughie Goodall
Three points out of four, and a total of four from six in their last three games has helped to establish Doncaster Rovers' position in the Second Division, but their success was marred by a series of incidents at Goodison Park yesterday, one of which led to the dismissal of Syd Bycroft the Rovers centre-half and another in which Parker the Everton inside forward, received matching orders. The first game against Everton on Christmas morning, watched by 23,000 spectators, was entertaining, for although Everton were convincingly beaten 3-1 they played good football and were always dangerous in possession. The match was marked by unusual incidents. Player manager Peter Doherty returning after a month's absence missed a penalty, the ball striking the foot of the post and centre forward Ray Harrison also missed a "sitter£ from the rebound. Yet, it was these two players who clinched victory. Doherty took a free kick and shaped as if to pass, but shot for the far corner, he spinning ball slipping out of the goalkeeper's hands, while it was Harrison who scored the Rovers third goal with a cleverly placed shot. The first goal of the game from Buckle of Everton, and Tindill's equalizer for the Rovers were probably the best goals seen at belle Vue for a long time
Martin's Good Goal
At Everton yesterday the Rovers deserved a point in a 1-1 draw, although play deteratated in the second half in which there were only glimpses of the Christmas Day form of both teams. If Peter Doherty did little of late he required his form as he did on Christmas Day, and there was nothing better than the 25 yards equalizer by Tommy Martin. Everton missed a penalty when Buckle sent yards wide, to the dismay of the 47,352 spectators who must have had great admiration for Doherty's leadership.
• Like to thank Keith Shaul for this
GIBSON RETIRES HURT
December 27, 1951,
The Liverpool Daily Post
Chesterfield Res 2, Everton Res 0
A crowd of 7,000 attended the Central League game between Chesterfield and Everton Res at Chesterfield yesterday when the home side gained revenged for the 2-1 defeat at Goodison Park. On Christmas Day. Fifteen minutes from the end of yesterday's meeting Gibson Everton's outside right was forced to retire with a leg injury, scorer were Harvey and Holmes (penalty) On Christmas Day, Easthope (penalty) and Lewis were Everton's marksman, Harvey scoring for Chesterfield.
BOXING DAY GAME RUINED BY FOULS AND FRAYED TEMPERS
December 27, 1951. The Liverpool Echo
Ranger's Notes
The spirit of goodwill which is supposed to be abroad at this season was not in evidence at Goodison. One snag of home and away engagements on successive days is that if any bad blood is engendered at the first meeting there is insufficient time to forget all about it before the sides meet again. The tendency is sometimes to attempt to square accounts when the venues are reversed and the bad spirit at Goodison yesterday was to some extent the outcome of certain things that took place at Doncaster the day before. It was a great pity, for it meant that what might have been a really good exhibition was ruined by too much pretty fouling. There were those who put most of the blame on Bycroft the Doncaster centre half, for starting it yesterday. I can only report what I see, and maybe I missed something, but the first evidence to strike one of what might be in store was when Hickson twice had a sly dig at the visiting pivot during melees in the goalmouth.
More Sinned Against
There was nothing severe about either attempt, but Hickson is good enough to give any centre half an anxious afternoon without descending to that sort of thing. Quite likely he had some provocation beforehand apart from anything that happened at Doncaster but even if he had two wrongs don't make a right, no matter how natural retaliation may be. Later, he was more sinned against thin sinning. After that with one or two other players also deciding to "mix it" the game deteriorated into something akin to a dog fight and was rather disgrace to both sides. Parker got his marching orders for attempting o strike Makepeace –an ironical name considering all that happened -15 minutes from the end, and eight minutes later Bycroft followed him down the subway after a foul charge on Hickson. The last time two players were sent off at Goodison was on April 26, 1947 when Fielding and Watson (Preston) were involved in a single incident and both received marching orders. Later they were each suspended for 14 days. Ehen Hickson gave Everton the lead with a grand header from Parker's ideal centre at the 11th minute, Hardwick might have saved, for he had the ball in his grasp but allowed it to slip and cross the line. A 25 yard sizzler from Martin equalized matters with Leyland able to do no more than deflect the ball into the roof of the net.
Stern Measures Needed
Then came Buckle penalty miss after the resumption his shot being a yard wide and after that the fouls came thicker and faster than ever. Referee R.H. Hartley of Burnley must shoulder some of the blame for the game getting so much out of hand. It was obvious that one or two players on both sides had scores to wipe out. A general caution might have nipped the trouble in the bud. Fortunately no damage was done in the way of injuries, but there is always danger when tempers become frayed as they did and under such circumstances the sooner the referee makes it clear that he is going to come down heavily on offenders the better for all concerned Mr. Hartley certainly put some names in his little book but sterner measures early on might have been more efficacious. Donovan carried off with concussion at Doncaster on Christmas Day due to a purely accidental collision was replaced yesterday by Grant, who gave his usual wholehearted display, while Lello recalled at left half also did well. Buckle was not as dangerous at outside right as he is at inside left, yet he put in some good shots. Lindsay was the best of the backs while Jones kept Harrison well taped throughout.
WRONG TACTICS
December 27, 1951.
The Evening Express
Pilot's Log (Don Kendall)
Everton were a goal up in five minutes at Doncaster on Tuesday, thanks to a glorious Buckle shot, but Tindill equalized from a corner, and then Jimmy O;'Neill was beaten by what appeared to be a harmless free kick and the Blues were on the collar. Against the strong Rovers defence the road was heavy and new the end Doncaster took another. Everton finished with only ten men at Donaster and both had only ten men at the end of yesterday's scramble at Goodison. Everton opened in such grand style that I thought they would run away with the game, despite the terribly muddy conditions. Hickson headed home Parker's centre in nine minutes and then in 19 minutes. Martin hit one from 30 yards and the advancing Leyland failed to catch it. Then Everton began to forget that they were superior footballers and deteriorated into Rovers stop-the-other-fellows" tactics. Construction was scrubbed to destruction. I did not think there was anything actually vicious about the play, but there was always a body in the way and that raved tempers. I thought the Rovers were quicker to go to the ball and so were able to make defence pay. Everton adopted the wrong tactics by ignoring the good ground on the wings, where Parker, the best forward of the day, reveled in the opening period and tried too much to plough their way through the sticky mud in the centre. This helped Rovers more than themselves. If Hardwick erred once he made up for it by a brilliant save off Fielding, who apart from this toe-ended shot, seemed the usual happy Fielding. Hickson tantalized Bycroft by his virility and the rest of the defence by his quick darts here and there while Farrell tried hard to bring back the football to the line. Everton's half-backs, with Grant and Lello making commendable returns controlled the game and lighted the task of Clinton and Lindsay. A tough game of incidents but the minimum of football.
GOODISON MARCHING ORDERS
December 27, 1951.Evening Express
By Pilot
Everton have one consolation from their Christmastide matches, which brought such a meagre points yield. Yesterday's match brought no further additions to the injured list. The Blues have two days in which to prepare for Saturday's clash, with the Yorkshire club Leeds United visiting Goodison Park to oppose Everton. Everton in Tuesday's match at Doncaster where they were beaten 3-1 after being in the lead, suffered injuries to Don Donovan and Tony McNamara. Donovan sustained concussion when trying to prevent Tindill from equalizing, while McNamara having got over the muscle injury, received an injury to his eye. Progress here also has been good and Manager Cliff Britton hopes to have good news by tomorrow. The players were off today, except those who needed it were at the ground for attention. Everton's long unbeaten run crashed at Sheffield on Saturday. This was not the sort of bright football Christmas we had hoped, culminating in a match at Goodison Park yesterday which we shall long to forgot. Destruction with a capital "D" so dominated the 1-1 draw, that at times it became monotonous. In the last 15 minutes John Willie Parker and the Doncaster centre-half, Bycroft, were sent off but not in the same incident. A spectator ran on to the field after Parker's dismissal and had to be removed by Police, who called up reserves so that the closing stages were contested with 27 policemen lining the ground. Their services were not needed, while Police soon disposed the enthusitic who waited afterwards to "speak their minds." There was little of the Christmas spirit in this match believe me. This is one football occasion we all want to forget and quickly.
CUP-TIE COLOURS
December 28, 1951,
The Evening Express
Pilot's Log (Don Kendall)
Everton will wear white jerseys and black knickers against Leyton Orient in their F.A. Cup third round tie on January 12 and the Orient will wear red jerseys and white knickers. This was agreed mutually between managers Cliff Britton and Alec Stock. Both clubs normally wear blue and the solution of the change was easy, for both clubs will be playing in their first change.
BLUES IN BID FOR FIRST DOUBLES
December 28, 1951, The Evening Express
Eglington, McNamara, Donovan Return to Everton Side
By Pilot (Don Kendall)
Everton tomorrow make a bid to record their first "doubles" of the season, when they will be engaged in a game with Yorkshire rival. Leeds United visit Everton at Goodison Park, Everton lost vital ground during the Christmas holidays, but I fancy that they will conclude 1951 with a win. Now I feel that the edge on the Yorkshire opponent in these, the concluding game, in the four in eight days rush. Everton are now four points behind Leeds, but have got over their old habit of losing at home, and although John Charles will prove a tough barrier to progress. I think the Blues possess greater forward power. Leeds have had a merry Christmas scoring the double over Leicester City, and so much be an improved force. It was against Leeds that Dave Hickson and Tony McNamara played their first Football League games. This will be the second post-war visit to the ground of the United, who were relegated in 1946-47. McNamara, Donovan and Eglington having recovered from injuries return to the Everton side, which shows five changes, two positional. Leeds United will be at full strength. Iggleden returns at inside left having recovered from a bruised lip, and Fidler has been passed fit after being doubtful because of a leg injury. Everton; Leyland; Clinton, Saunders; Donovan, Jones, Farrell; McNamara, Fielding, Hickson, Parker, Eglington. Leeds United; Searson; Dunn, Hair; Kerfoot, Charles, Burden, Harrison; Mills, Fidler, Iggleden, Williams.
A HICKSON TEST IN THE AIR
December 29, 1951. The Liverpool Daily Post
By Leslie Edwards
Everton annual excursion into piece-time Army Football usually allows them to indulge in the luxury of showing the Army players a few moves they never though existed. But in one case Everton themselves had to bear some "kidding." The giant of a man whose nimble feet trapped disconcertingly among them at Aldershot two seasons ago plays against them again today at Goodison Park –John Charles. Charles is nineteen, ruggedly South Wales in features useful with his fists (but Leeds United had to stop his heavyweight boxing because it damaged his hands) and as mature in a football sense as a player of thirty. Dave Hickson's stratosphere heading may be offset today by the heading ability of a man whose physique for the centre-half position is ideal. Leeds United manager Major Frank Buckley who saw Stanley Cullis League beginning, says Charles will be as good as Cullis ever was. The Major has been responsible for some eyebrow lifting quotes in his time, but few will quarter with this one. Shearer of Soccer What makes Charles so unusual is his lightness and fleetness of foot. The good big men of football (who always beat the good little ones) usually eat up space by long if rather slow strides. Charles like the Shearer, is always on his toes and has the zip of a Mark Hooper or Jack Bestall. Leeds United are not the team they were in the days of Willis Edwards surely the most polished wing-half England produced, but then neither are Everton. After the bitterness of the Doncaster match normal football today will make the game seem like a Sunday school outing. Everton's traditions desire for good football and nothing but that is no dream. Many of their supporters could scarcely believe the evidence of their eyes on Wednesday. There –Or Thereabouts With Donovan recovered from a nasty head blow and McNamara and Eglington back Everton should resume where this successful formation of theirs left off. This last 1951 fixture may indicate whether the club are going to be there or only thereabouts at the end of the season. Everton; Leyland; Clinton, Lindsay; Donovan, Jones, Farrell; McNamara, Fielding, Hickson, Parker, Eglington. Leeds United; Searson; Dunn, Hair; Kerfoot, Charles, Burden; Harrison, Mills, Fidien, Igglesden, Williams.
EGLINGTON NETS IN EACH HALF
December 29, 1951, The Evening Express
Goal In A Thousand' Came From The Touchline
By Pilot (Don Kendall)
Everton registered their first "double" of the season when they defeated Leeds United 2-0 at Goodison Park, and just as Eglington's two goals had taken the Blues to victory at Elland Road, he celebrated his return to duty by scoring another two today. On a sea of mud, which made accurate football almost impossible. Everton enjoyed much more of the game and varied their tactic better. They were slightly quicker to the ball and stronger on it, but they faced a great player in John Charles the 18-year-old international, who must have saved the United several goals. The victory was not without its slices of good fortune to Eglington's first goal was an extended centre, while Fidier missed the easiest possible chance both Everton had scored, besides Williams striking the bar. Everton's defence with Jones brilliant was much too good for the slow shooting United. The United included two ex-Merseysiders in Burden, formerly of Chester, and Fidler, recently signed from Wrexham. Yesterday's drying wind had improved the ground but it was still exceptionally heavy and having been sanded it required forking right up to the time the teams look the field. Everton; Leyland, goal; Clinton and Lindsay, backs; Donovan, Jones and Farrell (captain), half-backs; McNamara, Fielding, Hickson, Parker, and Eglington, forwards. Leeds United; Searson, goal; Dunn and Hair, backs; Kerfoot, Charles and Burden, half-backs; Harrison, Mills, Fider, Iggleston, and Williams, forwards. Referee; Mr. T.L. Wood of Bury. Everton were first on the attack by Clinton's beautiful cross-field pass to Eglington and Parker joined in to force a corner which became the property of the giant Charles. McNamara quite wrongly was pulled up for offside when Eglington came inside to try and push Hickson through but Kerfoot banged the ball to touch. From a throw in on the left Farrell received the ball back and he went on to push the ball along the floor to Eglington whose quick shot went over. This was a comparatively quiet opening with passes too often inclined to go astray, as much due to the mud as anything else. Farrell, Parker, and Eglington eventually participated in a delightful triangular movement and when Eglington centred, Donovan dashed in with a shot which, however, went wide. There was a laugh when Charles (6ft 3ins) was trying to allow the ball to run behind, but Hickson challenged and bowled him over the line to gain a corner from which Fielding hooked the ball over. Everton were making the mistake of keeping the ball too close, and several passes held firm in the mud whereas the United method of "keeping it swinging" was more practical and effective. Hickson and Eglington combined well on the left, but Searson just managed to get his fingers to Hickson's centre which I thought was made from just behind the line. The attack was maintained and Eglington tried a left footer which was well off the target. Elevation Faulty Eglington took over from Farrell and Fielding to cut inside and try a right foot shot, but the elevation was faulty. From Eglington's centre McNamara dashed in with a header but got it on the crown of the head and over it went. Leeds had been defending well but not showing the promise of goals, yet in 26 minutes they should have taken the lead for they had the easiest possible chance. Williams made it by coming inside Clinton and slipping the ball through so that Fider from one yard had only to tap it into the net. Instead he got his toe to it and actually put the ball outside beyond the far post –a most difficult thing to do in the circumstances. Everton tried to cash in on their good luck by a quick attack, which McNamara got through but just as he shot Dunn raced across to take it on his leg. Everton took the lead in 31 minutes with a "goal in a thousand" and the scorer, Eglington, was no genuinely amazed that he stood stockstill just not believing his own eyes. Eglington was out on the touch line when he decided to make a quick centre, and he floated the ball towards goal so that it looked to be Searson's properly. Searson moved out a little too far, and then found that the ball was going to pass over him. He tried to leap but the mud seemed to hold him down, and he fell backwards into the net as the ball floated over his head and into the corner. Hickson worried Charles who was not quite as happy with the ball on the floor. Then Leeds came back strongly, Mills from the edge of the penalty area hitting a right foot cross shot, which Leyland held well. Parker refused a first time shot and so refused a good chance when McNamara headed the ball across to him, enabling Charles and Searson to cover up. The game had livened up and both teams were getting more used to the terribly underfoot conditions and becoming more inclined to use the grassy portions in the corner. From Kerfoot's free kick Leyland came out, missed the ball, but compensated when on its being returned quickly he ran out to catch it as Harrison was racing in for a header. Hickson Drives Everton should have increased their lead when Parker slipped the ball through to Hickson, who however, let it bounce instead of shooting first time, and Searson was able to take it on his body. The ball went back to Hickson who shot quickly but this time it struck Charles on the floor, and went behind for a corner. Half-time; Everton 1, Leeds United 0. Charles limited one with the ball on the floor were expected when Everton attacked quickly on resumption. McNamara pulling the ball away from Charles who had run to the side, experienced the hardest of luck in not turning it inside to Hickson unmarked. Everton still had charge of the game, but the Leed's defence was covering up to great purpose without taking any risks and ensuring that if the ball went anywhere, it was in touch. Twice Charles just contrived to hold off Hickson who, like most other players was finding it difficult to maintain a foothold. Clinton willingly conceded a corner and then saved a certain goal as from William's kick, Leyland can out and missed the ball by yards. It went to Harrison who returned it for Iggleston to head in but Clinton standing on the goal-line, kept it out and received a "thank-you," pat on the back from Jones. Everton were slightly quicker on the ball and although many of their passes went astray their were not quite so many as those of Leeds. In the conditions no-one could blame anyone from what happened. One moment the ball moved fast, the next it stuck. Jones' Grand Day Jones was having a really grand day, both in getting the ball and in using it. Leeds broke away for Williams to try an Eglington trick of a long centre towards goal, but Leyland held the ball to his chest. Everton increased their lead in 67 minutes with the best movement of the match and Eglington was again the scorer. Parker, Hickson, and Eglington were concerned in the movement, Parker going to outside right before pushing the ball into the middle where Parker had quite rightly taken over. Parker trapped the ball in mid-air drawing Charles to him. Searson ran across to the near post to cover any surprise shot, but Parker on the half-turn, screwed the ball back across the vacant goal and Eglington running an tapped it into the net. The United tried to press home the attack, Iggleden and Fider trying headers but the Everton defence covered magnificently, and they were soon hammering at Searson again. Eglington's header striking the falling goalkeeper on the back and going behind. Leeds were coming more into the game now, Everton having to defend desperately from Williams' close-up free kick but the covering was good, just as it was for the corner which followed Clinton's safely head away. Parker put the ball into the net with a grand right foot volley, but the referee did not agree with us who though that Chester was putting him onside and United came away for Leyland to make a grand save of Mills. A brave show by the whole of the 22 players but not a great game of football. Final; Everton 2, Leeds U 0. Official attendance 37,316.
NEWCASTLE UNITED RES V EVERTON RES
December 29, 1951. The Liverpool Football Echo
It was not until 30 minutes had passed that the Everton forwards tested Thompson in the Newcastle area. They then forced four corners in succession two on the right then two of the left. From the last of these Thompson saved at close range from centre forward Lewis, and a minute later Lewis shot over the bar with an open goal. O'Neill in Everton's goal saved his side in the opening stages on at least three occasions, twice with brilliant saves from Patterson, Newcastle's inside left. Everton now settled down to play the more constructive football and were unlucky not to have scored at half-time. Newcastle lost their left-half Crowe after 36 minutes. Half-time; Newcastle Reserves 0, Everton Reserves 0. Crowe returned after the interval but two minutes later Newcastle lost centre half Greener who was injured. In the 60th minute Patterson converted a penalty to put Newcastle in the lead. Everton were unlucky not to gain an equalizer as they had played the more constructive football throughout. Newcastle Res 1, Everton Res 0. • Formby 4, Everton "A" 2
HE'S CHARLES I TO US
December 31, 1951. The Liverpool Daily Post
By Leslie Edwards
Everton 2, Leeds United 0
There were 37,616 people at Goodison Park on Saturday. Scarcely one moved towards the exits before the Everton and Leeds United players left the field. They wanted to pay tribute, by sustained handicapping, to the most chivalrous and artistic centre half-back play ever seen at the ground –by nineteen-year-old John Charles, of Leeds United, whose heights and weight would make him a formidable rough-houser if he were given to that sort of thing. This was most people's first view of Charles. I am sure they will hope to see him many many times again. Discounting the foul awarded against him because his foothold went, there were no free kick against him all day. Hickson caught him on the half turn twice and bowled him over, but Charles came back serenely passing the ball with the accuracy of a Mannion; turning it to his goalkeeper (or dummying to do that) heading beautifully and finally applying stop, in the form of a billiard stun shot, in a headed pass to his own goalkeeper so as to take life out of the ball and make Searson's job simple. Since He Was Seventeen I saw this lad once before, when he was 17, and wrote then of his prodigious size and polish. The way he played against Everton confirmed, in the nicest way, that opinion. Coming after the Doncaster episode Charles' scrupulous fairness and sportsmanship blew like a gale of fresh air through the fetid atmosphere of normal profession football. Who could fail to be entertained by such a game, no matter what the verdict? It was good, too, to see Hickson and his challenger in quiet moments, chatting in a friendly way. Far better Hickson in this role than in that of agent provocateur. Charles has a sense of timing which allows him to get, unhurriedly, just where he wants to be. When the situation called for the dash to the wing he speeded up to meet his needs. Hickson did not score, but Charles could not prevent Searson misjudging hopelessly, the flight of an Eglington centre from the touch-line, nor could he prevent Parker cleverly turning the ball into goal for Eglington to score as he pleased. Gum Arabic We hear of morasses of mud and mud of the consistency of porridge. This Everton ground was of neither quality. It had as its central avenue of approach, nothing less than a three-inch layer of gum-Arabic on which the hardest hit ground pass braked to a stand-still within 20 yards. Allowing for this tremendous handicap the players did well enough, though Mills and the two Leeds wingers, I thought, too often dribbled themselves, cork-screw style, into the ground and became bogged down. The odd period of the game came when Everton led 2-0 and Leeds United took command, hitting the bar (Williams) and doing enough to give Everton some qualms. The reason for the unexpected revival was that both wing half-backs, Burdon and Kerfoot, came far up field on the better going, to add their considerable punch to an attack lacking in power of finish. Burdon if this is his usual form, looks to have a great future. He was strong on the ball, used it well and looked more like a first class inside forward than a half-back. Better and Better Parker seems to play better in succeeding games. Here, for an unaccountable reason, the referee disallowed the goal, he obtained, like Dean used to by anticipation of a through ball. Parker was the only man to move and to have such a spectacular full volley in the back of the net and then find a free kick awarded was desperate luck. Clinton and Lindsay dealt with the Leeds wings, except for one instance when Williams offered Fidler the chance of the match and Fidler did the thing more difficult than putting the ball over the line between the posts. This Leeds blunder was costly. They never enjoyed such another chance though their approaches to a point were nicely worked.
DONCASTER COACH
December 31, 1951.
The Liverpool Daily Post
When Doncaster Rovers players left Goodison Park on Boxing Day by coach a bottle was thrown at the coach, damaging the door. Peter Doherty, Doncaster Rovers player-manager, said last night; We have not decided what action to take. We feel it would be unfair to take action against Everton for something which occurred outside their ground. Everton will not go away for special training for their cup-tie at Leyton Orient. Eglington pulled a muscle again in the game against Leeds United.
NEWCASTLE RES 1, EVERTON RES 0
December 31, 1951. The Liverpool Daily Post
Everton reserves did sufficient at Newcastle to have earned a point. Two shots by Lello and Lewis were headed out by defenders with the goalkeeper out of position, but because both sets of forwards shot on every occasion the goalkeeper's were the stars. The vital goal came from a second half penalty scored by Paterson. • Formby 4, Everton "A" 2 • Everton "C" 6, Linacre B.C. 0
"DOUBLE"
December 31, 1951.
The Evening Express
Pilot's Log (Don Kendall)
Everton testified to their good condition by accommodating themselves to the mud better and showing greater strength on the ball, and stamina. The Blues were going as hard at the finish as they were at the start. This game had features which were a refreshing change. Not for four years have we seen a visiting goalkeeper make the slightest mistake at Goodison. It happened this time and that may be definite proof that in future the "break" are to go with the Blues instead of against them. It was when Searson tried hard to correct an error of judgment in advancing that the mud got the better of him and he followed the Eglington centre into the net. Tommy had no intention of scoring with this one, and stood for seconds unbelieving. No doubt about his second, however, which emanated from the finest move of the match. Hickson to escape the clutches of the majestic Charles went t outside right and Parker slipped into the centre. Hickson's quick pass was trapped in mid-air and Parker deceived Charles by moving to the right and taking Charles with him. A quick turn and back went the ball across goal for Tommy to accept a certainty. The mud prevented Everton from emphasing their superiority in a game controlled by six grand half-backs. Charles was immense in every sense of the word, but Jones was not far behind him, which in itself is high praises. All wing half-backs were good, but the fact that Donovan and Farrell were than shade quicker and more versatile than Burden and Kerfoot, had its effect in Everton's long periods of pressure. Not a word of criticism about these lads in such conditions but thanks for making a game possible and for a quite a few thrills I must, however, pay special tribute to the game's best forward John Willie Parker. A great show John Willie. Spills and slips there were is profusing but I do went to congratulate the 22 players on their sportsmanlike play. There was not a foul with any semblance of intent throughout the game and no more than six all told.