ROTHERHAM PLAYERS RETURN
January 3, 1952. The Liverpool Echo
Everton Changes
Yorkshire Side is Now Recovering From Crop of Injuries
Ranger's Notes
Everton are forced to make one change in the team to meet Rotherham at the Millmoor ground on Saturday. Tom Jones the centre half, is suffering from the prevalent complaint –pulled muscle and is unable to play. His place will be taken by Maurice Lindley, the Yorkshireman, whose height and reach should be a valuable asset. He is a sturdy man to have on your side. Eglington has fully recovered from his strain. Rotherham United team will be the same as that which defeated Doncaster so decisively at Doncaster last Saturday. This means that there will be three newcomers compared with the side which drew 3-3 at Goodison Park early in September after twice being in arrears, and once two goals down. Only the half-back line remains unchanged. Teams; - Everton; Leyland; Clinton, Lindsay; Donovan, Lindley, Farrell; McNamara, Fielding, Hickson, Parker, Eglington. Rotherham United; Quairney; Selkirk, Williams (H.); Edwards, Gibson, Rawson, Grainger; Williams (D.), Shaw, Guest, Tomlinson.
Everton Reserves; to meet West Bromwich Albion at Goodison Park (2-30) is; O'Neill; Saunders, Rankin; Birch, Woods, Grant; Harris, Lello, Lewis, Cummins, Buckle.
ALEC TROUP DEAD
January 3, 1952. Aberdeen Evening Express
Alec Troup the former Scottish international left winger who played for Forfar Athletic, Dundee ad Everton, died in his sleep at his home in Forfar yesterday. He was fifty-six. Troup was capped for Scotland against England in 1920 and again in Ireland in 1921 and 1922. He was also capped for the Scottish League against the Irish League in 1921 and 1922.
• Thanks to Kjell Hanssen for this
ALEC TROUP DEAD
January 3, 1952. The Liverpool Echo
Ranager's Notes
I regret to announced the death of Alec Troup the former Everton and Scottish international outside left, who died yesterday. Troup was only a little man, but big in football ability, it was Troup who provided the centre which enabled Dixie Dean to score big record breaking 60th goal to the season. The little Scott joined Everton in January 1923 and left to rejoin his old club, Dundee in March 1930. He made 240 appearances for Everton and gained a League championship medal in the season 1927-28. Troup had a shot business in Forfar.
YORKSHIRE AGAIN!
January 4, 1952. The Liverpool Echo
Ranger's Notes
Rotherham were something of a revelation when they were at Goodison Park last September. Few people expected the newly promoted Third Division side to put up much of a show in the higher sphere yet for a time they headed the league table, and even to-day are only a couple of points behind their Sheffield Wednesday neighbours. Rotherham have not the resource or wealthier clubs so that a heavy crop of injuries over the Christmas holidays took rather a big toll. Tomorrow, however they will be nearer their normal strength and Everton will by no means have things all their own way. Enforced changes in the forward line recently, have slowed down Rotherham's rate of scoring which at one period was well ahead of any other Second Division side. Dynamite Dooley has since put Sheffield Wednesday in the lead but Dooley do not spring up every day – more's the pity. A few more of Dooley's stand would give us still greater thrills each week. After their spell of five away games without defeat, Everton lost the pattern as soon as they started their December trips to Yorkshire clubs. Successive visits to Barnsley, Sheffield Wednesday and Doncaster added nothing to their points total. Here's hoping that tomorrow's trip to Yorkshire will help to redress the adverse balance. Teams; - Everton; Leyland; Clinton, Lindsay; Donovan, Lindley, Farrell; McNamara, Fielding, Hickson, Parker, Eglington. Rotherham United; Quairney; Selkirk, Williams (H.); Edwards, Gibson, Rawson, Grainger; Williams (D.), Shaw, Guest, Tomlinson.
LAST TRIBUTE TO ALEC TROUP
January 5, 1952 Dundee Courier
The funeral of Alex Troup, former Forfar Athletic, Dundee, Everton and Scottish international footballer, took place to Forfar Cemetery yesterday afternoon. In addition to the representatives gathering of townsmen there was also a number of former team mates. Services at the house and cemetery were the Rev D.M. Bell. Pallbearers were;- James Troup (brother), George Taylor (son-in-law), James Troup jun (Newhew), John Troup (nephew), G. Kydd (brother-in-law), D. Stranchan (brother-in-law), T. Ferrier (brother-in-law), and A. Saddler. Among the mourners were David McLean, J. Thomson, D. Raitt –all ex-Dundee and Everton; W. Cook, D. Thomson, Sam Irving, T. McCulloch, -Dundee; Geo Henderson, ex-Forfar Athletic, Dundee and Rangers; D. Piggott, Angus Junior League; J. Steven, Forfar Athletic supporters Club; W. Dear, Forfar West End; C. Kennedy, Forfar East End; J. Binney, Forfar Celtic, and Geo. Shepherd, former trainer Forfar Athletic. Included in the floral tributes were wreaths from Dundee and Everton clubs.
• Thanks to Kjell Hanssen for this.
ROTHERHAM 1 EVERTON 1
January 7, 1952. The Liverpool Daily Post
By Leslie Edwards
Yorkshire Relish
They breed them tough at Rotherham, where Hickson's headed goal two minutes from the end snatched a point for Everton when none seemed likely. The small, but game Rotherham reserve outside right White, who fell outside the field of play after collision with Lindsay, cut his head (possibly against the iron enclosure rails) so badly he had four stitches in the wound before coming back in the second half to finish the game. Afterwards he collapsed when about to go home by taxi and when Everton left Rotherham long after the match he was still unconscious in the dressing room. After spending some time in hospital on Saturday he was well enough to be taken home. The voice behind the public address system before the match either had a short memory or a flair for the chronic. He asked Rotherham to give Everton a real Yorkshire welcome. Though it was not another Doncaster, there were times when it came dangerously close. When one considers that Quairney in goal was having his Second Division 2 match. White his third and McGoldrick his fourth and that Rotherham despite White's long absence, were able to lead 1-0 until two minutes from the end, the result was no special commendation of Everton. The extenuating circumstances for them were that they did get the goal they wanted and that so many of the referee's hairbreadth decisions went in Rotherham's favour.
Bad Decision
Rotherham's penalty was a bad decision in my view. Farrell and Lindley collided when Shaw was in no position to get the ball and whatever handling there was must have been unintentional. Leyland made a splendid save of Guest's shot from the penalty spot, but the little man followed up so quickly there was no chance of the goalkeeper saving the rebound shot. Oddly when Parker was brought down near the end the referee gave an indirect free kick and not a penalty. From this Eglington crossed the ball for Hickson to score with a solidity hit header. There were times when the Rotherham defence was wide open but Everton finished badly and unluckily. Hickson clean through did not score, Fielding after a long right wing dash beat Quairney and found the ball wide of the far post by inches. Then Hickson shot which was on the point of crossing the line was miraculously turned to safety by a defender. Rotherham fought hard and with a full complement all through would probably have won. In Guest, a player picked up in War years almost by accident, they have a great general in Grainger an inspired wingmen. Everton are losing they way because they are taking the chances they work hard to produce. Parker had a good match and Fielding a good first half, but the finishing was never sufficiently punishing. Maurice Lindley again filled the role of deputy with distinction – Shaw was rarely seen –and Donovan vied with Rawson for wing half honours. This was the best Leyland I have seen this season –a perfect display with many fine saves and only that unlucky Guest goal to blemish it. Facilities at Rotherham are primitive by comparison with Goodison Park, but the team's the thing, and Manager Reg Freeman is thoroughly up-to-date in that department. Meanwhile Rotherham ground is under reconstruction against the possibility of Division 1. "Of course we shan't live to see it" says seventy five year old vice chairman John Watts. To which his eight-one year old brother, the chairman replies "You speak for yourself."
THREE FOR BUCKLE
January 7, 1952. The Liverpool Daily Post
Everton Res 6, W.B.A 1
One of the outstanding players in Everton's Central League victory over West Bromnwich Albion at Goodison Park on Saturday was Buckle, who scored three goals. Lello back again in the forward line, had a good match as did O'Neill in goal Everton's other marksmen were Lello, Lewis and Cummins. McCall scored Albion's goal.
• Marlborough 0, Everton "B" 3
INDIFFERENT FINISHING
January 7, 1952. The Liverpool Echo
By Contact
Everton are all feed up for their cup-tie at Leyton Orient. This match will be treated as any other and in view of Everton's consistent form in away games the outlook is hopeful even if Leyton's seven goals on Saturday creates a little apprehension. Everton can win this and many other games if they will only use the chances they build so carefully for themselves. The story of indifferent finishing was true, also Rotherham in the League game on Saturday; indeed had the goalkeeping been ordinary and the shooting a bit better it could have been nearer 4-4 than 1-1. Hickson (twice), Fielding, Eglington and others all had chances to score, but somehow the ball would not behave en route to goal and when Hickson did get on target there was a Rotherham foot to turn it to safety. Everton should never have been involved in a penalty –the decision was a bad one. I thought –and when Leyland made his best of many saves from Guest it seemed like rough justice. Only Guest anticipation of a save prompted him to follow up and do his job at the second attempt. Hickson's deliberately headed goal two minutes from the end was a surprising solace to his side who had not only looked like losing, but had been faced for a good 20 minutes by a Rotherham only at 10-man strength. White, who cut his head badly in collision with Lindsay came back and performed gallantly and I am glad to say he recovered in hospital after the match, after collapsing on the way home. Rotherham astutely managed by Reg Freeman, are an even tougher proposition at Rotherham than on away grounds. There were times when the match developed as the one against Doncaster did. It was hard and interesting football on a heavy pitch, but both attacks made too many openings for anyone to say that the defences played really well. Yet Donovan, Lindley and Leyland were always good to watch.
LEYTON ORIENT TEAM
January 9, 1952. The Liverpool Echo
Ranger's Notes
Leyton Orient, home to Everton in a game which is expected to set up new attendance figures at the Brisbane Road ground make one change from the side which over-whelmed Colchester 7-0 on Saturday. This is the return of Don Woan, the former Liverpool winger at outside right. Woan is now fit again after tonsillitis. Banner has also recovered from a knee injury. Leyton Orient; Wolton; Evans, Banner; Blizzard, Aldous, Deverall; Woan, Pacey, Rees, Brown, Blatchford.
EVERTON CO-OPTION
January 9, 1952. The Liverpool Echo
Ranger's Notes
At last night's Everton meeting, Mr. Cyril E. Balmforth, a former chairman of the Everton-Shareholders Association, and a vice president, this year, was co-opted to the board of the club. He takes over the unexpired term of the late Mr. Fred Lake, amounting to two and a half years. Mr. Balmforth will now have to relinquish his official connection with the shareholders' Association of which he was one of the founder members. He is a shareholder of long standing. As a boy he played for St. Francis Xavier, but joined the Army in the first World War after leaving school. He attained the rank of captain in the 5th King's Liverpool Regiment gaining the M.C at Ypres in 1917. In the last war he was a major in the Wallasey Home Guard. By profession he is a chartered account in business in Liverpool and resides at Wallasey. Mr. Balmforth will be a decided acquisition to the Everton directorate. He has been a keen follower of football all his life, and will bring much business acumen and a flair for administration to the board.
"SOONER THE BETTER" –CLIFF BRITTON
January 10, 1952. The Liverpool Echo
By Leslie Edwards
When I talked, a fortnight ago, with Everton manager, Cliff Britton, over what has come to be known as Everton's five-year plan for promotion to Division 1, he assured me that a five year plan had never entered his head. "My idea," he said is to return to Division 1 as and when we can, and the sooner the better."
Mr. Harold Williams whose resignation from the Everton board is front page news this morning has probably seen as much of Everton "in action" as anyone over the past twenty-five years. He followed them first home and away, as one of those supporters to whom no journey is too long if an Everton match was at the end of it. He joined the board four years ago and had a further year to severe before seeking re-election.
The New Order
Only in comparatively recent years have Everton have a manager. Mr. Theo Kelly was appointed secretary-manager soon after the war, after many years as secretary and Mr. Britton was appointed manager and later manager-in-chief, or secretary-Manager. The view of the late Mr. W.C. Cuff, Football League President, and a director of Everton was that directors should always direct. "We have never had a paid manager and we never will while I am on the Board" he once said." Mr. Balmforth, the newly co-opted director, an accountant, is a relative by marriage of Dr. Cecil Baxter, a director and former chairman. He was educated at St. Francis Xavier's joined the King's Regiment in the 1914-18 war soon after leaving school and won the M.C. at Ypres as a captain. Quiet shrewd and essentially a man of balance he is well qualified for his new role.
STARS PASSED FITNESS TESTS THIS MORNING
January 10, 1952. The Evening Express
Pilot's Log (Don Kendall)
Everton will play an unchanged team against Leyton Orient in the F.A.Cup Third Round tie at Brisbane road on Saturday, all the injuries having come through tests this morning all rights. This means that Maurice Lindley will be at Central League in place of Jones, who was unable to play at Rotherham, because of muscle trouble. Ted Buckle will be with the party as 12th man. The team includes several players who will be making their Cup debut for Everton. They are Leyland, Clinton, Lindsay; Donovan, McNamara, Hickson, and Parker. Everton; Leyland; Clinton, Lindsay; Donovan, Lindley, Farrell; McNamara, Fielding, Hickson, Parker, Eglington.
The official party will leave Lime-Street at lunch time tomorrow just as for an ordinary league match in the London area, and will speed tomorrow every at a show. The return journey will be made on Saturday, there arrangements standing even if there is a reply. The Everton players were given a final training spell this morning.
GOODISON SHOCK
January 10, 1952. The Liverpool Echo
Everton Director Resigns
Mr. Harold Williams Disagrees With Board on Question of Policy
Ranger's Notes
The resignation of Mr. Harold Williams a director of Everton, which was considered and accepted at Tuesday night's meeting of the board, but not announced yesterday at the time the co-option of Mr. C. E. Balmforth was made public is the sequel to a special meeting of the board held last October. This meeting took place on Monday afternoon, October 29, a week after an Open Letter" to the board in this column and two days after an article which put some searching questions to the directors. The gathering which was held without the usual attendance of paid officials was accompanied by much plain speaking. Other directors besides Mr. Harold Williams expressed their anxiety at the club's precarious position. At the conclusion Mr. Harold Williams –who is not related to the club's chairman Mr. W.R. Williams –tendered his resignation. At the urgent request of his colleagues, however, and in order to avoid a split at a time when the club's position was so fraught with danger he agreed to reconsider the matter. On January 1 he wrote to the chairman confirming his earlier decision and asked the board this time to consider his resignation as final. On seeing no mention of this in the announcement last night of Mr. Balmforth's co-option , Mr. Williams made public his letter of resignation, which reads;-
"After having given the matter long and serious consideration I herewith tender my resignation from the board of Everton F.C. It is a wrench to sever my official connection with Everton after so many years as supporter member, shareholders and directors but I cannot agree with a policy that sub-ordinated the winning of promotion to a theoretical five year plan. "I think the present manager has resigned quite long enough in sole command, and I for one do not feel inclined to continue as a director under a regime in which directors are directors in name only." When I spoke to Mr. Williams this morning he said, "My interest in Everton had been completely killed by the way things have been going over the past couple of years. I feel strongly that we need not have suffered relegation had the problem been tackled in the right manner." Mr. Williams declined to add anything further "I have said all I want to say." He remarked. "I would now prefer that the matter died a natural dealth." He finally added however that his resignation had nothing to do with his health which for a long time has not been good, and that he had not" fallen out" with any members of the board.
"Chairman's Statement
When I spoken to Mr. W. R. Williams, Everton, chairman regarding the non-announcement yesterday of Mr. Harold Williams resignation, he said there was a sound reason for this. After the resignation had been accepted," he stated "I telephoned Mr. Williams to the effect and advised him that I did not intend to make the matter public until a formal letter expressing our regret –which was posted yesterday –had reached him, I did not wish him to think that we were in any hurry or to see it in the Press before he had our official acceptance. Mr. Williams expressed his personal regret at his namesake's decision but said he had told him he would always be welcome at Goodison Park and that if the club could be of being so, him at any time he must not hesitate to say so.
Filling The Vacancy
When I asked the chairman what the board proposed to do regarding this further vacancy he replied that it would probably be filled in due course by a further co-option. Answering a further question regarding an old promise to the shareholders –made several years ago following protests at the annual meeting – that in future the board would refrain from co-option Mr. Williams explained that had the vacancies caused by Mr. Fred Lake's death and the present resignation been held over it would have meant that five positions would have had to be filled by election at the next annual meeting. "To my mind that is not a position that a club by Everton's standing should be faced with "he continued. "We have been passing through a parlous time of much anxiety and we feel that it is best for the club that this remaining vacancy should be filled as soon as possible. We shall probably announce the co-option of a new director within the next month or so.
Everton Team Unchanged
Everton will field an unchanged team against Leyton Orient with Lindley continuing at centre half Jones is still unfit. Teams;- Everton; Leyland; Clinton, Lindsay; Donovan, Lindley, Farrell; McNamara, Fielding, Hickson, Parker, Eglington.
The players are all in good spirits and though by no means prone to belittle the calibre of the opposition, there is a general feeling in the dressing room that Everton's name will figure in the fourth round. Though cup topics have pushed other matters into the background lately. Everton followers are taking an interest in the affairs of the second team. The chances of the Central League championship landing at Goodison Park are bright. Reserve team gates have been improving lately, and there should be a good crowd on Saturday to see the Blues's second string oppose Manchester City Reserves. At the moment Everton are back on top of the Central league table.
LEADERSHIP CHALLENGES
January 11, 1952. The Evening Express
By Pilot (Don Kendall)
Everton have a great chance of consolidating their position among the challenges for the Central League championship when, at Goodison Park tomorrow, they entertain Manchester City. His match was due to have been played on December 8, but heavy rains inside the ground unplayable. The Blues defeated West Bromwich Albion by 6 goals last Saturday, and will now have out the same team, except that as Ted Buckle goes south with the first team, Don Easthope returns to outside left, where he has played for most of the season. This being a day left blank for Cup-tie. Everton Res; O'Neill; Saunders, Rankin; Birch, Woods, Grant; Harris, Lello, Lewis, Cummins, Easthope.
EVERTON CAN DO IT.
January 11, 1952. The Liverpool Echo
Ranger's Notes
Everton are facing Leyton Orient at Leyton, will not be easy, but if the Blues tackle it in the right manner and above all turn good approach work into goals they should be in the draw for round four on Monday. Everton had a spell just before Christmas when the ball at long last was running kindly, for them. Often they played even better than the margin of victory indicated. Since then they have slipped back a trifle due largely to the wastage of scoring chances and occasional shakiness in defence. They have however, been up against some good and improving sides. Leyton are not quite in the same class for skill and artistry as Everton's recent opponents though on the score of ruggedness and busting tactics I am told they must not be under estimated. The Third Division clubs with less at stake than the bigger and wealthier teams often seek by determined methods to throw their supposedly superior opponents out of their normal stride. Everton must not be ruffied if this turns out to be the case at Leyton. They have the ability to command success if they go the right way about it. Here's hoping for the best. Leyton Orient; Walton; Evans, Banner; Blizzard, Aldous, Deverall; Woan, Pacey, Rees, Brown, Blatchford. Everton; Leyland; Clinton, Lindsay; Donovan, Lindley, Farrell; McNamara, Fielding, Hickson, Parker, Eglington.
EVERTON JUST COULD NOT KNOCK THE SHINE OUT OF THE ORIENT STARS
January 12, 1952. The Liverpool Football Echo
Leyton Nil, Everton Nil
By Stork
A little sharp shooting by Everton when they took command would have won this game, but hesitation in making a shot meant the difference between success and failure. Then the Orient took over and gave Everton some anxious moments before the final whistle. It was a match of defences, but there were chances missed by both sides. Leyton Orient; Welton, goal; Evans, Banner, backs; Blizzard, Aldroas, and Deverall, half-backs; Woan, Pacey, Rees (captain), Brown, and Bltachford, forwards. Everton; Leyton, goal; Clinton and Lindsay, backs; Donovan, Lindley and Farrell (captain), half-backs; McNamara, Fielding, Hickson, Parker, and Eglington, forwards. Referee; Mr. G. Parkhurst (Warwick). The visit of Everton to Leyton in the F.A. Cup tie was looked upon as a "tit-bit" in the neighborhood. The programme showed no change in either side. This was Everton's second visit to Leyton for they were visitors many years ago when the Blues brought off a victory. It was a glorious day. Everton's new director, Mr. Cyril Balmforth was one of the party of Everton directors. The ground was well sanded and looked a trifle soft on top, but not nearly as bad as Everton have experienced in recent weeks. I hear that Woan is fitting into the Orient team very well and is already a great favourite. Many prefer him to Jackson. Leyton played in red jerseys and Everton in their secondary colours,"white" The Orient kicked off putting Everton to face the sun. Leyton started off on a promising note, for they had the honour of delivering the first shot of the match when Blatchford tried a first-timer which went straight into Leyland's hands. Woan had made the opening possible with a nice pass to Rees who swept the ball across the penalty time. It was then Everton's turn and after a short attack, Eglington had a shot blocked Leyton brought the cheers when Woan moved across field and with his left foot shot hard against an opponents the ball going out to Blatchford, who centred only to see Lindley head away. The Orient's first time methods were at bit of a worry to Everton, but they weathered the little storms which brewed up in front of Leyland. Some of Orient's midfield play was good and a Woan centre saw Clinton just beat Brown in a heading duel. The game so far was entertaining. The Londoners had more scoring opportunities, mostly made by the right wing, and they could have troubled Leyland had Blatchford been a little calmer in his shooting for he put one, shot high over the bar. A corner by Everton put the Leyton goal in trouble but Welton dealt confidently with Eglington's flag-kick which was dropping under the bar until the goalkeeper tipped the ball over. A second corner came to Everton and this time Welton rushed out of goal to take the ball off Hickson's head. Hereabouts. Everton were enjoying their best spell up to the moment and Welton again distinguished himself with a grand save from Fielding. It was a good move which led to the shot, but the honours went to the goalkeeper, who smartly edged the ball over the bar. Everton were now coming more into the picture and Fielding had a shot blocked by Evans, but another corner was won by Everton. This was capably dealt with. Farrell cleverly dispossessed Woan when the former Liverpool winger looked menacing. Everton had taken six corners in a short space of time. The Orient were a little too hurried in what they attempted and thereby missed several good chances. Young Aldous was holding the middle successfully against good Everton play. He was injured and had to receive attention. The Orient goal nearly fell when Fielding offered Parker a shot which was taken leisurely and just scraped the outside edge of the upright. Everton had been on top for some time and goals promised to come despite some stern work by the Southern defence. After a quick raid by Leyton when Leyland had to cut in and take a ball from Rees close in. Eglington was offered a chance to bring that worthy left foot into play. The Irishman hit the ball hard and true, but again it was deflected from goal. Everton were still pressing their cause.
Spilt Second Decision
Parker was slow to take an opening. A quick shot could easily have done the trick, but that split second made all the difference. It was astonishing how many Everton shots struck one of the opposition. Farrell was coming through as a sixth forward time and again and the once got to within shooting range. He let his shot go but pulled, it a shade, and the ball passed outside. Rees had gone outside right, and was limping along the line with Pacey centre forward. Near the interval the Orient made an effort to sneak a last minute goal but did not get near enough to Leyland to cause any heartburning. Half-time; Leyton orient nil, Everton nil.
Everton opened the second half with a move on the right culminating in a wild shot by Eglington which slewed wide. The Orient replied with a centre from Blatchford, which was nicely caught by Leyland. Rees was back at centre forward but he was laboring under the handicap of lumbago. Welton dropped on a Fielding flack and later saw the same player shoot outside. Leyland had to come out of goal to kick clear when Orient made a knife-like attack. For some minutes the Orient put up a strong challenge and the Everton goal had a lucky escape when Woan burst his way through. He tried a second time, but Leyland smothered him up. Leyton got every encouragement from their supporters, but accepting chances was not one of the strong notes of this game. Had it been McNamara would have scored when the ball was put on a plate for him. The ball swung outside. A free kick to Everton looked to be a gift to Parker but the inside man could not get hold of the ball properly and Welton was able to step in and collect.
Lost Their Grip
Everton had lost their grip on things and Leyton came more into the game, but the respective defences were well able to deal with what problems faced them. A free kick against Lindley for a foul on Blatchford almost brought the Orient their longed for goal. The kick was sent into goalmouth and Blizzard shot outside. The Orient were fighting strongly whereas Everton had lost what craft they had. Eglington was now operating at centre forward, Hickson at inside left and Parker on the wing. A centre by McNamara just passed too high for Parker. Donovan tried to give Farrell an opportunity but the Orient stood firm. Aldous stopped a Fielding effort but the shooting was not of the kind likely to break down the defences. The game was stopped when Blizzard sat down with a leg injury. Leyton took a corner and sent all their tall players down into the Everton goalmouth but the ruse did not come off. Lindley was defiant in the centre and Clinton was defending stubbornly. Near the end, Welton was nearly caught with the ball at his feet and had not apparently seen McNamara on the horizon. It was a rare battle for supremacy and I had to admit that Orient were the more dangerous lot. Final; Leyton Orient nil, Everton nil. Attendance 21,240 receipts £2,688.
EVERTON RES V. MAN CITY RES
January 12, 1952. The Liverpool Football Echo
Everton Reserves; O'Neill, goal; Saunders and Rankin, backs; Birch, Wood and Grant, half-backs; Harris, Lello, Lewis, Cummins, and Easthope, forwards. Manchester City Reserves; Williams, goal; Beecher and Westwood, backs; Barnes, Fowler, and McCourt, half-backs; Allisopp, Williamson, Webb, Davies, Cunliffe, forwards. Referee; Mr. H.E. Lambert (Blackburn). In this pre-arranged match Everton were much the better side with Easthope and Cummins displaying grand tactics on the left. After 23 minutes Lewis put Everton ahead from five yards range. In the 38th minute Cunliffe, with a great drive, placed the City on level terms. Half-time; Everton Reserves 1, Manchester City Reserves 1. Everton pressed after the resumption and succeeded in regaining the lead in the 50th minute through Grant. The City were dangerous but found O'Neill safe. Allison equalized for City, and Lewis gave Everton the lead. Final; Everton Reserves 3, Manchester City Reserves 2.
EVERTON'S CO-OPTION
January 12, 1952. The Liverpool Football Echo
By Rangers
This week's announcement of the co-option of Mr. Cyril E. Balmforth to the Everton board plus the statement of Christmas W.R. Williams that another co-option will be forthcoming shortly to fill the place rendered vacant by the resignation of Mr. Harold Williams appears to have made quite a few Everton shareholders rather hot under the collar. Two or three have rung me up about it and others have written. All recall that some years ago a promise was made at an annual meeting that the board would allow all future vacancies to go to the vote, and not co-opt new directors, I do not propose to give more than one letter on this point for most are couched in the same strain.
Mr. L. B. Osborne of 110 Portelet Road, Liverpool 13 writes;-
"As a member of the Everton Shareholders Association I was interested to see the announcement of Mr. Balmforth's co-option in your notes I seem to recall that the Shereholders Association have always opposed co-option in the past and I think that I am correct in stating that some ten or twelve years ago the board give a promise not to co-opt in future without consulting the shareholders. I would like to ask how the directors reconcile their present action in view of their past promise and more especially as at the last annual meeting accusations were flung at Mr. R.E. Searles about being a "dictator." "It would now seem that the board themselves are appearing in the role of dictators by telling the majority of the shareholders who shall sit on the board. "Surely the shareholders have the right to say who should represent them and he fairest method would have been either to have an election or else give the seat to the man who finished fourth at the last election."
Chairman's Statement
I do not propose to offer a personal opinion on the matter. There is much to be said for both sides Mr. W.R. Williams pointed out in an interview which I gave on Thursday that the board considered it was not in keeping with a club of Everton's standing that all position should arise in which five vacancies required filling at the next annual meeting. There is also the point that the board has changed considerably in constitution since this promise was given and a statement made by their predecessors could hardly be considered to find those who were not directors at that time. There may be some who ask whether an interim election could not have been held to fill the two vacancies. It is three months since Mr. Fred Lake died, and for the past two months or more the board has known of the possibility of Mr. Harold Williams resignation. He first tendered his resignations on October 29 at the emergency board meeting which followed as article in these columns calling on the directors to fulfill the functions indicated by their title. Although he held the matter over for the time being at the request of his colleagues Mr. Harold Williams impending departure was known for some time. His final letter of resignation was dated January 1 ten days before the first co-option. These, however, are matters for the board and the shareholders to thrush out themselves. The latter can ask any questions they wish at the annual meeting and no doubt the chairman will give us explanation. It would have been a decidedly intriguing situation however, had both vacancies been left open. With five positions to fill out of a board of nine, the way might have been open to a complete change in the balance of power in the directorate. Not that I think it would have happened unless the club had been in a decidedly more precarious position than it is at the moment. But we should have had an even livelier election than any in the past, which is saying a lot.
EVERTON FIRED "BLANKS"
January 14, 1952. The Liverpool Football Echo
By Stork
Leyton Orient 0, Everton 0
Everton had to fight tooth and nail for the right to a replay with Leyton Orient, yet with good snap-shooting they could have won. Once they had mastered the Orient's fiery opening and taken command they had only to accept their chances to have snuffled Leyton out. I feel sure that a goal, when Everton were on top, would have shattered the Londoners completely but seeking that Everton were no wonder men in shooting the Orient gained heart and confidence. There are dalliance on the part of forwards which was fatal. It was aggravating to see Everton move towards the target by superior football and then find they had only blank shot in their rifles. At least three times a player was in position to surprise the Orient defence but the chances were not taken. Parker in everything else but shooting showed himself to be a clever player, Fielding showed how the quick shot could be made to pay when he slammed in two that Welton did well to save, but the desire seemed to be there to make one more move before releasing the trigger.
Not Intimidated
The Londoners certainly made a fight of it. The name Everton did not intimidate them and there were some close misses to the visitor's goal; aye and several anxious moments. The Everton defence had some tough assignment before the final whistle came to relieve the tension which seemed to affect player and spectator alike. Everton should win the replay, but they will have to practice more shots than they did at Brisbane Road. During the second half Parker was moved to outside left. It was not a successful move; it mights have been costly. That it wasn't was due to sterling defence. I thought a draw was a fair reflex of the game, although some claimed that Orient could well have snatched a win during their final rally. None played better than Clinton ably assisted by Lindsay and Lindley. The wing half backs could not be faulted but I would beg of the Everton forward to shoot. Leyton were handicapped with an injury to Rees. Their best forwards were Brown and Pacey. Fielding was the best Everton forward.
LETON LESSONS
January 14, 1952. The Evening Express
Pilot's Log (Don Kendall)
"Everton failed to hit the high spots in the initial cup venture but when one realizes what happened to the First Division sides against lower standard opposition one inevitably comes to the conclusion that this was not such a bad performance after all. If Everton have assimilated the lessons that this game taught I have no fears regarding the outcome of Wednesday's replay. This was a match which the Blues should have had tightly slew up long before half-time even allowing for the spirited resistance offered by an Orient defence, which covered itself splendidly and allowed the minimum of shooting loopholes. For some reason Parker and Eglington switched positions early in the second half and this, I thought was a tactical mistake Parker is essentially the stronger midfield tackler and with Eglington inside Leyton right half blizzard was able to come into the picture as an attacking force. Everton had more than enough anxious moments midway through the second session, and they owned much to the flawless defensive work of Clinton, whom I rated easily the outstanding unit for the side. "Leyland's best work was his confident cutting out of a flew of the dangerous centres from Blatchford and Woan, who gave Lindsay quite a deal of trouble by reason of his speed and dash. Lindley was cool and competent after a rather shaky ten minutes at the start and I thought Donovan rather the more effective wing half. The attack although producing touches which showed them to be infinitely superior to the Orient did not really slick. Hickson and McNamara found little going right for them, and neither responded capably to the prompting of Fielding who got through a tremendous amount of hard work and was in fact the prime marksman in the line. Parker forged willingly before the interval but was inclined to year away from goal instead of realist the value of the snap shot. Eglington suffered in the general fall from normal ability and missed one glorious Fielding engineered chance in the opening seconds of the second half. Considering that Rees was a passenger for most of the game, Leyton merit commendation for there excellent fight, and in the goal no-one could deny that they were worthy of a second chance. "The Leyton folk from chairman Mr. H.S. Zussman downwards spared nothing in their efforts to give the Everton party a grand welcome and if this was not a game which those of us who saw it will especially remember, the Orient's hospitally certainty will have a nice taste to the match. "
EVERTON'S RIVALS WILL BE WITHOUT REES
January 14, 1952. The Evening Express
Harris Will Lead Leyton Orient Attack
By Pilot (Don Kendall)
Tommy Harris, the former Fulham player, definitely will lead Leyton Orient's attack against Everton in the F.A Cup replay at Goodison Park on Wednesday in place of Rees. Rees, the Orient captain, is suffering from Ininbago, which troubled him during Saturday's game, and for a spell he played on the wing. The clubs is taking no risks with him that time and the introduction of Harris is the only change. Leyton Orient; Welton; Evans, Banner; Blizzard, Aldous, Deverall; Woan, Pacey, Harris, Brown, Blatchford. The Everton players, who usually have Monday off, were at Goodison Park this morning for a check up and a little work, but Manager Cliff Britton states that it may not be possible to announce this team until tomorrow. He has several problems despite the freedom from injury. The main problem is whether to aim at more striking power in attack, or to leave the "drawists" to the task of winning the tie. Whatever the decision I fancy Everton can manage this task all tight. Shareholders and members will be given priority in admittance to their stands in Bullens-road up to 1.45 p.m on production of the Third Round vouchers in their books and the 5s admission charge. They will queue only in Bullens road. Other stands seats will be 3d, 6d, paddock 2s, 3d, and ground 1s 6d.
If Everton beat Leyton Orient, Everton visit St Andrews against Birmingham in the F.A Cup Fourth Round.
ORIENT'S FIGHT
January 14, 1952. The Liverpool Echo
By Stork.
The Leyton Orient directors say "We are only a struggling Third Division club." Well, the team lived up to that in forcing a draw with Everton. At one time Everton looked to be so much on top that the opinion appeared that it was only a matter of time before Everton's superiority must show itself in the shape of goals. Many times I have had cause to blame Everton for not shooting. This time I accuse them of being too slow in making their shots. They did make them, it's a true but they made them seconds after they should have been delivered. That little hesitancy was their downfall. On the other hand the Orient's propensity to be too hurried in their shooting was well for Everton for I am sure it cost them goals. Everton's approach work was infinitely better than that of Leyton but after that things became balanced for the Londoners had their moments when Everton were striving to hold on to "half." Like most Third teams the Orient opened full of fiery notions to make a quick dent in the Everton armour. It failed and Everton's more methodical football intimately swung the pendulum in the opposite direction. It was then that the Merseysiders should have staked their claim for round "four." It only needed the quick shot to have shaken the Orient to the depths. The Orient were soon acquainted with the methods of their rivals close to goal, so they packed their goalmouth and when the shot came it usually rattled against someone or swung outside or was collared by the goalkeeper. The half-hour preceding the interval was Everton's best. The foundation of success should have been laid there and then, but having failed to build solidity the "Everton house" became shaky at least so far as the attack was concerned. Orient saw it and set out to lay their own foundation but they were not one wit better when "came to piloting the ball into the net. There were near squeaks pulse quickening actions which had us wondering whether Everton could hold out for the Orient were putting up a bonny fight. They did, but all their thanks must go to the defence, which never faltered under whatever stress it was placed. But I will wager that the final whistle was never more welcome to Everton, for they had been on the wrong end of the stick during the last 35 minutes of the game I cannot understand why forwards clever enough in football ability will not chance their arm after they have put up the scaffolding. Parker was slow to take shooting chances, McNamara missed a reasonably good scoring chance and Hickson rarely got a show against the hard tackling Aldous. Fielding was Everton's best forward, and right behind him were six men who would not yield an inch to nay man. Clinton and Lindsay were confident and Lindley used his head to great effect, when the Orient forwards were hitting hard and threatening Brown and Pavey were their best forwards for Woan tried to do too much. Blatchford's speed was a menace, but Rees was a passengers most of the game.
CAN EVERTON PULL IT OFF?
January 15, 1952. The Liverpool Echo
Scoring Chances Must Not Be Wasted If Blues Are To Progress Further.
Ranger's Notes
Cup fever will run high again tomorrow in many places with the main interest in this area centred on the Everton –Leyton replay at Goodison Park. Everton with ground advantage behind them plus the lessons they learned at the first tussle with Leyton Orient ought to get through Leyton too, doubtless picked up a few tips at Brisbane Road which will be helpful to their cause though whether enough to sway the balance in their favour's another matter. There have been so many cup-tie shocks already that nothing can be ruled out as impossible though some things may look a trifle improbable. If Everton produce their normal form and take their chances without hesitation then I fancy Leyton's Goodison visit will mark the end of their active participation in this season's competition. Should Everton fiddle about as they did at Brisbane Road, however, the tale may be different. No side can afford to fritter away scoring openings in a cup-tie. That is courting trouble. We had sufficient proof in Saturday's game the difference in league standing count for precious little in these do-or-die matches. The Third Divisioners have no respect for position or tradition. They are out to win if possible and by hard endeavour and rugged tackling often counter-balance the extra skill and craftsmanship of their more aristocratic opponents. We saw that at Anfield with Workington. Workington may not have been in Liverpool's class in some respects, but they were bonny fighters. Leyton will probably put just as much into their game as the Cumbrians did. They have every incentive. Everton will not decide their attack until later. Choice will be made from six forwards. The defence is unchanged. The only change in the Orient side is Harris at centre forward for Rees, who has now definitely had to cry off following the report of the club's specialist. Everton; Leyland; Clinton, Lindsay; Donovan Lindley, Farrell; from; McNamara, Buckle, Fielding, Hickson, Parker, Eglington. Leyton Orient; Walton; Evans, Banner; Blizzard, Aldous, Daverall; Woan, Pacey, Harris, Brown, Blatchford.
McNAMARA OR BUCKLE
January 16, 1952. The Liverpool Daily Post
By Leslie Edwards
Transfer-listed Ted Buckle, the man whose spare frame cannot stand the rigour of weather in the North, may be in the Everton side which replays Leyton Orient, at Goodison Park this afternoon. If manager Cliff Britton decides Buckle for McNamara at outside right –and Buckle's greater experience and penetration may turn the balance – the man whom we said farewell a few weeks ago might delay his departure notably. A fortnight ago Buckle was telling me how much he disliked the climate here. He was then having penicillin injection for ear trouble and it was clear that all he wanted was opportunity to go South into milder conditions and find a club in the London area where he lives. News that he is in the Everton attack may disturb Leyton. Buckle is apt to be a match winner on the wing; but when I spoke to Manager Alex Stock of Leyton at Southport last night there was no mistaking his optimism. "We feel that having held Everton, despite the injury to Rees we are in the match with a positive chance" was his summing up.
Coming Home
For Alex and for his winger Don Woan it is almost a case of coming home, though the Leyton manager never played here. During the war he was posted to the armor of the 1st King's Regiment and who should be his room-mate but the son of the late Jack Parkinson most notable of Liverpool centre forwards. Woan you will remember was a discovery, at Bootle of Alex Stevenson. Bootle had ideas that he might be signed by Everton, but Everton made no move and Liverpoool stepped in. Then Woan left for Leyton in an exchange of players involving the present Liverpool right winger. Brian Jackson. Among the scouts at Goodison Park will be Manchester United manager Matt Busby, who has had the Leyton Orient inside forward, Pacey watched in each of his last two games. This will be a first rate chance for Matt to "see for himself." Another Leyton player noted "in running" is centre half Aldious. I am told he played exceptionally well in the first match. Harris is a young lad in the Army, takes over at centre forward from the injured Rees. With the tie now at their own ground Everton are at an advantage yet many will go to this match "prepared for anything" the only certainty being that Leyton are going to fight hard, tactically and physically to upset the odds.
EVERTON GO OUT
January 16, 1952. The Liverpool Echo
Tragic Errors In Defence
Pacey Double
By Ranger
Leyton Orient provided an even bigger surprise at Goodison than Tranmere did at Huddersfield. The issue should never have been in doubt for Everton enjoyed 90 per cent of the game territorially. Enjoyed is the right word for Leyton's three goals all came through a defensive blunder. Leyland had a tragic match. Before the finish he was reduced to such a state of nervous that he once required three efforts to pick up the most simple shot. Before the start of the game the Everton loudspeakers played the record "Just one more chance." They do not get another chance but Leyton do, and now visit Birmingham in the fourth round on February 2. Everton, truth to tell, did not deserve another chance. Whoever chooses the music? As the players trooped off the field he record played was "You'd be far better off in a home." Everton; Leyland, goal; Clinton and Lindsay, backs; Donovan, Lindley and Farrell (captain), half-backs; Buckle, Fielding, Hickson, Parker and Eglington, forwards. Leyton Orient;- Weldon, goal; Evans and Banner, backs; Blizzard, Aldous, and Deverall, half-backs; Woan, Pacey, Harris, Brown and Blatchford, forwards. Referee; Mr. G. Pankhurst, (Warwick). Everton decided in view of the firm state of the pitch, to play Buckle at outside night in place of McNamara. This was the only change from Saturday. Leyton Orient had Harris taking the place of Rees so that orient were without their only two international players. Blair missing both games. The first shot of note was a 30 yarder from Buckle which Walton saved at the foot of the post. A long pass by Parker looked promising for Hickson until Aldous produced a timely intervention. Aldous was not so fortunate a moment later when Hickson came tearing up. He had to sacrifice a corner as a safety first measure from which Fielding leveled a shot but Welton had positioned himself nicely to collect. At the others end Leyland was the unfortunate perpetrator of an error which led to Leyton taking the leading goal in seven minutes. The Everton goalkeeper failed to punch away a corner by Blatchford and Brown faced with an open goal made what appeared to be an equally expensive miss. His shot cannoned off Clinton to the foot of Harris, who this time made no mistakes. This was a bit of luck for Orient but terribly hard on Everton who have suffered severely this season from goalkeeping errors. Buckle trying to place the ball when he picked up a punch away by Walton wrung his hands in despair as he saw it miss its billet by a mere foot or so. It seemed certain that before long the Leyton defence must crack for it was not only subjected to terrific pressure but was not at all impressive. Some clearances were very weak.
Reward Comes
Surely enough at the 25th minute Everton got their reward. All the players were in Leyton's half except Leyland. A long punt by Clinton dropped alongside Parker who in one movement veered to the left to avoid a defender then whipped in a shot which gave Welton no possible chance. Still the "shooting-in" match continued. Leyton's packing of their goal area and Everton's inability to put their effort on the urgent meant that Welton was still not being employed as busily as he should have been in relation to Everton's territorial advantage and close-in pressure. Buckle, Hickson, and Eglington were wide of the mark with strong shots, while several times Orient defenders nipped in to clear as an Everton player was about to shoot. Welton on the ground, found the ball lip out of his grasp and as he and Evans scrambled to get it away between them they almost had it in the net. For the second time, after they should have been well in front Everton found themselves a goal down, through defensive error. This time the culprit was Lindsay, usually so reliable who was top nonchalant. He found an awkwardly bouncing ball beat and Pacey, rounding him quickly, went on a few paces to put the ball into the net. This was at 42 minutes and a moment later Leyland almost dropped the ball at the foot of Blatchford. It had been an amazing first half Everton enjoyed such superiority that they should have had the game well won. Instead of which with the shaky Leyton defence –Welton apart – they went off a goal down.
Half-time-Everton 1, Leyton Orient 2.
Orient were saved three times inside a minute first when Welton dived to stop a Hickson header from a corner and again when Aldous and Evans kicked off the line.
Narrow Escape
Yet another narrow escape for Leyton the ball forward from an Eglington centre for Parker to hook it goalwards. He had the mortification of seeing it hit the bar and go behind. An inch lower and he deflection would have been into the net. Hickson needed attention and an Eglington shot sped a couple of yards over the bar. This match will go down in history by reason of Everton's defensive errors for it was another goalkeeping mistake by Leyland which led to Leyland getting a third goal at the 64th minute. Blatchford, put over a strong centre-cum-shot which Leyland elected to fist away instead of catching. The ball flew almost straight up in the air and dropped at the feet of Pacey, who turned round and flashed it into the net to give Leyton a two goal lead. It was all against the run of play, but once more showed that only goals count and Everton were not getting them. Buckle came nearest to reducing the lead with a quick first-timer which was just on the wrong side of the woodwork. Parker rammed in a shot which was well worth a goal, but Welton was there to deny him with a full length save. Poor Leyland appeared to have been so upset by his errors that he had to have three efforts to make a simple pick up from Harris. Everton with ten minutes to go were a dispirited and weary lot and Leyton were now actually on top. Woan, former Bootle boy, and Blatchford, twice cut through with grand individual runs but with no ho at the end of them.
Brilliant Save
Welton made a brilliant save from Buckle, sweeping the ball out after it had appeared to be behind him, risking his back in doing so. Evens headed out off the goal line with Weldon helpless. Final; Everton 1, Leyton Orient 3. The Official Attendance was 33,750.
ORIENT TWICE TAKE LEAD IN FIRST HALF
January 16, 1952. The Evening Express
Orient Twice Take Lead in First Half
Vital Slips; Visitors Sound Defence
By Pilot (Don Kendall)
Everton staged their fourth home post-war cup-tie at Goodison Park today, when they entertained Leyland Orient in their third round replay, for the right to visit Birmingham City in the fourth round. The clubs played a goalless draw in London on Saturday and both sides made one change. Ted Buckle was brought in at outside right for Everton in place of McNamara the decision being made just before the start and in view of the excellent ground condition –a ground requiring only a minimum of sand. Leyton had Harris at centre forward in place of Rees. There were about 35,000 spectators at the start but little of the cup-tie atmosphere was felt. Everton; Leyland, goal; Clinton and Lindsay, backs; Donovan, Lindley and Farrell (captain), half-backs; Buckle, Fielding, Hickson, Parker and Eglington, forwards. Leyton Orient;- Weldon, goal; Evans and Banner, backs; Blizzard, Aldous, and Deverall, half-backs; Woan, Pacey, Harris, Brown and Blatchford, forwards. Referee; Mr. G. Pankhurst, (Warwick). The ground was often than it appeared, and footprints appeared as soon as the players started to appear. The first real effort was Hickson's crossfield run from the right, followed by a Buckle centre which however brought no danger. A fielding shot was kicked away by Aldous, before Buckle away on the right, tried a surprise left foot shot dead on the mark and which Welton saved at full length near the post. Blatchford broke away but Leyland came out to catch his centre as Harris charged in. This first corner fell to the Orient, and the Third Division were rather quicker into their stride than the Blues playing in white.
Welton's Save
Aldous conceded a corner when challenged by Hickson, and from this Fielding made a strong right shot which Welton pulled down from under the bar. Challenged by Harris and Blatchford, Lindley and Clinton were a trouble but Donovan came back to concede a corner to hold up Blatchford. This brought the opening goal in seven minutes, Harris being the scorer. Leyland can take a lot of the blame for this for he came running out to take Blatchford corner but missed the ball completely and it was pushed well forward towards the far post. There was a slowness to clear and Harris from two yards, stabbed the ball into the net, with Leyland still miles out of his ground. It was a scrappy goal, but was the direct to curious in certainty almost the Everton defence. Clearances has not been crisp and there was lax covering. The Orient tried to cash in on their advantage but suddenly Buckle broke away; place Hickson in possession, but Hickson advanced the ball too quickly. From a throw in the ball was swept across to Buckle, whose shot was just wide of the post. Welton saved the Orient when Fielding went through and pushed the ball across towards Hickson and Buckle. Just as Hickson was about to shoot, Welton dashed out and fell on the ball to prevent a certain goal. Lindley's free kick saw Hickson and Buckle combine but the long legs of Aldous took charge and the Orient foster on the ball, were soon back again, the Everton passing lacking conviction as well as accuracy. Hickson raced away to survive a foot and to make a fast cross shot which went just over the top. Aldous handed the ball on the edge of the penalty area to intercept Lindsay's kick which was going through to Hickson, and following the free kick, Hickson, and then Eglington centred before Eglington forced a corner.
Pepper Defence
Everton began to swing into the game after a quarter of an hour, and they really peppered the Orient defence, Fielding and Buckle having shots charged down, before Buckle pushed the ball through to Parker, who, however, could not get hold of it properly and it ran off his toe. Everton, driven on by the roars of the crowd, literally penned the Orient into their own goalmouth or ten minutes on told, one breakaway by Don Woan being the only real thrust by the Orient. Everton seemed to be playing with greater confidence and one could see a goal coming all the way, as Orient defended oft-times with sheer desperation. It did come in 22 minutes, when Donovan placed the ball into the goalmouth where Hickson and Parker went for it. Hickson obviously hearing a shout moved out of the way and Parker pushed the ball into the net from close range. Everton seemed to have taken command and a little extra speed in sending the ball in the goalmouth must have got a greater reward than this line goal, for unless the ball was trapped first time, the Orient defenders gave no second chance. Welton under the greatest difficulties fisted away Buckle's lobbed centre which seemed to be curling under the bar. Hickson's had a grand chance after an enterprising burst through by Farrell, but he allowed the ball to bounce off his leg, and so Leyton were able to take charge. Straight away Woan burst through to feed Harris who found his path to goal harried by Lindley and Clinton. Everton were attacking so much that they won three corners in the pace of two minutes, and from the third Hickson having missed his own chance of shooting back-heeled the ball to Buckle whose quick shot flashed outside. Hickson cleverly held off three men, and eventually beat Aldous before shooting just past the post. The Orient came back to take a corner which gave Everton more than a little trouble, before Farrell got the ball away and we saw Welton dive to his right to save from Parker. Fielding made a glorious effort when he dribbled from 13 yards and from just inside the penalty area shot hard along the floor, Welton again diving to his right to make a thrilling save.
Amazing Escape
Orient had an amazing escape when from Lindsay's free kick Hickson and Parker bore through, faced by six Orient defenders. Weldon dived to, but could not hold Hickson's first shot and was injured in making the dive, Hickson and Parker both made bold attempts to force the ball through, but the Orient covered magnificent, beating away shots with legs and bodies. Just as so often happens, after prolonged pressure, the Orient went away to regain the lead in 41 minutes, pacey being the scorer. Farrell can the take the blame for this goal, for unchallenged he made a pass straight to the feed of Deverall who moved the ball upfield to Harris. Harris broke clear from Lindley and lobbed the ball square to Pacey just inside the penalty area, Pacey flashed it into the net, Leyland having no possible chance. Leyfield a little later ran out but failed to field the ball cleanly and it dropped back to Deverall who, however, with an open goal facing him was much too long in making his shot.
Half-time; Everton 1, Leyton Orient 2
Everton took up the attack immediately on resulting but the Orient's body checking was so good that never a direct shot reached Welton, despite hard grafting by Hickson, Parker, and Buckle. There is no doubt that Everton were to blame for their position, for both goals, headed down, were in the nature of grits. So much attacking by a Second Division man against a Third Division side should have produced more goals than one, especially in view of the tremendous pressure Everton had exerted.
More Escapes
The Orient had some amazing escapes, following a Fielding corner, for Hickson headed in like a bullet, Welton driving on the ball on the line. His clearance was not complete, and Parker and Eglington had shots kicked off the line. Eglington soon recovered from an injury, and Fielding backed heeled the ball only for Parker to shoot just over the top. It was Welton again who saved Orient when Parker cleverly back headed the ball, and Banner saved an awkward situation for Orient when he flung himself through the air to head the ball away from Fielding. Parker centred from the line and the ball bounced off Welton, but there was no one at hand to tap it into the net. Everton hammered away at the Orient barrier but could not score. The Orient's sudden raids were till dangerous. They forced a corner where Everton, in an Endeavour to get extra striking power, switched Buckle ad Hickson. This was only a temporary measure and during it no shot replied Welton. Orient increased their lead in 64 minutes, Pacey being the scorer from what was another gift from Everton. Blatchford broke away and centred hard long the floor, Leyland came out to take the ball, but missed it completely and it ran to Pacey who sented it into the net from short range. Everton came back fighting but there were still slowness to shoot and the Orient defenders needed no more than a split second in which to make their clearances. Buckle tried to burst through by swerving to the right, but Deverall flung his body into the way of the shot which otherwise would have test the keeper.
IRONY OF A MARTIAL MOMENT
January 17, 1952. The Liverpool Daily Post
Everton 1, Leyton Orient 3
We three kings of Orient are "pipe the carolers. The Orient of Leyton have only one king, goalkeeper Welton, but, by all the heavenly bodies, he reigned supreme over these Everton forwards. When they shot well (there were times) he save brilliantly, when they shot to well (they did, this three times) out came the trusty foot of one of his lieutenants to kick the ball from the line they shot badly (as they did too often) he did not need to brother and when they should have shot and did not he must have had difficulty in reviewing the evidence of his eyes. One glance at the other end of the field where Leyton shot infrequently and scored three times and you have and accurate if dismal picture of what happened in this third round F.A.Cup replay –a game which sent the Everton faction of 40,000 people from the ground laughing almost to the point of crying at the irony of the opening bars of marital music which played them out. We'd be far better off in a home." Now if Weldon's name had only been Max and Everton had the record how much happier it would have been had we been able to him. Welton's saves are bonny.
Leyton Glory
But Everton's too negative faults must not take from the winners the glory they deserve for rubbing their opponents into the mud of Goodison Park –not in a nasty way, but by some first-rate chance-taking against the most jittery and sometimes a too complacent Everton defence. All three Leyton goals were tarnished at some stage, by indecision and blundering. Leyton to their everlasting credit, seized these chances well. That first goal of Harris at nine minutes. Leyland completely missed the Blatchford corner and from that moment was never in a position to recover. Clinton bravely poked Harris's first shot away from the line, but this small, but able reserve was persistent and just as promptly hit the clearance back. How many times Everton should have equalized before Parker fastened quickly on to a ball half-headed away and lashed it past Welton at 23 minutes only Welton and his backs cam appreciate but maybe they were too busy congratulating themselves on Everton's lack of shots, or on shots which flew wide to count.
Playing Well
At this point Everton were playing well, it without giving evidence that they appreciated the urgency of getting goals. They gave the impression that the match was nicely in hand and that it was only a matter of time. Pacey's goal immediately before the interval the result of yet one more defensive blunder –did not seen to jolt them. Welton saved on the line and had his life saved twice within a matter of seconds early in the second half, before Parker had the bad luck to hit a fierce shot on to the top layer of the bar. Brown then made the best run of the match, struggling on when he might reasonably have appleaded for a penalty and getting the ball to the lively Blatchford whose centre Leyland tried to grasp, but only succeeding in turning high to where Pacey hit it home. He seemed unable to realize he had scored. Even then Everton had time to pull the match round. But Leyton obviously began to believe in themselves and once Evans had done his acrobatic goal-line turn to prevent he score going to 3-2 in the closing minutes it was only a matter of time.
Had The Edge
Everton lost this tie for a number of reasons, the chief one being Weldon but they had sufficient edge, in every way to have won the match on their first-half command. Leyton their goalkeeper and left wing triangle of Blatchford, Brown, and Deverall apart, were an indifferent side, but one quick to take chances and quick to stop Everton taking their's. This slow reaction of Everton meant that time and again the Leyton defender moved to the ball at critical moments a fraction of a second before the would be shooter. Slowness to move at vital moments and laxity in defence to the point of jitters meant that Everton could not succeed. Leyton are to be congratulated on Cup progress against the odds with a side which can hardly go further. The policy of Orient seemed to be to give the Everton wingers space and freedom –to force the ball to the wings. On the deep mud of the shooting range Orient congregated in depth. There was one-moment when all save Harris were occupied in their own penalty area. Buckle was the best and most luckless shooter, it was a crime that an Everton attack fast and promising in many of its combined operations should founder so badly in front of goal.
EVERTON'S BITTER PILL
January 17, 1952. The Liverpool Echo
Rangers Notes
To suffer cup dismissal on one's own ground by a team from a lower strata of football "society" is always a disappointment, but when defeat comes after enjoying four-fifths of the game territorially and presenting the opposing with all their goals, that surely is the bitterest pill of all. The same faults which caused Everton to lose their chances against the ten-men Orient side at Brisbane road were partly responsible for yesterday's shock result, namely inaccurate finishing and slowness to shoot. Very early on I ceased counting the times Everton shots hit Leyton defenders. This was not always the fault of the shooter but too often it happened because the marksmen had "fiddled" away the valuable seconds which enabled someone to interpose his body between shooter and goalkeeper. I felt sorry for Leyland he had so disastrous a day that in the end he was too "butter-fingered" to hold the slimpiest effort. Others may make mistakes and get away with them, but the poor goalkeeper often has nobody to save his bacon when he errs.
Simple Goals
Leyton's first goal came when Leyland completely missed a corner kick, the third when his poor effort at saving a fairly easy shot resulted in another simple short-range chance while the second was due partly to Farrell's mis-directed pass, which caught the defenders spread-eagled and found Lindsay to nonchalant Leyland had no chance with the shot. Chatting with Leyton's manager, Alec Stock, before the match, he seemed anything but optimistic about his side's chances. His main hope was that they would put up a fighting show. They did the latter all right. Yet they were by no means brilliant in defence –Welton apart. Welton gave a splendid display. Had Everton had him in their team they would still be in the cup. Often the Orient defence escaped more by good luck rather than good play. There was nobody in the full back or half-backs lines who could clear the ball any distance. Several times the ball was dribbled towards his own goal by a Leyton man or tip-tapped when a lusty full-blooded clearance was the obvious thing.
Lost Heart
It was mainly their covering up which held Everton at bay, plus the latter's own shortcomings in front of goal. Even so the Leyton goal had many narrow escapes. Three times in two minutes in the second half the ball was kicked away from the goalline when Welton was beaten, then Parker hit the bar, other shots missed by a mere fraction and still Everton could not reduce the leeway. After the third Leyton goal Everton seemed gradually to lose heart. They faded out so much that in the last 15 minutes the visitors became the more aggressive side for the first time and almost increased their lead. The game proved once more though further proof was not needed that differences of League standing means nothing in cup-ties. Superior midfield play or artistry means nothing if there are no goals to back it up and that is where Everton failed.
Nothing Went Right
The inclusion of Buckle for McNamara was no improvement. The latter's service of centres might have been more advantageous. The forwards all worked hard enough but nothing went right for them and too big a proportion of passes went wrong. Farrell did everything possible to try to pull Everton together. But these days he is making too big a labour of his task, doing the work himself instead of letting the ball save hit legs. To dribble 30 yards and then make a five or six yards pass is reversing the natural order of things. While this is a game best forgotten I thrust the lessons it provided are taken to heart, other wise Everton are not going to meet with much success in the next few months. We have been told officially now that Everton have no five year plan. Instead that their aim is promotion as quickly as possible. I cannot see much hope of that with things as they are.
Paramount Need
The inspired spell they enjoyed just before Christmas has petered out. There will have to be a big improvement before promotion becomes a practical proposition, I said before the season started that I did not expect Everton to finish higher than half-way. Recent displays have given me no cause to amend that opinion. It is no consolation to say that Everton have lost matches they should have won. Their descent to the Second Division was paved by things they should have done but didn't. Everton's paramount need at the moment is a reliable goalkeeper. O'Neill and Leyland have been dropped before because of bad spell's. The club cannot carry shaky custodians. Nothing destroys a team's morale more than lack of confidence in the man beneath the bar. I have seen both these goalkeepers play splendidly at times but occasional good displays do not wipe but such tragic errors as yesterday's. Consistency above all is required from the last line of defence. This, however, is not the only weakness. Others still persist and though temporarily there is improvement from time to time we always seem to get back more of less where we started. Everton have a long way to go yet before the old tradition are revived. Time is marching on. They may be only seven points behind the League leaders – but they are also only six points above the bottom club, and some of those below hem are showing much improved form.
BLUES FATAL ERRORS
January 17,1952. The Evening Express
Pilot's Log (Don Kendall)
Three errors brought about the sensational 3-1 victory of Leyton Orient over Everton at Goodison Park yesterday to close the 1952 Cup chapter of the Blues. Everton did more to lose the match than Orient did to win it. Let me say at once that the Everton forwards did sufficient to have won ten games, even allowing for a slowness at times to do ordinary minds and feet. Shot after shot was sented in on the Leyton goal, and shot after shot was kept out. It was almost an believable. On the other hand, Leyton never made a single goal effort, apart from those which enainted from the Everton "gifts." All through, Everton's defence was jittery and at times incapable of making a crisp clearance even when unchallenged. Why Leyland came out to Blatchford's corner in seven minutes lost everyone. He was yards off the ball, which was returned to the goalmouth and Harris had it in the net. The second goal at that vital pre-interval came from a misdirected Farrell pass. It went to Deverall who slipped it upfield for Harris, Lindley's effort at interception as weak and so was Lindsay's move to make Harris's pass his own and so fancy stepped in to score.
Another
When Parker struck the bar with an enterprising overhead kick Everton seemed to lose some fight, and the fight was stripped from them when in 64 minutes there was another "gift" Blatchford centred from the line (some thought it was over) and Leyland by driving outwards, completely missed the ball so that Pacey's task was easy. Three errors, three chances to Orient and three goals. Surely a team capable of scoring on those opportunities deserved to win. Everton had far more chances and yet could take only one – the always ready to have a go Parker. Accepting the fighting spirit of Farrell and occasionally Donovan the whole Everton defence was under form so that the Orient raids looked more dangerous than did prolonged Everton pressure. Everton forwards have played much better as a line and yet not enjoyed so much of the pressure, I guarantee it as three parts of this crazy game was enacted in the Orient goalmouth where Peter Welton, their goalkeeper played the game of his life. Orient folk said afterwards that was Peter's finest ever. Everton missed chances, plenty of them, but they also made great effort, dozens of them. The tragedy was that three such errors should bring about a defeat as crushing as that at the hands of Crystal Palace in 1922. It will take a lot of league wins to erase the injustice of this defeat at the hands of an indifferent Third Division side. Leyton were a poor team and yet there ability to take that which was offered made them deserving of progress in the end.
EVERTON CHANGES LIKELY
January 17, 1952. The Evening Express
There will be defensive changes in the Everton ranks, following the club's fantastic downfall from the F.A. Cup by Leyton Orient at Goodison Park yesterday. Let's not expect any radical changes but efforts certainly will be made to tighten up the defence. There is no denying that Everton did not deserve to lose yesterday, except that they made the rope for their own backs but by the same argument neither did the Orient for their grand stout, hearted defence.
EVERTON CO-OPTION POLICY
January 18, 1952. The Liverpool Daily Post
Alderman Hogan Asks For Enlightenment
Alderman Luke Hogan, a former Lord Major of Liverpool and a shareholder and supporter of Everton F.C, yesterday sent the following letter to Mr. W.R. Williams chairman of the club – "No one can be indifferent to the deep concern felt by all interested in the fortunes of the Everton Football Club and as one who has been asked by many who support the club with its great and honourable traditions, can the chairman please elucidate the one question which would seem to agitate the minds of those not familiar perhaps with all the facts? "My own association as a supporter for more than forty years and my own personal gratitude for the compliment the Everton board paid me will I am sure, indicate that I am not raising this issue in any narrow spirit, nor am I going to enter into the reasons which may or may not be responsible for the temporary decline in the status of the team. "I think we would like to know however, what is the policy of the club in regard to the co-option, as distinct from election of individual members or shareholders to the board of directors?
"Fierce Speeches"
"As a shareholder I have attended meetings of the shareholders Association and have listened to fierce speeches made, i.e. Under no circumstances would such a body ever agree to the principle of co-option being maintained or sustained by the board. "May I quote from a circular issued by the association in 1946 in which this definite statement appears 'its objects then as now, were to oppose co-option to the board without reference to the shareholders. Another paragraph in the same circular reads. The result of the forthcoming election will decide whether the Everton club is to be governed by a dictatorship or by the general body of shareholders. "Following the election or re-election of members to the board at the last annual general meeting one retiring member failed to secure re-election and a nominee of the Shareholders' Association was appointed in his stead. Following some internal difficulties we now read that Mr. H. R. Williams has resigned from the board and that his vacancy may be filled by co-option. "Already the vacancy caused by the death of Mr. Lake has been filled by this method, without regard whatever to the genuine interest of the shareholders and it would seem to be playing down to crupt to the shareholders Association an outside body comprising less than 10 per cent of the shareholders members of the club. "If this policy is pursued is it not obviously that the shareholders as a whole are being denied the right of having a voice in the election of the members of the board? It would seem that quite soon there will be three nominees exclusively belonging to the Shareholders Association members who, as stated represented less than 10 per cent of those concerned in the club welfare. "Whilst wishing every success to the club not merely in the distant future but here and now in this year would it not be wise for us to have some definite and declared statement of policy on this issue of co-option? "The other senior club in the city discarded the principle of co-option years ago with credit and success, and surely the general public cannot be completely ignored on a principle of democratic election to the control of nay board of management."
CHAIRMAN MAKES HIS POINTS
January 18, 1952. The Liverpool Daily Post
By Leslie Edwards
Mr. W. R Williams had not received Alderman Hogan's letter when I spoke to him last night. After it had been read to him over the telephone he said; "I am grateful to Alderman Hogan for the interest in our club but at present I am not inclined to answer his letter." Points Mr. Williams made in conversation with me on club policy regarding co-options were;
1. The question which faced the Board following the death of Mr. Lake and the resignation of Mr. Harold Williams was of the possible number of vacancies at the next annual meeting, next June of July. It was felt highly inadvisable to have five vacancies for a Board of nine seats.
2. In Mr. Tom Nuttall and Mr. Cyril Balmforth, both co-opted recently, the club had executive members of the Shareholders' Association and men well-known to the club for their capabilities and for their active interest and support in it.
3. Everton do not intend to make automatic co-option from members of the Shareholders Association – which is not officially linked with the club –but take their directors as and when the best candidates can be found. It is certain that another vacancy on the Board will be filled shortly.
4. There is no substantial reason why the club should not co-opt directors; the board is unanimous that it would be altogether too perilous to place the club in the position of undergoing violent changes, directorially, next year, or at any time.
EVERTON'S CHANGES FOR CARDIFF CITY VISIT
January 18, 1952. The Evening Express
By Pilot (Don Kendall)
Leyland, Donovan and Buckle lose their places in Everton's team res-shuffle, following the defeat in the F.A. Cup and O'Neill, Lello and McNamara are brought back for tomorrow's League game at Goodison Park against Cardiff City. Altogether there will be four changes, but one is positional, for skipper Peter Farrell switches to right half to allow Lello to come in at left half. O'Neill is back in goal for the first time since Christmas Day, when he played against Doncaster Rovers at belle Vue. This will be Jimmy's sixth game of the season, while Cyril Lello will be making his seventh appearance after playing inside-right for the reserves recently. McNamara has missed only six League games this season, Lindley heads the centre-half position for his tenth League game of the season. Everton; O'Neill; Clinton, Lindsay; Farrell, Lindley, Lello; McNamara, Fielding, Hickson, Parker, Eglington. Cardiff; Hughes; Rutter, Sherwood; Baker, Montgomery, McLoughlin; Tiddy, Blair, Grant, Sullivan, Williams (R.).
EVERTON'S THREE CHANGES
January 18, 1952. The Liverpool Echo
Donovan, Buckle, and Leyland Dropped for Cardiff City Game
Ranger's Notes
Everton home tomorrow to Cardiff City make three changes –Involving four positions –compared with the side which was beaten in the Cup replay on Wednesday by Leyton Orient. O'Neill returns to goal for the luckless Leyland. Farrell supplants Donovan at right half thus permitting the return of Lello at left half, and McNamara omitted for the Cup-tie is now preferred to Buckle at outside right. Goodison will be a miniature Ninian Park for the visit of Cardiff. The Welsh clubs rise to the top of the Second Division has fixed the imagination and national patriotism of all Welsh people. North Wales in their thousands intend to make a gala day of it, and there will be quite a contingent from South Wales. In the evening those who can manage it might do worse than go along on the Philharmonic for the table tennis international between England and Wales. North Wales folk larger numbers of whom visit this city every week will be suffering a conflict of allegiance. Normally they support Everton, but tomorrow their cheers will be mainly for Cardifff. If Everton will arrange for some Welsh music we may hear the visitors render those stirring songs which always prove so moving prior to the start of Welsh International matches. There is nothing anywhere to beat the fervent melody of a Welsh football. I'm looking forward to it. Talking of moving though in a different sense, Everton must move to the ball quick and take chances more smartly than have been doing recently if they are to have much hope of strengthening the League position at the expense of the Welsh side.
Will They Improve
It would be in keeping with the uncertainly of football form if, after their disappointing show against Leyton Orient on Wednesday, Everton weighted in with a good victory. But to get it they will have to improve considerably on their replay performance. No side cam make either a present of goals or fritter away their own chances against a team of Cardiff's calibre and still hope to get anything tangible in the points column. Everton cannot play worse than against Leyton. Despite their position at the head of the table with a point and a game in hand over their nearest challengers Cardiff have not got a particularly brilliant away record. Everton have gathered exactly as many away points as the Welsh men. Cardiff's only two foreign victories have been against Notts Forest and Blackburn, but they have drawn six times and with the big incentive of promotion are going to be a hard team to beat. To a large extent Cardiff's success this season has been founded on the excellence of their defence. The attack, while not so outstanding by comparison, is capable of a good crop of goals on occasions and centre forward Grant with 18 goals to his credit is obviously a man who will take some watching. Cardiff make three changes from the side which lost to Swindon in Wednesday's Cup replay. Howells is injured and Welsh international Iorwerth Hughes who has been out of the side since Christmas returns, to keep goal. Danny Blair resumes at inside right and the left wing berth will be filled by Roley William Edwards being rested. Everton; O'Neill; Clinton, Lindsay; Farrell, Lindley, Lello; McNamara, Fielding, Hickson, Parker, Eglington. Cardiff; Hughes; Rutter, Sherwood, Baker, Montogmery, McLaughlin, Tiddy, Blair, Grant, Sullivan, Williams (R).
Reserves Goalkeepers
For their Central League game against Stoke City at Stoke Everton play Taylor in goal and recall McIntosh to lead the attack. Taylor is a 22-year-old part-time professional who joined the club from Southport junior side year ago. He made a few reserve appearance last season, but this is his first Central league match this campaign. Team; Taylor; Saunders, Rankin; Birch, Woods, Melville; Harris, Potts, McIntosh, Cummins, Easthope.
Everton Co-Option
Mr. W.R. Williams Everton chairman is to place Alderman Luke Hogan's letter regarding co-option before his directorial colleagues at their weekly meeting next Tuesday. Alderman Hogan has asked for a statement of the board's policy in relation to filling vacancies on the board and has expressed the opinion that co-option ignores the democratic rights of the vast majority of shareholders. Mr. Williams told me he did not wish to discuss Alderman Hogan's letter at this stage but pointed out –as stated in this column eight days ago –that the board considered it was not in keeping with a club of Everton's standing that a position should arise in which five vacancies required filling at the next annual meeting. He further added that the board did not intend to confine any future co-options to solely members of the Shareholders Association. They would choose the best candidate available.
New Association
For some months moves have been going on to form a new association of Everton followers, but not limited to shareholders alone, as is the case with the existing Shareholders Association. This has now taken concrete shape in the forms of a circular received this morning by many shareholders, over the signature of Mr. L. B. Osborne of 110 Portelet Road, Liverpool 13, who is described as secretary pro tem. Known as the "Everton shareholders and Supporters Federation, the new organization declares its objects as being (1) To assist Everton in every possible way, and (2) to promote social amentias. The circular adds that the new federation will oppose the filling of directorial vacancies without the matter being referred to a general meeting of shareholders and recalls a promise to this effect being made some years ago.
THE PRACTICAL EVERTON
January 21, 1952. The Liverpool Daily Post
Everton 3, Cardiff City 0
By Leslie Edwards.
The strangest thing about this game was not the fact that wild ducks flew low over the stands or that Everton should rehabilitate themselves against the Second Division leaders but was that two sides, each of which had been beaten four days earlier by a Third Division team should attract the day's second highest attendance –a few short of 50,000. For this Everton have to thank long established popularity with people in North Wales. These folk come to Goodison Park as and when they can. With Cardiff City here their attendance was a necessity. Not for years has an Everton club game half such atmosphere but the traditional airs died away to double pianissimo long before the end when even Welshmen sensed that this at least, was not to be a great Welsh victory, I do not doubt that the Welsh win at Twickenham (which offered the T.V. viewer an excellent sight of fantastically fast running by one Morgan) would more than restore the prestige left at Everton. This Everton was far from being the timid, ineffective force which was made to bow itself out of the F.A. Cup. It showed a refreshing inclination and ability to do the simple things of football with no delay and no eye to the gallery.
The Vital Element
The centring chance was taken as soon as it appeared; the shooting chance was used quickly and before allowing the defence to consolidate itself in readiness. Persisting in this spirit of urgency and letting others make the too frequent lateral and reverse passes which leave opponents to use a vital element of time Everton are always capable of heating such sides as Cardiff. They won quite as handsomely as 3-0 indicates; indeed the Llandudno boy Iorwerth Hughes kept a good goal to starve off further disaster. Cardiff City were contradictory and disappointing. Their defence a good-one by repute, was beaten too often and the attack although having class and ability hardly ever finished it's job satisfactorily. It moved nicely in combined fashion, so often one sensed that sooner or later a goal would come, but always when confronted by the necessity of having to make the vital pass or shot, it was totally unproductive. Everton with Lello in the half back line and O'Neill in goal, were constantly ending their work, adequately. The Hickson header from an Eglington centre was moving so fast Hughes could only go through the motions of attempting to stop it. Given a free course to a ball like this with room to manoecurve, Hickson's high leap and the sure touch of his forehead, is good for a goal nearly every time.
No Penalty
Cardiff claimed a penalty when Lindley, arms outstretched characteristically, faced Grant and was adjudged to have handled, in the penalty area. The referee was never rightly I imagine than when he waved play on. The intent to handle, was not there, had it been Lindley would have had to think like lightning to commit the offence. Clinton's penalty shot was an odd one in that he walked to the ball as though to examine its placing, but after a stride or two he hit it home, via Hughes hands, for the second goal. I think Montgomery's handling of Hickson's shot was wise. The ball would surely have found a place under the goal angle. Everton's final point was a fine one and put McNamara into the spectators good books. Fielding did well to sense Parker's through pass; he did better to fling it, as he ran high towards the far post where McNamara leaped spectacularly to nod the goal. Cardiff City had but one real chance to console themselves and they missed it. On this showing the side may not after all return as everyone hopes to Division 1. If Everton will only make a priority of playing in this severely practical way they will go a long way towards restoring their lost prestige, their lost support and the unruffled atmosphere which must arise again when they are back where they belong.
• Everton "A" 0, Earle 1
• Prescot O.B. 0, Everton "B" 2
• Linacre F.C 0, Everton "C" 8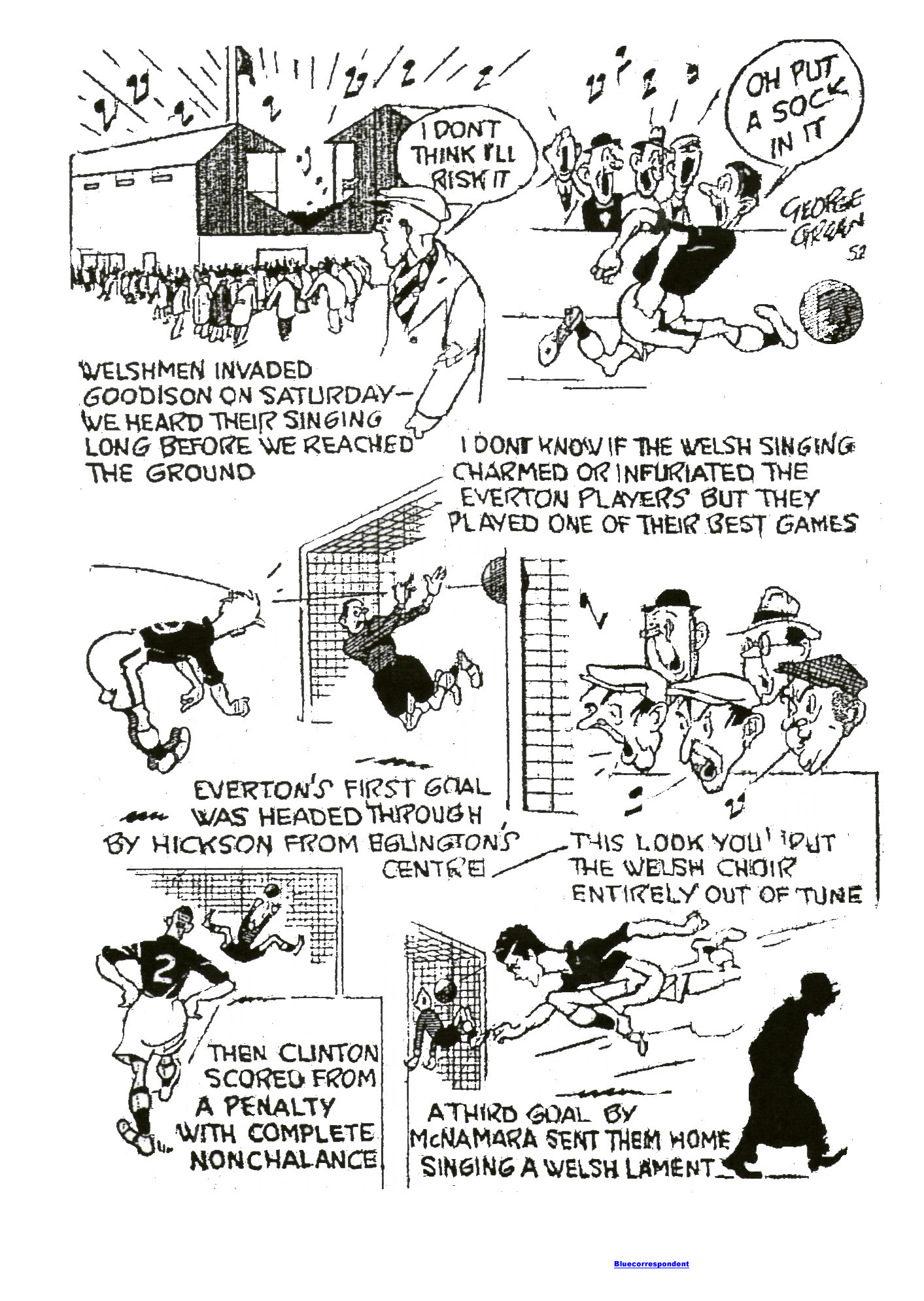 MASTER MOVE
January 21, 1952. Evening Express
Pilot's Log (Don Kendall)
Everton made a master move in the switch of Peter Farrell to right half against Cardiff and the re-introduction of Cyril Lello. It was one of the main factors in this great return to form. Peter, on the right was able to bring his right this best foot into action better, and we saw him bringing better variety into his constructive play and exploiting the cross-field pass so expertly, while Lello emphasized that there was wisdom in giving him plenty of time to play himself back into the game after his serious injury. Cyril is no back to his best, and yet would be the first to agree that much of his success in this game was due to the man in front of him, John Willie Parker. This was Parker's best to date without a doubt, the result no doubt of the fact that he has done exactly what he wanted him to do –speed up. How else could he have covered so much ground? Parker was the fetcher and carrier; the strong man in the clock work, and yet was always there to add punch in the goalmouth. He and Lello helped to bring Tommy Eglington back to his sparkling best. There was the old Eglington confidence, as witness that almost cheeky bout of passing between himself and Lello before he laid on Dave Hickson's goal. Hickson is another who crashed back to his best and had Montgomery tied up into knots as he thrived on the stream of the up the middle passes. Hickson was always doing the right thing in this game, even if he did try those right things too quickly at times. McNamara took half the game to solve the Sherwood puzzle but one of the reasons was that Fielding took a similar time to get into the game. The Fielding passes went astray repeatedly until the second half when he drew so much of the Sherwood attention, that McNamara was able to get weaving. This without doubt was a really good Everton attack against a side noted for its solidity in defences. Tommy Clinton had a utting reward for an almost inspired full back display. It was his first-ever goal, Hickson would have had his second goal but for Alf Sherwwod's agile goalkeeping act, and with Ted Buckle sitting in front of him in the stand, we wondered who would take the penalty. Well, Tommy has been perfecting the art in practice and when I saw perfecting I meant it. He believes in the old saying "hit em" hard enough and they'll go in. He did after a rather sideways step to the ball. After this I am confident that the penalties in the Blues future are as good as goals. Everton's most consistent penalty taker for years was also a right back, Billy Cook. After the Clinton goal came the epic –as grand a goal as one could ever wish to see; so good, in fact that it is worthy of description again. Hickson dropped back to the left to turn quickly with the ball and slip it to Parker. They made ground as they inter-passed. Eglington moved up to the centre forward position and so Fielding with a spot of quick thinking, skated across field to make the open space on the left his own. His journey was not in vain, for the ball was slipped through to him along the floor as accurately as if it had been carried. Unhesitatingly, Fielding made a first time fast centre which the alert McNamara racing in at top speed took on his forehead and Hughes had no more chance of saying than I had. Yet friends a mighty goal such as the Blues used to provide so often during those goals riots of 1931-32. It showed that all the old arts are not lost to football. It emphasized the Everton way of things in this game, it was forward, forward, all the time.
TOP MARKS FOR BLUES
January 21, 1952. The Liverpool Echo
Rangers Notes
Everton will soon be getting the same "unpredictability" reputation as Liverpool if they go on as they have been doing lately, for after the shocking display against Leyton they gave an extremely good one against Cardiff City. This was an entirely different Everton. There was understanding in the attack plenty of good shooting constructive work from the wing halves, and –most vital of all –a tip-top display by O'Neill in goal. The Irishman never showed the slightest trace of nerves or indecision. He plucked centre after centre from the air with complete reliability, saved a few hot shots –Cardiff did not produce many – and gave confidence to the men in front of him. There was not a great deal of difference between the sides for the first hour, during 19 minutes of which Everton led through Hickson's finely-headed goal off Eglington's centre. Then Sherwood's "Save" of Hickson's shot brought Clinton's penalty effort which Hughes touched but could not stop, and thereafter it was almost one-way traffic. McNamara's header from Fielding's centre was another grand goal, and with Everton well on top Cardiff were made to look anything but a possible promotion prospect. This was more like what we expect from the Blues. Now it is up to them to "keep the pot boiling." A visiting South Wales journalist told me that he reckoned Everton on that showing were one of the three best sides Cardiff had met this season. Refraining from saying it was a good job he had not seen them against leyton I agreed when he added that on such form they should soon be climbing the table. The trouble for some years past, however has been that their form has fluctuated too violently.
Consistency is Vital
A spell of good play has been followed by a run of mediocre games and vice versa. If only the team could settle down to a reasonable measure of consistency a lot of problems and anxiety would disappear. Hickson was a grand leader of the attack, reminiscent in some ways, if not in artistry, of Stan Mortensen. His speed over a short burst is amazing and his courage in fighting for possession of every ball not only inspires his colleagues but rattles the opposing defence. He is just the type who would make a big difference to Liverpool's attack, which so lacks challenging fight in some positions. Some good chances were missed of course. That often happens with the finest of teams. If only Eglington could take scoring openings as well as he carves them out he would be a record wing marksman. Ly Parker did well. Fielding was off with his shooting, but at least did try, the wing halves were sound, and Lindley and the backs could rarely be faulted. In short, Everton put themselves back in favour with their supporters. A few more displays like this and the memory of the Leyton debacle will soon be largely wiped out. On this display Cardiff did not impress as likely to stick the promotion pace. Their defence is quite good, but the forwards had little plan, punch or pertinacity. Their short passing game was too fanciful and even when they had easy chances their shooting was poor. I wonder whether the state of the ground had anything to do with Everton's improved display? It was the first time for some weeks that it had been firm and hard and the ball lively.
EVERTON AFFAIRS
January 23, 1952. The Liverpool Echo
Ranger's Notes
Mr. W.R. Williams Everton's chairman last night brought before his directorial colleagues the letter from Alderman Luke Hogan asking for a statement of the board's policy on the vexed question of co-option. Although the matter was discussed at some length, Mr. Williams told me today that it is considered that the replay which was already appeared in the Press is sufficient. I gather it is unlikely that anything further will be said by the club. Mr. Williams added that not only was the Alderman's letter handed to the Press before he had received it, but Alderman Hogan's name does not appear on the list of Everton shareholders. No official statement is forth coming –regarding the possible co-option of a new director to fill the vacancy caused by the resignation of Mr. Harold Williams. I understand, however, that it is possible an announcement may be made today week.
EVERTON CHANGES
January 24, 1952, The Liverpool Echo
Ranger's Notes
Owing to the suspension of Parker, Everton make one change for the away game against Birmingham, but it involves two position. Farrell moves up to fill Parker's place and Grant takes over at right half. Birmingham will reply on the side which defeated Doncaster 5-0 at Doncaster last week, so that Murphy (their £17,000 signng from Tottenham who go a hat-trick against the Yorkshire side, makes his home debut). Birmingham –Merrick; Green, Martin; Badham, Atkins, Warhurst; Stewart, Smith, Briggs, Murphy, Wardle. Everton; O'Neill; Clinton, Lindsay; Grant, Lindley, Lello; McNamara, Fielding, Hickson, Farrell, Eglington.
Sagar Returns
Following on Liverpool's recall of veteran Balmer, Everton follow suit in the reserve team with Sagar, who makes his first appearance of the season in the Central League side, against Manchester United Reserves at Goodison Park (2.45) team;- Sagar; Saunders, Rankin; Birch, Woods, Melville; Harris, Potts, Lewis, Buckle, Easthope.
A POINT WOULD DO
January 25, 1952. The Liverpool Echo
Ranger's Notes
If Everton can bring back a point from their visit to Birmingham they will have cause for satisfaction. A win would justify jubilation. Birmingham thanks to Everton's good win over Cardiff last week, have displaced the Welshmen at the head of the Second Division table, and they are going all out now for promotion. Whoever goes up is going to have to fight hard for the honour. Not for years has the struggle been so close. Only four points separate the top nine clubs, and Everton in the middle of the table are only six points behind Birmingham. A win tomorrow would narrow that to four and though I cannot see it coming the way Birmingham have been playing, it is certainly an alluring prospect. This game could have been a dress rehearsal for the fourth round of the cup. Leyton Orient upset that possibility, and now Everton must be content with one visit to St. Andrews. Birmingham's rise of recent weeks has been meteoric. At the end of October they were sixteenth, eight points behind Sheffield United the then leaders. At that time few people would have given two pence for their promotion hopes. Since November came in however, they have taken 20 points out of 26 played for with a goal average of 26 to 10. That reads very much like promotion form but there is a long way to go yet and it is not always the side on top in January which gets there in the end. Birmingham; Merrick; Green, Martin; Badham, Atkins; Warhurst, Stewart, Smith, Briggs, Murphy, Wardle. Everton; O'Neill; Clinton, Lindsay; Grant, Lindley, Lello; McNamara, Fielding, Hickson, Farrell, Eglington.
COCK-A-HOOP BIRMINGHAM COULDN'T RUN CIRCLES ROUND EVERTON
January 26, 1952. The Liverpool Football Echo
Birmingham 1, Everton 2.
By Stork
Birmingham;- Merrick, goal; Green and Martin, backs; Badham, Atkins, and Warhurst, half-backs; Stewart, Smith, Briggs, Murphy, and Wardle, forwards. Everton; O'Neill, goal; Clinton, and Lindsay, backs; Grant, Lindley, and Lello, half-backs; McNamara, Fielding, Hickson, Farrell (captain), and Eglington, forwards. Referee; Mr. R.S. Lloyd (Oswestry). When we arrived at Birmingham last night after travelling through a snowstorm, there was no sign of snow but there was a fall during the night and the ground had a thin covering. Harry Cook paid an early visit to St. Andrews and decided that care was necessary. Everton had Farrell at inside forward again, not for the first time, and Grant took over at right half. Birmingham had their new man Murphy, who made a successful debut last week with three goals against Doncaster. Everton have been unsuccessful in their search for a suitable match to fill the gap next Saturday, so have decided to make it a free day for the players. The City were cock – a- hoop about being league leaders and there was a good crowd to see the opening. Everton won the toss, but it was Birmingham who made the first incisive movement hen Murphy put Briggs through and Lindsay thought he would safely leave the ball to O'Neill, not realizing that there was a Birmingham man close at hand. He saw his error in time and cleared at the expense of a corner. Stewart followed with a long shot that slipped well over. Everton made their first attack and Merrick had to pat one down from Farrell before he finally completed the save. For some minutes, Birmingham hovered round the Everton goal and O'Neill had to make a catch. Merrick saw an Everton shot pass outside his upright. McNamara and Fielding opened up possibilities for Everton for Fielding final pass went across field towards Eglington but Green's head got there first. A centre from Stewart came right into the goalmouth, but Smith lost his foothold just as he was about to shoot and so a great chance was lost.
Took Their Chances
Birmingham had tasted the sweets of five goals a week ago and were not slow to take a chance when within reasonable range. Briggs slashed one wide of the target. When Briggs drifted out to the left wing he took the ball close to the touchline before he turned it in for Lindsay to clear near his goalline. Fielding made a first class shot which finished in Merrrick's hands, while Hickson provided the centre which had possibilities until the City's defence closed its ranks. Another burst by Briggs took him to the Everton goal-line, but once again his centre was collared before a Birmingham man could make contact. Everton were having their fair share of the game, but Birmingham's first raids were always dangerous and when Smith put Murphy through, a goal should have been his for the chance was there to be taken. The former Spurs man, however, pulled his shot wide. Goal incidents were plentiful, most of them near the Everton citadel and O'Neill had to go down slick to keep out a Wardle cross shot. Merrick nipped in to prevent Hickson getting a crack-at-the-ball. There was more danger in Birmingham's attack and Everton had to act smartly to keep their charge intact. Fielding caught a defender on one foot slipped past him like a hare and pulled the ball back for Hickson, whose shot hit a City man and went to Merrick. Everton were undoubtedly testing the issue, and in 27 minutes Hickson had scored, Fielding started the movement which was carried on by Hickson and McNamara, and Martin was so harassed that he slipped in allowing Hickson burst through and from ten yards range, shoot wide of Merrick's fight. Everton were now in command and Birmingham were just as much concerned with defence as Everton had been, but their football was slightly better. Fielding screwed from the touch-line for Merrick to scoop up into his arms. He would have had little chance with a McNamara left foot shot which went soaring over the bar. Birmingham could not drive out the enemy, but after 37 minutes a sudden breakaway by the City saw them obtain the equalizer. Lindley, in making a clearance, pushed the ball straight over to Wardle, who sent it back for Briggs to make a header, which O'Neill edged away. There followed a sharp short tussle, before Stewart finally scrambled the ball over the Everton goalline. O'Neill had to come out on one occasion to cut out a long lob, and when Fielding, from the outside left position, popped one over to McNamara a second Everton goal looked on" but Mac's pass went astray. Nevertheless Everton looked the better side, and Merrick had to reach up and capture an Eglington shot. Fielding was in grand form. The conditions did not seem to affect in the slightest for he made openings from cute and canny passes. It had been quite good football considering the conditions. Slips there were, but the football in the main was good, with Everton the better craftsmen. Half-time; Birmingham City 1, Everton 1.
Everton were soon attacking and after Lindsay had dispossessed Briggs, he set the Everton forwards moving with a long ball down the wing. The pressure was speedily cleared and Clinton had to treat Wardle with the utmost respect. It was from a defensive clearance by Lindley that Everton regained the lead. The ball went sailing up the middle and Atkins appeared to have it safely covered but he missed the bounce. Hickson nipped in and was away like a greyhound. He had to run nearly half the length of the field, and Merrick came out of goal. He cut down Hickson's shooting space, but the Everton centre forward, thinking quickly, scooped the ball in and over the goalkeeper and it dropped into the net at the 49th minute.
Better Openings
This was a shock to the home team, but it had to be granted that Everton made the better openings for themselves by their better use of the ball. They had been on top for the last 10 minutes. A wild hot by Briggs passed outside, and Merrick who was wearing a plaster across his forehead caused by collision with Hickson in the first half saw an Everton shot travel outside. Hickson's speed and the fact that he chased everything often had the Birmingham defence troubled. A mispass let in Wardle who did not waste any time in backing up easily his mind to shoot-and O'Neill did well to get the ball over the cross bar. Fielding who had been quiet so far this half, suddenly switched play to the right wing. From his pass Hickson won a corner, but it was valueless. Smith got the better of a challenge by Lello but he put his pass behind. A more glaring miss was that of Briggs who from well inside the penalty area lifted one over the bar. O'Neill got a knock in the face when he went down to pick up a ball. He made the save and then kicked into touch. He soon resumed and made a save almost as soon as he took up his position in goal. Hickson and McNamara got together in their effort to break down the Birmingham defence, but McNamara slipped on the snow and a reasonably good chance went by. Hickson shot outside as the whistle blew for offside. There was a stoppage for an injury to McNamara who had to be taken to the side line for attention. While he was off Birmingham launched an attack that promised danger to Everton, but they got out of it. The Midlanders had the chance of a lifetime. Murphy was given the ball through the middle and raced for goal, with Grant in hot pursuit. His harassing caused Murphy to shoot outside from a few yards. Final; Birmingham 1, Everton 2.
EVERTON RES V MAN UNITED RES
January 26, 1952. The Liverpool Football Echo
Everton Res; Sagar, goal; Rankin and Anderton, backs; Birch, Woods and Melville,half-backs; Harris, Potts, Lewis, Buckle, and Easthope, forwards. Manchester United; Crompton, goal; Foulkes and Redman, backs; Whitefoot, Jones and McLlvenny, half-backs; Birkett, Walton, Cassidy, Downie, and Williams, forwards. Referee; Mr. W. Clements (West Bromwich). Everton on snow covered pitch played Ted Sagar in goal with Buckle and Potts in the forward line. There was little to choose between the teams in this fast game, but United were the more dangerous at close quarters. Manchester were much quicker on the ball but their forwards found Sagar quite safe. Half-time; Everton res nil, Manchester United Res nil. In the second half Everton played with more confidence and the United goal bore a charmed life, two shots hitting the woodwork. The visitors retaliated and Birkett, when well placed shot outside the post. In the 58th minute Everton went ahead through Potts who, meeting the rebound off Foulkes, headed in past Crompton.
EVERTON MAY STILL MAKE IT
January 28, 1952. The Liverpool Daily Post
By Stork
Birmingham 1, Everton 2.
Everton are back in the hunt again as a result of their great victory over League leaders, Birmingham at St. Andrews on Saturday. The path is still a long and hard one, but if Everton can defeat Cardiff, who were at the head of affairs when they lost at Goodison Park and then go to Birmingham and win there the question arises, who can beat them? Everton's spirit in the last two games has been distinctly encouraging. They have football ability and now that fighting quality which is so necessary. It was admitted on all sides that Everton were full value for their win. They played the better football, kept their feet better on the snow-covered ground –thanks to Harry Cooke, who spent the morning shortening studs –and had the better ideas. For 15 minutes Birmingham were a danger by their fast raids, but the Everton defence did not falter. Finally the Birmingham attack was well and truly mastered. Everton moved the ball better, they found the open spaces with good passes, whereas Birmingham were lashing the ball forward without any great thought. I could not spot a single weakness in Everton's make-up. It was a case of complete unity of purpose winning against a team that had been carrying all before in recent weeks.
Defenders-Mistakes
Hickson got his first goal through a mis-kick by Martin and the young Everton leader nipped through to hit a ferocious drive beyond Merrick. Stewart leveled matters when he scrambled home a close-in shot but four minutes after the interval Hickson took advantage of another mistake –Atkins completely failed to collect the ball –and scored a second time. Merrick came out to cut down the angle, but Hickson showed his football brain by lifting the ball over the goalkeeper's head and into goal. Had Hickson shot he would assured have hit Merrick. This was Hickson's best game for Everton. Had he not got the impression that he was offside I think he would have gone on to a hat-trick. Hickson had helpful colleagues particularly Fielding who trod the snow as though it as Wimbledon turf. Mcnamara had another good game. Farrell and Eglington did their quota and the middle line were knifelike in their interventions. Grant and Clinton against Birmingham's best wing never put a foot wrong. The former's worrying tactics held up Murphy and Clinton had the measure of Wardle. Birmingham's form was not top of the League but it was Everton which reduced them to such a standard. If the Goodison boys could keep this up, they could be strong candidates for promotion. This was no easy battle but they faced it in the right spirit. A pity they have no match next Saturday.
EVERTON RES 1, MAN UNITED RES
January 28, 1952. The Liverpool Daily Post
Manchester United Reserves deserved a division of the points in this Central League game at Goodison Park on Saturday because they adapted themselves better to the conditions. The first half was goal-less with the home forwards missing several chances. In the fifty-eight minute Potts put Everton in the lead, but Downie at seventy-fifth minute equalized. Sagar made a welcome reappearance for Everton and kept a good goal.
• Litherland 1, Everton "C" 5
EVERTON NOW IN RACE
January 28, 1952. Evening Express
Pilot's Log (Don Kendall)
Everton rose to the occasion in glorious manner on Saturday and won the most vital match of the second half of the season to take them right into the promotion race for the first time. The Blues are now there with a chance. For the pass eight days I never tired of emphasizing the urgency of the conquest of Birmingham City at St Andrews, and the lads did it magnificently, winning 2-1, a score which does not exaggerate their superiority. They are now only five points behind the leaders, Cardiff City, with 13 games to play, and in winning have now beaten the successive leaders in successive games. Manager Cliff Britton said to me on his return, that he was proud of the way the lads went about their work at St. Andrews. "There was not a weakness," said Cliff, and they did what we hoped they would do –repeat the form they showed against Cardiff. That gives us great heart and I am sure that the Blues in their present mood, can make a great id for promotion, just as I forecast they would last August. The Everton challenged, being made with all its power. The only unhappy news was that Jackie Grant stiffed a muscle injury which, however, should be cleared up, seeing that next Saturday there is no match.
FIRST DIVISION
January 28, 1952. The Evening Express
By Radar
The finest tribute paid to Everton after the St. Andrews triumph was by the Birmingham officials who said to colleague Radar "This is no Second Division side; It's a First Division team in everything bar name." High praise indeed, but find approval from Radar, who comments;-
"A spontaneous gesture by skipper Peter Farrell and Wally Fielding, two of the most experienced players in the side, the general delight of the Goodison brigade at the success of young Davy Hickson at St Andrews. Immediately the final whistle blew for a priceless and well deserved victory, Farrell and Fielding raced across the field to Hickson and shook him warmly by the hand. It was a pleasing and which pressed that Hickson's splendid leadership and two grand goals had not gone unnoticed by his colleagues. Not that the enthusiastic Ellesmere Port player was the lone star in a success which made the Division 2 promotion issue even more open than it was before. Those who were fortunate enough to see it will think too of the speed, cleverness's and always progressive winging of Tony McNamara the superb ball control and wily scheming of Fielding, the energy and strength of dependable Jackie Grant, and the thoughtful never flurried. Lindsay exposition of full back play at it's best.
"Clinton suffered little by comparison with his steady partner Lindley, for the most parr, held a tight grip on Briggs and used his head to cut out many menacing centres. O'Neill in another encouraging performance in goal, and Eglington and Farrell contributed their own share to a great victory. "But to my mind, the really outstanding feature of the game from an Everton viewpoint was the studied constructive play in Cyril Lello. Here we saw Cyril right back to his best form of two seasons back. He was faster, strong in the tackle ad invariably loosing the ball to advantage. Everton have no fear regarding the left half berth while Lello continues in this standard. The Blues took the spoils in this game because they were the superior football force, and because they adapted themselves to the snow capped surface more readily than did the city. Even when Stewart equalized Everton were not shaken out of their stride, and one always felt confidence that they would emerge the masters. They were always better balanced and this vital factor redoubts to the thoroughness of trainer Harry Cooke, who made a special journey to St. Andrews on Saturday morning and spent the lunch time striding the players boots especially to fir the conditions. This was "back-room work" which paid handsome dividends."
HICKSON'S BEST
January 28, 1952. The Liverpool Echo
By Stork
Harry Cooke, the Everton trainer is a wise old owl. He left the partly on Saturday morning to examine the ground at St. Andrews and it did not take him long to decide that shorter studs would be necessary on the snow covered turf. He set to work immediately much to the amusement of the Birmingham onlookers, who thought he was wasting his time. Many knew better; he has spent a lifetime to football and knows all the moves. His journey was really necessary for it was soon to be seen that the Everton players kept their feet much better than those of Birmingham. That was only the starting point of Everton's great victory at St Andrews; it was up to the players to complete the remainder and how magnificently they accomplished it. A new spirit has been found. A reverse does not shake them to the roots nowadays. They face up to it and set out to redeem themselves. It needed a fighting spirit to wear down this hard-hitting Birmingham during the first 20 minutes but they did it by dint of good football; keep interception and a belief in themselves that they could beat the leaders for the second week of succession. This was no fluke. It was a well won victory and the Birmingham directors admitted that Everton had played the better football. This coming from a beaten team, is praise indeed. It is easy to be kind in success. It was superior football ideas that enabled them to lower the colours of the mightly for it is only a truth to say that their football was well ahead of their adversaries who pinned their faith in the punt up the field and a scamper after the ball. That was soon negative by the Everton defence which stepped in time and again to clear. Now don't think that Birmingham did not have their moments. They had and they were troublesome ones for Everton but the covering of the Goodison men was excellent although Stewart did scramble in a goal for the City before half time. That goal balanced Hickson's fierce drive which left Merrick standing at the 28th minute.
Odds on man In Possession
It was only to be expected that there would be slips. The man in possession always had the advantage, for a defender had difficulty in turning. When Martin faltered Hickson stepped in with razor-edged speed and cracked the ball well wide of Merrick's right side. Four minutes after the interval young Day leaped forward after Atkins had missed his kick and went careering down the middle. Merrick was on the spot. He did what was right, came out and angled Hickson but the Everton man showed he has a "think-box" by cleverly lifting the ball over the goalkeepers head and into the net. This was Hickson's best game ever, and he would have got a "hat-trick" had he played the whistle instead of thinking he was offside. Hickson was a demon. He chased every ball and had the Birmingham defence bewildered and uncertain of itself. Atkins could make nothing of him and was run to death. But Hickson could not have done all these things by himself. He had willing helpers on all side of him, and so player showed better control and delivenly than Fielding, particularly in the first half, when he might have been playing on a billiard cloth surface. Birmingham still had plenty of fight in them and the last ten minutes were anxiety ones for Everton, but they grimly held on to their lead to record another fine win. The two backs were magnificent, the half-backs well up to meeting and defeating Birmingham's inside forwards, which included last week's hat-trick, Murphy who missed one "sitter" but did not get a second chance due to the worrying tactics of Grant. O'Neill made one or two great saves, but it was the Everton team as a whole which made this victory possible. Lindsay pulled a muscle during the game but had it strapped up and very few were much the wiser, nor was there little difference in his game. Birmingham did not look a top-of-the-table team on this showing, but they are a hard nut to crack on their own ground especially as they were full of confidence prior to the match as was only natural in view of their recent performances. Everton are back in the promotion scene but those ahead of them have to play each other before the season runs out; and Everton have only to keep up this form to become "live" challengers when May comes round. They have no match for Saturday, having failed to fix up suitable opposition to close the gap.
ALD. HOGAN REPLIES
January 30, 1952. The Liverpool Echo
Ranger's Notes
Alderman Luke Hogan, writes as follows on the question of co-option to the Everton F.C. Board.
"The secret service code of your correspondent "Namredla, which reversed spells alderman places him and his comments in the baby class, and is akin to the plotting going on behind the scenes. I refuse to enter into serious correspondence with anyone who boards the funk express, conceals his identity and triers to wound but is afraid to strike. The policy of co-option as against election by the general body of shareholders as well as the success of the club must be of some interest to the potential 75,000 persons who, in good or bad times, support this famous team. "Your correspondent declares the general public do not count we shall see. "I have never been a fee-paying member of the shareholders Association but I have been admitted to and spoken at such meetings without challenge, and not very long ago. It would seem that the administration methods of the Shareholders Association are as loose as the thoughts of your contributor. "The question remains unanswered. Is the policy of co-option as opposed to election still to be adhered to? "I think you for the space you have given on this not unimportant subject. Having drawn attention to the danger of co-option, I do not propose to continue the discussion further.
Another Question
Mr. F. Sampson, 168 Linacre Road, Liverpool writes; "As a shareholder I am neither concerned with "Namredla" nor Alderman Hogan, but with the welfare of Everton, and I should like to ask the Shareholders Association this question;-
"Did they, in April last, before the nomination date for the board, write the directors requesting that in future when any vacancy arose, a nominee put forward by the association should be supported by the directors either by election or co-option.? "I cannot agree with Namredla that ample opportunity by democratic process is afforded to shareholders to confirm or rectify that action by the board, inasmuch as the recent co-opted member will not seek re-election until 1953. If the club adopted the modern practice of co-opted members seeking confirmation of their co-option at the following annual meeting, much would be done to remove a lot of controversy. "I also note the old story of gaining control of the club by the acquisition of shares. Last year, seven directors combining with a 10 per cent Shareholders Association were able to produced a 450 majority out of approximately 2,000 vote. "Such propaganda might be a useful red herring to cover a loss of £10,000 and relegation, but I do not intend to be hoodwinked again."