EVERTON TAKE ANOTHER STEP TO DIV 1 WITH 3-GOAL WIN
March 1, 1952. The Liverpool Football Echo
Everton 3, Queen's Park Rangers 0
By Stork
Rather an easy win for Everton. Queens strove galliantly but Everton were masters. The re-introduction of Cummins was fully warranted for he showed some excellent ideas. The Londoners were greatly handicapped at the half-hour by the loss of McKay, but Everton had scored twice before his departure. Everton; O'Neill, goal; Clinton and Lindsay, backs; Farrell (captain), Jones and Lello, half-backs; Fielding, Parker, Hickson, Cummins, and Eglington, forwards. Queen's Park Rangers;- Gullian, goal; Powell, and Ingham, backs; Heath, Spence and Farrow half-backs; Waugh, Gilbert, Addinall, Smith and McKay, forwards. Referee; Mr. J.S. Williams (Nottingham). There was another good crowd, and they saw Cummins in action in the first second, and had not the ball bounced awkwardly for him he may have given Gullian work to do. As it was he only got a half shot at the ball and it slewed wide. Queen's replied with an attack through the middle, and Jones used his customary safety back-pass of his goalkeeper. Hickson was soon in the picture and, racing away down the left wing, he tried a lob across the face of the Queen's Park goal, but Gullan knew there was no danger. He simply stood and watched the ball go by. The Rangers showed penetration on the right flank but O'Neill although he positioned himself to cover the situation, had no need to have done so for Waugh's centre passed behind.
Pretty Passing, But
Everton indulged in a round of passing which was pretty to the eye but of very little material value and there was nothing at the end of it. Queen's in one of their raids might very easily have sneaked a leading goal when the ball was swung right across the Everton goal-face to McKay, who, however, spooned his centre behind. Quite the best scoring move of the game was made by Everton in which Cummins, Hickson and Parker joined hands. Hickson's final pass to Parker was one of those that s hooter dreams about Parker hit his shot very hard but with just a little too much trajectory, and the ball went soaring over.
Clinton's Penalty Goal
Cummins had been showing up well in a quiet sort of way. His heading was excellent and it was he who started a movement by a really clever pass which culminated in Everton gaining a penalty award. After Cummins had made his pass he moved into position and collected the ball and was threading through to goal when he was brought down but the referee had no hesitation in pointing to the spot. Clinton took the kick, and his shot was of such power that Gullan had no chance with it at all. This was at 17 minutes. Queen's Park might easily have had an equalizer when Waugh rather luckily found himself out on his own inside the penalty area, but he shot wildly and he missed the target.
Fielding Makes It Two
Smith only half-hit his shot when he got a reasonable opening so that O'Neill had a simple task. The Londoners football was better than their League position would suggest but they went further behind at the 24th minute when Fielding snapped up a Hickson pass and while on the run, centred and Gullan misjudged the flight of the ball for it to pass directly into goal via the upright. This was bad luck on the goalkeeper, who is not allowed to make mistakes. Farrow tried to show his forwards how to do it, and O'Neill had to get his body and hands behind, the ball to make sure that the ball did not pass into his net.
Blow For Queen's Park
Gullian saved from Eglington and then Hickson surprised everyone with a shot which did not seem possible, for he was being harassed at the time but he put such sting behind his centre that Gullan had to be content with turning the ball out for a corner. Another blow befell Queen's Park at the half hour when McKay was injured in a tackle with Clinton and he had to be taken off on a stretcher and I learn he had a chipped ankle bone. This happened at the half hour but it did not prevent the Rangers from making the next, attack and Smith came along with a worthy drive that passed over the bar.
Half-time; Everton 2, Queen's Park Rangers nil.
Everton were soon into their stride in the second half and Parker had bad luck when he saw his header strike the crossbar with Gullan beaten. It was Lello who made the opening, and half a minute later Parker had scooped one over the bar from close in. Although Hickson was without a goal, he had been far from idle, for he kept his line moving well and was a source of anxiety to the Ranger's defence.
Fortunate Escape
Queen's Park had a narrow shave when Fielding quickly put the ball into the Rangers goalmouth and Hickson got his head to it, but Gullian was able to parry the shot without being able to retain possession. Hickson tried again, but this time Powell who had fallen back, headed out of goal. A very fortune escape. At this point Everton were right on top of their opponents and a centre by Cummins saw Hickson make a header without getting any reward.
Chances Missed
Lindsay made a long run down his wing and then delivered the ball to Cummins to pop into the centre, but before Hickson could make contact a Queen's defender had stepped in to clear. On the other side of the field, Fielding tried a snap shot that flew outside the near post, and when Clinton started to run forward he was fouled and the free kick was headed wide by Hickson. The Londoners were still battling along with the odds heavily weighted against them, and O'Neill had to catch a centre from Smith but the Irish goalkeeper looked very sure and confident in his save.
Powell to the Rescue
Naturally most of the play took place in the Rangers goal area and Gullan made a miraculous one-handed save from Hickson, while Powell, once again cleared off the line when Parker shot. Thus he had twice saved his side from a heavier deficit. Waugh, after he had beaten both Lello and Lindsay wasted his good work by centring behind. There was another stoppage for an injury to Farrow but he soon recovered to help his forwards make an attack which, however, was not sustained and Everton were back once more –Fielding winning a corner. Gullan edged Fielding's flag kick away for another corner which produced its usual result –nil.
Taking It Easy
A free kick for a foul on Cummins saw Farrell shoot outside. It was so one-sided now that a lot of the interest had gone out of the game but one could not get away from the excellent display of Lello; who has come right back to his best. Although the issue now never seemed in doubt few people left their places and they saw Spence, the Rangers centre half, save his goalkeepers when everything else was lost. Eglington had run round Powell and swept the ball right across field where Fielding came up, and with great deliberation headed for goal. Gullian was beaten but Spence had fallen back and kept the ball out. Another Everton goal was only delayed a matter of moments for at the 86th minute Parker scored a third, and it seemed to me that the Rangers defence was at fault. Clinton came up to try a shot and hit the side netting so the game closed with Everton still in the promotion race. Final; Everton 3, Q.P.R nil. Official attendance 36,172.
BLACKPOOL RES V. EVERTON RES
March 1, 1952. The Liverpool Football Echo
Blackpool Res; Hall, goal; Frith and J. Wright, backs; Proctor, Crosland, Robinson, and W. Wight, half-backs; Mudie, Stephenson, Lythgoe, and Withers, forwards. Everton Res; Sagar, goal; Forshaw, and Rankin, backs; Donovan, Wood and Melville, half-backs; McNamara, Hampson, Lewis, Potts and Buckle, forwards. Referee; Mr. H.E. Lambert (Blackburn). Everton, after being on the defensive in the early stages, came into their own but missed chances, Lewis being chief offender. After this little was seen of Everton as an attacking force and it was Blackpool who did most of the pressing. Sagar was kept busy without, however, having many scoring shots to save, but on one occasion he did distinguished himself with a full length save from Lythgoe. Half-time; Everton Res nil, Blackpool Res nil.
Wright (W.) had a good chance of putting Blackpool ahead when from Stephenson's pass, he shot high over from six yards with only Sagar to beat. The Everton keeper was kept busy fielding two corners, one form each wing which were curling in under the bar.
A LINE OF POSSIBILITY
March 3, 1952. The Liverpool Daily Post
By Stork
Everton 3, Queen's Park Rangers 0
Everton are still in the promotion race. Their position was consolidated by a comfortable victory over the bottom club, but it was well they had scored twice before the tragic mishap to the Queens Park Rangers outside left. McKay; otherwise excuses might have reared their heads to take away some of the credit. The Londoners, capable to some extent in midfield, were rarely a menace to O'Neill, who had one of the easiest afternoons of his career. Fewers than half a dozen shots were his portion whereas his viz-a-vis had a fair amount to do and was three times saved by co-defenders when he was beaten. Everton's new forward formation looked capable, none more so than Cummins, who pulled out some nice football ware. There is obviously soccer wisdom in his head and feet. He had good control, a sound notion as to where the ball could be placed to the best advantage and he would have scored had he not been fouled in the penalty area. Three goals were sufficient to ensure Everton success, but it could easily have been half a dozen. After McKay's departure Everton were right on top and only good fortune saved Rangers from a thrashing. Strangely Everton could muster only one goal with their opponents severely handicapped, yet were able to notch two when they were at full strength. Gullian made some fine saves, none better than a one-handed effort from Hickson, but he was at fault when Fielding sent in a centre from close to the touch line for he came a shade too far out and was unable to get back in time to prevent the ball passing over his head and into the net via the upright.
From the Spot
Clinton had of course, scored from the spot when Cummins was brought down and late in the game Parker header a third. The injury to McKay, cast a gloom over the proceedings for a time, when the game went uncommonly quiet. The feared break turned out to be a torn ligament in the ankle. It happened at the half-hour when McKay and Clinton went into a tackle. Fielding was not so happy at outside right yet, his centring of the ball was excellent. Hickson was perpetual motion, chasing everything but got annoyed at the handling off methods of centre half-back Spence. I thought Lello one of the best players on the field. He was grand in every respect –attack and defence and behind him as the calm, confident and capable Lindsay. There is a new spirit afoot at Goodison park, and the youngsters are coming on apace. O'Neill with little to do was confident Clinton strong, Jones stubborn and Farrell, working at top speed all the time. Hickson's football is improving with each game. He made some astute passes to keep the line moving. I have seen Eglington more dominating but the line undoubtedly showed possibilities and is well worth an extended trial.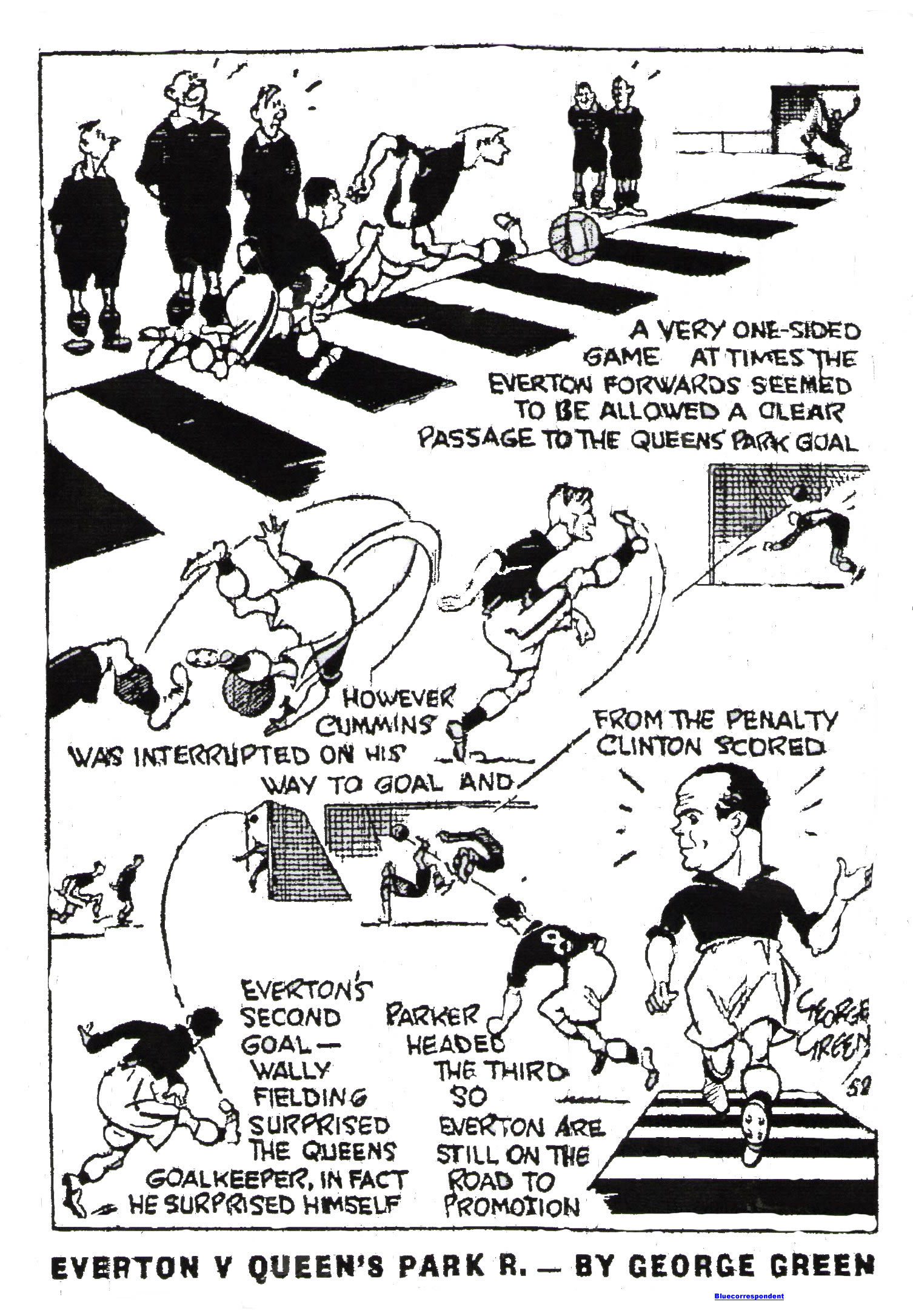 EVERTON DEDUTANT
March 3, 1952. The Liverpool Echo
Cummins Comes To Stay?
Inside Story of Irish Forward's Association with Everton
Ranger's Notes
If George Cummins, Everton's 20-years-old inside forward fulfils the promise which he showed in his home debut against Queen's Park Rangers, we are going to hear considerably more of him in the not too distant future, and Everton are going to remember with thankfulness the day this young Dublin boy decided to spend a holiday in Liverpool. These are the days of debutants, Liverpool had two in their side against Fulham about whom you will read below. Both Liverpool and Everton have introduced five newcomers to their senior team this season. The younger end of professionals cannot complain that they are not getting chances to make the grade. The story of Everton's signing of Cummins is rather unusual. Although the club knew of him for he had played over here and at home in the same Eire youth international side as O'Neill, they did not pursue inquires. There are scores of reports filed away at Goodison of promising teenagers and it is impossible to bring all of them to Liverpool for a trail. There must be some selectively to keep trailists within reasonable and manageable bounds. Indeed Cummins himself had no real idea at the time of making professional football his livelihood. Then one day he decided to take his holiday on Merseyside. He stayed with his friend Jimmy O'Neill, the Everton goalkeeper. As soon as Manager Cliff Britton heard of this, he invited Cummins along to Goodison Park and suggested as he was on the spot that he should play in a trail match. Cummins jumped at the chance, and Mr. Britton was so pleased with his showing that he offered him an immediate engagement. After returning to Dublin to talk it over with his folk, Cummins accepted and you know the rest, Everton have not hurried his development but he's likely to get further chance now.
Time Will Show
I'm always a bit emery of being the optimistic over debutants. Many do not fulfill their early promise. They seem to reach a certain stage and then stick there, minus that little extra touch of class which makes all the difference between an outstanding star and just another player. Time will show whether Cummins has what it takes to reach the highest grade. It is too early yet t say but most folk were favouraly impressed with what he did on Saturday. He used the ball extremely well, born with head and feet, showed nice dribbling power without trying to do too much, and played the type of game which denotes the player whose skill and move's come naturally. Cummins has a long way to go yet and much to learn and he has to prove also that he was the physical stamina for he seemed to tire a bit in the later stages, but he is certainly a very good prospect on this display.
Everton should have won by a bigger margin than three goals. After getting two in 24, minutes against full-strength opposition it took them another hour to get an extra one against the Rangers' ten men. There were however two "woodwork" cases and three instances of defenders clearing off the line, plus some wonderful saves by Gullan which partly redeemed his earlier error with Fielding's long-range shot.
Live-Wire Hickson
In the second half it was pradically one-way traffic and through they did not score until Parker's late on header. Everton's inside forwards shot strongly and frequently. Yet the line as a whole was not as effective at it might have been. Eglington was remiss in his finishing and Fielding never looked happy at outside right which was rather surprising when we remember the fine display he put up there last season. Hickson was the live wire of the forward line. What a terrier he is still a bit too impulsive. Had he been up against a lesser man than centre half Spence or a goalkeeper not in the superlative form of Gullan he would probably have got the reward he deserved. Lello played the best game I have seen from him this season Farrell shot strongly on many occasions and did good work as a sixth forward while Lindsay stood out as the best back on view. Everton most of the time seemed to be playing with a little in hand which is a nice change after the period when they have had to put forth their full hundred per cent endeavour. We may yet have to seriously start totting up the points needed for promotion.
FIELDING
March 3, 1952. The Evening Express
Pilot's Log (Don Kendall)
It was typical of the man that Wally Fielding, having scored so rarely as an inside-forward, should go and score on the first occasion he reverted to the wing. All right, it was a lucky goal he scored against Queen's Park in the 3-0 win on Saturday but in it emphasized the accuracy with which Fielding uses the ball, the menace of the crossing and his danger. Fielding's accuracy of crossing also brought Parker's goal from a 12 yard header. Wally at times did not appear to be quite happy languishing without support, but whenever he was brought into the game he did something of high value. It was because of Cummins sparkle that play concentrated more on the left. Parker made Fielding a splendid partner and shower everyone the value of first time shooting which like some of Eglington's finishing sometimes was luckless –you know inches separating success and failure. Hickson had another splendid day of leadership. We must not allow ourselves to become intoxicated by this conquest of Rangers for it was not exalting but the way in which the boys went about their work gave ground for genuine optimism. The Blues were immeasurably superior at half-back where Jones mastered Addinall after a somewhat "nervy" start which applied equally to Peter Farrell. Both settled down to play above criticism while throughout Cyril Lello was demonstrating just what a handicap it was for the club when they had to carry on so long without him. Lello is right back to his brilliant best, and returned in that old Lello confidence in control and use of the ball. Such is the confidence Jack Lindsay obviously has in Lello, that he can play with greater abandon ever-increasing charm, and ultra effectiveness ensuring that every clearance is something on which to build. Tommy Clinton plays as he did in this, in a different manner. First Tommy makes sure he subdues his winger, and then, satisfied on that point he turns to the finer arts. These backs are so unalike, and yet make such a sound combination. Behind them Jimmy O'Neill had his easiest day with just two shots and a couple of flying catches splendidly made, but he is giving the whole team confidence and has conceded only two goals since his return.
EVERTON TWO STEPS NEARER TOP
March 3, 1952. The Evening Express
Confidence –and Ability Bringing Reward
By Pilot (Don Kendall)
Everton, playing with supreme confidence and ability far above the average of the Second Division have renewed their great drive for promotion, and their latest success has carried them two positions nearer the top, besides establishing them firmly among the elite of the Division. Everton's confidence in their players at a time when the supporters were shooting warningly. "But new players or drop to the Third Division emphasizes the wisdom of management and the determination of Peter Farrell and merry men to right any wrong they may have committed. The manner of Everton's win over Queen's Park Rangers, rather than the win itself, was the source of satisfaction. It was a difficult assignment but the way in which Everton set about their task was highly encouraging. There is a long, long way still to go and rivals need to be pegged back, but Everton are now only four points behind the leaders with the home and five away games to play. Yes, and the Blues have not to face any club positioned higher than themselves. If ever a fixture list had the design for promotion it is Everton's. The outlook has been made all the brighters by the way in which others keep drooping points here and there by Everton's comparative freedom from injury (an "all clear" report on Saturday), and the way in which new young players seize their opportunities when they are drafted into the team.
Another Winner
Latest to "arrive" is 20-year old George Cummins, who on his first league appearance at Goodison almost took charge of the game. Here is a natural footballer, reflecting the immense value of the Everton system of already development though the junior teams. I can tell you quite truthfully that not so many moons ago Cummins wondered whether be ever would make the grade. Possibly he thought he should have cut along faster, but Manager Cliff Britton never had any doubts about Cummins and is encouraged and today we have a star in embryo. On Saturday showing there is nothing to stop Cummins provided Cummins does not stop learning. A diligent worker who likes to be in constant with the play. Cummins has that essential basis of ball mystery. He has courage and ability to hold the ball, but never too long, he assures himself that he is passing to the right spot, and when he does pass the ball goes there unerringly. Short or long passes, they came alike to Cummins who surprised and delighted with his lightning skill and strength on the ball. He has only to maintain to establish himself firmly in a forward line of greater ability and postern ability that musty which have served Everton on the wing.
HOME PRODUCTS
March 4, 1952. The Liverpool Echo
Young Everton and Liverpool Players Get Plenty of Chances
Ranger's Notes
A Litherland reader who for writes asking whether our two senior sides have ever introduced a greater number of young up-and-coming players to senior football than this season and adds the opinion that inflated transfer fees are now a thing of the past, raises an interesting point. First, to answer his query this season's total of debutants five at Goodison and five at Anfield, is not a record. We don't have to go back far to find a bigger total. There were more last season, when Everton gave senior chances to seven of their own Goodison products and Liverpool introduced five. At this is a matter of some interest there are the names of young players who have made their way to the senior team of both clubs through the agency of the various junior sides in the last three years, along with the date of their first senior appearance, which is in brackets. There have, of course been other debutants but they do not come into the category of home products. Among these are Harry Potts, Ted Buckle, John Lindsay, and Oscar Hold, who were all established when signed by Everton. In Liverpool's case I have included Brian Jackson in this season's debutants, for although Jackson is not a Liverpool product he has not appeared in First Division football until coming to Anfield. His is a border-line case. You can delete his name if you think he is there under false pretences.
Liverpool's Debutants
1951-52 season; G. Whitworth (March 1, 1952), Mervyn Jones (March 1, 1952). B. Jackson (November 10, 1951), J. Smith (September 29, 1951) and S. Parr (August 18, 1951).
1950-51 –D. Woan (January 15 1951); J. Halgh (December 26, 1950), R. Crossley (October 21, 1950), J. Heydon (October 7, 1950) and J. Cadden (September 23, 1950).
1949-50 – F. Christie (March 15, 1950) and S. Shields (November 26, 1949)
Everton Debutants
1951-52 – G. Cummins (December 25, 1951), H. Leyland (September 29, 1951), D. Hickson and T. McNamara (September 1, 1951) and D. Donovan (August 25, 1951)
1950-51; D. Gibson (April 28, 1951), J. Harris (March 26, 1951), J.W. Parker (March 24, 1951), G. Rankin (December 9, 1951), A. Hampson (October 14, 1950), T.E. Jones (September 6, 1950), and J. O'Neill (August 23, 1950)
1949-50 – D.E J Falder (December 27, 1949); and E. Moore (December 17, 1949)
Room for Experiment
There may of course be other debutants in both sides before this season ends which will bring the total up to last season's or even beyond it..
In Everton's case of course so long as the possibility of promotion remains on the horizon the club will naturally pin its faith mainly to the tried and trusted players who have carried them through to their present position. Should the opportunity or the need arise however there are several more up-and-coming youngsters on the Goodison staff equally as worthy of a chance to win their spurs as those who have already come into the side. Everton's high position in the Central league table –they are now second to Wolves on goal average, but with a game in hand – is testimony enough to the caliber of the reserve strength at Goodison Park.
EVERTON 'AS YOU WERE' FOR SATURDAY
March 6, 1952. The Evening Express
Visit to Notts County Provides Big Promotion Bid Test
By Pilot (Don Kendall)
Everton retain their latest blend of youth and experience, for Saturday's big test with Notts County at Meadow Lane. This means that 20-year-old George Cummins retains the inside-left position and so will be making his third League appearance. His promotion is timely. This is his birthday month so it is something of a celebration. Quite apart from the success of Cummins against Queen's Park Rangers the club was highly satisfied with the new right wing of Wally Fielding and John Parker. We knew beforehand the ability of Fielding as a wing forward, for he had played there so successfully for a period last season, but for Parker the inside-right position was something new. Yet the switch did not affect his play at all, and we saw indications that the pair will settle down into an effective combination.
Provide Space
Hickson seemed thoroughly happy between Parker and Cummins who are sufficiently insertive to draw attention from him and provide that essential operative space. Tommy Jones continues at centre half, for not only did he come through Saturdays game without any recurrence of the old muscle injury, but quickly settled down to his real game after a rather tentative opening. With Lello now back to his best and Farrell as enthusiastically effective as ever, the Blues have a powerful half-back line operating in front of the much more confident defence. This team is so well balanced that it makes brighter Everton hopes of returning to the First Division. Everton; O'Neill; Clinton, Lindsey; Farrell, Jones, Lello; Fielding, Parker, Hickson, Cummins, Eglington. Notts County rely on the side that some convincingly defeated Doncaster Rovers. Notts County; Bradley; Southwell, Dears; Robinson, Leuty, Adamson; McPherson, Broome, Lawton, Crookes, Johnston.
Eric Moore who was injured on September 29 at Leicester and subsequently underwent a cartilage operations, plays for the Central League team against Barnsley at Goodison Park. Moore had a successful test with the "A" team last Saturday. Don Donovan reveals to his original position of inside forward. Everton Reserves; Dunlop; Moore, Parker; Birch, Woods, Grant; McNamara, Donovan, Lewis, Buckle, Easthope.
EVERTON UNCHANGED
March 6, 1952. The Liverpool Echo
Blues May Extract Revenge for Notts County's Earlier Win
Ranger's Notes
In the early part of this season many wagers were struck between Everton and Liverpool followers as to which of our two senior sides would finish higher in their respective League at the end of the campaign. There was a time when it looked as though Liverpool's backers would be sure of their money, but the way Everton have been playing lately it is more than likely the Reds supporters will be the ones to pay up. After the solid manner in which they defeated Queen's Park Rangers last week it is not surprising that Everton are pinning their faith to the same team for Saturday's game against Notts County, which on paper at least looks about the toughest in their remaining fixtures with the possible exception of their visit to Sheffield United. Everton will have a double incentive against Notts Couny. Not only are the points vital to their promotion hopes but they have not forgotten the heavy defeat inflicted on them, when Tommy Lawton and his colleagues were at Goodison Park last October. That game, won by the Midland side 5-1 still ranks as Everton's highest defeat of the season and rankles in their minds also as something which calls for atonement. It may be too much to expect that Everton will return the "compliment" at Meadow Lane by a similar margin but an away victory is not out of the question. The Blues have suffered only one defeat in their last eight games, which have brought them twelve points. This is the best sequence they have had this season. The defeat was the single-goal one at Blackburn, when the ground was in an atrocious condition, making accurate football impossible. Since the return of O'Neill Everton have had only two goals scored against them in five matches while ten have been registered by the attack. Cummins has thoroughly earned his further inclusion at inside left, and if Fielding serves up a display more in keeping with those when he last occupied the outside right position and the rest play as well as last week, Everton at least should get a point. team;- Everton; O'Neill; Clinton, Lindsey; Farrell, Jones, Lello; Fielding, Parker, Hickson, Cummins, Eglington.
County Also Unchanged
Notts County also make no changes in their side for the third successive time. Tommy Lawton will thus be leading the attack against his old club. Team - Notts County; Bradley; Southwell, Dears; Robinson, Leuty, Adamson; McPherson, Broome, Lawton, Crookes, Johnston.
Central League Bid
Everton Reserves making a grand bid for leadership of the Central League, are at home on Saturday to Barnsley Reserves who should provide them with the means of further consolidating their position. Those who see the Blues' second string regulantly, tell me they are serving up splendid displays but rather surprisingly the crowds are not so good. Even despite the counter-attractions each week at Anfield, one, would have thought that the Blues' second team gates would have advanced considerably this season. Now is the time for Everton loyalists to remedy this. On Saturday there will be a special attraction in the appearance of Eric Moore, for the first time since his cartilage operation. Team; Everton Reserves; Dunlop; Moore, Parker; Birch, Woods, Grant; McNamara, Donovan, Lewis, Buckle, Easthope.
EVERTON HOPES
March 7, 1952. The Liverpool Echo
Ranger's Notes
In meeting Notts County Everton are up against a side which has been extremely erratic this season. Good performances, such as their 5-1 win at Goodison in October have alternated with some very mediocre displays in their last two games, however, the County have scored ten goals of which Lawton has got three and the former Evertonian will be anxious to have another good game against his old club. Lawton has taken off quite a fair amount of weight lately and got back something of his old speed and the Meadow Lane club hope to complete the double over Everton. Everton have their ideas. Jimmy Jackson who scored four of the goals at Goodison Park will not be in the County line up, and the men Everton's defenders will have to watch in addition to Lawton are Bob Crookes school-master and part-time professional and veteran Frank Broome. Everton; O'Neill; Clinton, Lindsey; Farrell, Jones, Lello; Fielding, Parker, Hickson, Cummins, Eglington. Notts County; Bradley; Southwell, Dears; Robinson, Leuty, Adamson; McPherson, Broome, Lawton, Crookes, Johnston.
EVERTON DEFENCE STOOD FIRM AS NOTTS THREW IN ALL THEY KNEW
March 8, 1952. The Liverpool Football Echo
By Stork
Notts County Nil, Everton Nil
A good draw, well and truly fought for, it was not a classic but at times there was some good football without many thrills. The Everton defence had to battle against some hot stuff at times, but they stood to the task manfully. On balance of chances there was not a great deal between the sides. Notts County; Bradley, goal; Allen, and Deans, backs; Robinson, Leuty and Adamson, half-backs; McPherson, Broome, Lawton (captain), Crookes, and Johnston, forward. Everton; O'Neill, goal; Clinton and Lindsay, backs; Farrell (captain), Jones and Lello, half-backs; Fielding, Parker, Hickson, Cummins, and Eglington, forwards. Referee; Mr. H. Jackson (Leeds). It was a glorious afternoon, quite springlike. Everton's visit to Meadow Lane was a vital one for them if they were to stay in the promotion race. There was some lovely football but so far it could not be claimed that the game had been a thriller Johnston slashed the ball right across the Everton goal face only to find that there was no colleague present to apply the necessary finish which would have meant goal number one. Johnston came a second time from a much better position, but hooked the ball outside the upright. Eglington who moved in close to the County goal, shot narrowly over. The exchanges were evenly balanced and when Parker went out to the right wing ne beat his man and centred, the ball curling up in front of Bradley after having touched a County man's foot. Allen came along to lend his aid, and gave away a corner. The first big thrill came in the 25th minute. Lawton put out a perfect ball to Crooke, who made a few steps forward before he unleashed a fast rising shot. O'Neill threw his hands up in the air and turned the ball over the bar. It was truly a magnificent save of a top class shot. A back pass by Clinton to his goalkeeper nearly let in Lawton and it was only the nippiness of the Everton goalkeeper which enabled him to snatch the ball for Lawton's toes when only a few yards out. Cummins was ploughing his way through and was brought down just outside the penalty area, but he did not get the free kick although I thought he was entitled to it. Hickson found Leuty a big stumbling block and rarely did the Everton centre forward have the opportunity of trying his skill against goalkeeper Bradley. Bradley took a long dropping centre from Fielding at the same time as Parker went up for the ball, but the goalkeeper won the day., I thought the County's football was rather too methodical. They advertised their moves more than Everton did and so the Everton defence was able to get into position. Hickson and Cummins got together and the Irishman was able to get in a left foot shot of power which Bradley saved. Lawton's heading was one of the features of his game and he made a lovely flick to send Crookes through, but inside forward did not make the best use if it, and the Everton defence came out tops. A back pass by Jones of some length travelled much too fast for goalkeeper O'Neill and a corner was the result. This was soon disposed of, almost from the clearance. Everton went down their left wing and Eglington put across a centre that was so full of danger that Leuty almost headed through his own goal. This was certainly a near thing.
Captain's Game
Farrell was playing a captain's game in that he never spared himself, and with Lello putting up some passes, the Everton attack was able to move off. Parker with his left foot, put in one of the best shots of the game thus far, and Bradley had to punch it over the bar. Fielding wasted the corner kick. The half was nearly closing when Eglington burst through, and from close in scooped the ball almost into the net but someone had touched it and the corner did not avail Everton anything. Eglington soon afterwards tried again but was off the mark. Half-time Notts Co. Nil, Everton nil.
In the first minute of the second half Clinton headed out of the Everton goal from McPherson. Leuty and Fielding were injured and had to receive attention, the Everton man resuming with a deciding limp. Everton were now slightly on top and playing some good-class football. They treated the crowd to some nice combination without getting the desired result. Parker shot over the bar and Eglington had hard luck with a really magnificent shot which Adamson turned out of goal. It was more by good luck than good management that Adamson was able to make a save. The Nottingham people badly needed a goal and they did not hesitate in telling their players so. A little more life came into the game, and Everton were given an indirect free kick for obstruction on the part of Leuty.
A Three-Piece
It was taken twice but on neither occasion was Bradley called upon to do anything about it. Hickson, Parker, and Cummins go together in a three-piece which culminated in Cummins hitting a half-powered shot outside. There was a tense moment in front of the Everton goal when Lawton had gone close in, in anticipation of a centre. He stretched out his foot to the ball and turned it into the Everton goalkeeper and it finally passed up field. Broome was ploughing his way through the middle when he was brought down by Clinton but as Clinton had played the ball there was no suggestion of a foul but a corner. This was troublesome for a few moments, but was disposed of. There was certainly a little more life about things now and Parker made a feeble sort of header which passed outside. Jones had a good game against Lawton simply because he had made up his mind to be first to the ball. There was one occasion when O'Neill saved a desperate situation lose into goal, catching a header that seemed bound to be destined for the back of the net. The County, spurred on by their supporters were putting in all they knew, but the Everton defence put up a stubborn front. Lawton tried his best to crack one in against his old colleagues and he showed nippiness on occasions which normally would bring him results, but today he was well covered by the Everton defence. The County were now attacking strongly and the ball was often in the Everton penalty area. During one quick raid, Parker had he acted with more speed, could have been a menace to Bradley but he failed to make a call on Notts goalkeeper and it was the County who dominated things. O'Neill had to punch away on two occasions, while there was some desperate defence on the part of every man lack in the Everton line. O'Neill dropped down on a low shot from McPherson and following a big clearance, the ball was swung out to Hickson who promptly turned it out to Parker who most people thought should have tried his luck with a shot. Instead, he passed it over to his right wing, but Deans had anticipated the move and cleared.
Not Sustained
Having beaten off a hot County attack Everton started to do a little on their own behalf but it was not sustained and the home side were soon back challenging for that all important goal. Leuty turned out a low shot from Eglington. Final; Notts County nil, Everton nil. Attendance 29,380.
EVERTON RES V BARNSLEY RES
March 8, 1952. The Liverpool Football Echo
Barnsley, who were the more consistent took the lead in the 13th minute through Deakin following a melee in front of goal. Everton settled down, and equalized in the 21st minute through Easthope, who scored direct from a corner. Half-time; Everton Reserves 1, Barnsley Reserves 1.
MAN OF HIS DAY
March 8, 1952. The Liverpool Football Echo
Neil McBain
By J.E. Wiggall
Not so many years ago Scotland was the breeding ground for good footballers. When a club was short of a skilful forward for a constructional half-back they had only to send an emissary over the border and he was almost bound to return with his man. Things have changed in recent years, for Scotland is suffering from a shortage of good class footballers, just as we are in this country. The odd one comes along now and again, but much search has to be made before he is spotted. The land of the thistle has sent some wonderful players to England –Hughie Gallagher, Andy Wilson, Tiny Bradshaw, Alec Jackson, and of course, the one and only Alex James to name only a few. But one came to Everton who was as good as any. It was Neil McBain, whose transfer from Manchester United to Everton cause great concern among the United supporters, club members and the football public in general. A meeting was actually held to discuss the departure and the season thereof. A resolution afterwards passed y the meeting couched in this manner. "We learn with the deepest regret of the departure of McBain. He carries with him the best wishes of the supporters, it is a distinct gain for Everton, and Manchester United is the poorer for his departure. That week was a busy one for Everton, for they secured three international players Cock (England), Troupe (Scotland), and McBain (Scotland). What would a like trio cost today? I believe McBain cost Everton under 15,000. You can get more than that for a Third Division player these days. McBain was a footballer from tip to toe. He was no mere "policeman" as we know them today, but a purveyor, one who looks after the wants of the forward line. It was sacrilege to expect McBain to lash the ball regardless of its destination. He would never have forgiven himself if he gave the ball to an opponent. I don't think he could have adapted himself to the third back game, but who knows. Tiny Bradshaw another attacking pivot, did to some extent but he did not like it. They believed that attack was the best method of defence and to see McBain spread the ball to his forward colleagues was one of the joys of football. You rarely see it today, because of the safely first principle adopted since Herbert Chapman made a "policeman" out of Herbie Roberts. McBain was often critised for his lack of defensive power. Well, perhaps he was not so strong in that side of the game as he was constructionally, but he was a grand centre half back for all that. Furthermore, he was a grand golfer in fact, he could have made it his professional but he preferred his soccer. He joined Everton in January 19, 1933, and after became much travelled player and manager –He went from Goodison Park over to Anfield, and while manager of New Brighton he actually played in goal when he was 52 –his first game since his retirement 16 years previously. It came about through the non-arrival of goalkeeper Corbett. When he took over the management of New Brighton he built up a team of youngsters which did not cost him a penny-piece. But it was hard going. He left the "Rakers" for Leyton Orient as assistant to Charlie Hewitt. His knowledge of football was vast. He knew what he wanted and tried to get it, but not always with success for he had little money to throw about on known players who would have suited his book. His last job as coach in South America. This he held for two years returning to this country last month. What will be his next move? He is too good a man to be sitting in the stands for his knowledge would be a valuable asset to some clubs. No doubt he will be settled in shortly. I cannot see him leaving football, for the game is in his blood.
STILL THERE WITH A CHANCE
March 10, 1952. The Liverpool Daily Post
By Stork
Notts County 0, Everton 0
Early in the season Notts County came to Goodison Park and administered a dribbling to an Everton lacking in confidence and fighting spirit. On Saturday the teams met again, but this time it was an Everton full of confidence and with a much greater degree of skill. With the slightest luck Everton could have come away with full points. They had the better and more numerous scoring opportunities. If and buts, however, are of no account in the final reckoning. Everton are still there with a chance, but scoring opportunities must not be missed if they are to regain their rightful position. Notts County also had promotion ideas, but this lost point has I am afraid put them out of the running. It was a peculiar game in that it started on a lethargic note. It might have been an exhibition instead of a promotion game. It did not get into its stride until well into the second half. Everton appeared to be apprehensive during the first quarter of an hour but having got over their anxiety they gave as much as they received. In fact had Eglington taken two chances, in the first half I do not think the County attack would have been good enough to wipe them off. Then in the second half there were chances which went a begging. Parker was so promising in midfield it was vexing to see him hesitate with a possible goal facing him. Speedier action was all that was needed. Everton's football was superior for the inside forwards were better than County's and it was left to Lawton to carry the onus of attack. He did it well; not by shot but by beautiful passes to his colleagues.
Superlative Save
The ball he put up for Crooks in the first half was a thing of joy and Crookes hit it with all he had but O'Neill brought off a superlative save. Lawton flicked the ball with head and foot, but the County attack was too well held most of the time. They got on too later and the Everton defence played magnificently. O'Neill displaying grand anticipation at crucial moments. The great different between the sides was at wing half. Lello and Farrell were right on top of their game and Jones decided that he had to be first against Lawton and first he was. He had his best game for many months, using the ball well, so that the attack had its full complement of service. Fielding was injured early on and Hickson could do little right against the experience Leuty , so the lack of Parker and Cummins was tremendous. Cummins is a natural footballer I think he has come to stay. His passing was done without hesitation and he lent valuable aid in defence when required. He rarely made a wrong pass. Eglington was not at his brightest. Main honours went to the defence in which Lindsay and Clinton stood manfully to their task.
EVERTON HALF
March 10, 1952. The Liverpool Echo
By Stork
With Notts Forest, Leicester, Birmingham and Rotherham all winning their away games it took some of the lustre out of Everton's meritorious draw at Notts County ground for it keeps them right up in the fighting line. The position is becoming more tense with each week, and the tussle for promotion becomes grimmer and grimmer. Everton had a chance of helping themselves considerable at Meadow Lane, for while a half on opponents ground is highly satisfactory, it is so when their portion should have been a "full hand." A draw was perhaps a fair result if one can forget the openings Everton made and then frittered away by poor marksmanship. On balance or opportunities, Everton undeniably had the better chances, but having failed to take them they cannot quibble and must accept the "half" with gratitude for it keeps them in the race. They may not finish top but they have an excellent chance of taking the runners up position for they are only three points behind Leicester and Birmingham. Everton's bid for a "rise" is going to tore vent a Merseyside football slump. The County rather fancied they chances as a promotion element but I think they can rule out their prospect after their loss of that valuable point on Saturday. I went to Nottingham in fear and trembling for had not the County run up ten goals in two successive games –not a happy augurs for a visiting team. Truth to tell the County did not look like a scoring machine; far from it, for their attack was anything but together while their football was not so good as that of their rivals. Everton were some time is settling down. They seemed to be a bit scared during those first 15 minutes, but having seen this County realized that they were not what they had expected them to be. Too much was left to Lawton who nowadays is not so much a spearhead as a maker of goals. He provided plenty of passes but they were not taken up as they should have been, or else Everton's defence was too good for them. With more accurate shooting Everton could have held a lead before the interval, but this was not a good day for their shooting stars, in fact it was not a good day for any of the ten attackers on view –at least not as scoring units. Lawton put one on a plate for Crookes, but O'Neill defied him with a brilliant save and later on the Irish goalkeeper backed up by a strong tackling defence checked the County when they tried to crash their way through. Those hectic County minutes were threatening, but the Everton defence covered and fought valiantly until the threat was driven out. Parker would have scored had he not been slow in making up his mind. He did gave Bradley a hot number to turn over his bar, but the simpler chances had been missed, and they were never came again. Hickson could not find a way to beat Leuty and Eglington was not so sprightly as usual and with Fielding limping the onus was left to Cummins and Parker. Cummins gave another promising display. He has come to stay for he is a natural footballer; knows what he is going to do before he has done it, and his passing was another feature of his play. Furthermore he fell back to lend his aid to defence when Notts were putting on the screw. The wing halve Farrell and Lello were constantly prompting and tackling confidently and Jones had his best game for some time. He often beat Lawton to it, and made better use of the ball than previously. Clinton, Lindsay and O'Neill never faltered and they had some hard stuff to deal with at times. Notts were not so good as I expected them to be but Lawton is still a power in football without producing the enthusiasm of his Goodison park days. The match started quietly and while it was never a thriller it was a nice game of football to watch.
INJURY WORRIE
March 10, 1952. Evening Express
Pilot's Log
Further injuries have come to worry Everton, on Saturday Wally Fielding of Everton was handicapped by a kick just under a knee. The extent of Fielding's injury will not be known until today, but it is not thought to be serious enough to prevent his playing at the week-end. Eric Moore the Everton full back came through his Central League test all right.
WELL PLEASED
Marc h 10, 1952. Evening Express
By Radar
Everton's continued success (and that 0-0 draw at Notts County can be written down as a success), has fired enthusiasm all right. Why one keen Evertonian from Birkenhead hitch-hiked it to Nottingham on Saturday. Everton heard about it, and two of the directors generously paid his fare home. Everton were well-pleased with their point which however, could easily have been two. Most heartening feature of this latest Everton performance was the further proof it afforded of tightening up a defence. At Meadow Lane the studious centre half of Tommy Jones was one of the most pleasing features. Tommy Jones is still one of the cleverest leaders in the county, and the fact that he was so rarely in the picture on this occasion testifies to Jones's firm intention to be first to the ball, and the fact that he always maintained a cool head, however, fierce the onslaughts. O'Neill is progressing by leaps and bounds as he gains essential experience and there was no single flaw in his work this day. Clinton's "they shall not pass" maxim again stood him in good stead, and he prevented a certain goal, when he took the ball off Broome's feet a few yards from goal in the second half. "Farrell –a wholly satisfactory display –and Lello were tireless wing-halves whose prompting did not always receive their due response from the forwards. As a matter of fact, this was not an occasion when we saw the attack in its most sprightly mood.
PROMOTION PROSPECTS
March 11, 1952. The Liverpool Echo
Ranger's Notes
Blues Are There With A Good Outside Fighting Chance
Football interest among Goodison Park enthusiasts is being kept alive this season in a far more acceptable manner than it has in the past few years, and though much can happen before this season's end, Everton have a good fighting chance of promotion. This is a pleasant change from those recent seasons when we have been engaged on the much less welcome task of trotting up what points the Blues needed to avoid relegation. The struggle for the two top places in the Second Division is so close that anybody who attempts at this stage to forecast the eventual promotionists is asking for trouble but Everton, with a seemingly easy programme before them, at least on paper, may be well in the running when the final reckoning is made. So may and other of the top ten clubs. It is quite as open as that. But for their disappointing start to the season, which saw them languishing fifth from the bottom after the home defeat by Notts County on October 20, the Blues would be almost assured of promotion today. By mid-October they had been taken only 11 points from 14 games, had an adverse goal average of 10 for and 25 against and the outlook was decidedly grim.
Hickson's Value
Since then changes in both attack and defence have transformed the position. The return of O'Neill and Clinton stiffened the rear defence and more recently, the recapture of his old form by Lello has improved the intermediate line. In attack the biggest single factor, to my mind was the advert of Hickson, who though still a trifle too impetuous at times brought life and fire to the front line, as well as valuable goals. Since his recall after the Notts County debacle he has scored 11 goals in 19 league appearances. Parker's gradual improvement has been another helpful angle and though it is too soon yet to form a dogmatic opinion about Cummins everything points to the young Irish player developing into a big asset. If only Eglington could take a little more advantage of the scoring openings, with which his speed and positional sense present him the prospects would be even brighter. Since the Blues lost at Doncaster on Christmas Day they have taken 14 points from nine subsequent games with only one defeat, that by a single goal against Blackburn Rovers on a pitch which was all against football of the real Everton type. In that period they have scored 15 goals and had only four against them, all singles. The last goal scored against them at Goodison Park was by Doncaster Rovers in Boxing Day. Prior to that two previous home games had produced no goal to the opposition so that in their last seven League games at Goodison, the Blues defence has kept a clean sheet on six occasions. That speaks for itself. Leyton Orient made rather a hash of things for them in the third round but that is all forgotten now and whether promotion comes or not this season Everton should finish much higher that at one time looked likely. The splendid show which their Central League side has made all season also seems to indicate that the Goodison park reserve strength is sufficient to fill any gaps that the future may show up in the senior team. In the past I have had doubts and fears and have not hesitated to express them if Everton prove still further that I was too pessimistic I shall be equally happy to put up my hand and plead guilty. The following are Everton's remaining fixtures for this season.
Home;- Luton Town, Swansea Town, Hull City, West Ham United and Barnsley.
Away;- Bury, Coventry City, Hull City, and Sheffield United
O'Neill, the Everton goalkeeper, did not report for duty this morning. He is down with flu. Another absentee is Wally Fielding, who suffered a leg injury at Nottingham.
BLUES AWAIT REPORTS ON TWO PLAYERS
March 13, 1952. The Evening Express
Good Hopes of Playing an Unchanged Side
By Pilot (Don Kendall)
Everton face two team problems for Saturday's match at Goodison Park with Luton Town, who have
Suffered two defeats in the space of five days. Manager Cliff Britton hopes to be able to solve them by
this afternoon but may have to wait until tomorrow. Even if the worst happens there will be more then
than two changes. You can take it that nine players are certainties.
The doubtful are Wally Fielding and Jimmy O'Neill.
FIELDING DOUBTFUL STARTER
March 13, 1952. The Liverpool Echo
Everton Query
Knee Injury Has Kept Him From Training This Week
Ranger's Notes
The announcement of Everton's team for the vital promotion stakes meeting with Luton Town at
Goodison has been temporarily held up, as Fielding's injury has turned out more severe than expected
and so far he has not been able to do any training this week. The injury –a knock on the muscle just
above the knee-has been causing him rather a lot of pain. O'Neill was also at one time a rather doubtful
starter, owing to an attack of influenza but he was up and about again yesterday and all being well
should be fit for Saturday. He was training normally today.
Elsewhere Everton have a clean bill of health which is just as well for the Blues must go all out for
maximum points from their remaining games to keep in the running as possible promotion contenders.
Although Luton have not been doing well in their league engagements recently, and yesterday were
decisively beaten at home by Doncaster Rovers, no side is easy meat in the Second Division these days,
where the general level is amazingly close.
HEARTS-RULING HEADS
March 14, 1952. The Liverpool Daily Post
By Leslie Edwards
Followers of Everton are in good heart. They feel that events are moving towards the goal of their dreams – Division One this season. Reflection of recent results in Division Two gives the impression that Everton are having promotion held out to them if they can only grasp the fleeting chance –a sharp reversal of probabilities at one point not long before Christmas. Everton confidence is based on the fact that they are close on points to the present leaders and that they meet between now and the end of the season, a number of clubs in the lower half of the table. Without wishing to dull the enthusiasm of Everton loyalists these contingencies may not work out as favourably as many think. If Everton were only a few points behind the second club their chances would be good because any side can fade and lose ground at this stage. The trouble is that Everton are headed by so many clubs it might be foolish to expect all of them to lose consistently between now and the season's end. As for that allegedly easy programme, nothing could be more fallacious. Teams in danger of relegation have a way of proving more difficult to beat than those placed mid-way in the table, where defeat or victory means little or nothing. All games whether against clubs at the top or those at the other end of the table are special tests which can only be won on the field and not in over optimistic minds.
Topped The Polls
Were Everton to return to where they belong they would be welcomed everywhere. Confirmation of my belief that Everton's fair play does not past unnclined came a poll of football opinion in which Everton topped Second Division clubs for this special quality. A few followers of the club anxious as they are for the side to regain its status wonder whether the existing side could hold its own in the higher grade. They augue that Everton may not be ready for Divison 1. My view is that there is not time like the present and that I fancy Everton with an increasingly young side, would do well enough to avoid the trouble they endured for several seasons before Division 2 finally caught up with them.
Football in Division 1 is not so good that the present Everton would find themselves in difficulty. Unfortunately Fielding will not be able to take his place at outside right in the team to meet Luton at Goodison Park tomorrow. His place will be taken by McNamara whose strength of shot at least is beyond question. Everton's prospective good things do not short at O'Neill. Hickson and Cummins. They have in their Central League side a young boy in his teens, Birch, whose shot from 40 yards last Saturday produced the greatest goal at the ground for years. It can be argued (and is) that no goalkeeper should be beaten from such range but everyone who knows football appreciates that there are times when the most perfect application at the instep on the ball can produce shots to beat goalkeepers even when they are not enjoying their form of cat-nap.
VITAL GAME FOR EVERTON
March 14, 1952. The Liverpool Echo
Victory Necessary Against Luton To preserve Promotion Hopes
Ranger's Notes
Everton's promotion prospects are keeping the season alive at Goodison, but from now on to the end of the campaign the Blues must make a strong effort to get full points from all home games if they are to remain in the reckoning. Luton Town their visitors tomorrow, have slipped back so badly in league warfare, despite a good run in the Cup that Everton would seem to have a strong chance of registering their eight home victory out of the last nine games at Goodison Park. Since the middle of November the Blues have dropped only one point on their own ground when they drew Doncaster Rovers on Boxing Day. This is something like possible production form. Continuation of it should see Everton making a strong challenge, but there are so few games left to play, and so many club in the running, that unless quite a few of the others suffer lapses Everton may not pull it off. Still they are in with a good outside chance at the moment, which is something that never looked possible a few moments ago. Luton have not won a League match since December 26, and on their recent showing should not prove too big a task for Everton. The Blues however cannot afford to take chances. Territorial superiority is no help unless it is combined with accurate shooting and this will be needed to get the better of the visiting rearguard, which has a goalkeeper of outstanding merit in Streten. Luton's attack is also a fairly effective combination, and altogether despite their fall from grace of recent weeks, the Cup excepted this fixture is likely to be as stiff a test for Everton as any of their recent games. Luton suffered a home shock on Wednesday when Doncaster beat them 4-1, but they put up a splendid show against Arsenal in the sixth round of the Cup, and any side which can do that must not be treated too lightly. Luton have rather a big injured list at the moment and have had to make two changes involving three positions. Shanks comes in at right half, after being off three months with an injured knee, allowing Morton to go centre half in place of Own, injured in the Arsenal cup tie while at inside left the Hatters will have a debutant in David Sexton, aged 22 who was signed from Chelmsford last summer. Both Luton backs are natives of Eire so that there will be several Irishmen on view in the game. Everton'; O'Neill; Clinton, Lindsay; Farrell, Jones, Lello; McNamara, Parker, Hickson, Cummins, Eglington. Luton Town; Streten; Dunne, Aherner; Shanks, Morton, Watkins; Stobbart, Taylor, Moore, Sexton, Mitchell.
LUTON TOWN BROUGHT GOALS –NOT RABBITTS OUT OF THEIR HATS!
March 15, 1952. The Liverpool Football Echo
Everton 1, Luton Town 3
By Contact
This except for a miracle, was the end of Everton's attempt to regain their Division 1 status. Despite injuries which caused many changes Luton played splendidly, took their chances well, and provided the day's best forward play from the debutant Sexton and the England "B" winger Mitchell, who scored twice. Stretten's goalkeeping although the Everton attack scarcely ever shot direct, was beautifully clean and quick and having said this there is not much one can add from an Everton angle. Everton; O'Neill, goal; Clinton and Lindsay, backs; Farrell (captain), Jones and Lello, half-backs; McNamara, Parker, Hickson, Cummins, and Eglington, forwards. Luton Town; Streten, goal; Dunne and Aherne, backs; Shanks, Morton and Watkins, half-backs; Stobbart, Taylor, Moore, Sexton, and Mitchell, forwards. Referee; Mr. J.R. Dunbar (Notts). Luton almost shook Everton to the core in the first minute when Sexton and Moore straight from the kick-off, worked a direct move which all but produced a goal. Moore moved quickly on to the ball to shoot from the region of the penalty spit and O'Neill did exceptionally well to stop the ball and then make good his grasp on it at the second attempt.
Smart Goalkeeper
It was soon obvious that the gusty wind was going to play a big part in this match. Everton were almost completely on top in the first ten minutes but not once were almost completely on top in attack of nay consequence. Streten had several fielding jobs to do and performed them so surely and with such admirable speed that he looked to be the smartest goalkeeper we have seen for seasons. Everton followers joy over what appeared to them an own goal by Morton was short-lived, and the more discerning had earlier realized that Hickson had been given offside before Morton, in attempting to pass back to Streten put the ball into his own net beyond the out coming goalkeeper. The referee I think erred when he penalized Lello who was charged by Taylor and from this disputed free kick Luton scored at 13 minutes through Mitchell. He picked up a rebound from the defence on the edge of the penalty box and lashed in a wonderful shot that entered the net high up near the goal angle. This goal was the first against Everton at Goodison Park since Boxing Day when they played Doncaster Rovers.
Full of Menace
Lello was having a good time against the Luton right, but Mitchell and Sexton on the left played splendidly together and were full of menace to the Everton defence. Sexton despite a charge from Farrell, when chasing the ball almost on the six-yard line caused O'Neill to save after intervening between Farrell and his intended header to the goalkeeper. Jones held Moore with a sure touch, and twice got himself out of difficulty, the second time in collaboration with Lindsay.
Chance of a Lifetime
Not the chance of the match but the chance of a lifetime fell to Mitchell at this moment. He took up a beautifully-delivered through pass by Sexton, which so spread-eagled the Everton defence that Mitchell was able to take the ball in imposed to within two yards of the line at which ridiculous range he slammed it outside.
Well-Judged Passes
Luton showed us further indications of why their Cup run was so long and good. They not only got themselves out of trouble in defence, but did it by well-judged on-the-floor passes which frequently led to the half-backs setting up attacks.
Half-time; Everton nil, Luton Town 1.
Referee Dunbar came in for some barracking from the crowd as he left for the interval and when he came back, the bone of contention being the free kick against Lello, which was party a forerunner to Luton's first goal. For a player making his debut young Sexton was exceptionally good and Mitchell's form here will not surprise the England selectors who have put him in their "B" team for the match against Holland.
A "Dream" Goal
Luton's second goal at 56 minutes was the kind that teams dream about. It started at Stobbart whose long cross-field pass to Mitchell was promptly headed straight back to the centre of the field where Taylor brought it under control with a downward nod of the head. The crowd claimed a handling offence, but it was clear that Taylor had made no infringement and when he went on and hit a good, low shot just inside the post, not an Everton player shade protest f the legitimacy of the move or the goal. Luton now confident just coasted through the game and were not brought to life until Peter Farrell hit a monumental shot from 25 yards and Streten could only turn away and fall on the ball as Hickson came in.
Another Great Goal
Mitchell scored again at 70 minutes from a right wing centre which came over t him high and for which he changed his mind. First he shaped to head the ball, and then he brought it down and pivoting quickly, hit it with his left foot wide of a ruck of players to beat O'Neill completely again just inside the post. This I am afraid, was the end of Everton's promotion chase for this season. Sexton, almost direct from Streten's goal, offered Moore almost the perfect of chances, but from zero range he, like Taylor earlier on could not even side foot the ball over the line. Everton's cup was filled and overflowed when McNamara after due consideration offered Eglington the choicest of through passes and that winger with the goal for the taking hit a shot yards over the bar.
Moore Misses Chance
After Jones had failed to collect a long ball down the middle Moore had more than an outside chance of making it 4-0 but he shot hurriedly and erratically. Luton were now coasting home competently, confidently and comfortably and an enormous number of the crowd had already written the day off as beyond hop. Parker scored for Everton with the last kick of the game. There was not even time to re-centre the ball. Final; Everton 1, Luton Town 3. Official Attendance 37,889.
SHEFF UNITED RES V EVERTON RES
March 15, 1952. The Liverpool Football Echo
Sheffield Utd Res;- Young, goal; Caldwell and Shaw, backs; Rawson, Latham, and Walker, half-backs; Fields, Luke, Smith, Hagan, and McNab, forwards. Everton Res; Sagar, goal; Moore and Rankin, backs; Bitch, Woods and Melville, half-backs; Gibson, Donovan, Lewis, Buckle, and Easthope, forwards. Referee; Mr. J.A. Turner (Willenhall). Joint League leaders Everton and the presence of international Hagan attracted the best Central League crowd of the season to Bramell Lane where the Merseysiders' livelier play brought them an early goal through Donovan. Twice Sagar saved brilliantly in intensive United pressure, but Lewis was unlucky to have a goal disallowed for offside. Half-time; Sheffield Utd Res nil, Everton Res 1.
EVERTON 1 LUTON TOWN 3
March 17, 1952. The Liverpool Daily Post
By Leslie Edwards
Wally Fielding out of the Everton side, hobbled painfully to his place in the stand. The odd thing is that it was not the Nottingham knock which kept him out of the game, but the behind the knee trouble which has recurred frequently this season for no apparent reason
Goodison Recipe
The recipe at Goodison Park was "Take a team which has not had a goal scored against them at home this year (Everton) mix it vigorously with a team which has not won a League match in 1952 (Luton Town) place in a distinctly cool oven (Goodison Park) and take out when Everton are found to be done to a golden brown. On a billiard board surface with a testy wind to battle the most accurate controller of the ball, it was a match which proved beyond doubt, that Everton are not ripe for Division 1 and that their chances of reaching Division 1 this season are next to nil. Besides their lack in quality Everton were without fire and apparently without enthusiasm. It was "one of those days" as they say, with referee Dunbar of Nottingham (Supplementary List) starting on the wrong foot and rarely, if ever, in step. But through his decision against Lello in the opening moments was wrong much happened between the award and the moment when Mitchell hit his wonderful shot out of O'Neill's reach. A linesman too, may have been wrong when checking Hickson for offside a moment before Morton put through his own goal –but allowing for these if and buts Luton won competently and convincingly. They bore out my belief because sides are badly placed in the table they are not necessarily "good for two points" to Everton or to any other side. Luton, with changes brought about through cup-tie injuries not only played beautifully, but to such effect that Everton by comparison looked and were sketchy.
Simply Perfect
Taylor's goal-the second was as notable as Mitchell's for its simplicity and when Mitchell (who has been around the football high ways and byways a bit) pivoted quickly and caught the unsignted O'Neill at sea for goal No 3 it was no more than Luton deserved. Parker's goal with literally the last kick was no consolation. It served only to give those who did not see the game a wrong impression of the value of the teams. Luton might well have vied with West Bromwich for the day's earliest goal – they too might have scored in nine seconds. Had they done so this match would have gone down in the record books as containing the earliest and latest goals. Everton's main fault was in attack. This had no general Hickson's battering ram methods did not succeed never looked like succeeding. Parker was completely off colour and the others were too stereotyped to hope to breakdown of break through a sound defence. Besides a useful defence which boasted the promptest and nearly goalkeeper I have even seen Streten, Luton had fine wing in the debutant Sexton from Chingford, Essex and Mitchell. There is a ghost of a chance to Everton to finish in the first two but not if they continue to play as lifelessly at this. and they will need to take all the points at stake in their remaining matches.
THIS LOOKS LIKE THE END
March 17, 1952. The Liverpool Echo
Ranger's Notes
Everton's last remaining hope of regaining their First Division status now appears to have gone west. Barring half a dozen miracles involving the complete collapse of all the clubs above them, we must accept with as good a grace as possible the prospect of at least another season of Second Division fare at Goodison. There is some consolation in the fact that the Blues have been in the running even if never with more than an outside chance. While promotion would have been acceptable and encouraging it might perhaps be as well their rise should be delayed until there is a greater prospect that when they do get back they will be so well endowed with talent in all positions as to remove any danger of a repetition of recent years of anxiety. Of two evils, the lesser is to have a Second Division side doing well and with a chance of promotion than a senior combination struggling near the bottom. Everton's chance will come again and possibly next season, but there are still attacking weaknesses in the team. Consistency is a primary need for any team which hopes to get out of the wilderness and stay put once it goes up. That, unfortunately, has not been an Everton characteristic this season. Not that they are alone in this. Though they were disappointing against Luton in the last three months they have played as well as almost any other Second Division side. It was just unfortunate that they could not keep it up to the end. Everton's hopes were quashed by Luton largely because of the Blues forward failings. The visitors always looked the more dangerous side in front of goal and impressed by the method in which they made the maximum of ground with the minimum of effort. By comparison Everton were slow and hesitant, taking three moves to do what Luton achieved with one defence splitting pass.
Some Curious Decisions
Not that the Everton defence was to blame. I reckon O'Neill had no chance with any of the goals and his colleagues could rarely be faulted. The first goal may have unnerved Everton to some extent, for it came from a free kick which was so obviously the other way round. This wasn't the only puzzling decision of the day either. But any side with promotion pretensions should not be unduly disturbed at such a setback. There was more to it than that, and with the Everton forward line having a completely off day, Luton cashed in to the full. All three Luton goals were fine examples of first time shooting and opportunism which was something Everton sadly lacked. The home wingers were sadly below par, Hickson never got out of the grip of Morton, and only Cummins looked reasonably good. Everton have frequently been a tantalizing lot. Saturday was no exception. The obvious thing to do now is to start right away with experiments designed to put a strong team in the field at the very outset of next season.
PROMOTION SETBACK
March 17, 1952. The Evening Express
Pilot's Log (Don Kendall)
Everton's promotion ambitions received a disheartening setback on Saturday, when Luton Town won 3-1 at Goodison Park. While the position is not hopeless by any means, the outlook now is not good. Everton are now seven points behind the leaders and five behind the second club. They have eight matches to play, giving them a possible 51 points but it will take something a lot better than Saturday's form to produce eight straight victories. One encouraging point is that clubs above them are dropping points here and there, although they did not do so on Saturday, and that those clubs will be playing each other. There is still just a possibility but the manner of the Luton defeat sent hopes down to zero. It was just one of those days when the little things went straight against Everton when every player selected that particular day for his "off-duty"; when critical moves went awry; when the harder they tried the worse it become. It was one of those nightmare games with a nightmare result, and a such can be dismissed as far as future reference is concerned. No need for panic changes or any changes at all, in my opinion. The team we know is 100 per cent better than this, and you can rest assured that manager Cliff Britton will continue to place reliance on it, with of course, the addition of Fielding.
Misunderstanding
It was a misunderstanding that started Everton on the slippery slide. A linesman siganlled for a foul by Moore, the Luton centre-forward. The referee blew promptly enough, but thought his linesman meant a free kick for Luton. The linesman waved frantically to right the wrong, but the kick went on, and it led to Mitchell first goal, caused the Blues to lose the grip they had taken at the start and caused them to change forward positions when it was unnecessary. It all went wrong for when Cummins placed the ball in the net, Hickson was ruled offside when Dunne to my mind, was playing him onside and when Hickson was in the act of putting the ball through, play was stopped to give Everton a free kick. Yes, it was a day for those little tantalizing things, while allowing that Everton were but a shadow of their real selves. I blame Everton for not shooting more often, particularly when they had the wind with them; for waiting for the ball to come to them instead of going as did Luton to meet it. Luton were quicker and naturally more confident. Pretty good team this Luton, whose Manager, Daily Duncan said afterwards; "When we lost to Doncaster on Wednesday we suffered the way Everton did today. Nothing would go right." One Everton player stood out for bouques –Tommy Jones. He was the one with confident command and efficiently and played beyond crictism. Everything he did was good. Everyone tried magnificently, but well, it was the day they were destined to fail and fail they did.
TRANMERE AT GOODISON
March 18, 1952. The Liverpool Echo
Ranger's Notes
The meeting of Everton and Tranmere in the semi-final of the Liverpool Senior Cup (Kick-off 3 o'clock) means more than just another game if Everton get through as they should and Liverpool dispose of Southport in their replayed tie at Anfield next month. Everton's fall to the Second Division has deprived us of two of the season's League tit-bits. A meeting of our two senior clubs in the final of the Liverpool Cup would help to repair the omission to some extent for it could be an "end of the season offencing with both sides turning out their full league teams assuming of course that Everton have nothing else more vital at stake which hardly seems likely now. Such a meeting of full "liverton" sides is a good possibility for Everton and Liverpool each play their last League match on Saturday April 25. That leaves the next week free for a mid-week evening game. County F.A cup finals can be played any time in the week after the season normally ends, but this is "out" so far as Liverpool are concerned as they depart by air from Speke for their short Continual tour on Thursday, may 6. Everton may also be making a Continental trip through nothing has yet been decided. May 3 is a vacant day for both clubs but that is Cup Final Day when gates always take a steep downward turned and from inquires I have made I rather that a mid-week evening game is more favored. But Everton and Liverpool have yet to get safely through the semi-final stages. Maybe we are counting our chickens a bit too soon.
The Everton team shows a number of changes, Jones steps back to right back and Lello is the only first teamer in the half back line, Birch and Wood coming in for Farrell and Jones. It will be interesting to see Donovan in the forward line following his long spell at half-back. Tranmere Rovers make one change, Millington is unable to get away from the Army duties and Kieran crosses over to right half, Jackson coming in at left half. Everton; O'Neill; Jones, Lindsay; Birch, Woods, Lello; McNamara, Donovan, Lewis, Cummins, Buckle. Tranmere; Lloyd; Gibson, Steele; Kieran, Ball, Jackson; Davies, Rosenthal, Atkinson, McDevity, Iceton.
LIVERPOOL CUP
Match 19, 1952. The Liverpool Echo
Lewis Put Everton on Terms at Goodison
By Stork
Everton; O'Neill, goal; Jones and Lindsay, backs; Birch, Woods and Lello, half-back; McNamara, Donovan, Lewis, Cummins and Buckle, forwards. Tranmere Rovers; Lloyd, goal; Gibson and Steele, backs; Kieran, Bell and Jackson, half-backs; Davies, Rosenthal, Atkinson, McDevitt, and Iceton, forwards. Referee; Mr. A. Jones (Rainhill). There was a good crowd to see this semi-final of the Liverpool Senior Cup. For the first five minutes there was every indication that Everton might get an early goal, but the Rovers defence stood firm. The Rovers were dangerous for the next few minutes. Kieran put one over the bar, as did Iceton. Lloyd was the first goalkeeper in action when he had to make a catch from McNamara. This was the only save the Rovers keeper had to make during the first 15 minutes. Tranmere were much stronger and quicker on the ball than Everton. The best save of the half was made by O'Neill from Anderson after the Everton defence had got itself in a tangle through a misunderstanding. Rosenthal delighted the crowd with his clever play and Kieran was often a sixth forward. Tranmere lofted their shots and sent the ball well over. From one of Everton's raids Lewis shot a foot wide of the upright. At 40 minutes Davies centred and Atkinson headed beyond O'Neill.
Half-time; Everton nil, Tranmere Rovers 1
Within three minutes of the resumption Everton had equalized through Lewis. Cummings laid the foundation by passing the ball through for McNamara to centre. Lewis was left in a good scoring position, and gave Lloyd no chance with his shot.
TRANMERE EXCEL, EVERTON WIN
March 20, 1952. The Liverpool Daily Post
Everton 2, Tranmere Rovers 1
By Leslie Edwards
The winning goal came six minutes from the end. McNamara took up Lloyd's half-punch of a centre from the left and drove the ball in so hard it was well it passed first Lloyd and then Steele, who was standing on the line. If they had dared to try to crowd it out its power would probably have carried them over the line too. This for Tranmere was the most inglorious of endings to a game in which they excelled themselves in every phase except that which demanded that the ball shall be put into the net. Though Everton now meet Liverpool or Southport in the final of this Liverpool Senior Cup competition and a Liverpool v. Everton first team meeting is possible there were many moments at Goodison Park yesterday, when Tranmere should have intervened in this arrangement. Tranmere played well enough to have won; should have won. In the first half alone their attack almost constantly a threat had chances to score three or four times while Everton scarcely raised hope of a goal. Atkinson who led the Tranmere forwards cleverly, headed a goal from a square and beautifully delivered centre by young Davies, and McDevitt (one of whose shots flicked the top of the bar, Iceton and Davies each had wonderful opportunity to make the lead more commanding.
Orthodox Methods
At this point Tranmere, backed by two fine wing half-backs in Kieran and Jackson, were playing so well as to make this respectable Everton cup team look very indifferent. I put on record the fact that the many followers of Everton present far from pleased a Tranmere's supremacy by orthodox football methods as distinct from the normal Division 3 unsettling tactics. Tranmere had at least one further chance –an overhead shot by Rosenthal which struck O'Neill kneeling on the line –before a defensive lapse and a slow, but surely directed shot from Lewis put new heart and belief into his side. From that point Everton played better and better and in the end were on top. McNamara's goal again confirmed his shooting ability. I have rarely seen a ball hit more solidly and accurately. A draw would have been more equalitable but if Tranmere will not take chances they can have no recriminations. Rosenithal, I thought contributed much to his side's first half play by his cute body-swerving and tactical strokes but when he lost the ball frequently when lending to overdue it in the second half the Tranmere defence was soon in trouble. Two Tranmere players were outstanding –Kieran and young McDevitt. Kieran, who toured Australia with the F.A. party last summer, is very strong, uses the ball well with his head and foot and ran himself out in his great endeavour. Although McDevitt faded as the game progressed, he did enough to suggest that with full training and good tutoring he could be among the top-drawer of inside forwards.
Atkinson Not Held
Iceton was occasionally too swift and Sharp for Tom Jones and Atkinson was far from being held by Woods a centre half of size. From end to end in their best spell Tranmere made their League position look foolish and had they taken advantage of hard won opening they must have won. O'Neill's catching was sure –it had to be – but the Everton side was completely out of sort for three parts of the game, McNamara showed up best, with the fiery redhead, Birch aged 18 working hard, but not possessing at the moment the finesse to be outstanding. Donovan tried at inside forward was not a success but Lewis showed admirable quickness. Tranmere provided most of the game's entertainment and one cannot help thinking they got less than they deserved in a 2-1 defeat against a side which contained so many players who are not strangers in the Everton first team. Everton; O'Neill, goal; Jones and Lindsay, backs; Birch, Woods and Lello, half-back; McNamara, Donovan, Lewis, Cummins and Buckle, forwards. Tranmere Rovers; Lloyd, goal; Gibson and Steele, backs; Kieran, Bell and Jackson, half-backs; Davies, Rosenthal, Atkinson, McDevitt, and Iceton, forwards. Referee; Mr. A. Jones (Rainhill).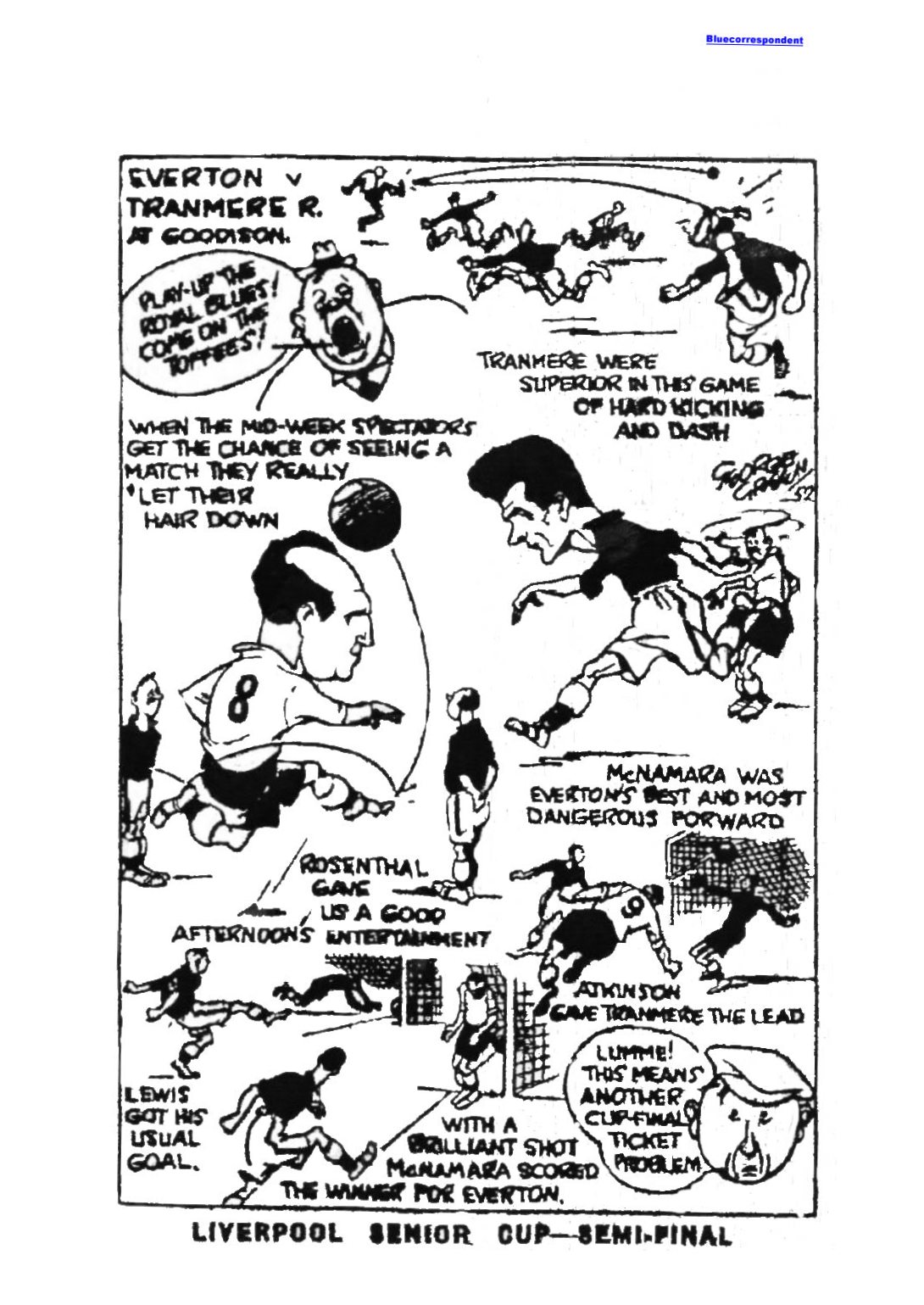 LEWIS'S DEBUT
March 20, 1952. The Liverpool Echo
Ranger's Notes
Everton at Bury on Saturday, will play Gwynfor Lewis at centre forward for the first time. He displaces Hickson, who has been chosen for the Central League side. Lewis has scored 17 goals in 14 games for the reserves side. Farrell the captain, moves from right half to inside right, Grant coming in after an absence of two months. The team will be; O'Neill; Clinton, Lindsay; Grant, Jones, Lello; McNamara, Farrell, Lewis, Cummins, Eglington.
The Reserves (v. Huddersfield Town), at Goodison in a Central League game; Dunlop; Moore, Rankin; Cross, W.F. Parker, Melville; Gibson, Donovan, Hickson, Buckle, Easthope.
Bert Head, Bury's centre half who was injured at Doncaster last Saturday is expected to be fit to play against Everton at Gigg-Lane on Saturday. He was back in training today. Bury, however, will have one change, Daniel being recalled to inside right in place of Moore. Cameron the former Newcastle United outside left, will make his first appearance. Team;- Bury; Goram; Griffths (G.), Slyon; Greenhalgh, Head, Bardsley; Hazlett, Daniel, Plant, Bodie, Cameron.
EVERTON'S CUP WIN
March 20, 1952. The Liverpool Echo
By Stork
If Tranmere Rovers had been half as good in their shooting as they were in their football skill they would have had their Liverpool Senior Cup match well and truly won by the interval, for they had numerous opportunities but the Everton crossbar was a shade too low. They did take the lead after showing Everton that Third Division football is not to be despised. They played with skill and speed which had Everton defending most of the first half but in front of goal they were sadly remiss. That was their only fault. In every other respect they were just as good if not slightly better than their opponents. They were stronger on the ball, more progressive but all their sound work came tumbling down when they reached the penalty area. Had the Rovers been three goals up at the interval they were that much on top of an Everton slow by comparison. Atkinson gave them the lead, and immediately afterwards McDevitt hit the crossbar a rare crack but having had their fling. Everton settled down to more "punchful" football which was speeded up and within three minutes of the restart Lewis had equalized. It was not until the 80th minute that Everton qualified for the final and how McNamara piloted his shot into the Rovers net will always be a puzzle to me. He had inches only to drive the ball home yet was able to squeeze it in between Lloyd, Steele and the upright. It was a terrific shot, taken with great deliberation. The Rovers were "out" but they went out with credit for they had given Everton a close call. They were not the hard-crashing Third Division side, but a thoughtful football team with wing half backs who would be a credit to any First Division side. There was no harder worker than young Birch, the Everton right half. Once he has mastered the art of constriction he will be an asset to the Goodison club, while Woods with his big powerful body only needs more experience to turn into a really sound pivot. It was an interesting game because the Rovers made it so by the way they tackled the job and Everton had to fight for their success. I liked Davies, Iceton and McDebitt. If those misses can be forgotten but it was Kieran who took the eye for Wheeler idea, six forward. Everton will now meet the winners of the Liverpool-Southport tie in the final
Everton Supporters
Alec Stevenson advises me that he is not as reported on the list of speakers at the Everton shareholders and Supporters Federation meeting at the Walton Social Club, on March 26. All he has done is to promise to attend.
EVERTON AT BURY
March 21, 1952. The Liverpool Echo
Ranger's Notes
Everton away to Bury may find the Shakes just as hard a problem as Luton proved to be last week. Despite their lowly position in the Second Division table, where they have only a two points advantage over the two bottom clubs, Bury have quite a good home record. Their poor away performances have been responsible for their precarious position. At Gigg Lane they have actually more victories to their credit than Everton have at Goodison Park, while their defence has concerned only 18 goals in 17 home matches. Bury have been a struggling side almost throughout the post-war period. On two occasions relegation to the Third Division and they will have to fight hard for points in what remains of the season to make sure that the fate does not overtake them this campaign. They have had a certain amount of bad luck with injuries but the principal failing is the inability of their attack to get goals. The defence, apart from occasions lapses has been reasonably satisfactory, and certainly consistent on their own ground. Bury have no outstanding marksmen. Ken Plant, their centre forward, tops the list with 14 goals. The next nearest is Daniels with 9 and Simms with 8. Everton will need to serve up better stuff in attack than they did against Luton to have any chance of bringing back maximum points. The Blues prospects of promotion are now so slender as to be almost beyond practical consideration. They will nevertheless be anxious to finish as high in the table as possible and if the sides strokes its best form may wipe out the memory of last week's disappointing display. The debut of Gwynfor Lewis at centre forward will be watched with much interest. He has done well in the Central League side. Bury; Goram; Griffths (G.), Slyon; Greenhalgh, Head, Bardsley; Hazlett, Daniel, Plant, Bodie, Cameron. Everton; O'Neill; Clinton, Lindsay; Grant, Jones, Lello; McNamara, Farrell, Lewis, Cummins, Eglington.
EVERTON KEPT TOO CLOSE AND SO HAD TO BURY THEIR CHANCES
March 22, 1952. The Liverpool Football Echo
Bury 1, Everton Nil
By Stork
Bury; Goram, goal; Griffiths (G.) and Slynn, backs; Greenhalgh, Head and Bardsley, half-backs; Hazlett, Daniels, Plant, Bodie, and Cameron, forwards. Everton; O'Neill, goal; Clinton and Rankin, backs; Grant, Jones and Lello, half-backs; McNamara, Farrell (captain), Lewis, Cummins, and Eglington, forwards. Referee. Mr. G. Fletcher, Davenliam. Apart from the changes already announced Everton were forced to make a last minute alteration owing to the indisposition of Lindsay, the left full back, who was down with a heavy cold. He arrived at the ground but it was obvious he was unfit, so that manager Cliff Britton had to make a quick journey to pick up George Rankin to take Lindsay's place. There were two debutants, Lewis was making his first appearance in the Everton side and Cameron was on view for the first occasion for Bury. It was a glorious day, a bit windy perhaps and with the ground firm the ball would take some commanding. Bury were anxious for points for they were in a desperate position. Everton kicked off against the wind, Bury having won the toss. There was a run y McNamara, Farrell and Lewis which ended up in a goalkick and then Bardsley tried a last shot, but he was well off the mark. The exchanges were fast and the wind could best be gauged when O'Neill took a goal kick and the ball seemed to stop dead in the air and drop to the ground. Clinton got his head to a ball after Plant and Cameron had made play on the left wing and the full back suffered a slight hurt when the ball struck him on a boil on his cheek-bone. Lewis and Eglington paired off well in their forward runs. Bury were just as aggressive as Everton so that there was often some hot work in the Goodison goal. One of the best moves was made by Daniels when he tried an overhead kick which might have caught O'Neill napping, if he hadn't been alive and able to make a clean catch. Daniels a moment later hooked one outside. Cummins made a beautiful dribble during which he beat one or two opponents but fell to Slynn, who brought him down. The free kicked as though it could be dangerous but only turned out to be a goal kick to Bury. The wind was a bit of a help to Bury and when Griffiths made a clearance, the ball got caught in a pocket of wind and actually stopped just below the Everton crossbar and O'Neill rather than take any chances decided to send the ball over his bar.
Moved With Pace
Right from the clearance the Everton right wing moved off with pace through McNamara and their seemed a possibility that he might repeat his Liverpool Senior Cup goal but Slynn came up to rob him at the critical moment. Everton's football was much better for there was more thought behind it although the Shakers had to be closely watched because they were full of endeavour and at times the Everton defence had to get together to hold up a lively forward line. Griffiths again came along with a long shot which O'Neill fielded and then McNamara decided to try a long shot, but Gorman was quite prepared for it. Daniel twice tried to find a hole in the Everton defence, but on each occasion there was someone to mar his way. Lewis had very few opportunities but was certainly a menace to the Bury defenders. The ball was full of tricks and at times it had so much screw on it when it bounced that a man who was awaiting it was left as bunded and somewhat amazed at its antics. Jones did fine work in the penalty area and outside of it. He made one move with Clinton which puzzled the Bury forwards who must have thought they had a reasonable chance as they came down belter skelter towards O'Neill. Eglington passed across the Bury goal face but just too far to be any use. Straight from the clearance Bury went on to take the lead through Bodie. Grant appeared to slip as he was about to make his tackle, and this left Bodie with a free run. He made no mistake when he drove the ball well wide of O'Neill. This was at 35 minutes. It naturally put Bury in good heart, and for the next few mins, they sounded the Everton defence to the full, Cameron being particularly dangerous when he crossed the ball into the goal area. It took some staunch work by the Everton defence to hold Bury at this point but they eventually broke down the home side attack and set one up for themselves when Lewis and Eglington got together. The Irish winger was dispossessed as he was about to make a return pass. Everton were now going all out for the equalizer and Farrell tried to put up for Eglington, but Griffths was there between him. Bodie and Cameron were a progressive pair but Grant cut into their inner workings to clear any obvious danger. Everton put on heavy pressure during the last few minutes of the half and Head appeared to handle the ball when clearing but the referee decided against an infringement. Just on the end Cummins was running through when he pushed the ball a shade too far forward and made a present of it to Griffiths. Half-time –Bury 1, Everton nil. Everton were on top for the first 15 minutes of the second half but could not produce the equalizing goal. They had many attempts but were not uniting enough when they got within reasonable shooting distance. Furthermore they were inclined to keep the ball a bit too close and this enabled the Bury defence to get together and block their goalmouth.
Into Goal, But –
McNamara made two good runs and from the second Farrell shot wide. Lewis gave McNamara a really good ball and Farrell again tried to prize open the Bury defence without success. Lewis did manage to steer the ball into the Bury goal but the whistle had sounded offside a second beforehand. Cummins and Eglington made one clever run but Eglington had his shot blocked. Everton had two corners but neither gave the Bury goalkeeper any serious trouble. Bury after having faced up to some stiff opposition tried an attack, and Daniel had a header saved by O'Neill. A near thing to a second goal came when Hazlett put in a great shot from about the penalty line and O'Neill as a precautionary measure tipped the ball over the crossbar. There was a great deal of excitement because Bury were very quick to the ball and defended with great determination. They attacked through the "long" ball whereas Everton tried to play close passing stuff, and this was of considerable help to the Bury defence, a who cut in time and again to break down Everton's attacks. Bury were now attacking on their own behalf and Bodie sent one spinning over the Everton crossbar, but in the main it was Everton who were enjoying the major part of the attack. Rankin was doing well and Jones was working his heart out when Bury looked like doing anything which might prejudice his goal. It seemed as though Bury were quite content to rest on their one goal lead but they showed that this was not so when they set out after having taken a hammering to add to their score card. It had been pretty hard going for both teams and the Bury first time efforts were bringing just the same, if not better results than Everton more intricate football. McNamara who had been Everton's forward brought forth a stunning save by Goram who did well to slip the ball over the bar. At the other end Plant was ploughing his way through and had beaten off the challengers until he came to O'Neill. The Everton goalkeeper rushed out of goal and kicked the ball practically from off Plant's toes. Lewis had found Head a difficult obstacle in this his first League game and he introduced one of two nice moves but the line as a whole tried to be much too clever when a little more directness might have told its tale.
Not The Day
The equalizer almost came when Everton made a quick raid and McNamara pulled out a shot which beat Goram but the woodwork of the cross-bar came to the goalkeeper's aid. It was a good try out this was not Everton's day. Another Cummins –Eglington link-up produced a centre, but Lewis headed wide. Plant and Daniel missed reasonable scoring chances and McNamara tried to hook a ball into the net but it slewed off his boot and went outside. Cameron had a good shot but it passed outside. Final; Bury 1, Everton nil.
EVERTON RES V HUDDERSFIELD RES
March 22 1952. The Liverpool Football Echo
Everton res; Dunlop, goal; Moore and Anderton, backs; Cross, Parker (W.F.) and Melville, half-backs; Gibson, Donovan, Hickson, Buckle, and Easthope, forwards. Huddersfield Town Res; Wood, goal; Green and Laws, backs; Batty, Howe and Morgan, half-backs; McKenna, Freer, Shiner, Daly, and Simpson, forwards. Referee; Mr. Ollerton (Preston). Hickson led the attack for Everton at Goodison Park in their important fixture against Huddersfield. He was in good form and gave Wood in the visitors goal several anxious moments. Easthope was unlucky when a well-delivered shot hit the woodwork with the keeper well beaten. Donovan gave the Blues the lead in the 30th minute after Hickson had headed against the crossbar and in the 40th minute, Everton increased their lead through Anderton. Just before the interval Shiner scored for Huddersfield. Half-time –Everton Reserves 2, Huddersfield Town Reserves 1.
McNAMARA WAS BEST
March 24, 1952. The Liverpool Daily Post
Bury 1, Everton 0
Bury were mighty pleased with the points they took from Everton. Bury deserved to win because they took their chances. Good football is a fine spectacle but not unless it is allied to a punishing finish goes it pay. Everton's intricate football which often had them on top, produced is nothing. Enthusiasm and aggressiveness with first time and keen tackling were Bury strong points. They made some long passes suffice Everton took two and sometimes three passes to cover the same amount of ground. McNamara was Everton's main prop in attack. He hit the crossbar and gave Goram other anxious moments. Centre half Head and usually had the measure of the debutant Lewis who is worthy of further games. In approach work Everton were superior but to attempt to dribble the ball through a desperate defence was bad tactics. Bury's goal would not have happened had not Grant slipped as he made his tackle on Bodie. He actually got the ball but it spun to away from him and Bodie was left with a free course and his shot was directed well away from O'Neill.
TOO CLOSE
March 24, 1952. The Evening Express
By J.A.R
Everton contributed to their downfall by a persistent indulgence in keeping the ball close, tactics which played right into the hands of a Bury defence which tackled vigorously and made covering up an art. "All the finer points of football came from the Goodison Park side and at times it was sheer delight to see the way they slipped the ball from man to man, but under the conditions of a high wind and that tough Bury defence, it was a luxury which should have been left for another day. "Bury, desperately seeking points were cleverly determined not to let Everton settle down, and they did this job well; but for all that justice would have been better served if a point had come the Blues way. "They did well to keep Bury to a goal in the first half, when facing the wind and after the interval took control for the first 20 minutes or so; but a lack of finishing power was palpably absent and the Gigg-Lane side were able to come back and level up the balance of play. There was nothing wrong with Everton's defence but in attack where young Gwyn Lewis rarely had a chance against centre half Head, McNamara was the only one who had goal ideas. It was cruel luck when he hit the bar in the closing stages for a goal would have set the seal on a performance which made him the best forward afield."
NO SHOOTERS
March 24, 1952. The Liverpool Echo
By Stork
Everton are slipping again and the reason for so doing is not hard to see in football skill they are as good as most teams in the Division, but near goal they are losing the art of scoring. At Bury they should have cleared off the "Shakers" single goal without any great difficulty but their forwards preferred to make a pass instead of a shot. Bury are in a difficult plight so it was to be expected that they would fight for their dear life. Points were badly needed and they went right out for them by fast and progressive if not clever football. One pass was enough to send them into Everton territory. Everton needed many more to cover the same amount of ground and not even when they had got a sight of Goram's goal did they dream it necessary to shoot. Their football was much too close which played into the hands of the dour Bury defence. Over-dribbling gave Head and company just the chance they deserved to nip in and cut the Everton scheme into ribbons. All the clever approach work came to nothing for there was nobody to follow it up Cummins was a sinner in this respect. His clever control and dribbles were good to watch, but he could not hope to go on without finally coming up against defenders who refused to let him take another stride without challenge.
Slender Margin
Rue, a head-on wind did not help Everton in the first half when Bury enjoyed most of the attack, and they gave the Everton defence much hard work. Fast and aggressive they left the finesse to the opposition standing on first time methods. The Everton defence did well to hold them to a goal –a goal which would not have come had not Grant slipped as he made his tackle on Bodie with the intention of slipping the ball back to O'Neill. The ball spun away from Grant's foot and Bodie was through and nothing could prevent him scoring unless he made a really bad shot. he didn't and Bury were one up. That goal was a slender enough margin but it was ample to win two points because Everton, apart from two shots by McNamara –one shivered the crossbar, the other was well saved by Goram –and a drive by Farrell were all that Goram had to worry about. Everton lost because they played too much football. More shots were required and a little less intricate ball play. Goram was not called upon enough. Everton should have seen the folly of their over-dribbling against the defence which backed up exceedingly well to break down the many promising Everton attacks which fell down as the penalty line was approached. Everton had enough openings in the second half to have made Bodie's goal a memory. Lewis was well looked after by the strong tackling Head, while Griffiths took care of Eglington, so that McNamara was their best forwards an unlucky forward, for that shot of his which hit the crossbar had Goram well and truly eaten. No one played really badly, but the attack must realize that shooting is just as essential as pretty approach work.
SAGAR STARTS 24TH SEASON
March 25, 1952. The Liverpool Echo
Spendid Record
Evergreen Everton Custodian Has A "Birthday" Tomorrow.
Ranger's Notes
Twenty-three years ago tomorrow a shy 19-year-old youngster with his heart in his boots and all his worldly belongings packed in one of these ancient wicker cases knocked timidly on the door of the Everton office. Since then he has gained fame as one of the finest goalkeepers of all time a great club man and the possessor of two First Division championship medals a cup winner's medal and international caps. Sagar's the name and tomorrow Ted starts out on his 24th year of service with Everton. If Everton retain him as a player for next season he will set up a record for the longest period of active association with one club in the whole 64 years history of the Football League. At the moment this stands to the credit of the late Bob Crompton who was on Blackburn Rovers playing staff for 23 ½ years finishing up in May, 1920. In these days when club loyalty is not always what it used to be. Sagar's wonderful achievement stands out like a beacon. Although he was 42 last month, he is still holding the fort frequently in the Central League side, and in case of emergency would not let the senior side down. He has appeared in 464 Football League games for Everton, scores of Cup-ties and may war-time Regional matches. He was capped by England four times, a figure which would have been infinitely greater had he not been contemporary with such outstanding custodians as Swift. Williams and in pre-war days Hibbs, Woodley and others. Twice in recent years he has been called out of semi-retirement to come to Everton's aid and right well did he fill the breach. I remember his father-in-law remarking, soon after Ted had returned from service overseas at the end of the war that although his days of active participation must be soon drawing to a close, he was still as fit as many a man ten years his junior. He has proved the truth of that since and looks capable of at least another season to enable him to beat Crompton's record. When Everton sought some time ago to mark his loyal service with a suitable memento they were refused permission by the Football League but assured that when Sagar finally decided to hang up his boots the matter would be sympathetically considered. If ever a player deserved recognition. Sagar has Everton are not likely to lose sight of the fact.
EVERTON F.C. FEDERATION
March 27, 1952. The Liverpool Daily Post
Spirit of Revival Needed
Everton F.C Shareholders and Supporters Federation, which was formed little more than a month ago, is out to create a spirit of revival in the club and if possible to have the voices of supporters having a say in the management of the club. This was made obvious at a meeting at Walton Lane Social Club last night when leaders of the Federation took steps towards forming a branch of the Federation in Walton. Mr. W.H. Sawyer, president of the Federation said. ""I believe we need an enlightened policy in the board-room. It may mean a change of personnel but we have got to improve the position of the club somehow. Mr. Sawyer, speaking as a lifelong supporters and shareholder of over thirty years standing went on. "The responsibility for running the club must be accepted by the Directors. The Manager –I prefer to use the term Manager. I don't like the term General Manager –must have a certain amount of autonomy and a certain amount of power, but he must be subservient to the Board.
"Efficient Management"
"You cannot substitute Managership for Directorship and I believe the Directors must be prepared to run the club and run it wisely. I believe that through our Federation we can insist upon efficient management, first class football and clean football. "The Directors must reconcile their views of the supporters and they must not attempt to bask in past achievements. We had got to bring the club back again to be the first in the land and I believe if the supporters stand together and let the club know what they want they will get it." Mr. Sawyer said that for a long time now he had felt that an organization such as theirs was necessary because through the medium of it, one was able to make contact with the management. He maintained that there would be no Everton club but for the very loyal support the club received from many thousands of supporters and he felt, and the committee which had been elected to run that federation felt that there should be a fusion between shareholders and supporters.
Their Aims
Mr. W. Wall chairman of the Federation who presided said that the aim of the Federation was to do everything possible to support those in control to gain promotion to the First Division. Their aim was to organize functions and to arrange coach trips for supporters to away matches and so make their presence felt to the players. "We are aware there is already an Everton F.C Shareholders Association in being," said Mr. Wall," and we are given to understand that the Association's membership is confirmed to shareholders only. We are further informed that it has something less than fifty members and we feel that the Shareholders Association is too limited for the objects which we hope to achieve.
EVERTON MAKE FOUR TEAM CHANGES
March 27, 1952. The Evening Express
Fielding Resumes at Inside-Right
By Pilot (Don Kendall)
Everton make four changes, one positional, for the match with Swansea Town at Goodison Park on Saturday, with Wally Fielding returning to duty for the first time since March 8. Fielding went down with an old knee injury, following a further injury at Meadow-lane against Notts County where he played at outside right. That position has since been filled with outstanding success by Tony McNamara, who is retained there. Fielding will, on Saturday resume at inside right in place of Peter Farrell, who drops back to right half in place of Jackie Grant. Dave Hickson, who missed last Saturday's game at Bury, resumes for Gwyn Lewis as leader of the attack, which will be without George Cummins. Cummins is suffering from a septic toe, and so John Willie Parker, who was being given a rest is recalled quicker then he anticipated, to partner Tommy Eglington. The Central League team as its most important task of the season in visiting Wolverhampton Wanderers at Molineux. The Wolves stand second to Everton. O'Neill; Clinton, Lindsay; Farrell, Jones, Lello; McNamara, Fielding, Hickson, Parker, Eglington.
Everton Res; Sagar; Moore, Rankin; Birch, Woods, Donovan; Gibson, Hampson, Lewis, Buckle, Easthope.
ALL EYES ON ALLCHURCH
March 27, 1952. The Liverpool Echo
Swans Need The Points In Their Struggle Against Relegation
Ranger's Notes
Swansea own make one change in their side to oppose Everton at Goodison Park on Saturday, Roly Keane returning to right back in place of Simmonds. There is a slight doubt about Billy Lucas at left half. Lucas received an ankle injury last week and only resumed light training today, but Manager Billy McCandless is hopeful that he will be able to play, particularly as the former Welsh international has been at the top of his form lately. Should Lucas fall to pass a fitness test tomorrow, Burns will take his place. Burns has made only one senior appearance this season, following along lay-off due to cartilage trouble contracted last winter, but recently he has been doing exceptionally well in the reserve team. Swansea's team consists of six Welshmen, several of them local products of the South Wales valleys who have been brought to maturity by the Swans, four Englishmen, and one Irishman. Keane has the latter distinction and though he had a leg broken last season. Billy McCandless tells me he has suffered no adverse after-effects. The star of the visiting side of course, is Ivon Allchurch, who has been sought by a dozen or more senior clubs this past two seasons. Liverpool have been among the number but so far Swansea have refused all offers. When I asked manager McCandless whether they were likely to change their minds he was non committal. With the dead-line for transfers now past, however money getting tighter and the banks frowning on increasing overdrafts I should imagine there is little likelihood of Swansea finding anybody ready to do a deal at their idea of the player's value which is very high. The Swansea team reads;- King; Keane, Beech; Williams, Weston, Lucas or Burns; Medwin, Scrine, Turnbull, Allchurch, Bellis.
Everton Changes
Everton have made several changes, Lindsay has fully recovered from his cold and resumes at left back in place of Rankin while Jones goes back to centre half. Farrell who last week at Bury was at inside right goes back to his place at left half. In the forward line there are three changes. Hickson will lead the attack with Wally Fielding, recovered from his injury on his right and Parker on his left. Thus Cummins and Lewis drop put. Everton; O'Neill; Clinton, Lindsay; Farrell, Jones, Lello; McNamara, Fielding, Hickson, Parker, Eglington.
Everton Reserves (v. Wolverhampton, at Wolverhampton); Sagar; Moore, Rankin; Birch, Woods, Donovan; Gibson, Hampson, Lewis, Buckle, and Easthope.
EVERTON SUPPORTERS
March 27, 1952. The Liverpool Echo
Ranger's Notes
A plea for an "enlightened policy" in the boardroom and greater co-operation between the club and its supporters was made by Mr. W.J. Sawyer, president of the Everton Shareholders and Supporters Federation at the first public meeting of the newly-formed Federation which was held at Walton last night. About 200 people attended. Mr. Sawyer who is the son of the late Mr. William Sawyer, a former Everton director and later New Brighton manager, maintained that the directors should not delegate too much of their authority, and should take greater cognizance of the views of supporters. They could not always back in the glory of past achievements. A large number of supporters had felt for a long time, he added that there should be an organization such as theirs which by weight of its membership could make contact with the management. There should also be a fusion between shareholders and ordinary supporters. Councillor W. Wall (chairman) outlined the aims of the Federation. The primary one was to do every thing possible to help gain promotion and also to arrange trips to away matches in order that the team could have greater encouragement as such games. Mr. Wall claimed it as a democratic right that supporters should have a voice in the management of the club, no matter how small. He felt that if their organization became sufficiently strong the club would have to recognize it. He was supported in this view by Mr. Sawyer and Mr. L. Osborne (Secretary). When the meeting was thrown open to questions the first speaker asked if there was any necessity for two similar organization of similar character, the questioner pointing out that an associated of Everton shareholders had been in existence for many years. The answer to this was that the older organization was confirmed to shareholders that it had a membership of only about fifty and that its scope was too limited for what the new Federation hoped to achieve. After several other points had been dealt with dealing largely with comparatively minor matters a motion was passed congratulating Ted Sagar on his long service at Goodison. At the conclusion of the meeting 97 new members were enrolled. The demand for members to forms was such that the available supply was exhausted. Two women in the audience announced their intention of taking steps to inaugurate branches in the Kirkdale and Tuebrook areas. The Federation has plans to hold further meetings in other districts in the near future.
SWANSEA COME TO GOODISON IN UREGENT NEED OF POINTS
March 28, 1952. The Liverpool Echo
Ranger's Notes
League affairs in the second Division are still fraught with much interest, and though Everton's promotion hopes must now be put into cold storage until next season the Blues can improve their final placing if they recapture the form which made them a promotion prospect up to a fortnight ago. Swansea will probably provide them with just as tough a job as Luton, for the Swans are by no means safe in their anti-relegation fight. They are only three points better of than Queen's Park Rangers at the bottom and two to the good over Hull City next in order, so they cannot afford to throw anything away. Swansea's away record so far shows only one victory but they have drawn more matches on opposing grounds than any other side except Cardiff City and Sheffield Wednesday. The South Walians have always been noted for their good fighting spirit and this trait is likely to be even more in evidence b=now in view of their lowly position. Everton; O'Neill; Clinton, Lindsay; Farrell, Jones, Lello; McNamara, Fielding, Hickson, Parker, Eglington. Swansea; King; Keane, Beech; Williams, Weston, Lucas or Burns; Medwin, Scrine, Turnbull, Allchurch, Bellis.
SWANSEA VISIT GOODISON
March 28, 1952. The Evening Express
By Pilot (Don Kendall)
Everton's first meeting with Swansea Town at Goodison Park since 1930-31. The Blues in their fourth meeting with Swansea, will be placing a 100 per cent record at stake, besides seeking their "double" of the season. Everton scored ten goals in beating the Town 22 years ago, and on November 10, 1951 Everton won 2-0 at The Vetch Field, Buckle and Fielding getting the goals, Leeds United and Leicester City have yielded four points each to Everton this season, and I think that Swansea with an inferior record, will find it hard to peg back Everton, whose only home defeat in 1952 was by Luton Town in their last game here.
Still Wanted
Swansea started the season well, but have fallen away somewhat although international Ivor Allchurch remains the strong fancy of several clubs. Maybe Ivor will be under review again tomorrow, but Swansea have vowed to sell only at their price which has rather scared away would be buyers. Everton make four changes, one being positional and another enforced. Dave Hickson returns to lad the forwards after giving way to Lewis for one experiential run, and beside him will be Wally Fielding who has recovered from his knee injury, and John Willie Parker, who is recalled because George Cummins is suffering from a septic toe. Peter Farrell having "filled in" so well at inside right returns to his own position of right half in place of Grant in a game starting at three o'clock. Everton; O'Neill; Clinton, Lindsay; Farrell, Jones, Lello; McNamara, Fielding, Hickson, Parker, Eglington.
ANIMAL ACT WAS BEST TURN ON GOODISON'S BLEAK BILL
March 29, 1952. The Liverpool Football Echo
Everton 2, Swansea 1
By Contact
Ivor Allchurch made a rather disappointing first appearance in Liverpool in a Swansea team which looked at the start as if it might do better than be beaten 2-1. Allchurch missed a penalty, but his general play, too, was not happy. This will be the match remembered for Everton's smallest attendance of the season -20,000 –for the Arctic weather and for the appearance on the pitch at one time and another of a comedian dog and a black cat.
Everton; O'Neill, goal; Clinton and Lindsay, backs; Farrell (captain), Jones and Lello, half-backs; McNamara, Fielding, Hickson, Parker, and Eglington, forwards. Swansea Town; King, goal; Simmonds, and Beech, backs; Williams, Weston, and Burns, half-backs; Medwin, Scrine, Turnbull, Allchurch and Bellis, forwards. Referee; Mr. G. Pankhurst (Warwick).
Farrell won the toss and took the considerable advantage of playing with the wind towards the Park goal. Everton's first real attack came when Hickson at outside right centred with deliberation and the ball passed over the head of Williams to Parker, whose header carried no weight. Swansea almost scored in their first raid Medwin who had taken position at inside right received the ball from the wing and seemed certain to score until Clinton moved in to tackle and dispossess him at the most critical juncture. So far Allchurch whose face showed up red through cold under his light hair, figured mostly at outside right with Scrine at inside left. It was Scrine who offered the choices of passes to Bellis, but that players attempt was lamentable. A good flick by Hickson led to Parker going to the goal-line before centring to the spot where McNamara nodded the ball down wards towards goal but at no special pace.
Dog's Day Out
At this point the crowd really got something to warm and amuse them, for two minutes on end the ball refused to go out of play, and for a solid two minutes a black terrier dog chased among the players coursing the ball as it moved about the field, and finally stopping the game when getting his nose to the ball. Then immediately the game stopped he did a performing seal act with the ball, nosing it into the air like a circus act before the whistle of some boys on the terraces tempted him to go back to where he belonged. I have never seen a crowd more entertained by an intruder's antics. Immediately after this interlude, Tom Jones trod on the ball, and almost let in Turnbull. Fortunately for Everton though he beat Jones he was eventually outnumbered.
Own Goal Shock
King was not getting his goal kicks more than a quarter of the length of the field against the gale. Swansea's goal at 25 minutes an own goal by Lello was a tragedy. Simmonds won the ball from Eglington in a touch line clinch scudded up the wing to outside right and centred a lowish ball which was comfortably Lello's if he wanted it. Lello chosen to turn it back for safety to O'Neill and just as George Saunders who was sitting next to men commented "Watch it Jimmy," so the ball swirled quickly under the angle with O'Neill falling heavily against the upright in his unsuccessful effort to turn it away at the last moment.
Almost An Equaliser
Parker with a monumental shot which beat the crossbar by the barest margin almost had the equalizer straight from the kick off attack. A quaint corner which referee Parkhurst gave after Farrell had twice struck Beech on the arm in trying to get across a centre led to Fielding taking a corner kick so that McNamara could go into the centre where his height would be useful. King fell trying to field the ball against the challenging Hickson and it then went out to Eglington whose shot was cleared from the line by a Swansea defenders.
Hot Everton Attacks
McNamara opened a way for Hickson to dash in characteristically and the goalkeeper plainly did not like this further clash with the home centre. The referee's free kick award was perfectly justified. Fielding shook his head woefully after providing the pass from which Farrell hit a shot just inside the post, where King reached the ball one-handed and put it away for a corner. McNamara was really unlucky when getting up high to a swirling centre by Eglington and heading it spectacularly on to and then over the goal angle. Everton's equalizer at 43 minutes was a first rate one, starting at McNamara and continuing via Parker, who took the pass for a yard or two before hitting it with his left out of King's reach.
Half-time; Everton 1, Swansea Town 1.
The Second half had gone five minutes when Swansea got a penalty award in unusual circumstances. A centre by Bellis passed over the outstretched hands of O'Neill and Medwin was left with the comparatively simple job of tapping the ball over the line from a sharpish angle.
Penalty Missed
His shot was hit truly, but Lindsay, standing on the line nodded it away. The ball ran to Scrine, whose shot would certainly have found the net but for Clinton handling it over the bar. A penalty was given unhesitatingly, and after going to trouble to see that the ball was not blown from the spot Allchurch drove it so high up over the bar that it scudded against the front portion of the double decker stands. Everton must have scored had anyone been able to apply their foot to the ball and it bounced for half a minute in front of the Swansea goal, but nobody could contrive to do this. The game was stopped again this time for an injury to Scrine, who got a blow to the right knee.
Into Side Netting
McNamara was showing signs of increased confidence when he took up one Fielding's beautiful passes and put it to the far post where Hickson, when falling head-long the ball into the side netting. Weston took a tremendous risk when refusing to pass back to his goalkeeper with Hickson close at hand, and although he warded off Hickson he made a further blunder which almost cost his side's a goal
…And Now A Black Cat
The Crowd at this stage rubbed their eyes to amazement at the sight on the playing pitch while the game was in progress of a black cat but this showed no signs of interfering with the game, indeed once it decided to leave, it flew over the ground barrier and up some empty terraces like a Waterloo Cup Hare. Lello retrieved himself at 70 minutes by beating his men in a close dribble by the goal line and centring the ball as close to the face of the goal that immediately King out his hands up to stop the ball it rebounded into the net.
Swansea's Enthusiasm
Allchurch was very quiet and it was obvious that it was not his day, and Swansea with much enthusiasm after unexpectedly finding themselves a goal down battered away for the equalizer. Fielding took the full force of a clearance by Beech at a range of about five yards and the ball apparently struck him on the back of the head. There was laughter from the crowd as trainer Harry Cook sponged down the injury with icy water. At last Allchurch and Scrine worked a duel straight down the centre and Scrine shot causing O'Neill to make a finger-tip save at the expense of a corner. Final; Everton 2, Swansea 1. Official attendance 20,965.
WOLVES RES V EVERTON RES
March 29, 1952. The Liverpool Echo
Everton almost took the lead in the first minute when the Bangor boy, Lewis raced straight through from the kick off, but his fierce drive was magnificently saved by Sims. Wolves began to take the initiative but the high wind was causing the players difficulty in controlling the ball. Sagar had little to do and the Everton halves dominated. Little was seen of the Everton forward line, though in a breakaway Gibson was unlucky when his drive hit the crossbar with Sims well beaten.
Half-time; Wolves Res nil, Everton Res nil.
Four minutes after the interval Wolves took the lead when a Wilshaw centre was headed in by Walker after he had first headed against Sagar's chest. Three minutes later Everton were on level terms as a result of McClean inadvertently heading through his own goal from a Gibson centre. Wolves continued to attack and Birch went close with a header, in rapid succession Sagar saved from Whitfield, Wilshaw and Smith, and though Wolves were really on top they could not break this strong Everton defence.
Everton "A" v. Stork
Rabone gave Everton the lead after 15 minutes play Stork, with a strong wind in their favour had Everton on the defensive for a time and Philpotts leveled the score. Half-time; Everton "A" 1, Stork 1.
CAT WHICH LOOKED AT A KING
March 31, 1952. The Liverpool Daily Post
Everton 2, Swansea City 1
We shall remember Everton's interlopers first a dog then a cat long after we have forgotten that Everton won this match against Swansea Town by 2-1 and long after we have forgotten just how Arctic watching and playing was at Goodison Park on this refrigerated Saturday March 29.
The ordinary canine intruder is soon collared and sent away, tail between his legs, but his dog was different. He left joyous as though he had enjoyed his chase as much as we did. This was an intelligent dog, too, coursing the ball from one end of the field to the other and sometimes getting mixed-up in some piece of close dribbling. Oddly the ball remained in play fully two minutes and refused to go "dead" while the pantomime went on. Then to complete his turn the twenty third player nosed the ball into the air and bounced it up and down from his shout like a performing seal.
Soon after the cat which could look at a king (he staved on the field in the vicinity of the Swansea goalkeeper of that name, made his appearance. He had the hare's startled look when the crowd shouted and once he decided on going he flew like a hare taking the concrete wall in his stride and careering up empty terrace, and presumably out of the ground.
Undistinguished
For Lello and a undistinguished match was odd too. Lello veered an intended pass to his own goalkeeper out of O'Neill's reach for Swansea's first goal then scored himself to discount the crisp Allchurch with a classic to score for Everton. But missed the penalty given against Clinton for irregularly acting as O'Neill deputy when that player was in a position to save.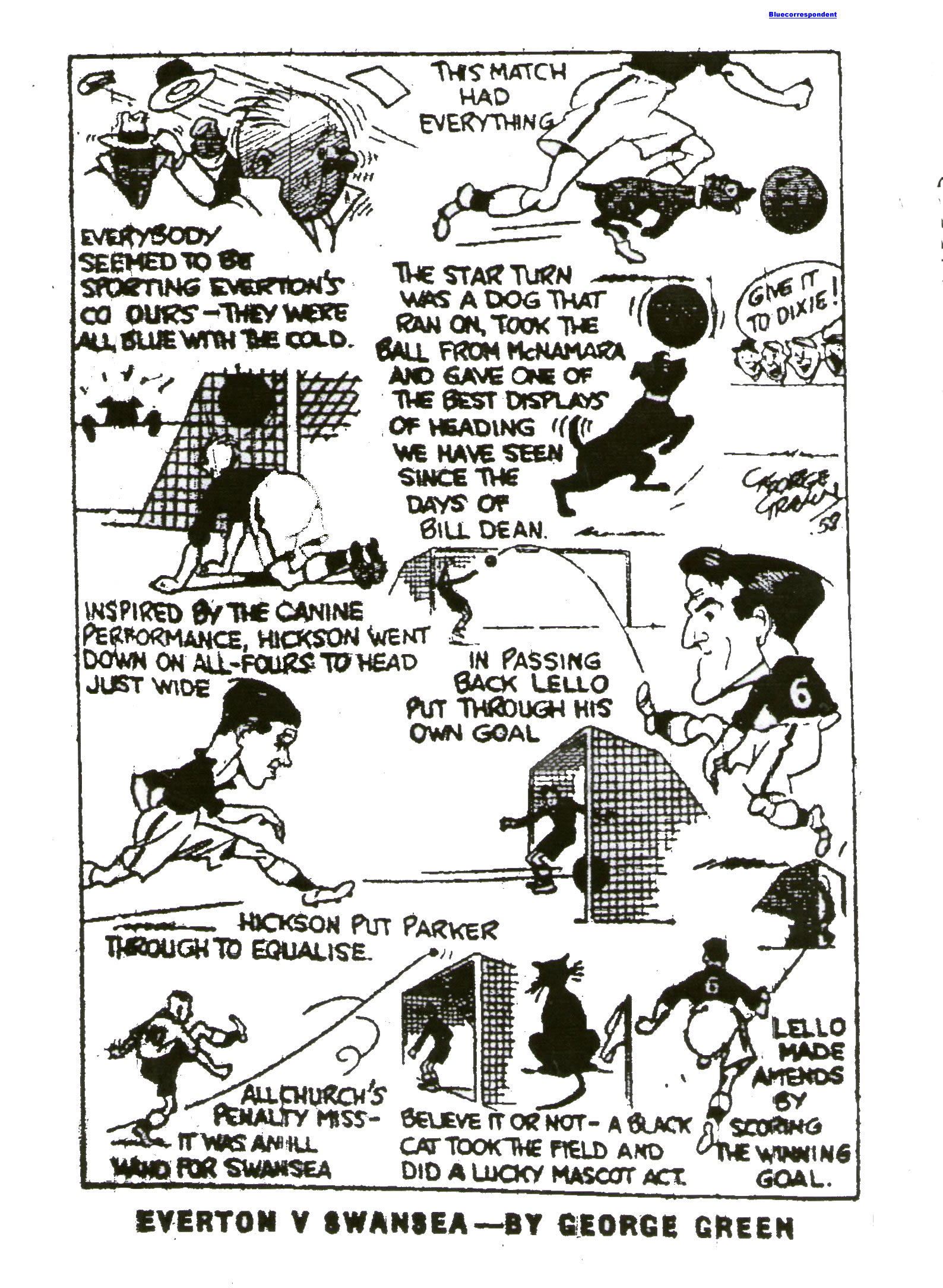 EVERTON RESERVES LOSE TO WOLVES
March 31, 1952. The Liverpool Daily Post
Wolves Res 2, Everton Res 1
Blizzard like conditions spoiled all the good football attempted by Wolves and Everton in this vital Central League. Wolves just about deserved their victory if only for the long periods when they packed the Everton goal. In these hectic moments. Everton's centre half, Woods was outstanding and Sagar had little to do despite the constant attacks. Lewis showed great promise but got little support. Walker scored Wolves first goal four minutes after the interval and Wilshaw scored the winner 7 minutes from the end. In between Mclean put through his own goal in 52nd minute.
NOT VERY WARMING
March 31, 1952. The Liverpool Echo
By Contact
Ivor Allchurch about whom so much has been written this season, showed glimpses of greatness at Goodison Park, but they were so few, and so much indifferent play intervened between them, that one was left much disappointed. Besides his penalty miss, Allchurch inadvertently led to Parker's goal for Everton, so one way and another the Welsh contingent among the crowd of 20,000 had nothing to warm their hearts or hands. Indeed, the most enlivening moments came with the appearance on the pitch at different moments of a dog and a cat. Lello had a queer match too. He played well except for a spell in which he put through his own goal when attempting to tap the ball into the hands of his own goalkeeper. To discount that mistake he got a goal with a centre which King turned into his own goal. Fielding played well in conditions which were not only difficult but most uncomfortably cold, and McNamara showed much greater confidence and therefore a more individual and satisfying performance. On a firm ground, in a gale of wind, the ball got up easily, but there were too many moments when each side made no real effort to bring the ball to earth where it belonged in such conditions. Swansea showed a useful young goalkeeper in King, who made one most satisfying save from a Farrell shot, and there were times when the side moved promisingly, but on the whole the verdict was right, if by the narrowest margin.