"LIBERTON" RIVALS
August 6, 1952. The Liverpool Echo
Ranger's Notes
A query by a Wallasey reader set m off yesterday on a statistical search while disclosed figures in relation to Liverpool and Everton players which are I think sufficiently interesting to all football fans to warrent inclusion here. The question (which reader, A.K. Hirst will now thus now find answered) was Which club had the most players on its books with over 200 appearances since the war in first team matches and which player of either club has made the most number of appearances since the start of the 1946-47 season."
Mr. Hirst does not say exactly what he means by "first team matches" I don't know whether he wanted cup-ties included or the figures for Football League games only, I have taken the latter as the fairest basic of comparison. Injuries apart, all players have the chance to play in the same number of League matches each season, but not the same total of Cup-ties, if their side happens to make an early exit. Based then on League matches alone, we find it is a "draw" between Liverpool's Billy Liddell and Everton's Peter Farrell for the honour of taking part in the most post-war matches for their side. They have each figured in 224 in the last six years an average of 37 matches per season. This is a fine tribute to their consistency –and also to their fortunate freedom from serious injuries. Liddell in that time has scored 77 goals his 19 last winter being his best period of marksmanship though he also got 18 in 1949-50. Liverpool have three players who have exceeded 200 post war games the others in addition to Liddell being Lambert 214, and Paisley 207. So far as Everton are concerned, only Tommy Eglington shares with his fellow countryman the distinction of over 200 outings for Everton. His total is 208, and his goals amount to 32. The following ate totals of other players who have made over 100 post war appearances.
Liverpool; Taylor 196, Jones 184, Hughes 158, Stubbins 156, Payne 139, and Spicer 107. Baron requires three more games to complete his 100 League outing, as he finished up last term on the 97 mark.
Everton; Fielding 185, Sagar 163, Saunders 133, Wainwright 122, and Grant 106. Lello is nearest to reaching 100. His total at the moment is 81. It would have been well over the three figures mark but for his long absence through injury. Wainwright also would have been near the 200 honour had he also not missed a season and a half. Incidentally Stubbins and Liddell have scored the same number of goals for Liverpool 77 each –in League games.
EVERTON PRACTICE TEAMS
August 18, 1952. The Liverpool Echo
Wainwright Kept Out By Minor Mishap, But May Be Fit In Time
Ranger's Notes
The one name which Everton followers have long been waiting to see in the Goodison team sheet is again missing from the side announced for Saturday's practice match, though it may be included later. It is that of Eddie Wainwright who has not been seen by the club's supporters, apart from the small handful who saw him in a few "A" team matches towards the end of last spring, since he broke his leg against Derby County at Goodison Park on December 9, 1950. His progress towards complete fitness has been slow. He has suffered repeated setbacks and disappointments but when the players reported for training last month Wainwright told me that at long last he seemed to have got over all his troubles and felt certain of being fit for the start of this season. Unfortunately, during the past week he has developed heel blisters while training and for that reason Everton have omitted him, at least for the time being from Saturday's practice sides. There is a possibility however, that he may recover in time, in which case he will be seen in action and will get a warm welcome from the crowd. Potts is thoroughly fit again, and takes his place at inside right in the Whites team which will line up against the eleven who did duty for the senior side last season, the teams yielding; Blues; O'Neill; Clinton, Lindsay; Farrell, Jones, Lello; McNamara, Fielding, Hickson, Parker, Eglington. Whites; Leyland; Moore, Rankin; Donovan, Woods, Grant; Harris, Potts, Lewis, Cummins, Buckle.
EVERTON'S TRIAL
August 15, 1952. The Liverpool Echo
Ranger's Notes
With the exception of centre half Woods all the players in the Everton reserve side which will oppose the regular first teamers have previously figured in Football League games. Some have had fairly long spells so that the senior players will not have things entirely their own way. Several of the Whites will be striving hard for a first team place in the coming months. Tomorrow gives them an opportunity to strike the first blow in their campaign for recognition. It is well that should be keen competition for places in any side and particular so in Everton's case with this season possibly providing them with a chance if they can get away to a good start of being in the running for promotion. Good news from Goodison today is that Eddie Wainwright will be fit, after all, to take part in tomorrow's trial. He will be included on one of the teams for the second half. Blues; O'Neill; Clinton, Lindsay; Farrell, Jones, Lello; McNamara, Felding, Hickson, Parker, Eglington. White; Leyland; Moore, Rankin; Donovan, Woods, Grant; Harris, Potts, Lewis, Cummins, Buckle.
YONGSTERS SO WELL
August 16, 1952. The Liverpool Football Echo
Neat Play In Everton Trial
By Stork
Blues;- O'Neill, goal; Clinton and Lindsay, backs; Farrell (captain), Jones and Lello, half-backs; Harris, Fielding, Hickson, Parker and Eglington, forwards. Whites;- Leyland, goal; Moore and Rankin, backs; Donovan, Woods and Grant, half-backs; Gibson, Potts, Lewis, Cummins, and Buckle, forwards. Referee; Mr. Cliff Fletcher, Davenham. It was obvious that the people were ready for their football, for there was a good crowd, despite the counter attraction at Anfield and the Liverpool Marathon. There was a late change in the Blues, McNamara being enabled to take his place at outside right, Harris took over, so that Gibson came in at outside right for the Whites. The ground was like a bowling green. There was a sensational start inside two minutes, the Whites took the lead through Buckle, who picked up a short pass and crashed it into the net at terrific speed. The Blues replied through a sound attack and Gibson was unfortunate when his drive hit the woodwork and rebound into play. The first ten minutes produced some nice football but lacked the thrills of a League game. Blues naturally were the more experienced but Whites with their fair sprinkling of first team members were little behind in skill and tactics. Cummins was prominent with his control and deliveries of the ball while Buckle was very live and always ready to have a go or make opening for others. Potts seems to have got over his injury and had he not lost his foothold might have chalked on goal number 2 for his side. Eglington made a valiant attempt. He worked the ball close in but his rammed drive hit Leyland.
Buckle A Danger
Most of the youngsters who were staking their claim for the recognition were doing well and the Whites went near several times. Buckle was ever a danger when he got within shooting range and Potts who had changed places with Cummins was unlucky when he shot against the upright. Leyland made one good one-handled save from Harris. Farrell went close with a high powered drive and Hickson although he hit the side netting with his header made a good effort. O'Neill handling was very good. He picked the ball out of the air like a slip fielder in what was a most entertaining practice game. The Blues had been trying for an equaliser for some considerable time, but it was not until one minute from the interval that it came and it was Fielding who scored it. A beautiful header from the penalty line completely foiled everyone and dropped in the far side of the goal.
Half-time; Blues 1, Whites 1
Eddie Wainwright received an ovation when he came on the field in place of Potts in the Whites for the second half. Apart from a few games with the Colts team, this was Wainwright's first appearance since his injury against Derby County here in December 1950. There were other changes for Buckle gave way to Easthope and Dunlop took over from Leyland. Dunlop had a lucky escape in the first minute when he rushed out for a ball that was not really his and was fortunate to get away with nothing more than a corner. Hickson was finding it hard to beat the tall powerful looking Woods who rarely let anything pass him by. Harris with a low shot caused Dunlop to fumble the ball for the second time within a few minute. This may have been due to over anxiety of the part of the young goalkeeper. While Wainwright made one or two sound moves it was obvious he was still lacking confidence.
WOODS HAS THE COMPTON STAMP
August 18, 1952. The Liverpool Daily Post
By Stork
Blues 4, Whites 1
Blues (seniors) got completely on top to run out winner's by 4-1 in Everton's trail before 9,930 spectators at Goodison Park. Fielding scored three times and Harris the fourth and Clinton had a penalty saved by young goalkeeper Dunlop. Buckle got a White's orphan goal, but their forwards had hit the woodwork so often that they must have wondered if the goal was boarded up. Few second division centre half-backs dealt so confidently with Dave Hickson as did Woods. White's centre-half. He has the Leslie Compton stamp about him, and was a stubborn obstacle for the Everton leader. These two faced each other very determinedly and Woods came out of the many duels successfully. Big strong and a stern tackler, he seems to have the markings of a reliable if not an ultra skilful centre half. Harris had speed and centering ability and Gibson, if allowed to play his natural game could fill a position that has been one of Everton's worries for a few seasons. Leyland did all that was asked of him, but Dunlop appeared to be a bit overawed by the occasion and made several efforts one of which cost a goal. He completely misjudged the flight of Fielding's long lob which passed overhead into the net. Eddie Wainwright came on for the second half. His long lay-off has had its effect. He has lost that snap which made him one of the most daring forwards in the game, although he would have scored had not Jones stepped in to save his goalkeeper, O'Neill, Wainwright wants more games where the opposition is stronger to bring back the confidence. O'Neill's handling of the ball was superb. This youth Irish boy has come on apace, and is, I am sure going to be a power in the Everton defence. Cummins is still a grand ball player. He made some choice passes, which opened the way for the wingers. There is some fine young talent at Goodison Park, but I want to see it against sterner opposition before passing my judgment on it.
FIELDING'S THREE
August 18, 1952. The Liverpool Echo
By Stork
Can we pin our faith in what we saw at Everton's practice game at Goodison Park on Saturday? I suppose we can up to a point, for most of the players have already been in the first X1 and know what is expected of them from Saturday next until the final day of the season. It was the newcomers to the side we had to scrulmise more severely and I must admit that those I saw gave promise of development, one who struck me as almost ready for the senior side was young Woods, the centre half. He has not many tricks but is as solid as a rock – something like Leslie Compton in style and coolness. Dave Hickson got very little change out of him, and Hickson takes some watching. Then there was Gibson and Harris the respectative right. Of this pair, I favoured Harris for he was more go-a-head. Gibson has plenty of football in his boots but gave me the impression that he could do much better if he could forget the occasion. Cummins a good ball player, was not so "close" in his work, which was one of his main faults last season. He opened out play with well-judged passes. Lewis like Hickson was well handled by Jones the centre half so that the best of the play was on the wings where it should be in these days of the stopper centre half. Donovan was always trying to prompt his forwards with takable passes and the two backs, Moore and Rankin stood their ground against the first teamers with every confidence. Of course they were first teamers themselves at one time.
Needs More Games
Eddie Wainwright making his first appearance on the ground except in the colts team last back-end following his injury in December 1950, hot a cheer when he took the field. He needs more games in sterner surroundings to bring him back to his best. Potts another who also has been nursing a leg injury for some months did some nice things without unduly exerting himself. Believe it or not Wally Fielding got three goals and placed well into the bargain, while Ted Buckle's goal in two minutes showed us the amazing power he has in his left foot.
EVERTON AS BEFORE
August 20, 1952. The Liverpool Echo
Ranger's Notes
Everton home to Hull City, who last season provided them with a handsome victory will field the same eleven which did duty in the closing matches of last season –Everton actually were unchanged in their last seven matches of the 1951-52 campaign so that this will be their eighth successive competitive game without alteration. The team is;- Everton; O'Neill; Clinton, Lindsay; Farrell, Jones, Lello; McNamara, Fielding, Hickson, Parker, Eglington
Everton Reserves (v. Blackpool, away); Leyland; Moore, Rankin; Donovan, Woods, Grant; Harris, Potts, Lewis, Cummins, Buckle.
Hull's Selected
Hull City's team includes Jensen, the Danish international, who played at left back all last season in the forward line. Berry, last season's centre half moves to full back, and Neil Franklin the former England captain, who has been chosen as Hull City's skipper, is in the middle line. There is a doubt about Ken Harrison, the outside right, who was injured while playing cricket. If he is not really Linaker will take his place. He is the former Everton player and a native of Southport. Hull City; Robinson; Hassell, Berry; Harris, Franklin, Durham; Harrison, or Linaker, Murphy, Gerrie, Jensen, Burbank.
BLUES FOR THE BIG KICK-OFF
August 20, 1952. The Evening Express
Blues Rely on Old Firm
By Pilot (Don Kendall)
Everton are still set for Saturday's opening of the 1952-53 football seasons, when Hull City are the visitors to Goodison Park. The Players who wound up last season are given the task of endeavouring to give a good start to the new Tony McNamara the young outside right, who was unable to appear in the trial match because of a slight touch of Arthritis, is fit again, and will be at outside right to link up with Fielding in a team whose average age is only 24 years and three months. Everton; O'Neill; Clinton, Lindsay; Farrell, Jones, Lello; McNamara, Fielding, Hickson, Parker, Eglington.
Everton open their Central league programme with a visit of Bloomfield road, to meet Blackpool, and has but out a team of football league standard. Everton Reserves;- Leyland; Moore, Rankin; Donovan, Woods, Grant; Harris, Potts, Lewis, Cummins, Buckle.
DOUBLE "LIVERTON2 JUBILEE
August 21, 1952. The Liverpool Echo
It is 60 Years Since Goodison Park Opened and Liverpool Began
Ranger's Notes
This season is a memorable one for both Liverpool and Everton, for it marks the jubilee of the opening of Goodison Park and the foundation of the Liverpool Football Club. It is 60 years ago since Everton following their disagreement with the landlord of the Anfield ground, sought pastures new and opened up at Goodison. During that summer the minority directors who had been against the removal put their heads together along with other notable sportsmen of those days and formed the Liverpool club, which became a Limited company the same year and took possession at Anfield. Both clubs have thus been ensconced at their present head-quarters for 60-years. Everton's ground was opened on August 24, 19892 by Lord Kinnaird who was then president of the Football Association had won five cup medals and actually played until he was 43-years-of-gae. They lasted longer in those less strentious days than the majority of players do today although the modern Everton in Ted Sagar have a player who will be 43 next February, and who this season will set up an all time record for length of service with one club.
Happy Celebration
Goodison Park during its long and glorious history has been the venue of two cup finals, as well as several semi-finals and inter-national games. It would be a happy celebration for the Blues if their diamond jubilee at Goodison also brought them promotion and an equally happy celebration for Liverpool if they could win the Cup for the first time in their history after 60 years of striving. That is a mouth-watering "double" prospect and this is the period of the season when we can contemplate it was a possibility, if not a probability. Events in the next few months may transform it into a bit of wishful thinking –or they may not. Everton at least are a reasonable promotion prospects and after all these years it is time the cup found a resting place at Anfield.
RELY ON THE OLD GUARD
August 22, 1952. The Liverpool Football Echo
Ranger's Notes
Everton, as expected make no change in the team which played unchanged in the concluding seven matches of last winter's campaign Potts their most expense post-war signings, has yet to demonstrate his claims to the first team inclusion and Wainwright will need some time yet to get back to his old form. Everton's defence, which established a firm understanding in the second half of last season after one rather shaky period, looks strong enough to give a good account of itself in the coming campaign. It was largely depend upon the ability of the attack to score goals whether Everton are in the running for promotion –or just another side hedged in among the rest. One thing in their favour is that the standard of Second Division football, judged on last season's performance is not of a particularly high calibre and with their resource and large staff, both professional and amateur, Everton should be able to make their presence felt in the manner which all their supporters would like to see. Everton; O'Neill; Clinton, Lindsay; Farrell, Jones, Lello; McNamara, Fielding, Hickson, Parker, Eglington. Hull City; Robinson; Hassell, Berry; Harris, Franklin, Durham; Linaker, Murphy, Gerrie, Jensen, Burbank.
Everton Reserves (v. Blackpool, away); Leyland; Moore, Rankin; Donovan, Woods, Grant; Harris, Potts, Lewis, Cummins, Buckle.
FARRELL CAPTAIN
August 22, 1952. The Evening Express
By Pilot (Don Kendall)
Peter Farrell the popular Irish international was last night re-elected captain of the Everton club for the coming season. This will be Peter's third full season as club captain, and the choice will be welcomed by players and spectators alike. Peter, who comes from Daikery, Dublin came to Goodison just after the war from Shamrock Rovers, with Tommy Eglington and the club could have no more conscientious or loyal lads. Peter lives and breathes Everton, and no one feels lack of success more than he dies. During Peter's early days as skipper, he was inclined to take his business so seriously that it seemed to affect his play, but experience soon enabled him to strike his top form and still shoulder the reasonability of capability. Manager Cliff Britton could have no one better to carry out on the field of play what he requires. As usual, Everton have not appointed a vice-captain.
Everton directors, Messrs Ernest Green and Jack Sharp attended the event as representatives of our Executive Committee and assure me that it was a magnificently-organiased affair. As a matter of fact, Mr. Green went out of his way to tell our Midlands friends that he would report back to the Executive the high standard of efficiently.
It's Good
We hope that next Monday's three regional competitions –North-west, North-east and South-west –will be just as successful. Alderman S. Ronald Williams is to represented the Executive Committee at Moortown. Where will be played the North-west Region while several of us will be at Northenden, Manchester, here our own Merseyside lads will be battling for place in the October 6 finals. Mr. Cliff Britton took the Everton competitors to Northender, on Monday to enable them to get a "feel" of the course and they were most impressed. "All of us from Goodison were most impressed by the course and the nice way in which we were accommodated said Mr. Britton. "We have no doubts about the success of next Monday's meeting.
HULL CITY TOUGHNESS
August 23, 1952. The Liverpool Daily Post
By Leslie Edwards
Everton's answer to inquiring minds may be in the snape of victory today at Goodison Park against Hull City. It is in their favour that the team which played out last season is available for the fresh start. Given the confidence and understanding which a settled team usually has Everton may get off to the flying start that is so helpful. Hull City are not likely to be leaders in their class but their toughness is not to be denied. For this reason Everton will do well to start as they mean to merely because they have taken a leading goal. Everton; O'Neill; Clinton, Lindsay; Farrell, Jones, Lello; McNamara, Fielding, Hickson, Parker, Eglington. Hull City; Robinson; Hassell, Berry; Harris, Franklin, Durham; Linaker, Murphy, Gerrie, Jensen, Burbank.
EVERTON CHANCES
August 23, 1952. The Liverpool Echo
It goes without saying that Everton hope this winter will see their promotion hopes realized. If they can get off to a good start they should be well in the running –providing they can remedy last season's occasional streak of inconsistency. Consistency is the acid test over the long eight-month course. Without it no side can hope for ultimate success. Everton more than most clubs are pinning their faith to their own products. For the past few years the various reserve sides of the Goodison organization have been doing amazingly well, lifting minor league championship and cups with unfailing regularly. Their supporters however, would prefer keeping them there in a comfortable position –always providing that there is the right fighting spirit as well as the individual skill. I feel that the club will be well in the running for promotion this year, but have no feeling of certainly that they would actually pull it off. Judging on last season's display the side just lacks the little spark of combined genius and sprit which makes all the difference. It may come, of course, particularly if they start well, for a good beginning engenders increased confidence and confidence is pretty nearly half the battle.
EVERTON FLATTERED BUT TO DECEIVE IN OPENING GAME
August 23, 1952. The Liverpool Football Echo
Everton Nil, Hull City 2
Everton started on the wrong foot in more ways than one. There were times early in the game when they seemed destined to lead, but once Hull went ahead they were the better side, and all Everton's promising approach play fizzled out against a defence well controlled by Neill Franklin. The Dane, Jensen was the game's best forward prospect for his good shooting and for his wise use of the ball. Everton' O'Neill, goal; Clinton and Lindsay, backs; Farrell (captain), Jones and Lello, half-backs; McNamara, Fielding, Hickson, Parker and Eglington, forwards. Hull City; Robinson, goal; Hassell and Berry, backs; Harris, Franklin (captain), and Durham, half-backs; Linaker, Murray, Gerrier, Jensen, and Burbanks, forwards. Referee; Mr. A. Holland (Barnsley). Goodison Park was a picture for the season's opening. All was spick and span and when Hull City came out in silk shirts of vivid mustard yellow, the ground's colour scheme was complete. There were about 45,000 at the start.
Goalmouth Thrills
Within 60 seconds the game blossomed out dramatically, Jensen won a disputed corner-kick decision against Farrell and, although O'Neill failed to connect with Burbank's corner kick. Linaker was unable to pick it up, and the ball ran free to Eglington, who travelled three-quarters of the length of the ground and withstood several challengers before running the ball to Fielding. The crowd groaned when Fielding's lob to the goal angle seemed too strong, but turned to joy when it was seen that the ball hung and that it was making a ticklist problem for Robinson. Parker came in as the goalkeeper attempted to punch away, and the ball travelled from the goalkeeper's hands to the post before it was eventually cleared. Hull City's tackling was quick and sure, but it took Franklin and company all their time to prevent Parker going through the centre and finally Parker won a corner kick. Though Hull had been almost wholly on the defence for the first nine minutes they took the lead at that point. In its beginning the move which produced a goal for Jensen was well planned and well executed but there was a measure of good fortune about the ball passing the line. Burbanks a player of great experience, got Clinton going the wrong way and carved an opening for a centre and Jensen standing close in, found the ball cannoning against him from a half cleared and back beyond the surprised O'Neill. Beyond a sharp shot by Farrell, which was too high, Hull City were not seriously troubled but when Linaker found O'Neill slow to leave goal to pick up a long ball by Jensen he was able to flick the ball over the goalkeeper's head after which it passed beyond his control and out of play.
Everton's Bad Luck
Everton suffered criminal misfortune when Parker up a rebound clearance and hit a left foot shot which it seemed must score. The scrambling Robinson was all at seas the ball was surely finding the inside of the post and the crowd must have been positive that this was the equalizer. Then within a yard or two of the line the ball swerved on to the inside of the post, and from there back to the ready hands of Robinson, who could have scarcely believed his own good fortune. A very fine volley by Fielding had Robinson at full strength, too, as the ball sped a few feet wide of the post. Franklin was sharp to beat Hickson to a through ball. Indeed the Hull City tackling, as one would expect from a club now managed by Rob Jackson, was sharp, if fair and very much to the point.
On The Wrong Foot
Thus early the crowd gave McNamara little peace, and to be candid it had to be said that he has started very much on the wrong foot. It was left t Fielding and Eglington to work a very direct left wing move from which Eglington centre for Parker to hit one of his best, unhappily not on target. Franklin, out headed by Hickson still contrived to recover in time to put the ball away for a corner when Parker was shaping as though he might score. Parker was unlucky a moment later with a "Stubbins" overhead shot, for which a Hull defender was ready almost on the line.
Hickson Injured
Although they were in the lead Hull were still being confined to defence, and Franklin was finding it difficult to keep a tight hold on Hickson. In one of their clashes Hickson got a blow to his eye and although seeming all right momentarily fell to the ground while a Hull City attack developed. The crowd to draw the attention of Mr. Holland to Hickson's injury but play went on, and Burbanks with a fast low shot almost beat O'Neill "through his legs." While Hickson was receiving attention n the touchline Hull got two corners from the first of which O'Neill in conceding another corner bowled Clinton over unceremoniously.
Jensen Near Again
Hickson was soon back and the game, which had been clean so far, began to get tougher. With a quickly taken right foot shot Hickson almost angled the ball for a goal and then Jensen the only player to move to a free kick was all on his own near. O'Neill and apparently on-side without being able to get possession of the ball. Jensen hit the post when all seemed lost, and Everton were appealing for the offside decision which came moments afterwards, and which surprised even the natives since it was obvious that the Dane was played onside. Franklin was doing splendidly with some fearless and judicious tackling and gradually his side were taking a better command of the game.
Should have Scored. Many of Everton's promising movements broke down inexplicably, but Hickson should certainly have been a scorer when a blunder by Franklin, who tried to turn the ball to his own goalkeeper, left it bouncing a few feet from the prone Everton leader. While lying down he lashed his right foot at the ball twice without connecting. Burbanks was plainly one of the Hull danger points and now in conjunction with Gerrie, they worked a move which ended in O'Neill watching the ball skid along the top of the bar and out of play from a Gerrie centre. Hickson was damaged again when Robinson came out to make a catch from Fielding. It seemed certain that it was a case of two heads not being better than one. Hickson was soon on his feet, but the goalkeeper seemed to be completely out. Both resumed after attention. The throw down took place in the vicinity of the penalty spot and for a shaken goalkeeper Robinson did very well to catch an unexpected and much on the mark drive by Parker. Even Clinton came far upfield almost to the other goal line but as in so many other Everton efforts he wasted the centre.
Half-time; Everton nil, Hull City 1
Fielding was quite a persistent shooter, but Everton seemed incapable of getting in close to the lethal shooting range, and though frequent the Everton shooting was not notable for its accuracy. Everton were riding reasonably easily when Burbanks and Jenson starting as a left wing pair, moved almost to outside right where Jensen instead of bringing Burbanks into the movement again with a pass, flashed the ball through towards goal where Gerrie and Jones went up to it together, Jones could do no more than turn the ball literally by a hair –over the hands of the waiting O'Neill.
Nearly Another "O.G."
A moment later Jensen was through again and hit a shot which O'Neill only half saved. Clinton putting the ball into his own net in collision with O'Neill. But the referee judged Jensen to have committed a foul before he shot, so the goal could not count. Robinson made light work with a wonderful catch of a close in McNamara shot after Fielding had cutely turned the ball back from the goal line. Though Everton promised much they fulfilled very little. They seemed over-anxious and not capable of concluding movements which were sound in their beginning.
Advice From the Crowd
How much the crowd is responsible for players anxiety only the players themselves know, but McNamara particularly, was not short of advice from 10,000 people. Gerrie almost nailed Everton by taking ten-league strides and hitting a cracking shot swinging outside an upright.
Unavailing Efforts
Everton were still unable to do the right things at the business end of attacks, and when Hickson shot across the face of goal. Fielding obviously expected a pass. One of the best and closest. Everton shot's came from the left foot of Farrell, but the game was fizzling out aimlessly despite Everton's intense but unavailing efforts to recover, and Hull who had started so overplayed were now looking quite confident and capable of holding their lead. Fielding and McNamara changed places temporarily but this was one day at least on which the Everton forwards just could not get together. Jensen hit the Everton crossbar to complete a first-rate day's work. Fielding with a shot which struck the bar and a header from the rebound for which Robinson was ready with both hands, was the most luckless trier Parker had previously had two efforts to put the ball into an open goal. Final; Everton nil, Hull City 2.
BLACKPOOL RES V. EVERTON RES
August 23, 1952. The Liverpool Football Echo
Blackpool Reserves; Hall, goal; Friey, backs; Wright, McKnight, and Ainscough, half-backs; Fenton, Hobson, Mudie, Stepheson, McGurk, Withers, forwards. Everton Reserves;- Leyland, goal, Moore and Rankin, backs; Donovan, Wood, and Grant, half-backs; Harris, Potts, Cronin, Cummins, and Buckle, forwards. Referee; Mr. J.S. McLoughlin (Manchester). A crowd of 5,000 saw the teams appear in Brilliant sunshine, and Everton take the lead after four minutes. With the Blackpool defence appealing for offside, Buckle had no trouble in strolling forward to beat Hall from close range. Exchanges were even during the first half, with Everton, if anything, more aggressive and Potts and Buckle forming a dangerous wing. Mudie, for Blackpool, hit the angle of the post and bar with Leyland beaten. Half-time; Blackpool Res nil, Everton Res 1.
EVERTON'S OUTLOOK
August 23, 1952. The Liverpool Football Echo
Ranger's Review
In the case of Everton, they should be among the leading sides and their resources in the way of capable reserves seem a little stronger than those of the Anfield club. Judged on their respective Central League performances. If the Blues can get off to a good start it would give them added confidence and that means a lot. Last year they began disastrously, and it took the side some time to get over it. Should Wainwright and Potts regain their form then the outlook will be better still, but that remains to be seem, and for the time being it looks as though it will be a case of "same again" for a little while. Everton could do with a really commanding personally in the defence and somebody in the attack to share with Hickson, the task of upsetting the opposing rearguard. Lindsay is rather too "gentle" a player to fill the bill and much as I admire Peter Farrell he is still a little declined to do the work himself rather than let the ball do it for him. There is no harder or more loyal player than the Irish International and his example is always an inspiration, but if he could conserve his energies somewhat and use the ball to greater advantage, instead of trying to take it up too far himself, I think it would be a helpful factor. Eglington has the making of a record marksman once he can "channalise" his shooting and take full advantage of the openings he makes by his speed and directness. Maybe it will come this season –and perhaps an advance towards more two-footed ability. His "swinger" is so often a drawback, though one time it looked as though he was getting over the handicap. Everton should at least finish as high in the tale as last season, and if the ball runs kindly for them, which makes a big difference, they might be in the van of the promotion fight. One thing in their favour is that majority of Second Division sides are of rather poor vintage and with nothing like they resource of the Goodison Club.
View of the Heads
Mr. E. Green (Everton Chairman)
It is, I feel sure, becoming generally understood that the Everton club is determined, as far as possible to keep out of the transfer market and to build up our teams from the junior ranks, trained and coached by the club staff. The success shown by our juniors already promoted to the first and Central League teams is arises very encouraging. I am optimistic that the future will prove that we are working on the right lines.
Mr. C. Britton (Everton Manager)
I think we can look forward to brighter prospects during the coming season. We now have a better blend of experience and youth on our playing staff and judging from the manner in which the boys have tackled their training since they reported I feel sure that every effort will be made to make the season a successful one.
HARRIS, GRANT AND MOORE IN EVERTON X1 TONIGHT
August 25, 1952. The Liverpool Daily Post
Everton 0, Hull City 2
By Leslie Edwards
Everton make three changes for they visit to Sheffield United this evening. Joe Harris a twenty-three-year-old outside right makes his second League appearance, taking over from McNamara. Grant comes in at left half for Lello and Moore replaces Clinton at right back.
There should be a Royal Society for the Prevention of Cruelty to Everton Supporters. Here at Goodison Park, this bright and beautiful opening day of a new season were 40,000 of them, convinced (maybe against their better judgment) that their side would make a good start to the long climb back to Division 1. Yet long before the end thousands were pouring into the sunshine bewitched and bewildered by yet another demonstration of Everton failure, this time against a team they had beaten 5-0 less then twelve months ago –Hull City.
It is not that Everton lose for want or effort; indeed the contrary might be true. They train hard, play hard and put enough enthusiasm into their games to win six matches, much less one. Thus, with eleven well-trained men all doing their best and playing almost as though their lives depended on the result, the explanation is that Everton have almost become a case for the football psychiatrist. In trying so hard to do the moves, in front of goal which others make in a commonplace way they fall down so frequently, the effect of failure becomes cumulatively disastrous.
The Old Old Pattern
The pattern against Hull City was familiar. First a Hull City overplayed to such a extent in the first fifteen minutes that Everton's victory seemed almost a formality. Then, after some very keen tackling by Hull and some indifferent finishing by Everton, Jensen snatches a goal and Everton become even more hazy and hasty in their frantic effort's to equalize. Hull City, holding on by virtue of defence finely controlled by Franklin, then begin to believe in themselves take another goal (this one also a bit lucky in that the top of Tom Jones' head and not his forehead met Jensen's lashed-in centre) and end up playing as though conceding a goal to Everton, at Everton, is the last thing they propose to do. The Everton problem is the Board's McNamara's problem is as much mine as his. I do not care how badly he performs he is still entitled to a fair deal from people who oddly describe themselves as supporters. McNamara is not only a marked but a marked man. Stanley Matthews, Finney and other leaders of winging art would wilt if every time the ball came their way 20,000 nicotine-scratched lungs "advised" them on how best to use it. Balmer of Liverpool knows how this gratuitous advance (which sounds like a buzz of angry drones) can damage a player's enthusiasm and his heart. Everton supporters should be far above such indulgences. On the other side of the field Eglington is given different treatment. Twenty thousands voices joyfully sell him to "Run him off his feet. Tommy!" And Eglington usually does this adequately, though there must be many occasions on which a slick pass, or a quickly-made centre would be less delaying and more effective.
Over-Running Enthusiasm
Eglington is not only member of the side who sometimes lets his enthusiasm and his feet run away with him. The result is that the ball is too often pedeatrianly taken where it should be sent. Going upfield with the ball looks good, but the ball has a way of being thrown back at Everton disconcertingly and then the defence with Jones and the fullbacks left to fend for themselves, looks wide open. And now to Fielding. Here is a great player, a great passer of the ball, but if the line cannot accept his good things than half its danger disappears. The Everton attack progresses well so often and peters out so inexplicably one wonders whether they are too slavishly trying to make goals by numbers rather by their native intelligence and individualism on the spur of the moment –something not painfully obvious and therefore something the other defence cannot always counter. This first Everton defeat may be the last for a long time, but I doubt it. It may be that their luck was completely out, but I doubt it. Parker, true, hit a post and Fielding the bar, but things which happened at the other end almost balanced these misfortunes. But for Franklin, Everton may have won. He bound his side together admirably and held them firm when there was danger that Everton would sweep them into oblivion on first waves of aggression Jensen, in his unaccustomed role as forward, played beautifully too, and the old head. Burbanks, was often difficult to stop on the left wing. I would not blame Tom Jones for Everton's defeat. More was it due, I think to Everton policy and above all to the side's more-haste-less effect fault which arises out of trying too earnestly. Someone with a cool calculating head, someone to command that this or that be done or not to done should find at Everton but Who?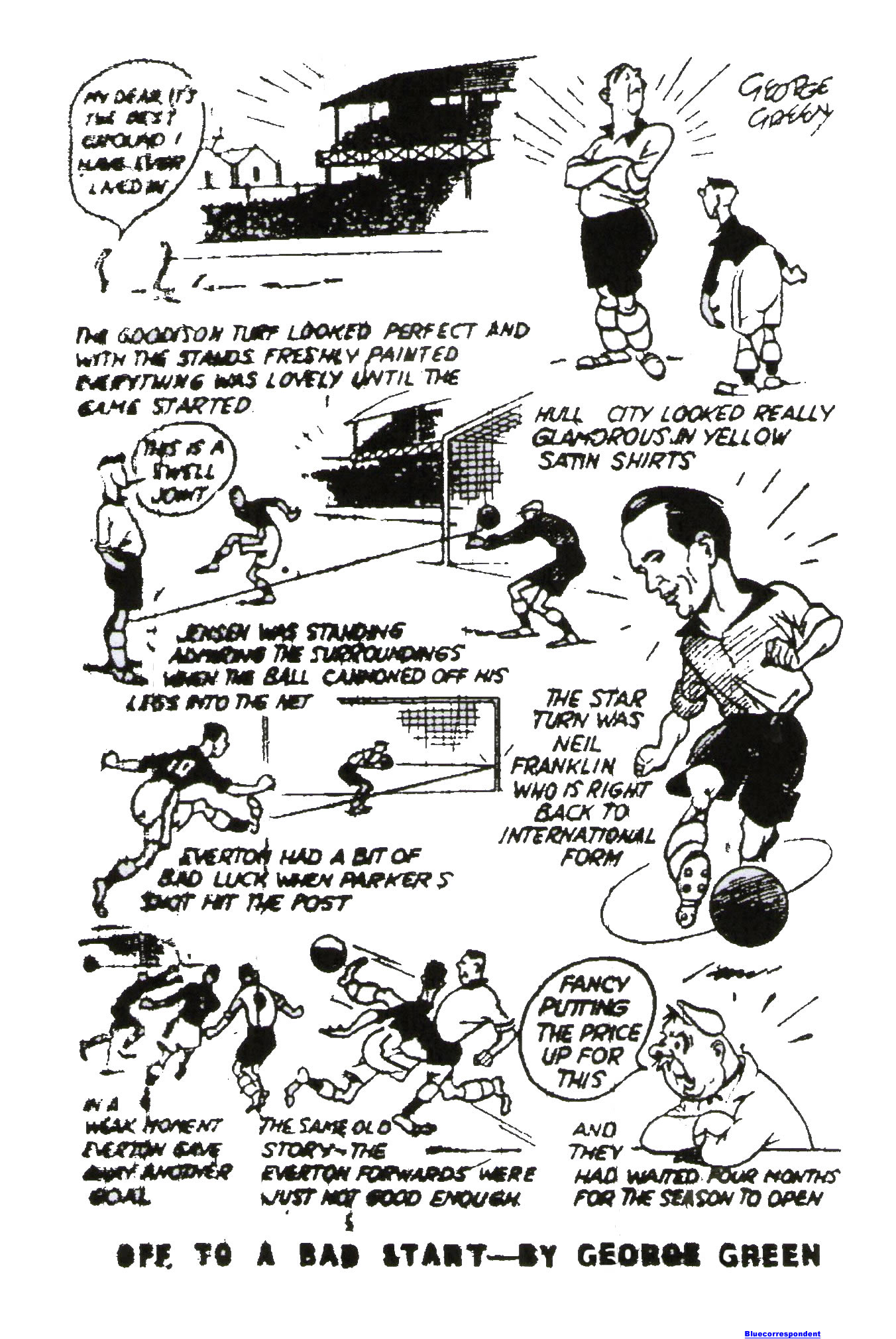 CENTRAL LEAGUE
August 25, 1952. The Liverpool Daily Post
Blackpool Reserves 1, Everton Reserves 1
With the chances, a hesitant Blackpool Reserves defence provided them Everton Reserves ought to have come away from Blackpool with more than a point. Left winger Buckley given plenty of room in which to work, scored and should have had at least another goal. McGurk, Blackpool's new signing equalized.
NOT SO PROMISING
August 25, 1952. The Liverpool Echo
Ranger's Notes
Everton will have to do a great deal better than they did against Hull City if they are to win the esteem of their supporters this season. While it would be unfair to be too severe on the basis of a single display, one cannot hide the fact that the Blues fell a long way below expectations. They started reasonably promisingly, but once Hull had taken the lead with a rather fortunate goal in ten minutes Everton began to lose their grip most disappointingly. After they were "robbed" of the equalizer when Parker's shot bounced back off the upright into the goalkeeper's hands, they gradually became straggling and desperate. And desperation is never a good substitute for skilled combination. There was plenty of shooting but most of it was either inaccurate or from such long range that the chances of scoring were almost negligible. The defeat would have been a little more palatable had Hull City been a really good-side. They were far from that, though they had the advantage over Everton in the way they went to the ball, and exploited the open spaces. Their passing was also more accurate.
Franklin The Key
The "Tiger" did anything but live up to their name in the first quarter of an hour. They played almost as though they considered their plight more or less hopeless. Possibly they had not forgotten their 5-0 defeat on their last visit here. Then it seemed gradually to dawn upon them that this Everton was nothing like the one who had humbled them last April and they put more fight into their game. Though Everton throughout did the major portion of the attacking, they never made much impression on a defence which revolved around the confident Franklin and closed its ranks tightly by good covering. Hull's second goal was just as fortunate as their first, for Jones's headed deflection as he tried to forestall Gerrie gave O'Neill little chance to retrieve the situation. Everton may possibly consider themselves a trifle unlucky to lose by two such goals. Perhaps they were, but still the side was far from impressive, individually or collectively. Home points cannot be scarified if the team is to make a real challenge for promotion, which is the hope of all Everton followers. Above all the players must keep their tails up –and not lose heart if the game is not going they way.
Joe Harris
Joe Harris the former Marine amateur who plays outside right for Everton against Sheffield United this evening. This is only his second senior game for the Blues since he signed professional forms just over two years ago. The other occasion curiously enough was against Sheffield Wednesday on March 28, 1951.
EVERTON THREE CHANGES
August 25, 1952. The Liverpool Echo
Ranger's Notes
The repercussions of Everton's decidedly disappointing show against Hull City have been swift –for there are three changes in the side to meet Sheffield United at Bramell Lane this evening. Moore is preferred to Clinton at right full back. Harris comes in for McNamara at outside right and there is a rather surprising change at left-half where little Grant who made only five senior appearances all last season, is recalled to take over from Lello. Most folk thought Grant's senior career was about at its end. Moore also played in only five first-team games last winter, but he was off a long time through injury. When he was fit again he was unable to regain his place against Clinton's challenge. Now the boot is on the other foot. Harris is the former Marine amateur. He has made one previous senior appearance, two seasons ago. Harris gave up his normal job just over two years ago in order to turn full-time professional for the Goodison club, in the last two campaigns, he has played in 29 Central league games and scored eight goals, seven of them in his first season. Last winter he had 11 reserves outings. Everton will have to shape much better, than they did against Hull to get even one point from Sheffield United, who started on Saturday with a good away win against Swansea, a team which does not often sacrifice both points on their own ground. Everton; O'Neill; Moore, Lindsay; Farrell, Jones, Grant; Harris, Fielding, Hickson, Parker, Eglington.
Tonight's game against Sheffield United will show whether the changes have had a beneficial effect. After playing the last seven games of last season unchanged and remaining so against Hull, one had begun to hope that Everton might at last have a settle side. That helps a lot towards balanced team work and individual confidence. But already that dream has been dispelled. It is to be hoped that subsequent results in the early stages do not dispel other optimistic expectations about the foundation for which I have never been entirely happy.
Sheffield's Doubt
Sheffield United will have one enforced change as inside right Smith injured at Swansea on Saturday, will not be fit. It is likely that Hutchinson will take his place. Elsewhere the team is unchanged and reads;- Sheffield United;- Burgin; Furniss, Wood; Hitchen, Latham, Shaw; Ringstead, Hutchinson, Browning, Hagan, Hawksworth.
EVERTON SATISFY IN PARTS
August 26, 1952. The Liverpool Daily Post
Sheffield United 1, Everton 0
By Stork
Although Everton were beaten 1-0 by Sheffield United at Bramall Lane, last night they gave a display which was satisfying in part. The first half was particularly good and with normal fortune they could have equalized. Right on the interval Eglington had the opportunity to head home a Hickson centre. Before that there had been many thrills, starting with Ringstead hitting the Everton upright in the first minute and later hitting the crossbar. Fielding too also hit the woodwork. Everton played some very neat football, but there was no punch to finish it. Harris was a definite improvement in that he was go-ahead and linked up nicely with his inside man. Moore also gave a creditable display. United got their goal at the 35th minute. It was the result of a snap-shot taken by Brooks. Having beaten off a challenge by Jones he unleashed a shot which went in off the woodwork. Some of Everton's movements were of the copy-book order. Unfortunately midfield play does not bring points. Burgin in the United goal had one or two stiff saves to make but he should have been left stone cold when Hickson drifted on to the left wing and centred in front of goal, Eglington from the inside right position headed wide.
Burgin Thinks Quickly
The second half was not good because there was a lot of loose football, but Everton never gave up striving for the equalizer and nearly got it when an awkward ball bounced in front of Burgin as he was challenged by Parker. Burgin did a bit of quick thinking and swept the ball over the bar. Everton were persistent attackers. They had more of the second half than the United and Farrell one of the best players on the field almost produced the equalizer when his fierce shot passed not more than a foot outside. Hickson got much buffeting and rarely got an opportunity to show his shooting powers. Eglington although he had speed was inclined to make his centres a little too strong. Fielding was a great worker and so was Parker. Sheffield United; Burgin, goal; Furniss, and Wood, backs; Hitchen, Latham, and Shaw, half-backs; Ringstead, Hutchinson, Brook, Hagan and Hawksworth, forwards. Everton; O'Neill, goal; Moore and Lindsay, backs; Farrell (captain), Jones, and Grant, half-backs; Harris (ja), Fielding, Hickson, Parker and Eglington, forwards. Attendance 30,369.
AN OLD STORY
August 26, 1952. The Liverpool Echo
By Stork
I am afraid it is an old story am about to tell, one I have told often during the last few seasons. It is that Everton's good football had to play "second fiddle" to a team not so clever, but one which was able to pop the ball into the net. This is the tale from Bramell Lane where Everton were beaten by the only goal of the match. It was despondent after reading of Everton's home defeat by Hull City, but I am heartened by what I saw at Sheffield for it was football which will beat more teams than beat it. "I am not making excuses for the defeat, for I know as well as anyone that goals are the only thing to count in this game of ours but must admit that I was agreeably surprised at Everton's form. The only flaw in it was that it did not bear fruit. Their football was out of the book and the pity was that it got no reward, only a lot of congratulations from the Sheffield United people. Everton moved the ball about sweetly were better tacticians than the Yorkshiremen but that one goal scored by Brook negative it all. Don't think that Everton did not have any shots they did but they were not punishing enough. That was the only fault I could find with their grand display of the football arts. The least they should have got was a draw and would have done had Eglington taken his header just before the interval instead of steering it wide. Sheffield started off with a bang and within the space of 10 minutes had hit the woodwork and given the Everton defence a severe grueling but then Everton settled down. They had more of the play in the second half, which showed how they were fighting for the equalizer. Fielding nearly got it and so did Farrell, but hard luck stories are no good in any game. Sheffield got their goal through Brook taking a chance. I would like to see Everton take more of them, especially their wingers who will persist in lobbing the ball into the centre where the blockade is strongest. Brooks made his shot as Jones and a colleague moved towards him, but Brooks let fly and the ball banged in against the upright before it lodged in the net. O'Neill was unsighted and did not see the ball until it was too late. The second half was mostly Everton's but that goal just would not come although they called upon Burgin on several occasions. The team is well worth persevering with. Harris making his second first team appearance fitted in well, and Moore was sound and confident while Grant and Farrell excelled themselves in the amount of work they got through. Hickson got few chances to show his shooting power but he was a big worry to the United defence. If games were won on the points system Everton would have received the referee's decision without hesitation. Two defeats in two games makes dismal reading, but look out for better things especially if the forwards will shoot whenever an opening presents itself. Some may miss the mark, but Brook showed that a quick shot is better than the extra pass.
CENTRAL LEAGUE
August 28, 1952. The Liverpool Daily Post
Everton Reserves 3, Barnsley Reserves 0
Everton richly deserved their win at Goodison last night. W. Birchall made a splendid debut at outside right. His passes and head work were a feature. Woods too, was a good pivot. Everton scorers were; T. Cronin, Buckle, and Potts.