DAVID'S DAY PRECEDED ST. DAVID'S
March 2, 1953. The Liverpool Daily Post
Hickson Does It Again –
With A Flourish
The Story In Print and Picture
Aston Villa 0, Everton 1
Attendance 61,433. Receipts £8,652
By Leslie Edwards
For seventy-five minutes big Frank Moss of Aston Villa, "played," Dave Hickson like an angler scared stiff that his prize catch might get away. Then it happened; Hickson was away with rod, line and sinker, and Everton's magnificently vocal supporters were hailing the goal which made the difference. The goal which took Everton into the second Cup semi-final since the war. The goal which stung Villa into belated reprisal…..the goal which was fit to ranker with any of Hickson's three Cup-tie winning thrusts this season. No hint of a goal in midfield as Hickson and Moss each shaped to pick up the ball near the centre circle. Most has it we thought. And so he had. But a rebound between the two bodies went in favour of Hickson. He stood on no ceremony, but went =, Moss at the trail. A quick pass to Buckle, magically situated at this moment at inside left and Hickson chased on asking for the compliment to be returned. Buckle hesitated, looked up then left foot, turned the ball for Hickson to take it up again. By this time Moss was in a challenging position. Hickson, brushed him off like a crumb off waistcoat, and closed to about ten yards. Then as if this were something he was used to doing every minute of every day he hit the kind of shot which wakes goalkeepers out of might mare dreams. A perfect goal timely, well-deserved, well constructed and as we thought the end of all Villa hopes. But not yet. It served only to jolt that caprilicoius selfish and tantalizingly ineffective Villa line into some sort of practical order. In those last fifteen minutes they were more dangerous than at any other time. Becoming a progressive for the first time they came close three times to the goal which would have given them a replay. The Everton defence refused to panic. They meant to hold that golden Hickson goal whatever the cost and their tackling in this critical final test was good as ever.
Tempest of Cheers
It was impossible to hear above the tempest of cheering the whistle which meant the end. Suddenly Everton players jumped for joy and crazed spectators climbed from the terraces in hundreds to swarm towards one player –Hickson. They hugged him, kissed him, patted him, ruffed his tousled hairy and became such an embarrassment to him that a solitary policeman was engulfed and Hickson was in danger of being killed by kindness. Ultimately he was shouldered to the players subway, the ground and terraces slowly cleared. Villa fans crawled from the scene too disappointed to say a word. Everton fans whose part in the victory must not be underestimated, crawled away, the exhausted to begin to play the match over again from those mental recording taped they carry in their minds, in brief also a splendid game, sporting, well-refereed and possessing for Everton the grace of a great goal and appearing in an semi-final in a season which has had its share of drabbles. Villa's lion rampant carries the motto "Prepared" but none in Birmingham could have been prepared for the oddest spectators behavior ever known in football, the Manchester United, Walthamstow replay not forgotten. Here at Villa Park were 61,000 people, the majority following the Villa, yet visually and vocally the Everton people present completely over shadowed the others. If encouragement means anything (and I am sure it does) the Everton following in this match played their part nobly. It must have been the most homely away game their club ever played. Everton won for many reasons. They had wonderful spirit and comradeship (Villa players were plainly a odds with one another and no wonder) they had fitness they had a balance defence; they were direct where Villa were inclined to move laterally and always with the pass too many they had in Hickson, the man of turn. The game their way in a twinkling. That Moss played very well indeed that he watched Hickson with increasing vigilance (and fear) meant nothing in the final reckoning, because Hickson used with such success the one first class chance he was able to get. The fury and fire that Hickson run and the triumphant flourish of his great shot will be recalled easily, when other incident is long forgotten.
Easier, Not Wiser
Villa lost not because their defence was not good enough, but because Everton, after the first fifteen minutes gripped that Villa attack and shook it into almost complete submission. Individually they were all clever with the ball none more so than Roberts. But Everton cut into their individualism were sure grand quick, tackling and Walsh and company found it easier if not wiser to turn the ball in reverse passes. This meant that the Everton defence was still in position and still had to be beaten. And when the battle was joined –when Villa faced with having t be direct –Tom Jones and his full backs were able to break down movement after movement. This was Jones in top form. Eye on the ball with never a thought for winning, it by other than scrupulously fair means he put up a great performance. If Lello was not as commanding as usual Farrell was more than ever in the picture. And he handled the cares of captaincy well too. Lindsay whose studious refusal to do anything hurriedly is a peace less defence asset was rarely fooled by the coverings of Roberts whose mis-used talent went so far towards making Everton's job easier. Clinton who must bear the stud marks of Dixon somewhere on the body was similarly well placed against his man, Goffin, who helped to constitute a Villa left wing which had a must unhappy afternoon.
Buckle's Part
The best Everton forward, and I do not exclude Hickson was Buckle. Never in my experience, has he stayed the course so well, and done his job so well. A lot of help in defence, almost flawless, use of the ball a decisive bit of positional and an equally decisive pass –all these qualities made him outstanding. He came near to setting the match beyond all doubt with a deliberate downward nod of the ball. Parsons poised and most talented goalkeeper even after an Eglington shot had knocked up his thumb, moved over to collect this as surely held up all others threats. True Aldis saved him once by a clearance kick which will remain forever in dispute (the Everton belief being that the ball was over the line when Aldis foot was behind it) and there were other moments when Everton touched wood in the wrong way but in general Parsons was excellent. O'Neill contributions were not nag gible either. Starting with a tricky twisting over the bar save – he went on serenely and his second half save at the angle was as valiable, in its away as Hickson's goal. Cummins was a source of menace to Villa defence which had from outstanding qualities for most of the game Parkes was not punishing when good chances were there for the taking and Eglington might have been used more often to show what he could do against Aldis who finished the game very tried man. Still Everton won handsomely and narrowly and that they were able to find inspiration to come through such a test shows that they can go still further in which case Manager Cliff Britton who has been concerned in fewer than three semi-finals since the war, one with Burnley would find complete vindication.
Candid Admission
The Everton, situation at this stage is well summed up by their loyal followers who confessed to me after the match after six years, I now find that it was worthwhile after all being an Evertonian. May believe will be further opportunity this year for him to say it again. No believer in omens or mascots (other than players like Hickson) I put on record the fact that Dixie Dean sent his up winners medal to Villa Park with a friend to help things on. George Burnett and Ted Sagar were among those present, so was Pongo Waring who said he might have done a bit better than some Villa forwards he watched. The Bullens Road crowd scene of the Manchester United match was all but repeated here. People with tickets had the utmost difficulty in getting in. One-armed referee Bond caused one Liverpool man to pose the question "who holds his note-book when a players name is taken. Catch question brought about by freakishness of cup results in the past two rounds is "When in four successive rounds of the F.A. Cup was there only one home winner?" The answer is 1953. There can be no home winners of semi-final and final matches on neutral grounds. Three Lancashire clubs in the last four equals one finalist for certain and almost certainly a semi-final venture at Maine Road, Manchester. Villa oddity; No ambulance men, few police but the 61,000 crowd saw and heard the match in comfort.
• Everton Res 0, Bury Res 1
• Fleetwood-Hesketh 0, Everton "A" 2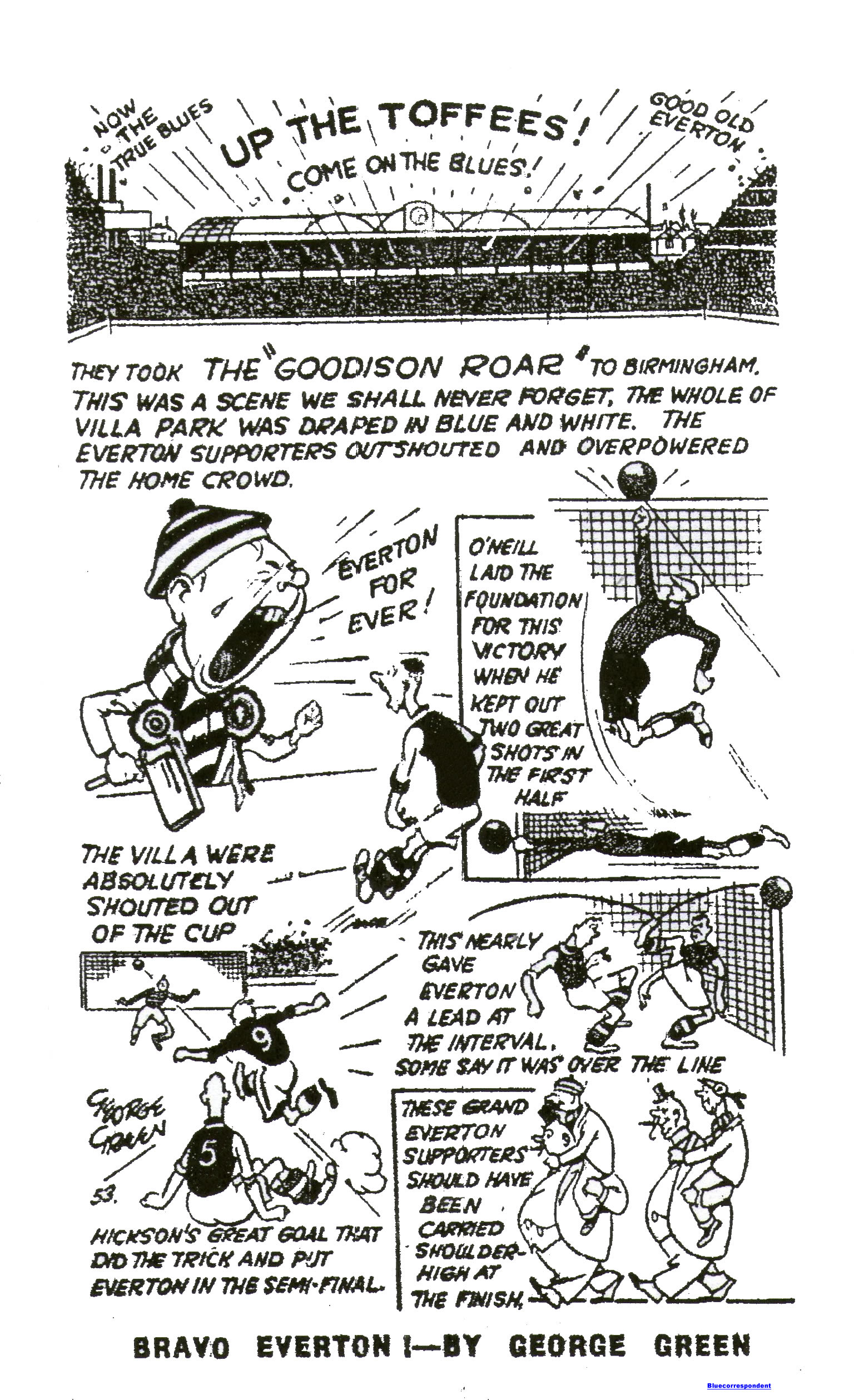 A CASE FOR GOAL JUDGES
March 2, 1953. The Liverpool Daily Post
The most debatable decision at the Everton Cup-tie was that which denied Hickson a headed goal when Villa full back Aldis kicked away from the line. Referee Bond's decision was made more difficult by the fact that the ball was far off the ground when Aldis foot met it. Manager Cliff Britton, of Everton offers no opinion on the rights or wrongs of the decision, but he does maintain that in important games such as this, and in semi-finals and finals, it would pay authority to introduce goal judges whose sole task would be to say whether or not the whole of the ball had crossed the line. The Britton view is that goal judges would be cheap and effective at ten guineas the pair in games where so much is at stake in borderline cases such as Saturday's. He would not have judges static, as in other forms of sport such as Tennis, but would give them freedom to follow play and take up position intelligently outside the field to give verdicts when required. Many followers of Everton thought the ball was over the line when Aldis kicked clear; one spectator from Liverpool who sat in the last stand seat at the end of the ground was adamant that although Aldis may have been in the net, the ball certainly was not. All of which adds up to the realization that it may not be long before the sensible precaution of having goal judges is in force.
ANOTHER GREAT DISPLAY
March 2, 1953. The Liverpool Echo
Everton's Win At Villa Was Result Of Great Teamwork
Ranger's Notes
Away with Grandad today! I'm leaving him in peace with his pipe and his pint, for this latest jewel in the crown of Everton's successes demands sober appraisement and no flippancy. A fortnight ago the old chap said the Blues victory over Manchester United would go down in Goodison history as "Hickson's match." To quite an appreciable extent the same can be said of this latest win at Villa Park. Again Hickson got the vital and winning goal, as he has now in three of the four cup-ties and again he made it by sheer persistence out of half a chance, thanks to Buckle's canny co-operation. But first and foremost tribute should be paid to Everton's wonderful team spirit and indomitable fighting courage. It as this, more than individual brilliance which sent the 15,000 odd folk from Merseyside on their homeward journey in such great spirits. They were proud of their team and had every right to be. The Everton of the last few weeks has been as unlike that of the early part of the season as chalk to cheese. Even when they were playing good football a few months ago there was never the same will-to-win that they have displayed in the last three rounds of the Cup. The transformation has been amazing. Now they seem o have pretty well everything which is needed to lift the trophy –a sound and well-knit defence, the stamina to keep going at top speed from first to last, a well-balanced attack, with striking force at last on either flank, and a chunk of "human dynamite" in the middle who gives opposing centre halves their biggest headache of the season.
Strangehold On The Game
The Blues display against Manchester United was such that I felt they could never better it. But they did on Saturday. After the first 20 minutes which alone showed Villa up to advantage, Everton gradually got such a stranglehold on the game that they were dominating the run of play for long stretches, and always looked likely to get goals. That they won by only one was due to some good saves by Parsons, valiant defence by the Villa rearguard, notably Moss and Blacnflower, and the intervention of the woodwork on three occasions –a great Cummins shot, a Parker header, and an Eglington pile-driver. Buckle also put a corner kick up against the upright but this was hardly an escape for Villa like the others. Add to all that two goalmouth clearances by Villa defenders, one of which seemed almost over the line when kicked away and it will be realized by those who were not present that Everton deserved to win by a larger margin.
Thrills By The Dozen
This was one of the best cup-ties I have seen for a long time. The pace was terrific from start to finish. Indeed, is seemed almost to be faster at times during the second half than in the first portion and the thrills came in breath-taking fashion one on top of the other. Even the most phlegmatic found themselves getting gradually more excited. As for the normally excitable they were almost in frenzy at times. The scene at the finish when the crowd invaded the pitch and chaired Farrell and Hickson will long live in everybody's memory. How the players managed to keep it up was amazing. It was also a remarkably clean game. There were many spills and somersaults due to the terrific intensity and speed of the tackling, but very few fouls, apart from technical offences. Everton altogether had 11 free kicks two of them for hands, and Villa had six. There was not a single offside decision throughout the game, Referee Bond handled his job most capably. He had a quiet word with Hickson in the first minute and another with Thompson later, and made it clear that he was going to be boss for 90 minutes.
The Winning Goal
Everton made it just as patent the longer the game went that they were bosses, too. But with all their superiority the vital goal was delayed until 15 minutes from the end. And even after it came there was always the chance, with Villa fighting back hard in spasms, that one might be "sneaked" to force a replay, despite the wonderful covering of the Everton defenders. The winning goal came straight from one of Villa's hottest assaults. An overhead kick by Parker went to Hickson not far from the outside left touchline. Clever anticipation of the bounce enabled him to out-wit a Villa man and set Buckle going along the left flank. Then a lightning dash to the middle for the return pass, which came with unerring accuracy and Hickson despite being challenged and harassed by Moss, got in a shot which must have whistled past Parsons like a jet plane. Every man on the winning side played the game of his life. It seems almost unnecessary to name individuals for this was a triumph for team work and sheer fighting unity more than anything else. Top marks would go first, however, the indomitable fashion in which he took it, next to Farrell, for a true captain's part. Farrell was a to Hickson for the vital goal and tremendous force and inspiration throughout. Then minimum marks to Jones for another great display at centre half, and after that, with not a hairsbreadth between the lot, of them full credit to the rest of the side. All played their parts brilliantly and courageously. After the first twenty minutes during which they served up some fine forward work, Villa gradually lost their attacking punch. Several times Thompson and Dixon got in one another's way and Roberts who had started well, was a most completely subdued by Lindsay. Walsh rarely had the semblance of a chance against Jones and it was left to Blanchflower and Moss to take the main honours. Moss did well against Hickson, considering the latter's speed and forceful methods while Dorsett until he faded out somewhat provided the best supply of cross-field passes I have seem for quite a while. Villa were the first to acknowledge that the better side won and were amazed just as Matt Busby was, that the Blues should be still in the bottom half of the League table. Had Everton played like this from the start of the season they would be almost assured of promotion already. But that is only a pleasure deferred –if they can maintain this form it will come next season all right. In the meantime the Cup is the main objective and on their displays in the last two rounds I cannot see any side to beat them.
Tribute To Supporters
I cannot end without a tribute to the wonderful "play" of the Everton supporters. According to reliable estimate there were about 15,000 people from Merseyside. Well, if that was all, never have so few cheered like so many. Before the start blue-and-white favours outnumbered Villa colors by almost a hundred to one. They seemed to be everywhere. As for the cheering it just drowned the Villa folk, whose vocal efforts seemed but feeble whispering against the mighty volume from the visiting crowd. If ever supporters helped their team to the semi-final, Evertonians did on Saturday, Chairman Ernest Green, Manager Cliff Britton, and skipper Peter Farrell all expressed grateful thanks for such a splendid display. Well shouted, chaps!
Five For Eire
Eire selectors who were at Villa Park on Saturday were so impressed by Everton's five Irishmen –as well they might be –that they are almost certain to ask Everton whether they can all play for Eire, against Austria, in Dublin on March 25. Willing though Everton always are to facilitate the release of their players, this international date falls at a very awkward time. It will be out of the question of course, if Everton have a semi-final replay and in any case, the Blues will have a rearranged League match that mid-week.
EVERTON TO MEET BOLTON IN SEMI-FINAL
March 2, 1953. The Liverpool Echo
Maine Road Chosen
Tie At Goodison?
The draw for the semi-finals of the F.A. Cup, to be played on Saturday, March 21, was made in London today, and resulted as follows;-
Bolton v. Everton (at Maine Road) . Manchester replay at Huddersfield if necessary. Referee Mr. A. Bond (London).
Birmingham or Tottenham v. Blackpool (at Goodison Park, if Birmingham win, replay at Villa Park if Tottenham win. Replay venue (undecided. Referee Mr. A.E. Ellis (Halifax).
Kick-off 3 p.m. replays on or before following Thursday, kick-off 3 p.m.
Comments by Ranger
This will be the fifth meeting in the competition between Everton and Bolton Wanderers and on the form which Everton have displayed in the last two rounds, they have a splendid chance of beating their third successive opponents from the First Division.
"It is a good draw," said manager Cliff Britton "and particularly for our supporters, who will have only a short journey to make, and will be at Maine Road in full force to give us that encouragement which has meant so much in the previous rounds. "If our players maintain the form they have displayed so far they will have a good opportunity of winning their way to Wembley. Manager Billy Ridding, who now guides the destinies of Bolton after a long association with Tranmere Rovers was also pleased with the draw.
What Boton Wanted
"This is just what our lads wanted," he said. "We would rather have Everton than anybody else. Not that we are underestimating them by any means. After their two recent victories we realize what a splendid side they must be, but we know that while they play good football, they also let the opposition do the same, and we feel sure this will be a clean and sporting game. "While we reckon we have a good chance of getting through we know it is going ti be a tremendous struggle. The fact that Everton are a Second Division side means nothing when the competition gets to this stage."
Previous Meetings
The first of the four previous cup meetings between the clubs was in 1888 when Bolton Wanderers defeated after two replays, protested against the eligibility of certain Everton players. Following an official inquiry Everton were disqualified and several of their players were declared professionals. This was in the days before professionalism was fully recognised and legalized. The pair next met in the third round in 1907 when after a goalless draw at Bolton, Everton won the replay 3-0. Everton that year got to the final, for the second successive season, losing 2-1 to Sheffield Wednesday at Crystal Palace. The following year they met again in the same round, once more drawing at Bolton, this time 3-3 with Everton winning the replay at Goodison Park 3-1. It was not until 1935 that they met again, it was then in the sixth round with the Wanderers winning 2-1 at Goodison Park, but falling to West Bromwich Albion in the semi-final after a replay.
EVERTON AT NOTTS COUNTY
March 4, 1953. The Liverpool Echo
Victory For Blues Would Ease Position Before Semi-Final
Ranger's Notes
Everton, away to Notts County tomorrow, have an opportunity to improve their League position and thus give themselves margin for a measure of comparative relaxation later, when the semi-final –and Final too, we hope – looms on the immediately horizon. Yet this Notts County game could provide them with almost as stern a task as any they have faced so far in the Cup. This may seem a surprising thing to say considering that their last two Cup opponents have been from the First Division whereas Notts County are fourth from the bottom of the Second Division. The Midlanders, however will fight desperately hard for victory in order to stave off a possible relegation struggle later in the season. At the moment County have four points in hand over two of the three clubs below them in the table. I exclude Barnsley who already seen doomed beyond any possibility of hope. The Nottingham side, having won promotion only three years ago will not relinquish their status without a stern struggle and a team in that mood on its own ground can be a terrific barrier to the best of clubs. Everton's brilliant Cup victories against senior opposition have encouraged their supporters to anticipate that they will finish the rest of their League programme in a blaze of glory. I hope it turns out that way as it easily could if they maintain their brilliant Cup form in the more humdrum sphere of League warfare. But surely that is a little bit too much to expect. It may come off and I should be overjoyed if it did but there is always the possibility of some form of reaction after such an all out effort as they have shown lately. We saw that reaction at Doncaster a fortnight ago. While hoping that victory at Nottingham tomorrow will be their lot, a draw would do nicely. Everton's team will have at least three enforced changes, due to injury, and colds, and others will probably be made in order to give some players a rest after the recent strenuous period.
Aston Villa Complaints
Several readers have written bitterly complaining if the arrangements at Villa Park last week for marshalling the crowds and controlling the queues. In two instances only three people out of a full coach load of Everton supporters managed to get into the ground. I shall be referring to this matter in my article in the Football Echo on Saturday, and giving some of the complaints. I cannot deal with it earlier. Space does not permit.
EVERTON TO TRAIN ON SOUTH COAST
March 5, 1953. The Liverpool Daily Post
Unimpressive Bolton
By Leslie Edwards
All being well, Everton's team of Cup semi-finalists will be off for a week's special training immediately after the game against Leicester City at Goodison Park, on Saturday. The players agreed among themselves that special training would be a good thing. The fact that they will go to Brighton or Eastbourne means that they may get a bit of extra sunshine and that they will be conveniently situated for their game, on March 14, at West Ham. Following this they will return to Liverpool for the serious business of getting ready for the great game at Manchester on March 21. Prices for this all-ticket match have been agreed at Chair's 25s A.B.D. and F. stands 12s 6d, stand extension 7s 6d covered ground 5s and ground 2s. 6d but application for tickets must not be made before Everton's official announcement of them. This is likely to come today. The police have limited the attendance to 75,000. The dead lock between Birmingham and Spurs means that we shall not know until Monday at the earliest, whether Goodison Park will be a semi-final venue or not. If Birmingham win and the Everton ground is needed, the ticket commitment will be handled not by Everton, who have their hands full but by the Liverpool office staff. Just as well, this year the Cup semi-final and the Grand National are a week apart. Everton's team today at Nottingham has many changes indeed the forward line is a completely new one. Hickson and Lindsay are unfit following the Villa match and Eglington has a cold; Cummins, Parker and Buckle are rested. Easthope a relative of Jack Search and Tansey two local boys –make their debut. Team; O'Neill; Clinton, Tansey; Farrell, Jones, Lello; McNamara, Potts, Lewis, Fielding and Easthope.
Gwynfor Lewis who deputises for Hickson is a Bangor boy. He has had one previous run in the first team.
Not Revealing
Though Everton Manager, Cliff Britton and his Cup forward line took opportunity, yesterday to see their Bolton opponents in action, at Anfield.
SEMI-FINAL TICKET PLAN
March 5, 1953. The Liverpool Echo
Everton Players To Have A Week's Relaxation at Brighton
Ranger's Notes
Here is the information for which the Everton followers have been waiting ever since the semi-final draw was made. It tells them now to get those precious bits of pasteboard that will be their open sesame to Maine Road a fortnight on Saturday. First there is a spot of bad news. The seating accommodation at Manchester is so small that it has to be restricted to shareholders and season ticket holders only. Even than there will not be sufficient to allow all season ticket holders a sea! The prices of the tickets are 25's for centre stand seats 12s 6d for wing stand seats and 7s 6d for rear stand seats. The latter are unreserved. The covered enclosure (standing) is 5s and the ground 2s 6d. Shareholders will be entitled to one seat or two enclosure or ground tickets. Season-ticket holders will be entitled to one seat or one enclosure ticket, whichever is available. Applications must be made by post before Friday March 13 enclosing semi-final voucher, remittance and stamped addressed envelope. As there are not sufficient seats for all season-ticket holders, all applications will be death within strict rotation as received, starting with the first post tomorrow. Everton ask that the amount should not be filled in where cheques are sent. The club will insert the correct amount according to whatever class of ticket is available. Postal orders should be left blank, so that they can be used as change. Envelopes should be marked "shareholders" or "members" as the case may be. Ground and enclosure tickets will be available to the general public by personal application only on Sunday morning, March 15. Further details will be given later as to the time of sale and selling points. Postal applications from the general public cannot be entertained under any circumstances and any received will be returned.
Not Their Best
Manager Cliff Britton and some of the Everton first team players who are not in the team against Notts County today were at Anfield yesterday to run the rule over Bolton Wanderers, their semi-final opponents. Whether what they saw will be any help is doubtful. Not only did Bolton fail to reproduce their best form, but they were without four of their usual senior players. On the basis of their showing Everton do not seem to have as tough a job as they had in the two previous rounds –but it would be decidedly unwise to form any dogmatic opinion. Bolton are likely to be a vastly different proposition on March 21.
Goodison Roar
"We are hearing a deal just now about the 'Goodison Roar, but nothing about Ranger's part as its instigator, I remember a couple of seasons ago how you begged followers to back Everton up by cheering. Here is the Goodison roar at last, thanks to Ranger"-
Joe Wilde
Many thanks to Mr. Wilde and other readers who have written in similar strain. Actually, it was four seasons ago when I first started pleading for a return of vocal support at Goodison. I continued to labour the point so often, particular in our Saturday morning sports editions, that In was afraid the appeal would become monotonous. Recent events have shown what a tremendous difference wholehearted vocal support can make. Keep it up, chaps and mind you are in good trim for Maine Road on March 21. That happens to be my birthday, so make it especially good.
EGLINGTON GOAL, TOO, HE SAYS
March 6, 1953. The Liverpool Daily Post
By Leslie Edwards
The necessity for goals judges in matches of special importance was pointed out in these columns on Monday. An Everton spectator of the game at the Aston Villa ground underlines the urgency of the plea. Not only, he says, was the ball half a yard over the line when Aldis made his clearance of Hickson's header, but it was in the net a second time when goalkeeper Parsons made his fine save of Eglington's fiery cross-shot. my readers, who say he was in a very good position to see what happened, insists that his shot struck the goalkeeper's body which was stretched out behind him and behind the goal line, and that Parsons damaged his hand in pitching forward not in saving. I will concede an element of doubt in the case of Aldis but none in the second case. If the ball crossed the line and struck the goalkeeper's foot how did it find its way from the net and round the post for a corner? No this must have been an optional illusion of which football and the camera provide many.
O'NEILL RECOMPENSE AFTER MISTAKE
March 6, 1953. The Liverpool Daily Post
By Stork
Notts County 2, Everton 2
A draw away from home is always satisfactory. This draw by Everton at Meadow Lane was particularly good in view of the fact that Everton had six reserves team men on duty, including two debutants to senior football. Actually there were only five members of the Everton Cup team on duty. The first half showed Everton in a much better light than Notts County and had they taken their chances they could have put the game outside the reach of their opponents. Their football in the circumstances was quite good and the youngsters of the side displayed excellent form, Easthope in particular. County were not easy to overcome and they had their opportunities but shooting was not one of the strong points of the day's play at least not in the first half. The second half was going normally until sixty minutes when there was a burst of scoring which produced four goals in less than twenty minutes.
O'Neill Blunder
The first came to the County after what appeared to be a case of misjudgment by goalkeeper O'Neill. He came rushing out to a ball which appeared certain to get, but at the last moment the ball seemed to elude him and McPherson was able to go in and score (55 minutes). Fortunately Everton were able to wipe put that goal when Lewis accepted a short lob by Tansey to head the equalize at the 59th minute. Edwards had been the County's main prop so far as shooting was concerned but it was Everton who got the next goal and it was Lewis again who scored. This was a top-class goal. The young Everton leader had to beat off three challengers as he ran through the middle. Then drawing Bradley from goal he calmly shot the ball into the net (62 minutes). Tansey had been injured early, in the first half and had been operating at outside left so Everton had been somewhat disorganized. Nevertheless they continued to battle stubbornly until the 72nd minute when Edwards who had been the County's shooter-in-chief came along with a great goal. He had hit a fierce drive just previously which had been charged don by Jones but he picked up the return and sent the ball crashing into the net, leaving O'Neill no chance. The County hereabout went all out to bring of a win and O'Neill made ample amends for his lapse with the first goal by bringing off some astonishing saves. A few minutes from the end Broome from the inside left position made one of his best drive and the ball was travelling under the bar when O'Neill flung out his hands and turned it over the bar. The attendance was 7,529.
Notts County; Bradley, goal; Southwell and Dean, backs; Adamson, Leuty, and Robinson, half-backs; Broome, Jackson, McPherson, Wylie, and Edwards, forwards. Everton; O'Neill, goal; Clinton and Tansey, backs; Farrell (captain), Jones and Lello, half-backs; McNamara, Potts, Lewis, Fielding and Easthope, forward. Referee; Mr. B.J. Flanagan.
DEBUANTS DO WELL
March 6, 1953. The Liverpool Echo
By Stork
Minus six of their triumphant Cup team, it was quite a good performance on the part of Everton to win a point at Meadow Lane, but had they had their due reward it would have been two, for they were the infinitely better team. An early injury to Tansey, the left full back, however, disorganized the side, which had shown such fine balance when at full strength. The half back line had worked like clockwork to clamp down the Notts County forwards and helped to make openings the like of which the County attack never enjoyed. It was half way through the first half that Tansey was injured and afterwards went on the wing. Had Everton been three goals up at the interval it would not have been an exaggeration of their superiority for they moved smoothly, with the two debutants fitting into the scheme of things. Potts missed two simple scoring chances during Everton's dominance. The County were ragged and unimpressive and their first goal was in the nature of a gift from O'Neill who rushed out to kick clear and completely missed the ball. McPherson slipping in to score. O'Neil made amends later with several superlative saves. Young Lewis soon put that right with two goals, the second a one-man affair.
A Miracle
His first was a header from Tansey's (at outside left) lob. Near the end Easthope had everyone beaten with a shot that hit the upright, flashed across goal and by a miracle passed along the goalline and then by some twist of fate, curled out and almost round the far post. It was bad luck for Easthope, for he had played excellently, aye, even when he went inside right. I am convinced in my own mind that had Everton retained their formation they would have won comfortably, for the County have fallen from grace since last I saw them. There was no subtlety in their play, such as Everton provided.
LEICESTER CITY AT GOODISON
March 6, 1953. The Liverpool Echo
Visitors Are Brilliant In Attack, But Shaky In Defence
Ranger's Notes
After their splendid Cup victory at Villa Park last week, Everton should have their best League attendance of the season tomorrow, when Leicester City are the visitors to Goodison Park. This is the last chance for supporters to see their favourities before the semi-final. Let's hear the Goodison roar in full chorus. Leicester, despite their good position in the top half of the table, have not a very inspiring away record. They started the season well, but have faded out during the past couple of months and have won only one game out of their last nine visits to other grounds. This was when they beat Bury at Gigg Lane on January 17, a ground which also provided Everton with their most convincing away victory. Leicester draw against Notts County and Swansea, but have lost the other six away encounters. The Midlanders forward line is a strong and free scoring combination, with Arthur Rowley, brother of the Manchester United player, top marksman at inside left with 29 League goals to his credit. There is also plenty of shooing power on both flanks, for outside right Griffiths has got eight goals, and outside left Dryburgh nine. Centre forward Derek Hines is another who will need careful watching. Leicester City managed by Norman Bullock, formerly of Bury, and with whom our old friend Tom Bromilow is connected in a scouting capacity, are not as impressive in defence as they are in attack. Their rearguard has forfeited almost as many goals as the attack has gained which is the reason why they are not making a stronger challenge for the leadership. They are now so far behind Sheffield United and Huddersfield that their promotion chances which at one time were fancied by many people, seen to have faded away completely. Their only hope now is that a big improvement in their own points return should coincide with some of the clubs above them starting to falter. Everton cannot afford to take undue chances in League games. Despite the approach of the semi-final they must endeavour to get a draw tomorrow at least. A win would be better still. After their good showing at Nottingham yesterday with so many reserves in the team, they should pull off a victory if they are in anything like recent form. Leicester City; Anderson; Milburn, Webb; Baldwin, Gillies, King; Griffiths, Worthington, Hines, Rowley, Dryburgh.
SECRETS OF EVERTON'S CUP UPLIFT
March 7, 1953. The Liverpool Daily Post
By Leslie Edwards
What's behind the new Everton? Manager Cliff Britton would probably say that his team was always good enough but that they are now getting the breaks. A player who must be nameless say's that the difference is due in part to the way the side is covering each other and to team spirit. No one, he says needs to be told how to help another –they go into covering positions automatically as a matter of course. Elsewhere I have heard that Everton's improvement in the past two months is due to a lighter touch on the reins. It is possible that all three are valid explanations for something for a football miracle. Add the enthusiasm and palpable encouragement of the Everton masses –it almost seems as though they are spending all the feelings they have been forced to hold these past few seasons, and you have another angle to ponder. The club's success is as pleasing to the city as it must be to the players.
Today at Goodison Park Everton revert to their Cup forward line with Lello pressed into service at full back owing to injuries to both Lindsay and Tansey. Dan Donovan takes over Lello's position at right half-back. Leicester City have slight promotion claims, but despite their safety point at Nottingham on Wednesday, Everton will be keen to follow up a Cup-tie style and for that reason alone Leicester's chances diminish. I can imagine the crowd saving a special welcome for Dave Hickson in recognition of service rendered. His decisive goals apart Hickson has done exceptionally well, with head and foot in most of Everton's matches this year. The Liverpool link with Leicester comes in the form of Tom Bromilow, the prettiest hat-trick ever to grace a Liverpool team. After many years in management he joined Leicester as a scout. Now he has a corner of the office all to himself to deal with the hundreds of letters necessary to keep pace with youngsters of talent in the Midlands. Arthur Rowley is a leads the Leicester attack is a brother of Manchester United forward. Though as sizeable, he is not so formidable as Jack. Everton; O'Neill; Clinton, Lello; Donovan, Jones, Farrell; Buckle, Cummins, Hickson, Parker, Eglington. Leicester City; Anderson; Milburn, Webb; Baldwin, Gillies, King; Griffiths, Worthington, Hines, Rowley, and Dryburgh.
Louis Page
The contract of Mr. Louis Page, secretary-manager of Swindon Town F.C will be be renewed when it expires on June 1. An official announcement by the club board also said that the positions of manager and secretary would be separated and that either a player-manager or a player-coach would be in charge of playing staff. Mr. Page a Liverpool man, joined Swindon at the start of 1945-46 season. Previously he managed Yeovil, Glentoran, and Newport.
GOODISON ROARED BUT LEICESTER GAVE EVERTON TOUGH TEST
March 7, 1953. The Liverpool Football Echo
Everton 2, Leicester 2
By Ranger
A draw was a fair result to a hard and strenuous game, with many scoring chances, but only four taken. There night have been treble that number of goals if the marksmanship on both sides had been more accurate. While this was not the Everton Cup-tie vintage they put up a good show against a strong and resolute side, whose forward line is one of the best seen here this season. Jones, Farrell, and O'Neill did magnificently in Everton's defence, with Cummins the star ball player of the attack, but Hickson the life and soul of the partly. Everton; O'Neill, goal; Clinton and Lello backs; Donovan, Jones, and Farrell (captain), half-backs; Buckle, Cummins, Hickson, Parker, and Eglington, forwards. Leicester City; Anderson, goal; Milburn and Webb, backs; Baldwin, Gillies and King, half-backs; Griffiths, Worthington, Hines, Rowley and Dryburgh, forwards. Referee; Mr. J.S. Pickles (Bradford).
Before the start a score or more of eager autograpgh hunters collected their souvenirs from both sides. Leicester were soon on the attack, with Dryburgh centring a grand ball which Farrell, headed away near the far post. It would not have gone in had it been left alone. It was soon evident that Everton supporters were again in good form. They served up strong encouragement when the Blues won a corner and for a few moments the ball bobbed about in the Leicester goal area, without anybody able to deliver a testing shot.
Skilful Control
Cummins got a rally for a fine bit of work in which he and Clinton took the ball three parts the length of the field, with Cummins delighting the crowd with his skilful control and dribbling. It was Cummins that indirectly led to Everton taking the lead at the fifth minute. In another smart dribbling effort, he unfortunately ran the ball out for a throw in, and it was following this after a centre by Buckle and Parker's canny offering to Hickson, that the hero of Everton's recent cup games nipped in like a flash to head the ball beyond Anderson. Everton's jubilation as short-lived, however, for at the seventh minute Worthington had equalized for Leicester. When a high ball came over goalwards, Jones, harassed by Rowley, could do no more than head away from goal. The ball fell almost at the feet of Worthington who, from close range, shot obliquely across O'Neill into the far corner of the net.
Courageous Save
Leicester again attacked for a second goal, after Jones stumbled as he was endeavoring to pass back to O'Neill and Griffiths and Rowley made a dash for the ball, as it ran loose. O'Neill however had sized up the position and flung himself down on the ball to make a courageous save in the nick of time. In Everton's next attack Hickson and Parker combined well to provide Eglington with a shooting chance. The winger hit it hard and true for Anderson to turn the ball round at the foot of the post.
A Subtle Move
Eglington headed high over the bar when Hickson lobbed the ball back to him and then Rowley, of whom not a great deal had been seen so far, switched play from one side of the field to the other with a terrific pass from the outside left position right over to the touch line on the opposing side. it was almost directly as a result of this subtle move that Leicester took the lead at the 29th minute, Hines, who had gone out on the right, crossed a grand centre over the heads of both friends and foe alike, for Dryburgh to come running, in at top speed and head into the net. It looked to me that O'Neill might have saved this one, but for the fact that he appeared to be unsighted by Clinton, just in front of him.
….And The Crowd Booed
The spectators booed loud and long when Webb, having been beaten by Hickson, brought the Everton centre forward down heavily when he tackled him from behind. Hickson, however, was quickly up again, and happily apparently without any ill-effects. Everton were by no means resigned to letting Leicester have it all their own way. The Blues hammered back in good style, and when a Hickson centre passed over the heads of Gillies and fell at the feet of the unmarked Buckle, the Everton right winger made no mistake. He took the ball on a yard or so to get it to his liking, and then rammed it into the roof of the net to put Everton on level terms. The last incident of the half was an Eglington shot which, like that of Hines earlier, was only just off the mark. Half-time; Everton 2, Leicester City 2.
While Everton were not playing in the dominating manner they had done in their three previous Cup-ties, this was still a game with much about it to please the spectators. Donovan, making only his third senior appearance of the season, and faced with the job of keeping watch of leading scorer Rowley, was doing his task well, while Lello, though not as prominent as in his half-back role, was holding his own reasonably well against Leicester's spiritedly forwards.
O'Neill Has Some Luck
The visitors were "robbed" when after O'Neill had punched away Worthington shot straight and true for goal, only the find the ball hit O'Neill on the leg. O'Neill might not have known anything about this "save" but he certainly knew everything about the next one, when he leaped in the air and caught a shot from Hines, in brilliant fashion as he rolled over sideways. Buckle fired over the bar from the vincity of the penalty spot when Hickson had breasted the ball down for him to take it as his leisure. It was not long, however, before Leicester were again back in Everton's half, swarming around the goal area. Throughout all their attacks, Jones had stood firm in the middle, the rock upon which most of the visitors hopes had foundered with Farrell giving splendid support in his usual whole hearted fashion. When Everton forced a corner Hickson made a splendid effort to hook back the ball into goal, as he was falling with his back to it. Milburn and Anderson, however, had his effort well covered.
Parker's Miss
Eglington required attention following an incident in which Griffiths was concerned. When he recovered Griffiths very sportingly expressed his regret. Straight from this, Everton got away with Hickson squaring the ball to give Parker a great chance. Unfortunately, he failed to take advantage. Both sides were having ample shooting chances. Had they all been put to full use, the crowd would have had a real glut of goals. Everton were particularly remiss on several occasions when players who had the ball put to them admirably just could not add the right finishing touch. Leicester were certainly better and more dangerous looking when they got within shooting distance, but Everton's defensive covering was good, and O'Neill in goal was in top form.
That Roar Again
We had not heard much of the Goodison roar for quite a while, due to Leicester holding the upper hand but the spectators sprang to life again when Farrell beat three men in confirmed space and then passed to Eglington who got a corner instead of a shot. This produced nothing, but one to Buckle the next minute saw Parker head in splendidly for Anderson to save smartly under the bar. Clinton and Dryburgh had a bit of an argument which brought referee up post haste to pour oil on troubled waters and then almost immediately, following a foul against Dryburgh. Hickson and Gillies had a bit of a disagreement with the ball running loose while they were on the ground, for Buckle to fire a terrific pile-driver just over the bar. Final; Everton 2, Leicester City 2. Official attendance 41,005.
WEST BROM RES V EVERTON RES
March 7, 1953. The Liverpool Football Echo
West Bromwich Albion Res; Hatfield, goal; Williams, and Wright, backs; Rawlings, Guy, and Brookes, half-backs; Griffin, Carter, Nicholls, Cutler, and Crowshaw, forwards. Everton Res; Leyland, goal; Sutherland and Anderson, backs; Grant, Woods, and Melville, half-backs; McNamara, Farrell, Lewis, Fielding and Easthope, forwards. Referee; Mr. W. Martin (Stoke-On-Trent). Everton were mostly on the defence, Cutler scored for Albion after seven minutes. Several chances of scoring were missed by the home forwards. Lewis and Farrell went close for Everton and McNamara hit the crossbar. Two minutes before the interval Lewis broke through and equalized. Half-time; West Brom Res 1, Everton Res 1.
Both goals were visited in turn, Lewis narrowly missing and at the other end Leyland saved well from Cutler and Nicholls. After 59 minutes, from a McNamara centre Easthope headed Everton into the lead from close in, immediately afterwards Leyland again made a splendid save, while Anderton cleared in the nick of time from a couple of forwards.
Skelmersdale v. Everton "A"
Both goals were in jeopardy in the first few minutes of the game, but a lively Skelmersdale forward line kept Everton on the defence. Lowe shot over the Everton bar. Half-time; Skelmersdale nil, Everton "A" nil.
HICKSON CONJURES THIRD GREAT GOAL
March 9, 1953. The Liverpool Daily Post
Everton 2, Leicester City 2
By Leslie Edwards
Something of a conjuror, this Dave Hickson. He gets wonderful goals, when there is no hint of a goal, and most of his deception of goalkeepers (and defences) is due to the quickness of his brain and his feet. Here we had the most able Leicester City goalkeeper, Anderson, leaving his line and shaping towards fielding, at its bound, an innocuous header from Parker. But here also we had take a chance. Hickson flinging himself horizontally over the pitch to get that trusty forehead of his to the ball first and guide it magically over the line. Hickson fling for a goal which left us breathless, was such that having made it he had to "pull up" scrambling on all fours. This goal was just as spectacular and clever in its way as those against Manchester United and Villa. It lacked only the glamour of a cup-tie occasion. Nor was this Hickson's only contribution. He spread the ball about him unselfishly; he forged a splendid link with Buckle whom he obviously understands as no other he made a surprise second half volley on the turn with such perfect aim and timing and power that Anderson must have been surprised as the shooter to find his hands in touch with the ball. As if this were not enough, Hickson in what has come to be rather an unusual thing invariably placed the ball, with good grace when a free-kick was awarded against his side.
Man Of The Moment
Hickson was not the man of the match, but I mention him first because he is football's man of the moment. In which connection I remind readers that when he was goalless at Sheffield last year and Derek Dooley scored four I came away to record the belief that of the pair Hickson was potentially the better. Quite as outstanding as Hickson was the medium sized and slightly balding. Blackburn half-back Baldwin of Leicester City I never remember having seem him before but his play in this match was such that one could scarely see him too often. Startling brilliantly he can never maintain this was an excusable fear – Baldwin went on and on almost flawlessly in defence and attack. If the situation was critical it was Baldwin who stepped in; if Leicester moved to the attack it was nearly always the result of a Baldwin inspiration. No wonder Leicester looked like a Division 1 club no wonder they wiped out Hickson's goal with one by Worthington and went on to lad 2-1 by as perfect a goal (Dryburgh's) in its construction, as any we are likely to get. Buckle, again using that well-developed sense of anticipation placed himself in the right spot to take a well-taken equalizer and Everton went on to get a point thanks to two footed and rather fortuitous saves of Leicester shots –one by O'Neill and the other by Clinton. On that all football today produced as much entertainment as this. except for its moments of temper –and football at Goodison Park nowadays always seems to provide them- it was a fine exhibition fast, full blooded, thrilling and with some individual brilliances which made it wholly delightful.
Fine Wings
Leicester, I though gave a first rate demonstration of the value of the wing forwards tentering promptly and without recourse to a visit to the corner flag. Their passing was most accurate. Had Hines played more intelligently T. E. Jones strangehold on him might have been more relaxed. The big Rowley had a good innings and Everton can take credit in the circumstances that the Leicester score was only two. If Jones was up to standard the two Everton full backs left one wondering. Lello did not fit happily and Clinton seemed to lack inspiration, Parker and Cummins too were often out of the picture. Hickson and Buckle in double harness, were still able to give the line a lot of "spike" and more and more is it evident that between them they are likely to be the greatest threat to Bolton Wanderers. The Everton League matches and of the big Cup occasions are vastly different sides that is clear. They did well enough to take a safety precaution point in a match referred superbly by Mr. S. Pickles of Bradford.
• West Brom Res 2, Everton 3
• Everton "A" 4, Skelmersdale 0
• Everton "D" won 7-1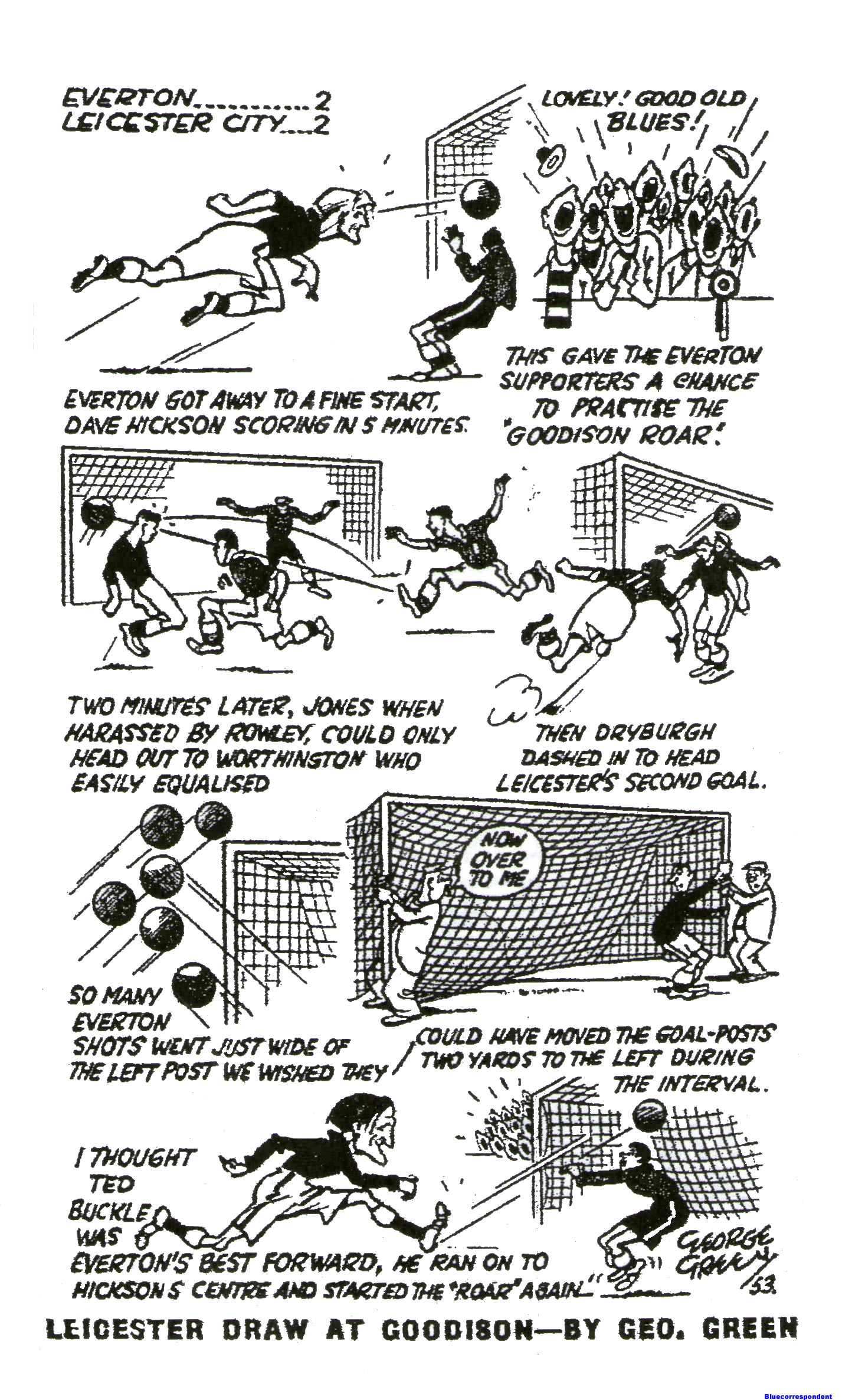 EVERTON OFF TO BRIGHTON
March 9, 1953. The Liverpool Echo
Blues Go For Toning Up Break In Readiness For Semi-Final
Ranger's Notes
Everton's players left for Brighton this morning, where they are to enjoy a week's training-cum-relaxation in readiness for their semi-final tie with Bolton at Maine Road on Saturday week. This is their second similar week this season. Previously they had a short spell at Harrogate before the fourth round, and came back much the better for the change, as subsequently results have adequately proved. The old saying that a change is as good as a rest has a lot of truth to it, and Everton hope that the benefit of this week's break will be reflected in their ability to maintain their splendid cup-tie form in the vital test against Bolton. There was one absentee in the party today. Lindsay is remaining at Goodison Park for special physiotherapy treatment for his injured knee. It is improving slowly and there is hope he may be fit to play on Saturday against West Ham, at Upton Park. In addition to the ten players who have figured in the last three cup ties the party included Grant, Donovan, Potts and Fielding. The players will train this week at Brighton. Greyhound Track, and if they enjoy the spring like weather of the past few days should come back to Goodison in the peak of condition.
A Fair Result
After having had to pipe down for a long time in the presence of Liverpool supporters, Everton's followers will not neglect the golden opportunity to crow over the Anfielders this week. Aston Villa whom the Blues defeated so much more convincingly in the sixth round of the Cup than the score suggested, made short work of Liverpool at Villa Park, who beat the Reds 4-0.
FARRELL THE INSPIRATION
March 9, 1953. The Liverpool Echo
By Ranger
Though Lello shaped reasonably well at left back, he is not as outstanding there as in the half-back line, and his judicious feeding of the forwards was missed. Farrell played his customary whole-hearted and inspiring game. He has done this so long and so often that it is something apt to be taken too much for granted. Jones again stood out, as he, too, has done so often and though up against a very useful centre forward in Hines, he rarely made the semblance of a mistake. O'Neill was another to continue in the same confident vein that he has been showing for a long time. His clean and crisp handling of high balls is in the best Sagar tradition. The most encouraging feature of Everton's attack in recent weeks has been the work of Buckle. True, he missed a couple of comparatively simple chances, but his general play, some of his shooting and his passing were all as good as anything he has served up since joining the club. Cummin's ball control delighted the spectators while Hickson was always up and doing and chasing anything that even remotely looked like producing a possible chance. Leicester's forward line is among the best we have seen at Goodison in the past couple of seasons. It was easy to see how they have amassed their big total of goals. Against a less resolute and close-covering defence City would have won this match.
Defence Faltered At Times
Their defence, however, is not of the same calibre, though Gillies stood out and put up a very fine performance against Hickson, who is a terrific handiful for any pivot these days. The backs were inclined to falter at times under pressure, and though Baldwin played well, this to some extent was because Parker was not unduly exerting himself. Hickson took his goal in splendid fashion, almost heading it out of the goalkeeper's hands. Worthington's equalizer was a partial gift when Jones failed to get enough distance to his headed clearance. Dryburgh's leading goal seemed to catch O'Neill unsighted and Buckle made no mistake from Hickson's centre that was lobbed so cannily over his heads of several defenders. Curiously all the goals were scored in the first half, yet most of the gilt-edged chances came afterwards.
THOSE SEMI-FINAL TICKETS
March 12, 1953. The Liverpool Echo
Where To Queue And What To Do At Goodison Park On Sunday
Ranger's Notes
The sale of ground and enclosure tickets for Everton's semi-final tie against Bolton Wanderers will begin at Goodison Park at 10 o'clock on Sunday morning next March 15 and intending applicants should note the following instructions. The 2s 6d ground tickets will be sold from the ground turnstiles at the Walton Lane end of Goodison Road. The queues here should form with their backs to Walton Lane, and wind round into Walton Lane towards the cemetery. The 5s enclosure tickets will be on sale at the paddock turnstiles in Bullen's Road. Queues here should form in the direction of Gwlady's Street. Applicants will recive one ticket only per person. It will be useless asking for two and "spinning a yard to the gateman. Everton assure me that ample turnstiles will be open to deal with the queues as speedily as possible and that sufficient police will be on duty to control the crowds. All the same may I appeal to supporters to do their bit also to ensure that everything goes off smoothly. The queues at the Villa Park sixth round game got out of hand in several places due to the thoughtless behavior of a few people who tried to steal a march on the rest. This sort of thing can easily upset the best of arrangements and lead to an ugly and possible dangerous situation.
Not Practicable
We have had examples in this city before of the damage which can be done by queues which get out of hand. Commonsense and a reasonable amount of patience should guarantee that nothing of the kind happens on Sunday. The orderly and patient way in which the vast majority of football enthusiasts queue for hours on end on these ticket occasions always evokes my sympathy. It is bad enough on a decent day. On a wet day I marvel how they stick it. I have pleaded before that everything possible should be done in cut down the waiting time. for this reason I have always favoured throwing open the ground so that queuers can not only take the weight off their feet and he under cover in case of rain, but receive prompt notification by the closing of the gates, that the folk inside will absorb all the tickets available which would probably be the case long before the distribution was timed to begin. This way needless waiting for hours on end can be avoided. There are however, certain very awkward snags even in this idea, and though Everton have considered it sympathetically, unfortunately it does not seem practicable.
No Block Bookings
As previously stated, Everton regret that they cannot accede to requests for block bookings, and ask that no further applications of that character be made. The board consider that the fairest way to all concerned is that each person should queue for his own ticket. Despite the club's earlier announcement that no postal applications could be entertained for ground or enclosure tickets hundreds of letters have been received from people who consider they have a special claim to consideration. Everton realize that in many instances these claims are quite genuine. Some are from old-age pensioners and others from people in outlying districts, particularly South-West Lancashire and North Wales, who regularly support the club. There are also many from people who are working on Sunday. The board has every sympathy with supporters who come into these various categories but much as they would like to help and satisfy everybody they feel they must strictly adhere to the plan of selling only to personal applicants. It is impossible for consideration to be given to individual cases, and the club requests that no more of these should be made. Consideration was also given to a request from a disabled follower that a special gate should be open for men who are unable to queue. This had also to be reluctantly turned down. In any case, however, sympathetic one may feel it is exceedingly doubtful whether anybody so handicapped should risk standing throughout the game at Maine Road. I know that a terrific disappointment this will be to many disabled men, I wish they could all be provided with a special little "pen" of their own for these big games I have mentioned that idea before, but so far without result.
EVERTON MAY GO EASY
March 13, 1953. The Liverpool Echo
In Town To-Night
Ranger's Notes
Everton are in pretty much the same position as Liverpool. Their League placing has ceased to cause anxiety, yet it is not so prominent that they can afford to take undue risks. Under normal circumstances the form they have displayed of late would be enough to ensure victory against the ordinary West Ham side which has hoisted a winning flag only once in it's last ten outings. Circumstances however, are not "normal" with Everton just now. That is impossible with Wembley so close. Much as the players may try to forget the fact tomorrow there must always be at the back of their minds the thought of next week's semi-final tie. You cannot blame them for that. The chance to figure at Wembley is something which comes rarely in any player's career and Everton would not be human if they did not feel that the paramount thing at West Ham tomorrow is that no chances should be taken of sustaining an injury which would weaken the semi-final side. The Cup final is their ambition, and everything else must take a back seat at the moment.
Cummins Query
The main thing is that the club should be at full strength for the tussle with Bolton Wanderers. The position of Cummins of course, still carries a query mark. The F.A. Discipinary Committee meets next week, but it would be decidedly unfair after this lapse of time, any action was taken which would weaken Everton for the semi-final. West Ham free to go into the tackle more tenaciously, may find it easier to wrest the initiative from the Blues than they would under different circumstances. On the other hand, Everton have been playing such confident and balanced football lately, and have developed such a belief in themselves, that even at something less than their full all-out endeavour they may be good for the home side. On the form they have shown in their cup games they are capable of beating any senior side, never mind a modest Second Division one. But if they save their maximum effort for Maine-Road then we may not be able to herald victory tomorrow. The Blues should be in good shape physically after their weekly relaxation at Brighton right at the peak of condition. They would doubtless be well satisfied with a draw. If they win and all come thought unscathed it will be a good augury for victory at Maine Road. At the moment of writing Hickson and Lindsay are doubtful starters for Upton Park. While their presence would be welcome their absence would be borne with fortitude if it so time out so long as they are fit for the semi-final.
LEWIS TO LEAD EVERTON AT WEST HAM
March 14, 1953. The Liverpool Daily Post
By Leslie Edwards
Tottenham Hotspur and Everton of the four teams still left in the F.A Cup, have London to themselves today. There are many in London and in Liverpool who incline to the view that these clubs will have Wembley to themselves in due course, and I hope they are right. Both have team changes for their League matches this afternoon. Spurs make five, and possibly six, moves against Chelsea, and Everton at West Ham leave but full back Lindsay and centre forward Dave Hickson. Gwynfor Lewis travelled down from Liverpool yesterday to take Hickson's place and manager Cliff Britton, rather than disturb his cup half back line, has preferred to play Donovan at full back in the position filled a week ago by Cyril Lello. More and more people keen on Everton's chance are pleased that nothing can now prevent Hickson from being fit for the game, against Bolton. His trouble is that damaged heel –a relic of the Leicester City match. Hickson is so much the mascot everyone feels that it would be folly to risk him at West Ham if there is the slightest chance of his aggravating his injury. Everton arrived at their London headquarters last night, looking fit after their week at Brighton, but if past experienced is any guide they derive most benefit from such a trip after they have been at home for a further week. West Ham have had a poor return of points recently, but they are hoping that the return of Allison (centre half) Woodgate (outside right) and Irish international Tommy Moroney (centre forward) will enable them to beat the Cup semi-finalists. Everton team will be;- O'Neill; Clinton, Donovan; Farrell, Jones, Lello; Buckle, Cummins, Lewis, Parker, Eglington.
SCHOOLBOYS AT GOODISON
March 14, 1953. The Liverpool Daily Post
By John Peel
Liverpool and Stockport boys replay their sixth round English School's Trophy tie at Goodison Park this morning, kick-off eleven o'clock. In the first meeting at Edgerely Park the teams drew 1-1 the third successive draw between the teams of recent years. Liverpool have reached the present stage this season by victories over Hindley (15-1) Farmworth (4-1), Bolton (6-0) and Grimsby (2-1). The Liverpool team for this morning's game will be; Gadby (Abbottsford) Stepheson (Bluecoat), Daley (St. John's R.C); King (Gilmour), Hornby (St Edwards R.C), Perry (O.L.L); Phipps (S. Anthony's R.C), Gradden (S.M.A), Howard (S.F.X), Melta (St. Anthony's R.C), Evans (Stanley Park).
ANOTHER LEWIS GOAL FOR EVERTON
March 14, 1953. The Liverpool Football Echo
West Ham Took Over At Upton Park When Blues' Bloom Had Faded
West Ham 3, Everton 1
By Contact
Everton played with more than one eye on the Cup semi-final, but there is no denying that their work in difficult conditions was moderate. Indeed, as a game, it left a lot to be desired. All the Cup men playing finished the game sound. West Ham United; Gregory, goal; Wright and Kinsell, backs; Parker, Allison, and O'Farrell, half-backs; Woodgate, Barrett, Moroney, Andrews, and Hopper, forwards. Everton; O'Neill, goal; Clinton and Donovan, backs; Farrell (captain), Jones and Lello, half-backs; Buckle, Cummins, Lewis, Parker, and Eglington, forwards. Referee; Mr. L. Richardson (Doncaster). Hickson and Lindsay of the Everton cup team were absent from the side today. With the Bolton tie only a week ahead, everyone was relieved that no chances had been taken with either. Gwynfor Lewis, formerly of Bangor City, came in at centre forward and Dan Donovan was in place of Lindsay. This last move enabled manager Cliff Britton to give his regular half-back line another run together before the great day at Manchester. With the wind in their favour Everton started with great promise, and some of Cummins's dribbling in typical outside-of-the-foot style was first-class. Lewis too had a fine innings and it was his prompting which all but brought a Buckle goal. Buckle won a clinch for possession against Allison and took the ball in close to the post. The ball was crowded away when he tried a cross pass which would have given Lewis the easiest scoring chance. By degrees West Ham established themselves and then all the keen defence of Lello and Jones and company was needed. With the ball bouncing high, it was not a very distinguished game and West Ham forward, were at odds with each other just as Villa's were in the Cup-tie. Barrett with a side-footed pass, put Moroney in with a good chance but he only half hit the ball and O'Neill saved at the post. Donovan was doing well at full back and old man Woodgate, who usually has things so much his own way in matches, here was having a pretty thin time. The first shot of any consequence in a game which seemed to deteriorate continually came from Hooper. It swerved a great deal but O'Neill took it in a confident catch. The only enlivening moment came when Parker, of West Ham hit the post, the ball rebounding back to play. Although they were on top. West Ham showed themselves to be no better than their recent League record shows. There were few times when they really opened up the defence. After his fine start Cummins had now gone back a lot. Against an Allison free kick, the Everton defence tried an offside trap which did not work and then little "Merry" Andrews, whose debut was against Everton here last season, opened the score at 33 minutes. Andrews picked up a Hooper pass, brushed off the challenge of Clinton and went on to poke the ball home from not more than five yards range. The Everton defence was lax in every link of this incident.
Lello's Grand Work
Lello was doing a grand job, and the only shot to trouble Gregory was a long distance one from the Everton half-back. O'Neill fielded quite easily an even longer shot from Woodgate. The game had at least taken a turn for the better, and players seemed to have at least got the strength of the wind and the liveness of the ground. Eglington joined the long-distance shooters and then Moroney hit a fast low one from 25 yards' range, the ball including past the post. Thus, so far, nearly every shot made had come from about 20 yards or more. Half-time; West Ham United 1, Everton nil.
This game was well typified by the fact that Allison put the ball on the roof of an immensely high stand and it refused to come down. There was no hint for Londoners about this Everton as to how they had reached the semi-final. West Ham continued to have the better of things but all their shooting was from such distance that O'Neill was in no special danger while it continued. Quite the best thing of the game so far was Barrett's spectacular overhead hook of a Woodgate centre. Stubbins was found of this sort of effort, and in this case O'Neill had to be sharp to the ball at the post to make his save. Both West Ham full backs came far upfield in turn. First Wright, to produce a shot, and then Kinsell, to make a lateral pass to little Andrews on the right wing. Tom Jones breasted down Andrews centre, but Hooper took a difficult chance, exceptionally well and had the ball in the net before anyone could realize. This was after 63 minutes. Tom Jones was one of the few Everton players having a good day, and it was as well, otherwise West Ham might have made a meal of them. It seemed as though Everton realized that now was the time to try to get going as they will have to do against Bolton, but they did it with little success. Moroney refused to be robbed off by the Everton defence which tried to undo the effect of a bad reverse pass by Farrell, and went on doggedly to make the score 3 nil at 64 minutes. Thus Everton found themselves 3-0 down as they did a season ago but with not sufficient time to make the recovery they did on that occasion. When Cummins dug up a lovely centre and Lewis nodded it home, the margin it seemed was narrowed still further but to my surprise the referee ruled Lewis offside. O'Farrell as close to making it 4-0 but West Ham who had been so confident ten minutes ago, were now obviously struggling to maintain their lead.
Shot kicked Away
Everton were unfortunate when a magnificent pass by Buckle to Eglington (then at outside right) spread-eagled the defence and the winger went on to have shot kicked away from the line by Wright. Even the Gregory had to fall on the ball to complete the save. Lewis from a Buckle centre edged the ball slightly towards goal, and to the dismay of Gregory the ball spun through his hands and went a foot over the line. This goal came at 68 minutes. Parker was now at centre forward in the Everton side. West Ham went back on defence and lost the initiative they had held so long. Final; West Ham United 3, Everton 1.
EVERTON TRAILS UP FOR WEMBLEY
March 14, 1953. The Liverpool Echo
By Ranger
Only one more "river" to cross, and Everton will be at Wembley! What a great prospect it is. Next week's game against Bolton Wanderers at Maine Road is the Goodison club's twelfth appearance in the semi-final, but their fifteenth game, for three of their earlier penultimate matches involved a replay before a definite decision was reached. Out of the previous eleven semi-finals, they have emerged victorious on five occasions. All Merseyside is hoping and praying that they will make it six today week, and that we shall have an all-Lancashire final at Wembley on May 2.
There is no need for me to of League form as a yardstick for cup-tie prospects. Forget that Bolton are a First Division team. Forget that they looked anything, but likely Wembley finalists when they were at Anfield ten days ago. Forget everything that has gone before, in fact, for this game stands on its own feet as a 90-minute test in which anything can happen and victory can easily go either way. We can forget too that Everton have already dismissed two First Division sides, one of them the most consistent team of post-war years. Even if Bolton were a Third Division side there would be nothing certain about the result of the Maine Road game. We can, however take comfort from the fact that in their last three cup-ties Everton have proved themselves such a well-knit and dominating side with enough stamina to stick the hottest pace right to the last minute, and with abundant confidence in their own ability and skill, that they are a match for any team on those displays. This was not always so. The improvement of the last two months has been really amazing. What has brought it about is a matter of opinion I think the nearest we can get to it is what I have been saying for the past two seasons, that once the ball started running for them and they had the psychological advantage of a few good wins at the back of them they would be a much better side than many folk anticipated. Confidence county's for a tremendous lot in this game.
Grand Team Spirit
On the form they displayed against Manchester United and Aston Villa I feel reasonably sure that Everton can beat Bolton. The brand of football they served up against the champions would take them to victory against any team. They were as good that day as any First Division side I have seen in the past two seasons –and that doesn't exclude Manchester United or Arsenal at their best. This was a new Everton, with their tails high up and exuding belief in themselves. Individually, the Blues may not have outstanding stars like some clubs. They have no Matthews or Shackleton or Wright. But they have something infinitely more valuable a great fighting heart and the combined will-to win and all-pull-together spirit which makes them a team in the finest sense of the word. That is of inestimable value at any time, but more so in cup-ties than other games. So long as they can continue the good work at Maine Road –and there is no reason why they should not –then I fancy we shall see the Blues at Wembley again for the first time for 20 years.
Keep Up The Cheering
And don't forget that the "Goodison roar" has had much to do with their success. Keep it going at Maine Road, lads and lassies. Note the lads and lassies! A couple of women supporters who almost yelled themselves hoarse at Villa Park wrote me, most upset, complaining that on the following Monday I thanked only the men! Sorry, Ladies. Really, you were included just the same. If all the 25,000 or so folk from Merseyside let themselves go at Manchester like they did at Birmingham, it will give the lads in Blue still further encouragement.
Bolton's Stalwarts
Following are brief sketches of the men who are likely to represent Bolton today week. At the moment of writing Banks has a pulled muscle and Holden a groin injury, but it is hoped both will be fit to play at Maine Road. If not George Higgins is the likely choice at full back and Vince Pilling, who made his senior debut against Liverpool last week, would probably continue at outside right.
S. Hason (goalkeeper);-
The man who invariably gives a superlative display against Liverpool, Bootle-born Stan Hanson has been with Bolton 17 years and though now approaching the end of his brilliant career, is still one of the most reliable goalkeepers in the country. Has not missed a game this season.
R. Hartle (right back)-
One of Bolton's post war discoveries, obtained from a junior side in the Birmingham area. Roy Hartle is rapidly making a name for himself in this, his first senior season. Since his debut on January 1 he has been playing in brilliant fashion and keeping older and more experienced members of the side in the background. But this time he will be up against a tougher opponent in Eglington than any he has met so far in the Cup.
T. Banks (Left Back);-
One of two brothers, both full backs, Tommy Banks was at one time with South Liverpool. Though on the small side he is a capable and solid player, strong in the tackle and quick in recovery. Did not come into the Bolton first team this season until the game against Liverpool 10 days ago, when he was the best defender on the field.
J. Wheeler (Right Half);-
The former Tranmere Rovers player has adequately justified all the good things which Manager Ridding expected of him. Bill Riddling knew all there was to know about Wheeler for he had the lad under him when he was in charge at Prenton park and had no hesitation in out-bidding other clubs who sought his signature two years ago. Wheeler has figured in F.A Representative games, and looks like getting a full England cap one of these days.
M. Barrass (centre-half);-
Many star centre halves have found Dave Hickson too warm a handful to hold, and Malcolm Barrass is likely to have a similar experience. Son of an old-time player, Barrass has played for Bolton in half a dozen half back and forward positions, but has settled down of recent seasons in the pivotal berth. Has been with Bolton throughout his professional career, joining them from a junior side when in his teens.
E. bell (left half);-
Formerly with Manchester United's junior sides, Eric Bell is another comparative newcomer to the Bolton club in a first team capacity. Though he made occasional appearances in previous seasons, this is his first as a regular in the senior line-out. Started his career as an inside forward, but is best suited by his present berth, where his constructive ability serves the team in good stead. Is also a keen and tenacious tackler.
D. Holden (outside-right);-
Douglas Holden is the third youngsters in the Bolton team to come to the front fairly recently. It is only just over 12 months since he made his senior debut, but he has played so consistently ever since that he has missed only four games, each of them through injury. Holden joined Bolton from Manchester Y.M.C.A, and although he was an amateur trialist at one time he somehow escaped the net of both Manchester clubs.
W. Moir (inside-right);-
Capped by Scotland three years ago, and a member of the "B" team which played England "B" at Edinburgh this week. Moir was one of Bolton's war time discoveries when Walter Rowley was manager at Burnden Park. He guested with Bolton after being brought along for a trial when in the Forces near Blackpool, and signed for the club shortly afterwards. Has scored 16 goals this season in league and Cup, and is a tricky and crafty player who needs a lot of watching.
N. Lofthouse (centre-forward);-
Tommy Jones is up against a tough proposition in facing Nat Lofthouse, but the Everton centre half has been playing so brilliantly this season that Lofthouse is not going to have it all his own way by a long chalk. Jones blotted out Rowley and Walsh in the last two cup-ties and may well do the same to England's leader. Lofthouse is speedy, clever and a strong marksman, with 19 League and Cup goals to his credit this season, plus several in representative games. On his day he could be the biggest danger to Everton's hopes.
H. Hassell (inside left);-
Harold Hassell is one of those mercurial players who can be superlatively brilliant at times, and at others make one wonder how he came to get an England cap. Started his professional career with Huddersfield Town, signing for Bolton 14 months ago, at a big fee. Hassell has a deceptive gait; for he moves faster than one realizes, and can hit the ball tremendously hard is a qualified physiotherapist in private life.
R. Langton (Outside Left);-
One of the finest outside lefts of post-war football. Langton is a product of Bursclough, who first made his name just before the war with Blackburn Rovers. From there he joined Preston North End five seasons ago, but did not stay long at Deepdale. A quick and incisive raider, with a penchant for cutting in towards the middle and delivering powerful shots, Langton is one of Bolton's most effective raiders. Has been capped by England on several occasions.
EVERTON RES V LEEDS RES
March 14, 1953. The Liverpool Football Echo
Everton Reserves;- Leyland, goal; Sutherland and Anderton, backs; Grant, Woods, and Melville, half-backs; McNamara, Farrell, Saunders R, Potts, and Easthope, forwards. Leeds United Res;- Wood, goal; Hasstle, and Langely,backs Barker, McCabe, and Ripley, half-backs; Stewart, Willis, Bell, Forrest, and Hughes, forwards. Referee; Mr. F. Collinge (Rochdale). Everton were the more penetrative side, and in the tenth minute Farrell put them ahead with a lovely drive. Leeds were nevertheless very aggressive and should have drawn level, but Bell missed a gilt-edged chance. Wood, in the Leeds goal, was kept busy and brought off several good saves. Half-time; Everton Res 1, Leeds nil. Everton opened the second half on a bright note, and after Wood had saved from Potts, Saunders got possession to increase the Everton lead from just outside the penalty box. Leeds did their best to reduce the deficit but found Woods at centre half a severe stumbling block.
• Dunlop (Speke) 0, Everton "B" 6
SUBSTANCE AND SHADOW
March 16, 1953. The Liverpool Daily Post
West Ham 3, Everton 1
By Leslie Edwards
This was a match which began with an oddity, O'Neill the Everton goalkeeper, studiously avoided fielding Everton shots in the traditional kick-in, before the start and the implied hint was that if he were to suffer injury and be out of the game against Bolton Wanderers, it would not be for the want of a little thought. Signs that others of the Everton team were similarly minded could not be so obvious, but in due time, we saw that they too were not snatching at any shadow of League points while a Cup winner's medal was just around the corner. Who could blame them? Who would blame them? All this of course, made the match very unreal. The only thing one can say with certainty is that West Ham succeeded in winning by 3-1 and that Everton succeeded in leaving the field with their cup complement in good physical order. For the rest no one can say which was the better side. All we know is that not having scored a goal at home since January 3. West Ham now collected three and won the hollow prestige of beating a Cup side within a week of the semi-finals being played. As if Everton's pressing need to avoid injury were not enough, we were inflicted by football in difficult conditions. The wind blew cold and strong and the ball bounced with tremendous life on a pitch as nearly grassless as makes no matter. Thus when Allison of West Ham succeeded in fitting a clearance to the top of the hightest stand where the ball lodged in the gutter one wondered whether or not this was the ultimate. On a day calculated to separate the men from the boys as they say, the football we saw showed too much boyishness and too few players who could bring the ball to earth and keep it there. I have little doubt that an Everton "in the mood" could have won but Everton this season, are essentially a team of different moods, and this was their League mood in self-imposed minor key. I would not even say that they played at three-quarter pace, but even that does not excuse them the indignity of having three goals chalked against them by a very moderate side.
In Their Shell
For a few moments Cummins shone brilliantly in those outside of the foot dribbles in which he carefully shepherds the ball away from the tackle. For a few moments Everton as a team looked as though they needed the bonus. Then they joined West Ham in some of the most indeterminate and disjoined movements I have ever seen. West Ham being far more "on the ball" and with much to gain at little cost, snatched a goal through the Scot Andrews, then another from Hooper (a really good one) and finally from a pass-back blunder by Farrell. Moroney went on doggedly through a series of challenges to make it 3-0. As if this were taking things too far Everton then snapped out of their lethargy and Lewis with some fumbling help from goalkeeper, Gregory, reduced the lead. The Bangor boy headed what seemed to be a perfectly legitimate second goal, but on reflection the referee decided that he was offside. Everton might have convinced us further that form of this game was false had they gone further towards narrowing the margin, but by this time they were thoroughly their shell and I suppose they will not emerge from it until next Saturday when we hope to see comfortable evidence that they are able to turn on the tap of inspiration as required. Although the game had little to offer, there were players who stood head and shoulder above others – in ability if not in size. Tom Jones had to play earnestly, thoughtfully and with admirable positional sense, to stop West Ham making it a rout and Lello, a trifle slow on occasion had an excellent match so did Dan Donovan whose first trip at full back showed him to have speed and other requisite requirements needed from one in that position. In neither attack did a anyone show up well except perhaps the bustling Moroney and little Andrews who has plenty of life and a flair for wandering into menacing positions. Lewis started well, but was on the receiving end of two knocks and took too long to bring the ball under control. Buckle and Eglington went off at half-cock because like the others, their feet were at Upton Park and their minds at Maine Road, Manchester. Foot Association coach Walter Winterbottom would doubtless have liked a look at Dave Hickson and so should we, but the man who might have been so devasting to the West Ham defence sat this one out. The similarity between his heading and that of Dixie Dean is not a coincidence; Hickson was playing for the English Army cadets when Dean coached him in this and other departments at Chester.
Everton with a week of home training and the near certainty of Hickson and Lindsay being perfectly fit go off to Buxton overnight before the tie and come up for the last hurdle but one next day with the hopes of all Merseyside behind them. Meantime, it is not unknown for people to call out to an Evertonian "Big head" and for Evertonians to reply without hesitation "Gateshead."
EVERTON HAVE CLEAN BILL
March 16, 1953. The Liverpool Echo
All Senior Players Will Be Fit For This Week's Great Test
Ranger's Notes
The time-4-10. That piercing sound – The final whistle at West Ham. That long-drawn-out expiration of breath? –A heartfelt, simultaneous sign of relief from Chairman Ernest Green, his colleagues and Manager Cliff Britton that Everton's players had come through the game without injury and would all be fir and well for Saturday's semi-final. The result of the game? Nobody cared a hang for that. True, a draw or a win would have been acceptable had it been possible without undue effort or risk. But the fact that it wasn't is worrying nobody. Those who fancy that Everton's showing at Upton Park throw's a doubt upon their Cup Final chances may have cause to think again. The simple truth is that everybody was far more concerned in avoiding injury than either getting goals or stopping the Hammers getting them. Unless something unexpected happens the two absentees on Saturday, Hickson and Lindsay will be fit to take their places in the line up against Bolton Wanderers at Maine Road in the semi-final. Lindsay had a couple of day's full training last week, and is making encouraging progress. Hickson is also well on the mend. His absence at West Ham was largely a precautionary measure. It already seems reasonably certain that the Blues will field the same eleven as that which has brought them so triumphantly through the last three rounds. The one query is Cummins. Regarding that I do not promise to speculate here. We shall know soon enough.
Bolton's Doubts
The Everton players always have Monday as their day off, unless there is a mid-week game. Most of them have been indulging in a spot of carefree golf today. Normal training will be the order from tomorrow onwards. Bolton Wanderers are reasonably sure already that Moir, Hassell and Wheeler, who did not play against Stoke on Saturday will be fit for the Maine Road tussle. The position regarding outside right Holden is a little more unsettled at the moment. He has a groin injury. Manager Bill Ridding hopes he will be fit to come into consideration when the team is decided. Tommy Banks, unfortunately, is already a definite non-starter, Mr. Ridding informed me this morning that his pulled muscle injury is so severe that it will be impossible to get him fit in time. Higgins, who will almost certainly take his place, was the regular left back until he was injured recently. He is now fit again and played at Stoke on Saturday.
Not A Hitch
The sale of tickets for Saturday's game went off without a hitch at Goodison yesterday, thanks to Everton's comprehensive arrangements, adequate crowd supervision and, last but not least, the good sense of those who formed the queues. I'm told that people who arrived at the ground as late as 10.30 got a ticket all right, so that obviously nobody can complain. A couple of ticket-happy fans told me this morning that everything went of like clockwork and the queues were handled most expeditiously," one said he only left his home at Anfield ay 9.45 and was back in the house before noon. This ticket distribution business is a difficult job. No matter what system is adopted it is almost impossible to satisfy everybody, but all things considered, Everton have done what seems most fair for the vast majority.
HALF-PACE EFFORT
March 16, 1953, The Liverpool Echo
By Contact
Everton lost themselves in saving themselves. To amplify that contradictory statement I hasten to add that defeat, by 3 goals to one, at West Ham came mainly, I think because the side had its mind more on what might happen at Manchester next Saturday than what was happening at Upton Park. Everton have put one idea and you do not need two guesses to discover it; nor can you blame them for their anxiety to find themselves fit and fancied against Bolton Wanderers in the Cup semi-final stage. To have won one or two points at West ham and have brought about the injury of one of the Cup team would not have been good policy, though everyone is naturally eager to see Everton rise in the League just as surely as they have in the knock-out competition. This was an undisguised game in conditions which were not helpful. Everton had the Bolton match in view; the pitch was firm and devoid of grass the wind blew considerably and the ball bounded in such a lively way that the good controllers of it stood out the proverbial mile. The odd thing was that West Ham had not scored a home goal since January 3, and here they were getting three against a defence which is known for its sure covering. I suppose it is a difficult thing to play at half-pace and still get results, but two of the West Ham goals were more due to defensive failings than a glorious attacking movements. Everton had one spurt of recovery in which Lewis made the score 3-1, and they were unfortunate I thought, to lose another Lewis goal on the score of offside, but looking at the match charitably neither side did enough to cause League enthusiasm.
Jones Outstanding
Outstanding in the Everton side was Tom Jones. He positioned himself excellently and tacked well and firmly, and perhaps it was as well he approached the game normally otherwise West Ham with the bustling Moroney at large might have won more readily and more convincingly, Cummins began brilliantly, but faded considerably and neither Buckle nor Eglington functioned as well as we know they can. Everton seem to be capable of getting into top gear as occasion demands and this form was too ordinary to suggest that they will not be 50 per cent brighter and better when they line up against Bolton. F.A. Coach Walter Winterbottom would have liked to see Dave Hickson –a sign of official interest in a player whose brilliant goals have done so much towards his side's fine cup run –but Hickson sat the game out and will have to wait a further opportunity to prove that he should be next on turn after Lofthouse. Meantime, Everton travel away overnight before the big match, to Buxton. Their team spirit is so good and their confidence so high, in cup games that one cannot but sense their feeling of optimism. With Lindsay and Hickson back all should be well. And if it happens that Lindsay's injury precludes his playing, then Manager Cliff Britton need not look for the deputy. Dan Donovan did so promisingly at West Ham it could hardly be any other.
DANGER MAN IS LOFTHOUSE
March 17, 1953. The Liverpool Daily Post
By John Peel
When Everton players go on to the Maine Road pitch at Manchester on Saturday to play Bolton Wanderers in the F.A. Cup semi-final one man they will have to keep an exceptionally close watch on will be the Wanderers centre forward, Nat Lofthouse, one of the most dangerous leaders in the game today. Lofthouse is without doubt the outstanding personality in the Bolton team and Everton centre half Tommy Jones is sure to be kept at full stretch throughout the ninety minutes in his endeavours to thwart the Bolton leader troubling O'Neill. A native of Bolton, Lofthouse took over the leadership of the Bolton School's X1 after Tommy Lawton and it was not long before the scouts became interested in his play and Bolton signed him up. A fearless clever and dashing raider, the Bolton man is always a danger near goal and so far this season has registered 30 goals -14 in League games, 11 in representative matches and 5 in F.A. Cup ties. Next in line as a danger to the Goodison Park side I would name Langton on one of the finest extreme left wingers of post-war soccer. A product of Burscough, he first came into the limelight with Blackburn Rovers but later moved to Preston North End. In November 1949, Bolton secured his transfer for a big cheque and they have never regretted doing so. A fast and dangerous player to all types of defences his trickiness and centres always give opposing defences considerable anxiety. Goalkeeper Hanson is well-known to Merseyside followers of the game for all know he was on Liverpool's books for some time. A native of Bootle and a brother of Alf, who served the Anfield club so long and well. Hanson seems to delight in giving his best displays against the Merseyside clubs. Another Wanderer well known to Merseyside is right half back Wheeler who was signed from Tranmere Rovers. Wheeler has fitted into the Bolton team plan admirably and both in defence and attack has proved the equal of many players of greater experience. Other men of note who will be in the Bolton line-up against Everton are Barrass (centre-half back), Moir (inside right), a Scottish international who "guested" for Bolton during the war and Hassell (inside left) an England international who signed for the Wanderers fourteen months ago from Huddersfield Town.
News of Injured
First indications are that Holden, Bolton's outside right is still feeling a groin strain and may not be able to appear against Everton. Langton suffering from a bruised shoulder, is hopeful.
LULL BEFORE THE STORM
March 17, 1953. The Liverpool Echo
Everton And Bolton Follow Normal Training For Semi-Final Test
Ranger's Notes
Today ushers in the lull before the storm. With Everton hopeful of being able to turn out their fullest strength and Bolton's doubtful players making encouraging progress, little remains between now and the semi-final tussle on Saturday but to compose outselves with what patience we can muster until the great day dawns. Normal training is the order of the week at both Goodison and Burnden Park. Everton well depart for Buxton on Friday afternoon in order that the players may have a brief respite from the importunities of ticket hunters and autographs seekers. Bolton will remain at home on Friday, going to Maine Road by coach on Saturday in time to get there an hour before the kick-off. Everton's training will follow the usual routine at Bellefield. There is neither need nor scope for anything "intensive." The normal training throughout the season is designed to keep a steady balance, aimed at achieving both complete physical fitness and top-class performances on the field. This has served Everton well in the Cup so far, and there seems no possible means by which what has been satisfactory in the past can be improved upon now. Had any improvement or intensification been necessary it would have been attempted before this stage of the season. The only break from normal was the players five days relaxation at Brighton last week. The tonic effect of this is expected to be felt more fully as the week progresses to its climax on Saturday. Everton, however, will have no advantage over their rivals in this respect. Bolton also had a seaside holiday at Porthcawl last week, so they both start level in the toning-up department.
Try To Be Patient
Everton supporters, convinced that the Blues will be at Wembley, are already writing to the club about Cup Final tickets. I admire their faith and sympathies with their anxiety, but they are only wasting their time, to say nothing of making unnecessary work for the Goodison office staff. All followers are earnestly asked not to write in this strain. This applies with equal force even should the Blues beat Bolton on Saturday. Assuming this is the case, under no circumstances will requests be considered before the full official announced is made regarding process and method of distribution. All applications received before then will be ignored. This is the only fair way. Several readers from Chershire, North Wales, South West Lancashire and elsewhere have written asking me to lead, if Everton are in the final, for provision to be made for regular supporters from such districts to be allowed to make postal application for Wembley tickets. They need not worry. Owing to the necessity of keeping an exact record of the sale of every single ticket for the Final, even the 3s 6d standing ones, you can take it that no other methods is possible except postal applications. Anyhow, this is all in the air at the moment. Everton have to beat Bolton before it comes into the realm of practical politics. I think they will do so all right –and that isn't just a bit of wishing thinking. But until we know for certain don't let us start worrying about Final tickets.
Managerial Caution
Like Brer Rabbitt, Manager Cliff Britton prefers silence at the moment. He is making no prophecy that may not be fulfilled. All he will say is that the lads will give of their utmost and that everybody is hopeful this will see them safely through. Manager Bill Ridding was not much more communicative? "We expect a hard game" he told me. "We know we are up against a strong and well-balanced side, Everton have proved by their victories in the last three rounds that they are a great cup fighting side this season. We are prepared for a stern struggle, but have a feeling we shall be the team to go to Wembley."
JOHN LINDSAY IS DOUBTFUL
March 18, 1953. The Liverpool Daily Post
By Leslie Edwards
Though he has started training again, John Lindsay, the Everton full back, cannot at the moment be declared as a certainly for the semi-final team at Manchester on Saturday. This is Everton's one doubt in the matter of injury. The other concerns George Cummins ordered off three weeks ago in the match against Swansea Town, Everton are hoping that no news is good news in his case and from the oyster-like attitude yesterday of Mr. Herbert Powell, secretary of the Football Association of Wales (one of the bodies concerned in that commission) it seems likely that Cummins will certainly play against Bolton. Mr. Powell's only comment was "The matter is going forward in the normal way." There were fears that authority would deal with the case in such a way that Cummins might find himself out of the Cup game. Maybe autocratic authority will find a method of dealing with the matter tactfully if firmly. Everton correspondence this morning includes letters kindly and some not so kindly. J.D. Walton say that my comment on Hickson being next in line to Lofthouse for international honours may sound wonderful to one in a hundred Everton supporters but he is afraid the other ninety-nine would look back to the one and only Tom Lawton and ask themselves "is Leslie Edwards a sport columnist, or is he Hickson's publicity agent? Hickson says my reader can dish it out, but oh, how different when he has to take it.
The Answer
To this the SAIS column comment is if Hickson can score three magnificent goals and do so much to take his Second Division side towards Wembley how many goals might he get in an England line? Hickson's game has come on four-fold in the past eight weeks and with his tremendously increased confidence and ability there can be few if any centre forwards better qualified for an England cap. Comparisons are odious, but at least we shall see on Saturday how Hickson compares with Lofthouse, not everyone's cup of sweet tea as the best of his kind.
In my last few weeks of Everton's 12 semi-final appearances one venue (1897) was not given because the records do not show it. My thanks to an "An Hand" and to M. Kenny of Parkgate, who tells me that the game was played at Stoke. After a first half without goals Derby County took the elad but Everton then scored twice, Derby made it 2-2but Everton gained the winning goal in an exciting finish.
Mr. F.J. Bundy of Hughenden Road, Liverpool 13, sends me a picture of a vintage (1907) motor coach enroute to Everton's final tie at Crystal Palace. His interest in Everton began when he was 10, he is 78 –one of the ancients among the club's great following but still as eager as anyone to see them in the final again.
CUMMINS IS AVAILABLE
March 18, 1953. The Liverpool Echo
Everton Player's Seven-Day Suspension Starts Next Monday
Ranger's Notes
Well that's a relief "I can imagine Manager Cliff Britton making that remark when he heard from the Football Association this morning that George Cummins, Everton's inside right will be able to play in the semi-final against Bolton Wanderers on Saturday. Cummins has been suspended for seven days but he does not start to serve his "sentence" until next Monday. This means, of course that if the semi-final has to be replayed Cummins will not be available but it is a relief to know that he will be on parade at Maine Road. It will be time enough to worry about a possible alteration when we know for certain that there is a replay. Cummin's impending enforced rest will spur Everton on to greater effort, if that is possible to ensure that they win through at the first attempt. Cummins' suspension was imposed by the Football Association Disciplinary Committee, which went into his case last Monday. D. Thomas the Swansea left back who received marching orders at the same time as Cummins, has been suspended for a similar period by the Welsh F.A, also starting from Monday next. As all the British F.A's recognize each other's suspension orders, the sentence on Cummins means that he will be deprived of his "cap" for Eire against Austria at Dublin today week. The Eire F.A Could ask if they felt so included for special permission for Cummins to play for them on this occasion. From inquires I have made, however, I gather that such a request is unlikely. Apart from anything else it would rather embarrass the Lancashire Gate people and put them in the position of having to face setting up a precedent which might be awkward in future.
Dangerous Gesture
Meantime, Everton have agreed to release their four other Irish players –O'Neill, Clinton, Farrell and Eglington – to assist Eire next Wednesday, providing there is no semi-final replay. This is a very generous gesture, for on that day Everton will have a rearranged home League game against Fulham. The club always takes the most helpful line in such cases, however, and never put obstacles in the way of its players gaining international honours. If here is a semi-final replay, of course, the position would be vastly different in such a case permission, naturally must be refused. Apart from that, the players themselves would want to be in the semi-final replay, in relation to which an international appearance pales into insignificance. Everton will not announce their side for Manchester until there is more definite news about Lindsay. At the moment the chances of his being fit are little more than fifty-fifty, though it is hoped that the next 24 hours may sway the scales helpfully.
Bolton's Team
Bolton Wanderers are hoping that outside right Holden will be fit for Saturday's though this is still doubtful. Owing to a groin injury he has not kicked a ball for a fortnight, and there is not much time for him to regain complete match fitness. If he does not pass a stringent test, Webster will deputies. Banks, as I stated on Monday, is definitely a non-starter, and Higgins takes his place. The other players who have been under treatment this week have all recovered from their knocks which were only of a minor character apart from that suffered by Wheeler. Wheeler's groin injury has kept him out of the last two League matches but the former Tranmere Rovers player passed a fitness test today all right and takes over from Neiill who has deputized in his absence. The Bolton team therefore reads;- Hanson; Hartle, Higgins; Wheeler, Barrass, Bell; Holden, or Webster, Moir, Lofthouse, Hassell, Langton.
EVERTON STILL WAITING
March 19, 1953. The Liverpool Echo
Doubt About Lindsay Holding Up Semi-Final Announcement
Ranger's Notes
Manager Cliff Britton hopes to be able to announce Everton's team for the semi-final against Bolton later today, when, he had the latest report on the fitness or otherwise of Lindsay. Lindsay's knee injury, received in the sixth-round game at Villa Park, has proved more stubborn than was at first anticipated. Though he has made good progress under intensive physiotherapy treatment, there was still some reaction yesterday after he had been training. During training he seems reasonably all right, but later there are recurrent twinges. Lindsay himself has done all that anybody could to get himself fit in time. Naturally he is keenly anxious to play. On the other hand, Everton cannot possibly take risks in such an important match. If the Scot is not fully and completely fit, then it would be better to make a change rather than run the chance of Lindsay breaking down. Who will come in if such course is necessary remains to be seen, but from all accounts Donovan gave a most encouraging display at full back against West Ham last week.
Replay Arrangements
In the event of a replay being necessary between Everton and Bolton, it will be at Huddersfield Town's ground next Wednesday (kick-off 2.30) when tickets will be available for stand seats at 25s, 15s, and 10s 6d, and for the paddock at 4s 6d. Admission to the ground will be 2s 6d payable at the turnstiles only. No ticket will be issued in advance for the ground. The number of seat and paddock tickets available will be very limited. As there will not be sufficient for all shareholders and season-ticket holders, there will as a consequence be none available to the ordinary members of the public. Shareholders will be allotted one ticket each, for which they must apply personally on Sunday afternoon next between three and four o'clock in Gwlady's Street, presenting the "self" season ticket for stamping. After the allocation to shareholders has been completed, there will be very few seats left for season-ticket holders, who will be allotted one ticket each so long as they remain available. Seats will be sold first. Season-ticket holders must apply personally on Sunday afternoon next from four o'clock onwards at Gwlady's Street presenting their season-ticket for stamping.
Not Enough For All
Everton ask me to emphasize that it cannot be guaranteed that all season-ticket holders will be able to buy a ticket. There are just not enough to go round. One or two season-ticket holders have written me complaining of the class of ticket they have received for Saturday's match at Manchester. While I sympathise with them, there is just nothing that could have been done about it. Everton's share of seats and paddock tickets was nowhere near sufficient to enable them to treat all season-ticket holders in the same manner. In such cases certain people are bound to have one of lesser value than anybody else has got. The tickets have been allocated by the club in the fairest possible manner. Obviously, however, they cannot be expected to know that a certain season-ticket holder is elderly or has a gammy leg and cannot stand whereas somebody else who has got a seat is a young and active person. As far as it is humanly possible the distribution has been made on the most equitable basis with the knowledge the club has of individuals. It should be remembered; incidentally that there is never any guarantee that seats will be available for any match which does not take place at Goodison Park.
The Case Of Cummins
So far Everton have not made any request to the Football Association to put back the suspension of Cummins for a further week in case they should be involved in a replay against Bolton Wanderers next Wednesday. "Nothing has been done and the matter so far has not even been considered," says Mr. Britton. When asked whether it was likely Everton would approach the F.A. on these lines later, Mr. Britton declined to make any comment. There will be time of course, for the club to make representations when the result of Saturday's match is known. Though the Disciplinary Committee will not be meeting again for some time the members could be contacted by telephone for their views.
WHERE DO THEY FIND THEM?
March 20, 1953. The Liverpool Daily Post
By Leslie Edwards
Who has the time to invent them? We say of the better-class smoke room story and those peculiar coincidental oddments which followers of Cup teams contrive at such times as an Everton semi-final. Latest and neatest begins; "Now, the semi-final is played at Maine Road, take the word Maine. Cross letter "M" because we beat Manchester United; strike out letter A because we beat Aston Villa; score out the I because that stood for Ipswich, and strike out N for Notts Forest and what have you left? That's it -E for Everton-oh, that Cup semi-finals depended on what in a name. But we all know, openly or secretly, that what happens at Manchester tomorrow depends more on football ability and tactics than any play on the alphabet. This brings me to the man who is more responsible than any for Everton's present position. He has had his share of criticism in the past and it is only right that now he has piloted them to the last stage but one of the F.A Cup, he should take a bow. Cliff Britton's ideas of how to manage football clubs and players is not one with which everyone will agree. A disciplinarian in his own affairs, he believes the Army Principe that discipline is half your battle. Discipline is team spirit too, and that Everton seem to have developed to an unusual degree. Agree or not with Everton policy in the Britton era and you must still take into consideration the fact the twice in his comparatively short career as manager here, Britton has taken his club to a semi-final.
Something More
But Everton with their great tradition and equality great record of achievement need something more from their Manager; they need, above everything, First Division status and they will not be happy until they regain it. What the future had in store for Everton no one can say, but even in the midst of their Cup triumph there is a body of opinion which says. Take the club back to Division 1 and the leanest of our years will be forgotten. Everton's celebration drink, for all their cup-ties this season has been strictly non-alcoholic. If they get to Wembley and win there the dressing room beverage will still be non-alcoholic. For the Britton view is that football is a business and that you cannot monkey about with abstinence and still remain at the peak of fitness. Both Bolton and Everton will be at full strength tomorrow, John Lindsay the Everton back and Holden the Bolton outside-right passed fitness tests yesterday. Bolton are particularly lucky over Holden because had he failed his test Webster (who had been standing by) was injured in Service game on Wednesday. Everton; O'Neill; Clinton, Lindsay; Farrell, Jones, Lello; Buckle, Cummins, Hickson, Parker, Eglington. Bolton Wanderers;- Hanson; Hartle, Higgins; Wheeler, Barrass, Bell; Holden, Moir, Lofthouse, Hassell, Langton.
ALL SET FOR A THRILLING SEMI-FINAL STRUGGLE
March 20, 1953. The Liverpool Echo
Everton Can Get To Wembley If They Play As Tenaciously And Courageously As They Did In The Last Two Rounds
Ranger's Notes
All roads from Merseyside tomorrow will lead to Manchester where Everton making their twelfth appearance in the semi-final of the F.A. Cup and for the third successive round against First Division opposition. Let me put it on record right away that I have a strong feeling Everton will win. This is not just wishful thinking. I am passing that statement on what Everton have done in the last few rounds. It was a splendid performance to beat Manchester United at Goodison after being a goal down, it was an equally good one if not better to defeat Aston Villa at Villa Park and by a margin which by no means did justice to Everton's undoubted superiority, particularly in attack. I do not reckon Bolton so good a side as Manchester United or even so formidable on a neutral ground as Aston Villa are on their own enclosure. Lest I am later taken to task for undue optimism however, let me hasten to qualify my faith in an Everton victory by one proviso- namely that to win Everton must again reproduce the same fighting spirit and determination, allied to good football, forceful approach and accurate shooting, as they have done in the last three ties. Without that the whole position might be transferred. With it, we should see Everton at wembley.
Gaelic Fervour
With their big proportion of Irish players blending so well with the rest of the side, and adding their Gaelic fervor to the common effort, Everton have had the right approach to the game in their more recent cup-tie. A sound and well-balanced team of genuine triers, imbued with the same will-to-win and the stamina to keep going at top pace from start to finish, is the ideal combination for a testing Cup-tie. Everton have shown that blend in full measure, with a bit over as make-weight. They have also demonstrated in previous ties that they are reasonably impervious to the nervous tension which sometimes afflicts even the best of players on these big occasions. On top of all that they have one of the finest captains in the game today in Farrell. The Irishman is a great inspiration to his clubmates and a player of amazing vitality and earnestness. Jones also is playing brilliantly at centre half and Hickson on his Cup-tie displays, will stand comparison with any centre forward in the country. Never mind if Everton may not always have been as inspiring as we could have liked in some of their early-season League games. That has no bearing on tomorrow's game, and nobody can deny that they have proved a brilliant combination when it comes to cup-ties. There has been soundness in every link of the side from stem to stern. The attack has moved as one man, and the covering up of the defence has been a most pleasing feature. In short the Blues have been one of the season's "surprise packets" of the Cup and with the remembrance of their past achievements behind them they should approach tomorrow's big test with plenty of confidence. The game promises to provide some race and entertaining duels First and foremost will be those between Hickson and Barrass and Jones and Lofthouse. Hickson valiant chaser of the most slender chances and main match-winner of previous ties, will gave Barrass plenty to think about. barras night keep him in check for long periods and yet lose out in the end if Everton's dynamic young raider turns one of those unpromising looking openings into another of his brilliant goals. Jones has been playing so well this season, and has always looked so completely in command of every situation, that Lofthouse is not likely to find much scope for his down-the-middle raids. Eglington at his best could be much too big a problem for the comparatively inexperienced Hartle, who will be facing a nerve-wracking test for a youngster in his first senior season. Similarly Langton might turn out to be the most dangerously threat to Everton's hopes. The old Blackburn Rovers and Preston winger can be almost as devastating a player at the peak of his form, as Liddell. He has, however, an experienced and reliable back against him, and Clinton will take good care that he is given the minimum of opportunity. Altogether this game has every ingredient necessary to provide a match which will long live in history Cup encounters which seem certain to produce a thrill-packer afternoon's sport do not always live up to expectation. It may be so tomorrow. But on the face of things this Manchester semi-final looks like being a real thriller between two well-balanced sides, with precious little in it either way when the final whistle goes. All the "sideshows" that go to make a semi-final, such a spine-tingling day will be there to give the right atmosphere with 75,000 excited spectators veiling their heads off.
The Goodison Roar
And that is where the "Goodison roar" comes in. It will be up to all Everton's followers tomorrow to do better than they did at Villa Park. I have referred before to the almost incredulous amazement of the Villa fans at the vociferous encouragement which Everton's followers gave their favorites at the Midland ground. They could hardly believe their ears. Well there be twice as many Evertonians at Maine Road tomorrow, so do your best to lift the roof of the stand. Good shouting, good hunting and I hope to hear you all again at wembley. Everton; O'Neill; Clinton, Lindsay; Farrell, Jones, Lello; Buckle, Cummins, Hickson, Parker, Eglington. Bolton Wanderers;- Hanson; Hartle, Higgins; Wheeler, Barrass, Bell; Holden, Moir, Lofthouse, Hassell, Langton.
EVERTON WORRY BOOKMAKERS
March 21, 1953. The Liverpool Daily Post
Too Many At 100-1
By Leslie Edwards
Bookmakers in this part of the world (some of them sincere Everton loyalists) were scathing their heads hard last night. It was not that they could not decide how best to transport their loaded sachets from Lincoln and Aintree next week, but what to do, this morning about the hundreds of bets they have laid at 100-1 against Everton winning the F.A. Cup. This price was obtainable shortly before Everton beat Manchester United and everyone with the least tinge of blue in their blood (in a football sense) seems to have been busy taking odds against Everton from that time. Last night it was 6-1 against Everton getting to and winning at Wembley. So bookmakers with a preponderance of money for the local club had to make up their minds whether to lay-off at 6-1 or take the risk of Everton winning at Manchester in which case they could lay-off only at 2-1. As not a few of them stand to lose four-figures in pounds if Everton upset calculations, their position is not enviable. But some, I do not doubt would be prepared to have a disastrous Cup season if it meant that the team of their heart ended the tournament in triumph. Everton would not be the first 100-1 shot to come home alone. Tipperary Tim ridden by Chester's W.P. Dutton did it in the "National" Surely Everton, this time, are the Tipperary Tims of the Cup, especially as so many of their players have such an Irish flavor.
Manchester Hoodoo
If Everton win they will be the first Division 2 side to reach the final since Leicester City in 1949. If Everton win it will be their first semi-final triumph at Manchester in four starts. These are wonderful incentives but Everton need none. They set their targets on Wembley long ago and in cup-ties they are unrecognizably good compared with the mediocrity of their work in League status in cup-ties is merely something to be upset. Bolton will find no hint of anything second rate about the side, they face today. All they will learn is that Everton will be as quick (perhaps quicker) to the ball as they; that Everton in fighting cup-tie mood, want a deal more shaking than the usual run of Division 2 teams. Of the semi-finalists Everton are the only team to reach this stage without a replay. Hickson has not, like Lofthouse of Bolton scored in every round but his three winning goals give him greater distinction. A great boy on the half and quarter chance is David and no one who saw his three decisive thrusts this season can be in any doubt that Everton's cup progress is inextricably linked with Hickson's success. Hickson's opposite number, Lofthouse is also a match winner so critical battles today will be between Barrass and Hickson and Tom Jones and Lofthouse. I know which I would sooner face. Any defence knows that Lofthouse is about few defences know when Hickson, is beginning one of his rampaging runs. Bolton like Manchester United and Villa, look the stronger side but Everton have developed such team spirit and so plainly believe this to be their Cup year, reputations are liable to become tarnished in face of Everton enthusiasm. Yet that Bolton front line with Langton and Hassell on the left still looks full of meancing and the half-back line compares favourably with Everton's. Like the other semi-final this is a difficult match to size, I believe Everton hold the highest trump and that if they do not "go to bed with it" as they say Hickson will take the decisive trick. It will be interesting too, to see how Everton and Bolton react to the tremendous enthusiasm recent Everton fans have put into their support groups. This encouragement seemed to have tangible effect at Birmingham, maybe it well help again today. Everton; O'Neill; Clinton, Lindsay; Farrell, Jones, Lello; Buckle, Cummins, Hickson, Parker, Eglington. Bolton Wanderers;- Hanson; Hartle, Higgins; Wheeler, Barrass, Bell; Holden, Moir, Lofthouse, Hassell, Langton.
EGLINGTON SPEED AND HICKSON DASH CAN SMASH EVERTON WAY TO WEMBLEY
March 21, 1953. The Liverpool Echo
By Ranger
Everton or Bolton for the Cup Final? That is the big question which is agitating all Lancashire football followers today. What answer they give to it depends largely on whether they belong to Merseyside or to the Bolton area. Setting apart all leaning towards Everton, whom I earnestly desire to see at Wembley, and endeavouring to judge the issue with the strict impartiality of any outsider – basing the decision solely on merit and nothing else –I still feel that the Goodison club will be the one to go forward. There are, however, certain qualifications attached to this "prophecy." The foremost provision is that Everton should reproduce at Maine Road this afternoon the same splendid fighting spirit, balanced teamwork, and close and well-knit defensive covering that they have shown in the last three cup-ties. Without this they might have to bow the knee to the First Division side. with it, I cannot see Bolton Wanderers getting the better of them. It is on the strength of their displays against Manchester United and Aston Villa that I am pinning my hopes of an Everton victory. I reckon that they were good enough on those two occasions to beat any side in the country. There are plenty of clubs with a greater proportion of star players all their services than Everton. There are none who can produce a better fighting combination allied to first class football ability and sheer determination than Everton showed in the fifth and sixth round. There was a will-to-win virility about their play in those games which raised them to a much higher level than anything they have shown in any of their League games. Maybe they did play well above themselves as some maintain but to do that there had to be the essential football skill, both individually and collectively. Individual skill can achieve much but the finest player individualists do not always make a good cup-winning side. Something more is wanted; something which comes only when all concerned are attuned together to the same ambition. Given that, and a kindly run of the ball, and Everton should get through. A favourable old football saying of mine is that "luck goes with pluck." There is much truth in it. Everton have had all the pluck in the world in their cup-ties. They also had a spot of luck in the third round game against Ipswich though that is ancient history now and does not concern us today. In the more recent games and particularly the last two, the Blues have tackled their task with an abundance of courage. To that they have added spirited, first time tackling, determination to be first to the ball on all occasions when humanly possible, good shooting, intelligent passing and positional inter-changing, as well as the stamina to enable them to keep going at top speed for the full 90 minutes. Against Manchester United they had to fight back against an opening goal to the opposition. It takes a good team to do that in a cup-tie, no matter what the calibre of the opposition may be. When one's opponents are a side of Manchester United's stature, then the merit of wiping out a lead is infinitely greater. What encourages me still more to believe that Everton will be victorious today –always assuming that they reproduce these same attributes at Maine Road –is that Bolton Wanderers so far have not been severely tested in the Cup. The strength of the opposition they have faced as will be seen from the table given elsewhere has not been anywhere near as difficult as Everton have overcome. And it took them three games before they could dispose of Notts County, who by no manner of means can be classed in the same rank as Manchester United or Aston Villa. The main problem today will be whether Everton's defence is capable of holding an attack containing such stars as Moir, Lofthouse, Hasell, and Langton. Of those four, I rate Langton as potentially the most dangerous. At his best Langton is a really brilliant player, capable of winning almost any match on his own. He may prove a source of considerable trouble to Clinton. Clinton however, has this season settled down as a steady and reliable defender, now stripped of much of that one-time hastiness which occasionally led him to impetuous acts and to lose his positional sense. Now that he is playing a more studious type of game, but without any sacrifice of speed or power of recovery, he may be more than Langton can master. Lofthouse is another player of outstanding ability, speedy off the mark and with a powerful shot, Jones, however like Clinton, is so much improved this season that I fancy Lofthouse will find as did Rowley and Walsh before him, that the way down the middle is locked and bolted. Lofthouse is not unaccustomed to the sort of thing or course. He was always a little inclined to taking excursions out on the wings. But the centre forward who is forced to do this usually has his powers of penetration cut down and so long as Everton keep a wary eye on whoever temporarily takes over when Lofthouse begins his wandering, the danger down the middle is likely to be less, hot be greater, while the England leader is absent. Wing halves are often the key to success and Farrell and Lello are I think a better pair than their Bolton counterparts certainly so on the evidence of the last two cup-ties. Farrell has been a great skipper this season. He has done well in previous years, but the winter I think he has surpassed anything that has gone before. He has cut out the former tendency to try to do too much individually. Now he is as the old saying has it, "making the ball do the work" and the effect has been very noticeable on many occasions. I cannot see Bolton's inside forwards, talented though they are, having much scope against Everton's wing halves if Farrell and Lello are in their most devastating form. I doubt, too, whether anybody on the Bolton side can excel Farrell in the sum total of individual effort and inspiration to his club mates. Farrell these days is worth two men in a tough and strenuous game. The final crux of the matter may rest with the ability of the Everton forwards to overcome Bolton's defence. Hanson though well on in the veteran stage, is a great goalkeeper still, who has many times in the past saved his side when in all other respects they have been the inferior team. Eglington's speed may be too much for the comparatively inexperienced Hartle, who, though a back of much promise, is facing the sternest test of his career so far. The struggle between Hickson and Barrass is likely to be a terrific one. Hickson has been Everton's man match-winner in the cup games this season. As a voracious and, persistent chaser if half-chances he is in the Liddell class, right out of the top drawer. He will give Barrass the busiest afternoon the Bolton pivot has had for a long time, and should have the beating of him in speed. Everything depends on whether Hickson can carve out scoring openings as he did against Manchester United and Aston Villa, openings which were made only by his own "guts" and fierce determination. At inside forward Everton may not appear, on paper to measure up to Bolton's international standard. Parker, good as he is, is still a little inclined to slowness at times, while Cummins the main schemer, has yet to break his duck as a marksman, despite his 19 senior games this season. Perhaps this will prove the occasion? I hope so. Buckle has been something of a revelation lately. He has reached his best form right at the psychological moment. And how he can hit a ball when he gets half a chance! For one so frail and slightly built of power of his shot is amazing. Well, there you have it. Can Everton pull it off? I think they can. I believe that they have just that slight advantage in key positions which may make all the difference. But it will be a terrific struggle, and victory will only come if Everton are right at the peak of their form, collectively and individually. Anything less than this and we are doomed to disappointment. Last of all, there is still "Goodison roar" which could well be the thing to tip the balance Everton's way if matters on the field are very closely balanced. Aston Villa supporters were amazed at the wonderful support which Everton's followers gave their team at Villa Park. Redouble your efforts today lads and lassies. I've said before how much it means to the players. Just go out and drown the Boltonians efforts.
How They Got There
Everton
3rd Round –Ipswich (h) 3-2
4th Round –Nottm Forest (h) 4-1
5th Round – Manchester Utd (h) 2-1
6th Round – Aston Villa (a) 1-0
Bolton
3rd Round –Fulham (h) 3-1
4th Round –Notts County (h) 1-1; (a) 2-2 and second replay (Highbury) 1-0
5th Round –Luton (a) 1-0
6th Round –Gateshead (a) 1-0
GOODISON ROAR REVIVED EVERTON
March 21, 1953. The Liverpool Football Echo
Great Recovery After 4-Goal Shock
Clinton's Penalty Miss Was Tragedy Of Game At Maine Road
Bolton 4, Everton 3
By Ranger
The tragedy of Everton's defeat was that O'Neill should fall to make at least two saves, if not three which he would had accomplished with ease in a normal League game, and also Clinton's penalty miss in the first half. After being four down at half-time Everton looked to be a well beaten side. Instead they fought back in the second half to get three goals, so that had Clinton converted his spot kick the Blues would have been fighting a replay at Huddersfield on Wednesday. Bolton, however, just about deserved to win, for they were the batter balanced side and individually the more talented team. Everton; O'Neill, goal; Clinton and Lindsay, backs; Farrell (captain), Jones and Lello, half-backs; Buckle, Cummins, Hickson, Parker, and Eglington, forwards. Bolton Wanderers;- Hanson, goal; Hartle, and Higgins, backs; Wheeler, Barrass, and Bell, half-backs; Holden, Moir (captain), Lofthouse, and Langton, forwards. Referee; Mr. A. Bond (London). Bolton took the field first and though they were greeted with resounding cheers the volume of their welcome was nothing like that which met Everton. The Goodison club's supporters certainly started off well in encouraging their favourites. Unfortunately Mr. Ernest Green, Everton's chairman, was unable to be present at the match. He is indisposed with bronchitis. Moir won the toss for Bolton and elected to play with his back to the sun which was the only advantage. There was no wind, at all. Bolton were first to attack and a Langton centre which looked to be finding Lofthouse was turned behind by Clinton for a corner. Langton took the corner, put it along the ground and Lofthouse with a canny flick almost deflected it into the Everton goal beyond O'Neill. Fortunately Lindsay stood on the line by the far post was there to kick away.
Cummins First Timer
That was a clever move by Lofthouse and might have produced a sensational goal in the first minute. Everton's first effort came when Parker set Eglington going and Cummins tried a first timer from the winger's pass from 30 yards range. It was Lindsay who averted possible danger with a lusty clearance when Hassell came bearing down on goal after beating two men. Buckle just failed to make contact with a high centre from Eglington and then back came Bolton for Jones to clear when bell tried to find Lofthouse with an up the middle pass.
Badly Angled
There was a shock for Everton's followers at the ninth minute when Holden, put Bolton one up. The move had its beginning with a Langton pass to Lofthouse who in turn slipped it out to Holden near the far corner flag. Holden, cutting in quickly seemed to have very little chance of scoring for he was very badly angled. He tried a lobbing sort of effort however, which I should imagine was intended more as a centre than anything else. But to Bolton's joy it passed over the outstretched hands of O'Neill into the far corner of the net. This was a decidedly lucky goal but a very valuable one phychologically to Bolton. I would not like to say that O'Neill was at fault, for anybody can be critical sitting in the stand, but it he had stayed on his line instead of coming out a yard or so, he would have certainly have had a much better chance.
Hickson Hurt
After 13 minutes the game was held up while Hickson received attention following a collision with Hartle. He was taken to the line on the far side of the field where trainer Cooke bathed a facial injury. After a couple of minutes Hickson came back rubbing his head gingerly. No sooner had Hickson returned than Bolton went further ahead at the 18th minute when Moir scored. After Farrell had nipped in to break up a grand bit of combination by Langton and Hassell at the expense of a throw in, there looked to be no particular threat to the Everton goal. A long throw by Hassell, however, went to Moir, about 10 yards from goal and Moir switching around quickly forced a not very strong shot between O'Neill and the near upright. This time there could be no doubt that O'Neill should have saved. He has made scores of saves under infinitely more difficult circumstances than this. This, like Bolton's earlier goal, was something in the nature of a gift and made Everton's chances, even at this early stage, decidedly slender unless they pulled something out of the bag akin to a miracle. Since he came back to the field Hickson had obviously been in a dazed condition, and at the 25th minute the referee stopped the game to have a word with him. Hickson appeared to be shaking his head to a suggestion of the referee's, but after Trainer Cooke had come on again, Hickson was led off the field, still looking disappointment and forlorn. Bolton went three up at the 29th minute when Lofthouse scored –and again one must fault poor Jimmy O'Neill in the Everton goal. Lofthouse got his chance when Moir helped on a pass by Holden to set him going, and after beating Jones with a clever sidestep and also by his speed, Lofthouse scored form about ten yards' range with a shot which passed quite close to O'Neill. In one Everton attack which followed Bolton's third goal, Cummins fell in the penalty area and on rising had a little passage-at-arms with two Bolton players. There was no question however, of a penalty award. Incidentally Bolton's third goal had come within 20 seconds of an Eglington shot which had been caught and cleared by Hanson. This was only the second time thus far that Hanson had to deal with anything remotely looking like a possible goal. The Everton supporters were now very silent and subdued. That was not to be wondered at, though one could never be sure even with such a deficit. It looks as though Everton even at this early stage have "had it" Bolton's defence has been quite capable of taking care of Everton's forwards. Allowing for nerviness on the part of O'Neill, Everton's defence has not been able to cope with Bolton's brilliant forward line in which five individualists have blended together as one surging and forceful unit. Six minute before the interval Hickson returned to the field having been off 14 minutes. Though Everton were trying hard, this was nothing like the Everton we had seen in the two previous rounds. They were now looking a rather sad and demoralized lot, and Bolton now luxuriating in their solid advantage, were playing with all the confidence in the world, which certainly they had a right to hold. Lofthouse made it 4-0 at the 41st minute after Mior had spilt the Everton defence and Lofthouse had held off a challenge by Clinton.
Clinton Misses Penalty
Fortune frowned, never mind smiled, on Everton at the 44th minute when Parker was sandwiched by Hartle and Barrass, and after consulting a linesman, referee Bond awarded a penalty, Clinton normally so sure, shot behind, and Everton's cup of woe was overflowing. What might have happened had Everton been in their early Cup-tie form nobody can say. Today they were out-played, out-generalled and made to look a very ordinary side by a team which was playing well above its normal form.
Half-time; Everton nil, Bolton Wanderers 4.
Although it looked as though the second half was going to be an anti-climax, actually Everton reduced the lead at the 46th minute when Parker cleverly headed in a corner kick by Buckle and, incidentally, out new life into the "Goodison roar." I am afraid it is too much to expect that Everton can pull this game back to the point where they will have a chance of getting on quality. Bolton's forward line is much too good, and has even got to the point where it has become "cheeky."
Nearly A Fifth
Langton threatened to get Bolton's fifth when he came tearing across diagonally to the inside-right position to let go a full blooded drive which soared a yard over the bar. Wheeler and Bell, who had played, brilliantly and served up some gorgeous passes were still continuing the good work. By comparison, Farrell and Lello had their hands so full of defensive work that they were unable to give anything like their normal support. Bell was spoken to by the referee for a foul on Buckle, but Clinton's free kick brought no grist to Everton's mill, and Bolton were soon back on the offensive, with Lindsay and Clinton having a tought time against the scintillating Holden and Langton.
Chance To Hickson
Hickson had a possible chance to reduce the deficit still further when Parker's pass to Eglington was lofted well over the heads of the defence by the Everton winger. Hickson too a first time drive. Unfortunately he got too far under the ball, and lofted it yards over the bar from an angled position. Jones was sticking courageously to his job against Lofthouse and twice in quick succession nipped in to head away when the Bolton leader was seeking to collect passes from Moir and Hassell.
Bolton Penned In
Everton, however, were not giving up and for a few minutes they had Bolton penned in their own half. Try as they would however, the Goodison players could not find a way through the Wanderers defence which closed its ranks at the slightest hint of danger and had both inside forwards lending a hand. Play for some time had been of a scrappy and haphazard nature with both sides guilty of some rather aimless kicking. Langton and Hassall gave the proceedings a little more tone when they paired off in a move which ended with Lofthouse just failing to get his head to Hassell's cross. Then back came Everton through Cummings Farrell and Buckle, only for the latter to put his final pass to a white-shirted opponents. A foul against Lello, who brought down Langton, made a possible opening for Lofthouse but Jones was there to kick away in the nick of time.
Consolation Goal
Hickson picked up a long clearance by Buckle who had gone back during a Bolton corner. It was almost repetition of the situation from which he got his goal against Villa, though on the opposite side of the field. This time Hickson was not quite on the target with his shot and Hartle was able to clear. After Lofthouse had hit the post with O'Neill well beaten Everton staged another assault which produced a goal to Farrell at the 72nd minute. It arose following a foul by Hassell on Cummins which Everton had to take a second time. the first time Buckle side-slipped the ball to Farrell whose shot was saved by Hanson. When the free kick was ordered to be retaken Buckle and Farrell repeated their schemer, this time with greater success, for Farrell's 20-yards shot went through the crowd of defenders and beat Hanson, who was probably unsighted. Bolton almost got a goal when Lindsay stopping a shot from Langton lost his balance and Moir ran in quickly to take what would have been almost a penalty. Fortunately for Everton, Lindsay recovered in time to baulk Moir and the ball was finally scrambled away.
An Outside Chance
Everton were now back in the game with an outside chance through there was precious little time to go. If only Clinton had converted the first half penalty it would have been an even more rousing finish. Everton were throwing everything they had into a last desperate effort to get on level terms. A corner taken by Buckle saw Eglington fire strongly over the bar and then waste another corner by putting it straight to the foot of Moir. With eight minutes to go Everton reduced the deficit still further when a free kick by Buckle was headed towards Parker by Hickson and Parker leaping high scored his second headed goal to put Everton with a great chance, when it had seemed at one time they had no possible hope. Six minutes from the end, Moir fell heavily in the centre circle and play was held up for fully a minute while he received attention.
Kicking Anywhere
Everton had a throw-in on the right and were swarming round the Bolton goal with first parker and then Hickson trying to force the ball over the line. This was a brilliant finish. It had never looked a possibility, and now Bolton were a worried and anxious side, kicking anywhere for safely.
Hanson In Action
Back came Everton for a free kick by Lindsay to produce another threat to the Bolton goal. This was parried but right on its heels came another free kick taken by Clinton which Hanson had to push away. Everton just could not pull it off in the last closing minutes. There was honour for them in defeat.
Goodison Roar Again
The Goodison roar was now being heard in full cry and the tragedy of Clinton's missed penalty was now more evident than ever. But for that miss, the Blues would now have been on level terms and would have made one of the finest recoveries in semi-history. Final;- Bolton W. 4, Everton 3.
Stork's Time Table
3.0 – they're off! Bolton have the honour of kicking off.
3.1 –Jones beaten by Lofthouse and it is trouble for Everton.
3.2 – Almost an Everton disaster, Lindsay kicks off goalline from the corner.
3.3 – Plenty of excitement. Praiseworthy tackle on Lofthouse by Lindsay.
3.7 – Bolton win fourth corner, mainly due to Lofthouse.
3.9 – Diaster for Everton, Holden scores with great oblique shot.
3.10 – Holden should have had second goal, but lifts ball over the bar.
3.12 – Hanson drops ball when challenged.
3.15 – Eglington-Parker combination full of promise, Hanson cuts it short.
3.18 – Bolton two up, Moir squeezing the ball in between the post and O'Neill from Hassell's throw-in.
3.20 –Close in centre by Hickson caught by Hanson as Parker challenges.
3.22 – O'Neill saves from Lofthouse.
3.25 – Lofthouse heads over from a corner.
3.26 –Hickson goes off with injury.
3.29 – Lofthouse scores lovely goal for Wanderers maintaining perfect control of ball during the whole of his run.
3.33 – Hanson makes several saves, but none is really troublesome.
3.35 – Parker puts a centre behind.
3.39 – Farrell tries to run through, Hassell bars his way.
3.40 – Hickson returns having been off the field for 15 minutes.
3.41 – Another goal for Bolton, with Lofthouse again the scorer, Moir was the provider.
3.44 –A penalty against Bolton for hands gives us hope, but Clinton shoots outside.
3.45 –Everton's first corner.
3.56 –Parker scores for Everton from Buckle's corner kick.
4.2 – Langton shoots over.
4.5 – Holden centres into O'Neill's hands.
4.7 – Free kick to Everton for foul on Buckle by Bell.
4.11 – Fifth goal possible for Wanderers, Lofthouse half-hits shot and O'Neill saves.
4.13 – Slip by Higgins opens way for Hickson, who shoots wildly over from scoring position.
4.22 – Hudson centre right across the Everton goal face. No one able to accept the offering.
4.25 – Lofthouse shot hits the Everton post.
4.27 – Free kick for Everton, Buckle to Farrell, whose shot is saved by Hanson. Referee orders kick to be retaken, and from exactly the same movement Farrell scores a second for Everton.
4.30 –Everton fighting grimly; Bolton defending grimly; Eglington shoots over.
4.33 – Another free kick to Everton, and with it another goal, to Parker. Excitement is tremendous.
4.35 –Crowd recognizes Everton's grand fight back. If only that penalty had not been missed.
4.37 – Moir hurt, watches clubmates defend stubbornly against Everton corner.
4.41 – Everton fight galliantly for equalizer, Hanson fisting away from Eglington.
4.45 –Bolton 4, Everton 3.
Tragedy of the game was the missed penalty.
NEWCASTLE U RESD V EVERTON RES
March 21, 1953. The Liverpool Echo
Newcastle United Res;- Robinson, goal; Woodlard, and Cahill, backs; Stokoe, Greener, and Stoddart, half-backs; Walker, Mulgrew, Milburn, Sword, and Prior, forwards. Everton Res;- Leyland, goal; Sutherland and Rankin, backs; Rea, Woods and Capper, half-backs; Gibson, Farrell, Saunders, Lewis, and Easthope, forwards. Referee; Mr. H.C. Amos (Bradford). Early play kept the ball in the Everton half, and a drive by Milgrew hit the post. In a breakaway Lewis scored for Everton after 10 minutes. Milburn had the ball in the net, but was ruled offside. The better finishing of the Everton forwards justified their lead. Half-time; Newcastle United Reserves nil, Everton Reserves 1.
THE GLORY OF EVERTON'S THREE RALLYING GOALS
March 23, 1953. The Liverpool Daily Post
So Near, And Yet So Far Semi-Final
Spurt All But Succeeded
Everton 3 Bolton Wanderers 4, at Maine Road, Manchester.
By Leslie Edwards
Attendance 75, 213. Receipts £15,740. Fifteen minutes from the end Lofthouse, not for the first time, burst through the defence and had Everton in general and O'Neill in particular at his mercy. "So it will be 5-1" we thought, "well that represents the difference between the teams." But Lofthouse did not score his shot struck the face of the post and bounded away. Everton pounced on the ball and then, for those last palpitating miraculous 15 minutes pounded Bolton to such effect that when the final whistle came Bolton verged on panic and Everton verged on the most spectatcular cup-tie recovery in the history of the competition. This was a recovery out of this world, in more ways than one, a corpse –reviving which turned the mourners (there must have been 30,000 of them) into boisterous back-slapping hysteria in which the sting of Everton's fourth semi-final defeat, at Manchester was forgiving and forgotten. Fifteen minutes to go and 4-1 down. What a situation. Only a miracle could work the transformation needed to produce a draw. First hint of one came now when Farrell and Buckle worked between them, one of those free kick ruses which look good when they succeed and innocuous when they fail. Bolton line up to receive the shot. Buckle taps the ball a foot or two to the lurking Farrell and Farrell hit it hard and true, and Hanson to surprise of friend and foe catches the ball cleanly and surely. Take it again says the referee pointing to little Langton who has not been the prescribed distance from the ball. Bolton line-up again. Buckle wonders whether to try the same trick, Farrell does not seen sure whether they should attempt the mixture as before or something else. There is such hesitance by both it seems the thing must be ruined. Yet this time Hanson is completely deceived by Farrell carbon copy move. He does not move the ball. Everton have closed the gap to 4-2.
Double Diapason
Then for the first time, the Everton roar is heard double diapason with rattle obbligato ("Take my rattle to Manchester,") said a Liverpool docker on Saturday morning. "Why I wouldn't take my death-rattle to watch Everton anywhere,"). Another free kick again taken by Buckle six minutes from the end with Everton in full sail and Bolton wondering whether they can find their Wembley haven in this last-moment storm is the prelude to 4-3. Hickson nods the ball inwards from the far post and Parker turns it over the line with his forehead before the panicked Bolton defence can move. Four-three and six minutes to go. What suspense for Everton what agony for Bolton! Everton players dog-tired from chasing Bolton shadows now find the extra yard they need to keep Bolton out and get that ball by premeditated pass or lashed clearance into the Bolton half. And by hook or crook over the Bolton goal-line. Given time I think they would have done it. But ninety minutes is the measure and soon that measure is complete. The side which proved emphatically for seventy-five minutes, their right to a place at Wembley and winners –winners who must be awake o'nights wondering how this game fell away from them when they were sailing without care to a four, five or even six goal triumph. Everton, too, will have cause to muse sometimes with no special pleasure. They will wonder how Bolton (said to be so ordinary a Division 1 team) should prove themselves so accomplished in the football arts, they will wonder like me how four such ordinary and in one case at least, half-hit shots by Bolton should produce four goals in the first half they will wonder how Clinton came to pull the penalty kicks so badly that the psychological effect of a goal on the stroke of the interval was missed at the time this Clinton blunder seemed of little importance. In relation to what happened later its important grew and grew until at the end it was magnified to one of match saving proportions.
Easier To Be Wide
Easier by far, to shoot wide from a Cup semi-final penalty spot than to beat Hanson especially as everything and everybody in the blue of Everton had seemed to "go wrong" in a tragic first half. By ordinary standard the match was written off when Bolton went four goals ahead. They reached this position not merely because they took chances but because they were so far ahead of Everton, individually, collectively and tactically. Indeed there were times when what was expected to be a tough even game, resembled a fame exhibition match with Bolton exhibiting and Everton at the trail. I suspect that part of Bolton's trouble was that it was all so easy from the start they did not wish to be brutally efficient and create a rout. How wrong that misconception was Everton proved. The story of the damaging first half is soon told in seven minutes. Hassell, Langton and Lofthouse worked like clockwork for the angled Holden to score. O'Neill was caught at the near post, Holden's shot passed over him and flopped into the other side of the net. Farrell chased Hassell into touch and the Bolton forward (with Farrell still not able to get back on to the pitch) threw in long and lethally to little Moir, who turned quickly and walked the ball towards goal unchallenged. The shot was a strange one half-hit but it served. Moir "made" No 3 which Lofthouse took nonchalantly, No 4 was to Lofthouse and again he made it look so easy. Everton's position while this was happening was more desperately by a 15 minutes absence (25-40 minutes) of Hickson. Again it was a blow to the head, but this time one which knocked him cold and tamp. Can you imagine the drama of the dressing room as Trainer Harry Cooke and others "worked" on him to get him fit to be sent back to battle? Hartle, I thought handled Parker's close in shot right on the interval and the referee consulting a linesman agreed on a penalty. To half the crowd Clinton's low and bounding penalty kick seemed to be in the net to those behind the goal it was painfully clear that it had missed. Even as the second half began there was still no sign of Everton turning the flood tide. Buckle's corner kick in-swung and dangerous enough of itself became lethal when parker glanced it home neatly with his head. This was the best goal in an odd assortment of seven. All Everton's credit honours came in the last 15 minutes, their refusal to go out of the Cup when Bolton had so surely shown them the door did them honour, their success in bringing the issue so close when the gulf had seemed to be Atlantic wide was never-to-be-forgotten. As never-to-be-forgotten as Bolton's clear superiority for the 75 minutes which proceeded the whirlwind final. The honours went the right way, and whether Clinton's mistake really meant the difference between losing and drawing is a football imponderable. In a purely football sense Bolton gave the match great charm. Only their defence, which became suspect under pressure, was below standard. The half-back and forward lines were extremely strong and good and pretty to watch. Barras held Hickson except on an odd occasion and this time Hickson with his handicap could not produce inspired goals. Bell played beautifully, hit the ball on the run with amazing accuracy and Lofthouse by Hassell (as useful in defence as attack) proved that he may have been masking his real menace when was last saw him at Anfield. Jones found him elusive, cunning and too quick off the mark.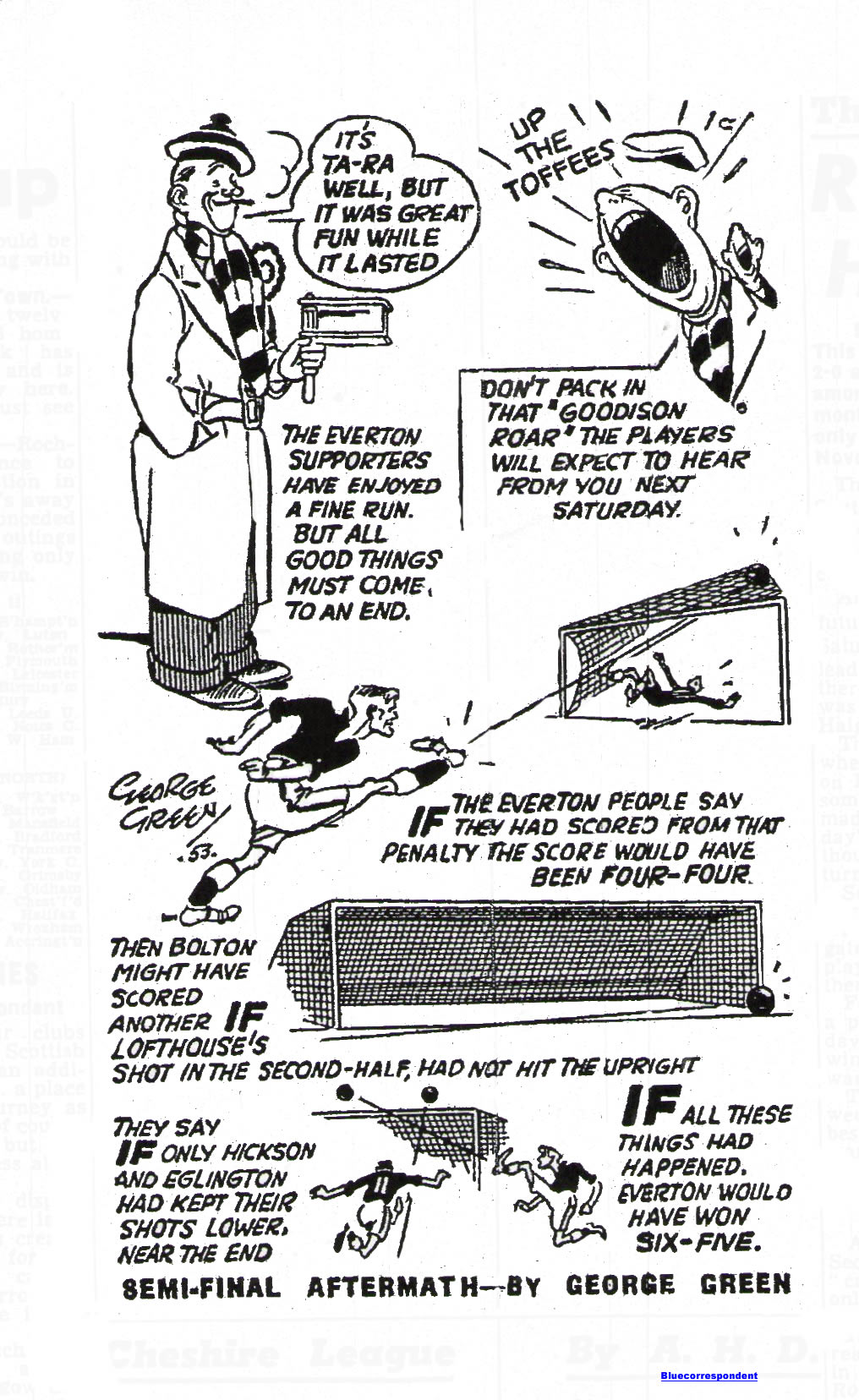 Too Pedestrian
For three parts of the game Everton's progress was laboured. There was much gesticulating prior to the bathy being passed and where we expected flowing forward movement we too often got halting pedestrian stuff which Bolton cut into almost at will. Scarcely an Everton player was able to touch his known form. Buckle, Lindsay and Clinton excepted. But how near they came to overcoming all their earlier mediocrity only those who saw the match can realize. Had they succeeded everyone would have been prepared to forgive and forget in the ecstasy of what must have rated as the greatest bit of retrieving in Cup annuals. Four Cup semi-finals at Manchester ground and four defeats. That play on the name name Maine must now read; Manchester United, Aston Villa, Ipswich Town Notts Forest , Exit.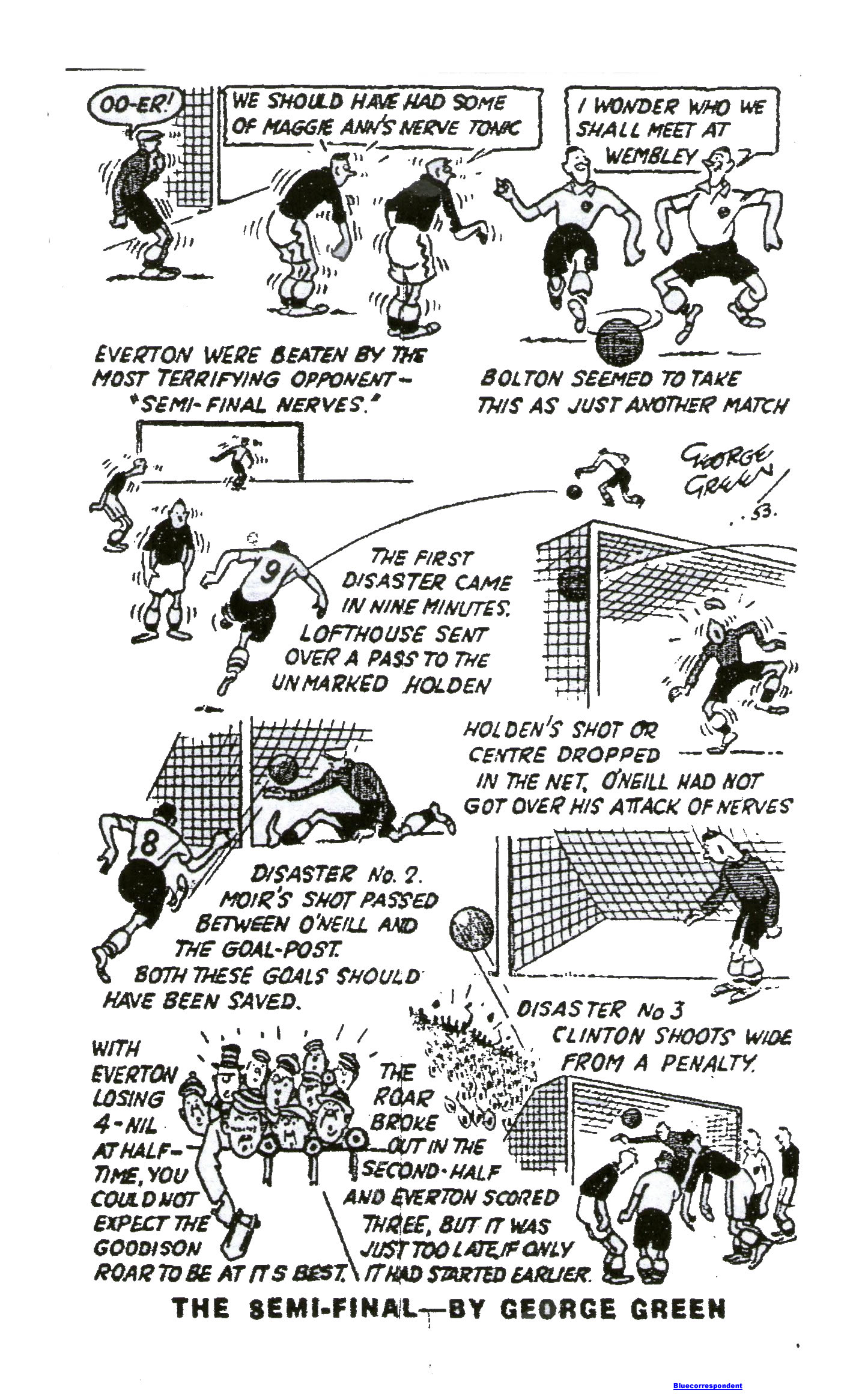 SO NEAR AND YET SO FAR
March 23, 1953. The Liverpool Echo
Everton "Ifs" Which Could Have Ensured Semi-Final Replay
Ranger's Notes
Football has always been a game of "its and buts." This old truism was never more cleanly demonstrated than by Everton's "so near and yet so far' experience against Bolton Wanderers. When the final whistle went with Bolton handing on like grim death to a single goal lad, which threatened to evaporate any minute four big "ifs" stood out. Any one of these, had it been decided in Everton's favour would at least have resulted in a replay and a couple might have enabled the Blues to win at the first time of asking. "if No 1" was Clinton's missed penalty two minutes before the interval. Rightly or wrongly I feel that Clinton with the Blues four down and seemingly well whacked, did not concentrate as he normally would have done on making sure that the spot kick was turned into a goal. He seemed to me to take it as though whether he scored or not was of no great moment. Anyway whatever was subconsciously at the back of his mind he did not hit the ball with the right direction or his full power. "Tragedy is an overworked word. Its exact meaning is never rightly applicable to football, so we'll call Clinton's miss disappointing. The moral became clear when it was too late.
Mascot Was Missing
"if No 2" was equally as disappointing, Jimmy O'Neill would have saved at least two of Bolton's goals and possible three had he been in anything like the brilliant form he has shown in many league games or in the three previous cup ties. Unfortunately he wasn't and nothing can alter the fact now.
Incidentally, O'Neill took the field without the mascot which had accompanied him on all the previous ties. This was a small silver-cardboard horseshoe with a black cat attached, sent to him last January by his little niece in Ireland. When Jimmy discovered at Buxton that he had left it behind he contacted his brother, who had come over from Dublin to see the game. His brother undertook to collect it from O'Neills digs to the dressing room at Maine Road. He collected it all right, but left it behind in the car which had taken him in Manchester, I should hesitate to suggest that this chain of forgetfulness had anything to do with O'Neill's first half nerviness but there it is. He was certainly very upset about the absence of his lucky "charm."
"If No 3" was the fact that Hickson received such a heavy blow in the face that he was off the field for a quarter of an hour in the first half and was to some extent dazed for the rest of the game. Under such circumstances no player even so indefatigable and courageous a lad as Hickson can reproduce his peak form. After the match Hickson had what is often erroneously called a "lovely" back eye plus a most painful swelling. He told me that when he went off he did not know what the score was. He was almost out on his feet.
Cut It Too Fine
And now to "if No 4" When I tipped Everton to win I made the proviso that to pull it off they must reproduce the same balanced combination aggressive spirit and defensive covering that they did in the earlier games. Unfortunately, they were only a shadow of themselves in the first half, and never seemed to fully realize that there was still a possibility of saving the game until they got their second goal 18 minutes from the end. By then they had cut it too fine. One cannot say, of course, to what extent Bolton's second half easing off contributed to the final dramatic finish. Certainly the Wanderers began to take things more easily after the interval, and continued to do so until they were almost made to pay dearly for taking such a liberty. Mind you it seemed that they could so do withy out fear. But events proved otherwise. Bolton were a nerve ridden side once Everton really got their teeth into the game in the closing stages. The Wanderers defence was decidedly groggy at times, kicking frantically anywhere for temporary relief. Only the grand work of Barrass and Hanson plus the fact that hasty and eratic shooting frittered away two possible Everton chances enabled the Boltonians to come through with their slender lead still safe. All things considered and even granting that Everton had to suffer all the unfortunate rubs of the green and the ball never once ran kindly for them, Bolton just about deserved to win. The big match experience of their four international forwards, allied to the solidity of their defence, was the deciding factor in the first half. Then there was the advent of four goals at such equally spaced intervals that Everton could not settle down to their game with any degree of confidence.
Good Share Of Honours
Yet the Blues took a big share of the honour for their splendid excused for adopting a defeatist attitude. If only –but why go on with the "ifs"? Nothing in the wide world can alter the result. The basic truth is that the luck was on Bolton's side, but they had the advantage of a star forward line in which every man was fit from start to finish. Although Hickson was present all through the second half he was not going to the open spaces in anticipation of a pass as he would normally have done had his head and brain been as clear and quick-thinking as he had shown it to be in earlier games. This undoubtedly took some of the string out Everton's attack and upset their combination. I do not propose to go into the performance of individuals any more than has been done already. Suffice it to pay a tribute to the Everton side for putting up such a good fight when they did seem to have the faintest chance of pulling back to a single goal margin and at the same time are sympathy with O'Neill and Hickson. The Everton supporters had every right when the final whistle went to be proud of the team which had their colours and whose last 20 minutes revival so largely washed out the memory of the time when they were made to look a very ordinary side. Yet, having said that I still cannot get out of my mind, the thought of what might have been. That will haunt thousands of others, too until time has softened the memory. Just one final word. With two Lancashire clubs at Wembley the footballing honour of the County Palatine is being worthily upheld. Much as I would like to see Bill Ridding and his boys successful, I would rather that the incomparable Matthews at last realized his heart's desire. What a fitting crown to his brilliant career. As I feared Langton was one of the biggest dangers to Everton's hopes. Lofthouse also played brilliantly, and altogether the Bolton front line gave a splendid exhibition. Barrass, Bell and Hanson took main honours in the defence. The final on May 2 should by a titanic struggle.
A GOAL FLOW AT GOODISON
March 23, 1953. The Liverpool Echo
EVERTON- Fulham Exchanges
By Ranger
A moving tribute to the memory of Queen Mary was paid at Goodison Park today prior to the start of the rearranged League match between Everton and Fulham. The teams wearing black armlets marched out from the players tunnel at a slow pace side-by-side to the centre circle, where they lined up while the crowd stood in silence for the playing of a verse of "Abide with me."
Spectators next stood bare headed in the spring sunshine in a minutes silence, after which "God save the Queen" was played. Everton; Leyland, goal; Jones and Rankin, backs; Donovan, Woods and Lello, half-backs; Buckle, Fielding, Hickson, Parker, and Easthope, forwards. Fulham; Black, goal; Pavitt and Lowe, backs; Smith, Taylor, and Hill, half-backs; Stevens, Robson, Jezzard, Haynes, and Mitten, forwards. Referee; Mr. N.C. Taylor (Wiltshire). Everton team was a strange looking combination, due to the release of their Eire internationals and the absence through injury and other causes of Lindsay, Clinton and Cummins. A debutant in the home side was 21-year-old Maurice Woods, a native of Skelmersdale, while Jones appeared at right back. Everton took the lead in the first minute through Fielding in fortunate fashion. When Hickson bore down on goal it seemed to me that the ball had crossed the dead ball line before he pulled it back for Fielding to fire into the roof of the net. The referee, however had other ideas and certainly Fulham only made a very half-hearted sort of protest. Fulham might have pulled this early goal back in the fifth minute if either Jezzard or Mitten had been quick enough to get in a first-time shot. Instead each passed to the other and the chance went west. Lowe, playing his first match for some weeks, following injury booted the ball behind for a corner when there was nobody within yards of him and he had ample time to clear.
Stevens Equalises
Jezzard in a great run, beat Woods and Rankin and jumping over Rankin's outstretched foot shot strongly from an acute angle only to see Leyland make a splendid save. It was Jezzard who again after beating two men, was the indirect cause of Fulham getting on level terms at the 28th minute. His pulled back pass was jabbed away by an Everton defender, but the ball ran on to Stevens, who hit it first time with terrific force and scored. Whether or not the shot would have beaten Leyland nobody can say, but en route it struck the foot of Woods, and was deflected yards out of the Everton goalkeeper's reach. Woods could not help himself but he put his hands to his head to express his disappointment. Fielding came within an ace of putting Everton in front again when he set Parker going, and the latter, instead of shooting himself, returned the ball to Fielding, who hit it no more than a foot over the bar. Leyland next averted danger with a sort of clearance kick-cum sliding tackle which left Stevens lying on the ground and needing the trainer's attention before he could resume. Buckle dashed away on his own, and sent a fierce left-foot drive just a yard off the mark. Fulham went in front at the 40th minute. When the ball went out to Mitten from the goalkick, the winger, after beating an opponent with a nice swerve slipped it through for Jezzard to pick up just outside the penalty area. Jezzard rounded Jones and then, as Leyland dashed out of goal, dribbled around the Everton keeper before side-footing the ball into the empty net. The referee quite right had a word with Hickson for an offence on Hill which no amount of provocation excused. Half-time; Everton 1, Fulham 2.
Within three minutes of the resumption Everton were on level terms. Parker was the scorer but three other players had a hand in the movement.
IRELAND 4 AUSTRIA 0
March 26 1953 Daily Post (Notes)
Ireland beat Austria 4-0 at Dalymount Park, in front of 40,000 spectators. Tommy Eglington scoring the third for Eire in the 75th minute. Peter Farrell also played.
JONES TOO GOOD FOR MITTEN
March 26, 1953. The Liverpool Daily Post
Everton 3, Fulham 3
By Leslie Edwards
Everton's makeshift X1 3-2 down after leading 1-0, snatched a goal two minutes from the end and all ended satisfactorily. The honours of the game such as they were went to Fulham. Their approach play was worth more than three goals and only desperate goal-line defence, notably by Jones prevented them from winning. In the warm spring weather with an attendance which scarcely furnished the hugh ground, the match was more entertaining than many anticipated. Fulham's attack in which young Haynes played no less than superbly, moved in unison and with splendid understanding. The measure of their strength was that Mitten, on the left, was the least conspicuous of them all. On Saturday we saw Nat Lofthouse, here Jzzard who many yet take over from the Bolton player as England's centre, put on an equally impressive show. True, he faced the debutant Woods, but there was enough about his play against others to show that he is one of the most dangerous forwards in the game. He has the invaluable trick of being able to produce a deceiving dash of speed when the defence least expects it.
In Two Minutes
Fulham lost a goal in less than two minutes when Smith gave away a corner for no good reason. Lowe blundered too, and in this way Hickson was able to cross the ball to where Fielding stood ready to fire it high into the net. On the half-hour Jezzard sailed in parallel with the goal line and Stevens of the barrel-chest produced the shot which equalized, mainly because as it flew it was deflected by Woods. Jezzard with cutely taken goal –he walked the ball up to Leyland and then flicked it past him –put Fulham in the lead and then three minutes after the interval Lowe was involved in another blunder. This time he nodded the ball to his goalkeeper and Parker's head intervened. Leyland fielded Jezzard's shot at eight-four minutes, but allowed the ball to run free and Jezzard following up had only to tap it over the line. With Fulham clearly on top and looking confident, Everton surprised them and us by equalizing two minutes from the end through Parker. Had Parker not taken up the ball as Hickson lost it, the referee could scarcely have done other than give a penalty in Hickson's favour. He was clearly sandwiched.
Watered Pitched
Everton had taken the precaution of watering the pitch and Fulham's artistry in many departments was a result. Haynes had a magnificent game using the ball like a master and Stevens and Jezzard with young Robson, gave wonderful help. Only the sure grip of Mitten by Tom Jones spoiled the Fulham line. Jezzard had too many tricks for Woods, whose main fault, like young Easthope's was that he was not always alert enough to "read" the play. Buckle and Hickson in harness were Everton's most dangerous wing, and Black made the best of save from a Buckle drive. Fielding worked hard and holding the line together had a good match. As ever at Goodison Park the Fulham centre half Taylor seemed much at home. If old man Lowe made some mistakes he did a great deal to atone for them by keeping Mitten supplied with the ball. But this was not Mitten's day.
NOT A CLASSICDISPLAY
March 26, 1953. The Liverpool Echo
But Everton's Weakened Side Saved A Point On The Last Lap
Ranger's Notes Everton extracted their point from Fulham the hard way, but after the manner in which the side had been denuded of its key players by international calls and otherwise it was hardly to be expected that they would shine very brightly. All things considered they were glad enough to share the spoils. That was not too bad a performance, seeing that only five of the cup-tie team were available. Even one of those was playing in position which many once regarded as his best, but which does not now suit him as well as his "adopted" berth though Jones did well enough against Mitten. A display any less confident than his against a winger of Mitten's calbre would probably have seen Everton on the losing end instead of drawing. Although encouraged by a goal to Fielding in the first minute, Everton could not hold on to their lead, and twice had to fight back to equality after being a goal down. That they were able to do this with so inexperienced a side was not a bad tribute to their powers of recovery even if there were shortcomings in other directions.
One Of The Best
Though there was rather too much lusty booting of the ball and too many defensive errors for this to be an outstanding game, I certainly did not think it anything like so disappointing as some people made out. True, most the craft and artistry came from the visitors, for whom Jezzard, despite being up against the unlucky Woods, plainly showed that he is among the game's outstanding centre forwards Stevens was made to look perhaps a trifle better than he normally is because of the uncertainly of Rankin, but allowing for all this the Londoners conceived and executed their attacks with more balance and polish than Everton and were also more accurate in their shooting. The occasional spasms of good play which Everton served up only went to emphasise the mediocrity of some of their other work. Fielding and Buckle were the best of the front line though the latter was unlucky with his shooting. Hickson got few chances to turn in his usual dynamic raids. Never the less he did all the leading up work which enabled Parker to get the equalizer goal four minutes from the end.
Woods Not Happy
It was not a happy debut for Maurice Woods. Woods is nicely built for the pivotal job but on this showing he is tackling somewhat in craft and positional sense. This doubtless come with added experience. He should not be depressed by yesterday's experience. Many a star player of later years has had a similar disappointing debut. Easthope started brightly for ten minutes or so, then faded out to such an extent that he rarely succeeded in beating his man. He also seems a good way off being ripe for senior duty. Despite their shortcomings, however, Everton kept plodding away doggedly and deserve credit for twice wiping out the visitors lead thanks to a couple of Parker goals. Leyland did well as deputy for O'Neill. He had Stevens's opening goal well covered when it struck Woods on the foot and was deflected yards out of his reach. Woods could not be blamed either for I don't think he could possibly have got out of the way of the winger's fierce drive.
Only A Shadow
Leyland had not much chance when Jezzard got Fulham's second and did right to come out of goal. The third came after he had partially saved Jezzard's very strong shot but could not hold the ball, so that the Fulham leader had an easy chance from the rebound. Jezzard would have had a hat-trick but for a remarkable save on the line by Jones, one which never looked possible. How he managed it was amazing. As at Maine Road, so yesterday Everton were only a shadow of the side they have been up to last week but really it was not surprising in view of their wholesale changes. Fulham were not as reliable in defence as one expected. Lowe for so experienced a player was guilty of some wild and unnecessary touch-finding, and the visitors covering was not as watertight as it might have been. The attendance reaction after Everton's dismissal from the Cup was seen in the poor crowd. Despite the beautiful day, it was only 10,474 the lowest at Goodison for a very long time. Even a semi-final side can soon lose its attraction once the thrill of the Cup has departed. Everton will not be able to announce their side for Saturday's visit to Rotherham until tomorrow. The players who took part in Eire's victory over Austria are not due back until Friday morning. There is also doubt about the fitness of Clinton and Lindsay, though the latter is making satisfactory progress and is expected to be available. Moore is also almost right again following his cartilage operation though he will require some game before attaining match fitness after his long lay-off.
EX-POLICE SERGT DIES
Sunderland Daily Echo and Shipping Gazette - Friday 27 March 1953
Former Everton footballer and Sunderland Police Sergeant, Mr. Henry Reay Reay, of Chester Terrace North Sunderland, has died, aged 80. Mr. Reay played outside-right for Everton for three seasons before joining Sunderland Police in 1897. He then became a member of the Sunderland Police football team. In 1913 he was promoted Sergeant and after 25 years service with the Force retired in 1922. In topping runaway horse in 1902 and 1909 his actions were recognised by the Watch Committee.
ROTHER NOT EASY
March 27, 1953. The Liverpool Echo
Ranger's Notes
Although two years ago, Everton were First Division members and Rotherham a comparatively humble Third Division side, the honours since they have been meeting one another are with the Yorkshire club. Last year both games were drawn, with Rotherham making a splendid recovery at Goodison after being three goals down at one period. This season Rotherham won here by a late-on goal by Shaw, and thoroughly deserved their victory. It was gained, however, during the pre-Christmas period when Everton had their leanest spell. Recently the Blues have been a more virile and effective side. they will need all their skill and determination tomorrow to reverse the previous result, for although Rotherham have not maintained their earlier form recently they are still a difficult side to beat on the Millmoor turf. I am not attacking too much importance to Everton's display against Fulham on Wednesday. It could hardly be other than a little disappointing with such wholesale changes in the side. At Rotherham they will be fielding a side much more in keeping with recent games, and an exhibition reasonably comparative with that against Leicester or Brentford, or in the Cup-ties, should see them bring back a point. With visitors of Wembley having faded away, Everton can devote themselves without distraction to the job of making their final League position a reasonably satisfying one. A dash of their earlier Cup fervor would go a long way. Rotherham; Quairney; Selkirk, Williams (H); Edwards, Noble, Williams (D), Grainger, Guest, Burke, Shaw, Rickett.
PARKER SHOT PUT EVERTON IN FRONT
March 28, 1953. The Liverpool Football Echo
Quick Reply To Hickson "Flyer"
By Ranger
Rotherham; Quairney, goal; Selkirk and H. Williams, backs; Edwards, Noble and D. Williams, half-backs; Grainger, Guest, Burke, Shaw, and Rickett, forwards. Everton; Leyland, goal; Donovan and Rankin, backs; Farrell (captain), Jones and Lello, half-backs; Buckle, Fielding, Hickson, Parker, and Eglington, forwards. Referee; Mr. G. Black (Kendall). Because of injuries to O'Neill, Clinton and Lindsay, and the suspension of Cummins, Everton were without four of their semi-final team for their game against Rotherham. As at Goodison on Wednesday the teams came out slowly side by side and stood in silence to the memory of Queen Mary. Both sides wore black arm bands. Farrell tried a long shot which Quairney tipped over the bar, and then Hickson hit the foot of the post with a strong shot after beating Noble, who slipped as he was attempting to recover. Fielding also had a go, his placed drive being saved at the foot of the post. Lello and Farrell were keeping a tight hold on the Rotherham forwards and were also supplying a nice service of passes. Still Everton lacked precision in their approach work, Buckle caught an awkwardly bouncing ball with his shin instead of his boot, and then a grand move, in which Lello, Parker and Eglington combined took the ball from one penalty area to the other without a Rotherham man touching it. Selkirk, however, intercepted Eglington's centre to forestall Hickson. This was the best bit of work so far in a game which had been rather scrappy and disjointed. Hickson was in the wars when Selkirk accidentally caught him with his elbow on the eye blackened at Maine Road last week. Hickson seen recovered. A long clearance by Rankin gave Hickson a chance to dart through when Noble was beaten by the bounce. Quairney, however, ran out to the penalty area and, as Hickson tried to lob the ball over his head, leaped and caught it.
Back's Good Work
Jones found the ball come to him awkwardly and had to give a corner to hold off Guest. The flags kick was put behind by Grainger. Both Donovan and Rankin were doing good work, the former in particular usually putting his clearance direct to a colleague. Rankin occasionally over-kicked his forwards, which was easy to do on the small ground with a strong following wind. When Lello fed Buckle, who put the ball through to Hickson, a first time shot might have given Everton the lead. Instead Hickson lost control of the ball and the chance went begging. Jones blocked a shot from Guest and from his clearance sprang an Everton attack which brought a goal to Hickson at the 38th minute, after Rotherham had vainly tried to put the Everton leader offside. William (H) was much too late moving up, and Hickson, darting through, shot from the edge of the penalty area well out of Quairney's reach. Three minutes later, Rotherham were level, Burke heading in from close range from Grainger's centre. Parker almost got another for Everton straight from the restart, and Fielding shot behind, when well placed from Farrell's pass. Quairney ran a couple of yards outside the penalty area to foil Hickson by kicking away just in time. Half-time; Rotherham United 1, Everton 1.
Burke almost gave Rotherham the lead when Jones was struck by the ball which bounced to the feet of the home leader, Jones, however, harassed him sufficiently to allow Leyland to pick up. With the wind behind them Rotherham were more aggressive than in the first half. Everton's defence was very unsteady. Burke had another chance but topped his shot, providing a simple save for Leyland. Everton were not finding their men this, half with the same facility as earlier although Farrell and Lello rarely put a ball wrong. Hickson had to receive attention when he was brought down by Noble. He soon recovered. Buckle looked a scorer all over with a fierce drive until Horace Williams struck out a foot and the ball soared high over the bar. The corner kick brought a goal, however for Parker glanced Buckle's flag kick with his head into the far corner of the net. This was at the 58th minute. Lello had a good shot saved a minute later, and at the other end a strong effort by Williams (D) was similarly held by Leyland. Hickson and Noble were called together for a brief lecture by referee Black. Donovan, and then Farrell came to Everton's rescue during a hot assault by Rotherham. Everton back to something like their earlier dominating form, remained on top for some time, Rotherham however, still had plenty of fight. Rotherham were now throwing everything into attack. 85 minute Shaw scored for Rotherham. Final Rotherham United 2, Everton 2.
EVERTON RES V SHEFF WEDS RES
March 28, 1953. The Liverpool Football Echo
Everton Res;- Dunlop, goal; Sutherland and Fletcher, backs; Grant, Forshaw, and Capper, half-backs; Gibson, Wainwright, Saunders, Farrell, and Easthope, forwards. Sheffield Wed Res;- Capewell, goal; Bannister and Leemley, backs; Gannon, Butler and Edwards, half-backs; Booth, McInreney, Underwood, Slater and Whittaker, forwards. Referee; Mr. R.J. Fyer (Stoke-On-Trent). Before the game began the teams stood in silence which was followed by the National Anthem as tribute to Queen Mary. Everton were soon in the picture with Easthope their best forward. Sutherland and Fletcher were rarely troubled. In the 25th minute Farrell took a pass from Saunders to put the ball well out of Capewell's reach. Half-time;- Everton reserves 1, Sheffield Wednesday Reserves nil.
Everton were more methodical side after the restart, Capewell being kept busy with effective shots from Gibson and Wainwright. Sutherland and Fletcher proved two good defenders and were capable of dealing with dangerous Sheffield moves. Easthope and Wainwright added further goals for Everton. Final; Everton Res 3, Sheffield Wednesday Res nil.
• Boolte 0 Everton "A" 3
• Everton "B" 4 Breaka 1
• Everton "D" 13, Christ Church 0
EVERTON GALLANTLY HELD OUT
March 30, 1953. The Liverpool Daily Post
By Rangers
Rotherham 2, Everton 2
After looking almost certain winners for three-parts of the game, at Rotherham on Saturday, Everton finally had to sacrifice a point when Rotherham, following a period of strong pressure in the last twenty minutes snatched a rather fortunate equalizing goal with only five minutes to go. Following that the home side almost pulled off a win when they threw everything into a terrific assault which saw Selkirk skim the bar with a tremendous drive and Burke miss a fairly simple chance from close range. Everton's defence however, held out gallantly with Jones putting up stern resistance and in the end a draw was a fairly equalitable result. Everton, however, could have had the game well won by half time if they had been able to round off their good approach play in the appropriate late manner. With a strong wind at their backs in the first portion they had Rotherham well bottled up one they had struck their best form after a rather ordinary opening. They found their men much better than the home side most of whom were content to boot the ball lustily without much regard to where it was going. Everton keeping the ball on the ground and generally making wise use of it served up some attractive football until they came within shooting distance. Then over eagerness was their undoing. Hickson missed two simple openings after Lowry hit the post earlier and Buckle and Fielding were off the mark when they had reasonable chances. Hickson opened Everton's account at the 38th minute when Rotherham unsuccessfully endeavoured to play him offside. Williams (H) was far too slow in moving upwards however in company with his colleagues and Hickson getting a bouncing ball quickly under control, scored a fine goal from twenty yards range which gave Quairney no chance. Three minutes later Rotherham were on level terms Burke heading in from Grainger's centre. The best goal of the day was that by Parker at the 58th minute. It came from a corner by Buckle the Everton man deflecting the ball cleverly with his head yards out of the goalkeepers reach.
Rampant Attack
Although Everton had as much of the play as their opponents for the first twenty minutes of the second half the weight of Rotherham's pressure in the concluding stages seemed certain to bring the equalizer. When it came however there seemed to be a definite tinge of offside about it, for Selkirk's free kick, some thirty yards out was touched first by Williams (H) from a seemingly offside position before it ran to Shaw, who made no mistake from ten yards range. The referee however appeared to have no doubt about the goal's validity, despite Everton's protest. This was five minutes from the end and from this point onwards it took Everton all their time to hold the rampant Rotherham attack in which half backs and even full backs took a hand in an effort to force the winning goal. Everton, however packed their goal area and managed to hold out. Everton were best served in defence by Leyland (who kept goal splendidly) Jones, and Farrell, Rankin and Donovan also did well, and Lello rarely put a foot wrong in attack. Hickson broke about even with Noble and the inside men strove manfully, but for once the extreme wingers were not as reliable or dangerous as they might have been. Eglington was in very subdued mood. Towards the finish tempers got a little ruffled, and Fielding, Hickson, Noble and Shaw all came in for an admonishing word from the referee. Rotherham are a dour and determined side rather than a stylish combination but Burke once he settled down should be a useful acquisition. The defence was a little erratic under pressure but Quairney was sound in goal.
STEADY WAS THE WORD
March 30, 1953. The Liverpool Echo
Ranger's Notes
First item on the agenda for Everton's review is to correct a telephonic error which did much injustice to the Blues' reserves defence. My typed report referring to Rotehrham's second-half pressure, said that Everton's defence was "very steady" Somewhere en route this was mis-heard and I was made to say that it was unsteady. On the contrary, the three lads who filled the rearguard positions all did extremely well. What little unsteadiness there was in the Blues' team was forward, not aft. After a slow start, during which the cramped Rotherham pitch was something of a handicap to the Blues, the visitors gradually settled down to play attractive football. They had the home defence very much on toast for long stretches, and but for rather erratic finishing would have been well in front at the interval, instead of on level terms. Hickson took his goal splendidly after having earlier hit the foot of the post with Quairney hopelessly beaten, but twice he missed reasonable scoring chances, and once failed to lob the ball over the goalkeeper's head when he had dashed out of the penalty area. Hickson, however, was not the only one to fail to add the right finishing touch to otherwise good work. Eglington, Buckle and Fielding each had openings when a strong first time shot would have done the trick. Instead they were either off the mark of mis-hit their efforts. To some extent the bumpiness of the pitch and the grusty wind doubtless contributed to these misses. Rotherham also had one gilt-edged chance which they allowed to go begging, when Burke toe-ended the ball over the bar from a few yards range. He made amends however by getting the equalizing goal just before the interval with a fine header. After enjoying marked supremacy up to the half-way stage Everton in the end had to fight desperately hard in the last 20 minutes or so, when Rotherham for the first time got to top. Prior to this Parker had notched a cleverly-headed goal from Buckle's corner at the 58th minute. Leyland played soundly throughout in Everton's goal and Donovan and Rankin stuck to their guns well during Rotherham's heaviest pressure.
A Doubtful Goal
The equalizing goal, five minutes from the finish, seemed to me a very doubtful one, for Horace Williams appeared well offside when he touched Selkirk's free kick to provide a simple chance for Shaw to slot the ball home. Still, all things considered, a draw was a reasonably fair result, though Everton's first half superiority was far more pronounced than Rotherham's later. Everton's half-back line did splendid work. Farrell and Lello were good providers in the first 45 minutes and along with Jones valiant defenders when the Blues had their backs to the wall. The forward line, once it had got accustomed to the small pitch, played good approach football, finding their men well and mastering the awkwardly bouncing ball in the strong wind far better than Rotherham, whose kicking was generally lusty and rather haphazard. Hickson was always dangerous and gave Noble a lot of trouble, while Fielding schemed well and made excellent use of the ball. Rotherham were rather fierce at times in their tackling, and towards the finish, tempers on both sides got so fayed that referee Black, of Kendall, was in danger of finding the position getting out of hand. Hickson, Fielding, Noble and Shaw all came in for a word of warning, and once Farrell had to pour oil on troubled waters when blows did not seem far off.
Everton have re-rearranged their home games with Lincoln City, which was postponed through fog on December 27. It will now be played on Wednesday, April 22 by which date summer-time will be in force, so that an evening kick-off will be possible. The Central League match between Everton and Wolverhampton Wanderers, postponed from February 14 will take place on Monday, April 13.