MANCHESTER CITY RES V EVERTON RES
May 2, 1953. The Liverpool Echo
Manchester City Res;- Gourley, goal; Beacher and Little, backs; Revie, Rigsby and McTavish, half-backs; McClelland, Barnes, Sowden, Davies, and Westwood, forwards. Everton Res; Leyland, goal; Moore and Rankin, backs; Cross, Wood and Melville, half-backs; Grant, Wainwright, Saunders, Lewis, and Easthope, forwards. Referee; Mr. E.R. Tuck (Chesterfield). A sharp raid by Manchester resulted in a goal after only one minute's play. Sowden, the home leader, scoring. Everton hit back Saunders and Lewis linking up effectively, but when Wainwright get within shooting distance he could not muster a shot. in their next move Easthope swung a nice centre across the Manchester goal but the chance went begging when all that was required was someone to touch it home. Everton had a lucky escape when Manchester were awarded a penalty. Revie missed from the spot. It looked like the equalizer when Lewis drove in fiercely, but Gourlay managed to save at the second attempt Everton were now attacking more often, Saunders got the ball out the Manchester net but the point was disallowed for off-side. Everton were certainly aggressive and towards the interval Saunders and Lewis had good efforts saved. With a minute to go Manchester City's Revie surprised Leyland and the ball was in the net.
Half-time; Manchester City Reserves 2, Everton Reserves nil
Everton opened confidently in the second half and Easthope after making ground finished with a fierce shot that whizzled inches wide. Then Lewis followed up with a snap shot that nearly caught Gourlay unawares, but Manchester keeper saved at full length. Easthope later had another good chance but passed instead of having a go. Wainwright looked a likely scorer with a ground shot, but Gourlay pushed it round the post.
EVERTON "C" V NETHERTON
Myers, Mahoney, Dawber and Higgins in the Netherton defence were forced to concede several corners which however, proved fruitless. A centre by Bennett right across the Netherton goal, was missed by C. Williams, Keeley and Hughes. Everton were obviously the better side, but at 35 minutes Johnson scored for Netherton in a breakaway. This seemed to put new life into Netherton and their football improved, but shortly before half-time Everton missed a chance to equalize because of the hesitancy of their forwards. Half-time; Everton "C" nil, Netherton 1.
Four minutes after the restart Bennett equalized and two minutes later C. Williams with a great shot from 30 yards gave Everton the lead. Two minutes later the same player scored again.
MANCHESTER CIRT RES 2 EVERTON RES 0
May 4, 1953, The Liverpool Daily Post
Everton Reserves finished on the wrong note at Manchester. Inaccurate shooting was their downfall for they made sufficient chances to have won comfortably. Sowden got Manchester's first goal and before Revie got the second, the Manchester goal had many narrow escapes. Saunders was unfortunate with several efforts and had a good goal disallowed. Leyland had no chance with the two that got past him.
SAGAR'S SWAN SONG
May 5, 1953. The Liverpool Echo
Veteran Everton Goalkeeper Plays In Senior Cup Final
Ranger's Notes
Everton supporters have the chance on Saturday for which they have been longing for. It was announced that Ted Sagar was not being retained on the active playing staff for another season. They will be able to see the master in action once more for he will be in goal for the Blues team against Tranmere Rovers in the final of the Liverpool Senior Cup at Goodison Park on Saturday. Normally this game would have been an acceptable finale to Everton's programme. Now it assumes attractiveness for in excess of the usual end-of-the season game, Sagar's 24 years and three months loyal service to Everton will be suitably acknowledged by the club in due course. There may also be a tangible tribute from his many admirers among the general public, if tentative plans already being discussed in certain quarters come to fruition. Now the club gives its supporters the opportunity to show their appreciation of the most loyal player Everton have ever had in them long history. There should be a wonderful crowd at Goodison Park for this game, which will be a really memorable one. The Everton team will be;- Sagar; Clinton, Lindsay; Farrell, Jones, Lello; Mayers, Fielding, Hickson, Parker, Eglington.
All the Everton players on the retained list have accepted the terms offered for next season except Maurice Woods, the reserve centre half who join them from Skelmersdale. The club is now prepared to receive offers for him. Already the bulk of retained players have re-signed for next season.
Everton Nominations
There are four candidates for three vacancies on the Everton board, for which voting will take place at the annual meeting on Thursday, June 25, which will probably be held at the Central Hall. The two retiring directors, who offer themselves for re-election are Messrs W.C. Gibbins, who has given the club admirable services over a score of years, and F. Micklesfield, who was elected 12 months ago to fill a "casual vacancy," and during his short spell of office had proved himself a valuable acquisition to the board. The two additional candidates are Messrs R.E. Searle, a former director who lost his seats two years ago, and Albert N. Denaro. Mr. Denaro has stood for the board on several previous occasions usually as the nominee of the shareholders' Association, and some seasons ago was only defeat by the narrowest majority for many years. Both these candidates and, of course, the retiring directors, are well enough known to Shareholders for it be unnecessary for me to go into details here regaining their qualifications. The third vacancy on the board, additional to the two retiring directors is caused by the recent death of the club's former chairman Mr. W.R. Williams.
Federation's Position
Last year there were six candidates when messrs Searle, W.H. Sawyer and R.A. Joynson were put forward as nominees of the Supporters and Shareholders Federation. Mr. Sawyer, who is president of the Federation –which recently decided to drop the "Shareholders" part of its title – has decided not to stand this year though he may do so again at some future date. Last year he polled well and created favourable impression on many shareholders by the excellent manner to which he put his case as well as by his refusal to enter into personalities. Under Mr. Sawyer's presidency the Federation has gradually been weaned from any desire to interfere in domestic or directorial affairs, and is confining its energies to the real aims of a supporters club, namely to encourage the players and support them in way matches by arranging trips to other grounds. This is all to the good. For many years Everton's internal affairs have been the cause of far too much acrimony and disharmony. It is good to see somebody working the other way.
Everton In Ireland
Everton leave by tonight's boat for the game at Dalymount Park, Dublin on Wednesday evening against a representative Eire side. The match has been arranged by Home Farm club, and the "home" side will probably include Johnny Carey (Manchester United) and Aherne (Luton Town) as guest stars. All three are Eire internationals so that with Everton's Eire internationals as well; this game takes on something of a near-international aspect. Everton's team will be;- O'Neill; Clinton, Lindsay; Farrell, Jones, Lello; Buckle, Cummins, Hickson, Parker, Eglington.
After returning on Thursday night, Everton will cross the Irish Sea again next week for a charity game with Clyde in Belfast on May 14. For this game it is rumonured in Belfast that an effort will be made to presude Stanley Matthews hero of the Cup Final, to play in the Everton team, along with Carey and Peter Doherty. Everton have had word that the promoters would like to include guest stars but have not been advised of the players who are being approached.
EVERTON WIN IN DUBLIN
May 7, 1953. The Liverpool Daily Post
Home Farm Selected x1 1, Everton 4
Everton fielded their full up side against a Home Farm selected side at Dalymount Park last night and had little difficulty in winning by four goals to one. The winners inside forwards were shinning lights, Hickson was in great form at centre forward. Parker was a clever inside left and Cummins gave a lovely display of football at inside right, rounding off his good display with a grand goal. Jack Carey was brilliant in the first half for the home side, but found Hickson's speed too much. V. Ryan the seventeen-year-old player who captained the F.A.I Youth team in Belgium and Liverpool had a very good game. O'Neill showed that he is worthy to be recognised as Ireland's best goalkeeper. Parker got the first goal after thirty-six minutes. He left Kiernan helpless with a splendid drive, Hickson got the second from a pass from Parker four minutes later and Buckle gave Hickson the chance with the third goal two minutes after half-time. Twelve minutes from the end, Johnston from a penalty scored for the home X1 but with five minutes to go Cummins got Everton's fourth with a powerful shot from the edge of the penalty area.
SAGAR SAYS FAREWELL
May 8, 1953. The Liverpool Echo
Everton Veteran Plays His Last Game Tomorrow Against Tranmere
Ranger's Notes
The final of the Liverpool Senior Cup at Goodison Park tomorrow afternoon provides more than an attractive wind up for the football season. It carries the additional and very appealing angle that it will be the last public appearance of Ted Sagar, the veteran Everton goalkeeper. Sagar's loyal service to Everton is too well known to require more than brief recapitulation. At the age of 43 he goes out of the game possessing all the honours possible –international caps and F.A. Cup winner's and League championship medals. He has played in 465 Football League peace-time matches, as well as innumerable war-time regional games, cup-ties and friendlies. He has remained loyal to one club all his life, setting up an example of fidelity which is without precedent. Six months ago he exceeded the late Bob Crompton's record of 23 years and nine months' service with Blackburn Rovers. Ted has had 24 years and three months at Goodison. Never in their long history have Everton been so faithfully served by any player. His tenure of "office" is a record for any layer throughout the whole 65 years the Football League has been in being. This meeting of Everton and Tranmere in the final of the Liverpool Senior Cup should provide a record attendance for any Merseyside game, other than an F.A. Cup-tie between senior and Third Division opponents. Every soccer fan who can will want to be at Goodison to pay tribute to Sagar, whose only previous appearance in Everton's first team this season was away against Plymouth Argyle at Plymouth in November when O'Neill was on international duty for Eire.
Everton Should Win
On that occasion, despite his age Sagar played a splendid game. Tomorrow he will be keen to give a good display to round off his notable career. Everton after their well merited victory over Liverpool in the semi-final at Anfield, should make sure of lifting the trophy for the first time since the war, providing always that they serve up the same speedy, combined well-balanced and stylish football that they did against the Anfielders. The last time the Blues won the Senior Cup was in 1944-45, when the war was drawing to a close and thoughts of football as we used to know it were again engaging our attention. Since then Liverpool have lifted the trophy on four occasions and Tranmere Rovers twice. As with the F.A. Cup, these lesser trophy competition often provide unexpected results. Though Everton field the same side as that which defeated Liverpool with the exception of Sagar's inclusion, it is by no means certain that they will defeat their Third Division opponents. Tranmere are quite a useful side, well up to average Third Division standard and on the rare occasions that they face senior Merseyside opposition they always endeavour to pull a little something extra out of the bag, just to prove that the difference between First or Second Division football and the Northern Section brand is not as wide as many people contend.
Done Leads The Rovers
It will good to see our old friend Cyril Done in action again. It was always opposed to Liverpool parting with this big, strong, and rugged player. Done may not be a stylish footballer, but he has plenty of courage, abundant determination and undoubted stamina. I still feel as I have all along, that it would have been better for Liverpool to hang on to him, especially considering the comparatively small fee obtained for his transfer. Done finished up the recent season with 24 goals for Tranmere Rovers in Cup and League, and though it by no means follows that he would have got anything like this total had he remained with Liverpool, I still think that he could have done much to starve off the anti-relegation fight which the Anfielders suffered.
Welcome To Bell
In addition to the reception which will be accorded to Sagar, I hope the Goodison Prk crowd will also give a warm welcome to Harold Bell; the Rovers centre half, who has not missed a single match of any description –League, Cup or friendly –in seven post war seasons. This is an amazing record, and one which, if not exactly comparable with Sagar's long service, is a wonderful tribute t the consistency of Bell and his value to his side. I regret that I shall not be there to see the game. I start a fortnight's holiday tomorrow and for once do so with a certain amount of regret. I would dearly have liked to be present to witness Sagar's farewell performance. However, I shall read about it with interest and am sure it will be a memorable game in the annuals of Everton, comparable almost with the other outstanding occasion when Dixie Dean got his 60th goal of the season a generation ago. Everton; Sagar; Clinton, Lindsay; Farrell, Jones, Lello; Mayers, Fielding, Hickson, Parker, Eglington. Tranmere; Payne; Lamont, Steele; Williams, Bell, Kieran; Davies, Bainbridge, Done, Jackson, Iceton.
So Say All Of Us
Vin Enright always ready with an apt quotation, writes, saluting Sagar a la Jack Pleasants, of happy memory." He a jolly good fellow. Twice 21-today. He also interprets his soliloquy on Everton thus; "I can never forget you. My destiny is cast. As you were my first love, so will you be my last." And so say all of us, with the reservation that Ted is now a fair bit over twice 21, for he celebrated his 43rd birthday last February.
The International and Junior Cup finals which were arranged for Goodison Park on Saturday morning have had to be cancelled because of the game between Everton and Tranmere Rovers in the afternoon.
SARAR'S LAST GAME GAVE HIM EASIEST EARNED MEDAL OF HIS LONG CAREER
May 9, 1953. The Liverpool Football Echo
By Stork
The Rovers put up a good show for half the game, but they were not punishing enough near goal, in the end it was rather easy for Everton. Sagar went out in glory, if only because of two really first class saves. Everton; Sagar (captain), goal; Clinton and Lindsay, backs; Farrell, Jones and Lello, half-backs; Mayers, Fielding, Hickson, Parker, and Eglington, forward. Tranmere Rovers;- Payne, goal; Lamont, and Steele, backs; Williams, Bell (captain), and Kieran, half-backs; Davies, Bainbridge, Done, Jackson, and Iceton, forwards. Referee; Mr. A. Jones, Rainhill. There was a good attendance to say farewell to the Everton goalkeeper Ted Sagar, at Goodison Park today. Ted has had a long and honoured career with the Goodison side, his only club during 24 years of soccer. He was honoured with the captaincy of Everton and he received a great cheer when he went to the centre to toss with rival captain Harold Bell, another long-service member for Tranmere Rovers. The Rovers were first into their stride and Sagar's first duty was to take a ball from a pass-back. So far the Birkenhead side had done all the attacking without however disturbing a confident Everton defence.
Parker Hits Crossbar
Iceton showed ball control when he beat Clinton and ultimately won a corner. This was speedily disposed of and it was from this that Everton made their first real strike at the Tranmere goal and they almost opened the score, for a Parker shot beat goalkeeper Payne only to crack up against the crossbar and rebound to safety. It was a good run by Eglington which started this advance, and the Everton left wing was again in the picture without having caused trouble to the Rovers defence. Davies had made two promising runs and from his second the ball was taken close in before he shot and Sagar was thankful to be let off with a corner kick.
Another Chance Missed
Done looked after the interests of Davies yet it was Everton who should have taken the lead, when Hickson, after beating two men was left slap bang in front of goal and although he had the goalleeper going the wrong way he shot wide. Tranmere almost succeeded in the next move of the game when Done headed outside from a pass by Iceton. The Rovers were playing some nice football and if Everton thought they had an easy thing on to win this Liverpool Cup, they could very easily e in for a surprise, for there was plenty of ability right throughout the Birkenhead team.
In The Net –But No Goal
There was a great shout from the Birkenhead followers when Davies made a scintillating run which left Done in a strong position close to goal. The former Liverpool player took his chance quickly to net the ball, but it was no goal for Done was obviously in an offside position. Sagar had not had one real shot to save in 20 minutes' play although the Rovers had done a fair bit of attacking. A run by Eglington and Lello put the Rovers goal in danger, and Mayers added to the difficulties when he put the ball back to Parker, but Bell stepped in to clear. Right on top of this came the first goal of the day, at 30 minutes and it came from the penalty spot because Hickson had been brought down by half back Williams. Lindsay was allocated the task of taking this penalty and he made a good job of it shooting well wide of the Rovers goalkeeper. The Rovers were inclined to be a bit finicky near goal. They had several chances followed good ball play but wanted to walk the ball into the net. This is rarely successful these days. The next few minutes were full of excitement for Done had equalized at the 36th minute and Everton awarded another penalty two minutes later from which Lindsay again scored. The penalty came after a shot by Hickson had struck the goalkeeper and Steele apparently handled the ball. Just before the interval Fielding shot over and the Rovers missed an equalizer when Done sliced his shot right across the Everton goal face. Half-time; Everton 2, Tranmere Rovers 1
Everton were quickly off the mark in the second half and a fast, hard drive by Fielding was cannoned away off Kieran, but the Rovers' trouble were not at an end, for a left-footed shot by Parker was saved by Payne at the expense of a corner. Actually I think it was a case of the ball hitting the goalkeeper. When Done got the better of Lindsay he ran through strongly but his shot was well off the target. Everton's third goal was due in the first place to a wonderful pass by Hickson to Mayers, it had the Rovers defence entirely on the wrong foot, and Mayers calmly put the ball into the goalmouth for Parker to put it into the net at 58 minutes.
Cheers For Sagar
Sagar so far had no need to pull out anything sensational, but he made a really nice save from Iceton at the expense of a corner and the crowd did not miss this good save by their favourite goalkeeper. Sagar brought the house down with an immaculate save from Davies. It was as good a save as ever he made in his palmy days. Everton almost made it four when Farrell went up among his forwards and Bell, in trying to intercept his pass, failed to collect it, so that Hickson was able to get in his shot, which shook the upright to its foundations. It was not long, however, before a fourth goal went on Everton's score card, and it was Mayers who scored it, at the 72nd minute. Fielding and Parker were the engineers who draw up the blueprint for this one.
Chance For Rovers
There was little to enthuse about at this stage but the game was livened up when Done pushed the ball back to the oncoming Bainbridge in such a way that a goal should have come for the Rovers but Bainbridge only half hit his shot, which passed outside.
Ted Does His Stuff
A long ball by Williams was passing over Jones head when Jones shouted "Ted." The goalkeeper acted quickly, shot up his hands and the ball was safe as it had been lodged in a bank, and Sagar made another good save from a close-in header by Done. It was so good that Done looked at him in surprise as if to say "How did you do it Ted?" Ted Sagar had a glorious send-off, carried off on the shoulders of captain Farrell and Tom Bell, receiving the congratulation of his colleagues and a great ovation from the crowd and so ends a career that is hardly likely to be surpassed. Final; Everton 4, Tranmere Rovers 1.
Official attendance 29,090.
LINDSAY WAS SPOT-ON
May 11, 1953. The Liverpool Daily Post
Everton 4, Tranmere Rovers 1
By Stork
It was a nice gesture on the part of Everton to play Ted Sagar, their long service goalkeeper in the final of the Liverpool Senior cup, at Goodison Park. It gave everyone opportunity to pay tribute to a great goalkeeper and Sagar will not easily forget the reception he received before and after the match. Sagar captain for the day rounded off his career without a mistake and two saves of international class. He had not a lot to do, but what he did was done competently. Tranmere played some nice football in the first half but seemed to want to walk the ball into the net. It was not surprising to find Everton the more dangerous side. Twice Everton hit the woodwork (Parker and Hickson), whereas Tranmere could muster only a couple of real shots, one of which found its billet. (Done). There were two penalties, neither the result of anything distasteful and full back Lindsay scored from both. Parker and Mayers got other Everton goals. Tranmere were capable up to the penalty spot, but after that it was left to Done and Iceton to do most of their shooting, although Davies gave Sagar the chance to show 27,000 spectators hat he was still fit for first-class football. When Everton took a two goals lead the game deteriorated and but for a few thrills near the end quite a proportion of the second half was ordinary. So football on Merseyside came to an end. Sagar had still his part to play. Acting captain he was called upon to receive the Cup from the Lord Major.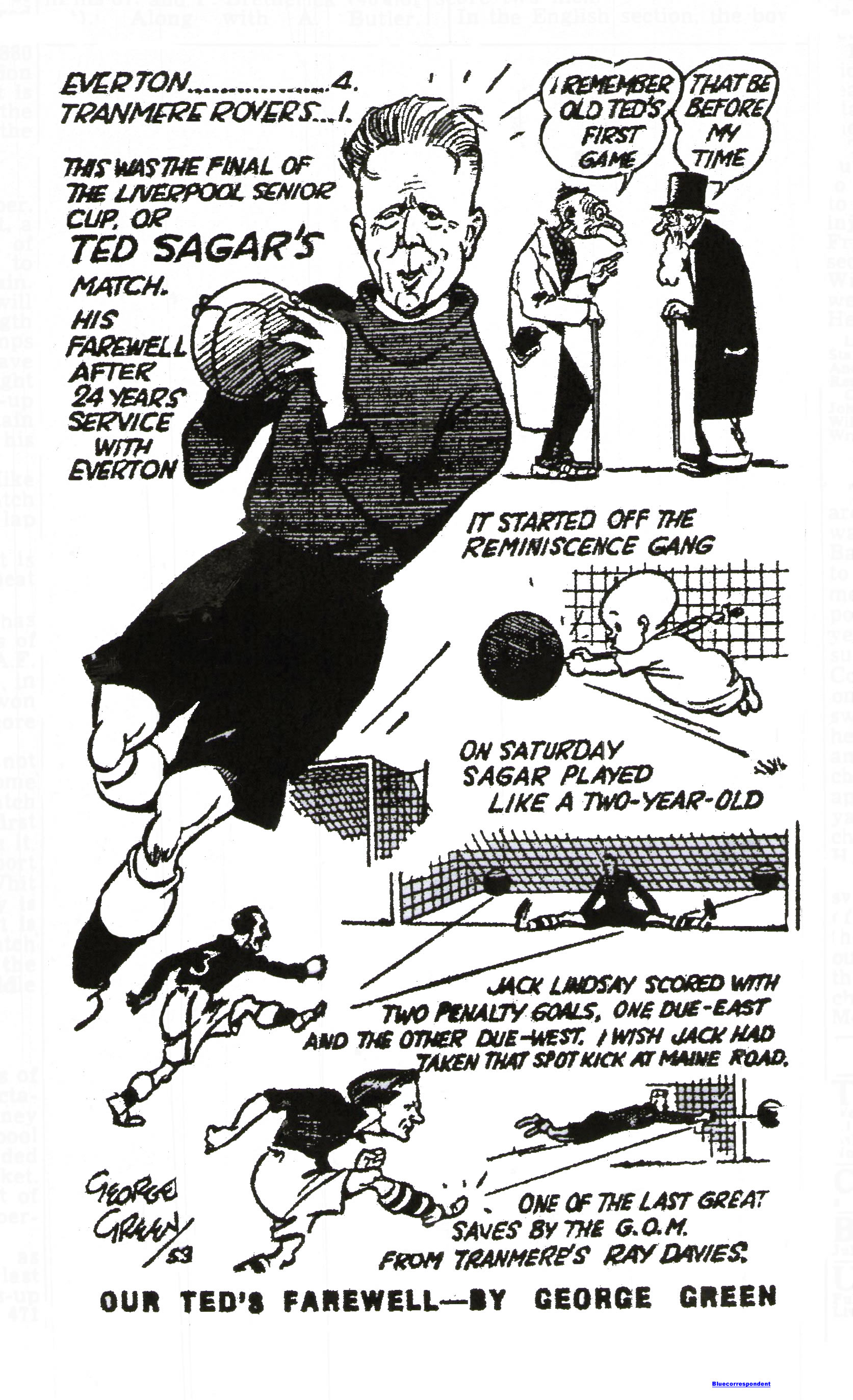 GREAT DAY FOR SAGAR
May 11, 1953. The Liverpool Echo
Touching Farewell At Goodison Park After Fine Display
Stork's Notes
It is always a little say to say farewell to a friend and I must confess there was a lump in my throat as Ted Sagar was "chaired" off the field after the Liverpool Cup final on Saturday. I can well remember the day Sagar joined the Goodison staff a mere slip of a boy from a little Yorkshire village. It was a great day for him, and a greater day for Everton, for no club ever had a more loyal servant. I don't know what job Ted is to get at Goodison but you can depend he will put just as much into it as he did into his goalkeeping. Sagar will not forget his last match for Everton, for it was his day in every respect. He received the Cup from the Lord Major (Alderman A. Morrow), went out on a winning note and never made one single mistake and pulled out two wonder saves to prove that he is still keen of eye and the agility of a youngster. He was certainly the "boss" of the Rovers forwards with one exception. Everton need not worry any more as to who shall take their penalty kicks. Several have been tried and found wanting, but it came as a surprise when John Lindsay came forward to take two penalty shots. He slapped those two balls into the net with an ease and grace which left goalkeeper Payne helpless, in fact the Rovers' goalkeeper was moving the wrong way for one of them. The Scot will most assuredly be Everton's "penalty king" next season. I have often wondered why forwards are not the automatic choice as penalty takers. They are the acknowledged shooters of the team, yet in nine cases out of ten it is either a full back or a half who has to do the honours. Maybe forwards are not so sure with a dead ball, which is something different to hitherto a ball on the run. Everton won this handsome cup because they were more dangerous near goal. They did not want to walk the ball through. The Rovers played some nice football, and promised to make a fight of it, but they would not take a chance having made it. Davies showed how the quick shot was their best bet and he would have scored, had not Sagar brought off his master save. Done was the exception, for apart from his goal he had several other close efforts.
Not So Masterly. Everton were not nearly so masterly as they were against Liverpool in the semi-final but don't let us forget that they twice hit the woodwork –Parker and Hickson –and Mayers scored a good goal to augment Parker's in the second half. The Rovers' football is undoubtedly a worthy a better position in the table. It was, however, a pleasant game to wind up the season. The crowd showed its appreciation of Sagar's long and glorious service by making the welkin ring as he shook hands with Harold Bell, but the greatest cheer was when he was hoisted on to the shoulders of Captain Peter Farrell and Tom Jones and chaired off the field. That will be one of Ted's greatest memories in the years to come.
Not His Last Game
Sagar has not played his last match, for on Friday at Damremont Park, Ireland he will be in goal for an eleven in a game for newspapers charities. The opposition will be Frank Swift's X1 in which former England keeper will be under the bar. Everton will leave Liverpool on Wednesday for Belfast where on Thursday they meet the Scottish League side Clyde. The promoters of the game suggested that a few guest stars should be included, and the two clubs have agreed, so that Stan Matthews and Ernie Taylor (Blackpool) will find places in the teams. It was proposed that Matthews should play for Everton, but it won't be decided which teams the players will represent until just before the game. On Friday, Everton will play Newry Town at Newry and will field their cup team, with the exception of George Cummins who is hobbling about on one foot, having had a minor operation on his toe last Friday. It will be a couple of weeks before he is fit. Wally Fielding will be at inside right, the team being;- O'Neill; Clinton, Lindsay; Farrell, Jones, Lello; Buckle, Fielding, Hickson, Parker, Eglington. Jackie Grant will accompany the team.
EVERTON F.C. ARE REUNITED
May 14, 153. The Liverpool Daily Post
By Leslie Edwards
Everton F.C. yesterday issued a statement announcing the withdrawal, by the former director of the club, Mr. Dick Searle of his legal action against the club following last year's annual general meeting. The statement concludes; "In the circumstances the board accepts the withdrawal and reciprocates the hope expressed by Mr. Searle that in the interest and well-being of the club the good relationship which formerly existed may be completely restored. Followers of Everton aware of Everton factions of the past will endorse this sentiment, and will hope that the club will now go forward single-minded in its effort to regain a place in Division 1. It may well be that Mr. Searle a candidate for election to the board, will find a place on it again if rumour is true that Mr. Will Gibbins is to retire shortly. Mr. Gibbins has had a long and useful innings and were he to announce his resignation it would not entirely be unexpected. In this event Messrs Searle, Denaro and Micklesfield would automatically gain election. Everton manager Cliff Britton, is on contract until October. His club no doubt hope that by the time discussion of renewal comes up the team will have started the season successfully. In that case a decision would not be difficult. Stanley Matthews, Peter Doherty 'and E. Taylor (Blackpool) are expected to appear for one side or the other, in tonight charity game between Everton and Clyde in Belfast. Everton go on to Newry to play there tomorrow.
EGLINGTON GOES FOR X-RAY AFTER CHARITY GAME
May 15, 1953. The Liverpool Daily Post
Everton 5, Clyde 3
Clyde despite the fact that they had the help of Ernie Taylor and Stanley Matthews the Blackpool right wing were beaten in this Charity match in Belfast last night. There was no comparison between the teams. Clyde were a slip-shod side and the two visitors did not improve the team. Taylor did a lot of running about but was never in position and Matthews generally "walked" through the match. On not more than seven or eight occasions did he give the 30,000 spectators a real idea of his football abilities. On the whole, the crowd were more impressed by the quick, brisk movements of the Everton side. It was particularly noticeable how the Everton forwards changed position. They had the Scottish team's defence running backwards and forwards and but for several brilliant saves by Wilson, the Clyde goalkeeper, might have won by a more clear margin. Nearing the end, Eglington was injured by a kick below the knee and was taken to hospital for an X-ray examination. Hickson (3), Eglington (2), scored for Everton and McPhail and Ring (2) for Clyde.
EGLINGTON INJURED
May 15, 1953. The Liverpool Echo
Stork's Notes
Despite the fact that the Scottish club, Clyde had the assistance of Stanley Matthews and Ernie Taylor, the two Blackpool stars they, were no match for Everton in the charity game at Belfast last night, for they were beaten 5-3. Neither Matthews nor Taylor produced their club form and Everton were the better side throughout. Everton's brisk passing and canny interchange of position made a big impression on the 30,000 spectators. Everton had the Scottish defence sorely troubled and had it not been for several brilliant saves by Wilson they would have won by an even greater margin. The only fly in the ointment so far as Everton were concerned was that n the late minutes of the game Eglington, the scorer of two of the side's goals was injured and had to be taken to hospital for an X-ray examination. Hickson got Everton's other three goals.
EVERTON WIN AGAIN
May 16, 1953. The Liverpool Daily Post
Newry Town 0, Everton 1
Following their 5-3 victory over the Scottish League Club, Clyde in Belfast on Thursday, Everton gained another victory last night when they defeated Newry Town 1-0, the goal being scored by the home side's centre half who had the misfortunes to turn the ball into his own net.
Nominee for Burnley F.C. directorate
Burnley Express-Saturday 16 May 1953
One the nominees for the Burnley F.C. Board of Directors at the club's annual meeting on June Mr Jasper Kerr, of 563. Brunshaw-road. A former professional with Everton and Preston North End, Mr. Kerr a vice-president of the Bumley Referees' Association and a wellknown lecturer on football throughout the district. He has taken a keen interest in Junior sport in the town and during the war years helped Burnley with training.
COUNTY F.A. SIDE FOR EIRE
May 18, 1953. The Liverpool Echo
Eight "Liverton" Players Honoured
Everton Director Resigns
Stork's Notes
Most clubs nowadays are pinning their faith in youth in an effort to steer clear of the transfer market. The true fact is they have not the money to put out, especially as astronomical figures are being asked fir mediocre players. Some clubs are still prepared to pay out the big cheques but this is no guarantee of security. It is a "chancy" affair paying big money for players who may not fit into the scheme of things, and clubs are getting chary about parting with cash. During the season one or two evenings are set apart for the coaching of young players and the trainers and coaches are never idle for long. Of course many never make the grade, but if a club can unearth one prospect they are satisfied. Both Everton and Liverpool have a big playing staff of amateurs and there is some good material among them. The Liverpool County F.A. apparently think so, for they have chosen eight players from the two clubs (four each) to represent them against the Eire F.A. at Dalymount Park, Dublin on Whit Monday. The three remaining players all from Earlestown, Crossens and New Brighton. The team will leave Liverpool on May 23, and return on Tuesday May 26. Here is the Liverpool County X1. W. Hall (Earlestown); H. Lyon (Liverpool), J.D. Irving (Everton); R. Campbell (Liverpool), A. Favager (Everton), R. Spruce (Liverpool); B. Harris (Everton), D. Walmsley (Crossens), G. C. Price (New Brighton), P.M. Chamberlain (Everton), J. Randell (Liverpool).
W.C. Gibbons Resigns
Mr. W.C. Gibbons has tendered his resignation as a member of the board of the Everton Football Club. He states;-
"I have as you know, enjoyed a long and happy term of office now approaching 32 years and on further consideration I have come to the conclusion that the time has now arrived when I should be released from the work and responsibility which a directorship entails. "I desire therefore, to place before you and the board my formal resignation as a director and my withdrawal as a candidate for re-election."
TRIBUTE TO WILL GIBBINS
May 19, 1953. The Liverpool Echo
Thirty-Three Years On Everton Board
Stork's Notes
There will be no election for the Everton F.C., board this year. Such a thing has not happened since the war. This has been brought about by the resignation of Mr. W.C. Gibbins, announced yesterday. Originally there were four candidates for three vacancies on the Everton board, the others being Mr. Fred Micklesfield, who was elected twelve months ago to fill a "casual" vacancy, and Messrs R.E. Searle, a former director, and Mr. Albert N. Denaro, JP, O.B.E. Mr. Denaro has stood several times, usually as a nominee of the Shareholders Association, and a few seasons ago was beaten by the narrowest margin for years. I cannot conclude without paying my tribute to Mr. Gibbins. With 30-odd years in football behind him, there was little "Will" as he was known to his friends, did not know. He has been some of Everton's finest teams during his long connection with the club. He joined the Everton board in 1920, and the club were never had a more devoted worker. He has been a member of the Liverpool County F.A. for many years. He was chairman of Everton for six years, most of them during the worrying war years. It was rumoured in the early part of the year that Mr. Gibbins was going to retire from the board. When questioned about the matter he was non-committal "don't know what I shall do yet. It depends upon many things. Well, Will Gibbins has hung up his boots and here will be many who will miss his cheery style and ways.
CALM ON GOODISON FRONT
May 25, 1953. The Liverpool Echo
Ranger's Notes
After being a fortnight without English papers I've not yet caught up with all that has happened in my absence. I notice, however, that we shall be spared an election at Everton's annual meeting, which is a nice and refreshing change. Last year's A.G.M kept me up till well after midnight churning out a couple of columns of acrimonious discussion. It looks as though I shall get home at a respectable hour this time, for which many thanks. The retirement of Mr. W.C. Gibbins has already been referred to by Stork. I would like to add a tribute of my own, however, to a man who has done a tremendous lot for Everton. Bill Gibbins was a splendid director, a most efficient chairman and a first class sportsman. He was a rare fighter on matters of principle and stuck to his guns no matter what anybody said, but was too big a man ever to nurse a grievance. Though he spoke plainly and forthrightly on subjects on which he felt strongly, when the point at issue had been settled he was always willing to let bygones be bygones. He bore not an atom of malice in his make-up.