DOUBLE EVERTON BLOW
October 1, 1952. The Liverpool Daily Post
By Leslie Edwards
Everton suffered a double disappointment yesterday, Neither Lindsay nor Fielding will be fit for the match at Swansea tomorrow, Lindsay 's damage is of long standing, but Fielding 's came in a club practice game on Tuesday. A decision about replacements will be taken this morning before the party travels to Swansea.
AN EXILE LOOKS AT EVERTON
October 1, 1952. The Liverpool Daily Post
From Bill Smith, exiled Liverpoolian in London – remember him as one of the greatest Northern Nomads forwards –comes this careful survey of Everton at Brentford;-
"I am pleased to see Everton put up such a lively performance. The rhythm, polish and finish of the old championship days of Dean and Lawton was lacking, but I noticed a certain zest which the Everton of recent years failed to produce. The extra subtlety and solidness is required to make the side of Division 1 class again. Eglington surprised me. He always impressed me by his speed, but his one-foot only complex made him disappoint so often. Against Brentford he was a very live wire and never have I seen a player but in so many good, fierce shots in one game. "Potts works hard and rarely does the wrong thing. Fielding supplies the brilliant move that others are often, incapable of producing. "Lawton seems to have gone back a lot or maybe he lacked support. He can still hit a ball on the half-turn and get up to a ball with his head better than the other man, but nowadays he appears to have to try hard to do the things he did almost automatically at the peak of his career."
Tablet Unnecessary
Incorrigible Everton follower, Vincent Enwright, says "Eglington's five g (o) alore – four in a row –were his first home pleasure. A wag behind the Park goal remarked before the Doncaster match that the ball had not been seen in that net this season –nor since last April –and suggested a reminder of the fact in the form of a tablet to be affixed to the crossbar, with the inscription 'Through this frame "Dixie Dean nodded a sixtieth goal in the closing minutes of the last game of season 1927-28 –a League record."
"Eglington's great show was the quintessence of perfect timing by a wise head and a highly educated foot. The fans gave him the ovation he deserved. By the way the trek from Glady's street end to the Park goal at the interval, was the heaviest for years. They were rewarded with the finest hat-trick since the days of Dean. "When last, one may ask, did an Everton winger get five. The club's annual go back to 1879 in Stanley Park and League records to 1888 (the League being formed during their rent tenancy at Anfield 1884-1892). One wonders whether octogenarian or nonagenarian supporters can delve into his archives and produce evidence of a similar feat in the seventy-three years. Mr. Fred Geary, the famous Everton and Liverpool centre forward of fifty to sixty seasons ago, may remember instances of prolific wing scoring. "Incidentally Goodison Parker as a new centre of attraction recalls Robert of that Ilk long ago, and Joseph Anthony Harris brings to mind Everton's former Irish right half back Valentine Harris whose first goal after years of striving was highlight news which prompted some one to have a medal struck for the occasion.
BLUES' ENFORCED CHANGES
October 2, 1952, The Liverpool Echo
Lindsay and Fielding Will be Non-Starters for Visit to Swansea
Ranger's Notes
Although it was earlier anticipated that Everton would have no more than once change at the most for Saturday's game against Swansea Town today's news is not so encouraging. Jack Lindsay failed to pass fitness test this morning and is definitely "out." On top of that Wally Fielding also reported today that a muscle he pulled slightly in training on Tuesday has not responded to treatment, as expected and he is also a nonstarter. Cummins who has played inside left in the reserves in all matches this season also has a cold, and Rankin who deputized for Lindsay last week is doubtful owing to Army duties though it is hoped he may be released. This is bad luck for Manager Cliff Britton who was hoping to get his team down to a settled formation after the two recent fine performance against Brentford and Doncaster Rovers. The side to face Swansea will not be chosen until later. Fortunately there are no other complications. These are sufficient however, to upset thing some what, though the team has been playing with such confidence lately that they should be able to overcome any temporary setbacks in the injury line.
CAN THEY KEEP IT UP?
October 3, 1952. The Liverpool Echo
Ranger's Notes
Everton away to Swansea, are hopeful of carrying a step further their run of six matches without defeat despite the fact that changes have been necessary owing to the unfitness of Fielding and Lindsay. There was a time not so long ago, when Swansea were reckoned one of the hardest sides to overcome on their own ground. Or recent season's they have lost some of their reputation in that direction and already have dropped four points at the Veitch Field in five encounters. The Swansea attack however, led first by Turnbull and later by Medwin, has been scoring goals more frequently than used to be the case. They have got at least one goal in every game this season and twice have registered four. Against that the defence has also been penetrated in every game. Last week Notts Forest put six into the Swansea net, yet were unable to get one past Everton's defence when they were at Goodison a month ago. Not that is any vary reliable guide. Form rarely works out logically in this game. Everton's goal-scoring capabilitys during September made very encouraging reading winding up with last week's great display against Doncaster Rovers. Providing the Blues can again serve up the same forceful and penetrative work in the forward line they should at least come back with a point tomorrow. Parker returns to the inside left position to take over from Fielding which allows for the recall of Hickson as leader, of the attack. Rankin again deputises for Lindsay. Everton; O'Neill; Moore, Rankin; Farrell, Jones, Grant; Harris, Potts, Hickson, Parker, Eglington.
Reserves Debutant
Everton introduce another debutant to their Central League side tomorrow, in Peter Fairclough, aged 19, who last year played for Liverpool County F.A. Youth side and in Youth internationals. Everton Reserves; (v. Huddersfield Town Reserves at Goodison Park); Fairclough; Tansey, Saunders; Birch, Woods, Lello; McNamara, Wainwright, Lewis, Hampson, Buckle.
EVERTON SET OUT WITH A STRIDE –BUT THEY NEARLY LOST THEIR WAY
October 4, 1952. The Liverpool Football Echo
Swansea 2, Everton 2
By Stork
Swansea Town; King, goal; Dewsbury and Beech, backs; Lucas, Kiley and Thomas, half-backs; Griffiths, Palmer, Medwin, Allchurch, and Bellis, forwards. Everton; O'Neill, goal; Moore and Rankin, backs; Farrell (captain), Jones, and Grant, half-backs; Harris, Potts, Hickson, Parker, and Eglington, forwards. Referee; Mr. A.H. Blyth (London). Both sides made changes for the game at Vetch Field in the Everton line, Hickson returned to centre forward and Parker moved to inside right. There was a defensive change in the Swansea side, Dewsbury coming in at right back and Bellis deputizing for S. Beech at outside left. Swansea were not quite so good at framing attacks as Everton, but they had one or two reasonably good chances. When Everton moved forward there was a certain amount of uncertainty about the Swansea defence and it was this that brought about their downfall at 22 minutes. Kiley instead of getting the ball away first time, fought he would deal severely with it, and instead of it going to a colleague it went to Potts. He pushed the ball forward and Hickson race between the goalkeeper King and the young England leader leader, the Everton centre got to the ball first and scored. Few minutes later Parker headed outside. Everton were playing with a lot of confidence, never flurried or hurried at the slightest making good football play. Potts shot outside and shortly afterwards a free kick to Swansea set the Town on the attack but Farrell soon put a stop to this with his interception. So far Eglington had not found his shooting boots though he had little opportunity and was doing good work in other directions, so that Everton always looked the more dangerous near goal.
Looked a Miss
There was a quietness about the game, due I think to the fact that there were few goals incidents. Allchurch in the estimation of many should have got the equalizer but in my view the ball came rather too quickly to him and he was unable to gather it. But I will agree that it looked like a miss. Swansea were often on the attack, but O'Neill was not unduly stressed. He had to keep his eye on one particularly good effort by Thomas which went outside. This was a first class attempt by the half-backs; Allchurch was unlucky to see one of his shots deflected and later he hit a first time against the side netting. At this point the Welshmen were doing more attacking than their rivals. The Everton defence had to work hard to prevent Swansea from getting equal terms. A header by Medwin went high over the Everton crossbar, Bellis put a centre behind at a time when Swansea were very persistent but at last Everton broke down the Swansea attack. Through the left wing they carried play into enemy territory, but did not stay there long. Swansea were soon back. Medwin hooked a ball into the middle and O'Neill had to edge the ball away from the far post conceding a corner. Griffins also had a shot, but he was wide of the mark. This shows to what extent Swansea had been attacking during the later minutes of the half.
Half-time; Swansea nil, Everton 1
Swansea gave us an insight as to what would happen in the very first half minute of the second half when full back Dewsbury came up into the attack and almost caught the Everton defence, napping with a shot which O'Neill saved at the last second. This seemed to bring more life into the Welsh team within three minutes of the restart they had taken a goal through Palmer. It was Allchurch in the first instance who made the equalizing goal possible for his centre into the middle was not properly cleared and Lucas snapped up the opportunity to push the ball across to Palmer, who hit it first time into the net. Much of the Everton lustre had gone out of the side. They were not playing such collective football as when they started and Swansea gained heart from this fact. When Bellis made an angular shot which I think would have passed outside, Tom Jones in his anxiety to make sure, hooked the ball and it went into his own net. This was at the 55th minute so that Everton had a big task on hand to retrieve themselves. Swansea were playing with much more fire now and there was greater excitement in the game. Grant injured his arm when he fell and went to the outside right position. Everton were striving might and mane for the equalizer, but even so their football was not nearly so good as it has been. Naturally they were handicapped by Grant being on the wing, but they certainly had their opportunity when they were awarded a penalty for a foul by Thomas on Parker. This was taken by Potts, who shot straight at the goalkeeper, who was able to save. Potts followed up, but the Swansea goal refused to fall. It had been a tussle between the Everton attack and the Swansea defence for quite a while, and we had Farrell coming through in an effort to pull the game out of the fire but the Town fought very grimly to retain their lead. Hickson scored for Everton in 87 minutes. Final; Swansea Town 2, Everton 2.
EVERTON RESERVES V. HUDDERSFIELD RES
October 4, 1952. The Liverpool Football Echo
Everton Reserves; Fairclough (P.), goal; Tansey (J), and Saunders, backs; Birch, Woods, and Lello, half-backs; McNamara, Wainwright, Lewis, Hampson and Buckle, forwards. Huddersfield Res; Feanley, goal; Howe and Jones, backs; Eddy, Cockerill, and Boot, half-backs McKenna, Cavanagh Burke, Shiner, and Simpson, forwards. Referee; Mr. H. Freeman (Preston). Huddersfield Town in spite of facing a strong sun were two goals to the good in eight minutes through Burke and Shiner. Everton right away raided the Town quarters where Hampson reduced the lead in the ninth minute. The Blues now showed marked improvement and Buckle gained the equalizer in the 27th minute. Wainwright who put in many fine moves was fouled in the penalty area, and McNamara in the 38th minute gave the Blues the lead. Half-time; Everton Res 3, Huddersfield Town Res 2.
EVERTON LEFT IT LATE
October 6, 1952. The Liverpool Daily Post
Swansea Town 2, Everton 2
By Stork
Everton took a point from Swansea and can continue to claim that they have never been beaten by the Welsh team but they came very near to defeat at the Vetch Field. Not until three minutes from the end did they bring the score to 2-2. This was not one of Everton's best game; in fact a lot of very moderate football was produced. Nevertheless, one had to recall the fact that Everton missed a penalty and that they also missed several other easy chances, but no side who fail when opportunity arises can blame anyone but themselves. Everton opened with some lovely ideas and movements and it seemed that it would eventually account for a Swansea team which was not working well. Not even the great Ivor Allchurch could pull out his football wizardly and with him in a quiet mood there was prospect that Everton would once again win. Swansea were rather fortunate in getting a second goal for it was Jones who supplied them with it when he turned a clearance beyond his own goalkeeper. That only emphasizes the fact that Swansea were pressing mightily hard at that time in fact they took two goals in seven minutes to clear off that which Hickson had scored at the twenty-second minute. Then Everton started to come more into the game and for the rest of the match it was practically a tussle between the Everton attack and the Swansea defence. Never with perhaps the exception of the first fifteen minutes, did the game rise to great heights as a spectable. There was not the rhythm in the Everton team which has distinguished their games this season while Swansea did not produce any brilliance. To take a point away from a home fixture is always satisfaction. With three minutes to go it looked any odds that the Welshmen would lift the points. Potts took the penalty awarded for a foul on Parker by Thomas but he shot straight at goalkeeper King. A worse miss was by Harris, who only a few yards out of goal, completely missed his kick. Hickson was always a thorn in the flesh of Kiley. A mistake let the Everton leader in for the first goal, yet he must be given every credit for the manner in which he took it. He raced King for possession and just as the Swansea goalkeeper was about to save Hickson flicked the ball beyond him into the net. His second goal was somewhat similar, for after making a run a quarter the length of the field and beating Kiley on the way, he neatly glided the ball away from King, who had come out to a narrow angle. Palmer was the first scorer for Swansea and he took his opportunity exceptionally well, giving O'Neill no chance. A few minutes later came Jones unfortunate own goal
EVERTON RES 3, HUDDERSFIELD RES 3
October 6, 1952. The Liverpool Daily Post
Everton were fortunate to share the points. After being two early goals in arrears Everton fought back and held the lead at the interval. Lewis missed two splendid openings and Wainwright when well positioned, failed. Everton scorers were Hampson, Buckle, and McNamara. Shiner (2), and Burke scored for Huddersfield.
NEAR SQUEAK
October 6, 1952. The Liverpool Echo
By Stork
The changes of fortune which take place during the progress of a football game are sometimes bewildering and you cannot put your finger on the why or where-lore this or that happening. The game at the Vietch Field changed completely at times and only in once instance could I give you the reason why. But first things must come first, Everton's opening play suggested a comfortable and convincing victory, then for no know reason Swansea looked as though they would lay the Everton bogey" – the Swans have never beaten them –for they hit the Merseysiders a broadside during which they scored two goals and their ship seemed to be heading for safe harbor, but it could not reach it without further hurt. Everton's first 20 minutes play was complete in every sense but one. They did not take their chances and their one goal lead at the interval was very thin, for the Swans had shown us that they could create uncertainty in the Everton defence not by football of any great skill but the power of their drive in the last 10 minutes of the half. They gave Everton another anxious 15 minutes at the opening of the second half when they took the lead. They had taken hold of a game which at one time looked beyond their reach but failed to retain the power in attack –don't ask me why for I could not give you an answer. Usually when a side takes the lead they play better football, but in actual fact Swansea deteriorated and Everton once more took the reins. Even with Grant operating on the right wing through a damaged arm Everton were the dictators and eventually they were awarded a penalty for a foul on Parker.
The Last Straw
They should have had two for a previous foul on John Willie was an infinitely worse offence. However here was the opportunity of scoring the equalizer but Potts shot straight at goalkeeper King. That was surely the last straw. We could not expect the gods to show Everton any more favours, but they battled on and with three minutes to go produced the equalizer and so retained their unbeaten record in seven successive games. But what a near squeak they had. Naturally the injury to Grant disorganized the Everton attack but it did one good thing; it showed that Everton have a natural half back in Potts. It also proved beyond doubt that there is fight in this present Everton team, something that was not always there. They missed penalty would at one time would have meant curtains for Everton, who gave Swansea an own goal, missed a penalty, aye and several other chances while some of the referee's decisions completely befogged me. He gave one offside decision which undoubtedly prevented Parker from scoring, Parker was not offside and if Eglington was, he stood still so as not to interfere with the play. I had heard so much about the winning play of Everton against Doncaster that I naturally expected a repeat between Harris and Eglington but it did not materalise nor did Eglington's snap shooting. Hickson got his own two goals by virtue of his dash, which was too much for Kiley and goalkeeper King and he smartly flicked the ball wide of King in each case. This was my first view of the much publicized Ivor Allchurch and he sadly disappointed me. I was told afterwards that it was his worst game ever. It must have been for he never at any time looked above the ordinary and was far below the £30,000 class. Let me sum up for you Everton could have won easily, could just as easily have been beaten, yet lived to pull off a meritorious away draw.
EVERTON ARE SPEEDIER THESE DAYS
October 7, 1952. The Liverpool Daily Post
BY John Peel
When Everton opened their 1952-53 Football League programme with three consecutive defeats and scored only one goal in the first four matches many followers of the club were of the opinion that their favourities were in for a spell of the doldrums. How much brighter the outlook is now! The side have played seven League matches since the opening of September and have been undefeated. From these games eleven of the possible fourteen points have been won and in contrast to the one goal in those first four games they have chalked up 20 goals in six of the last seven games. And what has brought about such an improvement? After watching their recent home displays it seems to me that the answer is to be found in the players greater speed in making a move and positioning themselves ready to receive the ball from a colleague's pass. Both Eglington and Harris on the extreme wings, have displayed this speeding up by centring the ball without unnecessary delay after they have beaten their immediate opponents with the result that the inside trio have been provided with more scoring chances. And the finer points of the game have not been neglected for the sake of additional speed. This could never happen at Goodison Park where all Everton elevens have been famous for their clever intricate football. The club are definitely on the climb and it would be fitting if they continued to carry on in their present successful way and finally regain the place where they belong –the First Division.
EVERTON CHANGES
October 9, 1952. The Liverpool Echo
Ranger's Notes
Everton make three changes one of them positional, for the home game against Notts County. Grant, Lindsay and Fielding have passed fitness tests today. Lindsay return to the left back position in place of Rankin, Parker takes over at centre forward from Hickson, who has septic elbow, and Fielding comes in at inside left. Team; Everton; O'Neill; Moore, Lindsayl Farrell, Jones, Grant; Harris, Potts, Parker, Fielding, Eglington.
Everton Reserves (v. Bury Reserves away); Leyland; Clinton, Rankin; Green, Woods, Lello; McNamara, Wainwright, Lewis, Cummins, Buckle.
SUCCESS BREEDS CONFIDENCE
October 10, 1952. The Liverpool Echo
On The Crest of the Wave
Ranger's Notes
Everton have an old score to wipe out against their Nottingham opponents, for when last the County were at Goodison Park they inflicted a 5-1 defeat on the Blues and pushed them down to fifth from the bottom in the Division 2 table. That game, however, also marked the end of Everton's anxious period. Afterwards they started to climb upwards steadily, though one or two subsequently reverses killed the hopes of promotion which were beginning to blossom shyly at one time. Tomorrow Notts County will find Everton a very different proposition from that which faced them a year ago, when they came with Lawton leading their attack. When the Blues started this campaign so badly, with three successive defeats, I maintained here that it required only a short spell of success to put them on their feet and turn the side into one capable of holding a sound position in the table. With four wins and three draws from their last seven outings, and a very pronounced advantage in goal average Everton today have the confidence and spirit which I anticipated would follow in the wake of better fortune. Though they will not get the points easily against Notts County, if they can carry on as they did against Brentford, Doncaster and at Swansea last week they stand a very good chance of adding one more victim to their growing list. Notts County's defence, at least on paper, does not compare with Everton's for solidity and neither has their attack been as prolific as the home side's. On the face of it, judged by the form book, Everton should win. The visitors will have a changed right wing on view, in place of the injured Jimmy Jackson, who scored four goals here last season, they include Alex Simpson, the former Wolverhampton Wanderers, whose only other appearance this term was at wing half in the opening match at Leicester. He will be partnered by Ian McPherson, who returns after missing last week's game. The line will be led by ex-Barnsley centre forward, Cecil McCormick who scored his first hat-trick since coming to Notts against Leeds United last week. Everton; O'Neill; Moore, Lindsay; Farrell, Jones, Grant; Harris, Potts, Parker, Fielding, Eglington. Notts County; Bradley; Deans, Southwell; Adamson, Leuty, Johnston; McPherson, Simpson, McCormick, Wylie, Crookes.
THEN AND NOW
October 11, 1952. The Liverpool Daily Post
By Leslie Edwards
When last Notts County were at Goodison Park they came with Lawton and two other inside forwards who had a field day at his prompting. Today there will be no Lawton and Everton's confidence positively bristles. With Lindsay and Fielding back fans (short for fantastic) will be looking for another five, six or seven goals to follow the Doncaster episode. I confess that although I'm McPherson who will play on the Notts County right wing, is often wasteful with the ball, his winking style is refreshing fast and entertaining. Maybe it is because he won a D.F.C and bar as an R.A.F Pathfinder during the war. My experience of him on the football field has always been that he nearly always finds the right path but not always the right shot or centre. Remembering how badly Notts County's 5-1 win here, last season, hit Everton there seems reason to hope that they will go to the utmost lengths to reverse that verdict. With Eglington and Harris centring as well as they did against Doncaster things could go very well indeed. Everton; O'Neill; Moore, Lindsay; Farrell, Jones, Grant; Harris, Potts, Parker, Fielding, Eglington. Notts County; Bradley; Deans, Southwell; Adamson, Leuty, Johnston; McPherson, Simpson, McCormick, Wylie, Crookes.
FIELDING UNREAVELS THE (K) NOTTS DEFENCE AFTER 74 MINUTES
October 11, 1952. The Liverpool Football Echo
Everton 1, Notts County nil
By Contact
Everton; O'Neill, goal; Moore and Lindsay, backs; Farrell (captain), Jones and Grant, half-backs; Harris, Potts, Parker, Fielding and Eglington, forwards. Notts County; Bradley, goal; Dean and Southwell, backs; Adamson, Leuty, and Johnston, half-backs; McPherson, Simpson, McCormick, Wyles, and Crookes, forwards. Referee; Mr. A.W. Luty (Leeds).
The Liverpool Police Band played the French and British National Anthems with the players lined up in honour of the visiting French delegated from Marseilles. Everton had Fielding and Lindsay back and Notts County should have scored n the first half-minute. McPherson crossed the ball which arrived at the in running Crookes rather awkwardly; and but for having to bring the ball down a little too far forward Crookes must have been able to score from five yards out instead he shot wide.
Eglington's Shot
A lovely Fielding pass to Parker produced Everton's first really dangerous chance, Parker brought down the ball very artistically and centred it quickly, Fielding allowing this low ball in pass by to Eglington at inside right, who hit a peach shot which flew only inches over the goal angles. Parker in trying to save the ball going for a goal kick, collided with a corner fist and snapped it off at its was a carrot. The referee stopped the game for two minutes while trainer Harry Cook went to the practice ground for a replacement. Years ago, I understand a game here was stopped until a broken cross-bar could be repaired. Fielding and Parker taking up a half clearance from Grant worked the ball beautifully for the tough line and although this attack partially failed it led to Fielding making a centre which Johnston in trying to kick away, sent dangerous over his own goal.
Completely Mistimed
Parker having beaten Deans at the corner flag started to weave inwards and put across a low centre which Harris and Potts completely mistimed in turn as they flung their feet at the ball viciously in intended shots. County were dangerous in front of goal and when the legs of Jones and McCormick tangled the ball ran free Farrell slammed the ball to safety. Adamson who is a miniature Jack Stamps (Derby) in looks and style incurred the wrath of the crowd by moving the ball after it had been placed for a free kick. The game became rather scrappy with Leuty coming far upfield to follow Parker well into the Everton half and have a free kick awarded against him.
Surprised Decision
Harris and Potts again missed a centre in turn from Eglington who had to pull the ball back quickly as he fail to make it. Leuty shyly armed one when to have allowed the ball to pass him would have been fatal and to everyone's surprise the referee waved play on. McPherson with his close dribbling, inching the ball one way or the other did his side great service and far from Everton being in command the reverse was true at the moment. The crowd did not like the way the other side brought Bradley into the game but surely putting the ball back to the goalkeeper like this was good policy for the goalkeeper, is as much part of the eleven as any other player." Simpson came along with a nice cross shot from the most perfect of passes by Adamson after Lindsay had won the battle of Scotts against McPherson in a touch line tackle. Half-time; Everton nil, Notts County nil.
The opening gambit in the second half was a Harris centre which Bradley dropped as he was challenged by Parker, Eglington coming in nearby, but the goalkeeper made good the save at the second attempt. Next Fielding and McPherson who collided in midfield seemed to be having a battle of their own, the referee speaking to both of them.
Eglington Unlucky
Eglington was unlucky not to score when Potts pulled the ball back to him from the goal line and only the deflection of the shot from Dean's body prevented Everton taking the lead.
Superlative Save
Though the game had deteriorated at least from the Everton point of view, it came into life with a first rate shot from Parker and a truly superlative save from Bradley, who edged the ball for a corner when it seemed certain he would he beaten. Fielding with a judicious pass to Eglington allowed that player to head the ball inwards and make a vicious shot for which Bradley positioned himself beautifully. A moment later Potts going through when many people thought him offside had a close-in shot deflected for a corner. This was Everton's best chance. McCormick who was alive, if nothing also only half made contact with his shot on the turn after rounding Jones, otherwise Notts County must have got the goal they desired.
Defence Stands Firm
Parker with a flick of the head, made a close-in effort from an Eglington centre which was nearly there, but in general the Notts defence, with Deans, Adamson and Leuty almost incapable of making a serious mistake had the edge of that Everton line. Once again Bradley brought off a first-rate save from Parker, this time when Fielding got Harris moving and the Marine boy's centre was so accurate that Parker could meet the ball with his head and get plenty of power into it, but Bradley in this form was unbeatable. Harris and Moore in turn both tried full blooded shots down a difficult angle, but neither succeeded. A moment later Fielding scored at the 74th minute from a through ball from a corner kick which he nearly nodded over the head of the out coming Bradley who turned and vainly tried to chase back to retrieve a ball which slowly but surely found its place over the line –a headed goal and a heady goal. Only after scoring did Everton begin to settle down to play the kind of stuff which had served them so well over the past six weeks. They were completely on top, and Parker not only showed great ability but a great deal of dash. At this stage a Fielding square pass opened up the way for Potts and one expected him to go in and shoot, but the turned the ball to Eglington who went so far to his left that it was hardly surprising that his shot was woefully off the mark. Final; Everton 1, Notts County nil.
BURY RES V EVERTON RES
October 11, 1952. The Liverpool Football Echo
Bury Res;- Mitton, goal; Fairclough and Slynn, backs; Wilson, Head and Gordon, half-backs; Simms, A. Walton, May, Daniel, and Cameron, forwards. Everton Res;- Leyland, goal; Clinton and Rankin, backs; Cross, Woods, and Lello, half-backs; McNamara, Wainwright, Lewis, Cummins, and Buckle, forwards. Referee; Mr. F.S. Jackson, (Preston). In an eventful opening at Bury Buckle missed a great chance of scoring in the third minute when clean through Milton saving sensationally and then after seven minute Cameron put Bury ahead with a header from Simm's centre. After Clinton had cleared a shot from Simms on the goal line Everton began to have more of the game. They were, however, unimpressive near goal. Lewis shot into the side netting and Buckle was just high Rankin went off for a few minutes with a head injury. Half-time; Bury Reserves 1, Everton Reserves nil.
PARKER'S PIECE IN THE EVERTON VICTORY
October 13, 1953. The Liverpool Daily Post
Everton 1, Notts County 0
Though not a specially good one, this match will be recalled for the many uncommon things which happened in and about it. First we had live music to welcome changes appropriately playing La Marseillaue in honour of the visit of the Civic delegation from Marseilles; next a corner-flag snapped off short by Harris –the game was delayed two minutes while trainer Harry Cooke went to the Everton practice held for a replacement –followed by a short, sharp battle between the tallest (McPherson) and smallest (Fielding) players on the field, and at 74 minutes the goal by which Everton went undefeated for the eight consecutive time. I fear this talented Notts County side brought some us down from the clouds to which we have soared in recent weeks on Everton performance. The game started horridly with a Notts County attack which should have carried to a triumph conclusion. It was merely a scurvy trick that Crookes should not be able to bring the ball under control with a goal there for the taking. Everton's confidence seemed visibly jotted by this opening, and until the second half, when they really began to get their grip, we had more evidence of the old and inferior Everton tan the bright, successful new one. The thought persisted that we may have made too high an assessment of Everton's form against sides who now stand in the table, Notts County proved themselves to be far more testing than the Doncaster, Barnsley, and Southampton and perhaps the most heartening thing after all is that Everton should face a goalkeeper having his great day and still win.
Roar Which Was Cut Short
But what effort was needed. First, Notts County had the ball as often as Everton- without showing any evidence of ability or even desire to shoot. Then Everton were heart-broken by a series of saves by Bradley such as a Scott would have been proud to make Eglington's first half header was taken so confidently and joyously the crowd roared for the goal which seemed certain. But Bradley miraculously leaped to make a catch high overhead. Allowing Harris and Potts their almost complete missed connections on two occasions as the ball came from the Everton attack still contrived to produce sufficient shots and headers to have scored long before they did –but Bradley made no semblance of a mistake. Ironically, when the goal came it was not the result of power, but of powerful and quick-thinking Parker pushed a high ball up in the direction of Fielding at centre forward. The ball bounced and Fielding chased it and devilishly nodded it, oh so gently, but surely, over the head of the advancing Bradley. There should be a Society for the Prevention of Cruelty to Goalkeepers in cases like this. Fielding is one of the few players capable of sizzling and seizing a half-chance like this. He knew just what was required and did it. No more.
I suppose it was natural that both Fielding and Lindsay each coming back after injury, should take time to find their form and the pace of the game and the ball. Lindsay had a poor start, but the further the game went the better he played. Grant too, wound up in happy mood. I would say that of the Everton forwards Parker, alone enhanced his reputation. Given the space to indulge himself in first-rate control of the ball at centre forward, he has become more consistent and certainly more spirited. People have been critical of him in the past, but in too many matches now has he known the hall-mark of football talent –he seems to have all the time in the world to do the things for which contingency offers little time. Not all referees would allow him to chivvy the goalkeeper as Bradley was chivvied –one wondered what would have happened had Hickson been in Parker's boots –but not all centres halves will be as sure and steady, in opposition to Parker, as Leuty.
The Arrival of Adamson
Notts County offered some surprising facets. There was Bradley and a fine hearty full back performance by Deans and as good a wing half back display by Adamson as I have seen for seasons. Adamson a Scot has spent most of his time in the Reserves. If this work here was true criterion of his ability he and his club have been wasting that time. Wylie (it would easily be spelled with the "I" and "y" transposed) was a box of tricks, and McPherson of the long shanks and short knickers, looked good enough to be with Arsenal except that he fritters his chances away at foolishly as ever. I am told he intends to pursue transfer to the Racing Club in Paris in which case French visitors at Goodison might go back with a goodish report of him despite the piping criticism of him from the boy's pen.
Tom Jones had yet another match showing him as still progressing. Only on the turn was he in danger of being beaten by the lively McCormick, who obviously believed it better to give than receive. He rarely got a ball from those alongside, though giving them innumerable passes. On Saturday Everton go to Leicester. Here they can expect an even tougher battle. Yet if there is no Bradley about they should get their quota of goals to continue the uplift which means as much in the hearts of their following as it does in the cold figures of the League table print.
EVERTON YOUTH X1 WIN CUP-TIE
October 13, 1952. The Liverpool Daily Post
F.A. National Youth Competition Round Two
Liverpool Youth 0 Everton Youth 3
By defeating Liverpool at Anfield on Saturday morning Everton enter the third round of the F.A National Youth Competition. They were full value for their win. Liverpool started brightly and a Kelbrick header hit the crossbar but in the space of five minutes before the interval when Liverpool had Jackson their centre half injured on the wing, this was counteracted when efforts from Farrell (twice) and Mayers suffered the same fate. Everton took the lead after 22 minutes when Williams added the finishing touch to a grand movement, and gained fortunate goals when Sloan made two slips within a minute. A quarter of an hour from the end he dropped the ball and Williams had only to tap it into the net. Then he allowed a free kick from Rea to pass over his hands. Part from these errors he played well. Farrell and Mayers shone for Everton in attack, and centre half Savage was sound in a good defence. A Court was the only Liverpool forward to threaten danger, Jackson and Rent were grand defenders.
CENTRAL LEAGUE
October 13, 1952. The Liverpool Daily Post
Bury Reserves 1, Everton Reserves 3
Everton Reserves had many moments of anxiety before finally winning 3-1 at Bury. Their first half goalscoring efforts were lacking in accuracy. Later the forwards produced a more sustained challenge with Buckle a lively and dangerous raider. After Wainwright had equalized Cameron's first half goal, an eventful five minutes before the final whistle brought victory with goals from Lewis and Buckle.
EVERTON STILL CLIMBING
October 13, 1952. The Liverpool Echo
Victory Over Notts County Was Another Good Performance
Ranger's Notes
A fortnight ago we were searching for superlatives and blowing the dust off the record books describe Everton's seven-goals saga. We don't need to do either today. Nevertheless Saturday's was a good victory, for Notts County were a much better side than one anticipated from their position in the table and their recent performances. It was a win, too which did scant justice to the Blues who were certainly worth more than a single goal margin at the end.
Yet there were times when I wondered whether they would manage to pull it off. That was in the first hour when their shooting through frequent enough was not of the right strength or direction. Notts County up to then were playing well enough to earn a point if only they had got down to the vital task of rounding off their promising attacks with something which would have tested O'Neill. According to my record of shots for headers which either required saving or which passed sufficiently close to the woodwork to be chalked up as a near miss, Everton put in at least four efforts to every one of the visitors. O'Neill had only three real shots to save. For the rest his work was confined to plucking high crosses or corners out of the air, or cleaning loose balls which presented no danger. It was not until the second half that we saw the Everton forwards produce anything which caused goalkeeper Bradley trouble. Then he brought of three brilliant saves in quick succession from Parker (twice) and Eglington which made it seem as though Everton's luck had again deserted them. All these efforts were worth a goal.
A Canny Goal
At last came Fielding's canny header over the goalkeeper, the only way in which he could possibly have hoped to score from the position in which he found himself. It says much for his quick thinking that he took the right way, and Bradley, after all his good work, had to admit defeat with the "softest" –and yet the cleverest – effort of the day. Thus the Blues carried their unbeaten sequence to the eighth degree so that today sees them eighth from the top of the table with a game in hand over most of their rivals and a couple to the good so far as Sheffield United at the top, are concerned. In the second half Everton were well in command of the situation. The backs were rarely in trouble Jones was the master of McCormick who got in only one decent shot all afternoon, and Grant's second half display was as good as anyone could wish for.
No Luck For Tommy
Harris might have done a trifle better had he got his centres over more quickly at times. Once more Eglington did not have the luck with his shooting that blessed his efforts a fortnight ago. Parker led the line well, and Fielding schemed and distributed the ball with his customary sureness. Potts muffed one or two good chances and was off the mark with others, yet still contrived to play a useful part in the forward work as a whole. Notts County are as good as any Second Division side I have seen this season, with Leuty still a great pivot and Adamson an outstanding wing half. Wylie was brilliant at times and then had spells when he lost his grip. Everton's biggest test will come this week-end when they journey to Filbert Street to oppose Leicester City now strengthened in attack by the signing or Johnny Morris from Derby County. If the Blues have still maintained their unbeaten sequence when this game is over we really shall have to start seriously about their promotion prospects.
Lancashire Cup Tie
Lancashire Cup-ties on Wednesday provide opportunities for Everton, Everton will be home to Manchester United. While the Lancashire Senior cup provided a good "fill up" for blank days during the war, and full first team were invariably fielded, or recent years it has been mainly an outlet for tests of reserves team strength and against Manchester United at Goodison Park Everton will rely on their Central League players. Several of these, however, have had varying spells of first team duty, some of them for quite lengthily periods, and the side, which is fourth in the Central League table looks capable of taking the Blues to the second round. Like their senior colleagues Manchester United's reserve string is having a lean time these days and lauguishes fourth from the bottom, with only nine points from eleven games. Everton; Leyland; Tansey, Clinton; Cross, Woods, Lello; McNamara, Wainwright, Lewis, Cummins, Buckle.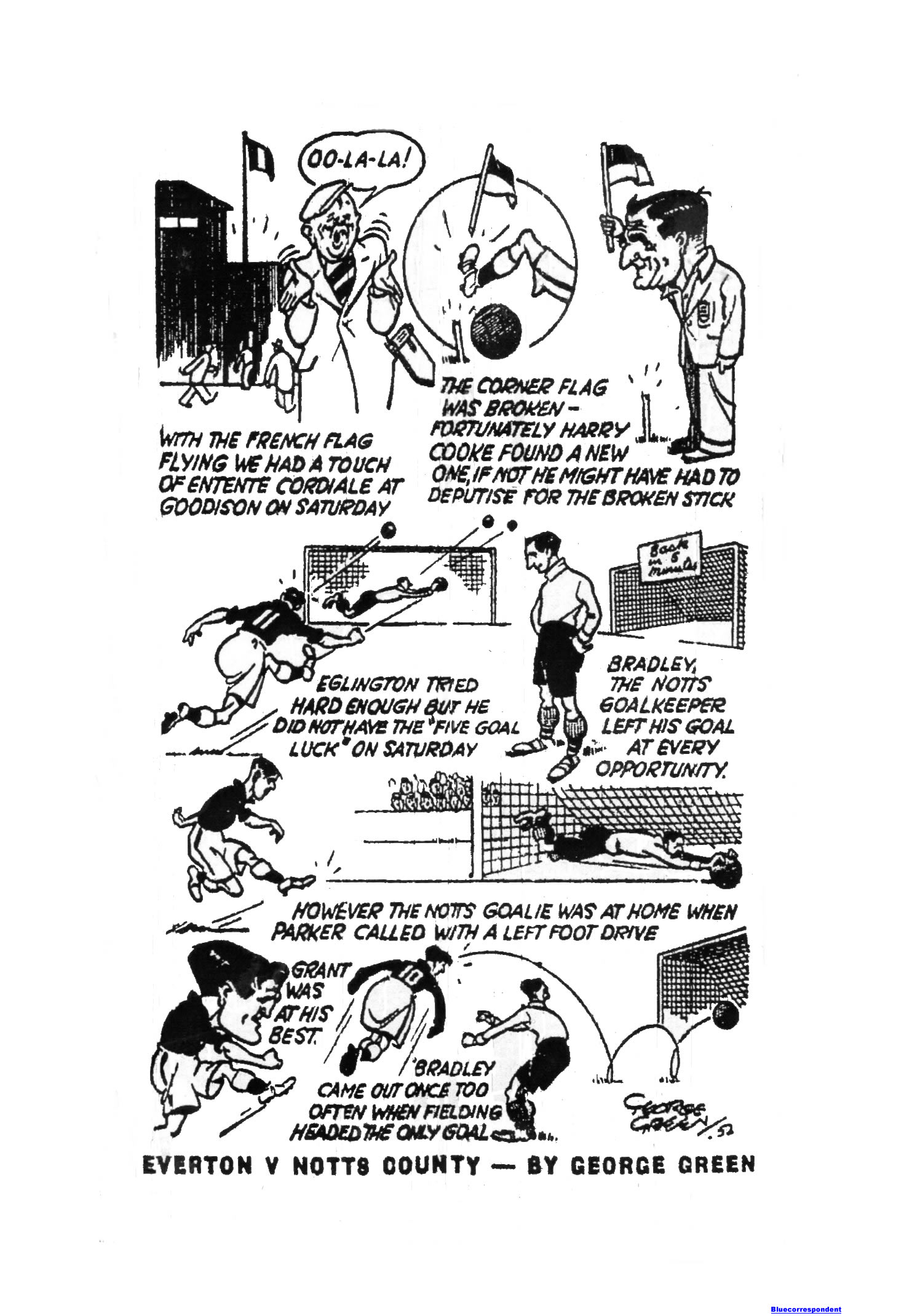 EASY CHANCES MISSED BY EVERTON
October 18, 1952. The Liverpool Daily Post
Everton Reserves 0, Manchester United Reserves 1
Lancashire Senior Cup Round One
By Ranger
Everton's interest in the Lancashire Senior Cup ended at the 46th minute of this first round at Goodison Park yesterday when Clempson scored the only goal. It came from a free kick for a foul by Wainwright on McShane. McShane put the ball to Clempson's head and the United inside right cleverly steered it out of the reach of Leyland despite the latter's despairing dive. Within the next few minutes Everton could not only have got on level terms but could have put themselves in from had they taken fairly easy chances. Lewis had the first opportunity with the centre by Buckle but took so long before shooting that the ball was blocked by the advancing goalkeeper. Buckle had a similar chance a moment or two later when his first shot struck Crompton on the shins and he scooped the rebound over the bar. Buckle was wide of the mark with a couple of strong shots later and Lewis again frittered away promising openings.
Fought Back Gamely
Everton, however, fought back gamely, and the last notable incident was a header by Cummins which struck the bar. It was not a game of many thrills. Everton did some good things at times but too frequently their forwards either misplaced their final pass or tried to do too much and were eventually robbed. Cummins was a particular offender. United were much more progressive and precise in their forward work. Leyland made some excellent saves in the home goal, yet on one occasion was lucky to get away without mishap when he failed to hold a strong shot from Clempson. Clinton was Everton's best back and Cross and Lello did good work in the half-back line. Buckle was the most dangerous forward with Wainwright coming to his best only in spasms. Woods was sound at centre half as also was Jones the latter of whom kept Lewis in almost complete subjection. On both sides the wingers were more effective than the inside men. Everton could have won this match on their second half display if their finishing had been up to standard.
EVERTON'S STIFFEST TEST
October 16, 1952. The Liverpool Echo
Leicester Should Give A Good Line On Future Goodison Prospects
Ranger's Notes
Everton's visit to Leicester City on Saturday looks to be the stiffest test the Blues have had so far, at least on paper and the result should give us a better guide to the Blues future prospects than some of the earlier games quite a number of which have been against pretty lowly opposition. Everton's only team doubt refers to Joe Harris, whose leg was rather badly scraped when he collided with the corner flag on Saturday last. Leicester City will not choose their side until this evening, following a reserve team game today against Queen's Park Rangers in the Football Combination. Leicester will have to make at least one enforced change however, as Eddie Lever, their right full back, will be playing for Wales against Scotland at Ninian Park. There is also a query against Matt Gillies the former Bolton Wanderers player, who has figured at centre half in all Leicester's games this season. Gillies has a groin injury somewhat similar to that which is troubling Liverpool's Bill Jones, and though he has made some progress during the past couple of days, it is still doubtful whether he will be fit in time. Tom McArthur, who was regular choice until Gillies arrived is the most likely deputy in case of need. Leicester are expected to provide the Everton defence with a harder problem than any they have experienced to date. City have scored more goals than any other Second Division side, including six in both games against Fulham, and 29 in all twelve matches. Their defence, however, has been curiously erratic. Even Southampton got five against the, and twice they have been debited with four. They take risks in defence in order to throw greater weight into their attack. Arthur Rowley is the man who has been doing most of the damage in the Leicester forward line. This younger brother of the Manchester United player has 13 goals to his credit from inside left. Centre forward Derek Hines is next on the list with five. A fortnight ago, Leicester, who are now managed by Norman Bullock formely of Bury, signed Johnny Morris from Derby County at a fee of around £20,000, which is solid evidence of their desire to cash in on the promotion stakes, if possible this season. Morris, a brilliant ball player and schemer should do them a power of good once he has settled down alongside his colleagues. A remark passed to me after yesterday's Lancashire Cup tie at Goodison Park, to the effect that "this is a trophy, nobody wants to win," struck me as being somewhat harsh. Lancashire cup games serve a useful purpose in providing further competitive experience for the younger players of all clubs and real experience of this nature is of infinite more value than practice match trial games.
Everton Reserves lost by a single goal to Manchester United Reserves. Yet, as one has had to say so often in the past in relationship the Blues senior side – though not this season –the home team could have won had good chances been properly taken. United tried experiements which is another useful aspect provided by these cup games with two full backs being given a run in the forward line and their attack generally was more direct than Everton's. Everton were good up to a point then frittered away a well-worked opening by trying individually one move too many. Had they parted more quickly the result might have been different. Buckle was the strongest marksman, Wainwright is not anywhere near the player we knew before his accident which is perhaps too much to expect just yet, and Lewis failed to shine in the middle. The wing halves were good, Woods is a centre half of much promise and strong build, and Tansey considering his youth did well, despite a few sliced clearances and misplaced passes. It was only after Clempson had put United in front immediately on the restart that Everton really pulled up their socks and began to dominate the proceedings to some extent. Them, with their chances brightest they played into the hands of the strong United defence.
TEST FOR EVERTON
October 17, 1952. The Liverpool Echo
Ranger's Notes
Everton's biggest test this season looks like being against Leicester City at Filbert Street, though the home side will be without "Butler" Lever, their star defender, who is in the Welsh side at Ninian Park. League positions are not always a reliable criterion. Lowly sides are something as hard to beat as these occupying a high position, for desperation lends a spur to their efforts when the prospect of a fight against relegation looms on the horizon. Maybe it is early yet to talk of either relegation or promotion but results in the early part of the season, or any part of it for that matter have a vital bearing on the question. For that reason Everton must go all out for victory against Leicester, who themselves have ideas about the First Division for next season. The Blues have now gone eight matches without defeat and their results, if not something their actual form, have been of championship vintage. Just how long they can keep it up remains to be seen. A victory over Leicester would enhance their prospects considerably, for the Midland team is a strong one, particularly in attack where the incoming of Johnny Morris should add still further to their power. Leicester's defence has not been quite so outstanding due largely to the fact that they have been concentrating more on Scoring goals themselves, than clamping down on the opposition. To do this, risks must necessarily be taken. So long as there are more goals on the credit side than in the debit column, the idea pays off. Everton will be unchanged as Harris has recovered from his "argument" with the corner flag last week. Everton; O'Neill; Moore, Lindsay; Farrell, Jones, Grant; Harris, Potts, Parker, Fielding, Eglington.
EVERTON TRIED HARD, BUT LEICESTER PACKED THAT EXTRA PUNCH
October 18, 1952. The Liverpool Football Echo
Leicester City 4, Everton 2
By Stork
Everton's long spell without defeat came to an end at Leicester, today. The City, very fast were deserved winners, Morris scored his first goal for his new club, and also got another. Everton had to put in some stern defence, but their forwards were not punishing enough. Leicester City; Anderson, goal; Milburn, and Webb, backs; Baldwin, Gillies and King, half-backs; Griffiths, Morris, Hines, Rowley, and Dyrburgh, forwards. Everton; O'Neill, goal; Moore and Lindsay, backs; Farrell (captain), Jones and Grant, half-backs; Harris, Potts, Parker, Fielding and Eglington, forwards. Referee; Mr. H. Jackson of Leeds.
Leicester with their new acquisition Morris, had one change in the side, King coming in at left half and Milburn switching over to the left back position in place of Levers. Jones had conceded a corner, and Griffths put the ball nicely into the centre where King whipped it across to Dryburgh. The left winger lobbed the ball high into the Everton goalmouth which was simply packed with players of all sorts and much to the surprise of everyone, the ball dropped behind them all and into the net at the sixteenth minute. O'Neill seemed to have some complaint to make. He may have been pushed, but he did not go on with the appeal, so the goal stood. For some minutes Everton put on full pressure as they usually do and Dryburgh was responsible for a good shot which O'Neill saved. But when the outside left came a second time to lob the ball into the Everton goalmouth, it looked a certainty that Morris would nod the ball home. He tried to place it out of the reach of O'Neill, but also put it outside the post. Dryburgh was a very live wire at the stage, and he delivered another centre which, however had its ending when Lindsay with a sort of back heel, cleared the ball.
Webb Clears
Everton then got moving, and Parker tried to bring Harris into play but the Everton outside right had run in, so that the ball was never his and Webb was able to clear. Jones was soon in the picture with both defensive and attacking ideas and one clearance of his set the Everton attack going through Fielding, Potts and Eglington, but the Irish winger was unsuccessful in his attempt to kid Milburn. Milburn was having a particularly good game against the fast raiding Eglington. He again stepped in with a clearance when Fielding and Potts were trying to force a breach in the City defence. In the next two minutes Leicester put on even more pressure, but the Everton defence stood their ground beat them off and then attacked. They got a corner but it proved of no value and Leicester were back again probing the Everton defensive lines. Morris was not particularly outstanding but in the little things that he did showed class. Baldwin had a shot saved by O'Neill, and although Everton were able to work their way fairly close in, they were never able to get a real shot at Anderson. There is no denying that Leicester were the more dangerous looking side. They utilized their speed to the full and the Everton defence had some very hot work to do at times. Everton had a great chance of equalizing at the half-hour when Potts, with a widely flung pass out to Eglington had the City defence out of position. Eglington worked his way in, and then pulled the ball back for Parker to shoot well inside the penalty area. The Everton centre forward however shot outside. A long centre from the touchline by Farrell needed the most careful attention by Anderson, who caught the ball right under his crossbar. At this point Everton were shaping better in attack. The next goal incident was at the other end, where O'Neill saved from Rowley. Morris got the better of Fielding and slipped over a nice centre from close to the corner flag, but the ball found its way outside. Everton then went down through Potts, who kicked round the ball in his attempt to square it across the City goalmouth. The ball, however went to a City man, and his clearance was taken up by Dryburgh who swept his centre right across the field to Morris. Morris shot his foot out to the ball before it bounced and hooked it beyond the Everton goalkeeper at 41 minutes. A flick header by Rowley was a grand effort, but failed because of O'Neill's sound anticipation. Just in time, a quick raid by Everton was repulsed, and the half ended with a tame shot by Grant which passed outside.
Half-time; Leicester City 2, Everton nil.
The first five minutes of the second half were really hectic. Everton reduced the lead, but the City scored again to make it 3-1. It was the Everton left flank which paved the way for Everton's first goal of the day. Parker and Eglington combined to defeat the City defence and the ball eventually found its way to Fielding who slipped it back to Eglington. The winger's centre, travelling at pace and a little too high for Potts to get his head to passed on to Harris, who without any hesitation and with his left foot, drove the ball wide of Anderson's right hand at 47 minutes. The City were not long in making their reply and Dryburgh should have scored from close in, although the angle was a bad one. He hit the ball hard, but it slewed right across the goal. Quickly Leicester made up for this mistake when Morris took a pass from Griffths, smartly got it under control and crashed it into the net at the 51st minute. The thrills, however, were not at an end for at the 62nd minute, good play on the part of Harris opened the way for Everton's second goal. Harris middle the ball and Parker headed it on to the crossbar, it came out and Parker collared the rebound and popped the ball in. It was now a rare battle with Everton fighting strongly and Leicester trying hard to increase their lead. The Everton pressure rather surprised the Leicester defence which was not now quite so sure of itself. Parker was only just beaten in time by Anderson and O'Neill was glad to see a ball past over his crossbar. With only two minutes remaining Rowley scored a fourth for Leicester. This put the seal on the victory. Final; Leicester City 4, Everton 2
WALTON HOSPITAL BROADCAST
October 18, 1952. The Liverpool Football Echo
The thrills of the game at Anfield today were closely followed by an unseen but none the less enthusiastic audience of more than 1,300 –all patients at Walton Hospital. The occasion was the first broadcast commentary under a scheme organized by the Walton Hospital League of Friends aided by the co-operation of the city's two senior football clubs. The broadcast relayed to earphones from the Press box at Anfield by Mr. Allan Clarke, of the B.B.C.
A similar broadcast will be from Goodison Park next Saturday.
FLASH POINT FOR MERSEY FOOTBALL
October 18, 1952. The Liverpool Football Echo
By Ranger
While it is good to see Everton continue their climb up the Second Division table, I shall be happier about their promotion chances if the more testing games of the next few weeks see them still carrying on in the same vein. After today's stern test against Leicester City at Filbert Street the Blues are due for a succession of games, with much stronger sides than some of those they have met so far. Apart from Sheffield United, where they lost narrowly by a single goal, the Blues have not been away to any club in the top half of the table before today, and Hull City, now sixth from the top, are the best placed of those they have met at Goodison Park, besides Sheffield United. Southampton, Doncaster, and Barnsley, the three bottom teams, provided Everton with five out of six points, three of them from away games. Three points were also taken from visits to Swansea and Brentford, who are two-thirds down the table, while full toll came from the home games against the two Nottingham clubs, situated in the middle of the chart. On Saturday's showing Notts County are as good a side as I have seen in the Second Division this season and against them Everton did not look the sound combination they had done in some earlier games. They did, however, get on top in the last half-hour and would have won more handsomely but for the good work of Bradley in the visiting goal. Only for the visiting custodian's one partial mistakes due to his fondness of coming well out of goal. Everton would have had to rest content with a single point. no side can go on winning all its home games, of course but if Everton are to make sure of being in the running for promotion when the right times comes they cannot afford to drop many points at Goodison. So far the indications are that the fight for the two top places in the Second Division is going to be as tight this season as last, perhaps even more so. At this time a year ago seven points divided the first tem clubs in the table. This morning, Brentford, fifteenth from the top, were only seven points behind the leaders, Sheffield United. There is ample time yet for comprehensive changes to come over the scene, but at least we seem certain to be spared any concern over Everton being involved in affairs at the wrong end of the table. We have had enough of that in past seasons to last us a long time. To return to the question of the Goodison side's forthcoming fixtures. After today's game at Leicester, while I hope has seen them carry their unbeaten sequence still a stage further they have to visit Fulham and Plymouth Argyle, both very strong sides on their own ground, and Luton Town, who are also no push-over" at home. Rotherham United, Leeds United and Birmingham City are the visitors to Goodison Park. Leeds United are not so hot but both Rotherham and Birmingham have good away records, and stand high up the table. By the time these games are over we shall be in the first week in December, and much better fitted to judge what Everton's ultimate chances are likely to be. A good return from these games would not only help the Blues cause, but also dimmish the prospects of some of those who look likely to be their closest rivals when the last lap begins. I hope with all sincerity that success comes their way. If it does, then I shall be ready to admit that the feeling I have that Everton's recent steady climb has rather flattered the all-round ability of the side is another wrong impression. While paying full tribute to the improved showing of the team, I don't think I shall be completely out of step with everybody else in saying that certain positions could still be improved. The critic who tried to perform his function honesty is always faced with the problem that if he gets down to brass tacks and names players who are genuinely trying their hardest, but in his opinion are not quite up to the consistent standard demanded, he may upset their game, and destroy their confidence. That is the last thing I want to do. On the other hand, I cannot subscribe entirely to the view, expressed in some quarters that promotion is practically as good as achieved already, and that the side is without fault. Let me pay tribute to the splendid goalkeeping of O'Neill this season. Last week he played as well as ever I have seen him do. He plucked high balls out of the air with a surety which even Ted Sagar at his best did not better. After his senior debut at Middlesbrough two years ago, when he retrieved the ball out of the net four times, I wrote that Everton had in the young Irish lad a goalkeeper who in course of time would compare favorably with any they have had on their books. So long as O'Neill continues this way, and proves he can "carry corn" – many a good players has been spoiled because success has gone to his head –he has a great future before him.
EVERTON RES V WEST BROMWICH RES
October 18, 1952. The Liverpool Football Echo
Everton Res, Leyland, goal; Clinton and Rankin, backs; Donovan, Woods and Meville, half-backs; Gibson, Cummins, Hickson, Buckle and Easthope, forwards. West Bromwich Res; Sanders, goal; Hewson, and Hilton, backs; Summers, Williams, and Brookes, half-backs; Fagan (M), Nicholls, Anderson, Charlesworth, and Horobie (R), forwards. Referee; Mr. A. Smith (Stoke).
Hickson who led the home attack, gave Everton the lead in the fifth minute with a grand shot. Albion made several raids Charlesworth getting home a fine shot which Leyland cleverly saved. Buckle increased the home lead Sanders having no chance whatever. West Bromwich deservedly reduced their arrears in the 25th minute through Anderson. Half-time; Everton Res 2, West Bromwich Res 1.
PROMOTION POINTS FOR LEICESTER
October 20, 1952. The Liverpool Daily Post
Leicester City 4, Everton 2
By Stork
Everton's visit to Leicester was acknowledged to be their biggest test to date for City are one of the strongest teams in the division. But Everton never really got their teeth into the game. Right from the start City took command and only for one short spell during the second half did they release their grip. The played the West Bromwich Albion type of game, speed being their greatest ally, and this proved too much for the slower but better footballing side, so far as method was concerned. One of the big difference was in the power of the respective forward lines. Leicester went up by the shortest route and then let fly at goal. O'Neill had plenty of work to do, whereas Anderson in the home goal had little need to worry. The Everton attack was not in its Brentford or Doncaster mood. Leicester used the long ball to make progress with Johnny Morris providing art with judicious passes. He took two of the four goals his first scoring success since he left Derby a fortnight ago. Everton were mainly on the defensive yet were able to find the net twice. Was O'Neill interfered with when Dryburgh dropped a centre into the net Everton goalmouth. Definitely. He was punched as he advanced to take the dropping ball and was prevented from getting to it and so the ball dropped into the Everton net –an unsatisfactory but valuable goal. Morris showed that first time action paid better then hesitancy, sweeping Dryburgh's centre into the net without allowing the ball to touch the earth so that O'Neill was given no chance. With two goals lead at the half stage, Leicester were sitting pretty but two minutes after the interval neat work by the Everton left wing saw Harris take Eglington's centre almost as quickly as Morris and Everton were back in the game with a chance. Six minutes later, however, a half clearance by an Everton defender let in Morris, who shot Leicester's third goal and any hope of retrieving themselves seemed out of the question. Following this Everton put in their best spell, and the Parker goal after he had headed against the crossbar, put some heart into their followers, Milburn, the City right full back, was hurt and had to go on the wing. Here was Everton's chance, but they did not take it, and two minutes from the end Rowley shattered any Everton hope of sneaking off with a point. O'Neill made some great saves from the quick-firing City forwards. In fact it was mainly a battle between the Leicester attack and the Everton defence which had one of its busiest afternoons. Jones played a fine part against big strong inside forwards but Dryburgh was given too much space to work in. Individually Everton were a shade better, but collectively City were superior.
• Everton Res 5, West Bromwich Res 2
• Everton "A" won 4-1 away
• Everton "C" 8, Linacre B.C 0
• Christ Church C&D 0, Everton "D" 4
TESTING PERIOD
October 20, 1952. The Liverpool Echo
By Stork
The testing period has come for the Everton club and much will depend upon what they do during the next few weeks as to their position at the half way stage of the season. On Saturday they line up against West Ham United and the following week are at Fulham –two hard matches. The first of the series of stiff games started at Leicester on Saturday and it ended their long spell without defeat, for the City were too good for the Merseysiders City have now taken nine points out of the last ten and their progressive football is likely to collect many more. They may not be a very scientific side, but their speed in attack, their quick tackling and their go-ahead methods will upset many a team with superior football. Right from the outset the City gave, the impression that they would come through successfully for Everton never really got going and were always playing "second fiddle" to the thrustful and hard-hitting Leicester. The latter had a line of shooter's all ready to take a chance under the slightest provocation. A glimpse of the goal was sufficient to merit a shot and while many missed the target four found their way in and O'Neill stopped many others from adding to their goal crop. True, their first goal was a "fluke" for O'Neill was undeniably obstructed as he came out to deal with Dryburgh's centre which dropped over the heads of all and into the net. Parker should have scrubbled that goal out when offered a gift from Eglington shortly afterwards but Everton were never allowed to get on terms again. They had their chance when they made it 2-3 for the Leicester defence was inclined to get rattled under pressure, but the Everton attack did not bring enough of it bear and with two minutes to go Rowley smacked a ball through a barrier of legs and bodies to make victory assured. Ask Rowley how he got the ball through and I will wager he could not tell you.
Speed and Punch
It was Leicester's speed as much as anything else which brought them success, for individually, Everton were as good as their rivals, but collectively there was much more punch in the City team. They gave the ball plenty of "boot" and five forwards went after it like terriers and the Everton defence had to work double time to drive them out. There was no great subtlety about their play but they hit and hit hard. Morris, their newly acquired forward from Derby was one who had the skill. He seems a bit slower, but the brain is there, and his first goal for his new club showed that the quickly taken chance is the best payer. He hooked Dryburgh's centre into the net without allowing the ball to touch the turf. His second looked like a "toe-ender" but again it was his quick action which brought about the downfall of the Everton goal. Everton advanced by better constructional football but there was no "bite" about the attack when it came to making one shot. Harris took his chance nicely, and as quickly as Morris and Parker returned his header on to the bar beyond Anderson without any hustle of bustie. Everton's wing half backs were too busy in defence to render much help to those in front realize that Everton's was mostly a defensive battle. They had to put in some heavy work to prevent the City forwards running riot and Jones with a man's size job against Rowley. Hines and Morris played well Lindsay and Moore rendered considerable help and O'Neill made some brilliant saves but it was not Everton's day. Where was the shooting which enabled them to beat Brentford and Doncaster. Not there on Saturday, Anderson had few really anxious moments such was paucity of Everton's shooting. Morris is going to be a big asset at Filbert Street. He makes the subtle pass which big chaps like Hines and Rowley will snap up eagerly.
HOSPITAL BROADCAST
October 20, 1952. The Liverpool Echo
Ranger's Notes reports on the broadcast of the Anfield game to Walton Hospital indicated that reception was good and that the scheme is assured of success. Alan Clarke, of the B.B.C did a grand job of work, and has earned the gratitude of all who heard him. The chairman of the two clubs also spoke an encouraging word to the patients before the match began and I had the pleasure of filling in the interval gap. In due course, it is hoped that all the major hospital in the area will be linked up in the scheme. Both clubs are willing to give every facility possible. There will be a broadcast of the Everton-West Ham game this week-end.
ARMY SIDE AT GOODISON
October 21, 1952. The Liverpool Echo
Strong Western Command Team Meets Everton For Welfare Funds
Ranger's Notes
At Goodison Park tomorrow Everton stage an attraction out of the ordinary run of engagements when they play a match against the Western Command, the proceeds of which will be handed over to the Command authorities for the furtherance of their welfare work. The kick off is at three o'clock. Everton have always had the friendliest of relations with Army sports folk. Their annual match at Aldershot has been for years one of the star items on the Southern Command's list. When Western Command, not to be left out suggested tomorrow's game the Goodison board immediately agreed. It is a fixture which should draw a big Wednesday crowd for in addition to the chance of seeing some of the younger members of Everton's professional staff there are many outstanding players in the Western Command side. All of them are professional associated with Football League sides, now doing their National Service and several have had varying periods as regular players in First and Second Division sides. The goalkeeper is Lance Corporal Terry Webster, who made his senior debut for Derby County four years ago when only 17 and held the fort-until joining R.E.M.E in front of him should have been Bombardier Banks and Lance Corporal Bingley, both of whom have had a number of appearance in Bolton Wanderers first team. There has been a change at left back, however, and Craftsman George Rankin of R.E.M.E and Everton comes in for Bingley to oppose his own clubmates.
Twentyman On View
Gunner Newman, the right half is the 19-year-old Birmingham City player, who has played twice for the Midlanders first team this season, while at centre half will be Geoffrey Twentyman the boy with whom Carlisle United have recently indicated they may be prepared to part. Several senior clubs are showing more than passing interest in the future. Twentyman has appeared in representative matches for the Army side as well as Command elevens and the scouts are sure to be watching him at Goodison tomorrow. Another Royal Artillery half back is Gunner Ronnie Clayton, of Blackburn Rovers, the youngster who came into Ewood Park side last season when only 17, and played in all their cup-ties including the two semi-finals against Newcastle United. The Western Command attack will be led by Private Jimmy Meadows, of Manchester City, and formerly of Southport, Meadow's last two games for the Mancunians have been a outside right and centre half. He was the subject of an experiment in the latter berth in the game against Bolton on Saturday. Meadow's is no stranger to the centre forward berth, however. He figured there on five occasions for the City last winter.
Debut When Only 16
The right wing pair are Privates Bevans (R. A. O.C and Stoke City) and Cameron (R.A.M.C and Queen'sPark Rangers). Bevans made his debut for the Potters the season before last when only 16, while Cameron who has had eight outings this season with the Third Division side, is spoken of as one of the most promising youngsters in the Southern Section. The left-wing pair are Gunners Hodgkinson and Nutt, of West Bromwich Albion and Coventry City respectively Gordon Nutt first came into Coventry's senior eleven last season and since joining the Forest has been honoured with selection for the full Army side. From the calibre of the eleven which the Western Command will turn out, it is clear that Everton, who field a mixture of Central League players and the best of their "A" teamers have no easy task ahead.
Everton Youngsters
In the Everton side the appearance of the left back Jack Anderson will be watched with much interest. Anderson is a 19-year-old boy from Skelmersdale who have been with Everton since he was 16. He made his Central League debut last season when he had a grand game against Hancocks of the Wolves but he has not been in the Central League side so far this season. Les Melville who played in the reserve team last Saturday for the first time this winter and did exceptionally well has another outing. Alan Hampson who has had one central League game this campaign is being tried at outside right. His partner is Alec Farrell, 16-years of age, a former English schoolboy international, who is a player of outstanding promise. This will be Farrell's most important game so far, but if all I hear about him is correct he should so well. This fixture looks as though it will provide a most attractive exhibition. Certainly it is something which should appeal to the half-holiday folk, and as the Western Command welfare funds will benefit I hope the attendance is a bumper one. The teams read. Everton; Leyland; Clinton, Anderson; Donovan, Woods, Melville; Hampson, Farrell, Hickson, Cummins, Buckle. Western Command; Webster; (R.E.M.E and Derby County), Banks (R.A. and Bolton), Rankin (R.E.M.E and Everton); Newman (R.A and Birmingham), Twentyman (R.A and Carlisle), Clayton (R.A and Blackburn);Bevans (R.A O.C and Stoke), Cameron (R.A.M.C and Q.P.R). Meadows (Royal Regiment and Manchester City), Hodgkisson (R.A. and West Bromwich), Nutt (R.A and Coventry City).
THE WESTERN COMMAND AT EVERTON
October 22, 1952. The Liverpool Daily Post
BY John Peel
Judging from the respective teams there is every indication that the match between Everton and the Western Command at Goodison Park today will provide plenty of good football. In the Everton side, composed chiefly of Central League players are the former Wirrall schools inside right, Alec Farrell, and Hickson and Buckle, both of whom have had considerable experience with the league side. the command eleven includes Everton full back George Rankin the much sought after Carlisle United centre half-back, Twentyman, and the Manchester City player, Meadows who will lead the attack. The game, which is in aid of the Army Welfare Fund will start at 3 p.m. and the teams are;- Everton; Leyland; Clinton, Anderson; Donovan, Woods, Melville; Hampson, Farrell, Hickson, Cummins, Buckle. Western Command; Webster; (R.E.M.E and Derby County), Banks (R.A. and Bolton), Rankin (R.E.M.E and Everton); Newman (R.A and Birmingham), Twentyman (R.A and Carlisle), Clayton (R.A and Blackburn);Bevans (R.A O.C and Stoke), Cameron (R.A.M.C and Q.P.R). Meadows (Royal Regiment and Manchester City), Hodgkisson (R.A. and West Bromwich), Nutt (R.A and Coventry City).
A HICKSON GOAL
October 22, 1952. The Liverpool Echo
Western Command Team Visit Goodison
By Ranger
Everton Res; Leyland, goal; Clinton and Anderton, backs; Donovan, Woods and Melville, half-backs; Hampson, Farrell (A), Hickson, Cummins and Buckle, forwards. Western Command; Webster (Derby County), goal; Banks (Bolton W) and Rankin (Everton), backs; Newman (Birmingham), Twentyman (Carlisle), and Clayton (Blackburn R), half-backs; Bevans (Stoke City), Cameron (Q.P.R), Meadows, (Manchester City), Hodgkinson (WBA) and Nutt (Coventry), forwards. Referee; Mr. A.Jones (Rainhill). The wretched weather spoiled the gate for the visit of Western Command to Goodison Park today, and the attendance at the start hardly reached four figures, which was a only considering that the game was staged in aid of Army welfare funds, and that the Western Command side included so many young players of outstanding merit. Interest in the Everton team largely centred in the appearance of 16-years-old Farrell, a forward of whom much is expected. In the early stages he showed shrewdness in his distribution. Everton were a goal up in six minutes through Hickson who scored after a long clearance by Anderton had caught the Command defence on the wrong foot. Farrell had a chance to put his name on the score sheet when Buckle put him in possession with a splendid through pass but took a fraction too long to deliever his shot, so that he was harassed by Twentyman and shot behind. Meadow's the former Southport winger, was showing good ideas at centre forward, in providing passes for his colleagues. But he should have done better than head behind from close range following a centre by Bevans, when he had only Leyland to beat. Hickson nearly got a second goal when a surprised header struck a defender on the line, while Bevans might also have had one for the Command had he been quicked to take his shot. He had two attempts both of which struck an Everton player. It was entertaining fare. The rain and mist had now cleared and visibility was good. The Command side continued to play good football without the requisite finish, and for Everton Hickson and Cummins also scorned scoring chances. Buckle from the centre forward position did better with a strong drive which Webster saved confidently. Half-time; Everton 1, West Command nil.
Cameron equalized for Western Command after 60 minutes.
FREE-KICK GOAL BY BUCKLE
October 23, 1952. The Liverpool Daily Post
Everton Res 3, Western Command 1
By Ranger
The result of this match was something of an injustice to Western Command. Everton deserved to win because of their superior finishing power, but the Army side had more of the game than one would expect from just reading the score. It as an excellent display worthy of a far bigger crowd than attended. The inclement weather doubtless kept many away, but as it turned out the rain and mist disappeared soon after the start and the conditions, apart from the rather slippery surface were good. Hickson gave the home side the lead in six minutes, Cameron equalized at the hour and then further goals to Buckle and Hickson made Everton's victory secure. That by Buckle was from a free kick on the edge of the penalty area. The Army side could have been in front at half-time had their finishing been as good as the rest of their work. Instead, they missed some easy chances. Everton were also remiss in this respect in the first half, but made adequate amends later Farrell a 16-year-old inside right, showed that he has good football in him. Anderton shaped promisingly at left back, and Hampson had a splendid first half, but faded out later.
Fine Pivots
Both centre halves did well, while the Army wing halves, particularly Clayton, kept up a good service of passes. Meadows always looked as though he would get a goal but just failed to pull it off though he went close on several occasions. In the second half Webster made two brilliant saves from Cummins and Buckle to prevent Everton's victory being larger. With nothing vital at stake both teams were able to indulge their own individuality and none did better than Clinton, who strolled through the game in nonchalant fashion and never made the semblance of an error. It was a match well worth watching and the only regret was that the weather at the time of the start kept the attendance to just over 1,700 to the consequent detriment of Army welfare funds.
EVERTON'S FORWARDS DOUBTS
October 23, 1952. The Liverpool Echo
There May Be Changes For Visit of West Ham United
Ranger's Notes
Everton home to West Ham on Saturday, are waiting for a report on the condition of Harry Potts before deciding their team. Potts had a slight touch of flu on Tuesday, and as a precautionary measure spent the day resting. He was a little better yesterday and it is hoped that he will be thoroughly fit again in time to take his place in the line-up against the Hammers. Although the Everton forwards line has been getting goals with encouraging frequency during the last six weeks or so, Manager Cliff Britton still feels that it might be possible to add still greater punch to the line. Whether he will decide to make any alteration for this week, apart from anything which may be forced on him if Potts is not fit, I cannot say at the moment. Many Everton supporters however would welcome the incoming of Ted Buckle who has scored six goals this season –four from the extreme wing and two from the inside left position in Central League games, plus one against the Western Command yesterday. Buckle strength of shots and readiness to have a go" whenever possible make him a very dangerous forward on his day, and he shares with Cronin the distinction of being the leading reserve team marksman. Now that their unbeaten eight match sequence has come to an end Everton supporters will be hoping that another similar run of successes will be started at the expense of West Ham. The Londoners, however, though they have not yet won an away game will not be "easy meat" for they have shared points in four matches on opponents' ground, including visits to Leicester, Luton, and Plymouth –all sides which rarely allow teams to get away with much. In their six away fixtures the Hammers have scored only two goals. They clearly rely mainly on their defence in such cases, so it will be up to the Everton attack to circumvent their ideas in this direction. Looking at it, the other way, Everton's rare guard should at least be able to keep the Hammers front line from doing too much damage.
Entertaining Game
The friendly game between Everton and the Western Command at Goodison yesterday provided one of the most entertaining exhibitions I have seen this season. Unfortunately the morning's heavy ran kept the attendance under 2,000. Had there been a 40,000 crowd to give the real "atmosphere" this would have been voted a great game. Say what you like, but the crowds help to make football thrills. Western Command played better than the result indicates, yet, paradoxically, Everton might have won much more handsomely. The Army lads were clever up to a point, but shocking finishers, Hickson got two good goals, one after going to outside left, as a partial passenger, and Buckle got the other from a free kick on the edge of the penalty area. I liked the promise of Anderton at left back and Farrell at inside right, though both obviously have much to learn yet and many rough corners could be smoothed out, Melville shaped well and Cummins was a lively raider, but the star item was the cool and confident display of Clinton at full back. He made good use of every ball pinpointing his clearance to a colleague with splendid accuracy. Twentyman the transfer-listed centre half of Carlisle was outstanding and Meadows of Manchester City looks as though he may make a better centre forward than a winger. Clayton (Blackburn Rovers) was the best wing half in the Army team, though Newman was not far behind.
NOT EASY FOR EVERTON
October 24, 1952. The Liverpool Echo
West Ham Have Done Well in Away Games Against Strong Teams
Ranger's Notes
Although West Ham United visitors to Goodison Park tomorrow are one of four Second Division teams who are still without an away victory the fact gives rather a misleading view of the position. It requires to be 'read in conjunction with the rest of the away record which shows that only two clubs have been able to beat them, and that one of these –Hull City – managed it with but a single goal margin. West Ham's last away fixture was against Blackburn Rovers, where they suffered the heaviest defeat of the season, losing 0-3 to Jackie Bestall's boys. West Ham have drawn at Bury, Leicester, Luton and Plymouth. Though they have scored only two goals in six away matches the opposition's total is no more than six which is less than any other club in any of the four divisions of the league, except Huddersfield Town. These figures tell their own story of the Hammers strength and weakness so far as away matches are concerned which is the main thing in which we are interested in relation to this Goodison game.
A Strong Defence
Their defence is among the strongest in the Second Division and as it has played almost unchanged this season it naturally has a good understanding and a sound system of covering. Five of the six players in the defence and intermediate are ever-presents. Only Harry Kinsell, due to injury has been marked absent. He is now back in harness again after missing seven games. In the forward line Moroney and Barrett are the only two who have figured in all games, though here also the changes have been comparatively few compared with many teams inside left has been the Hammer biggest problem. They have tried four players in this berth previously and introduce a fifth today in Foan, the former Norwich City man, in a further endeavour to solve the problem. Like Everton West Ham have a good sprinkling of Irish players on their staff including internationals in Moroney and O'Farrell, who belong to Cork. Kearns who has led the forward line several times this season, is a product of Shamrock Rovers, the team from which Everton obtained Farrell and Eglington. West Ham; Gregory; Wright, Kinsell; Parker, Allison, O'Farrell; Southern, Barrett, Moroney, Foan, Andrews.
EVERTON READY TO START NEW SEQUENCE
October 25, 1952. The Liverpool Echo
By Ranger
Everton have a chance against West Ham United today to begin another unbeaten sequence, though they will find it much harder, in view of the sterner matches ahead of them, to keep up their run of success as long as they did during September and the early part of October. Last week's defeat at Leicester brought to an end a sequence of eight matches without one reverse. Although they appeared to well beaten at Leicester, from what I am told they put up quite a good show, all things considered and did well to twice fight back to within a goal of the opposition. There was a time when Everton confidence used to collapsed like a pricked balloon one they found themselves a goal or two on the wrong side. That has gone, now. Though obviously they cannot recover under such circumstances, the fact the they have the spirit to keep on fighting against odds is a helpful feature. No side can hope for much when it drags its tail between its legs during adversity. On the records of the two clubs so far, Everton should manage to get a couple of points against the Hammer's today, for the London team has yet to win its first away match. It often happens however, that sides in this plight end their run of non-successes when all the indications point to the result going the opposite way. Not even the poorest sides goes on indefinitely without some slice of fortune coming its way. Despite their cipher in the winning columns for away fixtures the Hammers have never been "hammered." They have come back with a point from four of their six away fixtures including one at Leicester early in the season, which may or may not be an indication bearing in mind what happened to Everton at Filbert Street last week of a possible surprise today. They also drew at Luton and Plymouth. Not many teams get points there. Obviously West Ham are a side worthy of respect, and the Blues must take nothing for granted. That way lies trouble. The London club this season has made few changes for the 13 games they have fulfilled. Seven players have appeared in every game and the only position in which there has been any shuffling of the pack is a inside left. Four men have already been tried, and a fifth occupies the position today. It is curious how so many clubs seem to find the inside left berth the most troublesome of all.
Nothing Sensational
West Ham have not been one of the most successful clubs in post war football. Their highest position in the Second Division during that period is sixth. That was in 1947-48. Since then they have usually languished among the lower clubs, and have given their loyal band of enthusiasts comparatively little over which to enthuse. In May 1950, they finished 19th only four points above Plymouth Argyle who were relegated along with Bradford. A welcome improvement featured the Hammers performance the following winter. They averaged a point a match and finished 13th. Last season they were 12th. West have also achieved little in the F.A. Cup in post-war years. Three times they have been ousted in the opening round and in each of the other four years did not survive the fourth round. In season 1949-50 Everton dealt them the knock-out by 2-1. West Ham's two best cup performances were their 6-2 aggregate win over Arsenal in the double leg tie of 1946 and their defeat of Blackpool in last season's third round.
Transfers Deals
West Ham only use the transfer market under stress of events, and few signings of outstanding note have been made by the club in post-war years. Their chief imports have been;-
Summer, 1947 –Tommy Moroney from Cork United
Summer of 1948- Danny McGowan from Shelbourne and Derek Jackson from Crystal Palace.
Season 1948-49 –George Dick from Blackpool, Bill Robinson from Charlton Athletic (£6,000), and Frank O'Farrell from Cork United.
Season 1949-50 –Eric Betts from Walsall
Summer 1950 – Albert Foan from Norwich City
Season 1950-51 –Malcomn Allison from Charlton Athletic and Harry Kinsell from Reading
Season 1952-53 –Jimmy Andrews from Dundee
During the same period West Ham have parted with the following players;-
Season 1946-47 -Reg Attwell to Burnley, Archie Macauley to Brentford and Harry Medhurst to Chelsea
Season 1947-48 – Arthur Banner and Frank Neary to Leyton Orient
Summer 1949 – George Dick to Carlisle United
Summer, 1950 – Ken Bainbridge to Reading
Season 1950-51 –Eric Parsons to Chelsea (£18,000)
Summer 1951 –Ron Cater to Leyton Orient
West Ham's golden years were the 1920's. They entered the Second Division of the League in 1919, and gained promotion to the First Division as runners up to Notts County in 1923. That season of triumph in the Second Division as also notable for the outstanding event in the club's history. The Hammers reached the final of the F.A. Cup and met Bolton Wanderers in the first game ever held at Wembley. It was the day of the great stampede, and after a lengthily hold up, the match was played with the crowd overflowing to the touchline. Bolton won 2-0. That is the nearest West Ham have ever been to winning the trophy. Captain of the West Ham team that day was George Kay, the former manager of Liverpool whose illness couple of years ago meant his premature retirement from football George Kay lived and thought nothing but football and his earnest desire to put Liverpool on top and keep them there undoubtedly contributed to the breakdown in his health. He will long be remembered at Anfield and particularly by those behind scenes who knew his sterling worth.
Their Early Days
Known orinally as Thames Ironworks, West Ham were formed in 1900. After their promotion to the First Division in 1923, they remained there until the end of 1931-32 when they were relegated with Grimsby Town. The following season they finished twentieth in the Second Division but reached the semi-final of the Cup losing 2-1 to Everton at Wolverhampton. Leading scorer for the club that term was Vic Watson, the famous English International centre forward who got 25 goals. West Ham have no full English internationals on their present staff, but Tommy Mooney, Frank O'Farrell and Danny McGowan have several Eire caps between them. Harry Kinsell played in two Victory internationals for England at the end of the war when he was a West Bromwich Albion player, and Eric Gregory kept goal for England "B" versus France "B" at le Havre last May. Derek Parker played against Austrilia three times in last year's tour. Everton; O'Neill; Moore, Lindsay; Farrell, Jones, Grant; Harris, Fielding, Hickson, Parker, Eglington. West Ham; Gregory; Wright, Kinsell; Parker, Allison, O'Farrell, Southern, Barrett, Moroney, Foan, Andrews.
EVERTON CUT SLICES OFF WEST HAM THEN FIGHT TO SAVE BACON
October 25, 1952. The Liverpool Football Echo
Everton 2, West Ham o
By Stork
A game of two halves Everton predominating in the first and taking two goals, with West Ham, concentrating on defence. Their policy changed and they were the better side in the second half, but they could not get the necessary goals –proof that attack is the best form of defence. Everton; O'Neill, goal; Moore and Lindsay, backs; Farrell (captain), Jones and Grant, half-backs; Harris, Fielding, Hickson, Parker and Eglington, forwards. West Ham United;- Gregory, goal; Wright and Kinsell, backs; Parker, Allison, and O'Farrell, half-backs; Southern, Barrett, Moroney, Foan, and Andrews, forwards. Referee; Mr. L. Richardson. There were three changes in the Everton side, two positional, Fielding changing over from inside left to inside right for the injured Potts, Parker going to inside left and Hickson returning to lead the attack. There were no changes in the United side. conditions seemed to be ideal for there was neither wind nor sun. Everton were quickly off the mark in the very first minute, Gregory was in action, pushing away a shot by Harris. The next few minutes saw, Everton testing the Hammers defence and up to now we had seen nothing of the Londoners attack. Fielding was in one of his bright moods and almost told Harris what he was about to do. When he did it, however, Harris was not in the position he should have been, so that a possible attack on the West Ham goal did not materalise. Parker was doing a lot of nice things at inside left, one of his best was a cute ball to Eglington, who shot off like a deer only for the game to be pulled up for an offence against West Ham. This was a penalty rather than a help to Everton for Eglington seemed to have a clear run through at the time. There was an offside decision which caused a bit of controversy, not with the players but with the onlookers. It concerned Moroney and Moore, the Everton back, who was dead in line with the West Ham centre forward so that the referee's decision of offside was a correct one. But it took a linesman's flag to justify the decision. There was plenty of good play in a footballing sense, most of it coming from Everton, but the goal lag was not satisfying. West Ham were getting slightly better, but their thrust near goal on the few occasions they got there was very feeble and the Everton defence usually had their hand on things when the need demanded. Kinsell was cheered for a highly successful tackle on Parker, but it was obvious that the United defence had a set plan of retreating towards its own goal under the slightest provocation. Farrell came along with a shot saved by Gregory, who also stopped one near his post by Hickson. At last the much wanted goal arrived and it was due to a defensive mistake on the part of Kinsell. He failed to collect a ball from the Everton left wing and Harris quickly stepped in, moved a pace or two forward and then delivered his shot well out of Gregory's reach.
Three-Man Effort
Harris tried to make it two a moment later, following good work by Hickson and Eglington, but this time he hooked the ball a foot or so wide of the mark. Another three-man Everton link up almost produced a second goal for Parker, who had taken part in the initial work came tearing up in his effort to head home Eglington's centre but the ball was outside. The Hammer's nearly took an equalizer when Barrett challenged O'Neill for the ball practically kicking it out of the goalkeeper's hands. The ball passed outside. Parker, after cleverly tricking two men working the ball on the face of a sixpence, popped it nicely across to Eglington, but Parker slipped and was not ready to accept the return. However, a corner followed to Everton almost immediately but this was disposed of. A free kick to Everton nearly produced another goal. Fielding hooked the ball out to Eglington whose header avoided Gregory and was passing inside the far post until Allison came along and headed it out. But a second goal was on the horizon, for Everton were attacking strongly at third point and when Hickson who was in the outside left position nodded the ball down, he left Eglington with the simple task of driving the ball home at 40 minutes. Then came West Ham's second shot of the game and it came from Barrett and full of sting. So much so that O'Neill had to save at the second attempt. West ham almost produced a goal Jones was caught out of position and it was only O'Neill who retrieved the situation at the expense of a corner, which was cleared. Just on half-time, Eglington centred right across the face of the West Ham goal, but all he got was a corner, again cleared. Half-time; Everton 2, West Ham nil
All Sail Now
In the first minute of the second half, Everton had to repel an attack by the Hammers in which Moroney was most prominent. He got through close in, but Moore barred his way
. Everton were soon back testing the West Ham defence. Fielding twice set Harris off but the winger's centres were easily disposed of. Hickson was finding Allison a stiff proposition, but even he had to have the help of a colleague when Hickson tried to bore his way through. Everton were now crowding on all sail, and Parker made one of the best shots of the match and Gregory an equally good save. Everton were by far the better footballing side and it was not surprising to know that West Ham had not yet won an away game. There form today was just too bad to be true. West Ham did more shooting in the last five minutes than they had done all through the match and Moroney was just a little slow in making his shot, for it enable Jones to get in the way and block the effort. The London side had changed their policy a little. They became an attacking force, whereas previously they had been a purely defensive side and Everton found that they had to pull out a little more in defence than hitherto. Lindsay seemed to jar his leg from making a clearance but he did not go off. He got back into position, just in time to see O'Neill drop down on a shot by Andrews, the ball having by some means found its way through a forest of legs.
United Improve
The United were a much more attractive side at this point, and Jones had to make a back-header to make sure his lines were not dented. A fast centre by Eglington avoided everyone including the goalkeeper, but went beyond the reach of Harris. Parker was playing some neat stuff and he rounded off with a shot which Gregory saved rather easily. Andrews fired another one, and tried to place the ball right out of O'Neill's reach. He was successful in this, but put it wide. Andrews had been United's most frequent shooter and there was no doubt this little winger can hit a ball. A third goal to Everton seemed assured when Harris came through with a really powerful shot and Gregory was well out in front. But by a superhuman effort the West Ham goalkeeper threw himself backwards and collared the ball to make the save of the match. West Ham were proving the old axiom that the best form of defence is attack. They were much more effective this half than they had been in the first and Everton had to fight hard to retain their two goal lead. Final; Everton 2, West Ham United nil. Attendance 38,461.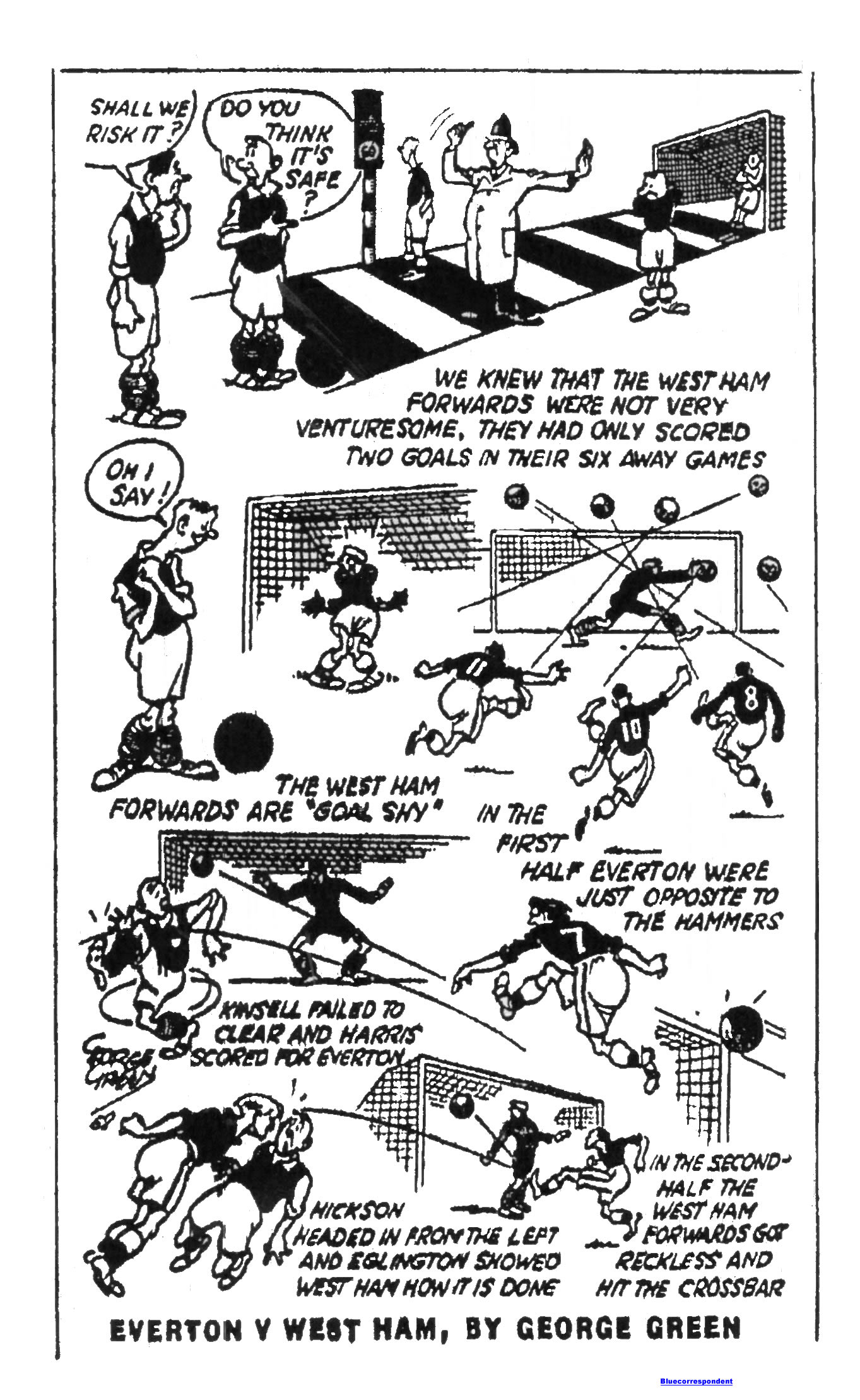 LEEDS RES V. EVERTON RES
October 25, 1952. The Liverpool Football Echo
Leeds United Res;- Wood, goal; Ross and Langley, backs; Mollatt, Marsden, and Barrie, half-backs; Meek, Iggleden, Hastle, McCall, and Hughes, forwards. Everton Res;- Leyland, goal; Clinton and Rankin, backs; Birch, Woods, and Melville, half-backs; Mayers, Wainwright, Lewis, Cummins, and Buckle, forwards. Referee; Mr. J.S. McLaughlin (Manchester). McCall opened the scoring for Leeds after 18 minute, and Mayers equalized in the next minute. After Wainwright had put Everton in front, Iggleden equalized for Leeds. Leeds made repeated efforts to regain the lead, but Leyland was in fine form, saving several dangerous situations. Half-time; Leeds Res 2, Everton Res 2.
Leeds had most of the play in the second half, and Leyland was repeatedly in action. Only faulty finishing prevented Leeds from scoring on several occasions.
MANY CHANCES BUT ONLY TWO GOALS
October 27, 1952. The Liverpool Daily Post
Everton 2, West Ham United 0
By Stork
West Ham have not won an away game this season, and if what we saw on Saturday is their normal game it is quite possible that they will go through the season without an away win. They gave the impression during the first half that defence was their main concern. That they were not more than two goals down at the interval was not entirely due to them. Everton made many openings but quite a lot were not accepted, in fact the first goal did not come until the 28th minute. Then it was a mistake in the United defence which enabled Harris to score Kinsell failed to collect an easy ball and Harris made most of his chance. It was one-way traffic right through this half with Everton playing the better football and making openings by the greatest of ease. At the 40th minute Eglington from the centre forward position, slapped home Hickson's pass. I expected Everton to run up a high score, but there must been a West Ham adviser in the United dressing room at half-time. The policy of defence was cast aside in favour of attack, and the Londoners were as much in charge afterwards as Everton had been in the first half. This proves that attack is the best form of defence. Had West Ham started as they finished a different story may have had to be told. There is no denying that they had Everton chasing a bit. Eglington's raiding and Fielding and Parker's intricate play at inside forwards, often found loopholes in the United defence, but with all their chances they got only two goals. True, Gregory made one miraculous save from Harros by fling himself backwards and saving what appeared to be a certainty. Gregory made other saves, but he was not kept as busy as he would have been. The game never reached a particularly high standard, but I would have liked to have seen Everton continue their first half methods when they had the Londoners completely on defence. Jones was again a dominant force in defence and Farrell and Fielding had great understanding. Most of the attacks were engineered by this pair. Lindsay and Moore were well capable of looking after the United attack until West Ham changed their methods; then they had to do some quick tackling against a side which had got a belief in itself where previously they had none.
• Leeds Reserves 3, Everton Res 3
• Everton "A" 7 Fleetwood Heskeith 1
• Beresford United 0, Everton "C" 2
DANGER OF EASING OFF
October 27, 1952. The Liverpool Echo
Everton proved the Truth of Some Old Soccer Sayings
Ranger's Notes
Not for a long time have we seem a game so clearly demonstrate the truth of hackneyed football saying as the struggle between Everton and West Ham. The first to be proved was that which maintains that attack is the best form of defence and the other the danger of regarding any match as won until the final whistle has gone. This was a game of two diametrically opposed halves, with Everton well on top in the first portion and peppering the Hammers' goal for all they were worth. He second provided a dramatic and emphatic change round. Everton's first half display was good enough to warrant half-a-dozen goals. They might have got them but for some brilliant saves by Gregory, Everton held the imitative throughout this portion, thanks to some extent to the manner in which the visitors retreated before the home attacks instead of going into the tackle. While goals to Harris and Eglington were all the return the Blues got for a tremendous amount of shooting their supporters felt at half-time that further goals were bound to come in the second portion. They had good grounds for that belief.
Boot On Other Foot
Whether Everton consciously eased off or whether the changing o the boot to the other leg was due to West Ham's changed tactics is purely a matter of surmise. There was nothing suppositional, however, about the complete switch-round in the flow of the game. From holding the initiative and all the aces Everton allowed the visitors to take almost complete command. Had the Hammers displayed the same shooting power that Everton had earlier they could have registered their fifth away draw. As it was they delivered comparatively few really strong scoring efforts and fortunately for Everton those that were on the target were capably dealt with by O'Neill who is playing in grand form these days. Once the woodwork came to his rescue when wing half Parker came up for a header. This escape was balanced by the right half goal-line clearance by Allison off Eglington. It's true that a team can do no more than win. There are varying degrees of satisfaction however in the manner in which victory is achieved. In this case the win was not as satisfying as it could and should have been. If the lesson of easing off has been learned from what took place in the second half, no great harm has been done.
Forwards Not Impressive
Fielding was in brilliant form, and Eglington as usual put his ability to beat his man by speed to good advantage but otherwise the home forward line was not impressive, though it was good to see everybody ready to shoot whenever the opportunity was there. Harris did not do a great deal beyond take his goal well, thanks to Kinsell's helpful contribution when the Hammers back sliced his clearance and Hickson and Parker, though always working hard were not up to their best standard. Defensively, Everton had nothing much to worry about in the first half. Afterwards they contrived to get out some difficult situations by the skin of their teeth. Jones always had the masterly of Moroney who can rarely have seen so little of the ball or been so resolutely prevented from making full use of it when he did have it. Farrell and Grant were admirable in the manner in which they backed up their forwards during Everton's period of ascendancy. Later they had their hands too full to do much constructive work. The visitors outstanding forward was Barrett, son of the former West Ham player and the lanky Allison, though unceremonious at times; played soundly at centre half. Gregory helped to keep the score down to reasonable proportions when West Ham had their backs to the wall and brought off the finest save of the day when he dived backwards to a shot by Harris which had passed him and seemed to be a certain goal. Actually he should never have had the chance to save. That he was able to do so was due, to the winger's slowness in snapping up what could have been a real grit.
A BACKWARD GLANCE
October 30, 1952. The Liverpool Echo
How Everton Have Fared Compared With Past Years
By Ranger
With a third of the season programmes now completed a brief survey of what has been so far accomplished by Everton compared with previous season is not out of place.
Comparison in their case is not so straightforward for there is only one previous Second Division season to set against this campaign. That, however, shows a big improvement on its forerunner as we are all aware. This time last year Everton were sixth from the bottom with only 11 points from 13 games. Today they are 4 points better off. The goal average is also infinitely better. Last year it was adverse one of 13 for and 20 against. Today it reads 25 for and 18 against. Prior to their fall to the Second Division Everton's position in the senior table at this period in previous years was 21st in 1950, 18th in 1949, bottom the year before that, eighth in 1947 and fifth in the first post-war season. Not being possessed of a crystal or the facility to foresee the future if I had one, I cannot say what lies ahead of either club. Everton's task is the harder of the two. It is no easy business fighting back to the higher sphere in these days of keen competition when practically all the clubs in the top half of the table ate in the hunt with a reasonable chance. Everton, however, assuming they can continue their recent form, should be well placed, to make their challenge at the right time. This is often better than being leaders for a lengthy period and the target for everybody lower down. One defeat in 10 games is excellent going, and though as mentioned here previously, Everton could still be strengthened in one or two positions, they are certainly giving their supporters far greater hope than for a long time.
EVERTON OPPONENTS
October 30, 1952. The Liverpool Echo
Ranger's Notes
Bill Dodgin junior son of the Fulham team manger whose request for a transfer because of barracking by a section of the crowd at Craven Cottage was turned down by the board of directors on Tuesday has been omitted on the team to entertain Everton on Saturday. On young Dodgin's behalf it was explained today that he does not feel up to it after all the recent publicity. Dodgins place at centre half will be filled by Jim Taylor, who was rested from the side a fortnight ago. This is the only chance. Fulham; Black; Wilson, Lowe (R); Lowe (B), Taylor (J), Lawley; Stevens, Robson, Jezzard, Breenan, Mitten.
FULHAM GOOD AT HOME
October 31, 1952. The Liverpool Echo
Ranger's Notes
Everton, with only one defeat in their last tem games, hope their losses will not have been further extended when the final whistle goes at Craven Cottage. If they achieve this they will have done something which only one other sides has pulled off against Fulham in London, this season. The Cottagers back to the Second Division after their brief sojourn in the senior section, have won six of the seven home fixtures. In these six they have scored 18 goals to the oppositions four. Leicester City upset the favoirites average a bit when they won 6-4 at Craven Cottage early in September after having romped home 6-1 at Leicester the previous week. These two games showed the Fulham defence to be vulnerable against a swift-moving and balanced attack, but otherwise it has acquitted itself quite well. On only three other occasions has it had more than one goal against. Everton's old failing of slacking off when in the lead was demonstrated again last week against West Ham. They are not likely to fall into the same error again to soon. Whether in front or behind, they will need to give of their best for the full 0 minutes to make sure of even one point from the encounter. They could also improve their chances by endeavouring to keep the ball on the ground more when feeding Hickson down the middle. That isn't always possible, but when it can be done it improves the centre forward's chances considerably if he can run on the ball and hit it first time without having to "master" it first. Apart from that high balls usually though not always make it easier for defenders, particularly if they have an advantage in height. Fulham; Black; Lowe (R), Lowe (E); Taylor (J), Lawler; Stevens, Robson, Jezzard, Brennan, Mitten. Everton; O'Neill; Moore, Lindsay; Farrell, Jones, Grant; Harris, Fielding, Hickson, Parker, Eglington.