VITAL GAME FOR EVERTON
April 1, 1954. The Liverpool Echo
But Victory Against Leeds United Will Demand Every Ounce of Effort
Ranger's Notes
With Everton's immunity from injuries still continuing the same team will be fielded, in Saturday's away game with Leeds United; making the tenth successive engagement without alteration. The fact is so obvious that it seems superiuous to remark that this game is a very important occasion for Everton the more so after last week's surprise defeat by West Ham. It is useless wasting regrets over what might have been. Defeat has to come to all sides with Everton no exception but had they won last week the Blues could have gone into their game at Elland Road with easier minds. As it is Blackburn Rovers are hot on their track though the Ewood Park club has played one more game than Everton for one point less. It is significant that Blackburn Rovers only defeat in their last eleven league games – which have brought them 15 points –was against Leeds United a week last Saturday. Leeds may not be very high in the table but they are a difficult side to beat in their own ground where only three clubs have proved victorious so far. Against that is the encouragement fact that Everton have the best away record of any Second Division team with 20 points from 17 "foreign" engagements. Everton; O'Neill; Donovan, Lindsay; Farrell, Jones, Lello; Wainwright, Fielding, Hickson, Parker, Eglington.
Everton Reserves (v. Preston North End) at Goodison; Leyland; Tansey, Rankin; Grant, Woods, Melville; McNamara, Potts, Harris, Lewis, Stewart.
EVERTON AT LEEDS
April 2, 1954. The Liverpool Echo
Ranger's Notes
Everton travel to Elland Road to tackle a Leeds United side which has conceded 24 goals in its 18 home matches –one fewer than the Blues have had against them in a similar number of outings at Goodison –and has scored 48 times, a 201 average in their favour. Everton will have to show greater determination to be first to the ball plus better shooting and finishing than they did in last week's West Ham match if they are to make sure that the leeway between themselves and their immediate challengers is not still further reduced. Strangely enough Leed's first home reverse came at the hands of West Ham and by the same score as in last week's Goodison match. The other two teams to take full points forest, who have not been the best of travelers this winter, and Fulham while five clubs have managed a half-share. The match with Forest and a goalless draw with Hull City are the only two occasions on which the Leeds forwards have failed to score. Only one visiting side has scored more than twice at Elland Road, Bristol City performing that feat when sharing six goals. Though John Charles is still the main Yorkshire marksman, with 36 League goals, other players who will need close watching are McCall the former West Bromwich and Blackpool player, who has taken on a new lease of life since being moved on the right wing at the beginning of February, inside right Nighingale, who has scored 17 goals and outside left Williams. The United defence has been practically the same all season except that Scott has been in goal since taking over from Wood at the start of the New year. Everton will doubtless have taken last week's unexpected defeat very much at heart and earned the lesson that no game is won on chances which are triffered away, no matter how superior they may be in other directions. Victory will not come easily to either side and though two points would be decidedly acceptable Everton will do well if they can split the difference. Leeds are doubtful whether McCall who has recently been down with influenza will be fit. Leeds United;- Scott; Dunn, Hair; Kerfoot, Marsden, Burden; (forwards from); McCall, Nightingale, Charles, Forrest, Williams, Everton; O'Neill; Donovan, Lindsay; Farrell, Jones, Lello; Wainwright, Fielding, Hickson, Parker, Eglington.
WAINWRIGHT EQUALISER
April 3, 1954. The Liverpool Football Echo
Then Leeds Net Two More
Leeds United 3, Everton 1
By Stork
Leeds United; Scott, goal; Dunn and Hair, backs; Kerfoot, Marsden, and Burden, half-backs; Igglesdon, Nightingale, Charles, Forrest, and Williams, forwards. Everton; O'Neill, goals. Donovan, and Lindsay, backs; Farrell (captain), Jones, and Lello, half-backs; Wainwright, Fielding, Hickson, Parker and Eglington, forwards. Referee; Mr. W. Heston (Hartlepool). Kerfoot made a long run down the wing and transferred to Igglston who turn the ball to the centre as Charles came in. The ball came straight out to Parker, he slipped it to Hickson who carried it close in only to shoot against the Leeds goalkeeper and gain a fruitless corner. Scott failed to catch the corner kick, and the ball went out to Eglington who banged it across the face of the Leeds goal. O'Neill had not so far made a single save. Marsden had his name taken for kneeing Hickson. But for an excellent late save by O'Neill Charles would have got the first goal of the day, for the Welshman's header was sneaking over the line when O'Neill got his hand to the ball and pushed it away. A free kick taken by Hair dropped in the Everton goalmouth and was kicked clear, but the danger was still there, and a pass by Burden enabled Williams to close in and score with a hard shot which gave O'Neill no chance at the 34th minute. With any kick Everton could have had the equalizer in the next minute, Lindsay moved up and pushed the ball to Parker who put it through to Hickson. The latter allowed the ball to pass him by thinking that Eglington was close at hand.
Fast Centre
After Eglington's first centre had been hooked away by Hair, Leeds got back into the attack but were soon driven out. Everton equalizer at the 43rd minute, and it was a well made goal, Lello swing a pass out to Parker, who took the ball close in before he sweak it across the Leeds goalface, Wainwright rushing in to tap the ball over the line. A free kick by Williams was saved by O'Neill who crashed into the upright, injured himself and had to have attention.
Half-time; Leeds United 1, Everton 1.
As Eglington-Lello-Hickson get together would have produced a better result had someone moved up in anticipation of Hickson's header into the middle. Forrest engineered a second goal for Leeds and actually finished it off after a shot by Nightingale had been cannoned back to him. That came in the 52nd minute. Everton were not moving sweetly. Nor would one say that Leeds were anything above the ordinary. Fielding made a good pass to put Parker through but Forrest was a little too quick for the Everton man and confidently put the ball back to his goalkeeper. Just after the hour Leeds increased their lead to 3-1 through a Kerfoot goal. At the 62nd minute Kerfoot followed up a strong United attack and from well inside the penalty area well and truly beat O'Neill who appeared to touch the ball but could not arrest its progress. Eglington lifted a ball over the stand behind the goal, Wainwright had a chance to reduce the lead but he missed his kick.
Weak Passing
Parker was rather weak when passing to Eglington after Everton had made a path through the Leeds defence which got a chance to cover up. Nightingale lobbed a shot just under the crossbar where O'Neill grabbed the ball. When Fielding tapped home a short Hickson pass it looked a goal. The referee gave it but was asked by the centre half to consult his linesman after which the goal was negative. Wainwright shot outside and Everton were now attacking strongly without getting any result. Final; Leeds United 3, Everton 1.
A HOME SLIP, FLOODLIGHT, AND….THAT SATURDAY AFTERNOON FEELING
April 3, 1954. The Liverpool Football Echo
By Peter Farrell
As I came out of church last Sunday morning an unknown person, greeted me with the words; "What a rotten team." Naturally I ignored the remark, and continued on my way. As I wended my way homewards, his remark gave me plenty of food for thought.
It was a remark of a disappointed supporter of the Blues. He, like many others had most likely gone to Goodison keyed up with the prospect of seeing Everton consolidate their position at the top of the table, and had returned very disappointed at the display and the result. Further along the way a bus conductor shouted from his platform. "You lads will want to shake yourselves up" I suppose this was understandable in view of the previous days showing. As we sat in the dressing room discarding our gear after the game, and the grim reality began to dawn on the players that we had lost two very valuable points there was that certain all of disappointment on everyone's face. But before we left the ground fully aware that we were still top of the league despite everything, the gloom seemed to fade, as evidenced by such remarks as "Ah well, let's hope we have got it all out of our system today," and a parting word of encouragement from our manager Mr. Britton. "Don't worry too much about it lads. It just wasn't one of our days. Everything seemed to go wrong for us." This defeat means that from now till the end of the season every match will be like a Cup-tie to players and supporters alike. Let's hope we will have learned something from our second home defeat of the season. The game was the first time since his recovery from injury that Eddie Wainwright has been on a losing Everton League side. I wished to mention this some time ago, but when I approached Eddie on the subject he was a little superstition as you can see by his remark. "No soon as it appears in print, Peter we are sure to be beaten." Now that Eddie's great sequence has ended I only hope he can pick up the threads where he left off and continue in the same vein until the end of the season.
Lights Please
As I watched the Liverpool Cup tie between Southport and Everton in the gathering dusk at Haig Avenue last Tuesday, before a mere handful of spectators , it made me wonder how many the same game would have attracted under floodlights at Goodison. Every morning you take up the paper you read of games played under the lights up and down the country. Although neither of the clubs in this city have yet installed a floodlight system a large percentage of clubs in England and Scottish football have. Many fans are already beginning to wonder will they one day be watching promotion and relegation struggles at night time, or is it just the glamour and novelty of it all being a comparatively new venture which is attracting the crowds.
The Saturday Feelings
My personnel views on the matter are that the average fan loves his Saturday afternoon Soccer match a fact which is well proved by attendances everywhere, even on bad winter days, and that floodlit games will never be able to take the place of the present weekly Saturday game. Furthermore there is a certain atmosphere about a game played under natural light of day which seems to be missing from that played under artificial light, and it is my own personal belief that a Cup Final played at Wembley on a Saturday night would not have the same appeal to players or public as it has at present. Some people maintain that when the novelty of floodlight has worn away the attendances will drop considerably as has happened in some cases already. Others argue that only exhibitions have been played under the lights so far but were competitive league games to be played they would draw just as big gates as on a Saturday afternoon. I have only had the pleasure of playing under floodlights once and that was at Exeter this season. I had heard so much about it that I was looking forward to this new experience very much, and I really enjoyed it, not finding much difference in the conditions from these under which we normally play. I did find that from corner kicks from both ends, it was a little difficult to follow the flight of the ball but this may have been due to some slight defect in the system on this particular ground. One thing about floodlit football is that if you win the toss you haven't got to worry about the sun before making your choice of ends. Whether we shall see a new are of football under the lights in the future, time will tell, but whether or not, more and more League clubs are fitting their grounds with the necessary apparatus. Whether this is with an eye to the future or to reap the present harvest who can say? For my money, let us have our League programme as they are at present and switch on the lights for exhibition games. That's only my opinion.
The Little Lello
Cyril Lello came in for a lot of leg-pulling during the past few days, as last week his wife, Elsie, presented him with a bouncing baby son. Some of the wisecracks directed at Cyril in the dressing room were "Why didn't you postpone the happy event for a little while longer. What with the sleepless nights you'll have in the next few weeks you'll never be able for the strenuous games which lie ahead from now till the end of the season." Cyril was not stuck for a replay and remarked in his own inimitable way "One would think by the way some of you lads played last week that you yourselves had been doing a bit of floor walking."
EVERTON RES V PRESTON RES
April 3, 1954. The Liverpool Echo
Everton reserves;- Leyland, goal; Tansey and Rankin, backs; Grant, Wood, and Melville, half-backs; McNamara, Potts, Harris, Lewis, and Stewart, forwards. Everton were much the better side, and Preston were confined to breakaway raids. Even when they did get within shooting range their finishing was so poor that Leyland had virtually nothing to do. The Everton attack was swinging the ball about to good advantage, but many of their attacks were spoiled by Preston's use of offside tactics. Just before half-time Harris got the better of Mattinson but Lewis could only turn his centre past the post as he was harassed by Parkinson. Half-time Everton Reserves nil, Preston N.E. Res nil.
WITHOUT SPIRIT AND SMOOTHNESS
April 5, 1954. The Liverpool Daily Post
By Stork
Leeds United 3, Everton 1
I am afraid Everton are feeling the strain. That is the impression they gave against West Ham and it was confirmed at Elland Road on Saturday. Gone was the spirit which carried them through a dozen games without defeat. They are still in the chase with prospects of promotion but this defeat has made their task the more strenuous. Over-anxiety had a lot to do with this defeat, but there was more to it. The smooth football which has been paying high dividends was missing. Until they recover it everything is still in the balance. I know it is impossible to keep on top form week after week and that the straining point must be reached at some time or other, but Everton's form at Leeds was so poor it was hardly believable. There were flaws here, there and everywhere. Promotion cannot be won with loopholes such as were obvious here. Had Leeds been a good side I would not mind, but they were just a moderate, workmanlike side. They could have been beaten by a well-balanced Everton in fact Everton had chances the equal of those accepted by Leeds. As League leaders Everton were the butt of every team they met and Leeds like West Ham were keen as mustard to lower their colours.
Easier Said Than Done
Everton must take a hold of themselves and try and forget the stress that goes with a promotion holding team. It is perhaps easier said than done, but it is virtually necessary now Leicester and Blackburn Rovers have come alongside again. Only for one short period did Everton produce smooth, fluent football, but the damage had been done earlier and Leeds were leading 3-1. It should have been 3-2 and I cannot understand why the referee (who was only a few yards away) should seek a linesman's verdict a linesman who was 20 yards away. The referee had signaled goal, he then reversed his decision. Tempers became a little frayed but this time Hickson was not involved although the centre half Marsden had his name taken. I must admit that some of the referee's decisions were puzzling and Farrell became vexed and spoke to him a number of times. Leeds started the goals when Williams scored at the 34th minute. This was negative by a Wainwright goal at 43 minutes. Forrest but Leeds in front seven minutes after the interval and Kerfoot made it 3-1 at the 62nd minute. In between those goals Everton had a number of chances. Wainwright could have had two with a little steadiness and there were other missed chances but on the balance of play Leeds United deserved their success.
DON'T BE DOWNHEARTED
April 5, 1954. The Liverpool Echo
Ranger's Notes
Everton Rivals Will Soon Be Cutting Each Other's Threats
Only once before this season –and then as far back as the first week in October –have Everton suffered two successive defeats. On that occasion both games were away from home. A fortnight ago promotion seemed to be a reasonable certainty. Now the position is again so open that Everton followers are getting more than a trifle anxious. There are those who have been saying for some time that the Blues were not quite as good as their position indicated and they had been having such a long run of good fortune that the tide must turn before long. The answer to that was in the results the side kept turning in. A run of 13 games without defeat was a most creditable performance. While it is a pity that the last two games have added nothing to the points total the side has not yet been produced that can go on winning or drawing indefinitely. Defeat is inevitable some time or others. Though Everton decline has come at the most awkward part of the season it may prove only a temporary setback. Certainly this is no time to be unduly critical and in spite of these two last disappointments, I have no intention of saying anything here which might upset the confidence of the team or individuals. With Liverpool, despite Saturday's welcome victory, as near doomed as makes no matter, I am as anxious as everybody that we shall have one senior side in the city next winter. If Everton come up as I still believe and hope they will, I shall lose no sleep because some people may dub them "lucky" we all need a bit of luck in this world. The promotion struggle is now narrowed down to five teams. The rest are well out of the reckoning.
Easter Will Decide
The Easter holiday fixtures will almost certainly provide the key to the situation so we have not long to wait. For comparison purposes here are the remaining fixtures of the five leading clubs.
Blackburn Rovers; -Home Birmingham, Leicester, Swansea, Away; Notts Forest, and Leicester.
Leicester City; home; Notts County and Blackburn Rovers; Away; Oldham, Hull, Blackburn, Brentford.
Everton; Home; Stoke City, Lincoln City and Birmingham City. Away; Fulham, Lincoln City, Oldham.
Notts Forest;- Home; Birmingham, Blackburn; Away; Derby, Birmingham, Oldham
Birmingham City; Home; Doncaster, and Notts Forest. Away; Blackburn, Notts Forest, Everton.
A little study of the foregoing shows how the arrangements of this season's fixtures is panning out to help Everton. Apart from Birmingham, Everton meet none of their challengers. But four of Blackburn Rovers five remaining games are against promotion contenders and Notts Forest and Birmingham City each have three games of a similar nature. Blackburn Rovers could dish the chances of Leicester or vice verse thus removing one threat to Everton's hopes while the same could happen with Notts Forest in relation to Birmingham or vice verse again. In addition Leicester have only two home games and four away.
Fixtures' Loaded
In short while four of the five leading clubs will be cutting one another's throats so to speak , Everton could be cashing in nicely –always providing that they resume and retain their winning way. Should the many meetings between their rivals mainly end in and equal division of the spoils Everton would still gain ground if their themselves captured the major portion of the points at stake in their six remaining games. This moth is the most critical period for the Blues since they lost their senior status. Never again are they likely to find the fixtures list so loaded in their favour. I hope they make the most of this fact, but they can only do so by getting a good return themselves, it is so good relying on others to slip up.
FEELING THE STRAIN
April 5, 1954. The Liverpool Ech0
By Stork
Everton after treating us to some joyous football for 13 matches without defeat have struck a bad patch and have lost four extremely valuable points just at a time when every point is vital. Defeat has got to come sometime, but when it is followed by another a week later it naturally gets you worried. I can think of only one reason for Everton's lapses during eh past fortnight. They are feeling the strain of a hard season. Right from the season's start they have been fighting to keep at the top, for they are promotion bent and the stress and strain of their endeavour is having its effect. When you are fighting for a target and are the butt of every team which you have to meet, it is not humanly possible to remain at full stretch all the time. They looked like a team which was a little jittery against Leeds. Gone was the poise which made them a most attractive footballing side and heavy scorers. They did not look so confident as they have been in many other games. At Elland Road they were scrappy and not together while there flaws here and there which must be elimated if they are to stay at the top of the table. Every game is naturally a cup-tie. The opposition is always keen to knock the prospective champions off their pedestal. That is the leaders portion. True enough they had chances which were not taken as they were a few weeks ago but the main point was that their football fell much short of what it has been hat it was during that long and attractive run without defeat. They are perhaps feeling the repercussion of that success, at least they did not play up to anything like their known form which is a pity, for it will require their best to keep them at the head of affairs now that Blackburn and Leicester have raced alongside them. The tension will become higher, and Everton must try to recover the confidence and unanimity of purpose which was there before these two defeats, I won't quibble with the result for it was a just one, but I still cannot understand why the referee standing only a few yards away, disallowed a Fielding goal on the word of a linesman who was 20 yards away. Hickson was alleged to have fouled Marsden. To me it was a perfect shoulder charge. That would have made it 3-2 and with Everton attacking strongly there were possibilities but I am not unmindful of Charles's terrible miss from five yards out. No wonder he put his hands to his head. The Welsh leader did very little better than he had done at Wrexham three days previously, so well did Jones play him. There was however, more fighting spirit among the Leeds contingent. Only late on did Everton produced their known form, but it was then too late, for Leeds held a lead which the "Blues" could not pull back. Wainwright who worked like a Trojan missed a couple of chances and Parker and Eglington were not thrustful enough against a hard defence. Hickson's robust type of play is so natural to him that to change it is not a good policy. He did not do a thing wrong at Elland Road, although Marsden pulled no punches against him, in fact he had his name taken. Captain Farrell was so veered on occasions that he had a few words to say to the referee. The goal scoring was done by Williams, Wainwright, Forrest and Kerfoot in that order but it was not one of Everton's good days. It is going to be hard going from now until the end of the season. Steady yourself Everton, keep your heads and try and go back to the football which was dominating and purposeful in that long and successful run. It only needs a calm head and a together, along with the confidence near goal which produced 20 goals in three games. You have it in you if you will remember that good football will pull you though. I know it is a testing time, but this is the moment when you must show that you have the balance.
EVERTON FAITH UNSHAKEN
April 8, 1954. The Liverpool Echo
Same Team Will Oppose Stoke City At Goodison Park
Everton will only one point from their last three games, will field an unchanged side for the visit of Stoke City on Saturday. There has been no alteration in the Blues line up for any League match since December. Even then it was an enforced change due to Tommy Jones being injured and missing four matches when Donovan was switched to centre half and Clinton and Moore in turn bad two outings at right back. Since Jones returned Everton have played 16 League and Cup games in which the only change again unavoidable was the incoming of Moore for the injured Donovan in the fourth-round Cup-tie against Swansea Town. Everton won 4-2 at Stoke last November and could complete the double if they can regain the form of earlier months which unfortunately has deserted them a little in the last two games, when over anxiety with scoring openings has been their major slip. Stoke have a useful away record having won four and drawn seven of 16 games on opponents grounds so that Everton will have to work hard for all they get. This is the most testing time of all for the Blues. They cannot afford any more slips. Nothing short of victory will satisfy their supporters or enhance their promotion prospects. They simply cannot afford to sacrifice a home point. Everton; O'Neill; Donovan, Lindsay; Farrell, Jones, Lello; Wainwright, Fielding, Hickson, Parker, Eglington.
Everton Reserves (away to Stoke City Reserves);- Leyland; Moore, Rankin; Grant, Woods, Melville; McNamara, Potts, Saunders, Lewis, Stewart.
IN A TOPSY-TURVY STATE
April 9, 1954. The Liverpool Echo
Ranger's Notes
Tomorrow's game against stoke City at Goodison is extremely vital for Everton who are now two points behind Leicester and level with Blackburn Rovers with a game in hand over both. Notts Forest and Birmingham are also not on the trail figuratively breathing down Everton's neck. Anything less than victory would reduce Everton's chance's a further notch. It is obvious and they themselves know it, that they must go all out for a win from the first kick of the game and not fritter away easy scoring opportunities as they have done in their last two outings. Easter said than done perhaps but very necessary at this juncture, when even a single slip can be costly.
Defensive Strength
The five post-war meetings of the two sides at Goodison all in the First Division have brought the Blues three victories, one draw and one defeat. Earlier this season Everton won 4-2 at Stoke though in that game the home side was reduced to nine fit men for a while. Stoke have done reasonably well in away games this campaign in 18 engagements they have conceded only 26 goals which is fewer than any other team in the First or Second Division. They have won at Fulham, Hull, Luton, and Bury, and shared the points on seven occasions. Apart from Leicester where they went down 4-0 and the game at Nottingham Forest, which was lost 504 both in September, Stoke have only twice had more than two goals against them in away matches. Four times they have kept a clean sheet. Defensively they have remained much the same throughout the season, but several changes have been made in the attack which has not been very prolific. The main problem position has been at centre forward where no fewer than six players have been tried. The latest occupant of the berth has been Johnny King whom the Potteris side signed from Crewe last September in 14 outings as leader he has scored eight times. Inside-forward has also been something of a headache for Manager Frank Taylor though there has been some improvement since switching from left half to inside right and Bowyer to inside left. As in past years, Bowyer has been the sides most consistent marksman. He has 16 goals to his credit in League and Cup games. Wingers Malkin and Oscroft who have caused no anxiety, have scored 21 goals between them. Everton; O'Neill; Donovan, Lindsay; Farrell, Jones, Lello; Wainwright, Fielding, Hickson, Parker, Eglington. Stoke City; (probable);- Robertson; Bourne, McCue; Mountford, Thomson, Farrow; Malkin, Coleman, King, Bowyer, Oscroft.
MUST NOT SLIP
April 10, 1954. The Liverpool Daily Post
With only one point gained from their last three fixtures, Everton cannot afford to slip up against Stoke City at home. The Goodison Park side must go-all-out for goals from the kick-off for the City can be a dangerous force. On only seven occasions have they been beaten in away games this season while they have won four times and shared the points in seven matches. With so much at stake, however, I do not think the home side will falter on this occasion. No change is made in the Everton eleven for this game and the line-up will be the same for the eleventh successive League game. The kick-off is at 3.15 and the teams are;- Everton; O'Neill; Donovan, Lindsay; Farrell, Jones, Lello; Wainwright, Fielding, Hickson, Parker, Eglington. Stoke City; (probable); Robertson; Bourne, McCue; Mountford, Thompson, Farrow; Malkin, Coleman, King, Bowyer, Oscroft.
BLUES HIT BACK TO SAVE POINT WITH TEN MEN
April 10, 1954. The Liverpool Football Echo
Everton 1, Stoke City 1
Everton had to fight grimly for 70 minutes with 10 men due to Lindsay being taken off with a compound fracture of the left leg. Everton were a goal down when this misfortune befell them. This was the toughest he-man game at Goodison this season, and possibly anywhere less. Everton; O'Neill, goal; Donovan, and Lindsay, backs; Farrell (captain), Jones and Lello, half-backs; Wainwright, Fielding, Hickson, Parker, and Eglington, forwards. Stoke City;- Robertson, goal; Borne and McCrae, backs; Mountford, Thomson, and Farrow, half-backs; Matkins, Coleman, King, Bowyer, and Oscroft, forwards. Referee; Mr. H. Jackson (Leeds). There was a crowd of at least 30,000 at the start to see Everton test Robertson twice in the first minute with shots by Lello and Hickson. Neither of them had any hope of beating the Stoke keeper, for both went straight to him, but at least it was evidence of Everton's determination to get a quick goal if possible and to neglect no shooting opportunity. Oscroft almost skimmed the bar. Eglington was well off the mark with a long range shot and then off-side nullified a grand little offering by Hickson and Wainwright. Everton were getting great support from the crowd and were earning it for some of their play, despite the trickness of the light ball, had been first-class. Oscroft again went close with a first-timer off a long centre, but apart from occasional Stoke raids play continued almost exclusively in the visitors' half. Whatever happens later, Everton so far looked much the superior side. Twice Thompson nipped in with timely headers to forestall Hickson and Parker, and then at the 17th minute, against the run of the play, Stoke took the lead through Oscroft. The start of this blow to Everton came when King, away in the outside right position, eluded a tackle by Jones, and veered at right angles towards the penalty spot. He let go a shot which bad little hope of scoring but the ball struck a defender on the leg and dropped near Oscroft who struck out a foot and piloted a bumping ball just out of O'Neill's reach in the far corner of the net.
Stretcher For Lindsay
Unfortunately for Everton this was not the worst that belief them Two minutes later, Lindsay, after cutting across to avert a threat by Oscroft and Bowyer went down in a heap obviously badly hurt. This was confirmed when the call went out for a stretcher and the Scottish defenders was taken off after the game had been held up for several minutes. Despite their handicap, Everton remained on the offensive though now with only four forwards their task was several Lello went left back, and Fielding left-half. Hickson put in one strong shot which Robertson saved smartly and every blue-shirted player was trying to pull out a little extra. On one occasion Donovan came up to try a thirty-yarder. Stoke's numerical superiority at last began to tell a tale and Everton for some minutes were confirmed to defence. Jones was finding King the former Crewe player something of a ill-o-the-wisp, but Stoke's biggest danger men were their wingers. The Stoke goal bore a charmed life when following a free kick by Donovan, Parker's first shot struck Hickson and his second, from the rebound cannoned away off Mountford and was then scrambled clear. Still Everton were pegging away and once more Donovan tested Robertson with a hot drive. Stoke's defenders were tackling grimly and Everton had to fight desperately for every inch of ground. One would have thought that Stoke themselves were also promotion candidates. Donovan got a rally for two smart pieces of work in which he bamboozed Oscroft with a quick reverse turn.
Always Dangerous
Stoke always looked dangerous when on the attack and from a corner by Oscroft, Malkin headed goalwards for O'Neill to leap high and make a confident catch. Hickson was doing two men's work, disputing possession of every ball with great intensity, but try as he would ne could not get the better of Thomson. The half finished five minutes beyond scheduled time.
Half-time; Everton nil, Stoke City 1.
At half-time I learned that Lindsay injury was a compound fraction of the left leg. This is decidedly unfortunate both for player and club. Everton continued where they had left off with wave after wave of attack. The Stoke defence wavered, but would not crack though at times were reduced to kicking anywhere for safely. Thomson was "shadowing" Hickson like a long lost brother and twice got his head to the ball to forcestall opponents in the nick of time. Hickson required treatment after he had tried to beat both Thomson and Robertson five yards from goal. He soon recovered following his collision with the goalkeeper.
Hickson "In The Wars"
A great bit of work by Parker might have produced a goal had his final pass not been just a little too far for Wainwright. Wainwright even so might have done better to shoot than return the ball to the middle where it was punted away by Farrow. Hickson was not only badly shaken but limping also following a charge by Thomson which laid him low. In one of Stoke's isolated break-aways Coleman's and Malkin paired off to such good effect that it took O'Neill's outstretched leg to turn aside Coleman's shot near the foot of the post. Everton were still getting tremendous encouragement from the crowd, even though this making full allowance for the ten men handicap was not one of their best performance. They were trying desperately hard but there was not the rhythm and precision about their work on this bone hard ground that there has been on previous occasions. Mountford was twice in the wars, the first time being knocked out stone could the second being badly shaken when Hickson, going up for the fall, fell over the Stoke man. The crowd apparently relished Hickson's efforts to force a way through the Stoke defence. He certainly lacks nothing in the way of courage. O'Neill made a smart save off Malkin after a high bouncing ball had beaten the Everton defence, and also partially beaten Malkin as well who could no more than stab the ball forward, with the sole of his foot almost from shoulder height. The referee was sometimes too far behind play to see some of the things went on and which were not adding to the enjoyment of the game as a spectacle. Elbows were being used, and vigour was at times the guilding principle. O'Neill made an instinctive gave from Oscroft at the expense of a corner, then Malkin laid on what would have been a certain goal for King had not Jones put the ball behind for a corner. At long last Everton got on level terms when Hickson kept the ball in as it seemed certain to go out and Wainwright put across a centre which Eglington scooped low to head into the net. Final; Everton 1, Stoke City 1. Official Attendances 46,411.
• Joe Mercer fractured leg at Higbury against Liverpool today. Arsenal won 3-0.
STOKE RES V EVERTON RES
April 10, 1954. The Liverpool Football Echo
Stoke City Reserves; Evans, goal; Cotton and Sellars, backs; Asprey, Beckett and Cairn, half-backs; Ward, McClelland, Whiston, Hotton, and Woodall, forwards. Everton Reserves; Leyland, goal; Moore, and Rankin, backs; Grant, Woods, and Melville, half-backs; McNamara, Potts, Saunders, Lewis, and Stewart, forwards. Referee; Mr. N.C. Downes (Birmingham). Everton were in front after 15 minutes' play when Lewis fastened on to a loose ball and gave Evans no chance. The home side equalized from a penalty after 25 minutes. Beckett scoring after Woodall had been fouled. Another Stoke defensive lapse again let in Everton, after 35 minutes. The ball had been scrambled out several times, but Lewis eventually scored. The visitors continued to press but poor finishing spoiled their efforts. Half-time; Stoke City Res 1, Everton Res 2. Stoke were trying hard to get the equalizer but their attacks failed against the solid block of Moore and Rankin. Stewart raced clear of the opposition but his centre was badly placed. McNamara was always a danger and gave the Stoke defence a harassing time.
CAPS DON'T ALWAYS MARK THE TEAM OF TEAMS
April 10, 1954. The Liverpool Football Echo
By Rangers
Though Everton's two successive defeats have set them back in their promotion bid, and been a big disappointment to their supporters, that is no excuses for some of the pessimistic and occasionally caustic things which have been said to me during the past week by people who claim to be "lifelong Evertonians." I'll grant straight away that the present Everton side is not as brilliant individually or collectively as some of those of former days. But surely those who carry the club's colours of the moment should not be too harshly judged on the account. There are all giving their best and have done all season, and while now and again there may have been an occasional decline from the high standard of some games, that is nothing new in foot ball, or in any other game. No player, not even Matthews, Finney, Dean, Bloomer, Mercer, Lawton, or whoever else you care to name played brilliantly week in and week out with never an off-day. One Evertonian who tackled me this week about what he was pleased –or rather displeased –to call the Blues "chuckling away their promotion chances through sheer carelessness, "Waxed critical also about the calibre of the playing staff generally because of the lack of international honours which have come the club's way in recent years. First about the alleged "carelessness" this is sheer bunkum just as in the letter from another reader who claims that Everton do not want to go into the First Division. You can take it from me that both the club and the players are as keen as anybody could possibly be to achieve promotion and last human frailties apart, nothing will be allowed to prejudice their aim.
In Days Gone By
In days gone by Everton certainly had some outstanding stars of their generation in their teams. The evidence of that was seen in the frequency with which Goodison Park players were called upon for international or inter-league duty. It is also true that for some time, apart from the Eire contingent, all of whom – particularly Farrell and Eglington –have given splendid service to the country of their birth. Everton have not supplied a player for any other country since the plamy days of Tommy (T.G.) Jones, which going back quite affair bit now. The last time Everton, had an England player honoured was in the 1946 Victory International against Scotland when Joe Mercer captained his country. Tommy Lawton was also in the England team that day but by that time he was on Chelsea's books. At the start of the same season Wally Fielding played against Scotland in the Bolton Disaster Fund match at Maine Road, but that was an "extra" pre-season fixture, which is not counted in the international records. T.G. Jones played the last of his many games for Wales in 1950 prior to which Aubrey Powell and Jack Humphreys got one cap each for Wales in the early post-war years.
They Have Other Attributes
But if Everton have not the same sprinkling of internationals –Eire apart – that they had in pre-war days, there are certain other attributes of the team which t a big extent make up for the lack of outstanding individualists. Foremost among these is club loyalty and team spirit. Whatever else may be lacking these two assets go a long way in football's hectic modern days when results count more than anything else, and certainly more than scintillating performance from individuals who may not always be the best of club loyalists. I'm not suggesting that results ought to be the ba-all and end-all of the game today. Yet that is the case, and assuming it to be the first and foremost objective Everton followers have not had a great deal to complain about this season. I have little patience with those folk who claim to be supporters of any club, yet are always ready to wade in with ill-informed criticism when things temporarily go awry or certain players feil to hit the highest spots.
A Different Matter
When matters are going from bad to worse over a long period, however, and particularly when the signs or portents of such decline have been long visible then obviously even the most loyal "fan" cannot be expected not to have his say. That is entirely different matter. A purely temporary setback is something which comes to all sides. It is true a few of Everton's performances have not been what we would have liked. There has occasionally been a slight weakness at full back, where Lindsay's lack of speed cannot always be counterbalanced by his intelligent positioning and the forwards have sometimes missed the easiest of chances with most aggravating frequency. But on the whole –and I am not forgetting how favourably the ball has run for the side in several games – the displays served up this season have been quite satisfactory up to the last fortnight. Not having seen either the West Ham or Leeds games, I cannot speak from actual knowledge. Admittedly there were faults in each which should not have been perpetrated. But defeat is inevitable now and again. The vital thing from now on, and that particularly includes today's home games with Stoke City, which will not have been easy, is that these errors of omission and commission should be carried no further. If the Blues have won today they will be back in favour and all will be forgotten and forgotten. If they have failed then we shall begin to wonder whether after all they have not yet got quite what it takes to stay, the long and grueling course which is demanded of any team which hopes to escapes from the Second Division. Defeat today, though it would be a great disappointment, would not necessarily mean the end of promotion hopes. As I mentioned last Monday, when giving the remaining fixtures of the five championship contenders Everton are remarkably fortunate in the way in which all the other promotion aspirants meet one another in the next fortnight. The Blues could still drop a point or two from those that we have been counting as almost "in the bag" and yet take the upward lift to the First Division providing no two other rivals completely sweep the bard in the season's few remaining games. Not that we went Everton to scrape through that way if it can be avoided though so long as they do go up and preserve First Division football or Merseyside for next season I shall not e on pernickety about thankfully accepting whatever luck comes their way. I would however, be much more satisfying and also more encouraging for what lies ahead next season if they don't carry off the prize comfortably by virtue of their own performances rather than the failings of others.
FAREWELL, AND FROM A STRETCHER
April 12, 1954. The Liverpool Daily Post
By Leslie Edwards
What a finish to the Joe Mercer career! And how tragic that John Lindsay, of Everton, should have such a "grim" break on the same day. Mercer, whose last game this must surely prove was game to the last. His wave from the stretcher was apparently discerned by the Highbury crowd for what it was –the final farewell. Mercer chafes at his misfortune because he dearly wanted to captain an England X1 against the Young England X1 in that special eve of the Final-tie game in London. It was only days ago, at Burslem that he turned out for a team of veterans and remarked to the referee at the interval "Let's play straight on ref –if we don't rigor horsiest set in." Manager Tom Whittaker had a presentiment that Mercer should not play on Saturday, but Mercer whose Saturday afternoons are completely empty when he does not foot the ball persuaded him otherwise. And that Wade, one of his own players should be involved quite accidentally in the injury incident was double misfortunate. It was Mercer who told me years ago of his Everton differences, it was Mercer who said he would never kick a ball again for any club. It was Mercer who said he would give his right leg to play for Arsenal. And now fate rules that the right leg should be broken in their services. When George Allison came to Liverpool to sign him, Mercer greeted him with thus words; "Where are the papers."
ROSE ABOVE THEIR MISFORTUNE
April 12, 1954. The Liverpool Daily Post
By Ranger
Everton 1, Stoke City 1
Everton rose above misfortune at Goodison Park on Saturday by taking a point from a desperately hard-fought game which, contained some incidents that might well have been dispensed with, and in which Everton full back Lindsay suffered a compound fracture of the left leg shortly after Stoke had opened the scoring all the seventeenth minute. Stoke's goal though a blow to the home side and against the run of play up to that point, was nothing compared with the loss of Lindsay. Had Everton remained at full strength they would almost certainly have won. Even with ten men, they had the better of matters for long stretches and it was Stoke who were most relieved when the whistle went. While Everton owned their draw to the fighting spirit of all their players everyone of whom worked desperately hard to balance their numerical inferiority it was Hickson's persistence twelve minutes from the end which produced the equalizer. I doubt whether any other Everton forward could have done the same. Hickson's determination to gain possession of a ball, which seemed certain to go out of play laid on a goal for Eglington who stooped low as the ball came over from Farrell and headed it into the net.
Deserves Full Marks
Hickson deserved full marks for this and other contributions to the salvation of a very valuable point. He worked like a man possessed but his impetuosity and vigour led him to do some things which he might not have contemplated in calmer moments. One such occurred a split second after he had done all the graffing which led to Eglington's goal. It might easily have nullified all his good work. Lindsay's mishap occurred at the twentieth minute when in dashing across in a desperate effort to forestall Oscroft he got his leg entangled with his opponent who fell across the Everton man's outstretched left leg. It was a pure accident. Two minutes before this happened Oscroft had put Stoke in front in rather fortuitous fashion. King out, on the right wing cut-in parallel with the dead ball line until near the penalty spot when he tried a shot which had little or no hope of beating O'Neill. As luck would have it, however, the ball cannoned off a defender to the feet of Oscroft who toe ended it weakly just out of the goalkeeper's reach. Despite this handicap of playing four forwards –Lello took Lindsay's place and Fielding went to left –Everton hammered away at the Stoke defence for long periods. The visitors wavered many times but never cracked. During the second half play assumed increasing intensity and Everton's rhythm deserted them as they saw time running out and the prospect of another defeat on the horizon. The hard ground and extremely lively ball did not help them though for sheer endeaour and determination they could not be faulted. Eglington's goal however, was all they could get through they deserved victory for their spirited struggle against heavy odds. Lello and Fielding shaped well in their emergency defensive role O'Neill was sound and though Jones occasionally found King difficult to hold, the Everton centre half came out of the majority of their duels successfully. Donovan had a good game against Stoke's most dangerous winger, some of his touches were masterly and he always tried to make good use of the ball. Thomson will long remember his desperate tussle with Hickson. The Scot who is in line for inclusion in Scotland's World Cup party, stuck to his task splendidly throughout Bowyer was always a danger in the visiting attack.
LEWIS' DOUBLE FOR EVERTON RESERVES
April 12, 1954. The Liverpool Daily Post
Stoke Res 1, Everton Res 2
Everton reserves strengthened their chances of the Central League championship with a well-deserved win at Stoke on Saturday. They were the better side and showed smart attacking work in the second half. Lewis at inside left was an opportunist and scored twice in the first half. Beckett scored Stoke's goal from a penalty.
A FIGHTING RECOVERY
April 12, 1954. The Liverpool Echo
Ranger's Notes
Though it may be somewhat invidious to single out individuals when every man on the Everton side fought so desperately hard to make up the absence of Lindsay credit must go to Hickson for his part in forcing a draw. It was his refusal to give up the struggle for a ball which it seemed almost impossible to prevent going "dead" which turned the scales. Not only did Hickson save it, but he pulled it back for Farrell to provide Eglington with the chance to head the equalizer. Willingly and manfully though all the Everton players fought Hickson, more than anybody else, helped to save the point. I willingly give him every credit for that. But there were some things of which he was guilty that were not creditable. I have no intention of laboring the point in view of the club's present position. At this juncture it is sufficient to say "Take things a little more calmly Dave." Just as there are more ways of killing a pig than choking it with butter, so there are more avenues to victory than by laying about all and sundry as though possessed." One incident a split second after Hickson had worked so manfully to make the equalizer goal might easily have nullified it and undone all his efforts. Stoke's goal at the 17th minute, was a lucky one which came because King's partially stopped shot struck one of the two defenders in front of goal and made a "sitter" for Oscroft. Even then it was a week effort which went in. Then came Lindsay's mishap and Everton severely handicapped had to fight for 70 minutes with ten men. Yet it was Stoke who were most grateful to hear the final whistle.
Did Not suit Their Style
Considering the try ground and lively ball I thought Everton's football was quite good at times. True they did not always master the conditions but they shaped as though they would have done so had they not been forced to re-shuffle the side. With a man short they naturally started to lose some of their balance and combination and in the second half the game deteriorated considerably though still productive of tremendous and who heartened endeavour and a good proposition of thrills as well as a few things we could have done without. One point was a good performance all things considered though I thought two would have done Everton greater justice. Stoke were often hard pressed in defence, yet they never cracked and Thomson stood like a rock despite much buffering and being on the receiving end of much that would have exhausted the patience of the majority of players. O'Neill never made the semblance of a mistake –which means I do not agree with those who claim he might have saved the goal- Donovan did many stylish things, and Lello and Fielding filled their emergency defensive roles adequately. The forward line could not be properly judged. At full strength it shaped encouraging afterwards the odds were always on the Stoke defence. Liverpool's defeat at Highbury now puts paid to those last feeble hopes that after all a miracle might occur. We can now resign ourselves to having at least one Second Division club in the city next season. Though Everton have lost more than a little ground lately –this latest occasion through no fault of their own –I still feel reasonably confident that they will move up to take Liverpool's place.
THE STYLE OF DAVE HICKSON
April 15, 1954. The Liverpool Echo
From G.D.B. of Hoylake "I feel that the remarks of your correspondent, E.R. and you are both directed at the much-criticized and much admired, Dave Hickson, of Everton. "I think it is time you and your critical readers really studied the play of Hickson and tried to find the reason for his rough, but in my opinion never dangerous style of play.
(A) Hickson is one of the few centre forwards who tackles the centre half and full backs in an effort to keep his side on the attack. This tackling is bound to upset the majority of defenders because it is a thing they are not used to. It is for the referee to say whether this tackling is unfair.
(B) We must not forget that what happens at Goodison is very often a continuation of what has happened in an earlier fixture. Hickson scored a good hat-trick at Stoke and according to some reports was very badly treated by the Stoke City defenders.
(C) Hickson's is a fine player and needs double marking. This may cause him or the defenders concerned to get a little rough.
"Further is readers R.R. in a position to make such remarks after watching only one game? Is Goodison Park he only ground where one gets rough play?"
And Another Letter
From "Pluto" comes this;-
"I was glad to see the letter from E.R. in the Daily Post this morning apropos the match between Everton and Stoke City. I feel as he does and hope if only for Everton's sake in the long run that you will spare no effort to expose foul play. "Undoubtedly the Stoke left back was struck before Everton's goal and this was not the only time in the match he was struck. To his credit it may be said that he never retaliated. Once he appalled to the linesman and was ignored. The centre half and he exchanged glances and appeared to shrug their shoulders in resignation. "There must be many like me faithful followers of Everton who are thoroughly disgusted. The reputation of Everton was built on pure football displaying the arts of the game. We want a return to that standard. There has been too much foul play and that is putting it bluntly."
EASTER CLEARS THE AIR
April 15, 1954. The Liverpool Echo
Holiday Games May Decide Whether Everton Go Up
Ranger's Notes
The Easter programme is the most vital four day period in Everton's post-war history, which can either make or break them so far as promotion is concerned; it is going to be a tremendous struggle with two away games on the card. One consoling feature is that the clubs which are running Everton to close are meeting each other Blackburn and Leicester City have home and away tussles over the holiday, as also do Nottingham Forest and Birmingham City. A good return to Everton could put the Blues back on top, if the rest divide the spoils but if one or other of the competitors take maximum points from the inter change of fixtures, Everton might not be so happily placed. The whole thing is very much in the melting pot, and almost anything can happen. The possibilities are too diverse to go into at any length. Everton are home tomorrow to Lincoln City, which on the face of it, under less tense circumstances could be almost certainly counted on to provide two points. But no match is easy at such a juncture and Everton who have not been up to their earlier standard on the hard grounds will have to recapture some of their former lustre to make sure. Watering of grounds is permitted at this stage of the season and one would have thought that Everton might have availed themselves of this legitimate aid to their aspirations before this.
Heavy Defeats
Lincoln have gained full points in only three away engagements so far against Bristol Rovers, Brentford and Plymouth and all by a single goal margin. In addition they have shared the points on visits to Doncaster, Bury, and Notts County. They have come in for some heavy reverse and of the 73 goals scored against them in 38 League outings all but 20 have been in away matches in which they have scored only 17 themselves. Their heaviest defeat was at Leicester who won 9-2 at the end of November. Other sides which have had a field day against the Imps are Blackburn who won 6-0 at Ewood Park, and Leeds and West Ham, who each scored five in their home encounters. Lincoln have failed to find the net at all in seven outings on opponents grounds and only four times have managed to muster more than a single goal. Despite these occasionally heavy defeats, however, they have made comparatively few changes in their defensive set-up. Two departures from their staff been those of Jimmy Jones, the former New Brighton custodian who is now with Accrington Stanley and Ernie Whittle, is at present on Workington's boots. It will be remembered that in last season's Goodison game he was the prime mover in Lincoln's unexpected but deserved victory. The main striking power in the Imps attack's is provided by centre forward Graver with 23 League and Cup goals, another who has been will among the goals in recent weeks is inside right Garvie whose previous appearances have been limited by injury. Lincoln will field the same side as won against Swansea Town last week. Everton switch Donovan to take the place of the injured Lindsay, with Moore coming in at right back. Everton; O'Neill; Moore, Donovan; Farrell, Jones, Lello; Wainwright, Fielding, Hickson, Parker, Eglington. Lincoln City; Lowery; Green, Dykes; Wright, Emery, Owen; Munro, Garvis, Graver, Birch, Finch.
INSPIRING GOAL BY FARRELL
April 17, 1954. The Liverpool Daily Post
Everton 3, Lincoln City 1
By Leslie Edwards
For forty-five minutes yesterday, 61,231 people at Goodison Park were justified in thinking that this was not their day, not Everton's. First came the announcement that J.W. Parker was not fit –his injury is likely to keep him out of the game for the reminder of the season – ten, after eighteen minutes play, the Lincoln City goal which put the crowd and the Everton team in it humour. Thus, at the interval when for once we, did not have the benefit of knowing what other clubs were doing, the probability of Everton even winning, much less by three goals to one, was as remote as their championship hopes. No one cheered. There were few desultory rude remarks about Everton and one suggested that the Lincoln team were only a set of door knockers. The Lincoln Imps design, of course, is popular on Lincoln doors, but it was not until the Everton captain, Farrell, began his rat-tat on the Lincoln defence that Everton got level and began to see possible victory. Farrell as is his wont, joined his forwards (52 minute) and when others were standing and staring strode ahead and picked up a ball for the taking against a defence which was more at sea at that moment than the Royal children. Mentally one joined Farrell in his joyous leaping over this, his first goal this season. This inspiring captaincy was the thing which converted from uncertainty into a side their followers could encourage. From that moment Lincoln went further and further back, figuratively and in fact Fielding went on as Hickson and others were appealing for a penalty and gave Everton the lead at 73 minutes. Lewis, who had filled the Parker role without distinction shot his side into a 3-1 lead after a long centre from Eglington had struck bodies –and a post-before the scorer picked up his chance.
Clean Fought
So Everton finished by deserving to win a game about which we once had serious doubts. They may not have won as completely as one would like them to have won, but they were worth the points and better the game was fought cleanly I gave Hickson credit for only looking daggers this time, rather than throwing them. Even so it seemed he had difficulty in keeping his fire smouldering. Lincoln had the better of the first half. Their big and ponderous defence, defying the glare of the sun as easily as they defied the Everton forwards seemed to have a nice command and there was no lack of support for an attack which had good direct wingers a quick snapper of half chances in Graver and a fine ball-player in Garvie. Thrice Graver made hitch-kick back-heeled passes. Thrice the came off beautifully. It was from such a ruse that Garvie hit his scoring shot. This was the best goal of all and disastrous as it was to Everton's cause the crowd gave it the reception it deserved. Though they won, Everton still did not play the kind of football which has created their promotion chance. This despite the watering of the ground which makes better football possible and helps the players to avoid damaging injury. The trouble when Everton were going badly, was that no one seemed able to bring the ball to ground and keep it there. There were too many headed passes. Against a big defence like Lincoln's this was bad policy.
Turning Point
Farrell's goal was undoubtedly a turning point. Once they had it Everton began to play confidently and the wing half-backs took command and Fielding began to lay on passes more typically and accurately. Until then he had been hasty and erratic. But one of the main reasons for Everton's success was the play of Tom Jones. Graver moved like lightning to many through balls in the air and on the ground, Jones rarely allowed him much scope. It may be said that Jones, created little but one must give him every credit for checking with admirable tactics the many down-the-centre moves in which Graver was involved. With Higgins trying hard to right and succeeding often in doing wrong and Eglington almost in the same case, the Everton attack did well to get three goals. The almost complete disintegration of what had been a serviceable first half, Lincoln defence and Everton's greater belief in themselves channeled the game in Everton's favour. Hickson made three glorious headers. The first Lowery saved rather luckily as the ball shot from Hickson's head in the direction or the far post the second beat the post (but the whistle for an offence by Hickson had gone); the third sailed as though fired from a rifle over the bar. It was good to see the young man holding his horses and proving that he could still be effective. Moore and Donovan the new full back combination, got along smoothly and well. The job of each was difficult until Everton's command of the game was such that Finch and Munro got poor service. J.W. Parker;'s injury –Hemorrhage in a thigh muscle –means that he must miss today's game at Fulham and maybe, all others this season. I understand that he will have the injury in plaster for some time. To lose such an effective forward at this time is desperate luck, especially after the blow to Lindsay. Everton will not decide composition of their side to meet Fulham today until shortly before the match. Wainwright and Lello received leg injuries yesterday and are both doubtful. Grant and Potts joined the partly who made the journey to London last night for service if required.
Letter
Top of League Division Two
Pos Team Played Pts
1 Blackburn Rovers 39 51
2 Leicester City 39 51
3 Everton 38 50
4 Notts Forest 39 49
5 Birmingham City 39 46
* Blackburn 3, Leicester 0
* Notts Forest 1, Birmingham City 1
R.C.T of Ivy House, Street Southport writes;-
"I would like to add a word to your criticism of Everton spectators, I have watched matches on about forty Football league grounds and a dozen Rugby League grounds, but on none of them have I noticed such continuous obscenity as in a section of the Liverpool and Everton crowds. Can you explain why this should be so much worse than in nearby towns such as Preston and Wigan, where I can watch a game in an altogether more decent, good tempered and sportsmanlike atmosphere?
FARRELL RALLIED EVERTON
April 17, 1954. The Liverpool Echo
Goal Which Lifted Them From "Doldrums"
Ranger's Notes
At this period of the season it is not unusual to see football going with a dreary note with many of the issues settled. But this season, except in one or two cases the interest is being maintained until the back end. It is all a matter of "ifs" and "buts" but Everton are in a nice position with the extra game in hand against lowly Oldham but here again we will have to wait to know how they stand. It has been a tense business to keep within striking distance for the past few months, and as the tension becomes more testing the harder things become. I think we had better wait a little longer before we get the flags out don't you.
Everton Won, But
Last season Lincoln City came to Goodison Park and won, I thought they were going to repeat history for they were undoubtedly the better side in the first half, when Everton looked nothing like a promotion side. They were not mastering the ball so effectively as Lincoln nor where they going for the ball, which allowed the City a freer hand that should have been their lot. Once again, however, Everton showed their fighting spirit and came from behind to win, yet it was not a convincing win by any means. This display was not satisfying for the well oiled mechanism of a few weeks ago seemed to have run down and started to knock. There were numerous calls from the "ringside" to "Come on, Everton," when they were languishing behind and looking a decidedly poor lot, and the thought of promotion was gradually fading. Lincoln were more sprightly more accurate in their passing and definitely smarter to the ball sometimes running in to take the ball off an Everton man's toe which was anything but gratifying in the 61,000 people present. There was much murmuring during the interval when no one would ever have though that Everton would eventually with 5-1. But we did not know that then. What we had seen did not suggest such a turnabout. It was a tale of two phases. Where Lincoln had been so good in the first "45" they became the catsaw of a greatly revived Everton who smartened up their ideas and finally deserved their success in the second Farrell and Lello started to back up their attack and that meant more "life" in what had been a dull; Everton forward line. Actually, it was Farrell who rallied his men with an equalizing goal and from then on Lincoln wilted and faded the slow defence being unable to withstand Everton's punishment. Fielding scored Everton's second and Lewis snipped in the third after Lello had struck the upright. Yet for all their win, one came away wondering what today and Monday would bring.
More Water
They had two away fixture and Craven Cottage is not one of their lucky grounds where Fulham are not an easy team to beat. Then on to Lincoln on Monday. Two very vital games for Everton who must not let the opposition take the initiative and depend upon a spirited second half. Everton are not playing with the same rhythm and confidence as they were before they were beaten by West Ham. I think I would have poured a little more water on the pitch, for it is obvious that Everton are a much better side with the going less firm than it has been for the past three weeks. Hickson made some lovely headers. His first one brought out a brilliant save by Lowry and I am not unmindful of the fact that it was he who gave Farrell the ball to shoot into the net, but I do wish he would curb his impetuosity and his show of temper. He cannot claim that Emery played him unfairly. Many people wondered why Parker was not playing. Had he been dropped? Was the question asked of me as I left the ground. No, Parker is suffering from a thigh injury and will not play either at Fulham or Lincoln; in fact it is problematic whether he will play again this season.
EVERTON FORM NOT THAT OF CHAMPIONS IN CONTENTIOUS GAME AT FULHAM
April 17, 1954. The Liverpool Football Echo
Fulham Nil, Everton Nil
By Ranger
Fulham;- Elliott, goal; Chentall and Lawlor, backs; Hill, Brice, and Lowe (H), half-backs; Stevens, Robson, Jezzard, Haynes, and Mitten, forwards. Everton; O'Neill, goal; Moore, and Donovan, backs; Farrell (captain), Jones and Lello, half-backs; Wainwright, Fielding, Hickson, Potts and Eglington, forwards. Referee. Mr. H. Hawthorn. (Durham). Everton had to make one change, Lewis being unable to play owing to a badly swollen knee. Potts took his place at inside left, thus making his first senior appearance of the season. Wainwright and Lello, who had received knocks yesterday, reported fit. A great bit to work in the opening minute by Donovan robbed Stevens. Hands against Hill just inside the Fulham half brought nothing of note, Lello's free kick being headed away by Lowe. Brice had to quick to forstall Hickson, and Eglington shot outside. The opening minutes were characterized by touch finding by both sides. Potts used the ball nicely on a couple of occasions, but he high bounce was difficult to control on the hard ground. Fulham had an escape when Elliott came out but failed to make contact. Only a last minute intervention by Chentall saved the situation. A free kick to Fulham almost on the penalty edge looked ominous. Luckily for Everton Hill lobbed it high over the heads of his inside men for a goal kick. Fielding had to receive attention for a knock in the back. Everton's first shot was by Hickson from a narrow angle which Elliott caught cleanly. The ball was still too much in the air, with neither side ale to control it effectively. Donovan was keeping it down better than anybody invariably making his clearance with an eye to initiating a counter attack. Jones seemed more intent on getting the ball away without worrying about where it was going. When Chenhall put up an elbow to Hickson, the latter was quick to retaliate. Both players were lectured by the referee. The free kick which followed brought no danger to Fulham. The standard of football so far had been anything but that anticipated, Everton seemed somewhat nervous and over-anxious and were not finding their men at all well. Eglington missed a good chance of a shot from a return pass by Potts. Hickson indulged in another spot of retaliation which escaped the referee's notice, but not that of a section of the home crowd who roundly booed the Everton's leader. Twice in quick succession, Jones came to Everton's rescue. Then came a disgraceful incident when Brice kicked Hickson's feet from under him and the Everton men went down obviously in pain. At first it seemed as though the referee had sent Brice off which would have been a just punishment and acted as a deterrent to further such incidents but Brice remained on the field. Fortunately Hickson soon recovered but though Lello and Farrell each tried shots which were not far off the mark Everton were still not pulling out anything like championship form. Fulham usually looked more menacing when on the attack. Jezzard fired outside when well placed to open the score. Everton's defence covering was excellent with Moore and Donovan lending great assistance to Jones. O'Neill saved well from Stevens and right on half time Jezzard again missed a chance after Fulham's best bit of combination. Half-time; Fulham Nil, Everton Nil.
No Penalty
A mix-up in the Fulham goal area saw Hickson, Potts, Brice and Chenall go down together. As far as the offence on Potts was concerned, it looked suspiciously like a penalty. A corner to Fulham proved dangerous as the ball bobbed about the goalmouth until Robson headed outside. Hickson got a rally for an effort off Fielding's pass. Unfortunately he only half hit his shot, which in any case was off the target. Another scramble in the Everton goalmouth saw Jezzard put the ball over the bar with O'Neill helpless to do anything about it. But for Jones's intervention Jezzard would almost certainly have scored. O'Neill made a brilliant flying save from Hayes which "brought down the house" This was the best shot of the match so far. Everton's defence continued to hold the upper hand, but the Blues were weak on the extreme flanks while Potts though trying hard had not the speed to outwit the opposition. Fulham were no better however, and had lost their rhythm of the closing pairs of the first half. Farrell and Lello were doing their best to infuse greater effectiveness into the attack, without much success. Hickson got very rough treatment again from Lawlor, who tripped him up as he was tearing through after recovering his fooling following an attempted trip by Brice. Hickson fell heavily but was soon up; a free kick brought nothing to worry Fulham. The ball was still going into touch with such monouous frequency that it ruined the game at a spectacle. Fulham were the biggest offenders and Mitten who has gone off tremendously if this is his normal form, frequently tied himself in knots and got nowhere. Lello tried a shot from twenty yards which struck Brice on the legs to gave Elliott a job. Everton persisted in the mistaken tactics of booting the ball high down the middle, where Hickson was always at a disadvantage. Jones was having a great day and earned applause for a winning tackle against Jezzard, who this half had rarely been seen. Donovan was also playing brilliantly with Moore not far behind. Everton were trying desperately hard for the leading goal and won two corners in quick succession. From one of these Elliott punched away off Hickson's head in the nick of time. O'Neill made a brilliant save against Jezzard when a goal seemed certain. Final; Fulham Nil, Everton Nil.
EVERTON RES V. BOLTON RES
April 17, 1954. The Liverpool Football Echo
Everton Res;- Leyland, goal; Clinton and Rankin, backs; Tansey (J), Woods and Melville, half-backs; McNamara, Thomas, Saunders, Buckle, and Stewart, forwards. Bolton res;- Grieves, goal; Hartle, and Bingley, backs; Neill, Higgins (J), and Edwards, half-backs; Pilling, Alcock, Codd, Mcllwain, and Gubbins, forwards. Referee; Mr. F. Dearden (Stoke-on-Treat). Everton attacked almost continuously but the visitors' defence covered well with Higgins (J) at centre half proving a real stumbling block. The Bolton goal had some amazing escapes and a terrific shot from Buckle cannoned against Higgins and rolled clear to Saunders who shot wide with the goal at his mercy. A fine Buckle run down the left wing ended with a spectacular Grieves save from McNamara's header, and close in on the interval Buckle dived to a Stewart free kick his header beating Grieves but striking the foot of the upright. Half-time; Everton Res nil, Bolton res nil.
O'NEILL SAVED THE DAY
April 19, 1954. The Liverpool Daily Post
By Ranger
Fulham 0, Everton 0
If Everton's attack had been half as good as their cast-iron defence they would have taken both points. O'Neill, Jones and the rest of the rearguard put up a splendid display. O'Neill making three brilliant saves in the closing minutes when Fulham crowded on pressure in a last despairing effort to get the all important goal. Prior to this he had little or nothing to do though one first half save was of the highest class. Everton's forward line gave one of its most disappointing displays for several weeks. Eglington and Wainwright rarely managed to get the better of the opposing backs and with Wainwright helping out the defence in times of stress, Everton were often operating with only three effective forwards. Hickson was the only man who looked likely to score, but it was too much to expect him to pull the game out of the fire against Fulham's dour and unceremonious defenders, who frequently handed out very rough treatment to Everton's leader. In the first half Hickson was always ready to do business in this sort of way with anybody who wished, but after the interval he was much less impetuous and performed impeccably, although on many occasions called upon to suffer some ruthless tackling. On one occasion in the early stages both he and Chenall were lectured by the referee but the worst incident of all was when Brice swept Hickson's legs from under him and the Everton man went down in a heap. Hickson, however was soon up and doing again, apparently none the worse. #
Out On His Own
Had Everton's leader had anything like adequate support Fulham might not have got away with a point. Instead he was too often out on his own. Potts making his first senior appearance of the season found the pace of the game tell on him the longer it went through at the start he served up some excellent passes. Fielding was not at his best, due to an early injury yet next to Hickson he was the most effective forward. Practically all the Everton honours went to the defence in which Jones and Donovan stood out from start to finish, with Moore also putting up a reliable performance. The highlights of the game were undoubtedly O'Neill is wonderful saves in the closing minute. Two of them were made at the expense of corners after prodigious leaps through the air. The other was a full-length dive to foil Mitten at the foot of the post. O'Neill has played some splendid games this season, but never have his saves been so valuable. Fulham were fast, but their finishing for 80 minutes was woefully week. Jezzard missed two fairly easy chances in the first half, while Mitten got himself in a maze by his-intricate dribbling.
Four Go Down
Brice and Chenall were the beat of the Fulham rearguard but some of their tackles on Hickson in the second half were unnecessarily severe Hickson showed by his conduct during this period that he can keep himself under control. On one occasion, when Potts and Hickson were brought down in the penalty area, four players were lying no the ground at the game time, I seemed that Everton could usually have claimed a penalty for the offence on Potts. Lello and Farrell were not as dominant in a constructive vein as they have been of late although both did solid work in a defensive role and in the first half did their best to remedy the lack of shooting from their forward colleagues.
Wainwright Doubt
Everton may have to make at least one change in their side for today's game against Lincoln City. Wainwright is doubtful and Buckle travelled to Lincoln yesterday to deputise if required. Lello has a knee injury but is expected to play. Lewis unable to play at Fulham, has improved in the meantime and will be available if required. Grant is also with the partly.
O'NEILL SAVED A POINT
April 19, 1954. The Liverpool Echo
Defence Took The Honours At Fulham
Blues To Tour Denamrk
Although Everton were pleased to take a point from Fulham in a desperately hard-fought game, their forward display was well below par. Had it been anywhere near what they were serving up a couple of months ago they might have won. The defence however, gave a splendid exhibition from O'Neill in goal to Lello at left half. Donovan switched to left back since Lindsay's injury, has been even more distinguished on this flank and this latest display at Craven Cottage was as good as any he has served up since joining the club. Several times he earned the generous applause of the home crowd for his classic work. Jones is next in line for special mention. He almost played Jezzard, who is a tricky customer, but of the game for long stretches, while Moore, if not so outstanding as his two colleagues effectively to the solidity of the visiting defence. Despite Everton having the upper hand in the respect it was left to O'Neill to save a point in the closing stages. Three miraculous saves from Jezzard, Stevens and Mitten in the last 10 minutes raised generous applause from the home supporters. Had either of these shots beaten him, O'Neill could not have been blamed. He saved two by flying leaps across his goal, and the third by diving to the foot of the post to arrest the ball just as it seemed certain to go in.
Forwards Below Standard
If only this Everton forward line had been as good as the defence victory instead of a draw would have been practically certain. Unfortunately it was well below normal standard. Neither winger could make any headway worth sparking of against Chenall and Lawler and with Fielding obviously handicapped by an early injury and Potts-deputising for the first time this season –beaten for speed after the first half hour, Hickson was left to struggle with very inadequate support against a Fulham defence which treated him harshly at times. In the first half Hughes had many tussles with Chenall and Brice which were not pleasant. He was as much at fault as his opponents in some cases but certainty not when he was most unfairly brought down by Brice on one occasion. He seemed badly hurt, and the game was held up for a couple of minutes but he resumed apparently none the worse. He is certainly tough. Earlier both Hickson and Chenall had been spoken to by the referee for an incident in which the Fulham man was the first offender but Hickson's quick retaliator. Whatever may have happened in the way of a cautionary nature at the interval, nobody could take exception to Hickson's conduct in the second half. Without in any way lessening his fighting spirit he never attempted to get his own back" despite some aggravating incidents. Twice he was heavily brought down when trying to force a way through and once when Potts was grassed I thought Fulham more than a little fortunate to escape a penalty.
Ball In The Air
As an exhibition of football, the game was hard and been rather than entertaining. The light ball and the hard ground mitigated against good combination. Too often the ball was high in the air or booted into touch. Few players succeeded in mastering the conditions. Everton produced little of note in the way of shooting. The best first half effort were one by Hickson down a very narrow angle and two by Lello and Farrell the former of whom went very close with Elliott in no position to save. In the second portion Everton had not a single shot of real power though on a couple of occasions possible heading chances went begging during goalmouth scrambles. It was last to Fulham in the late rally to produce the day's best marksmanship only to find O'Neill as unbeatable as though the goalmouth had been boarded up. Haynes was Fulham's classiest forward. Some of his cross field passes were excellent in the main Jezzard was well held by Jones and Mitten apart from his one effort in the last minute, got so involved in a mare of intricate dribbling that he hardly seemed to know whether he was coming or going.
Everton are to have a close season tour of 16 days in Denmark. They will play at Aalborg, Arhuus, Hjoring and Copenhagen, leaving by boat on may 16 and returning on June 2.
EVERTON DROP VITAL POINT IN DESPERATE DEFENSIVE ACTION AT LINCOLN
April 19, 1954. The Liverpool Football Echo
Lincoln 1, Everton 1
By Ranger
Up to six minutes from the end it looked as though Everton would complete the double over Lincoln, but the home side, who had pressed strongly almost throughout the second half, equalized through Garvie. Lincoln deserved their half-share but if Everton could have held out just a little longer they would have gained a most valuable point. Lincoln City;- Lowery, goal; Green and Troops, backs; Wright, Emery and Owen, half-backs; Munro, Garvie, Graver, Hails, and McDowall, forwards. Everton; O'Neill, goal; Moore and Donovan, backs; Farrell (captain), Jones and Lello, half-backs; Buckle, Fielding, Hickson, Lewis and Eglington, forwards. Referee; Mr. J.S. Pickles (Bradford). Everton made two changes compared with the side which drew at Fulham, Lewis resuming for Potts and Buckle taking the place of the injured Wainwright. Lincoln City had three changes from the side defeated at Goodison Park on Good Friday, Troops, McDowall and the 18-years-old Halls coming in. Troops at left back, is normally the reserve team outside right. The home side were the more aggressive at the start forcing three comers in the first half five minutes from one of which O'Neill twice dropped the ball. Fortunately in each case he recovered in time to forestall the Lincoln inside forwards. The Everton defence cleared in very lusty fashion, though when Hails was darting through following a side flick by Graver, it took Moore all his time to intercept. Everton found the speedy Lincoln forwards who were a yard faster to the ball a difficult proposition. The fight bouncing ball as in several recent matches was extremely difficult to control, and there was some rather haphazard booting. O'Neill made a splendid catch from a free kick by McDowall leaping him to take it almost off the head of Graver. Another free kick to Lincoln from almost the identical spot was not so well placed and after passing over the heads of McDowall's colleagues was safely deal with by Farrell. Lewis was a little slow on two occasions when a through pass might have sent Hickson away. For the first quarter of an hour the play had been mainly in Everton's half though Lincoln were shot shy and O'Neill had nothing except corners to worry about.
Lewis Misses
From a Buckle corner, which went over several heads and was pushed back to the middle by Eglington, Lewis had a great chance to put the Blues into the lead, but fired wildly and high over the bar. Fielding also shot outside following a punch away by Lowery from an Eglington centre. The game was held up for a couple of minutes while Fielding received attention for a farcical injury,. When he recovered he changed places with Buckle. It was Buckle, at the 21st minute who headed into the net following a free kick by Jones just inside the Lincoln half. But Buckle who had received the ball from Hickson was well offside, a fact which the referee quickly signaled. Everton were still mainly on the defensive with Hickson so far having little chance against the dominant Emery, who was invariably master when the bill was in the air. Wright put a free kick from 30 yards just over the bar and then from a corner lobbed in a shot which screwed away from goal. Everton were solid enough in defence, but there was little penetration in attack. After eight minutes on the wing Fielding resumed his normal position, McDowall was twice neatly robbed by Moore, and in a third duel the pair stood stock still for several seconds before McDowall tried a shot, which curled yards away. It had been particularly a thrilling affair for the holiday crowd of around 16,000 and so far Everton had not shown promotion form. A long shot by McDowall was cleverly tipped over the bar by O'Neill at the identical moment that he was charged by Graver to make Lincolns seventh corner inside the half-hour.
Full Length Save
The goalmouth scramble which followed the corner saw Lello nip in with a timely clearance only for Troops to lash the ball back goalwards and Hails made a header which seemed almost certain to creep in near the far post until O'Neill threw himself full-length to make a brilliant save, at the expense of yet another flag kick. From a corner on the right Hickson outheaded Emery to give Lewis a possible chance. The latter's shot struck a defender and was cleared down the field leading to McDowall gaining a splendid opening after Graver had centred. McDowall, however, wasted so much time that his shot was well covered by Moore. Hickson had the best chances so far, apart from an earlier one by Lewis. He outstripped the home defence, following a pass by Buckle and then put in a shot which looked bound to creep in just by the far post, but at the last minute a slewed away, only inches wide. Lincoln gained their teeth corner, and it brought a rather lucky save by O'Neill from Garver the Everton goalkeeper kneeing the ball away as he was falling. Prior to this O'Neill had made some splendid catches high in the air despite the fact that he had been limping for some time following a tackle by Hails. At the 40th minute Everton took the lead. A free kick to the visitors half way between the corner flag and the goal saw Buckle centre the ball across for Eglington to sent into the roof of the net over the heads of several players. Straight from the restart Lincoln bore down on the Everton goal for O'Neill to fist the ball sideways as he was bundled into the back of the net. He had to receive the trainer's attention before he could rescue. Donovan as at Fulham was playing a grand game, keeping the much improved Munro well in check. Everton, however, were hard pressed at times and were frequently finding touch as a temporary way out of trouble. Lincoln had more openings for shots, but their finishing was poor. Lello and Farrell particularly were doing excellent work. Right on half-time Hickson scooped the ball only inches over the bar. Half-time; Lincoln City nil, Everton 1.
Everton had forced two corners in the first couple of minutes after the resumption and Lincoln enjoyed a spell of pressure in which Everton for some minutes were forced to defend desperately. They were so hard pressed that on one occasion Eglington who had come back to give a hand, averted an awkward situation by a timely clearance from the vicinity of the penalty spot. Everton's best effort during the first 15 minutes of this half was a strong drive by Hickson which would have given Lowery plenty to think about had it not struck Emery en route to produce Everton's third corner.
Rally For O'Neill
O'Neill took the ball beautifully out of the air from a corner taken by McDowall. O'Neill's sure handling of high balls caused the crowd to give him a well-earned rally. Lincoln forced two more corners in quick succession, O'Neill punching away in each case, and Everton at the stage were very much on the collar against a side playing with verve and determination but with scarcely a clue when it came to finishing. It was well for Everton that their defence was Standing firm with Donovan exiling in his anticipation and Jones and Moore performaning valiantly. Still Lincoln kept away without producing a shot or real note, one effort by Munro being yards over the bar. Offiside in one occasions and a foul on another both against Hickson pulled Everton up short in two of their isolated yards. Jones and company with splendid support from the wing halves were a match for Lincoln's attackers on every occasion. Sometimes the hearts of the loyal band of Everton supporters who made the long journey must have been in the months. For some time now, Lincoln had been the more dominant side. The light ball was still troublesome, and it was far too often high in the air, Eglington had a possible chances from a through pass by Lewis but was just a fraction of a second too slow, allowing Emery to cut across and clear. Buckle made a good header following a corner but Lowery had positioned himself ideally to make a simple catch. Buckle made a canny back header off Hickson a pass following a corner by Eglington but Lowery was alive to the danger, Everton were still mainly on the defensive and it seemed in spite of the magnificent play of their rearguard that Lincoln pressure sooner or later must produce the equalisering goal. It almost came when Moore kicked away off the line as a Garvie shot was entering the net. Despite the home side's heavy pressure Everton never got ruffied and the defenders covered one another admirably. At the 84th minute, however, Lincoln got the reward for which they had worked so hard when Garvie equalized with a low left foot shot following an ideal pass from McDowall. Buckle missed a great chance with a minute to go, putting narrowly behind a Hickson pass. Final; Lincoln City 1, Everton 1.
• Leicester City 4, Blackburn Rovers 0
EVERTON RES V HUDDERSFIELD RES
April 19, 1954. The Liverpool Echo
Everton Res;- Leyland, goal; Clinton and Rankin, backs; J. Tansey, Woods and Melville, half-backs; Mayers, Thomas, Saunders, Vizard, and Stewart, forwards. Huddersfield Res; Mills, goal; Gibson and Losedale, backs; Boot, Howe, and Mussan, half-backs; McCrea, Gunn, Kaiser, Simpson, and Howards, forwards. Referee; Mr. M. Freeman (Preston). The visitors survived a hectic opening spell by the clever Everton forwards with Saunders always to the fore. Tansy sent in a lob which Mills fisted out when challenged by Saunders. Everton frequently fell into the offside trap and the Huddersfield defenders never hesitated to kick behind when danger threatened. A fine run by Mayers resulted in Saunders having a splendid opening, but he blazed wildly over from close range. Half-time; Everton Reserves nil, Huddersfield Reserves Nil. Stewart was having a fine game and from one of his centres Thomas headed inches over the bar. The Huddersfield goal had a second narrow escape when Stewart evaded Gibson's tackle and sped towards the Huddersfield goal with only Mills to beat. Mills flung himself as Stewart's feet and the Everton winger jumped over the goalkeeper to avoid a nasty collision.
84TH MINUTE GOAL AGAINST EVERTON
April 20, 1954. The Liverpool Daily Post
By Ranger
Lincoln City 1, Everton 1
Everton came within an ace of completing the double over Lincoln City but if they had done they would have had to regard themselves as extremely fortunate. After taking the lead through Eglington at the fortieth minute they hung on grimly until six minutes from the end when long sustained pressure by Lincoln produced a shot by Garvie which passed between defenders and O'Neill to give Lincoln well-deserved point. Indeed, if points were awarded on the balance of territorial play, Lincoln would have taken them both. They had much the better of the argument in the second half after having enjoyed slight advantage in the first. Had they been opposed to a less resolute and well balanced defence Lincoln would have won even allowing for their erractic and over hasty finishing. Prior to Garvie's goal Everton had a very narrow escape when from a strong shot by the same player Moore kicked of the line with O'Neill hopelessly beaten. For a large part of the 90 minutes this game resolved itself into a struggle between Lincoln's determined speedy forwards and the Everton defence. The latter despite the late goal, takes top marks for some excellent work. The dovetailing and covering of backs and wing halves was brilliant, and although at times Eglington and Fielding had to come back to lend a hand, Everton never lost their grip.
Ten To Two In Corners
Everton were a little fortunate to be in the lead at half-time thanks o a goal by Eglington following a free kick by Buckle. The winger's shot shared over the heads of several defenders into the roof of the net. In the first-half the home side forced ten corner's to Everton's two and had more openings for shots. Their Donovan. Jones and the remainder of the defence. Nevertheless O'Neill had quite a lot of work cutting out corners and cross-balls, all of which he negotiated with confidence despite being badly shaken twice when he was bundled into the back of the net. Apart from Eglington's goal, Everton's best scoring effort in the first half was a Hickson shot which passed inches beyond the far post with the goalkeeper helpless. In the second half Buckle twice had good back headers saved and Hickson likewise went close on two occasions. Lincoln were undoubtedly the more dominant side, apart from very brief intervals throughout the second half and while Everton's defence struck to its guns manfully and promised to hold out to the bitter end, Garvie seized his chance to see that justice was done. As at Fulham, practically all the honours on the Everton side went to defenders O'Neill was excellent, gaining admiration for his brilliant handling of high balls, which he remedy pluck out of the air with an assurance which could not have been bettered.
Fine Anticipation
Donovan's anticipation was of the highest order. He timed his kickles beautifully. Moore also did his job confidently Jones again kept Graver almost completely under his thumb. Hickson got few chances against the tall shadowing Emery. Far too often the ball was put to Everton's leader high in their air playing into Emery's harisis, Buckle and Fielding were the best wing despite Fielding again being handicapped by injury in the first few minutes. Lincoln with three reserves in their side, were well satisfied to earn a point. their defence was not as impressive as Everton's but it was capable of tackling all it was called upon to do and Wright and Own in the Second half found far more opportunities to ply their forwards with passes than Farrell and Lello.
EVERTON RES HELD
April 20, 1954. The Liverpool Daily Post
Everton Res 0, Huddersfield Town Res 0
Huddersfield Town earned a point through the sterling work of their overworked defence in this Central League game at Goodison Park yesterday, for Everton had sufficient chances to have won comfortably. The home attack combined well on the watered pitch, wingers Mayers and Stewart giving full backs Gibson and Lonsdale a harassing afternoon. Mills was always safe in the visitors goal and Howe played a grand stopper game at centre half.
A TIGHT SQUEEZE
April 20, 1954. The Liverpool Echo
Everton Must Win Games To Make Sure of Promotion
Ranger's Notes
Everton supporters must wait another five days at least and possibly until Thursday week before they know whether or not the Blues are going to take Liverpool's place in the First Division. If Everton defeat Birmingham City at Goodison on Saturday and Oldham at Oldham next Thursday they will go up no matter what Leicester and Blackburn do in their one remaining game. Two Everton victories would give the Blues 56 points, whereas the most Blackburn Rovers can total is 55 to do which they need to beat Swansea Town at Ewood Park on Saturday. That looks well within their capabilities. Leicester can reach 56 points by winning at Brentford the same day. But should Leicester City only draw and Blackburn win, Everton would still need two victories to go up –unless they by a big margin –for their goal average is interior to Leicester's. The position is still very if-and-buttish. The one thing which is certain is that there will be a tremendous gate at Goodison on Saturday to encourage the Blues in their fight. Everton could have strengthened their prospects nicely had they taken both points from Lincoln yesterday. That they did not do so was no fault of the defence which again acquitted itself extremely well against a side which played with such tremendous velve and determination that they too might have been chasing promotion. Everton held out until six minutes from the end, when with O'Neill unsighted, Garvie hit a shot which went between two defenders into the net to equalize Eglington's first half goal.
Attack Was Weak
Had the Blues attack been up to standard the visitors almost certainly would have won. Greater balance and punch in the front line would, I think have got the better of a Lincoln defence which never looked in the same class as that of the visitors. Unfortunately, apart from Hickson, who was a hard and persistent trier and occasional good flashes by Buckle, the attack was much below what it expected from a side with promotion aspirations. The left wing was very disappointing. Never once did Eglington produce those characteristic bursts down the wing which used to open up scoring possibilities while Lewis making his second senior appearance over the holidays was slow and hesitant. He tried hard enough, and occasionally did good work when the defence was under pressure, but as a link in forging a unified attack he was not up to expectations. O'Neill hero of the Fulham game, twice fumbled an early corner, and then settled down to another immaculate display. He did not have a log to do saving direct shots but the surely with which he caught high cross balls and corners aroused the home crowd to enthusiasm. The Press box at Sincil Bank is so situated that the paddock spectators are on speaking terms with the reporters and after one brilliant catch by O'Neill of a ball which was curling away all the time, a Lincoln supporters turned to me and said; "You lad in goal is as good as Ted Sagar or Frank Swift any day."
Excellent Coverings
Donovan also came in for complimentary reference equally as well deserved. Some of his anticipation was of the Cresswellian type, while his interceptions were invariably timed to a nicety. Jones, too as tip-top though often so hard pressed that he was content to get the ball away without worrying exactly where. It went. He subdued Graver almost throughout and not many pivots have done that this season at Sincil Bank. Moore again played well, and the wing halves fought magnificently throughout. While two points would have been most acceptable under the circumstances Everton did well to bring back one for Lincoln enjoyed the major portion of the play territorially, and in the second half piled on very heavy pressure. Fortunately for Everton, the Lincoln finishing was poor. This was partly due to their own over eagerness and partly to the excellent covering of the visiting rearguard which dovetailed so well that the well for a direct shot was seldom open. While it is a pity that the Blues forward line was not in the game reliable form, one must remember the absence of Parker and Wainwright. The injury to the former could not have come at a more awkward time, for he helped to hold the line together and provided the type of passes which gave Hickson several of his goals. Yesterday Hickson got extremely few passes on to which he could run. The best was one from Buckle just before half-time which Hickson took forward some yards before hitting a grand shot which was only inches out of reckoning with Lowery helpless.
EVERTON CAN DO IT
April 22, 1954. The Liverpool Echo
But They Must Beat Birmingham To Keep In The Hunt
Ranger's Notes
There is good news for Everton supporters today. The Blues team will be at full strength for the important game with Birmingham City on Saturday. Parker having passed a fitness test. Wainwright is also all right. This gave Everton a much brighter chance in a game which they must win to make sure of promotion. Although Birmingham City will not decide their team until tomorrow, the Midlanders also hope to be able to turn out their strongest possible eleven. Birmingham had three players under treatment today Martin has a sprinted leg muscle, Boyd a damaged knee, and Smith a brushed toe. None of the these injuries however, is serious enough to greatly endanger the players ability to turnout. Everton; O'Neill; Moore, Donovan; Farrell, Jones, Lello; Wainwright, Fielding, Hickson, Parker, Eglington. Birmingham (probable); Merrick; Green, Martin; Boyd, Smith, Warhurst; Stewart, Kinsey, Trigg, Lane, Govan. The return of Parker is welcome in any case but particularly if he is in the shooting form he was up to a month ago. Though he did not find the net in any of his last four outings before being forced to miss the Easter games, Parker has 31 goals to his credit in League and Cup this season –more than a third of the team's total. Hickson comes next with 25, Eglington third with 12 and Wainwright (8) is fourth. After the hectic spell around the end of February when they scored 25 goals in five successive League games, the forward line has not hit the high spots to any extent.
Good Away Record
The last six games have produced only seven goals, three of them against Lincoln City on Good Friday. A return to the earlier championship form by this department of the team will be needed to get the better of Birmingham whose defence is their strongest suit. The Midlanders have six away victories to their credit against West Ham, Derby County, Oldham, Swansea, Leicester, and Lincoln. For what it is worth, you many note that in the last two instances Birmingham have won on grounds where Everton recently did no more than draw. That is nothing much to go by, however, any more than the fact that Everton received their heaviest defeat of the season at Birmingham on December 5, when they lost 5-1 the day Liverpool were beating Blackpool 5-2 at Anfield. Saturday's game stands entirely on its own and to attempt to take a line thorough previous form could be misleading. Everton at their best can take both points and another step towards the First Division. But they will need to do better than in some recent games to make sure.
Reserves Seek Title Too
Everton reserves with two more games to play –on Saturday and Monday –require only one point to win the Central League championship on goal average. Two would put them ahead of all others on points. On Saturday they visit Manchester United when the team will be; Leyland; Tansey, Rankin; Grant, Woods, Melville; Mayers, Potts, Harris, Lewis, Stewart.
"Liverton" Derby
The meeting of Everton and Liverpoolian in the final of the Liverpool Senior Cup Final will provide a splendid finish to this season's Soccer programme and should encores' a big gate at Goodison Park. At the moment two dates are penciled in against this fixture.
MOST VITAL GAME SO FAR
April 23, 1954. The Liverpool Echo
Everton's Last Home Fixture Is Fraught With Big Issues
Ranger's Notes
Everton's fixture with Birmingham City at Goodison Park tomorrow is not only their last Football League home engagement of the season but by far the most important game the Blues have faced since they went into the Second Division three years ago. The crowd is certain to be its biggest of this campaign. While a great deal demands upon what Leicester and Blackburn do in Saturday's outings –Blackburn are at home to Swansea and Leicester travel to Brentford –Everton cannot reply upon and slips by their rivals. To ensure promotion they must themselves go all out for victory tomorrow to be followed by one in the final match of the season at Oldham on Thursday next. Unfortunately Everton's goal average is such; bar some extremely unlikely fantastic scores, that it is impossible for them to better the Blackburn and only a very big win would enable them to beat Leicester's average. In meeting Birmingham City the Blues are up against one of the best half-dozen combinations in the Second Division. During the past few years the Midlanders have been well in the running for promotion on several occasions. This season many people fancied them to return to the higher sphere, but they have faltered during the past fortnight. Only two points from the last four games put paid to their hopes.
Parker Back
The Midlanders have not now even the incentive of fighting for a talent money place. They cannot possibly overhaul Notts Forest who occupy fourth position. That however, does not mean that they will take things easily. On the contrary they will be keen to finish the season with a flourish. Everton will have to fight very hard for victory, particularly as Gilbert Merrick, England's goalkeeper who usually does well at Goodison Park is Birmingham's last line of defence. Everton have been "cheated" of victory in several homes games this season by the superlative displays of opposing goalkeepers. Tomorrow they must endeavour to ensure that Merrick good as he is given opportunity to put a spoke in their wheel. The return of Parker after missing three games, and the recovery of Wainwright who was not fit to play at Lincoln enables Everton to field the forward line which was doing so brilliantly up to quite recently. Everybody hopes that form will be recaptured tomorrow. The slight falling away in the attack during the last few weeks has naturally put a greater burden upon the defence in the holiday games at Fulham and Lincoln the rearguard had to undergo some very severe pressure and did well to forfeit no more than one goal. That one, however, unfortunately involved the loss of a very vital point at Lincoln.
All Out Attack Needed
Everton's motto tomorrow should be all out attack right from the word go, while not of course taking any undue risks in other directions. The players are desperately keen to ensure the fulfillment of their promotion ambitions. It has been a long and arduous struggle and it is understandable that latterly they have shown signs of strain. It would be surprising indeed, if it has been of cup-tie intensity and every side they have met has been fighting tooth and nail to topple them from their perch. The more the Everton players can put out of their minds the great importance of this match the better. I know that is easier said than done, but their best chance of victory lies in playing as near as possible their normal and coolest style and above all keeping the ball on the ground. Down-the-middle passes for Hickson should not be ballooned high in the air. There is sure to be a tremendous crowd for this game which has fired the imagination of all football folk, and not just the pure bred Evertonians. On many previous occasions we have heard inspiring examples of the Goodison roar. Never has it been more needed than at this juncture, so give of your best cheering the lads in this last and most vital home appearance. Everton; O'Neill; Moore, Donovan; Farrell, Jones, Lello; Wainwright, Fielding, Hickson, Parker, Eglington. Birmingham City; Merrick; Green, Martin; Watts, Newman, Warhurst; Stewart, Kinsey, Trigg, Lane, Govan.
PROMOTION-SEEKING EVERTON MUST NOT FAIL IN THIS GAME
April 24, 1954. The Liverpool Daily Post
By John Peel
Greatest interest for Merseyside in today's Football League programme is undoubtedly Everton's Second Division game with Birmingham City at Goodison Park and the stands and terraces are likely to be packed t capacity for the results of this meeting means much to Everton's promotion prospects. The position at the head of the Division is somewhat open yet, for anyone of the three leading clubs Leicester City (54 points), Blackburn Rovers (53 points), and Everton (52 points) might fall in their promotion quest. With Everton again at full recoveries –I consider the team strength however –Parker and Wainwright have made full strong and capable enough to gain both the points today. Success will not be obtained easily, however, for the Midlands side are also a powerful combination fore and aft. The City have obtained 17 points from their twenty away League engagements this season by means of six victories and five drawns and they will be keen to further improve on their record. The kick-off is at 3.15 p.m. and the teams will be;- Everton; O'Neill; Moore, Donovan; Farrell, Jones, Lello; Wainwright, Fielding, Hickson, Parker, Eglington. Birmingham City; Merrick; Green, Martin; Watts, Newman, Warhurst; Stewart, Kinsey, Trigg, Lane, Govan.
HICKSON IS HERO OF HECTIC EXCHANGES IN VITAL GAME AT GOODISON
April 24, 1954. The Liverpool Football Echo
By Ranger
Everton; O'Neill, goal; Moore and Donovan, backs; Farrell (captain), Jones and Lello, half-backs; Wainwright, Fielding, Hickson, Parker, and Eglington, forwards. Birmingham City; Merrick, goal; Green and Martin, backs; Watts, Newman and Warhurst, half-backs; Stewart, Kinsey, Trigg, Lane, and Govan, forwards. Referee; Mr. J.V. Sherlock. The vital importance to Everton of this game at Goodison Park was reflected in the attendance which looked to be approaching the 70,000 mark at the start. There was an air of tense excitement about the crowd which is normally associated only with cup ties. Everybody realized how essentially it was that Everton should win to keep their promotion chances alive. The sole pre-match topic was whether the home side could pull it off. Birmingham had Newman at centre half in place of Smith who is injured while Watts took the place of their captain Boyd who is also on the injured list. The pitch had been well watered.
Visitors Attack
All the stands were full before the start but the gates to the popular were not closed. Everton supporters had obviously come determined to do everything possible to encourage the team and the volume of cheering in the opening stages was deafening. Birmingham staged two attacks before Everton got moving and it was early obvious that the tremendous issues involved might have an effect upon the game so far as Everton were concerned though Birmingham with nothing except the £3 bonus at stake could play in more careful fashion. A grand pass by Lello to Eglington saw the wing slip the ball forward for Fielding, only for the latter to be baulked by Green. Fielding got a knock in the back, but did not require attention. Hickson went to earth when Newman charged him as they disputed possession of a high lob but he was on his feet again quickly.
Simple Clearance
A foul against Lane who brought down Lello half way in the Birmingham half saw Jones take the free kick in to Wainwright's head, Wainwright squared the ball in an effort to fine Hickson. He was just off the line, however, so that Green had a simple clearance. Lane and Farrell tussle over one another as the Everton captain made a desperate tackle near the dead ball line. He was unable to avoid giving a corner which Stewart put behind. Hickson kept on going when it was obvious that he could not catch a ball going to Merrick. He harassed the Birmingham goalkeeper however, which was better than letting him have an unimpeded clearance.
Two Everton Corners
Two corners to Everton in quick succession saw one fisted away by Merrick and the other produce a free kick against Parker. There were one or two slips on the soft surface, but the watering had certainly killed the liveness which the ball had shown in recent games so that I was more easily mastered. Twice, however, Everton's wing halves over kicked their forwards. A fine bit of combination between Govan and Stewart the latter temporarily on the left wing –and Lane saw Birmingham claiming for a corner when the last named put the ball behind as he was tackled. Their appeal was refused. Eglington showed the right side when he opened up play with a crossfield pass to Wainwright only for the latter to have the ball kicked into touch off his toe by Martin. The first twenty minutes had not produced a shot from either side but at this stage came a warning to Hickson for a foul upon Newcastle inside Everton's half. Newman appeared to be obstructing Hickson when the latter brought him to the ground after first having swung his leg at his opponent. Referee Sherlock took Hickson aside waving away two Birmingham players and proceeded to read the "riot act" as he emphasized what he was saying with outstretched finger. Farrell stood by and patted Hickson on the shoulder. A couple of minutes later Everton got a free kick for a foul on Hickson by Newman. Then came five minutes of Everton attacking which produced no shot of note but saw Parker far too slow to take advantage of a short pass by Hickson in the vicinity of the six yards line.
An Everton Escape
Hickson tied a header without getting his usual zip behind it and when Everton luck to escape when Jones slipped and Trigg had a clear run through to goal. Trigg and Stewart between them parred off in a passing and repassing approach but finally lost the possession by Donovan. Everton next attack saw Fielding fling himself forward to head in a short centre by Wainwright. There was no power behind i
However, and Merrick had a simple catch. With 35 minutes gone Everton were still devote some periods of strong pressure which did not produced a shot of anything like sufficient power to ever look like beating Merrick. The few saves he had to make is more child play. Everton were not showing the dominance and combination in attack which their supporters had hope for, Fielding and Parker were making good use of the ball and though Hickson was trying desperately he was finding Newman a stumbling block.
Rammed It Home
It took prompting by Lello and Farrell to spring a goal to Everton at the 38 minute. The two brought the ball to the Birmingham penalty areas o provide Eglington with a change of a centre. When the winger put his effort close to goal Merrick double fisted the ball out towards Hickson. The Everton centre forward cobbling his body up, rammed the ball into the net with his head with the speed almost as good as a booted effort. This was just what the crowd had been waiting for and also a tonic for Everton who a minute late might have had a second but for a grand save by Merrick off Lello. Hickson was serving up some well judged passes to his colleagues and Everton were really getting to grips with the Birmingham defence as they should have done. Eglington tried a right foot shot from s corner, taken by Parker but Green breasted the ball down and cleared.
MAN UNITED RES V EVERTON RES
April 24, 1954. The Liverpool Football Echo
Everton Res; Leyland, goal; Tansey (J) and Rankin, backs; Grant, Woods, and Melville, half-backs; Mayers, Potts, Harris (J), Lewis, and Stewart, forwards. Referee; Mr. J.A. Turner. There was little to choose between the teams except that the visitors showed more punch near goal. This brought them success in the 25th minute when Mayers put then in front scoring a fine goal. They might have had another later when Lewis tested Olive with a fierce drive. Half-time; Manchester United Res nil, Everton Res 1.
EVERTON QUESTION …TO BE OR NOT TO BE
April 24, 1954. The Liverpool Echo
By Peter Farrell
Many thought the position at the top of the Second Division would have been sorted out after the heavy Easter programme of three games in four days, but with Leicester and Blackburn, the two concerned along with ourselves in the struggle for First Division status, having their last games today, it must be the closet three-cornered struggle for a long time. I hope by this time you read this we will have won our vital game with Birmingham. If so irrespective of how the other two have fared, we will go to Oldham next week for or last-ditch effort to put the club back where it belongs. Naturally we were all disappointed after Monday's game to have been deprived of a point with only six minutes remaining for play, but its no use crying over spilled milk. With every one of their Easter games being like a Cup-tie, you can understand from a psychological point of view the tension in the team resulting in a slight deterioration in our general play. With each player having but one thought in the back of his mind, namely promotion, little things that ordinarily would be easy to do on the field become hard through over-keenness and anxiety. With the glut of fixtures over Easter I wonder how many fans ever think of the back-room boys connected with the club, namely the training staff. After Friday's game our trainer Charlie Leyfield had to pack a skip as well as his other routine duties. To the avenue fan this many not seen a tremendous task but when one remembers that before 5.30 p.m. on the Friday evening players, officials, Charlie and skips were steaming out of Lime Street Station, you will realize there can be no relaxation for the trainer. Neither was there a great deal of rest for Charlie en route to London, as he tended the lads on the train for minor injuries such as bruises and blisters &c. Before retiring for the night in the London hotel he was on his rounds to the players rooms with his magic bottle and lalented hands, refreshing tried or maybe sore limbs.
Leyfield At Work
After Saturday's game with Fulham, the Everton players and officials visited a threate but Charlie Leyfield had to work hard on boots and gear, ensuring that everything would be spick and span for Monday's game at Lincoln, as well as giving a general massage to some of the lads before retiring. Following a visit to the London ground on Monday morning Charlie knew from the state of the ground the type of stud most suitable for the conditions. Hence more work for the trainer before the Blues trotted on the field at 3'clock. After this game he was ably assisted by Jackie Grant, Harry Potts and Eddie Wainwright in packing the boots and gear before dashing to catch the 5.30 p.m. train from Lincoln. These few facts may convince readers that here is a lot more to a trainer's job than his occasional dash on the field with his magical bottle and sponge. The wearing of light rubber football boots for matches played on either ice-covered on bone hard pitches is becoming very popular with many clubs. During the Easter games our forward line and wing halves wore this type of boot and the general opinion was that they were very satisfactory. Speaking personally, it was my first time wearing them, and found movement far easier on the hard grounds than in the heavier leather boots and studs. I also found no difference in tackling in these lighter boots than in the others. A general nightmare with footballers who have to play three games in four days on hard grounds is the probability of sore or blistered feet. On Monday night my feet were in pretty good shape as was the case with the majority of the lads. This may have been coincidental but I really believe that the wearing of these rubber soled and studded boots had a lot to do with it. Of course this type of boot is completely useless on a muddy ground, as rubber studs would not uneven you from slipping.
Central League Point
Our Reserves are certainly making a great effort to win the Central league. One point from their remaining two games will give them the Championship. What great satisfaction it must be giving Mr. Britton when he remembers the pessimists who were telling him his Reserves strength was not very good. What a climax to the season if Everton gained promotion and the Reserves won the Central league. We will just have to keep our fingers crossed and wait and see. On Monday on the return journey from Lincoln, I met an old friend on Sheffield station, while waiting for our connection in Liverpool in the person of Wally Boyes. Wally will well be remembered by Goodison fans for his sterling displays on the left wing prior to his arrival of Tommy Eglington. He had come along specially to wish the lads all the best in the remaining two games and to hear all the latest news from Goodison. It is surprising the number of former Evertonians you meet who are still concerned about the progress of their old club. It seems there is a lot of truth in the old saying. "Once an Evertonian, always an Evertonian."
NOW FOR OLDHAM AND PROMOTION
April 26, 1954. The Liverpool Daily Post
By Leslie Edwards
Everton 1, Birmingham 0
Everton must win at Oldham, on Thursday evening to gain promotion and their win over Birmingham at Goodison Park. I submit, gave more than a hint that they will get it. Footballers are but human and to expect them to play their hearts out for the doubtful pleasure of denying promotion to their opponents is to expect too much. In the match under review Birmingham who had much talent were not tempted by talent money. It was just another final match which they waltzed through as adequately as possible without making too much effort. That was probably why so much of their football was so agreeable to watch. Yet for Everton striving hard all the time, and never far from the possibility of an equalizing goal, the game must have been one of tremendous strain. Hardly surprising their football in winning by the only goal was full of nerves and ore more than one trace of panic against a team which played beautifully up to the point where some penetrating move or pass was needed. Happily the pitch was well watered. This enabled Everton to keep the ball on the ground, where they use it best. Yet when they had created not one, but half a dozen possible goals the responsibility for shooting weighted so heavily no one seemed inclined to venture on applying the final touch. Merrick in the Birmingham goal, is a great goalkeeper as his fine saves from Lello and others proved but Everton seemed to went to see the whites of his eyes before they dared to try to beat him.
Battle To The End
Thus a game which Everton threatened to win easily became the game that took them ninety minutes to clinch – and by the goal nodded by Dave Hickson at thirty seven minutes. Eglington had his part in this and so did Lello. Merrick only half-punched Eglington's long swinging centre and Hickson from a stooping position, arched his neck and with a deliberate nod of the head turned a difficult snap chance into a joyous goal. The game came to life for close on 63,000 people at this moment. Everton's sins of omission and Birmingham's odd excursions mainly through Stewart and Govan to the vicinity of the Everton goal and the fear that Everton might not after all get the essential points made the occasion memorable, but the football displayed did not. It was good to see Everton get their way in a game notably free from temper and contention. Referee Sherlock of Sheffield; handled very well what might have been quite a difficult game. He appreciated the value of getting his oar in quickly and in a way that could not be misunderstood. Birmingham being almost disinterested except as to bonus, jogged along confidently and more than ordinarily competently in many of the game's phases, but except for Stewart they were without fire in front of goal. Even so Moore once had to kick away from the line, and O'Neill had to make a quick outgoing to the feet of Stewart, Govan, Stewart and Kinsey were outstanding forwards for ball control; indeed the Birmingham team as a whole looked good.
Poor Beginning
Everton's worst patch was in the first twenty minutes, so much went wrong then and Birmingham played so threateningly the possibility of a surprising result was not outlandish. Once they got their noses in front their greater confidence led them to smoother and more accurate football worth goals. If they had only the nerve to finish them properly. Yet criticism is easy from the stands. To play a normal game when much is at stake is never-easy and the implications of the match were virtually an "Do we get First Division football again or not?" I do not doubt that Everton will get their Oldham victory or that Oldham, already doomed will care much whether Everton or Blackburn Rovers run-up Leicester City. Tom Jones perhaps was the outstanding defender in the Everton team. Both Moore and Donovan were beaten too often on the wing for our comfort and though both came up and produced shots Lello and Farrell did not show their true form. Hickson spread the ball around him well, but Newman an Army product, had him under control in the personal battle. Even with Parker back the Everton attack did not play convincingly. I suppose the victory over-rules all other considerations but one had hoped that Everton would demonstrate clearly their worth as potential higher-graders. Maybe when they have attained their new status goal they will do better. They must.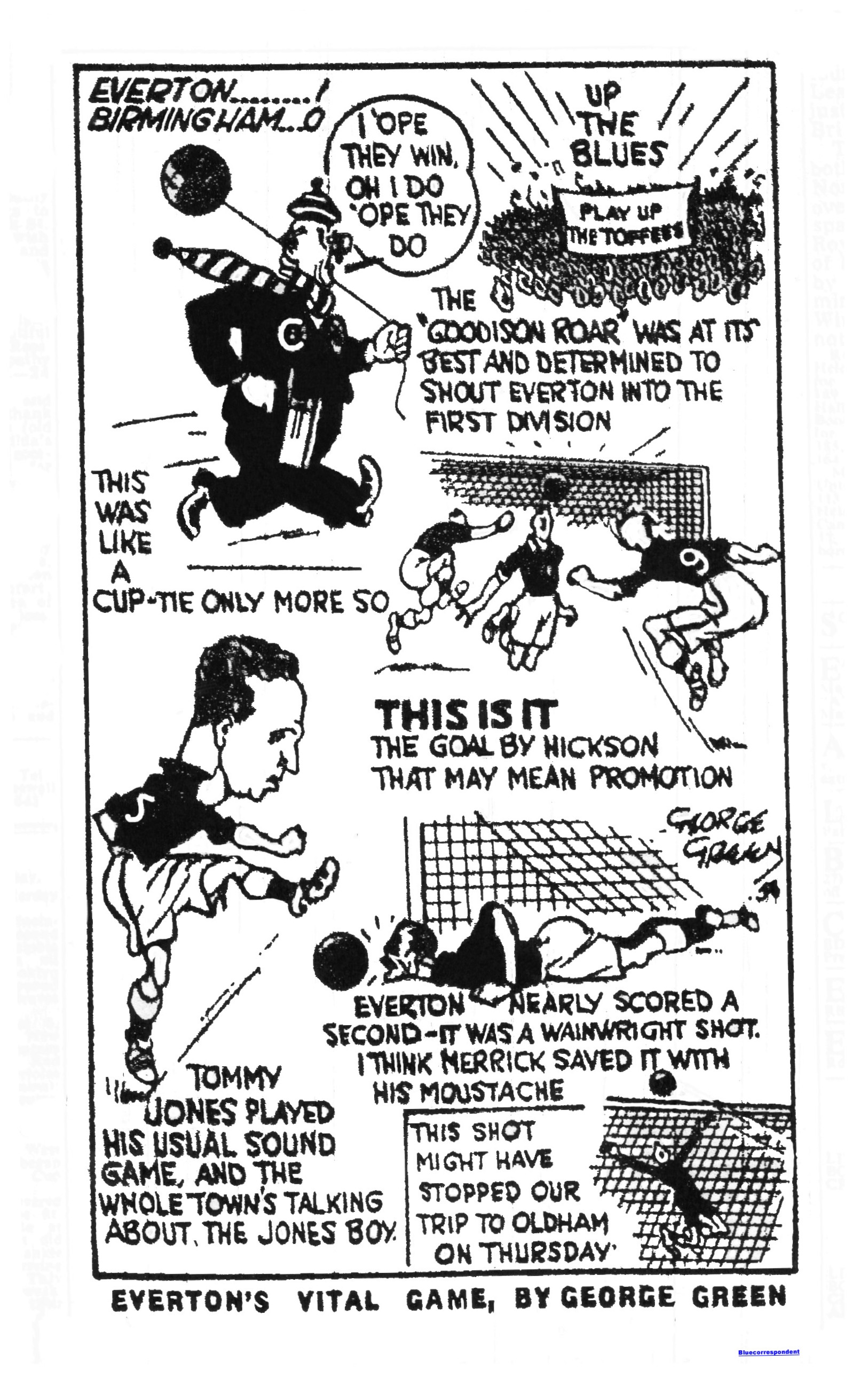 MANCHESTER UNITED RES 1 EVERTON RES 1
April 26, 1954. The Liverpool Daily Post
Everton Reserves were well worthy of a point in this Central League game at Old Trafford on Saturday. At the interval they led 1-0 with a fine goal from Mayers. Within minutes of resuming Manchester's leader Webster leveled the scores. A point blank save by Olive from Lewis prevented the visitors taking both points, Harris, Lewis, and Potts were unfortunate in not adding to Everton's score on several occasional while Woods was strong at centre half.
HOLD IT FOR OLDHAM
April 26, 1954. The Liverpool Echo
One More Victory And Everton Will Be Back Where they Belong
Ranger's Notes
The next four days are going to be the longest and most never-wracking that Everton supporters have endured for many years. The stake is so tremendous important that there is only one topic among the club's followers. At the same time there is general confidence that the victory necessary to ensure promotion will be forthcoming at Boundary Park on Thursday evening. Oldham, long since doomed to return to the Northern Section have no great incentive. The only possible snag is that Everton may be so over-anxious that they may not do themselves justice. We saw the effect that their nervous appreciation had on the forward line against Birmingham when gilt-edged chances were frittered away through hesitation and timidity. Everton, however, were not alone in that respect, Blackburn Rovers gave their followers many anxious moments and Leicester were nothing like the side they can be at their best. Promotion "jitters" are nothing new. The strain on Everton recently has been almost as bad as playing a succession of Cup Finals. Now that they know exactly where they stand and what they have to do, however, do not think there is much to worry about, ever Thursday's engagement. It will be surprising if the Blues do not win by a fairly comfortable margin, for Oldham are not to be compared with Birmingham. Everton will have plenty of support, too, several thousand Goodison enthusiasts will be making the journey. There should be plenty of room for all comers, for Boundary Park has a capacity of not below 50,000. The record gate there stands at 47,671 set up for a Cup-tie with Sheffield Wednesday in 1930. Since then the popular side accommodation has been improved. Bar any untoward developments during training Everton will field an unchanged side. Fielding, Wainwright and Eglington are under treatment for minor knocks, but none are of sufficient seriousness to endanger complete fitness by Thursday evening.
The Best One Yet
Hickson has scored many extremely valuable goals for Everton, but none of greater significance than his splendid header at the 38th minute against Birmingham. Had it not been for that goal we should not now be caring two straws about the game at Oldham as Everton's promotion chance would have been extinguished. Yet the Blues had enough of the play and sufficient chances to win by such a margin that they could have given their goal average quite a useful life. In the second half in particular, Wainwright and Eglington were so full or misgivings and quasims that they foozled shots which normally they would have hit into the net without a tremor. Fielding and Parker were similarly tarred with the same brush though not to anything like the same extent I don't agree with those who labeled Hickson's over the-bar effort as a bad miss. On the contrary it was one of the canniest bits of the day's play. Merrick had son narrowest the angle that the only possibly chance of scoring was to lob the ball over his head. Had it came off it would have been hailed as a brilliant bit of work. The fact that the ball cleared the bar as well, by such a comparatively narrow margin does not detract from the merits of quick and intelligent thinking. Hickson also served up some of the best of Everton's passes, apart from those of Lello and Farrell. Three in quick succession in the first half were ideal. Unfortunately, his colleagues were not always equally speedy in the uptake to make the most of them. Hickson confirmed what I have said before, namely that when he both keeps and uses his head he shows signs of the makings of a class centre-forward. He could achieve it too, without sacrificing any legitimate fighting spirit. Not only was he the salvation of Everton's promotion on Saturday but he was the only forward who seemed likely to increase the Blues lead.
Half-Backs Were Tops
Against a less capable defence than Birmingham's he would doubtless have done so. As it was Merrick and his colleagues despite the heavy pressure they had to withstand never looked like caving in. It was some reflection on the forwards that Merrick's two best saves were from Lello, who also had a big share in Hickson's goal by making the pass which led to Eglington centre. Everton's half-backs were in great form, backing up the forward line with tremendous verve and providing a stream of passes particularly in the second half Moore and Donovan also took top honours but O'Neill who has been in such brilliant form of late twice mishandled the ball in a manner foreign to his normal surely though never so badly as to give rise to any undue perturbation. With the play so overwhelmingly in Everton's favour in the second half they should have had four or five goals, notwithstanding even Merrick, who on several occasions should have been given no chance. But let us not be unduly critical today. The narrow victory brought the points which is all that matters. What might have happened had Merrick caught and cleared Eglington's centre instead of fisting it out is another and not, very pleasant thought. Just as cailings a one, in fact, as that born in the split second when Lane's rocker shot was skimming the bar and our hair stood on end at the closeness to a Birmingham equalizer.
Centre League Title
While on Thursday evening we hope to be congratulating Everton on achieving their ambition, we can offer felicitations to the reserves today, for they are now assured of the Central League championship, irrespective of what happens at tonight's game at Goodison Park, when Newcastle United are visitors (6.30). There should be a good crowd for this match to show their appreciation not only of what the second string have achieved, but also of what may be a new soccer record. Speaking from memory, never before has any club gained promotion with its senior side and topped the Central league as well. All we need is a win at Oldham to put this distinction on Everton's honours list. The Reserve team for tonight's game reads;- Leyland; Tansey, Rankin; Grant, Woods, Melville; Mayers, Potts, Harris, Lewis, Stewart.
EVERTON LOSE FRIENDLY
April 27, 1954. The Liverpool Daily Post
Crewe Alex 4, Everton 2
Crewe Alexandra put up a big resistance in the first half of this friendly game with a more polished Everton at Crewe last night. Curzon opened the score for Crewe after ten minutes with a powerful ground shot, and Saunders equalized a few minutes later. Continuing their pressure Crewe took the lead through Lofthouse the Bolton and England leader who completely beat Kirby from an acute angle. The second half was evenly contested and Thomas leveled the scores a few minutes after the resumption. Lofthouse restored the lead for Crewe a fine individual effort and he completed his hat-trick towards the end.
PLAYED LIKE CHAMPIONS
April 27, 1954. The Liverpool Daily Post
Everton Res 4, Newcastle United Res 0
Everton Reserves took the field at Goodison Park last night with the Central League championship already won but they were as keen and goal hungry as if the title depended on the outcome of this match and Newcastle were fortunate to escape so lightly. Left half Melville had a great game and opened the scoring after 25 minutes, Lewis getting the second three minutes later. After the interval Lewis and Harris scored, the latter heading home the rebound after Potts has struck the angle of the upright and bar with a great shot. Alderman S.R. Williams, chairman of Liverpool F.C., and a member of the Central League Management Committee presented the Championship Trophy to the Everton captain Jackie Grant.
• Earle 2, Everton "A" 2
EVERTON AT FULL STRENGTH
April 27, 1954. The Liverpool Echo
All Set For The Season's Vital "P and R," Game At Boundary Park
Ranger's Notes
Everton will be at full strength for their important "P and R" engagement at Oldham on Thursday evening the "P" standing for Promotion, points and the outstanding prise of the post-war era and "R" for the rosettes, rattles and roar which thousands of staurch Evertonians to take to Boundary Park. The minor knocks which Wainwright, Fielding, and Eglington suffered on Saturday caused them no trouble in training today, and on returning from Belleifield at mid-day Manager Cliff Britton with no small amount of relief was able to announce an unchanged side, as follows;- Everton; Moore, Donovan; Farrell, Jones, Lello; Wainwright, Fielding, Hickson, Parker, Eglington.
This is the time of the year with the Football league programme almost complete that the many minor league and cup finals and schoolboys engagements force their way into the limelight. Several of these are dealt with below, but before we consider them let me deal with a matter about which many Evertonians have written all say much the same thing in different words, but the best summing up is given by Mr. G.G. Thompson, honary treasurer and organizing secretary of Everton supporters Federation. He writes as follows;-
Keep It Going
"May I appeal to all members of the Supporters' Federation, and indeed to Evertonians everywhere not only to rally in thousands to Boundary Park on Thursday, but to keep the "roar" going throughout the full 90 minutes, irrespective of the score. Remembering last season's semi-final and the way the team nearly pulled off a hopeless cause, there is no doubt that the vocal encouragements of supporters is a great help. A win of 6-0 will give Everton not only promotion but the championship, and what was possible at Derby is surely possible at Oldham. "This match is not only vital so far as Everton is concerned, it also means the Blues can uphold the proud prestige of the city by maintaining an unbroken run of First Division football on Merseyside, so that I am sure the team will carry the best wishes of Liverpool supporters besides the personal attendance of many Anfield people. Remember too, that the Blackburn following will be there in strength and they will not be shouting for Everton.
While I am pleased to give publicity to Mr. Thompson's appeal, there is no need for me to stress the point. It is obvious that thousands of Evertonians made their plans immediately the need became apparent after the Easter programme. Everton will get plenty of support. There is no doubt about that. The one think I would emphasize is when Mr. Thompson asks for vocal encouragement Irrespective of the score. Several times this season and Saturday was no exception the "roar" has died a way to a weak and sometime fretful thing when matters have not been going too well. Its value is greatest and most inspiring when that is the case. There is less need for it when the team is right on top of the opposition.
George Mahon Final
The Liverpool County Combination George Mahon Cup final takes place at Goodison Park, Kick-off 6.45 when Everton "A" meet Liverpool "A" in what promises to be a most attractive game. Everton "A" as holders of the trophy will be keep to retain their hold on it, but the lads from Anfield who have never yet won this award, will make a determined effort to break the spell and put one over on their Goodison rivals. Extra time will e played if necessary.
EVERTON ALL SET FOR VITAL MATCH
April 28, 1954. The Liverpool Daily Post
By John Peel
With Wainwright, Fielding, and Eglington having recovered from the knocks they received in the game with Birmingham City at Goodison Park last Saturday, Everton are in the happy position of being able to field a full strength team for their import League game with Oldham Athletic at Oldham tomorrow evening, kick-off 6.50. Everton must win this match to gain promotion to the First Division. A draw will not do for although a point would bring the Goodison Park level on points with Blackburn Rovers, second in the table at present, the Rovers would go up by virtue of a better goal average to Everton's. The Everton team to face Oldham will be;- O'Neill; Moore, Donovan; Farrell, Jones, Lello; Wainwright, Fielding, Hickson, Parker, Eglington.
THE GREAT DAY APPROACHES
April 28, 1954. The Liverpool Echo
Everton Followers Anxiously Await Tomorrow's Game at Oldham
By Ranger
Will tomorrow prove the happy day for which Evertonians have patiently waited for three long years, with a victory at Boundary Park seeing the Blues safely back in the First Division or shall we have to suffer alternating hopes and fears for at least another season?" Let me answer that by saying right away that I feel reasonably certain Everton will pull it off. I sincerely hope they do, for to have two Second Division sides in this city would b a dismal business. Furthermost if Everton fail this time they are unlikely to have such a great chance next season for apart from the help they have had from the fixture list, they have been rather fortunate in the run of the ball on several occasions and also in their comparative freedom from injuries. On the season's form of Oldham and Everton, there should, on paper, be little apprehension regarding the outcome of this game. Oldham doomed to return to the Northern Section after one brief winter of seniority, hardly look a match for a team of Everton's potentialities. Midfield superiority and the likely general all-round better class of Everton, however, will count for nothing unless they produce the appropriate finishing touches to turn these advantages into goals.
Valuable Goal
Everton had nine-tenths of the game in the second half against an easy going Birmingham City side on Saturday yet could not translate their continuous pressure into a single goal to add to that which Hickson had scored earlier. There must be no wastage of simple chances tomorrow. The ideal frame of mind in which to approach this game is one which so easy enough to advocate but difficult for players to follow when they are keyed up to the highest pitch. Anybody can sit in an office chair and glibly stress the need for coolness and composure and the folly of over-anxiety and apprehension. It isn't simple as all that but on the field with the knowledge that probably 20,000 of the people watching with straining eyes and palpitating hearts are basing their hopes for the future on your success while treble that number at home are breathlessly and anxiously awaiting the outcome. Yet, having said that one is bound to repeat difficult though it may be to achieve that that is the attitude which Everton must endeavour to cultivate. If they follow their normal bent as nearly as they can, doing what comes naturally when they have the shooting chances, withoutstanding concern about what is at stake and above all not shifting the onus of shooting on to somebody else, then I feel confident that the outcome will not only be a victory but that the margin of it will be convincing. A repetition of the form displayed in the second half of last Saturday's encounter with Birmingham City, plus better finishing should see the Blues last obstacle safely negotiated so that we can breathe easily once more. When Oldham visited Goodison on the second Saturday of the campaign they looked a useful combination. Unfortunately for them that early promise was not maintained and they have been in the bottom position now for several months. In an effort to arrest their steady decline they have made many changes in the composition of their side early every week, sometimes on a wholesale scale. Compared with the team which did duty in the Goodison fixture only Burnett and inside left Mcllvenny are still appearing in their normal positions. Despite several heavy defeats the Oldham defence has not under gone so many changes as the attack, where sixteen players have been called upon, many of them figuring in a big variety of positions. Up to a couple of months ago player-manager Hardwick was the side's leading scorer with four goals, three of them from penalties, but that distinction is now jointly held by Scrine, McLlvenny and right half Lowrie who have each netted five times. Occupying the centre forward berth in the last five games has been ex-Anfielder Ken Brierley, who has netted twice so far which is an improvement on the scoring rate of previous occupants of the position. Oldham have suffered seven home defeats, though four of these have been by a single goal. Only twice have they managed to muster more than two goals in a home match, when beating West Ham 3-1 and Leeds United 4-2. The latter is Oldham's biggest win of the season. They have failed to find the net at all in five home matches and have prevented the opposition from scoring against them in seven games. Everton can look forward to tremendous support from a big following in a game which begins at 6.30 which means so much not only to the followers of the Goodison Park side but to all sports folk on Merseyside. Our hopes are high. I do not think we shall be disappointment. One thing which is certain is that if Everton fail, it will be for want of trying. The lads have set their hearts on promotion. Everton; O'Neill; Moore, Donovan; Farrell, Jones, Lello; Wainwright, Fielding, Hickson, Parker, Eglington.
A full running commentary on the match will be broadcast to Merseyside hospital patients who are being linked up with the Oldham Hospital scheme.
Chance For A Welcome
Whether or not promotion is achieved the club's supporters will have an opportunity of showing their appreciation of the team's efforts when the Blues meet Liverpool in the final of the Liverpool Senior Cup. This latter game will be at Goodison Park next Monday evening if the Wembley Cup Final is decided at the first meeting. If there is a Preston-West Bromwich replay, Everton-Liverpool fixture will e put back until Friday, May 7.
OLDHAM WILL MAKE BIG EFFORT TO THWART EVERTON
April 29, 1954. The Liverpool Daily Post
By John Peel
Although the football season's greatest attraction the F.A. Cup Final is due ti be played on Saturday, few supporters of Everton can find time to give it a moments thought. All their interest is concerned on their favouries visit to Boundary Park, Oldham this evening where Everton play Oldham Athletic in their final Second Division game of the season –and for many seasons to come it is hoped. The game is of the utmost importance to Everton for the result will decide whether the Goodison Park side gain promotion to the First Division or remain in their present category for another season at least. To regain a place in the top circle Everton must be victorious tonight. A draw will be useless, for although it will bring the Goodison Park side level in the matter of points with Blackburn Rovers at present second in the table the Rovers would be the club's promoted with Leicester City by reason of superior goal average to Everton. It will not be the lack of support if Everton fail to achieve their ambition for thousands of Goodison fans are making the journey to Oldham by train or motor coach and the "Goodison Roar" is sure to be heard in the areas surrounding the Oldham ground. Judging by Everton's away record this season a victory for them certainly looks on but the doomed for-the Third Division Athletic side are sure to make a great effort to thwart Everton in their victory quest. In league games this season Everton have only suffered four defeats when playing away fewer than any club in the First and Second Division a truly grand record. The sides to have conquered Everton when they have been visited have been Brentford (1-0), Plymouth Argyle (4-0), Birmingham City (5-1), and Leeds United (3-1). The atmosphere at Oldham this evening is bound to be tense from an Everton point of view but if the Goodison Park players can curb the excited feelings they are sure to have and play their normal game, I have full confidence in their ability to gain the victory they require. With all the players having reported fit the team will be unchanged from the one successful against Birmingham City last Saturday. The Everton team will be- O'Neill; Moore, Donovan; Farrell, Jones, Lello; Wainwright, Fielding, Hickson, Parker, Eglington.
Oldham Wait
Oldham will not select their side until shortly before the kick-off. Player-manager George Hardwick now fit again after missing six games through injury, is expected to resume but Welsh international inside left Scrine well be absent owing to injury and Lowreie ankle injury is a doubtful starter. Former Everton goalkeeper George Burnett is a certain starter. Not the least interested spectators at the game will be Blackburn Rovers manager Johnny Carey and his Players.
GEORGE MAHON CUP
April 29, 1954. The Liverpool Daily Post
Everton "A" 0, Liverpool "A" 1
In a game of thrills Liverpool deserved their win in the George Mahon Cup final, at Goodison Park last night. Defence predominated Pringe scoring for Liverpool after ten minutes from Bambett's centre. Everton piled on pressure and were unlucky on several occasions, Dunlop, Everton's goalkeeper played brilliantly in the closing stages and prevented Liverpool adding to their score.
IT WON'T BE LONG NOW
April 29, 1954. The Liverpool Echo
All Roads Lead To Oldham Tonight For Vital Promotion Game
Ranger's Notes
There are only a few hours to go now before we know whether or not Everton have fulfilled the high hopes of their followers by beating Oldham Athletic, thus ensuring their return to the First Division. There has been an exodus of football enthusiasts from this city throughout the day, all bent on one thing –to give the maximum vocal encouragement to their favourities. One party of staunch Evertonians left before noon, determined to make sure of a good "spec" at this non-ticket match, which promises to produce the best attendance Oldham have had since the war, and possibly come within close reach of setting up a new record for the game. There is little to add today to the full review of the match which appeared here yesterday. Everton are in good heart and confident of their ability off a victory though not to the point where they are under estimating the opposition. They know only too well that this is no easy task. Oldham with nothing at stake can play a normal carefree which is always a big help. Everton despite their desire to regard this hurdle, as far as possible as just another game, obviously cannot escape thoughts of all that is at stake.
Early Goal Would Be Tonic
On the other hand, the Blues have such a tremendous incentive that even if they cannot entirely rid the minds of the importance of the occasion, I feel that the spur which the vital issue will give them will move than counter-balance any inescapable "nerviness." An early goal to Everton would be a terrific tonic. Nothing is more upsetting to a team which simply has to win to attain its objective than to see time passing with no leading goal forthcoming. Once they succeeded in getting in front I think Everton will dominate the proceedings and if good fortune attends their shooting they should put the issue beyond all doubt well before the finish. These last four days have been a tense and anxious period for all connected with the club for Everton followers, and for myself. If we had to go through many similar ordeals of alterations hopes and fears we should soon be nervous wrecks. Thanks goodness it will soon be over, and if as I believe will be the case, Everton succeed it will all have been well worthwhile. Here's wishing the best of luck to the lads tonight. They know they have the support of all Merseyside folk behind them in their efforts.
Liverton Colts
An attractive game is due at Anfield on Saturday morning (11), when Everton and Liverpool (colts) meet in the final of the Liverpool County Minor Cup. This game will have all keenness of the senior teams with Liverpool anxious to avenge last season's defeats.
20,000 EVERTON FANS MOB TEAM AFTER 4-0 PROMOTION VICTORY
April 30, 1954. The Liverpool Daily Post
Thousands of jubilant Everton supporters streamed on to the pitch at the end of last night's game at Oldham, where Everton regained their place in the First Division with a decisive 4-0 win. Scenes of tremendous enthusiasm broke out after the final whistle. Farrell, the Everton captain, was hoisted on the shoulders of his supporters and the crowd repeatedly called for the players outside the dressing room. It is estimated that more than 20,000 supporters of the Blues made the trip from Liverpool to Oldham –but 5,000 of them did not see the game. N they were delayed by congestion on the roads at traffic from Liverpool, bottled necked in Manchester and Oldham and arrived at the Boundary Park ground just before kick-off to find the gates locked. Inside more than 40,000 spectators jammed the terraces and the game was held up on several occasions while people were moved from one stand to another to ease the strain. Over 100 motor coaches about eighty of them from Liverpool, brought people to Oldham, in addition to four special trains and two of the club's three car parks were full an hour before the kick-off. Evidence of the tension with which the match was played came in the second half when after the referee had spoken to several players pieces of bread and a bottle were thrown on the pitch by the crowd. But it all ended happily –for Merseyside –and news of Everton's victory was quickly flashed round the area. Crowds of people waited for the special editions of evening papers the Daily Post switchboard was jammed by hundreds of telephone calls and the result of the match was announced in city cinemas, public house licensees reported excellent business. And last night came this tribute from Mr. Don Welsh manager of relegated Liverpool F.C. That's good news I congratulate Everton and hope that we'll meet them the season after next." It was a tired –but very happy –Everton team which arrived home at Goodison Park late last night. A handful of faithful supporters who had not been fortunate enough to see their team in action mobbed the players and cheered them through the club entrance. The team had enough celebration for one night at Manchester –and they contended themselves with a toast in orangeade to skipper Farrell. Then they made straight for home and a much-needed rest.
Cliff Britton, the club manager commented; "I don't need to tell you how please we are to be back in the First Division again. The boys have earned it."
Tribute To Farrell
Who was the most outstanding player? Mr. Britton found it difficult to choose between them. "They all played very well," he said. But he added "Peter Farrell has kept up to scratch right through the season –and he didn't let us down tonight." But Peter Farrell would not hear of being called the "star man" I attribute our success to our work as a team. With sportsmen such as ours, we have no need of a captain." Mr. Ernest Green chairman of the club, said; "More than anything else, we are happy to reward our gallant supporters who have been with us all the way. "Out there on the field, our chaps were helped along in no small measure by the enthusiasm and the confident cheering of the many who came to see us through. What of the future. "Judging from the way they played tonight they are good enough for anything said Mr. Green.
FIRST HALF GOAL RUSH –AND EVERTON ARE THERE
April 30, 1954. The Liverpool Daily Post
Tough Exchanges Mar Later Stages of Game
By Ranger
Oldham Athletic 0, Everton 4
By defeating Oldham Athletic 4-0 at Boundary Park last night Everton brought about the desired culmination of the long drawn-out struggle this season for promotion to the First Division of the Football League. Everton were infinitely the better side in the first half and established a lead of three goals at the end of twenty six minutes, partly due to two lapses by Burnett the former Everton goalkeeper, who captained Oldham for the occasion. A fourth goal ten minutes later made the issue clear. At the half-way stage it looked quite on the cards that Everton might win by a sufficiently large margin to overhaul Leicester City as champions. In the second half, however the game deteriorated considerably and was marred by much rough play and many exhibitions of ill-temper. The Everton players were occasionally stung to retaliation and the regret in turn spoke to Hardwick, Smith, Hickson and Moore, while even the usually equitable-tempted Eglington was involved in one incident after a particularly aggravating foul. There were scenes of tremendous enthusiasm as soon as the final whistle went. Everton's supporters who had gone to Oldham by road and rail in a steady stream throughout the day, to the extent it is estimated by somewhat in the vicinity of 20,000 let themselves go deliriously.
Shoulder-High
Thousands of them swarmed on to the laying-pitch and hoisted Farrell the Everton captain shoulder-high carrying him in triumph to the entrance to the dressing-room. The jubilant and excited spectators refused to disperse until the players had shown themselves and kept chanting "We want Peter" until Peter came to the front again to acknowledge their cheers. Everton have thus preserved First Division football for Merseyside next season. The City of Liverpool has never been without a club in the top fight of all since the Football League was formed in 1888. The Goodison club achieved their ambition to recapture senior status after three years in the lower sphere. The players will be assured of a tremendous welcome when the Liverpool Senior Cup Final with Liverpool takes place next week through nothing could excel in fervor and jubilation the demonstration which was given them at the close of this Boundary Park game.
Parker's Started It
It was Parker who set Everton on the road to victory when he gave them the lead in the seventh minute after Moore had centred the ball from long-distance and Hickson had headed it forward Parker took advantage of a partial slip by the Oldham defence to nip in quickly and head it home for his thirtieth League goal of the season. Eglington missed a good chance of putting Everton further ahead at the thirteenth minute but a second goal was not long delayed when it came it was due again to a defensive error, this time Burnett being at fault when he advanced too far to take command of a long shot by Jones, who was actually in the Everton half, just inside the circle when he took this very tentative shot at goal. Burnett however, strongly challenged by Hickson allowed the ball to drop behind him into the net as he endeavoured to palm it out with one hand.
Better Football
This goal came at the 18th minute and Oldham up to this time had not put in a solitary shot Everton were playing beautiful football keeping the ball on the ground and finding their men with unerring accuracy. A shot by Fielding struck Naylor and almost beat Burnett who was fortunate to be able to turn round and fall on the ball as it seemed certain to roll over the line. Hickson netted in the 23rd minute but the referee, after seemingly pointing to the centre disallowed the point for a foul on Burnett and awarded a free kick to Oldham. Parker scored a third for Everton at 26 minutes after Burnett had dropped Fielding's shot and Parker following up quickly was able to turn the ball into goal. The game was now as good as won, and it was then that one's thoughts turned to the possibility of Everton overtaking Leicester City on goal average and winning the championship. This hope was encouraged when at the thirty sixth minute, Parker cleared the ball from the edge of the Everton penalty area, where he had been helping the defence in one of Oldham's spasmodic raids, and Hickson after running half the length of the field and beating three men scored Everton's fourth goal, with a left foot drive out of Burnett's reach. This was a great individual effort and the best goal of the evening. Hickson was on the receiving end of some vigorous treatment by the home defence and in the closing stages of this half, Oldham began to show some improvement on their earlier ineffective and disappointing display. After the entrancing football which Everton had served up in the first half the second portion was something of an anti-climax. The visitors appeared to slacken off considerably in their efforts and allowed Oldham to take the upper hand for quite lengthy spells. It was fifteen minutes before Everton tried a shot in the second half during which time O'Neill had twice saved brilliantly from Harris. Harris also went close a third time with a header which missed the post by inches. Hickson twice worked his way through only to be foiled by Burnett. Eglington also missed by inches with an oblique header, following a free kick by Jones. The longer the second half progressed the more did the game deteriorate from an exhibition of football into something which at times took on the aspects of a brawl. The referee spoke to several players in turn. At one period after an incident between Hardwick and Moore, pieces of bread and a bottle were thrown-on to the playing pitch. Later when Hickson was brought down by Naylor, Eglington adopted a threatening attitude which is something entirely foreign to his normal nature.
Forceful Tactics
Everton, however, despite the grim determination and forceful tactics of Oldham defended cleverly and the covering of Jones, Donovan and Moore was first class. The visitors had to struggle for most of the second half with Wainwright a limping passenger at outside right. Had the game pursued the same even tenor as in the first half Everton would probably have increased their lead but in face of Oldham's rugged tactics plus a spot of retaliation on the part of one or two of their own players, the rhythm and precision went out of the side. Nevertheless it was an excellent victory much to the liking of the vast crowd of Everton supporters and though the Goodison club have to be satisfied with second place to Leicester, that is a minor detail in comparison with the fact that promotion has at last been achieved. All the players on the Everton side did their part nobly in this victory with the defence excellent throughout and the forward line showing style and artistry in the first half which emphasized the vast difference between a prospective First Division side and one which is doomed to return to the Northern section. Hardwick who led Oldham's attack in the first half, changed places with Brierley during the second half, Naylor was Oldham's best defender. The official attendance was 40,000.
EVERTON PULL IT OFF
April 30, 1954. The Liverpool Echo
But The Second Half Of Oldham Game Is Best Forgotten
Ranger's Notes
When thank goodness this promotion business was satisfactorily settled last night with Everton pulling of the all important victory of the season to preserve First Division football in this city for next winter, and thus relieving in the most acceptable manner the extreme tension of the past five days. Curiously enough the tension on the field of play was rarely in evidence at Boundary Park until the outcome of the game was clear beyond all fear of an Oldham recovery. Then it was marred by a succession of ill-tempered outbursts which were no credit to football though in some instances it must be conceded that there was plenty of provocation. It was a pity that the season should have ended on such a note the more so as there was neither reason no excuse for it. I am not apportioning any blame for after a while it was pretty much a case of six of one and half a dozen of the other, but after the brilliant display by Everton in the first half it was regrettable that the game should have deteriorated into little more than a dog-fight. More about this in a moment though. It has been a long and arduous season for officials and players in the strain on everybody concerned has been sever –not excepting the club's loyal followers who have so long been on tenterhooks as they argued the pros and cons of whether the Blues would go up or not, that it will be quite a relief to relax for a bit. There were tremendous scenes of enthusiasm at Boundary Park at the final whistle went last night and thousands of jubilant and enthusiastic Evertonians swarmed on to the pitch and carried Farrell shoulder high off the field. The rest of his colleagues and Hickson in particularly were each surrounded by hundreds of admirers.
Crowd's Enthusiasm
The crowd refused to disperse until Farrell had come to the front of the stand and taken a blow. There were also class for Cliff Britton, which must have been particularly graftying to the Everton manager as he doubtless cast his mind back –and not necessarily too far back to the days when he was severely criticized. His policy has now been vindicated. Without patient and understanding direction from the top even the most earnest of players cannot always pull out the best week after week. The Britton modus operandi has been particularly over the last testing two months to endeavour to install confidence in the members of the side in their own collective and individual ability and to give a valuable psychological boost from time to time when needed. As tomorrow's Football Echo will contain a full commemorative sourvier of articles and pictures of the most successful season I am not going too greatly into detail here of all that has led to the happy culmination of Everton's ambitions of the past three years. The winning of promotion has been due to solid all round team work, wise direction –and particularly the board's continued confidence in their manager –and the earnest and wholehearted endeavours of all the playing staff. The season is reviewed in detail in tomorrow's special feature, so make sure you get your copy of the Football Echo, which will also give a full and comprehensive reports and pictures of the Cup Final at Wembley. As for last night's victory at Oldham the "Blues" in the first half played more like a future First Division side than they have for several weeks. They kept the ball on the ground, passed and repassed with confidence and accuracy and showed such vast superiority in all departments that the vast congregation of Evertonians present never had a moment's apprehension as to the ultimate outcome. At the seventh minute the forest of mill chimneys which is such a feature of the Oldham landscape was shaken by the terrific roar which went up when Parker nodded home the vital and encouraging goal to which he was helped by Hickson's canny header of Moore's long-range centre. Two mistakes by ex-Evertonian George Burnett led to further goals in fairly quick succession. Jones got the first of these with a 55-yard high shot from inside his own half, which Burnett, harassed by Hickson, failed to palm away as intended and Parker got the other when the unlucky Oldham custodian dropped a Fielding shot. The fourth goal scored by Hickson, was the "tit-bit" of the night a brilliant effort after a run half the length of the field. Four up in 36 minutes and with Everton playing vintage football encouraged hopes that they might win by a margin sufficient to wrest the championship from Leicester City on goal average. And so they would I think had they been both allowed and attempted to play the same brand of football as in the first half. Oldham however, began to go more quickly to the ball to be more vigorous and deadly in their tackling and to show signs of forward possibilities that were never in evidence in the first 45 minutes.
Stung To Retaliation Hickson withstood much before he endeavoured to pay the opposition back in their own coin, and even Moore and Eglington normally as cool and collected as anybody could wish were stung to retaliation. At one period a bottle was thrown on the pitch and four players were admonished by the referee. At times it was more of a brawl than a football match. The consequence was that the game deteriorated very much as an entertaining spectacle, with Oldham throwing everything they had into a succession of determined efforts to pull back some of the leeway lacking likely to get at least one goal. That they did not do so was due to the close dovetailed work of the Everton rearguard some good saves by O'Neill –mainly against Harris –and the erractic shooting of the home forwards. Start's well the end well and the Everton forward line was not so good in the second half –though Hickson was always a great form, -high honours went to the defence which rarely put a foot wrong from start to finish. The one fly in the ointment is that Liverpool will not be there to welcome the Blues back to the dress circles next August. Here's hoping that this is a pleasure which will not be deferred too long, and meantime heartiest congratulations to the Everton lads for the satisfactory conclusion to a successful and most acceptance eight months effort.