EVERTON OUTLOOK
August 3, 1953. The Liverpool Echo
Ranger's Notes
Everton also had their first full-scale professional private practice match on Saturday. The Blues have a clean bill of health and Gordon Stewart, the Canadian inside forward, is settling down well and already shows signs of being a very useful acquisition. The big test will be when he engages in competitive games, in which points and bonuses are at stake. Everton will play Bootle in a two-evening cricket match on Wednesday and Thursday, this week, at Wadham Road, Liverpool are not taking part in this fixture.
EVERTON AT BOOTLE
August 4, 1953. The Liverpool Echo
Ranger's Notes
The annual cricket match between Bootle and a team of professional footballers takes on a slightly different aspect this time as the opposition to the home club will all come from the ranks of Goodison Park. The match takes place at Wadham Road tomorrow and Thursday evening (6.30) and the Everton side will be;- E. Wainwright, T. McNamara, D. Hickson, D. Eashope, T. Buckle, W. Fielding, E. Moore, L. Melville, J.W. Parker, H. Potts, C. Lello, Reserves H. Leyland, and J Grant.
EVERTON AT CRICKETERS
August 6, 1953. The Liverpool Echo
In the first of their two-evenings fixture with Bootle, at Wadham Road last night, Everton F.C, showed they had some petty useful cricketing talent. Skipper Eddie Wainwright rang the bowling chances so effectively that in two hours Bootle were all out for 104. Wainwright utilized seven bowlers, from the pace stud of McNamara, Easthope and Hickson to the left-arm medium-slows of Fielding and Melville. Hickson distinguished himself with two first-class catches, besides taking three wickets for 20. Buckle took two for 12, Fielding two for seven, Melville two for 11 and Lello one without score. One of the few dominant Bootle batsmen was R.A. Jones, who collected 33. Everton bat this evening.
Footballers At Golf
Liverpool and Everton are strongly represented in the entry for the North-Western regional eliminating competition of the professional footballers' gold championship which takes place next Monday at St. Annes, Old Links. Liverpool's hopes will rest upon Payne, Smyth, Parr, Whitfield, Jones, Rowley, Smith and Hamblett. Everton's contingent is composed of Buckle, Jones, Eglington, Moore, Fielding, Potts, Lindsay, Rankin, Farrell, McNamara, Wainwright, Kirby and Donovan. Done and Williams (W.R) are Tranmere's competitors; whilst Astbury will endeavour to put Chester on the map. Altogether 88 competitors are taking part and the fourteen returning the best gross scorers will complete in the final, the date and venue for which has not yet been fixed. Honorary secretary of the North-Western Region is Mr. J.C. Rouse, of Liverpool F.C.
GOODISON GAME
August 12, 1953. The Liverpool Echo
Everton's practice commences at 6.30 and there the big draw will be the sight of Gordon Stewart making his bow to Goodison followers in the reserve team. The only absence in the senior side is Lindsay who is nursing a slight ankle injury, but is expected to be fit for the be kick-off today week. Fielding and others will come into the opposing sides for the second half. The teams announced in our later editions yesterday will be;- Blues; O'Neill; Clinton, Donovan; Farrell, Jones, Lello; Buckle, Cummins, Hickson, Parker, Eglington. Whites; Leyland; Moore, Rankin; Grant, Forshaw, Melville; McNamara, Potts, Saunders, Stewart, Easthope.
£1,000 GIFT FOR SAGAR
April 13, 1953. The Liverpool Daily Post
Everton Remember
Blues 3, Whites 1
Evening's long-serving international goalkeeper Ted Sagar –he recently retired from football after twenty-four years with the club –last night walked out of the players dressing room with a £1,000 cheque in his pocket for "quality of service as a great club-man." Handing him the cheque Mr. E. Green, the Everton chairman said, "When I say equality of service I mean that during his years with us he has been a great club man, always ready and willing and taking his job seriously." Sagar the lad from Yorkshire who came to his first League club –Everton –in 1929 and stayed, looked round at the assembled players and said;
"I have enjoyed every minute of my time here. I came here to do a job and I hope I have made a success of it. If I had a chance to do my following again I would choose' Everton. I think there is no better club in the world." After the presentation Mr. Green told the Daily Post "We felt this was the best way to recognize Ted's service. In my experience I have never known such a large amount to be given to a player.
Melville Impresses
By Stork
Last night was hardly one for strenuous endeavour and it was not surprising that the second half of the Everton trail at Goodison Park was only moderate. Blues (likely to be the senior side) won 3-1, but I did see one or two players in Whites who impressed. The goalkeeper was top class, both O'Neill and Leyland bringing off smart saves. There were times when Leyland should have been beaten but Parker, in particular, was kind to him. Whites took the lead, but the superior class of the others was always discernable. Most of the 5,878 people present scrutinized closely the Canadian forward Stewart. He showed stamina, but he has still much to learn. The players who took my eye was Melville, White's left half. A good tackler, he did not forget the requirements of his forwards. Easthope was another who showed up well. Of the "old guard" Buckle, Eglington, Lello and Clinton rarely put a foot wrong. Scorers were –Whites Potts (15 minutes); Blues; Eglington (22 minutes); Parker (44 minutes) and Hickson (89 minutes). There were team changes after the interval when younger players were given an outing. Blues; O'Neill, goal; Clinton and Donovan, backs; Farrell (captain), Jones, and Lello, half-backs; Buckle, Cummins, Hickson, Parker and Eglington, forwards. Whites;- Leyland, goal; Moore and Rankin, backs; Grant, Forshaw, and Melville, half-backs; McNamara, Potts, Saunders, Stewart, and Easthope, forwards.
EVERTON'S GRAND GIFT
August 13, 1953. The Liverpool Echo
By Stork
The high light at Goodison Park last night took place before the start of the trial game, when Mr. Ernest Green, Everton's chairman presented on behalf of the club a cheque valued at £1,000 to "one club man" Ted Sagar, Mr. Green in making the presentation said this token of our appreciation is not for length of service –we acknowledge that in June when we gave Ted a gold watch –but for the quality of his service during his 24 years as a goalkeeper. Note the emphasis was on "quality" not quantity, and that sixed up "The Boss" in a nutshell. Mr. Green spoke of Sagar's others assets, but that one word "quality" was the meat of the whole proceeding. Ted was obviously touched by the whole affair about which he knew little. He was simply amazed and could hardly believe that such a thing could happen to him. No club ever had a more loyal player, I would like to add that Sagar thinks that no man ever had better masters –and he said so in his short reply. Ted hopes that he will serve Everton as worthily in his new post as he did between the "sticks" I am sure he will for he is built that way. Now to the practice game.
I felt sorry for the players who had to run around on such a humid night. It was bad enough sitting up in the stand. They must have been like lobsters coming to the boil.
Stewart's Form
The Blues the prospective first team, won, but it was obvious that they were not all out. They dare not be, for in a week's time the season opens so all risks were cut out. Naturally all eyes were on G. Stewart the Canadian forward who is on trial. He is possessed of unbounded stamina but he needs more English experience. He nearly scored, I am not going to be to critical, for "trial" games are often a snare, but I must admit that I was greatly impressed by Melville, the Whites left half. He tackled well, passed well, aye had all the ingredients of a first class wing half. The goalkeeping of O'Neill and Leyland was excellent; never a mistake nor a lack of confidence. The seniors had just that little something the others lacked, but there is some good material among the juniors, John Lindsay tells me that he is getting over his injury and Donovan and Moore and Wainwright did not leave any doubt as to their complete fitness. The composition of the teams was changed in the second half by which time the heat was having its effect.
Saturday's Teams
Everton practice teams on Saturday will be confined almost entirely to the junior professionals, though five of the players on view have had at least one outing in the first team. The one newcomer to the Goodison ranks will be Norman Hobson, a 19-year-old amateur who comes from the Shrewsbury area and has been signed after private trials. The Everton teams will be;- Blues; Dunlop; Sutherland, Tansey; Fitzsimmons, Forshaw, Melville; Gibson, Vizard, Kirby, Megan, E. Canavan. Whites; Fairclough; Heyes, N. Hobson; Birch, A. Favager, Capper; Mayers, Thomas, Saunders, Farrell, Easthope.
CUMMINS JOINS LUTON TOWN
August 14, 1953. The Liverpool Echo
Everton Net A £10,000 Fee
By Ranger
Everton today transferred George Cummins their 22-years old Irish inside forward to Luton Town at a fee of over £10,000. Cummins went to Luton yesterday following an agreement between the clubs regarding the fee and completed the forms this morning. While the deal may surprise some Everton followers, it was not entirely unexpected. Cummins is a talented footballer, and has shown much skill as a dribbler but he has not shone as a marksman. He and Fielding are cast much in the same mould as regards ball control and "feeding" and Everton felt that Fielding is more experienced and more effective in front of goal they could afford to let Cummins go. The manner in which Cummins came to join Everton was rather unusual. They had him "card indexed" after he had played here for the Eire youth international side and had reports upon him from the other side. Then Cummins came over to Liverpool to spend a holiday with O'Neill, the Everton goalkeeper, and a former colleague in the Eire youth team. On learning this, Manager Cliff Britton immediately contacted the player and invited him to take part in private trial game. This Cummins did, and so impressed that he was offered an immediate engagement. This was accepted after consultation with his parents and following a few months as an amateur Cummins was signed on professional forms in October, 1950. He made his senior debut on December 25, 1951 and later the same season figured in four more first team games. All these were at inside left. Last season he played at either inside right or inside left in 24 League and cup matches, making 29 senior appearances in all, but without scoring. Last winter following an incident in the home game against Swansea the F.A took the rather unusual course, of dating his subsequent seven days' suspension from such a date as would permit him to assist Everton in their semi-final tie against Bolton Wanderers at Manchester, but it cost him a cap with Eire. In joining Luton, Cummins, as at Everton, will find himself among several of his countrymen including Dunne and "Bud" Aherne, the Eire international full-backs. This is the second forward signing of note made by manager Dally Duncan, the Luton chief during the current close season. Recently he signed Downie from Manchester United, while last year he made one of the best captures of the season when he obtained Pye from Wolverhampton Wanderers. Mr. Duncan took a fancy to Cummins when the latter played well for Everton on a snow-bound pitch at Kenilworth Road last November. Luton have plenty of strong shooters in their side, and if Cummins fits into their scheme of things his ball control and skill may be turned to good advantage.
YOUNG PLAYERS SHOW REAL PROMISE IN TRIAL GAMES
August 15, 1953. The Liverpool Echo
Everton F.C Trail
By Ranger
Blues; Dunlop, goal; Sutherland and Tansey (J), backs; Fitzsimmons, Forshaw, and Melville, half-backs; Harris, Vizard, Kirby, Meagan, and Canavan, forwards. Whites; Fairclough, goal; Heyes, and Hobson, backs; Birch, Favager, and Capper, half-backs; Mayers, Thomas, Saunders, Farrell, and Easthope, forwards. Referee; Mr. R.W. McGrogan (Southport). Everton's young professionals, upon whom much patient coaching has been extended during past years, were given a chance at Goodison Park today, to demonstrate their talents before the start of the new season. Though the game provided some entertaining football, particularly in approach work, there was not much shooting of note and neither goalkeeper was seriously troubled. Mayers gave the Whites the lead in rather fortunate fashion after 20 minutes with a shot which went in off Dunlop's knees, and at the 40th minute Saunders got a second when the Blues defence was unable to extricate itself after getting in a tangle and Dunlop running out failed to make contact. Easthope almost got a third for the Whites, Tansey (J.) heading away from under the bar. Birch was the star defender on the White side and found time also to take one or two shots, but like those, of his colleagues most of these just failed to register on the target. Farrell did some neat things in the White attack and Mayers also looked dangerous on occasions. Generally speaking, however, the approach work of both sets of forwards was not rounded off with the shooting that might have been expected. Saunders was an energetic leader though he too was remiss with his finishing. For the Blues Kirby found Favager a barrier to his way down the middle and Vizard looked the more likely to prove a danger. Half-time; White 2, Blues nil.
During the second half five changes were made in the Blues side, Capewell substituting for Dunlop, Damen for Forshaw's Senior for Melville and Tansey (G) coming in at inside left in place of Meagan, who took over at inside right for Vizard. In the White's side Clayton took the place of Birch at right half. The Whites continued to hold the upper hand in the early stages of the second half and the Blues goal had two narrow escapes from efforts by Thomas, Caldwell making a good save of the second one. The Blues made only occasional sorties into the Whites goal area though from one of these Harris almost snatched a goal. Meagan shone with some clever dribbling and neat passing but the Blues forwards line seldom got to grips with Fairclough. Favager continued to play promisingly.
EVERTON'S PROSPECTS
August 15, 1953. The Liverpool Echo
By Ranger's
For Everton, the time must surely be approaching when some concrete advantage will accrue from the long concentration on the fostering of their youthful talent which seems to be the main hope for the future. There was one short spell the season before last when the possibility of promotion hovered shyly on the horizon. It disappeared all too soon. Last winter the question was never one of whether they would go up, but only whether they could achieve a reasonably respectable placing. To finish sixteenth, only five points better off than relegated Southampton was not a very distinguished performance. In the Cup Everton were a vastly different side once they had scraped through the third round by the skin of their teeth. They played real First Division football against Nottms Forest, Manchester United and Aston Villa, fell from grace in the first half of the semi-final with Bolton, and then got some of their laurels back with a fighting finish. They deserved every credit for that good run, though most of their followers have preferred League success to Cup honours. If Everton can reproduce their Cup spirit and team work over the sustained and more testing League programme then they should at least go into the top half of the table this time. I cannot however, see any solid basis for promotion hopes unless there is a decided all-round improvement.
One Vital Factor
One other incalculable factor which nobody can control, but which has a big bearing on every club's success –or lack of it – is what, for want of a better description we call "the run of the ball." It applies in every game. Sometimes the ball runs kindly for you, sometimes it doesn't. Players shoot hard and often one day and find themselves right on the target. Other times they are "miles" off, despite just as keen determination. The same thing happens in many other directions. If our two senior clubs have that essential bit of good fortune on sufficient occasions than the months ahead may be productive of greater success than seems possible on the basis of last season's displays, which is all we can really go on at the moment. To have to pray for good fortune however, is a poor substitute for a strong and dominating team capable of carving out success even when the luck runs against them.
The Official Views
Mr. E. Green (Everton F.C. chairman)
"If I said we had made a good start by beating Bootle at cricket and by four of our players have equalied for the Profesional Footballers Golf Tournament final, I should be rightly reminded that our supporters are concerned not with cricket and golf but with football. "But these successes do point to the fact that our players are in good heart, that there is a good team spirit and great happiness in the camp and finally, that we are looking forward eagerly to the new campaign not withstanding that we are starting off with three away matches.
Mr. C.S. Britton (Everton manager)
Forecasting the prospects of a new season I always an unenviable task, whatever the fortunes of the previous season may have been, for football is unpredictable. The only thing one can say is that we all face the season with hopes renewed. "All the players have made a 100 per cent effort in their preparation for the coming season and I am sure that the memory of the wonderful support given in the team during its run in the F.A. Cup last season will inspire them to make every effort to achieve the desire of all Evertonians."
A LACK OF SHOTS AT EVERTON
August 15, 1953. The Liverpool Daily Post
Small Attendances At Soccer Trials
Blues 0, Whites 2
By Ranger
Despite the opposing teams being composed of the club's younger professionals upon whom Everton are building their hopes for the future the Goodison club's supporters showed surprisingly little enthusiasm for Saturday's final practice game and the attendance was under 2,500. It was not a very exhilarating match. Both sets of players have been associated so much together in private trials and coaching schemes that they know one another's play inside out, and with each side indulging mainly in the same close-passing game, the defence generally were on top. In many instances, however, there was a fair level of competence and a certain amount of promise, and most of the players made good efforts to keep the ball on the ground and to use it intelligently. Nevertheless supporters who went hoping to see some sign that among the youngsters end of the professional staff were a few players ready for senior duty, must have been disappointed. Not a single one stood out in this respect. Among the best in defence were Sutherland, Caldwell, Favager, Heyes, and Hobson the latter one of the seven amateurs among the twenty-seven players on view, five substitutes being introduced after the interval. In the forward lines, Mayers, Farrell, Saunders, Kirby and Meagan were the best. One fault on both sides was the woeful waste of reasonable shooting chances after promising openings had been carved out. Practically all the players were farred with this brush, some of greater degree than others and neither of the three goalkeepers who played had very much to do. The Whites won 2-0 thanks to goals by Mayers and Saunders both of which were the result of defensive errors.
JUNIORS DID NOT SHINE
August 17, 1953. The Liverpool Echo
Everton's Young Hopefuls Failed To Reach Expectations
Ranger's Notes
After going to Goodison Park on Saturday metaphorically rubbing my hands with eager anticipation of the sight of those Everton stars of the future of which we have heard so much I came away chastened and saddened. This was to have been the day of the great unveiling. The potential talent which Everton have been fostering so long and so assiduously and which we have been told repeatedly is both their insurance against future disasters and the ultimate foundation of a long and glorious era in the First Division was on view. It hurts me to say it but the reality was a most disappointing flop. I just cannot believe that their display is the best of which these lads are capable. If it is, then Everton have a long way to go yet, and their supporters will have a long wait before the good old days return. Even these players who shaped promisingly on one or two occasions in the first team last season such as Tansey, Mayers, Farrell, and Easthope and others whom I saw give a fine performance in a Central League mid-week match against wolverhampton Reserves last April failed to shine to anything like the extent we were entitled to anticipate. I went prepared to wallow in the joy of this pre-view of Everton's coming revival, ready to exhaust my stock of adjectives and hand out bouquets. Alas, as the Lancashire soldier said of another occasion, it was "newt to write home about. Out of the 20 professionals and seven amateurs paraded for our judgment there was not a solitary one who looked anywhere near ready, on this showing, to step into the first team. Yet many of them have had considerable experience in the Central League, which is a fine training ground, and last season acquitted themselves well on many occasions. While I want to be fair, even generous to the boys and to the club –and will repeat that I just cannot believe this was the best they can do –I can only write about what I saw, not what I would have liked to see, and the former fell far below expectations. There was a certain amount of promise in several instances, but no more. Certainly nobody stood out as a possible international in embryo or showed skill above the average lads of their age on the boots of a senior club. The approach work was occasionally good, but the finishing all round was poor. The wingers put too many centres out of play, the inside men shot wildly, two of the goalkeepers were far from confident in their handling, and the wing halves, with one exception did not impress.
Some Extenuation
One must make some allowances, however. The rain made the surface little tricky in the second half though not unduly so. There is also the fact that these boys have played so often together in training that they know one another's tricks and each was ready with the answer to his opponents, which produced a sort of statement. It is true, too that in all games the tendency is sometimes for the better players to fail to the level of the worst. The only produce their best in higher company than that to which they are accustomed, and against stronger opposition. Reasonably good marks can also be given for the efforts which many of the players made to keep the ball on the ground and for their attempts –not always successful – to use it intelligently. What was not so pleasing was the slavish adherence of both sides to the short passing game which too often eased the task of the defence and also their shot-shyness when within easy range. Both sets of forwards looked more menacing on the rare occasions they swung the ball about more freely.
These Were Best
Among those who shaped best were Sunderland and Caldwell, Favager until he tired, Meagan, Mayers until he starved in the second half, Heyes, Hobson –an amateur picked up during recent trials – Kirby, Birch and Saunders, though the latter nullified much of his work by over-hasty and erratic marksmanship. Many of the others also earned a certain degree of praise on occasions, but if this is the best we can expect from the junior ranks, then, in the absence of newcomers of class via the transfer market it looks as though the "old brigade" will be carrying the touch. No purpose would be served by harsh criticism but all it was a very disappointing afternoon; so much so that I am reluctant to accept it as a fair sample. For the record, the Whites won 2-0, thanks to goals by Mayers and Saunders both the result of defensive errors. Another disappointment was the size of the crowd. Only 2,300 attended, which showed little interest in the part of the public in one of the clubs major-schemes and main hope of salvation. Could it be cynical disregard on the part of Everton's followers regarding the future? Surely not. Perhaps having listened so often to optimistic promises of what is to happen at some distant date, followers have become soured and sick at heart. They want jam today, not tomorrow. Whatever the reason, there was no sign of riotous enthusiasm even from the few who were present and no evidence of buoyant faith in the imminence of the good things they have been promised.
EVERTON'S TASK
August 18, 1953. The Liverpool Echo
Ranger's Notes
Events of the next eight days will prove whether the fact that Everton even with three away games is a bit of good or bad luck. If they get a substantial points return from these matches it will give the team decided encouragement. The reverse may sap some of their confidence. The Blues open with an engagement tomorrow evening against Notts Forest from whom they took three points last season. Forest at one time looked like promotion candidates but only one point from their last six games left them well down the ladder. The Forest side will be substantially same again this campaign and if Everton can repeat last season's draw at the City ground it will be quite useful performance. Notts Forest; Walker; Sharp, Hutchinson; French, Gager, Burkitt; Moore, Martin, Ardron, Capel, Collindridge.
EVERTON 3-2, THEN –O'NEILL BEATEN BY THE BOUNCE
August 20, 1953. The Liverpool Daily Post
By Stork
Notts Forest 3, Everton 3
It is very gratifying to go to an away ground and come back with a point, for the smallest gift from a foreign ground is highly satisfactory. Everton did this in the first of their three away games. It is however, not so satisfying when one realizes that they had both points in their pocket thirteen minutes from the end, and only a slip by goalkeeper O'Neill enabled Forest to drew level five minutes from the end. This was a game of patches. First it was Notts F, who were in command, then Everton. Had Everton taken full advantage of their early chances they would have had goals in hand before Forest scored. Forest must be given credit for their opening. They produced a spirit and a determination which had Everton pinned to defensive measures for a solid twenty minutes. During this time Capel scored. Everton were some time in settling down to their normal play, and misses by Parker and Hickson were not easily forgotten. At last they hit their form and a header by Parker which goalkeeper Walker touched, leveled matters at the twenty-ninth minute. From then on Everton were the better side. Even so, one must admit that the Forest raids were always full of danger. At 40 minutes Capel scored a second to put Forest ahead. So Forest led 2-1 at the interval.
Sprang To Life
The first period of the second half saw Forest again in command. Suddenly Everton sprang to life and scored twice in three minutes. This put an entirely different complexion on things, and an Everton victory seemed assured when they led 3-2 through goals by Parker (75 minutes) and Eglington (77 minutes). Forest hit back, but the goal which earned them the point should never have been. Collinrdige's header bounced its way towards goal and O'Neill was beaten by the bounce. Tom Jones was as good as any player on the field, and Donovan deputizing for Lindsay, was another who made his mark. Naturally one looked for some spirit and punch in the attack. It was there to a degree, for Walker had to make a number of saves, but the old story was still that Everton missed too many chances. Hickson whose name did not figure amount the scorers, provided the three openings from which the Everton goals came. Notts Forest; Walker, goal; Whare and Hutchinson, backs; French, Gager, and Burkitt, half-backs; More, Martin, Leverton, Capel, Collindridge, forwards. Everton; O'Neill, goal; Clinton and Donovan, backs; Farrell (captain), Jones and Lello, half-backs; Buckle, Fielding, Hickson, Parker, and Eglington, forwards.
SLIP COST A POINT
August 20, 1953. The Liverpool Echo
By Stork
With just over ten minutes to play, Everton appeared to have the points safely tucked away against Notts Forest last night. This would have been an admirable start to the season, but the human element crept in and an error by goalkeeper O'Neill lost them a point; in fact the slip set Forest on a trail which required the greatest determination to quell. A point away from home is looked upon as a job well done, and it is normally but when one thinks back and realizes that two points should have been Everton's portion it make a tremendous difference. No one regretted the error more than O'Neill for the realized that it was a bad mistake. Collindridge's header would not have beaten O'Neill once in a hundred times, but on this occasion he did not make use of his body, trusting to his hands, and they failed him –for the ball slipped through his grasp and dropped into the net.
Fighting Quality
What I liked best about Everton was their fighting quality. There was no giving up the ghost, but a heartening desire to hit back; so that they twice pulled back the Forest and then took the lead. It was no always so. The Forest opened with a whirlwind attack and Everton who had not settled down were on the receiving end for 20 minutes or so during which time Capel had scored. Slowly but surely Everton hit their form and a Parker goal after 29 minutes put them back in the game before Nottingham had scored, however Everton had had at least three chances which should have been taken, and had they been I fear Forest would have witted. Hickson missed a "sitter" and Parker missed one not quite so simple but a reasonable scoring opportunity. John Willie made amends with another goal after Capel had chalked up a second for Forest, in fact Parker's goals were well mamoeurved and well taken. In the second half Everton struck a spell which shattered the Forest defensive plan and scored two goals in the space of three minutes to level matters. They had by this time got the Forest where they wanted them, and an Eglington goal, beautifully though out, looked all over the winner, for Forest by this time were languishing.
Menace of Hickson
They did not give up, but Everton were handling then confidently and all seemed well until Collindridge took a cross from the right wing, and I would stake my life that he was the last man to think that his header which bounced in front of O'Neill, had a chance of reaching the back of the net. The Forest are not an easy side to beat, yet in the finer arts of the game. Everton were their superiors. Although Hickson did not score he laid on the three final passes which produced the goals and was always a menace to the Nottingham defence. Parker, Eglington and Fielding all had a good game and Tom Jones was a great centre half back. Donovan has slipped into the full back division like a duck takes to water. His heading and his clean cut judicious kicking made him the outstanding defender on the field.
EVERTON'S CHANGES
August 21, 1953. The Liverpool Echo
Everton make one change for their visit to Luton Town Leyland being preferred in goal to O'Neill who made a rather costly error in Wednesday's game at Nottingham. It is asking something to set a team off on three away games to start with, yet, Everton faced up to it with a will at the Forest ground and will doubtless do the same tomorrow against Luton. Luton have a strong side this season even stronger than last year, when Everton were beaten at Kenilworthy Road on a snow-covered pitch but if Everton will accept all the chances –they did not do so on Wednesday –they may well come away with something tangible. It will be interesting to see how George Cummins plays against his old comrades. Very often a player who has left one club for another digs up something special for his old team mates, just to show what a good man they allowed to stray. Jesse Pye will not be playing for Luton because of an injured toe, and this takes away a very dangerous opponents. There is still plenty of good material in the Town side, however, as witness Downie's three goals on Wednesday, so it behoves Everton to get down to work immediately, take their chances well, and give none away. Everton; Leyland; Clinton, Donovan; Farrell, Jones, Lello; Buckle, Fielding, Hickson, Parker, Eglington.
EVERTON IN FAST GAME AT LUTON; BUCKLE KNOCKED OUT IN COLLISION
August 22, 1953. The Liverpool Football Echo
Luton Town 1, Everton 1
By Stork
Not a brilliant game by any means but a very valuable point to Everton, the second so far. Too many passes went wrong, and Everton did not reproduce the form they showed at Nottingham. Luton Town; Streten, goal; Dunne and Aherne, backs; Watkins, Morton and Shanks, half-backs; Davies, Downie, McJarrow, Cummins, and Taylor, forwards. Everton; O'Neill, Leyland, goal; Clinton and Donovan, backs; Farrell (captain), Jones and Lello, half-backs; Buckle, Fielding, Hickson, Parker and Eglington, forwards. Referee; Mr. A.W. Luty (Leeds). Manager Dally Duncan, the Luton Town manager, could not have been very satisfied with his team's display against Oldham Athletic for he made seven team changes, two of position for the game with Everton at Kenilworth Road today. Eight Irishmen were playing in the match. The only Everton change was Harry Leyland, who came in for goalkeeper O'Neill. The Everton boys renewed acquaintance with former colleague George Cummins, who was at inside left for Luton, playing his second game for the Town side since he left Goodison. There was a good crowd far from a record, however, and it had some early thrills for in the first minute Leyland had to catch a centre from Davies and this he did with great confidence. Everton's reply was an attack which culminated in Fielding breaking through the Luton defence, and he looked a certain soccer until Streten ran out of goal and literally dived at the feet of the Everton man to make a rather sensational save. It was end to end football and Leyland was again called upon to make a save this time from the left wing. So far matters had been fairly level, although Leyland had been fairly level, although Leyland had more calls made on him than Stretan.
Streten's Hook Shot
So far play had been pretty well balanced out but when Lello squared the ball to Fielding the inside right had a shot not of very great power but correct direction, and Streton had to save. Cummins thus far had not had much opportunity, but at long last he go a chance and he took it by clever beating his man and then shooting narrowly over. The nearest approach t a goal came when McNarrow made a half-hit shot, and Leyland had to throw himself across his goalmouth to punch the ball away and then scramble after it to complete the save before a Town man could get near enough to do any damage. A fast run by Eglington looked like succeeding but he was dispossessed at the vital moment so that the Town goal was not troubled. It was a fast moving game.
Poor Shooting
A link-up between Eglington and Fielding looked full of promise which was not nullified because Fielding's final pass up the side line went over the goal line. Donovan also took upon himself to run up among his forwards, but he also lost the ball over the goal line. Everton were making better openings, but the shooting of both sides thus far had been poor. At the half hour Luton took the lead. Watkins but the ball in close in the Everton goal and it was immediately picked up by McJarrow, Leyland did the only thing possible he divid at the Luton man's feet, but he was a fraction late for McJarrow was able to put the ball into the Everton goal. Streten was now idle for he had to field several efforts from the Everton forwards and Hickson almost produced an equalizer from a through pass from Lello, Downie pleased the home supporters by some of his trickery, while Cummins also delighted by his use of the ball.
Determined Tackle
But for a very determined tackle by Morton on Hickson, the Everton centre forward would most surely have scored, for the incident was well within the Town penalty area. The Everton attack was not quite so spiritely as usual, but the Town defence was very quick into the tackle.
Half-time; Luton Town 1, Everton nil.
Luton started the second half with a flourish but Cummins shot over the bar and later a hook shot did not trouble Leyland to any great extent. Taylor from outside left ran into the centre and made the best shot of the match and consequently brought about the best save of the game, for Leyland had to be extremely accurate to tip Taylor's fierce drive over the bar. Fielding and Downie in turn shot wide. Streten seemed to have a great desire to rush out of goal. He did this once and was lucky to get always without paying a very what penalty. He almost reached the side line when he was beaten by Buckle and the latter's centre came across to Eglington, who tried to ram the ball into the emphy net without success. Then came Everton's equalizing goal, it was started by Hickson and finished off by Buckle. Hickson had very little scope from Morton but his pass to Eglington saw he Irishman simply fly down his wing beat his man and then drop the ball into the Luton goalmouth where Buckle had moved into position. He was practically unmarked and he made no mistake about shooting into the empty net, which had once again been left open by Streten. A centre cum shot by Cummins forced Leyland to make a quick push away and Lello was left to complete the save. The Town however, did not sit down to Buckle's goal. In fact they attacked with even greater determination.
A Collision
Cummins offered Taylor a glorious opportunity to restore the lead but the winger shot over the angle of the Everton posts. There was no doubt that at this point Luton were giving Everton defence some very anxious moments. Buckle and Aherne came into a violent collision and the Luton full back left the field with blood streaming from a wound in his forehead. Buckle, however, lay on the ground, for some time, being attended to by the trainer, Leyland and for a minute at least he seemed to be well out. Eventually he came round but was staggering round the field in a dazed condition, but play was restarted, although obviously, Buckle was still not in full possession of his senses. With the resumption of play Luton struck hard at the Everton goal but the Everton defence remained intact and at last captain Farrell came over to Buckle and advised him to leave the field which he did. The final minute of the game saw Everton attack and Parker gave Hickson a chance but the Everton player nodded back to where he expected a colleague to be but where he was not. Buckle shot over. Final; Luton Town 1, Everton 1.
EVERTON RES V MANCHESTER CITY RES
August 22, 1953. The Liverpool Football Echo
Everton reserves;- Caldwell (r), goal; Moore and Rankin, backs; Fitzsimmons, Forshaw, and Melville, half-backs; McNamara, Saunders (r), Stewart (GS), and Easthope, forwards. Manchester Reserves;- Gourlay, goal; Fletcher, and Little, backs; McTarvish, Rigby, and McCourt, half-backs; Meadews, Spurrdle, Whitfield, Davies, Cunliffe. Referee; Mr. A. Hughes, (Stoke-On-Trent). Everton, for their Central League programme played their Canadian signing Gordon Stewart inside left. Everton had the better of the exchanges. Farrell and Easthope being unlucky with good shots. Stewart a hard worker showed plenty of initiative one of his shots just before the interval being a real beauty. There was no score at half-time. Half-time; Everton Res nil, Man City Res nil.
A USEFUL POINT; THAT'S ALL
August 24, 1953. The Liverpool Daily Post
Luton Town 1, Everton 1
By Stork
Everton did not produce anything like Nottingham form in their game with Luton Town yet, to get a point away from home is always satisfactory. Last season Everton were badly beaten here, so a half share in the second of their opening tour of three away games can be looked upon with satisfaction. As a game it was decidedly moderate. Neither side pulled out anything above the ordinary. There did not seen to be the usual zip about Everton. Far too many passes went astray. This could also be said for Luton, who had five deputies on duty. Luton were the first to strike. They took a goal in 30 minutes when McJarrow beat the driving Leyland and it looked as if that goal going to count. Not until the 65th minute did Buckle manage to produce the equalizer. Only on rare occasions did we see Everton combine as we know they can, and it was more by individual method that they made ground. Hickson could make little of Morton, yet it was he who set the machinery in motion for the equalizer when he slipped the ball out to Eglington, whose speed left a trial of opponents behind. Then he dropped the ball to the feet of Buckle, who shot into the net. Goalkeeper Streten is prone to run out a lot and on one occasion almost reached the corner flag and found himself dispossessed by Buckle.
Jones and Leyland Best
Perhaps the best shot of the game was made by Taylor which brought out an excellent save by Leyland who with Jones, was outstanding. The forwards had little conhesion; there was no link up in the line and for long spells Everton were on the defensive. Luton are missing the services of Pye. Former Manchester United forward Downie and the ex-Everton inside left Cummins did many good things. This was the second time in succession Everton had come from behind to make a draw, but they will have to do much better if they are to challenge for top place. With 10 minutes remaining Aberne and Buckle came into collision and Aherbe had to leave the field immediately with a badly cut forehead. Bucket resumed but after a time he was advised by Farrell to leave the field. He went but was back before the final whistle, and made a shot which passed narrowly wide.
STEWART A SUCCESS
August 24, 1953. The Liverpool Daily Post
Everton Reserves 1, Manchester City Reserves 0
One of the main features in Everton's victory at Goodison Park on Saturday was the successful debut on Gordon Stewart, their recent Canadian signing. He paved the way for the goal which McNamara scored. Gourlay, the City keeper, played a great game and had tom leave the field ten minuts before the end through injury.
• Everton "A" 4, Stork 1
• Everton "B" 4, Dunlop (Speke) 1
NOT EVERTON'S BEST
August 24, 1953. The Liverpool Echo
By Stork
Everton nearing the end of their tour have bagged two points so far as a result of their travels. Tonight they will meet Hull City at Hull and are hopeful that two more will be their portion. Taking things all round the result so far have been fully justified. They were unlucky not to start off with a win at Nottingham but they are still unbeaten though their first week's fixtures looked pretty grim on paper. Against Luton they were not quite so spiritedly, otherwise I think they would have beaten the Town who had five substitutes and two positional changes. Once again the Blues had to battle against a lead and pull it back to be assured of a point. This they did in a manner which shows that they are not easily rattled these days. I am not going to say that this Luton game was a good one. It had its high moments but it had some very low. The first half was reasonably good without reaching a high standard of perfection and had the game finished at the interval I could, honestly have said that Everton were the better team. The second half however fell much below standard. Luton Town were without Pye, and that means a whole lot to the Town these days.
Not Maintained
Everton's Luton form did not resemble that against Forest one lota, I know it will be said that a point away from home is good, no matter what the opposition, but as against that I would say that Luton were there for the plucking if Everton had shown the same enterprise and zip that they produced in their opening game. At times they looked good enough to have outwitted Luton, for their approach work was better, but it was not maintained. They were spasmodle instead of sustained and they had to battle forever an hour before they finally produced the equalizer. One of the main troubles was that their passes went wrong. This could also be said of Luton, Leyland could not be blamed for McJarrow goals, for Downie had put the ball on a plate for his centre forward. Leyland dived at McJarrow's feet and he was just a fraction too late. Morton was only a deputy centre half but he played a big part in subduing Hickson, who, however, had his effectiveness reduced by a knock on the ankle. Yes, it was Hickson who made the initial pass which resulted in the equalizer. He flicked the ball out to Eglington, who sped past the opposition and dropped it into the middle, where Buckle drove it past the advancing goalkeeper. Jones worked like two men and Leyland made many great saves. Cummins the former Everton forward now with Luton, had a reasonably good game and should do even better when he settles down. Buckle was injured in collision with Aherne who had eight stitches in his forehead.
EVERTON END "TOUR" GRANDLY
April 25, 1953. The Liverpool Daily Post
By Stork
Hull City 1, Everton 3
Everton left the best of their "tour" to the last game of the series at Hull last night, and it was a great win they brought off at Boothferry Park. The first half exhibition could not be faulted. In fact they tore gaps in the Hull defence by superlative football played at a fast pace and were two goals up in ten minutes. That was enough t completely upset the City. Everton played well at Nottingham, not so well at Luton but their first forty-five minutes at Hull made up for all. They out manceurved and outplayed Hull as they have never been outplayed before. It was I think Everton's first-ever win over Hull and it was as solid a victory as ever they will obtained. Hull are going through a moderate time. They made changes in the hope of improving their fortunes but while Franklin, who made his first appearance for Hull since last September, did many good things, particularly in a positional sense he was not the dominating Franklin who represented England a few years ago.
Oiled Machine
I doubt, however, if any defence could have coped with Everton during that first half. They moved like a well-oiled machine and cut and carved their way through the Hull defence with an ease which had the home supporters cheering. With two early goals in their pockets they could afford to indulge themselves and they did so without losing their effectiveness, so that it was not surprising when a third goal came at the thirty-first minute. There should have been several others and Hull should have had a couple, but there was no denying Everton's superiority. Parker started Everton's goal run in five minutes and Hickson chalked up a second five minutes later, and it seemed that Everton might run up a score tally of astronomical dimensions, especially when Fielding got the third. Five minutes from the interval Tommy Jones received an ankle injury which caused him t limp throughout the second half, and although he did his best it could not be expected that he would be so dominating as in the first half.
Leyland's Saves
Hull then came more into the game and Leyland had to make several fine saves and the defence to battle strongly to hold on to their lead. Yet Hull's approach work was never in line with that of Everton's and the goal they got at fifty-one minutes came from the penalty spot for a handling case, Jesen scoring. I am afraid Hull are in for heavy weather for even at their best they were not an effective collection. By comparison with Everton they were poor. Everton should be well pleased with having taken four points out of a possible six from three away games. Hickson had had a hand in practically all Everton's goals to date he it was who made the opening for Parker's score, Parker showed his thanks by making the second goal for Hickson, while Fielding's point was obtained after Eglington had made a grand centre and Fielding sent the ball flashing just under the bar. After the match Jones went to a Hull hospital for an X-ray on his ankle. It was feared he had fractured a small bone in his ankle but the examination showed it to be a strained ligament and bad bruising.
STEWART –EASTHOPE STRONG WING
August 25, 1953. The Daily Post
Everton Res 1, Wolves Res 0
Everton gained their second successive victory at Goodison Park last night against a strong Wolves side that included several first team players Easthope was responsible for the solitary goal scored in sixteenth minutes, Stewart, the Canadian again impressed and with Easthope former a good wing. Caldwell figured well in the Everton goal, while Mayers and Farrell, in the closing stages, were unlucky with fine shots well saved by Williams.
EVERTON'S FINE WIN
August 23, 1953. The Liverpool Echo
Ranger's Notes
Everton are cock-a-hoop and they have every reason to be for their victory at Boothferry Park was accomplished by the best football they have produced during their tour, in fact, it was the best football they have played for quite a while and their 3-1 victory was in no way flattering. It could have been greater, but 3-1 was enough to give them four points out of a possible six, which is good going considering that all three games have been away from home. Hull City may not be one of the top-notches of the Division, but even had they been, I doubt very much if they could have withstood the Everton science which was at its best particularly during the first half. There was not a flaw at any point. Every man backed up the other so much so that they simply cut Hull to pieces and made them look second-raters but fourth-raters. Their football was a delight. Even the home crowd, and they are not always kind to their victors, showed appreciation of Everton's science and penetration.
Precise and Accuarte
They had nothing to pit against it so that it was not surprising that Everton held a three goal lead at the interval. It is a long time since I saw the ball moved about with such precision and accuracy and it was done at speed, so that the Hull defence was shattered beyond repair. The goals started in five minutes another came five minutes later and a third at the half hour and all three had the hall-mark of real class. Fielding which was the third, was perhaps the most spectacular of the lot, but the other two were of equal merit, though of a vastly different stamp. The only fly in the ointment, so far as Everton was concerned was the injury to Tom Jones shortly before the interval. He got a rap of the ankle and although he carried on, it was obvious that he was suffering great pain. This, naturally disorganized the Everton plan, and Hull City, for the first time showed up in the game. Even so their approach work was never of the quality of Everton's, in fact it was more the ball up the middle than any methodical thought. They did get a goal from the penalty spot. This I thought was rather a harsh verdict for hands against Jones, I learned afterwards that Gerrie the Hull centre-forward, admitted that he was the one who handled. However Jensen scored from the spot. Goalkeeper Leyland had many fine saves to make, but was as confident and as sure as a Sam Hardy or a Ted Sagar. Furthermore, he took command of the goal area. The goals were scored by Parker after Bly had pushed Hickson's oblique shot across his goal for Parker to touch into the net. Five minutes later Parker returned the compliment by putting through a lovely ball for Hickson to score with a fast low shot. Fielding's goal must have been from 20 to 25 yards out, a fast rising shot which left Bly helpless. It would be unfair to single out any particular Everton player for honours. It was as a team that they plucked the heart out of Hull City by football the like of which Hull has not seen for some time. If Everton can produce this at home they will come in for great praise.
LET US HAVE A REALLY BIG WELCOME FOR EVERTON
August 28, 1953. The Liverpool Echo
Blues Can Consolidate Their Good Start At Oldham's Expense
Ranger's Notes
Everton followers will go along to Goodison Park in large numbers and in great spirits tomorrow, for the Blues' splendid opening to the campaign, despite two of their three away games being against leading sides of last season, has fired the imagination of their supporters. They scent the possibility of promotion already. This time twelve months ago when the Blues had not a solitary point to their credit quite a few hasty souls wrote to me more in sorrow than anger, threatening never to darken the turnstiles of Goodison again. They did, of course, and I'll be those games chaps will be chasing off there tomorrow as though they hadn't another minute to live eager to get the ball possible "spec." There's nothing like football for making folk eat their own words –myself included. At fairly frequent intervals of recent seasons I've pleaded for special vocal efforts at Goodison and Anfield. Remember last season's finale at Anfield, Liverpool supporters also did their stuff wonderfully on Wednesday night, urging the Reds' 10 men on as though their very lives depended on it. Let us see tomorrow what sort of a show Everton's supporters can make. In the more spacious atmosphere of Goodison it takes a bigger effort by the same number of people to produce an equivalent volume of sound so you'll have to go to it with a will. I'll be listening.
Hardwick Has Done Well
Oldham Athletic, who provide the opposition tomorrow, and return to the Second Division, after an absence of 18 years, should not on paper at least, present any very serious obstacle to Everton's desire to continue building up points on the foundation so well and truly laid in the past ten days. Though a cut above the average Third Division side, Oldham are not so outstanding that they are likely to make a big splash in the higher sphere this season. Nevertheless, Everton may find the Lactics a difficult lot to beat for they are a useful and fighting side. Manager George Hardwick, the former England and Middlesbrough captain, has worked wonders since he took over the job of player-manager at Boundary Park. Right from the start he expressed confidence in his ability to get Oldham into the Second Division, and in two full seasons achieved his ambition. Not bad going. His next aim is to take the club yet another step higher, and put it back where it used to be 30 years ago-in the top-class of all. But he says he doesn't expect to do it this season, which is a wise reservation.
Former Evertonian
Promotion from the Northern Section, though not easy, is a far less difficult task than moving up from the Second Division. With all his enthusiasm and faith, the Oldham manger may find he has bitten off just a bit more than he can chew. But so far he has certainly done a good job of work. Everton supporters will not only extend a warm welcome tomorrow to their own team, but also to a former Evertonian in George Burnett, whose excellent form in the Oldham goal was a big factor in their promotion bid. The visiting side may also include Ken Brierly, formerly of Liverpool, who returned to his first love –it was from Oldham that the Anfielders obtained him five years ago –last March and has proved a very steady and reliable wing half. So far this season Oldham have drawn 4-4 with Luton at Luton, no score against Hull City at Boundary Park and last night had to admit defeat by two goals against Notts County at Nottingham in a hard fought game. Oldham were on top most of the time in this game but lacked finishing power in the attack.
HAPPY RETURN FOR EVERTON
August 29, 1953. The Liverpool Daily Post
By Leslie Edwards
Everton's early tour of duty, three away matches to start the season has been happier than many anticipated, and with two home fixtures to follow (the first of them today against Oldham Athletic) there are good chances that the club will lead the Second Division by this time Thursday morning. After so long elsewhere in the table this will be a sight worth waiting for, say Everton followers. But top or not nothing can quench Everton enthusiasm following such a satisfactory start. Too often a slow beginning has left them badly placed comparatively early in the season. For today's game –I expect it to attract one of the biggest attendance in League football –Buckle now recovered from his collision at Luton, returns at outside right to the exclusion of McNamara. Otherwise the side is as before, Jones at centre-half having passed a fitness test. It must be many seasons since Oldham Athletic came to this ground in a League fixture. Time was when they were a great side. today they are newly promoted to Division 2 and seem to carry rather too much age. Yet they have players of great experience and on their day, great performance. Where, in football, is the man of such individual brilliance as Peter McKennan a wanderer who was at his peak, I though in Army football. Although he is a Scot it was a Seargeant-Major in the Royal Welsh Fusiliers that he soildered in Europe and many must be the Germans who recall his robustious play against them. Oldham bring also two exiles from Everton and Liverpool –goalkeeper Burnett who had his moments between the Everton posts, and Ken Brierley, is always acknowledged to be a great ball player but one who failed to maintain his team place at Anfield. For the return of these two players alone the match is especially interesting. Hardwick we know of old as a full back who can be inspiring and in England form, a terribly difficult fellow to beat. Everton; Leyland; Clinton, Donovan; Farrell, Jones, Lello; Buckle, Fielding, Hickson, Parker, Eglington. Oldham; Burnett; Brook, Hardwick; Smith, White, Brierley; Adams, McKennan, Gemmill, Mellvency, Ormond.
PERKY PARKER PERFORMS HAT-TRICK FOR EVERTON IN 1ST HOME GAME
August 29, 1953. The Liverpool Football Echo
Everton 3, Oldham 1
By Ranger
Up till half-time it looked as though Everton were going to smudge their copy book today for they had not produced the brand of football anticipated after the glowing reports of their away displays. It was not until Oldham had taken the lead at the 52nd minute that the Blues buckled down to their task, and after Parker had equalized and Lello had gone on the wing a limping passenger, the Blues pulled the game out of the fire against a tough and resolute Oldham whose tackling was keen as mustard. Everton got three goals in a nine minute period. Everton;- Leyland, goal; Clinton and Rankin, backs; Farrell (captain), Donovan, and Lello, half-backs; Buckle, Fielding, Hickson, Parker, and Eglington, forwards. Oldham Athletic; Burnett, goal; Brook and Hardwick, backs; Smith, Whyte, Brierley, half-backs; Adams, McKennan, Gemmill, Mcllvenny, and Ormond, forwards. Referee; Mr. L. Peate (Rotherham). Although the damp and depressing weather must have knocked a few thousands off the gate at Goodison Park today for Everton's first home match there was still a splendid crowd to welcome the Blues after their excellent performances away from home. Everton had to make a change in the published side as Jones was not after all fit to play. Donovan who has done so well at left back came into the centre half berth with Rankin taking over at left full back. The first quarter of an hour had shown Oldham up in a very good light. They certainly had to suggestion of an ex-Third Division side about them, and nothing was better, so far, than the upward pass by Brierley which might have provided a shot for Ormond, who had drifted into the middle had he been just a trifle quicker.
Good Moves Ruined
Offside against Eglington ruined an Everton move only for the winger to have an unexpected chance when Brook put the free kick right to his feet only 15 yards away. Eglington was so surprised that he could not get the ball under control quickly enough to take advantage and Brook retrieved his error with a quick tackle. Oldham had been something of a revelation in the first twenty minutes. They wasted no time they combined nicely, and though Leyland had nothing to give him undue trouble the visitors so far had looked the move likely scoring side. another header by Donovan broke up an early Oldham assault and the Buckle, Fielding and Hickson took a leaf out of the visitors book with long first time passing which was finished off by Hickson with a shot which Burnett caught high in the air, a couple of yards in front of his goal.
Off The Mark
Whyte came across at the crucial moment to kick into touch off Hickson's toe. Buckle was twice too strong with his centres which passed over the heads of foe and friend alike, and then Adams over at the other corner took a pot shot which was yards off the mark. Parker, Hickson, Buckle, and then Eglington all parted with the ball quickly in a dangerous looking move the finale being an Eglington effort which Burnett dropped on just in time. Everton's best attempt however, was a 25 yarder by Lello, which could not have been more than six inches over the bar, and travelling at terrific speed. Donovan nipped in again with a rather desperate clearance which was the starting point of an Everton attack.
Great Chance Missed
Hickson who had been limping for some time, now had a great chance to put the Blues in front following a centre by Fielding. He muffed his first effort but finding himself rather fortunately in possession of a second chance, hit the ball strong and true, this time for Burnett to make a diving save. Clinton beaten, for speed by Ormond, forieteited a free kick eight yards outside the penalty area when he handled off the winger Hardwick who all along had been using the ball well, put the free kick up to Ormond, but Clinton coming from behind, cleared with a hefty drive. Ormond, hurt in the process, had to go off for a couple of minutes for attention. He resumed limping and could not pull out even the semblance of a sprint when Mcllveny offered the ball to him at the next moment.
Not Impressive
Everton were not as impressive as one had anticipated after their prowest away from home. Twice Eglington pulled his centre right behind his colleagues. Hickson headed one when it seemed easier to direct the ball downwards and, taken all round, the Everton attack had revealed little punch in the penalty area. Buckle did well to keep the ball in play and screw in goalwards to produce a corner when Whyte and Burnett going for it together could do no more than put it behind. That was all Everton got for their pains. Then came to brilliant saves by Burnett just before half-time. The first was when he tipped a 25 yards drive by Fielding over the bar, and next a minute later he did likewise when Hickson looked a scorer all over. This was not the end of it, for the second corner led to another Burnett save, and a fourth Everton effort again from Fielding was blocked and cleared by Hardwick.
Half-time; Everton nil, Oldham Athletic nil.
Everton did not start the second half as they had finished the first, and from some minutes they were penned in their own quarters. Then when they broke away with Buckle as outside left, Eglington, who had drifted into the middle, roused the crowd with a fierce left-foot drive which had only the merest trifle too much loft on it.
Offside Decisions
Fielding did the right thing when he lofted the ball over to Eglington who took it forward a few yards before trying to pin-point a pass on to Hickson's head. Once again he was that vital fraction too strong. At the 2nd minute Oldham went in front through a goal scored by Adams, but which should never have arisen. When Adams collected an upward pass barely half-way in the Everton half he elected to go diagonally towards the middle rather than make for the touch-line. Keeping his company pace by pace but without making a tackle, was Rankin. When he got to the centre circle. Adams let go quickly with a low shot which even then should not have scored, but Leyland was slow in moving to it, and there was the ball resting in the back of the net. This rather stunned the home followers but three minutes later they were in good fettle again. Buckle began a movement which was helped on by Fielding and finished by Parker when at the second attempt he scrambled the ball into net from close range. Parker's first shot had been blocked on the fine by Whyte, it rebounded to give Parker another opportunity, and this time he made no mistake despite Whyte attempt to again retrieve the situation. The home spectators gasped when Donovan sticking out a leg to block a shot by Adams, saw the ball bounce a little bit too close to the upright for comfort, though actually I don't think the danger was quite what it seemed.
Parker Again
Lello, who some little time earlier had gone outside right and was limping, now played a vital part in putting Everton in front. Eglington laid the formation of the goal with a high centre, and when Lello limping in awkwardly timed his header beautifully I think it might even have gone in without help. Parker, however, made assurance doubly sure and, while figuring as he scorer, the major portion of the credit must got to Lello, not forgetting Eglington. This was at the 60th minute. The game had now taken on a more exciting aspect than at any previous period. The tackling was pretty tough in some cases.
Not A Classic
At long last we were seeing something of what Everton must have set up their earlier games, but it was by no means classic play. Indeed was out of question with players being upended in quick succession being tackled with terrific vigour and with no quarter being given or asked. After Rankin had atoned for his earlier partial mistake by heading away off the line and then breasting another ball down when a goal seemed certain Everton went away to become three up. This time the goal arose in rather peculiar fashion, because if Everton had got their wish and a free kick had not been given to Oldham it might not have arisen at all. As it was, the ball was soon back in the Oldham goalmouth from Hardwick's free kick, and Lello, still hopping about on one leg, placed just where Parker wanted to head in beyond Burnett.
Oldham Still Trying
With only 10 minutes to go it now looked as though Everton had nothing to worrying about, but the Oldham were done with was clear when Smith tried a 20-yarder of power and direction.
Final; Everton 3, Oldham Athletic 1
BURY RES V EVERTON RES
August 29, 1953. The Liverpool Football Echo
Bury Res; Goram, goal; Fairclough and Griffiths, backs; Greenhalgh, Hitchen, and Bardsley, half-backs; Fletcher, Robinson, Dale, Williams, and Simms, forwards. Everton Reserves; R. Caldwell, goal; Moore and Lindsay, backs; Grant, Forshaw, and Melville, half-backs; McNamara, Farrell, Saunders, Stewart and Mayers, forwards. Referee; Mr. G. Ollerton, (Preston). Everton Reserves got the early encouragement of a goal when after ten minutes Farrell took advantage of good leading-up play to shoot past Goram. The home side replied strongly and although Dale scored following a free kick the goal was disallowed apparently for a foul on Caldwell. Mayers missed a good chance of putting the visitors further ahead but shot disappointingly wide. Farrell, Everton's outstanding forward had a shot turned over the bar, but after 35 minutes Mayers got his second goal for the visitors. Half-time; Bury Res nil, Everton Res 2.
The visitors quickly added to their lead, Farrell scoring in the 50thy minute after McNamara had shot against an upright. Bury's attack was easily held, although a dash forward by Fletcher brought a dangerous shot which Caldwell turned round the post. Fletcher the Bury centre forward made strong efforts to score, but each time the ball was turned clear by Caldwell.
EVERTON ARE LOOKING UP
August 29, 1953. The Liverpool Football Echo
By Ranger
Well readers, you'll have to take it all back again now, "said one of our correspondents, "Take what back" I countered, cagey like knowing full well all the time what he meant, for he's such a red-hot Evertonian that there have been occasions when he's almost cried himself to sleep these last few years. "You know what I mean right he says. "What you said were likely to get from them – and about the Blues before the season started. "And what did I say that I might be regret?" says, I, still wit fully provocative. "That Everton haven't got any hopes of promotion! Now what have you got to say?" he added challengingly. Well what have I to say? First that say good friend from the "Comps," like so many other folk remembered only part of what I wrote. The extent words were "cannot see any solid basis for promotion hopes, all-less there is a decided all round improvement? That last bit in tallies makes a big difference.
A Long Way To Go
These of you who read my columns regularly will recall that I have already given Everton top marks for their splendid start to the season. Let me repeat the congratulations today. Their have some splendidly so far. If they keep it up I may have to revise the forecast made when they were relegated. That was to the effect that I could not see them getting back under five years. This is the third year. They have a chance to lep two years off my estimate. I hope they do. But there are 42 games in the League programme which means that the Blues have 39 to face. The proof of the pudding being in consumption of the whole lot, not just a nibble at the outside edge, we must wait and see what transpires to subsqentent games, say over the next three months before letting so, hopers away with us. In the last category of hopeful optimists, for after looking at Everton's fixtures for the next few weeks I found myself unconsciously totting up what they were likely to get from them –and making the total sufficient to put them on top of the table with quite a substantial margin over their nearest rivals. Such is the infectious nature of a good beginning. Just look at the list. Home to Oldham today, and to Hull on Wednesday, which looks reasonably productive. Then away to Bury, whom the Blues defeated 5-0 at Gigg lane last season, and Notts County where they drew 2-2 a year ago. Next comes a home game with Doncaster who were slaughtered 7-1 here last September. Those five games seem to hold promise of a good Everton haziest. All right – don't tell me, I know you can't count on things working out like that. We've all tried before to reckon points up that way and found ourselves miles off the mark.
A Pleasant Change
Football isn't Euclid. The most logical looking probabilities have a nasty habit of coming unstuck. But after all these years of nightmares where Everton have been concerned. It is such a pleasant change to indulge in a little wishful thinking which has some reasonably solid backing that I'm not attempting to deny you the indulgence or even myself. But please don't write and tell me next spring that before August was out this column forecast Everton's promotion. I'm not changing my view yet. We have had periods before when the outlook has seemed promising, only to have our hopes dashed. Consistency over a long period is the only thing that will get the Blues back to where they belong. Mention it quietly, but twelve months ago n Liverpool were being hailed in some quarters as championship contenders after their hectic though this column was still pipping down and uttering warning notes about various weaknesses, which unfortunately were proved to be well founded. A good beginning is very helpful, but the rare is to the sure, not the fast starters. Having said that let us get all the pleasure possible out of Everton's successes, all the more gratifying because they had to play three games with an enforced change in the full back division. Stork, who saw all three matches tells me that Donovan filled his vacancy through Lindsay's injury in splendid fashion. Today's game may have given us a further clue to the future. Everton in the past have not always shone when the opposition has been of lesser calibre. Sometimes they all to the level of their opponents.
Stewart Sign's "Pro" Forms
Manager Britton may soon find another player knocking at the door of the senior side if the display of Gordon Stewart in the Central League team on Monday is any criterion. Stewart, who looks almost the double of Peter Farrell on the field though an inch or so shorter, was really amazing in the manner in which he served up a succession of pin-pointed passes. Out of a score or more only a couple were off the mark. He lobbed them, he slid them along the ground, he twice put them between an opponent's legs and practically everyone was an absolute "peach." No wonder Stan Cullis, who had come with the Wolves reserves wanted to know where Everton had found him. The Canadian friend who put the Goodison folk on to Stewart certainly did not lead them astray. Obviously Everton are of the same opinion, for Manager Britton signed Stewart on professional forms last night. His original engagement was for an extended trail as an amateur, but Everton are taking no changes. Stewart tells me he has been extremely pleased with his treatment he has had from the club and the friendliness of the players. Everybody has gone out of their way to make me happy and I feel at home, he said.
Fifty Years Ago
The older generation of readers will be interested to know that it will be fifty years next Tuesday since Ernest Edwards, my predecessor, first began Bee's Notes, in the Echo, (1 September 1903) looking at him, seeming hardly a day over 60, one feels inclined to murmur "impossible" but the dusty files prove otherwise and though Bee's Notes in those early days of pigeons and other handicaps were tucked away very modestly, they nevertheless set the standard for others to follow even at that stage. "Bee" was one of the finest writers of his time –and still is – with a wonderfully facile style which hubbled over with the joy of life. His memory was not just good it was marvelous. He could recall with a wealth of detail incidents which had occurred a score or more years previously. I've been telling him for years that he ought to tackle an autoblegraphy. He just laughs I off. Bee's first report in the Echo was the Everton v Blackburn Rovers game at Goodison on September 1, 1903. While we were talking about this at Anfield last week, Mr. Harold Hardman, now a Manchester United director chipped in. "That was also the first game I ever played for Everton he said, "When Bob Crompton was the full back against me." Then came a splate of reminiscences as one remark, led to another. To give them all would fill this column. "I am sure all his countless thousands of admirers who for years hung on his words with almost bated breath, will join me today in wishing Ernie Edwards long and happy continuance of the present health and spirits.
THIS WAS NOT WHOLLY CONVINCING
August 31, 1953. The Liverpool Daily Post
By Leslie Edwards
Everton 3, Oldham Athletic 1
Why do players injured and sent to unaccustomed places in a team, so often perform valorously and effectively? In this match Cyril Lello, at left half-back, was scarcely noticed until a blow above the knee made him hobble to outside right to get through the remainder of the match, as best he could, on one leg and a swinger. The sequel was as surprising as it was shattering to Oldham Athletic and their hard-won goal lead, because Lello Everton goals (a Parker hat-trick) which came in the space of twelve minutes in the second half. And more than once he used, with effect, the unorthodox centre dug-up, as with mashie-nib lick, to confound and confuse the defenders covering the normally-fighted centre. Maybe Lello's success, the main one in Everton's victory, was due in part to Hardwick's belief that lello was so damaged as to be worth ignoring. If that was so he learned a lesson the hard way, Lello was as much in the game as the fittest. He received, in splendid isolation so many cross-field passes that Oldham's defeat surely begin at his feet and head. Yet in few matches with Hardwick play so well and be on the losing side. Among defenders this burely figure, propped by huge thigns, read the game like the experienced veteran he is and, until Lello sole marches on him, was never discomfited. He used all the arts, too. Careful use of the ball, perfect "killing" of it, whether it came high or low, and such generalship of a side which was last season in Division 3 that the 50,000 present had no hint of Everton victory –on the contrary –until the game was almost three parts over.
Assessing the New Everton
No giving Everton credit for winning after being a goal behind and with ten and half men, it is still not possible to name them as out and out winners on play. They were not better, by a 3-1 ratio than Oldham; indeed all through the first half Oldham seemed the more likely to win by this margin. Winning 3-1 Everton have the figure in the league lock-up. No discussion here can change that. The reservations I make merely to help assess this Everton and their championship chances. For forty-five minutes the game, accordingly to Everton advices I have heard, was drab. Through Everton eyes I can well believe it. Oldham again and again contributed lovely, smooth flowing movement on lush turf saturated by a morning's downpour and it was Oldham who looked like potential Division 1 material. But Gemmill (a professional cricketer in the other season) after starting practically reverting to so many delocate leg-glances (many of which did not quite come off) the attack barked harder than it bit and Everton survived to live a notable second half. But they needed the jolt of a goal by Adams (54 minutes) to give them inspiration. The light-haired little man, always a bit too good for Rankin, now cut laterally, cross field, and instead of the anticipated pass, delivered a quick low shot which skidded under Leyland's body as he went down late. Everton were level four minutes later when a Buckle centre caught the defence in a tangle and first Fielding then Parker shot, Parker's passing through the legs of right back Brook who had blocked Fielding's effort on the line, Fielding replacing Lello, and doing it nothing less than magnificently in every way started the second goal by feinting everyone away from Eglington and laying on the most acceptable pass. Lello calmly nodded the centre across to Parker and again the invitation header by Parker from a centre laterally dug up by Lello, completed Parker's hat-trick and Oldham's collapse, but one does not forget that Rankin breasted away from the line a McKenna header and that Donovan, deputizing ably for the injured Jones at centre-half all but through his own goal in the panic of a desperate clearance. Nor can one forget the impudent (if crassly foolish) way McKenna tried to infiltrate sing-handed, through phalanxes of defenders when passing would have been more profitable.
Lello, Likely to be Fit
Though Lello is likely to be fit to play on Wednesday against Hull City, Everton do not seem to have the general standards required of a promotion team. I hope they prove me wrong, but as I see them they have almost as many weaknesses as they have strengthened. Their main power comes from Fielding, almost invariably of Division 1 standard, from Buckle, whose good sense is seen in attack and in defence from Hickson (surely unselfish enough to justify one return pass in ten?) from the sturdy and hard-working Lello and from Parker's curious and most valuable penchant for always being present for the chance of half-chance. Here are five players who could be the basis of a great season I am not sure the others, hard and enthusiaically as they play, are capable of proving themselves to be of Division 1 class. The lurking fear that other teams may passes wingers like Ormond and Adams both capable of beating their full backs, is not groundless I fancy Farrell, this time was not happy nor was Leyland, beaten by one of the few shots Oldham made. Donovan played well; far better then the big, slow and ungainly Whyte who was plainly the most fallible Oldham unit Brierley for his spirit (which the crowd disliked) and for his accurate passing was splendid and George Burnett keen to show his old club how good he could be made some nice catches and was caught out only rarely. Ormond at outside left, linked with Hardwick made the Oldham left particularly wild and good and the final score the more inexplicable. Which leaves me only at Referee Peake of Rotherham, and his masterly handling of a game which might well have turned difficult in less capable hands.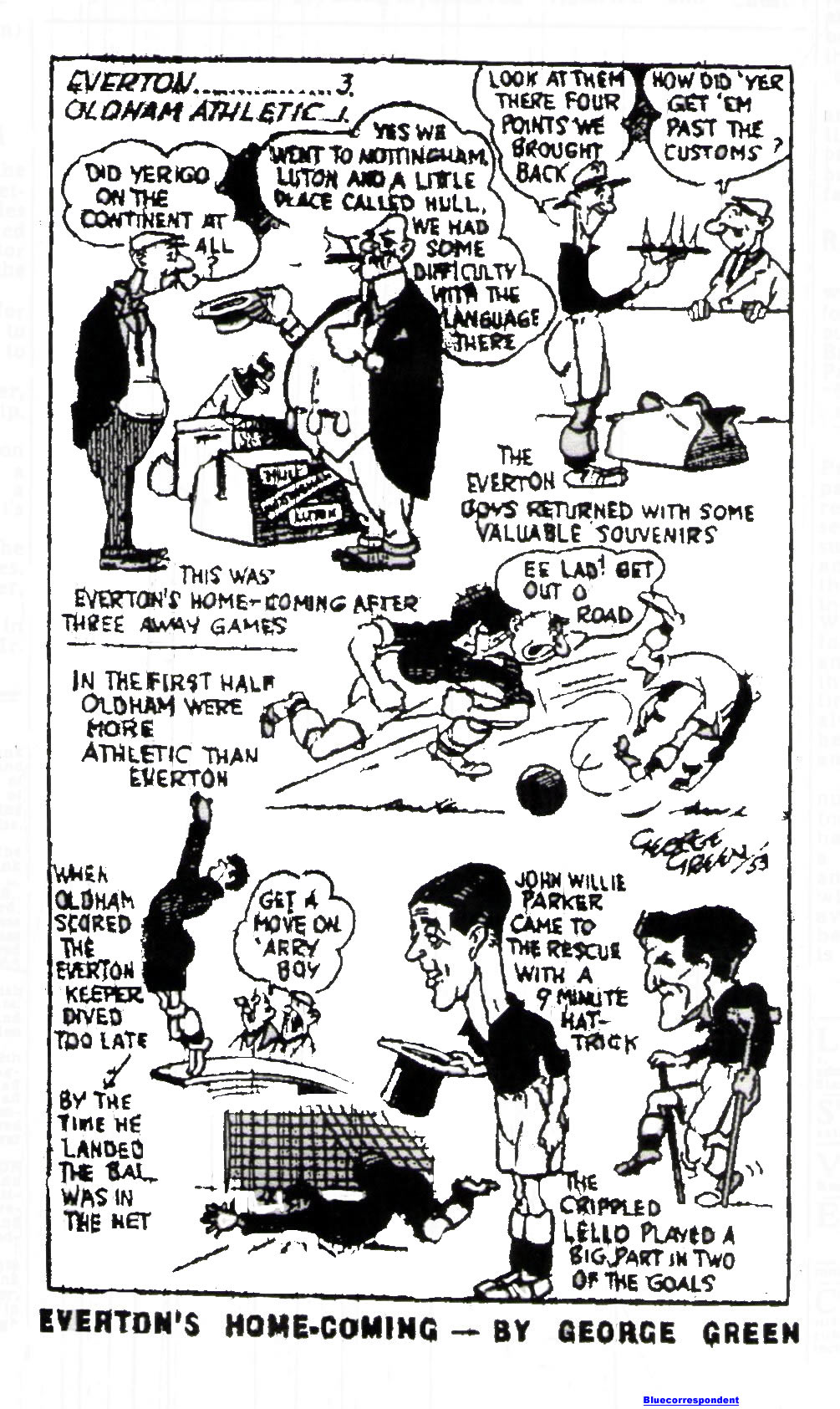 CENTRAL LEAGUE
August 31, 1953. The Liverpool Daily Post
Bury Res 1, Everton Res 3
Everton Res, won deservedly and a 3-1 margin hardly did them justice. They were far ahead of the opposition in an attacking sense with Farrell prominent in quick moves which had the Bury defenders in difficulties. Only flaw was failure to shoot with accuracy near goal. Farrell (2), and Mayers got the Everton goals, and with the last kick of the game, Griffths scored for Bury from a penalty.
IT GETS CRAZIER THAN EVER
August 31, 1953. The Liverpool Football Echo
Everton Hit The Highlights
Ranger's Notes
Crazy is far the mild a word to described the start of this soccer season. It is just plain stark "crackers." Anybody who had forecast beforehand some of the upsets of the past ten days would have had his prophecies labeled as the incohension wandering of a discarded intellect. Amid all this welter of upset, which will surely drive many pools punters demented if it goes on, one sweet and refreshing from Stands out clear. You can rub your eyes but it is no phantasy. There stand Everton second from top a point behind one of the biggest surprise packets of all in Doncaster Rovers. Though long before we get to the end of the year there will be many drastic changes in the League table. Everton can with a fair share of luck and the run of the ball, maintain a place among the promotion candidates. While they did not exactly cover themselves with glory in the first half against Oldham, except for that last thrilling five minutes when Burnett made a succession of splendid saves they got all their medals back in the second portion when a hat-trick to Parker in nine minutes put Oldham out for the count. The Blue however, must not leave things so late if they are to maintain their high position. Not all side will fritter away easy chances like Oldham did in the first hour. More punch from the visitors in front of goal might have put them in a sound position before Everton really got cracking.
Good Fighting Spirit
Once upon a time and not so long ago, Everton frequently used to slink around with their tails between their legs as soon as they were a goal down. On Saturday it took a goal to Oldham had an injury to Lello to jerk them out of their lethargy and make them pull up their socks. But when once they did there was no need for the spectators to exhort them to greater effort. They just waded in with a fighting spirit that matches. Oldham's stern and resolute tactics, and if the first goal was a rather lucky affair inasmuch as Parker got a second chance after missing with his first from close range, at least the move which led to this equalizer was smart and precise in its construction. What aspect of fortune there was about this goal was balanced by the one to Adam three minutes previously. The Oldham winger should never have been allowed by Rankin to get his shot in, but having managed that, it should have been saved by Leyland who seemed taken by surprise and had hardly moved when it was in the net.
Thanks To Lello
Two more to Parker made the hat-trick and brought his tally for the season to half a dozen. He had to thank Lello for his last two goals. The injured left-half hobbling about the wing on a "gammy" leg, did well to get both balls over, and earned praise for his courageous display. Remembering not only Lello handicap but also that Everton had to switch Donovan to centre half owing to Jones being unfit at the last minute that young Rankin with his limited experience was at left back, and that Hickson had to have half an hour's massage before the game was not completely fit, this was a good performance, for Oldham particularly on their first half showing are quite a useful lot. I thought Fielding, Parker and Donovan were the outstanding Everton players, with Farrell next, Hickson trying hard without much success, and Eglington and Buckle often dangerous though not always consistent. Burnett registering his old haunts, made many splendid saves and had not much chance with any of the goals. Hardwick is still a stylish player, and Smith the former Huddersfield Town wing half, did some excellent things and tried to show his forwards how to shoot. Hardwick must now be regretting that he allowed the injured Lello so much freedom. Gemmell was kept in subjection most of the time by Donovan, but with a little more steadiness with their shooting Adams and Ormond might have done better. Oldham inclined to hold the ball too close of many occasions. Fielding gave them an object lesson in how –a well flung pass could create a promising opening.
Prospect Of The Injured
It is likely that Lello will be fit in time for Everton's home game on Wednesday evening against Hull City, thought this depends on his progress in the next 48 hours. Jones will be all right. At a push he could have played on Saturday, but Everton wisely, took no risks, and the way in which Donovan filled the breach proved them right. Lindsay also came through his trial run with the reserves without any trouble so that the Blues are in a happy position. A gratifying feature of Saturday's home game was the size of the crowd. The attendance of 49,523 was much higher than most First Division games, and it was good to hear the folk giving the Blues such who hearted encouragement. Keep it up.
Everton Colts
Football followers n the West Derby area who cannot get along to Goodison Park on Wednesday could do much worse than go instead to Everton's training ground at Bellefield, Sandforth Road, (off Eaton Road) where the Goodison club's Colt have a game with the Youth team from Germany which is touring this country. The kick-off is at 6.30.