REFEREE AND EVERTON NEVER LOST THEIR GRIP
February 1, 1954. The Liverpool Daily Post
Everton 3, Swansea Town 0
(Attendance 61,610, Receipts £8,700)to the mystery of the Third Man (Zither accompaniment) must be added the mystery of the Twenty third Man (dither accompaniment) I refer to Mr. F.L. Overton of Derby, whose excellent control of the fourth round cup-tie was such a feature. At the interval, when Everton led 2-0 and Swansea might well have called it a day and gone home dismayed and dispirited, Fielding dutifully threw the ball to the referee for safe keeping. Mr. Overton picked up one-handed with a span and strength of finger one expects only in such goalkeeping marvels as Sagar or Swift. It typified in a moment, the Overton grip on a game that could not because conditions were dangerous be allowed to get the least out of hand. And where, pray, were those immense hands yesterday morning? On the stops and keys of a Derby church organ. For to his accomplishments as a referee Mr. Overton adds others of music. I can span ten notes, but I don't often try he told me yesterday? Because you are apt to foul the eleventh. Those who appreciated how beautifully he handled this tie will also appreciate that to "foul" a hope in church, too, would be a heinous crime.
Day's Highest
More than 61,000 spectators – the day's biggest attendance – crowded themselves into the Everton ground for a match the issue of which was only in doubt until Everton scored at the twentieth minute. There were few incidents to cause the crowd to away, but when they did some of the boys who had found vantage points at the front found themselves exploded over the concrete barriers like corks from champagne bottles. In less Arctic weather there might well have been 80,000 present. Easily the warmest looking things at Goodison Park was one of these new vivid orange coloured balls that will surely take the place of the new white (and partly plastic) affairs which become so drab-looking and come down players aver, corkscrew fashion. There are signs that the F.A. will veto the white ball in favour of the leather orange-coloured one and players spectators and referees alike will confirm the benefits of one compared with the other. For Everton the ball in use was a Brelisha beacon which lighted the way to further Cup fame. True, this one did more jinking than winking but that was because the removal of snow overnight had exposed the pitch to keen frost and the ground had hardened, though both penalty areas offered firm foothold. What the Swansea goalkeeper, King lacked was a sure hand-hold. The game swung Everton's way by two goalkeepering blunders each excusable each dreadfully devastating to Swansea's cause.
Half-Chance Expert
For 20 minutes no one could tell how the game would go. Then Fielding from fair range, slammed in a useful solid shot, out of King's reach and requiring a leap to the left save. One moment, it seemed King had the ball safely, the next it had spun from his fingers on to the inside of the post. It came away well clear of the line and King was stretching out to take it to his hands again as Parker, that avid happer of half-chances, came on to the scene and tapped if over the line. Goal number two was equally out of the blue. Hickson on the right wing, tried to beat little Thomas by the simple expedient of tapping the ball past him and racing him to it. But Thomas was alive to the ruse. He put in a couple of quick ones, too, and reached the ball first. A sharp and well-directed reverse pass to King and that was that…he thought, we thought. Again Parker's well-developed bump of possibility went into action. A quick clinch between his feet and the goalkeeper's hands and the ball was in the net again. This came at 32 minutes. Hickson's clever heading of the third goal in the 90th minute was scarcely needed, Everton were the better side by a greater margin than three goals. From the time Swansea became two down they were hardly in the match. They lacked inspiration and seemed to accept defeat as almost inevitable. The only time O'Neill was really in danger could be numbered on two numbered fingers –one when he misjudged a long Allchurch free kick and the ball beat the far post by inches and two, when the same Swansea player screwed in a good shot from a difficult angle on the left.
Anti-Climax
After the full-bloodedness of Liverpool's game against Tottenham this was anti-climax. Yet Everton could not have played better in the difficult conditions. On a treacherously –hard pitch and with the ball bounding and skidding unpredictably they contrived to play football which left Swansea looking far below class. On such a ground triangular movement was always dangerous –twice in the early moments Swansea nearly gave away goals for this reason –but the beaten side persisted in it and even when Beech and others were continually out-headed never thought to move young Charles from right-back to a more useful and offensive position. Allchurch persisted in trying to work the ball as he might have in normal conditions. The effect was fatal. Everton ranged themselves strategically for the few passes he was able to make on other occasions a splendid Everton half-back line with Lello outstanding clamped down on Allchurch and made him merely another Swansea forward. Lello kept his feet and sometimes moved the ball intricately with a sureness not matched by any other perhaps Fielding. This scrimp of a man sleeves characteristically over his hands and wrists kept his head down on the ball like a Ben Hogan and disguised his intent and his passes so that no Swansea intelligence could anticipate them. Fielding shot well, too. Had the ubiquitous Parker shot half as well he must have had a well-deserved hat-trick. No use the few critics of Parker saying their piece. The inside forward who can score 20 goals in little more than half a season is fit for any attack. Full marks too to Eric Moore for his studied work at full back.
Stirring Battles
Because his natural game is to be rampaging Hickson did not warm us as he usually does. Little Thomas and he had some stirring battles and the bigger man did not always come off best. To spectators mystified by one of Referee Overton's free kicks against Everton. I would counsel "it was not what was accomplished so much as what was attempted which mattered. Like Everton, Mr. Overton had a highly satisfactory day. He could not have done better. Six minutes from the end Hole, the Swansea half-back, left the field nursing a cut head after collision with Hickson. That further handicap did not force Swansea into an all-out, all-up effort which would have had everything to gain and nothing to lose. No, they fizzled out tamely and unimaginatively, leaving Everton clear winners in every respect. For Manager Cliff Britton, this was the end of one of his busiest if most successfully weeks. Top of Div 2, still in the cup and the cup-ties biggest attendance….all that and the not inconsiderable fame of being one of the few £2,500 a year men, last week to be snow shifting with the rest of them. More power to his shovel.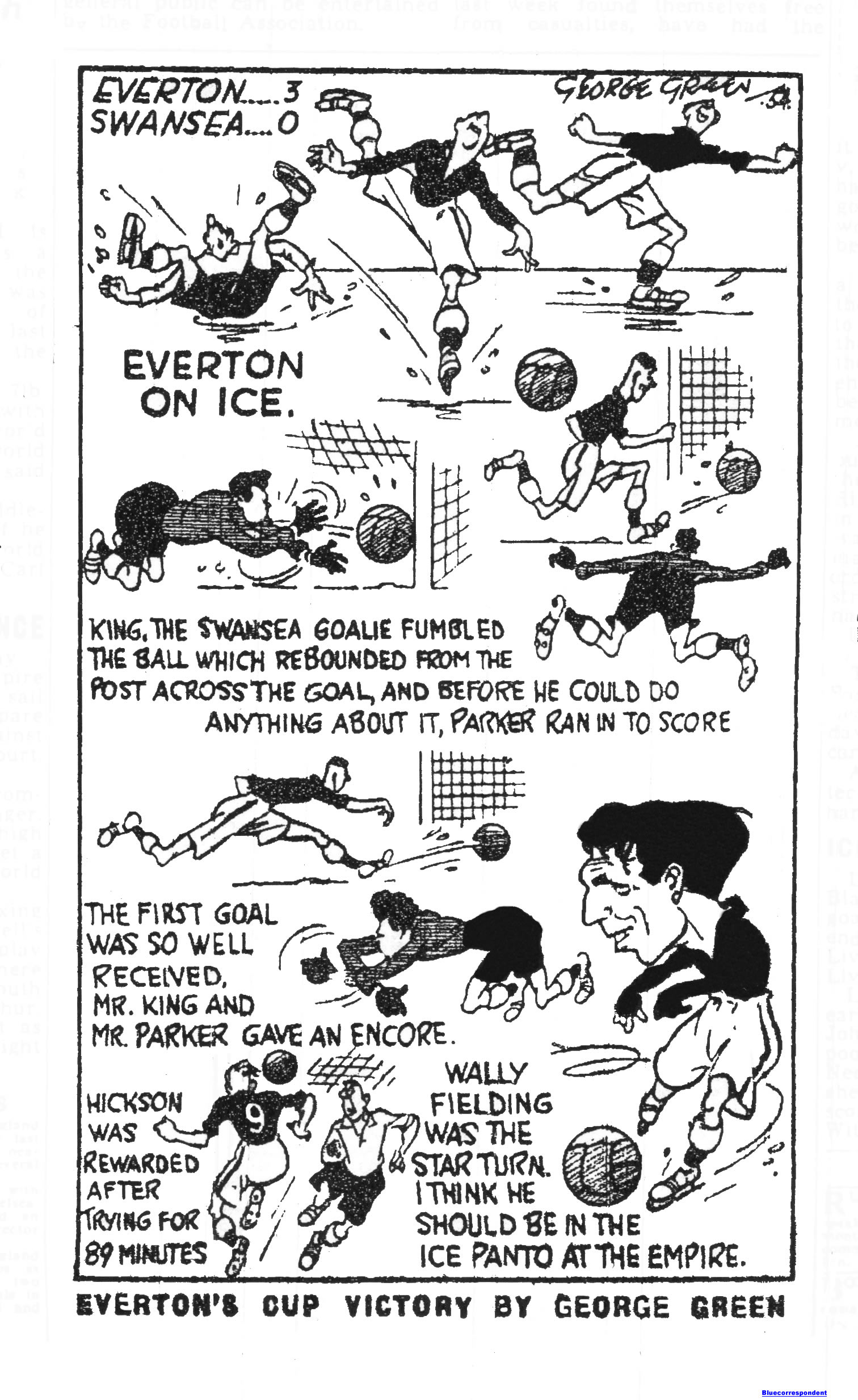 GOODISON WAS NOT A GOALKEEPER'S PARADISE THIS TIME
February 1, 1954. The Liverpool Echo
Good Anticipation
Ranger's Notes
Top marks to Parker for being right on the spot to tap the ball over the line after goalkeeper King had fumbled his attempted saves from Fielding and Thomas's back-pass. It was a good bit of anticipation in each case. One felt sorry for King, a crest-fallen picture of misery after each goal. Three months ago he gave a grand display here. On Saturday Goodison was not its usual goalkeeper's paradise, and even the almost unemployed O'Neill, who has been in such splendid form recently, made an error of judgment with an Allchurch free-kick which passed over his outstretched hands. He must have sighed with relief when it curled outside. It is simple to sit in the stand and criticize but not so easy to dive on a pitch like concrete and gather a bumping, ball safely with numbed hands and nerveless fingers, so King had some excuse. He can also console himself with the fact that even had Parker not got those two grit goals Everton would still have won –and probably without Hickson's last minute header, which was the best of the three. It may appear queer to say that seeing those were Everton's only goals, and without them it would seem logically to be a goalless draw. I base that apparently controversial statement on the fact of Everton's overwhelmingly superiority in all departments, and in the belief that if Parker had not put them in so commanding a position they would have fought harder and taken at least one other goal before Hickson scored.
They Cruised Along
As it was the issue practically certain they were content to cruise along to a comfortable win and did not hammer the Swans defence so much in the second half as I think they could have done had there been urgent necessity. What would have happened had Swansea reduced the arrears during that brief second-half period when they showed occasional glimpse of promise is something nobody can say. It might have put some fire and ardour into the visitors. On the other hand, it might have caused Everton to buckle to again and substitute their academic and exhibitionist display with a bit of real cup-tie stuff. Considering the tricky conditions, Everton's football reached a very high standard. Fielding's generalship was an outstanding features Eglington's long crossfield passes frequently caught the Swansea defence on the wrong foot, and Wainwright was always in the game as a vital contributor to success. While paying tribute to Fielding, let me also correct an error which robbed him of much of the credit in my Saturday report, for the opening goal. I telephoned that "Fielding switched the ball to Wainwright and was there to make a first-time shot" when Wainwright returned it after which followed King's fumble and Parker's finishing touch. Unfortunately, Parker's name was inserted in such a way as to give him the credit due to Fielding. This puts it right. Hickson played as though his life depended on getting a goal-tearing in like a whirlwind, Parker got his two with a quarter the effort.
Nothing Much To Beat
The wing halves could not be said never to have put a foot wrong for nobody could avoid doing that occasionally under such conditions. Both played extremely well in a steady and unobtrusive fashion, however, while none did better than Moore making one of his infrequent senior appearances. Everton could do no more than win, and that they did most convincingly. Yet it must be acknowledged that they had nothing much to beat. Swansea had no punch in attack, so that O'Neill had one of his easiest afternoons for a long time. Allchurch showed his undoubted skill under conditions far removed from the ideal for a player of his type. He was Swansea's best player, Beech only had one shot worth mentioning all day and never got the better of Jones except on two occasions when the Everton pivot lost his foothold on the ice-bound turf. King made some good saves to partially wipe out the memory of his costly slips though none of them were spectacular and while Swansea's backs and halves floundered somewhat when Everton were trying their hardest on the whole they did not shape too badly. One final remark Praise is due to Ted Story, Everton's head groundsman, for his excellent work, under the direction of Manager Cliff Britton in organizing the big job of clearing the ground of its heavy snow covering in order that the game could take place. It was no easy task, but he and his staff did it well.
EVERTON'S NEXT OPPONENTS
February 1, 1954. The Liverpool Echo
By Rangers
After two home games Everton's luck deserted them when the draw for the fifth round of the F.A. Cup was made in London to-day. Everton were drawn to meet the winners of the Sheffield Wednesday v. Chesterfield replay, and in addition to travelling they may also have to meet First Division opposition for the first time this season. While Chesterfield did well to draw at Hillsbrough on Saturday, I fancy that Sheffield will get through Wednesday's replay though if the pitch is icebound the Northern Section club might spring another surprise. Everton's last meeting with Sheffield Wednesday was in the final match of the 1950-51 season when they needed a point to preserve their senior status. The Yorkshire club won 6-0 but accompanied Everton into the Second Division. Chelsea just pipping them on goal average. Cup-tie between Everton and the Wednesday have been frequent. They have met on eight previous occasions, starting in 1893, when Everton won at home. They lost to the Yorkshire club in 1895 and 1896 both games being at Sheffield, but restored the balance in their cup-winning year of 1906, when they won 4-5 in the old fourth round at Goodison Park.
Final Defeat
The following season it was Wednesday's turn, when they defeated Everton 2-1 in the final at Crystal Palace, Jack Sharp scoring Everton's goal. The next tussle between them was in 1921. This time a draw at Goodison proceeded an Everton victory by the only goal in the replay. Everton won the next time they met, in a fourth round pairing at Goodison Park, in 1937, but the see-saw continued 10 years later, when the Wednesday ended the Blues' hopes at Hillsbrough. Honours are thus even at the moment. Four of Everton present team took part in the 1947 cup-tie – Farrell, Eglington, Fielding, and Wainwright –but Redfern Froggatt is the only Wednesday man still commanding a fairly regular place. Sheffield Wednesday have a young team, which includes three England internationals in Sewell, Froggatt and Quixall and an Eire "cap" in Gannon. Two teenage players in the side are goalkeepers Brain Rynalls, a part-timer who has made a meteoric rise to stardom after his debut last September and centre half Barry Butler.
One Previous Meeting
Should it turn out that Everton have to go to Chesterfield, it will be their second cup meeting with the Derbyshire side. The previous occasion was in the second round in 1906 when Chesterfield were a rather struggling Second Division side. Everton won 3-0 at home. Chesterfield lost their Second Division status in the same season that Everton fell from the senior circle. Since then they have not cut much ice in the Northern Section and today are only half way in the table.
Mr. Cliff Britton who rarely commits himself to prophesy would say no more than that if the Everton players maintain the form they showed on Saturday they should have a good chance.
DONOVAN RETURNS
February 4, 1954. The Liverpool Echo
Everton will be at full strength for the visit of Blackburn Rovers. Donovan having today passed a fitness test. This means that Moore who deputized so well last week, returns to the reserve side again. Everton; O'Neill; Donovan, Lindsay; Farrell, Jones, Lello; Wainwright, Fielding, Hickson, Parker, Eglington
Everton Reserves;- (v. Blackpool); Leyland; Moore, Rankin; Grant, Woods, Melville; Mayers, Potts, Saunders, Lewis, Stewart.
Manager Cliff Britton was at Chesterfield yesterday to weigh up Everton's Fifth round Cup opponents. As anticipated Sheffield Wednesday got through which means that Everton will meet senior opposition in the Fifth round for the first time. This will not dismay them after their performances a year ago against Manchester United and Aston Villa and the fright they gave Bolton Wanderers in the semi-final after being four down at Maine road.
EVERTON MEET STRONG PROMOTION RIVALS IN BLACKBURN ROVERS
February 5, 1954. The Liverpool Echo
Ranger's Notes
So long as they are in the running for promotion, which one trusts will be the case rights to the end of the season every league game for Everton is now a very vital one. In the absence of a sudden thaw, of which the weather forecast gives to indication, pitches tomorrow will be frozen and treacherous, and players will again have difficulty keeping a foothold and mastering the lively ball. Everton's fixture with Blackburn Rovers at Goodison Park has a double significance, as victory to the Blues would reduce by two points the threat to their supremacy which has been steadily growing in the Ewood Park area. When Everton and Blackburn were First Division members the Blues usually won at Goodison and the Rovers at Ewood Park. In the last 18 peace-time games before Everton's descent into the lower sphere Blackburn took only two points, the result of two drawn games out of the 36 at stake at Goodison. Over the same period Everton won only once at Blackburn and drew on two occasions. Since they have been meeting in the Second Division however Everton have suffered four defeats in the past two seasons, scoring one goal to Blackburn's nine, and got their first point from the Rovers with a goalless draw at Ewood last autumn. On each of their two previous visits here Blackburn have looked what they seem again just now – a likely championship side. They appear to reserve their best for Goodison for their victory two years ago after a fine display was sandwiched between nine defeats in eleven games. Last winter they came in the middle of a run of success, but were unable to keep it up to the sweet end of a promotion-winning bid.
A Steady Climb
This time they come with brighter prospects than at any previous period since falling to the Second Division in 1948. From fifteenth position at the beginning of December the Rovers have steadily climbed to third place. They are now only a point behind Everton, though they have played one game more. But for three successive defeats around the end of November, each by the odd goal they would today be sitting on top. Blackburn have won seven of their last eight League matches, scoring 28 goals to five. Their only defeat was a surprise home failure against Derby County. Yesterday they were knocked out of the cup by Hull City. In the first season of the first managerial appointment, Johnny Carey has wilded Blackburn into Blackburn into a strong force, nicely balanced fore and aft. Defensively the East Lancashire club seems to have overcome its former weaknesses. Five of the first six names on their team sheet have rarely been altered all season, and only Campbell and Bell have shared the left half berth. The first named is the formerly Liverpool player. Centre-half Kelly took some time to settle down in English football on his arrival from Airdrie but nowadays so Blackburn folk tell me, he is as good as any pivot in the country. We shall see how he shapes against the bulldozing tactics of Hickson, which may not be to his liking. Blackburn will not know their side definitely until later, but one certain absence will be leading marksman Tommy Briggs, whose mother's funeral is tomorrow. It is expected that Quigley will take his place with leaver coming in at inside left. Word is also awaited whether Clayton has been granted Army leave. Everton may not find it as easy to settle to a polished display against the Rovers as it was against Swansea. Unless their recent league results flatter them considerably Blackburn promise considerably more fighting spirit than last-week's Goodison visitors. Victory would strengthened Everton's promotion hopes and encourage their followers but it will only come from good football and strong finishing. Everton; O'Neill; Donovan, Lindsay; Farrell, Jones, Lello; Wainwright, Fielding, Hickson, Parker, Eglington. Blackburn (probable) – Elvy; Stuart, Eckersley; Clayton ®, Kelly, Campbell; Glover, Smith, Quigley, Leaver, Langton.
GOODISON PLAYABLE
February 6, 1954. The Liverpool Echo
Figuratively Cliff Britton, the Everton Manager spent all yesterday with one heel dug into the Goodison Park turf and one ear on the weather report. Late last night he said he considered that the game against Blackburn Rovers was sure to be played. Though the penalty area will be harder than it was a week ago he still thinks the referee's decision this morning will be play on. Further confidence comes from weather reports which say that the current of warm air which quite understandably turned back a day or two ago rather than face the could we have endured. Is this time determined to come to our aid. Everton have a specially good chance of consolidating their place at the top of the Second Division, but one could have wished that conditions would be less freakish . Donovan comes back at full back in the Everton team and Blackburn, whose replayed Cup-tie –and defeat –at Hull on Thursday was no sort of preparation for an important promotion game have named the following as probable's; Elvy; Stuart, Eckersley; Clayton (R); Kelly, Campbell, Glover, Smith, Quigley, Leaver and Langton.
ALL SQUARE WAS FAIR VERDICT AFTER GRAND GAME AT GOODISON
February 6, 1954. The Liverpool Football Echo
Everton 1, Blackburn Rovers 1
If territorial supremacy decided results instead of goals Everton would have had two points. Instead, they had to be satisfied with one, and on this showing Blackburn are worthy promotion contenders. This was Everton's twelfth draw of the season and the fifth out of the last seven League games. Lindsay missed a penalty for Everton seven minutes from the finish. This was Everton's first penalty of the season. Had it been converted it would have brought them a valuable extra point. Everton; O'Neill, goal; Donovan and Lindsay, backs; Farrell (captain), Jones and Lello, half-backs; Wainwright, Fielding, Hickson, Parker and Eglington, forwards. Blackburn Rovers;- Elvy, goal; Suart and Eckersley, backs; Clayton (R.), Kelly and Bell, half-backs; Glover, Smith, Quigley, Campbell and Langton, forwards. Referee; Mr. W. Ratcliffe (Leeds). Everton were soon away attacking the Gwladys Street end, thanks to a Fielding lob over the head of Clayton setting Eglington off down the wing. His pass to Parker caught the latter not only badly angled but uncertain about his foothold with the consequence that he sliced the ball behind. Everton had been the more stylish side, particularly in attack during the first 15 minutes and another corner saw the Blackburn goal under heavy pressure for a couple of minutes. When at last the siege was raised, the Rovers altogether against the run of play might have taken a goal.
Narrow Escapes
A long clearance by Suart saw Smith away on his own with Everton defenders caught on the turn, vainly trying to overtake him. Smith shot straight at O'Neill from 10 yards range, and Everton supporters breathed freely again. Everton continued to dictate the run of play and for some time Blackburn had only been out of their own half for very brief spells. Fielding tried two excellent shots which found Elvy well positioned to make his save, and then came a much narrower escape for the Rovers. Jones near the half way line but the ball out to Parker, who took it forward after breasting it down, and then pulled it back for Eglington to run on to it. The winger shot powerfully but just off the target, the ball almost scraping the far post with Eckersley having to step lively to prevent it going into the net off his body. Wainwright and Hickson were pairing off in some attractive moves with Hickson showing a foundness for hugging the touch line as Wainwright came inside. Yet another Fielding shot this time from fully 35 yards found Elvey making a rather awkward looking catch at chest height. Fielding was doing the right thing, which was to shoot from angle or distance whenever he got the chance. On this slippery ground mistakes can easily happen as we saw last week with the first two goals scored against Swansea.
A Surprised Blow
Blackburn were at last beginning to come into the game more strongly than at any previous period, though so far they had not given O'Neill anything difficult to handle. Their best effort was one which soared just over the bar. At the 25th minute, however, the Rovers broke away following a hot attack by Everton and took the lead through Quigley. The improvement began when Fielding for once too elaborate was robbed and the ball booted up to the left wing, Langton shot strongly from a narrow angle and though O'Neill saved well the ball rebound to Quigley who rarely misses chances like these from 10 yards range. Quigley's shot appeared to strike a defender before entering the net. This goal was all against the run of play, but that is how things go at times. The only problem was whether this goal would prove such a tonic to Blackburn that they might take a bigger share in the game than hitherto.
Hickson's Reply
The query seemed to be answered soon enough by the determined manner in which Everton fought back to get on level terms. Once more they kept the Rovers penned in their own half, and though some dogged defence by Kelly, Stuart and Eckerley prevented the Blues from getting to real grips with Elvy; it seemed that a goal must come if once Everton could get this defence a little statery. At the 35th minute, Everton got on terms through Hickson. A centre from Wainwright had eluded both Fielding and Parker and run on to Eglington, when Eglington returned it to the middle Wainwright also missed his kick; fortunately Hickson had positioned himself for such a possibility and was there to fire the ball home. Before allowing the point the referee consulted a linesman, presumably regarding possible offside. He was confirmed in his original verdict. Miskicks were now more frequent as the game hotted up and the players were trying to go at a greater speed than the conditions allowed.
Sliced Clearance
From a slice clearance Quigley delivered a shot which looked a goal all over until Farrell headed away while standing a yard in from of the line. Campbell made two good attempts and Langton was only held up by Farrell's persistence. For some minutes it was Blackburn turn who had been the more dominant side, and at one stage following a corner even Eckersley was half-way in Everton's territory intent on having a goal. That he did not get his wish was due to Farrell intercepting his shot. Blackburn, however, came again with tremendous verve and the first half ended on a thrilling note when first Jones headed away a shot by Smith which was bound for the net, and then Lello who had done valiant work during this period of Blackburn supremacy, twice saved Everton on the goalline by "shinning" away shots, the first of which, from Quigley, was saved right on the line. This was a fitting wind-up to a first half which had produced some excellent football once the players had become reasonably accustomed to the slippery conditions. Everton's earlier supremacy had been wrested from them by a side which had showed that fighting spirit was not the monopoly of the Goodison players.
Half-time; Everton 1, Blackburn Rovers 1.
For the first five minutes of the second half it was Blackburn who showed Everton how the ball could be kept on the ground and moved with surprised accuracy, considering the conditions. Eckersley wore a pained expression when Hickson was a little rebust in an effort to get the better of the international opponent, and then Kelly made a neat interception to foil another Everton onslaught.
A Charmed Life
Rarely had I said this than the Rovers goal bore a charmed life following a free kick by Lello. First Wainwright found Elvy saving most fortunately from his close-in shot, and then Hickson fastening on the rebound also struck a defender. It was still anybody's game with Blackburn temporarily overshadowed but always likely to be in the picture again. Langton dilled and dallied until Farrell put the ball out, and following the throw-in we saw Eckersley well in the Everton half, put the ball into the middle with nobody there to take advantage. Kelly countered an Eglington spurt by sliding off his haunches for some yards to carry the ball behind. From the corner Hickson headed over. Hickson's speed looked likely to take him through to a position where he would have had only Elvy to beat, Clayton however just got there first to hamper Hickson as he took his shot. Everton were on top at this stage against a Blackburn side which appeared to have gone into its shell somewhat in an attacking sense though it was clear they could not be underrated when Quigley got out of the grip of Jones to fire in a first-timer which was only a yard or so outside the upright. Elvy saved an Eglington's pile-driver at the expense of a corner and from this taken by Fielding. Kelly almost put the ball into his own goal. His attempted clearance almost shaved the upright. With a quarter of an hour to go it was hectic cut and thrust with Everton still top dogs in all but score, yet Blackburn hanging on grimly and by no means panicky.
Ball To Hand
Fervent Evertonians appeared for a penalty when an Eglington shot struck Stuart on the hand, but this was obviously a case of ball to hand, and the referee rightly waved aside the appeal. Less than a minute later Everton did get a penalty, however, when Kelly punched out a header by Hickson that was bound for the net. Lindsay, who took the spot kick, put the ball to Elvy's right only for the Blackburn goalkeeper to dive on the concrete-like surface and turn it round the post, where Suart completed the clearance. When a linesman flagged and the referee consulted him, Everton supporters had visions of the penalty being retaken. It did not so turn out, however for referee Ratcliffe restarted play over near the far touchline. Final; Everton 1, Blackburn Rovers 1. Official attendance 56,434.
BLACKPOOL RES V EVERTON RES
February 6, 1954. The Liverpool Football Echo
Blackpool Res;- Wyllie, goal; Gratrix and Wright (J), backs; McKnight, Hayward, and Robinson (C), half-backs Hobson, Lythgoe, Hepton, Durie, and Withers, forwards. Everton Res;- Dunlop, goal; Moore and Rankin, backs; Grant, Woods and Melville, half-backs; Mayers, Potts, Saunders, Lewis, and Stewart, forwards. Referee; Mr. L.A. Bowler, (Blackley). Everton were outplayed for a time, but their defence was always too tall and strong for Blackpool's lightweight forwards. Dunlop made a sensational save with a full length dive to Withers's shot. A minute later in the 16th of the half, Everton went in front, Mayers scoring with a slow bouncing shot which hit a rut on the frozen turf and rolled wide of Wylle. The Everton defence faced a lot of pressure and twice Durie was close to a goal. Corner after corner was concerned by Everton, but all were cleared by a defence in which Woods was outstanding. Half-time; Blackpool Res nil, Everton Res 1. There were three goals between the 10th and 15th minutes, Lewis increased Everton's lead with a flying dive at Stewart's low centre. Three minutes later Gratrix scored for Blackpool with a free kick from 60 yards the ball bouncing over Dunlop's head into the net. In another two minutes Lewis made it 3-1 as the ball cannoned off a Blackpool player to him in an offside position and left him with an open goal. Withers scored for Blackpool. Final; Blackpool Res 2, Everton Res 3.
GOOD GAME BLEMISHED
February 8, 1954. The Liverpool Daily Post
Everton 1, Blackburn Rovers 1
By Leslie Edwards
Everton's frustration at missing the penalty kick which would have almost certainly meant their winning was not only noticeable but led to yet one more undignified schemozzle of the kind we used to see only rarely at Goodison Park. About five minutes from the end when Parker edged the bal forward a little too far and the Blackburn goalkeeper, Elvy was able to dive on it at his feet Everton keenness to follow up led to Elvy finishing at the bottle of the heap with a half-a-dozen players of either side on the scene at the same moment. It seemed that a Blackburn fist came previously near the face of Parker as he lay on the ground. An ugly (and quite unnecessary) incident was ended mainly by the good offices of Captain Peter Farrell and the referee who had difficulty in separating warring factions. This was the stage at which indiscretion reached boiling point there were other moments when indiscretion simmered and yet others when players indulged themselves in hacking and worse and referee Ratcliffe of Leek, in Staffordshire, seemed to have a control too close for 56,000 people's comfort and players' safety. A pity these blemishes should spoil a game which was so good in all other respects. The ground must have been just as hard as the one of the previous week, but a light covering of snow providentially braked the speed of the ball and it was much more manageable. A draw as a good result though Everton from being one down, had every chance of winning.
Vital Consulations
The game was contentious in more ways than one. Referee Ratcliffe to make two vital consultations with a linesman – first when Blackburn claimed Hicksons equalizing goal should not count and again when one of the linesmen raised his flag immediately after Lindsay's penalty miss. In both cases the subordinate official was over ruled. Blackburn claimed Eglington had been signaled offside when he took up a ball which had flashed across the face of goal and returned to Hickson who scored with a shot. Blackburn may have seen the raised flag and may have stopped playing. If they did it was a costly lesson. The whistle had not gone and to anticipate an offside decision, however confident they may have been was foolish. Quigley, now brought in as a centre forward had earlier given Blackburn the lead with a nicely taken goal brought about largely by Langton. That player had closed in at an angle to goal before venturing on a big shot which O'Neill could only turn out to where Quigley stood ready to receive (and return) it. When Kelly a small but dogged centre half went up like a bird to stop with his hands a header from Hickson, the necessity for goalkeepers to wear distinctive uniform was clear. In the ruck of players on the goal line only the hands at the end of two red sleeves gave away this offence. The ball was carefully settled on the spot and John Lindsay who directs passes with as much accuracy as any other back in the game hit a good true shot to Elvy's right. But Elvy's six foot two span is made for such moments. He edged the ball beyond the post and little Glover of the twined toes, picked it up and sent it to safety, upfield. It was then Everton's turn to persuade the referee to consult a linesman who had seen something. But all he had seen, I submit was the ball allowed to pass over the line for a corner before Glover could control it and get it away. Again the referee took no action. In freakish conditions the game was keen, fluctuating and entertaining, but it was one in which personalities emerged with clearness. Eglington could neither keep his feet take a corner nor find his customary general form. The ground and Stuart were jointly responsible. Yet Tom Jones played brilliantly and brought the ball through in a masterful and constructive way we see too rarely from him. That Quigley, a great artist with the ball in solo runs and beautifully judged passes, should also be outstanding when opposed by Jones was due to the fact that Quigley spent most of his time in midfield lurking, leaving Smith to act offensively. Lello, usually so consistent was afflicted by the trouble which afflicted Eglington. The ball would not behave for either. And no one seemed to be able to judge an along the touchline pass in front of the main stand, where the camber of the pitch and the icy conditions caused passes to tend to go out of play. The implish nature of a ball which just would not cross the goal-line was suffered by both teams. Blackburn immediately before the interval put up a barrage of shots which Everton somehow contrived to keen out and Everton suffered similarly later when Blackburn defenders three time kicked away with Elvy beaten.
Eckersley's Class
Campbell and Donovan took part in personal duels that were sometimes too rousing. Later, little Langton became involved and so did Bell and Hickson. All this before the final upheaval in which Elvy found himself quite innocently at the bottom of the trouble. Quite the best display of full back play we have seen this season came from Eckersley in opposition to the lively townes Eddie Wainwright. Eckersley did not always succeeded in stopping Wainwright, but his positioning and his ability to find time, however desperately the situation to do just what he wanted, making him as a player of the greatest class –and one with great courage. On this display Blackburn's effort to find Division 1 again is likely to be considerable. The Carey genius is already making itself evident.
BLACKPOOL RES 2 EVERTON RES 3
February 8, 1954. The Liverpool Daily Post
Central League
Everton's forwards gave an object lesson on to take half chances at Blackpool. They raided about once to every half dozen attacks by Blackpool, yet scored three goals. In the second half Lewis headed a brilliant goal and shot another as the Blackpool defence waited for the offside whistle. And in the first half outside right Mayers was there when the ball ran loose to give Everton an early lead. At full back Gratrix scored a freak goal with a 60 yards free kick. On time Withers made it 3-2, but it was seldom that the Everton defence lost position under pressure. A centre half Woods cleared everything in the air and nearly everything on the frozen turf.
THAT PENALTY MISS
February 8, 1954. The Liverpool Echo
Ranger's Notes
I am not going to be unduly critical over Saturday's penalty miss by Lindsay seven minutes from the end. Lindsay tried to put the ball out of Elvy's reach. He might have succeeded had he hit it with greater force so that the goalkeeper could not have got down in time. But to do so he might have endangered accuracy. As it was Elvy's dive produced a good save and though a linesman flagged and the referee consulted him the penalty was not retaken as the home spectators had optimistically hoped when they saw the linesman's signal. When I asked Referee Ratcliffe afterwards why the linesman raised his flag he declined to say, I don't blame him. After all he was in charge, and he could see as much as the linesman. Presumably the latter considered Elvy had moved before the spot-kick was taken. If he did, it was such a split second business that it would have taken a Solemon to say which came first. Or it could have been he thought the ball had just crossed the dead ball line for a corner before it was finally cleared. To the keen Evertonians who complained of Kelly's action in fisting out Hickson's header, which would almost certainly have been a goal otherwise the answer was obvious. Would the complainant have been equally as indignant had it been an Everton player who had saved in similar fashion at the other end. Circumstances alter cases.
Good Exhibition
Considering the ice-bound nature of the pitch this game produced quite a good exhibition. It also showed that Blackburn Rovers, if they keep that form up are likely to be concerned with promotion issues at the end of April, especially if they can put a bit more punch into the right wing. Kelly may not be as stylish a centre half as Jones but he is a useful man to have around while the Rovers backs compared well with Everton's pair. Neither was there much to chose between the wing halves all four of whom were reliable in defence and constructive in attack. How Blackburn would have shaped in attack had Briggs been available nobody can say, Quigley was so seldom out of the grasp of Jones had he had few scoring chances, yet he always looked a potential danger and led the line well I thought the Rovers at their best in a five or six minutes spell early in the second half, when they kept the ball on the ground all the time ad moved it with wonderful accuracy considering the tricky nature of the surface. They had been unlucky not to get another goal in the last couple of minutes of the first half, when the ball was three times cleared off the Everton line by Jones and Lello with O'Neill beaten.
Hard Pressed
But Everton were value for a winning goal in the last fifteen minutes or so when for the first time the visiting defenders were so hard pressed that they were glad to kick anywhere. During this period the ball was thrice scrambled away from the visiting goalline which balanced Everton's earlier escapes. It was a pity the game ended with first raised and the referee pouring oil on troubled waters as a dozen players took part in an unseemly squabble after Elvy had courageously dived at the feet of Parker in the last minute. With so many "having a do" obviously more than one was to blame, but it seemed to me that Hickson whose tremendous eagerness so often outruns his discretion, was the one to put the match to the power when he appeared to throw himself down on top of Elvy. What he hoped to gain I don't know but it rubbed a couple of Blackburn men up the wrong way, and before you could say Jack Robinson a free fight looked imminent. Happily commonsense prevailed and tempers cooled off but such scenes are regrettable no matter what the provocation or which side is to blame. We can well do without them. There were one or two other incidents which added nothing to the game as a spectacle but these were comparatively insignificant alongside that final fracas.
BLUES AT FULL STRENGTH
February 11, 1954. The Liverpool Echo
Everton "As You Were"
Ranger's Notes
Everton will field an unchanged side for their game against Derby County at the Baseball Ground on Saturday. This will be the seventh occasion in the last eight League and Cup games that the same eleven has done e duty which is a very happy state of affairs. Earlier in the week there was a little doubt whether Tommy Eglington would be able to play. He was taken out of training on Tuesday afternoon owing to a swollen gland in the neck but under medical treatment this has cleared up and he reported fit this morning. The team therefore reads as usual, namely; Everton; O'Neill; Donovan, Lindsay; Farrell, Jones, Lello; Wainwright, Fielding, Hickson, Parker, Eglington.
Everton Reserves;- (home to Barnsley); Leyland; Moore, Rankin; Grant, Woods, Melville; Buckle, Potts, Saunders, Lewis, Stewart.
Derby County Doubt
Although Derby County will not select their side until tonight's board meeting, they also are happily regarding freedom from injuries. Apart from outside left Law, who has a septic arm and is doubtful the rest of their recognised first team players are all fit. This, however, does not indicate that there may be only one change. The County's attack has been anything but impressive in recent games and the board's main aim is to endeavour to put more punch into the department. In the last nine games in which four different players have been tried, no goal has come from the centre forward position.
VITAL FOR BLUES
February 12, 1954. The Liverpool Echo
Ranger's Notes
Everton's encounter with Derby at the Baseball Ground is just as vital a game as Liverpool's. The position in the top half of the Second Division table is tighter than it has been for years at this stage with only two points separating seven clubs though Everton still have a game in hand over the rest. The Blues have dropped occasional points this season in rather disappointing fashion, for some of their games might have been won if their territorial supremacy had been forced home. It is no good crying over spilled milk, however. What has happened cannot be altered. But the moral can be taken to heart. Just as Liverpool have not won since December 5, so Everton have not lost since the same Saturday having since drawn five games and won two. If they can break their sequence of four successive draws with a victory at Derby their promotion prospects would be further enhanced. Judging from their record over the past few months. Derby County are not as good a side now as they were when they lost by the odd goal of five at Goodison towards the end of September.
Derby's Big Problem
In that game a strong rally in the closing minutes nearly brought the Rams a point. McLaren who has since moved to Nottingham Forest obtained their second goal a few minutes from the end. Derby up to then unbeaten at home have since lost three times on their own ground. Their last victory was on New Year's Day against Blackburn Rovers at Ewood Park. Since then they have collected only two points from four outings. Up to last week Derby had called on 25 players compared with Everton's 21. Of these, five have been tried at left half and five at centre forward. South African Neilson, who led the attack at Goodison Park, is now back at centre half. The departure of McLaren, who was leading scorer with eleven goals in thirteen outings has been followed by the return of former Wolves inside forward Jimmy Dunn. It is their attack which has caused the Rams most worry. They have failed to score in six of their last nine matches. A performance similar to that against Blackburn Rovers last week but with more power and accuracy in finishing should ensure Everton at least one point. Derby County make three changes, two positional, compared with the side which lost 0-3 at Hull last week. Jack lee returns to lead the forward line after a short spell with the reserves. Parry moves from the middle to inside left and Powell from the latter position to outside left in place of the injured Law. Everton; O'Neill; Donovan, Lindsay; Farrell, Jones, Lello; Wainwright, Fielding, Hickson, Parker, Eglington. Derby County; Middleton; Mozley, Barrowcliffe; Mays, Neilson, Musson; Harrsion, Dunn, Lee (J), Parry, Powell.
EVERTON AT DERBY
February 13, 1954. The Liverpool Daily Post
By Leslie Edwards
At Derby, Everton can confirm their form against Derby in an excellent game at Goodison Park earlier in the season. With the cup-tie at Sheffield only a week off Everton are going very strong in two directions. Their unchanged side meet opponents who make changes. Jack Lee a one-time England centre-forward has been promoted from the Reserves to lead the attack. To make-room for him Jack Parry moves to inside left, Powell the side's inside left at Hull a week ago, is switched to the wing to replace Cecil Law who has a poisoned arm. Derby County; Middleton; Mozley, Barrowcliffe, Mays, Nielson, Musson, Harrison, Dunn, Lee, Parry and Powell. Everton; O'Neill; Donovan, Lindsay; Farrell, Jones, Lello; Wainwright, Fielding, Hickson, Parker, Eglington.
WAINWRIGHT HAT-TRICK IN EVERTON'S 6-2 WIN WHICH REALLY PENNED THE RAMS
February 13, 1954. The Liverpool Football Echo
Derby County 2, Everton 6
By Stork
Derby County will be wondering for a long time what hit them today. They had been so much on too that it seemed their one goal might do the trick but within minutes Everton had taken a 3-1 lead. Derby County; Middleton, goal; Mozley and Barrowcliffe, backs; Mays, Nielson, and Musson, half-backs; Harrison, Dunn, Lee, Parry, and Powell, forwards. Everton; O'Neill, goal; Donovan and Lindsay, backs; Farrell, Jones and Lello, half-backs; Wainwright, Fielding, Hickson, Parker, and Eglington, forwards. Referee; Mr. A.E. Ellis (Halifax). There were no team changes and Everton gained a corner in the first 30 seconds. Fielding took this and he put the ball so nicely into the middle that Parker was able to make a glancing header which Middleton caught under his bar. Everton showed nice football when they moved with clockwork precision the movement ending when Eglington centred right across goal for Barrowcliffe to head clear. A big clearance by Nielson set County on a fruitless attack. They came again, only to suffer a similar fate. Mozley stood out in Derby's defence with his good intervention. Everton won a free kick taken by Fielding whose dropping shot was caught under the angle of the posts by Middleton.
Strong Sunlight
The Everton defence went facing rather strong sun and it was difficult to see the ball when it was in the air. When Lee got the better off Jones there was obviously danger, but this was not fulfilled by the County. Fielding tried to put Hickson through but the Everton leader was off side and when Eglington sprinted down his left wing Mozley was there to step in. So far it had been interesting football without many goal thrills, although O'Neill had to go down for one in front of his upright. Lindsay had been in brilliant form in fact all the Everton defenders had stood their ground well. The game was held up while attention was given t Fielding who was knocked out when he headed the ball. Fielding resumed holding his head. The County were exploiting the long pass and one of them went out to Harrison who promptly made a centre-cum-shot which O'Neill put safely away over his bar by a one-handed save. The resultant corner saw Dunn allow the ball to pass him by so it could go on to Lee but the County centre forward had not expected such a happening. This led to a sustained attack on the part of the County and the Everton defence was severely tested. A couple of hard drives by the Derby forwards were cannoned out one of them by Dunn the former Wolves forward and son of the famous Everton international. There was no denying at this point that the County's open football was paving them well. They had been impatient near the Everton penalty area for quite a while and it was no surprise when they took the lead at the 24th minute through a combined effort by Lee and Powell. The County centre forward pulled the ball back nicely for his winger and Powell drove fiercely for goal. O'Neill seemed to be in the right place to receive the ball until Dunn got his head to it and flicked it into the Everton net. The County had got a success it only because of sustained pressure. That they maintained it was due in the main to their open football. Hickson could make little of Nielson who may not have been artistic, but was certainly a stumbling block. Everton broke away from defence and Middlton twice had to save strong drives by Eglington. Nielson and Hickson got at loggerheads and both finished on the "floor" with play yards away. The referee had followed the play and had not seen the incident, but took the word of his linesman and called the players together and afterwards they shook hands. Hickson and Eglington engineered an opening for Fielding and Wainwright, but Fielding was slow and was robbed before he could get in his shot. Everton were now going better, after their spell of defence, but apart from drives from Eglington, Middleton had an easy passenger, so had O'Neill for neither forwards had been punishing when it came to the matter of a shot. Barrowcliffe took a big risk when he decided to pass back to Middleton, who could not have realized Hickson as in such close proximity but the County goalkeeper was able to make his catch and clear. The crowd booed Hickson whenever he got possession. If this was justified they should also have booed Nielson. Lee and Powell joined together to make trouble for O'Neill but he was equal to Powell's shot and the next few minutes saw Everton striving for an equalizer. They failed because of Derby's staunch defensive measures.
Half-time; Derby County 1, Everton nil.
Everton resumed with Fielding at outside right and Wainwright as his partner. For fully ten minutes they were strictly on the defensive for the County by their straight forward methods were always more or less in contact with the Everton full backs. Jones and his colleagues however had put up a strong barrier and suddenly the game changed entirely, for within the space of six minutes Everton had taken a 3-1 lead. It may have been against the run of play but it is just how it goes. It was an astute square pass by Wainwright to Eglington which set in the rot for Eglington's centre was brilliantly headed home by Hickson at the 55th minute. Four minutes later Mozley was involved in a penalty –incident with Eglington. Lindsay calmly put the ball wide of Middleton's right hand side at 59 minutes. This was a great goal for Everton because it had given them the lead for the first time in the game. It took just one more minute for Everton to find the net a third time. Wainwright getting his head to a centre to steer the ball clear of the goalkeeper. This was a real turn round for County had been so persisting that an Everton goal did not look on yet here they were leading 3-1. Everton's rallying power is not uncommon these days, although they generally leaves it until later in the game.
Shot By Lee
Middleton had to save from Eglington. Derby were getting over the shock by Lee was turned out by O'Neill, Lindsay completing the save. After Middleton had saved from a Wainwright who had been well backed up by Hickson and Fielding the County came back and O'Neill had to pull one from under his bar by Lee. Much of the fire had gone out of the Derby side although O'Neill had to save a header from Lee, Everton were once again caught in the offside trap when Fielding put Eglington through. O'Neill made another catch from a long dropping centre and Hickson seemed to e punched in the back but he did not get anything for it. Everton goal scoring had not finished for ay the 78th minute Wainwright beat Middleton with a close in effort after Eglington had supplied the centre. Derby were still striving but gave me the impression that they acknowledge the task was beyond them. Powell enlivened his side's ideas when he centred close in to goal and Dunn running in, drove the ball home from a few yards out. Wainwright just previous had attention for a leg injury. A Powell centre beat a gathering of players in the Everton goalmouth including O'Neill who had gone out but failed to make contact. Fortunately the ball went to an Everton man standing right out on the other side of goal. With three minutes remaining for play, Everton staged a quick raid on the left wing and in a flash the ball was in the net. I thought it was Wainwright who put it there, others thought Barrowcliffe had put through his own goal. This was at 87 minutes. There was no doubt about the scorer of Everton's 6th goal for Parker was out on his own, when he shot beyond Middleton at 88 minutes. Final; Derby County 2, Everton 6. Official Attendance, 17,657.
• George Mahon Cup-1st round; Everton "A" 4 Haydock C&B 1
EVERTON RES V BARNSLEY RES
February 13, 1954. The Liverpool Football Echo
Everton Res- Leyland, goal; Moore and Rankin, backs; Grant, Woods, Melville, half-backs; Buckle, Potts, Saunders, Lewis, and Stewart, forwards. Barnsley Res;- Walls, goal; Betts and Hudson, backs; Charman, Sharp, and Dougall, half-backs; Smillie, Normanton, Kefly, R. Wood and Barrtlett, forwards. Referee; Mr. I. Sleddon (Preston). Everton who are joint leaders with Wolves were the better side but failed in their approach work. Barnsley when they got away were always dangerous, Leyland saving timely efforts from Hudson and Normanton. The Blues should have taken the lead when Saunders from two yards range shot wide with only the keeper to beat. Half-time; Everton Res nil, Barnsley Res nil.
Newton v. Everton "C"
The Everton goal had two narrow escapes before Myers gave Newton the lead in four minutes. Both defences were severely tested but held out though the Woodwork prevented Everton equalizing. Half-time; Newton 1 Everton "C" nil.
SUPERBY RALLY BY EVERTON
February 15, 1954. The Liverpool Daily Post
Derby County 2, Everton 6
By Stork
What had come over Everton this season? They are possessed of a rallying power which was at one time non-existent. They started their recovery early at the Baseball ground, and Derby County simply crumpled up before them. While Everton can do this sort of thing they are in the promotion race to the bitter end. At half time I should not have given two penny worth of cold gin for their chances, though County had only one goal to their credit for they had failed to "click" County had been so persistent in their aggression that it required the full measures of defence by Everton to keen the score down to that goal. For fifty-four minutes Derby had a tight hold of the game. When would the superiority be broke, if at all? County had checked many Everton attacks by exploitation of the offside trap and Everton fell into it all too easily. First that had to be broken down. It was when Hickson's equalizing goal came along that County lost their "fire" and their ability to trap the Everton forwards. Where Derby had swung their way to what appeared a successful conclusion they became fitful and fretful, most uncertain and were hit by three goals in five minutes. Such swift retaliation by Everton was the last thing anyone expected, least of all Derby. Everton went from strength to strength and the dour defence of Derby was helpless against them. And Everton's goal lust did not die down and in the end County collapsed and conceded three further goals to one in replay.
County Collapse
County all mighty hard during their hour of glory and that solitary goal looked like doing the trick until Everton beat the offside trap and staged their blitz. It was accomplished with Fielding at outside right-he had ricked his neck when heading the ball in the first half –and Wainwright went into his old position at inside right where he used to score a crop of goals. He got a "hat-trick" and Parker rounded off the scoring with County vainly struggling to stop the rot. It took Everton some time to get mastery, but once they got it, they stayed there with a vengeance. In such a tremendous finish it would be unfair to pick out single players but I must pay tribute to the defence of Jones. Lindsay Donovan and O'Neill for the way they put the brake on County during these fifty-four minutes when their open play was so threatening. Hickson's headed goal was the starting point of Everton's success and this was quickly followed by a Lindsay penalty (taken the same way as the one he had saved last week). Congratulations Everton you did a magnificent job to come from behind and win handsomely. It was team work to a man. Score card –Dunn (24 minutes) , Hickson (55 minutes), Lindsay (penalty 59), Wainwright (6), Wainwright (76), Dunn (81), Wainwright (87), Parker (88).
LEWIS GOAL ENOUGH
February 15, 1954. The Liverpool Daily Post
Everton Res 1, Barnsley Res 0.
Everton Reserves the present Central League runners-up just managed to collect full points through a solitary goal scored by Lewis in the fifty-fifth minute in this game at Goodison Park on Saturday. Barnsley produced their best form late in the second half, and it was only Leyland's brilliance in goal that prevented them from scoring. Everton had plenty of chances, Saunders and Buckle in particularly, missing gilt-edged opportunities.
WONDER RALLY
February 15, 1954. The Liverpool Echo
By Stork
If Everton can show the spirit which enabled them to come from behind and then administer such a sound thrashing on Derby County they can do anything –and the football double is not beyond them. The County were no easy "meat" in fact they looked the probable winners for an hour, throughout which they had practically tacked the whole time. Everton were not clicking the County's offside tactics seemed to worry them and that was the first thing they had to overcome, for their football had been of better quality but not nearly so penetrative. It was a comparison of styles with Derby exploiting the long pass and the quick follow up with Everton sticking to their known style of play, which was not getting them far because the Derby defence was dour and unflinching. At half-time one would not have given much for the Blues chances unless they could get more together. Defensively they had been all that could be desired but to win matches should have to be dug up from somewhere and who was going to dig them up I could not see anyone when suddenly an Eglington centre was headed into the net by Hickson for the equalizer. Everton never looked back. The attack which had been altered a little owing to Fielding ticking his neck suddenly burst into life and within the space of five minutes three goals has been safely landed in the County net, one via the penalty spot. Everton having got their teeth into the game were moving the ball about with greater speed and precision than hitherto and the Derby goal was riddled and raddled until finally half a dozen goals had been rattled into the net with one reply from Dunn, the son of the former Everton international. Fielding was not quite himself owing to his injury yet, he played his part in his complete subjugation of Derby. Hickson got only one goal, but how he harassed the County defence by his battles with Neilson who stands on no ceremony, Wainwright's colleagues were just as delighted at his "hat-trick" performance as he was, but this was not an occasion for individual praise. It was team work which did it. I must however, sing the praises of the Everton defence when Derby County were throwing all they had (and it was plenty) at them, but never once did they shirk the issue. Jones top marks. Donovan and Lindsay were grand and so was O'Neill, with Lello and Farrell backed up strongly in fact, Eglington was back there lending a hand, which shows the weight of the Derby attack. Don't let anyone tell you that the County cannot be dangerous, for it would not be true.
Offside "Rumbled"
I won't say that their football was as good as Everton's but the swinging way they made progress looked as though it would pay a good dividend. It would have done against a less competent defence. When their offside tactics had been "rumbled" and beaten their effectiveness left them and they had nothing to offer to offset Everton's spirited rally in which one and all joined to bring off one of the best victories of the season. Everton had left themselves only half an hour to pluck the brand from the fire but it was ample as it turned out, but I must admit I was a wee bit worried by the way things were going for Derby, who had been on top for an hour, holding on to their one goal lead as though it was going to be sufficient to bring them success. How wrong O was to worry, but how wrong Derby County were in thinking they had the points in the bag.
Talk about history repeating itself, how is this for coincidence? In their whole football league history Everton have only three times scored six goals in an away game – and they have all been at Derby. They won there 6-1 on November 5, 1892 and 6-2 on December 13, 1896, both First Division games. Everton's record away win is 7-0 against Charlton on February 7, 1931 in the second division.
WEDNESAY PREPARE FOR EVERTON
February 16, 1954. The Liverpool Daily Post
By John Peel
Sixteen Football League clubs, eight from the First Division, four from the Second Division, three from the Southern Section, of the Third Division and one from the Northern Section. Forget League hopes and worries this week on concentrate on their fifth round F.A. Cup ties next Saturday. Naturally Merseyside interest will be centred on Everton's game with Sheffield Wednesday at Hillsbrough and after the Goodison Park side's recent 6-2 victory over Derby County at Derby, hopes of a replay at least run high among supporters of the Goodison club. Fortunately all the players are fit and the eleven to do duty at Hillsborough are almost sure to be the same who were successful at Derby. Sheffield Wednesday will do "stay at home" training Manager Eric Taylor said yesterday that the only team selection problem was at right back owing of Kenny starting his seven days' suspension yesterday –a sequel to his being sent off the field in the Cup replay with Sheffield United. His deputy is likely to be either Conwell (who has just recovered from a blood clot under the shin bone) or Jackson. Eire international right, half Gannon who missed the West Bromwich Albion match on Saturday owing to an ankle injury, will definitely be fit for the match. There is no doubt about the fitness of goalkeeper Ryalls who received a hard knock on the shoulder last Saturday.
The Reserves Too
While most Everton supporters are keenly following the progress of the first team in their efforts to gain the championship of the Second Division of the Football League, the Goodison Park reserves side has been going from one success to another in the Central League and are challenging strongly for the title honours. Beating Barnsley Reserves 1-0 last Saturday they kept in step with Wolverhampton Wanderers Reserves who head the table at present by reason of a superior goal average. Both these rivals for honours have gained forty-two points from thirty matches their record being;-
Wolves ; p30 won 19, d4, l7 f74 a36 points 42
Everton; p30 won 8, d6, l6, f66, a37 points 42
LONG TERM POLICY PAYING
February 16, 1954. The Liverpool Echo
Everton's Reserves Strength Should Make The Future Secure
Ranger's Notes
Apart from the respective merits of the teams and the likely result of the game followers of Everton and Sheffield Wednesday have not a great deal else to discuss in relation to Saturday's fifth round cup-tie at Hillsbrough. Everton's freedom from injuries or recent week's has been a great help to their cause in both League and cup. I hope it continues so. Manager Eric Taylor of Sheffield Wednesday says that it is still doubtful whether goalkeeper Brian Ryalls will be fit. The next 24 hours or so may decide. At the moment there is a good chance and Wednesday are keeping their fingers crossed. If the worse comes to the worst however they have an experienced deputy in Dave McIntosh. McIntosh who has been very unlucky with injuries in past seasons has been out of the first team since the end of August after breaking his arm at Preston, but has recently been back in barness in the Central league side.
Reserves Make Strong Bid
As we shall have ample opportunity later in the week to weight up the pros and cons of this tie, let us spare a little time today for the excellent performances of Everton's reserve side, which is making just as strong a bid for the Central league championship as the senior s are for promotion. At the moment they are fevel on points with Wolves at the top but with a slightly inferior goal average. While sustained League and cup interest in the senior eleven has ended to push the Central League team out of the limelight, the latter is an extremely important part of the clubs organization. Obviously it is upon these players that Everton will reply – almost exclusively if their determination not to go into the transfer market remains –for future reinforcements for the first team. For that reason it is encouraging to see the reserves justifying the long-term policy to which Everton have been devoting themselves over recent years. Here is the Central league record in home and away form. The figures speak for themselves.
Home; play 15, won 8, draw 3, lost 4, for 26, against 11, points 19
Away; play 15, won 10, draw 3, lost 2, for 49. Against 25, points 23
Avenue For Experiements
The away record is particularly impressive. Of the last eight matches on opponents grounds six have been won and two drawn. The last five engagements have all resulted in victory. Clearly the senior side has no monopoly of fighting spirit when playing away. The figures also show both first and second teams as the possessions of a distinction which falls to few clubs, namely to have scored more goals than the opposition in away games. Considering that the Central League sides has been very largely used by Manager Cliff Britton as an experiment avenue –no fewer than 36 players have been utilized to fill 30 fixtures –this record is all the more praiseworthy, for the players have not had anything like the amen chance to become thoroughly acquainted with one another as the seniors.
Ideal Training Medium
The following table gives an indication of the extent to which the Central league team has been utilized as a training ground for the youngster players with Grant and Potts acting as their chief mentors. The names below are confined in the younger members of the staff and show the players who have occupied the various positions. One or two have figured in several berths.-
Goal; Caldwell, Dunlop, Sloan
Right-Back;- Sutherland, Tansey
Left Backs; Rankin, Heyes, Tansey
Right Half-; Fitzsimmons, Birch, Tansey
Centre Half;- Forshaw, Woods
Left-backs; Melville
Outside Right; Rabone, Mayers, Gibson, Harris (B), McNamara
Inside Right;- Farrell, Thomas, Vizard, Lewis
Centre Forward;- Saunders, Kirby, Lewis
Inside Left; Lewis, Stewart
Outside Left;' Mayers, Easthope, Stewart
The average ago of these players is around 21 – just right if they are needed for senior duty. Farrell is the youngest at 17 and there are 18 and 19 years old in Caldwell, Sloan, Heyes, Fitsimmons, Birch, Mayers, and Harris (B). Many of those in the early 20's have had nearly five years professional services so will not lack experience when their time comes for senior duty.
Men Behind The Scenes
A special word of praise is due to Jackie Grant the Central League skipper and to Gordon Watson the trainer. Grant's captaincy is typical of his players wholehearted and conscientious. He just naturally inspires everybody by this example and endeavour. Everton could not wish for a better man for the job. Tribute is also due to Harold Pickering Everton's back room" man in relation in the junior sides who under the direction of Cliff Britton has done such splendid work over the post-war seasons.
MCLHATTON DEAD
February 16, 1954. The Liverpool Echo
Former Albion and Everton Outside Right
By Ranger
The death has taken place at his home in Ardrossan, Ayrshire, of Johnny McLlhatton, aged 32 formerly outside right with Everton. He had been in ill-heath for some time. McIlhatton signed for Everton from Albion Rovers in April 1946 and remained at Goodison Park until the summer of 1949, when he was transferred to Dundee. He made 58 appearances for Everton in League and Cup matches. This total, would have been greater but for a cartilage operation, which kept him out of the game for a good proposition of his time at Goodison. After playing with Dundee, he went into minor football, and for a time was with Barry Town in the Welsh League.
WEDNESDAY AND EVERTON AGREE ON COLOURS
February 17, 1954. The Liverpool Daily Post
By Leslie Edwards
Sheffield Wednesday (blue and white stripes shirts, back shorts with white seams, and blue and white stockings) hope to play in these colours in their Cup-tie on Saturday against Everton (royal blue shirts, with blue seams, and blue and white stockings). The Wednesday manger Mr. Eric Taylor said yesterday. "Subject to the approval of the referee both clubs will play in normal colours. At Sheffield we have had a try out and we do not think there will be a clash. It will not be known until later in the week whether Wednesday's young goalkeeper Brian Ryalis, will be fit. He is having treatment for a twisted shoulder sustained in the match against West Bromwich Albion last week. According to Mr. Taylor there is an even chance of Ryall's playing.
Death of Two Evertonians
The death of two former Everton players was announced yesterday – Johnny Mcllhatton, a winger well remembered by present day followers of the club, and Bruce Rankin, an outside right of the early 1900s. McLlhatton, who died aged only 32 at Ardrossan, in Ayrshire, had been ill for some time. He joined Everton from Albion Rovers in April 1946 and left the club in 1949 when he was transferred to Dundee.
During his spell with Everton he never quite made the top grade and a long spell of inactivity after a troublesome cartilage operation cut into his career here. After leaving Dundee McLlhatton went into minor football and played for some time with Barry Town in South Wales.
Bruce Rankin was the grand-father of the contemporary Everton full back, George Rankin. He was aged about seventy-four. The highlight of his career came when he was chosen by the F.A. for the North against the South in the international trial after which English teams used to be chosen. And this when he was understudying Jack Sharp the famous Everton winger, who was then in the Everton senior team.
Letters from Evertonian
From Mr. Robert Farmer, of 19 Rothamstead Avenue, Harpenden, Hertfordshire comes a plea for a publication on the beginning of football in this city. He writes.
May an old supporter of the Everton club as an amateur organization in the early 80's ask if there is a publication which gives an account of the beginning of Association football in Liverpool. At the time I write, Everton were tenants of the Anfield Road ground, and their chief opponents were the village clubs of Lancashire. Preston N.E and Bolton Wanderers were in existence but at the time they were, from Everton's standpoint senior clubs. In the 1880's there were three clubs in Liverpool – Everton, Bootle, and Stanley. Everton were the best side. Their best known player was a forward named Farmer, a wonderful dribbler and a very fine shot. The captain was Dobson, one of the backs. Can anyone help please?
EVERTON UNCHANGED AGAIN
February 17, 1954. The Liverpool Echo
Full Strength Side Will Oppose Sheffield Wednesday In Cup-Tie
Ranger's Notes
Everton will field an unchanged team for the fifth ground cup-tie with Sheffield Wednesday at Hillsborough on Saturday. This will be the eight time in their last nine League and Cup games that the side has been the same. The confidence of the players has never been greater since the war than it is now, and the prospect of the Blues getting to the last eight look bright through it may not be until they have brought the Yorkshire club to Goodison for a mid-week decider. Everton; O'Neill; Donovan, Lindsay; Farrell, Jones, Lello; Wainwright, Fielding, Hickson, Parker, Eglington.
After Wainwright's hat-trick last week there had been some speculation as to whether the two right wing men would be switched especially remembering the form which Fielding has shown when a outside right previously in 1950-51 he played 17 League games in that position. Since then he has figured three times on the extreme flank. Obviously the possibility of a switch has entered the club's mind, but for the start of the game at least the players will be in their useful positions. The change can be made any time if it appears advisable as the match progresses.
Good News For Patients
There is good news for Merseyside hospital patients about the cup-tie. Mr. J. Worthington, chairman of the Walton Hospital League of Friends, tells me that the efforts of himself and his colleagues to ensure Saturday's game goes out on the hospital's commentary service have been successful. All the Merseyside hospitals which normally get the Saturday reports of matches from Goodison Park and Anfield will be able to hear a running commentary on the game at Hillsbrough. Good listening to you, and may the news help to cheer your convalescence. Although the match does not start till three o'clock the hospital commentary begins at 2.30.
FORMER EVERTONIAN
February 17, 1954. The Liverpool Echo
Rangers' Notes
Following the untimely death of Johnny Mcllhatton at the early age of 32 as reported yesterday, there is news today of a death of another Everton, of a much earlier generations in Bruce Rankin, a winger who assisted the club over 50 years ago. He was 74, Bruce Rankin's son, George was also on Everton's books, and the present player of the same name is his grandson.
SHEFFIELD WEDNESDAY TEAM
February 18, 1954. The Liverpool Echo
Yorkshire Club Makes Three Changes For Everton's Visit
Ranger's Notes
Sheffield Wednesday will make three changes from last week's eleven for their fifth round Cup-tie with Everton. One change which was known in advance is caused by the suspension for this week or right full back. Vincent Kenny, who was sent off in the replayed third round game against Sheffield United. His place is taken by Curtis, who was the Wednesday regular left back until he lost his place o Seemly two months ago, after making 84 consecutive appearances. Brian Ryalis the club's 19-year-old part-time goalkeeper is not fit following a twisted shoulder injury received last week. In his place comes Dave McIntosh, who has recently returned to the Central League side after breaking his arm at Preston last August. The third change is at right half, where Eddie Gannon, the Eire international who was absent last week through injury, is now all right again and replaces 19-years-old Scottish McAnearney in this instance the change is only a reversal to the normal. The team reads;- Sheffield Wednesday;- McIntosh; Curtis, Seemly; Gannon, Butler, Davies; Finney, Quixall, Shaw, Sewell, Woodand.
Replay Arrangements
Should a replay be necessary between Everton and Sheffield Wednesday, it will take place at Goodison Park on Wednesday next February 24, starting at 2.45. tickets will be available for seats only, at 7s 6d and 5s each and application should be made as follows;- shareholders will be allowed two tickets each and season ticket holders one. These must be applied for a personally on Sunday afternoon, February 21 from Gwlady's Street between 2.30 and 4 30 p.m. Fifth round vouchers must be produced. Tickets for the general public will be on sale on Monday evening from seven o'clock onwards at Gwlady's Street. Applications by post will not be entertained. Admission to the paddock and ground will be by payment at the turnstile on the day of the match. Should Everton win at Sheffield application for tickets for the sixth round game should not be made until the club announces the prices and methods of application.
BILLY COOK HONOURED
February 18, 1953. The Liverpool Daily Post
Billy Cook the former Everton and Irish international full back has been appointed to take charge of the North of Ireland youth team to meet the Scottish youth side at Greenock Morton's ground on Saturday.
Warney Cresswell
Warney Cresswell, former Everton full back, was in Liverpool today. He is hoping to get fixed up as a license on Merseyside. If he is successful his son Corbett who is at present on Liverpool's books as an amateur, would be available more often and may possibibly turn professional. Warney is the owner of a private residence in Wallasey.
BLUES CAN REACH LAST EIGHT
February 19, 1954. The Liverpool Echo
But Replay May Be Needed To Overcome Sheffield Wednesday
Ranger's Notes
Tomorrow is the big day which will decide whether Everton shall go forward into the last eight for the F.A. Cup whether our hopes are to be dashed or whether we shall have the pleasure of a replay at Goodison Park next Wednesday. Personally, I incline to the latter as the most outcome though this tie is so often that either alternative is possible. During the past week I have been struck by the rather significant fact many Evertonians who cannot go to Sheffield have expressed the hope that it will be a draw tomorrow in order that they may see the replay. Some of those same people were telling me not many seasons ago that they had finished for good. Now the deeds of the Blues in League and Cup have fired their enthusiasm afresh as this season attendance prove beyond all argument. Even if this modern Everton side is not so outstanding individually or collectively as that of the last pre-war championship season, it has attributes which go a long way in these hectic days of speed and bustle and is a well knit and workmanlike combination which promises to prove at least an equal match for the Yorkshire club. Sheffield Wednesday will not find victory come as easily as it did on the last two occasions the Blues visited Hillsborough –even if it comes at all. We have not forgotten the good display Everton put up against First Division opponents last season, particularly the game at Villa Park, Villa were then as good a side as Sheffield Wednesday are today. The difference in League status will be a negligible factor this time. The covering and understanding of the Everton backs and Tommy Jones, with O'Neill in his most consistent form and Farrell and Lello playing as well as ever –better in the case of the last named –gives the Everton rear guard a look of being capable of holding the Wednesday attack even though it does include internationals Sewell and Quixall and one of the most promising of younger players in Alan Finney.
Forward Responsibility
That makes the deciding factor zest on whether the Blues forwards can overcome the home side's defence. Misleading though League form may e in relation to a cup-tie and remembering also that Everton's opponents have not been of the calibre Sheffield have been facing the fact that the Yorkshire club has had 72 goals against, compared with Everton's 43 gives reasonable ground for hope. Dave Hickson, whose bursting methods are sometimes subject to either approbation or criticism according to which side the onlookers support will be up against an inexperienced 18-years-old centre half in Barry Butler playing only his tenth senior game for the Wednesday. Though Butler is said to be a youngster of outstanding ability the odds appear to be on Hickson whose cup-tie goals have had so much to do with Everton's progress in the last two seasons. He has been a real match winner. Eglington will be up against an old campaigner and fellow Irish man in Eddie Gannon and a full back in Curtis who comes in to fill the breach during Kenny's suspension. Here speed may be the deciding factor and Eglington has it in greater measure than either of his opponents. On the right-flank Everton may have an ace up their sleeve in the possible switching of Fielding and Wainwright each of whom can operate in either position with equal effectiveness. Though on his brilliant generalship this season. Fielding is the better schemer against that Wainwright's hat-trick at Derby is a valuable pointer. Then there is Parker, who on his day can be the most dangerous of all. His lazy-looking style is deceptive. It is not often he fails to be in the right place at the right time.
Sewell Leads
Sewell is the Yorkshire club's joint leading scorer with 15 goals in 32 league and cup appearances. Shaw has 11 to his credit in 17 outing and Woodhead 15 in 31 matches all from outside left. The Yorkshire club's previous cup engagements have been against Sheffield United who they defeated 3-1 at Bramell Lane after a 1-1 draw at Hillsbrough and Third Divisioners Chesterfield, who were dismissed 4-2 following a goalless draw at Sheffield. Win or lose I look with confidence to Everton to put up a good show and I fancy they will still be standing even if with a replay to face when the draw for the last eight is made on Monday. Sheffield Wednesday; McIntosh; Curtis, Seemley; Gannon, Butler, Davies, Finney; Quixall, Shaw, Sewell, Woodland. Everton; O'Neill; Donovan, Lindsay; Farrell, Jones, Lello; Fielding, Wainwright, Hickson, Parker, Eglington.
Please do not ring this office tomorrow to ask about Everton's Cup-tie progress. We regret that it is impossible to answer such inquires as our staff is concentrating on producing the football edition. These calls only delay the receipt of the reports you wish to read in your football Echo.
SHEFFIELD PREPARE FOR THE E-DAY INVASION
February 20, 1954. The Liverpool Daily Post
By Leslie Edwards
Panto midday scenes in Liverpool will be as nothing in sound, colour and spirit compared with the invasion of Sheffield at midday by Cu-tie followers of Everton. Ten thousands fans will go by special trains; other thousands will go by car or coach. Many will be ticketless, but prepared to take a chance of seeing the Sheffield Wednesday v. Everton tie because if they are turned away from Hillsborough they will be able to walk over to the Sheffield United and still be able to follow the blue of Everton Reserves. I hope the Sheffield transport authorities are well prepared. The coincidence of first and second Everton teams playing away in the same city, on the same day is unparallel, I doubt if it has ever happened before. And oddly if Wednesday had not been cup-ties their Division 1 game today would have been against Liverpool on the same ground. Add the visit to Sheffield of the Waterloo Rugby team and you have a three-pronged inter-city battle Sheffield say it is the Yorkshire Penny Bank to the Mersey Tunnel on their winning the game creating the greatest interest. To back that view they point to what they did to Everton when last Everton played a cup-tie on the same ground and what they did to Everton when both teams were comrades in Division 1 distress and neither succeeded in avoiding relegation. Form does favour Wednesday it must yet that is not to say that Everton cannot or will not beat the max in that Division 1, given home advantage should always be good enough to take care of anything from 2.
Tangible Merits
A better means of assessing chances, I think is to disregard entirely past performance and form and try to weigh the teams on tangible merits. Taking this line I cannot help but think that this may be the most testing cup-tie Everton have had in two seasons –greater than in Bolton semi-final because Wednesday's defence seems better than Bolton's and because the match today is on the Wednesday ground. If Everton can hold the Wednesday attack which reads Finney, Quixall, Shaw, Sewell and Woodhead, it will be a triumph of tackling and good covering. Alan Finney was the boy who put over many of the centres from which the ill-fated Derek Dooley scored most of his goals. He once got four against Everton at this ground and had Dave Hickson had the same sort of chances his bag would have been nearer eight. Hickson untiring and full of fight and enthusiasm looked a better centre that day than the man whose scoring feats were the rage of soccer. Finney is dark immaculate and as full of tricks as his Preston namesake. Quixall of the brief shorts we know to be a player of the future. Shaw is a snapper up of unconsidered scoring trifles. Sewell whose debut for Wednesday was at Anfield and Woodhead comprise a left wing of tremendous menace.
Fear of Eglington
Everton must take care of this formidable line from the beginning. It would be fatal to start indecisively. Wednesday must feel more than a finge of apprehension about Everton's attack. The scheming of Sewell they will see in Fielding. The danger of Finney they will anticipate from Eglington whose speed strikes obvious fear into the hearts of defenders everywhere. All going well I suppose Everton will let the team as chosen ride on, if things go badly Fielding and Wainwright may chance places and hope for success such as came a week ago at Derby. Everton go into this match confidently. Their cup record of a season ago, their high position in the Second Division chart and their successful Cup games so far this year give them solid reason for fearing nought. Though Wednesday are at home Everton know as well as all Sheffield that Wednesday needed two bites to gobble neighboring United and Chesterfield –and that the first games in each case were at Hillsborough.
Perfectly Turned Out
Wednesday will meet solidity in defence today. They will also meet a team perfectly trained and turned out with tactics clearly understood. If Everton fail it will be though no lack of foresight in preparation. Manager Cliff Britton has the knack of extracting last ounces all along the line, and that his second division side should reach the semi-final stage one season and get within half of the last eight the next is tribute to his methods. I anticipate a desperately hard game and one in which defences will be hard pressed to prevent a lot of goals. Everton's half-back line at best will compare favourably with that of the others, but the best generating force on either side may be Gannon an Irishman whose cute passes to many an unexpected spot make him the Wednesday general-in-chief, despite the presence of Sewell. Not having seen Everton lose at home or away this season I go to Sheffield hoping that this will not be the end of the road for me or for them. It will be a wonderful victory to write off and to picture in Monday's Daily Post if Everton's tackling holds this dazzling attack and Hickson careers off, as at Villa to get the goal to take Everton further. We must hope for all that and more. Sheffield Wednesday; McIntosh; Curtis, Seemley; Gannon, Butler, Davies, Finney; Quixall, Shaw, Sewell, Woodland. Everton; O'Neill; Donovan, Lindsay; Farrell, Jones, Lello; Fielding, Wainwright, Hickson, Parker, Eglington.
TWO LATE GOALS PUT BLUES OUT AFTER HAVING MORE OF THE PLAY
February 20, 1954. The Liverpool Football Echo
By Ranger
Wednesday Beat Everton In Battle For Last Eight In Cup
Sheffield Wednesday defeated Everton at Hillsborough in the fifth round of the F.A. Cup today, and so enter the last eight.
Sheff Wed 3, Everton 1
Everton went down fighting and on the run of play were worthy of a draw. Up to five minutes from the end it was anybody's game, and territorially Everton had the better of the argument, although the Wednesday came strongly in the last 20 minutes when Everton's terrific effort had taken toll. Two goals at the 85th and 88th minutes put Wednesday into the last eight. They will doubtless consider themselves fortunate to win by such a margin. It never looked likely at one period but the home side took their chances and defensive slackness –one of the few occasions this occurred –in the Everton rearguard contributed towards the second and vital goal. this game was a pointer to Everton's likely progress in they win promotion as a consolation and on today's showing they will hold their own well if the First Division is to be their home next winter. Sheffield Wednesday;- McIntosh, goal; Curtis and Seemley, backs; Gannon, Butler, and Davies, half-backs; Finney, Quixall, Shaw, Sewell, and Woodhouse, forwards. Everton; O'Neill, goal; Donovan and Lindsay, backs; Farrell (captain), Jones and Lello, half-backs; Wainwright, Fielding, Hickson, Parker, and Eglington, forwards. Referee; Mr. B.A.E. Buckle, Peterbrough.
It was a beautifully sunny spring day at Hillsborough and the pitch, which had been sanded fairly generously looked in ideal condition, and certainly not as heavy as had been anticipated. While Sheffield Wednesday got a fine reception it was almost a drawing room whisper compared with the tremendous roar which greeted the appearance of Everton. Goodison Park followers have come here today intent on doing their best as far as vocal encouragement is concerned. Both sides played in their normal colours, except that Everton wore wasp-like yellow and black hooped sockings. The game opened, sensationally for after McIntosh had twice muffled goalkicks putting them only halfway towards the centre circle. Sheffield Wednesday took the lead with a brilliantly-executed goal at the third minute. There looked no particular danger when Quixall flashed the ball right across to the far side of the field, until Finney beat Lindsay and eluded Lello, and than put across a centre which Shaw rammed home from five yards range with O'Neill practically helpless to do anything about it. Naturally this was a blow to Everton but they hit back straight away in virile fashion and McIntosh made a miraculous save from Farrell, catching the ball in mid-air as he dived across his goal.
Hit The Bar
After Sheffield had made two quick excursions of short duration into Everton's half, Wainwright hit the bar and Hickson grassed McIntosh as the Wednesday goalkeeper caught the ball when it dropped. McIntosh, however, kept hold and eventually cleared. The Sheffield defence looked anything but comfortable against Everton's strong incisive raids and twice conceded corners with a trace of panic when they had ample-time to clear. From one of these McIntosh fisted the ball out almost to the feet of Parker. Before the latter could get in his shot, however, the defence had blocked his way and what was no more than a half chance had disappeared. Still Everton kept hammering away and first Fielding and then Wainwright were not very far off the mark. Hickson was battling away with every ounce of endeavour, trying to force his way down the middle. He was hurt in a tussle with Curtis requiring attention before being able to resume. Hickson put one pass wrong, slipping the ball straight to Davies instead of to Parker as intended.
Lindsay's Lapse.
Lindsay also perpetrated a mispass which brought the first danger for several minutes to Everton's goal. The ball intended for Farrell was picked up by Shaw, who set Finney going again. At top speed he put in a shot from close range, but at such an angle that O'Neill had the effort well covered. Everton went "off the boil" for a few minutes, which was not surprising considering the pace they had been setting. Sheffield looked dangerous until Sewell screwed the ball yards outside. Eglington who had the beating of Curtis for speed, twice flashed angle shots across the face of the goal and also tested McIntosh with one from the vicinity of the centre forward position though there was not enough power behind this last attempt. A grand bit of interplay by Eglington and Parker came to an end when McIntosh saved Parker narrow angled shot. Fielding, Eglington and Parker next paired off in a three-piece movement which promised something better than it produced for Parker trying to square the ball into the middle to Hickson could do no more than put it tamely to the feet of Davies. Wednesday were still lied down almost exclusively to defence and their rearguard looked anything but happy. Several times they found touch as the safest means of raising the siege. The home side looked dangerous when Quixall and Sewell paired off and the ball was put through to Shaw, who shot outside when admirably placed. A foul against Lello for an offence on Quixall produced a protest by the Everton man that it should have been the other way round and it certainly seemed so to me. Everton forced yet another of their many corners and with all their players except O'Neill in the Wednesday half Jones shot about three yards outside. Wednesday although their finishing had not been good, always looked dangerous when they got away and never more so than when Sewell and Shaw took the ball 40 yards with a grand bit of combination only for Shaw to muff his shot completely. The whistle had gone for offside, although Shaw obviously had not heard it. Once again we saw that territorial advantage does not count against a side which takes its chances, Sheffield had taken one before the game had really got under way and though the first half had been 73 per cent in Everton's favour so far as pressure was concerned they still could not get the all important equalizer before half-time.
Half-time; Sheffield Wednesday 1, Everton nil.
Everton started the second half as they finished the first with Sheffield hanging on like grim death to their narrow lead. Sheffield were not without their moments, but these were few in relation to Everton's. a free kick against Davies taken by Farrell brought a melee around the Wednesday penalty shot but no Everton man was able to test McIntosh and Seemly finally scrambled the ball away. For some minutes Everton were so dominant that the only player in their half was O'Neill and Donovan was nearly 20 yards inside Wednesday's territory.
Finney Shoots
When at last Sheffield got away again Finney rounded Lindsay and tested O'Neill with a strong drive down a very narrow angle O'Neill caught the ball comfortably but as he hugged it to his body was charged by Shaw. Like McIntosh in the first half he retained command and cleared, but was shaken and the referee ran up to see if he was all right. Farrell tried a shot from the edge of the penalty arc, only to slice the ball outside. Still Everton kept pegging away and at long last at the 57th minute they got the equalizer they had so richly deserved for pandemonium to break out among the Everton supporters. Wainwright started the danger and when he crossed the ball Parker headed it across to Hickson. The centre-forward rose to the occasion magnificently and headed the equalizer. Curtis was hurt as he tackled Hickson and required attention before the game could be resumed. This was just the tonic which the crowd needed to let go a crescendo of cheers which broke out with renewed vigour when Everton straight away returned to the attack through good work by Lello and Parker. The point now is whether this Sheffield defence which has never looked particularly happy, can hold up against Everton's attack in view of the encouragement which this goal will give to the Merseysiders. Hickson in the past couple of seasons has scored some most valuable Cup-tie goals and here he is today coming up with another when it began to look as though nothing would go right for his side.
Lello Shoots Over
In yet another good Everton attack Lello shot over the bar. A foul by Quixall on Fielding brought no advantage and the pace, which had been terrific all through went on unabated until one wondered how long they could keep it up. McIntosh saved, from Eglington and Sheffield dashed away to the other end, where Sewell put the ball behind when he might have done better. For a time Sheffield took the initiative without ever getting to grips with O'Neill, Finney put in some clever dribbing but frequently he fell a victim to his own ambition to do it all himself and was eventually robbed. Jones headed away as Shaw came tearing down to make contact with a centre. Sewell was not looking anything like value for the price tag attacked to him, and even Quixall though he spread the ball about nicely was not as good as he can be. When Sewell fouled Hickson badly the Everton centre forward expressed his disapproval and the referee called hem both together to "read the riot act." A little later Curtis fouled Hickson and although the Sheffield man shook hands it was obvious that Hickson not unnaturally was anything but mortified. A few minutes after Curtis patted Hickson on the back as further evidence of his regret,. When Everton came again McIntosh saved brilliantly at full length from Eglington.
Hickson Down Again
Once more Hickson was brought down, this time by Butler without Everton getting a free kick. The game was now more even than it had been at any previous stage, with Everton tiring somewhat after their tremendous efforts having to defend stubbornly. O'Neill saved well from Woodhead and Finney and Sewell shot yards behind, Finney doing so as an anti-climax having dribbled the ball brilliantly some forty yards or more. Everton regained their second wind, and in another series of strong raids, Wainwright shot behind and Hickson headed just over from Parker's cross? Just when it looked a certainty that we should have a replay at Goodison Park on Wednesday the Sheffield club pulled victory right out of the bag scoring two goals in under a minute. Sewell got the first of them at the 85th minute and although he had to thank Woodhead for a very canny up-the-middle pass, I thought that Everton's defensive slackness contributed to the goal, for Sewell was not covered and shot from 12 yards to put Wednesday in front. Straight from the kick-off, Everton swarmed down to the Wednesday goal in a desperate effort but a long clearance transferred play to Woodhead. He kept the ball under control, outstripped all opposition and although harassed and facing the advancing O'Neill put the issue beyond all possible doubt. Everton had put up a great flight but Sheffield had taken their chances, and that is the thing that counts. Final; Sheffield Wednesday 3, Everton 1. Attendence 65,000, £8,150.
There was a spot of bother at half-time between the police and a few spectators who had got on the cylinder track. One of them three times eluded the efforts of two policemen who endeavoured to tackle him. His skill in this respect would have done credit to a rugby international. After jumping into the crowd, the same man came back again and this time defied the efforts of four policemen, two of whom tumbled in a heap as they tried to grab him. The man, who was dressed in a light blue suit, again got away in the crowd but one of his colleagues was not so lucky, and was carried off, struggling violently by the four policemen.
IRISH –AND EVERTON PRIDE
February 20, 1954. The Liverpool Football Echo
By Ranger
Today's brief rest of our senior sides from Football League warfare provides a suitable opportunity to pay tribute to Peter Farrell and Tommy Eglington for the excellence of their service to Everton over the post-war years. Providing he escapes injury for the rest of the season. Peter Farrell could by the end of the current campaign, complete over 300 Football league appearance – plus an unspecified number of cup-ties, depending on whether the Blues have won today, and if so how much further they go in this year's F.A. competition. Peter Farrell's name will always be remembered for his great work for Everton long after he has hung up his boots and bowed himself off the stage of active football. He will go down into history among other famous skippers from across the Irish sea, such as Johnny Carey and Peter Doherty, who have done so much for English clubs, who have added lustre to the game and have never had a black mark against them on or off the field. I first met Farrell and Eglington when the Everton players began training for the 1946-47 season. I little thought then that these two Dublin-born lads would write their names so large in Everton's post-war history. The club has never made a finer investment, Everton have recouped themselves several times over for the comparatively modest outlay which brought these two players to Goodison Park. It was on July 12, 1946, in their endeavour to strengthen the team for the resumption of promotion and relegation football that Everton signed Farrell and Eglington from Shamrock Rovers. Both had already established a big reputation in Eire and had been sought by several English Clubs. But the post-war rush for players had not then reached its peak, and Everton not only got in first, but obtained the pair for considerably less than one of similar calbre would cost them today. Eglington made his debut for the Blues in the fourth match of the 1946-47 campaign after Wally Boyes had occupied the outside berth in the three opening games of the campaign. Farrell did not take a bow until November 23, 1946, when the Blues were away to Stoke City it was a tough task to begin with, for he had the job of helping George Jackson to keep tabs on Stanley Matthews, but Farrell performed his task so well that he straight away staked out a claim to a permanent place in the senior side just as Eglington had done. Farrell had been unable to make his debut in the earlier part of the season owing to an injury received while playing tennis during the summer. Then when he was at last fit, he had to play second fiddle for a time to Gordon Watson and Stan Bentham. Once he had made the grade, however, it was clear that Everton had got themselves a player of outstanding ability, a fact which has been abundantly proved over the years that have followed.
First Cap
Four days after his first senior outing, Farrell got his first full cap for Ireland, against Scotland at Hampden Park, as also did Tommy Eglington. After that both played on many occasions for Ireland until the "spilt" between North and South put them out of the reckoning, owing to their Dublin birth. Since then, however they have always been automatic choice for Eire when fit. But for this division in Ireland's football forces they would by now have been well on the way towards a record number of caps, for the two countries combined. In addition to the excellence and consistency of his play, Farrell has also carried the burden of captaincy for many seasons. He followed Norman Greenhalgh in this position at the start of 1948-49 season, gave way to Tommy Jones the Welsh international, the next winter –with Peter as deputy –and then took over again in 1950-51, retaining the job to date. There was a brief period when it seemed that the cares of captaincy were not helping his game. Like the good club man that he is Farrell took his responsibilities extremely seriously, often trying to do more than any one man could hope to accomplish by individual endeavour. His keen desire to ensure victory and to do the job he though it should be done led to a temporary decline of form, particularly in the first year of "office." Since then he has learned from experience, and though he has not abated one lota of his enthusiastic desire to see the Blues triumphant and to work hard to that end, he has learned to dove-tail a captain's responsibities into his game in such a way that the latter does not suffer. Farrell's greatest ambition is to lead Everton back to the First Division. His next is to carry the ball on to the field in a Cup Final at Wembley –and to come off with it as the winning captain. The first aim is nearer fulfillment today than many Evertonians dared to hope 12 months ago. Much remains to be achieved before promotion is won. It is going to be a hard fight, but the spirit and confidence of the side, under the inspiring example of Farrell was never higher and the prospects look good.
One Step Nearer
As for the Cup, we shall know better after we have seen what has transpired at Hillsborough today. Let us not count our chickens too soon. Sheffield Wednesday will have taken some beating but if the Blues are through, then Farrell is one step nearer the second of his life's football ambitions. The following table gives a full list of Farrell's League and Cup appearances since he first donned an Everton short. He wants twelve more games to complete 300 in Football League fixtures alone. Everton have thirteen still to play so that, all being well, he should reach this splendid milestone before the current campaign ends.
Season League Games Goals Cup Games Goals
1946-47 27 0 2 0
1947-48 37 2 3 1
1948-49 38 0 2 0
1949-50 40 2 5 0
1950-51 42 3 1 0
1951-52 40 0 2 0
1952-53 38 1 5 1
1953-54 (to date) 26 0 2 0
Total 288 8 22 2
While Eglington cannot reach 300 League games this season that figure comes into his career in another way, for today's game at Sheffield was his 300th for the Blues in league and Cup combined. In that time he has scored 59 goals. Tommy would have been on about the same mark as his "buddy" today but for two things which reduced his appearances in the 1947-48 season. Early that campaign he gave way for a few games to Wally Boyes and later an injury at Grimsby kept him out for the next half-dozen matches. Eglington's best season as a marksman was last winter when he scored 14 goals. While his value is by no means confirmed to the goals he gets for he makes many more for the men alongside him, I have always felt that if only he had had a little more luck with his shooting he might have set up somewhere near a record for consistent scoring for any winger in post-war football. Dozens of times in a season he just misses the target with almost unstoppable shots, scraping bar or post or finding the side netting when a few inches the other way would have done the trick. Some times of course he is not so close. I have seen him occasionally endanger the corner flag more than the goal. These lapses, however, have not been so numerous in recent seasons as they were before he got down to the job of improving his direction. In any case the winger hasn't yet been born who doesn't find himself well off the mark at times. Eglington offends no more than anybody else, and to err occasionally is human. No player has worked harder to fit himself for his job than Eglington and though his right foot on match days is nothing like so dangerous as it is in practice games when he often uses it with confidence and accuaracy. I have seen him score a few smashing right foot goals in league games, I am sure that if he had just a little more confidence in himself his right foot could be very deadly much more often. Like Farrell, Eglington has been a credit to English football ever since the day he set foot on Merseyside. His speed is still amazing his sportsmanship is of the highest class, and we all wish him many more seasons of success. The following table shows his appearances and goals for Everton.
Season League Games Goals Cup Games Goals
1946-47 34 5 2 0
1947-48 29 3 5 1
1948-49 34 7 2 0
1949-50 34 1 5 0
1950-51 39 8 1 0
1951-52 38 8 2 0
1952-53 39 14 5 2
1953-54 (to date) 28 9 2 1
SHEFF UNITED RES V EVERTON RES
February 20, 1954. The Liverpool Football Echo
A goal by Lewis after 15 minutes gave Everton the confidence their lacked in the early stages. Mayers and Potts formed a fine right wing and United defence was hard pressed. Everton were unlucky when a delightful flick by Potts which beat Crookes was adjudged offside. Leyland made a remarkably great save from Hudson but in the last minute he failed to hold an awkward bouncing ball that Wragg equalized. Half-time; Sheffield United Res 1, Everton Res 1.
Everton "A" , Marine Res
Everton "A" took an early lead when McNamara cut in from the wing and scored in eight minutes. At the other end the Everton keeper saved god shots from Lowe and Horsefield. Half-time; Everton "A" 1, Marine Reserves nil.
ALL'S SEWELL THAT ENDS EVERTON
February 22, 1954. The Liverpool Daily Post
Sheffield Wednesday 3, Everton 1
By Leslie Edwards
The time is eighty-three minutes. The score is 1-1. Sheffield Wednesday are playing like a team which has had three successive home Cup-ties without winning any of them. Everton are playing like a team which knows that at worse they are on a replay. The Sheffield are preparing to pounce on final whistle interlopers. Cliff Britton and others have their eyes on the game and their minds eyes on replay tickets and allocations and applications, 63,000 spectators –about 15,000 from Everton are resigned to the inevitability of a draw. Then….the ball is swung from the right to Woodhead. His cross-field pass is yet another lateral one of the ineffective kind. No danger, here, Sewell is not even well-placed to receive it. But Sewell can be a player-and-a-half and this is a moment when he proves it. He volleys a shot as he turns. The ball flies straight and true far wide of the right hand of goalkeeper O'Neill. Wednesday are in front and time is on their side. Everton have well under seven minutes to get a leveling goal. no time for discipline. Upfield all for unusual not endeavour to put things right. A corner on the right is cleared away. Every Everton player gave O'Neill is in the Wednesday half, Sewell swings a pass down the left wing, Woodhead run down half the wing with the ball at, and on and on and on with Jones and Donovan competing with him in a photo finish, he placed into the net. O'Neill victim of this strangest goal, not able to do a thing to prevent it. He retrieves the ball and kick it upfield for the sheer formability of playing out the remaining few minutes. Everton are out and they can scarcely believe it. The final whistle a final assault by Sheffield police on encroaching of a 100 people disgorge from the ground and leave it as empty as every Everton heart. It's not easy to take Cup defeats in the fifth round. Defeat by 3-1 when the team had played well enough to give the other side a goal lead are win.
With Good Grace
The followers of Everton endure with good grace. They come home like the team salved by the fact that Everton played the better football, that Everton would win this match many times oftener than they would lose. As applied to the Cup tournament 1954 this is empty consolation. Related to the more good of promotion with games home games against Brentford on Wednesday and another against Plymouth Argyle next Saturday. Everton may find that they have lost a cup and won a championship in the spare of eleven eventful days. Why did they lose? Because they did everything so well up to a point and everything so indecisively and erratically to that vital point. And because Wednesday through two inspired minutes by Sewell scored twice when all for Sheffield seemed lost. Everton were solidly linked in every department. Wednesday were compartmented everywhere. Behind a brilliant forward line well met by a good Everton defence Wednesday were frequently pulled into many misshapen defensive positions. They survived largely because young butler had a splendid game and because goalkeeper McIntosh did his work brilliantly. Because Everton were not punishing the tale of McIntosh sureness is not long. First a glorious catch of Farrell's most vicious shot, then a quick recovery to catch the ball as it came off the bar from Wainwright shot. The value of this was as much in McIntosh's solidity as Hickson hit him in the charge which came to hand. Afterwards it was McIntosh making spectacular catches of centres and having his moments of good fortune as a sweet Wainwright shot soar over the post.
Profit and Loss
Everton have frequently played less well and win 3-1, Wednesday success was not so much due to positive values as to Everton's failure to make capital of sound midfield investments. The old stock broking axiom that a profit is never a profit until you take it applied perfectly. Everton were always playing like winners but never taking the profit of their excellence in all praise midfield. Constantly they were moving the ball neatly, quickly and accurately on what seemed to me to be a "difficult" pitch. Constantly they got the rugged Wednesday defence scrabbling desperately to retrieve themselves. Ye constantly stumble or fumble or a bad pass put the Everton attack out of possession. At other times Wednesday escaped in last moments deflections by foot, head or body. A game which began and fought at terrific pace developed temporarily in the wrong direction and Referee Buckle who had been so firm, more than once stood witness to hacking and tripping which should have been penalized. Everton were not so robust in this match as they are in some of their home games. Wednesday with Curtis scything his leg into fierce tackle against Eglington and Parker had those players more than a little apprehensive. I do not think Everton faired through the fault of any single player in their side, never was the fault of the attack line lack of penetrating movement and passes at crucial moments , to be shouldered all along the line. I have seen Fielding and Parker play better but of the performance given Everton made so many good approaches it was amazing so little come of them. The Everton defence was almost without fault, Donovan except for one telling moment was nearly always the master of Woodhead, Farrell, Jones and Lello covered each other , did they defensive work well and backed the attack with tremendous efficiency. The ability of the feinting Finney to meander his way brilliantly into or round the Everton defence on that flank was a telling factor. He was the games best forward.
Stern Effectiveness
Everton spectators present watched with concern the battle between more than one of the Wednesday defenders and Hickson. Hickson is sometimes a provocative centre forward. Here after a mild beginning he found his path crossed by stein effective defensive measures. Young Butler a centre half had a very good game but others alongside him were predestines and seemed to keep McIntosh out of trouble by congregation in numbers. Wednesday scored a goal almost at the first attempt. A glorious pass swept by Quixall to Finney began it. Finney with good work by beating Donovan and Lindsay and going up to cross a ball which Sewell seemed to flick on with his head to Shaw. Shaw needed three desperate attempts to get the ball under control before poking it over the line. Everton took this jolt in their stride. They started to play considered combined stuff and reverted to flurried tactics. In the event it was after the interval when Hickson placed the word is appropriate Wainwright's centre –flicked on by the head of Parker –out of McIntosh's reach. Hickson also went close with a similar header this time from the left.
BOLT FROM THE BLUE
February 22, 1954. The Liverpool Echo
Ranger's Notes
Those last two goals which settled the issue in the home side's favour never looked remotely possible six minutes from the end. Both came from sudden break aways, after Everton had been battering hard at the Sheffield goal. The last one scored by Woodhead was the result of a lightning streak by the winger more than half the length of the field, with Donovan, Jones, and Farrell, who had been well inside the Sheffield half, baring away behind him in a desperate but unavailing effort to overtake him. Full marks to Woodward for the way he kept control and took his chance, but like the goal by Sewell a minute before it was all against the run of the play. It was Sewell's goal that really settled the issue. Although the Wednesday inside man was unmarked when he received the ball from Woodhead's shot inward pass a goal hardly looked imminent. Sewell took a pot shot a sort of bow-at-a-venture effort and found the net. It was almost the last straw for the Blues. For at least 70 of the 90 minutes Everton were the superior side hammering away a defence which was glad to kick anywhere for temporary relief in a desperate endeavour to hold on to the lead given them when Shaw had scored from Finney's centre with the game only three minutes old. Although it was not until just on the hour that Hickson's final header put Everton level, Sheffield were fortunate to hang out till then. For long stretches it had been a desperate and dour struggle between Everton's attack, well supported by the wing halves and occasionally even the backs and Sheffield's hard pushed defence, aided by two and sometimes three forwards. Farrell had one shot brilliantly saved by McIntosh who caught it with outstretched hands, while in the middle of an airborne dive Wainwright had hit the bar, Eglington had almost scraped the woodwork and the rest had always been keen to have a go at every opportunity.
Creaked-But Not Cracked
It seemed almost certain that the volume and determination of the visitors assault would do the trick. The Wednesday defence creaked and tottered and often seemed at its last gasp, yet somehow managed to avoid cracking. I thought Everton's shooting could have been stronger considering approach superiority, but that is purely a matter of opinion with which some may not agree. While Sheffield's assaults were largely of the spasmodic breakaway type they always looked dangerous and O'Neill had quite a few difficult shots to deal with. The latent bower of the home side's front line was demonstrated by those two late on goals which pulled the game out of the fire when a replay seemed certain. One consolation for Everton is that Sheffield Wednesday's officials in acknowledging their own good fortune also reckoned that Everton's display was considerably better that they have seen at Hillsborough from the majority of First Division clubs this season in their view the Blues assuming promotion is achieved can more than hold their own in the top sphere. When a side fights so well as Everton did it seems a little invidious to mention individuals but special tribute should be given to Hickson who was infinitely more aimed against than ever he sinned.
Harshly Treated
He received particularly harsh treatment from two of the home defenders yet was never intimidated. He showed that he can take it and led the line with even greater dash and determination than usual if that is possible. Lindsay was some time settling down and never thoroughly mastered the speedy Finney but Donovan had Woodhead well bottled up most of the time. The only occasion he was completely beaten and that was when he was caught on the turn, was when the winner got the last goal of the day. O'Neill had no chance worth speaking of with the shots that defeated him. Parker was the least conspicuous of the forwards and Fielding was not as prominent as he has been in many games, I thought that Everton might have done better had they concentrated more on crossfield passes. There were periods when they seemed more intent on forcing a way down the middle which gave the home defence opportunity to close its ranks and concentrate its forces. Far-flung passes might have spread-eagle them and opened up the avenue to closer acquaintance with McIntosh.
EVERTON UNCHANGED
February 23, 1954. The Liverpool Echo
Ranger's Notes
Everton will be unchanged for the ninth occasion in the last ten games – for the visit of Brentford from which the Blues naturally hope to take maximum points to consolidate their promotion prospects. While nothing is ever certain in football it will be a big surprise if Everton do not register a victory tomorrow. Nothing in Brentford's record indicates that they are likely to present a very severe problem for Everton particularly if the Blues are in their best form and this time produce shots in reasonable ratio to their probable midfield supremacy which was not the case at Hillsborough. Brentford's away record is one of the poorest in the Second Division. Their 16 matches on foreign soil have yielded them only several points. Their solitary victory came at West Ham, where they won by the only goal on October 10. At the moment they are only one place above Oldham Athletic at the bottom of the table with a game more played and a total of 22 points from 31 matches.
Their Biggest Weakness
They have scored fewer goals on tour than any other First or Second Division side except Bury. Ten, is all they have been able to manage while 36 have been scored against then. At home they have not done much better, for 15 matches at Griffin Park have produced only 14 goals on the credit and 9 against. It is obvious from this where Brentford's biggest weakness lies. The defence, considering their lowly position has not had an undue number of goals against but the attack with an average of less than a goal per match must be causing manager Bill Dodgin a real headache. Bill Dodgin only took over at Brentford last October, soon after Tommy Lawton had relinquished the player-managership and moved on to Arsenal. Apart from their other troubles. Brentford have been receiving poor support and have not the wherewithal to go out and buy the men that might help them preserve their Second Division membership. On the contrary they have been in such low water financially and also in need of such drastic rebuilding that not long ago they indicated their willingness to consider offers for any of their players. So far this season Brentford's attack has only once scored more than two goals in a match. That was when they defeated Oldham Athletic 3-1 in London on Christmas Day. Four times only have they netted twice in a game the most recently being against Hull City on February 13, when inside right Glazzard a recent signing from West Ham got both goals.
A Very Lean Spell
In thirteen of their 31 outings the Bees have failed to find the net at all. At one period just before Christmas Day they went five successive matches without a goal. They have tried many forward experiments and have had five debutants in their attack since the middle of September. First of all there was ex-Arsenal outside left Robertson. He was followed by inside forward Rainford who was signed from Cardiff City, and played his first match for the club on October 17. Other signings this season have been centre forward Dudley the former Cardiff leader, who left Ninian Park on the arrival of Trevor Ford; inside forward Gerry Gazzard, who may retire at the end of the season, and whom West Ham let go on a free transfer and a local boy named Vic Avis who has played one senior match at centre forward. Inside forward Billy Dare is the sides leading scorer. His six goals include a double obtained against Blackburn at Ewood Park at the start of the season and apart from Gazzard he is the only Brentford man to score more than a single goal in ant game. Brentford inflicted the first defeat of the season on Everton (thanks to a long-range goal by Dare. That was when Everton were without Farrell and Eglington on duty for Eire. Everton; O'Neill; Donovan, Lindsay; Farrell, Jones, Lello; Wainwright, Fielding, Hickson, Parker, Eglington. Brentford; Newton; Braggs, Latimer; Bristow, Dargie, Coote, Robertson, Gazzard, Dare, Rainford, Dudley.
EVERTON IN SCORING VEIN AT GOODISON
February 24, 1954. The Liverpool Echo
Luck Against Brentford
Curious Goals
By Ranger
Everton; O'Neill, goal; Donovan and Lindsay, backs; Farrell (captain), Jones and Lello, half-backs; Wainwright, Fielding, Hickson, Parker, and Eglington, forwards. Brentford;- Newton, goal; Bragg and Latimer, backs; Bristow, Dargie, and Coote, half-backs; Robertson, Gazzard, Dare, Rainford, and Dudley, forwards. Referee; Mr. F.B. Coulas (Hull). A moderate crowd for this rearranged game at Goodison Park saw Everton establish a two goals lead in the first 18 minutes. Both goals were rather fortunate affairs. The first of them came when the game was only 30 seconds old. Farrell put a centre from the right wing over to Wainwright at inside right, he headed it forward to Parker, whose first shot was partially saved by Newton, parker, however had followed up, and put the rebound into the net. Brentford for the next quarter of an hour looked the more dangerous side. Some of their combination and shooting was far better than one anticipates from a side in their lowly position. O'Neill had to make smart saves from Gazzard, Dare, and Rainford, while other shots including one from centre half Dargie were also by no means easy to handle although from long range. Everton had a fortunate escape when Dare picking up a pass from Gazzard hit the ball with such force that O'Neill could not hold it to his chest.
Over His Head
It bounced over his head and behind him but fortunately for Everton he was standing a couple of yards in front of his goal so that he was able to turn quickly and complete the save. Although Everton's ratio of shots was nothing like Brentford's so far the Blues always looked dangerous when on the attack. A second goal came at the 18 minute in an unusual manner Farrell put over a short centre and when Fielding and Dargie went for it, simultaneously after the ball had cannoned against another defender, it seemed that Fielding had kicked Dargie boot as well as the ball. Newton seemed so certain that Brentford were to get a free kick that he placed the ball ready for it only to find referee Coultas pointing to the centre. This was a heart breaking position for Brentford who had three times as many goal scoring efforts and had nothing to show for them. Wainwright looked a scorer until Newton made a brilliant save at point blank range. Everton were not long denied for at the 25th minute Newton completely misjudged a centre by Parker from the outside left position. The ball passed over his out-stretched hands and Wainwright had the simplest of tasks to head it into the net. Wainwright was brought down by Gazzard, but the referee would have nothing of it. Eglington, who earlier had found Bragg a stumbling block, twice skimmed the bar with fierce drives. Farrell had played splendidly all through and twice broke up Brentford raids through clever anticipation. For some time Brentford's only shot had been one by Bristow, yards over the bar.
Half0time; Everton 3, Brentford nil.
Hickson, was crowded out when he tried to veer towards the right, and offside pulled Everton up in their next move. Wainwright had hard lines with a header which was only inches over the bar, and though Everton were not having it entirely their own way, Brentford for some minutes were securely pegged down in their own half. When at last they got away Robertson called upon O'Neill to save a swirling 30-yards shot. Some of Everton's passing was quite entertaining but rather too much of it was being done in a lateral direction. Farrell continued to make good use of the ball though he slipped from grace a little when a directed pass enabled Dudley to get in a shot which went well over the bar.
Number Four
At the 55th minute Hickson scored a fourth for Everton thanks to a long pass by Wainwright which found the Brentford defence completely spread-eagle Hickson took the ball on and put a low shot out of the reach of the advancing Newton. Eglington now had a chance to put himself on the scoring list following a Wainwright corner. The direction was right but the elevation was not.
EVERTON SNAPPED UP THEIR CHANCES
February 24, 1954. The Liverpool Echo
By Stork
Everton 6, Brentford 1
Everton are keeping pace with Leicester City, with whom they now share top position in the second Division with 40 points. They helped their goal average considerably by their 6-1 win over Brentford, who played anything but like a bottom of the league side at Goodison Park yesterday. Their football was really excellent on occasions, and had not O'Neill been at the peak of his form the Londoners would have had several more goals. Such a heavy beating hardly did Brentford full justice, but one must give Everton credit for snapping up chances, several of which however were rather flucky. The third goal was definitely so, for the goalkeeper misjudged Parker's centre and Wainwright stepped in to take a simple chance. Then there was Fielding's goal. There was a suggestion of a foul about this; in fact the Brentford goalkeeper placed the ball for a free kick. Brentford were a goal down in thirty seconds. Newton saved Parker's first drive, but could not recover to do anything about the Everton forward's second chance. The Londoner, s were not so bad as they painted in the League table. In the second half O'Neill made four superlative saves, stopping Brentford shots which could have beaten any goalkeeper who had not a safe pair of hands, plus a keen eye plus fleetness of foot.
O'Neill's Best Form
The Irish goalkeeper has sprung back to his very best form, and it was well that he had in those last fifteen minutes or so. Brentford got only one goal from their efforts and it was a good one by Gazzard. Everton took three to that one, the best being Hickson's shot which passed the advancing goalkeeper, after Wainwright had put him in an invincible position. Wainwright was the architect of Parker's second goal while Hickson got his after Dargie had headed against his own goalpost. Everton have scored twelve goals in their last two League games another six against Plymouth on Saturday will bring them within close touch of Leicester's goal average. While paying tribute to O'Neill one must not overlook the great work of Farrell, Donovan and Jones. They were excellent throughout. Brentford played the open game exceptionally well, but Everton were the better at snapping up chances.. Everton played with a confidence which comes of success. Their opponents were straining yet their game was not full of mistakes as one expects from a team fighting with their backs to the wall. Everton could never afford to take them lightly. Attendance 23,145.
GOAL AVERAGE IMPROVING
February 25, 1954. The Liverpool Echo
But Everton Were Flattered By The Margain Of Their Brentford Win
Ranger's Notes
Everton have done their promotion prospects a spot of good by scoring 12 goals in their last two league outings. Goal average may yet prove the deciding factor when the final reckoning is made and anything Everton do to improve matters in that respect is welcome. At the moment Everton's goal average is 1.477 and Leicester City's 1.532. That is for every goal scored against them Everton have popped in 1.477 themselves – if you can visualize a goal being split into decimal parts. If Everton can produce another sextet on Saturday against Plymouth –without the visitors scoring –they could overtake Leicester on goal average should the latter win by no more than a goal at Doncaster. And Everton also have a game in hand against lowly Oldham Athletic at Boundary Park. The position is bright, though there is a long way to go yet. Maybe it is a bit early yet to start deiving into goal average but it provides a rather intriguing line of thought, as well as stressing the need for constant endeavour on the part of Everton to push up their "goals" for aggregate. But they were fortunate to win by such margin against Brentford yesterday. The final score was almost as big an injustice to Brentford as was Sheffield Wednesday's Cup victory over the Blues. Despite the measure of their success, this was not Everton's brightest performance by a good bit, I have seen them play better and not get both points.
O'Neill Brilliant
With the distressing perversity which seems to hamstring struggling sides nothing would go right for Brentford. Though Everton were two up in 18 minutes, Brentford at that stage had eight shots to the home side's three. True some of them were long-range efforts which did not have much hope of beating a goalkeeper in such brilliant form as O'Neill but they were still scoring efforts. Then there was a thrill packed spell in the second half when O'Neill made three miraculous saves in quick succession –one from a back-header by Dare another off Gazzard which O'Neill caught in mid-air while stretched out horizontally and the third an instinctive save at three yards' range also against Gazzard. We have had cause many times this season to reflect on the frequency with which visiting goalkeepers have come to Goodison and played a "blinder." Yesterday the boot was on the other leg, O'Neill has never produced a better display in his life than this and may go a long time before he gives another so crammed with brilliance. He must have broken the hearts of Brentford's forwards –and of right half Bristow, who also put in many good shots. Don't think I'm belittling Everton's victory by touching on the rather "jammy" aspect of some of their goals. I rejoice as much as anybody at the margin of their win, but in justice to struggling Brentford this point has to be made.
Story Of The Goals
Everton's first goal a real body-blow in the first 30 seconds arose after parker's first shot had been partially saved. Full credit to Parker for following up in anticipation. The second by Fielding, was of a curious one so much so that more people than Newton – who placed the ball for a free kick – though it might be nuffified. The third a header by Wainwright came because Newton completely misjudged a high cross by Parker and the winger had only to head the ball into the empty net. The forth scored by Hickson, was the best of the day. It was from a breakaway and a long Wainwright pass which found the Brentford defence nowhere in sight. It was in some respects similar to Sheffield Wednesday's third on Saturday. The fifth was a well-conceived and executed four-man movement suitable rounded off by Parker, but the sixth was a gift when Dargle in trying to head away to safely struck the upright and Hickson was there to return thanks for the present. In between Everton's fourth and fifth Gazzard got Brentford's orphan which was slender reward for just as much shooting as came from Everton to say nothing of some quite promising approach moves and much solid defensive work.
Restoring The Balance
However discouraging the result may have been for Brentford, it is good to see the luck running Everton's way. They have had their full share in the past of adverse "rubs of the green." Any in their favour helps to restore the balance a little. Next to O'Neill whose great work has already been praise I thought Farrell and Jones were Everton's best in defence and Wainwright the star of the forward line. Farrell was the starting point of three of the goals. Wainwright had a share of three also, as well as the one he scored himself and came within inches of getting another two. Hickson did well against a strong and determined centre half in Dargie who rarely gave him an opening apart from the two goals he so quickly snapped up by his intelligent anticipation. Bragg outstanding in the visiting defence saw to it that Eglington did not get his name on the score's sheet. For once the Everton winger found his speed did not leave his opponent trailing in the rear. Bristow was the best visiting half back and Gazzard the most dangerous forward. On this showing either Brentford don't deserve to be next to bottom by Everton are flattered to be next to top. There certainly was not the difference between them that their League position or the final result would indicate.
Plymouth Debutant
Plymouth Arygle have a debutant centre-forward for their visit to Goodison Park on Saturday in 21 years-old Neil Langman an Electricity Board apprentice and part-timer professional. Five changes are made in all with the defence the same at against Everton at Home Park in October when the Blues lost 4-0 except that Major is in goal for Shortt. Right back Ratcliffe drops out, Robertson reverting to his old position with Dougal moving back to right half to fill the vacancy Tadman moves to outside left in place of Anderson thus allowing for Langman's inclusion, and McCrory replaces McJarrow at inside right. Plymouth Argyle;- Major; Robertson, Jones; Dougal, Chisholm, Porteous; Thomas, McCrory, Langman, Dews, Tadman.
Everton "A" At Skelmersdale
Skelmersdale United and Everton "A" will be engaged in a vital Liverpool County Combination championship struggle at Skelmersdale on Saturday. If Skelmersdale win they are prospective champions.
VITAL TAG RULES EVERTON
February 26, 1954. The Liverpool Echo
Ranger's Notes
Everton are home tomorrow to Plymouth Argyle whose away record is no more impressive than that of Brentford. Whether Everton can win by so good a margin this time seems rather doubtful unless the gods have at last decided to heap their favours on the Blues to make up for some of the harsh things they have suffered in the past. Whatever the margin however, a home win looks the most likely, though one never knows in this game. Plymouth it was who inflicted an unexpected 4-0 defeat on Everton at home Park on October 10 last when the Blues made the mistake of trying to play the opposition at their own rather robust game instead of sticking to their usual more methodical style of play. That victory was Plymouth's first home win of the season and in the 17 league games played since the Pilgrims have won only four – three of them on their own ground. Of the remainder, five have been drawn, all at home. Plymouth at present occupy 20th place in the table. Plymouth have made many changes in their side, most of them in attack in an effort to get better results, but so far with little success. Of the tam which defeated Everton only three players have maintained their places regularly since. They are left, back Jones, centre-half Chisholm, and left-half Porteous. Robertson who was at right back in October and there again tomorrow had recently been operating at right half with Dougall moving up from right half to inside right in place of McCrory. Now these two have returned to their original positions. The most notable absentee in the Argyle side is Welsh international goalkeeper. Bill Shortt formerly of Chester who has not played since before Christmas. He has given way to Leslie Major, the former Leicester City custodian. Outside left Edds was a regular up to a fortnight ago. Now Tadman takes his place.
Langman Makes Debut
Outside right Astall having been transferred to Birmingham City, Plymouth filled the vacancy by signing Thomas from Cardiff City who has been shaping quite well while at centre forward the visitors have a debutant in Neil Langman a 21-years-old electrican's apprentice. Of Plymouth's 24 points, only six have been picked up in away matches. These came from victories at Swansea and Blackburn and draws at Oldham and Leeds. Though their 14 matches on opponents grounds have brought but 11 goals Plymouth have conceded only 29 a smaller total than any side in the lower half of the table except Bury and only four more than Everton have conceded on tour. They have failed to find the net in six of these games, but have suffered no really heavy defeats. Leicester scored four against them at Filbert Street, the one occasion on which they have conceded more than three goals in any game, Nottingham Forest, Birmingham, Bury and Fulham have each beaten the Plymouth goalkeeper three times. Everton are unchanged. Everton; O'Neill; Donovan, Lindsay; Farrell, Jones, Lello; Wainwright, Fielding, Hickson, Parker, Eglington. Plymouth Argyle;- Major; Robertson, Jones; Dougall, Chisholm, Porteous; Thomas, McCrory, Langman, Dews, Tadman.
Kick-off Is Earlier
Intending spectators should note that the kick-off is three o'clock not 31.5. It has been advanced for Plymouth's convenience in catching their return train.
EVERTON AT HOME
February 27, 1954. The Liverpool Daily Post
By Leslie Edwards
Everton resume hostilities against Plymouth Arygle with every chance of consolidating their position at the top of Division 2. One of the keenest individual battles of the game at Goodison Park will be between the bearded centre half Chisholm and Everton centre forward Hickson. The corresponding fixture at Plymouth was I understand a very unrelenting battle and Everton will be especially eager to show their football paces and prove their belief that they are about to go up and stay up. Everton; O'Neill; Donovan, Lindsay; Farrell, Jones, Lello; Wainwright, Fielding, Hickson, Parker, Eglington. Plymouth Argyle;- Major; Robertson, Jones; Dougall, Chisholm, Porteous; Thomas, McCrory, Langman, Dews, Tadman.
GOALS GALORE AT GOODISON IN GRAND SLAM WITH ARGYLE
February 27, 1954. The Liverpool Football Echo
Everton 8, Plymouth Argyle 4
By Ranger
Everton; O'Neill, goal; Donovan and Lindsay, backs; Farrell (captain), Jones and Lello, half-backs; Wainwright, Fielding, Hickson, Parker, and Eglington, forwards. Plymouth Argyle; - Major, goal; Robertson and P. Jones, backs; Dougall, Chisholm, and Porteous, half-backs; Davis, McCrory, Langman, Dews, and Thomas, forwards. Everton attack was in great form and had a field day, bringing its total of goals in the last three League games to 20. The defence was not as good as usual when the speedy and thrustful Argyle attack was at its best. The game was characteristised by some very hard and relentless tackling, Plymouth's defence stood on no ceremony in this respect. Chisholm and Hickson had their names taken after the referee had twice spoken to them. Referee; Mr. E.S. Vickery (Bristol). Everton started with a bright movement between Wainwright, Hickson and Fielding, Wainwright's final shot struck Jones (P) and provided a simple pick-up for Major. After a pass back by Jones (T) to O'Neill had almost been intercepted by debutant Langman. Everton came away again for Parker to fire a strong shot obliquently across goal. it had Major well beaten but the ball passed on the wrong side of the far post.
A "Scissors" Move
Another grand bit of approach by Farrell. Wainwright and Hickson saw the ball taken from Everton's half to the Plymouth goal area where Parker's shot produced a corner off Chisholm. This in turn brought a goal to Everton at the fifth minute. Major fisted out Wainwright's flag kick and from the edge of the penalty area Lello made a "scissor" drive which passed through a ruck of players into the net. This was Lello's second goal this season and he stood for a second or two before realizing that this rather "chancey" effort had paid such a good dividend. When Everton looked like producing another goal a minute or so later. Major ran nearly to the far confines of the penalty box to kick away from the advancing Eglington.
Plymouth Promise
This early goal like that of Wednesday was a good encouragement for Everton provided they did not make the mistake of thinking that the game was going to be easy. It was soon evident that this would not be the case, for Plymouth in addition to their quick-tackling were speedy in attack and were moving into the open spaces in quite promising fashion. Langman a big strapping player making his first team appearance was showing good ideas and Everton's defence was by no means having it all their own way. Then came a real shock for Everton, for Plymouth scored two goals in two minutes to put the home side in arrears in spite of their encouraging start. Slackness in getting the ball away resulted in Davis equalizing at the 10th minute, and a quick throw in by Porteous produced a goal to Langman two minutes later. Dews, fastening n on the throw-in ran right through the rather spread-eagled Everton defence and then slipped the ball nicely to Langman who made no mistake with a great right foot shot. From my angled view it seemed to me that Langman might have been offside but there was no protest from Everton. Still the thrills came fast and furious and after Hickson and Parker had both gone close, Parker equalizer for Everton at the 16th minute. Hickson takes at equal share for this goal for he put a grand ball straight up the middle for Parker to add the finishing touch by beating Major to it as the goalkeeper ran out. Parker went flying full length over Major's body.
More Goal Thrills
The players on both sides were putting everything they had into what was proving a thrilling game on a very slippery surface. Fielding went very near with a header, Wainwright had an angled shot blocked by Chisholm and in a quick dart towards the other end McCrory after dribbling round in a circle finally got in a 20-yards shot which O'Neill safely dealt with. Langton beat Jones by a quick flick of the ball from one foot to the other only to screw his shot yards behind. An Eglington centre was tapped gently back to Fielding to provide Farrell with a first time shot from almost that spot from which Lello scored. This time however goalkeeper Major had the effort well covered. Wainwright hopped about agilely to leap over the out-stretched legs of Dougall and then Chrisholm, and after Everton had forced two more corners it began to look as though the Blues were at last getting the edge on things. The game was held up while Hickson received treatment for a leg injury. He resumed limping. A foul by Porteous on Wainwright a few yards outside the penalty area side-line saw Fielding drop the ball nicely near the six-yards line. Hickson just failed to get to it with his head. Parker went close with an effort which would have been in a class by itself had it scored. He brought the ball from behind his body following a centre by Hickson, in most acrobatic fashion.
Brilliant Saves
Plymouth Arygle, like Brentford on Wednesday, completely beiled their lowly League position and had now come back on attack with undiminished vigour. In one series of pressure O'Neill made two brilliant saves, the first from Porteous and the other from McCrory. Just prior to this Hickson had been admonished by Referee Vickery, followed a charge on Chisholm. The charge was a fair one to my mind though it was a moot point whether the ball was within playing distance. Wainwright who had put in many grand centres produced one which Eglington headed just over the bar. Plymouth's attack, considering the many changes they have made this season in the front time, was quite a revelation, and they always looked dangerous when on the move.
Penalty Lead
Their defence however, was nothing like so good, and several times looked somewhat panicky though its tackling was strong. Wainwright had continued to show liveliness in getting but of the way of some attempted tackles by visiting defenders two minutes before half-time, however, he was brought down a few yards from goal by outside left Thomas, who had dropped back to help his defence, and the referee immediately pointed to the spot. There could have been no argument about it, and there was no argument however, about Lindsay's spot kick which he placed out of Major's reach. Lindsay and Langman bumped their heads together, both going off as the interval whistle went rubbing themselves gingerly. Half-time –Everton 3, Plymouth Argyle 2.
After Eglington had headed the ball forward, Hickson attempted to do likewise as Chisholm crossed his path but failing with his head, helped the ball on with his hand a fact which did not escape the referee's notice. A free kick against Eglington near the corner flag was quickly followed by one against Hickson to whom Referee Vickery again addressed a cautionary word.
Chisholm "Booked"
Wainwright won a corner on the other side of the field off Jones (P) from which Hickson almost headed in after Major had misjudged the flag kick. Robertson turned the ball out while standing a yard in front of the untenanted goal. this game, which all along had looked likely to get out of hand was not helped towards a more friendly spirit when Chisholm while lying on the ground, fouled Hickson. As the crowd booed it's disapproval, Referee Vickery appeared to be entering Chisholm's name in his little book. The free kick which followed led to Everton going further ahead, for when Farrell put the ball into the middle, Parker was there to outwit two opponents and slot it safely into the net. This was at the 55th minute. Hickson worried goalkeeper Major as he held possession of the ball following an Eglington shot, and after Hickson had twice tried quite legimately to harass his opponents, referee Vickery stopped the game and again brought out his book. In short, this game was developing on the same lines as the at Home Park when Mr. Vickery was also in charge. It was a pity it should be so.
Great Chance Missed
Eglington missed a great chance when Wainwright centred Hickson headed the ball back to Parker and Parker dragged it back still further to put it in the path of Eglington then in the centre forward position Eglington took deliberate aim but screwed the ball well wide of the post.
Defence Rocking
Everton were now doing all the attacking and had the Plymouth defence rocking on its heels. A good shot by Fielding was safely caught by Major. Hickson but one narrowly off his mark, and followed suit with a header just over the bar. Much of the fire and balance had gone out of the Plymouth attack largely because the wing halves had for some time been confined to defensive measures. When at last the Plymouth wing halves came into the game it led straight away to a goal Dougall put the ball up to Langman, Langman beat Jones with a canny dribble, than squared the ball for McCrory to take a very simple goal at 67 minutes.
Hickson's Double
Plymouth's joy was short lived for within two minutes Hickson had scored twice for Eglington. The first goal came off a centre by Parker, but was not allowed until after the referee had consulted a linesman following Plymouth's protest. The next came when a corner by Eglington was returned by Wainwright, stood near the far post and quickly shot in by Hickson. This made the score 6-3, so that Everton at this stage had scored 18 goals in their last three league games. They almost got a 19th a minute later, Major making a marvelous instinctive save from Eglington. Fifteen minutes from the end Parker got a seventh for Everton thanks to an unselfish pass by Hickson when the centre forward found himself crowded out. This completed Parker's hat-trick apart from the fact that they were not in consecutive order. O'Neill made a really tip-top save when he tipped over his bar a first class drive by Dews. Everton had not stopped their goal quest for at the 83rd minute Parker topped up the score to 8-3. Jones, standing on the goalline tried to get in the way of the shot but was unsuccessful and Major was nowhere about at the time. With three minutes to go Langman raced through to score a fourth for Plymouth and reduce Everton's average somewhat. Final; Everton 8, Plymouth A 4. Official attendance 44,496.
W.BROM RES V EVERTON RES
February 27, 1954. The Liverpool Football Echo
West Brom Res;- Davies, goal; Haddington and Williams, backs; Rawlings, Kennedy, and Brookes, half-backs; Jones, Evans, Cox, Carter, and Cutler, forwards. Everton Res; Leyland, goal; Clinton and Rankin, backs; Grant, Woods, and Melville, half-backs; Mayers, Potts, Saunders, Lewis and Stewart, forwards.
Play was confined to the Everton half with occasional raids by Mayers. Good defensive work by Clinton and Rankin with good saves by Leyland prevented goals. Best efforts by Everton was a shot by Grant which shaved the crossbar and Lewis heading into the net by Saunders was offside on the goal-line. Half-time; West Brom Reserves nil, Everton res nil. Everton went near to scoring, Davies saving twice from Lewis, while Mayers and Potts hit the crossbar. The goalkeeper saved from point blank range from Stewart. It was an improved Everton but after Haddington had kicked off the goal line Albion broke away and Carter scored after 65 minutes.
TEAM WITHOUT A STAR CLAIMS BEST FANS
February 27, 1954. The Liverpool Football Echo
By Peter Farrell
"Can Everton win promotion this year? " This question has been occupying the minds of all Goodison Park followers since we opened the season in such promising fashion, and has continued to do so, in increasing degree, right up to the present time, when we find ourselves level on points with Leicester City, with a game still in hand. I am happy to have the opportunity to talk about this aspect of our affairs today. Though I am no prophet and have been too long in the football game to stick my neck out when so many fixtures yet remains to be played. I think I hardly need say that promotion is the outstanding desire of every player on Everton's books, and if hard and genuine effort can bring about that happy culmination then to put it no more strongly, I think our chances are very bright. Before talking about this angle of Everton affairs however, I would ask the indulgence of my readers to say something first about the wonderful support we have been accorded by those who follow our club not only in the week-by-week League matches, but in our cup-ties as well, and particularly last week's away game at Sheffield. Unfortunately our Cup interest has ended for another year, I think we were unlucky to lose to Sheffield Wednesday. At least we deserved a replay. But amidst all our disappointment, every man who played in that game will always remember the wonderful vocal efforts of our followers at Hillsborough. The tremendous reception accorded us as we trotted on to the field, and which continued right through the game reaching the crescendo when Dave Hickson nodded home the equalizer acted as a great spur and encouragement to the entire team. I think everyone is agreed that whatever the cause of our defeat it certainly was not for lack of effort from players or supporters. As we left the ground after the game feeling a little despondent even the result, a large section of the "Blues" supporters who had waited to see the team depart gave the lads a send-off befitting a victorious side. One of my most cherished memories will be the sound of those gaily bedecked Evertonians as the bus moved away chanting "Two, four, six, eight, who do we appreciate? E-V-E-R-T-O-N." No wonder Eddie Gannon, Wednesday's right half, remarked to me after the game, "You must have the greatest followers in the game Peter. I have never seen such support for a visiting team as today." So to all those who made the long trip to Sheffield, and to those who have sent both myself and our manager letters praising the lads efforts. I say on behalf of the boys a very sincere "Thank You."
Cooke The Grand
Included in the official travelling party to Sheffield on the Friday before the Cup-tie was the old familiar face of Harry Cooke. He received a great welcome back from all the boys. Although Harry is always at hand at home games to help trainer Charlie Leyland with his many chores, this was the first occasion this season he had travelled away with the team. Despite the result Harry certainly enjoyed himself as evidence by the broad grin on his face as he related some of his famous stories of bygones days. It was a typical gesture of the club to invite Harry to join the partly and we players were delighted to have this grand old character who is as much a part of Goodison as the stonework itself with us. Everywhere you go these days the big question uppermost in the minds of Evertonians is; "Are Everton going to get promotion?" I wish at this stage of the season I could supply the answer. But I am no prophet and like everyone else will just have to wait with fingers crossed until the first week in May. Whatever happens in the meantime, I do know that the morale and spirit of the players at present comprising the first team could not be better. Our reserves are playing their part in no uncertain way by their sterling performances in the Central league and I am sure the club must be very happy in the knowledge that they have such capable ready to step in if needed in case of injuries or loss of form by any first teamers. The fact that there are such reserves ready for service tends to keep those of us in the premier eleven on our toes, knowing full well how hard it would be to regain our place if we should go out of the team. That is all for the common good. One of the big factors helping Everton in their bid for promotion is in my opinion that we have no outstanding individual stars in our side. I know that some of you may think that certain players in the team are as good as the best in the country in their respective positions. It is not my intention to individualize in the mention of any player. I should like to say that the fact that we are among the main challengers for a place with the elite in the First Division, is due to the combined efforts of the team as a whole rather than to the individual brilliance of one or two in the side. This is a good thing for all, for when a team has too many stars the outcome is obvious and discontent tends to creep into the side. I hope that during my time with Everton such will never be the case at Goodison Park. A question I am frequently asked is; "What is the difference between First and Second Division football? In my opinion, the general standard in the Second is not as high as the First Division. There are more "open spaces" on the spacious grounds of the bigger clubs than on the cramped enclosures of many clubs in the lower sphere. I do maintain that the tackling in the Second Division is a little keener than the other division and the marking in most cases a little closer.