EVERTON RES V ASTON VILLA RES
January 1, 1953. The Liverpool Echo
Everton were the superior side, Aldis and Lamb being continually harassed. Pinner the Villa custodian kept a good goal and made excellent saves from Mayers, Gibson and Vizard. Gibson gave the Blues the lead in the 36th minute. Half-time; Everton Reserves 1, Aston Villa Reserves nil.
On the resumption Everton earned their territory advantage and after a good move, Stewart narrow missed putting Everton further ahead. Everton were not to be denied and Gibson added second goal from a pass from Mayers.
EVERTON SHOULD WIN
January 1, 1954. The Liverpool Echo
Ranger's Notes
On the performance of the two side this season, the visit of Everton to Oldham does not look like giving the Blues any undue difficulty. Oldham seem to be anchored to the bottom of the Second Division table, for they are now four points below Brentford, who occupy 21st place. We have had enough past instances of lowly clubs springing surprises however, not to count our chickens too soon, and while Everton need the points in their search for First Division membership. The return of Jones to centre half, which has allowed Donovan to resume at right back, has put Everton's defence on a more even keel, and in the holiday games against Bristol Rovers, the rear guard covering and consistency left little to be desired. Rovers, however, were not a very virile side in attack so that Everton's task in that direction was not as severe as it will be in some games, though this visit to Boundary Park, at least on paper evidence appears even less testing than the Bristol encounters. Oldham have scored only 26 goals in 25 matches. Their defence is the most reliable part of the team and apart from the slump when Hull city got eight against. Everton delay selection of the side until tomorrow when Hickson and Parker will have further tests for fitness.
EVERTON BLANK AT OLDHAM
January 2, 1954. The Liverpool Football Echo
By Stork
After a long inspection of the ground at Boundary Park, Oldham, the referee T. N. Peake of Rotherham decided that play was impracticable and postponed the match between Oldham Athletic and Everton half an hour before the game was due to start. Not only was the fog thick, but the ground was frost-bound and there was patches of ice. This was the first match of the season postponed on account of the weather. Everton had to make two changes as Hickson failed a fitness test prior to leaving for Oldham. Parker was moved to centre forward in order to accommodate Potts at inside left. The last Everton match to be postponed owing to inclement weather was just over a year ago on December 27, 1952, when their game with Lincoln City at Goodison Park was "off" also through fog. On that day eleven League games was postponed as well as numerous Rugby League and Rugby Union fixtures.
EVERTON RES V BURY RES
January 2, 1954. The Liverpool Football Echo
Everton Res; - Leyland, goal; Clinton and Moore, backs; Grant, Woods, and Melville, half-backs; Harris, Vizard, Saunders, Lewis, and Stewart, forwards. Bury Res;- Kirk, goal; McLean and Massey, backs; May, Hithchen, and Williams, half-backs; Simm, Fletcher, Plant, Clarke, and Wood, forwards. Referee; Mr. F.S. Jackson (Preston). On account of poor light the white ball was immediately brought into use at Goodison Park. Kirk in the Bury goal was continually kept busy. Everton went ahead in the 20th minute through Saunders who gave the keeper no chance. The Blues were on top, and Vizard increased the lead. Half-time; Everton Res 2, Bury Res nil. The Bury forwards combined better with Leyland keeping a good goal. Everton, however, had always the measure of their opponents and Stewart had a terrific shot saved by Kirk.
SAUNDERS ON THE TRAGET
January 4, 1954. The Liverpool Daily Post
Everton Res 5, Bury Res 0
Mainly due to the fine work of their centre forwards Saunders who scored three times. Everton Reserves gained a convincing victory in this Central League game at Goodison Park on Saturday. Bury were dangerous on several occasions and Woods excelled in breaking up their many attacks. Harris and Stewart were two good wingers in a sound home forward line. The other Everton marksmen were Vizard and Lewis.
PARKER DOUBTFUL FOR CUP
January 7, 1954. The Liverpool Echo
Recurrence of Knee Injury Holds Up Everton Team Announcement
Ranger's Notes
Everton are holding over the announcement of their side to oppose Notts County at Goodison Park on Saturday, owing to a doubt about the availability of inside left Parker. A knee injury which he sustained at Bristol during the Christmas games appears to have cleared up all right last week, so much so that he was chosen to lead the attack in the absence of Hickson. Now Parker's injury has re-asserted itself during training. It is as well that it was discovered in this manner, rather than to cause him to crack up during the course of the Cup-tie. His knee pained him so much yesterday afternoon that he was ordered 36 hours rest as well as remedial treatment. After that he will report for a full scale fitness test around noon tomorrow. The constitution of the Everton team will depend on whether he negotiates this all right. If Parker is unable to play it will be something of a handicap to Everton, for he is their leading scorer with 18 goals. One consolation; however is that all the other Everton players are in good trim, and that there are capable and experienced reserves available to fill the vacancy if the need arises.
Replay Arrangements
Should a replay be necessary between Everton and Notts County, it will be on the following Thursday (2 pm) Tickets will be available for seats only, a 7s, 6s, and 5s. These will be strictly limited and application should be made as follows;-
Shareholders will be allowed two tickets each and season tickets holders one ticket. These must be applied for personally on Sunday morning January 10 at the club offices in Goodison Road, between 10.30 and 11.30 when season tickets must also be presented for stamping. Any tickets remaining unsold after shareholders and season tickets holders requirements have been fulfilled will be on sale at the club offices on Sunday between 11.30 and 12.30. Applications by post cannot be accepted.
EVERTON SHOULD WIN
January 8, 1954. The Liverpool Echo
Ranger's Notes
What of Everton's chance against Notts County, whom they have twice beaten in League games this season. While the tie looks likely to provide a win for the Blues who have suffered only one home defeat and that due largely to their being "robbed" through a brilliant display by Leicester City's goalkeeper. Notts County have recently shown such improvement that the tie becomes much more open. The Midlanders will be no "sitting target" for Everton. Everton must be on their best and most effective form to ensure further progress. They will need to be quick and resolute in defence and waste no possible shooting chances when the opposition goal looms ahead. Unlike Liverpool, Everton have been fairly free from injuries this season. The biggest single deprivation was when Jones was off for a time and the defence lost a little of its former solidity. With Jones back and Donovan taking up the threads again at right back the rearguard has returned to its former strong covering and should be able to keep the County forwards from troubling O'Neill too much. The keys to the situation seems most likely to hinge on Everton's from the, where Hickson has average a goal a game in his last ten outings, if the right flank could produce a little greater contribution to the "goal" for column. Everton's chances would be still brighter both in regard to the cup and promotion. Compared with the 21 goals bagged by Parker and Eglington only eight have come from the right wing. Fielding's value of course cannot be measured by goals alone. He has been the provider of many of those scored by this left-wing colleagues. Yet I have felt for a long time that if he definitely set himself out to increase his own total he could do it without any diminution of his vital contributions in other directions. There are times when unselfishness can be carried a little too far. Everton will be at full strength, Parker having passed his test all right. Everton; O'Neill; Donovan, Lindsay; Farrell, Jones, Lello; Wainwright, Fielding, Hickson, Parker, Eglington. Notts County; Bradley; Southwell, Deans; Adamson, Leuty, Cook, Wylie, McCormack, Leverton, Johnston.
PARKER'S FIT
January 9, 1954, The Liverpool Daily Post
Few attendances will match that Everton and Notts County will draw at Goodison Park. Although there have been murmurings about increases in prices, the good Evertonians will be in his place, and those from Nottingham, knowing the capacity of the ground will come in numbers. Semi-finalists a year ago, Everton are expected to win. The doubt about Parker's fitness was resolved yesterday. Everton are thus at full strength. I hope to see this match and continue my Everton mascotry. In no game this season, home or away, I travel I seen them lose. The crux of Everton's attack is Hickson, and the crux of whether he gets goals or not is Leon Leuty, former England centre half-back. In the game Everton won at Nottingham against County. Leuty and Hickson had quite a battle expect it to be resumed this afternoon, with Deans a stocky but sturdy full back, adding his stint to the defensive plan. If only because their experience in two good cup seasons should tell. Everton have the edge. Men likely to cause them most trouble are Wylie (a great game here when prompted by Lawton two seasons ago and Cooke, whose winging for Mansfield at Tranmere, brought a trail of scouts. Bradley the Notts County goalkeeper is a stylish sort, as one would expect of a professional tennis player. He has the net behind him this time and Everton to find it must penetrate his forehand and back hand. They are likely to do so more readily with a football had a tennis ball. But there must be no foot-faulting. Everton; O'Neill; Donovan, Lindsay; Farrell, Jones, Lello; Wainwright, Fielding, Hickson, Parker, Eglington. Notts County; Bradley; Southwell, Deans; Adamson, Leuty, Jarvis; Coole, Wylie, McCormick, Leverton, Johnston.
EVERTON SCRAMBLE CUP WIN IN 89TH MINUTE AFTER NOTTS SHOCKS
January 9, 1954. The Liverpool Football Echo
Everton 2, Notts County 1
By Stork
What a sensational finish – one minute to go and the scores level. Naturally, one expected a replay, and then Hickson scored the all important goal. Actually, the Blues should have made sure in the first half when they were undoubtedly top dogs but they fell away considerably in the second half and had to fight tooth and nail against a side which seemed to stay the much better.
Everton; O'Neill, goal; Donovan and Lindsay, backs; Farrell (captain), Jones and Lello, half-backs; Wainwright, Fieldings, Hickson, Parker, and Eglington, forwards. Notts County; Bradley, goal; Southwell and Deans, backs; Adamson, Leuty, and Jarvis, half-backs; Cooke, Wylie, McCormick, Leverton, and Johnston, forwards. Referee; Mr. R. Wood, Sunderland. It was soon obvious that the ground was not as good as it looked, for quite early footprints were discernable. Everton got off the mark quickly and were soon testing the County defence and a slip by McCormick almost let the Everton attack through, but not quite. The first few minutes saw the County defence in stern action and when Wainwright flung the ball right over to Eglington there were possibilities until the Irish winger headed the ball inside to the opposition. Nevertheless it was Everton who were still calling the tune and a quick passing movement on the Everton left flank looked full of promise until Southwell cut into the working of Parker and Hickson to cut short a really enterprising movement. It was just after this that Nottingham made their first attack through Johnston and this was speedily attended to by the Everton defence.
Danger Averted
When Hick son beat Leuty there was a bright outlook for the Blues, but the County defence was not prepared to give anything away and by close collaboration they succeeded in extricating themselves from the most apparent danger. One of the best movements in the game thus far went down in Everton's record, when Fielding, a Parker, and Eglington got together in an effort to provide Hickson with a scoring opportunity which, however, was not fulfilled for the Nottingham defence was able to cope with Hickson's header into the goalmouth. So far all the honours had gone to Everton but it was plain to be seen that Leuty was determined to be first to the ball when Hickson was a round.
Unstoppable Shot
A neat movement between Farrell, Fielding and Hickson although the last-named failed to take possession, allowed Wainwright to carry the ball close into goal. When everyone expected him to make a shot, Wainwright slipped the ball over to the open space so that Eglington could come along with ease and confidence to slap home an unstoppable shot from just outside the six yards line. This was at 17-minutes and there is no doubt that Everton fully deserved their lead, for they had been the attackers-in-chief practically throughout. This goal seemed to bring greater effort from the County and they attacked with strength until they ran up against a very compact and confident Everton defence.
Speedy Eglington
A bad pass by a County man let Eglington through and the Irish flyer went beyond Southwell like an express passing a goods train. Eglington's inside pass to Parker was full of potentialities, but instead of taking a shot himself. He preferred to offer it to another, and so a reasonably good opportunity went astray. When Eglington came into the middle, bringing the ball along with him there were great expectations from the Everton followers, but the Irishman intended shot, or it may have been a forward pass, went all wrong. Eglington was playing ducks and drakes with Southwell. Another short tussle between the Everton attack, and the County defence ended with a neat save by Bradley from a close-in Parker effort.
Shot Deflected
The County were inclined to rather overdo things and Cooke was once greatly at fault in this respect although his final pass enabled McCormick to have a shot deflected for a corner. Notts County were now doing a little more in an attacking sense, yet it was Bradley who was next called to duty when he had to take a booked effort by Hickson. Fielding as at the peak of his form. He not only pushed out the passes but positioned himself for the return and it was from one of these that Parker was able to produce a shot and Bradley a tip-top save.
Lucky Escape
A free kick to Everton saw Hickson head behind from Eglington's pass it appeared that Hickson hurt his shoulder. Just after this the County goal had a really lucky escape. How the goal did not fall goodness only knows unless it was that Parker lost his foothold at the crucial moment and Wainwright suffered a similar fate. Bradley had been very sure in all he had done up to now, but he was nearly taken by surprise from a Hickson lob, which passed over his hands and sped, only six inches outside the angle of the woodwork. Both Eglington and Hickson kicked around the ball when making an effort to smart the ball into the County net and then O'Neill had to make a save from a long shot by Adamson.
Against Run of Play
All against the run of the play, the County obtained an equalizer, Wylie was the scorer, but there seemed to be a little laxity on the part of the Everton defence for the scorer was given his opportunity. It must be said, however, that Wylie took his charge with alacrity. This meant that Everton had to star all over again after they had dominated everything practically throughout.
Half-time; Everton 1, Notts County 1
Quite a number of things happened in the first few minutes of the second half. First Bradley saved from Hickson, and then Leuty was spoken to by the referee after a foul on Hickson and Fielding produced a shot which took all the powers of concentration on the part of Bradley to save. It looked at this point as though we were going to have a repetition of the first half, for Everton were soon testing the Notts defence, although a run by Leverton looked promising until he carried the ball over the goal line.
Testing Bradley
Two County men tried to sandwich Eglington and were involved in a free kick but prior to this Fielding had come along with a fiery shot which Bradley mastered. The County goalkeeper also kept a Wainwright effort out of his net. Everton seemed to go into defence for a while, and this did not please the crowd, who called for greater effort, Leverton with one slick pass made an opening for his colleagues, but it was not accepted and Everton were once again on the attack. McCormick had few chances against the stalwart Jones yet Nottingham were able to produce a corner taken by Johnston with his right foot in the hope that he might score with an in-swinger, but it did not materalise. The next movement was on the Everton left wing where Hickson had moved and his angular shot was safely caught by Bradley who not long afterwards dropped on a ball from Wainwright.
Still Dangerous
A Wainwright pass right across the County goal face was captured by Hickson, but before he could get the ball down on to liking he had carried it over the line and County got a goal kick. The County only came in spasms but when they did take the initiative they were rather dangerous looking from a goal point of view.
Scrappy Play
Everton were mot having things quite so easily as they had in the first half for there was not the fluency of movement now. The game had now become very scrappy, and had not Lello covered up Wylie could very easily have burst his way through to a goal.
Bad Luck For County
The County while not being a super team by any means, seemed to be staying the pace better, and they almost got the winner when Jarvis came along with a long shot with hit the crossbar and bounded down in front of O'Neill who pounced on the ball to prevent it slipping over his line. This was a desperately near thing for Everton, and a piece of bad luck for the County, if you have an open mind about your football. McCormick a minute or so later, had an even better chance, but he shot outside. Everton had gone to nothing and Wylie from the outside right position forced O'Neill to pull down a shot from under his bar and go on to complete the save. Hickson had been idle for some time, but he suddenly got an opening from Eglington and his header was full of merit and only just missed the target.
The Crowd Roars
The crowd were now roaring for Everton, and a Parker-Eglington link-up saw Eglington centre right across the field to Wainwright, but the County goal survived and it was Everton's turn to put in some strong defensive methods to stay in this tie. Encouraged by the roar of the crowd, Everton hit back, and following a hot tussle in front of the County goal, Bradley brought off another good save when he foiled Eglington whose fast rising shot was speeding under the bar until he blocked it away.
Grand Defence
The pressure was maintained until Lindley lobbed the ball into the goalmouth where Hickson challenged Bradley with the result that County were awarded a free kick. Everton were trying might hard but the County defence were not giving anything away. Just as we had all settled down in anticipation of a draw, Hickson scored the all important goal which sent Everton into the next round, it was Lello who started the movement and the ball seemed to come back to Hickson from a County defender, leaving Hickson the opportunity of scoring at the 89th minute. Final; Everton 2, Notts County 1.
Attendance 51,037, receipts £7,090.
HUDDERSFIELD RES V EVERTON RES
January 9, 1954. The Liverpool Football Echo
There was plenty excitement at Leeds Road today, where Everton Reserves after being two goals up in 25 minutes had to face a fierce late first half rally in which Huddersfield Town Reserves eventually leveled the score. Everton Reserves first goal came from Stewart. Thirteen minutes later Saunders consolidated the visitors lead. The Town rally goals were scored by Simpson and Duthie. Half-time. Huddersfield Res 2, Everton 2. The second half opened with more excitement. Frear nearly got a third for Huddersfield with a shot that Leyland kicked over the bar. Town were rewarded when McKenna equalized after good work by Shiner.
NOW FOR AND/OR CUP DRAW
January 11, 1954, The Liverpool Daily Post
By Leslie Edwards
Everton 2, Notts County 1
Thirty seconds to go and the score is 1-1 and nothing seems more inevitable than a replay. Then in the gloom soft mud which had sapped everyone's stamina, Lello took possession and put up a tentative through ball "on the off chance." The crowd roared, the Everton bugler blew and Hickson, made his challenge. For once the Nottingham defence was caught undecided. It seemed that the ball spun from the feet of Leuty, standing slap in front of goal to the feet of Hickson. Hickson was not disdaining such chances. He slammed the ball into goal as if he hated the sight of it and was away, careering upfield in a series of joyous leaps. To be candid it was almost the first time we had noticed him. So the customary, formal handshakes and commiserations. This time were very sincere. One sensed that at those vastly disappointing men of Nott's County trooped off tired, beaten and not so much as given a final fling in which to try to rub out Everton's lead. This was a poignant moment it typified the s-near-and-yet-so far of Cup-tie football. And Everton might well have mused. And there, but for our last minute good fortune go well. A pity ether had to lose. Few Cup games have been better fought Notts County did not stand on ceremony but what team does in cup-ties. They made their desperate tackles and took the consequences. Referee Wood, who must have pleased both sides, moved justice to all.
Critical Moment
There was one second half moment, when Everton had reason to thank their stars. The score was at 1-1 and County were beginning to look like possible winners when Jarvis from left half back, shot "out of the blue" and caught O'Neill by surprise. The drive carried so much pace and was unexpected, O'Neill could not pretend to make his catch or edge the ball for a corner. He flung up an arm. The ball was diverted to the underside of the bar. It fell and stuck in the mud about twelve inches on the right side (for Everton) of the line. But Everton should have had the game safe in the first half. They started well, and led by an Eglington goal at seventeen minutes. Eglington owed his chance to the pertinacity of Wainwright. Leuty had won a tackle against the Everton forwards but he slipped and Wainwright hopped over him to regain the ball and centre squarely. The ball was only half-cleared. Eglington's shot was from such short range and carried so much pace I doubt whether Bradley saw it. From that moment Everton seemed confident. The only barrier between them on half a dozen occasions was the professional tennis player goalkeeper, Bradley. He made two magnificent catches from Eglington centres when a goal seemed imminent. He saved gloriously from Wainwright (twice) and from Fielding's low shot made on the half turn. He was well nigh unbeatable.
Doubly Valuable
County, with Johnstone on the left apparently completely unable to do the simplest things properly, equalized so neat the interval it was a doubly valuable goal psychologically. One sensed that Everton would have cause to ruminate while they rested since Wyie who scored, seemed to weave his way through serried ranks of defenders. Again in the second half we had that astonishing Everton tactic. Their opponents taking the initiative and playing fine football on a surface unsuitable to the short passing game, then came so much into the picture that we began to have replay fears. Eglington with a volley could not beat Bradley was edged the ball onto the face of the bar and Johnstone sailing in to a lob by Adamson somehow contrived to nod the ball the wrong side of the post. Calling for stamina and still more stamina the same ebbed and flowed and sustained the interest of a crowd when almost incessantly, and roared. Odd that Hickson should get to face-saving goal because he had been so much in the back-ground. For him it was one of those days, Leuty started well, and Hickson was troubled by a shoulder injury and by a recurrence of the injury which threatened to keep him out of this tie. Not surprising that a forward who is usually something of a line in himself should out of sorts, frustrated. Credit to Leuty, he won it fairly.
Eager Eglington
Everton owed much to the eager wining of Eglington. Southwell had no answer to him, it was no Eglington many good centres go to the safe hands of Bradley and Leuty and company. Lello who has something of a John Bull determination was always doing useful work with characteristic will to win. Farrell too, played well and so did Jones whose solid defence is something Everton cannot afford to be without. No one save young Wylie cajoled the ball and the opposition like Fielding but there were times when one thought he might have gone the logical stage further to produce a shot rather than attempt to find attempt to find another with a pass. Of Wainwright it can be said that he shot well, if unlucky, County with a more winger than Johnstone would never been more testing, Lindsay than this wing pocketed man and it was left to Wylie and to Coole ex-Mansfield to be menacing raiders. Deans the full back was excellent, his side played well enough to deserved a second chance but fate ordered otherwise.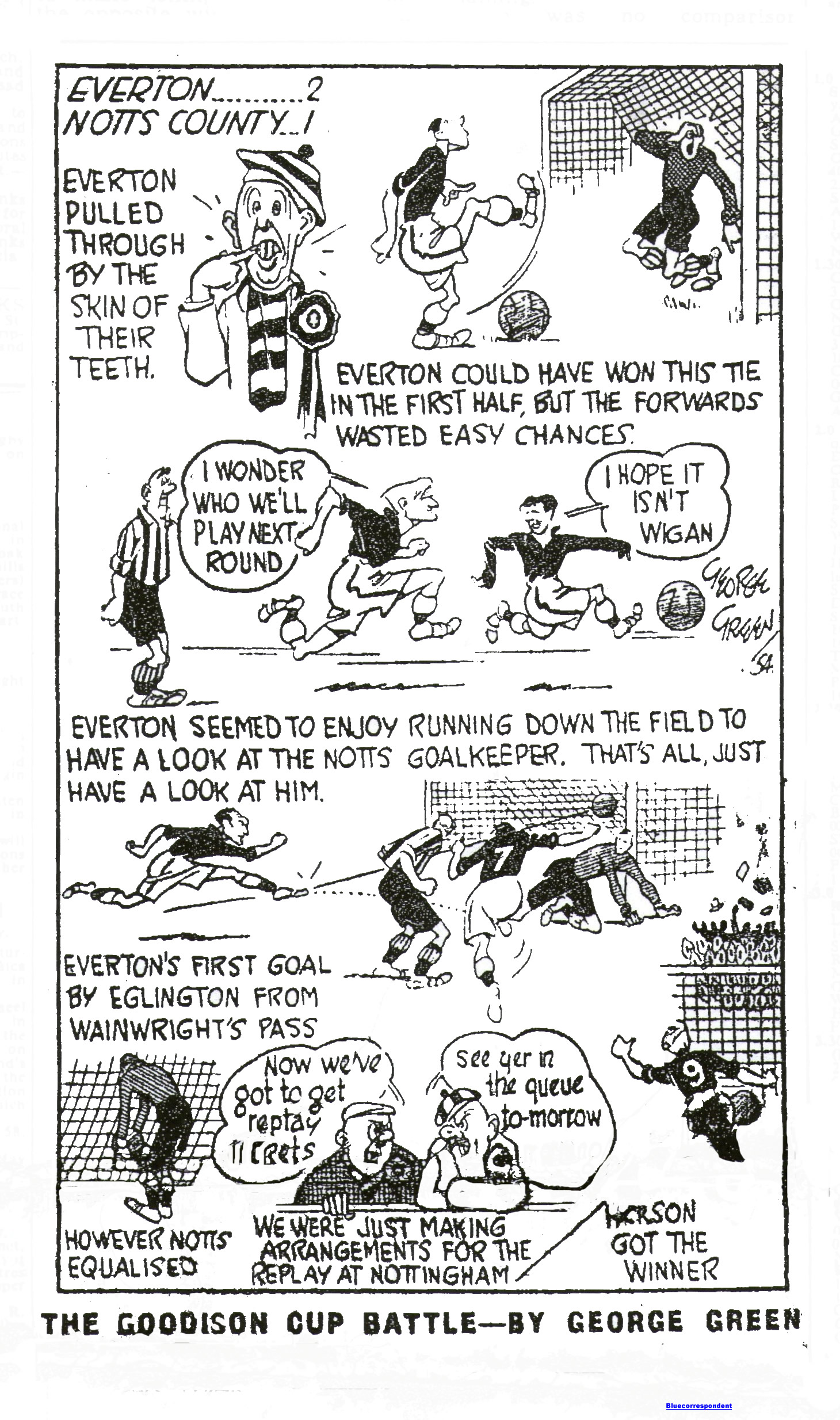 HUDDERSFIELD RES 3, EVERTON RES 4
January 11, 1954. The Liverpool Daily Post
Everton Reserves deserved the points presented when Lewis took advantage of a defensive mistake to score the deciding goal. With Buckle a cool schemer and Lewis who scored twice an aggressive partner to right winger Harris (B). Everton had a forceful attack. Defensively Woods and Rankin were the best. Then winners total was completed by goals from Stewart and Saunders. Huddersfield scorers were Simpson, Dushie, and McKenna.
• Liverpool "A" 1, Everton "A" 2
• Everton "B" 4, Skelmersdale Utd 3
EVERTON THROUGH
January 11, 1954. The Liverpool Echo
Ranger's Notes
Gosh, that was a narrow squeak! It reminded me somewhat of the famous cup replay between Everton and Sunderland on the same ground several years ago when a last minute goal forced extra time. The difference on this occasion was that Hickson's 89th minute goal sent Everton into the next round. The tension was a high level, Everton stamina was like world beaters and looked as though the County would be quickly played out of the game, for they had no answer to Everton's top class football during the first "45" but a game is of 90 minutes duration. I understand that Everton have been prone to easing up in recent games, I don't think it was a case of that on Saturday, but whatever it was Everton slumped badly in the second half and I really feared for them.
Obvious Danger
When Jarvis had his great shot turned up against the crossbar with the ball rebounding down almost on the goalline O'Neill had to act swiftly to prevent a goal. The unbiased realized how unfortunate the County were. They were not playing the same class of soccer as Everton had provided in the first half, but there was obvious danger whenever they moved forward, Wylie had equalized Eglington's goal in 17 minutes but with the chances at their disposal Everton should have had the game well won at the interval. Open goals were missed, over in reckless could be blamed on occasion, but rank bad finishing at other times.
Encouraging Notes
Feeble Everton attack when suddenly the Goodison Roar reached out it's encouraging note. Time was short and the need great. The spectators were all tensed up yet a draw seemed up yet a draw seemed the obvious thing but calamity came to Notts County with one minute left. Everton had been testing the County defence for some time without looking capable of breaking it down. Many of the critics were sending the replay arrangements to their paper when up loomed Lello with a pass through the middle which seemed to strike a defender and came back to Hickson, who promptly fired the ball beyond Bradley with only 60 seconds remaining. Their accurate passing and their confidence had all gone to the wind. They seemed to have run themselves out during the first "45". Wylie's goal must have had an upsetting effect, of that I am sure. I am perfectly satisfied that there was a little slackness when McCormick was allowed to dribble the ball through before he slipped it along to Wylie to too-end beyond O'Neill. Eglington's goal was laid on by Wainwright and Bradley had not the slightest chance of stopping the Irishman's rocket shot.
EVERTON TICKET PLANS
January 16, 1954. The Liverpool Echo
Ranger's Notes
The following are Everton's ticket arrangement for their fourth round game with the winners of the Swansea-Barrow replay. Reserved tickets for stands seats will be on sale next week. Members and shareholders stand and the centre of Goodison Road stand, will be 7s 6d, and all other seats 5s. Tickets for the paddock are not being issued on this occasion. Shareholders will be entitled to two seats each, and season-ticket holders to one. These should be applied for by post, enclosing fourth round voucher correct remittance and stamped addressed envelope before January 25. The envelope should be marked "Shareholders" or "Member" as the case may be in the top left hand corner and in the bottom left-hand corner the number of seats required and the price should be stated. Members of the general public may apply for stand seats by post or personally. All postal applications should contain correct money and stamped addressed envelope. The outside of the envelope should be marked in the bottom left-hand corner with the number of seats required and the stand, to facilitate sorting. It is important that the stamped addressed envelope is enclosed with the original application.
BLUES HAVE NO PROBLEMS
January 14, 1954. The Liverpool Echo
Everton Field An Unchanged Side For The Visit of Lowly Bury
Ranger's Notes
Everton are enjoying a spell of comparative immunity and the nine of their seniors under treatment the Blues field an unchanged side for the visit of Bury on Saturday. This is one of those trickiest games between top-end bottom, which sometimes provide a shock result, though on the form of the two sides a home win looks reasonably certain. When Everton were at Gigg Lane last September they gained a point after being two goals down very early on the Shakers, have not yet won an away game this season though they have five draws to their credit. In 13 visits to other clubs they have scored only six goals and as they got two at Blackburn and two at Luton this means that on nine away occasions they have failed to get a goal at all or ten if we include last week's cup-tie at Chesterfield. On this basis it hardly seems that Everton's defence as have a great deal to worry about. Everton; O'Neill; Donovan, Lindsay; Farrell, Jones, Lello; Wainwright, Fielding, Hickson, Parker, Eglington.
Everton Reserves have a needle game against Derby County (away). Derby are top of the Central League and Everton third with two points dividing them Burnley are second, with a point more than the Blues. Everton Reserves;- Leyland; Moore, Rankin; Grant, Woods, Melville; Mayers, Potts, Saunders, Lewis, Stewart.
EVERTON CAN STRENTHEN PROMOTION
January 15, 1954. The Liverpool Echo
Ranger's Notes
The fact that Everton are third from the top of the Second Division and Bury third from the bottom –and without an away victory to their credit – would seem logically to point to a win for Everton. But logic and football can be as frequently divorced as American film stars and Everton will not have the points handled to them on a plate. They will have to win them by virtue of superior football and accurate finishing. That should not be beyond their capabities however providing they put their best foot forward from the start and keep it there for the full 90 minutes. Bury have been struggling against relegation for several seasons. Last winter they escaped by the skin of their teeth. Again they have another fight on their hands, though the points difference between themselves and the half dozen clubs above it so slender that anything can happen in the next three months. Apart from their game at Birmingham, Everton have not tasted defeat since the end of October, and all season have suffered only one reverse at Goodison. Even then they were "robbed" by that wonderful display by Leicester City's goalkeeper. Bury's partial successes away from home have been at Plymouth, Lincoln, Oldham, Birmingham, and Notts County. As two of these grounds saw Everton defeated each timely by a substantial margin, it is obvious that Bury must not be ruled out of the reckoning entirely. Nevertheless it will be a shock if the Blues do not add another couple of points to their tally. Bury shuffled their side about considerably up to the middle of December. They have called upon 24 players to date, and hitherto switched many of them about from one position to another, which is seldom conductive to the establishment of complete understanding. Latterly they have had a settled combination and have been doing better. Everton; O'Neill; Donovan, Lindsay; Farrell, Jones, Lello; Wainwright, Fielding, Hickson, Parker, Eglington. Bury; Kirk; Fairclough, Griffiths; Greenhalgh, Hart, Bardsley; Glesdall, Tilley, Kelly, Daniel, Imlach.
FULL STRENGTH
January 16, 1954. The Liverpool Daily Post
By Leslie Edwards
Everton's game against Bury can provide then with valuable promotion points. Though the opposition does not seen strong the game is no different from any other – Everton have still to get the goals Bury come with a dismal away record they have yet to win. A glance at their team suggests that they are unlikely to start here especially as Everton are at full strength. Everton; O'Neill; Donovan, Lindsay; Farrell, Jones, Lello; Wainwright, Fielding, Hickson, Parker, Eglington. Bury; Kirk; Fairclough, Griffiths; Greenhalgh, Hart, Bardsley; Glesdall, Tilley, Kelly, Daniel, Imlach.
EVERTON NOT "TOP OF THE FORM" IN STERN GAME AT GOODISON
January 16, 1954. The Liverpool Football Echo
Everton nil, Bury nil
By Stork
This was a valuable home point lost to Everton, one naturally expected a home victory in view of Bury's poor away record, but the Shakers put up a much better show than anticipated. They were the better side in the first half, and although hard pressed in the second their defence played magnificently. Everton never at any point reached their real form. Everton; O'Neill, goal; Donovan and Lindsay, backs; Farrell (captain), Jones and Lello, half-backs; Wainwright, Fielding, Hickson, Parker, and Eglington, forwards. Bury;- Kirk, goal; Fairclough and Griffiths, backs; Greenhalgn, Hart and Bardsley, half-backs; Glendall, Tilley, Kelly, Daniel, Imlach, forwards. Referee; Mr. G. Black (Kendall). Bury were the first to step up their attack and O'Neill had to twice retrieve the ball, but in neither case was it from a shot. Everton were much more impressive on the first occasion they came down, for they took a corner, and while this was cleared, it was instrumental in keeping play in the Bury goalmouth. The Bury defence eventually drove them out, and Bardsley attempted to run through until he ran up against Lello, at which point his ambition came to a full stop. A free kick saw the ball lobbed into the Everton goalmouth, and Kelly made a noteworthy back header which O'Neill claimed and cleared despite a challenge. Bury were suiting themselves well to the conditions and a long pass to Gleadall saw the latter centre close in and Kelly again got his head to the ball but O'Neill never took his eye off it as it passed outside the post. It was Everton who next made a goal move, when Hickson made an astute pass to Parker, whose angular drive passed wide of the far post. So far there had been little or nothing between the teams and Gleadall was again prominent with a nice centre to which Kelly and an Everton man went up for together, but the ball passed over the crossbar. Fielding after making his pass smartly, ran into place for the return, got it and then tried to swing the ball over to the unmarked Wainwright. Hart however, got in the way so that what had looked most promising was no fulfilled. So far O'Neill had so much more to do than Kirk. Tilley had made a long pass up the middle and Imlach who had run in anticipation, did not hesitate a single second in making a shot which O'Neill had to treat with every care. Just after this Bury won another corner, taken by Imlach and although Donovan kicked clear he only put the ball back to the Bury winger, who drove it fiercely across the Everton goal face.
O'Neill Kept Busy
Bury were much quicker to the ball than Everton, and almost straight from this incident, Gleadall, who was always good for a shot given the opportunity, slashed in another to force O'Neill to yet another grand save. The Irish goalkeeper was in action again when saving from Daniel. You could see by this just how much Bury were troubling the Everton defence. The Bury goal had a narrow escape after Fielding had forced Kirk to punch the ball out, for the ball went straight back to Wainwright, who hit a really fiery shot low down, and I am certain had it not been deflected, it would have entered the Bury net. As it was it only passed a foot or so outside the upright.
Goalmouth Thrills
Lello and Eglington between them nearly brought about the downfall of Bury when the Irish man slipped the ball neatly inside for Lello to shoot. The half-back however, did not get his full power behind the shot and when Wainwright tried to help it in he turned the ball outside. For some minutes all the incidents that were happening did so in the Bury goalmouth and when Kirk made a catch he was charged in possession by Wainwright, who was eventually fouled for what I considered a perfectly fair shoulder charge with the custodian in possession. Gleadnall was Bury's chief marksman, and he delivered another one with his left foot O'Neill having to go down very cautiously to prevent this one crossing the line. Bury were ever dangerous when they moved forward. O'Neill had to save from a corner and was injured in his effort the game being stopped while he received attention.
Half-time; Everton nil, Bury nil.
Both goalkeepers were soon in action in the second half, Kirk saving twice from Fielding, and O'Neill pulling down a dangerous looking cross by Gleadall. The crowd were encouraging Everton to further efforts realizing that they required something better than their side had given to win two valuable points and to a degree they responded. Eglington slashed an oblique shot across the Bury goalmouth, but a much nearer goal effort was made when Hickson with a side footed flick of a Parker pass nearly took Kirk by surprise.
Claim Disallowed
A free kick taken by Gleadall was driven across, the Everton goalmouth at pace and Donovan must have considered it wise to take no chances so decided to head the ball away and conceded a corner. Everton had a let-off when Tilley was put through to what looked like a certain goal, but instead of taking a first-time chance by required just one further move and this proved fatal to his cause. There was a big claim by the Everton fans when Hickson came down to earth as he was ploughing his way through but the referee turned a deaf ear and the next incident of note was a shot by Fielding which Kirk caught above his head as Parker attempted to charge him over the line. Everton were fighting hard for the lead and in a rather hectic tussle in the Bury goalmouth Hickson appeared to hurt his shoulder again. It had now become a battle between the Everton forwards and the Bury defence for Everton had been on top for some time, but Kirk, in goal and the defence of those in front was not easily beaten.
Not Good Enough
No one could say that Everton were not trying. They were putting in all they knew, but it was not just good enough to beat down the staunch Bury defence. Bury had been defending for most of this half, but Kirk at least up to this point had never looked like being beaten. There was a stoppage when Greenhalgh and Eglington came into collision with the Everton man coming off worst. Almost immediately the game was resumed Wainwright came along with a header which had power but no direction. Final; Everton nil, Bury nil. Attendance 38,705.
DERBY COUNTRY RES V EVERTON RES
January 16, 1954. The Liverpool Echo
Everton kicked off but Derby were the first to attack. A thrust down the left wing saw Leyland gather Lee's cross. McLaren then missed an easy chance, with the goal empty before him. Playing the more open football, Mayers beat Favin but the goal with disallowed for offside. A repeat performance by the winger seconds later saw Lewis put the visitors ahead from Mayer's cross. After narrow escapes at both ends, Derby equalized shortly before the interval. Mclaren at inside right slipped a through ball to Lee, and the inside man beat Leyland with a fierce cross shot from 15 yards. Both sides were finding it difficult to control the light ball in the heavy wind. Half-time;- Derby C Reserves 1, Everton reserves 1.
• Liverpool Challenge Cup (rd round); Everton "A" 4, Haydock C&B nil.
IF THEY GOT THERE COULD THEY STAY?
January 18, 1954. The Liverpool Daily Post
Everton 0, Bury 0
By Leslie Edwards
An infinite variety of football opinion in Liverpool nowadays. You neither see Everton gaining promotion or you do not; you see Liverpool escaping the suction effect of Division 2 or (more popularly) you do not. You see Everton, maybe, winning the cup or you don't and you discern, at Goodison Park a tinge o doubt as to whether Everton if promoted could stay in Division 1. This is a question which may never come for discussion because there are signs that an Everton team which has gone so far towards its goal as now beginning to slip the odd home points the loss of which becomes deplorable when the season's final reckoning is made. "On, if only we had beaten Bury at Goodison Park"! Might well be a reflective moan when people are comparing the what might have-been with the what-is. But League tables are notoriously tricky guides to form and when Everton faced, on Saturday, a Bury side placed two from last in the table they faced also a side which has been revolutionized in the past two months by the work of Manager Russell their new manager. There was no hint in play that Everton were potential promotionists or that Bury were potentially of Division 3, indeed Bury showed themselves to be slightly the better side if not the stronger finishers. While Everton waited on the ball –often a bit delayed by a sudden gust of wind –Bury strode to it quickly and confidently and often with fatal results to Everton's cause. The skeptics almost of whom have never kicked a ball for years would rate the match as goalless, colourness and lacking in many other things. The more understanding noted the effect of the gale, the heaviness of the pitch and the far above showing of Bury and took consolation from the fact that it was good, hard watchable football, even if the result was for Everton damaging.
Good Verdict
A draw was fair I think because Everton offset Bury's first half revels with some of their own and finished in the Bury danger zone for a full five minutes. During this the game's most exciting spell, Everton won corners and other strange awards and the crowd did their best t encourage them to bring off a last-minute surprise. But all in vain. Bury big commanding defence had survived for 85 minutes and they were not going to cave in merely because the Everton crowd were shouting their side home. In this vital spell Wainwright was characteristally luckless. Twice previously he had been denied goals by fortunate deflections; how he suffered that fate again. This time Hart got the full force of the ball on his forehead. Wainwright may not have been playing quite as well as he used to but there is no doubt that here and in the cup-tie he deserved goals. Bur for O'Neill's sureness at critical moments Everton might have lost. He was agile quick and sensible in his positioning and Imlach among others, found him unbeatable. Imlach's fine-angle efforts spectacular and on the mark looked good but one could not help visualizing what might have happened had he elected to cross the ball to others in squarer position. Bury enorted before the match that they had received big offers for Imlach a Scot. Allowing that he was full of cold one did not see in him, a player of International class. He had his first half moments as did Gleadall on the other wing, but the Everton backs, Donovan and Lindsay, were scarcely in trouble throughout the second half. This was the main reason that an otherwise successful Bury side got no better than a draw. The match had interest because one could compare Hickson and young Kelly, two centre forwards of a kind in build and technique. Kelly never gave O'Neill a moment's respite. With a better supply of the ball down the centre I fancy he would have been given Tom Jones a harder match. Hickson was not nearly as full of life as usual. When he ventured on a long centre the ball struck the bar and came away to Fielding whose fine shot Kirk saved beautifully. That moment and the last five minutes excepted it was Hickson in a minor role, though Eglington tried time and again to find the Hickson head with a stream of fast centres. Lello, chugging his way joyously through ninety minutes on heavy going, was the best of the Everton half-backs. Fielding worked hard to try to tame a ball carried unpredictably by the wind. He frequently got the line moving but they functioned too fitfully and not with the drive needed to break the solid Bury defence.
Puzzling Decisions
Rarely can defences have maintained as these did such a grasp of two forward lines. Rarely fortunately, can any League game have contained so many unaccountable decisions by a referee. Mr. Black, of Kendal, puzzled Bury by three adverse decisions and there were enough non-Evertonians present o raise a laugh of surprise that they should be given. Similarly there were enough pro-Evertonians present to greet the Liverpool score derisively. Difficult in such circumstances to explain to Mr. Gunnar Brade a visitor from Sweden the abiding sense of British sportsmanship.
POTTS-MAYERS WERE THRUSTFUL WING
January 18, 1954. The Liverpool Daily Post
Derby Res 1, Everton Res 2
Neither team deserved to win this top of the Central League match at Derby on Saturday. The swirling win and the light ball combined was too big a problem for either side to master. Everton who played the more open football throughout had a trustful right wing pair at Potts and Mayers and both the visitors goals (Lewis two minutes and Saunders seventy-six minutes) came following moves on that flank. Lee (J), Derby's inside left scored the home side's first half equalizer after forty minutes.
SAGAR PRESENTATION
January 18, 1954. The Liverpool Echo
Ranger's Notes
In appreciation of his long and loyal service at Goodison Park, Everton F.C Supporters Federation paid tribute to Ted Sagar at a hot pot supper on Saturday. Unfortunately owing to indisposition Ted Sagar was unable to attend but Mrs Sagar received an illuminated address and a cheque for £200 on his behalf. In making the presentation Mr. W.H. Sawyer, president of the Supporters Federation suggested that football legislators should seriously consider the possibility of making special recognition of players serving for more than ten years with one club, with an additional ten per cent increase in wages at the end of each subsequent five years periods. Among the guests were Director Fred Micklesfield and Messrs A. Lomax, J. Taylor and Dave Richardson of the Shareholders Association, together with skipper Peter Farrell and several of the Everton playing staff.
EVERTON SLIP
January 18, 1954. The Liverpool Echo
By Stork
This dropping of home points by Everton will never do, if they are to stay in the promotion race. All too often have they shared the spoils at Goodison Park when two points were there for the taking. Fortunately for them, both Leicester and Doncaster were beaten on Saturday otherwise their position would not be so satisfying. Had they won their home games as is expected they would now be high and dry at the head of the table instead of being involved in a grim tussle for supremacy with one or two others and several of those lower down showing a threat of better things to come. Of course it is most possible to win all home games but the advantage is undoubtedly theirs at Goodison Park, yet valuable points have been handed over in a way which has annoyed us. Bury have not won an away game this season, but they have been good drawliest on "foreign" grounds. They nearly broke their record on Saturday by snatching a win and would have done if O'Neill had not been on the top of his form in the first half when he made half a dozen top-class saves. I readily admit that I anticipated a convincing win for Everton because of the difference in their table placing, but at the interval I was not so sure that Everton would hold even a point.
The Reason Why
They were not shaping like a top-of-the-table side, whereas Bury made their position at the bottom look false and if they can maintain that form they should soon be on the move up the ladder. It was a difficult day for football with the tacky going and the "pocketty" wind but it was the same for both sides, so perhaps we can rule those factors out and look for some other reason why Everton did not win. The chief reason in my view was that Bury were determined to be first to the ball, and when they got it made it do the work with the long pass hence the reason they could change the flow of the game so quickly. Everton aided for the ball, wanted to cuddle and cajole it, which was folly with Hart and Company so quick to cut into the inner workings. Make no mistake about it, Bury had been the better side up to the interval and a short while after and had put so much into their play that it had taken heavy foll of their stamina. At all events they were not the sprightly members afterwards and Everton took charge up to the goal area, pressing continually almost throughout but they found themselves pitted against a "fighting" defence which refused to concede an inch. It was a magnificent battle between Hart and his merry men and the probing and praising Everton attack.
Good Covering
Who could stand up to their task the longer? The answer was the Bury defence although they had a desperate few minutes towards the end when luck was on their side. Twice the ball was kept out of the net by a defender other than goalkeeper Kirk who was on those occasions beaten. We have seen the Arsenal do those sort of things time and again so it may be not so much luck as good covering. Call it what you will but whatever your decision you have got to admit that it was instrumental in Bury taking a valuable point from Goodison Park and I say they deserved their half. This was not one of Everton's good game. There were flashes of good football but it was spasmodic and when one recalls the really top-class saves O'Neill made in this first half from much better shots than Kirk had to deal with I think you will agree with me that Bury gave us a fright.
EVERTON UNCHANGED
January 21, 1954. The Liverpool Echo
As Wainwright today passed a test for fitness, Everton will be unchanged for their-visit to Doncaster Rovers. This will be the fifth successive match in which the Blues have fielded the same eleven, ignoring the postponed fixture with Oldham, when a change would have been necessary had the game been played. Though Doncaster will not announce their team until tomorrow-Manager Peter Doherty tells me that he does not anticipate any alteration in the eleven which dismissed Sunderland from the Cup at Roker Park and lost to Hull City last week. All the first-teamers are fit and well and though the Rovers defeat by Hull was a bit of a shock, especially as the Tigers had a mid-week cup replay with Brentford. Peter Doherty says that on their showing last week Hull would have beaten any Second Division side. Apparently they excelled themselves. Though Hull's come performances recently have been on good class, this was one right out of the top drawner. Saturday's game is a vital one for both clubs. If the result is clear-cut in Doncaster's favour it would enable the home side to climb over Everton in the table. A victory for the Blues would strengthen their promotion hopes considerably for Doncaster, one of the surprise teams of the season, are playing excellent football these days. This is largely due to the influence of Peter Doherty, who has done a lot of work for his club, as well as for Ireland, which puts him in the first flight of managers. Whether Doncaster can stick the pace of the bitter end is something which only time will show. Those who forecast that their promising start to the season would not be long maintained have had to revise their views. Saturday's fixture will give us a further guide to the respective prospects of both teams. Doncaster (probable); Hardwick; Makepeace, Graham; Brown, Paterson, Teasdale, Tindill, Lawler, Harrison, McMoran, Walker. Everton; O'Neill; Donovan, Lindsay; Farrell, Jones, Lello; Wainwright, Fielding, Hickson, Parker, Eglington.
Everton Reserves who are now joint runners-up in the Central League to Burnley Reserves with one point less for an extra game played are home to Blackburn Rovers (12-45) when the team also unchanged will be;- Leyland; Moore, Rankin; Grant, Woods, Melville; Mayers, Potts, Saunders, Lewis, Stewart.
A NEEDLE MATCH
January 22, 1954. The Liverpool Echo
Ranger's Notes
So far honours are even between Everton and Doncaster Rovers in their five previous Second Division meetings. Doncaster have won both games on their own ground, and Everton have won two and drawn once at Goodison Park. Last season at Goodison the Yorkshire club were hit for 7-1 with Eglington getting five of the Blues goals. Earlier this campaign the Irishman was again Everton's star attacker, scoring two goals and giving grand all-round display of good winging and powerful shooting. It will be helpful to Everton's cause if he has another gala day at Belle Vue tomorrow. This will be a real needle game, for both clubs have their hopes set on the First Division. There is cause for the belief that Everton may get a point when one studies their away record. They have gained more reward from matches on opponents' grounds than any other Second Division side. But for one or two lapses that record would be better still, just as their home returns could have been.
Lapses Are Natural
These lapses, though disappointing, are natural enough. The side has not yet been evolved which never makes a mistake. The best of teams fall from graces now and again, sometimes when there seem to be no valid reason. Football would not be so compelling in its interest if it always penned out according to form and expectations. The guilding influences of Irish international Peter Doherty has been clearly discernible in the manner in which Doncaster Rovers have been gradually improved from a strong, bursting and rather unceremonious side into a team capable of providing top-class football at high speed for the full ninety minutes. One helpful factor in the transformation has been their freedom from serious injuries this campaign. So far they have called on only seventeen players to fulfill their fixtures. As the reserves who have had to be pressed into service have made few appearance the understanding of the side has been maintained at maximum efficiency. The Rovers have five ever-presents in their team while three others have missed only a couple of matches each. The solidity of the defence is evident from the fact that it has kept a clean sheet in eleven games, including the third round Cup victory over Sunderland at Roker Park, which was an excellent performance against the modern "Bank of England" team.
Significant Feature
It may be significant that the only side to score four goals against Doncaster this season is Everton. The Yorkshire club's rearguard reliability is founded upon the splendid work of centre half Bill Paterson a Scot they discovered while he was on national Service in Yorkshire. Though many senior clubs have been angling for Paterson's transfer there is not likely to be a deal while Doncaster see the prospect of promotion ahead. Makepeace and Irish international Graham are a sound pair of backs, and taken individually from stem to stern the Doncaster line-up of this season is as workmanlike and strong as any of its rivals. Everton will need to be at their best and more determined they are to bring back a point. Doncaster ; Hardwick; Makepeace, Graham; Brown, Paterson, Teasdale, Tindill, Lawler, Harrison, McMoran, Walker. Everton; O'Neill; Donovan, Lindsay; Farrell, Jones, Lello; Wainwright, Fielding, Hickson, Parker, Eglington.
EVERTON SHAKE THE ROVERS WITH TWO-GOAL RECOVERY FROM THE DEPTHS
January 23, 1954. The Liverpool Football Echo
Doncaster 2, Everton 2
By Ranger
Two defensive mistakes by Doncaster enabled Everton get a rather fortunate point. Doncaster were two up after 34 minutes and looked comfortable winners until Everton hit back with tremendous determination to get on terms two minutes from the end. Doncaster Rovers;- Hardwick, goal; Makepeace (captain) and Graham, backs; Brown, Paterson and Teasdale, half-backs; Tindall, McMorran, Harrison, Lawlor, and Walker, forwards. Everton; O'Neill, goal; Donovan and Lindsay, backs; Farrell (captain), Jones and Lello, half-backs; Wainwright, Fielding, Hickson, Parker, and Eglington, forwards. Referee; Mr. JH. Clough, Bolton. Everton had the advantage of the wind, and some good combination particularly on the left brought a strong shot from Eglington which passed across the face of the goal, and two quick corners, neither of which proved an advantage. When Doncaster got away on the right, O'Neill saved smartly from Tindill and Jones had twice to pass back to forestall the speed of Harrison. Paterson was prominent in the home defence, and three times in quick succession intercepted high balls from the wing. Hardwick saved smartly from Parker, who drifted to outside left and delivered a strong shot down a very acute angle. Then Fielding and Eglington shot outside. With the help of the wind Everton were keeping Doncaster penned in their own half for fairly long stretches, though the Rovers attack showed attractive combination with both wingers proving speedy, and keen to get the ball over without unnecessary work. Everton kept the ball down and though occasional passes went adrift they were still the more stylish side. Hickson found Paterson a barrier down the middle and also had the Doncaster pivot on his track whenever he veered out to the wing. With Doncaster now having come more into the game, there was very little to choose between two well matched sides. At the 21st minute McMorran put the home side in front, Harrison put a Graham clearance across to Tindall on the right, and when the later squared the ball, McMorran was fortunate to find himself with a second chance and the opportunity to scramble it over the line as the defence vainly tried to cover up. Eglington who was now finding Makepeace a tough proposition fired narrowly over the bar from 12 yards when the equalizer looked a possibility. Hickson just previously had caused Hardwick to save near the angle of bar and upright, with a shot which swerved disconcertingly in the wind. Wainwright screwed the ball behind as Hickson and Parker stood waiting for a centre and though Everton were fighting strongly Doncaster stood firm. Tindall then tried a long shot which had little hope of producing anything put a comfortable save for O'Neill and back came Everton again for Paterson to rob Hickson. The home side were certainly getting plenty of encouragement from the spectators and Everton were having to fight with their backs to the wall against a side which now had taken command of the game. Brown had a strong shot saved by O'Neill and another a couple of yards outside. At the 34 minute Walker scored a second for Doncaster after the game had shuttled backwards and forwards across the goalmouth and a linesmen had raised his flag presumably for offside. The danger appeared to have been partially cleared, but Walker fastened on to the ball just outside the area and drove in a strong right foot shot which seemed to dip at the last minute and scraps under the bar. O'Neill just failing to get his hands to it despite a valiant effort. Doncaster had a narrow escape when Hickson's intended centre struck a defender and swerved to the crossbar with Hardwick well beaten, Makepeace clearing as the ball dropped. Everton pressed hotly in the closing stages f the first half. Lello had a shot deflected for a corner and a high lob by Fielding was tipped over the bar by Hardwick who later made a smart save on the six-yard line from Parker. Hardwick did the right thing in coming out, had he stayed where he was Parker must have been a scorer. Then Fielding had a go, Hardwick again saving smartly. Everton had their chances to pull back at least one goal, but had been unable, however, to break down Doncaster's solid defence.
Half-time; Doncaster Rovers 2, Everton nil.
With the wind against them, Everton had a difficult task on hand if they were to pull back to equality, especially against a side playing so strongly in defence as Doncaster. Everton had a rather lucky escape when Harrison crossed the ball from the right and Lawlor, hitting it first time from six yards range, saw O'Neill stick out his right hand and made an instinctive save. The ball stopped almost dead on the line and with Lawlor sticking out a foot in an effort to force it over. Donovan put it behind to be on the safe side.
Off The Mark
Eglington put through by Parker put a shot behind as he was harassed by Makepeace. Wainwright wasted a corner, and Fielding twice narrowly off the mark. Doncaster were quicker to the ball at this stage, with Paterson having the mastery over Hickson most of the time. Everton kept pegging away manfully, and there was not the necessary punch in their attack to make a great impression on Paterson and company. A scramble in front of the Doncaster goal with three players in a heap on the ground brought no more than an unproductive corner. A similar mix-up just wide of the Everton goal had the same result. Doncaster were throwing everything they had into attack, and for some time Everton's defence was hard-pressed. Donovan twice came to the rescue with headed clearances. Hickson headed behind from a corner taken by Fielding, and back came Doncaster in another all-out assault, which looked dangerous until Jones stepped into the breach.
Jones In Form
Jones had been playing well while Everton were under pressure and twice had come across to rescue Lindsay. Farrell saved the situation with a header when another Doncaster goal looked imminent. Graham, who had been outstanding all along, now set his wing going again but Donovan out-manoeurved Walker. O'Neill made a brilliant save from Harrison. The centre forward who shot from the inside right position struck Jones with his effort and O'Neill had to do almost a somersault in mid-air to prevent the ball entering the net. It was a grand bit of work. Doncaster were on top more convincingly now than at any period and were shooting at every opportunity. At the 79th minute Wainwright reduced the deficit for Everton, thanks to a little "co-operation" by Brown. The Doncaster right half, attempting to pass back to his goalkeeper, was too tender and Wainwright, darting through quickly, rounded Hardwick as the goalkeeper advanced and then steered the ball into the empty net. This was a shock to the home folk, but a tonic to Everton, who now hit back with renewed vigour in an effort to get the equalizer. Doncaster after appearing in a commanding position were now beginning to get anxious, and another pass back this time by Makepeace saw Hickson just falling to get the ball before Hardwick. Hardwick punched away a high shot by Eglington as Hickson and Parker came tearing through and a foul against Paterson just outside the penalty area saw Doncaster's defenders waving frantically for reinforcements. Fielding scooped the ball up over Doncaster's wall of defenders to make a simple catch for Hardwick. Hickson equalized two minutes from the finish after Paterson had blocked a shot by Eglington, but was unable to scramble it away before Hickson coming in at top speed, had rammed it into the net. Final; Doncaster Rovers 2, Everton 2.
EVERTON RES V BLACKBURN ROVERS RES
January 23, 1954. The Liverpool Football Echo
Everton Res;- Leyland, goal; Moore and Rankin, backs; Grant, Woods and Melville, half-backs; Mayers, Potts, Saunders, Lewis and Stewart, forwards. Blackburn Rovers; Res;- Patterson, goal; Gray and Murray, backs; Clayton, Bean, and Bull, half-backs; Glover, Chadwick, Pearson, Bogan, and Brown, forwards. Referee; Mr. J. Sedgley. Everton, who had the advantage of a strong breeze, completely monopolized the play, Lewis netted in the tenth and thirteenth minute and Bean put through his own goal. Everton still applied heavy pressure and added a fourth through Saunders. Half-time; Everton Res 4, Blackburn Rovers Res nil. Leyland was called upon to save from Chadwick and Bogan, but there was no stopping Everton and in the 55th minute Lewis increased the lead. A penalty for an infringement upon Stewart, was converted by Lewis.
HOW EVERTON RALLIED TO WIN A POINT
January 25, 1954. The Liverpool Daily Post
By Ranger
Doncaster Rovers 2, Everton 2
With only eleven minutes to go and the home side lading by two goals, it seemed almost a certainty that Everton would get no reward from their visit to Doncaster. Once again, however, the old adage that nothing in football is every certain, until the final whistle goes was proved true. Right half Brown who hitherto had a splendid game and had been one of Doncaster's most reliable players made his first mistake. Trying to pass back to his goalkeeper he failed to hit the ball strongly enough and outside right Wainwright popping up expectedly in the inside left position, seized on the chance like a flash. Wainwright coolly dribbled round Hardwick as the goalkeeper dashed out, then slotted the ball home into the empty net to put Everton back in the game with a great chance. For the rest of the match there was only one side in it. The Doncaster defence previously steady and reliable began to lose its poise and confidence as Everton hammered away at top speed and with every, ounce of endeavour in an effort to get the equalizer.
His On Mistake
It came two minutes from the end, and again through a mistake by a defender who hitherto had never put a foot wrong. When Eglington crossed a low and swerving centre it looked any odds that centre half Paterson would clear. He only partially hit the ball, however and Hickson who like Wainwright earlier was on the alert for any possible slip rammed the ball in like rocket and gave Hardwick no chance. While I though Everton were rather a trifle fortunate in some respects to get a point for they seemed to have missed their way in the first half when they had the wind behind them they fought back so well in the later stages of the game that none could cavil at the ultimate result. It was a case of luck once again going with pluck and if the run of the ball did at last go in Everton's favour it was their own persistence and determination not to surrender without a fight that enabled them to cash in on that fact. The visitors had been the better side in the opening twenty minutes and again in the last ten minutes of the first half. In between those periods they temporarily allowed Doncaster to wrest the initiative from them and get two goals.
Scrambled Over
McMorran scored the first at the 21st minute through a quick break-away following a clearance by Graham, scrambling the ball over the line at the second attempt. Walker notched the second thirteen minutes later with a right foot shot from the edge of the penalty area after three colleagues had the attempts blocked. The ball seemed to swerve in the wind and dip at the last moment passing just under the bar when it had seemed certain to go over. The home goal had some narrow escapes in the last few minutes of the first half none of them more close than when at Hickson shot crashed up against the bar with Hardwick well beaten. Doncaster's nearest approach to a goal after that was when O'Neill stuck out a hand to foil Lawlor from close range and again when the visiting goalkeeper changed direction in the air when the flight of the ball was altered after striking Jones and made "Continental" save of acrobatic calibre. Everton's fighting spirit was their biggest asset. Their forwards had patchy periods sometimes allowing Doncaster to get to the ball with greater ease that should have been permitted and the defence did not always close its ranks as we have been accustomed to seeing.
Most Effective
Eglington as the most effective attacker though unlucky with his shooting. Hickson found Paterson more than he could master except on rare occasions though he never gave up trying and twice went close with good efforts, one a brilliant header from a corner taken by Fielding. Jones was the strong link in the defence for neither Lindsay nor Donovan could completely subdue Tindall or Walker. The wing halves came to their best in the last twenty minutes when their aid in attack was most valuable. O'Neill played confidently throughout. Doncaster on this showing look like remaining in the promotion hunt for some time yet. Their defence is well-knit and covers up well though apt to clear rather haphazardly at times and the forward line is fast and incisive. Paterson who has been sought by many senior clubs is a stylish centre half. Brown was the best of the wing halves despite his costly error.
FOUR GOALS FOR LEWIS
January 25, 1954. The Liverpool Daily Post
Everton Res 7, Blackburn Rovers Res 1
Everton Reserves were always by far the superior side in this Central League game at Goodison Park on Saturday and were full value for the handsome victory. Lewis, the home inside left, was outstanding and scored four good goals, one from a penalty. Stewart the Canadian gave an improved display with excellent centres. Everton's other marksmen were Saunders (2) and Bean (own goal) Chadwick obtained the visitors' goal.
CUP-TIE OUTLOOK
January 25, 1954. The Liverpool Echo
Ranger's Notes
Everton will not depart from normal training routine for their fourth round cup-tie against Swansea Town on Saturday. Apart from Donovan and Wainwright who were under treatment at Goodison today, all the players came through at Doncaster with nothing more than minor knocks. Donovan has an ankle injury and Wainwright a slight groin strain. It is expected that both will be fit in good time for Swansea's visit. Everton's reserve centre forward, Kirkby, who recently had a cartilage operation, is under treatment for a similar complaint though it is hoped he can be got fit without another operation. Last year no fewer than eight. Everton reserve players underwent surgical treatment for cartilage trouble.
A Direct Contrast
Saturday's games provided a direct contrast of fortune. Two errors cost Liverpool dearly, two similar slips by Doncaster presented Everton with a point when defeat seemed to state them in the face. While Everton to some extent might be labeled fortunate to divide the spoils they deserved top marks for the manner in which they kept fighting back when it appeared rather unlikely that any reward would come their way. The ultimate result proved once more that no game is ever lost until the 90 minutes are up. Had Everton accepted defeat and given up the struggle which many teams might have done. Doncaster would have been top of the Second Division today. Instead the Blues are there, with a game in hand over their nearest rivals, thanks to nothing but their own persistence and determination. With only 11 minutes to go and Doncaster two goals ahead, two defensive errors turned the game inside out. Wainwright got the first Everton goal when he sensed the possibility of a pass back by Brown, and was on the spot to turn it to good account. Two minutes from the end. Hickson had a somewhat similar premonition when Paterson shaped up to clear an Eglington centre, and was in the right position to accept his charge when the home centre half muffed his kick.
Brief Lapse Was Costly
Prior to this, Everton had opportunities to take the lead before Doncaster scored and afterwards to get on level terms before the defensive slips. Their finishing was not good, however, and the chances went west. The Blues started off in much more stylish fashion than Doncaster, and enjoyed the upper hand for most of the first half. In between however they allowed Doncaster to get on top for a 15 minute period which produced two goals. One was a scrambling sort of effort by McMorran and the other a 20-yarder by Walker which only beat O'Neill because it was caught in the wind and swerved disconcertingly at the last second. Doncaster also enjoyed a spell of discendancy in the second half when they had the strong wind behind them but once Everton hit back and the wing halves came fully into the game in an attacking role the Rovers were struggling to hang on to their lead. Doncaster officials told me they thought that they had been unlucky. Their of view is understandable, for the two players concerned had never previously made the semblance of an error. But full credit is due to Everton for sticking so manfully to their task. O'Neill had a splendid date. One save from Harrison was the most remarkable I have seen for a long time, for the goalkeeper had to twist his body in the air when the flight of the ball was altered through striking Jones. Lindsay and Donovan had some trouble keeping tabs on Doncaster's winger when the home side was on top, and I reckoned Jones the most reliable link in the Everton defence. Some of his interceptions showed excellent anticipation. Farrell and Lello did their best work in the opening and closing stages of the game, and particularly in the latter when they gave strong support to their forwards in between they had a hard task coping with Doncaster's speedy raiders. If Eglington had been a little more accurate with his shooting the home side would not have gone so long with a clean sheet. He was never more than a yard or so off the mark, however and was Everton's most consistent attacker. Hickson, persistent and energetic as usual, found Paterson an almost insuperable barrier. No wonder this young, Scot has been sought by so many clubs. I have seen Fielding and Parker play better on many occasions and the Everton front line, as a whole, though good in spasms was not as convincing as it can be. Doncaster are a much better side than they were a season or two ago. They played sound and attractive football have a solid defence two excellent wing halves in Brown and Teasdale, and a forward line which if not so stylish as Everton's can be at its best, is speedy and far from shot-shy. The Rovers will not be very far off when the final promotion reckoning is made.
SWANSEA ARE NOT DISMAYED
January 28, 1954. The Liverpool Echo
Welsh Side's Recent Improvement Gives Them Hope of Replay
Ranger's Notes
A task force of 40 men today began removing the top layer of snow from the Goodison Park pitch in readiness for Saturday's Cup tie with Swansea Town. The report is that the turf below is in good condition, and will give excellent foot-hold. The ground is not frozen due to the protective action of the snow of which a couple of inches is being left to guard against frost in the next 48 hours. Providing there is the drastic chance in the conditions before Saturday the match will definitely be on. Another heavy fall of snow could alter the position. So would a sudden thaw followed by frost, though of that there seems no indication. Assuming the weather remains substantially static for the next couple of day's there appears nothing to worry about so far as the staging of the match is concerned. Whether Everton will strike anything to cause them perturbation regarding the result is another matter. They ought to get through and I fancy they will, but Cup-ties are notorious for their occasional shocks and my Swansea correspondent, who follows the visitors every week tells me that the Welshmen are optimistic about the ability to make a draw of it. The fact that Everton lead the Second Division table does not worry the Swans. On the contrary there are some Swansea people who think it may react slightly to the visitors' benefit. They base hat view on the assumption that Everton's primary mental preoccupation is the League rather than the Cup. Though that may be true, for the time being promotion and Cup progress can go hand-in-hand without undue complication, and the Blues are unlikely to relax their efforts on Saturday because of what lies ahead in the promotion struggle. I am advised that Swansea in their last few games have shown marked improvement on their earlier form. After several experiments and positional switches they have now go a fairly settled team and the benefit of this has been reflected in all departments.
Better In Defence
At one time Swansea took a leaf from Leeds United's book, experimenting for several weeks with young Melyn Charles as a centre forward. He did not emulate his brother John, however and the Welsh club has at last concluded he is a better defensive player than a forward. Certainly he has strengthened Swansea's rearguard since moving to right back. Before figuring at centre forward he occupied the centre half berth. Alan Hole has latterly been filling the pivotal role, but has switched to right half for the last four matches with Kiley taking over at centre half. He also has exerted a steadying influence, and it seems that at last the Swans are gradually solving some of their biggest problems. It is at centre forward that the club's main difficulty now lies. Several experiments have been made without success and so far Cliff Beech looks Swansea's best bet. Beech has alternated between outside left and centre forward this season but shaped so well in the two cup-ties against Barrow that hells retained as leader of the attack. Oldest man in the Swans' side is Kiley at 28, and the youngest is Cliff Jones, an 18-years-old outside left, with Melvyn Charles running him close a few months older.
Replay Arrangement
Should a replay be necessary it will take place at the Vetch Field next Wednesday (2.15). Tickets will be available for seats only at 7s 6d and 6s each, and applications should be made as follows;-
Shareholders will be allowed two tickets each and season-ticket holders one. These must be applied for personally on Sunday morning, January 31, at the club offices in Goodison Road between 10.30 and 11.30 am. Season-tickets must be presented for stamping. Any tickets remaining unsold after shareholders and season-tickets holders demands have been fulfilled will be on sale at the club offices on Sunday morning between 11.30 and 12.30 to ordinary members of the public. Applications by post cannot be entertained. All supporters should note that in the event of Everton winning on Saturday no applications will be considered for the fifth round game whether at home or away, until an official announcement is made regarding prices methods of application, &c.
George Kirby Everton's reserve centre-forward has to have a cartilage operation for the second time in six months.
Everton have deferred selection of their team until tomorrow, when Donovan will undergo a fitness test. H resumed light training today. There are no doubts regarding the rest of the players.
EVERTON SHOULD WIN
January 29, 1954. The Liverpool Echo
Ranger's Notes
What of Everton, home to Swansea Town? If cup results worked out accordingly to League placing we could already count Everton in the fifth round, for the Blues, top of their section, have suffered only one home defeat all season, whereas Swansea fifth from the bottom and far from free of relegation fears have only two wins and two draws to their credit out of 14 away games. Apart altogether from any leveling effect of the state of the going cup-tie under the best condition are often completely divorced from expectations on League form. That is one of the main attractions of the competition. Yet it is the only basis of comparison we have and unreliable or not, demands some consideration. Both defensively and in attack, Everton's record shows a big margin in hand. The Blues have scored 52 goals to Swansea's 36 and forfeited 40 as against 52. Everton have suffered only one defeat in their last twelve League and cup games. Swansea have lost five times over the same period. Everton's biggest reverses this season has been 0-4 at Plymouth and 1-5 at Birmingham. The Swans lost the correspondenting fixtures, 0-1 and 0-6. They also had five goals against at Stoke and four at West Ham and Derby. Both Everton and Swansea have thrice scored four goals in a League game. We could go on a long time weighing up similar pros and cons but it would lead nowhere for the match, like all cup-ties stands on its own pedestal. The biggest danger to Everton hopes looks likely to spring from Ivor Allchurch, the Swan's brilliant international inside left and leading scores with Cyril Beech, now installed at centre forward, the next greatest threat. Assuming Everton's defence can clamp down on the visiting attack it will still be up to the home forwards to finish off the job. Given the tools such as good half back support and accurate passes, Hickson, Parker and the rest should able to manage this. At the time these notes went to press Everton had not announced their side, and Manager Cliff Britton could not indicate who would be brought in if Donovan failed his fitness test. . Everton; O'Neill; Moore, Lindsay; Farrell, Jones, Lello; Wainwright, Fielding, Hickson, Parker, Eglington. Swansea Town; King; Charles, Thomas; Hole, Kiley, Williams; Medwin, Jones (B), Beech (G), Allchurch (L), Jones (C)
EVERTON CUP-TIE
January 30, 1954. The Liverpool Daily Post
By Leslie Edwards
Everton being the only cup-tie in this area, Goodison Park will hold teething thousands whose cold damp feet (and the long wait for kick-off time) and accepted stoically cheerfully, as an inevitability of spectatorship. So long as Everton win it will have been all worthwhile.
Prospects Excellent
Though Everton groundsman, Ted Storey, who has tended the pitch for more than fifty years cannot remember a heavier fall of snow at Goodison Park the game is on unless there was a considerable fall of snow overnight. Everton manager Cliff Britton told me last night "If the game is not on I shall be the most surprised man in the world. Had we needed to play today the ground would have been perfect. There was stud-hold on all parts cleared of snow the penalty areas have been left uncleared until tomorrow so that the turf can have the warmth and protection of its covering full mark for Everton for the judicious way they have fought the menace of the elements. It has cost them between £200 and £300 –a prohibitive price for Third Division clubs whose pitches in many cases were covered to a great depth. Mr. Britton and today's referee, Mr. F.L. Overton of Derby, had a telephone conversation late yesterday and because the ground was in such good condition, Mr. Overton will not arrive at the ground until 10 o'clock this morning to make his decision. So it seems that whatever happens elsewhere we are most likely to see a game.
Moore For Donovan
The only other news of consequence about the game is that Moore will replace Donovan at right full back in the Everton team. Donovan failed a fitness test yesterday. When last Swansea were here they had young Mervyn Charles brother of the Leeds United forward John, at centre forward. Today he reverts a defensive position –right back –an inexplicable conversion when one recalls how dangerous this boy was against Everton in the League match. In his place at centre Swansea have preferred the man who played on the wing that day., Beech. With Bryn Jones' nephew at inside right the line is full of up and coming youngsters the main spring of them Ivor Allchurch. Allchurch has had some mixed games for Swansea at the ground but never has his control of the ball been questioned. It will be Everton's job to stem the Swansea attack at source –Allchurch.
Confidence Is There
Admitting that more than one of Everton's recent home performances have been suspect the side has first-class chances of winning today. They have lost only once on their own ground and their confidence after some shaking is unimpaired. I would like to see Everton get through convincingly and without reservations, I would like to see them at top speed from the start and with no odd second-half biatus in which the other side sometimes find themselves in command. None can get better service from a side that Cliff Britton. Everton's cup runs of his term of office add point to that opinion. Here is the side's chance to make further progress to a semi-final or better and prove the sceptics wrong. Hole who will play at right-half back in the Swansea side, is the son of the famous old Swansea and Welsh international forward Billy Hole. Thousands from North Wales will come to cheer compatriots. I hope the game repays them for their journey but that the side deserving victory will be ours. Everton; O'Neill; Moore, Lindsay; Farrell, Jones, Lello; Wainwright, Fielding, Hickson, Parker, Eglington. Swansea Town; King; Charles, Thomas; Hole, Kiley, Williams; Medwin, Jones (B), Beech (G), Allchurch (L), Jones (C)
PRESISTENT HICKSON MADE SURE, BUT IT WAS WHEN –
January 30, 1954, The Liverpool Football Echo
John Willie "Came on," And It Was All Over For Swansea
Everton 3, Swansea 0
By Ranger
There was rarely any doubt about Everton getting through to the fifth round once they had settled down. Swansea had no punch in attack and showed signs of nervousness in defence. Both Everton goals scored by Parker in the first half-hour were the result of defensive errors, in each case goalkeeper King tumbled the ball and Parker right on the spot for such a possible happening on the icebound surface, accepted a simple tapping in opportunity. Swansea seemed to accept defeat as inevitable almost throughout the second half, apart from one brief period when they gingered up their ideas a little and on a more normal surface Everton would probably have got more than the consolation goal which Hickson so well deserved for his pertinacity and which came only one minute from the end. Everton; O'Neill, goal; Moore and Lindsay, backs; Farrell (captain), Jones and Lello, half-backs; Wainwright, Fielding, Hickson, Parker, and Eglington, forwards. Swansea Town; King, goal; Charles and Thomas, backs; Hole, Kiley, and Williams, half-backs; Medwin, Jones (B), Beech (C), Allchurch and Jones (C), forwards. Referee; Mr. F.L. Overton (Derby). Considering the weather there was a marvelous attendance at Goodison Park for the fourth round Cup-tie though coloured favours were not as much in evident as usual. The crowd whiled away the waiting time in one section of the ground with a snowball "battle" and the men carrying the advertising boards came in for a fusillade all round the ground. Considering what it had been like the most of the week the pitch looked in surprisingly good condition, with a thin top-covering of snow, though which the grass was peeping here and there.
Slippy Conditions
It was soon obvious, however, after Farrell had won the toss and elected to defend the Gwlady's Street goal that the foothold was not as secure as it was when the snow was first removed. In the first couple of minutes several players slid about without proper control and had to step gingerly. Swansea forced a corner which was punched away by O'Neill to the foot of Allchurch, who hitting the ball first time from 12 yards out almost put it into the top deck of the stand. Everton's first attack produced a lovely centre from Eglington which Kiley headed away towards the corner flag where Wainwright, when the ball appeared to go behind off Thomas, was plainly mystified at the award of a goal kick.
An Orange "Ball"
The light coloured orange ball just like the top of a Belisha beacon stood out well both on the ground and in the air. With players on both sides obviously having difficulty in getting a firm foothold, at would seem that this is going to turn more into a test of determination, stamina and fighting spirit than one of class football. A Swansea attack saw Charles try a shot almost from the centre line which O'Neill caught with aplomb and in the visitors next raid a free kick taken by Hole was headed outside by beech.
Hickson is Held
Jones (C) put a long ball forward to Allchurch who stepping somewhat gingerly, nevertheless managed to get to a good shot. This also was dealt with confidently by O'Neill. Hickson tried to force his way through from the inside right position only to fall a victim to Kiley and them the Everton centre forward from the outside left position crossed the ball, which both a white shirted and a blue shirted could not reach.
Eglington's Centre
An Eglington pass saw Wainwright beat Thomas at the second attempt and centre from the dead ball line. Both Parker and Eglington, one with head and the other with foot tried to ram it home without success. Miskicks sliced clearances and misplaced passes were obviously going to be more frequent than usual on this tricky surface and already we had seen a fair number. The crowd yelled justly when Everton got a corner through Williams taking a safely-first attitude and kicking behind fiercely to prevent Wainwright making contact. The corner however, came to northing and away went Swansea for a quick raid. This too had only a negative result. Hickson doing the right thing, tried a long shot. That this was most likely to pay dividends was obvious when King fumbled the ball and had to retrieve it at the second attempt. Twice badly sliced passes first by Allchurch and then by Williams found an Everton player instead of a Swansea man.
Parker's Point
This was definitely the sort of pitch so far as one could judge from the early play which was going to prove a "leveller" between the two sides. It might turn but that a mistake on the slippy surface would mean the difference between success and failure. I had barely dictated the last paragraph when sure enough a goal came which under normal circumstances would probably never have arisen. Parker was the scorer at the 20th minute but the man who did most work was Fielding. Fielding picked up a throw in by Farrell, switched the ball to Wainwright and Parker was there in position to make a first time shot when Wainwright squared the ball into the middle. King went down to it on his left side, but could not hold it on the slippery turf and the ball hit the foot of the post and rebounded towards the centre of the goal. Despite King's attempt to retrieve it, Parker got there first and tapped it over the line. This success naturally encouraged Everton and in the next five minutes Eglington was only inches over with a fierce drive and Fielding had a strong header saved by King. Swansea's only excursion into the home half for some time came just before this. Allchurch put an end to it with a splendid kick from 35 yards, which O'Neill misjudged. The Everton goalkeeper heaved a sigh of relief when the ball passing over his outstretched hands flashed narrowly over the upright. Fielding was distributing the ball extremely well and Everton for some time had been the dominant side. considering the handicaps of the slippery turf and high bouncing ball there had been some quite good football as well as much lusty kicking and Allchurch and William had been working hard to but Swansea back into the game a little more convincingly. Everton, however now had the bit between their teeth and they were opening up the Swansea defence well by the manner in which they swung the ball about from wing to wing. Once again, at the 31st minute a defensive slip proved fatal to Swansea. Thomas, harassed by Wainwright, decided to put the ball to his goalkeeper from a very acute angle. Thomas played his part at right, but King again failed to take the ball into safe keeping and Parker, for the second time was on the spot to take full toil. Thomas, when it was too late, probably regretted that he had slipped the ball behind for a corner, which would have been the most simple thing on earth.
Caught by O'Neill
Williams screwed the ball "miles" behind with a first time drive from the edge of the penalty area, and a free kick for a foul on Allchurch by Charles was caught in mid-air by O'Neill. Everton were shooting whenever they got the chance and King had plenty of work to do all through. One of the best efforts for some minutes was when Wainwright although challenged by Thomas screwed the ball in as he was falling. King had to move smartly to cover it.
Moore is Confident
Moore making only his fifth senior appearance of the season was shaping very confidently, and Tommy Jones kept a close watch on beech. After offside against two Swansea forwards had checked the visitors' advance, Everton came through again with a grand bout of balanced combination though this time without King being called into action. Charles broke up an Everton attack when he put his foot round Hickson and hooked the ball away into touch. Charles an erstwhile centre forward was showing some nice touches at full back though obviously the slippery surface was no more to his liking that it was to the majority of players. Kiley came in with a smart header to cut out an Eglington centre and Parker found an awkwardly bouncing ball beat him when he shaped up to take a shot from the penalty area edge. Half-time; - Everton 2, Swansea nil.
After Everton restarted with some good combination though without providing any work for King, Swansea came through Jones (B) to hit a strong shot from 25 yards range which O'Neill first patted down and then cleared. White the players were not treading quite so gingerly as at the start having now become accustomed to the conditions it was still difficult for them.
Barred By The Bar!
Eglington on one occasion found his legs go from under him as he tried to wrest the ball from Medwin and over on the opposite flank. Wainwright got the better of Thomas when the latter partially slipped on trying to reverse direction. This almost led to a third goal for Everton. Wainwright pulled back the centre in Lello who slipped it though for Fielding to make a good heading chance for Parker. Parker took it quickly only to see the ball soar a foot or so over the bar. Hickson who is a little theatrical at times with his threw up his hands to sign heaven in disappointment. Everton forced two corners in less than a minute and then Swansea broke away when Beech slipped the ball beyond Jones and took advantage of the latter's inability to turn round quick enough to catch him up. Lindsay, Farrell, and Moore however, were on the spot while Beech all alone could do nothing about it.
Allchurch Effort
Allchurch who all along had been trying o play good football now came into the picture with a long dribble which merited something better than his final very weak shot along the ground, causing O'Neill no worry. Referee Overton spoke to Hickson when the centre forward was stung to retaliation following a tackle by Hole. This was the first time the referee had to put his foot down. He did it in a manner which plainly indicated that he meant to be the boss.
Taking It To Easy
Everton should plainly have had a corner when a Fielding shot struck a white-shirted player, but the referee was apparently unsighted. Less than half a minute later, Everton got one, Hickson heading wide from Eglington's flag kick. Play this half had been nothing like comparable with that of the first portion. Everton seemed to be taking things just a little too easily though they were plainly the superior side. As though to prove it, Swansea won a corner and following this, Allchurch got the defence in a hit of a tangle only to find himself overwhelmed by dumbers in the finish. Fielding just prior to this had been badly shaken when in endeavouring to hook the ball over his head, his feet slid from under him and he fell heavily on his back. Swansea though having more of the game in a territorial sense than for some time were still unable to make much impression on the home defence and O'Neill had little beyond a watching brief. Eglington was still doing the right thing by switching the focus of play with his long sweeping passes. From one of these, first Hickson and then Parker fired outside.
Penalty Claim Fails
Fielding tried a shot from 30 yards which King caught Lello just before had brought the Swansea goalkeeper into action in almost identical fashion. The crowd behind the goal appealed for a penalty when Parker was brought down by Kiley. It seemed to me that Parker had of his footing on the ice, however and presumably the referee was of the same opinion for he waved play on very emphatically. Swansea's attack was very