SCORING MACHINE CRANKED UP AGAIN AT EVERTON
March 1, 1954. The Liverpool Daily Post
Everton 8, Plymouth Argyle 4
By Stork
The recent feats of Everton bring back to mind a former Everton who totted up mammoth scores and became known as the "Scoring machine." I doubt whether that team ever did better than the present eleven which has scored twenty goals in their last three League games. Goal average may play such an important part in Everton's promotion bid. It was a pity Plymouth Argyle recorded four goals, for it whittled down Everton's average considerably. Nevertheless, such scoring will keep Everton well in the race with Leicester City. This was a most enjoyable game apart from one or two incidents which brought cautions to Hickson and Chisholm. Argyle were undoubtedly a little too aggressive and relentless in their tackling and this spoiled their play, which until than was most attractive. Plymouth were dangerous. After Everton had taken the lead they not only equalized but went in front. It took a penalty shot by Lindsay to put Everton in front. Any club which can score four goals away from home is unlucky to lose, but Everton were in rampant mood in the second half and goals looked like coming every time they attacked. Chisholm of the beard who had such a terrific struggle with Hickson could not cope with anyone in the last quarter of an hour. By this time Everton were in complete command and Plymouth's defence was cut and carved as though by a razor. Yet they put up a bonny fight. Some of their attacking ideas were sound, but their defence was never quite certain of itself.
Too Bunched
I thought Everton were too bunched up in the first half, and this was playing into the hands of Plymouth defenders, Everton were more open in the second session and Plymouth had no answer to it. One never expected such a goal riot, however at the interval when Everton were leading 3-2. Plymouth stayed with them until it was 4-3 then Everton ran away from their opponents and it was 8-3 before one recalled it. Everton were joyous at this period. The forwards ably backed up by a brilliant half-back line, almost snuffed Plymouth out of the game, but Langman playing his first game for Argyle scored a second to make it 8-4. Plymouth must have left the field wondering what had struck them. There was no denying the attacking power of Everton. Parker with four goals yet not a hat-trick deserves high praise. Hickson's persistence against the hard-hitting Chisholm got him two goals. Lello got the first and Lindsay who is becoming something of a penalty king, hit one from the spot. Davis opened Plymouth's account and it seemed that Everton were in for a fight for there was obvious danger in the Argyle's attack, in which Dews stood out. I have already spoken of the efficiency of the Everton half-back line and the striking power of the attack, I cannot conclude without paying tribute to the defence although there was one goal which came about though slackness. O'Neill made great saves late in the game. Leaving out unsavoury bits, this was a grand match for apart from goals -the salt of the game –there was an abundance of good football and not all of it was played by Everton. The goal scoring chart, with times was Lello (5 minutes), Davis (10), Langman (12), Parker (16), Lindsay (43), Parker (55), McCrory (67), Hickson (68), Hickson (69), Parker (75), Parker (83) and Langman (87). There was 44,496 spectators.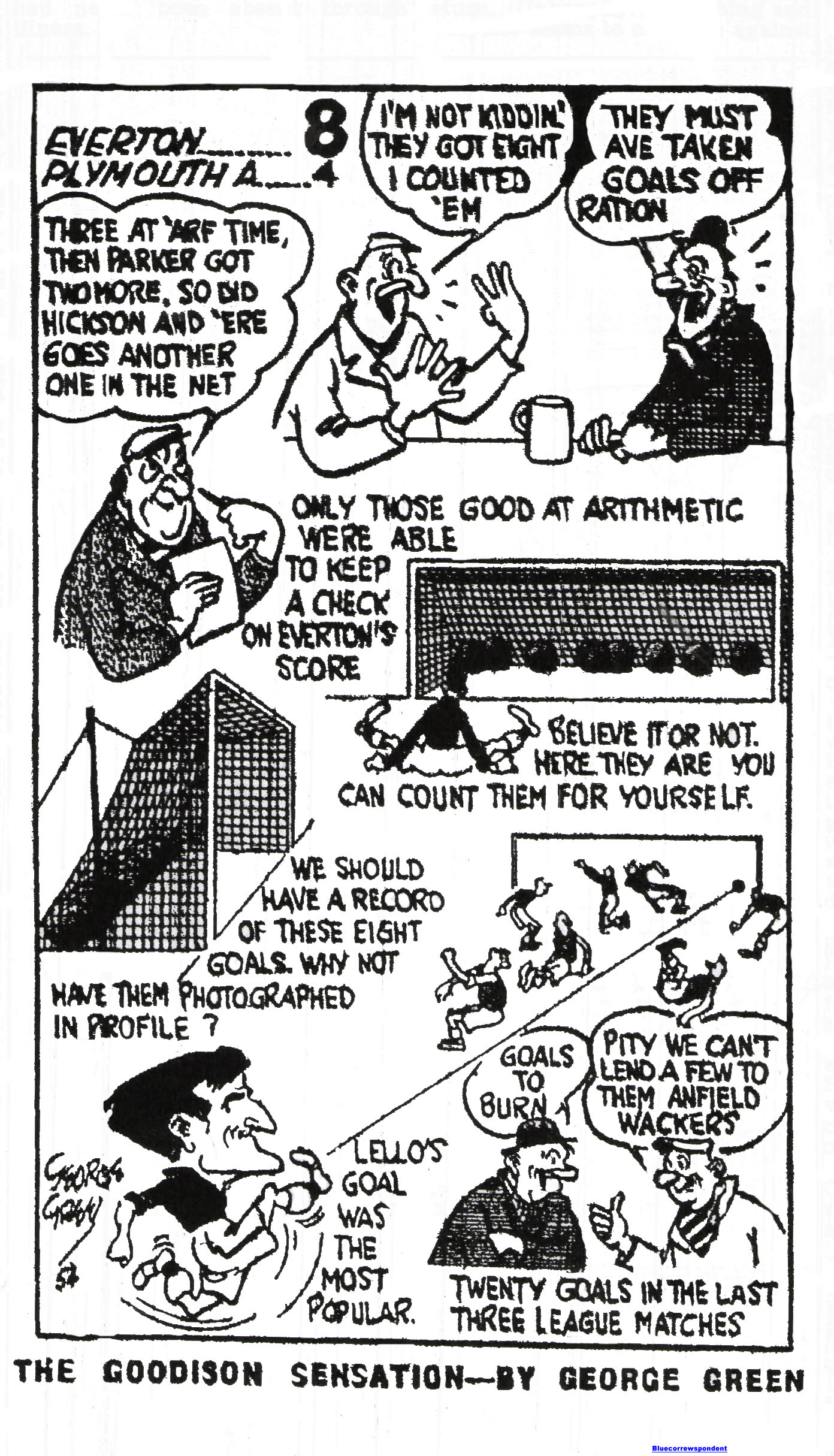 WEST BROMWICH ALBION RES 2, EVERTON RES 0
March 1, 1954. The Liverpool Daily Post
After a goalless first half Everton bombarded the Albion goal, Mayers, Potts, and Saunders failing to score by the narrowest of margins against harassed defenders. Two break a ways led to two goals by Carter after 65 and 89 minutes to give the home side a fortunate victory.
A GREAT PERFORMANCE
March 1, 1954. The Liverpool Echo
Ranger's Notes
Everton's twenty goals in three successive League games is the best performance by any club in any division of the Football League this season –or for many previous seasons for that matter. At last Everton are putting the right finishing touches to the midfield and approach superiority which they have shown in almost all their games this campaign, not excluding some they have lost and others which have only been drawn. Had the Blues defence which was not always without blame – O'Neill apart –been able to keep Plymouth to two instead of four goals Everton today would have been leading the Second Division on goal average. As it is their average is now 1-520 against Leicester City's 1-571, so that there is precious little in it. It isn't often that a visiting side gets four goals and find itself on the losing side. Plymouth like Brentford three days earlier showed form completely at variance with their lowly League position, particularly in the first half. Despite the shock of Lello's goal in five minutes the Plymouth not only went in front with two goals in two minutes but for most of the first half were as good as essential masters. Their forward line speedy and of accurate combination.
Dazzling Combination
Everton's superiority, however gradually were slowly growing and with the Plymouth defence unable to cope with the Blues dazzling combination and speed we got a goal feast the like of which was have not enjoyed for a generation. I have referred before to Parker's facility for being in the right place at the place time, which more than nullified his apparently lazy and nonchalt style. He proved this again by his four goals which brought this season's total to 27 in League and cup. Hickson's couple put him on the 23 mark. The goals, however, were not so much the result of individual effort as top-class teamwork and stick combination. Wainwright for instance though a non-scorer did some excellent work, so did Fielding. And while is was not one of Eglington's best performances, he also contributed to the general success of the day, which is all that matters. Farrell and Lello was outstanding in their constructive work. If their defensive contribution was not as dominant as is sometimes the case this was largely because they were concentrating more on backing up the forwards than anything else. Yet both were often where they were most needed when to get back was not an important tasks. But for O'Neill the visitors might have rubbed off more of the arrears. His saves from Porteous and McCrory in the first half were excellent and the one from Dews forward the finish was little short of miraculous.
Notable Debut
Neil Langman a tall, strapping 21-year-old had the sort of debut which every youngster desires. Not only did he get two goals and provide a "sitter" for McCrory but all through he kept Tommy Jones at full stretch. We shall be hearting more of Langman in the near future if he can keep up that form. Dews was also a great schemer and the Plymouth wingers made sure that Donovan and Lindsay did not have things all their own way. Plymouth's tackling was sometime inclined to be rather severe and unceremonious particularly where Chisholm and Jones were concerned and Wainwright and Eglington did a lot of skipping over outstretched legs. On one occasion when Wainwright was up-ended Lindsay extracted due punishment from the penalty kick, which was just as admirably taken as the one he scored against Derby. But for that great save by Elvy in the Blackburn Rovers game. Lindsay would now have a spot-kick hat-trick in his name. as in the game at Plymouth Chisholm and Hickson had some rare old tussle not all of them according to Cocker and Referee Vickery, who again failed to stamp the unnecessary bite out of the game as soon as it began to creep in was fortunate to find things get no worse than they did. He took the names of Hickson and Chisholm after both had been previously spoken to. Still more drastic steps might have been required had not the players own commonsense prevailed on many occasions when constant provocation might otherwise have put a spark to the powder-trail.
EVERTON'S FIGURES
March 2, 1954. The Liverpool Echo
Liverpool's 29 Newcomers in Four Years, Against Everton's 18.
Ranger's Notes
Invariably when I give statistics about Liverpool, Everton supporters ask for comparable information about the Blues and vice versa, so here are brief details of the debutants introduced to senior football by Everton over the same period as I have covered for Liverpool.
So far as this season is concerned there hasn't been a single one. That is not surprising considering how well the side has been doing and how fortunate it has been in avoiding injuries of any consequence. Last season the Blues found opportunities to give five of their youngster players a taste of what lies in store for them when they make the first team regularly. These were Jimmy Tansey, Maurice Woods, Derek Mayers, Alec Farrell and Don Easthope. Easthope and Tansey took a bow together the same day against Notts County on March 5, 1953. Between them these five youngsters made a combined total of only nine appearances for Everton though satisfied in most cases with their promise were in the happy position of not needing to hurry their development.
The Ideal Time
These are the ideal conditions under which to give younger player's their blooding, and infinitely preferable to the position, in which Liverpool have so often find themselves of having to introduce inexperienced youngsters at a time when points have been desperately needed.
In 1951-52 season Everton had six debutants in Leyland, Donovan, Hickson, Lewis, Cummins, and McNamara. Three made a regular place for themselves though Cummins has since of course parted company with the club and is now playing regularly for Luton Town.
Of these six, two made their first senior appearance in the same match. That was Hickson and McNamara figured in the game against Rotherham on September 8, 1951. Going back another 12 we find Everton's biggest number of debutants in one season to be in 1950-51 when O'Neill, Jones (T.E), Hampson, Potts, Parker, Gibson, and Harris first showed their wares in Goodison Park colours. This gives us a total of 18 Everton debutants in the last four seasons compared with Liverpool's 29 over the same period.
GOALS ARE SALT OF SOCCER
March 4, 1954. The Liverpool Echo
Everton's Concentration on Attack Is Paying Good Dividends
Ranger's Notes
Everton will field an unchanged side for their visit to Swansea on Saturday, thus making the tenth occasion in the last 11 outings that the same team has done duty with increasing advantage in all round balance and combination. During the period the only defeat was the fifth round cup-tie against Sheffield Wednesday. The eight league games played – five of them at home –have produced 12 points with a goal average of 21 forward and 10 against. Those who have seen some diminution recently in the form of Lindsay should know that he has not been completing as on one or two occasions. Happily he is all right again while the trouble was being cleared up Everton decided rather than disturb the team which had established such a good understanding that he should carry on. Everton followers who have stressed the seven goals put into the Blues in the last three games should remember that when there is concentration on all-out attack as there has been in recent matches, a certain amount of defensive risk is unavoidable. When inside forwards are playing right up the field with the wing halves on their heels to lend every possible support the danger of a snap goal from sudden break aways is a naturally greater than when there is stronger concentration on defence. We cannot have it both ways and I think the vast majority of followers would prefer the plentitude of goals they have been getting recently rather than victory by a margin of one-or-two. No matter how entertaining good midfield and approach work may be there is nothing to compare with the thrill of a goal especially when it is as well conceived and taken as some of those we have witnessed lately. Despite the goals scored against them Everton's recent average is better than at any previous periods of the campaign. Anything they can do to still further improve it may be a very helpful factor later in the season. Everton; O'Neill; Donovan, Lindsay; Farrell, Jones, Lello; Wainwright, Fielding, Hickson, Parker, Eglington.
Everton Reserves are home to Leeds United Reserves (3.15) Saunders is unfit and Harris a 20-year-old centre forward who has just been demobilized makes his first appearance. Leyland; Moore, Heyes; Grant, Woods, Melville; McNamara, Potts, Harris (J), Lewis, Stewart.
Owing to the Grand National being the same day Everton have arranged for the start of their game with West Ham United at Goodison Park on Saturday, March 27 to be put back until five o'clock. The outstanding fixture with Oldham Athletic at Boundary Park postponed through fog and frost on January 2, has been fixed for Thursday, April 29. This will be Everton's last League game of the season.
EVERTON AT SWANSEA
March 5, 1954. The Liverpool Echo
Ranger's Notes
Everton's visit to Swansea is just an important a game for the Blues as is Liverpool's for the Reds. The Goodison club needs all the points it can get to strengthen its promotion aim. On the basis of Swansea's disappointing form in the fourth round of the Cup when they never looked like making a fight of it. Everton should at least avoid defeat while if the Blues forward line is in the devastating mood it has been recently a victory appears highly probable. Swansea languishing at the wrong end of the table most of the season will be the third lowly side that the Blues have faced in successive League games. The Swans are fourth from the bottom with three points advantage over Plymouth last Saturday's visitors to Goodison, for a game more. Throughout the season Swansea have been chopping and changing their team in an effort to produce a winning combination so far with little success. Through eight home games have been won, no fewer than five have been by the narrowest possible margin. They have recorded only one victory since they beat Blackburn at home on December 5. That was against Bury at the Vetch field at the beginning of February. Prior to that they had collected only three points from seven matches, and since then have lost twice and drawn once. The Welsh side will be without Melvyn Charles due to play for the Army in Brussels on Sunday who has recently been back again at centre forward. His place is taken by Albert McIntosh a 20-years-old Scot who was signed only a week ago. McIntosh will be the sixth player to lead the Swans attack this season and the second debutant to oppose. Tommy Jones in successful games. Swansea Town; King; Keane, Harron; Williams, Kiley, Thomas; Medwin, Price, McIntosh, Allchurch (I), Jones (C). Everton; O'Neill; Donovan, Lindsay; Farrell, Jones (T), Lello; Wainwright, Fielding, Hickson, Parker, Eglington.
CHARLES OR NOT
March 6, 1954. The Liverpool Daily Post
Everton, too, at Swansea meet a team which is without one of their strongest players. Just as well the Everton defence will not have to keep an eye on the useful Charles though after their three fine wins in a row I imagine Everton would not be worried if Charles played. Everton-Swansea games in past seasons, have been very hard fought and this one at vetch Field will probably turn in the same vein. It will take Swansea all their time to keep a tight hold on Hickson and the proving Parker whose splendid bag of goals under lines what has always been contended here –that he is a natural smooth-moving inside-forward whose play is often a good deal more thoughtful than it appears. Swansea Town; King; Keane, Harron; Williams, Kiley, Thomas; Medwin, Price, McIntosh, Allchurch (I), Jones (C). Everton; O'Neill; Donovan, Lindsay; Farrell, Jones (T), Lello; Wainwright, Fielding, Hickson, Parker, Eglington.
PARKER'S GOAL RUFFLED THE SWANS, WHO BELIED THEIR LOWLY LEAGUE BERTH
March 6, 1954. The Liverpool Football Echo
Swansea Nil, Everton 2
By Stork
Swansea Town; King, goal; Harrop and Presdee, backs; Williams, Kiley and Thomas, half-backs; C. Jones, Price, McIntosh, Allchurch and Beech, forwards. Everton; O'Neill, goal; Donovan and Lindsay, backs; Farrell (captain), T. Jones, and Lello, half-backs; Wainwright, Fielding, Hickson, Parker, and Eglington, forwards. Referee; Mr. Mr. A.A. Howlett (Swindon). While Everton were on the crest of the wave, Swansea were having a lean time, but both were anxious for points for vastly different reasons. Everton were unchanged but the Swans had four alterations, three positional. The first ten minutes were entertaining, with Everton's football most meticulous. They seemed to have just one player too many for the Swans. The home team were very quick into their stride and Price produced the first shot of the day, but it was off the mark. Kiley made a timely intervention to prevent Hickson sneaking through. Allchurch, who is the big man of the Swansea side, was the chief engineer in most things that Swansea accomplished. He was inclined to take too much on himself, for he took most of the throws-in on the far side of the field. He still looked a most competent player, however, but Everton were playing with a confidence which comes of success. Fielding took a corner and put it close into goal. King was able to grab the ball as he was charged by Parker, but when the Everton man challenged him a second time he was obviously guilty of pushing and a free kick was the right decision. The Town may not have had the skill of their rivals, but they were full of enthusiasm and endeavour and the best shot of the game was credited to Thomas who from just outside the penalty area, drove in a fast rising shot which passed over the crossbar. There was a hectic moment in front of the Everton goal a minute later when Jones in sheer desperation had to hook the ball outside for a corner. While the first ten minutes had belonged to Everton-Swansea later gave the Blues many anxious moments. They were on the attack for long spells and after Lello had shot behind Farrell was so concerned when he saw Allchurch coming through that he made a long pass back to his goalkeeper which had no chance of reaching him and it went for a corner. Presdee put the hearts of the Swansea people in their months when he found himself beaten by Hickson, who strode forward some yards and then shot rather tamely outside. It was a possible chance because only goalkeeper King was left to challenge. Swansea were doing most things in the vicinity of the Everton goal and Jones and his colleagues could not let up one single second.
Back Passes
Twice the ball put back to O'Neill who had to rush out of goal to save corners, and had Price been quicker he might have surprised the Everton goalkeeper. The Swans were giving Everton a lot of room for though Donovan only just managed to put his foot out to prevent an Allchurch effort finding its mark, but much more dangerous was a centre from the right which Allchurch hooked up on to the underside of the cross bar. To the disappointment of the Swansea crowd the ball bounced down and outside the line. Everton seemed to be giving Swansea too much rope, and Thomas saw one of his shots –he had several –deflected over for a corner. A free kick to Everton saw Hickson trying to get his head to the ball but was just that fraction of an inch from doing so. Thirty seconds later he came through again and looked all over a scorer, I honestly think he should have scored, but he squared the ball across the goal and it went to a Swansea man. The Swansea attack were still hammering away, and a free kick against the Blues saw O'Neill make a capital save from Allchurch. With five minutes to go to the interval Everton came through on their left wing and Parker hit the side netting. Everton were finding the quick tackling of the Swansea half-backs one of the reasons of their non-success. The Welsh boys had been on the attack for practically the last 25 minutes of the half and were well worthy of their supremacy.
Half-time-Swansea Town nil, Everton nil.
The speed at which Everton opened at the second half took Swansea by surprise for in less than a minute Parker and Wainwright had engineered a movement which looked full of possibilities but it did not materialize. But before a minute had elapsed Everton had taken the lead. Lello moved up and tried a shot and there seemed little danger, Parker, however, had moved over to inside right and he got his foot to the ball to turn it his inside the upright, at the 48th minute. Everton were more together than they had been and from a free kick, King made a good save off Lello's header. Swansea did not take things lying down. They may have been shocked at the turn of events, but they hit back almost immediately and Thomas headed over the bar. There was an incident between Hickson and Thomas and the Everton man had to go through a lecture with referee Howlett, who also had a little advice for Thomas.
Weak Shot
Wainwright was now at inside right wearing a plaster on his right eyebrow but Parker and he had a lot to do with the next Everton move which saw Parker through but he shot weakly and King had no difficulty in saying. Allchurch made one beautiful dribble during which he beat three men and his final pass dropped on to the head of McIntosh who put the ball over. Allchurch tried a hook shot while on the turn but O'Neill was ready for it. Swansea were still playing strongly and it took very determined defence by Everton to hold them down yet it was the Blues who came nearer to scoring a second goal when Wainwright put Parker through and the Everton inside left shot straight at King from close range. O'Neill had to save from Jones it was a long effort but the Irish man caught the ball brilliantly under his bar, although he was seriously challenged. Fielding and Wainwright got together to open the way for a possible goal and it almost came for Wainwright's header travelled only inches over the cross-bar. McIntosh shot wildly, and Allchurch just failed to make contact as he tried to sweep the ball into goal. An offside decision against Everton just came in time, for Hickson hit a ferocious shot as the whistle sounded. Swansea were putting up a rare battle, but their great need was someone in the attack who could take advantage of the work Allchurch put in. The 80th minute proved fatal to Swansea for a Parker pass sent Hickson off on the right flank, and although some thought he was offside I am emphatic that this was not the case. Hickson went on and then produced a really first class drive to the far side of the goal which left King helpless. This goal completely knocked the spirit out of Swansea for where they had been so lively and enthusiastic they were now looking like a beaten team. Final; Swansea Town nil, Everton 2.
FORWARDS HIT JACKPOT, BUT WILL DEFENCE STAND FIRM?
March 6, 1954. The Liverpool Football Echo
By Peter Farrell
Everton's recent scoring feats have been a great source of joy to all connected with the club, and certainly give rise to optimism for the future. During my eight years with the club I have been in Everton teams that have scored five goals on several occasions, and seven once, but before the game with Derby I had never seen the lads score six. I can assure you that the eight years wait to see 6, 6 and 8 in the opponents net in three successive League fixture has been well worthwhile. The run of the ball has a lot to do with how games turn about, and I maintain that although we were beaten 3-1 at Sheffield out team's general al-round performance at Hillsboro was superior to what we produced in either of out last three league games, in everything except finishing. In many of our games this season our approach play has been well up to standard but unfortunately hasn't been rounded off with that most important item in football namely goals. Now that our forwards are hitting the jackpot let's hope that the defence will not concede any unnecessary goals, as judging by the scramble at the top of the Second Division the leading club's goal tally may yet play a very important part in deciding who goes up. Despite our recent big victories we have been accused by some of our followers of easing up at periods during these games. Nothing could be further from the truth the explanation being in my opinion that sometimes when a team has made an all-out and sustained effort there is bound to be a period when the opposition finds chinks in the armour for example in our game against Plymouth who were rewarded by the short spells of ascendancy with four goals.
Wainwright's Come-Back
If there is anything the fans like better than a trier it is a player who makes a successful come back after a serious injury. When Eddie Wainwright broke his leg against Derby County a couple of years ago everyone thought that he would return to the first team duty the following season. As time went on and there was no sign of Eddie reappearing due to several setbacks in the leg mending satisfactorily many thought that the career of this free scoring inside forward was finished. Bad luck seemed to haunt Wainwright during this period of inactively. Three days after he broke his leg his wife was visiting him in hospital and coming through from Southport to Liverpool in Eddie's car, driven by his brother-in-law the car skiddled and hit the back of a lorry. Mrs. Wainwright received slight injuries but the car was practically wrecked. Furthermore the insurance on the car only covered driver owner, and it cost Eddie a tidy sum to have it repaired. You would think this would be enough misfortune to last a life time, but no several times when Eddie was on the brink of returning to 100 per cent fitness other complications set in to delay his comeback. However, that is all behind him mow and he has regained his place in the first team the hard way through the "A" and reserves teams. His brilliant displays recently on the right wing for Everton must surely stand out at a shining example to all those who meet with serious injury and feel rather despondent about their future.
A Grand Type
With this in mind my thoughts immediately turn to the unfortunate Eddie Spicers, Eddie was no only one of the finest clubmen any team could wish to have but also a grand type both on and off the field, one of the games real gentlemen. Although Spicer's football career at the moment according to himself looks finished, who knows in time to come so may yet see Eddie in a Red jersey again?
I should like to take this opportunity, on behalf of my team mates and myself, of sympathizing with him and wishing him well in whatever the future holds for him, if the worst comes to the worst and Eddie will not trot on to his beloved Anfield again this game will certainly be poorer through his absence. In some home games certain unthinking sections of the crowd are apt to hurl abuse at the Everton full back for not being close enough to the opposing wingers on occasions. This is rather unfair as keener student of the game know full well that most danger to defences come from combined moves through the middle.
Combined Operation
The safest way of minimizing the opponents chances of scoring is to safeguard, as far as possible the danger area through the middle. This plan of campaign necessitates one full back occupying a position as it were, about half-way between his winger and the centre of the field behind, the centre half when play is on the opposite wing, and vice versa. Even if the winger does get possession with a little time to get the ball under control it still has to come into the middle to be really dangerous. By this time the rest of the defence has a better chance of covering the danger area. If on the other hand, our full backs were to lie square out on their respective wingers when danger threatened and our centre half was beaten by a through ball down the middle, nine times out of ten the result would be disastrous. This plan, introduced by our manager Mr. Britton has the full approval of the entire team. Furthermore any moves or plans introduced by our manager for the common good are freely discussed with the players before being put into operation. So in further when you are apt to critcise one or two in the side with regard to tactics, think fist, and if you are still convinced you are right blame the whole team. We are all part and parcel of it.
EVERTON RES V LEEDS RES
March 6, 1954. The Liverpool Football Echo
Everton Res;- Leyland, goal; Moore and Heyes, backs; Grant, Woods, and Melville, half-backs; McNamara, Potts, Harris (J), Lewis and Stewart, forwards. Everton had a splendid chance of improving their leadership and within 15 minutes were a goal up through a right wing effort by Potts. Leeds were outplayed and Melville in the 25th minute increased the home lead with an magnificent shot. Melville almost landed a third goal, Wood bringing off a clever one handed save, Lewis netted a third for Everton in the 44th minute. Half-time; Everton Reserves 3, Leeds United Reserves nil.
TOUGH GOING FOR EVERTON
March 8, 1954. The Liverpool Daily Post
Swansea Town 0, Everton 2
By Stork
Everton kept themselves in the promotion race by their victory at Vetch Field, but this was not one of their best games. At Sheffield in the Cup-tie they had all the game, but no reward. Here they had much less of the play but took both points. They were not perturbed by the fact that their goal spree had been halted, for points are more valuable and although I commiserate with Swansea for valiant effort, I think Everton just had the edge of their rivals in the end. Yet Everton had to fight even inch of the way, in fact there were periods in the first half when I envisaged possible defeat. Swansea may not had had finesse but for honest endeavour and strong play they had the Everton defence battling hard and at times a little shaky. Fortunately this did not apply to O'Neill who was very sound in goal. His handling has never been better. One would not have thought Swansea were so near the foot of the table. They played the open game and tackled hard and fast and this had an upsetting effect upon Everton who never quite reached the fluency we have come to expect from them. They did not "click" into action as in most of their games this season. They had many anxious moments before they got the all important first goal. Swansea were shocked and shaken by Parker goal in the first minute of the second half and it took them some time to recover. They fought back and the wiles of Allchurch were here to be seen yet his colleagues were not up to them.
Sapped Their Spirit
Where Everton goals have been coming so slickly they had to fight hard for the two they got. The Swansea defenders dropped on them like a ton of bricks and swept the ball away. Parker with the slightest luck, could have had three goals and Hickson more than the one he got. Fortunately these goals put paid to Swansea's endeavours. The spirit was knocked out of them when Hickson's goal came at the 80th minute. Swansea despite all their attacking did not impressive as likely scorers. Apart from a free kick Allchurch and a fast rising shot by Thomas (both admirably dealt with by O'Neill) the Everton goalkeepers main task was the catching of cross-balls which he tock cleanly and confidently. Everton's defence took the main honours for the forward line was not always together. Fielding was not himself, having developed travel sickness during the morning and Eglington was not allowed to prance his way through in his usual manner. Wainwright received a cut over the eye and give him full credit for the way he dropped back to help the defence at times in dire need of assistance. Swansea took some mastering. Everton will not have to fight harder for points. But you cannot do better than win and this Everton did because they were that little bit better at taking their chances.
HARD WON POINTS
March 8, 1954. The Liverpool Echo
By Stork
Swansea brought in a youngster at centre forward to try and help their cause which is rapidly slipping away from them-to stay in Division 2. He did not fit the bill. It was hardly fair to expect him to do so, coming right from a Scottish junior club. McIntosh never gave Tom Jones the Everton centre half, one moment's worry in fact, so far as shooting opportunities were concerned the Swansea attack flattered only to deceive. Nevertheless Everton had their anxious moments. There were times when it did not look as though they would win this game and stay in the race with Leicester City, but once again those little breaks which have been coming Everton's way this season, came along again to help once more. Swansea would, no doubt consider that they were a wee bit unfortunate not to get at least a point, for on balance of attack and a fighting spirit earned them at least something, yet they got nothing despite the fact that they must have had 60 per cent or more of the play. Football however, goes that way –it certainly did at the vetch Field on Saturday.
Mission Fulfilled
I fear that Swansea are inclined to put too much faith Ivor Allchurch. Good player though he is he cannot carry a whole forward line and this is what was expected of him against Everton. Allchurch did many fine things but he had not the slightest support. Furthermore Peter Farrell made him his special mission and so well did the Everton captain fulfill this that Swansea's Golden Boy" had a rather meagre innings. Everton's football was not quite so impressive as it had been in recent weeks yet they always seemed that little better than Swansea and what is more important they were capable of snapping up the few chances which came their way. Parker's goal in the first minute of the second half was the nail in Swansea's coffin. The Welshman never really got over that blow. They had been trying for 46 minutes to do something similar but without success, so it was rather heartbreaking for them to be a goal behind. It was just another case of the bottom dog being kicked when he is down. Everton have suffered a similar fate, Liverpool are going through it at the moment. So far as spirit was concerned Swansea battled along courageously but had not the skill of their rivals, who moved the ball better, produced passes which had a splitting effect upon a defence which was none too sure. It was this latter which enabled Hickson to chalk up goal No.2 and completely knock the heart out of the Welsh lads.
Not Their Best
This was not one of Everton's best games. They will play many better and perhaps lose and much of the strength on Saturday was defence. O'Neill made at least three excellent saves, Jones was master of McIntosh and Farrell was undoubtedly the best half back on the field. Peter is playing better today than ever, while his inspiration has got to be seen to be believed. Wally Fielding was not himself. He had a nasty attack of travel sickness on Saturday morning and his effectiveness was considerably reduced. Yet he made one of the passes which produced a goal. While the forwards were not on top form, Hickson took his goal well and Wainwright despite a cut over his right eye, gave valuable service in defence when it was most needed. The race is not yet won. There is still a long way to go, but Everton are playing with a confidence born of success and with the little breaks coming their way their prospects of winning the championship are undoubtedly high. They have still got to play Leicester. That may have a big bearing as to who will eventually win the Second Division championship.
EVERTON'S THREE PHASES
March 11, 1954. The Liverpool Echo
Victory Against Rotherham Would Equal Early Season Opening
Ranger's Notes
Victory for Everton against Rotherham United at Goodison Park on Saturday would enable the Blues to equal the excellent opening phase of the season, when they went undefeated for the first eleven games. Everton's performances this campaign can be divided into three well-defied compartments. After the very promising start they fell away for a period but since losing to Birmingham on December 6 they have not since suffered a reverse apart from the cup-tie at Sheffield. For purpose of comparison here are the returns over the three periods named.
Played Won Draw Lost For Against Points
Upto Sept 26 11 7 4 0 26 13 18
Oct 3 Dec 19 11 3 4 4 18 24 10
Dec 19 Mar 6 10 6 4 0 31 11 16
Assuming they defeat Rotherham their return over the last three months will have equalled the start of the season in points but with a decidedly better goal average, which may yet be a deciding factor. Actually they have already equalled their opening spasm of 11 undefeated League games for the last match of the middle period was a draw against Notts Forest on December 13. But for the mid-season period when they suffered a temporary decline, averaging less than a point a game for 11 outings mainly due to goalkeeping lapses the recasting of the defence through the absence of Jones and poor finishing-promotion today would be even nearer that it seems. Fortunately the recent revival and, improved finishing power of the attack has largely offset the effects of that shaky spell and continuation of the form of the last month or so should further enhance their prospects. One exceedingly helpful factor has been the freedom from injury of all the senior players which has meant that the same eleven has been able to do duty over the last three months. This immunity from enforced changes is continue a stage further this week and the team to meet Rotherham is again unchanged for the 12th time in the last 13 league and cup outings. Everton; O'Neill; Donovan, Lindsay; Farrell, Jones, Lello; Wainwright, Fielding, Hickson, Parker, Eglington.
Still they come these young Evertonians who fall victim to cartilage trouble. Bernard Molyneux the Blues reserve full back, who has just resumed playing after completing his National Service is to enter hospital for the removal of a cartilage. He will be the tenth young Everton player to suffer a similar operation in the last fourteen months.
ROTHERHAM'S VISIT
March 12, 1954. The Liverpool Echo
Ranger's Notes
Everton will find Rotherham hardy and determined opponents especially at the Yorkshire's club's hopes of promotion, if not so good as they were a few months back are still not extinguished. In the last few months Rotherham have not been so outstanding as they were earlier when for a few bright weeks they were at the top of the table. After eight wins and a draw in one run of nine outings, they suffered their second home defeat when Everton visited Millmoor on October 24 last. Since then they have won only seven out of 11 matches, four of these victories at home. Altogether they have won seven away games this season and lost eight, with only one draw which was at Luton at the end of January. Several times their attack has had a field day, the latest being against bottom of the table Oldham Athletic last Saturday when Rotherham rallied up seven without replay, including a hat-trick by centre forward Burke. That brought Burke's total of goals to 24. Outside left Wilson with 12 and Grainger on the other flank with nine have also been prominent almost Rotherham's scorers. In the inside forward positions they have found goals hard to get. Eight players have been tried in these two berths and so far have managed to score only 12 times between them, of which inside left Guest has got six. The Rotherham side as recently constituted is substantially the same as the one which did duty against Everton at Millmoor though one or two alterations have been made. Perhaps the most notable has been the switching of Peter Johnson, who began the season at inside right to left back.
Defence So strong
Centre half Noole has been in good form all season but at right half Edwards has been replaced by Marshall. In the attack the only newcomer is inside right Henderson, whose Rotherham signed from Third Lanarak at the end of November. He has fitted well into the forward line, but is not a strong shooter and in his 15 outings has scored only one goal. though at present in sixth position, Rotherham have scored fewer goals (64) than any of the sides above them. This total is only eight more than they have conceded in their 33 games. On eight occasions they have prevented the opposition from scoring while they have failed to find the net themselves in five games of which four have been away from home. Though no really big totals have been totted up against them, they have conceded four goals in a game five times, their heaviest away reverses being at Nottingham Forest and Leicester, who each won 4-1. Rotherham bring in Fell at inside left, Guest being unfit. This is Fell's first senior outing this season, but he played on four occasions last winter. Everton; O'Neill; Donovan, Lindsay; Farrell, Jones, Lello; Wainwright, Fielding, Hickson, Parker, Eglington. Rotherham; Quairney; Selkirk, Johnson; Marshall, Niblo, Williams; Grainger, Henderson, Burke, Fell, Wilson.
BOOS AND BUMPS WIPED OUT BY PARKER'S HAT-TRICK
March 13, 1954. The Liverpool Football Echo
Everton 3, Rotherham 0
By Ranger
Everton; O'Neill, goal; Donovan and Lindsay, backs; Farrell (captain), Jones and Lello, half-backs; Wainwright, Fielding, Hickson, Parker, and Eglington, forwards. Rotherham; Quairney, goal; Selkirk and Johnson, backs; Marshall, Noble, and Williams, half-backs; Grainger, Henderson, Burke, Fell and Wilson, forwards. Referee; Mr. T. Seymour. Everton gave their supporters a heart attack in the first half-minute when Rotherham cutting through the home defence, smartly tried a shot by Henderson and O'Neill completely misjudged it. The ball bouncing away off his arm, but fortunately no Rotherham man was there to snap up the chance before the danger was cleared.
Hickson Laid Flat
The strong wind, which Everton had at their backs, was clearly going to be troublesome, it was probably this which led to O'Neill's misfielding of the ball. Hickson was laid flat on his back by Noble and when Rotehrham came away again Henderson looked a likely scorer despite the narrowness of the angle./ he would have been too but for a great save by O'Neill. Next time Hickson and Noble clashed the Rotherham centre half was left on the ground obviously in pain and referee Seymour gave the visitors a free kick. The next duel between the pair also produced another free kick for Rotherham.
Prevented A Goal
Next time Hickson and Eglington paired off splendidly on Everton's left flank, the movement producing a centre which Quairney plucked out of the air to prevent Wainwright taking a headed goal. Another free kick to Rotherham saw Wilson test O'Neill with a hot drive from 30 yards, O'Neill saved smartly. A four piece movement by Everton produce a corner conceded by Johnson. Wainwright's flag kick was headed down by Hickson to Parker who appeared to kick across Quairney as the goalkeeper came out. It was a minute before the game was resumed, Quirney receiving the trainer's attention. This was another foul against Everton.
Hickson In Trouble
After Everton had been pulled up for offside against Hickson, Williams rather need easy put the ball out of touch and Johnson conceded a corner under pressure. Everton were now having more of the game territorially than in the early stages but they had not yet produced the shots as strong as the visitors. Another foul against Hickson right on the half-way line saw Selkirk put the ball into the Everton goal, where it was fisted away by O'Neill. In the resulting scramble on the penalty line a clearance by Lello hit Henderson and knocked stone cold.
A Chance Lost
Everton still showed little sign of being punishing in attack. They did plenty of work but failed to produce anything difficult for Quairney. Wainwright might have done so when he cleverly worked his way through but he mishit the ball at the finish. A quick throw in by Wainwright saw Everton likely to burst through. The chance was lost when Fielding pulled his pass to Eglington behind the winger. Hickson ran over to the referee to complain justifiably of a foul which had escaped the officials attention. Farrell also had a word about it. Five minutes before half-time came an incident which did no credit to the two players involved. Right from the start Hickson and Noble had been at daggers drawn. Now the trouble flared out into blows. Noble appeared to tread on Hickson –it seemed to me quite accidentally –as the Everton centre forward lay on the ground. From the prone position, Hickson lashed out at Noble and then the latter struck Hickson when the Everton man got to his feet. The referee spoke to Noble, while Farrell tried to calm down Hickson. The fresco finished with a free kick to Everton. It was an unseemly incident and one which might well have brought marching orders for somebody. This game had been allowed far too much bite in some cases. It was a case of six of one and half a dozen of the other in several incidents. It was a pity it should have taken this turn.
Half-time; Everton nil, Rotherham nil.
Noble was booed by a section of the crowd when Rotherham came out, which was foolish. He had been just as much sinned against as sinning. A free kick to Everton might have produced a goal when Lindsay's long punt dropped near the penalty spot, but Parker screwed it outside when it might have been better to leave it to Hickson.
Refreshing Contrast
Jones had long before this got the measure of Burke, Rotherham's leading scorer and the duel's between these two had been in direct and refreshing contrast to those between Noble and Hickson. O'Neill got a rally for the way he snatched the ball out of the air when Grainger's centre looked dangerous. He had made half-a-dozen similar interceptions throughout the game all done with complete confidence and surety. Still Everton were not showing the balance and precision in combination that we have come to expect from them recently. Some of their passes were erractic and while the quick Rotherham tackling gave the home forwards little chance to settle on the ball.
Two Smart saves
Then came two smart saves, one at either end, inside a minute. Quireney foiled Hickson when the latter held off Noble's challenge and shot from an actute angle. Rotherham dashed away to the Everton goal where Lindsay passing back far too tenderly, gave Grainger a great chance. Luckily for Everton, O'Neill already from goal, put on a spurt and narrowed the angle so much that he was able to take charge of Grainger's shot. This was a let-off for the home side. A great bit of work between Hickson, Eglington and Parker which took the ball half the length of the field at top speed, was worthy of a goal, but did not produce one because Fielding was unable to make contact with Parker's squared centre. A bad foul by Noble on Hickson just outside the penalty area finally led to a corner, which in turn led to a melee near the far upright on which Quairney received a knock on the head and before another corner transpired. This produced a free kick to Rotherham. Another corner by Wainwright headed in goalwards by Hickson was headed off the line by Marshall. Everton had four corners in approximately as many minutes but still the goal for which they were fighting so desperately would not come. Farrell had one shot high over the bar. Everton were now having much the better of the argument, but Rotherham's defensive covering was good and Everton rarely had a chance to test Quairney. Everton pressure at long last paid off and Parker put them in front at the 75th minutes. Actually there looked to be no great danger to Rotherham when Eglington pulled back a centre but when Fielding headed the ball across to Parker the Rotherham defence was caught flat-footed and Parker piloted the ball into the far corner of the net well out of Quairney's reach. Hickson and Noble had quietened down considerably compared with the first half, though at this stage Noble brought Hickson down when the ball was some distance away. At the 80th minute Parker got a second goal for Everton and his 30th of the season in the League and Cup. Hickson put a short ball down the middle which left Parker to beat Noble which he did before firing into the roof of the net. This now seemed to make the issue secure. Everton had made heavy weather of it but on their second half show despite being against the wind, they deserved the points. Parker scored for Everton at 89 minutes. Final; Everton 3, goals; Rotherham United nil. Official attendance 52,302.
COPING WITH END-OF-SEASON PROBLEM OF STALENESS
March 13, 1954. The Liverpool Football Echo
By Peter Farrell
With only about two months remaining before the season ends and many important issues yet to be decided, clubs involved in promotion or relegation struggles have to give very serious thought to the problem of keeping their players in peak conditions. Sometimes all this stage of the season players are apt to go a little lost stale and am occasional change in the general routine of training can be very helpful in preparation for the strenuous and important weeks ahead. With this thought in mind Everton took the lads for a day's golf to West Derby last Wednesday. Fans have mixed views with regard to golf as a means of training for football, in my opinion an occasional change like this does a lot of good. Apart from the enjoyment and the fast that you cover about eight miles during the course of the day, the change of atmosphere ensures that you return to serious training the next day keyed up and ready for the fray again. The rivalry among the golfers at our clubs is very keen and although the usual shakes are a couple of shillings the lads play as if hundreds of pounds were involved. Our first goal at Swansea last week was the result of a full blooded volley by Cyril Lello which was going yards wide until neatly turned into the net by John Willie. On our joyful return to the half-way line for the kick-off I smilingly remarked to Lello "A great shot Cyril," whereupon he immediately replied with a broad grin "It's a good job I saw John Parker or I might have tried a shot." the effect a win has on players can be best seen by their reactions in the bath immediately after the game. If we have won there is a general atmosphere of excitement as they scrub the mud from their tired limbs with everyone endeavouring to speak at once as they go through the highlights of the game move by move. On the other hand if we have lost there is just a consoling word from one to the other as they reflect on "What might have been" some of the Everton players were so overjoyed when we beat the Villa in the sixth round of the Cup last year that we just sat in the spacious bath at Villa Park and relieved moment of the previous 90 minutes until the trainer reminded us the coach was waiting to bring us back to Liverpool. Everton fans will remember the yeoman service which their former Welsh international centre half Jack Humphreys gave the club in the post-war years and I am sure they will be sorry to learn that Jack is not in the best of health these days and is convalescing in a sanatorium in Caernarvon. Recently four of us went through by car to visit Jack and bring him the latest news from Goodison. He was not expecting us and it was well worth the long journey to see the look of elation on Jack's face as we entered the room. We remained there for about an hour and a half during which time we must have crammed in about five years going back over amusing incidents and thrilling experiences shared with Jack both on and off the field. Humphreys is imbued with tremendous spirit which should stand him in good stead is his fight back to renewed health and I know you will all join me in wishing him a very speedy recovery. Football followers in Liverpool are keeping their fingers crossed and hoping that next season they will be able to look forward to those two great days in their football calendar, namely the "derby" clashes between Liverpool and Everton. Furthermore, they are hoping that it will be a First Division fixture which I think all agree is the only place for clubs of the prestige and tradition of those in this city. I know there are a minority of partisan supporters in Liverpool who boast they have never been in Goodison Park and others who say the same about Anfield, but the vast majority have badly missed their Derby games during the past few seasons. From the players' point of view not even a Cup-tie can match the thrill of a Liverpool-Everton game. There is a certain tension in the atmosphere prevailing in the dressing room before the kick-off which seems to be missing from other League matches. This reaches its climax as the bell ring signaling it is time to take the field and it is rather a strange feeling hard to explain, as the Reds and Blues take the field side by side amid the tremendous roar from the rival spectators every one of the 22 ready to do his part in giving his followers a joyful topic of discuss for the remainder of the week in pub, workshop office or factory. Sometimes that has always impressed me about local Derbies in this city is that although the keenness is terrific and to quarter is either given or asked, these games have always been conducted with a spirit of sportsmanship which is credit to the City. Yes, we have certainly missed our Everton-Liverpool games. Let's hope the next August we will again start to reckon the days when both clubs will renew their rivalry for First Division League points. Should this happen I don't think there will be any complaints from either side of the park.
HERO RATING FOR PARKER
March 15, 1954. The Liverpool Daily Post
Everton 3, Rotherham United 0
By Leslie Edwards
Time was when some followers of Everton spoke disparagingly of John Willie Parker. They said he was too slow; they said he missed chances they considered his play was too polished and not sufficiently direct. Yet oddly Parker was almost invariably among the goals. He had the Balmer knack of being in right place at the right moment. He had the Balmer knack of being able to beat a goalkeeper off the chance, for better, the half-chance. And now John William, with a wonderful bag of thirty-one goals, so far this season and a hat-trick in the last fifteen minutes of this important promotion game has so arrived. Everton followers' hearts as to fill the special niche of hero of the day. For me this success is heartening because I have always maintained him to be a splendid natural thoughtful player with a genius for getting goals. He has justified himself and his club's confidence in persisting in playing him to the complete dismay of those who suggested he would never make it. This hat-trick of his could scarcely have come more opportunity or more spectacularly. With the game so near its end and Everton apparently fated to drop a point. Parker's was the inspiration on which made a world of difference. Indeed those three goals which create the impression that Everton had plenty to spare could hardly be more misleading. It was a hard fierce battle and only when Rotherham went one down did Everton begin to play with the confidence and competence one expects from a team at the head of its League.
Powerless To Move
Parker can pass a vote of thanks in two directions –to Fielding and to Hickson. It was from Fielding's flicked pass that the ball curled into the danger zone for Parker to reach forward and nod it with admirable aim just inside a post. Quairney the Rotherham goalkeeper must have appreciated that the ball was beating him, but seemed frozen to his line, powerless to move. Had he done so I fancy his outstretched hand would have had time to make contact. Five minutes later it was Hickson with through pass who invited the careering Parker to go ahead for another goal. He took one superbly. A short dribble a swerve and a stunning shot and that was that. It was Fielding who created the avenue for the third a minute from the end. Again Parker took his chance brilliantly with a shot. Social ended happily and the vast majority of the 50,000 people present went home well satisfied with Everton and with the probability of their return t Division 1. But others could not forget that they had seen again at Goodison Park incidents which do no good to any match and particularly to one in which Everton play putting it mildly it must go on record that two players –Hickson of Everton and Noble, of Rotherham had their names booked. I fear that Hickson is like the little girl of the nursery rhyme and that when he is good he is very, very good and when he is bad he is horrid. Hickson's football in this game was first-class unselfish, keen of tremendous value to his co-forwards. Yet he seems incapable of keeping out of trouble.
More Of A Hindrance
With first use of a wind which blew straight down the ground Everton seemed to have won a real advantage when they won the toss. That was from being so. The best football was played against the wind Everton with their feuding and fussing first half were not half the team we know them to be. Rotherham were quick sure and full of danger. Everton survived this critical half for several reasons. There was one classic tackle midfield by Lindsay when all seemed lost there was a splendid save from a well hit cross shot by Henderson by O'Neill; there were two most valuable interventions by that most improved back. Donovan when Henderson and company had so opened the way that a quick pass to Wilson on the left might well have cost Everton a goal in both cases Donovan sensed the move and acted. These instances aside he had a grand game.
Only when Parker scored did Everton begin to see their way clear to league leadership by two points. It was the wearing down process which told on Rotherham. Once Everton took the lead their play improved noticeably. Until then it was the sort of game that might easily have gone either way. Had Rotherham held a first half lead few could have complained. Though neither had a great deal to do both goalkeepers played excellently. Their catching of a ball swerving in the high wind was without fault. Quiarney took a knock and survived. Maybe he might have reached that Parker header, but this was a save to make in print than on the field.
Fine Captain
Again Farrell was a fine captain. He worked tremendously hard and found that touch of inspiration to help hold off a superior Rotherham in the first half and go on to lead Everton's revival. The best player of them all I thought was Grainger on the Rotherham right. He was extremely fast and Lindsay did well to keep him off the register, though in one of his incursions Grainger all but scored. Little Henderson played well too until he tired and if Noble was sometimes uncompromising he played throughout and with fine effect. Hickson's main usefulness was in flicking the ball on others in the line without a moment of delay. Except for their saving last fifteen minutes Everton played less well than in most of their recent matches yet Rotherham not staying so well and misplacing too many passes against an Everton defence which seemed to get more and more on top of their job scarcely deserved to lose by such a wide margin.
HICKSON MUST REMMEBER THAT TWO WRONGS DON'T PUT THINGS RIGHT
March 15, 1954. The Liverpool Echo
Ranger's Notes
Everton's latest victory, their fifth in succession, enabled them not only to go one better than their opening run of the season of eleven games without defeat, but now makes them first favorites for promotion. It took them a long time to wear down the grim resolution of Rotherham and though they were the better side in the second half up to 15 minutes from the end it seemed that they might have to be content with a goalless draw. Then came Parker's hat-trick and the Blues got the reward which they deserved on the basis of their second half superiority. For the first hour or so there was little to choose between the sides. Indeed at times Rotherham looked the more dangerous combination for they were quicker on the ball more accurate in their passing, and more deadly in their tackling as well as more inclined to try a first-time shot. Not that there was a great deal of shooting from either side until the closing stages. With rare exceptions, the goalkeepers tasks were confined mainly to cutting out centres, which both did confidently enough. I have remarked before on Parker's facially for being in the right place at the right time. He can sometimes go through most of a match doing nothing of outstanding mole. But let there be a chance of a snap goal or goals as on Saturday, and he is usually there to take advantage. His deceptively lazy and nonchalant style lulls defenders into a false scene of security. By the time they wake up the damage has been done. Parker had to thank Fielding for two of his goals and Hickson for the other, but it was his own keen perception of the possibilities that enabled him to add the appropriate and pleasing finishing touches. O'Neill did what came his way with clear-cut skill, after his one early misjudgment of a swirling ball, and Jones and Donovan shared the main honours among the rest of the defenders. Fielding came to his best in the second half though now and again his passes continued to go adrift.
Refreshing Contrast
The duels between Jones and Burke were in refreshing contrast to the cut-throat nature of those between Hickson and Noble which at one time reached the stage where neither could have complained had they found themselves in receipt of matching orders. Although I have always recognised the ability and virtues of Hickson –I was alone in advocating his return when he was temporarily dropped a couple of seasons ago –I have never been blind to his faults which are so demonstrably clear to those who do not shut their eyes to them. His temperament being what is venous and robust play comes naturally to him. Nobody objects to that. Indeed, his grim determination and unconquerable fighting spirit have had much to do with Everton's success this season. Unfortunately the line of demarcation between the honest and permissible employment of every ounce of nerve muscle and a new and the descent into questionable retaliatory tactics is sometimes very easily overstepped Hickson, in short is in danger of becoming one of Soccer's marked men" in more than one sense of the term. I admit that on many occasions he has suffered great provocation. I admit too that there comes a time when constant provocation can send the most even tempered player –and not all his best friends would call, David that –on the rampage for "revenge." But two wrongs don't make a right. Granted that Noble took the first step on Saturday to turn what might have been a thrilling due into something akin to all in wrestling Hickson must take some share of the blame for his quickness to retaliate. After that it was six of one and half a dozen of the ofter up to the interval. In the second half Hickson though still robust could not be faulted. Noble could not similarly be absolved but this time Hickson –presumably brought to a realization of the position by an interval word in season –kept himself within bounds.
No Roland For An Oliver
I am not suggesting for a moment that Hickson should tamely submit to the sort of treatment which is often dished out to him. What I am advocating is that he should not seek to return a Roland for every Oliver. The best games I have seen him play here have been when he has kept himself in hand and concentrated on playing the good brand of football that he can produce at his best and most controlled. Referee Seymour was very tolerant on Saturday too much so. so are many present day referees, I cannot imagine some of the old generation of officials like Jack Howcroft, permitting some of the things which took place. Fortunately the "disease" was not contagious and did not spread but even as it was some of the things which we saw were regrettable. I am not anti-Hickson. Far from it. But I feel that in his own interest Hickson should make a real endeavour to curb his impetuosity for the benefit of his side as well as himself. I firmly believe that by doing so he will not only be a better player individually, but a better team man as well. I know it is easy to sit in the stand and criticize, but not so easy to submit to some things in the heat of the moment on the field of play. But let the field be one of play not of battle and let Hickson be less ready to have a go at those who have a go at him. It he does not take these words to heart which are meant in a helpful sense he may have cause for regret.
CHAMPIONSHIP HOPES
March 16, 1954. The Liverpool Echo
Ranger's Notes
Everton reserves second in the Central league chart one point behind Wolverhampton Wanderers but with a game in hand, visit Sheffield Wednesday. As the Yorkshire club won 1-0 at Goodison Park, the Blues will have a double incentive to reverse that decision. I referred a few weeks ago to the good performances of Everton's second string. They have now won 11 of their last 12 Central league games, six of these victories being on opponents grounds. Their only defeat in this grand spell was at West Bromwich a fortnight ago. Prior to that they had not lost since November 7. Their record at the moment reads;- Play 33, won 20, lost 7, drawn 6, For 73, Against 40, Points 46.
Four of their defeats have been at home all of them by a single goal margin. Gwynor Lewis is still going strong as a marksman. He has totted up 18 goals in 16 appearances, 13 of them in the last eight outings in only one of which he failed to score and all of which except one, have been at inside left. This has been a prolific scoring position for both Everton teams since the turn of the year.
SHEFFIELD WEDNESDAY RES 1, EVERTON RES 1
March 18, 1954. The Liverpool Daily Post
From the start Everton made many scoring chances. They would have taken an early lead but for a great display by Ryails. Everton were shocked when Jordan put Sheffield with a header after twenty-five minutes but Potts missed an easy chance just before the interval. Everton continued to be dominant in the second half when Harris equalized from close range after sixty minutes, and Potts and Lewis each had goal bound efforts stopped by defenders almost on the line.
EVERTON UNCHANGED AGAIN
March 18, 1954. The Liverpool Echo
Readers Have Their Say In The Dave Hickson Controversy
Ranger's Notes
Everton will again field in unchanged side for Saturday's game at Leicester which is probably the stiffest of their remaining fixtures for Leicester are one of their most formidable rivals for promotion. A victory for Everton would strengthened their position tremendously, both in relation to their League points advantage and as a psychological boost for the team. A draw would be very helpful but defeat would enable Leicester to equal the Blues on points for the same number of games played, and thus make the promotion problem much more open. Leicester are the only club to beat Everton at Goodison Park this season. They were however, extremely fortunate to do so. on territorial advantage shooting and in all other respects, Everton deserved to win by a good margin but Anderson the Leicester goalkeeper, who played brilliantly foiled them at every turn. Everton are playing better now than they were at that time, however, and under run of twelve games without defeat may be carried a stage further despite the "unlucky" aspect of this engagement for those who think there is something ominous in the combination of a visit to Leicester and Everton's thirteenth attempt to preserve their latest unbeaten sequence. It will be a stern and hard task and a most difficult result to attempt for forecast but I have a feeling Everton will get at least a point. With Leicester still "Cup-ties" and having next Monday's second replay with Preston at the back of their minds Everton's task may be lightened a trifle. The Blues players were at Preston yesterday to weigh up their opponents. Everton directors present offered the use of Goodison Park for Monday's replay between Preston and Leicester, but their offer was not taken up. Leicester felt that it was too near Preston. Everton; O'Neill; Donovan, Lindsay; Farrell, Jones, Lello; Wainwright, Fielding, Hickson, Parker, Eglington.
Everton res (home to Chesterfield); Leyland; Tansey, Rankin; Grant, Woods, Melville; Buckle, Potts, Harris, Lewis, Stewart.
The Hickson Controversy
My remains on Monday about Dave Hickson seen to have touched some Everton followers on the raw. Other very loyal supporters have welcome them. I don't want to take this controversy out of it true perspective, and for that reason am giving only a brief selection of letters. Indeed I would rather have avoided the topic entirely had I not felt that my duty compelled some reference to Saturday's incidents. I am giving latters which take Hickson's part at much greater length than those which support my own remarks. As Dave himself cannot replay, it is only fair; his supporters should get a good show. Mrs. K. Jones of 28 Emerald Street, Liverpool 8, writes "it is time you began to earn your salary as a sport writer you have been nothing more than a Hickson critic this past season. You have definitely got Anfield Relegation Fever, and the only way you can bring temperature down is to pull Hickson to pieces. Come off it and gave the Everton boys a bit of encouragement, not individual criticism. You often write about barracking players but you do just that when you write about Hickson's fault. We like Dave the way he is, so let him alone.
Nobody has tried to give Everton more encouragement than I have. How long did I plead for the Goodison Roar? Mrs Jones wants bouquets alone. She won't get them from me if I honestly feel criticism is needed.
He Wants Less Prattle
Mr. R.G. Bennett of 26 Beechwood Road, Bromsbourough says this; "Last year Hickson was your hero after scoring a really grand goal to send Everton into the semi-final. Now, because he gets a little rough after being kicked around by practically every defence in the country, you seem to delight in pulling him to pieces. I am sure everyone in the ground on Saturday will agree that Noble started the trouble. So did Chisholmes of Plymouth and defenders at Sheffield. If you must cast critical eyes and express your opinions let us have a fair and balanced summing up instead of the prattle. I read on Monday, Everton's opponents seem to have an prearranged plan to stop Hickson at any price.
Mr. Bennett seems another who thinks that criticism consists simply of saying nice things and shutting one's eyes to anything unpleasant. I don't quarry favour that way.
This Hits The Bull
Mrs. S.J. Lawson of 31 Dumbarton Street, Liverpool writes;-
"Whilst agreeing with most of your remarks, I think that in fairness, it cannot be over emphasized that in nearly every case, the initiative comes from the opposing centre half. I believe that these men are something under managerial instructions to needle Dave in the hope that he will retaliate and perhaps get marching orders. "It is all very well to say retaliation solves nothing, but so long as there are so many weak referees and others who only see wrong in retaliation and not the original perpetrators so long will we have scenes such as occurred on Saturday.
Now we are getting somewhere! I criticized Saturday's referee just as much as Hickson. We went more men of the stamp of those old-timers, who ruled the game with impartial formness and strict notability. It is primarily the referee's job to stamp put questionable tactics. Too many faulty fall of their duty.
W.E. Litherland writes; "I consider you gave kindly, just and very sensible advice to Dave Hickson, which at one of his admirers I hope he takes to heart. If so when he becomes a real star player he will be thankful to you.
SOME REWARD VITAL
March 19, 1954. The Liverpool Echo
Ranger's Notes.
Everton's top-of-the-table battle with Leicester, as already stated will have extra significance to the winners if the result it clear cut. The Blues will be all out to avenge their home defeat at the hands of the City on October 31, when a great display of goalkeeping by Anderson, despite Everton's territorial advantage, enabled Leicester to take the points. The Blues can afford no slips at this stage of the campaign. Some reward from their trip is vital, as only Blackburn Rovers of the teams still within striking distance of the top are playing away. The Leicester attack, which has scored 54 goals in 17 home games may be even more dangerous than it showed itself to be at Goodison, as it now includes Jack Froggatt the former Portsmouth player. Manager Norman Bullock did a good stoke of business in signing Froggatt in whom Liverpool once showed interest for he can not only operate in the attack in several places, but if the need arises could deputise effectively at centre half. Though Rowley is still Leicester's main marksman, with 26 League goals to his credit there is potential danger in all the City's forwards, whose speed and shooting and positional interchange are of top class. Apart from occasional changes through injury, Leicester have made only two alterations of note in the side which has done duty most of this campaign. The two absentees from the side which played at Goodison are right back Lever and left half Dunne. The former's place has been taken by Milburn, while the half-back berth is now filled by Russell the ex-Wolverhampton player, who joined the Leicester staff last October. If Everton are in the scoring mood which they have shown in recent matches Leicester's will not be the only dangerous attack on view, while if Jones and his fellow defenders are in their best form, at least one point is a possibility. Leicester will not decide on their team unfit late. Baldwin and Rowley are doubtful due to a septic leg and thigh injury respectively. Leicester City (from); Anderson; Milburn, Jackson; Baldwin, or Dunne), Gillies, Russell, Griffins, Smith, Morris, Hines, Rowley, Froggatt. Everton; O'Neill; Donovan, Lindsay; Farrell, Jones, Lello; Wainwright, Fielding, Hickson, Parker, Eglington.
ALL IN FAVOUR OF EVERTON
March 20, 1954. The Liverpool Daily Post
By Leslie Edwards
If Everton survive at Leicester today in a match with great bearing on the Second Division championship they will have gone thirteen League matches without defeat. The chances are that they will draw or win. Leicester with a hard Cup-tie at Preston last Wednesday and the prospect of another similar match in the second replay on Monday, start at a big disadvantage and the fact that they were the first team to win at Goodison Park only means that Everton will be keener than ever to reverse that verdict. Everton play an unchanged team, Leicester announce choice from thirteen Rowley being a doubtful owing to a thing muscle injury and Baldwin suffering from a septic leg, if Baldwin is unfit Dunne will take his place. Jack Froggatt the clubs new signing from Portsmouth is a definite starter. It would not surprise me if it was decided to play him at centre half. Everton's confidence after their highly spell in the past two months and the fact that Parker is getting goals so freely are danger signals to Leicester. Hickson's propensity for letting defence know he is around and Farrell's inspiration from the half back line are other reasons why Leicester will need to be at their best. Everything suggests the game will be keen to the point of having "needle." It is the kind of match calling for good, strong refereeing, and no nonsense. Monday's Daily Post will carry a special commentary of the match and the best of the Everton action pictures. Leicester City (from); Anderson; Milburn, Jackson; Baldwin, or Dunne), Gillies, Russell, Griffins, Smith, Morris, Hines, Rowley, Froggatt. Everton; O'Neill; Donovan, Lindsay; Farrell, Jones, Lello; Wainwright, Fielding, Hickson, Parker, Eglington.
ANDERSON-SHELTERED LECIESTER NOT PROOF AGAINST HICKSON RAIDS
March 20, 1954. The Liverpool Football Echo
Leicester 2, Everton 2
By Contact
Leicester City; Anderson, goal; Milburn and Jackson, backs; Dunne, Gillies, Russell, half-backs; Small, Morris, Hines, Rowley, and Froggatt, forwards. Everton; O'Neill, goal; Donovan, and Lindsay, backs; Farrell, Jones and Lello, half-backs; Wainwright, Fielding, Hickson, Parker, and Eglington, forwards. Referee; Mr. A. Holland (Barnsley). This was a gain performance with thousands locked out, many of them, I fear from Liverpool. It was estimated that 6,000 or 7,000 people came from Merseyside, but some of the late arrivals would undoubtedly be unlucky. Leicester have two massive stands and two minute ones and the 40,000 capacity was tested to the full. Leicester made changes with Baldwin and Griffiths missing but Everton were as selected. The patch was treacherous and had many small pools, Leicester played in their customary blue and Everton in white with black and gold ring stockings. For two minutes the game was a chapter of mistakes, though it was fought at a tremendous pace. Yet the only time there was danger came when Hickson picked up a clearance on the right wing and centred to good length, Milburn electing to take the risky course of heading the ball back to his own goalkeeper. The game burst out of statement sensationally with two goals in two minutes. First Hickson dropping back to help in defence was powerless to stop the Leicester right wing carving out a way to goal. Morris got Everton all at sea and Small coming in, down the goal line, turned the ball back for Hines to choose his spot and ram the ball home. Two minutes later Everton were level after Anderson fumbled the greasy ball and conceded a corner on the right. Wainwright's shortlist centre was nodded to the vicinity of the far post where the ready head of Dave Hickson finished off the move.
More Methodical
Leicester got on top at this point but Everton were still the more methodical side and when Morris tried to hold the ball too closely and lost it there was derision from the home crowd. Hines from a difficult angle was right on target and O'Neill had to palm the ball on to the face of the post for a corner. A through ball from Lindsay, for which Gillies and Parker shaped was nodded by Parker to Hickson who was splendidly placed, but Anderson brought off a first-rate save. At 27 minutes Leicester went ahead again. For once Froggatt and Rowley completely got the upper hand of Donovan, who had played exceptionally well so far, and one of the most practical things Froggatt had done to date was the prompt centre after closing in a good deal. Small made the acrobatic header which beat O'Neill and the crowd went crazy. There might well have been two or three goals between that stage and the interval. Anderson caught an angled Wainwright shot in spectacular style, then Rowley picking up a flicked pass by Froggatt seemed certain to score with a stunning shot which O'Neill saved brilliantly. Parker and Eglington who had particularly successful game combined beautifully in a move which left Eglington with every chance of equalizing but again Anderson saved. With the Leicester defence all at sea Everton carved out yet another chance but again Eglington failed with a cross-shot.
Half-time; Leicester City 2, Everton 1.
The game had scarcely restarted when Farrell was in heavy collision with Rowley and needed attention. The Leicester trainer took advantage of the stoppage to treat Small for a facial knock. Leicester all fire in the first half, had not been nearly practical enough and Everton's close-knit football was in striking contrast to Leicester's patchy methods.
Hickson Effort
Hickson intervened when the Leicester defence was indecisive and took the ball off the foot of Jackson, who had moved over to the right. He hit a cracking shot, but Anderson saved gloriously. He did just as well when taking another Eglington shot low down. Farrell plainly wanted to quieter Everton's nerves, and the pace of the game was checked for injuries to Russell and then Wainwright and Fielding. Even now, it was obvious that Everton had missed their way in this match, not for want of chances but for want of taking them properly. Hickson roaming to the right wing crossed a ball to Parker who was unlucky not to beat Gillies. Though not able to shoot himself he was still able to make a lateral pass to Eglington who though not more than 10 yards from goal drove the ball straight at Anderson. Morris held the ball against all comers and Leicester had a spell of attacking in which they were at their brilliant best but it was Everton again who should have been getting goals notably when Eglington slipped in to shoot from point-blank range only to drive the ball well wide. A good tackle by Russell on Hickson, who had picked up Lello's through pass, saved Leicester and Everton did not even get a corner out of it. The light had improved and Everton's opportunity was there for the taking but they did not seem to have the necessary steadiness when confronted by Anderson. The pitch had now cut up, and the going was grueling after a tremendous first half. The tale of lost Everton chances continued, Parker with a lovely run, put Hickson to close to goal that it seemed 50-1 on him succeeding. Again Anderson made no mistake and with a glorious save pushed the ball over the bar when almost on his knees. Wainwright next started a move which ended when Eglington centred perfectly and Wainwright coming in at speed, shot the ball on the volley from point-blank range. How Anderson managed to anticipate this one and interpose his body between it and the line no one will ever know. Still, Everton created chances. Fielding took the ball in a direct 30 yards' dribble and from no range at all slashed in a shot that Anderson saved brilliantly. No wonder Fielding who had gone sprawling after his great run beat the ground with his fist in annoyance. Seventy-five minutes had gone when Anderson became human for once. Fielding fired in an angled drive and the goalkeeper was hopelessly out of position when the deflection from Hickson's head turned the ball sharply off its original line. It is difficult to know who to acknowledge as scorer since Fielding was the shot and Hickson was the deflection which made the world of difference.
Desperate Save
It was nearly all Everton but Leicester with a left wing move came close to regaining the lead and only a desperate one-handed save by O'Neill turned the ball over the bar from Froggatt's centre. Right to the end Everton had chances of winning and a deflected shot by Parker in the last couple of minutes bounced only inches wide of the far post. Both sides were played put after a tremendously hard, thrilling game, on a ground which became more testing every moment.
Final; Leicester City 2, Everton 2.
EVERTON RES V CHESTERFIELD RES
March 20, 1954. The Liverpool Football Echo
Everton Res;- Leyland, goal; Tansey and Rankin, backs; Grant, Woods and Melville, half-backs; Buckle, Potts, Harris (J), Lewis, Stewart, forwards. Chesterfield Res;- Burn, goal; Bannister, and Sneade, backs; Galley, Moore, and Hutchinson, half-backs; Wood, Whiteside, Brindley, Cunningham, and Bellis, forwards. Referee; Mr. N.N. Hough (Macclesfield).
Everton provided the thrills at Goodison Park today, and within five minutes Buckle put them in the lead from a perfect Stewart pass. Leyland was only really tested once by Hutchinson who got in a magnificent shot. Burn was outstanding in the Chesterfield goal saving many well-executed shots from Harris and Lewis. In the 40th minute Lewis increased the home lead from a yard out.
Half-time; Everton Reserves 2, Chesterfield Reserves nil.
Everton continued to press after the interval, but many chances were missed through lack of steadiness by Buckle and Lewis. Leyland in the home goal had an easy time. Cunningham being the only visiting forward to test him.
THIS WAY TO DIV 1
March 22, 1954. The Liverpool Daily Post
Leicester City 2, Everton 2
When they look back on the season in which they made their return to Division 1 –yes it is safe to go so far –Everton will reflect on this landmark performance at Leicester as one of the most decisive of their promotion year. Not so much because it produced one more point, or because (almost as important) it denied Leicester one, but because a comparison of play and method came down so heavily in Everton's favour. They had as many scoring chances as Liverpool in the never-to-be-forgotten game –a week or two ago on the Wednesday ground at Sheffield. When it was all over more than the ghost of a smile spread over the poker-face Britton countenance. No wonder. The game's salient signpost for him, was "This way to Division 1" and Leicester's pleasure at not being defeated was so obvious one sensed their relief that Everton should take only two of their many chances. What a splendid game! Fast at the start , slowing but never losing its drama as the mud churned and the going was the ball became heavy as lead. Both sides played themselves to a standstill; both played cleanly, if with tremendous determination I put it on record that this was the sort of game one pines to see from Hickson' week after week. Never a moment's anxiety from him though he took a blow to the nose (and the referee's handerchief) while the game was still goalless.
Gala Day Crowd
With spectators perched on every vantage point –some climbed the roof of one of the stands –Filbert Street was appropriately packed tight as a ground nut. The 39,000 odd spectators represented a bigger gate than the one the week before at the Wednesday Cup-tie. It was a gala day in all senses. Given steadier and less anxious finishing Everton would have proclaimed themselves as the best Division 2 side by a ratio of six or seven goals to two. A pity they did not. Yet I believe their play will have done more to convince the team of their ability as a potential Division 1 side than any other this season. Oddest admission of Manager Britton is that he believes his team played equally well last season. How fine is the margin between side playing well and getting results and one playing well and not getting the points essential to convince everyone they are playing really well. In this case there was no fine shade of difference in the competence of the sides. Leicester all hurried and flurried, looked haphazard compared with an Everton which opened great gaps in the defence and swept into attacks with lovely links of passes mostly made across glutinous mud. To count the times Everton should have scored and did not would almost be too unkind. All the forwards in turn and particularly Eglington and Parker had goals for the taking. Anderson played brilliantly but he would have been incapable of bringing of all these magnificent, dramatic saves had the shots carried a mite more angle. Twice Leicester held the lead; twice Everton rubbed it out. The only moments I thought, when Everton were the least bit disconcerted came between Hines goal at eight minutes and Hickson's headed equalizer two minutes later. Afterwards in spite of Small's spectacular header which put his side in front again Everton had the Leicester line so well check and their forwards and half-backs played so confidently it was almost unbelievable that they had to depend for the equalizer on a freak goal. Anderson, I fancy had Fielding's shot covered. The ball struck the head of co-defender Jackson, and took such an altered line the goalkeeper was completely flummoxed. I was not alone in thinking that Hickson's head had made the deflection. Tom Jones too thought so and congratulated Hickson only to be told "Not me –it was a Leicester head!" Though their record improves only by one point this was one of Everton's best and certainly most encouraging performances since their relegation. The one fault was that their could not take easy chances. I am not forgetting first-half chances forgotten in the excitement of the mid-second-half spell when Everton nearly scored off nearly every attack they made. Admitting Leicester must have been tired, particularly when the pitch churned up and became holding they rarely seemed to have the answer to the closely-knit moves that came in wave after wave from the others. Morris did rather too much wavering on a ground not suited to personal glorification and Froggatt who did not use the width of the pitch rarely got the better of Donovan.
Badly Brushed
Lindsay played the major part of the game with a badly bruised check bone which came up so badly and colorfully he looked a Stadium case at the end. Amid all the excitement he played with characteristic poise. Lello who never stopped when nearly everyone (and none more than Rowley) were flagging had a splendid game too and so did Farrell, for whom the match had a special strain on stamina. Wainwright this time wandered with good effect in the first half. Two knocks slowed him and caused him to be less effective, but I maintain he played well. So did the Eglington-Parker wing that found away through the Leicester defence almost at will. Equally they enjoyed most of the chances, one two minutes from the end found Parker unselfishly trying to make a certainly of an opening he would probably take himself more often than not. Fielding contributed admirable spade work and the game's longest and most direct solo run. This ended in the biggest shot the little man's foot could master, Anderson for the sixth or seven the time survived and Fielding in aggravation beat the ground with his fist. Wainwright, making and completing another move might well have done similarly. He volleyed the ball in from a few yards range and Anderson the all but unbeatable saved that one, too. I confess Everton's clear supremacy in all departments and Hickson's refusal to lose his balance was equally refreshing. Continued at Goodison Park such football and comportment can have only the sequel –a championship; the chance to show Division 1 what Britton management can do and opportunity for the science loving hordes of Goodison Park to see the game played through well and without untoward incident.
CONVINCING WIN
March 22, 1954. The Liverpool Daily Post
Everton Res 6. Chesterfield Res 0
Everton Reserves completely outclassed Chesterfield in this Central League game at Goodison Park on Saturday. The score might have been easily doubled it if had not been for the good work of Burn in the visitors goal. All the home forwards shaped well, Lewis being the pick. The Everton marksmen were Lewis (3), Buckle (2), Potts.
PROMOTION POINTER
March 22, 1954. The Liverpool Echo
By Contact
Not for years can so many of Everton's followers have travelled so far to see their side in an away League game. The pity was that the Leicester ground was so full so early; many arrived to find the gates closed. But even Everton, with double the capacity of Filbert Street would have been hard pushed to accommodate all who wanted to see this test match between potential promotionists. In the event it proved quite as exciting and informative as one could expect. The football was always hard, fast, exciting and entertaining and there was absolutely nothing to which anyone could take exception. Nevertheless both sides knew they had been in a battle. The heavy going and heavier ball caused both sides to flag, and besides other injuries Everton came back with Lindsay nursing a badly brushed, highly colored cheekbone. This match more than any other this season pointed the way to Everton's sure return to Division 1. The merit of their performance was not so much in the fact that they got a point against their pressing rivals, but was in the supremacy Everton enjoyed in so many departments. Though they were twice a goal behind, Everton always seemed capable of drawing or winning. Reasonable toil from their many easy chances would have left them winners by six or seven goals to two. As at Goodison Park, Anderson in the Leicester goal had a day of inspiration. Scotland are fortunate if they can find a more galliant or able man to keep against England.
Content With A Point
One of the 39,000 people who saw Everton win on points, if not by a knock-out was Bobby Irvine the former Everton forward whose three penny bit dribbles used to have the million pound note look. He must have rated this Everton side the best seen at Leicester this season. It was obvious that Leicester were content to have got even a point after leading twice. That was the measure o how near Everton came not only to victory but to winning very comfortable. The trouble all along the line was that no one could take a well produced attack to its conclusion. Eglington and Parker who created chance after chance for themselves failed to get on the register and Hickson, Fielding and Wainwright all had such clear openings that Anderson had no right to expect to be able to save. That he did was partly due to his first-class handling and to Everton's shots being so near to his hand of hands. A little better "angling" and Everton would have landed a big catch. Leicester began at a disadvantage in that they had fought a hard mid-week cup-tie but this did not account in full for the difference between their football and Everton's. There was solidity about the Everton side which Leicester never showed and individualism by Morris clever bright it was, and uncertainty and misunderstanding by Froggatt means that the line did not function smoothly. Rowley with his big shots was menacing and Hines led the line well. It was Hines who took the game's best goal after eight minutes, Everton took exactly two minutes to counter it, and never has a flick of Hickson's head been more valuable. Small goals also headed, but more spectacular came from one of Froggatt's few first half centres and though Everton took a long time to get level there was never much doubt that they would. This time Fielding's shot struck Jackson on the side of the head and crossing the line on a completely new course ham booked Anderson completely. Except that they did not win after playing so well it was almost impossible to fault Everton. Lello, Lindsay and Jones and Farrell were splendid defensive units all with an eye to setting up movements in which the ball sped over the muddy ground with admirable certainty. Hickson who got a blow to the nose early in the game played no less effectively because he kept his balance and sense of proportion. I rate this as Everton's finest hour and a half this season. Continued as it must be there is no doubt that it will take them happily to where they belong.
EVERTON WAIT
March 24, 1954. The Liverpool Echo
Ranger's Notes
Everton's team for the home game with West Ham United on Saturday will not be announced until tomorrow. With the exception of Wainwright, who received an ankle injury at Leicester, all the "regulars" are fit. Lindsay have recovered from his cut cheek. Wainwright's injury is not serious it is partially certain already that he will be all right, but Manager Britton wishes to give him another 24 hours to make sure.
EVERTON AGAIN UNCHANGED
March 25, 1954. The Liverpool Echo
Ranger's Notes
Goodison Side Seeks 14th League Outing Without Defeat
Everton will be unchanged for their home game on Saturday against West Ham. Wainwright having today passed a fitness test but the visiting side, due mainly to injuries shows our alterations compared with last weeks. This is the ninth successive match in which Everton have been able to field the same eleven and apart from the absence of Donovan in the cup-tie against Swansea, the fifteenth occasion they have been in the fortunate position of saying "same again." I hope this immually from injury continues to the end of the campaign. It has been a very helpful factor in Everton's strong bid for promotion. Everton have now gone 13 games without defeat since December 5. They should make it 14. Everton; O;Neill; Donovan, Lindsay; Farrell, Jones, Lello; Wainwright, Fielding, Hickson, Parker, Eglington.
West ham Changes
West Ham make four changes compared with the side which defeated Doncaster Rovers last week. Owing to injuries to Cantwell and Bond the two young backs who have established themselves in the first team this season. Wright comes in to partner Kinsell, who will be making only his second senior appearances of the campaign. Parker takes over from Malcolm at right back while Barrett replaces the injured Sexton at inside right. Dixon who is leading marksman with 14 League goals but has not been doing so well lately returns at centre forward after missing last week's match. At outside right is Harry Hooper, so of the club's trainer, a 20 years-old player who has been doing so well this season that he has appeared for England's "B" team in the matches against Scotland and Germany. West Ham; Chiswick; Wright, Kinsell; Parker, Allison, McCowan; Hooper, Barrett, Dixon, Dick, Andrews.
BLUES SHOULD WIN
March 26, 1954. The Liverpool Echo
Ranger's Notes
Everton's home game with West Ham will be no walk-over for the Blues. West Ham may have won only three away games, but any side which can knock Huddersfield out of the Cup by four goals deserves respect. Although Everton are slowly widening the gap between themselves and their nearest challengers there is still so little in it that they cannot afford to sacrifice even one home point. At the moment they are two points ahead of Leicester for the same number of games played and three better than Blackburn Rovers, over whom they have a match in hand. Everton who have not suffered defeat since December 5, and have taken 20 points from the last 13 games, should win this fixture if they play as well as they have done in the last few weeks, which have produced five wins and a draw out of the last six League appearances. On their two previous visits to Goodison the Hammers have failed to get either a goal or a point, Everton winning each game 2-0. This season the Londoners started the campaign as promisingly as Everton. Of their first ten games only one was lost. This good beginning saw them top the table for a short spell but since then they have been slowly slipping down until today they occupy 13th position. Their three away wins all by the odd goal have been at Lincoln, Fulham, and Leeds.
Not So Hot When Away
In all they have netted only 19 times away from home while conceding 41 goals. Only six sides having had a greater total of goals against on opponents grounds. In an effort to get back to winning ways, and also partly through injuries West Ham have changed their sides a great deal in recent months. Changes have been made in every position in the side except centre half where Allison is an ever-present. In all 25 players have been called upon, though several of these have been in the side for only a few matches when deputizing for register players on the injured list. Compared with the side which drew with the Blues at Upton Park on November 21 West Ham have six alterations tomorrow. Absent from the last seven outings has been goalkeeper Gregory who had a broken wrist. His place has been filled by Chistwick. In last week's encounter with Doncaster the left back berth was occupied by Kinsell the former West Bromwich Albion defender who had previously made only one senior appearance for the Hammers this season. He also came in because of injuries and still remains. At right half Parker and Malcom have been competing for places, with the former the man in possession at the moment. On the other flank Eire international O'Farrell was replaced by Bing some weeks ago and Bing has since given way to McGowan, who makes a second appearance of the season tomorrow. Several alterations have been made in the attack and compared with the side which turned out in the November encounter, outside right Southern has been dropped in favour of Harry Hooper a son of the Hammers trainer and a member of the England "B" side against England and Germany.
Leading Marksmen
At centre forward Kieran who was in the side at the start of the season, has been displaced by Dixon whom West Ham recruited on a free transfer from Newcastle. He is the sides leading scorer with 16 goals in league and Cup, next highest being Sexton with 14 and Dick with 12. The Upton park sides heaviest away reverse was at Rotherham where they conceded five goals without replay. In addition they have had four against at Blackburn and Nottingham Forest while even notoriously low scorers like Brentford and Oldham have managed to put the ball into their net on three occasions. But Huddersfield couldn't get even one, while the Hammers were getting four so that Everton must not held the opposition too cheaply. The Blues should endeavour to get in front with the minimum of delay, and not rest on their oars at any stage of the game. As pointed out several times here goal averages may yet gave a vital bearing on promotion, but in this respect Everton having advantage over their two closest rivals. Everton; O'Neill; Donovan, Lindsay; Farrell, Jones, Lello; Wainwright, Fielding, Hickson, Parker, Eglington. West Ham; Chiswick; Wright, Kinsell; Parker, Allison, McCowan; Hooper, Barrett, Dixon, Dick, Andrews.
Everton Reserves
Everton Reserves can further strengthen their hopes of the championship of the Central League when their meet Burnley Reserves at Turf Moor. Everton have a lead of two points in the table over Burnley who are in third position but they after have a game in hand. Everton reserves; Leyland; Moore, Rankin; Grant, Woods, Melville; Buckle, Thomas, Harris, Lewis, Stewart.
EVERTON HOPE FOR HAPPY RETURN
March 27, 1954. The Liverpool Daily Post
In Everton minds the Grand National means little and the grand return of Everton to Division 1 means everything. Many football fans will want to see the race at Aintree but having looked and learned they will be hot-foot from Goodison Park and the game against West Ham which seems likely to take Everton further into the realms of certainty about promotion. Once again Everton are unchanged through one hopes that evening will be their finishing. They really cannot afford to miss as many chances as they did at Leicester. West Ham bring that near veteran back Kinsell into the picture and also the lively little Andrews (whose debut for West Ham was against Everton at Upton Park. Irrespective of what happens at Aintree the attendance may well be one of the largest of the season. The teams are;- Everton; O'Neill; Donovan, Lindsay; Farrell, Jones, Lello; Wainwright, Fielding, Hickson, Parker, Eglington. West Ham; Chiswick; Wright, Kinsell; Parker, Allison, McCowan; Hooper, Barrett, Dixon, Dick, Andrews.
HICKSON AND HOOPER THE DANGER MEN IN EVERTON GAME WITH WEST HAM
March 27, 1954. The Liverpool Football Echo
By Contact
Everton;- O'Neill, goal; Donovan and Lindsay, backs; Farrell (captain), Jones and Lello, half-backs; Wainwright, Fielding, Hickson, Parker, and Eglington, forwards. West Ham United; Chiswick, goal; Wright, Kinsell, backs; Parker, Allison, and McCowan, half-backs; Hooper,Barrett, Dixon, Dick, and Andrews, forwards. Referee; Mr. P.F. Power. The crowd for the after National game at Goodison Park was hardly as big as anticipated but thousands were streaming from Aintree when the sides kick-off a minute or two early. The ground was dry but firm and by winning Everton could go into the last lap of their programme in a comfortable lead, Leicester having lost at Lincoln. The game began with a free kick against Hickson then Parker, centring at the second attempt offered a difficult volleying chance to Fielding. It was readily accepted but a swerving shot swung wide. West Ham's first attack was probably the best we should see all through the match. It was by Barrett and Hooper both sons of former League players, and after perfect linking up Hooper's centre was glanced across goal by a beautiful header by Dick. Hickson with a backward and downward header opened the way for a Wainwright shot which Chiswick fielded confidently, and Everton moving the white ball accurately and speedily on the fast ground, had rather the better of the opening phase. Yet the Everton goal suffered a barrage of three goals in three seconds at this point, and only an overcrowded goal area saved the day. After a stoppage for an injury to Hickson's wrist. Chiswick palmed away Lello's free kick. West Ham played better than their League position suggested they might, and their readiness to shoot added to the menace.
Kinnsell Corner
Rather than allow Wainwright to pick up a good length Eglington centre, they veteran Kinsell put the ball away for a corner. Most of Chiswick's goal kicks were to the West Ham inside right position and Parker used his height to splendid advantage to turn them to Everton's favour. Fielding with a low left foot shot, hit the ball just inside the far post and Chiswick who must have been badly unsighted did well to turn it for a corner. A Lello free kick all but cost West Ham a goal –Allsopp taking Wainwright's header on his studs turning the ball to his own goalkeeper when he knew little or nothing about it. West Ham's defence was shaky but their forward work was quite impressive, especially that of Hooper. Andrews and the tall Dick, who accepted the little man's fast centre, had Everton worried but Dick's shot, though close in was a weak one. Everton were crowding on a lot of pressure and both backs came far upfield to keep their side holding the initiative. Eglington held off Parker and came down the goalline to centre near the post to the incoming Wainwright. When the referee ruled that the winger had shot wide, Wainwright claimed a corner vociferously. The referee spoke t Allison after that player had been guilty of a foul and while he was doing so Kinsell had words, with Mr. Power. Until this point the game had been clean, entertaining and without contention. Hooper beat all Everton defenders in turn and now it was Farrell who had chased to right wing to try and stop him. Hooper still contrived to get over a good centre and some judicious defence by Fielding in the penalty box helped Everton to get clear. The West Ham defence was all at sea and was surviving mainly because of many last second interventions. Fielding with a quick left foot shot after Parker, in stumbling had managed to get the ball to him was only inches outside a post. Hickson and Allison by this time had got at odds, and the referee took Allison name- though for what reason only he knows. After Chiswick had made a catch and had booked the ball downfield Jones blundered and let in Dixon, who salted through all alone and never quite controlling the ball hit his shot high over the bar.
Costly Miss
A similar mistake by Allison off a bouncing ball let in Parker who failed to profit from a golden chance. It was a costly miss as the next minute showed. Once again Hooper and Barrett between then took the ball through beautifully and this time Barrett picked up his partner's pass and hit a lovely shot on to the inside of the post from which the ball shot over in the other corner of the net at 33 minutes. West Ham's defence was unorthodox to say the least as may be imagined when Kinsell nonchalantly rolled the ball for a corner when he might easily have put it into his own net. Fielding took the corner kick and Wainwright with a glancing header had Chiswick scrambling hard and unavailingly as the ball passed the post by fractions of an inch. There was more excitement when Kinsell brought down Wainwright in the penalty box. Referee Power pointed to the penalty spot and Hooper careered from his place at outside right to tell the referee that the linesman on his side of the field was flagging. Meantime Wainwright lay injured where he had fallen after Kinsell's tackle. He was carried from the field to the touchline and for attention by St. John's Ambulance men and Trainer Leyfield. The crowd at the back of the goal sounded ugly at this moment. A free kick was given against Allison, tapped by Eglington by Farrell was fired wide then was retaken and the ball slipped to Eglington whose angle shot flashed across the face of the goal. Wainwright came back just as Andrews took a disputed corner. A very good hook shot by lello did not surprise Chiswick who was anticipating a lively ball with good judgment. For a spell of a minute or two just on the interval both sides made mistakes after mistakes in midfield.
Eglington Held
Wright was holding Eglington well, and little trouble was coming to West Ham from that wing. Chiswick brought off a very galliant save when crowding out Parker, and did even better when retaining the ball as he lay on the ground. Within seconds little Hooper was on the warpath again and coming from behind Lindsay did his side a good service, by slipping in a reverse pass to his own goalkeeper. Hickson got the better of a charging match with Allison and created the last Everton attack of the half, in which he headed over from five yards.
Half-time; Everton nil, West Ham 1
The lively ball still confounded many players and Everton football was far from the standard of a week ago at Leicester. Keeping the ball in play was a feat and keeping it on the floor was something too few even attempted. Lello was very strong on the ball as usual but in the early moments of this half at least Everton showed no definite signs of wiping out that tantalizing lead. Dixon with a nice a volley as one could wish to see from an Andrews pass, had O'Neill using all his anticipation to save a shot on the line. The West Ham defence panicked and when Hooper came back to help them he all but gave away a corner. By this time the crowd was in the vincity of 40,000 and some of them were beginning to get irksome about Everton's position. Fielding at outside right, beat his man beautifully but Parker missed the ball completely. It ran on to Eglington who made a full blooded drive which struck a West Ham defender and was deflected for a corner.
Everton v. Weston Nomads
Everton had most of the game but could not get the ball past Byron, who saved repeatedly for Neston. At last Kidd ended a fine movement by scoring a good goal for Everton. Half-time; Everton "C" 1 Neston Nomads nil.
FOOTBALL TOURS
March 27, 1954. The Liverpool Football Echo
A Great Experience If They're Not Too Long
By Peter Farrell
It must have been disheartening for the large crowd of Evertonians who travelled to Leicester and were unable to gain admission due to the gate being closed. Many were the pleas from Evertonians round the players entrance in search of tickets from the players but the position was well-high hopeless as for away games such as these, each player never gets more than two complimentary tickets. On occasions like this people will chance anything in an endeavour to get a ticket and after all who could blame them. One individual perhaps did go a little too far when he sent in a message to me just before the kick-off that my brother was outside and wanted a ticket. Knowing full well that my only brother was a long distance away back home in Ireland, I sent the messenger back to tell him I was sorry I could do nothing to oblige not even for my newly-discovered relation. Other's tried another angle by offering money for complimentary. I treated these people in the same manner as I would have done had 1,100 tickets. I should hate to see the day my principles would allow me to take money for a complimentary ticket.
Leicester Classic
By collecting a valuable point against Leicester, our position at the top was also strengthened by Blackburn's defeat. Our struggle with Leicester further emphasized what I have already said about playing against top-class teams. You will have read that this classic was, "just what the doctor ordered" for the fans. From the players point of view it will be remembered long after many have faded into the record books, with plenty of good football from both sides, goalmouth thrills neat misses and hard tackling with each of the 22 giving everything he had in this do-or-die effort which meant so much to both clubs. No wonder there were hand-shakes all round at the finish, for despite the sternness of the struggle there was not one unseemly incident to which anyone could take exception. As I walked off the field at the end with that great gentleman and sportsman. Matt Gillies. I remarked; "Thanks, Matt, for a grand game. I hope you win the replay and go on to Wembley." With a big grin Matt replied "Thanks Peter, but promotion is far more important to us." These sentiments could be reechoed by Blackburn Rovers and a few other promotion aspirants which shows what a tremendous struggle lies ahead before the two lucky sides join the First Division elite next season.
The One Topic
Wally Fielding travelled to London with Jack Froggatt afterwards. The former Portsmouth winger told Wally that the main topic of conversation in and around Leicester these days is one thing, namely promotion. Enough said. There is a long way to go before footballers hang up their boots for the close season. Even after Cup Final day many players will still find themselves playing football as already many teams have completed their arrangements for close seasons tours, while others are negotiating for such. Whether Everton go touring is not certain yet. People have mixed views concerning tours. Many maintain that the playing season is long enough with the additional strain of travelling on the Continent or nearer home playing on bone hard pitches. Some maintain that the short lay-off before reporting back for training in mid-July is inadequate and when the season does restart, players are apt to be stale and not 100 per cent for the heavy programme during the first few weeks of the season. From the players point of view I think all look forward to a tour as it is a means of visiting some foreign country at someone else's expense an opportunity which would probably never arise were it not for the fact that we were footballers.
A Great Experience
It is a great experience to play against these foreigners and try to learn something from their different styles of play. It have been on a few trips to my native Ireland with Everton but only once have I travelled abroad with them to Sweden. I have visited Spain, Portugal, Sweden, Norway, Finland, Austria, Germany and France with the Irish international team, and part from the enjoyment I think I can safely say that my knowledge of football, both theoretically and practically has been improved by such visits. Yes, I am entirely in agreement with tours provided they are not too long. From my experience if I tour is more than a few weeks the lads become a little tried both of each other and of being away from home for so long and become a little "niggly" which is not for the common good. sometimes players are often "discovered" while a team is on tour. A few years ago when Everton were in Cork, our manager Mr. Cliff Britton, and other directors went along to watch a junior game. They noticed what they considered a very promising youngster playing at inside right and persuaded him to join Everton. He came up through the clubs "B" "A" and reserves teams before making his debut with the first team. His is now an established first teamer at Goodison. His name "Don Donovan." I should like to take opportunity through this column of thanking the anonymous donor for his very generous gift of a set of clothes brushes with my name suitably inscribed which I received this week. There was no address on the enclosed letter and the signature at the conclusion of the note was "A Friend" This makes it rather difficult for me to express my gratitude so here's hoping this catches his eye.
EVERTON LOSE SOME SHINE
March 29, 1954. The Liverpool Daily Post
Everton 1, West Ham United 2
By Leslie Edwards
Everton lost some of the shine from their Royal Tan boots when failing to win this match. Their promotion chances are still good, if they will learn the lesson of this game, but defeat here jeopardized things a little. The trouble, I thought, was that Everton never started to "tame" the lively white ball on a dry ground. Their football here compared with that in the heavier going at Leicester, was several standards lower. Despite this they had opportunities to win. A penalty miss by Lindsay –or would it be fairer to say a penalty save by Chiswick?- was aggravating because West Ham had picked on one of Lello's rare blunders and Dixon put them into the 2-1 lead position they maintained. Everton's trouble began with the inability of Lindsay to make anything of young Hooper, whose first-half showed him to e the best outside right in Division 2 and maybe in Division 1, too. Hooper strode through the defence as though it scarcely existed. It was while he was given plenty of the ball that Everton were unsettled. Barrett's first half goal –his shot, truly-hit, struck the inside of the post and ended in the other corner of the net – was a good one and only when Everton became settled in the early part of the second half was it in danger of being rubbed out. From that time an equalizer and a shoal of goals from Everton seemed imminent. In the event a sketchy but determined West Ham defence, in which Kinsell and goalkeeper Chiswick played faultlessly survived until Eglington's speed took him past Allison, the centre half for a centre that Wainwright's head glided home with admirable certainly. There followed the penalty award against Allison –a harsh one I thought –and a wonderful save in falling light by Chiswick. Many blamed Parker for Everton's failure. But how many I wonder credit him with making a shot from difficult half-chances. Everton lost for other reasons, the main one being that on a fast ground, with a light ball, they did not "kill" the ball and get where they can use it best fir sure ground passing. It was not a great game and it had its usual frictions –between Hickson and Allison, who had his name taken and between the crowd and Kinsell after Wainwright had been injured in a tackle. The attendance was 40,718.
MISSED THEIR WAY
March 29, 1954. The Liverpool Echo
By Stork
Everton missed a glorious opportunity of digging themselves in an prosperity champions when they allowed West Ham United to take both points from Goodison Park on Saturday. I don't know whether they were aware that their great rivals Leicester City had been beaten but whether or not they certainly let slip a great chance, mainly I think through over anxiety. They were so keen to score goals that they often forgot their football for they did not run as smoothly as they usually do. In fact I should say that the "Hammers" were the more attractive footballers in the first half even though they were on the receivers end in the second. Everton cannot afford to slip up at this vital stage of the season and least of all at home. chance after chance was missed in a good annoying fashion and when they were offered a half chance with only minutes to go in a penalty, that was very ably saved by Chiswick, I thought their should have had another spot kick when Wainwright was brought down and it seemed that they should get it until a Linesmen changed the referee's mind, and in place of the penalty came an offside decision against Everton. The Londoners gave Everton a whole lot of trouble in the first "45" and Dixon missed a sitter before Barrett gave them the lead. They held on to this rather luckily for Parker and Fielding should have wiped that out with the opening that came their way.
Everton wing half backs were not coming through in their usual trustful manner and it appeared that the goal would carry the day until Eglington got the better of Wright who had played the speedy winger very nicely and effectively and slipped over the centre for Wainwright to head the equalizer. West Ham gave me the impression that they could hold that slender lead; they could not have been aware of Everton's second half rallies. At all events they were nothing like the team they had been in the first half. It was all Everton, but so keen were they to score that they blazed their shots anywhere but on the target. They needed to be calmed down and not be so impetuous in their shooting. The Hammers had become such an ordinary side that they practically handed over the points to their rivals despite Dixon's goal, for only very occasionally did they step over the half-way line, so busy were they defending against a driving Everton who had made opening after openings only to fritter them away. It must be admitted however, that the United defence played strongly but even so there were openings which the Everton of a few weeks ago would have snapped up joyous.
Point Saver
They hammered and hammered away, yet did not impress as goal-scorers and there seemed no way of beating the good goalkeeper Chiswick and his fellow defenders. Not even a penalty award could help them for Lindsay's spot kick was brilliantly saved by Chiswick who moved like lighting to arrest the ball's progress. It was a grand point saver. Parker usually so quick at accepting chances was right off target with his shooting, for he slipped four round the post, when they should rightly have been between them. West Ham are not a bad side but they were extremely lucky to weather the storm which hit them during the last 43 minutes. England "B" outside right Hooper is the finest young winger I have seen for years. He swerved his way through in the manner of a veteran and was mainly responsible for West Ham's superiority in the first half. It required stern defence and West Ham had it but Everton have only themselves to blame for this their second home defeat of the season. Here was two points for the taking. Such chances must not be missed if they are to gain promotion. The position at the top of the table is so tense that there must be no more slips such as this.
Senior Cup-Tie
Everton have a date with Southport at Haig Avenue tomorrow evening (kick-off 5 o'clock) when the pair meet in the semi-final of the Liverpool Senior Cup. Southport hope to field their full League team but there is a doubt about left-back Reilly, who received a leg injury against Tranmere and spent the second half at outside left. If he is not fit Forsyth is the probable deputy. The side will be chosen this evening. Everton will send their strongest Central League side including eight men who have had first team experience, some of them of fairly lengthy duration. Buckle is having a run at inside right but the man Southport will need to keep a wary eye upon is Gwynfor Lewis, who has been scoring goals almost with the case of shelling peas in recent games. Altogether he has notched 23 this season in 19 outings. Everton Reserves; Leyland; Moore, Rankin; Grant, Woods, Melville; McNamara, Buckle, Saunders, Lewis, Stewart.
EVERTON AT SOUTHPORT
March 30, 1954. The Liverpool Daily Post
Everton visit Southport this evening to play the Haig Avenue side in the semi-final of the Liverpool Senior Cup. The Goodison Park club are sending their strongest Central League team for the game. Owing to full back Reilly having received a leg injury in the game with Tranmere Rovers, Southport will have Forsth at left full-back. This is their only change. Kick-off is at 5 p.m. and the teams are;- Southport; Minshull; Taylor(W), Forsyth; Hunter, Barratt, Walsh; Whitworth, Prescott, Billington, Hitchen, Taylor (R). Everton;- Leyland; Moore, Rankin; Grant, Woods, Melville; McNamara, Buckle, Saunders, Lewis, Stewart.
EVERTON HAD THE GREATER COHESION
March 31, 1954. The Liverpool Daily Post
Southport 1, Everton 2
Everton, fielding a Central League eleven, eight of whom have had senior experience deservedly beat Southport in the semi-final of the Liverpool Senior Cup at Haig Avenue last evening. Although the football never reached a high standard the visitors revealed greater cohesion both in attack and defence, relying more on team work than individual effort. Southport with a lack of thrust in the forward line had periods of shakiness in defence but their visitors were not over-anxious to shoot and the margin was small in accordance. Everton had strong defenders in Moore and Rankin, the full backs while Leyland gave an impeccable display in goal, and Woods although lacking constructive ability afforded no loophole to the Southport inside forwards.
Lively Leader
Grant and Melville, the Everton wing halves had the edge of their counterparts, Hunter and Walsh and no inside forward could equal Buckle's distribution of the ball. Saunders was a lively leader for Everton and outside right McNamara had some great tussles with the lanky Forsyth. Whitworth was Southport's best forward putting in some clever dribbles and accurate centres. Defensive right back Taylor and goalkeeper Minshull did best. Everton took the lead in the twenty four minute when Minshull harassed by McNamara could only just push the ball out from a centre by Stewart and Saunders crashed it into the back of the net. Seven minutes after half-time Southport were awarded a penalty and although Forsyth drove the spot kick almost straight at Leyfield and there was so much power behind it that the goalkeeper was unable to parry the ball. The winning goal came ten minutes later when a clever right wing move ended with McNamara swinging the ball over and Lewis swept it home via Minshull's finger tips and the underside of the bar.