WAINWRIGHT HAT-TRICKED THE ARMY
October 1, 1953. Liverpool Daily Post
Army 2, Everton 6
By Stork
The Army side looked a particularly strong one on paper. It included some of the most promising, young men in the game. Quixall and Blunstone, who are rated as prospective Internationals. But the score in no way flattered Everton. Everton made a few changes, Wainwright led the attack and so well that he had three goals before the interval, with no reply from the soldiers Wainwright seems to have recovered all his old confidence and was a constant menace to Charles the Swansea centre half. Everton were always the better craftsman. O'Neill had a simple task in the first half. The Army mainly through Blunstone (a clever player with a deceptive body swerve) could bring the ball forward, but near goal they were feeble.
Promise of Thomas
Everton were able to show off a couple more of their young players I was particularly struck with the play of Thomas, not only sound in midfield but making a number of excellent shots. The Army improved in the second half when Finney and Blunstone scored, but Eglington, Mayers and Potts also scored for Everton. The movement which gave Potts his goal was copybook stuff. The best thing Quixall did was to make the pass which gave Finney his goal; it was a lovely ball. Other Army boys liked were Clayton and Hines. Goolkeeper Fraser could not be blamed for any of the six goals.
• Corbett Cresswell , son of Warney Cresswell, made debut for Liverpool Reserves at Elland Road.
GOALKEEPER FILES FROM CANADA
October 1, 1953. The Liverpool Echo
Makes Debut For Everton
By Ranger
A 20-year-old Canadian goalkeeper who only arrived in this Country by air last evening then travelled all night to Liverpool and had a trial at Goodison Park this morning will make his Central League debut for Everton on Saturday. His name is Robert Bissett, and he, was recommended to Everton by the Vancouver sports writer who first put Everton in touch with Gordon Stewart, their Canadian inside forward. After impressing Manager Cliff Britton by his promise this morning, Bissett was signed immediately on amateur forms. He played for the Canadian All-stars side against the Irish international touring eleven during the recent season. Stewart also appeared in the same team. Bissett team in British Columbia was North Shore Reds. Though he has come to England on chance and will not decide until later how long he will stay, if he is successful with Everton he will probably remain here. Bissett could not have arrived at Goodison Park at a more opportune time, as two of Everton's young part-time professional goalkeepers, Caldwell and Dunlop, today began their two years' National Service (see Ranger's Notes). Bissett therefore gets a much earlier opportunity to make good than might otherwise have been the case, and his debut for Everton Reserves at Goodison on Saturday, against Sheffield United Reserves, should add considerably to the gate in view of the unusual circumstances of his arrival and selection. Everton Reserves;- R. Bissett; Moore, Rankin; Birch, Forshaw, Melville; Gibson, Thomas, Wainwright, Stewart, and Easthope, forwards.
First Team Changes
Owing to having released Farrell and Eglington from Saturday's engagement at Brentford in order that they may assist Eire in their game against France in Dublin on Sunday, Everton have had to make two enforced changes in their senior team, involving three positions. Grant, who can always be replied on for a strong and determined effort which called into service, takes the right half berth, while Buckle crosses over from outside right to the opposite flank to fill the place left vacant by Eglington. This leaves the way open for young Derek Mayers to come in at outside right. This will be his first senior game this season, but he figured twice in the first team towards the end of the last campaign scoring two goals against Bury when making his debut. The team reads; Everton; Leyland; Donovan, Lindsay; Grant, Jones, Lello; Mayers, Fielding, Hickson, Parker, Buckle.
EVERTON'S DISTINCTION
October 2, 1953. The Liverpool Echo
Ranger's Notes
Everton now the only unbeaten side in all four divisions of the League, are away to Brentford, which makes it a case of top-versus bottom. On performance this season Everton should at least preserve their unbeaten record again the side which has only won one game of eleven, with a meagre five points as reward and has only nine goals on the credit side. Often enough, however, these apparent certainties go wrong, and the least fancied side spurred on by desperation, luckily pulls a fast one out of the bag and upsets the form book. While these stocks are one of the joys of football, it will not be particularly joyful for us if Brentford being Everton's record to a full stop. Though I don't think this will happen, it will be no easy occasion for the Blues. Brentford are in dire straits and must endeavour to pull out a little extra to extricate themselves. It is perhaps unfortunate at this juncture with Everton's promotion prospects mounting week by week, that the Blues should be without Eglington and Farrell's. Nevertheless it was a very sporting decision on Everton's part to let these two players along with Jimmy O'Neill, earn extra money and kudos by playing for Eire against France in the World Cup qualifying game at Dublin on Sunday. For that reason in particularly I hope that Everton will come back with a least one point. Brentford's attack does not appear of sufficient calibre to unduly worry Everton's well knit and reliable defence which is showing increasing strength and gratifying confidence in every game. Their defence while not having been penetrated it is often as some of the more low clubs. Still appears to have more on its hands than it can cope with tomorrow, always taking for granted that the Everton front line can reproduce again the balance approach work and strong and accurate footwork which has characterized it success. Everton; Leyalnd; Donovan, Lindsay; Grant, Jones, Lello; Mayers, Fielding, Hickson, Parker, Buckle.
CAN EVERTON DO IT?
October 3, 1953. The Liverpool Daily Post
With two of their stalwarts Farrell and Eglington missing from the team owing to international calls, many Everton followers are wondering whether their favourities will be able to retain their unbeaten record at Brentford I think they will. Grant, who comes in at right half for Farrell; has played many rousing games for the Goodison club, while Mayers who takes over the outside right position (Buckle crosses over to the other wing) has shown much promise when he has been called on previously. The Everton team is Leyland; Donovan, Lindsay; Grant, Jones, Lello; Mayers, Fielding, Hickson, Parker, Buckle.
EVERTON LOSE UNBEATEN RECORD
October 5, 1953. The Liverpool Football Echo
Dare Was The Sting In Bees' Attack, But He Packed A Knock-Out Blow
Brentford 1, Everton 0
By Stork
Brentford;- Newton, goal; Monk and Horne, backs; Harper, Bragg, and Coote, half-backs; Goodwin, Bloomfield, Dare, McPherson, and Robinson, forwards. Everton; Leyland, goal; Donovan, and Lindsay (captain), backs; Grant, Jones and Lello, half-backs; Mayers, Fielding, Hickson, Parker, and Buckle, forwards. Referee; Mr. F.B. Coultas (Hull). Brentford's new manager Mr. Bill Dodgin was hopeful of making a good start in his new position. Everton had to make two important chances owing to Ireland's international calls Eglington and Farrell playing against France. Young Mayers who did so well against the Army on Wednesday made his first senior appearance of the season at outside right. Buckle crossed over to outside left, and Grant came in for Farrell with Lindsay acting as captain. Everton won the toss and put Brentford to face the strong sun. Brentford started off nicely but were not unduly troublesome in the Everton defence. An offside decision against them sent Everton forward and Mayers came along with a shot and a charge on the Bees' goalkeeper. Dare is only a little fellow as centre forwards go but he had plenty of ideas. He was responsible for most of Everton's troubles. When a centre speed across the face of the Everton goal Harper flung himself at the ball and it was well that he failed to connect otherwise there would have been work for Leyland. Everton's answer was a movement on the left, and Hickson almost sneaked one through the Brentford defence but his shot passed wide. After Leyland had caught a Brentford effort and the defence in general was standing firm, Hickson worked his way up to the left wing and delivered a centre which Parker rushed at but failed to contact with. The ball passed on but Mayers could not help matters for he had run too far forward. This could very easily have been a goal! Brentford's main asset was the speed at which their launched their attack. There was little holding of the ball, which was passed quickly and accurately, but Everton these days have an almost foolproof defence. There was no doubt that Brentford were putting up a bonny fight though there had been few shots leveled at Leyland, whose chief work was cutting out balls from the wing. Hickson nipped round the Brentford defence and Mayers dashed in to lend a hand but the referee had seen something few in the stands saw. He actually spoke to Hickson. One of the best Everton movement's broke down through Parker getting himself off-side. Quite the best shot of the match so far was made by the Bees out side right Goodwin who had moved into the centre and then hit a hard drive high up which Leyland caught above his head. Brentford had enjoyed the major portion of the attack. Their progress was mostly made by the quick ball up field. Goodwin again brought Leyland to duty with a long shot from the wing which the Everton goalkeeper caught confidently and securely. Everton had not yet got into their swing but a free kick enabled them to take a corner which was speedily dealt with by the Brentford defence. A free kick just outside the side line of the penalty box did not bring Brentford anything tangible in fact the Londoners attack had produced few really good shots. Horne held up play when he was injured. Lello made a long shot which Newton saved and when Dare from the outside right position found Leyland. Half-time; Brentford nil, Everton nil.
Donovan sent over a lovely ball to Mayers but another of the many due's between Hickson and Bragg ended successfully for the Brentford man.
Hickson Nearly Through
I was still waiting for Everton to strike their rhythm. One did get a glimpse of their ability but their movements were scrappy. Everton nearly scored when Hickson brushed his way through but Newton came out to smoother his effort, Parker came again however his work came to nothing and from this Brentford took the lead. Robertson got possession from the clearance and slipped the ball through to Dare, who shot from 30 yards, and Leyland was beaten. This was at the 57th minute. Full Time; Brentford 1, Everton nil.
PROUD BOAST NO LONGER
October 5, 1953. The Liverpool Daily Post
Brentford 1, Everton 0
By Stork
Everton's proud boast of being unbeaten has gone. It had to, but the unpleasant part of it was that it had to be the bottom of the League team to do it. I believe it is possible for a side to rise or fall to the occasion and Everton fell much below normal at Brentford. It was undoubtedly their poorest display this season; a spiritless exhibition against a side which had little to commend it with the exception of honest enthusiasm. Brentford played typical Third Division football, yet it was good enough to account for the leaders. I admit Everton missed Eglington and Farrell and in a measure it was the breaking up of the team which had blended so well that took away its unity. Even after Brentford had taken the lead I still had faith in Everton, but the fighting quality which has enabled them to pull back the lead on more than one occasion was not at Griffin Park. There was no smoothness about their play; in fact collective movements were few and far between and Brentford's more direct methods carried the day.
Spur Of A Goal
The sour of Dare's goal was instantly manifest, for Brentford became more confident than ever. There was no fear of the famous leaders after that. They had belief in themselves and although there were times when their defence was sorely tested, they must have field the same opinion as myself –that Everton would never score. Everton were not going for the ball; they were not linking up one with the other and too many of their passes went to the opposition. Brentford's quick tackling and the relentless surge forward caught Everton napping even though the former's shooting left much to be desired. On balance of pressure Brentford should have taken more than one goal, yet by the same token two easy chances to Everton early on cannot be forgotten. Hickson was kept under control by Bragg and Brentford deserved their win if only because of their enthusiasm. Everton could have done with a bit of that. Mayers hugged the ball to himself he should have disposed of it better advantage but the whole team had an off-day.
• Everton Res 1, Sheff United 2
• Everton "A" 3, Skelmersdale Utd 1
• Everton "B" 1, Stork Res 1
• Eire 3, France 5
AN OFF DAY
October 5, 1953. The Liverpool Echo
By Stork
Brentford were right down in the doldrums when I arrived at Griffin Park and well they might be, considering that they have not won a match since August 29 and the feeling was rife that they were in for another drubbing at the hands of the League leaders, for their morale was decidedly low. Whether this single goal victory will give them heart for the future remains to be seen, for there is still a lot to be done by the new manager Mr. Bill Dodgin. The team as it stands is in for a tough time, though one admits that the arrival of the new "boss" brought a lot of enthusiasm into the side. Bu I would like to have told Mr. Dodgin that this was not the true Everton, the Everton which defeated Derby County and others. "Off day's come to us all, when nothing will go right. This was one of them for Everton. At Brentford they should have held a two goals lead before the "Bees" had scored and had they done so I think the Middlesex team would have burst like a pricked balloon. Even allowing for those misses Everton failed to produce their normal form, not one single member of the team lived up to standard. They were higgledy-piggledy with no unity of purpose no movements which could rent and rive a defence apart.
All Speed
Brentford banked their all on speed on the ball with the pass and into the tackle and it paid off a full divended. Even when the Londoners slipped into the lead I could still see an Everton victory if they could once strike their known form. Unfortunately it never came and Brentford were able to hold what they had. Halter skelter tactics will not pull them through every time. Things were desperate so desperate methods had to be used. Eglington was a sadly missed man for there was no fast raider in the Everton front line and that was the great need. Buckle did not seem happy on the left and Mayers while doing many good things, would persist in running into trouble instead of away from it.
One Reason
The main reason for Everton's forward failing was due to a great extent to the failure of Fielding. He was completely out of touch with his game and when he is "off" the rest of the line naturally suffers. Hickson played hard against Bragg a centre half who was not always very kind in the way he treated the opposition. Parker missed two fine opportunities; aver perhaps more, but he like the rest just could not strike it. Nor was the defence up to standard in fact, it was not a happy day for Everton, but a particularly happy one for Brentford.
TACKLING WAS TOO SEVERE
October 12, 1953. The Liverpool Daily Post
Plymouth Argyle 4, Everton 0
By Ranger
Although this was Everton's most disappointing display of the season, it was by no means as bad as the margin seems to suggest, for two of Plymouth's goals were due to goalkeeping errors and twice the woodwork saved the home side. On top of that Everton in one hectic second half assault had four shots in as many seconds, any one of which might have brought a goal, yet all of which struck defenders and came out. That was not all, either for the visitors undoubtedly should have had a penalty late on when Hickson was brought to earth when the ball was yards away. Having said this, however, it should also be out on record that in the end Plymouth deserved the points, even though they won them by rather severe and unceremonious tactics, and the margin flattered them. Almost from the start the game was marked by some severe tackling and the longer it went the more did weak refereeing allow it to get out of hand. No matter where the original blame lay, towards the end the succession of fouls robbed the game of any claim to distinction from the point of view of good football. Some incidents were in the category of "six-of-one-and-half-a-dozen-of-the-other," where players took the law into their own hands, in retaliation. More than once it seemed likely that blows would be struck. Not for a long time have I seen so many tempers so badly frayed.
Defensive Hesitancy
Leyland was not the only Everton defender subject to shakiness. There was hesitancy in the rearguard and a tendency to hold off the tackle, which frequently made things easier than they might have been for the home forwards. The visiting attack was also disappointing, rarely serving up sustained combination of the class that has marked their earlier games. Everton had the chance to take the lead at the thirteenth minute, when Hickson having retrieved a ball lost by Parker, found himself with only Shortt to beat from twelve yards, but shot tamely and without power straight at the goalkeeper. Had Everton taken this early chance the whole run of the game might have been changed. Instead they continued in their rather causal mood, and two goals to the opposition without five minutes not only put Everton on the collar, but gave Plymouth a belief in themselves which their play had not arrested. The first goal was scored by Astall at the twenty-second minute when Leyland, diving full-length to an angled shot by Edde could only but the ball out to the feet of Astall, who had the easiest of chances. Leyland did well to save Edds shot. The second scored by McGrory five minutes later, came when Leyland failed to punch away an Edds' corner and McGrory fired in through a ruck of players, from short range. Leyland was again partly at fault when he failed to get the ball after coming out of goal, and Dews crossed a centre for Davis to head into the empty goal at the 52nd minute. The fourth was a strong shot by Edds from twenty yards at which the Everton goalkeeper had little or no chance. Here also, however, there was a defensive lapse for Edds was unmarked and had plenty of time to take the ball forward and pick his spot. Plymouth Argyle;- Shortt, goal; Robertson and Jones (P), backs; Dougall, Chisholm, and Porteous, half-backs; Astall, McGrory, Davies, Dews, and Edds, forwards. Everton; Leyland, goal; Donovan and Lindsay, backs; Farrell (captain), Jones, and Lello, half-backs; Buckle, Mayers, Hickson, Parker, and Eglington, forwards.
"All IN" BATTLE
October 12, 1953. The Liverpool Echo
By Ranger
Although Everton drew the largest attendance of the season to Plymouth Argyle's ground, the 26,148 spectators saw an exhibition which at times was more suited to all-in wrestling than Soccer. For 20 minutes Everton played football in keeping with their high League position, though never with the speed or forcefulness that one expected. They appeared to be playing at little more than three-quarters pace, in a rather casual manner, as though they felt that the issue could be forced whenever they wished, and that victory was only a matter of time. It might have been against some teams, but certainly not against a side with the rugged and resolute qualities of Plymouth. They stood not on ceremony but went into the tackle with a fierceness, that at times was almost intimidating and with a referee who allowed many questionable thinks to pass early on without punishment –although he issued several warnings later –the game lost almost all resemblance to a skilful football match and became mainly a test of force and hardiness.
Many Stoppages
There were many stoppages, too much retaliation –though often the provocation was great –and it was a wonder that the many blows which so often seemed imminent were never struck. Tempers were more frayed than the ends of a tramp's trouser. Everton should have had at least one penalty when Hickson was "grassed" while yards away from the ball, and possibly two. Even Eglington, normally calm and unfuffled, was moved to raise his hands threateningly after one particularly provocative maiden. Altogether it was an exhibition better forgotten, though that is easier said than done. Quite apart from their over causal beginning, during which Hickson missed a great chance of putting the Blues in front before Argyle had scored Everton were never within hailing distance of their form of earlier games. Leyland was partially at fault with two goals and there was hesitancy in the defence which enabled the home side to make ground too often without challenge. The attack after the first 20 minutes or so the Blues rarely reproduced any notably sustained combined moves or strong shots. With Buckle having a bad day, and Parker being patchy, the front line was out of gear though now and again there were glimpses of promising work unfortunately never carried to finally.
Saved By Woodwork
Twice in the second half the woodwork saved Argyle and finding the hectic Everton assault.
EVERTON GIVE EXETER AN EXHIBITION
October 14, 1953. The Liverpool Daily Post
Exeter City 0, Everton 4
By Ranger
Everton gave a splendid exhibition of first class football in their floodlit match against Exeter City last night before 6,425 spectators (£700). Had they felt inclined to rub it in Everton might have won by almost double this margin. Instead they were content to jog along to a comfortable victory which was never in doubt from the start. Everything they did was marked with artistry and skill, and though Exeter never gave up trying, they rarely looked like scoring. With nothing at stake and against opponents who allowed them to play their own particular brand of football without hindrance, Everton reveled in this opportunity to show the Exeter public what they could do. Parker opened the scoring in the twenty-ninth minute. This goal came directly from a corner taken by the home side and Everton took the ball up from one end of the field to the other without a home man touching it, Parker finally netting from Hickson's centre.
Almost Faultless
In the second portion Everton toyed with the opposition and did practically as they wished. Three further goals came and Everton's combination was almost faultless. There was nothing Exeter could do to stem the avalanche, gallantly though they tried, and if Everton had sought to take full toll of their superiority they could have won much more handsomely. They carved their way through the defence times without number and only some good saves by Singleton plus Everton's own easing-off, kept the score down. Fielding got the second goal at the 63rd minute, thanks largely to his own clever dribbling with Parker providing a final return pass for Fielding to round off the move. Buckle scored twice, at the 75th and 85th minute, in each case thanks by passes by Grant. Grant had come in as a substitute for Farrell who wretched his knee after the game had been in progress only five minutes, and took no further part. Every Everton player gave a sound and pleasing display of exhibition football which thrilled the home spectators.
Fielding The Star
None did better than Farrell and Lello, who not only clamped down on the Exeter inside forwards, but were always up in close support of their own attackers and served them with a regular supply of passes. Fielding was the star of a forward line which was in excellent form, with Grant doing extremely well as deputy outside right. Exeter displayed some quite entertaining football at times but could never make much headway against Everton's solid defence in which Jones a tip-top display. Apart from McClelland who was the only home forward with a shot, Exeter's finishing with the few chances they got, was very disappointing.
EVERTON'S CHANGES
October 15, 1953. The Liverpool Echo
Ranger's Notes
Everton have made one change for their game with Swansea Town at Goodison Park on Saturday. O'Neill returns to goal in place of Leyland. This will be the Irishman's first senior game since the opening match of the season against Notts County. Ivor Allchurch away on international duty for Wales last week returns, to Swansea Town's team. He is included in a provisional line of six forwards announced today from which Scrine is expected to start down if Mervyn Charles is available. Swansea hope to secure the release of Charles from his Army duties to play at centre forward if they succeed the Swansea team except for the return of Allchurch will be the same as that who defeated Oldham Athletic. Everton; O'Neill; Donovan, Lindsay; Farrell, Jones, Lello; Buckle, Fielding, Hickson, Parker, Eglington. Swansea;- King; Keane, Beech (G); Lucas, Hole, Williams, (forwards from); Griffiths, Jones (C), Charles, Allchurch, Scrine, Beech (C).
FARRELL IN HOSPITAL
October 15, 1953. The Liverpool Echo
Young Everton Player May Be A Cartilage Victim.
Ranger's Notes.
Alec Farrell, Everton's promising young inside forward and former school-boy international is in hospital awaiting the X-ray examination for suspected cartilage trouble the victim of one of the simplest mishaps imaginable. It happened in the friendly floodlit match at Exeter, but it should be made clear that nobody on the home side was to blame. Farrell seemed to over reach himself a trifle in order to effect a pass and the only Exeter man near him made nothing in the nature of a tackle. The next moment with play twenty yards away Farrell suddenly went down on both hands to take the weight off his injured leg which was stretched out rigidly behind him. After attention trainer Charles Leyfield who has hard much experience of this type of injury. Farrell seemed all right again. Unfortunately when he tried a sharp sprint a few minutes later the same thing happened again. He leg locked at the knee and he had to be assisted off. In order not to alarm his parents Everton asked that the facts should not be made known until the party had returned to Liverpool last evening and Farrell had seen the club's specialist arrangements having been made before leaving Exeter for an immediately examination. Following the doctor's inspection at Exeter the knee (as firmly strapped up by Charles Leyfield in order to relieve Farrell from pain and he made the journey back to Liverpool with the rest of the Everton party in reasonable comfort.
Rest May Do The Trick
On arrival at Lime Street he was at once taken to the specialist by manager Cliff Britton and afterwards entered Broadgreen Hospital, where his parents were taken from West Kirkby to see him. Until the result of the X-ray as known it will not be possible to say whether an operation will be required. Though it is hoped this may be avoided, it unfortunately looks like a cartilage case. Rest might effect a cure but in any case Farrell will be out of the game for some time. To travel well over 500 miles for five minutes play must be some where near a record and Farrell has my sympathy, for this game would have given him a great chance of showing his talent's once again. It was one of those real exhibition displays in which both sides were allowed to play good football and I think Farrell would have shone just as much as the rest of the Everton team in which Grant his deputy gave such a delightful display.
BETTER SHOTS, NOT CHANGES
October 17, 1953. The Liverpool Daily Post
Everton 2, Swansea Town 2
By Leslie Edwards
For Swansea Town the last minute was the minute. In it their rangy centre forward, Mervyn Charles rose to the full extent of his leap and turned the ball into the net with his head. There could be no disallowing this. It counted to give Swansea the draw which had seemed so remote when Everton were penetrating so far and so often into a defence, that had no answer to their approaches. Bravely as Swansea played (and succeeding in part) the game should have been beyond hope for them long before the end. Everton had it for the taking. Only their ineffective shooting prevented them from winning not by a goal or two but by half a dozen. They were unlucky, too, with bar and post-hitting efforts, but evening allowing for that they were so far ahead, there should never have been any doubt at all that the match would be their's. The game had scarcely finished before people were saying that O'Neill should not have been beaten twice, that Fielding played badly, that Eglington had an off day; that Hickson did not get the goals a good centre forward would surely have had from the chances which came.
No Urgency
In all these things is an element of truth, yet Everton lost not because their played badly, as a side, but because they never seemed to realize the urgency of making chances tell. They fell victim to their own complacency. They strolled through the game so easily for so long they seemed to forget that there was still only a goal in it. It as an expensive lesson, but one worth learning if they are to continue in the championship battle. The pity is that few teams will allow them such latitude in attack as Swansea did; for a good three parts of the game that Welsh defence was continually opened, mainly by Parker. Almost criminal that only two goals could be produced from such chances. Swansea were fortunate to draw, but their young forwards deserved reward and it was sweeter than ever when it came in the eighty-ninth minute. Though Everton went to the front early with a nice goal from Parker no one can estimate how things would have worked out if Charles disallowed goal, even earlier, had been allowed to stand. Intent to handle is the criterion of all matters when hand and ball meet and in this case it seemed that Charles handled accidently the moment before he wheeled and hit home a glorious shot which completely beat O'Neill. Remembering that Charles, apart from this, hit the bar with a header and scored twice, the experiment of playing him at centre forward is one which must continue. Positionally he may have been a little "green" but those long legs of his and his ability to get up to the ball all suggest he is a player of the future.
Easier Said
When Charles countered the Parker goal he hit the ball in low after O'Neill had gone out to field it and had failed. Some argue that O'Neill should have cut this one off before it reached the scorer. That was easier said than done. Immediately Swansea had leveled the scores Everton went straight from the kick off to put themselves in front again. This time a cleverly headed pass by Hickson made Parker's way clear. The ease and quickness with which they took the lead for the second time may have foxed Everton. They played as though they felt they could hold Swansea to 2-1 all week much less the remainder of the ninety minutes. Charles second goal, spoiling Everton's home record for matches won, disproved that at such a late stage that nothing could be done to put things right. Parker, with two goals and a lot of semi-centre forward play was easily Everton's best attacker. Hickson missed too many chances Eglington though not as commanding as usual, was never short of passes off which he might have scored. Quite the best half back was Lello for his sure tackling and his dependability in moments of stress. It is now suggested that now is the time for Everton to make changes. Surely any side which could so overplay their opponents is worth fielding again, especially if they have learned that territorial gain is nothing compared with the solid effect of goals? Swansea may not be a good team now but in young Jones, a nephew of Bryn Jones, and Charles and Allchurch they have the basis for a splendid line in the future. Allchurch was rather too individual for my liking, but later he became very practical. Many of his side's attacks sprang from him. Hole at centre half, a son of the old Swansea winger, started badly but tightened up considerably.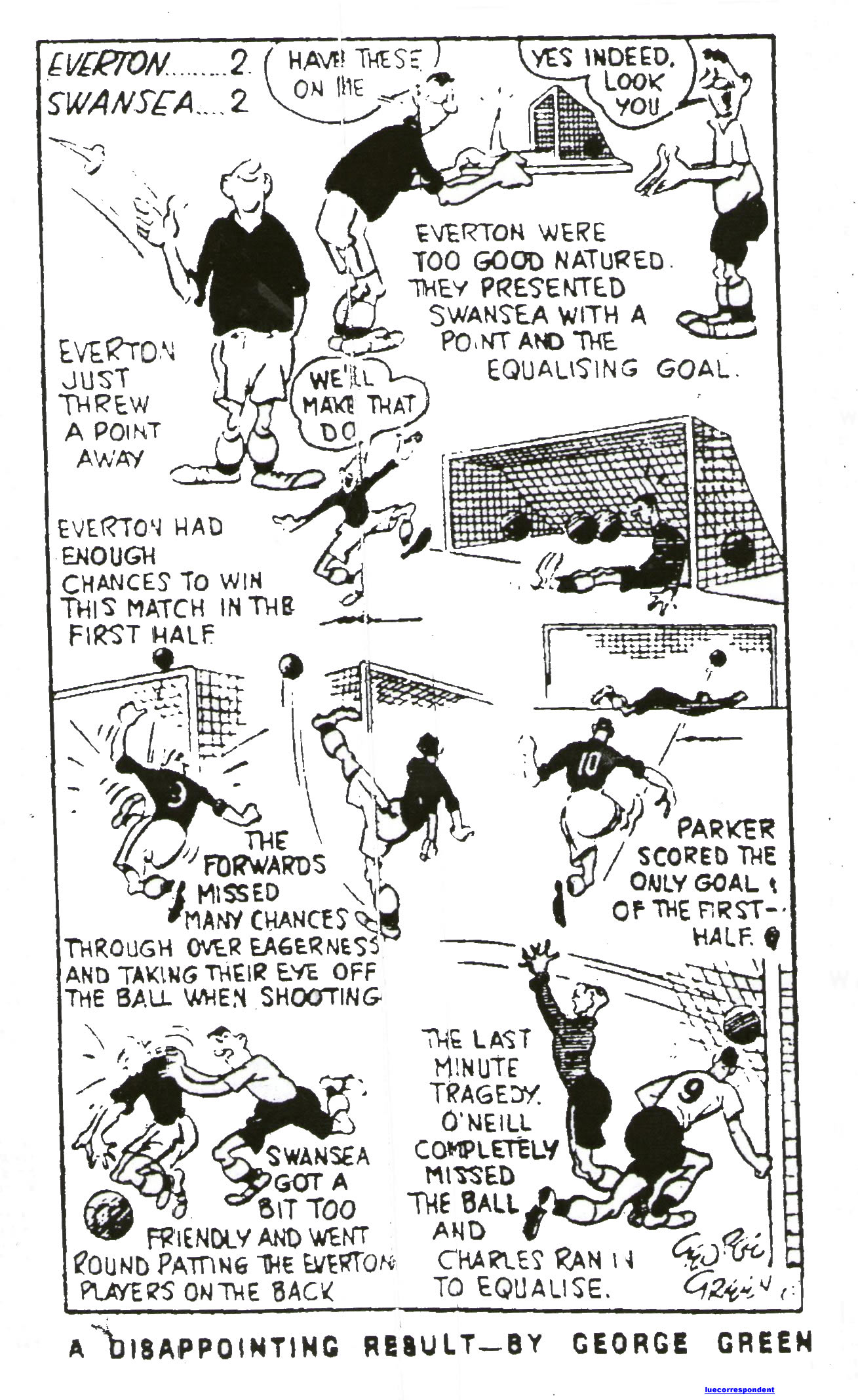 EASTHOPE HAT-TRICK
October 19, 1953. The Liverpool Daily Post
Leeds United Res 2, Everton Res 6
Everton Reserves proved too powerful all-round for Leeds United in a Central League game at Leeds on Saturday and were full value for their 6-2 win. They also gave their opponents a lesson in marksmanship and Canadian Gordon Stewart scored twice before Easthope obtained a hat-trick. Mayers was the other Everton goal scorer and McCall scored both Leeds goals.
BLUES RECORD GOES
October 19, 1953. The Liverpool Echo
Ranger's Notes
Charles scored twice, and that the wonder was he did not score four, much less two. And Hickson and Eglington too, had enough openings to have put their names on the register more than once. In the view of Everton's superiority in all phases except one –they failed to produce the goods –it is unkind to be so critical. O'Neill, like every other goalkeeper, did not always make the ball from centres, but to expect him to take the low ball from which Charles got his first goal was asking too much. I agree that he might well have done something about the other, also from the left wing, but nothing can detract from the way young Charles steered this one, with his head, into the few feet available to him when scoring in the 89th minute. Charles is a big and rather cumbersome, but he gets over a tremendous amount of ground, and though he was not often in the picture he scored twice; hit the bar with a header and had a brilliantly-taken goal disallowed. So, however, raw he appeared in his positional play, the results obtained suggest that like his brother he will make good in top class. Others in the Swansea line to impress were young Jones, a nephew of Bryn Jones the old Arsenal and Wales forward and Allchurch. Jones is only 17 and Swansea really wanted to play him only once in every three fixtures. The signing of Scrine by Oldham meant that he had to come in unexpectedly in this match. The oldest in the line. Beech is 21 so given experience the attack may yet prove itself to be one of the best in the division. Little Lucas had a splendid match and so did the other wing half back Williams the trouble was that the defence was so loosely-knit that Everton made holes in it, almost at will. Everton main fault way their failure to cause that a though the game was so one sided there was still only a goal in it. Once Parker's first goal was balanced by Charles, Parker went straight from the kick off to give his side the lead again. The fact that they regained the lead so quickly and easily may have given Everton the impression that they could win as pleased. Everton's early season ginger and the determination which showed in many of their matches to win and continue winning was missing this time, I think they paid full penalty for holding Swansea too cheap.
"LIVERRTON" DERBY
October 20, 1953. The Liverpool Echo
Ranger's Notes
Everton and Liverpool meet tomorrow afternoon at Goodison in the first round of the Lancashire Senior Cup thus keeping the mid-week attractions going for yet a further week. As this year marks the 75th anniversary of the Lancashire F.A. the latter have requested clubs as far as possible to play their strongest teams in this season's Lancashire Cup. It is asking rather a lot to expect either Liverpool or Everton considering the vital aspect of their League matches to both sides to play full first teams but their will be a judicious blending of senior and reserve players in the game which makes it a more attractive business than the earlier Central league fixtures between them. Apart from the recall of Leyland Everton field the same defence as against Swansea with their reserve forward line. Liverpool include six of the side which lost to Huddersfield, there in defence and three in the attack. Anfield newcomer Tony Rowley was not available for selection, for he is suffering from a badly bruised toe, but is certain to be fit for Saturday. Everton; Leyland; Donovan, Lindsay; Farrell, Jones, Lello; Mayers, Thomas, Wainwright, Potts, Easthope. Liverpool; Crossley; Taylor, Parr; Saunders, Hughes, Maloney; Payne, Anderson, Smith, Smyth, A'Court.
EVERTON AND LIVERPOOL IN CUP CLASH
October 21, 1953. The Liverpool Daily Post
By John Peel.
Merseyside soccer fans who get little opportunity of seeing either Everton or Liverpool on Saturday afternoon have a great chance of seeing both at the same time today for these local rivals meet in a first round Lancashire Senior Cup-tie at Goodison Park at three o'clock this afternoon. With the exception that Leyland returns to goal in place of O'Neill the Everton defence will be the same that did duty against Swansea Town on Saturday, but the attack is a new one. Liverpool include six of the players in the side beaten at Huddersfield the team being;- Everton; Leyland; Donovan, Lindsay; Farrell, Jones, Lello; Mayers, Thomas, Wainwright, Potts, Easthope. Liverpool; Crossley; Taylor, Parr; Saunders, Hughes, Maloney; Payne, Anderson, Smith, Smyth, A'Court.
LIVERPOOL'S VICTORY
October 22, 1953. The Liverpool Echo
Everton after seemingly having the game in their pocket at half time, lost their first round Lancashire Senior Cup-tie with Liverpool at Goodison Park yesterday. Again they appeared to adopted that winning was only a question of time, and once more payed the penalty. Has they were not accepted and at the interval they only led by a solitary goal scored by Potts from Mayers centre in the 32nd minute. In the first half Thomas took the eye for the Blues attack with his clever ball control and willingness.
Distribution Good
His distribution was good, in the second half Everton were the more precise side but Liverpool never gave up and when Potts was injured half way through the second half and Everton became disorganized. A free kick by Arthur Rowley led to Payne getting the equalizer with a fine header and a quarter of hour later Parr's long range shot gave Liverpool the victory which on their form in the opening half they could hardly have anticipated. Thomas was Everton's best forward with Mayers and Wainwright also shaping well. Payne was Liverpool's must dangerous attacker, though he spoiled some of his work by doubling back on his tricks when a centre would have paid better. In the Reds defence Hughes was not at his best and he and Taylor often had difficulty early on in coping with Everton's speedy forwards. Jones and Lindsay were the best for the home side.
PLAIN FARE FOR EVERTON
October 24, 1953. The Liverpool Football Echo
By Ranger
Does Everton's fall from grace in the last three games indicate that the side has not got the staying power or determination to make the long and arduous struggle which faces any side which has hopes of ultimately emerging among the top two in the Second Division? That is the question which has been exercising the minds of Goodison Park following latterly. It is not an easy one to answer. One solitary point from three fixtures even though two were away from home, while nothing to worry about unduly, is rather disturbing and all the more regrettable because in each of these games the Blues were the better footballing combination. A more dynamic approach to the needs of the situation might have brought them a much more pleasing rewards. Everton of recent years have seemed to be subject to these periodic comedy-go-day" spells of nonchalance when some of the players have taken things too much for granted. You just cannot do that when you are fighting for promotion and that is what Everton are doing in every game, even if the final reckoning is still a long way off. With exactly a third of their programme completed, Everton this morning had 19 points. It could so easily have been 21 or 22. Every point forfeited now could have a vital effect later.
A Vital Matter
Promotion has to be worked and fought for from the first game of the season. Rarely is it achieved by a sudden brilliant burst in the last two or three months. It can work out that way of course, but how much better to take no chance now and give nothing away, like the point so kindly presented to Swansea last week. Superiority in anything else but goals counts for nothing. No side can afford to adopt the attitude that if they play the better football victory is bound to come in the end. Frequently it doesn't. Even the pleasure that; well-conceived and executed moves give one's supporters loses its savior if gilt-edged scoring chances are wasted and the opposition is allowed to steal a point or both. Everton could have preserved their unbeaten record, instead of losing it to Brentford, had there been a greater sense of urgency in their play. Against Plymouth they dallied at half speed for twenty minutes as though the outcome could not possibly be in doubt. Then the Arygle weighed in with two quick goals to disabuse them. Yet even after that one never felt that the realization had fully sunk in that the loss of two points could be a very vital matter. It is true that the desperate and robust tactics of the opposition would have knocked most teams off their stroke. Yet Everton must expect this sort of thing. Few Second Division sides will knuckle down and accept a football lesson without trying to make up by weight and vigour what they may lack in other direction.
Brain Beats Brawn.
Against Swansea the Blues just tossed a point away. And that's something they cannot afford. I something they cannot afford, I am not suggesting they should try to match brawn with brawn. That is no good. At Plymouth Hickson would have done much better had he not tried to match the opposition's toughness. While admitting there was much provocation his game suffered because he jettisoned speed and skill in order to try to give a Roland for each Oliver dished out to him. It is no good trying to batter a way down the middle against a resolute pivot who is ready to take all that comes his way. Retaliation may be a human impulse but from the view of teamwork and combination it is bad tactics. Everton have enough intelligence and football craft to beat Brawn by brain. The Blues have a couple of tough matches ahead. After today's game against the leaders Rotherham United, they meet Leicester now in second place, at Goodison next week, followed by a visit to Stoke, who are still undefeated at home. Form of the standard they turned out against Doncaster, Notts County or Derby could ensure a satisfactory return from these games. Anything in the nature of a false "superiority complex" or wastefulness with good chances may cost them dearly.
TELLING BLOWS BY THE FAVOURITIES
October 26, 1953. Yorkshire Post
Rotherham United 1, Everton 2
Rotherham United's hopes of being concerned with promotion issues took a hefty knock when Everton won at Millmoor to end a run which had brought Rotherham 17 out of a possible 18 points. Rotherham must get the inside forward the manager has been seeking so long. Johnson who was a game trier –his enthusiasm was such that he broke his nose in one collision –lacked the experience to bring the best out of Grainger and Burke. The team was good against Everton, it was just that they came up against an even better side and on this display Everton must be first favourities for promotion. They were grand throughout, always playing football on the ground and using the open space with precision passes. Hickson and Fielding got their goals and Burke's replay for Rotherham was his 16th goal of the season.
F.A. SELECTORS LIKED FIELDING
October 26, 1953. The Liverpool Daily Post
Rotherham United 1, Everton 2
By Stork
Everton accomplished two important things on Saturday. They halted Rotherham United's run of nine matches without defeat and checked their own falling of recent weeks when they picked up only one point from three games. Rotherham were cock-a-hoop about their leadership of the Division, but it was seen that they were going to have a hard task to stay there, for Everton were undoubtedly the better side from the start. Their football was greatly superior to the more hectic tactics of the United. Do not think that Everton had an easy passage. They did not. The enthusiastic Rotherham set them problems. Yet the score does not do Everton justice. Even when Rotherham were striving for a draw, I never had any great fear of them getting it, because there was not the subtlety to outwit the Everton defence. On the other hand, the Everton tactics often had the Rotherham defence spilt open. For one thing the United backs played too square. It was Everton's cool, calculating play, full of good ideas, which brought about the leader's fall. It was good football versus hard endeavour and good football won the day.
Complete Backing
Wing half-back play was another potent factor in Everton's victory. Farrell and Lello gave the forwards complete backing, while keeping a strong defensive hold. Further behind Lindsay practically played Grainger out of the game, although the latter almost pulled out the equalizer near the end. Everton played smoothly, Rotherham were hurried and flurried and by rights Everton should have held a much more commanding lead at the interval. Buckle had bad luck when a right-foot shot hit the upright and bounced back, and several other Everton shots were only inches outside the woodwork. The referee disallowed a Hickson shot to the net for "hands." I did not see it nor did a linesman wave, but the official was adamant, Hickson ultimately put that right with a goal at 25 minutes after Gibson had miskicked. Burke, who had made Rotherham's best shot in the first half, equalized when Leyfield was not secure in his handling of a ball from the right wing. He was challenged by Wilson and Burke and the centre forward popped the ball into the net. Some say it went in off Wilson's chest, but Leyland says it was Burke and so do I. within a minute Everton were in front again as a result of a grand shot by Fielding, and they held their lead to the end.
Now For Leicester
I have said it before and I say it again. When Fielding is in form the Everton attack is 50 per cent more effective and Fielding had a great day. An F.A. representative who was looking on was greatly impressed by his play. Buckle and Eglington were too fast and elusive for the Rotherham backs and Hickson worried Gibson from start to finish. It was a really sound victory. Now Everton have got back to winning ways they have a rare opportunity of knocking the new leaders Leicester City, off their pedestal next Saturday.
EVERTON YOUTH V MANCHESTER YOUTH
October 26, 1953. The Liverpool Daily Post
Everton Youth 0, Manchester United Youth 1
F.A Youth Cup Round one
In the first round of the F.A. Youth Competition at on Saturday against the title holders Manchester United who were full value for their victory.
EASTHOPE'S MISS
October 26, 1953. The Liverpool Daily Post
Everton Res 0, Sheffield Wed Res 1
A magnificent headed goal by Shaw in the sixtieth minute gave Sheffield Wednesday Reserves full points in a thrilling Central League game with Everton Reserves at Goodison Park. Everton lost their great opportunity when in the opening half, Easthope missed with a penalty. Thomas was several times unlucky and with Mayers formed a good right wing.
EVERTON UNCHANGED
October 29, 1953. The Liverpool Echo
Blues At Full Strength For Their Stiff Tussle With Leicester
Everton will field an unchanged side for their home game with Leicester City on Saturday when for the second successive week the Blues meet a club at the head of the Second Division chart. Last week they deposed Rotherham United from the leadership as they had done earlier with Doncaster Rovers. Now they have the chance to make it a "threesome" though Leicester City have been playing so well recently that this may prove to be the most difficult task the Blues, have faced so far. This match should attract the biggest gate of the season to Goodison Park, so long as the weather is favourable, and it may also provide the best exhibition of class football for Leicester's form according to those who see them regularly has latterly been right out of the top drawer and well up to average First Division standard. Leicester manager, Norman Bullock, tells me that his only real doubt refers to left half Tommy Dunne, who received a thigh injury against Oldham last week. While Dunne is making good progress and may be all right, this will not be known until he has had a fitness test tomorrow. He came through a preliminary one today very satisfactorily. Welsh international outside right Malwyn Griffiths who got the first hat-trick of his career last month is now quite certain to play. He has been recovering for the past fortnight from a pulled muscle. The filbert Street side has lost only one game this campaign when they were beaten 4-1 by West Ham at Upton Park in August. Since then they have taken eight points from six away matches, scoring twelve goals to eight by the opposition. They have been fortunate in escaping injuries. In addition to Griffins the only players who have had to miss matches this season on that account are Baldwin and Dryburgh. The latter who scored 11 goals from the extreme wing last winter strained a lateral knee ligament in the third game of this season and though he is now fit again. Peter Small who deputized in his absence has been playing so brilliantly with seven goals in eleven appearances that Dryburgh is unable to get his place back.
Long Undefeated Run
Leicester have now gone thirteen games without defeat which is two better than Everton did earlier on Saturday's game has all the hallmarks of a keen and dour struggle for supremacy between two well match sides and gives Everton the chance for the second week running to take a couple of points from the existing leaders of the Second Division. When Everton were down south for the Plymouth Argyle game a holiday resident at their hotel was Mr. Sid Needham one of the Leicester City directors, who watched the Blues against the Devonshire club. What he saw did not deceive him too much for he had better reports of Everton on the basis of their earlier displays. His comments when I was discussing the chances of promotion of both clubs was the ideal diplomatic answer "so long as both Everton and Leicester go up" he said; "I don't mind who are top or runners up. Both would be an acquisition to the Firs Division and I think each have a very good chance." Everton; Leyland; Donovan, Lindsay; Farrell, Jones, Lello; Buckle, Fielding, Hickson, Parker, Eglington. Leicester City; Anderson; Lever, Jackson; Baldwin, Gillies, Dunne or Russell; Griffiths, Morris, Hines, Rowley, Small.
Lewis Resumes
Everton Reserves away to Chesterfield will include Gwyn Lewis at inside left. This will be his first appearance in the reserves team this season following an ankle injury received in the practice match in August. Gordon Stewart is not fit, owing to a thing muscle injury received last week. Team; Everton Reserves; O'Neill; Sutherland, Rankin; Grant, Woods, Melville; Wainwright, Thomas, Saunders, Lewis, Mayers.
CAN EVERTON DO IT AGAIN?
October 31, 1953. The Liverpool Daily Post
By John Peel
On September 12 Doncaster Rovers came to Goodison Park as leaders of the Second Division of the Football League. They were well and truly beaten by an Everton eleven who played excellent football and as a result the Rovers had to share their proud pedestal. Last week Everton travelled to Rotherham United who were commanding foremost position in the League table and playing well, the Goodison Park side winning 2-1 were responsible for removing the leaders from the head of affairs. Now comes yet another chance for Everton to upset the leading club for today top-of-the-table Leicester City are at Goodison Park. Everton's task today is probably the stiffest one they will have faced this season, but displays similar to those when beating Doncaster and Rotherham should bring victory for the Goodison Park side. so far Leicester have gained twenty-three points from fifteen matches of which eight have been won, six drawn and one lost, this latter to West Ham United who succeeded by 4-1 at Upton Park in august. Unbeaten in their last thirteen League matches the City are a sound combination fore and aft, and in Morris, Hines, and Rowley, possess a formidable inside trio of forwards. With the home side at full strength, however;- they are unchanged from last week –there is every prospect of an Everton victory. In any case a grand match should be the outcome of this meeting for Leicester, like Everton play much attractive football. The kick-off is at three o'clock and the teams are;- Everton; Leyland; Donovan, Lindsay; Farrell, Jones, Lello; Buckle, Fielding, Hickson, Parker, Eglington. Leicester City; Anderson; Lever, Jackson; Baldwin, Gillies, Dunne or Russell; Griffiths, Morris, Hines, Rowley, Small.
HICKSON ORDERED OFF IN A HECTIC FINISH AT GOODISON
October 21, 1953. The Liverpool Football Echo
Everton 1, Leicester City 2
By Ranger
Everton; Leyland, goal; Donovan and Lindsay, backs; Farrell (captain), Jones and Lello, half-backs; Buckle, Fielding, Hickson, Parker, and Eglington, forwards. Leicester City; Anderson, goal; Lever and Jackson, backs; Baldwin, Gillies and Dunne, half-backs; Griffths, Morris, Hines, Rowling (A) and Small, forwards. Referee. Mr. A. Hollin. Leicester City who came to Goodison Park as Second Division leaders.
• Match report impossible to read, just like most of September and October Liverpool Echo Micro Firm at the Liverpool Record Office, unfortunately until I can get hold of better prints, it will remain on the to do list.