HULL AT EVERTON
September 1, 1953. The Liverpool Echo
Ranger's Notes
If last week's performance at Hull can be taken as a measure of probabilities then Everton should further strengthen their position. Though I did not see it, everybody who did is unanimous that the Blues display at Hull last week was a brilliant one. In the first half Everton played copy-book football, so much so that even the "enemy" ranks could not forbear to cheer. It as a remainder of those by gone days when anybody getting on a tram at the Pierhead and asking for the School of Science was put off at the nearest point to Goodison Park. In the second half Everton were handicapped by an injury to Tommy Jones. Even so they remained much the better side. Just how things will pan out tomorrow is anybody's guess. Everton may make Hull look just as much a third-rate side as they did at Boothferry Park a week ago. But it would only be in keeping with this season's crazy form. If Hull gave a much better display here than they did on their own ground. They made short work of Bury on Saturday. Not that is any great recommendation, for the Shakers are far from being the side their were a generation or so ago, when they held their own fairly well for a period in the First Division and were among the best in the Second Division. Hull made several changes in their team on Saturday compared with that which opposed Everton in the first encounter. Berry returned to centre half in place of Neil Franklin, who has never been the same since his ill-fated Bogota trip and his cartilage operation of two years ago, when he was a next-door neightbour of Albert Stubbins in a Newcastle hospital. Danish international Jensen switched from left back to left half. Neal coming in the former position; Gerrie moved from centre half to inside right –incidentally getting a couple of goals –Wilkinson, a former full back took over the leadership and Bulless made his first appearance of the season at outside left. Everton make two changes involving three positions, Jones now fir again resumes at centre half, with Donovan reverting to lft back in place of Rankin, Moore comes in at right back for Clinton who is rested after the strenuous opening programme. Everton; Leyland; More, Donovan; Farrell, Jones, Lello; Buckle, Fielding, Hickson, Parker, Eglington.
EVERTON'S THREE DEFENSIVE MOVES
September 2, 1953. The Liverpool Daily Post
By John Peel
Everton make three changes for the visit of Hull City to Goodison Park where the kick-off is at 6.15. Jones now fit again returns to centre half and Donovan drops to left full back with Moore who has not played before this season, as his partner. The team is;- Leyland; More, Donovan; Farrell, Jones, Lello; Buckle, Fielding, Hickson, Parker, Eglington.
Hull City team, compared with that defeated at home by Everton on Monday of last week, shows no fewer than seven positional changes and three of the players appeared in that game are omitted. They are Franklin, Horton, and Cripsey (left wing). There is however, only one change from the side which defeated Bury on Saturday –at outside left where Fagan replaces Bullens who is injured. Team;- Bly; Phillips. Neal; Harris, Berry, Jensen, Harrison; Gerrie, Wilkinson, Atkinson, Fagan.
STILL THAT TINGLE OF DOUBT
September 3, 1953. The Liverpool Daily Post
Everton 2, Hull City 0
By Leslie Edwards
Though Everton are nearly top of the class –and everyone with the remotest tinge of blue about then hopes, devoutly, they will stay there –it is still not possible to acclaim them, confidently as prime Division 1 contenders. While they are winning consistently they are not doing it in the way a side must if they are to maintain high estate from one end of the season to the other. In this match for example, the door was open to Hull City to take an equalizing goal (and a point) for long periods in the second half. That they did not was more due to their own forward failing than to the great competence of Everton. Then, with six minutes left to play, Everton scored the second goal which not only settled Hull City, but gave the score card a "this was easy" look that was never evident in the play. It is a pity we cannot share the enthusiasm of a Everton that this is promotion season, but the truth is that though the side has sprinted away to a magnificent start their play at home at least, has not been very convincing. Yet one good judge of psychology was heard to declare after last nights game that "Everton don't get promotion this season they never will." About one point no one can be in doubt. That is that the goals Everton scored last night were solid, worthily creations, as nicely made as they were taken. Two minutes before the interval, Hickson, Eglington and Fielding the scorer, indulged themselves in a movement stamped on every link and six minutes from the end, when Hull were on nodding terms with an equalizer more than once Buckle rammed in his show, low, true and powerful, as Fielding had to complete another round of combination effort. Oddly, it was one of the few faulty moves of Berry, in the Franklin position that was the starting point –a tough break for a man who had done splendidly against the tearing, wearing (and not always kindly) tactics of Hickson.
Narrow Escape
Before any scoring, each defence had survived wondrously, first when Hickson header was edged upward and on o the underside of the bar, by Bly, and next when a massed Everton defence struggled at the foot of the post and succeeded (Moore) in preventing Atkinson from poking the ball over the line. The Hull goal, magnificently kept by Bly had another escape too when the goalkeeper mishandled a swerving ball from Buckle and the ball struck the post. Take away the goals and the abiding impression is of the solidity and sureness of the Hull defence, the brilliance of three outstanding units. Fielding, Jensen and little Neal, and the thought that those Hull City wingers were as ineffective and finicky as their inside men were shy to make the sharp telling shot. Fielding of the feinting body swerve of the clipped accurate pass to either wing, is on a fresh lease of football life, as full of tricks as he is of stamina. Neal all legs and topped by a massive head of hair, looked almost a boy among men and some of his tackling was boyish but what grand use he made of the ball and how difficult he was to pass. A player of no physique but enormous guts and ability. In that even, almost slow-coach way of his Jensen was literally a Great Dane. He came infield, time and again, and dummied his way to openings for a flow of passes any of which a pair of good wingers could have used creatively. But always there was little response. Hull's defensive build-up was as good as anything of its kind I have seen in Div 2. Even when things were critical they were never tempted to be haphazard. Bly's goalkeeping too with some specially good saves –and brave ones too –were worthy of bonus money.
Second Half Fade
Though Everton were good in prolonged spells of first-half work they seemed to fade quickly in the second half. Considering the rain which had fallen and the gusting wind the general standard of performance was high. It was good keen football and only that tinge of doubt about Everton left one wondering. Moore and Donovan had a happier innings than Clinton and Rankin had against Oldham. Donovan's speed is not the least of his qualities and with Jones pursuing his almost solely defensive role so adequately against forwards who could not, or would not shoot, Leyland's job was comfortable. The Everton half-backs as a line did not complete with Jensen, Berry and Harris, but in attack Everton were far the better. They not only moved better as a line, but showed shots of power such as Wilkinson and the hard-working Gerrie and Atkinson could never match. Referee; Mr. Tickle, of Bradford, controlled this match only moderately, I thought; not because his decisions were wrong, but because many decisions he might have made were not made. Hickson's enthusiasm is tremendous; his unselfishness model, but one cannot help feeling that some of his challenges last night were to say the least "a bit much."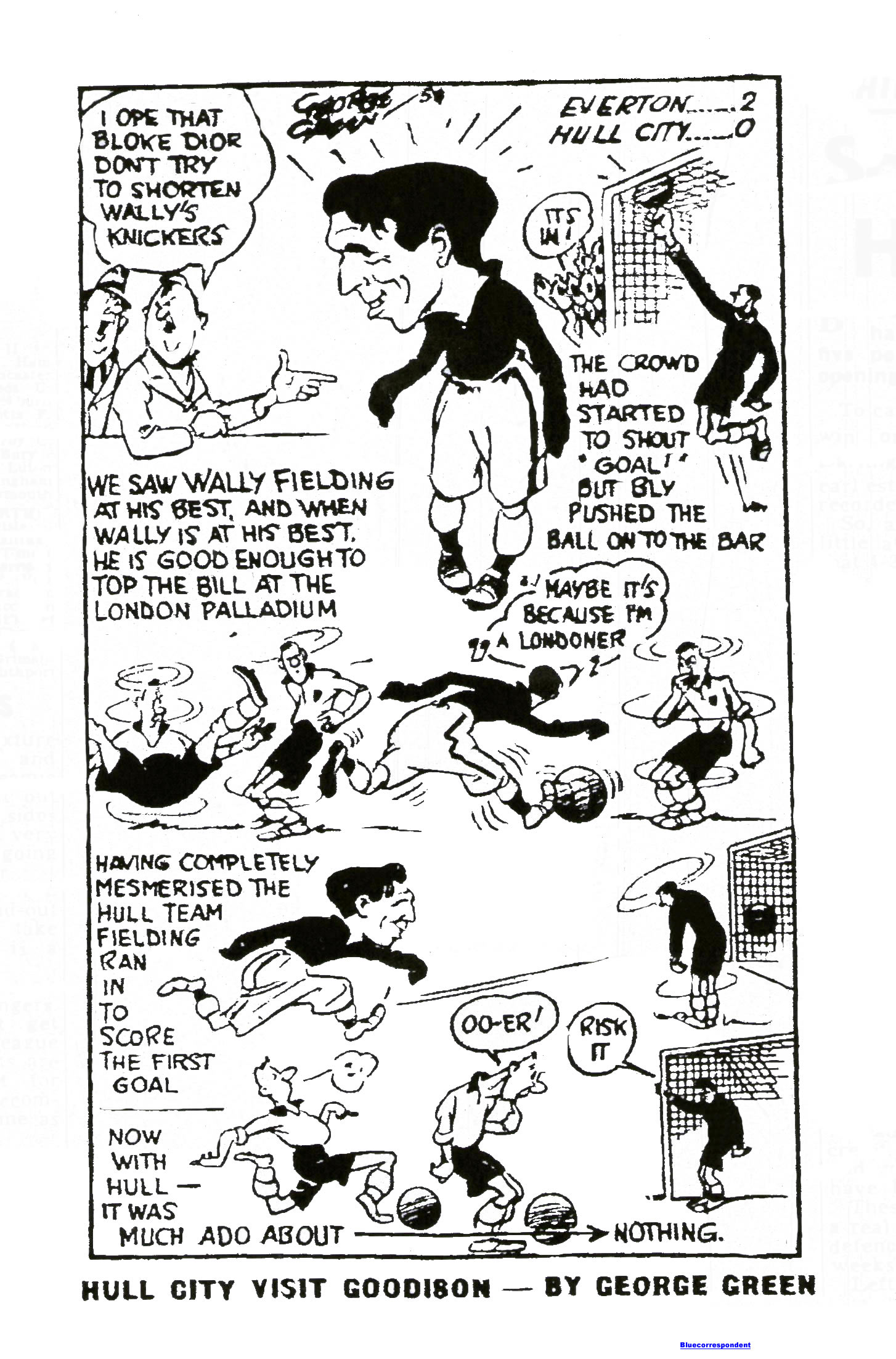 THE FLY IN THE OINTMENT
September 3, 1953. The Liverpool Echo
Everton's Improved Form
Ranger's Notes
There's always a fly in the ointment somewhere. For years Everton have been causing us anxiety to greater or lesser degree. Now, with Everton promising better things, it is Liverpool who are taking some of the joy from Merseyside's Soccer life.
Hull City may have gone away from Goodison Park feeling a trifle unfortunate not to get a point, and many will agree with them but if a team which can work the ball with such speed and precision repeatedly refuses to finish off with shots then they can only take what is coming to them. After reading all the glowing accounts of Everton's brilliant first half display at Hull a week ago I expected to see the Blues carve up the opposition in no uncertain manner. But they didn't. Everton had no real margin of superiority in the first half although they were a goal up. An early Hickson header which might have brought a goal when Bly pushed it on to the underside of the bar was balanced by a brilliant save by Moore on the Everton goal line. There was another Hull escape when Neal completed a clearance after a second partial save, but that also was equalled by Leylands fine full length save from Harris. Hull in short had as much of the play as Everton, but at least the goal the Blues got was a beauty well worked for and well taken. Hickson on started it with a centre to Eglington who returned it smartly for the on running Fielding to crash home and almost unstoppable shot.
Everton Relapse
Both sides this half had played good class combined football at the speed normally associated mainly with play of the kick-and-rush order. But this was no hooted and chase stuff. Some of the first time passing executed at top pace was an eye-opener, particularly from the opposition who were not expected to seriously extend the home lot. Then came in Everton relapse for half an hour in the second portion. Hull were well on top and it began to look as though Everton would do well to hold on to their lead. That they no pray did so but later increased it was due more to Hulls communed at attempt to "walk" the ball in than to any outstanding virtue about Everton. Though the home team was not without moments of glory during this period for three fourth of the time it was a case of the Everton defence struggling hard against a Hull attack which promised much but always failed because it seemed to lack faith in its men shooting ability. Their best efforts was a Gerrie back header which had everybody by surprised and was only a yard or so off the mark. Fagan missed a great chance when he fired high over the bar from close range. Then when Everton supporters were beginning to get a bit festive back came the Blues to show the visitors in three short, shattering moves how easy goal scoring can be.
Berry's One Slip
Berry who had played brilliantly all through made his one and only mistake when a headed clearance went to Fielding. Fielding sent the ball to Hickson, Hickson beat an opponent and crossed it to Buckle, and a well placed cross shot saw the ball nesting in the back of the goal again. All done almost in the winkling of an eye with speed precision and coolness. If only they will remember to shoot hard and often. Hull will play many worse games than this and win. On this showing they have the making of a good team particularly if they can dig up a little more effectiveness from their wingers. Jensen was their best player. What a great artistes was Dant international is, Berry also played well and was most unlucky with Everton's second goal.
Fielding Stars Again
Fielding stood out as Everton's star performer. His passing was the essence of timing, accuracy and intelligence and he switched play from wing to win with much sagacity. The ingers showed what they could do when the ball was cunning for them but did not always finish as they might have done. Hickson jusfied and bustled around but never looked like getting the better of Berry. Whom he treated almost unceremoniously at times though never ruffling him. During Hull's ascendancy in the second half Jones was not as sure as he normally is, but Everton's defensive covering was sound and Moore and Donovan stuck to their task well. Farrell and Lello never caved in no matter how often the Hull forwards kept coming back at them and in between did as much as anybody could have done to set their forwards going.
A Satisfying Game
Taken all round this was every satisfying game, part from the absence of shooting by Hull. It certainly kept the 35,026 spectators on the edge of expectancy. If we get nothing worse than this season here will be no complaints from this department. Everton took their two goals splendid and contributed considerably more to our enjoyment than just the gameness and determination which so often last season was the major claim in praise. There was an abundance of quickly executed constructive play and much accurate in passing with the ball, swung speedily from wing to wing and signs of the old close-touching of inside forwards. If this was not championship storm throughout it was certainly a big improvement in speed, effectiveness and sustained combination upon many of last season's Everton displays. The question now is whether they can not only keep it up but refrain in future from surrendering the initiative for so long to the opposition. Sides of even lesser general calibre than Hull might cash in.
SOCCER TRAPS AND TAPPINGS
September 4, 1953. The Liverpool Daily Post
By Leslie Edwards
Everton spectators deploring Hull City's use of offside tactics saw in these ruses a sign of defensive weakness. Whether their opinion was well founded or not Hull City persisted in them and the Everton attack frequently found itself impaled and unable to do much about it. The remedy against full backs playing the offside game is there, for the taking, yet only one Everton forward, Eglington used it, and that only once. The crux of the trap is not defence in depth, but defence in its shallowest form. The man in possession wheels this way and that seeking to find a channel through which he can pass the ball to a man who is not offside. Charlton an Old Sunderland forward –not unknown by Tranmere fans –had the perfect answer to the situation. He went straight through and having beaten his man, looked neither to right nor left but went as fast as he could to score at his leisure. He did it not once or twice, but literally dozens of times. Eglington's burst failed –he lost the ball –but how often might a man with his tremendous speed, spread-eagle defences and cause them to revert to more orthodox policy?
TWO SHOCKS FOR EVERTON, THEN EGLINGTON AND PARKER CAME TO THE RESCUE
September 5, 1953, The Liverpool Football Echo
Bury 2, Everton 2
By Ranger
After being two goals down in 18 minutes Everton did well to fight back to equally and maintain their unbeaten record. It was a hard and entertaining game with both sides fighting desperately for the lead Farrell shaped promisingly but the main honours went to the Everton defence. Bury;- Kirk, goal; McLean, and Massey, backs; Daniel, Hart and Bardsley, half-backs; Simms, Walton (J.A), Plant, Glendall, and Impach, forwards. Everton; Leyland, goal; Moore and Donovan, backs; Farrell (captain), Jones and Lello, half-backs; Buckle, Fielding, Parker, Farrell (A), and Eglington, forwards. Referee; Mr. G. Black (Kendall). Everton's only change from Wednesday was that Alec Farrell came in at inside left, Parker having to take over at centre forward owing to Hickson not being fit. There was a better gate than average the crowd being around 15,000 at the start. Farrell won the toss, but there was little advantage for there was neither wind nor sun. Everton were soon on the attack thanks to a Lello-Fielding pairing but a timely interception by the massive McLean prevented Farrell making a shot. The Gigg Lane turf was in excellent condition for good football though the early stages were a trifle scrappy. Jones had to kick into touch to foil Plant, who was bearing down at top speed. A corner to Bury brought no danger to Everton's goal, thanks to a lusty Donovan clearance, but a couple of minutes later Bury went ahead when plant scored with a header from Imlach's pin-point centre. Leyland made a good effort to fist away the winger's cutting centre but Plants just beat him to it. Bury a big strapping side were lively in attack, moving the ball quickly and running into position well and for some time the Everton defence was on the collar. When Eglington beat McLean for speed, Parker allowed the centre to run on in Buckle who returned it to Farrell. The young Everton forward however just failed to reach it in time. Donovan elected to give away a corner when harassed by Walton. The flag kick came to nothing, but Bury were hammering away at an Everton defence which was having a tough job to hold its own.
On Wrong Side
Everton's best effort was 30-yarder by Lello only a yard on the wrong side of the post. So far, we had not seen Everton attack functioning with either the speed or accuracy of earlier games and Bury were soon on the attack for Leyland to tip over the bar from Plant. This led to another Bury goal for from Imlach's corner kick Gleadall deflected the ball with his head well out of Leyland's reach. Farrell was crowned out before he could get in his shot from Parker's pass. Parker also tried a shot, but hit Hart on the leg. A free kick by Moore from near the half-way line also beat Kirk, who dragged it from under the bar in the nick of time. When Massey and Kirk impeded one another in coping with a Parker centre from the neat touch line. Buckle had an outside chance but before he could master the ball it had been scrambled away. To be two down in 18 minutes was a blow to Everton but at the 26th minute, after Kirk had saved brilliantly from Buckle, Eglington scored with a strong shot. The quick thinking of Parker, who let a pass from Buckle run on the winger, helped to make the goal. Everton were now beginning to settle down and for some minutes the Bury defence was kept at full stretch but apart from a Buckle hot, Kirk was not called upon. Jones again decided to give away a corner, rather than take risks when Simms a very speed winger, had round Donovan.
Parker's Hard Luck
Leyland cut out a high centre by Simms and form his clearance Everton dashed away for Parker to have hard lines when a placed shot was scrambled away on the line by McLean. Leyland made off another save this time from Gleadall. Everton were now hitting back and Buckle made a great attempt with a header being slightly high. Fielding was going like a trooper also Parker gave Hart some anxiety's moments but still Everton could not get to grips with Kirk. Thought Farrell had a chance of qualisering.
Half-time; Bury 2, Everton 1.
A nice move by Fielding and Eglington looked promising until the winger but hit centre too much and Farrell could not reach it. Leyland dealt capably with a first timer. For five minutes Bury had been doing all the attacking and some of the fire had gone out of Everton. Jones and the mastery of Plant and it was as well otherwise Bury might have gone further ahead. At the 63rd minute Everton broke away and leveled the scores. Eglington was the starting point of the movement. Farrell shot from close range, but when the ball was partially stopped by Kirk with Hart alongside him, Parker nipped in and made sure. Whether the ball was over the line when Parker connected it is impossible to say but equal credit goes to Farrell with Parker. Next minute Kirk made a smart save from Eglington and Everton with victory now possibly, were crowding on full sail. Leyland saved smartly under the bar from a venturous shot by Implach and for a moment the tide of battle turned in favour of Bury. Everton defence however was standing firm and Moore and Donovan were doing grand work. Eglington was injured when going to a pass by Farrell but soon recovered. Final; Bury 2, Everton 2. Official attendance, 17,960.
NOW THEY'VE GOT FIGHTING SPIRIT
September 7, 1953. The Liverpool Daily Post
Bury 2, Everton 2
By Rangers
Everton's fighting spirit has never been demonstrated to better advantage than by the manner in which they took a point from Bury after it had seemed from the early play that the home side was heading for a comfortable win. To be two goals down in eighteen minutes would have unsettled many a team. The contrary was the case in this instance, however, for it seemed that only when they realized they had a stern fight on their hands did Everton get down to their task with real determination. Previously they had allowed Bury, who had started off in most aggressive fashion, to dictate the run of the game. During this period the Everton defence was hesitant and the forwards showed none of the fluency and accuracy which had marked them in previous matches. Bury were quicker to the ball, more deadly in their tackling and had swept in front with such seeming ease that the outlook for Everton appearing anything but pleasing. Half-way through the first half however, Everton had steadied themselves and come more into the picture. After that Bury's superiority was gradually whittled down and, though Everton were never so completely on top that one could say they deserved to win, they had spells of superiority which saw the home defence more hard pressed than Everton's was. A draw was a fair result. Yet both sides had chances to win the game in the closing stages. Plant was guilty of the biggest miss of all, blazing high over the bar from a mere four yards range. It was harder to do what he did than to score.
Credit For Defence
At the end both defences came out of a hard and grueling game fought at a tremendous pace from start to finish with considerable credit. Leyland was sound from the start and made many brilliant saves, while Jones and the two backs played admirably once they had got over the rather shaky opening. Farrell was good, but I have seen Lello play better. In the forward line, Bury were the more ready to have a shot whenever the chance arose, and Leyland had considerably more to do than Kirk in the home goal. Nevertheless the Everton front line played well with Eglington and Parker standing out as the biggest danger and Fielding doing valiant work as provider in chief. Farrell making only his second senior appearance, shaped quite promisingly Bury's forward line as a whole moved more speedily than Everton's Eglington apart, but its passing was not always so accurate. McLean found Eglington's speed more than he could cope with and Massey by no means had it all his own way against Buckle, who twice, had terrific shots charged down, Walton and Glendall were Bury's best forwards, the latter in particular putting in some splendid shots. Plant opened the score for the home side in eight minutes with a header from Imlach's centre, and ten minutes later, after Leyland had saved brilliantly from Plant at the expense of a corner, the resultant flag-kick produced a second headed Bury goal to Gleadnall. A Buckle pass which was cannily allowed by Parker to run on to Eglington brought Everton's first success, the left winger scoring with a beautiful shot from the edge of the penalty area at the twenty sixth minutes. Eglington also had a hand in the equalizing at the sixty-third minute. He rounded McLean like a flash and passed to Farrell. The latter's shot was partially parried by Kirk and Parker, running up tapped if in.
Their Fifth Draw
This was Bury's fifth draw in six matches but on this showing they should not be long before they start winning. Their attack is good and against a less resolute side than Everton the defence might have held out all right. Bury supporters say this was the most satisfying game they have seen this season. There was certainly a quick succession of thrills and plenty of narrow escapes at either end many example of good goalkeeping particularly from Leyland and the issue was in doubt right to the last second.
• Everton Res 1, Derby Res 2
• Everton "A" 9 Brenka 1
• Everton "B" 1, Fleetwood Hesketh Res 0
EVERTON DID WELL
September 7, 1953. The Liverpool Echo
By Ranger
A point away is always satisfactory. When it is gained against a side which has established a two-goal lead inside 20 minutes it is even more pleasing. That was what Everton did at Gigg Lane, and though there were periods in the second half when it looked as though they might not be to hold on to equality, the defence stuck to its task manfully and came out of a stern and desperate test with honours. Right up to the last kick of the match it was anybody's game Everton had chances to win in the closing stages but never so easy a one as Plant missed from four yards. That was a real let-off for the Blues. Leyland was the busier goalkeeper of the two and made many splendid saves. Bury were not always as precise and fluent in their approach work as Everton, but whenever they got within striking distance they were eager to shoot whereas the visiting forwards, though delivering many good shots were not always as willing to have a go as they might have been. When Bury scored twice through Plant and Glendall in 18 minutes both, headed goals, it looked as though Everton had "had it" for the home side were quicker to the ball and the Blues rearguard up to then had looked anything but confident.
Confidence Restored
A grand goal at the 26th minute to Eglington restored Everton's confidence, and from that point onwards there was little to choose between the sides. Though territorially Bury had the advantage, and tested Leyland more than Everton called upon Kirk the visiting defence had now got its teeth into the job and their forwards had struck a better understanding. In addition to Leyland's smart saves, Jones stood out for his command of the middle and the backs held their own well against lively wingers. Everton's defensive recovering was particularly sound when Bury were hammering away in the early part of the second half, with Farrell and Lello leanding good support. Eglington was Everton's best forward, frequently giving the massive McLean several yards start in a sprint and beating him. Fielding foraged and distributed the ball well and young Farrell, though taking a while to settle down, shaped quite promisingly. It was his strong shot just after the hour which led to Everton's equalizer, for it had such power that Kirk could not hold it and Parker was there to accept the gift offering. This was Bury's fifth draw in six games, but on this showing they are a very useful side particularly in attack, where Glendall and Walton were lively raiders.
LINDSAY AND HICKSON BACK
September 10, 1953. The Liverpool Daily Post
By Leslie Edwards
John Lindsay, Everton's Scottish left back, makes his first League appearance of the season this evening in the away match with Notts County. Donovan switches to right back. Hickson, recovered from injury, returns to centre forward, Parker reverting to inside left, McNamara replaces Buckle on the right wing. Team; Leyland; Donovan, Lindsay; Farrell, Jones, Lello; McNamara, Fielding, Hickson, Parker, Eglington.
Tom Lawton Relinquish Post of Manager Of Brentford
Tom Lawton the former England and Everton centre forward caused a surprise yesterday by announcing that he had decided to relinquish the post of manager of Brentford in order to concentrate on playing. Lawton formerly with Burnley, Everton and Chelsea, joined Brentford from Notts County in March 1952 for a fee of about £12,000 and was appointed player-manager last January. Brentford directors started yesterday that they had agreed with regret "to Lawton's request. Their statement added, "Lawton feels that without the additional duties of manager he can be of much greater service to the club." It is understood that the Board have not yet considered the future managerial position of the club. Lawton who missed several matches through injury, will return to the Brentford attack against Doncastle today, but at inside left instead of centre forward.
HICKSON HAD THEM GUESSING
September 11, 1953, The Liverpool Daily Post
By Ernest Edwards
Notts County 0, Everton 2
Everton are progressing more favourably than most of us dared hope. Not only that, their win at Nottingham last night by a goal in each half to nil, means that their ratio of games away to home reads 5-2. There is therefore, a very good chance of the club staying in their present handsome position for a long time. The three players manager Cliff Britton introduced to the team –Lindsay, Hickson, and McNamara, celebrated the occasion by confirming his belief in them. Hickson has rarely played better. That he and Leuty were spoken to could not detract from the excellence of his play, particularly in linking the line and keeping it moving. He was such an affliction to Leuty that when the player was damaged in collision with McNamara fourteen minutes from the end his eave-taking must have had compensations. Lindsay, playing his first game of the season, had a highly satisfactory match though he would be the first to admit that his Notts County forward line tied itself up so often that his job was made almost easy. Parker, too, was part of Everton's power and so was Jones, who rescued his side nobly during the few minutes of the second half when County threatened to get a draw. Everton had enjoyed more than one scoring chance before Parker scored for them after thirty-five minutes, twice Hickson glided headed so accurately that the receivers should have gone on to get goals. First Parker was denied by a brilliant save by goalkeeper Bradley who also plays professional tennis, and then McNamara failed to keep his feet, and keep his head, and screwed almost completely round the ball when Bradley seemed certain to be beaten. Parker's goal was well worked, beginning at McNamara and going via a cross-field pass to Lello, whose through ball Eglington centred low to the near post. Parker's first shot was checked but he dragged the ball over the line at the second attempt.
Leyland's Catch
Though County largely because their attack crowded themselves into impossible positions so often never looked impressive, they did enjoy a spell in which they came near to making it 1-1. It was then that Leyland made a superb catch from McCormick to add to his earlier saves. Then at 78 minutes Lindsay lashed the ball upfield; Hickson nodded to over to McNamara and a short approach and a first-rate left-foot shot clinched the issue. A moment later Leuty went off, and a moment after that Referee Webb, of Leeds who had controlled the game well, had occasion to speak to Hickson and Southwell. Hickson's enthusiasm and dash seemed to be the thing which upset the others more than anything. Parker was almost equally good and found time to help in Everton's new style defensive depth. The defence got such good cover from the forwards in moments of crisis that County found the defensive covering an insurmountable barrier. There were more grounds for optimism about this victory than in some others Everton have scored this season and with Leyland's catching specially good, and Donovan fitting in at right back where he scarcely made a mistake it seems as if the team have gained in confidence and competence. Farrell was more in form last night than in any home game and if Fielding seemed to be in minor key it was because of the brilliance of Parker and Hickson,. Among managers present were George Martin, formerly of Aston Villa, and Bill Ridding, of Bolton. Riddling told me he was watching County players. It is not expected that Tom Lawton will return to Notts County as Manager. That appointment might go to Jack Nicholas., chief scout at Derby.
STERN TEST FOR EVERTON
September 11, 1953. The Liverpool Echo
Blues and Doncaster Have their Unbeaten Records At Stake
Ranger's Notes
Everton still unbeaten after seven games of which five have been away, will have what looks like being their sternest test tomorrow, when Doncaster Rovers also boasting an unbeaten certificate are the visitors to Goodison Park. The game should pull in the biggest crowd seem at any Second Division game at Goodison since Everton fell to the lower sphere over two years ago. Even though Everton cannot take leading place they are doing amazingly we considering their stiff opening programme of away games.
Everton win at Notts
By Contacted
Competence and were well full value for their victory. More the players brought back to the team, Hickson, Lindsay and McNamar, who performed specially well. Hickson being quite outstanding. There were times when he got at cross purposes with Leuty and with Southwell –the referee had occasion to warn all three – but the crowd were never in doubt that Hickson's liveliness and ability was responsible more than anything for his side success. Twice in the first half Hickson made lovely gliding headers which opened the way for others to score. Parker took the first offering and Bradley had to save magnificently to keep his shot out and McNamara but for losing his place would certainly have got on the register. Instead he almost kicked clean over the bar. Everton were on top when Parker scored for them after 35 minutes. McNamara started he movement with a cross-field pass which Fielding cutely allowed to pass over to Lello. The half-backs forward pass Eglington centred from the corner flag and Parker dragged the ball over the line after his first shot had been kept out. The County forwards, who provided each other badly and made three moves where Everton made one jolted themselves into life for a 20 minute spell in the second half, and it was then that Lindsay and Jones were at their best. The danger was not completely removed until the 8th minute when Lindsay's big clearance kick was nodded by Hickson to McNamara, who cracked in a lovely left foot shot to make the score two nil. Leyland's goalkeeping was first class. He not only made saves, but held the ball in sure hands. It seems that Everton are more settled in this department than for a long time Lindsay's thoughtful back play was balanced by an almost equally good performance by Donovan, who had the more dangerous winger to face, parker had one of his best games and if Fielding seemed rather more out of the picture than usual, it was probably because Hickson, and Parker were so scintillating Hickson never gave the defence a moment's rest, he took and gave knocks, and was usually a move too many for Leuty.
EVERTON UNCHANGED FOR TOP OF TABLE CLASH
September 11, 1953. The Yorkshire Evening Post
Although the "Derby" game between Sheffield United and Sheffield Wednesday at Bramell Lane will be the big South Yorkshire attraction, the clash between Everton and Doncaster Rovers at Goodison Park will hold the attention. A glance at the top of the second Division table tells the story Everton and the Rovers are the only two unbeaten sides in the Second Divison.
Doncaster p7 w6 d1 l0 f17 a4 pts 13
Everton p7 w4, d3, l 0, f 16 a8 pts 11
West Ham p7 w4 d2 l1 f17 a9 pts 10
It is possible for the Rovers to lose this game and retain the lead, for the margin between the two clubs goal average is such that Everton would have to register a runaway victory to gain top position on goal average, a very unlikely event because the Rovers have easily the best defensive record in the second division. Everton will play the side that beat Notts County last night. Hickson had a leg injury in that game, but is reported fit. Doncaster Rovers- Hardwick; Makepeace, Graham; Brown, Paterson, Teasdale, Tindill, Lawlor, Harrison, McMorron, Robinson. Everton; Leyland; Donovan, Lindsay; Farrell, Jones, Lello; McNamara, Fielding, Hickson, Parker, Eglington.
DONCASTER TEST FOR EVERTON
September 12, 1953. The Liverpool Daily Post
By Leslie Edwards
The encertainty of football is well exampled by Everton of last season and this. a year ago they began moderately. This morning they stand high on the football ladder, and maybe after victory against Doncaster Rovers at Goodison Park this afternoon they will go top. The odd thing is that the management is the same as it was and so are the players. How has it been done? Captain Peter Farrell, a good sportsman and a good judge of psychology says "We played just as well, this time last year but without getting the breaks. Manager Cliff Britton who took misfortunes last season as equitably as he is taking success this time, told me yesterday "I am completely satisfied. We have already played a quarter of our away games. I am not forecasting anything –you have to take this game from week to week –but I am hopeful that all is going to be well. This afternoon's test against Doncaster will complete a hat-trick of notable games against the side managed by Peter Doherty. First Bycroft and J.W. Parker were sent off last year, Tom Eglington had five goals in a Doncaster rout and this time if Everton maintain the form shown at Nottingham, I am sure they can beat their rivals and demonstrate thus early that Everton are the team for Division 1. Teams;- Doncaster Rovers- Hardwick; Makepeace, Graham; Brown, Paterson, Teasdale, Tindill, Lawlor, Harrison, McMorron, Robinson. Everton; Leyland; Donovan, Lindsay; Farrell, Jones, Lello; McNamara, Fielding, Hickson, Parker, Eglington.

ROVERS LOSE FIRST GAME IN BATTLE WITH LEAGUE CHALLENGERS
September 12, 1953. The Yorkshire Evening Post
Eglington's Goal in 4-1 Victory For Everton
By Hughie Goodall
Doncaster Rovers lost their unbeaten certicate today when they were beaten by Everton at Goodison Park, after the Belle Vue men Had opened the scoring. Once again the Everton left winger Eglington was the danger man to the Rovers and he had goals in the first and second halves which helped to give Everton, the League challengers, victory. At the last minute the Rovers had to play Arthur Adey at centre-forward in place of Ray Harrison, who had an injured thigh. Harrison told me h could have turned out, but he was afraid he might break down and so let down the side. Adey travelled from Doncaster today. Everton, who trounced the Rovers last year 7-1 –left winger Eglington scored five goals –relied on the side which beat Notts County 2-0. Everton; Leyland, goal; Donovan and Lindsay, backs; Farrell (captain), Jones and Lello, half-backs; McNamara, Fielding, Hickson, Parker, and Eglington, forwards. Doncaster Rovers;- Hardwick, goal; Makepeace and Graham, backs; Brown, Paterson, and Teasdale, half-backs; Tindill, Lawlor, Adey, McMorran, and Robinson, forwards.
More than an hour before the kick-off the crowds were milling around the entrance, while inside the ground, completely surrounded by two tier stands, presented a magnificent spectacle. There was a roar from over 50,000 throats as the teams turned out and the Rovers kicked off. A long thrust down the Everton left wing was easily turned back, but a free kick to Everton, which was cleverly hooked back by Hickson, looked dangerous until Makepeace stepped in to clear. Hardwick handled as Brown allowed the ball to go through and after McMorran had almost mesmerized the Everton defence before passing to Lawlor, the ball fell short of Robinson.
Long Shot
In another Everton drive Fielding encouraged by the crowd tried a long shot, but Hardwick had it well covered. A dangerous high centre from McNamara and a header from the winger as Fielding whipped the ball across again spelled danger, but these deep thrusts were sent back and then Hardwick saved one-handed from an Eglington corner in brilliant fashion. He turned the ball round the post and saved again from the resultant corner. A burst by the Rovers and a centre from Abey was intercepted by Lindsay, but a drive from lawlor was a good one and Leyland had to be quick to clear his lines. In a Rovers goalmouth scramble Parker and Paterson went up with Hardwick for the ball, but it rolled off their backs over the deadline. Running into position with real skill, Everton threatened the Rovers line, yet a chance fell to the Rovers. Their inter-change of positions and passing was as good as anything Everton had produced and when Robinson screwed the ball inside there was a great chance for Adey as the ball came to him off Jones foot but he was off balance and his shot flew wide.
Fearless Hardwick
The absolute fearlessness of Hardwick in coming out to clear had been a feature so far, but I thought he would be beaten when Makepeace missed Eglington, who dashed down the wing to serve Parker. The inside man had a great chance, but he decided to pass instead of shooting and happily his pass was intercepted. Then McMorran went on one of his elecrtriying busts and cleverly slipped the ball between two defenders to Tindill. This effort brought a corner, but Leyland came out to take it near the penalty spot. The Rovers were constantly being called upon to defend, but they did so steadily, the covering being very quick. Great work by Brown, who ran through and whipped the ball across to Robinson, enabled the winger to get in a volley but he was wide, and another attempt Paterson and carried on by Tindill was broken up. A shot on the run by the alert Robinson earned deserved applause. The Rovers were now coming into the game with skilful football which, if it did not just reach the target, was worth watching. Robinson beat two men in a length of the field move, got the ball over Tindill headed on to Adey, and Lindsay saved well. It was good stuff. There was more first time passing as Brown and Teasdale got into their stride to serve the men in front, but the cheers came for a great shot by McNamara who just cleared the bar with a sizzling drive.
Like Quick-Silver
The Rovers came back with Robinson like quick-silver, and Tindill missed with a low shot which would have beaten Leyland had it been a foot the other way. It looked as though the "toffee-men" had lost some of their early fire, and that the Rovers were gaining the initiative. Teasdale and Lawlor again swung the Rovers into action, and Leyland had to dive at Adey's feet. A corner to Everton on the left caused no trouble and then came a great goal for the Rovers. Grand interpassing between Robinson and Lawlor spilt the Everton defence, and as the ball came in Low McMorran hit it hard, Leyland was forced back by the pace of the ball, which went into the net for a wonderful goal in the 37th minute. Everton replied to this set back with tremendous zest and fire. They swept down the field and gained two corners in as many seconds. Makepeace certainly saved a goal by a kick-off the line from the second. But Everton were not to be kept out and in the 42nd minute Eglington scored a grand equalizer. He had time to pick his place as the ball came over from the right wing, and he let loose a pile-driver well out of Hardwick's reach. Excitement rose as Everton went all out for the lead.
Half-time; Everton 1, goal, Doncaster Rovers 1.
Watched Closely
The Rovers started the second half with the sun at their backs. An Everton attack was short-lived as Hickson, who had been so closely watched by Paterson put the ball behind. Another superb one-handled punch by Hardwick from a Parker lob and a puny kick as the open goal by Eglington were only two of the opening incidents. Others followed as McNamara raced away and Eglington, Parker and Brown wrenched for possession, and when Robinson pushed a high ball over Leyland dived and held the ball. But in the 51st minute Eglington again did the trick. He raced clear of Makepeace, cut inside, and although hampered he shot a great goal on the run. A minute later another fierce drive from the international went over the bar. Could the Rovers' defence hold these men in blue. There were times when it looked ragged, but the forwards kept on the move and Leyland again ran out to take a high ball. Eglington was the man to watch. He raced past Makepeace, and hit shot was too hot for Hardwick to hold.
A Grit Goal
But Graham got rid of the ball in a dangerous situation, and McMorran twisting his way past man after man, raised the hopes (and the cheers) of the Rovers supporters but he was wide of the mark. Another goal to Everton, this time a real grit and entirely due to a defensive mistake, came in the 60th minute, and the soccer Parker had nothing to do but soccer as he liked with two colleagues dancing in attendance. There was now a real danger of the Rovers going to pieces. Their defence was certainly unsure of itself against the speed and undoubted skill of the Everton attack. The forwards too, were not getting the same chances for the Rovers wing halves had their hands full. McMorran tried desperately to make the openings. Once he slipped through and gave Abey a chance he was not ready for and Tindell tried his luck with a direct free kick which went well wide. It was McMorran again and again who caught the eye, but the finishing was just not there. Tindill swithed wings and it was a drive from him which went nearest to goal, but the attack had lost a great deal of the snap and there looked no likehood of the Rovers reducing the lead. Indeed, it was Everton who scored again through parker in the 80th minute and it was scored as easily as if it was a practice game. In any case the inside man had only to run on to the ball from Hickson's pass to slip it gently into the net. Result Everton 4, Doncaster 1.
Comments
Whether Doncaster Rovers were over-awed by a crowd of 58,110 or not, it is a fact that when Eglington put Everton in front after a hectic first half the Rovers seemed to go to pieces. Their defence was often bewildered by the speed, skill, and resource of the Everton forwards, and every time they came down field a goal seemed likely. The forwards, too, lost their sparkle, and gave far too much time to the home defence to clear its lines. The Rovers were a disappointing side, especially when so much had been expected of them, but there was never any doubt that the better team won.
EGLINGTON IS AGAIN DONCASTER'S 'BOGEY MAN' AT GOODISON
September 12, 1953. The Liverpool Football Echo
Everton 4, Doncaster 1
By Ranger
Everton maintained their unbeaten record at the expense of Doncaster Rovers, who forfeited heirs in a hard and desperate game. Everton started a trifle shakily and had to fight back against a goal to Doncaster after 35 minutes. But there was no denying the home side's superiority once they got on level terms. One very encouraging feature was the readiness of all the forwards was to shoot hard and often, Eglington who got five against Doncaster a year ago, scored twice and had hard lines on several other occasions. Everton; Leyland, goal; Donovan and Lindsay, backs; Farrell (captain), Jones and Lello, half-backs; McNamara, Fielding, Hickson, Parker, and Eglington, forwards. Doncaster Rovers;- Hardwick, goal; Makepeace and Graham, backs; Brown, Paterson, and Teasdale, half-backs; Tindill, Lawlor, Adey, McMorran, and Robinson, forwards. Referee; Mr. J.H. Clough. There was a crowd of at least 50,000 before the start of this intriguing match between two unbeaten sides. Doncaster have dropped only one point in seven engagements and have been the surprise team in Second Division so far. The first real excitement was a shot by Eglington from just outside the penalty area which Hardwick caught just by the foot of the post.
Over-Eagerness
There was a howl from the home spectators when Hickson, who had his back to Paterson was brought to earth by the tall Doncaster pivot. It seemed to me a case of over-eagerness more than anything else but Referee Clough had a word with the Doncaster player. From the resulting free kick taken by Lello Eglington put Parker through on an angled position. Parker could have done better than pull his centre back behind his colleagues and has present the opposition with a simple clearance.
Busy Goalkeepers
In Everton's next attack Hickson pulled the ball behind Parker, when a pass in front of him might take produced a goal. He made amends shortly after with another centre from the right wing which Eglington header goalwards for Hardwick to make a simple save. Leyland saved successfully a minute later was nothing like to simple. The Everton goalkeeper had to throw himself to palm away an effort of Adey which was more good work by Robinson. Everton got away once more and McNamara let fly from 20 yards with a rising shot which just over the bar.
Determined Doncaster
Doncaster having got over their shaky opening were now showing something of the form that has been produced on the early matches. They went for the ball at top speed instead waiting for it to come to them and they tackled with determination. At the 35th minute they took the lead through McMorran who got his chance when Lawlor pulled back a centre only a couple of yards from the dead ball line and presented his colleague with a ball on to which he ran. McMorran hit it hard and true and through Leyland got it partially in his grasp it spun away over the line. Hickson hit one over the bar from a Lello offering and then came a couple of exciting minutes when three Doncaster goals had had narrow escapes.
Quick Equaliser
Hickson had slipped the ball out to Parker, Parker had moved it across to the winger and Eglington tearing in a top speed rammed the ball into the far side of the net with a goal which was almost a carbon of the one he got at Bury last week.
Half-time; Everton 1, Doncaster Rovers 1
Everton had a free kick when the was resumed a yard outside the penalty area, but the man on the spot kept his flag down. Hardwick punched over the bar a McNamara effort –Eglington toe-ended the ball behind when he was harassed by Hardwick and then the referee gave a free kick to Everton which I though should have gone the other way.
Eglington Again
Just when it looked as though Doncaster were getting their teeth into the game , away broke Everton to go ahead at the 51st minute. The scorer was Eglington, who will be remembered for his five goals against Doncaster last year –and he had to thank McNamara for his opportunity. The Everton winger, who had veered towards the centre circle, put the ball across to the inside left position, where Eglington, running in, held off a challenge by Makepeace and Paterson and scored with another fine shot. Again it was Eglington who drew terrific cheers from the crowd when he sold the dummy to Makepeace, was away like a flash and once more fired in a powerful shot which Hardwick could only parry for Graham to complete the clearance. There must be something about Doncaster which inspires Eglington for not only was he showing mastery along the wing, but he was shooting better than he has for many a long day.
Beautifully Worked
McMorran also got a cheer for a long weaving run of 30 yards which deserved a better fate than for the final shot to be off the mark. At the hour, Everton made it 3-1 with a beautifully-worked goal between McNamara, Hickson and Parker, who took the ball up in triangular fashion for 30 yards before Parker finished it off in the appropriate fashion to put Everton in a 3-1 lead. Doncaster were still pegging away, but all the fluency and balance had gone out of them, and Everton looked far the more likely side to score. McNamara had one just off the mark and Eglington another though not so close as his colleagues.
Tough Duels
Hickson and Paterson were having some tough duels and hard knocks at times, and Hickson who had done a lot of back—age work was still spreading the ball about nicely. McNamara had another pot shot this time well off the mark though he had ample time to take deliberate aim. Everton went further ahead at the 84th minute, Eglington should really have been the scorer but he badly muffed his shot from a Lello pass, and the ball running on to Parker instead of nestling in the net, provided Parker with a simple chance. Final; Everton 4, Doncaster Rovers 1. Official attendance 58,110.
ALL BRIGHT ON GOODISON FRONT
September 12, 1953. The Liverpool Football Echo
By Ranger
Top marks to Everton for their most encouraging start to the season, a better one, let me confess, than many folk, myself included anticipated. It just goes to show that what has happened one winter is a very erratic guide when estimating the probabilities of the next. Everton's final 15 games last winter, in case you have forgotten, brought them only 12 points, with 22 goals on the credit side and 34 against. That didn't look to hold out much hope for a promotion bid this season. Fortunately, things don't always go the way they appear to point. That applies in all directions as Arsenal, Manchester United, Sunderland, Luton, Fulham and a few others could tell you. We may be on the crest of the wave one season and down among the dead men the next, of vice versa. In Everton's case it is the vice versa which applies, for which we are all truly thankful and nobody more so than Chairman Ernest Green and manager Cliff Britton. Full credit to both these Everton officials for never losing faith in their vowed policy of the past few years. I've been with them there. This column has said on many occasions that in the long run Everton's policy would pay dividends. I have never felt otherwise, even though the pre-season practice display by the younger professionals rather shook me for a moment. That, however, was too bad to be true, and subsequently events have proved that my estimate of that game was right. We won't go again into the hoary old argument of whether Everton could have prevented their entry into the Second Division. That is all ancient history – though it still stands as a warning to Liverpool who now seem in the same position that Everton were a few years back, with their former stalwarts getting older together and the younger professionals lacking in experience, although four of the latter did well at Molyneux as you read later. Mr. Ernest Green after a life time of intense devotion to Everton has not been able, owing to personal circumstances to see the Blues recent away games. He has kept in close touch, however, making an almost dally visit to Goodison and must now be decidedly pleased at the encouraging turn events have taken. His remarks at the shareholders annual meeting and again when welcoming the players back for training look as though they may come true. He said on each occasion –fixing me, I seemed to imagine with a rather steely glance –that he felt Everton last season had played good enough football on many occasions to warrant optimism for the coming campaign. He instanced their excellent Cup performance and some of their good League victories as basis for his contention. There were some who felt that other and not so distinguished performances rather weakened the case.
A Tempting Vista
Be that as it may, we can now rejoice in Everton's splendid start gave credit to all concerned, and sit back and contemplate the tempting vista that begins to open out before us. I hope that today's game against Doncaster Rovers has not knocked that vista a bit out of focus! There is a tremendous long way to go yet though. The race is not always to the quickest starters. We have seen that demonstrated on many occasions. But at least Everton have the immense psychological advantage of their best opening to any season since the pre-war championship year, and the team should now have abundant confidence in its ability to at least keep up among the leaders. We will not put it any higher at the moment. Later, if they continue as they have started, we can begin contemplating the possibility of promotion. I like the sound of the word – now. When it has been used n relation to Everton in the past couple of years it always had too much of a wishful thinking angle. Today there is some solid justification.
A Good Marksman
Those Everton supporters who first had not seen Gordon Stewart before this game have been a little disappointed that the Canadian did not reproduce the same constant stream of a curate passes that he served up against Wolverhampton Wanderers. That was not altogether his fault. The wind was decidedly tricky, and Stewart did not get as much of the ball as he might have done. But he still compared faourably with both colleagues and opponents in passing and in addition showed not only willingness to shoot but also power and direction with right or left foot. Stewart will be a very happy man a few days hence, when his wife and two-months-old son arrive here. Now that he is a professional they are going to live in Liverpool and Gordon naturally is looking forward to seeing them.
EGLINGTON ENDS DONCASTER HOPES
September 14, 1953. The Yorkshire Post and Leeds Mercury
Everton 4, Doncaster Rovers 1
Doncaster Rovers surrendered their unbeaten record at Goodison Park where the better team won. The first half was a ding-dong struggle which sent the crowd of 58,110- the largest ever to watch Doncaster –into a fever heat of excitement and that the teams were level at the interval was a fair indication of the play. Doncaster opened the scoring with a grand goal by McMorran in the 38th minute but five minutes later winger Eglington equalized with a goal of equal merit. Eglington's brilliant second goal set the game alight at least so far as Everton were concerned. From that point onward they were the complete masters and at one stage there was a real danger of Doncaster falling to pieces. Everton's fast ad clever forwards were a fast and clever forwards were a menace every time they had possession. McMorran tried hard to rally the Doncaster attack but it became almost as ragged as the defence and there was no occasion for surprise when Parker added to the home side's lead and then produced his second and Everton's fourth goal 10 minutes from the end.
LONGER THE BETTER FOR EVERTON
September 14, 1953. The Liverpool Daily Post
Everton 4, Doncaster Rovers 1
By Rangers
Everton's victory over Doncaster was even more pronounced than the score suggests and if their forwards had taken some comparatively simple chances the Goodison club would be top of their division on goal average. As it is, they are now the only unbeaten side in their section. Once the home side had equalized Doncaster's opening goal there was never any doubt of the outcome. Before that the game had been fairly evenly balanced Everton had started well then lost their grip when Doncaster began to display something like the forth anticipated from a club at the top of the table. The visitors took the initiative for a time largely because they started going for the ball with speed and determination, while Everton were content to jog along without unduly exerting themselves. As has happened before this season, it took a goal to the opposition to jolt the home side out of their complacency. After that it became almost one-way traffic. Doncaster went in front at the thirty-fifth minute through McMorran who all along was their star forward. Leyland partially unsighted made a gailliant but unavailing effort to save, the ball slipping out of his grasp, and trickling over the line. This was their spur which Everton needed. They metaphorically rolled up their sleeves and set about remedying things in very determined fashion. Though it was not without a stern and sometimes other relentless struggle that the initiative was finally wrested from the visitors once Everton had got in front there was never any danger that they would sacrifice even one point. The longer the game went the more clear their superiority became. No that they had it all their own way entirely. There were occasional periods when Doncaster looked as though they might make a real fight of it, but these were all of brief duration. Not only did the Everton defence get the measure of the Rovers forwards –always excepting McMorran –but the home front line became better and better in everything except finishing. Eglington who had scored the equalizer five minutes before half-time with a great shot, put his side ahead 11 minutes later with one equally as good, and Parker extinguished. Doncaster's hopes with a third at the hour. Three goals to Everton in 20 minutes was enough to take the heart out of even such dour and dogged fighters at the Yorkshire sides. Though they never gave up trying. Doncaster seemed to realize that the cause was lost. Another goal to Parker six minutes from the end completed the scoring. McNamara also should have had at least one and Eglington might have made his tally four instead of two, but any greater margin than the eventual result would have been an injustice to the losers. Everton were sound in every link once they had really buckled down to their task. Leyland has seldom played better, the backs and halves were sound, and the attack was speedy, incisive and well-balanced. McNamara had his best home game and Eglington shot frequently and accurately. While Doncaster failed to live up to their position as League leaders they showed that they may yet be a force to reckon with. They will not meet many teams of Everton's calibre. Makepeace had a worrying afternoon and Hardwick fumbled the ball too often, yet had no chance with the shots which passed him. Paterson did well against Hickson, but Tindill and Robinson after starling promisingly, faded away.
HAPPY DAYS HERE AGAIN
September 14, 1953. The Liverpool Echo
All Bright and Promising On The Goodison Park Front
Ranger's Notes
The old adage of nothing succeeds like succeeds like success may be trifle and back nerved but it is pithy and trustful and for evidence of that we have no need to look beyond Goodison Park. Everton's performances in their opening three away matches gave them a belief in themselves which has become more pronounced with every succeeding game and they display against Doncaster Rovers was they best so far. They were not entirely convincing for the full 90 minutes against Oldham, Hull City at home or Bury, but apart from a little while in the first half against Doncaster there was never any doubt regarding the outcome. And that heary old saying was proved right again in the size of Saturday's attendance. A crowd of 58,110 speaks for itself. It means that happy days are here again at Goodison. Once upon a time and not so very long ago, whenever Everton were behind they seemed to lose heart. Nowadays the knowledge that they have a deficit to wipe out seems to give them renewed vitality and spirit. If I add that this is one of the main attributions of a championship side don't assume that I am expecting promotion this early. There is a long journey ahead but at least Everton have made an encouraging start and if they can maintain the form they have displayed so far then promotion will undoubtedly come within the realm of possibility.
The Spur They Needed
As in some previous game this season it needed a goal to Doncaster to shake them out of a certain moment of complacency and even occasional slight touches of lethargy. But once they had got really down to business the danger of losing even a point never seemed likely. Doncaster had started shakily then taken the initiative by the simple expedient of making sure they were first to the ball. It was during this period of ascendancy that the visitors went ahead through a goal by McMorran which Leyland made a good but unavailing effort to top. Then Eglington remembering his nap hand of a year ago started to shoot with a power and accuracy that swung the game round. A brilliant shot almost a carbon copy of the goal he got at Bury leveled the reckoning before half time and another smasher put the Blues in front. A grand bit of combination by McNamara and Hickson and Parker – originally springing from a misjudged back pass by Teasdale –brought goal number three all within a space of 20 minutes.
Putting It Right
And that was that so far as Doncaster were concerned. It was now on a question of that final result would be and neither the visitors still struggling hand but without their early influence and balance could reduce the margin. Instead a goal by Parker further emphasized Everton's superiority and looked to me as though Eglington in his case had need a shot himself and failed to get hold of the ball alright, but I am told this was no so and that the Irishman did what he tried to do which was to unselfishly side foot it to make a certainty of goal to his colleague.
EVERTON'S FRIENDLY
September 16, 1953. The Liverpool Echo
Ranger's Notes
Everton have concluded arrangements to play a friendly flood game against Exeter on Tuesday evening, October 13, following their away game the previous Saturday against Plymouth. They also had an invitation to play a similar match against Aldershot on Monday, October 5 after their visit to Brentford a couple of days before. This has been turned down as the club does not wish to take on too much particularly now that things are running so well for them. The main aim is to sustain the present satisfactory position.
Eire F.A. selectors who were at Goodison Park on Saturday can be counted on to turn a very favourable report about Donovan, Farrell, and Eglington, whose release is almost certain to be requested for Eire's match against France on October 1. So far however, Everton have had no word. O'Neill may also be sought even thought he is not playing in the first team. He was on the Eire line up against Austrial at Dalymount Park last March and played brilliantly.
TEEN-AGERS V. EVERTON
September 17, 1953. The Liverpool Daily Post
Llandudno 0, Everton 2
With a much weakened team Llandudno put up a good show against Everton in John Humphreys benefit match at Llanudno last night. Llandudno –born Humphreys (now in a North Wales hospital) was formerly an Everton centre-half and gained an International cap for Wales against Ireland in 1947-48. Hero of both sides was without doubt fair-haired, seventeen-year-old Brian Evans the Llandudno goalkeeper, who time and again saved magnificently. O'Neill in the Everton goal was never seriously troubled. He saved a grand cross shot from Seth Edwards in the closing stages. After 26 minutes Easthope scored following a solo run. Everton took complete command in the second half and the Llandudno defence did well to allow only Saunders to net, the second in the 68 minute.
EVERTON AT EWOOD
September 18, 1953. The Liverpool Echo
For years Ewood Park has not been one of Everton's most fortunate grounds. They have seldom won there and despite the splendid opening and first class display against Doncaster last week it will take their best performance to preserve that unbeaten record tomorrow. One can to some extent forget Blackburn's debacle at Lincoln. There was nothing to excuse it in the way of injuries but Manager Johnny Carey told me that on that days form Lincoln would have beaten any side. That Lincoln shock is Blackburn's only defeat so far. Strangely enough however their home performances have not been so good as some of their away displays. They could only draw at Ewood with Bristol Rovers and Brentford and defeated Notts County a Blackburn by no greater margin than Everton registered against The County at Nottingham. If they play as well as against Doncaster Rovers they should still hold an unbeaten certificate when the final whistle goes. Most of Everton's goals this season have been the result of accurate and progressive bouts of combination, which in some cases have seen them take the ball half the length of the field and get the opposition dizzy by their accurate and swift passing. Parker so far had borne the brunt of the scoring. He has ten goals to his credit, which is exactly half of the team's total. With Eglington claiming four it is clear that opposing defences in future are going to pay very close attention to the Everton left flank. This may open the way for Hickson who has been rather unlucky as a marksman so far. Fielding's foraging and determination has been brilliant all through and if he keeps it up tomorrow there are going to be plenty of scoring opportunities for his colleagues. Everton will be unchanged for the third successive match. The home club will turn out the same side that defeat Hull City at Hull last week, namely; Blackburn Rovers; Elvy; Suart, Eckerley; Smith, Kelly, Bell; Campbell, Crossan, Briggs, Quigley, Glover. Everton; Leyland; Donovan, Lindsay; Farrell, Jones, Lello; McNamara, Fielding, Hickson, Parker, Eglington.
HANDICAPPED, THEY FOUGHT WELL
September 21, 1953. The Liverpool Daily Post
Blackburn Rovers 0, Everton 0
By Stork
Everton were as pleased with this draw at Ewood as they were over some of their victories, for Blackburn is one of their bogey grounds. They were even more pleased to think that they had half laid the bogey with ten effectives during the second half. I cannot say that Everton played well, but I can eulogies their fighting quality. They went to Ewood fearing the worst, so it was highly satisfying to take a point and retain their unbeaten record. This was no thriller, but it was tough going for Everton especially after McNamara's departure, five minutes after the interval, with a strained ligament of the right leg. Had not McNamara been limping and moving painfully, I think he would have won the match for Everton. Near the end a chance came his way and regardless of his conditions he made a galliant effort to shoot beyond Elvy. He had to stand on his injured leg to make his shot, which passed outside. Blackburn were the more dangerous looking side and Leyland, after twice misjudging centres from the wing, stayed on to play a noble part. He made grand saves from Quigley, Bell, and Crossan, but never did the Rovers attack completely master the stubborn Everton defence. Nor had Everton great striking force. It was left to Eglington to give Elvy his greatest worry. The game suggested that both sides were over cautious and dainty in their approach, as though they were fearful of each other's record. There was some clever by play in the first half, but not enough punch when the goal was sighted. Not a shot was forthcoming from Parker, Fielding or Hickson, yet when Eglington sped down the wing there was always obvious danger.
Finger-Tip Save
One of the closest things to a goal came from an Eglington header which almost had Elvy beaten. Only his finger-tips enabled him to get the ball round the post. I rated Bell's shot as the best of the Rovers' efforts, although a header by Quigley had to be security held. When McNamara went off I expected Blackburn to take advantage of Everton's handicap. But the Everton defence battled along gallantly, often under great stress and managed to keep their goal intact. Everton have the heart these days. The defence never spared itself. Hickson got little scope from Kelly and the best forwards was Eglington with McNamara until he was hurt, a good second. The Rovers attack showed promise not fulfilled. Jack Grant who came in for the injured Farrell at the last minute did quite well in a defence which came out of the game with much credit. Blackburn Rovers; Elvy, goal; Suart and Eckersley, backs; Smith, Kelly and Bell, half-backs; Campbell, Crossan, Briggs, Quigley, and Gliver, forwards. Everton; Leyland, goal; Donovan and Lindsay (captain), backs; Grant, Jones and Lello, half-backs; McNamara, Fielding, Hickson, Parker, and Eglington, forwards.
• Everton Res 0, Blackpool Res 1
• Everton "A" 0, Formby 3
• Everton "B" 3, New Brighton Res 1
• Bootle Co-op Y.C.J 3, Everton 10
CORBETT CRESSWELL
September 21, 1953. The Liverpool Echo
Ranger's Notes
For eighteen months or more Liverpool have been "wooing Corbett Cresswell, so of ex-Evertonians Warney Cresswell but have requested that their approaches should be kept dark. Their feared that somebody else might jump in ahead of them although hitherto Cresswell senior and junior had turned down offers from a dozen or more clubs. Young Cresswell an amateur centre-half with Bishop Auckland is said to be a brilliant player.
ONLY ONE SHOOTER
September 21, 1953. The Liverpool Echo
By Stork
I don't know whether I like enclosed "Press-Boxes." They are very welcome in the depth of winter, but no matter what the weather I never seem to get hold of the environs of a game from an "indoor" view-point. You don't get the sounds –the shouting the urging one of the team and things seem uncommonly quiet. It was like that at Blackburn. I mentioned this to a number who had been in the paddock and they agreed with me that it was not a game with many outstanding features to enthrall one. The goalkeeping of Leyland was one of them and it was he as much as anyone else who enabled Everton to half-lay a "bogey" on a ground which has yielded Everton very little in the past. Everton did not play well, but they fought well, particularly so after McNamara had been injured five minutes after the interval and was a passenger for the rest of the game. Both teams seemed to be fretful of the issue –were not prepared to take many chances at least, not when near goal. That may seem paradoxical in view of Leyland's heavy duty and brilliant saves, but I am considering only three saves of his – the best he will ever make.
Good Field Plan
There was much good football in the outfield in the first half, yet it was never of the thrilling order quietly made approach work which usually found an ending when it reached the opposition defence. Had Everton not lost the full service of McNamara I think they would have won, for even under their handicap they were capable of striking at Elvy's charge but most of his work came from one man –Eglington. He shouldered his burden willingly but should not have to do so. I cannot recall a shot from Fielding, Hickson, or Parker who were below their best form but Blackburn's attack was not one bit better for apart from Quigley, one from Crossan and a "blinder" from Bell, the rest of the attack could be written off as a potential scorers. What a pity an Eglington centre had to come to injured, McNamara who had taken up correct position but had to take his shot standing on his injured leg. He knew he would suffer pain and agony to make that shot yet gallantly took the chance the ball slewing outside.
Eglington The Best
I felt sure a fit McNamara would have cracked that one to the back of the net with avidity. Elvy had to make several good save, from Eglington the best of the Everton forwards. His speed was a thorn in the side of the opposition and how Elvy got across to his close in header I will never know. It was hard going for Everton reduced in efficiently for half the game, but they stood their ground magnificently and if Jones was not so dominating as usual he refused Briggs a shot at goal. Donovan and Lindsay covered up well and Grant playing for the injured Farrell put in a lot of hard graft. Up to the time of his injury strained ligaments McNamara was giving England full back Eckersley, a leap of trouble.
There is a possibility that McNamara may be out of the Everton team for a least a fortnight, possibly longer, through the injury received at Blackburn. His knee is badly swollen and until this has subdued the exact extent of the damage cannot be asset, but it seems as though it may keep him out for a few weeks. Farrell is almost certain to be fit for Wednesday's home game.
THANKS FOR THE MEMORY
September 21, 1953. The Liverpool Echo
Ranger's Notes
I told you last week what Peter Doherty had to say about Everton's roar. Burnley's chief Manager Frank Hill used almost the same words about Liverpool.
Visiting teams and officials greatly envy the wholehearted support out clubs get in every home game. Tis was referred to by Mr. W.H. Sawyer, president of the Everton Supporters Federation, when members of the Federation had a dinner and social evening after returning from Blackburn on Saturday. Mr. Sawyer referring to Everton's encouraging start and expressing hopes that it would be maintained until promotion became not a possibility but a certainly, said the encouragement of the supporters had been a very vital help. Goodison spectators had responded magnificently to "Ranger's Hampden roar appeal he said, and he hoped they would keep it up through thick and thin. Another pleasing angle of the evening was the evidence of further harmony between the Federation and the Shareholders Association which showed that the "Help not hinder" motto is being carried out. Mr. Jack Taylor and Mr. Dave Richardson, chairman and secretary of the Association were guests of the Federation and Mr. J. McCall, chairman of the latter occupying the chair. Everton Shareholders and followers have had many long and bitter fights in the past. It is good to know that a happier and more harmonious spirit aboard and thanks due to Messrs Sawyer, McCall, Taylor and others who are helping to bring this unity and long will it continue and flourish.
EVERTON ARE AT HOME AND JUNIOR DERBY AT ANFIELD
September 22, 1953. The Liverpool Echo
Ranger's Notes
The programme of midweek soccer matches is now drawing to a close after nearly a quarter of the season's fixtures have been polished off in five hectic weeks. Everton have the last of the series tomorrow evening when Notts County are the visitors to Goodison Park in the afternoon, Liverpool and Everton reserve teams meet at Anfield. Everton have made two changes compared with the side which drew at Blackburn. As Farrell is fit again he resumes at right half, to the exclusion of Grant, while Buckle comes in at outside right for McNamara who received a nasty knee injury at Ewood Park on Saturday. While these Everton changes were expected some of those which have been made by Notts County are rather startling. Leon Leuty who as a centre half has gained representative honours and at his peak was in the running for an England cap, is being tried out at centre forward, where he takes the place of Cecil McCormack, ex-Barnsley, who cost County over £20,000. Leuty has not played since he was injured against Everton a fortnight ago.
County's Debutant
Making his League debut for the visitors will be 21-year-old outside left Wills, who recently came on a month's trial from Wolverhampton and has just been signed permanently. At inside right there is another change. Here R.A.F Flying Office Fred Lovell, an amateur is recalled for his third game of the season. There may also be a late change at centre half, although veteran Baxter is named there at the moment. These are the teams;- Everton; Leyland; Donovan, Lindsay; Farrell, Jones, Lello; Buckle, Fielding, Hickson, Parker, Eglington. Notts County; Bradley; Southwell, Deans; Allen, Baxter, Jarvis, Wylie, F. Lovell, Leuty, Johnston, Willis.
It is hard lines on McNamara that he should be laid aside just now for since he was recalled his good form has silenced those who had hitherto been his strongest detractors. Had he been able to carry on the confidence he has gained from his last three outings would have stood him in good stead. While sympathizing with McNamara in this setback, Everton's effectiveness should not be disturbed, for Buckle has also been in good form this season.
Blues Should Win
Notts County hardly look a very severe threat to the Blues unbeaten record, though this season has provided such a succession of surprises that nothing can be ruled out as impossible however improbable it may seem. Having made that reservation, let me say that I am anticipating another two points being added to Everton's growing tally, always providing that the team hits it off as it has done so far. The County's forwards have not found the net once in their last four games from which they have taken only one point. The longer a forward line goes without scoring the nearer comes the time when they will break the ice again. The Midlanders may do that tomorrow, but they will find it a tough task against the home rearguard which has latterly perfected an understanding and solidity which has been growing in strength week by week. It will be interesting to see what sort of a shape Leuty makes in his new berth. Since sacrificing three goals to Nottingham Forest in the opening match of the season Everton have had only six put into their net in the subsequent eight games, during which Leyland has been the man beneath the bar. Donovan has also done splendid work, and is probably the most improved player in the side this season.
A Shaky Defence
In singling out these two for special mention I do not wish to minimize the grand displays of Jones, Lindsay or the wing halves. These two are named because they have had to fight for their places this season on the strength of their performances. The others, rightly or wrongly, we take more or less for granted as established "regulars." Notts County's defence has been giving rather a lot of goals away this campaign, Leeds United put six into their net in the first game. Doncaster got five at Nottingham, which was a real knock-out blow, and altogether County have forfeited 20 goals, with only nine on the credit side. As Everton won at Meadow Lane a fortnight ago, the Blues have the opportunity to record their second "double" of the season. To do so would be some consolation for that heavy defeat at Goodison two years ago when County then enlivened by the presence of Tommy Lawton, dismayed Everton's supporters by a 5-1 victory, and 20-years-old Jackson just out of the Forces, had a gala day with four. Victory for the Blues tomorrow would do much to wipe out this unhappy memory. On the basis of recent form should come.
Junior "Derby"
In the afternoon (kick-off three o'clock) Liverpool and Everton Reserves play the return junior "derby" at Anfield, so that half-holiday folk can wind up the mid-week jamboree series with a double feature outing.
When the pair met at Goodison a fortnight ago Everton Reserves were the better team and fully merited their 2-0 victory. This time Liverpool will be hoping to get "revenge" and with the up-and-coming professionals of both sides on view there should be a useful crowd to see what promises to be another attractive struggle. Everton Reserves; O'Neill; Clinton, Moore; Grant, Woods, Melville; Mayers, Farrell, Wainwright, Stewart, Easthope.
Make A Note Of This
Although tomorrow sees the end of League mid-week fixtures, make a note now of a friendly game for next week which should be well worth your support. Next Wednesday Everton will entertain the Army, whose side is composed of some of the finest young professionals in the country, all with senior club experience. Everton will have out their full first team, assuming all are fit. The kick-off is 2.30. Further details will be given here in due course.
EVERTON WON BY A DISTANCE
September 24, 1953. The Liverpool Daily Post
Everton 3, Notts County 2
By Leslie Edwards
Another example of now misleading scores can be. Everton was by a distance, yet while the register stood at 3-2 there has always the lurking far that a game well won would prove as a game only half-won. Fitfully as that Notts County attack functioned a draw was "on" until the end. That it did not come was more due to Everton's exasperating finishing than to the splendid goalkeeping of Bradley, whose knockies and wrists must have been sore from taking so many hence shots. The goalkeeper, a stylish, deserved his ovation and so did the stocky little full back Deans, who kept his head and his feet when the Everton side threatened to engulf him and his side. But before Everton could win they had to battle again, from being a goal down. At the sixth minute full back Southwell crossed a long ball for which Donovan and Leuty shaped in the air, Leuty feinted to head, but let the ball pass on to the debutant Wills, at outside left, and a right foot shot of no strength (but having the greater merit of direction) passed out of Leyland reach into the net. Everton almost unbelievably confident and full of themselves then settled down to wipe this goal and Notts County off the map. Their sustained pressure crowned again and again by good shots, lasted for almost half an hour and still they could not break the sound (Bradley) barrier. Buckle came inside and had the ball running just right for one of those tremendous drives for which he is famous. Hickson delivered a cross-shot producing an outstanding Bradley save then, at thirty-five minutes a Hickson-Parker combined operation opened the way for Hickson to "plant" the ball rather than "paste" it for the equalizer. Before the interval Buckle hit the post and Hickson the other, and still Everton could not get their heads in front.
Unselfish Pass
Eglington's long wing run nine minutes after the game had restarted, might have finished gloriously or ingloriously in an angled shot; instead he chose to turn the ball inside to Hickson. A side-footed, safety-first shot made it 2-1. The game had scarcely restarted when Leuty headed against the bar and Johnston with a close-up header leveled the scores. With the defence appealing for offside, and with some reason, Eglington taking up a Hickson pass put Everton in front, and from that moment they toyed with opponents who though completely outclassed plodded on gamely and purposefully and had their moments. Yet until an injury to Southwell caused changes in the last fifteen minutes –Leuty then went back in defence –the Leuty at centre forward gambit was shown to be a hopeless one. Jones played him completely out of the game. All the excellent spade work of players like Jarvis, Deans, and Wylie (who lives up to his name and has dash to make him even more elusive) went for nothing with the centre-piece of the line, so tangled in Everton's defensive web.
Revealing Confidence
Everton were a better side than when they won against the same opposition at Nottingham. Their long run without defeat shows in their play. They have confidence they have fight and they have shots where they used to have little desire to shoot. One of the puzzling things about the game was how Notts County contrived to score twice against a defence which held them so easily at almost every turn. These unaccountable lapses and the failure of the forwards to take toll from excellent attacks are things Everton must guard against when the opposition is more punishing. It was a game too one-sided to be great. Everton were so far ahead in every way that one sensed they should win when they stood 1-0 down and Bradley was at his most uncourageous. Some lovely triangular Everton moves meant that Eglington and Buckle were always dangerous. Given a Hickson and a Parker more in love with their shooting it could have been a rout. But even Everton's shooting was good by comparison with their opponents, whose timidity and lack of confidence ruined hard-earned scoring chances. With Leuty out of the picture and young Wills overshadowed by Donovan the Everton defence was rarely in trouble I like the way they maintained Everton on the offensive for long spells in the first half by playing far upheld and boldly cutting in to take the long flung passes by which Notts County hoped to get themselves out of trouble.
Art Master
Lindsay played Wylie well his rapping of one long high ball and his unfulled pass almost in the same movement was football all at the highest. So was the way Fielding hit the ball accuracy in long penetrating passes to the far outposts of the Everton attack in nearly every case he put the defence on the wrong foot and the wrong place. Quite the equal of the Everton half-back was young Jarvis on the left. One is left wondering how far his side would have fnished had he and Deans not done their work so well. For Hickson the game was a mixed one. He scored twice with cutely placed shots, he swept his passes unselfishly to either wing, but he did not quite come off. Yet as a whole, this was yet another heartening example of the unbeaten Everton. They are nearer now in figures and in play to Division 1 than at any time since they left it. Everton; Leyland, goal; Donovan and Lindsay, backs; Farrell (captain), Jones, and Lello, half-backs; Buckle, Fielding, Hickson, Parker, and Eglington, forwards. Notts County; Bradley, goal; Southall, Deans, backs; Allen, Baxter and Jarvis, half-backs; Wylie, Lovell, Leuty, Johnson and Wills, forwards.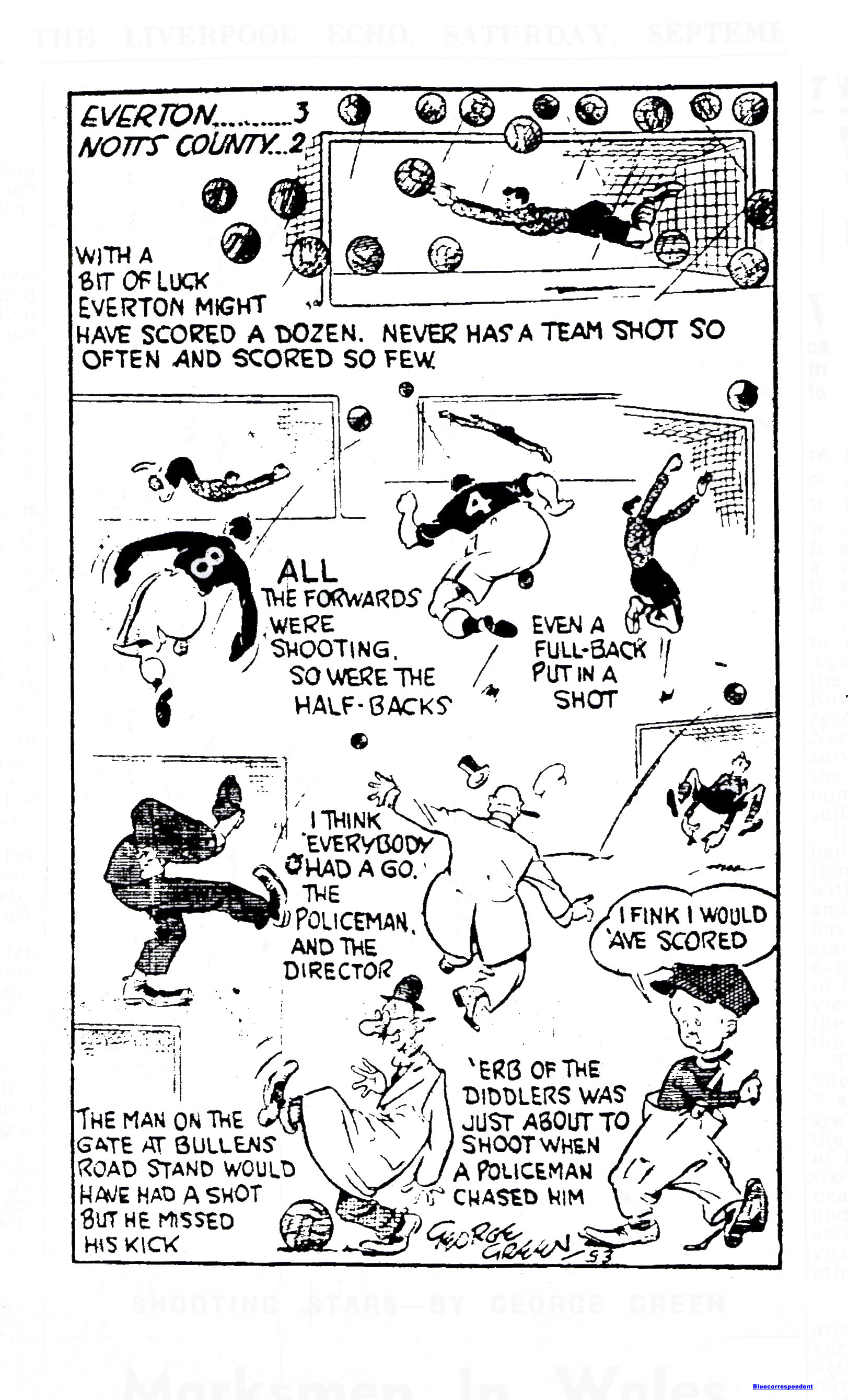 JUNIOR DERBY
September 24, 1953. The Liverpool Daily Post
Liverpool Res 1, Everton Res 3
Everton Reserves, who completed a double over Liverpool Reserves in the junior local derby game at Anfield yesterday, deserved their win for they were the more constructive and better opportunists. Liverpool included Walter Burnett, their recent signing from Burscough and he shaped well, proving a good partner Anderson. The other amateur Ronnie Wilson, could not play on account of his R.A.F duties. Play was lively throughout, with Everton being a more balanced side with Mayers and Easthope two good wingers, Liverpool, however, produced their best form in the second half. O'Neill saving good efforts from Smyth, A'Court (Liverpool's best forward) and Taylor. Everton had an interval lead through goals scored by Easthope and Mayers in the eight and twenty-fifth minutes. Smyth reduced the margin in the forty-sixth minute and Farrell scored Everton's third goal at the sixty-third minute.
EVERTON STILL UNBEATEN
September 24, 1953. The Liverpool Echo
But Notts County Put Up A Very Stubborn Fight
Ranger's Notes
Everton are still unbeaten, despite what their own programme said last night, when the transposition of "L" and "D" in the League table showed them as having been four times defeated. It should have been four draws of course. Though the correct League table sees Notts County very low down, they were the toughest side Everton have yet tackled at home. In the end it took the Blues all their time to win, yet on the basis of territorial advantage, standard of play, and all-round marksmanship Everton should have had the match and the point in safe-keeping at half-time. There were two reasons why it did so turn out. First and foremost was the brilliant goalkeeping of Bradley and secondly some good defensive covering by the visiting rearguard. It was a heartening sight to see all the Everton forwards having a go whenever there was the slightest chance of a shot. Not for a long time have we seen the forward line shooting so often and so strongly, and on the whole, so accurately. No matter how they battered away at the County goal, though Bradley was there to deny them until ten minutes before half-time.
In Arrears Again
As has happened on no fewer than five previous occasions this season the Blues had to battle away against a lead to the opposition, thanks to a "soft" goal to debutant Wills at the sixth minute. A long last Everton's terrific pressure brought the equalizer to Hickson, by kind permission, and co-operation of Parker who put up a peach of a pass. Just prior to that Bradley had hurt his hand stopping a pile driver from Hickson and both before and afterwards he saved magnificently from Eglington (twice) Buckle and Hickson again. He turned one shot from Buckle on to the bar another from Hickson struck the foot of the post and a together Everton might have had four of five goals by half-time instead of having to be content with one. The second half was not so pleasing to the home teams supporters for it showed Notts County despite their lowly position having almost as much of the play as Everton. When Hickson put the Blues in front at the 55th minute it looked as though we were going to see a continuance of the one-way traffic Notts had other ideas. Within two minutes the visitors were level again due to Leyland being a little too confident in trying to palm a Wylie shot over the bar. All he did was put it up against the woodwork for Johnston to head a simple goal from the rebound.
Eglington's Winner
Nine minutes later Eglington scored what turned out to be the winning goal from what seemed to me suspiciously like an offside position. He accepted a Hickson pass to give Bradley no chance. Notts County were beaten out they were by no means disgraced. They put up a good fight against odds and sad they had better leadership they might have got away with a point. Leuty was right out of his element at centre forward and even when he had a half-chance of the equalizer late on he could not produce a shot in the closing stages he went to right full back with Southwell outside right and three other County forwards switching round. By then it was too late. Eglington and Fielding were Everton star performers. Nothing was better all night than Eglington's contribution to the Blues second goal. He took the ball off Allen near the home corner flag took it almost the whole length of the field in an electrying run, and then offered a goal on a plate to Hickson. Eglington also shot hard, often, and accurately and so did Fielding whom to have not previously seen deliver so many attempted scoring efforts in any one game. Donovan was the best of the backs for Lindsay was occasionally inclined to be a little too casual Jones and the wing halves played well. Buckle had a good first half but failed to stay the pace. Parker was not as good as he has been previously and Hickson though putting himself on the score-sheet for only the second time this season relied more on battering ram tactics than subtlety. Everton will win quite a few matches this season without having to exert themselves anything like so hard as they did last night. Country's greatest asset was Bradley, but Deans also performed valiantly and Jarvis was a grand worker. If the visitors had somebody in the middle to weld the attack together they might have got away with a point through their second half efforts.
The Junior Derby
Altogether it was a good day for Everton for in the afternoon their reserve side had beaten Liverpool Reserves 3-1 in the Central League game. Everton were good value for this win thanks to goals scored by Easthope, Mayers and Farrell, against one by Smyth for the home side. O'Neill had a grand game for Everton. So did Farrell, Woods and Melville, but Stewart was not as sound as he has seen in earlier matches. Burnett making his debut for Liverpool after being signed from Burscough shaped encouragingly despite being starved most of the second half. Wilson he other Burscough amateur signing was unable to get leave from the R.A.F. Tomley and Campbell played well with A'Court, the outstanding Liverpool forward. Smyth was disappointing at centre forward.
EVERTON'S DISTINCTION
September 25, 1953. The Liverpool Echo
Derby Will Be Out To Lower Their Unbeaten Certificate
Ranger's Notes
Everton who share with Norwich City the distinction of being the only unbeaten side in all four divisions of the Football League entertain former First Division rivals in Derby County at Goodison Park tomorrow. Everton may find Derby County an even sterner obstacle to the preservation at their unbeaten certificates than Notts County were on Wednesday. Derby relegated last May largely thought miss fortune with injustice and got off to quite a good start this season. They had suffered only one defeat when they lost rather surprisingly to Bristol Rovers at Eastville months ago. Derby's defence is probably the strongest and most consistent part of the side. Ray Middleton the former Chesterfield goalkeeper despite his years in the game is still among the best in the country, and with a solid pair of backs and a consistency intermediate line front of time who sides gets goals against Derby without working hard for them. In three of their last four matches the County have kept a clean sheet. Tomorrow the County have a debutant at left half in Osman. It is the forward line which has given Manager Stuart McMillian most trouble not only this season but for a couple of years or so. Last winter Jimmy Dunn signed from Wolverhampton looked as though he would help to weld the front line together, only to be a victim to a troublesome kick injury which kept him out of the side for the last four matches of the campaign.
The County have not quite hit upon a forward combination which satisfied in all departments. Recently they have had Norman Neilson the South African centre half leading the attack, with Jack Lee switched to inside left which leaves Law another South African the only forward to occupy the same position in all matches. This game may give is a further line to Everton's chances of remaining around the top and challenging for the leadership . Some of the sides which Everton have met so far are well down towards the bottom of the table. Paradoxically though it is not always the lowly clubs who provide the easiest victory, as Notts County proved on Wednesday. So far as Derby are concerned Everton will be up against a side which plays football more nearly approaching First Division standard than some of the teams Everton have met recently. I hope this time we shall see Everton take the lead and not have to fight back as they have on six occasions so far to reduce a goal or goals to the opposition. They have preformed this recovery feat exceedingly well so far, but too much of it may become a strain and one of these days somebody may be able to hang on to their lead against the best which Everton can produce. Everton will be unchanged from Wednesday. Everton; Leyland; Donovan, Lindsay; Farrell, Jones, Lello; Buckle, Fielding, Hickson, Parker, Eglington. Derby County; Middleton; Mozley, Barrowcliffe; Mayes, Oliver, Osman; Harrison, McLaren, Nieson, Lee, Shaw
Everton will provide three players for Eire's match against France in Dublin on Sunday week. O'Neill, Farrell, and Eglington, having been chosen again for their country in this world cup qualifying game. It is a particularly good tribute to O'Neill, who has had only one senior Everton appearance this season. The other two were automatic choice.
HAVE THEY BEEN FULLY TESTED?
September 26, 1953. The Liverpool Daily Post
By Leslie Edwards
The measure of Everton's uplift and the enthusiasm it has reawakened in people who have had little enough to be enthusiastic about these few seasons may be found in the size of attendances at Goodison Park. Today's I fancy, will show the joy of the Evertonian – thousands of them from outside this city – in a term unbeaten and going strongly towards that most desirable Second Division haven, one of the two top places. For the Derby County match there may well be close on 60,000 settled in a ground which comfortably filled, looks a picture and makes less well-supported organizations more than a little envious. Derby players, whose miniature Baseball Ground can accommodate few more than 30,000 will appreciate the spaciousness here compared with the intimate pitch of their own where spectators can almost reach out and touch a player on the side-line, but we trust that they will not like several other visiting clubs, at Goodison Park this season show their appreciation by playing far above normal form.
Brave Try
When Derby last played in Liverpool, it was at Anfield. Though they were virtually in the Second Division then, their brave try to escape was a feature of the last back-end. Their form then has since been confirmed. One failure against Bristol Rovers, prevents them from being like Everton and Norwich City, undefeated. The argument that many of Everton's points have come from teams now appearing among the least successful in their League cannot be denied, but until proved otherwise no one can really say that their excellent start is due to that. Still there are Everton followers who will have greater belief in the side and their championship prospects when the team have tackled and beaten the stronger of their rivals. Judged by the way they beat Doncaster Rovers. Everton may treat the stronger as they have the weak.
Of Division 1 Calibre
Derby County will give yet another clue to Everton's strength. There is enough talent in the Derby team to suggest that the club are potentially of Division 1 standard –the goalkeeping J.P. Middleton, full back Mozley half-back Oliver and forwards McLaren and Lee. That leaves but Nielson, a giant South Africa centre forward who must take the air battle with Jones a difficult one. With successive away fixtures (Brentford and Plymouth) to follow Everton will be doubly anxious to show their new-found confidence and shooting ability. Having the same side as against Notts County and having fought off the effects of a debit goal so often they must fancy their chances against any side anywhere. Their success would allay forever, the edginess of those who feel that they have not yet been fully tested. Everton; Leyland; Donovan, Lindsay; Farrell, Jones, Lello; Buckle, Fielding, Hickson, Parker, Eglington. Derby County; Middleton; Mozley, Barrowcliffe; Mayes, Oliver, Osman; Harrison, McLaren, Nieson, Lee, Shaw
AT LAST EVERTON A SHINNING LIGHT
September 26, 1953. The Liverpool Football Echo
By Ranger
Not since the championship year of 1938-39 have Everton started any season so well as they have done the current one. Even that successful pre-war period was no better than this campaign. On each occasion they extracted 16 points from their first ten engagements. This year's performance is probably just a trifle better than that of the championship year, for half of their first ten games in 1938 were at Goodison, whereas this year six have been away and only four at home. The Blues this term have had to face the rather intimidating opening of five away games out of the first seven. That was no easy task for any side. A had start might have snapped their confidence. As things have turned out the good beginning has given them a belief in themselves which may prove of incalculable value as time goes on. We have already seen that demonstrated in the manner in which they have six times come from behind to win or dreary. How long can they continue their unbeaten record. Nobody can answer that with certainly. They are now more than half-way forward equaling Liverpool's post-war record, of opening a season with 19 games without defeat. Much as I would like to see Everton equal or surpass that I very much doubt whether they can do it well as they are playing.
Each Game Gets Harder
Every side boasting an unbeaten certificate after a quarter of its fixtures have been fulfilled finds play each succeeding match assuming the tension of a cup-tie. Every team they meet is anxious for the honour of being the first to lower their colours. Liverpool were not sorry when their unbeaten run finally came to an end with a last minute goal to the opposition at Huddersfield. While Everton will naturally fight hard to keep distinction intact it might be some relief and eventually happen when as must eventually happen that cipher disappears from the "Lost column. On paper today's game against Derby County looks as though it may have been their most formidable to date for the Midlanders who have only once been defeated are still more like a First Division side than the majority of those in the lower sphere. That of course may not have been too disadvantageous to Everton who can match the best of football from the opposition by a equivalent performance themselves. It is an old Soccer saying that you have to be prepared to punch your away out of the Second Division, not play yourself out of it by class football. But in the end class will tell in the Second Division just as anywhere else and when to good football there is allied the fighting spirit which Everton have shown so then the prospects must be encouraging.
A Generous Gesture
Everton gesture in releasing O'Neill, Farrell, and Eglington to the Eire against France tomorrow week is a very generous one for it means that in their away game against Brentford next Saturday the Blues will not able to call on these players. O'Neill of course has not been in the senior side since the opening game of the season but Eglington has been one of the Blues greatest striking forces in attack and Farrell a tower of strength and inspiration in the half-back line. Last season the Eire F.A decided that it would not include players in Sunday's games whose clubs would not release them from the previous Saturday match. Apart from the possibility of injuries, it was felt that it was not conducive to maintaining Eire's reputation to expect anybody's to play two games on successive days with all-night travel sandwiched between. This means that players now selected for the Eire national team have to be released by their clubs from the League match the day before. In view of their promotion hopes it must have been a difficult problem for Everton, who next Saturday are away to Brentford. The board however, has never yet stood in the way of their players gaining honours and while this latest request of Eire under the present circumstances put them in rather an awkward spot they have generously adhered to their usual principle. While one can appreciate the view of the Eire folk, this rule undoubtedly puts a strain on the goodwill of clubs. It could be avoided easily if Eire's games were switched from Sunday to midweek. Sunday is chosen from the financial viewpoint but if they wish to field their greatest strength they have to reconsider the matter.
EVERTON GO TOP IN THE MOST SATISFYING OF MATCHES
September 28, 1953. The Liverpool Daily Post
By Leslie Edwards
Everton 3, Derby C 2; Attendance 54,000
By Leslie Edwards
Exciting, exhilarating, sustained sporting and with the result right for Everton. What more could one expect? Good refereeing? Yes we had that, too from Mr. Ellis, of Halifax, and weather which matched the sunny set-fair outlook at Goodison Park nowadays. For proof of this when tell me, did you see Everton players like Fielding and Buckle smiling their way through? When did you see a goalkeeper like Leyland standing nonchalantly, cross legged, near his post while awaiting a Derby free-kick in the early moments. Leyland left the field last of all apparently chastened, but that I think, was more due to the blow he received in collision with the mountainous Derby South African, Nieison, mid-way through the second half than to depression. One minute of the sun-kissed Everton victory hard won, but deserved remains vividly with me because that sixty seconds virtually wrote off the losers and gave Everton the inspiration to victory. It came at the half-back when Derby seemed to have a hold that could not be relaxed.
Headlong In Knee-High Header
Buckle, in one of his notably smooth, workings, with Hickson, led a right wing movement from the inside-right position. He screwed the ball along, the touch-line to his gallivanting partner of the moment and Hickson dragged it forward in such a way that the linesman's flag was at the ready. But the whole of the ball did not cross the line. Hickson brought it under control and centred a ball for which Middleton and Eglington, among others, moved knee high when it arrived in front of Eglington he flung himself headlong, a few feet from the ground, to ram it over the line. The forest of hands and caps which went up was visual sign of success, the roar which rolled round and over the ground was a symphony of delight in sound. The ball had scarcely been centred before sturdy Cyril Lello standing almost forty yards out seized it and came forward a few strides looking to where it could be placed to advantage. Then he changed his mind and cracked in right-foot such a sizzling shot the ball was hitting the net before 54,000 people could realize it. Again the roar delight; again acres of waving arms and hands sporting magicially. Two goals in less than a minute –and against a class-side of Division 2. Whether Middleton was unsighted or not one can only argue. Lello, the most persistent half-back shooter, hits his shots very hard. This goal was probably due to two causes –the speed at which the ball travelled and the fact that it had gone half its journey before Middleton sensed it was on the way.
One From The Nielson Clouds
But Everton were fated not to get the complete answer to this game in the space of a minute. The tall, ungainly, and difficult to assess had nodded the ball down, from the clouds before the interval to narrow the margin and it was plain that his side were not going to submit without fight. They began the second half so well that the game seemed far more likely to take a turn for 2-2 than 3-1. Again Everton proved probability wrong. This time Parker drove home a lovely shot from a left-wing Hickson centre- one of those drives so timed that once the instep was solidly on the ball Middleton might well have started to fetch the ball from the back of the net. And that was how it stood ten minutes from time when Hickson and the excellent debutant Derby half-back Osman found that two heads were not better than one. Hickson left the field clutching a white pad over the blood streaming from a cut above his left eye; Osman not so badly hurt stayed to play on, carrying a sponge to press to his wound. When he threw-in he tucked the sponge between his teeth. Hickson's going and Everton's slight tendency to panic could not be masked from the crowd nor from Derby County. This was their signal for all-out effort and Derby answered it effectively. McLaren slow, but artful; took up one of many lovely centres offered by Law and nodded a goal to make it 3-2. Within a minute or two of the end McLaren after a round of passes, timed a difficult chance well. The ball was going away from Leyland along the ground and fast, but despite his earlier knock, he anticipated it magnificently. Just the tips of his fingers made contact; he took the ball to his sure grip at the second attempt. This because Leyland might so easily have been beaten by good direction. Was the save the game. I never want to see a Second Division match more worthy of First Division billing. It was wholly satisfying. Speed performance, continuity courage – all these qualities were there, and with them enough incidents to fill chapters. Derby proved themselves nearly good enough to draw but there was that fractional difference which Everton merited. More than once, they had the ball literally on the Derby goal-line. Leyland, too, was saved by the bar when a header by Lee seemed certain to beat him. With a more experienced and penetrative centre forward than Nielson (not yet in the Dooley class) Derby would have been formidable indeed. Mozley a veteran among full backs was outstanding not so much for his effectiveness as for his polished methods. His dead ball kicking –more often than not fifteen to twenty yards over the half-way line –was useful too. The heavily built but tremendously fast Law was equally good, admitting that he did not always win the race against Donovan. What I liked best about Law was his practical centring and his Liddell-like power once he got under way.
And Enjoys Every Minute
Oliver, who not only plays with skill and courage but appears to enjoy every minute of it, added his considerable contribution, so did goalkeeper Middleton. Derby confirmed the opinion that they are the strongest opponents Everton have met, so far. The merit in Everton's triumph was enhanced y the character of the opponents they beat. It was well, I think, that Everton cut loose as they did with two killing goals in so short a space, as Derby gave the impression of being capable of getting a lead and maintaining it. There were times when they led 3-1 when Everton seemed inclined to treat cheaply, but Hickson's absence and Derby's second goal changed that quickly and Hickson's return, even for the last two minutes was greeted with the enthusiasm reserved for "our David" and his gallantry. Hickson, though becoming less and less an individualist avidly looking for goals himself, is doing his side proudly in wise and accurate passing of the ball up and down the line. His excursions to either wing took him off Oliver's beat and almost invariably these trips to the neighborhood of the corner flag turned out well. In all positions, but especially at centre-half and at inside right Everton had enthusiasm, ability and confidence. Some of their attacking moves were reminiscent of the old days when Everton's following went to matches at Goodison Park as much for the pleasure of seeing goals in the making as in the taking. Fielding refreshingly lively and full of good passes, had yet another memorable match and the thought of Everton considering letting him to go Liverpool seasons ago and the ideal failing through for the sake of a thousand or two is ironic I am sure he is Everton's directing genius.
Nothing To Dismay Them
Everton now face matches at Brentford and Plymouth. The first should not dismay them at all; the other at Plymouth will be tougher but Everton's previous Cup and League visits to the ground have almost invariably been happy occasions. To survive these two matches without defeat, would keep the Everton contingent happy as kings. They were so happy on Saturday that news of Liverpool's 6-0 defeat gave them as much satisfaction as their own victory. Pity they could not have matched the sportsmanship of the twenty-two players they had seen provide the most delightful match of the season. Better than any jeer is the crack of the rabid Evertonian who said, after consulting the league table. Liverpool are only two positions ahead of us now – and we're moving up and they're moving down."
O'NEILL IN FORM
September 28, 1953. The Liverpool Daily Post
Barnsley Res 1, Everton Res 1
O'Neill kept a good goal for Everton Reserves in the Central League game at Barnsley on Saturday, and excellent work against a persistent attack was done by Clinton, Woods and Melville. Everton had smart forwards in Potts and Mayers. A header by John, Barnsley's young leader, was neutralized early in the second half when Saunders scored from close range.
Liverpool County F.A Youth 1, Lancs County F.A Youth 1
Credit goes to the Liverpool side for putting up a great defensive display at Prescot. For three-quarters of the game they lacked the services of Billington (Everton) through injury and ten minutes from the end Spruce (Liverpool) also left the field. Lancashire's attack put in all they knew but failed to overcome the splendid resistance of full backs Parker (Everton) and Hillsdon (Everton), Melia (Liverpool) scored for Liverpool and Taylor (Bolton W) for Lancashire.
POTTS WAS THE SCHEMER
September 29, 1953. The Liverpool Daily Post
Wolves Res 3, Everton Res 1
It was not until Wolverhampton Reserves scored their third goal through D. Taylor in the 2nd minute of this Central League game that they really mastered Everton Reserves at Molineux last night. Previously Everton had played attractive football with Potts a fine schemer and Rabone playing well on the right wing. Potts was always ready to shoot. Clews scored for Wolverhampton in the ninth minute and Mason added the second in the 38th minute. It was Potts who spilt the Wolverhampton defence in the 78th minute to enable Easthope to score Everton's goal.