RESERVES OF PROMISE
December 1, 1954. The Liverpool Echo
Everton's Central League Side Seek Title Again
Ranger's Notes
Although Everton have not this season utilsed their Central League side as an experimental ground to the same extent as Liverpool they have introduced into it many young players who show promise of eventually reaching senior grade. At detailed here last week, Liverpool have called upon 33 players in fulfill their 19 reserves team fixtures not including positional switches. For the same number of matches, Everton have utislised the service of 27 players each man being counted once only, irrespective of the number of positions occupied. Actually the positional changed at Goodison unlike Liverpool have been practically nil. As will be seen from the following table, only four players have figured in more than one berth.
Goal; Leyland, and Dunlop
Right-Back- Tansey (J), Clinton, Sutherland
Left Back –Rankin, Clinton, Tansey (J)
Right Half-Grant, Birch
Centre half- Woods
Left Half; Melville
Outside-right –McNamara, Gibson, Wainwright, Mayers, Harris (B)
Inside-right –Potts, Farrell, Thomas, Fielding, Lewis
Centre forward;- Saunders, Harris (J)
Inside-left-Lewis, Meagan, Farrell, Kirby
Outside left;- Buckle, Canavan, Farrell, Rabone
Train Utility Man
Alec Farrell now back to his most promising form after this cartilage operation of a year ago, is the man utility man of the reserve string having occupied three positions in the attack. Lewis has had one outing at inside right only the others being at inside left, while Clinton has had two at left back and six at right back. After playing at right back in the first three games Jim Tansey last week on the opposite flank. Like the first team the Central League side has not maintained its brilliant start in which eleven of the first thirteen games were won with a goal average of 29 for to 11 against the five subsequent matches have brought in four points and the side has dropped to second place a "lapse" –if we can call it that –which may be no more than a temporary sentence just as may turn out the case with the senior eleven. Everton reserves are only a point behind Preston North End the present leaders and one better than Bolton in third place, with a game in hand over the Wanderers. A second Central league championship looks a good possibility if the side can maintain its form. Last season when the reserves won the title the club utilized the services of no fewer than 41 players, irrespective of positional alterations of which there were a good proportion. Considering the club's good Central League record some readers have written expressing surprise that a few of the more promising youngsters are not occasionally brought into the first team. They quote Manchester United frequent experiments in this direction as a guide which Everton might consider when the opportunity arises.
Fears For The Future
Clearly this is a matter which the manager always has in mind. It is too obvious to need stressing. A slightly different aspect is given to it in the letter below from "Three Blue Beards" Non-de-plume adopted by a Wallasey shareholder and two of his friends all of them staunch Evertonians who apparently do not share the general view about the potential first team talent in the second string. As it is so easy to be wise after the event could we now express our fears for the future of Everton in the last few years the team has mainly been carried by Farrell, Lello, Fielding and Eglington the four oldest men. What about players to replace them? There as not one reserve worth of first team inclusions. It Everton doubt this let them leave out two at a time and see what happens. Danger lies in the mistaken notion that they have wonderful reserve talent because they won the General league. That team is carried by Potts, Buckle and Grant again all older players. It seems strange after six years of youth policy that one failure at outside right is dropped and replaced by another failure that when Hickson is off he is replace by Parker, and when Farrell or Lello are out Grant comes in, but no sign of this bidding youthful talent the club is supposed to possess. Now in case you say what about O'Neill and Donovan, that is only two players in six years. Furthermore it seems strange that a club placing its future in youth should for two seasons in succession he knocked out at home in the first round of the National Youth Cup. Unless something is done there are rocks ahead for Everton.
Three Left Out
These "Three Blue Beards" have admitted Moore and Jones who have come up from the junior side also Hickson. There are also lads in the second string such as Sutherland, Farrell, Thomas, Lewis, Woods and one on two others who, introduced and acclimatized gradually look to have all it takes to make the grade. I was practically pleased with the shape some of them showed against the Army side recently. The only way to be sure whether a young player is good enough for the first team is to give him trials. That is easier said than done, for victory is always the paramount aim with the senior side and senior players, it fit can hardly be left out to make experiments. But when that can be done, it would be helpful as a guide to future possibilities.
CHANGE OF FORTUNE DUE
December 2, 1954. The Liverpool Echo
Everton Face Spurs
Ranger's Notes
After four games without a goal and only a point to show for their efforts, though in a couple of these outings they should have done better on the basis of chances carved out. Everton hope to get back to something like their earlier form against Tottenham at White Hart Lane. While the present day Tottenham are far removed from their eminence of a few years ago, successive wins over Leicester and Cardiff with seven goals for and only two against, indicates an improvement over the earlier part of the season. There are only four of the "old guard" in the current team, Ramsey, Clarke, Bally and Nicholson –the latter recalled from virtual retirement –skill remain. Latterly there has been an influx of new and younger blood, notably. Dunmore from York and Gavin from Norwich, Gavin with four goals in his last three outings looks a very good buy. All with the well-being of Everton at heart will hope that the next few weeks, which are of considerable importance in view of the near approach of the F.A Cup will see a change in the clubs fortunes. The team for this London visit has not yet been chosen but it is expected to be announced later today.
BLUES IN TOWN
December 3, 1954. The Liverpool Echo
Ranger's Notes
After failing to score in their four games during November, Everton begin the month which leads to Christmas with a visit to Tottenham tomorrow. I hope it will be a match of good cheer, and that the attack will not keep on wasting all their splendid approach work. Tottenham this winter are only a shadow of the side they have been in recent years, and compare very unfavorably with the team which carried off the Second and First Division championship in successive season in 1949-50 and 1950-51. With the exception of their win against Leicester a fortnight ago, Tottenham's home successes have been against strong sides, namely, Wolves, West Bromwich and Preston. Like Everton they had been going through a lean spell, in goal scoring to the meeting with Leicester, which they won 5-1. Before that their previous three games all lost had produced only two goals. Spurs have relied on some of the stalwarts of past seasons as the bulwarks of their team though one notable absentee is their former Welsh international skipper, Ron Burgess who is now giving Swansea's young players the benefit of his experience.
New Recruits
A recent recruit to the side in outside right, Gavin formerly with Norwich who was signed in the middle of October, has been showing good form. He was really signed as a debut for outside left Robb, but since the latter's return after injury he has averaged a goal a game from four outings put the opposite flank. Centre forward Dunmore recruited from York City last February has had a lengthy run without having much luck as a marksman. He has netted only five times in 16 games this season and three on his goals were in the second match of the campaign. It is to be hoped that Everton are not so propitiate with chances as they were against Bolton or their run of four games without a victory might be extended to five. I cannot conceive however, that they can continue much longer without finding the run of the ball in their favour once more. It is not in the capacity of footballers to command success, but on their general play in some of the games they have lost or drawn latterly Everton have certainly deserved it. Tottenham; Reynold; Ramsey, Hopkins; Nicholson, Clarke, Marchi; Gavin, Bily, Dunmore, Brooks, Robb.
Everton; O'Neill; Moore, Donovan; Farrell, Jones, Lello; Wainwright, Fielding, Hickson, Parker, Eglington.
Everton have signed on amateur forms A. Harris, Maghull F.C's goalkeeper aged 23, who has played for Liverpool County F.A and last season was on Bolton Wanderers Books.
Dave Hickson
Although Everton have refused an offer of £20,000 from Sheffield Wednesday for Dave Hickson –as I reported yesterday-it is likely the Yorkshire club will renew their inquires. "We like Hickson, says Manager Eric Taylor. "He is just the type we need. If Everton feel like changing their minds we are still interested. Two Sheffield Wednesday directors may be at Goodison tomorrow where the Yorkshire club is due for a Central League fixture.
EVERTON TAKE THEIR OWN "STORM" TO LONDON AND HIT SPURS FOR THREE GOALS IN THREE MINUTES
December 4, 1954. The Liverpool Football Echo
Spurs 1, Everton 3
By Contact
Tottenham Hotspur;- Reyonlds, goal; Ramsey (captain) and Hopkins, backs; Nicholson, Clarke, and Marchi, half-backs; Gavin, Bailey, Dunmore, Brooks, and Robb, forwards. Everton; O'Neill, goal; Moore and Donovan, backs; Farrell (captain), Jones and Lello, half-backs; Wainwright, Fielding, Hickson, Parker, and Eglington, forwards. Referee; Mr. R.T.E. Lawgdale
Not only was the Spurs pitch vey bare, it was a heavy as lead and likely to churn up. A gale added to the difficulty. The ground was so heavy that when Ramsey spun for choice of ends the coin stuck and Ramsey had to spin again and spring the penny down on the pale of his hand. In the opening seconds Robb crossed a ball from a position close to the post and Donovan made a timely clearance. Robb was also dangerous with a fierce straight shot, which O'Neill held safely but not easily. Thus early there might have been three goals with Eglington beating Ramsey for speed closed in and seemed certain to score. Reynolds had let his line to mean the threat and Eglington's shot hit the oncoming goalkeeper. A squeeze of a cold sponge was needed on Hickson's ankle damage in collision with Clarke but it was a lovely Sours move which went Dunmore-Given-Robb which deserved a goal. Robb leaned low to head in Gavin's centre and O'Neill did well to make a fumbling save. O'Neill brought down the course with a glorious save from a Robb header at point blank range from a corner by Gavin. So far Jones was winning his battle against Dunmore. Hickson missed by inches his attempted conversion of a far centre by Eglington after Fielding had done the spadework, keeping a foothold was difficult as Robb found in one of his thinking dribbles, in which he all but went through the centre right wing Everton defence.
Defensive Risks
Eglington was always dangerous against Ramsey now Reynolds in picking up an Eglington centre carried the ball over the line for a corner Spurs took unwarrantable defensive risks in keeping the ball close –and got away with them. Lello trying to head away a Gavin corner, mistimed and the ball sped across the goal face within inches of the line. The Everton defence were now trying up the Spurs attacks which lacked penetration, yet Robb did well, when breasting down a Dunmore pass and snap shooting the ball wide at great pace. Ramsey, though lost for speed was using the ball well, and Dunmore who went to either wing with facility was also knowing signs of his ability. Spurs had two minutes of a classic blundering culminating in Clarke giving away a needless corner when no danger threatened. One of the results was an angled shot by Eglington which Reynolds was glad to palm round the post. From this corner Parker made one of his "Sunday best" glancing headers full of pace and direction, but Ramsey kneeling on the line, kept the ball out. Baily's nonchalant mispassing of the ball was fantastic, for Spurs at the moment were all at sea. Ramsey giving a corner at 30 minutes led to Everton taking the lead. The ball was half cleared and Farrell lobbing it back with a header, caused Reynolds to misjudge the ball completely. It dropped behind him, and bounced before Parker, sensing a goal for the taking, dashed in and edged it over the line. Eglington was Everton's best forward. He had far too much speed for the Spurs' defence and it seemed only a matter of time before he got his name on the register. Hickson's best was second attempt shot which all but scraped the bar. Everton became two up from an Eglington corner at 38 minutes. Fielding lobbed the ball towards goal, and Parker's header got Reynolds so unbalanced he could only half save it and turn it over the line. Within 30 seconds Eglington had centred and Hopkins in attempting to take the ball on his body, diverted it over the line beyond all hope of anyone also doing anything to save the situation. So Everton went 3-0 and the crowd whistled derisively, for Gavin with shots and headers was Spurs only revivalist though they played with a greater sense of urgency. Half-time; Tottenham Hotspurs nil, Everton 3
Fielding seemed to be having a quiet chivvy at Baily's expense as they waited for the second half to begin. Ramsey continued to blunder on and on and O'Neill made saves from Gavin and Robb in the opening minutes, in which it seemed that Spurs were in for a better innings, maybe because the wind swirled with them. Both Everton backs in turn made for class tackles at critical moments.
Interest Gone
By this time the game had lost nearly all its interest and thanks to Spurs close moving they seemed unlikely to get one goal much less four as they once did against Everton, when down 3-nil at the interval. Fielding chided by the referee for a foul on Ramsey put his arms round the official and smiled forgiveness much to the crowd's delight –Spurs were more in the game than before and won a couple of corners but their finishing punch was non-existent. The game, was set alight by a wonderful fierce cross shot by Dunmore. This one O'Neill acrobatically turned over the bar at the critical moment. He made a fine catch off a Dunmore centre from the right wing immediately afterwards. O'Neill excelled himself with his next job, Brooks can never have hit a ball harder or more truly. As it flew like a rocket just under the bar. O'Neill's hand was there to slip it for a corner. O'Neill has never made a better save than this. On this evidence Baily has gone back the proverbial mile Everton losing their grip played with fire but the Tottenham attack was only luke warm. O'Neill completed a great day with a great save from a Gavin header after a corner. Baily headed a goal from Robb's centre two minutes from the end. Final; Tottenham 1, Everton 3. Official attendance 31,554.
A nice December opening gambit for Everton. They had a patchy beginning, but O'Neill with one of his best games, kept his goal intact until near the end, and once Everton took charge Spurs disintegrated more and more the longer the game went. Spurs' defensive blunders presented to Everton one if not two goals. Ramsey has never played worse, Spurs did better in the second half when Everton were inclined to relax, and O'Neill became the day's hero with a tremendous save from Brooks.
EVERTON RES V SHEFF WED RES
December 4, 1954. The Liverpool Football Echo
Everton Res;- Leyland, goal; Sutherland and Tansey (J), backs; Grant, Woods, and Melville, half-backs; Harris (B), Potts, Harris (J), Farrell, and Rabone, forwards. Sheff Wed Res;- Ryalls, goal; Martin and Seemley backs McAnearney (I), Butler, and Turley, half-backs; Wilkinson, McAnearney (J), Ellis, Watson, and Howells, forwards. Referee; Mr. G. Ollerton (Preston). Everton had the better of the exchanges but were unfortunate when Farrell had to leave the field after a collision with Martin. The game was scrappy and Harris (B) was unlucky when he hit the woodwork with a splendid shot.
Half-time-Everton Res nil, Sheffield Wednesday Res nil. When Everton resumed Farrell appeared, but he had a bad limp and went to outside right. The Blues soon took command, Potts putting in a great shot which was admirably saved by Ryails. The visitors were continually on the defensive but the Everton forwards failed through bad shooting. Farrell again left the field.
SHEFFIELD WEDNESDAY VALUE HIM AT £20,000 AS READERS FLOCK TO SAY THEIR PIECE
December 4, 1954. The Liverpool Football Echo
Hickson The Man Of The Moment
By Ranger
The name of Dave Hickson, the man who did more than any other player to put Everton back in the First Division, has been heard everywhere this week. Hickson not for the first time has spilt Goodison supporters into rival factions after his display against Bolton Wanderers. Then come the news that Sheffield Wednesday who have been searching for a forceful goal-scoring centre-forward ever since Dooley's career come to its tragic end, were prepared to pay £20,000 for him in the hope that he would keep them in the sphere to which he helped Everton return. Although Everton turned down the offer, I understand that the Yorkshire club is willing to step up the price if and when Everton indicate their readiness to discuss a deal. Here and now let me say that
(1) Everton cannot afford to part with Hickson.
(2) In spite of the occasions this column has critised him, I hope he remains.
(3) If he goes a large section of followers who are intensely loyal to him will be bitterly incensed
Who could take his place? Though Everton's aim has been to duplicate all positions and concentration has been directed to this end, there seems no reserve of sufficient expenence to step into senior football. Parker, the natural deputy of recent years had a short successful period; there two seasons ago but hardly seems to fill the bill on recent form. Wainwright looks more like the part but the same query would attach to him also. With no readymade successor Everton might have to spend all they got to fill the breach with no guarantee of getting anybody as useful. Despite his comparative lack of success as a marksman this season Hickson is as good a centre forward as the majority when he adopts less robust tactics and plays the good football of which he is capable. Now we come to the other matter which has made Hickson top talking point this week. Letters have poured in since his display against Bolton. All those defending the player appear here in full as I wish to give readers every facility to express their views. Only a small proportion taking the opposite view appear, though I am grateful to all who have supported my remarks of last Monday, particularly Messrs F. Perry (Rhyl); A. Howarth (Birkenhead); S. Malcolm (Waterloo) "Newbury" (Freshfield) and many others. I have no desire to stress the case against Hickson, and hope readers whose letters are not used will agree with this view. Allegations that I am biased against Hickson are rubbish; pleaded for his restoration when he was dropped soon after his debut, and have defended him when I have considered he has merited defence. I want specialty to have a heart-to-heart talk with him at the start of the season and to tell him what I still believe namely, that one day he might play for England if he exercised a little more control. Haven't space to repeat all the good things I have said but this appeared here on September 18 last.
Hickson has many admirable qualities to command him – energy, enthusiasm, loyalty and the heart of a lion. Even his gallery play last season was due to his simple and wholehearted desire to give his all in the cause of Everton. He has brought subtlety and craft to his play these days. His ball control at times is excellent so is his heading and canny passing. He is learning that the thrust of the rapier can be more deadly than the sweep of the broadsword or, to put it another way, that there is no need to batter down the door if you can pick the lock. Keep it up Dave, you will earn more true friends that way than any other." Another thing to be stressed in Hickson's favour is that he has himself been most harshly treated many times by opponents that he has not always had the protection from the referee he is entitled to and this season has obviously made a real attempt to hold himself in. I haven't any "down" on Hickson, but if I see anything not to the credit of any player or club whoever he or they may be I say what I honestly believe. Now for the letters.
Where Blame Rests
Mr. G. E. Ryan, Gores Lane, Formby, writes;-
"I agree in tolo with your remarks about last week's game at Goodison and congratulate you on your courage n voicing them. But the directors must shoulder some blame for these constant happenings. I travel much and meet many football fans and some players and I am grieved when, I not infrequently hear the adjectives coupled with Everton's name. I have frequented Goodison Park for nearly 60 years and cast my mind back to the years when the club were so proud of their traditional name for sporting, clean and clever play, and when such happenings would have been nipped in the bud at the outset."
Mr. A. Daley, 85 Renwick Road, Liverpool 9, pulls no punches which is what I like. He says;
Easily Sickened
Your article just sickened me, because you concentrated on Hickson as you have always done. You are simply biased against this player, and have never said a good word in his favour. In the cup semi-final two years ago. Barras, laid Hickson so cold that Hickson played most of the game in a semi-conscious state. I don't remember you reporting that. "The bad publicity you have given Hickson has induced other sports writers to do the same. Give him a chance and if you don't like him or Everton let someone else report the games, who will give unbiased opinion. I hope you have enough courage to print this." to suggest that anything I say induces writers of national reputation to follow suit is most flattering –but just sheer bunkium! Every journalist worth his salt writes what je honestly believes and doesn't give a hoot what opinion anybody else holds, though fair-minded ones let readers have full say. This column is always open to anybody to criticse me to his heart's content whether his letter is libelous scurrilous undictive, or just plains cockeyed nonsense. And I did report cup-incidents.
'Disgusting Display
Messrs F. Grady, M. Tomkins and M.Ball of rode Avenue Liverpool, write "We wish to protest most bitterly against the type of player Everton seem to be encouraging. We have been Everton supporters since 1930 and are ashamed they should condone such actions by one player as we have seen these last two seasons. Last Saturday's was the most disgusting display we have witnessed. If the player is unable to curb his temperament the club have in their power to correct this immediately and thereby clear the good name of Everton. They must not tolerate this kind of exhibition. We also feel that journalists have been far too lenient. It's is time you exposed this type of player for the bad influence it has on football and on Everton in particular. That is your duty not to make excuses for bad behavior. Whatever the excuse there is no reason for what we saw on Saturday. To cap it all you make the suggestion that this type of player is good enough for England –what colossal impudence. Think again."
"Played To Gallery"
Mr. H.W. Smith, Mindale Road, Wavertree says;-
"I have watched Everton for many years" and am quite aware of the type of play of Hickson, I often I think he goes at things a bit too "heavy" but he is always provoked, I know that a footballer should not show his feelings but we are not all made the same. Barras had some sly dig at Hickson before the game was five minutes old. The right back also gave him a deliberate knock. "On Saturday Barrass was playing to the crowd for sympathy. He was more readily "floored" than I have ever seen before. On one occasion he went down with such a show that he might have been in Everton's penalty area."
North Wales View
From W. Sumner of Menal Bridge, comes this; "I was not at Everton on Saturday, but many people from this area who were reported the rough play of Hickson. What a great pity. I saw him play two seasons back, when he had everything save experience. Everton have always been admired for their pure football. It will be a great pity if they lose this distinction. "Please allow me to congratulate you on your fearless article. It is so unusual these days to criticize adversely a home player. If your advice is headed by Hick son it may gave a possibly great player"-
A Southerner Speaks
"Fairplay" Chelsea Road, Litherland; says, "I have always thought you were one sided when Everton and Liverpool were playing and never gave the other side credit until reading your Monday night article. I saw the match, and though it disgraced the name of Everton. Until there's a change Everton will be the loser of my 1s 9d. I shall watch Marine and at least see sportsmanship I am not a "local" having come from the south, so I am not biased."
Six Are Sore
Six Wallasey readers sign a strongly worded attack on myself and my Daily Post colleague Leslie Edwards. They are Meesrs G.W. Leadbetter, K. Wilson, E.W. Tollet, G. Edwards, G. Jamieson, and J. Wilkin. So far as these readers wish to take Leslie Edwards to task, they should address their remarks to him, but as I always put myself out to give fully all criticisms aimed at me I have extracted from their letter the relevant portions. Here they are;-
"We believe one cannot complain if the Press colour reports of any subjects according to their beliefs except sport. In this field we believe it necessary for reports to reply on a factai description of play. Having made what we regard as a good basis for such reports we now come to a specific complaint that you made an unfair accusation against that much maligned player Dave Hickson with a disregard to fact which is to say the least mystifying. In the era of sensational journalism Hickson is to the Press manna from heaven, but there must be boundaries at which this particular witch hunt must cease. No one would deny that Hickson in football and not always to be defended. It has been noticed with regular monotony, however, that players other than he who misbehave on the field of play shall, by kind permission of "Ranger" remain nameless. "The report in question implies that Barrass was knocked out' by other than fair means. The perpetrator in this case shall not however, remain anonymous. We cannot doubt that Hickson is at it again." It really is fortunate that the laws of libel cannot protect club and players alike from this scribe's invective. To accuse a player of being responsible for the whole conduct of the game, and say the club's reputation "is being 'tarnished' we can only describe as malicious." Mr. Leadbetter and his friends have very short memories. All players whom I'll consider guilty are always named. Just one instance. My report of the game at Fulham last Easter includes that "Then came a disgraceful incident when Brice kicked Hickson's feet from under him and he went down in obvious pain it seemed as though the referee has sent Brice of, which would have been a just punishment and a deterrent to further incidents but he remained on the field." As for the tarnishing of the club's name, if Mr. leadbetter would like to call he can see many cutting from writers with a national reputation for fairprincemess, dealing with games over the past year or so, which will leave him is no doubt that the club's name has been tarnished. Will readers note that this correspondence is now closed, except to any who wish to defend Hickson or critcise me? I have no wish to pursue the topic any further and certainly no desire to pillory Hickson or Everton, to whom so long as it does not conflict with my duty as a journalist, I have a sympathetic leading. But no matter how disagreeable the task or how much it may pain some people, this column will continue, without fear or favour to express my honest and sincere views on all matters of importance. I hate the spineless attitude of shutting one's eyes to disagreeable things or even worse "whitewashing" them.
EVERTON'S MAIL IS RATHER HEAVY THESE DAYS
December 4, 1954. The Liverpool Football Echo
By Peter Farrell
Football is certainly a great game for all concerned when things are going well and a team is getting good results. The fans are in a great mood and are only too easier to discuss the merits of their favourities with their friends of fellow workers. Just let the reverse happen and the side suffer a slump for a few weeks with very few points gained and a small section even among the loyal fans not only voice their disapproval of their favourities of a short time ago, but some put pen to paper and write to the local Press the manager of the club or the captain criticizing the lack of success. This season Everton got off to a flying start and after the Manchester United game were in a strong challenging position near the top of the table. In recent weeks following our slide some of the fans are disgusted with recent results and have expressed their feelings with letters to the Press. Our manager has also had rather a heavy mail recently, dealing with the same topic while I as captain have had my share of correspondence on the matter. I always maintain that the safest place, for abusive letters unless they contain some constructive criticism from which we can learn something is the waste paper basket. Nevertheless I have given a little thought to some of the letters as well as the many remarks I have heard from irate enthusiasts and have come to the conclusion that these people are not so concerned with the standard of play served up by the lads as with the results obtained respective of the methods employed. Take last Saturday's game with Bolton. Many people were disappointed that the Blues didn't win by several goals in view of the territorial advantage and the number of chances we had. Nobody was more disappointed than the players themselves that Everton didn't secure two points but I am sure the vast majority of you will agree that the football served up under the atrocious conditions was top class. The biggest grouse among the fans seems to have been the fact that we missed some good chances. I have always the greatest sympathy with players who give a 100 per cent effort in the cause of the team and miss such openings. Perhaps my ideal are old fashioned and which nothing pleases me more than to see the ball nesting in the opposing net, should it be otherwise I always give credit to the individual for being in a position to miss a chance. The time to start worrying is when there is nobody moving into a position to either miss or accept chances. So despite what some others may think I am convinced that it our lads continue to play football of last weeks vintage it won't be long until we are back on the winning path again. The heavy state of the ground must be causing terrible headaches all over the country. After out game with the Army last Wembley, head groundsman Ted Story and his staff had the thankless task of getting the Goodison turf into some kind of shape for Saturday. Last Sunday morning they were back on the job again tending their rain sodden responsibility. They haven't had much help from the elements and if the present weather continues they will have further worries. Another section of the back room staff at Goodison who are having rather a hectic time these days are the laundry staff. As you probably know Everton are one of the few clubs in the. As you probably know Everton are one of the few clubs in the country who have they own laundry on the premises. Apart from the first team's gear there is also that of the other six team's weekly washing to be considered. This is a difficult enough task in the ordinary weather but is twice as bad in the present conditions. Some have a change of shorts and jerseys at the interval. Having seen the state of the mud-laden gear on the floor after last week's game I certainly didn't envy the laundry staff their job.
ON THE PREMISES
December 6, 1954. The Liverpool Daily Post
By Leslie Edwards
Tottenham Hotspur 1, Everton 3
Everton were goalless and nearly pointless throughout November. At Tottenham in the space of a few minutes they scored three times. Maybe they were not quite value for such a lead, they were certainly decisive victory. This was a game off difficultly than most . All three Everton goals were freakish, also O'Neill moving to where he sensed the ball must go brought off from a Robb header save the true value of which could only be gauged by later events. Almost from the moment Everton found the life and confidence they had been lacking. Eglington started to play havoc with Ramsey's lack of speed and spurs disintegrated so rapidly they were near panic. It was during one of the spells in which the Spurs could do no right that Ramsey conceded the corner from which Parker put his side in the lead. The corner was only half cleared. Then when Farrell lobbed the ball back into the goalmouth Reynolds got so far under it, it dropped behind him. Parker the ever-ready slid into a half chance and kneed the ball home. At thirty-eight minutes another Eglington centre helped to bring a second goal. Fielding headed in and Parker added his nod. Reynold's reached out and held the ball with both hands, but unbalanced as he fell released his grip and the ball dropped over the line. Within thirty seconds Eglington had helped to make goal number three. His centre had no special merit and Hopkins who had moved for the moment into the right back position appeared to try to breast the ball down instead the swerving ball passed from his body to the net.
Virtually Won
Thus, in the space of legs than ten minutes Everton had the game virtually won. It was wrong that they should relax a tie but only natural on such heavy ground. It might have proved expensive. It did not because the defence as whole plated well and O'Neill brilliantly. His save from the best shot of the game –Brooks ran on to this one and timed it perfectly –was superb. There were other saves of quality pitch ensured that Everton lead stood good until two minutes from the end when boldly an ordinary header by Baily produced Spurs only goal. O'Neill told me afterwards that Brooks shot came in so fast under the bar he didn't remember how he got to it. His reflexes were working full pressure in his notable occasion. Except for his adept use of the ball. Ramsey is not the player he was. I doubt whether Spurs can afford the indulgence of keeping him in the team. In attack though Baily has lost much of his cheeky confidence. Spurs are good enough –Dunsmore look to me to be a great centre of the future –defensively they are slow and not overburdened with talent. The only qualifying point I would make about Everton's win is that their goals here were almost given away. Yet Eglington played well and so did Fielding. Everton's centre half backs after the opening 15 minutes settled down to have one of their best games. Both Moore and Donovan made inspired interventions though they faced the Spurs forwards who carried most threat.
Wednesday Keen
Dave Hickson I have left to the last, because he is a special topic nowadays. He played well and cleanly, but this was not one of his outstanding efforts. Though Everton say nothing inside information from Sheffield is that Wednesday are still "mad keen" to sign him and are negotiating for all they are worth. Their defeat makes a strengthening move the more imperative. Manager Eric Taylor is not the least disturbed by news papers comment about Hickson. "We are not worried about that," he said on Saturday. "What we want is Hickson's spirit and we mean to have it," The seventeen years old boy currently filling the Wednesday centre forward position will be a fine player in time any critics, but is not yet up to Division 1 class physically.
WOOD SPLENDID FOR EVERTON RESERVES
December 6, 1954. The Liverpool Daily Post
Everton Res 1, Sheffield Wed Res 1
Everton Reserves notwithstanding having practically three quarters of the play in this Central League game a Goodison Park on Saturday could only manage to share the points on account of missed chances. Farrell left the field with a knee injury after 15 minutes and took no further part in the play except for about ten minutes in the second half. Wood was a splendid pivot and crowned this with the equalizing goal in the 89th minute. Watson having scored for the visitors a minute before Harris (B) was Everton's outstanding forward.
NO HICKSON "SWOP"
December 6, 1954. The Liverpool Echo
Ranger's Notes
You may have seen their name mentioned in a possible exchange deal with Burnley –the swopping of Hickson for Holden. Don't lose any sleep over that. I'm glad to say there isn't the ghost of a chance, even with a fee thrown in. Hickson has also been coupled with Arsenal, who have already tried four centre – forwards this season. I have no authoritative confirmation about this. Sheffield Wednesday are still keenly interested, and would not quibble about adding a few thousands to their original £20,000 offer. As already mentioned here however, Everton have no ready-made deputy, and would be taking a big risk if they let him go for it would mean spending all they got on a replacement, without any guarantee it would be successful. Everton have also been named as desirous of pruning their wages bill. While they would not be obstructive if suitable offers were made in certain cases, providing the players themselves felt, inclined to move, I understand the club themselves are not "pushing" the matter. With their tremendous gates Everton have no need to economies on playing staff. Any offers received will be considered on their merits but the final word, if the board are ready to part will rest with the player. Some of these could not be prized always from Goodison under any circumstances, even though not in the first team. Clinton's refusal to go to Bristol City is only one instance. They known when they are well off.
O'NEILL INSPIRED
December 6, 1954. The Liverpool Echo
By Contact
Outstanding figure in an Everton victory which starts December so happily after a goalless November, was O'Neill. All his work was good, but two of his saves were exceptional. First he flung up an arm to keep out a point-blank header from Robb when the game was goalless; then when Everton led 3-0 and Spurs took much of the initiative he brought off an almost miraculous save from a power-drive by Brooks. The ball was flying like a rocket under the bar when O'Neill moving quicker than eyes could follow flicked the ball for a corner. Afterwards he could not explain how he had done it. It was an inspired bit of goalkeeping made by that extra sense which goalkeepers posses on their good days.
Sound Defence
Spurs started well, but were weak in chance taking and allowed Everton a second opportunity. They took it readily, making Spurs pay far nearly all the defensive blunders of which they were guilty. Ramsey can rarely have had such a match. Eglington passed him as though he did not exist and when Ramsey had the ball in the first half, the swirling half gale of wind where he was working buzzled him endlessly. Spurs had moments of near-panic and Reynolds the goalkeeper who had supplanted Ditchburn was partly at fault with the first two goals. Hopkins the Spurs left back, conveniently edged the ball off his own goal line from a swerving Eglington centre to make it 3-0. It was natural but naughty that the Everton attack should relax a little during the second half. The result was that Spurs made the Everton defence battle a bit, but rarely in a way that seemed likely to succeeded. The Everton half-backs were good and strong all through the first ten minutes excepted. The backs, faced by Spurs best forwards, Robb and Gavin, were almost equally good. Jones had a good, big young centre-forward to handle Dunmore looks the part and his facile play suggested that he will eventually become a great player, Jones played him well, but Dunmore was never wholly quelled. This latest Everton win was as delighting to the players as it was to Chairman Ernest Green and his directors and Manager Britton. If showed that Everton (five away victories) could still end the season as champions. The qualification I would add is that Spurs on this occasion helped Everton with presentation goals.
MR. BRITTON'S "CAGEY" STATEMENT REGARDING THE HICKSON OFFER
December 8, 1954. The Liverpool Echo
Ranger's Notes
Everton & Hickson
It is occasionally harder to elicit information from some success than have a wisdom tooth out. When I telephoned Mr. Cliff Britton's Everton's manager after last night's board meeting, and asked the latest position regarding Sheffield Wednesday's offer for Dave Hickson's the reply was "It was only in ordinary meeting and I have nothing to say." Nothing daunted. I had another go, and got this; The meeting was just the same as any other which has taken place during the last three or four months." Like Robert Bruce I tried twice more, finally to get this "Nothing was done with regard to transfers –in or out." An attempt to get a more enlightening clarification of this statement particularly an assurance to supporters that Everton have no intention of parting with the player met with no response. I hope however, this means the end of all speculation regarding the future of Dave Hickson. As I said on Saturday I am convinced Everton cannot afford to part with him.
Would Have Been Better
Assuming –rightly or wrongly –that if has been the board's majority feeling all along that they would not entertain Sheffield Wednesday's offer how much better it would have been for Mr. Britton to say so as soon as the Yorkshire club's approach became known. Instead of replying "No comment" to my thrice repeated attempt last Thursday to ascertain the reaction of the board to the offer. Mr. Britton could have disposed of all speculation at the very outset –again assuming that whoever has the last word on these matters had actually decided not to consider. As to the questions I outlined here yesterday when I tried ascertain whether Mr. Britton had spoken to Lincoln City about Andy Grayer, and if so in what connection, I am still whistling for an answer. In the absence of a denial nobody can be blamed for forming their own conclusion. As for Mr. Britton's reported remarks about "Journalists who may be hard up for copy and go into the realms of fancy and supposition," that is too childish to waste space on.
EVERTON UNCHANGED
December 9, 1954. The Liverpool Echo
Letter Of Encouragement For Hickson And His Future
Ranger's Notes
Everton will be unchanged for their home game with Sheffield Wednesday on Saturday which is the first of three fixtures at Goodison Park between now and Boxing Day. Everton ended there lean November spell with a sound victory at Tottenham last week which was the fifth away win of the season and if they play as well against Sheffield Wednesday as in some of the recent matches which they have lost they should get both points. No side could keep carving out such a succession of openings and go on missing them as Everton did prior to the Tottenham game. The run of the ball of which they had a fair share early in the season, was bound to return sooner or later, I hope last week's victory is the start of another good run. Sheffield Wednesday bottom of the First Division and three points in arrears compared with the next nearest, hardly look like getting even a point from this encounter, but football is such an unpredictable business and the Wednesday are sure to fight so desperately hard, that Everton will have no easy task. Everton; O'Neill; Moore, Donovan; Farrell, Jones, Lello; Wainwright, Fielding, Hickson, Parker, Eglington.
Everton Reserves; (away to Chesterfield);- Leyland; Sutherland, Tansey; Grant, Woods, Melvlle; Harris (B), Potts, Saunders, Buckle, Rabone.
Above All Don't Worry
Dave Hickson will have received a letter from me today which I hope will give him every encouragement for Saturday's encounter. As I think that this letter will interest all Everton fans I give it below.
"Dear Dave, I know you must have had a very trying week, so I want to send you a few words of encouragement. I hope you do not think I have any "down" on you. That is very far from the truth, but however, kindly disposed I may be to any player –and though you may sometimes doubt it I am to you –I have my journalistic duty to do. "I stick to what I have said to you privately and also written, for public consumption, namely that you have it in you to reach the very top of the tree if you can overcome your own impetuosity I know it's hard, but it is well worth the effort, as I am sure you realize yourself.
"I don't be discouraged at being the centre of so much controversy. You have had your full share of criticism but don't let it worry you. Go in on Saturday and do your best. Use your weight and physical attributes fairly and honestly and all will be well. "Show the public that the past is now definitely behind you. You can write your name large in football history in a manner that will always be to your credit, I'm sure of that. "The best of luck to you hope you will justify my giving you a grand write-up this week-end. Keep smiling "yours Sincerely, Ranger."
GOODISON PARK 'FESTIVAL
December 10, 1954. The Liverpool Echo
Ranger's Notes
Everton's Goodison "festival" of three home games out of the next four fixtures begin with a visit tomorrow from bottom of the table Sheffield Wednesday, which may not produce two points quite as easily as might appear on the surface for the Yorkshire club, will have the spur of desperation which the spectre of relegation always provides. All the same I shall be surprised as well as disappointed if Everton do not win –and win handsomely enough to do their goal average a bit of good. They will if they carve out scoring openings as well as they did against Bolton, and take their chances and half-chances with the same promptitude as at Tottenham. The Yorkshire who went down to the Second Division with Everton nearly four years ago and came back at the first attempt are once more in grave danger of the dreaded drop. So far they have only 11 points from 21 matches, which leaves them a tremendous task in the second half of the season. In pre-war days they were once in a much worse position at a far later stage of the season and eventually got so clear of danger that they finished nearly half-way up the table so that there is still hope for them.
Goods Judges
Despite their lowly position Sheffield Wednesday are good judges of football talent and the fact that they were prepared to pay a hefty fee for Dave Hickson is a tribute to the latter's worth. Everton however, know at top, and Goodison supporters after the anxiety of the last few days, can now sleep peacefully in the knowledge that the Sheffield "bait" will not be swallowed. Wednesday have collected only two points from ten away engagements. There came from their visit to West Bromwich, where they sprang a 2-1 surprise on the Cup holders. All the other nine away matches have been lost, three by a single goal margin. The Sheffield clubs goal average for away fixtures is an adverse one of 11 to 30. At least one goal has been scored against them in all their 20 games. Their heaviest reverse was at Preston were they went down 6-0. Deepdale has been very unlucky for them for years in more ways than one. Left-half Davies has not played since being injured in that game. His place has since been occupied by Saw who stake was previously first choice at centre forward. After Shaw's switch the Wednesday attack was led by Sewell in two matches followed by Hukin in the last two.
Main Weakness
Hukin who is only 17 signed professional forms only a fortnight before being included in the senior side and though he shows plenty of promise, lacks the experience necessary for a team fighting an anti-relegation battle. Though the main weakness in the Wednesday side is in defence this department has actually undergone fewer changes than the attack. Nine different players have been utilized in the six defensive berths excluding positional switches, while twelve players have been called on for the attack four of them at outside left. If Everton round off the first half of the season with the victory and dipated they will have taken 24 points from 21 games which would be a very praiseworthy performance.
Wednesday's Queries
Manager Eric Taylor tells me that Wednesday will not decide their team until tomorrow. Finney is doubtful owing to an ankle injury and Marriott will deputise if necessary. There may also be a change at full back not through injury but with the idea of strengthening the defence. Seemley, who has not so far played this season is a possible starter there but whom he would displace to play has not been decided, final choice will be from the thirteen named below. Everton; O'Neill; Moore, Donovan; Farrell, Jones, Lello; Wainwright, Fielding, Hickson, Parker, Eglington. Sheffield Wednesday; McIntosh; Conwell, Curtis; Seemley; Gannon, O'Donnell, Shaw, Finney, or Marriott, Sewell, Hukin, Quixall, Woodlead.
FARRELL HAS CARTILAGE AGAIN
December 11, 1954. The Liverpool Daily Post
By Leslie Edwards
Cartilage bane of footballers and sometimes of lesser sporting mortals is behind the non-appearances today of one of Everton's promising "incubator" boys, Alec Farrell. It would be bad if this were his first experience of it; in fact, it is his second –and affecting the same leg. The only other Everton player to suffer two cartilage was goalkeeper Ted Sagar. But Sagar's two were in a long career. Farrell finds himself involved in two cartilages almost within twelve months and before he is twenty-one. Thus Everton who saw in Farrell a stand by inside forward of the future are disappointed and dismayed but not more so than Farrell. On the few occasions on which, he has appeared in the Everton first team he has shown great promise and with the cup ties and a busy holiday season ahead. Everton might have derived great benefit from him. Meanwhile the club must post him missing for the time being and post in strategic points at their ground today, the warring notices provided for them by the Football League. This follows the encroachment on the ground, a few weeks ago, of a section of the crowd at the Everton v. Bolton Wanderers, Central League match.
Odd that Sheffield Wednesday the team which is so keen to take Dave Hickson (if ever the club decide to let him go) should come to Goodison Park a few days after making known that Hickson desires. In this the first of three home matches in four fixtures. Hickson has opportunity to show his admirers what he is capable of. I cannot help wondering whether the first match Hickson ever played at the Wednesday ground was the one which impressive Wednesday. On that occasion the ill-fated Derek Dooley scored three times and Hickson not at all, but it was possible for me to state, despite this that Hickson's promise was ten-fold of Dooley's.
Could Be
Levelness of teams and records in most Divisions today means that a three of four match sequence of wins takes a team from "the ruck" to a position of challenge. Everton might do this. Having survived some tough away assignments they now have home benefits which may take them back to the top. That victory at Spurs had double effect. It checked failure it gave Everton fresh heart for their Sheffield and Wolverhampton trits. Hickson's play will be watched with care today, so will that of Jack Sewell, the £34,000 signing who played his first game for Wednesday at Anfield and that of seventeen years-old Dooley, the second Jim Hukin, whose forte is football ability rather than physique. Hukin will be in the centre, if he gets goals as Dooley did, it may well be because young Alan Finney on the right (not fit to today) centres so perfectly. Many of Dooley's goals were Finney made. In style he has more than a shade of resemblance to Stanley Matthews. It seems only yesterday that Everton and Wednesday were fighting a grim cup-tie at Hillsborough, McIntosh in goal, had a great match then, but the Wednesday defence looked unimpressive and seems to have improved little. It is always good to see the polished never ending contributions of the Irishman, Gannon but defensively, I feel Everton have an edge. They should get goals. If Wednesday's attack are allowed to reach the shooting ranges, O'Neill will have opportunity to show more of his brilliant goalkeeping. Wednesday who have not won a match since the middle of October make two changes in defence Seemley comes in at left back with Curtis crossing to right back in place of Conwell. Young Derek Wilkinson makes his second league appearance at outside right displacing Marriott. Wednesday's regular right winger Alan Finney is still outfit. Everton; O'Neill; Moore, Donovan; Farrell, Jones, Lello; Wainwright, Fielding, Hickson, Parker, Eglington. Sheffield Wednesday; McIntosh; Curtis, Seemley; Gannon, O'Donnell, Shaw, Wilkinson, Sewell, Hukin, Quixall, and Woodlead.
BOOING, FIERCE TACKLING AND A QUICK PARKER DOUBLE IN GOODISON GAME
December 11, 1954. The Liverpool Football Echo
Everton 3, Sheff. Wed 1
By Rangers
Everton; O'Neill, goal; Moore and Donovan, backs; Farrell (captain), Jones and Lello, half-backs; Wainwright, Fielding, Hickson, Parker, and Eglington, forwards. Sheffield Wednesday; McIntosh, goal; Curtis and Seemley, backs; Gannon, O'Donnell, and Shaw, half-backs; Wilkinson, Sewell, Hulkin, Quixall and Woodhead, forwards. Referee; Mr. H. Vickers (Crewe). Sheffield won the toss and elected to defend the Goodison venue goal, which meant they had the sun behind them. Everton were first to attack and after Hickson had been pulled up for offside the next raid saw Fielding fire outside. A moment later McIntosh saved from Parker by leading across and pushing the ball out for a corner. Hickson survived two challenges by O'Donnell and got in a shot which McIntosh saved as he fell to the ground. An "Unseemly" tackle on Wainwright by Seemley brought a free kick to Everton. The Sheffield left back, who was making his first senior appearance of the season swept Wainwright's legs from under him.
Hickson's Shot
A long upward pass by Moore was splendidly collected by Hickson temporally in the outside right position and taken on by the Everton leader for some yards before he let go with a strong drive which McIntosh could only pat down and collect at the second attempt, just in time to forestall the in-running Parker. Hickson was again in the picture a side-flick pass to Eglington and a shot by Wainwright was palmed over the bar by McIntosh. The game was 11 minutes old before Sheffield Wednesday produced a shot on even got a few yards outside their own half. Their chance came when a clearance by Jones cannoned against Wilkinson and let the winger through for a 20-yards driver which caused O'Neill no bother at all. Everton still kept hammering away and it seemed that their superiority must bring a fairly early goal. Hickson was foiled by McIntosh at the expense of another corner and them in the space of a minute the Sheffield goalkeeper made two great saves both against Parker. McIntosh had certainly had a real testing. At the 14th minute, all against the run of play Sheffield took the lead to the consternation of the home crowd. When they broke away following a long clearance, Wilkinson rather luckily got the better of Donovan who seemed to partially loss his footing and Hukin the 17-tears-old centre forward playing in only his third senior game was right on the spot to meet the centre and fire into the roof of the net from four yards range. This was a travesty of justice of ever there was one though Sheffield must be given credit for taking the only chance they had whereas Everton with a half a dozen had been unable to beat McIntosh. Straight from the restart Everton tore through the opposition and after the ball had crossed and re-crossed the Sheffield goal, Hickson delivered a terrific drive which Shaw appeared to handle. The referee, however, refused Everton's appeal for a penalty, presumably on the score of ball to hand. At the 20th minute Parker had to be taken to the touchline for attention by trainer Leyfield and first aid men after he and Curtis had bumped their heads together. Curtis was soon all right but Parker was not so fortunate and appeared to have a badly cut eye.
Parker Back
Parker resumed in about four minutes. Twice O'Donnell tackled Hickson extremely vigorously, twice Wainwright was only literally inches off the woodwork and then when the Everton winger had another go his shot was saved by McIntosh. McIntosh also did the needful with a Hickson header, though this was not particularly difficult. Parker caused McIntosh to drop the ball, yet without any advantage for Curtis completed the clearance. Hickson was spoken to by the referee seemingly for some remark which he had made to the man in the middle' and then at the half-hour the Everton centre forward got a grand goal to level the score. He fastened on to a loose ball just inside the Wednesday half and holding off a challenge by McDonnell, and beating him for speed fired a tremendous shot from 17 yards which beat McIntosh all the way. The game, which already had some rather heated moments, now saw Eglington unceremoniously brought down by his fellow countryman, Gannon. Before the free kick was taken Gannon offered his hand and his apologies to Eglington who accepted them. Ten minutes before half-time the game was held up while the linesman ran across to the referee to report something which I had not seen, as I was following the flight of the ball. A Press Box colleague said if seemed as though the linesman had been hit by a small object coming from the crowd. Whether this is so or not I cannot say.
Goal Disallowed
This was not the end of the excitement for after Seemley had fouled Fielding there was a real rumpus when Parker netted. Although Parker was in an offside position at the time Everton claimed that the ball had struck a defender and thus put him on "off-side" Farrell remonstrated with the referee as did one or two others. Hickson let him sense of "injustice" lead him to pull the referee by his arm, but Mr. Vickers everyone aside. The play had been more even for some time with Everton still the better side and carrying out more openings without being able to find a way to finish them. The crowd booed justily when Linesman Woolton gave a foul against Waiwnright. Just before this, O'Neill had brilliantly tipped a shot from Wilkinson over the bar. Wainwright was fouled when O'Donnell and McIntosh crowded him out and the last incidents of the half were a lusty tackle on the winger by Seemley and the crowd booing at full blast as the referee left the field. Half-time; Everton 1, Sheffield Wednesday 1.
During the interval, Mr. W. Dickinson the Everton Secretary made the following announcement to the crowd; This is an appeal to the spectators. Will you please retrain from making any scenes."
The referee did not get a welcome reception on his return but possibly in view of the half-time appeal over loud-speakers the demonstration was comparatively mild. After Hickson had been pulled up for offside when he seemed yards away from it. Everton got two goals in three minutes to put them in a comfortable position. Parker got them both and in each case it was a long Fielding pass that gave him his chance. The goal at the 47th minute was fortunate because Curtis should have cleared. Instead he only stopped the ball and them missed his kick leaving Parker the simple task of slotting the ball hone from six yards. Parker's second was another example of his nack of being in the right spot at the right time though on this occasion he was not helped by the opposition. The referee who had made some mystifying decisions, now gave two in quick succession which seemed strange to say the least of it, one against Everton and one in their favour.
Kicked Away
When Wilkinson got away and was bearing down at top speed on the home goal, Donovan came from behind and smartly kicked the ball away from his toe. Gannon tried a 40 yards shot when he might have known that such an effort had no chance against his Eire international colleagues. Although Sheffield were struggling hard, Everton retained the upper hand and always looked the more dangerous. At the 60th minute Eglington got the ball into the net following good work by the whole front line and a grand final pass by Parker, but the referee disallowed the point for offside a decision which was accepted by the crowd n almost stony silence. Hickson had one fierce drive to save near the angle but when Eglington tried a shot a moment later McIntosh was able to stand and watch it screw well off the target. Hickson had to suffer a charge in the back without any redress and when Wilkinson and Hukin tried to force a way down the Everton left flank they were checkmated by Donovan at the expense of a throw-in. Neat inter-passing by Lello and Fielding opened the way for Eglington, only for his attempted centre to be intercepted by Curtis. Quixall tried a shot from the edge of the penalty area which might have crept in at the foot of the post but for a diving save by O'Neill. Sewell was another who had been very subdued and inconspicuous all through and the holder of the record transfer fee was not to-day in the same class as Fielding, who cost Everton nothing. Woodhead and Sewell paired off in a movement which looked reasonably promising until the final pass was put straight to the foot of Farrell. It was clear that Sheffield Wednesday were not in any false position at the foot of the table and although allowances had to be made for the absence of Finney, their attack was woefully weak and the defence uncertain. Woodhead now temporarily at outside right forced a way through by sheer determination. It was all to no purpose however, for Lello intercepted his centre. It seemed suspiciously like a penalty when Parker was brought down by Seemley, and the crowd behind the goal were not slow to express that opinion. McIntosh saved well from Wainwright, but twice he was fortunate when he lost the ball following a corner to find a colleague on the spot to get him out of difficulties. Curtis also kicked away off the goal line following another corner otherwise Fielding who so far has not scored this season would have put his name on the list. Sheffield defended doggedly and gave away corner after corner. Lello, who had like Farrell done grand constructive work now put through another pass to Hickson in the outside left position and the latter's cross saw Wainwright shoot strongly as he was tackled. McIntosh saved at the foot of the post and the game was held up while Wainwright received attention. Moore was a bit too nonchalant after he had robbed Sewell and in turn was robbed himself, but Jones came to the rescue though there did not seem any particular danger. Close passing between Fielding, Wainwright and Farrell saw the latter slip the ball square for Lello to bring McIntosh full length to prevent another goal. The last incident of the game was another scoring effort by Lello, which McIntosh tipped over the bar. McIntosh had been the hero of his side. But for him Everton would have had at least a dozen. Final; Everton 3, Sheffield Wednesday 1. Attendance 36,849.
CHESTERFIELD RES V EVERTON RES
December 11, 1954. The Liverpool Football Echo
Everton Res;- Leyland, goal; Sutherland, and Tansey, backs; Grant, Woods, and Melville, half-backs; McNamara, Pott, Saunders, Buckle and Rabone, forwards. Referee; Mr. Peach (Barley). Everton opened the attack but Saunders miskicked it in front of an open goal. McNamara centred from the corner flag and fell over the patapet but he played on after attention. Ryan scored for Chesterfield in the 23rd minute with a low shot into the corner of the net. Half-time; Chesterfield Res 1, Everton Res nil. At one point the ball shot across the Everton goalmouth and rebounded off two attackers and going out of play. Boyle shot from 20 yards but Leyland divided the bar over. Ryan scored twice for Chesterfield, McNamara replying for Everton.
• Dunlop So 1, Everton "B" 1
EDDIE GANNON GOES BY AIR TO EVERY MATCH
December 11, 1954. The Liverpool Football Echo
By Peter Farrell, Everton
You will very likely have seen Eddie Gannon in action this afternoon as wing-half for Sheffield Wednesday. "The Flying Scotsman" is a name well-known in all, and the name "The Flying Irishman" could very appropriately be applied to Gannon, as he flies from Ireland each week-end to play for his club. At the start of this season Eddie, with his wife and family, decided to return and take up residence in their native Dublin, a decision which at the time looked likely to end Gannon's football career. Seemingly, Eddie was offered a very good job outside football in Dublin, a fact which influenced his decision very much. He discussed his future thoroughly with the Sheffield club who sooner then lose the services of his grand attacking wing half decided to allow him to reside and train in Dublin. This means that for the past few months Eddie Gannon has been flying every week-end from Dublin to the nearest airport to where Sheffield Wednesday are playing and returning home immediately after the game. Eddie told me after our game against Norway recently that both the club and himself are very happy about the present arrangements. Watching by television the Hungarians defeat of Scotland, I formed the opinion that Puskas and company were still a great side but I was left in some doubt as to whether they were the super outfit we have heard so much about since the World Cup series. In the World Cup with condition to their liking the Hungarians certainly looked marvelous but in our wintry conditions of this week they looked more than a little worried and panicky at Hampden at times. It was very obvious they didn't relish the hard tackling of the Scottish side.
Scot's Good Show
Scotland deserved great credit to the wonderful show they put up. Apart from their great tackling judging by what I saw on the television the Scots also showed they could fairly-well match the much-boosted Hungarians for speed and football. One thing that did impress me about the Hungarians was the cool manner in which they accepted their scoring chances. Apart from the first goal which appeared a lucky one the other three were stressed to their destination with the touch and coolness of real soccer artists. As our coach drew up outside joke, White Hart Lane last Saturday we were greeted by the usual small group of exiled Evertonians, now resident in London who always make a point of coming around to give the lads a few words of encouragement before our games in the capital. These were joined on this occasion by some of the diehard Evertonians who had travelled specially for the game from Liverpool some of whom journeyed all Friday night. The joy of winning was made even sweeter y the thought that we had given these loyal supporters a victory as airwards for their long journey.
Sours Super Baths
On entering the visiting dressing-rooms before the game the first thing that caught my eye was the bathrooms, which have undergone amazing improvements since my last visit to White Hart Lane. Mind you are facilities for players in these room have always been well up-to-date, but recently they have had ultra-modern baths, showers and toilets installed with the result that the visiting dressing rooms and bathrooms at Spurs football ground are now among the finest in the country. It was certainly very pleasing to see Everton get back on the goal-scoring path again, and even more so to return to winning form. The game against Spurs was rather extraordinary in view of the way the goals came. Our forwards created more goal-scoring chance against Charlton and Bolton but the ball seemed to go everywhere except in the net. Against Spurs with not half chances we had in the two games I have mentioned we were leading 3-0 till about a minute from the end. Furthermore our general all round play against Charlton and Bolton was better in my opinion than last Saturday. Still, goals count in the results column and it was a pleasing change to see the "breaks" coming our way on the occasion. Dave Hickson came in for many leg pulls from the lads last week's as a result of the reports in the papers about Sheffield Wednesday being interested in him. We jokingly told him that he could expect a rough passage from the Blues defence were he is opposition to us this afternoon. Dave took it all in good par and throughout enjoyed the joke.
IF THEY ASKED NOW IT MIGHT BE £40,000
December 13, 1954. The Liverpool Daily Post
Everton 3, Sheffield Wednesday 1
By Leslie Edwards
A match to remember for many reasons. The thing which impressed me most happened on the half-hour at which stage Wednesday led by a Hukin goal. Picture Hickson saying something to Referee H. Vickers, of Crewe picture that official taking out his notebook and writing in it; picture play continuing with the Everton crowd incensed about some offside decisions against their side and then picture Hickson taking up a through pass from Fielding and smashing the ball viciously into goal from a morass of mud from a point just outside the penalty area. Dean's sixtieth goal at the same ground, was received with little more joy. It was as though the crowd felt that the much critcised Hickson vindicated himself at a stroke –a master stroke. The yellow ball was heavy the ground a Cast-Iron shore of mud, the range prohibitive but Hickson in that moment of temper, put every ounce of power into his drive if flew past the Scot who had been saving everything McIntosh as though he did not exist. Mentally manager Cliff Britton must have mused "If Hickson was worth £20,000 when Wednesday first asked about him the price is now £40,000." This was the most brilliant and timely goal from Hickson's boot. It not only countered Hukin's leading goal, it restored Hickson to full favour and showed that his play was unaffected be all that has been written and talked of him this past fortnight.
Unique Appeal
Following this, close on the interval came another reason for remembering the match Linesman H.N. Wootton (yellow flag) drew the referee's attention to something –it seemed something had hit him on the head –and the sequel was that police patrolled the corner of the ground, the paddock in front of the main grandstand from the moment. The crowd whilst and jeered the game continued in a tense atmosphere and when the referee walked off at the interval many took up the chant. Oh oh what a referee "During the interval Mr. W. Dickinson the Everton assistance secretary appealed over the public address system. Spectators are asked to retrain from making scenes. A unique appeal, I think. Happily goals in successive minutes (47 and 48) by Parker –by that time playing with a cut eyebrow heavily plastered –settled the game in Everton favour and settled the crowd in happier mood. But they were still critical of some of Mr. Vickers decisions. With due respect I suggest that Mr. Vickers pleased none, and that includes Everton. Wednesday the crowd, the Press and the linesman. Yet there are those though he referee well in the circumstances. My criticism of him was not in respect of off-side decisions which are largely the respond ability of linesmen but of free kicks which seemed too often to be given the wrong way. Wednesday players seemed as concerned about this as Everton's. It was a match which might easily have got out of hand. It was a match which might easily have gone against Everton though it was always clear that Everton were the better individually and collectively. The reason they did not win handsomely and early was that McIntosh in the Wednesday goal played superbly all through the first half. He denied with glorious saves all the Everton forwards. The only comparable save O'Neill had to make was in the second half when he went to the foot of the post to turn a low Quixall shot which unsaved, would have taken the score to 3-2. McIntosh winded in one of his burgoings, was a team in himself. Only his splendid work kept Wednesday in the game. Ironically when Everton had started in whirlwind style it was Wednesday who snatched the first goal. And a fine one it was Young Hukin did bravely when volleying –in without delay, Wilkinson's centre at 14 minutes. Once Hickson impudently smashed the ball home for the equalizer, Everton could see their way clear. Against a side which played indifferently, tactically, they clinched things with two quick Parker goals and from that point any Wednesday progress was by kind permission of an Everton team which held their opponents cheaply. In the end it became almost exhibition football with Everton half-back flipping the ball about between them and Wednesday chasing vainly to get possession. Hickson had a good day. His right-wing foraging and his centres were first rate so was some luckless shooting by Wainwright who seems to be playing a good deal better than his critics allow Parker's knock to the eye was a "bloody" one and must have been painful; yet he contrived as ever to be in the right spot at the right moment and look his chances excellently.
Great Figures
One of the two great figures of the match –McIntosh was the other –was Fielding. Working where the mild was churned up deepest, he scarcely put a foot wrong. His foot was evident in all three Everton goals. For a little man, not built to fight deep mud. Fielding played wonderfully rarely putting pass astray. Wednesday's defence was uncompromising though it was not Seemly that this should be so. Curtis is a severe tackler as Eglington knows and others were not shy in that direction it was fine to see Hickson proffering a hand in congratulation rather than in will. May his studied desire to play the game as it is meant to be played persist. Impossible not to be disappointed with both Quixall, Sewell two inside forwards who can be so very good on Wednesday. Farrell came off best in the Quixall battle and Sewell equally well held.
EXCITEMENT RUNS RIOT
December 13, 1954. The Liverpool Echo
Rangers Notes
We had Everton alarmed by the ominous trend of events of the first half appealing at the interval to a crowd incensed by weak refereeing and mystifying decisions as well as some fierce tackling by the visitors and asking them to give way to ably scenes. That was not the end of the "fun and games," however. We also had the spectacle of Dave Hickson, despite an earlier "booking" by the man in the middle, allowing his resentment a offside decisions to run away with his discretion to the extent that he pulled the referee by the arm and took grave risks of incurring his still more severe displeasure. In Hickson's favour let me say he had much to put up with and that never did he retaliate as he has sometimes done in the past. But no matter how upset he may be when he thinks the referee has erred as Mr. Vickers did on many occasions, he must conquer his tendency to argue the toss about. He is only ramming his head against a brick wall.
Linesman's Complaint
Then we had the incident where a linesman called the referee over to complain of something I didn't see what it was as I was following the run of play but I am told somebody in the crowd threw a small missile at the flagman. Everton were more than usually alarmed at the turned of events in the last 20 minutes of the first half because of the recent order of the F.A. that they must post warning notices to their followers for a month, arising out of the rumpus at a recent Central League game. Obviously the club cannot be blamed for what its followers do. Nobody can control a crowd of 36,000 spectators who, rightly or wrongly reckon they have something to grouse about.
Another Appeal
The Everton club has a long and great traditions of sportsmanship. It seems a pity to spoil this with a few silly acts by a small minority of spectators which can only harm both those whom we wish to help by our support and the vast majority of supporter. A bad reputation "sticks" more than a good one and it should be remembered that the authorities can order games to be played behind closed doors. If these isolated acts continue it may well come to pass that supporters will be able to see the Blues only in away games. Whatever the provocation and whatever our personal views, spectators should keep their heads. If they will act at all games as they did on Saturday after the broadcast appeal all will be was –G.G Thompson (General Secretary; Everton Supporters Federation).
Mr. Danaro On The Mend
Mr. A.N. Denaro the Everton director, who was taken with pneumonia in Glasgow last week is now making excellent progress towards complete recovery. As a precautionary measure, however he may stay in hospital for another ten days or so.
AN EASY VICTORY
December 13, 1954. The Liverpool Echo
By Ranger
As for the game itself, as apart from the extraneous incidents attached to it, the margin of Everton's victory was in no was flattering. Everton were so much on top in the opening stages that McIntosh had made more saves in the first 10 minutes than O'Neill was called upon to perform all through. It was the biggest travesty of justice I have seen for ages when the Wednesday broke away at the 14th minute and 17-years-old Hukin who shaped quite well put them in front. Hickson's equalizer at the half-hour was brilliantly taken and then came the "goal" by Parker which was adjudged off-side, though Everton claimed the ball had struck a Sheffield man and thus put the scorer in a legitimate position. It was this which touched off the spark that lighted the trail of dynamite laid by earlier incidents and after other contentious matters the referee left the field at half-time to the most vociferous storm of boos as I have heard for years. Within four minutes of the resumption Everton had the game won thanks to two centres by Fielding and two goals by Parker the first being a partial gift when Curtis failed to clear.
McIntosh The Hero
Had it not been for many brilliant saves by McIntosh Everton would have won by a big margin as Birmingham defeated Liverpool (9-1). Apart from brief periods, they were all over the opposition and at times just loved with them. Fielding was the man of the match for the Blues and Wainwright had one of his best games for a long time shooting frequently and strongly and usually accurately. Sheffield Wednesday's offside tactics were rather irritating. There are 14 such decisions against Everton. The visitors relentless tackling also upset some of the home crowd Seemley in particular being an offender. Sheffield are in a precarious position and were obviously determined to make a stem fight of it, but purely destructive tactics never get any side very far.
THE HALF WAY STAGE
December 14, 1954. The Liverpool Echo
Everton's Best Start Bar one
Ranger's Notes
Hopes that Everton may be in the running for a talent-money place among the first four at the end of the season has been encouraged by their recent return to scoring form which has put them within four points of Wolverhampton Wanderers whom they meet twice over the Christmas holiday. It is not so much their last two victories which have forced this view as the fact that Everton have on so many occasions been the better footballing side sometimes enjoying considerable territorial advantage without being able to capture the points which would have come their way had reasonable justice been done. Though no side can grumble if they fail to turn good scoring chances to account. Everton have been rather unfortunate to find so many goalkeepers playing "blinders" against them. We had the case of Hanson, a fortnight ago; then McIntosh last Saturday. There have been other previous instances when the Blues have mastered all the opposing defenders except the last man of all, who has defied them by brilliant goalkeeping. That is all in the game, of course, and luck tend to level itself up over the whole season. Everton had a period early on of the good variety when the ball ran for them. Then came the lean November spell. Now they are about due for another period of success which should come all right providing they maintain the sparkling approach work they save served up on many occasions this season and the defence remains as solid.
EVERTON CUP-TIE TICKETS
December 16, 1954. The Liverpool Echo.
Ranger's Notes
All Seats Reserved, But Rest Will Be Pay-At-The-Gate on The Day
One benefit of having a ground of such capacity as Everton's is that it, is not necessary to turn to the all-ticket system of crowd control unless the attraction is something very much out of the ordinary with extremely wide appeal. Most cup-ties can be handled quite well, without any fear of anything untoward happening on the basis of advance bookings for the stands only, which seat well over 14,000 spectators. That is what is going to be done for the visit of Southend United in the third round of the F.A. Cup on January 8, when seats in the members' and shareholders and the centre of Goodison Road stand will be available at 7s 6d, and all other feats at 5s. For the paddock and terraces it will be pay at the gate on the day of the match. The stand tickets will be on sale next week probably from Wednesday, depending on when they are received from the printess Supporters who intend to purchase them by a personnel call at the club offices should watch this column for notification when they will be available thus gabbing themselves a possible vastly journey. The allocation of the tickets after Southend have been taken their quarter share will be on the basis of two seats to shareholders and one to season ticket holders, and application should be made by post before January 5 enclosing the third round voucher from their books, the correct remittance and a stamped addressed envelope. The outer envelope should be marked either "Shareholder" or "Member" in the top left hand corner and indicate in the bottom left hand corner the number of seats required and their price. This helps the staff considerably in sorting the application.
The General Public
Members of the general public may also apply for stand seats either by post of personally Postal applications should be marked in the bottom left-hand corner with the number of seats required and the price and contain the correct remittance and a stamped addressed envelope. All applications should be sent to the Secretary Everton F.C Goodison Park, Liverpool 4, and the stamped addressed envelope should be enclosed with the original application. There two last statements may seen superfluous but I am assured by the club that they are not. Strange though it seems people frequently ring up to ask where they should send their application, and scores of other forget to put in the stamped envelope and write a second letter enclosing it, which leads to much unnecessary searching.
CHANCE OF A "DOUBLE"
December 17, 1954. The Liverpool Echo
Blues' Prospects Good, Should Be On Their Mettle
Ranger's Notes
Everton have the opportunity tomorrow to register their first "double" of the season at the expense of Sheffield club. On current form Everton stand a very good chance of achieving this, Everton defeated Sheffield United 5-2 at Bramell Lane in the opening game of the season, and ever since the Blades have been struggling to get away from the strong end of the table. All the moment they are third from bottom with 16 points from 28 matches. Their first 13 fixtures brought in only five points, which included a rather surprising win at Newcastle. Since then however, they have shown some improvement and have lost only three of their last nine engagements which have brought in 11 points. Their three defeats all in succession came to an end last week when they defeated Bolton at Bramell Lane. So far the Blades have not kept a clean sheet away from home where they only victory besides that at Newcastle was at Huddersfield on the first Saturday in November. Here they ended Huddersfield's run of nine games without defeat which was a good performance.
Ringing The Changes
Sheffield's Wallasey, born manager Reg Freeman, has been ringing the changes fairly frequently throughout the season in an effort to improve his side's performances. One of the most successful moves has been to switch utility forward Hoy and to right half. Normally regards as a useful reserve winger, Hoyland has done well, as also has Joe Shaw at centre half. United's total of 32 goals equals that of Everton's but on the debit side they have conceded 53 against the Blues' 30. Central half Shaw is the only defender to appear in every game. His namesake, left back Graham Shaw, has missed one outing through injury.
The Chief Schemer
Veteran Jimmy Hagan is still United's schemer in attack, in which the leading marksman is centre forward. Cross formerly of Bournemouth and Northampton. He has scored six goals. Wingers Ringstead and Hawksworth each of whom scored against Bolton last week come next with five each, Hagan has three. United have recently introduced a debutant in left half Iley the fourth player to be tried in that position this term. They have also had four men a right half. If Everton show the same determination in going for the ball as last week and the same propensity for strong and accurate shooting they should start the second half of the campaign with a victory. A solid win should give them plenty of confidence for the Christmas tussles with the League leaders, Wolverhampton Wanderers. Sheffield United may make two changes compared with the team which defeated Bolton last week. As Caldwell has tonsillitis. Furniss comes in at right back. Six players are named for the attack, including a debutant in 19-years-old John Spencer a former F.A. Youth international and product of their junior sides. Sheffield United; Burgin; Furniss, Shaw (G); Hoyland, Shaw (J), Iley; forwards from Ringstead, Hagan, Cross, Spencer, Grainger, Hawksworth.
KEEN BLADES BLUNT EVERTON THRUST
December 18, 1954. The Liverpool Football Echo
Surprise Goal Snatched Win In Hectic Finish
Everton 2, Sheff United 3
By Rangers
Everton;- O'Neill, goal; Moore and Donovan, backs; Farrell (captain), Jones and Lello, half-backs; Wainwright, Fielding, Hickson, Parker, and Eglington, forwards. Sheffield United;- Burgin, goal; Furness and Shaw (G), backs; Hoylake, Shaw (J) and Lley, half-backs; Ringstead, Hagan, Cross, Spencer, and Grainer, forwards. Referee; Mr. G. Gibson. As O'Neill was all right today after his short bout of influezence Everton were unchanged Sheffield United but a debutant in 19 years-old John Spencer a tall rather coltish looking lad, at inside-left. Farrell won the toss, and Everton defended the Gwlady's Street goal. There were two offside decisions against Everton in the first three minutes, Hickson and Eglington being the victims. In between Fielding had a splendid header saved at the expense of a corner. The ground was very soft and in the worst patches the players left the imprints of their boots. Spencer headed over from Hagan's centre, and Sheffield unlike their Hillisbrough neighbours, last week were not allowing Everton to dominated the proceedings. Three of Hickson's passes to those early stages had been the essence of intelligence and accuracy yet Everton had not got doing with then fluency and determination. Indeed they seemed strangely lethargic and it was United though no great shakes themselves who were first to the ball and more aggressive. At the 10 minutes, Sheffield took the lead through Hagan with a strong shot into the roof of the net off a pulled back pass by Ringstead. The might of the goal was long out of hand clearance by Rankin which dropped well into the Everton half, but which Moore failed to clear. Grainger whipped it over quickly to the opposite flank for Ringstead to provide Hagan with the end of opening which the Sheffield veteran seldom wastes.
Fielding Miss
Straight from the restart Eglington and Wainwright combined to provide a great opening for Fielding. This was a chance for Everton's chief schemer to get his name on the marksmen's list. He hit the bar hard but is spared over the bar. Then another bout of combination between, Hickson, Parker, Fielding and Eglington led to Burgin tipping Eglington's dropping shot over the woodwork.
Another Breakaway
After two more Everton raids on Burgins charge Sheffield United dashed away and first Cross and then Ringstead made a hash of Hagan centre which produced them with a reasonable opportunity. After Farrell had received attention for a leg injury which caused him to limp. Hickson put a glorious ball down the middle for Parker to run on to. Haressed to Hoy and Joe Shaw, however, Parker was just a trifle too slow to cash in, Lello won an unexpected corner when he tried a long cross field pass off Eglington's short return ball. The flag kick however, was punched away by Burgin.
Wainwright Effort
Despite lying on the ground Hickson hooked the ball away from Shaw (J) Parker slipped it but to Wainwright and the latter almost scraped the bar with a great first time shot while on the turn. At the 35th minute, Sheffield United got a simple goal through Ringstead, when a long speculative lob by Shaw (G) dropped well inside the Everton penalty area and bounced high to the bar. Ringstead from the centre towards position hooked the ball over his shoulder and over O'Neill's head. It was the sort of shot which only comes off once in a dozen times, but this was one of those few occasions for Sheffield. Sheffield United though a better side, than their Wednesday rivals were nothing out of the ordinary, and had Everton been up to anything like normal they would not have been two down at this stage. United centring with the offside trap whenever they could do so without risk, and twice more Everton were pulled up in this manner. There was a bounce-up after Hickson, had chased and got somewhat entangled and then a bad pass by Wainwright who had fallen back to help his defence let in Iley and Grainger. The latter's shot produced a corner which in turn saw Hagan flash the ball just outside.
Half-time; Everton nil, Sheffield United 2
Everton certainly lacked nothing in the way of crowd encouragement when the game resumed and though some natives still went adrift at the 49th minute the crowd went wild when Parker reduced the lead. It was a long crossfield clearance by Moore which began the movement. This ball was picked up by Hickson, temporarily at outside left, and Hickson switched it quickly to the middle for Parker to round Shaw (J) and score with a right foot shot from eight yards. This was more like the real Everton and in the next few minutes they hammered at the United goal, Burgin having to save a storming shots from Farrell and Lello. Fielding them put a pile-driver into the side netting off one of Hickson's offerings.
All Level Again
In between these raids, on the visiting goal, all that O'Neill had to do was to save one fairly simple shot by Cross. Everton kept pegging away and at the 54th minute Eglington put them on terms with a splendid drive after Hickson had let a Fielding centre pass by him, whether this was by design or whether Hickson had been caught on the wrong foot I cannot say, but it paid the right dividend. Thus within nine minutes of the resumption Everton were on level terms, but what pleased the spectators more was the evidence that they had shed the lethargic and inaccurately which had been such a disappointment feature of the first half.
Eglington Hurt
Eglington had to leave the field at the hour following a tackle by Furness. He was taken behind the goal line for attention by Trainer Leyfield and St. John Ambulance then. He returned after three minutes limping painfully, with a white bandage on the outside of his right boot. Naturally enough Everton were now playing with much greater confidence and still spurred on by the cheers of the crowd, were having much the better of matters at this stage. One of Wainwright's runs was outstanding, Hickson was still spurred on by the cheers of the crowd, were having much the better of matters at this stage. One of Wainwright's runs was outstanding. Hickson was still going grand work as a maker of possible chances for his colleagues.
Tremendous Shot
After rather elaborate passing Wainwright delivered a tremendous shot which flung a punched out two-fisted. All this time Sheffield were by no means idle, but the Everton defence now seemed to have the measure of Hagan and Company and O'Neill had nothing to worry about. After Hickson had fired yards over the bar from eight yards the Sheffield goal was twice saved in splendid fashion by Burgin. When Wainwright centred, a Hickson header looked a goal all over but Burgin stuck out his left foot and kicked the ball away. It went straight to the foot of Wainwright who lashed it in like a rocket only for Burgin to save once more.
Amazing Escape
Even these two escapes insignificance compared with that when Wainwright beating three-man in a splendid dribble fired in a real pile-driver which had Burgin beaten all the way, but his the underside of the bar, bounced a foot outside the line and was hastily cleared by Shaw. Everton were now well on top and sometimes were running through the Sheffield defence with the greatest of case, the had the visiting goal still bore a charmed life. One bout of combination at which five home players took part ended with Burgin again making two magnificent saves in successive seconds. One at point blank range off Eglington and the other against Parker. Everton hammered away with grim determination in their efforts to get the deciding goal. Sheffield's defence, though hard pressed, never panicked and there was always Burgin playing a blinder like so many visiting keepers have done here to hold the fort.
Blues Transformed
On their second half display nobody would have recognized Everton as the same side which had been so doose and lax in the first portion. For some minutes Sheffield United, had been penned down in their own quarters. Farrell and Lello had come into the game in this half in very telling fashion and both were ready to try a shot. With only five minutes to go it looked as though Everton, for all their second half superiority were going to forfeit a point. four minutes from the end a breakaway by Sheffield led to Ringstead putting the visitors in front, Spencer picked up a defensive clearance near the half-way line, rounded Moore, and cut through towards the centre where Ringstead had darted, waiting for the pass, it came at the right moment and from ten yards range Ringstead beat O'Neill with a rocket shot. This goal was all against the run of play this half put it proved the opportunism of Ringstead who is one of football's greatest "snatchers" of sudden goals. Final; Everton 2, Sheffield United 3. Official attendance 35,088.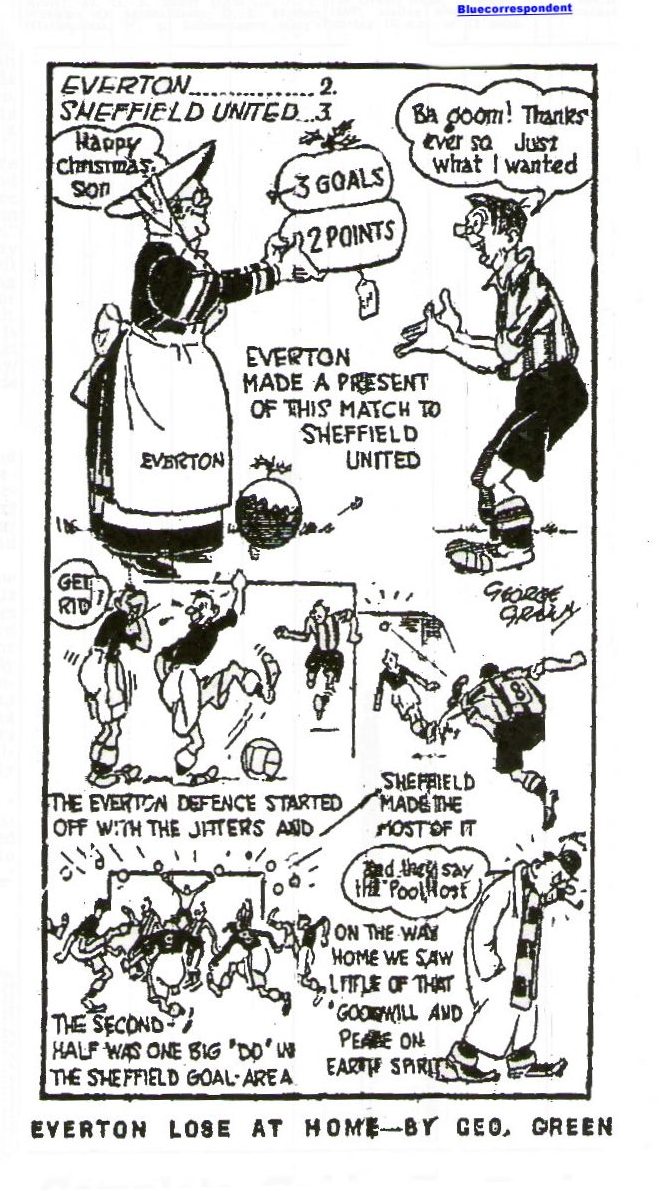 WOLVES RES V. EVERTON RES
December 18, 1954. The Liverpool Football Echo
Wolverhampton Res;- Sims, goal; Pritchard and Ballie, backs; Howells, Russell and Booth, half-backs; Lill, McDonald, Taylor, Murray, and Cooper, forwards. Everton Res; A. Harris; Sutherland and Tansey, backs; Grant, Woods and Melville, half-backs; Rabone, Potts, Saunders, Lewis and Buckle, forwards. Referee; Mr. R.D. Kirk (Nottingham). Play was scrappy and belied the Central League positions of these teams. After Rabone had missed a possible chance for Everton and Buckle had almost caused Pritcard to turn the ball into his own goal, Taylor put Wolves ahead in the 27th minutes with a neat header jumping high to a left wing centre. Half-time; Wolves 1, Everton nil. Potts was given an opening by Rabone and his shot was parried by Simms. The ball fell at Buckle's feet but his return hit a post. Everton were now playing attractive football and Sims was frequently in action in cutting out centres from both wings.
FANS WHO CAN APPRECIATE A GREAT PLAYER
December 20, 1954. The Liverpool Daily Post
Everton 2, Sheffield United 3
By Leslie Edwards
Odd that within a few hours of asking the impossible –another referee like J.T. Howcroft – pop up at Goodison Park. Mr. G. Gibson, of Urmston near Manchester, has no peaked cap; no Howcroft rotundity, but he looks and is, commanding and he handled this game beautifully. Not least of his assets was ability to give a decision and move off quickly out of range of tugging arms and heart-tugging arguments. Yet Mr. Gibson made his special contribution to a match as satisfactory (except as to the result ) as any this season at this season. That on a day when Everton posted warning notices the great bulk of the 35,000 people should demonstrate that people who follow Everton are still able to recognize fine football and applaud it, whether it comes from their own team or not. They murmured appreciation of the crazy patch-work design of Jimmy Hagan's contribution of goals which but Everton two down and struggling by the interval. It was Hagan first and goalkeeper Burgin secondly, who stood between Everton and success. Hagan's handiwork in those two fine opening goals was unmistakable. Burgin's gallant goalkeeping and some fortuitous moments the defence as a whole enjoyed meant that having wiped out the two-goal lead early in the second half, Everton were denied when by the laws of probability they should have established themselves as winners. Burgin earned his breaks whether Sheffield United were worth their third goal a few minutes from the end is more debatable. It came in their only dangerous attack of the half.
Scarcely A Better
Ignoring the result, one could scarcely have wished for better football on a pitch still leaden through mud. The second half resolved itself into an almost unciding struggle between the Sheffield defence and Everton forwards. Midfield was a no-man's land of mud of which the Everton half-backs exercised sovereign right. Time and again the ball was worked towards the Sheffield goal. Almost invariably when a goal seemed likely Burgin or some defensive foot would bring the movement down in turn, Burgin would punt the ball with never flagging energy to a point just beyond the half-way line and Everton would take possession and bring it steadily and combined down field again. But as so often happens it was the side collared who got the winning break. And at such a late stage that Everton could not do other than accept it. Hagan I have known since his Army "no balling days and without fear of seminal that this half, here was as good as any from him. He nudged the man by inches to beat his man to wheeled to openings, he dummied them, he did more by not playing the ball than many do by playing it. No wonder the Everton defence was inclined to panic. No wonder when Hagan had the ball none was keen to go to him and he made to look a little foolish. It was Hagan who smashed the ball past O'Neill at ten minutes after Moore had made a blunder from a goalkick. It was Hagan who delayed a throw-in and insisted on giving Shaw (G) a free-kick who created for Ringstead, of Ellesmere Port, the second goal at thirty-five minutes. Shaw's long punt was juggled for a moment in the goalmouth and was shoulder –high when Ringstead hooked it cleverly, over head to O'Neill's complete destruction.
Two In Ten Minutes
Within ten minutes of the game restarting Parker and Eglington had scored –Parker after Burgin has saved acrobatically upside down to prevent a corner and Eglington from a difficult screw-in position the lead to which was a simple throw-in on the right. From that moment the Everton crowd which had been demure livened and Everton were in their stride for the first time. They took charge of the game and of Sheffield United and only Burgin and the brilliant work of centre half Shaw (J) kept them out. Some escapes were almost miraculous. The winning side might well have won the game in their first ball supremacy later their youngsters seemed to tire and Hagan could scarcely raise a gallop. It was victory for a big young side who may developed into one of the good sides of the Division. Difficult to be critical of Everton –Parker got a goal and hit the crossbar, Wainwright shot admirably but with the must tantalizing nature. He too snatched the ball against the bar and the rebound angle looked as though it might have taken the ball over the line on this net side. Referee Gibson waved play on. Such was his control appeals were ball centred. Everton now face the acid test of Wolverhampton Wanderers. They can but play as well as they did on this occasion second half. And in their favour is the fact that Wolves have no Hagan. It was Hagan who wretched Everton in the spell of the first thirty minutes. That he was incapable of lasting the full ninety minutes was evident, but by that time the damage was done.
EVERTON "ROBBED" AGAIN
December 20, 1954. The Liverpool Echo
Ranger's Notes
I have always contended that football luck, whether good or bad levels itself up by the end of the season, and that when the final reckoning is made justice is usually done. If that is so, then Everton must have some good fortune to come, for they have certainly not enjoyed much recently. On the balance of play and shooting they should have taken full toll from Sheffield United instead they allowed both points to be "pinched" which is the most appropriate word through a breakaway goal by Ringstead four minutes from the end after the opposition had been run off their feet for four fifths of the second half. In the first half the Blades were the better side, through their two goals at the interval was a little flattering. During this period Everton were a very disappointing lot. They were slower to the all than Sheffield, their passing was inaccurate the defence and Fielding frequently over kicked the forwards and altogether their lethargic and sloppy display bore little resemblance to some of the fast and precise exhibitions they have given in previous matches. Even so, they had one or two bright periods in which Sheffield escaped only by the skin of their teeth notably when Parker hit the bar and Hickson and Wainwright skimmed it. The visitors first goal scored by Hagan was a lovely finish to a good move aided almost at its inception by a slice kick by Moore. The second scratched by Ringstead when the defence stood flat footed watching a high bouncing ball, was one of those efforts that fell more often than they succeed. Nevertheless full credit is due to Ringstead for having a go and making it pay.
Second Half Revival
After the interval there was only one side in it for long stretches. Within nine minutes Parker, and Eglington had leveled the score, and thereafter it was a case of Everton striving desperately for the vital goal against a custodian whose charge bore a charmed life and whose co-defenders, though often at sixes and sevens never gave way to panic. It has become almost a regular fortnightly occurrence for visiting goalkeepers to serve up superlative displays at Goodison. Burgin was no exception. He made many brilliant saves and some exceedingly fortunate ones, as Everton peppered him time after time. It seemed that sooner or later winning goal must come, but to the consternation of the crowd when it did arrive it was at the other end. It arose because Moore, instead of booting the ball towards the opposition goal for into touch elected to dribble near the centre line. He was robbed by 19-years-old debutant Spencer, and as the latter closed in Ringstead was there on the spot to accept his pass and ram home an unstoppable shot.
Very Ordinary Side
One could hardly imagine two more contrasting displays than Everton's first and second half performances. Had they started out at the beginning as they did after the interval the issue would never have been in doubt for Sheffield United are a very ordinary side, depending mainly for striking power on theirs right flank, where Hagan was outstanding in the first half but was rarely seen, afterwards. Next to Burgin, Joe Shaw was United's herp. His pivotal display was top class. I thought Hickson was Everton's best forward in the first portion, when some of his clever passes spilt the Sheffield defence asunder but without anybody being quick enough to cash in on them. After the resumption Wainwright was excellent. More exhibitions like this and Everton need have no worry about the outside right position. Some of his dribbling was sparkling and his shooting was always strong and accurate. One "snorter" came back off the bar with Burgin hopelessly beaten. Farrell and Lello were equally brilliant in their constructive work and shooting during Everton's period of supremacy but the defence –O'Neill apart – faltered at psychological moments. I don't mean that they earned black marks on the general assessment of their play, for that would not be true, but they "nodded" when it was most costly and appeared to be so confident of their own ability to suppress the opposition that they took needless chances. They did not stick to the elementary principle of clearing their lines first and leaving the fancy touches alone, until the position of the game justified attempting them without risk.
FARRELL IMPROVING
December 21, 1954. The Liverpool Echo
Ranger's Notes
Alec Farrell, Everton's reserve inside left, who received a bad knee injury in a Central League reserve match a fortnight ago, has now returned to his Army until near Shrewsbury. At one time it was feared he would require a cartilage operation, but though no definite decision has yet been made there seems a good chance that this may not now e necessary. Farrell had already had one cartilage out, as the result of an injury received in a floodlit game at Exeter last season.
MR. NUTTALL'S LOSS
December 21, 1954. The Liverpool Echo
Ranger's Notes
The many friends of Mr. Tom Nuttall, the Everton director will join me in expressing sympathy at the death of his youngest son Norman, which took place at the East Lancashire home for Disabled Ex-Serviceman at Kersal. A school-teacher by profession, he was severely wounded while in the Forces in 1942, having joined as a Terrier at the outbreak of the war. For the past eight years he had been in various hospitals in Lancashire and though he suffered greatly he maintained his cheerfulness unimpaired right to the last, bearing himself with amazing fortitude and courage. He was one of the pluckiest persons I have ever met.
MAN'S SIZE TASK
December 22, 1954. The Liverpool Echo
Ranger's Notes
Everton's Christmas fixtures bring the biggest test the Blues have yet faced. To meet the League leaders and the conquerors of Spark and Hanved is a man size job, but if Everton play as well as they have in many games this season Wolves will not have things all their own way. Though the Blues have now dropped t ninth position in the table they might well have been challenging the Molyneux team for the leadership if they had not thrown away so many points. Going back over the games one could name matches which gave been lost or drawn which would on the balance of play, chances and territorial supremacy have yielded a total of at least five further points which would have put them level with Wolves. But that is football. The day when everything works out according to plan and complete justice is done all round is never likely to dawn. If it did the game would lose much appeal, for its very uncertainty still remains as one of the greatest of its attractions. We never know what is going to happen. The surprises keep us all on tenterhooks. Few people would have it otherwise.
MR. DENARO'S PROGRESS
December 22, 1954. The Liverpool Echo
Ranger's Notes
Mr. Albert Denaro the Everton director who was ill a fortnight ago while in Glasgow for a Scotland –Hungary game is now making excellent progress but to be on the safe side the doctors are keeping him in hospital for another fortnight. He hopes to return home the first week in the New-Year when he should be thoroughly fit again. Meantime Mr. Denaro has asked me to pass on his gratitude to the scores of people who have written and telegraphed their good wishes. The task of answering everybody individually is impossible and he hopes they will all except his thanks through this medium.
GOOD WORK BY E.S.F
December 22, 1954. The Liverpool Echo
Ranger's Notes
Mrs. Johnny Mclhatton, widow of the former Everton player, who has been left with a family of four young children to bring up, will receive a very welcome Supporters Federation. Members of the Federation rallied round splendidly in support of various social events aimed at rising money to tide Mrs McIlhatton over her immediate needs, and as a result of these Mr. G.G. Thompson secretary of the Federation, has this week sent off a cheque for £200. One more event has yet to be held, and the additional amount raised will be forwarded at a later date. This is a very fine bit of work by the E.S.F whose members and officials deserve every praise.
WAR-TIME CURIOUS
December 23, 1954. The Liverpool Echo
Ranger's Notes
By a coincidence two queries from readers have reached me almost simultaneously containing points of interest about war-time soccer which qualify them for more than a brief replay in the "Answer" column. Both are in the nature of catch questions.
Mr. J. Hobson asks whether it is true that at one time during the war Mr. Cliff Britton was on Liverpool's books and actually played for them.
He was never on Liverpool's "books" but he did play for the Reds as a war-time guest against Blackburn Rovers at Ewood Park on September 7, 1940.
Other Everton players who assisted Liverpool in the early war years were Billy Cook and George Jackson.
Mr. R. Davidson, Caernarvon Street, Kirkdale wants to know if George Jackson, the former Everton full-back ever played goal for Liverpool. Yes on February 8, 1941 at Anfield against Everton. He had also been in goal for Everton against Burnley at Turf Moor a fortnight earlier. To make the story even more unusual two weeks before that he had been Everton's centre-forward in a cup-tie against Liverpool and scored all his side's four goals.
EVERTON'S CHANGES
December 23, 1954. The Liverpool Echo
Potts Plays
Parker Unable To Play
Ranger's Notes
Everton make one change for their game with Wolverhampton Wanderers at Molineux on Christmas Day, as Parker is unfit. His place is taken by Potts. Parker pulled a thigh muscle in training on Tuesday on Tuesday, and though he has been having intensive treatment since, it is considered unwise to take any risks. There was also a slight doubt about Eglington and Donovan but both came through tests today all right. This will be Potts first appearance in the senior side since last April. Everton; O'Neill; Moore, Donovan; Farrell, Jones, Lello; Wainwright, Fielding, Hickson, Potts, Eglington.
Everton Res (v. Leeds United at home, 2-15); A. Harris; Sutherland, Rankin; A. Demen, Woods, Melville; Tomlinson, Thomas, Cavanan, Vizard, Rabone.
Alan Damen, aged 19 who makes his Central League debut, is a former Birkenhead school boy player. He has been with Everton since leaving school.
Wolves Hopeful
Although Wolverhampton will not select their side until tomorrow, Manager Stan Cullis told me today that he is hopeful he will be able to turn out a full strength side. Despite the attractiveness of t
He fixture he is not anticipating a capacity crowd, as the kick-off 10.45. A gate of around 45,000 is the most Wolves expect. His is likely to be considerably exceeded for the Boxing Day return at Goodison when the start is the more convenient one of 2.15.
TAMING THE WOLVES?
December 24, 1954. The Liverpool Echo
Ranger's Notes
Everton face their biggest test of the season at Wolverhampton tomorrow against the current First Division leaders. Wolves making a strong bid to lift the championship for the second year in succession are playing extremely well at present, but Everton can take encouragement from the fact that they are not unbeatable at Molineux. Both Bolton and Chelsea have won there already. Wolves have also surrendered two other points on their own ground, Manchester United and Cardiff having held them to a draw. Like Everton, the Midlanders are replying in the main on last winter's personnel the only comparative newcomers being their South African right back Stuart, who won a senior place towards the end of last season. Shorthouse, the regular centre-half last winter, is now at left-back with Wright at centre half, flanked by two grand wing-halves, Slater and Flowers. Outside-left Mullen has recently lost his place to Smith but Hancocks who as unable to command a regular berth earlier in the season, has on a new lease of life being restored to the side. He has averaged a goal a game in the last nine outings, Swimbourne and Wilshaw are also in good form. Wolverhampton are not only worthy champions and prospective champions, but proved against Spartak and Konved that they can hold their own with the best club side from abroad. Close marking and strong tackling are features of their game, while the ability to keep going at tremendous pace over 90 minutes of hectic endeavour is another of their many attributes. Everton's players have every respect for the Midlanders, for they saw them in both their floodlit matches. We can take it for granted that the Blues defence will not under-estimate the opposition, and that there will be none of that nonchalance which proved so expossive against Sheffield United last week. Wolverhampton; Williams; Stuart, Shorthouse; Slater, Wright, Flowers; Hancocks, Broadbent, Swinbourne, Wilshaw, Smith. Everton; O'Neill; Moore, Donovan; Farrell, Jones, Lello; Wainwright, Fielding, Hickson, Potts, Eglington.
FIELDING'S DAY AT MOLINEUX
December 28, 1954. The Liverpool Daily Post
Wolves 1, Everton 3
By Stork
This was the complete Everton side, a fast, well-planned team who did everything right. All Wolves could do was flounder in the mud as Wally Fielding spilt the defence with his wonderful passes. From the beginning it was obvious that Farrell and his defensive colleagues were giving nothing away. The fact that Wolves scored is a great tribute to Wilshaw the one Wolves forward worth his salt. The man who stood out was Fielding. He caused Wright to move to the wings in vain efforts to chase the fast, clever Hickson, and with Wainwright moving inside the Wolves defensive were caught on one leg. Hickson took advantage of Fielding's astute passes to score two fine goals in the thirty-second and eighthly-first minutes and in between Wainwright got the other ten minutes after the interval. This goal was typical of the sort of play that Everton served up. Fielding collected the ball in midfield, square passed to Eglington, who called for Lello to move forward. He did so to such effect that Wainwright was on his own in the penalty area and he had no difficulty in beating Williams.
WRIGHT, 'FLU, CONCUSSION, IS IN HOSPITAL
December 28, 1954. The Liverpool Daily Post
Everton 3, Wolverhampton Wanderers 2
By Leslie Edwards
A sea of mud, a sea of faces -75,322 of them –Fielding's first goal of the season, Everton's second consecutive victory over the leaders in the space of three Holly days – that was the way of it at Goodison Park yesterday and followers of Everton are now busy computing not what Christmas cost but how near are their football loves to being one of the world champion clubs. Wolves beat Spartak and Honved; Everton beat Wolves twice, with an aggregate of six goals to three. If collateral form means anything Everton are would beaters. Unhappily collateral form does not always work out. Still, Everton's effort –and with Warhouse. Potts raising useful gallops in both matches –marks them as the heroes of the season. Many anticipated they would do well to hold Wolves at Goodison Park much less at Wolverhampton. For those with a stand seat yesterday's match was a joy; for those swaying like an angry sea on the terraces it must have been an uncomfortable experience. But followers of an Everton capable of winning at Wolverhampton are a hardy to they would not be denied their place for the return and after all victory made the discomfort them worthwhile.
Breaking Mud
By the nature of the ground where mud was tacky rather than slippery the pace could not be fast. But it was a game always hard fought by two unyielding sides –and if Wolves showed astounding virtuosity in their finesse on such a pitch was the clever good workmen and true, who came out on top after scoring first and enduring their most festing minutes in the 20 which preceded the interval. There was times in the second half when Wolves seemed to have enough edge to swing the game into revengefully their way but once Everton went to 2-1 they sat fairly comfortably and at 3-1 the match seemed good as over. Four minutes from the end Wolves cut the margin to a goal, but time and an Everton defence which often stepped in adroitly at critical moments prevented the goal which might have given Wolves a result more equitable. Could there have been a more under warding couple of games from the Wolverhampton point of view. Besides losing twice their left behind in Walton Hospital last night their captain and England's centre half Billy Wright misheaded Fielding's simple, lobbed corner kick in the gloom of the closing minutes. Play went on and the crowd had to call the referee's attention to the fact that Wright had collapsed. He recovered after attention and completed the game and was about to leave the ground with the remainder of the Wolverhampton team when it was decided as a precaution to send him to hospital for a thoroughly check Mr. Palmer, Wolves travelling Physio Therapist also stayed the night in Liverpool to keep his in touch with Wright's progress.
Ill With Flue
That Wright played at all was surprising. He had a heavy influenza cold, and his club's wish was that he should stand down. Wright being Wright, he insisted on playing. The duel between England's best half-back and Hickson was so entertaining and sustained one. Hickson has rarely played better. Maybe he knew he could not hope to beat Wright in a personal duel it was clear that Hickson looked for, and often found a team-mate with a good pass before Wright had opportunity to make his challenge. Not least pleasant of all the things which happened at Goodison Park yesterday, was the work of Swinborne, at centre-forward in the Wolves attack, and young Smith, now appearing on the right, not left-wing. If Lello had not held Broadbent so well-this was one of Cyril's extra special bests – Wilson might have gone for towards keeping Wolves on top. Instead he lay fallow for much of the second half after an opening in which he not only presented Swinborne with Wolves' first (and equalizing goal) but showed class, and ability rare a lad of only twenty-one.
Opened Eventually
Hickson opened eventfully with a good, quickly –taken screw shot and a bad miss from a much easier position. Twenty-four minutes had gone when Fielding chased a right wing pass which looked to be going out, but which stayed, conveniently in play. Hickson won a clinch for the ball at the edge of the penalty area and might well have tried to score from that position. Instead he teed up a chance with a splendid pulled-back pass for Potts and that was Everton in the lead. Except for the goals neither side finished well all day, but when Smith did a corkscrew run from the wing and passed more than one flummoxed Everton defender en route all Wilshaw needed was a quick volley and he took this high Smith centre to perfection (33 minutes). There followed a period of absolute Wolves supremacy. They moved the ball so accurately the mud scarcely seemed to exist. Better finishing must have brought goals, but at that stage Wolves were inclined, I thought to make the move too many rather than the telling shot. a Swinborne shot nicked the foot of the post before Everton scored again 15 minutes after the game had restarted Eglington beating the rangy South African back, Stuart (reward for one early unceremonious tackle?) weaved his way to a far-flung centre and Hickson standing beyond the far post jack-knifed his body (almost as Wright had done in a special headaway) to nod his side into a 2-1 lead. .
Escapes
The Everton goal escaped fortunately more than pace – Jones and Lello and company had nothing to spare in the process –before Everton went 3-1. This time the lead came from O'Neill, Wainwright picked up in his own half, his goalkeeper's clearance, took in the centre field position at a glance and found with a fine through pass the Fielding who until then had been in uninspired mood, Fielding goal-less season needed no prompting. He took the ball and defenders with him and controlling both, scored with a right foot shot at 80 minutes. Wolves goal four minutes from the end went to Broadbent and was provided by a right wing from Mullen. So when time was called all Everton was relieved and rather proud. The Liverpool results produced its more ironic blast of cheering. For a second game in three days the pace was maintained at hot from end to end. We had the odd sight of Wright knocked-out by getting the force of the ball on the top of his head, rather than on the forehead, the order right of Swinborne measuring out for the referee the ten paces at which he wanted the wall of Everton defenders to stand against the impact of a free kick. Farrell gave his special need of applause for this gratuitous bit of extra refereeing. It was odd, too, to see Stuart tee up the ball for a free kick with handfuls of mud. If he is not the world's best back he is certainly the world's most likely-looking back.
"Lift" For-Potts
For long spells Potts and Wainwright were not in evidence, but Potts as ever did his share of defensive spade work and to be in a winning side twice against Wolves must have given him great "lift." The kerner of the Everton side was against the half-back line. Farrell generalled the side well, and Lello s a spoiler, did magnificent service. Jones was often beaten by a Wolves line which proved itself to be one of the best we have seen this season, but Everton had the will to win it's match and despite them infendcity artists they proved that will to win matters. Hickson clean, quick and unselfish had one of his best games. The others who imprested were Flowers, a great player of the mud and winger Smith. The gate worth about £8,000 and Everton's highest of the season.
IT WAS A MERRY XMAS
December 28, 1954. The Liverpool Echo
Everton Take Maximum Points From The League Champions
Ranger's Notes
A fortnight ago, after their defeat of Spartak and Honved, Wolves were hailed as the world's unofficial club champions. What does two Christmas victories over the Midlanders make, Everton. Can we claim that this unofficial mantle has now fallen on Everton's shoulders. A crowd of 75,322 –the second highest gate of the season, and nearly three times that at Molyneux on Saturday saw Everton prove that these ravenous and rampageous Wolves are not invincible. Everton's success was founded on solid team work, the determination to be first to the ball and the ability to take chances. The Blues had no more scoring opportunities than the opposition. Indeed in the second half after Everton had taken the lead for the second time it was the home goal which for a time looked like falling. Everton's defensive covering, however was more than a match for all that Wolves could produce even though O'Neill charge escaped rather luckily once or twice. Territorially Wolves' could claim that they had slightly the better of matters but territorial advantage counts for nothing of it is not rounded off with goals and that was what Wolves could not do until it was too late. Then with only four minutes to go, Broadbent rammed one home with O'Neill out of position.
Hard Lot To Beat
Much has been written of Wolves during recent weeks. Of their great team work, their wonderful stamina their speed, ball control and all the rest of it. They showed that they are a hard side to beat, and they made Everton play to the very last ounce of their capabilities but on the showing of these Christmas games they have nothing better than the Goodison club in any direction. And don't forget that Everton were without Parker their leading marksmen, in both games, Potts gave a solid display yesterday. He may not be as quick as he used to be, but he fought with tremendous courage for every ball and was a useful cog in the Everton attacking machinery as well as a help in defence in time of stress. The home defence was sound all through O'Neill was never extended to any serious extent. The backs had the upper hand of the Wolves wingers, most of the time, and Jones was in brilliant form at centre half keeping close watch on the speedy and elusive Swinborne. The duels between these two were not quite as frequent and lose as those between Hickson and Wright but of which the home centre forward came with much credit.
Most Unselfish Leader
Wright can rarely this season have had such a terrific struggle to keep his end up. Hickson never given up. He chases every chance, half chance, and even quarter change, and never allows his opponent unchallenged, possession of the ball. He is the life and soul of the Everton front line and a most unselfish leader. Many a centre forward would have blazed away at goal after he had got the better of the opposition, as Hickson did in the move which led to Everton's opening goal at the 35th minute. Instead he pulled back a centre to make a "certainly" for Potts. This goal was equalized by one from Wilshaw ten minutes later, and Wolves must have thought themselves just a little fortunate to be on level terms at the interval, for Everton had cut out most of the work and had looked the more dangerous side. Hickson's headed goal off Eglington's centre at the 58th minute was a brilliant finish to a movement started by Fieldings cross-field run, following a throw-in and then ten minutes from the end, came the most popular one of all, a Fielding shot off. Wainwright's centre which gave Everton's main schemer his first goal of the season. That seemed to seal the issue despite Wolves galliant fight but four minutes from the end Broadbent made the final result look a little more respectable for the visitors.
Vital Spark Missing
Wainwright was not as prominent yesterday as in some recent games and Fielding's distribution especially in the first half, was not up to his normal immaculate standard. Hickson and Eglington, however, had a great game and Potts played a splendid part in this second success against the League champions. Wolves, on this showing, cannot continue undisputed favourites for a second championship success. Hard though they played, there was not that vital sparkle and flame of genius that was seen from them against their two recent foreign opponents and in earlier League games. One wonders whether the pace is beginning to tell, and whether the struggle to keep on top, together with their floodlit commitments has taken more out of them than they can give without feeling some reaction. Time will show.
EVERTON'S ONE CHANGE
December 30, 1954. The Liverpool Echo
Donovan Not Fit
Readers Complain of Goodison Crowding
Ranger's Notes
Compared with the side which completed the Christmas double over Wolves, Everton have one enforced change for the visit to Preston on Saturday, as Donovan is not fit through a pulled groin muscle, Rankin takes his place. Potts continues in the attack as Parker, also a victim of muscle trouble, is still unfit. Elsewhere there are no changes. Everton; O'Neill; Moore, Rankin; Farrell, Jones, Lello; Wainwright, Fielding, Hickson, Potts, Eglington.
Everton Res;- (home to Stoke City 2-15); Harris; Sutherland, Molyneux; Demen, Woods, Grant; McNamara, Meagan, Saunders, Lewis, Rabone.
Molyneux who makes his Central League debut is left back, is a 20-years-old full time professional. He has been with Everton about five years, and is a native of Prescot. The Blues defeated their Deepdale rivals at Goodison Park, on August 28, when the crowd was the highest of the season and only a couple of thousand short of the ground record of 78,899. Everton are sure to have a big following at Deepdale, but the attendance there, though likely to be a capacity one, cannot approach anywhere near the Everton total.
Unpredictable Side
Preston's ground is on the small side compared with the majority of First Division clubs and their record gate, set up when Arsenal were visitors in 1938, stands at 42,684. Everton followers who intend making the journey should get to Deepdale as early as possible to make sure of admission. After their two victories over Wolves the Goodison team will be an even greater attraction than usual. Preston have been rather an unpredictable side this season. They started off in great style scoring twenty goals in their first five matches, but since then they have dropped points when least expected –and also won some games in which their chances were not highly rated. Their four home defeats have been at the hands of Chelsea, Charlton, Huddersfield, and Burnley all of them by a single goal margin. For what it is worth as a guide, Everton have defeated Burnley and Chelsea in away games. Preston's three Deepdale draws have been with Newcastle, Portsmouth and Wolves –the latter providing yet another pointer to Saturday's probabilities. Preston's defence is the most consistent part of their side. the attack can be brilliant on its day, but there have been several occasions this season which it has lacked its normal sparkle, and Tom Finney, Footballer of the Year last season, has not been as consistently, outstanding as he used to be Donovan tied him up in the earlier game at Goodison Park,
Good Ideal
Mr. Fred Smith, of Sheridan Place, Bootle, passes on a suggestion which is worth the consideration of Liverpool. He asks that the Anfield club should announce the full time score of Everton's away game over the loud-speaker system as Everton do each week when Liverpool are playing away. As things are now a large number of people wait in the paddock to hear Everton's result from reporters in the Anfield pressbox.
Mr. Cliff Britton says that although Everton have not yet definitely about their training for next week's cup-tie. It is unlikely they will after their normal routine.
Goodison Crushing
"Black and Blue" of Copperfield Street, Liverpool 8 writes.
"Is it going to take another Bolton disaster to make club officials ease there is a limit to the numbers that can be packed into a ground in comfort and safely? I was in a good vantage point at Goodison at 1.20 on Boxing Day. Six minutes after the start I was one of a swaying struggling mass that had no control over their movements. After fighting for existence in this seething cauldron, I escaped to the fear where there were hundreds of spectators who had no chance of seeing the game unless they flung themselves on these in front. Yet some turnstiles were still admitting people. "If clubs value the extra money more than the comfort and safety of their regular supporters they should have the prices and taxes for instance cover again a possible injuries to unfortunate spectators.
PRESTON OFF FORM
December 31, 1954. The Liverpool Echo
Ranger's Notes
Everton make the short journey to Preston to tackle an out-of-form North End side which has failed to win any of its last four matches. The Blues took full points from the Goodison encounter at the end of August thanks to a Lello goal, and on recent form look capable of adding another "double" to the Wolverhampton one though it is a pity Donovan is marked absent for he had a great game against Finney last August. Rankin may find the Finney problem a tough one. The Deepdale side at one-time looked as though they might make a strong bid for the League championship. Since then, however, they have fallen away rather badly, and are far from reliable either home or away. Nevertheless they are not an easy side to beat, and most of their reverses have been by a single goal margin. Four sides have won at Deepdale this season and three others drawn which is not a very satisfactory position from Preston's standpoint. Defensively they have kept pretty much the same formation as that which did duty at Goodison with Thompson and Marston ever-presents. Since the departure of Wayman to Middlesbrough, Halsell and Higham have been tried at centre-forward though the former has since superseded Foster at inside-right. Another who has recently lost his place is Morrison. His position on the left wing is now filled by Eric Jones, a young reserve player who has been shaping well. The two holiday victories over Wolves have given the Blues further incentive to maintain their challenge to the leaders. They would be pressing those above them even hardest but for the fact that their goal average a slightly inferior in the four other sides on the same points total. With Wainwright and Fielding encouraged by having broken their long scoring spells Everton's attack could be still more dangerous in the weeks ahead. Preston; Thompson; Cunningham, Wilson; Docherty; Marston, Forbes, Finney, Hatsell, Higham, Baxter, Jones. Everton; O'Neill; Moore, Rankin; Farrell, Jones, Lello; Wainwright, Fielding, Hickson, Potts, Eglington.
EVERTON VILLAGE IN 1920
December 31, 1954. The Liverpool Echo
By Arnold J. Ashworth
Because of what follows, it is necessary to state at the outset that our picture is from an original sketch by the famous Liverpool artist, the late Mr. W. G. Herdman, and shows Everton village early in 1820. On the extreme left of the picture stands the original Everton toffee shop owned by Molly Busnell. Although the manufacture of this delectable sweetness was for a long time carried on in this establishment. Everton toffee was first made in a cottage accused by Molly Busnell a little higher-up the hill, round about the year 1869. It is said that the recipe for this toffee was not the invention of Molly herself, but was given to her, out of kindness by a doctor practicing in Liverpool. Perhaps professional etiquette forbade the mention of his name in connection with the making of the toffee. Molly kept the secret well, however, and the toffee found a ready sale, and increased demand necessitated the use of bigger premises. Molly Busnell's fame spread far and wide and Everton toffee has long taken its place along with other delicacies such as Banbugy and Eccles cakes and Ormskirk gingerbread.
Nineteen Families
Next door to the toffee shop are one or two small cottages and the Old Lev public house, the steps in front are house steps seldom seen, except at very old country houses. In the background stand some pleasant looking houses and on the extreme right is shown part of the mansion belonging to Mr. Thomas Shaw or "Squire" Shaw as he was often called from the amount of property he owned and the influence he exerted in the locality. This house was originally built by the Halsall family whom the Shaw's succeeded and it was the dominant house in the village. The original village the abode of the whole 11 taintless who constructed the population in 1327; extended from the corner of the present East-Bourne Street on the brow of the hill, in a curved line to the corner of the present Breck Road. At the extreme west end that is on the corner of Eastbourne Street just above the round tower or lock-up, there stood on an escarpment of rocks a long low thatched building of stone. Prince Rupert's Cottage. Although a humble dwelling of four apartments with clay floors and walls it was probably as good a house as any the neighborhood possessed when the Prince took up his quarters there in 1614 and it certainly possessed one advantage in the clear, unbroken view, which it commanded of the valley below in which stood the little mud-walled town of Liverpool.
Highest Point
It is not generally known that Everton appears in Domesday Book under the name of Hiretun for "Higher Town's which is expressive of it's position on the highest land in the neighbourhood. Its highest point is a St. George's Church, which stands 250 feet above sea level, and is the highest part of Liverpool. In the foreground of the picture is the noted Everton Cross, which was a round stone pillar about four feet in height, and standing on a square base of three stone steps. As the population of the village increased the cross ultimately became a nuisance for standing as it did almost in the centre of the roadway it was the cause of constant collisions by vehicles and pedestrians particularly after dark, when oil-lamps only shed faint rays of on the scene. Although many applications for its removal were made to the authorities, these served no purpose, for the Evertonians loved their cross and would not hear of its abolition, while the authorities shrank from the task of removing it in face of the villagers objections.
Consternation
But removed it was, and tails is the story of its destruction. One dark and stormy night in the winter of 1820 not many months after the drawing shown here was made two bold spirits armed with crowbar, pickaxes and spade, might have been seen stealthily approaching the old Everton Cross –the focal point of the village, where in the day's of the Plague the people of Liverpool brought food from the farmers and passed their money through water in basins provided for the purpose in order to prevent contagion. The two hirelings, working in the darkness while the villagers slept, soon ended their task and in the course of a few hours, every stone of the old village cross was safely locked up in the Round house on Everton Brow. The place where it had stood was carefully raked and smoothed over. When morning dawned, the consternation of the Evertonians was intense. From house to house the news spread that the Father of Lies had taken the cross away during the storm of the previous night. So the report spread, even through all Liverpool, that the Devil had run away with the Everton Cross and it was not until many years afterwards that the truth came out. This disclosed that the abductor of Everton's Cross was none other than Sir William Shaw the road surveyor of the township.