AT THE QUARTER STAGE
October 1, 1954. The Liverpool Echo
With a quarter of the season's football fixtures now complete this seems an opportune time to take stock of the position at Goodison Park. Though Everton have slipped down the table of later they have done better than many people anticipated. There is more in their performances, however, than just a successful start. They have stuck a solid blow for commonsense in football management. Not a penny has been spent on transfer fees since they suffered relegation and the club has proved that sound planning and a long term policy allied to good coaching and a loyal staff can be just as effective in staging a comeback as handling out big sums for readymade players. Apart from the £10 signing on fees paid to young players on turning professional and donations to minor clubs, Everton have put aside their cheque book. Incidentally a story which was recently given publicity about an Irish club which returned Everton's donation had the facts all wrong. That cheque was sent ages ago, before the player concerned had got into the first team. And he had been twelve months away from his junior club when Everton signed him. The Goodison club was not under the slightest obligation in this case.
Doing The Right Thing
They have already sent three helpful cheques to Maymount Rovers and Bulfin United of Dublin the clubs which Donovan and O'Neill used to assist. Any minor side with a legimate claim can always count on proper recognition from Goodison Park. There has been much talk lately of £10,000 as the likely price if John Charles leaves Leeds United. To my mind any club which pays that amount today wants is bumps reading. Average gates have been declining for years and taxation has gone up threehold since the new entertainment impost. The taking of such big risks can no longer be justified. I know that a fair proportion of the money might come back via the turnstiles providing the buying clubs struck a rich vein of success, but it would be a tremendous gamble brilliant player though Charles is. He might find as many others have in the past that such a fee would be a millstone round his neck. Everybody would expect too much of him.
It Is More Satisfying
Most folk would prefer to see their favourites do as Everton have –achieve success through their own products. There is far more satisfaction when your own youngsters make the grade as well as greater club loyalty. Everton may not do any better than I originally predicted before the season started which was to occupy a comfortable mid-table placing. But they are building steadily for the future and the success also attending their reserves and junior sides augers well. On what I have seen of them this season the defence strikes me as the more solid and dependable section of the side. The forwards have produced some first-class displays up to a point, but no often have failed to extract full benefit from excellent approach work by over-elaboration or faulty shooting. If this can be remedied Everton are likely to remain well up the top half of the table. With a bit of luck they may have a good cup run too though this is perhaps looking ahead a bit too far.
Reserves Under Lights
Everton reserves break new ground tomorrow night when they will meet Newcastle United in a Central League game at S.James' Park under floodlights. This will be their first venture under lights for an actual League game though training is now carried out with the aid of a similar system at Bellefield in the evening.
A BIG CHANCE FOR FARRALL
October 2, 1954. The Liverpool Daily Post
By Leslie Edwards
Everton First Division debutants at Maine Road , Manchester this afternoon is eighteen-years-old Alec Farrell who gets his chance at inside right in place of the injured Fielding. Though he is young in years member of the well-known sporting West Kirby family has been around in football a good deal since he first drew the attention of clubs as a schoolboy. He was not yet fourteen when representatives of clubs descended on his West Kirby home. Liverpool learned that Manager Cullis of Wolves was interested and dispatched someone forthwith to press Anfield claim. Arsenal had emissaries on the job; Manchester United were now slow to join the queue of those who hoped to sign Alec when he was a signable age. For a long time Liverpool were favourities. The boy once stated that his ambition was to wear the red of Liverpool. About that time he followed Liverpool in many of their League games and in some of their cup-ties, including I believe the Cup Final. For a time he trained at Anfield, then suddenly changed to training with Everton. When I wanted to make this news public Manager Cliff Britton dissuaded me because he said this would bring Farrell to the attention of other League clubs. Finally Farrell signed for Everton and made his debut for them against Lincoln City at Goodison Park in April 1953. Then, when badly injured in a floodlit friendly match against Exeter City in October 1953, he was brought home to face a difficult cartilage operation. His recovery has been slow but sure. I suggest he is likely to make an impressive bow in Div 1 today, though the Everton team is also minus Parker (for whom Gwyn Lewis comes in) and goalkeeper O'Neill will be playing despite a painful boil on his cheek below the ear.
Almost Chaired
Odd that in this match will be another player, German-born goalkeeper Trautmann who can also thank Hoylake for some part of his early notability. It was there, in the St. Helens Town F.A. Cup team that he played one of the games of his life. Though his brilliant saves meant that Hoylake lost, the natives forgot their disappointment and all but chaired him to the dressing room. Fortunately for Everton, City today are minus two of their best players –Revie and McAdams who are engaged in the Belfast international. If Lewis plays as he did when last he figured in the Everton attack a few weeks ago Everton may well continue to proper from away games. Manchester City; Trautmann; Meadows, Little; Barnes, Ewing, Paul; Fagan, Spurdle, Williamson, Hart, Clarke. Everton; O'Neill; Moore, Donovan; Farrell, Jones, Lello; McNamara, Farrell (A.), Hickson, Lewis, Eglington.
CITY'S FOURTH MINUTE GOAL DID THE TRICK DESPITE A PENALTY MISS
October 2, 1954. The Liverpool Football Echo
Man City 1, Everton nil
By Stork
There was nothing brilliant about this hard-fought tussle, with both sides missing their key men and the goalkeepers having little to do. Near the end a little too much vigour crept into the game. Manchester City;- Trauntmann, goal; Meadows, and Little, backs; Barnes, Ewing and Paul, half-backs; Fagan, Spurdle, Williamson, Hart and Clarke, forwards. Everton;- O'Neill, goal; Moore and Donovan, backs; Farrell (captain), Jones and Lello, half-backs; McNamara, Farrell, Hickson, Lewis, and Eglington, forwards. Referee; Mr. J. McCann (Preston). The rise of City this season was obvious by the large attendance for Maine Road was fairly well-packed when the game started. Alec Farrell made his first appearance this season and O'Neill was wearing a plaster on a boil at the side of his face. Everton were soon at a disadvantage, for at the fourth minute Clark opened the day's scoring with a drive which was moving away from O'Neill the whole time. While admitting that this was an excellent shot by the City winger, he was lucky to get the opportunity, produced by a pass back from McNamara to Moore. Clarke nipped in like lightning, collected the all and with his left foot lift a grand goal. The first few minutes saw Manchester on the attack and the Everton defence had to put in some solid work to keep a lively attack under control. Fagan had a shot which was cannoned away for a corner, and this saw McNamara helping his defence and clearing a dangerous situation.
A Yard Wide
Then Hart and Clarke caused trouble for Everton and the former drove in a fierce ground shot which passed the upright by no more than a yard. So far Trautmann had nothing more to do than take a back pass from Meadows. It was certainty tough going for the Everton defence and a spooned defensive effort by Jones sent the ball over the goalline for a corner. O'Neill made a good punch away despite being badly harassed by a number of City forwards. The City were still the more dominant side and were displaying some fast clever football although there was one short period when Everton seemed to have struck their proper rhythm. It was not maintained and City were soon back testing the Everton defence very considerably. Hart always ready to shoot put another one just outside the right. Farrell made a clearance and Hickson used the neatest of flicks to send the ball through to Farrell. The young Army forward was going through confidently until he pushed the ball a shade too far in front and was dispossessed. Play returned to Everton's quarters with Hart having another crack at goal and it was just as well his shot was off the target. Each one he had delivered so far had carried intense power and would have needed the best from O'Neill.
Cross Purposes
Hickson and Paul got at cross purposes and the referee had a word with the Everton man. City had an escape when Lewis challenged Trautmann who lost possession, but a colleague helped him out of his difficulties. Farrell shot over, and then City missed an opening the like of which I have rarely seen. Half-time; Manchester City 1, Everton nil.
Hart shot over before Everton showed the stamp of real class without finishing the move with a shot. City are very quick tacklers and allowed no respite. Clarke and Hart made a reasonably good opening for Spurdle, the City man heading off the mark.
Hickson Foiled
A long ball by Farrell to Hickson out on the right wing was full of promise, for the Everton leader raced round Meadows only to come up against Ewing, who pushed the ball away from Hickson's feet as he was about to shoot. Both came down as the ball trickled over for a corner. Eglington made a neat pass to Farrell which the young Everton boy tried to head into goal but did not get the desired direction. Straight down the field went the City and Hart handed the ball into the Everton net, but of course no goal was allowed. Everton had not touched their best at any stage. They showed signs at times but the City's speed was one reason why the Blues were not working with the same smoothness as that of which we know they are capable. So far little had been seen of Hickson, who had been well marked by Ewing. Everton were naturally missing Fielding and Parker, for although Lewis and Farrell were trying hard they were not holding the ball and distributing it as the regulars do. Fagan tried two shots without troubling O'Neil, and Farrell gave Trautmann a very easy one to save. Neither goalkeeper had been unduly pressed. City attacked much more frequently with Williamson playing behind the rest of the line. Trauntmann made a catch from a long job by Moore. It was now becoming a series of fouls, and referee McCann called the captains together and had a talk with them. Again Trautmann pulled down a long lob from Moore and when the City came downfield O'Neill brought off a spanking save from Fagan. Lewis tried a volley and it was no more than a foot over the bar – a praiseworthy effort. Final; Manchester City 1, Everton nil.
HICKSON INJURED IN ROUGH FINISH
October 4, 1954. The Liverpool Daily Post
Manchester City 1, Everton 0-Attendance 45,737
For the major portion of this game the football was well up to standard without being brilliant, though it could readily be seen that both teams were missing their key men. Later a nasty element crept into the game and the referee deemed it necessary to call together the two captains and have a talk on the matter. It was a pity this sort of thing should creep in for the game had been hard fought with City perhaps the better side. They undoubtedly were superior in the first half when they were fast to the all, distributed it well and were keen to have a shot. Everton could not find their rhythm. This was understandable with such craftsmen as Fielding and Parker out of the side. Well as Lewis and Farrell played they did not forge the link which has made the Everton attack so good. The goal which gave City valuable points and pegged back Everton was a chancy sort of thing. One cannot blame McNamara for making that back pass to Moore, but he should have put a little more power behind it to make sure the ball would reach his full back. In the event it did not reach Moore. Clarke nipped in, took the ball away and crashed it into the far side of the goal – a wonderful shot.
Passed Too Squarely
At times Everton pulled out some really good stuff but they made passes too squarely. It was not until the late stages that Trautmann had a direct shot to deal with. It was a tip-top save which he made from Lewis at the end of the game. City produced some first class soccer in the first half hour, then Everton came into the game and gave a good display of good combined football, but it was not maintained. Jones was at the peak of his form in stopping the swiftly moving and dangerous City attack. Hickson was well watched by Ewing and rarely got a chance. He did get through once, but the City centre half made a despairing effort and conceded a corner. After a series of fouls came into the game. Almost at the finish Hickson and Ewing were involved in a scene and Hickson was laid out. I cannot conclude without reference to Jimmy O'Neill's penalty save. Fagan who had been responsible for getting this penalty award for the City was given the opportunity of taking a goal but his shot was directed straight at the Everton goalkeeper who patted the ball down and then went on to complete the save.
EVERTON RESERVES GRAND DISPLAY
October 4, 1954. The Liverpool Daily Post
Everton Res 4, Bury Res 2
Everton Reserves strengthened their position in the Central League with another grand display against Bury Reserves at Goodison Park on Saturday. Meagan had a good game and with Buckle formed a good wing for Everton, Gibson also shone while Birch and Woods prove two good halves. Buckle (2), Meagan and Gibson scored for Everton and May and Robinson for Bury.
• Everton "A" 3, Liverpool "A" 0
• Everton "B" 7, Earle Res 1
GEORGE GREEN
October 4, 154. The Liverpool Echo
Ranger's Notes
Readers who missed George Green's brilliant and inimitable cartoon last Monday and again today will join me in wishing George a speedy return to his page. He has been laid up with a severe attack of bronconitis; I hope he will soon be in circulation again.
WHO STARTED IT?
October 4, 1954. The Liverpool Echo
By Stork
I don't know what started the rumpus at Maine Road but whatever it was it put a nasty taste on the mouth. It got so bad that the referee deemed it necessary to call the two captains together in the hope that it might ease the tension. O know that Hickson is no angel but there were others equally as robust and one of the worse fouls I have seen for years happened when Hickson was floored with a knee in the back for no reason whatever. May be that was the real start of the trouble, but what we all wanted to see was the end of it. Hickson was not one bit worse than other offenders, but he came in for the ire of the crowd who booed him off the field. It was a pity that this "barney" arose for, although the game had not been exception, it had been hard and interesting but once the tempers became frayed I for one wished it was over for it was undoubtedly distasteful. Had Fielding, Parker, Revie and McAdam been on the field, I think we would have seen a high class game of football, for although their deputies did their best, they were not quite up to the standard of their seniors. Revie has introduced his "Hungarian" plan into the City side and they have made excellent progress by it. Williamson was allocated the task of working the plan, but was not quite up to it.
Everton Puzzled
Nevertheless I think it had Everton puzzled for a time and it was during that period that Manchester City scored the only goal of the match at the fourth minute. It was a beautifully taken shot by Clarke but he was lucky to get his chance, for it was a McNamara back pass to Moore that let him in. The back head did not have sufficient carry to take it to Moore and Clarke whipped in like a whippet to collect the ball and score with a great left footed drive. Manchester City are one of the clubs who believe that a ball kept out of goal by an opponent's hands could be counted a goal and not a penalty. They will become emphatic after Saturday, for Moore punched the ball out of the Everton net and O'Neill saved Fagan's penalty kick. I am certain that the ball was over the line before Moore touched it. To miss from the penalty spot is considered tragic but what would you say about a player who missed when standing two yards out of goal no goalkeeper at home and no one to challenge him? Spurdle will never forget that miss. He had only to let Fagan's centre hit his forehead and it must have been a goal. Whatever he was trying to do only he knows. I could hardly believe my own eyes when I saw the ball passing outside the upright, Spurdle must have wished the ground to open and swallow him up so distressed was he. Colleagues rushed up to him to cheer him up. He certainly needed their commiseration for never will there be another miss like it. You will see that City should have been three goals up at the interval.
Problem Solved
At last Everton got the hang of Williamson deep centre forward play and City never again looked like scoring. Everton were not running smoothly but they halted hard and none played better than Farrell. Near the end Farrell and Lewis had chances –Trautmann saved the drives. City deserved there victory if only because of their first half display which was bright and snappy and if the selectors are looking for an inside right, let me comment Fagan's to them, not even with Fagan's penalty shot which was straight at him. I enjoyed the first half, I enjoyed the early part of the second portion but the last 20 minutes I want to forget when it developed into a case of "taking the man and not the ball."
EVERTON'S INJURED
October 6, 1954. The Liverpool Echo
Ranger's Notes
At Goodison Park, Fielding and Parker are now in light training, and there are hopes that both will be fit for Saturday's visit to Aston Villa though this will not be known until they have tackled full-training and had spells with the ball. Wainwright is also in light training while Jock Lindsay has started, special exercises in order to strengthen the leg muscles which lost a lot of tone while his leg was in plaster. Lindsay is endeavoring to get them back to normal by running up and down the steps at Goodison, a rather monotonous but very helpful thing. It will be a fairly long job yet, but there are hopes that he may be able to resume playing early in the New Year.
ASTON VILLA CHANGES
October 7, 1954. The Liverpool Echo
Irish International Stars Back in the Side For Everton's Visit
Ranger's Notes
Aston Villa will have Blanchflower and McParland back in their side to oppose Everton at Villa Park on Saturday. Both were away assisting Ireland against England last week. these two anticipated changes are the only alterations in the Villa team compared with the side which fought a goalless draw with Huddersfield last Saturday, and the line-out constitutes Villa's strongest composition except that goalkeeper, parsons is not available through injury. His place is taken by Keith Jones, a former Welsh international custodian who only returned to the side last week after occupying the berth in the two opening games. Jones is a capable player, and Villa are not likely to be weakened by his inclusion. Inside right Tommy Thompson was doubtful until this morning, due to a foot injury he received last week but he passed a fitness test all right and takes his place. Blanchflower recently asked Villa to put him on the transfer list, but so far no official intimation has been given of their decision. One imagines that the answer will be in the negative. The Irish wing half is far too good a man to part with so long as there is any hope that their differences can be amicably settled. Villa have called on twenty players to fulfil their first eleven fixtures this season and their lowly league position must be causing anxiety behind the scenes. Everton have lost only one game in six post-war League and Cup visits to the Villa ground and on the current form of both clubs the Blues look to have a good chance of at least one point. Aston Villa; Jones; Lynn, Parker; Blanchflower, Martin, Baxter; Lochhart, Thompson, Pace, Dixon, McParland.
A LUCKY GROUND
October 8, 1954. The Liverpool Echo
Ranger's Notes
Everton, away to Aston Villa, make two changes compared with last week. Parker now fit again returns in place of Lewis at inside left and Wainwright takes over from Farrell at inside right, as the later has had two stiff Army representative games during mid-week. This is Wainwright's first senior outing since the home game against West Bromwich a month ago. Fielding is still unfit. Everton have happy memories of the last visit to Villa head-quarters. That was when they upset the Villa's Cup hopes by winning them in the sixth round two seasons ago, an occasion which will long be remembered by all who saw the game for several reasons. One was Everton's brilliant football, another was the amazing volume of support which the Blues followers turned on for their favourities. Villa Park has also been a lucky ground for Everton in post war League games. The Blues have won twice and drawn twice in their last five visits. Everton's away record this season is bettered by no other side except Chelsea. They have scored twice as many goals on other clubs ground as they have a Goodison which is a rather unusual state of affairs. If they can maintain this scoring frequency at Villa Park they stand a good chance of at least a point. Against that, however, one most take into consideration the lowly position of the home club, which means that they will fight hard to improve it.
Defence Is Shaky
The Villa must be getting anxious about their future prospects for they have little in hand over the four clubs below them in the table. Greater fighting spirit before their own supporters seems to be needed as the Midlanders have won only one of their six home engagements to date when they defeated Portsmouth by a single goal margin. Their defence is decidedly shaky. It conceded six goals to such lowly opponents as Sheffield Wednesday, five to Newcastle United and four to Tottenham, who are a very ordinary lot this season. Villa have already tried three goalkeepers, including an amateur in Mike Pinner, who has played for Cambridge and Pagasus. Con Martin has recently taken over at centre half from Frank Moss, and left half Baxter and left back Parkes are the only ever-presents in the rear half of the team. So far as the attack is concerned, the obvious danger man is centre forward Derek Pace, who has totted up seven goals in 11 outings. There is little striking power on the wings, for not a goal has come from outside right, where Roberts, Gibson and Lockhart have all been tried and only one has come from Irish international Peter McParland at outside left. The inside right berth has also to provide Villa's first goal of the season. Here the successive occupants of the position have been Dixon, Thompson, Tyrrell, and then Thompson again. Pace is the only ever-present of the front line, though McParland lost that distinction only when called upon for Ireland last week. Right half Blanchflower was also on duty for his country at the same time, prior to which he had been automatic choice since the season started, although he has recently put forward a request for a transfer. Aston Villa; Jones; Lyon, Parkes; Blanchflower, Martin, Baxter; Lockhart, Thompson, Pace, Dixon, McParland. Everton; O'Neill; Moore, Donovan; Farrell, Jones, Lello; McNamara, Wainwright, Hickson, Parker, Eglington.
Everton Reserves (v. Villa Reserves at home, 3 p.m.); Leyland; Sutherland, Rankin; Grant, Woods, Melville; Mayers, Farrell, Saunders, Meagan, Buckle.
TOP BILLING
October 9, 1954. The Liverpool Daily Post
By Leslie Edwards
Aston Villa v. Everton…what tradition, what memories that "billing" produces…and how pleased people in Birmingham (not least those who handle the Villa-Park cash) will be to see Everton back as First division opponents. The last time Everton played at this ground was in the famous cup-tie two seasons ago. Villa will be anxious today to insure against Hickson repeating one of the best goals of his career. This was taken despite the challenge of Frank Moss replaced on this occasion by Con martin. Martin is most versatile. He can play at centre half or in goal. Duels between him and Hickson should be worth travelling to see. Doubtless many Everton fans will travel. Everton have a better chance here of adding a notch to their splendid away record than they did at Maine Road a week ago. Wainwright is back. At inside right –and so is J.W. Parker. Possibly part of Everton's failure against City was the inclusion of two comparatively inexperienced forwards on the same day. Danny Blanchflower still not listed as he wanted to be is the finest half-back Villa have had for years. Though he seems to possess only ordinary physique he maintains his game at full strength from start to finish. He has that uncommon capacity for generating a side too. What an acquisition he would be to any team needing a right back and captain over a Matt Busby line of country. If only because they have dropped odd points from home matches Everton will be especially keen to make this match pay double. Given a point they will be well placed to meet in successive weeks such sides as Sunderland (h), Huddersfield (a), Manchester United (h) and Portsmouth (a). Aston Villa; Jones; Lyon, Parkes; Blanchflower, Martin, Baxter; Lockhart, Thompson, Pace, Dixon, McParland. Everton; O'Neill; Moore, Donovan; Farrell, Jones, Lello; McNamara, Wainwright, Hickson, Parker, Eglington.
EVERTON FOUND VILLA A PARK TO THEIR LIKING AND STROLLED TO VICTORY
October 9, 1954. The Liverpool Football Echo
Aston Villa 0, Everton 2
By Stork
Another away win for Everton. It is amazing how they can play so well away from home. This was a well won victory, for it was accomplished by good football and perfect teamwork. At times they had the Villa running willy-nilly not knowing what Everton would do next. Aston Villa;- Jones, goal; Lynn and Parkes, backs; Blanchflower, Martin, and Baxter, half-backs; Lockhart, Thompson, Pace, Dixon, and McParland, forwards. Everton; O'Neill, goal; Moore and Donovan, backs; Farrell (captain), Jones and Lello, half-backs; McNamara, Wainwright, Hickson, Parker, and Eglington, forwards. Referee; Mr. F. Coultas. (Hull). It could not have been a nicer day at Villa Park, although the crowd was not as large as expected, Villa had two of their Irish internationals back along with Con Martin. Everton had Wainwright at inside right. The opening exchanges greatly favoured the Villa and they soon had a free kick awarded them for a foul McParland put in a terrific shot which struck Moore and bounded to safely but for some reason the kick was retaken. This time McParland ballooned the ball and the Everton defence was able to clear. It was the left wing which was one of Everton's greatest problems at least so far, for McParland was only too anxious to shoot given the slightest opportunity. The Everton attack had not had much chance to show its ability, but when it did move on Hickson from the left wing put through to Parker, and there seemed bright prospects. Unfortunately, Parker stumbled and although he quickly recovered he had just lost his chance.
Beaten By Jones
McParland came again, but this time he was beaten by Jones. This fiery Irishman had no intention of lying idle and soon delivered a right foot shot from a Thompson pass. O'Neill was unable to hold the ball but turned it for a corner. With 15 minutes gone, Everton now getting the hang of things and Hickson this time on the right flank swung over a centre a shade to high for Parker. Yet it did produce a corner, which was speedily cleared. Hickson was moving to all parts of the compass and he tried his luck on the right wing, only to be mastered by Parkes. He got his reward when Tom Jones came right up field and pushed him the ball. Hickson took only a few steps forward before shooting fiercely into the Villa goal at the 16th minute. Almost immediately afterwards Blanchflower made a back header to relieve another dangerous situation. This goal rather knocked the stuffing out of Villa, and their defence was caught napping when Eglington cut through and offered McNamara a high centre which the right winger took well with his head, the ball travelling a foot outside the upright.
Moore Heads Out
McParland won a corner from which the ball was deflected and Moore had to head out of the Everton goal, while later Pace only half hit his shot and O'Neill was able to save although I feel sure that he did not glimpse the ball until the last second. Everton were making the better openings with fewer moves, for Villa were inclined to bunch near goal. McParland did net the ball but he was yards offside. On the half hour Hickson again operating at outside right, put across a low centre which Wainwright swung his foot to, but did not get the right direction. Con Martin got himself in a jam in front of his own goal and was lucky to get out of his troubles without paying the penalty. He did eventually get the ball away and this set the Villa going, but McParland's shot passed wide.
Tight Defence
The Everton defence was very tight when required and McParland was once again caught in an offside position close in to goal. Taken right through this half Everton had been the better side. They made openings more quickly by methods which had the Villa defence very often on the wrong foot.
Half-time; Aston Villa nil, Everton 1
The Everton defence was still as sound as a rock as may be judged by the fact that Moore and McNamara brought off a lovely piece of work to blot out the Villa left wing which was looking dangerous at the time. Wainwright was brought down by Baxter and the free kick, although taking play into the Villa goal area, did not cause any great difficulties. Hickson was penalized for a charge on the Villa goalkeeper, which I though was quite wrong. Villa were trying hard for the equalizer and O'Neill made a beautiful catch from Pace, who a moment later cracked in a good shot which passed inches outside the post. It was nip and tuck and when Hickson went out on the right, he pushed across a low centre for Parker but the inside left was crowded out before he could get in his shot. seeing his forwards were not making much progress in regard to shooting Parkes the Villa left back, came up to deliver the best shot of the match from just outside the penalty line. It was a full-blooded rising shot but O'Neill met it confidently –a great shot and an equally great save. This must have given Thompson the urge to have a go, for he came along with a shot that hit the post, bounded right across the Everton goal face and away to safety.
Bobbed Around
Everton were straight back and the ball bobbed around the Villa goal for what seemed an age. Finally McNamara hooked the ball into the Villa goalmouth near the angle of the woodwork where Jones appeared to have it covered. There was a jumble and the next thing the ball was in the net at the 61st minute. This was followed by an intense struggle in the Villa goal, and the wonder was that it did not fall a third time, for a powerful drive by Parker was brilliantly saved by Jones. Still the ball kept dancing in front of Jones, with Everton trying to make it three, and the Villa defence sometimes by sheer luck got out of their scrapes. The Birmingham side could not clear the enemy out until a free kick came to their relief. It was only a temporary advance, for Everton were soon back, and a Parker shot as deflected for a corner, by Baxter. McNamara was hurt and off the field for a time. Villa changed their attack, but there was still no punch from their forwards. They moved the ball upfield by nice football, but when they got to close quarters they usually fell victims of the Everton defence. Goalkeeper Jones was nearly caught napping with a shot by Parker. He went down too late was only able to stop the ball and then had to go on to complete the save. A poor pass back by Jones to O'Neill nearly brought disaster for Everton, for McParland nipped in very quickly but O'Neill managed to get his foot to the winger's shot and the ball passed out to Farrell who cleared. Jones made an excellent catch from a corner kick and O'Neill caught a shot by Pace, now at outside right. Near time McNamara netted for Everton but was in an offside position. Final; Aston Villa nil, Everton 2.
• Everton "C" 10, Newton 1
EVERTON RES V ASTON VILLA RES
October 9, 1954. The Liverpool Football Echo
Everton Res;- Leyland, goal; Sutherland and Rankin, backs; Grant, Woods, and Melville, half-backs; Mayers, Farrell, Saunders, Meagan, and Buckle, forwards. Aston Villa Res;- Corbett, goal; Aldis, and Ashfield, backs; Proudier, Moss (F), and Crowe, half-backs; Roberts, Tyrell, Walsh, Chapman, and Gibson, forwards. Referee; Mr. G. Clarke (Altrincham). Everton, who head the Central League table, were the first to become dangerous, Buckle and Saunders driving home good strong shots. The Villa were a lively lot and Gibson gave them the lead in the 10th minute. The Blues were lucky to get leved in the 27th minute when Crowe deflected the ball into his own net. Half-time; Everton Res 1, Aston Villa Res 1. After the restart Everton took up the offensive, Corbett in the Villa goal doing extremely well. Everton should have taken the lead shortly afterwards, Buckle missed an open goal from near range. In the 55th minute Proudler from 30 yards put Villa in the lead again.
SOLIDITY EVERYWHERE IN EVERTON X1
October 11, 1954. The Liverpool Daily Post
Aston Villa 0, Everton 2
By Stork
This was as good an away victory as Everton have won this season and to date they have succeeded on four foreign grounds. The Villa are no mean performers on their own ground, yet Everton proved too much for them and the score did not flatter. They may have been a shade lucky with their second goal, but the first was worth coming a distance to see. Method won this game. Method which enabled Everton to make openings with only half the flourish which attended Villa advances. The game was attractive and fluctuating but Villa, though outmaneuvered kept the battle going to the finish. I rate this latest Everton victory as their best. They played excellently from start to finish. Villa were quite capable of doing good things in midfield, but when they came to challenge the defence they found it as solid as a rock. Rarely was one man without cover in the Everton Iron Curtain.
Moore's Part
It is difficult to single out any one above others, but I must give praise to Moore for one of the finest exhibitions of defensive play I have seen for a long time. McNamara had the honour of scoring Everton's second goal. There might have been a slice of luck about it, but the fact remains that he got it. If my memory serves it is his first League goal. There were many highlights with Everton producing most of them, although early on McParland was responsible for some entertaining wing play. From stern to stern there was solidity everywhere in this Goodison outfit. Although Villa fought galliantly, they had not the answers to the tactical movements and progressive play of their opponents. Villa will not forget that first goal, Hickson's. It must have brought back memories for them as the same player knocked them out of the Cup a couple of season's ago. Hickson has not been figuring in the scoring list this season, but has been content to make chances for others. When he took Tom Jones pass, he remembered that his job is to score and went on to deliver a great shot which left Jones helpless. From then on Everton played with confidence and charm. When McNamara lobbed the ball into the Villa goalmouth near the angle of the post Jones was fumbling and uncertain and the ball was soon in the back of the net. After this Everton hammered the Villa defence without getting further goals. They should undoubtedly have had another at the death when a Hickson-Parker link-up had the Villa in Queer Street, but Parker shot outside.
EVERTON RESERVES MISSED CHANCES
October 11, 1954. The Liverpool Daily Post
Everton Res 2, Aston Villa Res 3
Aston Villa Reserves deservedly gained the maximum points against Central League leaders, Everton at Goodison Park on Saturday because they were the more constructive and faster side. Everton certainly had their chances, especially when Buckle and Meagan missed gilt-edged opportunities. Leyland gave a good display in the home goal, saving grand efforts from Chapman and Walsh. Everton marksmen were Meagan and Crowe (own goal) while Gibson, Proudler, and Walsh secured the Villa goals.
EASY FOR EVERTON
October 11, 1954. The Liverpool Echo
By Stork
I have quoted the virtues of Everton's excellent football so often on away grounds this season that those people who can only go to home game must be wondering if I am. Kidding or just bolstering them up for home consumption. I really admit that it seems strange that they can pull out such wonderful soccer on foreign grounds yet are unable to match it when playing before their own crowd. By rights it should be the other way about, but I have not been telling you any fairly stories – the scores have spoken for themselves. I only wish they would entertain their Goodison friends as they have entertained those who travel with them. They are becoming a team of slow starters for it takes a little time for them to run themselves in and find the strength of the opposition I have only seen them play better at West Bromwich Albion then they did at Villa Park on Saturday, when, after the Villians had looked a dangerous side, they simply played their rivals out of the game, and the score in no way denotes the ease of their triumph. They were a much better footballing eleven better tacticians and had a defensive barrier that covered. O'Neill almost as completely as the Iron Curtain. Only one slip did I see during the whole afternoon and this was covered up so speedily that it was not a real danger, although it looked it at the time. The team moved with a smoothness which was bound to bring results, if the chances they made could be turned to account.
Raid Blows
The longer the game progressed the more brilliantly became Everton's football, and in the end they were "crushing" along; or at least it seemed that way, for they were never out of a jog-trot. They had ample time to do things; the Villa were more hurried and naturally more inaccurate and were lucky to get off with only a two-goal deficit. A team which can take nine out of a possible 14 points away from home against opposition, with one exception –Sheffield United – must be considered in championship class. Everton undoubtedly had eleven, good and true men, whose solo idea was to play football and play it as a team.
Man of the Match
In a game of this sort when one side is so much removed in skill from the "enemy" it does not seem fair to pick out any one player for special praise but I just cannot refrain from gaining Eric Moore as the man of the match. He was faultless; his intersections being perfectly timed and that against McParland the Irish international, who given for least attitude would have put the cat among the pigeons. Moore gets better and better with each match and the England selectors could do worse than take a look at him. I don't think his colleagues will begrudge him the praise for the Everton team today does not mind who gets the laurels so long as the team get the bonus. Don't think that the Villa did not "fight". They did but after that fifteen minutes when they promised so much ye fulfilled so little they were always second –and a poor second best. They had not the moves of Everton, who got more for doing less than they (Villa) got for doing a lot. Everton did in one move what the Villa did in three because they did not use the open spaces so wisely. Wainwright put such enthusiasm into his play that Fielding was not missed nearly so much as I thought he was going to be. Eddie never shirked an issue and McNamara had one of his best games, but the secret of Everton's success was their team work.
EVERTON UNCHANGED
October 14, 1954. The Liverpool Echo
Donovan Plays Against Sunderland, But Fielding Still Unfit
Ranger's Notes
Everton will field an unchanged side for their attractive home game with Sunderland, the present League leaders, on Saturday. Donovan who was doubtful up to mid-day today, reported that his leg injury was much better, but Fielding is still a non-starter. Fielding's ligament injury, which has ensued him to miss the last two matches has proved more stubborn to move than was originally anticipated but Wainwright last week proved a good deputy, and again fills the breach. Everton; O'Neill; Moore, Donovan; Farrell, Jones, Lello; McNamara, Wainwright, Hickson, Parker, Eglington.
Sunderland who at one time last season looked likely to surrender their record of never having been relegated from the First Division since joining it 64 years ago, are at last getting a good return on their big transfer expenditure of twelve months ago. When they finished 18th last season few folk anticipated that they would lead the way as they have this campaign. Of their five away games, they have lost only one, to Wolverhampton which was the only occasion they have failed to score on opponents grounds.
Home Win Overdue
Everton have not treated their followers to a home victory since Lello's goal gave them one against Preston on the second Saturday of the season. Three subsequent outings at Goodison have produced only two points which compares unfavorably with their return when on tour. Another home success is overdue and if the side displays form more nearly approaching what it has been showing in away games then the Goodison supporters should have something really good to cheer. Liverpool have shown a facility for beating the leaders of their section. A similar performance from the Blues would not come out of turn. To achieve this however, the attack must produce scoring efforts than in the last home game against Cardiff and not thrust the onus on to one another.
Tremendous Gates
So far Everton's gates for Goodison Park matches have been the highest in their long career. It is interesting to recall them, even though they are so recent. Against Arsenal the crowd was 69,134 against Preston 76,969 the third highest ever in any type of game -65,147 versus West Bromwich 4,684 for Leicester's visit, and 64,248 for Cardiff City. That gives a trail of 315, 182an average for the five games of 63,036 the highest of any club in the country. if they keep up their from and get a good Cup run as well, Everton's profit this season will be a bumper one, even though the average gates must inevitably decline when the winter really sets in.
Moore's Century
Saturday's game will be a notable landmark in the career of Eric Moore, Everton's right back, for it will be his 100th appearance for Everton in Football League games. A native of St. Helens Moore was discovered by Everton when playing for Haydock C and B in Liverpool County Combination circles during the war, and signed as an amateur. He turned professional on February 15, 1949 making his senior debut against Middlesbrough the following December. He was first choice for the rest of that season and the following winter, but a troublesome knee injury laid him aside for a long period during the next campaign and Clinton took over. Just as injury upset his progress so it was the same cause this time the broken leg sustained last season by Lindsay that brought Moore back to the senior fold, Donovan switching over to the left flank to accommodate him on the right. Since then he has been playing extremely consisted football, and on his showing this season appears to be a fixture so long as he steer clear of further injuries.
SURPRISE PACKET
October 15, 1954 Liverpool Echo
Ranger's Notes
Another bumper crowd is expected at Goodison Park tomorrow, when Sunderland the surprised packet of the season provide the opposition. The Roker Park team is the latest example of the unpredictability of modern soccer. Last winter, after spending around £100,000 on new blood they were having a rearguard action again relegation almost from start to finish. While the acquisition of Cowan Daniel and Elliott and later Purdon, Chisholm and Fraser, did not have the desired effect as quickly as anticipated. Sunderland are certainly in on their enterprise now, should they continued as they have started they will recoup themselves for a substantial portion of last season's outlay before the current campaign has run its course. Apart from the incoming of Fraser in goal for Cowan, all last winter's signings are shaping exceptionally well in the present Sunderland side, and none more than the much-discussion Daniel, who it one time looked to be a failure in his new surroundings. The Wearsides have suffered only one defeat this season, when they lost to Wolverhampton at Molyneux. Their defence decidedly shaky last term has been showing tremendously, improved form, and has kept a clean sheet in five out of 12 matches. The attack, led by Ted Purdon ex-Birmingham City, and with Len Shackleton as the guilding genius is getting a fair but not unduly large crop of goals, Ken Chisholm the former Cardiff City inside left is top scorer with six Purdon has five, and Bingham four. Jack Hedley with whom Everton parted after his trip to Bogoto four years ago is a regular at right back these days and from what I hear from a colleague, who sees the Roker side, regularly has been playing extremely well. Outside left Billy Elliott will be paying like Shackleton the first of two visits to Merseyside in the course of five days. He also figures in the Football League side at Anfield next Wednesday. With the exception of Fraser who is playing for Scotland, Sunderland hope to field the side which defeated Newcastle last week. Leslie Dodds, a 17-years-old goalkeeper who has had only one previous senior appearance deputises for Fraser. He is a former schoolboy international. Everton; O'Neill; Moore, Donovan; Farrell, Jones, Lello; McNamara, Wainwright, Hickson, Parkerm Eglington. Sunderland; Dodds; Hedley, McDonald; Anderson, Daniel, Aitken, Bingham, Shackleton, Purdon, Chrisholmes, Elliott.
Junior "Derby"
Tomorrow is a red-letter day for followers of our senior club reserve sides. It marks the first Central League "Liverton" derby of the season and Everton who are going great guns in their aim to register a second Central League championship will be more than usually keen –if that is possible –to take both points from their Anfield rivals. Liverpool Res; Underwood; Lambert, J. Price; Tomley, Twentymen, G. Wood, Payne, Rowley (T), Bimspon, Arnot, Rowley (A). Everton Res; Leyland; Sutherland, Rankin; Grant, Woods, Melville; B. Harris, Farrell, Saunders, Lewis, Buckle.
SUNDERLAND AT GOODISON
October 16, 1954. The Liverpool Daily Post
A week ago we had at Anfield, Rotherham leaders of Division 2 today at Goodison Park we welcome Sunderland. The mood of Everton fans is so bullish I anticipate the day's biggest attendance , what Liverpool did to Rotherham, Everton followers may argue, Everton can do to Sunderland. Everton will be keyed up for this special occasion and with such players as Aitken (heavy cold) and goalkeeper Fraser (playing for Scotland at Cardiff) missing from the Sunderland team their chances are better than in other circumstances. Another reason for the compelling interests in this game that Evertonians have not forgotten (nor ever will) the famous 6-4 cup-tie between the clubs on the same ground. There is always a lurking hope that the future will produce a comparable game. Sunderland have rarely been top-class since the days of that memorable match. They have always and more than their share of great players but not always have they fitted together happily. In Ford's day, for instance the side always looked good, but never played like champions.
Boy Goalkeeper
For seventeen-year-old Leslie Dodds, who takes his goalkeeping stand in palce of Fraser –this will e his second League appearance – the match will be a tremendous test. Others in the defence who will have the job of facing Hickson whose Villa game I believe was top-class are Jack Hedley (one time Everton and Bogota back) and Ray Daniel, formerly of Arsenal who may get a Welsh cap, at centre half, against England at Wembley. Sunderland will have on show this afternoon two of the Football League's forwards against the Irish League at Anfield, next Wednesday –Shackleton and Elliott. Here are two great footballers who are not afraid to fight for possession of the ball, or to maintain possession. With the South African, Purdon in the centre and Bingham on the right the Sunderland line is full of "bite." Well as Everton are playing in defence this is a match which can easily go either way. Fielding's further absence must continue to be a handicap to his side, but were Everton to repeat Villa form Sunderland might find them more than they can manage. Everton; O'Neill; Moore, Donovan; Farrell, Jones, Lello; McNamara, Wainwright, Hickson, Parker, Eglington. Sunderland; Dodds; Hedley, McDonald; Anderson, Daniel, Aitken, Bingham, Shackleton, Purdon, Chrisholmes, Elliott.
EVERTON SURPRISE LEAGUE LEADERS
October 16, 1954. The Liverpool Football Echo
Winning Goal In Last Minutes
Everton 1, Sunderland 0
By Ranger
Although they had three parts of the game territorially and enjoyed long spells of sustained pressure it took Everton until 12 minutes from the finish before they succeeded in breaking down Sunderland's strong and well knit defence it was a hard but clean game with both goals having some narrow escape. But the defences generally held the upper hand. This was Everton's first home victory in the last four attempts and their third win at Goodison by a single goal. Everton; O'Neill, goal; Moore and Donovan, backs; Farrell (captain), Jones and Lello, half-backs; McNamara, Wainwright, Hickson, Parker, and Eglington, forwards. Sunderland; Dodds, goal; Hedley and Hudgell, backs; Anderson, Daniel, and Snell, half-backs; Bingham, Shackleton, Purdon, Chisholm, and Elliott, forewards. Referee; Mr. L. Howarth (Beverley Yorks). There was another large crowd at Goodison for the visit of the league leaders and among those present were about 300 from the Dublin branch of Everton Supporters Federation. Hudgell came in at left back for the visitors, McDonald having failed to pass a fitness test this morning. After Shackleton chad delighted the crowd with a clever bit of dribbling in the first minute ad Everton had forced a fruitless corner soon after Elliott tried a long shot which bounced out of O'Neill's hands for a flag kick which also proved of no benefit.
Smart Passing
Offside pulled up Everton when they got away following a free kick against Snell for an offence on Wainwright, Sunderland were wasting no time in fancy work but passed the ball smartly and did not hesitate to put it into touch as a defensive outlet when Everton were on the attack. The seventeen-years-old Dodds got his first taste of Everton's shooting power after ten minutes when Eglington, from the inside right position, shot accurately but not very strongly. Shackleton twice "sold the dummy" to Everton defenders near the centre circle and then picking a pass by Snell on the edge of the penalty, area left fly with a brilliant shot which produced an equally brilliant diving save by O'Neill at the expense of a corner. From Elliott's flag kick, Bingham's scoring effort was kicked off the line by Moore, Bingham appealed for a goat presumably contending that the ball was over the line. Shackleton again came into the picture with a splendid run, which was marred however, by his inaccurate finishing shot. The same played fired over the bar a moment later and already it was clear that Sunderland are worthily League leaders. Their football had been fast, incisive and accurate. Everton, too, produced some splendid moves though so far without the same finishing power that Sunderland had provided. Everton seemed over-anxious in front of goal and twice lost possible chances through making one pass too many. Hickson, by sheer persistence, won a corner off Anderson from which Wainwright headed wide though it was a commendable effort. For five minutes the game went of the boil due to both sides shying the ball repeatedly and indulging in haphazard kicking instead of the pattern like progress they had shown earlier. Sunderland frequently tried to open the game out by long cross field passes either from wing to wing or by means of half back intervention.
New Ball Call to level up Everton's earlier escape Anderson now headed off the line from Hickson after the latter had delivered a splendid header following an interpassing movement by Parker and Eglington. At this stage the referee rejected the ball after examination and called for a new one. Anderson was again in the preture when he intercepted a strong low shot by Eglington and the next moment, Wainwright got a tremendous for a first time left-foot spot which flashed a yard on the wrong side of the upright, like a meteor. I doubt whether Dodds saw it before it had gone behind. In the last five minutes the game had taken a remarkable turn and Everton had reversed the tables with a vengeatice. They were hammering away at the Sunderland defence for all they were worth with even Jones and Lello coming up for an odd shot. Dodds snatched the ball from beneath the bar off a Wainwright header when a goal seemed certain, Parker almost skimmed the bar and Wainwright for a second time was foiled in the act of shooting by Hudgell's smart interception. Throughout all this pressure the Sunderland defence hard pressed though it was, did not panic although it was certainly near to losing its poise.
Forced Three Corners
Still the Blues kept pressing away and sooner or later it seemed that their efforts must bring reward. They forced three corners in as many minutes and then at last Sunderland broke away and Pardon almost snatched a goal which would have been all against the run of play. Donovan however, cut across him and cleared just as Purdon was about to slot the ball into the net. Apart from this one isolated Sunderland attack it had been all Everton for the last ten minutes, without the home side being able to get the encouragement of a goal. Half-time; Everton nil, Sunderland Nil.
Everton started the second half as they finished the first, with an all out assault on Sunderland. McNamara missed a great chance when he kicked round the ball after Hickson had put it over to him but Everton came again in successive waves through the covering of the Sunderland defence was such that the opportunities for shooting were few. Farrell and Lello continued their good work of being up the Blues forward line.
Treacherous Surface
Shackleton whom we had not seen to quite a while, now ran nearly half, the length of the field beating three opponents only to send his final shot over the bar. The light drizzle which had commenced soon after the game had started had now turned to heavy rain and which made the top surface rather treacherous. Sunderland had a few minutes in the Everton half and then back came the home side only to find seven Sunderland players apart from goalkeeper Dodds barrin their way to a clear shot. Sunderland made no bones about packing their penalty area whenever danger threatened.
K.O. For Chisholm
Chisholm had to receive attention when he interposed his head between the ball and O'Neill fist; as O'Neill was attempting to punch away a dropping shot from Bingham, Chisholm taking a heavy blow on the jaw. O'Neill saved Chisholm who headed the ball downwards from Elliott centred and then Shackleton sprang to life again with am dribble and shot which was hardly a foot too high. The visitors were how having a equal share of the proceedings though Everton still were slightly on top. Everton appealed for a penalty when Parker was charged in the back as he went to meet the ball coming over from the right but the referee who was well up with play waved the appeal aside. Everton were still on top territorially, however were not producing much work to Dodds largely due to the splendid covering of the visiting defenders. When O'Neill dash outside the penalty area and was unable to passed the ball to Lello from which it went to Parker and then Eglington for the latter's shot to be tipped round the post by Dodds. From the corner Parker shot from six yards against a wall of defenders and as luck would have it the ball struck Daniel and cannoned away to safely. At last Everton got the ball into the net but it was to no purpose when Parker put it there for the whistle had gone for offside and Sunderland had stopped playing. At the 78th minute Everton got the goal for which they had worked so hard and so long it came straight from a clearance by O'Neill which ran on to Eglington who took the ball up some yards before sending over a high centre which McNamara tearing in at top speed headed strongly and accurately out of Dodds reach. This must have been a very sweet goal for McNamara for he had not been at his best in this game and earlier on had missed a sitter. Final; Everton 1, Sunderland nil, Official attendance 61,289.
• St Helens Town nil, Everton "A" 5
• Birkenhead Docks nil, Everton "C" 5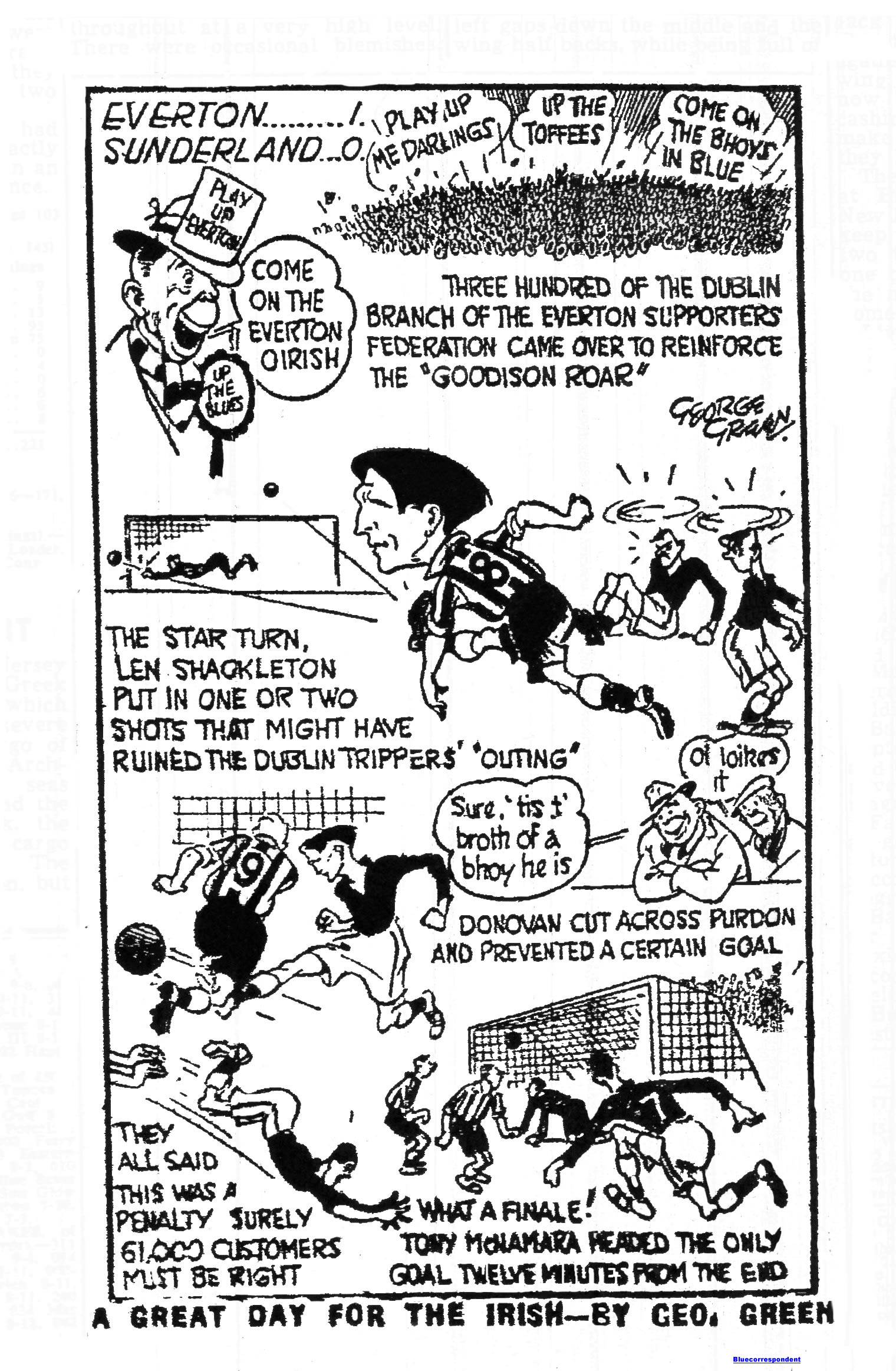 WHERE WE DO WELL
October 16, 1954. The Liverpool Football Echo
By Peter Farrell
When a famous football club is experiencing a rather lean period on the playing field, one can usually sense it in and around the club. Although our spirits and enthusiasm never wavered one could feel not so long ago a kind of dark cloud hanging over the famous headquarters at Goodison Park. As you well know, the Villa have not been performing too well and have given their supporters some anxious moments during the past few years before maintaining their place in the First Division. This year is no exception, as you can see by their present league position. As I arrived at their palatial ground last week, I could help thinking there. Was a strange atmosphere prevalent which could best be described as a little despondent. This could also be seen in the attitude of their supporters who greeted the arrival of their favourities on to the field with meagre applause. However, I suppose success goes in cycles in football and perhaps the day is no far distant when once again the name of Aston Villa will be feared by every club in the land. Some superstitious fans claim the different visiting grounds are either lucky or unlucky for their favourities and back up by quoting scores on previous occasions. Evertonians certainly look on Villa Park as one of their happy hunting grounds, and rightly o, as the Blues have done remarkably well there in post-war year. Apart from last Saturday their greatest victory at Villa Park was of course that never-to-be-forgotten game in the sixth round of the Cup two years ago. It is also a lucky ground for Dave Hickson, as he has scored two very valuable goals on each of his two appearances at Villa Park for Everton. From my own experience, the biggest "hoodoo" ground for the Blues seems to be Portsmouth as since the war we have been on the wrong end of some bad beatings at Fratton Park. I remembered one game at Portsmouth several years ago the side being awarded a free kick just outside the penalty area and a little to the right of the goal. Our defensive barrier for the kick was a line up of four or five players covering one side of the goal, and giving Sagar a clear view of the other side. Big Dugdale Reid in my opinion one of the hardest kickers of a ball in the game cracked the ball into the net off the post like a rocket. A photo in the following morning's paper showed he position or the five of us, in the line-up at the actual moment when Reid hit the ball, and has caused many a laugh since. Instead of standing erect, all the players in the line-up were half turning or ducking. Maybe it wasn't a club-minded attitude but then again maybe it was just as well, for had the ball struck any of us the face it might have seriously injured us. It was certainly the hardest hit free kick I have ever seen. I have been asked many times how it is that Everton seem to be playing so well away from home whereas our displays at Goodison apart from a couple of early games, haven't been so bright. It is very hard to explain as most teams usually perform far better in front of their own supporters than on the less familiar turf of visiting grounds. I hope that the news on the front page of this paper will please Evertonians, as it is about time these supporters who are unable to see the away game saw a true picture for themselves of the football the Blues have been playing away from home. It was pleasing to see Tony McNamara register his first goal in Division 1 last week. This should give Tony that extra confidence to himself for the future and I am sure will be the forerunner of many more to come. Although Mac is only a lad, he has had his share of bad luck. Those of you who were at Blackburn last year may remember him having a brilliant game when fate dealt him a cruel blow in the form of a knee injury. Although obviously in great pain, "Mac" returned to the field and finished the game, playing a vital part in securing a precious and valuable point for his club. This is typical of this local lad, as no club could have a better club man, which is understandable since Tony has been a staunch Evertonian since his early school days. As a result of the injury received at Blackburn, McNamara was the operated on for the removal of a cartilage. He has completely recovered and here's hoping he will have all the luck he deserves.
LIVERPOOL RES V EVERTON RES
October 16, 1954. The Liverpool Football Echo
Liverpool Res;- Underwood, goal; Lambert and Price, backs; Tomley, Twentyman, and G. Woods, half-backs; Payne, Rowley (T), Bimpson, Arnell, Rowley (A). Everton Res; Leyland, goal; Sutherland, and Rankin, backs; Grant, Woods, and Melville, half-backs; B. Harris, Farrell, Saunders, Lewis, and Buckle, forwards. Referee; Mr. F. Mills (Manchester). It was not surprising to see a good attendance at Anfield this afternoon for this junior local Derby game, Liverpool had a new comer, the 18-years-old player Graham, Wood, who is at present serving in the Army. Everton continually attacked from the kick-off after early Liverpool attempts and Farrell opened their account in the 5th minute, giving Underwood no chance. Liverpool were fighting gamely to get on level terms and if it had not been for Leyland's fine goalkeeping they certainly would have scored, Bimpson got in a long range shot which Leyland saved. Farrell missed a good chance of putting Everton further ahead. Half-time; Liverpool Res nil, Everton res 1. In the second half Everton were defending stubbornly against the repeated strong attacks from their rivals. Rowley (A) sending a lovely ball right across the face of the goalmouth with nobody there to take the opportunity. Everton were fighting hard to hold on to their slender lead. Rankin and Sutherland were two excellent defenders.
THE SHACKLETON EXPEDITION – 1954 EDITION
October 18, 1954. The Liverpool Daily Post
By Leslie Edwards
Everton 1, Sunderland 0 –Attendance 61,000
More than once, in these columns, I have made the point that English footballers have lost much of their individuality. Here in Len Shackleton we saw the players who has maintained his at full strength. The result was as bright and refreshing as the afternoon was drabbed and full of that kind of rain which is never heard, but felt uncomfortably. Facially Shackleton has more than passing likeness to Humphrey. Hogart of the films. He has no special physique and his legs betray signs of veteranship but none can deny him as one of the cleverest inside men in the game, none can deny that most of his game consists of the pure individualism we see too rarely in days of blue-pencil lube-printing. Four of five times at Goodison Park, Shackleton took the ball in midfield and weaved and wandered with it so brilliantly that the Everton defence, for once, was completely baffied. Taking the ball out to on wing or another and retracting his steps, fortuously but with the ball carefully tucked close to his nimble feet, Shackleton's expedititious entailed Everton fans, If one argues that he might have ended these runs with goal-getting shots the answer it. And so he would but for not getting the full force of his boot into drives when only O'Neill was left unbeaten. Shackleton's clever placement of shots as uncommon as his field play. One which he so angled that O'Neill seemed certain to be beaten produce from the Irish man, one of the game's several first-class saves. It came in a 30 minutes period in which Sunderland showed the way and Everton could scarcely draw a peep of encouragement from the loyalists which had come to see them win.
Sunderland Fret
But no sooner had the sea fret begun fret started. For fifteen minutes almost solidity at the close of the first half Everton were in command. Then the game's best half-back, Anderson, kicked away from the line a Hickson header –Moore had earlier done similarly from Bingham –and the seventeen-years-old Dodds, a great goalkeeper in the making saved splendidly from Wainwright. It was one of those second halves in which the game might easily have gone either way, Sunderland had survived an appeal against Daniel for a penalty and Shackleton had indulged himself in more than one delightful intricacy when McNamara nodded the goal which counted twelve minutes from time. The goal arose from the incident in which O'Neill made a catch and was floored in his first attempt to clear the ball from hand. This might have merited a free kick. Referee Howarth of Beverley, in Yorkshire preferred not to penalize the innocent side. He waved O'Neill on and from the clearance came the oblique Eglington pass for which McNamara leaped high at the far post for a perfect conversation. Everton had won to take a League position from which they can do great things in the coming weeks. McNamara had second half moment of indecision. On an exceptionally heavy ground –both teams seemed played out long before the end –he failed more than once to collect difficult passes. Yet his first half noddings and the one which produced the goals prove that when the ball is flung in his direction to the far post all defences are in, dire danger "Nivvy" of old had the same propensity for getting up well and nodding the ball down lethally.
Good As Ever
In such grim conditions the game seemed to have a somnolence not evident in brighter conditions. There was plenty of good football, but not a lot of good shooting though young Dodds and O'Neill handled the slippery ball with sure hands. In view of Fielding injuries Everton can look with special joy on recent results. Wainwright first half was exceptionally good. He was luckless not to put his name on the register more than once. Once the Everton team really got to grips with the game, after those first indecisive thirty minutes they were good as ever, with Lello adding his weight to the attack and Moore reading Sunderland intent so accurately it seemed some of the passes hit out to Elliott were aimed so that he could intervene with head or foot Jones was not tested as he might have been because the rangy Purdon was the one Sunderland player who seemed completely incapable of doing the simplest things properly. Had it been otherwise Sunderland might well have won. Hedley is still the live quick moving back he was in his best Everton days. He came off well in duels with Eglington largely because his tackling was uncompromisingly tough. Eglington was plainly displeased but there was nothing he could do about it. Expectations there had been that this would be a especially tough match went for nothing because Mr. Howarth's handling was so good and because the sportsmanship and spirit of both sides was excellent, I have never seen Ray Daniel play better. His first half tackling and use of the ball was fine. It will not surprise me if he takes over from Charles in the Welsh team, so that Charles is given his old attacking role. Everton housed this the biggest attendance of the day in comfort. So keen were people to see these teams the stand turnstiles were closed a good hour before the kick-off. Given some solid shooting and the goals which fine approach play merited, it could have been another 6-4 classic, with the funeral darkness and the rain the parallel of the conditions in which the famous cup-tie was fought.
LIVERPOOL RES 0 EVERTON RES 2
October 18, 1954. The Liverpool Daily Post
Everton consolidated their position at the head of the Central League as a result of their win over their rivals at Anfield. A capital attendance witnessed a thrilling encounter in which Liverpool failed through erractic shooting, Arnell, Bimpson and Payne being the chief offenders. Everton were the more methodical in constructive play and too an early lead in the fifth minute through Farrell, Saunders increased their score in the 80th minute. G. Wood made a fine debut for Liverpool at left half having good support in Twentyman. Leyland had many calls and came out with flying colours.
EVERTON'S HIGH ESTATE
October 18, 1954. The Liverpool Echo
Blues Third Single-Goal Home Win
Ranger's Notes
The Everton prospect is more cheering I does, one good to see the Blues holding he proud position of joint runners up to Manchester United the more so as Sunderland came here as League leaders and no side in that position it ever easy to master. Saturdays victory over the Roker Park club was a long time a –coming, it was not until twelve minutes from the end that McNamara grand headed goal from Eglington's centre brought Everton their first home win since August 28, the third at Goodison by a single goal and just reward for much long, hard and determined endeavour against a team which put the defensive shutters so rightly that it seemed Everton might have to be satisfied with their third successive home draw.
Not Much In It
It would have been an injustice had it so turned out, for on the score of chance, territorial superiority and forward endeavour I thought Everton deserved to win. There was not a great deal in it, however. Sunderland starting off brilliantly were the better side first 20 minutes. Then the Everton wing half-back who previously had their hands full helping the rear defence at last began to come into the game in a decisive and aggressive manner, gradually at first, but with increasing effect. The game swung round in Everton's favour in a rather remarkable manner. From a state of fairly level pegging with both teams in turn attacking with velve and vigour, Everton suddenly took the upper hand so decisively that just, before he interval the hitherto cool and confident Sunderland defence began to look as though it might be overwhelmed. The Roker men, however, turned on the Continental type of rescue act the basic plank of which is that defenders shall always out numbers attackers. For a long stretches the Wearsiders had six or seven men shocking the way to Dodds which meant that Everton had to work the ball more than might the wise have been the case in order to carve out a clear shooting chance. They didn't get many of them and when they did they were not always dead on the target though Anderson and Daniel each saved a goal by clearing of the line Moore had also performance a similar office for Everton earlier on though right winger Bingham contended that the ball had crossed the line before Moore scrambled it away. Sunderland had their moments of glory and superiority in the second half, with Shackleton as in the earlier period flashing into prominence with some wonderful dribbling and body swearing along with shooting which was never very far off the target. On the whole however, Everton looked the more dangerous even though they never succeeded in shaking the Sunderland defence out of its poise other than momentarily.
Well-Balanced Team
Everton win was all the more meritorious because Sunderland on this showing, are a strong and well balanced side. They lacked decisive punch down the middle for Purdon could not master Jones, but apart possibly from Snell who faded out after a bright tart. They were good enough everywhere else. Their 17-years-old goalkeeper Leslie Dodds deserves special mention. For a lad of such youth he did exceptionally well. The victory like so many others over the last 28 months was due more to solid team work than the brilliance of any individual. The defence acquitted itself splendidly with Moore making his 100th League appearance, giving a polished display, so also did Donovan and Jones while the wing half backs were the motivating force behind many attacks. McNamara's splendidly taken goal wiped out much of the memory of an otherwise rather indifferent display, not up to what he is capable of at his best. Parker, too was not as effective as usual being rather slow at times, but I thought Hickson led the line with commendable enterprise and did more than anybody else in the front line to open up play by telling passes. Parker's display was probably due to a couple of knocks which handicapped him. Wainwright may not be a Fielding in scheming, but he filled the berth admirably in other respects and with luck might have had a couple of goals. His terrific left foot shot half-way through the first half was as good a first-timer as I have seen for quite a while. What a goal it would have been had it come off. Considering the pace of the game and the slippery surface the standard of play was maintained throughout at a very high level. There were occasional blemishes it is true, but those were inevitable under the circumstances, and in any case were far less, numerically than in the average game. In short this was fare good enough to please the vast majority of people. Apart from one spell in the first half, when the ball was skied too much, both sides tried to play precise and accurate football and one can forgive occasional errors when he principle if not the execution is right.
THEN, AND NOW AT EVERTON
October 21, 1954. The Liverpool Daily Post
Mr. Kenneth Ferguson, of 2 York Avenue, Liverpool 17 writes;-
"Walking across Stanley Park at the conclusion of the Everton v. Sunderland match last Saturday, I got chatting to a small boy whose uncle had taken him to watch Everton for the first time. When telling the boy how lucky he was to see such excellent football on his first visit to the ground, I recalled the occasion nearly fifty years ago as a very small school-boy; my father first took me to Goodison Park. It was like Saturday a dismal rainy afternoon but in January, just before returning to school for the Easter term the ground then was not as palatial as it is today but all the same the club afford a band to while away the hours before the kick-off instead of inflicting on us that atrocious canned music (hic!) which is so undignified and out of place in this splendid enclosure. "The match itself had similarities to Saturday's as another North-Eastern team were visitors, viz Newcastle United and they too before the start of the game were top of the League moreover the outside right of Everton was also the match winner in the game. Newcastle had in their team giants like Veitch, Lawrence and Rutherford, whilst amongst the Everton players were Dr. L.R. Rouse, Harold Hardman, (happily still with is as a solicitor in Manchester and chairman of the Manchester United directors). Harry Makepeace, and others almost equally famous. Alas to my great dismay just before the game started a blackboard which was paraded round the ground announced that Jack Sharp, the outside right, would not be playing and his place would be taken by Rankin –when a schoolboy my special sporting hero was Jack Sharp for he was also a Lancashire county Cricketer.
Crowd's Hero
"Now who was Rankin? –Well, before the end of the game, he was the crowd's hero as with a brilliant cross-shot midway through the second half he equalized. Newcastle's first half goal and later centred for Jimmy Settle to head the winning goal. that match which I believe was regarded as a classic, made an unforgettable impression on a ten year-old schoolboy, and as last Saturday's in my view was a near classic I wonder if it will give a similar lasting memory to that young schoolboy. At any rate during the next fifty years, if he sees as many great players flit across the Goodison stage as I have seen during the last fifty years he should indeed count himself lucky, incidentally by the time the twenty-first century arrives a band may once again be performing –I have despaired of seeing one again in my life time."
STERN TASK FOR BLUES
October 21, 1954. The Liverpool Echo
Huddersfield Have Been Carrying All Before Them In Home Games
Ranger's Notes
Although Everton have not yet announced their side for Saturday's visit to Huddersfield as they have no senior players on the injured list they will be a full strength. Parker has recovered from the minor knocks he got on Saturday and Fielding is now well on the way to complete fitness after the injury which has kept him out of the last three games. Whether to give him another week's rest from senior duty to make assurance doubly sure is the only question to be decided Wainwright has been deputizing so well that this course could be taken without any qualms. Although Huddersfield are half way down the League table their hone record equals that of any club. Apart from the defeat by Blackpool in the opening match of the season, they have taken full points from all their engagements at Leeds Road having won the last five fixtures there on the run with a goal average of ten against one. That would look a pretty formidable obstacle were it not for the fact that Everton have been doing extremely well on tour, having taken nine points from seven games. This Huddersfield fixture has all the trademarks of a hard and tough struggle with Everton having the added spur of the leadership of the League again almost within their grasp. Everton make no changes, the team being the same as that which beat Sunderland last week. Fielding is to have a run out in the Reserve side to meet Manchester United Reserves. Huddersfield; Wheeler; Staniforth, Kelly; McGarry, Taylor, WQuested; Burrell, Watson, Glazzard, Cavanagh, Metcalfe. Everton; O'Neill; Moore, Donovan; Farrell, Jones, Lello; McNamara, Wainwright, Hickson, Parker, Eglington.
Everton res;- Leyland; Sutherland, Rankin; Grant, Woods, Meville; Harris (B), Fielding, Saunders, Farrell, Buckle.
DR. BAXTER DEAD
October 21, 1954. The Liverpool Echo
Ranger's Notes
The death took place last night of Dr. Cecil Baxter a former chairman of Everton and a director of the club for 26 years. After being taken ill while on holiday three months ago, Dr. Baxter seemed to have made a good recovery but had to go to bed again a week ago. He had not enjoyed the best of health for a long time, but never allowed this to affect his happy disposition. His championship of Everton occurred during the club's most testing post-war period when he took his responsibities with great seriousness. Educated at Stonyhurst, he was a keen footballer in his younger days and also a member of West Lancashire Golf Club. His father the late Dr. J. C. Baxter, had been associated with Everton from their earliest day, and also acted as chairman. Dr. Cecil practiced his profession along with his brother Cedric in the Robson Street area where he was a most popular figure throughout his lifetime. Latterely he has been living in Wirral. He was a bachelor, aged 68.
BLUES UNDAUNTED
October 22, 1954. The Liverpool Echo
Ranger's Notes
Everton make their second journey of the season to Yorkshire to tackle Huddersfield Town. If they put up as good a performance as when last across the Pennines, in the opening match of the campaign, all will be well. But they will find Huddersfield a vastly different proposition from lowly Sheffield United. The Leeds Road club have conceded only four goals on their own ground this term, and three of these came in their first match against Blackpool. Their last three visitors – Sheffield Wednesday, Wolves, and Chelsea –have been sent away both pointless and goalless. Everton away record, is so good, however, that even Huddersfield's impressive home displays should not daunt them. If they strike their game more quickly then against Sunderland the Blues could well surprise and upset the Yorkshire side. The Goodison club's rearguard does not look as though it will be unduly troubled for Huddersfield have not scored many goals and have only twice managed to get more than two in any game.
Defensive Strength
It is to defence where the Yorkshire side's strength lies. This department of the team has been changed only once that being the substitution of centre half. Taylor for the out-of-form McEvoy at the beginning of September. Once more they are managing to steer clear of serious injuries to a remarkable degree and the only other change in their side is at inside left where Liverpool born Cavanagh has taken over from Davie. They this have nine ever presents. Cavanagh is the leading scorer with five goals, four of which he has obtained in his last five outings. Glazzard and Metcalfe have four each. Huddersfield; Wheeler; Staniforth, Kelly; McGarry, Taylor, Quested; Burrell, Watson, Glazzard, Cavanagh, Metcalfe. Everton; O'Neill; Moore, Donovan; Farrell, Jones, Lello; McNamara, Wainwright, Hickson, Parker, Eglington.
DR. CECIL BAXTER
October 23, 1854. The Liverpool Daily Post
By Leslie Edwards
Everton players at Huddersfield will wear black armbands out of respect for Dr. Cecil Baxter, chairman at Everton at a time when the club came to cross-roads and had to choose the right one. Dr. Baxter's implish figure and implish fun were long part of the Everton scene. His death breaks a link trailing back over the years to the days when his father was a pillar at Goodison Park. Dr. Baxter, one sensed was far from in love with the part of the Press in football but he did not make it too obvious and his charm and generosity were as open as his mind. He was one of those rare football chairmen who was always prepared to make a statement for publication if the question was fair and reasonable. The present chairman, Mr. Ernest Green, will not be present today because he too, has found the strain of football telling. But he will take his turn with the Reserves and may be an Everton triumph at Huddersfield will do him more good than a thousand bottles of physic. I recall Everton going to Huddersfield and winning there immediately after Liverpool's record run with defeat. The Huddersfield team of today is a better one than it was but so is Everton's. Even without the personally and artistry of Wally Fielding who can "make" any Everton attack, the chance are that Huddersfield will have to be satisfied with a point or less. But success cannot come easily. The Huddersfield side bristles with players of better than average quality –Stamiforth, McGarry who makes his 150th League appearance, Quested, Metcalfe and Glazard to name a few. Huddersfield; Wheeler; Staniforth, Kelly; McGarry, Taylor, Quested; Burrell, Watson, Glazzard, Cavanagh, Metcalfe. Everton; O'Neill; Moore, Donovan; Farrell, Jones, Lello; McNamara, Wainwright, Hickson, Parker, Eglington.
DESPITE LEADING THROUGH HICKSON GOAL, EVERTON FAIL AT HUDDERSFIELD
October 23, 1954. The Liverpool Football Echo
By Contact
Huddersfield 2, Everton 1
Everton had opportunities to win the game in the first half, in which the side as a whole played really well, but only one goal separated them at the interval. Huddersfield, with the injured full back, Staniforth at centre forward, took most of the honours of the second half. Staniforth's galliantly and Taylor's great work against Hickson, and Everton's first half refusal to take chances were the things, which counted most in this defeat. Huddersfield;- Wheeler, goal; Stanforth and Kelly, backs; McGarry, Taylor and Quested, half-backs; Burrell, Watson, Gazzard, Cavanagh, and Metcalfe, forwards. Everton; O'Neill, goal; Moore and Donovan, backs; Farrell (captain), Jones and Lello, half-backs; McNamara, Wainwright, Hickson, Parker, and Eglington, forwards. Referee; Mr. T. Jepson (Mansfield). The attendance at Huddserfield was swelled by some thousands of Everton fans whose presence gave the game also a cup-tie flavor. Both teams wore black arm-bands, Everton out of respect for the late Dr. Cecil Baxter, and Huddersfield for Mr. Scholfield, president of the West Riding F.A. Everton almost scored in their first attack. Standforth blundered with a short pass and Eglington pushed the ball up for Hickson to go on unchallenged and cutting in make a low shot which Wheeler could only push away. Parker was coming in to ram the ball home when Taylor appeared from nowhere to kick the ball to safely. Huddersfield produced the game's best combined movement in which the ball was passed between half a dozen players before it was finally flung out to Metcalfe. Metcalfe was lucky to win a corner against Moore and from this Everton survived two critical moments. First Watson with a downward header got such pace on the ball that O'Neill did well to edge it over the bar as it bounded like lightning from the slippery turf. A moment later, Burrell missed a good chance close in, and the Everton defence survived by force of numbers. Eglington moved at pace from the half-way line to the edge of the penalty area, before he hit a cross shot, which slewed wide of the far post. Cavanagn was all but through and then Glazzard, turning the ball sharply to beat Jones in midfield, scrambled to his feet to offer little Burrell a glorious chance, Burrell closed in, but O'Neill had come out and O'Neill dealt capably with his shot when it came. When Burrell took a foul charge from Donovan, the free kick produced a spectacular headlong drive by Stamiforth who had now gone centre forward, Glazzard was now inside right. One of the leads to Everton's goal at 37 minutes was a fine bit of retrieving by McNamara, who chased far back into defence to intervene in a Huddersfield attack. The ball came up the Everton left, and Parker's pass to Wainwright at inside left produced a square centre on to which Hickson ran to score almost as he pleased. Huddersfield were appearing for offside when Wainwright had taken possession. The game was no classic but its fierceness was the feature.
Willing Aide
McNamara found a willing aide on Eglington on the right wing, but a misunderstanding cut short a duet of promise. This was followed by a McNamara six-penny piece dribble in which he opened a way for Wainwright. Unhappily, Wainwright, slipped up as he was about to shoot from this splendid offering. Right on the stoke of the interval –there was not even time to centre the all afterwards – Watson scored a tremendous goal which so aroused the Huddersfield crowd –now in the neighborhood of 25,000 –that thousands stood and roared their approval. It was a goal which was as spectacular as it was unexpected. Watson must have been every inch of 40 yards out when he ran on to a pass to give a bow-at-a-venture along the ground shot which skiddled clean through the Everton defence and beyond O'Neill before he had time to move towards it.
Half-time; Huddersfield Town 1, Everton 1
Huddersfield new found enthusiasm got the crowd roaring and for the first time they seemed to take the initiative. In one of their several attacks Glazzard shot as he was tackled and the ball skidded wide of O'Neill's right hand for a goal at the 38th minute. Taylor was having a good time in his battles with Hickson and Staniforth, veering to the right, how beat Jones and took the ball in close before making a centre. The ball was only half cleared and Metcalfe made a hash of a first-rate chance.
Best Chance
Everton's best chance of equalizing came at the hour when Parker's through ball to Eglington was one which opened up the defence completely. Eglington had a goal for the taking but after closing in his left-foot shot was slewed two feet wide. For the moment Everton came back to prominence and Taylor and company were hard pressed to keep them out. O'Neill fielded with difficulty a Glazzard centre which was deflected in flight and after the Huddersfield defence, had been full of indecision. Wheeler took the ball from the feet of the oncoming Hickson. Looking back, it seemed in creditable that Huddersfield could be 2-1 in front after Everton's excellent first half. But there it was. That freak goal on the interval had changed everything. Everton tried hard to wipe out that lead but Taylor was as uncompromising as he was successful in beating the Hickson menace. This Yorkshire cricketer won most of the battles in the air. Staniforth headed home from a Burrell centre, but was obvious offside. Staniforth was damaged a second time when tackled by Moore, but he resumed after attention. The referee had a word with Hickson immediately after giving a free kick in Hickson's favour against Taylor. The kick was delivered while the referee spoke to Hickson. Wheeler saved from Lello at the foot of the post and Quested and McGarry both contrived to stop Parker picking up the ball as it spun out of the goalkeeper's hands. McGarry needed attention for a cut head and clasped a sponge to the injury. Final; Huddersfield Town 2, Everton 1. Official attendance 27,390
EVERTON "C" V. LOBOL SOCIAL
October 23, 1954. The Liverpool Football Echo
The Lobol defence never had a chance against a fast Everton attack, whose speed and accurate passing completely dominated the half. Kidd put Everton ahead after four minutes, Gregory added a second two minutes later, followed by another goal from Kidd. Williams scored another and Rabone scored the fifth after 40 minutes. Half-time; Everton "C" 5, Lobol Social nil.
EVERTON RES V MANCHESTER UNITED RES
October 23, 1954. The Liverpool Football Echo
Everton Reserves;- Leyland, goal; Sutherland and Rankin, backs; Grant, Woods and Melville, half-backs; Harris (B.), Fielding, Saunders, Farrell and Buckle, forwards. Manchester United Reserves;- Crompton, goal; Fulton and Kennedy, backs; Whitefoot, Jones and Goodwin, half-backs; Scott, Lewis, Webster, Barrett, and Pegg, forwards. Referee; Mr. D. W. Goddard. In this match between the Central League leaders and the runners-up marked the reappearance of Fielding after the injury to his leg. Everton had slightly the better of the game, Fielding and Harris being prominent in promoting several good Everton attacks. During the latter part of this half United came more into the picture although their efforts came to naught due to the efforts of a good Everton defence. Just before half-time Fielding narrowly missed putting Everton into the lead, hitting the angle of the goal with the keeper well beaten. Half-time; Everton Res nil, Man United Res nil.
ART (AND CRAFT) STUDENT HELD UP HICKSON
October 25, 1954. The Liverpool Daily Post
Huddersfield Town 2, Everton 1 –Attendance 27,390
By Leslie Edwards
In these non-vintage years there are good chances for any up-and-coming young English centre half. On the evidence of this match alone and on his record in the only eight Football League matches in which he has played, I commend to England selectors the loose limbed eighteen years-old currently holding that position in the Huddersfield Town team –Ken Taylor. Football runs in the family. His brother Jeff, one-time Huddersfield forward is now with Fulham. The younger brother, a Yorkshire cricketer too has an unerring aye for a ball "in the air," is strong to the point of ruggedness and won most of his battles on Saturday against Dave Hickson. Yet Hickson must not complain. He is the first centre forward to score against Taylor in eight matches. Indeed since Taylor arrived at centre half Huddersfield have not lost a match and have conceded only four goals. It may seem risky to rate Taylor so highly at first sight, but the potentially great player so often shows unmistakenably one cannot do other than suggest that Taylor of all the young men I have seen this season is the one who seems likely to develop furthest and fastest, I have the same feeling about him as when I saw Hassell and Charles as seventeen-year-old Army players and the same confidence I had about the back, Eckersley, when his fine full back play shone in the murk of a cup replay against Blackburn at Anfield. Taylor is an Art Student at Leeds. But there is nothing hamby-pamby or sketchy about his football. Hickson will testify to that I look forward to the occasion when Taylor and Hickson resume hostilities at Goodison Park. If Taylor can be in the right place at the right time as he was here, and do the right thing, Everton fans will see for themselves his promise.
First-Class
Taylor's contribution was not the only one which gave his side victory. The injured Staniforth a back played at centre forward for all but fifteen minutes at the start. If he was what is termed a passenger he travelled first class I never saw an injured man find so much speed or so much ability move the ball with the cleverness one expects from a forward. The redeveloped of McGarry at back and Watson at right half-back, with Glazzard moved to inside right were not so, handicapping. Everton had every chance to have won despite Watson's forty fifth minutes freak equalizer and despite the goal which Glazzard produced at fifty-eight minutes to but the side in front, Everton played well enough for forty five minutes to have led one, two, or even three goals to nil. The score was 1-1 at interval mainly because Everton forwards were reduced the defence to helplessness attempted too often to make the lateral pass for the "certain" goal immediately before Watson equalized McNamara, wheeling and weaving to a shooting openings, preferred instead to try to lay on a goal for Wainwright. Wainwright was so surprised McNamara should not have driven the ball home himself, the slipped-up and a wonderful chance was gone, Hickson had earlier been denied by a last second tackle when his foot was poised to shoot a second goal and Eglington from the closest range, slashed the ball into the side netting. These were merely the best of Everton's chances; others were also allowed to pass. I do not blame O'Neill for either Huddersfield goal. The first was freaskish. In a race for the ball, Watson, somewhere in the neighboured of thirty-five yards arrived first and not being able to do other than hit the ball for goal as he fell, delivered an unexpectedly low and pacey shot which sped along the greasy, wet turf and into the net before any Everton foot or hand could be raised against it. A cup winning goal could not have been received with greater joy. One sensed that Huddersfield spectators had resigned themselves to defeat and that this electrying goal, on the stroke of the interval, put their side back in the game with some sort of chances.
Chewing It Over
Everton had all the interval to chew, over a goal which had no well-constructed lead. The second half had not been going long when one realized that Huddersfield always a hard side to beat at home were determined to tackle hard and move quickly to the ball, whenever it was. Glazzard's goal was an odd one too, because he was half-turned away from goal as he shot when falling. Hickson's goal had a taint of offside about it, but it was well worked and if Parker and Wainwright, the providers played on while the defence listened for a whistle which never came all the more credit to them and the scorer. It was increditable that the Everton in such complete command for half, the game should degenerate so rapididly under the effect of Huddersfield's recovery. Both Donovan and Moore did useful, and artistic work when their side was under pressure the fault seemed to be that Everton for the first time this season, flattered and lost confidence when faced with a 1-2 deficit. They must certainly have scored oftener but for Taylor's remarkable interventions with head and foot. He seemed undisturbed by Hickson's challenges and more than once read the play brilliantly to intervene when Huddersfield's chances of escaping a goal seemed slim. Allowing for Staniforth's exceptional passengers value Huddersfield did extraordinarily well to go from 0-1 to 2-1, when handicapped. One does not want to discredit them, but Everton contributed much to their defeat. The unselfish pass from a player in a reasonable scoring position is a laudable one but indulged too frequently is liable to be expensive.
PLAYED LIKE CHAMPIONS
October 25, 1954. The Liverpool Daily Post
Everton Res 2, Manchester United Res 0
Everton Reserves played like champions at Goodison Park where they defeated last season's runners-up, Manchester United, and thereby improved their position at the head of the Central League table. The game was fought at a fast pace throughout in spite, of the heavy ground. The Manchester front line had an able leader in Webster but was allowed little leeway by Woods who was a good pivot. Fielding made a welcome reappearance following his injury and appears to have fully recovered judging by the fine game he played. Buckle and Saunders were the Everton marksmen.
EVERTON YOUTH LOSE
October 25, 1954. The Liverpool Daily Post
Everton Youth 1, Manchester City Youth 1
F.A Youth Cup
The Manchester City Youths gave a sparkling display in the first round of the National Youth Cup and ran out worthy winners by 3-1 against Everton at Goodison Park on Saturday. Considering the slippery ground and incessant rain the game was of a fast nature. The City youths were much faster and more methodical. Keeley, who took over the leadership of the Everton attack in the second half, was impressive as also was Billington, who acted as pivot. Lamb, Chandly and Anderson scored for Manchester and Keeley for Everton.
FIELDING NOW FIT AGAIN, SETS PROBLEM
October 26, 1954. The Liverpool Daily Post
By John Peel
The news that Everton's inside right, Wally Fielding has fully recovered from the ankle injury which caused him to miss the last three first team matches has set Everton followers wondering what attack the Goodison Park Club will turn out against Manchester United at Goodison next Saturday. With both Wainwright and Parker playing well at inside right and inside left respectively it is difficult to decide whether the club would be making the right move to change the line to allow Fielding to come in. And yet Fielding is too good a player to leave out. It is certainly a problem the Everton team selectors will have to solve at their board meeting this week, but whatever the line-up finally reads it should be fully capable of extending the United defence next Saturday.
EVERTON PROBLEMS
October 27, 1954. The Liverpool Echo
Ranger's Notes
Everton have a couple of problems on hand, both more pleasant than some which have beset them in past season. With Fielding fit they have more forward claimants for senior duty than places to fill. The team will not be announced until tomorrow. The other problem relates to their Irish players. As I mentioned last week Eire play Norway in Dublin on Sunday week, and as per a new rule of last season will not select any players unless their clubs releaser them from the League game the previous day. Eire would dearly like to include all the four Evertonians who have been doing so well;- O'Neill, Donovan, Farrell, and Eglington – but naturally feel difficult about asking point-blank for four to be released from the game against Portsmouth next week. They have therefore left it to Everton to say how many players they will spare. The matter has been discussed by the board and a reply goes to the Eire F.A. today. In the meantime Everton will not disclose their decision. The Eire team in any case, has not been chosen. Its composition depends on the replies from all the clubs approached. One certainly should be Peter Farrell, Everton's skipper, who requires only three more appearances to earn the silver statuette awarded to those who play 25 international games for Eire Johnny Carey is the only holder at the moment.
EVERTON UNCHANGED
October 28, 1954. The Liverpool Echo
Fielding Will Be Twelfth Man Against Manchester United
Ranger's Notes
The extent to which Everton have been fortunate in escaping injuries this season, as well as the satisfactory standard of their play, is reflecting in the fact that with a third of their League fixtures already fulfilled no fewer than eight of the team have appeared in every match. Not a single alteration has been made in the first six names on the weekly line put since the campaign opened over two months ago, while Hickson and Eglington are ever-presents, in the attack Parker has missed two games, Fielding four and Wainwright five. The only really sticky problem which has faced Manager Cliff Britton this season is one which arises out of this almost entire freedom from injuries and cropped up this week because Fielding is fit again. Wainwright started the season at outside right, which berth he occupied for the six opening fixtures. When he was injured, McNamara took over, and shaped better than he had done in any previous season. By the time Wainwright was fit again the injury to Fielding left a gap at inside right which Wainwright has filled extremely well. He may not be quite so outstanding a schemer as Fielding, but he has other attributes which help to counterbalance this. Happy is the manager whose only problem is who to leave out. It is a much more pleasant quandary than puzzling one's brains over who to bring in. After considerable thought Mr. Britton decided to make no change against Manchester United, and Fielding will be twelfth man for this engagement. Everton; O'Neill; Moore, Donovan; Farrell, Jones, Lello; McNamara, Wainwright, Hickson, Parker, Eglington.
Everton Res (v. Huddersfield Town away);- Leyland; Sutherland, Rankin; Grant, Woods, Melville; Harris (B), Potts, Saunders, Farrell, Buckle.
Well-Balanced Team
Manchester United come to Goodison not only as temporary League-leaders but with the record of being the most consistent side over the last eight years. A fortnight ago Sunderland also came as leaders of the First Division but went away pointless. A similar result may be harder of achievement this time for though there is not a great deal in it, I think Manchester United are a better balanced side than Sunderland. They certainly have greater striking power in attack than the Roker team though to some extent that appear offset by the greater number of goals scored against them. Last time Manchester United were at Goodison was in the fifth round of the Cup in February, 1953 when Everton won 2-1 after being a goal down early on, Eglington scored a brilliant right foot equalizer and Hickson got the winner by sheer persistence and courage. He played on, following a head injury, with blood streaming down his face twice refusing the referee's suggestion that he should go off for attention. Whatever the result on Saturday if the game provides anything like so good an encounter as the cup-tie it will be thrilling entertainment. It also provides Everton with yet another chance to prove that they are capable of holding their own with the best in the country.
Everton At Accrington
Everton began their Lancashire Cup bid next Monday, when they are due to play Accrington Stanley at Accrington in the first round. Stanley are having a splendid season, under the astute management of Walter Galbraith the former New Brigton player. They have rarely done so well in the Northern Section before and though Everton's reserve side is still carrying almost everything before it in the effort to win the Central League title for the second successive year this game at Peel Park will not be easy for them. It will also be under conditions to which the home side are more accustomed then the visitors as it will be played by floodlight starting at 7.30.
LEAGUE LEADERS' VISIT
October 29, 1954. The Liverpool Echo
Manchester United At Goodison
Ranger's Notes
For the second time in a fortnight Everton will be at home to current League leaders when Manchester United visit Goodison Park tomorrow. Seeing that Liverpool have twice deposed the reigning Second Division champions, and loyal Evertonians maintain that there is nothing the Anfielders can do that their side cannot do better. It would seem that Goodison followers can start the celebrations as soon as they wish. But as we know too well, football form doesn't work out according to either expectations or Euclid. Two and two do not necessarily make four in this game and Everton will have to flight hard to make sure of even one point. When the Blues met Manchester United in that memorable fifth round-cup-tie nearly two years ago. I tipped them to win despite the difference in their League status. They justified my confidence to the hilt. I think they can do the same again, for they are playing better these days than they were then, though nothing could have been more inspiring than their display in the cup-tie which will long be remembered as "Hickson's match." Everton might have brought back a point from Huddersfield last week but for their failure to take some fairly easy chances in the first half. There must be no repetition of that tomorrow if they are to succeed against Matt Busby's talented performers.
Attack Is Strongest
Though United are at present top of the pool they are by no means as solid in defence as one might expect from a side so well placed. So far they have conceded 27 goals in their 14 outings -17 of them away from home, which is more than any other side in the top half of the table except West Brom. Their two away defeats have been by Manchester City and Wolves. In the latter game, however, the Mancunians were severely handicapped by the absence of Wood, Foulkes, Bryne and Blanchflower, who were on international duty. It is United's great attacking strength which has largely carried the side to the top of the table. Their total of 37 goals is 15 more than Everton's and they have scored in every game. The present make-up of the Old Trafford side differs considerably from that which played in the cup-tie at Goodison. Only five of that team are regulars today. They are Wood, Bryne, Chilton, Berry and Rowley and of these the latter is now appearing at outside-left instead of centre-forward.
Accent on Youth
With the accent so strongly on youth in United's line up these days only Clinton and Rowley remain of the "old guard" which did so much to lift the Old Trafford club to its high estate a few years ago. Occupying Rowley's position at centre forward is Tommy Taylor, signed from Barnsley for £30,000 a month after United's last Goodison visit. Right back Foulkes, who played his first game for England against Ireland on October 2, has taken over from Aston. At left half Duncan Edwards will be making his second Merseyside appearance in ten days having been a member of the Football League side at Anfield last week. Right half Gibson has recently displaced Whitefoot while in attack Blanchflower and Violett occupy the inside-positions. Everton rearguard will be subjected to its most severe test since promotion but if the form it has shown in recent games is maintained the United attack will be no means have things all their own way. United's last away game was that fantastic eleven-goal affair at Chelsea. Though such things count for little Everton's knowledge that they defeated Chelsea at Stamford Bridge by two clear goals should give them confidence. On paper this game promises to provide a rich feast of first class football and will draw another tremendous attendance. Elsewhere on this page you will see an appeal to intending spectators. Please act on it. Everton; O'Neill; Moore, Donovan; Farrell, Jones, Lello; McNamara, Wainwright, Hickson, Parker, Eglington. Manchester United; Wood; Foulkes, Byrne; Gibson, Chilton, Edwards; Berry, Blanchflower, Taylor, Violet, Rowley.
Everton will have all their 80 turnstiles open tomorrow from 1.15 onwards and appeal to intending spectators to get to the ground early, keep to orderly queues and tender the exact admission money. All round co-operation will ensure the big crowd which is expected to attend being handed expeditiously and without trouble.
THESE ARE THE MEN WHO PUT MAN INTO SOCCER MANAGEMENT
October 30, 1954. The Liverpool Daily Post
By Leslie Edwards
Liverpool has a proprietary interest in the two great men behind the teams which meet today at Goodison Park – Everton manager Cliff Britton and Manchester United Matt Busby. The value of these men is emphasized by the positions of their teams in Division 1 of the Football League and by their salary contracts. Matts I imagine is the best manager in the country –London not excluded. Cliff must run him close. As players they were both artists at right half back in the Everton team which had so many stars pre-war, and Busby in the same position in the team which the late George Kay was getting to his liking when war intervened. Matt and Cliff have other things in common. They both served as Army P.T. instructors. Cliff was with 50 Division, Matt was in the triumph and tragedy of Dunkirk and later spent his time keeping fit the soldier of troopers. Both shun the headlines they cannot help making both do their job quietly efficiently both aim to sell well and buy little or nothing –that's the way the bawbees grow at Goodison Park and Old Trafford. The distinguishing feature between them is that Matt goes racing and likes an occasional Scotch. Cliff doesn't know at clothes home from a race-horse and his Army shoulder flesh stood as much for tee –total as for Tyne and Tees.
Step Ahead
Matt may be a step ahead of Cliff in some respects –his carefully nursed youngsters have left the embryo stage –but both insist on being masters of policy in their own houses. Their clubs are wise to give then such control. If they succeed they keep their jobs….if they fall…But let's not talk about failure. It is not a remote contingency. These men have proved themselves on the field and are now busy proving themselves time and again in their off field capacity. Their main worry is to keep their team in the lead or in the leading half-dozen. Like Tom Whittaker of Arsenal, they belong to clubs whose spectators know what is best and demand it. The work of Matt and Cliff will be demonstrated today at Goodison Park by elevens who may make it one of the finest games of the day. United leading the First Division are expected by the rest of the football world to escape defeat. The solid confidence of Evertonians is behind their team. They are equally sure United will go the way of Sunderland a fortnight ago. After Arsenal clubs in the North like best to win at the expense of Manchester United. You cannot win Cups and Leagues as United have since the War and remain terribly popular.
Minus Fielding
More than one follower of Everton has expressed surprise that Wally Fielding has not been included in the attack. Eddie Wainwright has played splendidly as deputy, but one felt that when Fielding was fit he would return, without delay. It is this absence of Fielding who could do so much to marshal Everton's attack against the fine United defence, which makes me feet United may even win, much less get a draw. And I am not forgetting that Everton's first half work at Huddersfield might well have won the game decisively. United have the memory of that famous cup-tie defeat to wipe out. For half an hour in that remarkable game they did much as they pleased. Everton's victory and Hickson's rampaging winning goal that day were of never-to-be-forgotten order. The Everton ground will be fully tested, I think actually they could not add the finishing touches to make it the Wembley of the North with room for 100,000. Of the United defence Wood and Byrne we saw in the ill-fated Football League X1 at Anfield recently. Allenby Chilton will be wary of Hickson and his solo bursts and the further clash of these two fine club men must be one of the game's features. Edwards is the young half-back to whom football honour has come early –some suggest too early. He is an enormous lump of a chap for a seventeen-years-old. One expects better from him today than we saw against the Irish League. Taylor at centre forward is quick-moving and clever. So is Berry on the right, whose winging can sometimes be riotously individual. Everton can win if they will take half-chances and not try always to make can't miss chances. That was part of their trouble at Huddersfield. Everton; O'Neill; Moore, Donovan; Farrell, Jones, Lello; McNamara, Wainwright, Hickson, Parker, Eglington. Manchester United; Wood; Foulkes, Byrne; Gibson, Chilton, Edwards; Berry, Blanchflower, Taylor, Violet, Rowley.
EVERTON GESTURE TO EIRE F.A.
October 30, 1954. The Liverpool Daily Post
Four To Miss Game At Pompey
By Leslie Edwards
Four Everton players –O'Neill, Donovan, Farrell, and Eglington –were named, last night, as members of the Eire team chosen to play against Norway at Dalymount Park, Dublin on Sunday, November 7. Although their gesture means that their team will be minus these four players in the Football League game against Portsmouth on Saturday, November 6, Everton have released all four. Everton Manager, Cliff Britton, said last night. "The attitude of the Board is that they do not wish to deny any man the honour of playing for his country. If England selected any of our players we would be bound to release them. If that applies there is no reason why we should not let players appear for other countries if the international competition is to be worthwhile. "Eire have so few to chosen from the absence of such players affects them more than us.
FLOOD OF GOALS FOR HOME TEAMS
October 30, 1954. The Liverpool Football Echo
Jones Was Penalty King For Blues
Everton 4, Man Utd 2
By Ranger
For the second time in successive home games Everton defeated the current First Division leaders. Jones got two penalty goals, each for offence by Duncan Edwards but the best of the day was Eglington's goal after he had covered half the length of the field. It was a hard and determined game full of thrills, with the United's goal being saved three times by defenders after Wood had been beaten. Everton were twice behind in the first half, but were sound winners at the finish. Everton; O'Neill, goal; Moore and Donovan, backs; Farrell (captain), Jones and Lello, half-backs; McNamara, Wainwright, Hickson, Parker and Eglington, forwards. Manchester United;- Wood, goal; Foulkes and Byrne, backs; Gibson, Chilton (captain) and Edwards, half-backs; Berry, Blanchflower, Taylor, Voilett, and Rowley, forwards. Referee; Mr. F.H. Gerrard (Preston). Everton won the toss and defended Gwladys Street goal. The first shot came after two minutes a curling effort by Rowley. It was followed almost immediately by an Eglington header which went behind. The train, which has been only a light shower at the beginning, now came down heavily to make conditions still more trying. Then at the 10th minute came a succession of thrills which saw United a goal up through Rowley and Everton on level terms through Hickson 30 seconds later. Rowley's goal came from a centre by Berry which Blanchflower allowed to go through his legs so that the ball ran on for the unmarked Rowley to hit hard with his left foot –another curling effort which was going away from O'Neill all the time. Straight from the restart Everton bore down on the United goal and when Clinton and Bryne had a partial misunderstanding Hickson was through like a streak of lighting to accept the half chance with a rocket shot into the roof of the net.
Rip- Roaring Game
The rain was still sheeting down but those in the open hardly noticed it as this rip-roaring game pursued its fast and exciting course. At the 21st minute United took the lead again with what seemed to me –and to most others –an offside goal. Blanchflower had completely mishit a shot which skidded away towards the right where Taylor, seemingly yards offside, immediately hit it beyond O'Neill. Everton protested strongly against the goal but after looking towards the linesman, who nodded his head in agreement the referee waved the protests aside. The trials of strength between Hickson and Chilton had now become tinged with more "bite" and when Hickson went down heavily in the penalty area, there was a loud appeal for a spot kick by the crowd, who roundly booed the referee on his refusal to give it. I thought myself that he was right, for it looked like a "try-on" by Hickson though a couple of seconds earlier he had certainly been harshly dealt with.
Two Goals Escapes
The game continued to be packed with a quick succession of outstanding incidents among the most notable of which were two further escapes by the United goal –the first when Chilton blocked a shot by McNamara and the second when Byrne saved at certain goal to Parker by clearing off the line with Wood hopelessly beaten. Almost straight from this O'Neill was in action at the other end fisting away from Blanchflower, Taylor and Violett challenged him, Donovan completing his partial save.
Appeal To Referee
United for some moments had been delivering more shots than Everton, but most of them were rather reckless and inaccurate efforts. When Wainwright was obstructed by Edwards as he tried to get a pass by Hickson he ran back to the referee to protest against the non-award of a free kick. At the 37th minute Jones equalized for Everton with a penalty. The award came when Parker was going through on his own and was tackled by Edwards who neatly scooped the ball away from parker's toe and wheeled round with it ready to make his clearance, Parker however, fell to the ground and Referee Gerrard pointed at once to the spot. Edward's looked dumpfounded at the award, with some justification for it was a brilliant tackle and certainly not an intentional trip. It had been a hard and grueling first half.
Half-time; Everton 2, Manchester United 2
A grand move in which all five Everton forwards took part ended with an Eglington shot which dropped over the bar this was followed by two United attacks, in one of which Moore headed Taylor's shot behind and while Berry hit the net support in the net. A McNamara header off a free kick by Jones was allowed by Parker to run through his legs without, however, catching Wood napping.
Another Escape
United had now reversed the order of things for a few moments but their ascendancy was short-lived and Everton came back to the attack with renewed vigour and determination. Once more the visiting goal had a narrow escape when Byrne kicked off the line after McNamara had accepted a Hickson pass close in and dribbled round Wood. Hickson tried to work the penalty "oracle" again without success got away with a foul against Bryne but was spotted when he struck out his elbow in attempting to charge Wood. The home crowd was certainly giving Everton wonderful support and the way things had been going for the past ten minutes it seemed on the cards that Everton might wear down the Mancunians defence. They had certainly kept it at full strength but against that whenever the visitors attacked they always looked likely to get a snap goal.
"Sorry," Says Chilton
Hickson was brought down by Chilton just inside the centre circle, in such a manner that the referee spoke to the Manchester centre-half and captain. Chilton did the right thing when Hickson had recovered by offering his apologies. The United goal had yet another narrow squeak when Eglington's header off McNamara's centre seemed en route for the net until Foulkes stuck out a boot and luckily deflected it behind. From the corner Wood caught Hickson's header, and then Parker headed over. A brilliant bit of close passing between Parker, Hickson and Eglington completely bamboozled the United defence, Parker finished it off with a strong drive which flew past the angle of post and crossbar. Everton continued to pile on the pressure and United now had begun to look much less impressive than in the first half.
Everton In The Lead
Their attacks were far less frequent and were not being carried through to the point of finality. All the same Violett managed to get in one shot. Everton defence which had done splendid work earlier on, was now able to give more through to assisting the attack, and Farrell and Lello had been serving "up some good passes. At the 72nd minute Everton took the lead through Eglington straight after United had a corner. The flag kick was cleared towards the centre circle, where Parker lofted the ball out to Eglington. The winger with half the length of the field to go, beat two men before firing in an oblique shot which Wood appeared to get his fingers to but which he could not do other than direct into the roof of the net. This goal was no more than Everton deserved for they had been much the more dominant and aggressive side this half. This is the first time they have scored three goals at home this season. Donovan at this stage came well up for a corner and tested Wood with a long shot. From the clearance which followed United darted away from Edwards to fire over the bar. For once it was Everton's goal which had a narrow escape when Berry rounded Donovan and centred Blanchflower's shot looked a likely scorer until somebody in a bunch of Everton defenders stuck out a foot to do the necessary. At the 85th minute Duncan Edwards again gave away a penalty. This time when he handled the ball as Hickson attempted to hook it towards Parker, Jones scored from the spot. Everton were worthy winners. They had stayed the pace better and were not flattered by the margin. Final; Everton 4, Manchester United 2, Official attendance 63,021.
EVERTON RELEASE FOUR PLAYERS FOR EIRE
October 4, 1954. The Liverpool Football Echo
Everton have generously released O'Neill, Donovan, Farrell, and Eglington to play for Eire against Norway at Dublin tomorrow week, and will visit Portsmouth next Saturday without them. This means the defence will be changed for the first time this season. The Goodison Park club believes that as England can demand players, other countries should be assisted as much as possible. They also do not desire to prevent any of their staff receiving honours if it can be avoided. Farrell, who will captain the Eire side will be making his 23rd appearance for them, and needs only two more caps to quality for a special trophy. It will be Donovan's first international appearance.
LET ENGLAND SHOUT FOR ENGLAND
October 30, 1954. The Liverpool Football Echo
By Peter Farrell, Everton
When we come to reckon up the game we were lucky to win and those in which we were unfortunate not to collect the points, the Everton players will look back on the game at Huddersfield as one they should have won. I am not trying to take any of the credit out of Huddersfield's fine display in coming from behind to win. Nevertheless when the Blues scored first and had nearly all the play before the interval, it seemed only a matter of time before we increased our lead. We had many chances before that shock goal scored by Watson on the interval. You have all read what happened in the second half. Much as we tried to regain our earlier rhythm and fluency and hard as the lads fought we never seemed to recover from the shock goal. Jimmy O'Neill had permission to leave the official party immediately after the game, and was conveyed post haste from Huddersfield to Liverpool by some friends. He and his bride-to-be had intended flying to Dublin from Speke that night and Jimmy was very disappointed to arrive at the airport only to find he was three minutes late for the last plane to Dublin. The happy couple had to content themselves with the overnight boat journey to Dublin as an alternative.
No Sinecure
Some people seem to think the manager of a football club has an easy job with a big salary and comparatively little to do earn such. Nothing could be farther from the truth especially for those managers who have full control of the affairs of the club, including team selection. Who, for instance would care to have been in Everton manager Cliff Britton's shoes this week when he had to decide whether to play Wally Fielding of Eddie Wainwright in the inside forward position? No matter what decision he made it was bound to meet with adverse criticism particularly at Wally was playing brilliantly this season until his injury while Eddie has also been in top form back in his old position at inside right. A manager's job is all right when things are going smoothly, and the team is serving up good stuff each week. But just let the lads strike a bad patch and the club take a downward turned towards that dreaded relegation come, and everyone is hurling abuse at him. A few years ago Mr. Britton came in for much abuse and I am sure the Everton manager must feel very satisfied these days that the principles to which he adhered are bearing fruit despite what the critics had to say to the contrary.
Who Shouts For England?
I have played for my country against Scotland, England and Wales on their own territory, and therefore have experienced the reactions of the home crowd in voicing their encouragement to the wearers of their country's colours. The "Hampden Roar" is famous for the tremendous effect it has on the Scottish side while the enthusiasm of the Welsh crowd in urging on their favourities has to be seen or heard to be believed. Back home in Ireland, whether in Dalymount Park or Windsor Park, the Irish supporters, from the point of view of encouragement can hold their own with the best. Which brings me to the home supporters of the English national or League side. Whether it be London, Manchester, Birmingham or Liverpool, they never seem to have the same enthusiasm for their representatives as those of the other home countries. This is hard to explain as the Englishman is the most critical enthusiastic to be found anywhere. Some of my English friends have remarked to me that the season for this is because they always seem to have a warm spot for the underdog. I suppose also they became so accustomed to seeing English win against all foreign rivals that they liked to show their good sportsmanship by encouraging the weaker opposition. Let's hope the England team will have the encouragement it deserves from all when they play Germany in December.
HUDDERSFIELD RES V EVERTON RES
October 30, 1954. The Liverpool Football Echo
Huddersfield Res; Mills, goal; Longsdale, and Parker, backs; Connor, Cockgrill, and Hinchcliffe, and Hobson, half-backs; Womersley, Shiner, Davie, and Simpson, forwards. Everton Res;- Leyland, goal; Sutherland and Rankin, backs; Grant, Wood, and Melville, half-backs; Harris (B), Potts, Saunders, Farrell, and Buckle, forwards. Referee; Mr. G.D. Swinton (Stafford). Farrell forced the ball home in a goalmouth melee to give Everton Reserves a deserving lead in the twenty-third minute. Town had their chances, but failed to profit through poor finishing. Davie, with some dazzling dribbles, tried hard to use them but he too had a bad miss early on. When receiving a nice through pass from Hinchcliffe he merely toe ended his shot. Saunders was a bustling centre forward for the visitors. Early on he nearly scored with a stinging shot which Mills was only able to beat out as he dived. Mills recovered to save Buckle's attempt to force home the rebound. Half-time; Huddersfield Res nil, Everton Res 1.
Still the nipper combination Everton nearly scored again when a Buckle shot passed just wide of the far post. Town strove to square matters and a free kick for a foul on Shiner brought an equalizer by Womersley. Three minute later, however, Saunders cleverer beat Cockeril to restore the visitors lead.