EVERTON STAY ON BOTTOM RUNG COULD BE LENGTHY
September 1, 1958. The Liverpool Daily Post
By Leslie Edwards
Everton 0, Newcastle United 2
Everton stand last in the League table and unless they show a remarkable change of front they are likely to be there for some time. It was a pity O'Hara was absent through injury, and that the club are still without their good pre-season full back buy Parker. It is a pity also that the ones who were so anxious to secure Docherty of Preston were not prepared to spring the extra thousand or so which would have made him an Everton player instead of an Arsenal one. This latest Everton defeat could not have been unhappy, for players or directors. Once they went 2-0 down with half an hour's play remaining the players were victims of an epidemic of slow handicapping –a form of barrackering which must make them play worse not better. Then at intervals the crowd in front of the main stand turned their backs on play and addressed themselves loudly and angrily to the directors unfortunately enough not to have been out on scouting missions. "Why don't you go out and get some players?" was the command. Football spectators, when apportioning responsibility for failure should remember that the players are hired to play; coaches to coach (and select the team), and directors to direct. And of these responsibilities at the moment the most urgent is undoubtedly direction. There are players about who would help to improve Everton. Is the best use being made of the forces at hand? Newcastle who were, opponents without a win prior to this match, won once they had broken the ice. For twenty minutes or so they floundered and flurried their way through the match of innumerable mistakes and one in which so many obvious passes were astray it was never surprising there was little continuity.
Thoughtless Fans
McGuigan a shrewd Newcastle buy from Southend United a player in whom Everton showed interest in Cup ties against Liverpool last season –shot his side into the lead, Everton aided by some of their more thoughtless fans went further and further back in confidence and ability –so that the possibility of their recovery scarcely existed when Wright stuck out a long right foot to give his side a second goal, it was all over bar the shouting and that shouting from the crowd came towards the end and again as members of the Board left their seats in the stand. Everton's weaknesses were obvious as ever, but Fielding re-appearance had good results and even if he was guilty of more misplaced passes than usual he gave the attack some semblance of solidity and pattern. But on the right, Thomas is unrecognizable as the players of such promise of last season. Thus J. Harris rarely came into the picture and even he is not performing well. Ironically it was Harris who produced Everton's best shot a left foot one, which Mitchell did well to field with both hands. Young John King, like Graham Williams on the left, had moments of inspiration indeed Williams came near to being Everton's best forward. His faults is that he is sometimes inclined to run into trouble. O'Neill kept a good goal which was as well in view of the fact that Newcastle made many more than two scoring chances and were not always as punishing as they might have been. Jones found the swirling ball and the glaring sun something of an embarrassment against the hugh, rather lumbering Newcastle centre forward, Wright and although Jones forte is not the constructive one he at least found time to go upfield and make the low pass from which Harburn. All but scored with a half-hit shot.
Harburn Baffled
Harburn opposed to a man who was even taller and better built than himself was not often seen and when he was he tended, I thought to be a little slow and a little baffled by the technique of First Division football. Everton had no strong half-back like Scoular to bring his personality to bear of the team. It took Scoular a long time to settle down but once he did Everton were in his grip and such players as Davies could make themselves a continual nuisance. Little Eastham, the son of the old Bolton forward is an artist with the ball, but he is often not quite definite enough and for this reason Newcastle were left 2-0 winners where in other circumstances they might have had two or three additional goals. Everton have rarely been so lacking in good players. When one recalls the many who have left the club in the past eighteen months one does not marvel that their absence is felt.
LIVERPOOL WIN RESERVES' CLASH
September 1, 1958. The Liverpool Daily Post
Liverpool Res 4, Everton Res 2
Liverpool would have held a winning lead by half time in this Central League game at Anfield had the finishing of their forwards been steadier. Instead outside right Harris (B.) replied to centre forward Arnell's sixteeth minute goal by scoring twice (51 and 57 minutes), in Everton's one brief spell of ascendancy. Outside left Smith, the best Smith, the best forward afield, soon equalized and his partner Banks ensued victory with two snap goals. Although outside left Godfrey retired with a facial injury ten minutes after the interval only Harris threatened the Liverpool goal for Hickson was subdued by Hughes, while the inside men were too often pre-occupied with defence. Everton's left half Bramwell and the stylish Griffiths behind him were strong defenders, while Dunlop made several first class saves. The Liverpool rearguard played well to a man with full back Campbell and Byrne excelling in constructiveness. Teams; Liverpool Res; Rudham; Campbell, Byrne; Saunders, Hughes, Twentyman; Jones (J), Evans, Arnell, Banks, Smith. Everton Res; Dunlop; Bentham, Griffiths; Rea, Labone, Bramwell; Harris (B.), Temple, Hickson, Keeley, Godfrey.
EVERTON LIKED WHAT THEY SAW
September 1, 1958. The Liverpool Daily Post
By Horace Yates
Two Everton directors paid a special visit to the Bradford City and Hull City match on the look out for forwards. They must have been impressed with what they saw because after the match there was a lengthily conference between the Goodison and Bradford officials. I gather that one forward in particular appealed to Everton and though the talks were inconclusive, contact is not likely to be lost and it may be there will be a resumption of negotiations later. There was no confirmation at Goodison yesterday to reports that there was discontent among some of the Everton forwards, said to be ready to move if the chance came along. Chief coach, Ian Buchan said; "I know nothing whatever about it."
LIVE WIRES ARE NEEDED ON THE PITCH
September 1, 1958. The Liverpool Echo
By Leslie Edwards
The only non-playing representatives of Newcastle United at Goodison Park was Manager Charles Mitten, one-time Tranmere Rover forward who sat in solitary state while his team (until then pointless) won a 2-0 victory against hapless style the word at the moment is hapless; Everton. All the rest of the Newcastle Board were out scouting. Doubtless those members of the Everton Board who were present on Saturday wished that they, too, had been given a mission. It can be no joy to sit and endure the taunts of spectators who turn away from the pitch and direct their criticism at those in charge. The gist of their commands was "Get some players" and it is with deep, irony that one reflects on the team of Everton players who have been thought not worthy to continue with the club these past eighteen months. The list is formidable; Leyland, Donovan, Sutherland, Peter Farrell, Birch, Wood, Mayers, Alec Farrell, Gauld, JW Parker, McNamara, Eglington..How useful these men would have been around the place at this time. There have been incomings, of course, but they have not been players of like class and Parker's absence in Cyprus, the failure to get Docherty and the injury which kept out O'Hara have an reacted against the club.
Far Better To Stay Away
And now those slow handclappers. I appeal to them to desist. A player playing badly, a team playing badly can only play worse as the result of such barracking. Players don't like it; they are disgusted by it. They are there to do their best; if they best is not good enough they are not to blame. Far better if spectators stayed away. The drastic course would inevitably have the desired effect. Everton Board has the authority to make the moves which should bring the club some glory. One cannot thing that they will ignore the import of the angry demands which were shouted at them during and after the match. The speed with which the Board moves will be governed by events at Preston tonight. Whatever team is chosen will have a tremendous task; but defeat is not inevitable. The weaknesses in the side were still obvious though it took Newcastle United time to probe them and capitalize on them. On the face of it Everton can never have been so weak in their long history. I can understand the crowd's frustration; I cannot understand why some of them thoughtlessly take it out on the players, especially when, as on Saturday there still remained time in which the match could have been retrieved. Fielding's return helped; Williams had moments of inspiration, spoiled only by moments when he inclined towards running into trouble. King given time, will emerge a very useful wing half-back. Thomas for the moment, has gone back so far the possibility of his being persisted in hardly exists, I imagine. There should be room, I think for Hickson in this moment of crisis. If O'Hara is fit- and he is likely to be –he will go in against Preston. Harburn's only real pass, one which came from one of Tom Jones rare upfield excursions, was the one off which he neatly scored; Harris and Everton's best shot was a left foot one which Mitchell took securely in a double handful.
Apt To Panic…
Everton are apt to panic in defence in that the ball is too often lumped upfield when a finessing short pass to a forward or half-back is called for Newcastle with McGuigan of Southend having a first rate game and Scoular settling down after a poor start, might well have won by a wider margin and none pretends that they are likely to challenge such sides as Blackburn and West Ham for their leadership. Someone suggested unkindly that the only live wires Everton now possess are under the pitch, the position is not hopeless in that revelation of the club's resource has come at the earliest possible moment in a new season. The Football Echo League table showed willing by presenting them gratuitously, with points they have not won. We apologies for the error. We hope it is a foretaste of points to come wither tonight or on Saturday against Arsenal. But Everton will have to redeploy and reassess their forces and even that might not guarantee the improvement we (and they) hoe for.
Discontent and Defeat Inseparable
The report that this Everton player and that were asking for the transfer is, I suppose inevitable at this juncture. It is strange that the club have no news of it and surely they would know if anyone had put in a formal request for a move? That is not to say that requests for transfers may not follow as losing team can never have contended players.
EVERTON'S THREE CHANGES FOR TONIGHT
September 1, 1958. The Liverpool Echo
Hickson at Inside Right
Griffiths Debut
Everton F.C have made three changes for their match tonight at Preston. O'Hara now fit plays at outside left, Hickson displaces Thomas, at inside right and 19-years-old part-time professional Brian Griffiths comes in at back for Tansey and makes his senior debut. The forward line now contains three players with a centre forward potential –Harris (J), Hickson and Harburn. Hickson's appearance in the inside right position is rather unexpected. Apart from his normal position in the centre he has shown a propensity for right winging. Griffiths joined the club as an amateur in March 1956. He is now a professional though a part time one. He is an apprentice draughtsman. Everton; O'Neill; Sanders, Griffiths; King, Jones, Meagan; Harris (J), Hickson, Harburn, Fielding, O'Hara.
Preston undefeated so far play the team which took a point against Manchester City on Saturday. This includes Tommy Thompson at inside right. He missed the game a week ago at Goodison Park because of a knee injury.
HICKSON BACK IN HIS RIGHT POSITION
September 2, 1958. The Liverpool Daily Post
By Leslie Edwards
Preston North End 3, Everton 1
Give this beaten Everton another chance against Arsenal on Saturday and I am sure they will produce results that will startle you. Last night they fought like tigers. They made enough chances to have earned a draw, and only the ones born of over anxiety prevented them from making the margin desperately close instead of a fairly big one. I give them full marks for their wonderful, if unavailing effort against an undefeated Preston who had looked so markedly superior at Goodison park a week ago. Last night Everton had no slow hand-clap to dismay them and we saw from them more good constructive, combined football than in all their other matches this season, to say nothing of those dreadful displays we saw last back end. Someone somehow, has injected into this eleven the will to win, and it was a tragedy that a side who played so well up to a point could only come away with aches and bruises for their pains. Preston led 2-9 at the interval but this score was kind to them and it was only early in the second half that they started to give Everton the grueling mixture as administered at Goodison Park. It was then the Everton defence, every one of them –and they were often aided by others up front –put on a remarkable show of spirit to turn the tide their way to such an extent that three of four second half Everton attacks must have borne fruit if the final chances had been taken calmly and sedately.
O'Neill In Form
It was a hard game with Preston never showing the command they displayed in the earlier match. They might well have won more readily but for two stunning O'Neill saves in quick succession in the second half, the first from Thompson and the next from Hatsell, but had Preston scored on those occasions the results would have been a travesty for Everton. There was nothing in it for twenty-five minutes until Finney with a through pass enabled Hatsell to bring down a high ball with his left foot and hit it into the net with his right in a superb volley. Thirty seven minutes had gone when Mayers picked up a through pass from Milne, who had brought the ball forward in a long run, and made the score 2-0. Everton's best strike in this half was a Fielding shot which flew just wide of the far angle. On the face of it there seemed little hope for Everton in a second half which began with Preston's attacks flowing smoothly and more combinedly than at any time before, but one had not reckoned with Everton continued determination and after sixty eight minutes there came a joyous goal for Hickson to celebrate his return. It was while he was at centre forward and Harburn was on the right wing that the Everton attack began to move as though they might penetrate a solid defence. Hickson's chance came from young Griffiths initially, and the youngster, making his debut, took a risk with his cross field pass to Tom Jones the centre half was able to flung the ball forward to deceive Dunn and feed Hickson, who sized up the situation admirably and hit the ball left foot for a splendid goal.
Wild Shooting
Harris made one of several wild shots when well placed before Mayers with a corner kick, led to Preston third goal. The ball was headed away but Baxter volleyed it back into the net with the greatest aplomb. After this Everton's attack really cut loose and Fielding was close wild a left foot shot which flew high, and Harris was wide after breasting the ball down and seeming likely to conclude one of many of Everton's well based attacks. The nineteen-years-old Griffiths could scarcely have had a more testing debut, but he marked Mayers carefully and well, used the ball remarkably for one so young and all told earned a further chance to show his competence. But the night's great hero in a side which played heroically was Fielding. He was busy as a beaver, rarely putting a ball wrong and Preston's early second half rally may well have been due to the fact that Fielding had almost literally run himself into the ground. That Hickson is the legitimate Everton centre forward is now beyond dispute. He played as well as ever and with Harburn much more useful on the wing than in the centre, the Everton attack really looked promising. Their only fault I would say was their hasty shooting, and the fact that they will not persist in carrying well developed moves to their logical conclusion. There is a tendency to try to find Hickson's head rather than his feet. King and Meagan were hard put to it to face the might of a Preston line in which Hatsell veered to the wings with facility and effect. Jones obviously had to be the anchor of the defence and O'Neill played brilliantly and without fault, but it was the spirit of the team as a whole in face of class opposition which impressed me, and I am convinced that when Fielding and O'Hara get together as a left wing we shall see a two-some of the highest class. O'Hara's first half was particularly good. His ideas are good too and so is his shot if he can get on target with it. There is promise too in Harburn, but rather at outside than in the centre. Preston were not nearly so convincing as they had been a week ago, and oddly it was just a week ago on this ground that O'Neill played another splendid game in a Central League match. Last night Finney was not so masterful but Hatsell, with two magnificent providers on either side, was always a menace. Nevertheless there were scarcely two goal's difference between the teams and I can only hope that this new live-wire Everton repeat their performance at home on Saturday in which case Arsenal might well find themselves losers. Everton; O'Neill; Sanders, Griffiths; King, Jones (captain), Meagan; Harris, Hickson, Harburn, Fielding, O'Hara. Preston North End; Else; Cunningham, Walton; Milne, Dunn, O'Farrell; Mayers, Thompson, Hatsell, Baxter, Finney. Referee; Mr. L.J. Hamer (Bolton).
DUNLOP KEPT THE SCORE DOWN
September 2, 1958. The Liverpool Daily Post
Everton Reserve 0, Preston North End Reserve 1
After a first half marked by petty fouls, during which centre half Singleton (Preston) had his name taken, Everton were fortunate only to be one goal in arrears at the interval of this Centre League game at Goodison Park last night. This was mainly due to many first-class saves by Dunlop. Everton's play was scrappy and lacked bite especially down the middle. On resumption, with Tansey limping on the wing and Harris at left half Everton showed more determination and came near to equalizing on several occasions. Preston had become too elaborate and should have increased their lead. For Everton, Brian Harris had a good game, especially during the second half, and Bramwell looked good at left half, Dunlop had no chance with Evans goal at the 36th minute. Everton team was; Dunlop; Bentham, Tansey; Clayton, Labone, Bramwell; Harris (B.), Thomas, Kirby, Wignall, Williams.
THIS SIDE COULD BEAT ARSENAL
September 2, 1958. The Liverpool Echo
By Leslie Edwards
Everton's fans meeting their side in from Preston late last night shook their heads solemnly as though to say "What's to be done about them," when they were told their side had lost by three goals to one. The answer to their unspoken question is "Nothing –nothing at all." Because somehow the reconstituted side with Hickson at inside right and the young apprentice surveyor Griffiths at left back played more football, better football in 90 minutes than I have seen from an Everton side for months. Indeed if they had chased Preston to a draw –and don't forget Preston are unbeaten and at the head of the table –it would only have been what their courage deserved. I give them all credit for playing so well, one forgives and forgets their past omissions and looks to the future with some confidence, where until last night everything had seemed so hopeless. There was life in every department; willingness to flight for the ball; skill, shots and a determination which would have made the slow hand-clappers hide their heads in shame. And leading it all was that evergreen Cockney kid Fielding whose wonderful sustained show many well have been put on specially for the former Everton manager who occasionally had the temerity to leave him out! Fielding's calm assurance and sure touch spread to others. And when midway through the second half that other Everton old faithfully, Hickson, slid quietly into his real role as a centre forward and the willing gentlemanly Harburn went to the right wing where he seemed so much happier, Everton's attack started to function in a way which would have astonished the sceptics.
The Promise Is There
I am not really concerned that they failed to get a draw. The promise was there, the fulfillment can only be a matter of time and the time may well be against Arsenal on Saturday I'd give them all their chance again and would like to bet that they would produce the first points of the Everton season. Even Griffiths faced with such a difficult task against Mayers struck to his job manfully and successfully with some fine use of the ball and a part in the lovely goal Hickson scored to make the score 2-1. Hatsell with a lovely goal from a Finney past had given Preston the lead and Mayers had made the score 2-0 at the interval at which stage there were certainly not two goals difference in the play of the teams. Hickson's goal really set the Everton attack going and it was ironic that after O'Neill had brought of two storming saves that Baxter should volley Preston into a 3-1 lead when the prospect was that Everton would get on terms. It was then Everton rallied after a good deal of all out efforts and created for themselves enough chances to have produced two if not three goals. Preston were never allowed to have the supreme command they held at Goodison Park. The Everton effort could scarcely have been more heartening and that they played excellently in defeat is their tribute. With Tansey injured in the reserve game at home last night-Bramwell made an excellent deputy and Brian Harris I am told worked wonders as a half-back-Griffiths successful debut could not have been more timely. Nor could Hickson's return since he had a first class game,. Kept out of trouble, cracked his goal like a good un and generally welded a line in which the particular stars were O'Hara and Fielding. I like O'Hara more and more but he has still to show them at home just how good he can be. When he and Fielding pair off as a wing they will take an awful lot of stopping. It is good to be able to pay tribute to players who did so valiantly in their effort to get into a winning way, I am convinced they must succeed if they are given encouragement to repeat this sort of football again on Saturday.
MORE EVERTON CRITICS
September 3, 1958. The Liverpool Echo
Your Column
Sir,- Is the trouble at Goodison Park attached to the playing staff or do we need an experienced manager who can instill confidence and ideals into a team who seem fed up with the game and the thought of playing before Everton's critics. Are we being led up the garden path by Press reports? We have lost all the good players to other clubs. Let us stop this before it is too late and Everton become the laughing stock, instead of the Arsenal, of the North –F.Lowe, 5 Corsewall Street, Liverpool 7.
Sir – When are Everton going to appoint a manager? Good men have been allowed to go –Leyland, Woods, Mayers, Gauld, Farrell, and the man who might have been manager Peter Farrell. Fitness is all very well, but goals not physiques win matches – G. Keen, Smithy House, Cuckoo Lane, Gateacre.
Sir – In reply to Mr. Barber's criticism of Dave Hickson may I remind him that it is primarily due to Hickson's great endeavour that Everton are in Division 1 today? In my opinion he is the most punished footballer I have ever known. Your Dean and Matthews may be great in soccer, but neither of them was a greater clubman or possessed a bigger heart than Hickson. Referring to Harburn, I wish him success in his new role, but recollect Mr. Barber, he is 28 years old. Why has he not been brought to the notice of the London clubs before now? As for Hickson's goal tally remember Dodds, McIntosh, Catterick and many more Everton's centre forwards have been playing without support for years. If a vote were taken in defence of Hickson I'm afraid you would be in the minority, Mr. Barber. –James O'Hanlon 37 Durham Ave, Liverpool 10.
BRIAN HARRIS, RIGHT HALF-BACK!
September 5, 1958. The Liverpool Echo
By Leslie Edwards
Of Everton's several changes for the match against Arsenal at Goodison Park tomorrow –one which everyone hopes will produce their first points of the season –the most notable is the selection at right half-back of Brian Harris, normally a winger. Everton are taking a gamble on his coming off in a new position because twice recently in Central League football injury to others has meant that he has been pressed into service in the half-back line, and on each occasion he has performed outstandingly. Another change, a more obvious one, is the return to the centre forward position of Hickson whose game at Preston proved, I think, that he is still the best centre forward on the books. Newly signed Harburn goes out and Temple the live wire forward of last season's good beginning returns to the team at inside right. Hickson's return will please many people. When Everton were prepared to transfer him before the season began to Plymouth he said he not only did not want to go but was prepared to play in any Everton team in the belief that sooner or later he would regain his place. And now he has done so. All that remains is for this new Everton side to produce the spirit and ability they showed at Preston. If they can do that Arsenal now managed by the astute George Swindin, may find their expectations of victory dished. Everton; O'Neill; Sanders, Griffiths; Harris (B.), Jones, Meagan; Harris (J.), Temple, Hickson, Fielding, O'Hara.
Miss V. Passant, of Manor House, Barnston, Wirral, writes;-
As a supporter of Everton I think it was very unfair of supporters to boo and jeer our players from the field after Saturday's match. Why take it out of them? We are told by the Press and by the Everton directorate that our team are the fittest team in the First Division. That will take some believing since every team that comes to Goodison seems to leave our team flat-footed for speed. Does anyone realize that during the last three and a half years we have got rid of one manager, one trainer and sold at least twenty-three players and brought another eleven? And now we are seeing worse football than ever. How about trying George Rayner as manager. Perhaps he could restore team spirit at Goodison. He did get Sweden to final of the World Cup.
EVERTON DO NOT LACK COURAGE
September 6, 1958. The Liverpool Echo
By Horace Yates
Call it a day of decision if you like, but however you look at it today's events are full of tremendous importance to Everton. For Everton four defeats from four games, the one team in the First Division without a point, makes sorrowful enough reading. The end of this mournful sequence cannot come too soon, and yet there is no sort of guarantee, only a vague hope that Arsenal's visit will be the cheer-raiser and depression-killer. Everton continue to indulge in the ancient art of shuffling the pack –and whether it has produced a trump or not, at least there is a real turn-up in the nomination of Brian Harris for the troublesome right half position. I think it true to say that if the thousands who regularly attend Everton's games, and any number delight in the role of amateur selectors, had been asked to choose from the strength on the register, not one of them would have been inspired with the Harris solution. That, of course, does not mean that it is foredoomed to failure. Harris no matter how brilliantly successful he might prove, would not be the first forward to drop back with astonishing results.
Courage Needed
In fact, it was his promise in a half back role brought about by emergency when a colleague was injured that provided the spark for the ideal. It needs courage to fling a player into a new role against the Arsenal on the strength of a couple of reserve team interludes –yet courage is a prime requirement in these dangerous days. But is it enough? More obvious and less controversial is the recall of Hickson to centre forward, and although one man cannot make a side, dashing Dave's infectious enthusiasm could have tonic qualities. The inclusion of "Soldier" Temple as Hickson's partner recalls the happy association of last season, until things started to go awry, and if there is one team above all others that London-born Wally Fielding likes to do well against, it is the Arsenal. Dennis Evans Arsenal left back, has travelled all the way from Liverpool's Old Swan to fulfill his schoolboy ambition. Whenever Dennis was asked in his younger days, whether he would one day be playing for Everton or Liverpool he was always very assured in his replay. "Neither," he used to say. "I shall play for the Arsenal," and play for the Arsenal he has. Not only that but last season he skippered the club that so early in his life promoted is schoolboy worship. Docherty will at last be at Goodison, but not in the colours Everton followers would have wished. Rash would be the prophet who jumped in with an Everton victory forecast and even a single point may be a Goodison ambition difficult of achievement. Everton; O'Neill; Sanders, Griffiths; B. Harris, Jones, Meagan; J. Harris, Temple, Hickson, Fielding, O'Hara. Arsenal; Kelsey; Willis, Evans; Ward, Dodgin, Docherty; Clapton, Groves, Herd, Bloomfield, Nutt.
HERD'S HAT-TRICK IN GREAT ARSENAL SHOW
September 6, 1958. The Liverpool Echo
More Slow Handclaps At Goodison Park
Everton 1, Arsenal 6
By Michael Charters
Everton- O'Neill; Sanders, Griffiths; B. Harris, Jones (captain), Meagan; J. Harris, Temple, Hickson, Fielding, O'Hara. Arsenal; Kelsey; Wills, Evans; Ward, Dodgin, Docherty; Clapton, Groves (captain), Herd, Bloomfield, Nutt. Referee; Mr. G. McCabe (Sheffield).
Arsenal's Vic Groves passed a late fitness test and led his team out fully 10 minutes before the kick-off time at Goodison today. In a sensational breakaway straight from the kick-off Arsenal attacked down the left wing as full back Evans burst clear. He passed the ball to Herd who had gone on to the left wing and his cross was met first time by Nutt whose shot struck the crossbar. The ball rebounded to Clapton but the winger's shot was blocked by an Everton defender. Arsenal went ahead after three minutes with a brilliantly taker goal from Groves. Clapton used his speed down the wing to beat Griffiths and the winger finally passed to Herd, who flicked it across with his head to Groves. Groves first time shot just went inside the post to beat O'Neill. The Everton trainer came on to attend to O'Neill who apparently had injured his leg in attempting to save Groves's shot. Then it was the Arsenal trainer's turn to see to Dodgin who hurt his face in a heading duel with Hickson.
Clapton Too Good
Arsenal were concentrating all their attacks, down the right wing and well they might for Clapton obviously has the beating of young Griffiths. He earned another corner when his centre was pushed behind by Jones. Hickson slipped the ball to Temple to put the Arsenal defence on the wrong foot, but the inside right striding forward with no one near him, shot wide as Kelsey came out. Hickson beat Docherty down the right wing and the first boos of the match came when Evans stopped the Everton leader by taking his legs from under him but the compact Arsenal defence had no trouble in clearing the resultant free kick. Inspired by Hickson Everton were slowly coming into the attack. Hickson sent Jimmy Harris away and the winger cut in and loosed a fierce left foot shot which Kelsey was unable to hold. The ball rebound off his chest and was scrambled away by Wills. Fielding, as neat and tricky as ever, beat Bloomfield in midfield with his body swerve and interpassed with Jimmy Harris on the wing before surprisingly trying a shot himself. Much as the crowd would have like it the shot gave Kelsey no trouble for it slipped wide of the far post. Everton's attack had by now, clicked into smooth action, Hickson was beating the towering Dodgin on the ground and in another lightning right wing attack Harris sent over a lovely centre which Hickson headed on to Temple but the inside forward was sadly amiss with his header when well placed. After this spell of Everton pressure Arsenal came away to increase their lead. Clapton who was proving himself one of the best outside rights seen on the ground for many a day, took the ball down the wing and cut in along the by-line in the Finney manner before pushing the ball back for Herd to slam the ball past O'Neill. That was after 22 minutes and Everton might have been further behind two minutes later when Clapton, this time in the role of possible goal taker instead of maker, wildly shot high over the bar after Bloomfield had dazzled Everton with a delightful run from midfield. Arsenal were now back at their best. Everton's defence was having a real roasting and in attack only Hickson looked like pulling the game round Everton's way. The first Everton shot for 15 minutes came inevitably from Hickson, and he hit a right foot so strongly from the corner of the penalty area that Kelsey found it too hot to catch first time. Clapton almost scored from a left wing corner, the ball bouncing luckily off Griffiths to O'Neill. Everton scrambled the ball away and Temple after a concerted attack he between Hickson and Fielding, hit the crossbar from just inside the penalty area. However he had been given offside before he shot. Docherty, the man Everton might have signed, was having a tremendous game for the Gunners. He sent Bloomfield away down the wing and the cross was just put over for a corner by Sanders with Herd waiting unmarked in front of goal. This was an Arsenal side reviving memories of their greatest days. There wasn't a weak link in the side with the possible exception of Dodgin who was finding Hickson a rare handful.
Fielding's Effort
Ten minutes before half-time Fielding roused Everton hopes with a brilliant midfield run but the Arsenal defensive marking was so good that he found no colleagues to pass to. Instead he tired a shot himself from outside the area and it flashed narrowly wide. The crowd were quick to appreciate Arsenal's brilliant play and in quick succession a neat interception by Ward and a great cross-field pass by Herd brought a storm of appreciation. The crowd really let themselves go when Hickson cracked one on the half-volley and Kelsey just managed to finger-tip it over the bar. Even Kelsey applauded this great shot from the Everton leader, who was at least proving that he was in his rightful place.
Half-time; Everton nil, Arsenal 2.
Within three minutes of the restart Arsenal had this game sewn up. Straight from the kick off another scintillating move involving four Arsenal forwards ended with Herd crashing a point blank shot against O'Neill's chest. This was a dreadful miss but the ball was never properly cleared and Bloomfield finally snapped it up to shoot past O'Neill after 46 minutes. Two minutes later Bloomfield sent Nutt down the left wing and the winger's first time cross was met on the volley by Herd to give O'Neill no chance at all. Arsenal appeared to be camping out in the Everton penalty area so strong was their pressure, and there was nothing Everton appeared to be able to do to stop them. Arsenal, although noticeably slackening their pace, were still too good for Everton. Bloomfield tricked Brian Harris and Meagan with a brilliant dribble and put one on a plate for Clayton, but the winger delayed his shot too long, and Jones cleared for a corner. All Everton could show was spirit against the superb football of the visitors, but that was not good enough. Hickson the only forward to make any show at all, forced Kelsey to concede a corner when he snapped up a cross from Jimmy Harris and from the resultant kick Kelsey dived on Hickson's shot as it was creeping in just inside the post. A tragic mistake by Jones after 61 minutes gave Arsenal their fifth goal. His mis-kick went straight to Herd's feet and the Arsenal leader raced away 40 yards before cutting in and beating O'Neill with a rasping ground shot. The crowd was growing restive with Everton's display which could only be described as pathetic. Arsenal although at half speed now, seemed to be able to get down to the Everton penalty area as and when they liked. The crowd began to whistle and slow clap treatment they had given during last week's game against Newcastle. Nothing Everton tried to do was successful and Arsenal showed them how easy scoring could be when Herd hit his side's sixth after 74 minutes. A deceptively easy attacking move ended with a cute through pass from Bloomfield and the Arsenal leader strode on beautifully to out the ball past O'Neill. Five minutes before the end, with the Arsenal defence relaxing Temple scored a good goal for Everton when he snapped up a pass from Jimmy Harris. Official attendance 40,559. Final Result; Everton 1, Arsenal 6
Balance Sheet
This was a massacre at Goodison, Everton were completely outplayed at every point by a brilliant Arsenal team who gave them a football lesson, plus goals. Everton's display was unbelievably poor and many of the crowd left the ground well before the finish. Those who remained stayed to admire the Arsenal. The only bright spot for Everton was the great-hearted display by Dave Hickson, but he could do nothing without support, and he just didn't get it. Temple's goal saved Everton the ignominy of equaling their worst even home defeats, which were 0-6 to Newcastle in 1912 and to Crystal Palace in the F.A Cup, in 1922.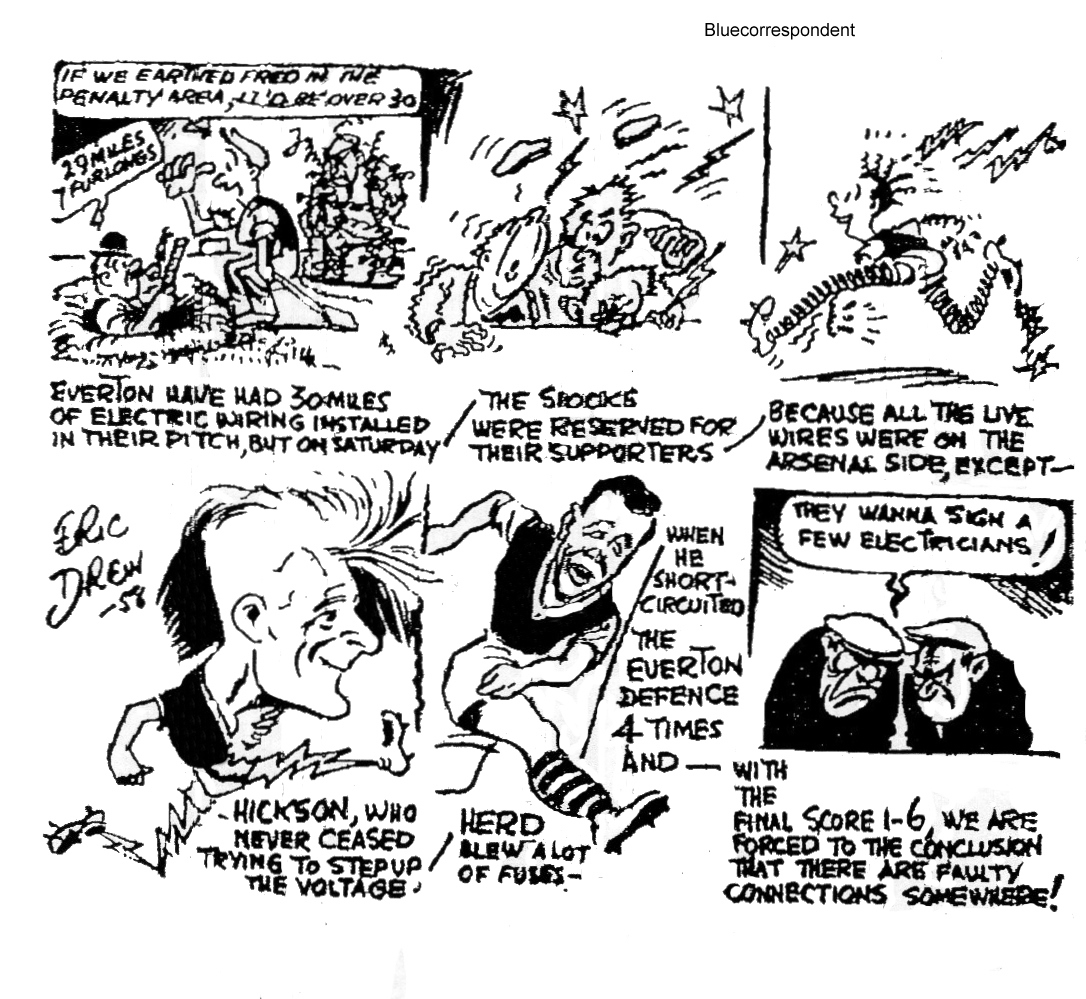 WHEN PICKING A TEAM THE FINAL COMBINATION IS THE YARDSTICK, NOT THE INDIVIDUAL CHOICE FOR EACH POSITION
September 6, 1958. The Liverpool Echo
The Secret of a Winning Side
By Joe Mercer
It's a great life when you are on top. Managing a team isn't so bad, after all, playing is more pleasure than punishment and the directors again feel the wisest men in the football world. But when you have a reverse, or a string of non-successes everybody's old admirers pour on the acid. Players are abused and spectators assail the directors' box –as they have been doing at Everton recently. But it's usually the team manager who finishes with the thick end of the stick. His name is well known to every home supporter and most of the fans all over the country. Directors may hold him responsible, whatever the limit or extent of his powers for all team failures. It's bad enough at club level. The fantastic numbers of managers who have been and gone at all three leagues levels since the war illustrates this. But in the international sphere it's sheer murder! England team manager Walter Winterbottom has had more than a fair share of attacks by newspaper football "experts." These last two months I've seen, as you must have, all sorts of inspired guesses and unthinking demands to sack Winterbottom and bring in A. N. Other. Identity of this character A.N. Other ranges through a long list. Stan Cullis, Alan Brown, Billy Walker and even my own were mentioned. No doubt the writers are entitled to their opinion. But most of them go right off along the wrong track when they unanimously call for a Big Brother among international team managers…a Czar…a dictator. Believe me a one man band can't succeed in this job.
Committee Protection
The England team manager must have the protection of a committee, as club managers do. Temperament plays a high part in the lives of many people. It even colours the personalities of folk in the everyday humdrum jobs of clerking and similar occupations –even undertakers have their excitable managers. So imagined the strongest possibilities of temperamental thoughts among professional's footballers who are turned to at fine state of physical perfection and after all are supposed to be the cream of their restricted field. And think for a moment what happens if one man is it; sole charge –and everyone knows it. At least two from the group of fifteen or so challenging for a place in the team image they are the victims of favoritism. No the present set up in clubs and with the England team managership in which nine members of the selected committee outwardly protect the best of our system could find. Naturally it's not perfect. But the team manager is full view of the fire from the critics always knows what he wants. What he must do is persuade the committee to let him have the men he asks for. In some cases an individual choice may puzzle them..But always the composition and likely combination of the final eleven chosen is the yardstick, not the individual choice for each position.
Blend is Important
For Blend is the big thing in building a successful side and that's what the manager always aims at. If he gets co-operation of that sort from his selection committee he in a well satisfied man. What works with Manchester United and Wolves should work well enough for England. The nine –man selection committee used by England is maybe a little unwieldy. Personality I'd go for a three man committee with the team manager sitting in. Of course all the speculation involved hinges on a very important fact – the availability of the job now held by Walter Winterbottom. There is no reason on the surface why he should leave it, but it's common-knowledge that Walter, a brilliant organizer, must be first favourite to take over from Sir Stanley Rous as secretary of the Football Association when Sir Stanley retires.
Billy Wright
I see Billy Wright's name is also mentioned among the list of possible for the managership of England it could be a good choice, but those who think it must be a full time job may be all wrong. After all Wales and Ireland managed well with Manchester United assistant manager Jimmy Murphy and Peter Doherty, once of Doncaster Rovers and now with Bristol City, as respective team managers. And now Scotland are encouraged enough by their examples to ask that wonderful fellow Matt Busby to take time off from his duties as Manchester United manager to look after their national team. They show a club manager can do the national job. After all international players don't need much in the way of special training and coaching. They're supposed to be the best you've got. As Stan Matthews has always said; "Pick them- and let em get on with it."
WHO MAKES THE BEST MANAGERS?
September 6, 1958. The Liverpool Echo
By Albert Dunlop
One of the main topics of conversation in football today is that of managers. The question is; "Who make the best managers? Is it the brilliant exponent of the game, the lesser known player, on the manager who has never played in top class football? It is a hard question to answer because a manager has to be able to do a great many jobs among them being to understand the game, to understand players' temperaments, to bridge the gap between directors and players, and to lead his personal life in the meantime. The trouble the brilliant player may find is that as a player he is so wrapped up in the game he lacks the other essentials when made a manager. He is also nearly always a temperamental person, which could be a big setback in his new work.
Better Equipped
I have found that it is the lesser known player who knows the game better, because where the top class player did things naturally during his playing career, the average player had to think and work things out himself. This means that on paper he is better equipped for the tactical side of the game. But can he pass it on to the players under him? Admittedly players can go to coaching schools to help them, but I think that certain something must be in the make-up before they get that far. Now we come to the non-player who is made manager. I should say that he has all the qualifications that a manager, should have, except practical experience. The points put to me by certain people on this subject of the non-playing managers are that, providing he has a good staff of coaches under him, he can be the sculptor's hands that mould them into shape.
Picked Themselves
Taking for granted, of course, that he has a fairly good knowledge of the game this should work, because the coaches are those directly in contact with the players. In these circumstances the manager and coaches must work hand in glove, and have the utmost confidence in each other, knowing full well each other's limitations. Names like Matt Busby, Johnny Carey and Stan Cullis, are the brilliant player type who manage successful clubs. These managers, however have always had the players under them to mould into a good side. Sides like Manchester United and Wolves have more or less picked themselves for years, such has been the calbre of players on their books. Even if a non-player type had been given the task of managing thing he could have gained experience while the side looked after itself, with the older players helping the younger element along. Clubs who seem to change their managers a great deal are the lower league clubs or the not-so-successful club with poor gates. The reason for this is usually a shortage of good players and the lack of money to pay players so eventually the manager gets the blame. Where the big clubs have the money and golden names that attract the youngsters, he has to go along on a shoe string budget, taking the older type of player or the younger player the big clubs have missed. If under these conditions he meets with success then I would call him an ideal and successful manager.
STOKE CITY RES V. EVERTON RES
September 6, 1958. The Liverpool Echo
Stoke City Res;- Hall; Ward (T.), Harrison; Ward (L.), Ford, Rayner; Bellamy, Anderson, Bentley, Thursfield, Wallace. Everton Res; Dunlop; Bentham, Hillsdon; Rea, Labone, Bramwell; Penman, Wignall, Harburn, Ashworth, Williams. Referee; Mr. S.B. Stoakes (Nottingham).
The visitors had the ball in the net after three minutes, but Harburn was adjudged offside. Wignall and Ashworth were making a fast pace pushing the ball forward for Harburn to take in his stride but the defence were quick to the tackle and Hall was rarely troubled. Williams brought the ball into the middle to give Penman a chance but Hall saved the winger's hard shot. Stoke then took up the running and Dunlop had to save a stinging drive from Wallace and a shot from Anderson hit the crossbar. Both sides played enterprising football. The best scoring efforts were coming from Stoke and Thursfield forced Dunlop to tip a fine shot around the post. After 40 minutes Everton took the lead. A free kick taken by Bramwell found Harburn and he gave Hall no chance with a good header. Half-time; Stoke City Res nil, Everton Res 1.
EVERTON NEED IMMEDIATE AND GROWING
September 8, 1958. The Liverpool Daily Post
By Horace Yates
Everton 1, Arsenal 6
If you have tears to shed, prepare to shed them now! Everton, the club of most magnificent traditions, for so long an acknowledged home of soccer craftsmanship, are facing a crisis as acute as anything most of their supporters can remember and it is a situation which cannot be remedied overnight by resort to any magic wand. The cheque book is not always the automatic answer to times as troublous as these; for it is no mere catch phrase that money cannot always buy success, but if Everton can fight their way out of this despair of deep depressions without loosening up their moneybags it will rank as one of the major sporting rallies of modern times. There comes a point when one can no longer talk of form and indict the loss of it as the culprit for lack of performance, for now it seems we must look beyond that for an explanation and explore the idea that lack of ability in key positions is something that no amount of wishful thinking will correct. Status saving players are not growing on every tree, inviting a harvest and I should imagine that purveyors of ice packs and thinking caps would do a brisk trade at the Goodison approaches these troublous days it's a thankless task and one which can only be tackled with a display of supreme courage, determination and judgment of the highest order. It is not easily to imagine that Everton can meet this gigantic challenge by dipping into the transfer pool, only up to their ankles. The danger is that bread and butter type of fees will produce only players pleasuring up to that rating. Everton cannot any longer afford to buy promise and await its development. The need is urgent, immediate and growing. Delay can be fatal to hopes of retaining Division 1 status; which no matter how difficult that may be, it is a thousand times harder to regain when the slippery alone has taken a club to the bottom with a sickening resounding thud. Nobody pretends that the problem is easily soluble. It is the sort of nightmare that makes football management the greatest gamble of all sporting activities.
Football Artistry
When Preston were at Goodison their play stamped them as a team right out of the ordinary with football artistry that succeeded as much as it appealed. With Arsenal replacing Preston, the story was repeated possibly with an extra chapter or two. The comparison was almost of craftsmen opposing apprentices, and in such circumstances the cancer of despair strikes often in places where there is no disease. Not only were Arsenal able to indulge in pattern-weaving that would have been such a delight to watch had it not been spinning a web that was so effectively, stifting and strangling an Everton, whose skills and football talents were scarcely coloured by comparison. What a joy it was to see the Londoners forward line in full cry for goals. From Clapton moving on the extreme right like an express train rocking slightly this way and then that, but always under perfect control, to a less-devastating but nonetheless dangerous Nutt on the left, the Arsenal line swept down with a confidence, speed, and understanding that turned defensive order into token resistance. There was Bloomfield, the ball-player, the opportunity provider and no mean marksman in the bargain and there was Groves, who made almost every contact with the ball tell an exciting tale. The crossbar rattled to two of his broadsides that failed not because of anything Everton could do. Then we had Herd, son of the former Manchester City player, back after relegation and playing as though to suggest such an indignity was just a foolish idea by someone who ought to have known better. Hickson's display was a by no means gentle reminder that at a time when Everton have sufficient worries to keep them awake at night, the neglect of this spirited and able player, who more than anybody else threatened trouble to Arsenal was merely an unnecessary imposition in a sea of embarrassment.
Unlucky Hickson
The Everton leader, never helped with the sort of opportunity granted to Herd, was desperately unlucky on more than one occasion not to score. Without him the Everton retaliation would have been thin indeed. In the early stages when Fielding was providing skilful touches which later seemed to evaporate into the air, Temples marksmanship was disappointingly, inadequate, even though he took his one goal well, five minutes from the end to avoid a clean-sweep. To Brian Harris tell the thankless role of having to deal with the clever and mobile Bloomfield and though the convert to a half back position could not boast a major subjection of his able opponent the experiment could not be written off as a failure. There were bigger flops than Harris, who deserves another chance. One could only feel sympathy for Griffiths with whom Clapton was able to toy almost at will, and it seemed to me that to subject promise to such ravenous treatment is to run the risk of seriously undermining it. Here again, an injury to Tansey which may keep, him die for three or four weeks, is a blow to Everton at a time when knocks are raining on them from all angles. The usually ice-cool commanding Tommy Jones, was given an experience he would prefer to forget, even allowing for the natural ability of his bustling, opportunist opponent. Not only did the crowd cheer the Arsenal players from the field, but quite a number waited outside the dressing room and gave them a further sporting rally to send them on their way. Whether Everton regret their failure to sign Docherty can only be left the imagination but after Saturday I don't think Docherty will have much cause to cavil at the circumstances which took him to Highbury. Arsenal goals came from Groves (two minutes), Herd (22), Bloomfield (46), Herds (48), Herd (61), and Herd (75). Everton's reply from Temple was in 85 minutes. Everton; O'Neill; Sanders, Griffiths; B. Harris, Jones (captain), Meagan; J. Harris, Temple, Hickson, Fielding, O'Hara. Arsenal; Kelsey; Wills, Evans; Ward, Dodgin, Docherty; Clapton, Groves (captain), Herd, Bloomfield, Nutt. Referee; Mr. G. McCabe (Sheffield). Attendance 40,559.
GOAL FOR HABBURN
September 8, 1958. The Liverpool Daily Post
Stoke City Res 2, Everton Res 1
Most of the onlookers who saw this undistinguished exhibition by two out-of-touch teams had left the ground when Stoke scored their two goals in the last five minutes. Until then Everton just about deserved the goal lead which Harburn gave them shortly before the interval when he headed home a free kick by Bramwell. Everton's defenders were caught napping near the end when Thursfield and Anderson scored for Stoke within a minute. Everton team was;- Dunlop; Bentham, Hillsdon; Rea, Labone, Bramwell, Penman, Wignal, Harburn, Ashworth, Williams.
DUNLOP HITS OUT
September 8, 1958 The Liverpool Daily Post
Everton goalkeeper Albert Dunlop had a brilliant game for Liverpool Pirates yesterday when he helped them to defeat Bon Marche by 139 runs. First he hit 101 in 55 minutes towards s total of 219 for six declared then took nine wickets for 18 as Bon Marche crashed for 80.
THERE ROOM FOR BUCHAN AND A MANAGER
September 8, 1958. The Liverpool Echo
By Leslie Edwards
Everton chairman Dick Searle, says he is dissatisfied with the fitness of the players. Most followers of the club it seems are more dissatisfied with the competence of the players and the ability of the Board to tackle the enormous task of rescuing the club from the position into which it has drifted. Everton have the finest ground in the North; a lovely pitch; magnificent floodlighting; money to spend; a soil-warming system which means that they can play in frost when others can't…but they haven't a team and that for such as the loyal 40,000 who saw them beaten 6-1 by Arsenal on Saturday, is unforgivable. What's to be done? Everton themselves have the answer to that …I hope. They have the power, the authority…not much like Shareholders or Supporters getting together. It's a Board problem; they must solve it, if they don't this city, which deserves nothing but first class football seems destined for the first time in history to endure two Second Division clubs –an unthinkable prospect.
Will Board Support Him?
The man I feel most sorry for is Ian Buchan for whom tonight's Board meeting (to choose a team to play Burnley tomorrow and discuss the players' physical fitness) is so critical. He has done his job as P.T expert; he has had the co-operation of players. Will he now have the co-operation of the Board at a time when it is most needed? I hope so. There is room at Goodison Park for Buchan and for a Manager and judged by the number of letters about it a Manager in the accepted sense is what Everton need…. But after the Britton era when Everton were said to be all-out to make Goodison Park the Arsenal of the North (doubly ironic) in view of Saturday's opposition) it was said that the Board would never again make a managerial appointment. If they are strong they will think again. In the most successful clubs directors direct and Managers manage. There is plenty of work plenty of responsibility for both.
Not Wholley His…
The club may pin blame for defeat on Ian Buchan, but surely the blame is not wholly his. Everton fans will ask "What was responsible for letting so many good players go elsewhere when their careers were far from finished?" The need of such players at Goodison Park – many of them very experienced –was never greater; yet these men are absent most of them are highly successful with new clubs. The Everton players trying to get their club out of a situation which frightens us cannot be blamed. They can only do their best. The Board are the people who will have to accept responsibility and they know it. And it depends on the business acumen; their football sense whether Everton rise or the balloon goes up in an Everton upheaval such as would make the week of the Britton outgoing seem insignificant.
The names of Walter Gailbraith, one-time New Brighton player and Accrington Stanley Manager and Arthur Turner who resigned recently from joint Managership of Birmingham City F.C are linked with Everton's as Managerial possibilities. But first the Board have to consider whether a Manager is necessary.
EVERTON IN THE DEPTS
September 8, 1958. The Liverpool Echo
By Michael Charters
Midway through the second half of Arsenal's 6-1 massacre of Everton at Goodison Park on Saturday, a section of the crowd began to chant "We want a team." And this dirge-like note was carried on after the game when the fans on the terraces in front of the directors' box turned to shout their demands to the club's Board and officials. This demonstration was mild by comparison with the outburst the previous week after the Newcastle game. There was only occasions spells of slow handclapping, only the old wolf-whistle. The explanation I feel, was that the 40,000 crowd had been charmed by the superb display by Arsenal which tended to lessen the disappointment of Everton's incredibly incept performance. But let's get it straight now, Everton do "need a team" in every sense. This 6-1 slaughter was their fifth successive defeat, and they're likely to be seeking their first points of the season for some time unless there is an improvement bordering on the miraculous. Remember that Burnley, their opponents tomorrow night handsomely trimmed Arsenal in mid-week and Everton can have little hope of any success at Turf Moor. It will be interesting to see what changes chief coach Ian Buchan will make for tomorrow's game. Whatever they may be I can't see any more permutations with the present staff bringing that elusive winning blend. Everton must buy –and buy big. It is no use paying these five or six thousand pounds fees for players little if any better than men already in the side. They must be prepared to dig deep into the coffers and pay the prices other clubs demand. Their latest flirtation in the transfer market proves the point-and the player in question, Tommy Docherty emphasized it with every move he made against them on Saturday.
Painful Fashion
Arsenal were satisfied with the price Preston wanted for this storming wing half; Everton thought it was a few thousand too much. They'll five to regret that attitude and Docherty's tremendous display against them hammered it home in painful fashion. It is wrong that a club of Everton's reputation and financial standing should be struggling as they are. They must make every effort to sign any established First Division player, who even whispers his wish to leave his present club. They want them NOW, before this continued run of defeats makes relegation inevitable. Even at this early stage of the season it is not too soon to say that the present set-up or changes to it without new men is extremely unlikely to make up the leeway. One bright gleam of success shone through the gloom which hit Goodison like a thunder-storm on Saturday. That was the great and great-hearted, display by Dave Hickson. He said before the season started that he would fight his way back into the first team. How he has done just that! He never put a foot wrong against Arsenal and if he'd had anything like the support Arsenal gave their young leader David Herd he would have turned the game Everton's way all by himself.
He Was Great
He started attack, carried them on, shot, headed –in fact he did the lot. It was heart-warming to hear the tremendous reception he got from the crowd at the end. But even his staunch spirit can't do it. Some come on Everton, give him the help he deserves and there's no need to look for another centre forward. For about ten minutes after Arsenal record their first shattering goal after three minutes, Everton's attack functioned as a line. Then Hickson with the cutest of side flicks sent young Derek Temple clean through with only Kelsey to beat. The shot was sliced, the chance had gone and Arsenal resumed their stranglehold on the game. I don't record that criticize soldier Temple it would be unfair to single anyone out. With the except of Hickson, Everton were just not game at all. But I mention he missed chance to hilt that Everton might and I repeat might have done better at the score become 1-1 at that stage.
Superb Display
Let us end on a happier note –even if it is little space to the Everton fans, if they saw a better display than Arsenal's at Goodison this season they'll be lucky. This was the Gunners at their very best. Granted the opposition was not as tough as it might be, no praise cab be too high for them. The ball was switched from man to man with lightning precision. No trapping, stopping and looking round for a colleague to pass to. The ball was made to go first time to an appointed place within creditable accuracy. Four goal Herd is a fortunate young man to have such goal-makers as Bloomfield and Groves alongside him. Wingers Clapton and Nutt whipped around Sanders and Griffiths just when they liked and the service from wing halves Ward and Docherty was perfection nothing less. Clapton of the deceptively easy loping run, gave Griffiths a nightmare of a match. Bloomfield with tricky dribbles and direct darting attacks working in complete harmony was the best forward on the field. Everton's Brian Harris at wing half for the first time must have wondered what master mind he was trying to stop.
A TELPHONE CALL INTERRUPTS CRISIS MEETING THEN –
September 9, 1958. The Liverpool Daily Post
Everton Midnight Dash in Bid for New Player
By Ian Hargreaves
After a crisis meeting which lasted close on three hours, Everton Football Club directors last night issued a guarded statement that they were in complete harmony on the steps to be taken to remedy the present critical situation. Four hours later two members of the Board joined the midnight express from Lime Street for Plymouth where it is expected they will open negotiation today for the transfer of a Plymouth Argyle player. This dramatic move was made after a director Mr. Fred Micklesfield had watched the player Johnny Williams, the Plymouth right-half, help his side to a 1-1 draw at Bury last night. Mr. Micklesfield who left the Board meeting to make the cross-country dash to Bury, saw part of the second half of the Third Division match. Later he had a long talk with the Plymouth manager, Mr. Jack Rowley the former Manchester United player.
Report Went By Telephone
Then he telephone his report to his co-directors, who had been discussing the statement made by Mr. R.E. Searle, the club chairman that he was dissatisfied with the club's training. It was Mr. Micklefield's call that triggered off the secret mission to the West Country. Their target 20-years-old Williams who is Plymouth born and is at present doing his National Service was an outstanding success against Bury. He has been on Argyle's staff since he was 17 and has already attracted the attention of Wolverhampton Wanderers and other First Divisions clubs. But Everton's representatives will reach Plymouth this morning hours ahead of Williams and the other members of the team, who stayed last night at a Sale (Cheshire) hotel.
Manager Will Oppose Move
Their negotiations will be opened with the Plymouth chairman, Mr. Ron Blindell, but they are likely to meet strong opposition from Manager Rowley. At his Sale hotel last night Mr. Rowley told me "if any player, whether Williams or anyone else, leaves this club then I walk out the next day I have been working to build up this Plymouth team for the last three seasons and we now have an excellent chance of promotion. I am certainly not going to let all that hard effort be wasted. I have a grand punch of boys here. Several of whom are really going to hit the headlines in a year or two and of course other clubs are interested. But make no mistake, no one is going to leave Plymouth while I am manager, so you can tell Everton or anyone else for that matter that they are wasting their time!"
Meanwhile back in Liverpool Everton secretary Bill Dickinson issued the "complete harmony" bulletin but added that no statement was to be made for the time being.
No Change Of Formula?
It is good to know the board are at one in their efforts to bring about an improvement in the club's fortunes, but just what steps are being taken to remedy the situation? Obviously the search for players is to be intensified with half backs like Williams the first priority. On Sunday Mr. Searle in criticizing the training said Everton players were three yards slower to the ball than their opponents. But there were no indications after yesterday's meeting that anything drastic is to be done in altering the formula and I understand the board in general still feel that Mr. Ian Buchan's methods have much to commend them. The biggest query of all remains at last agreed on the need for a man with experience of professional soccer to work –perhaps alongside Mr. Buchan –for an improvement in the side's footballing skill as opposed to their fitness? No member of the Board was prepared to comment on this last night. But the night dash west has raised speculation that in addition to player Williams the Goodison representatives may sound Mr. Rowley about taking over the manager's job vacant since Mr. Cliff Britton walked out in 1956. Meanwhile one solid fact emerged yesterday from a sea of conjecture in an attempt to strengthen the side to play Burnley at Turf Moor tonight the club have brought in John Bramwell a wing half signed from Wigan Athletic during the close season as an emergency left back. Clearly therefore the need for experienced defenders is an urgent one.
BRAMWELL'S DEBUT FOR EVERTON
September 9, 1958. The Liverpool Daily Post
By Ian Hargreaves
In an attempt to end their disastrous run of five consecutive defeats in which seventeen goals have been scored against them. Everton make more drastic changes for the match at Burnley tonight. Most notable of them is the introduction at left back of twenty-one years-old John Bramwell, a big strapping youngster signed from Wigan Athletic during the close season and the switching of Brian Harris to left half to make way for King at right half. Bramwell, who will be making his League debut, is normally a half back, but so acute is Everton's shortage or defenders that he has been called upon to fill what is for him a strange position. Eighteen years-old Brian Griffiths had a confidence sapping match against Arsenal on Saturday, Tansey is still unfit and with Donovan transferred to Grimsby the club have been forced to experiment. A motor mechanic by trade, Bramwell attracted the attention of Bolton Wanderers manager Bill Riding when he was barely fifteen, and played in Bolton Colts' side until moving to Wigan at the age of eighteen. There he soon caught the eye of League scouts and finally Everton decided he was just the sort of man they had been seeking. Normally he would have been introduced more gently into League football but in the circumstances his promotion has had to be accelerated
Harris Moves Again
Brian Harris moved from his usual position on the wing to right half for Saturday's game with Arsenal apparently did quite well, in his new position –and has been rewarded by being switched to the left flank to the exclusion of Meagan. Since he is genuinely two footed this may not make much difference to him, but doubtless he is wondering just where he will be asked to play next. King, who would be a fine player with a little more bulk gets another chance to show me is the best of Everton's current crop of wing halves and Jones remains in the middle, though there must have been a temptation to move him back and being in Labone at centre half. The forward line who did reasonably well with limited opportunities on Saturday is unchanged and it is up to the reformed defence to ensure they get a better service this time. Hickson congratulated by the referee after Saturday's great performance is in the mood to lead the side to their first long awaited victory. Team; O'Neill; Sanders, Bramwell; King, Jones, B. Harris; J. Harris, Temple, Hickson, Fielding, O'Hara.
EVERTON TAKE A STEP TOWARDS MANAGER
September 9, 1958. The Liverpool Echo
Board May Have Decided At Crisis Meeting
Extent of Authority
By Leslie Edwards
Did Everton F.C. directors at their crisis meeting last night decide to appoint a manager? I believe that they did and that this was one of the steps on which the Board were in complete harmony in their effort to remedy the club's critical position. Everton have lacked a manager since Cliff Britton left in 1956. Mr. Britton had almost complete authority at Goodison Park. It was said following his departure that no manager with such authority would ever be appointed at Everton. The club may change their mind over the desirability of a manager but not, I think over the extent of his powers. If a manager were appointed the way would be left clear for the clubs present coach Mr. Ian Buchan to concentrate wholly on his specialized task – the players fitness. In many successful clubs, team management and physical training are separate and this may well be the solution as the Everton board sees it. They may decide to invite a man of their own choice to manage or alternatives invite applications from the many who would be happy to respond –even though on the face of it the task of converting Everton into a winning team seems at the moment an almost insuperable task. The name of the old New Brighton player and former Accrington Stanley manager Mr. Walter Gailbraith has been linked with Everton, but from experience of him shrewd observers of soccer feel that he might demand authority which Everton might not be prepared to give. One thing would go far towards saving Everton's difficult position –victory tonight at Burnley where the young former Wigan Athletic player Bramwell makes his bow as a full back.
WHAT IS EVERTON'S PLAN? HE DEMANDS
September 9, 1958. The Liverpool Echo
By Leslie Edwards
Sir – I do not completely blame Everton players for the results of last season and the matches this season to date. Quite a number of them have real ability. Can one honestly believe that players such as Thomas, Meagan, Sanders, Harris, Ashworth, and Rea to mention just a few would not improve in leaps and bounds if they came under the control of Busby, Britton or Carey? Will Everton players each reach a certain standard. This standard I believe is reached by their own efforts. At this point with the right training they would continue to improve. Most teams that we see at Goodison seem to play to a plan, I defy anyone to work but what Everton's plan is. The only sign of a plan I have seen for a long time now is an effort to stop the other side scoring. Wingers coming back into the goalmouth for each corner taken by the opposition is a completely negative approach. Surely wingers are attackers and have little business in defence except on odd occasions? I enjoy my football very much but I go to be entertained I do not want to see Everton win every match and provided they play football and we have a good game I come away happy. The fare now provided is not entertainment so from being a regular supporter for a number of years I shall now pick my matches and go only when I knew that the opposition are capable of playing football. Frankly I don't know what you personally can do about it to improve the standard of football at Goodison but one thing I would ask you. When we have more flops with this Everton team as we all know we shall won't you please put the blame where it rightly belongs. Blame the players by all means when they have a shocker but please do remember that their achievements do credit or otherwise to their coach –W. Cook, 28 Strafford Drive, Bootle.
Moment of Truth
Sir –Don't you think the time has arrived for the moment of truth? We have now suffered for four seasons and I think it is about time we took the gloves off and said what we are all thinking about our local teams. By modern standards let's admit we have two very poor teams. If I was lucky enough to be paid £20 a week with perks I would be expected to be a first class craftsman. How many of our local players come into that category? I think the Press have fallen over backwards in trying to excuse players. Ian Buchan may be a wonderful P.T. instructor but can he show professional players what he wants on the field? Let Younger go if he wants to. A. lot more could be said but these two changes are enough for a start –N. Irving, 105 Parkhill Road, Liverpool 8.
Until Now
Sir – As a long suffering and, until now, uncomplaining Everton supporters I must protest about the way the club is being managed. Without wishing to embarrass the directors, I suggest that they must spend money urgently on some good wing-halves and inside forwards while the money is still coming in to pay for them, as otherwise the wonderful support the club gets will be lost and the gates will drop to proportions more in keeping with the fare being provided. I have been an Everton supporter twenty-five years, but I was not there on Saturday (not wanting to see Newcastle get off at Everton's expense) because I feel that I am entitled to something better and there must be thousands who feel the same way. To them I would commend a visit to Prenton Park, where they can see two ex-Everton players still playing good football with nine other footballers and they will see a good game. The other day I was asked why I went all the way to Goodison Park when I lived so near Prenton Park and I am afraid I couldn't answer that. When the same person suggested that I needed my head reading, I didn't dispute that either! I am writing this letter to you rather than to the club, as my opinions have more chance of being aired in your columns than in the Everton board-room. Why don't they leave Wally Fielding in the team until they sign somebody good enough to take his place? -E.P, 106 Woodchurch Lane.
Multiple Plea
Sir –Often in the past we have ventured to put pen to paper regarding the so-called soccer served upon by Everton. A, as it seems the fans will never have a team worthy of their loyal support. The performance against Preston was a disgrace. We don't blame the players they don't select themselves but we do indict the administration, whose main concern seems to be a picture-postcard ground. Promises, promises, promises, for twenty-years –that is all we have had and now we have eleven struggling units wearing the once proud blue of Everton. For goodness sake give us a First Division team –P. Bartley, R. Bartley, T. Bartley, J. Bates 33b Eldon Street, Liverpool 3.
Sir –As a supporter of Everton for forty-odd years, I should like to add my protest to the many printed. The trouble lies in the board-room. It was by their votes that so many good players were allowed to leave. Isn't it time the board saw the folly of their ways, and realized that the supporters is the man who counts. I say sign a manager and at least three established players. In a season or two, maybe, we will have one or two good lads to take over, but at the moment it is signings we want and not of the two-for-the-price-of-one type-H. Arnold, 12 Dorrington Street, Everton.
Sir –I agree with G. Keen that Everton need a manager. Cliff Britton left Everton when they were fourth from top and Preston were sixth from Bottom. Preston finished third from top and Everton tenth from bottom. The trouble with Everton now is that there is no team spirit and hasn't been since Farrell and Eglington went –B. Reid, 4 Mahon Avenue, Bootle.
Sir – Contrary to popular opinion I am certain that part of the blame for the failings of Everton can be laid on the shoulders of supporters. To me, it seems significant that the team's away from surpasses that shown at Goodison Park where the players are open to mass criticism and demonstrations. This is certainly not the case at Anfield, where one can feel and hear leather lunged Kopites willing their team on to victory. With this sort of enthusiasm Everton players must begin to win matches – David N. Callagahan, 140 Lorenzo Drive, West Derby.
IMPLICATIONS OF A CAREFULLY WORDED EVERTON STATEMENT
September 9, 1958. The Liverpool Echo
Step to Manager Would Be a Giant Stride
By Leslie Edwards
Transcending the midnight dash of Everton emissaries to Plymouth to negotiate for the transfer of right half-back Johnny Williams, and the disclosure of yet another changed Everton team for the match at Burnley tonight is the pregnant statement of the Board after their long crisis meeting last night. The Directors are in complete harmony regarding the steps to be taken to remedy the present situation. One remedy obviously, is the signing of new players, though this is a difficult task and doubly so when, like Everton you fine that money spent in other directions is not now available. Only by looking at the statement carefully can we discuss its full implications. The first I suppose is that the meeting discussed last night and came to agreement on the question of the fitness of players. It would not surprise me, if it is a found that Mr. Ian Buchan had support for his contention that the players are as well, if not better trained than most others. It would not surprise me also, if Everton were to elect to continue to avail themselves of the services of their excellent P.T. expert while adding to their staff the team manager, most of their critics suggest is necessary to handle the tactical side which is so important and which one with professional experience of the game contemporarily can give so usefully. This would be more of a giant stride than a step. It is this possibility – and Everton moves in connection with it – which will give fresh heart to followers of the club and players.
Not Being Hustled
The fact that Everton would be making a vofre fact on their repeated now never to appoint a Manager following the outgoing of Mr. Cliff Britton would convince everyone that they were putting aside any prejudices that might jeopardize their club's status. The evidence shows that Everton are not being hustled into panic action. They appreciate it seems that they are likely to make the right move and get the men they want on and off the field, only by being patient. It could well be that they have someone in mind to help them clear themselves from their desperate position. It could be that they will throw open the position to the whole of football. If the solution is felt to be the teaming of a fitness expert with a manager of the sort which is successful in present day soccer – I am think such as Matt Busby, Johnny Carey, Joe Mercer and Cliff Britton –few followers of Everton would complain.
EVERTON LOSE BATTLE OF TURF MOOR
September 10, 1958. The Liverpool Daily Post
By Michael Charters
Burnley 3, Everton 1
Everton are still pointless, still deep in trouble. They lost at Burnley last night mainly through defensive errors, but that could not hide the fact that their play throughout showed an alarming deficiency of football skill. They tried – how they tried – but the same lack of cohesion apparent against Arsenal and others is still there. Even one point last night might have given a great boost to their confidence, but against a Burnley side, whose display could not approach the precision of Arsenal and Preston, they only had spirit on their side. That is not enough. This was a fighting game in every sense –in fact there was too much emphasis on the word "fight." This match will go down as a battle of Turf Moor. There was more tough tackling than one is likely to see in a whole season and the game was marred by a succession of fouls. There were 23 in all -12 by Everton and 11 by Burnley. Dave Hickson scorer of Everton's goal, had his name taken, apparently for saying something to the referee after an incident in which he was not involved. Five minutes from the end. Sanders was also booked by the referee for a foul on Pilkington. Everton left the field to the boos of the Burnley crowd, with several people in the stands shouting "disgraceful." It was an unsavory end to a match which did little to show Everton in an improved light. Everton lost the game in a tragic eight minutes spell in the first half when two defensive errors by O'Neill and Jones presented Burnley with grit goals. After twenty-four minutes Shannon, the former Liverpool half back and the best man in the home side took a free kick on the left. The Everton defence stood still, O'Neill was as though transfixed on the goal line as Shackleton dashed in and flicked the ball over the goalkeeper's shoulder. Eight minutes later Jones blundered forty yards out from goal in a bustling duel with the Burnley leader and Shackleton rounded him easily to go on and drive the ball into the net.
Hickson Retaliates
Faint hope came for Everton when Hickson scored a scrambling goal two minutes after the interval from a corner by Harris. The ball fell loose at Hickson's feet and his half hit shot was turned into the net by Burnley back Smith, but the goal is still credited to Hickson as the ball was on or slightly over the line before Smith got his foot to it. From then until ten minutes from the end, Everton fought with desperation in the hope that here at last was a chance of grabbing a point. With Fielding limping after a first half knock and acting more as a fourth half back than an inside forward, the attack functioned as four individuals. Jimmy Harris made some thrilling bursts down the wing but his shooting was never on target and Hickson rarely had a shot at goal so well covered was he by Cummings. The one great success of this still very mediocre Everton team was Brian Harris switched to left half-back, although in the second half he was helped by the fact that Burnley's inside forward McIlroy, was limping. Harris covered a tremendous amount of ground and at least came out of this game with credit. Young Bramwell, in his first League game was naturally nervous and was further unsettled by the jeers of the crowd after an incident in the 18th minute when he fouled Connelly.
Right Wing Power
After this Connelly was little more than a passenger. In the opening quarter of the game he and McIlroy, formed a right wing partnership which will rock many First Division defences this season. O'Neill after his tragic early blunder saved Everton late in the game, with four tremendous saves as the Burnley attack, even though functioning with only three men, came back into the game with tremendous rush. He was beaten two minutes from the end when Pilkington flashed in a ground shot from fully 35 yards which went just inside the upright. It was fifteen minutes before this that the incident came which might have given Everton a valuable point, Fielding with a delightful dribble practically up to the goal post tried to chip the ball over McDonalds head instead of passing to the unmarked Hickson and Temple and the ball hit the upright. That was Everton's brightest chance. Burnley; McDonald; Smith, Winton; Seith, Cummings, Shannon; Connelly, McIlroy, Shackleton, Robson, Pilkington. Everton; O'Neill; Sanders, Bramwell; King, Jones (captain), Harris (B); Harris (J); Temple, Hickson, Fielding, O'Hara. Referee; Mr. E.S. Oxley, Ponterfract. Official Attendance 23,050.
EVERTON'S TRAINER MISSED THIS MATCH
September 10, 1958. The Liverpool Daily Post
By Horace Yates
Lips are still sealed at Everton, but eyes were wide open last night at Burnley, where Everton were beaten 3-1, and they could not fail to detect the absence of the tall upstanding figure of the assistant trainer-coach Harry Wright. It was the first time Wright has been missing from the trainer's beach at an Everton match since the Goodison Park club brought him from Luton Town, where he was trainer coach in 1956. In Wright's place was Gordon Watson, the former Everton player, and an assistant trainer. Was this the first salvo fired by the Everton directors following their crisis meeting on Monday evening?
EVERTON NAME A NEW FIRST TEAM TRAINER
September 10, 1958. The Liverpool Echo
Former Player Takes Over From Harry Wright
Official Statement
By Leslie Edwards
The mystery of the non-appearance last night at Burnley of the Everton first team trainer Mr. Harry Wright was solved today by a statement issued at mid-day by the club. It say Mr. H. Wright has been relieved of his duties as first team trainer and Mr. T. G. Watson has been appointed acting first team trainer in his place. Mr. Wright remains a member of the training staff of the club. The news will surprise all Everton fans since Mr. Wright once a first-class goalkeeper with Charlton and Derby County and later the head coach at Luton, is so well qualified in every way to do his job. He holds the F.A's coaching certificate and possesses expert knowledge of physiotherapy, besides having acted as trainer to F.A representatives sides here and abroad. He was trainer-coach of an F.A eleven which toured the West Indies a few seasons ago. At Everton, a club he joined in September 1956, at the timer Everton appointed Mr. Ian Buchan as chief coach Mr. Wright has been instrumental in implementing the training schedules of his chief. As recently as last season Everton had a run of successes in which they were acclaimed as one of the fittest, if not the fittest team in the First Division.
To Good Use
Mr. Wright is a forthright character, a big man in every way, and not the sort to allow lax discipline if it meant that he felt the players were not getting the training they required. It is at least good to know that he remains on the staff where his knowledge of training and of football tactics can still be put to good use. First news of Mr. Wright's removal from the post was made known when the players set off yesterday from Goodison for Burnley, where they lost 3-1 last night. His place on the bench was taken by the old Everton half back and Central league trainer, Gordon Watson, who joined the club as an inside forward from Blyth Spartans as far back as 1932. It is understood that Mr. Stan Bentham. Also an ex-player will now move up to the position of trainer of the Central League side.
Players "Slower."
There had been no suggestion until last week-end that Everton still without a point after six League games were losing matches because their training was felt to be not satisfactory. The board's crisis meeting on Monday undoubtedly discussed among matters even more weightily, the statement of their Chairman Mr. Dick Searle that Everton players seemed three yards slower than those of opponents the club had met so far this season. A point about certain Everton players which has escaped notice is that not a few of them are in the Forces and they therefore come little under the training system by Everton for their playing staff. Mr. Wright had a successful career with Luton the club from which he joined his present club. During his days as head coach and trainer they won promotion to the First Division and more than once went well in the F.A Cup. Behind the scenes activity at Everton is not ended with the club's announcement about their trainer. It is understood that there may be at least one other startling appointment and that news of this may come in another official announcement early next week. The club has preserved a complete silence on the possibility of their appointing someone with full authority to manage the team. Though the names of severe well-known former managers have been mentioned as likely candidates were Everton to advertise a manager vacancy it is just possible that the club will surprise us, and the rest of the world of football by making choice from someone already in the camp. If this were so the claims of their great inside forward Wally Fielding whose knowledge of football is so vast would require to be considered.
THEY DESERVED A POINT –NOT THE BOOS
September 10, 1958. The Liverpool Echo
By Michael Charters
Everton were booed off the pitch at Burnley last night after they had lost 3-1 –their sixth successive defeat. People in the stand shouted "disgraceful" as the players went down the tunnel to the dressing rooms, but let's get the facts straight. The referee awarded 23 free kicks -12 for Burnley and 11 for Everton. On the face of that, you could call it a dozen of one and almost a dozen of the other. And that is how I saw it. Everton were as much sinned against as they sinned. Some of the boos of the crowd might, deservedly on this occasion, been directed at the 23rd man on the pitch –referee E.S. Oxley, of Ponfefract. Had he gained firmer control of the game from the outset, the deplorable plethora of fouls and resultant free kicks would never have happened. Dave Hickson and Alan Sanders both had their names taken. Sander's was a clear enough incident. He brought down winger Pilkington but had done nothing earlier to warrant the referee's action. In Hickson's case, the Everton centre forward was "booked" after Fielding had fouled Pilkington. Hickson spoke to Fielding and the referee stepped in. The net result of this spate of tough tackling and fouls tended cloud the salient fact that Everton lost again and still keep the unenviable record of being the only pointless club in the Football league. But let it go on record that here was an Everton better than that shadow of a team beaten by Arsenal last Saturday. From desperation, fighting for every chance like men struggling for dear life they managed to salvage some confidence for the future from this "battle" of a match.
A Basis
No one could criticize their spirit after they had gifted the first two goals to Burnley. It is at least the depths, a start on the fight back which is going to be such a struggle. Let no one think that suddenly Everton are going to begin winning regularly. The infusion of new men is still as essential as it has been all season, but last night they showed enough improvement to raise more optimistic hopes. They deserved a point that first point which could help to turn the tide. They were faster on the ball than Burnley, fought hard to keep it, and had more of the play. But still they lack that cohesion the thoughtful build up of attack the guilding hand of craftsmen which could turn them into a successful side. Those craftsmen must be brought and as Chief Coach Ian Buchan told me last night. Our search for the men we want goes on unceasingly. The quicker they arrive at Goodison Park the better. One move with the present staff which seems to have paid off is the switch of Brian Harris to wing half. He was outstanding last night, covering a tremendous amount of ground in defence and attack.
Distinction
His second half task was made easier as that wizard McIlroy – so clearly the brains and genius behind the Burnley attack –was removed from his attentions through a leg muscle injury. But, even so, Harris is likely to fill one of the troublesome wing half spots with distinction if he continues this form. Balancing Burnley's misfortune with McIlroy was a similar injury to Fielding, who limped through the second half operating more as fourth half back than an inside forward. As so often happens it fell to Fielding to get the chance to bring an Everton equalizer when they were 2-1 down some 15 minutes from the end. He made a delightful dribble at half-pace almost up to the goal post, from where he tried to chip the ball over McDonald's head instead of passing back to where Hickson and Temple stood pining for the pass. He beat that brilliant keeper McDonald all right, but the ball struck the upright and spun behind. Jimmy Harris hit better form, too, making some thrilling 40-yards dashes on the Burnley goal. But his shooting was off target and a final pass instead of shot might have paid better dividends. Young Bramwell in his first League game at left back was naturally nervous. In the first quarter of an hour he was frequently beaten by Burnley's Connelly once an amateur with Southport, but then had a free kick awarded against him when he brought down the winger.
With Credit
Connelly went off after this incident and when he returned he was little more than a passenger. Bramwell became a target for the crowd's boos whenever he kicked the ball after that. He came through this ordeal with credit, but his value as a back will have to be assessed when he faces a winger for the full 90 minutes. Burnley's first goal (24 minutes) was the result of a tragic Everton blunder. A free kick from Shannon (how did Liverpool let this grand half back go?) bounced over Everton's defensive line straight at O'Neill. The keeper stood his ground as though transfixed apparently waiting for the inevitable whistle to go for offside. Burnley leader Shackleton a powerhouse of a man, dashed forward unmarked and lobbed the ball via O'Neill's shoulder into the net. Eight minutes later came another slip, Jones lost the ball to Shackleton in a dash for a long pass up the middle –there was pushing and shoving on both sides here – and Shackleton went on to drive it comfortably past O'Neill. But we forgave O'Neill all when he made four brilliant saves within five minutes right at the end as Burnley staging a remarkable late burst with only three effective forwards piled on tremendous pressure. Even so, he was beaten two minutes from the end as Pilkington loosed a cracking low drive on the run into the far corner of the net from fully 50 yards. Hickson's goal for Everton two minutes after the interval was helped over the line by full back Smith in a goalmouth scramble after a Fielding corner. That drove Everton to praiseworthy efforts to get on level terms. They nearly succeeded. How much brighter the Goodison scene would have been had they done so.
EVERTON RESERVES CRASH
September 11, 1958. The Liverpool Daily Post
Sheffield Wednesday Reserves 6, Everton Reserves 1
Though Labone was able to hold Wednesday's leader Ballagher in this Central League game last night, Everton were incapable of checking the rest of a strong attacking team in which Finney having a tryout after injury, was outstanding. Ten of Wednesday's side had played in their first team. The Everton defence frequently spilt wide open. Everton's best player was left winger Williams who moved quickly and twice made amateur international goalkeeper Pinner bring off splendid saves. Scorers for Sheffield Wednesday were Kay, Fatham, Whithan, Finney (2), and McAncerney. (J) Thomas scored Everton's goal.
DIXIE DEAN'S VIEW
September 11, 1958. The Liverpool Daily Post
The Worst Everton I Remember
By Horace Yates
"This is the worst Everton team I have ever seen." The words are not mine, but those of Bill (Dixie) Dean, greatest of all Everton centre forwards in a recorded inter-view with Gerry Loftus on Granada's TV Sports Outlook programme last night. Asked what he thought was needed to turn Everton into a good side, Dean replied "About half a dozen new players –inside forwards, wing halves, and perhaps a full back or two. A Don Revie or a new Jimmy Dunn is badly needed, The Everton that played at Burnley on Tuesday were far too slow in Dean's view, and he deplored the forwards failure to take a crack at goal. Everton he said did not compare with the Everton of his day. With the latter part of the statement at least, no one is likely to disagree. Slowly piece by piece is seems that the Everton jig saw is moving into some sort of recognizable picture. This much is clear, Harry Wright is no longer first team trainer, but remains on the staff, while Gordon Watson takes over in an acting capacity. Pointers suggest that when the Everton board release a statement after their board meeting next week they will inform the public that Wally Fielding's great experience and ability will be put to further service by the club with an appointment, not of manager status but in an advisory role.
Mr. Buchan's Role
I am convinced it will be made clear that despite the references to dissatisfaction over certain aspect of training made by the chairman, Mr. R.E. Searle recently, it will be found that chief coach Mr. Ian Buchan retains the complete confidence of the board. Mr. Buchan is now part way through the first year of a three years contract at Goodison Park. How will Everton tackle the problem of team selection in the future? They could leave it as at present in the hands of Mr. Buchan but if full use to be made of Fielding's experience and knowledge of players, I suspect that Wally will be asked to help in nominating teams in the future. Does this mean that team selection responsibilities will devolve on this two man committee. It could but I suspect that the Everton board may decide to come more into the picture – to accept some of the onus of responsibility.
EVERTON ASK CELTIC ABOUT COLLINS
September 12, 1958. The Liverpool Daily Post
By Horace Yates
Will the battle for the signature of Bobby Collins, Celtic's Scottish international forward, who according to his club will go to the highest bidder develop into another Everton-Arsenal tussle, as was the case when Tommy Docherty was offered for transfer by Preston North End? Everton last night admitted an interest in Collins, just an hour or so before George Swindin the Arsenal manager announced that he would probably be approaching Celtic within twenty-four hours with a query about Collins. Mr. Swindin said it was his intention to ask Celtic to name their price and he would then say whether Arsenal were prepared to pay the figure. We do not bargain for players," he added. That line of reasoning will most certainly appeal to Everton as well. The last thing in the world they wish to do is to contribute to any spiral or rising prices. Obviously Everton are in a position to bid and bid high if they have made up their minds, as apparently they have that the Scot could be the first real plank in their team rebuilding campaign, which cannot begin too soon for their supporters. Arsenal enjoyed the last laugh and the signing when Tommy Docherty was in the market but if Everton have learned their lesson maybe this time it will be their turn to score over the Arsenal –and any other interested parties. Like Arsenal, I believe Everton would prefer Celtic to name a price and then start negotiations from there. If that should prove to be the case Everton will no doubt decide in advance how high they are prepared to go. This time, however, they should make that ceiling just a little bit elastic so that they will not report failure a second time for a comparative financial triviality at a moment when team reinforcement were never more necessary. Cardiff City have announced that they may sit up and take notice if Celtic abandon their auctioneering intentions in favour of a stated fee.
In Contact
Contrary to report, Everton were not represented at Celtic's match in which Collins played last week, nor do they intend to have their scouts watch him tomorrow. They take the view that Collins is a man with an international reputation, whose form and ability is sufficiently well known for them to profit nothing more by further observation at this stage. Everton have been in touch with Celtic and stated their interest in the player, but I gather that no fee has been discussed. The position is that Everton will be kept informed of developments and at the appropriate moment will reveal their hand in the tussle for Collins' signature. It goes without saying that when the bargaining opens up, Everton will face the most intense competition not only from Arsenal, for though the Goodison side's position is approaching the desperate stage, other influential clubs not flying distress signals are wide eyed when the opportunity arises to bolster their resources. Maybe this time Everton will go in and win. How desperately Everton need a point. Just one would do infinitely more for morale and spirit than almost anything –unless of course, it should be two points. Unless they told Manchester City tomorrow they will write a new page in their history books – and not a very agreeable page at that. Their worst start was two years ago when they gained only one point from the first seven games. Failure at Maine Road would mean a nil return from this season's opening seven fixtures. Because of injuries to Bramwell and Fielding, who are receiving treatment, Mr. Ian Buchan, Everton's chief Coach has delayed choice of the team until today.
Southend Like Hickson
Cheering to realize that now Everton do appear to know exactly where they stand on regard to Dave Hickson. After Hickson's refusal to join Plymouth the Southend chairman combining business with pleasure when travelling to Liverpool to watch Brighton, asked Everton if they were prepared to listen to an approach for Hickson. So firm was the refusal that the idea went no further, and never reached the other stage.
EVERTON SIGN COLLINS FOR £24,000
September 12, 1958. The Liverpool Echo
Celtic Star Will Play At Manchester Tomorrow.
Biggest Fee By Club
By Leslie Edwards
Everton signed today at a fee of £24,000 –the highest they have ever paid for a player – Bobby Collins, 27-years-old, 5ft 3ins, tall Glasgow Celtic and Scottish International inside forward. The Everton chairman Mr. Richard Searle, and one of the his co-directors Jack Sharp met the Celtic board this morning made their offer, which was agreed and then waited patiently while Collins made his decision to join a club he almost signed for nine years ago when a junior with Pollok. Collins the mighty atom who has been sought to move Everton's mountain of trouble will be in the attack at Maine Road, Manchester tomorrow – almost certainly in the inside right position. Those who have seen him play count him as in the same class as Everton's mighty midget of old Alex Stevenson and if he proves as valuable none will complain. He has the same cheeky chappie approach to football as Stevenson and is likely to be a great favourite with the crowd.
Fee Was Too Stiff
Collins would not go to any other club in Scotland because he did not want to ever take the field as a Celtic opponent. Many English clubs have been interested in him, but most of them dropped out of the running because they felt that a fee of £24,000 for a player twenty-seven years of age was a little stiff. Everton were wise to persist since it because not so much a question of what Collins was worth as how much he was worth to a club in their position. They have profited from their tactics in the Docherty negotiations and that player's success with Arsenal has obviously proved to them that they could afford no similar mistakers for the sake of a few thousands of pounds. The oddest thing about the present linking of Collins and Everton is the fact that nine years ago he all but became an Everton player when with Pollok, the Scottish junior club. Everton heard of his ability, watched him, negotiated for him and reckoned he would sign for them next day. Their surprise when they learned he had signed instead for Celtic led them to protest. They appealed that his registration should be cancelled. Authority was prepared to do this and order the player to sign for Everton but Everton bowed to the sensible proposal of authority - in order to help to preserve good relations between English clubs and Scottish juniors clubs –not to persist in signing the player who was technically theirs. So Collins re-signed for Celtic after being out of action for a month or two and became one of the idols of Ibrox.
Known Everywhere
Collins is a football personally known throughout Europe. He has played for Scotland, and the Scottish League 39 times and his travels with country and club have taken him to Hungary, Germany, Sweden, Spain, Denmark, Yugoslavia, Austria, Italy, the United States and Canada. He is one of the smallest figures ever to have played in international football. Collins is a most compactly built fellow. He weighs about 10st 4lbs but is a tough wiry and fast player who never gives up. The shot from his size three boots as a result of perfect timing is as powerful as that delivered by a six footer. He has been a great personality ever since he joined Celtic. Bobby has a geld conceit of himself on the playing field, a necessary attribute for the successful player – and he has been a most successful performer in Scottish and International football. Everton will find that the £24,000 they have spent will be repaid fully by a player Scotland is sorry to lose. There are many who would have preferred Everton's first big signing to be a non-player but possibly the club will tell the public their aims in this direction early next week in the light of events at home Goodison Park and at Manchester tomorrow. Those who talk airily of the club signing six new players should think again they should examine the sums paid recently for players for ground improvements for floodlighting and they will discover that Everton must have spent much more than £100,000 in the past eighteen months. Will there be anything left in the kitty when money for Collins has been taken out?
BLAMING BUCHAN, DEMOTING WRIGHT IS LAMENTABLE…
September 12, 1958. The Liverpool Echo
Sir –Everton's plight is tragic but not hopeless. The whole fault lies with the directors who evidently assume that big business capabilities ensure for them the expert knowledge of successfully running a First Division Club. The present policy off blaming Buchan and demoting Wright is lamentable. It strikes not only at those worthy individuals, but undermines confidence in the whole of the club. First requirement are a top class manager with full power for team building. Players urgently required are two good backs, one half-back and a Bobby Collins man in the No 9 shirt R.J. Benson, 35a Croxteth Road, Sefton Park.
Don't Panic
Sir –The old Naval adage "Never get in a panic that's the way all accidents happen," was never more applicable than it is to Everton. Jitters, acrimony, disharmony (in spite of the Board's disavowal), nervous reaction on the part of the players and rude expressions of disappreciation on the part of the spectators all amount to PANIC! Take the Arsenal game. Who choice Griffiths to make his debut in this match? The weaknesses were apparent. The two backs, the two wing halves, and the two inside-forwards were well below normal form. Brian Harris at right half was as much out of his element there as at outside right, I have never yet seen this player have a bad game at outside left. Jitters and hysteria are infective, but not effective. One good game and may it come soon) would restore the club to some stability but to scream for heads is no way to bring this about –A.V. Stephens, 11 Loreburn Road, Liverpool 15
Let Him Manage
Sir –Everton have lost six games in succession and are pointless –their supporters are stunned; fanatics are frantic! The first need is to analyze the position to find the weaknesses and correct them. The men wearing the jerseys have actually lost the matches –it is because they are not good enough; have they been unlucky or is it a case of lack of confidence after the first two or three defeats? I don't know! Are the players fit and properly trained for their job of playing first class football for 90 minutes per week? Again, I don't know but from all accounts Everton have a first class physical training expert who had until recently a trainer who has proved highly successful with another team. Surely then the missing link is a man with first class knowledge and experience who can carry out this analysis and advise the directors of the corrective steps to be taken. The directors being business man, should act upon the advice of the expert in accordance with the club's financial ability. Everton are not poor, the players are not all bad ones. What seems to be lacking is managerial advice to the directors –E.N. Leney, 213 Hilary Avenue, Liverpool 14.
Sir –The plight of Everton is not a sudden disaster that has descended on the club without warning (like the Munich tragedy on Manchester United) but something that thousands of supporters have seen coming for years. Two or three years ago the Echo advocated a plan for the immediate signing of experienced players to run alongside Mr. Britton's plans for the training and development of younger players. Even then and long before it was obvious that the playing staff was, with exception far below what we were used to. Now practically a whole team is needed and the signings will have to be made in the immediate future by a manager who knows his job ad who has control of the team. Scout will have to be found who can spot players with real potential, scouts like the ones who found Geldard, Lawton, and others. Lastly changes will have to be made where the blame really lies and that is in the board room. That is the task for the shareholders if the present board can watch the team over such a long period without doing anything until now (when they are forced to it) they are not worthy of a club of such tradition –ERNEST WILLIAMS 10 Mostyn Avenue Aintree.
No Useful Purpose
Sir –Criticism of Everton officials or players will serve no useful purpose. The club are in a serious position but it is not yet hopeless. The first step to be taken is to sign a player who will be able by personality and play to inspire into the team the confidence they have lost. The one I would suggest would be Holton (Arsenal) a strong and forceful half-back and a useful forward. With the cares of captaincy removed, I feel sure that Jones would play as he had done in the past. Every effort be made to sign a first class right half and two inside forwards. Would Wolves part with Clamp or Flowers? Above all let Everton appoint a team manager, and give him control of the playing side Young players such as Griffiths, Temple, Ashworth, and B. Harris (at half-back) should be kept together in the Central League side and could be coached by an experienced player, such as Fielding. In time they would be ready for first team service. Don't ruin a player by promoting him too soon. In conclusion my I express the hope that good will come from these letters – James Morgan, 15 Arlescourt Road, Liverpool 12.
EVERTON'S £24,000 STAR PLAYS TODAY
September 13, 1958. The Liverpool Daily Post
Only a handful of people saw Bobby Collins Everton's £24,000 record signing from Glasgow Celtic arrive at Exchange Station Liverpool, last night accompanied by the two directors Mr. R.E Searle (chairman) and Mr. Jack Sharp, who completed the deal in Glasgow yesterday. But he was left in no doubt about the warmth of his welcome. He was slapped on the back and shaken by the hand as he left the station to calls of "Good luck tomorrow, Bobby." Help us to a couple of points. Bobby, modest and likeable, was given only a few minutes to talk to the Press representatives, before he was whisked away to get an early night's rest after his journey from Glasgow. Today he plays for his new team against Manchester City at Maine Road, Manchester. It had been a full day's activity for the Everton officials and when the signing was completed soon after 3-30 p.m. Bobby and his wife, joined the directors in a dash to the station.
"Kill The Size, Three Story."
Tucked away in the bag Collins was carrying was his favouritie pair of football boots, size four. "For goodness sake, stop the story about me wearing size three he said. "Four is small enough surely. Everton were prepared for all eventualities even in the point of ensuring that whatever Collins requirements were in soccer footwear they could be met. "I am really looking forward to playing for Everton," he told me. "For a long time I have had the wish at the back of my mind to play in English soccer. "I have heard all about the supposed difference in speed between English and Scottish football, but I am not in the least scared by it. "I know that Everton have been having a bad time, this season, but there comes a break to everything and I will be very happy indeed if I can play any part in speeding up that break. "I assure you that I will do my very best for the club as one of the team. Forget the transfer fee for it is the team as a team that gets the results." Collins and his wife who will watch him play today, have left behind their four years-old son, but Mrs. Collins will return to Glasgow after the match, until accommodation can be provided on Merseyside. Although Everton feel that they have paid a handsome fee they are confident that Collins will prove it well worthwhile. Mr. Searle said "I am as pleased as Punch that we have got Collins. I think he is just what we want."
CAN COLLINS PROVIDE THE GAULD TOUCH?
September 13, 1958. The Liverpool Daily Post
By Horace Yates
Everton have taken the plunge and their record £24,000 splash has not only brought Scottish International inside forward, Bobby Collins to Goodison, but has created a heart-warming enthusiasm among supporters whose spirits were at their lowest ebb. By this one stroke Everton have set the crowd hoping afresh and because the former Celtic star will be at inside right in the team to play Manchester City today, there will be very many more Everton fans among the Maine Road crowd that would otherwise have been the case. Collins is a ball player of the highest class, a clever strategist right in the Alex Stevenson and Jimmy Dunn tradition. It is usefulness measures up to either of these diminutive "giants" of the past the signing might well prove to be the turning in the lane, which was beginning to look so depressingly straight. Undoubtedly the advent of Collins will do much to kill the criticism of lack of activity by the Board, but at the same time one cannot resist the observation that if only Collins had been the second signing with Tommy Docherty already established in the half back line, then there would have been little or no doubt of the team's ability to climb right out of the mire. It is no secret that Everton have admired this player, twenty-seven years old and 5ft 3ins for many years for in 1949 he was within an ace of signing while still a junior player with Pollock, but chose Celtic instead. Everton have had to pay for the maturity he has gathered through his Celtic and Scottish international experience but nobody will begrudge it. This man with a mission seems ideally suited for the role he is expected to play. He arrived in Liverpool last night accompanied by Messrs R.E Searle (chairman) and J.C Sharp the directors who clinched the deal.
Official Concern
Everton officials have been concerned at the volume of criticism that has come their way, this season and point to the Collins move as an indication that they are making every possible effort to remedy what they term "the obvious weaknesses" in the side. They take the view that criticism is so easy to make, but to spend rashly for the sake of meeting it is simply inexcusable. Chief Coach, Ian Buchan, for example says. "No one has been more aware of the weaknesses than I have. It was obviously in my interest as anyone else's to get the players we needed, but we had to be sure that the men we sought were really the men we needed. "Nobody is happier than I that Collins has come to join us. For all the adverse comments I gather that the official view is that the team has been painted blacker than it really is and that it will not take a great deal more to bring about the required improvement . Let us hope that opinion is proved correct. Everton are still on the lookout for players, but supporters who are expecting to see them figure in other sensational high spending deals may be disappointed. Certainly if a player came into the market with the sort of qualifications that bore the Everton stamp no effort would be spared to sign him, but it would be wrong to assume that there is an endless pool of cash at Goodison just waiting to be dipped into to satisfy a passing whim. There is quite a field for coincidence to run riot with the coming of Collins. Two years ago, when Everton fortunes were similarly low, along came Jimmy Gauld to help produced victory in the first game –at Manchester –against the United and Everton eventually pulled away to safely. Like Collins, Gauld was an inside forward. Can Collins revival against City that Gauld helped to launch against United? It is not easiest of tasks, despite City's string of home draws, but I have an idea that Everton players will accept the challenge and spare no effort to meet it. These are men who have been chosen to attempt to fire Everton into a new lease of life; O'Neill; Sanders, Bramwell; King, Jones, B. Harris; J. Harris, Collins, Hickson, Fielding, O'Hara.
As the days pass it seems increasingly certain that Everton will choose this moment to revise their ideas about meeting the wishes of those who like to find a big managerial name introduced into the Goodison set up. I think they will adhere to their belief that their team behind the team is competent and able to refloat the good ship Everton on an even keel. The Manchester City team is; Trauntmann; Leivers, Sear; Barnes, Ewing, Warhurst; Fagan, Barlow, McAdams, Hayes, Sambrook.
MANAGER IS A MUST
September 18, 1958. The Liverpool Echo
A "Must" is a Manager. Give him a la carte not a la Cliff powers. Carte blanche powers in fact. Manages to control cheque book. Directors needed only sign. Judge him by results. There there will be no "Docherty misses" or "Twilight hour" stuff. Room and money, for both he and Buchan. Secondly Fielding. Eventually replacement, if possible, but "Wallies" pace Mr. Britton, are heaven sent not tree borne. Extract last ounce from the "old man" and build a team round him. Despite Dixie Dean he's the only worthy "museum piece" we've had over the last two decades. Next, backs, wing halves, and wingers number one priority plus scoring inside forward. Can't play let alone win, without. Sack Scouts –so called. There are still "cubs" Pay new ones well –no "cheese paring" – a post-war Everton feature all round. Until team worthy of name reduce admission charges. This may arrest the impending decline in gate receipts –we can't play Arsenal all the time. Next remove cause, if it still exists, for "cast-ofts" doing well elsewhere. Neither Britton nor Buchan can be blamed for this. If directors responsible they should now learn to direct not misdirect or resign. Find out by "clear out" as worthy replacements arrive. Finally some, albeit long suffering spectators to change present theme tune, plus action of "Division 2 here we come." It need never happen –J. Higgins 3, Kaigh Avenue, Great Crosby.
Elect A New Board
I have been dumbfounded by the nightmare slide of the last few months. As in any unsuccessful business a start should be made at the top and a set of new policys evolved. I should
Call a meeting of shareholders of the Board and elect a new one.
Offer the post of manager to Peter Farrell who has amply proved himself as a diving force and a savior of lost causes. He could either supersede or work in conjunction with Ian Buchan, not should have full control of buying players, team selection and of tactics.
Buy a good experienced wing half of the Docherty type who would as captain be capable of inspiring the team and giving them a sense of urgency.
Buy a left back at least one more half back an outside right and a class inside forward- B.H. Donnelly, 24 Rose Gardens, Neston
Team Spirit Should Be Improved
One quality makes a successful team stand out above all others –team spirit. I would consider this the first essential. A manager whom the team respect should be given a free hand and the full backing of the Board given in order to achieve this sprit. Next in order of importance I place speed and physical fitness Training might be planned to produce both ball control and pre-planned moves should also be practiced consistently. I would not advocate the spending of large sums of money on new players until the above points have been fully and honestly considered and where necessary acted upon –R.S. Marshall, 23 Oykin Road, Widnes.
Five Top Players Needed
A canker as been eating Everton for years. Amongst other things it has caused officials to leave as a token of disgust players of the Mercer type to join often clubs and latterly the acquisition and countenance of a minority of spectators who do the club and Liverpool incalculable harm. These events cannot be blamed on the players or individual concerned. The fault must lie with the directors and only an entirely new board can put Everton back on top. A Board built up on these lines would succeed – ensure that players were sportsmen above all else. Quickly win the loyalty, respect and determination of its executives and players. Close its doors to undesirable spectators. Win the active support of remaining and new spectators. Have little difficulty in getting new players –men would as in the old days be anxious to join Everton. The directors should be drawn from the Supporters club and official governing the many small amateur clubs, in the district –Everton's nursery for future players –A. Harris, 10 Stoneney Drive, West Kirby.
Directors Are At Fault
One vital points seems to have been missed. 'We have heard that the team lacks inside forwards and wing halves together with the pleas that an efficient manager is most essential. The vital point is that the root of all the trouble is the directors. They have showed that they are unable to tackle the job that is required of them. Until the shareholders remove the present board, and install a bunch of men that will gave all the assistance that is required to the efficient Manager together with an open cheque book to enable new blood to be infused into the team then I feel that Everton are most certainly destined for Second Division football next season. –J. Godwin, 10 Roland Avenue Higher Bebington.
They Want A New Captain
The future of Everton is in the hands of the chairman and directors. To save this club from further punishment and disgrace they must appoint a first class manager as soon as possible. After doing this they must give him the power and scope to prove his worth. An astute manager knows when and how much to pay for a class player and also shot a profit on the deal. Three experienced players must be signed. 1- Inside Forward. A schemer of the Wally Fielding type of ten years ago. 2- Half Back. A powerful and skilful player to take over the captain's job. 3- Right winger. A fast and direct player not afraid to cut in and have a shot at goal. These players could bring the present playing staff up to First Division standard, and with an experienced manager to guide them, it shouldn't take long before Everton really do become the "Arsenal" of the North. It is the duty of the directors to spare no time or expense to effect the suggested improvements as time will soon be against them. Failing to improve the present set-up can only mean that Goodison Park will become the "White Elephant" of the North. –Eric Melling 33 Glover Street, Birkenhead.
Shades of W.C. Cuff
Everton are suffering from an overdose of the cult which suppresses the individual in the interests of team-work. The result is that all personality has been ironed out of the club both on and off the club, and we are left with a bunch o colourless club-class players administered by a set of business men. I suggest that the directors imitate the example of Mr. W. C. Cuff and his wise and able administration instead of being bull-dozed into decisions by others. Secondly, inject some life and colour into the club by offering Jimmy Murphy a five year contract at his own terms. Don't say he won't come –the challenge will be too much for his fighting heart to refuse. Leave Ian Buchan where he is. If you reject him you reject all modern coaching, for he is the man who coached the coaches. Sign Bobby Collins and Stan Anderson and with Parker back from Cyprus the younger players would then have a chance to develop their talents in the right company. The long suffering public would then supply the necessary enthusiasm to restore the School of Science to its former glory – J. Rawlinson, 10 Mexstone Road, Liverpool 13.
Let Specialists Specialise
Football is a business. When any business fails it is because wrong policies have been adopted and pursued. Faults anywhere have a tendency to produce more faults –but they spread easier from the top downwards, until the final chaptic effect becomes apparent all too late. Efficiency from the top usually means efficiently throughout –in any business. Without unnecessary criticism (there has been plenty of that already) –and not forgetting that no one man can be a specialist in all things – would like to see.
1 Director's specialize directing. 2. A Manager to specialize managing. 3. P.T. expert tactician coaches, scouts, all vigorously concentrating in their own specialized sphere.
In other words –let the specialists –specialise –together A good team and better results will naturally be produced and Everton are luckily rich enough to afford these things. My final message is – EVERTON Unite!! And when the united efforts of all begin to make Everton tick over like a well-oiled machine we must nor forget to commend as quickly as we have been to criticize –J. Robinson, 108 Galsworthy Avenue, Bootle.
Where The Fault Lies
The following salient points would bring Everton out of the present rut;-
(1) Appoint an experienced manager, who is an ex-player and conversant with all points of the game. Do not limit his power but give him full control of management and team selection.
(2) Purchase immediately at least five first class players –one full back, two wing halves and two inside forwards who are constructive and know the shortest route to goal. The possibility of another outside right might also be considered.
(3) Instead of the present aimless style of football play each match to a plan which should be flexible, and subject to notification or improvisation according to how their opponents reach.
With the scouts on their books, Everton should have some idea of their opponents strength and weaknesses on reports received prior to each match – 11, K. Osborne, Kingsley, Priory Road, West Kirby.
Drop P.T. Class Now
History tells us that empires declined from within. So it is with Everton. Since the departure of Cliff Britton, the only man in the top brass of the club who knew anything about football, the rot has set in. The P.T fetish has been proved wrong, results speak for themselves. Having a team of runners and acrobats has put the club in its present position. More training must be done with a ball , but only with the kind of ball that is used on Saturday afternoon. The playing staff know that too, after what the opposition have shown them in every match this season. The lack of confidence is only apparent. My cure would be;- The appointment of a manager who really knows the game. All ex-footballer or preference, with a free hand in all playing matters. Drop the "T" class, instead more tactical training. Buying new players won't make any difference until the present management in transferred en bloc to the retired list. They are to blame for the debacle. Given these changes, I am sure that we shall see the once proud; type of classical football back. –The Top. J.E. Redmond, 38 Russell Road, Liverpool 18.
Don't Waste Money On Mediocre Players
Looking at the matter, objectively and not cynically –a hard thing to do these days when thinking of Everton –to me their needs are plain and straightforward. I feel there is no need for complicated discussion on the merits or otherwise of training schedules, possible permutations of the present playing strength. In order of importance I would suggest Everton's urgent requirement are as follows;-
A new chairman –Here I think lies the basis clause of most of Everton's troubles, past and present. Apart from the benefit of a new personality this would automatically make the next two requirements the more easily attainable. A manager –with already proven experience and COMPLETE AUTHORITY TO DO HIS JOB. New players –players of established reputation and ability. It is no good throwing away good money on mediocre players hoping they will eventually mature. The need is immediate –not in the future and all too obviously the first requirements in this direction are at wing half and inside forward. If it were not hoping for too much the ideal would be for one of these first new signings to have the qualities of a good captain. These steps, I am sure would serve to put Everton back on the right roads to their former glory. Then perhaps the undoubted ability of some of their younger players could be left to improve under a much longer apprenticeship in the reserve team and thus the future would also be safeguarded –J. Kernaghan, 55 Escoime Drive Greasby.
Fielding Must Help Select
Advice to be constructive must be realistic therefore I will give my ideas on what can be done in a way which is practical. This is a sticky situation and no solution is infallible, but if I could foresee the Board's action in the light if their advertised policy I would do the following things;-
1. Call in Bentham, Watson and Fielding to select and help the team in every way.
2. Sign a back, half-back wing, two inside forwards.
3. Mr. Buchan to continue in his real job P.T. and general fitness and not to have the onus of success or failure on his head.
4. Bring about a revival of the team –spirit and classical soccer which we used to see not long ago –simply by remembering the Cliff Britton motto "Passing is nine tenth of the game."
Finally appeal in all those who have the club at heart to encourage the players, whose ever they are to be done over the loudspeakers if this will help just before the game –H.J.R. Dale, 12 Liscard Road, Wallasey.
From an Old Everton Player
As an Everton player when they had such as Cresswell, Dean, Thomson, Dunn, White, and Company. I am sorry to see them in this position, so early in the season. If they are to win they must buy two inside forwards, centre half and full back as here lies the weakness. There is no link up with forwards from defence. Let's have a new plan of attack – the old "W" formation in the Cup winning side –and I know we shall go ahead, and win matches –E.A. Ireland, 48 Edgmond Street, Wallasey.
LITTLE SCOT MADE THIS GAME
September 13, 1958. The Liverpool Echo
Collins Gives Everton First Victory of Season
Manchester City 1, Everton 3
By Horace Yates
Manchester City; Trauntmann, goal; Leivers and Sear, backs; Barnes, Ewing and Warhurst, half-backs; Fagan, Barlow, McAdams, Hayes, and Sambrook, forwards. Everton; O'Neill, goal; Sanders and Bramwell, backs; King, Jones (captain), and B. Harris, half-backs; J. Harris, Collins, Hickson, Fielding, and O'Hara, forwards. Referee; Mr. L.N. Peake, (Rotherham). The first appearance of Bobby Collins in Everton's colours added interest to this game at Maine Road today and pointless though they are Everton had a cheering following in the hope of seeing the tide turned. A battery of cameramen greeted the appearance of the Everton players and they had one man only in view; Collins. No content with their pictures of the Scot as he came out of the tunnel, cameraman pursued Collins almost to the Everton goal where he had to pose again and again.
Just Inches Out
City won the toss, but there was little or no advantage in it, almost as soon as the game began Hickson and Ewing clashed the first award went against the Everton centre forward. Everton assumed an early ascendancy and O'Hara put over a beautiful centre. If only Collins had been blest with a few more inches in height he must have opened his Everton goal scoring account inside two minutes. As it was the chance passed him by and when J. Harris sent the ball back into the middle Hickson tried a first time shot which was charged down. McAdams showed himself great believe in first time action when he met Sambrook's cross and failed to hit the ball efficient. King was lucky to have time to recover from a miskick and when he moved downfield to put the ball into City's goal area Trauntmann took it with reassuring ease. Again Hickson and Ewing collied and for the second time the award went against Hickson. City moved into the game and from a free kick Hayes headed narrowly wide. The crowd roared their appreciation of Collin's fine play after Fielding had given him a running chance. The scot took the ball over to the left and with great deliberation found J. Harris on the extreme right wing a beautifully judged pass.
High and Wide
When the chance came to shoot O'Hara fired high and wide. Sambrook beat Sanders with great cleverness, his centre only needed nodding home, but there was no one there to do it. Everton's narrowest escape came when Barlow headed for the corner of the goal; and it was as much as O'Neill could manage to beat the ball out. Barlow was causing Everton a great deal of concern and sent O'Neill diving across his goal to save and before Everton could clear the danger Barnes gave O'Neill further opportunity to show his ability. What a good thing it was for Everton that this testing time found O'Neill in tip-top form, Collins found himself all alone in the outside right position and with measured calm he lobbed the ball just over the bar with an anxious Trauntmann wondering whether or not it was coming under or over.
Barlow's Bombshell
City had looked the more dangerous side and there were times when Everton's defence looked shaky in the extreme. It took City 21 minutes to open the scoring and it was Barlow who sent the ball home wide of the outkins hands of O'Neill. The spadework was done by Sambrook who held off the tackles of King and Sanders before middling the ball in the most expert style. It was a goal thoroughly well earned and equally well taken. Barnes might have caused further trouble when he was picking his spot in the net, only to kick the ground instead.
Up Against It
Everton were really up against it for the goal had a tonic effect on City and O'Neill was the savior twice in succession when Fagan got the ball over. Surrounded by willing Manchester attackers there was no room for faulty handling. A King, Collins movement laid on the sort of chance with which Hickson excels. Up he went to meet a dropping ball and his vigorous header was no more than a foot too high. Almost immediately following Everton had their best chance of the game. Hickson began a movement taken up by Collins and J. Harris. There was at the time in the world for Hickson to nod the ball home but again he lifted it too high. Hickson was momentarily injured in a tussle or possession with Ewin and found himself penalized in the bargain.
No Luck At All
An appeal for hands against Ewing was turned down and the Everton following were given their biggest thrill when King sent over to the unmarked Collins. He coolly weighed up the situation before shooting to the right of a beaten Trauntmann and with a goal seeming certain Ewing came across and his long leg helped City out of a most dangerous situation. A Brian Harris –Jimmy Harris exchange ended in the winger clearing the bar. Everton just could not afford the luxury of these missed opportunities. The Collins magic was beginning to work. He spotted J. Harris unmarked 40 yards away and out went a long ball the model of accuracy. Harris drove goalwards and Hickson tried to flick the ball home with his heel all he succeeded in doing was to take some of the pace off the shot and Trauntmann picked the ball off the line at his leisure.
A Consoling Pat
He went out of his way to pat Hickson consolingly on the back of the head. Everton's ability to go so near and yet not near enough to count was in evidence again, when Brian Harris sent over the bar, and J. Harris just outside. Still it was consoling to find Everton figuring so much in attack. There had been much more forward movement in this outing than in any of their previous games.
Half-time; Manchester City 1, Everton nil.
Everton had every reason to be delighted with their new signing. First appearances suggest that Collins will be well worth every penny of the transfer fee, and although one man may not be the complete answer to Everton's troubles he can go a great part of the way to restoring the Everton glamour. Within a minute of the restart Collins had almost opened up the way for Everton. He took a free kick quickly and J. Harris narrowly failed to get the ball home.
Moving Smoothly
Everton's attack was really moving smoothly at this stage and Collins summed up just a split second too convert Hickson's centre and O'Hara drove in a rasping shot, only to find Trauntmann well able to deal with the danger. With Fielding spending much of his time on the wing and Jimmy Harris inside it seemed that an Everton goal could not long be delayed. Fielding sparkled with an individual effort, but luck was not running Everton's way and his centre ended up on the wrong side of the upright. Collins tried his hand at the shooting gallery after play which had roused the crowd to admiration and again he was cheated of the reward he deserved. Fielding was exploiting the flaws in the City defensive arrangement and he centred beautifully for Jimmy Harris to turn the ball wide of Trauntmann for Everton's first goal in 53 minutes.
More Chances Missed
O'Hara made a goal for Jimmy Harris but disappointly away went the ball over the bar and Hickson was beside himself when as Trauntmann came out the Everton centre forward was left with an open goal only to send the ball yards too high to have any scoring prospects. It was a mark of Everton's improvement that they were monopolizing the attack, and for them the tragedy was that their noshing was not on a par with some magnificent approach work. Sanders' outstretched leg saved Everton when Hayes shot, and Barlow only just failed when O'Neill beat down a ball he could not hold. When City turned on the heat the Everton defence found a new confidence there was no doubt that an inspiration they had been seeking was forthcoming with the classical forward display of Collins. Fielding gave Everton the lead at 81 minutes. Two minutes before the end Collins provided a story book finale to the match. Taking the ball from Fielding he drove in towards goal and released such a powerful shot that it broke through Trauntmann's grasp to go into the back of the net. No wonder the Scot wore a grin right across his face. Final; Manchester City 1, Everton 3.
DON'T TRY REACHING FOR THE MOON
September 13, 1958. The Liverpool Echo
Football Is Work, Too
By Joe Mercer
Former Everton and England player, now manager of Sheffield United
An old Arsenal team-mate of mine, George Swindin, who is now manager ay Highbury, went into print recently with an explosive comment about the world's number one game. "This is football, not an employment agency," roused George. He was discussing one of the moans of a certain contemporary player who was reaching for the moon in security without-first thinking of what he must put into football before he took anything out. Swindin's phrase came to mind recently when I saw something in a newspaper. The quote; "If I was getting £300a week I, too would think of nothing but training," was made. I believe by Everton centre half Tommy Jones. If that is what he really think, I'm disappointed in Jones. Too many players seem to think that football is a means in itself to go on lucrative side-lines. FOOTBALL IS WORK. It is a skilled profession, a job a man can be proud of, and it is a paying game without perks.
Pay Better
No football who is a skilled craftsman and has reached the top can complain. He must like the job. Only those dedicated to the game have the natural skill and are willing to practice enough to become a worthy professional. Pay is much better than some footballers would have you believe. On top of their £20 a week there are winning and draw bonuses, plus approximately £3 a week going towards their benefits, plus nine per cent of their weekly pay rating going towards the benevolent fund. That's not bad is it? How many millions in Britain will never reach that financial level, I also seem to notice some nice cars in the players car-park as I go round the clubs. If Tommy Jones really believes there's not enough in football to dedicate a man to its ideals and its benefits, he's surely off the mark. The fact that the Santos brothers of Brazil are reputed to earn £300 a week can be nothing but an incentive to our players to train hard and improve themselves. No doubt about it..if they work hard enough to reach the standards set by Nitton and Diamar Santos, some South American or Italian club will come along and ofter them big money.
Latest Gag
Heard the latest gag going the rounds whenever footballers and officials gather? Of course nobody can prove it's authentic…but then everything seems difficult to nail down these days. It seems that there was a certain promising young left-half whose displays as a junior attracted many clubs. Many were managers and scouts who visited his home hoping he would sign for them. In each case the boy's father pointed to an old wreck of a car pre-1936 vintage, that sagged wearily near the black door. "Put a Bentley in place of that car." Says Dad cheerfully "and my boy signs for you." The lad concerned is now getting rave notices as a potential star with a First Division club in the South. Can you wonder some clubs become bitter when the cream of the young market seems to drift always into narrow channels.
They Realise
One thing I have been pleased about recently is the apparently improved appreciation by the crowds in the arts of the game. I suppose there will be lovers of a big boot-around as long as people pay to support their teams. To them there's only a thrill in a chase after a long wild kick and sometimes in scramble goal. But gradually through the influence of foreign artists who are never subject to the white-not scramble for points that is part of our football League system, some of the fans have at least realized it is not always necessary to go forward to male progress. I was delighted with the crowd when Sheffield United played Middleborough last week. United lost by one goal, scored by Brian Clough, but it is true to say that the team played even better football than in the following game in which they won 4-0. It was great to see the crowd acknowledge the evidence of good play. Their applause for a beaten team was worth more than they realize. It gives we people in the game great heart to know that science, even if unsuccessful in certain matches –is being appreciated by growing numbers of people.
Results Count
Naturally we football managers must aim at results. There can be too much of everything…even good football. And through my aim Sheffield has always been to produce a good football team, I've never ignored the urgency of having thrust in attack. A journalist recently asked my advice about how a manager with a team playing good football without getting enough goods, would re-shape his players' ideas. All I could answer was that there is no substitute for ability –meaning that if a player has not natural speed and bite, it's a losing game trying to change him. But it is possible to alter the team's play, as a unit. Everything in the game can be modified…and when the goals aren't coming because the preponderance of studied football is giving opponents time to close their ranks in defence, the manager must streamline. Introduction of quick variations –the long, far-flung pass, the lightning through-ball…that is the answer.
EVERTON RES V MANCHESTER CITY RES
September 13, 1958. The Liverpool Echo
Everton Reserves; Dunlop; Griffiths, Hillsdon; Rea, Labone, Meagan; Penman, Wignall, Temple, Ashworth, Williams. Man City Res; Fleet; Branagan, Horridge; Cheeham, McTavish, Shawcross; McClelland, Kirkman, Hart, Lister, Fidier. Referee; Mr. H. Freeman, (Preston). Everton opened with a rather scrappy move down the middle and McTavish had to head out for a corner. From the clearance Griffiths stopped Fidier by obstructing and from the free kick Hillsdon deflected the ball behind for a corner to City. Both sides after failing to master the lively ball, settle down to more progressive methods and Meagan blocked a shot from Lister. After Penman had been too slow to accept Temple's pass, City took the lead when a strong cross shot by Fidler beat Dunlop. Everton retaliated and Fleet turned round the post a header from Wignall. City scored further goals through Hart and Lister, having netted three times with seven minutes, Everton broke away almost immediately for Ashworth to reduce the arrears. Everton, however, were seldom dangerous and their one serious scoring attempt came from Penman whose high shot swerved just past the far post. Half-time; Everton Res 1, Manchester City Res 3.
JUST A WAVE OF COLLINS MAGIC WAND
September 15, 1958. The Liverpool Daily Post
Manchester City 1, Everton 3
By Horace Yates
Those who maintain that you need a slice of luck as well as a load of courage to rebuild successfully from the skeleton of shattered hopes, had that theory confirmed in most emphatic fashion when Bobby Collins transformed a plodding dispirited Everton into a match-winning combination at Maine Road, Manchester, and produced the first points of the season at the seventh attempt. One match alone was sufficient to advertise to the sporting world that whatever, fee Everton paid, and the estimates vary between £22,000 and £25,000 to Celtic for this huddle of Scottish artistry. They have gained a handsome bargain. Without Collins the odds are that City would have administered to Everton the medicine six times previous prescribed, for the dynamic newcomer took the game in his grasp and almost organized it to suit his record transfer. Throughout the ninety minutes I counted one pass from him that failed to reach its target, one tackle in which he was beaten. For the rest of the time he sent the ball speeding to its target whether it was ten, twenty, thirty or forty yards away made no difference whatever, with the piecing accuracy of an arrow from its bow. The recipient of his passes scarcely had to change his position to collect. His success revitalized Everton. It was almost as though the players realized that the missing key which had kept the lock tightly snapped on their movement had suddenly been rediscovered. Football began to flow, confidence returned with a bound and as the game progressed so did Everton's rebirth become more certain more obvious. Even when they were a goal down as they were after twenty-one minutes when Barlow scored for City, this was no beaten Everton. As though tired of watching others fritter away scoring approaches, Collins took a wand himself and with a beautifully placed shot had Trauntmann beaten only to find Ewing stepping into the breach to keep the ball out of the net.
Football Genius
More and more Collins stamped his football genius on the game. He was calm, assured unhurried in all he did and when colleagues were inclined to rush their passes there was this newcomer demonstrating on the field, just what they should have done – and it all looked so easy. His confidence in his first English League game was remarkable and no less infectious. It only required a most astute forward switch, directed at a nod from Chief Coach Ian Buchan to give Collins the supporting punch that was required. Out went Wally Fielding to the right wing with Jimmy Harris to inside left, and almost immediately the attack had potential was revolution aged. Fielding took to the role to the manner born, and Harris was twice the player as an inside man, even though he missed one goal scoring chance that could not have been pleasing. Moves and movement in the fine Everton tradition brought an elusive game to life and action, Fielding toying with a mismerifised defence gave J. Harris the opportunity to place the ball wide of Trauntmann which he did without difficulty and from that 53rd minute onslaught there was never the slightest doubt that Everton's tale of non-successes was at an end. They were over-anxious to drive their advantage home and goal scoring chances were missed with a regularity that would have been disappointing had it not represented such a change to see them shooting and heading so consistently towards the target, even if reward was slow in coming. They had never attacked like this before. Suddenly –the realization had come that they were a team again and nobody was in the least surprised when Fielding collected the second goal a really cheeky effort, with which he sent Trauntmann one way and put the ball in the net on the other side.
Ending To Order
I turned to my neighbor in the Press Box and said; "All this game needs now is a Collins goal to give it the fairy story touch." We had to wait until two minutes from the end before it arrived and again it was Fielding who ripped the defence to invite the Scot to bear inwards towards goal and take his prize with a magnificent shot that tore through Trauntmann's grasp to hit the back of the net. If that goal had been at Goodison the roar would have sent the pigeons scampering for safely from the roof of St. George's Hall. As it was the Scot was acclaimed from all parts of the ground. It was the final jewel in a crown of glittering success. City were made to look a very average side and it was well for them that Ewing never relaxed his grip on Hickson and Leivers and Sean did not panic –as some of their colleagues did, when they saw themselves being offered up as the sacrifice –to an Everton feast. It would be wrong to imagine that at one stroke of the transfer pen Everton have converted themselves from possible relegationists to potential champions. They have no burn they have taken the first all important step forwards a cheering rehabilitation. When Everton's needs were greatest they were fortunate to have Jimmy O'Neill playing in masterly fashion in goal. He was confident, efficient and determined that no last line failure would condemn. Everton to their position on the rack. Had he failed all the Collins magic would have been dimmed but instead of City finding the will to win they crumpled before an Everton intent on putting an end to their own and their supporters agony. Undoubtedly Goodison has found a new hero one who will delight the hearts of the crowd with his matchless control and immaculate service. He promises infinite pleasure to come and should be the inducement to the board to make that extra effort to solve other weaknesses just as satisfactorily. It can be done, although players of Collins calibre are not in the market every day, and Everton would be foolish indeed to imagine that all their worries are over. While everyone with the slightest Everton connection was beside himself with joy and the most obvious relief at this Collins' display to-remember a down to earth not over talkative Scot, who had gone to Manchester specially to see the Collins debut was puzzled at the nature over the former Celtic player's game. I should say he played somewhat below standard today, he said, "Bobby can do much better than that." That was the best news of the day. If we have yet to see Collins at his best, it is a treat in store which I dearly hope to do not miss. If this report has resolved itself into a Collins' hymn of praise, forgive me, but it was difficult to do otherwise and in any event nothing I have said does the lad anything more than justice. Manchester City; Trauntmann; Leivers, Sear; Barnes, Ewing, Warhurst; Fagan, Barlow, McAdams, Hayes, Sambrook. Everton; O'Neill; Sanders, Bramwell; King, Jones (captain), B. Harris; J. Harris, Collins, Hickson, Fielding, O'Hara. Referee; Mr. L.N. Peake (Rotherham).
EVERTON RESERVES' FIFTH DEFEAT
September 15, 1958. The Liverpool Daily Post
Everton res 1, Manchester City Res 3
Everton's defeat their fifth in successive Central league matches could be attributed mainly in their inferior teamwork, especially in attack. Their forwards seldom combined effectively and there was too much faulty passing by the inside man and the wings halves. As a result the Manchester defenders had ample opportunity to feed their own forwards whose sound understanding and constant interchanging often had the home defence in trouble. Although all the goals came between the 21st and 29th minutes City missed several good chances in the second half and also hit the crossbar twice. In the Everton defence only Dunlop and Hillsdon performed creditably; Penman was the best of the very indifferent attack. Fidler, Hart and Lister scored for City and Ashworth for Everton.
EVERTON POLICY IS NOW WAIT AND SEE
September 15, 1958. The Liverpool Echo
By Leslie Edwards
What now, Everton? More signings, the appointment of a Manager? I think not in each case. In paying £24,000 for Bobby Collins, in reconstituting their training staff they have implemented two of several decisions taken at their crisis meeting a week ago. Not much use going the whole hog when the team has reacted so quickly and so happily to the moves made, I think the club will sit back and watch events –and maybe victory on Wednesday against Burnley –before feeling justified in doing what most of their critics suggest. Would you have liked to be an Everton director last week up till Saturday. One of them told me; "If I had to endure a week like that again, I think I should buy a deaf-aid and keep it permanently switched off." That almost matches the story of Everton wiring the War Office their application for full-back Parker to be sent home from Cyprus on compassionate grounds.
Trebly Difficult
Everton are criticized for not keeping their fans in the picture. If as critics suggest, the deposition of Harry Wright had been the only statement after the crisis meeting would not the club looked more than a little ridiculous? And if the proposal to go to Scotland and take Collins from Celtic had also been public the chances are that Everton would have had to pay thousands more for him and that a queue of other clubs led by Arsenal might well have made signing him trebly difficult. No, Everton are entitled to run their business as they think best. I still think a case will be made out in the event for a Manager though it is clear the Board having stated their opinion following the Britton case, will do everything they can to get along without one.
TWO MOVES CAN HELP EVERTON
September 15, 1958. The Liverpool Echo
What can be done to help Everton in their present parlous position? Surely the remedies are as obvious as the defects which have brought the club to its current sorry plight. The need for an experienced controller behind, the scenes and for a dominant personality becomes increasingly apparent with each match. The need for two strong forceful wing halves and equally clear. These defects can only be overcome by
(1) The appointment of a team manager of proved ability.
(2) The acquisition of new players, including one at least with the requisite personality to take over the position of team captain.
Everton's training system has been criticized, but last season surely the team was hailed as the fittest and fastest in football. Presumably Mr. Buchan is using the "circuit" method of training which is generally acknowledged to be the best means of attaining physical fitness. If physical fitness is all that is required in a footballer's training then the criticism would appear to be unjustified. The directors cannot escape their responsibility in the matter and their record since the departure of Cliff Britton speaks for itself. Let them there, if only for the sake of the club's long suffering supporters, take the necessary steps before it is too late. Let them look back on the proud record of their club and treat the present crisis as a matter of urgency. Let them swallow their pride and appoint a manager as the first step to raising the Everton club to its former glory – F. Brown, 52 Wadham Road, Bootle 20.
From A Canadian
As a Canadian who has lived in this country 14 years, and one who has married into a blue-blooded Everton's family I feel I must accept the challenge. Constructive criticism, you ask for – and from the heart of faithful "saver" for season ticket holders "come his reply. Lose your driftwood but fast, if a board of directors must be sick of us see them attend every game played by the club. Let's see them develop in lively and sincere interest in the men playing the game, and training and administering to the needs of the club. We need a trainer who really knows the job and can induce men who play football to regard it as an art as well as a game. We need a manager who can see that he gets the full co-operation from trainer and director, which in turn should reward him with a fit, co-operative, first gate goal scoring team. The net result should be good entertainment football, plus profitable gates plus a mass ever increasing of proud enthusiastic Everton supporters. Mrs. E. Roberts, 86 Arkles Lane, Liverpool 4.
Act Of Faith
I do not believe Everton's problems will be solved either through managerial appointments or wholesale signings of players. Despite criticism there are players on the books with not only potential but also actual ability. What is required is not panic changes, which sap confidence on an open cheque book which breed insecurity both are feint present but an act of faith from all. I believe that if the Board would declare its confidence in the Chief Coach and training staff and they in turn showed their confidence in the players, the first step to return in fortunes will have been taken. Then select what is believed to be the best and most experience team from the present resources and give them the assurance that they will be given a good run and a fair chance. Rev F. Cartwright, St Mary's Vicarage Towerland Street, Liverpool 7.
Lead From Top
I belong to the generation of football followers brought up on a diet of Dean and Dunn, Cresswell, Cook and Coulter, to name a few. Personalities all, but capable of using their individual brilliance in effective teamwork, backed by an administration by W.C. Cuff and a Board as respected off the field as the team was admired on it. The club is mow represented by an administration unknown outside the city and a bunch of players shorn of personality, lacking in leadership and robbed of initiative. They suffer from an overdose of the cult which scarified science for speed and makes class a secondary consideration to coaching. The remedy. Lead from the top. Let the present directorate imitative their predecessors prime in the club and willingness to serve Everton and football as whole. One change from the old regime to meet present day demands –appoint a colourful and commanding personality (Jimmy Murphy) as manager. Then sign two or three players of international calibre. The result. A resurgence of enthusiasm among the frustrated supporters which would help to restore the School of Science to its former glory – J. Rawlinson, 10 Menstone Road, Liverpool.
Farrell The Man
There is nothing wrong with Everton that Peter Farrell cannot cure. He will do for the Blues what he has done for Tranmere. Let's have him as manager and all our troubles will soon be over – (Miss) M. Gallaher 30 Sir Thomas White Gardens, Liverpool 5.
PROTEST ABOUT EVERTON SCOUT
September 16, 1958. The Liverpool Echo
Following a protest by Dublin Amateur League the F.A of Ireland have set up a commission of five to inquire into the eligibility of the Athletic Union League (Dublin) Chairman Mr. Charlie Liddy, to sit on the Junior Council of the Association. It was reported at the start of the season that Mr. Liddy had been appointed Everton's Chief scout in Eire at a four-figure salary. Terms of the Commission are;-
1. Is Mr. Lidely employed by Everton.
2. If so, how does that affect his status as a football legislator
3. What rules if any has he infringed?
LETS HAVE ONE MAN ONE JOB
September 16, 1958. The Liverpool Echo
A Large football club is a business organization and should be regarded as such for administration purposes. Successful top people will admit that they could not have achieved their positions without competent subordinates, all of whom have been allowed to do their own jobs without interfere from above. The method is one man, one job, not a series of committees, the members of which are bound to disagreed in some measure preventing a clear-cut decision. These subordinates are chosen for their specialized ability and are not normally required to take on jobs for which they are unsuited. The appointment of an ex-professional player as manager at Goodison Park with personal experience of conditions on the field and in the dressing room is imperative. Players will listen more attentively to a man whom they know has been in the same situation as themselves and can therefore be expected to have practical knowledge of proved plans and tactics. A random list of examples includes Matt Busby, Johnny Carey, Joe Mercer, Ted Fenton, Bedford Jezzard. Free now are Walter Gaibralth, Raich Carter, George Raynor. Meanwhile more ball control and shooting practice please, especially the latter, and let's dip into that £120,000 –Marie O'Neill, 1 Ffrancon Drive, Bebington.
Wanted –A Boss
There must be a boss at Goodison Park, a real boss. One who can bring back to this wonderful enclosure of ours some of the most vital perquisites of modern soccer – namely discipline, team spirits, and blend discipline team spirit and blend. This is absolutely essential in order to safeguard the club's future. The immediate crisis can be solved temporarily by the judicious acquisition of one or two seasoned players, no matter what the cost. The club must give in followers tangible too that they are aware of the gravity of the situation. The money, spent, however, large will be amply repaid to increased attendance for few clubs can boast of such a loyal band of supporters. Mistakes have been made and complacency has been rife. Let's put that all behind us and start afresh bearing in mind one of the club's greatest needs. Not just a team manager but a gaffer, in every sense of the word. A man who knows what is required and can demand and get what he wants from those under him. The club will overcome the immediate problem, but only a man such as I have portrayed will ensure that such a crisis does not occur again –Albert William Thomas, 11 Craigs Road, Liverpool 23.
Cannot Buy Success
It seems obvious that the trouble lies with those directors who are concerned with the recruitment and training of the players, and their apparent stubborn refusal to consider the appointment of a first class professional Manager. It seems that they are determined to run the club their way, irrespective of the views of the players or the public. The expenditure of about £25,000 on Bobby Collins may turn out to be a good move (I hope it is), and it is better to pay out such an amount for one good player than half a dozen who may not make the grade. However, Sunderland and other teams have proved that you cannot buy success. Team-work and understanding together with enthusiasm and endeavour, often counts for more than individual skill and a good Manager can weld eleven ordinary players into a first-class combination far easier than a sub-committee of directors. At least he can speak the same language as the players. My suggestion would be therefore that the directors spend what money remains in their coffers on securing the best Manager they can get and leaving the job to him for a reasonable period after which they can judge him on results. If this course of action is not adopted I can see nothing but the Second Division for Everton –L.J. Johnson, 16 Rockville Road, Broadgreen.
Grandiose Titles
During the past two years Everton have been almost entirely reformed. In fact this reformation has been so thorough that they now bear scant resemblance to a normal football club. The present set up includes –
(1) A group of directors who, not content with directing have distributed among themselves various grandiose such as "Administration Officer in Charge of Playing Staff,."
(2) A Chief Coach whose qualifications include a good speaking voice, and
(3) A string of trainers whose duties apparently are not clear even to themselves
Now it has been hinted that a member of the playing staff is to be elevated to the rank of Tactics manager. If Everton could obtain the services of a good ring-master, the circus would be complete. As an interested onlooker, I suggest that Everton directors descend from the tiny pink cloud on which they are living, and rejoin the rest of us. To run a football team you need an experienced Manager and a couple of good trainers. It's as simple as that. If the right men were appointed and allowed to get on with their jobs the many talented young players already on the club's books could be welded into a fine team –T.A. Dunford, The Cottage Fieldway, Heswall.
EVERTON UNCHANGED FOR BURNLEY MATCH
September 16, 198. The Liverpool Echo
Collins Home Debut
Return Game
As expected Everton have selected the team that surprised Manchester City on Saturday for tomorrow night's return match against Burnley at Goodison Park. A big crowd is expected to see Bobby Collins the £24,000 signing from Celtic make his home debut and a repetition of Maine Roads form should gain Everton two more much-needed points. The kick-off is at 7 o'clock. Everton; O'Neill; Sanders, Bramwell; King, Jones, Harris B; Harris J, Collins, Hickson, Fielding, O'Hara.
Goodison Dates
Everton FC have arranged to play Newcastle United Reserves at Goodison Park on October 1, (7.0) and the home Central League match against Sheffield Wednesday Reserves on September 22 instead of September 24. On October 3 there will be a floodlit game at Goodison Park (7.0) against the touring South Africa eleven and on October 15 Everton play the first round Youth Cup against Leeds United. Everton's ground season ticket holders are advised that they may now enter Gwladys Street terrace from any entrance in Gwladys Street.
MAN WITH THE £50 TOUCH
September 17, 1958. The Liverpool Echo
Here is the letter which has won £50 for Mr. Edward Grey, of 181 Victoria Road, Wallasey in the competition in which we asked Echo readers to write constructive criticism to the extent of 200 words on Everton's critical position. Of more than 1,000 entries and we are grateful to them all for their interest in the matter, his was the best, we thought, because it contained such reasoned argument some topically, and at least one novel command –that Everton should seek to be a great Everton again and not merely the Arsenal of the North. The winning letter ran;-
"I shall probably be out, of step with the vast majority of Everton fans, but here is a word of praise instead of jeers for the Board for their spirit and tenacious signing of Collins. This was reminiscent of the pass days when a player considered it an honour to sign for Everton, and a privileged to wear their famous blue. The directors have obviously learned from their failure to clinch the Docherty deal. They should now realizes their position concerning the vexed question of managership and forget the Britton episode. It cannot be coincidence that all the leading clubs of the poseur era have had an experienced at the helm with full control of playing and training staffs. I am certain that if the Board altered this mistaken attitude of the past few seasons all true Evertonians would admire their courage and give them full support. "Finally, drop this Arsenal of the North ambition! Everton are a great club in their own right, and I am confident that the name Everton will once again mean football in the great tradition."
GALA RETURN FOR COLLINS
September 17, 1958 The Liverpool Echo
By Leslie Edwards
Everton will recoup themselves tonight for some part of their £24,000 fee for Bobby Collins when they meet Burnley at Goodison Park. The more important thing is of course, that the signing may well have enabled them to start the winning sequence their position demands. Obviously it had to be the same Everton team again and victory tonight and against Leeds United on the same ground on Saturday would revolutionize the side –and our ideas on their potential. Eight days ago Everton and Burnley fought the contentious battle at Turf Moor. Let's hope there is nothing like that again. I understand that Manager Harry Potts (a one-time Everton forward) has warned his players against any rough stuff the more valid warning might well have gone to the referee. After all the better than any other, is the one who can really keep the game on an even keel from the start. Burnley have some doubtful, most of then dating from the previous match with Everton, but all are expected to be fit. It may well prove be Everton's biggest gate this season; it will certainly be a gala home debut for Collins and for the side which won so unexpectedly at Maine Road. Everton; O'Neill; Sanders, Bramwell; King, Jones, Harris B; Harris J, Collins, Hickson, Fielding, and O'Hara.
PICK MEN WHO PLAY GOOD FOOTBALL
September 17, 1958. The Liverpool Echo
The trouble with Everton, since the War has been the lack of a constructive and efficient policy of bringing men who play good football into the team. Although an Evertonian, I must admit that even that moderate successes that they have had has been due to a Bash Crash type of football that is absolutely foreign to Goodison (Fielding must be excepted from this criticism). Let the Everton players get down to basic principles of football and forget the Muscle-Man attitude which appears to be drilled into them. A team Manager is obviously needed. I'm sure that Mercer or Murphy (to name but two possible) would come to Everton. When buying a player is considered the Board must act in a far more positive manner than was apparent in the Docherty fiasco. The signing of Collins was a welcome step and shows that class players will come to Everton provided the directors go all out to get them. An experienced wing half is needed. Why not Aitkens? Spending now is better than five years in the Second Division. Ask Liverpool – F. Timson, 18 Newell Road, Wallasey.
And A Captain
In spite of the adamant Mr. Searle and his co-directors who deny Everton a Manager I place this as No 1 priority. All the successful clubs of the post war era have had managers and in almost all instances an ex-professional. Men like Raich Carter and Andy Beattie, both famous internationals in their playing days and both with a fair measure of success from the managerial chair should not be lost to their chosen profession and an effort should be made to bring one of them to Goodison. Of almost equal urgency is the need for a club captain. Since Peter Farrell was deposed Everton have missed his inspiration drive and refusal to be beaten, qualities that made him a perfect example of the modern captain and which have been sadly lacking in his successors, whose apparent interpretation or the job is to lead out the team and toss for choice of ends. It is significant that since the start of the 1957-58 season, on only two occasions have Everton come from behind to win –at Newcastle and at home to Portsmouth. Next in order is the acquisition of two strong wing halves and a left full back. The present wing halves Rea, Meagan, King, and Harris are too trail physically not strong enough in the tackle and are so pre-occupied with the opposing inside forwards that their own forwards are not getting the supply of passes to which they are entitled. Even a complete international forward line will flop without the service from behind. When Parker eventually takes over at right back it would be interesting to see what kind of a job Sanders would make at right half. He has the physical attributes and is not afraid of going upfield with the ball. Lastly a plan is required on the field of play. At present the Everton style is too haphazard. Too much time is wasted when Everton are awarded a throw-in whilst the half-back searches the field for an unmarked colleague and when did we last have a goalkeeper who could take a goal kick without the aid of his full backs. Even then the kick from hand invariably goes to an opponent or into touch – C.J. Smith, 63 September Road, Anfield.
SIX MONTHS WITHOUT A HOME WIN
September 18, 1958. The Liverpool Daily Post
Everton 1, Burnley 2
By Horace Yates
You may or may not realize it but it is six months since Everton supporters had the pleasure of cheering their team to a victory at home –March 22 to be precise –and in the interim seven games have been lost at Goodison Park. That Burnley should have completed a double last night was really a scurvy trick of fate. Admit all the Everton short comings when the ball was bobbing about inviting in front of goal admit misdirection and lofted drives but the fact remains that this was a match which should have been won. The Goodison roar was back in full volume. Whoever could have thought that somewhere in that mighty roof-raising assembly were those supports who only very recently stooped to their slow-handicap. The stage was set for a great and glorious victory. Once again Jimmy Harris, advertising to all and sundry that it is a waste of talent to isolate him on the wing when he is so much more deadly and menacing in the middle, had repeated his Maine Road tonic performance by scoring Everton's first goal, and what a beautiful effort it was. The little Scottish bundle of football skill and vitality, Collins deceived the crowd as well as Burnley when he took the ball to the right when it seemed criminal to ignore the left. Through went his pass, head high for Hickson and the centre forward nodded it into the clear for Jimmy Harris to deceive that remarkably good keeper McDonald at his leisure. Burnley were proving formidable opposition. Their defences was tight and Adamson especially detailed off to ensure that Collins should not make a show of Englishmen for the second game in succession was outstandingly successful with his tackling. Not that he ran across Collins a great deal, for the programme line up was just a mockery of the situation. Only O'Hara stood fast in his true position in almost no time at all Collins was at inside left and not at inside right, and the Fielding-Harris switch was worked after 25 minutes with Hickson wandering to his heart's content. Six minutes after the Harris, Fielding change bout Harris collected his goal. Everton serving up beautiful football looked good for many more. True enough Pilkington a lively Burnley outside left caused a lot of Everton worry for he made a point of putting his centres over in the most deadly style. It was them this spruce that tragedy struck with shattering effect in 31 minutes Away went Pilkington with the ball and King moved in to the tackle, King made contact with the ball and down went Pilkington inside the penalty area. Without a moment's hesitation the referee awarded a penalty kick and McIlroy put the teams on terms.
Doubtful Decision
Was the referee right to make this award? Judging by the hoots of displeasure from the crowd he most certainly was not, but crowds are not always noted for their strict impartially in situations such as this. In this case I could not avoid thinking that the decision was savage. As I saw it King had the ball away before Pilkington ran into him. All the argument will not alter the decision. It brought Burnley back into the game of which Everton threatened to take compete control, though even with the scores level at the interval there were few among the crowd who were not quietly confident that this was the build up to an Everton victory. Hickson was flattened by Smith two yards outside the penalty area and here the punishment decidedly did not fit the crime. All the bad luck was not Everton's for in a Bramwell tackle with which it was easy to find fault, Pointer fell on his shoulder and was a passenger to the end of the game. Collins a passenger in the game for far longer than was good for home ambitions, had still contrived to put enough quile and artistry into his efforts to convince the crowd that here is the man to give them infinite pleasure and success as well in the future. He smashed in a shot almost on rubbing terms with the upright that McDonald could not have touched and on another occasion Hickson and J. Harris worried McDonald into a ball smothering effort right on the line. It was desperate exciting even though there were times when Everton fiddled and their crowd burned with excitement.
Sanders Penalized
Everton who had heard a penalty appeal for hands turned down could scarcely believe their misfortune when Sanders was deemed guilty of handling and from the free kick Pilkington found himself in the clear and bore in to beat O'Neill and give Burnley the lead. The cool calculating Everton efforts gave way to desperation and they were not nearly as successful although a slip by Cummins gave Hickson a game saving chance five minutes from the end but the centre forward's low ground shot was safely covered Defeat was undoubtedly disappointing but it was not too disastrous in the sense that Everton have shaken themselves right out of the slough of despondency. They are playing football and at times playing a really well, slowness in shooting is still a worry but I have a feeling that they will play worse than this and still win. King and Brian Harris are improving steadily in the wing half role as they become more and more experienced, and though Tommy Jones failed to find his man so often that it almost became a habit, he was still very sound in defence. This was a night in which Fielding's subtlety did not collect the dividends we have come to expect just as some of Collins' slide rule passes seemed to have gone awry somewhere in the calculations. The explanation was probably that the splendid first time defence offered by Adamson, Cummings and Smith could be saddled with a load of the responsibility. McIlroy was full of tricks and football and though Burnley deserve all credit for a refusal to read the writing of defeat which seemed blazoned over the game, I doubt if they will refute the theory that a division of points would have been a more equitable verdict.
Weaknesses Still There
The fact that 50,557 spectators responded to the enterprise in signing Collins with its accompanying victory at Manchester must show the directors that the crowd are worthy of more tasty tit-bits of Collins propitiations to strengthen weaknesses which are admitted and acknowledged. The Scots advent has put new life and hope into the side and as such is pulling out 90 per cent effort from every man but there is a limit to what enthusiasm can do if it is not supported by the adequate amount of skill and experience. Everton are not out of the wood yet even though they can see some light between the tress, and if the man or men they still need should come into the market another excursions as speedy and determined as their dash to Glasgow should be undertaken without a moment's delay. Everton; O'Neill, goal; Sanders and Bramwell, backs; King, Jones (captain), and B. Harris, half-backs; J. Harris, Collins, Hickson, Fielding and O'Hara, forwards. Burnley;- McDonald, goal; Smith and Winton, backs; Seith, Cummings, and Adamson, half-backs; Newlands, Robson, Pointer, McIlroy, and Pilkington, forwards. Referee; Mr. K. Dagnall (Bolton).
REQUEST REFUSED
September 18, 1958. The Liverpool Daily Post
The Everton board have turned down the request by Alec Ashworth their eighteen years-old inside forward to be placed on the transfer list.
BURNLEY EQUALISER WAS BODY-BLOW GOAL
September 18, 1958. The Liverpool Echo
By Leslie Edwards
The tide which turned dramatically for Everton at Manchester ebbed a bit last night at Goodison Park and now we're all wondering whether it will be coming or going on Saturday when Leeds United provide a new test. Fifty thousand Evertonians must have left the ground last night miserable because, far from being able to discern what is likely to put Everton right, they are not sure their diagnosis of what is wrong is correct. I would say that Everton's worst affliction is lack of belief in themselves. Thus causes them to use crash-bang methods which are completely foreign to their style and which undo, at a stroke, the value of moves made in good order up to a point. I would also say that Everton had not one but two misfortunes in this match, first when referee Dagnall (not the man who refereed the corresponding fixture last week) gave what seemed a rather harsh penalty award against King and second when Burnley took a free kick quickly and effectively while many spectators and some players must have been concerned with the crowd's frantic whistling to inform the referee that the injured Pointer was on the touchline and wanted to get into the game again. Add the coincidence of some staggeringly good goalkeeping by the Everton man McDonald and you have the crux of Everton's defeat. But in putting these cases forward I am not suggesting that Everton were all we expect them to be or that they are necessarily good enough to lift themselves quickly from their frightening position.
Took The Lead
What made defeat harder, to bear was that Everton had so forgotten their record this season to take the lead! The bludgeoning effect of the penalty which McIlroy took impudently by lobbing his shot slowly but disastrously wide of the goalkeeper, they never overcame, and when Pilkington the man brought down by King's tackle, slipped the ball in the net for the winning goal in the second half, one felt that Everton and their supporters were almost too dishearted to care…
That Burnley should win so narrowly suggests that they too have problems but that is no consolation. This Everton fell short, despite many desperate efforts to score, of what we know they should be and even little Collins, artist that he is, at flinging the ball to the wings and judging pace and direction to the last inch could not this time inspire them. There was no plan, only all-out effort and if Harris J., and Fielding and company had succeeded in getting goals, one could only have put down their success to their guts and stickability. Everton began with Fielding and Collins changing places. Later Harris J, and Hickson shared the centre forward position with Fielding on the right and this was the redeployment which seemed most likely to success – but not unhappily against a goalkeeper like McDonald so much of whose play was inspired.
Wasted Spadework
Reflecting on the number of times Everton all but scored it is amazing that they were in fact beaten. But there it is. Much of the spadework of two go-ahead wing half backs and the rather pedestrian approaches of a desperate attack went for nothing against a Burnley who seemed content to gain the lead and hold it. Of one thing I am sure. That is that young Bramwell is not ready for this class of football. Practically therefore the Everton defence started at a disadvantage. The game's beginning, in which Everton all but scored twice, gave no hint of the scrappiness the match was to develop with fouls numbering almost thirty. While they had shreds of confidence Everton suggested they might do things. Having got their goal –a lovely pass by Collins a cute header from Hickson and a near finishing touch by Harris J, were the ingredients –Everton were shattered by the penalty award five minutes later, and from that moment degeneration set in hard as they tried to re-establish themselves and their lead.
Has His Moments
Fielding, whose age is against him in a struggling team, had his moments but also moments when he did not place the ball accurately. We saw little of Collins in the second half though he had showed power of shot and ability to make an opening and like Fielding he tried devilishly hand. Everton, have too many loose ends to be impressive and here O'Hara, except for one or two live runs found nothing going right for him. There was a moment when Everton's £24,000 transferred lay injured and looked as though he might not take further part. The Burnley centre forward Pointer was also damaged at the same time and it was good to see both recover and play on even if Pointer looked to have the making of a broken collar bone. If they are to win Everton must believe in themselves they must forget the storming approach in favour of the combined more staced approach which cuts out the far-flugged pass which inevitably ended so many attacks of promise last night. But however the play they will not see a McDonald every week. And I hope they will not be involved either in two such unhappy goals at those by which Burnley won.
MANAGER CAN COME FROM OWN STAFF
September 18, 1958. The Liverpool Echo
More Everton Letters
Football is a business in a highly competitive field and like all business its policy must be directed from the boardroom. The end products is entertainment. Everton's troubles stem from political inertia in the boardroom. Everton's playing equipment is as good as other First Division clubs; the list of discerned items put to good use elsewhere, Farrell, Eglington, Donovan, are only a few examples indicative of this. Combinations of existing players last season were able to win matches and will do so again, provided.
(a) Effective leadership is provided from the top
(b) Criticism, is constructive
(c) Everyone looks forward instead of backwards
(d) The players loyalty is recognized.
To begin, determine policy and appoint an executive manager from the existing staff. He should select his own assistants in his own way. Discard the scouting system (it isn't worth the cost and concentrate on nurseries. Instruct the players to keep playing football as a team. Discourage selfishness, ungentlemanly play and bad temper by warnings and suspensions. Deserve a reputation. Results will come –R.F. Reynolds, 29 Edgemoor Drive, Liverpool 10.
Debt To Supporters
Never has so much been owed to so many by so few. This paraphrase of Sir Winston Churchcill's famous war time oration should serve as a reminder to the few connected with the Everton football club of what they owe to the many supporters who since the war have waited in vain for Everton to justify their motto of Nil Nisi optimum. The continued success of clubs such as Wolves and Manchester United in the last decade has, I think, been governed by two factors. The best of scouting systems, and a manager, who commands the respect of his playing staff in the same way as a father commands the respect of his family. Everton's scouting system may be good in quantity, but to judge by results it must be lacking in quality;- D. M. Platt, 55 Moss Groves, Liverpool 8.
Not So Hopeless
Everton's position seems not so hopeless as at first glance. The club has been the sick man of football for some years and as with Rome, Everton will not be built in a day. The management must realize that less emphasis on physical training, excellent as a means to an end, but not an end in itself, and more attention to skill, is now imperative. The need is for wing halves and inside forwards of big physique and skill. Concentrate on these positions, and improvement must come. An astute manager, with the necessary cash, should provide these needs –Robert A Morris, 23 Elsmere Ave, Liverpool 17.
Lack of Confidence
Before tactics can be decided there must be an appreciation of the position. As I see it, there is almost a complete lack of confidence in directors, staff and team. The first step must, therefore be the restoration of confidence. This could be done by the appointment of a manager who has proved he knows his job. Cost should not be allowed to prevent the employment of such a man and having got the right man let him manage –without interference. The directors should tell him how much they can spend on transfer fees and leave the rest to him. Let him select the team without any suspicion of pulling by directors and let it be quite clear that he is in control of all concerned with the training of the players. By all means let the directors decide the policy of the club, but we must have a good manager, and for Goodison's sake let him manage and we will judge him by results –W. H. Mason, 46 Linkstor Road, Woolton.
EVERTON BAN BIG-FOOT BAND
September 18, 1958. The Liverpool Echo
The band of the Irish Guards (fifty to sixty strong) might have entertained spectators on Saturday at the Everton v. Leeds United match but it was felt quite reasonably, that fifty pairs of Guards size boots marching and counter-matching on a pitch recently sown might have adverse effect on the turf. So Liverpool Central League fans can rejoice The band goes instead to Anfield where their live playing before and during the interval of the match against Villa Reserves will be a pleasant change from canned music over the public address system.
EVERTON TEAM SELECTED
September 19, 1958. The Liverpool Echo
By Leslie Edwards
Everton's game against Leeds may produce an attendance to surprise us. The one against Burnley on Wednesday was 20,000 fewer than I, for one, anticipated and it is just possible that there may be another recession of interest despite the fact that we shall have opportunity to see Collins for the second time. Football here is faster than in Scotland and Collins must be given time to adjust himself. Allowance must be made, too, for the fact that he has come to a team which has rarely been in a weaker position. Everton are victims of the vicious circle of circumstances which make matches harder and harder to win; they lack confidence and anyone who has ever kicked a ball, or hit one, knows how devastating that can be. As I see it they are failing because when they should be progressing logically in attack by accurate passes they attempt the very long passes which so often go astray. If they will only finish an attack as they start one they must succeed. I think the players are fit enough, good enough for the most part. The defence could do with a Tansey to calm them and when he returns, I think he will demonstrate again the art of not panicking and the art of setting up attacks rather than slashing the ball haphazardly upfield. We must hope for the best, meantime and if Mr. Ian Buchan can persuade the side that break-neck speed and fluster is almost inevitably defeatist he will have gone far towards convincing his players, and us, that Everton are not as bad as they may seem. Everton's new boy, Collins is a doubtful having knee' ligament trouble following the Burnley game. The defence remains as before, the attack will be chosen from; Fielding, Harris (J), Hickson, Collins, Ashworth, O'Hara and Temple. Leeds United; Wood; Ashall, Hair; Gibson, Marsden, Cush; Meek, Crowe, Forrest, O'Brien, Overfield.
COLLINS IS OUT OF EVERTON TEAM
September 19, 1958. The Liverpool Echo
He Visits Specialist
Knee Injury
By Leslie Edwards
Bobby Collins, the forward who burst on the Everton scene a week today as a £24,000 signing from Glasgow Celtic limped out of the Everton picture temporarily today. The injury he sustained in collision with the Burnley goalkeeper McDonald on Wednesday evening was found so bad as to rule out the possibility of his taking the field tomorrow, against Leeds United, at Goodison Park. Thus Collins the mighty atom of the Scottish national eleven has completed the most momentous eight days in his football career. In them he scored on his debut at Manchester and helped to give Everton their first victory of the season; made his home bow (and was injured) in the match against Burnley and between times sandwiched a trip to and from Scotland and even more important was seen by a consultant Liverpool orthopedic specialist. His trouble, which may well keep him out of next week's match at West Bromwich as well as tomorrow, is ligament trouble in the knee. Following the collision which caused it, Collins was treated at the touchline but recovered sufficiently to return to the field and complete the game.
Fielding On Wing
Coach Ian Buchan has thus been forced to leave out the man whose inspiration in the team was most urgently needed. The attack now reads, Fielding, Harris (J), Hickson, Ashworth, and O'Hara and it would be ironical, if it clicked. Fielding has often played on the right wing before indeed, he spent most of his time there during the match against Burnley. He is a first class centrer of the ball and at his time of life must welcome a position which is not so demanding physically. Ashworth is the young Southport boy who was dropped from the side after games in which he showed much promise. He asked Everton for a transfer, but the club refused. The Everton team new reads O'Neill; Sanders, Bramwell; King, Jones, Harris (B); Fielding, Harris (J), Hickson, Ashworth, O'Hara.
COLLINS AN EXPENSIVE CASUALTY
September 20, 1958. The Liverpool Daily Post
By Horace Yates
Prospect of an Everton-Liverpool, double for the second Saturday in succession received an unpleasant twist yesterday afternoon when it was found, first that Everton's new £24,000 signing from Glasgow Celtic, Bobby Collins had not recovered from a knee injury received during Wednesday's game with Burnley, and later that Liverpool's massive right-back John Molyneux had strained a thigh muscle. So both our leading sides must take the field below strength against opposition sure to test them to the utmost. Collins, whose arrival last Friday wrought such transformation in the Everton ranks the following afternoon, has damaged ligaments in his right knee and must also be considered extremely doubtful for next week's match at West Bromwich. How infuriating for Everton to be deprived of his valuable –and highly expensive services at such a critical time. To meet this emergency, Everton recall Ashworth whose recent transfer request was fortunately refused at inside left to partner O'Hara and switch Jimmy Harris and Fielding to inside and outside right respectively. Such a move was cardily unexpected as Fielding and Harris have played most of the last two games in those position despite being cumbered differently in the programme. Everton's opponents today, Charles-less Leeds United have certainly made a better start to the season than Everton but for that matter what First Division side have not? If Everton were as unlucky as was generally conceded against Burnley, I think they are entitled to expect a change of fortune today. Surely they cannot accomplish so much again for so little reward Leeds have struggled without much success to prove they were wise to take £65,000 for John Charles from Juventus. Baird, signed for £12,000 from Airdrie to fill Charles shoes has done reasonably well, and was easily their leading scorer last season, but he is out of action today with an ankle injury. The appearance of Overfield at outside left recalls an interesting incident two years ago when he scored one of Leeds five goals against Everton at Elland Road in the opening game of the season. Though he figured in every subsequently League and Cup game he did not register again throughout the programme. Cush is an Irish international who joined Leeds nearly twelve months ago from Glenavon and, is an accomplished half back, while Wood, the goalkeeper, is a native of Wallasey. A man for man comparison does not show Everton in an unfavourable light and if only they can forget the pointless spectre overhanging the Goodison scene I firmly believe that here is the end of the depressing ere, teams; Everton; O'Neill; Sanders, Bramwell; King, Jones, Harris (B); Fielding, Harris (J), Hickson, Ashworth, O'Hara. Leeds United; Wood; Ashall, Hair, Gibson, Marsden, Cush; Meek, Crowe, Forrest, O'Brien, Overfield.
THESE ARE WORRYING TIMES AT LEEDS
September 20, 1958. The Liverpool Echo
By Leslie Edwards
Everton are not the only club to have had their worries this last few weeks. If reports are correct all has not been as sweet and harmonious behind the scenes at Elland Road, headquarters of Leeds United, as those responsible for the club's affairs would have wished. Chief Coach Bill Lambton, who has been in charge since the departure of Manager Raich Carter – note the similarity to the Everton set up –has been quoted as saying that he was disguised with the team's inability to carry out they orders. Chairman Sam Bolton, one of football's most outspoken chiefs had also been reported as having said that he was almost ashamed of the team's display in the match against Leicester City last week. These are strong words. Whether such public expressions of opinion are advisable is a matter of opinion. There are those who prefer to hammer out domestic problems in the privacy of the board-room and the dressing-room. Clubs have their own remedy if they feel any player is not pulling his weight. There are ways and means of seeing that instructions are carried out, so far as the players concerned are capable of doing so without recourse to public pronouncements of this nature which may do good, but equally may also have anything but a helpful effect in certain instances. That, however, is Leeds United's problem. Presumably they know their own business best, and one would assume that they had already tried other means before blowing off steam in the newspapers.
The Vital Need
The biggest problem apart from that mentioned above appears to be the vital need of greater punch in the Leeds attack. They scored only six goals in their first seven matches, in four of which they got a "singleton," two in another, and had two blanks. Apart from conceding four goals to Bolton Wanderers in the opening game of the season at Bolton the defence had acquitted itself reasonably well. In five other games they conceded only a single goal each time and at Birmingham they managed to keep a clean sheet. In both respects, attack and defence the pattern so far has been the same as last season, when Leeds scored fewer goals than any other First Division side -51 was all they could manage –but had a defensive record which was bettered only by Preston North End, the runners-up. Last winter the Yorkshire side had 68 goals against, evidence of a sturdy and reliable defence which again seems unless there is a big improvement in the front line, likely to have to carry the bulk of the burden once more. A fortnight or so ago Leeds had a transfer request from left back Grenville Hair, one of their most consistent players over many seasons. Since making his debut in the first team in 1950 at the age of 17 Hair has been one of the United's defensive stalwarts but his reason for desiring a transfer was one of the most unusual of all.
Hair's Loyalty
He said that his health was being affected by worry over weaknesses in the team. Normally that is the prerogative of a club's manager. It is seldom that players take it so much to heart, and it says much for Hair's loyalty to Leeds that it should affect him to that extent. At the same time, when the club needs a man of his experience and ability as they so obviously do at this juncture, it is only adding to the complex of the position to make such a request. The history of Football League soccer goes back to 1904, when in the face of strong Rugby competition, the original Leeds City club was formed. They spent 10 seasons in the Second Division, never rising higher than fourth in the table –which they did on only one occasion, with sixth (twice) their next best –until the out-break of the First World War. The first post-war season saw them come to a sudden stop when they were "convicted" by a League Commission of breaking the rules and Port Vale took over their fixtures. That was not the end of League football for more than a brief spell, however. After a suggestion that Huddersfield Town should more their headquarters to Leeds had been killed by the enthusiasm of Huddersfield's followers the present Leeds United, organization sprang up, and within four years had forged ahead into the First Division. As the chronological list of main events in the club's history is given elsewhere on this page it is not proposed to go over the ground a second time beyond saying that during their subsequently years, whether in the First or Second Division, Leeds have always been an attractive side to watch, have had many stars players in their ranks, and with better financial support might have made an even greater mark upon the game. Not long ago they had the misfortune to have one of their stands demolished by fire. Since then another has arisen in its place, one of the most modern and best appointed of any senior club, and other improvements have been made at the Elland Road ground.
John Charles
There can be no argument as to the finest player ever to wear the club's colours despite the many brilliant ones they have had. The palm goes without doubt to John Charles the gentle giant who is now with Juventus in Italy, and a player who never descended to a mean or foul action on the field or off it. Other Leeds players of outstanding merit in bygone years were Wilf Copping, Willis Edwards, Bert Sporoston, Con Martin, Aubrey Powell, -who later joined Everton, Ken Chisholm, Harold Williams, who is said to have signed while sitting in a milk float early one morning – Ernie Hart, Russell Wainscott, and many more who helped to put the Yorkshire club firmly on the soccer map in spite of sometimes very disheartening difficulties. Leeds United have yet to win the championship of the First Division. So far the highest berth they have occupied in football's top section is fifth. They may not even equal that this season, but some day their turn will come and it will not be out of place when it does. They also have to make their first appearance in the semi-final of the F.A. Cup. The sixth round is as far as they have ever been in previous years. A doubtful "distinction" which Luton Town alone, of all present First Division clubs share with them, though Luton's association with the top flight of Soccer society is limited to three years. All the other First Division clubs of today have won the Cup at least once, with the exception of Chelsea and Birmingham.
EVERTON'S HALF-BACKS SHOW HOW TO SCORE
September 20, 1958. The Liverpool Echo
King, Then Jones With Penalty, On Mark
Everton 3, Leeds United 2
By Michael Charters
Everton; O'Neill, goal; Sanders and Bramwell, backs; King, Jones (captain), and Harris (B), half-backs; Fielding, Harris (J), Hickson, Ashworth and O'Hara, forwards. Leeds United; Wood, goal; Ashall and Hair, backs; Gibson, Marsden and Cush (captain), half-backs; Meek, Crowe, Forrest, O'Brien, and Overfield, forwards. Referee. Mr. F. Collinge (Rochdale). The absence through injury of Bobby Collins had a marked effect on the attendance at Goodison Park this afternoon. There were only about 20,000 in the ground at the kick-off. Irish International Cush broke on an Everton player down the right and when Leeds attacked Everton were penalized as Jones obstructed Forrest. The free kick got yet another free kick as Sanders fouled Overfield but Everton cleared the kick and O'Hara went away down the left. From his pass Hickson centred and beat Wood but there were no Everton forwards up to take advantage. Play was scrappy in the early stages and the only incident of note came when Hickson was pulled up, for offside right in front of goal when he looked certain to take advantage of a fine centre from Jimmy Harris, who had gone out on the right wing. Then Forrest was too close to snap up a neat through pass by Cush which left him in the clear near the penalty spot. He delayed his shot which eventually went wide of the post. Fielding was playing deep behind the forward line leaving Harris and Hickson as a two pronged attack. The folly of this was seen when at right wing attack was stopped by sheer weight. There was hardly one Everton pass of accuracy in the first quarter and Leeds were no better. All this point to was a match which hardly deserved its Division 1 label. Neither side seemed to be playing to a plan. O'Neill made his first save after 15 minutes when a laboriously executed Leeds attack ended with Forrest lobbing a shot into the goalkeeper's arms from fully 35 yards. Brian Harris made a good run down the right wing before pushing the ball back to Fielding who, in desperation lashed a shot over the bar when a centre might have produced better results.
Bad Miss
Overfield beat Sanders neatly at the edge of the area and from his centre O'Neill was drawn out of his goal and lost possession. O'Brien with an empty goal to shoot at slipped badly in placing the ball outside the upright when he had plenty of time to score. Fielding's role as fourth half back left a noticeable gap on Everton's right flank. If this was a new tactical move it certainly wasn't working for the Leeds defence was having little trouble in breaking up the few haphazard attacks which Everton were building up. Jones, with a brilliant dribble in midfield sent Ashworth away and the young inside forward was brought down heavily by Ashall just outside the penalty area. From the free kick, more like a corner kick, the ball was never properly cleared and it came out to King standing 35 yards from goal. The wing half's shot was a winner all the way, entering the top corner of the net, with Wood well beaten. Time 23 minutes. No one was more surprised than the scorer but the goal did at least bring some life into the Everton attack and for the first time they began to move with some purpose and punch. The only time Leeds threatened was when their left winger Overfield was in possession. His lazy dribbling style was too much for Sanders and he beat the back to put over a delightful centre which Crowe headed into the arms of O'Neill. Fielding sent Jimmy Harris away with a delightful chipped pass, but both O'Hara and Ashworth completely missed the final centre. With the ball in midfield the referee's attention was drawn to the linesman flagging for something he had seen in the Leeds penalty area. It turned out that Jimmy Harris and Cush had been having a few words of their own and the referee called them together and spoke to them before the game resumed.
Cleared Off Line
From an O'Hara corner Hickson headed down towards the post and Ashall cleared off the line. The ball went straight to Jimmy Harris, who quickly returned it to the middle, and this time Ashall stepped in again to intercept but only by handling the ball. Despite his protests the referee awarded a penalty. Jones took the kick and put the ball in the net, but the referee made him take it again as he (Mr. Collinge) was not ready. To Jones's everlasting credit he stepped up again and put his second shot in practically the same spot as the first. This was after 40 minutes and thus Everton were two goals in front for the first time this season. Just before half-time O'Brien sent Crowe away with a fine through pass, but the inside left in attempting to beat O'Neill who had come out from goal, only succeeded in putting the ball into the goalkeeper's hands.
Half-time; Everton 2, Leeds United nil.
Leeds had obviously had instructions at half-time to feed their danger man Overfield. In quick succession he twice beat sanders, and from his centre first Meek and then O'Brien shot over the bar.
Cush Injured
Once again the linesman directed the referee's attention to another incident when play was at the opposite end of the field. This time it involved Hickson and Cush. The Leed's captain had to receive the trainer's attention before the referee called both he and Hickson together for another talk. Immediately afterwards Hickson was penalized for a charge on the goalkeeper. Cush, who was limping, had taken over at inside left and he raced through from a long through pass to deliver a fierce shot which O'Neill safely gathered. Fielding centred from near the by line after he had been given possession by King and Ashworth was only narrowly wide with a diving header. Crowe burst down the middle and shot from outside the penalty area, but Jones blocked it. The ball went straight back to Crowe, however, who cleverly took another first class drive and beat O'Neill who had gone down to save the original shot. Thus Leeds had reduced the leeway after 55 minutes and with Overfield giving Sanders a tantalizing time they had come back into the game. It took Leeds another five minutes to get on level terms. It all stemmed from a right wing attack, and when Meek pushed the ball back to Gibson, the wing half slipped the ball through for Cush to move forward two yards and beat O'Neill with a well placed ground shot into the corner of the net. This was the best goal of the four and Leeds were surprisingly on level terms. Everton, to their credit, did not give up, and more by force than skill kept up the pressure in the next ten minutes. Twice Hickson appeared to be obstructed by Marsden when going up to centres from Fielding but although the referee gave two corners, nothing more came Everton's way. Jimmy Harris tricked Hair with a delightful body swerve. It looked as, though he was going in towards goal when he changed his mind and tried a long-range shot which was so wide and high that Wood never had to move at all. Leeds were now showing better football than they had done all the game and Everton had an incredible escape when Brian Harris miskicked and sent the ball straight to Crowe in the penalty area. The Leeds man shot but Sander's came across from nowhere to block the ball away as it was entering the net. Everton sadly lacked the generalship of Collins to put some order into their frenzies moves. Hickson should have clinched the game for Everton with five minutes to go when Marsden miskicked to put O'Hara in the clear. The winger very properly dragged the ball back to the unmarked Everton leader, but Hickson miskicked and the ball went softly to Wood. While playing in extra time for injuries Everton went ahead with an own goal from O'Brien. O'Hara's centre was turned into the net by the Leeds inside forward who had gone back to help his defence. Final; Everton 3, Leeds 2. Official attendance 31,105.
LEEDS UNITED V. EVERTON RES
September 20, 1958. The Liverpool Echo
Leeds United; Burgins, goal; Dunn and Trodden, backs; McConnell, Charlton, and Kerfoot, half-backs; Francis, Peyton, Leighton, Joyce, and Parker, forwards. Everton Res; Dunlop, goal; Griffiths, Hillsdon, Rea, Labone, and Meagan, half-backs; Penman, Thomas, Harburn, Wignall, and Williams, forwards. Referee; Mr. E.A. Morley (Nottingham). Everton were soon called upon to defend Labone clearing a dangerous situation with a fine header. After Everton had paid a short visit to the Leeds goal, they were again called upon to defend. Following smart work of their left wing, Leighton went on to beat Dunlop from close quarters after five minutes. Harburn missed a fine chance when Thomas gave him a perfect through pass. Everton were having most of the play but Leeds defended stubbornly and Burgin in goal was not seriously troubled. Everton tried to level the score. Thomas putting through several smart passes for Harburn to test Burgin without success. When Kerfoot sent in a tremendous drive, Dunlop did well to turn the ball over the bar. Following smart play by Williams, Thomas equalized for Everton just on half-time. Half-time; Leeds United Res 1, Everton Res 1.
PRESENT TEAM CAN SUCCEED WITH LEADERSHIP
September 20, 1958. The Liverpool Echo
Leadership is essential in any enterprising involving teamwork. Individuals, brilliant or mediocre, have a chance of succeeding only when working together under a good leader. This applies in organized sport as in other fields and it is exactly what Everton lack. It is fallacy to blame the team either as a whole or individually. We have all seen each and every member of the present team play great games. They can do so again. What is needed now is a strong manager to counsel, and dicate the mode of training and play and a strong personally – the captain –to see that his orders are carried out on the field. Manager and captain must work in harmony, the captain being allowed sufficient discretion to vary the "Boss's" policy as the game dictates. In support of this system I would point out some of the ex-Everton personalities who have become managers of League clubs –Britton, Mercer, Lawton, Farrell, Catterick, and Potts. Yet, Everton need such a man to captain the side now. What a pity their missed Tommy Docherty, a leader and driving force if there was one. They need too, a general of the standard of Herbert Chapman, Joe Mercer or Cliff Britton. They must get these men now and jet them weld the team into an Everton we can be proud of. The team will follow the man –T.J. McCarthy, 15 Oxford Road, Liverpool 20.
Build Up Present Morale
Whilst public opinion seems to be convinced that Everton's immediate need is for new players and to a somewhat lesser degree a manager, my own view is that the solution is not quite so simple. At the moment the team is operating in the same unimaginative way as a nationalized industry. It is entirely without method, and what is more important without inspiration. This is surely points to a deeper problem than merely individual players' weaknesses. The first thing is to build up the morale of the present team. This can only be done by appointing a strong character of experience as a tactical manager. This would be an obvious step to take in any business apart from football. The business or tactical manager accepts the responsibility for the day-to-day running of any business. Additional experienced players are required notably an inside forward, full back and half back (captain), if it were my duty as manager to sign new players I should call together the existing team, and acquaint them with the facts and policy decisions. This is the only way in which to maintain loyalty and morale it should also indicate to the players affected that they can win back their places by their own efforts –P. O'Brien, 22 Pengwern Street, Liverpool.
Right Men Not East Too Find
Everton is on the brink of the biggest disaster in its history –simply because valuable assets have been frittered away through administrative control getting into the wrong hands. It has become the plaything of the wealthy and powerful –simply an amusement for some who already possess too many interests. The guilty men must go – the chairman and some of the directors. Even then it is only a start for there may still be influences at work which cannot be ignored. The situation calls for new directors who have football in the blood –men who have the time, the urge and the experience and who give themselves to football for the sheer love of the game. They are not particular easy to find – Thomas H. Thompson, Millbank, Anfield Road, Liverpool 4.
Three Little Words
Three little words –appoint a manager. Moving away from the amateur status, a modern professional soccer team is big business, and big business is interested in the profit motive. The profits soaring are seen to best advantage in large and interested public following, Like a chain store directors and dabblers in profits should set the machine in motion with investment. There after the employees come into the picture guided and disciplined by a manager, a man with the experience and know how to manage. Store assistants can be likened to soccer players inasmuch as they are under the guidance and jurisdiction of a man who has mastered the arts of their jobs, has been through the mill, and commands respect from knowledge. Surely with names like Chapman, Busby, Stephenson, Mercer, Carter, Stuart, &c, to name a few, if us obvious that Everton need a manager. Everton has suffered sufficiently over a season or two to finally realize the value of commonsense drive and guidance – John A. Burke, 217b Church Road, Liverpool 21.
Improve The Defence
The surest way to put Everton back on top is to concentrate on the defence, if the club had two reliable full backs and a First Division half-back line, there would be no need to go chasing after expensive forwards. If Everton have any up and coming First Division players at all, they are in the forward line. If these players, with a sound defence behind them were able to play as a line, instead of two of them spending most of their time in their own half helping a weak defence results would be sure to come. If I were a team manager, I would make it quite plain to my defender, that unless they were able to hold the opposing attack without the help of the forwards they would not stay in my team. Having said that, I would not go on week after week giving them chances, I would clear them out, lock, stock and barrel. Priorities at Goodison Park – a manner, who has had all the playing honours the game can give, and can talk to players with authority and who not only can spot the up-and- coming footballers but can see without waiting for years whether they are going to make the grade or not. For far too long, Goodison Park –has been a convalescent home for up-and-coming stars most of whom have a better chance of being struck by lightning than ever becoming First Division footballers – (Mrs) H.M. Johnson, 16 Rockville Road, Liverpool 14.
Harmony Is Essential
The first thing Everton want is harmony on the board. Then maybe they can get down to buying readymade and constructive half-backs and inside forwards who know the way to goals. Everton should not make public their aims on certain players. As soon as Everton say they are interested in a player, other clubs suddenly sprout into the hunt, and up goes the price. They should get a manager (Raynor, Carter, or Turner) who knows a footballer –A. Donovan, 5d springfield Place, Liverpool 3.
Use The Britton Ideas
If, as so many stale, there are no worthwhile players at Goodison Park, how do they account for the wonderful success of so many players who have gone to other clubs. They did not show any greater ability than those we have at present but somehow after a short period away from Goodison their ball play and especially their accuracy in passing has improved considerably. It is extremely difficult to pin-point any particular reason for this change, but I suggest that some of Mr. Britton's ideas which were not acceptable when he was at Goodison be immediately into practice. Any man that can return 35,000 happy customers cannot surely be wrong. The immediately successes of the team following the –arrival of Mr. Britton at Preston, proves beyond doubt that an experience Manager is an essential at Goodison. Let the man or men, who opposed his ideas be honorable enough to admit that they were wrong. In the interim period before we have a successful team let all the slow hand-clapping improve the tempo –L.W. Wishart, 11 Faircairn Road, Liverpool 22.
"Father" Needed For The Team
Have a manager who can "father" his players, keep them happy and have the spirit of all for one, and one for all and realize he is their boss. I would through the Press appeal to supporters to cheer their team and give me the chance to put things in order. When my house is in order I would give my players a chance to represent Everton, then replace if necessary. I would explain to players why they are omitted and rectify their faults using my experienced players to correct them while training. After each match the directors, trainers, and myself would meet the following day for discussion –T. Campbell, 48 Bailey Drive, Liverpool 20.
Practice With A Ball
It is obvious an experienced first class manager be appointed. The next step must be to strengthen the team, and I would start with the acquisition of two ball playing wing halves to bolster up the defence and dictate the play in attack. I would have the players practice shooting, passing, dribbling, trapping and heading &c, until they hate the sight of the ball. Real footballers are born not made, but even the best are not too good to practice. It is universally acknowledge in every ball game that practice makes perfect, and soccer is no exception, I would scrap any five-a-side games which can gave a player a false impression of positioning and concentrate on playing games at full strength. I firmly believe that if such a policy were adopted the Everton directorate need not think of changing their telegraphic address from Football," and once more be proud of their motto "Only the Best is Good Enough –D. Ross, 174 Queen's Drive, Liverpool 4.
Ideal Man Would Be An Ex-Star
Everton have two main aims – strengthen the team so that First Division status is assured for next season, build for the future so that we may have a team worthy of the ground and the club's vast support. A team manager should be appointed without delay. The ideal man would be an ex-international of high character and determination a man who in his own playing days set an example and inspired his team. He should be made fully responsible for team selection, control of players and the tactics to be perused on the field. He would clamp down on all petty behavior and at all times have the club's good name in mind. Ranking equally with the appointment is the need for four first-class experienced players. Bobby Collins signing is welcome news indeed, but a further inside forward, two wing halves and a full back are urgently required. All this will be expensive but the cost must be considered as the penalty for negligence in the past 13 years. In any case increased gate receipts would be certain – F.N. Harding, 39 Oulton Road, Liverpool 16.
Improve The Team Spirit Everton's chairman and directors must appoint an efficient secretary and confine themselves to administration –the line of demarcation of their respective duties to be clearly given to the chairman, directors and secretary respectively. Appoint an efficient manager, someone of the calibre of Peter Farrell, a driver a leader a dominating personality and a good sound strong disciplinarian. Give him full control of training, tactics, team picking. No interference whatever. Have scouts at strategic points all over the British Isles. Pay them a nice salary and pay the scouts a bonus commensurate to the quality of their respective captives. Get a nice gentlemanly type of player, say of the type of Peter Farrell or Billy Wright. Tough when required, but gentle throughout, I like tall players, I always maintain a good big 'un is better than a good little un. Imbibe in the players happy team spirit – esprit de corps. Have social occasions, indoors and outdoors with all connected with the club being invited. Get to know the worrying problems &c, of the people under your jurisdiction. Endeavour to make them happy and contended in other words be a father confessor. Everton with such a great past will surely rise again. I would like the fans to give them every encouragement. I knew the fans have a lot to contend with, but shooting at directors slow hand-clapping &c, will not help – Charles Shallcross, 70 Norwood Grove, Liverpool 6.
Correct Coaching Is Necessary
Ignoring players replacements, the main requisite of any team is continuous coaching and training with a ball. A Footballer may be made a fit man but it does not follow that a fit man may be made a footballer. There must be some inherent ability, but that ability will only reach a certain stage, and then correct coaching is a necessarily. The player must respect and follow the coach, knowing that experience and ability is voiced. Which young footballer would fail to listen to a Matthews, a Shackleton, a Farrell or, a Fielding? A coach should be able to demonstrate his requirements. This then, is one Everton need. I have watched Hungary in Switzerland, not only competitively but training. Similarly Brazil in Sweden, In training ball –playing was accentuated. Seventy five per cent of training should be with a ball. Physical fitness's and stamina cover the remainder. Directors only concern should be business matters. Team choosing and management to manager and coach. Finally therefore, a manager similar to the late George Allison, who is capable of sporting footballers in the raw. Coaching will do the rest. Busby combines all these attributes but Busby are very few and far between – G.C. Thompson 32 Moor Hey Road, Maghull.
Slow Hand-Clap Is To Blame
It is surely ironic that Goodison Park spectators should be asked to suggest remedies for the club's present unhealthy conditions –ironic because the spectators are as much responsible for that condition as any player or director. A little heart-searching will convinced these so called supporters that I do not exaggerate. One example. When Arsenal defeated Everton it was agreed they had done so by superb, almost exhibition football the sort of performance which, if repeated, must put them on the short list for honours this season. But look at your headlines for that day – Great Arsenal Show –More Slow Handclaps at Goodison Park." Yes' notwithstanding Arsenal's wonder display, the Everton "fans" had been at it again! The great Dixie bemoans the lack of spirit in the present team, but did his team ever receive such treatment from its supporters? The "Toffees" (strange how it's always "The Blues" now) must have played badly something, but they never had to run off the field to this, the deriest, most chilling of disapproves the slow handclap. Bobby Collins takes on a formation, almost frightening task. It may be that few, if any of his colleagues possess his international class but he can be assured of ten triers. That could suffice if the slow handclap is speeded up to become encouragement than applause –Arthur Fenna, 58 Edinburgh Road, Liverpool 7.
Father Writes
If Everton appoint a manager now, could he bring the points with him which the club so urgently need? Every match from now is a terrible nervous strain on players and management. They are not stars but barracking is only rubbing salt in the wounds. I well remember our club being relegated for the first time and all players and spectators did all they possible could. At one match in Yorkshire, a Leeds man said to me "You've got some really good supporters coming all way to see team at bottom o League." However, the following three seasons we were all happy – watching football at its best – and we had no manager. In 1939 as League champions, we still had no manager. We urgently need experienced, seasoned well-built players to lift the club out of the mire. If a new manager is to be appointed, I should like to see either T.G. Jones, or W. Cresswell appointed for the post. Rushing and buying players does not guarantee success as Sunderland know only too well. I should like to see the following team from the available playing staff; Dunlop, Jones, Tansey, Rea, Labone, B. Harris, Hickson, Collins, Harburn, Fielding, and O'Hara –D.W. Evans, Senr 2 Longmoor Close, Liverpool 10.
And Son followers
The clubs condition has never been worse. The directors apparently cannot co-operate or acknowledge the value of an experienced manager. Despite so-called excellent training and coaching systems the patients still suffer from persistent bad passing, shooting and trapping. Forwards refuse to move forward at throw-in; wingers continue to loft corners over the line and goalkeepers persist in blasting their kicks to opponents. The trouble is obvious, Everton F.C doesn't know enough about football. Either the staffs responsible aren't suitable or their ideas are squashed by the hierarchy. What of the remedy? One dose of good experienced manager four hours a day and on Saturday afternoons. Strongly recommended by the cream of the First Division.
A man who can thump home the elementary facets of soccer and encourage and instill confidence in his players. In fact, a man who can bolt together the rattling jalopy that is Goodison Park and co-ordinate Everton's vast resource into producing a streamlined tactically minded eleven worthy of Everton blue. Scout harder, coach harder, train harder, and let the Directors pay up. But –get that manager quick –David W. Evans (Junior) 2 Longmoor Close, Liverpool 10.
Manager Not Immediate Solution
A Lot has been written blaming the directors, Ian Buchan and the team in general for the position Everton find themselves up at the moment and in particular deploting the non-appointment of a manager. Although the directors may not be entirely blameless I do not think the appointment of a manager, whatever his qualifications is the immediate solutions. After all the club has had its bad spells under Mr. Cliff Britton and conversely under the present set up the club has experienced a run of success during the first part of the past season. Bearing in mind that star players are difficult to obtain I would suggest that Everton should endeavour to sign a wing half and full back of the highest class even if they have to pay over the odds. I am convinced that with these additions the undoubted potentialities of other players of the present staff would be realized and once again Goodison Park would live up to its reputation as "The school of Science" –William J. Magee, 3 Catherine's Road, Bootle.
Cultivate The Will To Win
I would suggest that whoever directs the team, should have a quiet meeting with all the players and while mentioning the fact that they have touched bottom at the moment they must not lose heart, but try to cultivate the will to win. The players should concentrate on shooting practice and when playing, shoot hard and shoot often. They should also keep control of themselves while the game is in progress and not lose their tempers. They should play till the whistle blows, and never argue with the referee. During a game, the players should ignore completely any barracking on the part of spectators and treat it as if they had never heard it. Otherwise they lose concentration on the game – Thomas H. Burke 21 Hereford Road, Liverpool 16.
ONLY THE MINORITY GO TO JEER
September 20, 1958. The Liverpool Echo
By Albert Dunlop
We read a lot these days about the reactions of spectators to certain results, players, &c., which would have anyone not associated with the game the impression that the majority of spectators are a crowd of fanatics who go to jeer, not to cheer. It is reassuring however, to realize that this type of spectator, is really in the minority. But as in most cases of this kind, he can be heard above the quiet supporters who only goes to see the game. A similar case happened only last week while I was playing for the reserves at Anfield. At one period we were a goal in front. The remarks coming from behind the goal at this stage were really choice and to the young full backs in front of me it must have been quite an education. Fortunately it did not affect any of us and had to reflect on the final result, and by this time the game had finished I had forgotten all about the incidents. On arriving at the club on the following Monday for training I found a letter waiting for me which read as follows;-
Dear Mr. Dunlop, May I on behalf of myself and many friends say how sorry we are that yourself and team-mates were put through such horrible abuse last Saturday during the game. Anfield, I only hope that you were not affected by the filth and stupid remarks directed at you I assured you that these louts are in the minority but somehow they always seem to be heard. We are Red supporters and we hope that you will make allowances and not think we are all the same. With every best wish for the future. RED Supporter. How refreshing to receive a letter like that when nearly all the letters written to the Press or ourselves are if an insulting or condemning nature. I would like to thank the writer and say again that nobody was affected by the remarks passed. Unfortunately how many good players have we seen ruined by the same type of spectator who goes to the game for this purpose alone, both at Anfield and Goodison. It is a well known and true saying with this type of supporter; "You are only as good as your last game!" While on the subject of Reserve team incidents I count Jimmy Tansey a very unlucky player indeed. On being dropped from the first team to play against Preston away, he came into the Reserves with the fullest intention of fighting his way back as quickly as possible but one of those things that dog you when you are out of form happened. After happening for a short while he had the misfortune to receive an ankle injury which meant he had to finish the rest of the game on the wing and now finds himself out for a number of matches. However, Jimmy's bad luck gave Brian Harris the chance to shine as a deputy left half and John Bramwell as deputy back. They both played so well that they have appeared in the first eleven in their new found positions.
EVERTON ARE STILL STRUGGLING
September 22, 1958. The Liverpool Daily Post
By Leslie Edwards
Everton 3, Leeds United 2
The only four points Everton have were picked up within the last eight days, and we're grateful, but let none imagine that we can depend on the side to win consistently. Leeds United are one of the more moderate of First Division elevens and they lost most unluckily after being two goals down. The winning goal, a few seconds from the end, was scored not by an Everton boot or head, but by the Leeds forward, O'Brien, pressed into service as a makeshift half-back for almost half the game following injury to left half-back Wilbur Cush. As if this were not enough Leeds created at least three chances deserving goals, but not getting them. Forrest and Crowe each missed a sitter in the first half and after they had drawn up to 2-2 in the second half Sanders the back about whom so many spectators were noisily critical, happened to be standing in just the right spot to keep out with his body a shot from Crowe which must otherwise have given Leeds a 3-2 lead. So, all told, it was hardly surprisingly that Everton fans went away relievedly, if a little fearfully. The story of the game's freakish goals makes a chapter all its own. The first came to young King, the Everton half-back whose sphere of defensive activity covered all parts of the field. O'Hara had taken a free kick on the left and Hickson had frustratingly been just unable to contact the ball as it came across before it was half-cleared to King. With no chance apparent, King did the only thing possible – hit the ball hard with his right foot and hoped for the best. And the best it was! The ball beat Wood and fairly sizzled into the net just under the bar. When Ashall palpably handled a dangerous centre from the left soon afterwards, referee Collinge came up promptly with the penalty award. Jones scored from this and was then called on to do it all again, the referee ruling that the first kick had been taken too prematurely. If it had merely been a case of the goalkeeper moving he would have allowed the first effort to stand.
Rally Extraordinary
Everton led by these goals at the interval, but such was Leeds United's skill on new turf made specially treacherous by the rain of Friday, it came as no surprise when the margin was narrowed. But first O'Neill with a kick from hand, all but beat his opposite number by the skid and bounce of the ball and Cush was involved, not for the first time, in an incident which caused the referee to bring players together and have words with them. Cush limped to a place in the attack. O'Brien fell into place as a defender and Leeds, rally extraordinary began from that point. Bramwell prevented a Crowe shot from scoring, but the ball rebounded straight back to the shooter and he volleyed it into the net magnificently at the second attempt. Then Cush a small stocky figure with the leaping ability of a Wright and the heart of a lion, made it 2-2 and Sanders was fortunate to be in the right spot to prevent Crowe from giving his side the lead. The match was petering out as a draw, with Leeds right on top, when O'Hara, whose play at home has never touched that of his games away, made room for himself to centre squarely from the line and O'Brien, in trying to turn the ball, out succeeded, instead of putting it over the line as well (and maybe better) than any Everton forward could. This, for Leeds, was the end and while such a goal gave Everton the extra point dispassionate consideration of their performance suggests that they have still a long way to go before they satisfy us or their following. Apart from the face that two Everton half-backs scored (what a remarkable thing it would have been if B. Harris had completed the threesome!) the game was notable for the brilliance of the little man who did so much to revive his side –Cush. I have never seen him before, but this first view was tremendously impressive. No wonder Eire play him anywhere. His spirit and courage are remarkable, his zip when a chance comes along is amazing his general football skill leaves little to be desired. If anyone deserved winning bonus it was he.
Defensive Worries
Neither of the Everton backs could look with satisfaction on the match. Overfield who always seemed to have Sanders puzzled, might well have been more damaged than he was little Meek on the other flank obviously had the beating of Bramwell in a straight duel. The Everton defence was too easily opened by a Leeds line admirably led by Forrest a centre-forward who is more of a link than a strike. King and B. Harris roamed effectively and worked hard, but none did better, once he had gauged the difficult speed of the wet pitch, than Fielding and none was unhappier than young Ashworth, who not only failed to find his form but often failed to keep his feet. As I see it Everton are still weak in part in defence and they are still far from adequate in attack. The return of such players as Parker, Tansey, and Collins to the side may make all the difference; meantime I'm afraid we shall be lucky to see them struggle from one odd victory to another. Everton; O'Neill; Sanders, Bramwell; King, Jones (captain), B. Harris; Fielding, Harris (J), Hickson, Ashworth, O'Hara. Leeds UTD;- Wood; Ashall, Hair; Gibson, Marsden, Cush (captain); Meek, Crowe, Forest, O'Brien, Overfield. Referee; Mr. F. Collinge (Rochdale).
LEEDS UNITED RES 1, EVERTON RES 1
September 22, 1958. The Liverpool Daily Post
Defences claimed most distinction in this Central League game at Elland Road, Dunlop the Everton goalkeeper served his side particularly well after being beaten early in the game by Leighton in attack Everton had a persistent raider in Thomas who equalized near the end of the first half and narrowest missed being a late match –winner with a header which went inches over the bar. Harburn was also prominent in the Everton attack which had more polish that the Leeds front line, without producing that required finishing power. Everton team; Dunlop; Griffiths, Hillsdon; Rea, Labone, Meagan; Penman, Thomas, Harburn, Wignall, Williams.
DON'T BANK TOO MUCH ON THIS WIN
September 22, 1958. The Liverpool Echo
By Leslie Edwards
Everton fans glowing with pleasure that their side should score four points within eight days, are advised to note the significance of their team's three goals against Leeds United on Saturday. Two came from half-backs, the other, was an own goal by the Leeds forward O'Brien, who was sent back to the half-back line following the injury to Cush which left him limping. Can one base hope for the future on three goals of this kind? Can-one forget that Leeds missed two first half sitters and that when Crowe made the shot which seemed certain to give Leeds a 3-2 lead (after being led 2-0) only the fact that Sanders happened to be at the right spot at the right moment prevented Leeds from administering the medicine Everton have been taking these past six months on their own ground?
Still On The Old One
It would be folly, In think to believe that Everton have turned a new leaf; the truth is that they are still on the old one but that their determination and spirit – both very expendable qualities –plus some failings by opponents are giving them, and us, the impression that they are a new and better side and that all is well. In my view that is not so. We are where we were except that we are minus Collins and Tansey and for a longer period, Parker. The sooner they are available and the sooner Everton bow to the belief of their followers that a good First Division side is almost invariably one in which the playing side is managed by an expert the sooner we shall see Everton on the way to being a good side. At the moment they are struggling hard to get points at home and seem unlikely unless they inject further inspiration in the way of £24,000 signings to manage much success in away fixtures against better-class teams.
All The Difference
Do not get the impression That I am a top captious critic, I want to see them succeeding just as you do. I don't want to see two goals from half-backs and a late own-goal by opponents making the difference between defeat and victory in home matches as they most certainly did against Leeds United. If they had been good enough Everton would have had no difficulty in holding Leeds after establishing a 2-0 first half lead. The odd thing was that once Cush had been injured soon after the interval –he limped into the attack and gave his place to O'Brien –Everton were found out, in defence, and were on the collar continually. Maybe it was the life little Cush put into Leeds and into his own game. I rate him one of the most remarkable of men in that his lack of inches and his stockiness seem to handicap in his leaping for the ball or in the daring runs which Everton found embarrassing. He finds speed from somewhere he finds spring off the pitch to enable him to out head those who should always out-head him. He, above all, deserved winning bonus.
Timely Goals
King's goal – a hit-or-miss shot which tucked itself into the net most satisfying –was a timely one; so was the penalty Tom Jones hit home at the second attempt, the referee ruling that the first had been taken prematurely. These goals were wiped out by good ones from Crowe and Cush and if Sanders, who was always struggling against Overfield, has not stood plumb in the line of flight against a Crowe shot soon afterwards we should have been bewailing defeat by 3-2, not acclaiming a win by the same margin. O'Hara has still to show the home fans his best but he had part in two goals, taking the free kick which led to King's and making the low fast centre with O'Brien could not avoid turning over his own goal-line in the last few minutes. Hickson, too, might have been a scorer from a most unselfish O'Hara pass, but failed to control the ball on new turf which became doubly treacherous because it has not sufficient root to enable studs to grip. Ashworth had yet another unhappy experience, Fielding, after beginning moderately played well but no so well as Cush the game's outstanding figure.
Some Reservations
The Everton defence is still not good enough, Sanders was beaten far too often by Overfield, Bramwell can only remain, until he is experienced, a substitute for a back of the class of Tansey. We should be wise, I think to take this latest win with reservations. The pity is that times goes on and that soon we shall be reaching the stage when it may be beyond the power of anyone, however, talented to build this patch-work Everton into a team which will win matches convincingly deservedly.
EVERTON'S MOVE FOR MANAGER
September 22, 1958. The Liverpool Echo
Mr. Carey In Liverpool
Fine Record
By Leslie Edwards
Have Everton directors decided to appoint a manager to help them rehabilitate the team which stands at the moment at the foot of the First Division League table? It would seem so, and it would also-seem that one of the favourities for the post, if it materializes, would be Mr. John Carey, whose fine control of Blackburn Rovers has been high-lighted for Everton by the success at Ewood of two Everton cast-offs, goalkeeper Harry Leyfield and centre half Matt Woods. The appointment of a manager has been urged in many letters from fans to the Echo. Everton today announced no news except that Bobby Collins their injured forward who missed Saturday's game against Leeds United was doing well and hoped to be fit to take his place in the side at West Bromwich next Saturday. For the rest all was silence but a significant silence in view of the fact that so many Everton directors were marked absent from their desks in their city offices this morning. This was made even more significant by the fact that Mr. Carey was seen in Liverpool today and not a million miles from Goodison Park.
Little Doubt
Everton would neither confirm nor deny the fact that Mr. Carey was at their offices conferring with directors. But there is little doubt in my mind that he was at the Everton ground today and it is hardly likely that he would be there personally if signing or transferring a player was his main concern. Were Everton to announce the appointment of a manger it would surprise none. Were they to decide that Mr. Carey was the man for their mission it would delight everyone, since there is no one save, perhaps, Mr. Matt Busby (for whom Carey played) who knows the game as well and who has such a record as player who used his brain as much as his feet. As a player, Mr. Carey became the first gentleman of football –a little he subsequently handled on to John Charles. He filled back, half back and forward positions with equal facility and always with the elegance which marks the true artists. He was born in Dublin and was spotted by Manchester United in 1937 when playing for St. James's Gate F.C. He signed for United for a £250 fee. During the war he served in the Middle East and in Italy. He was converted to the full back position on his return and one recalls his many duels with Billy Liddell when Liddlell played on the wing.
Engineered Promotion
Besides captaining Eire and the Rest of European team against Britain at Hampden Park in 1947, he became Footballer of the Year in 1949 before skippering Cup-winning Manchester United. Carey became manager at Blackburn in 1953 when Blackburn were in the Second Division –and not doing very well at that. Some of the stars he developed while engineering the promotion of Blackburn are Douglas who has taken over from Stanley Matthews in the England team; Vernon, the Welsh international forward and Ronnie Clayton of England. But his best work was to mould Blackburn as a team. They beat both Liverpool and Everton in the F.A Cup last season. If Everton make him Manager, they will be ensuring that the man they appoint has the football knowledge to mould the team to contemporary needs. The securing of Mr. Carey would mean that Everton would have the benefit of someone who knows the Manchester United –and therefore the most effective –style of management.
EVERTON SEEK CAREY AS MANAGER
September 23, 1958. The Liverpool Daily Post
By Horace Yates
Everton Football Club yesterday took the first step forwards appointing a manager to help them out of their mounting difficulties, when they offered the post to Mr. John Carey, the present manager of Blackburn Rovers. Although Everton themselves, would make no comment, Mr. Carey confirmed late last night that he had received the offer. He added "I shall be having a word with the Blackburn directors at their meeting tomorrow night, and until than can make no further comment." This dramatic move follows just two weeks after an emergency meeting of the Everton Board issued a statement to the effect that all the members were in complete harmony over the steps to be taken to improve the club's position. The Blackburn chairman Mr. G.N. Forbes said last night "I have known for some time that Everton would like Mr. Carey. I have been kept posted by Mr. Carey at all development but it is entirely a matter for him. We will be sorry to lose him if he decides to accept Everton's offer. "He is a fine manager who has made many friends since coming to the club from Manchester United four years ago. " Everton have had only two managers in their history –Mr. Theo Kelly, (1939-1948) and Mr. Cliff Britton (1948-1956). Since then the chief coach, Mr. Ian Buchan has been in charge of team selection. Mr. Carey visited Goodison Park yesterday and spent three hours with the Board, I understand most of this time was taken up in discussing just how wide would be the powers granted to Mr. Carey in the event of his taking control of the club. The fact that yesterday's meeting took place at all indicates that Everton's offer of terms was an adequate one. Everton refused point blank to lift the curtain of secrecy with which they have veiled the proceedings ever since the present crisis began to develop in the early days of the season. When I ask Mr. W. Dickinson the club secretary of he was prepared to confirm that Everton were considering the appointment of Mr. Carey he replied; "I have nothing to say," Everton have set their faces sternly against nominating any manager since Mr. Cliff Britton now with Preston, so abruptly terminated his contract two and a half years ago, but the club's "complete harmony" statement of a fortnight ago undoubtedly indicated that there has been a change of heart. Obviously no manager of Mr. Carey's standing would be prepared to adopt the biggest current problem child in First Division football without an unlimited assurance that he would have the widest authority in deciding which players he needed to revitalize the side, with the guarantee that the financial backing would be forthcoming to enable him to put his ideas to the test. Without such indications the appointment of a manager at this stage would mean little or nothing, for I believe that Everton's present troubles go far deeper than the need for professional advice and instruction. Not until new talent is forthcoming can the re-birth of the club be reasonably expected to take place. Everton's determination to spare no expense is shown by the fact that since the end of last season Everton have brought Collins, Parker, Harburn and O'Hara, installed a floodlighting scheme at a cost of about £45,000 had their ground electrically heated as a safeguard against frost and turned Goodison Park into the finest stadium in the country. It is a conservative estimate that over £120,000 has been expended and though there made be just now a temporary shortage of ready cash, Everton's assets are tremendous so Mr. Carey can be assured of strong financial backing.
An Inspired Choice
Everton's choice of Mr. Carey is no idle one, for they had previously ascertained that there was nothing to stand in the way of his early arrival at Goodison Park. He has no contract with Blackburn Rovers which in these times when managers like to see their future safeguarded in black and white is a mark of the confidence he had in himself when taking over the managership at Ewood Park. He was content to sink or swim on his own ability. How far he succeeded is shown by the fact that Mr. Carey helped Blackburn Rovers to climb into the First Division at the beginning of this season, and has turned the side into a most attractive and successful combination. Mr. Carey, regarded as the finest full-back in the British Isles during his playing career, made in all 27 international appearances. These were made up of nineteen games for Eire, seven, for Ireland and once for the Rest of Europe v. Great Britain. He captained Eire and Manchester United, gaining a Cup winners medal with United in 1948.
HARBURN GOAL BRINGS VICTORY
September 23, 1958. The Liverpool Daily Post
Everton Reserves 1, Sheffield Wednesday Reserves 0
Everton Reserves were a trifle fortunate to take both points in their game with Sheffield Wednesday at Goodison Park. On a sudden pitch, play was very fast and even in the first half. Defences took the honours, the goalkeepers having very little to do. Immediately after the resumption Sheffield set up a constant attack but at the 65th minute Everton took the lead when a pass by Thomas found Harburn on his own, who scored from eighteen yards. Williams was Everton's best forward with full backs Griffiths and Hillsdon showing up well in defence.
THE BEST SIGNING SINCE DEAN
September 23, 1958. The Liverpool Echo
By Leslie Edwards
In 1956, following the departure from his position as general manager of Cliff Britton, Everton directors told the world that they would never again have a manager. And now, all going well John Carey of Blackburn Rovers, will telephone Everton this evening to say that he has decided to accept their offer of management at Goodison Park. Three cheers for an Everton Board which has the courage to change its mind; three cheers for a manager of Carey's calibre, on and off the field, who insists on informing the club which gave him his first chance on every move in the protracted negotiations between him and Everton. And so Everton bow to force of circumstances and we admire them for it. And so the Echo's exclusive news that one of Everton's decisions at their crisis meeting a fortnight ago was to appoint a manager is implemented in good time. It will take Carey time to produce results but be sure he will produce them. Let none imagine that he will have the power of a Britton, that can never be again. And let none suppose that this latest and best Everton signing will lead to a further spending spree on new players. There just isn't the money for that at the moment.
Had No Contract
By general standards, Carey's salary of some £3,000 a year at Goodison Park is not high but one can take it that it is much higher than the sum he received at Blackburn; where he was not on contract not because Blackburn would not give one, but because from the start of his career with them four years ago Carey wanted to feel that he was free to stay or go as he pleased. He has done a first-rate job with Blackburn, many of whose players are of international standard. Blackburn dislikes very much having to part with their great counseller, but as they have said, they cannot compete with a club like Everton in such matters. Carey will improve the tone and tenor of football at Everton, I can think of only one man more likely to succeed, Matt Busby, for whom Carey was such a great performer and captain in the immediate post-war years. Carey has no time for blustering, battering ran methods. His methods is to teach men to play football and keep on playing it. Then he believes results must come. He proved his point over and over again on the field where he was as sporting and artistic as Busby or John Charles.
Limitless Scope
Though his scope may be limited to control of players and tactics the scope of his work at Goodison Park is almost limitless. Everyone will wish him well not least those thousands of Everton followers who saw in the appointment of a first class manager the answer to most of the club's problems. They wrote the Echo to that effect and not a few mentioned Carey's name as the man they would like to see given the job. Everton's volte face in this new appointment –and nothing now can stop it save some hitch which cannot even be imagined –is the best thing that has happened to the club since Dixie Dean signed for them. Carey's task will be to make Everton not the Arsenal of the North but the Everton of old, I am sure, he will do it. The question arises, what is Ian Buchan's position in the new regime? He may lose some authority but surely in these enlightened times there is room for him and for a Carey to mother the Everton chickens? If Ian Buchan is wise he will decide of these lines and stay. If he is not, he may be tempted to take elsewhere his undoubted skill as a P.T. expert.
CAREY TAKES OVER AT GOODISON PARK IN A MONTH
September 24, 1958. The Liverpool Daily Post
By Horace Yates
Mr. John Carey, manager of Blackburn Rovers F.C., last night accepted an invitation to become manager of Everton F.C. The Blackburn board of directors who had been kept informed of development since the first Everton approach, were expecting the announcement and although it was news they would very much have preferred not to have heard, his resignation was accepted and they wished Mr. Carey good fortune. Although not under contract to Blackburn, Mr. Carey will stay on at Ewood for about a month before moving to take over at Goodison. When Mr. Carey met the board it was certainly no cut and dived affair. His request for release was not granted without prolonged effort to persuade him to have second thoughts.
Blackburn's Big Effort
There were no secret's between board and manager, Blackburn, in their efforts to keep Mr. Carey went so far as to match the salary which Everton had offered and which had been accepted. The chairman, Mr. G.N. Forbes told me last night; "Mr. Carey could have signed his own terms and we would have accepted them, but he thought his prospects as Everton manager were greater than anything he would have at Blackburn. Nobody could have done more to keep a man whose services were so highly valued, and Mr. Carey appreciates that. This decision is his and his alone." Mr. Carey declined to make any statement last night. Events moved fast once Everton had decided to go all out to fill the managerial chair, vacant since Mr. Cliff Britton resigned in 1956, for it was not until Friday that the first contact was made by Mr. R.E. Searle, the Everton chairman. Within five days the appointment had been clinched. Mr. W. Dickinson, the Everton secretary, said last night that Mr. Carey would begin his duties on October 20 and, when asked what contract had been given to Mr. Carey, replied; "That is a domestic matter, which we are not prepared to discuss." But I learn from another source that the contract is likely to be for five years. Mr. Searle told me there could be no statement at present on how existing staff would be affected. "We will have to leave that over until Mr. Carey comes and then we can discuss it." Now that Everton have got their new manager, many thousands of their fans will be delighted, for it is a move which they have been advocating for a long time, and represents a complete turn-about in Everton policy. Yet I think it most unwise to expect Mr. Carey to achieve miracles in a short space of time. Not without the purchase of really able players for key positions can Everton reasonably be expected to make any spectacular rise in the table. One of Mr. Carey's worries will probably have disappeared by the time he takes over, for by then Parker the Scottish full back, signed during the close season and now in the Army, will be available to play.
Ian Buchan's Role
And what of Mr. Ian Buchan chief coach, who believed, I know that Everton would not suffer relegation this season. His view was that when he could call on the full range of Everton talent, reinforced here and there by judicious signings, the team could be converted into quite a proposition. The part that he will be left to play remains to be seen. If he cares to see his contract through, he has nearly three years to decide what his future will be. I should be surprised if Mr. Carey did not welcome the opportunity of utilizing Mr. Buchan's undoubted talents to the full.
EVERTON CAN BECOME THE NO.1 CLUB, SAYS MR. CAREY
September 24, 1958. The Liverpool Echo
By Michael Charters
Mr. John Carey is to become manager of Everton on October 20 –and every football supporter in the city will congratulate the Everton Board on the wisdom of their choice and welcome the arrival of the present Blackburn Rovers chief in his task of making Everton what he himself calls "The No1. Club in football." Everton's offer of a five year contract with a free hand at controlling the team at a salary of between £3,000 and £4,000 a year was not accepted by Mr. Carey until last night when the Blackburn board held a meeting to discuss the position. Blackburn were prepared to make a counter offer to Mr. Carey, but Mr. Carey's own estimation of the long-term progress at Goodison Park frustrated them. Mr. Norman Forbes, Blackburn chairman said; "We have accepted Mr. Carey's resignation with much regret. We would have agreed to offer him at least as much as Everton but he felt his prospects would be much greater at Everton and there is nothing more we can do about it.
A Challenge
Mr. Carey was quick to praise the Blackburn director's and explain his own reasons for accepting Everton's challenge to restore them to the place in football chief standing and reputation deserves. He said; "During my five years at Blackburn I have been given every possible help and it was not an easy decision to make. It is through the help of players, directors, and staff that I have reached a position of being wanted by such a club as Everton. "I have accepted the job because it offers such a challenge and because I believe Everton can become the No 1 club in football even though they are going through a lean spell at the moment. "I am going to Everton with the promise of a completely free hand and with a contract long enough to give me the chance to do the job properly. The Everton directors agreed with my idea of the duties of a manager."
Looking Forward
He told me today, "I am looking forward very much to coming to Everton. If the opportunity occurs before October 20, I shall watch the team play, but of course I shall have to be with Blackburn until the time for my move." Mr. Dick Searle, the Everton chairman said that there could be no statement at present on how the existing staff at Goodison Park would be affected. "We will have to leave that over until Mr. Carey comes and then we can discuss it, he added. And when Mr. Carey does take over, he will face the major job of regaining the lost ground of the early-season disasters. To help him he will have Alex Parker, the Scottish international full back, now serving in Cyprus. Parker is expected to be available late in October. Everton directors discussed several famous names in making their managerial choice. They could never have anticipated securing Mr. Carey, so quickly and their complete about-face in settling for a manager to control their famous club deserves the warmest commendation of their supporters, who have urged such a move so vociferously in print.
COLLINS IS UNFIT FOR GAME AT WEST BROM
September 26, 1958. The Liverpool Echo
By Leslie Edwards
Everton's hopes at West Bromwich tomorrow fell this morning when their wee Scot, Bobby Collins, failed a fitness test and he missed his second successive game. Ever since the Burnley game a week last Wednesday, all Everton's resources have been devoted to getting Collins back into the game as quickly as possible following that innocent looking collision with goalkeeper McDonald which ended in Collins straining his knee ligaments. Everton delayed team selection until today to see if Collins had recovered –this type of strain can improve overnight in its later stages. But the trouble did not clear as quickly as hoped and even now it is impossible to say whether he will be fit for the floodlit game with Liverpool at Anfield next Wednesday. Eddie Thomas takes over from Alec Ashworth at inside left to make the only change from the side which beat Leeds United last Saturday. Thomas played in the opening games of the season but was dropped for the inclusion of Derek Temple. Last season he proved he was the type of inside forward who could score goals as well as make them. Last week's match against Leeds proved the failure of playing three inside men, none of whom is a ball player. Chief coach Ian Buchan feels that Thomas may help to remedy this. Thomas was mentioned recently in connection with an exchange deal for Alex Tait, the Newcastle United forward but Mr. Buchan feels that Thomas is too good a player to lose. He has shown his confidence in the player by playing him tomorrow. The task at the Hawthorns seems to be too great too hope for even limited success there. Strangely enough, West Bromwich have yet to win at home, having drawn three of their four games. But there's always a first time and Everton supporters no doubt feel that tomorrow may provide it.
The Skilled Approach
This surprising home weakness of the Albion, whose reputation for artistic football and skill is second to none, has stopped them leading the League at the moment. But with such players as Howe, Allen, Setters, Barlow, Dudley, and the brilliant youngster Burnside, it can't be long before they settle down to become one of the most impressive sides in the land. This may well be regarded as a waiting time at Everton until the new manager, Mr. John Carey, takes over next month. But every point lost now will add to his task when he does come. We can only hope that Everton, playing as they did against Manchester City will surprise and delight us all by holding Albion tomorrow. Everton; O'Neill; Sanders, Bramwell; King, Jones, Harris (B); Fielding, Harris (J), Hickson, Thomas, O'Hara.
UNHAPPESTISING JOURNEY
September 27, 1958. The Liverpool Daily Post
By Horace Yates
As was feared, Everton's Bobby Collins failed his fitness test yesterday and must stand down from today's team at West Brom. Eddie Thomas for Alec Ashworth at inside left is the only change from the side which struggled to victory against Leeds United. It may not be in Everton's favour that their opponents have yet to win before their own supporters, for sequences have a habit of breaking up sooner or later. The England selectors will probably be at the match to see whether Kevan's present form is England form. The pity is that the selectors will be watching only one team for Everton men are more club conscious than country conscious these days. The retention of Jimmy Harris at inside right is undoubtedly the best available solution to this problem position. He looks more like a goal-scorer than any of the other club men to be burin and if he and Hickson develop a scoring appetite, Everton might surprise and delight their supporters by salvaging one point from this apparently unappetizing journey. Everton are not alone with their team problems for here we find West Bromwich preferring to play eighteen-years-old Burnside at inside right rather than international Bobby Robson, who plays with the Central league side at Goodison. West Bromwich; Jackman; Howe, S Williams; Dudley, Barlow, Setters; Campbell, Burnside, Allen, Kevan, Hogg. Everton; O'Neill; Sanders, Bramwell; King, Jones, B. Harris; Fielding, J. Harris, Hickson, Thomas, O'Hara.
SHOCK VICTORY AT HWATHORNS
September 27, 1958. The Liverpool Echo
Wally Inspires Fighting Back By The Blues
West Bromwich 2, Everton 3
By Michael Charters
West Bromwich Albion; Jackman, goal; Howe and S. Williams, backs; Dudley, Barlow, and Setters, half-backs; Campbell, Burnside, Allen, Kevan, and Hogg, forwards. Everton; O'Neill, goal; Sanders and Bramwell, backs; King, Jones (captain) and B. Harris, half-backs; Fielding, J. Harris, Hickson, Thomas, and O'Hara, forwards. Referee. Mr. C.A.R. Woan (London). West Brom made a late positional switch in the forwards against Everton at the Hawthorns today, International Derek Kevan originally chosen at inside right moved to inside left although the inside positions of this fluid Albion attack bore little relation to the programme with Allen playing a deep lying centre forward game. In Everton's first attack Hickson shot fiercely into the side netting after Fielding with a crossfield dribble laid on a neat pass. Barlow sent Kevan away with a through pass which found the Everton defence spread-eagled, but Kevan shooting hurriedly from outside the penalty area, tamely sent the ball wide. Barlow broke up a good looking Everton move by balpably handling the ball, but the referee incredibly let play go on. Straight from this Sanders slipped in trying to intercept a pass to Hogg but recovered well to put the ball behind for a corner.
Brilliant Catch
Albion were playing some most attractive football and one felt certain that goals would be sure to come. But O'Neill handled everything that came his way calmly and competently. He made one brilliant catch from a drive by Kevan when the England forward hit the ball with all his 13 stone behind it. Everton earned their first corner after 20 minutes, and from it they were rather unlucky not to score. O'Hara returned Harris's kick into the middle and Hickson neatly headed it on to Thomas who lobbed it forward only for Jackman to dive and stop it on the line.
Fantastic Miss
Campbell missed an open goal for Albion after O'Neill harassed by Jones as he went up high only managed to push the ball out to the winger's feet. With the goal gaping open the winger shot five yards wide –a fantastic miss. Everton were defending desperately and when Hogg appearing suddenly on the right wing, cut round Jones, a goal seemed certain, but Brian Harris cleared by kicking the ball narrowly over the bar. Albion's lead goal came inevitably in the end. After 27 minutes Kevan dashed downfield and crossed the ball to Campbell's feet. The winger steadied himself and his fierce right foot shot into the top corner of the net gave O'Neill no chance.
Fielding Inspires
Everton were on the collar almost continually and what few attacks they made were inspired by Fielding, who was having a fine match. Unfortunately Albion's defence supremely stepped in before the ball reached the danger area and were able to clear. After continuous pressure Albion went two up after 37 minutes. It started in similar fashion to the first goal with Kevan bursting down the middle and passing to Hogg. The winger's first shot was blocked by Jones, but the ball rebounded straight to him, and he hit a fierce drive which cannoned down from the crossbar. Burnside running in, had a simple job to put the ball into the net.
Hickson's Solo
But within two minutes Everton reduced the leeway with a goal from Hickson engineered and completed by the endeavour of the Everton leader alone. He took a pass from Jimmy Harris in the inside right position, threw Albion's defence off balance with a feint to the right, cut inside and his left foot shot was only partially stopped by Jackman before it trickled over the line. Everton came more into the game after this and had the hitherto Albion defence worried but they could not manage the equalizer before half-time. Half-time; West Bromwich Albion 2, Everton 1.
Within two minutes of the resumption O'Hara almost scored his first goal for Everton Jimmy Harris gave him the pass and the winger cleverly flicked the ball over the head of Barlow, ran round and then hit the upright with the goalkeeper beaten to the world. Just too level matters at the often end Kevan shot into the side netting with an equally good chance.
One From Wally
Everton attacked right away from the resultant goal-kick and Thomas broke through on the left. His shot was saved by Jackman but the ball ran out to O'Hara who centred right across field to the unmarked Fielding, who took a deliberate right foot shot from five yards outside the penalty area and the ball just slipped under the cross-bar. This was a sensational comeback after Albion's first half pressure, and there was no doubt that they were now right back in the game and playing with more confidence than they had been at any stage of the match. King tried a repeat shot similar to the one which brought him a goal against Leeds last week but this time Jackman went up to make a confident catch.
Defence Hold Out
Everton were a different team this half to what they had been before the interval; Jones and King were outstanding in a defence which had suddenly found; the measure of this clever Albion attack. The home team set up a terrific barrage for fully five minutes on the Everton goal, but despite the cleverest of Hogg and the power of Kevan the Everton defence did not look like falling. A section of Albion fans still looking for their side's first home in of the season began the slow handclap. It would have been fair if they had applauded Everton's defence. O'Neill never in better form than this made a great save from Campbell when the winger hit a fierce shot from the angle of the penalty area. Hickson dashing through was stopped by a brilliant overhead recovery from Barlow and from this move, Campbell was sent away by Allen and only a desperately last second intervention by King stopped the winger scoring. In pushing the ball over for the corner King was injured but was able to resume after attention. King had been a major strong point in Everton's defensive barrier and it would have been a great pity had this leg injury slowed him on. With two minutes to go Everton took the lead with a sensational goal from Hickson. Taking a clearance from his hard-working defence he tricked Barlow in his own half of the field and raced alone fully 50 yards before steering the ball passed Jackman as the goalkeeper came out. Final; West Brom 2, Everton 3.
JOHN CAREY AIMS TO MAKE EVERTON THE NO.1 CLUB
September 27, 1958. The Liverpool Echo
By Michael Charters
The First Gentleman in Football is coming to Everton with the intention of making it. The First Club in Football. That is the ambition of Mr. John Carey, footballer extraordinary, and the shrewdest of managers, when he becomes manager at Goodison Park on October 20. When I spoke to Mr. Carey in his Blackburn home this week, sitting in his comfortable lounge, surrounded by the trophies he won during his great career, I formed the belief that this quietly spoken Irishman can lead Everton back to the pinnacle of fame which they held in pre-war days. He talked studiously of the part a manager must play in directing the fortune of a First Division club. He sees his principal job as a guiding and urging the players by personal example and reputation, to provide artistic football in the same manner as he himself graced grounds throughout the country. For nit was his own elegant playing manner, the emphasis on controlled play, precision rather than punch, which earned him his title of the First Gentleman of Football.
Aim Achieved
Nothing he has done in the managerial field –five years with Blackburn Rovers –has marred that memory Blackburn, in their struggle for First Division status finally reached last season have won just came as one of the best footballing teams in the land. The Carey touch was obvious in everything they did. Can he do the same with Everton a club now languishing at the foot of the table after a colleague which really started a year ago. Mr. Carey is under no illusions about the magnitude of his task at Goodison Park. But as he said the Everton Board have given him a five-years contract with the long term view of putting the club back on its feet, and he plans the team's future on those lines. There will be no startling immediate changes when he takes over next month. He intends to assess his players first give them a chance under the new rule to show their best. Everyone will get the opportunity of praying he is worthy of a first team place.
Revive Great Days
I have no doubt after our talks that he intends to change the rather slam-bang tactics of the present to a calmen more studious approach. And he is aware that the presence of a fit Bobby Collins in the forward line will be the greatest asset here. Those loyal enthusiastic Everton fans, clinging to their memories of the once great days can look forward now in a return of the style of football which became synonymous with the name of Everton, Mr. Carey will not allow a team under his control to drop to battering ram tactics. He will insist on football first and all the time, believing that good results will inevitably follow. Everton supporters long starved of this except from the opposition can't wait for the revival –and revival it most certainly will be. Mr. Carey learned the precepts of managership under the guidance of the greatest of all modern –Manchester United's Matt Busby. He told me that he had a four-hour talk on Saturday with Mr. Busby in London stretching through the small hours to Sunday morning.
Accepted Challenge
He didn't say so, but I feel sure that his influence of his old chief and that long discussion in a hotel room must have carried the weight in influence him to decide on the move to Everton. For he was very happy at Blackburn where his relations with Board and players were of the warmest degree. The talk with Matt and his own assessment of the worth of Everton's generous offer made him settle for the change. He also accepted the challenge of restoring Everton to fame and rightful place in the footballing world because he found the Everton directors in complete accord with his own views of what a manager should be. He told me "I spoke quite frankly to the Everton directors; I told them what I considered the duties of a manager of his place in the control of a great club. I asked them plainly if they agreed or not. Unanimous they agreed with my view –and it was on those terms that I accepted their offer." He went on "Everton can become the Number One club in football. They have the finest ground the finest facilities, the finest support in the country, I am looking forward very much to my job of making the team fit the surroundings.
Fine Attributes
"I believe most strongly that the Everton directors deserve great praise for being big enough to change their policy on having a manager to found them most cordial and helpful." Mr. Carey quiet manner cannot hide the fact that he is a man of great character –he showed it in his play where he was one of the greatest ever club and country captains. At 39 years of age he brings to Everton all his knowledge of football and players gleaned through 16 years of playing for a great club at practically every position on the field, and five successful years as a manager at Blackburn. Those attributes will soon be an Everton possession –and Everton are a fortunate club to be in the hands of a man dedicated to making them once again a great club. Mr. Carey has a most happy family back ground. His wife a Manchester girl whom he married while he was with Manchester United, is also looking forward to moving to Liverpool and has supported her husband in his decision to leave Blackburn. "I think Everton is the only club he would have gone to she said.
Belief In Ability
Their eldest boy, Michael aged 17, has just started a career in commercial art and is working in Manchester. His mother told me that he is a more than useful footballer – taking after father –but he played Rugby, while at school. There are two other children –Gerald aged 12 and Marie eight. To see Mr. Carey at home with his family around him is to appreciate that here is a man who has already made his mark in his profession, confident of the way ahead, with a quiet firm belief in his ability alert to the problems he faces – all the hallmarks of a successful man. I'm certain he will make Everton a success again.
MONDAY'S GAME ANSWERED GOODISON PITCH QUERY
September 27, 1958. The Liverpool Echo
By Albert Dunlop
Many Football fans in Liverpool are all wondering how our ground at Goodison Park will stand up to the coming season, after the upheaval it had during the summer. Well on Monday night's game was any criterian I should say, with any doubt the playing surface should be the equal to any ground in the country at the end of the term. It is the best surface I have played on this season and I think Ted Storey and the rest of the ground staff deserve a pat on the back for a job well done. Speaking to an old professional goalkeeper after the game I remarked that a wet ground at the start of a season, when the pitch, has plenty of grass upon it can be one of the most difficult types of ground a keeper can play on. There are many reasons for this and we were both in full agreement. Firstly with the surface being covered in grass, there is no mud to retard the speed of the ball in fact it comes through at very much quicker pace than it would do later on. Secondly the type of ball used nowadays does not absorb moisture very much and therefore remains very lively throughout the game. Thirdly when you have to leave the goalmouth to advance or cut out a centre you have to make sure you retain your balance and at the same time try and judge the speed of the ball, so that you do not find the ball and yourself passing each other without a hope of contact. The fourth and last reason we agreed on, and I am sure most keepers playing today will agree, is the type of ball used. The orange or white type used by most clubs are manufactured to as not to absorb too much water. This means that the surface of the ball is something similar to a plastic covering and when used for the first 90 minutes of its footballing career does not really get rough surface on it at all.
Dream or Nightmare
On a dry day the perfect specimen of a ball is what a goalkeeper dreams of, but when it becomes wet that dream becomes a nightmare. The friction between this type of ball and the gloves we wear is practically nil, and I have tried every type of glove to try and counteract this. These balls do something else the other type rarely do, and that is to swing in the air, the reason for this being the same principle as a new cricket ball. On this point of football I am only expressing a goalkeeper's view but from the players and football in general I must say this type of ball is good to the game. There are no nasty cuts from the lace it value type and small sides can be just as dangerous as heavy side because the ball practically remains the same weight. So one thing you can remember when you see players mistrapping a ball or it skidding under them, it can be just as much the fault of the ball as the player. I commenced this week's article about grounds and I would like to finish with a little story about one. A goalkeeper of a side who were not doing too well in their opening three games in fact they had not scored a goal was sitting talking to one of the forwards after the third game. Goalkeeper, I see the grass is getting a bit thin in the penalty area. The forward's reply I would not know I have not been in the area yet."
EVERTON RES V WEST BROM RES
September 27, 1958. The Liverpool Echo
Everton Res;- Dunlop, goal; Griffiths and Hillsdon, backs; Rea, Labone, and Meagan, half-backs; Penman, Wignall, Temple, Ashworth and Williams, forwards. West Brom Res;- Daley, goal; Cram, and Williams, backs; Drury, Kennedy, and Style, half-backs; Forrester, Robson, Robinson, Jackson, and Horoban, forwards. Referee; Mr. R. Harper (Sheffield). Kennedy won the toss, and gave the Albion the advantage of the wind. After a spell of midfield play, Penman broke through but Williams cleverly anticipated the winger's inside pass. The Albion failed to clear the danger, however, and Ashworth welcomed a loose ball by hitting it a foot wide. Play was rather scrappy with many passes going astray but after Dunlop had saved from Jackson followed a smart move, Temple raced on to a long pass to put Everton ahead with an oblique drive in the 24th minute. This goal encouraged Everton and Williams completely missed his kick in front of a vacant goal while a shot from Ashworth hit goalkeeper Daly who at the time was in a sitting position. Half-time; Everton Res 1, West Bromwich Res nil.
EVERTON FULL OF PROMISE
September 29, 1958. The Liverpool Daily Post
By Michael Charters
Dave Hickson, Everton's great-hearted centre-forward, will never score a finer goal, or one more valuable to his club, than his wonder effort two minutes from the end of the game at the Hawthorns. Even if it did not lift Everton off the foot of the League table, because of inferior goal average, it gave his side their third successive Saturday victory with six points gained from the last eight possible. That doesn't sound like form warranting their lowly position. One member of the Everton partly made the sage remark that when Mr. Johnny Carey leaves Blackburn to take over the managership of Everton on October 20, Everton would have more points than Blackburn. It may be so. The ball has started to run for Everton and the side's fighting spirit and never-give-up type of football can put them in such a position by October 20 that Mr. Carey's task might not be so formidable as it seemed a couple of weeks ago. To fight back from being two goals down –and outplayed at the time of the second goal –to come off 3-2 victors is a feat deserving the highest praise. Their second half display, particularly, when the defence managed to solve and overcome the attacking threat of the Albion forwards, was their finest 45 minutes of the season. There is hope and promise here if Mr. Carey can inject a plan the basic idea of building up incisive moves from deep in defence, then Everton will start that long, difficult climb to a safe place in the League. Certainly the confidence is there now. But back to the Hickson goal which more than anything else, added to and strengthened that confidence. Picture the scene, two minutes from the end, with Albion throwing everything into attack, and Everton well content with a point.
The Hickson Winner
Every Albion player, except goalkeeper, Jackson was in Everton's half. They had just forced two successive corners, Thomas finally hooked the ball away from a penalty area scramble and it landed at Hickson's feet on the edge of the centre circle in his own half. The commanding, towering masterful Ray Barlow stood alone, between Hickson and Jackman in that far-off Albion goal, fully 50 yards away. The Albion backs were spread on either wing the home half of the pitch was almost virgin territory if Hickson could beat Barlow. Could he do it? Yes, he could and did. With a neat body-swerve to the right he slipped around Barlow on the left, looked up and the Albion goal must have seemed to Hickson as though he was peering through the wrong end of a telescope. Dragging down deep on his stamina, Hickson fled after that ball like a sprinter leaning forward to find every ounce of pace in his body. He reached the ball, pushed it another 20 yards ahead with Barlow, Setters and Dudley pounding after him losing a little ground at every step. Had he sent the ball too far with his last kick? Would Jackman coming out from goal reach the ball first? No. The goalkeeper was a little slow to sense the danger and Hickson came to the ball just outside the penalty area, with Jackman some five yards away narrowing the angle. Hickson met the ball and shot in one flowing movement of his right foot. The ball sped low past Jackman's right hand and bugled the back of the net with every Everton player leaping and cavorting in joy, rushing to overwhelm Hickson with their congratulations.
Superb Jones
Albion are still looking for their first home win of the season. No doubt they felt it was there when they led Everton 2-0 after thirty-seven minutes. Territorially the game was theirs, for they had Everton pinned on defence for the major portion of the first half and a fair part of the second. But Everton's defence, with O'Neill, Jones and King outstanding, countered many fine looking attacks with last ditch stops and interventions, Jones was superb in that he was never dragged out of position by the fluid interchanging of positions by the Albion, inside trio. He stayed put and stamped his defensive skill indelibly on this match. Young King, all 9st 10lbs of him, improves with every match, O'Neill handled everything with calm competence and Brian Harris is obviously a fixture now at his new found place at left half. Only Sanders was a weak link and that clever winger Hogg, had him in frequent trouble. When Albion went two up with goals by Campbell and Burnside, I thought they threatened to outpace and overwhelm Everton. But Hickson brought Everton back into the game with another good goal two minute after Burnside had scored his side's second. The Everton leader snapped up a pass from Jimmy Harris, feinted as though to move out to the right wing and then veered inside to shoot with his left foot. He didn't fully connect, but his shot still had enough power to beat Jackman, although the goalkeeper, got his hand to it. Four minutes after the interval. Fielding gathered a loose ball on the edge of the area after a fine Everton attack involving Thomas and O'Hara. He looked up, picked his spot, and lobbed a beautiful shot like a No.7 iron approach to a green, into the top corner of the net. It was the touch of a real footballer. From then on Everton were grand and Hickson's goal provided the perfect finishing touch. West Bromwich Albion; Jackman, goal; Howe and S. Williams, backs; Dudley, Barlow, and Setters, half-backs; Campbell, Burnside, Allen, Kevan, and Hogg, forwards. Everton; O'Neill, goal; Sanders and Bramwell, backs; King, Jones (captain) and B. Harris, half-backs; Fielding, J. Harris, Hickson, Thomas, and O'Hara, forwards. Referee. Mr. C.A.R. Woan (London). Attendance 31,000.
TEMPLE'S GOALS FOR EVERTON RES
September 29, 1958. The Liverpool Daily Post
Everton res 2, West Bromwich Albion Res 0
Even the presence of English international Robson at inside right could not produce the necessary punch from the West Bromwich inside trio to penetrate a solid Everton defence in this Central League game and Everton were worthy winners by two goals from centre forward temple. Just when the Albion seemed likely to equalize Temple's first half goal, Wignall's persistent and quick thinking enabled Temple to sent the issue in the 77th minute. After an indifferent first half, the quality of football from both sides in the second half was a revelation, with Williams in dazzling form for Everton at outside left. On the left flank of Everton's defence Meagan and Hillsdon tackled strongly and dove-tailed well, while Labone effectively blocked the middle route to goal. Everton team was; Dunlop; Griffiths, Hillsdon; Rea, Labone, Meagan; Penman, Wignall, Temple, Ashworth, Williams.
EVERTON NOT WORRIED NOW
November 29, 1958. The Liverpool Echo
By Michael Charters
When the Everton players were coming back from Burnley on September 9 after their sixth successive defeat they began to sing a modern "pop" this led by guitarists Brian Harris. The main line was "I'm worried now, but I won't be worried long." As events have turned out. But wasn't a bad theme song. Since them, they have won six points out of a possible eight with three successive Saturday victories. They don't sing returning from Birmingham on Saturday night after their 3-2 win over West Bromwich Albion, possibly because Harris and his guitar made their own way back to Liverpool. But there weren't many worried faces in this jovial party. They hadn't dragged themselves off the bottom of the league table because Aston Villa their partner's in distress had themselves beaten Blackburn, the club of their new manager, John Carey! They stay in 22nd place on inferior goal average but there is a feeling that it won't be long now before they're off the bottom rung. In fact one member of the Everton party said that when Mr. Carey takes over on October 20 Everton will have more points than Blackburn. It could well prove true, for Everton never-say-die spirit their will to win, pulling out everything to achieve it promises brighter days at Goodison Park. They beat West Brom thanks to two good goals from Hickson and Fielding and one magnificent solo effort from Hickson, allied to some superb defensive play. Mr. Carey's task may not prove so formidable as once though. There is still an outstanding need to direct, the team's efforts along more skilful lines, but no one can teach them anything in endeavour and courage and pluckiness. They are giving everything they've got and that's a fine foundation for the future success. Never at any stage against Albion did Everton play like a bottom-of-the-table club. Their second half display, after Fielding had equalized with a goal which only a skilled and born footballer could have produced was their best 45 minute of the season.
Perfect Ending
Then to have their efforts crowned and completed with an individual goal the like of which we may not see for years was the perfect story book ending. Hickson has scored may fine goals for Everton, I remember particularly his header which beat Birmingham at Goodison Park and clinched promotion from the Second Division four years ago. But he's never produced anything better than the one which beat West Bromwich with only two minutes to play. He received the ball from Thomas on the edge of the centre circle in his own half of the field. Every Albion player bar goalkeeper Jackman was in the Everton half. He beat Barlow with a body swerve, took the ball round him and set off on a 50 yard sprint for goal and glory that will live forever in my memory. With Albion defenders pounding after him, he left them behind, raced on to the edge of the penalty area and cracked a fierce right foot shot past Jackman, as the goalkeeper advanced to narrow the angle. As the ball hit the back of the net, every Everton player rushed to congratulate him. If he had scored it at Goodison Park, I'm sure the roar of approval would have been heard at the Pier Head. But in the excitement of this golden goal don't let us over look the fact that territorially Everton were outplayed for an hour of this game.
Jones Outstanding
When Albion took a two goal lead at 37 minutes with goals by Campbell and Burnside, they were playing with such impressive skill and method that I feared Everton were to be overwhelmed as they had been by Arsenal. But no. They hauled themselves out of trouble by their bootlaces and in the second half played with more command than I've seen from them all season. Their defence, expertly marshaled by Jones was in great form Albion pitched everything into attack to about 15 minutes of the second half but once that had been beaten off Everton took more control of the game. There was more threat in one Everton dash and thrust than in half a dozen of the more delicate, subtle Albion attacks neat as they looked in their approach work. Jones was a rock in which the two prompt Albion spearhead of Kevan and Burnside foundered. He'll never play better and O'Neill was supremely confidently in his handling and catching. King looked better preparation than the Under -21 man Setter. Kevan looked England class. His promised much down the middle but achieved little apart from one fine pass which gave Campbell the first goal. Bramwell was the better of the backs with Sanders the one weak link. He just couldn't fathom hat clever winger Hogg although did improve towards the end by Everton lifted their game above their previous standards. In the forwards, Fielding was outstanding and had one of his best games. "Nobby" is 39 in November and you would never believe it. He lay back to prompt rest of line and came up to shoot when he thought it necessary. Thomas proved himself the best deputy for the injured Collins. He linked well with both wings and was a tower of strength in dropping back to aid the sometime overworked defence. Hickson's first goal two minutes after the one from Burnside really brought Everton back into the game and unsettled Albion amazingly. He took a pass from Jimmy Harris feinted to move out to the right wing then cut back into the middle to shoot with his left foot pass Jackman. Fielding's goal was a little classic all on its own. He snapped up a weak Albion clearance just on the edge of the penalty area, weighted up the position in a flash and lobbed a shot into the only corner of the goal he could see –the angle of upright and crossbar. His hands were raised in jubilation before the ball was in the net, he could see it was a goal from the moment that the ball left his foot. For the next 40 minutes Everton looked a real team. They linked and worked and preserved even if the football class was provided by Albion the heart and thrust came from Everton. That sort of form will win many more games for them.
HAVE EVERTON TURNED THE CORNER
September 30, 1958. The Liverpool Daily Post
By John Peel
Three victories in their last four matches –two of which were gained away from home –after having lost their opening six games appears to indicate that Everton have now turned the corner, and that many more successes are likely to come the Goodison Park side's way in the near future. Bu a glance at Everton's next four fixtures suggests that a still greater effort will be required by Tom Jones and his team colleagues if they are to lift the club away from the lower half of the First Division table. Their wins have been over Manchester City 3-1 away, Leeds United 3-2 home and West Bromwich Albion 3-2 away. Everton's next four League games are Birmingham City (home), Tottenham Hotspur (away), Manchester United (home), and Blackpool (away). All four teams are playing exceptionally well so far and if Everton can manager to average a point a game from their meeting with this rival they will have every cause to be satisfied.
EVERTON RES MISS CHANCES
September 30, 1958. The Liverpool Daily Post
Everton Res 1, Newcastle United Res 1
Missed chances early in the first half cost Everton a point in their Central League game against Newcastle United Reserves at Goodison Park last night. Play was fairly even throughout, though the Newcastle left wing pair of Bobby Mitchell and Eastham prompted by some beautiful passed from Scoular, were a danger to the Everton defence. Everton always promised a goal in the second half and despite the efforts of Stewart. Mitchell in the Newcastle goal, they got one at the 65th minute. Nesbitt handled in the penalty area and Rea made no mistake with the spot kick. Newcastle pinned Everton to defence in the last 15 minutes and during a goalmouth scramble Hale notched the equalizer. Everton; Dunlop; Griffiths (B), Hillsdon; Rea, Billington, Meagan; Keeley, Wignall, Kirby, Ashworth, Godfrey. Newcastle; Mitchell (s); Nesbitt, Whitehead; Scoular, Scott, Readhead; Taylor, Hale, Tait, Eastham, Mitchell (R).
FOOTBALL'S IRONY
September 30, 1958. The Liverpool Echo
By Leslie Edwards
How ironic that John Carey the man Everton have made Manager as from October 20 should find his own side playing so badly and Everton doing so well. Blackburn have done little right since they topped the League with fellow promotionists West Ham, in the early weeks of the season and Everton's six points from the last eight have made it possible that when Carey takes over at Goodison Park, Blackburn, not Everton will be in the greater need of rescue! But football is like that and one whip appreciates this best is Ian Buchan the Everton coach, who is holding the fort until the Manager arrives. The thought had occurred to me that if Everton lost all their fixtures while waiting for Carey to join them their position would defy his, or any other, effort to put them right. Now it seems he is going to start with a club which has picked up some unexpected bonus points.
Tansey, Collins May Be Fit
Everton and their followers are anxious to know when full back Parker, will return from Cyprus. The exigencies of Service had the difficulty of the position in then are such that he will be fortunate to get home before the end of October. He is not due for release until next spring. Everton's position is likely to be made much better this week by the probability that Jim Tansey and Bobby Collins are both likely to be fit. Tansey's steadying influence has been missed since he was damaged in a Central league match immediately after losing his first team place. An oddity about Everton's record this season is that compared with corresponding fixtures last season they are only one point worse off.
Everton Introduce A 15-Year-Old
Everton F.C have startled their fans by the introducing tomorrow in their team to meet Liverpool under lights at Anfield of a 15-years-old Scottish boy, Andrew Penman. He takes the place at outside right of Wally Fielding, the oldest playing member of the Everton staff. Penman who comes from Rosyth was brought to Everton by Ian Buchan the club's coach during the close season. He looks a natural. He is serving his apprenticeship as an electrician and has been a regular member of the Everton Reserve side this season. Last season he played in every match for the Scottish boys side. He stands about 5ft 9ins and weighs about 11st. In making his bow with the seniors at such an early age Penman rivals Albert Geldard, Tom Lawton, (both of Everton) Cliff Bastin (Arsenal) and Alec Jeffery (Doncaster) whose career ended so tragically.