VERNON CALLS FOR SOCCER PAY CHANGE
Friday, April 1 1960 The Liverpool Daily Post
MAXIMUM WAGE IS HARMFUL TO THE GAME
The Whole Truth by Roy Vernon.
You have only to mention pay to be sure of an attentive audience, and the goes for people almost every walk of life.  Professional footballers, far from being an exception to the rule, are just as keenly concerned as anybody else, and right at this moment I should say more actively interested than most.  Do I think footballers should have more pay?  Well, of course, but the answer is not quite as simple as that.  It is the old, old story all over again, of the law of supply and demand.  So long as demand races ahead of supply there will be this feeling that soccer players are the poor relation of the entertainment business.  It is not difficult to find individuals who will tell you that players have never had it so good, but this catch phrase really cuts little ice.  Even if it is true, is it not equally correct of most jobs?  The young, and somewhat less responsible members of our fraternity who dash about in large cars by expensive sports cars, create an entirely wrong impression.  The average family men cannot afford luxuries of that type, and it is as much as most of us can do to stretch our income to take in some sort of economical family car.  Whether we like it or not, I believe the fact must be faced that in future negotiations we may have to concede that, the First Division is the premier division, and that players in it should be treated as such. 
HIGHER MINIMUM
Now, I do not need telling that all clubs in the top flight are not equally prosperous.  The maximum gates of some of them do not reach the average of the more affluent, and that is why I think there is bound to be injustice if only maximum wage is adjudged to a permitted level.  The solution as I see it is that we should have a higher minimum wage and do away with the maximum in its entirely so that a club can pay their players precisely what they can afford above the lower guaranteed limit.  At the outset let me make the point that I think it essential that every member of one team should be paid alike.  Football is a team game and the team is only as strong as the weakest link.  It may be the forward who cracks in three goals in a match who steals the headlines, and becomes the popular hero, but the full back who is less conspicuous but plays just as vital a role may easily be the saviour of the side.  I would never ne a party to receiving more than the next man in the team, it would be absolute poison to team spirit.  We all know that if we do not measure up to a given situation the club will soon make efforts to find someone who will and that is always the incentive.  Nothing is more compelling than survival.  If the maximum limit was to be lifted I feel quite confident that a number of our bigger clubs would promptly step up payments.  These payments would not be a right of course.  They would have to be earned. 
NEGOTIATIONS DESIRABLE
If displays were poor and interest low, gates were thin and receipts shrinking what player in his right senses would expect to have the red carpet treatment?  I suggest we are reasonable beings and realise that we cannot get blood from a stone, but I feel certain that if players and clubs were allowed to negotiate on points such as this (after all it is the club's money that is being handed) there would be far less discontent.  In general you will find players in most clubs willing to pay their management the tribute that at least they can expect fair play.  I suggest then that there should be graded minimum rates for the divisions, with the maximum limit removed completely.  There is an obvious criticism that if this were adopted there would be a queue of players wanting to join the select few of the aristocrats.  I cannot see that this would necessarily be so.  Top teams in the Second or even Third Division might command such attendances that their reward would compare with the clubs in the top division.  Look at the experience of Norwich City last season and to a slightly lesser extent this season.  How many Second Division clubs would be able to pay "higher rates than City if negotiations were free and unfettered?  Surely there is a greater urge to do well to help one's club do well.  The feeling that players would advance with their club would surely be a big help to spirit and enterprise.  I know quite well, just as you do, that some players have very lucrative sidelines to boost their salaries. 
ONE JOB ENOUGH
These are very acceptable and very necessary, but can you tell me seriously that any man does two joins or more for the love of it?  If he made a fair living from one I think that would be quite enough.  After all it is better for the club that players should concentrate on playing, without having their heads worried with other outside problems.  I say give this idea a run.  If it works over a trial period, well and good.  If not, then there will have to be second thoughts, but please don't leave the footballers out of any pay increases, that may be going around.  The cost of living has also increased for them.  To the question would I encourage my young son to be a professional footballer, I would reply.  "No, not as things are."  Does that mean that I am dissatisfied with my lot in life and the role I have chosen?  Again no!  Football is my life and will be my life so long as I can kick a ball sufficiently intelligently to appeal to a football club.  I would like to see my son take up something more substantial like one of the professions but of course he will have to prove himself fitted for that.  If he proved to be like me, a lad who eats, drinks and sleeps football that would be the end of it.  I would not raise a finger to stop him, but I should like him to be satisfied first that he could not do better and be happier in another calling.  After all happiness in the job is worth a great deal. 
LAW WORTH £50,000
Transfers! Although £53,000 is said to have been paid for Dennis Law by Manchester City I still do not cringe at the thought of it.  Manchester City must have thought he was worth it or they would not have paid it.  If they are satisfied how can anybody else complain?  I don't think Law will be worried in the slightest by the so called millstone about his neck.  A player says to himself.  "They paid £53,000 for me after watching me play.  That means that my normal game is enough to satisfy them.  Why then, try to play above it and be under constant strain and fail to myself justice?"  That I think is the reasoning I certainly was not worried by my £35,000 fee, even though I played terribly in my first match.  I knew that was sub standard and I could put it right and that if I reached my Blackburn standard with Everton, it was fair to assume that there would be no disappointment.  Bogies are only created through fear-fear of trying to be something that you are not.  Play your own game and you will not go far wrong is a bit of sound advice, I was given at an early age, and I still have found no reason to fault it. 
Next week Roy Vernon will discuss the question-club or country?  He will give his views on responsibilities of club and players when internationals selectors seek the release of key men at most inconvenient moments. 
EVERTON'S OLDEST FAN?
Friday, April 1, 1960. The Liverpool Echo and Evening Express
By George Harrison
When James Hetherington of 29 Wilberforce Road, Walton, Liverpool 4, first started cheering the Everton football team, their mode of transport to away matches was by horse-drawn wagonette.  He was the team's baggage-boy in charge of the players luggage, and he supported them from the touchline when they played in Stanley Park.  With some pride Jim Hetherington feels that he is entitled to claim the title of Everton's oldest fan.  For this week he celebrates his 92nd birthday.  Until two years ago, he held a season ticket for Goodison and very rarely did he miss a home game.  He is still wonderfully active for his age and as keenly alert in his mind as most men 30 years younger.  When you get him chatting away on the earlier days of Everton his memory is so keen that he seldom misses a date of any big occasion, no matter how many tears ago.  Jim began his support of the football club soon after it had taken the name Everton following a breakaway from the original club formed of St. Domingo Chapel members.  When he club moved to a private ground in a field off Priory Road in 1883 so that they could charge for admission the first "gate" that was taken.  Jim Hetherington recalls was 14s.  Another flit" came for Everton the following year when the owner of the field refused to renew their tenancy.  Off they popped to a field in Anfield Road which they turned into a football ground and their 16-years-old "fan" Hetherington moved with them.  Ten years after the tiny beginning as St. Domingo's Chapel team, the Football League was formed and Everton F.C., became one of the first members.  In 1889 they were runners-up to Preston North End in the League and then came Jim Hatherington's happiest season to date.  Under the captaincy of Nick Ross who was paid £10 a month as a professional, Everton won the championship of the League in 1891.  A year later they moved to Goodison Park-where their most ardent supporters has been watching them ever since. 
A MATCH OF DESTINY AS EVERTON STRUGGLE
Friday, April 1, 1960. The Liverpool Echo and Evening Express
By Michael Charters
Few football followers of this area could have thought, at the start of the season last August that three of our local clubs would be struggling to avoid relegation tomorrow, only five Saturdays before the end of the season.  The threat is there too prominently to be taken lightly, for Everton, Tranmere Rovers and Wrexham.  Everton particularly, can rarely have had a game more charged with tension and decision than at Birmingham City tomorrow against opponents whose proximity to the Second Division is even more dangerous than their own.  Everton's need for not one but two points is obvious if they can succeed in gaining their first away win of the winter at Birmingham, the sigh of relief from club officials and supporters is likely to assure gale-force proportions if they lose, with the visit of Tottenham as the next match.  Second Division football in this city for both our teams next season could become major probability.  Everton supporters who say they can't wait until they see their "new" team blaze a trail of glory in the First Division next season are guilty of jumping the gun in a big way.  The first essential is to stay there and until the team can produce something tangible from away games, apart from the occasional point, the fight of desperation will continue right up to the last kick-and that will be at Old Trafford.  The loss of the home points a week ago to Newcastle United was a body blow and the side's rather inadequate performance against a mediocre Army side at Goodison Park on Monday was no great improvement. 
THE MOST VITAL
It all adds up to the Birmingham game being one of vast importance- certainly the most vital to the club this season.  The sudden change of conditions through the rains of this week will impose different tactics on a team which has slowly been wilding together after the influx of new faces.  This is going to be their greatest test so far, for Birmingham showed in the mud against Barcelona in mid-week that they have the heavyweights in Trevor Smith, Dick Neal, and others to revel in heavy going.  Birmingham's lively inside trio of Orritt, Weston (the former Wrexham man) and Gordon, plus the speed of Hooper on the wing are bound to extend Everton's defence which is almost certain to have skipper Tom Jones at left back again for his first League game since his injury at Hillsborough on February 6.  Manager John Carey, away from Goodison until this morning through his commitment in Dublin with the Irish team against Chile on Wednesday, was not announcing his side until later today, but it will probably be the eleven which beat the Army.  It seems incredible that a club which has invested a fortune recently in bringing men of star quality into the side, as Everton have, should be in such perilous straits today.  But the hard fact is there to be faced and if they lose tomorrow they will be in the bottom three with the clubs around them having games in hand.  It's no use people crying (as I've heard this week) "I just can't believe it."  It is true and only victory tomorrow will ease the way to the better days they hope for next season.  Get in there and win, Everton?  Birmingham City; Schofield; Farmer, Allen; Watts, Smith, Neal, Astall, Gordon, Weston, Orritt, Hooper. 
OUR CITY SCORERS
Several readers have asked for a list of scorers of our senior clubs, so here they are;-
Everton; Thomas 12, Collins 10, Shackleton 9, Hickson 6, Harris (J) 6, Vernon 6, Lill 2, Parker 2, Laverick 2, Ring, Wignall, Harris (B), Miller (Burnley), McDonald (Nottingham Forest) and Mortimore (Chelsea) one each. 
EVERTON KEEP JONES AT LEFT BACK
Friday, April 1, 1960.  The Liverpool Echo and Evening Express
Vital Game Tomorrow
By Leslie Edwards
Everton for the important game against Birmingham at St. Andrews tomorrow will be as against The Army with Tom Jones retaining his place at left-back.  Everton; Dunlop; Parker, Jones; Gabriel, Labone, Meagan; Lill, Collins, Harris (J), Vernon, Ring. 
Everton Reserve (v. Barnley); at Goodison Park (2-15) O'Neill; Bentham, Green; King, Billington, Rea; Temple, Wignall, Shackleton, Shepherd, Laverick. 
SHAREHOLDERS MEET
Everton shareholders Association are holding an meeting next Monday (7.30) at the Mitre Hotel, Dale Street.  All shareholders are invited. 
EVERTON'S PERIL
Saturday, April 2, 1960. The Liverpool Daily Post
By Horace Yates
Everton have four chances to avoid the doubtful distinction of completing a season without an away victory.  If they can increase their points total only from the three remaining games at Goodison Park their peril is too obvious to require emphasising.  As Birmingham City, Everton's hosts today are also tottering precariously on the tight rope that leads to Division Two, today's match will have all the intensity of a cup-tie.  It is no use saying that Everton are a better team than their position implies and that sooner or later the turn of the tide will come.  It simply has to be "sooner" now.  Later just will not do and as we saw against Barcelona this Birmingham team can be very difficult indeed to beat.  They will hope that the defensive strategy which had such a braking effect on Barcelona will similarly bring Everton grinding to a halt.  The reappearance of Tommy Jones at left back is timely, for this is a game which might easily be decided by the only goal, and the tighter Everton's defence, the easier it is to remain hopeful, if not exactly confident.  Birmingham City; Schofield; Farmer, Allen; Watts, Smith, Neal; Astall, Gordon, Weston, Orritt, Hooper.  Everton; Dunlop; Parker, Jones; Gabriel, Labone, Meagan; Hill, Collins, J. Harris, Vernon, Ring. 
EVERTON LOST GRIP IN THE CLOSING MINUTES
Saturday, April 2, 1960. The Liverpool Echo and Evening Express
Birmingham 2, Everton 2
By Michael Charters
Birmingham:- Schofield; Farmer, Allen; Watts, Smith, Neal; Astall, Gordon, Weston, Orritt, Hooper.  Everton; Dunlop; Parker, Jones (Captain); Harris (B), Labone, Meagan; Lill, Collins, Harris (J), Vernon, Ring.  Referee; Mr. J.W. Hunt (Portsmouth). 
Jim Gabriel missed his first game since he joined Everton a month ago, as he had not fully recovered from a painful tooth extraction on Thursday.  Brian Harris replaced him at right half.  Both teams made a slow start, and seemed to be finding difficulty in ganging the strength of their passes on the treacherous going.  But the first clear cut attack from Birmingham saw Watts lob the ball over to the far post and Hopper made a fine header which Dunlop saved at full stretch. 
COLLINS IS BUSY
Birmingham were having slightly the better of matters in the early stages with Everton's forwards unable to get going although Collins was doing a lot of work in midfield.  Everton were inclined to keep the ball a little too close, and so far there were more errors than good football, although the pitch had much to do with it.  The first flash of good football from Everton, a link-up between Ring and Jimmy Harris the winger collecting a fine past and hitting the side netting with his shot as Scholfield came out.  This move seemed to put some fire into Everton for they took the lead after 17 minutes through Vernon.  It started with Collins sending a beautiful pass over Smith's head, for Jimmy Harris to collect, and hit the far upright with a lobbed shot.  The ball rebounded out and Vernon hammered it into the net from 10 yards.  Collins was very much the forward star, and his passes were always accurate and thoughtful.  He send Ring away for a move which should have produced another Everton goal but when the winger centred high over Schofield, Lill ran in and shot first time wide of the far upright when a little more care must have put the ball between the sticks.  Collins was at last inspiring Everton to play better football and another pass from the little Scot gave Lill his second chance within a minute of scoring but the winger shot straight at Schofield who saved the shot on his knees. 
THE EQUALISER
Then Birmingham equalised after 23 minutes in a break-away.  Major credit for the goal goes to Gordon, who worked the ball cleverly through and shot hard from the edge of the penalty area the ball being deflected off Labone to the unmarked Astall in the inside left position.  The Birmingham man put it in the net with Dunlop on the ground having dived for an attempted interception of Gordon's initial shot.  These goals had put some life into the game at last, but not much good football, and Jimmy Harris was slow with a good chance when put through by Vernon allowing Smith to come back and recover for a corner. 
GOALKEEPER'S DIVE
Weston with a good over-head flick from Ormitt's centre almost but Birmingham ahead, the ball just slipping wide of the post and then Ring going through after Vernon had forced his way past a couple of Birmingham men had to hurdle over Schofield as the goalkeeper dive at his feet.  Brian Harris had to concede a corner from a good lob by Hooper who had switched over to the right wing, and from the kick Neal came up to end his considerable height and headed the ball across the face of the goal with no Birmingham man able to touch it in.  It was Everton who took the lead again after 37 minutes through Jimmy Harris, who had a simple job of putting the ball in the net after a magnificent right wing move.  It started with Parker slipping the ball up to Lill who transferred it to Vernon and the inside man beat off Smith's tackle brilliantly to take the ball practically up to Schofield and slip it across to the unmarked Harris to put it home.  This was rather like the first Everton goal in reverse and the first flash of really good football we had seen in this half. 
Half-time; Birmingham 1, Everton 2.
Everton playing with a strong wind behind them this half were quickly on the attack with Collins and Vernon between them working an opening for Ring, who shot past Smith, but put the ball high over the bar as Farmer challenged. 
CENTRES TOO STRONG
Ring was inclined to put too much power behind his centres and on one occasion when Jimmy Harris sent him away Vernon and Collins were well placed for a cross but the ball went flying over the line yards beyond the far post.  Everton were very much on top now, with the defence looking steadier and the forwards working better than they had done, Parker intercepted a long pass to Hooper and his centre was pushed back by Harris for Ring to try a shot on the run, but again the winger's aim was inaccurate and the ball flew wide.  Collins was sending out passes gauged to the last inch and one floating high ball down the wing for Jimmy Harris to chase was a masterpiece.  Harris turned the ball in with Collins collecting it and pushing back for Lill to try a shot but again the ball went wide.
EVERTON ON TOP
Meagan and Brian Harris were both playing excellently in support of their attack and coming through to push passes out to either wing.  Little had been seen of Birmingham this half, and when they did move near Everton's goal their finishing was most inaccurate.  Jimmy Harris was doing very well in drifting out to either wing intelligently, but Ring was not having a good day, and Collins was still the most impressive member of the line.  Birmingham were now putting on a spurt mainly concentrated down the right wing but Meagan was now keeping a tight check on the danger man Gordon. 
SLOW HANDCLAP
The Birmingham crowd were giving their side the slow hand-clap and they were certainly playing with the desperation of a side weighed down in the bottom regions of the league.  Everton had much more confidence and were showing the better ideas although the position would have been much happier if they could get a third goal.  The chance came just as I had said that as Ring bored through the middle and gave Lill an open goal but the winger placed his shot almost straight at Schofield and the golden chance was lost. 
SPOT OF BOTHER
Orritt and Collins were involved in a spot of bother with both of them struggling on the ground and that excellent referee Mr. Hunt had a word with both of them before awarding a free-kick against Collins.  Contentions moment in the match although within a minute Mr. Hunt was having a take to Neal after a tackle on Vernon.  Everton were still searching for the goal they needed desperately but it was Birmingham who got it instead after 76 minutes.  The build-up was a good one with Hopper coming through to beat several men before passing to Weston who slipped it forward and Gordon put it in the net from five yards out.  Birmingham did not deserve on the second half display to be on level terms, but Everton had missed the boat earlier with their shooting, particularly Lill's miss only a few minutes earlier.  The game now more exciting than it had been all through with both teams striving for the goal which could mean all the Second Division football next difference between First and season.  Everton were still trying to play a classical type of football which didn't always come off on the pitch and Birmingham were just battering away with pure strength.  Brian Harris saved Everton with a magnificent header from Hooper centre with Dunlop beaten and Gordon waiting to put the ball into the net.  Final; Birmingham 2, Everton 2.  Office attendance 24,872.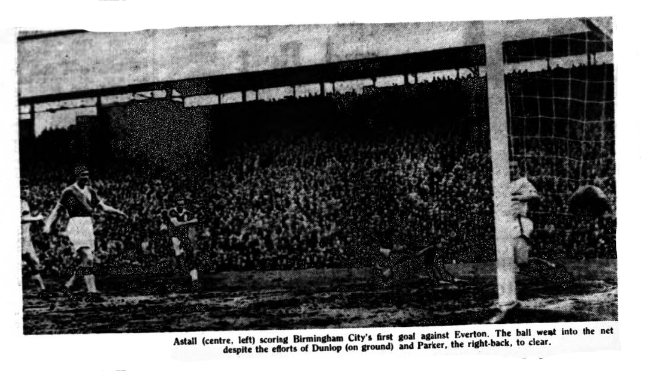 LIVERPOOL "C" V EVERTON "C"
Saturday, April 2, 1960 The Liverpool Echo and Evening Express
Liverpool had all the play and kept Dunne busy in the Everton goal, Redfern and Lay missed easy chances for Liverpool, McNerney in the Liverpool goal made some clever saves from Bennett and Reef.  Half-time; Liverpool "C" nil, Everton "C" nil.
Liverpool "A" 5, Everton "A" 2- Scorers; Webber, Harland (penalty)
Griffiths (G); Parnell (R.), Griffiths (B); O'Brien, Atherton (J), Godfrey, Boner; Tyrer, Webber, Harland, Edwards
Everton "B" 3, Preston North End "B" 0 Goals- Morton, Bentley
Mailey (W); Gannon, Athkinson (T); Watson, Bermington (A), Maddock (P); Stewart (F), Bentley, Morton (G), Walker (B)
Liverpool "C" 1, Everton "C" 0
Dunne (P); Bridge (C.), Jones (S); Coupe (B), Edwards (S), Davies (C.); Rees (B), Howshall (G), Bennettt (W), Evans (R.), Cundall (V). 
TORRY GILLICK SEES HIS FORMER TEAM
Saturday, April 2, 1960. The Liverpool Echo and Evening Express
HIS VERDICT WAS; "WE WERE BETTER"
Says Alex Parker
As we trooped off the pitch a week ago yesterday after losing to Newcastle, we were met by Torry Gillick, the old Everton and Scottish international winger and any hopes we had of receiving some sympathy were soon dashed when he said; "You're not as good a side as we were before the war."  However, he did add that he thought we were unlucky to lose a hard game, and remembering that, most footballers think the same way, regarding the team they played in years before, I suppose that is an much as we could expect.  Most of the players had met Torry before, for came round to see us at our Glasgow hotel when we were up there a few weeks ago to play Celtic, but the Newcastle match was the first time he had seen in three years.  He was in Liverpool for a few days holiday and stayed with Gordon Watson, his old team mate.  Nowadays he is doing very well in Glasgow as a scrap metal merchant, but that does not stop him maintaining his interest in greyhounds.  He called round to see us training the day before we played Newcastle and after the game he was the guest of honour at the Everton Supporters Club.  Both Thyne the old Kilmarnock centre half, tells an amusing story about Torry.  It was a few years ago during a Kilmarnock –Rangers match.  The rain was tipping down and the ball naturally weighed the proverbial ton.  Torry went across to Bob and as another player went up to head the ball, Torry said; "I wouldn't head that ball today for a million pounds."  "No" said Bob "I don't blame you.  I'd think twice about it myself.  A few minutes later Rangers were two up both scored by Gillick and both with his head! 
BOGEY SIDE
Newcastle are becoming something of a bogey side to Everton.  I have played against them three times now and the record reads for 3, against 14, no points.  We'll have to do something about that next season.  I suppose I could be accused of being biased but I thought we were worth a draw last week.  The Newcastle playing strip of vertical striped stockings and white edging to their shorts, has come in for some criticism in the past but I think it looks very smart and apparent I am not alone.  A friend of mine who sat in the stands told me that he came down the steps after the game behind two ladies and overheard one of them say; "I didn't think much of the game, my dear, but I though those Newcastle boys looked awfully sweet."  Last Monday we played our annual match with the Army, and having only recently been "transferred" from them I met quite a few old friends.  Three of the side were playing with me when I was in the team- White, Smith and Barnwell all from London clubs (two from Spurs and the other with Arsenal) and all named John. 
GRAND GAME
Despite having most of the play against the Service boys and seeing shots hit the bar and kicked off the line, with an hour gone we were one down, but once Jimmy Harris had equalised we forged ahead.  Goalkeeper Godfrey played a grand game and received good support from my three ex-colleagues but as a certain Glasgow scrap metal merchant would say, they are not as good a side as they were when I played for them.  Our manager just had time to see the game before dashing off to join the Ireland party for Wednesday's match against Chile.  It was good to see Roy Vernon selected to play for Wales against Ireland although mingled with the congratulations were a number of leg-pulls as well.  In addition to Roy's cap the news came through that Jimmy Gabriel had been picked to play for Scotland Under-23 to play Belgium away on April 20. 
This will mean even more to Jimmy than such an honour usually does, for it will help him to settle down in English football with the knowledge that he hasn't been forgotten back home," and that the selectors still consider him worthy of wearing Scotland's jersey.
Then of course, both Jimmy and I are in the 24 players from whom 18 will be named for the Scottish close season tour of Austria, Hungary and Turkey, so we will both be going all out from now till the end of the season trying to book our passages.  We had a preview of today's opponents last Tuesday night when their match with Barcelona was televised.  The Spanish side did not play as well as they did against Wolves and the conditions obviously did not suit them.  Well as Birmingham played, I suspect it might be a different story in the second leg in Spain although it would be a wonderful thing for British soccer if the Midlands team could pull it off.  A few seasons ago I played against England Under-23's for Scotland when Trevor Smith was the English pivot.  He looked a great prospect then and a "cert" for the full England side when Billy Wright retired.  Unfortunately he has not made a big a name for himself as I imagined, but on Tuesday night's play he is playing as well as ever.  He was the home team's outstanding defenders and received good support from his backs.  Our forwards gained a good idea of what they were up against today, while we defenders learned that the men to watch in attack were inside right.  Gordon and centre forward Weston the ex-Wrexham player.  On Monday we set off for Blackpool for a few days special training point to the Easter programme.  Different clubs and players have opposite views on these training breaks but I think they are a good thing.    Enjoyable as a soccer career is, like any other job one tends to fall into a routine and a few days away is a good break.  In addition it can help towards team spirit for all the players live together and there is always somebody who will organise a table tennis or snooker competition.  The last time we had a snooker competition I managed to reach the first round.  Not bad for me, although I don't think it would get me in the Everton Supporters Club side. 
EVERTON RES V BARNSLEY RES
Saturday, April 2, 1960. The Liverpool Echo and Evening Express
Everton Res;- O'Neill; Bentham, Green; King, Billington, Peat; Temple, Wignall, Shackleton, Shepherd, Laverick.  Barnlsey; Williams; Green, Walter; Barber, Hopkins, Houston, Smith, Baxter, Connolly, Oliver, Jagger.  Referee; Mr. A. Arrowsmith (Adlington). 
Barnsley kicked off for Bentham to check a left wing raid by passing back to O'Neill whose long clearance found Shepherd.  From Shepherd's pass, however, Shackleton drove wide of the far post.  Despite Everton gaining two corners.  Barnsley were more methodical, particularly in using the open spaces, and O'Neill saved good drives from Oliver and Barber.  A timely intervention by Bentham started a promising Everton move, but Temple's hurried centre went straight to Hopkins.  Barnsley continued to press and Oliver went close, while O'Neill tipped a fierce shot from Baxter over the bar.  Everton went nearest to scoring when Williams punched a centre into the air and King shot wide.  Everton improved for Shackleton and Wignall to miss easy chances, but generally speaking the Everton forwards were not blending.  After Everton had gained two corners Barnsley broke away and their better finishing was again evident when O'Neill had to make a flying save from Oliver.  Half-time; Everton res nil, Barnsley nil. 
EVERTON CLASS DID NOT BRING THE GOALS
Monday April 4, 1960. The Liverpool Daily Post
Birmingham City 2, Everton 2
By Michael Charters
Everton brought back a point from Birmingham City on Saturday which was most acceptable in their fight to pull clear of relegation trouble, but the tragedy was that it should have been two, for one again (as at West Bromwich a fortnight ago), they held the lead up to three-quarter time and then lost it to a team always inferior to them in football skill. The pitch was a glutinous mass in midfield and the ball skidded and stopped inconsistently, Everton I thought, were perhaps guilty of trying too many short passes in the churned up area, but it was their shooting-and particularly that of Lill-which cost them a clear-cut victory.  Twice in the first half Lill failed with good chances, but his worst error came mid-way through the second half when he had a chance with only the goalkeeper to beat and couldn't succeed in sliding it past Schofield from only a few yards' range. 
COLLINS AT HIS BEST
The match never reached great heights except in the closing ten minutes when both teams were striving for the vital goal, which could make the difference between First and Second Division football next season.  If any man worked his heart out it was Collins, who have his finest display of the season with an immaculate display of passing and ball control in the mud, which was far above that of any other player. Vernon was little behind him and had a vital part in both Everton's goals, but much of the work of these two brilliant players was lost because of weakness on the wings, where Ring and Lill tired to do too much and were robbed by the unceremonious tackling of the Birmingham full backs.  Jimmy Harris did best when he moved out to the wings, which he did intelligently during Everton's best spell in the half hour immediately after the interval but Smith held him in the air in the centre, hard as Harris tried to get past him. Everton's defences collectively and individually were sound with Meagan again the best, keeping a tight hold of Birmingham's Gordon.  Brian Harris, coming into the team as a last minute deputy for Gabriel (who was not 100 per cent fit after a tooth extraction) had as fine game and produced one brilliant header late on to save Everton from a cross by Hooper.  Apart from Smith and Gordon there was little to impress in this Birmingham side, who were very lucky to get a point.  Orritt their Welsh inside left only came into the game late on and that when he was involved in a brush with Collins, which needed the firm intervention of that excellent referee Mr. Hunt to calm things down.  Orritt later had his name taken for saying something after a tackle on Vernon and the only time I thought Mr. Hunt erred in an exhibition of fine control was when he refused to give Everton a penalty award as Ring clearly I thought was pushed in the back by Farmer.  Vernon opened the scoring for Everton after 17 minutes after Jimmy Harris had collected one of Collins inch perfect passes to shoot against the upright.  Vernon collected the rebound to put it into the empty net.  Two great chances to Lill following and Jimmy Harris also was slow to put the ball in the net from Vernon's pass before Astall equalised for Birmingham six minutes later.  Gordon did the spade work here and his shot was deflected off Labone to the unmarked winger, standing in the inside left position and he hammered it home.  After 37 minutes Vernon, with one of those inimitable strong dribbles beating off several tackles en route weaved and dummied his way through practically up to Schofield before turning the ball inside for Jimmy Harris to have an easy scoring task.  The second Birmingham equaliser after 76 minutes following the one good move the home side produced.  Hooper takes the major credit.  He had switched to the right wing and cut through to the inside before slipping the ball to Weston who wisely transferred it to the unmarked Gordon and that was that.  Birmingham:- Schofield; Farmer, Allen; Watts, Smith, Neal; Astall, Gordon, Weston, Orritt, Hooper.  Everton; Dunlop; Parker, Jones (Captain); Harris (B), Labone, Meagan; Lill, Collins, Harris (J), Vernon, Ring.  Referee; Mr. J.W. Hunt (Portsmouth).  Attendance 24,872.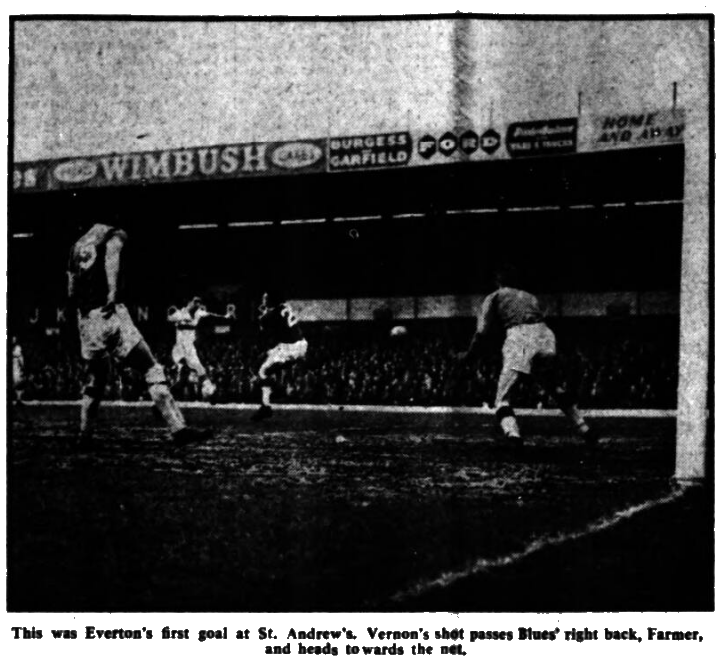 O'NEILL KEPT SCORE DOWN
Monday, April 4, 1960 The Liverpool Daily Post
Everton Reserve 1, Barnsley Reserve 2
Everton played well below par in this Centre League game at Goodison Park in going to under to Barnsley who thoroughly deserved to win despite victory coming from Houghton's penalty goal.  Barnsley neat and progressive football often bewildered the Everton defenders and only O'Neill's splendid goalkeeping kept the score sheet blank in the first half.  Afterwards the Everton defence in which O'Neill, Bentham and Billington stood out, tightened up although the wing halves never really subdued Barnsley's clever inside men.  The Everton attack was so ragged and inept that none of the forwards emerged with credit.  Barnsley's other goal was scored by Oliver, whilst Laverick netted for Everton. 
EVERTON GO TO BLACKPOOL FOR TONIC
Monday, April 4, 1960. The Liverpool Daily Post
By Horace Yates
Everton players, faced by the most crucial fixtures of the season, are taking a tonic trip to Blackpool today, and will stay there for a few days.  It had originally been intended that the party would be fourteen strong but Roy Vernon is included in the Welsh team, which plays at Wrexham on Wednesday, and he will report to Chester tonight with the remainder of the International party.  Everton's party will comprise Dunlop, Parker, Jones, Bramwell, Gabriel, B. Harris, Labone, Meagan, Lill, Collins, J. Harris, Shackleton, and Ring.  Not only do Everton have to oppose the League at Goodison Park on Saturday but over the Easter weekend they have three matches in four days, which could well decide whether or not they stay in Division one.  On Good Friday they are at home to Blackpool with the return game on Monday and a visit to Leicester sandwiched between the two.  There are signs that Everton's League position especially when away from home is making them too conscious of possibilities for them to do themselves justice.  A short break such as is now planned a complete change of scene and a break in routine could have the desired steadying effect.  I understand that Everton received a circular from the Scottish F.A. last week asking their attitude to the possible release of Gabriel, Collins, and Parker, both for the international game with England and for the tour to Hungary, Austria and Turkey during the close season.  Everton's reply was that their players were available for selection for any except Saturday international games this season. 
EVERTON WERE TOPS IN EVERYTHING BUT FINISH
Monday, April 4, 1960. The Liverpool Echo and Evening Express
By Michael Charters
Valuable as Everton's point was from the 2-2 draw at Birmingham City on Saturday, the great disappointment was their inability to make their League position so much safer with a crushing victory.  The reason was simple- poor shooting after they had cruised through against a poor Birmingham side of their own leisurely and cultured pace to give the home team a football lesson.  Birmingham played with the Second Division stamp written all over them.  They will have to produce a fire and rest which they never revealed on Saturday if they are to miss relegation.  They never matched Everton on the finer points which made Everton's lack of finish even more frustrating.  If ever there was a game Everton should have won all season, this was it, it is no exaggeration to say that they should have been three or four in front by the time Birmingham snatched their second equaliser 14 minutes from the end.  Everton began slowly and seemed to find difficulty in gauging the strength of their passes on the gluey mud of midfield.  Passes had to be struck truly and firmly to reach their mark but once they settled to the conditions they played top-class football.  Collins particularly was magnificent in his distribution and his floating of the ball over the heads of the rather cumbersome Birmingham defenders had the home men floundering.  He worked tremendously hard all through quickly appreciating that the right bath to goal was along the firmer stretches on the wings.  With Vernon little behind Collins in his control and dribbling, the ball was pumped along the wings consistently and the miracle was that with so much of the play Everton could only score twice.  Lill and Ring although doing many good things in building up attacks had most of the shooting chances and failed with them all.  As so often happens the best of them all came to one man- in this case Lill, and this usually dangerous shot had one of those days when nothing could go right for him near goal. 
BREAKAWAY
After Vernon had put Everton ahead, collecting the rebound when Jimmy Harris hit the post with a good shot, Lill had two chances in five minutes to put them three up and coasting home.  Each time he was through with only the goalkeeper to beat hit one shot straight at Schofield and screwed the next one wide.  In one of their rare breakaways, Birmingham equalised just after Lill's second miss.  It was lucky in that Gordon's shot struck Labone in flight and was deflected to Astall.  Dunlop had dived in anticipation of Gordon's shot and appeared to have it safely covered, but was still grounded when Astall slammed the ball into the net.  Vernon and Harris linked again for Everton's second goal after 37 minutes with Vernon going through tenaciously from Lill's pass to unselfishly slip the ball a cross to an unmarked centre forward to hit it past Schofield.  For the first time of the second half Everton dominated Birmingham at every point and Dunlop had hardly anything to do.  The crucial moment came when Lill had the finest opportunity of all to make it 3-1 receiving the ball from Ring ten yards out with only Schofield to beat.  He shot tamely to the goalkeeper's right hand and this miss proved the turning point of the game.  Birmingham's Hooper switched to the right wing and instantly became their danger man to make a fine run, turn the ball inside to Weston, who slipped it forward for Gordon to score from no more than five yards.
THRE AWAY
This was Birmingham's first attack of the second half, and their only good looking move of the whole game.  Everton seemed unable to recapture their earlier rhythm afterwards and by the finish it was a case of counting the minutes to see if they could hold on to their point.  Everton just threw away a point literally handed it to Birmingham by rank bag shooting when they should have walked it.  Many Everton attacks were top-class up to the penalty area and outstanding as Collins was I thought Jimmy Harris contributed a great deal to their smooth work by his intelligent positioning out on the wings.  Appreciating that he could not beat the burly Trevor Smith in the air, Harris moved about skilfully and played an effective part all through.  The defence was sound and effective with Tommy Jones having a fine game on his return.  He even did a "Parker" on Birmingham by coming up to try a shot (over the top, as it happened but he brought a steadiness to the rearguard which it has lacked in recent matches.  In front of him, Meagan continued in his brightest form and played a vital role in keeping a tight check on Birmingham's best forward Gordon who was the only home player with any bright attacking ideas for most of the game.  Labone completely subdued the foemen Wrexham man Weston who never had a chance to show his speed due to Labone's fine positional play and coolness when things momentarily looked dangerous.  Special praised is due, I think to Brian Harris who came in at right half as a last minute deputy for Gabriel who was not feeling well after a tooth extracting.  Harris did excellently and late on I noted him making a fine header to clear a cross from Hooper which Gordon might well have turned into the net.  Parker have his usual cleverly effective display and it was notable that Hooper had to switched positions before making his later contribution to Birmingham cause.  Dunlop only had two good saves to make both from Hooper which in itself gives an indication on the way the game flowed.  In fact, Everton defence was never extended. Birmingham are desperately short of class players for only Smith, Hooper and Gordon impressed me.  Wing halves Watts and Neal were pinned on defence and had it not been for the foraging of Gordon, it is doubtful if Birmingham could have scored at all.  The game of course was vita for both teams and it was good to see that referee Hunt's reputation for firm control had preceded him so that the only contentious moment came late on when he had a word with Orritt and Collins after they clashed in a rolling struggle for the ball.  Orritt had his name taken a few moments later after a foul on Vernon but the flare-up was quickly stamped out by Mr. Hunt.  He gave a fine exhibition of refereeing although he seemed at fault to became me when he seemed at fault to me when he ignored Everton's appeal for a penalty as Ring was brought down from behind by Farmer. 
EVERTONM SHAREHOLDERS CRITICISE ACCOMMODATION
Tuesday, April 5, 1960. The Liverpool Daily Post
Everton shareholders still do not like their new accommodation in the Bullens Road Stand.  "We don't get the view of the game that we used to get" said one at last nights open meeting of the Everton Shareholders Association.  "A pen in an obscure corner of the ground from which play cannot be followed was how another described it, and a third said it was a case of "craning your leek to see if a corner is being taken."  Mr. Ron Nuttall, chairman said the main purpose of the meeting was to inform the members about the action taken during the last year concerning shareholders accommodation since they had been moved to an "inferior position."  "We felt that the decision of the board was perhaps a little unfair to the shareholders" he said.  "We made our protest at the annual general meeting and we were told that the whole question would be reconsidered.  The board did give consideration to the matter and decided that they could take no further action." 
DEPUTATION REFUSED
Mr. Nuttall said the association had made further approaches to the board in an attempt to get them to see a deputation which would make a case for the shareholders being returned to the original position.  The board had replied that they had given it careful consideration but could make no change in the arrangements which existed last season for financial reasons.  A member pointed out that the question could not be one of finance because the club had just spent £100,000.  Compared with that the money saved on moving the shareholders from their seats was mere chicken feed."  The meeting approved another approach to the board.  Mr. Barton moved that the meeting write to Mr. John Moores to tell him.  "We admire his courage and public spirit in turning down what was after all his life's blood to become a member of the Everton board."  Chairman Nuttall "The views expressed by Mr. Barton generally reflect the attitude of the association at the moment." 
EXCELLENT SPORTSMAN
Mr. J. R Ceig "We all have the club at heart and if Mr. Moore can only put a fraction of the energy and drive that he has put into his business life, then it will not only be for the benefit of the club but the shareholders too.  He is renowned as an excellent sportsman and no sportsman would act and treat shareholders like the shareholders have been treated."  The resolution was carried.  
THOSE SHAREHOLDERS' TICKETS
Wednesday, April 6, 1960. The Liverpool Echo and Evening Express
With Leslie Edwards
Though on the face of it Everton football club's treatment of shareholders seems shabby to put it mildly, there is much more to the matter that appears on the surface indeed, it is a veritable iceberg of a situation with the shareholders getting the public sympathy and the club the blame.  Let me explain at the outset that original shareholders of the club fifty or sixty years ago became entitled to seats in the stand at the absurdly cheap rate of 7s 6d or in other cases 5s the pair!  Moreover, these seats were in the choicest position of the centre portion of the Bullens Road stand.  The important thing is that when shares are officially transferred the concession vanishes and shareholders are then entitled only to stand tickets at the normal price of a few guineas.  At Everton the list of shareholders has a preponderance of original shareholders names.  Thus a great number of people have secured for next to nothing over a period of many years the choice seats in the ground. 
WORTH £2,000 A YEAR
When Everton a season or two ago, decided to ask shareholders to go to less choice seats at the end of the Bullnes Road stand (and near the raucous voices of the boys' pen) there was a great deal of criticism.  The move was made because by making available to season-ticket holders centre seats formerly occupied by shareholders the club could gain some £2,000 per year.  That they have subsequently spent more than £100,000 on players does not alter the explanation that valid financial consideration lead to them to their decision about shareholders accommodation.  It is pointed out that if Everton had demanded increased prices from shareholders for their tickets the wail would have been even greater than that which now assails the Club!  I know some Liverpool shareholders who would give their eye teeth to have any seat at Anfield providing they were watching First Division football again! 
EVERTON RES MISS CHANCES
Thursday, April 7, 1960. The Liverpool Daily Post
Aston Villa Reserve 3, Everton Reserve 1
Everton Reserves had their chance to win early in the second half but they failed to take it and Villa were allowed to crack the defence twice in the last 10 minutes.  Villa easily had the better of the first half but could score only one goal by Dixon after 15 minutes.  Centre forward Bentley laid on Everton's equaliser five minutes before half time.  Jimmy Shepherd scoring.  Villa stormed back and their Ellesmere Port centre forward Ken Price, proved dangerous.  After 80 minutes he fastened on a long ball, held off two defenders and cracked a rising shot past O'Neill.  O'Neill produced a magnificent flying save to concede a corner in the last minute, but spoiled his work by misjudging the kick and allowing Price to head his second goal. 
ANYONE ELSE SEE THIS FIRST 'DERBY'?
Thursday, April 7, 1960. The Liverpool Echo and Evening Express
With Leslie Edwards
Is there amongst readers, I wonder, anyone who saw the first match ever played between Everton v Liverpool?  Mr. W.J. Huntsworth, of The Archorage Ditton-Lane, Leasowe claims the distinction and has such a photographic memory, he remembers nearly all the circumstances.  It was played he says at Hawthorpe Road, Bootle, and was a cup-tie.  Liverpool [played their full first team, Everton their reserve side except for three players,-Holt, Jardine and one other.  Liverpool won 1-0.  Almost with the last kick of the game Everton claimed a penalty, and amid terrific excitement did not get it.  Mr. Huntsworth also saw the cup-tie at Fallowfield between Liverpool and Sheffield United.  All the members of this was a swaying crowd, mixed up with the players and the score 2-2.  After an incident between Jack Bell and the famous C.B. Fry; Fry made a scathing attack in his magazine on Bell's sportsmanship.  My correspondent considers that Fry virtually tripped himself and that Bell was blameless.  Of Everton's troublesome pitch, Mr. Huntsworth says; "Everton's ground was a lip for clinkers and ashes from the docks before the club started to use it.  The subsoil must be like a bed of cement by now and explains why the water so often lodges on it." 
EVERTON DOUBT
Thursday, April 7, 1960. The Liverpool Echo and Evening Express
By Leslie Edwards
Everton's team for the important relegation promotion battle against Tottenham Hotspur at Goodison Park will not be announced before tomorrow.  Gabriel the club's young Scottish half-back who had an tooth out a week ago, has been troubled by the socket becoming a little septic and Mr. Carey wants to see how the player feels before naming the eleven.  The players are back from their few days at Blackpool and have derived benefit from the change. 
PUT COUNTERY BEFORE CLUB SAYS VERNON
Friday, April 8, 1960. The Liverpool Daily Post
PLAYERS SHOULD BE RELEASED FOR INTERNATIONALS?
The Whole Truth by Roy Vernon (Everton and Wales)
Which comes first, club or country?  It is an intriguing question, and at the very outset let me state as clearly and decisively as I am able, my opinion that, if a player is selected for his country, it is a crime to rob him of the distinction.  I have yet to meet a player who did not thrill to the sight of his name in an international team no matter how many times he had worn his country's jersey previously.  I never take anything for granted, so that if I am included my elation knows no bounds.  Honestly speaking the kick I get from representing my native Wales is as great today as ever it was.  If I had been in the position of Tottenham's Scottish players who were refused permission to play at Hampden Park against England I would have been fearfully disappointed.  At the same time I realise only too well that this is not an easy problem and that as with almost any question there are two sides to the matter.  Footballer are credited with being mercenary and of course as they make their living out of the game, the money they receive for it is important, but I do not consider the £50 fee for international games is the No1 goal.  Nobody can afford to brush it aside, but there is more to international appearances than money. 
INSULT TO INJURY
Mind you, if a player is kept out of a match by his club after selection has been indicated, I think it is adding insult to injury to debar him from the monetary reward as well as the honour.  People never tire of telling us that English football is on the way down- if not the way out-and that we shall never be as good as the overseas sides again.  Yet what are we doing to prove these moaners wrong?  So long as it is possible for English clubs to say to Wales, Scotland, or Eire.  "You cannot have the players you want," how can they hope to built up international prestige?  It is said that Welshmen are more fervently nationalistic than the English and possibly that is why I feel so strongly on the question.  No-one can say "Nay" to England, but the other countries have to go cap in hand for grace and favour.  How wrong it is.  The sooner this inequality is swept away the sooner, we shall be able to regard the International Championship as a sporting competition.  If internationals are important then we should treat them accordingly.  Let us not undermine their status by playing second choice teams.  It would be better to face the whole thing squarely and do away with these glittering goals, if they do not mean what they purport to mean- the gathering together of the finest players two countries can field.  Cheapen a cap and you degrade it.  Most players would make any sort of sacrifice to represent their country.  Let us keep it that way.  So far I have written only of the players point of view, but obviously the clubs, enter into the controversy on an important scale.  This is a question put to me this week.  "If you were one of four Everton players selected for Wales, next Saturday, when your club are fighting a battle with the threat of relegation and needing every possible point to avoid a spell in Division Two and Mr. John Carey the manager said it was up to you to decide whether you played for Wales or Everton, what would be your decision?"  What a headache and I sincerely hope that neither I nor anyone would ever be put in the situation.  It is most unfair to put the onus on a player.  Anyway the question was asked and? Must try to answer it.  Although I have stated that international matches are the peak so far as I am concerned in a situation such as I have outlined I would sacrifice my Cap, and with a heart almost breaking, do my duty by my club.  After all they are my employers throughout the year.  Without them I could not live-at least not from football –and while I would be sacrificing glory on the one hand, I would be involving my employers in the loss of many thousands of pounds by contributing to reduced gates in a lower division.  If the international matches were played earlier in the season the position would not arise in such an acute form, for while two points in the first fortnight are just as important in the League table as two in the last the position has not then crystallised. 
GROUND PROB...
They do not seen so important because the threat of relegation or the possibility of a championship or promotion is still a great way off, but it is an illusion all the same it is no way out to crowd the international programme into the opening weeks.  Later on bad weather would interfere with grounds and crowds.  Only England with Wembley Stadium have a pitch which is guaranteed to be perfect at any time.  All other countries have grounds which are played on week by week, and are churned up in muddy weather.  It is with reluctance that I am forced to the view that only by staging international games in mid-week can we approach any sort of solution.  I say it is with reluctance, because I am afraid that some of the atmosphere would be lost.  There are those who argue that if matches were sufficiently interesting the attendances would not be any thinner in mid-week.  Of course even mid-week games are no guarantee that countries could pick whom they liked with the certainty of having them released by the clubs concerned.  The recent cases of Dougan and McGrath prove that.  They were denied release by their club, who said club interests must come first.  It does not follow therefore that a mid-week arrangement would be the perfect solution.  If it should be decided to give this experiment a run it is essential it be made compulsory form all clubs to release all players of whatever nationality required for an international team. 
AVOID CROWDING
If a club game clashed with an international and there was any real danger of a weakening of club forces then clubs should be given the right to postpone their match if so desired.  I do not like the idea of crowding all the international games into one hectic, if possibly glorious fortnight at the end of the season.  Tours and such like might easily interfere and in any event I think the chances of more players graduating to international rank ate brighter over an extended period.  A fortnight such as I have mentioned would probably find the selected players drawn from a panel.  Anyone on the outside would have no chance whatever of playing himself inside and international honours are only completely satisfying if one believes they are thoroughly well earned.  I believe that international football is so important that it warrants priority over everything else, but I do not expect everybody to share that view. 
GABRIEL PROBLEM
Friday, April 8, 1960. The Liverpool Daily Post
By Horace Yates
Everton's manager Mr. John Carey, has a problem on his mind and because he is still doubtful about the fitness of Scottish half back Gabriel will not name the team to entertain Tottenham until today.  Gabriel is suffering from a slight stomach disorder and not until a fitness report has been received today will the decision be taken whether or not to include him.  Actually it could save quite a lot of embarrassment if Gabriel were to be ruled out on medical grounds for I understand Brian Harris came back so successfully at Birmingham that it would appear rough justice if he were to lose his place, without at least another opportunity of trying to consolidate it.  This match is of such vital importance to both teams, with Tottenham chasing the title and Everton struggling to keep their status that the Scotsmen who were refused permission by their clubs to be considered for their country's team against England tomorrow will not have much time to worry about events at Hampden Park. 
TWO IN TWO MINUTES –THEN NONE IN 180
Friday, April 8, 1960. The Liverpool Echo and Evening Express
By Leslie Edwards
Everton have not scored a second half goal home or away since March 12.  The previous week Vernon scored twice in as many minutes at West Ham.  Statistics of Everton's second half dearth of goal in their last four matches sad reading.  Against Chelsea at home they scored six times in the first 45 minutes then declared; at West Bromwich they led 2-1 and were ultimately beaten 6-2, opposed to Newcastle at home they scored once in the first half and that was that a week ago in Birmingham they led 2-1 and went goalless throughout the second half.  Thus in the last 18 minutes of first half football they have scored eleven times with no goal in 180 minutes of after interval play.  This failure to score will keep the fans talking and many odd explanations for it will be aired.  Mr. Carey like his opposite number at Anfield believe that these things in cycles.  And statistics he says can be made to prove almost anything.  The main thing of course, is for a team to get so many early goals none are needed in the second half.  Let us hope that Everton will do this tomorrow against Tottenham who lost there a season ago after winning the home fixture by 10-4. 
SIGNIFICANT NOTE...
It is in Everton's favour that five Tottenham men were engaged to matches in mid-week but the fine winging of Cliff Jones and Terry Medwin (the son of a Swansea prison office and actually born in the goal there at Wrexham is significant, and when the opposition possesses half-backs of the calibre of Blanchflower and Mackay you may depend on it that the forward will not lack good service of the ball.  Rightly or wrongly I'm still banking on Everton to confirm my view that they are a team with a splendid future.  Given freedom from anxiety of fear or relegation they would almost certainly have crowned with success their fine play in three recent away matches.  Instead they gained only two points.  If Everton draw more than 50,000 tomorrow-and who can doubt it?  -they will have had more than 250,000 people at their last five home fixtures.  Support at that rate would soon help to reimburse them for the same they have spend on players this season.  It would be a tragedy if after showing so much enterprise and recruiting so much class, the club should fail to maintain their status in Division 1.  But this is a possibility only the team by their efforts on-field can rule out.  What most followers of the club would ask of Everton is a sense of urgency but not of break-neck haste in readiness for the player who senses a chance to use it and not transfer the ball all (and the responsibility) to another and the use, more often of forward passes and not the laterals which almost invariably leave the defence intact and still to be beaten.  To the reader who asks all followers of the club to shout the team home I have only this to say; Let the team deserve the plaudits and they will get them.  It is football which wins matches. 
BRIAN HARRIS KEEPS HIS PLACE
Friday, April 8, 1960. The Liverpool Echo and Evening Express
EVERTON TEAM FOR TOMORROW
SPURS SURPRISE
By Leslie Edwards
Brian Harris, who had an excellent game at Birmingham retains his position at right half in the Everton team which faces Tottenham Hotspur at Goodison Park tomorrow.  This means that the young Scot Jim Gabriel who lost his place a week ago after having trouble following the extraction of a tooth, remains out of the eleven.  All the saleable stand tickets for the match have been sold.  Spurs, who would not release their internationals because they are fighting hard to retain the First Division leadership, make two surprising changes in the forward line.  Welsh international Terry Medwin is recalled and leads the attack in place of Bobby Smith while John Smith former West Ham player displaces Leslie Allen at inside left.  Everton; Dunlop; Parker, Jones; Harris (B), Labone, Meagan; Lill, Collins, Harris (J), Vernon, Ring.  Spurs;- Brown; Baker, Henry; Blanchflower, Marchi, Mackay; White, Harmer, Medwin, Smith J, Jones. 
Everton Reserve at Bury; O'Neill; Parnell, Bramwell; Jarvis, Billington, Sharples; Temple, Tyrer, Shackleton, Wignall, Laverick. 
£300,000 OF TALENT IS ON SHOW AT GOODISON
Saturday, April 9, 1960. The Liverpool Daily Post
By Horace Yates
Roll up! Roll up, for the greatest show on earth! If we let loose the old time circus publicity in the soccer world that is the type of scream that would be going out for today's game at Goodison Park, between top-of-the-table Tottenham Hotspur and too-near-bottom-of-the-table for comfort, Everton.  To assemble these sides has cost not less than £300,000.  Maybe there have been costlier League attractions than this, but £300,000 is not bad to be going on with.  Although Everton will not have their £30,000 Scottish half-back signing Jim Gabriel out today, they still field players in Parker, Lill, Collins, Vernon and Ring, whose aggregate fees must top £100,000.  The signing fees generally accepted as being close to the mark are Parker (£17,500), Ring (£12,000), Collins (£23,500, Vernon (£35,000) and Lill (£20,000).  The remaining six cost only nominal signing fees.  Tottenham's spending has been even more astronomical, for the simple reason that only the two backs, Baker and Henry, plus Harmer in the forward line were recruited the cheap way. 
£200,000 TEAM
For the remainder, I don't think it is stretching fees for the purpose of adding colour to this assembly of some of the most costly football flesh in the country to assess the outlay at £200,000 plus.  Maybe there are still those who consider, two shillings too high a price to pay to watch some League football, but surely this is in a different category.  It takes n awful lot of two shillings, and for that matter the higher prices for other parts of the ground as well, to recoup financial outlays of this magnitude.  Had Scotland been allowed a free choice for today's game with England, the odds are that half the side would have been recruited from the two teams on view today.  The Goodison fixture tingles with possibilities and as there has been no lack of public responses to Everton's record outlay of cash since February it does not seem too much to hope that the attendance today will top 60,000, which would make it the biggest of the season, with quite a bit to spare.  Since the advent of the big names 207,056 spectators have seen Everton's four home games.  They are thrilling figures, and although results have not been consistently encouraging, only the unfriend, lies treatment by the weather can fail to see the average stepped up.  All appearances are that this will be a great thrill-packed match. 
CUP-TIE OUTPUT
Cup-tie output is required of both teams and I think we will get it.  It may seem ridiculous to suggest that a team down among the clubs with most to fear regarding the season's final reckoning will beat the mighty Spurs, a club which has won almost as many games away from home as Everton are credited with at Goodison Park, but I don't think the home team will let down their supporters.  They can play football to match the best, when in the mood and I do not think at this stage the inability of Gabriel to take his place in the half back line will have any weakening effect.  The forwards, I consider will play their part.  The query lies heavily on defence.  Everton just cannot afford to fall and I do not think they will.  Everton; Dunlop; Parker, Jones; B. Harris, Labone, Meagan; Lill, Collins, J. Harris, Vernon, Ring.  Tottenham Hotspur; Brown; Baker, Henry; Blachflower, Marchi, Mackay; White, Harmer, Medwin, J. Smith, Jones. 
EVERTON CAN TAKE A STEP TOWARDS SAFETY
Saturday, April 9, 1960. The Liverpool Echo and Evening Express
CHANCE TO BEAT LEADERS IN LITTLE INTERNATIONAL
By Leslie Edwards
While the major Hampden battle goes on in Scotland we have, at Goodison Park a match of even greater interest to fans in this city.  The result will have bearing on Everton's hopes of remaining in Division 1 and on Tottenham's chances of the championship.  With so many Welsh and Scottish internationals on view the fixture becomes almost one of international character.  For the fifth successive time the terraces and stands should be filled by more than 50,000 people, most of them desperately anxious to see Everton take a step towards safety.  I think they will.  Tottenham have rather gone off the boil recently and even if they were still in their earlier form which took them to the top the new Everton's class and power would, I think pose a problem they could not solve.  Everton's worse side is their over-anxiety.  They are also afflicted by a break-neck haste which sometimes prevents them from accepting, as they should hard won shooting chances.  Mr. Carey is relying on the side which promised to win at Birmingham, but which only got a point and thus Gabriel remains out and Brian Harris continues at right half-back. 
MEDWIN RECALLED
Terry Medwin's splendid mid-week display for Wales has persuaded Tottenham to recall him but as centre-forward and not in his international role of the right winger.  Mr. Billy Nicholson the Spurs chief who saw Medwin score two goals against Ireland said "I think Terry is just the type to help put back to scoring power, into our attack" Medwin is recalled after missing the last five leagues games.  He has led the Spurs attack before but not this season and prefers playing on the wing.  But as he said when he heard of his credit I'm back in the side.  That is what matters most."  Medwin takes over from Bobby Smith and John Smith the former West Ham wing half and England 12th man against Ireland last November makes his first appearance for his new club at inside left.  Allen dropping out.  These are the only changes from the side which drew 1-1 with bottom of the table Luton last week.  Everton just cannot afford to fall and I do not think they will.  Everton; Dunlop; Parker, Jones; B. Harris, Labone, Meagan; Lill, Collins, J. Harris, Vernon, Ring.  Tottenham Hotspur; Brown; Baker, Henry; Blanchflower, Marchi, Mackay; White, Harmer, Medwin, J. Smith, Jones. 
EVERTON WIN SPURS IN VITAL GOODISON GAME
Saturday, April 9, 1960. The Liverpool Echo and Evening Express
COLLINS AND HARRIS ON TARGET
Everton 2, Tottenham 1
By Leslie Edwards
Everton;- Dunlop; Parker, Jones (TE) (Captain); Harris (B), Labone, Meagan; Lill, Collins, Harris (J), Vernon, Ring.  Tottenham Hotspur;- Brown; Baker, Henry; Blanchflower, Marchi, Mackay; White, Harmer, Medwin, Smith (J), Jones (C.).  Referee; Mr. J. Powell (Rotherham). 
The weather was almost perfect for a match in which there was as much at stake for Everton as for their opponents.  Everton might well have scored in the opening minute when Parker nodding the ball upfield strongly from Brown's clearance put Collins in with a chance.  Although Brown was caught on of, position the ball tangled in Collins legs and he lost possession at the critical moment.  He was able to square the ball back for Ring whose angled shot was wide.  Blanchflower who was unlucky to lose his foothold after he had engineered a first class move down the right.  A centre by Jimmy Harris caused Spurs some embarrassment and then a shot from the same player almost caught Brown unsighted.  Dunlop picked up without difficulty a low shot by Jones and then Jimmy Harris with a fine burst through the inside-left position cut the ball back and Collins was a little unlucky to find it rebound off Henry.  Collins inadvertently presented Harmer with the ball and led to a rare escape for Everton.  Harmer switched the ball to Jones who was making his shooting angle square when he was brought down by the joined tackle of Harris (B.) and Meagan.  Sours, too had a moment of anxiety when following a long high ball by Vernon, Brown instead of making the catch, allowed the ball to escape from his possession overhead and reclaimed, it only at the second attempt.  When White with a stunning shot cracked the ball against the bar and out of play, the referee ruled that Dunlop had got his finger to it and give Tottenham a corner.  So far it was a match not living up to its label as a great game in prospect and to be candid Spurs were doing rather the better.  A misheader by Labone fed to another header by Smith (J) and it was well that Dunlop was in the right spot at the right moment.  By comparison with Everton's desperate defence.  Tottenham's polished use of the ball when getting themselves out of trouble had raised the enthusiasm of Evertonians who know good stuff when they see it.
PUZZLING SWITCHES
Spurs propensity of switching their forwards must have puzzled Everton, as it did me.  At the moment Cliff Jones was at outside right and White was on the other flank.  Jimmy Harris juggling of the ball beyond two defenders on the right led to a cross goal pass to Ring whose centre was slightly too strong to be of use to anyone.  The only direct move for a long time was a penetrative shot at goal by Blanchflower, and this swerved into the side-netting.  It was noticeable that Harris (J) seemed to be very much on his own when the ball came through down the centre.  Parker tried a similar type of shot from an even greater distance but this too, flew wide and had very little chance of beating the wide-awake Brown.  Ring was having no sort of show at all against Baker and there was a terrible wastage of a lovely pass by Collins when the full back once again won the duel.  Dunlop had to come to the edge of his penalty box to deny Jones who was about to pick up a glorious through pass.  Everton's dallying and dallying had the crowd murmuring disgustedly.  Spurs best combined move on the left led to White missing a sitter, kicking round the ball when the odds were that Dunlop would have to take it from the back of the net.  If Spurs had completed their movements as well as they began and developed them Everton's position by this time would have been well nigh hopeless.  Half-time; Everton nil, Spurs nil. 
The start of the second half was positively funereal with Everton emerging from the subway looking as though they appreciated the intensity of their task.  But there was soon unroar following a tackle by right back Baker on Ring. 
GOOD HEADERS
Everton were certainly worrying Spurs into mistakes by persistent tackling but Spurs still found the open space, and used them well.  Everton's best move to date was completed by a header from Vernon and a second header from Lill with Brown saving splendidly.  Lill was damaged by making this effort, and it was while he was getting to his feet that Spurs took the ball down the right wing, where Medwin pulled back a perfect centre for Jones to score almost as he pleased from the centre forward position.  This was at 52 minutes.  This was a tremendous blow to Everton's hopes but three minutes later they won a corner on the right and Lill delivered a centre which Vernon flicked overhead in the general direction of goal and which Jimmy Harris promptly hooked in on the volley to equalise.  The goal not only gave Everton a chance of a point, it was their first in the second half in the last five matches on this pitch.  Brown was soon dealing with a charley reverse pass from his own half-back Mackay and Everton had gained a good deal of zip from their unexpected goal.  The referee for a second time waved away a penalty appeal when the crowd though a Spurs defender raised his hands to pick up a ball intended for Lill.  Everton still found it very difficult indeed to cut into the Spurs forward moves and it took the united efforts of Labone and Parker to stop Cliff Jones hereabouts.  Labone was covering a wide area with his long legs and short tackles but there was never any doubt to anyone's mind that this was a match between a potential championship and a potential relegation team.  Baker made a wonderful hook to defeat Ring as the Everton man ran in from a centre by Lill and for once Spurs seemed a little non-plusses but they soon settle down to the old routine of making the Everton defenders chase the ball and Dunlop did well to turn over the bar a cross from Medwin.  When Ring for the first time got clear of his man he ran almost half the length of the field before crossing a perfect centre which Lill nodded downwards on to the goal line and as it seemed, straight into Brown's hands.  But the ball spun from the goalkeepers' grip and Collins flung out a right foot to score from the closest range at 68 minutes.  Immediately afterwards at the other end Medwin with a flying header steered the ball inches wide of the upright.  Jimmy Harris with a first class centre and little Collins with an equally good header had Brown stretching to the far goal angle to turn the ball for a corner and then Harris (J) was unsighted otherwise he must have converted with his head a long centre by Ring.  The best finessed on the game was the back heel touch by Lill which unhappily failed to find Harris.  This could have produced the third goal and ensued the certainly of two most valuable points.  Lill and Harris were the striking forces in the Everton line and between them now contrived an opening from which Harris hit a big shot a foot or two over the bar.  Then the same player hit an even stronger one for which Brown had positioned himself perfectly.  We now started to endure the last five minutes agony of suspense.  It seemed interminable and thousands who dare not wait to look made their way home rather than endure it.  Spurs got a corner in the last minute and all twenty-two players were in Everton's half before Collins fastened on the ball and cleared it. 
Final; Everton 2, Tottenham Hotspur 1.  Official attendance 57, 959. 
I'LL TIP WOLVES FOR DOUBLE
Saturday, April 9, 1960. The Liverpool Echo and Evening Express
They Have The Men Who Matter, Says Alex Parker
There is only one thing that soccer clubs want to win more than the Cup or the League, and that is the Cup and the League.  Just how difficult this is borne by the fact only Preston and Aston Villa have ever done it and that before the turn of the century when competition wasn't as fierce as it is now.  Well, I think that this season we are going to see history made, for I think that Wolves are going to be the third team to pull off the "double." I have mentioned in this column before what I think of the Molineux side and my admiration for them has not diminished despite their European Cup exit to Barcelona.  It is a well-known fact that a team's strength lies in the half-back line and who will deny that Clamp, Slater, and Flowers are the best in Britain.  That is proved by the fact that two of them were picked for the England side to play Scotland today, and although I agree with the selection of Ronnie Clayton if Eddie Clamp had played it would not have eased my own country's task to any noticeable extent.  Of course their strength lies not only in their middle line for Peter Broadbent is one of the best inside forwards in the country, and although I haven't seen outright Gerry Mannion he is certainly doing enough at the moment to ensure his side wins.  Naturally, they will find it easier to win the Cup than the League as they need only one victory to do so.  Much as I admire Blackburn's Clayton, Dobing, Douglas, Woods and Co, I think they will be collecting runners up medals after the Wembley game. 
DECIDER
As I write Wolves are level with Spurs at the top of the table with six matches to play, but I see the London side have to play at Molineux and the game may decide who represents England in the European Cup next season.  Despite my friendship with fellow-Scots Bill Brown, Davey Mackay, and John White, I think it will be Wolves.  Although the point we gained at Birmingham last week was very welcome, it was a little disappointing that we didn't grab two.  Birmingham were rarely in our half, particularly in the second half and when we were leading 2-1 I remember thinking "if we get another we'll win today."  However, the ball just would not go in the net again and the Brum boys came back to equalise late on.  You have no doubt read many times that when a side is struggling the ball does not run for them, but it certainly did so in the case of Birmingham's first goal.  A Brum forward pulled a ball back from the right wing and as there were about five players between him and I it seemed certain that one of them would get it.  Astall was behind me, so as these seemed no chance of the ball reaching me, I was certain it wouldn't reach him.  In case any other home forward got it I moved towards the goal to take up position on the line, but the ball cannoned off Brian Labone and right into the path of Astall who had no difficulty in banging it in.  If the ball hadn't struck Brian and if I hadn't moved my position Astall would never have got near the ball.  But that's football. 
VARIETY SHOW
The other evening Tommy Ring and his wife, Mr. And Mrs Les Shannon, Brian Labone and my wife and I went to a variety show at St. George's Hall in aid of the disaster fund for the Applegarth the tug involved in the recent disaster.  The funds were for the dependants relatives.  Considering it was such a worthy cause the attendance was disappointing, which was far from the case in relation to the acts.  There were about a dozen and all were good.  On the programme, Pat Mooney was billed as "Ireland's loss, Liverpool's gain" but it would have been more correct to say that he is "Ireland's loss.  Everton's gain" for in addition to being a very good comedian he is also a strong Evertonian.  He told me that he goes to all our home games and prior to coming to live in England he used to travel over from Ireland to see the team.  It's amazing the amount of work that has to go into a show like this, and I noticed that among the people and organisation who helped were the Everton Supporters Club.  Last Monday morning we set off for Blackpool for a few days training.  In the afternoon some of the players went for a stroll along the front, and the others turned their thoughts and feet in the direction of the golf course.  Before you jump to any conclusions, however, I must stress that it hasn't been all walks and golf for in the morning we did our usual bout of training and practice matches.  It made a nice break and I think I can speak for all the players when I say it was very enjoyable and worthwhile.  Before I close, I would like to thank the twins Vivienne and Chris from Croxteth Road, Sefton Park, for their cleverly drawn good luck greeting. 
BURY RES V EVERTON RES
Saturday, April 9, 1960. The Liverpool Echo and Evening Express
Bury Res;- Heath; Gallacher, Howcroft; Turner, Wilson, Eastham; Tonge, Hepton, Calder, Holden, B. Dyson.  Everton Res; O'Neill; Payne, Bramwell; Jarvis, Billington, Sharples; Temple, Tyrer, Shackleton, Wignall, Laverick.  Referee; Mr. G. Lockett (Stoke-on-Trent).
Playing much the better football, Everton repeatedly had the home defence in trouble.  Shackleton missed a scoring chance in the first minute, shooting wide with only Heath to beat.  Bury could make no impression and after Shackleton and Wignall had both brought Heath to good saves, Evetrton went ahead after 17 minutes.  The movement was made on the right and when Tyrer had a header kicked off the line, Shackleton got possession from close in and scored easily.  Everton continued to over play they opponents and Laverick missed the easiest of chances of adding to the visitors lead almost completely missing his kick and left with only the goalkeeper to beat.  The ball passed yards wide.  Tyrer finished badly in one move and then the inside right sent Shackleton through for the centre forward to pull his shot inches wide of the far post.  Everton deserved their interval lead.  Half-time; Bury Res nil, Everton Res 1. 
TOTTENHAM FALL FOR A J. HARRIS HOOK
Monday, April 11, 1960. The Liverpool Daily Post
Everton 2, Tottenham Hotspur 1
By Horace Yates
'Twas a famous victory!  Everton's overthrow of the League leaders, Tottenham Hotspur at Goodison Park, sent the relegation clouds scudding away at least to a respective distance, if not quite out of sight and the score, which must have been sweet music in Wolverhampton Wanderers ears, seriously Tottenham's prospects of upsetting the Wolves' hopes of a great Cup and League double.  If they are to be judged on this showing Tottenahm are entirely unworthy of any champions tag and it is scarcely the most propitious moment of the season, with the last lap being run, to have doubts such as they possess about the best constitution of their forward line.  They were leaderless and at times seemingly without any scoring plan.  As a match it was thoroughly enjoyable-from start to finish.  While Tottenham held sway in the first half they showed more of the prettiest football that was completely effective up to the penalty area edge, but from that moment on they were as unimpressive as any set of amateurs, if the amateurs will pardon the comparison.  If forward finish had been in any way equal to approach, Tottenham could have been sitting quite happily on a comfortable lead by half time, for though Everton finished like lions there is no denying their jittery start. 
NO SUPER-MEN
Their defence did not capitulate, but this was due to a combination of Tottenham's ineffectiveness and some rather desperate last ditch tackles which were adequate but nerve-shattering a state of affairs which fortunately was remedied as Everton realised that this was no team of super-men.  Five minutes before the interval, the Everton goal enjoyed a charmed lease of life, when half back Smith, converted to inside forward for the day, and looking about as unhappy as the first man to reach the turnstiles as "ground full" notices are hoisted had only to touch White's centre right across the face of goal, to score, but somehow succeeded in missing it completely.  Not renowned as a second half team, Everton soon showed possibilities that Tottenham might pay for their inclination to stroll through a game, rather than win it first and do the strolling afterwards.  The issue was decided by 15 minutes of high drama which lifted the match way up the entertainment chart.  When Ring, who had seemed completely out of touch on the wing, was brought down by Baker in the penalty area a loud and concerted appeal for a penalty was ignored, which I rather thought cancelled out a previous foul on Jones, which might easily have produced a spot kick.  Actually there was more "hand-ball" in this match than in any I have seen all the season-with fewer awards.  Whether Everton's defence was grateful to Collins for his role as auxiliary defender I do not know but there were times when he seemed to be more of a hindrance than a help, and the forward line developed a poverty-stricken appearance by his absence from it, for only the speed, spirit and enterprise of Jimmy Harris registered at all.  It was Collins with the co-operation of Vernon and J. Harris who enabled Lill to test Brown with a header, in a movement which showed that though their approach might be a slightly less cultured, Everton could get there just as well, and possibly better.  From the high note of Everton promise; disaster struck.  With Lill struggling to rise after injury, play flowed to the other end of the ground, where White sent Medwin almost to the corner flag, for the ball to be pulled back to Jones, who made scoring seem the most natural thing in the world.  In 58 minutes just three minutes later, Everton were level.  From a corner kick Vernon, with an overhead hook that was so delicate that it might have been intended as a pass to J. Harris, gave the centre forward the opportunity for a hook shot on the turn, which was deflected from Brown's chosen position.  Harris deserves the greatest credit for keeping down his shot for it was infinitely easier to have ballooned the ball high over the bar.  Ring, who had been more persistent than successful, was quick to seize on a rebound from Baker's legs and away he went.  Lill's header from a superb centre went directly to Brown for whom it was just as difficult to palm down the ball, and infinitely more dangerous than to catch and clear; knocked it out to the ever-grateful Collins, who simply hammered it into the net in sixty-eight minutes for the decisive goal.  Too late Sours awoke to the danger confronting them.  What had been obvious to most people throughout the match, namely that Smith was like a fish out of water in the forward line, suddenly became apparent to Tottenham and he was switched to his rightful position with Mackay trying to repair the hole in the forward line. 
USE OF TOUCH
The goals had made Everton twice the side.  Their confidence was most marked and although as the minutes passed, the crowd were not at all displeased to find Everton using the touch line much oftener than is their custom, there seemed little or no danger of any last minute slip.  With results, apart from Birmingham's win at Blackpool just as acceptable as they could possibly be, one could almost feel the lifting of a load.  Everton might still go down, but I believe they will come to look back on the day they beat the League leaders as the one that really kept them where they belong-in Division One.  Tottenham might have fared better had they not been quite so mean to Scotland for to have released Brown would have been no hardship on this showing, I thought the four full backs were excellent, Labone far and away more impressive than Marchi and Meagan getting through his work quite completely, if not quite with the same consummate ease shown by master craftsman Blanchflower.  Everton;- Dunlop; Parker, Jones (TE) (Captain); Harris (B), Labone, Meagan; Lill, Collins, Harris (J), Vernon, Ring.  Tottenham Hotspur;- Brown; Baker, Henry; Blanchflower, Marchi, Mackay; White, Harmer, Medwin, Smith (J), Jones (C.).  Referee; Mr. J. Powell (Rotherham). 
Attendance 57,959. 
LAVERICK SENT OFF AT BURY
Monday, April 11, 1960. The Liverpool Daily Post
Bury Reserve 1, Everton Reserve 1
All the excitement in this game at Bury came in the closing stages.  With about ten minutes to go Laverick the Everton outside left was ordered off after the linesman had called over the referee Mr. G. Lockett, of Stoke on Trent.  Laverick was dumfounded and stood protesting for some minutes on the touchline, but the referee kept to his decision.  Then Temple was carried off with a leg injury.  Despite their late handicap Everton should have won, for throughout they were the better side, but wild finishing prevented them from getting their reward.  Shackleton scored their goal and Holden equalised. 
ALL WENT RIGHT FOR EVERTON IN THE END
Monday, April 11, 1960. The Liverpool Echo and Evening Express
By Michael Charters
The sun shone brightly on Everton on Saturday afternoon-in more ways than one.  In the glow of a perfect spring day they contrived to beat league-leading Tottenham 2-1 in a tension-packed match where no one could be sure which way the result would go until the final kick and elsewhere four of their rivals hovering with them in the relegation zone were defeated, with the result that their league position by 5 p.m, was so much happier than it had been two hours previously.  Everton helped themselves to two of the most valuable points for seasons and Nottingham Forest, Manchester City, Leeds United and Luton Town chipped in with their "aid" by losing.  Had Birmingham City not produced two shock points at Blackpool, (Everton's double opponents next week-end) one could have said that success over Tottenham had made Everton safe.  But the margin between them and the five clubs below is still not wide enough for any certainty as ever, the three games over Easter will sort it all out.  In contrast to Everton's jubilation musty be Tottenham's fears that Wolves may now go ahead of them tonight in their game with West Ham.  Rarely can a game have meant so much to both team as it did on Saturday and that I feel was the reason why the match never quite fulfilled expectations.  There was so much at stake that the apprehension of the 57,959 crowd spread to the players.  Nerves were stretched to the limit and the only reason why both sets of forwards didn't capitalise on jittery mistakes by the defences was that the forwards were nervous too.  As a result decisive shooting by both sides was limited and both Brown and Dunlop were not unduly extended although it was obvious that Brown's handling was not up to the standard one expected from a player of his reputation.  To counteract the absence of goalmouth incidents was the feeling of drama and excitement which never wanted for one moment of the 90 minutes.  From the opening seconds when Parker robbed Cliff Jones with two tremendous interceptions on the ground and in the air there was something of interest to captivate and delight and alternatively spread alarm but never despondent at some slip or other. 
POLISHED SPURS
Tottenham played magnificent polished football in midfield with Blanchflower and Mackay impressive in their constructive work.  Their full backs Henry and Baker were excellent all through, always endeavouring to start attacks from deep in defence.  The defensive weakness was at centre half where Marchi was troubled by the dash and go of Jimmy Harris, whom I rated Everton's best forward.  Marchi was unsure positionally and in the air and Harris earns full marks for an afternoon of great endeavour and much skilful play in moving to the wings.  The only incident to mar the scene was the contentious moment when Harris and Marchi tangled on the ground near the touch-line with referee Powell and players dashing up to sort it out.  Mr. Powell some of whose decisions were a puzzle to me talked to both of them before awarding a foul to Everton.  Tottenham's finishing was poor reward of some of the beautiful through passes from Blanchflower and Mackay.  Despite the bewildering series of switches amongst the forwards during which the ball was flicked delightful from man to man they seemed only to lose themselves in a maze of their own making. 
MEAGAN AGAIN
Cliff Jones was well held by Parker, while young John Smith the former West Ham wing half seemed out of place as inside left.  Little Harmer tricky as he is was never allowed to dominate because Meagan improving every week had another great game.  Tom Jones played very well and thought his calm approach to many difficulties posed by the clever but punchless Tottenham attack had the right influence on this defensive colleagues Labone for example was the most nervous of all at the start which is understandable, but he pulled himself together to play beautifully later.  Tottenham undoubtedly had more of the play, particularly in the first half when Everton's forwards never played well together leaving Harris as a sole spearhead for much of the time.  Lill and Ring were rarely seen and Collins and Vernon were employed as additional half-backs.  But there was a great improvement in the second half with the wingers driving forward with more purpose instead of dallying with the ball and allowing the Spurs defence to recover.  Lill looked top class in this spell and Collins and Vernon made a more definite mark on the game.  Collins created any number of good openings with his passes and his up flung arms as he scored what proved to be the winner reflected his joy that his shot had made his day –and the Everton crowd's too.
ODDITY NO MORE
It has been an oddity of Everton's play in many games this season that they have not scored in the second half and they have been unable to fight back to win after the first goal has gone against them.  They cancelled out both against Spurs.  Tottenham went ahead in 55 minutes with a perfectly worked goal as White passed to Medwin then on the right wing and the centre was calmly headed past Dunlop by Cliff Jones.  Three minutes later Everton were level to a roar which hasn't been heard at Goodison for years.  Lill's corner kick was hooked over head by Vernon to Jimmy Harris who in turn hooked it past Brown.  It took Everton ten minutes more to get the most valuable goal of the season.  It began with Ring evading the tackle of Baker for the first time and taking the ball half the length of the field before slinging over a fine centre which Lill headed down towards Brown.  The goalkeeper one would have thought should have collected the ball safely enough but he tumbled it and Collins was on hand to smash it into the net.  Tottenham never gave up trying and Everton never gave up chasing Mackay went into the forwards with Smith dropping back but Everton's defence looked tight enough, even though they gave us some anxious moments at times.  A great win indeed. 
NOT OUT OF THE WOOD, BUT IN THE MONEY
Monday, April 11, 1960 The Liverpool Echo and Evening Express
By Leslie Edwards
Everton's 58,000 attendance against Spurs produced an aggregate for their last five matches of some 250,000 spectators.  What other team flirting with (but not I hope, getting married to!) relegation could attract people in this way? There will be a further 50,000 odd at the same ground on Friday when Blackpool are due and if as everyone hopes Stanley Matthews is among the opposition the gate could reach the 60,000.  Another oddity about Everton is that only two other clubs in the First Division, Spurs and Burnley have won more home matches!  How expensive non-success in away fixtures has been and how desperate would have been Everton's position if as seemed likely at one stage they had not got two goals against Tottenham.  The turning point of that match for me was when Medwin header which would have brought the score to 2-2 swung outside an upright.  Friday's game at Goodison Park is vital and so is the one next day at Leicester, but the programme for Saturday has a pro-Everton look which promises well for us-Luton at Burnley, Notts Forest at Chelsea, and Manchester City at Tottenham.  We're still not out of the wood, but there is some daylight showing and how different the story must have been if Mr. Carey, backed by his Board, had not moved fast and furiously for class players.  Lucky Everton to be able to afford such indulgences.  They should be one of the great clubs in the land with an attendance against Tottenham which all but equalled the united gates shared by twenty clubs on same day in the Third Division. 
LABONE IS HERO OF EVERTON WIN
Monday, April 11, 1960. The Liverpool Echo and Evening Express
PLAYED WITH CUT SHIN
SEVERE KNOCK
By Leslie Edwards
Hero of Everton's valuable victory against Tottenham Hotspur was Brian Labone, the 19-years-old centre half.  He played throughout the second half with a badly cut shin bone which required stitches after the game.  "Brian knew he had a severe knock" and Mr. John Carey the manager today "but he didn't appreciate until he took his shin pad off how bad it was."  If Labone had left the field even for 10 minutes to have the injury attended the result might have gone very differently.  Everton will know more details of their Continental close season tour later this week when the results of the German championship matches have been decided.  The club's retained list is not expected to be announced until after Easter. 
EVERTON ARE UNCHANGED
Wednesday, April 14, 1960. The Liverpool Echo and Evening Express
MATTHEWS PLAYS FOR BLACKPOOL
By Leslie Edwards
Everton retain the side which beat Tottenham for the match against Blackpool at Goodison Park on Friday.  Brian Labone cut shin is better and he is in training again.  Blackpool who have no injured and who are certain to include Stanley Matthews will announced their team tomorrow.  Everton; Dunlop; Parker, Jones; Harris B, Labone, Meagan; Lill, Collins, Harris J, Vernon, Ring. 
IT'S TOUGH IN DIVISION 2 SAYS VERNON
Thursday, April 14, 1960. The Liverpool Daily Post
Brains and Brawn Needed to get Promotion
The Whole Truth by Roy Vernon (Everton and Wales)
Boy, pass me the smelling salts, please! The Sports Editor has asked me to give my impression of the respective merits of First and Second Division of the Football League and as if that were not enough to be going on with he tossed in the suggestion that I might also visualise four up and four down applying to the two divisions.  If that is not a nerve-shattering commission, I don't know what is!  Let me make my position clear, at the outset.  I am not one of those who look down my nose at Second Division clubs or players.  Having seen through the mill of composition in that sphere, I have profound admiration, for many of them.  I remember very early in my professional career- which began with Blackburn Rovers in Division 2- I was told by one of the most experienced members of our team that one fought for promotion in the Second Division to be privileged to play football in First.  Having tasted both, I now see exactly what he meant.  It would be wrong and completely contrary to my intention to read into that statement my belief that there are no footballing sides in the Second Division.  Of course there are, but if they go on playing football all the time and every time, I am afraid they will stay where they are-unless they drop to Division 3. 
NO PLACE FOR STYLE
Division 2 is no place for the football stylist, the purist, who places football above all else.  We have all heard Mr. Matt Busby's dictum at Old Trafford.  "Continue playing football and the goals will come" I could not agree more, provided a few words, were added namely.  "So long as you are playing your football in the First Division."  There is a lot in the theory of the old dog for the hard road.  Again revering to my Blackburn days, I remember we had the veterans who could advise us; "You are all right today lads.  This team will let you play football."  At other times, to use a vulgarism we were counselled; "Now to-day's game could easily be a clogging match.  Score your goals first and then play your football."  Until promotion aspirants realise that they must meet toughness with toughness and brawn with brawn, they will linger a long time in Division 2.  Aston Villa have made the climb back at the first time of asking.  Now I take off my hat to Villa.  They can play football so well that I think they could emulate Sheffield Wednesday next season and go close to both cup and League, but don't tell me that Villa play only pretty-pretty stuff.  They have their power plan available to be switched on where necessary.  Without it any modern team would be lost.  You still encounter the teams who put too much emphasis on strength even in the First Division but by and large games there are decided on football skill and of course, that very essential quality spirit.  I certainly find it more enjoyable to play my football in the top class competing against players who. Generally speaking are willing to pit their skill against yours. 
RISKS NO GREARTER
A player in the first flight is encouraged to attempt more without raucous condemnation from the crowds who go to these matches expecting to see a greater exhibition of skill.  Strangely, I do not think there is any greater injury-risk in the Second Division for all its tougher reputation.  But for that matter injuries generally come from the most trivial incidents a kick-about or a friendly.  There is a different atmosphere too in Division 2 clubs are always hankering after promotion or striving to avoid relegation.  It is an uneasy sort of existence. A middle of the table team are often regarded as nondescript and crowd enthusiasm wanes but in the First Division a club can occupy a comfortable middle position where there is no chance of the title and little chance of relegation, and most people are happy.  A club can relax in this state for a season or two, while strength is built up, and the visits of famous clubs will keep interest burning brightly.  If I find such a contrast between the two you might ask why I took the risk of leaving comfortably placed Blackburn for a struggling Everton for whom relegation was an obvious possibility.  It is a fair question and I have no hesitation in telling you that I had complete confidence in Everton to know that if they went down, it would not be without the most tremendous struggle.  Money, I suspected would be poured out to find a winning team and so it proved. 
MORALE BOOSTER
The talk light-heartedly while we are still on the fringe of trouble may seem to be flirting with danger, but there are no fears these days among the lads at Goodison Park.  The victory over Tottenham was a terrific morale booster and there is no place for permission in our camp now.  What is more, although I am no expert; forecaster I should not be at all surprised now that we can play our normal game, if we do not chalk up that elusive away victory before the season ends.  There is little time left I know, but we believe we can do it.  I had sufficient confidence in Everton to believe that if the worst were to happen and we should go down, we would be relegated with such a side that like Aston Villa, we would climb out again at the first time of asking.  Optimistic? Maybe but that was how I viewed the situation. 
TENSION INCREASED
Now if the four up and four down principle were to be applied I think football would become even more nail-biting than it is today.  The nervous strain on players would be increased not always with a beneficial result on the class of football served up.  True there would be no freewheeling.  That comfortable feeling in the middle of the table would disappear and desperation would become more marked than it is to-day.  No, for me, the two up and two down system is quite good enough.  I believe that if a team can win promotion with a very young side, bolstered by the odd one or two experienced men, they stand a much better chance of staying up than a side who packs their team with experience for the express purpose of "catching the lift" a team of old men will soon be found out in the fast school of the First Division and to find a new blend in time to avoid the direct consequences is by no means easy.  Blackpool won promotion on youth and they are going better.  The Sheffield Wednesday team, who have utterly destroyed the yo-yo tag, can scarcely be called a side of the old men.  Youth will be served in the flight to get to the top of the score tree. 
NO MORE LAST FIVE MINUTES AGONY, PLEASE EVERTON!
Thursday, April 14 1960. The Liverpool Echo and Evening Express
By Leslie Edwards
The general impression after victory against Tottenham that Everton are now safe is one not shared by this columnist.  Teams in the relegation area have a habit at this stage of the season, of winning all along the line, the reason being that they often meet opponents with nothing at stake.  A confirmed optimist in most things, I shall be happy only when we arrive at the moment when the figures show that it is impossible for Everton to be relegated this season.  Niggling doubts add ifs and about all matches ensures that we are kept anxious until that desirable moment.  Thus the home game against Blackpool tomorrow is of equal importance to the Tottenham one and with Stanley Matthews as an additional attraction will help Everton to pack in between 50,000 and 60,000 to help pay off the nations "debt" expended on such men as Vernon, Ring, Lill, Gabriel, and company. 
TOUGH ONE ON SATURDAY
All we ask of Everton is to avoid, please that awful five or ten minutes suspense in which we are not sure whether the match is going to end 2-1 or 2-2!  That they beat one of the best sides in the land a week ago should improve their concert of themselves and lead them tomorrow to play a game free from anxiety.  My opinion is that they will win-and early.  They have a tough one the following day at Leicester and the two points they could pick up against Blackpool are essential.  Everton announce that seats for cash will be available in the Gwlady's Street and Stanley Park goal stands and in the Goodison Road stand.  There will be no cash admission to the Bullens Road stand.  Everton; Dunlop; Parker, Jones; Harris (B), Labone, Meagan; Lill, Collins, Harris (J), Vernon, Ring. 
LETTERS
Old-timers, some of them over 80 years of age are still writing about old times.  Mr. J. Smith from Stanley Road, Bootle says; "The incident between Bell and C.B. Fry was at Goodison Park in the F.A. Cup, the result of which was Everton 5, Portsmouth nil.  Fry was a rough player and Bell caught him on one leg charged him heavily, and Fry hit the deck and broke his left leg.  Bell was a 13 stone man and a daisy-cutter of a shot." 
Mr. John Hayes, 14 Duddington Avenue Great Crosby writes; I agree with Mr. Huntsworth that Fry was more to blame for the clumsy way he crashed into Bell, who was a well-built forward who never used shay tactics. 
"I was at the Everton v. Liverpool Cup-tie at Hawthorne Road, Hannah and Mclean (who was red-headed) were the Liverpool backs.  There was some confusion on the field at the end.  Then I heard Mclean shout "Come on, boys we've won!"
WEDNESDAY NO TO CATTERICK
Thursday, April 14, 1960. The Liverpool Echo and Evening Express
Dr. Andrew Stephen, the Sheffield Wednesday chairman stated today that the club's directors had decided not to release manager Harry Catterick, the former Everton player, from his contract.  Catterick made his request to the board after receiving an offer of a five year contract and higher salary from another club.  His present agreement with Wednesday does not expire until August 1961. 
HARRIS HEADS THE GOODISON EASTER PARADE
Saturday, April 16, 1960. The Liverpool Daily Post
EVERTON MUCH TOO GOOD FOR BLACKPOOL
Everton 4, Blackpool 0
By Horace Yates
What a remarkable contradiction in competitive soccer as supplied by the Football League.  At Goodison Park yesterday Everton still anxious about their First Division tenancy and with every point vital for safety, not only gave Blackpool a team comfortably situated in the half-way regions of the table a lesson to the arts and crafts of good football, but had only themselves to blame that there were not double figures to prove the point beyond doubt.  Blackpool's two successive defeats while Everton have been taking four points from their last two games means that only a single point now separates the clubs, and that Blackpool are themselves dangerous near the relegation zone.  It would, however, be most surprising if they went down in view of the number of clubs still beneath them and the talent at their disposal. At times Everton were able to toy with their opponents so much so that to describe Blackpool as third rate was in no way an injustice to them.  Although the ageless magician Matthews was in the Blackpool ranks still producing the touches which gave the crowd opportunity to applaud his acknowledged genius he had to take second place to the more youthful more mobile Everton wonder Bobby Collins.  The little Scot thoroughly enjoyed himself and sent the crowd home happy.  While Matthews has learned in these advanced days not to overdo individual effort, Collins thrived on hard labour and set up movements after movement by dispossessing an opponent.  The scoring of the fourth goal in 81 minutes was a typical example of his enterprise.  Taking the ball from Perry in a tackle inside his own half, he went on to beat Martin with ridiculous easy.  So completely left was the Blackpool full back that he did not even bother to chase.  Collins shot the ball forward immaculately for Lill whose cross passed invitingly in front of the goal for Jimmy Harris to score at his leisure. 
COLLINS AT HIS BEST
Had we not seen so much of the Collins brilliance his display would have looked even batter, but we have now reached the stage where our expectations are so high that on occasions when they are not fulfilled disappointment is possibly unduly great.  This game must rank as one of the best Collins has ever served up, and the fact that Blackpool were such common-place opponents did nothing to dim his achievement.  Time it is said, is a great healer and maybe that has something to do with the fact that no one these days mentions the unpopularity of the Hickson transfer to Liverpool earlier in the year.  A great factor however, may be that the man who has replaced him, Jimmy Harris has taken to the position so expertly and so convincingly that even Hickson's greatest admirers find it hard to make out a case for continued disappointment.  Harris is proving a tremendous enthusiast and his speed and dash have created a mobile middle.  Imagine the thoughts of the ambitious £30,000 Scot, Gabriel who had to sit and watch his rival Brian Harris go from strength to strength in consolidating his claim to the right half position!  Harris, in fact, was a member of a half-back line so much on top of its job that only on the rarest of occupations did trouble threaten them.  Meagan is a revelation.  Gone is the half-heartedness and hesitancy which marked his early season play and against Blackpool he was in everything.  A stylist whose creative passes were eloquent testimony of the football brain which dictated them.  Meagan is a revelation.  Labone in the middle seems to improve with every game.  Completely commanding, never flurried, he is obviously destined for high honour in the football game and it may be sooner rather than later that his powers so well recognised at Goodison Park will be equally acknowledged in other quarters. 
VERNON OFF TARGET
Vernon off with a leg injury for 15 minutes or so could have reaped a rich scoring harvest if only he had been able to find his usual touch.  Few matches have presented him with more numerous opportunities and yet he had only one goal to show for his efforts.  That was a remarkable affair; Collins it was who created a clear cut opening and Vernon by over elaboration seemed destined to remain a non-scorer.  He afflicted the ball to one side of the goalkeeper, Walter only to find he then had Martin to beat.  Vernon cool as a cucumber took the ball round the back as well and shot into the vacant net.  Up went his arms to high heaven no doubt as an appreciation of the fact that his scoring failure was at an end.  Everton were two up at half time.  The first goal came from an exploratory Vernon hook high into the goalmouth.  With Lill bearing down on him Walters struck at the ball and sent it spinning into the net for an own goal.  Collins was the scorer of the scored from an approach by Brian Harris and Jimmy Harris.  When J. Harris crossed the ball Collins merely sent it on its way but so accurately that Walters could not touch it and it finished just inside the upright.  Only Perry, Matthews and Armfield left anything by which to remember this Blackpool side.  I was told that Blackpool display last week in their home defeat by Birmingham was rather despairing.  It was fortunate then that so few of their supporters were present to see this new humiliation.  Attendance 65,719.  Everton; Dunlop; Parker, Jones; B. Harris, Labone, Meagan; Lill, Collins, J. Harris, Vernon, Ring.  Blackpool; Waiters; Armfield, Martin; Kelly, Gatrix, Kelly H, Matthews, Kays, Charnley, Green, Berry. 
ROY VERNON DOUBTFUL
Saturday, April 16, 1960. The Liverpool Daily Post
By Horace Yates
Because of the twisted knee received in yesterday's game with Blackpool, Roy Vernon is doubtful for Everton's visit to Leicester City to-day.  He had treatment yesterday and was able to accompany the party which also included Alan Tyrer, who made his debut earlier in the season at Fulham.  The final decision on the composition of the side will not be made until shortly before the game.  The team will selected from; Dunlop; Parker, Jones; B. Harris, Gabriel, Labone, Meagan; Lill, Collin, J. Harris, Vernon, Tyrer, Ring. 
CATTERICK STAYS WITH WEDNESDAY
Saturday, April 16, 1960. The Liverpool Daily Post
Harry Catterick the Sheffield Wednesday team manager is to stay with the club who have decided not to release him from his contract which expires in August 1961.  Mr. Andrew Stephens the club chairman, stated this on Thursday.  In a statement Mr. Catterick said that two months ago he was approached by a club "of considerable repute" and offered the position of manager, with full control of playing matters, a five year contract and an increase of salary of 50 per cent.  He placed this before the Wednesday board who said they would not match the offer, nor would offer a better increase form success achieved but no salary increase under contract or alteration in status.  "I felt it left me with no alternative but to ask to be released from my present contract" said Mr. Catterick "I was very disappointed that the club will not release me, but I accept the board's decision and intend to houour this agreement and work for the benefit of the club at all times."
RELEGATION WILL NOT BE WORRYING EVERTON...
Saturday, April 16, 1960. The Liverpool Echo and Evening Express
By Leslie Edwards
Give the footballing public of the city a good team to follow and they'll repay you every time.  That would seem to be the lesson well learned by Everton.  For the sixth successive time of home yesterday they were watched by more than 50,000 people.  Yesterday, almost 66,000, was the best of the season, and these spectators must have gone home content that Everton's future in the First Division was assured.  The four goals by which they won against Blackpool were not only well deserved but might easily have been supplemented by four more.  The demerit of the Blackpool attack is best indicated by the fact that Dunlop never needed to deal with a shot from a forward; the three deliveries which caused him trouble were all made by half-backs.  An attendance of such size deserved a great match.  They did not get one but they were rewarded by some brilliant play occasionally by Everton and by some remarkable goals.  If the Southport boy Waiters had been less competent or courageous in goal the match would have been much wider.  His only mistake was to mistimed a punch away and involve himself rather unluckily in the nearest hing one could have to an own goal by a goalkeeper.  Jones had centred, Vernon had hooked the ball overhead toward goal and Lill was challenging when Waiters first thumped the ball upwards and imparted such spin in it that when it fell it broke back like a juggler's hoop over the goal line.  Collins with a quick hook shot from a difficult angle made it 2-0 before the interval and Vernon injured and off-field for five minutes during the first half and Jimmy Harris rubbed out memories of Everton's recent blank second halves by scoring later.  Vernon's goal which Blackpool disputed on the grounds that he was offside when he moved onto Ring's pass was one of the most remarkable.  He sped on with the ball, rounded the out-going Waiters and then in a close dribble seemed to have delayed his shot fatally not once, but three or four times.  Yet he maintained control, beat man after man in the space of a few feet, and then cracked the ball home when the opening had been completed to his liking.  Only Vernon could have scored this one. Jimmy Harris's goal came from an open invitation from Lill after Collins had foxed full back Martin.  It was a goal from point-blank range.  If Harris had accepted all his chances he must have scored three or four times.  For me there were three men of the match-Lill, Armfield, and course Stanley Matthews.  Lill was sometimes beaten by Blackpool's fine defensive covering but in the straight duel against Martin he was usually master, I make this special tribute to him because his conduct here reflected the greatest credit on himself and his club.  In short he played well and with such sportsmanship and good manners.  I commend his performance to footballers everywhere.  More of this, please.  It is all part of Mr. Carey's promise to give the Liverpool public entertainment.  Armfield is a player and a half, though Ring who had an appealing afternoon did not always think so.  The Blackpool and England man is a matter of all the arts; strong, yet neat and always constructive.  Ring's best volley deserved a goal but Martin kicked away from the line and so although he had his moments, this was not one of Ring's outstanding performers. 
SHUFFLING FEINTS
Blackpool began as though they did not appreciate that Matthews was present.  Then he started to seek work and used the ball if not as inspiringly as when his legs and body were more supple.  Matthews did his shuffling feints made his openings and then slipped the ball inside or through the middle.  Only once did he attempt that famous flick and gallop outside the back.  But he is still unique and with better players alongside him how effective his work could be made I fear Perry, chained down by Parker is on the way out.  Durie was missing the won't be on Monday and so was Mudie so the Blackpool attack was dependent on Green, former of Tranmere and on the lively tough Kaye and on Charnley.  Charnley had no sort of show against the commanding Labone.  With so few cylinders functioning in their front line Blackpool could hardly hope to survive well as their half-backs played.  Everton are developing into a side to be feared.  That attack of theirs has some pretty patterned movements to unfold and some of their finesses yesterday were splendid.  What is even better they are taking their chances.   The dreary days of pedestrian effort at Goodison Park are gone.  This time next season it won't be relegation on Everton are anxious about. 
LEICESTER PULL BACK EVERTON LEAD TO GAIN DRAW
Saturday, April 16, 1960. The Liverpool Echo and Evening Express
Leicester City 3, Everton 3
By Horace Yates
Leicester City;- Banks; Chalmers, Cunningham; McLintock, Knapp, Appleton; McDonald, Cheesebrough, Leek, Walsh, Wills.  Everton; Dunlop; Parker, Jones (Captain); Gabriel, Labone, Meagan; Lill, Tyrer, Harris (J), Collins, Ring.  Referee; Mr. K.G. Aston (Iford). 
Everton brought in Gabriel for Brian Harris at right half and Alan Tyrer, who was introduced to First Division football at Fulham earlier in the season partnered Lill.  Collins moved over to Vernon's position.  The first danger to either side came with Jones lofting the ball into the Leicester goalmouth and with Lill running in to make contact, Cunningham was first to the ball.  Everton had not dropped into the rhythm of yesterday, but possibly this was because Collins had scarcely taken a hand.  When he did he was stopped for offside. 
ALERT LABONE
When Appleton opened up possibilities for Walsh the alert Labone moved over and with his usual assurance dispossessed the Leicester forward before there was any danger.  Erractic passing was doing nothing to improve Everton's cause, and it came as a surprise to find Collins putting the ball straight to the feet of Walsh.  For Leicester, 15 minutes prove an unlucky number Gabriel was quick to spot a break in the home defence and Harris showed a fine turn of speed to gain possession.  As he was rounding McLintock with a clear view of the goal, down he went.  It was a blatant offence and the referee had no hesitation in awarding the penalty kick from which Collins scored.  A slice of luck came Everton's way when Labone fell to give Cheeseborough the freedom of Filbert Street.  Instead of taking his time to deal with the advancing Dunlop, Cheesebrough fired first time right off target. CLEVER RING
Ring was showing many clever touches and appeared to have the beating of Chalmers. A run by Gabriel on Walsh was not at all to the liking of the crowd, but Jones dealt adequately with the free kick.  Everton although failing to find the attacking dominance they have shown in recent displays should have been two up after 25 minutes.  Again it was the long ball which caught the City defence out of position and Lill was out on his own with only the goalkeeper to beat.  When Banks advanced Lill piloted the ball gently towards the untenanted goal.  To Everton's dismay it was a yard wide.  Gabriel was celebrating his return to first team duty with a brave defensive display and when an in-swinger from Wills looked menacing.  Dunlop rose to pluck the ball out of the air with masterful assurances.  The second penalty award of the game was awarded against Labone for an offence against Leek, whose eye was badly out and he was led off the field with his head swathed in a towel with the referee lectured the Everton player.  Chalmers took the kick and scored in 32 minutes.  Everton could not take a grip on the game.  Their attacks were stilted and out of joint and even with 10 players Leicester refused to have their ascendency challenged.  Knapp endangered his own goal by placing the ball directly to Collins, who sent on to Ring whose lob cleared the bar by no more than an inch although the Everton attack was disappointing there was no sort of compromise allowed defensive by the Gabriel-Parker-Labone trio.  McDonald's clever play and fine through ball was rained when Cheeseborough shot badly, and when Leek returned wearing a skull cap four minutes before the interval he took up a position on the left wing.  Half-time; Leicester City 1, Everton 1.
LEICESTER ON TOP
Leicester's monopoly of attacks continued and after Leek had sent yards over the bar.  McDonald was just as badly wide with a lower shot.  Next Appleton joined the firing squad and crowned all previous efforts by clearing the roof of the stand.  As Lill swing the ball over just outside the penalty area.  Harris moved in, but stopped in his tracks at ring's request while the Scot flung himself at the ball for a header which caused no trouble to Banks.  It came as a change to find a lovely link-up between Harris, Collins and Ring evoking the cheers of the crowd, for so far Everton had done little to prove their claim as being a footballing side of some pretensions.  Everton surprisingly slipped into the lead in 54 minutes.  Ring was taking the ball through the middle when he was upended by McLintock.  While players argued and took up their defensive positions, Collins lift the ball which was deflected and rolled past Banks at so great speed.  We were beginning to see more of the real Everton and Harris with a measured nod of the head, was only just too strong with an effort which must have troubled Banks.  Although Leek struggled on gallantly, blood was pouring down his face and he had to visit the trainer's bench for cotton wool to staunch the uow.  Ring came inside Mclintock and just outside the penalty area hit a cracking shot which had Banks beaten by yards, only to finish narrowly on the wrong side of the post. 
TRUE FORM
Everton were at last showing their true form, and Collins was deprived of a hat-trick when his shot hit the post and skidded outside.  Collins was now bursting for his elusive third goal and chased everything.  Ring was toying with Chalmers, and similarly beat Knapp as he chose only to find Cunningham taking charge of the centre.  Dunlop had not been greatly troubled, but when Cheeseborough lofted the ball into the sun, the goalkeeper made no mistake.  This was the most convincing display I have so far seen from the young Scot Gabriel.  His tackling was first class and his anticipation no less praiseworthy.  Ring was really making merry.  He skipped past McLintock, dealt equally assuredly with Chalmers, and floated the ball across goal for Lill to jump high and head beyond Banks, for the third goal after 65 minutes.  Only a magnificent save by Banks prevented young Tyrer from joining the scoring list.  Everton had turned the tables completely and it was now Leicester's turn to be imprisoned for long periods in their own half.  Again from Ring's brilliance, Tyrer helped himself to a long distance shot at goal which forced Banks to make a creditable save.  Not only did Everton's first away victory for a year seem assured but the points which it earned might be sufficient to end relegation worries.  A terrific shot by wills from the edge of the penalty area whistled past Dunlop, it struck the underside of the bar.  With nine minutes left Everton were back in the finger-pitting stage when from a corner by Walsh the ball found an unmarked Cheeseborough who headed into the net.  Appleton equalising for Leicester after 87 minutes.  The away hoodoo which was fogged Everton re-asserted itself as Dunlop advanced to meet a centre from Walsh and Appleton lobbed the ball slowly over Dunlop's head.  Final; Leicester 3, Everton 3. 
LONGEST TWO MINUTES I'VE KNOWN
Saturday, April 16, 1960. The Liverpool Echo and Evening Express
Alex Parker Looks Back At Spurs Game
I will always remember Saturday, April 9, 1960, for two things; (a) The day we beat the costliest team in Britain, Spurs; and (b) for the longest two minutes I have ever experienced either on or off a football pitch.  I looked at the clock near the end of the match and noticed that it was practically 4.40 p.m the time the game was due to finish.  The ball came rolling towards me near the touchline.  I could have stopped it, but as we had only one goal lead, and knowing how much we needed the points, I thought to myself; "This ball is safer up the other end of the ground. "  With that I hit it up the wing and when it got well into the Spurs half it swerved out of play.  As Danny Blanchflower went to take the throw-in I looked towards the referee expecting him to blow for time.  But no, and ten minutes later 'well it seemed like ten minutes the ball came to me again and I hit it well down field.  Again it swerved outside again Blanchflower went to take it and again I expected the referee to blow his whistle.  And again he didn't. A further ten minutes went but-if you'll pardon the exaggeration-and the Tottenham left winger, Cliff Jones, fastened on the ball, beat an Everton player, but hit it too far ahead.  I stepped in to take the ball, and this time decided to try the other wing so I hit it about a mile and half ahead of where I judged Tommy Ring to be.  Again the ball ran out, and I thought to myself "The ref must blow this time.  Maybe he's forgotten about the time." But no' A Tottenham man took the throw-in, they attacked down the right wing arch to my great disgust, gained a corner.  By this time I thought it must be getting on for half-past seven. 
 A MORAL
The corner came over, was cleared to Bobby Collins and as he slipped it to Mickey Lill the whistle went; I could hardly believe my ears.  We had beaten the mighty 'Spurs, although it seemed to have taken about three and a half hours to do it.  There's obviously a moral here for any youngsters reading this.  It still proves there's no substitute for football for as much as you try to push the clock forward, it just doesn't care.  It moves at its own sweet pace.  That might I saw excepts from the match on television I have been asked many times if players remember the incidents they see in tele-films. Well for my part I certainty do, I remembered everything I saw last Saturday night.  The same applies to Press pictures I can usually remember the incidents shown although there have been times when I have been unable to recall just what a shown in the photograph.  "I noticed that apart from the Hampden Park attendance ours was the biggest in the country, not for the first time this season.  I would much sooner play before a big crowd.  It seems to give you more incentive to fight and last week's crowd was particularly good, I even heard some of them cheering Tottenham moves. 
LABONE INJURY
However, I did hear a few voices criticising the team even when we were 2-1 up.  I don't claim we are the best side in the world, but we cannot be expected to look as good against a club like Tottenham as we have done against one or two other sides recently and to beat them is no means performance.  You no doubt read in last Monday's Echo about Brian Labone playing with a cut shin.  He received a kick on his right shin in the second half but didn't take too much notice.  He thought it was just a other kick.  In the dressing room after the match he rolled his stocking down and saw the gash, which was about an inch long.  Then his leg started shaking.  So off he went to have the wound stitched.  The morning after the story appeared in the Echo Poor Brian had his leg pulled at training although in view of his many injury, not literally although I was disappointed at not being picked for the Scottish tour, it was nice to see Jimmy Gabriel honoured.  It could be quite a close season for Jimmy.  Next Wednesday he plays in Belgium in an Under-23 international.  Although the final details of the Everton four are not yet fixed it is possible for him to visit Germany and one or two other countries with us, then get back in time to go to Hungary, Austria and Turkey with Scotland.  Looking back over my career I can well remember the day I also went to Hungary and Austria with the Scottish party at 19 the same age as Jimmy is now.  Well I shall give the young boy the benefit of my experience although I don't expect things to be the same today as they were in those far off days.  After all it was nearly five years ago.  There was a sequel to my forecasting that Wolves would get the Cup and League double.  A woman supporter rang me during the week, I think she would prefer to remain anorumous and offered to bet me half-a-crown that the Molyneux side lift neither The Cup nor the League.  Now I am not a gambling man, but I thought, I would make an exception this time.  So she's on.  However that is not a hint for everybody to do the same. 
WENT TO SEE STAN-ADMIRED EVERTON
Saturday, April 16, 1960. The Liverpool Echo and Evening Express
Not A weak Link, Says Billy Liddell
Yesterday I took my family to Goodison Park to give them their first glimpse of the one and only Stanley Matthews, and they wanted to stick up for Blackpool.  The last time we saw Everton they were beaten by Newcastle United and we were accused of bringing the Blues bad luck, so I was hoping that everything would be forgotten with a good win.  Everton started as if they were going to win the game in the first 20 minutes and as the match wore on it was difficult to imagine that it was Everton who were in the more dangerous position in the League.  They showed up the Blackpool side and made them look very ordinary.  This was one of the poorest Blackpool sides, I have seen but all credit to the Blues for the way they got on with the game using the long ball and the short ball equally well.  They made plenty of openings in the first half but due to over eagerness they came to nought.  As so often happens in cases like this it took a mistake to put Everton on the right path, Mickey Lill went up with the goalkeeper as he came out to punch the ball clear but all that Waiters succeeded in doing was to fist the ball up into the air and into the net.  The second goal was an example of quick thinking and anticipation but wee Bobby Collins almost a relic of his goal against Newcastle.  A risky back-pass to the goalkeeper was intercepted and shot into the net all in one movement.  There may have been a touch of fortune about the first three Everton goals but the last one was beautifully engineered by Collins and Lill for Jimmy Harris.  There was not a weak link in the Everton side and they seemed to have lost the taste and anxiety which coloured their play just a few weeks ago. 
COMPARISON
Like many other spectators we had gone to see how Stanley Matthews compared with past years.  The Wizard of Dribble can still control the ball and sell the dummy in his inimitable fashion, but he does not come into the game like he used to do.  It is only natural at his age that he cannot stand the knocks or the hard tacklers.  Stanley still put through some wonderful passes, but he was played well by Tommy Jones and never got the chance of splitting open the defence like he used to do as he dribbled along the goal line and cut the ball back for his forwards. 
EVERTON RES V LEEDS RES
Saturday, April 16, 1960. The Liverpool Echo and Evening Express
Everton Reserves;- Griffths; R, Parnell, Bramwell; A. Jarvis, D, Gorrie, Peat; Boner, Shepherd, Wignall, Harland, Laverick.  Leeds United Res;- Wood (R.); Jones (A), Kilford; McConnell, Wood (T), Owen; Francis, Wright, Jones (D), Hawkey, Harvey.  Referee; Mr. A.D. Hist (Redford Notts). 
Everton's first attack which ended with Wood (R.) punching out Wignall's first time drive, Shepherd then rounded Kilford beautifully before centrering but Wignall completely miss-kicked in front of goal and Wood (R) scooped the ball almost off the goal line.  Everton were having the better of a clean open game and Harland hit an upright from 30 yards while Wood (R.) turned Wignall's snap shot for a corner.  After gaining their first corner after half an hour's play, Leeds came into the game and three minutes before the interval took the lead through Wright who beat Griffiths with a low angle drive which entered the net off the far post.  Half-time; Everton Res nil, Leeds Res 1. 
EVERTON WERE SO NEAR A CELEBRATION
Monday, April 18, 1960. The Liverpool Daily Post
Leicester City 3, Everton 3
By Horace Yates
Everton will never have a greater opportunity of winning any game away from home than they had at Leicester.  Sailing serenely along, three goals to one ahead, and just about as superior as it is possible to imagine, danger appears cut to the irreducible minimum and yet one minute from the end of the official time came the season's flukiest goal to cause the celebratory champagne to be put away for another day.  I am not superstitious to encourager of the gremlin idea and yet it seemed this was a game Everton simply were not meant to win.  Look at that final goal as an illustration.  Everton players pointed out to the referee that the ball was at least a foot over the by-line before Walsh swung it into the middle.  In the absence of a signal from the linesman the referee was unimpressed, and McLintock swung at the ball with a mighty lunge that must have sent it hurtling over the roof of the stand had genuine connection been made.  Instead the ball hit his shin and the slowest lob imaginable scraped just over Dunlop's outstretched fingers and cross the line as Labone kicked out.  How true it is that a game is never won until it is lost and a more unlikely side to mount a winning rally than Leicester City it is hard to imagine. 
DEFENSIVE SLIP
It was not this goal, however, that was the real culprit, but Leicester's second at a time when their role was largely one of making up the numbers rather than providing a competitive element and for that Everton had only themselves to blame.  A perfectly ordinary corner kick, while ninety-nine times out of a hundred would have done no damage at all, found the defensive vigilance relaxed –one of the very rare occasions when this charge could truly be laid-just long enough for the ball to reach the unmarked Cheeseborough and suddenly and unexpectedly Leicester were presented with a glimmer of hope that should never have been permitted.  Tension and nervous strain were reintroduced to a side, only too well aware of the lack of an away victory in their record this season, and as it not uncommon in these circumstances by meeting trouble half way they contributed to their own disappointment.  Many of the home supporters had given up the game for lost, even after the scoring of Leicester's second goal and the continuous stream to the exits told its own story.  I must admit I shared their assessment of the position, for Everton with Collins and a dancing darting Ring, playing football reminiscent of those earliest appearances of his were quite out of Leicester's class.  Collins will never come nearer scoring a hat-trick without actually getting one than he did in this game.  He converted a penalty kick awarded when Jimmy Harris was brought down after 13 minutes, and although this award was wiped out when Chalmers scored from a penalty awarded against Labone for a foul on Leek, up came Collins with a smartly taken free kick, while opponents debated and argued to score the second in 54 minutes.  By this time Everton had weathered the only sign of a storm, for Leicester undoubtedly monopolised play in the first half, without ever suggesting the thrust and finish necessary to make such advantage count in terms of goals.  Once Collins got into his stride the Everton attack sprang into life, although nobody could claim that young Alan Tyrer in his second senior game, made himself completely at home even if he did go very near collecting a goal.  It was while Everton's star was so firmly set in the ascendant that Lill came along to pay tribute to one of Ring's centres with a beautifully taken goal 25 minutes from the end.  In the last 9 minutes of drama the Everton dream was shattered a situation which was the more remarkable because when Leicester had been on top they could make nothing of a defence in which Labone was complete master of the middle.  His task was undoubtedly made easier by the unfortunate accident to centre forward Leek, who had to have a nasty head wound stitched as a result of the incident which gave Leicester their penalty, and afterwards played with an improved skull cap.  Whether the penalty decision was merited or not there is no doubt that there was no ill-intent on Labone's part.  Both he and Leek went up together and in his spin round, Labone caught the centre forward with his elbow.  This accident did nothing to improve Leicester's chance for if there was one home forward more promising than the rest, it had been Leek.  Gabriel restored in place of Brian Harris, seized the opportunity brilliantly.  It was the most convincing defensive display I have seen from him and he it was who spotted the possibilities of the long ball when Leicester were crowding Everton into their own half. 
DUNLOP EXONERATED
Parker and Jones were always on top of their task and although that final crushing goal looked so simple, I attach no blame to Dunlop for conceding it.  He advanced to meet the crash shot, which everyone including McLintock and when nothing more than an accidental lob materialised, Dunlop could not get back in time to intervene effectively.  It was not for lack of effort that Harris failed to master Knapp and Lill's usefulness did not end with his goal scoring.  The League table tells us that Everton could still be in trouble but playing as they are just now it is hard to imagine such a possibility.  With their stylish approach and improved finishing Everton, I feel are past the worst and are now prepared to make a repetition of this anxious season most unlikely.  Leicester City;- Banks; Chalmers, Cunningham; McLintock, Knapp, Appleton; McDonald, Cheesebrough, Leek, Walsh, Wills.  Everton; Dunlop; Parker, Jones (Captain); Gabriel, Labone, Meagan; Lill, Tyrer, Harris (J), Collins, Ring.  Referee; Mr. K.G. Aston (Iford).  Attendance 22,390. 
Today's Game
Everton, who play their return game at Blackpool, will not announce their team until to-day.  Roy Vernon was receiving treatment for a twisted knee yesterday and a report on his fitness is awaited. 
EVERTON RES 1 LEEDS UNITED RES 1
Monday, April 18, 1960. The Liverpool Daily Post
Everton failed to maintain the sparkle of the opening half an hour of this Central League game at Goodison Park and were ultimately thankful to force a draw through Boner's speculative touch-line lob in the last minute.  Apparent content to hold on to Wright's forty-second minute goal, Leeds packed their defence and Everton forwards had reason to regret wasting earlier chances.  But even at best, the Everton attack was lopsided and relied too much on Shepherd and Boner the right wing pair.  Half of the Everton defence consisted of amateurs of who right back R. Parnell and centre half D. Gorrie gave mature and constructive displays. 
FLUKIEST SCORE OF SEASON FOILS EVERTON
Monday, April 18, 1960. The Liverpool Echo and Evening Express
By Horace Yates
Time is running out and Everton are still without an away victory to their name this season, but why this should be so after their experience at Leicester on Saturday, defies normal reasoning.  Not for the first time they saw a two-goal lead slip through their fingers, the equaliser according to the referee's timing, in the last minute.  If it had been a normal goal disappointment would have been less keen, but for the players to have their exhibition to put an entry in their away victories column caused by the flukiest score of the season, was galling indeed, and the game ended in a 3-3 draw. 
The team are most conscious of their away match failures and no matter what other explanation may be offered for this uninspiring state of affairs lack of solid effort is certainly not the cause.  At the hotel at which the players stayed there was a legend that if they were to touch the paw of Mitzi, the monkey, for the superstitiously inclined victory was brought a stage nearer.  Most of the players dutifully went through this little ceremony, and judging by the reception Mitzi had for Jimmy Harris, nothing less than a hat-trick was in store for the centre forward.  Whether it was the Mitzi charm or the more likely explanation of Everton's undoubted football ascendancy that produced a 3-1 lead in 55 minutes, the one thing that did seen certain was that at last Everton were to prevail away from home. 
EVERTON'S GRIP
Even the Leicester supporters had made up their minds that if their team were to play all day they could only fall further into arrears, such was the grip which Everton had established.  Had Leicester possessed the talent and ability, opportunities were there for them to take in the first half in which they enjoyed a territorial ascendancy which must have profited a better side but their attack was without sting and some of their shooting deplorable.  Leicester in fact, looked what they are a team struggling on the outer edge of the relegation peril, but Everton in contrast, continued to show that their proximity to danger is a legacy of the past rather than the present.  It was most unfortunate that in a pure accident, when both players went up to the ball together, Leek should sustain a cut head in contact with Labone's elbow.  It cost Everton a penalty and a goal to Chalmers, to equalise a penalty scored previously by Collins for the most flagrant upset of Jimmy Harris in a scoring position.  Leek had promised to be Leicester's liveliest forward and even after two stitches had been inserted in his wound he came back to show greater spirit than other of his colleagues.  Everton needed time to switch from defence to attack but once the switch had been thrown Leicester's slide to emphatic defeat always looked likely.  Ring had his legs whipped from under him when poised for shooting from a position just outside the penalty area and while Leicester debated the award, Collins acted and the ball was in the net, the reward for this quick thinking and equally quick moving forward, who ran into second half form to strike confusion and terror into the Leicester ranks.  Collin's face was a study when he slammed a shot against the foot of the post, with Banks completely beaten to be deprived of what would have been for him a rare hat-trick.  Tyrer, a game substitute for the injured Vernon, although naturally not contributing as much to the game as the more experienced Welsh international might have done, earned high marks for a great shot, which was prevented from finding the target only by the save of the match from Banks.  Still nobody worried except Leicester for plainly the same was ebbing out of their reach just as decisively as it could go and when Lill headed a Ring centre home, that seemed to be a position which even an Everton, renowned for their inclination to let away victories slip from their grasp could not squander.  Even on those rare occasions when Leicester trespassed in Everton's half after the interval, they were in the toils of a completely assured and capable defence.  Danger seemed almost entirely remote.  The home crowd had already conceded the match when Everton made their first real slip.  They left Chesseborough completely unmarked in front of goal from a corner kick and the inside forward said "thank you" by heading past Dunlop.  Only a single goal ahead now, there still seemed more likelihood of Everton increasing the lead than losing it for on the left wing was monarch of all the surveyed.  Chalmers was completely ineffective against him and even when McLintock lent his support, the Scot was able to deal quite comfortably with the situation.  One felt that had Everton continued to exploit the Scot's mastery Leicester troubles would have been intensified. 
MISFORTUNE STRIKES
The referee, after trouble with his watch which caused him to seek a time confirmation from a linesman had decided that only a minute was left for play (although I made it three) misfortune struck Everton heavily.   Walsh the players contended centred from a position a foot over the bye-line and as Dunlop moved out to meet the power drive which McLintock was preparing to unleash the Leicester half-back completely misjudged the flight.  The ball struck his shin and with no power at all, lofted over Dunlop's head to score.  You might have expected unrestrained joy from McLintock at his salvaging of a point which had seemed so far beyond Leicester, but realising what a terrific fluke it all was.  McLintock merely held his head in his hands in utter debrief.  Yet, it was all too true.  Everton had again failed to smash the hoodoo on away games.  Chairman Mr. Fred Micklesfield who had promised the players a celebration in champagne to mark their first away triumph had already envisaged the popping of corks but it was not to be.  Gabriel turned in the best display I have seen from him and with Brian Harris in superb form, as shown by his display against Blackpool the previous day, what a battle royal is promised between the two for possession of the position, especially as Meagan moves to the completion of his best season with the club. 
EVERTON STILL SEEKING THAT ELUSIVE AWAY WIN
Monday, April 18, 1960. The Liverpool Echo and Evening Express
Blackpool 0, Everton 0
By Michael Charters
Blackpool;- Waiters; Armfield (Captain), Martin; Kelly (J), Gratrix, Durie; Hill, Mudie, Charnley, Green, Kaye.  Everton; Dunlop; Parker, Jones (Captain); Gabriel, Labone, Meagan; Lill, Collins, Harris (J), Vernon, Ring.  Referee; Mr. L.J. Tirebuck (Halifax).  Roy Vernon returned to Everton's team after missing the game at Leicester on Saturday.  Blackpool had a much-changed line with Hill deputising for the injured Matthews and Kaye moving from inside right to outside left in place of Perry.  The ground was very firm and the light bouncing ball put at a premium on instant continue.  The former Tranmere man Green was the first to show prominence for Blackpool beating off a tackle from Gabriel but when he moved up to take a return pass from Charnley. Gabriel had recovered to touch the ball back to Dunlop.  A weak back pass by Martin gave Everton a wonderful chance as Vernon slipped the ball across to Collins, who delayed his shot just that little late to enable Martin to recover and block the ball away.  Everton were getting into a good-looking rhythm now but Vernon should have done better with a headed pass by Collins as he volleyed the ball high into the goal stand.  It only seem sacrilege to say so, but Hill was doing much better on Blackpool's right wing than the great Stanley had done on Friday.  He was Blackpool's best forward and again fitted past Jones very neatly to lay on a fine centre which Charnley headed wide.  The bounding ball was proving a headache which neither team could master completely however, Kaye followed Vernon with his shot going 20 yards over bat from the edge of the penalty area, and many of the passes tended to be over-hit. 
MANY MISTAKES
The game had slumped now to the full of more mistakes than good football, but the efforts of Meagan and Mudie to get their attacks working properly were notable.  The handling of Waiters had not looked too secure, but he made no mistake when real danger threatened as Ring hit a fast chest-high centre towards the waiting Lill, and the goalkeeper dived to collect it beautifully.  After 24 minutes of rather mediocre play Harris put the ball in the net from a pass by Vernon but the inside man had been flagged offside when he got the ball from Lill.  Everton were doing much more of the scoring and Vernon put too much left on another shot, after Ring had cut his way through from a delightful pass by Meagan.  England back Armfield was very much the star of Blackpool's defence and his use of the ball was an object lesson to others. 
FORWARD SWITCH
Mudie and Kaye switched positions in the Blackpool attack, but they weren't getting far against a strong Everton defence with Labone playing particularly coolly and competently in keeping a close check on Charney.  Although last the game was not a good one with Everton having the better of matters generally.  Their forwards, however, were unable to work the ball into clear shooting positions and with the exception of Vernon's two over-the-bar shots there had been very little other good finishing. 
FORWARDS SHOT SHY
There was a famine of shots by Blackpool, too, and when Kaye, again on the left wing cut inside his strong shot which swerved yards wide was the first Blackpool effort at Dunlop for a quarter of an hour.  When Waiters collected a centre from Ring over his head Everton appealed that he had carried the ball over the line.  The referee turned it down, but it must have been a very near thing indeed.  It was rather foolish not to give Hall more of the ball for he usually had the beating of Jones, who stopped a dangerous move by the little winger close on half-time by conceding a corner.  From the kick it was Green turn to try a shot and keeping in the pattern, put it yards high. 
Half-time Blackpool nil, Everton nil.
The second half began very much the same as before the interval, with mistakes –galore although Collins and Lill both looked as though they might have got in a shot but each time delayed their efforts too late, and Gratrix cleared each time. 
MORE MISTAKES
Then Blackpool had a good chance but Green's inability to control the ball from Charney's pass meant a gift offering was refused.  Jones only stopped Hill at the expense of a free-kick and from the winger's cross Green completely miskicked and the ball ran on to Kaye, whose shot was blocked by Labone.  Vernon was not his usual self I thought and his lack of dash contrasted so strangely with his usual play that I felt he might have been still feeling the effects of his Good Friday injury.  It was left therefore to Collins to do most of the foraging for Everton but the forwards were never a good finishing force, although some of their midfield play was excellent.  The two Scots Parker, and Gabriel were working together well, but much of the wing half's good attacking play was wasted by the forwards inability to gather the ball quickly and move through with it.  In taking time to control the ball they allowed the Blackpool defenders to move in and dispossess them. 
HIGH AND WIDE
It fell to Vernon once again to try the next Everton shot, when he took a headed pass from Collins but volleyed the ball high and wide.  There didn't seem a forward among the 10 of them capable of keeping the ball down, whenever they got within shooting range.  Hill was having a picnic against Jones and the miracle was that Blackpool didn't appreciate he could be their match-winner and gave him  very little of the ball.  Certainly every time he did get it he did something useful with it.  It was from a cross of his that Mudie made the best effort yet with a fine header which struck the bar with Dunlop beaten- the second time that the woodwork had saved Everton. 
HARRIS HEADER SAVED
Harris made a good header from a corner by Lill which Waiters saved well, but Everton still were not moving in attack with anything like the decisiveness of the previous encounter against Blackpool.  Their defence was excellent with the exception of Hill's dominance over Jones; but the forwards never got going properly.  The game was now duller than ever with Everton falling to often into an offside trap and Blackpool showing little idea of breaking through Everton's defensive barrier.  Parker was coming up a great deal belong the wing but some of his passes or centres were used well.  Hill made yet another excellent run to cut into the penalty area but his centre was headed away by Meagan with the rest of the Everton defence spread-eagled.  The referee gave two strange decisions within a minute.  First he penalised Parker just outside the penalty area for what looked like a perfect fair tackle and then when he gave one in Everton's favour as Gratrix pulled down Lill from a position which looked a yard inside the penalty box-but Mr. Tirebuck gave a kick a yard outside.  Final; Blackpool nil, Everton nil.  Attendance 25,697.