LELLO SIGNS McNAMARA
August 1, 1959. The Liverpool Echo and Evening Express
By Leslie Edwards
Runcorn player manager Cyril Lello has made two good signings and is hopeful that his club will have the best season in history.  He has taken from Bury Tony McNamara the former Everton and Liverpool forward and from West Bromwich Albion 19-years-old Alf Jones.   Eddie Jones another young player who used to be on the Everton ground staff Lello has the basis of an excellent side. 
EDDIE O'HARA
August 3, 1959. The Liverpool Echo and Evening Express
By Leslie Edwards
Eddie O'Hara Everton's Scottish outside left, who has now recovered from a troublesome ankle injury, following an operation, is certain to be back in the first team for the opening games of the season now that Bobby Laverick is ruled out through his appendix operation.  O'Hara will have a great chance to make the position his own if he strikes his best form.  Last season his ankle trouble took the edge of his confidence and he never quite fulfilled the promise he had shown at Falkirk.  After being first choice for the first half of the season.  O'Hara was relegated to the reserve when Laverick was signed from Chelsea, Laverick's misfortune now could be O'Hara's gain. 
SHANNON IS KEEN TO JOIN EVERTON
August 5, 1959. The Liverpool Echo and Evening Express
By Leslie Edwards
Leslie Shannon, the former Liverpool player now with Burnley is most anxious to join Everton F.C., as coach.  The offer of the job was made to him by Manager John Carey recently, but feels that if he is to undertake a task of this magnitude he must have peace of mind.  Everton's offer I gather is not quite sufficient at the moment to persuade Shannon that his new career lies at Goodison Park, but he hopes that all going well he will be in a position to sign a one of Mr. Carey's aides.  I'm quite prepared to finish my active soccer career if the right job comes along Leslie told me and to join a club like Everton and work for Mr. Carey, whom I have known since his playing days would be wonderful but a coach job at Goodison Park is such an important post I would want to feel contented and free of finance worries.  I don't want to finish, as do many First Division players if the Third Division, I want to finish on top where I like to think most people remember me."  "Naturally should be very happy to join Everton and I certainly shall if the minor difficulties which stand in my way can be ironed out." 
EVERTON AND LIVERPOOL SEE JOHN WHITE
August 10, 1959. The Liverpool Daily Post
By Horace Yates
The "fishing" expedition of Everton manager John Carey took him to the Falkirk v. Hamilton Scottish League Cup game on Saturday, and just to prove how popular "fishing" is with Merseyside club officials, he found as a fellow-angler Liverpool manager Mr. Phil Taylor.  Beyond admitting that he saw the game, Mr. Carey will commit himself no further, but inspired vision is not necessary to pin-point; Falkirk inside-right John White, as the man who was considered good enough to warrant such a lengthy journey.  White played well and could scarcely have failed to impress but whether the knowledge that he could fit into the scheme of things at either Goodison or Anfield is likely to prove profitable is doubtful at the moment.  The Scottish forward is the player who recently asked to be placed on the transfer list because he did not fancy a season in Scottish Second Division football.  Before any club scouts could feast their eyes on this bonny Scottish offering, Falkirk manager Tommy Younger stepped in. 
Peacemaker Younger
Ably fulfilling the role of peacemaker, Tommy succeeded in convincing White that for the time being at least, there was no place like Falkirk.  I understand that White has now withdrawn his request for a move so that the double edged Merseyside scouting progeny will end without business being done. 
Remember Willie Haughey who signed for Everton from Larkhill Thistle in June, 1956 made his debut in April of the following year and was transferred to Falkirk last May.  Haughley was given a free transfer by Falkirk at the close of last season and on Saturday stepped out with a new club – St. Johnstone. 
EVERTON AWAIT BERTIE AULD DEVELOPMENTS
August 12, 1959. The Liverpool Daily Post
By Horace Yates
It might be a dangerous sort of optimism for Everton and Liverpool supporters to live from moment to moment in the expectation of some big soccer name being added to their club lists in time for the opening of the season. Activity there has been, as we know from the visitors of club manager John Carey and Phil Taylor to Scotland – but results are not yet in sight.  Although Mr. Carey is back home contact with Scotland is maintained.  If and when the name of Bertie Auld, the Celtic forward appears on the transfer list Everton will not be idle.  Mr. Carey admits to an interests I would be wrong to be dogmatic either way, for such is the position that it could change overnight.  Facing facts as they are, I think it is fair to say that there does not seem to be any likelihood of Everton –or anybody else for that matter –signing Auld at the present moment. 
Versatile Player
Auld, an international, can play almost equally well on either flank and has played at centre forward.  His versatility is such that he makes obvious appeal.  I learn from Scotland that if Celtic do decide to take cash for the talented player their demands will be in the region of £10,000. 
Any ideas that Bobby Laverick might make a near record recovery that could put him in line for the first match or two have not been encouraged by the fact that he is still in hospital, more than a fortnight after his operation for appendicitis.   Everton expect to receive a report on his progress within the next day or so and an early discharge is expected.  Whether Auld is signed or not Everton have Eddie O'Hara now completely fit standing by ready to make the fight of his life to show that worries over the outside left position are out of place.   Left back John Bramwell rested from the practice yesterday because of a slightly pulled thigh muscle, but it is trivial enough for a forecast to be made that he will be fit to take part in Saturday's public practice, the team's for which will be announced tomorrow. 
AULD WILL MOVE –BUT WHERE?
August 12, 1959. The Liverpool Echo and Evening Express
Everton Still Interested
No Record Fee
By Leslie Edwards
The one certainty about Bertie Auld transfer listed Glasgow Celtic and Scotland left winger, is that he will go from that club.  They question is where?  Four clubs Everton, Notts Forest, Fulham and West Bromwich Albion are interested but in spite of that the forecast is that the transfer fee will not be world shaking.  A figure between £10,000 and £15,000 is mentioned.  Manager Billy Walker of Notts Forest an expert on unearthing good things from over the border is waiting on the Glasgow, Liverpool Manager Phil Taylor also remain in Scotland where there in a full programme of League matches this evening.  West Bromwich Albion phoned Celtic saying that if Celtic would play Auld in tonight match they would fly up a representative to see how he shaped.  The Celtic reply was "Sorry nothing doing."  Auld has not kicked a ball since he last played for Scotland on the Continent in the close season. 
Carey's Report
John Carey the Everton Manager was at his clubs training ground at Bellefield today.  The Everton Board meet this evening and doubtless Mr. Manager will be reporting on his week-end trip to Scotland and on his view's on Auld among other players of interest. 
EVERTON MAKE OFFER FOR STAR SCOT
August 13, 1959. The Liverpool Echo and Evening Express
£10,000 Bid To Get Auld
Waiting
By Leslie Edwards
Everton F.C., have made a firm offer of about £10,000 to Glasgow Celtic for Bertie Auld, Scottish International outside-left and one-time partner of Bobby Collins.  Auld has not asked for transfer but Celtic have let the world of football know that they are prepared to left him go.  Everton's offer and any others received today –three other English clubs, Notts Forest, Fulham and West Bromwich Albion are also interested –Will be considered at tonight's Celtic broad meeting,  Mr. John Carey, Everton manager told me this morning "I am staying here in Liverpool until negotiations progress further.  The player has not asked for transfer but Celtic are not going to play him in any of their teams.  Naturally we have other interests in Scotland besides Auld. 
Teams for Everton's public trial at Goodison Park on Saturday (3.15) will be;- Blues; Dunlop; Parker, Bramwell; Harris (B), Jones, Meagan; Harris (j), Thomas, Hickson, Collins, O'Hara.  Whites; O'Neill; Sanders, Tansey; King, Labone, Rea; Blane, Wignall, Hood, Ashwood, Godfrey. 
EVERTON MAY HAVE AULD VERDICT
August 14, 1959. The Liverpool Daily Post
By Horace Yates
A Bertie Auld deal hangs fire, but only for the time being and Everton first in the field with a firm offer may know this evening whether or not the Celtic player is to join them.  Both West Brom and Notts Forest are also in the hunt, but when I inquired yesterday they were only in the role of inquirers.  Celtic have brought forward a reserve team game to today and it is expected that the Board will meet to discuss Auld developments following the match.  A Scottish correspondent told me that of the Everton offer is around £10,000 as is believed he considered that should be quite enough to persuade Celtic to complete the deal.  The complication of course is the competition which might still be forthcoming from Everton's rivals. 
Donovan's Request
Don Donovan, who just twelve months ago was making arrangements to leave Everton for Grimsby Town, and made his debut for his new club against Liverpool at Anfield in the season's opening game, has just had an application for transfer refused.  Donovan had asked the club to guarantee him a full benefit saying that at twenty nine he was at a stage of his career when he had to think in terms of security and if Grimsby were not prepared to guarantee him the benefit he wished to go to a club which would.  Mr. F.A Would, chairman of Grimsby Town, said the board considered Donovan's request for a move was frivolous.  Donovan spent nine years at Goodison Park and became club captain.  Last season he was skipper at Grimsby and played most consistent at left-back.  
Apart from the inclusion of O'Hara at outside left in place of Laverick, the Blues team for Everton's practice game tomorrow is that which was considered their strongest last season.  
The Whites team includes Sanders, Tansey, and Rea, who were first team players when last season opened and O'Neill, King, Labone, and Ashworth who won places later on.  Significantly the entire Whites defence represented the senior side at one time or another, but of the forward line only Ashworth, now settled down at Goodison having dropped his ideas of a move won promotion to the first team.  Blues; Dunlop; Parker, Bramwell; B. Harris, Jones, Meagan; J. Harris, Thomas, Hickson, Collins, O'Hara.  Whites; O'Neill; Sanders, Tansey; King, Labone, Rea; Blane, Wignall, Hood, Ashworth, Godfrey.  The kick-off is at 3.15 p.m. 
BACK TO OBSCURITY
August 14, 1959. The Liverpool Echo and Evening Express
By Leslie Edwards
For many this may seem a cynical approach, but it is based I assure you on more than thirty years of trial match from discrepancies.  If takes more than had one game in the company of seniors to develop the later talent of footballing youngsters and usually that is borne out by the too-hasty promotion of some young man to the senior team.  Many of them are soon back in obscurity.  All too many remain there.  What is of greater interest is the reappearance after a serious operation of Eddie O'Hara who may well have a new lease of football life now the trouble which afflicted him so often last season has been cleared.  A ex-Parker who knows O'Hara's play better than we do has always been of the opinion that he never touched last season the form he used to show in Scotland.  Everyone will be wishing him well.  It will also be good to see Jim Tansey in action again and those who think highly of the young inside forward Wignall and of Hood at centre forward in the White team, will examine their play microscopically evident that they will soon be knocking at the first team door.  Blues; Dunlop; Parker, Bramwell; B. Harris, Jones, Meagan; J. Harris, Thomas, Hickson, Collins, O'Hara.  Whites; O'Neill; Sanders, Tansey; King, Labone, Rea; Blane, Wignall, Hood, Ashworth, Godfrey. 
EVERTON APPOINT A NEW COACH
August 14, 1959. The Liverpool Echo and Evening Express
Les Shannon Of Burnley
Youngsters
By Leslie Edwards
Everton F.C today announced the appointment of Leslie Shannon the Burnley player, as coach.  He will be dealing particularly with the growing crop of up-and-coming youngsters.  Manager John Carey is recruiting to Goodison Park.  Shannon was offered the post early in August but said that he thought the job so important it was worth more than the figure Everton had in mind.  It is clear that Everton's determination to get the best man for the job has led them to raise their sights, financially.  Mr. Carey who knew Shannon very well as a player is very pleased to have secured the man he wanted.  Leslie has all the coaching certificates the F.A can award and was for some part of this summer an instructor under the England manager, Walter Winterbottom at Lilleshall. 
Replaces Buchan
The new Everton coach replaces Ian Buchan who left Everton last season and who now learning store management in Liverpool.  Shannon born within a few hundred yards of the Liverpool ground at Anfield joined that club in 1944.  He was transferred to Burnley in 1949 and became an established inside forward or wing half-back.  He is 33 years old and in ending his career while still a potential first teamer fulfils his own wish to go out of the game when on top where most people I like to think will remember me.  There are no further developments in Everton's effort to sign Bertie Auld, the Glasgow Celtic and Scottish International outside left.  The Celtic have a Reserve match this evening and afterwards the Board will discuss Everton's offer and that but in their most serious rivals, Nottingham Forest.  Everton Manager John Carey must thus wait for Celtic reactions before making his next move. 
Former Everton inside forward, Parker is among the newcomers taking part in New Brighton's first practice game at the Tower tomorrow. 
EVERTON STAND BY AS AULD DECIDES NOT TO MOVE
August 15, 1959. The Liverpool Daily Post
By Horace Yates
Everton's chase after Glasgow Celtic's Bertie Auld is over.  He will not be coming to Goodison Park, neither will he be going anywhere else.  Yesterday he made a request to the Celtic board for permission to withdraw his application for transfer and this was granted.  Auld will soon be playing for Celtic after having been omitted from their matches to date.  A helpless onlooker while these dramatic events were taking place was Everton's manager, Mr. Johnny Carey, who dashed up to Glasgow yesterday with the knowledge that Auld had asked to meet the directors at six o'clock last night.  "I thought I had better be on hand," said Mr. Carey.  "In case anything turned up and my presence could prove useful."  Mr. Carey never had a chance of doing anything constructive for by the time he was brought into the picture, Auld's mind was made up.  Celtic manager Mr. Jimmy McGrory issued an official statement just prior to the Celtic reserve game with Airdrie last night, explaining Auld's change of mind. 
Tried To The End
There is bound to be great disappointments at Goodison Park that Auld will not be coming.  On Thursday, Everton appeared to be clear favourities to obtain his signature and to give credit where it is due they persisted to the last and were the only club with a representative in Glasgow yesterday.  Mr. Carey sat through the reserve game and took what must have been a genuine set-back in his customary sporting fashion.  "I may be back in time to see tomorrow's practice match," he told me.  Celtic have made a poor start to their season having lost the first two games and this no doubt made it very easy for them to say "Welcome back," as soon as Auld indicated that he no longer sought a new club.  While Auld was never actually on the transfer list it was made known that offers for his services would not be frowned upon.  Auld, who has been with Celtic four years is a genuine two footed player, happy on either wing and he has built up quite a reputation as a penalty king.  He is reputed to hit a dead ball extremely hard and there is no doubt that Celtic have missed his outstanding speed.  It would have been refreshing to have had a new Scot at Goodison as well as at Anfield where Slater makes his bow today, but this failure is just another example of how difficult it is to land players or reputation. 
Of course if O'Hara completely recovered from the injury which affected his play last season, takes advantage of Laverick's absence to show the form which prompted Everton to buy him, the Auld hurt will be assuaged. 
Shannon Is Coach
One signing Everton were able to announce yesterday was that of Leslie Shannon, of Burnley as Coach.  From the moment Mr. Carey indicated that Shannon was the man he wished to have to look after the stream of youngsters flowing into Goodison Park and Shannon intimated that he could not be more attracted to any idea, it was apparent that any financial barrier there might be would disappear in the process of negotiation.  Mr. Carey's hunches have a habit of paying off and I do not believe that Shannon will interrupt that happy sequence.  Shannon joined Burnley from Liverpool in 1949 and leaves the playing side of the game while still good enough for Division One football.  It makes it so much easier when coaching youngsters to be able to say.  "Do as I do" rather than "Do as I say." 
Practice Match
Whether any player named for the probable first teams at either Goodison or Anfield today is in danger of losing his place for the opening game in earnest next Saturday, is a matter for debate.  Only the most slip-shod display on the one hand or a dazzling exhibition on the other seems likely to upset conclusions already formed, but none of this will prevent the weariest of the reserve team shirt from playing their hearts out-just in case.  At Goodison Park kick-off (3.15 p.m.) the teams will be;- Blues; Dunlop; Parker, Bramwell; B. Harris, Jones, Meagan; J. Harris, Thomas, Hickson, Collins, O'Hara.  Whites; O'Neill; Sanders, Tansey; King, Labone, Rea; Blane, Wignall, Hood, Ashworth, Godfrey. 
HARRIS BOYS SCORE IN UNEVENTFUL GOODISON TRIAL
August 15, 1959. The Liverpool Echo and Evening Express
By Leslie Edwards
Blues; Dunlop, goal; Parker and Bramwell, backs; Harris (B), Jones (captain), and Meagan, half-backs; Harris (J), Thomas, Hickson, Collins, O'Hara, forwards.  Whites; O'Neill, goal; Sanders and Tansey (captain), backs; King, Labone, and Rea, half-backs; Blain, Wignall, Hood, Ashworth and Godfrey, forwards.  Referee; Mr. L.J. Hamer (Chorley).  John Carey returned disappointed from his unsuccessful offer for Auld in time to see his the only public trial of the season.  Blues the potential first team against Whites the Central league side.  The newly seeded pitch looked a picture and ready to stand up to all the wear and tear of a season.  There were about 5,000 present when Tom Jones led both the teams.  The warm weather was tempered by a cool breeze and happily for the players, clouds obscured the sun, a few minutes before Jones and Tansey tossed for choice of ends.  Collins was the man who mostly attracted most of the crowd and it was characteristic hat he should make the cute through pass on to which Jim Harris could run to make a shot which earned plenty of power but which travelled over the top.  A Moment later Collins was back in defence and dispossessing Hood.  O'Hara took a heavy tumble when tackled by Labone and it says much for his recovery after a serious operation that he got to his feet undamaged with a little feelingly.
Hood Hits Bar
The first thrill came when Hood from a standing start, delivered a surprise shot which struck the bar and rebounded for Ashworth to make a second shot.  That time Dunlop though bothered by the sun, was more alive to the situation and saved.  The first goal was a duel between the two Harrises.  Brian looked for the winger, found him, missing "gone inside," and then found him with a peach of a pass so that the scorer could lash the ball in left footed.  This goal came after 12 minutes.  Bramwell go a knock-immediately afterwards but resumed following attention.  O'Hara could not get going for a while, well as he was prompted by Collins but eventually he made the centre from which Hickson got on nodding terms with the new season.  This was a good header which travelled fast over the bar.  By this time the crowd had increased enormously and though there was not a soul in the upper deck of the park end goal, or the double decker at the other end the rest of the ground was well filled and there must have been 10,000 present. 
Sanders Slip Up
O'Neill had difficulty in collecting a low Jimmy Harris shot after Sanders had let in the winger down the centre, but Whites were doing reasonably well and there seemed no fear for the time being of a flood of first team goals.  The games great thrills came on the half hour when O'Neill throwing himself, spectacularly to the right edged round the post a fierce right foot shot by Hickson.  O'Hara's corner provided a second chance for Hickson and this one he hit with his left foot but again O'Neill saved brilliantly.  Hood was quite strong on the ball and hit some good long passes.  The crowd wanted referee Hamer to award a penalty when Labone brought down Hickson but the offence took place inches outside the area rather than inches inside it, so that Blues only award was an uneventful free kick.  Eddie Thomas went down with a damaged right knee and needed Gordon Watson attention but happily he was fit to continue.  For a trail match it was pretty earnest stiff with not a little personal rivalry entering into it.  More and more was I impressed with Godfrey.  Sanders took a knock to the right ankle and these stoppages must have been welcome to all the 22 in view of the heat.  None did better than Alex Parker in a weaving dribble at the edge of the penalty box finishing with an first class shot which O'Neill did well to edge over the top.  Again the trainer was called on, this time to Eddie Thomas whose ribs were accidentally caught by the studs of Ashworth in this rather uneventful trial match.  Brian Harris put Blues two up with a right-foot cross-shot following a corner by Jim Harris so all told, in the scoring series, it was all Harris match so far.  This goal came at 48 minutes.  Hickson had few chances but from one close in O'Neill flicked the ball for a corner in brilliant style. 
Good Move
Whites best move was on the right wing and ended with Ashworth shooting low and not very forcefully.  It was significant that Hood played a prominent part in the approach work.  The chapter of accidents continued.  This time it was Labone who needed attention for a damaged right ankle.  Mercifully all these knocks were fairly superficial ones.  In Labone case however, he had to nip off for further treatment.  Immediately after Labone had left the referee stopped the game and said something in Dave Hickson.  The game was re-started with a throw-down.  The flukiest goal of them came from Eddie Thomas twelve minutes from the end in attempting a centre from outside the penalty box, on the right he swerved it in at such speed and so deceptively that O'Neill could not move to it until the ball was at the back of the net. 
YOUTH WILL GET CHANCE AT EVERTON
August 15, 1959. The Liverpool Echo and Evening Express
By Leslie Edwards
Season 1959-60!  How the years fly.  But much more important what's in store for us in the North West, where the two big guns, Everton and Liverpool , have legions of followers busy conjecturing whether they are going to have a feast on as in so many seasons since the war, a mix-mudding meal which leaves them feeling anything but replete and frustrated that they cannot have what less deserving fans have come to expect as a right?  Let me say at the outset I think the success or failure of Everton or Liverpool depends on whether either or boths make the pre-season moves their tremendous following ask of them.  In short I consider both have the potential for success.  But equally it is clear that this potential can never develop fully unless there are sightings to help the teams to new inspiration and to higher standards of performance.   Everton need strengthening at half-back, Liverpool's excellent defence demands forwards who can contribute their power to the eleven.  In both cases these are minimum needs.  But find (and buying) the players you know need it's easier said than done.  That's the essence of every manager's a 1959-60 problem. 
Deserves The Finest
The football loving public of Liverpool need, and deserve the finest of football.  We have two magnificent grounds, both of them packed for any game of reasonable attraction.  Has there been people themselves sufficient enterprise in recent seasons by our city clubs?  My answer and theirs would be "Hardly."   The quick fire strangers of Albert Stubbins to Liverpool and of Bobby Collins to Everton were proved within a month or two.  Both these were salient go-getting moves.  For everyone of them we have had many incomings of players of no great statues, physically or in any other way and the tendency has been for other clubs to "get-in" first.  Thus, instead of football extra ordinary we have too often had football very ordinary City fans so many of whom are old enough and experienced enough to know first-class football when they see it, are tired of promises; they are also tired of seeing great teams of less football minded cities reveling in Cup and League triumphs.  They feel they have a right to expect not only two Division 1 clubs but two very good Division one clubs. 
No Fancy Forecasts
Mr. Fred Micklesfield (chairman of Everton F.C); "I'm no believer in fancy forecasts; I prefer to let results speak for themselves.  Well have a first class manager, a very active happy Board and a local competent staff.  I'm hoping for a  better season than last and our aim will always be to give spectators attractive football.  We are content to leaving the planning side in the hands of John Carey.  He was 100 per cent, players and captain and we are sure we have as good a manager as there is in the game.  We are always interested in good players and especially those which can further the Everton tradition. 
Mr. John Carey, Everton F.C Manager.  Our aim is a satisfy our supporters by giving them attractive football, and I hope winging football.  I want to see players exercise their individually providing of course it is within the general framework of our tactics as a team.  We are going to endeavour to give our younger players opportunity to take their places as required.  We have some very promising boys and we don't want to discourage them by filling through transfers, any positions we feel we might want to strengthen.  In this my first full season with Everton, I am anxious that we should start well and maintain our position.  I think we shall.   I am looking forward too, to beneficial effects of the work of our new coach.  Leslie Shannon. 
Mr. Alan Tweedle of 327 Walton Lane; Unless they sign a couple of half backs can't see them doing much better than last season.  Getting Leslie Shannon as coach will help the youngsters.  But whatever I think I'll be there shouting for them hard as ever whenever possible. 
EVERTON BOAST BEST CROP OF GOALKEEPERS
Monday, August 17, 1959. The Liverpool Daily Post
Blues 4, Whites 0
By Horace Yates
If there was one outstanding pointer in Everton's public practice on Saturday, it was that the club are likely to find it easier containing the scoring ambitions of their opponents getting goals themselves and if there is any club in the land with three more accomplished goalkeepers on their staff than Dunlop, O'Neill and Griffiths I find it hard to name it.  Dunlop's abilities we can assess only from past experience for in this game he almost qualified for unemployment benefit so rarely was he troubled but O'Neill was in superb form and several times caused a frustrated Hickson to wiring his hands in despair as scoring shots or nods, were turned into sparkling saves.  O'Neill was withdrawn at half-time in the knowledge of a grand job expertly done and yet there must have been many among the 8,833 crowd (receipts £311) who were unaware that Griffiths had taken over after the interval such was the brilliance of the young Welshman's performance in goal.  He slipped up once in conceding a goal to Thomas, taken from outside the angle of the penalty area, but that apart he took a creditable place in the talented trio.  Until Labone retired fifteen minutes from the end with a cut above the ankle, not a serious injury, the Blues had scored only twice through J. Harris (12 minutes) and B. Harris (60 minutes).  Thomas goal came in 79 minutes and within a minute Hickson had made it four.  Twice Griffiths with limitless courage had gone down to saves at point blank range from O'Hara and Hickson. 
Shot Of The Match
A goal eluded the Whites, although the recruit from the Glasgow area, big, bursting and talented Hood, in whom one saw infinite promise for the future as leader of the attack had contributed the shot of the match , a real cannon ball effort which completely beat Dunlop and left the cross bar ringing.  Hood's potentialities were clear for all to see.  Outside left Godfrey was another against whom no charge of squandering chances could be laid.  On the Blues' side O'Hara can congratulate himself on the strength of his first display in earnest since his operation.  Here was a new O'Hara with a power of shot seldom previously seen.  Those who maintain that Everton have not seen the best of this Scot had ample grounds here for saying "I told you so"  He realizes that opportunity as obvious possibly as it is unexpected, has been tossed at his feet and O'Hara is in the mood to take it.  One forecast I feel safe in making is that we shall see Parker scalp the heights this season.  The clever and versatile full back is likely to prove every bit as accomplished in his own field as his fellow Scot Collins in his and that is as direct a way as I can think of saying that for Parker the outlook could not be brighter. 
King The Shadow
Not that Collins took this game into his keeping and moulded it in his desires for his shadow King, was a relentless and tireless pursuer, who afforded the brilliant Scot no latitude at all.  Whenever Collins went King was never far away.  Similarly Tansey showed himself able and ready to return to first team duty in the opening games as deputy for Bramwell with a due with Jimmy Harris that bore all the evidence of genuine competition.  Blues; Dunlop, goal; Parker and Bramwell, backs; Harris (B), Jones (captain), and Meagan, half-backs; Harris (J), Thomas, Hickson, Collins, O'Hara, forwards.  Whites; O'Neill (Griffths 46), goal; Sanders and Tansey (captain), backs; King, Labone, and Rea, half-backs; Blain, Wignall, Hood, Ashworth and Godfrey, forwards.  Referee; Mr. L.J. Hamer (Chorley). 
EVERTON HAVE TWO WELSH BOYS OF PROMISE
August 17, 1959. The Liverpool Echo and Evening Express
By Leslie Edwards
If Everton and Liverpool fans knew their effort which goes into work behind scenes to make their teams successful they would vary their letters of criticism with letters of praise.  It would be in the club's own interests to keep their supporters better informed on the donkey work behind so many moves for new players.  The most thankless week-end job was the wasted one made by the Everton Chairman Mr. Fred Micklesfield and Manager John Carey.  Because they felt they should be at hand when Glasgow Celtic made a decision about Bertie Auld they decided at midday on Friday to travel by road to Scotland taking with them their cheque book and their determination to get their man.  All to no avail.  Celtic, who had said they would never put Auld in their team again went back on their vow-maybe two defeats had something to do with it –and thus within seven days of the season's opening Everton find themselves as they were.  "If Auld had gone it would have been to us" said Mr. Micklesfield.  In such circumstances one can only comment; Well tried; Everton, and better luck next time.  The search continues.
Overtime Stint
Even a trial game has its compensations when it provides sight and sound of the big ball being booted after a long interval.  So far me, the chance, the chance to see some young Evertonians of whom I had only heard, was satisfying.  That Blues, the potential first team, beat Whites by four goals to nil (two of these came quickly when young Labone was off-field injured) mattered little since any result in these matches is always of academic interest.  None could say that either side pulled its punches, indeed there was such determination in certain quarters that accidental injury caused trainers Gordon Watson and Stan Bentham to do an overtime stint.  None of the hurts was serious.  There were some salient factors for our study.  One was the work of the North Waian Godfrey, at outside left.  This young, rather nobody kneed chap beat a man in little space can slide a pass with the best and only needs to become a little more volatile in his general movement to develop into something really good.  He has plenty of football sense, too, I liked his play very much.  The other member of the Whites team who looked quite impressive except for some slowness into his stride –and this can be eradicated –was the big fellow in the centre.  Hood a Scot from Shettlesons who is now out of the Army and thus always available for the training and coaching of Leslie Shannon, Hood can crack the ball well, is not content to wait for work but looks for it, and for one so well endowed physically is quite niffy and nippy at such time as he needs to be to beat his man.  Alongside him Wignall, about whom I had heard much, was scarcely even in the picture after the first ten minutes. 
Plenty Of Courage
If the Auld deal miss fired Everton need not be too skeptical about their outside-left position.  I gave Eddie O'Hara full marks for his courage in playing so hard and well, after a severe operation.  It looks as though he may find the form which tempted Everton to buy him.  Allowing for his long absence and for the fact that he cannot be as good physically, as he would like to be the camel back indeed.  It is a good to see anyone with so much heart for the game so quickly after severe injury.  The fact that Bramwell must miss one-league games as a result of that always to be forgotten Chelsea game suggests that Jim Tansey mat regain his place a week.  He certainly did a very good best to stop Jimmy Harris gallop and it was only when Jim went inside to pick up a Brian Harris pass that he was able to escape, Tansey and get the goal which put his side into the lead.  Later Brian Harris was able to score from a Jim Harris corner and then after Labone had departed first Eddie Thomas and then Dave Hickson got on the register Thomas with such a swerving ball down a fine angle even the score seemed surprised.  Hickson, like Bobby Collins often played at half-cock but Brian Labone looking every inch the great centre in physique was never impressive and seems, for the moment to have stopped developing. 
Mistaken Identity
Some of the brave saves credited to Jimmy O'Neill in the second half were in fact performed by the young Mold boy, Graham Griffths.  The case of mistaken identity arose when Griffiths substituted for O'Neill in the second half and wore O'Neill's jockey-peaked cap which furthered the impression that the teams were as before Griffiths did very well indeed and when Labone left and Parker came on for the last 10 minutes he too looked very promising.  How gladdened the heart of the late Tom Nuttall have been to see two Welsh boys, Griffiths and Godfrey making their minor marks in a game of this kind.  Some of Johnny King's attention to Bobby Collins was not appreciated by the crowd but King did well and so did Rea on the other flank.  The real crux of Whites' ability to piece the first-team defence lay in their failure to produce the really telling pass which only the expert can deliver O'Neill and later Griffiths were busy men; Albert Dunlop might as well have been standing unoccupied in the Bootle outfield for all the work which came his way.  Whatever is in store for Everton, I wish them a happy injury free season.  My hopes for their success are based more on the man on top and his sides and on a Board which is particularly at one with each other than on anything else.  Success I believe comes from having the right people in command.  But it will take time. 
BINGHAM WILL POSE SPECIAL PROBLEM TANSEY
August 21, 1959. The Liverpool Echo and Evening Express
By Leslie Edwards
Everton and Luton will  beat the rest of the football world by 15 minutes when they kick-off the new season at 2.45 tomorrow afternoon at Goodison Park.  Just as the start of the cricket season almost invariably produces rain, so the start of football seems to attract a heat-wave.  It is likely that well be in shirt-sleeves order for a match which will give Everton the chance to start one the right-foot and not as they did a year ago on the wrong one.  Manager John Carey hopes his club will do much better this time and under his guidance I am sure they will.  The Everton team is notable for the return of Jim Tansey ad Eddie O'Hara.  Tansey's unhurried style and phlegmatic approach to his job is very helpful but the former Sunderland Irishman, Bingham will pose especial problems for him as one of the most difficult right wingers in the game.  The duel between Tom Jones and the Scot Allan brown will be another personnel contest worth four sturdy Brown, now a fully qualified F.A Coach, is one of the unluckiest top-class players in contemporary football but he has come up smiling after all his misfortunes and is still to be feared. 
Sid Own-Manager
Luton who never touched their real form in the Cup Final (they appreciated this fault as much as anyone else) will stay overnight at Chester.  They are now managed by that sandy haired, clean, player former centre half of theirs Sid Owen.  If he makes as good a job as management as he did of playing all Luton will be satisfied.  Luton bring with them George Cummin the brainst of their attack –young full back Ken Hawkes and their new Scottish signing of last (last season Kilmarnock) at inside right.  Everton; Dunlop; Parker, Tansey; Harris (B), Jones, Meagan; Harris (J), Thomas, Hickson, Collins, O'Hara.  Luton Town; Baynham; Dunne, Hawkes K; Morton, Pacey, Groves; Bingham, Kilgannon, Brown, Cummings, Gregory. 
EVERTON SHOULD WIN
August 22, 1959. The Liverpool Daily Post
By Horace Yates
What a tonic it would be to find Everton and Liverpool opening with a double, with defeats for Cup finalists Luton Town at Goodison and Cardiff City in Wales but frankly I should be pleasantly surprised to find this coming about.  I don't think it will be Everton who will fall short of the target, for they have the beating of Luton Town, but I fancy that if Liverpool can start this season as they did last with a point from their first outing they will not be displeased.  Tansey is too experienced and accomplished for defensive for problems to arise from the suspension of Bramwell and unless I am very much mistaken, O'Hara in the problem outside left position will prove a very different player from the come who caused manager John Carey to travel to Chelsea and bring back Laverick with him.  Sid Owen exercised a mighty influence on the field in the Luton side, and that drive and direction he was able to impart will not he easily replaced now that he is a backroom boy.  The Luton games last season produced four points for Everton, and no matter what happens in the return fixture at Luton, the first leg of another double does not appear to be under any undue threat.  Everton; Dunlop; Parker, Tansey; Harris (B), Jones, Meagan; Harris (J), Thomas, Hickson, Collins, O'Hara.  Luton Town; Baynham; Dunne, Hawkes K; Morton, Pacey, Groves; Bingham, Kilgannon, Brown, Cummings, Gregory. 
EVERTON AND LUTON END ALL SQUARE
August 22, 1959. The Liverpool Echo and Evening Express
Jimmy Harris Equalises Three Minutes From Time
Everton 2, Luton Town 2
By Leslie Edwards
Everton; Dunlop, goal; Parker and Tansey, backs; Harris (B), Jones (captain), and Meagan, half-backs; Harris (J), Thomas, Hickson, Collins and O'Hara, forwards.  Luton Town; Baynham, goal; Dunne, and Hawkes (K.), backs; Morton, Pacey and Groves, half-backs; Bingham, Kilgannon, Brown, Cummins, and Gregory, forwards.  Referee; Mr. Callaghan (Merthys Tydfil).  When Tom Jones led his team out there were not many more than 25,000 present.  No doubt the early kick-off, designed to let Luton get home this evening had something to do with it.  Tom Jones won the toss and that meant that Baynham had to face the strong glare of the sun.  Hickson's first half minute bow-at-a-venture drive down a fine angle carried plenty of power but was so ballooned that Baynham was left unworried.  The first thrill came from a Brian Harris-Hickson duel which led to the half-back going on at outside right to make a centre from which O'Hara produced a header.  As Baynham collected this overhead Jimmy Harris challenged him unfairly and the incident ended with a Luton free kick. 
A Near Thing
The tall Gregory coming down the centre at speed, beat Jones and almost caused Parker to put through his own goal in trying to find Dunlop.  There were roar of approval for Collins and Meagan when Collins cleverly back-heeled a pass for the little Irishman to hit a right-foot shot which beat the bar near the angle by a matter of inches.  It was quite a bright opening with Luton playing the rather more studied type of football.  A fast cross shot by Collins which Hickson cleverly kept in play on the left wing, added further excitement to a bright game and when Baynham came out to make a catch be floored left back Hawkes.  The two Harrises nearly produced a goal, Jimmy at inside left pulled the ball back for Brian to hit the foot of the post with a shot that Baynham probably did not see until it was well on its way.  The ball rebounded back into play.  Dunlop made a good catch from a Bingham centre which had been seriously deflected by Meagan, and then Hickson ploughed through alone and turned the ball back for a colleague only to fine no one there to accept a gilt-edged chance.  Everton were obviously trying to carry out their manager's instruction to keep the ball on the turf, but not always were their close-kept moves carried far before the Luton defence cut into them and took possession. 
Brilliant Save
Jimmy Harris had the crowd roaring their approval at his right foot cross-shot at which Baynham had to fling himself at the foot of the post for a brilliant save at the cost of a corner.  A moment later Cummins came up with a peach of a pass to Brown on the right wing but fortunately Tom Jones cut off the Brown centre.  Thomas just failed to get enough angle into a glancing header from a Hickson right wing centre.  There was more than a fear of a penalty when Tansey breasted down a left wing centre by Brown and the crowd murmured when the referee not only failed to give an award but Luton did not appeal.  Everton's most dangerous moment came when from a Bingham free kick, Brown rocketed a header in and Dunlop did well to turn it over the top.  The old warhorse Shay Dunne was having a good innings and Bingham was now starting to show us some tricks but it was Everton who should have gone ahead and were unlucky shot when Pacey and Baynham were indecisive as a long ball came through down the centre Hickson seized his chance and rammed in a shot which struck the goalkeeper's skin and then rebounded over the top. 
Just Wide
Jim Harris also should have been a scorer by the courtesy of a brave O'Hara header which put him in line to get on the register if he could produce a telling if he could produce a telling shots in the event he edged his shot just wide of an upright.  O'Hara and Shay Dunne were at cross purposes at this stage and the referee called them together to have a talk with them.  Hickson kept offering square passes to non-existence colleague and on these occasions the Luton defence picked up the ball very gratefully.  A good move by Brown and Kilgannon engineered a lovely opening for Bingham in the centre but he only half hit his shot which bounded comparatively slowly and safely into Dunlop's arms.  Morton often came up to make a sixth forward and right on the interval contrived a low left foot shot despite Collins tackle.  Dunlop saved this one quite comfortably.  Half-time; Everton nil, Luton nil.
Hickson had a hook shot crowded out after Collins had opened up the way or Thomas and then Parker brought down the house by coming fight through taking the ball into the six yard area, and making a shot which struck Baynham's leg.  It rebounded like lightning to Hickson who rocketed it just wider of goal like a tremendous in the game's most explosive moment. 
Brilliant Parker
Parker had played brilliantly all through and it seemed they move of his was designed to know those up front what a hit of penetration in the right place would do.  Again Dunne and O'Hara had a personal battle this time when O'Hara was beating the other in a sinuous left-wing dribble.  Bingham coming over to the left made a glorious run finishing with a pass from which Brown hit a shot wide and rather wildly when it seemed he must score.  A moment later Bingham was nearly thoroughly with a quick feint against Jones and the centre half did well to edge the ball towards the corner flag for a throw-in.  By the way Bingham was floating around it was not long odds against Luton taking the lead.  Indeed, when Gregory's shot beat Dunlop, Parker standing on the goal line saved his goalkeeper and his side with an out-stretched foot to complete for him a memorable match.  The Everton attack had the Luton defence all at sea a moment later with the ball ending Baynham's outstretched hands and Hickson's head.  Bingham had now come to life, and very nearly picked up a through pass by Cummins but it was Everton who remained luckless first Jimmy Harris's hand hot shot was blocked away and then off the rebound when a Luton foot intervened against Hickson's shot with the goalkeeper out of position and the defence wide open.  It came as no surprise when Hickson put Everton in the lead after 67 minutes.  There was no clear lead to this goal.  Indeed, Hickson was covered by both Hawkes and Pacey when he received the ball just outside the penalty area, but characteristically he brushed round both players and them went on to beat Baynham with a shot deflected on route.  Two minutes had gone when Bingham who had drifted to inside left pulled the ball across the face of goal, unexpectedly to draw Dunlop out of position and leave Brown a comparatively easy task although his shooting angle was pretty fine.  Everton were unlucky when following a free kick, Meagan took up a forward position and with a cleverly placed lob beat Baynham and them had the disappointment of seeing the ball lop on to the top of the bar and out of play.  Both O'Hara and Collins in turn showed the power of their shot and apart from Everton missed chances the feature of the second half was the good use O'Hara made of the ball Brown was now figuring at outside right with Bingham in the centre and Luton now started to play with a poise they had never shown earlier.  This was confirmed a moment later by a wonderfully clever right wing move in which Bingham slipped Brown through and then was at hand to hit a tremendous shot down a fine angle when Brown turned the ball back to him from the goalline.  The goal came at 75 minutes.  Parker damaged his back in collision with Gregory and needed attention but was able to continue.  While trainer Gordon Watson was attending the injured Brian Harris, the Luton trainer Frank King an old Everton goalkeeper came on to the pitch and gave severe of his players the benefit of a cold sponge.  Referee Callagahan soon put stop to this and after speaking to King made a note of his name.  Three minutes from the end Jimmy Harris notched up a ball from the left and with the defence flat footed and not prepared to make any sort of challenges rounded his man and shot the ball into the net to level the scores.  Final; Everton 2, Luton 2.  Official attendance 38,539.
Balance Sheet
Everton missed both points because they failed to take their chances.  They led by a Hickson goal and then as a result of the genius of Bingham , went 2-1 down and looked likely to lose until Jim Harris came along with a goal  three minutes from the end.  The outstanding figures in this match were Bingham and Parker.  Everton tried hard to follow the managerial dictum and keep the ball on the turf, and while they succeeded in this up to a point their was not always very progressive football. 
THE CASE FOR A SUPER EUROPEAN SOCCER LEAGUE
August 22, 1959. The Liverpool Echo and Evening Express
John Carey Thinks The Time is Ripe and That Everton must be Ready to Qualifty.
The Everton Manager Is Interviewed by Leslie Edwards
How I wish every Everton fan could sit in the Everton office and listen as I did to John Carey's thoughtful forthright opinions on the game today, the game as it is likely to be and the game it was.  This admirable man who ends (unlike me!) to look forward rather than back over the football years, is convinced that the best soccer is yet to be played.  He doesn't subscribe to the view that thing are not what they were.  On the contrary.  He thinks present day League soccer is good – and probably faster than ever.  No doubt of it, John Carey is a progressive, a man not content to allow things to moulder in if there are chances of improving them.  He believes that out football legislators can both improve football and widen its scope.  "Football boomed for some seasons after the war, he told me.  "Then it appeared to have its lean seasons.  Now I think it is coming back.  When you talk of spectators being lost to the game, you must not forget that were living in different times.  In the old days a man would always be content with his beer, his bacon and his spot spec on the terrace.  People have more money to spend on golf, television, music, comedy, opera, holidays.  Thus there is more competition than ever for League Football.  How can the game widen it's scope and improve its standard?  John Carey feels that sooner or later football legislators must come to the conclusion that a European League is the answer.  He doesn't doubt this will come, first with British clubs, in competition with clubs from near-European countries such as France, Belgium, Holland, Germany, and later perhaps with a clubs from countries further afield.  The possibility of a World Cup competition for clubs rather than nations is a possibility, he maintains.
A Pointer
The fact that preliminary meeting in connection with a European League have been held points John Carey thinks to be imminence of a European League in which the best English and Scottish clubs are certain to have a place.  It is one of my jobs "he said to ensure that it and when a European League is a reality Everton are in a position to qualify for it.  It may seem odd that so many recent visits of English clubs to the continent have led to disturbances, but these difficulties I am sure can and will be overcome.  The Everton chief appreciates as do many others in football, that floodlit friendlies are not the attraction they were now the novelty of football under lights has worn thin.  A European League would cause some reconstruction of the Football League in its present form.  To have fewer clubs would make Leagues more manageable.  The idea of a First Division running in conjunction with a Super League is not insuperable, he considers.  The Dutch already run competitions on those lines.  The number of matches a first-class player can take in a season, John Carey believes is between 50 and 60.  They could play more of course but if they were to they mightn't last as long in the game. 
Best Of Both Worlds
The success of the European Cup competitions has whetted the appetites of fans in this country and they have shown beyond doubt that they want to see the best football from both worlds.  "Initially we used to be able to hammer the Continental clubs ever time."  said the Everton Manager.  "Now they often hammer use.  Some of them cam show us a thing or two.  The myth of their fallibility on the heavy grounds which our players experience in the mid-winter months, has long been exploded, I've seen them do their stuffs just as effectively on mud heaps as on the pitches watch are held to be better suited t their style.  My basic for thinking that football is better than it was and that it will continue to profess is judged on the progress seen to be made in all other forms of spot.  The figures in these more individual sports prove my point.  "I don't believe that football is the only sport which is moving in reverse.  Why conjurors and acrobats "now warming with feat which held our grandfathers in aver!  Youth eye's magnifies.  The tendency is to over emphasize the ability of those we saw when we were young.  There were bad teams had players, bad referees before the war, don't forget.  Extraordinary, 'isn't it, how we remember only the good things of the pass and scarcely over give a through to what wasn't so good?  John Carey is intrigued by news of the Gloucester City hypnotist, signed to put the 'fluency on footballers and make them strong where they were weak.  Says he.  Managers have been doing this for years –without putting 'em to sleep.  An oblique reference this, to the necessity for men in charge of footballers to be experts not only at football but in psychology.  But it is not so much psychology I aim at" says Carey "as doing the right thing, the fair thing by players I believe in treating 'em like men till they act like children.  The I treat 'em like children. 
Proof
That football is faster and more demanding John proves by the fact that Pre-War players were ready to retire at 32 or 33 years of age.  In the ten years since the War the tendency has been for players to continue playing until they were between 38 to 39.  In the past season or two the trend has been for men to be at their best between 26 and 32 and then to fade.  "Whatever a player's age ' he's learning all the time or should be.  Bur he doesn't really start to analyze his own game, and on immediate opponents and he's mid-way through the twenties.  Then John Carey says he does it to such effect that he can "read" an opponent like a book and cajode him to do the things he wants him to do.  In most play on his weakness.  On gamesmanship and all that the Carey view is that too many managers condemn it publicity and condone it in private.  There should be managerial discipline for players who infringe the laws and use tactics which bring the game into disrepute.  Everton and Liverpool's supporters are wonderful, Mr. Carey says.  Everton' have been very patient and he asks them to be patient a little longer.  Then they can expect results from the Carey plan to play attractive football designed to win matches.  He is working hard on the old Everton principle that the fundamental football is football with the ball on the turf.  Too many passes go adrift he thinks.  Too many big clearance kicks make defenders work easy where the slow, but sure ground approach pulls them this way and that and leaves em gasping.  Football crowds are learning to appreciate and applaud football artistry whether it is collective up individual.  "The fans pay to see good football says Carey, "and it's my job to see they get it." 
WE MAY NOT WIN THE TITLE THIS SEASON BUT…
August 22, 1959. The Liverpool Echo and Evening Express
By Alex Parker
Hello again, I'm very pleased to have this opportunity of talking to you again each week through the columns of the Football "Echo" and hope that I'll be able to tell you what you want to read.  Anyway, if you have any comments to make about the articles, I'll always be pleased to hear from you.  Yes, even if you don't agree with me.  If you do wish to write you can contact me C/o Sports Department, Liverpool Echo, Victoria Street Liverpool 1.  Well, they say that time passes quickly but when I put my boots away last.  May I little realized that I would be getting them out again so quickly, while we footballers enjoy the close season, we must be among the few people who look forward to the end of our holiday and getting back to work.  The summer months are taken up with golf, cricket, swimming &tc, but there's nothing can takes the place of football.  I like you, have been wondering what the new season has in store for us.  I've been asked recently what teams I think will do well.  As I said in my last article in May, I think the teams to keep an eye on will be Wolves, West Ham and Manchester United.  If you don't mind I'd like to add another to the list –the newly promoted side Fulham. 
Not Yet
What about Everton?  Well I'll be perfectly honest and say that I don't think we will win the championship –this season; Title chasing teams are not built in five minutes and Mr. Carey has not been here a year yet, but we've some very good youngsters of whom we have high hopes.  Still, there's no doubt that we'll do much better than last season and I expect us to finish well in the top-half.  If the boys do spring a surprise I expect it to be a pleasant one rather than the other kind.  However, keep an eve on us when the Cup ties come round next January.  One familiar face will be missing from the grounds this season – Billy Wright.  Billy will be missed by clubmates and opponents alike both in England and Scotland.  As a Scot, I suppose I should be glad that he will not face us in internationals anymore and I think that is about the greatest tributes I can pay him.  All the best in your retirement.  Bill.  You've earned it.  Switching from goodbyes to welcome I think this is an opportune moment to mention our new coach Les Shannon.  However, I feel on unsafe ground here as you probably know more about him than I do, seeing as he is a "scouser" who played for the "auld enemy" from across the park, I'm sure he will be very happy at Goodison. 
Our Training
It's a coincidence that our first away match should be at Burnley next Tuesday.  No doubt Les will watch that match and the return the following week, with mixed feelings.  You're probably read that Everton will not lack anything in the way of fitness this season, and you may have dismissed it with the thought.  "Oh, that's just the usual pre-season stuff," Well you're wrong.  Take my word for it that if things don't go as well as we hope, will not be able to blame our physical condition.  I have rarely felt so fit and more than one of the boys have said that they have never enjoyed their training so much.  Anybody who has ever done any will know that training is usually a "bind" but at Goodison the staff have gone out of their way to keep it varied and interesting and they have succeeded.  We have been training morning at Bellefield and afternoon at Goodison.  So as you will get some idea of what I mean by "varied and interesting" I will give you an example.  We should start off with exercises followed by running with may be a game of handball.  Then we would do some sprints followed by a spell of ball play, kicking, passing, heading and trapping.  This would be followed by a seven-aside game which I've been told, was a popular thing with the Everton team that won the championship just before the war.  I wonder?  In the afternoon we would play such games as heading, tennis, badminton, wall tennis and basket ball.  Incidentally, any regular at enders at the Everton Supporters Club will tell you what a good game this heading tennis is as they have a competition for the Merseyside League clubs during the summer. 
My Cricket Career
Oh, I must tell you that another game I tried my hands at was cricket.  Yes, a Scotsman playing cricket.  Meet Alex Bradman" Parker;  I played in three matches, two for Everton and one for Liverton, batted once and made a "duck" I think I'll stick to football.  By the way Dave Hickson made 36, in one match.  If he gets the same number of goals this season we can't complain.  I have also played a good deal of golf, mostly with Eddie O'Hara I'll played in the Professional Footballers competition last Monday, but I don't think Bobby Locke or Peter Thomson need worry about a rival called Parker.  Brian Harris won the north-west soccer players title.  Not a bad player is Brian.  I have spent much of my time with Bert Slater , Liverpool's new goalkeeper and an ex-Falkirk and Army pal, Bert tells me that he and his wife have settled down quite well on Merseyside.  I think you Liverpool fans will be more than pleased with Bert, I know he's only small, but he's exceptionally agile.  He's a very nice chap too, and I am not looking forward to meeting him in "derby" matches.  Well as you read this you will know the result of our opening match against Luton, I hope we've won, but if we haven't don't worry.  There's a long way to go.  Before I close I must welcome Jimmy Tansey and Eddie O'Hara back to the first team.  It's hard luck on John Bramwell and Bobby Laverick but if the form in training of Jimmy and Eddie is anything to go by they will not let the team down. 
CHESTERFIELD RES V EVERTON RES
August 22, 1959. The Liverpool Echo and Evening Express
Chesterfield Res;- Smethurst; Clarke, Wilson; Kerfoot, Alison, Lawley; Glossop, McLaren, Bottom, Lewis, Edwards.  Everton Res;- O'Neill; Sanders, Parkes; King, Labone, Rea; Blain, Wignall, Hood, Ashworth, Godfrey.  Referee; Mr. C.W. Davies (Birmingham).  Chesterfield had slightly the better of the opening stages and O'Neill was soon in actions.  He made five saves from McLaren and Edwards.  Ashworth, Everton's liveliest forward looked like scoring but Smethurst dived to his feet and stopped him.  The inside left soon broke through again and tested the Chesterfield keeper with a hard drive.  The visitors seemed to be settling down and Blain and Wignall had good efforts thwarted by Smethurst.  O'Neill was giving a first class performance in the Everton goal.  He made a fine save from Bottom and did well to stop another McLaren drive.  At the other end Smethurst was lucky when a Wignall header went just wide.  Half-time; Chesterfield Res Nil, Everton Res nil. 
EVERTON NEED STRENGTH IN TWO POSITIONS
August 24, 1959. The Liverpool Daily Post
Everton 2, Luton Town 2
By Jack Rowe
Frustration straight away for Everton fans because this first game should have been won.  There were sufficient chances in the opening twenty-five minutes to have laid Luton so low that they would not have been in a position to make a second half recovery that threatened to make not only the heat unbearable.  As it was Everton salvaged a point three minutes from the end with a goal from Jimmy Harris after brilliance of Bingham and Brown had put Luton on the verge of giving Sid Owens a celebration victory on his first game as a manager.  In those first 25 minutes we saw Everton in a mood which clearly indicated that not only was there a playing plan but also that the Carey dictum of playing football would pay dividends.  That it fell short was due to Everton's inability to make the final punishing touch, for I reckoned Hickson and Jimmy Harris missed scoring chances.  There was fortune for Luton when Brian Harris struck the foot of the post and in all one had to be quite pleased at the way Everton shaped.  They moved the ball on the ground and fought for it splendidly so that Luton enjoyed more than justice to be on even terms at the interval. 
Defensive Weakness
How different they were in the second half when Brown moved out of the middle and Bingham took on a wandering role, which let us wondering whether the left defensive flank of Everton was as strong as we would like it.  We have 'rarely seen anything better than Parker's second half upfield move that took him through to make a shot which Baynham saved fortuitously with his foot to ring crowd acclamation which lasted for fully two minutes.  Parker was superb, the complete full back and I made Brian Harris the next best Everton player.  He also had penetrative sense, something which the forwards still lack and on this showing it may be Manager Carey will not be content with one of the inside forward positions where Thomas hardly came up to expectations.  I wish Meagan had a little more power, for I feel that the strengthening of two positions could do Everton a world of good.  Tansey, while not dominating stood up to Bingham quite well in the first half, but one suspects Bramwell I will return when available.  Jimmy Harris-Hickson and O'Hara and some fine spell with the outside left impressing with his energy and determination Collins was not the commanding figure he can be. 
Hickson Opens
Everton's leading goal came in the 67th minute when Hickson who had shot against centre half Pacey just before with a gaping net in front of him beat Baynham with a drive which I fancy was deflected by Cummins.  Even Parker could do nothing about the Cummins pass and the square Bingham centre which gave Brown an equalizer two minutes later and in 75 minutes Brown raced Tansey and Jones to the line before turning the ball back for Bingham to hammer a great shot.  Everton point-saving goal from Jimmy Harris was taken from a Meagan lob into the goalmouth and it was right that the Blues should save a point for they had more the play but  missed chances.  Everton; Dunlop, goal; Parker and Tansey, backs; Harris (B), Jones (captain), and Meagan, half-backs; Harris (J), Thomas, Hickson, Collins and O'Hara, forwards.  Luton Town; Baynham, goal; Dunne, and Hawkes (K.), backs; Morton, Pacey and Groves, half-backs; Bingham, Kilgannon, Brown, Cummins, and Gregory, forwards.  Referee; Mr. Callaghan (Merthys Tydfil).  Attendance 38,539.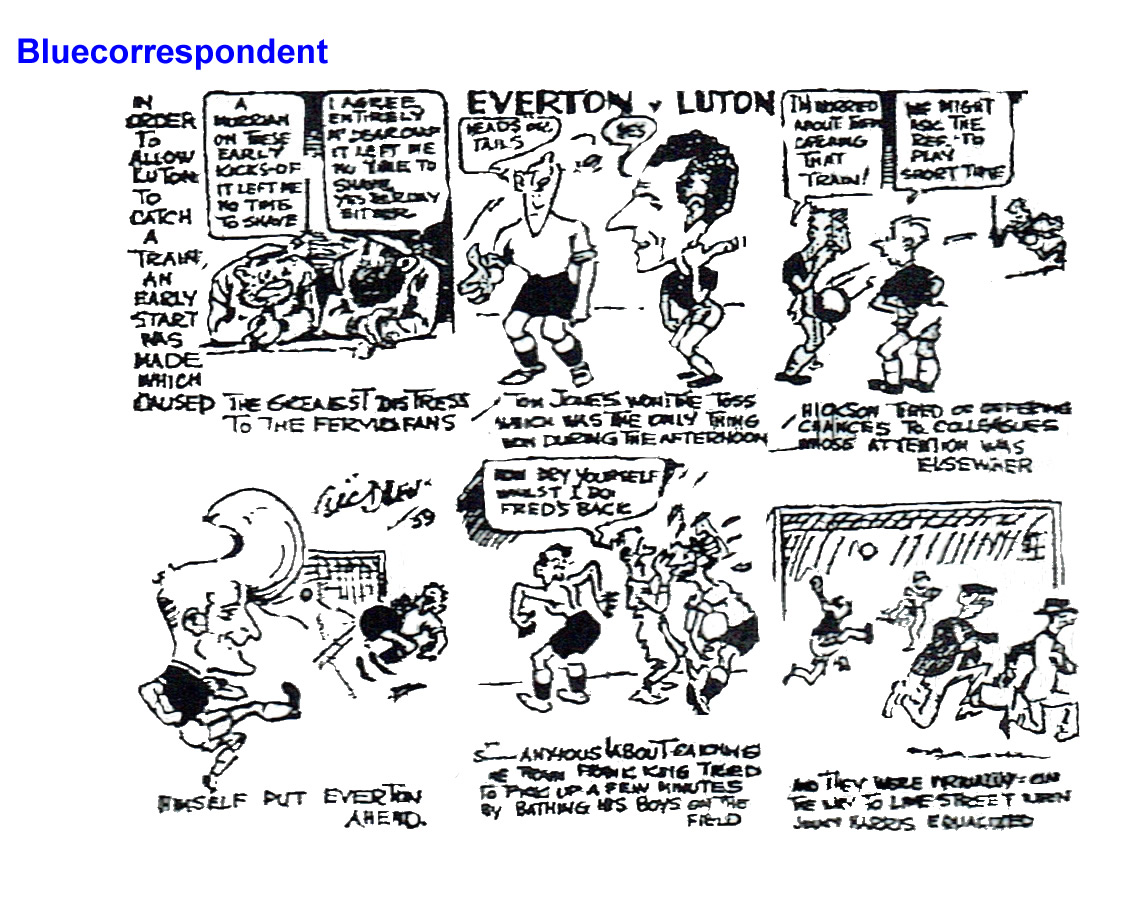 ASHWORTH THE MATCHWINNER
August 24, 1959. The Liverpool Echo and Evening Express
Chesterfield Res 0, Everton Res 1
A 60th minutes goal by Everton's livewire inside-left Ashworth, gave them two rather lucky points in a scrappy game.  Chesterfield had slightly the better of the play in the first half, but some atrocious finishing and some fine saves from Everton's goalkeeper O'Neill stopped them from pressing home their advantage.  After half-time there were far too many pretty fouls tempers became frayed and referee Mr. C.W. Davis of Birmingham did well to keep control.  Then, out of the blue, Everton inside right Wignall beat four men, slipped the ball to right winger Blain, and his centre was hit home by Ashworth.  From then on play deteriorated there was some slow handiclapping from the crowd and the game preferred out. 
SO IT WAS THUMBS DOWN ALL ROUND
August 24, 1959. The Liverpool Echo and Evening Express
By Leslie Edwards
While Everton shareholders gave the thumbs down sign to each other about the removal of their places to a too-close proximity to the shrill cries of the boys pen, other city fans mused gloomly on the fact that neither Everton nor Liverpool could get away to a winning start.  The fact that Cardiff City gave away two goals and still won and that Everton scrambled an equalizing goal with only three minutes to spare, does not make the future look hopeful and we thus look forward rather anxiously to Everton's match at Burnley tomorrow and Liverpool's against Bristol City at Anfield on Wednesday.  On the face of it, it looks as though the failure of our two senior clubs to get new players –hard through they, have tried –Is likely to be reflected in attendances.  Everton's was fewer than 39,000 but the occasion was not lacking in colour and at one especial moment it produced a story of applause (as distinct from the Goodison Park roar) which would have been equally in keeping if it had been heard at Lord's on the Oval. 
Worth A Goal
This wondered Ovation was reserved for full-back Alex Parker, whose impatience at what was happening up front led him to take matters into his own bands.  He took the ball almost half the length of the field, cut inside towards goal and after making his shooting angle surer hit a shot which deserved a goal and failed to get one merely because the ball cannoned fortuitously against the goalkeeper's leg.  Luton were lucky a second time in that when the ball came back straight from the rebound another defensive limb was there to keep it out again.  Weighing all his fine, commanding play and including our other timely piece of goal line rescue when Dunlop had been beaten) one rates this as the finest of many excellent games Parker has contributed since he joined the club.  How one wishes that other outstanding Evertonians had been afield in this match.  Quite as good as Parker's performance but in a more positive role was that of Bingham the Luton Town winger, whose play, I thought might clause Jim Tansey anxious moments.  In the event Bingham did not develop into a menace until he exchanged places with Brown and went centre forward.  Then, his propensity for stealing quietly into open spaces and using the ball devastatingly turned the game for the first time in Luton's favour.  Bingham scored with a first-class shot but it was his less tangible scoring in wrong footing defenders which was more telling and though Brown got the first Luton goal it was Bingham's cross-field pass which opened the way. 
Notable Misses
Everton missed their way in the first half in which they had chance after chance.  Well as Baynham played he should have been two or three times.  There were some notable misses by Thomas by Hickson and by Jim Harris after approach play which proved that Manager John Carey's insistence on a football fundamental –the ball ground had suck in.  But even at best Everton looked labored.  Their close-passing lacked the varies and subtlety which the occasion long pass can produce.  They were going throughout motion of underneath football without progressing quickly or in such always as to cause an ordinary footing upon defence embarrassment.  Hickson's goal early in the second half was a good one but it was promptly rubbered out by Brown's and when the Luton forward switch started to become effective a goal from Bingham was hardily unexpected.  It looked as though Everton would lose everything through their early failures and when three minutes from the end Jim Harris saved a point despite the challenge of George Cummins off whom the ball was deflected past Baynham the situation was more than a little critical.  A draw was more in keeping with the way play went but the Everton of Saturday were not convincing and at an eleven they did much to convince authority and their followers of the need for more players if class.  How valuable a man like Bingham whose play remarks so consisted would be at Goodison Park. 
Hot Duels
Except for retrieving the ball from the net after two Luton goals's Dunlop had little work.  That in itself is a tribute to the sinking power of an attack which had so few chances compared with Everton's.  Apart from the wearying of Cummins (often he essayed one too many); the up-surge of Morton from the half-back line and the toughness of Shay Dunne in special rather hot "duels" with O'Hara.  Luton were only of average standard and to be candid, Everton often looked evenless balanced.  Thomas missed too many openings for his, by our comfort Hickson's part was less effective than usual and even Bobby Collins except for an occasional astute pass off the sort which stamps him as one of the games brainiest purveyors of the ball was in minor key.  But O'Hara had a good second half unlucky though he was with many of his centres and for a man not long through a severe operation played well enough to promise that the outside left position will not remain uppermost  in mind when Everton are aiming it finding greater strength.  Mr. Callaghan from Wales refereed well but he may have been a little harsh in taking the name of the former Everton goalkeeper Frank King (Now Luton trainer) when he went on the field to sponge several of his players.  It seemed to use that King rated with the intention of giving Trainer Watson help with the injured Brian Harris.  It was only when he realized his extra services were not required that he could not resist the temptation to give his players have a squeeze of the sponge.  At quite understanding error. 
EVERTON DELAY TEAM SELECTION
August 24, 1959. The Liverpool Echo and Evening Express
Match At Burnley
Reserve Game
By Leslie Edwards
Everton's team for the match tomorrow evening at Burnley will be announced tomorrow.  The reserve side to play Bolton Reserves at Goodison Park this evening will be;- Everton Res; O'Neill; Sanders, Parkes; King, Labone, Rea; Blain, Wignall, Hood, Ashworth, Godrey. 
SHE GETS MORE WOLF WHISTLES THAN ANY OTHER GIRL
Monday 24 August 1959. The Liverpool Echo
Let me introduce you to the girl who probably gets more wolf whistles than any other in Liverpool.  And no wonder, for every time Everton has a home game, she appears before the crowd dressed as Mother Noblett.  She is Maureen Radcliffe, aged 19 of 28 Kirkstall Street, Walton, probably the only girl in the country to be a major football team's official mascot.  On Saturday she began her third season in the capacity and so far she knows she is the third in the Mother Noblett dynasty.  She was asked to take on the job when the previous girl mascot got married.  And now in her royal blue velvet long dress and her poke bonnet which she dong at her grandmother's house near the football ground.  Maureen impersonalizes the old lady of Everton whose home -cooked sweet -meats gave the Everton Club the nickname of the "Toffees" And from het basket she hands a few caramels to the crowd.  Maureen tells me that she often gets request from chaps in the crowd for a "date." And now for the 60 dollar question, is Maureen engaged. Answer Yes.  And if Everton have a home game next Boxing Day, for that's the day that Maureen has booked to get married. 
BURNLEY SUFFER EPIDEMIC OF BROKEN LEGS
August 25, 1959. The Liverpool Echo and Evening Express
By Leslie Edwards
Everton face one of the strongest First Division teams in the North at Burnley this evening.  Indeed many are prepared to back their opinion that Burnley will finish champions.  Their 3-2 victory at Leeds helped to confirm high opinion of them and the former Everton forward Harry Potts now a manager at Turf Moor is known to be pretty sweet on his championship chances. Nearly 12 months ago when Everton began with defeat after defeat it was their rather luckless performance at Burnley which provided first hint of a great revival.  Another hint of that kind would be timely and if there was more (and better) shooting than against Luton none could rule out possibility of Everton springing a surprise.  For Bobby Collins this will be a special occasion since it was against Burnley last season he made his debut.  But Alex Parker will be new to the present Burnley side.  Colin McDonald the Burnley and England goalkeeper who broke his leg in Ireland last season sees a specialist today and all going well should resume training soon.  The club have two others with broken legs –full back David Smith and reserve right winger Trevor Meredith from Kidderminster who broke a leg last Saturday.  Blacklaw a 21-years-old Scot, who joined his club as a boy is deputusing for McDonald.  The Burnley team will be unchanged.  Blackshaw; Angus, Cummings; Seith, Miller, Adamson; Connolly, McIlroy, Pointer, Robson, Pilkington.  Everton; Dunlop; Parker, Bramwell; Harris (B), Jones, Meagan; Harris (J), Thomas, Hickson, Collins, O'Hara. 
Mention of Harry Potts reminds me of the great number of former Everton players now on the management side, Joe Mercer is with Aston Villa, Cliff Britton with Preston North End, Harry Catterick is making a fine job as chief at Sheffield Wednesday and Wally Fielding (Southport) Peter Farrell (Tranmere) and Duggie Livingstone (Chesterfield) complete the list with the former Everton goalkeeper Frank King doing a fine job as Luton Town trainer.  No other club in England apparently has so many old servants working as executives. 
EVERTON CRUSHED BY SUDDEN THREE GOAL BLITZ
August 26, 1959. The Liverpool Daily Post
Burnley 5, Everton 2
By David Horridge
Despite the heavy scoring this match was all over after the 18th minute by which time Burnley had established a three goals lead.  At three came in a six-minute spell when the home team looked like the championship side many people think they will become.  For the first 12 minutes Everton held their own and in fact had looked the more likely scorers with two headers from Hickson, but in the 12th minute following a melee in the Everton goalmouth, Pilkiington pulled the ball back, from the dead ball line and Connelly headed it home.  This was the signal for a fantastic display by Burnley in which their five forwards and two wing halves, bore down on the Everton goal with far too much speed and accuracy for the galliant defence.  The unfortunate part of this first goal was that the ball would have gone out for a goal kick if Parker had not tried to stop it and only succeeded in turning it into the path of the left winger.  Four minutes later Pilkington scored the best goal of the match when Connelly flung over a centre which Pilkington dived forward to head under the angle from 12 yards.  Two minutes later Tommy Jones with all the time in the world to clear, put the ball straight to Pilkington who squared it into the middle for Pointer to push past Dunlop. 
Thomas Hits Back
Everton were still trying to play football with short on-the-ground passes, and after 24 minutes, Thomas reduced the arrears when Hickson headed a Bramwell lob back to him .  This put new heart into the visitors and they came near to scoring further goals.  Blacksaw just managed to stop a Thomas drive, Jimmy Harris fired wide of an open goal and O'Hara had a shot kicked off the line.  However, Burnley were not idle during this spell as Dunlop will testify for he was called upon to make a brilliant save from McIlroy, and then made a most encouragous dive as Connelly's feet to prevent another score.  Burnley began the second half as if they meant to run up a cricket score and after 56 minutes Robson scored N04 when McIlroy intercepting a pass by Meagan teed the ball up for the inside left to hammer home.  Everton then proceeded to play some of their best football of the game and at times had the home team penned in their own penalty area for long spells.  Eight minutes later Hickson prevented a Jimmy Harris cross from going "dead" and hit it back into the middle where Miller turned the ball on to his on crossbar from whence it bounced over the line. 
Not Disgraced
Everton still continued to play well although one always had the feeling that Burnley had a good bit in hand.  In the last quarter of an hour they really turned the pressure on and but for some bad misses and last ditch tackles would have scored more than the one goal, Connelly got after 81 minutes.  despite the score Everton will probably play worse and still win matches in the coming months.  They played their part in what was a vastly entertaining game, and the 30,000 spectators gave both sides an ovation as they left the field.  The main difference between the sides was that Burnley were the more dangerous in front of goal and had two commanding wing halves in Seith and Adamson.  Dunlop could in no way be blamed for the defeat and made some saves which are unlikely to be bettered at Turf Moor this season.  Parker after a shake start, settled down to keep Pilkington comparatively quiet and Bramwell on his return to the first team did very well against the tricky Connelly.  Brian Harris was the best of the half-backs for Jones found the tall Pointer in rare handful and Meagan was right out of touch.  Jimmy Harris was the best of the forwards, Thomas fading after a promising opening and Hickson often lacking support. 
O'Hara Sparkles
Collins without being the player we know he can be, put some telling passes out and O'Hara is to be complimented on making some spirited runs against defenders who towered over him.  The little left winger looks as if he has fully recovered from his close season operation.  Burnley are undoubtedly a good side although their defence looks as if it might crack under extended pressure, in McIlroy, they have a great inside forward and the fair haired Pointer is going to cause a lot of trouble to many a centre half.  He is no stylist but can do the easy things quickly and well and is not afraid to shoot.  Burnley; Blacklaw, goal; Angus and Cummings, backs; Seith, Miller, and Adamson, half-backs; Connelly, McIlroy, Pointer, Robson, and Pilkington, forwards.  Everton; Dunlop, goal; Parker and Bramwell, backs; Harris (B), Jones (captain), and Meagan, half-backs; Harris (J), Thomas, Hickson, Collins, and O'Hara, forwards. 
EVERTON'S NOVEL BALLOT FOR CUP-TIESTAND TICKETS
August 26, 1959. The Liverpool Echo
By Leslie Edwards
Everton F.C today announce a new scheme for the distribution of a limited number of cup-tie stand tickets for matches at Goodison Park and for semi-final ties –providing the club is involved.  The scheme is based on purchase of the club programme and the rules which have been formulated by the club are as follows. 
All programme (first team) will be numbered on the front cover in a prominent position, starting at No. 1 for each match. 
Supporters will be asked to buy and keep a programme from each home match. 
Assuming Everton draw an attractive club at home 500 tickets will be earmarked for the scheme, 500 numbers will be announced as winners in the draw and one particular issue will be selected as the key programme. 
Programmes which win a ticket will be given up and therefore will not be considered for subsequent cup matches. 
MORALE-SHAKING
August 28, 1959. Liverpool Echo
By Leslie Edwards
Everton will never have a better chance of maintaining their last four season record in matches at Bolton.  There will be no Nat Lofthouse to pester Tom Jones and company and Bolton will have an unexpected and morale shaking home defeated by 3-0 against Blackburn fresh in mind.  Last season Everton won 5-0 in 1957-58 they won 5-1 and in the two previous seasons they came from Burnden with a draw.  No wonder the leg-pulling Bill Riddling, one in-direct line of succession to Dixie Dean and Pongo Waring at Tranmere, becomes a little serious when he faces the threat of his team's opponents.  Meanwhile Everton are moving (as they have been for weeks) in their effort to make their side stronger.  That little emerged for publication is due to the fact that John Carey is essentially a man who does things quietly and is anxious lest leakage of his intentions should prejudice his chances of getting the players he is after.  I don't blame him, I only wish it were possible for Everton fans to know the name of the famous players about whom Everton made a firm inquiry a day or two ago.  But getting his man is a different, and more difficult matter. 
EVERTON'S INTEREST IN REID IS REKINDLED
August 29, 1959. The Liverpool Daily Post
By Horace Yates
Now that the whisper that Bradford City may be willing to part with their accomplished inside-forward John Reid, has swollen to more audible proportions, it is reasonable to assume that this buzz has not by-passed Everton, for this is a player in whom the club have admitted an interest in the past and there is no reason to assume that their admiration has been dimmed.  Now the position appeals to have become, when will Reid be fit enough to resume first team football.  A pointer that the day may not be much longer delayed comes to the fact that he is named to play in the Bradford City reserve team today.  He was injured in the season's opening game.  My record s show that last season he scored four goals in thirty games, two of them from penalty kicks.  Unless present intentions, and altered at the last minute Manager John Carey will not be there to see how Reid shapes for Mr. Carey is expected to accompany his first team to Bolton.  For all that, Everton may well be represented at City's reserve team game, it is common knowledge that Everton are intent on strengthening their side as opportunity arises and in this development some people see just such an opportunity.  Naturally Mr. Carey declines to discuss possibilities in the belief that silence is golden until there is really something worthwhile saying.  Last season Everton were credited with a £10,000 offer for Reid, at a time when City were valuing him at £17,000.  It makes a pleasant change to be able to refer to Everton as another side's bogy team.  Too often where Merseyside clubs are concerned, reasons can often be advance for attributing this description to opponents.  If there is anything in superstition of this kind, Bolton Wanderers must be somewhat fearful of the outcome of their Burnden Park clash with Everton.  According to my records Bolton have won only one of their last ten meetings with Everton.  Last year at Bolton they went down 3-0 and the year previous it was 5-1, their one success being in season 1954-55.  As if that were not enough to contend with Bolton go into today's match without a point to their name and with no Lofthouse to stir them to mighty deeds.  In addition that sturdy full back Hartle was yesterday taken to hospital suffering from internal bleeding, Hennin drops back to fill the defensive vacancy and Stanley (is introduced at right half.  Bramwell, after one game at Burnley, is out again, the result of a strained thigh muscle.  He has felt this for a little time and his recent exertions have aggravated the trouble, but it is expected to clear up quite quickly.  In his place at left back Everton will play Tansey, the only change.  A point gained away from home is always acceptable and I shall be surprised and disappointed not to see Everton at least share the spoils.  Actually I think here is Everton's first win of the season coming up.  Bolton Wanderers; Hopkinson; Hennin, Banks; Stanley, Higgins, Edwards; Birch, Stevens, Hill, Parry, Holden.  Everton; Dunlop; Parker, Tansey; B. Harris, Jones, Meagan; J. Harris, Thomas, Hickson, Collins, O'Hara. 
Central League
Everton reserves, to receive Wolverhampton Wanderers Reserves in a Central League game is; O'Neill; Sanders, Parkes; King, Labone, Rea; Peat, Wignall, Hood, Ashworth, Edmondson. 
EVERTON FAILED TO KEEP UP BRIGHT START AT BOLTON
August 29, 1959. The Liverpool Football Echo
Bolton 2, Everton 1
By Michael Charters
Bolton Wanderers;- Hopkinson, goal; Hennin and Banks, backs; Stanley, Higgins and Edwards, half-backs;
Birch, Stevens, Hill, Parry and Holden, forwards.  Everton; Dunlop, goal; Parker and Tansey, backs;
Harris (B.), Jones (captain), and Meagan, half-backs; Harris (J), Thomas, Hickson, Collins, and O'Hara,
Forwards.  Referee; Mr. J.K. Taylor, (Wolverhampton).
Everton with Tansey coming in at left-back for the injured Bramwell, were at one of their favourite
grounds, Burnden Park against a much changed Bolton Wanderers, still seeking their first point of the
season.  Conditions were a little better for football as a keen wind tempered the heat of the sun. Everton received a good round of applause when they came out and there must have been a few thousand visitors from Merseyside to see them.  Everton opened sensationally with a goal in the first minute from Hickson.  O'Hara and Thomas interchanged cleverly to earn a corner off Hennin and from O'Hara's cross Hickson went up beautifully to leave Hopkinson flat footed in goal from a header of 10 yards.  There were some faulty covering in the Bolton defence, for Hickson went up completely unattended to take O'Hara's corner. 
Another Chance
The ball was bouncing awkwardly off the iron hard turf, but Collins brought it down well, only to find his shot blocked for yet another corner by Banks.  When Hickson headed narrowly wide –though from an offside position –Hopkinson was most marked in his protest over Hickson being unmarked to take the chance.  The referee ordered a change of ball after six minutes, and immediately Hickson troubled Higgins to make a faulty back-header to Hopkinson, and the goalkeeper had to be very happy to prevent it running for a corner. Evertton had opened very well indeed, showing much more punch in attack than before.  Indeed Hopkinson was the busiest man on the field and look a blow to their face in punching clear a Parker lob.  Dunlop's first moment of anxiety came when Holden fling across a long centre, and as the goalkeeper came out to challenge Birch, Jones and Tansey between them scrambled the ball to safely. 
Quick Reply
Bolton who had handly been in it in an attacking sense, equalizer after 11 minutes with a goal in a thousand from Parry.  A free kick by Hennin from the half-way line was headed out by Jones, and Parry swung his boot at it as it dropped and fairly thundered the ball back past the surprised Dunlop from 30 yards.  Everton fought back immediately and the Bolton defence looked anything but steady, Hopkinson and Higggins got in each others way to push out a lob and with the ball running loose and the goalkeeper on the ground Harris quick shot went narrowly wide. 
Parker's Nice Pass
Hickson dragged the ball back well from a beautifully placed pass by Parker but the ball eluded the in-running forwards.  Everton certainly looked more dangerous in attack than Bolton at this stage, although the home side certainly seemed to have got over their initial attack of jitters.  Much of the tackling on both sides had been strong and uncompromising but Everton continued to have just the better of matters in a fierce fast game.  Jones and Parker were playing splendidly in defence and up front only a couple of close off-side decisions prevented Everton attacks from proving more successful after neat midfield play. 
Hickson Prominent
Hickson was evading the attempts of the burly Higgins by drifting out cleverly to either wing and his crossing of the ball was first class.  In fact this was an Everton showing a great deal of fire, particularly from Hickson who was fouled twice in quick succession by Higgins.  Everton were moving the ball quickly and first time in direct and effective contrast to their other displays this season.  Only Parry was proving troublesome to them of the Bolton forwards, whereas the whole Everton line and half backs were moving well.  Parry tried another long range shot, which struck Jones in flight and Dunlop brought off a remarkable twist to save beautifully. 
Bolton's Best Move
Parry inspired Bolton's best move so far and it took another fine save from Dunlop to turn the ball over the bar as Hill collected a cross from Birch.  Parry was pulling Bolton back into the game almost single-handed.  He was proving too good for Brian Harris, and his linking with Holden had Everton's right defensive flank troubled.  Jones first mistake of the game allowed Hill to break through and push an ideal pass to Stevens.  With only Dunlop to beat the inside man hit the ball straight at him – a dreadful miss.  As Bolton began to press more than at any stage previously in the game, it was the left wing of Parry and Holden who were giving Everton all the trouble.  Once again Parry started a move from deep in his own half which ended with Hill shooting too slowly and Dunlop was able to dive to save for a corner.  As the first half ended, Everton mesmerized Bolton as they reverted to their close-passing game, but although they were in possession for a couple of minutes at least without a Bolton man touching it, the attack ended tamely.  Half-time; Bolton 1, Everton 1. 
The game resumed at the same a creditable pace in the sun although there was not a great deal of classical football with in.  Parry was outstanding and his passes were inch perfect.  It was as well for Everton that Parker was marking Holden so well, for this left wing was always threatening to rip Everton to pieces but never quite succeeding. 
Chance Missed
Jimmy Harris worked his way neatly around Banks and Edwards before pushing the ball back to Collins who was too slow to shoot and the chances had gone.  It was that man again as Parry slipped the ball through to Stevens who neatly side-stepped Jones and raced on with a clear path to goal.  But he shot weakly as Dunlop advanced and Jones came back in time to hammer the ball away for a corner.  Stevens was not playing well and this had been his second bad miss.  But Everton never cleared properly the corner kick and finally it was Parry who hit a shot from 20 yards which Dunlop saved comfortably.
Collins off Target
Bolton were right on top now and Dunlop was a lucky man to find a 20 yards shot from Hill coming straight at him through a rack of players but the Everton goalkeeper deserved this fortune for he had played magnificently.  In only Everton's second attack of this half, Collins was badly at fault when he shot wildly over as Thomas headed the ball down to him in the easiest of positions.  Parry had now moved to centre-forward and was still the mainspring of Bolton's renewed attack.  Apart from Collins's over the bar shot, Everton had not been in it in an attacking sense this half. 
Brilliant Move
But then Everton produced a move right out of the classic book.  The ball went like clockwork from Collins through to Brian Harris a long one out to Hickson on the left wing and from Hickson's header inwards O'Hara headed firmly for the corner of the net, only to find Hopkinson saving magnificently at the expanse of a corner.  It was a move worthy of the admission money alone.  It was Bolton who eventually went ahead after 70 minutes when Stevens, who had been having a shocking match collected a through pass from Hill, which left him in the clear and he strode on to put it past Dunlop from the edge of the penalty area.  Bolton deserved this goal, for they had undoubtedly been the more aggressive side in this half.  Bolton 2, Everton 1.  Attendance 26,716. 
MAGIC FINGERS HARRY ROLLS ON TO HIS 55TH SEASON
August 29, 1959. The Liverpool Football Echo
And His Favourite Dixie Remembers With a Present
By Alex Parker
A notable event in the history of Everton has, in my opinion, failed to attracted the attention deserved.  Harry Cooke, our chief trainer, who is as much a part of Goodison Park as the double-decker stands, has just begun his 55th season with the club – a fantastic achievement, I believe he was twelfth man when Everton won the cup in 1906!  I wonder if there is anybody in the game with a comparable record.  You fans won't see as much of Harry since Gordon Watson took over as first-team trainer, but you take my word for it that he is doing as much for the club as ever.  He still tends to club injuries and does innumerable odd jobs around the place.  You have all heard of the benefits gained from the "magic sponge"  Well they are nothing compared with Harry's "magics fingers"   He has the respect of everybody on the staff from the chairman to the latest addition to the ground staff, and whenever he opens his mouth to speak you cannot help but listen.  It's always worth hearing and you know instinctively that it is said by a person who knows what he's taking about.  Some of you may have heard of Harry's "museum.  It consists of bottles of spirit containing pieces of footballers.  He has memories of injuries to some of the club's greatest players in those bottles.  Things like Ted Sagar's cartilage and pieces of bone chipped from the limbs of the great Dixie Dean.  Harry has countless memories of numerous players but If I had to guess the name of the players he remembers most vidly, I should say it was the immortal Dean, yes he still talks about him now.  And talking about Dean being me to the point of my story. 
Not Forgotten
When Luton were here last week, they stayed at Chester where Dean has a pub.  George Cummins, Luton's inside-left and another ex-Everton player and "customer" of Harry Cook's met Dean.  The great centre-forward told George it was Harry's 55th season at Goodison and asked him to deliver a package containing some cigarettes for his old trainer.  Naturally George was only to pleased.  As I said before Harry has not forgotten Dixie.  Apparently Dixie has not forgotten Harry the man who helped him over his injuries and kept him fit to score the goals which made him one of the two greatest personalities.  Everton have had.  Yes, for my money Harry Cooks is the other.  I think I can speak for all the players and the fans, I hope, when I say "Congratulations Harry, and may you have many more seasons with the club you have served so well."  When the time comes for me to hang up my boots I will be proud to say that I was looked after by Harry Cooke.  Incidentally a few weeks ago I went for a drive with Stan Bentham our second team trainer, and as we finished in Chester, Stan suggested we go along and meet Dixie.  We had a very-interesting chat and he showed me his international caps. 
Even Bigger
It's been quite a week of sport for yours truly.  Last Monday I saw our reserve side play Bolton at Goodison, and on Tuesday, I was playing at Burnley.  On Wednesday I went to Anfield and spent Thursday night writing this article.  Last night I went to the Stadium with my father to watch the wrestling (my parents are down here for a holiday) and this afternoon I was playing at Bolton.  It made quite a change watching a game at Goodison.  The pitch looked even bigger from the stands than it does when you're playing.  Many people have been saying that Burnley are potential champions, and from the way they played on Tuesday I can well believe it.  I don't want to appear as if I'm making excuses but very few sides would have stopped the Turf Moor boys on that form particularly during the six minutes spell when they scored they first three goals.  We met Les Shannon our new coach while we were there.  After the game we promised him we'd try to do better next Wednesday.  I met an old friend at Burnley in John McCole the Bradford City centre-forward.  John played with me for Falkirk and was signed by the Yorkshire club for about £3,000 but he's been playing so well, for them that many senior clubs have been watching him.  The critics say he's now worth over £10,000.  He scored over 30 goals last season and banged a couple in last week.  I enjoyed watching the Liverpool-Bristol City game on Wednesday and was particularly pleased to see elbow-Scott Billy Liddell score two.  I recall seeing him play a great game against Middleborough at outside right last season but I thought he was even better on Wednesday.  He certainly can shoot. 
EVERTON RES V WOLVES RES
August 29, 1959. The Liverpool Football Club
Everton Res; O'Neill; Sanders, Parkes; King, Labone, Rea; Peat, Wignall, Hood, Ashworth, Edmondson.  Wolves; Sidebottle; Kelly, Tether, Kirkham, Palin, Cockin; Mannion, Middleton, Buchan, Perry, Horne.  Referee; Mr. D.W. Goddard, Leyland.  From the outset Wolves who had the sun behind them moved with speed and purpose.  Wignall fell back to help his defence to concede a corner in stopping Horne from getting his centre across.  At the other end Hood forced Sidebottom to give away a corner and a moment later tested the Wolves goalkeeper with a strong ground shot.  In the 18th minute Everton surprisingly went ahead when Wignall cleverly lobbed the ball over Sidebottom's head with his Wolves defence apparently waiting for the offside whistle.  Everton were now playing with increased confidence and in the 28th minute the Wolves defence made another mistake in allowing Wignall's left wing centre to find Peat who shot into the empty net.  Wolves almost reduced the deficit when Labone was rather too strong with a back pass but O'Neill fell backwards and completed the clearance.  Half-time; Everton Res 2, Wolves Res nil. 
MORE ACES NEEDED IN EVERTON PACK
August 31 1959. The Liverpool Daily Post
Bolton Wanderers 2, Everton 1
By Horace Yates
Bolton, winners of only three of the twenty post-war meetings with Everton, made it four on Saturday at Burnden Park with a 2-1 triumph that left Everton supporters wondering whether the early fortunes and torments of last season are to be repeated.  Then they were pointless from six games.  Now they have one point from three, and while they had chances enough to have won at Bolton, who could claim they were convincing?  The player who made most of the difference last season was Bobby Collins.  He brought life, sparkle and achievement with displays that stamped him as one of the finest inside forwards in the game.  Collins remains but that flow of magic from those talented feet has temporarily been turned off as though with a tap.  The old Collins could revitalize the side, but while he is undergoing this disappointingly unproductive period, there seems nobody else to take over and play his part.  One of the last labels one would wish to pin on the Bolton forward line was brilliance and yet they were more dangerous than Everton, largely because they had an inside-forward in Parry, who was every bit as dominant as Collins can be, just as creative and just as inspiring with the additional quality of deadliness of shot which the Scot could never boast. 
Still Taking
It was on this same ground last season, a ground that was just about as muddy as it can be and still be playable, that Collins dominated, dictated and moulded the play to his will, in as magnificent a display as he or anybody else is likely to give.  They were still talking of it at Bolton, but from an Everton point of view the pity was that this was history and not currently earned praise, for a Collins remotely approaching that loftily peak of achievement could still have drawn the veil over Everton shortcomings, and could still have seen them safely on the road to victory.  This was not his day and the pity of it is that in these times a one man failure, when he happens to be Collins, is so damaging to Everton aspirations.  With Parry out of the forward line, or even playing below par, this Bolton side would have been hum-drum in the extreme.  Thomas was as ineffective in the other inside forward position for Everton as was Stevens for Bolton requiring far too much time to convert his intentions into deeds and so Hickson scorer of a first minute goal from a O'Hara corner kick, was far too often left to plough a lonely furrow and never in the most congenial conditions. 
Missed Chances
Opposing him was the burly tough-tackling Higgins, who profited from the early indication that to give Hickson latitude was the most costly of indiscretations and there after Hickson was on the tightest of tight reins.  For all that with his sting drawn the centre-forward still made play for others.  While it is easy enough to recall scoring chances which Everton might have converted into goals, they were no more numerous than the sort of ofterings spurned by Bolton.  O'Hara in the first half fired wide with all the goals to shoot at, and Hopkinson the most anxious spectator of all.  Then in the second half O'Hara sent a header, as accurately directed as anybody could desire, only for the goalkeeper to effect a miraculous save.  To complete his day of disappointment Collin fired high over the bar from the most inviting opportunity.  Jimmy Harris and O'Hara salvaged something out of their day by more spirited, workmanlike second half displays, and created moments of anxiety in the Bolton goalmouth during late spells of near defensive panic.  While it was Jones header which placed the ball at the scoring foot of Parry in the first half, I thought he played a splendid game.  Hill, a youthful replacement for the injured Lofthouse, never looked like making anything of Jones, and it was only when he exchanged positions with Parry that Hill showed the football touches with which he is reputed to be so well endowed.  But whether Parry was giving Brian Harris an uncomfortable run-around or tilting at Jones he was the problem boy and Everton could be thankful that the response he evoked from Holden was not forthcoming from Birch.  Parker who had three stitches inserted in a wound above his eye following accidental contact with Stevens' elbow, tackled extremely well and risked criticism only for the inclination to move so far and so frequently upfield in an endeavour to instill an attacking spark into the forwards. 
Bramwell Missed
Meagan can scarcely be said to have solved the left half problem and un doubtedly the superior pace which the return of Bramwell will bring to left full back will be a decided advantage.  While it was certainly a lovely through ball that Hill pushed out for Stevens to collect, Bolton's second and winning goal.  I am convinced that there would have been no score had Stevens been competing with Bramwell.  Dunlop was magnificent.  Without a chance with either of the balls that beat him his judgment often saved his goal with the odds stacked against him.  Plainly more aces are needed in this Everton pack.  Bolton Wanderers;- Hopkinson, goal; Hennin and Banks, backs; Stanley, Higgins and Edwards, half-backs;
Birch, Stevens, Hill, Parry and Holden, forwards.  Everton; Dunlop, goal; Parker and Tansey, backs;
Harris (B.), Jones (captain), and Meagan, half-backs; Harris (J), Thomas, Hickson, Collins, and O'Hara,
Forwards.  Referee; Mr. J.K. Taylor, (Wolverhampton). Attendance 26,716. 
WIGNALL'S FLASH OF BRILLIANCE
August 31, 1959. The Liverpool Daily Post
Everton Reserves 4, Wolves Reserve 1
Superior teamwork and greater finishing ability contributed mainly to Everton's victory over the disappointing Wolves.  Everton's last goal midway through the second half was initated by goalkeeper O'Neill with the ball speedily carried on by Hood and Ashworth to enable Wignall to score brilliantly.  This move atoned for the streaky nature of the earlier goals, although Wignall, the best forward afield, and Peat deserved full credit for taking advantage of first half defensive errors.  Outside right Peat played intelligently and showed good positional sense, but B. Edmondson on the opposite wing had limited opportunities.  Right half King and right back Sanders were outstanding in Everton's solid defence.  Ashworth was played on-side in getting Everton's other goal, while Mannion replied for the Wolves. 
DUNLOP BRILLIANT, BUT HOW EVERTON NEED A PARRY
August 31, 1959. The Liverpool Echo
By Michael Charters
Everton chairman Fred Micklesfield and manager John Carey missed the game at Bolton on Saturday to watch Lincoln City wing half Fred Middleton.  The club was also represented or the Bradford City match where forwards John Reid and John McCole were the targets, it is believed.  They journey was entirely necessary.  It is only saying what everyone already knows that Everton must sign new players –and quickly.  The 2-1 defeat at Burnden Park emphasized yet again the weakness at inside forward and wing half.  with no one of first team calibre able to step up from the reserve it is repeating the obvious that new blood is the only answer.  But the obvious must be said.  The management is as conscious of the post as the fan who yearns for a return to onetime Everton greatness.  The week end scouting trips were only a small part of the constant search for players to strengthen the side.  The position is similar to last season when the sighting of Bobby Collins infused afresh dominant personality into the team which had an uplifting effect on all departments.  Another star is required now before the club loses more points and stays on the collar for the rest of the season trying to recover lost ground.  At present Collins is but a shadow of the great player he was last season.  No longer is he able to make the rest of the forwards raise their level to something approaching his.  This tell I believe more than anything else is responsible for the ineffective forward play, Everton have shown in their three games so far.  On Saturday they had the tremendous bonus of a first minute goal from Hickson and continued for the next ten minutes to move the ball about quickly and well.  They looked far better than Bolton at this stage. 
First Time Passes
Gone was the close passing of the previous matches, instead they tried sweeping first-time passes which had the Bolton defence tumbling and faltering.  But once the equalizer came after 11 minutes, Bolton were allowed slowly but surely to take control.  The longer the game went, the more Bolton became on top.  Not that Bolton looked a top-class side.  They were the better of two below average teams on this display but even so were stronger and faster than Everton.  They also had inside left Ray Parry who proved himself just the type of player Everton are longing for. Here was the complete inside man who could run pass and shoot better than anyone else on the field.  He was undoubtedly the man of the match.  Little behind him was Albert Dunlop in Everton's goal whose superb work alone prevented Bolton from making the score more indicative of their superiority.  He made severely great saves but none better than when he tipped a close range shot from Hill over the bar.  Bolton manager Bill Riddling told me afterwards.  "I don't know how he reached that one."  and when the changed direction in mid-air to clutch a power shot from Parry which had changed its flight after glancing off Tom Jones.  The other's one men in Everton's defence were Parker and Jones.  It was just as well that Parker was in form, for Parry gave England man Holden the sort of service every winger dreams of. 
Close Grip
Holden made much use of it but he would have been devastating had not Parker kept such a close grip on him.  With Brian Harris beaten so frequently by Parry, Parker frequently had a two-man threat to face, and manfully he coped with it.  Jones had an excellent match working tremendously hard to cover when his wing halves were beaten.  Jim Tansey did a good deal quietly and well, but he has not the strength of Bramwell against a side of Bolton's renowned power in the tackle.  In the forwards, Eddie O'Hara was the best, never giving up against the strong tough Hennin while Jimmy Harris improved in the second half without ever proving himself the master of Banks.  Thomas seemed bewildered by the quick ruthless tackling of the Bolton defenders, and his slowness on the move played into the hands of men like Edwards and Banks, who were able to rob him of the ball as they wanted.  Hickson took a battering from Higgins, who is built on the lines of an all-in wrestler.  The Everton leader headed a lovely goal from O'Hara's corner kick taking his chance so quickly that Hopkinson was diving when the ball was in the back of the net.  But once Higgins recovered from the shock, he put such an effective damper on the middle that Hickson never got another chance. 
Buil's-Eye
Parry's equalizer was the type of goal you see once a year.  When Jones headed out a free kick, Parry swung his right boot at it, and the ball fairly hurtled past Dunlop from 30 yards before the keeper could move.  The shot could have gone anywhere, it was a bull's eye this time.  Bolton's winning goal came mid-way through the second half, but their dominance was so pronounced that it was only Dunlops brilliance which delayed it so long.  Hill, who had been so well policed by Jones that he dropped back to play a deep lying game split the defence with a lovely through pass and Stevens, the worst of the Bolton line, moved onto it, and slipped it past Dunlop from the edge of the penalty area.  I thought Tansey could have cut it off had he been quicker off the mark.  But even in defeat –and merited defeat at that –Everton conjured one move out of the classic mould which gives some hope for the future.  From deep in defence Meagan passed to Collins, who held the ball just long enough for Brian Harris to run forward into the wide open spaces.  The ball was pushed through perfectly, Harris took it on, swung a long pass to Hickson who had intelligently moved out on the left and he headed it back into the middle where O'Hara headed it firmly and well for the top corner.  Somehow, instinctively, Hopkinson flung himself across and turned the ball for a corner.  It was an England-class save and a world-class move.  Bolton never matched it, better team though they were. 
EVERTON TRIP FRUITLESS
August 31, 1959. The Liverpool Echo
Goodison Interest In Other Players
When a man misses seeing his own first team in its third match of a new season you can bet he means business.  That is the reaction of football management to the trip Everton Manager, John Carey and the club Chairman, Mr. Fred Micklesfield made to the Lincoln City v. Bristol Rovers match.  But the Everton Manager said this morning "I cannot say which player we were reviewing but there are not likely to be developments.  As to other player's in whom we may have interest the situation can change from hour to hour."  Lincoln's star performer on Saturday was left back Geoff Smith, Outside right McClellan who is nippy but has little craft can also play at inside right, but on the face of it, it would seem that the Lincoln trip for Everton was a fruitless one.  Everton have a fixture at home against Burnley on Wednesday.  On that night a player whose many has been linked with Goodison Park interests Dave Hillar plays on the wing for the League of Ireland against the Scottish League in Dublin.