EVERTON-GAME AGAIN
Thursday, December 3, 1959. The Liverpool Daily Post
By Horace Yates
Team selection presented few problems at Goodison, and like Liverpool, Everton will be unchanged for their visit to Preston North End.  This will be the fourth successive game that changes have been considered unnecessary.  Whether or not the belief is well founded that Everton have really turned the corner and the better results are now in store, may be indicated by the way in which Everton measure up to the Preston challenge.  Nothing could be a sterner test than to take a League leaders with seven successive victories to their credit, on their own ground and if points can at least be shared, it may be true that Everton's worst is behind them. 
Club officials insist that while Everton were beaten 3-0 at Tottenham nearly a fortnight ago the tea's display in that game was every bit as good at that against Manchester United last week, apart from the vital question of finishing.  Everton; Dunlop; Parker, Jones; King, Labone, B. Harris; J. Harris, Thomas, Shackleton, Collins, Laverick.
Congratulations to the Everton chairman, Mr. Fred Micklesfield and his wife who yesterday celebrated their forty-six wedding anniversary. 
EVERTON'S WORRY
Friday, December 4, 1959. The Liverpool Daily Post
By Horace Yates
Only the slightest pause for a grunt of satisfaction can Everton afford for in case the  fact has escaped them they are running neck and neck with the possibility that this could be their worst post war record in First Division for away points.  The warning is timely as they visit Preston tomorrow and it is never too soon to start to improve this dismal record.  From their nine games on opponents so far, they have collected only two points and remain the one team in their division without an away win to their credit.  There is a long way to go but the sooner they cultivate the habit of picking up points on other grounds the more rapid will be their rise in the table.  Their home record is fair enough.  They have in fact collected as many points at home as Preston the League leaders, have taken at Deepdale.  Everton's lowest haul of away points in the senior division since the war is eight in 1948-49 when they won one game and drew six, to finish the season in eighteenth position.  Next lowest is twelve from four wins and four draws in the first post-war season when they claimed tenth position the highest they have enjoyed for the period under review.  Their best away return was eighteen in 1947-48 and again in 1957-58.  Only once since the war have they averaged a point or more from each away game and that was when they collected twenty-four in their 1953-54 promotion season.  A real Everton splash in the League is long overdue.  Just look at their record for ten post-war seasons.  In 1946-47 they finished tenth; in 1954-55 eleventh.  In the remaining eight seasons they have been fourteenth, fifteenth (twice), sixteenth (twice), eighteenth (twice) and twenty-second.   Go to it, Everton.  It is high time these figures were improved.  Preston North End, will probably field the following unchanged team against Everton; Else; Cunningham, Walton; Milne, Dunn, Smith; Mayers, Thompson, Finney, Sneddon, Taylor. 
FINNEY V. LABONE
December 4, 1959. The Liverpool Echo and Evening Express
Everton's match at Preston is one which might confirm my belief that our side are playing better now than at any stage since John Carey joined them.  If they could reproduce their Tottenham form-except for the missed chances;- I would bank on them surprising their old manager Cliff Britton and all Preston this would be the most tangible evidence that the side have at last started on the long journey back to fame such as they enjoyed pre-war.  Derek Mayers, the former Everton winger, will doubtless show his old club his improved technique but the crux of the match is whether young Brian Labone can put a stop to Finney's machinations.  For Brian this will be the toughest match of his life Finney is in a class of his own his only peer in football artistry, Stanley Matthews having started to get more than a tinge of autumnal yellow in his play.  If you keep Finney quiet there's hardly likely to be another whisper from Preston.  Labone must be prepared for a slippery customer whose feinting is always deceptive and who shows the ball and drags it away again as frustratingly as did Matthews.  It should be a fine match and clean one and I'm banking on that new-style Everton justifying the many kind things I've said to them recently.  Preston N.E;- Else; Cunningham, Walton; Milne, Dunn, Smith; Mayers, Thompson, Finney, Sneddon, Taylor.  Everton; Dunlop; Parker, Jones; King, Labone, Harris (B); Harris (J), Thomas, Shackleton, Collins, Laverick. 
CONFIDENT PRESTON
Saturday, December 5, 1959. The Liverpool Daily Post
By Horace Yates
Who can blame Preston North End if they confidently expect to use Everton's visit to retain their position at the top of the First Division table.  They have known nothing but outright victory, home and away, since October 17 and yet must realize that a team which beat and over-played Manchester United last week can only be treated with the greatest respect.  What a tonic it would be to Everton if they could terminate the dismal distinction of being the one team, in either First or Second Division without a victory away from home.  Tom Finney who must be included on any short list of the classiest players in the game today is leading the line so consistency that it comes as something of a surprise to find that such a talented player as Hatsell a regular scorer last season, is right out of the reckonings without a League goal to his name.  There is no questioning the advance of Labone.  His displays at centre half continue to improve and if he can still say this after his clash with the elusive Finney, he will be the greatest cause for satisfaction.  At long last Jimmy Harris gave abundant signs against Manchester United that his lean spell is over, and a Harris in form can give a welcome bite to the Everton attack.  This time last year he had notched nine goals and was joint leading scorer with Dave Hickson.  This term, Harris has so far found the net only twice.  Former Everton winger Derek Mayers makes a point of showing Everton what they missed by allowing him to move to Deepdale and a warning in time may be the tip that Mayers has scored in each of his last three outings-his only scoring contributions of the season.  Preston North End;- Else; Cunningham, Walton; Milne, Dunn, Smith; Mayer, Thompson, Finney, Sneddon, Taylor.  Everton; Dunlop; Parker, Jones; King, Labone, B. Harris; J. Harris, Thomas, Shackleton, Collins, Laverick. 
EVERTON GAVE PRESTON SOME ANXIOUS MOMENTS
Saturday, December 5, 1959.  Liverpool Echo and Evening Express
By Michael Charters
Preston North End;- Else; Cunningham, Walton; Milner, Richardson, Smith; Mayers, Thompson, Finney, Sneddon, and Taylor.  Everton; Dunlop; Parker, Jones (captain); King, Labone, Harris (B); Harris (J), Thomas, Shackleton, Collins Laverick.  Referee; Mr. K. Dagnall (Bolton). 
Preston made a late change, through the injury off  centre half Dunn, bring in 21-years-old Richardson for his third League game.  Everton attacked from the start and Collins pushed a ball across to King to try a ground shot from outside the area and Else had to go full length to bush it away.   Everton were playing fast attractive football and King came through two tackles triumphantly with the ball to lay on a good pass for Jimmy Harris who centre was headed away by Richardson.  Everton continued to be well on top, being faster on the ball and into the tackle than Preston.  Jimmy Harris was obstructed by Walton in the penalty area, but from the indirect free kick Thomas shot was blocked.  In one of Preston's rare raids, Labone brought down Finney and from the free kick taken by Milne the ball skidded through awkwardly and Dunlop had to have a double bite at it before he grabbed it from the feet of Thompson.  Everton's fight and determination to get to the ball was remarkable and Prestons defence with both backs playing exceptionally well, was in difficulties in withstanding many good looking attacks.  Jones was keeping as close a grip on his old Everton colleague Mayers as he had done against Bradley last week.  Preston were lucky when Thomas had a shot blocked and altogether this was an Everton playing with the same fire as they had shown against United. 
DEFENCES ON TOP
Everton despite their ascendancy, were not working any clear cut openings, thanks to the excellent Preston defence.  The Preston inside trio found the first time crisp tackling of King and Brian Harris too much for them in midfield and they weren't making much headway either.  After one Preston corner, Labone brought the ball coolly out of danger and slid a great pass to Jimmy Harris, who ended a 20 yard run by firing the ball just wide. King's tackling had been notably strong, but became too fierce on one occasion, when he brought down Sneddon just outside the area.  Taylor pushed the free kick across to Milne who fired the best shot of the match so far just outside their upright.  Preston were now coming more into the game, but were having the same difficulty as Everton's attacks with both defecnes playing so confidently.  Preston's forwards were inclined to be too clever and there was one occasion when both Finney and Thompson missed a good chance through trying to do a little too much in front of goal.  Up to now not a lot had been seen of Finney, and Labone had tackled his task of facing the maestro with commendable spirit and ability. 
GOALMOUTH TANGLE
Preston produced one lovely flowing movement from their own penalty area which took the ball right down into the Everton half, but Brian Harris was there to cut off Mayers centre.  There was a rare tangle in the Everton area, with Thompson and Sneddon both trying to force a way through and when the inside right finally managed a shot Dunlop plucked the ball out of the air beautifully.  Jimmy Harris was in the same sort of form as last week and was giving Walton such an uncomfortable time that right back Cunningham had to come across and lend a hand on a couple of occasions.  From one wonderful pass by Collins to Laverick, Preston –and Else –were very lucky to escape being a goal down.  Laverick took the ball to the by-line before centring to Collins who headed back across goal for Laverick to flick the ball forward and Else made a double lucky clutch to stop it inches from the line.  It had been a fine first half with Everton the better side, particularly at wing half and with Collins the outstanding forward of the day.  Half-time; Preston nil, Everton nil. 
The lights came on for the second half and within five minutes Taylor missed a good chance for Preston, when Everton defence looked a little hesitant for the first time to allow Thompson to head the ball forward and over Labone, but Taylor completely miss-kicked with the goal at his mercy. 
SOME WEAK LINKS
Thomas and Shackleton were weak links in Everton's attack, both attacks were suffering from the same fault of over-elaboration but Everton's fault could not be found with the defence.  Preston's full backs were both outstanding and were Everton's who were in tremendous form.  This second half was nothing like the quality of that before the interval.  Both defences continued to be so much on top that the game was continued to much midfield play, without either attack being able to work a good opening. 
BLOCKED AWAY
Everton set up one tremendous left wing attack with Laverick twice beating Cunningham to take the ball almost up to the upright but each time the Preston covering was so efficient that the ball was blocked away.  The move ended without Else being troubled for Jimmy Harris finally shot over the bar.  If any man was going to win this match for Everton it looked like being Jimmy Harris.  He was the most dangerous forward and cut inside Walton to hit a fierce shot straight at Else.  The game had gone very much off the boil now, which as understandable in view of the pace at which both teams had gone from the start.  I don't know whether Thomas was injured or not- certainly there had been no signs of it in the course of the game –but he looked painfully slow at times and many good midfield moves broke down when they neared the Preston penalty area.  The rain was now driving into the Everton goal and behind it came a fierce Preston attack.  They got to free kicks and a corner in quick succession near the right hand flag, but with all Everton back helping out it was the left boot of Collins which finally cleared the ball away up field to safely.  I give full marks to the Everton half back line for this display.  Labone had played Finney beautifully and Brian Harris and King had both tackled and distributed the ball like Trojans.  Towards the end it was all Preston, but they seemed unable to cut that final pass to press through Everton's well packed defence.  In the last couple of minutes  header from Finney and past the upright.  This was Preston's parting thrust and Everton had gained great away point of the League leaders to end Preston's run of seven successive victories.  Official attendance 24,463.  Final; Preston nil, Everton nil.
YANKS IN A BIG SOCCER MOVE
Saturday, December 5, 1959. The Liverpool Echo and Evening Express
Alex Parker Hears From America
Some weeks ago I dealt with the popularity of baseball and soccer in America.  I gained my information from Bert Wright in New York, and when he received a copy of the paper he forwarded it to his brother in Hollywood.  He showed it to his friends at the Columbia Broadcasting System and apparently they were very interested in what I had to say. Their comment; "U.S. soccer could be brought more to the front with a little more guided effort.  No from Mr. Chris Heyes, of Jackson Heights, Long Island U.S.A comes evidence that the "guided effort.  There has been much talk of the new Continental matches to be played at New York next year between the European sides, but it has all been very much in the air and there has been little mention of anything definite.  Well from a cutting from Mr. Heyes, I think I can fill in some of the details.  The formation of the International Soccer League as it is known has been announced by New York's Mayor Robert F. Wagner and William B. Cox president of the New York. Mayor Wagner said " the visits of English and Scottish League clubs have been very welcome, their victories have been too easy to arouse interest.  What I am getting at is that when British team wins 12-0, it only illustrates how poor the opposition is.  It does not mean that the winning side is playing a great soccer.  The idea of the new league is to show the Americans how the game can be played between great sides. 
GOOD START
It is expected that the matches will begin on May 25 at Downing Stadium, Randall's Island and will probably take place on Wednesday and Saturday evening.  Teams from England, Scotland, Ireland, West Germany, Sweden, Austria, Hungary, France, Italy, and possibly Spain might complete while in many expend to include South American clubs.  European teams will go to New York after completing their on competitions.  All initial investment of 500,000 dollars (about £170,000) should ensure a good beginning.  If you are thinking of going over for the games, one of the Randall's Island 25,000 seats will add about 14s to your boat fare, or 21s reserved.  Engineers are working on the floodlights now.  Incidentally in the same magazine, there is an advertisement for a game between Austria SC of Vienna and an American League Select on December 13.  At the bottom of the advert are those words "Save 50 cents on each ticket-by buying in advance.  Game will be played –rain, snow, sunshine."  So now you know. 
Talking of the forthcoming tour of America by Manchester United the same magazine refers to the as "one of the world's most colorful aggregations" and also as "a squad"
HARD GAME
You probably didn't know that United are often called the Yankees of soccer" That is probably a reference to the all powerful baseball team, the New York Yankees.  You will undoubtedly remember Billy Steele, the ex-Derby County and Scotland inside forward who partnered Billy Liddell in the 194 Great Britain team.  I have heard that he is now playing in Hollywood F.C whose manager is from Liverpool.  Unfortunately I have been unable to discover any further details.  Maybe one of my readers can give me some information about the Liverpool man.  Last week I played my second game against Manchester United.  Last season we were beaten 2- at Old Trafford so the reversal of the score was very welcome.  The crowd seemed to enjoy it, and although it was not a classic, it was a very hard game.  In fact it was one of the hardest I have played in.  Albert Dunlop received his second benefit cheque the day before, but he must have thought his luck had come to an end when Dennis Voilett scored after only three minutes.  However, a good goal by Eddie Thomas and a Bobby Collins penalty saw us through.  It was quite a coincidence that Albert should be playing against Manchester United when he received his second benefit, for it was against them that he made his debut three years ago.  It is significant that our half back line should save one of its best displays when opposed by what many critics consider the best inside trio in the country.  And it is worth remembering that Johnny King (21), Brian Labone (19) and Brian Harris (23) must constitute one of the youngest middle lines in the country.  It was also good to see Jimmy Harris playing so well against one of Matt Busby's most promising youngsters, Joe Carolan I thought Jimmy had a "blinder" and was unlucky not to score.  However, I don't think any of our boys had a bad game.  What we are after now is the first away victory.  Maybe it has come this afternoon.  Nowadays more and more footballers are looking to the day when they hang up their boots.  Instead of waiting until they finish playing before looking around for mother means of making a living, they are getting down to it while still at the top.  We have two examples in our local clubs.  The other week Dave Hickson set up in business and this coming week Albert Dunlop is opening a sport outfitter's shop.  He has invited a number of the players down to the opening in Stafford Street next Thursday.  Here's wishing success to both Albert and Dave.  On behalf of the players at Goodison Park I would like to take this opportunity of wishing Mr. Bill Shankly, Liverpool's new manager every success in his efforts to get the them back into the First Division.  His brother, Bob was in charge of Falkirk when Bert Slater and I joined them and he signed me without even seeing me play.  Come to think of it, maybe that was just as well.  When the new manager arrives at Anfield it will mean Bert will have had the unusual experience of playing under two brothers with two clubs, one England and one Scottish. 
GOODISON GAME POSTPONED
Saturday, December 5, 1959. The Liverpool Echo and Evening Express
Because of heavy overnight rain, Everton Central League fixture with Burnley Rs at Goodison Park today was postponed the referee deciding that the pitch was not playable.  It's clear that the refurbishing of the ground during the close season has not been affective and Everton have been struggling to get their pitch during the past three weeks.  Mr. W. Dickinson the Everton secretary said today; "We are well aware of what is required and the work is in hand.  This is no reason to suppose that next week's game against West Bromwich Albion will not be played." 
ONLY A SHADOW OF THE OLD INVINCIBLES
December 7, 1959. The Liverpool Daily Post
By Ian Hargreaves
Preston North End 0, Everton 0
Everton's feat in holding the League leaders to a draw at Deepdale probably gave more pleasure to the team than to the spectators.  As the score suggests it was a dour, defensive struggle with plenty of good, honest football in midfield, but disappointingly few flashes of creative genius to entertain the impartial observer.  Preston's meteoric rise to the top has surprised those who believe their last successful side of two seasons back was a better one.  Possibly, as a pessimist near me growled; "The opposition ain't what it were," but I incline to the view that at a time when genuine artists are steadily growing scarcer, the inspiration supplied by Tom Finney has never been more valuable.  Undoubtedly the Preston attack is highly dependent on his direction, and once Everton had succeeded in stifling his prompting from the wings, as it were, his fellow forwards began to stutter and fumble like actors who had forgotten their lines.  Emphatically, they earned no curtain call at the end.  Finney's subjection was undertaken by a solid, uncompromising centre half by name of Brian Labone, an ex-Liverpool Collegiate boy almost young enough to have been the veteran leader's son.  Certainly he stuck to Finney's side with the true filial affection and allowed him not one shot at goal throughout.  Whenever Finney received the ball he received Labone with it, and lacking that extra yard out of speed that might once have sent him streaking away, he could do little more than act as a link in supply, the passer-on of bullets for others to fire. 
KING OUTSTANDING
Unfortunately for Preston the other had scant opportunity to fire them for the Everton defence gave not an inch.  King vastly grown in stature and (seemingly) in size since I saw him make an uncertain League debut on this same ground two years ago, reduced the scheming Sneddon to unhappy importance and Brian Harris was almost as effective against Preston's other famous Tommy-gunner, Thompson.  Wingers Mayers and Taylor were virtually blotted out by Jones and Parker and it was left to wing half Gordon Milne, son of the Preston trainer, to do what little shooting there was.  Significantly, the only time North End really looked like scoring was in the closing minutes when one of his headers was cleared off the line by Jones.  With the Preston attack so comprehensively contained one is left to wonder why Everton did not win.  King almost scored with a thirty yarder in the very first minute.  Harris (J) (as televiewers will have seen) headed against goal-keeper Else in the 42nd and the same player had a fierce effort well saved in the 68th.  But otherwise Else was in as little trouble as Dunlop.  Bobby Collins the Everton answer to Finney, did his best to inject some of his own jole de acure into the visitors forward line, and particularly in the first half he delighted friend and foe alike with his sudden feints and long, penetrating passes.  But in general he got precious little response.  Harris J. on the right wing made excellent use of his speed to puzzle the ageing Walton, and Laverick too, did quite well against the shrewed Scotsman, Cunningham, showing considerable kill with the ball, if a certain lack of nous without it.
SHACKLETON SUBDUED
It was, however, in the middle that so many Everton raids broke down.  There had been high hopes that Shackleton would be able to force his way past a comparative novice in Garbutt Richardson, a late deputy for Dunn, but these did not materialize and in fact Dunn was scarcely missed.  With Milne and Smith to help him Richardson proved a most uncompromising barrier that none was able to breach, and in the later stages at least Everton's attacks looked a nice blend of optimism and desperation.  Certainly they badly need at least one really strong forward who can hold the ball and shoot, for like Shackleton, Thomas never impressed.  A somewhat forlorn figure, he loped listlessly round the field as though numbed by the bitter, rain-laced blasts sweeping persistently down it.  If the result was a satisfactory one from Everton's point of view, it must have been most disappointing for Deepdale devotees looking ahead to the Championship.  Though unquestionably competent Preston were on this occasion but a shadow of the famous Invincible whose photographs frown so forbiddingly from the boardroom walls.  Preston North End;- Else; Cunningham, Walton; Milner, Richardson, Smith; Mayers, Thompson, Finney, Sneddon, and Taylor.  Everton; Dunlop; Parker, Jones (captain); King, Labone, Harris (B); Harris (J), Thomas, Shackleton, Collins Laverick.  Referee; Mr. K. Dagnall (Bolton).  Attendance 24,463.
PRESTON RES 1, EVERTON RES 1
Monday, December 7, 1959. The Liverpool Daily Post
A last minute goal by Ashworth gained Everton a point at Deepdale after Preston had tried in vain to add to a goal scored after ten minutes by centre forward Alston.  A fine clearance off the line by Meagan from a Hatsall header was Everton's narrowest escape but Preston were just as fortunate when a shot by Ashworth hot goalkeeper Kelly on the knees.  Some good football was played by both sides with O'Hara, Hood and Ashworth prominent for Everton. 
EVERTON GAME OFF
Monday, December 7, 1959. The Liverpool Echo and Evening Express
The match between Everton Reserves and Burnley Reserves which should have been played at Goodison Park, was postponed, because the ground was unfit.  The pitch will receive treatment all week to ensure it is fit for Saturday's game between Everton and West Bromwich Albion. 
EVERTON IMPROVEMENT HAS COME AT RIGHT TIME
Monday, December 7, 1959. The Liverpool Echo and Evening Express
By Michael Charters
Everton's performance at Deepdale on Saturday in ending League leaders Preston's run of seven successive victories –and also keeping North End goalless for the first time this season- proved that the improvement shown against Manchester United the previous week was no temporary burst of form.  I believe the side has settled down after the furore surround Hickson's departure and prospects of climbing to a better League position re now infinitely brighter than they were a month ago.  There is a method and rhythm about the team plus a commendable urgency about their tackling and eagerness for the ball, which shows that coaching and tactical direction off-field is beginning to pay off.  There may be some who thought that Saturday's match was disappointing because of the absence of goals.  But I felt otherwise it as a tough, strong, uncompromising tussle with a great deal of clever midfield play which commanded praise.  For the greater part of the game Everton were the superior team-faster tackling better, moving the ball with more though.  Only weakness in attack denied them victory.  Defensively they could not be faulted.  Dunlop was not extended but was there when the occasion demanded notably when Thompson hit one shot through a crowd of players and with only a split second to react he reached high to hold the ball safely.  Parker and Jones kept their wingers completely subdued and the latter's tip top form in dominating his former colleague.  Mayers makes one wonder why his switch the full back was not thought of years ago.  Young Labone was well back on this match as an outstanding moment in his career.  Facing the matches if somewhat slower, Finney he played as though determined that his man is not going to dazzle me."  He succeeded beyond the hopes of anyone.  He out headed Finney and tackled him firmly and quickly before the Preston maestro could find time to get his forwards moving.  Naturally he was beaten a few times-no centre half alive could completely stuff out Finney-but he revealed powers of recovery which I did not think he possessed. 
SUCH TACKLING
King and Brian Harris were equally effective and I don't suppose the Deepdale fans have seen tackling like King's since Docherty left them for Arsenal.  King goes in with such bite and drive that he must at times earn the referee's stricture but he did not allow this to sampan his enthusiasm –and he mustn't do so.  In future.  The last time I saw Everton away was at Newcastle where I criticsed the wing halves.  It is pleasant now to reversal the procedure and to award them and rest of the defence full marks for top class display.  The disappointment to the hundreds of Everton supporters at Deepdale was that the forwards rarely took advantage of the constant and accurate service they received from their halves and full backs.  No clear-cut opening was made despite having more of the play than Preston and the number of shots at that capable goalkeeper Else could be counted on the fingers of his hand.  There in a sentence was Everton's major weakness.  It was left to Jimmy Harris and King to test Else one from Laverick and not one from either Shackleton or Thomas.  Collins played beautifully in setting up attack after attack with passes to either which could not have been bettered and usually Laverick and Harris supplying with them.  But when Collins varied his method with a through ball Thomas and Shackleton were too easily dispossessed and this lack of bite in the middle meant that the Preston defence, as assured and confident as Everton's was able to clear easily. 
BLCOKED AWAY
Laverick had a particularly good second half, taking the ball to the by-line before crossing but the Preston covering was faultless too, and invariably the ball was blocked or cleared.  A couple of Jimmy Harris shots veered narrowly away from the far post with Else beaten but those apart Everton never looked like scoring.  With both defences so completely on top, it looked as though neither team would scored if they had played for another hour.  Everton's closet shave came when the last move of the match when Labone left Finney's side for the first time and the Preston leader was able to head a centre across the face of goal with Labone taking a wild swing at it, missing completely and the ball slid just outside the far upright.  Had Labone connected he might well have turned the ball past Dunlop and this would have been a travesty for the goalless draw I thought was the best possible result.  Preston's attack collectively was as ineffective as Everton's, and their defence about on a par with the Everton rearguard for compass efficiency.  Veteran full back Cunningham and Walton were delightfully cool under pressure and invariably used the ball well.  Young Richardson at centre half playing only his third League game was too good for Shackleton. 
FINE PROSPECT
Right half Milne son of the Preston trainer is built on Ling like lines, and looks a fine prospect.  On the other wing Smith was able to beat Thomas and come through with the ball almost as he liked.  The Preston halves like Everton's must have wondered what more they had to do to produce a spark from their forwards.  Most games where defences are dominant usually become dull pointless affairs.  But this one I felt was different.  The clever studious play of defenders made it noteworthy.  Everton are playing better than at any time this season a good sign for the forthcoming Cup days.  There is nothing wrong with them on this display that a first-class strong forward striker for who can shoot on sight will not put right. 
BRADFORD CITY SHOULD NOT WORRY EVERTON
Thursday, December 10, 1959. The Liverpool Daily Post
By Horace Yates
Everton manager Mr. John Carey was at Bradford last night with some of his directors to see City quality to meet Everton in round three of the F.A. Cup by defeating Rochdale in the replayed second round and although it is always dangerous to form hard and fast conclusions from these preliminary observations, it is hard to see how the Everton observers could fail to come away fairly confident that whatever shocks round three may have in store, the name of Everton will not figure among them.  Bradford City really had to struggle to eliminate their Fourth Division opponents and if they did not look good against ordinary opposition, it is not easy to imagine how they hope to overthrow Everton.  From conversation with one of the regular followers last night, I learned that City would be the most surprised club in the land to find their names in the draw for found four.  Everton are unlikely to be lulled into any false sense of security on that account.  Teams without a chance have provided upsets before to-day.  After all it is not the form of previous games, but the showing on the actual day of the match that is decisive in these saddest death Cup struggles. 
Scoring Leader
I should not be at all surprised if Mr. Carey reports to his players that the opponent they will have to watch with the greatest caution is centre forward Derek Stokes, scorer of both goals last night.  Indeed, with a lesser player than Stokes leading the line City's interest in the Cup might now have ended.  He is an example of the way in which a lad can rise to opportunity.  When McCole was playing regularly for City prior to his transfer to Leeds United in the early stages of the season, this twenty-year-old ex-railway worker was at outside left and doing quite well there.  On McCole's departure it was Stokes on whom manager Peter Jackson's choice fell as new leader of the attack.  Stokes astonished everybody by the rapidity with which he settled down to his new role.  By now he is acknowledged as the team's most menacing forward and a already his name has been noted by several bigger clubs.  Including his two goals last night, Stokes has scored seven of the eight goals to City's credit in the four Cup games they have so far played.  Stockily built he has a deceptive turn of speed, controls the ball brilliantly and both makes and takes opportunities in a highly promising manner.  Labone, it appears is likely to be one of Everton's busiest defenders when these teams get to grips. 
REID BELOW FORM
What of John Reid, the inside left in whom Everton have been interested for two or three seasons, and for whom they at one time had an offer of £15,000 turned down?  My information is that he has not yet retained the form he showed last season and against Rochdale was nothing like so dangerous as outside right Bobby Webb.  Looking for flaws, I would not be at all surprised if Mr. Carey detected in the City backs, Tom Flockett and George Mullholland a certain slowness in recovery and lack of positional sense that could cost the side dearly against speedy and experienced raiders.  The half-back line of Peter Jackson, Jim Lawlor and Colin Roberts all showed limitations when the pressure was on and in goal George Stewart did not handle convincingly from time to time.  All in all then the story from Bradford appears to be that City have nothing like the class or soundness of a First Division side.  It would be surprising if they had, but class is not always decisive in Cup-fighting.  Of course, City's tactics will be quite different against Everton from those of last night and with defenders intent on giving their opponent no room in which to work may look better with first time spotting.  It may be that on another occasion players like David Jackson and outside left David Boyle will develop more power than against Rochdale.  When My Bradford City correspondent was minimizing the Yorkshire club's chances, I could not help remembering that this was the sort of thing I heard so frequently last season from Worcester before they defeated Liverpool.  Few gave Worcester City any sort o chance and yet on the day they never looked like losing to Liverpool. 
HONOUR AND GLORY
Mr. Carey is wise enough and experienced enough to realize that superior players can be taken right out of their stride by inferior opposition, giving their all in a desperate bid for honour and glory on a special occasion.  It is remarkable sometimes how a team can be made to play down to the standard of their opponents.  Obviously City's greatest hopes must be in proving able to do just that.  Making every allowance however, Everton appear to have the sounded reasons for confidence in their ability to meet the challenge-and beat it with something to spare. 
DEATH OF A FAN
Thursday, December 10, 1959. The Liverpool Echo and Evening Express
Mr. L. Nolan from 196 Walton Breck Road, Anfield is pretty pessimistic about Everton's chance of becoming the best team in European. "If Everton had succeeded in getting Law and Baker," he says "we would have been more than half way there.  At least we should not have felt naked at Goodison Park standing in a half-empty stadium.  The thought of £3,000 going down the drain every home game annoys me more than anything.  Over a full season this money would be enough to buy John Charles."
Mr. Nolan goes on "But the damage has been done.  The football-loving crowds of this city cannot stay away for long and soon Everton will be back to the comfortable 38,000 which satisfies them.  Once upon a time I was football-mad.  I would give up overtime to go on away trips, queue all night for cup-tie tickets, stand in the foulest weather all in the hope that my team would one day with something to shout about.  But slowly and off, so surely I have come to realize that I is not to be.  I have grown older by fifteen years and now at last there is the awakening.  Though I am still football-mad it is obvious that fame is no longer essential at Goodison Park.  We only talk about it other clubs achieve it.  I simply cannot get excited at the prospect of watching the present Everton.  Multiply this by fifteen or twenty thousands and you have the story of the empty terraces.  Call it the death of a fan. 
EVERTON MUST KEEP AN EYE ON STOKES
Thursday, December 10, 1959. The Liverpool Echo and Evening Express
By A Special Correspondent
Everton manager John Carey is far to shrewd to under estimate any opponent when Cup-tie are about, but after visiting Bradford last night he probably feels that the City side will have to be considerably better than in their 2-1 defeat of Rochdale.  If they are to create any shock in the third round against Everton.  Without being unduly critical one had the feeling during this floodlit replay last night that Bradford City's progress to the next round was due to Rochdale's limitations rather than the merits of City.  There was no doubt that their zest and determination plus staying power were qualities calculated to make them difficult to combat.  Yet it seemed also highly probable that First Division quality will tell when Everton visit Bradford.  One man beyond all others when Everton must watch closely is 20-years-old City centre forward David Stokes who is the team's outstanding figure of the moment.  He was the regular outside left until McCole was transferred to Leeds United in September when Stokes moved to the middle to make a spectacular hit. 
TENACITY
His two goals last night was his seventh of the eight scored by City in their four Cup games to date, and he has collected 13 in eleven matches since the move to the middle.  Yet City success as might otherwise was marked more by their tenacity and purpose than any conceded craft though they had an impressive outside right in little Wood while inside-left John Reid was a menacing figure though only in patches.  It was a match of little profits for the Jackson twin brothers re City half-back line general was not successive during these periods when Rochdale were making their strongest bid to save if not to win the game.  It was noticeable is that City's aging backs, Flockett and Mullholland though a sturdy pat when the ball was in front of them, were not too happy in recovery while goalkeeper Stewart was prone to fumble the ball under pressure. 
FLIGHT TO GET GOODISON PITCH READY
Thursday, December 10, 1959. The Liverpool Echo and Evening Express
Everton Unchanged
Everton whose opponents on January 9 will be Bradford City, are working might and days to ensure that their pitch will be fit to take the First Division game against West Bromwich Albion on Saturday.  Their team will be unchanged from the one which stopped Preston's winning run of seven matches in succession at Deepdale last Saturday.  Everton; Dunlop; Parker, Jones; King, Labone, Harris (B); Harris (J), Thomas, Shackleton, Collins, Laverick. 
Everton Res (at Preston);- O'Neill; Tansey, Bramwell; Rea, Billington, Meagan; Boner, Shepherd, Hood, Ashworth, O'Hara. 
With skipper Maurice Setters suspended for 4 days wing half Charles Drury gets his first chance of the season in West Bromwich Albion's side.  West Bromwich Albion;- Wallace; Howe, Williams (S); Drury, Kennedy, Robson; Aitken, Burnside, Allen, Kevan, Hogg. 
EVERTON WIN BATTLE WITH THE GOODISON MUD
Friday, December 11, 1959. The Liverpool Daily Post
Match Referee Says Ground Fit For Play
By Horace Yates
With another day still to go Everton have won the battle with their ground and there is no doubt that the match with West Bromwich Albion will be played as arranged.  While work was proceeding on the pitch last night the referee for tomorrow, Mr. N.N Hough of Macclesfield, made an inspection at Everton's request and expressed himself completely satisfied that the game could be played.  The chairman of the Everton ground committee Mr. Jack Sharp, told me last night "The referee was quite happy about the state of the pitch and had no hesitation in arriving at his conclusion that there was nothing to interfere with play.  Mr. Play said Mr. Hough was in charge of the Bradford City v Rochdale F.A Cup second round replay at Bradford on Wednesday night and it was there that he was invited to make an early inspection of the ground in order to allay the anxiety of supporters and to combat rumours which might gain circulation that there was any doubt about the game going on.  He found it convenient to attend last night.  I should like to compliment Mr. Sharp and his committee on the steps they have taken not only to get the ground fit but on producing this most convincing early testimony that any fears of a matches Saturday were groundless.  These are happier days for manager John Carey, for with the team's improved form and a comforting freedom from injuries he is able to say "same again" for the fifth match in succession.  West Bromwich Albion on the other hand are forced to make a change because of the fourteen days' suspension of their captain Maurice Setters and Charles Drury takes over at right half.  Everton; Dunlop; Parker, Jones; King, Labone, Harris (B); Harris (J), Thomas, Shackleton, Collins, Laverick.  West Bromwich Albion; Wallace; Howe, S. Williams; Drury, Kennedy, Robson; Aitken, Burnside, Allen, Kevan, Hogg. 
HARDLY WORTH IT
Friday, December 11, 1959. Liverpool Echo and Evening Express
By Leslie Edwards
Tomorrow's game at Goodison Park takes place through the unrelenting effort during the week of the Everton ground staff and their helpers.  The floodlights of Goodison have burned far into the night in order to illuminate ways of getting a waterlogged pitch drained in time for the tilt against West Bromwich Albion.  Through the Everton team have played well the going has been at it heaviest this season; this is hardly worth the agonies of suspense endured by the Ground Committee chief Mr. John Sharp and others and you may take it for granted that the spade-work of drainage will continue until every affected part is made good.  Everton have settled down to an unchanged side and with young Brian Labone developing magnificently to the last six weeks we are now beginning to get tangible evidence of Mr. Manager's desire that football, above all should entertain.  The point taken from Preston was further indication that Everton are going all one way- the right way.  Albion, even with their England Under-23 captain Setters, who is under suspension are not the fine side they were and Everton, in their Leicester, Birmingham, Manchester United form, should win with something to spare.  Everton; Dunlop; Parker, Jones; King, Labone, Harris (B); Harris (J), Thomas, Shackleton, Collins, Laverick.  West Bromwich Albion; Wallace; Howe, S. Williams; Drury, Kennedy, Robson; Aitken, Burnside, Allen, Kevan, Hogg. 
GOODISON PARK PITCH IS PLAYABLE
Friday, December 11, 1959. The Liverpool Echo and Evening Express
Inspection By Referee
Urgent Action
By Leslie Edwards
Three solid blocks of ice about one foot by nine inches, were to be seen on the Everton pitch at Goodison Park this morning.  But don't despair about that First Division fixture between Everton and West Bromwich Albion, due to be played tomorrow.  The ice was there merely to test the electric soil-warming installation.  The state of the pitch in general after a fortnight's intensive effort to get its blocked drainage working properly is reasonably good and Referee Norman Hough, of Macclesfield, who has charge of tomorrow match said after his inspection last night.  "This is perfectly playable.  Nothing should interfere with the game."  Mr. Hough will not see the pitch again until his arrival at mid-day tomorrow.  The trouble at Goodison Park has been the planning hard of the four-inch layer of earth three inches below the surface.  This has precluded forking since water merely backed up and retained instead of going through.  It has been the task of Director John Sharp, Chairman of the Ground Committee, to evolve a plan of obviate all difficulties.  Mopping up operations, with blankets were tried initially after the manner in which Lancashire sometimes dry out their Old Trafford wicket, but this could not get to the heart of the problem. 
Trenching
Success has been achieved on a short-term (and possibly long-term) basis by trenching.  An experimental trench was first dug to the depth of the electric wiring and panned earth and cinders were obscene and replaced.  This was so effective a long trench right down the centre of the pitch was made as a central draining channel and from it further trenching was done laterally on the most water-logged areas.  Through today's rain will not help there is no doubt in my mind that the game tomorrow will be on. 
NOW FINNEY'S TAMER TACKLES THE ALLEN MENACE
Saturday, December 12, 1959. The Liverpool Daily Post
By Horace Yates
The worst is over for Everton if reliance can be placed on their most recent performances, which includes a most meritorious draw at Preston last week.  From their last four games they have taken five points and while the visit of West Bromwich Albion today cannot in any way be regarded lightheartedly.  Everton should improve their League position by winning.  Undoubtedly the defence has been greatly stiffened by the switching of Tom Jones to left back and the substitution of Brian Labone at centre half.  Labone is doing everything expected of him, and excelling in his role of watchdog on centre forwards on the true Jones manner, and as he comes through successive tests without loss of standing the move which began as a manager John Carey experiment has all the promise of achieving permanency.  Certainly he will have another stiff test today for Albion's leader Ronnie Allen, is one of the cleverest and most experienced footballers in the First Division.  If Labone handles him as well as he handled Tom Finney last week, he will indeed have cause to feel proud.  Similarly Jones could not have adapted himself more readily to the left back position and the improvement in Everton's resistance with these players occupying their present position is readily apparent.  That left back berth threatened to become a genuine Everton headache but the fact that nobody thinks o requirements in terms of a player for that position speaks for itself.  Like most people I am not at all happy about the forwards.  Undoubtedly the improvement in Thomas' play has infused more life into the line, but I would like to see a more determined and forceful Shackleton.  His positional play is often first class, but like Laverick he needs to show additional thrust and urgency if he is to register decisively.  Until they victory over Arsenal, West Bromwich shared with Everton the doubtful distinction of being without an away win.  Now the Midlanders are off the mark and no doubt keen to maintain their newly found spirit of adventure.  Actually their away record is saved to some extent by the fact that they have earned four draws on opponent's grounds, and if you were to look up records you would find that not only did they share six goals with Everton at Goodison Park last season, but that the season before produced a 1-1 draw.  Will it be a case of third time lucky for Everton, or will the draw sequence be continued?  It was in the corresponding match last season that Laverick made his debut for Everton, and by scoring a nicely taken goal raised hopes of providing a speedy solution to this problem position.  Everton; Dunlop; Parker, Jones; King, Labone, Harris (B); Harris (J), Thomas, Shackleton, Collins, Laverick.  West Bromwich Albion; Wallace; Howe, S. Williams; Drury, Kennedy, Robson; Aitken, Burnside, Allen, Kevan, Hogg. 
AN EVERTON CUP WORRY
There is a danger that not all the Everton supporters who want to see the team's third round F.A. Cup-tie against Bradford City at Valley Parade on January 9 will be able to gain admission.  The match will be an all-ticket affair with a 2-15 p.m. be played entirely in daylight.  The crowd limited has been fixed at 27,300 and Everton will be entitled to a quarter of all the tickets printed.  Bradford City have raised the charges for admission to 3s for the Midland Road stand (an increased of 1s on League prices), 3s 6d for the paddock (an increased of ls) and 4s 6d for the stands (an increase of 9d) and 6s for the centre stand (an increase of 1s 3d). 
EVERTON ARE UNCHANGED FOR FIFTH TIME
Saturday, December 12, 1959. The Liverpool Echo and Evening Express
Should Beat Albion at Goodison Today
By Michael Charters
Everton's good display in recent weeks, particularly in drawing at Preston North End last Saturday, has convinced many people that the team has recovered from its poor start to the season and there is every confidence in them defeating West Browmich Albion at mud-bound Goodison Park today to climb a couple more places to a mi-way spot.  The team is unchanged for the fifth successive match and it is noticeable that the return of Brian Labone four weeks ago after injury has brought five points out of the last eight.  Labone may be Everton's mascot to some, but I believe his strength in the middle plus the happy switch of skipper Tom Jones to left back, has made the defence as much more dependable department.  Their overall performance at Deepdale could not have been bettered and a repeat today will snuff out the danger of men like Allen, Hogg and Kevan.  If the forwards can round all the excellent middle work of Collins and wing halves King and Brian Harris then another resounding with on the lines the Birmingham and Leicester victories could be on the chart.  But Albion although not playing consistently are a much better side than either of those two struggling clubs.  Everton's attack will need punch in the middle and if Shackleton and Thomas can forget their disappointing day at Deepdale the goals should come from the chances the others make.  It was good to see Laverick showing better from at Deepdale against a first class full back in Cunningham.  With Jimmy Harris too, having maintained his bright spell, there is more strength on the wings than of late.  One of the features this afternoon should be the duel between wingers and two different international full backs in Don Howe (England) and Stuart Williams (Wales) .  Albion will miss their goal-getting wing half, Maurice Setters, who began a 14-day suspension last Monday.  In his place is "Chuck" Drury playing his first League game of the season.  The Throstles will not look the same without Ray Barlow in the side.  He has a poisoned the which had troubled him for some time, but he has been in and out of the team this season and it may well be that his First Division days are numbered.  Barlow has been one of the top personalities of the side for many years and had delighted crowds throughout the land with his casual, but dominating wing half play.  Albion switched him to centre half for the past couple of years but "veteran," Joe Kennedy has fought his way back into his old position and it seems that Barlow is on the sidelines these days.  Football is the poorer for Barlow's departure, which may, we hope, be only temporary.  That state of the pitch at Goodison has been a constant headache to the Everton administration all week.  Although a squad of men have been working night and day, with the floodlights on most nights up to ten p.m. the ground is bound to be very heavy.  Everton do well under such conditions and it looks like a good win coming up this afternoon. 
THOMAS, SHACKLETON HIT REVIVAL GOALS
Saturday, December 12, 1959. The Liverpool Echo and Evening Express
Grand Recovery in the Gloom by Everton
Everton 2, West Brom 2
By Michael Charters
Everton; Dunlop, goal; Parker and Jones (Captain), backs; King, Labone, and Harris (B), half-backs; Harris (J), Thomas, Shackleton, Collins and Laverick, forwards.  West Bromwich Albion;- Wallace, goal; Howe and Williams (S), backs; Drury, Kennedy, and Robson, half-backs; Aitkens, Burnside, Allen, Kevan, and Hogg, forwards.  Referee; Mr. N.N. Hough (Macclesfield).  The labours of the squads of men who have worked night and day through the week to get the pitch in order had paid off.  The ground although well sanded, looked firm, but there was no saying how it might but-up.  The lights were on from the start and the crowd of 20,000 scaly saw an Albion goal in the opening seconds.  Howe slipped a good pass inside to Allen, who side stepped Labone, kept his feet remarkably well but shot into the side netting from an angle.  Albions forwards moved the ball about slickly, but it was Everton who made the next attack, with Collins putting a volley high over after Parker had worked the ball down the right wing.  The quick witted Collins took a corner, before the defence knew what it was all about, and almost gained a goal from King.  He picked up the ball and shot first time, that it bounced away off a defender.  There was much to admire in the football of both sides and anyone might well have gone ahead, but Kevan Kevan fed beautifully for Hogg, trod on the ball with a clear path to goal and Dunlop was able to clear easily.  Jimmy Harris made a smart run down the wing before putting in and passing to Collins who completely mishit a shot from five yards outside the area.  Play continued to be fast exciting and entertaining with Jimmy Harris, for Everton and Allen for the Albion showing up promisingly. 
PARKER'S SHOT
Everton had just the better of matters territorially and from a corner the ball come to Parker who hit a terrific shot from 35 yards which shaved the post;- the wrong side for Everton.  It was Shackleton's turn next to come into the picture with a first rate dribble, the left wing and he pulled the ball back cleverly to the unmarked Collins who headed forward to Thomas, who was a yard offside.  The ball tended to slow up disconcertingly on the sanded patches, but both sides were playing splendid football particularly Everton, whose main threat was coming down the right wing where Harris was having an exceptionally good game against international full back Williams.  Dunlop's first moment of concern came when King stumbled in passing back to him and the goalkeeper had to dive full length to clutch the ball behind him.  It was from a similar sort of move that Albion took the lead trough Kevan after 20 minutes.  Labone with plenty of time to clear, tried to pass to Dunlop from eight yards.  With the goalkeeper taken out of his stride Kevan was able to step in and shot it into the net –a tragedy for Everton as they had been the better side up to this point.  The goal seemed to take some of the snap out of Everton. For their passing previously accurate was now beginning to end.  Albion too produced n offside trap which was working well and Everton were held on a couple of occasions.  Parker was doing well against Hogg keeping him very quiet, but Everton's failing was as at Preston last week, in the middle where there was a lack of punch to round off much good work from the wings.  Albion went further ahead after 28 minutes with a beautiful goal from Burnside.  For once Hogg slipped inside Parker and passed to Kevan who headed it forward for Burnside to make the neatest of flicks in the air around Labone and hammer the ball on the half volley with his other foot into the far side of the net.  This really put Albion take up and their football always good, began to be dominating.  Everton could get nowhere against the offside trap, and their defenders were now looking very hard-pressed against some lovely triangular passing movements particularly on the right wing.  Albion's defensive covering was good as Brian Harris found to his cost when he tried to borne through from Collins pass.  He ran into a wall of opposition and his shot just bounced away.  Allen's tactics of hanging back to pray passes to his co-forwards seemed to be unsetting Everton's defenders.  They never know which one of Kevan or Burnside was going to pop up in the centre to take one of Allens "guided missiles" Everton had faded now and their attacks looked very laborious by comparison with the quick passing and accuracy of the visitors.  Shackleton and Thomas were to easily dispossessed for the crowd liking but Collins kept striving to bring some cohesion into the line.  Allen was very much the master mind of Albion's attack and one position he didn't occupy was that of recognized centre-forward.  One minute he was picking up a clearance at wing half, the next he as drifting down the left wing to centre accurately.  The mist had thickened appreciably during the half and the crowd too had grown a lot.  Everton striving for an all important goal before the interval kept battering way.  The closest they came was when a bad back pass by Robson put Shackleton onside, but Wallace came out to intercept just in time. 
Half-time; Everton nil, West Bromwich Albion 2.
Everton forced a corner in the opening minutes of the second half but Wallace who had not had much to do took it most competently.  Laverick missed a golden chances when a long pass from Jimmy Harris to Collins saw the Scot put the ball over to the left.  Laverick completely unmarked took so long to steady himself that Howe came from nowhere to block the ball.  From the rebound Jones put an accurate lob to the far corner of the net, but Wallace was there to cut if off.  Everton's goal almost fell again through yet another back pass.  This time Jones turned the ball towards Dunlop from close range and surprised the goalkeeper so much that the ball ran free to Burnside who slammed it high and wide, when a little more coolness must have put it in the net.  Kennedy was strong in the middle and effective dealt with any threat which Shackleton or Thomas tried to place.  His positional play was first class.  Some of Burnside's footwork was delightful and he slipped the ball through Jones legs to wheel round him and hit a fierce shot which Dunlop finger-tipped away.  Although Everton were striving hard for that elusive goal it was Albion who were playing the better football.  Everton were inclined to "telegraph" their passes whereas the scheming of Allen and others was never obvious.  At long last came the Everton goal everyone was waiting for.  It was due mainly to Jimmy Harris easily the best home forward who linked with Collins to slip pass Williams and put  perfect centre onto the hand of Thomas who nodded the ball in after 58 minutes.  Collins continued to lead Jimmy Harris at every opportunity =the right tactics because Howe had Laverick bottled on while Harris seemed to have the measure of Williams on most occasions.  Thomas goal had the effect of enlivening not only the scorer but the rest of the line.  Thomas was unlucky after beating two men to find the referee awarding a foul in his favour when the advantage rule might well have been applied.  It was Everton no who were calling the tune with Collins an incredible bundle of energy and trickery in midfield.  Laverick joined in by cutting inside and feeding Collins whose flighted centre was beautifully headed by Shackleton towards the far corner of the net only for Wallace to make a brilliant save. 
MIST SPOILS VIEW
The mist had now come down to such an extent that it was difficult to follow play, in the far corner of the ground.  And it was over that side that most of Everton's attacks were directed with Jimmy Harris the spear point.  Collins kept punching out passes to the right wing and it seemed that Everton were to get an equalizer goal it would come from that direction.  Having weathered this Everton 20 minutes spell of dominance however, Albion were coming back into the game and Dunlop made one splendid save from a header by Allen off a corner.  Just as I said that the equalizer did come after 77 minutes with another headed goal.  It stemmed from a short journey by Laverick to Collins, who pushed it back to Laverick.  His centre was met by the driving head of Shackleton who fairly headed it into the net from close stage.  Jimmy Harris won yet another corner and from his kick, Brian Harris came roaring up to hit a first time shot over the bar.  Shackleton made another first-class header from a Harris corner kick and the crowd was roaring every time the ball went to the right winger who was in brilliant form.  Final; Everton 2, West Bromwich Albion 2.  Official Attendance 25,760. 
EVERTON XMAS BOX IS TEMPLE
Saturday, December 12, 1959. The Liverpool Echo and Evening Express
Alex Parker Reviews The Goodison Scene
A couple of weeks ago I told you that we expected Derek Temple to return to Goodison by the end of the year, instead of about next Easter.  For those of you who don't know Derek is serving with the Army in Kenya.  Now I have definite news that Derek will be arriving home on Christmas Eve, so it should be a doubly happy occasion for him- and the club.  In these days when practically every club in the country is crying out for hard shooting forwards a player of Derek's calbre will be more than welcome.  I first met him when we played for the Army together along with Brian Harris.  Since then of course, all three of us having played for Everton at the same time.  I remember Derek scoring a grand goal against today's opponents West Brom, it was a Wednesday night match at Goodison last season and Bobby Laverick made his debut in the same game.  Just as there will be joy.  In our Evertonian's house-hold this Christmas the atmosphere will not be quite so festive in another Gordon Watson tells me that his son went abroad last Sunday- to Kenya. 
You can take it that it's just a straight swap-there is no cash adjustment.  Here's hoping that Gordon Junior as a safe speedy return as Derek.
PRESTON GAME
Last week I wrote that our first away victory may have come at Preston, but little did I realize how near the mark I would be.  By putting a stop to the Deepdale team's run of seven successive victories I think we proved that our form against Manchester United was no flash in the pan.  There were quite a number of our fans there and I am sure they thought their journey well worthy while.  I have always been a great admirer by Tom Finney, for I well remember the difficult time he gave me in an International at Hampden Park last year, but I'm glad to say that he did not do as well last week thanks to Brian Labone.  I was glad that Brian had the job of making him instead of me and he made an awfully good job of it.  Preston have always been famous for the number of Scots they have had on their books and their present team is no exception.  Before the match I was talking to Willie Cunningham, Davey Sneddon, Sammy Taylor and Joe Dunn.  Taylor is a former club mate of mine at Falkirk and he had such a good match against Preston in friendly that the Lancashire club were tempted to sign him I don't think they ever regretted it for although he is only small he is a grand winger.  I saw Cunningham playing for Scotland against Hungary a few years ago.  Willie was injured in the match and had to go off, but they don't come much tougher and he soon returned to play a great game I have heard that he is well past the 30 mark now but last week he performed as well as ever I have seen him.  Sneddon is a near neighbor of mine back home, and I spent much of the summer playing golf with him at Irvine I have known him practically all my life for he lived only around the corner from my mother.  I also had a chat with Tom Finney a fellow Football Echo contributor, and we swooped autographs for rival young supporters. 
MAYERS VISIT
Derek Mayers popped round to see the Everton team and there was a great deal of kidding going on.  As the match ended in a draw I don't suppose anybody really had the last laugh.  Next week we go to Luton the beaten Cup finalists.  I remember how we won there last season despite an injury to Tommy Jones.  I took his place at centre-half and Kenny Rea went right-back.  I hope we can pull off a repeat, only this time with 11 men.  Last Monday lunch time Mr. Carey and some of the Everton team were crowded round the wireless set in the billiards room listening to the club draw, but it was not until Thursday that we knew who we were playing when Bradford City won the replay.  Although it is considered that gaining the League title is a better test of a team's ability, as you must play well for about eight months of the year to win it there is no denying the excitement created by the Cup.  Just as all soccer fans get excited when Cup time comes round so do the players.  No matter how badly a team is doing in the League, its players will still confidently look forward to a good Cup run.  The teams at the top consider that their form justifies this confidence and the teams at the bottom reckon that their bad luck cannot continue forever and good fortune must shine of them in the Cup.  This has often been borne out by results for many a successful side at Wembley has had a poor season in the League.  I have heard that the Leicester City team beaten in the 1949 final by Wolves only just missed relegation from the Second Division. 
A NEAR THING
I have had a personal experience of that, for when I was with Falkirk and we won the Scottish Cup, we did not know it we would be relegated.  It was not until the last night of the season that we knew we were safe.  When the Cup rounds started in January it was a foregone conclusion that we would go down but the Cup run must have given is confidence for we only lost two League games between then and the end of March.  While we are confident of the result of the game at Bradford we realize that it is no foregone conclusion First Division sides have been knocked out by Third Division teams before, so we have been warned.  Apparently centre forward Stokes is a danger man.  Since being switched from outside left to take over from McCole after his transfer to Leeds, Stoke has been scoring regularly and it was his two that but Rochdale out on Wednesday.  The inside forwards are also no mean performers Reid has figured quite prominently in the headlines since coming to England and Eddie White brother of Tottenham's John, is an ex-Falkirk colleague.  I have heard that the Jackson twiss have been on the wanted list of many First Division clubs, so you can see that our opponents have some more than useful players. 
PRESTON RES V EVERTON RES
Saturday, December 12, 1959. The Liverpool Echo and Evening Express
Preston NE Res;- Kelly; Wilson, O'Neill (John); O'Farrell, Singlcion, Duncan; Dagger, Hatsell, Alston , Farrell, Campbell.  Everton Res;- O'Neill (James); Tansey, Bramwell; Rea, Billington, Meagan; Boner, Shepherd, Hood, Ashwood, O'Hara.  Referee; Mr. W. Haines (Wigan).  
Everton were kept on the defensive at the start by some attractive forward play by the home side. O'Neill soon had to go down full length to save the Everton goal from a shot by Campbell while North End's O'Neill also saved his side by shooting a sold run by O'Hara.  After 10 minutes Alston got the better of Billington for the third time and raced away for a clever solo goal.  A shot from Hood was saved by Kelly and at the other end Hatsell had a header cleared off the line by Meagan.  Everton had an escape when O'Farrell shot wide with Jim O'Neill out of position.  Kelly saved at close range from Hood and also had to save at point blank range from Ashworth.  The Everton goalkeeper did well to save a shot from Alston.  Half-time; Preston N.E  Res 1, Everton Res nil. 
EVERTON SAVE POINT AND REPUTATION
Monday, December 14, 159. The Liverpool Daily Post
Everton 2, West Bromwich Albion 2
By Jack Rowe
A point gained most worthily by Everton.  They were 2-0 down at half-time and if you put the first twenty minutes to one side, there were few signs that they had the capacity to prevent the recent revival from taking a check.  As it was their scoring rally not only saved a point but their reputation.  In the first 20 minutes on a heavily sanded pitch which must have seemed like a bog to those who had to make progress through it they played football which told us clearly that the stamp of John Carey has made it imprint.  When Albion went into the lead the opinion seemed justified that the score hardly did justice to the way the game had gone.  Everton's plan and procedure in that period was better than I have seen from them this season.  They moved the ball smoothly and Jimmy Harris looked so devastating that one could hardly visualize the position which ruled from the 20th minute.  Then Brian Labone made his only mistake.  His attempted back pass to Dunlop never had a hope of making the objective so that Kevan was given the opportunity of coming in and scoring a goal which undermined the pre-match notion that Everton would have the beating of this good Albion side. 
START OF DECLINE
That goal began an Everton decline which lasted until the second half had gone nearly fifteen minutes and the second score by Burnside eight minutes after Kevan's was in keeping with the Albion superiority.  Burnside took his goal brilliantly.  His right foot hook over Parker was a trick move suited to television and his left foot shot on the volley rightly earned the admiration and applause which greeted the ball in the net.  It seemed also to signal the end of Everton's bid for they had a spell in which none of the forwards could do right and at half-time, which came immediately after Shackleton had headed outside from an easy spot.  Albion looked good for a victory.  with centre forward Ronnie Allen playing everywhere except in the middle and spraying passes all over the place so that Kevan and Burnside were always looking for the chance down the centre it looked as though Everton were doomed to a defeat which would plunge them nearer the bottom of Division 1.  But how different were the final thirty minutes of the second half.  There was fight and endeavour from Everton.  They rallied nobly and when Thomas headed through in the 59th minute from a fine cross by Jimmy Harris, it was the start of the revival which brought a well earned draw.
SHACKLETON'S DIVE
Albion had to take a hammering and with 13 minutes left Shackleton threw himself to head home a centre from Laverick, following a corner, in which the winger and Collins combined in the short move which threw Kennedy and his defensive colleagues completely off balance, to give the scorer room in which to make his notable forward dive.  And how easily Shackleton might have got a hat-trick.  He looks slow and cumbersome at times and is probably not everybody's ideal of a centre forward, yet on two other occasions he made glorious headers which were kept out only by the equally glorious goalkeeping of Wallace.  If Labone's mistakes is excepted it is difficult to fault the Everton defence.  Parker had a terrific duel with Hogg and came out on top and if Labone was tempted by Allan's wandering he did not fall for them and stayed in the middle.  There he did everything to blunt the menace of Kevan and Burnside when Albion were most rampant and his stature as an ever-improving centre half was not minimized by his error.  King tackled and worked so hard that one is inclined to overlook his positional mistakes while Brian Harris and Jones did nothing to suggest they cannot play a full part in an Everton resurgence, which I feel is on the way.  Jimmy Harris and Collins were the best of the forwards but Shackleton and Thomas were on the spot to score and Laverick gives so much promise at times that he may yet reach the peak which prompted Mr. Carey to sign him.  Everton; Dunlop, goal; Parker and Jones (Captain), backs; King, Labone, and Harris (B), half-backs; Harris (J), Thomas, Shackleton, Collins and Laverick, forwards.  West Bromwich Albion;- Wallace, goal; Howe and Williams (S), backs; Drury, Kennedy, and Robson, half-backs; Aitkens, Burnside, Allen, Kevan, and Hogg, forwards.  Referee; Mr. N.N. Hough (Macclesfield).  Attendance;- 25,762.
TRUMPH FOR PLAYERS AT MUDISON PARK
Monday, December 14, 1959. The Liverpool Echo and Evening Express
By Leslie Edwards
The marvel of the Everton v. West Bromwich Albion match was not that Everton should come back from 0-2 to 2-2 but that both sides should overcome ground conditions so well.  To appreciate the variably of the going you had to tread it, as I did on Friday.  It says much for the resource of players that they should produce for the interest of 25,000 people a fast unflagging contest a thrilling finish and a result which was on the whole equitable Everton went close to snatching victory which would have completed a splendid recovery, but if they had done so Albion (why do they call them The Baggies?) would have no less than they deserved.  That Mr. John Sharp's Mudison Park –his phrase- should have been converted in the space of a few days from a morass into a reasonable dry playable area was also a marvel and for everyone's sake it is to be hoped that further intense effort will save for the rest of the season a situation which had become pretty desperate.  The polythene protected from rain should help.  I am told that in some parts of the world a complete polythene envelope, inflated with hot air, can cover sections of a pitch and not only keep on rain, but offset the effects of frost and ice.  If Everton do not have to tear up their pitch afresh at the season's end they will be much relieved.  Albion with their clever-paced stop-go style soon had Everton in trouble and one sensed they were going to prove a far more difficult proposition than any visiting team for months.  To present them with a goal, as Everton did initially was shattering but not disastrous at that stage and it was only when Burnside the juggler flipped the ball over Labone and hit it on the volley as it dropped for a stunning second goal that Everton were really in trouble. 
LIFETIME'S LESSON
Ironically too those goals came to the few chances Albion had in a first half in which Everton seemed the more likely to go ahead.  For Brian Labone the goal by Kevan who thrives on picking up such unconsidered telling chances was the lesson of a lifetime.  On a heavy sanded pitch the reverse pass to one's goalkeeper is one never to be undertaken nonchalantly or without thought and thus when Labone screwed the ball back towards Dunlop and the braking effect of the pitch told, Kevan seized his chance to poke the ball under the body of a goalkeeper who try as he would could not get there first.  The gloom of the second half which the lights did little to dispel matched the gloom in our hearts as Everton set about the enormous that of trying to rescue themselves.  That they did so proves that this unchanged team has not only more confidence by itself but has the heart to fight itself away from defeat.  First Thomas headed a goal then Shackleton and though Shackleton may not have seemed great vim in the general picture it must go on record that he dame close to getting a hat-trick of headed goals within the space of 30 minutes.  The goal he got was a fine on, the one Wallace dealed him by magnificent goalkeeping would have been even better.  Allow for Dunlop's contribution-to small one- at the other end and you have indication of the excellence of both goalkeepers in condition which were made doubly difficulty by the lack of clear visibility.  The cleverness of Bobby Collins whose handshakes for opponents other players might emulate ad hereby keep the crowd's temper capable was brought out fully on a ground so difficult to judge as to pace.  Some of his passes seemed too hard hit to stay in play, but he was almost invariably proved right  than wrong.  If Laverick and he do not work completely as a left-wing partnership it is merely because Collins did so much useful work to perform they, here as a back room boy. 
TO A STANDSTILL
Collins ran himself almost to a standstill-not a very difficult thing to do-on a pitch which sapped everyone's stamina in the first half-hour.  He was going as strongly at the finish as he was at the start and so was the other little fellow who amazes and delights us, King.  The bodily crushes of why King with massive Kevan did not always end in Kevan's favour and this David and Goliath act has never been better typified since the days when Alex Stevenson or Nobby Fielding tried the patience and skill of Leslie Crompton.  King is the rescuer of Everton's lost cause.  He is adept at falling back, or speeding back and being the man to tap the ball safely into "Blower" Dunlop's safe hands, his enthusiasm is boundless and when there is any forward move to be made he usually up field to take part in it.  Brian Harris too is an up-and-comer at the right moments.  A pity so many of his strides in a first half in which Everton produced too few should find no path through Albion's defensive wall.  Parker had a particularly slippery customer to hold in Hogg, whose play is full of feints and variations in pace of the sort which foxes backs.  One wishes Everton wingers would make their play equally less obvious.  Yet Jimmy Harris had his moments, and contributed to a vital goal just as effectively as Brian Harris and Laverick did when forcing Albion into a panic corner-kick on the other wing.  Tom Jones is proving a splendid back and Labone except for one excusable blunder, continued to use the ball excellently-a quality as useful as many connected with his defensive role.  Allen roamed far and wide and was always making telling passes but he didn't get a goal and Everton, whose goals against in recent times have been few seen to be on the serge of the long strong climb to a safe place and a place in which they can afford to indulge themselves in playing attractive football with all the trimmings.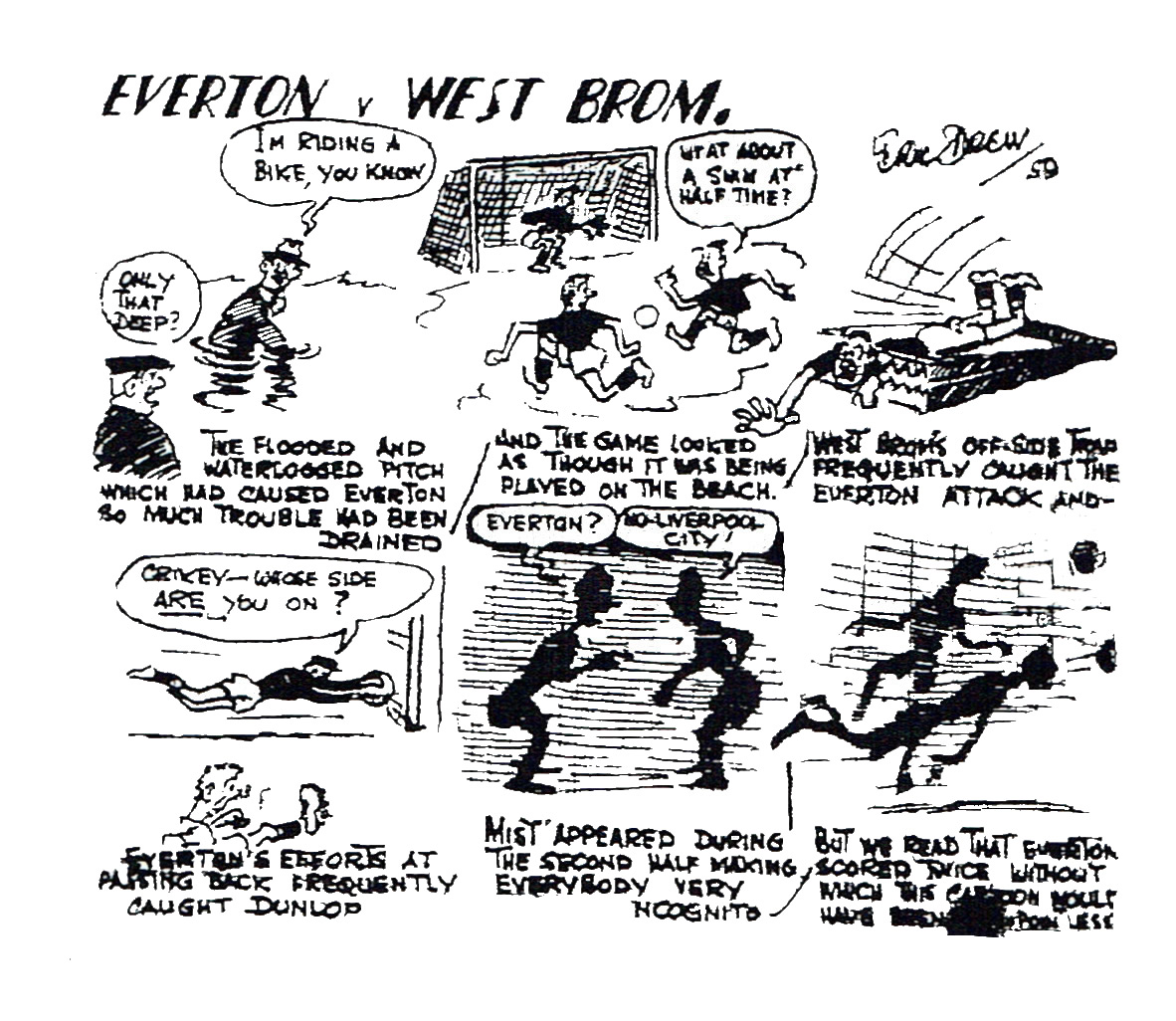 THIS WOULD GUARANTEE PLAY IN LOCAL CRICKET
Wednesday, December 16, 1959. The Liverpool Echo and Evening Express
By Leslie Edwards
Everton's use of protecting sheets of polythene covering an ear of 40 yards by 12 has not escaped the notice of cricket clubs in this area.  They see in this something even more valuable for themselves –a means of ensuring that they complete nearly all their fixtures next season, irrespective of what deluges we get during the "summer" The cost of a sheet of the size mentioned is about £30.  It will last forever.  The area would protect not only the wicket but the run-ups for the bowlers.  The material is so light it would be removable in a few minutes before the game started.  A series of such sheets elected and reinforced at the edges would be invaluable to groundsmaen where cricket Tests are due to be played.  At Wimbledon where the famous sheet of tarpaulin is rolled out, regimentally by some 15 or 20pairs of hands.  A protection of polytheism would save much labour.  And unlike tarpaulin, I does not crease. 
WHY THE GOODISON TERRACES ARE EMPTY
Wednesday, December 16, 1959. The Liverpool Echo and Evening Express
What the Readers are Saying
Mr. S.J. Cotteril, of 59 Nelson Street, Shotton, near Chester, writes.  It is quite easy to see why the terraces at Goodison are empty.  Everton are not a really good side.  The forwards, (Collins excepted) are not good enough.  The defence deserves top marks.  The wing halves really work hard and never stop trying.  Parker and Jones are sound backs, and Dunlop is an excellent goalkeeper.  If I can see their forward blunders surely Mr. Carey can and he should take immediate steps to do something about them.  Perhaps one day the man who brought Collins and Parker will make another golden swoop and purchase some more forwards.  I am a season-ticket holder and am speaking for a lot of supporters who are fed up with seeing Everton at the foot of the table.  It is goals that count but past results e g, Dixie Dean and the good old days.  So come on directors let us take up s have at least one really good team n Merseyside or we will end up in the Second Division along with Liverpool.
EVERTON SWITCH
After seeing Everton in all their home games and four away games, I would like to see a change made in the team and this doesn't mean dropping anybody.  Move Collins to inside right and switch Thomas to inside left.  It has been done in a couple of games this season and on more so than on Saturday against West Brom.  With the passes Collins could give Jimmy Harris he would become one of the best wingers in the country.  Here's a prediction-Brian Labone as England centre-half within three seasons-James Coupland 46 Glenspoon road, Childwall. 
JOE BAKER
Hibernians's Joe Baker was born in Kirkdale as has been stated.  His parent lived at 38 Yale Road, Woolton and he lived in 34.  His aunt and uncle live at 10 Garway.  Joe was born at Smithdown Road Hospital and my daughter is his godmother-Miss Olster 39 Garway, Woolton.
SOUVENIRS
On Saturday we saw the same fiddling Everton.  In the interval the record Souvenirs was played.  Surely the wrong record.  I thought.  Some letters tied with blue bow black, a photograph or two visions of some former Everton captain being held aloft by triumphant teammates.  In the closing stages of the game we found we were cheering Everton on to a draw.  Not a win as though we were thankful that they had salvaged yet another point.  should we also take it that the person or persons responsible for selecting the Everton team are happy with the present set up and that they have now returned the £73,000 as so back from whence it came.  Unless they do something fairly soon than Grandstand will claim yet another soccer fan.  Could you please tell someone concerned with Everton, Hibs reserve centre forward Jock Buchanan has over 30 goals this season- N. Williamson, 10 Conison Street, Everton, Liverpool 5.
THAT PROGRAMME
The present programme is extremely limited in its literary aspect and unworthy of the Everton club.  When attending an Everton away match it is possible to buy a programme of varied reading matter, a publication well-worth retaining.  In the present Everton issue the re-introduction of Younger Matters would be of general interest and keep supporters in touch with the present –to them –hidden talent in the A.B. and C teams- W.P. Thomas, 35 West Orchard-lane, Liverpool 9. 
EVERTON TRANSFER LIST EDDIE O'HARA
Wednesday, December 16, 1959. The Liverpool Echo and Evening Express
May Go back To Scotland
Own Request
By Leslie Edwards
Eddie O'Hara, Everton's Scottish left winger who asked his club for transfer has had the request granted.  I understand that he feels that there is little future for him at Goodison Park and that his career would be best served by a move back to Scotland.  O'Hara joined Everton from Falkirk at the same time as full-back Alex Parker.  His first senior game was at Leicester in the opening match of last season.  He held his place regularly until an ankle injury and the arrival of Bobby Laverick from Chelsea took him into the reserve side.  Laverick's appendix operation gave him a further chance in the first team at the outset of the present season and in view of his severe ankle operation in close season he performed very well indeed. 
CLUB POLICY
Everton's policy is never to stand in the way of a player who feels dissatisfied and last night the Board decision to place O'Hara no offer was not surprising.  Two young Everton amateurs who have reached their 17th birthday.  Alex Tyrer an inside right and Sam Edwards an inside left from Rhyl signed professional forms for the club today. 
The Everton team at Luton will be unchanged for the sixth successive game.  Everton; Dunlop; Parker, Jones; King, Labone, Harris (B); Harris (J), Thomas, Shackleton, Collins, Laverick. 
There is some doubt about whether Luton's Eire international inside left George Cummings will be able to play against Everton.  He strained a thigh muscle against Newcastle United last week and has been having rest and treatment since.  Today he was not training with the others and it will probably be Friday morning before a decision is reached.  Likely to return is international goalkeeper Ron Baynham who has been out for a month with a ruptured thigh muscle.  He is back in training and was taking past in a full scale practice match this morning. 
YOUNGSTERS ARE RELEASED
Thursday, December 17, 1959. The Liverpool Echo and Evening Express
From Everton F.C Ground Staff
Everton F.C., have released four of their up and coming ground staff boys –the Scots, Andy Gearie and Tom McDonald and Barry Edmondson from Southport, and David Fu of Liverpool.  Most of these boys are coming up to their 17th birthday, the age at which the club are called on to decide whether or not they will be offered a full-time professional engagements.  Because Everton felt unable to offer the lads this opportunity it was mutually agreed that they should get their release so as not to jeopardize their chances of obtaining full professional engagements elsewhere.  Gearle a centre forward who came from a (junior club in Carnoustie, is likely to join the other former Everton youngster Penman, at Dundee a club managed by the brother of the new Liverpool manager, Mr. Bill Shankley. 
JACK HOOD DECIDES ON TRANSFER MOVE TODAY
Friday, December 18, 1959. The Liverpool Daily Post
By Horace Yates
Jack Hood Everton's Scottish reserve centre-forward will today reply to the invitation of Mr. Peter Farrell the Tranmere Rovers manager, to join the Third Division club.  There is no difficulty between the clubs, terms having been signed agreed in the evening, Hood wishing to striker out with a new team.  Hood, who is not on offer was mentioned casually earlier this week is conversation between Mr. Farrell and Mr. John Carey the Everton manager, as being the sort of player who might fit into the Tranmere's ways of things quite well.  Yesterday Mr. Farrell had a long chat with the player who asked for twenty-four hours to think over the proposition, promising a definite reply this morning.  Earlier this season Hood successfully applied to the club to be offers for transfer but some time later requested that his name should be deleted a request which was readily granted.  Hood, who is twenty-one and beautifully built for the centre forward role, was signed by Everton from Shettleston Rovers, the Glasgow junior club, in 1956 but because of Army service was not able to concentrate on his professional career until the start of this season. 
NO FORECAST
He impressed everybody with his display in the public trial game at the outset of the season and in recent matches has shown more signs of playing up to that promise.  Hood's problem last night was whether to stay on at Goodison Park in the hope of being able to fight his way into a football future with a First Division club, or to try a change for fortune in Division Three.  "I shall be in touch with Everton in the morning" said Mr. Farrell "but I would not like to forecast which way Hood will decide."  Before joining Everton, Sunderland, Leeds, wolves and Blackpool were among the English League clubs who were taking an interest in his future. 
TIME FOR THAT AWAY WIN
Friday, December 18, 1959. The Liverpool Echo and Evening Express
By Leslie Edward
Everton are unchanged for the sixth consecutive time and your guess is as good as mine as to how far back one would have to go to find the same eleven serving the club undisturbed for so long.  An unchanged team is usually a successful one.  Though Everton have come undone occasionally in recent weeks their use from the depths has been steady.  They may well get clear of trouble before the New Year.  That in itself would be an accomplishment and tribute to the new order of Carey and company which has had its moment of unpopularity.  Luton's ground is as compact as the pitch is heavy.  It takes a pretty good side to get a point there, much less win, but my belief in Everton grows and despite a Newcastle lunch which was badly disproved I have faith in their ability to avoid defeat.  If only they could find the confidence, in their shots instead of making them so tentatively.  The fine recovery against West Bromwich will have improved their confidence and we may be sure that Brian Labone having learned from one reverse pass mistake will be it pains to see that it is never repeated.  Surely Everton are playing well enough to get their fist away win of the season?  Everton; Dunlop; Parker, Jones; King, Labone, Harris (B); Harris (J), Thomas, Shackleton, Collins, Laverick. 
HOOD SAYS "NO" TO MOVE TO TRANMERE
Friday, December 18, 1959. The Liverpool Echo and Evening Express
Will Stay At Goodison
Surprise
By Leslie Edwards
Jack Hood, Everton's young Scottish centre forward who has been the subject of negotiations for some days between Mr. John Carey and the Tranmere Rovers player manager Mr. Peter Farrell, will not be signing for the Birkenhead club.  He told Mr. Carey today "I am not prepared to move, I will stay at Goodison Park.  The player's reaction surprise both managers.  Earlier in the season Hood walked out of Goodison Park, and went home to Shettleston his home in Scotland, rather than play in the Everton third team.  The sequel was that Everton suspended him for a fortnight. 
Changed mind
On his return to Liverpool he conferred with Mr. Carey and then changed his mind about not wanting to stay at the club.  Mr. Farrell began his negotiations for the player several days ago.  It was anticipated yesterday that the deal would go through but Hood as eminent today that they would not sign.  I understand too that he is not anxious to sign for a Scottish club.  He has a fiancée in Liverpool and is not keen to leave this area.
CUMMINS UPFIT
Eire international Georg Cummins is unable to play for Luton Town against Everton tomorrow because if a strained thigh muscle and his place will be taken by switching Bob Morton to inside left and bring in Gordon Turner at inside right.  After an absence of a month through injury Ron Baynham returns in goal.  Luton Town; Baynham; Dunns, Daniel; Groves, Kelly, Pacey; Bingham, Turner, Brown, Morton, Gregory. 
CHANCE FOR EVERTON
Saturday, December 19, 1959. The Liverpool Daily Post
By Horace Yates
This could be the day for Everton to register that elusive first away victory, for Luton Town have been as disappointing in their League adventures this season as they were in the Cup Final at Wembley last season.  At the half way stage their position I dangerous in the extreme for they are at the bottom of the table, two points below Leeds United with little sign of a playing revival to cheer them on their way.  An examination of their playing record makes dismal reading.  They can claim only three wins and their one claim to fame was a spectacular triumph over Tottenham at a time when Spurs were leading the League on November 14.  Everton have won on their last two visits to Luton, and there is every reason to believe that the improving Goodison side can promise the hat-trick.  Since Everton adopted their present formation against Birmingham on November 14 they have been beaten only once-at Tottenham.  The signs are that Shackleton is really beginning to find his feet and the forecast of manager John Carey that it would be Christmas time before Laverick was in a position to justify himself following his close-season operation, looks like being fulfilled.  In addition the power of Labone and the certainty of Tom Jones at left back has had a stabilizing effect on the defence. 
HICKSON NOT MISSED
Nobody pretends that the Everton side could not be improved but instead of falling away as some people forecast might be the case with the departure of Dave Hickson to Anfield, they have lost only two of the seven games since Hickson's name disappeared from the Everton forward formation.  At the very least I expect Everton to bring back a point with them, but I prefer to think that this is their day for celebration.  Luton Town; Baynham; Dunne, Daniel; Groves, Kelly, Pacey; Bingham, Turner, Brown, Morton, Gregory.  Everton; Dunlop; Parker, Jones; King, Labone, B. Harris; J. Harris, Thomas, Shackleton, Collins, Laverick. 
TWO GREGORY GOALS FOIL EVERTON'S HOPES AT LUTON
Saturday, December 19, 1959. The Liverpool Echo and Evening Express
Luton Town 2, Everton 1
By Jack Rowe
Luton Town;- Baynham; Dunne, Daniel; Groves, Kelly, Pacey; Bingham, Turner, Brown, Morton, Gregory.   Everton;- Dunlop; Parker, Jones (captain); King, Labone, Harris (B); Harris (J), Thomas, Shackleton, Collins, Laverick.  Referee; Mr. J. Bellwood (Livesedge, Yorkshire).  Jimmy Harris was stopped by Daniel in Everton's first attack and the players were soon slipping about on the treacherous turf, when Pacey was able to come along with the game's first shot which Dunlop took cleanly.  After Laverick had almost "found" Jimmy Harris with a crossfield ball, Collins made a clever through pass to Shackleton but the Everton centre-forward handled in trying to get control so the opportunity was lost.  Laverick's header had little prospect of beating Baynham and a Pacey pass put Luton on the attack again because Parker found the ball running away from him.  But for Labone's quick tackle Turner must have scored for he was at close range when the Everton centre-half got the ball away from him.  Another tackle by Labone this time on Brown was a beauty and in these early minutes Luton were moving the ball with better effect and certainly with more speed.  Collins did bring Everton into the game with a link up with Thomas and the product was a Jimmy Harris centre, but it was out of reach of Laverick.  Much more dangerous was another cross from the winger and this time Baynham beat Laverick to it.  Immediately after this Laverick got the ball through Dunne's legs, Shackleton made a great bid to reach the centre but in the event Baynham was the winner.  From his long upfield clearance Jones missed his kick not surprisingly because the ball swerved badly and Bingham went right through before shooting with his left foot for Dunlop to beat the ball down and then grab it with the aid of Labone.  Luton went in front in the 16th minute with a spectacular goal from Gregory.  It came when Labone had his clearance stopped by Turner.  When the inside men sent Bingham away the winger cross exceptionally well and went to Gregory who shot first time from near the edge of the penalty area.  The ball flashed into the bottom corner of the net at a speed which left the diving Dunlop helpless.  Shackleton tried hard to beat Kelly and Dunne to one pass by Collins then there was promise when Jimmy Harris and Collins linked up in a short corner, but Baynham was were to stop the left foot driver from the Everton winger.  Everton escaped a second goal because Dunlop just managed to deflect Brown's shot when Gregory spilt the defence. The corner also brought a lot of danger until Thomas came back and scrambled the ball away.  When Thomas go a shot on the mark-a good one-Baynham made an equally good dive and punch away.  Laverick was doing a lot of roaming and his header from a long lob by Jones skidded outside.  At this point Everton were showing up better with Collins making his passes tell, Dunne went perilously close to putting through his own goal in heading behind a Jimmy Harris centre.  
NARROW MISS
The pitch was not as bad as I thought it would be and the crowd, if small was having plenty of entertainment and thrills, none more so than when Everton had the toughest luck imaginable as Jimmy Harris chased a Parker pass and shot hard from the top corner.  Baynham got a finger-tip to it and the ball struck the inside of the post an bounded back straight into the goalkeeper's arms, as he lay on the ground.  Everton had done so much better they hardly deserved to be behind but just as fantastic as had been the incident at the Luton end so was a miss by Gregory in a quick Luton attack for Dunlop was beaten by Bingham's centre, but from almost under the bar the left winger somebody put his header over.  A quick back heel from Brown was only inches wide and straight away Shackleton just missed connection with Parker's free kick when the merest touch would probably have ensured an equalizer.  A wonderful move by Luton between Groves and Brown ended with Bingham shooting powerfully from near the 18-yards line, the ball beating Dunlop and thudding against the post.  Jimmy Harris added to the list of sensational escapes by turning a short Laverick centre just outside when it seemed that he must score.  If this was a chance so was the one Brown had when Bingham but a hard low ball across the goal face.  Somehow the centre forward missed it almost on the goalline. 
Half-time; Luton Town 1, Everton nil.
Within a minute of the second half starting Dunlop saved gloriously from Turner and Groves put in a shot which was just too high.  Laverick was offside in Everton's first venture of the ball and then Parker almost broke through on the right.  Dunlop made another wonderful save this time from Gregory leaping backwards to punch the ball out from under the bar. 
DESPERATE DEFENCE
Everton were having to defend desperately against rampant Luton and Dunlop saved t a angle to give away a corner was the means to a second goal at 59 minutes.  Bingham's kicked was headed out for another corner by Jones, and from this, also taken by Bingham, Turner headed the ball forward as that Gregory was able to day in and turn the ball into the net.  Straight from the kick off Everton should have scored for Shackleton kicked right round across from the right and when he got a second chance Baynham had time to cover up.  A long shot from centre half Kelly was saved at full length by Dunlop and Baynham also had to go down very smartly to stop a header from Thomas.  Then in 64 minutes Everton got a goal back.  The ball was put through the middle where Jimmy Harris was on his own and with the Luton defence completely spread-eagled he calmly shot the ball pass Baynham into the corner of the net.  Dunlop's goalkeeping had been one of the features of this excellent tussle and the sureness with which he grabbled another close range power drive from Turner had the crowd amazed.  Rarely was there a sign of the place slackening in the heavy conditions and Everton goal had given them new spirit They were fighting hard and it was now a packed Luton defence which kept out shots from Collins and Shackleton.  Baynham was lucky to get away with it when he dropped a centre from King who had dashed through on the right for Shackleton got to the ball but could not get it past the goalkeeper's body.  Shackleton gave Everton a chance when he switched the ball out to Thomas but with Jimmy Harris calling for the quick pass Thomas delayed too long so that when the ball did come through a cover was there to fine the treat.  Kelly prevented an equalizer when he kicked away after Baynham had been unable to hold a shot from Thomas and then when Jimmy Harris get the ball into the net the put was up for offside.  Final; Luton 2, Everton 1. 
EVERTON C V MANCHESTER CITY C
Saturday, December 19, 1959. The Liverpool Echo and Evening Express
After 25 minutes Cavanagh gave Everton the lead, but seconds later, Darlington equalized with a cross-shot which hit the inside off the Everton post and rebounded across the goalline before entering the net.  Seconds before the interval Fry put Manchester ahead with a penalty.  Half-time; Everton "C" 1, Manchester City "C" 2.  Final, Everton 2, Manchester City 3
Everton "A" 2 Bury "A" 2
Oldham "A" 2, Everton 5
OUR FANS HELPED US SAVE A POINT
Saturday, December 19, 1959. The Liverpool Echo and Evening Express
Alex Parker Pays tribute to Everton Supporters
West Bromwich must think Everton are the greatest deceivers in the business.  In case you think that the boys from the Hawthorns do not like us, I had better explain.  When Everton visited them last season they were two down and fought back to win 3-2.  I did not play in that match, but I took part in the return at Goodsion and again we were behind, but took the lead before West Bromwich grabbed a later equalizer; and last week, after being two don we gained a draw and very nearly took both points,  it is a habit of ours to give the Midlands team at least one goal start although quite unintentional of course.  It is a great feeling to fight back after being behind and when I saw Alan Shackleton's header flash into the net last Saturday I felt so happy I thought it was almost worth the disappointment of being two down.  Albion are a good footballing side and when they are on top they move the ball well. I enjoy playing against them as they have some great thinking players in their team and consequently they offer a great challenger to one own football brain.  I would like to take this opportunity of saying how big a part the spectators played in our fight-back.  When they sensed that we were getting on top they roared their heads off and it was a great encouragement to the boys.  You may have heard players say that the roar of the home crowd has no effect on them.  Don't you believe it.  It is a wonderful feeling to know the fans are behind you.  Although it was the players in blue who got the credit for last week's point, the Goodison Roar gad as much to do with the result.  I can well appreciate why the Liverpool players speak so well of the encouragement they receive from the Kop.  After the great writes-ups Brian Labone received for his game against tom Finney the previous week it was ironic that his back pass to Albert Dunlop should present Derek Kevan with the opportunity to open the scoring.  But that's football all over- up one week and down the next.  I was anxious to see how it would affect Brian but it did not noticeably put him of his game, which reflects great credit on him.  I was glad to see it did not get him down.  It will not be the last slip-up he makes in the years ahead.  Like me, I suppose he will make quite a number, but that is one of the drawbacks of being a defender just as forwards miss open goals. 
EVEN THE GREATS!
All the great players of the past have made mistakes and it is how they react to these mistakes which is part of their greatness.  Tommy Jones, Brian's predecessor at centre-half served up another grand display at left back.  He was taken on a new lease of life since switching positions.  He is now playing with the same consistency in the N0 3 shirt as he did at No.5.  The Christmas holiday is usually far from a holiday for the footballer, although we are lucky in having two games against Manchester City, which means we will do a great deal less travelling than Liverpool who ply Charlton twice.  I have never appeared at Maine Road, although I had a good look at it when I saw our youth team there the other week.  Les Shannon tells me that I will find it is a big pitch to play on.  We took four points off the City last season our victory at Maine Road being our first of the season.  Holiday matches obviously appeal to our teams for we took four points of Bolton last season and gained another six over Easter.  Here's hoping we can make it another merry Christmas.  The following week Bolton let in the Goodison New Year in and Carlton Massey, the boy who was hurt on the day we visited the Trotters in September will be the guest of the Everton Supporters Federation.  In Scotland the football teams usually spend New Year's Eve together in an hotel, unlike they do in England.  However, the New Year soccer programme is heavier, north of the border for they often have to play two games in two days. 
FRED DAVIS -110
Last Wednesday evening along with most of the Everton team plus Peter Farrell and Tommy Eglington of Tranmere, I visited the Everton Supporters Club to see Fred Davis, the famous snooker player, play five frames of snooker plus" against selected opponents including Danny Lenehan and George Scott the finalists for Merseyside in the amateur championship.  Snooker plus is exactly the same as snooker with the addition of two colours, orange and purple, worth eight and ten respectively.  Davis give his usual phenomental display, including a break of 10.  In addition to extra balls I would suggest an extra half-dozen pockets or so and then I might back myself to get big breaks too-say 10 or 15.  Every Christmas our players have a snooker handicap and if Fred could guarantee to play like he did the other night we think he would stand a good chance of winning it.  Off scratch of course.  On Wednesday the Everton team went to Woolton for a day's golf, Brian Harris and I played Bobby Collins and Tommy Jones-or rather Brian did.  He beat them in the morning but lost in the afternoon.  Just my luck to get an inconsistent partner.  On behalf of the players I would like to say "thank you" in the Woolton club.  They gave is a wonderful lunch, and after the afternoon round they had tea ready for us.  We very much appreciated it.  Last week I told you that Derek Temple was coming home from Kenya and Gordon Watson's son was going out there.  Well our trainer tells me that Gordon Junior has already arrived and spoken to Derek.  May-be the old soldier can pass on a few tips. 
EVERTON RES V CHESTERFIELD RES
Saturday, December 19 1959. The Liverpool Echo and Evening Express
Everton Res;- O'Neill; Tansey, Bramwell; A. Jarvis, Billington, Meagan; Boner, Shepherd, Wignall, Ashworth, Godfreys.  Chesterfield;- Smethurst; Clarke, Whitehouse, Allison, Scattwood, MacCabe, Cobey, Boulton, Rackshaw, Bailey.  In the opening exchanges neither side made much progress and the first incident of note was when Ashworth and Smethurst both raced for the ball.  Ashworth eventually tapped it over for a goal kick.  Boner cut into the middle but drove just over from 30 yards.  Everton went ahead in the 12th minute when Ashworth back-heeled Wignall's pass into the corner of the net.  Chesterfield replied strongly but O'Neill was well positioned to take a fierce drive from Bottom.  The Everton goalkeeper was lucky to see a shot he did not attempt to save from Rackshaw trickle just outside.  At the other end Ashworth missed a good chance of increasing Everton's lead while Smethurst tipped over a terrific drive form Wignall.  Chesterfield equalised in the 38th minute when O'Neill went down on one knee for a tentative shot from Bottom but the ball bounced awkwardly and struck O'Neill's shoulder before entering the net.  Ashworth twice came near to restoring Everton's lead in heading inches wide and having a shot saved at point blank range.  Half-time; Everton Res 1, Chesterfield Res 1. 
EVERTON "A" V BURY "A"
Within two minutes Blain had given Everton the lead.  After 35 minutes Pulford headed Lawman's corner to Robertson who lobbed the ball into the net to put Bury on even terms. 
Half-time;- Everton 1, Bury 1.
OLDHAM ATHLETIC V EVERTON
Everton were soon on top with a header by Edwards.  Within five minutes they increased their lead with a good shot by Atkinson.  After several narrow misses Oldham scored though Worceseter after 20 minutes.  Everton went further ahead with a goal by outside-left Edwards. 
Half-time; Everton 3, Oldham 1
LABONE WILL HELP EVERTON TO GREATNESS
Monday, December 21, 1959. The Liverpool Daily Post
Luton Town 2, Everton 1
By Jack Rowe
Everton are still without an away win this season, yet at Kenilworth Road they take much credit for their contribution to a match which made a mockery of the weather, the heavy ground conditions and an attendance of under 10,000, the smallest First Division gate I can remember.  That they lost to bottom-of-the-table Luton Town was not an injustice, because they failed in the one essence which is vital on a slippery ground.  Defences are at a disadvantage on it and there is no doubt that the pass made first time, is the most potent weapon any attack can use.  Luton had the edge in this respect and for that reason they not only made the more chances, and consequently missed more, but they were also able to ample opportunity to show us produce the better shooting openings so that Dunlop had once again his value as a goalkeeper.  His goalkeeping merit and also that of Baynham, who had much less direct work to so, but did it competently helped to make this a match of vast entertainment. 
MISSED CHANCES
We had pace, escapes and incident, and Luton should have won much more comfortably.  In the first half, left winger Gregory somehow headed over from under the bar, centre forward Brown completely missed a low centre from Bingham, when no more than four yards out, and then did the same thing in the second half.  Winger Bingham and Gregory were always the danger men to a defence in which Parker an Jones could not nail their men and when, in the 16th minute, Gregory smashed a first time shot into the net from Bingham's cross, it was proper reflection of the way the match had gone.  Everton had not found a settling down process but for the next fifteen minutes or so Collins did his best work of the afternoon, and there were definite signs that the away win was on the cards.  Came the moment which was probably the crux of the situation, Jimmy Harris outpaced the Luton defence in a chase for Shackleton's though ball, and his shot was just flicked by the driving Baynham.  It was enough for the ball struck the inside of the post and amazingly dropped straight back into the arms of the prostrate goalkeeper.  A goal then and Luton might have been rattled beyond repair, but the survival put them in gear again, and before half-time the brilliant Bingham had also shot against a post.  Everton had also gone near so two or three occasions.  Luton began the second half in rampant mood.  Everton and Dunlop in particular, had to defend desperately until 59 minutes, when Gregory slipped in to prod through Turner's header from Bingham's corner.  There seemed little prospect of an Everton revival, but they were able to find one and Jimmy Harris went through the middle in proof of my point that a quick pass was the answer, to score calmly in the 64th minute.  Before this Shackleton had failed with an opening and Everton battled hard to put on another point-saving act.  They could have done so of Baynham had not made a storming save from Thomas and there had been more appreciation of the tactical requirement.  The fact is that if Luton had scored at least five and Everton three the score line would have been more in keeping with the opportunities created.  Luton may not be a good side, but they and Everton gave me a satisfying match to watch and Syd Owen's team will probably do better if they can get someone to finish off the fine work of Bingham and Gregory.  Pacey is a tough tackling half-back but the defence was aided by Everton's failure to operate quickly enough and a tendency to be over-elaborate.  Besides Dunlop, Labone was the star of the Goodison defence.  He increases in stature every outing and it is clear that h is going to be one of the players around whom manager Carey will build a side, which I am convinced will revive the name o Everton in a couple of years or so.  King and Brian Harris like Parker and Jones could not get a grip of their opponents, and at forward I give the palm to Shackleton and Jimmy Harris.  Shackleton is a deceptive type of player.  He did not stop trying and smarter reaction by Thomas and Collins would have been invaluable.  Several quick passes were wasted by dalliance on the part of Jimmy Harris and Laverick who has still to get into a winging stride.  Luton Town;- Baynham; Dunne, Daniel; Groves, Kelly, Pacey; Bingham, Turner, Brown, Morton, Gregory.   Everton;- Dunlop; Parker, Jones (Captain); King, Labone, Harris (B); Harris (J), Thomas, Shackleton, Collins, Laverick.  Referee; Mr. J. Bellwood (Liversedge).  Attendance 9,799. 
SHEPHERD GETS THE WINNER
Monday, December 21, 1959. The Liverpool Daily Post
Everton Reserves 2, Chesterfield Reserves 1
Everton were given a hard fight, mainly due to some superb goalkeeping by Smethurst who kept alive Chesterfield's hopes of snatching a point until Shepherd netted six minutes from the finish.  Both sides contrived to play neat football on a sodden pitch but Everton's more sustained movements carried greater threat.  Ashworth scored early in each half.  Bottom having equalized shortly before the interval when a tentative shot slipped out of O'Neill's grasp.  Apart from this Everton's defence never faltered, with right half A. Jarvis having an outstanding second half. 
LABONE WILL BE EVERTON DEFENCE KING-PIN FOR YEARS
Monday, December 21, 1959. The Liverpool Daily Post
By Jack Rowe
There is no match which does not have a focal point of interest, and satisfaction for those whose responsibility it is to look at the season ahead and in Everton's case for the future the prospect is that young Brian Labone will play a more notable part.  One factor beyond issue at the moment is that only injury, it seems can keep him out of the centre-half berth.  But more than that is the pleasing situation that as Manager John Carey plans the way ahead he has a youngster who can be a kingdom of the defence for a long time.  Labone has poise, n outstanding positional sense and an ability which has justified the view of a couple of seasons ago that here was a young man who might well make the England team.  Labone's latest confirmation of this came from the 2-1 defeat at Luton Town on Saturday for even the difficult ground conditions could not cloud his class and even Parker had to surrender the outfield defensive honours to him.  In a game full of entertainment and a continual provider of thrills and incidents in rain and on pitch which made the ball control often a matter of fortune he scarcely put a foot wrong, and will King and Brian Harris far from the standard they have recently shown he had at times to take the brum of containing three inside forwards.  With Labone I put Dunlop as the top men of an Everton defence which also found itself in much trouble because neither Parker or Jones could put a strangling grip on wingers Bingham and Gregory, who between them not only initiated the Luton goals also made so many chances that the score should not have been so close.  Gregory scored the Luton goals in the 16th and 59th minutes and on one occasion headed over from almost under the bar while Alan Brown missed twice when it looked impossible to do so.  When Luton were on the target, Dunlop was there to make the denial so that we had a game which made it a pity that only 9,799spectators were there to see it. 
WORTHY WHILE
And although Everton were beaten there would be few among this fantastically low First Division attendance who would not give them a good deal of credit for their contribution to a match which made those who defied the weather, feel it was all worthwhile.  Luton and Everton are not sides, who claim any glamour at present but on this pre-Christmas Saturday they found the pace and supplied the thrills and excitement which pierced the mark and gloom in a manner to give the game an up it in entertainment.  Baynham joined Dunlop in the goalkeeping scene and it the Luton man did not have the same direct work to do there were two saves which thwarted Everton in the second half when they were fighting hard to pull back for the second week in succession a two goal deficit.  However before these Dunlop made the save of the match when he leaped backwards and with both fists thumped away a close range swerving centre from Gregory's which the crowd were already hailing as a goal.  The vital difference between teams was the tactical approach to the conditions.  Luton eases the better in the pass wide first time was the one which made the task of a defence doubly difficult when the pitch is slippery and treacherous.  Because of that and because of the brilliance of Bingham they were the side who inevitably made the more chances and the more shooting openings.  That the chance were missed is their own fault and that Dunlop was so good was Everton's fortune but it was this contrast in style which helped to delay Everton's first away win of the season.  They did not move the ball quickly enough and there was also at tendency to delay the shot through a desire to over-elaborate near the penalty area.  There were shots of course, one in particularly from Jimmy Harris which was probably the turning point of the game.  Luton were leading and Everton had really got into the picture for the first time with Collins having his best spell of the afternoon. 
RARE OCCASIONS
On one of the rare occasions when the quick through pass was used Collins and Shackleton contrived to get the ball into a position where Harris could use his speed and he did to hit a drive which Baynham hurried himself at and just managed to touch.  That touch was the saver for the ball crashed against the inside of the post so amazingly rebounded into the arms of Baynahm who was on the ground.  Everton needed a goal then and for they might have got Luton or the run.  Instead Luton were still ahead and they in turn came back so that Bingham later with a shot against the post and Brown and Gregory hung their heads in shame at their misses.  Often more Everton used the quick through pass, and it brought their goal from Jimmy Harris who went down the middle and shot past Baynham in 64 minutes after Gregory had put Luton two up and climaxed the period immediately after half-time when the Kenilworth Road side were completely dominant with Everton desperately in defence.  Everton certainly fought pluckily after Harris had given them a chance but Collins could not make his genius tell and overall I thought Shackleton just about beat Jimmy Harris as the top forward.  Shackleton takes a knock for a bad second half, but generally he was always lively was that better use was not made of some of his passes by the rest of the attack, especially Thomas and Laverick who only showed in spasms.  Shackleton has had a tough time during recent events and has still to find a niche among Everton supporters but he does things with such enthusiasm that it is folly to suggest that the price Everton paid for him was asked.  If Everton had beaten Luton it would have set the seal on the run of the past few weeks.  They failed and deserved so on the way Saturday's match went because their tactics were wrong, but if everybody enjoyed the 90 minutes as much as I did then there is much for the credit side. 
EVERTON'S SECOND BID FOR AULD
Monday, December 21, 1959. The Liverpool Echo and Evening Express
Hood May Still Move
Harris Hurt
By Leslie Edwards
Everton have recently made a second effort to sign Glasgow Celtic and Scottish International left winger Bert Auld.  As on the first occasion Celtic said they were not prepared to let the player go.  The second attempt to sign the player was due to the fact that Celtic first refused was conditional by the moderation at that moment.  Jack Hood, Everton's Scottish centre forward who turned down an offer to go to Tranmere on Friday has had second thoughts over the week-end.  His change of mind means that he and the Tranmere manager Mr. Peter Farrell are likely to get together again today to discuss things fresh. 
Brian Harris the Everton left half was handicapped by an early thigh injury at Luton but is expected to be fit for Saturday's game against Manchester City at Goodison Park. 
HOOD AND TRANMERE ROVERS MEET AGAIN TODAY
Wednesday, December 23, 1959. The Liverpool Daily Post
By Horace Yates
Tranmere Rovers and Jack Hood, Everton's reserve centre-forward, who last week declined an invitation to join the Birkenhead club after teams had been agreed with Everton, may get together today, in a further effort to iron out remaining problems.  Hood, I understand has been instrumental in developing this new chapter in the negotiations by leading it be known that after further thought he was now willing to consider becoming a Rovers players.  After last nights board meeting manager Peter Farrell told me "We will be seeing him again.  I believe he has changed his mind and may want to come here after all.  "It is on the cards that I shall be seeing him tomorrow although I have not yet been in touch with Everton on the point.  Our interest is still there."  Although there is no club statement on the point I should be surprised supposing the transfer is affected if Hood were to be promised an immediate first team position.  More likely, I should say, is that he will be asked to proved in the reserves that he is already sufficiently developed and mature to establish himself in the senior side. 
TEAM DELAYS
Last night's news from Goodison Park  team selection for the Boxing Day game has been postponed and it may be tomorrow at the easiest before the club reveals their hand.  With Everton the problem appears to be the fitness of Brian Harris, who was injured at Luton on Saturday.  He has not yet resumed training and the picture in that respect will probably be clearer after the events of today. 
No offers for winger Eddie O'Hara has been reported. 
TRANMERE SIGN HOOD
Wednesday, December 23, 1959.  Liverpool Echo and Evening Express
Everton Reserve Moves
By Michael Charters
Tranmere Rovers this afternoon signed Jackie Hood Everton's Scottish reserve centre forward after negotiations spreading over the past 10 days.  Player-manager Peter Farrell approached Everton last week and agreed term, but Hood declined to move.  He changed his made during the week-end and Mr. Farrell re-opened his approach, finally signing his man today.  The fee is a small one and Hood will probably ply in Rovers reserve team at Wigan on Saturday.  Hood was a brilliant prospect with Shattleston, a Glasgow junior side, and has been consistently appearing with Everton's Central League side.  He has never played for the first team.  Aged 21 he is a strong-player and was in the news earlier in the season when he walked out on Everton after requesting a switch in position from centre forward to inside right.  Everton suspended him for 14 days when he returned and later said they were willing to accept offers for him. 
COLLINS HAS A SOFT SPOT FOR MANCHESTER  C.
Thursday, December 24, 1959. The Liverpool Echo and Evening Express
By Horace Yates
There is a theory that professionals footballers believe there are certain clubs which they find it easier to have an outstanding game and if we were to ask Tapscott of Cardiff to name his favourite organization there is little doubt the answer would be Liverpool.  Pose a similar question to Everton's Bobby Collins and I am equally certain he would name Manchester City.  Why?  It was against City at Maine Road last year that Collins made his debut.  It is Manchester City I will always associate with Collins when recalling his feat.  His first sample of English League football produced a feast of soccer brilliance.  For the sake of Goodison Park supporters and Everton my warmest Christmas wish can only be that Collins will provide an encore of that great day when City re visitors on Saturday.  Both teams are near enough to the bottom rungs of the League ladders for this meeting and the return game on Monday to be treated with the greatest seriousness.  A double for either would make an enormous difference to the immediate outlook and if recent form is any guide then Everton are entitled to approach the task with the greatest confidence.  In the last nine games Manchester City have won only one match-last week away to Nottingham Forest-and have drawn two.  During the same period Everton have scored three victories have twice drawn.  There however, the comfort to Everton ends for only three clubs- Chelsea, Preston and Spurs- have won more matches away from home than City, who remain the one club to the division without a single away draw in their record.  Labone appears to move from test to test in an age in which centre forwards are not credited with being an outstanding advertisement of their calling compared with days gone by not for all that City's McAdams has scored 16 goals for his side.  When we examine the scoring feats of the Everton forwards this 16 goals trop begins to acquire a most respectable appearance for Eddie Thomas with only half that number heads Everton's list of marksmen.  As only Leeds United have an inferior defensive record to Manchester City this could appear to be the opportunity for a scoring outburst by Everton and if they can show their superiority decisively it will do nothing to harm their prospects of that ambitious doubts.  Neither side has yet been announced.  One interesting fact is that City's visit will be Laverick's eleventh game of the season which is as many as he played after being signed from Chelsea last season.  In those games however, he scored five welcome goals.  His tally this season is one.  He cannot re-enter the scoring grove too soon for the good of himself and his side. 
TWO BOXING DAYS IN THE SOCCER LIFE OF KEELEY
Thursday, December 24, 1959.The Liverpool Echo and Evening Express
By Jack Rowe
Jack Keeley the former Everton inside forward whose contact with Accrington Stanley has been terminated, begins his month's trial with Southport by stepping straight into the first team at Bradford on Saturday-at outside left.  So for Keeley the Christmas holiday period plays a big part in his footballing career.  He made his debut for Everton at Bolton Wanderers t Burnden Park on Boxing Day two seasons ago and is remembered now as the player who scored with his first kick in the Football League.  This is literally true, for Everton won a sensational 5-1 victory over Bolton and their first goal was taken by Keeley in the opening few minutes.  The former Liverpool schoolboy captain looked good for a more than useful career at Goodison and he is remembered also by Everton fans for his two goals against Sunderland in a Cup replay at Goodison Park within a few weeks of his debut.  However, Keeley failed command a regular place on Everton's senior side and he moved to Accrington Stanley during last summer.  Now he fares another Boxing Day milestone in his football life with the onus of playing in a strange position. 
GOALS FOR WINGS
Player manager Wally Fielding believes that Keeley could answer his problem of lack of goals from the wing and there is no doubt that as the new man has a good match at Bradford he will play in return Haig Avenue on Monday. 
ONE THAT GOT AWAY SAVES EVERTON
Monday, December 28, 1959. The Liverpool Daily Post
Everton 2, Manchester City 1
By Horace Yates
Everton's last minute victory over Manchester City at Goodison Park on Saturday, though undoubtedly merited sounds very much like a fighting story in the telling, for it was the one that got away that deprived City of the point they appeared certain to take.  Seldom can so innocuous a header as Shackleton's have produced such a dramatic score.  The match was in its dying seconds as Jimmy Harris dropped a corner kick right in front of City's goal, Trauntmann started to come out, decided he would be too late, and tried to get back as Shackleton leapt higher them the rest in a goalmouth scramble.  When shackleton headed the ball downwards, to most people it became a header without a future, but in the general goalmouth scramble Trauntmann was unsighted for the fraction of a second that made all the difference possibly by Thomas who allowed the ball to slip though his legs and when the goalkeeper tried to drop on the ball it got away under his body and into the net.  If Trauntmann had stayed back on his line he would probably have been as little troubled by this challenge as he was with most of Everton's well conceived but frightfully badly finished raids on the City goal.  Everton re passing through a phase in which they are their own worst enemies.  They are making opportunities over and over again and having got their fish on the book, simply let it go again because of lack of the killer instinct. 
FORWARDS OVERAWED
One could not help feeling that the Everton forwards were overawed by the Trauntmann reputation.  They were afraid to treat him on his current merits and always seemed to angle for that perfection of position when in fact the opportunity had they but realized it was already created.  No-one could argue the respective footballing merits of the teams.  Everton were undoubtedly superior, faster and more methodical.  Particularly was this obvious at the start of both halves and in the furious finish that produced a goal, which many thousands did not see for the simple reason they had abandoned the game as a draw and left the ground before the end.  For the most part it was Collins who prompted the progress.  Not only was he the idea man but he cracked the whip and his team mates danced to his bidding, but this time it was not a rampant irrepressible Collins, for there were long periods when City were able to bar his way most effectively.  Festive football, skilful as it was interesting sent the match away to a great start and if Thomas had opened the proceedings with two goals in five minutes or so, it could have been sensational.  The chances were definitely there, not quite clear cut maybe, but still better than outside possibilities for the man with the ability to take them.  Thomas did not measure up to this offering extraordinary and it was left to Collins in six minutes to show that Trauntmann could be beaten by a genuine shot from  kindly job offered by King.  Instead of collecting a crop of goals Everton coasted along with a sort of ill-concealed disdain of the opposition and if the conceit had presented them with an account beyond their ability to pay, they could have blamed nobody but themselves.  As so often happens in periods when Collins was eclipsed, Everton were relegated to the shadows. 
CITY'S WARNING
Before McAdams prompted Barlow to make the ball round Dunlop and shoot into the net for the equalizer in 33 minutes City had gone near scoring several times.  Jays served warning of City's point-snatching ambitions when he shot past an advancing Dunlop and narrowly cleared the post on the wrong side from his point of view.  Thomas, striving desperately to make amends for earlier indecisiveness deserved a goal when a magnificent header from a Laverick cross, hit the inside of the post and appeared certain to score but his luck was out the ball came back and into play.  Twice more Jimmy Harris feed up the ball for Thomas but a Thomas goal simply would not come.  Thomas was not the only sinner but it was a day out which he was the central figure in a chapter of misses.  As the going became harder for Collins, Everton had the good sense to realize that he was not the only weapon in their armory, for I rated this one of Jimmy Harris's most potent performances.  He was able to round Sear almost at will be skill and speed, and it was not his fault that his team had to wait until the last moment to pay tribute to his light-footed dancing on such a clinging ground.  At times McAdams, Hayes and Barlow stretched Everton's defence dangerous but with Jones setting the pace with a commanding control of a potentially dangerous leader, he found a spring-heeled King and determined Brian Harris equally unyielding.  Parker, courageous to the point of perkiness in the later stages, never hesitated to run the risk of being confused with the forwards in his attacking ambitions.  McTavish was almost equally impressive as Jones, in the manner in which he restricted Shackleton's effectiveness almost throughout, although the centre forward's persistence when Trauntmann was in possession was more entertaining to the crowd than the goalkeeper.  A glance at the League table is all that is required to convince Everton of the importance of the late point.  From a football point of view they are too good side to be floundering so perilously near this position of most acute danger, but until they develop a greater aptitude to convert scoring approaches into goals, there will be no end to the nervous tension which is being created.  Everton; Dunlop; Parker, Bramwell; King, Jones, B. Harris; J. Harris, Thomas, Shackleton, Collins, Laverick.  Manchester City;- Trauntmann; Branagan, Sear; Cheetham, McTavish, Barnes, Barlow, Hayes, McAdams, Dyson, Colbridge.  Referee; Mr. A.J. Robottom, (Wallsall).  Attendance; 43,351.
THAT'S THE WAY TO ANSWER A CRITIC…
Monday, December 28, 1959. The Liverpool Echo and Evening Express
By Leslie Edwards
The shades of Boxing Day were falling fast, Everton and Manchester City were locked at 1-1 and hundred who thought Everton would never make it (or who feared Manchester City might) had left the ground.  At this stage a large red-faced gentleman turned towards the directors box and shouted "Why don't you get a centre-forward?" The words had scarcely died when they were drowned in the roar of approval which greeted the fine headed goal-by Shackleton.  A Dean-like goal in that the scorer got up so high as Jimmy Harris' corner-kick came across he was able to direct the ball downwards, at speed in such a way that Trauntmann could do nothing to stop it.  Thus did Shackleton redeem himself with the last "kick" but one.  There was just time for the ball to be re-centred and kicked once.  Then the final whistle.  And today the same two teams start all over again at Maine Road and if they can reproduce the same entertaining, hard, sporting game, no one will be dis-satisfied.  Though the pitch at Goodison Park is still causing anxiety –it had the gluey consistency of a carpet of Christmas pudding-Everton seen to derive comfort from it.  One wonders whether their splendid opening fifteen minutes, in which Collins gave them the lead, was due in part to the fact that they are so used to the vagaries of their heavy sanded ground.  City certainly seemed right out of the picture and unable to gauge the speed of the ball, or rather its slowness over the heavier areas.  But the picture soon changed and City, in possession, moved matesifically and with such certainly there seemed only one likely end for Everton- defeat.  Barlow's equalizing goal was such a good one even Evertonians cheered.  McAdams made it with a peach of although pass; Barlow fastened on the ball only ten yards inside Everton's half and sped with it to draw out the goalkeeper, round him and then hit the ball home hard and true down a fine angle.  This counter to Everton's hopes and the fact that City held the initiative from that point until the interval left us wondering during the interval just what was in store in a match Everton badly needed to win. 
THEIR SECOND BREATH
HAPPILY Everton got the second breath during the break and were as much on top in the second half as City had been in the first.  But a draw would not have been in inequitable verdict and only Everton's ability to flight it out to the end swung things their way with hardly a second of time to spare.  In such mire it was no surprising that so few shots were delivered and Dunlop so far as I can recall, had scarcely a direct shot of any consequence to handle.  True the young Welsh full-back Sear was close to goal twice and Hayes, usually a pretty deadly finisher missed the only open goal of the game when the score stood at 1-1 and Everton's situation was critical.  As against that Trauntmann twice heard the frame of his goal "sounded" by Everton efforts and Thomas who gets himself into such good position must have scored a hat-trick and more if he had accepted the two good chances which fell to him easily, and only one of those which came his way later.  He edged the ball quickly and accurately with the side of his foot in much of his passing on this most difficulty surface, but he and Everton for a time were not strong enough in the tackle against a strong competent side that moved with surprising certainty.  The City forward line, it must be confessed, looked more together than Everton's and it was well that both King and Brian Harris brought off some of the rescue acts for which they are becoming famous.  King, incidentally, played on with characteristic gameness after a blow to the heads which must have slackened him.  Brian Harris's stamina on such a pitch was phenomental.  He fetched and carried with the verve of a Bobby Collins and if he had a fault was that not always after he had taken efforts so go forward was he able to place the ball to advantage.  Even Collins, who began so brilliantly and who played so hard all through, found the conditions reacting against accurate placement but I would not like to see an Everton team minus him in these or any other conditions. 
NOT WEAKENED
Everton had to recall Tom Jones to centre half and bring in Bramwell at left back, but the changes were not weakening and Parker who seems to revel in the heavy going found time not only to keep Colbridge ineffectual, but to go upfield and make a strike on the right wing where Jimmy Harris had a foot in both his side's goals produced a shot of worth, and when coming inside Sear contrived more than one chance which Shackleton, Thomas and others might have used better.  Shackleton was to the grip of a fine centre-half in McTavish but though he made little personal progress he distributed the ball cleverly and was certainly in the right spot at the tight moment for the last minute chance which settled the issue.  Laverick did much that was excellent and much that was disappointing; I still maintain he will not be at his best until he is physically.  There is slowness about his reaction at times yet in possession he moves well and his centring is first-class.  It was good to see Lancashire's cricketers Dyson playing so well after a long absence due to a broken leg.  He made some fine solo runs.  McAdams seemed to me to be a very useful centre indeed with a quiet indifferent style which lead to efficiently and power enough states the racket of League football.  City's Barnes was as good as ever and so I fancy Trauntmann.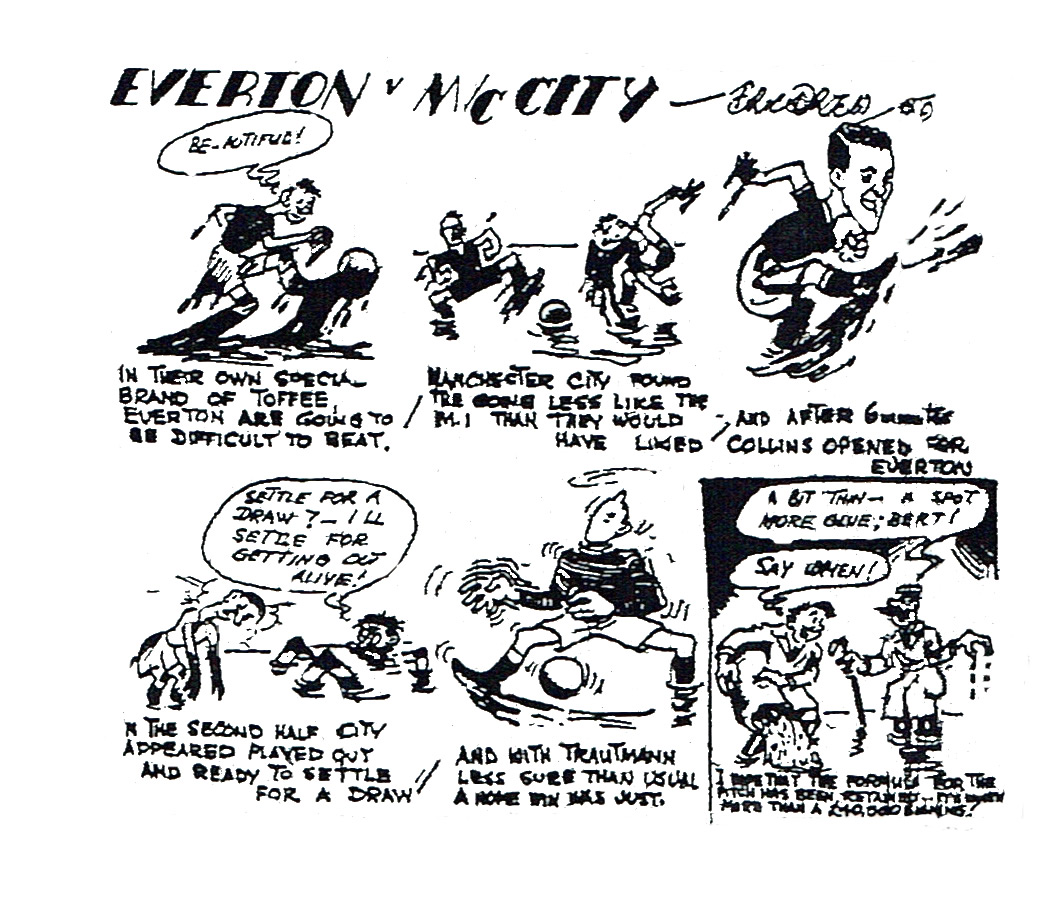 O'HARA IS RECALLED BY EVERTON
Monday, December 28, 1959. The Liverpool Echo and Evening Express
Visit To Maine Road
Outside Left
Everton manager John Carey brought in Eddie O'Hara in place of Laverick on the left wing for this afternoon's return game at Manchester City.  Selection of the team was delayed until shortly before the party left for Maine Road.  There was a doubt about John King, who had a neck injury in the match at Goodison Park on Saturday but he reported fit.  Brian Labone who ricked his back in practice last week, is still unfit so he return of O'Hara was the only change from the team which beat City by a last minute goal on Saturday.  Everton; Dunlop; Parker, Bramwell; King, Jones, Harris (B); Harris (J), Thomas, Shackleton, Collins, O'Hara. 
EVERTON SWAMPED IN CITY'S TEN MINUTE GOAL STORM
Tuesday, December 29, 1959. The Liverpool Daily Post
Manchester City 4 Everton 0
By Leslie Edwards
A storm of goals hit Everton in the early part of the second half at Maine Road and the result was City's first borne victory since they beat Leicester City 3-2 as long ago as October 17.  City scored three in five minutes-ten minutes after the game re-started-and four in ten minutes and from that moment Everton were dead ducks and knew it.  This was a lamentable show for the losers since City won in spite of having half-back Cheetham a limping passenger on the right wing for two-thirds of the game.  Everton with all the advantage in the first half simply could not translate them into goal.  Apart from two headers by Shackleton, one of them moving at bullet speed, Everton's striking was negligible.  What was surprising was the ay City came out in the second half, despite their handicap, to come into complete command and score from practically every chance which came their way.  Hayes at 55 minutes, McAdams (58 minutes), Fagan (60 minutes), and Barlow (65 minutes) fairly rammed Everton into the mire in a match just as hard fought as the one the teams played at Goodison Park on Saturday but which lacked the happy ending that characterized that fixture. 
SUDDEN TRANSFORMATION
Even now, I cannot solve the secret of how City, who had been ordinary throughout the first 45 minutes, should suddenly do everything right after the interval.  Even Cheetham injured though he was, had a hand in one of the goals, the best of which was from Fagan, whose left foot shot on the volley left Dunlop no hope whatever.  Dunlop was certainly not to blame for a defeat which puts Everton right back into the danger zone.  He made several first-class saves, more than one of them very courageous, and the sudden disintegration of the Everton defence which had seemed so sound must have surprised him just as it did spectators.  In the first half at least Shackleon could scarcely have done more, but O'Hara, who came in for Laverick, took a long time to settle down, and when he had done so was like the others in that he was never able to produce a shot to beat Trauntmann.  It was a game of completely different halves, with Everton supreme at the start and wilting badly under avalanche of four goals in 10 minutes.  Incidentally most of these goals came from sharp shots o which there had been no specially good approaches, but at least City seized their chances and for that reason alone were immeasurably the better side.  Fagan, who dropped back into Cheetham's place, not only figured successfully as a deputy half back but was on hand to add his goal to the revels.  On the left wing Colbridge a player City signed from Crewe not long ago made a great nuisance of himself to Parker and with Hayes and Barlow having a field day once City got on top the surprise was that Everton's defeat was not even heavier. 
TACTICS WRONG
Again McAdams led his line extremely well, but City had a weakness, especially in the first half in the young Welsh back Sear, and Harris, with innumerable opportunities might have done better. Collins was always grafting and Thomas had his moments when Everton were on top, but the pitch did not lend itself to the short pass and Everton seemed inclined to make heavy weather of making a few yards, whereas City lapsed the ball about with much success.  Both Ling and Brian Harris played well in the first half but they were completely out of touch with things when City came surging through progressively and menacingly.  There can be no doubt that for Everton this was a very damaging defeat and one which might have been avoided if they had a greater sense of urgency when things were going their way.  They gave the impression that they could almost score when the pleased , but City's fine second half burst disillusioned them quickly and completely.  It was a game which needed strong handling, but I am afraid this is not what it got from Mr. H. Horner, of Coventry, who was prepared to countenance many tackles which other referees might well have found unfair.  Manchester City;- Trauntmann; Branaghan, Sear; Cheetham, McTavish, Barnes; Fagan, Barlow, McAdams, Hayes, Colbridge.  Everton; Dunlop; Parker, Bramwell; King, Jones, Harris (B); Harris (J), Thomas, Shackleton, Collins, O'Hara.  Referee; Mr. H. Horner (Coventry). 
EVERTON RES WIN DUEL IN THE MUD
Tuesday, December 29, 1959. The Liverpool Daily Post
Everton Res 4 Blackpool Res 2
By keeping the ball moving and using long passes more accurately, Everton Reserves convincingly won an interesting Central League duel in the mud at Goodison Park yesterday.  Some of Everton's first half football was a revelation and a 2-1 interval lead was distinctly flattering to Blackpool, who employed the off-side trap with monotonous success, and it was this negative weapon which kept Everton's score down to two goals from Ashworth and Godfrey in the sixth and twenty-first minutes respectively.  Crawford reduced the arrears after thirty-three minutes.  Wignall converted a sixty-third minute penalty for Everton with Mudie replying two minutes later from a free-kick.  Without achieving Everton's earlier dominance Blackpool looked like equalizing until Godfrey settled the issue from a breakaway sixteen minutes from the end.  Boner and Godfrey were effective Everton wingers with all the inside men working tirelessly while in defence Tansey, Jarvie and Meagan took chief honours. 
 BEWILDERING SHOW BY CITY AND EVERTON
Tuesday, December 29, 1959. The Liverpool Echo and Evening Express
By Leslie Edwards.
It was a puzzled looking John Carey who walked into the Everton dressing room last evening, at Maine Road and no wonder I shared his bewilderment about Everton's 4-0 defeat by a side whose last home win was as far back as mid-October.  I shared his frustration and shared his obvious disappointment.  after all what can you make of a team which plays splendidly if without a goal all through the first half and then "goes to sleep" so soundly during 10 early minutes of the second half hat bang, bang, bang, bang came four goals to the opposition and the rest of the game is almost a formality.  Looking back on it all I still cannot make up my mind why it happened and how it happened and neither I suspect can the Everton defence which was pierced without effort by Hayes, McAdams, Fagan, and Barlow in such a short space of time.  To make the thing even more inexplicable City, who had been until them, be obviously second best won despite the handicap of having half-back Cheetham limping on the right wing for two thirds of the match.  I never saw a game turned so completely inside out by a surge of goals when none was expected, and the only excuse I can find for Everton, leaving themselves in such a vulnerable position is that they cannot translate general superiority into goals.  Are they making five passes –some of them laterals-where two should suffice?  It could b.  Knowing Trauntmnn's enunciability were they trying to get near enough to see the white of his eyes before squeezing the trigger?  This too could be true.  But I fear the real reason for failure to profit by their early command of the game was due to their not appreciating that artistry and initiative count for nothing if you do not fulfill the fundamental to getting the ball into the net.  There was no little coming from either wing.  Well as Jimmy Harris and the return O'Hara were replied with the ball.  There was an almost complete absence of shots and only two headers, one of then a corker from Shackleton to jolt City out of their lethargy.  After the interval it as different story –three goals in five minutes –four goal in 11 minutes and a revitalized City on the rampage and liable but for some brave goalkeeping by Dunlop to make them margin more severe. 
 A MEMORABLE GOAL
Collins I felt sorry because he grafted it so hard, so unceasing in a hard tough game in which he skipped over the tackle with notable success and in general did everything the hard working star inside forward could be asked to do.  O'Hara found it hard at first to speed up his game to the pace of First Division football then he did better, but not well enough.  I maintain to suggest that he is better than the man he displace.  Thomas too, in Everton's best spell made some splendid runs and Shackleton was strong in possession and had a much better time against McTavish than at Goodison Park.  But the essential inspiring goal did not come at the vital time and once Hayes and Barlow got going strongly City blossomed as a team which can gather away points quite regularly.  They were unrecognizable from what they had been in the first half and took all their reasonable chances, and some which were hardly chances at all with storming shots of the sort we yearn for at both our city grounds.  Fagan's volley from a distance was a memorable goal and his contribution in Cheetham's place was equally valuable.  Colbridge the man so many clubs have allowed to depart free of transfer was fifty nifty too, but the real threat to Everton during the time their half backs lost grip of themselves and of their opponents came down the centre where two progressive inside men on either hand of McAdams bored four holes in the defence in such quick time that the match was won and lost within those devastating 10 minutes.  Everton cannot afford to waste their few great players amid mediocrity.  Sure the work of Collins should be complemented by others not thrown to the winds as so much of it has been during the past few months.  The Everton attack needs punch in every department I fear with Collins so much a back room boy through force of circumstance.  Goals have not been forthcoming in sufficient numbers from wingers who have had opportunity laid on for them on a platter.  City are not a great side.  They certainly would not have won this match if Everton had ground them down with a goal or two from the early play.  It was this lack of a sense of urgency which caused Everton to start the second half as nonchalantly as they finished the first and the game ran against them so markedly from that point there was no hope of them learning their lesson and profiting by it. 
SETTERS ON LIST AND EVERTON ARE ACTIVE
Wednesday, December 30, 1959. The Liverpool Echo and Evening Express
Albion Star Who Signed For Liverpool As A Boy
By Leslie Edwards
Everton manager Mr. John Carey was travelling by coach with his players for Monday's ill-fated League game against Manchester City when he heard over the coach radio that 23-years-old Maurice Setters, West Bromwich Albion wing half-back and England Under-23 captain was unhappy at The Hawthorns and proposed to ask for a transfer.  There was no official reaction to this announcement but in view of Everton's 4-0 defeat that day there may well be a sequel which links Setters and the Everton club.  Mr. Carey like many others of the Everton staff had a heavy cold today but he was not nursing it at home and neither was he at Goodison Park.  Nor was the club chairman, Mr. Fred Micklesfield, expected at his business.  Thus, putting two and two together one anticipates that Everton are active and that a player of the calibre of Setters is in their sights.  Setters put in writing a day or two ago his request for a move and Albion announced after a board meeting last night that they were prepared to accept offers for him.  One of the mysteries about Setters is how he did not arrive at Anfield as a Liverpool player.  A relative of Tom Bush who lives near Hositon brought him to the club's attention in his school days and an old Navy pal of the then Liverpool manager Mr. Don Welsh actually sent forms to Anfield signed by Setters-this was the first Mr. Welsh knew of the boy-but there is no record of him ever having arrived in this city to start his football career.
£20,000 FEE
A sum of £20,000 is being talked of as the figure Albion would require and this is a remarkably low fee when one considers the players age and his potential but his career at The Hawthorns has not been without incident.  He flew home before the completion of his club's Canadian tour last close season was almost "listed" at that time and has since had a 14 days suspension after being sent off in the match against Sheffield Wednesday two months ago-for an offence which close who saw it considered as retaliatory.  His period of suspension finished only last week. 
BOLTON UNCHANGED
Bolton Wanderers team against Everton at Goodison Park on Saturday will be hat which took four points from the League champions Wolverhampton Wanderers in the two Christmas games.  Bolton; Hopkinson; Hartle, Farrimond, Hennin, Higgins, Stanley, Birch, Hill, Stevens, Parry, Holden. 
EVERTON CUP TIE TICKETS
Everton allocation of ground tickets for the F.A. Cup third-round tie at Bradford City on January 9, will b on sale next Monday evening from 5-30 to 7 O'clock.  The Gwladys Street and of Bullens Road stand at Goodison Park will be used for the sale and the club states that there are no stand seats for disposal to the public. 
MAURICE SETTERS MAY JOIN EVERTON TODAY
Thursday, December 31, 1959. The Liverpool Daily Post
By Horace Yates
Maurice Setters, captain of West Bromwich Albion, may become an Everton player today.  The twenty-two-years-old Young England skipper and wing-half his promised manager John Carey an early reply to the invitation to come to Goodison, after Everton and West Bromwich Albion agreed terms for the transfer in negotiations which were rapid and without difficulty.  It is not surprising that Setters asked for time to think over his future, for the last two days of his young life have been of the whiz wind variety.  On Tuesday he finally made up his mind to ask his clubs for a transfer and the first surprise was to find the board exceeding to the request at their meeting the same night.  Yesterday morning the announcement was made to the football world, and nobody reacted more quickly than Everton, Mr. Carey collected his chairman, Mr. Fred Micklesfield, and they were on their way before other clubs had even considered the matter.  The whole thing was reminiscent of the signing of Bobby Collins.  West Brom's manager Mr. Gordon Clark, had made up his mind that there would be no haggling, beginning bartering or auctions.  A fee had been decided on and the intention was that Setters would not move for a penny less.  Everton were greeted with the figure required "We'll pay," said manager Carey. 
IN THE BATH
With that part of the problem settled, Mr. Carey received permission to interview the player and he had not very far to go to do that, for while the talks had been proceeding Setters had been out on the field training with the rest of the team.  As Setters came out of the bath, peering through the steam he had the surprise of his life to see not his own familiar club manager, but John Carey. 
That was surprise N0.2.
In fact Setters was a very surprised young man all round.  He was amazed that the transfer machinery could have gone into action so quickly.  Mr. Carey waited for him to dress and then accompanied Setters to his club house to break the news to his wife.  Everton were ready and willing to whisk him back to Merseyside the moment he agreed but the position was complicated to some extent by the fact that the couple are expecting a happy event in about six weeks time.  They were assured that there was no housing difficulty in Liverpool and that there was in fact a house awaiting their approval.  Although I have little doubt Everton's representatives would have preferred to have completed the deal there and then they did everything possible, and of course appreciated the position in which the player found himself. 
REASONABLE FEE
Although neither club would comment on possibilities, I understand there are grounds optimism that Everton's enterprise will have its due reward, although Setters said last night he would be training at the Hawthorns as usual today.  The fee is estimated to be between £25,000 and £30,000 which seems to me one of the most reasonable assessments of a player's worth of modern times.  A player who has climbed so far so fast with the best years of his football life before him might have been expected to have carried a higher valuation.  At least three other clubs took up the chase, but presumably none of them can now come into the reckoning at all unless Setters surprisingly decides against Everton.  I sincerely hope Everton get their man.  In the first place I believe he will do them a power of good and in the second place it will mark the end of a story of non-success by the club in chases after players of proved worth. 
WHERE WOULD HE PLAY?
If Setters agrees to join Everton where will he be played?  Right half?  Don't be too sure, for Johnny King like Brian Harris at left half is playing extremely good football and both have years of service ahead.  If Setters were to be given the left half berth, Brian Harris might be employed in another attempt to solve the outside left problem.  Another interesting alternative is that Setters might be restored to the forward line, where he first began.  All this of course, is mere speculation.  Whatever plans Everton have for him are not being disclosed.  Although Setters did not figure in West Brom's team at Goodison on December 12, he led the England under-23 team against Hungary there last September.  He has represented Young England eleven times and has gained renown as a strong tackler with a flair for converting defences into attack and certainly h was one of the most satisfying performers in the English side against Hungary.  Born in Houlton, Devonshire he joined West Bromwich from Exeter in January, 1955, and made his first appearance for them the following November as an inside-right.  Signed from Exeter City by former team manager, Vic Buckingham, on January 31, 1955, he celebrates his twenty-third birthday this month, a fact which will prevent him appearing next season for the England Under-23's whom he captained for the first time last May against Germany.  His first honour was his selection for the England Under-20 youth eleven, against Hungary in 1956-7.  He played for England under-23 team in 1957 against Bulgaria and Romania in 1958 against Scotland, Wales, Poland, and Czechoslovakia and this year against France (twice) Italy, Germany and Hungary.  He captained the side in the last three games.  He was also reserve for the full England eleven against France in November 1957, and also in October against Sweden and captained an F.A eleven against the Army in the same month.  He has made 132 League and Cup appearances for Albion and scored ten goals.  This is the second time he has asked to be place on the transfer list, the last occasion being during Albion's close-season Canadian tour, when he returned home prematurely.  Differences with the club were then settled and he withdrew his transfer request. 
LABONE FIT
Everton's Brian Labone has fully recovered from the injury which caused him to miss the two games against Manchester City.  He is in full training and likely to be available for selection for Saturday's home game with Bolton Wanderers.  There is no announcement about the Everton team, naturally in the hope that it may be possible to include the name of Setters, but Bolton not surprisingly consider there is no reason to disturb the side which twice beat the champions Wolverhampton Wanderers over the holiday.  Bolton Wanderers;- Hopkinson; Hartle, Farrimond; Hernin, Higgins, Stanley; Birch, Hill, Stevens, Parry, Holden.