TOMORROW MATCH
Friday, January 1, 1960. The Liverpool Echo and Evening Express
By Leslie Edwards
The Everton v. Bolton match tomorrow which heralds the start of the 1960 half of the programme is one Everton must win if they are to continue to steer just clear of the danger zone.  Everton's task is a big one since Bolton have already proved themselves as pretty good mud-pluggers by successive victories over the holiday against the champions Wolves.  The absence of Lofthouse like the absence of Tom Finney at Preston, is always felt and not until recently have Bill Ridding's side started to overcome the lack of thrust brought about by Lofthouse pre-season injury.  Stevens the stocky and very sturdy fellow who fills the centre position at Goodison Park is among the finest and most effective of club players even if he lacks Lofthouse's size and ability to head a goal.  Nevertheless if his colleagues can find him with passes on the Everton mud he'll make the defence go a bit.  Bolton Wanderers;- Hopkinson; Hartle, Farrimond; Hernin, Higgins, Stanley; Birch, Hill, Stevens, Parry, Holden. 
SETTER IS STILL UNDECIDED
Friday, January 1, 1960 Liverpool Echo and Evening Express
Everton Wait For Answer
No Time Limit
By Leslie Edwards
The case of Maurice Setters the famous West Bromwich Albion half-back sought by Everton at an agreed transfer fee of £25,000 gets curiouser and curiouser, to borrow a phrase from Lewis Carroll.  Early today Setters did not know whether he was coming to Liverpool tomorrow to play for the club's Central league side at Anfield or to make his Everton bow against Bolton Wanderers at Goodison Park.  Later Albion chief Mr. Gordon Clark, announced that Setters would not after all appear in the Albion reserve side at Anfield.  No explanation was forthcoming.  Setters walked briskly and silently past Pressmen waiting to ask him whether he had made up his mind about accepting the Everton invitation.  There is no doubt that Setters is fit, there is no doubt also that he is a man who keeps his own business strictly to himself.  Meanwhile sitting patently at Goodison Park the Everton secretary Mr. Bill Dickinson patiently awaited the call from Setters which would settle or not the possibility of the player joining the club in time to ply tomorrow.  Manger John Carey who has initiated the Setters negotiations had another soccer mission which took him out of town.  Meanwhile a choice of the Everton was left over pending news from The Hawthorns. 
BUSBY'S DECISION
Mr. Carey's former chief at Manchester United, Mr. Matt Busby cleared the air about Setter yesterday when he said that United did not intend making an effort to sign him.  All that could be changed of course, if Setters gave a categorical no to the offer to come to Goodison Park.  If Setter does not make up his mind to come to Merseyside in time to play against Bolton it will mean that his debut cannot come earlier than at Fulham on January 16.  He would not be eligible for the Cup tie at Bradford.  It is clear that Everton want to sign the player reasonable time to decide on a matter of considerable importance and that they will not hurry him or impose a time limit on him. 
TOO HIGH FOR VILLA
Aston Villa manager Mr. Joe Mercer told me today that he too would like to sign Setters, but Villa couldn't afford the money. 
EVERTON STILL AWAIT SETTERS DECISION
Saturday, January 2, 1960. The Liverpool Daily Post
By Horace Yates
Everton still do not know whether Maurice Setters the twenty-three-years-old West Bromwich Albion wing half-back will be in their side to play Bolton Wanderers at Goodison this afternoon.  Though terms have been agreed between the clubs for the last couple of days.  Setters has still not made up his mind one way or another, but as time drags on his arrival on Merseyside seems to become more and more unlikely.  The only concrete news forthcoming from West Bromwich yesterday was that Setters would not be playing for Albion's reserve team at Anfield, as earlier announced.  Everton manager John Carey remains optimistic and he will not name the team to play Bolton until this morning in the hope that Setters will have made up his mind by them.  If he is available for selection he will probably replace either King or Brian Harris at wing-half.  If he is not the only changes likely are the return of Brian Labone at centre half and the replacement of Bramwell by Tommy Jones at left back.  Bolton have experienced heir problems this season and the continued absence of England centre forward Nat Lofthouse has left its mark.  The away record is remarkable for they have only scored ten goals in eleven games-the lowest total in the division-and conceded thirteen so it hardly looks like being a scoring spree this afternoon.  Bolton have not won at Goodison since Everton returned to the First Division and are unlikely to do so today, despite their Christmas double over the Wolves in view of Everton's useful home record.  However, Everton will certainly have to work hard for the two points they need to keep them out of trouble.  Bolton Wanderers;- Hopkinson; Hartle, Farrimond; Hennin, Higgins, Stanley; Birch, Hill, Stevens, Parry, Holden. 
EVERTON NEED A NEW YEAR VICTORY
Saturday, January 2, 1960. The Liverpool Echo and Evening Express
Only More Punch Will Take Them Out Of rut
By Leslie Edwards
Bolton Wanderers who are at Goodison Park today, have been "kind" more than once to Everton in past seasons, notably when they lost 5-1 to their opponents of today, at Burnden Park on Boxing Day a couple of seasons ago.  It was never more necessary for Everton to repeat that victory.  The blemish of that rather disgracing four goals in ten minutes at Maine Road on Monday will need a lot of erasing and the club's League position, which showed steady improvement from the time they touched last place, has now reverted to the realm of relegationists.  Fortunately for Everton Lofthouse is not nowadays in the Bolton attack, but Stevens the man who fills the centre position today is a wonderfully consistent player, and though lacking in inches, invariably plays well when I see him.  Everton have the power to win this match and others, but they will never get out of the rut if they do not find punch to apply to attacks which are well engineered and well carried out…up to a point.  Everton heed, and know it, better than mediocrity in several positions and it is useless Collins pulling his heart out making the way clear for others if they are not going to profit from it. 
That Mr. Carey and the Board are as well primed on their needs as followers of the club are is demonstrated by events of last week.  But it becomes harder for managers to get the players they want.  Players wives and their likes and dislikes have got to be considered.  The more one sees of soccer stars the more one is convinced that they are the spoiled darlings of sports "What's in it for me?  Is the question spoken or unspoken when any of them seek to move.  Happily their loyalty to their new club, once they have signed transfer forms is beyond doubt. 
TOUGH GAME BETWEEN 10 MEN EVERTON AND BOLTON
Saturday, January 2, 1960. The Liverpool Echo and Evening Express
Stevens Scores After Ashworth Carried Off
Everton 0, Bolton 1
By Michael Charters
Everton; Dunlop; Parker, Jones (captain); King, Labone, Harris (B); Harris (J), Ashworth, Shackleton, Collins, O'Hara.  Bolton Wanderers;- Hopkinson; Harris, Farrimond; Hennin, Higgins, Stanley; Birch, Hill, Stevens, Parry, Holden.  Referee; Mr. M. McCoy (Doncaster).  The return of Labone after injury meant that Everton revered to the more familiar defensive line-up with Jones at left back.  Thomas was dropped and Ashworth came in for his second League game of the season.  The pitch well sanded, was heavy on top and soon cut up.  Bolton were having difficulty in gauging the strength of their passes on the tricky surfaces and Everton were having more of the play.  O'Hara cut inside from a throw-in and his a strong right foot shot just wide.  Everton continued to dominate particularly down the right where Parker came through on a couple of occasions to link up with Jimmy Harris whose final centre was saved at fully stretch by Hopkinson. 
DEFENCE IN FORM
Everton's defence looked sure on the few occasions that Bolton attacked with Labone in great form.  His heading was particularly decisive.  Everton were playing attractive football without showing anything definite in the penalty area.  The game was held up for a couple of minutes while Brian Harris was treated for an injury to his right leg.  When the game resumed it looked as though he was going to go on the left wing but he waved O'Hara away and continued in his proper position.  This incident was followed by an even more disturbing injury for Everton, when Jimmy Harris, trying to recover the ball in a clash with Farrimond went sliding off the pitch into the trainer's box.  He was treated off the pitch and quickly resumed in time to take a corner which was cleared comfortably.  It seemed neither team could gain a clear ascendancy and both defences were having the better of matters.  In the first 25 minutes there had not been one shot of note.  At long last just before the half-hour, Hill collected a long centre from Holden and tried a ground shot, but even this went straight to Dunlop and the general lack of punch and directness made this a dull business at the moment. 
STANLEY'S SHOT
The best shot came from wing half Stanley who went though and held off King's tackle before thumping the ball just over the bar.  King was injured in the incident to make the third Everton man who had needed the trainer's attention, but he quickly recovered.  Ashworth was doing quite well and he positioned himself cleverly for a throw-in by Collins to send across a strong centre, which eluded everyone.  Jimmy Harris returned the ball into the centre but Hopkinson intercepted.  The winger then was guilty of the worst miss of the match when he had a grit chance as Shackleton back headed a centre from O'Hara straight to his feet.  With the Bolton defence beaten for the first time Harris pushed a quick shot wide when he had all the goal to aim at from close range.  Ashworth was the fourth Everton casualty –and unfortunately the most series of all.  He went down in the penalty area in struggling for possession with Hartle and was eventually carried off on a stretcher.  It must be said that it was an unfortunate happening in that Hartle was in no way to blame.  This came after 35 minutes and the stretcher bearers carried Ashworth into the dressing room.  Everton's ten men maintained a splendid fight and kept play in the Bolton half with a display of courage and dash to be commended. 
BOLTON SHOTS
Bolton broke away and a long centre from Birch found Stevens with a clear chance, but as Labone came over to tackle the Bolton leader pushed his shot wide with only Dunlop to beat.  At least Stanley proved he could shoot by going through again and trying another long range effort which Dunlop saved low down.  Half-time; Everton nil, Bolton nil. 
I learned that Ashworth had injured his right knee, fortunately not as seriously as seemed likely at the time of the incident.  Everton resumed with Jimmy Harris having a roving mission in the centre so that the line was playing without anyone on the right wing, but it was only natural that Bolton began to have more of the play and they took the lead after 49 minutes.  Parry began the move with a good pass to Birch and was in position in the centre to head the winger's cross firmly against the cross bar to beat Dunlop, and the ball rebounded to Stevens who had the easiest of jobs to put it in the net.  Everton looked very disorganized now and it was all Bolton.  In one scrambling effort in the goalmouth Dunlop came out to retrieve the ball as Birch and Jones fell, but it ran loose and Brian Harris cleared off the line straight at Dunlop who found himself saving yards from his usual position from one of his own men.  Parry tried a hook shot which went high over and whenever Everton tried to mount an attack of their on weigh of numbers told against them as Jimmy Harris and Shackleton took on the whole Bolton defence between them.  Hartle, trying to pas back to Hopkinson put far too much power on the ball and lobbed it dangerously just over the bar.  The corner was cleared comfortably and Bolton settled down again to their old rhythm.
FIERCE TACKLING
The referee had a word with Higgins after a particularly heavy tackle on Shackleton and the crowd had more to shout about in the fierceness of some of the tackling than they did in the cleverness of the play.  A later message from the dressing room stated that Ashworth had a displaced right knee-cap.  It had been replaced by a doctor and although the Hoy wanted to return to the field it was thought to be too sore to allow him to do so.  The finer arts of the game were now being lost in the rush of unnecessary fouls and heavy tackling.  The referee spoke to Shackleton after he had fouled Hartle and it seems certain that Mr. McCoy might have to take stronger action than that to keep tempers down.  Everton were making a courageous fight of it and Shackleton engaged in a personal struggle with Higgins once slipped round the centre half neatly enough before crossing the ball to Collins.  Instead of shooting first time, the Scot tried to work the ball into a better position with the result that only a corner was gained as he passed out to Jimmy Harris.  Higgins was roundly booed whenever he touched the ball but I must say that the roughness in this match was not all one way, I give full marks to Everton's defence for the splendid manner they stuck of their task with Labone and Parker outstanding and both wing halves performing miracles of effort in the mire, whenever he touched the ball.
HIT THE POST
Everton were fighting for an equalizer as though this was a Cup-tie.  Jimmy Harris, still playing in the centre did get the ball in the net but was plainly offside.  They kept plugging away, and after a left wing corner Shackleton's quick shot beat Hopkinson but the ball hit the upright and cannoned away to safely.  The adventurous Parker went up in one attack to give Everton a right winger for the first time this half.  He took Shackleton's pass to move into the penalty area but his power shot was blocked away by Farrimond.  Bolton were attacking in fits and starts but when did they looked a much better combination than Everton's weakened attack.  From a corner by Birch Patty's power heading was seen again, for he beat Dunlop with a beautiful effort only for Jones to head off the line.  In the closing stages the game had returned to its first half dullness.  Bolton were always the better side in attack- understandable in the absence of Ashworth-but Everton's great weakness once more had been their almost complete lack of finish.  Hopkinson had one difficult save to make all through. 
Final; Everton 0, Bolton 1. 
WHY CAN'T EVERTON WIN AWAY?
Saturday, January 2, 1960. Liverpool Echo and Evening Express
Alex Parker says Players are as Puzzled as Fans
Since writing my last article we have played three games, two away and one at home.  We won the Goodison match, but are still awaiting our first victory on foreign soil.  Supporters are undoubtedly disappointed but they are no more disappointed than the players.  Our home form bears comparison with most, so why can't we repeat it when we play away?  Well, the truth is that on a number of occasions we have played just as well away as we have at home but have not had the best of luck.  Last Monday's game is a case in point.  In the first half we did just as well as we did when we won on Boxing Day, and I we had been two up at the interval nobody could have disputed the lead.  However, we weren't and City came out to display a form they had not shown before.  They sensed the ball was running for them and did not hesitate to cash in on it.  Before we realized what was happening we were four down and the game was all over bar the shooting.  With a little more luck in front of goal we could have returned with at least a point from each of our games at Wolves, Tottenham, and Chelsea.  Funnily enough our away record was not too had last season.  We won on the grounds of our last three opponents-Luton, Manchester City and Bolton.  We lost all three this time.  Last Monday's matches were remarkable for the number of "revenge" result.  In addition to City's win over us.  Leeds shook Tottenham at White Hart Lane (undoubtedly the top performance of the day), Manchester United reversed the Saturday result with Burnley and Arsenal got back into the good books of their supporters by winning at Luton.  Bolton Wanderers had a wonderful holiday, taking four points off Wolves.  A change from the previous years when they lost both games to Everton.  I was pleased to see my ex-Falkirk colleague John McCole grabbling four goals against Spurs.  Knowing him so well, I am certain he could not have had a better Christmas present. 
CUP VISIT
The Everton team will be more anxious than ever to improve their away record next week, for we visit Bradford City in the third round of the Cup.  We must win away eventually and next week would b as good a time as any.  However, we don't anticipate that it will be any less difficult for Third Division side in a Cup-tie are not the easiest of opponents on their own ground.  When I mentioned the Cup draw the other week I commented on the number of goals Bradford City's centre-forward Stokes was getting.  Well, I see he hasn't lost the habit for the he found the net in both holiday games, so he's one we will have to watch.  Maybe if, we can win at Bradford it will break the ice for us and prove the signal to go ahead and give a repeat in the League.  I was asked the other day to name the Cup winners, or my last eight.  Well in a competition where the luck of the draw plays such a big part I would not be so brave as to make any forecast, but if I had to name a couple to watch I would recommend Sheffield Wednesday and Aston Villa.  Wednesday are improving as the season goes on, and Aston Villa must be brimful of confidence, which counts for a lot in this game.  After arriving back from last Monday's match at Maine Road most of the Everton team dashed up to Anfield to see the match against Charlton, and were very pleased to see Liverpool win.  I don't think the most raid Kopite would say that it was a classic but I thought Dick White and Roger Hunt did very well. 
CONSISTENT
White must be one of the most consistent players in the game.  Although I don't get many chances to see him play, whenever I have done he has never had a bad match.  Friends tell me that I am not lucky, as he always plays the same.  I remember that after the first time I saw Hunt, I said in the column that I thought he had the making of a good player, and he has done nothing o make me change that belief.  His goal was a magnificent effort, although he made it look easy he had to race on to a Jimmy Harrower through ball, hold off a tackle and as the goalkeeper came out to narrow the angle he put it in the only place the keeper could not reach.  The game was Tommy Leishman's debut always an exacting business before your home crowd, but the e-St. Mirren left half did enough to safely the fans if what I heard in the stand was anything to go by.  I was particularly pleased to see him to do well for he is Falkirk-born and before he went to St. Mirren we used to train together at the Falkirk ground.  It must be a long time since Liverpool had so many Scots in their first team.  In addition to Leishman, there's Slater and Harrower and their new manager, Mr. Shankley is a Scot, of course.  Leishman, Slater, and Harrower are all Under-23 players, and with England players A'Court and Wheeler plus Jimmy Melia with F.A. reprehensive honours, the Liverpool team had six who had played for the country I wonder how many of you noticed.  One of the stars of our youth team, George Sharples had to forego playing for England a few weeks ago when he was required to turn out for Everton in a youth cup game. 
TRIAL MATCH
I wrote at the time that I was sure the selectors would call on him again, and next Saturday he captains.  The Rest in a trial match at Corby.  Here's hoping he does well enough to ensure getting the cap.  I am sure he will.  For today's game the Everton Supporters' Federation were hoping to bring Carlton Massey from Bolton.  He was the youngest who was hurt to our first meeting last September.  The Federation gave me an autograph book before Christmas and I got the Everton and Manchester City players to sign, and I intended to do the same with the Bolton players today.  I hope he has enjoyed himself,.  Just before the start of the Manchester City game on Boxing Day a dark brown gentleman wandered into our dressing room.  He looked at us we looked at him.  He grinned we looked puzzled.  Then somebody realized that it was Derek Temple home from Kenya.  He looked very fit and is keen to change from a khaki biquse to a blue shirt.  He gets demobbed next Wednesday, I am sure that I can speak for all the fans when I say "Welcome home, Derek." 
WOLVES RES V EVERTON RES
Saturday, January 2, 1960. The Liverpool Echo and Evening Express
Wolves Res;- Sidebottom; Kelly, Tithes; Jones, Corvett, Kirkham; Lill, McBride, Niholas, Durant, Mannion.  Everton Res;- O'Neill; Tansey, Bramwell; Jarvis, Billington, Meagan; Boner, Tyrer, Wignall, Shepherd, Laverick.  Referee; Mr. G. Ramage of Sheffield.  The first good shot of the game came from Shepherd, a grand 30-yard drive which Sidebottom had to dive to hold.  A mix up in the Wolves corner left Boner with a half-chance, but his shot hit Wolves goalkeeper as he lay on the ground.  Then Wignall running on to a perfect pass from Meagan got in a hefty shot which Sidebottom leapt to turn round the post.  So far Everton, the more methodical team, had the better of the game.  Wolves began to make use of their offside trap to prevent the Everton forwards from getting too near to goal.  The home forwards improved slightly and five minutes before handled after a right-wing raid, McBride converted the penalty to give Wolves the lead.  Half-time – Wolves Res 1, Everton res nil. 
SETTER'S SERIAL
Monday, January 4, 1960. The Liverpool Daily Post
Everton's Interest Maintained
By Horace Yates
The continued silence of West Bromwich Albion and Maurice Setters on the player's future intentions has everybody speculating, as it develop into a serial story.  Some of the urgency about a move has gone with the approach of Saturday's Cup ties, for Setters is eligible for a new cup any event.  Despite the disappointments of the last few days, Everton's interest I understand is fully maintained, although my personal interpretation of the manners is that Everton hopes of making the signing are not improved as the days go by, unless they should finally emerge as the only club wishing to pay the price.  If Setters had been favorably inclined towards Merseyside I consider the decision would already have been taken.  He may be hoping still that new clubs will enter into competition and included among them may be one which he might have ambitions to join.  Fulham are now reported to have developed an interest and after their crash at Newcastle, Manchester United might consider it approaching to reassess their requirement.  Not until Alec Ashworth the Everton forward has reported at Goodison Park today will it be known what his prospects are of being declared fit for Saturday's Cup game.  The knee cap displaced in the Bolton game was replaced during the afternoon, but naturally to be very slender yesterday.  A spectator at the Everton –Bolton Wanderers match was Mr. Jack Porter, Bury's chief scout no doubt seeking the best means of tacking their Bolton opponents on Saturday. 
POOR FINISH IS EVERTON DISEASE
Monday, January 4, 1960.  Liverpool Daily Post
By Michael Charters
Everton 0, Bolton Wanderers 1
Everton's League position is precarious.  Their one-goal defeat by Bolton Wanderers at Goodison Park on Saturday was unlucky in that they had played without the injured Ashworth for the best part of an hour, but his absence was not the sole reason for loss of the points.  Disorganized though the forwards were, and facing one of the strongest and toughest tackling defences in the First Division, Everton still contrived by courage and pluck to have more of the game.  Their failing was the season long disease of lack of finish.  Not once did Bolton and England goalkeeper Hopkinson have a difficult save to make only once did any Everton forward shoot with accuracy and quickness with the goal gaping before them- and then Shackleton 's shot hit an upright. Until Everton's attack finds punch and that killer touch to round off much hard work and constructive touches by wing halves and inside forward Collins, the side will be struggling in the foils of relegation fear in the bottom six of the table. 
O'HARA BLOTTED OUT
The game throughout was a dour struggle with the dominant feature being the Bolton defence, in which Hartle blotted out O'Hara and the uncompromising half backs being content to let Everton rule midfield before stepping in at crucial moment to half attacks when they neared the penalty area.  Higgins, Hennin and company are among the firmest tackelrs in the business.  They are probably accustomed to boos from crowds in their away games and they received their full share from Everton supporters.  But the power tackling was not all one way, I felt, and Bolton deserved to win because of their top-class defence and the more mobile cultured work of the forwards among whom Parry and Stevens often provided a threat which had Everton at full stretch.  Everton's attack never moved with the same rhythm.  In the second half, with Ashworth missing Jimmy Harris and Shackleton posed a two-pronged line which rarely looked like beating Hopkinson, hard and valiantly as they tried. 
HARRI'S MISS
The best chance of the match came to J. Harris shortly before Ashworth was carried off after 35 minutes with a displaced right knee cap but he prodded his shot wide after Shackleton's back header had given him an open goal.  To counteract this Stevens also missed an equally good opportunity in the same way while Jones cleared off the line for Everton after Parry's header had beaten Dunlop.  On the balance of near misses, Bolton just about had the edge and even though their forwards were a better balanced line, they too found Everton's defence in top form and rarely finished their moves with the same skill as they mounted them.  Labone had a magnificent match, ignoring the wanderings of the effervescent Stevens to put a firm hold on whoever came through the middle.  Parker, strong and dominant in the tackle, ever ready to move upfield to fill the gap at outside right, kept Holden so quiet on the left wing that one wondered if the Bolton man was a current England international.  King and Brian Harris, who both needed the trainer's attention after tackles, defended well and covered much ground, but naturally their constructive ideas suffered with the emphasis being so much on defence in the second half.  shackleton did much clever work and never gave up the one-sided chase after the interval, but with Collins not as dominating as usual, Everton's line rarely moved in unison.  The goal which decided a below-average match came after 49minutes.  it was started by Parry with a fine pass to Birch and the England men raced on to be in position for the centre which he headed so firmly that the ball beat Dunlop, struck the crossbar and bounced down to Stevens, whose task of putting it in the net was his easiest job of the afternoon.  Everton kept plugging away to their credit, but the finish was never there.  They simply must learn to shoot on sight if they are to recover lost ground quickly.  Everton; Dunlop; Parker, Jones (Captain); King, Labone, B. Harris; J. Harris, Ashworth, Shackleton, Collins, O'Hara.  Bolton Wanderers;- Hopkinson; Hartle, Farrmond; Hennin, Higgins, Stanley; Birch, Hill, Stevens, Parry, Holden.  Referee; Mr. M. McCoy (Doncaster).  Attendance 37,333. 
WOLVES RES 3 EVERTON RES 2
Monday, January 4, 1960. The Liverpool Daily Post
Everton did not deserve to lose this undistinguished match at Molyneux, where after being two goals down in the 48th minute they had leveled matters by the 63rd.  They finally lost 3-2 after 73rd minute goal by Wolves .  Leader Nicholls, in the tackle and on all round football ability Everton looked a better bet them Wolves, the wilting Central league Champions.  Everton leader Wignall deserved to score in the first half when his on-the-run droves was beautifully taken by Wolves goalkeeper Sidebottom.  Tryer (53) and Shepherd (63) scored for Everton, and McBride (Penalty), and Mannion had early scored for Wolves. 
NO CHANCE FOR EVERTON ONCE ASHWORTH LEFT…
Monday, January 4, 1960. The Liverpool Echo and Evening Express
By Leslie Edward
What chances Everton had of winning the match against Bolton Wanderers disappeared when Ashworth, the forward introduced in place of Eddie Thomas, left the field with a damaged knee cap with an hour of play still to go.  It was though that he might be strapped up and thrown into battle again but he did not appear.  It would have been cruel and perhaps damaging to his recovery if he had been sent out to hobble in the mass of mire the Everton pitch has become.  So Everton, minus Setters, minus Auld, minus Ashworth struggled on gamely, but ineffectively and the crux of the thing became not whether Bolton would win, but by how many goals.  It was to their credit that they confined Bolton to a goal.  Yet Tom Jones headed one off the line; the almost undid that good deed with an attempted clearance which fairly rocketed on to the underside of the bar-and back into play.  Both sides missed an open goal.  It must have been easier for Jimmy Harris to score than to fail when put in possession by a flick-header by Shackleton but standing not more than three yards from the line he somehow contrived the pulled shot which sent the ball skidding wide of the far post.  Stevens miss shortly afterwards was hardly less surprising, it should have crowned the finest move of the match, one which started far back in the Bolton half and progressed down the right wing in splendid style before leaving Stevens with the easiest of chances Dunlop advanced; Stevens mistimed his shot and a wonderful move came down ruinously.  Bolton's goal like their play once they faced only ten men, was first-class Bitch flung across a centre, Parry headed it at speed on to the under part of the bar and when the ball rebounded the calm, collected Stevens had only to slip it over the line.  Bolton were characteristically though and the crowd, with memories of some unhappy moments in and outside Burnden Park earlier this season were not slow to barrack them.  One wonders what the Bolton boy, victimized by hooligans before the first game between the teams, this season, thought of his trip to Goodison Park as guest of Everton Supporters Federation. 
NO LACK OF EFFORT
The size of the crowd 34,000 suggested that many considered the possibility of Setters or another making a dramatic first appearance in Everton colours.  But the Setters episode simmers gently without showing signs of coming to the boil.  None can say that Everton are not trying to strengthened their team but the introduction of Ashworth came as anti-climax and though he fought very hard indeed and with some success until he was damaged the Everton attack never looked complete.  O'Hara is tremendously quick at times, but here he was caught in possession too often; even Collins could not judge the pace, or lack of it, of the pitch correctly and it was a very good contribution all though the second half by Shackleton which constituted the only menace to Bolton's solitary goal.  Yet in the circumstances one could not be critical of Everton because they put so much effort, so much enthusiasm into their game when it was obvious that Bolton had all the advantages.  Mr. Carey cannot fault his side for not making the supreme effort.  A pity so many hard-won positions were thrown away, especially late in the game, by one or other getting palpably offside.  Any team is liable to look when playing opponents who are one short, but allowing for this Bolton still played impressively, using long sweeping movements over a difficult pitch where Everton looked laboured through the use of short and often lateral passes.  Bolton were much the more progressive team, with inside forwards who went back to fight hard for the ball and yet still had the strength to be up and doing at the business end of attacks.  The wingers, too, played well and Stevens, full of football sense, was a splendid centre-piece and one Labone, well as he played, could not quell completely.  Except for one understandable fumble of the feet in the mud Labone's play was beyond criticism.
THE POWER OF PARKER
Parker, I am convinced, must be one of the most powerful men in the game, if his play on the Goodison Park mud-heap is any criterion.  I got the impression that any Everton revival would stem from him.  His ability to go up the right wing and cross the ball without delay or trimmings is refreshingly direct.  He and Jones and company were automatically tight on the collar from the time Ashworth went and the further the game went the further the willing King and Brian Harris went out of the picture though the effect of sheer weight of numbers.  Everton's chance had not seemed good in the first half hour; with Ashworth gone the field appeared to be filled completely by the white of Bolton.  Everton's next hurdle is the cup-tie at Bradford and in view of their failure to win away the prospect of a trip to the ground of a Third Division club creates doubt in the mud.  A few weeks ago when Everton were winning on their exceptionally heavy pitch I said it was worth almost a goal start to them.  Now I'm not so sure.  They seem to get more bogged down it than some of their opponents.  Bolton overcame the ground better than their opponents, even when the sides were at level strength.  They are emerging as the kind of team which should go far in the Cup.  They certainly have the size and weight and ability of a Wembley team and know how to use it to advantage.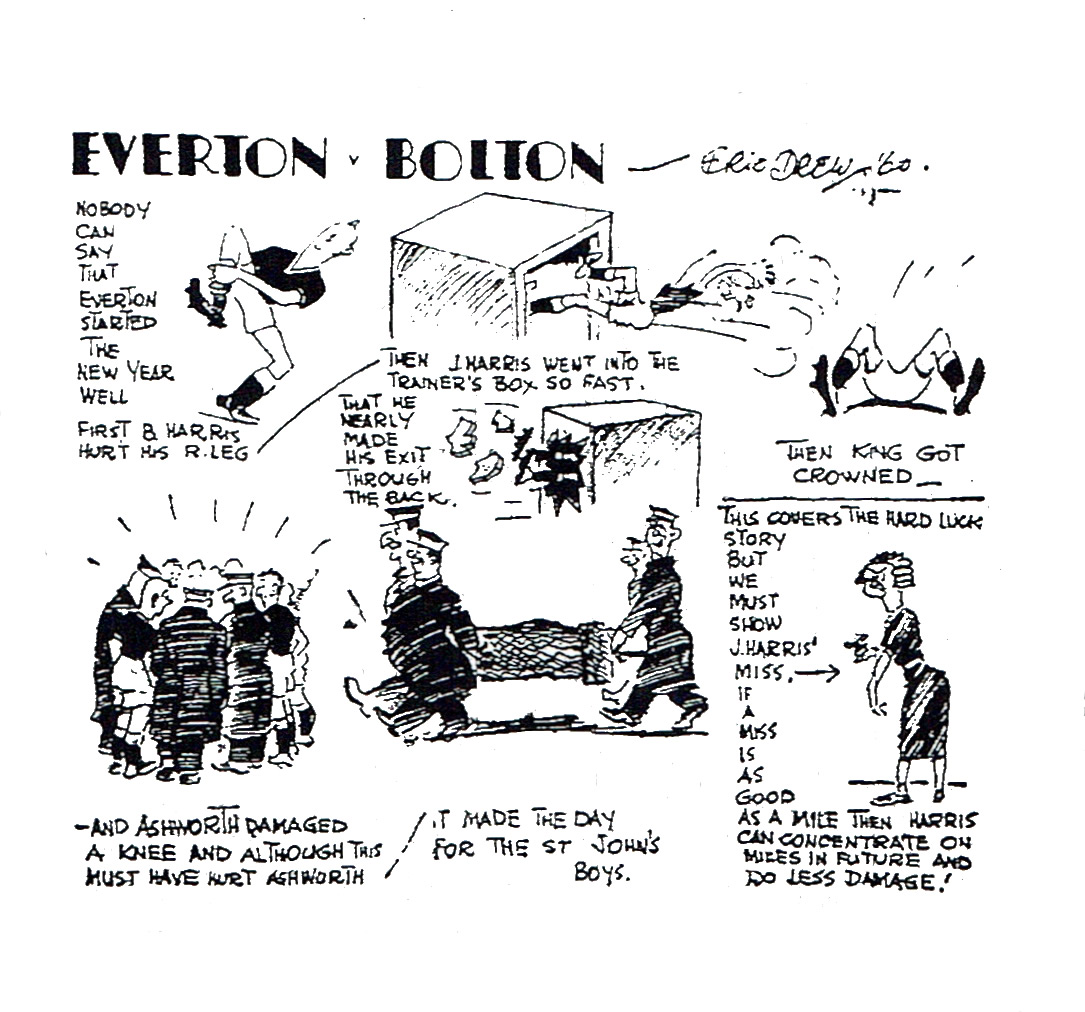 SETTERS SAY 'NO' TO EVERTON
Monday, January 4, 1960. The Liverpool Echo and Evening Express
New Bid For Another Star
Carey Busy
By Leslie Edwards
Maurice Setters the West Bromwich Albion and England under-23 players will not be signing for Everton, despite the fact that the clubs have agreed terms of some £25,000.  Setters announced his refusal to accept Everton's invitation this morning and said that he intended to telephone the Everton manager later and acquaint him of his decision.  The prospect now is that Setters will go to Manchester City whose manager Mr. Lealie McDowell said today "I spoke to Setters yesterday at his home in Birmingham and he asked for time to think the matter over.  "The club have agreed terms for the player now it is up to Setters" added Mr. McDowall.   I understand City are prepared to pay £25,000. 
CAME TO NOUGHT
Thus the enterprise of Everton manager John Carey and his chairman Fred Mickelsfield in being on the spot last Wednesday a few hours after, Albion had agreed to Setters request for transfer comes to nought.  A home defeat by Bolton Wanderers and an unsuccessful effort to sign Bertie Auld of Glasgow Celtic, plus news that Ashworth injured in Saturday's match is certain not to be available for the Cup-tie on Saturday at Bradford City, comprised to make the weekend one of the most disappointing Everton have experienced for a long time.  Unabated by failure to get Setters and by the statement by Celtic that Auld is not for transfer Everton manager John Carey is moving quickly in another direction.  He hopes that something big will materialize.  The player an international forward has been the subject of Everton inquires more than once before. 
A DENIAL
There is no truth in the story which went the rounds in Scotland this afternoon that Everton and Hearts were about to do a deal involving Hearts winger Ian Crawford currently in the reserve side at inside forward.  Mr. Carey reassured me.  "There is nothing whatever in this rumour." Neither Liverpool nor Everton will do special training for cup-ties.  It will be business as usual at both grounds. 
BRADFORD CITY'S CUP PROSPECTS
Tuesday, January 5, 1960. The Liverpool Daily Post
Stokes The Danger Man For Everton
By Ian Hargreaves
Whatever the outcome of Everton's excursions into the transfer market, the team to play Bradford City in the third round of the F.A. Cup on Saturday will have to be chosen from existing resources, and manager John Carey's man preoccupation will undoubtedly be deciding who shall play at inside-right.  Ashworth's damaged knee will not be fit in time, so it looks very much as though Eddie Thomas will be recalled to fill his old place.  Good news for Everton is that the Bradford pitch though soft is in excellent condition at present and unlikely to cut up badly unless there is heavy rain in the interim.  So Everton will be spared having to churn their way through a morass as they did on Saturday.  Other not so encouraging news is that City's victory over Swindon at the week-end was their twelfth successive match without defeat, an impressive record in any class of soccer.  Bradford colleagues tell me that City are not one of the most cultured sides in the Third Division but are certainly one of the toughest.  Their defence is strong and uncompromising, their attack swift and uninclined to over-elaborate.  Many games have been saved by second half endeavour after a poor start and altogether the team have a reputation for the kind of football best suited to Cup-ties. 
STOKES THE DANGER
Two players merit special attention, centre forward John Stokes and right half Malcolm Devitt, both twenty years of age, both attracting the attention of First Division scouts with flattering regularity.  Stokes is not only leading scorer with twenty goal's but has dominated his side's attacking plans to such an extent that since moving to centre forward after the departure of McCole to Leeds, he has averaged more than a goal a game.  As his forward colleagues have only managed to get the ball into the me six times in the last fourteen games between them, it is clear that any opponents who stop him will have done a good deal towards stooping Bradford.  Certainly the duel between him and Everton's equally youthful pivot, Brian Labone should be an intriguing one.  Devitt the only Bradford born player in the team only got his big chance a month ago when manager Jackson's son Peter was injured but has apparently improved by leaps and bounds.  He will probably make his Cup debit with only four Third Division appearances behind him and is likely to remember the occasion a long time since he will presumably be marking Everton's Scottish international inside left Bobby Collins.  Already City's regulars say Peter Jackson will find it hard to regain his place when he is fit again. 
GOALKEEPER INELIGIBLE
The Bradford City team is almost certain to show only one change from that which beat Swindon and that an enforced one.  Goalkeeper Downie is negible having played for non-Leaguers Gobie Town in a previous round, and he will probably be replaced by George Stewart, whose four appearances in the last three months have been in the four previous Cup-ties-two of them replays.  Manager Jackson's other son David is certain to occupy one inside forward position and the other will probably go to John Reid a young man Everton have watched several times but who is currently playing below his best form.  The probable team is;- Stewart; Flockett, Mulholland, Devitt, Lawlor, Roberts; Webb, Jackson, D. Stokes, Reid, Boyle. 
VERNON DECISION MAY COME TONIGHT
Tuesday, January 5, 1960. The Liverpool Echo and Evening Express
Everton Have Advantage
Cup Prospects
By Leslie Edwards
If Blackburn Rovers directors decide, at their meeting this evening, to invite offers for their Rhyl-born Welsh International inside forward, Royston Vernon, he may well be an Everton player before the week is out.  Everton directors will be told Blackburn's decision tonight and it may depend on it that Vernon's old Blackburn chief and the man who developed his football so much, Mr. John Carey, the Everton manager, will start at an advantage over any of his rivals for a much sought signature.  Vernon, who is aged 22 and whose name was mentioned a good deal recently in the upheaval which followed criticism of the captaincy of the Blackburn and England half back, Ronnie Clayton would be a great acquisition, but many who follow Everton consider the club might have moved to solve more pressing problems.  Mr. Carey has confirmed that the possibility of Vernon joining Everton, assuming Blackburn were prepared to let him go, has always been in mind, but the Everton manager has always avoided the prevalent tendency to envy in print a player belonging to another club. 
DEFINITE VIEWS
At Ewood Park today, Mr. Dally Duncan, who followed Mr. Carey as manager at Blackburn had nothing to report on the Vernon situation.  Mr. Duncan a forthright Scot, is known to have definite views and actions on players who are stated to be unsettled.  Vernon is not in the Blackburn side to meet Sunderland on Saturday.  It is understood that Mr. Duncan wanted to rest him following some loss of form.  Besides having an appendix operation this season Vernon has missed matches through thigh trouble and tonsillitis. 
Liverpool and Everton players trained at Melwood and Bellefield respectively this morning in readiness for their cup-ties at Anfield and Bradford.  Everton are likely to announce their team tomorrow.  Alex Ashworth the inside forward whose kneecap was damaged in the match against Bolton on Saturday is to have the kneecap manipulated under anesthetic.  He is a definite non-starter for the Bradford City game. 
EVERTON READY TO START VERNON CHASE TODAY.
Wednesday, January 6, 1960. The Liverpool Daily Post
SETTERS FOR MANCHESTER UNITED?
By Horace Yates
Everton will move today for Roy Vernon, Blackburn Rovers Welsh international inside forward and Maurice Setters will join Manchester United.  Those are not yet facts, but forecasts and I shall be very surprised indeed if they are right on the target.  The Blackburn board last night considered the Vernon problem and afterwards secretary Mr. Reg Taylor, said "No statement about Vernon will be issued this evening."   I am told that yesterday Vernon had a heart-to-heart talk with the Blackburn manager Mr. Daily Duncan, and expressed surprise at reports that the club may be prepared to consider offers for him.  Vernon was assured that suggestions that Mr. Duncan was considering dropping him for the Cup-tie at Sunderland on Saturday were altogether premature, as the team would not be selected until tomorrow.
EVERTON TO BE TOLD
Now what interpretation can we place on that?  My theory is that if Blackburn were resolved to keep Vernon, they would have lost no time in getting the fact be known.  They are aware of Everton's interest, for it is many weeks since Mr. Carey made his first approach and they know too, that at that time Mr. Carey was given an assurance that should there be any change in the position at any time Everton would be informed.  Since then Mr. Carey has done nothing in the matter and there has been no further communication with Blackburn.  That being so I believe that Blackburn will want to tell Mr. Carey if they have now changed their mind and decided to part and as he was first in the field they are prepared to allow him to retain that position.  If the decision has been taken to part with Vernon I feel sure that Everton will receive the announcement at first hand, without having to glean the information from the newspapers.  With this supposition correct, expect Mr. Carey and the chairman, Mr. Fred Micklesfield to move immediately for their minds are made up that Vernon is a man they want.  This time maybe, it is not too much to hope that the sorry story of approach and rejection will come to an end, and that the depressing sequence of rising hopes and quashed ambitions will have a more successful chapter added. 
UNITED AND SETTERS
Turning to Setters, the West Bromwich Albion half back, Manchester United manager Mr. Matt Busby, announced last night "My club have reconsidered the position regarding Setters.  "We have been in touch with West Bromwich Albion and I hope to see both the club and player tomorrow." 
To me that can mean only one think.  Setters will be a Manchester United player today, despite the tardiness with which he replied to overtures by Everton and Manchester City previously.  I believe that when Setters asked for a move the one name –Manchester United- was in his mind and that was why Everton found progress so difficult.  I do not blame Setters in any way for having declined to move to either Everton or Manchester City if he felt strongly that he would prefer another club.  I would defend a player's right to decide his own future to the limit of my energies.  It is wrong that any pressure should be brought to bear on any player to move where he was not convinced his best prospects lay.  To decide wrongly can cost a player a great deal in contentment and happiness.  Where I do criticize Setters and criticize him most strongly is in not being completely frank with Mr. Carey, who has a reputation for straight and honorable dealing with everybody.  If he then knew that only in the event of Manchester United not showing any interest would he consider Everton then he should have told Mr. Carey as much in the first place.  Everton would not them have built up any sort of optimism. 
ENTER MR. BUSBY
He may not have calculated as some people did that Mr. Busby was unlikely to make any move at all so long as Mr. Carey was in such an advanced stage with his negotiations.  Only when Setters came out with a definite rejection of Everton did Mr. Busby consider intervention.  The Setters serial could have been short-circulated if the player had given Everton a refusal with a reservation on the opening day of the negotiations.  I do not consider that United's crash at Newcastle on Saturday has suddenly changed Mr. Busby's view.  It has been apparent for long enough that United were in need of just such a half-back as Setters and a manager as astute as Mr. Busby must have realized this.  Meanwhile Setters was given the day off yesterday by his club to enable him to consider at his leisure and free from any inference, exactly what line he wishes his future to take. 
WHY DO PLAYERS FLIGHT SHY OF THIS CITY?
Wednesday, January 6, 1960. The Liverpool Echo and Evening Express
By Leslie Edwards
Followers of football and especially those who favour Everton will be raising an eye brow over the possibility of Maurice Setters, so keenly sought by John Carey, signing after all for Manchester United.  But inner circles in soccer, I feel, always suspected that once United showed the slightest interest in the player he would jump at the chance to join them.  Fans in Liverpool, whose disappointment over this or that potential signing is so far frustrating are wondering what there is about the Liverpool air which makes so many players and their wives seem shy of making their home and their careers here.  Your guess about reasons for this are probably the same as mine- and are equally not publishable.  The fact that the City has, through the ill behavior of a few of its fans, gained ill fame, throughout Britain must have some bearing on the issue and one cannot forget that Setters in one of his trips with Albion to this city, came in for some pretty harsh treatment by spectators after the match.  The unseemly haggling for players and the long serials of statements and denials of them when they are for transfer do not improve soccer prestige.  On the contrary, It would be a good thing if the Football League formed a clearing house for players for transfer and the fee having been decided did all the negotiating for both clubs. 
Post-Bag Points
A Liverpool doctor, writing from Tuebrook says; - "I would like to comment on your article of December 30 in which you state "Chelsea's spectators, used to be considered the most fair-minded but Everton's experience there in recent times have caused a re-assessment.  
"I consider this to be unfair criticism as I happened to be at the match at Stamford Bridge this season, I was as usual wearing my blue spectacles, but very nearly left the ground after the first five minutes when in that time Everton players were guilty of three blatant fouls.   "Despite this and after Everton showed us some lovely football, the crowd roared their appreciation of some of the finer points of both sides.  They gave an amazing tribute to Jimmy Harris after one of his defence bamboozling effort –so much so, that I momentarily thought I was back at Goodison. 
Mr. R. Rothwell, of 14 Landford Bungalows, Landford Avenue, Liverpool, 9 asks;-
"When are you going to stop learning over backwards to find excuses for these two clubs of ours, Everton in particular?    "Week after week you come out with some complacent excuse or other, I and 75,000 other Evertonians know what is wrong and have known all season.  Thomas is, and always has been, too inconsistent since gaining first team status.  Laverick although he has the making of a winger wants to change that 'I'll never reach that ball attitude.  "In one of your articles you stated that he wasn't completely fit.  Then if this is so why was he considered for the first team?  If O'Hara doesn't completely fit the bill for the left wing, have we got to wait the convenience of Celtic before a suitable player is available?  "I think it is time Mr. Carey showed some results.  The amazing thing is that disquiet and dissatisfaction has been simmering for twenty years at Everton, I can think of no other club that gas gone through such a lean period and still remained solvent. 
"One last thought, Can you imagine Everton's punchless forward line having to function without Collins?  It doesn't bear thinking about does it?" 
Mr. E. Lloyd, of 12 Dulas Road, Liverpool, 15 writes;
"I was interested in letters about Grammer School boys and the Liverpool city team.  Perhaps you may not realize that Grammer School boys have appeared in the city side.  About 1930 the schoolboys had a poor team and were doing badly.  The hon secretary at the time was, I believe an old boy of the Oulton School and he asked the sports master there to allow three boys to play for the city team.  The latter re-vitalized the team and they went on to win the Lancashire Shield. 
"A member of the same team as these lads at the Oulton was named Labone.  He later became the leading amateur centre forward in these parts with Garston Woodcutters.  Later on (just before the war) he signed I think for Aston Villa.  Is Brian Labone any relation? 
Yes, a nephew.  And Brian's father was also a well-known player in this city.
EVERTON AGREE TERMS FOR VERNON
Wednesday, January 6, 1960. The Liverpool Echo and Evening Express
Player To See Houses
Team Changes
By Leslie Edwards
Mr. John Carey manager of Everton, agreed terms with Blackburn Rovers today for the transfer of Roy Vernon, the Welsh international inside-right.  The players and his wife will visit Liverpool tomorrow to inspect houses and will then make up his mind whether he wants to join Everton or not.  The Everton chief is faced with yet another period of uncertainty-as he was while Maurice Setters was making up his mind-and shrewd people who know Vernon think it unlikely that he will join Everton.  No transfer fee has been mentioned by either club, but it is believed that Blackburn would required at least £30,000.
VERNON CALLED IN
 Mr. Carey who was reported from the Everton club offices all this morning as being occupied with his players on the Goodison Park practice pitch was in fact en route at that time to Ewood Park, where fog reduced visibility to ten yards.  He arrived at 11 a.m. and went into conference immediately with the Blackburn chairman M.G. Forbes and the Blackburn manager, Mr. Dally Duncan.  They had a long talk before Vernon was invited to join them for further discussion.  Later Blackburn issued the following statement "Roy Vernon is going to consult his wife and will go to Liverpool tomorrow to see Everton club houses."   The decision thus lies with Rhyl Vernon and his wife who is a Blackburn girl.  Those who know Vernon well, think that it is unlikely that he will want to throw his lot with a First Division club which to put it bluntly is struggling.  Everton have made two changes for their Cup tie on Saturday at Bradford against Bradford City.  Laverick displaces O'Hara who had held the outside left position for two games, and part-timer Frank Wignall who had several games at the onset of the season gets a further chance at inside right.  Eddie Thomas the man who has filled the position for most of the season and who has left out against Bolton was not among the players who trained at Bellefield yesterday.  It was later learned that he was suffering from a cold.  Rumour had linked up the name of Derek Temple too the inside right berth but there was no basis for it.  Everton; Dunlop; Parker, Jones; King, Labone, Harris (B); Harris (J), Wignall, Shackleton, Collins, Laverick.
SETTERS JOINS UNITED
Maurice Setters, West Bromwich Albion wing half and young England captain, signed for Manchester United today at fee of between £25,000 and £30,000.  The negotiations which lasted ten minutes, took place in West Bromwich this afternoon.  Earlier in the week Setters who went on the transfer list at his own request eight days ago, refused moves to Everton and Manchester City. 
EVERTON KEEP ON TRYING
Thursday, January 7 1960. The Liverpool Daily Post
ROY VERNON DECIDES TO LOOK AT CLUB HOUSE
Horace Yates
Terms have been agreed with Blackburn Rovers for the transfer to Everton of Welsh international inside forward Roy Vernon, manager John Carey returns to the all too familiar nail-biting stage of tension, as he anxiously awaits the players' decision.  Everton were not only first in the field, but they are the only club to have talked terms with Blackburn.  At least Mr. Carey must be encouraged by the fact that he has progressed a stage further than in the Maurice Setters negotiations for the former West Bromwich player, who needed only a matter of minutes yesterday to accept Mr. Matt Busby's invitation to sign for Manchester United, never showed willing to the extent of bringing his wife to Liverpool to look over a club house, which was available.  Vernon and his wife will be in Liverpool today to see the house, which I understand is that formerly occupied by Dave Hickson, and vacated on that player's transfer to Liverpool.  Mr. Carey's negotiations with his former club chairman, Mr. G. Forbes and manager Dally Duncan, encountered no difficulties and it did not take long to agree on a fee believed to be in the region of £30,000. 
NO FORECAST
Vernon was then called in and his talk with Mr. Carey the man who introduced him to League football and groomed him for international honours lasted nearly half an hour after which the promise of a further meeting today was made.  What are the prospects of Vernon signing for Everton.  That was the question I put to Mr. Carey last night suspecting in advance that after his recent experiences the almost certain reply would be "No comment" it was.  The words of the Blackburn chairman do not lift the veil any higher, either.  He said "The deal is neither on nor off it is just a matter of wait and see."  Vernon now 22 years old was taken to Blackburn by a club representative who saw him playing with Mostyn Y.M.C.A in North Wales football.  Mr. Carey noted for his ability to assess a player's qualities very quickly watched him play one trial game and before it was over decided that here was a boy with a future.  Vernon was promptly engaged on ground staff duties and as soon as he became seventeen signed professional forms.  Obviously Vernon has developed a high regard for his first "boss" and I should say it is hard to imagine circumstances in which Mr. Carey's prospects could start with better foundation.  Everton would have preferred that their activities had remained cloaked in secrecy until a decision had been reached one way of the other, and it was not their fault that news leaked out.  Mr. Carey was said to be training with the players and later to have gone out to have his hair cut when requests were made to speak to him, at the time he was negotiating in Blackburn.  Vernon has played nine times for Wales, the last occasion being against Scotland last season. 
UNLUCKY ASHWORTH
In striking contrast to last week when the team was not made known shortly before the game with Bolton Wanderers.  Everton yesterday announced two changes for the F.A Cup visit to Bradford City.  Laverick is restored in place of O'Hara on the left wing and Wignall who made a scoring debut on September 2 and lost his place after six games is named as inside right replacement for the injured Ashworth.  Yesterday's report on Ashworth after a medical check-up, was that he had suffered a very severe strain on his knee cap and it is expected that he will be out of action for several weeks.  Everton; Dunlop; Parker, Jones; King, Labone, B. Harris; J. Harris, Wignall, Shackleton, Collins, Laverick. 
Nat Lofthouse the thirty-four years old Bolton Wanderers forward announced his retirement from first class football yesterday.
HARD-HITTERS
Thursday, January 7, 1960. The Liverpool Echo and Evening Express
By Leslie Edwards
Two followers of Everton hit out hard about facilities at Goodison Park.  Mr. W. Burns, who has already put his case to the club and received what he considers a saucy reply, writing from 80 Gidlow Road, Liverpool 13, says; "I went in the Gwladys Street stand at Goodison Park on Boxing Day as the match started.  I was unable to find a seat; indeed I was unable to get near a gangway for hordes of others who were in a similar plight.  Eventually I did manage to get some sort of a glimpse of the match now and again with considerable discomfort. 
"I failed to find any sort of steward or other official who could offer any sort of help, though a helpful police officer did say he thought that something would be done at half-time
.  The Bullens-road stand was far from full and quite a lot of people were attempting to climb over into it but were prevented from doing so- quite rightly- by a police officer.  "I am certain there were no vacant seats.  The gangways were blocked by people sitting and squatting there and there were general melees going on in the gangways and along the rows of seats by people trying to obtain some sort of view.  "I wrote to the club informing them in hope that something could be done to try to prevent a reoccurrence enclosing my admission ticket, and pointed out that was my kindly intention in taking the trouble to write.  "I now re-iterate your question.  Are some officials soccer ostriches?" 
From 33 St. Domingo Road, Everton, Mr. J. Foden writes;-Your correspondent's criticism of the Everton programme is further evidence of the decline that has taken place in the affairs of the club during the last few years.  "The consideration shown to spectators would appear to be in keeping with the standards now prevailing at Goodison Park, falling gates, a poor team, a shocking pitch and a rag of a programme.  "Things are certainly at a low ebb, but a management with some appreciation of what the public desire (and have a right to expect in view of the fact that they pay to go in) could soon put these matters right and make the spectators feel he was welcome and of some importance to the club, and not create the impression that they are only interested in taking his money from him.   "This I know, is what a lot of missing spectators think." 
HE AIMS AT ME
The ire of another Everton follower, Mr. Nick Nolan, of 1 Rockfield Road, Anfield, is aimed at me.  "In your articles," he says, "you always emphasize the one or two good things the weak links in the side manage to perform every six or seven games.  It is up to Everton officials the glaring weaknesses which will cost the club thousands of pounds in gate money-by this I mean the gate money of the 30,000 who would attend if the weaknesses were put right." "While appreciating the enthusiasm of Alan Shackleton let us not forget that the greatest of all Everton enthusiasts, Dave Hickson, was disposed of.  I like Shackleton.  I think he has guts and has been through a hard time with the crowd but the reason he has had a thin time is because, in my opinion he is not good enough.  "If Everton want to be any sort of force they must buy an inside-right, a centre-forward and a left winger.  Until you stop praising players occupying these positions and start criticizing them Everton will amble on blindly believing they have a good side when in reality they possess only two forwards."
Nr. Nolan, one of my constant critics (and no worse for that) surely does not think that Everton or this columnist is not aware of Everton's needs?  None is more tired of reporting Everton defeat than I Nevertheless; I aim at giving club and players a fair show.  When men play badly they don't need hard criticism from newspapers or spectators to convince themselves of it…
ROY VERNON REFUSES TO SIGN FOR EVERTON
Friday, January 8, 1960. The Liverpool Echo and Evening Express
Failure of Another Mission
By Horace Yates
Roy Vernon, Blackburn Rovers' Welsh international inside-forward, late last night telephoned Mr. John Carey, the Everton manager and informed him that he had decided not to sign for Everton.  I understand he gave no reason for his decision.  This followed a day in which Vernon and his wife visited Goodison Park and accompanied by Mr. Carey inspected club houses which were available to them.  After expressing satisfaction with one of the houses, Vernon asked for further time to consider the proposal and promised Mr. Carey a definite answer today.  Apparently Vernon did not require much time to make up his mind as he had thought likely and the transfer which never had more than the flimsiest hope of materializing went into Everton's growing list of unsuccessful approaches.  Mr. Blackburn contacts were convinced the outset that Vernon who was no more than luke warm to the idea of joining Everton would refuse to move.  They were surprised in fact that Mr. Carey managed to persuade the Vernon's to visit Liverpool on a house-hunting adventure.  It is thought Vernon was disappointed by the fact that only Everton jumped in when the announcement was made that Blackburn Rovers were prepared to part.  Like Setter he will now sit back in the hope that other clubs will take up the chase, now that Everton have failed. I am told that Vernon, whose wife is a Blackburn girl, is not so keen to leave the town that he would join any club rashly.
CHILLY RECEPTION
No confirmation as forthcoming from Liverpool F.C. for the report that they are interested in soil-warming ideas on the lines of those employed at Goodison Park. I was told last night that no move has been made and that none is contemplated.  
Possibly the Football League's attitude to this method of beating the frost can scarcely be called encouraging.  Recently Everton made an application for permission to include the cost of using their soil-warming Installation as and when necessary, as a match expense.  In their application the club stated that such costs would not exceed £150 a match.  The secretary was instructed to inform Everton that the Management Committee could not agree to the request.  In other words, whatever lengths and expense a club may go to in order to ensure the playing of  League match they are on their own as far as the cost is concerned.  One might have thought that the avoiding of a pile-up of fixtures towards the end of the season as a result of weather interference with the original dates, plus the fact that Everton's contribution from gate receipts to visiting clubs is invariably most handsome, would have helped them to receive kindlier consideration.  The way of the pioneer obviously remains hard. 
SELECTORS PRESENT
Friday, January 8, 1960. The Liverpool Echo and Evening Express
By Leslie Edwards
The match at Bradford City will gave Frank Wignall, the young Everton inside forward, his first taste of Cup football at top level, Bobby Laverick, also, will be making his first Cup appearance for the club.  It is significant that Scottish selectors will be present and if they can find better men to represent them than Bobby Collins and Alex Parker, Scotland must be better off for players than most people in Liverpool imagined.  Further recognition of both these players is long overdue.  Everton; Dunlop; Parker, Jones; King, Labone, Harris (B); Harris (J), Wignall, Shackleton, Collins, Laverick.  Bradford City; Stewart; Flockett, Mulholland; Devitt, Lawlor, Roberts; Webb, Jackson (D), Stokes, Reid, Boyle. 
EVERTON NO LONGER INTERESTED
Friday, January 8, 1960. The Liverpool Echo and Evening Express
Roy Vernon Refusal
Blackburn Hint
By Leslie Edwards
Everton have accepted the refusal to sign of Roy Vernon of Blackburn Rovers, without demur.  The news that Vernon had telephoned the Everton manager, John Carey, last night, saying that he was not prepared to join Everton was learned by the Blackburn Rovers manager Dally Duncan this morning….from newspaper headlines.  Vernon and his wife had looked at Everton housing accommodation yesterday, and the players had returned to Blackburn intending to give his decision this morning instead he gave an hour or two after reaching his Blackburn home.  Blackburn Rovers state that no other club has shown interest in Vernon.  The question arises, will he be in the Blackburn attack in the Cup-tie at Sunderland tomorrow.  Only Dally Duncan knows the answer.  In Blackburn today there was more than a hint that Vernon would be left out. 
ALTERNATIVE
Vernon travelled today with the Blackburn party, but manager Duncan will not decide whether to include him until nearer the kick-off.  The alternative is to play Bimpson, formerly of Liverpool at centre-forward with Dougan at inside left.  Both centre half Woods and Dougan were declared fit after tests this morning.  Widespread fog changed travel arrangements in many Cup camps this morning.  Everton Lingrary for the Bradford City tie was changed.  The team travels to Bradford this afternoon instead of waiting until tomorrow morning as originally planned. 
Easier Travelling
Police suggestions for easier travelling to the Bradford City v. Everton tie kicks-off 2-15 have been announced.  The Valley parade ground is three quarters of a mile from the city centre (Forster Square).  Spectators travelling by train are advised to leave Bradford Exchange station by exit indicated by signboards, and then along a route marked by AA signs into Forster Square where public transport to the ground is available.  The route from Forester Square is the Cheapside and Manningham Lane to Valley parade.  Drivers of cars are advised to follow the ring road indicated by special A.A signs which are marked F.A Cup tie from Odsal Top round about at the juncture of the Huddersfield and Halifax roads to the street car parks adjoining the ground a s directed by the police. 
SCORER STOKES
Saturday, January 9, 1960. The Liverpool Daily Post
By Horace Yates
Although Bradford City have a record of twelve games without a defeat they will be the first to admit they are not called upon to oppose men of Everton's experience and ability every week.  Plainly City will have to pull out something above ordinary standards if they are to shock Everton, but nothing inspires the underdog in football so much as this usual competition.  It is their one great chance of the year, not only of gaining glory, for players and club, but for collecting badly needed cash.  Add to this the advantage of playing before their own supporters and the nearest minnow promptly develops teeth.  Everton's marksmanship plainly is not good enough as four failures to score in the last eight game suggest.  Not all defences are as sound as Bolton's team that can snatch a goal and sit tight but Bradford City have a goal snatcher in Stokes who might create all sorts of problems if allowed the slightest latitude and a tough enough rearguard to worry Everton. The youngsters whose greatest lack is an inch or two is of the dangerous darling type of player, and his restless mobility and quickness off the mark guarantee his centre half opponents a busy afternoon. 
LABONE WARNED
Labone has been warned, and the consolation here is that the greater the challenge the higher does Labone rise to meet it.  If Stokes is well and truly contained the greatest threat of a surprise result here will have been spiked.  It is worth noting that the only City player to have cost a transfer fee is Reid, so much admired by Everton in the past.  Hamilton Academicals received £25,000 for him.  Wignall marked his first League appearance for Everton with a goal.  Let's hope he can make his first Cup match equally noteworthy.  If a replay is necessary it will be at Goodison Park on Wednesday (kick-off 7 p.m).  Bradford City;- Stewart; Flockett, Mulholland; Devitt, Lawlor, Roberts; Webb, D. Jackson, Stokes, Reid, Boyle.  Everton; Dunlop; Parker, Jones; King, Labone, B. Harris; J. Harris, Wignall, Shackleton, Collins, Laverick. 
THOUSANDS GET THAT CUP-TIE FEVER
Saturday, January 9, 1960. The Liverpool Echo and Evening Express
Plainclothes Police go on the Everton "Specials"
Football's biggest day of the year -32 third round F.A Cup ties and 32 first round F.A Amateur Cup games- meant that thousands of supporters set out early today to see their teams in action.  About 3,000 Everton supporters left Liverpool this morning by rail and road for Bradford.  British Railways laid on two special trains from Exchange to take 1,000 of the fans.  In view of recent damage on football excursions railway police in plain clothes travelled on the trains. 
20 COACH LOADS
About 20 coach-loads of supporters many of them women and youngster wearing blue and white scarves and bonnets, steamed out of the city from 10 onwards, Hundreds more went in cars. 
THE SAMARITAN ON A TRAIN
For one Bradford-bound Everton supporter, young Alan Sale, of Moreton, there were some anxious moments when he found he had left his match ticket at home.  However, after he had searched his pockets and realized he had left his ticket at home, Alan was sold a ticket by a man in the same compartment for 2s.  One of the youngest supporters who went to Bradford was Arthur Thomas, aged 12, of 25 Kilsall Road, Liverpool, who has watched Everton since he was seven. 
INGLORIOUS EVERTON CUP EXIT AT BRADFORD
Saturday, January 9, 1960. The Liverpool Echo and Evening Express
Bradford City 3, Everton 0
By Michael Charters
Bradford City;- Stewart; Flockett and Mulholland; Devitt, Lawlor, Roberts; Webb, Jackson (D), Stokes, Reid, Boyle.  Everton; Dunlop; Parker, Jones (Captain); King, Labone, Harris (B); Harris (J), Wignall, Shackleton, Collins, Laverick.  Referee; Mr. J.G. Williams (Nottingham).  Everton brought some 3,000 fans with them for their cup-tie at Valley Parade and long before the kick off the tiny ground was packed.  Everton earned two corners in the first minute but when Brian Harris headed in the second the move was held up with Shackleton just offside.  City's plan to watch danger man Collins was soon apparent for Devitt followed the little Scot wherever he went.  It was City who took a shock lead after six minutes through Jackson.  They had fought off Everton's' initial attacks and when Boyle recovered from Parker's tackle, he crossed the ball and Dunlop and Jones got in the way of each other so that the goalkeeper tumbled the ball, which ran out to Jackson, who had an easy task to score.  The Third Division side had Everton rattled with their fast first time tactics.  Their insistence on getting to the ball first was unsettling Everton, whose defence did not look happy.  Everton made one attack with Laverick moving down the left from Brian Harris's pass, but his centre went straight to Stewart. 
INDECISIVE
Everton continued to look indecisive and shaky and they were lucky not to be further behind when Dunlop punched out a left wing corner, and when the ball was returned he was fortunate to get a rebound from Jackson straight at him.  Dunlop was now wearing a cap, very wisely in facing the sun, but at this stage it was still Bradford City's game.  Their quick hard tackling had Everton's forwards tied up and their use of the long ball in attack had the Everton defence at full stretch.  Wignall was doing as well as anybody, and he pushed one good pass up the middle as Shackleton raced forward and the centre forward beat Stewart to the ball, but had to take it far to the left to do so and his shot from a very fine angle was wide and high.  Up to now Everton's half backs had not got a grip on matters and it was here that Everton's shortcoming were obvious.  It felt to young Wignall to miss Everton's best chance, after Laverick had pushed the ball into the centre Lawlor miskicked straight to Collins who laid the ball on a plate for Wignall, but he sliced his shot well wide. 
GREAT DRIVE
Jackson lashed in one 35-yard drive which produced a great save from Dunlop and Webb volleyed a cross very wide, but the threat was always there.  Dunlop's unusual habit of punching the ball instead of catching it almost led to a second City goal, for after he had fisted away a right-wing centre the ball came quickly back to the unmarked Boyle, who completely mis-kicked with the goal at his mercy-  great let-off for Everton.  Jones was having a nightmare of a match against the tricky Webb, but Parker had now settled down.  Everton could hardly mount a good looking attack of their own for the quick tackling of the City men had them bottled up anywhere near the penalty area.  Rarely have I seen Everton so outplayed as they had been in this half, but they almost equalized on the stroke of half time when Collins chasing and working with every ounce in his body centred from the right wing for Stewart to make a good catch and then drop the ball as Shackleton challenged Laverick quickly hooked the loose ball just over.  This and Wignall's miss had been  Everton's only chance o the half and City went off at half time the better side.  Half-time; Bradford City 1, Everton nil. 
After Shackleton had fired a shot over from 25 yards in the first attack of the second half City went away in their usual fast crisp style, with Reid rounding Labone and pushing a dangerous pass across.  As Stokes almost reached it with the goal gaping, Jones stepped in to rear.  Everton had no one of the calibre of Reid for the quick upfield burst for Wignall had faded after his fist half miss and Jimmy Harris was having one of the worst games of his life.  Apart from Collins, the whole forward line was off form.  Another dreadful Everton defensive bloomer led to City getting the second goal that they had threatened for a long time.  It came after 53 minutes from a free kick by Lawlor in the Everton half, which Stokes headed forward.  With the Everton line-up standing as still as status, Reid was able to run in unchallenged and head the ball just as Dunlop went up leisurely to catch it.  City were very happy with the score and he position, and although Everton began to have a little more of the play they never looked like cracking this tight defence.  Shackleton did get the ball in the net but had obviously handled in going up with Stewart and both the referee and linesman spotted the offence.  At the other end Webb beat Jones yet again and from his cross the ball ran loose for Boyle to race in and lash a shot wide when a little more steadiness must have brought a third goal.  Wignall and Jimmy Harris changed positions, without producing any noticeable effect.  Everton's defence was nervous and uncertain as when Dunlop trying to take in a throw-in back pass fumbled again, but the ball ran luckily from his body to Jones, who was able to clear. 
HARD TACKLING
Shackleton was getting nowhere against the powerfully built Lawlor and some of the tackling made you catch your breath with its intensity.  When Stokes was injured in a goalmouth scramble and play stopped for him to receive attention a fight broke out among a group of supporters in the stand.  It was easy to understand why City had gone 12 games without defeat.  Although Everton kept plugging away there was never any cohesion or real method about their attacking play.  It was only justice when City put the game beyond doubt with a magnificent solo goal after 80 minutes from Stokes.  He picked up a loose ball in midfield, carried on for some 10 yards before hitting a fierce dipping shot from fully 30 yards which completely beat Dunlop by its swerve.  The score was a fair reflection of the run of the game, for Everton have not played so badly all season-even on the occasion of that 8-2 defeat at Newcastle.  The last time Everton played a Cup-tie on this ground they won 2-0 in 1915.  In the closing stages it was City dominating as they had done for most of the game and their goalkeeper Stewart can hardly have had an easier match so ineffective was Everton's attacking play.  Final;- Bradford City 3, Everton nil.  Official attendance 23,500.  Approximate receipts £3,000 (ground record). 
BALANCE SHEET
Today must have been one of the most inglorious moments in Everton's Cup history.  They were outplayed from start to finish by Third Division Bradford City whose first-time tackles and quick tackling completely unsettled them.  The first two City goals came from defensive blunders but there were other occasions when they were unlucky not to score.  On Everton's side I could only pick out Labone and Collins for any credit. 
HOW'S THIS TEAM OF LIVERPOOL EXILES?
Saturday, January 9, 1960. The Liverpool Echo and Evening Express
Alex Parker Names Eleven "Scousers" Playing Away
Recently I overheard some soccer fans discussing the number of Merseyside-born players with other clubs, and they were endeavouring to name a team of them.  I am not going to mention Alex Farrell of Preston, and Ron Saunders, of Portsmouth who came from West Kirby and Birkenhead respectively, I thought I would try to go one better and find a team of Liverpool-born players.  When I say "other clubs" I mean those other than are in our area-Everton, Liverpool, Tranmere Rovers, Southport, Chester and Wrexham.  I have often heard it said that Liverpool-born players should be playing for Liverpool clubs, but there are many reasons why this is not so.  Despite extensive scouting systems some players are not spotted in time, and while this can b frustrating it must be remembered that there is not a club in the country that hasn't missed a good 'un at some time.  Over the past few years many boys have been signed while playing in the Army where they have displayed a form far above what they showed before starting National Service.  Even when they are signed by local clubs, the players find they cannot always give of the best before their own crowd, and many discover a change of club is beneficial.  Again, after being transferred, some players display a talent they were never suspected of having at their previous club.  Next time you start criticizing your favourite club for letting so-and-so slip through their fingers, remember it may not be their fault.  And if every club spotted every good player in its area, half of the team you support might never have been signed.  But to get back to that team.  When I began compiling the list I was amazed at the number of goalkeeper's there are.  The first one that sprung to my mind was Leyland (Blackburn Rovers), but the Ewood Park club's other goalkeeper Bobby Jones is also from Liverpool. 
THE "BEST"
There is also Davies, of Wolves, Adams of Bury, and Arthur Johnson of Halifax, whom I have heard described as "The best goalkeeper in the Third Division.  The full-backs created no difficulty, at all with the names of Evans (Arsenal), and Ashurst (Sunderland) immediately springing to mind.  Other Liverpool-born backs include Wilson (Preston), and Carberry (Ipswich).  Jimmy Dugdale, of Aston Villa must claim the centre half berth, but I found myself in something of a quandary over the wing-halves, Len Pearce must go in at left half but right half is not easily solved.  I thought of including Derek Hennin, of Bolton, but I am not sure if his birthplace, Prescot qualifies him for inclusion.  In the case I must settle for Don Campbell the ex-Liverpool player now with Crewe.  Mention of Pearce reminds me that he is at present out of the game with a broken lg.  However, he did not realize the seriousness of his injury at the time it happened.  He insisted on playing on and was moved to centre forward, where he scored the winning goal with the leg which was later found to be broken.  Who said soccer players aren't tough? 
The Prescot problem cropped up again when I came to consider the outside right berth as Crewe's Coleman also hails from there.  Remember he once scored seven goals in a match from the wing for Stoke City.  In the end I settled for George Hannan who has appeared a number of times for Manchester City in the No 7 shirt.  The inside forwards gave me something to think about but I eventually settled for two who are with Southern clubs. 
EASIEST TASK
They are Barry Pierce, of Millwall, and Alan Woan, of Crystal Palace, I have never seen Woan but as he scored over 30 goals for Northampton last season and is still scoring for his new club, he will do for me.  Centre forward gave me my easiest task-Joe Baker, of Hibs, the scouser with the Scots accent.  Another candidate of course, ex-Everton player, now with Sheffield Wednesday.  I name another ex-Goodison favourite for the No. 11 shirt, Derek "Dickie" Mayers, of Preston.  Although he is playing outside right at present he is just as effective on the other flank and has played there for both Everton and the Deepdale club.  So here it is Leyland (Blackburn); Evans (Arsenal), Ashurst (Sunderland); Campbell Crewe), Dugdale (Aston Villa), Pearce (Sunderland); Hannah (Manchester City), Pierce (Millwall), Baker (Hibs), Woan (Crystal Palace), Mayers (Preston).  No doubt I have omitted to mention somebody you know, if so, I am sorry, but there are so many Liverpool boys in the game it is impossible to keep track of them all.  If I have disappointed anybody no doubt I shall be hearing about it. 
Although we were naturally disappointed and a little unlucky in losing last week's game at Bolton I met the person who was more delighted than anyone else on the ground.  Before the match Carlton Massey the young Bolton programme seller hurt by spectators when we were at Bolton last September, and his brother, were introduced to me by members of the Everton Supporters Federation.  As I promised soon after the incident O took him into the Everton dressing room, where he obtained all the players' autographs, and had his photograph taken with some of the team.  He also met our manager, Mr. Carey.  I then took him into the Bolton dressing room, where he was given more autographs and had another photograph taken. 
ONTO PITCH
After that he came down the tunnel and stood on the Goodison pitch, where he had his picture taken with yours truly, the boy being snapped holding an Everton shirt.  It was a wonderful gesture by the Everton supporters and the look on the boy's face must have more than repaid them for their trouble.  He did not say a great deal, I think he was too excited.  He saw the match from the directors' box and any bad ideals he may have had about Everton supporters must have been dismissed once and for all.  The final result must have made his day, but in my opinion it was just a little too perfect.  Alec Ashworth was terribly unlucky to have to go off as the result of an accidental tackle.  With a twisted knee can he must have been in great pain, but after attention he said he wanted to return to the pitch.  It must have taken great spirit to say that, but luckily he was not allowed to do so as he would only have aggravated the injury.  Here's wishing him a speedy recovery. 
 
THE VALLEY OF EVERTON DESPAIR
Monday, January 11, 1960. The Liverpool Daily Post
Bradford City 3 Everton 0
By Michael Charters
No excuses.  AT Valley Parade on Saturday I saw one of the most inglorious moments of Everton's Cup history, when they were outplayed by Third Division Bradford City in the third round of the F.A. Cup.  The score in every way reflects the superiority of the fine Yorkshire side, who were giant-killers in the best sense.  From the kick off it was apparent that City's first-time tactics, quick tackling and insistence on getting to the ball before danger could threaten, was going to sweep Everton out of any rhythm they attempted to form.  After City had taken a lead in six minutes the game went further, and further away from Everton's grasp and there were times when they looked the Third Division team and Bradford City seemed the more worthy of senior status.  I have never seen Everton play so poorly this season.  The defence was shaky and inaccurate with their clearances, while the forwards, with the notable exception of Collins were almost non-existent so far as scoring threats were concerned.  Stewart only a deputy goalkeeper, had one of the easiest matches of his life.  I cannot recall him being extended at any time. 
BUSY DUNLOP
On the other hand Dunlop was constantly in action, while his defensive colleagues were at full stretch to hold a forward line which believed in the quick through pass, made with accuracy on a greasy surface, which had the Everton defenders stumbling in their tracks.  The great strength of the City side lay in their uncompromising defence, with the powerful Lawlor a barrier which Shackleton could never pierce, Devitt, and Roberts played magnificently, while Stokes came late into the game with a wonderful solo goal which clinched City's victory.  Of the Everton side I could only pick out Labone and Collins for any praise.  The young centre-half, often facing a two man threat, did very well and never let the side down as, I'm afraid, others did.  Collins never stopped trying to get his forwards moving well, but his distribution was to no avail with the other forwards being completely off form.  A Scottish selector was present to watch Collins and Parker, with a view to playing in a Scottish international trial at the end of the month, but I fear there will be no joy there for either of the Everton Scots, for Collins was made to look worse than he was by the inability of his colleagues to link-up with him. 
JACKSON SCORES
The first two City goals were direct results of Everton's defensive errors.  The first came when Boyle recovered from a tackle by Parker to send over dangerous centre, which Dunlop fumbled as Jones possibly got in his way, in attempting to help.  The ball ran loose and Jackson slammed it instantly into the net.  I thought Everton at least could recover from an early shock like this, but the best chance was missed by Wignall on the half hour, when Collins slipped a good pass to him, only for the inside right to slice his shot wide.  Although completely out-played in the first half Everton gained yet another chance of an equalizer on the stroke of half-time when Stewart- his fingers possibly numbed through inactivity-dropped a centre from Collins as Shackleton challenged and Laverick quickly hooked a shot just over the bar.  Everton had more of the play in a territorial sense after the interval, but never looked like beating a very strong City defence.  It came as no surprise therefore when Reid scored the second goal after fifty-three minutes.  This followed a free kick in Everton's half which Stokes headed goalwards and with Everton's defensive line-up standing as though transfixed, Reid was able to run unmarked and head the ball into the net, as Dunlop reached for it almost leisurely. 
EVERTON CRUSHED
The third goal ten minutes from the end, as the best of the match, for Stokes fastened on to a loose ball in midfield, raced forward and hit a magnificent dipping shot past Dunlop from thirty yards.  At the final whistle the excited and happy City fans poured on to the pitch to congratulate their side-and well they might.  They had crushed Everton almost out of sight.  Everton's need for a thrustful forward of the Reid type was never more clearly shown than in this debacle.  They have been interested in Reid in the past and I feel they might try again in the near future.  Reid gave a great display and he and Webb were the stars of a fast moving mobile attack, which made experienced defenders like Parker and Jones puzzled beyond belief.  Bradford City;- Stewart; Flockett and Mulholland; Devitt, Lawlor, Roberts; Webb, Jackson (D), Stokes, Reid, Boyle.  Everton; Dunlop; Parker, Jones (Captain); King, Labone, Harris (B); Harris (J), Wignall, Shackleton, Collins, Laverick.  Referee; Mr. J.G. Williams (Nottingham).  Attendance 23,550 (Approximate receipts £3,000). 
WHAT A SHOCKING WEEK FOR EVERTON!
Monday, January 11, 1960. The Liverpool Echo and Evening Express
By Michael Charters
Saturday's Cup crash at Third Division Bradford City ended one of the blackest weeks in Everton's history on a sad note of despair and disappointment.  The shock of two big transfer moves being turned down by Maurice Setters and Royston Vernon was followed by the bitterest blow of all in seeing the team hit rock bottom to go out of the Cup deservedly at the first time of asking.  The question might well be asked.  "What now, Everton?"  Let it be plainly understood that on the display at Valley Parade, it could well have been Bradford City, the First Division side, not Everton.  There was no luck, no fluke, no half-measures about City's decisive 3-0 victory.  They were the better team for 85 minutes, giving Everton a lesson in accurate, aggressive football and-more important- tremendous will to win.  Bradford City are not a bash-and-dash Third Division side.  They do not play pretty football but their use of the long pass, the switching of play from wing to wing, was always thoughtful.  Their clearances from defence were not the kick-it-anywhere move which so many lowly clubs use.  They played with method, dash and enthusiasm and Everton were never in the same class for those ingredients.  Basis of City's win was a solid, quick-tackling defence which completely blotted out Everton's forwards, who spluttered in fits and starts and never moved as a line.  The big, burly Lawlor at centre half, was the dominating figure, beating Shackleton in the air, and although the Everton leader was one who did not give up the struggle as quickly as others he was never allowed a semblance of a chance.  Full backs Flockett, and Mullholland never allowed Jimmy Harris or Laverick more than nodding acquaintance with the ball-Harris, in particular, giving the worst display I've ever seen from him.  Young Wignall did well for 20 minutes, was then guilty of a tragic miss in front of goal, and from that moment faded completely.  That left Collins to provide any threat, and hard as he worked, hard as he tried, he never had the backing from his forward colleagues to which he is entitled. 
LACK OF THOUGHT
His habit of stopping the ball in midfield before distributing it gave the fast City defenders time to cover up.  When the pass was made, in would step a home defender to cut it off or tackle the receiver.  Everton could never get going and they showed a lamentable lack of thought in not trying more direct tactics as the City forwards did.  Everton have got into the habit of establishing an invisible wall for themselves on the edge of the opposing penalty area.  They reach it, hit it and stop.  Their finishing was almost non-existent due to the alarming penchant for one pass too many instead of the quick thrust and shot.  Then haven't scored for three successive games and the way they're playing it is a grumble when they will.  By comparison City's forwards were a revelation.  They had two wingers in Webb and Boyle who could vary their tactics at will a rare go-er in Reid whose non-stop dashes down the middle had Everton rocking, and a quietly useful schemer in David Jackson.  Centre forward Stokes was the least effective of the line because Brian Labone was the most successful player in the Everton team.  But even Stokes "got off the hook" ten minutes from time to unleash a tremendous drive past Dunlop from 30 yards for final goal. 
A ROASTING
These forwards combined to give Everton's defence a roasting they won't forget for many a long day.  Beautifully fed by constructive wing halves Roberts and Devitt-the latter the best player afield in my view-they whipped through to make Everton panic.  I've never seen Everton defenders so shaky for a long time.  Jones could never master Webb whose stop-go style was delightful and Parker did only a little better against Boyle.  King and Brian Harris were at full stretch in an effort to keep track of the swift raids off City, while Dunlop at fault with two of the goals had a day of mistakes and mishandling.  City were a little fortunate with the first goal after six minutes because I thought Boyle obstructed Parker before getting the ball at the second attempt to cross it.  But Dunlop allowed a simple catch to bounce out of his grasp and Jackson ramped the loose ball into the net. 
SHOT WIDE
Before City scored again Everton received those two chances and let them go.  The first, after 20 minutes came when Lawlor made his only mistake and out a clearance straight at Collins, ten yards away.  Collins quickly-passed to the unmarked Wignall, who slewed his shot wide.  On the stroke of half-time Stewart –the under-worked goalkeeper, who had almost a spectator's view of the match so efficient was Everton's shooting-dropped the ball and Laverick hooked it over the bar.  Everton had thus ignored their two goal chances, both not of their own making but when Everton slipped again, at 53 minutes it was goal No. 2 for City.  From a free kick Stokes headed the ball towards goal and Everton defenders allowed Reid to run forward unchallenged, make a great leap and head the ball into the net just as Dunlop was reaching lesisured for it, anticipating no danger.  Stokes goal late on, only served to make the score a fair representation of City's superiority.  They had outplayed and a times outclassed Everton.  There was only one team in it for long spells and the 3,000 Everton supporters at the match could never have had it so bad.  It was dreadful. 
MR. CAREY CALLS CUP INQUEST
Monday, January 11, 1960. The Liverpool Echo and Evening Express
Show-Down At Everton
Their Need
By Leslie Edwards
Everton's crash at Bradford City will have immediately repercussions.  The players did not report at Goodison Park today but when they arrive tomorrow it will be to find that they are to sit in at a full scale inquest on a Cup defeat which could hardly have been more damaging to the club.  Everton manager, Mr. John Carey, who could not have had a worse spell (starting with refusal by Law, Setters and Vernon to sign for Everton and ending with Cup and League defeats that leave fans gasping), is determined to have a show-down with his players in an effort to see what can be done to improve things.  The real need of course, as everyone knows, is for additional players of class, but where to find them and how to persuade them, and their wives, that Everton are still a fine club, despite their playing record, is a different and more difficult matter. 
NAMES LINKED
Mr. Carey is not taking at face value statements reported to have been made by one of his star players.  Everton's name has been linked with those of Reid and Stokes, two of the Bradford City forwards who helped in their Cup downfall, but while Bradford (who took Preston N.E to two matches this time last year) are still in the Cup, there can be no chance of negotiations.  Chelsea left-winger, Frank Blunstone formerly of Crewe is also said to be interesting Everton. 
SOME OF THESE STARS ARE ONLY METEORS
Tuesday, January 12, 1960. The Liverpool Echo and Evening Express
By Leslie Edwards
Everton's problems are manifold and there's no blinking the fact, but non-attending Everton fans tells me he has the complete answer to it all-open a new estate agents department and then sign on the wives of all the star players who become transfer-listed.  It often occurs to me that the star rating goes to the wrong people.  After all there is something constant and fine about a star and the only constancy about certain big-name players is their desire to move.  Surely these should be classed metors of the soccer firmament, flashing spectacularly across our vision and always on the move, but never illuminating the game as does the one-club man who really merits star rating-and star treatment.  The more I see of football and certain of the people who have infiltrated into it the less, I think of the game.  I can well understand the frustration of those who have known football in better times.  But we're got to live with 1960 standards and suffer them as gladly as we can.  Is the policy or trying to buy £30,000 players a paying one? I think not.  Often the buying club buy football knowledge plus a bundle of trouble.  Are there not among men whose cost would be between £10,000 and £15,000 players whose development would be quick enough to enable them to be grafted, successfully into any first class side?  There must be plenty of this sort to any discerning manager, on which clubs could safely take a chance.  The suggestion that Sunderland and Blackburn Rovers should have a change of referee for the Cup replay at Ewood Park tomorrow is no new thing.  When Everton forced a draw at Roker Park in a tie before the war both clubs demanded that the referee should be changed and the sequel was the finest match ever seen at Goodison Park- a 6-4 victory for Everton in extra time of a game handled beautifully by that sergeant-Major or referees, Mr. Pinckston. 
LESS TO SHOUT ABOUT THAN ANY OTHER CITY…
Tuesday, January 12, 1960. The Liverpool Echo and Evening Express
Your Column-What Readers Are Saying
Everton's defeat at Bradford has stung many of their followers to write letters to me- not many of them printable.  Here are a selection, including one from far-away Luton, which give point to the dis-satisfaction of fans with the performances of our city teams;-
"As you can see, I am an exile and have been for some years but I am still a very strong supporter of my home town teams, I must admit however, that year in year out we still have the same pathetic record.  We have the best supporters with a few exceptions and are given les to shout about than any other major city and indeed a lot less than some very minor towns.  "I wonder if anyone would care to give an explanation why teams like Arsenal, Wolves and Manchester United to name a few, can near enough be fighting for honours except for an occasional season, while others with equal facilities seen always to be uninspired and mediocre?   
"Everton and Liverpool to my mind are perfect illustrations; I am convinced that a lot of teams consider themselves superior or inferior as the case may be, I therefore put the root cause of the trouble with the whole administration.  "We who are exiled are not interested in the petty arguments that go on in the City about the respective teams because neither has got anything to shout about.  "I am a keen supporter and have travelled up to see the teams this season I don't suppose you will print this letter because you must have hundreds on the same theme, but as long as people complain then these two one-great teams will know that one or two good results not enough-E. Houghton, 15 Whitecroft Road, Luton, Beds. 
NOT TO BLAME
"I cannot let pass without comment your assertion that Everton and Liverpool spectators are to blame for players not wanting to sign for our City clubs.  The excuse has no foundation.  Where will one find for instance, a more partisan crowd than at Old Trafford.  One might also ask why did all the good players wish to come to Everton and Liverpool years ago-Busby, Lawton, Cooper, Blenkinsop.  There was no shortage of good players then.  "The reason in my opinion is lack of success, plus the adverse publicity which has accompanied managerial changes.  The player must choose the club which will benefit him most both financially and in regard to the prospects of honours in the game.  "We have only to look at how Collins and Parker have suffered in this respect.  If the management at Everton had the same enthusiasm as some of their supporters they would have no need to go running round the country, cap in hand begging players to sign for them.
"There is more to running a football club than in having a nice ground and a cocktail bar.  "Mr. Carey would do well to bear in mind that football counts for nothing if you don't get results.  The scoring of goals is the all-important things"- R. Almond, 5 Geneva Road, Liverpool 6. 
HUMILIATED
"I was one of the unlucky ones to witness the Bradford massacre.  Believe me I have seen Everton many times at away grounds and I can honestly say I was never more humiliated.  One City support said to me after the match.  Surely you don't watch that stuff every week?  "Like many other Everton fans I have been kidding myself that this another bad patch and that brighter days are just round the corner.  Well, it's a patch alright that they started way back in 1947 and Bradford City proved just how bad things are.  "Let me add that I'm not trying to believe City's win.  They were worthy winners and would have beaten better teams than Everton.  But to become a laughing stock at the expense of Third Division supporters was the limit.  "Everton were completely lost in every sense of the word.  In the first 10 minutes they were bad, but they went unbelievably worse.  It was the worst exhibition from a First Division team I've ever had the misfortune to witness.  "You'll find me with a lot of other Everton supporters next week, behind a goal –at Marine;- R.G. Rigby, 78 Four Arce Drive, Litherland. 
CIVIC RECEPTION
Wednesday, January 13, 1960. The Liverpool Post
By Horace Yates
The directors and officials of both the Everton and Liverpool clubs last night were the guests of the Lord major (Aldman H.N. Bewley) at the Town Hall.  Conspicuous by his absence was the Liverpool manager Mr. Bill Shankly, whom I suspect had the best possible reason for tendering his apologies –the all-important role of scouting.  After a welcome by the Lord Mayor, in which he wished both clubs greater success in the future the chairman of Everton, Mr. Fred Micklesfield, promised that they would continue to spare no endeavour to improve the football entertainment of the Liverpool public, although everyone connected with the game knew that it was not easy to provide reinforcements.  The Liverpool chairman. Mr. T.V. Williams said he was able to sympathies with Everton in their efforts to sign players Liverpool had toured the country for two or three years willing to pay big sums for the right men, but even when the money was available this was no sort of guarantee of success.  The older members of the boards could remember the days when Everton and Liverpool directors used to walk on different sides of the street to avoid contact.  Those days were gone and a better spirit could not possibly prevail between the two clubs.  Anything either could do for the welfare of the other would be done. 
SEAL OF FRIENDSHIP
Everton manager, Mr. John Carey, who said he might have been in better form if the invitation had come after Everton had won a match, set the seal of friendship by wishing Liverpool the best of luck in their Cup-tie.  "Even if the match is against my old club" he said "I feel that the Merseyside public deserves a break for it really is a fine football following."  He also tendered his best wishes for promotion, and said that though the goal might not seem right at hand just now, they should remember the example of Blackburn Rovers who went up by taking 19 points from their last 11 games.  "When things go for you it can be done," he said.  And so the Lord Mayor's gesture in bringing together the heads of the two leading Merseyside clubs served to demonstrate beyond all doubt how close and sincere are the ties of friendship and goodwill.  John Molyneux, the Liverpool right back who damaged his knee in the Cup game against Leyton Orient on Saturday, is undergoing treatment for extensive bruising above the knee. 
LET'S HAVE MORE SHOTS
Wednesday, January 14, 1960. The Liverpool Echo and Evening Express
By Leslie Edwards
Though letters critical of Everton still arrive and there can be no doubt that some criticism is justified I think we should preserve a sense of proportion about the effect of their defeat t Bradford City.  After all if Southampton had come to Goodison Park and won 5-1 as they did at Manchester, we should really have had something to cry about.  Mr. Sympathy is completely with the man, John Carey, who is trying so hard to get things moving the right way at Goodison Park.  He knows what-or who- he wants and has not lacked initiative or enterprise in trying to get it, but force o circumstance and the rather temperamental nature of players and their wives have beaten him.  One can only imagine his feeling, having put Blackburn Rovers on the map, at not being able to rehabilitate an Everton team which was at a low ebb when he joined them.  Many people think he should inject youngsters from the reserves in the belief that the club could do no worse than they are doing at present.  But the essence of changes is that they should bring success and one can imagine the feelings of players supplanted by reserves when they were recalled, as almost assuredly they would have to be, a week or two later!  One of Everton's troubles, I am sure, is that they will not shoot.  It is not that they can't, but merely that, like others in League football today, they always want to see the whites of the goalkeeper's eye before they take aim.  The statistical record of shots in most Everton games would show how little shooting there has been.  Yet the attack possesses players capable of beating goalkeepers from position inside the penalty box and no goalkeeper is infallible.  If the Americans took up soccer in their thoroughly way they would assuredly teach our clubs and players a few things about getting goals, which after all are the only things which win matches.  Are Everton concentrating too much on pretty-pretty approaches with none prepared, so far as one can see, to be anxious to shoot and score?  It would seem so. 
HIS TALE OF WOE…
Dave Corrin of 113 =Hebden Road, West Derby writes;- Having just been trounced by  Third Division club, and languishing as usual round the foot of the table, Everton continue their post-war existence in consistent fashion.  "Without doubt they are the most unattractive, innocuous side in their Division.  Admitted the defence hasn't preformed too badly, but the general performance of the forward-line has been very poor indeed.  Only in brief spasms has the skill of Collins and the speed of Harris (J) raised the standard of the attack above mediocre.  The lack of punch and skill in the attack has been obvious for years, and the appearance of an Everton player in the leading goal-scorers' column is almost sensational.  "The absence of any Everton-produced players in an England side, ineffective signings (Collins and Parker apart), disgusting state of the pitch, slump in attendances and adverse publicity are a few examples of the state of affairs at Goodison.  No wonder players shy clear of joining club whose once-famous name now mans little.  "Let us hope that Liverpool (complete with Billy Liddell) can raise the prestige of the city with a successful Cup-run." 
Jack Phillips (Paganini Hotel, Heyworth Street) says'  "This is the last straw.  In my opinion the root of all the trouble stems from the captaincy, Tommy Jones, grand player and clubman though he is, does not drive his players enough.  "My advice Parker for captain and play Bramwell in the half-back line." 
HAVE EVERTON HAD A WORSE AWAY RECORD?
Thursday, January 14, 1959. The Liverpool Echo and Evening Express
Your Column-What Readers are Saying
Although the Liverpool-Manchester United fourth round Cup-tie on January 30 is the main topic of sporting interest in the City these days, our postbag is still heavily consisted with letters from Everton supporters, who are disturbed over the lack of success.  A selection of views is given below.
"The Arsenal of the North really distinguished themselves at Bradford.  It was a result? Expected, but to go down without making a fight was the last straw.  "I wonder whether Everton have ever had a worse away record?  "I had expected a revival under the new management.  Perhaps it will now sink in that the team is not even of god Third Division standard.  "The supporters have been banging away at them for the last ten years to strengthen the team but apart from signing Collins and Parker they have done nothing dramatic about it, until the last few futile weeks.  The signings should have been made four or five years ago, instead of taking on cast offs, from other teams.  "I cannot see the present Everton team avoiding the drop, unless some miracle happens.  The only consolation for Everton fans is that they will see Hickson again at Goodison.  "I hope Mr. Carey will not be made the scapegoat for Everton's failure. 
"The real damage was done before he came.  He inherited a pretty hopeless position owing to lack of good reserves I still maintain that more height and weight is required in the Everton half back line and definitely a new inside-right and outside left a position that has been neglected since the departure of Eglington.  "I am afraid I have written a very long letter, but after following Everton for nearly 50 years I feel very sore with the present club for allowing prestige to sink so low." – D.L. Evans, Garth, Heswall Avenue Higher Belington. 
UNWORTHY
"The blame for the state of affairs now existing at Goodison Park must be placed fairly and squarely on the shoulders of the board.  To blame the manager of the players is entirely wrong.  They are only paid servants of the club.  "For the last 15 years the board have allowed the club's standing to deteriorate to a second-class position and they must accept responsibility for this, despite repeated warnings given to them at the annual general meetings by myself and by other shareholders that the polices followed could only lead the club into trouble.  "The treatment of shareholders over the last few years is unworthy.  The paying customer should always be made welcome, but at Everton he, or she seems a necessary evil-someone to pay the wages and the accounts who should express no opinion.  "The public should know that there is a shareholder who feel as humiliated as any spectator who stands on the terraces nut there is nothing they can do about it.  "The position can be summed up; Never in the history o Everton F.C have so many suffered so much at the hands of so few."  "My regards to you and to Michael Charters, especially for his very good report on the Bradford debacle." –W. Macaulay, 7 St Bride's Road, Wallasey. 
THAT MOTTO
"I suppose it is easy to kick a club when it is down but Everton have been down for so long I am wondering when they are going to get up.  "Manager Carey has been chasing all over the country trying to sign new players.  Now we read Everton are waiting for Bradford City to go out of the Cup and then they will try to sign Reid and Stokes.  "Everton are already over-loaded with Division 3 players.  They want players who can shoot and should live up to their motto; Only the best is good enough" –John Meacle, Hillcliffe Lodge Acrefield Road, Woolton.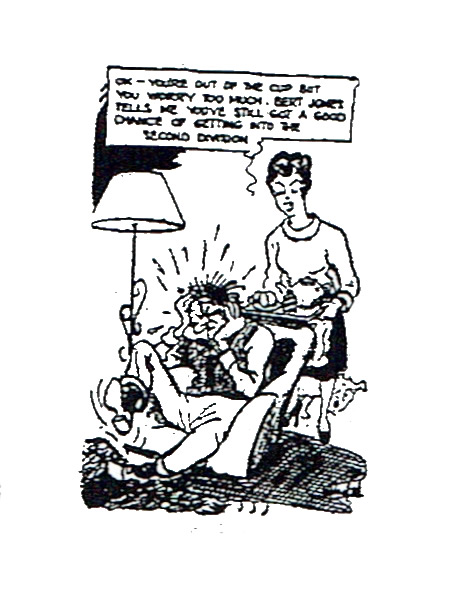 EVERTON GAME WITH CELTIC
Thursday, January 14, 1950. The Liverpool echo and Evening Express
Is it unlikely that Everton will have a game on January 30 –the date of the fourth round F.A. Cup ties.  They had hoped to arrange a friendly with Glasgow Celtic who have a bye in the first round of the Scottish Cup on that day, but there are other ties in Glasgow and vicinity which would seriously affect the gate.  Instead Celtic and Everton have arranged a floodlit match at Parkhead on Wednesday, January 27, Bobby Collins will thus be returned to his old ground-the first time he has played there since his transfer to Everton last season. 
NOT SINCE APRIL
Friday, January 15, 1960. The Liverpool Echo and Evening Express
By Leslie Edwards
Everton's first opportunity to wipe out the disgrace of the Bradford City episode comes (and not a moment too soon) at Fulham.  Here the team whose ears must have burned often during the week from people talking about them gets its chance to win their first away League match since they beat Portsmouth 3-2 last April.  Mr. Carey is taking a chance with a much-changed side but none can say that he has not given the men in possession plenty of opportunity to show they are good enough.  Fulham have one doubt Jimmy Hill, suffering from a slightly pulled muscle, will have a fitness test today and if he is not available Sullivan will deputise at inside right.  Fulham; Macedo; Cohen, Langley; Mullery, Bentley, Lowe; Leggat, Hill or Sullivan, Cook, Jaynes, Chamberlain. 
STARTLING CHANGES IN EVERTON TEAM
Friday, January 15, 1960. The Liverpool Echo and Evening Express
Two Young Debutants on the Wing
Five are Dropped
By Leslie Edwards
Everton make startling changes for the match at Fulham tomorrow.  Out goes goalkeeper Dunlop, out goes left half-back Brian Harris; out go both wingers Jimmy Harris and Bobby Laverick.  What's more Mr. Carey brings in two lads still in their teens-17-yars-old Alan Tyrer, normally an inside-right in Jimmy Harris place, and 19-years-old Welshman Brian Godfrey from Maes Cornist, Flitshire on the left wing.  Both boys will be making their First Division debut at a London ground they probably have never set eyes on.  The other changes bring Jimmy O'Neill back in goal for the first time this season-he dropped out of the side mid-way through last season after an injury sustained while playing in an international –and the return at left-back of Mick Meagan who started this season there in the first team.  Eddie Thomas out for the disastrous Cup defeat at Bradford City a game which has clearly had drastic sequels returns at inside right to the exclusion of Wignall.  Everyone will imagine anticipated changes but hardly ones affecting every department in the side except that at full-back.  Albert Dunlop has played very well indeed for most of the season but may conceivably have been at fault at Maine Road on the Monday following Christmas and at Bradford last week.  The departure of Brian Harris is rather surprising too but it must be admitted that the Everton manager has given the side as constituted for so long, ample opportunity to prove itself, and Everton meantime have drifted dangerous close on the rocks.  Young Tyrer, who was 17 last December, is a Liverpool boy and joined the club as an amateur in May 1958.  He played for Liverpool Boys in 1957-58 and went to Everton as an inside forward, where he has played in their Youth cup.  Mr. Carey must have assured himself of the ability of the lad on the wing.  Godfrey who played well in Everton's public trial match came to Goodison Park from Flinshire in 1957 and signed as a full professional a year later.  The ground at Craven Cottage, Fulham had a thin covering of snow, but was very hard when Mr. Husband a London referee who had been asked to inspect it this morning arrived.  He gave the opinion that the pitch was playable but much depends of course on the weather in London overnight.  Everton; O'Neill; Parker, Jones; King, Labone, Meagan; Tyrer, Thomas, Shackleton, Collins, Godfrey. 
The soil-warming electric system at Goodison Park is in action and it is expected that the Central League game against Sheffield Wednesday there tomorrow will be played whatever the weather.  The team chosen is unusual in that Laverick is switched to the right wing where he will partner Jimmy Harris.  Everton Res;- Dunlop; Tansey, Bramwell; Rea, Billington, Harris (B); Laverick, Harris (J), Wignall, Shepherd, O'Hara. 
EVERTON AGREE TERMS FOR RING
Friday, January 15, 1960. The Liverpool Echo and Evening Express
Clyde Left Winger
International
By Leslie Edwards
Everton F.C, and Clyde have agree terms for the transfer of Scottish International and Clyde left-winger Tommy Ring, but the deal cannot go through in time to enable him to play at Fulham tomorrow.  Ring and his wife are travelling to Liverpool tomorrow so that they can inspect an Everton club house and it is anticipated that the signing will follow.  Ring is on the small side, but has the reputation for being a go-er and can hit a strong shot.  He is about 23 and has represented Scotland against England, Wales, Ireland, Hungary, Spain, Sweden, and Germany, and has played many times for the Scottish League.  He and Bobby Collins would constitute an all-Scottish left wing if the signing materializes.  Ring asked for a transfer a week ago.  Clyde said no, then changed their mind yesterday.  Immediately the news became known Everton stepped in and consultations began, on the telephone. 
SCOTS FLAVOUR
Thu, after agonies of suspense in relations to the possibility of Law, Baker, Setters, and Vernon coming to Goodison Park the Everton fan now has something pretty definite to bite on.  The signing of Ring would give soccer in Liverpool an even greater Scots flavor.  Everton's two big signings recently were of Bobby Collins and Alex Parker and Liverpool's a few weeks ago took Tom Leishman from St. Mirren and have Jim Harrower also in the side.  Everton's left wing position has been a problem for two seasons.  First Eddie O'Hara was tried there and then Bobby Laverick.  Neither quite came up to expectations.  A move for Bertie Auld of Glasgow Celtic has been made more than once, but Celtic have always been resolutely negative to Everton's appeals. 
EVERTON'S DAY OF ACTION
Saturday, January 16, 1960. The Liverpool Daily Post
Team Reorganized as Terms Agreed For Ring
By Horace Yates
Sooner or later Everton's luck must turn and the sooner the better.  Possibly Monday will see the opening of a new and more successfully era, for on the day Tommy Ring twenty-eight years-old Scottish international winger from Clyde, visits Liverpool to see what the club has to offer in the way of houses, with terms for his transfer already greed.  Ring, I understand, may say his farewells to Scottish football by playing his final game for Clyde today.  He is determined to try his fortune in English League football and the fact that he can team up with a fellow Scot in Bobby Collins may help to decide there is no need to look beyond Everton.  If the signing is completed it will mean the end of his eleven years old partnership with Archie Robertson on Clyde's left wing.  I have a topical letter on Everton's attempts to sign players from John Costello (Wirrall).  He writes "Have you ever though that players are put off joining Everton because they are first taken to the ground which is no sort of advertisement to come to live in Liverpool, fine though the ground itself may be.  "Surely the thing to do is to buy club houses in Formby or Hoylake or districts like those, and show them the houses first. If we couldn't impress them in that way then it really would be time to give up." 
I can only replay that housing had nothing whatever to do with Everton failing to sign either Setters or Vernon.  Setters did not even travel to Liverpool and both Vernon and his wife like the house they were shown. 
PATIENCE EXHAUSTED
At last manager John Carey's patience with the old order appears to be exhausted and although the five changes he announced yesterday in the team to travel to Fulham bordered on the sensational, I doubt if a single voice of criticism will be raised.  The position is desperate for I feel that the cold embrace of Division Two football is a chilling possibility unless Everton can rouse themselves now.  Desperate measures were called for to match the situation and we have them in the shape of team changes which brings in O'Neill for Dunlop.  Meagan for Brian Harris, Tyrer for Jimmy Harris, Thomas for Wignall and Godfrey for Laverick.  It may be asking a lot for seventeen-year-old Liverpool born Alan Tyrer and nineteen-year-old Brian Godfrey from Flintish to step out into top flight soccer at Fulham but other clubs take these chances without any ill-effect.  Neither of them will fail for want of effort and indeed I hope neither of them fail at all.  What a topic it would be if after all the headaches and far-flung searches it were to be found that the talent so badly needed is right here on the doorstep.  Dunlop may be a shade unfortunate to figure in the upheaval for he has been a model of consistency and reliability this season, until the last couple of games or so.  still one should remember that O'Neill was playing brilliantly until he met with an injury last season which restored Dunlop.
COMPLACENCY SHATTERED
Certainly chances have been taken in this team reconstruction and they will probably fail to produce that elusive first away victory, but one thing they most certainly will have accomplished is the shattering of complacency with its deadly infectiousness.  Fulham and Everton have not clashed since 1953-54 season, when the game at Craven Cottage ended in a goalless draw.  I do not think anybody –other than Fulham- would be disappointed with a repeat of that result.  Meanwhile the search for replacement of quality must go on, for time is definitely not on Everton's side.  Fulham; Macedo; Cohen, Langley; Mullery, Bentley, Lowe; Leggatt, Hill or Sullivan, Cook, Haynes, Chamberlain.  Everton; O'Neill; Parker, Jones; King, Labone, Meagan; Tyrer, Thomas, Shackleton, Collins, Godfrey. 
The Everton reserve side to receive Sheffield Wednesday includes all the players who were left out of the senior team;- Dunlop; Tansey, Bramwell; Rea, Billington, B. Harris; Laverick, J. Harris, Wignall, Shepherd, O'Hara. 
CAREY'S 'CHICKS' MADE FULHAM EARN THEIR CORN
Saturday, January 16, 1960. The Liverpool Echo and Evening Express
Fulham 2, Everton 0
By Leslie Edwards
Fulham;- Macedo; Cohen and Langley; Mullery, Bentley, and Lowe; Leggett, Hill, Cooke, Haynes, Chamberlain.  Everton; O'Neill; Parker, Jones (Captain); King, Labone, Meagan; Tyrer, Thomas, Shackleton, Collins, and Godfrey, forwards.  Referee; Mr. A.W. Leuty (Leeds). 
What a day for Everton's two teenage wingers.  This was not only their Division one debut, but the first time either of them had been in London much less played there.  The ball skidded about the treacherous midfield areas very disconcertingly, but Everton's football at the outset was neat and quite effective and there was an urgency about the tackling which promised well.  In Fulham's first real attack Labone was forced to head for a corner a long free kick by Cohen.  O'Neill made a good punch away from Leggett's kick, and while the goalkeeper was out of position Haynes fired a shot high over the bar.
O'NEILL'S SAVE
But Fulham came closest to scoring, Hill getting up high near the far goal angle and nodded a centre by Leggatt just inside the post and O'Neill did well to stretch out his right hand and save near the foot of the post.  Everton were inclined to keep the ball too close on a day when sweeping passes would have been more embarrassing to the other defence.  A high lobbed reverse pass by Collins to O'Neill caused the goalkeeper some embarrassment but he fielded the ball safely as he was challenged and all was well.  Fulham were now a assuming command and O'Neill had to make a brilliant save from Leggatt, knocking the shot up and on to the top netting. 
FILLING ON PRESSURE
Fulham nearly foxed Everton with a free kick ruse in which Haynes shaped to make the shot and in fact left it to Chamberlain and O'Neill must have been very relieved to see this cannon ball effort fly wide.  Fulham were pilling on the pressure with Bentley far into the Everton half and helping to enable Cooke to force a corner before which the referee inspected a cut on Shackleton's forehead. 
ANOTHER ESCAPE
Hill could not get the full force of his boot on the ball as it came to him from the right when he stood not more than 10 yards out and so Everton escaped again, but one wondered how long they could continue to keep the score on a level keel.  After some magnificent work by young Tyrer with aid from Shackleton, Thomas was left with the task of putting the ball in the net from the vicinity of the penalty spot.  With no one to challenge him he drove it wide of Macedo's right hand and unhappily for Everton inches wide of the goal angle as well.  Labone was having his work cut out to nod away the long passes which often came down the centre of the field and almost invariably there was a Fulham man in position to pick up the ball in an open space. 
BALL BEATS PLAYERS
The ball was beating nearly everyone by its propensity to skid fast.  Keeping a foothold in itself was difficult and particularly when turning, Mullery drove the ball wide of goal when well placed after a pass by King had inadvertently opened up the way for him and then Macedo in trying to bounce the ball in clearing it from hand, lost possession and was lucky that Shackleton was not able to take possession.  A gorgeous pass by Haynes to Chamberlain let in the winger, but not for the first time, Labone's trusty heading saved the situation for the side, and this led to the first well-sustained Everton attack with Tyrer missing the boat for the first time.  Haynes put the ball in the net from a palpably offside position.  Everton having laid the trap well, and then young Tyrer redeemed his mistake with a fine through pass from which Collins was able to shoot low and a foot or two wide of the far post. 
TYRER INSPIRED
It was uphill going for Everton with Collins often helping in defence but gradually they were sorting themselves out.  Tyrer had moments of sheer inspiration and the pity was that Godfrey who had started on the wrong foot was still on it, try as he would to get going.  Cohen in trying to head back to Macedo nearly let in Godfrey who took a heavy tumble and was not lucky enough to pick up the ball as the goalkeeper misfielded.  Half-time; Fulham nil, Everton nil.
Leggatt started the second half by rounding Jones and crossing the ball in such a way that Chamberlain must have scored with a header if he had got any downward direction into his effort.  Collins was to be heard commanding further effort from Everton and certainly Meagan was having a good innings though when he let in Leggatt and that player was stopped by Jones, the Scotsman approached the Everton back in war like style and had to be admonished by the referee. 
BEATEN FOR PACE
King also showed some spirit when he and Cooke went down but the referee did not see this one.  Godfrey's pace limitations were shown up when Cohen overhauled him after giving him a yard or two, and took the ball without effort and completed the clearance.  Everton were doing better and only those telling passes by Haynes were really menacing.  There were still not enough Everton shots, and Collins from thirty yards at this point never had a chance of catching Macedo napping. 
ON COLLAR
Hill went close with a sharp shot on the turn that O'Neill finger tipped for a corner and Parker not for the first time made no sort of use of a free kick.  Young Tyrer's clever trapping of the ball to help his side out of trouble defensively stamped him as a player to be but Everton were soon on the collar and an Everton defender kicked off the line to prevent a header by Cooke finding a mark.  The football from both sides was distinctly sketchy at the moment and when Mullery headed back in the direction of Macedo, Godfrey who had anticipated this came close to nodding the goal which would have given him a dream debut. 
INCISIVE TACKLING
Everton's tackling was incisive and persistent and when for once Collins and Godfrey with a peach of a pass the winger's attempt at a centre developed into a semi shot which Macedo flipped over the bar without penalty despite Everton's claim for a corner.  The prelude to Fulham's goal by Haynes at 66 minutes was a scrambling move in which the Everton defence simply could not get the ball clear, and Haynes from quite a fine angle, scored with a left foot shot which somehow contrived to beat O'Neill. 
THOMAS HIT POST
Following a free kick taken by Tom Jones, Thomas hit the foot of the post and the ball spun out where it might so easily have gone in.  Thus Thomas had enjoyed the good chances Everton had so far and had missed narrowly with both of them.  Shackleton caught Macedo handling the ball an inch outside his area, and Collins fairly slashed the free kick across goal with the result that the head of Mullery turned the ball for a corner.  Such pressure as Fulham were exerting was bound to success sooner than later, and Mullery almost from the inside left position scored at 78 minutes to put Everton out of their misery, and Shackleton must have made it 2-1 if he had not stubbed the ground when attempting a big shot from no more than twelve yards out in one of Everton's best second half moves. 
SAVE OF THE DAY
Godfrey's slowness left him with little chance against Cohen, Shackleton all but headed a goal from Thomas cross in the fading moments as Tyrer had go the better of Langley and showed a good burst of speed.  Then O'Neill knocked the ball up when it was travelling like a bullet from the feet of Chamberlain.  The save of the day this one.  Final;- Fulham 2, Everton nil. 
EVERTON B V BLACKPOOL B
Saturday, January 16, 1960. The Liverpool Echo and Evening Express
Twenty seconds after the kick off Bentley had the ball in the Blackpool net; 35 minutes later O'Brien ran on to the ball following a corner and scored another.  Half-time; Everton B 2, Blackpool B nil.
Full Time; Everton B 3, Blackpool B 1
Everton A 3, Blackpool A 3
TACKLING –WHAT ONE CRITIC SAYS
Saturday, January 16, 1960. The Liverpool Echo and Evening Express
Alex Parker Answers an Attack on Everton's Defence
After last week's Cup defeat at Bradford City we expected, deserved and received a great deal of criticism, and such was our display that nobody would find it very difficult to find fault.  While I will not agree that I enjoy being criticized I am philosophical about it, as I realize that if I expect praise when I do well, I must expect to be faulted when I have a bad match.  However, I did hear of one critic's comments that I thought were so much off beam that I feel entitled to reply in defence of myself and any team mates.  Incidentally, this critic was not at Bradford last Saturday so was obviously not judging us on what was our worst display, and I have heard he has seen only one of our games so far , I doubt if the figure is much higher.  Tommy Jones and I are accused of being good at everything full backs don't need.  I sought the advice of a friend on this one and after much deliberation we decided our critic was getting at my insistence on trying to play football despite the fact that I have a No.2 on my back.  I have always believed that ball control is just as essential for a full back as it is for an inside forward, and I can only imagine that my habit of trying to dribble pass a forward and take the ball upfield to start an attack is what the critic is referring to.  However, Tommy and I are both accused of not being able to tackle. 
REGULAR
In my opinion, the one thing that Tommy Jones does better than anything else is tackle.  He has been a regular member of Everton's defence for nearly ten years and he would never have held his place so long if that side of his game had been suspect.  For myself while I have tried to play football from the full back position, I realize that my first duty is to stop the opposing team from scoring and the only way to do that is by taking the ball off them.  Consequently I have paid more attention to my ability to tackle than to anything else.  How good I am at it will leave others to judge but I know that it is not the weakest point I have.  There are many full-backs who have gained more honours in the game than, I but I am certain I would not have done as well if I could not tackle.  All my representative honours have been at full-back and the selectors consider one's ability to tackle before selection.  One of the very few to approach his normal form at Bradford was Brian Labone but our critic suggests that another centre-half be brought.  Labone?  "If he's that good he can still be fitted in the defence" he says.  How ridiculous Brian is only 20 this month and is doing amazingly well I don't doubt that he could play well elsewhere but not as well as he is doing now and a switch may run a great centre half prospect.  Hat critic also suggests that if we have goalkeeper trouble the club should buy another.  I notice that he says "if." 
Apparently he is not sure of the standard of our goalkeeper, yet can be so dogmatic about other members of the team. 
WELL OFF
Although we know that our team is not as good as some would wish it (what team is?) I have long thought how well off for goalkeepers we are.  Like the rest of us they have their off days, and because of their position the mistakes are often magnified, but we certainly do not need another.  In addition to Albert Dunlop and Jimmy O'Neill we have 17-years-old Graham Griffiths who I am sure would not let the first team down if ever he came in.  I hope I shall not be accused of being conceited by taking this chance to reply to a critic.  We have all been faulted before.  Sometimes we agree with the criticism, sometimes we disagree but can at least follow the reasoning, but in this instance I am baffled.  I am sure I speak for all the team when I say we can take reasoned and what seems logical criticism even if we disagree with it, but this latest outburst left me wondering if the writer had ever seen us play!
However, this critic was named.  At odd times is throughout the season the players receive letters from the fans, and after a defeat like last week's we usually get a law more than usual.  Some of us have had them and each of us have been accused of being the worst player in the team.  Like everybody else, fans are entitled to their opinion, but they should have the courage of their convictions and give their names.  Nearly all the critical letters are anonymous, but others have false names.  I cannot imagine why they should do this.  When we go on the field we cannot conceal our identities, so why should the supporters?  If a letter is signed one is usually compelled to read it, but when we see that there is no signature the letter is usually put in the R.S.M's rile-in other words, the waste paper basket. 
CUP DRAW
Last Monday lunch time although we no longer had any interest in the Cup, most of the players listened to the draw and there was a gasp when we heard that Manchester United were at Anfield.  It is difficult to imagine a harder task for the Liverpool team, but there are always a hard side to beat at home and I think they could well get through to round five.  I hope so.  The other week I mentioned that Billy Steel, the ex-Derby County and Scotland inside forward was playing for a team in Hollywood USA and that the club was managed by a Liverpool man.  I asked if anybody could supply his name.  well from Mr. R.D. Roberts, of 332 N. Lasper Drive, Beverly Hills, California comes the news that the manager name is Jimmy Parkinson, I know somebody would know of him.  Mr. Roberts tells me he is returning to Liverpool this October after an absence of 50 years, and in reply to a query from him I can assure him that Diana Street still runs at right angles to Bullens Road. 
EVERTON RES V SHEFF W RES
Saturday, January 16, 1960. The Liverpool Echo and Evening Express
Everton Res;- Dunlop; Tansey, Bramwell; Rea, Bllington, Harris (B); Laverick, Harris (J), Wignall, Shepherd, O'Hara.  Sheffield Wednesday Res;- McLaren; Martin, Curtis; Gibson, O'Donnell, Hill; Quinn, Froggatt, Young, Griffin, Lodge.  Referee; Mr. J. Berry (Timperley). 
The pitch looked in excellent trim.  Wednesday made a right wing attack for Rea to head Quinn's centre for a corner.  Everton were quicker to the ball and the Sheffield goal had some narrow escapes.  Wignall put Everton ahead in 27 minutes.  Wednesday almost equalized through a Quinn lob, but with Dunlop beaten.  Tansey and Bramwell cleared from under the bar.  Half-time; Everton Reserves 1, Sheffield Wednesday Reserves nil.
TYRER COULD HARDLY HAVE DONE BETTER
Monday, January 18, 1960. The Liverpool Daily Post
By Leslie Edwards
Everton's much changed side lost by two second-half goals at Fulham and their position now becomes critical.  Worse than not having won in thirteen consecutive away matches is the fact that they have failed also to pick up the single points, which are so useful.  Moreover, the side which beat them on Saturday had not won a home League game since late November.  The crux of the matter for Everton was whether nineteen-year-old Godfrey and seventeen-year-old Tyrer could do well enough in their First Division debut to enable the attack to break their long non-scoring spell.  Tyrer could hardly have done better, but Godfrey is not yet ready for this class of football.  Until he is speeded up he cannot be tried again.  What made Tyrer's performance the more remarkable was the fact that the pitch could not have been more unfavorable.  It was rutted and frozen hard and yielding enough for accurate control only in the areas between the penalty box and the touch line.  Most boys of seventeen pitch-forked into First Division football have size and weight to help them. 
TYERE'S CONTROL
Tyrer has neither but he controlled the ball splendidly, used it effectively if not quite sharply enough when making through passes, and in general played well enough to warrant a further chance.  He was wise never to attempt to beat Langley at close quarters, preferring to slip the ball along before the Fulham back had opportunity to tackle.  Godfrey took up some good scoring positions and was a little unlucky not to score, but his slowness was such that Cohen, no speed merchant could concede a yard or two and still race back and gain the ball in the tackle.  He started off unhappily and never got going.  It was not surprising Everton lost though there would have been a different story if they had taken their early chances.  The first fell to Thomas, not more than twelve yards out and all on his own when he received the ball.  He aimed just inside the goal angle and the shot finished just outside target.  If he had scored it would have taken two goals to beat Everton and the initiative would have been with them immediately.  Thus the first half was goalless, despite much Fulham pressure which failed partly because Labone, Parker and Jones played so steadily and partly because the ball was always liable to beat anyone by one of its surprised skidding bounds.  O'Neill, making his first League appearance this season, needed to be at his best also and at the interval when the sides were still level the chances were that Everton could survive the second half and snatch a point.  one of the reasons for their failure was because they did not adapt tactics to the conditions.  They persisted in trying to play orthodox football on a ground which left itself to long passes that were always liable to force a defence into mistakes, and which even if they didn't meant a lot of chasing and turning in conditions ill-suited to it.  Everton's triangular movements were pretty but too unvaried and Shackleton might well have taken the ball forward occasionally rather than slavishly slip a reverse pass to Collins or Thomas.  Neither goal was a good one and the first by Haynes whose long angled passes were a feature owed its success to accidental deflection by Labone.  O'Neill had Haynes shot covered but was beaten completely by the altered flight of the ball.  The second goal by the roaming half back Mullery, was better, the result of a shot from the inside position after Everton had scrambled ineffectively to turn back an attack which had little pattern. 
UNLUCKY THOMAS
Thomas hit a shot onto the foot of an upright and the ball spun over the by-line.  If Everton had been luckier it might have crossed the goal line.  Shackleton was inches from converting a centre when standing  few feet from goal, so all told Everton should have had three goals if the tide of misfortune had not run so strongly against them.  The match was sustained and interesting, though a thoughtless critic might say it was the victory of one poor side over another.  O'Neill, who took a knock on the thigh late in the game had an excellent match and would have been beaten much oftener if he had not played so brilliantly.  I killed Parker handling of Chamberlain, but Jones sometimes found Leggat a handful.  Labone had a fine match, but Everton's small wing half backs, willing though they were, could not complete with sizeable opponents in the air.  Even Collins found it hard to bring the ball down.  His help to the defence- much needed- meant that he could never hope to be a striker and Shackleton was left with only Thomas and Tyrer to help him.  Fulham;- Macedo; Cohen and Langley; Mullery, Bentley, and Lowe; Leggett, Hill, Cooke, Haynes, Chamberlain.  Everton; O'Neill; Parker, Jones (Captain); King, Labone, Meagan; Tyrer, Thomas, Shackleton, Collins, and Godfrey, forwards.  Referee; Mr. A.W. Leuty (Leeds). 
Attendance; 21,226. 
NO REQUESTS FOR EVERTON TRANSFERS
Monday, January 18, 1960. The Liverpool Daily Post
By Horace Yates
Everton's manager, Mr. John Carey, yesterday had no knowledge of suggestions that three of the five players, Albert Dunlop, Brian Harris, and Jimmy Harris, left out of the side at Fulham on Saturday, might ask for transfers.  Mr. Carey said that if any of these players wished to have a talk with him they knew quite well that he was always available, and willing to discuss any points that appeared to be worrying them.  "None of them have said anything to me," said Mr. Carey.  The three players, with Wignall and Laverick who were also dropped after the Bradford City Cup tie, played in the Everton reserve team against Sheffield Wednesday at Goodison Park on Saturday.  Everton were beaten 2-1.  Tommy Ring the Clyde international outside left and his wife will meet Mr. Carey today to inspect club houses.  My Scottish correspondent advises Everton not to be too sure of Ring's reply, now that Celtic have shown an interest.  I am told that Ring has expressed the view that he wishes to become a full-time professional, but has no hard and fast views about whether he should play in Scotland or in England. 
EVERTON RES 1, SHEFFIELD WEDNESDAY RES 2
Monday, January 18, 1960 The Liverpool Daily Post
Despite leading at half time, Everton faded out against a Wednesday revival led by inside forward Froggatt.  In fact, both the Sheffield inside men were allowed too much latitude and the Everton defence was sadly, out of position, when inside left Griffin scored in the forty-sixth and sixty-seventh minute.  Although Wignall who netted after twenty-seven minutes hit the bar in retaliation, Everton persisted in passing too laterally and too often.  This was in marked contrast to the Wednesday's accurate use of the long diagonal pass which would have created greater havoc had not full back Tansey and Bramwell broken even against lively wingers.  Inside right Harris (J) redeemed an indifferent first half display by his later endeavours to unite Everton's forwards. 
LEPRECHAUNS AT BOTTOM OF EVERTON'S GARDEN
Monday, January 18, 1960. The Liverpool Echo and Evening Express
By Leslie Edwards
I wish every Everton follower knew John Carey personally as I know him; I wish they appreciated how anxious he is, for Everton to succeed not only for his sake and the club's but for the sake of the rank and file supporter whose enthusiasm has made such an impression on him.  The men on the terrace are the ones he wants to satisfy.  And if he can't do it I don't know who can.  Yet when the tide flows against you as it has against Everton and their manager these past few weeks life must be dreadfully bleak.  When we returned from London and caught sight of the score-line Celtic 3, Clyde 3 the Carey reaction was "just my luck if Tommy Ring got all three goals and Clyde changed their mind about letting him come to us."  Ring, of course did not score three goals but the leprechauns are still playing in Everton's fairly ring and yesterday's headlines were that Celtic would be taking a hand in negotiations for the player.  With Auld established on the right-wing-Everton sought him too remember –Celtic think Ring would complete their forward line and unless the player is especially anxious to make a career in England it is on the cards that he may yet land up at Celtic. 
That Everton's long list of transfer possibles is not exhausted is proved by reports that the Carey trip to Blackburn last week was in connection with Anderson, of Sunderland.  There was a post-match conference in secret on Saturday between the Everton chief and Syd Owen, of Luton whose match at Bolton was postponed.  But this might presage a transfer from not to Everton. 
As if defeat at Fulham, who had not won a home League match since late November were not enough the Everton manager returned to face the threat by Dunlop, Brian Harris and Jim Harris of a desire to move from Goodison Park.  All this was simmering while Everton were in London and no doubt will be dealt with at the board meeting tomorrow evening. 
MORE CLASS, MORE SIZE
I wish everyone with Everton interests could even begin to appreciate the problems confronting the club's manager apart from the immediate ones.  But there is no way of publicizing them and if we who endure too many Everton defeats must grin and bear it, so must the quiet but knowledgeable man who is so much in the news these days.  You can depend on it that John Carey has done what he considers the right, if not the popular thing.  It takes courage to change a side as he did but he did not, no would he ever, shrink from taking action considered necessary.  The signing of Ring would solve a problem but others would remain.  Yet I have faith that Carey will guide Everton safely from the threat of the Second Division.  The team needs more class, more size, more punch.  The waste of effort by great players such as Collins and Parker to name but two, will continue until the club have men who can complement rather than tend to undo their inspired football.  Labone is young, big and strong and is developing quickly, but if the game at Fulham is any guide the smalless of the wing half-backs is an unceasing disadvantage.  On a frozen rutted ground with the ball bounding high and sometimes unpredictably Fulham not a great side, brushed through very easily and were denied only in the first half when O'Neill, Parker, Labone, and company saved the day temporarily by good covering and a general determined, which has not always been evidently recently.  Everton missed their best chance of survival when Thomas aimed just inside the goal angle and the ball flew inches wide.  This was a wonderful chance gone and with it is imitative which would come from snatching the first goal on a pitch which made the game freakish. 
UNHAPPY DEFLECTION
There was hope at the interval that Everton would snatch a point but goals by Haynes and Mullery killed all chances of that.  Haynes was fortunate in that Labone inadvertently deflected his shot down an almost "impossible" angle when O'Neill had the ball covered.  Mullery came to inside left to score in a straggling Fulham attack of no special merit.  Thomas hit an upright and Shackleton went close to heading a goal, but this was not Everton's day and it so easily might have been.  Of the two new boys on the wings, Godfrey on the left and Tyrer on the right I can report only the success of Tyrer.  I wish he were a bit bigger and then he would be a rare prospect.  In his first trip to town he did remarkably well making scarcely a mistake.  He played calmly and effectively on a ground which might have caused him to have a nightmare debut.  On one occasion he trapped the ball like a master.  But he mustn't get big-headed.  He's still a long way to go-and to grow Godfrey's lack of speed was always evident, yet his positional sense took him into good positions three times and with a little luck might have got a goal.  The Fulham crowd were critical of their side's performance and of Tom Jones' tackling of Leggatt whose incursion to the centre of the line during the second half gave it greater life and menace.  Jones, of course, is the cleanest player of all, but in vain did I try to assure spectators sitting behind me of that truth.  Everton are still not sufficiently forward moving.  Their triangular patterns are pretty but pretty ineffective.  Shackleton might have been more penetrative but when he was not so guilty, two fouls by Bentley, and the second in the penalty area, were not only ignored but produced, instead a free kick the other way. 
RING WILL DECIDE TOMORROW
Monday, January 18, 1960. The Liverpool Echo and Evening Express
Everton Move Doubts
Stays Night
By Leslie Edwards
Scottish international and Clyde left winger Tommy Ring, whose club have agreed terms with Everton for his transfer- it is now up to the player to decide whether or not he will come south-will arrive in Liverpool late this afternoon with his wife.  They will be met by Everton manager, John Carey and will stay overnight and inspect tomorrow morning the housing accommodation Everton can offer.  Before Ring entrained at Glasgow he said; "I don't know whether I'll be signing for Everton or not.  There is nothing finally settled between me and Mr. Carey and that is one of the reasons I am going to Liverpool today.  "There is the matter of terms and the matter of a house; in fact, quite a number of things to be ironed out."  The impression in Glasgow today was that it was by no means certain that Ring would become an Everton player.  If he goes to Glasgow Celtic instead then Celtic's reaction would almost certainly be to change their mind about their other international winger, Bertie Auld, who has been sought more than once by Everton in the past few months.  If Ring signs tomorrow he will play for Everton against Nottingham Forest at Goodison Park next Saturday.  He is at present only a part-time player and is anxious to go on to a full time basis.  The lure of a partnership with fellow Scottish international Bobby Collins must be strong.  The fee asked for Ring is about £12,000. 
HICKSON CASE
Dave Hickson, the one-time Everton and now Liverpool centre forward who was ordered off for the third time in his career at Anfield on Saturday, trained with the rest of the team at Blackpool today in preparation for the fourth round Cup tie against Manchester United at Anfield on Saturday.  He would make no statement about his position nor would Manager Bill Shankly.  It is probable that any commission sitting on the Hickson case will not meet before the Cup game, so the chances are that nothing will prevent Hickson taking his place on the big day.  The sending off might well effect his play in matches before his case is dealt with. 
EVERTON SIGN TOMMY RING
Tuesday, January 19, 1960. The Liverpool Echo and Evening Express
Plays On Saturday
£11,000 Fee
By Leslie Edwards
Like the good North West Mounty, Manager John Carey, of Everton has got his man.  Scottish international left winger Tommy Ring of the Clyde club signed for him at Goodison Park at mid-day and the sigh of relief which will go up from followers of Everton on learning the good news would surely be heard on the other side of the water.  The fee was undisclosed, but it is believed to be in the region of £11,000 Ring will partner fellow Scot Bobby Collins on the Everton left wing on Saturday against Notts Forest at Goodison Park.  The pair thus resume an old Scottish international link which had great success.  Mr. Carey told me a few minutes after the signing "Naturally I am very pleased to have got such a fine player, I think he'll be a great asset to us, especially as he will be teaming up again with Bobby Collins to re-form a Scottish international wing that always did well.  Ring told me he was happy about his move and delighted to join Everton. 
INFLUENCE
How much the influence of Bobby Collins and Alex Parker helped towards the successful deal- after a series of desperate disappointments over other famous figures-is anyone's guess, but it is significant that after Ring had conferred with Mr. Carey for a long time on his arrival in Liverpool yesterday he visited the home of his fellow-Scots who would assure him that although Everton's record is dismal this season, the club's repute for treatment of players is high as ever.  Like Collins, Ring is not a tall man but the criterion in football is whether anyone is competent enough.  At 28 years of age the Clyde forward is guaranteed to put punch into a position which has never been satisfactorily filled since Tommy Eglington was allowed to leave.  He has played many times for Scotland in Britain and on the Continent and has represented the Scottish league frequently.  He has a good shot and in the other Scot, the Liverpool manager, is a better proposition than Auld. 
RING SIGNING KILLS UNREST FABLE AT EVERTON
Wednesday, January 20, 1960. The Liverpool Daily Post
By Horace Yates
The hoodoo on Everton's attempts to reinforce their side with seasoned players has been broken, Tommy Ring, Clyde's international outside left, on as cold and cheerless a day as Merseyside has experienced this winter, found nothing to deter his signing the transfer forms which made him an Everton player.  The fee is about £12,000.  Tommy and his wife (Sally) quickly found a house that appealed to them, the district was right and no snags were encountered in the negotiations, which were of the briefest and friendliest character.  Although last minute doubts had been cast on Everton's change, due to the interest shown by Celtic manager John Carey was supremely optimistic that this time the answer would be right.  Naturally he kept such optimum to himself.  A wise precaution in view of previous slips.  I regard Ring's signing as a most cheering development not only for the increased ability which will undoubtedly be added to the side, but because the facts surrounding his decision to come to Goodison will help to dispel disquieting rumours. 
HAPPY RECOMMENDATION
His overnight stay in Liverpool enabled him to spend a lot of time with Alec Parker and Bobby Collins, fellow Scots with whom he was acquainted through World Cup and Scottish League experience.  If Collins and Parker had not advised him that Everton was a good club to join there is no doubt what rings decision would have been.  Ring did sign and consequently one can only assume that the club build-up by the Scots was eminently satisfactory.  The disposes as effectively as anything could of a report which gained currency in the last few weeks that Collins would be back with Celtic before the end of the season.  Obviously if discontent there has been with Collins or Parker, it is over and done with and now Everton can proceed with their very necessary reconstruction programme.  A friend who has seen a lot of Ring in Scottish football tells me he is unlikely to burn up Goodison Park with his speed but that he is "a bonny ball player."  The testimony goes further to say that ring will certainly prove to be a better outside left than Everton have had for quite a time.  Ring and his wife have gone back to Scotland but the player will probably return tomorrow to take part in his first training spell with the new colleagues with whom he will play in earnest on Saturday in the home game with Nottingham Forest.  He will then stay over and again assist Everton in Wednesday's friendly game with Celtic.  It may be two or three weeks before Ring and his wife are settled in their new home. 
BEAT-THE SNOW PLAN NOW FOR £7,000
Wednesday, January 20, 1960. The Liverpool Echo and Evening Express
By Michael Charters
In the summer of 1958, Everton spent some £16,000 in ripping up the Goodison Park pitch to install under-soil heating wires and the consequent relaying of the turf.  Although many clubs have been interested in the results not one has followed Everton's pioneering lead.  There are two reasons for this, I believe.  First the cost of the operation; secondly, and more important, Everton have had serious trouble with the pitch ever since the electrical system has been installed and until now drainage has become a major headache.  It is common knowledge that a hard core of earth preventing surface moisture from draining away has formed some four inches below the surface.  Whether that concrete like slab has come about through the effect of the heating or the work involved in laying the cables, no one has said.  But it is obvious that until some expert answer that jackpot question, other League clubs are not going to commit themselves with a huge bill to follow Everton's example and then run into pitch trouble.  Now, however, a new beat-the-snow plan has been found for £7,000-less than half the Everton cost –with little disturbance to the ground.  To the lay-man, the operation appears formidable.  An insulated copper cable is laid up and down the pitch, six inches under the turf and six inches apart.  Something like 30 miles of the heating cable would be necessary for the average ground. 
SIMPLE OPERATION
In fact, the operation is comparatively simple as was seen when the manufacturers gave a demonstration recently.  They have produced a new implement called, aptly, a mole plough.  The electric cable is fed through a share.  This share follows a circular disc, which cuts into the earth so allowing the wire to be laid at the required depth.  The turf rises slightly on the sides of a narrow incision, but a heavy roller soon levels the surface again.  The plough is pulled by a tractor fitted with hydraulic equipment and guided from behind by one man.  This new method of laying the cables is the important factor for the operation can be carried out between matches if required and in all takes between seven and ten days.  Previously it has been necessary to lift the turf completely, a long and incontinent business which had to be done during the close season. 
EFFECTIVE
The effectiveness of the heating was seen clearly at Goodison Park last season.  Five inches of snow was cleared in two nights while freezing air temperatures persisted.  The cost of the work, including the supplying of cables comes to something between £2,250 and £2,500 for a full size pitch.  More costly is the business of conveying sufficient power to the ground and the appropriate equipment possibly entailing a new substation, brings the total estimate to around £7,000.  Running costs are comparatively negligible –about 65s per hour when the total load is utilized.  For smaller clubs, the initial outlay may be too much but it should be well within the financial bounds of most First and second Division sides. 
GATES DROP
The money would come back too, over a period if here were bad spells of frost and snow.  Postponement because of bad ground conditions usually means re-arranging Saturday games for mid-week with a subsequent drop in gate receipts and there would be no excuse for the public staying away because of doubt to whether a match could be played.  Patrick thistle have had a small area behind one of the goals a Firhill Park "treated" in the new way.  Films are available to show what a difference it makes.  After a frosty night the patch revealed healthy looking grass contrasting greatly with the white hoary appearance of the playing pitch.  Others could follow if they want to ensure that the system works before consulting themselves. 
RING IS EXPECTED TO TRAIN TOMORROW
Wednesday, January 20, 1960 Liverpool Echo and Evening Express
Goodison Pitch Dry
By Leslie Edwards
Tommy ring, the Clyde and Scottish international left winger who signed for Everton yesterday, is expected to be in training with his new club tomorrow on his return from Glasgow.  After making his debut against Notts Forest at Goodison Park he will journey back to Scotland with the Everton party, which travels next week for the friendly match against Glasgow Celtic.  Despite the torrential rain and hail over night the Everton pitch is completely dry-a tribute to the continuous effort that has been made for weeks to improve the drainage. 
SLIGHT COLDS
Several of the Everton players, including goalkeeper O'Neill and half back Meagan have slight colds.  The club are not contenting themselves with the signing of one star player.  Inquiring for others have been made for many weeks but no immediate development is expected. 
A DIRECTOR OF EVERTON DIRECTORS
Thursday, January 21, 1960. The Liverpool Echo and Evening Express
Who are the men behind the scenes at Goodison Park?  We give an album of directors of Everton, with some relevant details.  At July 2, 1959, Everton's nominal share capital was £2,500, made up of 2,500 shares at £1. 
Mr. Fred Micklesfield,
Chairman, Co-opted to the board in January 1952.  A Bury man and formerly closely connected with the Crosby amateur club Marine.  Governing director of a Liverpool radiator company.  Shareholding as at July 2, 158-33 shares.
Mr. John C. Sharp
Vice, chairman. Elected to the board in July, 1946. A son of the former Everton and England footballer and Lancashire and England cricketer.  Mr. Jack Sharp who was also an Everton director.  A former captain of Woolton Golf Club.  Shareholding as at July 7, 1958 three shares.
Mr. N.W. Coffey
Elected June, 1942. The son of a former chairman and principal of the family provision firm.  Shareholding as at July 2, 1959 three shares.
Mr. C.E. Balmforth
Co-opted January 1952.  Was a captain in the 5th Battalion the King's Regiment when he won the Military Cross at Ypres in 1917. A charactered accountant with businesses in Liverpool and London.  Shareholding as at July 2, 1958; nine shares.
Mr. C.H. Askham.
Elected in May, 1958. A keen follower in his younger days of both Manchester clubs.  Connected with a mail order firm, shareholding at July 2, 1959.  25 shares.
Mr. Jack Taylor
Joined the board in 1956. A keen cricketer-a former captain of the Hightown club and now a vice-president, Chairman at a Liverpool firm of timber importers.  Shareholding July 2, 1959; 2 shares. 
Mr. R.A. Joynson
Elected June 1958.  Formerly with the South Liverpool club.  Holds a position in insurance.  Shareholding at July 2, 1959; 16 shares.
Mr. R.E. Searle.
First joined the board in 1942.  A former chairman and for many years a member of Liverpool City Council.  Managing director of a shirt-manufacturing company.  Shareholding at July 2, 1959; 132 shares. 
Mr. E. Holland Hughes
Elected at June 1958. President in 1958 of the incorporated Law Society of Liverpool and a former secretary of the Pools Promoters Association.  Senior partner in a firm of Liverpool solicitors.  Shareholding at July 2, 1959; 15 shares.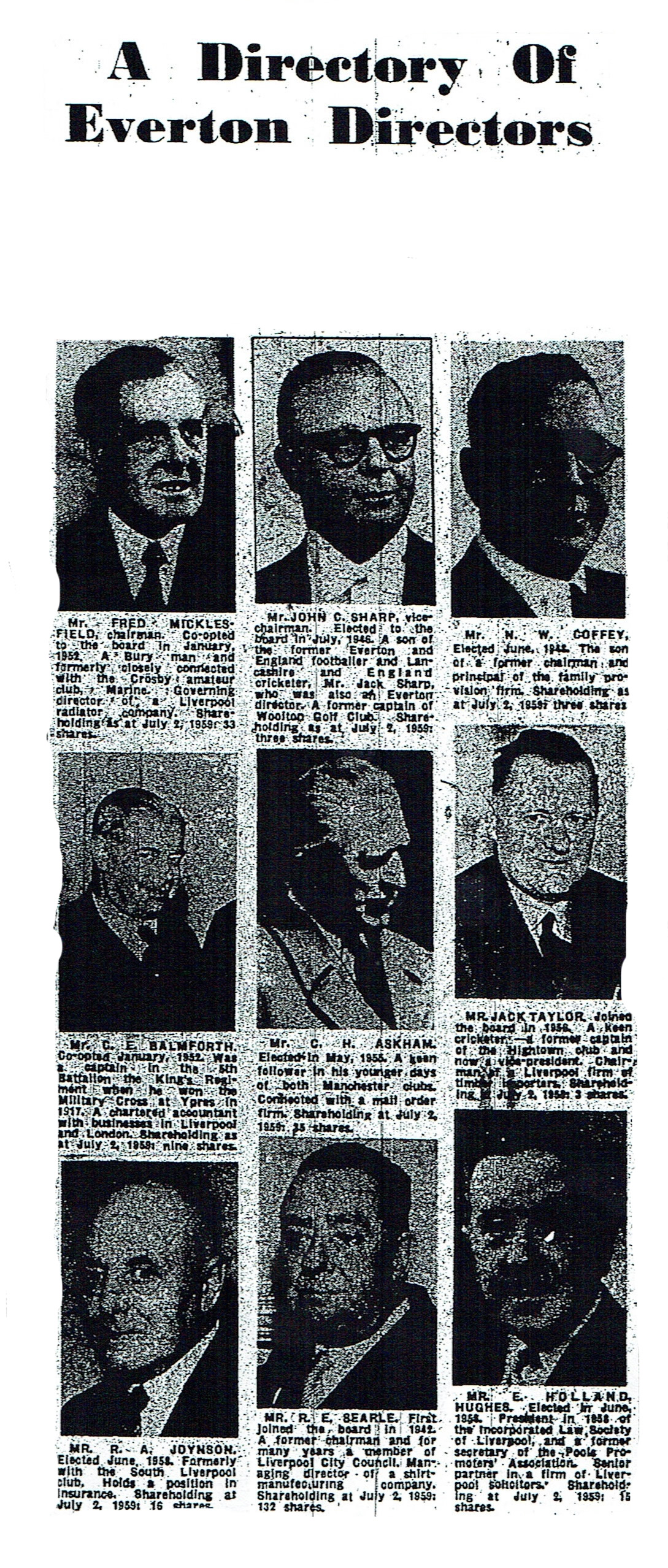 EVERTON'S EIGHTH OUTSIDE LEFT IN 2 SEASONS
Friday, January 22, 1960. The Liverpool Daily Post
Ring's Debut Tomorrow
By Horace Yates
Tommy Ring, Everton's new signing from Clyde, who makes his debut against Nottingham Forest at Goodison Park tomorrow may or may not know that he will be the eighth player to be tried in that position during the last two seasons, following the transfer to Tranmere Rovers of Tommy Eglington.  Not all those who have been used to plug the gap have been bought specially for the task, but it seems safe to say that the efforts to replace Eglington have cost Everton ten times the fee they received from the Prenton Park club.  Good luck to Ring.  We all hope that his advent will mark the beginning of an Everton revival and that manager John Carey at least cross out one position from those he must have noted for reinforcement as opportunity occurs.  O'Hara, Laverick, and G. Williams were direct purchase as readymade outside lefts, but in a addition Alan Shackleton has had six outings there while Brian Harris, Ashworth, and Godfrey have all worn the No. 11 jersey without emphasizing claims to permanent retention of it.  Mention of Ashworth reminds me that he goes into hospital this week-end and undergo an operation of his knee (injured in the Bolton match) during the course of next week. 
 A RELIEVED HARRIS
Jimmy Harris is probably the most relieved and gratified young man at Goodison Park to find his name included in the team against Nottingham Forest for he was one of those omitted from last week's side defeated by Fulham and his deputy, seventeen-year-old Alan Tyrer then earned glowing reports on his debut.  Harris is the only one of the Cup side discards to regain his place and it is difficult to imagine a more powerful incentive for him to throw off the indifferent form which has marked most of his outings this season.  Jimmy Harris at his best, can be a power in the football land.  That is how Everton want to see him.  Godfrey is relegated to make way for Ring.  Everton; O'Neill; Parker, Jones; King, Labone, Meagan; J. Harris, Thomas, Shackleton, Collins, Ring. 
IT'S UP TO HIM
Friday, January 22, 1960. The Liverpool Echo and Evening Express
By Leslie Edwards
The extent to which people will go to ensure seeing the cup-tie interest in which transcends all else sportingly n the city is illustrated by a letters have had from a Liverpool man who is willing to swap the remainder of his Everton season tickets (cost £7 7s) for an Anfield cup-tie ticket.  An additional attraction he says is that the person doing the exchange would have priority for booking next season's games.  I'm afraid my reader must make his own exchange arrangements. 
The home game tomorrow at Everton where at least one Everton fan (Mr. T. Taylor of Belmont Road) hopes his side will run.  Rings round Nottingham Forest I'm not so concerned with Everton running rings round their opponents as with putting shots into the net.  They haven't had a goal in their last four matches and time, and other sides at the same end of the table, are pressing.  The Cup holders have had a pretty thin time League-ally this season and are so close to Everton in the chart the points won tomorrow will have double-edged value.  A big crowd will welcome Tommy Ring, the Clyde and Scottish international winger, whose signing by Everton-after much frustration and failure in attempting to sign others-made a welcome change of luck for Mr. Carey and for the fans he is anxious to please.  Ring and Collins have been partners many times for Scotland and know each other's play.  It will be interesting to see what the newcomers can make of a service of the ball which must be as good as any.  But I hope Collins will not find it necessary to have to spend so much of his time in defence.  His greatest value to Everton is in the other role and what about a goal from him to celebrate a notable occasion.  The only change other than the incoming of Ring brings back Jimmy Harris to the outside right berth.  Everton; O'Neill; Parker, Jones; King, Labone, Meagan; Harris (J), Thomas, Shackleton, Collins, Ring. 
EVERTON PREPARED TO SELL PLAYERS
Friday, January 22, 1960. The Liverpool Echo and Evening Express
Circular to League Clubs
None Named
By Leslie Edwards
Football League clubs throughout Britain received from Everton F.C., today a circular letter advising them that the club were prepared to part with certain players many of who have first team experience.  No players are named, but Everton make the point that the men in mind are from the full back, half back, and forward positions.  "If anyone reads anything sinister in our action said Manager John Carey," they are mistaken.  "We are doing this primarily in the players interest.  We feel that some of them in our reserve and "A" team might do better elsewhere, and if we can help these boys we shall do so.  "If other League clubs apply to us for certain players in whom they have interest we shall put the position to the player concerted and if he agrees the move negotiations can begin.  Since he joined Everton from Blackburn Rovers in October 1958, Mr. Carey has transferred Alan Sanders, a full back to Swansea Town; Graham Williams a winger to the same Welsh club, Peter Harburn a centre forward to Scunthorpe United and Jack Hood a centre forward to Tranmere Rovers.
BETTER RESULTS
The Everton manager considers that to circularize clubs now, rather than towards or at the end of the season- the course taken by made Football League clubs –is liable to have better results for the players concerned.  Many, of Everton's reserve and "A" team players have figured in senior football at one time or another and with signings such as Ring's this week, and the possibility of others, the pruning of the playing staff is thus not only desirable but almost necessary.  Everton's last big clearance was in 1957 when the Board decided to put 15 of their full and part-time players on the open-to-transfer list.  The men concerned were Caldwell, and Harris (goalkeepers); Sutherland, Heyes, and Capper (backs), Fitzsimons, Smith and Loader (half-backs); forwards Tom Eglington, J.Payne, Derek Mayers (now at Preston), Tomlinson, Vizard, Jones, J.D. Williams, and Alec Farrell (also at Preston). 
FOREST UNCHANGED
Cup holders Nottingham Forest are unchanged at Everton tomorrow which means that they will have six of the men on duty at Wembley in their line-up including the complete half back line.  Among the newcomers to the side this season are ex-Spurs wing half Jim Iley, who is now functioning at outside left while Collin Booth a £20,000 signings from Wolves, leads the attack, with Geoff Vowden at inside right. 
Nottingham Forest- Armstrong; Thomas, McDonalds; Whitefoot, McKinlay, Burkith, Gray, Vowden, Booth, Quigley, Iley.
THESE ARE MOVING TIMES AT EVERTON
Saturday, January 23, 1960. The Liverpool Daily Post
By Horace Yates
These are moving times at Everton.  Players have started to move in- first Shackleton and now Ring; the green light has been flashed to all league clubs that Everton have men, some experienced in first team duties, who would be allowed to move out if inquires were followed y satisfactory negotiation, but the one move spectators are impatient to see is that which will take them up the table to respect-ability and safety.  Manager John Carey told me yesterday that there was nothing sinister about an Everton circular to other clubs pointing out that certain players were available for transfer.  "In these days when clubs are finding a scarily of players, we feel we have some players who are not in the first team, who would benefit from a change and it would be an advantage to have them fixed up now rather than later in the season.  "If clubs were to show interest in some players it might prove opportune to put it to them whether or not they would like a change of club.  That is all.  There is nothing more to it than that." 
SHEET ANCHOR
Goodison Park is Everton's sheet anchor.  Without the support of their 17 points from the 26 available on their own ground desperate indeed would be the position.  Tottenham lead the League with a home record no better than Everton's but the difference is that the Spurs' haul away from home is just as good as that from White Hart Lane.  Everton simply cannot afford to slip on their own ground, especially against clubs like Nottingham Forest, today's visitors for who knows, before the season is through Forest could be in the relegation tolls.  It would be very pleasant to celebrate the first appearance of Tommy Ring from Clyde with a victory just as Laverick was able to celebrate little more than a year ago, when he took a goal for further good measure.  Maybe it is worth noting that it was at Forest's ground that Everton claimed the first of their three away points in a match in which Collins might have had a hat-trick before half time and yet failed to score.  Of further interest is that this was the game which indicated that Hickson's stay at Goodison might be drawing to a close for in it he was replaced by Alan Shackleton for the first time.  Four games without a goal is a depressing record by any standards and although Ring is not renowned as a scorer it is to be expected that his influence will helped to-end the scoring famine, which in the last six weeks has found Thomas without a goal and Shackleton, Collins and Jimmy Harris with no more than one each.  Forest show many changes compared with their Cup winning side and although they still retain an interest in this season's competition they are not playing well enough to suggest a second visit to Wembley and I look to Everton goals and victory.  Everton; O'Neill; Parker, Jones; King, Labone, Meagan; J. Harris, Thomas, Shackleton, Collins, Ring.  Nottingham Forest; Armstrong; Thomas, McDonald; Whitefoot, McKinlay, Burkitt; Gray, Vowden, Booth, Quigley, Iley. 
EVERTON HOPE TO RING UP IMMEDIATE RESULTS
Saturday, January 23, 1960. The Liverpool Echo and Evening Express
Goodison Park Debut For Scottish Winger.
By Leslie Edwards
Everton hope their new Scottish left winger will ring up immediate results at Goodison Park today.  Certainly followers of the club who have seen no fewer than eight different men tried in that position will be hoping that one to fill the bill permanently has been found.  Surely a man of Tommy Ring's experience and ability must fit immediately into the Everton pattern, especially as Bobby Collins as fine an inside forward as there is in Britain will be all out to help his fellow-countrymen to a triumphant debut.  They have played together often before and nothing stands in the way of them forming a really notable wing of the sort Everton have not had for years.  Nottingham Forest Cup holders are known for their desire to progress purely on footballing ability-not for nothing has Billy Walker, the old Villa and England forward been their manager for so many years- so today's game given a decent surface, could be very entertaining indeed. Everton must break the non-scoring spell which has afflicted them over their past four matches and Ring's appearance could not be more timely.  At Fulham there was excuse for opportunities missed.  The ground was unresponsive-hard and rutted.  Everton fans itch for goals and all going well should get them.  It would be good to see Everton moving forward oftener and not using so many of the lateral passes which look good but which are not penetrative.  So often recently they have made five passes where two would suffice.  As a team they need a break to set them going as they did when first Shackleton came and victory at home at least, came easily.  There must be more shots and better ones and a more forward-moving attack before the team can undo the harm caused by successive defeats in which there has been no tangible return from the Everton front line.  Everton; O'Neill; Parker, Jones; King, Labone, Meagan; J. Harris, Thomas, Shackleton, Collins, Ring.  Nottingham Forest; Armstrong; Thomas, McDonald; Whitefoot, McKinlay, Burkitt; Gray, Vowden, Booth, Quigley, Iley. 
RING'S CAREER
Born in Glasgow
Aug 29
Height 5ft 7 ½ ins.
Weight 10st 6lbs.
Joined Clyde in 1948
First Capped for Scotland against Sweden, at Hampden Park in May 1953, and has also played in internationals against England, Wales, Ireland, Spain, Switzerland, and Germany.
Won Scottish Cup medals in 1933 v Celtic the scored the winning goal in 1938 v. Hibernian.
RING PROVED A SOCCER THEORY
Saturday, January 23, 1960. The Liverpool Echo and Evening Express
By Leslie Edwards
Tommy Ring won his first representative honour as a 15-years-old schoolboy, and the man who signed him for Clyde, and then manager, Mr. Pat Travers, had a football theory.  It was; if a boy wins a representative honour at school, it is a near certainly he'll make a first rate senior.  Ring was one of several players he watched after his schoolboy career was over, and he because one of several voting stars who some with Clyde.  Tommy was at St. Mungo school and played for Glasgow against London and he continued to play all his "home" matches in Glasgow until today.  He moved from school team in Springburn United juveniles them on to the nearby junior team, Ashfield.  It was from there he joined Clyde in 1948. 
FIRST BIG HONOUR
The left winger was a member of the Glasgow club's attack which shot 100 League goals in winning promotion from the Second Division in 195.  Ring was a leading marksman and finishing with a total of 17 goals from all matches that season.  The following year he got the first of his big honours-against the Football League in Glasgow.  He made this side in place of the original choice Willie Ormond who was injured.  The Scots won 1-0 but a few months later Ring was selected in his own right to play against Sweden, making in the left wing with Billy Steel.  While he got two League honours in 1954, the highlight of that year was a place in the match with the World famous Hungarians at Hampden.  Ring lit up a dull December afternoon with Scotland's first goal, but it didn't save his side which went down 4-2.  He was passed over for the 1954 World Cup series in Switzerland but was recalled for all the home internationals the following year, playing in the 7-2 Wembley lacing of the Scots a match which Tommy and a lot of others would rather forget.  He regards September 5 1956 as a lucky football day .  Johnny Husband then of Rangers and now of Bury was the Scottish League's outside against the Irish League.  He had to withdraw because of injury.  So had the reserve Tommy Ewing, of Patrick Thistle.  Ring became lucky number three.  The Irishmen were beaten 7-1, Ring had a good match.  Two further League caps followed.  There was another visit to Wembley and the way open for the preliminary matches in the 1958 World Cup series.  Ring played in all four –two matches each against Switzerland and Spain.  The Scots qualified but most surprisingly Ring did not travel to Sweden.
CUP MEDALS
Scottish caps apart, Ring has won two Scottish Cup medals with Clyde and it was his sharp-shooting left foot that got the goal to win the game against Celtic in 1955.  His favourite full back opponent, Everton fans with be happy to know is Alex Parker.  Not because Ring always had an outstanding match against him.  Says Tommy "He's such a complete full back you have got to be on top form all the time to break even with him.  However, now we're buddies and that's one anxiety out of my football life."  Now Ring has created a new course in his career.  At 29 he is still a superb player and Goodison Park is going to enjoy his speed on the wing and his thunderbolt shooting. 
GREAT HOME DEBUT FOR EVERTON'S NEW SCOT
Saturday, January 23, 1960. The Liverpool Echo and Evening Express
Ring Revitalizes the Goodison Front Line
Everton 6, Nottingham Forest 1
By Leslie Edwards
Everton; O'Neill; Parker, Jones (Captain); King, Labone, Meagan; Harris (J.), Thomas, Shackleton, Collins, Ring.  Nottingham Forest;- Armstrong; Thomas (G.), McDonald; Whitefoot, McKinlay, Burkitt; Gray, Vowden, Booth, Quigley, Iley.  Referee; Mr. J.E. Carr (Sheffield). 
What should have been a gala occasion at Goodison Park was ruined by the heavy rain which fell for an hour before the start.  Thus Tommy Ring, newly signed from Clyde, was greeted only by a half filled Goodison Park, the majority of people on the terraces tucking themselves under the stands for protection.  Ring started well and so did Meagan when he switched to outside left and produced a menacing centre.  Armstrong easily held Labone's long free-kick and then Forest jumped into life, with Iley making a superb trap of the greasy ball to start his side's first real attack.  Collins was plainly looking for his partner all the time, but his long through-pass caught the newcomer four yards offside-probably through ring's over eagerness to be away.  Thomas ankled a pass to Shackleton whose shot was crowded out.  This led to a further menacing move in which Everton got an indirect free kick in the area for the obstruction of Shackleton.  It ended with Parker lashing the ball hard at goal but too high to cause Armstrong the slightest embarrassment.  Iley was doing splendidly on the left.  He now beat Parker and then cracked a gorgeous long distance pass to the wing which produced a corner.  The crowd roared their appreciation of Ring's first combined operation with Collins and at the new Scot's attempted back heel touch which just failed.  Harris after bursting through beyond McDonald could not find anyone to accept his centre, Ring arriving just too late to pick up the ball as it flew beyond goal to the left wing.  Ring certainly earned his corn with a splendid run and perfect centre which Shackleton could not connect with and which Harris met with an off-target shot.  The crowd rose to the debutant for the way he beat his man, the way he kept the ball in play and for the excellence of his centre. 
A NEAR THING
Then, from a palpably offside position, Ring played to the whistle and went on to try and lob a goal.  Only a deflection by a covering defender causing the ball to pass inches over the bar.  Considering the conditions, it was fast entertaining football with the pitch playing rather better than everyone had anticipated.  It was Parker who broke the ice for Everton after four matches without a goal.  He must have been every inch of 30 yards out with Harris plainly waiting to be given the ball when he took the ball a yard or two forward and lashed in with his right foot such a tremendous swerving shot that although Armstrong saw it all the way he was completely beaten by it.  The goal came after 15 minutes and undoubtedly was due to the swerve put on the ball though its speed was also terrific.  Forest equalized after two minutes, when Iley crossed a perfect corner kick and Booth's head did the rest.  This blow came so quickly after Everton's success, it seemed to knock the shuffling out of the home team.  Iley in attempting to centre pitched on to the running track and in the same incident Parker appeared to damage his right leg through falling among the photographers who the referee moved back slightly.  A cruel offside verdict against Collins who at that moment had gone to the right wing ruined an Everton attack but Parker with a wonderful dribble and pass to Harris repaired the damage and Ring with a centre which Jimmy Harris just failed to reach also got himself into the honours list again.  Armstrong picked up with sure hands the header from Shackleton which developed out of a centre from Harris and apart from getting a goal, Everton were functioning far better than in recent games.  Everton went ahead again at 25 minutes with a goal by Shackleton.  King's pass found Harris, whose prompt centre Thomas kicked round before the ball soon to Shackleton who fairly rocketed it into the net from point-blank range.  Thomas, with a close-in cross shot had Armstrong fisting the ball for a corner in a glorious save, and for entertainment and incident the game was absolutely cracking, though Shackleton made a sorry mess of two attempts of centring from the left.  When Labone dreaded Booth's fiery centre and directed the ball to O'Neill, the crowd were not slow to appreciate this finesse in most difficult conditions.  Collins at inside right was ploughing his way through when he was obstructed but once but twice and Everton got an indirect free kick in the box which led to another score.  Harris's kick beat everyone assembled in the goal area but found fling on the left and his beautifully placed centre was flicked in nonchalantly by Thomas at 32 minutes.  Ring dragged such a perfect pass for Collins hereabouts that the little man could scarcely believe his own luck and instead of cracking it in he mistimed it completely and finished up ingloriously in the mud.  Ring tried to burst through on his own and only Armstrong's courage in coming out to his feet, saved the day.  At 44 minutes McDonald attempted a pass-back and Collins quick to seize on a ball which was braked by the mud slapped it into the back of the net for 4-1.  This came at 44 minutes and a moment later Everton and Ring in particularly were leaving the field to one of the greatest ovations given to any team at the interval. 
Half-time; Everton 4, Notts Forest 1.
Labone's reading of the flight of the greasy ball was never better demonstrated then early in the second half, when he not only breasted it down after anticipating magnificently, but he pivoted and made a first-class pass to Jimmy Harris.  Ring now brought down the house by bamboozling Thomas and going on joyously to close his range and hit a hard left-foot shot which swung away from the far post.  A flicked headed by Shackleton for which Ring had taken up perfect position left the newcomer with a gift goal if he could round Armstrong and tap the ball into the net. 
STOPPED ON LINE
He almost succeeded for the ball must have been literally on the muddled line when McKinlay dropped back and turned it away.  Armstrong blundered with a low slow moving Shackleton shot and allowed the ball to stroke the foot of the post.  Parker was having a great match in fact Everton had scarcely a weak point.  O'Neill brought off a grand one-handed save from a solid shot by Booth and Quigley scooped the ball over the bar when looking all over a scorer.  Jimmy Harris all but succeeded in lobbing a cross-shot over the head of Armstrong who recovered to save on the line.  Thomas made a hash of a gift chance when put clean through by Ring.  Thomas headed a fifth goal from Ring's perfect cross at 84 minutes.  Thomas headed a sixth at the 86th minute.  Ring got congratulations all round including handshakes from Forest players and the crowd rose to him as he left the field.  Final; Everton 6, Nottingham Forest 1.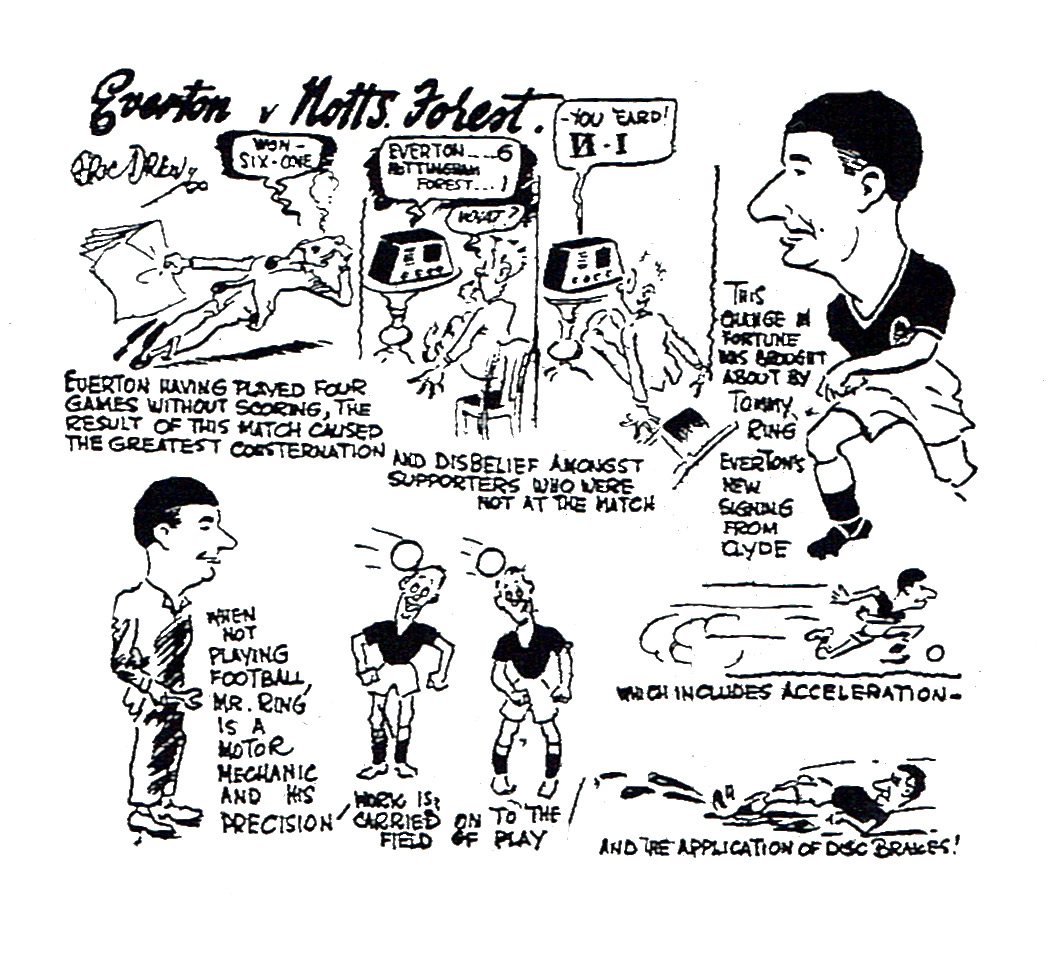 EVERTON SCOTS HELPED IN RING TRANSFER
Saturday, January 23, 1960. The Liverpool Echo and Evening Express
Alex Parker Asks Fans; Be Patient
The big news at Goodison this week, of course has been the signing of Tommy Ring from Clyde.  I know Tommy well, both personally and as a player, and you can take it from me that the club have done a good stroke of business.  But before I tell you the details of the signing I would like to say one thing.  Good as Tommy is, don't expect too much of him to start with.  It's not easy playing with a new team at first, as I know only too well, so give him a chance. Because we have a new outside-left don't expect us to go rocketing up the league chart.  He will fill the bill more than adequately but that is not to say his first few matches will be "blinders."   The first I heard of the possibility of Tommy coming to Goodison was when like you I read about it in the papers early in the week.  I thought at the time what a wonderful buy he would be, as I played against him in the Falkirk-Clyde league clashes, and with him in international and inter-league games.  (I'll let you into a secret which even he doesn't know.  One of the reasons I left Scotland was in order to avoid playing against him).  It looking aside he is one of the best wingers I have met.  He has great ball control and can take the half chance.  As an illustration of this in an international against England at Wembley a couple of years ago he ran through in the first minute to put Scotland one up and he was one of the top scoring winger in the Scottish First Division.  When I heard that he was coming to Liverpool to see a club house, I suggested to Mr. Carey that it might be a good idea if Bobby Collins and I had a chat with him to make him feel at home.  Our manager agreed so when Tommy and his wife arrived at Goodison on Monday I met them and took them home to my house. 
AT HOME
During the evening Bobby telephoned and Tommy and I went round to see him.  We had quite a long chat about games we had played in Scotland and abroad as all three of us were together on the tour of Germany, Switzerland and Spain in 1957.  He arrived too late on Monday to inspect the house so on Tuesday he and his wife accompanied Mr. Carey to Maghull.  Apparently they liked what they saw for Tommy signed at mid-day.  I was naturally pleased when I heard the news especially since it had been my idea to try to get him to feel at home so that he would join us.  It must have been a great relief to our manager when he saw Tommy putting pen to paper, for it had been no secret about the efforts he has made in the past few weeks to get more players.  I have heard how disappointed our supporters have been when the club has been unable to get new faces, but you must remember it, must be a great deal more disappointing to our manager.  You want to see new players in order that the team to stronger and therefore your enjoyment greater but Mr. Carey needs a good team to maintain his reputation in the game.  Football I his life and his living, so he is consequently more anxious than anybody else that his team do well.  Remember that next time you hear people accusing Everton of not signings anybody.  Still the road has turned.  Believe it or not I heard that one or two people were not too happy about the fact that Tommy is 29.  Well, I can tell you that he is only a young 29 and is playing as well as ever he has.  You may recall that Leslie Compton of Arsenal did not win his first cap until he was 38 and although he is a defender there are many forwards over 30 playing international soccer. 
SHORT SUPPLY
Everton are reported to have paid £12,000 for him.  If they get six good years out of him that means he is costing them £2,000 each one and what club wouldn't pay £2,000 a season for a top class international outside left especially when they are in such short supply at present.  That's probably why I decided to be a right-back.  Looking at the deal in that light, and knowing the player as I do I think the club have done a good stroke of business.  You will too, in time.  I hope he has got off to a good start against Forest today but if things have not turned out as well as we hoped, don't worry.  We expect him to take a little time to settle but when he does every right-back in the First Division (except yours truly) can watch out.  Like most players in Scotland Tommy was a part-timer.  He is a motor mechanic by trade, but business has not been as brisk as he would have liked it of late, so he decided he would be a full-time player.  He will still have his trade when it I time up his boots but as there are very few full-time professionals north of the border, he felt he would like to try his luck in England, and here he is.  If you hear people mentioning anything other than that just laugh it off and tell them the real reason.  If you want to know where you got your information, tell them I told you. 
CELTIC GAME
Next Wednesday is the day when the wanderers return for we have a friendly match at Parkhead against Celtic, a club.  Ring, Collins and myself have reason to remember.  Bobby, of course, was a favorite there for a few seasons and will be keen to show them he has lost none of his old tricks by moving south.  Celtic were said to be interested in signing Tommy, so he will want to show them what they missed.  Me?  I made my League debut there at 19 for Falkirk I am hoping I can show that I have improved since then.  That's if I have?  By the way I will give a further selection of readers letters at the first opportunity so if you think you have anything to say that might warrant inclusion write to me on the Sports Department Liverpool Echo, Victoria Street Liverpool 1. 
EVERTON BUY A 22-CARAT RING
Monday, January 25, 1960. The Liverpool Daily Post
Everton 6, Nottingham Forest 1
By Horace Yates
If one signing, that of Tommy Ring from Clyde, can convert a team of non-scorers in four successive matches, into a side which can take six goals with at least as many opportunities wasted, in one game, what sort of transformation can be expected when manager John Carey follows the first installment in the reconstruction programme with the two or three additional captures which are still necessary?  That Ring did not score against Nottingham Forest is completely unimportant.  Only a last second intervention by McKinlay, with the ball on the goal line and goalkeeper Armstrong beaten, prevented Ring making a scoring debut.  He scored and scored heavily in every other report and although his impact on English football may not have been quite so spectacular as that by his Scottish colleagues Collins over a year ago for Everton it could be every bit as important.  Impressions of a first appearance are not always necessarily accurate, for remember the hopes raised by Laverick when he was introduced.  Not that I rate Laverick in Ring's class, but it was easy enough to write optimistic prophecies on his opening display.  Ring is the most complete outside left I have seen at Goodison Park-in an Everton jersey-since Eglington's brightest days. 
INSIDE OR OUT
He beats an opponent so effortlessly, inside or outside but mainly on the outside on this showing and having done that centres the ball with an accuracy which is an open scoring invitation to forwards with any competence for their job.  He is at once an ally and a challenge to the Everton inside forwards.  Either he will help them to prove that lack of opportunity has restricted their success up to now or on the other hand that it is the ability that is in question.  Both Shackleton and Thomas faired oftener than they succeeded and naturally enough it was not always Ring who laid on the opportunities.  Forest are not one of the strongest sides in the First Division and the ability to score from one out of every two or more chances that come their way, may not be good enough against the stronger teams which are to be encountered.  Still, six goals in any match is a scoring feast that should cheer the most critical and without doubt this was a brighter, more attractive and more dangerous Everton than we have been accustomed to seeing.  By no stretch of imagination can the long serving Thomas be regarded as one of the weaker full backs and yet he was plainly flying distress signals in hi duel with Ring.  So much so, that Whitefoot frequently had to fall back to his colleagues aid.  Beyond any doubt the crowd were impressed.  It is not often at least in more recent times that players are applauded as Ring was when leaving the field both at half time and at the end, and their enthusiasm during the game was evidence of the topic effect which this extra little drop of Scotch was having on fans for so long deprived of the opportunity for vocal celebration. 
HALF POWER
This Everton triumph was the more heartening because Collins the dynamo that normally drives the side to its highest endeavours was on this occasion working on no more than half power.  He left mark on the game, as he invariably does, but this time not to the point of dominance.  With the slightest bit of encouragement the Forest side could have proved a difficult proposition to defeat for not until they fell into arrears for the second time in the match did they lose their poise and purpose and if Gray had been in the mood to cause Jones as much trouble as the mobile Iley did for Parker.  Everton would have been more seriously extended.  Everton's Scots really did them proud.  It was in the early probing stages that Parker celebrating the interception of a pass to the marauding Iley, took the ball ahead, surveyed the field and not, finding a single Everton forward in position to profit from a pass, to the surprise of everybody decided on a shot from at least thirty yards range.  What a superb goal it was and the full back leapt for sheer joy as he realized a scoring ambition.  The ground rung to congratulatory cheers until the game had actually been restarted.  This sounded more like the old Goodison.  He hit it beautifully and though Armstrong had a completely unimpeded view of the whole scene he moved too late to prevent Parker express out winger from rocketing past him into the net.  This was not Parker's first goal, but he will never score one more meritoriously. 
THE GOAL RUSH
How short-lived was the joy, for an O'Neill who had been a paid spectator up to this point, completely misjudged an Illey corner-kick to allow Forest's £20,000 centre forward signing from Wolves, Booth to head the equalizer in eighteen minutes.  after Shackleton had made the miss of the match, if was fitting that he should be on hand to restore Everton's lead Parker, Collins, King J. Harris laid the foundations most attractively and when Thomas only half-hit a shot it seemed as though the move might be denied legimate reward but luckily the ball rebounded off a defender and Shackleton applied the scoring finish.  It was not Ring's fault that he had no Dean or Lawton in the middle to pay tribute to his offerings or Everton must have soared further ahead before Thomas accepted Ring's invitation nay insistence to make it three.  Surprisingly for a player of McKinlay's experience and talents the centre half attempted a short pass back to his goalkeeper, without regard for the braking power of the mud, and Collins darted in to score fourth.  The sixty-five minute was noteworthy for the fact that O'Neill as called upon to make his first real save of the game.  Six minutes from the end Thomas had only to meet Ring's cross with his head for goal No. 5.  In 86 minutes Everton made it six, when Jimmy Harris none the worse for the enforced rest he took last week, headed a Collins free kick towards goal.  The ball had almost reached the goal line when Thomas made sure and so completed a treble.  Although there was speculation whether the sixth was a Harris or Thomas goal, the official verdict credits Thomas with the score.  In a half-back line adequate for the occasion, Labone's progress continued on impressive lines.  Everton; O'Neill; Parker, Jones; King, Labone, Meagan; J. Harris, Thomas, Shackleton, Collins, Ring.  Nottingham Forest; Armstrong; Thomas, McDonald; Whitefoot, McKinlay, Burkitt; Gray, Vowden, Booth, Quigley, Iley.  Referee; Mr. J. E. Carr (Sheffield).  Attendance. 32,279.
RING SIGNING WAS RIGHT ON THE BUTTON
Monday, January 25, 1960. The Liverpool Echo and Evening Express
By Leslie Edwards
One swallow may not make a summer, but one Ring can work a football transformation.  We saw that for ourselves at Goodison Park.  Mark well the date for this 6-1 victory by Everton against Nottingham Forest.  In a few seasons time we may well look back upon it as the start of the era in which Everton's great traditions is continued, not left lagging.  I never expect to see, and be warmed by a better more effective first contribution than by Tommy Ring.  I never expect to hear a more heartening sound than the roar of approval spectators gave his football finesses which took us back to the plays of Gillick; I never expect to see a debutant leave the field at the interval, or at the finish to such a joyous ovation in which the players of both sides took part.  This must have been the greatest day in Ring's career because recognition come so quickly, so eagerly from thousands who had never even set eyes on him before, much less seen him play.  Truly a great occasion.  And when someone from Nottingham said, rather angrily, when Everton nailed Forest for the sixth time.  "Well how can any side hope to play football on a pitch like this?- I've seen better in the Fourth Division" My unspoken reaction was "Well it's the same for both and Everton don't seem to have performed badly on it." 
ALMOST A NIGHTMARE
Ring paid off half of his transfer fee in one- in performance and promise of favours to come. He settled down immediately.  Only the excessive dray or the ball on the heavy pitch seen to disturb him, temporarily.  After he got the hang of it he plagued Thomas G as he could never have been plagued before and made his task almost a nightmare.  If this is Ring in part-time training I look forward even now eagerly to the future.  He is not fast-except when he wants a dynamic spurt-but his brainy winging left Forest and the crowd gasping.  Only do we begin to appreciate what Everton have been missing.  Only now do we begin to realize how much Collins fine spade-work has been just so much wasted effort.  At last Everton have practical stuff coming in from the left.  Ring part in the goals and his part n goals which have been, but weren't demonstrated patiently how long we have been functioning on three, or at most four cylinders in attack.  Those six goals.  Everton's excellence all through; the lack of incident of the sort which ruins a game for many people, including one meant that this was the first chapter in what John Carey hopes will be a long serial of entertainment.  And if, as is likely, entertainment ties up with success what more can any fan ask?
TIMELY, TOO…
To make five changes one week and get six goals the next is a rare thing in football but that man Carey brought it off and had the courage too, to put up the "Players for sale" notice meantime in the belief that what he was doing would be as helpful to the young players concerned as it would be to him and his club.  That all the teams save Nottingham Forest at the wrong end of the table won on Saturday-Luton, Birmingham, Leicester, Leeds United and Arsenal-proved Everton's purchase of Ring and its happy sequel came not a moment too soon; yet I am convinced Everton will go all one way now and that if they consolidate their Ring gains by further enterprise in the market they will not only climb clear of danger, but produce a truly first-class team of the sort we have not had in this city since Liverpool's last First Division championship victory.  How much the inspiring effect of that wonderful goal by Parker had on breaking Everton's goalless spell none can ever assess but my own view is that if he had not given the lead it is just possible that the attack would have frigged an frittered its way to another punchless match.  Parker's shot had tremendous speed and swerve and its effect was astonishing.  But there was a short spell of a few minutes after Forest had equalized when one feared reaction would set in and Forest might gain command.  In the event nothing of the sort happened and if Everton had won by ten goals Forest could not have complained.  Apart from Iley on the left wing and occasionally Booth in the centre the Cup winners were always second best and rather dispirited.  Everton's performance from end to end left little room for criticism and in difficult conditions some of their moves were extraordinary well contrived and carried out. 
COULD NOT HAVE DONE BETTER
We must not forget the contribution to the general cause of Collins who was enabled, for once, to concentrate his considerable energies into his attacking role.  He got a goal, he offered others; he seemed to revel in the knowledge that his passes were going to be taken on up-field and used sensibly.  Indeed Ring with centres which asked for conversion could not have done more and the pity was his clever placement of an angled shot, almost round the goalkeeper, should bog-down to a stop on the goalline when all Goodison Park was eager to acclaim a goal well deserved.  On the right Jimmy Harris recovered the form which suggested that he would make a top-notcher.  No lack of effort here and a preparedness to fight for the ball which surprised the natives and pleased them on a day when everything so miraculously came fight for Everton and their manager. 
A LITTLE UNLUCKY
Shackleton, besides bulleting home a shot for a vital goal did many other things well and was unlucky, I thought to find the mud clogging the ball in his sixpenny-piece dribbles which must otherwise have enabled him to get clear of McKinlay.  Thomas's three goals-one a clinching of a header by Jimmy Harris-showed how well he takes up position, a quality he emphasized at other times, but less successfully.  If this player had my natural ebullience and confidence he would score much more frequently, but there it is.  It isn't given to everyone to imagine that they are going to hole putts every time!  King's characteristic they shall-not-pass act; Labone's fine and quick-developing propensity for "reading" play.  Meagan's quiet style which says "Get on with the game and leave the histrionics to those who want to indulge themselves in them" –all were valuable assets in a victory which must improve Everton dramatically as the weeks roll by.  But the big little man of them all was Ring, I congratulate him and all his team-mates on producing the most heartening Everton show for seasons.  Here's to others of the same brand-clean, scientific, entertaining and thoroughly deserved. 
SCOTLAND HONOUR PARKER
Tuesday, January 26, 1960. The Liverpool Daily Post
By John Peel
Six Anglo-Scots –three from Tottenham Hotspur-are included in the Scotland side to meet the Scottish league at Ibrox next Monday.  Spurs three representatives are Bill Brown (goalkeeper), Dave Mackay (right-half), and John White (Inside-right).  The other Anglos are Alex Parker the stylish Everton full-back, Graham Leggatt (Fulham) and Denis Law (Huddersfield).  Alex Young in good form for Scottish league leaders Hearts recently displaces Ian St John at centre-forward. 
Collins in Shadow X1
Bobby Collins as reserve for both inside-forward positions. 
TWELEVE MANAGERS HAD WASTED MISSION
Tuesday, January 26, 1960. The Liverpool Echo and Evening Express
By Leslie Edwards
Everton's novel decision, taken as much in the interests of players as of their own, to circularize League clubs making available certain players has been criticism because no names were mentioned.  But the letter had good results.  No fewer than a dozen managers were anxious to see the Everton Central league side at Villa on Saturday.  Unhappily, this was one of the few matches not played.  That Everton kept undisclosed the identity of those they had in mind was wise, since it gave them a ready lead-in to other clubs who in turn might have had players to interest Everton.  Whatever comes of the club's action one can be certain that the interest of their Reserve and "A" team players was better served by a circular now than by publication of the usual list of players at the end of the season when most clubs are unloading and the market could not be more unfavorable.  The possibility exists of Everton consolidating their Ring gains by further strengthening and none is more persistent than the Everton manager in pursuing those he wants.  A good job he has a great deal of patience.  Another lucky break such as he experienced in the Ring deal and he might well surprise and delight the Everton audience with other signings of the same calibre. 
EVERTON PLAN VISIT TO SWITZERLAND AND GERMANY
Wednesday, January 27, 1960.  The Liverpool Daily Post
By Horace Yates
THE Everton players summer holiday is assured.  Arrangements have been made for a close season tour of Germany and Switzerland, probably in May, although the number of games and the names of the opponents have not yet been decided.  There was no tour last close season by either Everton or Liverpool.  Among the countries previous Everton teams have visited re United States, Denmark, Germany, Austria, Sweden, Holland, Spain and Ireland.  Everton manager John Carey took an unchanged team with him to Scotland yesterday for tonight's friendly match with Celtic.  Brian Harris joining the party as twelfth man.  If Everton had hoped to be able to see the Scottish international winger Bertie Auld in action they are almost certain to be disappointed for he had to miss the League match on Saturday owing to a leg injury and the probable team announced last night does not include his name.  Actually I do not believe Everton require another sight of the talent player to make up their mind about him, and although there is no information on the pair, nothing would be easier than to bring Auld's name into conversation today.  Celtic will reply on the team which defeated Arbroath 1-0 at Celtic Park on Saturday.  The O'Hara in the side at inside right is not related to Everton's reserve player.  Celtic;- Haffey; McKay, Kennedy; Crerrand, Evans, Peacock, Carroll, O'Hara, Byrney, Morgan, Divers.  Everton; O'Neill; Parker, Jones; King, Labone, Meagan; J. Harris, Thomas, Shackleton, Collins, Ring. 
SCOTTISH FLAVOUR
Whether Everton eventually add to the number of Scotsmen in their team is something none of us can yet forecast with any degree of accuracy, but not for many years have they had three Scots in their line up, and a Scottish international in the bargain although to do recall that in their 1938-39 championship season they also included three Scottish internationals- Jock Thomson, Torry Gillick, and Jimmy Caskie.  Scotsmen seem to have developed a habit of bobbing up in almost all successful teams so that there may be grounds for hope that the Everton trio, which began its association so brightly on Saturday will pull the team round before relegation headaches begin to make their presence felt. 
ON EVERTON TRAIN
Wednesday, January 27, 1960. The Liverpool Echo and Evening Express
Doors Opened By Three Boys
Incidents on an excursion train carrying Everton supporters home after a match at Manchester on December 28 led to three Liverpool boys, one aged 15 and two aged 13, appearing before Widnes Juvenile Court today.  The eldest boy and one of the others were dealt with together.  For British Railways Mr. T.W. Swan told the court these were two railway police officers on the train.  It was of the non-corridor type and they travelled in the guard's van.  As the train approached Widnes East they saw the off side door of a carriage open and then close.  It was alleged that the nearside door too was opened.  When the train stopped at Garston the officers went to the carriage where there were eight boys.  They asked who had opened the doors and the 15-years-old boy said he had opened the door to look out.  The younger boy said he had opened a door because it was hot.  A fine of £2 as imposed on each boy.  The other 13-year-old boy was on the same train it was stated, and when it stopped at the signals at Hough Green he opened the carriage door, got out on to the footboard and opened the door of the next carriage.  He also was fined £2. 
EVERTON IN AN OFF-FORM MOOD
Thursday, January 28, 1960. The Liverpool Echo and Evening Express
Celtic 1, Everton 0
By a Special Correspondent
Everton disappointed 30,000 Glasgow Celtic fans last night.  Much had been expected of the Goodison team with Scottish favourites like Alex Parker, Bobby Collins, and Tommy Ring but little was seen of this trio.  But it took a wonder goal from Celtic's right winger Bobby Carroll to beat Everton.  A goal in a thousand in the 55th minute which exploded the terracing into a riot of sound.  Left winger John Divers forced his way past three opponents.  He couldn't manage a shot himself so he sent the ball a cross goal.  It looked like rolling over the by-line until Carroll pounced on it.  The outside right lashed out at the ball and saw it flash into the roof of the net. O'Neill, a competent goalkeeper didn't expect that one, nor did Carroll himself.  But it was a goal and good enough to give Celtic a win.  Best man afield was King, Everton's terrier like right half.  He urged on his forwards for 90 minutes.  He fell back to defence and broke up many Celtic attacks that looked like adding to the score.  The home fans who had seen Celtic lose to Wolves had been expecting something similar from Everton.  Instead they saw a team that was not as smart as their own much criticized eleven.  The English team seldom moved with smoothness, and precision.  They indulged too often in the big kick and in defence they annoyed by persistent back passing to O'Neill.  These safety first methods were not appreciated in a show game "friendly."  The first half was dull with little incident and it as only after Carroll's whizz bang shot that we got some action.  Mochan, Byrne, and O'Hara all came close with hard drives but the save of the match was O'Neill's effort from Carroll.  Haffey, for Collins didn't have much to do but any work he had to handle came from Shackleton who tended to roam away from the opposition danger zone.  The Ring-Collins wing flattered in midfield but did not finish moves.  Celtic, by no means a great team could have won more comfortably.  They should certainly have scored almost on time when O'Hara headed a Carroll cross on the top of the crossbar.  The ball bounced three times along the woodwork before dropping into the anxious hands of O'Neill.  How the Everton team scored six goals last Saturday escaped those 30,000 fans last night. 
RING LET ME DOWN IN THE NICEST WAY
Saturday, January 30, 1960. The Liverpool Echo and Evening Express
Alex Parker Looks Back on One of the Better Weeks
Since I wrote last week's article, a number of interesting things have happened to Everton in general and your truly in particular.  Being a professional footballer is a funny business.  You may have a run of incidents which make you think that perhaps you should have taken to something else, and then there are times when you wouldn't change places with anybody.  This past week has been of the second variety.  You will recall that last week I asked our supporters not to expect too much of Tommy ring in his first match for I knew that (a) he hadn't played for a fortnight (b) he had only been a part-timer (c) coming into a team for the first time is never easy.  Well, those of you who were there will know how after my making all those excuses for him he let me down by playing a "blinder"  However, he did prove my point that when he settles down he will be giving right backs some awful headaches.  When I was talking to him after the game he said he couldn't understand how Everton were so low in the table.  I said "How do you think you played yourself, Tommy?  He replied "Not too bad I suppose, but I thought I should have had a couple myself.  "When I was running through early in the second half which only the goalkeeper to beat I didn't know whether to try to chip the ball over his head or dribble it round him.  "I decided to go round him and found I had to put the ball in from a narrow angle.  Unfortunately it slowed up in the mud and McKinlay was able to come across and kick it off the line.  "Later on I thought I was a certain scorer but mishit the ball and it went past the far post."  Incidentally, Tommy was loud in his praise of Eddie Thomas.  "He's a great positional player," he said. 
ONE REGRET
Tommy's one regret was that his wife and two young boys weren't at Goodison to see him.  As we had to return to Scotland last Tuesday to play Celtic, they stayed north of the border.  Still, much as Tommy impressed us, apparently the rest of the team, and the supporters impressed him.  "There's not much wrong with the team, Alec and there's nothing wrong with the crowd," he said.  "Let's hope we can all keep it up."  On the Friday before the match Tommy and I went to Blackpool to see Tommy Docherty, for Arsenal were staying there prior to their game with Manchester City.  Doc, being the character he is could not resist making a few cracks at Tommy's expense, for they are old international colleagues.  Earlier in this article I mentioned that there are times in a soccer player's life when he thinks he should have taken up something else.  I don't say that's the case with Arsenal's Liverpool-born back Dennis Evans but he must be feeling pretty downhearted, after what Doc told me.  Early in the season Dennis broke his ankle and it took many long weeks of training to get him fit again.  A couple of weeks ago he had a try-out with the Gunners reserve team and broke the other ankle.  So those long weeks of trying to get fit have to start all over again.  I have never made any secret of the fact that since my return from Cyprus it has been my ambition to play again for Scotland.  I had a chance 12 months ago when I was picked for a trial match but I had a bad game so consequently was not selected. 
DELIGHTED
I will not deny that when I read in the Echo last Monday evening that I was chosen to play for Scotland in another trial, I was delighted.  They say opportunity only knocks once but for Parker this is it's second time round.  I hope to clinch my place this time, and I certainly can't play any worse than I did last year.  Being picked for the game will give me quite a novel experience for although I am now with an English club I shall be playing on the two most famous club grounds in Scotland apart from Hampden in the space of five days-at Parkhead last Wednesday for Everton and at Ibrox on Monday in the trial.  Some of the crowd shouting against me last Wednesday may be cheering for me on Monday.  Next week we go to Sheffield Wednesday to try to complete the double having beaten them at Goodison early in the season.  It will be my first match against the Owls for I missed the previous game through injury.  However I have appeared at their famous Hillsborough ground before.  Four years ago I played for Scotland against England in an Under-23 match.  England won 3-1 and the scorer of the third goal was –Jimmy Harris.  An interested spectator at last week's game was Alec Ashworth, our inside forward who hurt his knee against Bolton Wanderers.  It is giving him quite a lot of trouble for although he has been in hospital he has to go back again in a week's time.  Here's hoping they can put it right this time. 
ACROSS THE PARK
As you read this you will know the result of the Liverpool –Manchester United Cup-tie.  As we Everton players did not have a game we trotted across the park to cheer for the Anfield team.  As I write this I can't say whether or not we are going to buy red rosettes but it must be something new for an Everton team to be cheering Liverpool in a Cup-tie.  Especially against our manager's former team.  I'll tell you next week what the general opinion of our side was about the game.  Regarding my article a fortnight ago when I hit back at the critic who accused our defence of not being able to tackle, I have had many letters from fans agreeing with me.  Yes, even from those who saw us beaten at Bradford! Thanks you all very much.  Those Everton players ho when coming off last week said; "We know what Alex's article next week will be about don't we?" Well, if they have read this far, and thought they were wrong I'm afraid not.  I'll not let them down, I'll mention it.  Yes it's that first goal in last week's game.  That gives me two this season, I have heard Ronnie Moran of Liverpool has scored four, so I have the rest of the season to beat him to the title of Merseyside's top-scoring full back.  However, I must admit that although I was glad I scored I realized that as soon as the ball left my foot I should have passed I heard afterwards that Jimmy Harris had run into position to receive the ball, but I didn't see him.  It's just as well the ball went in.