EVERTON v. LIVERPOOL.
London Daily News - Saturday 02 April 1904
Lovely weather favoured the meeting of the local teams at Goodison Park, and a crowd 35.000 people assembled. Representative teams took the field. There was somewhat startling commencement, a long shot by Wolstenholme scoring before play had lasted two minutes. Everton did not hold their lead long. Robinson equalising. The game was contested a fine pace, and with much spirit. From centre by Hardman, Young scored for Everton. who changed ends with the score of 2 to 1 in their favour. On resuming. Everton showed the superior form, and Young headeda goal. Parry then scored for Liverpool, but Everton again attacked, and Young put on two more points for them. Baybould failed to score from a penalty, and Everton, who had the best of matters throughout, won by 5 goals to 2.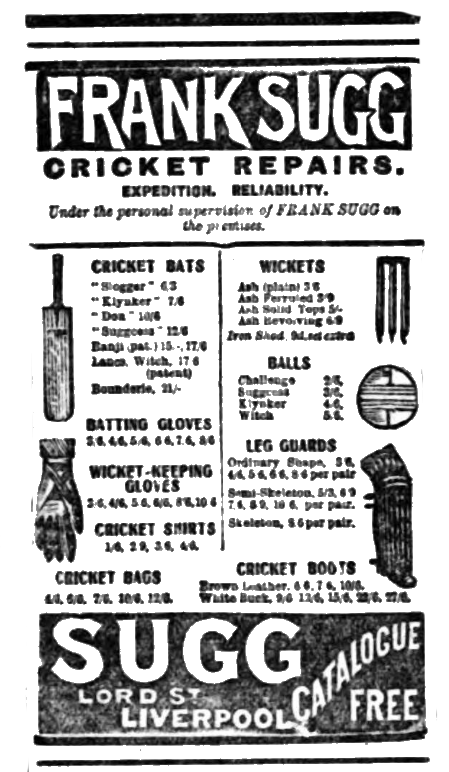 EVERTON V. LIVERPOOL
Leeds Mercury - Saturday 02 April 1904
At Goodison Park, in splendid weather, before 35,000 spectators/ Both teams were at full strength. The game opened in sensational style, for in less than a couple of minutes from the start Wolstenholmes scored for Everton with a long shot. Robinson equalised, and the game was splendidly contested, Young again palcing Everton ahead, from a centre by Hardman. Interval; Everton two goals to Liverpool one goal. In the second half, Everton maintained their superiorty. Young headed a third goal following a foul, and during a scrimmage Parry scored for Liverpool. Young added two other goals, and during the concluding stages Liverpool were awarded a penalty, which Raybould failed to convert. Everton had the best of the game throughout, though Liverpool were not so well beaten as the score might indicate. result; Everton five goals, Liverpool two goals.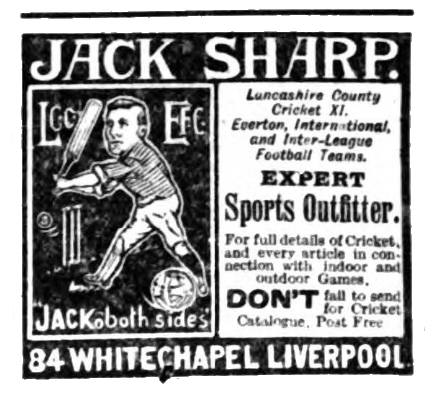 EVERTON 5 LIVERPOOL 2
April 2, 1904. The Liverpool Courier
The out standing event locally in the Association football would yesterday was the return League match between Everton and Liverpool at Goodison-park. A part from the interest which of necessity attackers to the meetings of local rivals, the game was of the utmost importance to Liverpool, who have a hard struggle to maintain their position in the First Division of the league. Though the weather was somewhat uncertain rain, fortunately held off during the progress of the game, and a holiday crowd of at least 40,000 people witnessed the match. Liverpool were at full strength, while Everton played Young centre forward in place of Settle. At three o'clock the teams forced as follows: - Everton: - Kitchen, goal, W.Balmer, and Crelly, backs, Wolstenholme, Booth (captain), and Abbott half-backs, Sharp, Taylor, Young McDermott, and H.P.Hardman, forwards. Liverpool: - Cotton, goal, West and Dunlop, backs, Parry, Raisebeck, and Hughes, half-backs, Goddard, Robinson, Raybould, Hewitt, and Cox, forwards. Referee T.Kirkham. Liverpool kicked off against the sun, and at once made progress on the right. Goddard was in evidence, but Raisebeck missed his kick when danger threatened the Everton goal. Then Hardman got away and after the ball had been transferred from player to player Wolstenholme opened the score for Everton with a long shot, which Cotton might easily have saved. This early success of Everton added interest to the encounter, and the home side continued to press, especially on the right. Many nice points of play were brought out, and while Crelly on the one side was conspicuous, Raisebeck was always a trier though Young was a thorn in his side. The game opening out provided the spectators with plenty of interesting items, but the advantage still rested with Everton. Cox failed badly when a little more earnestness might have been of great service to his side. After a period of midfield play, Young forced a corner off Hughes, but this came to nothing. Everton had the assistance of the breeze, and enjoyed the bulk of the play, though the Liverpool defence was sound. West cleared his lines in cool fashion, and smart work by Hughes led to an attack by Liverpool in the course of which a mistake by Booth was overcome by the vigilance of West. The ball hovered round the Everton goal, but so persistent were the defenders that Kitchen was not called upon. Goddard was injured, but quickly returned, and for a time play was in Everton half. There was a determination about the work of the Liverpool attack, which deserved to be awarded, and the equalising goal was not long delayed. Hewitt cleverly beat the home backs and passing to Cox, that player centred, with the result that Robinson headed into the net. It was a good goal, and deserved the applause with which it was received. Everton went off in great style, after this reverse, and a fine movement was spoiled by a long shot from McDermott, which was wide of the mark. At the other end Cox was in fault, and then McDermott was penalised for fouling West. Following the Liverpool made ground, but a feeble attempt by Raybould saw play transferred to the visiting half. Next Balmer checked a promising movement in which Raybould and Robinson were the principal participants and for a time Everton were decidedly on the offensive, the chief source of danger to Liverpool being from the right wing. Goddard lost a good chance through over turning the ball, and a moment later Crelly was on the ground just outside the penalty line. He had the ball, and was surrounded by players, the exciting incident ending by the whistle blowing for a foul against Liverpool. So far the game had been contested in the best spirit, and unfair tactics were rare. At the same time the wind was of great assistance to Everton. West cleverly intercepted a centre from Sharp, and the venue being immediately changed, Goddard sent over the line. Both sets of players put in their best efforts, and the great crowd had any amount of excitement. From a free kick well taken by Dunlop, Kitchen fisted out, and after Raisebeck had a try, Goddard placed the leather over the bar. Hardman attempted ineffectively to place his side ahead, and, after Raisebeck had led an abortive movements on the home goal. Dunlop was forced by Sharp to kick into touch. Operations were suspended for a few moments owing to an injury to Raisebeck's knee in a collision with Young. When play was resumed Raisebeck conceded a corner, which was not turned to account by the Evertonians. However, they were soon attacking in great style, and when the downfall of the Liverpool goal, appeared a certainty Cotton rushed out in the nick of time. Dunlop conceding a fruitless corner. The Liverpool right wing retaliated, only to find the home defence on the best behaviour. Hardman raced away to be pulled up for off side, and in another onslaught by Liverpool, Balmer was a tower of Strength. Suddenly Hardman broke away, and although protests were made on the ground of offside the centre the ball, the result being that Young shot past Cotton and gave Everton the lead. This success encouraged the Evertonians, who made the pace hot, and it was lucky for Liverpool that Young's shot was a little too high. There was no falling away in the game in the pace, and just before the interval, Raisebeck had hard lines with a capital shot, which only went inches over the bar. Half-time Everton 2, Liverpool 1.
On resuming, Kitchen had to run out to clear from Raybould, and the ball being transferred West checked Hardman in the nick of time. After this Liverpool again pressed, but several mistakes were made, and Kitchen was not seriously troubled. There was no cessation in the keenest with which the game was fought, and during a somewhat prolonged attack by Everton, both Young and Hardman were at fault with their marksmanship. Sharp forced a corner, which was nicely cleared, and Liverpool endeavored to make headway, but Cox centred right to the head of Crelly, who easily changed the venue. Some pretty touches were recognised by the crowd, and following a free kick against Parry the ball was placed to Young, who headed in, Cotton apparently was over the line when he handled the ball. A goal was allowed, and this gave Everton a lead of three goals to one. Stung by this reverse the Liverpool players strenuously attacked, and after a free kick against Taylor, the ball was sent into the goalmouth by West. A scrimmage ensued, and during an exciting encounter the ball was sent into the net, Parry as far as could be seen from the press-box being the excutant. Liverpool were now going great guns, and the Everton defence had a trying experience. However, it prevailed, and the varying fortunes of the game provided the spectators with plenty of excitement. Kitchen pass up neatly from Goddard, and during a further onslaught on the Everton goal, Raybould was injured, after which Crelly luckily charged down a grand shot from Robinson. At this period Liverpool were doing all the pressing, and it was lucky for Everton that Raisebeck shot high over the bar. A raid by the Everton front line brought no tangible result, but a moment later Taylor ran down, and a weak clearance by West presented an open goal to Young, who had no difficulty in putting on a fourth for Everton. Although in such a serious position, Liverpool attacked with the greatest persistency, but inaccurate shooting spoiled several favourable opportunities. After a visit to the other end, Raisebeck following a free kick brought out all Kitchen's resource, the Everton goal being only saved at the expense of a corner. Next Sharp was prominent, and a moment later West cleverly intercepted a smart cross from the Everton outside right. Hughes was hooted for tripping Sharp, and the infraction of the rules proved of use to Everton, for from the free kick, taken by Wolstenholme, Young added a fifth goal for his side. Liverpool were awarded a penalty kick , in the closing stages, but to the chargin of Liverpool supporters Raybould failed miserably, sending the ball high over the bar. The end came immediately afterwards, the final result being Everton 5, Liverpool 2.
EVERTON 2 WOLVERHAMPTON WANDERERS 0
April 4, 190. The Liverpool Courier
Unfortunately for the complete success of the match at Goodison park on Saturday, rain fell heavily for an hour or more before the time fixed for the start. However, the downpour ceased shortly before the players appeared, but the attendance was not as large as might have been expected under favourable climatic conditions. Everton made one change from the team which so signally defeat Liverpool. Settle figuring at centre forward in place of Young, while the Wolves were strongly represented. The teams were: - Everton: - Kitchen, goal, W.Balmer, and Crelly, backs, Wolstenholme, Booth (captain), and Abbott, half-backs, Sharp Taylor, Settle, McDermott, and H.P.Hardman, forwards. Wolverhampton Wanderers: - Baddeley, goal, Jones, and Bettleley, backs, Whitehouse, Pheasant, and Annis, half-backs, Bayman, Haywood, Bevin, and Miller, forwards. Referee H.J.Miller. Everton kicked off against the wind in the presence of 10,000 spectators, and immediately Hardman was applauded for beating Jones, but nothing came of the effort. The Wolves made a brief incursion into the home half, and then effective combination between the Everton halves, and forwards gave an opening to Booth, who, however, shot very wide of the mark, Crelly was outwitted by Bayman, but Miller found himself pulled up for off-side, and again the Everton attack was most persistent. Shot, after the Wolves defenders charged down shot, and a good attempt by Settle was applauded though his show was lacking in direction. The Wolves forwards improved, and Bayman got in many shot, which Kitchen only cleared by throwing himself full length at the ball. At the other end the alert Baddeley was drawn out to almost the corner flag before he secured possession and kicked clear. The Wolves were again aggressive and Balmer and Crelly had all their work cut out to overcome, the lively visiting forwards. Miller was penalised for offside, but the visitors were in a most determined mood, and Kitchen distinguished himself by his cleverness in dealing with a difficult header from Woolridge. The visitors goal then had a narrow escape. Several shots being charged down, and only a fine clearance by Baddeley prevented Sharp scoring. After a temporary diversion the Evertonians returned to the attack in splendid style. Wolstenholme had several bangs at goal, and on this occasion he tested Baddeley with a beauty. The international custodian was equal to the demand, but in saving his lines he had to concede a corner, which was not improved upon. Kitchen kicked away a long shot and Everton were again doing all the attacking. Into the net the ball could not be propelled. There was always one of other of the Wolves defenders in the way and once the referee intercepted a dangerous looking centre from Sharp. Jones was penalised for fouling McDermott near the penalty line, but it was not turned into account, and it seemed as if Everton onslaught were to go unrewarded. The visiting left were responsible for some smart work, but Balmer and Wolstenholme looked after them very carefully. For a few moments, operations were suspended owing to McDermott being injured in a collision with Whitehouse. Everton continued to assert their superiority, and exhibited some pretty passing. At the same time the Wolves defence was exceedingly sound of occasionally rather too vigorous. After the visiting forwards had been driven back, Sharp electrified the crowd by a brilliant run in which, he completely out-distanced Baddeley. He finished up with a beautiful low centre, which Settle missed very badly. At the other end Kitchen kept out a grand shot from Bayman, and a moment later there was a surprising scrimmage in the Wolves goalmouth, during which Taylor brought down Baddeley. There was a good deal of kicking or attempted kicking, and the incident terminated with a free kick against Everton. This took the ball to Everton's half where Booth was penalised for a foul just outside the penalty area. Again Sharp led a vigorous attack, and the downfall of the Wolves goal seemed assured, but another glorious chance was spoiled by Settle. Next Hardman shot just wide, and immediately afterwards the Everton goal had a marvellous escape. Haywood, with a perfectly open goal, hooking the ball over the bar. A rush on the Wolves right let in Wooldridge, who was brought down by Balmer just as the whistle had gone for offside. Everton then went away in rare style, Settle missing another easy chance of scoring. Half-time Everton nil, Wolverhampton nil.
When the game was resumed Everton at once made headway on the left, and in the first minute Taylor might have opened the score. The Wolves defence was hard pressed, the home halves rendering the forwards admirable support with the result that Baddeley was kept on the alert. Taylor made amends for his previous slip by banging in a lighting shot at Baddeley, who, however, brought off a splendid clearance. The Wolves rarely crossed the half-way line, but still the anxiously awaited goal, was not forthcoming as a reward of Everton's undoubted superiority. A header from Settle seemed likely to do the trick, but Bayman there, and in a twinkling the ball was at the other end, thanks to a smart ran all Baddeley. A miskick by one of the home defenders let in Miller, and the crowd were relieved when Booth kicked clear. Everton were quickly at their old tactics and a terrific shot from Wolstenholme struck the crossbar, and flew out of touch. This was decidedly lucky for Baddeley who would have had no chance had the ball been inches lower. Everton could do everything except score. Taylor was applauded for a magnificent shot, and so was Baddeley for a really masterful save. After being penned in their own quarters for several minutes, the Wanderers broke away on the right, but the attack was not sustained, and resumed the bombardment, Taylor sent the ball against the upright, but no matter what kind of shots came in Baddeley was unbeatable. At last Everton were deservedly rewarded, Hardman scoring amid great applause, from a centre by Sharp. Play continued to be one-sided, and though a mistake by Jones Settle ran clean through and registered a second goal for Everton. Result; Everton 2, Wolves nil.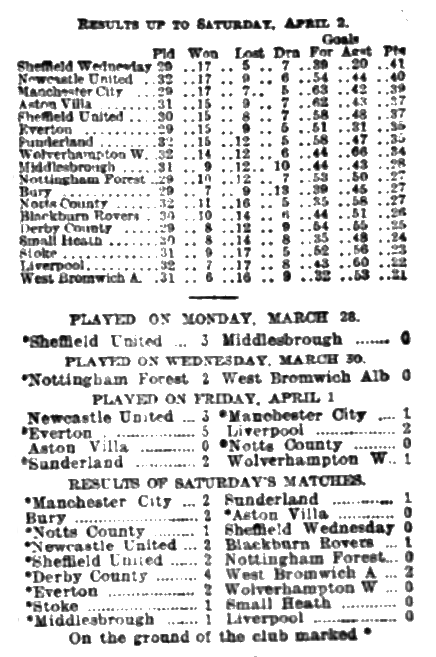 EVERTON'S EASTER-ICAL EXHIBITION.
Athletic News - Monday 04 April 1904
By Junius
The elect of Goodison Park awaited the return encounter with Wolverhampton in calm confidence, and the result fully justified their expectations. A. more one-sided game has not been witnessed on the enclosure this season, and Baddeley alone prevented the defeat from becoming an absolute rout. He has almost invariably given a splendid exposition in Liverpool, but I question if ever exhibited such brilliant form as in this match. With one exception—the substitution of Settle for Young as centre-forward -the Everton team was constituted as on the previous day; whilst the Wanderers were at full strength. Unfortunately, the weather broke down before noon, and a drenching downpour materially affected the attendance, which numbered about 10,000, whilst it also influenced the going, which otherwise would have been excellent.
EVERTON VERSUS BADDELEY
To all intents and purposes the game resolved itself into a conflict between the Everton attacking forces and Baddeley, and whilst the former were in a most aggressive humour, the International keeper was in an equally efficient vein. In the first half glorious chances were missed by both sides, Everton being the more culpable in this respect, and had Settle utilized a tithe of the openings made for him by the extreme wing forwards, the issue would have been decided before the interval arrived. Very few opportunities came to the visitors, though Bayham after cleverly stopping the ball, which seemed to be rolling over the goal line, brought Kitchen to his knees, but no one was at hand to take advantage of the unexpected opening. On another occasion Bevan centred, and though Kitchen cleared, the ball came out to Haywood, who missed one of the best chances of the afternoon. Still, these were only occasional happenings, whereas Everton were driving in all sorts of shots at Baddeley, and Taylor, who allowed his zeal to overcome his discretion, was responsible for a foul on the custodian, which seemed like creating an uproar amongst the players. However, they sobered down, and, with the exception of another smart clearance from Miller by the Everton goalkeeper, the play was practically all around the "Wolves" goal, where, chances bungled, in conjunction with the splendid work of Baddeley, were responsible for a clean sheet at the interval. Afterwards the superiority of Everton was even more pronounced, and Baddeley made one save from Taylor at full length, which brought down the house. I must confess to a feeling of disappointment when the daring custodian was eventually beaten. To relate the feats he performed would require more space than I have at my command. Suffice it to say that Sharp eventually got in a centre which baffled him, and Hardman made the goal a certainty by finally heading into the net. Then shortly following, Settle took advantage of a mistake by Jones, who miskicked, and running close in, gave the goalkeeper no chance with his final shot. To the finish Everton were all over their opponents, and score of two clear goals give no idea of the preponderance of Everton in actual warfare.
EVERTONIANS EXCELLENCE
There was no comparison between the two teams in attack, and whereas the visitors had to rest content with an occasional breakaway, Everton were hammering away at Baddeley's charge almost continuously. So incisive were the advances of the home front rank, extended throughout and had Settle displayed any ability in accepting the endless chances which came his way, the score must have reached abnormal proportions. In midfield he shaped better than in any other game this season at Goodison Park, but when it came to a question of scoring he spoiled the easiest opportunities and he has yet to demonstrate that he has any claims to occupy such a portion. McDermott was the best forward on the field, his tricky footwork and beautiful passing being quite a treat. Sharp and Hardman were resplendent on the extreme wings, and Taylor plied the former with some lovely placings, but I did not appreciate the manner in which he went for Baddeley on several occasions, and there was ample reason for the Wanderers' custodian retaliating. In the half-back division the Everton trio were preeminent, Booth especially distinguishing himself, but Wolstenholme and Abbott were in rare trim, and there need be little wonder that the visitors failed to make headway. Kitchen was seldom requisitioned, and the full backs rarely cornered; in fact, the Everton defence was never really called upon to offer a sturdy resistance.
WORRIED "WOLVES."
Little can be said in favour of the Midlanders' forwards and half-backs, for the former were never allowed to get going, and the chances they secured were more the result of over-confidence on the part of the Everton players than to nay exhibition of excellence on their part. Bayham and Wooldridge were the most prominent of a fair forward line, which unfortunately for them met the Everton rare division at the top of their form, and their advances were, therefore, of a decidedly spasmodic character. Had Haywood accepted a grand opening in the first half, the result might have been altered, but continuously, that I fancy their efforts would have been bound to meet with success. The half backs were unable to keep the clever Everton vanguard in check, and both Jones and Betteley, further behind, were overwhelmed with work, which they gallantly endeavored to perform until completely worn out with the task. Baddeley, however, was the hero of the game, and that clearance of his from Taylor at full length was marvelous. He anticipated the ball with a fine accuracy, and gave an exhibition which could not have been excelled. Everton; Kitchen; Balmer, and Crelley; Wolstenholme, Booth, and Abbott; Sharp, Taylor, Settle, MCDermott, and Hardman. Wolverhampton Wanderers;- Baddeley; Jones and Betteley; Whitehouse, Pheasant, and Annis; Baynham, Haywood, Wooldridge, Bevan, and Miller. Referee; Mr. J.H. Smith, Doncaster.
EVERTON IN FORM
Athletic News - Monday 04 April 1904
By Junius
The Everton players have signaled their return to headquarters in most exhilarating fashion, and the form they have shown against Liverpool and the "Wolves" speaks ill for the chance of the League leaders today. As already stated, the Anfielders were well beaten, but the Midlanders were utterly routed, and the magnificent goalkeeping of Baddeley alone prevented the final figures from being in accord with the general character of the play. Everton are capable of achieving the finest results, but they have this achieving the finest results, but they have this year, as in previous campaigns, displayed their customary inconsistency, and after demonstrating, it is somewhat disappointing to find them just below the leaders, without any possible chance of troubling them. Their remaining league matches are all of a most interesting character, for Stoke and West Bromwich have to visit Goodison Park, and Manchester City are likewise due on the Monday after the Final Tie. If there is still any doubt as to the centre forward position in the team, the game played on Friday and Saturday respectively must have finally settled such a controversy. Young was a conspicuous success, but Settle was not altogether irreproachable, especially near goal.
TURTON 0 EVERTON RESERVES 5
April 4 1904. The Liverpool Courier
Lancashire Combination "A" Division (Game 27)
At Turton. The visitors had the best of matters throughout. Simpson opened the scoring, and Rankin put on two more goals in quick succession. Everton leading at the interval by three goals to nil. In the second half O'Hagan scored twice and Everton won by 5 goals to nil. Everton: - Whitley, Gordon, and Murray backs, Chadwick, Russell, and Makepeace, half-backs, Rankin Sheridan, Roberts, O'Hagan, and Simpson, forwards.
EVERTON REVIEW
April 4, 1904. The Liverpool Mercury
In their two holiday fixtures already decided Everton have displayed resplendent form, and seem pretty certain to finish in the first half dozen in the League table. They were never really extended in their game with Liverpool, and against the Wolves they simply walked through their opponents, though they found an almost impassable barrier to their progress in Baddeley, who kept the goal in excellent fashion. With the exception that Settle deposed Young as centre forward, the team was the same that trounced Liverpool, whilst the Wolves were presented by the side that was beaten at Sunderland. Everton practically monopolised the attack from the start, though from a sudden breakaway, Haywood missed a perfect opening at close range. Two causes contributed to the clean sheet at the interval namely, the fine work of Baddeley is goal, and the bungling of numerous chance of Settle, who repeatedly failed to utilise the easiest opportunities of scoring. Almost throughout was the play hovering around the Wolves goal, and this state of affairs was even more pronounced after ends were changed. Rare chances were on two occasions gained by the visitors, but they blundered badly with them, and though Everton simply rained in all manner of shots, the international keeper maintained the integrity of his charge until about twelve minutes from the finish, when a centre from Sharp beat him, and Hardman headed into the net. Shortly afterwards Jones miskicked, and Settle went clean through with the second goal. The game was too one-sided to be really enjoyable, and the superiority of Everton was apparent from the start. Such persistent bombardment, as they brought to bear on Baddeley and his backs has seldom been seen on the Goodison Park enclosure, without a goal being secured, and the conviction was beginning to dawn upon many that Everton never would score, when Sharp led the way to Baddeley's first reverse. Everton played a strong game in every department, and particularly was this the case in the forward and half-back divisions. Settle shaped well in the centre, but near goal was an utter failure, though in the first half all the inside forwards were culpable when it came to a question of shooting preferring to finesse instead of sending in a rasping shot. They certainly improved in this respect in the second moiety, and gave Baddeley as warm a time as any custodian need wish for. McDermott was the trickiest forward on the field, and the exhibition was delightful to witness. He and Hardman got along famously together, the inside man opening out the play finely with most delicate yet effective touches, while the extreme winger ran and centred very affectedly. At the other end of the line, Sharp was equally capable and his centres were beautifully judged, but as already stated, they were not sufficiently utilised. Taylor played a characteristic game but there was absolutely no need for the totally uncalled for foul which he perpetrated on Baddeley, and throughout the game his methods in this respect were unnecessarily vigorous. The right winger is a robust player, but his zeal somewhat o'erran itself on two of three occasions, otherwise his display was extremely creditable. Concerning the half-backs, nothing but praise can be recorded, and Booth again demonstrated what fine form he is in at present. Confident judicious, and always effective, he had the Wanderers inside forwards at his mercury, and gave his own vanguard every advantage by his favourable placing. Wolstenholme likewise was most reliable, and with Abbott completed a trio that utterly upset all the forward notions of the visitors, who could make no headway against them. Balmer and Crelly were seldom at fault further behind, for they were never very hardly pressed, and Kitchen, who had only two or three difficult shots to stop throughout the game, was equal to everything which required his attention. From front to rear Everton played with delightful combination, and they were altogether too clever for their visitors who were exceedingly fortunate to escape with a two clear goals beating. On the actual play, double figures would just about have represented the home team's superiority. Baddeley prevented the defeat from becoming an utter rout. His abilities are too well-known to require repetition here, and, though he has in previous years afforded some notable examples of custodianship, he has never excelled the exhibition, which he gave on Saturday. His anticipation of the oncoming shot is really astounding, and what to an ordinary keeper would be a difficult task becomes comparatively easy his unerring instinct. There can only be one keeper in an English team, while Baddeley can display prowess of like quality to that which he treated the crowd at Goodison Park. Considering the vast amount of work they were called upon to perform, Jones and Betterly deserve credit for their defensive tactics at full back, but they naturally were unable to maintain an accurate opposition throughout the grueling, which the Everton forwards inflicted on them. At half-back the Wolves were not seen to advantage and though each of the trio plodded gamely along as a body, they were unable to cope with the bewildering advances of the home forwards. The visitors front rank could only occasionally get going, but their long, swinging passes were in those instances trouble some to the Everton defenders, and Baynam seems a promising right winger. In the centre, Woolridge shaped fairly well, but seldom got an opportunity of sending in a decent shot and both Haywood and Miller missed an opening, which were by no means difficult. Their methods wore totally different to those of the Everton front line, though against ordinary half backs their tactics would probably have been more effective.
EVERTON v. WEDNESDAY.
Leeds Mercury - Tuesday 05 April 1904
At Goodison Park, in beautiful weather, before 25,000 spectators. Wednesday were short of Davis, and were without Abbot and Crelly. The game started a great pace, and within couple minutes Hardman scored grand goal for Everton, Wednesday, however, played in spirited fashion. Kitchen saving cleverly. Everton had rather the better the subsequent exchanges, and the interval the score was—Everton one goal, Sheffield Wednesday none. The second half was as keenly contested as the first, the game being most enjoyable to watch. Both goalkeepers saved splendidly, but Everton increased their lead through Hardman, who found the corner of the net from a difficult position. Wednesday, towards the finish, lost the services of Beech, but they were beaten better team. Result;—Everton two goals, Sheffield Wednesday none.
EVERTON 2 SHEFFIELD WEDNESDAY 0
April 5, 1904. The Liverpool Courier
For their third home league match during the holidays Everton had again an attraction fixture at Goodson park yesterday. The visiting side was Sheffield Wednesday, the league champions and the present leaders in the competition. Fortunately the weather turned out beautifully fine. And there would be fully 20,000 spectators at the start. Owning to Abbott's appearance in the Inter-league match, and an injury to Crelly their were several alterations in the Everton team. R.Balmer partnered his brother at back. Taylor went left back, and with Young in the centre, McDermott partnered Sharp, while Settle was in his old place as inside left. On Wednesday side, Davis was an absentee as the result of injuries, his place, being taken by Hemmingfield. The team were: - Everton: - Kitchen, goal, W.Balmer and R.Balmer, backs, Wolstenholme, Booth (captain), and Taylor, half-backs, Sharp, McDermott, Young, Settle, and Hardman, forwards. Sheffield Wednesday: - Lyall, goal, Layton, and Burton, backs, Ferrier, Crawshaw, and Ruddlesdin, half-backs, Hemmingfield, Chadman, Wilson, Beech, and Simpson forwards. Everton kicked off against the sun, and the left wing were at once prominent, Hardman sending in a centre which Young almost utilised, but Taylor was in the way, Everton continued in an aggressive mood, and Young sending nicely across to Hardman the amateur scored a beautiful goal within a couple minutes. The Wednesday now made headway but young Balmer smartly robbed Wilson. The Sheffield Wednesday right, however, bore down on the Everton goal, and Hemmingfield put in a tremendous shot, which Kitchen dealt with splendid fashion. A moment later Lyton from midfield got in a dropping shot which Kitchen cleverly tipped over the bar at the expense of a corner which prove abortive. Then Hardman receiving from Young raced the length of the field, only to be eventually beaten by Layton. The game was finely contested and a corner off young Balmer, and Kitchen them saving from Chapman. Afterwards the Everton forwards were responsible for a beautifully combined movement, as the outcome of which Hardman from a splendid centre, which was met by Sharp, who from two or three yards distance aim against the goalkeepers legs. Wednesday goal had a narrow escape, and so terrific this period were Everton's onslaught then from Young's centre Hardman might have added a second goal. His attempt, however, was fortunately for Lyall, a trifle on the wrong side of the upright. Wednesday put themselves together and attacked on the right, play for some minutes being confined to the home left. The only advantage with the visitors obtained with a corner, which Booth rendered futile, then the ball was at the other end with tricky work by Sharp, in centring, placed the ball behind. Further pressure by the Evertonians was overcome by the vigilance of the Wednesday defenders, and then, after Wilson had beaten W.Balmer, Chapman made a wretched off a glorious chance to equalise. Both ends were visited in turn, and although the game was more even than previously it never lacking in interest. W.Balmer had miss a charged down and this presented an opening for Beach, who directed a really good chance, shot at Kitchen, though in doing so he temporarily injured. Next capital work between McDermott and Sharp gave a chance to Young, who was at fault, and at the other end, Simpson was penalised for fouling Kitchen as he was in the act of dealing with a good effort from Hemmingfield. The play continued full of exciting incidents and not the least interesting were Taylor's touches at the half-back. The Everton attack was in rare trim, but the visiting defence gave nothing away, Hardman being warmly applauded for a fast low shot, which brought Lyall to his knees. So far the exhibition had been entirely worthy of the reputation of the club. Everton enjoyed a spell of attacking, and if only Settle and put a little more power behind one of his shot Lyall must have been beaten. Just before the interval Beech shot over when nicely placed, and danger again threatened the Everton goal, put the defence could not be overcome, and Everton led at the interval by a goal. Half-time Everton 1 Sheffield Wednesday 1
The first half had produced a really admirable exposition of first class football, and strong as was the champions defence no one could begrudge Everton their lead by a goal. When proceedings were resumed there must have been an attendance of fully 23,000, of whom a fair sprinkling came from Sheffield. Everton were the first to show up, but Sharp ran the ball over the line, and Booth was wide with a long shot. The players, were some time in settling down to their high standard of the opening half, and frequent thrown-ins, coupled with an occasional free kick, rather spoiled the enjoyment of the spectators. The visitors were first seriously called upon, but sided by a little luck in having shots charged down, the Evertonians were beaten back. Beech was unfortunate enough to sustain a second knock, and had to retire to the side of the field for a few minutes. His absence did not disconcert his comrades, who kept Kitchen, and his backs engaged. A beautiful centre from Hardman evoked applause, and although Settle sent over, the Everton outside left quickly forced a corner, which was followed by a couple more, neither of which, however, was turned to advantage. A splendid bit of work by Settle left Young with practically an open goal, but the centre forward failed miserably. The Blades changed the venue, only to be met by as tenacious a defence as their own. Once however, Kitchen was called upon to intercept a dangerous centre, from Chapman. This he neatly accomplished, but still the visiting attack was exceedingly difficult to overcome, their forwards being very quick on the ball. In a trice Everton were invading their opponents territory, and reward availed them for receiving a pass from Young. Hardman by a brilliant effort when in a position of difficulty, gave his side a second goal, with a shot that found the corner of the net, quite out of the reach of Lyall. This further success had the effect of rousing even to a greater extent, than before, both sets of players, and a more interesting and hard fought match has not often been seen at Goodison Park. The venue changed from end to end with the utmost rapidity, for while one moment Kitchen was surrounded by opponents. Lyall the next was similarly situated. Wednesday lost the services of Beech, who had again been in the wars, but although handicapped they struggled hard. Towards the finish, they were outplayed, and had to acknowledge the superiority of the Evertonians, who were fairly entitled to their handsome victory. Final Everton 2 Sheffield Wednesday nil.
LIVERPOOL RESERVES 1 EVERTON RESERVES 1
April 5, 1904. The Liverpool Courier
Lancashire Combination "A" Division (Game 28)
The return Lancashire Combination match was played at Anfield yesterday morning in fine weather, and before about 7,000 spectators. The teams faced as follows: - Liverpool: - Cotton, goal, Wilson and McLean, backs, Latham, Fleming, and Morgan, half-backs, Dudley, Raisebeck, Carlin, Chadwick, and Garside forwards. Everton: - Whitley, goal, Wildman, and Murray, backs, Chadwick Russell, and Makepeace, half-backs, Rankin, Sheridan, Roberts, O'Hagan, and Corrin forwards . Carlin kicked off on behalf of Liverpool, the visitors having the advantage of a strong wind. Play ruled in favour of the Blues, and they forced a couple of corners without result. Carlin then got away but Wildman cleared in fine style. Chadwick returned, but shot poorly, and Whitley was not called upon. Everton then resumed the attack, and Cotton saved a low shot from O'Hagan. His clearance, however, was a poor one, for he sent the ball right to Rankin, who was about fifteen yards out, and the Everton outside right scored with a splendid shot. Assisted by the wind, Everton attack after this, and Sheridan was tripped. Chadwick took the free kick, and Cotton turned his shot over the bar, the corner being worked away. A little later Fleming fouling Sheridan just outside the penalty area, and Cotton conceded another corner, which Russell headed over the bar. Play continued to be contested in the Liverpool half, and Roberts neatly beat McLean, only to shoot wide. Then Sheridan had a shot charged down, and Wilson kicked away from Rankin. Raisebeck spoiled good play by Carlin by poor passing, but assisted by a free kick, Liverpool got down, Garside and Chadwick each sending wide. For some time Everton had to defend, but Makepeace and Russell relieved. Roberts sent wide, and a corner was fruitless. Fine passing between Sheridan, O'Hagan and Corrin resulted in the latter dashing into goal at a great pace his shot turning out of goal off Morgan. This corner brought no result, and Garside dashed away, Murray running across and clearing in fine style. Everton again put on pressure, but failed to call upon Cotton, the shooting being very poor. The Reds retaliated, Carlin, however, sending wide, while the home right quite failed to make headway against Makepeace, and Murray, Whitley saved well from a free kick, and then between them Wilson and McLean nearly let in the Everton forwards. Whitley stopped a capital shot from Raisebeck, and at the other end Roberts was very little wide with a fine long shot. A little later Cotton saved well from Sheridan, half-time arriving just as the corner kick was being taken. Interval: - Liverpool nil, Everton 1.
Roberts restarted, Russell being an absentee, and after Raisebeck had shot wide, the visitors put on pressure, McLean clearing luckily, Garside next called upon Whitley with a capital low shot, and then McLean brought himself under the notice of the referee for tripping Roberts, who had a clear course. Chadwick did good work for the Reds, but Murray was a tower of strength in the Everton defence. The strong wind spoilt the play, the shooting of both sides being very poor. Liverpool forced a corner on the left without result, and after Everton had made a brief attack, Garside put in a capital run. Murray taking the ball from his toe. A corner followed from which Dudley missed a good opening, and then the Blues goal under went considerable pressure. The goal was packed to good purpose however, while Whitley twice saved well. Russell returned, and Rankin made a grand run, Latham saving at a critical juncture. End to end play followed, and once Rankin beat both McLean and Cotton, but the ball went across the goal and outside. Carlin tried to get through for the Anfielders, but the Everton backs were too strong. Wilson also spoiled several promising movements on the part of the Blues forwards. Liverpool made great efforts to get level, and a penalty kick was awarded, owing to Chadwick handling. His namesake took the kick, but hit the post, and Whitley catching the ball on the rebound, clearing with wonderful smartness. Everton defended finely under severe pressure, but Liverpool lost chances. The Anfielders pressed in the closing stages, but the Everton defence held out until just on time, when Garside equalised with a fine shot from close quarters. Final Liverpool 1 Everton 1.
INTER-LEAGUE HOUOURS FOR WALTER ABBOTT
April 5 1904. The Liverpool Courier
Inter-League Match, Scotland against England at Manchester yesterday in front of 35,000 spectator's watch England beat Scotland by two goals to one, Walter Abbott playing half-back, for the English.
THE SCOTTISH SKIPPER-JACKY ROBERTSON
Dundee Evening Telegraph - Saturday 09 April 1904
Jacky Robertson, thoroughly deserves the honourable position of captain of the Scottish team. Leaving Dumbarton as a mere youth, he joined Everton and played for some time in the reserve teasm, Boyle, Holt, and Stewart were the regular League halves, but such excellent form did Robertson show that it was soon seen a place must be found for him. "Sojer Stewart" was playing a great game, but could keep out the youngster, who not only maintained his place in the Everton team, but gained his cap against England. There was now a demand for his service, and Southampton finally secued him. Though loss to sight in Southern League football, he was not lost to memory, for another English cap was his. Strong inducements were now held out to him by two leading Scottish Clubs, and Rangers proved the lucky ones. He has been capped every year since he came to Ibrox, his record of English caps being 1898-99-1900-1-2-3-4, or one more than Neillie Gibson, and three less than the record-holders Arnot and Campbell. As the holder of seven consectutive caps, Robertson is above adverse criticism. He is a keen tackler, and, possessing rare speed, grand at following up when beaten, as happens even the ableat defender. Shines equally well in defence or atatck, and is perhaps the deadiest half-back shot in the kingdom, as witness his goal against England League at Manchester. His aspirations after the managership of an English team, and is at presently studying with a view to improve himself in ascholastic matters.
JACKIE ROBERTSON
April 9, 1904. Evening Telegraph
Jacky Robertson thoroughly deserves the honorable position of Captain of the Scottish team. Leaving Dumbarton as a mere youth, he joined Everton, and played for some time in the reserve team. Boyle, Holt, and Stewart were the regular League halves, but such excellent form did Robertson show that it was soon seen a place must be found for him. "Sojer Stewart" was playing a great game, but could not keep out the youngster, who not only maintained his place in the Everton team, but gained his cap against England. There was now a demand for his services, and Southampton finally secured him. Though lost to sight in Southern League football, he was not lost to memory, for another English cap was his. Strong inducements were now held out to him by two leading Scottish Clubs, and Rangers proved the lucky ones. He has been capped every year since he came to Ibrox, his record of English caps being 1898-99-1900-1-2-3-4, or one more than Neillie Gibson, and three less than the record-holders Arnot and Campbell. As the holder of seven consecutive caps, Robertson is above adverse criticism. He is a keen tackler, and possessing rare speed, grand at following up when beaten, as happens even the ablest defender. Shines equally well in defence or attack, and is perhaps the deadliest half-back shot in the kingdom as witness his goal against England League at Manchester. Has aspirations after the managership of an English team, and is at presently studying with a view to improve himself in scholastic matters.
EVERTON 0 STOKE CITY 1
April 11, 1904. The Liverpool Courier
Everton played their fourth successive League match at home on Saturday, when they were opposed by Stoke. In as much as the Potters were not yet secure for the next season ususal interest attached to the game, especially in view of the fact that with Liverpool, Stoke were candidates for the second division. The teams were: - Everton: - Kitchen, goal, W.Balmer, and Crelly, backs, Taylor, Booth (captain), and Abbott half-backs, Sharp, McDermott, Young Settle, and H.P.Hardman, forwards. Stoke: - Roose goal, Burgress, and Hartshorne, backs, Baddeley, Holford, and Bradley, half-backs, Fielding, Whitehouse, Gallimore, and Leonard, forwards. Referee A.Kingscott. Everton kicked off against the sun in the pressure of some 12,000 spectators, and the opening stages favoured the Potters, although the Everton defence was not seriously troubled. Leonard indulged in a sprint, only to be ruled offside, and the right wing also were prominent without however, getting in a shot at goal. Hardman raced away without result, and following smart work by Sharp and McDermott, Roose rushed out and kicked away, with the result that Booth with a long kick dropped the ball over the bar. Play was of a ragged
Description, and once, when Young was making headway, the referee's decision of offside did not meet with approval. Play was of a given and take description, with few incidents of outstanding interest. Stoke got away, only to find Gallimore shot too high, and at the other end, Hardman was brought up for off-side. Everton were now showing up more prominently, but their attack was sadly lacking in sting. The Potters suddenly dashed away, and from Fielding's centre Whitehouse shot across the goalmouth. After this Everton forced the pace, but Roose had little difficulty in dealing with the demands made upon him. Stoke vainly endeavored to change the venue, and the Stoke defence were fairly hard pressed, though the Everton forwards were lacking in the directness of their attacks. Taylor gave Sharp some nice chances, but the Everton flier was well watched. The game was listless as compared with the holiday encounters, and neither side seemed able to rouse the spectators. Once when Hardman initiated an attack Burgess seemed to deliberately knock the ball down with his hands, within the penalty area, but it was not noticed by the referee, a piece of luck for Stoke. End to end play followed, but striking features were conspicuous by their absence. Eventually McDerrmott put the ball nicely forward to Sharp who crashed in a splendid centre, which Burgess kicked over at the expense of a corner. From this the ball was planted in the goalmouth, and ultimately headed over by Booth. A moment later another corner fell to Everton, and this time after some tricky work, McDermott, with a low shot, sent just wide of the upright. From a throw-in Sharp shot over the bar, and then the Stoke left wing made progress by means of very pretty8 passing, the movement however, being spoiled, through the feeble finishing effort of Gallimore. Neither team appeared able to rise to the occasion, nor the scrambling nature of the game brought forth various appeals of the spectators, certain of them not being very complimentary. At last Everton showed in greater advantage, and Roose cleverly kept out a stinging centre from Sharp, but though pressing for some time they were unable to penetrate shooting high over the bar. Half-time Everton nil, Stoke nil. Now that Everton had the benefit of a stiff breeze it was confidently expected that they would soon place a different complexion on the game. On the resumption the home forwards at once made headway, but Settle was woefully at fault with a shot high over the bar. The Stoke defence was severely pressed, but Roose was equal to all the calls upon him. Stoke rushed away to the other end, and Crelly punting strongly, Hardman raced away on his own, without however, being able to get the better of Burgess. A moment later Sharp with his left too put in a really grand centre, which Roose was just able to tip over at the expense of a corner. Further pressure was maintained by Everton, and a fast bouncing shot from McDermott gave the Stoke custodian considerable corcern. For some time the Stoke goal was under continuous attack, but the shooting of the home men left much to be desired. On one occasion Roose very cleverly scooped out Settle;s shot from close range. Both Taylor and Booth shot out of range, and then from a sudden breakaway Stoke opened the score. Whitehouse and Fielding ran the ball down, and the former, beating Crelly, shot in at Kitchen, who stopped the ball without clearing. The result was that Whitehouse had little difficulty in planting the ball in the net. The reverse had rather an inspiriting effect upon the Evertonians, who, however did not produce anything approaching the form exhibited in their three previous home games. Towards the finish Stoke resorted to kicking out tactics, and after a very poor display Everton were beaten, Everton nil, Stoke 1.
BOLTON WANDERERS RESERVES 2 EVERTON RESERVES 3
April 11, 1904. The Liverpool Mercury
Lancashire Combination "A" Division (Game 29)
At Burden Park. Just on the interval Roberts scored for Everton, Half time Bolton nil, Everton 1. Resuming, the Wanderers quickly crossed the middle line and forced back the visitors defence. Everton them scored twice. The Bolton men were disorganized, but towards the close they played better and put on two goals. Bolton 2 Everton 3. Everton: - Whitley, goal, Gordon, and Murray, backs R.Clayton, Chadwick, and Makepeace, half-backs, Rankin, McAdam, Roberts, O'Hagan, and Dilly, forwards.
WOLSTENHOLME INTERNATIONAL HONOURS
April 11 1904. The Liverpool Courier
The annual contest between the association football representatives of England and Scotland, took place on the ground of the Celtic Club Glasgow on Saturday. There would be about 40,000 people present. Everton winning by a goal to nil.
THE LEADERS HARD-EARNED VICTORY
Athletic News - Monday 11 April 1904
Everton reserve gained a very creditable victory over the Bolton Wanderers Reserve at Burnden Park. Just on the interval the Bolton goal was captured. This was not a strong lead, considering the conditions and it was expected that the Wanderers would soon rub off the advantage. Singular to say, they became completely disorganized and so well did the Everton vanguard acquit themselves that they obtained a lead of three goals. A rally on the part of the home side enabled them to put on two goals, but they failed to obtain an equalizer, and the honours went to the side that deserved them.
ENGLAND VICTORY AT LAST
Athletic News - Monday 11 April 1904
Scotland v England
By Titrus
So rarely have the English eleven conquered their Scottish foemen in Glasgow that the supporters of the dominant partner can be excused for enthusing over they victory gained on the ground of Glasgow Celtic on Saturday in the presence of 40,000 followers of the dribbling game. England;- Baddeley; Crompton, Burgess; Wolsteholmes (Everton), Wilkinson, Leake; Rutherford, Bloomer, Woodward, Harris, Blackburn. Scotland;- McBride; Jackson, Watson; Aitken, Raisebeck, Robertson (Rangers), Niblo, Walker, Brown, Orr, Templeton.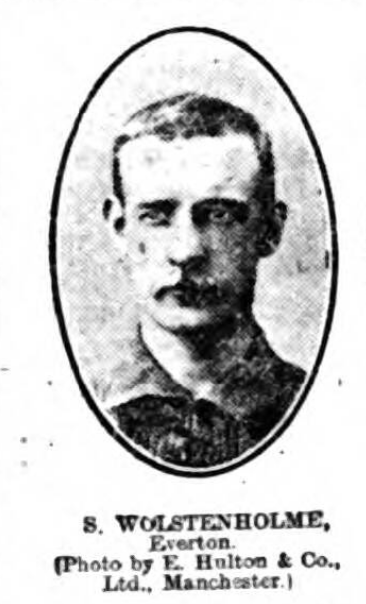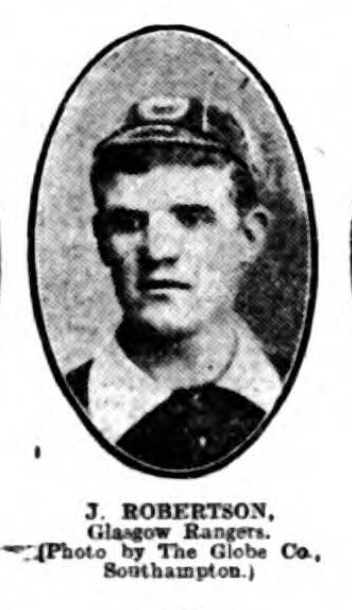 Ex Everton Player Jack Robertson now of Glasgow Rangers
POOR FOOTBALL AT GOODISON PARK
Athletic News - Monday 11 April 1904
By Junius
After their fine exhibition during the Easter holidays Everton were naturally expected to account for Stoke without much trouble, despite the fact that the visitors were sorely in need of points to prevent their relegation to the Second Division. However, Everton once more gave proof of their inconsistency by allowing their opponents to score the only goal of the match, and thereby repeating precisely the verdict of last year's meeting on the same ground. A strong breeze was blowing from goal to goal, and Stoke had the advantage of this in the first half.
SCRAMBLING FOOTBALL
To even attempt to record the details of this exhibition of football would be as wearisome as it was to witness. The Everton players never seemed to settle to serious football, and throughout the game did not display a tithe of the cleverness shown in their recent games. Stoke were little better, for their forward play was rugged, and rarely occasioned Kitchen much anxiety. No goals were scored before the interval, and none were deserved, and the half-time verdict of nothing gained was a faithful reflex of what had happened during this period. Everton on resuming with the breeze in their favour pressed for a time, but their shooting was as wild as the April wind, and one never knew where to expect the ball to travel, when it came to close quarters. After Everton had kept the play hovering around Roose and his backs for fully twenty minutes, the Stoke right wing broke away, and Whitehouse beating Crelley shot straight at Kitchen. The latter failed to hold the ball, and the Stoke inside right continuing his career, regained possession, and banged the ball into the net via the under surface of the crossbar. This settled the issue.
GENERAL CRITICISM
It was the worst exhibition of football seen on the ground this season, without doubt, and coming as it did after the excellence of the previous days, I cannot account for the remarkable falling away of the Everton players. It was simply a rush and scramble throughout, utterly devoid of any of the finer points of the game, and neither side deserved to score, for the general work scarcely reached even a moderate standard. Everton were the greater sinners in this respect, for their forwards were inert and disjointed, and they never seemed likely to find the net. Sharp deserves some commiseration for, though unfit, he was pressed into service at the last minute owing to his substitute, Rankin, being incapacitated, and this will account for the weakness of his work. It would be difficult to single out any forward for especial mention, whilst the half-backs, with the notable exception of Taylor, who worked untiringly throughout, were off colour. The backs were little removed from fair, and Kitchen failed at the only decent shot he had to deal with during the game. Everton have disappointed their patient supporters many times in their undulating career, but I question if ever they have given them greater cause for displeasure than in this match. Within a week they have been seen at their topmost pinnacle of their form and at their lowest depth, and to even attempt to explain such a falling away is beyond me. As regards Stoke, who can be excused for displaying their jubilation at the finish, the defence never gave anything away. Roose saved some straight shots, and made ultra-heroic efforts to get at others, terribly wide of the mark. The full backs kicked sturdily, and did not rest on ceremony in clearing the ball; in fact, the Stoke defence shaped very creditably under the circumstances. The half-backs were a fairly even trio, and the forwards were best represented by Whitehouse and Capes. Everton; Kitchen; Balmer and Crelley; Taylor, Booth, and Abbott; Sharp, McDermott, Young, Settle, and Hardman. Stoke; Roose; Burgess, and Hartshorpe; Baddeley, Holford, and Bradley; Fielding, Whitehouse, Gallimore, Capes, and Leonard. Referee A. Kingscott, Derby.
EVERTON REVIEW
April 11, 1904. The Liverpool Mercury
After having treated their supporters to three successive displays of brilliant football at Goodison Park, the Everton team following by an exhibition of a totally different character against Stoke, and, as was the case last season were beaten by a goal to nil. For inconsistency. Everton have no superiors in the Country, and they are evidently determined that this questionable characteristic shall remain theirs, even if they cannot secure such honours as the Association and League trophies. Within a parried of nine days we find then humbling Liverpool into that dust, overwhelming the Wolves, smiting the League champions, and being vanquished by a third rate exhibition of football from Stoke. Such variety may possibly appeal to the tastes of some, who rapidly tire of a monotonous sequence of success, which their generous treatment of the lowly and struggling Potters may awaken some springs of eternal gratitude in the breasts of the latter. It will thus be readily understood that Everton were placed in a thankless position in having so many conflicting wishes to satisfy, and the Potters are to be congratulated on being the lucky recipients of the offered favours. To fully account for such a complete reversal of form is the only matter in connection with the match under notice that deserves any considerations whatever, and in addition to those suggestions already mentioned it is possible on matures reflection to advance others which may have worked at influence, neither directly or telepathically on the ultimate result. For instance it may be urged that Everton were beaten by superior play on the part of their opponents. This, however, is a delicate question to tackle, and as Everton have demonstrated that they can play the game, it might be considered an insult to put forward the proposition that the stuff which Stoke exhibited under the guise of football was better than that which the home side displayed. A more feasible and withal charitable explanation of the defeat seems probable. Playing at they generally do, a stylish and high class game, Everton doubtless found it an impossible task to descend from their alevated plane to the humble depths where on the Potters disport themselves; their corners and methodical notions carried out in accordance with the highest traditions could not combat with the miserably unorthodox scrambles of their visitors and in the effort to simulate their tactics with those of the opposition they fell to the ground, and their endeavours were baffled by striving to overcome these difficulties, and at the same time win the game. Taking everything into consideration this appears the most likely causes of Everton's failure. To the casual observer, therefore, who accepts the course of events simply as they appear on the surface, the result would cause some surprise, but to the more simply thinking enthusiasm the defeat would merely come in the ordinary way as the naturally anticipated verdict. Such a method of reasoning is amply borne out by facts, and can consequently be accepted as the correct one. In the first of their Easter matches they had to face their Anfield rivals, and this was sufficient incentive to cause them to earnestly desire victory, for though the latter were sorely in need of points such details as those cannot be taken into account in a stern League struggle. Hence Everton, anxious to obtain a high position in the League table, won readily enough. The following day they met a doubtly opponent in Baddeley, the Wolves custodian and his valiant defence was eminently calculated to bring out the sterling qualities of the Everton attack, which accordingly followed. Then the League champions were thrashed, and as there is always considerable merit in vanquishing those who are at the top of the tree. Everton rose grandly to the occasion, and preformed their task splendidly. Next came Stoke, and the home team had, accordingly to the general consensus of opinion nothing to beat, consequently they did not beat the Potters. Could anything be more straight forward than this, and yet there were those present who ironically cheered some of the Everton players whenever they managed to get the ball and make headway with it, and who launched forth all manner of sneering insinuations when the match was over. Some people are never satisfied and yet it has been averted that football crowds are good judges of what should be and that they are generally accurate in their deductions. Everton were an utterly disjointed team, the forwards being practically useless, especially near goal, and they never seemed like scoring. Sharp was playing under difficulties for he only turned out at the last minute owing to Rankin, who had been selected being injured, and therefore his display can be readily pardoned. Of the remainder, some were worse than others and none good. Young was a complete failure in the centre, Settle ditto at inside left, and Hardman seldom in evidence, whilst McDermott on several occasions nearly scored. In the half-back division, Taylor worked untiringly, but both Booth and Abbott were faulty, and a long way removed from their usual efficiency. Balmer was moderate further behind and Crelly shaped fairly well. Kitchen had about half-a-dozen shots to stop, and the one, which beat him, ought never to have occurred, for he should easily have cleared the first drive from Whitehouse. Doubtless the men were Keenly feeling the effects of the hard work of the previous matches, and had thereby become somewhat stale. Everton could scarcely have gained the League championship even if they had won, but Stoke should clear the second division with a further share of similar good fortune. Concerning Stoke, little need be said beyond the fact, that they played no better football than Everton. Their forwards at times displayed fair passing, but as a general rule their work was scrambling, lacking in method, and devoid of any pleasing feature yet, they scored. Whitehouse deserves all the congratulations possible for achieving such an unlooked for honour though he may never again get another so easily. The remainder rambled about to little purpose, and the half-backs were content to lob the ball anywhere and everywhere.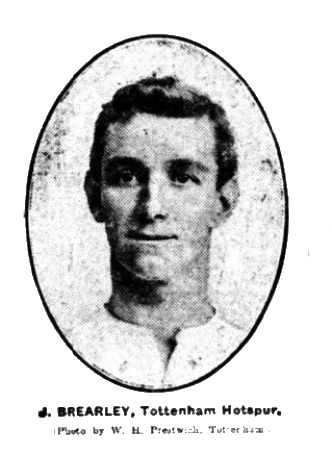 Ex Everton Player John Breasley now of Tottenham In Athletic News
EVERTON RESERVES 3 COLNE 0
April 13, 1904. The Liverpool Courier
Lancashire Combination "A" Division (Game 30)
This postponed match was played at Goodison-park, last evening before a good attendance. The home team included a new back and half-back, in Heyes and Hanlin. Teams: - Everton: - Whitley, goal, Heyes, and Murray, backs, Hanlin, Chadwick, and Makepeace half-backs, Rankin, McAdam, Roberts, O, Hagan, and Dilly, forwards. Colne: -Paterson goal, Turner and Smalley, backs, Savage, Johnson, and Rounder, half-backs, Goulding, Hunter, Driver, Russell, and Gardner, forwards.
Roberts started for home side. Colne early on took up the running. The Everton backs were kept busy, and Whitley had effected smart clearances. Colne then hit the crossbar with a splendid shot, Everton retaliated strongly but found the opponents defenders in capital form. The visitors took the aggressive, and Russell made a fine shot, which Whitley saved, in fine style. The home forwards then got possession and went away, Rankin sending in a stinging shot, which Paterson cleverly saved. A few minutes later Rankin passed beautifully to O'Hagan, who shot wide. Even play followed, each side attacking in turn. Eventually Everton got away on the left and were from a ace of scoring, but Turner nipped in and cleared. Half-time neither side had scored. In the second half Colne played on with ten men, Smalley having to retire with an injured collarbone. Everton put on considerable pressure, and following play by the forwards, Roberts scored a splendid goal. A little later O'Hagan put on a second goal, giving Paterson no chance of saving. Colne played one back and although Everton had frequently played offside they secured a third goal. Paterson was kept busy to the close, there was no more scoring, and Everton won by 3 goals to nil.
NEW PLAYER FOR EVERTON
Manchester Courier and Lancashire General Advertiser - Thursday 14 April 1904
Ben Rickerby, of Southport Central, has signed for Everton, and will play for the Reserve team in the Lancashire Combination match with Accrington Stnaley on Saturday.
DERBY COUNTY v. EVERTON.
Lancashire Evening Post - Saturday 16 April 1904
At Derby. The attendance numbered 5,000, the weather being favourable for footbal. l Each team was below the usual strength. Everton were the better side in the first half, but could not get near Mackrey, who had many fine shots to stop. Bloomer knocked off the ball when well placed, and afterwards struck the crossbar. The Derby goal afterwards underwent brief bombardment. Half-time—Derby 0, Everton 0. The second half was well contested, but the game had not been long in progress when Wheatcroft, with no one but Whitley to beat, tipped the ball gently against Whitley who cleared. Maskrey again had more to do than Whitley and some of his saves were brilliant. In the last few minutes Hickling conceded a corner from which Abbott headed a goal. ResuIt—EVERTON 1, DERBY 0.
EVERTON RESERVE V. ACCRINGTON STANLEY
Saturday April 16, 1904. The Lancashire Evening Post
At Goodison Park in fine weather, before a big crowd. Everton Reserve; Kitchen, goal; Wildman and R. Balmer, backs; Hanlin, Chadwick, and Makepeace, half-backs; Dilly, McDermott, Roberts, O'Hagan, and Corrin, forwards. Accrington Stanley; McGregor, goal; Finney and Hampson, backs; Chorlton, Bradshaw and Holden, half-backs; Hesham, Hargreaves, Brunton, T. Becton, and M. Becton, forwards. Stanley won the toss, and Everton had to face a bright sun. Stanley made a vigorous atatck soon after the start, and the home backs had to continually defend. T. Becton missed a glorious chance shooting on to the stand when right in front of goal. Everton retaliated, and McGregor saved a long shot from McDermott, while Hampson conceded a corner in order to stop Corrin. Another flag kick followed but the brothers Becton, cleared the danger, and Tom had hard lines with a splendid shot the ball just missing the goal. Finney defended in brilliant fashion during the pressure by Everton, but so far Stanley had rather the better of a veryt fast and keenly contested game. O'Hagan headed against the post and Roberts scored for Everton from the rebound. A minute later Kitchen saved from Becton, Stanl;ey trying hard to get on terms. Everton at length relieved the pressure and retaliated strongly but the Stanley defence was grand. The visitors then pressed, Makepeace clearing almost under the Everton bar. Stanley tried desperately hard to get level, and Kitchen saved from Chorlton. McGergor saved brilliantly from Dilly. Half-time; Everton reserve 1, Stanley 0. Resuming after the interval, Everton forced three corners, and missed two practically open goals. Hotham missed his kick, but McGregor saved well and cleared a fine shot from McDermott. Stanley defended finely under considerable pressure, but Everton would probably have added to their score but for bad shooting. Stanley were rather too vigorous and werre penalsied on mnay occasions. Result; Everton Res 2, Stanley 0.
ENGLAND V. SCOTLAND.
Falkirk Herald - Saturday 16 April 1904
ENGLISH VICTORY.
The most important, of the Association international games was that decided at Celtic Park, Glasgow, on Saturday, when the thirty-third meeting of elevens of Scotland and England resulted in a victory for Southerners by one goal to nothing. The Scottish team during the past week suffered by reason the withdrawal Rennie (Hibernians), McCrobie (Newcastle United), Hamilton and Livingstone (Manchester City). By the Scottish selectors, Hamilton and Livingstone were considered the players whose absence had a weakening effect on the Scottish side, and their belief was confirmed during the progress of the game. The places of the players named were taken by M'Bride (Preston North End), Jackson (St Mirren), Brown (Middlesborough), and Orr (Newcastle United). Scotland lost the toss, and Brown kicked off against a strong westerly breeze. The opening minutes had gone very largely in favour of the north country men, but it proved their was only temporary. Against the wind the aggressive attitude the Scots delighted the crowd, and once the defence settled down the attacks of the Englishmen were easily repelled. Great cheering was caused a pretty piece ot wing play on the part of Orr and and the cheering became louder as Baddaley was reached. At this point Templeton was left in possesion, but, before he could shoot, the danger was cleared by Crompton, who thus early showed that he was the best fettle. The English forwards were soon at the other end, where Hair and Rutherford gave McBride some trouble with a couple of fairly stiff shots, Raisheck sent his opponents back, and from a return by him, Orr got away but, though near goal, his shot caused Bdderley very little trouble. Bloomer then thought his side to tho other end, where he forced a corner off Jackson. Once in the vicinity of the Scottish goal at this stage the southern forwaids were rather difficult to dislodge, and before they were driven back the home goal had two narrow escapes, McBride having to be on the alert to deal with shots from Leake and Wolstenholme, who had followed up their forwards. A series of Scottish attacks succeeded, Templeton frequently leading the way. The somewhat forcible manner in which Compton disposed of the Scottish left winger was not relished by the crowd, whose demonstration towards the Englishmen was far from complimentary. A free kick was granted the Scots for Crompton's attentions To Templeton. This was nicely taken by Robertson, who, patsing far out to the left, enabled Templeton to have a clear run in on goal. Just as Crompton made to charge him, Templeton let drive at goal with great force. As the Scot was strong and accurate, a goal looked certain. The custiodian, however, effected marvellous save, clutching the ball as it sped towards the net, and clearing ere an opponent was near him. Encouraged by the frequency with which they had approached scoring, the Scotsmen continued to press. Every time Templeton got tho ball the crowd cheered, but almost every time he was on the run Crompton proved more than his equal by the manner in which he knocked the light Scotsman off the ball. The spectators once more howled at the Blackburn Rover as he deliberately held the outside left, and though the Englishman was again penalised, the Scots profited nothing . A minute later the home eleven were pressing, and Orr, who was in on Baddeley had a goal presented to him, having nothing do but shoot. To the astonishment of all the missed, kicking the turf Instead of the ball, and falling as he did so. Crompton then had no difficulty in clearing. Next Brown, owing to a mistake by Wilkinson, got through the defence, while the astounded English halves looked on at the Scotsman careering for goal the spectators cheered lustily. A sprint by Wolstenholmes, however, enabled him get in front of Brown, who was pulled down Just outside the penalty line. who was hard on the Scottish eleven, who had so olten looked like scoring. Near the interval a misunderstanding between Robertson and Watson let in Rutherford, who, profiting by the opportunity, made for McBride . With a wonderfulturn of speed, Jackson rushed across, and cleared as Rutherford was in the act of shooting, and for his save the St Mirren representative was deservedly cheered. On till the interval each goal ran narrow escapes, though the Scots were the chief aggressors. Half-time —Scotland, nothing; England, nothing.
With the wind behind them, the scots were expected to win, especially after their dashing if ineffective play in the first half. Nibio and Templeton changed places in order to strengthen the atiack. Alter an invasion by the visiting forwards, the home quintette pressed, and Niblo, from a strong return Jackson, had a good opening given him, but failed at goal. At this point, however, the English forwards settled down to a telling game, combining with remarkable freedom, aud shooting with astonishing frequency. As the Englishmen improved, the Scottish forwards declined. The first sign of the effect of the improved playof the southern forwards was seen when Jackson, in his hurry to clear, made a bad miss, and Woodward, rushing on,shot strongly at goal. McBride throw himself at the ball and failed to reach it. Luckiiy for Scotland it glanced off the post over the line. The defence of the representatives of the Thistle was then sorely tried, and no sooner was the goal cleared of danger than the English quintette were back again. This at last had its effect, for after a run by the visitors' right Watson, in trying to clear, missed his kick, and Bloomer, racing on, beat M'Bride with a shot which the goalkeeper was powerless to save. For a lew minutes after that the effect this reverse was seen in the determined play of the home forwards. Time after time they broke through, and appeared certain to get the equaliser; but the strong defence of the English backs, and extremely smart and daring saving of Baddeley baulked the Scots at all points. Orr, Templeton, Walker, and Aitkens had each good tries at goal, but each was successfully dealt with English custodian. After that the home forwards fell away, and the pressures of the Rose was renewed. Time was called, leaving England the winners of a game which, from the first half display Scotland, looked like going in favour of the Thistle. Result; England one goal, Scotland nothing. England; Baddley (Wolverhampton Wanderers); Crompton (Blackburn Rovers), and Burgess (Manchester City); Wolstenholme (Everton), Wilkinson (Sheffield United), and Leake (Aston Villa); Rutherford (Newcastle United), Bloomer (Derby County), V.J. Woodward (Tottenham Hotspur), S.S. Barris (Cambridge University), and Blackburn (Blackburn Rovers). Scotland; McBride (Preston North End); Jackson (St. Mirren), and Watson (Sunderland); Aitken (Newcastle United), Raisebeck (Liverpool), and Robertson (Rangers); Nible (Aston Villa), Walker (Hearts of Midlothian), Brown (Middlesbrough), Orr (Newcastle United), and Templeton (Newcastle United). Referee -Mr. Numberlay, Welsh Football Association.
DERBY COUNTY v. EVERTON.
Lancashire Evening Post - Saturday 16 April 1904
At Derby. The attendance numbered 5,000, the weather being favourable for football Each team below the usual strength. Everton were the better aide in the first half, but could not get peat Maakrey, who had many fine shot* to stop. Bloomer knocked off the ball when well placed, and afterwards struck the crossbar. The Derby goal afterward* underwent brief bombardment. Half-time—Derby 0, Everton 0. The second half was well contested, but the game had not been long in progress when Wheatcroft, with no one but Whitley to boat, tipped the ball gently against Whitley who cleared. Maskrey again had more to do than Whitley and some of his saves were brilliant. In the last few minutes Hickling conceded comer from which Abbott headed goal. ResuIt—EYERTON 1, DERBY 0
EVERTON.
The raising of the football curtain upon the season 1899-1000 will rapturously received by the camp followers of the Everton club, and it is confidently expected that the majority League teams will be speedily made aware of that fact. A glorious team has been collected together, and Everton are fully expecting that after the first few months of the season have passed away, their pets, having pulverised all and sundry, will, like Alexander old, have to look for other worlds to conquer. Hero is full list of players from which the all-conquering eleven to be selected:—Muir and Kitchen, goal; Balmer. Molynoux, Eccles, and Crelly, back; Woltenholme. Boyle. Taylor, Bert Sharp, Blyth. Murphy, and Gordon, half backs; Jack Sharp, Settle, Toman, Abbott, Gray, Proud foot, Gee, Schofield. Marquis, Oldham, Roche, Whelan, and Bickett. Forward A large number players have been given marching orders, chief among whom might be mentioned Ball, Chadwick. Barlow. Kirwan, Hughes, Turner, Clark, Bright, Harley, Stringfellow. And last, but by no means least, Lawrence Bell. It will be noticed that in the back division little alteration had been made, but forward a great, one might say an immense, change has taken place. Several stars of the very first water have been engage, and although the "star" element in the team has not hitherto been very successful, last season's experiment in the" local talent line was such utter failure that it not to wondered at that Everton have again decided to dabble in the "star article. It is note that majority of the players engaged are Englishmen –the two who cost them more money are "quite English, you know."
I refer to Wilfred Toman and James Settle. Most of our readers know these men's capabilities, and it would a waste of time discuss the merits and demerits of men whose names are household words in the football world. Suffice it to say that Toman 23 years of age, weighs list. 101b. and stands 5ft. 10in; whilst Settle has likewise seen summers, turns the scale at list., and can claim 5ft. bin. As his height. The brothers Sharp are likewise not unknown to the football world, and Mr. Molyneux did a grand stroke of business when he persuaded these two Rummage on youths to take up their residence on the banks of the Mersey. Off the remaining new players, Robert (Iray learnt his football with Patrick Thistle, and was selected to play for Glasgow last season in the inter-city match with Sheffield; whilst Walter Abbott, of whom great things are expected, the star of last season's Small Heath team, and topped the list of goal-getters in the Second Division the League, with the fine total of 38. .ho doe* the same for no one will complain. The ground is in magnificent condition, and everything in apple pie order for September, when the English will taken on, and it is expected done for.
DERBY COUNTY 0 EVERTON 1
April 18, 1904. The Liverpool Courier
On Saturday Everton brought their League season to an end so far as away matches were concerned. They visited Derby, but there was no particular interest taken in the match seeing that nothing of vital importance to either club attached to the result. Everton made three alterations from their usual team, both Sharp and McDermott standing down, while Whitley was tried in goal. Derby also made changes. The teams were: - Everton: - Whitley, goal, W.Blamer and Crelly, backs, Wolstenholme, Booth (captain), and Abbott, half-backs Rankin, Taylor, Young, Settle, and Hardman, forwards. Derby County: - Maskery, goal, Methven and Hickling, backs, Warren, Hall, and Leckie half-backs, Mercer, Bloomer, Wheatcroft, Richards, and Middleton forwards. Everton lost the toss, and Wheatcroft opened the play against a slight cross breeze. The opening stages favoured the County, and a fine movement, and pass out to Mercer looked like bringing disaster when the home outside right was ruled offside. Following a strong clearance by Crelly the Everton forwards moved away on the right wing, and Settle was just a trifle late in taking a pass from Taylor. Everton for some minutes continued to have the better of matters, thus being mainly the result of capital work by their half-backs. Another fine movement in which Taylor again played a prominent part, ended in Rankin shooting across the goalmouth, and on the ball coming out Hickling, in attempting to clear gave a corner kick. This led to further pressure, and on Wolstenholme lobbing the ball forward, Taylor headed in, only to find Maskery alert. Eventually Wheatcroft led his men on, and considerable progress was made, though in Balmer and Crelly they found defenders both stubborn and clever. On one occasion Bloomer looked like running clean through, when Balmer tackled accurately, though a moment later Hall secured, and with a magnificent fast rising shot, just skimmed the bar. On Everton getting away, Rankin put in a smart centre. Settle was unfortunate, overrunning the ball, when there was no opposition. A corner kick to the home side was the next item, and this led to a strong attack upon Whitley's charge, the keeper eventually fisting away a header by Leckie. A moment later, Mercer put in a swift ground shot, which Whitley cleared well, but returning again a strong attack was levelled, but Abbott shoulder Bloomer off the ball. Keeping up the pressure, the Everton halves were beaten again by Bloomer, who slipping though could however, do no more than shoot against the crossbar. From the rebound Mercer also had an open goal, but his effort went ridiculously high over the bar. Everton then raced away, and Taylor shot wide of the mark, when Bloomer was again in evidence, but finished up badly. Just now the pace was fairl6y stiff, and the Peakities were having the better of the play, still their finishing touches were faulty, and after a series of attacks. Hardman and Settle made off, the inside man parting to Young, who was palpably offside. Returning again, Hardman forced a corner off Methven, but Rankin was unmarked, made a poor attempt to convert. Richards and Middleton next led on a strong attack, but were finally challenged by Wolstenholme after Balmer was beaten, and the situation was saved. Then followed a splendid run by Rankin more than half the length of the field and eventually forcing a corner off Hickling. This led to a protracted pressure on the County goal, during which Settle put in a low ground shot, which Maskery just reached and placed to Methven, who promptly cleared. The next minute Young shot in, but from an offside position and steady took the game to the visitors end of the field. Just before the interval the County left raced away, and Middleton sent in a clever oblique shot, which Whitley saved with distinctly. Half time Derby Nil, Everton nil.
On resuming play were even for some time the exchanges being contested in midfield. Derby were the first to become dangerous, and five minutes after the interval, Wheatcroft had a grand chance of opening the score for his side, but he shot into Whitley's hands. Everton then attacked, but Maskery accounted for Harman's shot. From Mercer's centre Hall was a yard wide, and Mercer forced a corner, but Balmer cleared. Everton retaliated strongly, and Young tested Maskery, who also saved well from Settle. Everton pressed in the closing stages and Abbott scored from a corner kick, conceded by Hickling in the last few minutes. Everton were the better team and deserved their success, result Derby nil, Everton 1.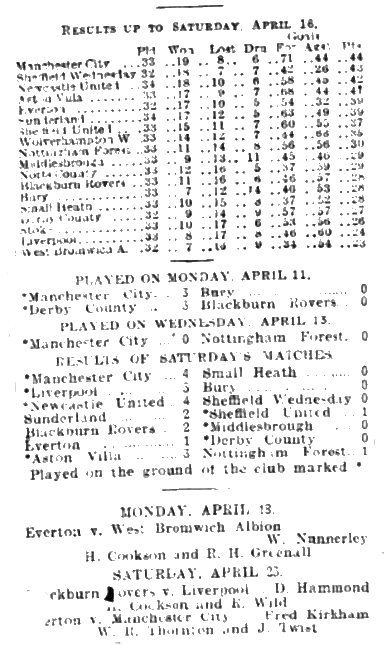 THE EVERTON CIRCULAR
Athletic News - Monday 18 April 1904
By Junius
Although the arguments set forth in what may termed the Everton circular are somewhat hackneyed, the club, nevertheless, deserves more than passing praise for bringing the question of the wage limit once more into prominence. Having had a year's experience of the rule, both Everton and Liverpool, who were bitterly opposed to the scheme when it was passed have had their views strengthened in the direction of the mistaken policy then adopted by the Football Association. Apart from the question as to whether a footballer should be paid according to his ability and the value of his services, irrespective of any limit but that which his own directors decide upon, there is this point to consider. A rule so vital in importance, and embodying a complete alteration in the methods previously in vogue of payment to players, should not become law unless its provisions can be thoroughly carried out, any deviation there-from detected and the offenders punished. It is an open secret that the rule has been evaded, and. strange to say, those who have honestly endeavored to carry out the Association's decision have been the sufferers. In addition, the ambitious player has been deprived of the incentive to place himself ahead of his fellows, and I trust that this action by Everton will result in the wage limit being blotted off the books or a bonus made legal.
EVERTON'S MARKSMANSHIP
Athletic News - Monday 18 April 1904
By Peakite
Towards the close of the season we have all sorts of football, good, bad, and indifferent. On Saturday we had a sample of the latter description, though I am bound to admit that there were periods when Everton treated us to an exhibition of the higher type. That of Derby, however, was commonplace from beginning to end, and they lost the game in the last few minutes by a bare goal. With the game going as it did the 5,000 or 6,000 spectators round the ropes ran no risk of getting unduly excited and we had hardly a good honest cheer all afternoon.
NEW FACES
When the teams made their appearance there was a face on either side with which the spectators were unfamiliar. In the Everton goal Whitley made his appearance. He is a strapping fellow, and though not highly tried on Saturday created a distinctly favourable impression. On the Derby side Wheatcroft took his place in the centre. He is an amateur, and amateurs have to be something out of the common to make their mark on the very first occasion on which they appear in League games. Wheatcroft put in one or two nice touches that suggested the possession of an unselfish desire to benefit his side, but he can hardly be described as a success. So far as the first half of the game is concerned matters went in favour of Everton, who gave Maskery a great many difficult shots to stop, but failed to defeat him. There is no necessity to detail the various stages by which this result was achieved, except that with the wind and sun at their backs the visitors sent in five shots to one that their own goalkeeper had to deal with. At one time it was Booth, at another Settle, and at another Young, but Maskery met them all with unconquerable coolness, and was never once in trouble. At the other end Whitley had a comparatively easy time of it, but curious though it may sound, he was once in greater danger of being beaten than ever has vis-à-vis was. This was when Bloomer caught a centre from Middleton and sent the ball with a mighty rattle against the crossbar. A couple of minutes earlier he had been knocked off the ball when it looked any odds on his scoring, but there was hardly another occasion when Derby could be said to have been really dangerous.
BEATEN AT THE CLOSE
The second half was pretty evenly contested, but the universal anticipation of a draw was destined to be falsified in the last few minutes. Once again Maskery had the more systematic workmen to face, but, as in the first half, it was the weaker side that ought to have opened the scoring. This was shortly after the interval, when Richards sent in a beautiful low centre that came right to Wheatcroft's feet in front of goal. There was no one else near him except Whitley, and it looked as if the defence would never successfully resist the attack. Wheatcroft's shot, however, was a tame one. He tipped the ball gently forward, and Whitley, by thrusting out his left arm, stopped it and threw away. It was a very lucky get-out for Everton, and once the danger had been averted the game settled down to what looked like a certain draw. Then in the last few minutes Hickling conceded a corner, and from the flag-kick Abbott headed into the far corner of the net well out of the goalkeeper's reach. It was rather hard on Maskery to be beaten at the close of what was really a fine display. Still, the goal was there. The better team had obtained it and won the match, so that there was really nothing more to be said on the point.
THE WINNERS SHOOTING
There will no doubt be people found ready to argue that Everton were somewhat lucky to win. I cannot see the game in that light, for admitting that there was not a great deal to choose between the rival teams there was one all-important matter in which Everton were distinctly the better lot, and that was in shooting at goal. The Derby men, as they so often do, were afraid to shoot for fear of robbing Bloomer of an opportunity and the famous international found openings come to him but seldom. Abbott seemed to enjoy his society immensely and could not be persuaded to leave him for more than a few minutes at a time. With their leader doing little the Derby forwards gave a very indifferent show. And compared ill with their opponents who played fine football in the open and banged at goal whenever half a chance presented itself. There was not much in it at half-back, though here the Everton trio were perhaps the more level lot. However, the whole six worked hard and tackled admirably. Hickling did not shine as in some recent matches. He was too rash, and very neatly let his side down on more than one occasion. When he has had a little more experience of League football he will find that impetuosity does not pay, even with such a wary customer as Methven to back one up. The rival goalkeepers have already been alluded to in terms of commendation. Derby County; Maskery; Methven, and Hickling; Warren, Hall, and Leake; Mercer, Bloomer, Wheatcroft, Richards, and Middleton. Everton; Whitley; Balmer, Crelley; Wolstenholme, Booth and Abbott; Rankin, Taylor, Young, Settle, and Hardman. Referee; J. Adams, Birmingham.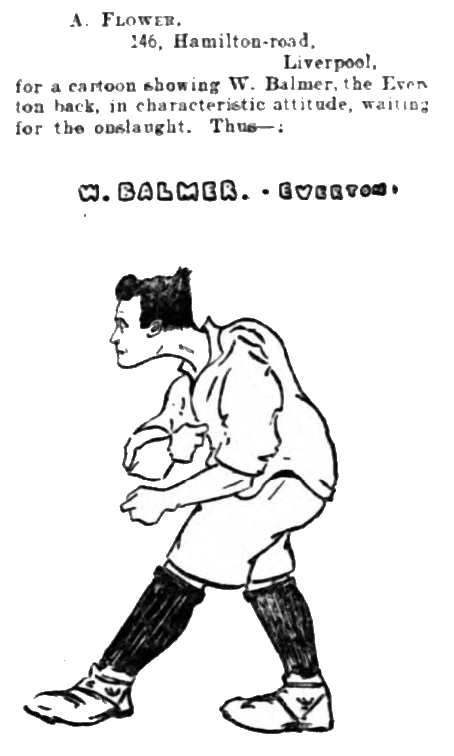 EVERTON RESERVES 2 ACCRINGTON STANLEY RESERVES 0
April 18, 1904. The Liverpool Mercury
Lancashire Combination "A" Division (Game 31)
At Goodison Park. Wildman repeatedly saved, the visitors having much the best of matters. Roberts scored from a rebound. Interval Everton 1 Stanley nil. Roberts scored a second, and Everton won by two goals to nil. Everton: - Kitchen goal, Wildman, and R.Balmer, backs, Hanlin, Chadwick, and Makepeace, half-backs, Dilly McDermott, Roberts, O'Hagan, and Corrin forwards .
EVERTON REVIEW
April 18, 1904. The Liverpool Mercury
Everton on Saturday gave what may be styled another instance of their inconsistency. Probably it may have been due to the fact that they wished to wind up their away League matches with a victory, but certainly it is singular to sat the least, that a team which at home succumbed to Stoke should the vary next Saturday visit the Peak district and defeat Derby County, after having it must be conceded, all the better of the game. It is largely owing to feeble efforts against, the presumably weaker teams in the League that Everton have thrown away their chances of securing the championship after a lapse of very many season. Anyone who witnessed game at Goodison park against the Potters would never have expected the Evertonians to be successful at Derby because although the county are assured of their status for next season, they meant if at possible to improve their position in the table. But Everton seemed to have recovered entirely from the staleness, which affected them on the previous Saturday, and came back to the brilliant form, which characterised their displays during the holiday. Only in the last couple of minutes did the visitors obtain the solitary goal, which gave them the victory. The point, which was cleverly assured by Abbott was in every respect deserved, although after the splendid exhibition of goal keeping given by Maskery one could hardly help sympathizing with aim in being beaten when a drawn game appeared to be inevitable. In both halves he was frequently called upon to deal with shots that might easily have proved exceedingly troublesome to a has experienced custodian, but throughout he did his work in cool and clever fashion, and with the header from Abbott which found its way into the net he had no possible chance of intercepting. As compared with Maskery, Whitley, who appeared in the League team for the first time this season had a comparatively easy tack, as the same time when he was tested-and he had two of three capital shot sent in to him-by exhibited both confidence and resource. A keen pace was maintained throughout the whole 90 minutes, although after playing so many weeks on sudden ground, the ball was at times a little too lively, with the result that in stances of failure on both sides were somewhat frequent. Both in attack and defence Everton were the superior side. The half-backs in particular were in grand mood, and it was largely due to the watchfulness of Abbott that Bloomer was prevented from repeating his success in the interleague and Internationals matches in Scotland. Derby County suffered by the absence of their usual centre forward for Wheatcroft who was given his first chance of figuring the position was by no mean a success. A pleasing feature of that Everton attack was the rare good game played by Rankin at outside right, and there is no doubt that in this player Everton possess admirable understudy to Sharp. He put in severe fine runs, and invariably finished with a centre which was accurately placed and afforded opportunities to his colleagues. This evening at a quarter to six. Everton will entertain the West Bromwich Albion eleven, this being the League fixture, which was postponed from March 12, owing to the semi-final tie, which was decided at Goodison Park. It will be of interest to note that signing off of players in the Everton team is proceeding without hitch, and, among them who have signed there signature may be mentioned, Kitchen, Balmer, Crelly, Booth, Abbott, Sharp, Taylor, Young, Sheridan, and Dilly. Sharp, Abbott, Kitchen and Settle will next season be entitled to a benefit match and the directors of the club have decided subject of course to the approval of the Football Association to pair off the quartet and given them the proceeds of two league matches.
HOW STANLEY WERE BEATEN.
Lancashire Evening Post - Monday 18 April 1904
Running as they were a keen race for the championehip of the Lancashire Combination, it was not surprising that large crowd of spectators turned out to see Everton Reserve and Accrington Stanley fight for honours. A gate of 10,000 would appreciated by a First League club, and it speaks well for the populace Mersey side that they should rally in such strong numbbers. As to the game, Everton made every effort to place strong team in the field, and the selected eleven turned out apparently in splendid condition. Accrington deplored the of Harrison. but found capable substitute in Holden, who, it cun here be said, gave a good the manner the game opened Stanley looked like scoring very early on. Makepeace had a hard nut to crack when T. Becton raced through twice in quick succession, his final shot passing wide on each occasion. On the whole, however, the wearing down tactics of the Goodisonians proved very effective, although they bad nothing give away. Eventually Roberts scored after O'Hagan had headed against the post, and from this point the game gradually veered in tho locals' favour. Crossing over with the lead by goal the Toffees added their score, and finally won by two goals to nil. It was a finely contested game, and one could see the talent which had brought Stanley within ace of the championehlp. The Bectons made fine wing, and were unfortunate in not getting goal early on, while Hargreaves and Brnnton were always dangerous under weigh. The halves tackled very well, while the backs, whom Finney was the best, struggled verv gamely against the nippy forwards the opposition. This victory gives the Everton Reserve the championship.
EVERTON V. WEST BROMWICH ALBION.
Leeds Mercury - Tuesday 19 April 1904
This rearranged League match was played at Goodison Park last evening, before 4,000 spectators, both sides being strongly represented. Starting a quarter to six, Everton pressed, and after twenty minutes Abbott headed through from a corner. Albion tried hard, but could not overcome the back division, and for the most part they were on the defensive, Everton's shooting being faulty. Interval score:—Everton one goal, Albion nothing. In the second half the Albion made a brief spurt, but Everton were the superior side, and from weak clearance from Cook the ball rebounded off Rankin into the net. Young added a third goal for Everton, and with the Albion well beaten. Settle was responsible for the fourth. Final:—Everton four goals, Albion nothing.
EVERTON 4 WEST BROMWICH ALBION 0
April 19, 1904. The Liverpool Courier
This rearranged League fixture was played at Goodison park last evening. Under the circumstances it was not surprising that it aroused little interest, although the kick off was fixed for as late as a quarter to six o'clock. Probably the fact that a brilliant afternoon turned into threatening conditions had something to do with the meagre attendance. Both teams were well represented, the players being as follows: - Everton: - Whitley, goal, W.Balmer, and Crelly, backs, Wolstenholme, Booth (captain), and Abbott half-backs, Rankin, Taylor, Young, Settle, and Hardman forwards. West Bromwich Albion: - Cook, goal, Kifford and Adams backs Randall, Stevenson, and Harley, half-backs, Owen, Simmons, Aston, Brown, and Dorsett forwards. Referee Mr. Nunnerley. Young started for Everton, who were the first to make headway, but Adams kicked strongly, and a dash away by the visiting left proved of no use. Aston was temporarily injured, and following this, Abbott dispossessed Owen, while at the other end Rankin was pulled up for off-side. Hardman had a bit of a shaking up in an encounter with Randall, and play continued fairly even. As shot from Young was charged down, and a fine centre from Dorsett was nullified by off-side. An attack by the Everton right led to nothing, and at the other end Whitley fisted out smartly. The Albion were playing with the utmost determination, and from a centre by Dorsett a chance was offered to Owen, who might easily have opened the score. Everton retaliated with a capital movement, which did not materialise owing to the watchfulness of the Albion defence, and play was rapidly transferred from end to end without either goalkeeper being seriously troubled. In an onslaught by Everton Kifford did good work for his side, but Everton were aggressive and Cook was tested by a long shot from Settle. The home side were having the best of matters, and pressed their opponents, who, however, exhibited sterling defence. At last, following a free kick, Adams conceded a corner, and this being nicely placed by Hardman. Abbott headed the ball against the upright, whence it bounded into the net. A couple of free kicks assisted the Albion, and they got very near goal, only to find Dorsett shooting high over the bar. This continued to be their fault. Following a free kick well placed by Crelly, the Everton forwards threw away a good chance of adding to their score, while a moment later from Rankin's centre Settle failed at an open goal. For a time Everton had matters all their own way, their attempts at goal, however, causing Cook no anxiety. When they did break away the Albion forwards were weak and the game was singularly devoid of exciting incidents. There was some tall kicking by the defence on both sides and the finer points of Association football seemed to be at a discount. Everton maintained their superiority to the interval, when the score was Everton one goal, West Bromwich Albion nil. In the second half the Albion opened strongly, but were quickly driven back, and from a high dropping centre from Hardman the visiting custodian scooped the ball against Rankin, off whom it rebounded slowly into the net. Everton being credited with a particularly soft goal. The Albion raced right away and this time Whitley effected a fine clearance from Owen. Everton soon came again, and Rankin, after a fine run, banged in a lightning centre, which none of his colleagues could reach in time. Everton outplayed their opponents, and Young added a third goal, which was awarded by the referee after consulting both linemen. The Albion played without heart and Settle put on a fourth for Everton, while Taylor put the ball into the net again, only to be ruled offside. Everton after this simply romped round their opponents and won a one sided game. Result Everton 4, West Bromwich Albion nil.
NELSON FINISH UP WITH DEFEAT.
Lancashire Evening Post - Wednesday 20 April 1904
Nelson played their last match of the season home on Tuesday night, when they were opposed Everton. There was an exceedingly large gate. The game was very evenly contested ail through, and homesters were decidedly unlucky in having the only goal of the match scored against them. The forwards played their best games, Kay and Watkins especially working hard, but they were met bya stubborn defence. Balmer was a tower strengthens. His kicking was clean and strong, and he saved his side from many trying positions. Despite all he and his 'fellows could do, however, tho home quintette took soom shaking off, and Kitchen had considerably more work to than Walker. The visitors' forwards were smart in combination, but Ainsworth checked their rushes time after time. was undoubtedly the best half-back on the ground. A draw would hare been the most fitting result, it was a pity that Hindle should have failed with a penalty kick. Kitchen played a fine game between the sticks for Everton.
TOFFY TOWN TRIUMPH.
Burnley Express - Wednesday 20 April 1904
Last evening, at the Seedhill Ground, Nelson, Everton Reserve were the visitors. Both sides were fully represents. There was a good attendance. Everton from the start had the best of matters and for a period Nelson had to act on the defensive. After twenty minutes' the visitors made combined attack, and O'Hagan opened the scoring for them with a good short range shot. Soon after this Watkins missed an easy chance for Nelson. The Everton team continued to press, Nelson's defence at times being in difficulties. At half-time Everton had the lead one goal to nil. On resuming the visitors opened the pressure, but for a time the Nelson defence was safe. After a change of ends Nelson were awarded a free kick close in. The ball' was kept in the vicinity of the visitors goal for little while, and for some offence in the forbidden area Nelson were awarded penalty, but the Everton custodian saved Hindle's shot. Nelson then began to force matters, and they wrested two fruitless corners in quick succession. Although the Seedhillites were pressing continually, the front rank only shaped badly in front goal. The game was more evenly contested up to the close. Everton however, showed better tactics throughout, and won by one goal to nil.
NELSON 0 EVERTON RESERVES 1
April 20, 1904. The Liverpool Mercury.
Lancashire Combination "A" Division (Game 32)
At Nelson. Everton had the best of matters, O'Hagan opened the scoring, beating Walker at short range. Watkins missed a grand chance of equalising. Half time Nelson nil Everton 1. Early in the second half Chadwick was carried off injured. Nelson were granted a penalty kick, but Hindle failed to score. Result Nelson nil, Everton one.
QEENS PARK RANGERS 1 EVERTON 4
April 25, 1904. The Liverpool Courier
On the Rangers ground at Kensal-rise, London. The home team tried three young amateurs in Potter (goal), Fox (back), and Skilton (forwards), and the visitors were without Kitchen, Crelly, and Hardman. Brown scored for the Rangers in the first half, but Abbott Settle, and McDermott (two) got through for Everton, after the change of ends. Everton: - Whitley, goal, R.Balmer, and W.Balmer, backs, Wolstenholme, Booth (captain), and Abbott, half-backs, Rankin Taylor, Young, Settle, and McDermott forwards.
MANCHESTER CITY RESERVES 1 EVERTON RESERVES 1
April 25, 1904. The Liverpool Courier
Lancashire Combination "A" Division (Game 33)
No details, in local papers.
Everton:- Kitchen, Goal, Wildman, and Murray, backs, Hanlin, Chadwick, and Makepeace, half-backs, not-known, Rickerby, Roberts, O'Hagan, and Dilly, forwards.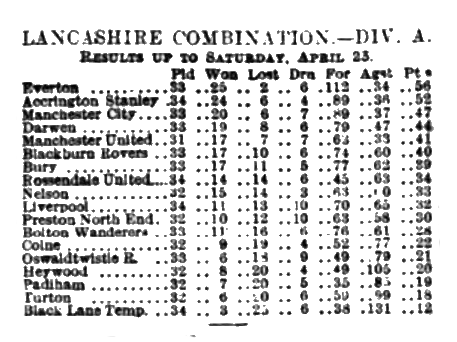 EVERTON DROP A POINT
Athletic News - Monday 25 April 1904
Everton visited Hyde-road before 10,000 people for the benefit of W. Holmes. In the City team were included Dawson, of Rusholme United, in goal, and Baldwin, a local player, at right outside. The home forwards had the best of matters in the first half, Pearson scoring from a penalty after 20 minutes' play. After some 40 minutes' play in the closing period Rankin scored a magnificent goal for Everton. The home forwards made desperate attempts to secure the leading point, but could not gain a footing in front of goal, and had to be satisfied with a draw of one each.
ARBITERS OF FATE
Athletic News - Monday 25 April 1904
By Junius
Everton are proving a most potent factor in settling the fate of clubs placed at the extremities of the League table, and by their victories over Liverpool and West Bromwich they practically assured for these teams a position in the Second Division nest season. Last Monday the Albion gave a very moderate display and as Everton were in one of their aggressive moods, the visitors experienced a rough time, being beaten quite as decisively as the score of four goals to nil would seem to warrant. Everton will now have to turn their attention to the topmost place in the table, and the visit of Manchester City to Goodison Park tonight as six o'clock, is fraught with tremendous issues to the Cup-holders. If Everton win the chances of the City securing the championship will be shattered.
AMATEURS AT GOODISON PARK
Athletic News - Monday 25 April 1904
By Junius
Northern Nomads were on view on the Everton ground their opponents being Leicester Fosse. The second Division club was well represented, and gave a good display, winning by three clear goals. In shooting the home players were most erratic, several easy chances being execrably taken, and only Elston seemed capable of locating the goal posts. He plays a similar game to Hardman, whom he greatly resembles when on the field, and he was streets ahead of his confreres in ability. McKenna on the extreme right showed a good turn of speed, but is inclined to be selfish, which nullified his otherwise creditable work. At half Montgomery did well, and Jowett made some rare saves in goal.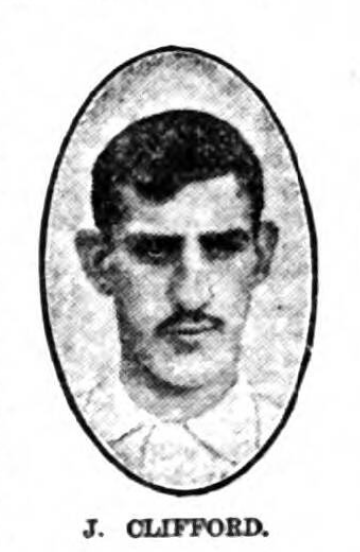 Picture from the Athletic News of Former Everton Player now of Bolton Wanderers
EVERTON v. MANCHESTER CITY.
Manchester Courier and Lancashire General Advertiser - Tuesday 26 April 1904
Twelve thousand speotators welcomed the Cup winners at Goodison last evening, when the City made their final bid for Championship honours. Singularly enough, both teams travelled up from London together, City putting up at the Alexandra Hotel on Sunday night. Meredith and his merry men received a cordial welcome from Everton's crowd, the Cup being view. Young led off to Hardman, who was fouled, after which Settle and Young missed a fast centre from the Everton right. The home side continued tho pressure, forcing a corner, but Wolstenholme shot over. Hillman saved from Taylor, and then followed splendid dash by Meredith, who tested Whitley with magnificent shot. Sharp mulled clever pass from Tom Booth. After Meredith had easily tricked Balmer, Booth, the Evertonian, robbed the City captain the nick of time. Soon after Hillman saved splendidly from Young. Booth paid particular attention to Meredith, who, however, soon forced a corner off the Everton skipper. Manchester now made a prolonged stay in tiie Everton territory, but their defence proved equal to all demands. Meredith headed many brilliant breakaway, from one of which Livingstone should certainly have scored, but shot wide. Interval: No score. In the latter half the City made splendid show, their frontal attack being full of life and method. Only Whitley's extreme cleverness saved the situation thrice over. was prominent with brilliant shooting on the Everton side. After escaping many of Sharp's brilliant centres, disaster came at last to Manchester, Taylor receiving a pretty centre and netting with great judgment. Everton's attack waxed fiercer in the closing stages, thou eh Abbott and Hardman were both passengers, but Hillman and his backs were like stone wall, thoucrh the halves could do little against Taylor, Sharp, Settle, and Young, whose passing was perfect. Result: Everton 1 Manchester City 0.
EVERTON v. MANCHESTER CITY.
Sheffield Daily Telegraph - Tuesday 26 April 1904
The last League match of the season was played at Goodison Park last evening, when Manchester City, the Cup-holders, were the visiting side. In delightful weather 15,000 people witnessed game which was all-important to City's chances in League Championship honours. Everton had R. Ralmer in place of Crelly, while the City played their Cup team. In the first half there was little to choose between the teams, both goalkeepers making brilliant saves. At the interval nothing had been scored. Resuming, Everton were distinctly the superior side, and after twenty minutes' play Taylor converted centre from Sharp. With one exception, Everton had all the; play, and ran out easy winners. Result: EVERTON 1 goal. Manchester City 0 goal
EVERTON 1 MANCHESTER CITY 0
April 26, 190. The Liverpool Daily Post
The victory of Manchester City in the final of the English Cup, intensified the interest already aroused in their visit to Goodison Park last evening. The Mancunians have made a gallant efforts this season to gain the much coverted championship of the League, but unfortunately for their prospects, Sheffield Wednesday have been wonderfully consistent, and have scarcely ever flagged in those efforts which very early on were distinctly of a championship order. In steeplechase parlance the City had to survive "two jumps", as victory against Everton would only benefit them if Wednesday "bit the dust" to the peakities as Derby next Saturday. On paper form, the city had no chance whatever of vanquishing the Blues who visited Hyde-road earlier on, and routed the victorious Mancunians by 3 goals to 1. Everton supporters watched the struggle with mixed feelings and painful memories of the Stoke defeat particularly, but for which the downfall of the city would have a possible chance of championship honours coming to Liverpool. Both teams travelled up from London together last night the cup winners arriving in Liverpool at ten o'clock, and putting up at the Alexandra hotel. Twenty thousand spectators cordially welcomed the City warriors, and Young led off to Hardman, who was fouled. Taylor obtained, and centred too swiftly for either Young or Settle to stop the leather. Next came a corner to Everton, and the ball came out to Wolstenholme who, with a long shot, skied the leather over the bar. The Blues kept up their attack on the right, and Hillman got a handful from Taylor. The City could not get away from their tenacious opponents, and when R.Balmer had made a miss, Meredith put his partner offside. Soon after Manchester swooped down on their left, and Whitley ran a long way out to save. Meredith was soon away again, and this time fairly beat Balmer, and tested Whitley with a lovely swift shot which, the Everton custodian cleared very ably indeed. Everton forced the pace on the left, and Sharp dashed up just too late for Settle's centre. A fine run by Hardman resulted in a perfect centre, but Young was not at hand to receive. Booth then cleverly robbed Booth, and Turnbull, and gave to Sharp, who ran the leather out. Meredith next got away fairly from R. Balmer, but Booth robbed the City captain in grand style. The Mancunians soon had his revenge by forcing a corner off the Everton captain. A period of remarkable clever work followed in midfield, where both sets of half backs showed fine form and splendid tactics. MaMahon beat Hardman several times, but at last the winger got well round him, only to wind up with a very feeble effort. Booth was playing a great game, and was mainly responsible for breaking up Manchester's clever combination. A prolonged visit to Everton's section culminated in Livingstone troubling Whitley with a wonderfully good effort. Abbott who had been damaged early on made only a very good show, and he could do little to check the furious onrushes of the visitors. Able efforts by Meredith provided a capital opening for Livingstone, who could hardly have missed, but he shot a foot wide at the finish. Taylor and Sharp were then prominent in a vigorous attack by the Blues, who were ultimately awarded a free kick in a very dangerous position, but Burgess cleared his lines smartly. Although no score had accured the game had been very fast and of a highly scientific character. A glorious piece of work by Sharp gave Taylor and Young a perfect opening so that either should have opened the account which they signally failed to do, and the interval arrived with a clean sheet. During the interval the English Cup was passed through the crowd, many hundreds of whom had an opportunity if reverently touching it. After the interval the assemblage had almost doubled itself. Attack was rapidly made on each citadel in turn, and a fine centre from Sharp brought a smart effort from Young, who nearly hooked into the net. Young was almost in a siting posture at the time. This was followed by another hot attack during which Settle, Young, and Abbott all missed palpable chances after a characteristic dash and centre by Jack Sharp, but both City backs offered a grand defence. Whitley effected a couple of first class saves from a bully, and a corner at very close quarters. In fact so spirited was the City attack that only Whitley's extreme vigilance saved the situation. Everton soon woke up again, and Hardman did some brilliant shooting which troubled Hillman scarily at times. Settle, Young, and Taylor worked together as one man, and by sheer energy, and cleverness frequently broke through the City lines, but their shooting was unlucky, and Hillman too clever. At last Taylor got one of Sharp's lighting centres, and netted the leather brilliantly, to the great delight of the crowd, who had waited patently. Hardman and Abbott were both bottled up in the latter stages. Young played all through with courage and good judgement. Settle missed an open goal at the finish, though he finessed very coolly. Manchester were fairly pumped out at the finish, and seldom managed to break away. The Evertonians were as sprightly as could be, and did excellent work, which demoralised the city halves. It was a most interesting and scientific game, thoughout, marred only by Abbott being hors de combat throughout. Result Everton 1, goal, Manchester City nil.
TRANMERE ROVERS 3 EVERTON RESERVES 1
April 28, 1904. The Liverpool Courier
At Prenton-park last evening, before 2,000 spectators. The Mayor of Birkenhead (Mr.A.E.Grice) kick-off. Everton had the advantage of the breeze at the outset, but the Rovers more than held their own. Many shots were rained upon the visitors charges, but were negotiated cleverly at the other end Corrin tested Robertson. At the interval neither side had scored. Restarting the Rovers attack, and the ball was scrimmaged into the net from a free kick. Hilton scored a second goal, and a little later T Hughs placed the Rovers further ahead. Corrin reduced the home led, and Rovers eventually winning by three goals to one.
EVERTON RESERVES 1 SOUTHPORT CENTRAL 1
April 29, 1904. The Liverpool Mercury
The respective champions of Division "A" and "B" of the Lancashire Combination met at Goodison Park last evening, before a good gate. Southport commenced operations. Garvey handling from Corrin in clever fashion. Everton next forced an abortive corner. The Central next tried to relieve the pressure by a promising move down the left. The home defence however, prevailed, and the scene of operations was again transferred to the visitors territory. Give and take play followed, and Corrin forced another corner, which however, availed his side, nothing. O'Hagan just missed the mark with a header. The homesters set up a persistent attack on the Sandgrounders citadel and Garvey was extremely busy repelling all sorts of shots. O'Hagan put in a beauty, which Garvey saved in clever fashion, and then the visitors obtain a corner, which, however, brought no tangible result. Dawson failed to net the leather when, Whitley had run out to save. A good run and centre by Rickably gave Smith a chance to open the score. Wildman however, arrived on the scene in the nick of time, and a barren corner was the only result. Operations were again transferred to the Southport quarters, and Garvey was busy saving shots from both wings. Dawson and Smith both missed chances by dallying in front of goal. Half-time: No score. Resuming after the interval the Sandgrounders pressed, and Lawton was unlucky in having his final efforts charged down by Murray, the ball going for a corner. Both sides were now putting in good work. Corrin was offside was ruled offside when favourably placed, and then play was contested in midfield. The clever work of the Everton front rank at length met with its due towards, Roberts taking advantage of a momentary slackness in the Sandgrounders defence and putting in a beauty, which Garvey had no possible chance of saying. A brillant run by Corrin from the centre line was heartily applauded. Garvey falling in saving Corrin's final effort. Smith equalised from close range, after Whitley had made a partial clearance from Shadbolt. Towards the finish the Sandgrounders fought hard to gain the leading point, but the home defence was very safe. The game throughout was keenly and evenly contended. Both sets of forwards missed many opportunities to score. The home forwards however, more better than their opponents. Garvey was a clever custodian and got through a great amount of work with credit. Result Everton 1, Southport 1.