BOBBY PARKER ON TRANSFER LIST
Sunday Post - Sunday 01 April 1923
Another old Glasgow favourite is also for disposal—the ex-Ranger. Bobby Parker, now with Notts Forest F.C., who has been in English football for several years. Everton secured him from the Light Blues after a keen chase, in which many clubs took part, and at Goodison Park Bobby made good. . When resumed after the war, in which was severely injured, he did not touch quite his old standard of form, and few seasons ago, while leading London club was chasing him, the Foresters chipped in and induced him —he was then on Everton's transfer list —to sign for them. This season he has not played regularly in the League team, but he is still a very capable player, who should have little difficulty in finding another club.
NEWCASTLE UNITED 3 EVERTON 1
April 3 1924. The Liverpool Daily Post and Mercury.
EVERTON BEATEN
LIVINGSTONE "BARRACKED" AT NEWCASTLE.
Newcastle United were good value for their victory by 3 goals to 1, over Everton in the return match at St. James's Park, last evening. If only for the reason that they accepted their chances better than Everton. In actual play there was little to choose between the sides, but what advantage there was lay in United's persistency against a really clever line of Goodison halves. For a long time in the first half Everton were able to frustrate all Newcastle's moves, and as the Tynesiders showed the same reluctance to go the full distance play was scrappy. But when, after sixteen minutes, Chadwick gave Everton the lead more vim was imparted in the Cup finalists' methods, and once the lead was recovered there was never any great danger of it being lost, despite some strenuous efforts by the Merseysiders in the last quarter of an hour.
BRILLIANT FOOTWORK.
It was a fast, open game, with many pieces of brilliant footwork, but at times some very mediocre play was produced, and in this respect Everton were chiefly concerned especially in the matter of finishing. Admittedly they had hard lines, twice of thrice in hitting the woodwork, but even so, chances were wasted for want of promptness in shooting. This was where Spencer proved his worth, and Cock had a very lean time against the youngster. Cock once did net the ball after Newcastle's second goal, but he was obviously offside. There were several outstanding incidents, one being when the referee gave a free kick against Newcastle inside the penalty area after Hudspeth had fallen on the ball and was surrounded. There was no, foul, and the only possible decision was a throw down. Then Livingstone came in for a bad quarter of an hour when Aitken, who had gone centre for Harris, who was limping, broke through and was very badly tipped. The Everton player was spoken to by the referee and subsequently "barracked" by the crowd. Harland was knocked out and had to be carried off when Newcastle scored their second goal, Raitt meanwhile filling the breach, but Harland was able to resume after the interval.
SAVED BY BACKS.
Chadwick's opening goal was a very clever effort from a pass by Troup after both he and Irvine hit the crossbar. Gibson equaliser came from a free kick for a total unnecessary foul on Seymour, the ball coming out of the net again. There was no disputing this point, as was the case when Harris scored the second, just before the interval. Aitken had centred, and Seymour headed in for Harland to punch out. Harris shot, and then it was seen that the goalkeeper was laid out. Everton protested strongly, but Referee Johnson, of Sheffield was adamant. In the second half, Everton were subjected to such pressure and were well saved by their backs and McBain. Harland completely misjudged a long cross shot from Seymour which, struck the upright and glanced into the net. Then it was that Everton exerted considerable pressure, but despite numerous corners, Newcastle's defence was quite firm. Chadwick, Irvine, Troup, McBain, and Raitt were the pick of the visitors side, and Newcastle's defence Spencer, Mooney, and Harris were outstanding for the winners. Newcastle United: - Mutch, goal, Russell, and Hudspeth, backs, Mooney, Spencer, and Gibson, half-backs, Aitkens, Cowans, Harris, McDonald, and Seymour, forwards. Everton: - Harland, goal, Raitt, and Livingstone, backs, Brown, McBain, and Hart (captain), half-backs, Chedgzoy, Irvine, Cock, Chadwick, and Troup, forwards.
EVERTON 0 CARDIFF CITY 0
April 7, 1924. The Daily Courier.
GREAT FOOTBALL BUT NO GOALS.
HATS OFF TO CARDIFF AND EVERTON!
By Adams.
Some of the most delightful football seen in Liverpool this season was served up by Cardiff City and Everton at Goodison Park on Saturday. There were no goals, but I venture the assertion that the majority of the great crowd of spectators present –Welsh and English –went away satisfied with a game, which was a credit to two clean, clever, sporting sides. In a sense, Everton may be accounted unlucky that they did not annex both points. Only that old fatal defect of weak finishing robbed them of victory, but in extenuation it may be said that the forwards were up against a dour, relentless defence that permitted no license. The City half-back line, in which the amateur Jenkins played vice the injured Keenor gave a splendid display, and it was due to their pertinacity in watching the Blues' inside men that the end of the first half saw their goal inviolate, for the opening 45 was distinctly Everton's. Praise must also be accorded to Nelson and Blair,
who were a resolute pair of backs, and kicked a remarkable length at times.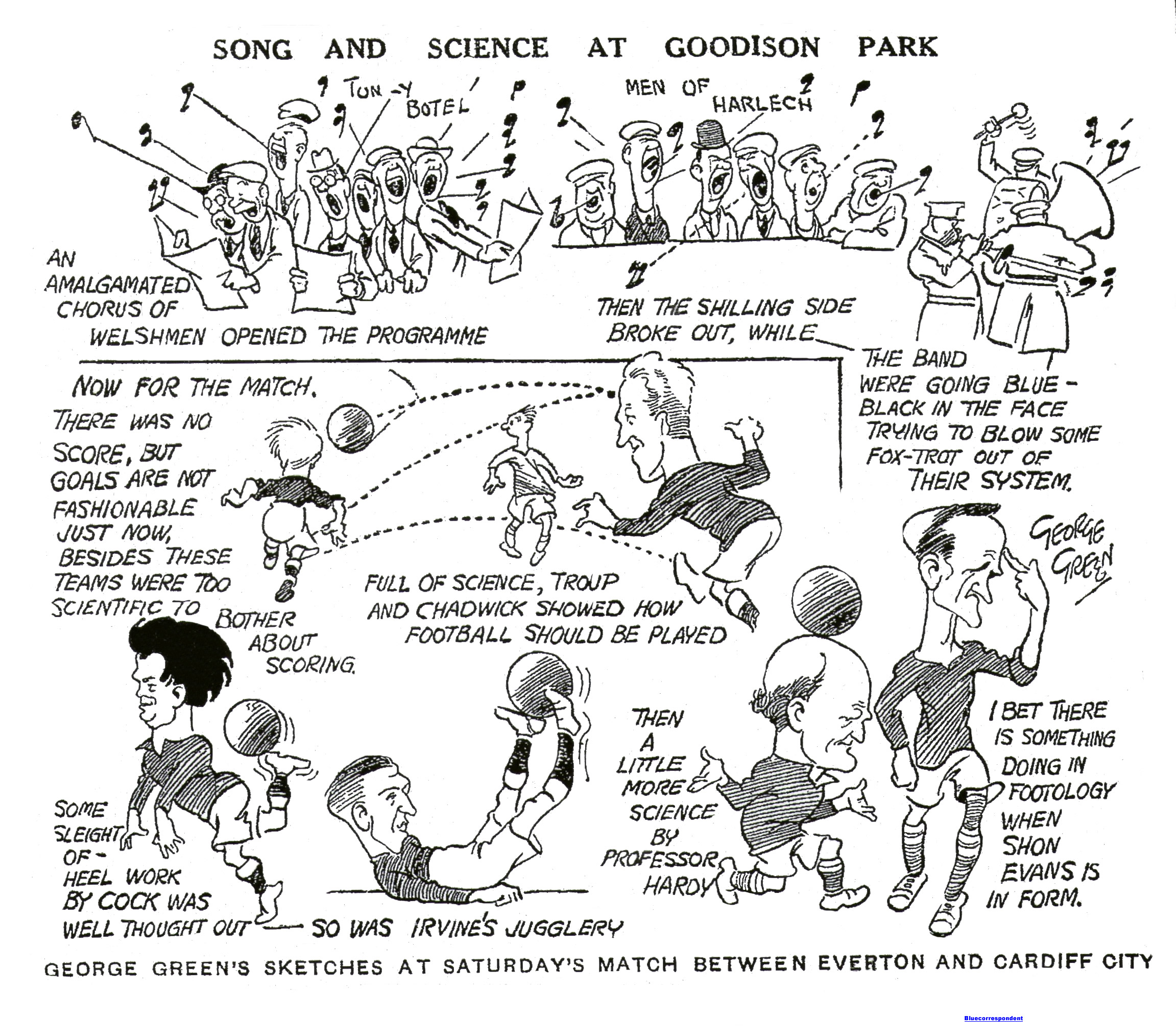 A BEWILDERING WING.
It was not long before we saw one outstanding feature demonstrated –that the wing work of Troup and Chadwick was f such brilliance that it was likely to prove the determining factor in the game. That it was not so was due principally to the fact that Chadwick's final shot were unaccountably wide, or his transfer to Cock blocked by ever-watchful defenders. Troup, too was rather prone to shot from narrow angles, although his tricky work leading up to the efforts evoked much applause and laughter. There were times when it seemed certain the visitors' goal was about to fall notably in one siege in the first half, when Irvine, Brown, and Chadwick, all fired in hot shots and Blair all but beat his own goalkeeper. It must not be though that the Welshmen were confined to defence, however, for there were several movements, which developed danger of Harland. As in Everton's case these were usually initiated by the wingers.

VETERANS.
Taking Cardiff individually, the veteran Hardy was a great worker, and Wake deputising for Herbie Evans, improved upon his Ninian Park display. The Amateur Jenkins tackled heroically, and gave a bright show. Of the forwards, the popular Bala man. "Shon" Evans, showed speed remarkable for one whose thinning thatch spoke eloquently of long service, but Clennell seemed to have lost some of his resiliency. Len Davies impressed one as being a trifle slow, and Gill was erratic, Lawson was well held by Hart. Whereas Chedgzoy showed signs of staleness, his partner Irvine was not only the best attacker, but was the man on the field, touching top form, from Cock seemed to tire in the closing stages of a strenuous game, and Chadwick had apparently lost his shooting boots. McBain was a resourceful half, and Brown was solid rather than scintillating. Hart opened shakily, but finished in great style. The City backs were a trifle better than Everton's but both International goalkeepers had an easy afternoon, which point to the general sturdiness of the penultimate lines. Teams: - Everton: - Harland, goal, Raitt, and Livingstone, backs, Browm McBain and Hart (captain), half-backs, Chedgzoy, Irvine, Cock, Chadwick, and Troup, forwards. Cardiff City: - Farquharson, goal, Nelson, and Blair, backs, Wake, E. Jenkins, and Hardy, half-backs, Lawson, Gill, Len Davies, Clennell, and J. Evans, forwards.
SHEFFIELD UNITED RESERVES 2 EVERTON RESERVES 1
April 7, 1924. The Liverpool Daily Post and Mercury
CENTRAL LEAGUE (Game 37)
Sheffield United's strong reserves gained a sound success over Everton's second string, at Bramall-lane, and though the final margin was only one goal. United had most of the play during the opening half. In that time Taylor scored twice for them. Fern being helpless against shots at great speed and along the ground. In the second half Everton gained a lucky goal, parry who was showing a fine speed at outside right, raced past Halliwell, and lobbed the ball over Plant's head, so that it bounced between him and Blackwell. The latter hesitated, and the ball bounced over his shoulder and found the net.
EVERTON "A" 4 MANOR PARK 3.
April 7, 1924. The Liverpool Daily Post and Mercury
LIVERPOOL COUNTY COMBINATION.
This match played on Everton's ground, was chiefly noticeable for some bad finishing on the part of Everton, who, if they had accepted some of the very easy chances that came their way would probably have reached double figures. The game was fairly even all though, but the visitors' forwards finished off their attacks better, and even more dangerous when in front of goal than their opponents, Macey however kept a good goal. Victory went to the better side on the day's play. Everton's scorers being Jones (2), Weir, and Rooney, while the visitors goals were scored by Holland and Platt (2).
EVERTON SIGN KENDALL
April 10, 1924. The Liverpool Daily Post and Mercury.
Everton have signed on a new goalkeeper j Kendall of Lincoln city, whence came fern in 1914, Kendall who is only 19 years of age, stands 6ft and weights 12 stone. He is an excellent custodian and for the past two season has been spoken of as the best in the third division of the league
EVERTON AT MOLD.
April 11 1924. The Liverpool Daily Post and Mercury
ATTRACTIVE PLAY IN FRIENDLY MATCH.
The visit of Everton to Mold in a friendly match last evening proved a great attraction despite the inclemency of the weather. The visitors fielded a strong side, and monopolised the game from start to finish, Williams giving them the lead after five minutes. Afterwards the Everton forwards indulged in some pretty passing, which delighted the spectators. Nearing the interval Wall added a second goal. On resuming the Everton forwards raided the home goal, and Griffiths was warmly applauded for his masterly display. A minute from time Maclaren scored for Mold. Everton were much the better side, and could have won by a far greater margin. After the match the Everton players were entertained to dinner at the invitation of the directors and members of the Mold Club. Result Mold 1, Everton 2.
PLAYERS ON TRANSFER LIST.
April 11, 1924. The Liverpool Daily Post and Mercury.
Everton have decided to transfer several of their players, including the goalkeeper Tom Fern, who was transfer from Lincoln City in 1914, Weller and Grenyer also are not to be re-engaged, Weller is understood to have been offered a sum in lieu or a benefit for his services extending over many years. It is stated that a North-Eastern club is anxious to secure the services of Grenyer who has been at Goodison Park for a long time, and that he asked for his papers.
TOTTENHAM HOTSPUR 2 EVERTON 5
April 14, 1924. The Daily Courier.
TOTTENHAM DEFENCE RIDDLED.
EVERTON GIVE A CLEVER DISPLAY. By C. S.
The conditions underfoot at White Hart Lane just suited Everton, a soft surface while allowed full stretch in running, but this was hardly sufficient to account for the big margin by which the visitors won. There was a weakness in the final line of defence, which helped the Blues, two goals being recorded which should have been saved. The game was a good one to watch, the passing particularly of the Everton team, being well judged and always with an eye to the unmarked man. Everton gained a two goals' lead in half an hour, but within a minute after the interval the Spurs had drawn level only to see the Blues draw right ahead just when an exciting finish was looked forward to. Cock scored the first goal, converting a smart centre from Chedgzoy with his head, and Chadwick also made the best use of a touch inwards from Troup. Then Dimmock hit the crossbar and Lindsay scored from the rebound, while Walden closed in to net cleverly just after the interval.
KEEPER'S BLUNDER.
Maddison, however, should have saved when Chedgzoy shot from the line, the ball bouncing down from the bar. He could not get to Cock's shot, though the centre-forward had to shake of both backs, before he could force home the ball. In the meantime Irvine was injured and gone to outside right, and he scored with a shot, which was identical with that of Chedgzoy. Immediately after he had netted the ball the Irish international had to leave the field, in this respect copying the example of Grimsdell, who had also had to retire through an accidental kick on the leg. The Everton defence was again very sound, while the halves got a complete grip on the opposition in the second half. Forward, Chedgzoy has never been seen to greater advantage in a line, which was ever eager to snap up opportunities. Maddison was uncertain, a remark whick also applied to Forster, Grimsdell was easily the best of the halves, while Elkes stood out in the attack, in which Walden also did well. Teams: - Tottenham Hospurs: - Maddison, goal, Clay, and Foster, backs, Smyth, Lowe, and Grimsdell (captain), half-backs, Walden, Watkins, Osborne, Lindsay, Elkis, and Dimmock, forwards. Everton: - Harland, goal, Raitt, and Livingstone backs, Brown, McBain, and Hart (captain), half-backs, Chedgzoy, Irvine, Cock, Chadwick, and Troup, forwards.
EVERTON "A" 2 LIVERPOOL "A" 2
April 14, 1924. The Liverpool Daily Post and Mercury.
LIVERPOOL COUNTY COMBINATION.
A division of points at Goodison Park was a fitting result to a game, which was productive of spasms of good football alternating with periods of desultory play. Liverpool, particularly during the first half displayed more understanding in their attack than the home team whose forward play was of a mild form, and it was chiefly through the splendid work of the Everton half backs that Liverpool did not score more goals. The second half showed a complete change. The Liverpool attack lost a deal of its sting and the Everton forwards, assisted by the half backs became the more dangerous. Houghton and Green compelling Holgrave to make many good saves. Everton went near to snatching a victory, for Barton drove in with the Liverpool custodian out of goal, but Davies standing on the goal line, headed out. Liverpool scored after eight minutes though Rawinson and Reedwell added a second. Close on the interval Rooney reduce the lead from a penalty. Houghton scored the equaliser during the second half.
WIGAN BOROUGH 4 EVERTON 3
April 15, 1924. The Liverpool Daily Post and Mercury
EVERTON BEATEN.
WIGAN BOROUGH SUCCESS IN FRIENDLY MATCH.
The Everton league team very generously proffered to aid Wigan in the matter of their public war memorial, and the fact that they did this at their own expense last evening was much appreciated by the inhabitants of the town. Indeed their visit and match with Wigan Borough will be a memorable event. An interesting feature was the visit of the Wigan Rugby Club directors and players with the Northern League challenge Cup, which they won on Saturday. The Mayor also gave civic dignity to the proceedings, whilst the Earl of Crawford and Balcarres was introduced to both teams and kicked off before 5,000 spectators. The Borough, with the wind, had most of the play in the first half, but it was not until midway through the second half that Ormston, the home centre drew Harland out to score, and directly after that the same player receiving from McGraham, went through on his own again and swerved the ball in off Harland. From a glorious centre by Jones, Davies with the greatest deliberation, drive the ball in with a very narrow margin of space. Miller scored a fine goal for Everton after seventy-five minutes' play, and splendid combination ended in him adding a second. From a centre by Jones, Ormiston beat Harland, and Cock went through immediately afterwards for a third for Everton. The teams were afterwards entertained at the Royal Hotel, the Mayor and Lord Crawford and Balcarres being present. Everton: - Harland goal, Raitt, and Livingstone, backs, Brown, McBain and Hart (captain), half-backs, Chedgzoy, Irvine, Cock, Miller and Troup, forwards.
LIVERPOOL RESERVES 3 EVERTON RESERVES 4
April 15, 1924. The Liverpool Daily Post and Mercury.
LIVERPOOL SENIOR CUP SEMI-FINAL REPLAY.
Everton Reserves had a good victory over the Anfield Reserves in the replayed semi-final of the Liverpool Cup at Anfield last night. Everton were leading at half-time by two goals, and soon increased this in the second half to four, Wall performing the "hat-trick." It was a hard and good game and pleased the spectators who numbered about 7,000. Liverpool never really looked like scoring until about a quarter of an hour from the end, when they came away with a fine burst, and put on three goals and thus provided a fighting finish. Everton's fourth goal was scored by Grenyer from a penalty Liverpool's forward line was rather ragged and failed to combine whereas Everton were tricky and dove tailed splendidly. Grenyer at left half, was very good in tackling and head work, and Pratt, at the same position in the Anfield team, was Liverpool's best half. Both Everton wingers were good, and Gilhespy is worthy of mention, of only for his brilliant header, which gave Liverpool their first goal from a centre by Chalmers. The scorers were Wall (3), and Grenyer for Everton, and Gilliespie Shone, and Owen for Liverpool.
EVERTON "HELD UP" BY POLICE.
April 15, 1924. The Daily Courier.
INCIDENT AFTER GAME WITH SPURS.
Tottenham people, including their "Bobbies" were upset by Everton's big win over the 'Spurs on Saturday. The North Londoners, however, writes "Twelfth Man" in the Evening News, "got back." On the Everton team. As the visitors were about to leave the ground in a Charabane after the match, the local police noticed that the license displayed was out of date. Instantly a couple of constables advanced and stopped the Charabane. For a few minutes the driver was diving his hands first into one pocket and then into another. After becoming red in the face, he finally pulled out a license for the current year. The officers then withdrew.
EVERTON 3 ARSENAL 1 (Game 1098)
April 19, 1924. The Daily Courier.
EVERTON'S REAL "GOOD" FRIDAY.
THE ARSENAL RETIRE A WELL-BEATEN SIDE.
The quality of the football at Goodison Park, yesterday, was not by any means great, but it may be said that Everton fully deserved their victory of 3-1 over the Arsenal, who put up a decidedly poor show throughout. The winning of the toss represented a district advantage to Everton, for in the first half they had a bright sun and a strong' wind behind them. Arsenal failed to profit by the turn round, for the sun became obscured, and the breeze faded away.
THE EXPERT.
A tricky bouncy ball played havoc with the combination of both sides at the start, but the opening moves se3rved to demonstrate the fact that Everton were not going to ignore any reasonable chance of scoring, even Hart following up a remarkable dribble by a great shot, which went just wide. After Robson had saved twice from Cock, Milne fouled Chadwick just outside the penalty area. Wilfred took the kick, and exacted retribution with a wonderful drive, which left the goalkeeper and 25,000 spectators bewildered. After the restart Kennedy was prominent with some nice work, and Blyth and Neil were nearly through when the latter handled. Blyth, by the way, had received a nasty cut over the eye from Livingstone's elbow early on, and was, in consequence, but a shadow of his usual self. With Arsenal setting up a useful attack, Woods and Neil got in each other's way, and spoils a gilt-edged opportunity. Everton second's goal came from a foul, and was a simple affair. Chedgzoy's kick was charged down by Milne, who placed the ball at the feet of Chadwick, and the result was another goal. Wilfred's 25 th of the season. With four minutes of the first half to go, McBain sat on the ball, tried to twiddle it away from two opposing forwards, lost it, and Haden, dashing in from the left, took a pot shot at completely beat Harland.
GIFT FOR COCK.
The second half display of both sides was mediocre, due principally to the fact that Arsenal adopted the one-back game –on one occasion putting the whole five Everton forwards offside –and that Everton were more or less content to rest on their laurels. When Arsenal did get going their shooting was execrable. The Blues' third goal was the most ingenuous affair seen at Goodison this season. Raitt placed a free kick on the half-way line to Cock, who was left to his own devices by the backs, and promptly banged the ball past the frantic Robson. The winners' forwards were in great fettle, and the halves had a real "good" Friday, McBain bringing out the full repertoire of tricks. The backs were sound, and Harland had a holiday. Robson played a good game, but his backs left him a lot of work to do. Milne was the best half-back, and Haden the outstanding figure in a rather futile forward line. Teams: - Everton: - Harland, goal, Raitt, and Livingstone, backs, Brown, McBain, and Hart (captain), half-backs, Chedgzoy, Irvine, Cock, Chadwick, and Troup, forwards. Arsenal: - Robson, goal, Mackie, and Kennedy, backs, Milne, Butler, and Young, half-backs, Blyth, Neil, Woods, Ramsay, and Haden, forwards.
KENDALL FOR EVERTON
Derby Daily Telegraph - Saturday 19 April 1924
It has been known that several clubs had taken a fancy to Jack Kendall, the Lincoln City goalkeeper, who went to Sencil Bank as a youngster of 17 years from Broughton club. Since he ousted Bainbridge from the side he has played 71 consecutives games, and has won a great reputation. Like Tom Fern before him, he has gone to Everton where he will have every chance of making good.
EVERTON 4 TOTTENHAM HOTSPURS 2
April 21 1924. The Daily Courier.
CHADWICK'S HAT TRICK.
ATTRACTIVE FINALE AT GOODISON PARK.
CHADWICK HIGHEST SCORIST IN FIRST DIVISION
By Jocke.
Everton, on Saturday wound up their home season in a blaze of glory by a decisive victory against Tottenham Hotspur. The game was also notable as a great personal triumph for Wilfred Chadwick, who, in scoring a hat-trick of goals, now becomes the leading scorist in the first division. Play throughout, the ninety minutes was attractive, and at times, the work of the attacks, especially that of Everton, reached the highest. On the run of the game Everton were much the superior side, and there was a balance about the forwards and halves that was missing in the London team, of whom Dimmock and Lindsay were the best.
TWO FINE GOALS.
It was these latter two who opened the scoring with a fine goal, chief credit for which was due to Dimmock, who, after brilliantly working the ball almost to the touch line, passed back to Lindsay, who was unmarked in front of goal. Seven minutes later Everton were on terms with a fine shot by Chadwick, who took a pass from Irvine in his stride. In another ten minutes the same player had given Everton the lead with a terrific right-footed drive from fully 30 yards out. Good shot as it was, I though Blake should have been equal to it, and the keeper appeared again at fault just before half-time, when he completely missed a pass back from Brown, but the ball went for a corner. This dangerous passing back game was the undoing of Everton, for early in the second half Walden put a high centre which Kendall went out of his goal to cover. Raitt, however, reached the ball, and headed it into the empty goal, evidently not aware the keeper had left his charge. For a time Everton simply penned the 'Spurs in their goal area, and at length Chadwick completed his hat-trick, heading a fine centre from Chedgzoy past Blake.
KENDALL'S PROMISE.
Irvine completed the scoring with the last kick of the match, but prior to this the Everton goal had two narrow escapes. Once Kendall made a fine full-length save from Elkes, but just later the homester were lucky when with an open goal at point blank range the same player hit the post. Kendall, the recruit from Lincoln City, made quite a promising debut in the Everton goal, his catching of the ball being clean, and much better than that of Blake, whose timing of the ball was often faulty. Both pairs of backs made mistakes, Livingstone being the pick, for he was always too good for Walden. The Everton halves and forwards were all good, as were Dimmock and Lindsay for Tottenham. Teams: - Everton: - Kendall, goal, Raitt, and Livingstone, backs, Brown, McBain, and Hart (captain), half-backs, Chedgzoy, Irvine, Cock, Chadwick, and Troup, forwards. Tottenham Hotspur: - Blake, goal, Clay, and Brown backs, Smith, Lowe, and Skinner half-backs, Walden, Osborne, Lindsay, Elkes, and Dimmock, forwards.
MANCHESTER UNITED RESERVES 1 EVERTON RESERVES 1
April 21 1924. The Liverpool Daily Post and Mercury
CENTRAL LEAGUE (Game 38)
The Everton goal had narrow escape early on, Jones and Miller heading onto the crossbar with fern beaten. Even play followed, and just before the interval Parry scored. After the interval United attack, but were soon repulsed, and Hallam equalised with a long shot.
ARSENAL 0 EVERTON 1
April 22 1924. The Daily Courier.
EVERTON SPARKLE. EXHIBITION DISPLAY AGAINST THE ARSENAL.
WOODS SENDS PENALTY WIDE.
Despite the heat, the game between the Arsenal and Everton at Highbury, yesterday, was conducted at a rattling pace, which actually increased in the second half. Everton proved themselves to be much the cleverer side, and deservedly won. The Arsenal started off at a convincing pace, and for a time monopolised the game, Everton being rarely seen at the attack, spoiling many movements by the adoption of the pattern-weaving game, which was easily checked by the energetic home defence. Fortunately the visitors at length saw the error of their ways, and altered their tactics by swinging the ball about, indulging in quick dashes, and what was more to the point, shots at goal at every opportunity. This procedure soon brought its reward in the shape of a goal. Brown, in checking a home burst, kicked the ball well in advance of his forwards. Cock and Irvine judged the position hopeless, but Chedgzoy with commendable energy in view of the heat ran forward, although there was nothing to hamper Kennedy in clearing.
CHEDGZOY'S CHANCE.
The one chance in a hundred happened, however, for Kennedy's clearance struck the oncoming Chedgzoy who quickly got the ball under control and ran on. Robson came out, but the Everton winger calmly lifted the ball into the net after twenty-two minutes' play. Up to this time Everton were hardly deserving of the lead, but from this point and during the second half one saw the real Everton. They played with great skill and enthusiasm, and until the finish of the game treated the spectators to a delightful exhibition. The Arsenal missed one golden opportunity of drawing level when, from a centre by Rutherford, which struck the bar and was handled by Raitt, they gained a penalty kick , but woods drove his spot kick wide of the mark. The Everton forwards were sparkling in their cleverness, and the whole line left nothing to be desired. Brown, McBain, and Hart were a tireless and clever trio, McBain being prominent throughout with the splendid headwork. Raitt and Livingstone were generally sound, but inclined to be careless in their kicking at times. Harland always inspired confidence showing fine judgement when the situation called for it. Teams: - Arsenal: - Robson, goal, Mackie, and Kennedy, backs, Milne, Butler, and John, half-backs, Rutherford, Neil, Woods, Ramsay, and Haden, forwards. Everton: - Harland, goal, Raitt, and Livingstone, backs, Brown, McBain, and Hart (captain), half-backs, Chedgzoy, Irvine Cock, Chadwick, and Troup, forwards. Referee Mr. R. J. Kelso.
EVERTON RESERVES 0 WEST BROMWICH ALBION RESERVES 0
April 22, 1924. The Liverpool Daily Post and Mercury.
CENTRAL LEAGUE (Game 39)
There was a capital attendance to witness this important fixture, which meant a deal to the visitors, for a defeat would place them out of the running for championship honours. It was a good game, with Everton the superior side, and had they accepted their chances they would have won comfortably. Although Pearson kept a good goal he was fortunate before the interval, for both Barton and Wall hit a post with the keeper well beaten. Kendall, Everton's new keeper, was not seriously troubled. In the second half Everton dominated the game, but Williams missed three good chances. Pearson had far more work to do than Kendall, but Everton almost lost the game in the last few minutes, when Blood hit the bar, with Kendall out of goal.
WEST BROMWICH ALBION RESERVES 3 EVERTON RESERVES 0
April 23 1924. The Liverpool Daily Post and Mercury.
CENTRAL LEAGUE (Game 40)
West Bromwich Albion Reserves beat Everton Reserves at the Hawthorns yesterday by three goals to nothing. They fielded a strong team including Wilson, who played in the first eleven for the last game, he was one of the outstanding figures of the game, another being Kendall, who played soundly in goal for the visitors. The scorers were Carter, and Blood (2). Kendall, McDonald, and Weller were prominent for Everton, who were outplayed by the Albion's young forwards.
CHEDGZOY'S CANADAN TRIP.
April 26 1924. The Liverpool Daily Post and Mercury
Sam Chedgzoy, the Everton footballer, left Liverpool for Canada yesterday in the Canadian Pacific line Onntcalm. For the second time is going to Montreal to fulfil at football coaching engagement during the summer months, he will be back in time to play once more for Everton next season. The members of the Everton team assembled on the prince's dock to bid him bon voyage.
EVERTON RESERVES 4, BURY RESERVES 1
April 29 1924. The Liverpool Daily Post and Mercury
CENTRAL LEAGUE (Game 41)
Everton concluded their home fixtures for this season with a well-deserved win. All through the game they were the superior side although Kendall had many ticklish shots to stop. Their first goal came through Forbes, who converted a centre by Parry, and the second was the outcome of clever play by Wall, who beat both backs before netting. With a lead of two goals, the home side opened with quite plays, and after Kendall had saved two smart drives from Butler and Woodhouse, Williams scored a third. Then, from a penalty given against McDonald, Aitkens reduced the lead. Within a minute a similar goal was secured by Everton Wall being fouled in the penalty area. Peacock scored from the spot kick. Both keepers were afterwards tested, but no further scoring took place.
ELLESMERE PORT 1 EVERTON "A" 3
April 29, 1924. The Liverpool Daily Post and Mercury.
LIVERPOOL COUNTY COMBINATION.
During an attack by Everton in the early stages at Ellesmere to leave the field. The Port made many raids in the first half, and were the better side; but the Everton defence held, and Harrington after missing an open goal for the visitors, made amends by taking advantage of another easy opportunity, and Rooney soon followed with a further goal. Boyle scored from a penalty for the Port but the visitors went further ahead through Rooney.
EVERTON'S RECORD
April 29, 1924. The Liverpool Daily Post and Mercury.
JACK SHARP CONGRATULATED AT SOCIAL REUNION.
At a social gathering of the Everton directors and shareholders last night at the Exchange Station Hotel, there was a happy and spontaneous recognition of Mr. Jack Sharp, former Everton captain and county cricketer, who was received with musical honours and cheering when Mr. Cuff, chairman of the Everton club, announced that a great honour had been conferred upon Mr. Sharp, he having been choose as a member of the Test match selection committee. Mr. Sharp, answering the call for "speech," said he was very proud of the honours, and no doubt he would soon be getting some postcards from those who would desire to build England cricket teams for him. They had always had great plans at Everton, and he had enjoyed every minute of his sport, whether on the football or cricket field. Mr. W. C. Cuff, who presided, said that Everton had finished in a healthy position, and although they were on a lower rung than last year they had scored more points than ever before in their history. Another record of theirs was the fact that their players had played the finest football in the English League. He was not boasting, he was simply giving the expression of opinion from the people in the North, South, East, and West. Sitting at Wembley on Saturday he overheard a spectator say in regard to the Villa, who were then playing very good football, that they were not playing nearly so well as Everton played at Arsenal's ground. Mr. Cuff said they had not won the Cup or the League when someone present interjected "Shame." "It is not a shame" replied the chairman; "only one club can win the trophy, and our club next season will be the keenest of all to gain the honours.
Regarding the Cup Final he extended to Newcastle their congratulations, and declined that while the Villa played better football for some time, the super-aggressiveness of Newcastle deservedly gained them the day, and it was the best final since 1897, when Everton and Aston Villa were engaged. He added that the Everton club was not out to spend immense transfer fees escept where necessity demands it. Among those present was Mr. Barlow, the Huddersfield chairman, and among those absent was Dr. Baxter, who is ill and has had to give up his work for the time being.