EVERTON 0 MIDDLESBROUGH 0
April 3 1933. Liverpool Post and Mercury
Goalless Game at Goodison
Everton Give a Moderate Display
Middbrough, fearing relegation, and Everton, not quite settled in their minds, that they are safe, must have been pleased with the 0-0 sheet from the match at Goodison Park. Whether they were or not, the 25,000 who saw the game looked upon it as a very disappointed spectacle, in which relegation fears outweighed everything and caused the football provided to be a poor sort of substitute for that generally seen in home games at Goodison. A fairer result was never recorded. Both sides hit the woodwork, when they might have reasonably expected a little luck to operate in their favour and produce a goal, both made mistakes that might have led to defeat, and neither could be said to thoroughly deserve both points. Middlesbrough's poor display was excusable. Indeed remembering their plight they must be credited with having succeeded in getting a point where most other clubs have failed. But the confident Everton side that had nothing very vital at stake, was not blameless.
Tireless Efforts.
It was apparent all through the game, that Middlesbrough were holding a better side by reason of their own tireless endeavours, and that they could have played twice as effectively if they had used their football brain to save their legs. Fighting against Division two they scrambled their way through to a half-success, while any of the onlookers must have appreciate that they were not able to play their best football because pretty football does not always pay. Everton after a rather shaky start, settled down and threatened to take the lead, but first Cunliffe and then others followed with missed chances and the wind up was that Middlesbrough and not the home side were slightly on top. Generally finding an outstanding player is not a difficult task. Here it is, because some good work was mixed with work of poorer quality, and hardly a player went through the game without doing something to blot his copybook. Geldard surely must have played better than on this occasion to earn high praise.
Dean's Work.
Cunliffe, and Watson, the young men who were "on trial" were lost from the first minute onwards, except when they caused one to look at the programme to find out who had missed an acceptable chance. Dean began well indeed, he played well all through but many of the chances he distributed right and left were not taken White's best work was done in the first half. Later in the game there were some acts of "physical violence," as it were, that passed muster with all but the non-partisans who felt that Middlesbrough were fighting relegation and other matters. The bad feeling was not confined to one point; yet Middlesbrough seemed to have done little to deserve some of the penalizing kicks awarded to the Cup finalists. By comparison Sagar was inferior to Gibson. The latter dealt surely with everything aimed at him, especially with those curling centres of Stein Everton's best forward. Sagar fumbled a high ball after a misunderstanding with Cresswell, and Everton were lucky to escape; but apart from this mistake Sagar's work was capably carried out, even if the sometimes dealt a little harshly with oncoming forwards.
Cook's Long Kicking.
Cook's long kicking was a feature. He seems to be able to get the full force of his boot behind the ball, no matter how it comes. Jennings was also a capable sort of full back, yet Tom Griffiths, the ex-Everton man, was more effective, notably in the second half, when he gave a characteristic display of spoiling. No one worked harder than the Scot, Bruce, and it was he who finished the one memorable combined move of the game with a shot that hit the cross-bar. Dean later levelled the account of fortunes and misfortunes by glacing a header on to the bar. Everton: - Sagar, goal; Cook, and Cresswell, backs; Britton, White and Thomson, half-backs; Geldard, Cunliffe, Dean (captain), Watson, and Stein, forwards. Middlesbrough: - Gibson, goal; Jennings and Jarvis, backs; Brown, Griffiths, and Forrest, half-backs; Pease, Bruce, Cameron, Baxter and Warren, forwards.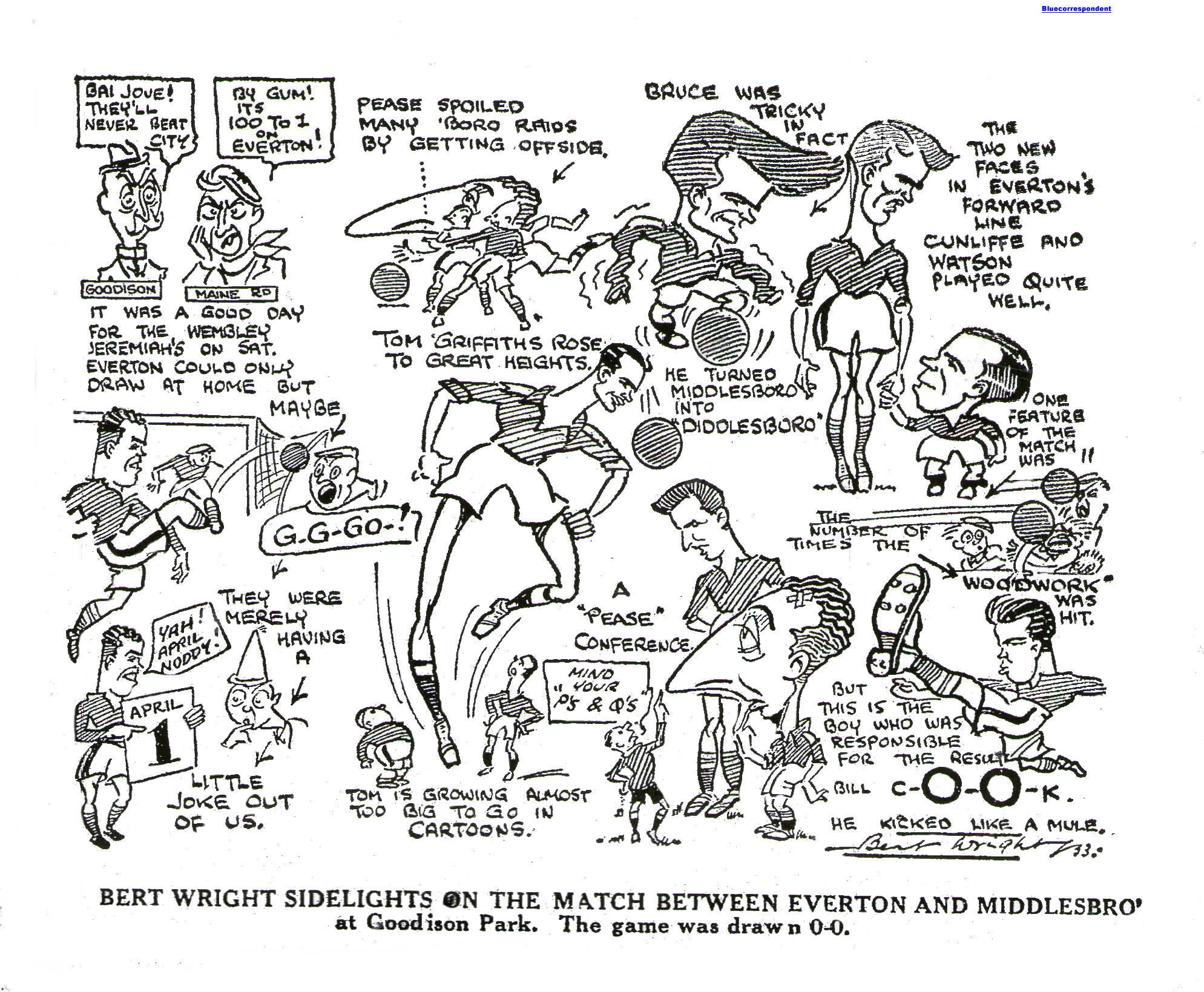 WOLVERHAMPTON WANDERERS RESERVES 1 EVERTON RESERVES 1
Central League (Game 34)
No Information Located.
Everton: - Coggins goal; Common and Bocking, backs; Mercer, Gee and Archer, half-backs; Critchley, Fryer, Stevens, Webster and Turner, forwards.
Garston Protestant Reformers 1 Everton "A" 1
Liverpool Challege Cup Semi-Final
At Earle Football Club Ground, Woolton-road. The teams played with rare dash, Garston's forwards were more dangerous in front of goal, and were assisted by their half-backs Isherwood being conspicuous in his touching judgement when placing the ball. For the Blues Jackson and Jones defended well, and Birtley and Griffiin were the pick of the forwards, Talbot Garston's keeper saved well and Davies and Clark were shy in defence. W. Vaughan (who scored) made a finer leader, his chief assistants being Potts and Milward.
NEWCASTLE THE CUP FINAL "FORM HORSE."
April 3 1933. Evening Express.
They Have Beaten City at Maine-Road.
And Visit Goodison Park On Wednesday
By the Pilot.
Newcastle United, the holders of the F.A. Cup, who visit Everton on Wednesday, are a "form horse" for this season's final. The Novocastrians defeated Everton's cup rivals, Manchester City 2-1 at Maine-road, so that if Everton beat Newcastle, they, on the form, have the beating of Manchester City at Wembley. So far as Everton are concerned, I am convinced of one thing. Their form against Middlesbrough will not bring the Cup to Merseyside. Their display was most disheartening against a side, which required little beating. The Champions appeared to lack enterprise and concentrated on pattern; weaving instead of adopting long-passing methods which it was obvious would have unsettled the Borough defence. Everton have four weeks in which to prepare for the Wembley battle. They have matches in which new schemes and new moves should be tried. They failed to do this on Saturday. When I was leaving the ground I heard the remarks "oh, they are saving themselves for Wembley." That might be true to a certain extent, but if the Blues do hold something in reserve they will be tempting an upheaval in form.
Danger of Staleness.
There is an obvious danger of becoming stale through withholding efforts. There is no intent on the part of the players to hold back –they are triers all through –it is just the psychological effect of the final. By far the better-method is to battle away sternly for everything and by so doing gain the confidence which will stand them in good stead at Wembley. I hope that in the next few matches the Blues will prove that this poor form was only transient, and that they have full confidence in themselves for the final effort. Cunliffe and Watson the youngsters who occurred the inside forward positions, performed with credit, and are obviously boys who will make a name for themselves. It is not to their discredit when I saw, however, that the attack missed Dunn and Johnson and, as a consequence, failed to operate with its customary smoothness. Dean was often a lonely figure, although he did not have a good day, and Geldard worked well in flashes only. Stein took the honours. The big man of the game was Cook, the Everton right back. His sparkling, tenacious work roused, the crowd and constituted the one bright pot in the display. Sagar, Cresswell and Thomson were others who played well for an Everton that seemed to be but a shadow of its real self. This was not Wembley form.
• Advertisement in Evening Express. League Match at Goodison Park, Wednesday, April 5 th . Everton v. Newcastle United. Kick off 3.15. Admission 1/- Boys 4d. Stands Extra, including Tax. Booked Seats, Sharp's Whitechapel.
Six Sacks Of The Cup Final Tickets.
The tickets for the F.A. Cup Final left Wembley today. They were in six large sacks and a special post office van called for them. The parcels were addressed to the clubs and associations affiliated to the Football Association and to various ticket agencies in towns all over England. Seventy-five per cent of the total number of tickets available, 93,513 are distributed to the public through the clubs and associations.
16,OOO LETTERS IN POST
April 4 1933, Liverpool Post and Mercury
By John Peel.
The Everton have received through the post alone over 16,000 letters asking for tickets totaling 50,000, for the cup final at Wembly. The club's share of tickets which have been sent out by the football association is 7,500. Applications ranges from one ticket to 200 tickets. The Everton club individual shareholders are being allotted no more than two tickets. The tickets left, the Wembly stadium in a special post office van for distribution to towns all over England, seventy-five per cent of the total number of tickets available (which is 96,513) are distributed to the public through the various clubs and associations.
LEAGUE DOUBLE THAT WILL MAKE A TREBLE.
April 4 1933. Evening Express.
Cupholders at Goodison Park Tomorrow.
A Line on the Wembley Final.
By the Pilot.
If Everton beat Newcastle United at Goodison Park tomorrow, they will complete their first league double of the season, and at the same time record a treble. They beat Newcastle 2-1 in the League game at St. James's Park in November and a few weeks earlier won there 5-3 in the F.A. Charity Shield match. Everton'as bid is one feature of the rearranged League game. Another is that the match will gave a line to the Cup final at Wembley on April 29. Newcastle who are the Cup-holders, beat Everton co-finalists, Manchester City 2-1 at Maine-road on Saturday. If Everton can overcome the Magpies tomorrow, it should give them tremendous encouragement for the Wembley battle. Everton will also be taking part in the race for the championship. Newcastle stand fourth in the League table with an outside chance of winning the title. If they should do so, and Everton win the Cup, then a remarkable prophecy of Jimmy nelson, their captain, will have come true. Last season, when I was in Newcastle, Nelson said that this campaign Everton would win the cup, and Newcastle the league. Well, it is a possibility. I understand that hopes are entertained that both Dunn and Johnson, the Everton inside forwards, who had to stand down last week-end through injury, will be fit to resume. No decision will be made until this evening, when the directors meet to select the side. Everton (probable); Sagar; Cook, Cresswell; Britton, White, Thomson; Geldard, Dunn, Dean, Johnson, Stein. Newcastle United; (Probable); McInroy; Nelson,. Fairhurst; McKenzie, Betton, Weaver; Boyd, Richardson, Allen, McMenemy, Lang.
• Advertisement in Evening Express. League Match at Goodison Park, Wednesday, April 5 th . Everton v. Newcastle United. Kick off 3.15. Admission 1/- Boys 4d. Stands Extra, including Tax. Booked Seats, Sharp's Whitechapel.
GAME AT GOODISON PARK
April 5 1933. Liverpool Post and Mercury
By John Peel.
The visit of Newcastle United to Goodison Park today should prove highly attractive. Last season Newcastle United defeated Arsenal; at Wembley, and won the Cup and as Everton are to try to emulate that feat a stern struggle for the masterly should result today. Newcastle United still have a chance of the leading places. Everton are introducing McGourty in place of Dunn, who is not quite fit, while Johnson resumes as partner to Stein. On Saturday last Cunliffe filled the inside right berth and Watson partnered Stein. Newcastle are expected to have the best team, and a really tiptop display should result. Teams: - Sagar; Cook, Cresswell; Britton, White, Thomson; Geldard, McGourty, Dean, Johnson, Stein. Newcastle United (probable) McInroy; Nelson, Fairhurst; McKenzie, Betton, Weaver, Boyd, Richardson, Allen, McMenemy. As a result of their appearance at Goodison Park under League auspices since the war Newcastle United have obtained seven points from three victories and a drawn game, while they have registered 17 goals and conceded 39. The results of these meetings (Everton's score reading first) are; 4-0, 3-1, 2-3, 3-2, 2-2, 0-1, 3-0, 1-3, 3-0, 5-2, 5-2, 8-1.
BUXTON AGAIN!
April 5 1933. Evening Express.
Everton's Cup Final Training.
Sixth Victory to Follow Sixth Visit?
By the Pilot.
Buxton again! The Everton F.C. directors have decided that the players shall be sent to the Derbyshire spa to prepare for the F.A. Cup final with Manchester City, at Wembley, on April 29. The team will go to Buxton following the match with Leeds United at Elland road on Easter Tuesday, and will remain there until they journey south just prior to the final tie. For each of their five previous Cup engagements this season the players have trained at Buxton, and they have won their games at the first attempt. Will the sixth visit bring the most important victory of all? It is remarkable that in recent years any visit to Buxton has been followed by a victory. But I understand that records reveal that Everton trained at Buxton for their first Cup final. That was in 1892, and the Blues went to fallowfield in the final and lost 1-0 to Wolverhampton wanderers. However, no matter what the effects of Buxton have been in past years, the players firmly believe that it is their lucky two this year. The players to constitute the party have not yet been chosen; but I anticipate that there will be a large contingent in order that any player chosen may have the magic touch of Buxton.
EVERTON'S CUP FINAL COLOURS?
April 5 1933. Evening Express.
By the Pilot.
When Everton met Newcastle United in a rearranged league match at Goodison Park today, they played in white jerseys with blue facings and white knickers with a blue stripe. Will these be Everton's colours in the Cup final at Wembley on April 29? Both Everton and Newcastle had strong teams out. Everton: - Sagar, goal; Cook and Cresswell, backs; Britton, White, and Thomson, half-backs; Geldard, McGourty, Dean (captain), Johnson and Stein, forwards. Newcastle United: - McInroy, goal; Nelson (captain), Fairhurst, backs, McKenzie, Betton, and Murray, half-backs, Boyd, Richardson, Allen, McMenemy and Lang, forwards. McGourty found Betton in the way when he tried to find Dean, and Sagar pulled down a shot from Richardson. Stein was lucky to regain possession, and McInroy was put to trouble in dealing with cross-goal efforts during heavy Everton pressure. Dean and McGourty went near before Geldard contributed a dazzling run and concluded with a terrific cross drive, which McInroy turned over the bar for a corner. Little had been seen of the United, though Lang Cut inside only to be checked by Cook. Sagar saved Murray's free kick at the second attempt. Everton at this juncture were rather slow on the ball and lost good chances. Allen headed over from Boyd's short centre, before the Everton forwards figured in a glorious move, which resulted in McInroy saving low down from Johnson. Cresswell headed outside in intercepting a dangerous centre from lang. The game was patchy, being a combination of intricate manceurve and indifferent work. The 20,000 spectators saw Everton enjoy slightly the balance of the play, but again the Goodison men conveyed no impression that they were cup finalists. Sagar was injured when saving a short centre from Lang, but he was able to resume. The United's forwards were much more together than the Everton attack and had it not been for good work by White, Cook, and Cresswell. Sagar might have had more work to do. McGourty, who had been having an unhappy time, tried to hook ball but placed it to the feet of Lang, whose quick return was crashed across the goal by Allen. The United made spirited attacks towards the interval, Sagar almost being beaten by a quick shot from Richardson. Then Murray came along with a shot, which hit the side netting. Dean almost got through from a free kick while McInroy saved from Thomson. Half-time Everton 0 Newcastle United 0
Everton For Denmark.
Copenhagen, today.
Everton have arranged to visit Denmark at the close of the English season, and they will play five matches. They are due to play Aarhus on May 17, t Aalborg on a date which has not been fixed, and finally at Copenhagan on Friday may 26. Monday, May 29; and Wednesday, May 31 0P.A. Foreign Special.
EVERTON 0 NEWCASTLE UNITED 0
April 6 1933. Liverpool Post and Mercury
Doleful Play By Everton.
Newcastle Skill In Goalless Draw.
By "Bee"
Everton played a doleful game at Goodison Park against Newcastle United before 20,000 of their loyal spectators. Was this their Cup form? They wore the jerseys that are to be worm at Wembley, and their all-white costume with blue trimmings will be a direct contrast with Manchester City's red, but everyone will hope that the form displayed yesterday will be in direct contrast to that at Wembley on April 29. The display given by Everton in their last two home games are far from encouraging, although everyone knows that the players have forsaken League thoughts for Cup affairs. This does not warrant them playing poor football, and the colorless display given by their forward line yesterday was sufficient to shake the confidence of the player as well as the spectators.
Accurate Passing.
Newcastle provided the neater and smoother style of football, and their artistry and the defensive measures of both sides kept the game from being farcical. Neither goalkeeper was serious effected, although Sagar got a knock on the head, and once or twice handled without that certainly that was formerly his forte. Newcastle Cup-holders, and possible champions had been to Southport as a resting-place before tackling the cup finalists, who were champions last season, and it has to be confessed that Newcastle were the better side. In addition to their smoothness, Newcastle had the better understanding, and their passing was much more accurate. Luckily for Everton, Newcastle carried their delicious football a step too far on many occasions, and by doing so ran into the firm of Cook and Cresswell, each of whom gave a hearty display, and hardly put a foot wrong.
Allen Subdued.
To this one had to add the brilliance of White, who ruggedness as a pivot kept Allen subdued, and enlivened the proceedings until finally the game wound up in a rather nasty mood. Dean running wild for a moment, committed an unpardonable offence on Betton, the Newcastle centre half-back, who had so completely subdued him until then McKenzie running to his comrades seemed to kick at Dean and at a later stage Stein and McKenzie got their boots together instead of their brains –thus the game wound up in a harsh vein, and not at all creditable.
Geldard's Run.
The football all afternoon was of such a lowly character so far as Everton were concerned, that they can count themselves fortunate to have found such an admittedly clever side in a casual mood in front of goal. Geldard made the sparkling run of the match, but his partner McGourty, who did so well in the previous meetings of the team in the F.A. Charity Shield, was quite at a loss to keep up with the play, and suffered passing paralysis. On the left Johnson made two good shots. Stein, like Dean, completely failed with the simplest of chances late on. Britton was generally too good for his rivals on the extreme left, but McMenemy quite the most captivating forward of the day. Thomson gave a level display, but undoubtedly the honours for craftsmanship and subtlety went to McMenemy, and Richardson, the extreme wingman, was rather below form when rounding off their excellent efforts in gained ground towards the goal. There was no goal, and on such form there was little chance of a goal. To Everton followers the game, following on the limp display of Saturday, was a pointer far from pleasant.

Everton: - Sagar, goal; Cook and Cresswell, backs; Britton, White, and Thomson, half-backs; Geldard, McGourty, Dean (captain), Johnson and Stein, forwards. Newcastle United: - McInroy, goal; Nelson (captain), Fairhurst, backs, McKenzie, Betton, and Murray, half-backs, Boyd, Richardson, Allen, McMenemy and Lang, forwards. Referee Mr. W. R. Jennings, Yorkshire.
CUP FINAL COLOURS
April 6 193. Evening Express
Clubs Awaiting F.A. Sanction of New Dress.
By the Pilot.
Everton and Manchester City, the F.A. Cup Finalists, are now awaiting the F.A. decision regarding the colours each club must wear at Wembley on April 29. Mr. T.H. McIntosh the Everton secretary and Mr. Wilfred Wild, the Manchester City secretary, told me today that they had submitted the following for the proval of the football Association. Everton: White jerseys with blue facings and white knickers with blue stripes. Manchester City; Red jerseys and white knickers. That is the position at the moment, but I think it may be taken for granted that the colours I have mentioned will be worn in the final. Both clubs tried out their new attire in yesterday's games, and both figured in goalless draws.
Everton's Form.
Everton will have to improve on their display against Newcastle United yesterday if they are to beat Manchester City. It was a patchy game characterized by lack of penetrative ability on the part of the attackers, on both sides. The Everton forwards were particularly poor. Johnson has not had such a bad day since joining the club from Manchester City three seasons ago, and McGourty was a weak link in the chain. Dean was mastered by Betton, and when he did escape attentions and had only McInroy to beat, he failed, while Stein also fittened away chances. Geldard's footwork and speed were features of his play, but his finishing was not up to standard. The outstanding Evertonians were White and Cook through Cresswell and Sagar did well. The directors have decided that there shall be no team change for the visit to Bolton Wanderers on Saturday. Everton: - Sagar; Cook, Cresswell; Britton, White, Thomson; Geldard, McGourty, Dean, Johnson, Stein.
CAN EVERTON STRIKE THEIIR FORM.
April 8 1933, Liverpool Post and Mercury
By John Peel.
In their last two matches, Everton have contrived to send cold shivers down the backs of their supporters by their lack of penetrative power. They may strike their real form at Bolton, but here again the Wanderers are keen on improving their position, and form exhibited in the last two games, at Goodison Park will not be good enough to beat the Wanderers. However, Everton may be depended on to make a bid to get their machinery working again smoothly. Dunn is still absent owing to injury. The Everton team is: - Sagar; Cook, Cresswell; Britton, White, Thomson; Geldard, McGourty, Dean, Johnson, Stein.
EVERTON WIN AT BOLTON
April 8 1933. Evening Express, Football Edition.
Sensational Goals in Second Half.
By the Pilot.
The smallest crowd seen at Burnden Park on the occasion of an Everton visit witnessed the match with Bolton Wanderers today. Bolton were in the throe of the relegation trouble. Everton had representatives in the South of England making Cup-tie arrangements, and also scouting. The Blues had McGourty in place of Dunn. Bolton: - Church; Boyle, Finney; Goslin, Howarth, McKay; Cook, Eastham, Milson, Westwood, Rimmer, forwards. Everton: - Sagar; Cook, Cresswell; Britton, White, Thomson; Geldard, McGourty, Dean (captain), Johnson, Stein. The game opened with thrills such as I have rarely seen. It began with a dropping centre from Stein and Church fisted up. Three times McGourty tried to head in, and three times the ball was headed out. Then the ball was whisked away for a corner. From this Stein, Johnson and McGourty tried headers, which were banged away from the goal line. How the Bolton goal escaped was amazing. Everton were not to be denied, for in two minutes they took the lead. Still it was a "gift," for Boyle placed through his own goal.
Boyle's Error.
Geldard gathered from a throw in, with dean, a menace, Boyle became flustered and allowed the ball to turn off his foot towards the net corner. Church dived to save, but the ball passed a foot over the line. Mckay was the man to bring danger to Everton. It was McKay who enabled Bolton to draw level after nine minutes, when Milson got a good goal. Sagar had picked up a McKay free kick and cleared, but by cleverly interchanging positions on the left flank the Wanderers came again, and a flashing centre by the enterprising McKay saw Milsom dash in and turn the ball past Sagar.
Cresswell Saves Everton.
Cresswell alone saved Everton from being in arrears when the genius of McKay put Rimmer through, and his centre was completely missed by Sagar. Cook had all the goal to shoot at, but delayed to make absolutely sure. It was sufficient. Cresswell was able to double back and back and kick the ball away, when it was a hundred to one on a goal. Johnson had a terrific shot charged down, and when Geldard and McGourty paved the way for Dean, Dixie turned in a sharp shot, but Church saved the day with a mighty save, turning the ball on to the post and away. Everton kept up a tremendous pressure, and the finalists hit the woodwork three times in a minute. With any luck and a little more judgement in shooting Everton would have been well away, but they received their reward in 25 minutes when Dean contributed a great header. Everton had been continuously attacking, and the ball came back to Britton, who quickly placed in the goal mouth. Dean ran towards the ball and glided it with the side of his head into the net.
A Penalty?
The Wanderers should have had a penalty shortly after when Westwood was looming dangerous. Cook tried to intercept and handled, but the referee waved Westwood on. Then White came across with a shoulder charge, which knocked Westwood yards. This was a splendid game with plenty of action and fast movement. The Wanderers were lively forward, but I was not impressed with their defence. In 36 minutes White failed to intercept a swift pass down the middle, and this enabled the Wanderers to draw level through Rimmer. Milsom raced ahead and fed Cook. The wee winger centred well and truly, and Sagar fisted the ball up, but not far enough out. Rimmer ran in and tapped the ball home. Britton was crossing more frequently than any other player, and Church had to fist away with Dean in attendance. Next Milsom ran through on the left, Sagar pulling down his short centre nicely.
Half-time Bolton Wanderers 2 Everton 2
Everton had been unlucky in the first half in that the woodwork often saved the Wanderers, whose defence was repeatedly outwitted by the Champions''forwards. There were sensations at the opening of the second half, Everton taking two goals in the first five minutes. First Geldard cut in, and receiving the ball back from the left, shot in from Johnson's position, but struck the bar. In 49 minutes Johnson flashed a centre to the middle, and Dean's neat header at goal could be seen for seconds, Church had no chance. One minute later Stein got through after dragging the ball past Boyle, and although Church got the ball he merely tapped it down, and McGourty was on the spot to score his second Football League point. The Wanderers appeared downhearted, but when Westwood centred and Cook's quick header was travelling to the net, Cresswell for the second time today saved a certain goal by clearing on the line. Sagar made a good one-handed save off a sharp header by Milsom. Cook cut through and crashed a mighty drive against the bar with Everton defence holding off. Then Milsom turned one over the bar.
McGourty's New Fashion.
McGourty was setting a new fashion by wearing his jersey with the neck vent at the back. White was spoken to for a foul on Rimmer, and just after Cook brought Rimmer down from behind.
Final Bolton Wanderers 2 Everton 4
BOLTON WANDERERS 2 EVERTON 4
April 10 1933. Liverpool Post and Mercury
Revival of Everton.
Dean's Change of Form
Impressive Display at Bolton
Crowd Incensed at Referee's Decisions.
By "Bee."
It will be good news to the Everton followers that their team played more like their old seleves at Bolton. It was an impressive display that won them the day with 4 goals to 2, and the margin just about represented the difference between the side that worked well together with good shooting at the end of good combination. Bolton, fighting against relegation made a very brave show, they were insistent to the last kick, but the game was never theirs once their full back Boyle had blundered into giving a goal against his own side. Bolton and the player named felt the weight of this evidence, and although they drew level twice the early part of the second half showed Everton in rousing form, and Dean had a vastly better day than for some weeks. He scored two goals, one a lovely header, and the winning side rode fairly easily to the final stages without giving too much though to the final tie, which had become an obsession to them at the cost of their league points and reputation.
Easy Looking Style.
It was a strong game in many way because the woodwork of the goal was so often in the way of goal. Had it net been so the score would have been a quaint one with Everton still leading and by a bigger margin but with Bolton getting four goals. As a display the game touched a rather good class, because Everton never altered their easy looking style with art as compared with dash. Boton, on the other hand, had plenty of energy and some measures of nice football interspersed, but generally their talents were not equal to those of Everton, whose all round efforts gained them good marks. The goals are worthy a special note. After the Bolton defence had survived three times in the opening minutes –a rare occurrence with the ball beating the defence but crossing the line-came the tragic blow for the Bolton back. Milson, so good a centre had he adequate support, scored a good equaliser. Britton provided a first class inwards swinger for Dean to head a goal, and Rimmer, near the interval, scored from close range. Cresswell twice saved his goalkeeper and the second half started with an Everton uprising that led to a substantial lead of two goals –Dean scored again with a header (from Thomson) and McGourty put on a further point in two minutes.
"Reception" for Referee.
That ended the scoring, but not the battle. Bolton went on at a merry pace and with some neat football, and they reckoned they should have had two penalty kicks. So intense were the home players and so incensed the onlookers that they gave Referee Kingscott a rather severe "reception" at the finish. There were 10,000 spectators in this slight scene, but I think the referee was chiefly to blame when the linesmen did not do their work properly. The game was a big attraction, and the smallness of the gate was attributable to Holcombe Races nearby, together with the fact that Bolton are not playing well and are trying youngsters where on the past they have had stars of the first magnitude. Milsom was certainly good throughout, and Eastham has definite promise when he has some years added to his quota –he is but eighteen now. At half-back the pivot was a mere stopper and chiefly a header at that, and McKay was quite the best of the line, using the ball to some purpose. At back Finney gave a nice display against Geldard, but his partner was shaky and the goalkeeper had a period of nerves, but finally made a first-class save from one of Dean's unusual efforts –a direct shot. On the Everton side one was glad to notice the improvement in Britton, and at back Cresswell enjoyed himself –which means that we enjoyed his game. Cook was stouthearted and strong of foot, and White and Thomson were clever as well as rugged.
Geldard's Spirited Runs.
Forward the whole line moved off with good ideas of formation and combination, and ground passing was an order of the day. Dean enlivened proceedings and Geldard had some spirited runs that even Finney could not stem. McGourty was better than against Newcastle, but eventually was hurt and went outside right. Johnson was all for calculated play and yet Stein had not a great deal to do. It was team work and spirit that won this game, and allowing the fact that the beaten side was not good or certain this must not detract from the worthiness of Everton's revival in a game that was full of incident and had many shots as an added attraction. Bolton: - Church; Boyle, Finney; Goslin, Howarth, McKay; Cook, Eastham, Milson, Westwood, Rimmer, forwards. Everton: - Sagar; Cook, Cresswell; Britton, White, Thomson; Geldard, McGourty, Dean (captain), Johnson, Stein. Referee Mr. A. Kingscott, Long Eaton.
EVERTON RESERVES 1 SHEFFIELD UNITED RESERVES 1
April 10, 1933. Liverpool Post and Mercury
Central League (Game 35)
Everton, throughout were the more persistent attackers, yet they had to fight hard to avoid defeat, for the Sheffielders snapped a goal in the first half-from one of their very few raids-and then fining their form after the interval, enjoyed as much of the pressure as Everton. The home side's failing was in the goal area, where faulty finishing, poor accuracy and hesitancy lost them a number of scoring chances. Good goalkeeping by Kendall prevented the first half efforts from Critchley, Turner, Gibbon, and Watson finding the net, but the last named lost one good chance through hesitating. The Everton halves aided a sound defence with splendid work, and in consequence Sheffield's attacks in the first half were very few. From a breakaway Kilhoury scored for the United and later in the second half Turner scored Everton's equaliser. The Goodison side inclined J. Deighton, a new goalkeeper and a centre forward of promise in Gibson from the North East area –the former had an easy game, and the latter showed some good qualities. Everton: - Deighton, goal; Common and Bocking, backs; Mercer, Gee and Archer half-backs; Critchley, Cunliffe, Gibson, Watson and Turner, forwards. Sheffield United: - Kendall, goal; Adey and Gibson, backs; Jackson, Carrigan and Hall, half-backs; Oxley, Kilhorly, McGinley, Cheesemur, and Burley, forwards.
Skelmersdale United 3 Everton "A" 1
Liverpool County Combination
Though Everton scored first through Grogan Slelmersdale were on terms before the interval from a goal scored by Worrall. The home team maintained the rapid pace, which they set in the first half. T. Hall and then Worrall added further goals without response from their visitors, for whom Grigan and Berkley played well. The splendid display of the Skelmersdale halves was the main factor in their success and Annett and White in particular did well.
TACTICS THAT CAN WIN THE CUP.
April 10 1933. Evening Express.
Everton Half Backs' Goal Move
Gave Dean two at Bolton.
By the Pilot.
Everton revealed a move at Bolton on Saturday, which can win the F.A. Cup. It was exploited by the wing half-backs –Britton and Thomson. Both players occasionally deceived the defence by crossing accurately to the goalmouth instead of making the short through pass to their wingers. As a direct outcome of this move Dean scored his two goals –a header off Britton's centre, and another off Thomson's cross. I strongly advise the Champions to persist in this tactics, which is as effective as it is time-saving. "Everton's form today was far better than that of Manchester City when they knocked us out of the Cup here by a similar score 4-2. An official of the Bolton Wanderers club made this comments to me after the match. This was the champions' third away victory of the season, and the return of the team to top form will be highly encouraging in view of the coming Wembley battle.
Thrills.
It was the power of the champions' attack caused such an upset in the Bolton defence that Boyle had the misfortune to turn the ball into his own goal. That was after two minutes, and though Milsom equalised, Everton were masters of the situation throughout, manipulating the ball easily and effortlessly in a subtle, precise manner. Everton were irresistible in the opening minutes of the second half, and goals by Dean and McGourty –Dean had also scored earlier on –sealed the fate of the Wanderers. The secret of Everton's success may be attributed directly to the smashing come-back to top form of Dixie Dean. I doubt whether he has played better this season, except, perhaps, at Middlesbrough. In one minute in the second half he was seen at outside left, inside right, inside left, centre forward, and outside right. Johnson, too, played on top form, and with Stein and Thomson, had a merry day through the exploitation of the triangular plan. McGourty played well up to the time he suffered an injury and changed places with Geldard, who was a real worker throughout. The quick, enthusiastic Bolton forwards broke down on the Everton half-back bulwark, in which White was the defender and Britton and Thomson the astute feeders.
EVERTON TEAM CHANGES.
April 11 1933. Liverpool Post and Mercury
Critchley at Inside-Right.
By John Peel.
Critchley at inside right is the novel feature of the Everton team to meet Chelsea on Saturday. The outside right, scorer of the winning goal in the Cup semi-final tie against West Ham United, is to partner Geldard, the youthful winger who has developed so rapidly. Critchley takes the place of McGourty, who was injured last week, and in this his first attempt at inside play with Everton, to will be closely watched. Critchley on his day, is a most dashing player, and I can quite see that the right wing prove a very fast one. Chelsea won on Saturday by a convincing score, and they will be all out on this occasion to improve their position. Everton appear to have recovered their form, and a most entertaining display is assured. The change on the right wing is the only alteration and the team will be: - Sagar; Cook, Cresswell; Britton, White, Thomson; Gledard, Critchley, Dean Johnson, Stein.
Dunn's Progress.
I understand Dun has almost recovered from his injury, but it is descended advisable to give the limb a further rest. Everton are fortunate in that they are not engaged on Friday, so that they will be fresh for the Chelsea match. In a Central League game against Leeds United on Good Friday, Everton will be represented by: - Coggins; Bocking, Jones; Mercer, Gee, Archer; Griffiths, Cunliffe, Gibbon, Watson, Turner.
EVERTON CUP FINAL COLOURS.
April 12 1933. Liverpool Post and Mercury
By John Peel.
It will be a "Battle of the Blues" in the Football Association Cup Final between Everton and Manchester City, at Wembley on the 29 th inst. Both club's normally play in blue-Everton in royal blue jerseys and white knickers, and the City in sky-blue with white shorts. As the colours clashed a change was necessary for the Cup Final, and the Football Association has decided that Everton will play in White jerseys with black knickers while Manchester City will be in red jerseys and white shorts. When Everton played Newcastle United at Goodison Park last week they wore White jerseys with Blue facing and white shorts with a blue stripe. These colours were submitted to the Football Association, who have decided that the clubs shall not be allowed to use blue, their usual colours, in any form.
CAPTURE FOR GLENTORAN
Belfast News Letter -Saturday 15 April 1933
Former Everton Forward to Play
This Afternoon With characteristic enterprise, the Glentoran management have taken steps to fill the vacancy in forwards caused by the injury to Doherty, and yesterday evening they secured the signature of Tony Weldon, the former Adrieonians, Everton and West Ham inside Weldon came into prominence with Airdrieonians in 1925-26 and was transferred Everton two years later at a substantial fee, joining Everton for season 1927-28, made 38 appearance in the league team, and Troup forming the famous left-wing of Merseyside Blues the season in, which Dean net up his record of 60 goals, which still stands. After three seasons with Everton, moved to West Ham, and played matches for them last season. For portion of the present season, has been assisting Dolphin in the Free State league, and when he arrived in Belfast from Dublin last evening he was immediately signed for Glentoran and will play against Linfield this afternoon. , A skillful forward his English experience has added speed to his natural ability, and while has shone more as a maker of openings others than as goal getter, be should add power to the Ovalites' front rank. Will play inside left this afternoon and M'Neill will probably be at outside- right.
EVERTON RESERVES 2 LEEDS UNITED RESERVES 1
April 15 1933. Liverpool Post and Mercury
Central League (Game 36)
Charlie Gee sends Penalty Wide.
That Everton were able to open the Easter programme with a victory was, in the main, due to the fine defensive work of Bocking and Jones, added by the halves, for they repeatedly thwarted the United's good progressive work with sterling defensive tactics. Each defence had the arduous spasms, yet the goalkeeper, Coggins and Potts, were not unduly harassed with many difficult shots, for the soundness of the respective defenders made the goalkeepers' work light. Still, chances were lost, and each goal enjoyed a lucky escapes, Bocking clearing off the Everton line to prevent a goal to Keetley, and Wilkinson doing likewises for Leeds when Griffiths was the shooter. Green scored for Leeds and Gibson and Webster for Everton. Gee shot wide from a penalty. Everton: - Coggins, goal; Bocking and Jones backs; Mercer, Gee and Archer, half-backs; Griffiths, Cunliffe, Gibbon, Watson, and Turner, forwards.
Everton"A" 0 Liverpool "A" 0
Liverpool County Combination.
At Crosby. A draw was a fair result. The defence held the upper hand, the respective forwards being given little latitude with their final efforts. Liverpool went nearest to scoring a strong shot from Jones striking the upright. The ball was too much in the air to be of any advantage, and in this fault Everton were chiefly in error, Birtley, Stevens, and Fryer missed good chances for Everton, and Bush on several occasions when well placed, put the ball over. Frostick and Scott made some good saves.
EVERTON 3 CHELSEA 2
April 17, 1933. Liverpool Post and Mercury
Everton's Experiment
Critchley fits in at Inside Right.
Chelsea's Artistic Patterns.
A Penalty Contention
By "Bee."
The best feature of the Everton-Chelsea game was the fitting in of Critchley as inside right instead of outside right. Goodison Park does not always look upon Critchley as a heaven sent forward, but here when they began to groan about his movements or his pass, they found he had turned the ball sharply and well, and other forwards should have benefited by his move. He was a tireless worker, and perhaps the difficulty of the Everton selectors has become more urgent owing to Critchley's form with McGourty damaged, and Dunn still not in harness, but likely to come out in a day or so. The game was never a dull one. Chelsea had come with victory the day before ringing in their ears. Perhaps they thought they could win against a Cup final side that was "looking after its selections rather than taking thought of the day." However, Everton won 3-2 after a captivating tussle in which there was varied incident, some good goalkeeping by Sagar when most needed –when Chelsea were on top of their rivals –from 15 minutes to half-time yet Stein had opened the score sheet early on and in three efforts had made one notch successful where others had gone a stray.
Sagar's Saves.
Sagar's saves from Mills and Gibson were excellently done, clean, and convincing and Cresswell headed over the bar when Sagar was not at hand; so the interval approached and right on time Johnson headed a glorious goal from a corner kick taken by Geldard Geldard had hardly taken a bow than the referee sounded the end of the first half. It was a fine point fine enough to lead people to wonder how many hundred parts of a second were left when Geldard had actually centred. The goal did not count and it left the spectators with something to talk about during the interval. When the game restarted they soon forgot about the incident, as Stein, Thomson and Mills scored goals in a range of five minutes. Stein getting his second goal three minutes after resumption from a Dean jab. Sagar was beaten again, but Cresswell was there to attend to his wants, and Thomson got a Geldard and Johnson helping to go right among the forwards –into Dean's position –to ram home a great shot while Chelsea defence looked on and moved not a muscle.
Was It Intentional?
Mills got a reduction, and Gibson angled, took a perfect point which brought the game to ten minutes from time. Then occurred a handling case. Everyone saw the handle, but was it intentional? That was the whole point. The crowd thought it was judging by their mourning. Chelsea, as one man raced to the referee, Barton of Reption to contend for the point, but he would not listen to them, with the result that Chelsea had no penalty kick, and though they hammered to the bitter end, they could not get the half they now seemed to deserve. Their football was always of good quality till they stepped once more into the breach, and then the home defenders revelled in cutting short the wiles of Gallacher, Gibson and Mills. Chelsea were a measure too clever; they went through with such artistry and case that they imagined they could go on doing it. They best themselves this way, yet there could be no mistake about the excellent fare they served up to the onlookers. Gallacher himself was a rich measures; he trod a light fantastic step, he wheeled about, making the ball spin away at his desire; he hot a hold on the ball and though clustered with rivals, he kept possession –he can be the best in the country for sheer command, but his idiosyncrasies do not always add to his fine football. In the end he and Cook were having words, and I liked better the way White ignored the little man's procadiloes.
Dominating force.
Still, Gibson with his sinuous runs, and Mills with his close dribbling helped to make the game most attractive, and f Chelsea had continued the ounch and finish they showed in the first half-hour there would have been a different score. It must not be forgotten that Everton began to ride easy at 3-1 and they had always been the dominating force in the shooting range. Woodley was at fault with the first goal, but after that he could not be blamed, nor could his back, Law who gave a polished and steadiness display, whereas O'Dowd did not reveal his best till the second half. Craig outwitted Dean without a push and Oakton, not busily engaged, showed promise, whereas Horton the deputy outside-left, was plainly suffering nerves and did not respond to Gibson, against whom Britton had a good day. Chelsea have need of a controlling force; the talent is there. but it is a carried away by its own superiority complex. And the defence needs tighting up. Law cannot always carry them. On the Everton side, Sagar, Cook, Cresswell, Britton, Critchley and Stein were the most prominent members. Teams: - Everton: - Sagar goal; Cook and Cresswell, backs; Britton, White and Thomson, half-backs; Geldard, Critchley, Dean (captain), Johnson and Stein, forwards. Chelsea: - Woodley, goal; Barber and Lay, backs; Russell, Craig, and O'Dowd (captain), half-backs; Oakton, Mills, Gallacher, Gibson and Horton, forwards. Referee Mr. A. W Barton (Derbyshire).
HUDDERSFIELD TOWN RESERVES 1 EVERTON RESERVES 3
April 17 1933. Liverpool Post and Mercury
Central League (Game 37)
Except for short periods during the first half, Huddersfield never appeared as likely winners, and in the second half they were an over-played and well-beaten side. Bocking and Jones at full back had little difficulty in keeping out the ineffective Town forwards, and it is significant that the only Huddersfield score came from Fogg, a half-back. Clark, Gee, and Mercer played a great part in the win by allying sharp attacking tactics to a sound spoiling game, Turner (2), and Gibbon scored Everton's goal.
Everton: - Coggins, goal; Bocking and Jones backs; Clark, Gee and Mercer, half-backs; Griffiths, Cunliffe, Gibbon, Watson, and Turner, forwards.
MANCHESTER CITY'S HUSH-HUSH CUP FINAL TRAINING.
April 17 1933. Evening Express.
Preparation Nine Miles From Wembley. Everton Tell The World It's Buxton.
By the Pilot.
Manchester City –s-sh! –This evening go into secret training for the F.A. cup final with Everton at Wembley on April 29. After their league engagement with West Bromwich the players will leave for a destination known only to themselves, and will begin a period of intense preparation. Their training quarters will be within miles of Wembley Stadium, and are believed to be situated in (whisper it) Bushey. Everton are telling the world they are going to lucky Buxton tomorrow. Following the match with Leeds United at Elland-road, 15 players will journey to the Derbyshire spa. Neither Everton nor Manchester will return to their home cities until after Wembley battle.
Thirteen Manchester City players will make the trip to the Southern training quarters. They will be in charge of the trainer, Alec Bell. The team includes Sam Cowan, centre-half and captain, and Jimmy McMullen, holder of 16 Scottish international caps and former left half-back, who is now an inside left. Cowan succeeded McMullan as captain of the City team at Christmas. Cowan and McMullen are the only remaining members of the City'' team beaten in the Cup final of 1929, b Bolton Wanderers. The players in the party are Langford, goalkeeper, Cann Dale, and Barnett, full backs, Busby, Cowan, and Bray, Half-backs, Toseland, Herd, Marshall, Tilson, McMullan, and Brook, forwards. The only Lancastrian in the 13 players from whom the Cup final team will be chosen are Dale, the former Manchester United back, who is a native of Manchester, and Bray, who was born at Oswaldwastle.
Everton's 15.
Everton's party for Buxton will comprise; Sagar; Cook, Cresswell; Bocking Britton, White, Gee, Thomson, Geldard, Crithcley, Dunn, Dean, Johnson, Stein, McGourty. On Saturday Everton are due at Huddersfield, and they will travel over from Buxton to Yorkshire and return the same evening. The finalists will not hold a joint celebration after the final on April 29, but according to custom, each club has invited representatives of the clubs they defeated on the trail to Wembley.
Tomorrow's Games.
Everton and Liverpool the great Merseyside rivals will be opposed to their Yorkshire prototypes-Leeds United and Huddersfield Town –tomorrow. The finalists will be at Leeds, and Everton team depends on the result of todays game at Goodison park, and another matter which rests on today's encounter is whether the Blues will have a chance of recording their first double of the season. White is suffering from a strained groin and is not likely to play, while the constitution of the forward line is doubtful.
Everton's New Move.
There is one outstanding feature of Everton's recent play. They are endeavouring to find new moves, which will stand them in good stead at Wembley. Against Chelsea at Goodison Park on Saturday, I noticed that dean exploited a new method of kicking-off at least, new so far as recent Everton teams are concerned. Instead of making the customary short pass to either of his inside men, he hit the ball straight out to Stein. The result was that Stein was in possession and away before the Chelsea defenders could appreciate the position. Everton did not reproduce their Bolton form against Chelsea, although they won 3-2. The truth was that Chelsea were a much better team than Bolton, and, in my opinion deserved a point.
FREE KICK PUTS LEEDS AHEAD.
April 17 1933. Evening Express.
Everton Full Back's Fatal Handling Error.
By the Pilot.
Everton entertained Leeds United at Goodison Park today. This was the second visit of the United to the ground this season, Everton having defeated them in the fifth round of the Cup. The Cup finalists had Gee and McGourty in place of White and Critchley. Teams: - Everton: - Sagar, goal; Cook and Cresswell, backs; Britton, Gee and Thomson, half-backs; Geldard, McGourty, Dean (captain), Johnson, and Stein, forwards. Leeds United: - Moore, goal; Milburn (g), and Milburn (j) backs; Edwards, Hart (captain) and Copping, half-backs; Duggan, Hydes, Fowler, Furness, and Mahon, forwards. Referee Mr. S. Boardman (Hale Cheshire).
The Game.
Play opened on a quiet note, with Everton having the advantage of a tricky wind. Dean beat George Milburn, but he found brotherly love and assistance too much for him. Duggan was proving a lively customer, and Sagar had to come out and fall on one of his low centres, with Fowler anxious to do business. There was a thrill when Geldard's pass bounded against Copping's body and ran to the goalmouth. Dean almost obtained possession of the loose ball, but a lusty kick by Milburn (G.) won the day. Stein got through from a good pass by Johnson, but hooked the ball over the bar. At the other end, following nippy play by Fowler, Hughes came through with a "surprise packet," and Sagar had to go full length to save. It was not good football, both sides appearing to take matters rather too easily. Everton occasionally made progress on the left, but failed to produce a shot in the first 15 minutes. Mahon tried to break the monotony by cutting in and letting go with his right foot, causing Sagar to save a full length. Everton were playing particularly poor football, there being a total absence of incisiveness in their work. The Everton defence were lacking in tackling ability when the fast Leeds forwards attacked en masses, but fortunately for the Championships Furness aimed wide. At last an Everton shot, this from Johnson. It was charged down, with Dean off for a touch of iodine for a cut.
One Beats Three.
Stein beat three men before delivering a splendid cross shot, which Moore turned over the top. Two Everton corners followed, and from the second Dean shot as he turned round, Moore making another good save. Everton were gradually improving, and now McGourty cut through from a Johnson pass and forced Moore to save at full length. Everton had a close-up free kick when Dean was pushed, but Johnson's shot failed to penetrate the Leeds barricade. Everton were taking complete command, and giving the United defenders trouble. Stein got through from an offside position, but Moore saved his low shot at full length. The only Leeds effort for a long period was a hook shot by Hydes, which gave Sagar little trouble. Geldard beat two men on his rush to goal, but he found George Milburn there to block his shot. Three minutes before the interval Leeds took the lead through Hydes. Mahon was running up the goal line when Cook handled; from the free kick, taken by Mahon, which resembled a short corner in hockey, Hydes leapt round Sagar and turned the ball into the net. Half-time Everton 0 Leeds United 1.
EVERTON 0 LEEDS UNITED 1
April 18 1933. Liverpool Post and Mercury.
Everton Fail At home.
Gee's Promise at the Pivotal Position.
Leeds Get Their Part Revenge.
By "Bee."
Everton lost at home. That in itself, is an uncommon trait in their football make-up. It was dry-as-dust day and a dry-as-dust game. Leeds got a goal and earned it; they were the superior side by that margin. Everton had a rather finicky period; there was much endeavour near goal by Stein by Stein, one great shot on the half turn by Dean, and a spell from McGourty early on that suggested he liked the dry turf, but, generally speaking Everton, with half a gale at their backs in the second half, did not threaten to overcome those excellent brothers in their defensive act; stubborn men with the kick of a horse and the judgement that does not generally ally itself to powerful kicking. It was the powerful Cook who created the only goal of the day –a free kick some 15 yards from goal, paralleled to the corner flag. Mahon took the kick, and Mahon, running, surprised everyone by the pace of his header, which entered the net without interruption. Geldard made the best run of the match, a captivating winding run, and steadying himself too long he became earneshed in the defenders body arrangement. But Geldard was not exactly satisfying in other directions; he was held tightly, and he went to earth in a manner reminding the spectators (22,000 of them) of the man who had gone before him. Critchley by name. Everton's teamsheet is a most important factor at this time of day, with the Cup-final only a fortnight distant. Johnson was to have been rested but injury to other players prevented this so he had to play again. White was to have been in the attack, and he was injured.
Dunn's Progress.
The reappearance of Gee was rather remarkable and suprising. It is not likely that Everton will make radical changes for the Cup-Final but they are testing their players in every way in case of eventualities. Thus Gee came in and White might have been at inside right –reminding us of the days when he was an attacker and the eleven got a lot of goals. Dunn was present yesterday looking on, and said he felt much better in the last four days, so that the selectors task may be relieved a good deal by this fact. Certainly the Everton attack was not in its best mood; there was excellence from the left and McGourty started very well but Dean had no chance with Hart playing a defensive game –not his natural game. Hart-was twice in the wars –head and arm, but played a splendidly and was a good leader of a side that lacked bulk and height. However, Mahon and Duggan were expert raiders on the wing, and Hydes was a shooter of stinging shots. There was more balance in the visiting side, and they gave Sagar some teasers to save in the first half. However, Sagar has been Leeds bugbear this season, and although he was not beaten once it was sufficient, as Moore had no work to do for the first half, and afterwards made his three clean, sharp saves to add confidence to a side that had gone almost entirely on the defence with the wind a big factor in favour of the home side. Thomson and Britton did well, and Gee was particularly strong with his accurate passes, and like Thomson he brought a shot or two into play where the forwards could not. The defence was sound, if not so riotously inclined to give the ball "boot" as the Leeds backs. Indeed the game was in this surfeit of games at Easter time, quite good, and as it lacked accident to anyone, and its result was in doubt to the final whistle, it must be accounted good for the time of the year. The verdict was a just one, and Leeds had some consolation for the Cup defeat here two months ago. Teams: - Everton: - Sagar, goal; Cook and Cresswell, backs; Britton, Gee and Thomson, half-backs; Geldard, McGourty, Dean (captain), Johnson, and Stein, forwards. Leeds United: - Moore, goal; Milburn (g), and Milburn (j) backs; Edwards, Hart (captain) and Copping, half-backs; Duggan, Hydes, Fowler, Furness, and Mahon, forwards. Referee Mr. S. Boardman (Hale Cheshire).
SIX EVERTON CHANCES.
April 18 1933. Liverpool Post and Mercury
Only Five Cup Players on View at Leeds.
There are no fewer than six changes, one positional in the Everton side, selected last night to meet Leeds United in the return game at Leeds to-day, at back, Bocking takes the place of Cresswell at half-back, Mercer and Archer come in for Britton and Thomson while in the forward line Dunn resumes at inside-right Stevens leads the attack in place of Dean, and McGourty crosses over from the inside-right to inside-left in place of Johnson. Thus only five of the probable cup-final team will appear at Leeds. The Team is: - Sagar; Cook, Bocking; Mercer, Gee, Archer; Geldard, Dunn, Stevens, McGourty, Stein. It is stated that Cresswell, Britton, White, Thomson Dean, and Johnson are suffering from minor injuries. Everton players are going to Buxton this week to prepare for the Cup final. They will leave the Derbyshire resort on or about April 27 TH for a place just outside London, Manchester City go to Bushey to make their final preparation for Wembley.
LEEDS UNITED RESERVES 3 EVERTON RESERVES 1
April 18 1933. Liverpool Post and Mercury
Central League (Game 38)
Although Everton Reserves played good open football at Elland-road, their forwards were not as incisive near goal as Leeds United. Green Keetley and Bennett scored for Leeds, while Webster scored for Everton. The visitors half-backs were not as effective, either in attack or defence, while their backs did not tackle or kick as well as the United pair.
'SAFETY-FIRST' EVERTON
April 18 1933. Evening Express.
Why Leeds Won at Goodison.
By the Pilot.
Do not judge Everton's chances in the F.A. cup final on their recent League displays. If you do you must inevitably reach the conclusion that their prospects of winning the trophy are small indeed. Although they were unconvincing against Leeds United yesterday and were deservedly beaten 1-0, I do not think there is need for alarm. This is low I sum up the position. I think Everton are playing without taking risks. They are endeavouring to avoid unnecessary bumps which might bring injuries and so upset the Cup final team and who can blame them? In the Leeds match, which resulted in their second home defeat of the season, there were obvious signs of holding-off in the tackle and it was this, more than anything else, which enabled the Yorkshiremen to go away with the points. As it was several of the Everton men sustained minor injuries, but I am assured that there is nothing serious. The Leeds half-backs controlled this encounter in which thrills came at long intervals.
The Master.
The England centre-half Hart, was the master man who dominated play in the centre of the field and in the second half, when Everton enjoyed practically all of the game territorially, he kicked the ball three times to once by another player. He blotted out the Everton inside forwards who were all below par, and his judicious passes along the floor paved the way for some lighting raids by the nippy Leeds forwards. Gee contributed some clever touches and though McGourty did well for 90 minutes, Stein was the best of a poor forward line which lacked penetrative ability.
GOALLESS FIRST HALF.
April 18 1933. Evening Express.
Everton's Return With Leeds.
By the Pilot.
Everton had six Reserves players on duty at Elland-road today for their return match with Leeds United. They were Bocking, Mercer, Gee, Archer, Stevens, and McGourty. Mercer was making his Football League debut. The Cup players leave after the match for Buxton, but return to Liverpool for two day's after the Huddersfield game. Teams: - Leeds United: - Moore, goal; Milburn (G.), Milburn J.), backs; Edwards Hart (captain), and Copping, half-backs; Duggan, Hides, Fowler, Furness, and Mahon, forwards. Everton; - Sagar, goal; Cook and Bocking, backs; Mercer, Gee, and Archer, half-backs; Geldard, Dunn, Stevens, McGourty, Stevens, and Stein (captain), forwards. Stein captained the side for the first time since he joined Everton, and Dunn returned for the first time since the cup-tie semi-final with West Ham. Everton had the aid of a strong wind. The first incident was a foul against Gee on the edge of the penalty area. Copping's drive went a foot over the bar. Miskicks enabled Everton to progress, and when Archer flashed the ball across the goal, Milburn (G.) transgressed when attempting an easy clearance. Dunn hit the upright. The Blues' left wing operated smoothly and neatly. The first corner kick came from a Stein burst which ended in gee being yards wide. Sagar had to fist away from Duggan, and also came out to clear a later movement. Everton had enjoyed the better of the opening play. Stevens did well to head in a Geldard centre, while McGourty caused Moore trouble with a long-range shot. Geldard was lively, and following one of his efforts Stevens got the ball into the net after the offside signal had gone. Following several Leeds raids Sagar had to fist away from Mahon, and then gave chase with other Everton defenders to check, Hydes and Duggan. The defenders won. Moore had to run out to take a ball off Stevens' head when Stein created an opening. Hart dribbled through on his own, but his shot struck Cook and went behind for a corner. Sagar pulled down a sharp shot from Hydes, and then Hydes had a chance from Duggan's centre only to take the ball with his wrong foot and sent wide. Hydes nearly repeated his Goodison Park goal when he headed from Mahon's corner. Though United were having more of the game and looking more dangerous than the finalists, Everton were not doing at all badly. Geldard gave Everton a bare chance, which Dunn's smart shot almost made a certainty. McGourty, who seemed to favour distance shooting, flashed one at the upright. Everton kept it up, with a Stein run and cross, from which Stevens headed in for Moore to save. Half-time Leeds 0, Everton 0.
LEEDS UNITED 1 EVERTON 0
April 19 1933. Liverpool Post and Mercury
Leeds United's Double.
Everton Again Lose by a Goal.
Sagar's Fine Work.
By "Bee."
Everton suffered a double defeat from Leeds United who, by victories of 1-0, at home and away have some compensation for their defeat in the cup-tie earlier in the year. At Leeds yesterday, a crowd of 20,000 attended, and although the game did not produce the greatest of football there were many tot-bits, such as the extraordinary overwork of Hart, the Leeds captain, who was an attacking half-back so foreign to modern conditions and theories, while the Milburn brothers kicked as hard as ever and a little more accurately, and Cook without stretching himself, had some tasty morsell in defence throwing the ball up once or twice before finally plugging it to the other end of the field, and Sagar brought up his goalkeeping standard, which has touched its highest mark in the three matches against Leeds.
Miskick Leads to Score.
In the Cup-tie at Goodison Park, he saved three outstanding shots, where he could not have been blamed had all passed him. Yesterday he was much businer, but his standard was never lowered, and he kept the side with a possible draw until the seventieth minute, when Bocking, acting for Cresswell, miskicked –his only fault until this moment –but it was so near goal that Duggan was able to score. It had not seemed possible that Sagar could yield, or that the erratic Leeds forwards could finish off the superb work of their three half-backs. A draw seemed likely and probable, but only because Everton's defence was standing up boldly to the almost continuous attack of the second half, when Leeds had a strong wind at their backs.
Dunn's Injury.
The match was noteworthy for the fact that Dunn reappeared with his right thigh bandaged pretty heavily. He said he felt a tinge of pain, but this was quite natural as he was not used to an adornment, and he feels that today, when he has seen the specialist, he will be able to go off to Buxton and join the rest of the Cup final team. In fact, yesterday the team was quite unlike Everton's usual side, and Mercer of Ellesmere Port, making his debut at right half-back. Archer taking the other wing position
And doing very well, and Stevens acting for Dean, while McGourty appeared on the left with Steins the last named being captain for the day. Mercer is a tall athletic young man, whose father played for Nothingham Forest at centre halfback. He had a moderate first half, but a good second half, whereas Archer, like Gee, and Cook and Sagar, was successful throughout. McGourty and Stein were the shooters of the eleven and the better-balanced wing, Geldard being well covered by an international half-back.
Off to Buxton.
The recognised first team players of Everton not in the side were onlookers of this game and packed their golf clubs for Buxton, which they will leave in Saturday for the game with Huddersfield, and then home for the week-end after which they go back to Buxton again until early in the Cup-final week. Teams: - Leeds United: - Moore, goal; Milburn (G.), Milburn (J.), backs; Edwards Hart (captain), and Copping, half-backs; Duggan, Hides, Fowler, Furness, and Mahon, forwards. Everton; - Sagar, goal; Cook and Bocking, backs; Mercer, Gee, and Archer, half-backs; Geldard, Dunn, Stevens, McGourty, Stevens, and Stein (captain), forwards.
JIMMY DUNN SEES A SPECALIST
April 19 1933. Evening Express.
He May be Fit for Cup Final.
Muscle not Torn.
By the Pilot.
Jimmy Dunn, the Everton international inside right, was examined for his thigh injury by a Liverpool specialist today, and hopes are entertained that he will be able to play in the Cup final at Wembley. I understand that the muscle is not bad and that the specialists is of the opinion that a course of massage will assure Dunn being fit. This massage treatment was begun today by the Everton masseur Harry Cook, and Dunn will not go to Buxton this week. Dunn received the injury while training at Goodison Park a week after the F.A. Cup semi-final with West Ham. He was shooting in when a small muscle in the right thigh gave out. He made such good progress, however, that it was thought advisable to gave him a run out at Leeds. Dunn found he could run and jump all right, but when he tried to kick a straight ball with his right foot he suffered pain. Since Dunn was injured three players have been tried at inside right with some success. Cunliffe played twice and McGourty three times, while Critchley figured there against Chelsea. Critchley struck me as being the most successful, but he is also on the injured list. He played at Leeds in a Central League match on Monday, and twisted knee. He was due to go into special training at Buxton yesterday, but instead was confined to bed.
United's "Double."
Everton put up quite a good display at Leeds yesterday, when the United completed a "double" by winning 1-0. With six reserves in the side, the young Champions played with remarkable kick and skill, and their defence was positively magnificent against the better-balanced Leeds. So quick were the Blues in their interoperation and tackling that it seemed as if Leeds would never score, but midway though the second half a ball bounced awkwardly for Bocking, and before the he could recover Duggan had sent it into the net. Sagar was brilliant and was well covered by Cook and Bocking, while Mercer and Archer were excellent wing half-backs. Gee was a strong pivot and played the outstanding forwards. Hart and Edwards were the best men on the field. Their display were relentless.
EVERTON TRAINING PLAN
April 20 1933. Liverpool Posy and Mercury
By John Peel.
Everton are setting down to their preparation for the cup final at Buxton, and I expect the players and officials will have to answer a number of questions, concerning about the match before the great day arrivals. I believe they are already tired, -of physically -of being asked whether they will win the cup, ''We hope we shall win, and we think we shall,'' said Dean, the captain, to a reporter' but in a final of anything it's an even money chance for either side, so far we have won through our rounds by team work, and confidence, but not over confidence and that suggestion of over confidence is what we have to avoid.
Training Exercises
The players are having daily icy cold baths in the blue waters of the spa, long regular walks, ball practice and runs on the local football ground golf with squash rackets, billiards and badminton, as well as other sports, at their hotel. Everton do not believe in any spasmodicsort of training, but regularity in everything, even their meal times is their motto. They feel that the visit to Buxton will benefit them even more than previous visits, as there has been a lengthy interval since they were here instead of the usual fortnight, as had previously been at interval. The players remain at Buxton till Saturday, when they will play Huddersfield Town, and then after a week-end at Liverpool, returning again to Buxton, till Thursday of next week when they go south for two days, prior to their Wembley match.
Dunn and the Cup Final
James Dunn, Everton's Scottish international inside right was yesterday examined by a specialist for a thigh injury. The specialist stated that Dunn with suitable massage treatment, is likely to be fit for the FA cup final, it is a muscle growth and there had been fears that the nerve of the affected part would prevent Dunn playing. Dunn will not join the players at Buxton, but will stay in Liverpool.
GELDARD IN ENGLAND TEAM.
April 21 1933. Liverpool Post and Mercury
By John Peel.
Geldard, the young Everton forward who was unable to play in the international trial match when selected –owing to injury, has not had to wait long for official recognition. He has been chosen to play for England against Italy and Switzerland in May. He will thus have the rare distinction for so young a player of taking part in the Football Association Cup final and playing for England after a very brief career in the First Division.
Geldard's Rapid Rise.
Hulme cannot travel owing to the calls of cricket for Middlesex. Geldard who replaces him, was the original choice for the right wing position in the international trial match, but had to withdraw owing to injury. Geldard together with Richardson and Furness, the inside forwards, have no previous experience of international football, and Geldard is only nineteen and has been playing in the senior League but three months.
Dunn's Return.
For their game with Huddersfield Town, at Huddersfield tomorrow, the Everton selectors have chosen the following side: - Sagar; Cook, Cresswell; Britton, White, Thomson; Geldard, Dunn, Dean, Johnson, Stein. It will be seen that Dunn resumes at inside right after his try-out at Leeds, and thus the full cup side will be on duty. The Everton Reserves eleven to meet Burnley Reserves in a Central league game at Goodison Park is: - Coggins; Jackson, Jones; Mercer, Clark, Archer; Birtley, Cunliffe, Webster, McGourty, Turner.
EVERTON TO HAVE TWO DAYS REST BEFORE THE FINAL.
April 21 1933. Evening Express.
Manchester City Defy Superstition at Watford.
Everton will complete their special Cup training at Buxton on Wednesday next, and will travel south on Thursday to a spot near London, where they will rest until the match with Manchester City on the Saturday. Meanwhile, Manchester City continue their preparation at Bushey Park, Watford, where they will remain to the morning of the match.
Everton's Cup Side At Huddefield.
By the Pilot.
Everton will field their full Wembley side tomorrow for the visit to Huddersfield Town. Thus Jimmy Dunn, the Scottish international inside-right, who was considered a "doubtful starter" on Wednesday, will be in the eleven. Dunn has been undergoing his special massage treatment for his thigh injury and has made wonderful progress, while the other players who received minor injuries in the Easter Monday with Leeds United and were prevented from playing on Tuesday have all recovered at Buxton. It may be taken for granted that if all escape mishaps at Leeds-road tomorrow, then this side will face Manchester City in the F.A. cup final a week hence –Everton; Sagar; Cook, Cresswell; Britton, White, Thomson; Geldard, Dunn, Dean, Johnson, Stein. Huddersfield Town, experienced Cup fighters who have been to Wembley will prove a wonderful "trial horse" for the champions. After the game the Everton players will return of Liverpool for a short break from special training and then they return top Buxton on Monday to complete their Cup preparation. Critchley, who was confined to bed with a knee injury, is up again, and today is to be examined by a specialist.
Goodall Returns.
Goodall returns to Hudderfield team and Bungary takes the centre forward position as Jock Smith has an ankle injury. Huddersfield; Turner; Goodall, Mountford; Young, Christie, Campbell; Williams, Mclean, Bungary, Luke and Bett.
No 13 Holds No Terrors For City
Evening Express Correspondent, at Watford today.
Manchester City are defying superstition in their preparation for the Cup final. They have 13 players in training. In addition they will have a No. 13 in the team, for, by the decision of the F.A. to number the City players from 12 to 22, Cann the right-back, will carry the supposedly unlucky number. Still, the City are not worrying; on the contrary, they think 13 will prove lucky for them. Manchester's preparation consists of golf, a little ball practice, skipping, sprinting and a visit to a Watford cinema at night. The following players are in training under Trainer Alec Bell, with Directors A. Alexander and Wood in charge. Langford, Cann, Dale, Bushby, Cowan, Bray, Toseland, Marshall, Herd, Tilson, McMullan, Brook, Barnett. "All the boys are in the best of spirits and as fit as it is possible to get them." Said Trainer Bell, when I went to Watford. "This is an ideal training centre for we have a gold course right on our doorstep, and the country around here is just the sort to make training a pleasure." The only break in the training will be tomorrow, when the City journey down to Portsmouth to engage in a league match. They return to Watford after the game and will remain there until a few hours before the final.
• Advertisement in Evening Express. Central league, at Goodison Park, Kick off 3.15. Admission 6d, Boys 3d, stands extra (including tax).
EVERTON GO TO HUDDERSFIELD
April 22 1933. Liverpool Post and Mercury
Everton make a break in their Cup preparation to travel to Huddersfield. This game will provided a severe trial for next Saturday's big event at Wembley. The main hope is that the players will escape any hurt or strain that might handicap them in the final. Manchester City are due at Portsmouth. Everton are fielding their full cup team, Dunn having made good progress, and he partners Geldard. Teams: - Everton: - Sagar, Cook, Cresswell; Britton White, Britton; Geldard, Dunn, Dean, Johnson, Stein. Huddersfield Town: - Turner; Goodall, Mountford; Young, Christies, Campbell; Williams, Mclean, Bundgary, Luke, Bort.
STEVEN BLOOMER PLUMPS FOR EVERTON.
April 22 1933. Evening Express, Football Edition.
Johnson and McMullan may be Key Men of the Cup Final.
The repeated rush for the Cup final is just the usual hardy annual emphasis on the fact that we need a bigger enclosure for this event, one to hold something like 150,000, and even that would be severely taxed sometimes, I daresay. As for the game and the prospects of the predict an Everton success. Everton were one of my three original fancies –the others were Sunderland and Derby County –and though they are not what is known as the ideal Cup team I think they have the ability to beat Manchester City. My chief reason for saying so is that I consider the Goodison Park team's defence superior to the City's. The relative merits of the half back lines are, to my mind, fairly even, and there does not appear to be much to choose between the rival attacks, but the Everton inside wing forwards will have to make up their minds to adopt tactics that will prevent bunching in the middle. With a man like Sam Cowan in the way it will be asking for trouble to attempt anything like concentration on the down-the-centre-route. Cowan will shadow Billy Dean.
The Key Man.
Tom Johnson and Jimmy McMullan, the rival inside lefts may well be the key men of this battle royal. Both have the experience to preclude fear of their being affected by stage fright, and they also have the genius to inspire. In the semi-final at Huddersfield, McMullan was a brilliant tactician. In Eric Brook he has an excellent foil. This wing will probably be the chief menace to Everton, for though Ernest Toseland, on the other extreme, is fast, he is not so dangerous as Brook. Toseland, however, is rather handy at slipping his marker and running in to do a little headwork in connecting with Brook's stronger centres. From what I have seen of the City I should counsel Everton to pay particular regard to their own left flank of attack. Unless Sidney Cann is steadier than on any of the occasions I have watched him, it strikes me that the right of the City defence is the more vulnerable. The backs play rather wide apart as a rule, and while the industry of Cowan makes up for a lot there ism otherwise a tendency to jumpiness that Everton should be capable of exploiting.
PLAYERS OF THREE NATIONS IN GREAT CUP FINAL DUEL.
April 22 1933. Evening Express Football Edition.
Thumb-Nail Sketches of Wembley Teams.
Everton-Just one Happy Family
City-Lancs. Grit and Will to Win.
Up for the Cup! Everton and Manchester, at Wembley next Saturday, will figure in the fourth all-Lancashire Football association Challenge Cup final and this promises to be the greatest of them all. Everton appearing in their fifth final, will be out to win the trophy for the second time, and Manchester three times finalists, will also be making a bid for their second success. Players of three nations will be concerned in the struggle for honours. In the Everton team there are seven Englishmen, three Scotsmen and an Irishman; in Manchester City's there are eight English and three Scotsmen. Below are pen pictures of the players in the respective teams.
By the Pilot.
Everton.
Sagar (Goalkeeper) –Came out of the Doncastle mines to join Everton, after having a trial with Hull City, and now avows that he will "not go down the mine, Daddy" any more. Prefers stopping goals to digging coals. An expert pigeon fancier.
Cook (Right-Back) –The Irishman who has lost his accent and become Scotch! They are thinking of entering him for the Grand National next year as he will go through anything. Besides negotiating a "Brook" will be his special Wembley task. Delights in motoring.
Cresswell (Left-Back) -the prince of footballers. Is something like a magnet, for he rarely has to go for a ball, opponents seem to hand it to him. One would imagine he trained on ice so cool is he in any situation. People have often said "Cresswell will finish this season," but Warney just laughs and emulates Tennyson's "Brook." The best back of the last decade.
White (Centre-half); will endeavour to bring remorse to his native city, Manchester. One of Everton's best servants. Any position suits Tommy, and centre-half is now his Speciality. He is a "weighty" problem for any opposing forward. An accomplished swimmer. Has never been known to worry. A real team man who has never left the side down.
Thomson (Left half-Back) –Has started the football world this season by scoring five goals –three for Everton, one against Everton, and one for Wales when playing for Scotland. Still, his job is to create openings for goals, and this he can do. Born in Fifeshire.
Geldard (Outside-Right) –just 19, but with an old head on young shoulders. Has the pace of a greyhound and often reveals the skill of Sammy Chedgzoy by the manner in which he sweeps back along the carpet. A schoolboy international and now chosen for England against Italy and Switzerland.
Dunn (Inside Right) –Hunter Hart says he played against Jimmy when he was a boy still, but that's just a Scotch joke. The friend of all the Scottish comedians, and a boxing enthusiast –his favourite was Alex, Ireland. Veritable box of tricks he is the Rebla of football.
Dean (Centre-Forward) –there is only one Dixie Dean. Holds football's goal-scoring record. Says that he will still be popping them in when his ten months old boy, Billy, is playing beside him at inside right. The only local player in the team, and fiatly states that he will never play for any other club but Everton. Wants the cup medal to complete his "set."
Johnson (Inside-Left) –Known familiarly as "Tosh," he is the club comedian. Dean's bridge partner, so beware! His Sydney Howard expression is nothing to go by. Once scored five goals for Manchester City against Everton and rarely forgets to mention it to his colleagues. Says he only makes up the eleven, but that's his way. Wonderful shot, with his left foot.
Stein (Outside-Left) –another good golfer and "speed merchant." Is one of the "leg-pullers," Has studied corner kicking as a hobby and gets as much "side" on these kicks as Lindrum does on billiard balls. Complete Everton's Scottish trio.
Critchley (Outside-Right Reserve) –the man who sent Everton to Wembley. Everton have been trying to find someone better than Teddy ever since he came from Stockport, but he always comes back with a smile. The Everton vocalist; knows all the latest songs.
Manchester City
Langford (Goalkeeper) –Has had some rebuffs this season, but has come up smiling in the end. Was superseded by two goalkeepers at one period of the season, but like all ex-Guardsmen he could not be kept down. Plays behind the wickets in the summer.
Cann (Right –Back) –Few can understand why Cann ever left sunny Torquay to go to the "city of perpetual sunshine." His consolation is the chance of a Cup medal. One of the youngsters of the team, and despite his name is no "can" in defence. Little but good.
Dale (Left-Back) –is proud of the fact that he was born in Manchester. Luck has been on his side, for he was a player who figured in an exchange between the City and the local United. Dale backed a winner in getting this Wembley chance. Plays a quiet game, but is splendid in his anticipation, and "finds" his men with his kicks.
Busby (Right Half-Back)-one of the City's three Scots. Just another example of a moderate forward developing into a class half-back. Tall and purposeful, his long legs seen to have a habit of upsetting the well-laid schemes of opponents. Plays with fairylike daintiness, but is not a kind fairly to the other side.
Cowan (centre-Half) –The breaker of hearts –yes, the hearts of centre-forwards. Seems to possess the faculty of making himself inconspicuous until a centre-forward imagines he has a straight run to goal. Then Sammy appears like some demon to rob him. Has few superiors with the ball in the air. With McMullan and Tommy Johnson played in the City's last final in 1926.
Bray (Left Half-Back) –a footballer-cricketer. Was born at Oswaldwistle. Plays cricket for Accrington during the summer, and plays havoc with opposing forwards in winter. Was good enough to displace McMullan when he arrived from Manchester Central.
Toseland –(Outside-Right) –Seems to take a keen delight in tantalizing the City following. Plays all manner of tricks and pranks and then pops along with a useful goal. A man who can win a match off his own bat. Came from the town of boots-Northampton –and now puts boot into his football. No very big but an elusive little fellow.
Herd (Inside-Right) –Only recently came down from Scotland. Was signed as an inside left, but has since played on the other flank, and obligingly helped the City out by playing centre forward when Tilson was injured. Does nothing without thinking, and he can think moves ahead.
Tilson (Centre-Forward) –Like Geldard he missed one international cap through injury. Went to Manchester from Barnsley, and is as tasty a morsel as a Barnsley chop. Just a makeshift centre-forward last November, he started the Maine-road following by popping on four goals in his first match in the position. Now they cannot shift him. Believes in action not words.
McMullan (Inside-Left) –The player who was almost lost to the Football league. He had a season at Maidstone before joining the City. One of the greatest players of the age who had no superior at left half. Now he is playing better than ever as the foil for Brook. Anything that is not strictly according to football's copy book is foreign to Jimmy. Slow but sure.
Brook (Outside-Left) –They descibe him as an outside left, but he is such a rover that his real position is "any where." Often scores goals from Toseland's position. Another Barnsley chop, who cannot stop singing. In the opinion of many, the best outside left in England.
Marshall (Inside-Right, Reserve) – a great schemer, who is far too good to be left out of any side. Will play if Tilson has not recovered from his injury. As cunning as a fox he can introduce the necessary punch in front of goal.
EVERTON DRAW AT HUDDERSFIELD.
April 22 1933. Evening Express, Football Edition.
Defence Shines in Goalless Game.
By the Pilot.
Everton played well within themselves to gain a point in a goalless game at Huddersfield. Great defensive work by Cresswell, and tackling by Britton, and drazzling skill by Geldard were features of a not too thrilling game. Teams: - Huddersfield Town: - Turner, Goodall, and Mountford, backs; Young Christie and Campbell, half-backs; Williams, Mclean, Bungay, Luke and Betts, forwards. Everton: - Sagar, goals; Cook and Cresswell, backs; Britton, White and Thomson, half-backs; Geldard, Dunn, Dean (captain), Johnson and Stein, forwards. Referee Mr. F. Robinson, (Blackburn).
The Game.
Where were not more than 10,000 present at the start, and the early play provided nothing over which to enthuse. Williams broke through and getting a pass from Young squared the ball back, and Young shot was creeping to the corner, when Sagar saved at full length. Goodall held up Stein in brilliant fashion, and Young's pass sent the home forwards away with a likely chance. Bungay, however, was too eager, and offside brought him up. Eventually the Everton attack came, and Geldard came along with a crisp a shot, which Turner held.
A "Punch" Goal.
Huddersfield got away in open order, and McLean headed in an awkward snapping shot, which Sagar punched against the crossbar. As the ball dropped Bungay punched it into the net, but the referee spotted the ruse. Bott and Young were off the target with low shots, and three men had to come across to blot out Stein, after the Goodall had made one of his few mistakes. Dunn, who had a shot charged down was limping a bit. Britton tried to run through by delightful dribbling, but fell a victim to Mountford's foul. From the free kick Thomson shot against an opponent. The Town were not idle, and Bett crash in a beauty which Sagar turned round the post. Dean, almost got through when Thomson put the ball across goal. Mountford, turning the ball aide from Turner, enabled Dean to come through with his shot. Geldard ran half the length of the pitch but finished up shooting against the side netting.
Britton Shines.
Everton were having more of the game when Britton shone with some excellent sparkling work. Bungay was almost too quick for Cook and Sagar, when they were trying to stop him. He reached the ball at the sense of some minor injuries, and his foot struck Sagar's leg. Geldard contributed another run and centre, from which Johnson aimed at an opponent. From the rebound it passed outside. Dean forced a corner, and from his headwork Turner was drawn from goal. Stein lob shot was passing into the net when Mountford leapt back and kicked over the bar in great style and was pat on the back from Turner. It was the nearest thing to a goal. The Town had a free kick for hands against Thomson twenty yards out, and a shot from Bett struck White and landed behind. Luke had time for a direct shot after Williams had dabbled and dribbled, yet aimed straight at Sagar.
Half-time Huddersfield 0, Everton 0
This had been easy, comfortable football with the finalists playing well within themselves. Johnson was "wearing" all right, taking no risks. Cook took a decided risk in passing back to Sagar with Bungay hovering in veintly, and Sagar had to be mightily brave with his pick-up-and-dodge to prevent disaster. It was still a game of midfield work, and the genius of Cresswell one of the best features.
A Thrill.
At last a thrill. Bungay got the ball , and when in position failed to scorer, for White came along with a tackler. Geldard ran through, with Dean and Stein unchallenged away on the left, yet he ran to far and a good chance was sacrificed. Luke was shooting from a nice distance when the ball bounded against his chest and Turner had to go full length to save a sharp grounder from Dunn and Dean had nodded across. Full time Huddersfield 0 Everton 0.
HUDDERSFIELD TOWN 0 EVERTON 0
April 24 1933. Liverpool Post and Mercury
Everton "All Well."
No Injuries in Drawn Game.
By "Bee."
Everton went to Huddersfield with the English Cup in the mind's eye and came back with a point from a goalless draw and with the "all clear" signal regarding injuries. Britton certainly fell headlong in trying to keep out a corner kick and damaged his head, but he recovered all right. So Everton were quite satisfied to have taken a point and earned it without suffering any damage to the eleven now known as the Cup eleven. Dunn, of course, was watched with more than ordinary interest. The question was whether he would "stand up," and his damaged leg has so far improved that he is to join the players at Buxton this week instead of staying in Liverpool and taking his special course of massage there. The game was not worth much serious comment or criticism because the day was warm, the ground was bone dry and dusty, and Huddersfield were not clever enough to finish off their attack against a side that had certain members seizing the chance to saunter through the game without any more regard than their legs.
Defenders Hard Worked.
It is natural they should not strive too earnestly, but it meant a lot of work for those willing to take on the responsibility. For instance, the three defenders were hard worked and were responsible for the side taking their pound per man. Sagar made three excellent catches and Cook not only delved into the business with is usual heartiness, but also took quite a number of tumbles in the process. Cook by the way, went to Scotland this week-end to see his new-born babe, born on Saturday morning. Cresswell did a fund of work with grace and not a great deal of ease because the call upon him and those seemed around him was pretty insistent, notably when Bott got the ball, for this little man is a winner who shoots hard and doubtless back in the run with disconcerting effect. If he passed the others of his line he would be offside, but instead he takes the attack on his own shoulders and the double-back is not a sin in such a case. Thomson, White, and Britton were also good. The attack was patchy, and though Turner made two great saves from Dunn and Stein thew work of the line was not in accord with what one knows the five can do if the mood is on them. They were playing keeps for Saturday's next. On the Huddersfield side Goodall recovered his best form. Campbell was not so flash or successful as of yore, but Mountford is a stolid back and Young is nowadays a wing half-back, who produces a shot. Christie lived with Dean all through the game, and of the attackers Bott was the reliable and rattling forward. Mclean was useful, but tired and lacked pace. Teams: - Huddersfield Town: - Turner, Goodall, and Mountford, backs; Young Christie and Campbell, half-backs; Williams, Mclean, Bungay, Luke and Betts, forwards. Everton: - Sagar, goals; Cook and Cresswell, backs; Britton, White and Thomson, half-backs; Geldard, Dunn, Dean (captain), Johnson and Stein, forwards. Referee Mr. F. Robinson, (Blackburn).
Everton Leave For Buxton To-day
Everton will leave Central Station, Liverpool today for their Cup final training quarters at Buxton. Dunn who was to have come through with a massage treatment in Wallasey until the end of the week, feels fit enough to go with the rest of the players. Critchley may join them. The Everton v. Sheffield United league match postponed from April 29, owing to the F.A. Cup final has been provisionally arranged to be played at Everton on Wednesday May 3.
EVERTON RESERVES 6 BURNLEY RESERVES 1
April 24 1933. Liverpool Post and Mercury
Central League (Game 39)
Everton were full value for the overwhelming victory, for Burnley never recovered to settle down to play anything like convincing football, following Everton's early onslaughts. The loser lacked understanding in both attack and defence, and this led to the winners driving home, their advantage early, and settling up a good lead. Within twenty minutes of the start. Turner, Webster, McGourty, and Cunliffe had scored, and although Burnley did reveal a general improvement, they were well held by the Everton halves. Clark doing exceptionally well at centre-half. After the interval Clark and Webster added further goals for a team that had played throughout with fine understanding. Cunliffe and McGourty excelling in the attack, with Webster filling the centre berth with great credit. Smith scored for Burnley's goal. Everton: - Coggins, goal; Jackson and Jones, backs; Mercer, Clark, and Archer, half-backs; Birtley, Cunliffe, Webster, McGourty, and Turner, forwards. Burnley: - Hillam, goal; Wood and W.H. Willighan, backs; Forrest, Merrick and W. Wood, half-backs; Jenkins, Harker, Kelly, Gates and Crompton, forwards.
BUXTON –THEN WEMBLEY.
April 24 1933. Evening Express.
Everton Players Leave Liverpool For Cup Final.
Dunn A Member of the Party.
By the Pilot.
Will they return with the Cup? The Everton players, accompanied by Mr. H. McIntosh, the secretary, let Merseyside today on the first stage of their journey to Wembley, for the match with Manchester City on Saturday. They left Central station for Buxton, were they complete their special preparation on Wednesday, and journey to a spot within easy reach of Wembley on Thursday.
Dunn Passes Test.
Jimmy Dunn the Scottish international inside right, was one of the party. This is significant and can be as taken as a direct pointer to his fitness should he be required. Dunn had a severe test in the football league match at Huddersfield on Saturday, and after the game he told me that his right thigh, which has been troubling him for nearly six weeks, is better than at any time since he required it in training. The special course of message treatment has, naturally, made the thigh better, and there is still a swelling on the knee, but Dunn came through the test splendidly, and there is no suggestion of a limp. All the other players came through the match at Huddersfield without injury, and it is expected that when the directors meet tomorrow evening to choose the eleven men to face the City the full team will be selected. This is Sagar; Cook, Cresswell; Britton, White, Thomson; Geldard, Dunn, Dean, Johnson, Stein.
Return on Monday.
Whether or not Everton succeed in winning the Cup for a second time in their history, the party will return to Liverpool on Monday afternoon, arriving at lime-street at 7.45 p.m. It is inspected that the team will receive a heroic reception at the Town hall by the Lord Mayor (Alderman A. Gates). Billy Cook the right back, made a quick dash to Scotland over the weekend. There has been a happy event in the family. He has been presented with his second baby girl. He went home to see the new arrival, then straigted back to Buxton.
A Drab Game.
Everton played well within themselves at Huddersfield, where they forced a goalless draw. They took no risks, and consequently the game was a drab affair, they occasionally served up some pretty football, but it was more of the exhibition type, and incidents to thrill the few and far between. Suffice to all that Everton deserved their point cause Huddersfield did not take their chances.
Do You Remember?
When Everton Won The Cup in 1906
"Heigh-Ho, Sandy scored a goal
And we've won the English Cup."
Do you recall this parody on the words of "Down on the Ohio" which was sung with such glee after Everton had won the F.A. Cup for the first and only time in history, by beating Newcastle United 1-0 at the Crystal Palace on April 21, 1906? It was sung thousands of times after this success and remained popular with the crowd for years. Do you also recall that: Everton team was Scott; Balmer (W.) Crelly; Makepeace, Taylor, Abbott; Sharp, Bolton, Young, Settle, Hardman? Newcastle's team was Lawrence; McCombie, Carr; Gardner, Aitken, McWilliams; Rutherford, Howie, Veitch, Orr, Gosnell? The referee was Mr. F. Kirkham (Preston) who was also controlled six international matches? Everton trained at chingford under Jack Elliott, who is now a member of the ground staff at Goodison Park? Mr. W. C. Cuff, the present chairman, was then the Everton secretary? Harry Makepeace now the Lancashire cricket-coach, was the only player nursing an injury? He received it in the international match at Hampden Park. The players were out sprinting in spiked shoes in a meadow at Chingford the day before the match? Thirty minutes before the kick off Everton were in doubt as to whether to play W. Balmer or his brother R. Balmer at right back. "Sandy Young scored an offside goal in an hour? Winning Goal. The winning goal was scored 14 minutes from time when Young breasted through a perfect centre from Jack Sharp, the present Everton director? In the scramble for the ball after the match it was won by Jack Rutherford, whose son now plays outside left for Portsmouth? On the Monday Everton played a league match at Owlerton against Sheffield Wednesday? The triumphant team arrived at Central Station at 8.12 p.m. on Monday, April 23 and were greeted by the Lord Mayor (Ald. Ball) and members of the City Council? The team and officials went by a four-horse coach through Church-street, Whitechapel, Byrom Street, Scotland road, Kirkdale-road and Walton-road to Goodison Park, for another reception? The crowds in the street were greater than on "Mafeking Night." Jack Taylor was so hoarse that he could not make a speech? There were pleasant memories. The question now is " Will they be repeated next week-end" Everton think so at least.
HERD'S INJURY NOT SERIOUS
April 24 1933. Evening Express.
One of the Manchester City Cup Final man suffered an injury at Portsmouth on Saturday. Herd the Scottish inside left, damaged a leg, but after examination today, it was found that the injury is not serious. Herd will be given special attention by Trainer Bell, who is of the opinion that massage will make Herd absolutely fit in two of three days. There is no fear whatever that herd will not be fit to take his place at Wembley if necessary. All the other players came through the Portsmouth game without mishap, and they are now concentrating on the final days of training.
NOTABLE RECORD.
April 25 1933. Liverpool Post and Mercury
Mr. W. C. Cuff, the Everton chairman, in the interview published in the Daily Post on Saturday, referred to the great achievement of the Goodison club during the last six years –the winning of two First Division championships and the Second Division championship, progress to the Cup semi-final, and now the final. Now that Arsenal have carried off the League championship this season it may be of interest to compare, their record with that of Everton and show how these clubs have shared in the limelight during recent years
Everton Arsenal
League runners up
Cup finistists
1927-8 Div 1 champs Cup semi-finalists
1928-9
1929-30 Relegated Cup Winners
1930-31 Div 2 Champs Div 1 Champs
1931-32 Div 1 Champs Runners-up –Cup Finalists
1932-33 Cup Finalists Div 1 champs
If Everton win the Cup this season they will have set up a record in the winning of the second Division and First Division championships and the Cup in successive tears.
EVERTON TEAM FOR THE FINAL
April 26 1933. Liverpool Post and Mercury
Full Side to Meet Manchester City
The Everton team to meet Manchester City in the final of the Football Association Cup at Wembley on Saturday will be the same as that which drew with Huddersfield Town in the League game last week. The team is:- Sagar; Cook, Cresswell; Britton, White, Thomson; Geldard, Dunn, Dean, Johnson, Stein. This eleven is the same as that which beat West ham in the semi-final, with the exception that Geldard replaces Critchley who scored the goal which put Everton in the final. Everton have called on only twelve players in the competition this season. The chosen eleven is in accordance with general anticipation, and the players expect to make a bold bid to win the trophy for the second time in the club's history.
Everton Reserves Today.
Everton Reserves are playing at derby today in a Central League match and will be represented by:- Coggins; Jackson, Jones; Mercer, Clark, Archer; Birtley, Cunliffe, Webster, Watson, Turner. Against Preston at Deepdale on Saturday the same team will turn out except that Common will be at right back. At Goodison park on Saturday Everton "A" meet Skelmersdale in the Wavertree Cup Final, kick-off 3.15.
EVERTON'S TEAM FOR CUP FINAL
April 26 1933. Evening Express.
Eleven that Won First Four Games
Manchester City Doubt .
By the Pilot.
Sagar; Cook, Cresswell; Britton, White, Thomson; Geldard, Dunn, Dean Johnson, Stein. These are the Everton men who will face Manchester City in the F.A. cup final at the Empire Stadium, Wembley on Saturday. It is the eleven, which won the club's first four games in the competition, and shows one change from the team that conquered West ham in the semi-final at Wolverhampton. Geldard being at outside-right instead of Critchley. Thus all doubts regarding the Fitness of Dunn and White are dispelled and the eleven are ready for the fight of their lives.
Tilson Doubtful.
Meanwhile, Manchester City are undecided about their side. Tilson, the centre forward, may not be able to play. In that case the forward line would have to be rearranged and Herd would probably be at centre forward, with Marshall at inside right.

"Southward Ho" Tomorrow
Training Joys at Buxton.
Everton concluded their Buxton training with sprinting and gold today, and tomorrow will be "southward Ho." Bert Wright and myself yesterday spent a joyous time at Buxton with the Everton team –enjoyment which was considerably increased by the geniality and hospitality of secretary Mr. Tom McIntosh. We are always well received at buxton; in fact people have come to regard us at mascots, for we are the only ones who have been to Buxton on each occasion. Everton have been there this season, and the Blues had not lost the following game. We had a shock when we came out of the station, for Jock Thomson was carrying a lurid yellow and red umbrella in order to shelter us from the rain. Skipper Dixie Dean was with him, and it took me some time before I could fathom exactly what change had taken place in regard to Dean. There was something different about him. Then I got it. He has altered his "down-the-middle" hair parting to the side parting style, which he favoured in season 1927-28, when he created the Football league goal-scoring record. I wondered whether this has been done in order to bring goal-scoring luck or to act as a "disguise" at Wembley! The players have kicked a football for the last time until they walk on the field on Saturday. Although the players could not have football's. Skipper Dean was not to be deprived of the ball. No. In the afternoon he brought a small rubber ball, whereupon he and Bocking repaired to the squash rackets court.
Head "Rackets."
What a game it was. They played squash rackets by heading the ball, and then by kicking it. It was first-class training, for it perfected timing and promoted accuracy in shooting and heading. The players are also making table tennis part of their preparation, when rain keeps them confined to the hotel. Billy Cook is the champion –well I know it –but Britton is another capable exponent. Training is not without its musical side and we held an imprompin concert at the baby grand. Bert Wright and Geldard were the pianists, Geldard, Sagar, Bocking, and myself were the "crooners" and Dean added the Louis Armstrong touches through a megaphone.
WILL TILSON PLAY
April 27 1933 Liverpool Post and Mercury
By John Peel.
Not until Friday or possibly even on Saturday morning will Manchester City definitely select their side for the Cup-final. The reason for the delay is the doubt concerning Tilson, their centre-forward, whose leg muscles have been affected in an unusual manner. The injury, indeed has puzzled his medical adviser. Throughout the whole of the time the City team have been staying at Bushey, Herts, Tilson has been under constant care, and yesterday he joined his colleagues at practice. Naturally, no risks will be taken, if at the last moment he should be pronounced unfit Herd will lead the attack, with Marshall at inside right. Cowan and Dale, who did not take part in the league game at Portsmouth last week-end, are both fit and all the players have greatly benefited from their stay in the South.
Cup Finalists Numbers.
Some doubt seems to have arisen during the past few days concerning the numbering of the players taking part in the F.A. Cup final at Wembley on Saturday. When the Football Association announced that the players would be numbered it was stated that Everton would be numbered from 1 to 11 and Manchester City from 12 to 22. The manner of the numbering will be as follows:- Everton 1-11 from right to left beginning with Sagar, the goalkeeper, Manchester city 12 to 22 from left to right beginning with Brook, the left winger.
DERBY COUNTY RESERVES 2 EVERTON RESERVES 0
April 27 1933. Liverpool Post and Mercury
Central league (Game 40)
Everton were beaten in a Central league engagement at derby. Yesterday, Chiefly because the forwards finished badly. Cunliffe and Watson made their efforts at too great a range, and Webster missed great chances closer in. Clark was a forceful centre-half, and exploited the long pass to turner at outside-left and Jackson and Jones were powerful kicking full-backs. There was little between the sides in midfield play and the Everton defence was more reliable, but Carr and Dickinson headed the only goal of the match for Derby in the first half . Everton:- Coggins, goal; Common and Jones backs; Mercer, Clark, and Archer, half-backs; Birtley, Cunliffe, Webster, Watson, and Turner forwards.
NEARER WEMBLEY NOW.
April 27 1933. Evening Express.
Everton Journey from Buxton to Dorking.
A Civic Send-Off
Bocking to be Twelfth Man
By the Pilot.
Everton are on the doorstep of London ready, eager and fit to step into the Wembley arena on Saturday for the F.A. cup Final tie. Everyone is fit and well. Jimmy Dunn is a certain starter. Bocking is twelfth man. It was a happy little party that set out from Buxton this morning for Dorking. The Mayor of Buxton came along to wish the boys "Good luck," so did some of the Councilors, so did residents at the hotel at which the Everton players have been staying and so did a number of admirers, of the fair sex, who tastefully wore blue frocks. The Everton players wore special Wembley badges, in blue and white enamel, and although Everton will wear black and white at Wembley, it was still be a blue and white final. The players were overloaded with mascots including many black cats and dogs. Mr. J. J. Hewlett, manager of the Palace Hotel, where the players have stayed gave all the players a blue and white trumpet, so that all the finalists and a special fanfare as they left the station. There was a terrific screech of whistles and noises from nearby trains as well. As the train steamed out all those on the station shouted: "Three cheers for Everton," which were heartily given. The mayor, in a special good luck message to Mr. T. H. McIntosh, said; "Buxton looks to you to win the Cup, and although we cannot all go to Wembley, we shall be with you in thought. If you win the Cup you will bring credit not only to Merseyside, but also to Buxton as the training centre, where you have been so long. May Everton prove the better side and win." It is with something of regret that the Blues departed from Buxton, it has been such a lucky training centre for them this season, and it is felt that the Buxton good luck will hold for the Final. During the last two seasons, Everton have not lost in the succeeding match following a visit to the Derbyshire Spa. Bocking travelled as reserve for the Wembley duel and Gee and McGourty accompanied the party there.
White's Injury.
Tommy White told me that his groin is slightly sore following a kick received at Huddersield, but this will certainly not prevent him from playing. Of I know White he will forget all about his troubles when he steps on to the field at Wembley. Dunn is as happy as a sand-boy, and his right thigh injury is mended. "I feel great" he said to me with a yon laugh, when I inquired how he was going on. The Everton party's last night at Buxton was spent at the pictures where the management made a nice gesture by flashing a good luck message on the screen while mechanized music played "Here to the next time" ending with "Auld Lang Syne." On the return to headquarters the players proceeded to emulate film producers and "shoot" a scene. It was all good fun and I think it reveals the secret of Everton's success and proves a splendid team spirit, which is a vital factor in such a task as faces the Goodison Park men.
Heroes of 1906.
At the banquet after the match three players who figured in Everton's last cup success in 190 will be present. They are Messrs. Sharp, Harry Makepeace, and H.P. Hardman. Nearly every First division club will be represented, and most of the members of Parliament for Liverpool will be there to support the Lord Mayor and Lady Mayoress. It is interesting to recall what the heroes of the Cup triumph of 1906 are doing. Scott, the goalkeeper, is working in Liverpool, and Billy Balmer is working as a joiner at Barnsley. Jack Crelly is the owner of a successful business at Walton, and Harry Makepeace is, of course, coach to the Lancashire Cricket Club. Jack Taylor, the former centre, lives in the Litherland district and is connected with the insurance business, while Abbott resides at Birmingham. Jack Sharp is now an Everton director and proprietor of a Liverpool sports outfitters business, and Bolton lives in Scotland. Sandy Young, the man who scored the winning goal, is also in Scotland working at a quarry, while Jimmy Settle is "Mine host" at Bolton. Harold Hardman is a chartered accountant at Manchester.
The City Inspect Wembley Pitch.
The Manchester City players went from Bushey to Wembley, today, to look at the pitch on which they will play Everton in the Cup final on Saturday. To Cowan, the captain, and McMullan it was a renewal of acquaintance with the famous arena, for both have played in cup finals there before. The latter , too, has turned out for Scotland at a Wembley international. This morning the men did light training and today, as the very limit of gay indulgence, they may go to the pictures. Yet no irksome restrictions have been placed on the Mancunian players in the final phrase of their preparation and they have enjoyed their golf –their principal item of training. They have gone to bed before eleven every night since they have been at Bushey, not because they have been told to go, but as a player said," "Because their's nothing else to do and if a man is fit he enjoys his sleep." Tomorrow the City men will have a thorough massage to make their muscles supple for the great match.
Tilson.
"With the exception of Tilson, all our men are fit and happy," said Mr. Wild, the manager, today. "We don't say what we think of our prospects in the final -we just hope. "Tilson's injury –a kick on a leg nerve-is yielding to treatment, but we shall not decide on out team until the last moment."
CUP FINAL STRAIN.
April 29 1933. Liverpool Post and Mercury
By John Peel.
No matter how cool footballers may be in ordinary League matches, a Cup Final natural tells on any but the men of iron nerve, and for that reason players due to take part in the big game at Wembley tomorrow are trying to forget all shout it and endeavour to talk about anything but football. Still the strain is there, and I have no doubt Everton and Manchester City's exponents will be glad when the game begins. Yesterday was one of activity for the Everton men as they left Buxton, where they had a great send-off for London. They are staying at Dorking until tomorrow morning.
Plain sailing.
Everything seems plain sailing in the Everton camp as Dunn appears to be all right, though he is to have a final test today. At the moment Everton are happy in the prospect of placing the side in the field which did so well in early rounds and they hope to bring the Cup to Merseyside for the first time in twenty-seven years. The team has a spendid understanding in regard to combination, and positional play, and this fact alone must make them a menace to any side.
No Bid For Individual Glory.
On Sunday a special luncheon will be given to the team and officials by the Everton directors. Anything but the Cup final has been the general theme of conversation in the camp during training, the men observing a rightly silence upon the question of the difficult task before them, but plans for the game have been made very quietly. If the team spirit counts for anything, Everton should make a bold bid to carry off the coveted trophy for the men are as happy a band as ever took the field in a Cup final. There is no bid for individual glory as long as grist comes to Everton's mill. In Dean, Everton have one of the greatest centre-forwards of the day and a player who alone is capable of winning the match for them. He will need a lot of holding. The City's left wing –Brooks and McMurray –may prove Everton''s greatest menace, but Cook and Britton will be out to nullify this danger.
DEAN'S CUP FINAL MESSAGE TO THE EVENING EXPRESS.
April 28 1933. Evening Express.
Everton Will leave No stone Unturned
"I Do Not Think We Shall Fail."
Dun Passes Test.
Tilson Still Doubtful For City.
I am full of hope that we shall be to bring the cup to Merseyside. This is no idle statement, and if I know my colleagues, they will have no stone unturned in their endeavour. "it should be a great match between teams of rather different styles. "It we should fail, our supporters can rest assured that it will not be for want of trying. "Tomorrow we go on the field to bring honour to Everton and Merseyside. I do not think we shall fail. "We have the will to win, and the right spirit."
William Dean.
Jimmy Dunn Fit.
Stiff Test Passed Successfully.
Dorking Surrey today.
Jimmy Dunn, Everton's international inside-right was given a final try-out at Surray Rugby camp today, and came through O.K. (By the Pilot). This means that, despite rumours spread around here that Dunn would be able to play, he will be in the Everton team at Wembley tomorrow. Dunn's test was watched with critical by Mr. Jack Sharp, the holder of Everton Cup winner's medal, and the director in charge and Mr. T. h. McIntosh, the secretary. The player was taken away to a included spot adjacent to the golf course and given a football. He kicked well with his right foot, and twisted and turned in a manner that proved beyond the shadow of doubt that it will be a fit man who appears tomorrow. Afterwards he said he felt splendid. This is great news for Everton. The players were early astir today, and while some went for a quite stroll round the spacious grounds, others enjoyed a game on the putting green, there skipper Dixie Dean proved the master . Cliff Britton, however, caused a sensation by holing out in one with two successive balls, much to the chargin of Jock Thomson, but to the delight of the looks-on. The players then went for a quarter of an hour's sprinting on the lawn as a muscle loosener, each man doing about fast sprints. A walk around the quiet town of Dorking followed, and here the sign of old pals" has taken on. The citizens here are keen on autographs, and are so anxious to discover the meaning of the Dixie Dean expression, "Well, it can't be long now." I leave you to progress. Some of the boys have been showing splendid form at tennis, both lawn and table, while Charlie Gee has taught me exactly how to win on the putting green.
Lucky Omens?
It was suggested that Everton should allow the example of Manchester City and pay a visit to Wembley today, but then the proposal was made to them they said they had no wish to see the ground till tomorrow. Immediately Mr. Sharp said," No Wembley today." But a happy though occurred to him. The West Indies cricketers were playing at Reigate, so the Everton contingent strove across to see the match. They return to the hotel this evening and will go to bed early for a good night's sleep. They will be up at none o'clock in the morning to take a stroll before partaking of an early light lunch. Then they will travel by motor coach to Wembley for the great struggle. Mr. Sharp has just told me that prior to Everton's Cup victory of 1906 he had a meal of tripe. Today a consignment of this Lancs,, delicacy arrived for Mr. Sharp from an admirer, and Mr. Sharp is hoping it will be a luck charm. He is having some for dinner this evening, and perhaps he will spare a little for the players. Jock Thomson has mentioned to me that on each occasion Everton has had to travel in the season's cup competition they have had to pass through Derby. It has occurred again this time. Can this be another good omen?
Tilson Still in Doubt.
Tilson, the Manchester City centre forward was out through the severest of test today at Bushey to see whether he was likely to be fit for the Cup final against Everton at Wembley tomorrow. He came through it all without any immediate ill-effects. He was made to kick a "dead" ball to "lock" in tackles, to sprint to turn sharply, and so on a number of exercise which brought the play the injured nerve centre in the thigh. "so far," said Mr. Wild, the club secretary "Tilson is all right, but we must now wait to see what effect the injury has had. Our official party arrived this evening with the directors will decide whether or not Tilson plays. At the moment it looks extremely, hopeful. In any event, a final decision cannot be made until tomorrow morning." The Manchester players had their spell of light training this morning. Most of them spent the rest of the day wandering over the countryside says the London Evening News. There will be no "picture" tonight. All the team will go to bed early. Tomorrow they will lunch at Bushey Hall, and afterwards drive over to Wembley.
To See The Match.
The Lord Mayor of Liverpool, Mr. Alfred Gates, and the Lady Mayoress, Mr. W. C. Cuff, chairman of the Everton F.C. directors, and Mr. James Troup, a director of the Liverpool F.C. travelled to London from Liverpool today. The Lord Mayor, and Lady Mayoress, are visiting the Royal Academy today, and both will be present at Wembley tomorrow. Among the prominent personages invited by the F.A. to attend the Cup final tomorrow are Colonel Sir Clive Wigram, Private Secretary to the King; Admiral Sir Lionel Hasley (Comptroller and Treasurer of the Prince of Wales' Household); Admiral Basil Vernon Brooke (Equerry to the Duke of York); Earl of Derby; Viscount and Lady Snowden; the Right Hon J.H. Thomas, M.P. and Mrs. Thomas, Viscount and Lady Hailsham; the Lord Mayor of London and Lady Mayoress; the Lord mayor of Liverpool; the Lord Mayor of Manchester; Baron Von Eranckenstein (Austrian Minister); the West Indies cricket team; and Members of Parliament.
Prestatyn Man's Record.
But He Cannot Get a Wembley Ticket This Year.
Having witnessed every F.A. Cup final since 1881-82, Mr. W. Brownhill, of Prestatyn, will much to his disappointment, be unable to witness the meeting of Manchester City and Everton at Wembley tomorrow, because he cannot obtain an admission ticket. He has witnessed finals at the Kennington Oval, Derby, Manchester Goodison Park, Crystal Palace, Bolton.
ALL EYES NOW ON WEMBLEY FOR "ALL LANCS." FINAL
April 28 1933. Evening Express.
Everton Heroes Fit and Well.
More Than 93,000 to See the Game.
April Weather Forecast.
The Pilot Final Words From Dorking.
All eyes on Wembley, where Everton's eleven heroes will battle with the Manchester City team in the greatest all-Lancashire cup final. More than 93,000 spectators will witness the game. The match should be a classic. At any rate, it is to be hoped that the game will not be decided by any "flucky" goal, like so many in recent years. The weather is likely to be typical April weather. "Probable showers with a good deal of cloud and some sunshine" runs the Air Ministry forecast. Wembley stadium where the match will be staged, was today given over to the army of caterers and officials who were making the final preparations for feeding and dealing with the great crowd. Both teams are keyed up to the highest pitch of training. Everton spent today quietly at their headquarters at Dorking. Manchester City kept their monastic calm unruffled at Bushey. By the way, the City players are the most silent that have ever been in the Cup final. They have shunned sports writers and photographs alike. They have been like a lot of Greta Garbos, and I have been expecting Cowan to say any minute. " think I go home " Let me say at once I think Everton will win. I have been with the team throughout the season, and more, particularly, have been a member of the Cup team party during the last few days. I have never seen a team that were greater pals. Team spirit is a factor, which can win matches where even football ability can fail. Honest endeavour and the willingness to sacrifice personal glory for team success is something which will prevail against the mightiest odds. Another thing, which prompts me to side with these Blues who tomorrow will wear black and white, is their absolute fitness. The players are as fit and strong as human hands and skill can make them. I won't deny that the club has had worrying moments. Dunn's thigh injury and White's strained groin, for instance. But these ills have been assured and eleven sound men will line up after the preliminary introduction to his Majesty the King or his deputy. On purely football grounds, however, I think Everton will win because they have the soundest defence and men in the front line who themselves are capable of snatching match-winning goals. First of these is Dixie Dean, the greatest snap goal-scoring centre-forward of the age, Dean has concentrated to this game by which he hopes to complete his selection of football honours, and he feels within himself that he can outwit the Manchester defence. In Dean, Everton have a foil, which needs careful and methodical exploitation. If the two inside men, Dunn and Johnson, will send those long raking passes to the corner-flags for the delectation of Geldard and Stein, they win have fulfilled their part. The rest will be on the shoulders of the wingers, who have but to find Dean with their crosses to pave the way to victory. Dean can get goals with his head where others would fail. It is useless asking Everton to adopt rushing tactics. They will refuse to do it, and for this many thanks. Take it from me, Everton's path to success is the one they know and like –by real constructive football, with the short passing method being varied by the cross-field transfer. The wing half-backs –Britton and Thomson –have shown that their quick surprise centre when the opposition expects them to adopt closer passing moves is a winner. I hope they will reveal this at Wembley. White may be relied on to cover the centre of the field in his customary whole-hearted spirit. The defence is so sound in covering that it will take all the wiles of Jimmy McMullan to upset it. Everton big task will be to subdue the Brook-McMullan wing. Brook I regard as the danger man. His unorthodox methods he sweeps across to other positions to level his deadly shots –have proved invaluable to the City. Everton must not be caught napping. If they hold Brook, I think half the life will be taken out of the City attack. However suffice to say that it is because Everton strike me as being the better football combination as against Manchester's speed that I tip them as winners. Here is one of Everton's "war songs" which I heard yesterday, and which I expect to hear sung lustily at Wembley. It is to the tune of "After the Ball is Over,"
After the ball had been centred, After the whistle blew, We passed it to Tommy Johnson, and he showed them what to do. He slipped it along to Stein –and down, the wing he flew, He lobbed it into the goalmouth, and Dixie banged it through. Good Luck. Everton have received scorers of messages of good luck from all parts of the country including those from Lord Derby and the Lord Mayor of Liverpool. Mr. Hert Chapman, of the Arsenal, has written saying; "You have a hard task, but I think you will pull it off." This will be the fourth All Lancashire final in the history of the competition, and both clubs will be endeavouring to carry off the trophy for the second time. The other Lancashire finals were Bolton W 1 Manchester City 0, 1926; Burnley 1, Liverpool 0, Crystal Palace 1914; Manchester City 1, Bolton W. 0, Crytstal palace, 1904. Everton have never before played at Wembley. The City were beaten there in 1926. Three players who figured in that game will appear there again tomorrow. They are Tommy Johnson, the Everton inside-left and former City forward, and McMullan and Cowan, of the City. Everton will have seven Internationals in the side, and the City three. Teams:- Everton:- Sagar; Cook, Cresswell; Britton, White, Thomson; Geldard, Dunn, Dean, Johnson, Stein. Manchester City; Langford; Cann, Dale; Busby, Cowan, Bray; Toseland, Herd, Tilson, McMullan, Brooks.
The Wembley Pitch.
The Wembley groundsman and his assistants were out at work early this morning putting the final touches to the vast expanse of Cumberland turf. The pitch, having received its final cut and roll was being marked out with white, which showed up remarkably well on the fresh green. The pitch is in excellent condition, mainly owing to the fact that turf has not been played on since last year's final. The other preparations for tomorrow are almost complete.
How They Got There.
Everton: Leciester (Away) 3-2; Bury (Home) 3-1; Leeds United (Home) 2-0; Luton Town (Home) 6-0; West ham (Wolverhampton) 2-1
Manchester City; Gateshead (away) 1-1, (Home) 9-0; Walsall (Home) 2-0; Bolton W (Away) 4-2; Burnley (Away) 1-0; Derby County (Huddersfield) 3-2.
• Advertisement in Evening Express. The Lord Wavertree Cup Semi-Final at Goodison Park on Saturday. Everton "A" v. Skelmersdale. Kick-off 3.15. Admission 6d Boys 3d. stands extras (including tax). The progress of the Final at Wembley will be put up every 15 minutes.
CLOSEST RIVALS IN HISTORY
April 28 1933. Evening Express.
Only 4 Points Between Everton and City in 50 Games.
Luck, the Run of the Ball, Fate-call it what you like –invariably takes a hand at Wembley on Cup Final day. Tomorrow, more than ever, it is likely to be deciding factor. Never have two more evenly matched sides faced each other in a final tie. It is not just a sensational comparison of the merits of Everton and the capabilities of Manchester City that makes this statement true. For 33 years –with intervals –tomorrow's Cup finalists have fought their battles and now, with a record of 50 games played against each other in League football, the difference is only three goals and four league points. This is the most remarkable case of equality in the whole of Football League history. The points are in Manchester City's favour, they have won 21 of the matches to Everton's 19, but the Liverpool men lead in the matter of goals –85 to 82. It would take to long to tell of all the sensations of these games. There was the occasion –way back in September 1906-when, at Goodison Park, Everton registered nine goals without the shadow of a doubt about any on eof them. The City's consolation on that occasion was one goal.
Sandy Young's Four.
Everton were then the Cup-holders, Sandy Young, the man who scored Everton's winning Cup final goal, found the net no fewer than four times that warm afternoon. In fact, Everton with a 5-1 lead at half-time, hardly exerted themselves after the interval. Yet that same season the City won the Young seemed to line to playing against the City. Two season's after Everton's record victory he had the "hat-trick" against them enabling the Blues' to win by 6-3. Extraordinary enough there were two "hat-tricks" in the game. All Manchester's goals were scored by Thornley. It is one of the few matches on record in which opposing centre-forwards have accomplished the "hat-trick" feat in the one game. Yet! –see how evenly they have always been matched Manchester City succeeded in the return match.
Everton Biggest Feat.
Perhaps Everton biggest pill for the Mancunians was the occasion near the end of the 1914-15 season when by scoring one goal at Hyde-road they prevented the City carrying off the League championship. Incidentally, Everton were champions that season. Perhaps the most thrilling game of recent years was that at Goodison Park in September 1928. Manchester City were late in arriving –they were fined for it. Everton had them guessing. Weldon scored in the first two minutes. But gradually the City improved and eventually left the field winners by 6-2. Tommy Johnson, who will plat at inside left for Everton tomorrow, was Everton's bugbear on that occasion. He was playing the unusual position of centre-forward. He rattled in four fine goals, paused to let Brook score a fifth and then completed his "nap hand" with a lovely shot. Everton's hope is that he will be in the same happy mood at Wembley tomorrow. Last season the City broke Everton's ground record. This season the clubs have a victory each to their credit. Everton having won 2-1 at home and the City having scored a 3-0 victory at Manchester. Tomorrow the Clubs face each other for the first time in a Cup-tie. A new era in the clubs' battles begin. First blood to Everton or Manchester City? It is a matter of faith; the experts cannot separate them on form.
• Advertisement in the Evening Express. Central League Match, at Anfield. Tomorrow (Saturday). Liverpool v. Manchester City Kickoff 3.15 p.m. Admission 6d, Boys 3d. Stands extra. F.A. Cup Score Will be Shown Every Ten Minutes.
EVERTON'S BID FOR A FOOTBALL RECORD.
April 29 1933. Liverpool Post and Mercury
To-Day's Cup Final at Wembley.
A Great Struggle In Prospect.
Everton's Greatest Bid; The Teams Compared.
By John Peel.
The great day has arrived. Today at the Wembley Stadium, in the presence of Royalty, more than 95,000 will see the all, Lancashire battle for the Football Association Cup. Everton and Manchester City may not have set the Mersey or the Ship Canal on fire by their performances in the League competition this season, but they gave gallantly fought their way to the last stage of the greatest of all football competitions and are worthy representatives of the County Palatine which has played a notable part in Cup history. It was a Lancashire club, in Blackburn Olympic, that first checked the progress of the South in the competition. The Olympic was the first provincial club to take the Cup out of London. It remained in Blackburn for five years in succession with the Rovers three victories and the trophy has made many returns to Lancashire since those early days. But though the competition was inaugurated in 1871-72 season this is only the fourth occasion that Lancashire clubs have met in the final. It is a remarkable coincidence that Manchester City have figured in three of these Red Rose finals. In 1903-04 they beat Bolton Wanderers 1-0 and in 1926-27 lost 1-0 to the Wanderers. The other all-Lancashire final was in 1913-14, when Burnley defeated Liverpool also by a solitary goal.
Everton's Fifth Final.
Everton make their fifth appearance in the final and their first at Wembley. Like the City, they have won the Cup on only one occasion. In 1992-93, Everton lost to Wolverhampton Wanderers at Manchester 1-0; in 1896-97 Aston Villa defeated them at the Crystal Palace 3-2, in 1905-06 Everton defeated Newcastle United at the Palace 1-0, but lost to Sheffield Wednesday there in the following season by the odd goal of three. Thus to day's rivals have each carried off the cup on one occasion. This will be the first time they have met in the Cup competition, and it should be a remarkable encounter. It is notable, too, that for the first time in a Cup final the players will be numbered. This is an innovation which I am sure will be welcomed, though perhaps not by the City, one whose players will have to bear the "unlucky 13." Everton will be numbered from 1-111, and the City 12 to 22.
Changed Colours.
The colours of the teams clash, Everton's being Royal Blue, and the City's sky blue, so there will be a complete change. Everton will play in white jerseys and lack knickers and the City in scarlet jerseys and white shorts, Everton's superstitious followers may recall that the colours of last year's Cup winners Newcastle United, are black and white and that when Everton won the Cup in 1906 the years totaled 16, while this year 1933, also totals 16. But it takes more than coincidence to win the trophy. It requires a good deal of skill plus something the other side hasn't got –luck. Luck has played a notable part in success in the Cup in recent years. A goal resulting from a centre when the ball alleged to have been out of play accord by goalkeeper, -these have all led to the winning and losing of a final at Wembley. The result today may be decided by a tragic blunder as has often happened in past finals. I hope not. But if there is any luck going about may it be Everton's good fortune to get it!
Where Favourities Lose.
Both clubs have had a smile from fortune already. Everton got a shock at the semi-final against West ham United, but if they had a smile from Dame Fortune in the second half they had more than their share of bad luck in the opening period and I do not agree with those who declare Everton were fortunate to win. They are apt to forget the first half. The City had a very narrow escape at Gateshead in the third round when they had to fight hard for a draw, but they accomplished a fine feat in beating Derby County in the semi-final. Up to the semi-final ties Everton were the favourities for the Cup. Then it came the turn of the City to be regarded as the likely winner. Everton will not mind the City starting favourities, in recent wars the favourities have been beaten! In my opinion there is very little to chosen between the sides. Each won the home League match this season, Everton at Goodsion 2-1, and the City at Maine-road 3-0. But in the latter game Everton were without White and Dean, gee and Stevens deputising, while the City had Riley at back for Cann, and Fletcher at centre-forward, with Tilson inside-right. Since then herd has added strength to the City attack. It has been said that the City are Everton's bogey team because they have been the more successful side in recent years in the meetings between the clubs. but the complete records of the games between the rivals show how well they have been matched. They have played fifty League games since the City made their entry into the First Division of the League in 1899-1900. Each club has now twenty-games with ten drawns and Everton have scored 86 goals against 81. At Goodison Park Everton have won 16, lost 3, drawn 6, and scored 62 goals, against 29. At Manchester the City have won 17, lost 4, and drawn 4, scoring 52 against 24.
Everton Defensive strength.
Todays game should stand out as one of the best finals played for a long time. Both teams play football of the best type, and there are masters of their craft in each eleven. Everton have one of the best goalkeepers of the day in Sagar, not so showy as Langford who, however, is a very difficult man to beat. At full back I think Everton have it. The coolness of Cresswell and his splendid positional play, together with the fine tackling and big kicking of Cook, make them a sounder pair than Cann and Dale. The former is occasionally uncertain, and takes time to settle down, and though Dale is a cool and sound defender I hold the view that Everton have the stronger defence. The City's chief strength is at half back, where they have one of the best lines in the league. Busby is the best right half I have seen this season, and the Scot is a fine defender as well as a clever initiator of attacks. Cowan is a stalwart at centre-half and nearly as good as Dean at heading while Bray was good enough to displace McMullan. Everton, too, have fine half-backs, clever wings with White a grand pivot always in the thick of any action. A former forward, White knows the needs of the attack. Forward there are some fine schemers, notably Johnson and Dunn, of Everton, and McMullan, of the City. The latter, capped 16 times by Scotland as a halfback, is now a grand general and schemer at inside left, and the driving wheel, as it were, of the attack Brook his partner, is a fast and elusive forward, a daring raider, who cuts in, and is the type of player who can win a match on his own." Herd is a clever inside right, with a speedy partner in Toseland, while Tilson on his day can be a very thrustful centre. Everton can match the scheming of McMullan by the craft of Johnson and Dunn. They have the experience and the skill to work openings and to attend to the needs of the men alongside them. They are likely to be among the most self-possessed of the players, and if Johnson gets his famous pass to the right wing going, then the City defence should be kept on the move. Geldard and Stein are as speedy as the City wingers though perhaps not quite so good. And then there is Dean in the centre. Dean may expect to be shadowed continuous by Cowan his rival captain. Much may depend upon the outcome of the duels between this pair. On his day Dean is the finest centre-forward in the game. Nowadays he scores more goals with his head than his feet, and the City defenders will concentrate upon preventing the ball with his head. With Dean in his old form Everton would I think have a decided advantage. The wingers, however, may get their chance while the City are "policing" the centre-forward. Cowan and his backs may be their United efforts, close up the central avenue, but I think this should give Stein and Geldard this opportunity, well supported as they should be Johnson and Dunn. They have the speed to test the City backs. But it seems just as certain that the Everton defence will be fully tried by brook and Toseland, and because I think Everton have the safer rearguard I expect the Goodison team to prevail. Once again an odd goal may decide the issue, and for the first time in a final since 1920 extra time may be necessary. A good deal may depend upon the luck of the day. If Everton win they will create a record –that of winning the Second Division championship, the First Division champion, and the cup in successive seasons. And Merseyside in a man hopes the Goodison club will prevail.
OTHER EVERTON FINALS.
April 29 1933. Liverpool Post and Mercury
By John Peel.
Everton's previous appearing in the final round were all rendered memorable by special circumstances. For instance, when Everton met Wolverhampton Wanderers in the final of 1893, at Fallowfield, the "Blues" were hot favourities and were expected to win easily. The band reputed to be engaged to welcome home the winners did not play, however, for Everton were beaten by the only goal (a fluke) of the game scored by Allen with a shot which sailed high in the air and deceived Williams. In those days a crowd of 40,000 constituted a record, and in this match the barricades were swept away, and the spectators were on the touchline. The "final" had been moved from the Oval to Fallowfield so that there would be more accommodation.
A Classic.
Everton's next effort to win the Cup was in 1897, when 65,000 spectators saw Aston Villa win by the odd goal in five. That match has been regarded as the classic Cup final of all time, and it certainly was a magnificent struggle in which twenty-two highly skilled exponents exerted every nerve to secure the desired result. Jack Bell, on of the finest players Everton ever had, made Herculean efforts, but Everton had to retire beaten, but by no means of disgraced. I was truly a game in which Jack was as good as his master. Campbell scored first for the Villa, and Bell equalised. Boyle put Everton ahead from a free kick, but right away Wheldon equalised, and Crabtree headed the third and winning goal. There was no score in the second half.
"Sandy Scored A Goal."
Everton's next chance came in 1906, when they, as non-favourites, beat Newcastle United at Crystal Palace by the only goal of the game,. Scored by "Sandy" Young from Sharp's centre after 75 minutes play. The riotous welcome Everton received when they returned North with the Cup is still fresh in the minds of many of Everton's supporters. Everton looked likely to hold the Cup for another year when they reached the final of 1907. This time Everton were favourities and once more the rule "that favourites rarely win the Cup" came off. The team entered the field under a cloud, however, for George Wilson, their clever inside left, a regular member of the side had a dispute with the club on the subject of signing for the next season, and the upshot was that Wilson did not play. Despite this fact, however, the men played hard without finding their true form and after 20 minutes Stewart from Chapman's pass gave the Wednesday the lead. Just before the interval there was a flash of the real Everton, and Jack Sharp who today attends the final as one of the directors of the club, scored a really fine goal, the outside right rushing in to take the ball at the right moment. It was a ding-dong second half, and when a draw seemed inevitable Sheffield Wednesday scored the winning goal in most unexpected fashion. Four minutes from the finish there was a throw in on the Sheffield right, near the Everton line, and there seemed little danger. The Everton players and most of their opponents veered in a bunch to the side of the field, and their were only William Scott in goal, Simpson standing near unmarked. Suddenly Wilson hooked the ball over, and Simpson had a simple task, unhampered as he was of heading the ball into the net. It was one of the earnest goals ever seen in the Cup final, but it decided the issue. The only change in the Everton team from the previous year was the appearance of R. Balmer at back instead of Crelly.
The Teams.
For the purpose of reference the teams in Everton previous finals are appended: -
1893
Everton; Williams; Kelso, Howarth; Boyle, Holt, Stewart; Latta, Gordon, Maxwell, Chadwick, Milward.
Wolverhampton Wanderers: - Rose; Baugh, Swift; Malpass, Allen, Kensey; Tooham, Wykes, Burcher, Wood, Griffin.
1897
Everton; - Menham; Storier, Meehan; Boyle, Holt, Stewart; Taylor, Bell, Hartley, Chadwick, Milward
Aston Villa; Whitehouse; Spencer, Evan; Reynoulds, Cowan (Jas), Crabtree; Athersmith, Devey, Campbell, Cowan (John)
1906
Everton; Scott; Balmer Crelly; Makepeace, Taylor, Abbott; Sharp, Bolton, Young, Settle, H.P. Hardman
Newcastle United; - Lawrence; McComb, Carr; Gardner, Aitken, McWilliams; Rutherford, Howie, Veitch, Orr Gornell
1907
Everton; Scott, Balmer (W.). Balmer (R.); Makepeace, Taylor, Abbott; Sharp, Bolton, Young, Settle, H.P. Hardman
Sheffield Wednesday; Lyall; Layton, Button, Brittleton, Crawshaw, Bartlett, Chapman
A HAT-TRICK
April 29 1933. Liverpool Post and Mercury
Can Everton Bring It Off?
Can Everton complete the Hat-Trick?
Champions Division Two 1930-31
Champions Divison One 1931-32
Cup Finalists 1932-33
Everton were champions of the First Division in 890-91, 1914-15 and 1927-28. Previous Cup Finals; 1893, 1897, 1906 (Winners) and 1907.
Up to 1929-30 they were the only original club in continuous membership of the First Division. Aston Villa were once re-elected and Blackburn were saved by the extension of the league. The Everton club's history dates from 1878 when youths who attended the Congregations Chapel of St. Domingo Vale, Anfield, played in Stanley Park. The club became known as St. Domingo Football Club, and in 1880 it was decided to call the organisation Everton. Their played in priory-road, and the first gate amounted to 14s. in 1888 Everton were one of the clubs to form the Football League. After the spilt the majority of Everton, directors moved the club from Anfield-road to Goodison park, which was opened in 1892 by Lord Kinnaird.
PLAYERS IN THE SPOTLIGHT.
April 29 1933. Liverpool Post and Mercury
Who's Who In Today's Big Game.
Following are pen pictures of the Everton and Manchester City players. The Merseyside team is composed of seven Englishmen, three Scotsmen,
and one Irishmen while in the City side there are eight Englishmen and three Scots.

Everton
E. Sagar (Goalkeeper)- Everton have had the services of a long succession, of good goalkeepers and Sagar has maintained the tradition and upheld the reputation of his club for some time. Young active and clever in anticipation and direction of a shot he is particularly good when the ball is driven high,. Blessed with a safe pair of hands and sound judgement. Joined Everton in March, 1929.
W. Cook (Right Back) –A full back of the robust type whose lusty kicking appeals to the crowd. Secured at the end of December from Glasgow Celtic to fill the place of the injured Williams and though he took some time to settle down in the English style he has now developed into one of the best backs in the League. Tackles and kicks with great gusto, and he thoroughly enjoys his game,. An Irish international, he helped Celtic to win the Scottish Cup in 1931, and now appears in the F.A. Cup final at the first attempt. Born in Coleraine.
W. Cresswell (Left Back) –Wonderfully cool in the hottest game the South Shields man relies on scientific methods to baffle his opponents. A wonderful judge of positional play. Places the ball with fine judgement. A veteran whose wonderful play is the admiration of football crowds everywhere. He was a schoolboy international, and played for England when with South Shields, Sunderland, and Everton. he was transferred from Sunderland in February, 1927.
C. Britton (Right Half) –Another artist of the scientific school. Of slight build, but quick brain, he has developed since he left Bristol Rovers, in June 1930 into one of the finest right half-backs in the game. Quick and active, he employs many tricks to hoodwink an opponent, and leads his forwards well.
Utility Man.
T. White (Centre-Half) a utility man, who joined Everton from Southport in February 1927, and rendered the Goodison club great services in all the forward and half-back position before taking up the pivotal berth to replace the injured Gee. He proved so successful as a centre-half that he was in the running for a "cap" against Scotland this season, and one of the prime movers in the success of the Rest against England in the trial match.
J. Thomson (Left Half) –one of the three Scots in the team, whose dainty footwork greatly help Johnson and Stein on the left wing. A god tackler and a fine feeder, he is always in the thick of the fray, and he is very enthusiastic,. Has been "capped" for Scotland. Came to Goodison Park in February, 1927, from Dundee.
A..Geldard (Outside-right) –a natural footballer in build and method. He has great pace and the ability to carry out his ideas, and is undoubtedly one of the most promising young players of the day. He was secured from Bradford last November, and is nineteen years of age he has a great future. Varies his methods in disconcerting fashion so far as opponents are concerned, is a good shot, and rarely wastes a ball.
J. Dunn (Inside-Right) –a little Scot who helped Scotland to a great victory at Wembley in 1928, and is still a brainy and captivating forward full of tricks. He has many ways, despite his lack of inches, of beating on opponent. Dunn, too, can get at the ball in the air in most unexpected fashion, and one who keeps cool in the tightest corner, joined Everton from Hibernians in April 1928.
Will he Get It?
W. R. Dean (Centre-forward) –The captain and one of the finest centre-forwards the game has known, and one of the greatest goal getter. In the League's record scorer with 60 goals in 39 matches. He also obtained 3 goals in F.A. cup-ties, and 12 in representative games. His is still a power, and his heading is better than anything of the kind seen in the game for many years . Nowadays he is so well watched that he gets little chance with the ball on the ground., but will contrives to get goals, and if he should have one of his inspired spells today he will be a greater idol than ever. Has all the football honours except a Cup winning medal, and hopes to get that today.
T. Johnson (Inside-Left)-A Native of Dalton-in-Furness, he helped Everton's opponents of today in the 1926 final when Bolton wanderers won. He left the City for Everton in March 1930, and the Goodison club's followers have wondered why the City parted with him. A powerful shot and a great schemer. Johnson ha played for England on several occasions. He has a fine understanding with Dean.
J. Stein (Outside-left) –When in the mood this dashing Scot is a most persistent raider, who shoots hard from acute angles. A corner kick specialist, Stein has scored thrice direct from the flag this season, and he also known how to curl his centres to Dean who has obtained many of his goals, as a result of Stein's ability to place the ball at the required altitude and distance. Joined Everton from Dumfermline Athletic in April 1928.
HOW LANC. WENT TO WEMBLEY.
April 29 1933. Evening Express, Football Edition.
"Blues and Whites" Lads and Lasses.
Special to the Evening Express, London today.
London woke this morning to find in a midst a riot of colours –the blues and white of Everton and the red and white of Manchester City. These colours were worn in diversified arm not only by many thousands of the gradually "lads and lassers of Lancashire Cup final enthusiastic from all parts of the country took sides, with either Everton or Manchester City. Invades began to arrive at the great London railway stations in the early hours today and by 9 a.m. almost 20,000 excursionists had reached Euston alone. What a happy lot the Liverpool section were. One party of a dozen young men and women were attired from head to toe in blue and white. All wore blue berets. The men's blue and white halves jackets and trousers were neatly cut, and the women had short blue jackets and white shirts. Hugh rosettes in blue with a long white streamers were a favourite decoration of the laughing, happy thousands from Merseyside. Two hundred in one party from Warrington turned out at Euston as Everton supporters, while in a trainload from Birkenhead blue and white favours were in a magnificent majority because only two youths sported the Manchester finalist's colours. What did the thousands of Liverpool and Lancashire enthusiasts do in the long hours of waiting before Wembley's gates were opened? Most of them were to be found in the heart of the Metropolis. Thousands passed through Trafalgar-square on their way to Whitehall and Westminster or along the Mall to Buckingham Palace along the Strand in Fleet Street. Bright skies and a warm breeze made the round of sight seeing all the more pleasant. Respectful attention was paid to the Cenotaph by many Liverpool folk and hundreds of floral tributes were laid at the base of the great memorial in White-hall. Vendors of the colours of both Everton and Manchester City were stationed at many points, though the busiest of them were to be found outside the railway terminal. Amusing clashes occurred between hands of rival supporters as the morning wore on. Cheers and counter cheers being raised, and one lusty shout from a troop of Evertonians made the pigeons in Trafalgar soar in momentary panic. Though many Everton supporters must have been walking for hours, their spirits did not flag, and they sang popular choruses with much gusto when they were not passing good-humored radiance with the Manchester enthusiasts. Everton always a powerful name in football history, was well blazoned in the Metropolis for hours before the great match at Wembley and if Londoners do not know a little more than they did about the Lancashire dialect, it will not be the fault of the thousands of sporting enthusiasts who came from Liverpool, and Manchester and hundreds of towns and villages in the County Palatine.
All-Night Crowds at Stations.
The departure scenes from the Merseyside railway stations were in the nature of a pilgrimage of joyous pilgrims. From midnight last night, and until late this morning Lverpool was thronged. Remarkable scenes were witnessed at Lime-Street Station, Liverpool, last night when the first enthusiastic batches of Everton supporters left by special trains for Wembley. Hours before the first excursions was scheduled to leave thousands of people had flocked to the station. It was a great occasion for the Curbstone vendors of Everton favours and rosettes. Trains packed to capacity many of them with three, four and five extra coaches attached, steamed out of Lime-street station at 12.30 a.m., 2 a.m. 2.15, 6.45, 7.15 and 7.30. A full staff of station officials worked throughout the night, sorting the excursionists getting them in the right compartments and seeing them safety out. The arrangements have gone without a hitch, an inspector told an Evening Express representative, when the bulk of the traffic had departed.
Shouts and Songs.
Throughout the night the strident cry "Everton for ever" rose to the high demed roof of the Station. Throngs of men and women jostled each other in the excitement. Shouts and songs, and the hissing of locomotives echoed through the station for hour after hours. There was a brief lull following the departure of each special, but in no time the station was again thronged. The precincts of the station were crowded with thousands more who intended to get a second hand thrill by matching the departure of the more fortunate ones. The Everton Cup final players were up at nine o'clock this morning at their Dorking Hotel. It was a glorious morning, more like cricket weather than football weather. The players went to thee putting green where a stroke competition was
SCENES IN THE STADIUM
April 29 1933. Evening Express, Football Edition.
Crowd Cheers While "Dixie" Tests The Turf.
Special to Evening Express.
The King did not attend the Cup Final owing to the uncertainly of the weather. His place was taken by the Duke of York, to whom the players were presented. Two hours before the kick off there was only a handful of people on the terraces of the vast arena, and they had an unenviable experience. A hailstorm of some velocity broke over the ground and drenched the few spectators who had no shelter. About a quarter to two a defeatening cheer showed that the Everton supporters had noticed something out of the ordinary. Then it was seen that a number of Everton players, headed by Captain Dixie Dean, were strolling on to the lovely expanse of turf. Dixie Dean and his colleagues dug their heels into the turf while Dunn, Geldard, Sagar and others tripped lightly to feel the resiliency of the turf. As the Everton players left the field prior to entering the dressing room for change into football kit the cheers broke out afresh and reached a veritable storm. On the way to the ground we passed no fewer than three white horses, and these the players heralded in the customary fashion as a good omen. The coach arrived at the stadium at 1.30, and the players quickly dodged from the crowd to seek seclusion in the offices. The ground was now filling up quickly and in the course of half an hour 50,000 or 60,000 people made the terraces an animated sight. The band of the Irish Guards played inside the centre ring on the playing pitch and gave a programme of light music. Their selection of old-time choruses were taken up with enthusiasm by the crowd, and when the band left the field they received a fine ovation.
Community Singing.
Their place was taken by the band of the Royal Horse Guard (The Blues), which accompanied community singing. Their corner flag were in black and white colours the same as those worm by Everton for the match. The community singing opened with "Tipperary" in which the crowd, now about 90,000 joined heartily. The Lord Mayor of Liverpool, Mr. Alfred Gates, and the Mayoress were early arrivals among the distinguished guests. Other well-known personalities in the grandstand were Mr. John McKenna, president of the Football League, Sir Charles Clegg, president of the F.A, Mr. W.C. Cuff, chairman of the Everton directors, and the chief Constable of Liverpool (Mr. A.K. Wilson). The Lord Mayor and Lady Mayoress of Manchester were also present.
EVERTON WIN THE CUP FINAL
April 29 1933. Evening Express. Football Edition
Stein, Dean and Dunn the Scorers.
"Team Work" Triumph in Match of Thrills.
Britton's Great Work.
Everton's Hat-Trick Record.
Bravo, Everton! They won the F.A. Cup at Wembley Stadium today with a great 3-0 victory over Manchester City. Stein gave Everton a first half lead with a brilliant goal after 39 minutes. Dean scored the second goal after 62 minutes, and Dunn the third after 82 minutes. It was Everton's Cup success, gained after a lapse of 27 years, and it completed a hat trick without precedent in football history. They have won the Second and First Division championships and the F.A. Cup in successive years. Everton, after Stein's goal, day game in hand. It Britton one of the stars.
By the Pilot.
Manchester City suffered an early blow. It was learned that Tilson, their centre forward, who had been doubtful for several days, could not play. Tilson's place was taken by Herd, the City's regular inside right, and Marshall was introduced at inside right.
The Teams.
Everton: - (1) Sagar, goal; (2) Cook, and (3) Cresswell, backs; (4), Britton, (5) White and (6) Thomson, half-backs; (7) Geldard, (8), Dunn, (9), Dean (captain), (10) Johnson and (11) Stein, forwards. Manchester City: - (22) Langford, goal; (21) Cann and (20) Dale, backs; (19) Busby, (18) Cowan, and (17) Bray, half-backs; (16) Toseland, (15) Marshall, (14) Herd, McMullan (13), and Brook (12), forwards. Referee Mr. E. Wood (Sheffield). Linesmen; Mr. G. T. Gould (London), Mr. F. Ratcliff (Middlesex)
Everton were fortunate in being able to field their best eleven. As I reported exclusively yesterday, Dunn was pronounced fit. Everton occupied the dressing-room that the Arsenal used two seasons ago, when they won the cup. The teams took the field at 2.40. They came on in pairs with Dean and Cowan leading the lines, and walked to the centre of the field for the introduction to the Duke of York. They were greeted with tremendous cheering as they then lined up facing each other in front of the main stand. For the first time in the history of the Cup the players were numbered. Manchester had white figures on their red jerseys, and Everton black figures on white jerseys. The ground was in perfect condition and the weather was ideal. The 93,000 spectators stood up when the Duke of York, accompanied by sir Charles Clegg, the president of the Football Association, came on the field. The National Anthem was sung.
The Game.
Everton won the toss, and Dean elected to play with the sun at his back. This was a wise choice, for immediately the game begin, at 2.57, the sun peeped through the clouds. The City were first away, Marshall allowing the ball to run between his legs so that Toseland could cut in and centre. Sagar came out of goal to make a clean catch, and from his kick Geldard slipped through after dean had proved better than Cowan with the ball in the air. The outside right cut towards the centre of the field only to fall a victim to Cann's tackle. White contributed some clever touches. Toseland broke through, but Herd was pulled up for a foul.
City's Lively Wingers.
Manchester had lively wingers, who were exceptionally well fed, and once again Sagar had to catch from Toseland, after McMullan had contributed a delightful cross-field pass. Everton tried the short passing game, without bringing any grist to the mill. Following a series of throws in on the Everton right, Langford nearly fell a victim to Wembley goalkeepers' luck. White banged the ball into the goalmouth, and Langford in trying to fist away only half hit the ball and it bounced up in the air apparently going towards Stein. It was travelling slowly and ere Stein could drive it into the vacant net, Cann had blunded him off. Stein retained possession, and slipped across a low centre, which Langford fielded. Next Dunn, headed in, for Langford to save. At the other end Brook centred from the goal line, and Sagar although "spotting" the ball failed to gather, and he had to be quick to snap up the ball. The crowd gasped. Dean, always dangerous with the ball in the air, now slipped past Cowan and fed Stein with a delightful pass. Stein waited a trifle too long and gave Cann a chance to nip in and clear. Geldard also waited too long when he got through. Then came a free kick for a foul on Stein. The first corner went to the City in eight minutes. Toseland took this, but Brook, in a tackle, pushed the ball over the line. Brook miskicked when Herd was looking dangerous, but Sagar was there to say "thank you." This was hard football, fairly even, with neither side showing any sign of nervousness. The City were proving rather quicker tacklers than Everton. Everton were now having slightly more of the game, but there was little in it. The first casualty was the veteran McMullan. He had to receive attention from the trainer, but was able to resume. Dunn slipped a pass to Stein, and the winger cut in and made a slow shot, which was intercepted by Cann at the crucial moment.
Cresswell's Masterly Tackle.
Cook was guilty of a foul on Brook. Marshall almost got through from the free kick, but Cresswell came with a masterly tackle as the inside right was about to shoot. Geldard completed a fine run with a centre from the line, but Langford caught the ball in mid-air. When McMullen fouled Dunn, Britton found Dean with the free kick, and Dixie burst between two men to drive just over the top. This was a narrow escape for Manchester. The Manchester defence was not inspiring under pressure, and it was seemed to me that Everton had only to play on top of them to succeed. Brook cut through after McMullan had weaved a spell and headed in the hope of finding Herd. Sagar got there first, however.
Dean Has A Chance.
Everton continued to have slightly more of the game, but the City were brilliant in their tackling and interception. Dean had a chance but tried to find a colleague. Everton won their first corner in 29 minutes, and Langford had to tip Geldard's kick over the top. Stein took the second corner, which almost brought an open goal. Langford meeting the ball, and with Dean allowing the ball to sweep right in, Dunn was able to get a good view of the net. However, the ball glanced off Dunn's forehead and went outside. Everton soon gained the third corner, thanks to Stein, who just before had raced through from Dean's pass and brought Langford to his knee. Langford, who was never happy, pushed the ball out, and it went too far for dean and Johnson to reach it. Everton gained two more corners. Geldard placed his kick behind. Then Dean by dint of brilliant heading –he was always beating Cowan when the ball was in the air –bored through, and Langford had to run out to save. Dunn showed glorious footwork, and following this Busby concede a corner through a particularly weak tackle. Johnson stood by the goal post and back-heeled the ball into the goalmouth, but the City managed to clear. Everton then forced their sixth corner. Toseland broke away and centred for Sagar to make another brilliant catch and withstand a tackle from Herd. Then came a great effort by the greatest goal-scoring centre-forward in England. Dean beat his man in fine style, and slipped the ball forward, but Langford managed to scramble it away. Stein got away and lobbed over a short centre, but Dean from three yards out, missed the ball completely, and the crowd shouted, "ooh!"
Goal!
Still, this was the forerunner of the opening goal; which came in 39 minutes. Everton did the trick, and Stein was the scorer. Stein had to thank Britton, whose foresight and quickness provided the opening. An attack had deveopled on the right, but the ball was whisked back again to the right wing, where Britton took command. Britton controlled the ball in masterly style, definitely made it his own, and then banged across one of those sweeping centres which always prove so menacing. Langford was caught on two minds, with Dean and Stein bearing down on him. Cann was also there, and Dean's worrying tactics enabled the ball to pass through a bunch of players to Stein, who after tapping it down with his left foot screwed it into the net with his right. Tremendous cheering greeted this goal. The Everton players ran up the field, leaping in the air sheer delight. Stein gave a special swoop, for he knew, as everyone else did, that the first goal at Wembley is often the deciding factor. Manchester City seemed shaken by the reverse, and Everton took the play in hand, though Herd once loomed dangerous after the ball had been too high for White, but the Scott kicked over the bar. Manchester's defence was not inspiring, though Everton could not bring Langford into action again before the whistle went for half-time.
Half-Time Everton 1, Manchester City 0
Everton just derived their lead, for they had enjoyed much more of the play and appeared more dangerous. The City were remarkable for their tackling and interception. It was complete in its quickness and thoroughness, yet their defence was never happy against the scheming Everton forwards, among whom Dean was dispelling the Cowan bogey by beating the Manchester captain nine times out of ten when the ball was in the air. Dean's miss one minute before Everton scored was the surprise packet of the afternoon. How he failed will ever remain a mystery. White, Cresswell, with Cook a power, were outstanding for Everton in defence, while Dean, Dunn and Stein were splendid forwards. Everton had more ideas, though being more deliberate than the City in their work. During the interval, which, by the way, lasted twelve minutes, extra police were marshalled on the ground apparently to prevent any encroachment on the field after the game. The Guards Band had treated us to excellent music. Dean kicked off in the second half at 3.55. Everton tried to get through on the right, but they were quickly tackled by the boys from Maine-road, and Geldard could not get through. The City were the first to become really dangerous. Herd broke through but he was pulled up by Cresswell, the ball running wide to Brook, who centred the ball over the dead line. Geldard tried to get through, but found Bray his master. Geldard had not been too successful up to now. Britton was one of the best providers of the day, and now he got Geldard through, only for the winger to pull the ball back a shade too hard.
Cook's Great tackles.
Sagar then had to catch a high ball before cook came through with two lovely tackles and clearance kicks when Brook was getting dangerous. Dean scored for Everton after sixty-two minutes. McMullan was running through in Brook's position and looking to be in a fine position to upset Everton's plans until Cook came along with one of the finest tackles I have seen for many a day. Right from this Everton went along to get the second goal. Geldard had got through with a glorious movement by the right wing. Dean was offside when the ball was sent up the middle but he refused to play it, calling on Johnson to take command. Johnson could not get through in time to prevent Langford coming out and picking up. Then we had a real Brook thrill, when the fair-haired winger got in after good work by Herd. Cook, however, got through in the nick of time, and the ball passed over the goal-line for a goal kick. Britton, following up, beat Bray before banging the ball into the centre with rare precision. Langford did not seem to know whether to catch the ball or put it over the top. Dean made up his mind for him, for Dixie nipped in and carried the ball into the net finishing up in the rigging himself. Dean and Britton came in for many congratulations.
"Team Work" Goal.
It was a "team work" goal with Britton's enterprise laying the foundation. Brook came through with a glorious left foot drive taken on the drop. The ball passed far over the top, the crowd roaring in anticipation of a score. Everton had the game in hand, and following a free kick for hands, Gledard slipped through and pulled the ball back to Dunn, whose high shot was well pulled down by Langford. Jimmy Dunn made the crowd laugh when he held on to the ball despite a double challenge, but he managed to get his pass away to Dean. The burden now rested with the Everton defence, and from a throw in away on the City right, Sagar ran out to fist clear, the ball travelling to Cowan, who came through with a fine shot (a first-timer), which sailed between a bunch of players only a yard outside.
Hefty Tackling.
There was a lot of hefty tackling, with the City enjoying the balance of attack. Everton broke through again and the Manchester defence hesitated, thinking that Dean was offside. Dean went on, and was clear of opposition as Langford came out. He tried to dribble the goalkeeper, but Langford dived out and fell on the ball. So a golden opportunity was lost. Sagar had little time to think when Cook pass back to him, for McMullan and Brook were coming in to do business. Sagar conceded yet another corner to the City, who were piling on all pressure, and then Stein got away from a delightful pass by Dean, but Cowan was there to clear the centre from the winger. The City nearly had a goal when Brook ran through to within a few yards of the goal post, and then put the ball right across the goalmouth and out of the reach of his own colleagues. Marshall next got through, but Thomson cleared before he could do any damage. Dean took his own time before feeding Stein, when in a good position, lost control of a speedy ball, and the City escaped with a goal kick. Dunn and Johnson were lying back and helping the defence. Seventy-five minutes came with Everton still holding the lead, and the City inside forwards had become impotent against White, Cresswell, and Cook. Dunn scored for Everton after 82 minutes. Bray was faced with Dean, and it brought a goal to Everton. Geldard took the corner, and placed direct to Dunn, who was standing in position six yards from goal. Dunn flicked his forehead, and the ball sailed into the far corner of the net. Langford had no chance. Dunn was injured in the process of scoring and it was not until his colleagues told him of his success that he jumped up and forget all about his hurt and raced up the field in sheer delight. This goal clinched the match and made the Cup safe for Everton. Everton later nearly scored a fourth goal, Cann just scrambling the ball away from Stein, and although Cook was injured through getting the ball in his face, he was able to continue. Manchester made belated efforts and shots fired by Marshall and Brook went outside, but it was no good –Everton continued the masters and the final whistle sounded as Geldard was in possession. Geldard promptly picked up the ball, but generously gave it to the referee. The Manchester players rushed over to the Evertonians and sportingly congratulated them.
Final Everton 3 Manchester City 0
Duke of York Presents Cup.
Dean them led his men in Indian file to the Royal Box and was presented with the Cup by the Duke of York amidst enthusiastic cheering. The Manchester players meanwhile stood on the field and joined in the applause. Dean waved the Cup to the spectators when he was given possession, and he came down from the box his face wreathed in smiles. He lifted the cup to his lips, while the Everton supporters cheered wildly. Dean then broke into a jog trot and went to the dressing room holding the trophy aloft.
Victors' Return.
The Cup Winners will arrive at Lime-Street Station, Liverpool at 7.45 on Monday.
"JUST TOO WONDERFUL!"
April 29 1933. Evening Express Football Edition
Dean after the match was almost too excited to describe his feelings. "It is just too wonderful," he said, "to think that Everton now hold the Cup. It is the greatest joy of my life. "The victory is due to the splendid work of the whole team. I felt early on that we were the clever football and although the City were dangerous men in their tackling, once Jimmy Stein had given us the lead, I knew it was OK, and I must say that the defence did brilliantly when they were put to the test in the second half." "We are delighted we have won because it will help Merseyside. It was a great game, a sporting game, and I think we proved that we were the better team." Cowan, the Manchester captain said "I congratulate Everton on their success. It was a hard game. I do not think the City played quite up to their standard. I hope it will be our turn next year."