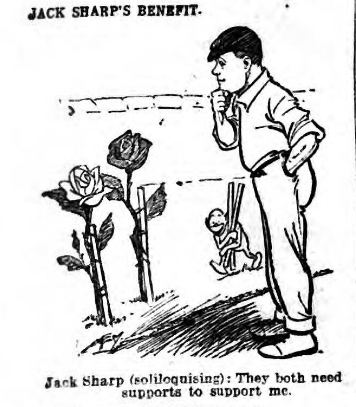 KIRKCALDY UNITED'S CAPTURE.
Dundee Courier -Friday 5 August 1910
EX-EVERTON PLACER SIGNS FOR FIFE CLUB.
Kirkcaldy United have done a good stroke of business securing the signature Geo. Cooper, late Heart of Midlothian and Everton. Cooper is a player of outstanding ability, and can play in either the outside right or position. These are positions in which the United have been very weak in past seasons, but the signing on Cooper will be hailed with great satisfaction by the United's supporters, as he will no doubt make an excellent pivot.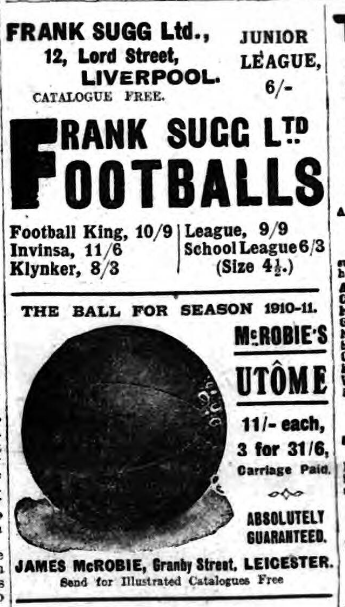 A FORMER RANGER.
The Berwick Advertiser-Friday 5 August 1910
Though he has signed for the seventh season for Millwall, which is opening new ground in the old Kent Road in September. Jack Blythe, who has been visiting Spilttal, the scene of his early kicking career. Is looking fit and well as ever. Blythe first joined the Everton, club, when an accident in the practice matches nearly ended his football career. A smashed ankle was only well enough enable him to turn out twice for the "Toffees" the following season. But West Ham knew his worth if his ankle could be got strong again, and they risked signing him up. Jack during the off season went the seaside, and tried daily paddle in the sea for some hours every day for some months. The affect was wonderful. He never missed a single match for the "Hammers" in the next After being three or four seasons West Ham, he went Millwall. And took benefit match last season. Blythe is still young-looking and in the pink condition, the result of careful living and regular exercise. That promises maintain his place in Southern League football for some seasons come.
EVERTON WELL EQUIPPED
Cricket and Football Field - Saturday 06 August 1910
By Richard Samuel
Pepping into the future is usually a much more pleasant occupation than looking back upon the past with its oft repeated failures-sometimes of the most unexpected character. Looking ahead, we are more inclined to picture and paint matters in the brightest possible colours. A year ago we held high hopes of Everton securing one or more of the seasons big prized. But they got neither, having to rest content with the possession of the Lancashire Cup (most handsome among trophies, however) and a half share in the Liverpool Cup. In the League Everton dropped eight paces -from 2nd 10th —whilst in "the" Cup competition they fell out in sensational fashion after two heated debates with Barnsley. That Everton failed in the two directions stated was, in my opinion, largely due the two serious mishaps which befell that most remarkable man, John Taylor. It will be recalled by some that Everton, at the end of September had forced their way to the top of the League table after deciding seven hard games in the first month. But in the last these Taylor was badly injured at Newcastle, and was not himself again until the end of December, and upon his return to the team it was to find that Everton had dropped back to the position they eventually held at the season's close —tenth!  Then, again, what could have been worse than Taylor's experience at Manchester in the Cup semi-final re-play. It led the team's utter undoing—that and Scott's handicapping hand Injury. Yes, with Taylor fit and well through the piece many believe that Everton would have landed the Cup and gone close for the League last season—a rare testimonial this to the half-back named. At the same time the Toffees showed a marked lack of effectiveness at times in goal-getting sense, and one cannot recall the previous Everton team that went a period of five consecutive months (as did Everton last winter) without once being able to notch more than two goals in a League match.
THE DEFENCE RETAINED
With the defence there was little cause for complaint. That defence has been retained in toto for the coming campaign of 1910-11. There have also been additions, whilst several new names will be noted on the club's forward list. Some faces, once familiar, will, alas, no more be seen in an Everton jersey. Chief among these is Jack Sharp, the Toffees' captain, and once brilliant out-side right. Sharp has now other concerns than football following to think about—for instance, sound investment making! All the same, Everton won't seem Everton yet awhile without Sharp's bright presence, and he leaves a gap which is not easy to refill. Other departures include that caution of cautions, Tim Coleman, who will be found at Roker Park. Buck, too, has not been retained; yet he is a flier of the "Bob" Jack order. The names of Len Woods, Rafferty, and Pratt also disappear - the latter item being a surprise to most people. Numerically the foregoing will be more than compensated for by incoming players. But let me here give the complete list of the men signed and sealed for the pending season. They read as follows:
It will be noticed that some of those marked with an asterisk have already assisted the Everton club.  They were, however, in no instance, members a "year ago," The full list comprises 36 players, which rather exceeds in numbers the schedule of August, 1909.  They are made up of four goalkeepers, seven backs, nine half-backs, and 16 forwards, but of the total given some half-dozen are players of the amateur persuasion, leaving about 30 professionals. 
GOALKEPING EXPERTS
Running briefly through the lengthy list, it may be said that no club will be better equipped in goal than Everton.  The two Scotts, in their distinctive styles, have a big- reputation. William of that ilk is now quite recovered from Old Trafford hand injury, and, of course, is the man to stand between the posts in the league team. Walter Scott, the "penalty king," is the ex- Grimsby and Worksop giant, who bide fair to develop into a defender of the famous Hillman order. Next in command is Berry, a man already fit to defend in First League football, for he has good eyes, safe hands, and possesses excellent judgment. Then Everton have been promised assistance in the fistic art from a local amateur, Roger Jones, whenever he should be required. I hear very good accounts of Jones, a coming flier among custodians let us hope, although it is difficult to see how he is to get many match trials next season, with such a trio as those named to compete against. So much for Everton's goalkeeping experts. The club's full back department is such a well-equipped one that it difficult to think there will be need for further reinforcement. There are three right and three left backs, whilst R. Balmer is of the type who can play equally well either wing. He was unhappy last season in receiving as uninvited visitors, Messrs. Illness and Injury, but now succeeded in showing them the front door. It was during the period in question that Bob Clifford succeeded in demonstrating his true worth to Everton for the first time—as a right back rather than at centre half. As left back John Macconnachie, the most refined football entertainer perhaps on the League stage, will, believe, still further delight the multitude, many of whom will not readily forget his heroic work in the semi-final re-play. He has been appointed sub-captain—a choice with which everyone will agree.
CAPITAL YOUNG BACKS.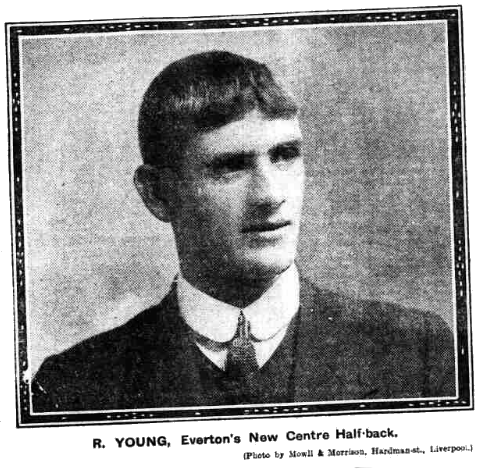 Stevenson, Meunier, and Bardsley are all capital backs who did much towards winning Combination honours for their club last season.  The first-named has been appointed reserve skipper again. Meunier had a serious illness last winter, and only re-appeared towards its close.
The one new back secured by Everton is David Thomson, of Port Glasgow Athletic, who was signed in early June, and comes South with good credentials, which we shall be anxious to see him confirm a month hence or less.  Thomson (a good football name) is a right back, standing 5ft 9ins, and weighing 12st.  Turning to the intermediate division, the club has ample choice from half-a-dozen first-class choice for the wing positions will doubtless be Makepeace and Harris, although the last-named certainly declined in form in last season's declining days.  Makepeace, following closely on the heels of his companion county cricket, has been promoted to the captaincy.  His rise to the top of the Everton ladder has been a splendid one indeed, and in Makepeace and the Liverpool captain (Arthur Goddard) we find two of the game's most unassuming footballers promoted to the rank of commander in spite of their natural quietness of manner.  They are the modest among men exalted.  R. Allen, of Bedlington, cam e along so well last spring as a wing half that he won many admirers, whilst Borthwick showed a big advance on previous years at centre half.  Everton's great "capture" is Robert Young, the determined man of Middlesbrough.  He is expected to considerably lighten Taylor' duties at centre-half.  The club had to bid high for him, and he is naturally looked upon as capable of proving the best substitute for Taylor the club has yet discovered in their long search for same. 
THE RIGHT TIME OF LIFE.
Another valuable recruit is Llewellyn Davies, the left-half and captain of Wrexham, who was
Trice capped for Wales last season.  As Young is only 23, and Davies 22, they are visiting Merseyside at the right time of life.
Forward, Everton have the old familiar faces, save Sharp.  Whether Berry or Pinkney is to prove his successor, time will show.  Pinkney of West Hartlepool Expansion is promising, whilst Berry is really skilful, and only requires to keep in training to do well in a blue jersey.  The club have tried hard to bring down a genuine star outside right, but so far, have not succeeded. For inside right, there are Wattle White and the laughing Lacey, to choose from. Freeman is "the" centre, with Gourlay, Jones, and Gault, as understudies. I suppose that Gault's former club was Jarrow Caledonians. But there is another "starred" forward, whom I was almost omitting to mention—Ed. Magner, the Gainsborough centre forward, and formerly club mate with Pinkney. Thompson, the Cliftonville forward, has signed on amateur form, but it is scarcely likely that this Irish outride left will be often found in a blue jersey. For the left wing, Everton have available "Sandy" Young, Turner, Mountford, and Barlow, once again. If the team does well forward, great season is assured. It only remains to add -my space having flown -that two public practice matches will be played, on August 20th, and 24th. I believe that the trainers will be Jack Elliott and H. Cooke, for the league and reserve teams respectively. Joe Lofthouse having left the club's service. The Goodison Park enclosure stands where it did last April,—one of the finest grounds in the kingdom, and the playing area such a profusion of verdant green as to make food for favourable comment. Everton's opening League match at home will be v. Tottenham Hotspur, on September, 1st.
NUGGETS
Cricket and Football Field - Saturday 06 August 1910
Everton will have a job to fix up a forward line for the first match.  Berry, White, Freeman, Young and Turner are not up to the strength Evertonians have been used to by a long chalk.
Makepeace, Young and Harris will be a powerful half-back line.  Balmer, Clifford, Stevenson, and Macconnachie are all right as full-backs, and the Scotts in goal should be great.
Everton are said to have given up the hunt for a first-class outside right, trusting that Berry or Pinkney will prove worthy successors to jack Sharp.
The reception accorded Sharp when he came out to bat would have unnerved many a cricketer, for the crowd appeared to rise in a body to applaud him, while the Yorkshire eleven and umpires joined in the reception.  Yet John batted better than anyone during Monday if we except England's all-rounder, Hirst. 
CRICKET NOTES.
Nottingham Evening Post-Friday August 12 1910
At Manchester, Leicestershire will have almost, the same representation against Yorkshire. The only difference is that Turner will be absent. He has been called up by Everton to begin his training for the football season, and in his stead A. T. Sharp re-enters the eleven.
NUGGETS
Cricket and Football Field - Saturday 13 August 1910
Harry Makepeace was not dismayed by the failure of his colleagues, and tried hard to snatch a victory for his county against Sussex.
J. Taylor (of Everton) and W. Dunlop (of Liverpool) have come up to the scratch once more, as they have done now for quite an age.  They're made of good stuff these two Scots, and no mistake.
The success of Makepeace against Sussex was very pleasing to Evertonians.  The new Everton captain, like Sharp, showed that he is capable of rising to the occasion. 
Taylor and Dunlop will hardly be required for first team duty this season.  Everton's training staff is not too strong, and Taylor might be found very useful there or in charge of the reserve team, as is Dunlop at Anfield
Everton evidently mean business, judging by the number of players they have ready, no fewer than 36 being on the books.  With such talent at their command no wonder the Goodison Park officials are optimistic.
EVERTON FOOTBALL-CRICKETER
August 13 1910. The Liverpool Echo
Amongst professional footballers who have earned some distinction in the cricket field one seldom comes across the name Meunier, the Everton full back. Meunier is a crickter of considerable ability, but because he spends most of his cricket left with King's county (Ireland) club his performances with bat and ball are seldom notice. He is a much-sought man, for the annual end of the season cricket matches in which the Everton and Liverpool footballers participate. Parenthetically I may mention that in addition to to-day's match at Stanley several of the Everton and Liverpool players will form part of an eleven under the direction of Mr. R. Gratton, which annually visits upon. This always-interesting little outing takes place on Wednesday, August 24, and I understand a certain Lancashire cricketer may be in the visiting eleven. However, to return to Meunier, I have the score before County County Kilkenny and me of a two day match played last Friday and Saturday at Kilkenny. The home side battling first were dismissed for 35, Meunier being responsible for six wickets. His analyses in detail reads overs 13, maidens 7, runs 11, wickets 6. King's County replied with 77, and Meunier going in sixth down, scored 27, being easily highest scorer. Taking four wickets for 29 in the second innings, the Evertonian had a big share in his county's victory by six wickets.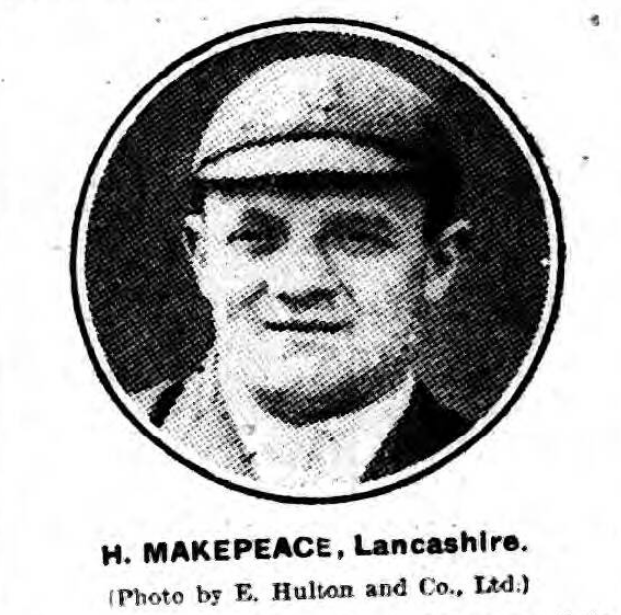 THE COMING FOOTBALL SEASON
August 20, 1910. The Liverpool Echo
For weeks Goodison has been a hive of industry. Workmen have been busy on ground cleaning and general renovation, including the new roofing of the stand at the City-road end. As the annual meeting several shareholders complained of the scant consideration they received on the side of the ground; that the old stand leaked, and was very uncomfortable in wet weather, and that, generally speaking their accommodation was not commensurate with the position of the club. True, the stand did leak, but on the whole taking into consideration the hugh scheme for construction of the big double decker on the Goodison-road side, the directors are not to be held culpably blameworthy. This season I dare venture, there will be little for the grumblers to give vent over attention. An excellent scheme of reserved and tip-in seats is, I am given to understand in prospect. The well-drained stretch of turf is a perfect picture. No wonder Everton are favoured with a final tie and the international of the season, England and Scotland. This match is arranged for Goodison in April. In the meantime many strenuous games must be fought out. A thoroughly up to date results board is being constructed. It will be among the best of its kind.
THE OUTSIDE RIGHT POSITION.
It is a curious feature of the Everton club that despite its continued success the extreme wings at one time of another have not been all that could be desired. It will be remembered that Harold Hardman filled a long felt want, and with R. F. Turner not touching his best form last season the outside left was again a doubtful quatity. Since Sharp has now retired a vacancy is created that will be difficult to fill and, as you are aware, the club, making no secret of their necessity have been on the look out for a real class outside right. Everton will have the real article if it is to be obtained, and on this occasion they have looked to the best in the land. If the famous Anglo-Scott in induced to leave the county of his adoption Everton will have achieved one of the most sensational captures of modern times. But while we wait we ruminate on the capabilities of Pinkney and A. Berry respectively. The amateur played several good games at the back end of last season. He will assist the club, when possible, but I suspect he will not be anxious to go headlong into a busy season straight from a heavy in South Africa. Young Pinkney may turn out trumpet I believe he has good football in him because I saw him play Cowell, of Blackburn Rovers, at his own game at Blackburn, and beat him nine times out of ten. Experience will teach Pinkney much. G. H. Barlow, another amateur, will also be ready for service on the left wing. Meanwhile Turner has made his appearance in county cricket, like two of his colleagues of last season. I saw him at Old Trafford at the beginning of the week looking very fit. Among the forwards there a one notable, but not unexpected, departure, viz, "Tim" Coleman to Sunderland. White practically played himself into the inside right position, and there he is certain of his place. Bert Freeman has spent nearly all the summer months on the other side of the "herring pond." He likes the station immenedly, but what he admires are most concerned about is whether he can attain the form which made him champion goal-scorer, in 1908-09. "Sandy" Young, willing as ever, has now a nameshake colleague. The duplicating of nomenclature is going to cause heated arguments. Two Scotts two Thompson, two Youngs, and two Berrys, are something to be going on with. The club are well served in goal, for in addition to Williams (now happily recovered) and Walter Scott and C. H. Berry, Roger Jones, a local amateur having caught the eye of keen judges, is on the books.
A STRONG DEFENCE.
The defence as it should be, is again going to be strong and resourceful. It should again prove a valuable match-winning asset. Macconnachie, Clifford, Balmer, Stevenson, Meunier, and J.C. Bardsley form an imposing barrier, but a smart captor was effected in the close season in the person of David McKay Thomson. Thomson was one of Port Glasgow Athletic's stalwarts, and Everton obtained his signatures where several anxious others failed. The difficulty may be not whom to put into the first team back division, but whom to leave out. Similarly among the half-backs, of whom Everton have a close array. Like the Liverpool veteran Dunlop, Jack Taylor pursues the even tenor of his way. He is optimistic of putting in several more seasons with his old club. A marvel of modern football is he. Recovered from his bad accident at Manchester, in the cup semi-final, he will assuredly don the Blue jersey. In the two matches played at Middlesbrough, last season –the League match and the cup tie-Robert Young, the centre half impressed the Everton officials. Big and robust, Young is a fine forager, had a swift tackle, and feeds judiciously. Borthwick has not yet reached the standard of the Everton first team. He has plenty of time to mature, and so the Midldesbrough man will be in possession. A great deal of Young's resource that was wasted on the Middlesbrough's forwards should be taken advantage of by Freeman, and his wings. Harris and Makepeace of course remain, and the latter leads the team vice Sharp. A prominent new addition to the half backs, Lloyd Davies the Welsh International from Wrexham a reliable man to fill a vacancy. Allan and Weller also are on the fringe of senior football. Among the additional prominent new faces is Frank Thompson, of Belfast Distillery. The circumstances of his signing are quite novel. Thereby hangs a tale, however. Thompson may give Turner a close run for the outside-left berth. The remaining new player is E. Magner; a forward from Gainsbrough Trinity, for whom hope of a good season at Goodison is he'd. As well as Coleman, Pratt the centre half, has been transferred to Exeter City, and Rafferty was not engaged, having gone back to his home in Scotland. With such promising young blood at their call as the following, added to those already mentioned: - Lacey, H. Mountford, W. Michaels, L. Carlisle, Gault, Gourlay, and W. Davies. It will be agreed, have good reason to face the coming season with equanimity. The reserve force is probably only equalled by Newcastle United and Aston Villa.
A FIT COMBINATION.
The whole combination is fit to a man. Makepeace, Turner, and Meunier have been allowed to proceed with their cricket engagements, because obviously they must be in good training. The usual procedure has been adopted; ball practice in the mornings, walks and dumbbell exercise. It is to be hoped then, that the practice games will be free from mishaps to players. Everton have got such a heavy opening month as they had last year, but they start on the 1 st with a visit from Tottenham Hotspur, who it will be recalled, were among easily visitors to Goodison last September. The players signed are: - Goalkeepers: - William Scott, Walter Scott, C.H.Berry, and R. Jones.
Backs: - J. Macconnachie, Clifford, R. Balmer, Stevenson, Thomson, Meunier, and J.C. Bardsley.
Half-backs: - V. Harris, J.D. Taylor, H.Makepeace, R. Young, Lloyd Jones W. Davis, Borthwick, Weller, and Allen.
Forwards: - Freeman, White, A. Young, Turner, F. Thompson, A. Berry, Pinkney, G. H. Barlow, Lacey, Magner, Mountford , Michaels, Carlisle, Gault, and Gourlay.
NUGGETS
Cricket and Football Field - Saturday 20 August 1910
One of Everton's most respected directors has a very high opinion of the abilities of Pinkney as Jack Sharp's successor, and he is one of the most capable judges of a player on the directorate at that. 
It is unfortunate for Makepeace that football will now call for his attention.  In the last couple of weeks he has shown his ability to get runs, and generally improved his batting figures for Lancashire.
Both Liverpool and Everton have elected their most unassuming players as their respective captains in Goddard and Makepeace.  The latter's recent efforts on the cricket field have proved that in at least one essential he is not deficient, viz, in nerve.
The Everton and Liverpool footballers having conquered Stanley are seeking stronger victims, and have arranged a match with Bootle.  A good game should be the result. Though the North-enders will probably prove too strong for the football representatives.
Bert sharp will next season be seen regularly in the Bootle eleven.  That the old Everton footballer may have a long and happy time with his new masters is the wish of his numerous admirers.
Pinkney has everything is his favour this season.  He is big, strong, and clever.
Cannon, the Woolwich Arsenal reserve goalkeeper, dead yesterday afternoon at his residence at Plumstead.  He had been ill for some time, suffering from tyhold fever.  A native of Plumstead, the deceased, who was 23 years of age, was regarded by the Arsenal officials as a very promising player.
EVERTON PRACTICE GAME.
August 22, 1910. The Liverpool Courier.
The Everton Club held the first of their public practice games on Saturday, when a crowd of almost 12,000 witnessed an interesting match between sides representing the probable League team and the Combination eleven. The weather brightened considerably after the rain of the morning, and although rather warm for football the conditions were more favourable than those which prevailed on Thursday, when the Liverpool Club held their first rehearsal. It was gratifying to see such a large crowd present, as the proceeds are to be devoted to the hospitals of the city. Last season's players demonstrated that they have lost none of their ability, whilst the new players showed promise, and there are indications that Everton have a capable set of footballers at their command. The game as a purely friendly affair was not at all bad. In the first half the Reserves players had the best of matters, and Gourlay scored a fine goal from a beautiful centre by Prescot Jones, who did exceedingly well at outside right. The "Blues" improved greatly in the second portion of the game, when Freeman equalised from a centre by Turner, and the latter scored the winning goal after Freeman had driven the ball out to him on the wing. Thus the "Blues" won the match by two goals to one. The most noticeable feature of the game was the line form shown by Robert Young, the ex Middlesbrough centre half-back. Young is a well-built player, and his forceful methods were greatly admired. He is a player after the style of Jack Taylor has tactics being very similar to those of the veteran half-back. Turner at outside left was also seen at his best, the winger playing in great style, and he along with Sandy Young made a good wing. Freeman was not too prominent although he improved as the game wore on, but the right wing was far from being satisfactory. Harris, Balmer, and Macconnachie showed their usual cleverness, as also did Makepeace, who turned out in the second half of the game. Llew Davies created a good impression, whilst Jones and White who constituted the right wing of the whites were also good. Two much could not be expected of the man, and they are likely to improve on Saturday's showing in the second practice game, which takes place on Thuesday even. The teams were as Follows: - Blues, Wm Scott, goal, R. Balmer, and Macconnachie (captain), backs, Harris, Robert Young, and Allan, half-backs, Pinkney, Lacey, Freeman, Sandy Young, and R. Turner, forwards. Stripes: - Walter Scott, goal, W. Stevenson, and J. Clifford, backs, Llew Davies, Borthwick, and Weller, half-backs, Jones, White, Magner, Gourlay, and Mountford (Captain), forwards. In the second half Harry Makepeace turned out for the "Blues" team instead of Allan.
EVERTON'S SECOND TRIAL.
August 26, 1910. The Liverpool Courier.
A BIG ADVANCE.
The four or five thousand spectators who last night witnessed the second practice match at Goodison park were treated to a display which augurs well for the success of the team in this season journey. Considering that for the greater part of the game there was a drizzling rain, the exhibition given was very satisfactory. The opening match on Saturday certainly left a lot to be deserved, and last night the League team players in particular showed a big advance. Not only was their display better balanced, but individually the players were more purposeful. Taking the two practice games as a criterion, it has been clearly demonstrated that the defence is sound, the only evidence of weakness being the right wing forwards. As on Saturday Pinkney and Lacey were at times disappointing. Towards the end of the game, however, they were seen to better advantage, particularly in regard to shooting. The elevens were the same as in the match on Saturday, with the exception that L. Davies and Walter Scott were absent. The teams were: - Blues: - Willaim Scott goal, R. Balmer, and Macconnachie, backs, Harris, R. Young, and Makepeace (Captain), half-backs, Pinkney, Lacey, Freeman, A. Young, and Turner, forwards. Stripes: - Berry, goal, Stevenson and Clifford, backs, Allan, Borthwick, and Weller half-backs, Mountford (Captain), Gourlay, Magner, White, and Jones, forwards. It fell to the lot of Young, the new centre half to open the scoring. He first struck the upright with a hard drive, but on meeting the rebound he made no mistake in crashing the leather safely into the net. Well backed up by their halves the Blues gave glimpse of really bright and effective play. Their second goal was well worked for by Turner from whose well-judged centre Lacey headed in front for Freeman to rush up and find the target. The right wing pair were responsible for the third goal in a neat movement Pinkney taking the inside position and converting a short pass from Lacey into a certain goal. All this time the Stipes were fighting hard for a goal, and just before the interval a convincing centre by Jones led to Gourlay beating Scott with a warm shot. At the interval the League team were leading by three goals to one. There had certainly been dull periods in the first half, but in the later stages there was far more keenness shown, and the League team players worked with a precision that led to the frequent downfall of the Stripes defence. Pinkney after a fine run gave Lacey an opening and the latter shot completely beat Berry. Harris added a fifth and Lacey a sixth. while in the closing stages Freeman put in a strong drive, the ball glancing off Gourlay's head into the net. The Stripes looked like having to be satisfied with a solitary goal, but just the finish Magner scored with a stiff shot, the game ending in a victory of seven goals to two for the Blues. The superiority of the League players was more clearly demonstrated than on Saturday. Neither Freeman nor Magner as pivots were seen at the best, and Magner found Young, the new half-back a tough obstacle. Of the forwards Young and Turner were the most effective, the latter rare speed and neat footwork frequently was applauded.
NUGGETS
Cricket and Football Field - Saturday 27 August 1910
Turner, Clifford, Macconnachie and the two Youngs are very sprightly.
Balmer and Macconnachie were as clever and cool as ever.  Opposing forward please note.
Walter Scott proved his worth in the closing stages of the first half, and defied all efforts to bring about the downfall of his goal.
Everton have capable players for every position, bat one-outside right.  Pinkney, without doubt, is a good player, but the Everton directors would be well advised to look out for a first-class outside right at the soonest possible moment.
Frank Thompson, the Irish international outside-left of last season, has informed Cliftonville that he will not assist them this season, as he has already given Everton his League signature, though meantime he is not going across the Channel, but may assist Linfield.  He is keeping in form by playing for Black Diamonds, one of the Junior League clubs.
Everton's first practice match drew a big crowd, and the local hospitals benefited thereby.
Sandy Young gave young Weller a few lessons in the art of trickery, but Sandy was not so successful against Borthwick.
Everton have admirers of Scott, Mancunians study their Homer, and even busy Wearsiders read anent the productions of Milton.
Neither Pinkney nor Jones were a success at outside right, the first named being neglected by lacey and Freeman.  W. Michaels would have been an improvement on either.
Everton are still without a first class successor to Jack Sharp, and they might done worse than give Wattie White a trial on the outside, for more than once he has acquitted himself well at Burnden in that position.
Boltonians are hoping to find Hugh Adamson reproducing that form this season which made him such a useful half-back when in the service of Everton.
David McKay Thomson's absence from Everton's practice matches has been due to an injury to his leg sustained by the ex-Port Glasgow man at private practice.
LIVERPUDLIANA; BY RICHARD SAMUEL
Cricket and Football Field - Saturday 27 August 1910
EVERTON'S FINAL PRACTICE
"Goals galore" were the order at Everton's second and final practice game on Thursday evening, when the elements once again proved most untoward, thereby hurting the local charity fund considerably.  Of the 23 players who participated in Saturday's spin.  Walter Scott and Lew Davies were now absent. The former was suffering from a chill, and his place was taken by Berry.  The match ended in a 7-2 victory for the probable League team, this result, however, being rather flattering for William Scott's rare ability in goal had much to do with denying the stripes further goals, whilst on the other hand Berry was not quite at his best in coping with a slippery ball (when having also to act on a slippery surface).  The Blues' first goal was obtained by Bob Young, who after hitting the upright from a corner, rushed in determinedly to fasten on the ball once more and crash it home.  Then Makepeace, Turner, and Lacey in turn paved the way for Freeman to add No 2.  Scott followed with some rare work in goal.  Pinkney went off for a few minutes, but hardly had the returned when he took up an inner position to seize upon a pass from Lacey, and, running on, he scored a fine third goal.  Before the interval Gourlay reduced the Blues' lead from Mountford's centre. 
PROBABLE'S BIG MARGIN
In the second half Lacey soon added the Blues' fourth goal from a centre by Pinkey, the referee-Mr. McQueen-disregarding an appeal for hands against lacey.  Then Val Harris registered No. 5 with a fine ball-his first goal, by the way, since joining the Toffee ranks in 1907-8 season! Lacey pounded the sixth goal through, and Freeman was assisted to the seventh goal, thanks to the kindly aid of Borthwick in heading the wrong way.  Then, just on time, the Blues backs both hesitated at the wrong moment.  It proved the right one for Magner, however, and the ex-Gainborough youth easily scored a well-deserved second for the Stripes.  The general form of the men was good.  Scott, Balmer and Macconnachie made up a rare defence, whilst the same may be said of Harris, R. Young, and Makepeace.  The captain, despite two ugly knocks, was responsible for many beautiful touches.  Young, juniors, was not so prominent as on Saturday, but, of course, he took matters rather more quietly.  Of the forwards Turner again pleased, as did Sandy Young, in an save marksmanship.  Freeman bustled about in the centre, but did not do much in the "solo" line. 
ONE TROUBLESOME POSITION.
The right wing, Pinkney and Lacey, improved in the second half, and Lacey's strong shooting is a big recommendation towards a place in a League team that lacked goal-getting power last season, but I am rather troubled about Everton's extreme right wing position yet, for both Pinkney and Jones seen rather light for the position.  If Lacey could play as well at outside right as he once did on the extreme left, them he might be worth a trial there.  But at present it seems uncertain who is the best man on the clubs' books for Sharp's position.  Of Thursday's "Stripes" Clifford, Stevenson, Weller, Allan, White and Gourlay were perhaps the most prominent performers.  As I said last week, if Everton's right wing needs can be satisfactorily adjusted to begin with the club is almost certain to open the season strongly; indeed, two victories during the second half as next week should not be beyond them.  The opening match is v. Tottenham Hotspur on Thursday evening, and this should prove a most attractive one.  Everton won the corresponding events by four goals to two last season, Freeman 92), White and "Sandy" Young being the Blues' goal-getters.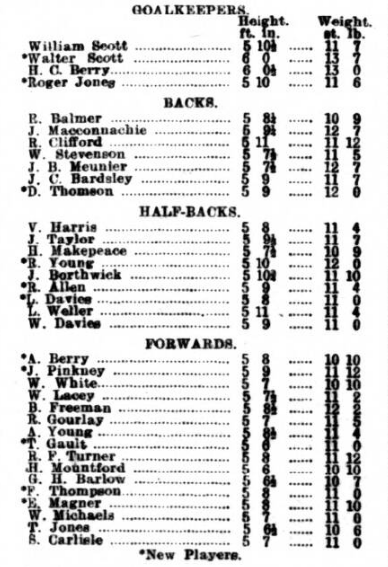 EVERTON
August 29 1910 The Athletic News
By Junius
The Everton executive have been content to rely upon their well-known and well-tried players for the hazarding of their fortunes in another season's warfare. The majority of the performers, in their two practice games, are well known, and it only remains to be seen how the changes under consideration will materialize for the subsequent benefit of the club. Naturally eough, chief interest is centred on the probable constitution of the League eleven, and as the only defection from the ranks is Jack Sharp, everybody is watching this outside right position with feelings of exceptional keenness. In the trial games Ernest Pinkney has been placed there, and has certainly created a favourable impression by his work therein. Whoever was deputed to the position would have a thankless task, for Sharp had become a word almost synonymous with Everton, but the north country youth has certainly done himself credit during these preliminary trials. With the Iriswh International –Lacey –as a partner, capital combination and efficient enterprise near goal have been witnessed. Of course one League match may upset all the pre-conceived notions anent the worth of this wing, but that the pair possess ability is unquestionable. There is every reason to believe that we shall see some fine football on the left wing. Turner has been the most entrancing individual in the two trial games, and with the elusive "Sandy" Young as a partner, this combination should cause uneasiness to the most sedate League defence. Freeman is expected to improve upon his last season's displays, and if this prove to be the case I fancy the Everton team will enjoy a very successive season, whilst the club has done well to secure the services of R. Young, of Middlesbrough, for the intermediate line. From what has been seen of him since he arrived at Goodison there is no reason to anticipate a weakening in this important position. The defence is beyond reproach, and with Robert Balmer once more in the pink of condition the Everton rare division should hold its own with the best in the country. It is in the forward line that chief interest will be centred, but with a defence behind it of a character as before mentioned, the team should do well. While there are the important additions to the playing strength in the defensive part of the team in the acquirement of Young ® at centre half-back, and the Welsh International, Llew Davies, on the wing, the club have also engaged E. Magner from Gainsborough Trinity, as centre forward, and the amateur international Arthur Berry, will also be available for the outside right berth. It will thus be gatherered that Everton are practically relying upon old favourities to bring them honours. There are some alternations to be noted on the ground, for the shareholders' and three shilling stands have been equipped with tip-up seats. The players who have been engaged are; Wm Scott (Belfast) , Walter Scott (Worksop) , H.C. Berry (Warrington), goalkeepers; R. Clifford (Rankston), R. Balmer (West Derby), J. Macconnachie (Aberd'n) , W. Stevenson (Accrington), D. Thompson (Stevenson), J. Meunier (Birmingham), backs; Val Harris (Dublin), J.D. Taylor (Dumbarton), H. Makepeace (Middlesbrough), R. Young (Swinhill) , L. Weller (Stoke), J. Allan (Carlise) , J. Borthwick (Leith), Llew Davies (Wrexham), Half-backs; E. Pinkney (Glasgow), W, White (Hurlford), B.Freeman (Birmingham), A. Young (Slamammam), R. Turner (Leicester), E. Gault (Wallsend), W. lacey (Wexford), T. Jones (Prescott), E. Magner (Newcastle), H. Mountford) (Hanley), W. Micheals (Liverpool), J. Gourlay (Annbank), S. Carlise (Liverpool)., forwards.
Of the players who have departed., H.C Pratt has gone to Exter City Tim Coleman to Sunderland, J. Sharp has retired. D Rafferty's address is not known, H. Buck has joined Tranmere Rovers, A. Wright, St. Helens Rec, and H. Anderson's where abouts cannot be stated.