EVERTON RESERVES 3 STALYBRIDGE ROVERS 0
December 2, 1905. The Liverpool Courier
Lancashire Combination Division One. (Game 14)
By reason of the three-nil victory over Stalybridge Rovers on Saturday, Everton strengthened their position at the head of the table. Their propress of late has been remarkable, and the side is in fine form just now. Considering that the first five games resulted in only three points being secured two of them being gained in the Liverpool match, the present record is one to be proud of. The Blues had little difficulty in beating Stalybridge Rovers who seldom caused the home defence much anxiety. At the same time Everton had to fight hard for goals, for Swann and his backs did capital defensive work. It was not until near the interval that Birnie opened the scoring, but in the second half Rankin put on a second goal with a fine long shot, and later on Cooke added another. Had the home side taken advantage of the chances they would have won by a bigger score. The forwards were smart enough till they got near goal, then they either failed or Swann and his backs beat them. Cooke is developing into a clever inside left, but is inclined to selfishness. The home right wingers were prominent and the halves sound, while the defenders were not overworked. The defence best represented the visitors. Swann in goal making some good saves.
EVERTON FARE WELL
Athletic News - Monday 04 December 1905
By Junius
By defeating Wolverhampton Everton repeated their performance of last season, when they prevailed by a margin of three goals. The composition of the Goodison eleven was curious and there may be an inclination. In any case a victory by five goals to two on an opponent's ground is most creditable, and the "Wolves" may be certain of a warm reception when they visit Anfield this week-end, Hill, who partnered Balmer at full-back was out into the team for the first time this season. He hails from Southampton, and has assisted the reserves during the present campaign. Everton surprised their staunchest supporters, and this should give them confidence for their tussle with Derby a week hence at the Baseball ground. Last season they prevailed over both opponents in away matches, and as they have already dropped four points in comparison with the corresponding games of twelve months ago, they will doubtless make a great effort to redeem their reputation.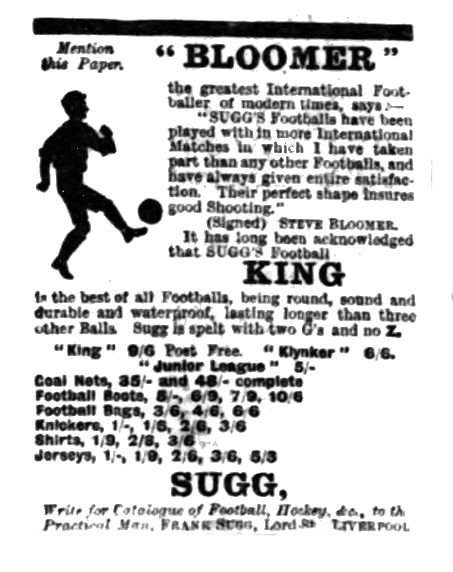 Athletic News
THE STAR OF EVERTON
Athletic News - Monday 04 December 1905
By Wulfruna
Some nine years ago, when Hereford Thistle were fighting their way to the uppermost rung of the Birmingham League ladder, they paid their annual visit to Molineux Grounds, and the centre of their attack was a dapper little fellow who was afterwards destined to become one of the leading lights in the football world. This man was Sharp. Against the "Wolves" on Saturday he was simply irrepressible. James, the Wanderers' left half back, let himself go for all he was worth to intercept the dashing Evertonian, but he proved quite unequal to the task, and when Betteley attempted to lend his colleague aid the pair were frequently bested. For the first half hour of the game the balance of play was fairly equal, but there was a great difference in the method of attack on the Wanderers' side. Most of the leading came from Baynam. Who, lying well out near the touch-line, was ever ready to seize a stray ball and make tracks towards Scott. When he centred, however, his colleagues did not range themselves in any too business-like fashion, but rather trusted to a unanimous and sometimes reckless dash in an attempt upset the Everton defence. The visitors, on the other hand, were very precise in their work. Frequently Sharp, and sometimes Hardman, would run well down, and pass across with great accuracy. Their colleagues were always in advantageous positions to meet a dropping ball, and by surprising cleverness they were nearly always able to trick the backs and run close in ere they levelled a shot at Baddeley. Of course, now and again Jones or Betteley would step in the way, but the visitors' front rank men did not make the fatal mistake of rushing straight into the home defenders, but would frequently adopt a back pass or a deft touch which completely demoralized the men in front of Baddeley. The consequence was that that worthy had some difficult work to execute. However, it must be said to his credit that although the ball reposed in the net five times during the afternoon the home custodian was never once at fault. Everton deservedly won by five goals to two. The first goal came from a sprint by Hardman. He ran well-nigh to the goal-line ere he parted with the ball. His centre was so accurate and so beautifully placed that it was the easiest thing imaginable for Makepeace to step forward and place the ball safely in the desired haven. The Wolves had a fine chance of equalizing matters, as Smith was tripped up in the fatal area. Jones' effort at the resultant penalty kick, however, was poor in the extreme, as in his effort place the ball beyond Scott's reach he tipped it on the wrong side of the post. Sharp made the initiatory movement from which the second goal accrued to his side. He left James hopelessly behind as he sprinted down the line, drew Betteley out, and then neatly bested him, and worked the ball near to the corner flag, from whence he put it to the other side. Though Baddeley challenged Hardman, the amateur was too smart, and steered the ball into the net. Sharp repeated the same tactics a few minutes later, and neither James nor Betteley could stay his progress. Upon this occasion the nippy right winger ran well into goal, and passed back to McLoughlin, who, in the easiest manner, placed Everton three goals up. Smith reduced the leeway with a long shot from a pass by Breakwell, and the hopes of the local partisans were raised when Smith again beat Scott, after Breakwell had missed an easy opening. But this proved an expiring effort of the "Wolves." From thence to the end they were a beaten team, and it was only by a spasmodic rush or a long return from their backs that they afterwards crossed the half-way line. Makepeace missed one of the best chances of the day—a cross by Sharp, but the " Wolves " could not get the ball any distance from their goal, and Young eventually headed a fourth point. The same player finished up the scoring by running through the tired-out defence and putting the ball well out of Baddeley's reach. Neither Scott, Hill, nor Balmer had sufficient sustained pressure to test their real merit. The Everton half backs played a perfect game. They not only assisted in making the attack most incisive, but they broke up nearly every attempt at combined work by the opposition. Sharp was the brilliant star of a fine advance line, and had a most capable partner in Makepeace. The inside right repeatedly drew several of the Wanderers defenders towards him, and then, with a smart forward rush, gave Sharp his opportunity. The winger was showing a clean pair of heels to his rivals in a twinkling, and before the home defence had time to recover the ball would invariably be in front of Baddeley. Young, besides displaying commendable deftness in distributing the work, was always ready for a solo. The left wing, too, did remarkably well, Hardman's sprints and McLoughlin's good judgment each serving their side to advantage. Baddeley gave nothing away. Jones and Betteley were too hard worked to be successful. The home half-backs were not to be compared with the middle line of Everton, and Baynam and Smith were the pick of a none too brilliant attack. Owing to lumbago, Wooldridge was unable play. Wolverhampton Wanderers;- Baddesley; Jones, Betteley; Whitehouse, Hughes, James; Baynham, Goodall, Smith, Corfield, Breakwell. Everton; Scott; Hill, R. Balmer; Taylor, Booth, Abbott; Sharp, Makepeace, Young, McLoughlin, H.P. Hardman. Referee; Mr. A.G. Hines, Nottingham.
WOLVERHAMPTON WANDERERS 2 EVERTON 5
December 4, 1905. The Liverpool Courier
AN EASY VICTORY.
JONES SENT A PENALTY KICK WIDE
At Wolverhampton, Everton, made some amends for successive failure against Sunderland and them Birmingham. On the face of it a victory by 5 goals to 2 on foreign territory is something of which to be very proud, but circumstances after cases. This season the Wolves admittedly are weaker than ever they have been in their long and, off the whole remarkable career, and already there are vision at Wolverhampton of the club's decent into Second Division a trying experience which by hook or by crook, has somehow been avoided since the formation of the League. It is strange in view of the appearance between the posts of an international custodian of the frame o-f Baddeley, but nevertheless true, that Wolverhampton Wanderers have given away more goals than any other club in the First Division of the League. After Saturday's game, one need not be surprised that the Wolves have fallen on evil times. Their team is but a shadow of the days of Rose and other stalwarts. It has few redeeming features, and the sooner steps are taken to introduce new life into their display the better, otherwise nothing but a season in the second class company will be their portion.
RUN OF THE PLAY.
The straits to which the management of the club are put was illustrated by the fact that, in the absence of Woolridge, a veteran like Archie Goodall had to be brought into the front line. With advancing years even an artist like Archie has been, cannot now hope to prove successful a forward. This was only an instance of the difficulties with which the club have to contend. No wonder that Everton had matters pretty much their own way. Indeed from the start of the game there was never any doubt as to the issue being in favour of the visiting side. Even the Wanderers own supporters were engaged upon forecasting by how many goals their side would be beaten. The Blues had the measure of the opponents right from the start. It was quite a day out for Sharp, especially in the first half, James a local youth, had no carthly chance with the speedy right winger, and one was sorry for him at, time after time he was- left behind by Sharp, who too, did not forgot to flash across centres of wonderful accuracy. Indeed the first three goals were in large measure the result of this player's brilliant work. Makepeace signallsed this appearance as an inside forward by drawing first blood, while Hardman and Young took advantage of Sharp's crosses to completely hoodwink Baddeley. Though Everton were having it all their own way, a slip by Hill led to Smith scoring for the Wolves with a really clever shot. Before this it should be mentioned that for the first time this season Everton had a penalty kick granted against them. Balmer was presumably the culprit, but whatever was the nature of his offence was in no way plain from the press box. Anyhow it mattered little. In as much as Jones shot wide of the post. In the second half, the Wolves were seen to better advantage, and when Smith again reduced Everton's lead the spectators were quite jubilant. Their satisfaction, however, was short-lived for McLoughlin and Young each found the spot, and Everton gained one of their easiest away victories.
BRIGHT FORWARD PLAY.
The chances in the Everton ranks, some of which were caused by injuries worked well but in view of the nature of the opposition, it would be unwise to rely too much upon Saturday's performance. For instance Makepeace may be written down a success as an inside right, but judgement must really be with held until he has more dexterous halves to encounter. Under, the Wolves plan of campaign, he was left pretty well alone, for while poor James was apparently, directed to shadow ' Sharp- it was only a shadow- Makepeace was practically on his own, with Betteley not much in evidence. The visiting forwards as a whole, indulged in some sparkling movements, which quite pleased the crowd, and the halves admirably supported them. Young Balmer was in a happy mood, but Hill, through responsible for some clever touches was uncertain, and it was in no small measure due to mistakes on his part that the Wanderers obtained their couple of goals. Scott had a great deal to do, but one of his saves from an oblique shot of a masterly description. Baddeley was not at fault, although he let five shots pass him, but apart, from Smith in the centre, the only man on the losing side who figured prominently was Baynam on the outside right. The outlook for the Wolves is truly dismal.
Teams: -Wolverhampton Wanderers: - Baddeley, goals, Jones, and Betteley, backs, Whitehouse, Hughes, and James, half-backs, Bayman, Goodall, Smith, Hairfield, and Breakwell, forwards. Everton: - Scott goals, Hill, and R.Balmer, backs, Taylor Booth (Captain), and Abbott, half-backs, Sharp Makepeace, Young, McLaughlin, and Hardman forwards. Referee Mr.Hynes.
NEW FULL BACK FOR LEEDS CITY
December 5, 1905. Yorkshire Post and Leeds Intelligencer
Yesterday the Leeds City Club added David Bruce Murray, of the Liverpool Club, to their list of players Murray is a native of Busby, near Glasgow, and is 23 years of age. He played with Everton two seasons ago. Last season, and during the present season, he has played for Liverpool, and Mr. Gillies, the Leeds City manager, arranged on Wednesday night with the directors of the Liverpool club for his transfer, the amount agreed upon being £130. Murray is about 5ft 9ins in height, and weights 12st. 4lb. He is of sturdy build, and comes to Leeds with excellent credentials. His position is full back, left or right, and he will play in the Leeds back division in the match with Bristol City at Elland Road tomorrow.
ANOTHER FORWARD FOR EVERTON
December 8, 1905. Lancashire Evening Post
Everton have secured the transfer of Dougal McNab, who with Quinn, also signed by Everton, played for the Coatbridge club, Albion Rovers. McNab has figured in the ranks of Queen's Park and Hamilton Academicals.
ANOTHER NEW PLAYER FOR EVERTON
December 8, 1905. The Liverpool Courier
Everton have secured the transfer of Dougal McNab, with Quinn, also signed for Everton, players for the Coatbridge club, Albion Rovers. McNab has been in the ranks of Queen's Park and Hamilton Acadicals. He is about 21, and possessing good weight. McNab is a good cricker, being a member of the well knows Scottish team Uddington.
EVERTON RES V. NELSON
December 9, 1905. The Lancashire Evening Post
At Everton, in fine weather, before a good crowd, Everton included their latest acquisitions, Quinn and Butler. Nelson won the toss, and Quinn started for Everton. At the outset the home eleven pressed vigorously and Saunders conceded a corner, Butler, however, sending behind. A pretty sequence of footwork by the Nelson quintet caused the Everton custodian to save a fast shot from Anderton. Following this Rankin gained possession but he put the ball pass the post. Nelson retaliated in no half-hearted fashion but their final efforts lacked sting Watkins mulled when a score seemed imminent. Good kicking by Savage and Yates sent the home quintette to the right about. Everton continued to hold the advantage, Chadwick and Donalds missing by inches. Following a free kick against Everton. Hogan missed when under the crossbar. After Nelson had paid a brief visit to Everton territory, Saunders as applauded for a magnificent save from Birnie but the same player opened the score shortly after this. Nelson's front rank combined effectually. Cooke added a second goal for Everton.
Half-time; Everton Reserves 2, Nelson 0
Resuming, Saunders immediately saved brilliantly from Rankin. Nelson advanced in threatening style, but their progress was checked by Wildman. The Nelson right wing looked promising when offside intervened. The visitors were now playing much better football, forcing several abortive corners. Everton spoilt frequent opportunities of adding to their total by reckless workmanship. Hogan netted for Nelson, but was adjudged offside. The visitors continued to make headway, and Collins was frequently called upon to clear. Saunders saved from Cooke. Anderton was often at fault. Everton gave indications of adding to the score, but Savage and his colleagues repelled all advances. Result; Everton Reserves 2, Nelson 0.
EVERTON SUCCESSFUL
Athletic News - Monday 11 December 1905
Everton were opposed by Nelson at Goodison Park and the home team won by 2 goals to 0. Birnie and Cooke scored in the first half. Quinn, who was tried at centre forward, did not prove a very efficient substitute for Oliver, but he may do better when he has become accustomed to his new surroundings. Neither did Butler shape advantageously, but both these men have good credentials. Fort Everton, Cooke, Rankin, and Birnie showed capital form, while at half-back, Black was the most prominent figure. In the rear division Hill and Wildman defended capably. The Nelson forwards were weak near goal, and though they gained many favorable positions for scoring, they seldom tested Collins seriously.
WEAK FORWARD WORK AT DERBY.
Athletic News - Monday 11 December 1905
By Peakite.
Everton achieved a feat at Derby on Saturday which they have some reason to feel proud. Prior to that day Derby County had won all their matches outright on the Baseball ground, but Everton —the eighth team of visitors to that enclosure -succeeded in preserving a clean sheet, in the matter of goals, and in making a division of the points. They had the worst of the play, but their defence served them well so well that the Derby forwards for the first time this season at home failed to score. Everton had their full strength out, and Derby were well represented, Morris once more being included in the team, and Middleton being tried in his old position at outside-left to the exclusion of Lamb. The latter selection had given rise to no little criticism before the match, and it may be said at once that it did not work out as well as the directors could have hoped. There was a puzzling wind, and Everton, who won the toss, could hardly have been satisfied with the way in which it helped them after they had won the toes and decided to kick towards the town goal. Something like 10,000 spectators witnessed the match, which was played on a fairly heavy ground. The Derby men opened the game with one of the most dangerous attacks they put in during the afternoon. They warmed round the Everton goal, and Warren tried a beautiful long shot which Scott cleverly negotiated. Fletcher gave Scott another shot, and this was followed by unavailing attempts on the part of Young and Settle, the latter making rather a weak shot when well placed. On another occasion the hearts of the spectators came into their mouths when a shot from the right failed to reach Maskrey, who was deceived by the flight of the ball, and would really have done better to have dashed forward and fisted away. It was an exciting Incident whilst it lasted, and everyone was glad when the ball was safely out of danger. Richards made a good attempt to score after he had succeeded in beating Balmer, but his shot went about a yard outside the top corner of the goal. Makepeace had the ball in the net on one occasion, but he was standing under the bar when he got to it, and the referee pronounced him off-wide before he touched It. So far as the first half had gone there was not a great deal to choose between the teams, but after ends were changed Derby put a lot more spirit into their attack and kept Everton almost continuously on the defensive. Still it was the sort of pressure that does not count for much, and Scott's anxious moments were really very few and far between. He had to handle immediately after the resumption, and several corners followed in fairly quick succession, all of which were easily cleared. Once Scott handled from Middleton, and later, when Scott was out of goal, Fletcher headed straight in. Fortunately for Everton Taylor had dropped back, and though he was apparently inclined at first to fiet out, he found his head—in a double sense—and got the ball away. Whenever Everton were dangerous in this half it was generally through the instrumentality of Sharp, who got in more than one fine centre. On one occasion Makepeace ought to have converted beautiful centre, but made a sad hash of it. The defence on either side was undefeated to the end. I suppose we shall be told that Derby County ought to have won, and no doubt there is some force in the contention. But after all they had no right to complain of only making a draw, as their work in front of goal was by no means as clever as it might have been. For that matter Everton were far from exercising a terrorizing influence when they drew near goal, and in this respect there was nothing to choose between them. The defenders on either side had in fact a great afternoon, and for every word of praise that had to be given to one set precisely the same had to, be said of the other. Balmer and Crelley kicked and tackled with unerring accuracy, but so did Methven and Morris, the veteran probably being as good as any one of the four. The half-backs, too, were a tremendous factor in the game, and Warren, Hall, and Wood had nothing to learn from Abbott, Booth, and Taylor. They constituted a pretty strong lot, with Warren perhaps the pick of the party. Naturally, with such a fine defence to face, the forwards on either side reaped few honours. Fletcher had a bad afternoon, and seldom made his presence felt. Bloomer and Richards were about the best of the five. Middleton being far from effective, and Davies spoiling his work by a tendency to get offside. Of the Everton forwards Sharp and Makepeace were the better wing, the former getting in many clever centres. The goalkeepers were not seriously tested. Derby County; -Maskery; Methven, Morris; Warren, Hall, Wood; Davis, Bloomer, T. Fletcher, Richards, and Middleton. Everton; Scott; Balmer, Crelley; Taylor, Booth, Abbott; Sharp, Makepeace, Young, Settle, and H.P. Hardman. Referee; N. Whittaker, London.
EVERTON GARNERING POINTS
Athletic News - Monday 11 December 1905
By Junius
Although Everton failed to reproduce their victory of last year at the Baseball Grounds, Derby, they did the next best thing in averting defeat, and have the satisfaction of knowing they are the only team to take away a point from that enclosure this season. The failure of their forwards to score was only the second occasion of such an instance occurring during the present campaign, and it was likewise the first match in which Everton have kept an intact defence in a League fixture. Compared with the corresponding matches of last year Everton are now five points in arrears, but by gaining three points out of a possible four in two successive away games, they have rehabilitated themselves in the graces of their supporters. They are at home next Saturday to Sheffield Wednesday, whom they easily beat last season, so that another success over the "Blades" will not strengthen their position in the League tourney.
DERBY COUNTY 0 EVERTON 0
December 11 1905. The Liverpool Courier
Everton did not repeat last season's victory at Derby. Indeed, under the circumstances this result must be considered highly gratifying. It has to be remembered that until Saturday last Derby County, had not lost a point a home, though in the majority of instances their victories had been achieved by only an odd goal. As a matter of fact, though they cut such a respectable figure in the League table, only one club in the League has registered fewer goals than the Peakites. This in itself is striking testimony to the soundness of their defence, and it was a feature which was emphasised in the fixture with Everton, for, while the forwards evidently are nothing great in the matter of goal getting, the defence- on the Baseball ground at any rate- will upset the combination of the vast majority of visiting teams. The match was set apart for the benefit of the famous International, Steve Bloomer and Ben Warren, but though the weather was favourable, the good people of Derby did not bestow their patronage as generously as might have been expected. Still Bloomer, and his less-known colleagues will reap considerable pecuniary advantage.
AN EVEN GAME.
It was a fact and well contested game, and taking everything into account, a division of the honours was a fair indication of the merits of the sides. Derby County might have had a shade the better of the play, but it would have been hard lines for either team to have lost. The home eleven had a district advantage on the greasy turf, which they know so well, and the consequence was seen in the fact that they were better able to keep their feet than the Evertonians, who are not so well acquainted with, the little peculiarities of the ground. Under conditions as these the players gave an exhibition of pluck and endurance upon, which they are to be commended. Naturally it was not a day on which the forwards could be expected to shine, and the clean sheet bore testimony to this. At the same time the ineffectiveness of the attacking forces was largely due to the strength of the respective defences. Especially prominent were the half-back lines, for the tactics they adopted prevented either set of forwards showing to advantage. Still there were chances which not turned to account and on one occasion when Scott was drawn out of goal only a timely header on the part of Taylor saved Everton from downfall.
THE PLAYERS CRITICISED.
As has been indicated, there was nothing particular about the display of the forwards. Bloomer was too well looked after to become dangerous while the outside wingmen were uneven, at times doing fine work, and at others being sadly at sea. For Everton, Sharp and Makepeace did the best work, the former though not in his most brilliant vein, putting across some lovely centres. Neither Settle nor Hardman was up to concert pitch, and Young was in one of his irritating moods. Everton sorely need a dashing centre of the Hewitt type. Scott kept a capital goal, and both Balmer and Crelly rendered good service, while Booth was the most conspicuous of the halves. The Derby County rearguard was admirable, the veteran Methven being as alert and resourceful as ever. Whether in honour of the neccasion or not, Warren put forth a best efforts, and was easily the most effective of the County middle line. Teams: - Derby County: - Maskery, goal, Methven, and Morris, Warren, Bull, and Wood, half-backs, Davies, Bloomer (Captain), Fletcher, Richards, and Middleton, forwards. Everton: - Scott, goal, R.Balmer, and Crelly, backs, Taylor, Booth (Captain), and Abbott, half-back, Sharp, Makepeace, Young, Settle, and Hardman, forwards. Referee N. Whittaker.
EVERTON RESERVES 2 NELSON RESERVES 0
December 11, 1905. The Liverpool Courier
Lancashire Combination Division One (Game 15)
Everton continue to add points to their already capital record, and had little difficulty in gaining both points against Nelson. They had their new forwards on view- Butler an outside left from Tranmere Rovers and Quinn a scotch centre forward. The latter was something of a disappointing, and was slow. He may improve, however, when he gets used to the other forwards. Butler did some good things, but nothing exceptional and the changes in the front rank did not lend to improve the side. Birnie and Rankin formed a capital wing, and the former looks like turning out a good player. He and Cooke was the scorers. Everton: - Collins, goal, Hill, and Wildman, backs, Black, Chadwick, and Donaldson, half-backs, Birnie, Rankin, Quinn, Cooke, and Butler, forwards.
EVERTON 2 SHEFFIELD WEDNESDAY 0
December 18, 1905. The Liverpool Courier
ANOTHER WIN FOR EVERTON.
However, successful Sheffield Wednesday may have been on other grounds, they have no reason to be particularly fond of Goodison-Park. They have not found it a happy hunting ground in respect of Cup-ties, and as for League matches they have only a solitary to their credit, this being in the year when the present magnificent enclosure of the Everton Club was opened. They had a similar experience on Saturday, when they were soundly beaten by Everton by two goals to nil. This, it may be mentioned, is the first occasion this season that Everton have scored a victory without having their penetrated. There was no doubt whatever that Everton were full value for their couple of points, and it is rather singular that Wildman should have appeared at back in the first match, in which the Blues have been successful without having given a goal away.
A MODERATE GAME.
Taken as a whole, the game could not be described as anything out of the common. Certainly we expected something a little more exciting and classic from teams of the stamp of Everton and Sheffield Wednesday. At the same time, there was plenty of good genuine play, and the spectators were not slow to recognise this feature, more especially as the honours of the day rested with the home side, who in their last three matches, two of which were away from home, have secured five out of six possible. In the earlier stages of the proceedings Wildman scarcely settled down, with the result that the Wednesday leftwing were rather prominent. The Everton forwards, however, were not long in getting into their stride, and in less than a quarter of an hour Sharp had given them the lead. The speedy winger received a beautiful pass from Makepeace and, putting in a terrific drive, he had Lyall beaten all the way. This was the only score up to the interval, and when with a soft goal Settle obtained Everton's second goal, no doubt existed in the minds of the spectators as to the ultimate issue. Curiously enough the last quarter of an hour was productive of the best play of the match. Both teams went into the fray with astonishing freshness, and it was quite a treat to have such an interesting wind up to a rather moderate display.
THE PLAYERS.
Once again Sharp was the most conspicuous figure on the Everton side. He is in rare from just now, and with Makepeace becoming more adapted to his how position the outside man has full opportunity of name his speed for the benefit of his side. His centres, too, were wonderfully accurate, and the fact that the scored, a goal all the most welcome, seeing that he has been lacking in this respect for some week past. Settle and Hardman did their share of the week, and did it well, but Young had another of his off-day, though in large measure this was due to the close attentions, which were paid by Crawshaw. Indeed the halves on both sides were full of rescue, while amongs the backs Balmer and Burton were the most prominent. Wildman uncertain at first improved considerably as the game advanced, but Slavin the ex-Birkenhead play, was scarcely a success. Everton's second goal being almost entirely due to a slip on his past. Lyall had no chance of dealing with either, and that scored, and Scott quite maintained his reputation as a most reliable custodian. Teams: - Everton: - Scott, goal, R.Balmer, and Wildman, backs, Taylor, Booth (Captain), and Abbott, half-backs, Sharp, Makepeace, Young, Settle, and Hardman, forwards. Sheffield Wednesday: - Lyall, goal, Slavin, and Burton, backs Ruddleston, Crawshaw (Captain) and Bartlett, half-backs, Davies Chapman Wilson, Stewart, and Simpson, forwards. Referee A.Green.
BURY RESERVES 1 EVERTON RESERVES 0
December 18 1905. The Liverpool Courier
Lancashire Combination Division One. (Game 16)
The game between Oldham Athletic and Everton was notable for the many chances that were allowed to go a-begging. This was particularly the case in the opening half, and Rankin would have put Everton ahead had he finished better. After changing ends there was little improvement, and the only goal fell to Oldham from a penalty kick. Everton thus sustained the first defeat since September 16, and have been displaced at the head of the table by Bolton Wanderers who have, however, played two more games than the Goodison-park team. Everton: - Collins, goal, Hill, and Wildman, backs, Black Chadwick, and Donaldson, half-backs, Birnie, Rankin, Quinn, Cooke, and Grundy, forwards .
EVERTON STEADILY CLIMBING
Athletic News - Monday 18 December 1905
By Junius
Although Everton defeated Sheffield Wednesday by two clear goals it cannot be said that their display gave unalloyed satisfaction. This was particularly the case in the forward line, where there was much room for improvement. The Makepeace-Sharp combination was on view at Goodison for the first time, and judging entirely from this match, my opinion as to the former's ability as a forward has been simply strengthened. It is a sad waste of talent to place a clever half-back like Makepeace in the front rank. He is such an enthusiastic footballer that he exerts himself to the utmost to bring about his side's success, but every move he makes demonstrates the half-back clearly and indisputably Young is completely off colour just now, and until a great improvement is witnessed at centre forward it is useless to expect the Everton attack to become an incisive factor in any game. Sharp has displayed great form this season, and it is just as well for Everton that this has been the case. The latest captures made by the club have not altogether bewildered us by their excellence, though this can scarcely be wondered at. However, the fact remains that Everton are well placed in the League table, but this is entirely due to the strength of their half-back line, and their capable defence.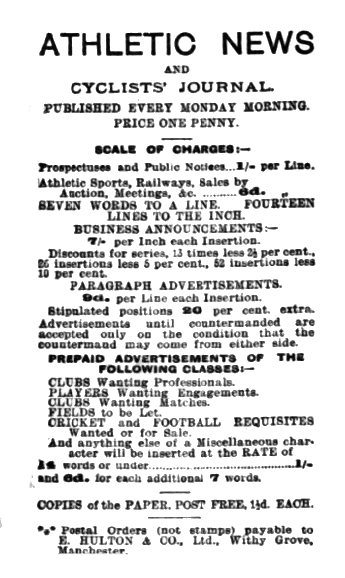 Cricket & Football Fields
WEDNESDAY WARRIORS SLAIN.
Athletic News - Monday 18 December 1905
By Junius.
Everton have invariably given a good account of themselves against Sheffield Wednesday, and the latter have only once during the whole of their League experiences with their opponents annexed a victory in Liverpool. This, curiously enough, came on the first occasion that the clubs met in the League tourney, in 1892. Another reverse has now to be added to the total, and a poor game was the result of the last meeting of the twain. At the last moment Everton had to make a change in their rear division, for Crelley, who had been suffering all the week from a damaged thigh, was unable to turn out, and Wildman was chosen to fill the post of right back, Robert Balmer crossing over to the opposite wing. Taking the game throughout, there was little to wax enthusiastic about, for both sets of forwards were remiss when it came to a question of shooting. Much of the midfield work was cleverly executed, and the exchanges were rapid and often diverting, but they almost invariably dwindled away when it came to a question of testing the custodian. Despite their failings Everton were the more aggressive team, and they certainly deserved their lead of a goal at the interval. Only thirteen minutes had elapsed when Taylor sent the ball forward to Makepeace, and the latter transferred to Sharp, who put in a terrific ground shot, which made Lyall's fingers tingle. The custodian could not atop the ball, and the game was delayed somewhat while the keeper was attended to by his trainer. After this initial success Everton exerted more pressure, and had the front rank made the most of their opportunities they must have held a winning certainty at half-time. They did again get the ball into the net from Sharp's centre, but the point was disallowed, presumably for some ultra-attention to Lyall. Rarely did the Wednesday attack cause Scott any uneasiness, and though several good endeavours were made by Stewart and Simpson, their final drives went all awry, and Everton never seemed like losing the match. Everton's second opportunity came from a sudden rush on the right wing. Burton was lacking in his clearance, and after the ball had hovered dangerously near Lyall during several exchanges, Settle kicked at the leather, and though he only half gained his object he managed to send it rolling slowly into the net. It was a puny sort of goal, though Lyall, who was stationed at the opposite post, was unable to get across to stop the shot. Thus Everton won by two clear goals, a verdict which was fully in accordance with the general run of the play, but it cannot be said that the display of either side roused much enthusiasm. In midfield some clever movements were witnessed, which appeared to betoken a desperate attack at close quarters, but almost without exception the result of the finish was disappointment. On both sides the men in the rear ranks were superior to their comrades, and the respective custodians had a comparatively easy time. The Everton attack was woefully lacking when it came to a question of scoring, and the only forward to do himself justice was Sharp. He certainly received several grand chances from Makepeace, but the latter was always playing a half-back game. The dashing rushes of Sharp were pretty to watch, and Makepeace did his best, but Everton are as far off finding an acceptable inside right as ever they were. Young was very faulty, and seems to be retrogressing rather than making headway. His passing was badly judged, and he made some feeble attempts to take the ball from the extreme men. The left wing was seldom in evidence, Hardman giving a very moderate display, and Settle was little better than his partner. At half-back Everton excelled, and every one of the trio in this line performed nobly. They lobbed the ball to the men in front unceasingly; they dispossessed the Sheffield van quite as cleanly, and by thus doing they played a double role. Their own forwards could not utilize the openings made on their behalf, while the Wednesday advance guard could rarely get the better of them. This department of the Everton team decided the issue of the contest. Wildman shaped fairly well, and Robert Balmer played capitally, but Taylor, Booth, and Abbott were the dominating influences throughout. They held the key to the situation. I was much disappointed with the play of the Sheffield team, though there were a few redeeming features. Stewart was much ahead of the other forwards in deft maneuvering, and although he displayed an unnecessary penchant for attending to the Everton custodian, he gave evidence of possessing rare powers as an inside forward. Wilson indulged in some tricky work at times, his passes being well-timed, but there was nothing at the end of all the efforts of the visitors beyond an occasional attempt by the extreme wingers. In the rear division Bartlett did well against Sharp, and though not showy he kept a watchful eye on the strongest part of the Everton front line. Ruddlesdin got through a vast amount of quiet plodding work, while further behind Slavin and Burton defended fairly well without being unduly prominent. Lyall was not often requisitioned, and was helpless with the shots that beat him. Everton; Scott: Williamson, R. Balmer: Taylor, Booth, Abbott; Sharp, Makepeace, Young, Settle, Hardman. Sheffield Wednesday; Lyall: Slavin, Burton; Ruddlesdin. Crawshaw, Bartlett; Davis, Chapman, Wilson, Stewart, Simpson. Referee; Mr. A. Green, West Bromwich.
EVERTON JUST WIN
Athletic News - Monday 25 December 1905
Everton got the better of Bury by three goals to two, after a well-contested game, and there was little to well-contested game, and there was little to choose between the teams. At centre forward Dilly shaped well, while Rankin and Birnie were both seen to advantage. In the half-back division there was an even consistency shown all round, and further behind Wildman gave a sound display of defence. Collins had a great deal to do in goal, and he brought off several fine clearances. Bury had almost as much of the play as the home side, but they met Collins at his best. Plant, Kay, and Mullineux were the best of the side.
SEE-SAW GAME AT NOTTINGHAM.
Athletic News - Monday 25 December 1905
By Trentsiders.
Twice in the course of this game with Nottingham Forest -Everton succeeded in drawing level, and when they did so for the second time five minutes before the close, a point seemed assured to them. However, the Reds managed score one more, and won a curious contest by four goals to three. They seemed to have the result in safe keeping upon gaining a lead of two goals twelve minutes after resuming, but Everton stuck manfully to their work and put forth some fine efforts. On both sides there was forward play of exceptional merit, and changes in the Forest team had the effect of bringing about a much needed improvement, and there was rare life and vigour in their movements. Their work was far from being as polished as that of the visitors, and there were shortcomings in some directions, but their performance, taken as a whole, was distinctly creditable, and they broke through 'Everton's defence with the utmost skill. At half-back too, where another fresh arrangement was tried, they were well served, and if their defence was not all that could be desired, it compared favorably with that of the Lancashire men. The score indicates that there was not great solidity in the rear lines, and it was a matter for surprise to find Everton so unstable. Their forwards gave an admirable display, many of their movements really beautiful. They made progress too, and it was only in their finishing touches that they in any way failed, several good chances being made no use of. The Forest started in sensational fashion, Hardstaff going straight away and West shooting, Scott stopped the ball, but Morris pounced on the rebound and scored. West was very prominent his new position, the centre, and he and Morris went very close, whilst Niblo shot indifferently when nicely placed. In the meantime Everton had not been idle. Several smart attacks were made and Linacre was found employment. The best attempt came from Makepeace, and after fifteen minutes he got through to equalise, though it appeared as if Linacre might have prevented the score. Later his charge had a very fortunate escape. He dropped on his knees to a centre from Sharp, and when Makepeace secured possession a goal seemed certain. The Liverpool forward, however, kicked very wide. Scott did well to turn sharp ground shot from Morris round the post, but was unequal to one from West, and the Forest thus led at the interval. Play was fast all through, and interest was wen sustained. A shot West cannoned off Balmer desperately near his own goal, and Young missed his kick on the line when Settle was waiting almost under the bar for his pass. Another good save was affected by Scott upon Morris shooting hard, but notwithstanding that he got his hands squarely to a high drive by West, there was so much force in it that he failed to wholly arrest the course of the ball, which curled over his head. A centre by Craggs also gave him trouble, and matters then veered round in favour of Everton, Young scoring their second point whilst off side was being claimed. Capital attempts followed from Sharp, but both Young and Makepeace shot badly. Five minutes before the finish, however, an equalizing point was obtained. Craig was penalized for a charge on Young which seemed perfectly fair, and Crelley placed the free kick for Abbott to shoot high through. This was a staggered for the Forest, who, however, did not give up the ghost. On the contrary, they put forth renewed exertions, and had the gratification of seeing them crowned with success. Scott dealt with one great effort by Morris, but Niblo, getting clear and running in, beat him with a sharp oblique shot. The Reds deserved their victory. Their forwards were dashing, West taking them along with great spirit. He opened out the game very cleverly, and was responsible for great deal of capital work. In Hardstaff, on his right, he had a player after his own stamp, always ready for work, and about it with the utmost celerity he could command. His object, and that of West's, was always to go ahead. Morris, too, was in splendid form, and the Reds had therefore three dashing inside men. On the wings they were not so strong, but Niblo scored one goal and brought about another, so that he had a big share in the success. Wolfe reverted to the centre-half position, which Fullarton had been filling, the latter playing on the right, and the change was successful. Wolfe was certainly better suited, and Fullarton looked well after Hardman and Settle, Armstrong, from the reserve eleven, did fairly, though he was once too severe on Sharp; and Dudley was the better back. Both keepers made mistakes, and the Everton backs were not reliable. The half-backs played a good game, and the forwards showed that they thoroughly understood the art of combination. Nottingham Forest;- Linacre; Craig, Dubley; Fullarton, Wolfe, Armstrong; Craggs, Hardstaff, West, Morris, and Niblo. Everton;- Scott; Balmer, Crelley; Taylor, Booth, Abbott; Sharp, Makepeace, Young, Settle, and H.P. Hardman. Referee; J. Adams, Birmingham.
NOTTS FOREST 4 EVERTON 3
December 25, 1905. The Liverpool Courier.
FORWARDS' FAULTY PLAY.
For a considerable period Nottingham has proved happy hunting ground for Everton. They had picked up points with wonderful consistency, both from the County and the Forest clubs. On Saturday they was a turn in the tide. They met the Foresters, and instead of emulating their performance of last season, when they won by two goals to nil, a high scoring game resulted in their downfall by the odd goal in seven. As a rule a club which scores three goals, on an opponents ground is reasonably expected to be able to avert defeat. Such, however, was not Everton's lot and while on the face of it, one would naturally imagine that the defence was solely to blame, this would scarcely be a correct reflex of Saturday's game. True, the defence was not of a high standard, but at the same time, although three goals accured, the forwards with the chances they had might easily have doubled this number.
A CROP OF GOALS.
While, Everton were in a position to place their full strength in the field, the Forest made several changes in the hope of improving upon recent unsatisfactory display. Certainly the outcome of the game justified the experiments, although it cannot be claimed that even now with the Forest are more than an ordinary side. The game opened in sensational style, for right from the kick off the ball was rushed down, and almost before one had recognised that the players were off, Morris had the ball in the net. The point was as unexpected as it was acceptable to the home supporters. Everton however, soon gave a taste of their quality and indulged in some clever footwork in midfield, though their old fault in front of goal was again noticeable. Still, Makepeace equalised with a shot which Linacre made no great effort to save, and a dong-dong struggle up to the interval saw West taking advantage of slackness on the part of the Everton defenders to put his side ahead again. The second half was vigorously contested, but the Everton display was irritating in respect of that dash and judgement which is essential if opportunities are to be turned to account. West placed the Forest further ahead, but first Young, and then Abbott registered goals for the visiting side. Only a few minutes remained for play, and Everton seemed likely to carry home at least one point, but almost on time Niblo scored with a shot which appeared to go off Balmer into the net.
EVERTON'S WEAKNESS.
It must be conceded that Everton were by no means up to their usual standard of efficiency. In midfield they were clever enough, but this was neutralised by the vigorous and well-sustained efforts of the Foresters. The half-backs were not so effective as usual, and this probably affected the play of Balmer and Crelly neither off whom was at all resourceful under pressure. The fault, however, mainly rested with Young, who had many chances to Settle the issue for his side, and until he can impart more grit into his movements in the vicinity of goal, better results can scarcely he hoped for. Altogether the work of the forwards was distinctly disappointing. Hardman and Settle, were off colour, and the strongest feature was the display of the right wing, although an injury to Sharp handicapped the usually brilliant outside right. It is quite evident that if Everton are not maintain a good position in the League table some changes of a more or less drastic character will have to be made. Teams: - Notts Forest: - Linacre, goal, Craig and Dudley, backs, Fullerton, Wolfe, and Armstrong, half-backs, Cragg, Hardataffe West, Morris and Niblo forwards. Everton: - Scott, goal, W.Balmer, and Crelly, backs, Taylor, Booth (Captain), and Abbott half-backs, Sharp, Makepeace, Young, Settle, and Hardman, forwards. Referee J.Adams.
EVERTON RESERVES 3 BURY RESERVES 2
December 25, 1905. The Liverpool Courier.
Lancashire Combination Division One (Game 17)
The meeting of Everton and Bury at Goodison Park provided a capital game, but Everton were the better side, and deserved their 3-2 victory. Bury brought a strong eleven, practually all the men having assisted the first team this season, and it was something of a surprise to find such players as Rose Thorpe, and Plant, relegated to the second string. The veteran did very well, but youth told in the end, and Everton would have won by a bigger margin had they taken all their chances. Rankin especially missing some capital openings. Chief interest in the game centred in the appearance of Dilly, as the Everton centre, and he did very well indeed. True he did not always open out the play to the best advantage, but he invariably shot well, and in addition to scoring a couple of goals, had hard lines in not getting at least another point. Everton's third resulted from a penalty kick, (Rankin) while the shakers would have drawn level in the second portion had Williams successfully negotiated a penalty against Everton. All he could do however, was to put the ball over the bar, and the visitors did not get another chance. Everton were best served by Collins, Birnie, Cooke, Dilly, and Black. For Bury Wolstenholmes and his backs did well, while Rose (whose years of services for the Shakers constitute a record) could give points to many younger players. Everton: - Collins, goal, Wildman, and Wright, backs, Black, Chadwick and Donaldson, half-backs, Birnie, Rankin, Dilly, Cooke, and Grundy, forwards.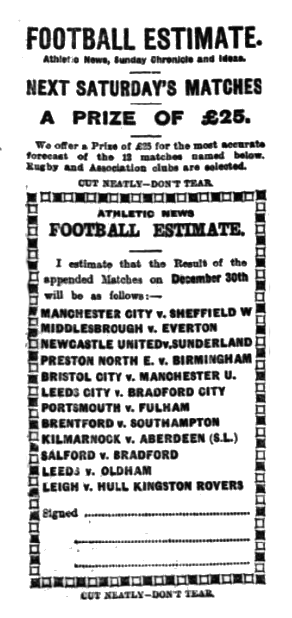 BURY 3 EVERTON 2
December 26, 1905. The Liverpool Courier.
After their defeat by Nottingham Forest on Saturday the Everton players journeyed to Bury in order to fulfil the first of the season's engagements with the Shakers. It was hoped, in view of the lowly position the home side occupied in the First League table, that the Goodison-park team would improve their record at the expense of their old rivals. Still Bury of late have shown considerably improved form, and their supporters in view of the victory of their team over Sunderland on Saturday, were fairly confident. Unfortunately for Everton, Abbott was unable to occupy his usual position, and Black came into the team at left half. Sharp, who was injured at Nottingham on Saturday was however, fit to play. On the home side Rose and Thorpe (who played against Everton Reserves on Saturday) re-appeared in the Shakers' team at right, and centre half respectively, vice Humphreys and Chorlton. The teams were as follows: - Bury: - Monteith, goal, Linday, and Hulmes, backs, Ross, Thorpe, and Johnston half-backs, Richards, Kilbourne, Dow, Leeming, and Murphy, forwards. Everton: - Scott, goal, R.Balmer, and Crelly, backs, Taylor, Booth (Captain), and Black, half-backs, Sharp, Makepeace, Young, Settle, and Hardman, forwards. The weather was fine and mild, but the ground slippery and 18,000 spectators were present when play started. Play was well contested at the start, but Dow scored for Bury in the first fifteen minutes. Afterwards Everton had most of the play, and the Bury defence was severely tried. Eventually Makepeace scored from a centre by Sharp, and the interval score was-m Bury 1, Everton 1. The opening exchanges of the second half were greatly in favour of Bury, Thorpe, Dow, And Kilbourne having shots for goal. Once with Scott on the ground and practually an undefended goal Bury failed to score. Makepeace missed an easy chance while Sharp failed being under the impression he was offside. Then Dow scored for Bury, Murphy adding after 25 minutes play. Everton scored from a corner, and the game ruled ding-dong to the end. Nothing further was scored, and the game ended Bury 3, Everton 2. Though the turf was on the soft side and the greasy condition of the ball often upset calculations it was the unanimous opinion that the match was the best exhibition seen this season at Gigg-lane, and far, and away the best given by the Bury brigade. Everton were much the cleverer side with the ball, their command of the sphere enabling them to show many pretty passing displays. Bury's first goal was neatly got, but was not obtained without some luck, the ball passing from Murphy through a crowd of players to Dow, who promptly netted. The equalise was beautifully obtained. Sharp breaking away, and swinging across to Makepeace to neatly turn the ball into the net. Resuming on equal terms the turning point was reached when Hardman sent across. Settle and Young having their backs to the goal let the ball pass to Sharp, who was close in. Cries of "offside" instantly resounded and Sharp, evidently thinking there was something in it, hesitated an open goal. The next minute Dow put Bury added and another blunder followed when Scott allowed a moderately fast shot from Murphy to screw through his hands and legs in the net. settle struck the bar, and Monteith being charged the ball caught his back of his hands and rolled into the net. The game was splendidly fought out, but had Sharp taken his chance a different result would certainly have been registered. Scott, apart from his one error, played a clever resourceful game. Balmer and Crelly divide high honours for their confident superb tackling and kicking. Taylor was a long way in front of his col-leagues, being always in the thick of it. Hardman and Sharp were the most prominent of the forwards, all three insides making only moderate target practice. Bury were a well-balanced side, and should provide an attractive game at Goodison to-day.
EVERTON RESERVES 2 BLACKBURN ROVERS RESERVES 2
December 26, 1905. The Liverpool Courier
Lancashire Combination Division One (Game 18)
The return match between these teams was play at Goodison-park yesterday before about 5,000 people. The home club under went a couple of alterations from that under went a couple of attackers from that which did duty on Saturday W.Balmer appearing at right back, and Wright taking up the right half back position, in place of Black, who was doing duty with the first team. The following teams faced: - Everton: - Collins, goal, W.Balmer, and Hannan, backs, Wright, Chadwick, and Donaldson half-backs Birnie, Rankin, Dilly, Cooke, and Grundy, forwards. Rovers: - M'Iver, goal, Smith, and McClure, backs, Broughton, Wilson and Bradsahw, half-backs, Pentland, Crompton, McAllister, Wolstenholmes, and Dawson forwards. The conditions were equal, and from the start even play was the other, both sets of half-backs doing good service. Everton were first to put on pressure, and early on M'Lver had to clear from a capital attempt by Dilly. The Rovers custodian soon afterwards handled from a shot by Cooke, and then the Rovers right wing made progress. Collins being called upon to save a good shot from Crompton. Then a good run, and centre by Pentland endangered the Everton goal, but Collins was equal to saving a couple of shots, which reached him. A good clearance by Balmer enabled the Everton right wing to get away, and Rankin forced M'Iver to repel two attempts. End to end play followed, and both goalkeepers were called upon play being well contested and very interesting at this stage. Everton were the more dangerous near goal, and only a fine save on the part of M'Iver prevented a capital shot from Cooke, taking effect, the Rovers custodian saving at full length. This was followed by a bombardment of the visitors goal, and it was only after M'Iver had made several fine saves that he was beaten by Cooke, from a corner. Shortly afterwards Dilly was going straight for goal, when he was fouled, and from the ensuing penalty kick, Rankin put Everton further ahead. Everton pressed to the interval, but could not add to their score. Half-time Everton 2, Rovers nil. On resuming the Rovers made strenuous efforts to reduce the margin against them, and on one occasion Dawson missed by inches. Then Everton went in front, but M'Iver effected a grand clearance. The visitors were quickly pressing again, however, and good work by Pentland resulted in McAllister having a fine chance, but the centre failed badly. Play centred round the home goal for some time, but Collins gave a splendid account of himself, and the Rovers were eventually driven back. Rankin made a capital run, only for Birnie to send wide. After about twenty minutes play Wolstenholme put in a fine run and beat Collins with a splendid goal. Encouraged by their success the Rovers pressed hotly, the home defenders having a busy time. The Everton left wing broke away, but the visitors returned to the attack, and Dawson equalised. Collins being hurt while saving. There was a keen struggle to secure the leading goal, but neither custodian could be beaten again, and a capital match ended-as the first had done- in a draw of two goals each.
EVERTON 1 BURY 2
December 27, 1905. The Liverpool Courier.
BLUES AGAIN BEATEN.
For the second day in succession, Everton and Bury were in opposition yesterday. The match at Bury on Christmas-day had resulted in favour of the Shakers by the odd goal in five, but Everton were decidedly unfortunate in not securing a point. It was hoped they would be able to turn the table to-day, but unfortunately the team had to be rearranged owing to injuries. Bury also made changes, and it was rather curious that both sides had to find substitutes for the backs, who turned out yesterday. The home side were also without Sharp, and Settle, for whom Birnie and McLoughlin turned out, while an experiment was made in Abbott being placed at centre forward. The following are the names and positions of the players: - Everton: - Scott, goal, W.Balmer, and Hannan backs, Taylor, Booth (Captain), and Black, half-backs, Birnie, Young, Abbott, McLoughlin, and Hardman, forwards. Bury: - Monteith, goal, Slater, and Mullinsaux, backs, Johnstone, Thorpe, and Ross, half-backs, Richards, Kilbourne, Dow, Leeming, and Murphy, forwards. Everton lost the toss, and Abbott started play before 15,000 spectators. The home right wing at once got away, Birnie putting in a capital centre. Abbott had an almost open goal, but preferred to pass to Young, who sent over the bar. A moment later Birnie again placed the ball well in the goalmouth, and on the ball being returned Booth tried his luck, but shot yards over the crossbar. Bury paid a brief visit to the other end, and Scott had to handle from a long shot by Kilbourne. The Blues were quickly pressing again, and this time Abbott forced Monteith to stop good attempts. Another attempts by Bury resulted in Kilbourne sending over and end to end play followed with Everton holding a slight advantage. The half-backs on both sides checked many forwards movements until a splendid pass by Kilbourne set Richards off in great style. The winger shot well, but Scott turned the ball over the bar in clever fashion. The corner led to another before Scott eventually cleared. Abbott passed badly and Bury attacked for some time. Dow on one occasion missing a fair opening. The Everton forwards quite failed to make headway, and Bury for some time held a decided advantage so far as pressing went. Taylor however, worked strenuously, and Scott had little to do. At last Abbott set his left wing going, and from Hardman's centre Birnie should have scored, but sent wide. Everton showed come improvement, but the forwards showed little method in their play. The only incident for a long time was a run by the right wing and a slow shot from Birnie, which Monteith easily saved. Bury was little better than their opponents so far as their forwards work was concerned, but they certainly shot better and once Scott stopped a capital attempt from Dow. Hardman livened up the game by beating both Johnstone and Slater, but Monteith saved the finish from McLoughlin. This led up to more pressure on the Bury goal. Abbott but a couple of opponents in characteristic fashion, but Monteith saved his shot, in fine style. After Hannan had cleverly repelled a dangerous rush by the Shakers. Everton attack with vigour and Monteith effected a splendid save from Booth. Following a dash by the visitors, Dow was allowed to run in from an off-side pose, but Hannan robbed him, and on the Blues taking up the running both Birnie and Hardman in turn were adjudged offside. At the other end Scott saved from Leeming and Kilbourne and after Birnie had shot over the Bury crossbar the Everton goalkeeper cleared again from Richards. Everton got down again, but only secured a fruitless corner. There was no finish to the work of the home forwards, and although they kept play in the Bury half they did not cause Moneith any anxiety. Birnie once threw away a good opening, and when the interval arrived the spectators were still waiting for a goal. Half-time Everton nil, Bury nil. There was about 18,000 spectators present when Dow resumed on behalf of Bury. Neither side could get going for some time, and play showed little improvement on the opening half. The first move of note came from Everton, a long pass to the right wing giving Burnett a good opening, but he finished very badly and shot yards wide of the goal. Bury replied well Richards making a good run, and Scott had to save from Dow. Then Everton put on pressure and McLoughlin scored cleverly after about seven minutes play. Leeming had a chance of getting an equaliser soon afterwards but he missed his kick when right in front of goal. Everton followed with a strong attack but failed to get the better of the defence, Richards then put in the best run of the match, beating Hardman, he ran straight into the goalmouth but to the delight of the Everton spectators he shot outside. The Bury winger should have scored easily for he had only Scott to beat and was but a couple of yards from the goal. Shortly afterwards Dow sent across the goalmouth and the ball went outside. Everton paid a fruitless visit to the other end., and then Richards failed again when well placed. A good movement on the part of the Blues followed, only for Young to get offside. A little later McLoughlin was fouled just outside the penalty area, but the free kick was cleared. Scott had to save from a foul given against Abbott. After a lot of end to end play a beautiful shot was sent in from the wing, Scott saved well, but Leeming was close up, and scored an easily when the goalkeeper was out of position. Hannan making an ineffectual attempt to head the ball out. Having equalised Bury played up well and Balmer and Hannan defended strongly. Before the finish McLoughlin retired hurt, and in the last minute, Kilbourne put on the winning goal for Bury. Final Everton 1, Bury 2.
EARLESTOWN 4 EVERTON RESERVES 0
December 27 1905. The Liverpool Courier.
Lancashire Combination Division One (Game 19)
At Earlestown, before 2,000 spectators. Both elevens were below full strength. Col. Pilkington M.P. kicked off, on behalf of Everton. The homesters were the first to attack, a couple of shots from Bartley and Cunliffe severely testing Wright. At the other end Topping safely got rid of grand efforts from Quinn and Grundy. Earlestown pressed severely, but Wright played magnificently. Interval no score. Final Earlestown 4, Everton nil . Everton: - Collins, goal, Wildman and Hill, backs, Wright, Chadwick, and Donaldson half-backs Rankin, Quinn, Dilly, Cooke, and Grundy, forwards.