EVERTON'S NARROWE WIN OVER THE VILLA
Cricket and Football Field - Saturday 01 February 1908
By Richard Samuel
Everton's superiority over their long-standing Aston rivals was in no sense too convincing, and the scales were only turned in their favour by reason of Scott's delightfully safe custodianship. The more one sees of this "Bank of England" goalkeeper, the warmer one's admiration grows for him and his prowess. True, the match at Goodison last week was remarkable for a number of woeful shooting discrepancies; still, Scott's trying moments were not a few, and notably before the interval, when, for a ten minutes' stretch, Everton were pressed back into their own quarters. And so, as a public trial wind-up for today's deadly struggle at Oldham, the match failed to inspire real confidence from an Everton point of view. The week's sojourn at West Kirby failed somehow to produce the vim which Port Sunlight ozone was expected to assist in giving. Of course there were detrimental conditions. The remarkable climatic changes were not conducive to a man's well-being, however, case-hardened his constitution might be, and a number of the Blues were more or less affected with a fit of their own hue, whilst one or two would have been well advised had they reserved their energies for today.
Brief Players Review
W. Balmer's return to the defence helped to steady it somewhat, and sorry though I was to see Stevenson passed over, the season's stage is too critical for the management to feel justified in pushing on a youngster's development just at a time when said youngster happens to be off his game and going back rather than ahead. The elder Balmer's little eccentricities, however, occasionally peeped out, and it is strange that, with all his long experience and undoubted ability William should, in exciting moments, thus show symptoms of nerves, or at any rate of excita-" bil-" ity. Frere Robert seems to have the older head in this respect, and his defence was valiant indeed. While the F.A. selectors are looking for a left full-back, they might do worse than have another peep at the younger brother. Of Scott I have spoken. At half, Makepeace stood out as the finest man on the field, taking the game in its entirety. Harry should certainly find a place in England's premier eleven, for he is both effective and artistic. Taylor worked hard as ever, whilst Abbott was less weak in the second stage than previously. Forward, Everton's inside trio were in no wise good enough for the lively half-backs opposing them. Settle seemed very slow, with Young and Bolton unable to shake off opposing attentions. Sharp did well, but his speed does not stand out so pronouncedly as of yore, whilst Hardman shaped splendidly for a man who was really unfit to turn out. In the Villa team Logan, Godlings, Miles, and Wallace were the shinning lights.
EVERTON AND TODAY'S CUP-TIE
Cricket and Football Field - Saturday 01 February 1908
By Richard Samuel
The doings of the two senior clubs by the way of Cup-tie preparation have been keenly followed this week. Everton for the most part have been content to revert to home training. Brisk walks, a salt water bath or two, and a jaunt into Cheshire have made up the programme, with, finally, all the contestants expected to tuck themselves away under the blankets in good time last evening. Although the work of one or two against the Villa left considerable room for improvement. I learned on Thursday that the probable team due for selection yesterday would comprise "the old brigade" who fought and lost at the Palace in last season's final, although Bolton had been unwell earlier in the week. I was sorry to see on Saturday that Settle should lack in pace so markedly, Hardman, in consequence being sometimes, left with only Young to pass to when the Villa's quarters were reached. It was anticipated that a big local contingent would journey to Oldham for this afternoon, to cheer on the Goodison boys, and I hope to have learnt ere this that the Everton flag is still floating.
NUGGETS
Cricket and Football Field - Saturday 01 February 1908
Taylor rendered Hampton quite useless.
Hardman was like an eel. He fairly bamboozled the Villa defenders.
Bolton, the Everton inside forward, shows little improvement. He still seems to lack that little extra dash which is necessary to obtain goals.
Bache worked hard at Everton to avert defeat, first attacking and then defending. Pity he should have shot so badly on one or two occasions, his only blemish on a hard-working display.
When are Everton going to get a partner for Bobby Balmer?
Ducat, Roberts, and Makepeace might be England's half-back line.
Bache and Hall were like the man who fell out of the balloon-not in it with Makepeace.
A tip to Hugh Bolton. Jack Sharp is not the only Everton forward. A long pass now and again to the other wing will prove equally effective.
After Everton's display against the Villa many of their supporters prepared themselves for a disappointment in the Cup-tie with Oldham Athletic.
The gate of Young, Crelly and Elliot's benefit was most satisfactory. Young's portion should be 300 or thereabout, he being allowed three-sixths, Crelly two-sixths, and Elliott one-sixth.
Logan (Villa) is a fine centre-half. Although appearing very slow he was quite quick enough for Everton's elusive "Sandy" He has a peculiar way of popping in unexpectedly, and as he robs his man seems to say "I am very sorry, but it has to be done."
Everton have only indulged in ordinary training for today's arduous task.
Everton were indeed lucky to win, a result due to fine saving by Scott and weak shooting by the Villa forwards.
Without Scott, Everton would be in a dangerous position. This was demonstrated to Goodisonians very forcibly last Saturday.
Abbott had a warm time with Wallace and Garratty. The latter veteran is a champion, and why the Villa should go to the expense of booking Reeves is a mystery to Mersey siders.
The Villa's veteran forward Garratty was scarcely a success against Everton, in his old position at inside-right. By the way, Hull City made an effort to secure Garratty's services recently, but were unsuccessful.
W. Balmer, after a period of recuperation in the Combination team, returned to the Everton League team, and by his play recalled memories of some of his best games. The brothers Balmer are still Everton's most reliable pair of backs.
Everton reserve seem to be pretty sure of the Combination championship.
The three inside Everton forwards are a long way below their expected form.
Logan, the Villa cente-half, made many friends at Goodison Park. He usually had the best of the tussles with Young, and gained his success without resorting to any illegal practices.
EVERTON'S FIRST VISIT TO OLDHAM
Cricket and Football Field - Saturday 01 February 1908
Another Merseyside Invasion
Considering what a great Rugby stronghold the town of Oldham is and has been, it is really wonderful how the Association game has developed to such giant proportions as is now the case. As one of the most successful teams in the country, the progress of the Athletic organization has been one of the chief topics of conversation in football circles, and excitement was at fever heat in the town today, for were not Everton, the Cup Finalists of 1906-7, to visit Boundary Park in the second round of the English Cup competition? Of course, this was not the first time Oldham had run so far in the competition, for last season (when they were members of the Lancashire Combination) they reached the second round, and curiously enough it was a Merseyside team, in the Liverpool F.C. that gave them their quietus by the only goal of the encounter, after an exceedingly well-fought game. The visit of the Reds on that occasion certainty did a lot for Oldham football, for since then the Athletic have entered the Second Division of the League, and are at present going well for still greater honours, their ambition being to become members of the premier circle. As Cup fighters they made a reputation by mesmerizing Manchester United and bewildering Preston North End in the Lancashire Senior Cup competition, and today saw them face to face with a scientific organization in Everton. This was the Toffees first visit to Oldham, and they had a large following, for it was recognized that the visitors would need all the encouragement possible to pull them through. They had wished to play the identical Cup final team of last April, but there were doubts as to Bolton's fitness, the popular little inside right having been suffering from influenza. Graham the Third Lanark man, and Jones, of Prescot, made the journey and were ready for any emergencies. Oldham, who had trained at Blackpool, were minus the services of Bottomley, and Walders was brought in the half-back line.
Boundary Park Too Small
Over 20,000 Spectators
It was a glorious afternoon, the sun shining brilliantly from an almost clear sky. Quite an hour before the time for starting there was every indication of a large crowd assembling. The service of cars to Sheepfoot-lane was altogether inadequate for the demands, and thousands had to make their way to the ground on foot. Trips had been freely patronized from Liverpool, and Everton supporters, conspicuous with their blue ribbons, did not fail to make themselves prominent on their way to the enclosure. Sheepfoot-lane was a glorious sight, and you could have walked on the heads of the enthusiasts. There were all sorts and conditions of men-aye! And women, too, and mingling in the crowd could be seen hundreds of cherry-nosed "little-piecers," all with hands in pockets to the elbows –speculating in a humble tanner's-worth. Half-an-hour before the start the ground was very well filled, and every coign of vantage had been secured. The air was electrified with suppressed excitement –everybody eager to see the players pleasing selections to while away the time, and the crowd still increased rapidly. Alterations had to be made to the ground, which was calculated to hold 30,000, and all to see. The turf appeared in a somewhat springy conditions and was covered with a thin layer of sand in places, and there was very little grass to be seen. When the players appeared, amidst ringing cheers, it was noticed that Graham was to partner Sharp, and Jones to act as pivot in the Everton team; but Oldham had no changes. Teams;- Hewitson, goal; Hodson and Hamilton, backs; Fay, Walders, and Wilson, half-backs; Hesham, Shadholt, Newton, Hancock, and Whaites, forwards. Everton; Scott, goal; Blamer (W.) and Balmer (R.), backs; Makepeace, Taylor (captain) and Abbott, half-backs; Sharp, Graham, Jones, Settle, and H.P. Hardman, forwards. Referee; Mr. T.P. Campbell, Blackburn.
The Game
Everton being successful in the toss Oldham defended the Sheepfoot-lane end. The commencement was somewhat exciting, Graham footing out neatly to Sharp, who gained a corner at Newton's expense, but this was cleared, and as Oldham attacked for the first time they were briskly cheered. The Balmers kicked well under pressure. Soon after a free-kick against Abbott, Hewitson put the ball too far for Whaites to catch it. The game had opened in vigorous fashion, and the players were now none too gentle in their tactics. Hardman took advantage of a beautiful pass by settle, and centring finely a tussle ensued in front of goal, but Hamilton headed clear. There was a stoppage at this stage; the net in the Oldham goal apparently being defective. This remedied, Oldham attacked vigorously, W. Balmer having to pass back to Scott to ward off danger. Hardman was whistled offside after pretty passing by the home forwards, and hands against Wilson lost the Athletic some ground, but Everton discovered that their opponents were sound and vigorous tacklers, for the Blues were never allowed a minute's breathing space. The next moment a most exciting scrimmage was witnessed in the Everton goalmouth, and it was marvelous that the home men did not obtain the lead. Whaites centred from Hancock's pass, although Scott cleared Shadbolt's shot. Fay centred again and Scott caught the ball, but was floored. For several minutes he was lying on the ground hugging the ball the players kicking right and left at him. It was really miraculous that he was not badly injured. The referee had to stop play for a throw down in the penalty area. A goal-kick was the result, but Oldham again attacked with greater vigour, but eventually Abbott relieved with a quick transformation to the other end, resulting in Hardman shooting low and wide. Everton found it exceedingly difficult to raise the siege, but they gave the home backs too much latitude and the halves fed anything but accurately. On the other hand, the Oldham rear line was a great tower of strength, and they again initiated an attack. The forwards passed the ball about in bewildering fashion, and time and time again got the Everton defence, in a tangle. Hasham shot narrowly wide from a cross from the left, and Newton volleyed over amid the greatest excitement. The Athletic were having much more of the game, than the First leaguers, who could not do the right thing. Wilson followed Sharp closer than a brother, and the left wing was ineffective, Hardman relieving the tension on the Everton defence by gaining a corner off Hodson, which was cleared. Newton put in an exhilarating run, which would have done credit to Shepherd –who, by the way, was an interested spectator –but his final effort was straight at Scott, who cleared easily. R. Balmer was none too sure in his kicking. He made a bad mistake when he kicked out to Whaites, whose centre was fortunately cleared by Abbott. Next minute the latter conceded a corner, Makepeace heading away. Oldham were continually returning to the attack, and the next minute Hesham rounded R. Balmer in fine style, but his centre was badly utilized. For a change Everton attacked, but it was at a time when the Oldham halves were not in attendance, but Hardman's centre was well met by Hamilton, who was playing a stubborn game, and any injury to Shadbolt delayed the game a few minutes but Oldham were as persistent as ever. Oldham's defensive methods and long-swinging passes were much more effective than Everton's short passing game, which did not pay. Towards the interval the play slackened somewhat and Everton lost a grand chance through Abbott fouling Fay in the penalty area. When the interval came the Athletic were again attacking, but the players retired without either side having scored. Half-time; No score.
First half Reflections
It could not be said to have been a scientific game by any means in the first half, but Oldham had by far the greater pull over their more experienced opponents, and they played the game that is usually most successful in events of the kind. They never allowed the Toffees a moment to reflect, and they were on the ball in a twinkling, the middle men being exceedingly effective. Everton's display had not by any means encouraged their supporters for Hewitson had not a really good shot to stop, so thoroughly had the visiting forwards been kept under control.
Oldham's Fine Display
Oldham had the wind and sun at their backs in the second half, and they were early on repulsed through Wilson jumping when a favourable scoring opportunity cropped up,. Hesham than had a clear field after a brief incursion, but he dallied his centre too long, and immediately afterwards Shadbolt grazed the crossbar with a glorious shot. At the other end Settle tried to hook a centre from Hardman into goal, but the ball passed wide, and in a quick return, Walders missed his kick in front of goal. Sharp tried in vain to get past Hamilton, but next moment the International outsider, took a flying pass from Graham and centred, for Hewitson to fist out at the expense of a corner, which Sharp put behind. Another spirited advance by the home men saw Fay centre for Taylor to clear essayed to run through but the referee did not notice the infringement and Whaites put in a brilliant solo run which W. Balmer nipped in the bud at the expense of a fruitless corner. A moment later Whaites hit the bottom of the near upright as Scott threw himself full length, and W. Balmer met a shot from Walders as the ball was sailing perilously near goal. The feeding of the Everton halves was very ill-timed and it lost the visitors a lot of ground, but next minute a mistake by Walders let in Hardman, who, however, put high over the bar. Hereabouts Everton put on some pressure, but the forwards were very weak at the close quarters. Oldham were not swinging the ball about to the same extent as in the first half but they had their forwards weighed up. As time wore on goals seemed as far off as ever, though once Sharp had an exciting race for the goal, but Hewitson, the custodian, got there first, and kicked clear. Makepeace then came off last in a tussle with Whaites, and in another Everton attack Jones handled and spoiled a rare chance, whilst at the other end Whaites fired across with only Scott to beat. The game lost none of its interest in the closing stages, but Oldham were always the more aggressive side. Everton should have scored near the end, but Settle made an awful blunder. Final; Oldham Athletic 0, Everton 0.
EVERTON RESERVES V. ACCRINGTON STANLEY
(Lancashire Combination.- Division 1.)
Cricket and Football Field - Saturday 01 February 1908
At Goodison. The home side commenced operations and Collins was conspicuous early on with a fine run down the right, but his centre went wide. Good foot work was witnessed, and after half an hour's good play Donanchie scored with a magnificent shot. Booth obtained a second point from short range. Stanley made strenuous efforts to score, but were repeatedly defeated.
Interval; Everton Res 2, Accrington 0.
After the resumption, both sides showed capital footwork, and end-to-end play was the order. Sloan saved capitally from Williams, and Carter stopped a fine rush by the visiting forwards. The character of play favoured the visitors at this stage, but no goals were forth-coming. Macconanchie was a thorn in the visiting forwards. Dempsey had a fine chance to score, but shot outside the net. Mason, however, scored a magnificent goal. Final; Everton reserve 4, Accrington Stanley 0.
OLDHAM ATHLETIC 0 EVERTON 0 (Fa Cup Game 67)
February 3, 1908. The Liverpool Courier.
Fa Cup Round Two.
REPLAY NEXT WEDNESDAY.
Everton did not succeed in equalising Liverpool's performance at Oldham last season. Then the Anfield-road club somewhat luckily, it is true, were enabled to make progress in the Cup competition. Since those days the Oldham team –the babes as they are called –have improved beyond measures. They have shown their prowess in the second division of the League, and the game they played on Saturday was an eye-opener to those spectators was only witness games in the premier division. They did not score, but neither did Everton, a club who have been finalise's in two successive seasons. As a matter of fraction an impartial review of the whole proceedings, Everton were just a little fortunate in escaping defeat. At the same time they might easily have won the match in the last minute of play. This, however, would have been wretched hard lines on the Second Leaguers. Doubtless Oldham were well satisfied with a draw. Apart from the share of the gate which they will receive at Goodison Park next Wednesday it must be remembered that if Oldham had either won or lost they would have been obliged to play a very important League match with their keen rivals Derby County to-night. As it is this fixture has been postponed. After all the League is more important to the Babes' just now than Cup glory.
A HARD GAME.
There is no necessity to enter with any detail into the varying phases of the games. It was a typical Cup-tie full of genuine hard football, and, happily, free from bad feeling. Unquestionably the Second Leaguers held the advantage in the first half. Their form was a revelation to man of Everton's supporters who witnessed the match. The best chances of scoring came their way, and one incident occurred which deserved mention. Early on in the game during a especially vigorous onslaught by the Athletic forwards Scott, the Everton goalkeeper, was brought to his knees. Although he fell full length he retained his hold or the ball, and the spectacle was seen of the custodian being surround and kicked at by several opponents. It was an unusual scene at an Association game, and was ended by the referee blowing his whistle and throwing down the ball. Whether or not the referee was strictly interpreting the laws of the game certain it is that his decision was dictated by commonsense, for undoubtedly an element of dangerous play entered into the situation. In the second portion of the game Everton were seen to better advantage, but still their goal had narrow escapes when Whaites when Whaites banged the ball against the upright, and again when Shadbolt sent it careering along the crossbar. For all that, the great opportunity of winning the match came when Hewison was drawn out of his goal as the result work by Hardman and Settle was left with an absolutely open goal. Instead of piloting the ball into the net, he managed somehow or another to place it high over the bar. Hence the replay at Goodison Park.
DEFENCE BEATS ATTACK.
Strong defence on both sides was the features of the game. It was in the forward line where Everton failed to shone. This perhaps was not surprising when it is borne in mind that neither Sharp nor Graham were really fit to turn out. It was unfortunate, especially in the case of Graham, who was making his initial appearance with the first team. He did not do himself justice, but at times he was responsible for clever work. Jones in the centre was not a success, in fact, the three inside men were on the whole exceedingly moderate. Despite his cold, Sharp although he had to face doughtly opponents in Wilson and Hamilton played an effective game, and was responsible for about the most dangerous shots which came from the visiting side. Hardman was the star forward. The half-backs Makepeace, Taylor, and Abbott –were the line of old untiring in defence, and ever ready to help the forwards. The brother Balmers were better than they have been for some time past. Wm Balmer's display reminding one of his palmiest days. As for Scott –well few goalkeepers would have gone through that gruelling to which reference has been made. Oldham Athletic have got together a very serviceable team. One can quite understand that high position in the second League. By the way, the attendance was 26,000, and the receipts £496 –easily a record for the ground. Teams: - Oldham Athletic: - Hewitson, goal, Hodson, and Hamilton, backs, Fay, Walders (Captain), and Wilson, half-backs Hesham Shadbolt, Newton, Hancock, and Whalters, forwards. Everton: - Scott, W. Balmer, and R. Balmer, backs, Makepeace, Taylor (Captain), and Abbott, half-backs Sharp, Graham, Jones, Settle, and Hardman, forwards. Referee T.P Campbell.
EVERTON RESERVES 4 ACCRINGTON STANLEY RESERVES 0
February 3 1908. The Liverpool Courier.
Lancashire Combination Division One (Game 23)
Accrington Stanley were defeated at Goodison-park on Saturday by the substantial margin of four goals to nil. This heavy reverse, by no means represented the run of the play, as save in one department –that of shooting –the visitors were little inferior to Everton. The Blues had the better of the opening exchanges, and after both sides had been visited. Donnachie opened the score. The custodians were found plenty to do, though Sloan was mostly troubled with long shots with which he easily deal, and just before the interval Everton added a second goal though Booth. In the second half Everton scored through Mason and Mountford, whereas the Stanley failed with a penalty kick, the ball striking the post. The game was a capital one, and the best reserve match seen at Goodison this season. Sloan had an easy time, MaConnachie and Crelly being safe defenders. The halves were splendid, Adamson again displaying clever tactics. All the forwards were in good trim, Buck who was making his debut in combination circles giving a promising exhibition. Williams had plenty to do in the visitors goal, and could not be blamed for the heavy defeat. Hampson was a good back, and Bradshaw a capable half.
Everton: - Sloan, goal MaCoonachie, and Crelly, backs, Adamson, Booth, Chadwick half-backs, Donnachie, Buck, Mason, Mountford and Winterhalmer, forwards.
EVERTON 6 OLDHAM ATHLETIC 1 (Fa Cup Game 68)
February 6, 1908. The Liverpool Courier.
Fa Cup Round Two Replay.
THE ROUT OF OLDHAM.
EVERTON FORWARDS IN FORM.
Everton made no mistakes in their tie with Oldham Athletic yesterday at Goodison-park, and fully atoned for their shortcomings on Saturday, when they failed to score against the Athletic at Boundary-park. The change from a goalless draw at Oldham to a 6-1 victory at Goodison park is remarkable, but so was the difference in the play of the Everton forwards yesterday as compared with Saturday. Whereas at Oldham the Evertonians attack was rarely in the picture, it yesterday quite dominated the proceedings, and better combination and shooting has not been shown by the quintette this season. It was the fine form of the home forwards, combined with a bit of luck, that gave Everton their big victory. It may be said at once that Everton could do nothing wrong, whereas Oldham experienced wretched luck at the most critical period of the game. Thrice in the first half did the woodwork of the Everton goal come to the rescue of the defenders, and although Everton held at the interval of four goals to one, such an advantage was not deserved on the run of the play.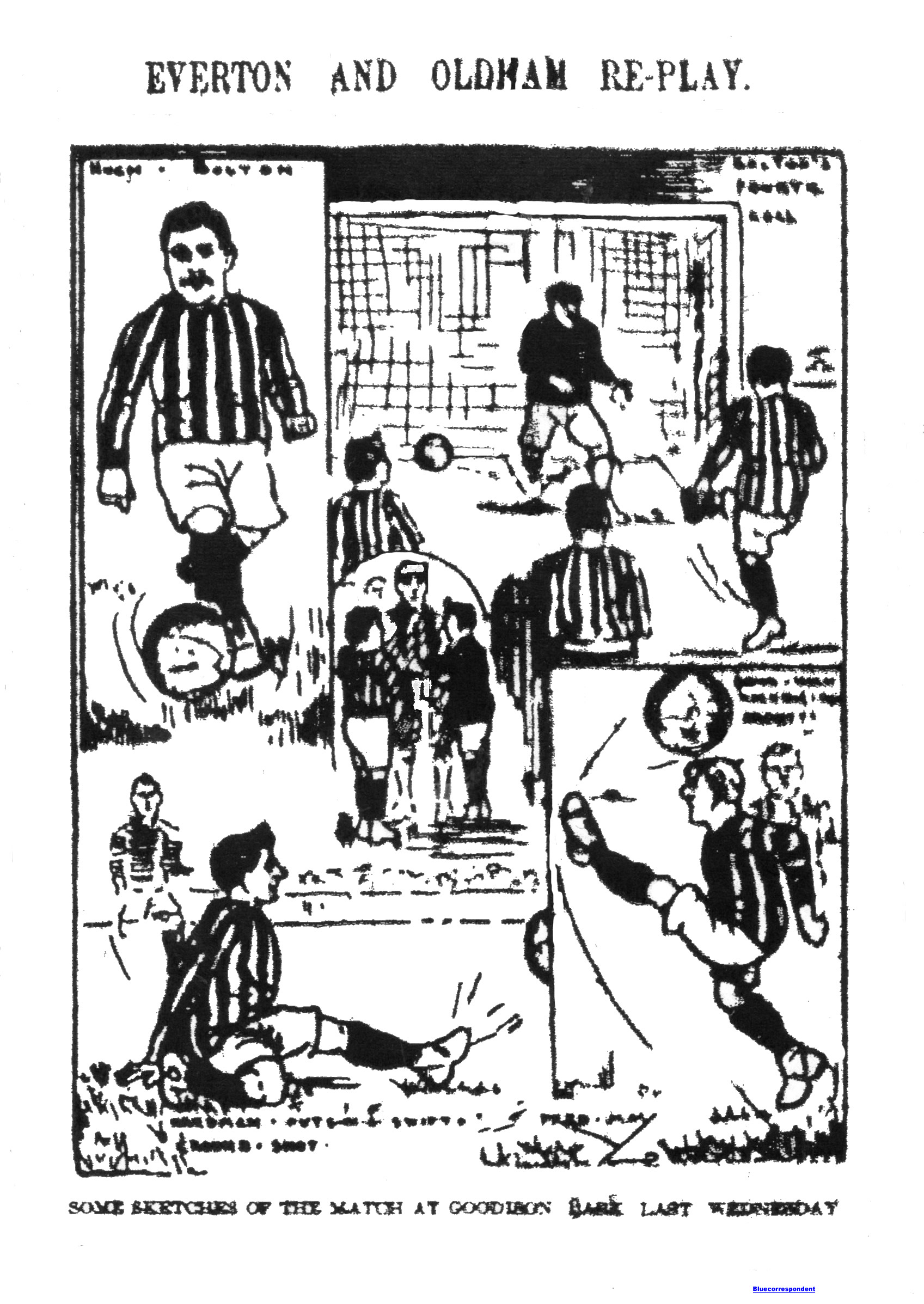 A REMAKABLE PERFORMANCE.
Everton were fortunate in being able to play their strongest team, Bolton and Young being fit to turn out and taking the places of Graham and Jones. Both men had a big share in the victory, particularly Bolton, who actually credited with four goals –a really remarkable performance for a player, who a few days ago was laid up with influenza. Oldham made one change, Brunton coming in at centre for Newton. The visitors opened well, and experienced their first bit of bad luck which Fay hit the post soon after the kick off following a corner. Oldham did very well at the start, and the home supporters experienced a shock when Whaites capped a fine bit of play by Hesham by beating Scott after only ten minutes play. Within a minute however, Young had scored a fine equaliser, the forwards taking the ball down from the restart, and the centre driving it past Hewitson in splendid fashion. Thereafter, although Oldham played a rare plucky game and never gave up, Everton were always on top. Abbott at the end of 16 minutes touched the ball past Hewitson following a corner, and five minutes later Bolton opened his account. Afterwards Brunton, when almost under the bar, following a save by Scott, headed on the to the top of the woodwork with the goalkeeper on the ground. He was at fault later when he failed to improve upon a centre by Hesham, who was doubly unfortunate when in trying a shot on his own, he hit the far post. On the other hand Hardman made a grand run and enabled Bolton to score his second goal in the easiest possible fashion. Naturally the play fell away in the second half, but the Athletic would not have been so soundly beaten had they finished better. Once Whaites had almost a clear course. He ran into goal in fine style, brought out Scott, and missed –his kick. He managed to retain possession, but his chance had gone and he could do nothing better then shoot over the bar. Everton showed their appreciation by scoring again through Bolton, who after Hodson had retired with a damaged shoulder, made his record into four goals and enabled Everton to score a 6-1 victory.
THE PLAYERS.
Although so badly beaten, Oldham did not give a bad display by any means and showed any amount of plucky. But Everton were in rare form. The defence was very sound, though at times favoured by fortune. Scott made some fine saves, while no fault, could be found with the backs, of whom W.Balmer was the better. The halves were all in capital trim. The forwards at times were brilliant, their combination quite upsetting the opposing defence. Sharp, who was closely shadowed was perhaps the least conspicuous of the quintette, but the manner in which the Oldham men, watched the winger enabled Bolton to make the most of his chances. Hewitson had little chance with any of the goals, and as he played with Crystal Palace last year his Cup-tie experience at Goodison have been far from pleasant. Hodson and Hamilton worked hard at back, but the halves were not up to Everton's standard while Hesham alone of the forwards came out of the game with credit. Despite the wet weather, there were 25,800 people present, the gate receipts amounting to £860. Teams: - Everton: - Scott goals, W. Balmer, and R. Balmer, backs, Makepeace, Taylor (Captain), and Abbott half-backs, Sharp, Bolton Young, Settle, and Hardman, forwards. Oldham Athletic: - Hewitson, goal, Hobson, and Hamilton backs, Fay, Walder (Captain), and Wilson, half-backs Hesham, Shadbolt, Brunton, Hancock, and Hasham, forwards. Refere T. C. Campbell.
EVERTON'S INEVITABLE EXPERIENCE
Cricket and Football Field - Saturday 08 February 1908
By Richard Samuel
Merseyside is wreathed in smiles, for nobly have our Everton and Liverpool teams come along to fight successfully for the honours of "the" League's premier division, after first making us tremble in our shoes. Despite the heroic fights made in the first round, and again on Saturday by the Southern League clubs, the latter, I notice, are still in a minority so far as the "last sixteen" are concerned –thanks to Lancashire. But both Everton and Liverpool only escaped by the enamel of their teeth on Saturday, and frankly does one admit it. For Everton there was certainly some excuse, but for Liverpool none, that this should be so. The 1907 cup finalists, for instance, had to visit uninviting Oldham with a shaky team, for both Bolton and Young were unable to attend. Sharp was really unfit to turn out, and one or two others hadn't quite shaken off the aches and pains which had overtaken them during the previous fortnight. In the circumstances they could only introduce Graham and Jones of the reserve. Now Graham hadn't previously had a turn with the seniors this season. But that wasn't the worst, for his recent reserve team form had been brilliant. The "worst" was that he, too, was found unfitted for a strenuous game ere the kick off. Jones's case was equally bad. His complaint has been mentioned to the writer as a most uncommon one, namely, a "double ankle" a diagnosis needing some explanation perhaps, but an undoubted fact. Well, Jones' ankle wasn't half right on Saturday, and this it was which led to his failure. In fact, Hardman was the only strictly sound man in the front line, so that in attack . Everton knew they had scarcely a genuine leg to stand on. All honour then to Everton's noble defence party as trotted out at Boundary "Park" It was through them alone that the Goodison club was enabled to fight another day. Where all worked valiantly it seems unfair almost to single one out above his fellows, and yet I cannot refrain from citing Walter Abbott's name, particularly as in recent proceeding games he had not been too convincing.
A GREAT DAY FOR EVERTON
Cricket and Football Field - Saturday 08 February 1908
By Richard Samuel
I would that I could devote a full column to tell of the most eventful match played at Goodison Park for many a long day. Who shall dare talk of the decadence of football after Wednesday's happenings in the Everton-Oldham replay? Candidly, I think there has been a tendency on the part of some local critics towards the hypercritical of late. Matches which have fairly pleased the writer have been designated so much slosh by certain too-hard-to-please writers, and this not, only tends to discourage the players themselves, but it adds to the dissatisfaction of spectators. This was particularly the case in the recent Everton-Aston Villa game, for I heard of many spectators who were pleased at what they saw, and amazed at the following Monday's biting censure, which goes to kill the football crowd. I wonder, then, if Everton's form on Wednesday has gone to give "unalloyed satisfaction," and even to rouse the enthusiasm of some of our "too expectant," critics! Wednesday's sensational re-play ended in a runaway 6-1 victory for the Everton men vide the score sheet, but 6-4 would have been a more correct reflex of a game that was fairly crowded with incident. Everton had Young back again at centre forward, but were in doubt whether to play Bolton or Graham at inside right almost up to the last minute. Eventually the choice fell upon the former, and that it had a tremendous bearing on the result will be admitted when I state that Bolton scored four successive goals for his side! Newton (Oldham's centre) had a damaged ankle, and his place was taken by the ex-Army and Preston forward, Brunton.
A Thrilling "45."
The day was ill-fitted from a spectators' stand-point, yet 25,800paid toll amounting to 860. The first half was played in a drizzling rain and a bad light, yet the spectators witnessed a thrilling "45," which ended with Everton leading by four goals to one, whereas the merest luck to Oldham would have made it 4-5. The visitors opened with Hesham forcing a corner, from which Fay struck the crossbar. W. Balmer's magnificent stop v. Whaites was another incident, and then Everton failed in their claim for a penalty from a centre by Sharp. After further pressure by Everton, Hesham got away, and R. Balmer, after partially checking, slipped, with the result that the ex-Stoke man crossed finally for Whaites to leave Scott helpless. Time 9 min. That goal proved just the "one thing needful" to Everton, who from the restart went right through by means of deft passing' twixt Young and Bolton. This culminated in a lovely position being gained, a storming shot from Young, and presto! An equalizing goal in half a minute. Everton were not irrepressible, and the deft footwork and craftsmanship of their forwards both thrilled and delighted the crowd. Such tactics were bound to command success, and five minutes later a clever back-heeler by Settle won a corner, from which Abbott gave his side the lead. A splendid struggle for supremacy ensued, but the gods were not on the side of the League babes. It was left to Bolton after 17 minutes to try a fine long oblique dropping shot, which thoroughly mastered Hewitson. Everton's heading, Young's feinting, and the work of the Oldham extreme wings; - particularly Hesham –were the outstanding succeeding features. How Everton's goal twice escaped from Hesham and Brunton was almost a mystery, and Oldham delighted all, as they earned the sympathy of all, at such unlucky failures, for the visitors later twice hit the goal's woodwork instead of the netting.
The Blues' Onward March
Then, just on the interval, followed a great goal to Everton. Their centre and left wing, along with Abbott, passed and re-passed quite a dozen times in an onward movement, although having to flight every inch of the way, and then when it seemed impossible to reach the ball Hardman centred off the goal line, for Bolton to record No. 4. In the second stage the game was not nearly so thrilling, for half-an-hour the Everton forwards being in quieter mood and content apparently with their lead. Oldham thus pressed persistently, but over-anxiety led to their undoing. Everton then took up the running for Bolton to record No.5, and with Fay retiring hurt the downfall of Oldham became complete indeed, Bolton, who had a great day, tapping his fourth goal past Hewitson after further delightful inside forward combination.
Everton's Bolton.
Thus did Everton's "old brigade" brilliantly qualify for the third round once again, and their fame as cup fighters bids fair to equal that of the great Blackburn team –Bolton Wanderers (and others) permitting! The secret of their success on Wednesday lay in the wonderful work put in by their inside trio of forwards. In the main it was perfectly dazzling. Settle played his cleverest and most forceful game of the season. Young simply broke the hearts of his opponents, and once or twice had designs upon their backs! His feints were much more masterly than such fits. But oh! He is a great pivot in every sense of the word. Bolton was a revelation for a semi-invalid. His passes to Sharp were perfect pictures, passing Wilson as they did by inches, yet quite un-get-at-able. Then his shooting! It wasn't blind banging for goal, but cool, judicious placing in three instances. Four successive goals in a cup-tie is a record in Everton history. Yes, Everton's inside forward play won them the day. The wings did their share, and all three halves worked unsparingly. Abbott was oft prominent, with Taylor a splendid obstructionist. The backs and goalkeeper was often put to the test, but Scott as usual kept a great goal. For Oldham I have nothing but admiration both in a playing and a sporting sense. They took their defeat like men, and would have run Everton much closer given decent luck. Besides they caught Everton at the top of their form in attack. The "Athletic" play very effective football and have two of the nicest wingers in the country in Whaites and Hesham.
The Next lap
And what of the third stage? My space has more than gone, so I will leave over lengthy reference to the oncoming tremendous struggles at Bolton and Newcastle until next week.
STRAY MEMS FROM MERSEYSIDE
Cricket and Football Field - Saturday 08 February 1908
Everton's two cup-tie wins have been secured with the eleven they trotted out at the Palace last season.
Oldham are recognized here already as a fine sporting team. What could have been nicer, for instance, the Walders' action in going down upon his hands and knees to make an impromptu chair for Makepeace when the latter was damage.
Merseyside has been doubly represented in the Cup's third round for three successive years. Everton prefer a visit to Bolton to Nottingham! Merseysiders will flock to Burnden on the 22nd, and the Wanderers will need to keep an eye on "Bolton."
As for Everton the 'Blues" seem to simply bask in the sunshine of success in the Cup's tournament.
Liverpool are already two matches in arrears and Everton one. The former will also have to postpone their visit to Sheffield Wednesday and Everton their home match v. Chelsea. However, both clubs are tremendously keen upon the Cup.
Prior to Wednesday Bolton's best scoring feat for Everton was three goals v. the Blues opponents of this afternoon at Goodison last season.
NUGGETS
Cricket and Football Field - Saturday 08 February 1908
Everton elated
That clever marksman, Settle, missed his mark on Saturday.
Experience and consequently cool heads in front of goal won Everton the replay.
Hugh Bolton must have felt very much at home in the Newcastle colours, seeing that he scored four goals.
Oldham's defeat by Everton was not truly indicated by the score. They played a splendid game, and never lost heart in spite of the heavy score.
Some of Oldham forward movements were really splendid. Their long passing, however, did not pay so well as the Everton tip-tap on Wednesday.
When will Woods, the Everton local outside left, be seen in the field again? His injury at St. Helens on Boxing Day has proved more serious than at first thought.
Sandy Young was in a rare good temper on Wednesday. He was all smiles for everyone, and the enthusiastic manner in which he congratulated Bolton, when the latter scored Everton's third goal, showed the good feeling of the genial Scot.
When at Everton, Whitley and kitchen were companions –and rivals. Now each man is resident in the Metropolitan district, and Whitley has the distinction of performing before England's giant crowds. On Saturday each man was highly tried on the grounds of our two leading clubs, Manchester and Newcastle United, and came through with enhanced reputations.
The back door of the West Ham defence went when Kitchen was placed hors de combat.
Hughie Bolton was not content with performing the hat trick, but must have another goal.
Jimmy Settle's miss at Oldham put a few more pounds in the excheques of both Oldham and Everton.
Evertonians were delighted at the Wanderers' success and are already looking forward to a great game at Bolton
Only Everton remain of the last's semi-finalists, and Burndenites are hoping they may be put out at the next hurdle.
Scott is still showing his best form for Everton, and tis just as well, for the Blues are none too great in defence this season.
What an Oldham flash in the pan when they scored in six minutes at Everton! Ten minutes later Everton had scored thrice.
There should be a rare gate at Burnden for the third round, and the Wanderers intend to avenge their last season defeat against Everton.
Graham, the Toffees' reserve inside right, hadn't once been out with the Blues' senior team this season prior to Saturday. He was not altogether a success, and would probably have done better with Donnachie as partner, seeing Sharp was strange to him, and also unwell.
Trotters v. Toffees once again
Why did the Oldhamites pay such great attention to Jack Sharp? He isn't the only Everton forward.
The absence of Young and Bolton from the Everton ranks made a big difference in Everton's attack at Oldham.
Hewitson is not a stranger at Goodison. He kept goal for the Palace last year, when the latter were beaten 4-0 by the Blues.
Abbott has been the shining light in Everton's half-back line in recent matches. His goal against Oldham was not a thunderbolt, but a ladylike "ping-pong serve."
Everton people were pleased to learn of Brearley's success in the Crystal Palace team on Saturday, when he was one of the half-backs on view to score a goal in the Cup-ties.
With Young and Bolton absentees, Settle's recent form not too assuring and sharp really unfit to turn out, it was small wonder the Everton vanguard failed to do itself full justice at Oldham.
The difference between the displays of the Everton forwards and Oldham half-backs at Boundary Park and Goodison Park respectively was stupendone. It was this inconsistency which was responsible for the huge score in Wednesday's replay.
Oldham found Young Bolton and Hardman to Settle.
Oldham found that Everton at Goodison Park are a very different team to Everton operating on a "foreign" ground.
Bolton didn't overdo Sharp against Oldham. He played to Young with great success, and did a bit of his own with greater success.
Young played a vigorous game against Oldham. It was typically Cup-tie style, and not as an Oldhamite expressed it – "Dirty!"
Without taking into account this year's ties, Everton can lay claim to being one of the finest cup fighting teams of recent years.
Hughie Bolton has been somewhat under a cloud this season. His fur goals against Oldham will, however, once again bring him into popular favour.
It was very unfortunate for Graham (and Everton) that in his initial appearance he should be so unwell. We must not judge him too harshly on this performance. He is capable of better things.
How did Hodson and Hamilton like the bumping of Everton's "Young" centre. Although they had a bigger ground at Goodison, they hadn't as much room for kicking as at Oldham, thanks to Sandy's attachment.
EVERTON V. MIDDLESBROUGH
(League.- First Division 1.)
Cricket and Football Field - Saturday 08 February 1908
Fresh from their brilliant victory over Oldham, Everton appeared at home again this afternoon to Middleborough in the more sedate League competition. The "Blues" upon appearing were heartily received in appreciation of Wednesday's exhilarating Cup-tie win. Although to date they had never secured a point at Goodison, whilst Everton had won 2-0 at Middlesbrough earlier in the present season, the visitors were expected to make a capital fight, having only lost one of their last nine League matches with Williamson never debited with more than the odd goal throughout the series. Everton made two changes from Wednesday, Makepeace and Sharp being rested, Adamson and Donnachie taking their places. Middleborough were without Alf, Commons, Dixon thus figuring on their right wing as inside partner to Bloomer. Teams;- Everton; Scott, goal; Balmer (W.) and Balmer (R.), backs; Adamson, Taylor (captain) and Abbott, half-backs; Donnachie, Bolton, Young, Settle and H.P. hardman, forwards. Middlesbrough;- Williamson, goal; Groves and Watson, backs; Aitkens (E.), Aitken (A.) and Vertill, half-backs; Bloomer, Dixon, Cail, Wilcox, and Thackeray, forwards. Referee; Mr. W.C. Glover.
Young's Early Goal
Although rain threatened, it held off sufficiently to bring out a good crowd of spectators, about 18,000 bring present at the start. There was a gusty wind in evidence, neither consistent in force or direction. Middleborough won the toss. The start was rather surprising, as in two minutes Abbott served up to Hardman splendidly, and the latter crossed in correctly, although tackled by groves, and gave to Settle. The latter and Young in turn shot in hard, only to have the ball cannon back off a Tee-side defender, and then just when the danger seemed to decrease the ball hit the military referee and returned close Williamson, where Young, after a move or two, came on the scene to bang the ball into the net after less than three minutes' play. This was a happy send-off for the Blues, who again pressed, Settle and Taylor being prominent with smart tactics, whilst prominent in defence when the visitors menaced was William Balmer. A capital centre by Thackeray looked dangerous, who from an awkward position sent in a high curling shot which crept round the far goal-post. Both sides now exhibited smart footwork while the rivals backs indulged in some tall kicking. At length Middlesbrough grew extremely dangerous as Cail received a clever pass from Bloomer and got the better of W. Balmer. He was grassed however, but Bloomer rushed across to carry on the work to finally send in a hot shot which was only a few feet the wrong side of the near upright. Donnachie mulled several good passes hereabouts, and then W. Balmer served up further leviathan kicking. Young was beaten by Andy Aitken, and then, in turn defeated the last-named veteran. Adamson, like Donnachie, was weak up to now. After Young had shot high over the bar from a centre by Hardman when he had only Williamson to beat, the visitors gave us a rare taste of their qualities and were most unlucky in failing to equalize. They made a number of sterling attacks quite putting down the home halves and backs with intricate foot work. Bloomer was noticeable with masterly heading, and passing to his inside man, whilst Thackeray was also most active. Once Taylor got in the way of a thunderbolt from Dixon and Middleborough claimed strongly for a penalty. The Scott saved of close quarters a red-hot shot from Cail. Still pressing hard Middleborough saw a shot from Wilcox kicked off the very line by W. Balmer with Scott otherwise beaten-hard lines indeed, yet a fine save by Balmer. Adamson's tackling was still weak, and he was not a patch on the Adamson we saw earlier in the season. Everton were roused at the course of events, and returned the complaint of Williamson who, when saving finely from Young, saw Abbott place over the bar, when this popular half-back had won sterling positon. Then a centre from Donnachie free-volleyed across the goalmouth, but was miss both by Young and his left wing. Despite this, Middlesbrough were playing better football than seen in any previous visit to Goodison, and now fairly swarmed round Scott. Quite a number of shots were as previously charged down, whilst Scott also had further opportunities to display his saving qualities, being on one occasion momentarily laid out. W. Balmer's body once stopped an otherwise certain equalizer from Bloomer. After another Everton rush; which terminated in Williamson saving well from Young's excellent shot, Middleborough were let in once more very badly by Adamson, and Wilcox appeared likely to fairly walk the ball through, when Scott rushed out, and dropped on the ball just as he did at Oldham. A free kick relieved the pressure, but the Tee-siders were most determination, and again worked close in. In stopping Cail and again worked close in. In stopping Cail W. Balmer emulated Scott, with the result that Everton were mulcted in a penalty, but Scott brilliantly caught, and cleared Wilcox's hurricane shot. After this escape, Everton advanced rather more satisfactorily, but nothing accrued to the interval, which arrived with Everton leading rather luckily 1-0.
Blues Just get Home.
Middleborough re-started with rare determination, and in the first two minutes Scott was called upon to clear splendid centres from Thackerlay, who during the first half had proved much too good for Adamson. Nor could Donnachie do very much against Verrill, so that Everton's reserve pair were not rendering the sterling service anticipated. Bloomer was showing a capital turn of speed at outside right, and required careful watching. Everton were by no means having the pull, and from a free-kick given against Taylor, Middleborough once again almost scored the equalizer. Later Everton applied pressure, during which it was obvious that Donnachie was a weak spot. He showed wretched judgment and very little of the necessary dash. Adamson showed improvement, however, Everton defence continued very sound, the Balmers doing well with Taylor a great worker even Wilcox and Thackeray comprised a useful left wing, and the visitors' local centre forward played good football. Watson continued a tremendous stumbling block to the Blues' attack, Middleborough, still playing the better football, being both dashing and clever, caused the Everton defence to be quite on the alert. From fine all-round work Verrill put over to Bloomer with rare judgment, and the latter centring to Wilcocks, this player got in a storming shot which Scott marvelously saved at the expense of an abortive corner. Eighteen minutes from the close Everton attacked on the right, and from a pass by Donnachie, Young fastened on the ball and scored a second goal, with a great shot. Due credit must go to Donnachie, for the maneuvering and pass which led up to splendid goal, and it went to compensate somewhat for his previous shortcomings, which were chiefly due to the unnecessary manner in which he hung on to the ball when opposing a back of Watson's caliber. Everton were now fairly safe, although it was scarcely merited on the full run of the game. The Tee-siders still pegged away, but with disconcerting results. Several struggles between their captain and Hardman were hughely enjoyed at this point. How both Cail and Dixon failed to convert a magnificent centre by Thackerlay passed comprehension, whilst the next minute Abbott charged down a hard shot by Dixon. Truly their team missed numerous opportunities and seemed destined to take away a blank. Hardman's pluck leased the crowd, as did the elder Balmer's sterling defence. Just before the end Thackeray forced a corner off W. Balmer, and from this Cail after a further movement or two, sent the ball into the net. Final; Everton 2, Middleborough 1.
SOUTHPORT CENTRAL V EVERTON RESERVES
(Lancashire Combination.- Division 1.)
Cricket and Football Field - Saturday 08 February 1908
This match, played at Southport, attracted a large gate. Everton were well represented while the home side were at full strength. Everton kicked off against the breeze, but Central were the first to become prominent. The right wing got down, but Cooke checked Birch and relieved. A retaliatory run was stopped by Spink, and then the home right again got going, Graham missing a good chance in the first two minutes. Southport kept up the attack, and Gate crossed cleverly, but there was nobody at hand to turned the opening to account. Everton next had a turn, Orrell clearing well, and at the other end Meunier forced a corner, and the visitors' goal had a narrow escape from downfall. Centre were having all the play and bombarded the Everton goal, Sloan saving several smarty shots. A breakaway by the visitors resulted in Mason shooting wide, while Orrell was also brought into action. He set the home forwards going and Cook, getting cleverly along, eluded the defence, and with a long shot beat Sloan all the way, the ball going into the corner of the net out of his reach. This was after ten minutes' play, and the next movement was also by Southpoort. Gate was grassed just outside the penalty line, Meunier shooting wide. Everton again made progress and were awarded a free-kick close to the penalty line. Mason took the kick, and Gaskell saved. Central again took up the running, and after Sloan had been tested, Crelly in trying to kick away, sent the ball over the crossbar. The corner was well placed by Birch, and Sloan ran out and fisted away. Everton now began to have more of the game, and the home defence was kept busy. Graham (Everton) missed a capital opening. After a lengthy period of pressure the home forwards again made headway but first Birch and then Cook were pulled up for offside. The latter also sent wide with a feeble shot. Meunier, however, retrieved the position and beat Sloan with a grand shot after half an hour's play. Midfield play followed and then a free kick was given against Sloan, who was well out of goal and had nobody near him for carrying the ball. As the result of the free kick, Clavert came near to scoring again; Graham (Everton) missed another promising centre, and Southport were the aggressors, Meunier shot wide, and from another corner the Everton defence was sorely troubled, but there was no further score before the interval, which arrived with Southport Central 2, Everton Reserve 0. Final; Southport Central 2, Everton Reserve 0.
EVERTON 2 MIDDLESBROUGH 1
February 10, 1908. The Liverpool Courier.
TWO POINTS FOR EVERTON.
A TAME GAME.
SCOTT'S SAVES PENALTY KICK
Middlesbrough had their usual experience at Goodison-park last Saturday. That is to say, they lost another couple of points. On six occasions have they appeared at the home of the Everton Club, and each instance defeat has been their portion. As a matter of fact, their record of goals now stands at three against seventeen. No wonder the ill-luck of the ground still pursued them. At the same time, they were decidedly unfortunate to leave behind them, the full measure of points. On the play they certainly deserved to divide the honours, but if forwards are unable to impart a degree of accuracy to their shots, and if a penalty kick is not converted –well the team which throws away such chances deserved to be defeated. That was Middlesbrough's unhappy experience. They did manage to score near the end of the proceedings, but the verdict was two goals to one in favour of Everton.
INCIDENTS.
While the great Common was an absentee from Middlesbrough's ranks, Everton had two internationals off duty for the day –Sharp and Makepeace. How far the absence of these stars effected the run of the play can only be surmised. Certain it is that the game was barren to a large extent of the exposition of their finer points of Association football. Unite early on Everton found themselves in a comfortable position, for less than five minutes had elapsed, and Sandy Young had Williamson beaten all the way. This goal seemed to satisfy the Blues in as much as there was listlessness about their work, which was not calculated to please the spectators. Middlesbrough too, were no better. They had a full share, but generally speaking their finishing efforts were as feeble as could well be imagined. Even when W. Balmer fell on the ball in the dreaded area, they were unable to turn the penalty kick to account, Scott clearing the shot from Wilcox in clever style. The change of ends brought about little if any, improvement in the play. The Teesiders did even more pressing than the Evertonians, but still Scott was rarely seriously troubled. Once again Young came to the aid of his side. Donnachie and Bolton between them worked the ball into position, and it was from the former's pass that Sandy scored a beautiful goal, the ball finding a resting place in the corner of the net, with Williamson helpless. At this stage Middlesbrough looked to have no chance of saving the game, but they kept at their work in praiseworthy fashion. However, their only reward was a goal obtained by Cail. So moderate had been the play that it was quite a relief to the spectators when the whistle blew for the finish.
YOUNG'S CLEVER GOALS.
One of the most agreeable features of the match was the pleasing display of Young. The Everton centre forward of late has not been himself, but that he has not lost the art' of scoring goals was clearly demonstrated. Both were characteristic efforts. They suggested what Young can do when he is at his best. May he give us something similar in the next round of the Cup-ties. He was easily the best of the Everton forwards on Saturday, with Hardman a good second. Settle was slow, and, with Donnachie erratic. Booth seemed out of his element in the absentee of those deft passes from Sharp. Abbott played a rare good game, and was easily the best half-backs on the field. W. Balmer although he did give away a penalty, was a tower of strength in the Everton defence. Neither goalkeeper had much serious work to get through, and neither Scott nor Williamson were blamable for the shots, which did score. Groves was the better of the Middlesbrough backs, Watson's performance suggesting signs of age. A Aitkens was prominent in the middle line, and as for the forwards, they were an uneven lot. Bloomer was not the "Steve" of old, and perhaps the most consistent of the bunch was Thackeray. Granted that they enjoyed little luck, Middlesbrough had only themselves to blame for not sharing the points. Everton: - Scott, goal, W. Balmer, and R. Balmer, backs, Adamson , Taylor (Captain), and Abbott half-backs, Donnachie, Bolton, Young, Settle, and Hardman, forwards.
SOUTHPORT CENTRAL 2 EVERTON RESERVES 0
February 10, 1908. The Liverpool Courier
Lancashire Combination Division One (Game 24)
At Southport on Saturday the Everton men sustained their second defeat of the season, being beaten by the Central by two clear goals. Everton were by no means at full strength having two forwards playing at half-back, and having to call upon Buck to take the place vacated by Donnachie, who was required by the League team. To add to their difficulties, Graham was off all the second half, but at the same time it must be admitted the Sandgrounders were full value for the points. They had the measure of the Goodison men, almost from the first, and Sloan experienced a busy afternoon. All the scoring was done in the first half, Cook and Meunier doing the needful, and the Central now share with Bury the honours of being the only clubs to take down Everton's number this season. All the winners rendered good services, while for Everton Booth, Crelly, McConnachie, and Sloan did well under difficulties. Everton: - Sloan, goal, MaConnachie and Crelly backs, Rafferty, Booth and Cook, half-backs, Buck, Graham, Mason Mountford, and Winterhalmer forwards.
EVERTON AND THE MEN OF MIDDLESBROUGH.
Cricket and Football Field - Saturday 15 February 1908
By Richard Samuel
Whilst Everton rather luckily succeeded in claiming the full points on Saturday. Everton were disinclined to unduly exert themselves, I thought against the Tees-siders –a frame of mind which, perhaps, adorned the picture in consequence of their quickly-gained goal in the opening minutes. Still, every credit is due to Middlesbrough who, on last week's account as rendered, are an undeniably smart side –as their recent record, too, pointed out. Watson is a calmer back today then when McCombie's Wearside partner while I consider Verrill an admirable left half. Forward carried away chief honours, so that the Northerners were strong right through the piece on the left. On the Everton side Scott was to the fore with delightful "fielding," and the brothers Balmer were excellent defenders. Williams exhibited a strength and sureness in his returns which he hasn't approached for a season or two. I was disappointed in Adamson. He seemed to play like a man in a semi-dazed condition during the first half. A marked improvement came later, however, though his early laxity might easily have cost Everton dearly. Taylor was again serviceable, but Abbott was still more prominent. Forward the Blues were superior to the opposition five as a whole. Fortunately Young was seen in trenchant mood again, and his two goals, from left and right wing centres, were splendidly got, the ball being taken on the drop in each instance, and banged through, to leave Williamson helpless. Hardman was not too well served, whilst Bolton's work was but a faint echo indeed of his loud calls on Oldham's Hewitson. In Sharp's stead we had Donnachie, and he gave us his most disappointing senior team exhibition If ill-health was the cause why wasn't Rafferty tried? "Don" made a big mistake in tactics by sticking to the ball when opposing Watson; besides he showed no Hardman trait when robbed –that of trying to recover possession. Everton's goal had a few escapes, and the two points were relished none the less keenly for that.
CUP-TIE GOSSIP
Cricket and Football Field - Saturday 15 February 1908
Everton's Visit to Bolton
By Richard Samuel
Naturally readers this week are more concerned about the F.A Cup-ties and our Merseyside clubs' prospects than anything else. During the next seven days I suppose Everton-Bolton and Liverpool-Newcastle ties will form the chief topics for conversation and animated discussion among the game's lovers in this district. Dealing with the Everton-Bolton match prospects first, it is really remarkable that these two original League members should, for the second year in succession, find, themselves pitted together in the third round –the only difference being one of venue. Look at it whichever way you will, this "pairing" is admittedly going to be a close thing, for each team can be made out to possess a reasonable winning chance. And yet I confess towards a feeling of quiet confidence in the Everton men, who, admittedly, have gone to make up the best Cup fighting team (judged on results) of the past five years. We know that the Wanderers last February visited Goodison and were full value for a goalless draw in Round 3. But my view was that the Wanderers played somewhat "above" themselves in that particular match, for they exhibited a confidence and zeal built up on some tremendous fine "away" performances about that time. So much so, in fact that they were actually a trifle glad the match was not down for decision at Burnden Park! Again, Everton were short of the two men destined to provide such sensational "final tie" gossip –Wilson and Bolton to wit. Of course it is common knowledge how badly the Wanderers later "did" shut up in the replay at home, although allowance must be made for the fact that Everton were better represented that day, whereas the Wanderers had lost Shepherd.
The Everton Players and Their Preparation
This season neither club has done too well in the League, although it will probably encourage the Wanderers to recall their 3-0 home victory over the identical side that Everton hope to parade at Burnden a week hence. The Wanderers will find a different Everton next Saturday, however, I opine. In Scott, the recent vacillating Bolton forwards will have to face perhaps the finest custodian of the present day, but equally hopeful –from an Everton standpoint –is the fact that the Bros Balmer have never exhibited a more rocklike defence than in recent games. Everton's full back section has given uneasiness in each of the three past seasons, yet look how the old club marched on and on! Makepeace, Taylor and Abbott have long been noted as a strong, consistent middle line. Even a Shepherd has no terrors for the second-named, whilst Abbott is a rare watch-dog and occasional "gunner" in one. Makepeace damaged his thigh against Oldham, but is expected to resume fit and well. Forward, it is hoped to get the old firm in readiness. Unfortunately Sharp has been troubled with the drags of a severe cold, whilst Bolton was cranked on the ankle v. Middleborough to such an extent as to keep him house-fast in the present week's early days. We can't do without Bolton at Bolton, whilst if Young sparkles as of late. Edmondson may also lack out for squalls from his quarter. Next week the men will train between Goodison and West Kirby as usual, and no stone will be left unturned to fit them finely for the fray. Of course thousands of Merseyside's will swarm into Bolton to see the honours lost and won. I will pin my faith to Everton winning by the odd goal in three, or at the worst compelling a replay.
FOOTBALL BRIEFLETS
Cricket and Football Field - Saturday 15 February 1908
Couper and Black have been on Everton's sick or injured list almost throughout the season.
Everton are in the comfortable position of going tooth and nail for the Cup once again, for their League position is pretty secure they also having a majority of home matches. The Toffees double victories over Aston Villa and Middleborough have proved simply invaluable.
NUGGETS
Cricket and Football Field - Saturday 15 February 1908
Everton do not appear to be the team they were.
W. Balmer gave one of his best displays of the season against the men of iron.
The penalty against Everton was for handling and not for tripping Wilcox.
Muir and McDermott, late of Everton and Dundee are both at Bradford, Funny?
Young Rafferty would probably have been an improvement on the Donnachie Everton trotted out against Middlesbrough.
Sharp, the Everton flier, says (according to a Glasgow paper) McDermott (Bradford City) is the best insider in Britain."
Five Scots, Five Englishmen, and one Irishman constituted the Everton League men last week.
Everton's Young is back to form again, as no doubt Tim Williamson, the Middleborough custodian, could testify.
Confidence is rather marked in Merseyside regarding the ability of Everton and Liverpool to reach the last eight as last season and the previous year.
Everton have only been beaten twice in a Cup-tie for upwards of three reasons. Will the Wanderers make it the third time next week we wonder?
Win or not, Everton will, as the song says keep the Trotters trotting up and down.
The "old heads," in the Everton team will take an immensity of bettering even yet, despite their length of service.
Donnachie gave a very tame display against Middleborough. No wonder Captain Taylor appealed to him in the Second half not to be so timid.
Evertonians expect a hard game at Bolton but they are quietly hoping to make a draw if not win outright. It should prove a great struggle.
It is to be hoped something decent will be fixed up either for Anfield-rd, or Goodison Park next week-end in the absence of the two senior elevens.
Although playing with an injured hand, Settle was as good as ever against Middleborough. Hardman was brilliant in a playing and comical sense.
When Scott saved the penalty, the applause was deafening, and nearly brought the new stand down. Where would Everton have been without him this season?
Everton and the Wanderers will doubtless be too excited to show good football next week. The best quality football should be that witnessed at Aston and Newcastle.
Everton we are pleased to see, are giving Macconnachie a trial at right full back. If he is persevered with they should have no fear of their back division next season.
Watson took advantage of Donnachie's fear. Had Bolton and Hardman as his partner the United pluck of the little ones would have made the great back look very small.
Everton reserve found the Sand grounders a very formidable team to tackle on their own ground, and they had to submit to their second defeat of the season by two goals to nil.
Sporting Evertonians congratulate Southport Central on their splendid victory against the "Toffee" reserves.
The Wanderers will have to Settle Young, Bolton, and Hardman on February 22nd, for they are an ambitious quartette.
Whitley is turning out trumps for Chelsea, What with Kitchen, Ashcroft and the Chelsea man, Southerners cannot grumble at the export of the Everton brand of goalkeeper.
Percy Hill was one of the best men on the field in the City-Notts County match. On such form the ex-Everton man should surely press Kelso close for the position of partner to Jackson in the Fulham Cup-tie. Both Kelso and Hill, however, are not so consistent as we would like them to be.
Richard Samuel was quite right in drawing attention to the hypercritical summing up of one or two recent matches at Everton. The matches with Woolwich and Aston Villa, while not bubbling with excitement, were brimful of some really splendid scientific movements, and everyone who knows football when it is being played (even in a friendly) could not but appreciate it. Of course, the rabid blessed partisan will say "Rot" to this.
SHEFFIELD UNITED V. EVERTON
(League.- First division.)
Cricket and Football Field - Saturday 15 February 1908
The weather in Sheffield this morning was very bad, heavy rain falling continually all morning. Later, however, the weather cleared up and in the afternoon it was very pleasant. The ground was given a liberal coating of sand. The home team was as selected but the visitors made three changes, Donnachie and Mountford being the left wing in place of Hardman and Settle, with Settle taking Donnachie's place at inside right, the teams being as under;- Sheffield United; Lievesley, goal; Benson and Brookes, backs; Wilkinson (W.), Wilkinson (B.), and Needham, half-backs; Hobson, Hardinge, Brown, Batty, and Bromage, forwards. Everton; Sloan, goal; Balmer (W.) and Balmer (R.), backs; Makepeace, Taylor (captain), and Abbott, half-backs; Sharp, Settle, Young, Mountford, and Donnachie, forwards. Referee; Mr. W. Gilgryst, Manchester.
Home Team Soon Busy
About 10,000 were present at the kick-off. The United won the toss and play was in their favour for a time. Shots were tried by brown Bromage, and Hobson, whilst Sharp and Young made good attempts for the visitors After 25 minutes play a clever pass by Brown led to Hobson getting in a nice run eventually, after beating the backs putting the ball across to Bromage, who had no great difficulty in scoring. From the restart Everton got away, but were not really dangerous. Clever passing by Donnachie and Mountford was ended by the latter handling, and a free kick given against Taylor for tripping, saw Bromage all but score, the ball travelling right across the goalmouth. Just previously Young had put in a splendid shot, which Leivesley had saved. Needham was struck hard by the ball, and play was stopped temporarily. Midfield play went on for some time but eventually Bromage got possession, but his centre was not taken advantage of. Play was transferred to the United half. Everton were again well placed, but the forwards finished weakly. Balmer cleared one shot but the ball went straight back to Hobson, and that player shook the side of the net with a high dropping shot. The United were now having by far the greater portion of the play, and Hardinge tried a shot, which Sloan managed to get away. Donnachie and Mountford both tried hard, but were unable to get through the home defence. Towards the interval play was exciting. The ball was put well forward, and Sloan an out. Hobson met him, and following this, the Everton goal was bombarded, no score resulting. Interval; United 1, Everton 0.
Visitors Fail To Pull Up
On resuming, Leivesley had to clear from Sharp, whilst Brown, with only the goalkeeper to beat, shot very weakly. From a pass by Brown, Bromage forced a corner, but nothing resulted. A free kick was given against W.H. Wilkinson for handling, but play was transferred. Hobson was given off-side when he was travelling very well. A free kick was given to Sharp, and from this Lieivesley had to rush out to clear. Bromage got the ball down his wing and went right through, finishing up by shooting just wide. Batty also when well placed, shot just wide. Hardinge missed an open goal on two occasions, the second time his shot just going wide, whilst on the first occasion he missed the ball altogether. However, in the next minute that player put in a beauty which Sloan only just put over the bar. After 25 minutes' play in the second half, Hardinge put in a splendid centre which Brown cleverly headed for the United's second goal. Later play went on in the Everton half, and Brown forced a corner and Hardinge shot just over the bar. Brown failed to score from a penalty given against W. Balmer for a foul on Batty. The play in the closing stages was in Everton's favour. Final; Sheffield United 2, Everton 0.
EVERTON RESERVE V CARLISLE UNITED
Cricket and Football Field - Saturday 15 February 1908
At Goodison Park. The home side commenced and Cooke, netted in the first minute. The visitors retaliated, and forced matters for some time, but were weak near goal. The Blues showed forceful tactics and were rewarded with another point from Rafferty, and Chetwood headed another from a fine centre from Winterhalder, whilst Mason contributed yet another. The visitors had a spell of attack but could not score. Interval; Everton Res 4, Carlisle United 0. Final; Everton Reserve 6, Carlisle United 1.
SHEFFIELD UNITED 2 EVERTON 0 (Game 611)
February 17, 1908. The Liverpool Courier.
EVERTON SUCCUMB AT SHEFFIELD.
SLOAN SAVES LATE PENALTY
Everton were unable to stave off defeat at Bramell-lane, Sheffield United being too good for them, and winning by two goals to nothing. With their weakened team, it was scarcely expected that Everton would be successful, the absence of such valuable players as Scott, Bolton, and Hardman was certain to tell a tale, and all though it was very uphill work for the Blues, Sloan filled Scott's place in goal, and the left wing was made up of Mountford and Donnachie, Settle thus partnering Sharp on the other wing. Bolton's sprained ankle is not yet well, and Harold Hardman was suffering from a throat trouble. The United had a strong side out, and altogether worked hard for the victory.
UNEXCITING PLAY.
It was by no means a great game, the play seldom reaching a high quality. In the first half neither side gained any marked advantage as regards the play, the frequency with which each one was visited being rather remarkable. It was soon apparent, however, that the home front rank meant business, and some effective and bustling work was noticeable on the part of Brown, Bromage and Hardinge. The two first named sent in shots, their example being shortly afterwards followed by Sharp and Young. The United threatened the most danger, and the game was only twelve-minute-old when a pass by Brown to Benson put Bromage in possession, and he scored an easy goal. We next saw some clever passing on the part of Donnachie and Mountford, who so far were shaping well, and from a free kick against Taylor Bromage very nearly repeated his earlier success. Young was on the quinvive, and gave Leivesley a rasping shot to deal with. Everton several times got into an excellent position, but, unfortunately, they finishes were weak, and some good opportunities were missed from this cause. Hobson put in a high shot, which was not far off the target, after which, Sloan had hard one to stop from Hardinge. Donnachie and Mountford were very industrious and were combining well, but they had a very sturdy defence before them. Just before the interval the most exciting portion of the play occurred, and it was surprising how the Everton goal escaped. Hobson was here one of the principal aggressors, a centre of his putting Sloan in some trouble. Then it was Everton's turn. Young dashing away in splendid style and being helped on by pretty work from Sharp and Settle, the latter putting the ball on the top of the net as the half-time whistle blew. The United had the greater part of the play in the second half, the visitors at one period having a very anxious time of it for fully ten minutes. . They profited, however, by several mistakes on the part of the home forwards, Bromage and Batty both shooting wide whilst Hardinge twice missed an open goal. He, however, compensated for this later on, for it was from a splendid centre of his that Brown scored a second goal for the United. Brown, who, however, failed, took a penalty kick against W. Balmer for fouling Batty. After this there were some determined rushes on the part of the Everton forwards, who got well placed, but they could not score, try as they would.
PRETTY BUT INEFFECTIVE.
The Everton play was pretty but ineffective, and their movements did not seem to have that sting which was generally associate with them. The finishes were weak, and Leivesley was at no time severely put to it. During the second half Sharp and Settle made praiseworthy efforts to retrieve the position by neat and doggy work. Once when Sharp sent right across the goal there was no one up to take advantage of it. The home backs spoiled many a good performance of Sharp and Settle, who worked well together. The combination of Mountford and Donnachie was good, and they apparently understood each other well. That fatal deficiency, however, while affected the line, vis, weak shooting, spread itself to this pair as well, but no fault could be found with their passing. Young played a good, useful game, if he wasn't quite at the top of his form, and the most dangerous shots came from him. Abbott and Makepeace were always there at the right moment, and with the home forwards getting along so speedily and frequently they had a lot of work to do. Taylor was not as resourceful as his usually is, both the Balmers played a good game, Sloan's powers of goalkeeping were well tested, and the attempt from the penalty he saved in fine style. His position was no sinecure. The United have a very clever front line, with hardinge, Brown and Bromage particularly effective. W. Wilkinson got through a vast amount of work at right half, and both backs. Benson and Brookes did yeoman service, the latter putting many a spoke into Sharp's wheel. Teams: - Sheffield United: - Leivesley, goal, Benson, and Brookes backs, W.H. Wilkinson, R. Wilkinson, and Needham half-backs Hobson, Hardging, Brown, Butler, and Bromage, forwards. Everton: - Sloan, goal, W. Balmer, and R. Balmer, backs, Makepeace, Taylor (Captain), and Abbott, half-backs, Sharp, Settle, Young, Mountford, and Donnachie, forwards. Referee Gilgyrst.
EVERTON RESERVES 6 CARLISLE UNITED RESERVES 1
February 17, 1908. The Liverpool Courier.
Lancashire Combination Division One (Game 25)
Everton made up for their failure at Southport by defeating Carlisle United on Saturday at Goodison by the handsome margin of six goals to one. The visitors won notoriety in the early stages of the English Cup competition, and made no secret that they intended to put a stop to Everton's progress. However, this did not marteralise for though the game early on was very even and enjoyable, the later stages were decidedly in favour of Everton. Cook opened the score in the first minute, and then for a long spell play was evenly contested. The Blues, however, took the game in hand before the interval. Rafferty, Chetwood, and Mason scoring. Carlisle had many chances of reducing this margin, but were very slow when in front of goal, and the backs had a fairly easy time. On resuming Mason completed the "hat-trick" by scoring two more goals, and slackness on Stevenson's part was take advantage by Robinson, who slipped the ball past Christopher, this concluding the scoring. Christopher had a quiet time, while Stevenson and Crelly were two capable backs. The halves were the mainstay of the team. MaConnachie being the most prominent, while Rafferty, Winterhalmer were the pick of a good forward line. Fletcher could not be blamed for the heavy reverse. Carter and Collins got through a stiff afternoon's work, while Blythe was always in the way of opposing forwards. Powell and Robinson were the best of the van, and the only ones to at all make any prefeuce at scoring. Everton: - Christopher, goal, Stevenson, and Crelly, backs, MaConnachie, Booth, and Adamson half-backs, Rafferty, Cook, Mason Mountford, and Winterhalmer, forwards.
CAP FOR SCOTT
February 17, 1908. The Liverpool Courier.
To Ireland fell the honour of opening the International ball of the season, at Belfast, which produced a record "gate" for the Emerald Isle, the attendance being returned at 20,000. The Irish men were beaten again, by three goals to one against England. Yet it was not until the last ten minutes of the game that the crack English side achieved the victory. Really the credit rests with the champion goalkeeper in the person of Scott.
EVERTON AT BRAMALL LANE
Cricket and Football Field - Saturday 22 February 1908
By Richard Samuel
Everton, without Bolton, Hardman, and Scott, were not expected to pull off a victory against Sheffield United at Bramwell-lane, especially as the latter stood so badly in need of points themselves. Scott's absence necessitated the introduction of Sloan in goal, for the second time this season. Curiously enough both his league team appearances this winter have taken place on Sheffield soil. With no reliable understudy for Bolton available, Settle was transferred to inside right and Donnachie figured in his original position of outside left. Although defeated by two clear goals Everton served up a capital display of clever football throughout, repeatedly working splendidly through the defensive lines of the Sheffielders, only to lack the needed little bit of extra determination to force their attacks to a successful issue. Still Leivcesley had frequently to show his power. Everton were once extremely unfortunate –when Young struck the post, with Lievesley otherwise well beaten. Sloan made an admirable substitute for Scott, and, among other things saved a hot penalty kick from brown very finely with one hand, this being Everton's second successive penalty escape in league matches. But why give these penalties so frequently? If W. Balmer has played as well at Bolton today as at Bramell-lane we shall all cry "Well done," Abbott was the most effective half-back at Sheffield, with Young predominant at attack. Settle at inside right showed much of the old-time ability in this position.
PREPARATIONS FOR TODAY
Cricket and Football Field - Saturday 22 February 1908
By Richard Samuel
The past week has been remarkably lacking in the way of Cup-tie developments locally. What I wrote of the teams and the teams' preparations over a week ago has fairly well hit off the subsequent positions in both the Everton and the Liverpool camps. The disconcerting rumours concerning two or three of the Wanderers' players and the recent shortcoming of the Bolton team have been taken sufficiently to heart for the Everton management, and players to run away with the ridiculous notion that they had a comparatively easy thing on at Burnden today. The team made the journey expecting full well that the struggle would be a desperate one –that no quarter would be asked for nor given, and that their opponents were anything but a beaten side ere taking the field. Cup-tie football and Cup-tie fever (both in players and spectators) develop some surprising features in the day's form; and granted Everton chances would stand enhanced if Shepherd has been a forced absentee, even than the game was anything but "all over bar the shouting," as our racing men have it. Everton's recognized Cup team members and two or three reserves have trained assiduously during the week, which by the way has been none too favourable for out-door brisk walks, except on Wednesday. The Wirral peninsula has again been visited and "brine" baths were resorted to keep the men fresh!
NUGGETS
Cricket and Football Field - Saturday 22 February 1908
Sloan emulated great Scott saving a penalty at Sheffield.
Winterhalder has only received a couple of League trials for Everton.
Everton's Scott doesn't like Sheffield. Neither did the Everton team about the end of last April.
Everton's two heaviest defeats of the season have been sustained at Bolton and Bury. What of their second visit to Burnden today?
Without Scott, Bolton, and Hardman, Everton did quite as well as expected against Sheffield United, who were, prior to Saturday, dangerously close to the bottom of the table, while Everton are supposed to prefer Cup to league honours –the Trotters permitting.
Half Merseyside was expected to visit Burnden today –i.e., the half who could secure leave of absence.
On the form against Carlisle United, Everton Reserve would prove capable of holding a good position in the Second Division of the League and go far in the Cup competition.
It is said that Everton are "angling" once more across the Border. Meanwhile, local talent has to depend for encouragement and advancement to outside clubs. Liverpool juniors can truly say "that a player is without honour in his own country."
Everton don't appear to have been over anxious at Sheffield.
Everton are the only visitors to Clayton this season, who have recorded more than a couple of goals.
George Wilson the old Everton player, is suffering from a kidney complaint, and has been placed under special medical treatment.
Sloan, Stevenson, Crelly, Macconnachie, Adamson, Booth, Chadwick, Donnachie, Rafferty, Graham, Jones, Mountford, Winterhalder, Chetwood, Mason, Coupar, and Willie Black are quite good enough as reserves to Everton for another season, but they are on the prowl in Scotland again.
Hardman as an amateur takes no part in the training adopted by the other Everton players, but his ability and staying power are a tribute to centre forwards, credited himself with three goals against Carlisle. Young must keep up his form of the last three matches to keep such lively youngsters out of the League team.
"What would Everton do without Scott? Say some writers. While admitting that Scott is a wonderful goalkeeper, still he is one of eleven, and while he saves goals for Everton still he never scores. You might as well say "What would the Rovers do without Crompton"? and the answer is "Beat Manchester United at Clayton."
It is said Director Kirkwood, of the Everton Football Club made a couple of abortive visits to Scotland last week-end, his mission being "players" but his ad-mission "failures" In each instance the man had been snapped up "Just previously ," as ravenously as a cat snape such unconsidered trifles as candles –we mean lights.
TODAY'S TIE AT BURNDEN
Cricket and Football Field - Saturday 22 February 1908
Bolton Wanderers v. Everton
By the Tramp
Drip! Drip!! Dripp!!! What weather we do get in Bolton. This week we scarcely seem to have had an hour without rain, and although the latter portion of yesterday promised a welcome change in the conditions, this morning opened wild and stormy, and tremendous showers of rain reduced the ground into a state of quagmire. So heavy was the deluge that despite the heroic efforts of a staff of men probing the ground it was feared that the game might have to be postponed. There were occasional cessations, and with a strong breeze blowing there seemed just a chance of the ground recovering in time to permit the game being played, but though there were fitful gleams of warm sunshine, the clouds quickly gathered again, and the downfall came on again with renewed vigour. This was terribly unfortunate for the financial success of the English Cup-tie between the Wanderers and Everton –the only tie in which two Lancashire teams were brought together.
A Desolate Appearance
Three-quarters of an hour before the time for starting rain ceased again, and the sun shone forth from a bright sky. Half-a-dozen men armed with pitchforks came on to the playing portion of the ground, and did their best to induce the pools of water to disappear from view. Rarely has Burnden Park presented a more saturated and desolate appearance. Meanwhile the crowd came rolling on in thousands, the stands being practically full half-an-hour before the time of starting. The utmost enthusiasm prevailed amongst those present and they seemed quite content to risk it whether the game was played to a finish or not. They were assured of a really sporting game, even though it had to be played on a rain-soaked and sodden turf. The wanderers' hopes that Shepherd would be able to reappear were not fulfilled, and Edmondson was also an absentee, owing to the severe cold which has kept him out of the team for a fortnight. Davies, therefore, kept goal, and whilst Baverstock was able to resume his place at right back, the forward line was re-arranged and a big experiment tried, Marsh coming in at inside right, with White at centre, and Jee, who made his League debut quite recently, was given a place in his first English Cup-tie. Everton were more fortunate for they were able to play what was regarded as their best team. The identical eleven beaten at the last Cup Final that ever was by Sheffield Wednesday, and the same team, with the exception that Bolton was substituted for Wilson, which beat the Wanderers twelve months ago in the replayed tie. Teams;- Bolton wanderers;- Davies, goal; Baverstock and Slater, backs; Greenhalgh, Clifford, and Boyd, half-backs; Stokes, Marsh, White, Jee, and McEwan, forwards. Everton; Scott, backs; Balmer (W.) and Balmer (R.), backs; Makepeace, Taylor (Captain) and Abbott, half-backs; Sharp, Bolton, Young, Settle and H.P. Hardman, forwards. Referee; Mr. J. Mason, Burslem.
Everton Win The Toss
In the presence of fully 30,000 people, the Wanderers lost the toss, and were set to kick off in face of a terrific breeze. They immediately tried to force their way along the right, but R. Balmer checked the movement and deceived by a curling ball, which seemed held by the wind, Baverstock conceded a corner, which Hardman spoiled through failing to allow for the breeze. Settle made a long dribble, Clifford failing to shake him off, but the old Halliwell Rover spoiled the effort by a faulty pass, which Baverstock reached before Young. Makepeace forced McEwan into touch, and from the throw in Marsh swung the ball across, and Stokes failed to gather it on the run. Some close exchanges, however, followed in which the Bolton right proved very persistent and White taking a centre from Stokes nicely, looked like forcing his way between the backs, but he had to admit himself beaten by superior numbers. The pace was tremendous, considering the conditions under which the game was fought, and round after round of applause were elicited by some very fine tackling by the Bolton halves. Boyd was very smart in robbing Sharp, when he tried to push through on his own, and Marsh provided Stokes with a neat chance, but the ball over-ran the home captain. Baverstock distinguished himself by robbing Young in full cry for goal. The wind carried the ball with tremendous force, and the Wanderers found it exceedingly difficult to make much headway against it, and also against such keen opponents. Settle maneuvered cleverly, but Greenhalgh came through with a great through, when some heavy tackling put a check upon his career. Hardman tried hard to get through, but eventually lost control of the ball. Everton were too persistent, however, and a weak kick placed Young in an admirable position and only a desperate effort by Baverstock pulled him down, whilst Davies sprang out of goal and cleared. The Wanderers, however, came again with renewed energy, and a fine run by McEwan paved the way for the first goal, after 15 minutes. McEwan pushed the ball nicely across to Jee, who narrowly failed to go between the backs himself. They closed in on him back to Marsh, who placed splendidly and did not hesitate about driving the ball all along the ground, just inside the upright.
Settle Was penalized for a trip on Marsh, but the Wanderers lost the advantage when Clifford pushed Young in the back. McEwan dribbled through perfectly, completely deceiving Makepeace and W. Balmer in turn, and a smart pass placed Jee in possession of a great opening, but the Reserve man's shot, though accurately judged, struck R. Balmer on the shoulder. Davies slipped in dealing with a skimming shot from the wing put in by Hardman, and a corner was the result. From this the Wanderers never really got the ball away, and Young, trickling Baverstock at the right moment, promptly turned the ball across to Bolton, who dribbled in a couple of paces, and equalized with a stunning low shot, while Davies touched in a desperate effort to save. There had so far been no lack of incident, and the Wanderers seemed in danger of their goal falling again, when Sharp eluded Boyd and drove across a tremendous centre, which gave Abbott the chance of a life-time. All he did with it, however, was to crash the ball on the wrong side of the post, and he wrung his hands for very vexation. Following another Bolton rush, W. Balmer, in attempting to kick away a centre from Stokes put the ball right to Jee's toe. The little Ardwick man, however, seemed to have spent himself in working for the opening, and his shot though well placed, travelled so slowly that Scott had no difficulty in saving. For a minute or two play remained in midfield, first McEwan then Hardman striving in vain to break away from the scrimmages. Two free kicks lost the Wanderers a lot of ground, and though Slater twice won applause by clever tackling, Young put in a fine dribble and a great pass out to the left. Sharp failed to improve upon the effort. From this point the game went more in favour of the Wanderers than ever, the Everton backs being repeatedly harassed. Jee neatly raced round W. Balmer, and a lovely square centre travelled into Scott's hands, Marsh trying in vain to charge him into the net. More spirited tackling by the Bolton halves compelled Everton to remain on the defensive and seven minutes before half-time the Wanderers were deservedly rewarded with a second goal magnificently obtained by Marsh. He came into possession just inside the penalty area, having received the ball from Stokes, and Abbott and R. Balmer at once closed upon him. He neatly back-heeled the ball, slipped off his opponents and hooked it into goal. It appeared as though the ball, which hung in the wind, would go over, but it dropped down and quickly passed under the bar as Scott stretched out his right hand helplessly. A more brilliant goal, or one more richly deserved, could not have been imagined, and Marsh was hugged back to the half-way line by his delighted colleagues. The crowd, now numbering close on 40,000, presented a memorable appearance, and right to the interval the Wanderers kept their opponents at a respectful distance from goal. Half-time; Bolton wanderers 2, Everton 1.
Everton Equalize
In the first few minutes of the second half the Wanderers showed plenty of ash, and the Everton backs had to look alive to keep them at bay. White once pushed his way past them, however, and it looked long odds on the Wanderers further increasing their lead, but Scott advanced and charged a point blank shot down, Jee apparently putting outside. Then Everton made more headway, chiefly by reason of Hardman's pertinacity, and Bolton, pushing his centre back to Young, the Everton pivot glided the ball across to Settle. Though shooting with his left foot he equalized in splendid fashion with a fast rising shot which struck the upright and glanced into the net. This equalizing goal was received with frantic cheers from the Everton portion of the crowd, and the Wanderers lost no time in trying to regain their early advantage. For a few minutes nothing but Scott's magnificent custodianship pulled his side through, however, for he saved a long raking shot, which Slater put in from a free kick, and Greenhalgh again drove the ball hard into Scott's safe arms. The game continued to be fought most strenuously and, on the whole fairly, remarkably clever forward play on both sides being frustrated by equally clever back play. The crowd was kept in a state of great excitement. There was some feeling displayed between Young and Clifford and both were slightly injured but though Everton pressed hotly for a few minutes they failed to make any appreciable impression upon the really fine defence. The Wanderers, generally speaking worked out their chances with great effect, but Stokes and Jee finished poorly when splendidly placed and a fine screw shot from Marsh was capably dealt with by Scott. Though most of the players were tiring perceptibly, they seemed determined to fight on without giving the slightest ground away. Several desperate scrimmages were formed in front of Scott, who had far more work to do than Davies. Marsh, White and Stokes put all there always seemed to be somebody in the way, and when Everton got away, though the instrumentality of Young, Makepeace finished with a shot high over the bar. Marsha swung the ball cleverly out to McEwan, whose centre travelled across to Jee, but from rather a difficult angle the little man shot into the side of the net. A passing run by Stokes and Marsh saw the latter shoot weakly outside. When Hardman threatened to break away Greenhalgh put in some effective tackling. Once more Young led the way on Everton's behalf, and crossed the ball finely to Hardman, but charged as he was shooting, the amateur sent the ball a foot or so wide. First one side and then the other attacked, Everton making judicious use of Sharp's speed and Hardman's dour determination. Gradually Everton settled down to another attack, but Young got offside right in the goalmouth, and Stokes took the Wanderers down again at a rare rate. There was some finessing on the Bolton right before the ball was sent across to the other wing, and McEwan, tricking Makepeace, turned the ball over to Jee. He quickly parted to White, and just as Taylor challenged the Hurlford man, he gave another friendly tap to Marsh. The West Houghton man dribbled a yard or two and shot the wanderers' third goal four minutes from time. The ball passed under Scott's right arm, and to all intents and purposes the game seemed won; but if ever the old adage that "A game is never won until it is lost" was forcibly illustrated, it was by the incidents crowded into the dying moments of the game. Right from the kick-off Sharp was plied with an accurate pass by Bolton and he raced on unchallenged until within a couple of yards of the line, from where he perfected a withering centre. Bolton and Young seemed to get tied up completely, right in front of goal, but before the Wanderers' defence could recover, Settle sailed in and forced the ball through for the third time on Everton's behalf. This was the old Halliwell Rover's second goal, and the crowd was left almost dumbfounded when the whistle went. Two spectators dashed on to the field to compliment Settle when he scored the last goal of the match, and when Mr. Mason signaled for a cessation of hostilities the players seemed so excited that for a few seconds they stood rooted to the spot, not realizing that one of the grandest struggles that could possibly have been imagined had run to a close.
Final; Bolton Wanderers 3, Everton 3
The Gate Receipts Teams to Meet Again next Wednesday
The gate receipts amounted to 1,179 14s, exclusive of tickets which had been sold before the match, and which, it is expected will bring in another 50 pounds. There were 31,113 people who paid for admission, so the gate falls a long way behind that of last season's replay at Bolton. At a conference of the directors of both clubs, immediately after the match, it was decided to replay the game at Goodison Park on Wednesday afternoon next, the kick-off being fix for 3 O'Clock.
"RICHARD SAMUEL'S SPECIAL
Cricket and Football Field - Saturday 22 February 1908
The elements conspired to do their worst today to ruin the much-looked-forward-to-tie between the Toffees and Trotters. One heard early in the week that Burnden Park (?) was decidedly heavy, but upon arrival at the ground at 2.45 this afternoon the picture presented was truly appalling. The "playing" area was worse than a quagmire, and gave an apt illustration of what this earth of ours must have looked like the day Noak disembarked from the ark! Methinks McCracken of Newcastle would ask a 20 note to turn out on such a day. The Everton team and the majority of the club's directors arrived in Bolton at 2-30, and their reception was terrific –a perfect deluge of sweeping rain being the accompaniment. The party straightway boarded a bus – (harnessed in Wanderers' colours –a trio of white horses!) –and were driven to Burnden. On such a ground anything was possible –even to the defeat of Everton in an English Cup-tie on an opponents' soil –a thing foreign to the Goodison team since they visited Sheffield in the third round four years ago. The pools in evidence were expected to help the Wanderers' cause; yet Boltonians spoke pessimistically beforehand. Shepherd was away; likewise Edmondson and Cameron; yet the presence of the two first named, I make bold to say, would have assisted the Everton cause, for Taylor would have found an unfit opponent easy to beat, and an unwell goalkeeper would just have proved to the liking of Young and Co. Despite the wretched outlook, Merseysiders evinced a keen desire to visit Bolton, and the excursion trains were well packed on the whole. By the way, this constituted Everton's third Cup-tie visit to Bolton inside 12 months –surely something approaching a record in its way. The appointed referee, Mr. Mason, hadn't arrived when the writer reached Burnden, but one learned that neither team was anxious for a postponement. On paper the Wanderers attack presented a curious appearance with an outside left on McEwan's right, an inside left at centre, and Marsh resuming senior team duty after several months' absence. It was clear that stamina would play no unimportant part in this grueling match. The excitement, like the crowd increased as the time to begin drew near. When the Everton men stepped forth they were doubtless led to think today as picking one's steps. Taylor opened auspiciously by winning the toss, for he secured the powerful wind's advantage thereby. Bobby Balmer was early noticeable in checking Stokes as was Hardman in racing along and circumventing Greenhalgh. The wind caused Baverstock to concede a corner, but it also nullified McEwan's free kick. Boreas was already transforming good passes into bad ones, and bad ones into good. Settle into bad ones, and bad ones into good. Settle dribbled finely, amid opposing legs and tricky lakelets, Clifford, who tried to floor him, in one instance becoming the victim, to receive a gratuitous mud-bath. After this the Wanderers played up manfully, Clifford being a prominent figure, and this led up to an advance upon Scott's fortress, Stokes causing an anxious moment or two. The Trotters were playing up manfully, and this naturally delighted the crowd, who went to the ground expecting so little from a Bolton standpoint. The Wanderers had the elements to contend with, so that their plucky and dashing work was all the more pleasing –from a Bolton point of view, that is! It was clear, too, that Everton were at fault in attempting the short passing game. It was here, however, that the Blues per Young, came within an ace of taking the lead, as a home defender in attempting a clearance, kicked the ball against "Sandy" who was thus let in, to be stopped just in the nick of time by Slater. But what is this? The Wanderers' experimental wing made steady ground by means of intricate passing and eventually converged goal-wards. During this movement the Everton defenders did not appear to realise the gravity of the situation and kind of hung fire. Of that I feel convinced. The end of it all was that Marsh came up to the crowd of men with a rush and signalized his reappearance in the team by scoring a really magnificent goal, which even a Scott could intercept, and against the wind, too! So much for your team of "Moderates," Mr. Editor. This goal (a thing the Wanderers of 1906-7 could not find) naturally sent five-sixths of the crowd frantic. But it did something else. It roused Everton to a more serious and a more determined sense of their duty, with the result that the home defence was kept busy and Davies on tenterhooks. Everton, you remember, did the same thing at the Oldham match. Today, their reward came with an excellent equalizing goal by that latter-day socrist, Hugh Bolton, who was nicely placed to receive from his left wing and found the net. The battle was now of a harder order than ever, and play was never dirty, although appearances would hardly bear one out. Both goals had narrow escapes –McEwan was proving a big handful for his former-day club mates, Balmer and Makepeace, and some of his centres would have spelt goals on a drier turf. Once also R. Balmer almost made a fatal kick down to White's toe. At the other end Abbott missed by inches from a cross by Sharp. The Wanderers' forwards were showing finer judgement than the opposition in swinging the ball about, and many dangerous raids were made on Scott's fortress. It was left to the unassuming and hard-working Marsh to again give his side the lead with as fine a goal as anyone could desire. His little back-heel touch, which nonplussed R. Balmer, was really superb, and he fully deserved all the honours showered upon him, by his comrades. It was an unexpected situation indeed to find the best Cup-fighting team of recent years in arrears at the interval especially when we recall that Bolton had the half gale in their faces. Candidly, Everton had not shown themselves mud ploughers. But a word of praise to the valiant behavior of Bolton's so-called "scratch" attack. The question presented upon resuming was –which side will maintain the tremendous pace set to the end?
Settle Draws Level
It was noticed that Hardman was limping decidedly when the second stage opened. The ground at this point and long before would have done credit to good old Pikes-lane at its worst. The Everton forwards almost directly showed poor judgement in attempting close dribbling –a distinctly suicidal policy under the circumstances. The backs also hung fire once or twice in ominous fashion when called upon to deal with the Wanderers' rushes. We returned grateful thanks to Scott when he knocked down a red-hot shot from White, driven in from close range. Then for the second time Everton drew level. Taylor, who throughout had rendered valiant service, both in defence and attack, set Young going. The latter dribbled in and then crossed to Hardman, who put the ball across the home goalmouth. Here Bolton came on the scene, and being denied a shot himself Hugh placed the ball to Settle's toe, for the latter to coolly take in the situation and find the netting –the ball striking the nearest upright en route. Naturally this cheered the hearts of the Mersey men, just as it seemed to upset the Trotters' equilibrium, for thrice in quick succession were their representatives mulcted in free kick infringements. After this the excitement was terrific, attack and attack being the order, as each line swept along hurriedly for goal.
Magnificently indeed were those present rewarded for visiting Burnden even at its ugliest. The balance of play naturally lay in with the Wanderers, and it was at this period that the resource of a keeper like Scott stood out in embossed lettering. Another ambi-dexterous Evertonian on view was Jack Taylor, who was simply all over the place. There was nothing of the invalid about Taylor today as in last season's semi-final on the same ground. Jack Sharp, who had not been in the picture a great deal, was hereabouts at fault in locating his centres. Only 15 minutes now separated the teams from a mid-week replay at Goodison. Several of the men began to hang out signals of distress, and really seventy-five minutes' duration is quite long enough for a match fought under such conditions as this. A palpable omission by Mr. Mason in the case of a trip upon Young almost cost Everton a goal, as Stokes was enabled to race away and centre to Marsh, who nearly completed the "Hat-trick" with a great shot which Scott brilliantly saved. Taylor was still the same old Trojan, whilst Taylor was one of the very few who did not seem to have had enough of it judging from the manner in which he sought unaided to work his passage towards Bolton's haven of rest. He and Clifford also showed that last season's acquaintanceship was not yet forgotten. The men took a fresh leap of wind in the closing stages and each goal underwent escapes of varied dimensions, including an offside goal by Bolton. We had a dramatic finish when Marsh scored a magnificent goal two minutes from the end and Settle scored an even more sensational equalizer straight from the restart. The scene at these dual happenings and at the finish was surely without parallel. Yes, Everton are a wonderful cup-fighting team. Thrice were they in arrears and thrice did they draw level.
LIVERPOOL RESERVE V. EVERTON RESERVE
(Lancashire Combination.- Division 1.)
Cricket and Football Field - Saturday 22 February 1908
Before 18,000 spectators, at Anfield. Everton faced a perfect hurricane and Macconnachie at the outset saved a fine effort by Bowyer. Notwithstanding the abnormal elements, the Blues played up pluckily, and too much finessing in the ranks of the home forwards neutralized the advantage gained by the potent wind. Hewitt fired a lightning shot barely wide, and shortly afterwards Jones missed a gift a yard in front of Doig. Several fouls against Liverpool aided the Goodisonians, and great excitement prevailed when Winterhalder raced up the left, Jones obtaining and just missed a chance of scoring. Deafening and prolonged cheering announced hereabouts that Liverpool were a goal up at Newcastle. Griffin was cheered for nicely rounding Macconnachie and Uren shot wide from a good pass by Parkinson. Liverpool were certainly making little progress against the rocklike defence of Crelley and Stevenson, who were in grand trim. Doig saved a splendid shot from Mason, but on the whole the goalkeepers had up to the interval very little to do. Doig pushed Jones in the back, but was unobserved by the referee, and Everton pressed. Uren sprinted well down the wing, but against the wind and sun the visitors held their own. As the interval approached Sloan made two beautiful saves from Griffitn and Bowyer. Half-time; No score.
On restarting, Liverpool attacked, but the wind completely upset all ideas of combination. Bowyer tested Sloan, but the game was poor, exciting incidents being few and far between. After 20 minutes Jones scored, following a fine sequence of passing between Winterhalder and Mountford. Hewitt was cheered for a terrific shot, which Sloan saved at the expense of a corner. End to end play followed with Everton slightly the better side. Final; Liverpool reserve 0, Everton reserve 2.
BOLTON WANDERERS 3 EVERTON 3 (Fa Cup Game 69)
February 24, 1908. The Liverpool Courier.
Fa Cup Round Three
EVERTON DRAW AT BOLTON.
A SENSATIONAL FINISH.
The Cup-tie between Everton and the Wanderers, at Bolton, on Saturday, was one of those games, which will long remain in the memory. One feature was the terrible state of the ground at Burnden park, but the outstanding incident was the extraordinary finish to a grand display of football under the adverse conditions, which prevailed. Until less than four minutes from time the contestants were on equality, each side having scored twice. After the gruelling to which the players had been subjected it seemed odds on, no further goal being forthcoming. There was already talk about the replay at Goodison-park, when Marsh scored the third goal for the Wanderers. How the crowd roared with delight. The Bolton players jumped with joy, hugged each other, and evidently imagined that victory was theirs. They were not alone in the opinion. Scarcely anyone dreamt of the possibility of the Evertonians drawing level for the third time in the game. But the Wanderers joy was short-lived. The Blues made one last desperate effort. No sooner was the ball kicked off from the centre of the field than Makepeace seized the situation to a nicety. He drew, off his opponents and parted at the right moment to Sharp, who darted down the wing. He in turn gave to Bolton, who transferred to Settle, and the ball was in the net, having in its progress from the centre only glanced off one of the Bolton defenders. It was an exhilarating finish to a splendidly contested and exciting Cup-tie. Surely as a sensation it beats anything in the history of Cup ties in which Everton have been engaged.
A TERRIBLE GROUND.
Although the closing stages dwarfed everything else, the game itself will rank as one of the finest ever seen on such a ground Burnden-park at the best of times has not much to show in the matter of grass, but scarcely a blade was visible on Saturday, An hour before the time for proceedings to commence it was practically covered with sheets of water. It seemed out of the question that an important Cup tie should be decided under such conditions. A small army of men with pitchforks made little impression on the water, and even the wielders of these implements experienced no little difficulty in keeping a foothold in the mud. However, Mr.J.Mason, one of the most experienced referees in the country, came to the conclusion that the game should proceed. In view of the big crowd that had assembled he could hardly have decided otherwise. It was quite impossible for any team to play their ordinary game but of course the going treacherous as it was affected both sides equally. The Wanderers with their knowledge of the ground and their reputation for being able to play in the mud, were held to have the advantage, but then each man in the Everton team had the benefit of considerable experience in Cup ties.
INCIDENTS OF THE GAME.
A notable feature of the encounter was that each set of players accomplished their best work when having to contend against the gale. Before they turned out the prevailing idea seemed to be that the chances were in favour of the side which won the toss and played with the wind behind them. The first half certainly did not bear out this contention. Taylor named the coin, and yet at the interval Everton were in arrears by two goals to one. Moreover, the Wanderers were the first to score, Marsh successfully taking a pass from White. This occurred after a quarter of an hour's play, during which each goal had been threatened. Everton responded in gallant style. Young worked his way through time after time in eel-like fashion, and after admirable forwards work a fine opening was presented to Bolton, who equalised with a shot which completely beat Davies, although the custodian just managed to get his hand to the ball. Again both teams went at it in ding-dong fashion, and again Bolton took the lead. Thus Everton prospects in the second half, with the wind against them, did not appear too rosy. However, they started as if they meant business. In less than five minutes they were once more on equal terms. It was too, a beautifully worked for goal. Hardman initiated the movement, Bolton passed to Young, who glided the ball to Settle, that player banging the ball against the upright, from which it turned into the net. Naturally there was great joy in the Everton camp. Considering the heavy going, the pace was maintained in wonderful fashion. Everton more than held their own, and once a terrific drive from Abbott went the wrong side of the upright. As the game seemed drawing to a somewhat tame conclusion, the sensational incidents already mentioned aroused the interest of the spectators to fever heat.
PRAISE FOR THE PLAYERS.
A draw was a fitting conclusion to a game in which both sides richly deserved praise. The conditions was such as to test the stamina of the players, and the manner in which they stood the strain of the heavy going was remarkable and a tribute to the work of trainers Elliott and Lewis. The Wanderers did not seem to miss greatly either the redoubtable Shepherd of their regular custodian Edmondson, for whom Davies deputised with singular success. But their best stroke of luck was the rearrangement of the forward line, so as to include Marsh and Joe. The whole five blended admirably, and curiously enough to Marsh, who has been seen in first-class football for some months fell the distinction of scoring all three goals for his club. There was not a weak spot on the Everton side, though some stood out more prominently than their fellows. Except for one mis-kick, Scott was brilliant in goal, and the two Balmers got through a deal of work satisfactorily, the elder brother being the more reliable of the two. In a strong half-back line, Makepeace was the star. He gave a absolutely of his best. As to the forwards the ground did not suit either Sharp or Hardman, and the inside men, Young, Bolton, and Settle, the latter of whom was in rare fettle, carried off the honours. Moreover the inside-left was credited with a couple of goals. Settle missed that glorious chance in the last minute of the game at Oldham, but the equalising goal on Saturday more than compensated for that mistake. The clubs will fight their battle over again at Goodison-park next Wednesday, the kick off being fixed for three o'clock. Teams: - Bolton Wanderers: - Davies goal, Baverstock, and Slater, backs, Greenhalgh, Clifford, and Boyd, half-backs, Stokes, Marsh, White Joe, and McEwan, forward. Everton: - Scott, goal, W. Balmer and R. Balmer, backs Makepeace, Taylor (Captain), and Abbott, half-backs, Sharp, Bolton, Young, Settle and Hardman, forwards. Referee J. Mason.
LIVERPOOL RESERVES 1 EVERTON RESERVES 3
Feburary 24, 1908. The Liverpool Courier.
Lancashire Combination Division One (Game 26)
The Everton team has this season captured all the points in their meetings with their Liverpool rivals. At Goodison, at the opening of the season they won by 3 goals too 1, and on Saturday at Anfield the blues again triumphed by two clear goals. On the run of the play they were entitled to the victory, though Liverpool were unfortunate in having both Lathom and Harrop lamed in the opening half, and the latter had to change places with griffin following the change of ends. It was something of a coincidence, too, that two of the Everton halves should have been injured, these being Booth and Adamson. Under such conditions as prevailed –the gale and the very heavy going being a great handicap to the players –the football naturally suffered, but both sides gave a very good account of themselves and the contest was always interesting. Everton had the advantage at half-back McConnachie, Booth, and Adamson forming an intermediate line which most League clubs would give a good deal to possess. Their work was grand all through, the veteran Booth doing especially well. Everton's forwards too, played better together than did the reds. Winterhalmer made many fine runs and centre and had a perfect understanding with Mountford. Liverpool's best attacking was done by the left wing –even after Harrop had been drafted there from centre-half for C. Hewitt was uncertain and did not gave Uren too many chances, while Parkinson could seldom over one the attentions of the Everton halves. There was nothing to choose, between the defenses, both goalkeepers making some good saves and Dunlop kicking with a rare power. The scoring took place in the second half, when Everton had the wind, Jones and Mountford doing the needful. Everton: - Sloan, goal, Stevenson and Crelly backs, MaConnachie, Booth, and Adamson half-backs Rafferty, Donnachie, Jones, Moutford and Winterhalmer, forwards.
EVERTON 3 BOLTON WANDERERS 1 (Fa Cup Game 70)
February 27, 1908. The Liverpool Courier.
Fa Cup Round Three Replay.
The replay between Everton and Bolton Wanderers at Goodison Park yesterday in the third round of the ever-popular English Cup competition produced excitement enough to satisfy the most expectant spectators. For something like eight-five out of the ordinary ninety minutes to which a game is confined Everton seemed a beaten tem. Then came one of those electrifying goals for which Settle has made himself famous. Everton were than on level terms, and according to the rules an extra half-hour had to be played. It was during this period that the resource and stamina, not to suggest experience, of the Everton players became noteworthy. The team, which might have won in the usual time " cracked up." That is the only team, which describes the situation. The Everton players went at their work like "men possessed," to use a Biblical expression, and thanks to Young the game was well won when the referee blew his whistle. The suggestion has already been made that Everton in the customary time at disposal were rather in the background. No impartial spectators would venture to go beyond the assertion that the Wanderers fully deserved their lead at the interval. Their forwards were nipper on the ball than the Everton quintette, and altogether their finishing efforts were much more decisive than those which came from the home attack. True it is that both goalkeepers –Scott, of Everton, and Davies of Bolton wanderers –had much work to accomplish, but it was until the opening half had nearly run its length before the first goal of the match was registered. It was, too a rather lucky goal. The Wanderers had been attacking strongly, but if when Greenhalgh put in a long shot the ball had not been diverted through a temporary resting place in the mud Scott might have cleared, as he had done before under more difficult circumstances. Anyhow, Scott was beaten and Bolton Wanderers were a goal to the good. On the play they deserved it. But what a narrow escape the "Trotters," goal had just before the interval Bolton had a position made for him, but on the face of it he failed badly to utilise an opening.
With a goal against them Everton seemed to be in a bad way, and this feeling was accentuated as passes went astray. Seemingly the "Blues" could do nothing right. The Wanderers played up with the energy of despair, to use a colloquialism, and more' over, exhibited footwork of the highest standard. Hope apparently had gone, but still the Evertonians kept at it, and after many galliant attempts the long looked for goal arrived. It has the versatile, Settle who obliged. He failed to do the trick at Oldham, he more than made amends at Burnden-park in that memorable finish, and again he gave Everton the chance, when everything seemed lost, of fighting for another half-hour. It was a great goal, beating the occasion. Extra time found Everton standing the test remarkably well. The presumably beaten team disported themselves like giants refreshed. The Wanderers had not a look in. they had shot their bolt, whereas the stamina and experience of the Evertonians told its inevitable tale. After a grand run by Hardman the issue was practically settled when Young easily defeated Davies. There was just a chance when the teams crossed over after a quarter of an hour, for the Wanderers to draw level, but this satisfaction was deneid them. Everton lasted better, and Young scored a third, Everton triumph being complete. It was a most exciting game, and one, which afforded the spectators plenty of excitement for their money. The Wanderers, as has been suggested were the better team for the greater part of the ninety minutes, but they were worm down by science and experience. On the victorious side, the outstanding figure was Makepeace, who rendered yeoman service. At times the brothers Balmer were uncertain, but "all in all" every member of the Everton side deserves credit. Though beaten, Bolton wanderers are entitled to high praise, and no member of their team deserves more commendation then Stokes, who played probably the game of his life. Teams : - Everton: - Scott, goal, W. Balmer, and R. Balmer, backs, Makepeace, Taylor (Captain), and Abbott half-backs, Sharp, Bolton, Young, Settle, and H.P. Hardman, forwards. Bolton Wanderers: - Davies, goal, Baverstock, and Slater, backs, Greenhalgh, Clifford, and Boyd, half-backs Stokes, Marsh, Cameron, White, and McEwan, forwards. Refere Mr. T.P.Campbell (Blackburn). The gate receipts were returned at £1,01k, the attendance being 32,000.
EVERTON NEW PLAY, COLEMAN OF WOOLWICH SIGNED
February 28, 1908. The Liverpool Courier.
John Coleman the inside right, of Woolwich Arsenal team signed on for Everton yesterday, and will play against Notts Forest on Saturday next.
OLYPIAN'S CORNER
Cricket and Football Field - Saturday 29 February 1908
Why The Wanderers Are Out of The Cup
Simply owing to bad management. There you have the answer in a nutshell. No other explanation will satisfy 99 out of every 100 who saw the twice-played tie. Four times were the Wanderers a goal to the good and yet they could not keep in front. Hardly another first-class club in the Kingdom would have allowed such a golden chance to slip through their fingers. Grossly bad management, I repeat. The followers of the club have had their loyalty severely shaken this season, but the climax has surely been reached over the Cup business. Lucky Everton, say many people. I don't altogether agree. The team simply kept their eyes open, and once more asserted themselves as the best Cup-fighters in the country. In this respect we have had no team like them in recent years. Whilst watching them battling against adversity in the re-play on Wednesday my mind went back to that wonderful game at Nottingham some three years ago, when Everton simply smothered Aston Villa and yet failed to win. Never was a class team so over-played as were the Villa that day. Since then Everton have contested a good few Cup-ties and in the matter of consistency they are almost unrivalled. It is not very long odds against them again journeying up to the Palace in a few weeks. They are at least just as likely as any of the eight still left in the competition.
Lost Through Shaky Defence –
To be twice beaten within the last three or four minutes was mortifying to a degree. Over-confidence and lax generalship absolutely threw the game away at Burnden, and the mortification was even greater in there play at Everton. One would have thought that Saturday's experience would have taught the Wanderers a lesson, and that when the last five minutes was reached, and they were still a goal to the good, they would have made their position safe. And so they should have done without the least doubt. It ought to have been impossible for Everton to win. Even the rabid partisans of the Blues had given all up as lost. Blank dismay was writ on almost every face. There seemed to be only one conclusion, and that was a victory, for which the Wanderers had fought desperately hard. They deserved it up to the hilt – not that they were the cleverer side, but they had played with such a steady, grim determination that had Fortune ultimately smiled upon their efforts they must have won universal praise. But, oh, that fatal three minutes! It was almost an exact repetition of Saturday's finish, the defence being caught napping just when it should have been the most alert. Plucked out of the fire for the second time within the short space of four days. From a Bolton stand-point nothing could be more tantalizing, and yet Everton are to be congratulated on their success. They proved their greatness by seizing the opportunity when all was as good as over. I have been asked whether I thought the equalizing goal on Wednesday should not have been saved. Perhaps it should, but the ball ought never to have got so far as the goalkeeper. The blame rested with the men in front of him. They are both able to kick with plenty of room, but under pressure they lack that steadiness and coolness which stamp the class player. This is their weak spot, and it has led to many a point being given away. In each of their last three Cup-ties, by the bye, the Wanderers have lost three goals. That is not the kind of defence that will help a club up the League ladder. Moreover, in the same three games Marsh is the only forward who has found the net –five hour's barren shooting by men whose forte is to score goals!
PARS. ABOUT PLAYERS
Cricket and Football Field - Saturday 29 February 1908
Jack Slater was just about the best back on the field in the match at Bolton v. Everton –a rare distinction for such a youngster.
Scott, of Everton, was all men miserable at Goodison, on Wednesday, after Greenhalgh's goal with the exception perhaps of Jack Elliott, the Blues' trainer. But relief came with Settle's goal. What a load it took off the minds of the spectators in general too. They had not by any means enjoyed themselves for three-quarters of an hour.
There are few more puzzling centre forwards in the League than "Sandy" Young, who is a veritable box of tricks, and a big box at that. He is unequaled in his hoodwinking of opponents, whom he will draw towards his right wing and then craftily divert his course and the ball's, to send the latter skimming across to the right wing.
James Settle has surely earned the best thank of his masters and his admirers by reason of his splendidly opportune goals in each Cup-tie v. Bolton. He gave a further sample of the value of experience and the old head under trying conditions both at Burnden and again on Wednesday.
The Wanderers' captain, after proving a rare handful for Abbott and R. Balmer at Burnden stood out as the best man on the field in Wednesday's replay. Considering the conditions, the manner in which he skimmed over the ground was amazing. After Marsh's scoring successes of Saturday Abbott was under instructions to keep a close foot on him, and this being so, and also the fact that Abbott is not renowed as a speed merchant, frequently gave Stokes that latitude which he otherwise would have been denied. But apart from this Stokes' work in general and against R. Balmer in particular, was especially brilliant; and it was hard lines for such a master hand to finish on the losing side. Commiserational!
EVERTON AND THE CUP
Cricket and Football Field - Saturday 29 February 1908
By Richard Samuel
Merseyside still has one flag flying in the Cup competition, but how nigh that one flag came to being captured by the enemy will be recalled gratefully in these parts, and remorsefully in the Bolton area for many years to come. Everton's two bouts with Bolton will, indeed, remain green in the memory, despite numerous autumnal visitations. "So near and yet so far" and "There's many a slip twixt cup and lip" will need to pinning up in the Wanderers' dressing rooms, for each adage is sure to haunt the galliant, though unfortunate white-shirted brigade –until they come along to win their next set of honours in the F.A Cup competition class! At Bolton on Saturday and again at Goodison on Wednesday, did the wanderers appear to have Everton hopelessly cornered, but no expert wrestler ever wriggled out of an "impossible position" more sensationally than did Everton, upon whom Blackburn's mantle would seem to have fallen as Cup fighters.
Everton At Bolton
We travel at such a pace that the Bolton match now reads almost like ancient history; hence one's references thereto must necessarily be brief. It was a wonderful struggle played on a wonderful day. Those who acted the part of spectators were indeed rewarded with a feast of good things. I had a suspicion all along, as readers will have noted, that Everton were not in for the "walk over" the numerous Bolton letter-writers would have us imagine. Then the ground being so heavy, and against Everton's style of play, was an adverse factor. The Blues in the sequel, never got a real grip of things. But what magnificent uphill fighters they showed themselves! I do not recall a match wherein a side has thrice been in arrears to subsequently come through with a whole skin as did Everton. It was a glorious struggle a grim struggle and a remarkably fast one when we consider the conditions. I had made up my mind for a 2-2 draw, as had everyone else (with the exception of Marsh, perhaps!) when the Wanderers third goal materialized. Then it was that settle and Co, rolled up their sleeves to repeat their 30 seconds' goal scoring performance v.Oldham. It was a remarkable finale indeed.
Everton's Shinning Lights
Of the players, it cannot be said there were any failures on the visiting side, but to my mind the men to stand out most boldly for Everton were Taylor, Young, and Settle. The captain had White under his little finer throughout, and the amount of defensive and aggressive work he got through was prodigious indeed. Young, too, reveled in hard work and all sorts of clever manipulations; in fact, he was too clever, if anything. Settle played like a seasoned veteran who had succeeded in renewing his youth, and to him were Everton extremely indebted for giving his side a chance to renew battle on Wednesday. Makepeace, Scott, and the Balmers were also prominent. Sharp, however, did not finish the majority of his runs as he usually does, whilst Hardman was handicapped through a damaged leg and a worrying half-back.
THE WANDERERS AT GOODISON
Cricket and Football Field - Saturday 29 February 1908
By Richard Samuel
Wednesday proved another wretched affair, as it rained mercilessly for hours prior to the match and at intervals during the game. But this did not deter 32,000 people from turning up. They were not going to miss anything it was possible to see after learning about the good things accruing at Burnden. And what a splendid six penny worth was again in store! Two hours hard fighting! For the first time this season Everton trotted out the same team in successive matches. I never remember seeing the Goodison Park turf in such heavy condition –but even then it was a long way in advance of the Burden of a week ago. The inclusion of Cameron (whose style is wonderfully akin to that of Percy Humphreys, the ex Notts man) undoubtedly tended towards the strengthening of the visiting team and Taylor found him much more difficult to beat than White. But, all round the Wanderers played with surprising dash and cleverness, their defence was sound halves strong, and the forwards accurate and forceful in passing and running. During the first half they did more attacking than the Blues, the latter exhibiting less dash than usual, although the scoring chances of each side were about equal.
Another Sensational Finish
It was near the interval that the Wanderers, for the fourth time in the tie, got in front, yet it was a rather unexpected goal, seeing it went straight from Greenhalgh to Scott, and then right through the hands and legs of Everton's usually safe custodian. Doubtless the ball had a lot of spin on it, whilst there was also great pace, not to mention the ball's greasy nature. In the second half the wanderers were a trifle more aggressive for 35 minutes, and if ever I thought Everton's time to depart this cup life had come it was when the last ten minutes had been entered upon. But then came a quickening of step and pace. The crucial stage had arrived. Several rushes towards Davies looked ominous, as did scoring tries by Sharp, Young and Abbott. It was left to Settle once again to bring about Everton's reprieve for he clinched a shot by Abbott in masterly fashion after the half-back had received from Sharp. There were only four minutes left at this point and, of course, pandemonium reigned. In the extra half-hour (I do not recall Everton ever playing extra time before in a Cup-tie at Goodison) the "old brigade" completely outplayed the younger men, and two great goals by "Sandy" Young landed the Blues safely in the fourth round, after one of the most tempestuous passages on record.
Comments
The sympathies of all sportsmen must go out to Bolton, who put up two magnificent fights, only to fail in the last stride. Defeat such as theirs is honorable indeed, yet it is terribly galling to have the prize thus snatched from their lips. Such results are naturally disheartening, and yet on the other hand a team so capable should soon work its way clear of its present lowly League position. But they must needs make better use of their opportunities than was the case in both games v. Everton. Their captain, David Stokes, played a glorious game on Wednesday. I desire nothing finer. I only regretted that a man of Makepeace's speed was not in opposition. A wondrous worker also was Greenhalgh –the keenest tackler in League football today I should imagine. The Bolton backs were also very good, as was Davies in goal. The latter brought off some great saves. Of Everton Scott's slip must have made him feel uncomfortable until Settle's equalizer came along. I was not enamoured of the backs. Taylor worked hard, but the scavenging tactics of the Wanderers' attack appeared a trifle too much for Everton's defence in general with one notable exception Harry Makepeace, who put in a delightful and invaluable afternoon's work. The forwards in the main were held up ere becoming too dangerous until the game's closing stages, and then – didn't they come out of their shell! Sharp was much better, however, than in the Bolton match, but it took a long time for Hardman to wear Greenhalgh down. Young put in another great game and Settle was very little behind him, but Bolton has been seen to greater advantage.
EVERTON'S LATEST CAPTURE
Cricket and Football Field - Saturday 29 February 1908
The financial position of Woolwich Arsenal must indeed be serious when they are compelled to part with a player of the caliber of "Tim" Coleman, one of the cleverest inside right forwards playing in English League football, who has this week joined Everton's select band. The transfer has, I believe, created consternation amongst the friends of the Metropolitan club for he was the idol of the crowd at Manor field. John George Coleman has often been described as the "Dan Leno" of the Arsenal team, and the influence of such licensed match-maker will surely be missed. A fine player, indeed, he has a wonderful control over the ball, dribbles it about in the most amazing fashion, and is withal a splendid shot at goal. Born 25 years ago at Kettering, Coleman is a neatly built little fellow standing 5ft 6 and half inches high and carrying 11st 4lbs of humanity, but he seldom troubles to use his weight. When a junior he soon forced his way into the first eleven of his native town, and played as an inside left for a couple of years. He then signed for Northampton, and after one season with them he joined Woolwich Arsenal so far back as 1902. In 1903 he played for the South against the North at Woolwich and in 1904-5 for the Professionals of the South against the Amateurs of the South at Fulham. He was also first reserve for both the international matches with Scotland and Wales and last season he appeared for the South against the North at Stamford Bridge. Then came the crowning point – his cap for England against Ireland at Goodison Park, which enclosure he will soon know interestedly. The second portion of his career at Woolwich has seen him as an inside right, but he has such perfect use of both feet that he cares not where he plays so long as he is helping the ball into the net and his side to victory. That is what Everton want him to do. In addition to Coleman, Crews, the Woolwich reserve forward, has been transferred to Everton, who are said to have paid 600 for the two players.
NUGGETS
Cricket and Football Field - Saturday 29 February 1908
Stokes had a rare day out against Abbott on Wednesday.
Young, Settle, and Bolton play the inside game to perfection.
Settle's revival and Marsh's were two of the great features at Bolton.
It was hard to say which was the best half-back, Makepeace of Greenhalgh.
The difference between the Burnden Marsh and Goodison Marsh was enormous.
There wasn't much hugging among the Everton players when they scored at Bolton.
A sight for Evertonians was the enthusiastic rising en masse of the Bolton supporters when their favourities scored.
Sandy Young is no doubt a clever centre, but he would do well to bear in mind that shady tactics are not approved by the crowd.
Bolton's third goal proved their undoing, for while their players were congratulating each other Everton dashed through the equalizer.
Baverstock found Young and Settle a most difficult pair to contend with on Saturday; nor was the heavy going much to the liking of the unassuming Wanderer.
Sandy young will want some beating for Scotland's centre, while as England's outside right, says a Liverpudlian, David Stokes would have no superior on recent form.
Young was the best watched man on either side last Saturday, and although the attentions of his opponents were at times almost too much for the Everton centre, he kept on persevering.
As regards ordinary play, Bolton had not a weak spot in their team, but as regard extra-ordinary play they cannot be compared to Everton's gems –Settle, Young, Sharp, Makepeace, etc.
Three goals play a prominent part in Everton and Bolton matches, e.g., Cup-tie (last year), Everton 3-0, league match (this year), Bolton 3-0, then last Saturday 3-3, and Wednesday, Everton 3-1.
Lucky Everton
What a useful man Jimmy Settle is close in.
Tom Booth was anxious on Wednesday afternoon.
Games such as that seen between Bolton and Everton are a rarity at Burnden.
The Everton defence kept a keen eye on Sammy Marsh in the re-played tie.
Everton Reserve are now practical certainties for Lancashire Combination honours.
Stokes was the most brilliant forward at Goodison, but at Burnden it was a toss-up between Stokes, Young, Marsh, and Settle.
Makepeace had too many tricks up his sleeve for McEwan, who at times seemed dumbfounded.
What was the feeling of those Wanderers' supporters who left Goodison Park before the final whistle went, fully expecting that victory had rested with their team?
Stokes has had a rare time at the expense of Bob Balmer and Abbott, but they had the laugh in the last half-hour when Walter seemed to have got his third wind.
The Wanderers at Goodison, through Stokes, gave one of the best displays we have seen at Goodison for a long time. Against any other team than Everton they would have won.
Willie Goldie (late of Liverpool) will renew acquaintance with Meredith on the 7th March, while Everton will welcome Johnson, Thorpe, Eastham and Hodgkinson –all old Lancashire favourities.
Did you notice any of the faces of the crowd at the close of the game? When Marsh scored some went very long, whilst the majority broadened; but when Settle scored the long ones broadened out, and the broad ones lengthened.
Sharp, and Hardman played a fine game.
Boyd held Sharp better than ever he has done before.
How is it that Clifford and Young find it so difficult to emulate Jonathan and David?
Harold Hardman much prefers a "hard" game at Burnden to Saturday's soft affair.
Southampton the last hope of the Southern League. Evertonians hope it will be the "lost hope."
Everton's last visit to Burnden will linger long in the memory. It was just about the most remarkable and exciting finish on record.
Adamson was the best half-back on the field in the Combination match at Anfield between Everton and Liverpool. He tackled well, and allowed Uren and C. Hewitt little latitude.
The Everton and Liverpool Reserve match showed that the Blues have by far the best material to fall back upon, as they beat the Reds with greater ease than the score of 2-0 would suggest.
Everton were fortunate to escape defeat at Bolton, but after such a grueling and their pluck in three times equalizing the scores, they may be said to have fairly earned their right "to fight another day."
When the half-time scores were signaled at Anfield, Evertonians indeed looked blue, while the Liverpool crowd blushed in expectation of victory, but what a chance of colour when the final results were made known.
"Well done Marsha," said the Evertonians at Burnden. You played a splendid game, gave Stokes all the passes he wanted, gave Bob Balmer and Abbott more than they wanted, and got what you wanted – three goals.
Everton's successful effort to save the game, vividly recalls an equally meritorious finish at Goodison Park some years ago in a League game with Sunderland, when the Blues slipped a couple of goals through in the last five minutes and shared the points. Of Saturday's team at Bolton only Taylor participated in the previous galliant fight.
The Bros Brothers were both shaky and lucky.
The Trotters don't care much for Everton Toffee.
Uren played a very good game against Everton's reserve team.
Sharp was a marked man on Wednesday, and no wonder after Saturday.
What a wonderful worrying warrior is Everton's captain. White at least thinks so.
Bolton scratch (?) team gave a very good display against Everton, and deserved to win.
What were the Clayton team doing at Goodison on Wednesday? Getting a few hints, eh!
Who was Everton's best man at Bolton – Settle, Taylor, or Young? It is a moot point.
Jimmy Settle's miss at Oldham and successes at Burnden and Goodison spell $ s.d. for the Everton exchequer.
Settle's equalizing goal was the outcome of experience. Many a young player would have bungled the chance through over-excitement.
Young, the Everton centre, is at present playing so well that he should be a strong candidate for his International cap. Most centre-halves would be willing after meeting him in his best form to give him a good testimonial.
After their plucky fights, Evertonians think it would be almost a calamity were the Wanderers to be dismissed from the First Division. They will draw on their next visit to Goodison Park, not in goals perhaps, but the spectators, and may be sure of a warm welcome.
Why the Wanderers lost will be a question for debate for many a long day. The writer's opinion is that they lacked judgment, for rarely have Everton given a more disjointed display. Only Makepeace, Young, Abbott, and Settle used discretion. The last-named can rightly be described as a "last-minute goal-snatcher"
NOTTS FOREST V. EVERTON
Cricket and Football Field - Saturday 29 February 1908
Eight of the Cup Team Absent
Bitterly cold weather prevailed at Nottingham for this match this afternoon, and the gate did not exceed 8,000. The ground had a slight coating of snow, and was in a rather greasy condition, but still there was never any doubt as to play being possible. The Forest had Dudley and West away. Everton only included three of the men who beat Bolton, but Coleman, of the Arsenal, made his debut for them. Teams;- Notts Forest;- Linacre, goal; Gibson, Right back, Malty, Left back; Hughes, Right half-back, Wolfe, Centre half-back, Armstrong, Left half-back; Shearman, outside right, Marrison, Inside right, Green, Centre, Morris, Inside left, Spouncer, Outside left. Everton; Scott, goal; Right back, W. Balmer, Crelley, Left back; Macconnachie, Right half-back, Booth, Centre half-back, Abbott, Left half-back; Donnachie, Outside right, Coleman, inside right, Jones, centre, Mountford, inside left, Winterhalder, Outside left. Referee; Mr. H.S. Bamlett, Gateshead-on-Tyne.
Avalanche of Goals.
The Forest won the toss, and had the benefit of the wind. Wolfe at once sent in a long shot which Scott cleared, and Maltby relieved at the other end. Shearman was given offside when the Forest tried another attack, and Marrison all but beat Scott with a fine cross shot, the custodian just touching the ball, and keeping it out. The Forest still kept on the aggressive, and from a pass by Marrison, Spouncer scored, at the end of four minutes. Green was given offside as he shot into Scott's arms, but the Forest kept up the pressure, and Hughes had a firm shot charged down. At last Everton got away for Malty to make two fine clearances, and Coleman to just miss the mark. Then Green burst away for the Forest, but hung on to the ball instead of passing to Shearman, who was unmarked. After 11 minutes, however, Green put in a hard low shot which Scott failed to hold, and the Forest were thus two goals up. Scott saved brilliantly from Spouncer, and though Everton had a free kick close in the Forest continued to be the more impressive side, and Morris scored a third goal after 20 minutes with a low shot. Snow was now driving in the teeth of the Everton men, but they played up manfully, and after fine work by Abbott, Jones shot just wide. Then Morris forced a corner, but the visitors' defence kept the ball out. The snow then ceased and play became more open. Linacre having to save from Winterhalder. Spouncer only just failed to turn a centre by Shearman through the goal, but with half-an-hour gone Green beat Scott a fourth time with a great shot, and followed with a fifth in the next minute, after Crelly had deliberately seized him by the jersey to hold him out. By this time Everton were thoroughly demoralized, but they pulled themselves together and forced two corners. The Forest, however, held them out, and quickly forced play to the other end, where Scott twice saved. Just on the interval Mountford scored for Everton. Half-time; Notts Forest five, Everton one.
Visitors Fail to Pull Up.
Restarting, Shearman got right away on his own, but when within two yards of goal he passed the ball, and by the most extraordinary chance, it went out with all the forwards in front and not one able to put on the finishing touch. Then Everton made ground on the right, but Malty dashed in and play surged back to the visitors' end, where Shearman was given offside. Scott then made a brilliant save from Green at close quarters, and two corners fell to the Forest. Green had another shot luckily diverted from another corner, from which Scott cleared finely. The Forest still did all the attacking, and another corner fell to them. At last Everton raised an advance, and the home goal had a lucky escape. Morris hit the post at the other end after a run by Shearman. Too much individualism lost the Forest other chances, and offside also kept them out twice. Another raid by the Forest all but led to a further score, and after this Everton took a bigger share of the game, and from the second of two corners an exciting scrimmage took place, Malty clearing. Armstrong, however, put through his own goal after half-an-hour. Everton then played up with great dash, and Mountford missed an open goal, Gibson finally clearring. But Everton then pressed to the finish. Final; Notts Forest 5, Everton 2.
EVERTON RES V. ST. HELENS
(Lancashire Combination.- Division 1.)
Cricket and Football Field - Saturday 29 February 1908
At Goodison Park. The Saints commenced operations, but the Blues made play, and Dougherty was early in difficulties, although no score accrued. Cunliffe ran well down and centred to Roberts who missed a glorious opportunity under the bar. The game was well contested, both ends being visited. Roberts shot well, having hard lines, as the ball rebounded from the crossbar. Chetwood opened the score for Everton, Rafferty following suit; Owens putting on a third goal, and Chetwood a fourth. Half-time; Everton 4, St. Helens 0.
Final; Everton Reserves 5, St. Helens Recreation 1.