EVERTON'S VISIT TO MANCHESTER
February 1 1933. Liverpool Post and Mercury
By John Peel.
Everton visit Manchester City to date at Maine-road, which has never been a "happy hunting ground" for the Goodison club. Indeed, in 6 matches at Maine-road, Everton have won only once 2-1 in 1929-30 –and altogether they have only four victories and as many draws in twenty-four games against the Manchester City in Manchester. Last season the City touch four points from Everton winning both games 1-0, but last September Everton beat them at Goodison Park 2-1, and so have an opportunity of securing the full points this time.
Steven's League Debut
Everton have made two changes from the side which defeated Bury in the cup game on Saturday. These are the return of Gee, at centre halt, in place of White, and the appearance of Stevens, the former New Brighton player, at centre-forward in place of Dean. This will be Steven's debut, in the First Division football, and it is a great chance for the young player to distinguish himself. He has been playing remarkably well in the Central league, and has proved a good marksman. His positional play is excellent, and he serves his colleagues, with good passes, while in leading he is emulating Dean by gliding the ball to his partners. Against Liverpool Reserves recently her obtained two goals, while he lead the attack in the Lancashire Cup against Burnley. The teams ares: - Everton: - Sagar; Cook, Cresswell; Britton, Gee, Thomson; Geldard, Dunn, Stevens, Johnson, Stein. Manchester City: - Langford; Ridley, Dale; Busby. Cowan, Bray, Toseland, Marshall, Tilson, McMullan, Brook
Liverpool Challenge Cup
Earle travel to Crosby on Saturday to play Everton "A" in the third round of the Liverpool Challenge Cup, on marine's ground. Earle are keen to avenge the defeat by Everton "A" in the final of this cup last season, and as Earle are now playing clever football an exciting games is anticipated. Team from J. Cain, H. Reed, H. Leyland, J.E. Devine, G. parry, A.R. Holland, R.G. Smith, H.W. Elcock, F. Thomas, H. Bull, S. Airey, A. Milne, F. Nolan, E. Farley.
ARSENAL TO A TEE.
February 1 1933. Evening Express.
Birkdale Training For Everton Game.
By the Pilot.
Arsenal to a Tee! The Gunners, who lead the First Division, are top make golf a part of their programme in their bid to secure Everton's title of champions. Following the match with Bolton Wanderers at Burnden Park today, the Highbury players will make Birkdale their headquarters until Saturday, when they will meet Everton, the league champions, at Goodison Park. The two days at Birkdale will not include intensive training and golf will be the chief preparation for Saturday's vital match. The Londoners realise that Everton, at home, are one of the best sides in the country. They have also recollections of the lucky victory they snatched over the champions at Highbury earlier in the season. There are twelve players in the party and the officials will wait to see how the team shapes at Bolton Wanderers choosing the men to face Everton. The players on tour are Moss; Male, Cope; Hill, Roberts, John; Hulme, Jack, Parkin, Coleman, James, Bastin. Last season Arsenal scored a sensational victory over the Champions at Goodison Park by 3-1, and this season won by 2-1 at Highbury.
Cup Tie Prices.
The Everton directors have decided to allocate 6,477 seats for looking for the F.A. cup fifth round tie at Goodison Park on Feb. 18. At the meeting of the directors last night it was decided that on the shareholders stand (Bullen-road) 1,118 seats should be numbered and reserved at 5s; on the members' stand (Bullen-road) 900 seats at 5s; on the north and south ends of Bullens-road' stand, 2,664 seats at 3s 6d; on the centre portion of the Goodison-road stand, 1,725 seats at 3s 6d. This will leave the north and south ends of the Goodison-road stand and the goal double-decker stand unreserved at 2s, for spectators who pay at the turnstiles. All applications should be made to the club at Goodison Park, with remittance and stamped addressed envelope. Booking is expected to begin early next week.
EVERTON CLEVER, BUT NOT FAST ENOUGH.
February 1 1933. Evening Express.
Goals Reward Speedy City Attack.
By the Pilot.
Everton were at Maine-road today for their rearranged league match with Manchester City. There would not be more than 5,000 present when the teams took the field in a downpour of rain . Manchester City: - Langford, goal; Ridley and Dale, backs; Busby, Cowan, and Bray, half-backs; Toseland, Tilson, Fletcher, McMullan, and Brook, forwards. Everton: - Sagar, goal; Cook and Cresswell, backs; Britton, Gee, and Thomson, half-backs; Geldard, Dunn, Stevens, Johnson, and Stein, forwards. Referee W. B. Bristlow (Stafford). Everton opened in brilliant fashion penning the City in their own half for minutes on end. Their football was delightful in its accuracy. Three times Langford had to save from Dunn after glorious dribbles by Geldard. Stevens headed through, but was off-side. Cook and Britton had done well in defence when the City took the lead after eight minutes. McMullan, Fletcher and Tilson joined in clever inter-passing before Brook came in to drive into the corner of the net. Brook was being given far too much room, and now he struck the outside of the post with a lighting drive before Sagar turned over the bar a free kick. Everton showed more methodical football combinations, and manipulated the ball more accurately on the muddy ground.
Everton's Mistake.
Everton took up the running, and save for isolated occasions the City were not nearly as dangerous, but Everton made the mistake of feeding Langford with their centres. Cook, who was giving Brook too much room, allowed a free kick to pass between his legs, and had it not been for smart tackling, the City would have taken a second goal. Stein ran through on his own to bring Langford to his knees and Sagar made a splendid save from a header by Fletcher, who was making his debut for the City. Brook was always a menace to the champions. Geldard had a chance to cut in and shoot, but elected to centre and Stevens was crowded out. Stein cut in to shoot, but the ball struck Ridley's foot and went out for a corner. On the play Everton certainly deserved to be on terms. Their cross-field passing was delightful. Cresswell made a mistake by trying to intercept a ball, which was earmarked for Sagar, and it ran away to McMullan, who centred to the far post. As Sagar went up to catch the ball, he was shouldered by Toseland and the ball dropped from his hands a foot over the line. This was an occasion when the use of the fist would have been the much better plan. The City played fine football towards the interval, Everton's good work being ruined by lack of penetrative ability.
Half-time Manchester City 2 Everton 0
Everton had opened in splendid style, but had failed to maintain the pace, and they had become somewhat disheartened by the by that the City took the lead in their first raid. Everton's failure was in giving Brook too much room. Manchester resumed in fine style, combining with delightful accuracy along the ground. McMullan was the master schemer. Twice Sagar had to run out to save before Stevens darted through, only to be sandwiched. Stein made his first good centre of the day, and Stevens flung himself headlong to head in, but the ball glanced off his forehead. Tilson scored a third goal for the City after 68 minutes. Brook was in an irresistible mood.
EVERTON RECRUIT.
Lancashire Evening Post - Thursday 02 February 1933
Everton have signed, on a Central League form, H. Williams, a centre forward of Ellesmere Port. Town, who last week was signed on as amateur by Chester.
MANCHESTER CITY 3 EVERTON 0 (Game 1420 over-all)-(Div 1 1378)
February 2 1933. Liverpool Post and Mercury
Everton Below Form.
Fiery City Forwards on the Mark
By "Stork."
Maine-road is not one of Everton's happy hunting ground. It is some considerable time since they took full points from the City on their own enclosure, and that was also a mid-week game. Yesterday they flattered only for about ten minutes, during which time they made the City team appear of very poor quality, but after a disallowed goal by Stevens they fell away so badly that Manchester dictated the terms of the game until the end, and won a solid 3-0 victory. Whether Steven's goal was a genuine one does not matter, but my impression was that the former New Brighton centre forward, who deputised for Dean, who had a slightly injured ankle, was offside at the moment Britton passed the ball. Up to then Everton had played entrancing football on a turf that lent itself to clever play. They passed soundly, and the City full backs were often at their wits end as to how best to cope with their machine like efforts, and Langford, in goal, had three saves to make from Dunn, who was the one man of the forwards who seemed to have an eye for a shot. The City had been penned in their own quarters, but at their first venture into foreign parts they took a goal at eight minutes. Fletcher a Helsby youth making his First League debut, cleverly slipped a ball to Tilson, who dragged it back to Brook, and this fiery little winger went on to drive home a great home. From then until the end the City were undoubtedly masters of the situation. The longer they played the more they got on top and with Everton's forwards not playing well together the prospect of an Everton victory faded right out after it had been highly probable.
McMullan's Skill.
McMullan, the Scottish half-back, may be in the veteran stage, but he is still a great footballer. He was acting at inside-left, and he was the Alec James of the City. His passes were the essence of precision, and for how much Brook had to thank his partner only Brook really knows. The pair had Britton and Cook in a constant state of bewilderment. This pair never really got the hang of things until late on in the game, but by then the damage had been done. Brook rarely lost a ball. He skirted the wing at a tremendous pace, and put in good length centres which, if it had not been for Cresswell, and Cook would have produced a number of goals. The City on this form will take some stopping in the Cup tournament. There was not a weakness throughout the side, and their tackling was deadly, Ripley and Dale playing as if their lives depended on the result. They went into the fray-fearlessly so much so that Langford had little or nothing to do. Add to that the dominating personality of Cowan at centre half-back and you have the secret of the victory. The forwards, however, win matches, and the City five were much in front of those of Everton. Dean was missed, although Stevens did his best, but there was a weakness on the left wing. Stein had one of his worst days. Nothing would go right for him. Even his speed did not help him. If he got away from his man he wasted his centres. Others naturally suffered as a consequence. Geldard and Dunn found Bray and Dale a stubborn pair yet they were the bright lights of the Everton attack.
Sagar's Error.
When Toseland scored his goal, I think Sagar made an error of judgement. Only a punch away was possible, but Sagar tried to catch the ball. He did not get a correct hold, and Toseland bumped up against him and the ball fell to Toseland's feet so that all he had to do was tap it into the net. The third goal was a magnificently engineered goal. Four, if not five players had a hand in its making. McMullan to Toseland. Toseland to brook, and Brook to Tilson; then into the net. Everton were well beaten. They had not the snap of their opponents, and Gee did not close down the middle in the same manner as Cowan; but it was forward where the City were so much superior. They were uncanny in their passing; they knew where to find one another, and they went forward with a bound and confidence that was bound to bring trouble to the Everton defence. Cresswell and Cook –this was Cook's best game –stood up solidly to the hard work, and Sagar made some sparkling saves, but after Everton's bright 10 minutes it became all city, and no one, not even the most ardent Everton supporter could cavail at the result. Manchester City: - Langford, goal; Ridley and Dale, backs; Busby, Cowan, and Bray, half-backs; Toseland, Tilson, Fletcher, McMullan, and Brook, forwards. Everton: - Sagar, goal; Cook and Cresswell, backs; Britton, Gee, and Thomson, half-backs; Geldard, Dunn, Stevens, Johnson, and Stein, forwards. Referee W. B. Bristlow (Stafford).
WHITE AND DEAN RETURN.
February 2 1933. Liverpool Post and Mercury
By John Peel.
For the game with the Arsenal, Everton will be at full strength. Dean, who got a knock on the ankle in the Bury game, will return to the side, while White will resume in place of gee. The team will be Sagar; Cook, Cresswell; Britton, White, Thomson; Geldard, Dunn, Dean, Johnson, Stein. Everton were eclipsed at Maine-road, Dean being greatly missed, and the fast moving City forwards gradually wore down their opponents to win with ease. Everton's early form promised well, but the standard was not maintained.
EVERTON'S CUP FIGHTERS TO FACE ARSENAL
February 2 1933. Evening Express.
Dean and White Resume for Champions.
The Cause of the Maine Road Crash.
By the Pilot.
Everton's Cup team will face Arsenal at Goodison Park on Saturday. Dixie Dean and Tommy White, who, though slight injuries, were unable to play against Manchester City, have recovered and will displace Stevens and, Gee. Dean has been suffering from a swollen ankle, and White has had a slight groin injury. Everton: - Sagar; Cook, Cresswell; Britton, White, Thomson; Geldard, Dunn, Dean, Johnson, Stein. Everton will need to show vast improvement on their Maine-road form if they are to hold the leaders, who by their 4-0 victory over Bolton yesterday, have a five point lead and appear to have come back to their best form. They are spending two days at Birkdale. There was only one consoling fact about the Blues 3-0 defeat by Manchester City. In the opening 15 minutes they showed that they can play really class football. For the opening minutes they penned the City in, but lack of shooting power led to their eclipse, especially as Manchester took the lead in the first attack of the game.
Unhesitant Passing.
In the second half the City gave a thrilling display of highly-conceived football, with the ball always on the b ground, and unhesitant passing making their machine work smoothly and quickly. It was a delight, and had the Everton defence not been so good, the City's victory would have been even more convincing. The McMullan-Brook-Bray wing was magnificent, though they were given far too much room in the first half. Cook and Britton lacked understanding in the opening period, and this enabled Brook to get away on numerous occasions with no one near him. They improved this defect in the second half, when Cook took on the task of holding Brook. It was much more successful. Everton missed White at centre half, for Gee was slow to tackle and recover, though some of his feeding was good, Johnson and Dunn were the pick of the forwards. Stevens was a zealous worker who did his best with poor material. Stain had an unhappy day. He was consistently fed, but only twice managed to find his own forwards with his crosses. Cresswell, Sagar and Thomson were outstanding for Everton who flattered only to deceive.
Buxton Again.
The directors have decided that for the third time this season Everton shall go into special training for the Cup match. Yes, and Buxton has again been chosen as the training centre. It is expected they will go there immediately after the match with Liverpool on February 11. Ben Williams the right back, who is recovering from Cartilage trouble, will probably be one of the party. This is encouraging news, for although Williams might not be fit for the Leeds match there is just a chance. We must wait and see what improvement he makes in the next week.
• Advertisement in Evening Express. League Match, Goodison Park, Saturday Next Everton v. Arsenal. Kick-off 3.15. Admission 1/- Boys 4d. Stands Extra (Including Tax).
HIGHBURY ARTISTS AT GOODISON
February 3 1933. Evening Express.
Can Everton Check Arsenal Bid for Title?
Football Classic Tomorrow.
By the Pilot.
The Highbury artists will be at Goodison Park tomorrow. They not only hope to consolidate their position at the head of the League table, but also to emulate the feat of West Browmich Albion by recording a "double" against Everton this season. Everton have small chance of retaining their title of champions, but they will leave no stone unturned to check the Arsenal's successful run tomorrow. It is good news then that they will pit their full cup team against the league leaders for this makes for a wonderful test of football skill. Arsenal at the moment have a lead of five points in the League, and though they suffered something of a loss of form just over the Christmas holidays, they have come back to their best, and only on Wednesday last thrashed Bolton Wanderers at Burnden Park by 4-0. Everton will be out to averange a narrow defeat sustained at Highbury early in the season when they had all the play, but when under by 2-1. In the game the Blues took the honours and the Arsenal the points. The Londoners have fared well in games with the Blues of late. Last season they shared with Manchester City the honour of being the only teams to take four points from Everton. Their team personnel has changed somewhat since last campaign and notable absentees tomorrow will be Parker and Jones. However, Mr. Chapman has a fine blend and the team is certainly the most attractive eleven in the country. Moss, the goalkeeper, is a product of the home of goalkeepers, Oldham. A Preston boy, he is considered one of the best in the Country. Male, the full back, is a most versatile fellow, for in the last season's cup final he figured at left half. He and Cope, who has come back in place of Hapgood, have a splendid understanding and cover each other ideally. Roberts, centre-half, learned his football at his native Oswestry and was the pioneer of the third back game which has become so popular. John, the left half is the Welsh international and another versatile fellow. In last season's cup final he played outside left, but all positions come alike to John –a fine player. The famous section of the Arsenal is the James-Bastin left wing. James has scored one goal this season, but has created dozens and Bastin, holds the distinction of being the leading goal-scorer among wingmen in the league. He has scored 23 goals –a marvellous record. Coleman, the centre forward, was formely with Grimsby Town and is a real opportunist, while David Jack, the inside right, is another schemer with a long raking stride and deadly shot. On the right wing is Joe Hulme, the Highbury "express." Speed is his chief asset and he loves to cut in on goal for a quick shot. Was formerly with York City and Blackburn Rovers. There you have the men of Arsenal. What of Everton? The champions will be happy with Dean and White back but they will have to play much better than they did at Manchester on Wednesday to have any hopes of success. It should be a thrilling encounter witnessed by a hugh crowd. Everton; - Sagar; Cook, Cresswell; Britton, White, Thomson; Geldard, Dunn, Dean, Johnson, Stein. Arsenal: - Miss; Male, Cope; Hill, Roberts, John; Hulme Jack, (or Parkin), James Bastin.
Cresswell Record.
Warney Cresswell will captain Everton against Arsenal at Goodison Park tomorrow. The honour has been conferred on him to make his 500 th football League match, more than 200 of which have been with the Everton club. The remainder have been with Sunderland and South Shields.
• Advertisement in Evening Express. League Match, Goodison Park, Saturday Next Everton v. Arsenal. Kick-off 3.15. Admission 1/- Boys 4d. Stands Extra (Including Tax).
ARSENAL'S VISIT
February 4 1933. Liverpool Post and Mercury
By John Peel.
Locally, Everton present what is expected to prove one of the best matches of the season. The Arsenal are undoubtedly a fine combination, and though the Arsenal lapsed in the cup and in some league matches, the men proved at Bolton that they are as good as ever, and the side seems to have regained all its old skill and power. Everton always relish a flit at the London side, and they are anxious to make a good show today. The Arsenal, of course are out of the cup, and therefore free to concentrate on the League race, so that James and Jack may expect to lead a very determined team at Goodison Park. Everton have a lot of leeway to make up in their clashes with the Highbury side. Since the war Arsenal have gained thirteen points from the 12 games played at Goodison Park. Scored 25 goals, and conceded a similar number. The results of these meetings (Everton's score ready first) are: - 2-3, 2-4, 1-1, 1-0, 3-1, 2-3, 2-3, 3-1, 3-3, 4-2, 1-1 and 1-3. Cresswell, I understand, is to captain the team today to mark his 500 th appearance in League football, it is a remarkable record. The kick off is at 3.15, and the teams are:- Everton; - Sagar; Cook, Cresswell; Britton, White, Thomson; Geldard, Dunn, Dean, Johnson, Stein. Arsenal: - Miss; Male, Cope; Hill, Roberts, John; Hulme Jack, (or Parkin), James Bastin.
DEFENCE SAVES ARSENAL
February 4 1933. Evening Express Football Edition
60,000 cheer A Classic Draw at Goodison
By the Pilot.
Five hundred not out! This was Warney Cresswell's record of the League appearances today, when he captain Everton against the Football league leaders Arsenal at Goodison Park. Arsenal were out for the "double" at the consequence of the Blues who had Dean and White back to complete the full cup team against the potential champions. Everton: - Sagar goal; Cook and Cresswell (captain), backs; Britton, White and Thomson, half-backs; Geldard, Dunn, Dean, Johnson, and Stein, forwards. Arsenal: - Moss, goal; Male and Cope, backs; Hill, Roberts, and John, half-backs; Hulme, Jack Coleman, James and Bastin, forwards. Referee Mr. T. Crew (Leicester). The grand stands were packed half an hour before the kick off. There must have been more than 50,000 present at the start.
The Game.
Cresswell was given a wonderful reception and winning the toss he chosen to play with the wind. Britton tried the long punt to the advantage but Dean's hook shot travelled wide. White flung a pass up the centre. This went over Robert's head and in a exciting race for possession Moss won. Everton were pilling on the pressure then White, manipulating adroitly which made Dean to head back for Johnson to test Moss with a "daisy cutter." Then Hulme profited when Cresswell slip and twice Sagar had to fist out.
Rest of column unreadable
A save by Sagar from Hulme and a wide drive by White were the features of the opening of the second half. Jack shot just by the post before Thomson, Johnson, and Dean put Stein through, the Scot's fierce shot being brilliantly fielded by Moss. Fine work by Britton sent Geldard away, and Moss had great difficulty in turning the centre away for a corner. Moss was injured, but was able to resume, and following the corner, Thomson placed to the goalmouth with Dean standing with his back to the goal. He turned round to bang a terrific shot over the top.
Dunn's Inches Wide.
From Stein's corner Dunn raced in and headed inches wide by the far post with Moss beaten. Moss had to run out to intercept Dean's clever pass to Geldard. Dean dribbled cleverly without getting an opening for a shot, and following a throw in, Thomson's quick centre touched against the Post. Everton were having all the game now, little being seen of the Gunners. Johnson and Dean did the work before Stein ran through and Struck the foot of the post from an apparently offside position. Then with fully 60,000 spectators incessantly cheering, Moss saved from Dean, and Johnson drove inches over the bar. Everton had been penning the Arsenal in their own half, and had it not been for a wonderful defence the champions would surely have been leading. There were two shots from James, one after the other, but neither had effect. Final Everton 1 Arsenal 1.
EVERTON 1 ARSENAL 1 (Game 1421 over-all)-(Div 1 1339)
February 6 1933. Liverpool Post and Mercury
Last Minute Thrill.
Males Kick That Saved Arsenal.
By "Bee."
Everton and Arsenal should be satisfied with a draw of 1-1. The result might have gone any way in the last half-hour, because Arsenal, having the wind in their favour this half, had got Everton in a state bordering on defeat and Everton making a battling finish struck the woodwork twice, and finally saw Male kick the ball off the line when his goalkeeper was beaten. Arsenal defence tactics are such however, that this finale was not a thing to concede too seriously. They plan and slot their defence so that these things shall be done. They consider the back should be on the goal-line, that Jack should at times be found with the full backs of his own line, and that Roberts shall take up a place behind his backs. The secret of this almost wonders juggling with positions is that Alec James is at their back and call. He dominates their game; he dictates their field policy and he picks up so many stray passes that one feels he is a magnet. Actually he is a "loafer" in the best sense of the term, and his sense of touch is such that he gathers the ball in one action and makes a pass that sends everyone along the wing or makes a pass to Coleman. He did not get any real response from his wing men. Hulme and Bastin, in the second half, of this game would have gone the way of the championship probables.
James's Jugglery.
It was a game between ex-champions and their likely successors, and while it did not touch the great heights of previous engagements it had much in it that made a crowd of 55,000 enjoy the fare. James himself was a feast; he even dared of make shots, hard flinging efforts with the ball clogging against a defender's foot; but he was always at his nattiest when he was making the ball do the work, making initiation treads upon the outer cover of the ball, making the defence come to him and then bamboozling them and keeping the crowd in good homour. He had not the support necessary to make his side a victory, indeed the Arsenal side now fields such a margin of thirty-year-olds that they cannot be expected to do well twice within four days. they had played astonishing football on Wednesday at Bolton. Jack for instance was plainly wearing badly in the second half, yet he had been the man with the great chance to take the lead after James had supplied the ball in enticing manner. A curious feature of all the play was the fact that not a wing man stood out, and some of our inner forwards found the pace severe after they had run themselves out in the first half.
A Just verdict.
Yes 1-1 was a just verdict; just sufficient to show how well Everton rallied and fought almost Anfield like for the closing stages, then there was a strong endless duel between Roberts and Dean that was full of football point, had high marks for heading ability, and was spotlessly clean. It was a brilliant duel, with Dean showing pace and precision in pass and leaping, but getting few chances against the deadly head of Roberts, who is not a mere stopper, and has many other features of note. In defence Arsenal brought back Cope after many years of service and Male by his side also worked hard, but at half-back Hill took the palm, he is very small and a neat worker. Everton's line was best represented by Britton, behind whom Cook did some strenuous kicking, and once forgot himself in a way one does not associate with the Everton club. His partner was Cresswell, who was made captain for the day, to celebrate his 500 th League appearance in senior football since the war. Cresswell got a knock early on and was a long time getting right. He played sufficiently well, as did Sagar, whose best save was from Jack. Moss had the more work to do and his stoppage of Stein's from shots was good. He had to yield to the shot from Stein, the ball passing through his legs and it is probable that one of his full backs crossed his line of view, and that was how he came to allow the ball to pass him by.
Coleman's Equaliser.
Coleman got the draw through a great shot half a minute from half-time. It was surprising Arsenal did not score more because there were times when the ball was sent across the face of the goal and no one was up to accept the easy chances. Indeed the game was noteworthy because no wingman did anything outstanding. This must put the wing half back to the forefront, but one must pay tribute to White for his persistent efforts when the home team were not doing well; they had lost grip of the game and all too easily the combination, and dribbles of the London side was overwhelming them. It was good football, not great football, and James, dean and Roberts gave it an air of distinction through their individual actions and skill. Everton: - Sagar goal; Cook and Cresswell (captain), backs; Britton, White and Thomson, half-backs; Geldard, Dunn, Dean, Johnson, and Stein, forwards. Arsenal: - Moss, goal; Male and Cope, backs; Hill, Roberts, and John, half-backs; Hulme, Jack Coleman, James and Bastin, forwards. Referee Mr. T. Crew (Leicester).
BURY RESEVRES 1 EVERTON RESERVES 3
February 6 1933. Liverpool Post and Mercury
Central league (Game 27)
Everton proved a smart team at Bury, through they might not have won had Bury's forwards shown greater steadiness in front of goal. Critchley had a good match, on the Everton right wing, and had a hand in goals scored by Stevens and Fryer. Earl got one for Bury , while Turner claimed the only goal of the second half for Everton, for whom Coggins kept goal well. Bocking did good defensive work, and Stevens was an enterprising leader.
Everton "A" 5 Earle 0
Liverpool County Cup Third Round .
For the quarter hour at Crosby Everton were a dominating force and aided by the wind, put three goals through Birtley, Griffiths and Griffin. Earle improved to an extent, and Elcock, and Ball were prominent. Leyland missed a penalty, and the Everton defence with Frostich and Jackson playing well enjoyed a comparatively easy passage. Other players of merit were Leyfield and Birtley in the Everton side and Cain and Holland for Earle. Everton's two further goals were registered by Leyfield and Birtley in the second half.
BRITTON THE MAN FOR BRITAIN.
February 6 1933. Evening Express.
Everton Half-back's Claims to National Honours
Arsenal Match Hint to Selectors.
By the Pilot.
In Clifford Britton Everton have a future England international half back. It would not surprise me to find him chosen to play against Scotland at Hampton Park on April 1. His form this season has been amazing and against Arsenal at Goodison Park on Saturday, in a game, which was drawn 1-1, Britton outshone even the very little atom, Alex James. James was the winder player in the first half, but faded out later. Britton was consistently brilliant throughout the game, never making the slightest mistake, feeding with consummate skill, swimming with coolness, and manipulating the ball as neatly as any man. He shoed the almost perfect display of intermiatary work. Britton had a curious experience at Goodison Park. When he came from Bristol Rovers as the first man under the Britton-Ronald Dix agreement, he impressed as a boy with distinct football ability. He had to content himself with a place in the reserves, but during the Blues' time in the second Division, he made occasional appearances, always doing well, but conveying a mistaken impression that he could not stay 90 minutes of fast, strenuous football.
Perfect Display.
No doubt his sparse build prompted the idea, but he gave it the lie when gained his place this season on September 17, when he helped Everton defeat Manchester City. His football since has been a revelation. It was the Britton-White-Thomson, which held the Arsenal scoring down, and helped their own forwards to maintain the balance of play against the League Leaders. Everton opened in splendid fashion and took a goal through Stein in 17 minutes, but James was a master mind for Arsenal and they gave the Everton defence a rare gruelling right up to the interval when Coleman equaliser. Arsenal did the same in the early parts of the second half, but Everton halfbacks secured a grip on the Arsenal and for the last half hour only determined defensive work saved the visitors from a defeat they should have gained. Twice Everton struck the woodwork and once Male kicked off the line with Moss already beaten.
A Classic Game.
The game was a classic between two good sides. The standard of football was high, and the speed throughout was striking. The failure was in Everton's finishing, more applied in particular to the attackers. Stein once again failed to centre the ball well in crossing, through his great work in the field, and Geldard could not secure the measure of John and Cope so that his centring was faulty. The inside men did not shoot as well as they can, but Dean was an inspiring centre while Johnson and Dunn proved god schemers. And a word for Cook. This player is definelty striking the form, which convinced Everton to secure him. He was splendid in this game, with the way that Bastin did practically nothing, with Cresswell, Cook made a fine defence and well backed up by Sagar. The official attendance was 56,872 including shareholders and season ticket holders.
EVERTON UNCHANGED
February 8 1933. Liverpool Post and Mercury
By John Peel.
Everton are in a happier position, for with the exception that Williams of course is still absent, the team will be at full strength, the players who drew with the Arsenal being chosen. The team is Sagar; Cook, Cresswell; Britton, White, Thomson; Geldard, Dunn, Dean, Johnson, Stein.
Central league Game at Goodison Park.
The Everton Reserves side have an attractive Central league engagement this afternoon at Goodison Park, where Manchester City are the visitors. The Everton team will be: - Coggins; Common, Bocking; Mercer, Clark, Archer; Critchley, Fryer, Stevens, Watson, Turner. The kick off is at 3.15.
STEEL'S 50 TH LEAGUE GAME FOR LIVERPOOL
February 8 1933. Evening Express.
Return Battle with Everton on Saturday.
Scott & Morrison Resume For Reds.
By Ijay.
When Steel, the Liverpool right full-back, steps on to the Anfield ground on Saturday, in the return "Derby" game against Everton, it will be his 50 th league appearance for his club. Steel came to Liverpool on trial from St. Johnstone in the close season of 1931, but did not play his first league match until December 17 of the same year –against Derby County at Anfield. Saturday's game will mark the 64 th meeting of the clubs and as regards the clashes at Anfield, Everton holding an advantage of 14 victories to seven. When the clubs met at Goodison Park on October 1 last, Everton won 3-1.
Scott and Morrison Fit.
Everton make no changes from the eleven which drew with the Arsenal while the Reds bring back Scott and Morrison in place of Riley and Savage. Scott and Morrison have now recovered from flu, and have been pronounced fit. Liverpool will include three players who are taking part in their first "Derby" –Taylor, Roberts, and Hanson, and Everton will also have two débutantes in these games in Cook and Geldard. There is every prospect of the match being one of the greatest between the sides. Liverpool will field what is probably the youngest forward line that has ever represented the club while Everton will play their full cup team, and the strongest side at the club's disposal. It is unfortunate that the Reds should be unable to place their strongest eleven in the field, but it has been decided that Hodgson, Bruton, Gunson and McDougall are still unfit. McDougall may be absent some time owing to a severe thigh injury.
The "Key" Man.
However, the deputies are showing grand form, and if McPherson can repeat the display at Bolton the half back line should be as solid as ever. Bradshaw will again be the "key" man. If he can hold Dean, the Reds have a wonderful chance of winning their first "Derby" match for six years. There must be no gap in the centre of the field. The Liverpool forwards are quick and clever, and will trouble the Everton defence. Barton continues to show the fine shooting from he demonstrated against the Austrian tourists. The Reds' last point in these games was gained on January 4, 1930, when six goals were shared at Goodison Park. Liverpool: - Scott; Steel, Done; Morrison, Bradshaw, McPherson; Taylor, Wright, Barton, Roberts, Hanson. Everton: - Sagar, goal; Cook, Cresswell; Britton, White, Thomson; Geldard, Dunn, Dean Johnson Stein.
EVERTON RESERVES 3 MANCHESTER CITY RESERVES 1
February 9 1933. Liverpool Post and Mercury
Central League (Game 28)
Better finishing by the forward gained Everton Reserves a 3-1 victory over Manchester City Reserves at Goodison Park yesterday. For a Central league game there was an excellent gate, and the spectators were rewarded with play that at times, reached a high order, Everton won deservedly. They showed the better ball control and the forwards, of whom Stevens, Critchley and Fryer were the pick off their movement more successfully than the City forwards, who had Race the ex-Liverpool player, at outside right. Watson and Stevens netted before the interval, after which City reduced the margin with a debatable goal. The referee Mr. G. Mayo (Burnley) said the ball was over the goalline following a melee, but Everton contested the point and would not restart play for several minutes. Syme was credited with the point which Common made a vain effort to save. Stevens got a third goal and was temporarily knocked out in making it. Everton won comfortably. Manchester City had their two Scottish recruits Herd and McLuckie in the side and both did well, McLuckie being the best half-back on the field, Coggins kept a good for Everton. Everton: - Coggins, goal; Common and Bocking, backs; Mercer, Clark, and Archer half-backs; Critchley, Fryer, Stevens, Watson, and Turner, forwards. Manchester City: - Nicholls, goal; Cann and Barraett, backs; J. Percival, Gregory, and McLuckie, half-backs; Race, Herd, Syme, Comuk, and Payne, forwards.
A SINGLE GAME WITH A DOUBLE "DOUBLE" IN IT.
February 10 1933. Evening Express.
Everton's Chance in Liverpool "Derby."
By Ijay.
If Everton beat Liverpool at Anfield tomorrow, they will record their first double of the season, and at the same time the Reds will lose the distinction of not having lost twice to one club this season. Everton won 3-1 when the teams met at Goodison Park on October 1. They are in the happy position of being able to put their full cup eleven in the field. The Reds, on the other hand, have had to make many alterations during the past two weeks owing to illness and injury, and since they selected their side Done's name has been added to the list of absentees. This means that their casualty list includes such prominent players as Hodgson, Bruton, Gunson, McDougall and Done –a severe handicap to any club. However, Jackson had been freed from his studies for this match, and this means that the defence will still be strong.
Blues' Defensive Strength.
It seems to me to be a question of whether the young Liverpool forwards cam make any impression on the clever Everton defence. Cook is playing well now, while Britton is regarded as one of the finest right half-backs in the game. Their defensive tactics will be a great test of strength for the young left wing pair –Roberts and Hanson –on whom so much depends. Speed will be a big factor, and the Liverpool line was fast at Burnden Park, where the home defence was beaten frequently. A repetition of this form will certainly enhance Liverpool's chances, especially as Wright will be properly fit tomorrow. The Liverpool defence will have to be at their best to hold Dean and his colleagues, and Bradshaw will have to keep a careful eye on the England centre. Dean always does well in these "Derby" games and his three goals in the corresponding game last season will not to be forgotten for a long time. On the other hand, Barton may once again show that he is Liverpool's best leader, and White will be sure of having plenty of chasing. It will be a day when the cool head will prevail, and I anticipate that a great crowd will see a great game. Liverpool: - Scott; Jackson, Steel; Morrison, Bradshaw, McPherson; Taylor, Wright, Barton, Roberts, Hanson. Everton: - Sagar; Cook, Cresswell, Britton, White, Thomson; Geldard, Dunn, Dean, Johnson, Stein
• Advertisement in Evening Express. League Match, at Anfield, Tomorrow (Saturday), Liverpool v. Everton. Kick-off 3.15 p.m. Admission 1/- Boys 4d. Stands extra.
• Lord Wavertree Cup, First Round at Goodison Park, Tomorrow (Saturday) Everton "A" v Ellesmere Port Town. Kick off 3.15 Admission 6d. Boys 3d. Stands Extra (Including tax) All pay.
THE "DERBY" GAME.
February 11 1933. Liverpool Post and Mercury
By John Peel.
Mereseyside is always thrilled by a meeting between Everton and Liverpool, and today's match from that point of view is not likely to be an exception to the rule. On paper, perhaps Everton would appear to hold the advantage, but in these games form does not always work out according to the "book" particularly where Liverpool are concerned. The Anfield club has been hit recently by injuries and illness, and they surprised their follows by taking all points from Bolton Wanderers last week with greatly weakened side. The team will not be at full strength today, but I am prepared to see the chosen representatives give Everton a hard run. The Goodison park team won the first of the season's games and Liverpool are anxious to return the compliment. Whatever the result, the customary keen and interesting match should result. Liverpool are expected to have the services of Jackson, Done being fit, while Scott and Morrison resume. The kick off is at 3.15, and the teams are: - Liverpool: - Scott; Jackson, Steel; Morrison, Bradshaw, McPherson; Taylor, Wright, Barton, Roberts, Hanson. Everton: - Sagar; Cook, Cresswell; Britton, White, Thomson; Geldard, Dunn, Dean, Johnson, Stein.
LIVERPOOL'S SMASHING "DERBY" TRIUMPH
February 11 1933. Evening Express, Football Edition.
"Take-your-Chances" Forwards Break Six Year' Spell: Barton's Quartette.
Liverpool scored a smashing "Derby" triumph at Anfield today when they defeated Everton 7-4. It's Liverpool's first League victory over Everton for six years. And the champions heaviest defeat this season. Barton had a field day. He scored four goals, the others being scored by Hanson, Morrison, and Roberts. Everton's goals' were scored by Dean (2), Johnson and Stein.
By Ijay.
Liverpool Sprang a surprise on Everton in the Derby game at Anfield today. After dean had made the first blow with a goal in five minutes, Liverpool retaliated with an equaliser by Barton and followed with further goals by Barton and Morrison. Thus at the end of 36 minutes Liverpool led 3-1. A minute from the interval Johnson reduced Everton's arrears.
One minute before the game kicked off there must have been 40,000 present, and the crowds were still pouring in. Has usual the teams came out together accompaniment of great cheering. Liverpool:- Scott, goal; Steel and Jackson, backs; Morrison, Bradshaw (captain) and McPherson, half-backs; Taylor, Wright, Barton, Roberts and Hanson, forwards. Everton: - Sagar goal; Cook, and Cresswell, backs; Britton, White and Thomson, half-backs; Geldard, Dunn, Dean (captain), Johnson, and Stein, forwards. Referee Mr. E. E. Hull (Burnley).
The Game.
Bradshaw won the toss for Liverpool, and the first second or two Steel just prevented Dean from netting, but Dunn ran in, and shot over the bar. Them Geldard gave McPherson the run about, but his centre was not a good one, Bradshaw nipped in to find touch.
Details unreadable, because reports in the creased of paper, start from second column.
Everton did some good work before defensive brilliantly from Barton and Taylor in attendance.
Neat intercepting between Barton and Wright resulted in Barton firing in a great shot, which Sagar cleverly pushed over the top. The corner kick was easily cleared by Cook, and Everton were at the attack again. Cook held up Barton, and at the other end Scott conceded as corner to Dean. Hanson hit the woodwork in a Liverpool raid, and the ball passed behind. Dave Wright was making a clever solo dribble through the Everton defence when he was fouled. Morrison took the free kick, and it was a good one. The ball stuck a player in its flight and beat Sagar, who was taken by surprise.
Scott in Action.
Everton made desperate attempts to reduce the arrears, and it was undoubtedly Scott who changed the running of the game by making two remarkable saves on the ground. He then made a wonderful save from Geldard, who one minute from time made one of the most glorious dribbles I have seen. Geldard sent the ball back to Johnson, who made a first time shot, giving Scott no chance of saving.
Half-time Liverpool 3, Everton 2.
The second half opened with a thrilling save by Scott from Stein, who had been allowed to go through while the Liverpool defenders were claiming for offside. Liverpool attacked and Wright shot well after Sagar had punched out from Hanson's centre. Cook appeared to handle in the penalty area, but the referee ignored Liverpool's appeal. Stein was presented with a great chance of equalising, but could do no better than force a corner from Scott. The corner was only cleared after Geldard had hit the side netting. Sagar had to pick up and clear from Barton, who twice beat Thomson without ever touching the ball. Wright had a good chance of putting Liverpool further ahead as a result of his own good play, but his shot finished up near the corner flag. Barton netted not knowing the whistle had sounded for offside, then Scott saved Johnson's first time shot. Barton was fouled by Cook when in a good position, but Bradshaw's free kick hit an Everton defender and Sagar picked up to clear.
Roberts Forces Corner.
Britton conceded a corner to hold off Roberts, but Taylor placed the flag kick behind.
Two Goal Lead Again.
Liverpool regained their two-goal lead when after 12 minutes of the second half Taylor and Barton got through while the Everton defence were appealing unnecessarily for offside. Taylor centred well, and Barton forced in the ball off Cresswell, who had tried to cover the path. There was some dispute as to the actual scorer of the goal, but after making inquiries I found it was credited to Barton. Everton replied with stern pressure, but Thomson and Geldard were wide of their mark from scoring chances. Good work by Hanson and Barton nearly brought Liverpool's fifth goal, but Barton's header found much before Taylor could reach the ball. Liverpool gave themselves a three goal lead at the end of 69 minutes, when Morrison sent the ball up the centre to Barton, who made no mistake in drawing Sagar and beating him from close range. The referee appealed to his linesman on the question of whether Barton was offside, but the linesman decided in favour of Barton. Everton were persevering, and after four corners they reduced the lead with a great header by Dean. Liverpool sprang into action and Roberts raced through to score a sixth goal for the Reds. Six minutes from the end Liverpool increased their lead to four goals when Barton scored a seventh after a bad error of judgement on Cresswell's part. Three minutes from the end Stein reduced the arrears for Everton. Liverpool's seven goals is the highest they have ever recorded in the series of Derby games. Their previous highest was five in 1922-23, and in 1925-26. The eleven goals scored today is easily the highest aggregate scored in the Derby games. This also is the first time since the war period that Everton have conceded seven goals. Final Liverpool 7 Everton 4.
LIVERPOOL 7 EVERTON 4 (Game 1422 over-all)-(Div 1 1340)
February 13 1933. Liverpool Post and Mercury
Spirit of Youth Prevails.
Barton's Goals in Dashing Raid.
How Anfield Team Upset Everton.
By "Stork."
Youth was given its chance at Anfield on Saturday, and it fully justified itself by making this "Derby" game one of the best, if not the best, of a long series. Eleven goals in a Merseyside Derby? And seven of them for Liverpool. I have never seen a more thrilling game. When Liverpool announced their team one immediately thought that Everton's experience and the big occasion, would master the youthful Liverpool side, but the Anfielders are noted for their contrariness. I saw this young forward line take a point from Bolton at Burnden Park seven days previously, and while I liked the way they played I little thought that they would prove equal to beating the more experienced Everton. However, these young men demonstrated that the big occasion was not upsetting to them. They most likely forgot the nature of the match, and had one thought in their minds, and that was to beat Everton.
Non-Stop Football.
How came this big victory to Liverpool? Seven goals against an Everton defence needs some explanation. The Liverpool forwards answered it very plainly –speed. It was nonstop football that was the day after Everton had suggested a comfortable win, for it is only a truth to tell that for fifteen minutes Everton played as if they would win, and win fairly easily. Their machine like movements had Liverpool throttled down in their own half, and when Dean scored in eight minutes, one could not help but visulise an Everton triumph. It requires an early goal, especially against foremen who were riding easily, but Liverpool had suffered this experience at Bolton and overcome it, so why not here? Considering the opportunities that Everton had during their fifteen minutes of superiority-the only occasion they were on top-they should have snapped up more goals, but they were allowed to slip by through slowness on the ball or hesitation with their shooting. Liverpool showed them how to take chances. they tried with the half chance, and when Barton's speed got the Everton defence in a tangle and out of position he scored a goal by gliding the ball over Sagar's head. That goal was the starting off point of Liverpool's goal ramp for shortly afterwards Hanson scored a simple looking goal after good work by Roberts. Hanson may have been offside. Did Sagar think so? There was something troubling the goalkeeper's mind, for he did not move an inch to save, yet he was only a yard off the ball when it sped into the net.
Fitful Everton Defence .
Liverpool were on top. They dictated the game ever after. The Everton defence became fitful. It feared the pace of the Liverpool attack, which swept through, and found openings to goal in a manner that one began to wonder if the Everton defence was quite so good as it had been made out to be. Liverpool saw that the one way to beat Cresswell and Cook was speed. Straight forward methods brought about a general breakdown in the Everton defence. a third goal was scored by Morrison. A free kick touched Cresswell in its flight and turned the ball away from Sagar.
Geldard's Run.
With the score standing Liverpool 3, Everton 1, and the interval two minutes ahead, Liverpool were in high glee. Then came a great goal. A run by Geldard, in which he twice beat Jackson, reminded me of the days of Meredith. He worked down the touch line in the style of the old master, and centred squarely. There men could have taken the chance. Johnson accepted it. Off we went again. A goal separated the two teams. The Liverpool attack was still rampant, the Everton defence still unable to cope with the pace of the game, and another goal to Taylor after Cresswell had made a gallant effort to keep the ball out put Liverpool in an almost unbeatable position. Barton scored again, and let me tell you he was not offside when the pass was made. He jumped into his stride, and when Sagar came out to meet him he neatly slipped the ball past the goalkeeper. A goal came to Dean at seventy-five minutes the Everton captain nodding a Stein corner kick beyond Scott. Liverpool, however, were not going to let the game slip from their grasp, and to make sure of victory Barton came along with a seventh goal five minutes from the end, while two minutes later Stein scored a fourth for Everton. thus ended the most thrilling contest seen between Everton and Liverpool. Admitting that speed and opportunism had carried the day for the Anfielders, there were times when they produced high-class football; quite the best round of passing was credited to their left wing. Hanson, Roberts, and McPherson and it just failed to culminate in a goal . Wright was, to my mind, the key man of the forwards, but I do not forget the delightful work of Roberts. He flicked the ball, glided it; in fact, did what he liked with it. Britton found this wing a hot one, and he had a poor game as compared with his display against the Arsenal. Barton was ever ready to thrust his way through the centre. He led his line well and shot hard. Liverpool's forward line was excellent throughout, but while giving them praise, I must not overlook the great work of Morrison, Bradshaw, and McPherson. Bradshaw mis-kicked to give Dean his first goal, but after that was usually master of his opponents. His constructional work in the first half was sound, and McPherson and Morrison gave every opportunity to their forwards.
Good Half-Backs
Bradshaw in the second half fell back, and along with Steel, Scott and Jackson did Trojan work in keeping Everton at bay. Jackson got better the longer he played, but Geldard give him a lot of anxiety and many beatings. It surprised me the way Everton neglected this Bradford youth, for he was the best forward they had given the chance. But Everton's chief weakness was in defence, Sagar was not confident. Cook and Cresswell were beaten for pace, and Britton fell below his known form, and it was pace again which beat White at centre-half, and only Thomson of the half-backs could be given any praise. Dean got two goals, and he along with Geldard, for Dunn fell away after promising well, and Johnson never rose above the ordinary, were the pick of the line, but it was a poor Everton. Liverpool once they got on top, did almost as they liked. Everton could not cope with their dashing tactics. Youth triumphed over experience. Liverpool:- Scott, goal; Steel and Jackson, backs; Morrison, Bradshaw (captain) and McPherson, half-backs; Taylor, Wright, Barton, Roberts and Hanson, forwards. Everton: - Sagar goal; Cook, and Cresswell, backs; Britton, White and Thomson, half-backs; Geldard, Dunn, Dean (captain), Johnson, and Stein, forwards. Referee Mr. E. E. Hull (Burnley).
LORD WAVERTREE CUP FIRST ROUND.
February 13 1933. Liverpool Post and Mercury
Everton "A" 6 Ellesmere Port 0
The score in no way exaggerated Evertoin's superiority, for throughout they played with fine understanding, and had they finished off their attacking efforts with more accuracy and snap in the early stages the score would have reached double figure. Ellesmore gave a mediocre display, the forwards, and halves lacking in cohesion under sturdy, and being slow comparison to Everton's quick-more directness. Only the full backs, Wilson and Jones and Hughes (j) did well, but the Port outstanding performer was the goalkeeper Elwell, who, particularly in the first half, was responsible for a great number of praiseworthy clearance. Everton were a well balanced side. The goals scorers were Birtley (3), Dutton (2), and Griffiths. Everton:- Frostick, goal; Jackson and Jones backs; Chedgzoy, Watson, and Griffiths, half-backs; Dutton, Birtley, Labone, Fryer, and Leyfield, forwards. Ellesmere Port:- Elwell, goal; Wilson and Jones backs; Booth, F. Hughes, and Keetley, half-backs; Hughes (e), Whewell, Roberts (d), Hughes and Roberts forwards.
LIVERPOOL'S BEST "DERBY" FOR YEARS.
February 13 1933. Evening Express.
Unbeatable Form Against Blues.
Tremendous Speed and Brillaint Shooting.
By Ijay.
The tremendous speed and brilliant shooting of the youthful Liverpool forward line were the chief means of the Reds defeating Everton by seven goals to four at Anfield on Saturday. On the form shown in this game Liverpool would have beaten any club in the country. One had to be at the game to realise how deadly they were and how easily they swept through the defence, Everton tried hard to stern the tide but all their varied tactics failed against relentless pressure. If ever a victory was deserved it was this one, which was all the sweeter in view of the fact that it was Liverpool's first League "Derby" win for six seasons and their highest score in the series. Such a result seemed out of the question when Dean gave Everton an early lead, but as so often happens, Liverpool gave of their best when the occasion most demanded it. Both sides deserve the greatest praise for the wonderful and clean exhibition they served up. It was a credit to the city.
Thrills Galore.
No "Derby" could have kept the crowd thrilled more often, and the fact that a goal came at an average of every eight minutes shows how great was the fare provided. From Everton's point of view I believe the defeat will teach them a lesson in readiness for their cup games against Leeds United on Saturday. Judging by this game, the defence needs a certain amount of tightening up. Cresswell played too far up the field in the hope of gaining offside decisions which did not materalise, and thus he threw a great deal of extra work on Cook who worked hard and well. White found Barton's speed too much for him, and at no period of the game could Thomson hold the Wright-Taylor wing. The Everton forwards were prone to shirk the responsibility of shooting, and Dunn had several excellent scoring opportunities. Dean worked hard, but Geldard and Johnson were the pick of the line. So far as Liverpool were concerned, there was not a weakness in the side. Roberts and Wright were brilliant schemers, who continually saw to the needs of their outside colleagues. Taylor and Hanson responded in spirited fashion and on no previous occasion have they centred with such unerring accuracy. Barton again proved that he is the man to lead the Liverpool attack, and if he continued on these lines he is going to be a great success. Bradshaw was Bradshaw at his best, I cannot give him higher praise than this. After his first error he never out a foot wrong. McPherson played as though he had both a left half back all his career, and his quick tackling did much to subdue Dunn. Morrison kept a tight hold on Stein and Johnson, while Steel and Jackson gave little away. Scott made some clever saves.
EVERTON AT BUXTON
February 14 1933. Liverpool Post and Mercury
By John Peel.
It is a belief in some quarters that the winners of the Everton against Leeds United F.A. Cup Tie on Saturday, will eventually reach Wembley. With the other seven pairs in the fifth round holding similar views, a good idea is given if the open character of the struggle. The clubs have opened a week's training in high spirits, and eight stirring ties may be expected on Saturday. Everton are not willing that upheaval at Anfield to upset them, and fifteen players are preparing at Buxton for what is likely to prove a great tussle with Leeds United. Mr. Tom McIntosh is in charge of the team, and the party includes:- Sagar, Cook, Cresswell, Williams, Bocking, Britton, White, Thomson, Archer, Geldard, Dunn, Dean, Johnson, Stein, Critchley. As usual, golf will play a prominent item in their activities, and their supporters are hoping that they will turn out on Saturday as fit as fiddles.
Leeds' Prospects.
Leeds United have a chance of making history. They have previously survived two runs of the F.A. cup competition, but the third round has always proved too much for then. Neither has met before in the competition. If Leeds hope to go though-form like they showed against Newcastle United at St. James's Park, it can be said at Leeds that on several occasions it has been clearly shown that they play much better when facing teams of a high standing. As Mr. Dick Ray, secretary-Manager said;" no team in the country is certain to beat United," and, regarding the tie at Everton, he say: " we have a very good chance. " The falling away of Leeds in recent league matches can be excused, for with players like Hart, Copping, and Keetley out of the team, the United could not be expected to give of their best. These players are in training for Saturday's game, and as in previous ties, they are undergoing their usual preparation with occasional games of golf on courses near Leeds. With Keetley almost recovered from his injury –he is expected to be fit by Saturday –it is expected that Leeds will field their strongest side-namely; Potts, Milburn (g), Milburn (j), Edwards, Hart, Copping, Mahon, Hydes, Keetley, Furnell Cochran.
Everton's Sevens.
Everton's 7-4 defeat by Liverpool provided the weekend foot sensation, but it is not correct, as one paper put it, that this is the first time Everton had seven goals scored against them in the League match. Football memories are short, so it may be worth while noting that there are at least three other instances in league football that Everton have lost seven goals in a match. In each case, curiously enough, it was the same score –7-3. Thus Sunderland won 7-3 at Roker Park on October 10 1926, and Newcastle United triumphed by a similar score on March 5 1927, going back a long way, Derby County beat Everton 7-3 in September 1895. The defeat at Newcastle was in the season that Liverpool last beat Everton in a league match before Saturday's success, Liverpool won 1-0 at Anfield on February 12 1927, and had to wait until last Saturday for their next League victory over their rivals.
When Everton Lost 13-1
To go back to the early days of the Everton club, it is on record that in the 1881-82 season Bolton Wanderers beat them by 13-1, while a year earlier Great Level knocked them out of the Lancashire Cup by 8-1, after a draw at Bolton. But it has generally been Everton who have provided the goal rush, as witness their scoring feats, when they won the championship of the second division and first division's of the league in successive seasons. Before Saturday the high-test aggregate of goals, in an Everton-Liverpool match was seven, Everton winning at Goodison Park in 1904 by 5-2.
LOOK OUT FOR SHOCKS EVERTON!
February 14 1933. Evening Express.
Leeds Are United on Electrical Treatment.
By the Pilot.
Leeds United are on the "ray" to Wembley –so they believe –but whether Dick Ray with his sun-ray can light the path that leads through Everton remains to be seen. The old song, "Which switch is the switch is the switch,, Miss, for Ipswich?" has a modern application at Elland-road. The Leeds United players are not worrying which switch will switch them to Wembley; they are simply switching on to all sorts of electrical treatment. In fact, it is a sort of "grid scheme" cup training. The players believe in volts to shock their opponents. Their only regret is that they are not playing at "ohm." It is an education to step into Manager Dick Ray's room underneath their grandstand and see the variety of equipment used to bring about fitness. This method of training has enabled the United to earn the best "resistance" record in the First Division. they have conceded fewer goals than any other side. But, "Watt" has gone wrong with the goal-scoring switch, for there is only one team in the League to have scored fewer goals-Chelsea.
Why Go Away?
The Leeds players never go away for special training –that is, to stay away. Their prefer Elland-road. They have a special running track constructed at the ground, which permits training even in a thunderstorm. The only deviation from ordinary league training is that Dick Ray will take his boys to Pannal near Harrogate, for golf on one or two days. There you have the methods of preparation for the game with Everton. Now as to the players likely to face the Champions. First there comes the family defence –the brothers Milburn (backs) and brother-in-law Potts, the goalkeeper. Take away this family trio and you spoil the happy Leeds family. Potts is a boy who is always smiling. He has smiled ever since he got his place in the United first team when least expected. Johnson received an injury and Potts was called on at the last minute to deputise. He has never lost his place. The Milburns –from the northeast –have many critics. Some say they are rough, but truth is that they are fearless. Perhaps their only fault is an inclination to become unsettled under continued pressure; in fact, they have been known to concede penalties under stress. Still, that's human.
Hart in the Right Place.
The centerpiece of the team is Hart, with the big heart. He played for England against Austria and he is a really good constructive player who scorns the "third-back" game, though an accomplished defender. On his right is the prince of half-backs –Willis Edwards. Willies is the oldest man in the side, but plays with delightful ease, and is perhaps the best feeder in the game. Copping the left half is a young, swarthy boy, strong in the tackle and fearless. The only trouble with Leeds is their attack, which has scored fewer goals than any other in the League with the exception of Chelsea. Keetley, the top scorer, is injured, and on Saturday they tried a young leader in Fowler – a schoolboy international. He was not a success. It seems doubtful if Keetley will be fit to play, and I expect young Hydes will take over the leadership and admit O'Grady at inside right. Hydes made his Leeds debut in a cup tie. Tall, fast, and with a nice swerve, he gets plenty of goals with his red head. The wingers, Cochrane and Mahon do not score many goals themselves –they have three between them so far –but they are fast and can finish their work with remarkable accuracy. O'Grady is a schemer, but Furnees, the inside left is the star of the line.
EVERTON'S CUP TEAM
February 15 1933. Liverpool Post and Mercury
By John Peel.
For their meeting with Leeds United in the Fifth round of the F.A. Cup competition, at Goodison Park, on Saturday kick off three o'clock the Everton selectors decided to make no changes in the side which was defeated at Anfield last week. Thus the side will be:- Sagar; Cook, Cresswell; Britton, White, Thomson; Geldard, Dunn, Dean, Johnson, Stein.
All the players are fit and well, and they are expected to give the United a stiff game. The club are receiving several 5s and 3s 6d tickets from Leeds, and these along with a few others, still unsold at Goodison park will be on sale at the ground today.
What the Players do at Buxton.
Special baths which the team state benefit them considerably, brisk road walks, golf, and light ball practice on the local football ground together with squash rackets at the hotel, constitute Everton's daily training at Buxton. Dean told a reporter that the Buxton air is most bracing, and that a visit there does the team no end of good, because it breaks the monotony of their daily routine training at home. Two other reasons for Everton optimision are that they have this season only lost one match at home, and that they have never yet visited Buxton for training and lost on the Saturday after their return. They have visited Buxton now for some seasons.
Career of Leeds United.
Leeds United's Everton's cup opponents on Saturday are one of the youngest clubs in the League, having been founded in 1920, and succeeded Leeds City whose place in the second division of the league was taken by Burslem Port Vale during the 1919-20 season. Leeds United became members of the second division in the 1920-21 season, and were the champions of the section in 1923-24 gaining promotion along with Bury in the 1926-27 season, they were relegated along with West Bromwich Albion, Everton being third from the bottom of the table and only four points better off them the relegation clubs. The United were runners up to Manchester City a year later in the second Division, and so regained their place in the upper circle. But two seasons ago relegation was again their fate, for they finished above only Manchester United. Last season, however, they were runners up to Wolverhampton Wanderers in the second division, and have done well during the present campaign. They won by 3-0 at Newcastle in the third round of the cup competition, and than beat Tranmere Rovers after a good tie at Prenton.
A Fine Away Record.
They have a fine away record in league games this season, having won four and drawn five at their fourteen games to date. The United have lost only 36 goals, in twenty-eight league games fewer them any other club in the competition, but they have scored only 39, less than any club in the season, with the exception of Chelsea. Everton have scored fifty-seven goals against fifty-three, and the Goodison club has won nine and drawn four of their fourteen home league fixtures.
EVERTON'S ELEVEN CUP FIGHTERS.
February 15 1933. Evening Express.
No Change for Fifth Round Tie with Leeds.
A Buxton Victory Secret.
By the Pilot.
Sagar; Cook, Cresswell; Britton, White, Thomson; Geldard, Dunn, Dean, Johnson, Stein.. This is the Everton eleven that will endeavour, on Saturday, to complete a hat-trick of victories in the F.A. cup and reach the last eight of the competition. Their opponents at Goodison park-Leeds United –have yet decided in the composition of their team, Keetley still being a doubtful starter.
Banishing the "Blues."
Meanwhile the Blues are banishing the "blues" at Buxton. They are certainly the brightest and happiest cup training side I have ever met. When Bert Wright and I arrived at Buxton we found the air keen and invigorating, and a glorious sun shining from a clear sky. Mr. Tom McIntosh took us to the Buxton Town ground, where the players were doing their training. Ted Sagar took my eye at once. Here was a goalkeeper, doing lap after lap and sprinting like a Powderfall runner. Yet they say that goalkeepers do not train. He worked as hard as anyone, and Mr. "Mac" told me that Sagar" takes his leisure" by a walk of seven miles to Solomon's Temple and then back. Sagar is so keen on this walk, that today Mr. "Mac" is taking the entire team up there for road-work. It was a treat to see Ben Williams out training. Ben did not do sprinting, but was walking around the ground, as he termed it," heel and toe." He first rolled his trousers up to his ankles and then right up to his knee in order to give him more freedom. His trousers then reminded me of the improvised plusfours. When he caught sight of a ball he could not resist the temptation to kick, and he did so with his left leg –the one on which the operation was performed. It stood the test. Dixie Dean then induced Ben to go in goal while Dean, Johnson, Bocking and Critchley forced in shot after shot from point-blank range. "That's the way to give him confidence," said Trainer Harry Cooke, as a mighty drive flashed over Ben's shoulder. Then a fearless snapshot hunter ventured on the field right in the range of the shooting intent on securing a snap of Williams, who, he was told was Sagar. He got his snap, although footballs were flying around him and almost taking his bowler hat away. Next he asked Dixie Dean, where was the famous centre forward as he wanted a snap of him. "Oh," replied Dixie, "he's still up at the hotel." And the photographer believed him! I had an opportunity of solving the Everton puzzle. I cannot give you the solution, but I want you to watch for it on Saturday. Keep your eye open, and you will learn Everton's new secret. Dunn, Britton and Geldard held a conference with Trainer Cooke away in a corner and the result of their deliberations will be revealed in the game itself. Believe me, it is good.
Special Baths.
After the training the players went for their special baths, and after lunch we heard the famous "Goodison Choir" led by Skipper Dean, to the harmonium accompaniment of Bert Wright who, with me, had suffered a heavy billiards defeat at the hands of Dean and Cook. Then for the famous goal match between Johnson and Critchley, and Stein and Britton. Away up to the links, where we joined the gallery comprising Dean, Williams, Bocking, and White. I knew something was in the wind. Tommy White waited near a green, while Dean stood with the players at the tee. There was a whistle, and as the balls fell on the green White quickly picked them up. It ended the game. Johnson's golf shoes started the other golfers. He has worm them so long that he could easily get both feet in one. Still, it helps him to maintain balance and cover the ground quickly. The four players say they will finish their game before the week is out, but Dixie and company will have to be placed in chains first. Yes, Buxton air is a wonderful tonic, and a tonic, which might easily give them the lead over Leeds.
LEEDS CUP TEAM DOUBT.
February 16 1933. Evening Express.
Keetley's Injury Holds Up Selection.
Everton Reaching Peak Fitness.
By the Pilot.
Leeds United will not select their team to oppose Everton in the F.A. cup fifth round tie at Goodison Park on Saturday until tomorrow. Mr. Dick Ray, the United manager, told me today that it has been necessary to delay the selection owing to the existing doubt regarding the fitness of Keetley, the clever centre forward, who was injured in the Tranmere Rovers match at Prenton Park. "Keetley has made slow progress" said Mr. Ray, "but we are holding out hopes that he will be ready to line up on Saturday. "Keetley is the only doubtful starter." The United team will travel to Liverpool on Saturday morning, and a large contingent of supporters will be headed by the Lord Mayor of Leeds, who is one of their most ardent followers.
"All's Well" at Buxton.
Meanwhile "All's well" with Everton at Buxton. The players enjoyed a brisk country walk yesterday and today again did running and ball practice on the ground of the Buxton club. Afterwards they went for special mineral baths, in which no player is allowed to remain for more than five minutes, and later played golf. The players will conclude their serious training with more ball practice tomorrow morning, and then it will be a case of resting until they return to Liverpool on Saturday morning.
• Advertisement in Evening Express. F.A. Cup Challenge Cup –5 th Round at Goodison Park, Saturday next, Everton v. Leeds United, Kick off 3 o'clock. Admission 1/- Boys 4d. Stands extra, including tax. All pay.
CAN EVERTON DO IT?
February 18 1933. Liverpool Post and Mercury
By John Peel.
And so all clubs face the task today with hope, and sixteen determined sides, will take the field. Locally were are promised one of the "tit bits" of the round in the meeting of Everton and Leeds United at Goodison Park. The champions are among the favourites, and I hope that this time they will not fail as on previous occasions, when they appeared to have a tie in their grasp. Despite the upheaval at Anfield last week I do not expect Everton to fail, but they must be at the top of their form to penetrate the powerful defence, of the Yorkshire club, while Cresswell and his colleagues must necessarily be on their guard against similar swift marry raiders as these of Anfield. Everton have not yet tested the Leeds United defence, in League games this season, so that they have something new to face. The brothers Milburn are most dour backs. The League champions will field the side that lost last week, while Leeds United hope that their injured members, notably Keetley will be fir. Everton have been preparing at Buxton while Leeds have relied on home training. It should be a great game, and Everton with ground advantage, ought to come out on top. The kick off is at 3 o'clock, and the following are the teams. Everton;- Sagar; Cook, Cresswell; Britton, White, Thomson; Geldard, Dunn, Dean, Johnson, Stein. Leeds United:- (probable) Potts; Milburn (g), Milburn (j); Edwards, Hart, Copping; Mahon, Hyder, Keetley, Furness, Cochrane.
EVERTON IN LAST CUP EIGHT.
February 18 1933. Evening Express Football Edition.
Leeds Outplayed after Shaky Start: Dean and Stein do the Trick.
Everton entered the last eight in the F.A. Cup by defeating Leeds United 2-0 at Goodison Park today. Dean, after 38 minutes, and Stein, after 75 minutes were the scorers. The official attendance was 58,000 and the receipts amounted to £4,300.
By the Pilot.
Everton played the eleven which had carried them though the two previous matches and the United were presented by the side which won at Tranmere with the exception that Duggan appeared at outside right for Mahon. Everton journeyed back from Buxton today. The weather was ideal for football and the underfoot conditions presented fast football. Everton:- Sagar, goal; Cook and Cresswell, backs; Britton, White and Thomson, half-backs; Geldard, Dunn, Dean (captain), Johnson and Stein, forwards. Leeds United:- Potts, goal; Milburn (g) and Milburn (j), backs; Edwards, Hart (captain) and Copping, half-backs; Duggan, Hydes, Keetley, Furness, and Cochrane, forwards. Referee Mr. W. Harper (Stourbridge).
The Game.
There was a strong wind blowing towards the goal double Decker. Hart won the advantage of this by winning, but the United had to face the shinning sun. Everton were the first to show up trying to offer Dean an opening Dixie was crowded out. There was a series of throws in by Leeds, which led to determined Leeds forwards. These, however , failed to go further than the penalty line.
A Thrill.
There was a great thrill when Thomson and Cresswell hesitated and Duggan bore pass Cresswell and middle the ball, and Sagar dived out to saved with tremendous excitement. Sagar beat the ball down two Leeds forwards tried to profit but Cresswell was there with as lusty kick to touch. . The wind was a great factor, and Everton could do nothing against it. Leeds swerved inwards, and with a swift foot shot forced Sagar to punch the ball up. The ball was passing over his head into the net when Sagar turned around and cleared away in brilliant style. The ball hovered dangerously near the goal and after Sagar had twice beaten the ball into the air, a foul came to the rescue to a much-harassed Everton, who failing in their endeavour to calculated against the wind. At last an Everton attack, after a space of 10 minutes, but Stein made the mistake of trying to shoot when he had a better chance of centring to pave the way for a Dean header. This enabled Gledard to gain the first corner but nothing came of this. After 13 minutes before Potts had a to handle. This was a long bouncing ball from Britton and it presented difficulty. Everton could not clear against the wind and Cochrane ran in to shoot high and wide. Geldard won another corner, and from this Johnson turned in a splendid shot, and Potts saved in fine style. Everton were gradually improving, up to now the football of both sides suffered because of the conditions. Leeds were cool and collected under their disposing of two tricky centres and delightful ease before Britton trying to dribble through on his own, took too many extra steps and was beaten.
Cochrane Handles.
Cochrane pulled down Hart's pass with his hands, but the move had been stop long before he ran on to place it into the net. Everton were slow in clearing, and Duggan was able to shoot. White headed the ball away for a corner. Lately have I seen so many throw-ins during a match. The wind was to strong for this. Everton had the chance of a lift time in the next minute. Dean outwitted the defence with a quick feint and burst in, then square passed, so that player had only to cut in and shoot.
Rest of report unreadable, continue in next column
Everton were often finding the defence of the Milburn brothers wide open, and they were playing the right game by exploiting the extreme wingers on every possible occasion. On the interval the United forced a corner and in clearing White was injured. He was receiving attention when the whistle
Blew.
Half-time Everton 1, Leeds United 0
It had been hard plugging football, thrilling in its way, but rather lacking in the finer points probably because of the high wind. Everton had opened poorly and it seemed as if the swift moving Leeds forwards would worry them out of the Cup. The longer the game went on, however, the better Everton played. Everton resumed by swinging the ball about, and Potts had to come out to beat down Stein's centre. The usually so safe Leeds defence was often becoming upset by the quick moving Everton forwards, who controlled the ball exceedingly well, but made the mistake of attempting an extra pass ere shooting. Stein was proving an excellent Everton raider, beating Milburn (g) in every duel.
Dean's Perfect Pass.
Another perfect head-pass, by Dean put clean through, but the winger, instead of taking the ball first time, tried to make doubly sure, and had to be content with a corner. Leeds were almost continually on the defence, Everton's football being fast and accurate. Leeds could do nothing against an Everton who had improved 100 per cent. Since those opening moments, but now Cochrane who had been cautioned for a foul on cook broke through, only to meet an Everton barrier that brooked no argument. On the run of play Everton should have been well ahead by now. Then a mighty thrill in Everton's goalmouth. The United were awarded a free kick for a foul by White, and this was headed in magnificently by Cochrane. Sagar touched the ball then swung around to make the save of the match while flying through the air.
Stein's Goal.
Dean turned over another header, and this time Stein took it first time, and a terrific shot crashed against Potts' knees and over the top for a corner, which brought Everton's second goal in 75 minutes, Stein netting direct from the flag kick. This was the third occasion Stein had scored direct from a corner this season. Stein made good allowance for the wind in taking the flag kick, and Potts was completely deceived by the flight of the ball. Leeds claimed Potts had been hampered, but the referee being right on the spot refused any appeal.
New Move.
The Everton right flank put their new move into operation. It constitutes an interchange of positions between Geldard and Dunn at a throw-in, and it worked well. In the closing stages Potts made a good save off Dunn's header. Full time Everton 2 Leeds United 0.
EVERTON 2 LEEDS UNITED 0 (F.A. Cup game 135)
February 20 1933. Liverpool Post and Mercury
Sagar's Superb Saves.
How Everton Won though.
By "Bee."
Leeds United pass out of the Cup with the solatium of a half of the great harvest of £4,372 8s 0d. They earned this money. For half an hour of Goodison play on Saturday the near 60,000 people looked on a bright and fascinating Leeds side full of the grit of their county, quick, adaptable to the circumstances of a gale at their backs. The ball travelled far too fast for them sometimes, but they started right for the rocky road to Wembley. Then a vital thing occurred. In five minutes Sagar reached out for a ball from Hydes that seemed sure to be a goal. The crowd was gasping as Sagar, with a seeming extra effort stretched himself so far forward that he was able to touch the hem of the ball. Only trifying in his touch but sufficient to prevent the ball going to the inside left for a certain header. Sagar did more; he was the hero of this game, whatever one may say of the goals gotten by the home side. He took a slam-drive from keetley, and the pace of the shot was such that the ball cannoned up and bagan to stop behind the goalkeeper, Sagar turned round and made a spectacular catch that would have done credit to A. O. Jones, fielding in his comparable manner close to the batsman. Leeds were "caught out." They felt aggrieved that a goalkeeper should do these things so early in a Cup-tie.
Dean's Goal.
The young boys of the forward line began to run wild! Where their combination had been excellent, and only excelled by the fine sure touch of Edwards and Hart, they now began to do silly things, even allowing for that wind's turmoil, and eventually Leeds were a goal down. It was nearing the interval when Dean scored aided by Stein, after Dunn and White had done a lot of good foraging to make an opening. Yet Leeds fought bitterly to the interval. It was all Everton in the second half, with one important exception. There was a period when a goal was not sufficient to win this game against the terriers of Yorkshire, and Cochrane, at outside left flung himself into the battle without regard to the laws, at times, but once with a fine idea of heading a goal. The crowd "saw" that ball entering the net. It seemed as if the ball was in the net, when Sagar once more surprised the crowd by making a sideways step and reaching forward again, made a catch of the ball. The visitors had lost their one great chance. Everton went right away, and when Potts had a ball strike his leg and pass for a corner, Stein took it with deadly accuracy, and the ball entered the net without a player touching it. Apparently a very good goal, even allowing that goals from corner kicks must be the result of a freakish whim of the wind, which curls the ball at unexpected angles. But Leeds had something to say on this matter. They wanted an inquiry into the reason for goalkeeper Potts lying at the back of his goal. If he had not touched the ball and himself had been touched –ever so slightly –by an Everton player than the goal was not a just one. Referee Harper was "surrounded" and harangued. He was adamant; and he would brook no interference what he had seen. Indeed he silenced the complainers with a treat of expulsion from the ground, Leeds were, perhaps, unfortunate in this matter, because the only way Potts could have reached his sitting posture was by the means suggested –a foul charge –or by his attempt to walk back and as unbalancing act that threw him over. It is hard to say. The referee has given his sanction to the goal. And that made two for Everton without response from a ragged and unsettled forward line. I think Everton cleverly and well, with a just margin, because they had to withstand the elements and a fiery opposition in the first half, and eventually played such football, altogether that warranted them taking full honours and the margin of 2. Leeds had backs of a daring character, whose big kicking was really very wonderful, because they made so few mistakes.
Clever half-backs.
At half-back Hart ran himself out as captain and as a close worker of the ball –so usual in pivots. Edwards tired after putting up for three parts of the game, a most delightful exhibition, Britton was close on his heels, too, in half back honours, and if Thomson was a shade out of the bunt early on, it must be said that he joined up with the others, just as Geldard did late in the game, by giving a rousing display where it was most needed against tough opposition with tackles that were sweeping and sometimes illegal. I though Dean played a very sound game, his heading being an object lesson. Stein delayed his shots a trifle too long, but wound up on a high note, as did Geldard, and the inside forwards did a lot of spade work to attain the happy result. White subdued Keetley and at full back Cook and Cresswell showed how false was the seven-goal deficit at Anfield a week earlier. But Sagar saved this Cup-tie for Everton. Everton: - Sagar, goal; Cook and Cresswell, backs; Britton, White and Thomson, half-backs; Geldard, Dunn, Dean (captain), Johnson and Stein, forwards. Leeds United: - Potts, goal; Milburn (g) and Milburn (j), backs; Edwards, Hart (captain) and Copping, half-backs; Duggan, Hydes, Keetley, Furness, and Cochrane, forwards. Referee Mr. W. Harper (Stourbridge).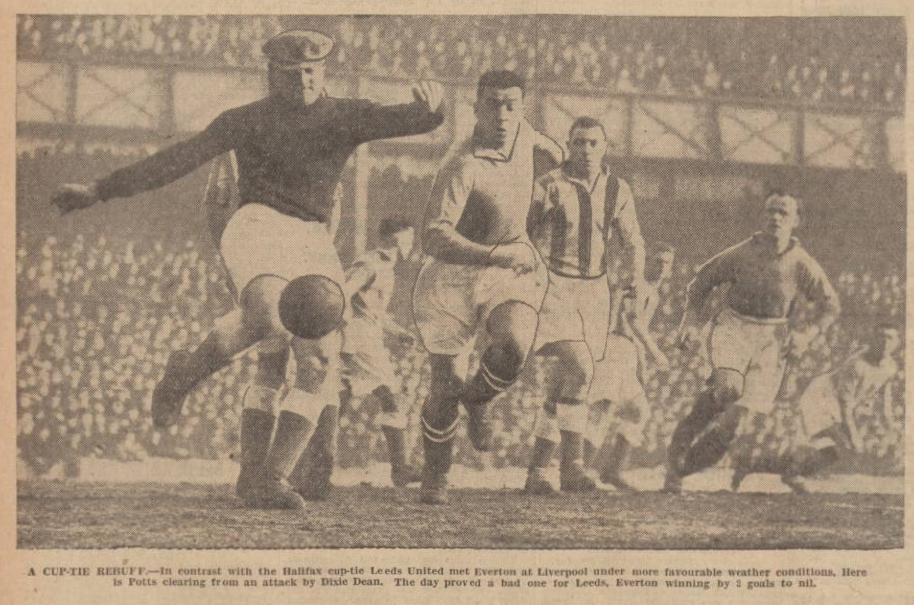 EVERTON AT HALF-WAY STAGE TO F.A.CUP SUCCESS.
February 20 1933. Evening Express.
Sagar's Part in Triumph Over Leeds.
By the Pilot.
Everton are at the half-way stage in the bid to lift the F.A. cup for the first time since 1906, when they scored their only triumph by beating Newcastle United 1-0. It is the second time in three seasons that they have reached the last eight, and on the form they displayed against Leeds United they have a real chance of success. Everton's 2-0 victory over Leeds United at Goodison Park was gained after a game of phases. For the opening 20 minutes it appeared as if the United were going to spring a surprise, for playing with half a gale of wind, they swarmed around the Blues' goal for minutes on end. It was then that Teddy Sagar paved the way to Everton's triumph. He made two saves, perfect in their execution, when everything appeared lost. In each instance he had to make a double effort, once while surrounded by four opponents. These saves marked the turning of the tide. The Everton defenders, instead of trying to volley the ball to safety adopted methodical passes along the floor, and slowly but surely the Everton attacking machine began to operate. Once that had happened there was no disputing the superiority of the Champions, who marched forward to a sound, deserving victory which might easily have been more pronounced. Leeds except for their defence, struck me as being a poor team in the second half, yet it was Sagar again who foiled their last desperate thrust when the Blues were leading by Dean's first-half goal. He made another super-save –from Cochrane's header. Everton were almost continually on the attack in the latter period, and when Stein, for the third time this season, scored direct from a corner –Potts over-balanced back into the net –it placed the seal on the victory of the Blues.
Dean The Best Forward.
Sagar was the perfect goalkeeper and Dean lacked no quality, which goes to make a methodical, astute leader. He was wholly unselfish, and the manner in which he carved out openings –often beating the entire defence with an adroit flick of the head –was superb. He was the best forward on the field. White was a splendid bulwark against the Leeds attackers. He concentrated on defence, leaving Thomson and Britton to attend to the needs of his own forwards. Both played their parts well, and Britton challenged Willis Edwards for the honours of the game's best half-back. Cook had no superior at back, even in comparison with the sure-kicking Milburns, and Cresswell was cool and neat after an uncertain opening. What I liked about Everton's defence was the incisive tackling. If one tackle failed there was always someone else ready to go straight in with another. It reduced the United attack to impotency. Stein was a swift raider though not complete in his finishing, and the same may be said of Geldard. They were finely fed by the hard-working, purposeful Dunn and Johnson.
• Everton play their re-arranged Football league match with Blackpool at Bloomfield-road, Blackpool on Wednesday.
PENALTY KICK RULE ALTERED.
February 21 1933. Liverpool Post and Mercury
Upon the recommendation of the rules revision committee of the Football Association council at their meeting in London, yesterday decided to delete the words "the field of play" from the following clauses in the penalty kick law. "A penalty kick can be awarded irrespective of the position of the ball if in the field of play at the time the offence is committed." Another recommendation from the same committee was passed, the following paragraph from the referee's chat;- "instruction to players, when the referee has given a decision it is not allowable to question him as express disapproval by word or action. To do this is ungentlemanly conduct. See Law 13." Law 13 reads; Players must not question a referee's decision, but accept it without remark. The Chorley F.C. were admitted to Associate member of the Football association.
KEEP AN EYE ON THE LEAGUE EVERTON.
February 21 1933. Evening Express.
More Points Needed.
A Double Chance at Blackpool.
By The Pilot.
Keep an eye on the League, Everton! The Cup is the big thing at the moment, but more League points are needed too. At the moment Everton are 11 th in the League table. They have gained 27 points from 28 matches. It appears at first glance, to be a safe position. Closer scrutiny reveals that they are only seven points ahead of Leicester City, Chelsea and Wolverhampton Wanderers –teams that are included in the last four in the competition. While making their effort to bring the Cup to Liverpool, Everton must not forget their League status. The champions will have an opportunity tomorrow or not only improving their League position but also of improving their away record. They are due to visit Blackpool at Bloomfield-road-the match should have been played last Saturday, but Cup matches caused a postponement –and here is a real opportunity for Everton to secure their third away win of the season. Everton have visited Blackpool on three occasions –two being in connection with local cup competitions. They have yet to win, the best performance being a draw in the Blackpool Hospitals Cup last season a trophy, which the blues won on the spin of a coin.
Six Home Defeats.
This season Blackpool have lost six times at home. The clubs that have won there are Arsenal, Birmingham, Newcastle United, Sheffield United, Sheffield Wednesday and West Bromwich Albion. They have not drawn at home, and have won eight games. Everton have a dismal away record. In 14 journeys they have a frugal balance of five points. They secured their first point by drawing at Leicester, then won at won at Newcastle and Middlesbrough. It is essential that Everton should alter this tomorrow. The Everton directors are taking no chances and have decided to field the full cup side. Blackpool will no doubt be represented, with the eleven that put up such a galliant fight at Sunderland on Saturday. Everton; - Sagar; Cook, Cresswell; Britton, White, Thomson; Geldard, Dunn, Dean, Johnson, Stein. Blackpool (Probable); McDonough; Grant, Everest; Watson (A), Watson (P), Crawford; Reid McClelland, Hampson, Douglas, Smailies. Everton Reserves have an interesting Central league match down for decision at Goodison Park tomorrow afternoon. This is against Blackpool Reserves. The Blues will be represented by a strong eleven, including ten players who have had first team experience. Everton Reserves; Coggins; Common, Bocking; McClure, Gee, McPherson; Critchley, McGourty, Stevens, Fryer, Turner.
• Advertisement in Evening Express. Central league Match at Goodison Park. Tomorrow (Wednesday) Everton versus Blackpool. Kick off 3.15. Admission 6d, Boys 4d. Stands Extra (Including Tax).
EVERTON AT BLACKPOOL.
February 22 1933. Liverpool Post and Mercury
By John Peel.
Everton go to Blackpool to play off a postponed league game, and an attractive match should result. Blackpool are now out of the Cup, and they are anxious to get away from possible danger, so that they will be all out to lower the colours of the Champions. At the same time Everton desire to improve their record, and a keen duel for the points may be looked forward too. Everton have chosen their cup side, and it is expected the same eleven will oppose Derby County on Saturday at the Park. The team is, Sagar; Cook, Cresswell; Britton, White, Thomson; Geldard, Dunn, Dean, Johnson, Stein. Derby County have the Arsenal as visitors, so that a treat for the Baseball ground.
Central league Game.
Everton Reserves meet Blackpool Reserves in a Central league game at Goodison Park today, and the home side will be represented by Coggins; Common, Bocking; McClure, Gee, McPherson; Critchley, McGourty, Stevens, Fryer, Turner.
EVERTON PLUMP FOR BUXTON.
February 22 1933. Evening Express.
Derbyshire Again for the Cup-Tie Training
15 Players to go on Sunday.
By the Pilot.
"Is it to be Buxton again?" This question cropped up when the subject of special training for the F.A. Cup-Tie with Luton was discussed at the weekly meeting of the Everton directors, and needless to say the answer was a unanimous "Yes." Everton place implicit faith in Buxton as a training centre. Success has followed their three previous visits this season to the Derbyshire Spa. The Blues hope it will do more, and be the medium through which they will obtain the requisite fitness to reach Wembley. Buxton has been an Everton choice as a training camp for two years, and in all that time good fortune has never failed to follow their vista. The Derbyshire folk have taken the Everton players to their hearts, and in fact, have come to regard them as their own team. Many of them travelled to Liverpool to see Everton's Cup-ties. Having seen the Blues training they could not resist the temptation to see them play.
To Travel.
Mr. T. H. McIntosh, the Everton secretary, told me today that 15 players will travel to Buxton on Sunday and remain until the morning of the match. They are Sagar; Cook, Cresswell; Williams, Bocking, Britton, White, Thomson, Gee, Geldard, Dunn, Dean, Johnson, Stein, and Critchley. The directors have decided to make the same arrangements regarding tickets as pertained for the game with Leeds. The centre portions of the Goodison-road and Bullens-road stands will be reserved at 5s, and the end portions at 3s 6d. The goal double Decker stand will not be reserved. Tickets will be on sale from Friday next, although applications may be made by post immediately with stamped addressed envelope. These will be dealt with in rotation. For the benefit of those visiting the Everton-Derby County match on Saturday, it has been decided to sell tickets at the ground in Goodison –road –near the club office –and Bullens-road. This arrangement applies to Saturday only. Shareholders and members, in applying for tickets, are asked to mark their envelopes "shareholders" or "members."
When Luton Wore Pink Caps!
48 Years' History of Everton's Opponents.
By a special Correspondent.
Can you imagine a football team playing in shirts of navy blue and pink and with caps to match? It seems strange in these days, but when Luton Town, Everton's next cup opponents, were first formed those are the colours they wore. The caps, without which no player was allowed to take the field, were also of the glaring blue and pink. That was 48 years ago. The club was formed by the fusion of two well-known amateur teams –Excelsior and Wanderers. Luton were the first team in the South of England to introduce professionalism. In 1890 a wage of 5s per week was accepted by one player. Three years before three players had been given benefits. Woolwich Arsenal adopted professionalism in 1891. In 1892 the Luton committee decided that every player should receive 2s 6d per week, with an extra sixpence for away games and remuneration for broken time before noon on Saturday.s. Supporters of the club tired of the blue and pink colours, so about 1893 the colours were changed to cochineal. Luton were one of the pioneers of the Southern League. That was in 1893-94, but two years later they applied for admission to the Football League. In this they were unsuccessful, but were admitted to the Football league in the following season, and remained three seasons before coming back to the Southern League. In 1911-12 they were relegated to the Second Division of the Southern league, but regained full status two seasons later. Since then they retained membership of the First Division and went over with the other southern League clubs to become associate members of the Football League and form the Third Division in 1921.
DUNN PUTS EVERTON LEVEL.
February 22 1933. Evening Express.
Watson's Early Goal for Blackpool.
By the Pilot.
Everton were without Dean for their rearranged match with Blackpool at Bloomfield road, Blackpool today. He is suffering from a strained thigh muscle and his place was taken by Phil Griffiths., who was making his initial First Division match of the season. Teams: - Everton: - Sagar, goal; Cook and Cresswell, backs; Britton, White and Thomson (captain), half-backs; Geldard, Dunn, Griffiths, Johnson, Stein. Blackpool: - McDonough, goal; Grant and Everest, backs; Watson (A.), Watson (P.)(captain) and Crawford half-backs; Reid, McClelland, Hampson, Douglas, and Smallies, forwards.
From Johnson's early pass Griffiths was able to follow up and rob McDonough. There was a scramble in the home goalmouth but the ball was cleared. Everton played coolly and cleverly and were just a shade quicker on the ball. L. Griffiths contributed a neat touch before Watson sent a pass down the middle for Hampson, who shot wide. The next raid by the Blues was through Geldard. The centre was returned by Stein to Johnson, whose shot went just over the top. Twice Hampson got through as the result of quick-down-the-middle thrusts, but the movements came to nothing. Griffiths had a shot turned for a corner but the referee did not award it. Then Stein burst through on the left but his centre was scrambled away.
First Goal.
After 16 minutes Blackpool took the lead against the run of the play. McClelland was breaking through when he was fouled by White and Cresswell on the edge of the penalty area. Watson (A.) took the free kick and a brilliant right foot drive swerved past Cresswell's head into the net. Sagar only half cleared from Smalies, and when the ball was returned Smailes tried to carry the ball through on his hands. He was spotted. Stein was getting the ball across nicely, and once Griffiths had a shooting chance after Dunn had beaten the defence while sitting on the ground Griffith's shot lacked power. Then a thrill W. Watson came through to crash a terrific shot against the bar with Sagar well beaten.
Everton Equalise.
Everton drew level in 34 minutes through Dunn. A close-up free kick had been cleared and the ball whisked away to the right. Griffiths got it across to Johnson. Johnson was baulked and this gave Dunn a real chance from the edge of the penalty area. A right foot drive and the teams were level. Griffiths from a through pass raced ahead to place a yard wide.
Halt-Time Blackpool 1, Everton 1
Reid had two good chances on resuming, but failed to get the ball over. Then Sagar had to come out to pick up from McClelland. Blackpool applied heavy pressure. Sagar saved Everton when Douglas shot from behind Hampson, turning a swerving shot out while at full length. (End of Report)
BLACKPOOL 2 EVERTON 1 (Game 1423 over-all)-(Div 1 1341)
February 23 1933. Liverpool Post and Mercury
Everton's League Slide.
Need For More Points.
Luckless Loss at Blackpool.
By "Bee."
Everton have got their eyes on the Cup, but they must not think their position is altogether safe for the League. The bottom clubs are rising steadily, and Everton must begin to take some points to ensure their safety of mind and position in the League before the later stages of the season arrive. Yesterday they had an excellent chance to take at least one, of not two points from a side that had been knocked out of the Cup and was not playing as well as it has done for some weeks. Blackpool were not good yesterday, and Everton after unfortunately losing a goal to a free kick drive rather far out, went on to equalise, and kept the issue at a draw till near the finish, when a most luckless bit of play by the best defender of the day cost his side dearly. Cook, the Celtic back, had been kicking extremely well, and he was outstanding for his timely clearances., his tackles, and his full length kicks. He had not done a thing wrong, and with White in his brightest vein and mood, had subdued such a centre as Hampson till that player drifted to inside position to escape the attention of these players. Attention of these players.
Fatal Misunderstanding.
Cook headed back towards a point he imagined his goalkeeper had taken up. But Sagar, naturally enough, had cried, "Right," expecting Cook would let the simple ball pass over his head. Cook flicked the ball so ably that it was quite impossible for Sagar to catch the ball. And that's how Blackpool came to win by a score of 2-1, a score that did not represent the play, but merely gave a kind eye to the home side, who have never been so free from relegation troubles as now. They will not get a luckier point than this. And they may not play against an improvised centre-forward again. Phil Griffiths, brought in to take Dean's place owing to the famous men having a damaged thigh, was not of the physique to succeed against the Blackpool captain, Phil Watson. He could not reach the headers, he could not go beyond the defence; yet he made a really good shot against a rather erratic goalkeeper. McDonough, who brought off the one great save of the day for his side.
Dean Badly Missed.
The absence of Dean was felt with severity. The team seemed to be lost without him. The forward line at times indulged in passing bouts, but near goal there was no sting. It seemed foolish to think of a goal from a distant free kick for an infringement by Thomson, Everton's captain for the day. The defence did not seem to have "set" themselves in time for the kick. McClelland placed the free kick most carefully for A. Watson, the half-back to recall the days of his forward youth, but the ball escaped Thomson's head and Sagar made a flying leap but could not arrest the ball. Dunn's equaliser was the result of a fine longish shot, low and to the corner of the net. Johnson gave him his chance. Geldard after a bright first half, tapered off and missed some chances of showing how hard he can drive the ball.
Stein's Centres.
Dunn was best, and Stein was noticeable with some swinging centre " to the spot marked X"-indicating Dean's usual place. At Half-back White revelled in his age; he carried the opposition and the day –and the ball. Resolute in his interventions, he also produced a shot wide where his forwards could not, and the home goalkeeper saved it or a draw must have result. Cresswell and Cook were excellent, none more than Cook. On the Blackpool side there was much pace and running about, but not a lot of cohesion. Reid did little on the right wing and his partner was below form. Hampson, was well held all day, sharp fellow though he is, and the left wing was perhaps best, Smailies being a daring winger who was always anxious to cut in. At half-back Watson's were stoppers and Crawford was consistent with Everest the best back. It was a great chance for Everton to take one point through the uncertainly of McDonough, and through the poor play of the Blackpool forwards. Everton were very shocked by the turn of the game in the way it arose, and home folk as well as Everton, felt sorry Cook should have suffered such a blow after the great game he had given. Teams: - Everton: - Sagar, goal; Cook and Cresswell, backs; Britton, White and Thomson (captain), half-backs; Geldard, Dunn, Griffiths, Johnson, Stein. Blackpool: - McDonough, goal; Grant and Everest, backs; Watson (A.), Watson (P.)(captain) and Crawford half-backs; Reid, McClelland, Hampson, Douglas, and Smallies, forwards. Referee Mr. T. Casewell, Blackburn.
EVERTON RESERVES 2 BLACKPOOL RESERVES 1
February 23 1933. Liverpool Post and Mercury
Central league (Game 29)
The opening five minutes and the concluding five minutes of the game between Everton Reserves and Blackpool Reserves at Goodison park yesterday, provided three goals, two of which fell to Everton, though they did not get theirs until the majority of the crowd had given up all idea that Everton would score. Everton won 2-1, but it was not a good win, Wilkinson, gave Blackpool the lead when the ball cannoned back of him off Bocking, and the general movements of Blackpool's halves, Tuffell, Cardwell, and Benson, were so cleverly carried out, that Stevens and his inside forwards rarely got, much chance of testing Roxburgh. Five minutes from time Critchley tried a shot that looked like going wide, but Turner, rushing up, scrambled it into the net. Coming away from the kick off the ball went to Turner, and he again found the net. Gee, Bocking and Stevens were Everton's best, while apart from Blackpool's halves, Williams, and Walsell kicked splendidly . Everton: - Coggins, goal; Common, and Bocking backs; McClure, Gee, and McPherson half-backs; Critchley, McGourty, Stevens, Fryer, and Turner. Forwards.
TOO MANY COOKS-
February 23 1933. Evening Express.
Error That Led to Everton's Defeat.
By the Pilot.
Too many cooks spoiled Everton's broth at Blackpool yesterday. A misunderstanding in defence caused Cook, Everton's full back, to score the winning goal for the Seasiders, and accentuate Everton's slide down the league table. One sympathizes with Cook in scoring at a time which none of the 10 forwards gave any hope of doing so. It happened this way. A High dropping centre came over from the right flank, but Cook commanded the Everton goal area. As the Ball came over, Cook shouted "Right" to Sagar intending to head the ball back to the goalkeeper. At the same time Sagar shouted "Right" and came out expecting Cook to allow the ball to run on to Sagar. Instead Cook headed the ball over the outcoming Sagar right into the corner of the net. The defeat makes Everton's position in the Football league none to rosy. I do not infer that there is any real danger of a fight against relegation at the moment, but unless points are gathered quickly there certainly will be. Everton are 11 th in the League table, with 27 points from 29 matches. This represents a lead of nine points over the bottom clubs –Middlesbrough –and seven points over Chelsea, Wolverhampton, and Leicester City. It looks safe enough on the surface, but no chances must be taken. With the exception of the Leicester Cup-tie, this was Everton's seventh successive away defeat.
Everton's Opponents.
A.H. Fabian will not be available for Derby County's match with Everton at Goodison Park on Saturday, and the place of the amateur international at inside right will be taken by Jessop. This will be the only change from the side that draw with Arsenal yesterday, the eleven being that which beat Aldershot in the cup. Derby; Kirby; Cooper, Collins; Nicholls, Barker, Keen, Crook, Jessop, Bowers, Ramage, Duncan.
• Advertisement in Evening Express. League Match, Goodison Park, Saturday Next. Everton v. Derby county Kick off, 3.15. Admission 1/- Boys 4d. Stands Extra (Including Tax). Booked seats Sharp's Whitechapel.
EVERTON AFTER POINTS AND POINTERS.
February 24 1933. Evening Express.
Tomorrow's Game May be Cup Final Rehearsal!
Dean to Lead Against derby
By the Pilot.
Everton will be after vital League points and Cup pointers when they meet Derby County at Goodison Park tomorrow. Everton's chief concern at the moment is to improve their none to rosy league position. Points are urgently needed in order that they can attain a place of safety. For this reason alone the game with Derby assumes important proportions. Of equal importance is the fact that there is a prospect of Derby being Everton's opponents in the Cup competition. Tomorrow's match might even turn out to be a cup final rehearsal. Both teams are strong favorites for Wembley and there will be many valuable pointers to be gathered from the game. To date Everton have picked up only one point in February and have not won since January 21, when they defeated Sunderland. That win is their only League victory of 1933. It was against derby at the Baseball Ground in October that the Blues played some of their brightest football, yet they lost by two clear goals. They have a fine chance of revenge tomorrow but will find Derby a splendid side fore and aft –a side quick to create openings and eager to accept them.
Dean Back.
Everton's chief need is improvement in attack. At Blackpool the forward play was poor, and I hope that the return of Dean will make the vital difference. The champions cannot afford to drop any more points, and their position demands an extra effort tomorrow to beat one of the best teams in the country. Everton; Sagar; Cook, Cresswell; Britton, White, Thomson; Geldard, Dunn, Dean, Johnson, Stein. Derby County; Kirby; Cooper, Collin; Nicholas, Barker, Keen; Crooks, Jessop, Bowers, Ramage, Duncan.
• Advertisement in Evening Express. League Match, Goodison Park, Saturday Next. Everton v. Derby county Kick off, 3.15. Admission 1/- Boys 4d. Stands Extra (Including Tax). Booked seats Sharp's Whitechapel.
DERBY AT GOODISON PARK
February 25 1933. Liverpool Post and Mercury
Derby county are one of the best teams in the Country, and the fact the Derbyshire players are fancied competitors in the cup lends additional interest to their meeting with Everton in a league match at Goodison park today. Although it is the cup that commands their attentions, the sides cannot afford to allow League points to slip away, and both will be anxious to do well. Everton are in the greater need, as they are in the mind, of some people getting too close to the danger zone to be comfortable, and their friends hope that they will win this time. The kick off is at 3.15, and the following are the teams;-Everton:- Sagar; Cook, Cresswell; Britton, White, Thomson; Geldard, Dunn, Dean, Johnson, Stein. Derby County:- Kirby; Cooper, Collins; Nicholas, Barker Keen; Crooks, Jessop, Bowers, Ramgage, Duncan.
Sport Pies.
• Before the fifth round ties were played Steve Bloomer tipped Everton and Derby County ass Cup finists.
• While Ted Critchley is the back-ground at Goodison Park, the family name has bobbed up in another place. Like Ted, James of Doncastle Rovers, is a right winger. The diminutive Bolton-on-Dearn product has been appointed successor to Jack Beynon transferred to Aberdeen.
• Young as he is, there is a growing opinion that Albert Geldard, the Everton winger may be in the English side on April 1. Sammy Crooks has gone off and Joe Hulme is not at his best neither.
EVERTON FIND THEIR FEET IN THE SECOND HALF.
February 25 1933.Evening Express Football Edition.
Three Goals in Winning Rally Against Derby
Dunn, Geldard, And Dean on the Target.
By the Pilot.
Winter conditions prevailed at Goodison Park today, during the Everton v. Derby County match. Halt the ground was covered in snow. No more than 18,000 present at the start, and this was probably due to uncertainty whether it would be possible to play the match in view of the conditions. This match was regard as something of a cup final rehearsal, with the word game playing a big part. The referee, it is interesting to note is the cousin of Johnny McGourty, the Everton inside forward, and a cousin of Walsall centre-forward, who goal led to Arsenal's fate in the cup . Teams: - Sagar, goal; Cook, and Cresswell, backs; Britton, White, and Thomson, half-backs; Geldard, Dunn, Dean (captain), Johnson, and Stein, forwards. Derby County County: - Kirby, goal; Copper and Collin, backs; Nicholas, Barker and Keen, half-backs; Crooks, Jessop, Bowers, Ramage, and Duncan, forwards. Referee Mr. P. McGourty (Northwich).
The Game.
Dean won the toss. There was plenty to amuse in the waiting moments well intentioned and freque4ntly going astray on this ice rink. Ted Sagar came out to gather he just touched Cresswell and Warney measured his length in the mud.
A Thrill
There was a thrill when copper miskicked Britton's though pass but Dean was held up by mud and could not get near the ball. Dean almost headed, though from a centre and when the ball was pushed away, Johnson came in with a shot which hit against Cooper and away to safety. A cute centre by Stein, which travelled away from Dean and Dunn. White was late with a tackle and the Derby had a free kick, but Bowers was pull up for pushing. Their was something of a remarkable moment for on the snow covered portion of the ground the ball refused to move yet on the Everton's left wing it travelled like the speed of a bullet. Winning a throw in, Dunn middlled the ball for Dean's benefit, but Dixie got his head to far under the ball and Kirby was not troubled. More thrills were to follow, for Stein sented a centre and Dunn racing into the inside left position, headed brilliantly for Kirby to save. Everton received compensation for the own goal at Blackpool when Keen Derby left half, gave them the lead after 12 minutes. The champions had participated in a successful passing movement, and from a throw in the ball ran to Stein whose centre went towards Dean, who was unable to get a shooting foot in but Keen attempt clearance resulted in a brilliant scoring shot and Kirby had no chance.
The Equaliser.
Within a minute the Derby ill-luck was gone, for Bowers scored a nice equaliser. Cook and Britton were troubled by the ball and could not make the effective clearance so that the quick moving and clever Duncan dragged the ball back to delivered a cute, low centre, which Bowers quickly turned into the roof of the net.
Cannot read remainder of first column.
Everton had a weakness; this was in persons of Dunn and Dean were slow in advances with only Kirby to beat, there was too much eagerness in passing the burden of shooting on to some one else. On openings, Everton should have been ahead, but they never appeared as dangerous as the County forwards. Cook passed back to Sagar, and the goalkeeper had to dive full length to stop the ball.
Half-time Everton 1, Derby County 2
The reason Everton were behind was the fatal reluctance to shoot when the conditions of the cay demanded first time shooting on every possible occasion. Derby gave Everton a lesson in this, for with fewer chances they brought more danger. There was an early thrill in the second half when Geldard broke through. Geldard slipped at the crucial moment, and Barker came along with a winning tackle. Everton had escapes when Sagar had fisted away from Duncan, but the ball moved so quickly that Jessop could not time his shot.
Cook the Star.
Cook was Everton's outstanding player in the game. Up to this stage Derby had been the dominant combination, without having so much of the game. They succeeded in the football essentials. Everton were failing to adapt themselves to the conditions and now Jessop got through on a lone trial, but with Cook offering the 100 per cent, tackle he placed wide of the post. At last a direct shot from Dean, taken from the edge of the penalty area, but Kirby was there to make the save. Cook twice pulled up Duncan in brilliant fashion. No player was doing greater or more brilliant work than the Everton back. Crooks shot over following a free kick.
The Equaliser.
At the end of 60 minutes Everton drew level, following a free kick on the right wing, apparently for obstruction. Britton took the kick and Dunn raced across goal took the ball on the back of his head while facing his own goal, and steered the ball upwards and down over the line for the equaliser. The crowd, which had increased to 25,000, was now on tip-toe, and Everton were responding in galliant manner, Derby rarely being seen in an attacking light. Following a brilliant move on the Blues' left Geldard and Dean almost broke through on their own. Dunn had a great shot pulled down by Kirby. In 66 minutes Everton took the lead through Geldard. Dean started Derby's trouble, for he recovered after appearing to lose possession, and gave Stein a choice opening. Stein crossed the ball along the floor and at first it seemed as if the centre was running to waste. Geldard came racing in, however, and a quick shot with the right foot resulted in a brilliant goal, Kirby having no possible chance. When the ball was kicked off Geldard in running forward strained his left leg and had to retire, so that the Blues, happy in their lead, had to ply with four forwards.
Everton Four.
Everton went further ahead in 72 minutes when Dean apparently realising his mistake of the first half in withholding the shot, made the total four. Dean got through from a sweeping pass, just after Geldard had returned to the game. He fed Stein and was in position for the return. Dixie trapped the ball, waited to draw two men, then placed into the corner of the net with a shot that seemed to take Kirby by surprise. Sagar made a good save by interception a dangerous centre by Duncan. Cresswell sliced a Duncan centre across the face of the goal. Derby launched three raids, which failed to bring any trouble to Sagar. Cook and Cresswell, with the valuable assistance of White, easily mastered the Derby attack. Final Everton 4, Derby County 2.
DEATH OF OLD-TIME FOOTBALLER.
Nottingham Evening Post - Monday 27 February 1933
The death has occurred his 60th year of William Lindsay, a noted full back in the early days of League football. Born at Stockton-on-Toes Lindsay's first big club was Everton, for which signed when 17 years old. Was successively with Grimsby Town, Newcastle United, Luton Town and Watford
EVERTON 4 DERBY COUNTY 2 (Game 1424 over-all)-(Div 1 1342)
February 27 1933. Liverpool Post and Mercury
An Everton Rally.
Good Play Under Difficulties
Derby County Mastered in Second Half.
By "Stork."
To play football on Saturday was no easy matter, for the conditions were anything but enticing. At Goodison Park the ground was in a deplorable conditions. The snow had disappeared with the exception on one side of the ground, but the remainder of the ground carried a lot of water, which made play a difficulty. Yet Everton and Derby county treated about 18,000 people to a rousing display, Everton winning 4-2.
Worthy Formen.
The crowd had its recompense for braving the elements, and it also had its quiet moments, for at one period of the game Everton were a goal in arrears, and another home defeat was not out of the question, for Derby County proved themselves worthy foemen; foremen who could adapt themselves to any sort of style of play. Everton won because of their second half rally. For well over half the game Derby County were quite the equal of their rivals, and they gave me the impression that they are built for the stern business of Cup fighting. Their methods are straight forward; they are blessed with speedy wingers and a dashing centre-forward, and a solid defence. It was, however, a defender who gave Everton their first goal, Keen, the left half-back, in trying to stern an Everton onslaught, shot the ball into his own net at 15 minutes. That was a blow sufficient to unsettle most sides, but within a minute Derby had squared matter through Bowers, who had a simple task in sweeping Duncan's centre into the net. Two goals in a minute. There was many slips; there had to be, but the battle eased up and with both sides playing delightful football –a state of affairs few had anticipated –there was not a dull moment. How the men could control the ball was amazing. It did not seen possible, yet they did, and when Crooks made a scintillating run down the right wing and slipped the ball into the middle for Bowers to strike another blow at Everton, matters looked none too rosy from an Everton point of view. I though Cresswell at fault in not intercepting Crook's centre, for the ball passed between his legs to Bowers. There was decidedly more aggressiveness about the Everton team after the interval, and when Dunn headed the equaliser goal they were on top.
Sagar's Saves.
Sagar however, had to make a number of saves. He punched two efforts away that might very easily have become a trouble if he had not connected fairly and squarely with the ball. Kirby had some work to do, but it was Cooper and Collins who bore the brunt of Everton's attack. They defended sternly but could not prevent Geldard from scoring goal No. 3. Stein it was who made the centre, and Geldard got the side of his foot to the ball to turn it into goal.
Geldard's Injury
Geldard had taken his chance exceedingly well, but immediately afterwards he appeared to twist his knee and had to leave the field for a time. He returned just in time to see Dean mark up the fourth goal. It was Stein again who crossed the ball. Dean "killed" the centre in a pool of water and then shot into the net wide of Kirby's left hand. There were many other worthy efforts before the finish. It had been a bonny battle. All the twenty-two players had contributed their portion to make such a fine game possible. I liked the way Cooper and Cook punted the ball. It was not an easy thing to do with the wet ball, but they rarely made a mistake. A week's rest and treatment, it is expected, will put Geldard right. Teams: - Sagar, goal; Cook, and Cresswell, backs; Britton, White, and Thomson, half-backs; Geldard, Dunn, Dean (captain), Johnson, and Stein, forwards. Derby County County: - Kirby, goal; Copper and Collin, backs; Nicholas, Barker and Keen, half-backs; Crooks, Jessop, Bowers, Ramage, and Duncan, forwards. Referee Mr. P. McGourty (Northwich).
EVERTON "A" 9 LIVERPOOL TRAMS 3
February 27 1933. Liverpool Post and Mercury
Liverpool County Combination.
In view of the treacherous state of the ground Everton are to be complimented on the remarkably good football they produced at Crosby. The Trams, however, gave a plucky display. On this form Everton have an excellent chance of championship honours for the second successive season, despite the strong challenge of Whiston. Scorers; Fryer (3) Williams (3), Birtley, Gritths, and Webster for Everton, and Tweedley (who was perhaps the best of the Trams' forwards), Jones, and Williams for the Trams. This was Trams second heavy defeat (they lost 10-0 last week to New Brighton) in successive Saturdays.
A CUP HINT TO EVERTON
February 27 1933. Evening Express.
Pass the Ball in Reason, But Shoot! Shoot! Shoot!
Geldard Hurt But Not Seriously.
By the Pilot.
It is not often that I feel poetical, but when I contrasted Everton's play in the last half-hour of their game at Goodison with Derby County, compared with what had gone before, I felt sorely tempted to misquote those well-known lines into ; That shot at goal, and oh! How much it means. That extra pass and what a world away! Everton should learn a cup lesson for next Saturday's game with Luton. It is Shoot! SHOOT! S-H-O-O-T! These snappy cute little passes in front of goal are pretty and entertaining, but they don't get goals. They give the defence "breathing space" –the opportunity of making another effort. It took Everton one hour on Saturday to discover the truth of this. After the discovery we saw a different Everton –a winning team, the sort of side that can win the Cup. I hope the forwards will take this lesson to heart. Against derby they turned a 2-1 deficit into a 4-2 victory. There will not be any deficit to wipe off if they shoot accuracy and frequently. In all other respects they played well –so well that if the match proves to be a Cup Final rehearsal then the Wembley people will see a classic between two fine teams, fast in development and progressing along scientific lines.
Go'Ahead Side.
Everton were the more cunning combination and introduced more method in approach, but the County proved a go-ahead side eager to accept even the half-chance. Everton were particularly strong in defence, where Cook and Cresswell played almost without fault and Sagar was an inspiring goalkeeper. White was another pillar of strength proving a master of Bowers by his incisive tackling and keen knowledge of positional play, Britton and Thomson made up a strong intermediary division on which many a clever County attack. Broke up. Dunn was the outstanding forward. Many gloriously conceived attacks came from him and Geldard made him a good partner in the first half. Johnson was a schemer who concentrated on helping others rather than himself, and Stein revealed improved form. Dean was absolutely unselfish in his endeavour, but I for one, was happy to see him take more of the shooting burden on his shoulders late on. He might do more of this. Geldard strained his left leg in the second half and was limping for the remainder of the game. I understand that the injury is not serious and Mr. McIntosh states that Geldard may be considered a certainty for Saturday's game with Luton Town.
Training At Buxton.
All the other players came though the game all right, and are now in special training at Buxton under Mr. McIntosh. It is possible that two teams who will figure in the cup final will be at Buxton on Friday night. Sunderland are once again training at Birkdale, but they leave Lancashire on Friday and will spend Friday at Buxton on their way to Derby. No doubt Manager Cochrane will seek information of Everton regarding the power of Derby. Today the Everton players were unable to do ordinary training in their Derbyshire temporary headquarters. All night long the rain fell, but this morning snow fell again. The players had to confine themselves to a walk in the keenly bracing air.
Old Footballer's
Leeds Mercury - Tuesday 28 February 1933
Death William Lindsay, a noted full back in the early days of League football, has died in his 60th year. Born Stockton-on-Tees, Lindsay signed for Everton when 17, and afterwards saw service with Grimsby Town and Newcastle United before going south to Luton Town and then Watford.
WILLIAM LINDSAY DEIDS IN HIS SIXTIETH YEAR
February 28 1933, Liverpool Post and Mercury
William Lindsay, a noted full-back in the early days of the league football has died in his sixtieth year. Born at Stockton-on-tees, Lindsay signed for Everton, when seventeen, and afterwards saw service with Grimsby Town and Newcastle United, before coming to Luton Town and then Watfotd.
LUTON'S PROBABLE TEAM FOR GOODISON
February 28 1933. Evening Express
Eleven That Beat Halifax in Round 5
Two Days Stay at St. Annes
Evening Express Correspondent Luton Today.
Luton Town will in all probability be at full strength for their sixth round F.A. cup-tie with Everton at Goodison Park on Saturday. Alderson's shoulder, which was injured, is still troublesome, but it is much better, and Trainer Pakes, thinks he will have it all right by Thurdsay, when the team leaves for a couple of days at St. Annes. It that case Luton's team will be: Hartford; Kingham, Mackay; Kean, McGinnigle, Fraser; Nelson, Tait, Rennie, Alderson, Roberts. This is the eleven that beat Halifax at Halifax in the fifth round. In the meantime training is proceeding apace at home. Following brine baths and message, there is golf at Dunstable and rambles over the Downs.
Praise For Everton.
Mr. Harold Wightman, the manager of Luton Town, was at Goodison Park on Saturday and saw Everton beat his old club Derby County. In conversation with an Evening Express representative today he said: "I think Derby were a little unfortunate, but that does not diminish my admiration for Everton. They are a fine team, and the optimism at Everton is quite justified. I should be the last to say a word against Everton as a team, and what I was pleased about was the fact that they played up to their name as a stylish side. "That does not mean that Luton will be upset by a name. Our lads have played the better according to the standard of the opposition and reckoning Everton as the hottest proposition we have yet faced, and possibly the most skilful football side –the 'Spurs are a clever team –if they live up to their record the Town will play better than ever at Everton. I am not boasting in anyway; I appreciate the job, but I have seen so much of cup-tie football that I know we have a chance, even against such a grand lot of players. "Everton will have some advantage in playing on a ground that is much bigger than ours, but If Luton strike their best form immediately, them I am sure Everton will have to flight hard –as hard as in any off their previous games –to appear in the semi-final. "I am looking forward to a good game, and if popular opinion is correct and we are beaten, we shall wish them the best of luck in their next venture. I am sure if it should happen that we pull through, the good wishes of the Everton supporters, team and officials will be with us." Fred Kean, the captain said: - "You can say that I am hoping to have a good game along with the rest of the lads. We are all looking forward to the match, and we hope we shall be able to create the surprise, which so often happens in a Cup-tie. Of course, I know several of the Everton players well, and have the greatest respect for them, both on and off the field. I hope when they have met our lads they will say that we have been worthy opponents. I am sure it will be a keen but pleasant game." Bookings for the excursion to Liverpool are going well. In addition, there are several motor-coaches bookings, and quite a thousand spectators should make journey.