EVERTON 3 SHEFFIELD WEDNESDAY 0 (Game 147)
February 1, 1937. The Liverpool Daily Post
Everton Pass Along
Sheffield Side's Limp Display
A Penalty Incident.
By "Bee."
All Cup games are curious, but that Everton won against Sheffield Wednesday by 3-0 was a dull one, and its curious win came through the scoring of the goals, the lead at half-time of 2-0. Sheffield's fight back after changing two forward positions –Hooper for Luke –and Everton's sign of nerviness the moment Sheffield showed signs of playing their best game. I mention this nervous outbreak because Everton were leading by two goals. Sheffield had not scored and had not tested Sagar. Why then should a side in comfortable position be rattled off its normal game and not travel by the route that had carried them to a lead of 2-0? Perhaps it is the natural cup fear coming over any side at the outburst of surprising form from those who had scored incapable of creating a surprise in the goals department. Whatever the cause it was disconcerting to me, if no one else to find Everton sacrificing the best style at the slightest sign of uprising on the part of Sheffield Wednesday. It bodes ill for the future games if Everton find themselves a goal down.
Moderate First-Half.
The game on Saturday drew a large crowd of 35,000 and a handsome financial return. Three goals are generally sufficient to make any Cup-tie satisfying to the spectators, but it must be confessed the dreariness of the first half-hour of play rather tore the heart strings of the ardent Everton followers, who had come expecting too much and had received so little in the way of good football or exciting incident. I have rarely found a first half appear to be an hour long. It was so in this case. The conditions of winter made it unfair to complain; so the spectators just sat and hoped for something to turn up. If only a warming pan. The ground was caked with ice and appeared to have a little hard ground underneath, which made the players task very difficult. However, one felt the lack of timing and touch with shots was the cause of spectators not being satisfied with their day's sport. They are easily pleased and doubtless felt players would have served their limbs and their side the better by hooting from any range or angle, whereas the inside forwards of the home appeared to be settled upon a weaving plan near goal such as has been their undoing at Anfield a week earlier. It is a bad trait in Everton's case, and can be done only by Stevenson and Gillick with any advantage. These two men, however, could not act on the ice, and therefore the Everton line was not so much better than the limp thing representing Sheffield Wednesday, whose main attraction late on was an unusual method adopted by Dewar, whose step is light, whose endeavour to get round a back or centre-half often succeeds against one's belief, the end being a poor pass. Dewar in his best mood can be very engaging and tantalising. In this game one had to wipe out practically all attacking veins because Dean found Hanford a handful and Cunliffe was variable, while Coulter till late on never came to his pristine form.
Britton's Penalty Move.
Having collected a goal in his own hearty manner, Coulter may now step it out a little more swiftly than he has done in the past weeks. His goal saved Everton and put them in good mood, after the Sheffield revival aforementioned. The two vital goals of late part in the first half were worth special attention. The first came from a penalty kicked awarded instantly by the referee Jones of Nottingham. He was so close he must have seen the sweeping wrecking of Dean's body. The ball was 15 yards away at the time –not that makes difference, if Hanford had taken the obstructive view he seemed to have taken. Dean rarely goes off the field, and here he had to stand by the goal in a cloak and attended by ambulance and trainer's safe hands. Dean actually saw Britton take the spot kick, and the intriguing confidence slides the ball to the right had of the goal –beyond the bewildered Brown. It was a typically Brittonians effort, showing the man' football brains and calm assurance. Two minutes later Dean came back on the field of play and taking the opportunist's sermon to heart, he let fly at loose ball, scoring at the spot at which Britton had scored. Those two goals came near half-time after a dreary first half which had lacked incident and had led players to be in a jamming, scrambling mood, shots being counted on one hand. Everton went off in high glee, and came back to in a new Sheffield, or at any rate a changed front line, Hooper had hi flickering ways and dandy steps. Dewar wanted a lot of watching when going towards the right wing. Yet Everton won with just as much ease as they had in the earlier round against Bournemouth at the same ground. The truth is, Everton have the confidence to win any game against any opposition at Goodison Park, and so far have been blessed with the kind of opposition Bournemouth and Sheffield have put up. It was not possible to expect a grand game, but at least it was of sporting character, and if both sides had attempted driving tactics it might have been much better. Of Everton one can say; "So far, so good." Team: - Everton: Sagar, goal; Cook and Jones, backs; Britton, Gee and Mercer, half-backs, Gillick, Cunliffe, Dean (captain), Stevenson and Coulter, forwards. Sheffield Wednesday: - Brown, goal; Ashley and Catlin, backs; Rhodes, Hanford, and Burrows, half-backs; Luke, Grosvenor, Dewar, Hooper, and Rimmer, forwards. Referee Mr. Jones.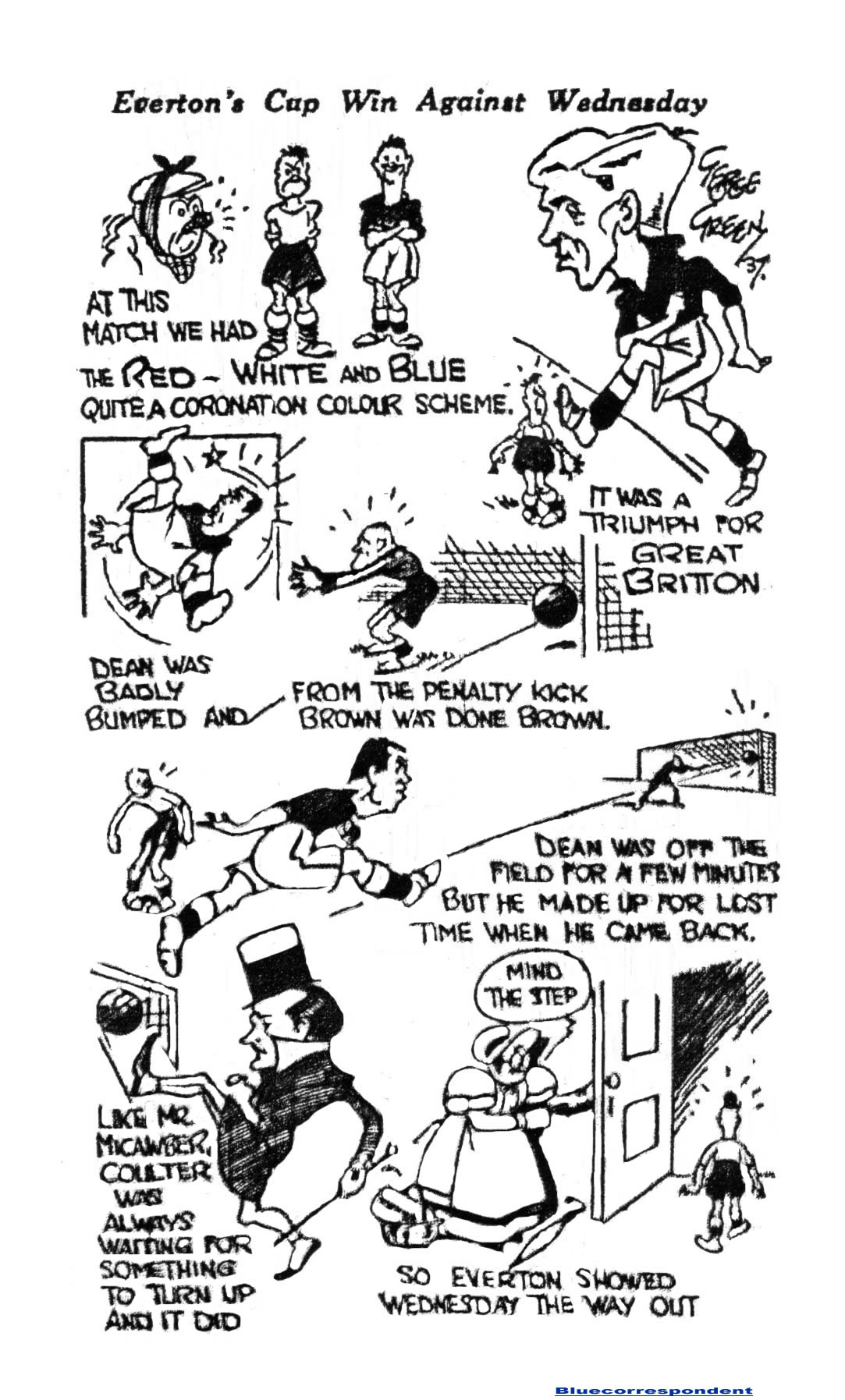 EVERTON "A" 2 SKELMERSDALE UNITED 1
February 1, 1937. The Liverpool Daily Post
Liverpool Cup-Third Round.
Skelmersdale, who were finalists last year were beaten after a hard game, mainly through the sterling Everton defence, Lambert and Morris, holding out against an almost continuous bombardment in the second half. In the first half Trentham scored for Everton, when they were much the better side. Ball and Abram defended well, and after the interval Skelmersdale changed their tactics and carried the game into the Everton half. Gordon equalised, but following a breakaway Hurel again gave Everton the lead. Everton played splendidly as a team throughout the game and Skelmersdale's strength lay in their enthusiasm rather than clever football.
BRITTON CALLS UP OLD-TIME WAY OF TAKING PENALTY KICKS.
February 1, 1937. The Liverpool Echo.
Bee's Notes
To say the first half seemed an hour is to state a fact. This fact may have arisen through our wintry conditions in the onlookers camp; or, more truer it may be, the hour seemed to come upon us through the inspired game we saw with one team almost hopeless at forward, and deplorable till they have a revivalist meeting in the underground passage at half-time. Sheffield came back with fire in their eyes and Hooper in their outside right berth. Dewar kept darting over to the right and going through his intricate steps with some degree of result and success. Everton leading by two goals showed traces of nervous strain. Leading by two and "taking the strain" I began to wonder what would have happened had they been led a goal instead of making Sheffield look paltry through the offside trap. The wintry conditions were such that no one had a right to expect daring display or brilliant football, yet Cook and Jones went into this game as if the whole thing depended upon them. Both kicked well, and judicious use of the ball had its result upon the Wednesday defence. Catlin and Ashley did their part with noble endeavour, but without the same result because the Wednesday wing half backs were not so good as Britton and Mercer, indeed, the Everton half-back line as a whole backed up the effort of their fine backs till Sagar had nought to do till the extremely late periods of play.
Take That !
Dean's penalty case was an unusual thing. He rarely is bumped off, and rarely does he go off the field of play, especially when a penalty kick is to be taken –he employs himself to that task since the days when Coulter used to try to place em out of the goalkeeper's reach. Here William R. Dean stood on the side of the goal, wearing a cloak of an ambulance man, and having the attention of the trainer. Meantime, Hanford had been wind milling his hands in protest till he had nearly struck the referee, through "taking with his hands." Britton takes aim from "spot" and the crowd and the goalkeeper are astonished to find the simplest of tasks taken in the self assured manner of the able footballer, who recognises the width of the goal, and by placing the ball rather than shooting, depends upon his touch and direction to carry him through. It was carried unanimously and Dean's return to join in the game, and take a second goal just saved this game from losing the hold upon the public. There is little else to say of the game, which carried Everton forward another round except to congratulate the home team upon winning as readily as they won against Bournemouth. On with the good cup work, and do not become "fearful" when a simple task of keeping a two goals lead is asked of you.
A LUCKY DIP FOR EVERTON
February 1, 1937. The Liverpool Echo
Everton's Signature Tune.
Mr. Secretary Theo Kelly was in high spirits after hearing the draw. He said; "We are very grateful to the fates for bring his home again. Our signature tune is "Home Sweet Home" Tottenham Hotspur and ourselves have had some grand games and we do not forget a defeat they served up on us not so many years ago when the ground was in a terrible conditions. However, it is good to see them here again and our players will not picture this a walking-over tie no tie bears that outlook. We knew the pace of the Spurs and shall look forward to a really grand game. Everton and Spurs have net before in the Cup twice at Goodison Park, and in more recent years at White Hart Lane. The meetings date back to 1904 when Spurs won at Goodison by 2-1. The teams met four years later on the same ground and in the same round –the first –and Everton were successful by a goal to nil. In 1934, Everton lost 3-0 at Tottenham –nether first round till between these rivals. Since Spurs are a Division 2 club. Everton's chances of making headway are considerably brighter than if they had been forced to meet one of the strongest sides. At their best, Tottenham put up some splendid showing. In this area, when O'Callaghan and Evans were following in the footsteps of Grimsdell, Seed, Clay, Dimmock, and others.
ANNUAL MID-WEEK TREK TO HUDDERSFIELD.
February 2, 1937. The Liverpool Echo
Bee's Notes.
Cup and League matches are blended this week. Everton go to Huddersfield for a League game, and depending upon my memory I reckon Everton have been to Huddersfield in mid-week for about five seasons. We never seem to visit them with Dean and Co, save on a Wednesday. Some have been relegation battles and some have been League games at a time when Everton were in a Cup final and, therefore, not prepared to take abnormal risks. Maybe the Huddersfield link in Cup-tie matters is a happy omen for Everton's future efforts in the Cup! Tomorrow the Everton team will doubtless show no change from the now accepted side which almost chooses itself. Dean got a rib-bender through Hanford's charge –or should it be termed "bully?" –Dean was then fifteen yards from the ball! Dean is now reported all right for service. Many arguments have arisen concerning the penalty goal at Goodison Park at the week-end. Here, then is the decision; Britton took the penalty kick after Coulter had been buzzed around as if he was about to take the kick from spot. Coulter was so near the kick when it was taken that the rule was broken regarding distances. Indeed most of the players lined up on the penalty line, which I foreign to football law. However, as Brown moved before the kick was taken, the spot kick was anti-rule, except that, of course, a referee will not penalise the taker if a defender breaks the rule. Britton walked towards the ball, placed it. Walked back no more than few feet, looked to the right as if to ask someone a question and Brown seemed to divine the ball wound go to Britton's left, whereas the Britton placing went to the extreme right corner at slow but very certain pace! Many people had a view that Dean's goal came after he had trapped the ball and moved off a yard. Others say Brown handled it. Neither is corrected. Dean struck a first time volleying blow, and Brown leaped to a swerving ball, never getting nearer than a yard towards it. This will doubtless be Everton's team at Huddersfield tomorrow: - Sagar; Cook, Jones; Britton, Gee, Mercer; Gillick, Cunliffe, Dean, Stevenson, Coulter. The prices fixed by Everton Football Club for the Cup-tie v spurs are:- Members and shareholders stands 5s; block D.E.F. 5s, ends of Bullens-road stands and ends of Goodison-road stands 3s 6d.
"Everton have got tired waiting for Guthrie, the Dundee half-back and are now summing up Jimmy Denmark of Third Lanark. Certain it is that Everton watched Third Lanark last week –and intended to do the same yesterday. But I call tell them that they have not the slightest chance of getting the big pivot of Cathkin –until Third are out of the ties, at any rate Tom Jennings tells me that there has been no approach for Denmark "probably because Everton know the answer before their ask," he added. At the same time this does not mean that the player will not get his wish before the season ends.
HERE COMES EVERTON'S "DOUBLE" CHANCE!
February 2, 1937. Evening Express.
Blues' Bid At Huddersfield Tomorrow.
By The watcher.
Everton's rearranged fixture with Huddersfield Town, t Leeds-road, tomorrow, provides the Blues with a chance to record their second "double" of the season. So far, Bolton Wanderers re the only side from whom four points have been gained. Everton face a difficult task tomorrow. Only once have the Town club had their colours lowered at Leeds-road since last March. They have, in fact, secured 21 of the 26 points at stake in their home games. Huddersfield are plying grand football just now, but if Everton will only reveal the team spirit that carries them to victory at Goodison Park, I see no reason why their journey to Yorkshire should not be a profitable one. By the way, Dean, who was hurt during the cup-tie with Sheffield Wednesday, is expected to be fit, in which case I think the side will be unchanged. Everton; Sagar; Cook, Jones; Britton, gee, Mercer; Gillick, Cunliffe, Dean, Stevenson, Coulter. Applications for tickets for the F.A. cup fifth round tie between Everton and Tottenham Hotspur, at Goodison Park, on Saturday February 20, are already pouring in at the club' offices. The tickets are: Shareholders and Members 5s, Blocks D, E, F 5s, ends of Bullen-roads and Goodison-road stand 3s 6d.
EVERTON'S MATCH TODAY
February 3, 1937. The Liverpool Daily Post
By John Peel.
Lawton, the youthful centre forward signed by Everton from Burnley some weeks ago, is to make his debut in the First Division today, when he will deputise for Dean, who is suffering from an injured ankle, against Huddersfield, at Huddersfield. Lawton has played in a number of Central League matches since joining Everton and has shown great promise and with clever players like Cunliffe and Stevenson on either side of him he is likely to be afforded opportunities of displaying his shooting ability. In facing the Huddersfield defence, however, he will have a stiff test in his first outing in senior football. Today he will be afforded his great chance. The display of the Burnley youth will be watched with the keenest interest. Huddersfield Town are playing well just now and stand eleven in the table. Everton being three places below. The Yorkshire side has lost but one match of thirteen on their own ground and Everton are still looking for the second away success. It is likely to b a very hard game.
Rival Teams.
Everton will be all out to change their luck which has struck to them in away matches. Apart from the appearance of Lawton, there is no change in the side from Saturday's successful combination. McFayden, Huddersfield's regular centre forward, is injured and Chivers will lead the line. Hesford also returns and the teams will be: - Sagar; Cook, Jones (JE); Britton, Gee, Mercer; Gillick, Cunliffe, Lawton, Stevenson, Coulter. Huddersfield Town; Hesford; Goodall, Mountford; Willingham, Young, Brown; Johnson, Richardson, Chivers, Cooper, Beasley. The same eleven will do duty for Everton at Goodison Park on Saturday kick-off 3 0'clcock in the game against Sunderland.
EVERTON MIS CHANCES
February 3, 1937. The Evening Express.
Huddersfield's Strong Defensive Grip
By The Watcher.
Everton made a last minute chance for the re-arranged fixture with Huddersfield Town at Huddersfield today. Lawton, the ex-Burnley centre forward whom Everton signed only a month ago, was chosen to play, but was found to be suffering from influenza. It was decided to put Bell into his position. Lawton, who had turned up at the station, was sent home to bed. Liverpool had a representative watching Richardson, the inside right. Teams: - Huddersfield Town: - Hesford, goal; Goodall and Mountford, backs; Willingham, Young and Brown, half-backs; Johnson, Richardson, chivers, Cooper, and Beasley, forwards. Everton: - Sagar, goal; Cook (captain), and Jones (JE), backs; Britton, gee and Mercer, half-backs; Gillick, Cunliffe, Bell, Stevenson, and Coulter, forwards. Referee Mr. W. B. Bristow (Stafford). Everton called the tune at the start, and it would not have surprised the small crowd of 6,000 present, had the Blues taken an early lead. First of all, Bell completely mistimed a kick from close in and then Hesford seemed slightly fortunate in facing a header from the former Tranmere leader. Everton, who were in all-white shirts, and black knickers, played the open game, most suitable for the conditions, and they certainly had the better of the opening stages. Richardson went close with a low drive from 15 yards range, and when Huddersfield forced a corner on the right, he missed Johnson's swerving line-ball but recovered quickly to collect a hot one from Brown. Britton and Cunliffe combined neatly until Young stepped in and blocked Britton's final pass, and following this Goodall robbed Bell on the ball when the Everton centre-forward was taking an inward pass from Gillick. Three times within as many minutes Hudderfield forced their way through to bring Sagar into action. The Huddersfield finishing however, was not good. During one of the raids, Cook ran in and almost turned the ball past Sagar. From a corner, Johnson gave Chivers a chance, but that player headed over. The best chance of all came when Richardson the man Liverpool would like as inside-forward, with plenty of times to drive a slow ball from Beasley, shot yards wide. Everton took up the cudgels and raced away. Gillick cut in with the ball at his toes, but Goodall raced across from the opposite side and barred the way. Sagar received a knock on the knee when he rushed out to defend against the incoming Beasley, but honours must go to Gee, who speedily retraced his steps to save the day as Chivers, the Town leader, was preparing to let go from seven yards range. Huddersfield were doing most of the attacking with Everton also making many raids. From one Bell should have opened their account, but unfortunately he was slow in bringing the ball under control.
Half-Time Huddersfield Town 0, Everton 0
There was no denying that Everton had plenty of scoring chances in the first half, although they had not been so quick on the ball as Huddersfield. Everton were certainly missing Dean. Richardson was going through when he was brought down by Sagar, who, effected a grand save from Mountford's shot from the penalty spot, falling slightly to his right to gather the ball. The Town were now forcing the pace and Everton defending. The greatest thrill of the game came from Cooper, who slipped through a gap in Everton's defence and whipped across a grounder which had Sagar beaten. End.
THIS'LL MAKE YOU WHISTLE.
February 3, 1937. The Liverpool Echo
Bee's Notes.
Don't imagine the famous Cup-tie of a few years ago (replayed at Everton) Sunderland v. Everton as the only great meeting of these two clubs, who are due to meet again on Saturday. "Hambledonian writes; - -Sunderland are a powerful side today, but 40 odd years ago I fancy they were better. In those far-off days they were known as "the team of all the talents," and they well deserved the title I can recall some great games between them and Everton –the 7-1 beating which the Blues inflicted on them on September 30, 1893 –when this news came through to the North the Sunderland folk would not believe it until it was verified later –but the most exciting, especially in the lasting stages, was that which took place at the Park in the following season of 1884-95. Most of these who saw it will be greybeards by now, but if they could, they would tell you that there has never been a league game to compare with it for sustained interest and sheer excitement, when Everton made the sensational rally in the last three minutes and pulled a seemingly hopeless defeat into a draw during the few remaining seconds. It was a well-contested match with nothing to choose between the rivals, but the difference was that Sunderland had scored two goals, and play as they would Everton could not penetrate the net, and at the interval the visitors led. The second half was a repetition of the first –I recollect a storming shot from that great centre forward Jack Southworth, which hit the crossbar and rebounded into play –but Everton could not score, and with only a minute or two left, hundredths of disappointed spectators could be seen leaving the ground.
Fun.
Just then the run started, continues "Hambledonian," and a hugh cheer caused shoals of people to coming running in again, for Tommy McInnes, of the rufus head, had at last sent the ball past Doig into the net, where Everton had been trying to put it all the afternoon. With less than half a minute to go the Blues were given a free kick close by the Sunderland goal, and I remember Bob Kelso rushing after the ball to place it for the kick, from which it was never cleared by the Wearsiders, and as Dicky Boyle scored amid a mad burst of cheering, hats and sticks were thrown into the air, and men who were perfect strangers shook hands with each other in delirious excitement. That was a game and I see that poor old Bill Stewart, who was left half-back for Everton then, passed on a week or so since. Here are the teams which played in that never to be forgotten game on October 27, 1894:- Everton; Cain, goal; Kelso and Parry, backs; Boyle, Holt, and Stewart, half-backs; Latta, McInnes, Southworth, Chadwick, and Milward, forwards. Sunderland: - Doig, goal; Meechan and McNeill, backs; Wilson, McCreadle, and Johnstone, half-backs; Gillespie, Miller, Campbell, Hyslop, and J. Hannah, forwards. The gate that day was £680.
Dean's Family Honour.
"I read the beautiful report of the best reports I have ever read," This is card received by me from "G.N.Y" who sends along the following little exercise for our many France scholars: - Vtore Concitoven l'Incomparable Dean. Dixie Dean est. certainment le joueur anglais que le football a le plus combe11 a game le championnat, la Coupe, a ete international, est recordman de son pays a la foils pour le nombte de buts marquets en une saison er sur toute is carrier. Ll vient d'jouter une nonvelle distinction a sa glorienuse brochette Dean a joue 400 matches de Ligue don't les 29 premiers avec les Tranmere Rovers, et le reste avec Everton qui se Le reste avec Everton quise L'attacha en 1925. LL a Marcus 332 buts en matches de Lique et i a eue rappele recemment pour conduire l'equip de la Ligue angaise. Un grand footballer type de belier mais un joueur scientifque et redoubtable goalgetter, surtous de la teete. Avec ca un famille; car Dean a quatre enfants. The last phrase suggests Dean has four children. Francals has gone wrong here; we have heard of three, not four
Variety Programme.
Mr. D. Lloyd, of Rock Ferry, says; I was very interested in a remark you made in your very excellent report of the local "Derby" to the effect that Everton should study the conditions of play accordingly. This point has struck me several times, when I have been watching Everton. They tick to the same tactic even through the heavens fall. When the captain sees a certain policy is not paying he should give instructions for a change in tactics and see how that works. What makes it difficult to understand is that they themselves had a practical demonstration of it when Johnson was at inside left, and they had hugh scores in game after game by opening the game out. Thanking you again for your always interesting column.
SAVED PENLTY HE GAVE
February 3, 1937. The Liverpool Echo
Sagar's Feat For Everton.
Huddersfield Game.
Visitors' Costly Misses In First Half.
By Bee.
The former Burnley boy, Lawton was chosen to play in Dean's place at Huddersfield, but attending the station this morning he showed himself plainly unfit for service, through the ravages of flu. Dean's ankle prevented him playing. Therefore, "Bunny" Bell, of Tranmere Rovers was the only change from the customary Goodison Park side. The day was dull, the ground, soft, the attendance so small that Everton must pay a biggest fee for compensation through the game being out off from Saturday's last. Teams: - Huddersfield Town: - Hesford, goal; Goodall and Mountford, backs; Willingham, Young and Brown, half-backs; Johnson, Richardson, chivers, Cooper, and Beasley, forwards. Everton: - Sagar, goal; Cook (captain), and Jones (JE), backs; Britton, gee and Mercer, half-backs; Gillick, Cunliffe, Bell, Stevenson, and Coulter, forwards. Referee Mr. W. B. Bristow (Leeds). Everton in white shirts and black knickers kicked off, and Stevenson swept the ball out to Coulter, whose centre was a shade too fast for the covered Bell. A moment after Britton served Gillick with the sort of pass he likes Gillick's movement after a one-stride dribble put Bell in possession. The centre had a clear run from reasonable range, but after a slowish start miskicked his shot, and that's how a golden opening stab failed to make the blood flow. Everton's early work had a stamp far too good for the Huddersfield side, even if Sagar had to pick up twice, and escape a barrage of haunting forwards. Chivers looked to be the danger man for the home side, his task being too heavy. And away went Everton, Coulter sending over a long lob that Gillick tried hard to square into the goalmouth. It was a high ball, and after it crossed near, but not in, Bell hooked the ball over his head and just over the crossbar.
Pope For Hearts.
Richardson made a strong shot just wide. At this stage in came Managers Thompson, of Halifax, and David Pratt of Hearts of Midolthian. Hearts have just signed Pope, the Halifax back, for the Scottish club –an exclusive bit of news. Pope was at Leeds four years as a centre forward, but later became a much-wanted back. Huddersfield had a hot spell in which Sagar once escaped with some fortune, but later he made a leap towards his left and connected with the ball very soundly. Cooper was now the dominating shooter, and Everton's early success in raids had lost its power, there being an unusual collection of cases of misunderstanding in a positional sense. The crowd of 6,000 enjoyed Cooper's centre, which Richardson lashed in so fast that this defence which had stopped to appeal for offside was glad to see it had passed outside. From this came another chance for Everton. Cunliffe shooting onside when he might have gone forward if he had cared. He preferred to shoot from a reasonable range and his aim was wrong. Everton's most priceless combined move, between Britton, Stevenson, Cunliffe, and Gillick led the little man to his desired shooting spot. He was covered and crowded out close in and the best move of the match thus came to its end. Britton's well known lob was back-headed by Bell to Coulter who was too lofty with quite a charming opening. The wastage of easy chance was likely to be costly.
Bumps And Jumps.
Cook took bumps and saved his side, and Britton had two jumps at him and a hack without getting a free kick. Mercer's timely had-out of a cross from the left was a studious trick. He repeated the dose a moment later. Gillick got nothing for his collection of bumps, but the Everton captain, Cook, took a word of warning from the referee for a severe tackle low down on Beasley. Twice the Everton Sagar was hurt and brought a throw-down six yards from goal a muddling thing which gave Everton the best required at the crucial moment, after which Bell seemed to be going through almost at leisure. He had gone beyond a half-back. Mountford had fallen, and he travelled forward for what seemed to be a sure goal until Hesford got his body in the way, of the attempted shot and so to "lemons."
Half-Time Huddersfield Town 0 Everton 0
Sagar Gives And Saves Penalty Kick.
Hesford had not had single straight test in the first half. The second half began with Mercer getting, instead of giving a foul, and the prickly Chivers making stout contest with everyone in his region. Sagar closed the view of the goal to Richardson-excellent potting of the goalkeeper –and at a further inroad to Sagar the goalkeeper, fouled the forward. Mountford coming up to take the penalty kick which Sagar got down to at the right hand corner of the goal. It was a truly great save, made without any suggestion of a fluke. Sagar also got applause for cutting out Johnson's centre. Everton's costly misses of the first half were now being shown up "With interest." Huddersfield appeared to have got the Everton side on the run and for the first ten minutes of the half the visitors defence was severely tested. Cooper's best shot beating Sagar and the eyes of the crowd when it fied beyond the far upright. Goodall got his foot in the way of another goal chance coming Bell's way. Everton's back, Jone's appeared to be groggy. Cunliffe kneed an obstructionists upon his seat of learning, and Richardson was going right through when he was baulked by three man. Young, however, seemed to take on everyone with confidence, and he was aided in his work by the Everton right wing keeping the ball too close. Jones fell to earth with no one near him. He seemed to be suffering from concussion through his first half blow. He was led from the field. Final Huddersfield-Everton.
FORMER ROVERS FORWARD
February 4, 1937 Lancashire Evening Post
Death Of Mr. Bowman
Mr. Adam Bowman, whose death at the age of 56 occurred today at the Blackburn Royal infirmary, is remembered by football followers as a powerful inside forward who possessed remarkable shooting strengths. A native of Forfar, he came to Lancashire in 1901 as an Everton player, and joining the following season, he remained with the Ewood club for 5 years. Later he went to Brentford, to which club he returned after a spell with Portsmouth and he finished his football career with Leeds. His shots were a delight to spectators, who saw him score many goals from long distance. He became licensee of the Cemetery Hotel, Blackburn in 1912, and for 15 years was at the Lord Nelsen Hotel, Blackburn, subsequently moving to the Mill Hill Hotel and the Toll bar inn, Whalley Old-road and going to the Clarence Hotel, Lord Street, where he bowler, winning the championship of the Blackburn and District Licensed trackers. Mr. Bowman is survived by a window. The funeral will take place at Blackburn cemetery on Monday.
HUDDERSFIELD 0 EVERTON 3
February 4, 1937. The Liverpool Daily Post
Second Away success.
Everton Surprise Huddersfield.
Sagar Saves A Penalty
By "Bee."
Everton won their second double of the season by beating Huddersfield Town, at Huddersfield yesterday, before less than 6,000 spectators. Previously only Bolton Wanderers had yielded four points to Everton. Now Huddersfield joined them after a quaint game with a heavy ball and heavier turf. At half-time the score should have been 4-4, if the chances that came to the teams had been taken with reasonable care. After that Huddersfield took command of the game for at least half an hour, and in that time Sagar conceded a penalty kick and saved the shot full-back Mountford delivered. This upset the already uneven finishing power of the home team, and Everton went on to snap 3 goals near the end of the day –a strange turn about, because Everton had refused the golden chances early on, and Huddersfield merely copied their wretched finishing; yet when all seemed lost and Jones had suffered a slight concussion through heading the ball, the pressure of the Yorkshire side was so great it seemed impossible for Sagar and his backs to hold out much longer. It was then the denouement arrived.
Coulter Makes Sure. Bell, the former Tranmere player, was acting as third man owing to Dean being damaged, and Lawton, the £6,000 Burnley transfer attending the station but being unable to travel through influenza. Bell back-headed the ball towards the empty goal. The ball might not have reached its mark over the line, yet it was travelling that way when Coulter, running up made quite sure Huddersfield protested that the scorer was off-side, only to find a consultation with the linesman yield further confirmation of the legitimacy of the goal, after which Cunliffe came up with a swinging shot to the top left-hand corner of the goal. Some may have blamed the goalkeeper for his failure at this stage. I acquit him of the chance to save the most awkward "dipping" shot. Near the close Bell took, in typical Bell manner, a straight-for-goal drive from Coulter's good –length centre, and the game had ended as few could have expected, albeit with both sides neglectful of reasonable chance, neither side could expect to win by a 3-goal margin. Everton many bright moments, notably at half-back and full-back and Cook's captaincy was not a matter of deeds alone, but was added to in the matter of encouragement and positional orders. In the first half none did better than Cook against the fleet Beasley, after which Sagar takes the palm and the three half-backs earned their bonus. Britton starting with a fine passing sequence and Mercer's heading out added to the fine sense of positioning at a critical time. Mercer also kicked the ball off the goal-line late on.
Curious Forward Mixture
Forward Everton had that curious mixture which comes to them at times. The line as a line had splendid ideas, and the ball was worked beyond the slowish defence pair almost at will, although Young as usual was a tower of defensive strength. The ability to pass the last line of defence served to trouble one's mind about futures, when the forwards could not finish off their work with a dribble round or a shot out of the way of the goalkeeper. Bell missed three of these chances. Cunliffe and Coulter also failed, yet all in turn did bright things, and Gillick, not well served made splendid use of his chance in spite of the buffeting he got. Huddersfield were best represented through chivers lacking for McFayden, Cooper and Richardson, with Young and Goodall strong in defence. Teams: - Huddersfield Town: - Hesford, goal; Goodall and Mountford, backs; Willingham, Young and Brown, half-backs; Johnson, Richardson, chivers, Cooper, and Beasley, forwards. Everton: - Sagar, goal; Cook (captain), and Jones (JE), backs; Britton, gee and Mercer, half-backs; Gillick, Cunliffe, Bell, Stevenson, and Coulter, forwards. Referee Mr. W. B. Bristow (Stafford).
EVERTON'S SUCCESS
February 4, 1937. The Liverpool Daily Post
By John Peel.
The surprise of the day, however, was Everton's victory at Huddersfield. Everton's lack of success on opponents' grounds has been one of the surprising features of the season, and before yesterday's game they had won only once, at Bolton earlier in the season. The team broke the spell yesterday, however, when they scored three times late in the game to gain valuable points. Dean was unable to play, owing to injury and Lawton who had been chosen to lead the forwards, had a touch of influenza and Bell was brought in. It was Everton's second "double" of the season, for they had already overcome the Yorkshire side at Goodison Park last September by 2-0. Their first double success was registered against Bolton Wanderers, whom the Goodison Park side defeated 2-1 at Bolton and 3-2 at home. As Everton have already beaten Portsmouth, West Bromwich Albion, Wolverhampton Wanderers and Grimsby Town at Goodison Park, and have yet to meet Manchester United twice, they have excellent chances of achieving further doubles.
EVERTON SHOW FINE FORM AT LEEDS-ROAD.
February 4, 1937. The Evening Express.
Half-Backs Again A dominant Force
Saturday's Battle With League Champions.
By The Watcher.
Everton are not able to come to definite decision regarding the centre-forward berth for the great match with Sunderland, the League champions, at Goodison Park on Saturday. In view of Dean's ankle injury Lawton was selected to take over the leadership of the line, but he has influenza and may not be fit. In that case Bell will retain the berth which he filled against Huddersfield Town, at Leeds-road, yesterday when a 3-0 win gave the Blues their second success on tour and also their second "double." Everton were well worth both points at Huddersfield. They should have been head t the interval, but like the home side, the inside-forwards lost wonderful scoring chances. Not until mid-way through the second half did the Blues find their shooting boots, and then it was all over –for the Town; in fact, the longer the game progressed the more surely did Everton become masters, and it would not have occasioned surprise if they had put on more goals in the last quarter of an hour. I was most impressed by Everton's all-round strength t half-back, Britton and Mercer were fast and enterprising and, in the middle, Gee was a first-class stopper. There is no doubt that these players are now bang at the top of their form. The Town put in only few shots of note, which was partly due to the sterling qualities of Everton's defence and partly to the Town's finishing weaknesses. Cook and Jones were always sure on the slippery turf. Sagar, too, was first class, and saved a penalty kick. Bell scored a goal, Coulter and Cunliffe being the other marksmen. Gillick had a grand day his speed and trickiness showing weaknesses in Town's left flank.
• League Match at Goodison Park, Saturday February 6th Everton v. Sunderland. Kick-off 3.p.m. Admission 1/- Boys 4d, Stands extra (including tax) Booked Seat's Sharp's Whitechapel
WHO WOULD HAVE THOUGHT IT?
February 4, 1937. The Liverpool Echo
Everton Win Second Away Match And Second Double.
Welding The Team Has Brought Confidence.
Bee's Notes.
For over a year those whose duty it is to "go away" –each week-end have been watching and wailing. True, Everton had won at Bolton, but the manner of that victory left us with nothing more than the result. The play's the thing, and the play that day was not the thing! It was odd my colleague, "Pilot," should be indisposed and unable to witness a 3-0 victory at Huddersfield –the second double of the season and the second away win of the season. Clubs talk of mascots and would flog any unoffending member in belief someone is a Jonah, but I am glad I have escaped any suggestion of mystic measures preventing a team doing itself justice away from home. There were other notable absentees yesterday not only in the directorial camp but in the plying sense, Dean was damaged, Lawton was picked and straightaway found himself unable to make his league debut; finally Bunny Bell came in to take a goal, help to make a goal with a back-header, and to miss some so early in the game one felt the failure could never be recovered. He was not alone in this close-goal failure for Cunliffe and Coulter could have taken the lead. Perhaps it was Sagar's grant of a penalty kick and his save from the full back, Mountford that set Everton alight. Certainly at three quarter time no one had hopes of anything better than a goalless draw, although the spirit of the acting captain, Cook by precept and practice, always encouraged a belief that something startling would happen. In the end the victory was well deserved, and three goals late on count just as surely in the book of records as those scored early on. How strange that the now well-knit Everton side, knowing each other's moves and probable places of movement, should be able to go through to the point of facing the goalkeeper, yet be incompetent to draw blood when the goal gapes and the goalkeeper goes on his knees in a prayerful attitude. This game should have been a record hit for both sides. Let Huddersfield bear their own blame in this matter, and let Everton take to their heart the necessity for the side-step close in when they have gained every fence except the goalkeeper's line.
The Mainstays.
Undoubtedly Sagar had a great day, Cook was in buoyant mood, and Jones, damaged through the heavyweight ball, stood to his task to the last moment. At half-back the early work of Britton was of grand manner, here and there he and Stevenson held the ball a trifle too long, and got covered in the close tackle of the Yorkshire side, whose half-backs are terriers, but the line as a whole played splendidly, and I grieve that Young should reopen an old wound, without just cause, when he sent Gee to the ground. Mercer's most sterling work came when he headed out and finally took the ball from the goal-line with no one else to keep a score clear. In the forward line, Bell, by getting a goal and making a goal gets marks, in spite of his early lack of directness in finishing off the simple tasks. He took Coulter's good-length centre jut right, h back-headed the ball for Coulter to start the goal-biding, and finally Cunliffe had one of his in-swingers, which looks like going over, and "dips" to a point just under the left-hand corner angle –a most difficult shot to save. Not great football, but its quaintness when Everton should have taken a commanding lead and its milling from Huddersfield till three-quarter time of the second half made it a fluctuating game, in which the vagaries, of play were foremost. Cricket is not the only glorious uncertainty of sport. The Everton team has been left severely lone by selectors for some time, and the result has been a commanding confidence and an improvement in their methods and formation, which may carry them far. If they had won the local Derby game, as they were expected to (Arsenal Lost yesterday) the position of Everton in the League would have been astonishing. If – but why not take the score as it stands? The victory was merited, although Young, Goodall, and Willingham were very strong, and Chivers and Cooper and Richards were dangerous forwards, ever on the go. The tribute to the Everton defence is bound up in the praise for the three Huddersfield forwards. Official attendance 5,600. How do they carry on? Of course they get compensation in this case –and they are good sellers in other cases. Some clubs cannot sell their goods at any price. I wonder why?
Everton New stand when completed will mean accommodation for another 11,000 people (3,000 seated). This will bring Goodison Park's full holding capacity to round the 80,000 mark.
SUNDERLAND STARS HERE TOMORROW
February 5, 1937. The Evening Express.
Everton's Great Clash With League Champions
Wearsiders' Key-Men Forwards.
By The Pilot.
Star game in the Football League tomorrow is the clash at Goodison Park of Everton and Sunderland, the First Division champions. The Blues, back again in the race for honours, tackle in Sunderland the cleverest side of the past two seasons. The match will provide a feast of brilliant football. Everton's road to victory which would greatly enhance their chances of winning the League title, lies in stopping the Wearsiders' inside forwards from weaving their magic spell. The key men of the brilliant Roker attack –one of the finest seen in action for years –are "Raich" Carter, at inside-right, and Patsy Gallacher, at inside-left. They are the inspiring forces behind the line. In some games this season I have noted a tendency on the part of the Everton wing half-back –and naturally the backs behind them –to afford the opposing inside forwards rather too much room in which to operate. When those inside forwards have secured possession they have been in unmarked and unguarded territory and so have been able to lay their schemes in their own time and without hindrance. This was so against Liverpool, but the Blues remedied the defect against Sheffield Wednesday with pleasing results. Now I found emphasise the necessity of Everton continuing in their plan to blot out the inside men, for it does mean victory over Sunderland. Stop the effectiveness of Carter and Gallacher, and the Sunderland attack becomes quite an ordinary line. I know it is easier said than done, but to harness Carter and Gallacher means that neither Duns nor Burbanks are going to receive the support essential to their success. If the Everton wing half backs will make it their primary business to upset the suitable machinations of the inside men, then I think the backs will be able to stop the wingers.
Sunderland Changes.
Sunderland have been forced to make two changes. Wylie, the former Motherwell player, will lead the attack in place of Gurney, who was injured in place of Gurney, who was injured in the Cup replay with Luton, and Burbanks will deputise at outside left for Connor, who is also on the injured list. Everton have only to secure a firm grip on the Wearsiders' attack to make sure of the points –points which will send them bang into the championship race. Sunderland have improved their defence by the acquisition of Gorman, the Liverpool-born back from Blackburn, but still I think they fall below Everton's standard in this department. Sunderland are renowned for their attacking qualities. So it must be the duty of the Blues to counter the strong weapon of their rivals. Sunderland again will be without the services of the great half-back. Alex Hastings, but McNab is a more than useful deputy. Everton's only doubt is in regard to the centre forward berth. I' fancy that Dean will be back on parade; Jones is quite fit following his bump at Leeds-road. I have never seen a poor game between Everton and Sunderland and look forward to another classic tomorrow. If it is within 50 per cent of their never-to-be-forgotten F.A. Cup replay on the ground two seasons ago, then it will satisfy one and all. If the weather is good there will be 50,000 present. A collection will be taken on behalf of the Liverpool Cancer Hospital. Sunderland; - Mapson; Gorman, Hall; Thompson, Johnston, McNab; Duns, Carter, Wyllie, Gallacher, Burbanks.
• League Match at Goodison Park Tomorrow (Saturday) Everton v Sunderland Kick-off 3 p.m., Admission 1/- Boys 4d Stands extra including tax. Booked Seats, Sharp's Whitechapel.
SUNDERLAND AND EVERTON MID-WEEK WINNERS MET AT GOODISON PARK
February 5, 1937. The Liverpool Echo
Bee's Notes.
As Sunderland and Everton had a mid-week match of much effort the League match between the pair tomorrow has been balanced to a nicety. Doubtless there had been thoughts, on Everton's part or festing some of their members who had shown signs of wear through constant engagement in the football task. Except that Dean was suffering a damaged ankle there was no change for the Huddersfield game. Tomorrow, it may be Lawton will be sufficiently recovered to take the place to which he had been appointed. 'Flu's after-effects are not nice, and the directors possibly prefer to taken no chances with the young boy and to let Bell continue where he left off." In any case the away win at Huddersfield has left Everton in a bright new light, and one doesn't forget the memorable Cup-tie between the pair at Goodison and the possibility of a further meeting between them in the Cup series after tomorrow League game has been wiped off the slate. The champions well earned their medals last season, and this season they have been patchy, but Gorman of Blackburn –a Liverpool boy –has touched his highest form for his new club and will be anxious to parade. "What the city allowed to leave for Blackburn and later Sunderland. It promises to be a great football feast tomorrow, when Everton line up in this manner. Everton; Sagar; Cook, Jones; Britton, Gee, Mercer; Gillick, Cunliffe, Dean, or Lawton, Stevenson, Coulter.
• League Match at Goodison Park Tomorrow (Saturday) Everton v Sunderland Kick-off 3 p.m., Admission 1/- Boys 4d Stands extra including tax. Booked Seats, Sharp's Whitechapel
SUNDERLAND AT EVERTON
February 6, 1937. The Liverpool Daily Post
By John Peel.
Everton's performance in beating Huddersfield Town at Huddersfield has provided a tonic for the team, and today in facing Sunderland the club presents nether match which promises to stir the pulse. Everton's unbeaten home record is one they wish to hold, if at all possible, but Sunderland at their best are capable of great things. I note that the visitors will lack the services of those persistent raiders, Connor and Gurney, while Everton will be without Sagar, who received a knock at Huddersfield, and King will deputise, but Dean returns in place of Bell, the centre-forward having recovered. The kick-off is at 3 o'clock and the teams are: - Everton: - King; Cook, Jones; Britton, Gee, Mercer; Gillick, Cunliffe, Dean, Stevenson, Coulter. Sunderland; Mapson; Gorman, Hall; Thompson, Johnston, McNab; Duns, Carter, Wyllie, Gallacher, Burbanks.
DEAN'S WONDER DRIVE.
February 6, 1937. Liverpool Football Echo
Everton's Captain At His Best
Sunderland Shot-Shy.
By Stork.
Some good football by both sides, but whereas Everton had the shots to clinch it, Sunderland were wasteful in this direction. The feature was Dean's second goal –it recalled olden times, and the crowd were ready to appreciate it. Teams: - Everton: - King, goal; Cook and Jones, backs; Britton, Gee and Mercer, half-backs; Gillick, Cunliffe, Dean (captain), Stevenson, and Coulter, forwards. Sunderland: - Watson, goal; Hall, and Collins, backs; Thompson, Johnston, and McNab, half-backs; Duns, Hornby, Wyllie, Carter, and Burbanks, forwards. Referee Mr. W.R. Jennings, York.
We have not had many such days as this for football this season, and the only pity was that neither side was at full strength. Sunderland, the champions, came with a greatly depleted eleven, the card showing no fewer than six changes. Connor, Gallacher, and Gurney were all injured in the reply against Luton on Wednesday. Everton played King for Sagar in goal, and Dean resumed at centre. There was a great crowd present probably 40,000, when Everton set things going and almost immediately put the Sunderland defence in trouble. Dean was on his toes. It is many a day since I saw him in such sprightly mood. He actually took on three men and beat them with his sinuous run and dribble, but then spoiled all his good wok by piloting the ball over the bar. Gillick went close with a header, but the chance and the miss of the game thus far was credited to Cunliffe, who started the movement which ended in a dismal manner. Cunliffe put the ball over for Dean and then ran up into position, knowing that his captain would very likely give him the nod." The whole thing worked out to plan, and Cunliffe was left bang in front of goal with only Mapson in front of him. I could see the merit in what Cunliffe did when he tried to head the ball away from Mapson, and in doing o indeed the ball outside the upright, to the accompaniment of groans from the crowd. Hornby made another long length drive and then Jones cut in front of Wyllie to prevent the centre forward from getting too close to King.
Dean Flashed It In.
However, a goal arrived at the sixteen minute, and it came about through a misunderstanding between Mapson and Hall. The goalkeeper had safely caught the ball, but the full back crashed into him, forcing him to release his hold, and like a shot Dean pounced down on the ball and flashed it into the net. It was a lucky break for Everton, although I placed them just ahead of Sunderland on the balance of play. Dean was so keen that he was full back when Sunderland were advancing, and he caused some amusement when he attempted a big kick, and completely missed the ball.
Coulter's Rocket shot.
The next moment Dean was up among the forwards making a fiery drive which slipped past the upright at a great pace. Then came Everton's second goal, a beautiful goal it was too, Cunliffe dribbled forward, and then lobbed the ball over to the left. Dean could not get to it so it went to Coulter, who was standing by, and without allowing the ball to drop, he slammed it into the Sunderland goal like a rocket at 21 minutes. Sunderland then brought out further efforts, and when Wyllie was carving his way down the middle to what appeared to be a goal King rushed forward and fell on the ball outside the penalty area. This, of course, was a foul, and the resulting free-kick caused the referee some concern before he finally got the Everton players to stand away at the recognised ten yards. The kick had to be taken twice because of this incident. King turned the ball over from a corner. Dean shot from about twenty yards range and Mapson saved at the second attempt. Carter shot over the bar. Duns, closing in, forced King to punt away a worthy attempt, and Carter linked up with Burbanks to bring trouble to the Everton rear line. Gillick after a good run, supplied Cunliffe with a choice pass. Cunliffe slipped the ball over to Stevenson, who sent over the bar. One of the nicest bits of combination was made by Britton, Stevenson, Gillick, Dean and Coulter, before Gillick finally shot to the foot of the post, where Mapson saved.
Half-Time Everton 2, Sunderland 0
The second half was not nearly so good as the first had been. There was still plenty of good football, but there was not the bite about it. Sunderland took the ball down in artistic style on many occasions, but they had no shooting power. Everton were somewhat lax, but they did gave Mapson something to do, where as King had an idle time. At seventy minutes Everton scored a third goal, and what a goal Dean had never scored a better and he has scored some good ones.
Ovation For Dean.
Dean got the ball away out on the right wing, and it did not look as though there was a great deal of danger, but the Everton captain let loose a shot from fully 30 yards out –and from a bad angle at that –and the ball passed in front of Mapson like a thunderbolt and crashed into this far corner of the net. There was a great cheer, and Dean was well worthy of the ovation he received. At this point Sunderland changed their attack and they did more to harass the Everton goal. King saved from Wyllie. Duns put the ball on to the crossbar and it dropped to the feet of Burbanks, but again King got in the way to pull Everton out of the hole. The last ten minutes had been very keen, and for the first time Everton's defence was really tested. Final Everton 3, Sunderland 0
EVERTON RESERVES 2 BURNLEY RESERVES 0
February 6, 1937. The Burnley Express
Against Burnley Reserves at Everton
Tom Lawton made his debut in the Everton colours against his former club's reserve team at Goodison Park last Saturday. He made a good impression with his new team and was one of the scorers. Burnley revealed very good approach play, but they were not strong finishers, although Gastall showed up well in the centre. Everton started well, and Geldard sent a drive crashing into the side net, and had another shot deflected by Nevin. Burnley were swinging the ball about well, and King made a good save from Gastall. At the other end Jones sent the ball forward for Lawton to get in a first time shot which brought Adams to his knees. The Burnley goal had a lucky escape when Maidman headed against the crossbar following a good centre by Geldard. Following a free kick for Burnley, Oliver headed just outside the upright. Then Adams saved well when Lawton attempted to help a corner kick into the net. Geldard was right off the mark when with only the 'keeper to beat he shot wide from a bad angle. Nevin had one or two bouts with Geldard, and although the Everton winger tried hard to cut in Nevin refused to be outwitted. Just before half-time Gastall broke through and, after defeating Morris, sent a strong shot into the side-netting. King cleverly stopped a shot from Pinkerton early in the second half, but after quarter of an hour the home team took the lead, Mainman being the scorer. An opportunity of equalising fell to Gastall but he was unsuccessful, and Everton, who were now showing good form, continued to hold the upper hand. Lawton was unfortunate when he hit the post, but not long afterwards he scored Everton's second goal. Burnley tried hard to the end, but could not round off their approach play successfully. Teams; Everton Reserves; King; Jackson, Morris; Bentham, Webster, Lambert; Geldard, Jones, Lawton, Maidman, Leyfield. Burnley Reserves; Adams; Hindmarsh, Nevin; Clacher, Johnson, Smith; F. Taylor, Pinkerton, Gastell, Pake, Oliver (G.E), Referee; Mr. J. Robinson (Leeds).
Thanks to Kjell Hanssen for senting this
STUD MARKS
February 6, 1937. The Liverpool Football Echo.
By Louis T. Kelly.
• Somebody says Everton only need to get drawn at home in the final and semi-finals to win the Cup for the third time.
• All Everton's forward regular five have now scored at least one goal in the Cup.
• Britton's last goal for Everton prior to Saturday was a penalty one v. P.N.E in the closing match of 1934-35.
• Charlie Gee played a real "here there, and everywhere" game against the Sheffielders. Did little shadowing of centre Forward Dewar.
• Everton are enjoying their longest run of one-defeat at home for twenty-five years past –that is, since 1911-12. They went to April 13 that season when Blackburn Rovers came along and won 3-1. Had Everton won that particular match they would have finished up champions. As it was Rovers came out top.
• Everton are developing into such real home birds re League wins, and Cup venues that we shouldn't be surprised to find them attacking to home training to the end of the chapter.
• The Spurs eleven to oppose Everton in the Cup will include but two of the side that visited Everton in the League two seasons ago-Whatley (left back), and McCormick (outside right)
• Are Everton "homeward bound" for the Cup once again? They have steered a very safe course on Mersey's banks so far.
EVERTON 3 SUNDERLAND 0 (Game 1590-Over-all)-(Div 1 1548)
February 8, 1937. The Liverpool Daily Post
Dean's Great Display.
A Goal To Be Remembered
Sunderland Mastered.
By "Stork"
Since the great Cup replay at Goodison Park a few years ago the meetings of Everton and Sunderland have been eagerly looked forward to. The latest meeting, in which there were many changes in the composition of the champion's team, was quite up to standard with one exception Sunderland could not find a reasonable shot to finish off their clever midfield play, and were consequently beaten by 3-0. I suppose Sunderland will lay stress on the fact that they had their "reserve team" on duty, but the claim that this was root cause of their defeat cannot be allowed, for the new men showed good combination, and looked dangerous when they set up an attack, but Everton's defence nowadays is something to be proud of. It is working in unison; it closes down all avenues to an opposing attack, so instead of blaming the weak shooting of the Sunderland forwards would it not be well to pay a tribute to Everton's defenders?
Helping The Backs.
It was a grand day for football, yet the ground was somewhat of a "sticky wicket", particularly so in the centre, but this did not prevent both sides from indulging in some excellent movements. That each had great respect for the other was plain to be see, for Captain Dean saw the necessity to go into the goalmouth when the Northerners were making an advance. Thrice he headed away from corner kicks, and the next moment was up in the front line trying to nod them in, I have not seen Dean in such aggressive mood for many a long day. He fought like a demon for possession, made dribbles reminiscent of the great days and shot with great power. This was a new Dean. He was not just a centre forward waiting for something to turn up; he went searching for work, and, having found it straight away did something of value either for himself or his colleagues. He took the first goal at the quarter-hour simply because he was in the right place at the right time. Hall crashed into the goalkeeper and made him lose possession. Dean was on top of them, and had the ball in the back of the net in the twinkling of an eye, it was a true opportunist's goal but his second was the one which brought down the house.
One Of Dean's Best.
I have seen Dean core some remarkably fine goals, but none could have been better than this one, cored at 77 minutes. He had just previously been lending a hand in his own goalmouth, when suddenly a ball was swung out o the right wing. Dean went for it, and he most have been thirty yards out when he released his drive, from which the ball simply sizzled into the corner of the net. The ball passed in front of Mapson, who could not stay its progress . It called to mind the days when Dean did this sort of thing in almost every match, and the crowd –close on 40,000 –were not slow to pay him tribute. Dean did more than score two goals, he kept his line going with nicely placed passes, and, in the first half particularly, the Everton forwards displayed smart football, and none did better than Cunliffe in midfield. He it was who lobbed the ball over to Coulter, who lobbed the ball over to Coulter, who swept it into the net. Cunliffe once had all the goal to head into, but in trying to place it be steered the ball round the post. The Sunderland defence was sorely tried in this half and Mapson did well.
Sunderland Flatter To Deceive
Sunderland had flattered only to deceive. They carried the ball along by good-class combination, but unlike Everton they could not find a true line to their shooting, so that King, in the main, had little work to do. Twice he patted away close-range shots, and once dashed out of goal to throw himself at the feet o Wyllie. He gave away a free kick for the ball was outside the penalty area, but it was better than allowing Wylie a clear run through to a goal. In the second half there was a lot of big and useless kicking, but after Dean had scored his wonder goal, Sunderland saw the wisdom of finishing off their attacks with shot and for the first time in the game the Everton defence was tested. The football was distinctly good, but Sunderland must realise that only shooting will beat a rival goalkeeper –intricate footwork; excessive combination will not bring the desire able effect. Everton won well by orthodox play and there are more unlikely things that they will again visit Wembley. There is an abundance of confidence in the side, and I think Coulter is gradually getting over his nervousness. He must be given credit for hi positional play. The half-back line must be one of the best in the division, but Mercer and Britton found duns and Burbanks respectively difficult at times. Wylie however, was not a Gurney. Teams: - Everton: - King, goal; Cook and Jones, backs; Britton, Gee and Mercer, half-backs; Gillick, Cunliffe, Dean (captain), Stevenson, and Coulter, forwards. Sunderland: - Watson, goal; Hall, and Collins, backs; Thompson, Johnston, and McNab, half-backs; Duns, Hornby, Wyllie, Carter, and Burbanks, forwards. Referee Mr. W.R. Jennings, York
DERBY COUNTY RESERVES 1 EVERTON RESERVES 2
February 8, 1937. The Liverpool Daily Post
Central League (Game 27).
Everton reserves won comfortably at Derby after being a goal down. Derby's halves, in particular, went to bits in the second half, and their charge had several fortunate escapes, Lawton, whose chief move in combination was a pass to Geldard scored two good goals, Jones at centre half, was the master of Derby's inside forwards, and Jackson's strong kicking at full back was a feature, Hagan scored for Derby.
U.G.B 2 EVERTON "A"
County Combination.
At Sandfield Park. The visitors from St. Helen's gave a very creditable display, and at the last moment almost notched both points when a shot from Morris shook the Everton crossbar. The home side in the opening half had slightly the better of play. Dickenson's first attempt hitting the upright. U.G.B were clever in their passing movement, and the home defence was kept fully extended. Joyce scored Everton's first goal and Sanders the second from a free kick. Early in the second half Platt reduced the lead with a splendid goal. Siddell made a number of good saves Platt later brought the score level. Dickenson and Morris failed with easy chances, Sanders, Webster and Hurel were Everton's best. Harris, Kerr, and Platt doing well for the visitors.
EVERTON IN LEAGUE "VAN" NOW!
February 8, 1937. The Evening Express.
Tip-Top Against Champions.
Better Covering In Defence.
By The Pilot.
The one fault in Everton's armoury has been remedied in time for the great attempt to bring the F.A. Cup back to Goodison Park. This season Everton have suffered because they have allowed opposing inside forwards to nave rather too much latitude. It has resulted in an appreciable selling of the goals against column. Now, however, that fault has been eliminated from their make-up, and the Blues stand today as one of the most complete football sides in the country. They have won three matches in eight days, against tip-top opposition; have not conceded a goal, and have scored nine goals. The crowning achievement was the 3-0 win over Sunderland, the league champions, at Goodison Park. Now, apart from being in the last 16 in the Cup competition, the Blues are right in the running for the First Division championship. Everton's recent form is decidedly refreshing. There is no side playing better football, with such ideas in development or with such grace in approach and penetrative power in attack.
Defence Perfect.
Granted that Everton did not beat a full-strength Sunderland, but their defence was perfect in its covering and anticipation there was a definite link with the half-backs. Cook was superlative and I admired the cool manner in which he made the glide through to Britton when faced by opponents. The half-backs, too, were always thinking one move ahead and even when trying to extricate themselves from a difficulty, they did so in a constructive manner. The attack has operated better, but on Saturday Dean was the inspiration; the menacing rapier who had the Sunderland defence in panic. Dean has not played better this season –and that is high praise. His second goal will live in memory –a wonder 30 yards shot which sped with the pace and accuracy of a well aimed arrow. It was the big thrill of a game which always delighted, even though it was rather one-sided. Gillick played well in the field without being quite so accurate in finishing, and Cunliffe was a zealous worker throughout. Coulter took the limelight on the left wing, but Stevenson has played better. Gee was the best halfback on the field –a dominant figure who blotted out the Sunderland inside forwards –but Britton and Mercer operated to great purpose and showed fine ball-control. Cook and Jones –the tackling of Jones was great –made a perfect back combination covering a reliable and plucky King who made no vestige of an error.
GLIMPSE OF THE OLD TEAM.
February 8, 1937. The Liverpool Echo.
Bee's Notes.
I hope you will forgive me for starting off with the last goal of the game between Everton and Sunderland, but if you saw it you will understand; if you did not see it then you missed one of the greatest goals of the season, one well worthy of pride of place (writes "Stork"). It was a Dean goal, the sort he used to produced for our delectation in his record-breaking season. We have become so used to nodded goals nowadays that we do not look for footed goals from Dean today, even though he has been booting them much more often this term than heretofore. I can visualise many great goals from Dean's boot, but none could be better than this one which sizzled into the net at the 77th minute. The wonder was it did not go slap bang through the netting, and it must have scorched goalkeeper Mapson as it sped past him into the corner of the net. It was a thirty yards range drive, and some will have it that such a shot should never beat a goalkeeper. This one would have beaten a dozen goalkeepers, it left Mapson standing still. Was it any wonder it brought the house down. I remember Pongo Waring scoring one very similar against Liverpool at Anfield-road some time ago. Everton won this match because of their shooting. Sunderland according to the Press representative had brought their reserve team," but they did not sharpe like reserves men. Only in the matter of marksmanship, for their combination was almost as good as that of Everton, but it failed to produce anything, though the inability of the forwards to find a shot.
Confident Everton.
The Football in midfield was high-class all round. If anything the champions were inclined to overdo the passing business, and forgot about the one thing which would bring them results –shooting Everton showed that they respected Sunderland more than a little. Not that they were jumpy against the northerners for there, is a confidence about Everton these days which bodes well for the future. Had they not sampled Sunderland in one of the greatest Cup-ties ever? That was one of the reasons why Everton paid them due respect. Dean thought it necessary to drop back into defence, and he delighted the crowd by heading away three dangerous looking corner kicks. Dean, as a matter of fact must have had a course of thyroid gland treatment, for it is many a long day since he showed such aggression.
Always Masters.
Not content to be just a centre forward he was to be found on the wings in defence, aye, anywhere where he could be useful, and he started his side on the way to victory by an opportunists goal in fifteen minutes. Mapson had the ball knocked out of his hand by his own full back. Hall, and Dean pounced on it and had it in the net in quick sticks. Coulter sandwiched one in between Dean's pair and had not Mapson been secure other goals would have arrived. They should have done for Cunliffe, Gillick, and others were guilty of errors with simple chances offered them. Taken right through Everton were always masters of this game, for their defence was too strong for Sunderland, who contributed to their own downfall by their desire to do too much passing. I was glad to see Everton tossing the ball about more than usual. The ground was too sticky to allow of close passing. The first half was, indeed, entertaining, for both sides stood on good-class combination to take them forward, but no doubt you will have gathered that Sunderland failed to produce goals because of the "brick-wall" defence pitted against them, and their own shortcoming. If they could have produced a shot at all there was a chance for them, but all King had to do was to pat away two close-range shots and edge one over his crossbar. A man standing behind the goal tells me that the ball was actually under the bar, but was the whole of the ball over the line. That is the question one has to decide.
FINAL TIE MEMORY
February 9, 1937. The Liverpool Echo
Bee's Notes.
T. Sarbo asks what were Everton's colours when they won, the Cup, and were the jersey's numbered. Who did Everton play the following Wednesday? Everton's cup-winning history was so well done, so conclusive in its arrangement and lacking in fuss, that I dared to do a strange thing yesterday; I looked back upon the history book. And there I found the reference "May I be there to see Everton win the Cup, if ever they win it again –but not as a working man!" The year Everton won they wore white jerseys and Manchester City were in red; each player was numbered, goalkeepers as well-Everton in black figures and City in white. The following Wednesday they played Sheffield United at Goodison Park, probably Dunne's last appearance for Sheffield United. Having kicked off this season with no favour from the critics, Everton have quietly but surely got their cup-nose in front. So far so good. There is no boasting among the players, but the atmosphere that came over the Everton side when they set out for their last triumphant march is gaining strength every week. One reason for Everton's success is the continued playing together of the eleven men. Gone is the jugglery department, gone the fear of a young player that he might not be playing next week, the teams picks itself almost, and makes the selectors task a very easy matter. The blend has come, the knowledge between one and another players as to tactics had arrived. When Cunliffe's strides to centre forward Dean lies back, like brer rabbit; he don't say nuffin; he just keeps rolling around. The fire of the cup is the best thing in football, and Everton are enjoying it. Today, Everton have become fancied by those people who took a number of other clubs to win –those falling by the wayside of the third and fourth rounds. Cocksureness will get us nowhere, but a semblance of justified confidence is still a valuable adjunct towards Everton's success. Here let me thank the correspondent "Sarbo" for the rest of his letter –a striking complimentary latter, if I might say so. Everton's office staff has had the dickens of a job getting out the tickets for the visit of Spurs. No more than 500 are now on their hands –and the smart work of the secretary, Mr. Theo Kelly, and all his staff has eased the task. I happen to know that the whole of them were still busy working at three o'clock the other morning. That is the best time of all for work –as I find it –because there is no telephone inference. Everton will house a £3,000 gate with ease. Enthusiasm for Everton has grown ever in the last month and as this time there will not be League opposition in the Town (at Anfield), the game should be of the best Cup-tie traditions, fast, pulsating, and a new view of the new "Spurs" of Tottenham, whose club began through the agency of schoolmasters using their spare time in the London area. The late Mr. Arthur Evans was one of their players in the earliest days when Spurs had no though of leagues, and final ties caused spectators to pay a shilling for a plank on which to stand, so that the water would not give them colds!
And now let me tell you, friends Cecil Hadley, of the People had words with the Bell, of Bournemouth, who in his Continental days had though English football was going to the 2demination dogs," Bell now told "Cec" I have changed my mind since seeing Everton beat us in the Cup. It was a wonderful display by Everton. In no Country in the world can they play the game as those Everton lads did. It was grand stuff. It did your heart good to see it. "Bell talks of what he knows, because he was a player for years.
TODAY'S GOODISON GAME.
February 10, 1937. The Liverpool Daily Post
By John Peel.
Everton Reserves have an attractive home fixture today, when Huddersfield Town Reserves visit Goodison Park. The side selected to do duty for Everton will be: - King; Jackson, Thomson; Bentham, Jones, Watson; Geldard, Bell, Lawton, Laidman, Leyfield. This is Lawton's first mid-week game, and it will therefore give enthusiasts unable to attend Saturday game a chance of seeing the player. The kick-off is at 3 o'clock.
EVERTON F.C. YOUNGSTERS
February 10, 1937. The Liverpool Echo.
Show Their Paces Against Huddersfield.
By Bee.
Everton Res; - King, goal, Jackson and Thomson, backs; Bentham, Jones (TG), and Watson, half-backs; Geldard, Bell, Lawton, Laidman, and Leyfield, forwards. Huddersfield Town res; - Turner, goal; Mountford, and Brown, backs; Gordon, Spedding, and Beech, half-backs; Johnson, Felton, Brook, Hastie, and Cooper, forwards. One of Everton's rare Central League games in mid-week was played today at Goodison Park, the chief attraction being the appearance of Lawton at centre forward and Bell at inside right. Huddersfield had a number of first team men in their ranks, and Everton were strong at back, where Jackson and Thomson appeared. The Everton forwards were rather "filmy" in their early efforts, and Huddersfield's. Hastie was stopped gaoling by a pull-back by Jackson. Lawton who is, surprising to relate, taller than Dean was rather slavish to the Dean pattern of back-heading without special reason, but his long pass to the wings was a definite adjunct forward attack. Ply was not impressive both sides being at fault with easy chances. Bell scored the opening goal after making the opening the only fault of the goal being the long time it took to complete what was a simple task. Huddersfield equalised through Brook with a much more striking shot. Lawton, with a few chances, picked up one, shooting with speed, and delivered a strong shot that Turner collard, the same goalkeeper catching one from T. Jones and later, with one hand, fisting a good effort by Bell over the bar. Bentham's throws and Jones daintiness at half-back plus Watson's safe feeding, helped Everton's cause, not forgetting Thomson and Jackson's rugged full-back play. Huddersfield were the best by means of spedding, Mountford, and Johnson, although the latter boy missed a simple chance at taking the lead. Johnson, at outside-right for Huddersfield, made quite the best individual effort of the match and received due applause for his tricky effort.
Half-Time Everton Res 1, Huddersfield Reserves 1.
Sagar, the Everton goalkeeper, will be fit for service on Saturday. King slightly, hurt his shoulder in today's game when backing to n awkward high ball. In the second half Turner came through safely when tested by the limping centre half T. Jones. Apart from Bell there had been little shooting from the Everton forwards. After Watson had struck the crossbar and Turner had saved from Lawton Bell and Leyfield paved the way to a leading goal on his part of Lawton, who shot hard when close in, taking the lead after an hour.
LAWTON TO LEAD EVERTON
February 11, 1937. The Liverpool Daily Post
By John Peel.
The Everton side to meet Wolverhampton Wanderers at Wolverhampton on Saturday was chosen after the Reserve game with Huddersfield Town yesterday, and three changes from the side the defeated Sunderland. Lawton, the young centre forward secured from Burnley, who was picked to play a week ago, but a week ago, but was unfit, is again included as leader of the attack while White takes over the centre half position for the injured Gee, and Sagar returns in goal for the exclusion of King. The team is; Sagar; Cook, Jones; Britton, White, Mercer; Gillick, Cunliffe, Lawton, Stevenson, Coulter.
Lawton's Record.
Yesterday Lawton played his fourth game with the Reserves when he led the attack against Huddersfield Town, and he secured one of his side's goals. This point brought Lawton's goal to 6 for 4 matches. A good marksman and a good header of the ball, Lawton also has a fine turn of speed and holds his line together by means of judicious passes. He has a fine chance on Saturday of making progress in his profession.
EVERTON RESERVES 2 HUDDERSFIELD TOWN RESERVES 1
February 11, 1937. The Liverpool Daily Post
Central League (Game 28)
Lawton Scores For Everton Reserves.
Huddersfield Shape well At Goodison.
By "Bee."
Everton Central League game offered the mid-week holiday maker a chance to see Lawton, the Burnley star signed by Everton and Bell as an inside right instead of centre forward. The result was a gate of nearly £100. The game had its dull passages, but in the end it was exciting, somewhat novel, and appetising. Everton won 2-1 by goals to Bell and Lawton. Huddersfield's point coming from Brook with a crashing shot. Two players were knocked out through the leadened ball, and for the second time within a week the Everton ground saw the uncommon free kick against a goalkeeper (Turner, the visitor) for handling outside the penalty area. Huddersfield, with some first team men engaged, showed nice spasms of combination and generally they were the sharper in front of goal, but Everton late on put on a spurt and twice struck the crossbar. In the main the home half-backs had been the shooters through Jones and Watson, but later the home side caught the shooting inspiration, and it was then the winners were playing their best.
Experience Needed.
Lawton does not look big; he is of athletic frame and actually taller than Dean. He has not yet learned the timing of centres in the way Dean does, but he is all energy, and naturally needs experience, especially in this line, where there is much haphazard attack, and neither wingman is showing his best known form. Indeed, the crowd most unfairly gave Geldard, what is known as "the bird" barracking of a kind that will not help him to regain his lost form. Laidman was clever in a dribbling way, but lacks heights and "pep" in front of goal, and Bell at an inside forward seemed better suited to the new berth. Everton's strength lay at full back and goal –Jackson, Thomson and King –and at half-back, Jones, at centre half was always worth watching, and Watson was generally sure of his passes, while Bentham was on the go and strong with his throws. Huddersfield's best were Turner, in goal; Brown at back; Brook, Hastle, through young man Johnson at outside right, had some spell-binding moments. Teams: - Everton Res; - King, goal, Jackson and Thomson, backs; Bentham, Jones (TG), and Watson, half-backs; Geldard, Bell, Lawton, Laidman, and Leyfield, forwards. Huddersfield Town res; - Turner, goal; Mountford, and Brown, backs; Gordon, Spedding, and Beech, half-backs; Johnson, Felton, Brook, Hastie, and Cooper, forwards.
DEBUT OF £6,500 YOUNG STAR.
February 11, 1937. The Evening Express.
Lawton In Everton First Team At Wolverhampton.
By The Pilot.
Tom Lawton, Everton's £6,500 17-year-old centre-forward, makes his First Division debut on Saturday when he deputises for Billy Dean in the team to visit Wolverhampton Wanderers. In 20 months this tall, well-built Bolton lad had risen from the amateur ranks to First Division status. Here is the milestones in his career; Feb., 1935 Signed for Burnley as amateur; Sept 1935; Made Central League with Burnley; March 1936; Made Second Division debut, with Burnley; Dec 1936; Transferred to Everton; Feb 1937, Makes First Division debut with Everton. Few players have enjoyed such a sensational rise to prominence; in fact the only parallel is that of Cliff Bastin of Arsenal. Lawton will not be 18 until October! I saw Lawton in action for the reserve team yesterday against Huddersfield Town at Goodison Park, a game at which the Blackpool and Liverpool clubs were represented, and he scored the winning goal. Everton won 2-1. Lawton revealed a terrific shot in either foot, and he can shoot from all angles. Three times he seemed crowded out by opponents, yet contrived to get in his final thrust.
White's Return.
Tommy White, the international, also comes back to the Everton side. He makes his first appearance of the season following cartilage trouble White deputises for the injured Gee. The only other change is the return to goal of Sagar following an injury. He replaces King. Everton; Sagar; Cook, Jones (JE); Britton, White, Mercer; Gillick, Cunliffe, Lawton, Stevenson, Coulter. More than 4,000 spectators saw Everton take the Central League points from Huddersfield yesterday in a fast and always interesting game. I was highly impressed by the work of Laidman, the inside-left, secured from Wigan a couple of months ago, and Tom Jones, the ex-Wrexham pivot. Watson was brilliant. He has been playing so well that Everton refuse to consider any offers for his transfer. Bell did useful work in attack, and the defence of Jackson, Thomson and King was sound. Huddersfield had two "stars" in Johnson, one of the most promising right wingers in the country, and Brown –a great back.
LAWTON, WHITE AND SAGAR BACK TO EVERTON TEAM V YOUTHFUL WOLVES
February 11, 1937. The Liverpool Echo
Bee's Notes.
Wolverhampton Wanderers by beating Brentford seriously challenged Brentford's notion of championship honours. Everton tackle Wolves on Saturday with Dean or Gee. Lawton makes his league debut, Tom White comes back to take the place of the damaged Gee, and Sagar's return –indeed the whole team –was made known in our paper last night. Huddersfield's manager, Mr. Clem Stephenson was at Everton yesterday looking into the case of Geldard, for whom he, a fine judge has a strong fancy. Everton's reply was "nothing doing" but I warm the spectators at Goodison that further unfair interruption of Geldard's attempt to play a normal game will force him absence from Goodison Park. I heard the barracking yesterday which took the insidicious form of a rousing noise before the ball had reached Geldard's foot –thus his inner mind would be effected before he had received the ball –which is most unfair. Clem Stephenson saw Everton lose 6-4 at Sheffield Wednesday's ground and I recall he said to me after that game; "I cannot hope to see a better game than this all season. Everton were the better side and their methodical football should carry them far. I fancy such a side for the Cup. This was a prophecy month's ago. Everton Reserves were not exactly pleasing in much of their work, although they came with a flourish at the finish, hitting the woodwork twice and winning against a useful side in which Brown has become a back. Seth Cooper has gone back a little and Brook, the centre is going to be the legitimate successor to Lythgoe and McFayden. The match will be remembered because it provided the second case within five days of a goalkeeper, being charged with handling outside his penalty-box. On Saturday King was the offender; now King was present to see Turner commit the offence. On the Everton side Thomson and Jackson were admirable backs, and Jones, the centre half back, was a model stylist and worker of the ball in spite of the continued preciseness of Watson's passes. The forwards were rather jumbly; Lawton showed how sharp be can be –a centre in the raw as it were-strong of shot, of greater height than Dean (this is a most surprising feature), and a young player who promises much Bell did well at inside right and Laidman, who lacks inches, showed much ball control. The wingers were wasteful. An interested onlooker at the game was Mr. Bert Cooke, former Tranmere Rovers manager looking it and well and full of football concern.
EVERTON'S LATE TEAM CHANGE
February 12, 1937. The Evening Express.
Stevenson Ill, Bell at Inside Left.
By The Pilot.
Bell, the former Tranmere Rovers centre forward will play inside left for Everton against Wolverhampton at the Molyneux grounds tomorrow. The late change is necessitated owing to the fact that Stevenson is suffering from a chill. Bell played inside right in the last two Central League games and revealed good form. Everton will be seeking to record their third "double" of the season. Their task is a tremendous one –perhaps the hardest league engagement in the programme –for the Wolves are playing brilliant football just now, and they are regarded as one of the finest home sides in the land. Tommy Lawton, the 17-year-old centre forward, will make his First Division debut. Lawton is a crack marksman, and if he is fed judiciously, he many create a sensation. It is an exacting task for the young player, but he has courage, build, and ability to pull through. Tommy White will also be making his season's debut at centre-half. There are few better pivots, and it will be interesting to see how he fares after his cartilage operation. Sagar returns to goal once more in place of King following injury. Everton: - Sagar; Cook, Jones (JE); Britton, White, Mercer; Gillick, Cuniffe, Lawton, Bell, Coulter. Wolverhampton: Gold; Morris, Taylor (J); Wharton, Cullis, Gardiner; Smalley, Galley, Clayton, Thompson, Astall.
• Central League Match at Goodison Park, Tomorrow (Saturday), Everton Res v Aston Villa Res. Kick-off 3 o'clock. Admission 6d, boys 4, Stands extra, including tax.
EVERTON SEE ONE OF THEIR CUP RIVALS
February 12, 1937. The Liverpool Echo
Bee's Notes.
Someone has given it out that Dean has the flu' I saw and spoke to Dean on Wednesday, and he showed no signs of flu.' Let us face the fact; Dean has had a wearing-out football life; rarely had he been off duty, through loss of form, accidents –except the very big accidents –and at thirty years of age he has entered into the Alex James school, where the scholars are sometimes kept from the severe tasks away from home. It was a suggestion of mine in these columns moth's ago that Everton would do better away if Dean had a rest now and again and a tryout of someone was instituted. How greatly appreciated Dean's rest was for the game v. Huddersfield was shown by his work against Sunderland, when he played like a young man and got his dramatic goal. Tomorrow at Wolverhampton, Dean nor the hard-worked Gee will be playing and Lawton, ex-Burnley, thus makes his belated debut in First Division series, with Tom White and Sagar also making reappearance. The games against Wolves are always fast and relentless, but today the young Wolves are playing better-class football than for many years. A famous manager has said they are the surprise team of the season. Everton surprised us away from home last engagement. Perhaps with the young blood introduced they can create further surprise. This is the visiting list: - Sagar; Cook, Jones; Britton, White, Mercer; Gillick, Cunliffe, Lawton, Stevenson, Coulter.
• Central League Match at Goodison Park, Tomorrow (Saturday), Everton Res v Aston Villa Res. Kick-off 3 o'clock. Admission 6d, boys 4, Stands extra, including tax.
EVERTON BELOW STRENGTH.
February 13, 1937. The Liverpool Daily Post
By John Peel.
Everton's task is one of the hardest of the day, as they face a received Wolverhampton Wanderers side who are playing tip-top football at the present time. After beating Sheffield United in the Cup replay at Sheffield, the Wolves won t Bolton and during the week outpointed Brentford by 4-0, so that the team is obviously one worthy of the highest respect. Dean, Stevenson, and Gee are out of the Everton side, but White returns to pivotal position, and if he is in his old form the half-back line will not be weakened. Special interest centres in the debut of the youthful centre forward Lawton who has earned praise for his play in the Central League. Stevenson has a cold and Bell comes in as partner to Coulter. Everton: - Sagar; Cook, Jones (JE); Britton, White, Mercer; Gillick, Lawton, Bell, Coulter. Wolverhampton Wanderers; Gold; Morris, Taylor (J); Wharton, Cullis, Gardiner; Smalley, Galley, Clayton, Thompson, Ashall.
WOLVES BEAT EVERTON 7-2
February 13, 1937. Evening Express, Football Edition.
Disputed Goals Against Blues.
Clayton Gets Four And A Hat-Trick.
By The Pilot.
Wolverhampton Wanderer's 7-2 victory over Everton does not tell a true story, although the Wolves were worthy winners. Three of the Wolves' goals were in my opinion, offside. Everton played better than the score suggested. Clayton got four goals and his first hat-trick in First Division football. Lawton scored his first First Division goal from a penalty in the second half. Teams: - Wolverhampton Wanderers: - Gold, goal; Morris and Taylor (J), backs; Wharton, Cullis (captain) and Gardiner, half-backs; Smalley, Galley, Clayton, Thompson and Ashall, forwards. Everton: - Sagar, goal; Cook (captain), and Jones (JE), backs; Britton, White and Mercer, half-backs; Gillick, Cunliffe, Lawton, Bell, and Coulter, forwards. Referee Mr. G. Fletcher (Davenham). The ground was soft, and Wolverhampton seemed to like the conditions, judging from their opening moves. The ball was passed with considered judgement and speed, and Everton escaped when the ball truck Mercer's hand. Wolverhampton came again, and Clayton went though only to place by the far post.
Britton's lob-pass brought danger to Wolverhampton, but the lusty home tackling deprived Coulter of a chance.
Perfect Positioning.
Everton were fighting against the smartest and quickest-moving side I have seen this season. Their accuracy and ball control and their perfect positioning stamped them as the almost perfect football combination. Cunliffe tried hard to put the useful Lawton through on good ground, Cunliffe then tried a shot from distance, but was beaten by the drag of the mud. Sagar saved a fine header from Jones after good work by Ashall, and then Wolverhampton scored two goals in two minutes. The first was rather scrappy, Clayton merely breasting-in Ashall's centre in the 16th minute, Sagar dived to drag the ball back, but the referee was on the spot to signal a goal. Clayton's second goal, two minutes later, was a peach, Ashall sent the ball in between two defenders and Clayton sprang through to head into the corner of the net.
Everton Reduce Lead.
Cunliffe reduced the lead a minute later. The attack developed on Everton's right after Gillick had pushed the ball to Britton. The international slipped it through to Cunliffe, who let go with his right foot. The ball struck Cullis on the leg and was diverted just wild of Gold. Play continued fast and exciting, and considering the condition of the ground it was of a particularly high standard. Everton at last got a grip of the game and attacked with considerable strength, without producing the class of the power of shot of Wolverhampton. Cunliffe, White, Jones and Cook were excellent in their endeavours against a really brilliant opposition. Thompson was allowed to go through when obviously offside, and Jones had to kick away from the goalline. Lawton was doing well with the ball in the air. Everton got the ball into the net, Bell's shot being diverted to Coulter, but Coulter was offside.
Clayton's Hat-Trick.
Clayton got his hat-trick with a goal which I thought was offside which I thought was offside, Clayton received the ball when he appeared to be standing level with Cook and Jones. The referee allowed Clayton to shoot past the out-running Sagar and place into the net. Lawton, who was getting few opportunities, now sprang through with a shot from an awkward angle which was just off the mark. In 39 minutes Galley scored the Wolves' fourth goal, when he headed through in brilliant fashion a centre by Ashall.
Half-Time Wolves 4, Everton 1
The Wolves were menacing as ever on resuming, and in 53 minutes they scored again, when Ashall, standing fully five yards offside in my opinion, was allowed to go on. He dribbled up to the goalline, and although Cook blocked his first shot, he contrived to get the ball into the net from a difficult angle. Everton again protested and Sagar showed his disgust.
Bell Carried Off.
Everton fought back, and Bell was going through when he was brought down by the out-running Gold, Coulter seized the ball and placed into the net, but the whistle had already sounded for a penalty. Bell was carried off. Lawton took the kick and scored in 58 minutes. Everton were playing excellent football, even though bell was off, and Lawton nearly took other goal with a brilliant shot after he had leapt between two players, but the ball struck Gold and bounded outside. Mercer headed outside from corner. When Bell resumed, he took over Gillick's position, Gillick becoming a roving forward. Wolves scored their sixth goal through Galley, who beat Sagar easily. The seventh goal came three minutes later, Clayton appeared to be standing fully 15 yards offside with no one near him when he scored. The Everton players stood still allowed him to place the ball into the net. The Everton players refused to retrieve the ball, which was left in the net. However Cook was ordered to bring the ball to the centre. It was one of the worst decisions I have seen this season. Final Wolves 7, Everton 2.
WOLVES ROUT EVERTON
February 13, 1937. The Liverpool Football Echo
Amazing Pace Of Great Team
Four For Clayton.
By Bee.
Everton met the cleverest team I have seen this season, Wolverhampton served as many goals in the first half today as they scored in the match on Wednesday against Brentford. Everton played without Dean, Gee and Stevenson. Teams: - Wolverhampton Wanderers: - Gold, goal; Morris and Taylor (J), backs; Wharton, Cullis (captain) and Gardiner, half-backs; Smalley, Galley, Clayton, Thompson and Ashall, forwards. Everton: - Sagar, goal; Cook (captain), and Jones (JE), backs; Britton, White and Mercer, half-backs; Gillick, Cunliffe, Lawton, Bell, and Coulter, forwards. Referee Mr. G. Fletcher (Davenham). The first quarter of an hour's play at Wolverhampton gave 35,000 spectators give simple of the strength of the new young wolves. I liken them to the Newcastle or Villa of old. They gave a most impressive display, the chief cause of which was the expert way they continued to play good football, which was no more than practice. The ball seemed considerable pushing because of the heavy going, yet these hungry wolves let loose in the best 90 minutes, a good deal of combination and of confidence that seems to have been in them by reason of recent victories against Brentford, &c. Ashall, Cullis, of Ellesmere Port, and Wharton were outstanding in a very fine side and Everton having lost a goal in 16 minutes tried to work the offside trick. Cook, was rather advanced to find his partner still lying back, and therefore they had been trap by their own trappings.
Sensational Spell.
It was a sensational spell of three minutes in when three goals were scored, the first and the third uncommon types and the other perfect one-two routine. Let us began at the beginning of this sensational outburst. Clayton scored the opening goal for Wolves, the ball passing Sagar. Saga's body, but the referee on the pot had no hesitation in saying the line had been crossed by the shot. Mercer with a sound finishing pass could have made it all square within a minute, and the cost of this error was realised when Clayton received one of many perfect centres from Ashall on the left and headed in with the sharpness and direction of a Dean. Cunliffe reduced the margin in unexpected manner by shooting at long distance and the ball struck the defender, going away from the Wolves goalkeeper, who had the ball covered, but could not retrieve his position. Lawton acting for Dean, in the opening bout bored through, and White, deputising for Gee was restless in his endeavour to get something done. No one could mistake the command Wolves had over the ball, and their pace as well as their lose dribbling made them a veritable eye-opener, judged by football clubs. Even the right full back Morris elected to dribble his way through and shoot from 25 yards' range. The Wolves made progress in many ways by devious notions, and the remarkable thing to my mind was their capacity for working in ankle-deep mud and their smartness up the middle of the ground with pace-making combination. It was only Jones standing in the goalmouth who prevented a third goal and once again Ashall was the menacing winger. Wolverhampton have great height at inside right and centre forward. Therefore any centres flung across become work for the goalkeeper. Cullis, who is the youngest captain in the game, has a lean-over stance so well-known in the case of Busby. He is a clever young man.
Lawton's Endeavour.
The boy Lawton aged 18 had many letters from friends wishing him well in this his first appearance in First Division football as Dean's deputy. His lack was not an easy one, flying through the mud, but he was never-ending in his endeavour and he probably though his side unlucky not to count a goal when the Wolves' goalkeeper was beaten once again by a ball when struck defender and ruined Gold's chance to change his position, but the referee said "Offside," against either Bell or Coulter both of whom had been in at this attempted goal. Sagar was within inches of losing another goal, when galley shot low and true. The ball slipped out of Sagar's hands without passing over the line. A moment later Everton once more tried their offside trap without success, and Clayton found himself ordered to play on in spite of appeals, and the home centre forward refused to be bustled when Sagar advanced. He dribbled round him in the manner made famous by Freeman. After Cook had been spoken to Wolverhampton netted afresh, and the goal did not count because there had been handling case. It was only now that Everton stemmed the torrent of attacks by means of the offside tactics. Lawton's came from the edge of the penalty area. After which this continued excitement ended with Clayton beating Sagar with a ball that struck the foot of the pot and bounced into Sagar's hands. There was no relief for Everton because this ravishing forward line swept away by means of the live-wire Ashall, and the centre that came from him was headed with deadly result beyond Sagar, making the score 4-1 just before half-time. Half-time came with Clayton having scored the first hat-trick of his League life, and Wolverhampton in high feather.
Half-time Wolves 4, Everton 1
Wolverhampton began the second half where they had left off the first half with gorgeous combination and sweeping results against the Everton half-backs. Cook had to suffer a good deal of barking on the part of the crowd, which crowd must have a short memory for what had gone before in our visits to Wolverhampton. Having said this, I was astonished to find Cunliffe damaging Gardiner in an incident that left a nasty taste. A second time Cunliffe fouled an opponent, and the referee now issued a caution. Ashall made the score 5-1 ten minutes after resumption with the purest of sols. This forward was the deadliest man of the twenty-two.
Lawton Scores From Penalty.
The game was one shock after another the Wolves reaching their highest score of the season with the game still having 15 minutes to go. Bell was damaged in a Coulter raid and a penalty kick was awarded against the Wolves goalkeeper. Lawton was offered the chance of making his first goal in First Division football and he netted with a fine shot. Gillick and Bell changed places for the rest of the game and therefore the game began to take its further sensational ways. Galley scored at the 70th minute going right through on his own. Mercer took a free kick with Lawton making pretense to take it and the Wolves goalkeeper had to make a sharp save. A further three minutes and Everton had lost their seventh goal, Clayton scoring unattended by anyone save Sagar, Everton frantically appealing for offside. The referee consulted a linesman and finally had words with the Everton acting captain, Cook. Everton's revival at the hour and with the score at 5-2 had turned into a rout and a bit of riot in more than one sense of the word. Final: - Wolverhampton 7, Everton 2.
STUD MARKS
February 13, 1937. The Liverpool Football Echo.
By Louis T. Kelly.
• Dean's great second goal against Sunderland will never be forgotten by those privileged to see it. It recalled one or two of his "wonder" goals of 1927-28 when setting up a new League record. Saturday's was Dean's 372nd in League Football.
• Everton v Wolves at Wembley would certainly please many, whilst bringing back memories to us veterans of that 1893 Fallowfield final when centre half Allen put the top hat on our hopes, and sent the small boys along sucking lemons in front of our specially engaged brass band.
• Nearly every Everton fan caught the flu that night, and husbands started beating their wives –if it was only at tiddley-winks. One thing is certain of the present Wolverhampton side –they wear the ugliest colours in the country.
• Inside right Galley was quietly fancied by Everton a year or so ago.
• McGourty (ex-Everton) is playing "great stuff" I hear for Waterford, in the Free State League. The trounced the unbeaten Sligo Rovers the other day, when McGourty stood out as a great schemer. But whatever the reason, Mac was a decided flop at Everton.
• Everton's defence showed up better last week because we had evidence of greater tighting up, with Dean, an occasional, an extra stopper centre-half.
• Everton and Preston North End are hoping to be able to rearrange their League match return fixed for Deepdale on May 1 and met instead at Wembley in the Cup final.
• Watson and Bob Birtley, who left Everton for Coventry City, have now struck up fine right wing partnership with Crystal Palace. Watson as the outside.
• Joe Mercer first turned out for Everton's Central League side (at Bury) when only 15 –at inside right.
• In League games, Everton haven't won at Wolverhampton for a matter of thirty years or more.
WOLVERHAMPTON WANDERERS 7 EVERTON 2 (Game 1591 over-all)-(Div 1 1549)
February 15, 1937. The Liverpool Daily Post
Everton In A Swamp.
Wolves Prove A Great Side.
Clayton's Scoring Feat
By "Bee."
The moral of the Everton loss of 7-2 at Wolverhampton Wanderers' ground on Saturday, would seem to be that Everton prefer to play on dry turf. They lost against Liverpool on heavy wet turf; on icy turf they beat Sheffield Wednesday; the latest sample of mud swamp proved their undoing, and the possibility of the conditions obtaining next week against the Spurs in a Cup-tie would appear to be irksome till one remembers the absentee list, in which the names of Dean, Gee, and Stevenson occurred. Three such are bound to be missed. The frame of two of them would mean much and the intricate work Stevenson does to draw a defence out of position was also lost. This is not meant and must not be considered a judgement against their deputies, because Lawton, making his First Division debut, did quite well and his penchant for shooting strongly from unexpected quarters with rare accuracy showed him to be a most promising young man. Bell tried as inside left started well, but later got a severe leg injury which came to the penalty process, Lawton being given the kick from spot as Britton's slow-paced effort would probably have dragged to breaking –or should it be braking –point.
Lawton's First Goal.
Lawton took the kick like an old man of the game, and thus gained his first goal in a series that will grow very large in due course. Everton simply could not live with the side in these conditions. The mud was ankle deep and Wolverhampton knew every depth of it –their passing was a most precise business with sufficient drag" to make the ball travel the necessary distance, whereas many of Everton's passes were short through lack of local knowledge. Wolves, however, had other means towards victory. They were exceeding nippy, fast and careful about twisting in and out defenders without losing possession of the ball. It is high praise to state they nearly approached the old Newcastle team of its glorious days than any other side seen in modern football. They totally differed from Arsenal in type, or from Charlton, or Brentford. Their cool attitude near or towards goal showed their complete control over themselves, although the whole side is very young. Not since Freeman's days have there been o many cases of the ball being taken up to the goalkeeper, Sagar, and dribbled round him with complete calm and confident assurance a goal would arise.
Cullis and Ashall Shine.
This was good football, and behind the forwards who always looked so dangerous were fine half-backs, and a useful goalkeeper. At centre half the captain leads the way; he is Cullis, of Ellesmere Port, who played in the same school eleven as the Everton half-back, Mercer. Cullis the youngest captain in the game, is a grand worker and a fine forethinker. The man of the match, however, was Ashall, at outside left, the best t centring a ball since Meredith's days. True he had little marking or tackling from Britton or Cook, but when he was being challenged his rallies and dribbles and centres were the acme of good timing, and a Dean would have headed six goals from his centres. It was here Everton were lacking in strength. White could not fill Gee's place with happy result and the core cannot be termed too big because in this grand display of football Wolves netted the ball nine times, and the last occasion when they got a goal there was a grievous thought of offside against the point. Other than that nothing could be said against any goal, most of which was made by expert approach and fine finishing, none better than when the ball was headed in at once from Ashall's well delivered centre, Clayton got the first hat-trick of his football life. Ashall scored on his own, Galley got two, and Clayton wound up his side's score. Everton were not always out of the hunt because Cunliffe took the score to 1-2 and Lawton had a penalty goal to bring the margin to reasonable dimensions -5-2; indeed at one time Everton showed fine fight, but the injury to Bell caused a disarrangement of the attack, and Wolves soon put the margin to their highest figure this season –they have scored 11 goals in two matches, in the last our days. One has to give praise to Jones, Mercer, Cunliffe, and Gillick, and Lawton for their special endeavour against a side that would have beaten any eleven on such form as they showed on Saturday to 35,000 spectators. Teams: - Wolverhampton Wanderers: - Gold, goal; Morris and Taylor (J), backs; Wharton, Cullis (captain) and Gardiner, half-backs; Smalley, Galley, Clayton, Thompson and Ashall, forwards. Everton: - Sagar, goal; Cook (captain), and Jones (JE), backs; Britton, White and Mercer, half-backs; Gillick, Cunliffe, Lawton, Bell, and Coulter, forwards. Referee Mr. G. Fletcher (Davenham).
EVERTON RESERVES 5 ASTON VILLA RESERVES 1
February 15, 1937. The Liverpool Daily Post
Central League (Game 29)
The Everton forwards were in their best form at Goodison Park. Geldard scored in the first minute, taking a pass forward and darting back to the centre to give the Villa keeper, had no chance. The second goal came from the opposite wing scored by Leyfield in similar fashion. At the 10th minute Everton increased their lead when Dickinson out manoeuvred three defenders before scoring. On turning round Dickinson obtained the fourth within five minutes Hodgson, the former Liverpool player scored for Villa after Thomson had cleared of the line and in the last minute Dickinson obtained a third goal from a penalty kick. The goalkeeper saved Dickinson's first shot, but the kick was ordered to be retaken and this time Dickinson scored.
Prescot cables 2 Everton "A" 4
County Combination.
Everton well deserved to win at Prescot. For the winners, Goldstein and Trentham were fast and clever wingers and Lindley the best of a sound middle line. Fyles, Woods, and Andrews worked hard for Prescot, Webster (2), and Goldstein (2), scored for Everton, Andrews and Siner replying for cables.
EVERTON'S BIG DEFEAT
February 15, 1937. The Liverpool Echo
And Some Cup Thoughts Arising From It.
Bee's Notes.
A city in "mourning," but football is a game and not the end-off-all-life. We must take defeats as sportsmen. In the week I noted Geldard's bewilderment through the crowd's unfair attitude at Goodison Park. Now we have had a demonstration against Liverpool club at their offices after the home defeat on Saturday. Police had to be brought to clear the crowd that gathered outside crying "We Want Kay."
George Barker was present at Wolverhampton. Now this is a notable visitor because he scored Everton's only goal –a winner-at Wolverhampton forty years to the day –Saturday last –and he was present to see Everton go through the mills Wolves grind so swiftly and securely. Everton made quite a bold fight at times –at 2-1 and at 5-2 and the last goal may have been offside, but make no mistake about this praise for the winners. They were the best side, as a whole. I have seen this season, if not for years. Gone is the tough stuff; in its place they have placed at and scientific approach towards goal. Not since Bert Freeman was signed through the stress of publicity in the column in 1907-08 have we seen so many cases of the forward taking the ball up to the goalkeeper, dribbling beyond him and netting in the empty space. It was grand football, all along the line, and chiefly by means of Ashall's swiftness and swinging centres.
Absence Makes Heart Grow Fonder.
Dean, Gee, and Stevenson formed a hot trio to replace, and the men who came in did well on the whole without making the gaps seem the less. Lawton was quite good in this his first goalling debut (penalty kick) to the first division side. He is extremely quick to seize a chance, and does not want a lot of room in which to work or to tickle the ball here or there. This is a great advantage in the times of third backs and testy tackling. Bell was going strong till he took a rather severe injury to his leg, and he had to go to outside right. Tom White was not quite ready for action in this mud-plugging effort but any side would have been conquered on such form as Wolves showed. They were a grand set of go-era and shooters, and Bryn Jones was not missed. Cunliffe, Gillick, Lawton, Mercer and Jones, almost in order of merit, were Everton's most consistent members. Wolves having scored eleven goals in four days make a merry proposition for the cup in heavy going. What of Everton and their Cup-Tie with Spurs at home? Can they accommodate themselves to heavy turf, ankle-deep? Or is their pace and stamina lacking in these circumstances. Remember Spurs beat Portsmouth 5-0 away, and that they are reputed to be one of the fastest sides in the land. This cup-tie at Goodison will be a nut-cracker and I am sure the return of Dean, Stevenson, and Gee will put all the other members of the Everton side in happier frame of mind than was their lot on Saturday.
EVERTON'S NO-CHANGE CUP TRAINING ROUTINE.
February 16, 1937. The Evening Express.
Blues Prepare For Visit Of 'Spurs.
Saturday's Battle At Goodison.
By The Pilot.
Everton's cup-fighters began their training for the F.A. Cup fifth round tie with Tottenham Hotspur at Goodison Park on Saturday – at Goodison Park today. The players went through their ordinary preparation and, as Mr. Theo Kelly, the secretary, remarked; "You would hardly imagine there was a Cup-tie pending." Under Trainer Harry Cooke, the players had ball practice, sprinting and gymnasium work. No definite news regarding Alex Stevenson was available. The club still awaits the doctor's report on his condition following an attack of influenza. It is expected that a full report will be available for tonight's directors' meeting. The club has great hopes that Stevenson –a key man in attack –will be fit. His inclusion will mean a lot to Everton in this exacting task. There are still some seats available but early application, with remittance, is necessary
'Spurs in "Wolves' clothing"
Hasting Today.
Everton will have to face 'Spurs in "Wolves" clothing." This is the contention of Mr. Jack Tresadern, manager of Tottenham Hotspur. "My boys are playing the brand of football that is the hall-mark of the Wolves, and what the Wolves did to Everton is not beyond the powers of the 'Spurs. We play that quick-moving, quick hooting stuff, too. "So we think we have a reasonable chance of putting Everton out of the competition. The Tottenham players took up "residence" here yesterday. There are 15 players in the party, but Rowe the captain, has remained behind for a couple of days because of the illness of his wife. The Players are preparing under the critical eye of Mr. George Hardy, the trainer, and Mr. Tresadern. Golf is playing a big part in the preparation of the 'Spurs, but the players will also have long walks and sea-water baths. The party will leave Hasting early on Friday morning and travel to Liverpool direct.
"HOPEFUL AND BELIEVEING STEVENSON WILL PLAY IN CUP-TIE."
February 16, 1937. The Liverpool Echo.
Everton's Good News.
South and Everton Match.
Bee's Notes.
Everton's secretary, Mr. Theo Kelly, says; "Alec Stevenson is a little better today, and we are hopeful and believing he will play in the Cup-tie v Spurs' on Saturday. The London club have sent back a few tickets; therefore, some more are now on the market. Dean and Gee re certs, for the tie Stevenson is a moral certainty.
It is not often that the South End football fan has an opportunity of witnessing a cup-tie at Holly Park in mid-week, but tomorrow, at 3.15 p.m, the South's reserves are playing Everton "A" in the 4th round of the Liverpool challenge Cup. Everton "A" top of the Liverpool County Combination, are sending down an exceptionally strong professional tam, whilst the South are playing number of first team men, so that the shopkeepers, &c., who are unable to attend Saturday games, will have a chance to see a really good game. South- Greenwood; Davis, Hurst; Smith, Salmon, Pilling (J); Hughes, Moss, Hilton, Fairclough, and Pilling (J.F). Everton: - King; Tunney, Morris; Bentham, Lindley, Watson; Arthur, Hurel, Dickenson, Laidman, and Trentham.
In Defence of Geldard.
"Blue Every Week" says: - Congratulation on your outspoken words to the section of the Everton spectators who barracked Geldard. I have watched the Blues' Reserves team regularly and for the past two months Geldard's return to tip-top form has delighted the spectators who are Blue enough to visit Goodison EVERY week. He was completely regaining confidence after the pulled muscles which put him out of the first team last back-end, and it seemed cruel luck that Gillick's consistent performances kept so class a player out of First League play. He is laid low with flu, and in returning has an off day –and is promptly "raspberries by folk who neither know nor want to know about the fine games which have caused many famous clubs to hammer at the door for Geldard's autograph. All power to your arm, Bee, when you jump to defend this delightful and gentlemanly player!
EVERTON'S CUP TEAM.
February 17, 1937. The Liverpool Daily Post
By John Peel.
Stevenson To Play
It is a case of "as usual" with Everton, who meet Tottenham Hotspur at Goodison Park. The players are preparing at home and the side to do duty will be the team that beat Bournemouth 5-0 and Sheffield Wednesday 3-0 in the earlier round of the competition. This means the return of Gee, Dean, and Stevenson, who were absent from the side beaten at Wolverhampton last Saturday, in place of White, Lawton and Bell. Stevenson has been down with influenza, but has made such progress that he is selected to play, and should be quite fit before Saturday. Thus the team will be: - Sagar; Cook, Jones; Britton, Gee, Mercer; Gillick, Cunliffe, Dean, Stevenson, Coulter. The kick-off is at 3 0'clock.
Scoring Centre.
The Spurs' team is expected to be unchanged from the side that beat Burnley 3-0 in the League game last Saturday –namely, Hall; Ward, Whatley; Buckingham, Rowel, Grice; McCormick, Meek, Morrison, Duncan, Miller. That team won 5-0 at Portsmouth in the third round Morrison doing the "hat-trick" in the first half. Morrison has scored 25 goals in the Second Division this season. The same Spurs' team defeated Plymouth Argyle 1-0 at Tottenham in the fourth round. Thus, like Everton, they have not lost a goal in the competition so far. The Spurs have a fast direct, and clever attack, one of the best half-backs in the second division in Buckingham, and a strong defence. Hall is the former Manchester United goalkeeper.
Attractive Visitors.
The 'Spurs will be attractive visitors to Goodison Park. Founded in 1882, the White Hart-lane club have had their ups and downs, but they have thrilled football enthusiasts on Merseyside on many occasions by their rousing League display. The last time Tottenham were relegated was in 1934-35, when they finished bottom of the table with 30 points. Last year they finished in the fifth position in the Second Division. This season they have averaged a point a game for the twenty-eight played. Nine of their points have come from away matches, by means of victories over Blackburn Rovers (4-0), Newcastle United (3-0), Norwich City (3-2), and a division with Aston Villa (1-1), Blackpool (0-0) and Fulham (3-3). Should Saturday's game end in a draw it will be replayed at Tottenham on Monday. If the game is decided then Everton will play Leeds United in a League match at Goodison Park next Wednesday, kick-off at 3.15.
STEVENSON WILL BE FIT FOR EVERTON CUP-TIE.
November 17, 1937. The Evening Express.
Star Forward Passes Doctor.
Dean and Gee Return.
By The Pilot.
Alex Stevenson, Everton's Irish International inside left and the schemer of the attack, will be fit to play against Tottenham Hotspur in the F.A. Cup fifth round tie at Goodison Park on Saturday. This is great news for Everton enthusiasts, and it means that the eleven that accounted for Bournemouth and Sheffield Wednesday in the previous rounds will be on duty. Dean and Gee also return to the side after a week's absence. Stevenson, who was taken ill with influenza last Thursday, was examined by the club doctor, Dr. Davies, yesterday, and the report, presented to the Everton directors at their meeting last night, revealed that the little Irishman was fit to go into training at Goodison Park today with the remainder of the team. So the directors are relieved of a testing problem –that of finding a deputy for "Stevee." Ordinary training was again the order at Goodison Park today, but tomorrow the players will have a diversion in the form of a visit to Picton Hall to see the snooker wizardry of Joe Davis and smiling Horace Lindrum. Should the Cup-tie on Saturday end in a draw, the reply will take place at White Hart Lane next Monday. This is in order that the reply shall not clash with Arsenal's Wednesday engagement. If Saturday's tie is decided Everton will be at home to Leeds United next Wednesday. Here is the side which will carry the Merseyside cup banner against the Spurs. Sagar; Cook, Jones (JE); Britton, Gee, Mercer; Gillick, Cunliffe, Dean, Stevenson, Coulter. Everton visit Bury on Saturday in a Central league game, and have Lawton back at centre forward. Everton Reserves; King; Jackson, Thomson; Bentham, White, Watson; Geldard, Hurel, Lawton, Laidman, Leyfield.
'Spurs Plan To Beat Everton.
Evening Talks In Private.
Cup-tie talk is taboo during the day among Tottenham Hotspur players, who are in special training here. Throughout the day, be it on promenade or on golf course, the big match against Everton is not even discussed. But in the evening Manager Jack Tresadern, trainer George Hardy and the lads get together in their private lounge and lay their plans on how to conquer their doughty Lancashire rivals. No hint has yet been given regarding the constitution of the 'Spurs' eleven. Two players, McCormick and Grice, are suffering from minor injuries, and it is possible that no announcement will be made until Saturday morning. It has been decided that instead of travelling through to Liverpool on Friday the team will go to Southport. The 'spurs' players are a happy-go-lucky bunch and are thoroughly enjoying their stay here. Not all the boys play golf, but they are ever ready to act as caddies. Golfers of non-golfers, they are all deriving great benefit from the keen sea air.
CUP-TIE TRAINING IN THE RAIN
February 16, 1937. The Evening Express.
Everton Complete Serious Work.
Stevenson Maintains Progress.
By The Pilot.
"We're training in the rain." This was the theme song of the Everton cup-fighters today. At Goodison Park, the men who will face Tottenham Hotspur in the fifth round F.A. Cup-tie on Saturday went through the concluding stages of their preparation. After short work in the open, there was an adjournment to the gymnasium for the final touches. Alex Stevenson, the Irish international, continues to improve following his attack of influenza. If present progress is maintained there is no doubt about his ability to play. The players rested after the morning training spell, and they will wind up their training tomorrow with a "pipe-opener." Everton are viewing this game as if it were just another League match. There is no talk regarding tactics. Mr. Theo Kelly, the secretary, states that the gate will be opened at 1.15 p.m., and he asks that spectators will form orderly queues t the turnstiles in order to help the turnstile stewards. He emphasises the fact that there are turnstiles t each end of the Bullens-road stand for the benefit of 1s, patrons. Once inside the ground spectators are ask to keep the alleys clear and to move away from the entrances. This will ensue methodical packing.
McCormick Will Play For 'Spurs
Hasting, Today.
Good news for Tottenham Hotspur –McCormick, their clever young outside-right, has fully recovered from his injury and is certain to ply on Saturday. McCormick, in recent games, has proved the most menacing of all the Spurs' forwards and he is regarded as the chief menace to Everton. Manager Jack Tresadern has not yet decided on the constitution of the team, but from what I can gather the team is not likely to differ from that which beat Burnley at White Hart-lane last Saturday. This means that two full-strength teams will be in opposition. The Tottenham players were out on the golf links again today and some of the players were given sea-water baths. Tomorrow they will have a brisk walk along the promenade early on before taking train for their Southport headquarters. It is expected that about 500 Tottenham supporters will make the journey to Liverpool.
'SPURS PROBABLE TEAM.
February 18, 1937. The Liverpool Echo
Bee's Notes.
There is just one slight doubt about the Spurs team to meet Everton on Saturday. McCormick the wing forward was injured last week-end and was not able to go into full training when the players came to Hastings. The injury however, is yielding to message and brine baths and Manger Tresadern is confident that he be able to play if not, his place will be taken by Alexander. So that the Spurs will turn out as follow Hall (J); Ward, Whatley, Buckingham, Roe, Grice, McCormick, (or Alexander), Meek, Morrison, Duncan, Miller. "I am as confident as ever," says Mr. Treasadern "that the Spurs will win this match. No, we are not frightened of Dixie Dean. I think Rowe can be trusted to look after him. There is one other man on the Everton side whom I confess we are rather afraid of" –but he steadfastly refused to tell me his name. Today the players are having brine baths, and they set off for their long journey North tomorrow. Travelling by way of London, they expect to reach their headquarters at Southport about 4.30 "in time" said Mr. Tresadern, "to give the boys a muscle-loosener before dinner. Then early to bed."
Liverpool F.C. is to have a memorial to the late John McKenna. Everton's Mr. W. C. Cuff vice president to the Football League will unveil the table prior to the home match v. Brentford, at Anfield on Saturday, February 27.
EVERTON'S CUP OPPONENTS
February 19, 1937. The Liverpool Daily Post
'Spur at Full Strength
By John Peel.
Tottenham Hotspur will be at full strength when they oppose Everton in the F.A. Cup-tie at Goodison Park tomorrow, the players chosen being those who performed so well in disposing of Portsmouth and Plymouth Argyle in the previous rounds. The players have been staying at Hastings and McCormick, who was injured last week, has made excellent progress, and he will turn out in his position of outside right. The team is as follows: - Hall (J); Ward, Whatley; Buckingham, Rowe, Grice; McCormick, Meek, Morrison, Duncan, Miller. Mr. Tresadern, the manager, is confident in the ability of the Spurs to win, "I think," he said "that Rowe can, be trusted to look after Dean. There is one other man on the Everton side whom I confess we are rather afraid of" whom I confess we are rather afraid of" –but he steadfastly refused to tell his name. Yesterday, the players had brine baths, and travel to Southport today. Everton have been taking matters quietly, following their ordinary training routine.
60,000 TO SEE EVERTON'S BATTLE TO REACH CUP LAST EIGHT.
February 19, 1937. The Evening Express.
Blues Forwards Can Win Day Against 'Spurs
Fallacy Of Off-Side Tactics.
By The Pilot.
Sixty thousand people are expected to see the mighty Cup battle between Everton and Tottenham Hotspur at Goodison Park tomorrow. It will be a thrilling struggle, and Everton will have to produce their best to reach the last eight of the competition. The match is one of eight fifth round ties, involving ten First Division clubs, four from the Second Division, and two from the Third Division, (Southern Section). Everton will not have to reply so much on the exploitation of the offside game tomorrow, if they are to continue their triumphant progress to Wembley. This constitutes one of the greatest dangers to Everton's progress. Against Wolverhampton Wanderers last week the defence too often trusted in the offside trap instead of in their own tackling and covering. The result was that the Blues sacrificed seven goals. Against fast, nippy, alert forwards with the courage to go through on their own, the off-side trap is a fatal policy. Tottenham posses just the type of attackers who can take full toll of a defence which places reliance not on football defensive skill, but the judgement of the referee and linesman. Their power is proved by the fact that in the third round of the competition, they went to Portsmouth –one of the best defensive sides in the country –and whipped Pompey to the tune of five clear goals. It is my opinion that if the Everton defence hold the 'Spurs' forwards, then Everton will pass into the sixth round, the draw for which will be made in London on Monday. Let this be done by concentrated covering and quick recovery. The vital link between the half-backs and the full backs must be forged, and if the wing half-backs. Britton and Mercer, concentrate on marking the opposing inside forwards and leave the wingers to the backs, there should be efficient service.
Defence Key Man. The key man of the defence is Gee. If he concentrates on blotting out the Tottenham inside forwards, much of the "bite" will be taken out of the Londoners. The Everton forwards can make sure of this game. The return of Dean and Stevenson will make a lot of difference, and whether they exploit the close-passing tactic or the long, swinging wing to wing method of progress, I think they are certain to give the Tottenham defence warm time. Indications are that the ground will be heavy, and therefore it is incumbent on the Everton attackers to cut out the fancy dribbling and adopt quick-passing methods. I also hope to see the use of that far flung pass from inside-right to outside left and vice versa. It is always a winning move calculated to upset the best of defences. I do not think the Spurs are such a good side as Everton, who, in home games especially, compare favourably with any side in the country. There is football ability and the right spirit about the Blues, and I will be surprised if they fail to win. It is interesting to note that neither side has yet conceded a goal in the cup-ties this season; neither side has made a team change for any cup match. Everton have staked their ground record the finest teams of the day and yet have preserved it, I do not think Tottenham can break that spell. It should prove a wonderful test between the scientific Everton and the fast, forceful Spurs. In cup battles between the clubs the Spurs have fared the better, but here is Everton's big chance to get some of their own back. Everton: - Sagar; Cook, Jones (JE); Britton, Gee, Mercer; Gillick, Cunliffe, Dean, Stevenson, Coulter. Tottenham Hotspur; Hall, ward, Whatley; Buckingham, Rowe, Grice; McCormick, Meek, Morrison, Duncan, Miller.
THE CUP CHAMER
February 19, 1937. The Liverpool Echo.
Heavy Grounds May Create Surprise
Everton Know Their Home
"Ties" 'Spurs Provide A Memory.
Bee's Notes.
It would be easy to say "Tottenham Hotspur ill find Everton mud beyond their capacity," Let us not be foolish about the London side. They have won at Portsmouth 5-0, and any team that could o that must be respected home or away. If Everton had ever won at Portsmouth 5-0 I am sure we should have been very proud of the performance. Tottenham have not been here for some time, owing to the relegation to Division 2, but their name and frame will live forever, and their sporting ways will always make them welcome visitors to our city. They had spell of Welsh strain when Percy Smith was their manager. Today they have a Tresadern at their helm, and the old international half back knows exactly what he wants for the proper blend. It has not been proved the Spurs can plough the fields of mud, but I recall broadcasting a match for Goodison Park when the Spurs beat Taylor, Cresswell, and Co., in hollow manner with a margin of real strength. And that day, my memory tells me, was one of the worst I can picture –wet and holding, but not so holding as Wolverhampton was last week-end, which was the ankle deep stuff. Goodison, in the 'Spurs win, was just loose mud with rain making the ball fly beyond anyone's reach. Yet O'Callaghan and his merry men just fied through out ranks. Let us not forget how those "Spurs carried on and through in conditions all against good play.
Disturbing Thought?
It may happen the 'Spurs are not now competent to go through the mud and fire of a Cup-tie. We shall see. At least we now their pace is one of their main trials, and pace never won a match if the pace-maker forgot to take the ball with him as some young flyers do forget in modern football. The disturbing thought about Everton is, first of all, the remembrance of the Wolves win. It was a smashing win, and it suggested the defensive styles might have to be altered for the 'Spurs' game if victory was to be obtained. There is no doubt in my mind about the need of sterner tackling, and when the ball is not taken an attempted recovery. Then, on the left flank, the Everton forward line has not been all-conquering in recent times. Stevenson, by reason of his overwork in scheming and holding the ball, had begun to show signs of wear –a most natural sequel to his sever cold, if nothing worse, and my view is that we should expect Coulter to blossom into the old-time vein of attack to try to balance the left wing work. Dean, Gee, and Stevenson make return visits to the side, and this is indeed welcome news, because all three have a commanding effect upon the other members of the side. Cunliffe had a grand innings in the last defeat and for the rest, I fear there was too gaping a pathway down the middle. This will not arise to-morrow with the return of the die-hard pivot, Charlie Gee.
Everton's Continuation Class.
Everton have made Goodison Park into a continuation class, where all visitors leave by the back door and make a graceful exit saying "Glad to have met you. Congratulation upon your success this day. We'll be seein you at our ground in due time and season!" which suggest revenge, and Everton's list of losses away from home. Bournemouth left saying, "Well done" to the winners; Sheffield Wednesday left bitterly saying Neil Dewar's goal was not offside, and at that time we had got Everton where we wanted them. Now we come to 'Spurs who will be remembered as slashing Everton 3-0, but a few years ago at Tottenham, when the Spurs were a really good side. Everton have been blessed by the home ties that bind them to their public. They will need to play very good football for the whole of the 90 minutes to-morrow if they are to continue in the Cup. Their form at home has been remarkable, and I see no reason to picture a home shock tomorrow, because Everton's team selection has been left severely alone for two inontis, and the "customary eleven" has welded into a very knowledgeable side. Take one member away and the absence of blend is immediately noticed. The Cup-tie against 'Spurs finds them" all present and correct, Sir. Hence my belief in their confident tone and cup decision –a decision made quietly and without ostentation. They hoped they would win the Cup again –every team that has won has that desire; but the Everton players registered a sort of proposal that this must be Everton's Coronation year. They hope to celebrate the Cup win, and thus far have had the good fortune to be drawn at home against three teams, the swiftest and best of all being the opposition tomorrow. Everton will mind the step! Spectators should realise that if they desire to escape the crush that arises at the corner of the ground (Town-end, or Spellow Lane corner) they should move off to Bullens-road, where there are several shilling turnstiles entrances rarely overworked.
Plan Of The Field.
Everton: - Sagar; Cook, Jones (JE); Britton, Gee, Mercer; Gillick, Cunliffe, Dean, Stevenson, Coulter. Tottenham Hotspur; Hall, ward, Whatley; Buckingham, Rowe, Grice; McCormick, Meek, Morrison, Duncan, Miller.
EVERTON'S CHANCE
February 20, 1937. The Liverpool Daily Post
By John Peel.
Given reasonable weather conditions, record crowds are expected. Two clubs who are familiar with the thrills and glamour connected with the winning of the trophy clash at Goodison Park in what is likely to be one of the great ties of the round. Everton are fully aware of the task on hand, for the 'Spurs' performances in the previous rounds in disposing of Portsmouth and Plymouth Argyle are such as to command the highest respect. Everton have not been beaten at home and their supporters do not expect the 'Spurs to succeed where other sides have failed, and Dean and his colleagues will make every effort to retain the record and so earn place in the last eight. The players got a shock at Wolverhampton last week when they ran into the Wolves at the top of their form, but Everton will be more strongly represented today and they hope succeed. Stevenson is expected to be all right again, and Dean and Gee take-up their usual places. Special arrangements have been made for housing a big crowd, who are likely to see a very fine game. The kick-off in this and all the other Cup-ties is at 3 O'Clock, and the following are the teams; Everton: - Sagar; Cook, Jones (JE); Britton, Gee, Mercer; Gillick, Cunliffe, Dean, Stevenson, Coulter. Tottenham Hotspur; Hall, ward, Whatley; Buckingham, Rowe, Grice; McCormick, Meek, Morrison, Duncan, Miller.
DRAMATIC GOAL EARNS REPLAY FOR EVERTON.
February 20, 1937. The Liverpool Football Echo.
Hall's Great save From Dean's Penalty Kick;
McCormick Scores Without Knowing It.
Coulter's Thrilling Last Minute Equaliser.
By Bee.
A dramatic goal scored by McCormick –who has not yet realised he scored –ten minutes from the end, was followed by an even more dramatic Coulter goal in the final minute of the play from a Mercer pass. So Everton retained their home record, which had wobbled precariously, as well as their Cup interest. Hall saved a penalty kick from Dean. The replay is on Monday. Teams: - Everton: - Sagar, goal; Cook and Jones, backs; Britton, Gee, and Mercer, half-backs; Gillick, Cunliffe, Dean (captain), Stevenson and Coulter, forwards. Tottenham Hotspur: - Hall (J), goal; Ward and Whatley, backs; Buckingham, Rowe and Grice, half-backs; McCormick, Meek, Morrison, Duncan, and Miller, forwards. Referee Mr. W. Barton. Everton and 'Spurs, great names in the football would, contested their English Cup-tie at Goodison Park on a ground that had been saturated during the week, but was in really excellent condition through the drying winds of this morning. The attendance part from the stands, was not quite what one had expected. The popular side was nicely crowded, but the infamous right-hand corner seemed to be in no danger of breaking through, which suggested to me an attendance of 55,000. The fear concerning Alex Stevenson not being able to play was wiped away, so that both sides were at full strength and the ''Spurs had an enthusiastic reception from their small band of supporters. The 'spurs were in white jersey and black knickers. Dr. Barton who earned his praise from me a few week's ago, took out his pocket book and made some notes therein and Spurs, having won the toss, Everton kicked off and played towards the town end. After Coulter had been collared Sagar took enormous chances by delaying his clearance, Morrison being close on his heels. Everton's first attack came through the valued Gillick, and Cunliffe earned a free kick that did not arrive. Apparently Cunliffe was easy vexed on this point judging by what happened a moment afterwards. Rowe, in the excitement of the moment, miskicked and conceded a corner, which Hall took with unusual calm, remembering he was in the neighbouring of the Dean of football. The Blues were rather slow to find their stride, but when they did move off they were rather impressive in their manner but they soon fell into the offside trap laid by Everton.
Tense Situation.
The situation was tense as the ball was put back by Gillick and Dean put up a foot in the hope of connecting. The turf was playing really first-class compared with what had been expected the result being that Gee was able to take a free kick for a foul on Dean after Ward had shown fine defence. Gee's shot was an excellent one although it did not surprise Hall. A free kick against Ward brought further trouble for the Spurs defenders, who were standing up to the position (they were being outplayed territorially) Dean showed how long and strong his drives can be; length and strength produced a real hot shot for Hall who took it like the real goalkeeper he is. Whenever the "Spurs" went away to attack they always suggested that their methods were altogether too nonchalantly cocksure. They were trying to play ultra-pretty stuff in a Cup-tie, and the result was that a number of their passes were short.
Goal-Mouth Dramas.
Now each Everton winger in turn operated in goal-mouth drama wherein nothing but the bodily intervention of defenders saved a goal. First it was Gillick who was crowded out by the now unbalanced 'Spurs defenders. Gillick returned the compliment by offering Coulter a chance of a similar character and again in 'Spurs defence wited and wobbled and the ball was kept from goal by a flurried effort by the Spurs' backs and goalkeeper, each colliding with the other. Now the 'Spurs went away on their great right flank McCormick, quick, cunning and convincing, until he had won the positional advantage at which time he became selfish and refused to offer the pass to Meek or Morrison. Once more Gillick and Coulter changed places and became centre forwards, Coulter had the goal chance. The Irishman tried to make too secure and the ball struck Ward's foot, becoming a corner. Hall, once more missed the cross in ominous fashion. Hall had done so well with the more direct shooting efforts that one was puzzled to see him striking the wind when the ball crossed his goal.
Dean Hurts His Leg.
Dean went down with a damaged calf of the leg, and Cunliffe, taking on the part that tied to be accepted as Tom Johnson's work in corner kicks, headed over from one more corner kick delivered by the Spur. There was a breeze in the football air that had left the elements at midday. Fr. Barton having a word to say to the offending 'Spurs player, who had foolishly kicked the ball away after it had been placed for a free kick. Meek gave the best swerve and pass of the match, Jones stopping a source of danger by putting the stopper on McCormick. Britton was still able man of the twenty-two, and one was sorry to have to record the referee having a word with Coulter. It is not often that Dean goes to the ground, especially in a charging match, but here Dean not only failed to make his charge ball-marked, but also himself pitched into the net.
Fruitless corners
Everton were having numberless corners, seven to date, without making the best use of them, and all this surplus attack favouring Everton had so far been without result. In half an hour the Spurs had not one shot at goal; in half an hour Everton had four, straight and strong-and saved. Duncan quite misjudged the strength of the turf near goal, otherwise the 'Spurs would have been testing Sagar. Admitting that Miller had damaged his right leg in the first five minutes of play, the Spurs were not distributing their favours to their left wing. The first real attack 'Spurs made could have been a goal. There was a free kick against Gee taken by Buckingham. The ball was headed by Morrison and Meek was shooting into what seemed to be the empty portion of the right hand of the goal, when Mercer dropping from the clouds, made a heaven-sent clearance when nothing also could have saved the situation. Hall's best save of the day was a beautiful catch, and his manner of taking a change from Coulter was worthy a recorder. A foul by Duncan was one of the stupid things that get no player anywhere where sport is valuable. Gillick and Ward joined in the follies of the game, and Jones made an astonishing run from full back after the 'Spurs had brought spike and venom into their determined endeavour to show their second Division work. McCormick was the mainspring of all these notions. This was Cup-tie crammed with football fouls, the game being held up far too much by these interruptions. A minute from half-time Gillick burst through to one of his most choice positions, and his shot was beautifully taken by Hall, so that half time came without a goal –which was in keeping with both clubs' records, neither having conceded a goal in the tournament thus far.
Half-Time Everton 0, Everton 0.
Spurs' Cheeky Style.
Within one second of the second half, Hall the Spurs' goalkeeper, was damaged, apparently so badly that the referee gave signal upon signal for the trainer's attention. Fortunately Hall was able to resume after Everton's aggressive opening bout. One wondered when Sagar would receive his first goalkeeper test. The Spurs continued their pretty-pretty, almost cheeky style, without making any-progress. McCormick tried to finish a fast run with a squared centre, and failing to time the ball he opened up half a chance for the stirring Jones to step in and clear. The second half had a quarter of an hour of utter boredom so far as real football is concerned. Gillick was hurt; Stevenson was cautioned; Morrison got a cannon-back from Gee's attempted clearance that threatened a sensational goal, and the general tone of play was at zero, and one yearned for some consecutive and comforting football pleasures. Meek was certainly a fine schemer, but was like the best of the 'Spurs' forwards –inclined to hold the ball just a split second too long to make his chance good.
Sagar's Save.
So far, one must confess this was a disappointing match, and the occasion, apparently, was too much for both parties, but at last; the game brought out a reasonable tit-bit. Cunliffe was busy trying his bootlace when the ball was slipped out to the 'Spurs' left, and the centre forward dived at the moment Sagar dived. Sagar came out with the ball in his possession, and a goal had been saved by a really splendid effort. 'Spurs were now having more of the play than at any other point of the game, and Morrison was bumping and boring his way through. Miller made a first-class shot, which Sagar tipped over the bar –the goalkeeper's second urgent call in successive minutes. The 'Spurs were surprising themselves, but Morrison got into the bad books of the crowd, and the referee by his Hamptonian desire for Sagar's blood. Everton received in remarkable manner, a line ball from Gillick to Britton being centred in such a manner that either Coulter or Cunliffe could have taken the shot. Coulter eventually saw the ball from Cunliffe strike the goalkeeper's foot and bounce to the crossbar and into play again, this being a definite escape and good fortune for the London club. It was one of the quietest days Dean has ever experienced. The game had, nevertheless, veered round favourably to the 'Spurs, who were now making their mark in attack without making shooting impressions. Cook and Jones tried massive long punts for relief, but Stevenson now held on far too long. Meek's shot had little chance of beating Sagar, although it was a welcome relief to find the Spurs making a test of the goalkeeper. Miller, on the 'Spurs left, was now having his gals spell, and only a remarkable header by Gee prevented 'Spurs taking something from their attacking reign. Coulter dribbled across the field to wind up with a wasteful pass. So the game continued in its excitement and in its barrenness. In half an hour there was a penalty kick –the high light of the game. It began with a free kick given against, Buckingham for what seemed to be a sound charge on Stevenson.
Hall's Penalty Kick Save.
Spurs were annoyed at this, and still more annoyed when Rowe charged Dean in the penalty area when Dean was not in play –a similar incident to that of the Sheffield Wednesday tie. Dean took the spot kick and Hall made a great save and even crowded out Dean's following-up effort, the ball having aft the goalkeeper 's hands two yards towards goal. Spurs leapt for joy at their escape from the spot kick, and Hall was mauled in the joy of keeping out what in ordinary circumstances is counted a sure goal.
McCormick The Scorer.
Spurs scored in 35 minutes from a free kick against Cunliffe, McCormick heading the ball into the right-hand corner of the net without knowing he had scored, and being damaged in the process of the free kick ten minutes from the end. The scorer was the only man not to know he had scored. A linesman was consulted without result, and Everton now had ten minutes in which to save their home fate. Their first effort was an endeavour to charge Hall and the ball over the line. Coulter kept Everton in the Cup with a goal from Mercer's centre in the final minute of play. Final Everton 1, Tottenham Hotspur 1. The official attendance was 57,149 with receipts £4,417.
THIS WAS EVERTON'S GREATEST SPELL
February 20, 1937. The Liverpool Football Echo.
Comparisons "Odious" But Old Folk Say 95-96 Was Their Best-Ever Results Card.
"Hambledonian," the veteran writes;-
Everton are progressing satisfactorily on the slippery pathway leading to Wembley- so far so good. Occasionally one wonders whether they are a better team now than at any time in their long career, and that thought throws open the door of hallowed memorise. Who, that was in the city that Monday evening of May, 1933, when the team came home with the Cup, will ever forgot it? Castle-street was packed with a surging crowd as it has never been, either before or since, and when the coach –the same one which was used in 1906 when the trophy was previously won –appeared, with Dixie Dean waving the Cup, joy and pride were unrestrained amidst torrent of wild cheering. And as that was nearly four years ago, here is the team which give Merseyside such pleasure; Sagar; Cook and Cresswell; Britton, White and Thomson; Geldard, Dunn, Dean, Johnson and Stein. A well-balanced side, but was it so good better than the team which won the League champion in 1891, when none of the above mentioned were born? Hannah and Doyle were the backs and as a pair I hardly think they have been excelled on Merseyside. Then there was Johnny Holt at centre half, capped against Scotland several times, a real "box of tricks" and only 5ft ½ ins. How the crowd would cheer with delight when, in the majority of cases, he would beat the opposing centre forward from the goal-kick and get his head first to the ball. Latta and Brady formed a clever and weighty right wing, Fred Geary was a splendid centre with great speed and a storming shot, whilst Chadwick and Milward on the left wing, have possibly never been surpassed by any club pair in any generation. They played twice together against Scotland –in 1891 and 1897 on the first occasion with Geary in the centre.
Best When Not Honoured.
The cup team of 1906 must be considered for it was a really well-balanced side which carried off the honours and brought the trophy to Merseyside for the first time. This was the eleven; "Billy" Scott; W. Balmer and Crelly; Makpeace, Taylor and Abbott; Sharp, Bolton, Young, Settle, and Hardman. Probably there is not much difference in the strength all round of the various teams which have carried off the honours, because the game has changed and the rules have altered. Forty years ago it was not so fast as today, though possibly more gulletful, but I fancy the Everton had its best side when they did not secure any high honour in the game. Look at the team which lost to Aston Villa in the final of 1897 – a real classic game if ever there was one. Here it is; Menham; Storrier, and Arridge; Boyle, Holt and Stewart; Bell, Hartley, Chadwick, and Milward. I think they were at their best between 1893 and 1897, and in support of this theory the following wonderful feat was accomplished in the season of 1895-96. Between October 15, 1895, and February 3, 1896, they played fourteen league matches and three Cup-ties without defeat. Altogether they took part in twenty-four games during that time and won them all with the exception of two friendlies in Scotland, when Parsley St Mirren and the Hearts Of Midlothian caught them in a weak state. During those twenty-four games Everton scored 59 goals to 24. Goals in those days were not so cheap as they are now.
EVERTON 1 TOTTENHAM HOTSPURS 1 (F.A. Cup Game 148)
February 22, 1937. The Liverpool Daily Post
How Everton Escaped
Coulter's Late Goal.
Dean Misses Penalty.
By L.E.E
At 4.40 Everton were out of the F.A. Cup, and had lost their immune-from-home defeat record. The pro-Tottenham folk among the 57,000 spectators pulled out their watches and exclaimed; "He's over time now!" And so he (Dr. Barton, the Referee) was but having stopped the game so frequently Dr. Barton was forced to allow for wastages, and in that extra minute or two Everton saved their faces. The reply will be in London today. When most of the crowd "hung on" in the despairing hope of seeing Everton perform a last minute football 2miracle" there seemed only the remotest chance of this contingency; yet those who could scarcely bear to see the side beaten, on reaching the gateways, the heartening sound of a great cheer, and on turning back to discover the cause found they had missed a goal that may become historical. Mercer was up with the forwards attempting to make a goal (after having earlier prevented one), and when Hall could only push away his shot Coulter (probably the least excited of the 22 players) nodded it into the net. And that was the dramatic finals to one of the most disappointing games Everton have taken part in for a long time. The players largely make or mar any game, and it is not excusing them to say that the referee on this occasion also took a hand in spoiling what continuity there promised to be. Dr. Barton (a Repton school master) opened his notebook before the game started, and with brief intervals it was open ever afterwards. Many referees are misunderstood, and Dr. Barton was probably misunderstood not infrequently, but where a Pinckston could have nipped the irritating "incidents" at the start, the control now was such that all the minor ailments of present-day football cut into the progress of the game and made it 90 minutes of irritation for all concerned.
The Penalty Miss.
Everton were hand-in-hand with the other Cup failure for a moment, and if their saving gaol had not arisen, there would have been little said in extenuation of the team, because the side that cannot "convert" penalty kicks gets short shrift. Dean's was the penalty miss. Having followed up the shot which Hall pushed away, he was able to make a second shot. This glanced off Hall's chest to Stevenson who made the miss of the match when he scooped the ball unaccountably, over the bar, "Spurs claimed there was no penalty, and in my opinion there was not neither in my opinion was Stevenson fouled by Buckingham in the lead-up to the penalty incident. The game took a twist in Tottenham's favour in an unexpected way. An apparently harmless free kick given against Cunliffe near the centre of the field quickly taken floated almost out of play near the post, and before Sagar had time to set himself for his leaping challenge to McCormick. McCormick had glided the ball into the net with his head. There was a semblance of fluke about this, the first Cup goal against Everton this season, but it was genuine enough. The uncommon thing about it was the scorer (who was knocked out in the process) was probably the only man on the ground at the time, who didn't know that Spurs' had scored. The penalty incident, the two goals, and Mercer's kick-away from the line before there had been scoring were the highlights of an otherwise drab match. The reason for the drabness was the remarkably severs tackling of both sides; the penchant of men on both sides for not allowing opponents to go on their way with the ball in possession when they deserved to do so, and the general ca-canny nature of a vital Cup-tie. The niceties of League football were missing. There was no give-and-take in the accepted sense of the phrase. But there was give and take of a kind that is not generally associated with either club. On the sticky turf the ball dragged, and was not easily manipulated. Perhaps that is why the half-backs on both sides kept taking the ball from forwards who tried to do a little too many in circumstances.
Hall An Outstanding Figure
If there was an outstanding figure, it was Hall. Until the last minute he represented a faultless last-line of defence. In addition to his double-edged penalty save, he performed very creditably all through, thought most of the shots he saved lacked the direction and sting of successful efforts. Everton had reason to fear Hall for his sureness after a first half in which they had made all the running. Once Spurs began to believe in themselves, when the game had restarted and they found themselves on level terms after surviving some pretty severe pressure, they gave Everton's defence a taste of what they had endured and Everton's last lines were as sure as Hall. Buckingham and company. Everton's inside forwards have had the match won in the first half. There were no missed "sitters" by them up this period it is true, but there were ample supplies of it is true, but there were ample supplies of centres from both wings. Dean was not happy and appeared to be slow to size up the situation (an unusual fault for him); yet he did provide Gillick with a headed pass from which Gillick shot hard and well just before the interval. Stevenson was not seen at his best, and judged by his speed midway through the game his 'flu (naturally enough) seemed to have taken toll of his stamina. I wonder whether the club made a mistake in electing to play him so soon after illness?
Wing Men Prominent.
Gillick and Coulter did well enough in face of stern tackling. The half-back line as a whole could hardly have played better. Britton particularly in the first half-hour, offered some choice opportunities for the men in front, and Mercer put in solid work to say nothing of his last minute intervention against and in promotion of goals. 'Spurs had fine defensive work from Buckingham and Hall and the half-backs were little if anything less effective than the Everton line. Spurs, too, had their forward failings with Duncan trying touches that made for little headway, and Meeks rather slow, and out of touch with the game McCormick, apart from his goal, earned his share of the honours. Everton-Sunderland Cup reply, the best-Everton-Tottenham Hotspur one of the worst. Everton: - Sagar; Cook, Jones (JE); Britton, Gee, Mercer; Gillick, Cunliffe, Dean, Stevenson, Coulter. Tottenham Hotspur; Hall, ward, Whatley; Buckingham, Rowe, Grice; McCormick, Meek, Morrison, Duncan, Miller. Referee Dr. Barton, of Renton
BURY RESERVES 3 EVERTON RESERVES 1
February 22, 1937. The Liverpool Daily Post
Central League (Game 30)
Everton were well beaten at Bury, although in the early part of the game they displayed much better methods than the winners. Geldard was especially menacing, but Lawton was unable to escape the clutches of McClulloch, who along with Gorman did magnificent work in Bury's defence. Smith scored the only goal of the first half and after Leyfield had equalised, Bargh and Acquoriff put Bury ahead again. Everton Reserves; King, goal; Jackson, and Thomson, backs ; Bentham, White, and Watson; half-backs Geldard, Hurel, Lawton, Laidman, and Leyfield, forwards.
EVERTON'S SENSATIONAL CHANGES FOR REPLAY
February 22, 1937. The Liverpool Echo
Geldard and Lawton In The Front Line.
Bee's Notes.
Why The Referee Consulted The Linesman.
We live –and breathe –but rather heavily. It did not seen possible to get an equalising goal after McCormick had headed a goal he did not see. It is good to know Everton are still in the Cup; it would be nicer to know (as I write) both sides had taken stock of their good names and the clubs' good name, and had decided to behave themselves like sportsmen. The game was ruined by the introduction of tricks that should be foreign to men of standing in the football game –professors at their jobs. The heat of the moment –don't tell me that one; It was an ideal day for a bonny battle of football wits. Instead we got a battle of a kind suited to chargers. Football was sometimes not considered; fouls and trickery (often after the ball had gone away) were the main ideas of certain players. Spurs caught the lash, Everton could not escape it, and the referee; by his charming manner, almost contributed to be trouble by constant call upon the admonishing finger the appearance of his notebook, and the stoppages of the game, which caused the flow of its fine possibilities to be crashed at the start. By my side was Andy Ducat who said well, "Bee" I hope you've enjoyed it. I count it a wasted day" at the roof of the stand I noticed Harry Makepeace and Fred Geary, they had something to say about the game being sacrificed for the distorted pleasure of trickery Tottenham and Fulham had been in council concerning the recent wholesale cautioning incident. They won that case –as was right –but I do hope we lose any game rather than buffet our way to victory at all costs. The game was exciting and will not be forgotten over long years, but it had not the fine spirit and gesture of the game v. Sunderland when 6-4 was the verdict after a long drawn –out struggle with Sunderland. That was a match of memories; the meeting with Spurs will be regarded as a thing to be forgotten as soon as the "body" can be decently interred. The game gave us a fair sample of what two referees might bring in its train; one could not imagine two referees allowing cautions for some of the things that went on at Goodison Park. Thus the reading of Dr. Barton was "Don't do that again." At the other end of the field certain fouls would have drawn ordering-off decisions, not cautions.
Hall-Marked.
One joyful memory of the game was the diving grace of Sagar at long last when the Spurs took up their main attack after languishing for 45 minutes. There was also the truly grand display of Hall, the former Oldham player, whose picking of strong shots was just as secure as his miss-fielding of corner kicks left the ball likely to be shot in. Hall kept 'Spurs live first half, and it seemed to me Everton soon felt the effect of his saving grace and wanted to close in to make a shot. It is not a correct bit of fore-thinking. Had Everton continued as they began, they would have won and Hall would have been beaten. But the surplus trickery move has no value if it does not produce a shot, and it generally prolongs the difficulty of getting the ball just where the shooter wants it. Dean has rarely suffered such a hold-up. Rowe is quite an old hand, and Dean got that awful stab on the calf that turned him sick and sad. Stevenson was plainly unable to last out the heavy going after his illness, and it was left to the lad Gillick to throw his full weight and energy and ball juggling into the fray, with Cunliffe once more erratic in his placing. So that Everton attack was without balance and punishing result. I thought both wing half backs had a trying time in the second half after a splendid first half with Gee best of all throughout the game. But Britton's first half foraging and Mercer's relentless tackling held up the 'Spurs till they appeared quite negligible. Spurs played as though they were top of the world, even when Everton were piling on the attacks. The weaving of the Spurs forward line was playing into the hands of the Everton backs. It was laughable because it was so cheeky against a side plainly too good for them –as Everton were for forty-five minutes. Later, Everton's lasting power had gone and 'Spurs did much more attacking and still much more weaving –sometimes without sense of value, and always without a fiery finish. In short, they had all that second half to show and a blind header by McCormick the only goal to record. It is a quaint game. Still one has to give the palm to the 'Spurs half-back line to their goalkeeper, and to Meek and McCormick for a very entrancing wing game. Duncan spent most of his time conceding free kicks, and Morrison – often timing his charges on the goalkeeper to a lawful degree –namely, when the goalkeeper had possession of the ball –ran amok and finally had his name taken along with others. It was a strange method for 'Spurs to adopt and does not suit them or their famous name. Grant them the value of a draw away from home, but as I said earlier, there is no pleasure to spectators to see the continual drain upon the free kick rule in any game. It just does not suit us; we have gone there to see football played. On Saturday 'Spurs had 26 free kicks against them, Everton 12 –and lots went the wrong way in our estimation, of course –and lots were not seen because the linesmen did not keep watchful eye upon the people who are known by their ally tricks. Everton travelled to London last night, and put up at their customary headquarters, the Victoria Hotel. The tie today may go anyway. One does not forget some rather experiences one may have had in Cup-ties in London without getting reward, versus Fulham, for instance, when Chedgzoy, returning to Lime-street, at night, said to me" I still can't believe we're out of the Cup the way we've played today."
Everton today played Tottenham in a replayed tie with the forward line; Geldard, Cunliffe, Dean, Lawton, Gillick. So that once more Coulter, scorer of a goal in the previous match, was omitted from the team. The formation of the attack is a sensational move, in which Geldard's reappearance and Gillick's return to outside left are striking features. I understand a famous goalkeeper received at the week-end one of those stupid offers from nobody in particular saying that he would receive a £50 note if his side was beaten. The result of the match was sufficient answered The postage marks suggests the letter was the work of a demented man. Every spectator at Goodison Park will have wondered why a linesman flagged when McCormick scored. Most of the onlookers believed it was in connection with the goal, but the incident has a comic ring, because an Everton player, insisting that the referee should take the view of the flagging linesman, found to his horror, that the linesman was merely about to tell of an alleged foul committed by another Everton player! And so another name went down in Dr. Barton's book.
'SPURS' TACTICS PUT EVERTON OUT OF GEAR.
February 22, 1937. Evening Express.
By The Pilot.
Wrong tactics were the cause of Everton having to replay their fifth round F.A. Cup-tie against Tottenham Hotspur today. In the match at Goodison on Saturday, the Spurs set out to stop Everton playing progressive football and Everton played into the hands of their opponents by close dribbling and close passing. The Blues almost paid the full penalty. Often this season I have asked that the old match-winning move of the swinging pas from inside forward to the oppose wing should be fought back to Everton's make-up. On Saturday it was not used once. The only time we saw a swinging, far-flung transfer was when either Britton or Mercer came into the piece. It was obvious to all that Tottenham meant to scrap football endeavour for rugged intervention and they succeeded in putting Everton's attack out of gear, despite the wealth of pressure enjoyed by the Blues. Tottenham tactics were entirely different from what one expected. They have earned the reputation of being a good football side, but on Saturday they did all they could to stop football being played. I was sorry to see it.
31 Free Kicks.
Fouls were all too frequent –there were 31 against Tottenham in the first half alone –and the referee had to administer several cautions. The blame for this, however, does not rest with Everton. They did try to play football. For an hour or more it was a case of Everton attacking and Tottenham booting. It became almost monotonous. Then came Dean's missed penalty; then that shock goal from McCormick when Sagar took his eye off the ball to "spot" the man. Coulter came among two minutes from the end with a sprightly goal to make sure that justice was done. Had it not been for Hall the Spurs would have lost by a big score. He was the hero of the game and one wonders why Manchester United left him go and have since had to search the country for a goalkeeper. The Everton attack was below par because their tactics were wrong, but Gee, Britton, and Mercer were excellent half-backs, and neither Cook nor Jones could be faulted. Apart from one error Sagar came through an easy day well. No Tottenham player –baring Hall – was outstanding, but as "stoppers" they took some beating.
Goodison Match Postponed.
Owing to the F.A. Cup reply today, Everton Football League fixture with Leeds United, scheduled for Goodison Park on Wednesday, is postponed.
EVERTON'S EARLY GOALS.
February 22, 1937. The Liverpool Echo.
In Thrilling Cup Replay.
Home Tie Incentive
Lawton, Dean, and Morrison Score.
Referee Changed.
By Bee.
Everton's changed forward line for the fifth round Cup replay at White Hart Lane, London, today, enjoyed an early success. Lawton, the young player who joined the club from Burnley about six weeks ago, scored in two minutes and Dean followed with a goal after twenty minutes' play. Before the interval (at which Everton led 2-1) Morrison reduced this lead. Early in the second half Everton had a penalty appeal refused –the ball had earlier been out of play –and then 'Spurs had a "goal" disallowed. If Everton win, they are drawn at home to meet Preston North End in the sixth round. Late last night Everton directors met to consider their team for the replayed Cup-tie. The upshot was that Coulter and Stevenson were omitted, the latter because of the effects of 'flu. The changeover to Lawton and Gillick as a left wing pair was rather startling, but the officials of the club considered it was the wisest way to deal with the difficult task. Geldard, barracked at home three weeks ago, came in t outside right, and Dean and Cunliffe were the only members of the attack who kept their recognised. The Spurs had no change in the eleven. Mr. Mee was chosen referee today in place of Dr. Barton who, it is said, was objected to by both teams after Saturday's display. Teams: - Tottenham Hotspur: - Hall, goal; Ward and Whatley, backs; Buckingham, Rowe, and Grice half-backs; Meek, Morrison, Duncan, and Miller, forwards. Everton: - Sagar, goal; Cook and Jones, backs; Britton, Gee and Mercer, half-backs; Geldard, Cunliffe, Dean (captain), Lawton and Gillick, forwards. The Everton right flank had made the first attack, and it came to an end with Cunliffe centring behind the posts. Morrison took a Buckingham through pass with much judgement, and the goalkeeper had to pick up the ball and clear. In two minutes Everton took a startling lead.
Crackerjack Shot.
Geldard would not be baulked, and he went on and on over an outstretched leg, and when he centred, having beaten Grice, the ball was turned out by a back no more than a few yards, and at this stage up stepped Master Lawton to crack a shot so hot and fast, so rushing the goalkeeper Hall saw nothing of it. It was a crackerjack shot, and taken with Lawton's well known first-time fury of pace. He had beckoned Cunliffe to leave the ball to him, and the great joy in the camp of the Evertonians knew no bounds. Lawton's beaming face showed his pleasure. He was grassed by the hand and made a hero. Here was the boy who cost £6,500 making his mark in Cup history, yet a year ago he was but an amateur for Burnley. Tottenham were shocked and stunned, and tried some long-distance shooting, only to prove they were excited and not likely to settle down to goal shots. Yet Morrison from the left made a telling solo effort after Miller had been prominent. Morrison was a much subdued man today, and the whole game had a different atmosphere. Morrison's shot was high and awkward, and Sagar's early safe clearance helped to stabilise the work of the other members of his side. Geldard was having a great innings, and again escaped the trip he weaved inwards after Dean had squared him a pass, Gillick winding up with a shot which mighty have been a goal if the direction had been better. The chance had been there and it had not been taken. All the players seemed to have the sense for playing the game, the result being a grand exhibition, and Lawton now near taking a two goals' lead. Gee stayed, rockily, in the back ground quiet and helpful for the task on hand. 'Spurs backs kicked into touch at every conceivable moment and the first foul was against Meek, who was anything but mild and was plainly advised about the senselessness of recklessness. 'Spurs 'began to play with that cheeky complacence suggestive of their being a better team than they were, so Britton twice stopped their left wing without a thought of them passing him by. Moreover he made one of his perfect passes to Geldard, whose centre was menacing. Mercer followed with a supreme effort along the touchline, Gillick riding the vigorous charge delivered by Whatley. Cook and Jones, in turn, crossed over when Sagar had punched out one of these difficult, testing lobs. Everton's defence was standing up with ruggedness and sure foot. Miller was a bit of a thorn in the pace the 'Spurs were now setting. Buckingham aided one bout with a harmless over-the-bar shot. Gee's long header sent off Geldard to make a corner. Hall caught the ball and tried to bounce it only to find it stick in the turf. However, the going was really very good.
Dean's First-Time Goal.
Geldard weaved in and out the defence four times and passed back to Britton, who offered the ball to any forward who had made the positional change, but none had thought of doing so. In 20 minutes Everton had become two up with a snappy, quick fire effort. A two-step in which the enlivening Geldard beat the back, dispossessing him and centred to Dean, who cracked the ball into the right-hand corner first pop-a glorious piece of practical football, skilled in every link and without thought of delaying the crowning point. The same Geldard was barracked at Everton two weeks ago, and thanked me for championing his cause. Let this be a lesson to the offenders! Geldard has never played better than today –away for those who had given him no chance to be confident. Geldard made another remarkable run, passing all the opposing forces, and winding up with a shot Had had to go to ground to take. It was inspiring football, and the goals had been "pictures." Sagar made one mighty swipe at a very high ball, and the corner he gave led him to another one-hand "swipe away" Duncan started another Spurs' attack, and Mercer kicked out into the crowd at the back of the goal with a venom the spectators who was struck could not relish. Spurs were playing better than on Saturday by 80- per cent, and when Morrison got the ball 20 yards out at the 26th minute, he left fly a beautiful shot to the left corner of the goal –a magnificent drive, a winner all the way. Sagar fell to save and push away another shot at the moment the London crowd was frenzy with excitement, yelling frantic encouragement to the home team to get level. This was grand football, with thrills and fervour. Britton spoon-fed Geldard, whose centre was headed by Dean towards goal-an empty goal –the ball dropping "dead" in the softies turf and being kicked away before anyone could take the chance. Everton broke away again and Lawton was within an ace of converting Geldard's square centre, which Dean allowed to pass on. The game was anything but a repetition of the "brawl" of Saturday. "Hallmarked" was the 'Spurs' goalkeeper's catch of a Britton centre. Everton's right touchline pair were having a field day and Lawton's work was full of thought. Everton must have been glad they refused to listen to Huddersfield's application for Geldard three weeks ago. Dean, two yards from goal, tried to back-heel the ball beyond the line. It was not a fragile touch. It was a full-blood bang and Hall brought off a splendid save. And so we came to the end of a grand half.
Half-Time –Tottenham Hotspur 1, Everton 2.
They Heard Their Fate.
At half-time Everton learned of their chance of being home again in the next round, hence their determination to put every ounce into the lead obtained in the opening half. McCormick had a moderate time, and began the second half by failing to test Sagar when well placed. Miller also dallied till Britton, crossing over from the middle, collared the ball, and ended that effort. Dean looked to be through as the Spurs stopped for offside. Play went on, but Dean could not quite reach the haven and Gillick's effort was not one of his best. Gillick was going through a moment later when he was palpably tripped. The referee very adamantly refused to listen to argument until the Spurs practically forced him to consult a linesman, who held the ball had gone out to play for a throw-in, and so the penalty kick hubbub subsided with Everton disappointed. No one could fall to see the penalty offence, which counted for nothing, as the ball had been out of play. Miller came bounding along with a splendid drive, Sagar poked out the shot and Gee headed away without getting the ball far away, and it was left to Britton to make a another timely header when 'Spurs were on top of us for the moment. Miller sprung centre on the top of the crossbar after Cunliffe had been dispossessed. Everton's reply was due to Geldard, who leaped over the foot and crossed the ball back too gently, Britton being unable to make the goal shot. The cost of this looked ominous when from a corner Morrison headed a goal. The referee stood close up and negative the goal and the shouts by giving a free kick for someone pushing Sagar. Lawton tried to increase the lead with one of those astounding quick decisions he makes to shoot and the ball luckily struck defender. Could Everton keep their away win? Sagar made a grand catch, and Gillick, running through, struck the goalkeeper, the ball dropping to the untenanted goal, where there were three 'Spurs, and no other Everton player. Dean scored after 66 minutes; spurs 1, Everton 3. Morrison scored for Spurs after 68 minutes; Spurs 2, Everton 3.
GELDARD HERO OF EVERTON'S CUP FIGHT.
February 22, 1937. The Evening Express.
Paves way To Goals Against 'Spurs.
Lawton Scores In Two Minutes, Dean in 20.
By The Pilot.
Thrills came fast and furiously in Everton's fifth-round F.A. Cup replay against Tottenham Hotspur at White Hart Line today. In two minutes Everton were ahead, with a great goal scored by Lawton. The 17-year-old £6,500 star, had been drafted in place of Stevenson, who has had a recurrence of flue.
Dean put Everton further ahead with another fine goal. Both goals were the result of great work by Geldard, another Everton change. Geldard played at outside-right and Gillick moved to outside-left, the position in which he was playing when Everton signed him for £6,500. Geldard was the man of the match. He gave the finest display of wing play I have seen for a long time. The 'Spurs reduced the lead after 26 minutes with a goal by Morrison. Everton's changes were made after a midnight meeting and talks this morning. The Spurs were unchanged from Saturday. Teams: - Tottenham Hotspur: - Hall, goal; Ward and Whatley, backs; Buckingham, Rowe, and Grice half-backs; Meek, Morrison, Duncan, and Miller, forwards. Everton: - Sagar, goal; Cook and Jones, backs; Britton, Gee and Mercer, half-backs; Geldard, Cunliffe, Dean (captain), Lawton and Gillick, forwards. Referee Mr. H. M. Mee, (Nottingham). The substitution of Mr. Mee, of Nottingham, as referee, for Dr. Barton, was a surprise. More than 500 Liverpool enthusiasts travelled down for the game, which was played on a pitch slippery after morning rain. The Blues' supporters were armed with rattles, Bells, and hooters. Some of them were attired in "toppers" and coats emblazoned with Everton's blue and white colours. Everton lost the toss, but were quickly astir, thanks to the right wing. Cunliffe, however, placed behind. Morrison's distance header did not bother Sagar. Within two minutes Everton had taken the lead and it Lawton, the 17-year-old player, who did the trick. It was his first Cup-tie, but he took his chance in magnificent style. Lawton started the movement by a swinging pass to the right. The ball went in to touch and Geldard received Britton's throw-in and beat Whatley in his stride. The outside right came up to the goal-line and passed back a short centre which Lawton received low on the turn. Lawton waved Cunliffe side, before crashing the ball into the roof of the net. It was a perfect right-foot shot, taken on the half turn.
'Spurs Fight Back.
The 'Spurs fought back in brighter and better style than anything they showed on Saturday, but Meek's shot was yards wide and then Sagar came out to pick up, despite the Morrison challenge. Miller played some excellent football on the left, and he got the ball back for Morrison to shoot on the turn, Sagar beating the ball away. Off went Geldard from Dean's pass and he lobbed in perfect centre, which Hall fisted away from the head of Dean. Geldard was playing excellently, and now he ran inwards, beating two men before edging a ball across to Gillick. The Scot took his shot on the run, but was too high. The Spurs' forwards were operating with much greater skill than on Saturday. They had keener ideas and moved with greater precision. Everton were always showing up in a dangerous light, and I liked the way in which Lawton went into the tackle to stand his ground and help Gillick away. Twice Gee came across to stop Miller. Then after further choice combination between Britton and Geldard. Sagar had to double-fist away from Miller's centre, with Morrison in hot pursuit. Cook dallied and then tried to trick Morrison. He paid the penalty and Duncan was able to cut through and shoot. It was a weak effort and Sagar was untroubled.
Dean Makes It Two.
In 20 minutes the genius of Geldard again paved the way for an Everton goal and this time it was Dean who did the trick. Geldard had robbed Whatley and given the ball back to Britton. Britton moved forward and then fed Geldard, who raced ahead, came up to the goal line, and middle a tasty, low centre, which Dean tapped into the net at lightning speed with his right foot. Two up in 20 minutes! Well, it was just what Everton should have done last Saturday. Geldard was the man of the match. Now he received just over the half way line and swerved his way through the Tottenham defence, surviving four tackles and finishing with a cross shot which Hall gathered on one knee.
Sagar In Action.
Sagar had to swing a trusty fist to turn a ball away for a corner as McCormick was getting busy and then he punched away the corner. Mercer was the next to concede a flag kick, booting away in a safety-first mood when McCormick was again getting busy. It was hard and exciting football. Morrison reduced the lead in 26 minutes with a great shot. The attack had developed on the left following a corner kick. Morrison took over from Duncan to score with a perfect ground shot. Right afterwards Morrison came again and this time Sagar fell in trying to turn the ball aside and Mercer completed the clearance. The Everton defence was none too safe under pressure, but Gee was playing grandly and rallying his forces. The Britton-Geldard combination was soon at it again, and from the winger's centre, Dean beat Hall, but Ward had fallen back to prevent a goal. There was no stopping Geldard. It was the finest exhibition of wing play I have seen for many a moon. He was off again, now. Away he went to the line, to turn back a ball which Dean allowed to go through to Gillick whose shot was charged down. Then Cunliffe came through with a shot which swerved wide. The 'Spurs were nonplussed by the skill of the Everton right wing, which the Blues exploited persistency. Geldard want round Whatley and Grice, and twice Hall had to come out to take charge of centres. Twice Everton failed to score from close up owing to the clever covering.
Dean's Great Effort. Next a mighty effort by Dean, Britton sent in a first-time centre instead of feeding Geldard, and when Rowe failed to clear, Dean, standing with his back to the goal, tried's back-heel shot which almost took Hall by surprise. McCormick twice became aggressive, but Sagar cleared. Praise for Cook, for a wonderful recovery when Morrison was breaking away.
Half-Time Tottenham 1, Everton 2.
Everton deserved their interval lead in a game which was streets ahead of Saturday's match. McCormick had his chance on resuming but only shot outside. Then Britton came along with a stirring intervention. Geldard was soon off again. They named him "the Everton Express." Everton might have made it three but Hall turned aside Dean's shot by falling at the leader's feet. There was a remarkable incident about eight minutes after the resumption. The referee allowed play to go on after a signal for a foul throw, Gillick cut in and was brought down. The referee gave a penalty and would not listen to the Tottenham appeal. At last he agreed. The linesman ran on to the field, as a matter of fact, and then the referee reversed his decision, giving a throw-in. Miller broke away after Dean had dallied, but Sagar dived out to turn a centre aside, and then he leapt up to punch away the return. The Spurs were full of fight and the game was not over by a long, long way. Gee was the inspiration of the Everton defence. Cunliffe lost possession, and Miller ran through to drop a centre on the bar and over. Everton were right on the colour at this stage. Geldard came into the picture again, beating Whatley easily, racing up his line and then turning the ball back for Britton. It ran just a little too quickly, however. Morrison headed into the net from a corner, but the goal was disallowed for a foul on Sagar.
"SCHOOLBOY" OFFERS BRIBE TO 'KEEPER
Dundee Courier-Tuesday 23 February 1937
ANONYMOUS CUP-TIE LETTER
The effusion of a 14-year-old schoolboy " was how Mr W. C. Cuff, chairman of Everton Football Club, described to a reporter last night a letter received by the club's international goalkeeper, Sagar. The letter, which was anonymous and bore the Mansfield, Notts, postmark, read—" If you see that you lose to-day you will receive £50 in due course." The match was last Saturday's cup-tie with Tottenham Hotspur. Everton did not lose. Mr Cuff, as the team were leaving London last night, after being beaten by 4 goals* to 3 in the replay, added that no further action was to be taken in the matter. Sagar, who took part in yesterday's r atch, refused to make any comment beyond saving that when he received the letter he immediately handed it to the club officials.
TOTTENHAM HOTSPUR 4 EVERTON 3 (Game 149)
February 23, 1937. The Liverpool Daily Post.
Everton Pass Out.
Sensations After 3-1 Lead.
Dramatic End To Great Tie.
Two Debated Points.
By "Bee."
Everton passed, to the Cup rest after a glorious battle with Tottenham by a score of 4-3. That is now ancient history. The game, however, had so many extraordinary turns that the matter cannot be left in the simple factor. Let us view it this way, Everton led by a goal, by two goals, by 2-1, at half-time, by 3-1, than 3-2. In the last four minutes of this dramatic game came two goals to Spurs, one a minute from the end. Thus Everton were leading four minutes from the end of the battle, and had to lose honour to the Spurs in a evening that had set seemed possible because the Londoners had in the late stage appeared to have ousting themselves. The late goals of all was one of there damaging things hard to understand and of lasting quality. Miller had gone up the left flank and Cook tried to tackle him, failed, and tried to pull him down, failing again. Miller's centre was a bad one as it struck the incoming Gee on the back. Thus the winger was fortunate to have a second chance to make his centre. The centre ended everything, the ball was in the net in a flash. Other things crowd upon the memory from this sporting game, a game in direct contrast to the helmed by Dr. Barton n Saturday, when the teams drew in the last minute. Here was Mr. Mee, of Nottingham doing his work splendidly, yet having to face a battery of inquiries concerning a decision that might have brought a penalty kick to Everton.
The Penalty Incident.
The position, stated simply was this; A throw-in had been made, and apparently it was not a sound throw, therefore the rules says the ball must be thrown in by the opposite side. Play had gone on, however, and Gillick had very patently been brought to earth. The referee pointed to the penalty kick spot. Tottenham called upon the referee to consult a linesman who had flagged for an offence unknown. Now it is the rule of the game that a referee can exercise his judgement in letting play continue; if by stepping it he would hinder the innocent side –this refers to fouls also states that it matter naughty where the ball is at the time of a penalty kick offence –but here again, one questions whether the rule effects a throw-in. The throw-in was taken again, and I am bound to confess it reads very lawful, because no matter what happened after the wrong throw-in play had become dead, thereby and the after proceedings do not enter into the argument. The ball was dead the moment it had had been delivered, and the point of resumption must be at the thro-in spot; the intervening run of the ball or tripping incident not being allowed to count in the mind of the referee. He is not given an option to disregard a false throw. He must restart the game. This he did –and Everton contend he was wrong in his reading of the law.
An Offside Goal?
Only one other matter is in a state of argument; namely an alleged offside goal to the 'Spurs'. To y mind the case was an offside case, but no linesman signalled, and the referee's judgment on the matter was that the scorer was in a proper position. So we must pass on to the other incidents of this truly great game, one recalling the Everton-Sunderland cup-tie two years ago. Everton, with their unusual forward line, which included Lawton as inside left, and Gillick moved over to outside left with Geldard brought back to outside right took up the game in a splendid spirit and in quick time Lawton had scored. Geldard ploughed through the ranks of Grice and Whatley with a grace and ease and feint quite upsetting to the 'Spurs defence. It appeared a one-horse race when Dean scored a second goal. Lawton's goal had been taken swiftly as is the custom of this Burnley boy of 18, and Dean's goal seemed certain to put an end to the home team's labours, especially as they laboured heavily. Morrison, who had spent most of his time at Goodison Park in the first game barging at everyone, now played his best game, and his score immediately after dean's first goal was a trim affair, a longish shot low and true. At half-time Everton appeared comfortably placed if they could stand the pace of these fast-moving 'Spurs, who had made merry in the second half at Everton.
Thrilling Battle.
Everton made it 3-1 by means of Dean, scoring close in. Thereafter it was a battle in which the London side, encouraged by their spectators appeared to find new life and attack. Everton's defence began to wear out. Dean gave directions and worked with rare vigour to hold the lead, but when McCormick centred for Morrison to head through Everton were shaken –this was the debated offside blow. Even then it appeared as if Everton could hold out because they were still making deadly raids, mainly by means of Geldard, who never had a better innings, prompted as he was by superlative display of Britton and, in minor part of Cunliffe. The crowd roared to the bitter end and four minutes from time an indescribable scene arose, in which the ball was squared for Meek to take the score 3 all.
Lively Scene at Finish. There were a few minutes left for play, when Miller started the fatal wound, having the good fortune to have two centres where one had been spoiled, and Morrison took his third goal of the day. Papers were flung in the air by fervid spectators, the crowd rushed on to the field and carried off Morrison and others. It had been a grand test, with an extraordinary and unexpected finish. Nevertheless, one had to confess the "better" play had been given to the losers, who had never been headed from the sixth minute to the 88 minute. Dean tried to blaze an equaliser in the last flicker of play, and goalkeeper Hall saved the shot. No, any team scoring three goals away from home has done well in every respect. It was at full back, there was a weakness, the lack of tackle being patent for the last half-half, Everton would have won the game by a handsome margin, impossible to reach by Spurs, if there had been a trifle more definite attention to Geldard's initial work, although Geldard himself was faulted at a crucial time, first by going too far before shooting, and second by passing back in timid fashion, so that defender could cut in before Britton could hope to take the gifted chance.
Geldard, Gee and Britton.
It was a match to remember because of the score, of the pulsating finish, the unexpected finale and the magnificence of Geldard and Britton and Gee. Gillick did not seen to fit the outside left position once again, but Lawton's inclusion showed this young man's great power of shot, his timing of a chance, and his general manoeuvring, Lawton played like an old gentleman of the game. Mercer too had a good day, as also Jones and Sagar. 'Spurs could not be singled out their backs were easily outpaced and sent out of position, Rowe was good without being so good as on Saturday, and it was chiefly McCormick's flashes and Miller's second half display, together with whole-hearted endeavour, that made Spurs have a part-chance of stealing Everton's thunder. It was a shooting finish to a memorable match, and Everton took their surprise defeat with splendid demeanour, although being sore over the two points I stress in the earlier part of this survey. Tottenham Hotspur: - Hall, goal; Ward and Whatley, backs; Buckingham, Rowe, and Grice half-backs; Meek, Morrison, Duncan, and Miller, forwards. Everton: - Sagar, goal; Cook and Jones, backs; Britton, Gee and Mercer, half-backs; Geldard, Cunliffe, Dean (captain), Lawton and Gillick, forwards. Referee Mr. Mee, Nottingham.
ALLEGED ATTEMPT TO BRIDE GOALKEEPER.
February 23, 1937. The Liverpool Daily Post.
Mr. W. C. Cuff And "Schoolboy Effusion"
"The effusion of a 14-years-old schoolboys" was how Mr. W. C. Cuff, chairman of the Everton Football Club, described to a reporter last night a letter received by the club's international goalkeeper, Sagar, offering £50 to lose last Saturday's cup-tie with Tottenham Hotspur. The letter which anonymous and bore the Mansfield, Notts, postmarks, read; "If you see that you lose today you will receive £50 in due course." Everton did not lose. Mr. Cuff, as the team were leaving Euston last night after being beaten by 4-3 in the replay-tie at Tottenham, added that no further action was to be taken in the matter. Sagar, who took part in yesterday's match at White Hart Lane, refused to make any comment beyond saying that when he received the letter he immediately handled it to the club official.
EVERTON'S GOOD-BYE TO THE CUP
February 23, 1937. The Liverpool Daily Post
By John Peel.
The glorious uncertainty of football had yet another illustration yesterday when Everton were beaten in the cup replay at Tottenham. It seemed impossible that Everton could lose when holding a lead of 3-2 four minutes from time, but the unexpected happened and Everton's hopes were completely shattered. These two games will be remembered when Cup history is being discussed. Rarely have two such sensational finishes marked games between two sides in the space of three days. It must have been very upsetting for the Everton players and their thousands of supporters in Liverpool to lose their grip of the match and another home tie in so surprising a fashion. It was a great shock to those who read of the mid-second half score when they saw the final result. But such is the luck of the cup.
Over 100,000 Spectators.
The two games attracted 104,121 people who paid £7,667. Yesterday the attendance at White Hart Line reached 46,972' and the receipts £3,250. On Saturday at Goodison the figure were, attendance 57,149 and the receipts £4,417.
Everton' Match Postponed
Everton were due to meet Leeds United tomorrow, but the game has been postponed.
CUP LESSON NO. 1 TIGHTEN UP DEFENCE.
February 23, 1937. The Evening Express.
Fatal Slips by Everton.
Lawton Star Inside Forward.
By The Pilot.
Everton learned important lessons from their dramatic dismissal from the F. A. Cup in the replay at Tottenham Hotspur yesterday when, with the game in their pockets, three minutes from the end, they collapsed. The lessons are that 17-year-old Tom Lawton is going to make a brilliant inside forward; that Albert Geldard is still a wonderful outside right, despite the unfair barracking he has received at Goodison Park; that the present defence is slow in recovery. They learned another lesson –that a game is not won until it is lost. The Blues were leading 3-2 with only three minutes to go. There was slackness on the right flank of defence and 'Spurs banged in two sensational goals to win 4-3! Rarely have I seen anything like it. The blow to Everton was crushing, for they had been ahead since the first two minutes. The joy of the spurs was overwhelming. Players hugged each other as they left the field; spectators invaded the ground, and from the big stand there was a shower of programmes to signify delight. The Cup Final will have nothing on this game.
Vital Decisions.
Everton were two up in 20 minutes through Lawton and Dean, then Morrison reduced. With half-an-hour to go Dean made it 3-1, and then came a vital decision. Everton stopped when Morrison went through from an apparently offside position, and placed into the net. The referee gave a goal. Before that Everton had been awarded a penalty a decision which was reversed because two minutes before the linesman had flagged for a foul throw. Twice Cook allowed himself to be beaten easily by Miller, and Tottenham fighting like tigers, snatched victory when defeat stared them in the faces. Everton were the better side right up to the last vital stages. They did not deserve to lose, but should have adopted a keep-what –we-hold policy in the closing minutes. In Britton and Geldard Everton had the two best men on the field. Britton was superlative, for with Cook shaky and Cunliffe right out of the picture –I have never seen him play so ineffectively –he had to shoulder the burden of the right flank. How well he did it.
Geldards Comeback
Britton prompted the lighting Geldard in glorious style, and right up to the time he received a blow Geldard was unstoppable. It was a great come-back. Gillick was hardly so much in the picture as he is when on the right flank, but this was due more to the fact that Geldard was the man the Blues exploited on every possible occasion. Dean was a stirring leader and Lawton the best inside forward on the field. His ball control alertness in running to shooting positions and his marksmanship were excellent. I do not think Everton will leave him out of the side, for he is a boy who has all the equipment which goes to make up brilliant player. Gee was the mainstay of the defence –the man who covered the mistakes of others –and Mercer was a zealous worker. Jones was safe at left back and Sagar made good saves. Everton gained glory in their defeat which was undearved, but they must tighten up the defence.
TWO BONES OF CONTENT ARE ALL THAT REMAINS OF EVERTON'S CUP HOPES
February 23, 1937. The Liverpool Echo.
But It Was A Grand Defeat.
Penalty Decision And Offside Goal.
Charlie Buchan's Faith In Face Of Defeat
Bee's Notes.
Everton will have our sympathies over this cup defeat. Apart from the joy of the match, one of the most compelling and stirring they have ever played, one has now to face inquiring minds concerning two matters of argument. First the penalty kick granted to Everton by the referee, second, an offside goal. I do not propose to stress any phase of the offside goal because neither linesman flagged and the referee adjudged it onside. We must take three things as read because I do not remember any complaint from our area regarding any tainted offside goal ever awarded to our teams. The second point is vastly entertaining and interesting. On the far side of the ground, under the new grand stand, a throw-in has been taken. It has, its appears, been taken in a manner. Play proceeds and Gillick is thrown a rather appreciable time afterwards. The referee Mr. Mee, not Dr Barton, has signalised a penalty kick. Spurs proclaim that a has let his flag go to rest. The referee back play to where it had been prior to the touch-line incident. Now Everton officials declare the penalty kick should have been awarded as play had proceeded so long, and because a wrong throw should not wipe away a spot kick. It is pointed out that the laws give a referee power to overlook a foul if by doing so he helps the side which has been offended and offending. That rule specially states the referee's power in the matter of allocation of free kicks. But it does not entitle a referee to say, "We well forget about a wrong throw-in; on with the game." That is the big difference. Play was "dead" if a wrong throw had been signalled and conceded. It is not on all fours with the referee's power to ignore a trip if the tripped member goes on and scores. Refraining cannot enter this matter of a throw-in. The game must be started at the original point of the throw-in –as was done on this occasion. Of course it is difficult to say how long a referee would allow play to continue in this way, if he had not, as occurred here, noticed the linesman' signal. The referee would use his sense in such matters. Having been brought to the false throw-in he had no opinion but to go back to that point and start the game afresh, taking off time if needs be for the portion of play that was "dead play."
Stars And Some Stripes.
What with the trumpery childish work of some fool in Mansfield suggesting a bride to Sagar and the goals account yesterday; this cup-tie became just as memorable as that which Everton won against Sunderland, and the game wherein Sunderland surprised early-risers, many years ago at Everton. Here most of the crowd would see the end of this game, because it was a game that got you shouting, leaping and timing –sure evidence of the tenseness of the struggle. It was an epic, and the cruel thought clings to us that Everton had played so well as a whole and better than Spurs in the matter of class, yet compounded and collapsed four minutes from the end, conceding two goals. The stars of the game were with the losing side. Nothing could equal the brilliance of Geldard, who has never played better. Britton was in superlative form, and Whitley and Grice were made to look commoners. It was the stripes of the last few moments that killed Everton's cup chance, and the crowd was dumbfounded when they saw two goals popped on in that spell. It was well nigh impossible to credit Everton leaving beaten when they had been leading Spurs 3-2 four minutes from the end. Look as it another way –there had been a lead to Everton from the second minute to the 86th minute. They had led everywhere in a seven goal, battle and left the field be-headed. It remained me of Chedgzoy's famous remark after being beaten at Fulham –he arrived at Lime-street still declaring he could not believe they were out of the Cup. It was so now, and one bright thing was the calm and sporting way in which Everton took their cruel fortune.
Famous Old Players' View.
Charlie Buchan said "The best team lost," Tom Clay, who severed Spurs in their cup ties for a generation, said "It is shocking luck to have done so well away from home and then he pipped after playing grand stuff" Arthur Grimsdell and Tom Bromilow, contestants for the left half for England for so many years, each vowed that they would not like to belong to the losing side to view of their grand display of football and their leadership for the greater part of the whole of the game. These are unsolicited testimonials. It was a pity either side should lose in any way, and an extra half hour would have been gruelling, but at least it would have been fitting the occasion and the state of the team's work. Even now it is hard to reconcile the result yet we noticed the gradual fall away in a certain department of the team. Mercer began to go through and the tackle failed again and again. Showing the fortune of cup war it need but he said that the crowning goal which sent London into ecstasies, was a work of art on the left. The tackle failed, the ball might have been cleared into the crowd, and there was left an aching gap, Gee came across to fill it, and the first centre had failed through the ball striking Gee's body. Now a winger does not expect to get a second chance in these circumstances. Here Miller got another centre when he had not earned it and that's how the goal came which sent Everton out of the cup. Morrison having scored three and Meek one. Morrison was a changed man from Saturday. Now he recognised authority, and his far flung recklessness on goalkeepers and defenders was missing and in its place came some grand shooting 'Spurs won because of Morrsion's shooting –nought else, because as a team they played better than at Goodison, without being able to hold a candle to Everton's all-round superiority.
Not For Sale.
Everton's cup defeats have often brought a trainload of inquires from shareholders who want to know why this of that man was chosen. Brighton, a Cup Final, and other games have had this annual general meeting discussion. It must have taken the chairman and his directors much thought to frame a forward line such as was fielded. Yet Geldard answered his critics and, while Gillick was not happy at outside left –any more than he was for a year a season or more ago –the line as a whole was working with goal-result. Lawton is a lasting impression and memory. His shooting from awkward angles and his swerving runs suggested an old-timer of the game, not a boy of his tender years. He was great success and started the mission with a grand goal. Dean, working like a hero, got two Lawton has not once failed to score in any game since he joined Everton's first and second teams. But Geldard's case is worth special notice. He was barracked unmercifully two weeks ago, at his own ground. I pleaded his cause and he wrote saying "Thank you," expressing the belief that some of their players were happy to play away from home, but did not take kindly to playing at home. Geldard's triumph set the transfer memory moving. Huddersfield's manager as I told you weeks ago, asked Everton to part with Geldard "as the crowd was getting at him." Everton said one word, "No." It was a wise decision. Britton's game, together with Gee and Jones and Sagar and Mercer earns special praise. To get three goals, a penalty kick that was taken from them and a lead for so long is sufficient evidence of the way the whole team played. The lapses late on were fatal. And so we pass on to League affairs for two months, Liverpool making the journey to Bolton Tomorrow, of which i shall tell you everything in tomorrow's paper. London by the way, was full of praised for Everton, but Spurs passed on to another home game with a Lancashire club in the next round of the Cup. It hurts all Evertonians present to think of that because the losers had played clean, bright, almost classic football with punch. One had to go –it happened to be Everton.
LAWTON AT INSIDE RIGHT
February 24, 1937. The Liverpool Daily Post
By John Peel.
The Everton side to play Birmingham on Saturday at Birmingham, shows two forward changes, one positional compared with the Cup side. Lawton is retained, but goes over to inside right, which allows Stevenson to return as partner to Gillick at inside left, while Geldard retains the outside right berth. This will be Lawton's third game with the senior side and a different position each time. The team is; Sagar; Cook, Jones; Britton, Gee, Mercer; Geldard, Lawton, Dean, Stevenson, Gillick. The Central League team includes Coulter t inside left for the game at Goodison Park against Stoke City, the side being; King; Jackson, Thomson; Bentham, Jones, Watson; Leyfield, Hurel, Dickinson, Coulter, Trentham.
EVERTON'S TWO CHANGES.
February 24, 1937. The Evening Express.
Lawton At Inside Right Against Birmingham.
By The Pilot.
Tom Lawton, he 17-year-old player, gets his big chance to secure a regular place in the Everton team. He has been chosen to play inside-right against Birmingham at St. Andrew's on Saturday. He displaces Cunliffe. It will be Lawton's third first team appearance with the Blues, for whom he has failed to score only once –against Bury Reserves –since he joined the club from Burnley. On each of the three first team appearances he has occupied a different position. He played centre-forward against Wolves, and on Monday gave a fine display at inside-left against Tottenham Hotspur. Alex Stevenson will again be fit and so resumes at inside left, while the success which attended the return of Geldard to outside right on Monday has induced the directors to retain him in that position, Gillick operating on the left. The remainder of the team is unchanged. Everton; Sagar; Cook, Jones (JE); Britton, Gee, Mercer; Geldard, Lawton, Dean, Stevenson, Gillick. Coulter will play inside left in the Central league team to oppose Stoke City at Goodison park. Everton Reserves; King; Jackson, Thomson; Bentham, Jones (TG), Watson, Leyfield, Hurel, Dickinson, Coulter, Trentham.
REARRANGED EVERTON MATCH
February 26, 1937. The Liverpool Daily Post
By John Peel.
Next Wednesday at Goodison Park Everton meet Leeds United, the match having been postponed owing to the Cup tie with Tottenham Hotspur. The kick off is at 3.15. The Everton "A" side have an attractive match at Bellefield, West Derby tomorrow, 3-0. When they meet Earlestown Bohemians. Everton are top, but Bohemians by winning their remaining matches, can overtake them.
EVERTON TEST LAWTON
February 26, 1937. The Evening Express
By The Watcher.
Chief interest in Everton's visit to Birmingham tomorrow will centre on the appearance of Tom Lawton, the 17-year-old forward, at inside-right. This young Lancashire boy –he will not be 18 until October –has a chance of securing a regular place in the Everton first team. If he plays as well tomorrow as he did at inside left at Tottenham on Monday, I think he will achieve that distinction too. He has the right ideas, can control a ball well, and has a terrific shot in either foot. Everton; Sagar; Cook, Jones (JE); Britton, Gee, Mercer; Geldard, Lawton, Dean, Stevenson, Gillick.
THE McKENNA MEMORIAL MEETING
February 26, 1937. Liverpool Echo.
Everton's New Forward Formation Has Big Possibilities.
Bee's Notes.
With mid-week matches for both our Merseysides there is not a great deal of prospecting for the League games tomorrow. Both hear a special ring of interest because Brentford's visit to Anfield is timed for the important ceremony of the McKenna memorial tablet, being unveiled by Mr. CW.C. Cuff, of the League and F.A. Scotland, Ireland and Wales will send their representatives for this occasion, one that marks the McKenna reign at Anfield as hon. secretary director, chairman &c.
Everton at Birmingham, meet a side that has gone the right way since Beattie took the place of Jones, and added zest to the proceedings. Everton, however, after being left unaltered in teams formation for many weeks with happy result, have now taken a new attacking turn –the reappearance of Stevenson on the left should be helpful to Gillick, and Lawton's appearance on the right wing may result in a remarkable pairing of uncommon players. Indeed, Everton's new frame of attack lends quite a new and refreshing air to their work, and the rest of the season my reveal unexpected points commanding the Goodison Park spectators to continue his support to the last day of the season. Everton, by their recent games, have shown the hoodocism, and it is not a lasting disease. Watch them, for this important commentary in the Echo. Everton; Sagar; Cook, Jones (JE); Britton, Gee, Mercer; Geldard, Lawton, Dean, Stevenson, Gillick.
EVERTON'S ATTACK
February 27, 1937. The Liverpool Daily Post
By John Peel.
Everton can secure a high place in the table if they settle down to make the most of their remaining engagements. They are due at St. Andrews, Birmingham, today, where they will find stern opposition for the Midland side who have won two and drawn two of their last four matches are not yet out of the wood. It remains to be seen whether the attack as at present constituted, with Lawton at inside right, will prove effective, but the line looks good. Birmingham; Hibbs; Tragg, Barkas; Brunskill, Fillingham, Devine; White, Jenning, Beattie, Harris, Norris. Everton; Sagar; Cook, Jones (JE); Britton, Gee, Mercer; Geldard, Lawton, Dean, Stevenson, Gillick.
OFFSIDE TACTICS LEAD TO EVERTON DEFEAT
February 27, 1937. The Evening Express, Football Edition.
Blues' Error At Birmingham.
Attack Plays Well But Lacks Thrust
By The Pilot.
The exploitation of the offside trap has again paved the way to Everton's undoing. It led to their 2-0 defeat by Birmingham at St. Andrews. The Blues gave away a goal in 10 minutes, and their lack of thrust in attack negatived their attempts to recover. Lawton was the one marksman of the day, but received little luck. Beattie and White scored for Birmingham. It was a case of ploughing through mud. The heavy rain had the ground in a bad state. Everton played in white jerseys, and black knickers. Birmingham ;- Hibbs, goal; Trigg and Steele, backs; Brunskill, Fillingham and Devine, half-backs; White, Jennings, Beattie, Harris, and Morris, forwards. Everton:- Sagar, goal; Cook and Jones, backs; Britton, Gee, and Mercer, half-backs; Geldard, Lawton, Dean (captain), Stevenson, and Gillick, forwards. Referee Mr. T. Thompson, (Leemington-on-Tyne). Everton, as usual, were first away, but the ex-Liverpool player Billie Steele, proved a bulwark. Jennings came through with a sharp shot after good work, by Morris, and Hibbs had to double-fist away from Britton's free kick after the electric Geldard had been grounded. The best move of the game so far came in an Everton raid, when Lawton pushed the ball through the middle and Dean ran ahead and let go a left-foot shot. Hibbs dived out and succeeded in turning the ball against the post. Trigg completed the clearance. Hard luck, Everton! In ten minutes Beattie gave Birmingham the lead. The goal was yet another instance of the failure of Everton's offside trap. The ball was slipped through to Beattie with Everton vainly appealing, and the ex-Wolves player scored in the same manner the Wolves' forwards did a couple of weeks back. Beattie just walked up to Sagar and kicked the ball home. Everton were serving up classic football for all this, and they fought back. Again the ball was slipped to the left, Hibbs having to kick away from the goalmouth to prevent Gillcik scoring. Gee was doing grand work and once again Everton's right flank was proving a potent factor. White made two fine runs and once brought Sagar into play with a sharp centre which had to be fisted away. Stevenson used the ball beautifully to put Gillick through on two occasions, and on the second occasion Gillick was through without opposition. Yet he pulled his shot, which flashed by the post.
Gee's Fine Work.
Gee, was having a grand game and Geldard was maintaining his form of Monday despite the fine tackling of Steele. Everton had the balance of play, but there was much to admire about the quick approach work of Birmingham. Sagar conceded a corner and fisted the ball to the touch line. The crowd shouted goal when Brunskill hooked the ball across the face of the goal. Everton had an inactive spell, due to the fact that attacks fell off because no one was up to polish off the raids. Play was confined to midfield, then Dean came out with an enterprising effort to get Geldard through. The winger raced almost to the goal line before pushing the ball back and there was no one there to do the rest. Dean tried a shot which swung outside with Lawton right in position. Then Sagar leaped up to take charge of Morris's brilliant centre before jumping across to save from Harris. Gillick, Everton's chief marksman, came along with another shot, but lacked elevation. Cook brought down Morris on the edge of the penalty area yet it was Sagar who took command of the situation, even after being drawn out. Gillick was held up by a grand Trigg tackle before White headed inches over the top from Devine's free kick. This was excellent football, keen and fast. Lawton's spirited run was held up by Fillingham, and after some fierce tackling by Jones, White won his way through and sent a grand shot inches over. A fine Everton raid was ruined by offside.
Half-Time Birmingham 1 Everton 0
A photographer told me during the interval that he thought Beattie was fully two yards offside when he scored and he was in an excellent position to see. Harris was nearly through on resuming, the ball being edged away for a corner. Then Sagar delighted with a perfect catch. Lawton contributed another of those long, raking dribbles and when he needed aid, found none. Soon Lawton was off again. He beat three men at pace and with grace, and then when within an ace of his shot, as grounded. Mercer tried to join the marksmen, but lacked, direction. Beattie got through and turned the ball back for Harris to shoot at short range. It was a goal all over, but Britton turned his back to it and received the impact. A lucky escape.
Lawton Outstanding.
Lawton was outstanding in Everton's attack, despite the fact that he had received a bump in the face in the first half, his ball control and energy being evidence of great promise. Everton had one of their brightest spells after Geldard had shown everyone a clean pair of heels. He slipped it back along the carpet for Hibbs to dive out and grab the ball away from the feet of Dean. The save of the day came from Sagar Mercer had handled and Brunskill's free kick left Harris with a perfect heading position. Harris took it well, heading the ball towards the far corner from five yards, but Sagar flung himself out and pushed the ball around the post.
Birmingham Two Up.
In 67 minutes Birmingham made it two, White being the scorer. Mercer failed in a tackle when he had plenty of time, and the ball was slipped through for White to give the defence the "go by" and score with a shot which Sagar touched as he dived, but which bounded into the net. Lawton had two attempts at a penalty line free kick, and he shot so hard that Fillingham was laid out by the force of the shot. Lawton then came along with a surprise shot which failed to find a billet. The football continued of excellent order. A Stevenson volley sailed inches over. It was a fine game between two good teams, although the Everton attack lacked its customary thrust. Final Birmingham 2, Everton 0.
BIRMINGHAM ON TOP
February 27, 1937. The Liverpool Football Echo.
Everton "Well Away" Again.
Gift For Beattie.
By Bee.
Birmingham did their moves in practical manner? Everton took three relives to try to equal the opposition. Dean hit the wood before Beattie scored what may have been an offside goal.
Birmingham ;- Hibbs, goal; Trigg and Steele, backs; Brunskill, Fillingham and Devine, half-backs; White, Jennings, Beattie, Harris, and Morris, forwards. Everton:- Sagar, goal; Cook and Jones, backs; Britton, Gee, and Mercer, half-backs; Geldard, Lawton, Dean (captain), Stevenson, and Gillick, forwards. Referee Mr. T. Thompson, (Leemington-on-Tyne). Lawton, at inside right, was the unusual best of the Everton side at Birmingham, and Stele, acting for the damaged Barkas was Birmingham's change. Birmingham had to defend early on, and when they moved off their passing was as well timed as White's far-flung shot was ill-timed. Gee was steadfast and true, fouled but not disturbed and Geldard got two bumps, which brought about free kicks and the second against Steele with a Britton lob from the touchline following. Lawton took steady aim at a centre and was many yards out of his reckoning. However, there was a lot of wind, and the ground was soupy. Jennings shot near after Morris had beaten Britton to the tackle. Gee leapt so high one wondered whence came his height till one remembered he was one of the tallest of the twenty-two men. Mercer got a good hand for individual work and his pass was the acme of accuracy, yet not more so than the fine partner of Britton and Geldard, who brought out the remarks of the Brums, "on football Sir." Sagar had to make one punch away and Gee another clearance.
Luck Of The Game.
The luck of football Dean struck the upright with Hibbs well beaten after Lawton had set the machinery in motion. Birmingham scored immediately afterwards; in ten minutes to be exact, through Beattie, left unattended and searching on without interruption while referee and linesmen seemed to be asking each other "Is it offside?" Everton thought it was but that was no reason for everyone in stand to attention and just hope for fortune. Everton' footwork was extremely good, and while Morris, Jennings, and Harris were strong raiders, there was much more beautiful and consecutive work from the visitors, who by the way, were plying in white shirts. Steel got one glad hand for a neat bit of work, and three times Gillick was so near as to be uncomfortable to backs and the goalkeeper. Gillick was first crowded out, then too late to shoot by a split second, and finally screwed the ball over when a pass inward would have been more helpful. Lawton was holding the sponge to his head through a blow, and Jennings was off for a moment or two. The standard of play was extremely good, and 25,000 spectators enjoyed the duelling. Lawton skied a shot when close in, and Dean struck out a foot when corner had come from the left wing to the extreme right. Gillick hit the number board high up beyond the goal, yet Everton's ply was still so good one wondered why they were not on equal terms. Hibbs had little to do except catch a stray header from one of his own side, and it would have more difficult if Lawton could have finished a stirring run all by himself. Free kicks against Cook for hands and a trip brought out Sagar's best –one a flying forward flash-out and catch and another clearance from White. Morris was Birmingham's most practical forward and Everton's line of attack had not got together. Maybe the rainstorm that swept the ground was one reason. Certainly the gale of wind behind Birmingham was another reason for Everton's lack of success after so much art in working the ball close-fashion. Birmingham were more definite and white hit one beautiful drive for a possible two goals lead. Lawton tried to emulate him and could not deliver the ball through the muddy patch.
Half-time Birmingham 1, Everton 0
A photographer who was well placed for Beattie's goal said he did not think the incident worth while taking, as the player was yards offside. I mention the matter without acquitting the visitors' defence for making no effort to stall the goal. Scottish selectors Messrs Hay and Kirkwood were here watching the game for the purpose of handing out caps. Two grand single-handed efforts by Lawton inspired confidence and hope for the future. Britton and Geldard followed suit without fortune, and Birmingham looked like scoring when Beattie squared the ball close in. A shot followed and struck Britton's back –a let-off. Once again Beattie was offside without punishment fitting the breakage of the rules. He shot outside so no harm was done. Later, Harris going through the ranks, made a gift for Beattie and he failed to take the easiest chance of the match. Trigg and Steel were doing all required of them and the opposing line was still unable to move off at pair or in combined manner. Gee suffered a blow in the stomach but continued to play on with the success that has come to him all this season. Mercer found the Brum right wing hard to control and Jennings added some sterling and clever work. Birmingham were much the smarter team in attack, although Stevenson now beat three in inches of space and woke up a line lacking bite in the middle, if not elsewhere. Sagar made the save of the match hen punching out a Harris header from a free kick taken by Jennings. Hibbs was hearly deceived by a splendid effort by Geldard to which Fillingham dived and partly deceived his goalkeeper when he missed connecting.
White's Great Run and Shot.
Birmingham scored a second after Dean had made a great header, White took the ball from Mercer, and making a truly grand run, and shot, netted in suite of Sagar touching the ball ere it passed on. Lawton and Stevenson made their best shots of the match in the late stages. Final Birmingham 2, Everton 0
STUB MARKS
February 27, 1937. The Liverpool Football Echo.
By Louis T.Kelly.
Match of a thousand thrills –and then some. Wouldn't have missed Monday's sensational replay for a big clock –not even Big Ben. Beyond all doubt it was the finest match that Everton have never won! In many ways this Everton-Spurs' tie has been a case of Everton v. Sunderland in the Cup repeating itself. Thus –first meeting produced too little football and too many free kicks; then the replay thriller, wherein a change of referee was made as v. Sunderland two years ago. Both games v. Spurs also produced evidence that one referee is not always sufficient to meet the needs of modern sixty miles an hour football. 'Spurs second goal on Monday was as clearly offside (from a perfectly angled grand stand view) as any goal could possibly be Even the scores felt he was "trespassing" to judge from his attitude. Had that "guilty conscience" look.
Then add Everton's atrocious luck in having a penalty disallowed for a throw-in, after the referee had allowed play to continue over quite a series of ball movements. After this linesmen might as well be appealed to for something unavailably flagged for half an hour earlier on in a game. For how often o we not find the red or blue flag shot up and then dropped again when said linesman finds Mr. Ref has decided to ignore his appeal? Finally goalkeeper Hall was the luckiest man alive to be in the way of Dean' brilliant quiet-thinking back-header from five yards out. Well may we say after these two Spurs battles (1) a game is never lost until it is drawn. (2) a game is never won until it is lost.
Monday's team reshuffle paved the way to t least one thing –the brilliant re-entry of Albert Geldard into the Everton side. This was the "real" Geldard, the Geldard everyone had been raving about prior to Everton signing him on towards the close of 1932, and followed up by the cup winner's medal and international honours v. Scotland. Then what of Cliff Britton? Outstanding on Saturday and again on Monday, a sheer delight in every phase of half-back play. He London crowd were full of eulogies re Britton and Geldard –and good judges, too. Next a pat on the back for smiling trimly built Lawton. He took that two minute goal with a Dean like deadliness of shot, then kept pulling his weight well, but best of all, was going stronger in the last half-hour than at any stage in his most exacting mental and physical test. All of which augurs well for the ex-Bolton boy's future success. Particularly as he shows a level headed piece. At the close Lawton had a few well won words of congratulations (and sympathy) from his first manager Mr. Tom Bromilow.
Everton may not have got a Wembley this year, but they gave us thrills enough to last almost a lifetime at White Hart Lane. No final will ever surpass it. Never has the old adage "there's many slip twixt cup and lip" been more dramatically brought home. Here was a match packed with drama, triumph, and tragedy in equal measure. At Goodison –situation saved 90 seconds from the end; at the 'Spurs ground –situation lost 90 seconds from the end. For the unexpected there is only one thing to equal a Soccer Cup-tie .
Cunliffe was a big disappointment in both Cup-tie tests v. Spurs, both with head and feet.
• The Late Mr. John McKenna died March 22, 1936.
• Spurs fighting bantam, Morrison has popped on three goals against their two First Division opponents –Portsmouth and Everton.
• Mr. W. C. Cuff asks for the two-referee plan to be given a fair trial. Something like half a dozen would not have been too many at Goodison Park last week. As Mr. Cuff says, the ideas behind the new move is to keep the game of Association football at his highest level; to protect the player who realise upon skill to carry him through; to bring the player who acts discreditably, to a discontinuance of his unfair tactics and so maintain that high standard which has made the governing body of Soccer football the envy and pattern of the entire sporting world.
• The famous Edgar Chadwick wage with Blackburn Rovers was 10s per week. He asked for a 5s rise. Was refused. The Everton stepped in –and scored!
• Everton have gone unbeaten in their last 21 games played at Goodison Park
• When Spurs first visited Everton in the Cup -1904- it rained "cat and dogs" throughout the match. Spurs had spent the proceeding days at their favourite Southport. The Londoners led 2-0 at the interval. Vivian Woodward scored No1 (from a corner). Kitchen rushed out, missed the ball, and the rest was easy. Then Jones (inside-right) put in a strong shot that W. Balmer in an endeavour to clear just turned out of Kitchen's reach and into the net. It was all Everton in the second half but all their reward until two minutes from the finish was a disallowed goal to McDermott. Finally Jack Taylor scored a splendid goal, but insufficient time remained to save the day. It was only a great goalkeeping display, plus luck, that pulled the Londoners through
• Why were Everton pipped on the post at Tottenham? The answer's a lemon.
COMPARING THE OLD AND NEW EVERTON.
February 27, 1937. The Liverpool Football Echo
Yorkshire Correspondent Takes Up Cudgels With "Hambledonian" In Intriguing Letter.
Mr. James Handley, of 8 St Clair's terrace, Otley, Yorkshire, writes "Bee" I read the article by "Hambledonian" in the football edition of your popular paper, and I would like to offer some comments on that very interesting article. In the first place as an Evertonian of almost 45 years' standing, I think his contribution deserves our thanks even if we do not entirely agree with his opinion. He opens out a very good subject as to whether the team which won the Cup for Everton in 1933 could be compared with the team that won the cup in 1906, and whether either teams could be compared with the team that figured in the classic final against the Villa in 1897, and compares results of 40 years ago with recent results. I think the answer to his points is confirmed in the part of his article which states "that probably there is not much difference in the all-round strength because the game has changed and the rules have been altered. "With that point of view I am in entire agreement of reflects on neither the present nor the past players of the famous team. As his article, however, suggests that the team who won the Cup for Everton, or played in finals for the Cup in the old days were superior to the team (collectively) which achieved the honour in 1933, I am afraid this contention is likely to be contested. If we take his famous team of 1897 (and I hope he won't mind my mention of an error in the fact that Peter Meechan played right full back with Dave Storrier in the Everton team against the Villa that year, and not Smart Arridge, as he states) I think the team of 1933 would have a slight advantage inasmuch as I cannot agree that Menham in goal together with Meechan and Storrier as backs, were the superior of Sagar, Cook, and Cresswell in the victorious eleven in 1933. I am also of opinion that Dixie was superior to Abe Hartley, who played at centre forward in 1897, good as the latter was I agree that the 1897 game was said to be the best ever played in a Cup Final, but with respect, I think the 1933 team could compare with the team of 40 years ago. I grant that for versatility some of the 1897 team had it. Names like Jack Bell and Jack Taylor who could play with distinction in various positions, point to advantage of the 1897 team, but we are dealing with the team as a whole. Regarding the team that won the cup for Everton in 1906, I think again that there would be a slight balance in attack in the forward division of the 1933 team to the advantage of the latter eleven Dunn and Dean, in my opinion, would be an improvement on Bolton and Young despite the skill of sandy Young. It is difficult to compare various elevens, because of the many changes in the laws of the game, but I don't think that there is much between the team of long ago as compared with modern teams in all round strength. As our friend, however, has introduced the matter of goals scored for Everton and suggests that the years 1895-1896 were the best ever as regards results. I am afraid that the facts won't fully support this contention I grant that the 59 goals scored by former players for Everton in the 24 games in the season 1895-96 is splendid; but did not Dixie Dean score 60 League goals himself in the 1927-28? Then there was the period from 1904-5-6-7, when the Blues played in three successive semi-finals and two successive finals for the Cup together with the period in the season 1908-09, when the team went most of the season without being without being beaten in an away match. For the old players quoted by "Hamnledonian" it must be granted that individually some of team were the superiors of the modern Everton players, and also that science in training was not of their day, but whether they could last the game through in these days is a matter that I would not like to venture an opinion on.