EVERTON RESERVES 1 ST BERNARDS 1
January 2 1908. The Liverpool Courier.
Having no Combination fixture, the Everton management secured attractive visitors in the Edinburgh St. Bernards, a team, which has shown much merit to Scottish Cup ties. The teams lined up as follows: - Everton: - Sloan, goal, Jones and Crelly, backs, Chadwick, Booth, and Rafferty, half-backs, Buck, Cooke, Mason, A.N. Other, and Winterhalmer, forwards. St. Bernard's: - Ramsey, goals, Buchanan, and Reid, backs, Findlay, Smith, and Ross half-backs, Murray, H. Simpson, J. Simpson, Logan, and Tennant, forwards. When Simpson started the attendance was very sparee. The opening play favoured the homesters, the forwards showing some very nippy tactics. Buck and Mason having particularly hard lines with well-directed and then St. Bernards got down and forced a corner off Jones, the ball being sent well into the goalmouth for H. Simpson to tip it past Sloan. The Scottish forwards were playing well up the field, and caused Crelly and Jones, to have some further anxious moments. Hereabouts the Scotsmen had all the play, and but for faulty shooting when in the vicinity of the Everton goal must surely have added to their score. From a foul Buck got away and centred to Booth, who put in a magnificent shot, which Ramsey did well to turn round the post. Midfield play was the order for some time neither side gaining any real advantage. The home team now had a turn, but Ramsey cleverly repelled all efforts to capture his citadel, several of his saves being very fine. Again in the Everton forwards got down, but the Scotch defence proved particularly stubborn, and danger was again averted. Read transferred play to the home half, and Logan troubled Sloan with a couple of hot shots. Immediately afterwards Winterhalmer took advantage of a mistake of Buchanan's, and struck the crossbar with a storming shot. There was no mistaking the earnestness of the Everton boys to draw level, but all their efforts up to half-time were unavailing. Half-time Everton nil, St Bernard 1.
From the re-start the Northerners got away, and Tennant, sprinting down the wing, centred to J. Simpson who when well placed shot high over the bar. Winterhalmer, who had gone to inside left, was responsible for some pretty dribbling, which proved of no advantage. Booth put in a shot from long range, which Ramsey saved with difficulty. A splendid individual effort on the part of Winterhalmer aroused the enthusiasm of the spectators. Securing the ball in midfield he worked his way past about half a dozen opponents, and equalised with a shot that gave Ramsey no chance. This put new vigour into the teams, and much keenness was shown on both sides to gain the leading point. Tom Booth placed well, to Mason when that player was in a good position, but shot wide. Buck then took the ball prettily down the wing, and forced a corner, which was abortive. The visitors broke away on the left and a corner was forced off Jones, from which Simpson put in a hot shot, which just topped the bar. Nothing further was scored, and a hard fought game resulted in a draw of one goal each.
PARS, ABOUT PLAYERS
Cricket and Football Field - Saturday 04 January 1908
Not since Everton were at Burnden Park in November had Jack Taylor, the Everton captain, led his team prior to Saturday at Owlerton, where the veteran skipper put up a very useful and characteristically dogged game.
Hardman's fire was infections at Owlerton. We wonder where the Everton forwards would have been sometime but the stirring advances of their amateur member. If a man can work like Hardman without a football salary how hard should our 4 pound per week men work?
THE FLIGHT FOR THE CUP
Cricket and Football Field - Saturday 04 January 1908
Everton v. Tottenham
And this brings one up to talk of the Cup-ties due for decision here just a week hence. Both Everton and Liverpool have hard tasks on hand in opposing Tottenham Hotspurs and Derby County respectively. In the light of recent happenings our two representatives must be accounted doubly fortunate in securing choice of ground. Fortune has smiled on them persistently in this respect for several seasons, and they should again be prepared to make the very most of such favours. Taking the Everton match first the problem presented is a most interesting one. Here we have an opposition two previous Cup-winners. Of no other first-round tie can the same be said. The Spurs are essentially a Cup-fighting team – the one great hope of the South in this respect as being the club which recovered the "ashes" of football for the South a few years ago, after seasons of weary waiting. There is also the encouraging knowledge of a previous Cup-tie success gained by the Sours at Goodison. They comprised half a team of veterans that day. All of these have since practically dropped out of their ranks, but the fighting propensities of the side may be all the more dangerous in consequence. They still boast that great forward, Woodward, who is a host in himself, and are hopeful concerning the result, whilst their "lucky" special training rendezvous has, I see, been again resorted to. Many of their players are, of course, unknown quantities in these parts. Their form remains to be shown. There is admittedly a stiff task in front of Everton, but I have considerable confidence in the Blues' ability to average their previous first-round defeat doled out by the Sours. The training methods which have served Everton so well in previous years will scarcely be departed from. The one uncertainty –apart from the result! –appears to be constitution of the Everton team. Recent form has pointed to Scott, Stevenson, and R. Balmer being the rearguard trio fit and well. There is a problem at half where we have four capables, viz, Makepeace, Taylor, Abbott, and Adamson –with Booth, I hear, playing finely also. Adamson cannot well be left out on his early trial form. I suppose Sharp, Hardman, and Bolton are forward certainties, whilst Young should surely come back to his best form in the Cup-ties. Settle however, has been off colour of late, so that the claims of men like Mountford and Jones must have weighty consideration. But whatever be the decision of the directors I have much confidence in Everton pulling through.
NUGGESTS
Cricket and Football Field - Saturday 04 January 1908
The Toffees' Reserve defence played magnificently at Owlerton
Hardman' (on League games' showing) is Everton's only outside left.
Everton's "S" triumvirate of defenders Sloan, Strettle, and Stevenson, would no doubt remind Sheffielders of their "L" trio, Lyall, Langley, and Layton.
Everton scored as many goals on Saturday as the rest of the nine First League visiting teams combined.
Everton had only five of the men who played in the Cup final out on Saturday, but they managed to win.
What has become of Sam Wolstenholmes, the ex-Everton-Rovers' player? Surely he has not finished his career as a First division League player yet?
In the opinion of many who have seen Maltby, both at Goodison and New Anfield, he is the finest left back seen in Liverpool for many a long day.
Notts County managed to record a couple of goals against Everton on Christmas Day, but did not once again find the net during the week, although taking part in three matches.
Everton's Macconnachie is scarcely the man he was painted when secured, and praised when the trial games were made in the Goodison camp. The "F.F" views expressed re his short comings, are surely now patent to the majority of folks.
Everton have tried to show Sheffield Wednesday that their cup final form was all wrong.
Everton and Manchester City have had two "finds" of late in Adamson and Jackson respectively.
The Everton forwards against Bristol were about as brilliant (?) as the Sheffield United forwards against Liverpool.
Strettle put up a useful game at full-back for Everton's League team at Owlerton. When he gains a bit more weight Strettle will be all the tougher for opposing forwards to tackle.
Everton's surprising win at Sheffield was well deserved.
Everton's Combination team gave a good account of themselves at Owlerton.
Harold Hardman seemed to be possessed with the energy of three men against Sheffield.
Gorman, the Liverpool centre half, is a native of Middleborough, like Everton's Makepeace.
Hanlin held Jack Sharp very easily. Was Elliott (Everton's trainer) delighted with Hanlin (who is a relation) or disgusted with Sharp?
Everton have a nice lot of young players coming along who, next season, if not this, should be able to serve the Goodison Club brilliantly.
The introduction of Jack Bell into North End's team for their Cup-tie might prove judicious as tending to give the team ballast in the hour of excitement.
'Tis a wonder that Lewis (Bristol) wasn't ill with influenza, seeing that Scott was a victim (per the press) after the Everton and Bristol match. He had less to do than the Evertonian.
MANCHESTER CITY V EVERTON
Cricket and Football Field - Saturday 04 January 1908
(League.- First Division.)
Although early morning in Manchester was bright and sunny, there was considerable doubt whether play would be possible owing to the dense fog. About two o'clock it began to lift, and although the gate was seriously depleted, the waiting crowds soon lined up fairly. Everton are one of the chief attractions on the City card, and the keen disappointment was only partially relieved. The home authorities would probably be the losers of some $500. When last the Toffees were at Hyde-rd, they lost by three goals to one, although Harold Hardman placed them ahead in the first half, and the deported Wilson played a great game. City were obliged to make further changes owing to injuries, Thornley's Birmingham kick would not be denied any longer, and the stouthearted one was forced to withdraw. Blair was absent for the first time, and Ross made up the forwards. Teams;- Manchester City; Smith; Hill, Jackson; Buchan, Eadie, Dorsett; Stewart, Wood, Grieve, Ross, Conlin. Everton; Scott; Stevenson, Balmer (R.); Adamson, Taylor, Makepeace; Donnachie, Bolton, Young, Mountford, Winterhalmer. Referee; Mr. A.J. Barker, Hanley.
Fog makes A Start Doubtful
The gates were not opened for paying spectators until within two minutes of play starting, when the mist lifted sufficiently to admit of the linesman's handkerchief being visible across the field. The ground was covered with hoar frost and sand and the goalkeepers' forms could be dimly seen. The first item was a fine forcing shot by Mountford, which Smith saved smartly. Jackson cleared well, and the City raised expectant cries from those who could see by coming near to scoring. Scott took two goal kicks, and the game mystically proceeded. Winterhalder is a winger of merit, and he threatened to cause serious trouble. Owing to the fog increasing again, it was impossible to see more than the onrush of the City front rank, and the ball went over the goal-line at the far side. Balmer got in a happy kick, but at this stage there was no clearing out the Cits, and from the clouds on the left appeared the ball for a moment, and then cries from those we could not see behind the Hyde-rd goal made us in the press-box realise that the Citizens had scored. Grieve did the trick. Mr. Barker was besieged by the Toffeemen, but he was not in a fog. It was only when the play was on the stand side that any details could be seen. Buchan was doing very good work, but the referee was obviously at a disadvantage in telling when any man was offside, when the backs sent far down the field. Stewart prettily avoided the attentions of Makepeace and Balmer, and judiciously touched to Buchan, who fired wide. Neither custodian could be discerned, but a brilliant bit of dodging by Stewart led up to a clever cross. Several goal kicks were taken by scott, and practically all the play was in the Everton half. At last their right ran down, but ironical "Ohs!" revealed to us that a weak shot had sent the ball dead over the goal-line. The referee was sharp to see deliberate hands by Taylor, but Buchan's drive was badly directed. Play proceeded, but nothing worth calling the true spirit; there was too much chance. Young tried to turn the tide, but Hill returned the ball down the centre, Ross trapping and touching over Adamson's head. Conlin must have raced down the line, the referee racing into the goal neighbourhood, and the City left winger so we learned by subsequent inquiry, closed in with a rush and beat Scott amidst cheers from those behind the Hyde-rd goal. The City were playing a much stronger game, and another rush appearing, for a momentary glimpse we saw clever and deadly work. The left wing broke through all opposition time after time. We were right in concerning this, as the right wing repeatedly closed in to meet many centres, but the spectators yearned. For the fog to lift but it varied in points of density only, and there was no chance to suggest an ultimate clearance. City took a free kick in their normal tricky style only just outside the penalty line, and except for two feeble bursts by Young on the visitors right City monopolized the play. Three minutes before half-time Hill sent a free kick across to the left, and Ross scored a third goal. Again we learned this news by subsequent inquiry from Stewart. City were much the superior and better balanced side altogether, and put more heart into their work. Probably Everton were hoping that the conditions would be worse, and the match have to be replayed.
The Second Half
When play was resumed we could see half-way across the field, and City soon gained a corner. Jackson returned with a clever side kick, smart play by the City left enabled us to see the method by which they had won their three goals, but it was to a great extent a game of assumption. It was a great pity that such form as the Cits, were capable of showing should be lost in the mist. Everton gained a corner by a chance breakaway, but the ball was sent out. Conlin cleverly touched the ball round Stevenson, and was flying into goal when Stevenson attempted to trip him. The referee was near and promptly called the Evertonian away and evidently gave him a very sterms fatherly lecture. Scott again was employed taking goal-kicks. Superior play at all times was the general impression of the Cits, but we cannot tell what chance Scott had of saving the score. Grieve scored a fourth goal with a clever forward kick, after Ross had put him in possession, and he had to work past several men. Two more corners fell to the Cits, and the dark blues never had a look in. Dorsett was rightly penalized for risky work but the tactics of the Cits were far superior their forwards and backs playing together like a perfect machine, and the City supporters had evidently missed a deal of a great game. About five minutes from time, after City had several times been near increasing their lead, Taylor kicked over to Donnachie, who swung into the centre, and although Smith indistinctly seemed likely to clear, Bolton's (?) shot found the net. Immediately afterwards Taylor further reduced City's lead, obtaining the ball from a crowd of players and putting safely past Smith. The Blues were easily held to the finish. Manchester City 4, Everton 2.
EVERTON RESERVE V. ATHERTON
Cricket and Football Field - Saturday 04 January 1908
The visitors to Everton commenced operations but were early repulsed, and Hewitt was called upon in the first minute by Rafferty and Jones, Booth also sent in a stinging shot, which just missed. Horrocks tried his luck, but shot wide. Chetwood sent in a lovely centre, which Mason turned into the net. Atherton had several chances to equaliser before the interval, but failed when near goal. Half-time; Everton 1, Atherton 0. Full time; Everton Reserves 1, Atherton 0.
MANCHESTER CITY 4 EVERTON 2
January 6, 1908. The Liverpool Courier.
FOOTBALL IN THE FOG.
Despite the fog Everton's League game with Manchester City was fought to a finish, and ended disastrously for the Goodison club seeing that the "Blues" were beaten by four goals to two. The referee, of course, is the judge as to whether the atmospheric conditions are fit for football. Mr. A. J. Barker, of Hanley, who was the gentleman appointed to officiate at Hyde-road, is known as a strong referee. He evidently intended that there would be no postponement of last Saturday's fixture if play was at all possible. In the view of many competent judges the fog was so dense that the game ought never to have been commenced. Mr. Barker, however, could follow the play, and so long as that was the case doubtless he was justified in keeping the player at it. At the same time it was all very farcical. It was quite impossible for a spectators in whatever part of the enclosure he might be to follow the play. Those on the grand stand only had an occasional glimpse of either goal end, for the greater part of the ninety minutes neither was visible. Now and again when the ball was in midfield the players were in sight, but one's idea of the game had to be derived from the cheers and shouts of the spectators.
PHANTOM FOOTBALL.
Under the circumstances it would be absurd to attempt to give anthing like a description of the play. Generally speaking the first half was all in favour of Manchester City, at any rate, the ball was in Everton's half for something like 30 out of the 45 points. Moreover three goals fell to the City representatives. How they were scored only those in the vicinity of Scott could tell. Inquires however, elicited the information that first Grieve, then Conlin, and afterwards Ross defeated the Everton custodian, the efforts of the two last-named players being described as brilliant. Through there were cries of "play on," the teams had their usual rest at the interval, and it was during this period that Mr. Barker expressed his determination, if the fog became no worse, to have the game finished. And finish it he did.
EVERTON SCORERS.
Grive placed the City further ahead, and then, apparently with every prospect of the full ninety minutes being played, the Everton representatives put forth an effort. It came too late, for although Bolton and Taylor were credited with goals, the latter's being in the last minute of the game, Manchester City ran out winners by four goals to two. Of course criticism of the players is out of the question. For the most part they were mere phantous. The defence had plenty of work thrown upon them by the dashing City front line. During the first half particularly it struck me as if the visiting side did not regard the game seriously, and certainly few ever expected that it would be finished. It was when they realised Mr. Barker's intention that the Evertonians seemed to pull themselves together, and those who were near the City goal during the last quarter of an hour spoke highly of the work shown by the Everton front line. It may be mentioned that in the absence of Harold Hardman owing to injury, Winterhalmer appeared at outside left, while Adamson was the right half-back and R. balmer resumed in his old place as left back. Let us hope that few League games will ever be played under such conditions as were experienced last Saturday. Teams: - Manchester City: - Smith, P. Hill, and Buchan, backs, Eadie, Ross and Stewart, half-backs, Wood, Grieve, Conlin, Jones, and Lilliog, forwards. Everton: - Scott, goals, Stevenson, and R. Balmer, backs, Adamson, Taylor (Captain), and Makepeace, half-backs, Donnachie, Boltoin, Young, Mountford, and Winetrhalmer, forwards. Referee A.J.Barker.
EVERTON RESERVES 1 ATHERTON 0
January 6, 1908. The Liverpool Courier.
Lancashire Combination Division One (Game 19)
Though the frost had been so severe, the turf at Goodison was quite fir for the game between Everton and Atherton, and as the fog did not appear heavy the game was played under conditions which did not cause a moment's apprehension as to the match being finished. A hard game ended in favour of Everton by one goal to nil. There were 7,000 spectators, a large sprinkling of whom came from the abandoned match at Anfield. Play opened tamely, both side taking care on account of the hard ground. Then the Blues put on severe pressure. Hewitt fielding some clever efforts from Jones and Mason before the later beat him. The second half saw a great improvement in the play. For a long period Atherton were all over the Blues, Sloan, and his backs putting in a great amount of work. The visitors could not equalise, however, and Everton returned the compliment. Hewitt was the saviour of his side, and although, shots were rained in on him the Blues could not increase their lead. The Blues all round played a sound game Sloan had not much to do, but some of his saves bordered on the marellous. Balmer and MaConnachie were in good trim at back. Booth was the best half, while the forwards combined well. Rafferty doing particularly good work at outside left. Chetwood retired early in the second portion, twisting his leg severely, and Jones, who went outside, showed really capital form in this portion, his runs, and centres being a feature. Regarding the visitors, special credit must be given to Hewitt. Some of his clearances were sensational, and he saved his side from a severe defeat. Everton: - Sloan, goal, W. Balmer, and Crelly, backs, Black, Booth, and Chadwick half-backs, Rafferty, Graham, Jones, Mason, and Winterhalmer, forwards.
EVERTON LOST AT MANCHESTER
Cricket and Football Field - Saturday 11 January 1908
By Richard Samuel
Everton have had the Birmingham match postponed and on Saturday the conditions were almost farcical at Hyde-road, where an air of "mystery" prevailed and there was a general Everton collapse. It is curious that most people considered the City match should never have started, whereas nearly everyone asserts play was easily possible at Anfield. The conditions were far worse at Manchester than at Anfield, as far as could be seen! I don't think the form of Everton at the City ground need be seriously taken into account. Without seeking to belittle the form of City in this "Hyde-and-seek" game, Everton did not enter into the fray with the earnestness they usually show, but rather like men who anticipated an early abandonment. I was glad, though, to find they made the defeat look somewhat respectable by notching two goals in the closing stages, Taylor being at the death on one occasion. It is at less to attempt a criticism of the players, who could be heard but seldom seen. Everton were without such as Abbott, Settle, Sharp and Hardman, and it was unfortunate the opportunity was denied of watching Mountford and Winterhalder as a left wing partners in a senior League game.
Cup-Tie Preparation
Of course this week, all the talk has been about today's cup ties, and each of the two local events was viewed with a very open mind although greater confidence was expressed regarding Everton's prospects than of their erratic Liverpool neighbours. As I stated last week Everton's plan of preparation was being base on strictly "home" lines – the policy which has for years past served their desired "fitting" process so satisfactorily. The base of operations has centred around Goodison, with jaunts as far as Freshfield and also into the West Kirby district. The composition of the team has required a good deal of think out, both on the score of qualification and fitness. A stalwart like Walter Abbott has been on the "easy" list since Chriistmas Day in consequence of a damaged ankle received at Trent Bridge, and he has an acknowledged doubtful starter. Then Sharp's old foe – his thigh –has given trouble since the Bristol City game, whilst Settle has also been below concerts pitch. Add to this one or two colds among members in consequence of our climate's erractic behavior, and you have the Everton situation as it stood prior to yesterday when the selected team was announced. In view of the recent in-and-out running –their bracing and their humid displays –it occasioned no surprise to find to find the Liverpool player bundled off for a change of environment to Blackpool on Monday.
NUGGETS
Cricket and Football Field - Saturday 11 January 1908
Was it Bolton or Young who scored at Hyde-road
Winterhalder played a good game but is not a Hardman
The Everton players were not only in a fog; some of them were hopelessly "at sea."
Evertonians are delighted at "Smiler" Wilson's success with Newcastle. No sour grapes.
Whitley seems to have got a regular place at last in the Chelsea ranks. It is strange that he and his former Everton companion, George Kitchen should be located so closely together once more.
It was only George Wilson's brilliance that enabled Newcastle United to pull through on the right side against Sheffield Wednesday. It would recall the Cup-final incident to Wilson very probably.
Everton's record win of the season stands out their 6-1 success over Bury. The Toffees will doubtless find the Shakers sterner stuff next Saturday, although Bury have done so well in away events on the whole.
Everton, unlike most of the cup fighters, had not sought fresh training quarters for today's match. The last two seasons have proved that a course of home-training suits the team much better than a pilgrimage to a seaside resort.
Winterhalder was by no means the worst of the Everton forwards.
Everton have some fine half-backs, but McConnachie isn't one of them.
Neither Everton nor Liverpool appears likely to break any revenue records this season.
The two Manchester clubs have alone recorded four goals against Everton in our matches this season.
The Merseyside clubs have been in at all three First Division games postponed through fog this season.
It is hoped that few League games will be played under such conditions as was the Manchester-Everton match.
Makepeace, Black, Adamson, and Booth are all half-backs who play a similar style of football. In fact one may call it Everton style pure and simple.
Everton seemed to be under the impression that the game would be abandoned, and it was only when they found it otherwise that they began to play serious football, so says a Merseyside contributor.
The game at Hyde-road, can rightly be described as a farce. The Everton men thought the match would have to be abandoned through fog, and played accordingly, and for this reason alone they deserved the sound thrashing they received.
Thomas, the ex-Everton forward, who is now with Leeds City, was in great form against Leicester Fosse. His footwork and the way in which he fed Crook was splendid. Thomas and Crook are reckoned to be the finest left wing in the Second Division.
Everton reserves again displayed championship form against Atherton
City have nearly squared that 9-1 defeat by Everton. Since then they have won 3-1, 4-2, and drawn 3-3 with the Liverpool "Blues."
Have Everton been resting their old players for the Cup-tie?
Everton Reserve did nothing startling by beating Atherton 1-0. The latter's goalkeeper was a champion.
Have Everton played last year's cup team with one exception (Crelley for W. Balmer) against the Spurs in their Cup-tie?
The alarming changes made in the Everton team week after week are beginning to cause uneasiness re the team' Cup chances. Some of the changes have ben unavoidable, however.
George Wilson was in grand trim for Newcastle against Sheffield Wednesday. He was always dangerous when in possession, and it was from his centre that Appleyard scored the winning goal.
EVERTON V. TOTTENHAM HOTSPUR
Cricket and Football Field - Saturday 11 January 1908
(English Cup – First Round.)
Perfect football weather favoured the decision of this great tie at Goodison Park, a fast pace being assured with a lively ball. The "Spurs" Cup-fighting name still clings, despite the disappearance of nearly all the old faces, and there was a capital crowd, although an opposition "tit-bit" was being presented up Anfield way. Everton, now equally famed as Cup-fighters, were particularly anxious to average the 2-1 home defeat inflicted by the Spurs in the opening round three years ago. The "Spurs" had trained at their favouritie resort, Southport, which had never previously prefaced a Cup defeat. Their manager, Mr. Fred Kirkham, by the way, refereed in Everton's successful Cup final two years ago. Today the visitors were not quite sure until a late stage what their attack would be. Walton, Payne, and Pickett being "doubtful." Indeed 16 men were in the running for places this morning. Everton's one doubtful was Walter Abbott, although I was assured yesterday he was "all right," and it was decided to include Macconnachie at right half should Abbott not be risked at the last moment. Albeit, this would have been deemed a curious move by outsiders in view of Adamson's recent excellence. Abbott, however, turned out. Stevenson was preferred to W. Balmer at right back, whilst the forwards comprised the "old brigade," who were up at the Palace last year. Teams;- Everton; Scott, goal; Stevenson, Balmer (R.), backs; Makepeace, Taylor, Abbott, half-backs; Sharp, Bolton, Young, Settle, and Hardman, forwards. Tottenham Hotspur; Manning, goal; Chaplin, Burton, backs; Morris, Steel, Gray, half-backs; Walker, Pass, V, Woodward, Bull, McNair, forwards. Referee; Mr. A. Adams, Nottingham.
The 'Spurs, it will be seen, experienced with their left-wing, which included Walter Bull, the veteran ex-Notts County captain and centre half, Walton, too, was unable to appear. The ground was liberally sanded. When the teams appeared the crowd would exceed 15,000, and they were still coming in plentifully. Tottenham won the toss, but Bull gain little advantage thereby. Everton were early dangerous, Young working through cleverly and crossing towards the right, where Sharp rushed in. But the ground bothered the winger, who was thus spoiled for his shot, and the danger to Tottenham was evaded by Steel conceding an abortive corner. Tottenham rushed away to the other end, but after Woodward had been checked by Balmer, McNair shot quietly into Scott's hands. Slips and flounders were frequent by both sets of players, despite the plentiful supply of sand, so that it was not improbable the side most suitably shod would come out on top. Taylor was prominent in his attentions of Woodward and the home captain was more than once cheered for his effective tackling and putting out to the right wing. From another dash by Sharp he passed the ball on to Gray, and it went for a corner, from which Everton, per Makepeace, and then Young, narrowly missed taking the lead. It was unfortunate from a playing standpoint that the ground surface was so treacherous, several fine movements ending ludicrously in consequence. The 'Spurs were now having a fair share of the argument, and another advanced movement of theirs ended in Scott having to get out of a most awkward position, following a shot by Bull. Play was suspended a moment when Morris and Pass collided, the former falling heavily. No sooner had the game been re-started ere Young set Hardman of his way. The latter rounded Morris and was then tackled by Chaplin whom he beat, and by a superb effort secured the ball again ere it had gone out of play, to centre brilliantly, the consummation being a delightful goal from the foot of Young after 12 minutes' play. The now considerably augmented crowd went frantic at this early and encouraging success with the exception of the numerous trippers present. Both sets of forwards now put in a series of clever combined movements and the 'Spurs seemed in no sense dismayed at being in arrears. Their three inside forwards more than once worked through in discomforting fashion and Scott in one instance was severely harassed. Stevenson's kicking was occasionally shaky, and this threw additional work on his comrades. The home halves were doing their work well, and Abbott seemed sound enough. Young as leader to the home attack, was doing splendid aggressive things, and showed rare judgement in swinging the ball well out to the extreme wings. A duel between Sharp and the Refus-headed Gray was here abouts highly enjoyed and honours were deservedly even. The Spurs were proving worthy opponents, and their rushes took an immensity of stopping. Determination told an immensity of stopping. Determination told as Settle and Young literally took the ball to within three yards of manning, when Chaplin rushed in the way. There was no greater worker or no more able player in evidence than Harold Hardman, whose dashes, centres and shots hereabouts kept Manning busy. Everton were pressing again now but corners were no use; However, they deserved no more than the goal lead when one narrates a wonderful piece of luck to the Blues, Woodward, the other amateur on view, dribbled down the centre, and seeing McNair uncovered passed finally out to the little Scotchman, who put in a lightning cross shot which defeated Scott all the way. Scott indeed was at the other end of the goal almost, but McNair's thunderbolt inside of the far upright rebounded right along the goal line into Scott's hands. It was a miraculous escape indeed, and one more demonstrated what a big thing luck is in cup-ties. Soon after Scott was thrice hard pressed his backs somehow failing to give necessary protection, but Everton are happy in the possession of a fine resourceful custodian. The 'Spurs were slightly the better team from now to the interval, and it was evident that the club's team pickers of the current season had done their work well.
Half-time; Everton 1, Tottenham 0
'Spurs Knocked Out
The light was rather poor when the second stage was entered upon with McNair dashing along, and making a remarkable finishing shot, which passed wide. It was not a day on which the master-like Woodward could show his great powers to the best advantage, but the master touch was repeatedly in evidence. Tottenham were again storming well. Their forwards were putting in clever footwork, but twice Bobby Balmer's timely and powerful kicking relieved the pressure. At this point Woodward was the most prominent figure on the field with his mastery over both ball and opponent. Makepeace was a power for good, too, in opposition of the Spurs' left wing. Hardman now came within an ace of repeating his earlier performances, with this difference, that he had not Young's co-operation. He tenaciously raced along with Morris in attendance, and after shaking him off again beat chaplin, and dribbled in very speedily towards Manning. Striving to keep his feet on the dangerous surface, he lost a valuable second or two, and when he shot Burton partially intercepted the ball, but characteristically the Evertonian recovered possession, and again shot to find manning clear the ball from the far top angle of the goal. Wonderful man, Hardmans. Taylor fell heavily just afterwards in trying to head the ball, but pluckily resumed. There was not a pin to choose between the rivals at this point but both goals were singularly free from pressure, thanks to the fine work being put up by both half back lines. 'Spurs were the more dangerous after this. Stevenson did not please nearly so well as Balmer, whilst Taylor couldn't hereabouts hold the inimitable Woodward, Taylor's injury doubtless telling adversely. The Spurs' experimental left wing was proving a genuine success each man doing splendidly. From one forward push of Bull's, Woodward shot over when favorably placed. The 'Spurs' forwards were showing the value of Woodward's tuition. At last Everton grew dangerous again, and from a rush by Young and Co. Burton miskicked, and Young drew from Manning a great save. There were only 15 minutes to play, and Everton were by no means yet safely through. Taylor, veering on the left, made a fine scoring effort, Manning saving at the expense of an abortive corner. The visitors forwards about this appeared to have spent themselves in attack, but Everton could not finish their work well, Bolton in particular ending disappointedly. The 'Spurs' forwards came again before the close, and there were anxious moments around Scott. Then Everton had a turn as Hardman valiantly centred loftily and well forward for Young to dash through. He got the ball to Bolton, who shot with great force, but Manning brought off a fine full-length save. There was not a pin to choose between the two to the end which showed Everton as having avenged their previous first round defeat on the same ground by the men of Tottenham. Final; Everton 1, Tottenham Hotspur 0.
BLACKPOOL RESERVES V EVERTON RESERVES
Cricket and Football Field - Saturday 11 January 1908
(Lancashire Combination –Division 1.)
At Blackpool, before 1,500 spectators, Blackpool had the advantage of a breeze in the first half but Everton were the superior team. Mountford twice came near lowering the home colours. Blackpool then pressing, Waddington tested Sloan, and Benton cleared several shots at the opposite end. Blackpool retaliated and Waddington and Cookson each called upon Sloan. Several corners were conceded, but Blackpool could not penetrative Everton's defence. Half-time; No Score. Final; Blackpool Reserves 0, Everton Reserves 0.
PARS, ABOUT PLAYERS
Cricket and Football Field - Saturday 11 January 1908
Kirwan, of Chelsea, has only participated in two League games for his club this winter
Percy Hill had his first turn against his old club, Everton, on Saturday, and experienced the satisfaction of finishing right side up.
Jones - "Sandy" Young's understudy in the Everton team figured at outside right for a portion of Saturday's reserve match at Goodison and gave a brilliant display. He is evidently a versatile youth.
EVERTON 1 TOTTENHAM HOTSPUR 0 (Fa Cup Game 66)
January 13 1908. The Liverpool Courier.
F a Cup Round One.
CUP WINNERS AT GOODISON.
Two clubs who have enjoyed the honour of winning the English Cup were seen in opposition at Goodison-park last Saturday. It is as long since as April of 1901 that Tottenham Hotspurr had their name inscribed on the insignificant –so it is described –trophy of the Football Association, whereas Everton's long-anticipating triumphant was deferred until the season before last. Still, both clubs could boast of having been English Cup-holders. Only once, however, had they met in the greatest of all football competitions. That was at Goodison-road, in the early part of 1904, when the Spurs ousted Everton from the tournament of that season by two goals to one. Thus, in their latest encounter, the Evertonians had something to wipe off the slate. That they succeeded was all the more acceptable, but their victory was only gained by the narrowest possible margin –a goal to nil. Neither was the play of a character about which one could reasonably enthuse. This, no doubt was disappointing to the crowd, but the main fact is that Everton live to fight another day, when it is to be hoped that grounds will be more favourable to a scientific exposition of the fascinating winter pastime.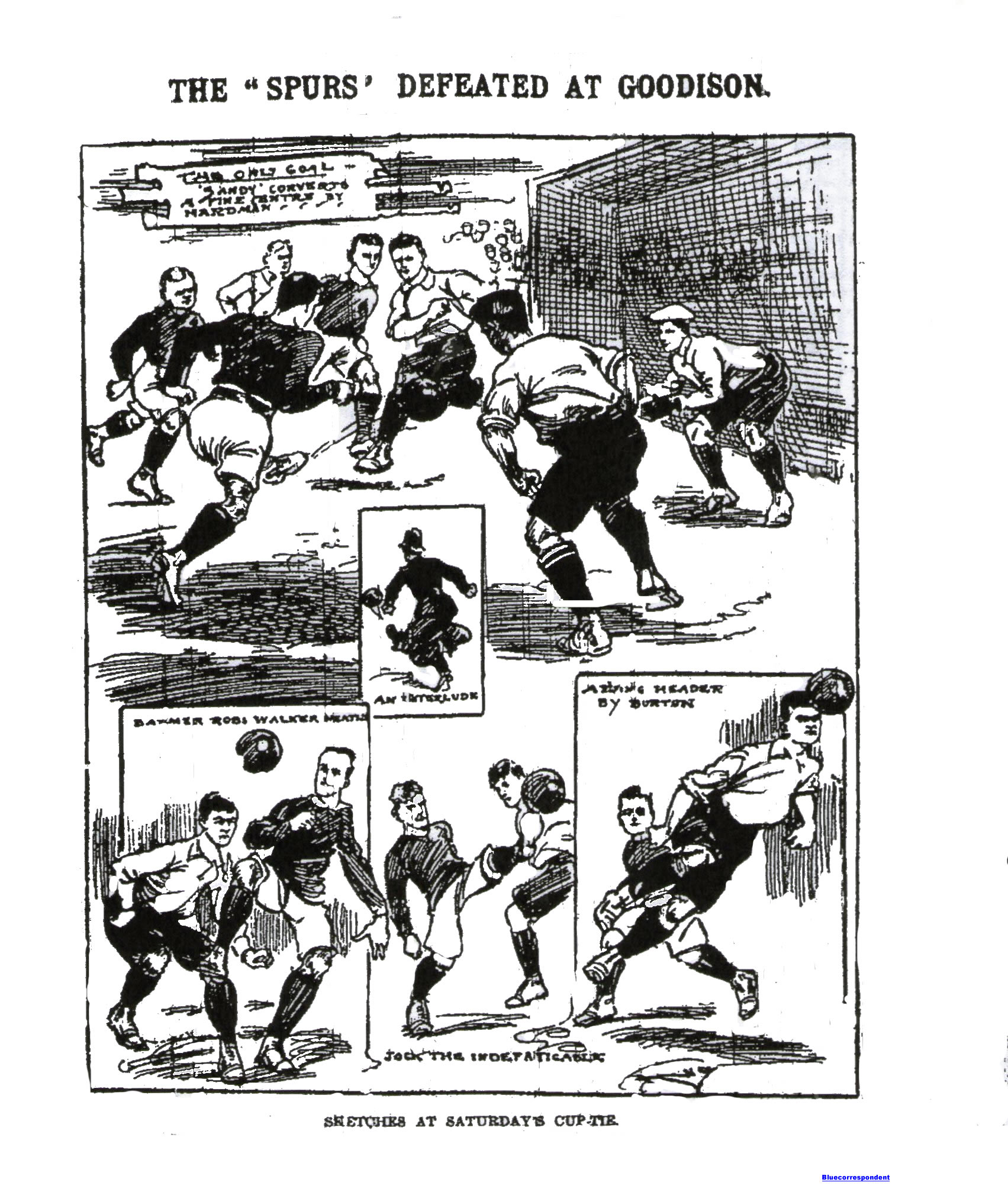 THE WINNING GOAL.
Although one of their great "stars," Walton, was enable to turn out, the Spurs looked to the effects of a stay in salubrious Southport to enable them to beard with success the Cup finalists in their own strong hold. These hopes did not materalise, Tottenham, however, have no need to be assamed of their display. The advantage of figuring at home is generally reckoned to be worth a goal, and that was the margin by which the Sours were thrown out of the cup competition. Though the turf had been pretty well covered with sand, it was naturally hard with the foothold none too secure. At times the players seemed unable to control the ball, and continually misjudged the direction it would take. For all that the game was a typical cup-tie, full of strenuousness and interesting episodes, and also of mistakes, especially in front of goal. Everton started off with the greater dash and the first quarter of an hour saw them "draw blood." The goal was Young's, but really the credit attached to those most enthusiastic amateurs, Harold Hardman, It was the latter who raced down the wing, rounded the backs, and middle for the Everton centre to easily defeat the Tottenham custodian. Skillfully led by Woodward the visiting front line made several attempts to capture Scott's charge. For the most part they were rather feeble, but on one occasion the Everton goal had a miraculous escape. Woodward had managed to get away, and finding McNair unmarked, he placed the ball to the toe of that player, who put in a terrific shot. Scott, at the other end of the goal, was helpless, but by a great stroke of good fortune for Everton the ball struck the upright, bounded back, and enabled the Irishman to clear. This was the nearest that the Spurs came to scoring. They had chances as indeed, had Everton, but nervousness or something else kept down the goals to the solitary one obtained by Young which gave Everton all they wanted –victory.
THE PLAYERS.
The home side –curiously enough, it was the same with the exception of the back division, which represented the club in the final last April –did all that was asked of them, but after all, their exhibition hardly came up to expectations. True, the condition of the ground was against accurate play, and this of course affected the equlity of the display of both sides, accounting for some of the lack of attractiveness associated with great encounters. Still, Everton were the cleverer team. They unquestionably deserved to win, yet paradoxical though it may be, the game might easily have resulted in a draw. The Spurs' forwards were good up to a point, but were weak in their finishing movements. Woodward in this respect was as great a sinner as anyone else. However, the weak spot in the team was the half-back line, which compared unfavorably with Everton's trio Makepeace, Taylor, and Abbott. The Everton backs, Stevenson and R. Balmer did not inspire confidence, though both improved as the game progressed. Hardman was the brilliant player in the forward line. Sharp was too well watched to have much scope, and considering that neither Bolton nor Settle was in happy mood, Young's display in the centre was all the more meritorious. After all. Everton have still a chance of participating in the "final" for the third year in succession. Teams: - Everton: - Scott goal, Stevenson, and R. Balmer, Backs Makepeace, Taylor (Captain), and Abbott, half-backs Sharp, Bolton, Young, Settle and Hardman, forwards. Tottenham Hotspur: - Manning, goal, Chaplin, and Burton backs Moore, Steel, and Gray, half-backs, Walker, Pant, Woodward, Bull, and McNair, forwards. Referee A Adams.
BLACKPOOL RESERVES 0 EVERTON RESERVES 0
January 13, 1908. The Liverpool Courier.
Lancashire Combination Division One (Game 20)
Everton were the most aggressive in the early stages, but afterwards the Seasiders held their own well, and a draw was on a whole a fitting result, neither side being able to score. Everton: - Sloan, goal W. Balmer, and MaConnachie, backs, Adamson, Booth, and Chadwick, half-backs, Donnachie, Graham, Mason, Mountford, and Winterhalmer, forwards.
EVERTON'S TOTTENHAM VICTORY
Cricket and Football Field - Saturday 18 January 1908
By Richard Samuel
Everton, as narrated in last week's issue, hadn't an ounce to spare against 'Spurs, who were terribly in earnest, and showed us a capital team in the making. The conditions were such that it was difficult to get a fair estimate of the comparative abilities of the contestants. Luck must enter into the argument where a slippery surface prevails, and no man is ever really sure of getting his kick in. A flounder or two, and a strong position may be turned into a weak one, almost in the twinkling of an eye. Reviewing last week's game impartially, I should say Everton just deserved to get through by the one goal of the day. Their attacks were more sustained –if the word "sustained" is permissible – than those of their opponents whilst Everton were distinctly the better side at half-back. When the half-backs are good there is always hope for a side. Taylor came out splendidly against England's best centre-forward. He never gave Woodward a minute's peace. Makepeace did capitally, whilst Abbott's return certainly strengthened the line.
What Might Have Happened!
There were occasions, however, when the Spurs' centre and left wing men swept beyond the home halves in the first stage to find somewhat vacillating backs opposed. It was here where Scott's resource came out, to bring the Southern racers to grief at the last hurdle, so to speak. But what of that remarkable escape Everton had from McNair's sensational cross shot, which hit the far upright low down and rebounded to run along the goal line into Scott's arms? Truly, that spot on the goal line into Scott's arms? Truly, that spot on the goal-post may accurately be described as the turning point in the game! Remarkable incidents –like the need for exceptional rulings –crop up occasionally in our winter pastime, and this was one of them. A goal to the Spurs at that particular point, and Tottenham might today still lay claim to an unbeaten Cup record, following a course of special training at Southport. As a set-off to McNair's experience, one might cite Hardman's clean run through in the second stage, and the remarkable escape of Manning's charge earlier, when Settle was located almost under the bar.
Hardman, the Lion-Hearted
The Spurs are not a bad side, but I feel certain Everton would have won more easily on a softer ground. Stevenson, Bolton and Sharp seemed more inconvenienced than any of the visiting side with the existing conditions, and his kicks all too frequently fed the visiting half-backs. Balmer was a stalwart by comparison, and put in some rare work, particularly after the interval. As I said last week, Young and Hardman were the home brilliants, in attack. "Haroold, the lion-hearted" will surely be talked of for a day in Tottenham circles. Chaplin, Morris, and Jack Frost alike presented no terrors to the little Seasider, and his leading up work to the first goal was brilliant in the extreme. Later, he carried on further delightful raiding work, and, as said. Almost brought off a glorious single handed goal in the second stage, whilst prior to this he would not be denied the repeated acquaintanceship of Manning. Young was an excellent second, coming out with his former-day mystifying maneuvers and feints and swinging the ball out to the extreme wings in telling fashion. Everton's remaining trio in attack did not scintillate in the same way, yet each performed useful work. Manning, Gray, McNair, and Woodward were the Spurs' most prominent men. The defeated side mourned the absence of Walton and Middlemiss –which, perhaps, was a good thing for Everton!
Oldham Athletic v. Everton
The draw for the second round was eagerly awaited on Monday. It was hard to realize eventually, that Everton had actually been ordered away, whereas Liverpool claimed choice of ground! Truly, Mr. T. Watson's grit of patience (down, telephone operator!) has at last been rewarded. Last season Liverpool were ordered up Oldham in the second stage, when the "Athletic" were mere Lancashire Combination fry. Yet the Reds were voted almost lucky in pulling off that tie by McPherson's goal to nil. This season Oldham is a still further improved side, which has shown itself capable of whipping the great Manchester United team and securing the Lancashire Cup. Admittedly, then, Everton's task, in seeking to overcome where Liverpool won a year ago is no light one. Indeed, it is going to be tremendously heavy one, unless those Oldham enthusiasts grow stale in the course of the next few days. Still, I shall with confidence await the hour and the day of the coming great meeting. I Believe Everton's half-backs will have a big hand in turning the scale in the Blues' favour. I believe, too that Scott will take an immensity of beating, and I also believe Everton's forwards will show themselves the most skillful line seen at Oldham in the club's history. My one doubt just today concerns Everton's full backs. If they but do their work well my solid view is that Everton will once more get into the last 16. And the kind of football which is best calculated to strike terror into Oldham's camp is "Hardman football" as seen a week ago –breezy, busy, bustling football.
A BIG BENEFIT DAY AT GOODISON
Cricket and Football Field - Saturday 18 January 1908
By Richard Samuel
Next Saturday Everton's League visitors will be the over popular Aston Villa team. Last season they captured all four points from the Blues, but we should see the tables turned this year, for Everton have already won 2-0 at Aston. The coming match is all the more noteworthy in that the proceeds will go to make up the benefits of Sandy Young, Jack Crelly, and Trainer Elliott. The usefulness of all three in Everton's service needs no word of explanation from me. May they have a bumper, say I. The Villa looked like cracking up some time ago, but it is worth noting that, since their 5-0 thrashing at Liverpool, the Clarets have gone along unbeaten to date.
NUGGETS
Cricket and Football Field - Saturday 18 January 1908
Walter Abbott resumed, and gave a great display of defending, attacking, and shooting.
The Everton backs did not inspire confidence, though both improved as the game went on.
When all three are fit and well Everton can hardly improve on Makepeace, Taylor, and Abbott as a half-back line.
Everton's Stevenson appeared frightened to let himself go at Goodison on Saturday. Everyone isn't so daring as jack Taylor.
Everton turned out their team against Tottenham with only two changes, from that which landed the Cup a couple of seasons ago, Stevenson and R. Balmer taking the place of W. Balmer and Crelly.
The Oldham crowd will no doubt relish the tit-bit provided for them by the visit of Everton in the second round of the cup competition, but although the Athletic play what is termed a regular cup tie game, they will find last year's runners-up sterner stuff than that provided in Second League football.
Everton cannot do without Taylor yet awhile on Saturday's form.
Will Everton be in the final for the third time in succession? Perhaps.
Everton's best line in half-backs is the old firm –Makepeace, Taylor and Abbott.
The Everton v. Tottenham Hotspur match in a nutshell –Hardman's centre, Young's head, Manning beaten, Spurs dead.
Woodward's tactics are really splendid. His square passes while going at top speed on the slippery ground at Goodison were nothing short of marvelous.
Stevenson was woefully weak. W. Balmer or Macconnachie would have been a great improvement. This, by the way, is Mcs proper position, and Everton should try him there.
Everton sent a particularly strong team to meet Blackpool Reserves. The seasiders were by no means overawed and after having quite as much of the game as their opponents, succeeded in sharing the points.
Merseyside's stared upon opening their papers on Tuesday to find George Kitchen the chosen keeper for the South, but they are none the less pleased that it should be so. Kitchen the less pleased that it should be so. Kitchen made many warm friends during his successful stay with Everton.
Everton's Stevenson, shouldn't be judged on what he did –or failed to do –against the "Spurs" This youth was obviously more ill at ease on the slippery surface than his more experienced companions. Under the circumstances it was pleasing to see "Bob" Balmer coming out in a strong light.
Thomas (late Everton) is the finest inside left in the Second division.
'Spurs didn't lose the game through Manning, Everton took me and gave none.
After Liverpool's experience at Oldham last season Everton are not likely to hold the League infants too cheaply.
Vivian Woodward is full of admiration for Harold Hardman. What wonderful bundle of pertinacity is the Everton amateur?
In "Sandy" Young and Vivian Woodward we saw perhaps the two most genuinely skillful centre forwards of the day at Goodison.
How Scott got away the shot put in by McNair very few can understand. Either by accident or design. Scott hit the ball with his left hand, turned it against the post, and it rebounded to him again, an act which enabled him to make one of the grandest clearances he has ever effected for Everton.
Everton's deficiency at present –full back and forward.
Everton must needs to on their very best behavior to be successful at Oldham
Hugh Bolton was the weakest link in Everton's attacking chain against the Spurs.
Makepeace seems to play more brilliant football at right half than he does when on the other wing. Although Young scored the winning goal, the credit really belongs to that clever amateur Harold Hardman.
Had the Spurs been able to shoot with anything like accuracy, they would certainly have caused Everton to make a journey South.
Everton hadn't anything to throw away in the match with Tottenham, not even a goal. And yet they did throw one or two of these away!
Three tips to Everton. Persevere with Macconachie at full-back; "Settle" the question of inside left by playing Mountford and realize that Adamson is your best half-back.
BURY V EVERTON
Cricket and Football Field - Saturday 18 January 1908
(League –First Division.)
Since Bury first met Everton under the auspices of the First Division of the League in 1895 they have played some exceedingly interesting games with the Blues, and at Gigg-lane the Shakers have, on the whole, more than held their own in the many keen encounters. It has only been in recent years that the Toffees have seriously put Bury through their drills, as it were, but this season there has been a marked improvement in the ranks of the Bury club and with both sides doing better than the majority of organizations in the League, a great game was anticipated. Bury are certainly in a winning vein just now, and there can be no doubt that their success is largely attributable to their determinations all through the game. Notwithstanding the fact that Everton had Taylor Abbott, and Settle away, they paraded a rare good side, one that was calculated to give Bury's representative eleven a hot time of it. The day was beautifully mild, and there was every indication of a large crowd assembling, for spectators began to pour in very early. There was an eleventh hour change in the Bury eleven, McMahon being unwell, and Joe Leeming was drafted in at left full-back, this being his first appearance in the League team since Dec. 21st. Teams Bury; Reaside; Lindsay, Leeming; Dewhurst, Davidson, Rae; Gildea, Currie, Hibbert, Kay, Booth. Everton; Scott; Stevenson, R. Balmer; Mcconnachie, Chadwick, Makepeace; Sharp, Bolton, Young, Mountford, H.P. Hardman. Referee : Mr. T, P. Campbell, Blackburn.
KAY DRAWS FIRST BLOOD.
Dewhurst was successful in the spin of the coin but there was little advantage to be gained in the choice of ends, for there was scarcely a breath of wind blowing. Sandy Young started before 12,000 spectators, and after the usually quiet opening exchanges, Hibbert swung the ball out prettily to Gildea, who had an exciting tussle with Makepeace. The Shaker, however, came off best, and putting across a superb centre, a thrilling scrimmage took place front of Scott, who was not troubled, Booth eventually centring too squarely, and Stevenson cleared. This little incident livened up matters considerably, and the Bury forwards certainly set the pace which the visitors soon fell in with. And it was a brisk pace, too. Everton rushed down to the other end, and by the aid of pretty footwork on the left, Mountford was left with rare chance, but Raeside judged admirably where his shot would come, and he saved at the foot of the post at the expense fruitless corner. The pace was maintained and thus early there was promise of an exceedingly brilliant game. The play was contested in pleasant the tactics of both sides to gain ground.
Being Splendidly, Maneuvered.
From a big clearance by Raeside, Bury rushed to the Everton goal with the Blues after them -just like a pack hounds. This proved to be the beginning of a terrific bombardment of the visitors' goal, and for fully five minutes, Everton were defending tooth and nail. Gildea and Booth put across perfect centres repeatedly, and the inside men, ably assisted by the half-backs, headed and kicked, but Scott was on the alert, though he might have been beaten by a deceptive effort by Dewhurst, who pounced on ball from close quarters, and shot barely wide. It was a glorious game, full of incident and keenly contested. Booth was playing a magnificent game, crossing the ball again and again, but Balmer and Stevenson defended well under great pressure. So far Everton had had little opportunity becoming really dangerous, and after 17 Minutes' Play the determined efforts of the home men were rewarded, the ball being put forward to Kay in another attack, who shot terrific pace from 14 yards', range, well out the reach of Scott. Bury undoubtedly deserved the lead, for they had played the game better in all departments, their thrusting tactics upsetting the calculations of the Blues' defence. Sharp repeatedly tried to raise the siege, but was not supported as he ought to have been by Bolton, whose passes -though probably well-meant -were often to ill-timed to be of any use. The Everton captain clapped his hands repeatedly in directing the movements, and apparently being dissatisfied.
Tried a Solo Effort being challenged by Leeming in a great run, which he finished with a left-footed shot, much wide of the mark.
Bury were constantly in a dangerous mood, and Currie missed an open goal from a cross by Booth immediately afterwards. Then Hibbert was injured, and whilst he was being carried off, Sharp re-arranged his half-back line, McConnachie going centre, and Makepeace and Chadwick filling the right and left births respectively. Without Hibbert, Bury were as aggressive as ever, the visiting halves failing to control them in their fine combined movements. Again and again did the Everton forwards try their utmost to gain ground, and when they did get in Bury quarters, either offside tactics or fouls sent them back again. Up to the interval the Shakers more than held their own, and deserved their I—0 lead at halftime.
Visitors Overplayed
Bury had played well to a man in the first half, and there was scarcely a weak spot in the team, though had the shooting of the forwards been better directed the home side must have been at least three goals to the good. The Everton halves could not do the right thing, and the laxity in the heart of the team upset both defence and forwards. Hibbert was cheered on resuming, but he was not himself. The first incident when play re-started was some fine work by Dewhurst, who nipped an Everton advance in the bud, and fed Gildea perfectly, but the latter's centre caught an opponent, and for Mountford to miss it as Raeside tackled him and kicked clear. Sharp, Bolton, and Makepeace then indulged in some fine mancurving, but the first-named fired high over when a centre would have been more useful. Play became a little vigorous now, and Everton lost a lot of ground through unnecessary fouls, and when Young was going through, Lindsay charged him when he had parted with the ball, but the free kick came to nought. When Bury came again, Scott brought off a glorious save from Kay, who had gathered a centre from Gildea, and the latter winning a corner next minute, Hibbert headed wide. Everton were being over-played again, and made their few advances by the instrumentality of the right wing, Hardman having nothing more to do than dig holes in the turf with his shoes, sharp crossed beautifully after a glorious run, but Bolton could not gather the ball, and when Hardman was given a chance, he found the utmost difficulty in getting past Dewhurst. Young eventually extended Raeside with a long range shot, and from a corner kick, Mountford sent wide. The visitors began to discover that their policy was to try long shots, but even their marksmanship was wanting in effectiveness. Gildea centred too strongly when there seemed every possibility of Bury forging further ahead, and Kay was whistled offside, as he shot into Scott's hands. Lindsay shot inches wide at a great pace in taking a free kick form a foul on Dewhurst, and when Sharp tried to work his way into goal, Leeming and Rea barred his progress. Bury advanced and had a throw-in near the corner flag. This was got away, and Everton went down with a swing. Sharp centred for Rae side to clear as Young came upon him. Again Everton attacked and Sharp once more lifted across the goal. Bolton got his head to the ball, and tried to divert it into the net, but had the mortification of seeing the ball go past the far side of the post. A sharp run down the Bury saw Currie and Gildea make an effort to burst through, but Balmer intervened and Everton resumed their attack.
Ten Minutes From Time
Everton made a desperate sprint in an effort to get on terms, a flag kick was beautifully placed by Sharp but after several minutes' severe pressure danger was cleared. Bury now went away with a sudden dash, Hibbert, Kay, and Booth carrying the attack well within the penalty area, where Booth turned a complete somersault as Stevenson turned the ball over the goalline. The corner kick was cleared, but Bury returned to the attack and Gildea burst through and passed to Kay, who ran in, but with nobody but Scott to beat shot into the goalkeeper's hands . Bury were having all the play now, and Booth shot wide of the goal. With only five minutes to go, Bury secured a corner, an Booth lifted well in. Davidson headed into the goal. The ball was pulled down by Scott, and rolled over the heads of three players dropped at the foot of Gildea, who was only three yards from the goal, and he had nothing to do but tip the ball into the net. From the restart, Bury went away with a dash, and Gildea rounding Chadwick beautifully sent across the goal, and put Hibbert in possession, but he had his back to the goal, and before he could turn round Stevenson chipped in and cleared. Everton twice made brief visits to the Bury end, but Bury returned to the attack, and Hibbert scored from an offside position. A minute from time Hibbert passed to Booth, and the latter scored with a grand shot. Final; Bury 3, Everton 0.
EVERTON RESERVES V. BURY RESERVES
Cricket and Football Field - Saturday 18 January 1908
(Lancashire Combination –Division 1.)
At Goodison Park. The visitors commenced operations and a vigorous game was witnessed, end-to-end play being the rule. Mearns saved well from Mason after 20 minutes' play, and Everton gained several corners, but were unsuccessful with the final efforts. The visitors goal had many near escapes, and Booth on several occasions ought to have netted, the ball going inches wide. Bury showed good work, but ineffectually. Interval Everton reserves 0 Bury 0.
After the resumption the Blues were early prominent, but a foul against Mason spoiled a good movement, and play was transferred to Everton's territory. The home side pressed, and Cooke and Mason fiddled away a grand chance under the bar. The Blues made a fine effort and Mason was conspicuous at centre forward, his effort being stopped by Mearns near in Jones also had a chance, but the custodian caught and kicked away. A corner accrued to Everton, without avail. Final; Everton Reserves 0, Bury Reserves 0.
PARS, ABOUT PLAYERS
Cricket and Football Field - Saturday 18 January 1908
Taylor – Everton's well-tried captain deserves high commendation for playing such a sterling and untiring game for his side on Saturday.
Brearley – Jack Brearley, the old-time Liverpool local, is still on the active service list, and put up a very good game, we notice, for Crystal Palace in the first round of the cup.
Scott very often showed splendid resource in Saturday's Cup tie at Everton, and his timing of the ball to nip in and stop the 'Spurs' rushes were thoroughly reminiscent of J.W. Sutcliffe when that great keeper was located at Bolton.
BURY 3 EVERTON 0
January 20, 1908. The Liverpool Courier.
EVERTON OUTPLAYED.
Admittedly Everton had no easy task in visiting Gigg Lane last Saturday. Bury have surprised even their own supporters by their dash and vigour this season. The consequence is that interest in the East Lancashire club has become greatly accentuated, with the result that an adverse balance at the bank has been liquidated and the club managementment are now in a very happy frame of minds. Saturday's game placed them on even better terms with themselves. There was a recollection of a terrible thrashing at Goodison-park –six goals to one –and quite naturally Bury people and the Bury players wished to have some sort of revenge. Well, they had it. Everton were thoroughly beaten. The final read –Bury three goals, Everton nil. It would be ungenerous to a degree top attempt to disparage the significance of Bury's triumph. But strange to state, the verdict would have been so pronounced had the referee taken care to finish the game at the proper time. The second goal, which fell to the victors, was scored just about when the whistle ought to have been blown. The third came –well at least three minutes after full time had been played. The referee's watch evidently went wrong. otherwise a number of the spectators were sadly out of their reckoning, as to when the 45 minutes expired. It was just as well the incident had no material effect upon the issue of the match. The important point, however, is that supposing in that extra time a goal had proved a deciding factor, the referee might have had something said about him. However, no one for a moment would dream of impugning Mr. Campbell's absolute honesty of purpose. No one, too, could begrudge Bury the spoils of victory.
EVERTON'S WEAKNESS.
To a large extent Everton failed by reason of the ineffectiveness of their half-back line. Time was when the Everton trio was recognised as per excellence the strongest in the country. There was a considerable falling away in this respect last Saturday. Indeed, it was largely owing to the halves that Everton sustained a decided reverse. When the game started MaConnachie, Chadwick, and Makepeace formed the half-back line. Later an alteration was necessary or at least the disposition of the men, was changed, for Makepeace crossed over to the right, MaConnachie took up the centre half-back position, and Chadwick operated at left half. This induced some, though not sufficient, improvement to snatch the game as it was out of the fire. But to take matters in their natural sequence, Bury practically won the match in the first twenty minutes. It was a grand goal, too, which Kay scored. Everton had been attacking strongly but suddenly the ball was sent down the field. Hibbert took his share in the dash forwards goal, and falling at the right moment Kay defeated Scott with a fast rising shot, which deserved all the applause with which it was received. Everton, despite obvious weakness in the essential part of the team, had quite a fair share of the play. Sharp in particular with the star of the visiting attack. Yet even he on one occasion when he had only the goalkeeper to beat shot the wrong side of the upright. The second half was as interesting as the first. When it looked as if Everton would only be one goal down, the Bury men came again, and apart from the question of time scored through Gliden and Booth.
CONCERNING THE PLAYERS.
There is no use attempting to decry Bury's superiority. They were cleverer on the ball than the Evertonians, and the forwards never forgot to shoot whenever the slightest opening presented itself. After Saturday's exhibition one can well understand how Bury have attained their honourable position in the League table. Everton, truly had an off day. Practually the only players to do themselves full justice were Scott and Sharp. The custodian had plenty of work, which he accounted for in his best style, and as for Sharp he was always in evidence, although once he did make a bad mistake. The left wing was ineffective. Hardman had not many chances, and this was in no small measures owing to Mountford, who did not impress one with his ability to command the ball. Young too, was not seen at anything like his best, and Bolton likewise was for from the Bolton we knew him to be was far from the Bolton we knew him to be when in his real form. As for the halves enough has been suggested to show that they failed to rise to the occasion. R. Balmer was fairly good, But Stevenson was erractic, and allowed the opposing wing far too much latitude. To sum up, Bury deserved their win, even though a few minutes extra time were allowed. Teams: - Bury: - Raeside, goal, Lindsay, and Waring, backs, Dewhurst, Davidson, and Rae, half-backs Gilden, Currie Hibbert, Kay, and Booth, forwards. Everton: - Scott, goals, Stevenson, and R. Balmer, backs, MaConnachie, Chadwick, and Makepeace, half-backs, Sharp (Captain), Bolton, Young, Mountford, and Hardman, forwards. Referee T.P, Campbell.
EVERTON RESERVES 0 BURY RESERVES 0
January 20, 1908. The Liverpool Courier.
Lancashire Combination Division One (Game 21)
Everton had Bury for visitors on Saturday and for the second time this season they failed to derive any satisfaction from the encounter, though the match under notice ended in the points being divided, a goalless draw being the result. Bury were the first to show up. Christopher, who played in goal instead of Sloan, saved a dropping shot from Chorlton. The game was evenly contested right through this half, though Everton deserved to take the lead. Booth and Jones making some creditable attempts to score. Everton were unfortunate in the second half, Strettell retiring hurt early on. The Blues Blues re-arranged their forward line, but with very poor results, as they lacked combination. On the other hand, Bury took advantage of Everton's depleted ranks, and only fine work by Balmer and Booth prevented them from scoring. A draw correctly reflected the result. Christopher had not much to do, W. Balmer and Strettell, defending in splendid fashion, the former in particular playing a dashing game. The halves were strong trio, Booth however, both in attack and defence, being the pick. The forwards were most erractic. The visitors had a strong defence, the halves were excellent, whilst the forwards were ahead of the home lot in combination, and dash, but their shooting was poor. Bury have thus taken three points out of the Blues this season . Everton: - Christopher, goal, Strettell, and W. Balmer backs, Adamson Booth, and Rafferty, half-backs, Donnachie, Graham, Jones, Mason and Winterhalmer, forwards.
AN UNEXPECTED HEAVY FALL FOR EVERTON
Cricket and Football Field - Saturday 25 January 1908
By Richard Samuel
Everton succumbed much more heavily at Bury than we had expected. Seldom do the Blues lose by three clear goals. Yet until the last few minutes it was anybody's game, and to the untiring behavior of Bury's defenders is much credit due for stalling off Everton's attacking machinery, which has only failed to score at Bolton and Bury's in "out" matches. Some assert Bury's second and third goals were scored after "time" had expired. I can hardly think this could be so, and anyhow, if the referee was generous at all, surely it was Everton who had the greater chance of profiting thereby. It seems strange that the Blues should win 6-1 at Goodison and then lose 3-0 in the return game.
A Curious Half-Back Placing
It is quite clear they did not give of their best, and nowhere was the weakness so clear as in the half-back line, where, for a time, McConnachie appeared at right half, Chadwick at centre, and Makepeace on the left – a strange placing, surely, for not one of the three was in his recognized position! Bury soon showed up the weakness of the links here, and I consider Sharp displayed good judgement in rearranging the line ere the interval was reached. Scott I hear, kept his usual fine goal; whilst R. Balmer was again much in front of Stevenson, who seems to have struck a patch at a very awkward stage. Not one of the halves did himself justice, and seeing that both Taylor and Abbott were unable to attend, it seems passing strange that Adamson was not called up, for we cannot forget his exceedingly promising behavior against Bristol and Woolwich. I was sorry to learn Settle couldn't assist against his old companions, in consequence of a family bereavement. Yet Mountford was fairly useful as substitute, being one of the few Everton marksmen on view. Sharp was the best of a line, which failed in their shooting and suffered considerably in consequence of their half-backs' shortcoming.
Everton's Hard Nut at Oldham
Everton's task at Boundary Park is admittedly looked upon as a stupendous one. So much so that many are of opinion the Blues will not succeed where none have yet won this season. However, there are two sides to every question, if only one correct answer. The solution Everton hope to give on Saturday. They have been in special training at West Kirby all week. As in the case of Liverpool the Blues will find themselves opposed to a side which moves on whirlwind lines, rather than cut and dried methods in attack. Oldham are the nearest approach we have had for some time to the West Bromwich Albion and Blackburn cup-fighting teams. The Athletics, apparently, simply bubble over with enthusiasm. Hence it will be necessary for "Everton's seasoned warriors" to go off just as much "full-steam-ahead" as their opponents, who mix bustle and cleverness so well together. Everton's team will scarcely differ from that successful over Tottenham. The same forward line is practically a certainty –accidents excepted and Makepeace, Taylor and Abbott was again rested on Saturday, whilst Taylor has been off duty with a damaged face since the 'Spurs' match. But each will, I opine, be in evidence at Oldham. Taylor's presence especially should count for a great deal. It is at full back –as I said last week – that I am not too certain of the ground, unless Stevenson comes back to his West. R. Balmer is doing finely, but his four possible partners require a bit of sorting out to find "Mr. Right" Everton will go prepared for a severe 90 minutes' fighting and personally one would not be displeased if they success in bringing Oldham down to Goodison for a mid-week replay. What a gate the erstwhile Lancashire Combination artistes would help to draw!
NUGGETS
Cricket and Football Field - Saturday 25 January 1908
Everton Were badly beaten at Bury
Bravo Bury! To beat the Toffees by three clear goals was indeed a smart performance.
Everton's Macconnachie has now had a turn in all three half-back positions, and also at full back.
The way Everton selectors do their work must be very heart-breaking to the clever young players they have under their control.
Everton's defeat created surprise.
Bury obtained a measure of revenge against Everton.
Macconnachie and R. Balmer as backs, with Makepeace, Taylor, and Adamson forming the half-back line, would mean less work for Scott.
Both Bury and Bolton have beaten Everton 3-0, which proves that either the Goodison men are deteriorating, or else the two former clubs are greatly improving.
Bury's was a glorious victory. They surely never expected to win by a three goals' margin over their classy Everton rivals, for the Shakers' home form had proved sadly disappointing of late.
Everton are in serious preparation for the coming battle with Oldham. By the way, the latter have made very little fuss about their methods of "getting ready" this season, but there can be no doubt the old Wanderers, Hanson , knows his business pretty well.
Say what they like, George Wilson is a much missed man at Goodison. Settle is getting near the "yellow" age, his deputy Mountford has not had sufficient experience, Hardman, and Woods have not done so well, and Winterhalder and Donnachie have been given few chances. George would have been able to filled any of the left wing positions. Then given his clever play and pluck would have given fresh life to the other members of the team.
Bury buried Everton in no un-certain fashion.
Bury put in their best dash of the season against Everton.
Everton have been chopping and changing so often that people don't expect anything else but jobbing from now to the end of April.
The old firm of Lindsay and Leeming were out again v. Everton, and the crack Goodison brigade did not manage to earn the solitary goal against them.
At Walton, Queen's road, again turned out that goal-scoring left wing, Houston and Bain.
If Everton are to win at Oldham next Saturday they will have to give a much better display then they did at Bury.
According to some Everton views, Bury were unduly forced by the referee exceeding the proper time limit on Saturday, during which the Gigg-lane team clapped on two additional goals.
Macconnachie's proper position is right full back, and if allowed to play himself into that position Everton might be able to build up a strong defence, if not for the present season, for the next at any rate.
EVERTON V. ASTON VILLA
(League.- First Division.)
Cricket and Football Field - Saturday 25 January 1908
Crelley, Young, and Elliott's Benefit
Glorious weather favoured the meeting at Goodison Park between these two famous League clubs, who, this season, however, have had to rest content with very ordinary "table" positions. Everton had selected a strong team –the identical eleven, in fact, that appeared at the Palace in last season's Cup final, W. Balmer thus displacing Stevenson, whilst Taylor and Abbott re-appeared in the half-back line. As the Blues had not gained a League victory at home since November 16th, they were very anxious for the full points today, and thereby supplement their 2-0 win at Aston in September. Everton's players had been in special training at West Kirby. The Villa reverted to their old-time forward line as far as possible. Hampton was at centre for the first time since November 23rd, A. Logan being dropped. The veteran Garritty was also restored from right-half to his original position at outside right. Not since the Villa were at Anfield-rd,in 19067 season had Garratty previously figured in his former-day role. The full teams were;- Everton; Scott, goal; Balmer (W) and Balmer (R.), backs; Makepeace (captain) , Taylor, and Abbott, half-backs; Sharp, Bolton, Young, Settle, and H.P. Hardman, forwards. George, goal; Lyons and Miles, backs; Tranter, Logan (captain) and Godlings (S), half-backs; Wallace, Garratty, Hampton, Bache and Hall, forwards. Referee; Mr. N. Whittaker, London.
Villa Hold Their Own
There was a doubt about Hardman being able to appear. Had he been absent Winterhalder would have played. However, Hardman happily was in his usual place. The ground was in perfect conditions, and about 16,000 people witnessed the start, this number being, unhappily, decidedly below the average "gate" for an Everton-Villa match. Losing the toss, Logan set Everton to face the breeze. Everton started brightly by forcing the pace, Taylor, Sharp, and Hardman being very sprightly in their movements, especially the amateur, who twice ran brilliantly, with Lyons at his heels, to first centre, and then shoot. The villa replied on the right, when R. Balmer was cheered for sinartly robbing Wallace. A minute later, however, Wallace got in a fine centre off the line, and the Everton goal escaped narrowly, with Hampton bearing down on Scott. But between the latter and W. Balmer danger was averted. Everton's forwards again got into swinging order, and from characteristic work by Hardman, Young went very close with an oblique shot, which George negotiated. The game was being splendidly contested at this point, some very fine movements being indulged in, especially by the artistic Makepeace and his right wing. One of these ended in a perfect centre by Sharp, which Bolton could not reach, and Lyons cleared nicely. The Villa were quite holding their own, nicely. The Villa were quite holding their own, however, and hereabouts Hall got the better of Makepeace and centred to Hampton, who headed in, but fortunately Scott was in the way. The Villa continued in dangerous mood, playing an open swinging game which appeared to bother Everton's defenders, among whom R. Balmer was a shining light. It was observed that Young was being closely shadowed by Logan, and that Miles was most successful in tackling the home centre. The Villa at this point, were short-handed, Codling having retired, but he was soon out and about again. Neither set of forwards had been allowed to trouble the goalkeeper much, but now the Blues advanced on the left, and the ball being returned to Abbott, the latter gave to Bolton in a distinctly favourably position, and the Blues' inside right levelled a splendid shot at the Villa goal, which George parried in good style. Then the Blues took a corner, from which the giant George-swept over. Play after this settled down on quiet and uneventful lines until the nicely-built Wallace flashed in two telling centres. From the first Hampton headed wide, whilst the second won a corner, which Abbott cleared. The Villa half-backs were prominent figures in the play being most successful in breaking up the Blues' attack, but in their rear Lyons was noticeable as a man who frequently missed his kick. Settle was distinctly slow in his movements, and one or two possible chances and two or three good passes were missed to him and lost to Everton in this way. With half-an-hour gone Everton put in a dashing attack, which culminated in a perfect pass from Young to Makepeace, but the latter shot woefully wide. After a free kick had been given against W. Balmer for bringing Hampton down Sharp effected a brilliant 50 yards' run against his old club, and centred off the goalline to Settle, who with no one to beat but George.
Actually Almost Found The Corner Flag?
It was a terrible miss, from which the crowd took some time to recover. At the other end Bache "bashed" the ball when similarly placed right over the goal stand! Such shooting was vile indeed. But better things were soon shown, and the Villa captain, Logan, was the man to distinguish himself. First from a free-kick just outside the penalty line, and then on two other occasions from about 25 yards' range, Logan made a trio of superb shots, which Scott rescued in valorous fashion. The Villa were certainly the more dangerous and aggressive side, their halves completely holding Everton's forwards in subjection for 10 minutes at a time. A long shot from R. Balmer now bothered George , who kicked away, and the next minute Settle might have scored with George out of goal, but he lost a view of the ball, and Miles came in with a timely rescue. Half-time; No score.
The Second Half
Logan's work for the visitors had been a distinct feature. In fact, it might be likened unto Raisbeck at his best. Makepeace ran in a good second but Wallis appeared rather sprightly for Abbott. The attendance would probably reach 25,000 at the restart. Scott was twice tested with splendid shots from Hall in quick succession. The first he cleared, and the second he did well to get rid of even at the expanse or a corner. Everton replied on the left, and Settle put in a curler which went to Miles, and from the latter to Makepeace, who drew from George a splendid save. Everton were still busy around the Villa citadel, but several creditable attempts to open the scoring were charged down, and the ubiquitous Logan was ever to the fore. Still Everton's general methods of attack could not be said to altogether please. They lacked both in concert and dash, and thus were failing to break down the sparingly Villa defenders. Indeed, the forward behavior of both sides was in no sense up to the old standard. Sharp was now set going by Young, and racing along at top speed, he centred backwards for Young, but the latter's thunderbolt shot was charged down by Lyons. Logan just afterwards got a kick in the face, and retired for a minute, whilst the next incident was a storming shot from Makepeace, which sailed a foot wide. Abbott sought to emulate Makepeace, but his shot was blocked by Tranter, but the latter appeared to feel the impact. Willies showed smart football on the Villa right, and from one cross shot, Hampton missed the chance of the day – the ball simply asking to be trapped through at a time when Scott was lying prone. A free kick for interfering with the keeper relieved the pressure, and away went the Blues in fine style. They maneuvered splendidly, and finally gave to Abbott, who drew from George a full-length save at the expense of a corner. From this the ball came out to Abbott, who put to Sharp, and the latter scored the long looked-for first goal of the day against his old club 18 minutes from the restart. It is worth pointing out that not since Everton were at Villa Park in September had Sharp previously found the net. Sharp evidently is determined that old acquaintanceship shall not be forgotten. After this, Everton were to the fore more frequently than the Villa, and one short by Young was headed over the bar by Lyons, yet the referee gave a goal kick. R. Balmer, at the other end stopped Garratty, who had gone centre, right in the nick of time, and then the veteran Villa centre vexed himself by shooting high over from a nice range after his forwards had worked along beautifully for position. There was no decrease of pace, and the play was so level that the issue remained in extreme doubt. Scott's services at this stage were frequently requisitioned, but he fully upheld his great reputation. His saves were executed in remarkably fine style. Bache was little in evidence today against Makepeace, whilst Abbott was holding Willis better than in the earlier stages. W. Balmer, it should be stated, had put up a useful game in his old berth. There was very little to choose between the teams in the closing stages. Hardman failed at one possible chance, and Young made a capital attempt from a corner. Nothing further accrued, and Everton wound up with a 1-0 victory thus taking the full four points from the Villa this season, without allowing the latter a consoling goal. Final; Everton 1, Aston Villa 0.
PRESTON NORTH END RESERVE V EVERTON RESERVE
(Lancashire Combination. – Division 1.)
Cricket and Football Field - Saturday 25 January 1908
Played at Deepdale this afternoon before 3,000 spectators. Everton had a couple of corners. Bond at the other end made Sloan put the ball over the bar, but the corner came to nothing. The spectators jeered the home forwards, so poor and weak was their play. A few minutes before the interval Jones broke away from the half-way line, and beating the full backs scored for Everton with an oblique shot. Half-time; Preston North End Reserve nil, Everton reserve 1.
Soon after restarting North end made a strong effort. McLoughlin passed the ball across to Bond, who, with an open goal shot into the hands of Sloan. Taylor saved a good shot from Mountford from amongst a crowd of spectators. Mason made a good run, and Taylor had to save, but Jones running up at the same time, scored a second goal for Everton. The visitors kept their lead until the finish, the home side making a very inferior display. Winchester at centre-half was the best man in the team, and the full backs, Sharples and Derbyshire, gave a creditable display, but the forwards were shockling weak. Final; Preston North End Reserve 0, Everton Reserve 2.
PARS, ABOUT PLAYERS
Cricket and Football Field - Saturday 25 January 1908
Adamson merely adorned the Everton League team last week end, yet his work at right half in earlier league trials had shown him up as one of the most promising recruits Everton have had on their books for many a long day.
Sharp was Everton's premier forward at gig Lane. Considering his goodly playing record, Sharp is a splendidly preserved footballer, and Lancashire's county cricketer looks like being before the football public for some time yet. By the way, last May it was freely asserted he would be seen playing at Oldham last season. "Old Moore," has turned out correct for, all being well, Sharp will materialize at Boundary Park a week hence, and –Evertonians hope –to good purpose.
ROOSE'S REMOVAL
Cricket and Football Field - Saturday 25 January 1908
L.R. Roose, having got over his finger trouble once more – by the way, the famous Welshman has usually suffered, if at all, through injured fingers-has decided to assist far-away down-trodden wooden-spoon Sunderland, and Saturday found him duly installed 'neath the Weartsiders' cross-bar at Deepdale, and, moreover, carrying out brilliant work in defence. Roose is a most unconventional young man, and hence it is that people are wondering whatever it can be that has led him to decide upon helping Sunderland, especially as it was in consequence of some trouble he once had with a Roker audience that Roose was suspended a couple of seasons ago.
AN EVERTON IDOL
Cricket and Football Field - Saturday 25 January 1908
In a team which has fallen away from its previous high standard this season, Harry Makepeace continues to catch the eye by reason of his consistency and skill. One of the fastest half-backs playing, this clever athlete is indeed a difficult man to beat, for he is a deft interceptor of passes, plays the man as little as possible, and never when he has a chance of the ball, and feeds his forwards most acceptably with Sharp, well-timed, low passes. In everything but birth he is regarded as a local on Merseyside, for though born in Middlesbrough in 1882, he removed and was educated there at Queen's-rd, Council School. At school he displayed some aptitude for the inside-left position, and represented Liverpool in inter-town matches, whilst later he assisted the Queen's –rd Mission F.C, which won the West Derby League championship. He scored no fewer than 55 out of 79 goals booked by his club, and attracting the attention of Everton when only 18 years of age, he was booked by the Goodisonians, and for two years occasionally turned out with the second team. Having joined the ranks of the professionals, he was promoted to inside left in Everton's Cup team v. Manchester United early in 1903, and played in his first League match a week later against Bury. Later he occupied various positions and settling down at half-back, put in another season with the Reserves, Wolstenholme, Booth, and Abbott being so regular, and reliable as to keep him in the background. His neat, effective, and brainy play enabled him to push his way to the front three seasons ago, and, fit and well, Everton have not a half-back to beat him today. Last season he joined the Lancashire Cricket Club staff at Old Trafford, and proved good enough to play in most of the county fixtures. A modest and well-behaved player, he stands 5ft 7 half ins, and weighs 10st 6lbs.
EVERTON 1 ASTON VILLA 0
January 27 1908. The Liverpool Courier.
EVERTON'S NARROW VICTORY.
FEEBLE SHOOTING.
Everton signalised the benefit accorded to Young, Crelly, and Trainer Elliott by gaining a couple of points at Goodison-park on Saturday at the expense of Aston Villa. On the face of it they could do no more than win and seeing that at the end of September they triumphed on the Villa's ground by two clear goals, it cannot be denied that this season, at any rate, they have a decided pull over their old rivals from Birmingham. But somehow or another when Everton and Aston Villa meet it has become a tradition to expect something quite out of the common in the way of an exhibition of the scientific possibilities of the Association code. This used to be the case, but apparently, the old order has chanced. Neither team at the present time plays the same style of game which formely delighted spectators. This is not to be wondered at, seeing that a change has come over the methods of the vast majority of footballers. The clockwork variety of combination has given place to long passing movements. Hence it is probable that the older followers of Association were disappointed at the fare served up at Goodison-park on Saturday. Still the main fact is that Everton improved their position in the League table by the acquisition of a couple of points.
INCIDENT OF THE PLAY.
There was a capital attendance –a fact which must have been gratifying to the beneficiaries. Everton relied upon what is now regarded as the old team, or rather the side, which, with one exception, brought the English Cup to Goodison-road. On the other hand, Aston Villa were deprived of the services of two such valuable men as A. Logan and Harper. Without being marked by the "classiness" which, as before suggested, was expected there was plenty of incidents in the opening half. To a large extent, however, it was confined to midfield. Both sets of forwards seemed to lose their heads, or certainly command of the ball, when within shooting range. Once Settle failed badly to utilise a grand chance afforded him by Sharp, and George's charge had an exceeding narrow escape. Finding that his forwards were shy in testing Scott, J. Logen just before the interval put in two beauties, which called for and received excellent attention from the Irish International custodian. The Villa started the second half in much more aggressive style and after fine work by Wallace, Hampton made a sad mess of an opportunity of drawing first blood. Appreciating their good fortune, the Blues showed some of their real form and the reward came in the shape of a goal scored by Sharp, following a corner towards which Abbott contributed in no small measure. This proved to be the only goal of the match, but if only Hampton had been anything like himself the Villa might easily have equalised.
MISSED OPPORTUNITIES.
It was indeed, a game of lost chances. Both goalkeepers had numerous shots to negotiate, and both Scott and George did their work well, but with forwards in decent shooting trim they must have been beaten on several occasions. Up to a point the Villa showed better football than did Everton, but they were helpless when it came to a question of trying to find the net. Everton did accomplish this feat once, and herein they deserved their victory for after all it is a side's own faulty if glorious openings are feebly frittered away. The lack of harmony applied to both sides. The Everton attack never really settled down, the only really conspicuous men being the two outside forwards –Sharp and Hardman. The halves were good with Makepeace first and Taylor a good second, while the younger Balmer was the sounder of the two backs. Scott of course was excellent. Hampton's weakness in front of goal accounted largely for the Villa's defeat. Wallace being the most prominent in the forward line. But unquestionably the outstanding player on the visitors side was light-haired J. Logan. He resembles Alec Raiseback, not only from a physical point of view, but also as regards methods. Undoubtedly he is a great centre half-back. But, with all his grant work, Everton secured the victory; let us hope their experience will be repeated at Oldham in next Saturday's English Cup-tie. Everton: - Scott, goal, W. Balmer, and R. Balmer, backs, Makepeace, Taylor (Captain) and Abbott half-backs Sharp, Bolton, Young, Settle, and Hardman, forwards.
PRESTON NORTH END RESERVES 0 EVERTON RESERVES 2
January 27 1908. The Liverpool Courier.
Lancashire Combination Division One (Game 22)
Although Preston turned out a strong side to meet Everton at Deepdale, the eleven including Bond, Derbyshire, Winchester, the leaders gained a handsome victory by two clear goals, being the only visiting club in the first division to carry off both points. Everton showed form worthy of the leaders and the proud "Uns" were as well beaten as the score would indicate. Much of the credit of the victory was due to Jones, who scored both the goals, the first after a sensational run. But in every department the men did well, and but for the steady defence of the Prestonians a few more goals might easily have been added to the visitors account. Everton: - Slaon, goal, Stevenson, and Crelly, backs, Adamson, Booth, and Chadwick, half-backs, Rafferty, Graham, Jones, Mountford, and Winterhalmer forwards.