SAGAR HAS A SUPERSTITION
January 1, 1951. The Liverpool Daily Post
Thank the snow for the opportunity to join me behind the scenes with Everton at West Bromwich Albion. You have read, above, what happened after 2.15 on this snow-laden day. Here is some indication of the preparation which goes into making football possible at any time, but particularly when the ground is hard and snow is on it. Normally the travelling side's Saturday morning consists of half an hour shopping; a talk about tactics and lunch, and the trainer includes himself in the ease of the atmosphere. Here it was different. Trainer Harry Cooke had to satisfy himself that his players studs were long enough to grip the ground through the show, whether the match was on or off and what sort of pitch his team could expect. So with him and twelfth man Jack Humphreys I went off by taxi two skips aboard –through the slush of Birmingham to where the Throstles come from. Everton were first to divide one unwieldy basket skip into two. Practically all clubs have taken their measurement from the original sizes as laid down by Cooke.
Open Sesame
The way to get into a football ground when you have no ticket is to walk in uninvited at 11-30 on the morning of the match. The Albion door was open and we helped ourselves. Touchlines and other pitch markings had been swept but a groundsman awaited the referee's decision to paint them blue, red or leave them as they were, which was the way it happened. Inside the away dressing room skips were opened, cold water run into the community bath, the hot tap so hot that running it first steams up the hole place and the work began of sorting kit. Out came ten numbered, which were set in number order, and dressing room seats. Ten numbered white shirts in order, these were unused. Out came Harry Cooke's special second change ten numbered canary yellow shirts which he put in because white shirts against snow can mislead friend and foe alike and the guvnor might like to use them. Then came Ted Sagar's green jersey, his cap, two packs of groves –one pair with a better grip, and then the stocking with guard. Sagar's black shorts which are well used. He insists on an old pair and he always gets them that way. Just his little superstition I suppose. In the Sagar outfit are two pairs of classic knee pads, with a good cushion of protective rubber and one wonders why no one has thought of protecting on such hard grounds, the goalkeeper's elbow and hips. It could be done. In the centre of the room is an upholstered massage table and on these the Everton trainer places the tastiest set of bandages I have seen for a long time. "Is bandaging so expensive it has to be used a second time?" I asked. He said "No, but they won't have new ones when old are available –the old are so much softer to the feet. Albion trainer Fitton comes in with three cups of tea, tasting much like Army brew and offers the use of his cobbling last. Then two or three of the ground staff boy's arrive with the kick-in ball and fourteen bottles of lemonade which they stack neatly against the wall. Everything has it place even in a dressing room. A few quick sprints in soccer boots by Jack Humphreys and the Everton contingent can tell that the long studs which are already fixed, need only a rasp or two of the five to make them ready. Then it's to Birmingham again giving a lift to Albion coach Billy Richardson as we go a quick lunch and a little over an hour later Trainer Cooke's back ready to get the real part of the day's work. Happily he was never called.
EVERTON'S GREAT HOLIDAY 'BAG'
January 1, 1951. The Evening Express
Pilot's Log (Don Kendall)
Everton's great holiday "bag" of nine points out of ten, with an encouraging improvement to the scoring and defensive records, is proving the sensation of the First Division just as the rise of Preston North End in the Second Division. The latest feat of the Blues was to defeat West Bromwich Albion by a Tommy Eglington goal at The Hawthorns on Saturday with another splendid display from a team revealing the right tactics and all-round collective and individuality. Everton are now four points ahead of the bottom club, Sheffield Wednesday, are seventh from the bottom and although lots of the clubs below them have matches in hand, Everton have turned the 20 points mark. This is not surprising to many who have watched the Blues all season. Everton never have been a bottom-of-the-League side and their revival just shows what can happen when the club is able to field an unchanged team for a few matches, instead of being forced week after week to make alterations. Everton have now played five matches unchanged and dropped only one point.
Watching
Manager Cliff Britton will not announce his Cup side until he has studied in detail the report of his form student, who was at Blundell Park on Saturday watching Hull draw with Grimsby Town, not that Cliff should have any trouble whatever about that in view of recent successes.
Here are Radar's comments. "one of the concrete reasons why the present victory is that Manager Britton has found a splendid blend of youth and experience, "The young element too, fitted into the scheme of things magnificently Tommy Jones rose to great heights in his control of the centre field and his sure footedness on such a treacherous surface, Jones improves also in his constructive work with every game, and many were the spontaneous tributes paid to him after the match by the sporting West Bromwich folk. "Rankin and Moore were equally on top of their task against Allen and Lee, fast-moving wingmen who constituted the main Albion danger. It was difficult to imagine that Rankin was taking part in only his fifth first class game, and this youthful local product surely ranks as one of the most promising full-back discoveries of the present season.
Captain's Support
"Farrell was his customary energetic self, covering a remarkable amount of ground, solidly supporting the defence and continually moving forward to give his forwards the necessary prompting. Grant mastered the conditions with nearly the same degree of efficiency. Candidly I had not the slightest qualms even when the home men flung their all into a desperate bid to snatch an equalizer. Do not imagine that Everton had all the breaks in the game, which reached an excellent standard under such grim conditions. They did not, but Everton made the ball run in their favour, and I thought the vital difference between the two attacks especially after the interval, was that McIntosh and Co, looked like scoring goals every time they went to work. The Albion forwards did not. "Tommy Eglington, one of the best left-wingers in the game, was the sparkling spearhead of a methodical front line. It was fitting that he should move into the middle to take advantage of Sanders hole and nod home the victory goal –from Pott's centre – four minutes after the interval. His colleagues quickly realize that Tommy's speed was deciding factor and all four exploited the superiority with a flow of judicious Potts value, as the essential link between defence and attack was priceless and Hold was always fetching and carrying to the Albion defence.
16 IS LUCKY FOR EVERTON
January 2, 1951. The Evening Express
Pilot's Log (Don Kendall)
Those who believe in omens are convinced that this will be Everton's Cup year. Despite all Everton's League troubles, there s a growing feeling that the Cup will be brought back to Goodison Park for the third time. The excellent play of the team is one reason, and another is that when the sum total of the date of the year comes to 16, then Everton win the Cup. Only once this century –in 1924 –have Everton had the chance to win the Cup and failed when the date has totaled 16. In 1906 (16 you see) Everton won the cup; in 1916 there was no competition because of the World War No one; in 1924 Everton failed; in 1933(again that 16) Everton won the cup; in 1942 World Cup No two wiped out the competition and in 1951 (the 16 again) we had Everton crashing into form at the crucial stage. There may not be anything to it and it is present on the field which counts but…well, it makes you think and wonder. The last time the Blues won the Cup they started off with an away match against second Division opposition –Leicester City. This season they again start off with an away match.
Last Time
The last time Hull City had a "crack" at Merseyside in the F.A Cup was not that three-match tie with Everton which the City won at Villa Park 3-2, with George Martin now the Villa manager, heading the winning goal. The last time was in post-war and it was brought back to my mind when I hastened to the Tower on Saturday hoping to see some football but seeing only snow. The last time I was at the Tower was when Hull City came there for a replay in the Cup with New Brighton. The Rakers gained a goal lead in the first half and Manager Frank Buckley, then with Hull spent the entire second half staking the touch-line urging on the City and he had the satisfaction of seeing his lads recover and go on to victory, which qualified them for a home tie against Blackburn Rovers. So that is another "account" Everton have to balance on Saturday.
HIS FINGERS ARE CROSSED
January 3, 1951 The Liverpool Echo
Ranger's Notes
Everton have not yet announced their side for the visit to Hull City. Manager Cliff Britton is keeping his fingers tightly crossed. Although at the moment Everton have no doubts about any of the players who have been doing such great deeds lately. Catterick and Saunders have gone down with influenza, Mr. Britton is obviously anxious in case the outbreak should spread. Rankin is the only Evertonian who is not training with the rest of the staff. A part-time player only –he is serving an apprenticeship to engineering –Rankin does his training in the evening. It says much for the ability and stamina that he has put up such splendid performances under the circumstances but football, of course, is in his blood, handed down by his grandfather and father. Should he take to the game full time he was obviously a great future ahead. Cyril Lello has this week taken up temporary residence in the Wolverhampton rehabilitation centre which I mentioned recently. Here he is to undergo a special physical training course designed to strengthen the muscle which have been causing him so much trouble. If all goes well, when he returns at the end of the month he should be completely fit again.
CUP CHOICE; EVERTON UNCHANGED FOR HULL BATTLE
January 4, 1951. The Evening Express
Sixth Time in Succession Replay Arrangements
By Pilot (Don Kendall)
Everton will represented at Boothferry Park against Hull City, in the F.A. Cup third round tie on Saturday by the players who have gained nine out of the last 10 points played for in the First Division. This will be the sixth match in succession in which Everton have made no chances and the team that defeated Huddersfield Town, Newcastle United, Burnley and West Bromwich Albion and drawn away with Burnley. The fact that no alteration is made comes to no surprise in fact, Manager Cliff Britton only delayed announcement to assure himself that no one fell victim to the flu epidemic. Fortunately the eleven revivalists have escaped up to now. Everton will have two F.A Cup debutants on parade –George Rankin and Tommy Jones, the 20-year-old Liverpool lads and former member of the Liverpool Youth team. All the others are well experienced in F.A. Cup lore, for Eric Moore played last season and two have had Wembley Final experiences. They are Ted Sagar the wonder goalkeeper of modern football, and Harry Potts who played for Burnley in the 1947 final against Charlton Athletic. Hull City's team was announced today. The attack is not quite on the lines anticipated for Carter has selected himself at inside right to place of Smith, whereas last Saturday, the Hull manager figured at inside-left, a position to be occupied on Saturday by Gerrie and the vacancy thus created at centre forward is given to Ackerman. Hull City; Robinson; Hallsall, Jensen; (or Varney), Revie, Berry, Harris; Harrison, Carter, Ackerman, Gerrin, Burbanks. Everton; Sagar; Moore, Rankin; Grant, Jones, Farrell; Fielding, Hold, McIntosh, Potts, Eglington. The Everton players were in training again at Goodison Park this morning, completing the more serious part of their preparation.
In the event of an Everton replay, tickets will be issued in the Bullens road and Goodison road stands at 10 and 6s each. The two goal double-deckers will be at 6d, pay at the turnstiles on the day of the match.
EVERTON CUP TEAM
January 4, 1951. The Liverpool Echo
Stork's Notes
Everton will be unchanged for their third round cup-tie at Hull on Saturday, this being the sixth time in succession that an identical combination has been fielded. Having gained nine of the last ten points played for, it was obvious that this side was deserving of its chance to surmount the difficult Hull obstacle. Everton; Sagar; Moore, Rankin; Grant, Jones, Farrell; Fielding, Hold, McIntosh, Potts, Eglington.
Everton's Opponents
Hull City's team to meet Everton was chosen early this afternoon. The attack is not quite on the lines anticipated for Carter has selected himself at inside right in place of Smith where last Saturday the Hull manager figured at inside left a position to be occupied on Saturday by Gerrie and the vacancy thus created at centre forward is given to Ackerman who has been dropped the last few matches. All stand tickets were disposed of days ago but there will be plenty of room in a ground quite comparable with Goodison Park and which easily held 55,000 when Manchester United were there in the sixth round two or three years ago. Hull City; Robinson; Hallsall, Jensen; (or Varney), Revie, Berry, Harris; Harrison, Carter, Ackerman, Gerrin, Burbanks.
AT HULL
April 5, 1951. The Evening Express
Pilot's Log (Don Kendall)
This is Everton's 17 cup-tie against Second Division opponents, out of which they have scored 23 win and nine draws. The Boothferry Park (it will be Everton's first visit there) gate record 55,019, set up when Manchester United were there in 1949 should be broken. Everton are riding the crest of the wave at the moment with just reward crowning the good football they have been playing all season. There are few better football sides in the First Division. They are operating with renwed confidence and the new "shoot-on-sight" flair has made them one of the most feared combination. Hull City have been one of the post-war sensation teams since Raich Carter, became player Manager and he is the "key" man. Everton must subjugate if they are to succeed. Carter will be at inside right on this occasion, so breaking the partnership with Burbanks his former Sunderland colleague. This means that skipper Peter Farrell will be opposing the City captain. The City are a useful force claiming a point a match from league games but Everton continue to improve and the fact that boys who have secured nine points out of the last ten will be on duty suggests that even the magic of Carter will not halt them. Should Everton draw they will replay at Goodison on Wednesday, but I fancy they are good enough to win outright. Everton; Sagar; Moore, Rankin; Grant, Jones, Farrell; Fielding, Hold, McIntosh, Potts, Eglington.
Goodison Game
Ted Buckle the Everton wing forward who lost his place because of bronchitis, will be inside left in the Central League team to oppose Newcastle United at Goodison Park tomorrow, in this re-arranged game. Buckle will be partnered by the new winger from Runcorn Kersley. Maurice Lindley travelled to Hull is reserve for the Cup-tie, so Jack Humphreys will be centre-half at Goodison with Hickson leading the attack. Everton Reserves; Burnett; Saunders, Clinton; Donovan, Humphreys, Melville; Harris, Hampson, Hickson, Buckle, Kersley.
CARTER GAVE EVERTON A BITTER PILL TO SWALLOW AT HULL
January 6, 1951. The Liverpool Football Echo
Hull City 2, Everton 0
By Stork
Hull City won because they had more forceful forwards and had a great strategist in Carter-Robinson never had the saves to make that fell to Sagar's lot. Hull City; Robinson, goal; Hassell, and Jensen, backs; Revie, Berry and Harris, half-backs; Harrison, Carter (captain), Ackerman, Gerrie, and Burbanks, forwards. Everton; Sagar, goal; Moore and Rankin, backs; Grant, Jones and Farrell (captain), half-backs; Fielding, Hold, McIntosh, Potts, and Eglington, forwards. Referee; Mr. F.L. Overton (Derby). The Everton party ran into thick fog on arrival at Hull last night, but it cleared in time for the match, but as against that the overnight rain had turned the playing pitch into a morass. I accompanied Mr. Britton to Boothferry Park during the morning and the turf looked grim. Assistant trainer Charlie Leyfiled, who was in charge in place of Harry Cooke, down with flu, told me that the ground would take the studs, but it would churn up badly after half an hour. The referee was early to see the condition, and he passed it O.K. quite early, but I should imagine there would be some tried legs before the end of the game. Great interest was centred in the new railway, which drops spectators right outside the ground. The Everton chairman could not be present owing to illness, and Director Green was another absentee. Directors Norman Coffee and Jack Sharp came with the party yesterday and were joined today by Messrs, R. Searle and W. Gibsons. Everton played the same side which had done duly for the previous five games, but Hull City had made several changes. Carter had moved over to inside-right and it was found that Jensen was fit to play at left-back. There was a big crowd, although it was nothing like a record.
White Ball Is Used
There was a goodly sprinkling of Everton supporters who had made the long trek across country to give their favourities local support. Raich Carter with his silvery locks received a grand ovation when he led his men on to the field, but Everton got an even greater reception. Cup-tie atmosphere was rife. An innovation, so far as my knowledge in Cup-ties is concerned, was the white ball. Everton kicked off and they strode into an immediate attack, Eglington being the spearhead. He raced past Hassall and centred, Fielding, who had closed in, touched the ball back to Potts who hit the ball very hard but got too much undercut to his shot which passed over. When Fielding attempted to work the ball for an opening he completely lost his feet in the mud, and as he lost the ball, too, it opened a way for the first Hull advance and let me tell you it was full of danger, for Burbanks placed his centre, with great accuracy and Harrison cut in to head the ball outside.
Eglington Again
Eglington veered over to the right to shoot outside and then the City came again, but were driven out after some hot work in front of Sagar. Having stiffed that Hull effort Everton, through Eglington, sent Hold away, but he was successfully challenged by Hassall and a goal kick was the outcome. So far the exchanges had been exciting without either goalkeeper being severely tested, but Sagar now came into the limelight with a grand save from Gerrie. Carter was making some fine openings, but he made a hopeless attempt with a shot, completely missing the ball.
Defensive Tussles
After Everton had another tussle with Hull defence Burbanks swept a ball up the wing and Ackerman had a danger look about him Jones cut him out with a quick intervention. Both sides were using the long ball as the best method of progress, and by this way Hull won a corner when Harrison put into Sagar's willing hands. There has been an infringement, and from the kick Everton set up a hot attack which ended with a shot by McIntosh which was blocked down. Jones and Gerrie had a short duel, with the Hull man winning the honour, but it did not mean much to Hull, for Burbanks shot outside. Straight from this Everton swept down and Hold, taking deliberate aim, sent the ball spinning over the bar by less than a foot.
Plenty of Excitement
All things considered there was plenty of excitement and some good footballing moves by both sides, Everton kept the ball down more than Hull. Grant made a successful tackle on Ackerman just as the latter was preparing to make a shot from just outside the penalty area. Eglington made a splendid dribble, beating two men en route and then transferred to Fielding, who put his centre too strongly, across the field, which was vacant of an Everton colleague. Everton made some good openings but were slow-to-take the shots. The Hull people got a shock when a long centre by Eglington brought out a flaw in Robinson armour. He tried to catch the ball, but did not grasp it right and the ball slipped up and on to the crossbar. A good ball by Harris to Burbanks opened a way for Hull and Carter had rushed into position to take the return, but lost his footing as he was about to shoot. Now it was Everton's turn to have an escape. Harrison offered Ackerman a lovely opportunity and the Hull centre pulled his shot to the far side of the goal where Sagar was not, and had not Moore fallen back and kicked away Hull would have had a goal. This was a forerunner to a powerful City attack, when Carter, taking a quick throw-in caught the Everton defence napping, and Sagar had to make a great save from Revie, for the ball was moving at high speed.
Sagar Saves The Day
Farrell and Carter had a little tussle between themselves, with the Everton captain winning, and he pushed through a pass which had the Hull defence anxious, but not more so than Everton when Grant went in among the lions and came out with the ball. As the interval drew near Everton went out for a leading goal, but it was Hull City who almost got it. It was a quick raid by Hull, with Carter backing up and eventually the ball came to him, and he hit the ball with his right foot. It sped like an arrow for the Everton net, but Sagar was there to bring down the house with a magnificent save. Carter could not believe his own eyes when he saw Sagar leap to the shot and save it, Everton's reply was a shot by Hold, which passed outside. Eglington had a chance when he was clean through and had only to switch the ball across to McIntosh standing on his own ready for the opportunity.
Corner Thrill
This was followed by an Eglington cross which Robinson saw hit the bar just as the whistle sounded offside. Fielding followed with a rather tame shot. The Hull wing halves were playing strongly both in attack and defence, yet Everton were able to take a corner –their first of the game –a few minutes from the interval. Eglington took this, and Fielding had the hardest of luck when his header rattled against the crossbar with every Hull man beaten to a frazzle. It looked a certainty, for he had placed himself perfectly for Eglington's flag kick. Half-time;- Hull nil, Everton nil.
Hull City had been the more forceful side, but twice the bar had intervened on their behalf as against two wonder saves by Sagar and that goal line clearance by Moore. It had been a good, clean Cup-tie so far. Eglington soon made a hash of the Hassall challenge but the centre was headed away, and from this Hull move up and Ackerman produced a cannonball shot which Sagar reached up for as though it was a mere nothing instead of a full-blooded drive with everything behind it. Fielding once held on too long instead of getting the ball to a nearby colleague who was waiting for it.
Then Came The Blow
A Fielding pass to McIntosh was ruined because the Everton centre forward was offside, a hairline decision by the linesman. Everton has a spell of attack which produced little or nothing and then the blow fell. Burbanks had a shot blocked down, but the ball went to Harris who slipped it inside for Carter to fire the shot and score the first goal of the day at 53 minutes. Carter had been the starting point and finishing point of the whole movement for it was he who delivered the ball to Burkans in the first place. Gerrie scored the second goal for Hull after 75 minutes; it seemed to me that the shot touched someone en route. This naturally set Hull ablaze and they kept Everton on the defensive almost sneaked in when first caught the ball then dropped it to roll against the upright.
Sagar Is Injured
Everton fought back, but there was no deadliness about the forwards who were raiders now and not moving as a line. Ackerman and Jones had a race for the ball, and this involved Sagar, who rushed out to pluck the ball away and suffered a leg injury in the process. Harrison was offered a chance of increasing his sides lead when Burbanks chopped the ball to him. Hold could easily have provided the equalizer when Potts scooped the ball over Berry's head, but Hold shot right at Robinson. Harrison was again at fault with a Burbanks header and when McIntosh went over to the left and squared the ball in front of the Hull goal, Hassell sliced his clearance but it was not made to pay any penalty. Everton were still full of fight without testing the goalkeeper and Ackerman missed a chance when he was near the penalty spot, and Gerrie was just as much as fault when he miskicked with the goal gaping before him. Eglington, Fielding and McIntosh worked an opening which concluded when Robinson saved a cross shot from McIntosh. Eglington made a brave attempt to reduce the lead when he volleyed the ball narrowly over the bar after Fielding had lobbed the ball against the bar. Final; Hull City 2, Everton Nil.
EVERTON RES V NEWCASTLE RES
January 6, 1951. The Liverpool Football Echo
Everton Res; Burnett, goal; Clinton and Saunders, backs; Donovan, Humphreys, and Melville, half-backs; Harris, Lewis, Hickson, Hampson, and Kearsley, forwards. Newcastle Res;- Lowery, goal; Duncan, and Battye, backs; Sands, Smith, and Bromley, half-backs; Hughes, Middleston, Lackenby, Black, and King, forwards. Referee; Mr. G. Ollerton (Preston). Everton had the former Runcorn player Kearsley, on view today. The ground was anything but good, which caused the players great difficulty in keeping a proper foothold. The Blues stepped into the lead, Lewis steering the ball well out of the goalkeeper's reach. The Everton goal had a narrow escape when Middleton drove in a beauty which was well saved by Burnett. Half-time; Everton Res 1, Newcastle Res nil.
Express
When the second half commenced the ground conditions were anything but good, especially in the centre. This did not prevent Everton from taking up the offensive and following a series of onslaughts they were successful in forcesing their score in the 58th minute. It was Kearsley who give Lowery no chance from a centre by Harris.
BLUES ARE OUT OF THE CUP
January 6, 1951. The Evening Express
Carter and Gerrie Second Half Goals
Brilliant Sagar Kept Down The Hull Goals Total
By Pilot
A goal by Raich Carter, the Hull City player-manager, in 53 minutes at Boothferry Park today, brought to an end of a great display of goalkeeping by Everton's here, Ted Sagar. Then Everton's hopes were further dashed when Gerrie increased that Hull total in 75 minutes. This was not the real Everton, who found it difficult to accommodate their football to the heavy ground. The City were faster to the ball and rather stronger on it. The City flung everything into attack during the first half when they gained six corners to one, by Everton, who, however had hard luck, when with Robinson beaten the ball twice came back off the woodwork. Still the Blues had their moments of extreme anxiety. Three times in the first half, only the might of Sagar saved Everton. In fact he has never played better. The ground had been cleared of ice and snow on Friday, and with heavy overnight rain, it was transferred into a waterlogged arena, carrying a few pools because the frost had gone deep into the ground. Chairman W.R. Williams was an influence victim and could not travel, but he sent a telegraph of good wishes to the players, who were accomplished by Maurice Lindley and Ted Buckle as reserve and with directors John J. Sharp and Norman Coffey as the directors in charge. Messrs W.G. Gibbons and R.EW Searle travelled through on the morning train. There were five players with Wembley experience on parade with Everton seeking their first ever F.A Cup win over the City, for whom Jensen the Dane reported fit. Hull City; Robinson, goal; Hassell, and Jensen, backs; Revie, Berry and Harris, half-backs; Harrison, Carter (captain), Ackerman, Gerrie, and Burbanks, forwards. Everton; Sagar, goal; Moore and Rankin, backs; Grant, Jones and Farrell (captain), half-backs; Fielding, Hold, McIntosh, Potts, and Eglington, forwards. Referee; Mr. F.L. Overton (Derby). An innovation was the use of the white ball for the first time in a F.A Cup tie, and it was quite an idea, in view of the misty and murky conditions. The toss went to the City, but did not carry a great advantage, and Everton were the first to raid, Farrell slipping the ball through for Eglington to pace past Hassell as if the full back were standing still. The centre went across to Fielding, who pushed it back for Potts to come in with a right-foot shot which passed over. Revie engineered two delightful city raids, before Eglington intercepted with a pass to Fielding, but "Nobby" slipped in the mud, and away went the City for Burbanks to force the first corner. This, Burbanks sent across to Harrison, who dived to head into the crowd. Fielding moved inside to pick up a short pass and move forward with a shot which swerved outside. Another Byrbank's corner brought no real worry to the Blues, who were finding the City exceptionally quick on the ball and eager to find Carter with every pass. Hull had the attitude "if we give it to Carter all will be well," Everton were soon well alive to the idea. Hassell just contrived to head off Hold when Hold raced ahead to a sharp through pass. The perfect positioning and handling of Sagar, saved Everton, when following a Carter shot (which was charged down) Gerrie let go from six yards, but Sagar had moved across in anticipation. Now Sagar ran out to pick up a diagonal centre by Harrison, which was running nicely for Ackerman. The City were on top. When Ackerman came to the left, he was pounced on by Jones, who came through with a magnificent tackle which brought Everton into the game. Potts and Fielding linked up delightly in midfield before McIntosh's move to outside left was anticipated by Hassell, and away went the City to take they fourth corner. This was used nicely by Harrison but Sagar leapt up and dragged the ball down before falling on it to save splendidly. The first 15 minutes had brought a points verdict to the City.
Farrell To Rescue
Revie got in the way of a McIntosh shot and when Ackerman tried to find Carter on the edge of the penalty area Farrell made a brilliant interception. Potts was "crossed" just outside the penalty area, and the free kick brought a centre from Eglington which almost gave Everton a goal. Robinson tried to catch the ball but pushed it against the face of the bar and as it fell he dived out and pushed it away to safety. Moore rescued Everton, whose escape came in the next minute. Ackerman moved to the open space and the ball followed. Ackerman shot hard along the floor and although it beat the diving Sagar, Moore was standing guard on the line to kick clear. It was Sagar's turn next, for Harrison to make a sharp header which Sagar saved magnificently, Carter ignored the referee and took a throw-in quickly, and the referee allowed play to continue so that Revie leapt in with a shot which Sagar pulled down from under the bar superbly. The first half hour had produced six corners to the City, but note to Everton, who found Berry quite a barrier to progress. Sagar again proved the hero of the Blues when, after Farrell had slipped down, Carter let go with all his accuracy and power. Then Sagar brought another thrill for Gerrie tried a shot which Sagar saved on the line. Carter roused the wrath of the Everton players by jumping in at Sagar who, however, was still the "boss." An Eglington centre passed right across the Hull goal with no one up. Robinson then missed the flight of Eglington's next centre, which struck the bar, just as the whistle sounded for offside against Hold. It was not until the 43rd minute that McIntosh forced Everton's first corner, which brought for City their narrowest escape. Eglington placed the kick well beyond the bunch of players to Fielding, whose connected header beat Robinson but came off the face of the bar. There is no doubt that City had enjoyed the better of this hectic first half, featured more by its thrill than the constructive arts. Both sides had experience smarting escapes for twice the woodwork had saved the City, while Ted Sagar's magnificence, had denied three goals to the City and Moore had kicked off the goal line. Hull had enjoyed more of the pressure without often shaking up the Everton half-back shackles. Half-time; Hull City 0, Everton 0.
Carter Scores
Eglington pushed the ball through Hassell's legs, when Everton took up the running on resuming but there was no-one in position to take advantage and Everton's bill of indebtedness to Sagar, was increased when Sagar flung himself upwards and across to catch a terrific Ackerman shot right under the bar. City took the lead in 51 minutes through Carter and it eminated direct from a throw-in to Everton. This was cleared quickly, and the ball was swept across to Burbanks, who took his time, before shooting. The ball was deflected far across to Harrison, who made a quick return. Carter although hemmed in, managed to toe-end the ball, went into the corner, Sagar having no possible chance. Everton struck back immediately, Fielding crossing from the line for Potts to make a header which squeezed the wrong side of the post. Ackerman's header swerved between Sagar's hands, but it dropped down to the foot of the post and bounced back for Sagar to clear. The City were keeping on top by cool football and a grand run and centre by Gerrie failed to make goalmouth contact. Harrison's header was turned away before one of the few combined Everton forward efforts saw Potts hook the ball over Berry's head, and Hold let go a first footer which Robinson pulled down. McIntosh turned the ball back across the City goal and Jensen kicked clear when a swinging pass was becoming the property of Fielding. Robinson leapt outwards to grab a ably centre by Fielding before, in 75 minutes Hull made it two for Harrison hooked the ball into the goalmouth, and Gerrie racing in as Sagar came out to catch just contrived to flick the ball with his head into the net. Everton then changed their attack with Hold at outside right, and a lob from Fielding came back off the bar. There was no denying that the better side won and with the Carter master touch turning the tide. Final; Hull City 2, Everton 0.
VETERANS TOOK THE HONOURS
January 8, 1951. The Liverpool Daily Post
By Stork
Hull City 2, Everton o
The two greatest figures in the Hull City-Everton cup-tie at Boothferry Park on Saturday were the oldest players off the field. Sagar and Carter, the City player-manager, while to emphasise the fact it is the veteran player who is carrying the football banner these days one must not forget Burbanks; the Hull outside left. This trip produced the high lights of an interesting tie which was played under atrocious conditions – a soggy ground on which the side adapting themselves the better to the condition would prove victorious Hull were that side and their triumph would have been bigger had it not been for the great saves made by Sagar. He has never made a better save than the one he made from Carter in the first half. It was bewildering the way he got to the while ball which flew like a pocket from Carter's foot, but Sagar moved like lightening to keep the ball out. Carter was bewildered too. He showed it in his action for the fully believed that no goalkeeper could prevent that shot from becoming a goal.
Great General
Sagar made other brilliant saves and was in such form that the Everton contingent naturally reached the conclusion that he would never be beaten. But that was where Carter stepped in. He is slower these days but still a great general and provider and it was he who engineered and scored the first goal at 53 minutes. Ne calmly swept the ball out to Burbanks, accepted a return pass and shot only to see the ball blocked away. It went to Harrison who pushed it sideways for Carter to run on to it and shoot. Whether the slight deflection when the ball struck Jones on the leg helped Carter I cannot say, but the ball finished in the back of the net. It was Carter who was the architect of the Hull build-up. He exploited the long ball to the wings, knowing that the flanks were the best places to work on and in Burbanks he had a knowledgeable assistant. Everton adopted a more close pattern but it was the open way which paid the better dividend. In the first half-hour Everton had looked the better side and made several chances against a goalkeeper who was none too convincing and had been beaten completely by a Fielding header just on the interval but the crossbar intervened on his behalf. A goal then and a different tale may have had to be told. Eglington was often beating his man, but the Everton inside forward were not quick enough to accept the offerings. Yet there was possibilities at the interval with the score sheet still blank.
Round Down Defence
The pitch was getting stickier and sticker and it was than that we saw the full value of the long ball as against the short-one. Carter roamed about picking up the ball here and there and with precision passes set his machine in motion to pound down the Everton defence which had proved equal to every demands against a much more progressive attack than their own. Moore had kicked off the line and Rankin had stood his ground to the Carter-Harrison wing while Jones had looked after Ackerman, but there was still Gerrie to be considered. He had several shots saved and must have been heart-sick of seeing Sagar foil him, but he got his revenge at the 75th minute when he raced in to beat Sagar with a gliding header just before the Everton goalkeeper could get his fist to the ball. It was the end for although Everton battled on there was no great power in their attack. Eglington came near to reducing the arrears with a volley that passed over the bar after Fielding had lobbed the ball against the bar. It was over and Everton were out of the Cup, but I cannot conclude without a tribute to Grant who worked himself to a standstill and Farrell who played under the handicap of a heavy cold. Hull mastered the ground better than Everton, whose forwards did not reach the standard they had set themselves in their last half-dozen League games. They had their chances early on and did not take them; they never came again, for after Carter's goal Hull practically dominated the game.
DESERVED FULL MARKS
January 8, 1951. The Liverpool Daily Post
Everton Res 4, Newcastle Res 0
Everton certainly deserved full marks for their four clear goals victory over Newcastle United in the Central League game because they were the best side and took all the chances that were offered to them. On a ground that was practically a sea of mud Everton had always the better of the argument with Harris their right winger being outstanding. Kearsley the ex-Runcorn player made a fine debut, and scored two of the Everton goals while Lewis who proved an able partner to Harris was responsible for the other two.
• Liverpool Police 1, Everton A" 3
• Everton "B" 8, Burscough Res 3
• Everton "D" 20 (Twenty), Hawthorne Juniors 0
MIGHLY TED
January 8, 1951. The Evening Express
Pilot's Log (Don Kendall)
I was at Hull and that was not the case in Everton's failure. Everton not only looked like winners on occasions but never were outplayed or overwhelmed. Not until the second goal did we fell that the Blues had "had it."
There is no doubt that the conditions at Boothferry favoured the faster-stronger-on-the-ball Hull and reacted against the Everton mode of progress. That devastating quick through pass which has been of such service to Everton, was not a success because players could not move quickly enough in the mud. Luck was not so much against Everton as was that tantilsing run of the ball which we have so often seen. For instance Robinson knew nothing of an Eglington centre, but he managed to push it against the bar and scramble away. Robinson and all Hull for that matter, stood helplessly by as Fielding headed in confidently just before the interval. It was a goal all the way, but no, the ball hit the face of the bar and went away too safely. Think what a goal three minutes before the interval would have been to Everton; what effect it would have had to Hull who had been deprived of the lead only by the mighty Ted Sagar. Yet Sagar stood between the City and that vital first half lead, and there is no doubt that Sagar stood supreme above all including the magical Carter. Ted never has played better. This Everton side was above criticism from an individual point of view but was lacking in physical strength a little stamina and their schemes did not mature as readily as usual because of the intensity of the Hull players and their applied to the tackle and interception.
No Blame
There is no blame attacking to anyone for the defeat for the Blues were good in defence, with Jones an accomplished a pivot as was Berry. Moore as good that the forceful Burbanks to seek foreign territory. Rankin accurate and strong after a nervous openings. Grant the men they had to pass three times before he would let them get away, Farrell so occupied with the search for the elusive Carter shadow. Everton wing half backs had so much to do defensively that their could not give no punch to the attacking phase as Harris and Revie could do. The attack lacked it's rhyme although Potts was the ideal link-up to the Blues, as was Carter to the City. Hold and McIntosh were crowded for operative space, and Fielding had to move inside to avoid the strong purposeful Jensen. Eglington was the must raiding force who quite easily have won the game, for he left Hassell in the mud of bewilderment and on no fewer than four occasions actually beat Hassell by slipping the ball through the full back's legs. Praise for Everton for a good strong fight in which they never give up and often went so near. Carter magic started and finished the down fall at the 53 minute, but Raich was a little lucky to get his toe to it in a scramble. Gerrie won a hectic race for the second and found the ball glide nicely into the net off the head as Sagar was preparing to catch. Quite a good show by Everton but a better show by Hull who were well-deserving of their success in conditions which helped them. Honours went to the more-adaptable side and quite a good side at that. The City responded to every Carter prompting and the policy paid. No reason whatever for Everton recriminations, but a generous well done Hull City.
VETERANS' DAY
January 8, 1951. The Liverpool Echo
Ranger's Notes
Only once since this century began have Everton and Liverpool been dismissed together at the first hurdle. That was away back in 1903-04 when with only 32 competitors in the competition proper. Everton lost to Tottenham at Goodison and Liverpool were beaten by Blackburn Rovers at Blackburn.
Before the war a club would hardly dream of signing a player over 26; in fact it took a deal of courage to sign a cheque of any size for a man of that age, who was reckoned to be in the eventide of his career. Today the game abounds with players of 30 and over and they are doing their stuff as well if not better than the younger elements of the game (writes Stork).
It was veteran Raich Carter who had a lot to do with the exit of Everton at Hull. He was a great general Hull forward line and threatening to d it throughout? The third veteran in the game was Burbanks an astute general who backed up Carter to the full. So much for the old hands of football. They are still worth watching even though they may be slower in their execution of things but their moves were defence spitting. The ground at Boothferry Park was really bad Hull played it better than Everton and thereby hangs the tale. They exploited the long pass and the quick ball into the middle, yet it took them nearly an hour to break down the Everton defence and it was Carter first and last for he set the ball moving to Burbanks and then streaked up to his the first goal of the day. Up to then Everton had played well-twice the bar was struck –edged up by the goalkeeper –and a Fielding header rattled against the bar just before the interval from the first corner kick that Everton had won. A goal then and what would have happened? Who can tell? True, Everton had played the more polished football but there were few shots to trouble the uncertain goalkeeper Robinson. Hull played well better, I am told, than in recent weeks but I put that down to the inspiring influence of Carter. They were more forceful quicker to the ball and prompted by two splendid wing half-backs in Revie and Harris and after seeing Berry I wonder what Hull are going to do with Franklin. Gerrie is another grand young player. He had many tilts with Sagar but got his reward with a header of a Dean type –a glider –after he had beaten Sagar in a race for the ball. I think I have named the start of the game, but I must pay tribute to Jones, Moore and Rankin (against the star Hull wing) and Grant a truly magnificent worker with Farrell playing under the handicap of a severe cold. Many other would have cried off, but not Peter, and he came off the field after playing himself to a standstill with his legs almost gone, but his fighting spirit still remaining.
EVERTON FLUE VICTIMS
January 9, 1951. The Liverpool Echo
Everton have four flu victims –Farrell, Potts, Lindley and Catterick. Farrell is practically better, however, and hopes to resume training tomorrow. Eglington has recovered from a cold and was training at Bellefield.
ENFORCED CHANGES
January 11, 1951. The Liverpool Echo
Ranger's Notes
Everton may have to make an enforced change in their side to meet Stoke City at Goodison Park on Saturday, as Peter Farrell is still a very doubtful starter. Although he has made some improvement in the last couple of days the flu left him a little weak in his legs and manager Cliff Britton is delaying selection of the side accordingly. Fortunately Eglington, Potts are fit again and touching wood, the rest of the first team men so far have escaped the prevailing epidemic. Lello, however, had caught the flu germ at the Wolverhampton rehabilitation centre where he has gone for special treatment and Catterick is down with the same complaint at his home at Stockport.
Farrell's Inspiration
Should Farrell not be fit to play, it will be only his second absence from the side since Mr. Britton took over the management more than two years ago. Last time the Irishman was a non-starter was on October 8, 1949, when he was released to play for Eire against Finland. That one occasion apart, he has been as ever-present since the middle of October 1948. Farrell's value to the Blues during the past two diffuclt seasons has been almost incalculable. A great worker and a grand club man, he has inspired his colleagues by his fighting qualities, and though Everton's recent revival has first and foremost been a triumph for grit and team spirit, considerable credit must go also to Farrell for the splendid example.
Stoke's City Double
Manager Bob McGroug is not yet able to announce Stoke City's definite side. Herod, McCue and Mountfield are all doubtful due to injuries and Brown, who has a badly pulled muscle, is a definite non-starter. The side will be finally chosen from the following. Herod or Wickson, Mould, McCue, or Watkins, Sellars, Mountford, or Beckett, Kirton, Ormston, Bowyer, Millard, Johnson, Oscroft.
EVERTON CAN PARTLY REDEEM THEIR CUP-TIE DEFEAT
January 12, 1951. The Liverpool Echo
Ranger's Notes
Everton tomorrow entertain Stoke City, a side which these days is built more upon the foundation of team spirit and honest endeavour than star names, the Potters have a big proportion of local products in their team, and Manager Bob McGrory is still content to build for the future on the lines which have served him so well in the past. Apart from the Hull City visit the Blues have been doing so well of late that confidence in their ability to finish in a respectable position, which once was at a low ebb, has been born anew. Their supporters can now look Liverpool followers in the eye, and even ask a modest wager that the Goodison side will finish higher in the table than the Anfielders. However that may turn out, it is indisputable that Everton in the last month have been a vastly different combination to that of a few months ago. Their up-and-coming young players introduced at a time when it was doubly testing to make one's senior debut, have all proved themselves worthy of the confidence placed in them. True, lack of experience may still be occasionally discernible but time will remedy that and players who can hold their own so well as these lads have done under such difficult circumstances should have a bright future when they can play without the ever-present fear of making a slip which may lose a vital point. Happily Farrell has got over his dose of flu, as also have the other victims, and Everton, for the seventh successive game, will be unchanged. Stoke have had to make several changes as their injured players have not yet recovered. They introduce a newcomer to First Division football in 21-years-old Mullholland, another of their local discoveries Johnston leads the attack. Everton; Sagar; Moore, Rankin; Grant, Jones, Farrell; Fielding, Hold, McIntosh, Potts, Eglington. Stoke City; Wilkinson; Mould, Mullholland; Sellars, Mountford, Kirton, Beckett, Bowyer, Johnston, Mullard, Oscroft.
Everton Reserves (v. Stoke City, away); O'Neill; Clinton, Saunders; Donovan, Lindley, Melville; Harris, Lewis, Catterick, Hampson, Buckle.
STOKE'S 'DOUBLE' BID AT GOODISON PARK
January 13, 1951. The Evening Express
No Club Has Yet Done It Against Blues
By Pilot (Don Kendall)
Everton will place their early 1950-51 record at stake against Stoke City when they meet at Goodison Park tomorrow. No club has yet succeeded in completing the "double" over the Blues and the Potters come with the opportunity, having won 2-0 at Stoke. The Blues have won three out of their last four matches at Goodison Park, and at the moment are in the full flush of a great revival, which has carried them away from the positions we know as relegation zone and placed them in a position to drive on into the upper half of the table. For the record season in succession Christmas has brought about a change in the Everton fortunes and they have no secured nine out of the last ten points for which they have played, and apart from the Cup defeat at Hull last week end have not been beaten away from home since mid November. However, just as Everton are improving so have Stoke, for the City have recovered from an indifferent start to be now well up among the leaders while still retaining cup interest. The fact that Stoke had a grueling cup reply with Port Vale on Monday may go against City's chances tomorrow, for apart from the strain on stamina several players have suffered injury and remain on the doubtful list.
'Flu Victims
Everton came through the cup-tie without injuries but the flu "bug" has been around Goodison Park hitting a skipper Peter Farrell, Harry Potts and Tommy Eglington. However Potts and Eglington were back in training on Wednesday, and Farrell was back at the ground yesterday, so the outlook is not so had after all. You can best assured that there will be no unnecessary changes just because of the cup defeat, for I feel Manager Cliff Briton will rely more on recent League form. Besides, Everton went preciously near getting in front at Hull, and the form them generally was satisfactory. It was the flu which prevented the announcement of the team earlier and yesterday Manager Britton was away at Carlisle. Stoke have won once at Goodison since the war and also forced a draw, leaving the Blues with two 2-1 win. The City are a difficult side to defeat as witness the fact that they have secured no fewer than eight draws in away games this season. Their hope of making it late nine rest on team constitution and whether Everton's defence can bolt out snap-shooting Frank Bowyers. Still if the Blues' forwards can take the openings their own skill will create, this should produce their sixth home win of the season in a game starting at 2.45 p.m. Everton; Sagar; Moore, Rankin; Grant, Jones, Farrell; Fielding, Hold, McIntosh, Potts, Eglington. This will be yet another milestone in the brilliant career of Ted Sagar who will be playing in his 440th Football league match, and his tenth League game of the season.
FREAK GOAL GAVE STOKE TWO EASY POINTS AT GOODISON
January 13, 1951. The Liverpool Football Echo
Everton Nil, Stoke City 3
By Contact
Everton; Sagar, goal; Moore and Rankin, backs; Grant, Jones and Farrell (captain), half-backs; Fielding, Hold, McIntosh, Potts and Eglington, forwards. Stoke City; Wilkinson, goal; Mould and Mulholland, backs; Sellars, Mountford, and Kirton, half-backs; Beckett, Bowyer, Johnston, Mullard, Oscroft, forwards. Referee; Mr. C. Smith (Hudderfield). Everton defended the Park goal which was in the shadows, and Wilkinson and company had to face sunshine. Stoke started brightly and well although they never reached finally until Rankin to make a sure reverse pass to Sagar with Beckett close at hand.
Potts on the Mark
Everton's first attack all but yielded a goal. Eglington beat Mould and went on to square the ball for Potts to make a vicious shot that Wilkinson edged round the post and narrowly failed snatching it at the second attempt to save a corner. From this Eglington seized the finest of shooting chances to slash the ball only a few inches over the goal angle. It was an indifferent sort of opening with Fielding and Eglington both misjudging centres and Everton not touching the heights of their form against Spurs, Sunderland and others. Eglington, having beaten Mountford pushed the ball far forward and missed his centring chance again but after Stoke's first minute drive the game was all Everton's at the moment.
Not Making Hay
Rankin cleverly kept the ball in play for Eglington who went ahead purposefully, but finishing by making a long cross-field pass, for which the rest of the line were not prepared. It was obvious that Stoke's side was very ordinary, including as it did so many reserves, but Everton were not making hay. Yet another quick throw in, this time by McIntosh led to a dangerous Everton attack and although it seemed that Wilkinson edged round the post Holds oblique shot the decision was no corner but a goal kick. Time after time the ball was run out of play, possibly because the pitch in the vicinity of the touch line was so much faster than in the centre where it was quite heavy.
Eager Eglington
Sagar and Johnston got at cross purposes when the goalkeeper was trying to kick the ball from hand, and the upshot was a free kick in Everton's favour. One of the few on-the-mark shots came from Eglington a left foot one which Wilkinson held quite easily against the glare of the sun. Wilkinson had to do a monkey-on-a-stick twist round the top of the post to ensure that Eglington's looping centre did not find a way through. The only Stoke shot which really menaced Sagar was one from Beckett which Sagar held nicely and this was followed by a fiercer but not so well directed shot by full back Mould.
Critical Crowd
Everton, were making so many mistakes now the crowd were getting a bit critical. This was not one of the best games we have seen at Goodison Park this season and the crowd, now in the neighborhood of 40,000 were plainly expecting much more from Everton than they were getting. A punch away by Wilkinson caught Eglington a bit unprepared and he was not able to take a close in chance and then Potts, after beating one man beautifully came to a full stop against the sturdy Mould.
After-The-Whistle Play
One of the strangest after-the-whistle had gone scenes I remember occurred after Fielding had been put through when in an off-side position. Wilkinson made a great save from McIntosh and play went on for at least half-a-minute with McIntosh heading the ball into an open goal to finish the incident before the players concerned realized the rest of the teams were standing watching them. McIntosh should certainly have scored when a cross by Hold found his head when he was positioned only a yard or two from the goal line, but somehow he contrived to lob the ball over the bar. McIntosh did better when craning his neck to head a fast Eglington centre, but Willkinson always had this covered. Quite the best of the Stoke forwards was Bowyer who always seemed to pop on a goal at crucial moment. Now, after going to inside left, he hit the game's best shot as he turned and Sagar had difficulty in covering it as it flew wide.
Best Scoring Attempt
A dramatic volleyed right-foot shot by Potts from a full length crossfield pass by Eglington was the best scoring attempt. Potts must have had great difficulty in keeping the ball down as it came to him almost chest high and to get it to duck over the crossbar, as he did was a tremendous achievement.
Half-time- Everton Nil, Stoke City Nil.
Everton started the second half promisingly but still without impressing one as to their ability to pierce a defence in which Mould was a sheet anchor. Kirtons shot, like so many others in this game was a long distance one and as in all the other cases Sagar was undoubtedly to collect it. Stoke were playing better now than at any other stage remembering that this was their second game within a week and that they had so many reserves they were doing more than adequately.
A Neat Movement
Hold, who had done little right, so far at least began the sharp through movement at the end of which McIntosh flung out his left foot to turn the ball only inches away from the post with Wilkinson beaten. For pace Johnston beat Jones and centred so dangerous that Oscar seemed to have little to do but find the ball home into an empty goal, in his anxiety he slewed the ball across the goal face. This was undoubtedly Stoke's big chance if they could have taken it. When the first goal came it proved to be the most astonishing we have seen for a long time. Jones had only a simple clearance to make when standing near the centre circle. Bowyer intervened when the ball had gone only a few yards from Jones's boot and put up a spread-eagling pass for Johnston. Attended by three Everton defenders Johnston did well to produce a shot of any description. But his was a very tentative sort of thing, and as it rolled slowly to the region of Sagar's right hand post everyone's attention went back to the centre of the field, content that this was an easy pick-up for the goalkeeper and that the ball would soon be at the other end. Nothing of the sort happened. For once Sagar made the classic mishandling and the next he knew and we knew was that the ball had come to rest just over the line but unmistably well in the net. Even Stoke took time to appreciate that they must congratulate Johnston. Fielding went to outside left to aid Eglington to win a corner and taking this quickly Fielding led to Eglington providing a perfect centre for Hold whose header was almost literally in the net when Mountford came from nowhere to turn it away with the flick of an eyebrow.
Another Escape
The Stoke goal enjoyed a tremendous escape when McIntosh clean through after a misheader by Mountford rammed the ball against Wilkinson's legs. Hold picked it up with the goalkeeper out of position but was crowded out when desperately trying to make haste to shuffle the ball forward to make a telling shot. Again Hold was denied a goal off a brilliant header by a magnificent save by Wilkinson. Fielding had driven the ball in hard with his right foot and Hold had turned it deliciously with his head before the goalkeeper turned it over the top finishing by turning a complete somersault. Johnston was close to heading a second from a header by Beckett after Oscroft had flung over a centre beyond the far post and although Everton were full of fire in their endeavour to make good it was this mixed Stoke side which looked likely to bang one.
Debutant Shines
The debutant Mullholland earned high honours despite Hold and McIntosh trying to prevent him going on to keep the ball in play and complete his clearance. He did both. Rankin came up to offer the kind of pass one would expect only from a forward, and Fielding showed speed and a fine sense of timing in his centring. Sagar and Moore were caught short when the goalkeeper place a goal kick outside the penalty and received the ball back because Sagar's tap did not send the ball far enough and there was a danger that Johnston would intervene. Mullard among others went close to giving Stoke the confirming goal they required. Indeed the story was that although Everton were on top Stoke were the more dangerous. Beckett scored a second for Stoke after 85 minutes. A general exodus of spectators occurred after this goal was scored. Bowyer scored a third for Stoke after 89 minutes. Final; Everton nil, Stoke City nil.
STOKE CITY RES V EVERTON RES
January 13, 1951. The Liverpool Football Echo
Stoke were ahead after 12 minutes when Jackson headed a grand goal from a pass by Hampson. The Everton approach work was good with Catterick using both wings but the inside forwards failed with their final efforts. Lindley kept close watch on Cloaves, but he evaded him once and O'Neill did will to save. Stoke almost increased their lead just before half-time when Kirkby failed narrowly. Half-time; Stoke City Res 1, Everton Res nil. Flannery the Stoke goalkeeper was early in action in the second half and save from Lewis and Catterick. Everton equalized when Catterick gave Flannery no chance with a header from a centre by Harris. Everton took the lead when Catterick shot hard for goal, Flannery pushed it out but Catterick made no mistake at the second attempt. Final; Stoke City Res 1, Everton Res 4.
• Liverpool "A" 0, Everton "A" 2
• Everton "B" 6 Larkhill Res 0
STOKE GET A SURPRISE GOAL
September 13, 1951. The Evening Express
Ball Slips Through Sagar's Hands, Between Legs, Into Net
By Pilot (Don Kendall)
A mistake by Ted Sagar placed Everton "on the collar" against Stoke City at Goodison Park today, and made them almost desperate in their defence of their five match unbeaten run in the league. Sagar allowed a simple shot by Johnston to pass through his hands and legs in the 53rd minute. Everton enjoyed most of the game, Wilkinson making brilliant saves from Potts and Hold while once Mountford headed off the line with Wilkinson beaten. However Everton lacked their usual sparkle and throughout were yards slower on the ball than this much-changed Stoke, whose defence was magnificent. Too often the Everton forwards helped Stoke by being too strong with their through passes, and the old rhythm was missing. Beckett increased Stoke's lead in 82 minutes to ensure Everton's seventh home defeat of the season. This was Everton's seventh successive game without a team change. The ground was on the soft side and Everton had the advantage of playing with the sun at their backs, as they defended the Stanley Park goal. Everton; Sagar, goal; Moore and Rankin, backs; Grant, Jones and Farrell (captain), half-backs; Fielding, Hold, McIntosh, Potts and Eglington, forwards. Stoke City; Wilkinson, goal; Mould and Mulholland, backs; Sellars, Mountford, and Kirton, half-backs; Beckett, Bowyer, Johnston, Mullard, Oscroft, forwards. Referee; Mr. C. Smith (Hudderfield). The City opened in lively style, Oscroft just failing to make contact, Johnston held the ball neatly for the in-running Beckett, but Rankin cleverly passed back to Sagar. Away went Everton almost to take the lead through Potts, and Eglington slipped past Mould and was happy in and the outrunning Mountford fall down. Eglington went on to centre to the unmarked Potts, who shot from 18 yards. Wilkinson driving to his left to turn the ball behind for a corner. From this Eglington tried a rising shot from a narrow angle and the ball just wanted over the top.
Midfield Play
Apart from two raids by Eglington, in which the ball ran a bit too fast for him, play was continued mainly to midfield, due to respective half-back strength. There was little to cause real statement. Beckett centred for Oscroft to make a running header, which Sagar fielded easily. Potts, Hold and McIntosh participated in a neat combined move, and from Potts centre, McIntosh header in, for Wilkinson to save. Grant came up to try one of his spectative shot, which, however, was yards wide. Then Oscroft opened up the way for Bowyer but Farrell came through at the crucial moment. Eglington took over from Rankin to more inside, but his through pass was of too great power for Hold, who moved to outside right again and cut close in before shooting hard along the ground. Wilkinson diving to turn the ball behind the post. To Everton's disgust, the referee gave a goal kick. Mountford managed to head away a grand hook from McIntosh's head before, Fielding and Farrell combined cleverly in the penalty area, but without the chance of the effective shot. And when Hold slipped away at out, side right again to make a well-judged centre Mould contrived to get his head there first and save the City from a rather tricky position. The speed of the Stoke defenders in interception repeatedly held up Everton's effort at confined football. Eglington enlivened matters from a 25-yard shot, which Wilkinson pulled down under the bar but there was still something lacking, despoiling tactics beating construction.
Near Thing
The slowness of McIntosh and Hold held up two Everton raids. Then, following a throw-in, Grant centred and Mould intercepted just as Eglington was about to shoot. There was an amusing incident when McIntosh and Fielding went through by the use of the square ball and the players did not realize that the referee had given Fielding offside on the appeal of the linesman. Play continued until McIntosh headed into the net, then the players realized that play had been suspended minutes before. Everton came nearest to scoring when McIntosh went up to a centre from the right, but he got it on the crown of his head and it flashed over the top. Eglington took over from Farrell's pass to centre from the line, but Wilkinson was there to take the header. Bowyer moved across to inside left after some rather sloppy Everton defensive work, and he let go a left foot shot which flashed into the crowd. Up to now Sagar had not had a direct shot to save. Potts made a great effort when from inside right, he ran in to meet Eglington's centre, but he had to take the shot quietly and it went beyond the far post.
Half-time; Everton 0, Stoke City 0
The second half opened with more mistakes the inaccurate, but in 50 minutes Stoke registered their first direct shot, when Kirton went through with an 18-yarder which Sagar held easily. Fielding used the short ball to help Hold through but Mountford intervened before Hold could get to work. Hold burst through to make a square pass to Potts who slipped the ball forward for McIntosh to hook in a left foot shot as Wilkinson ran out. The ball beat everyone, but passed a yard beyond the wrong side of the upright. A Grant clearance was picked up by Johnston who moved to the line to centre to the unmarked Oscroft. Before Oscroft could get the ball under control, Grant had righted the wrong by booting the ball away to the centre. The City took the lead in remarkable fashion in 55 minutes through Johnston. Jones made a clearance kick in accurately and the ball went straight to Bowyer, who banged it up the centre to the unmarked Johnston. Johnston made only a weak shot which Sagar running across goal, seemed to have covered perfectly. Sagar bent down to pick up with both hands but to the surprise of Stoke and the consternation of Everton (particular Sagar) he failed to grab the ball, which slipped through his heads, between his legs and into the net. Everton now responded with more actual spirit, Farrell flinging his weight into the attack. Eglington centred far across to Hold whose header beat Wilkinson, but McIntosh leap back to head the ball away. Stoke had a remarkable escape again which McIntosh chased a ball, which visited over the head of Mountford, Wilkinson dashed out and managed to parry the shot, which went to Hold. With no-one in goal, Hold relayed his shot a spilt-second and when he did shoot they was someone in the way. From a quick throw-in on the right Fielding centred with his left foot, for Hold to head in brilliantly, but Wilkinson leapt across goal, to turn the ball over the top with one hand. Wilkinson actually bumped into the post as he fell, and his colleagues ran over to pat him on his back for the save of the day. Stoke were quicker on the ball. In 82 minutes Stoke made sure of the points with a second goal by Beckett. Johnston made this, by ensuing away to outside left, and he centred far across for the in-running Beckett to drive into the corner. With two minutes to go Bowyer increased Stoke's lead with a terrific right-foot shot from the edge of the penalty area. Final; Everton 0, Stoke City 3.
THROW-IN STRATEGY MAY COME TO STAY
January 15, 1951. The Liverpool Daily Post
By Leslie Edwards
Everton 0, Stoke City 3
Genius they say is an infinite capacity for taking pains. It works that way in football too. The team and manager who go to the trouble of thinking hard and long about tactics are usually rewarded. I say usually advisedly, because it happens that Everton were beaten 3-0 by Stoke City, at Goodison Park, on Saturday after introducing a throw-in policy which they must follow. The idea is that ever player, wing half-back or not would be ready and capable of allowing it quick, and therefore advantageously. Not only does this system save a tired half back energy them and again in fagging upfield to where the ball has gone out of play. It does away with the set-piece throw-in which the defence is normally ready for an eventualities. When I discussed thrown-ins with Manager Cliff Britton only a fortnight ago and made the point that every player could be trained to make the throw and never concede a foul he was inclined to be chary of the idea because he said, occasions on which it could be if value to a team came rarely. Whether he had put the idea to the test in practice I do not know, but it was obvious here that the throw came from the player nearest the ball when it went out. Moreover in at least half a dozen cases the move progressed very dangerously for Stoke. We must watch the development of a strategy which has everything to commended it. Probably it has never been tried, because clubs follow orthodox principles slavishly.
Reservations
Recalling this 3-0 win by Stoke we need to make some reservations. At no stage of the match could anyone have had the impression that Stoke would be able to score once, much less three times. The crux of the thing, was that Everton played with little inspiration and occasionally sluggishly. Sagar, too was guilty of the worst mishandling of his great career. The picture of him eyeing the ball in the net as though he just could not believe it, is an abiding one in my mind. Whether Johnston's gawky, bumping shot would have passed over the goal line outside the posts we shall never know, but still suspect it would. Most of us I imagine watched Sagar bend to make the simplest of pick-ups and then glanced down field to see the pitch of his clearance. Maybe Sagar himself indulged in that quick glimpse downfield to see where best to place the ball. That would explain how he came to be fumble-fingered in allowing the ball through his legs and a few inches over the line. The thought occurs that had he retrieved the ball and kicked it downfield no one save these behind the goal would have appreciated what had happened. It took Stoke players half a minute to make up their minds to congratulate Johnston for his almost inconspicuous part in the incident goal number 3, too was a strange one. People swear they heard a whistle when Bowyer hit his magnificent dipping shot from 25 yards. The only whistle Sagar is likely to have heard was the whistle of this fierce and beautifully delivered as it found the recesses of the goal angle.
Some Irony
Everton followers were plainly disturbed about their side's inability to win; there was some irony in their attitude to players who had helped to take nine points from the previous ten. But Everton did enough, though playing indifferently to have won. The day's failure in one sense. Hold, was the day's success in another. His two headers were worth goals and only Mountford's inspired goal line head-away and an equally good save by Wilkinson prevented them from counting. Wilkinson, far from conceding anything, stood surely against a number of good Everton efforts in this way, his side was to survive until that early second half goal by Johnston, followed by a simply one to Beckett, clinched the game. Possibly Everton may have held Stoke cheaply, remembering they had had a grueling game in mid-week and that every line in the side, save goal, had its changed face. Although Everton looked like winning and Stoke for a long time, seemed to have such remote chances, one must not do other tan credit the winners on a splendid performance in the circumstances. Everton will have to bear strong criticism for this display when everyone anticipated they would continue their upward move. But surely the side is entitled to the occasional lapse in a season in which they have been so hard pressed for so long? And now we come to that big occasion of our season. Everton v. Liverpool, Laurie Hughes who suffered a nasty blow to the head in the Central League match At Anfield is almost ready for first team duty (but almost certainly his return will wait until after the Everton match), so the chances are that Liverpool will be as at Derby, with Woan and Haigh getting their baptism of "Derby" fire. Everton critics will be after heads on charger but maybe the notion that this side is good enough to beat anyone when in the mood will prevail and we shall see the revivalists given further deserved opportunity to show what they can do.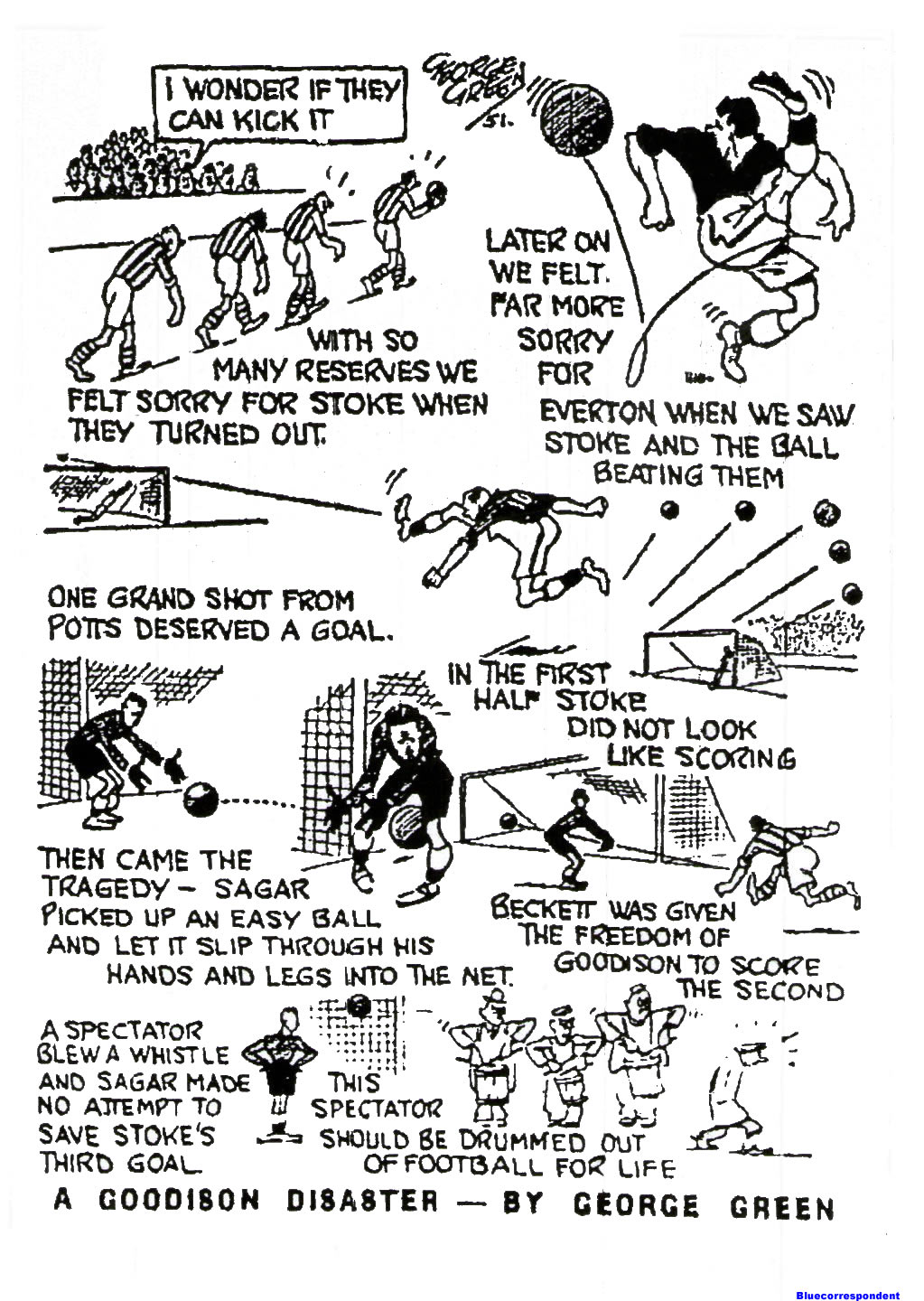 DISAPPOINTING GOODISON DISPLAY
January 15, 1951. The Liverpool Echo
Ranger's Notes
The neck-and-neck struggle among the bottom eight clubs in the First Division has now become an even closer affair than a month ago, which makes it all the more regrettable that Everton should have sacrificed two useful home points to Stoke. With four of the five clubs below them getting maximum return, it means that any one, but Sheffield Wednesday, can still overtake the Blues. Points in hand, of course, are a better proposition than games in hand, but what a difference it would have made had Everton on Saturday got the victory which most of the followers anticipated. Instead, they fell sadly below their recent dominating form. In actual fact was not far from the case had they been more penetrating and forceful in front of goal and had not Stoke been presented with gift goals.
Combination Lacking
The whole Everton forward line was disappointing. It had none of the quick-moving and accurate combination that had characterized it of late, and too often the inside men preferred to pass when a shot was called for. When they did shoot the direction was usually bad. A dull and almost featureless game looked like ending in a goalless draw, which would have done ample justice all round, when Sagar made a mistake the like of which he has rarely been guilty of in all his 21 years' experience. A feeble "topped" shot by Johnston which bumped thrice and looked as though it would have gone behind if left alone, slipped through Sagar's hands and between his legs into the net. It was the sort of thing which could happen to any goalkeeper. The best in the world have suffered similar mishaps. I'm not blaming Sagar, except beyond saying that with Everton in their present plight even the slightest of risks should be rigidly ruled out. The two other Stoke goals were tinged with fortune, for the centre which led to the second might have been cut out and the last one was watched into the net by a motionless Sagar, who was either misled by a whistle from the crowd or else thought it was going over the bar. Taken all round, this was a disappointing show after the good stuff the Blues served up in the past few weeks. The defence, sagar apart was rarely at fault, but the forwards had a bad day. Everton were unfortunate to lose, but this time the blame was largely their own. The side was only a shadow of what we know it can be at it best. Eglington was starved almost all the second half, Fielding rarely got the better of debutant Mullholland a grand little back, and the three inside men were well below par.
After the optimism engendered by the run of nine points out of a possible ten, two successive defeats in cup and league have set us back somewhat. I trust it is only a temporary check.
"DOUBLE" FOR AND AGAINST
January 18, 1951. The Evening Express
Pilot's Log (Don Kendall)
It was "double" for Liverpool and Everton on Saturday, Everton losing to Stoke City 3-0, had a double scored over them for the first time this season. This latest defeat was not time to cause panic, to be quite fair, Everton should have won well, despite a certain slowness at inside forward, for they had fully 75 per cent of the game, and like most goalkeepers who come to Goodison, it was Willkinson who decided to put on a super exhibition to defy Everton's best efforts. He dived to hold Potts rocket and leap across goal to flick aside Holds header were grand efforts and even when Wilkinson was beaten by Hold he found Mountford there to kick off the line, yes it was rather a case of the ball refusing to run for Everton again.
Hard Luck Ted
In the end Stoke were deserving of their success but even Manager Bob McGrory had to admit that the goal which put them on the way to victory was a fluke and nothing more. Even Johnston the scorer and his colleagues would not believe it was a goal until saw Ted Sagar take the ball out of the net. They could hardly believe their eyes and honestly I wondered whether I really was seeing things. Tommy Jones made a bad clearance to Bowyer who slipped the ball forward for Johnston. Johnston did not properly "get hold" of his shot, which and neither power no direction. To Sagar it must have appeared a mere formality to stop over and pick the ball up. That is what he tried to do, but he must have taken his eye of the ball for a split second, so that it twisted between his hands and between his legs and into the net. For seconds Ted stood in unbelievingly, and I guarantee that no man on Merseyside had an unhappy week-end than him. Such are the fortune of football. A week earlier Sagar had provided an great display, saving countless shots he could have been excused for beaten by the sloppiest shot seen for ages. It was a freak and nothing more, but it served to give the City that extra confidence and determination to cash in on their good fortune.
The Whistle
No real blame could be attached to Sagar or anyone apart from a spectator for the third goal scored by Bowyer. A whistle sounded and I like all the judges thought the referee had stopped the game. Bowyer just carried on and let go one of his specials which dipped suddenly and landed into the net. Sagar did not even more to save and few players even imagined it was a goal. But the referee had not blown his whistle at all. It was blown by a spectator as the linesman say afterwards. All I hope is that it was an Everton supporter who blew, it will teach him that in future jokes like that can go wrong.
WAINWRIGHT'S GOOD PROGRESS
January 16, 1951. The Evening Express
Pilot's Log (Don Kendall)
Eddie Wainwright, the Everton and England inside right is making splendid progress towards recovery from his broken right leg and is now no longer confined to bed. Wainwright broke the leg in the closing minutes of the game at Goodison Park against Derby County on December 9, and after a week in a Liverpool nursing home was able to go home. Progress since has been excellent, and Eddie is now able to move alone. Fortunately the break was clean and there were no complications.
GOODISON PARK INNOVATION
January 16, 1951. The Liverpool Echo
New Treatment Room To Speed Up Recovery From Injury
Ranger's Notes
At a cost of approximately £2,000. Everton have just completed one of the most modern installations in the country for the treatment of injured players. Complete with all latest electrical and other scientific apparatus including short-wave dianermy infra-red ad violet ray larapis electrical heat bath and so on. Everton hope to recoup themselves for the expenditure many times over through the accelerated progress which players are likely to make in their return to complete fitness. With its streamlined design light green vitrolite walls and cellings, central heating and rubber composition floor, the cheery and efficient aspect of the room itself, apart from the treatment obtainable its well calculated to have a beneficial effect on those who have occasions to become patients in it. The treatment will be given by a fully qualified physiotherapist, who will be in daily attendance when required assisted by trainer Harry Cooke. Although the room was only completed a few days ago, actually it has been in partial use for some weeks. The efficacy of the treatment available was proved in the case of Harry Potts, who recovered from his recent thigh muscle injury much more quickly than would otherwise have been the case.
Wainwright's Progress
Eddie Wainwright was the next to be treated though in his case unfortunately all the gadgets in the world could do nothing for a double fracture of the leg. Thanks to the special treatment room however he was able to receive attention and have the splints fixed in a quiet atmosphere and privacy which was not possible under the old dressing room arrangement. Wainwright by the way is now out of bed and knocking about at home, though it will be some time yet before the plaster is off his leg and longer still before he is able to resume light training. He is however, making satisfactory progress. One of the most ingenious of the various machines is a small portable electrical "neat bath" into which an injured ankle or other part can be inserted and the healing warmth left to do its good work at a mere turn of a switch. The short-wave diathermy apparatus is the most up-to-date of its kind, designed for deep-seated injuries which do not yield to ordinary heat of intra-red treatment. In short Everton's new treatment room has been designed to bring in the maximum aid which modern science can give in the restoration of complete fitness in the minimum of time. From what I saw it yesterday it promises to prove one of the most useful of acquisition.
86TH "LIVERTON" BATTLE
January 19, 1951. The Liverpool Echo
All Set for a Thrilling Red Versus Blue Tussle
Ranger's Note
Tomorrow's Liverpool –Everton encounter will be the 86th meeting between the two clubs under promotion-and-relegation conditions and no matter what the outcome, if it results in as good and clean an exhibition as its post-war predecessors there should be no complaint from spectators on the score of the fare provided. As for the result it can easily go either way. Normally I prefer to give a straight win-r-lose opinion in these games, but this time I have a strong feeling that a draw is the most likely outcome. If so, it will be the fifth time since the war that the points have been divided and the 23rd in the long series which started away back in 1894-95. Everton's reverse last week pegged them back in their upward climb and with most of the other lowly clubs winning the advantage they had gained over the last month is again narrowed down to fine proportions. A point tomorrow would be a satisfactory performance for Liverpool always put forward their best effort when opposed to the Goodison brigade. It is natural that a win against one's near neighbours should always taste a little sweeter to the victors than most other successes local rivalry and keenness being what it is. Everton need maximum points more desperately than Liverpool and if they play as well as they have done in many of their recent games, victory is not beyond their compass.
Seven "Derby" Debutants
On the other hand, Liverpool's well known knack of pulling out their best when opposed to good class opposition –and Everton lately the Stoke City game apart have been serving up good football –may swing the match in the Reds favour. In short, it's a toss-up either way and, is not a draw, I don't think there will be more than a goal between the pair when the final whistle goes. Never before do I remember any game with as many newcomers to the "derby" arena as we shall see tomorrow. No fewer than seven will be undergoing their baptism in the series –Crossley, Heyden, Haigh and Woan for Liverpool and Rankin, Jones and Potts for Everton. I remember Joe Mercer telling years ago that his first "Liverton" game was almost as nerve wracking an ordeal as his first and ever remembered brilliant show in the international arena. That is until play had started. After that it became just another game. Here's wishing good luck to all the debutants, a clean and entertaining debutants, a clean and entertaining game to the spectators and should one side deserve more than the other to win, then I trust justice will be done no matter which it is. The gates open at one o'clock. Just a last minute plea to supporters. Please move in towards the middle of the terraces, whichever end you patronize and so your bit to avoid crushing at the corners. If everybody does his bit in this direction there will be no unfortunates led out of the exit gates. Liverpool; Crossley; Shepherd, Spicer; Heyden, Jones (WH), Paisley; Woan, Balmer, Stubbins, Haigh, Liddell. Everton; Sagar; Moore, Rankin; Grant, Jones, Farrell; Fielding, Hold, McIntosh, Potts, Eglington.
The Junior Derby
Should the gates have to be closed at Anfield, there is the central League derby at Goodison Park to act as compensation when the teams will be;- Everton; O'Neill; Clinton, Saunders; Donovan, Lindley, Melville; Harris, Hampson, Catterick, Buckle, Parker. Liverpool; Ashcroft; Lambert, Parr; Williams (B), Hughes (J), Maloney, Payne, Baron, Done, McLeod, Brierley.
A GREAT TEST FOR THE NEW BOYS
January 20, 1951. The Liverpool Daily Post
By Leslie Edwards
With no fewer than seven players enduring their baptism of Everton v. Liverpool fire today's match at Anfield, may well be won and lost by the ability of any or all of them to play their normal game on the abnormal occasions. For the record and to give you opportunity to consider which will be most affected, the new boys are Wona, Haigh, Crossley and Heydon (Liverpool) and Potts, Jones (TE) and Rankin of Everton. My fancy is that Everton-will win, and I am basing this expectation not on their work against Stoke, but on that exceptional spell of their's over Christmas. They certainly would not be winning out of turn. When the players come out, traditionally, side by side that is not the end of the coupling of them. Hand-to-hand or foot-to-foot combat we shall see come from these intriguing pairings, Shepherd versus Eglington, Spicer versus Fielding, Moore v. Liddell and Rankin v Woan. This last will be a duel between two of the most promising young Liverpool's products we have had for many years. Can Jones (W.H) hold McIntosh? Will Jones (TE) dispel the Stubbins menace? We shall soon know.
Doubly Attractive
With many new faces abroad the occasion becomes doubly attractive, we must have the most of it. Except for that busy programme of Festival matches –and I fear we may be surfeited with football by then – this is the last really big occasion of the season. Manager Cliff Britton reckoned his side did enough to have beaten Stoke, in ordinary circumstances and I could not agree more. His confidence in his team is underlined by his selection if them en bloc. Liverpool for the good reason that they won at Derby are also unchanged but to my way of thinking they have not been playing as well as Everton, except when (they won) handsomely at Portsmouth. Largely because footballers have a better perspective on their calling nowadays matches between the city clubs, have lended to be more and more sporting. Surely the big followings of both clubs must sense this and make their effort to see both sides? Everton; O'Neill; Clinton, Saunders; Donovan, Lindley, Melville; Harris, Hampson, Catterick, Buckle, Parker. Liverpool; Ashcroft; Lambert, Parr; Williams (B), Hughes (J), Maloney, Payne, Baron, Done, McLeod, Brierley.
McINTOSH 'DOUBLE IN DERBY
January 20, 1951. The Evening Express
It Was Fast and Thrilling Football at Anfield
First Goal came After 'Two Minutes' Play
Blues Too Speedy for Reds
By Pilot. (Don Kendall)
Jimmy McIntosh's headed "double" enabled Everton to defeat Liverpool at Anfield today in a grand 86th Merseyside "Derby" match. This enabled Everton to score their fourth away victory this season and it was Liverpool's fourth home defeat of the season. This was victory beyond dispute by an Everton playing with a speed and precision unmatched by any side I have seen this season. Blame not Liverpool for defeat but praise Everton unstintingly for victory. This football would have beaten any team in the country, for Everton were tactically magnificent and individually brilliant. Everton were faster in thought and action and once they were a goal up in two minutes they never loosened their grip. McIntosh increased the lead at 64 minutes and only Shepherd's kicking off the goalline prevented him taking a third goal. Quite apart from his goal-scoring I think the magnificent leadership of McIntosh had a tremendous amount vital points to the Blues Ted Sagar made his 18th "Derby" appearance and it was the 13th appearance of Jack Balmer, who captained the Reds. It was splendid to see the manner in which the spectators responded to pack towards the centres and this meant no crushing and with the ambulance man standing by waiting for a job. Mr. W. Harvey Webb the senior Liverpool director, was indisposed and unable to go to Goodison Park, for the reserve match as planned, so another director took his place. This was a comparatively small "Derby" attendance if one could accept the freedom of movement on the "kop" as a true criterion. Liverpool; Crossley, goal; Shepherd and Spicer, backs; Heydon, Jones (WH), and Paisley, half-backs; Woan, Balmer (captain), Stubbins, Haigh, and Liddell, forwards. Everton; Sagar, goal; Moore and Rankin, backs; Grant, Jones (TE) and Farrell (captain), half-backs; Fielding, Hold, McIntosh, Potts, and Eglington, forwards. Referee; Mr. A. C. Denham (Preston).
Liverpool won the toss and quite naturally Balmer elected to defend the Kop. The going was soft and Liverpool's opening was swift, Stubbins getting the ball off Tommy Jones as it bounced awkwardly and trying to bring Liddell into action. Grant stepped in with a quick pass back for Moore to clear. Rankin allowed a ball to run dead and from the goal-kick in two minutes Everton took the lead through McIntosh. This was as sensational an opening as we had at the ground last season when Farrell scored in the first few seconds. Spicer stepped in to clear the ball as it came looming through but it crashed against Hold's chest and bounced to the ground. Hold took time to get it under control but he found McIntosh with a short pass and when Fielding was joining in the movement the ball was hastily pushed outside for the opening corner of the game. This was floating in under the bar when McIntosh leant in and headed through from short range. McIntosh had followed the flight of the ball perfectly and the fact that he never took his eye off it stupefied the task. Liverpool struck back to win a corner on the left which Liddell centred far across for the in running Woan but the ball travelled a wee bit too fast and Rankin was able to clear. A faulty pass back brought mix up between Tommy Jones an Moore and with the ball running loose in the Everton penalty area, Balmer raced forward at top speed but had to take the shot quickly and could do no more than hook it past the rear post. Eglington cut inside with a 20-yard shot which however, he "pulled" a little too much. McIntosh, and Eglington changed places and then Eglington burst through only to be overtaken by Heylon so that the ball run dead.
Crossley To Rescue
The Liverpool right defensive flank were a little uncertain of itself whenever Eglington became active and Balmer had to go back to try and bring some semblance of order. Paisley quickly passed back when McIntosh was looming dangerous and then Crossley came to the rescue of the Reds. Everton had been much the better side and McIntosh rushed the ball through for Hold. Hold ran to the line and centred low to the in running McIntosh. Crossley dived outwards to catch the ball firmly in mid-air. Potts utilized the quiet through ball for Hold to race on and make a quick right foot which Paisley managed to divert with his body and it went away for a throw in. With his but he took the ball rather heavily on the body and had to receive attention before he could resume. This had been a particularly bright Everton opening and they were varying their tactics refreshingly from the short to the long game. Perfect men passing all first time between Potts. Fielding and Eglington saw Eglington race away and force a corner and from this he got the ball back again only to find Shepherd mantling firm. There had been plenty of thrills; plenty of good football and tons of excitement but so far we had not seen Liverpool whose position would have been made all the darker but for the perfect positional sense of Bobby Paisley. Paisley's little juggling act with the ball on his head, he bounced it up and down six times, made the crowd roar with laughter and by the next moment the crowd was grasping as Eglington's left foot cross-shot was diverted into the side netting. From the corner McIntosh let go a left foot shot which found Crossley pulling the ball down with both hands. It was 23 minutes before Sagar had any work to do at all and then Liddell lobbed the ball into the goalmouth for Stubbins to try a back header, which brought Sagar a simple catch. There was more danger in Liddell's low centre following Paisley's pass for Sagar had to get down quickly and the ball seemed to come off his chest before he grabbed it with both hands. Everton were interchanging positions cleverly and we saw Fielding at inside left combining with Farrell and Eglington and when Eglington's centre, screamed in Spicer took no chances, but headed the ball behind for a corner, which Bill Jones contrive in keen away from Potts. Tommy Jones leapt in to head away when Liverpool made a quick raid, and then Farrell came again in open order after McIntosh's cute back pass and Hold taking a shot quickly had too much lift on it. Everton were making sure to take every free kick quickly to get the full advantage of it, but now Farrell took one too quickly for the liking of the referee and he had to go back and have another attempt. Following this McIntosh was so certain that he had been fouled when brought down in the penalty area that he grabbed the ball away with his hands only to find that the referee, quite rightly had ruled "no foul."
Farrell Delights
Farrell delighted with some splendid ball control, and strength in tackle, and when Hedyon swung in a centre Sagar was there to cut it out confidently. Potts put Eglington away and from the low centre McIntosh and Hold were about to slip it through, when Bill Jones managed to flick it aside, for a throw in. This was an amazing escape for the Reds. Spicer's free kick became a corner to Woan of whom we had seen practically nothing, but Tommy Jones banged the ball to touch and this produced a corner to Liddell. This was cleared with conviction by Potts. Heydon slipped down when intercepting Potts and so the Blues had another corner which Eglington returned for Hold to head outside. Shepherd saved a certainly when one of those quickly taken free kicks saw the Liverpool defence wide open and Potts racing through and challenged. Shepherd covered a lot of ground to divert the ball away from Potts, but following another free kick, Shepherd's head went up to prevent Eglington from coming through with a header. The corner actually started a Liverpool attack for Eglington pushed the ball back too far and Rankin had to be quick and accurate to hold up Liverpool's sharp raid. The difference between the sides was that Everton were that one yard quicker to the ball and seconds quicker in action. At times Liverpool appeared to be standing still compared to the speed of action of these Blues for whom McIntosh forced another corner on the right which coincided with the first casualty young spectator.
One-Way Traffic
This brought more worry to the Liverpool defence for McIntosh, Hold, and Eglington all made efforts to bring Crossley into action, but found their attempts diverted. This had all been one-way traffic in fact Everton were dominating the proceedings just as much as Liverpool had the first half of the Goodison Derby. The difference was that Everton did not have the goals to show for their superiority. At last we saw Woan as he centred first time for Haigh to try a header which Sagar saved easily. Fielding paced by Spicer, to-ended a centre which McIntosh headed back for Potts to try a left foot shot which had speed by flashed just a little too high. The referee had a word to say to Fielding and Liddell after they had been in a close tackle and there was a lot of argument and bickering before Spicer was able finally to make the free kick which immediately brought a free kick to Everton in their own goalmouth. A brilliant back heel by Stubbins saw Liddell spring in with the sort of chance he likes but Grant leapt in to divert the ball back to Sagar and that was the end of that. Eglington went through from Fielding's pass, and receiving the ball back from Hold, shot as he was tackled and the ball flashed across the face of the goal.
Half-time; Liverpool 0, Everton 1.
There is no doubt that in the first half Everton had recaptured all the glory of their Christmastice revival and not for years have I seen football played at such a devastating speed. Larely do we find Liverpool second best when it comes to speed and action but even the Reds themselves would be the first to admit that for speed Everton were magnificent.
Roar of the Kop
With the roar of the Kop behind them Liverpool crashed into action on resuming. Liddell being the spearhead of the raid as he moved inside menacingly, and when the ball came loose Woan hit a right foot shot which skidded by the near post. Liverpool gained a corner, but from this Everton swept away with first time passing with Fielding eventually breaking clear. Fielding lobbed over a centre to which McIntosh raced at top speed, and although his header went outside he stained himself as he went on to the barrier and had to receive attention. Nobody got the slightest respite with this football for Liverpool were now developing as speedily if not as accurately as Everton. This surely must have been one of the fastest matches in the whole series of "Derby" games. And the side defending one moment, would be attacking in the next spilt second. McIntosh went to outside right to make a centre which became a corner, but Eglington used the shot ball to Potts and Liverpool were wise to the move. This fighting spirit of Everton was exemplified by the manner in which Fielding saved back 30 yards to catch Liddell and force him into touch. Liddell was working like ten men to try and turn the tire, but Grant and then Rankin defied him and in keeping with the trend of this game away swept Everton for Fielding's centre to be too strong to be effective. Crossley had to run out to save McIntosh's centre following a quick threw in, and then Tommy Jones threatened by Stubbins took the chance and called on Sagar. There was no doubt that Bill Jones had brought a steadiness into a Liverpool defence too easily beaten in the first half, while Tommy Jones too had settled down after his nervous.
McIntosh Again
Everton increased their lead in 64 minutes with a goal made and scored by McIntosh. McIntosh on the proverbial sixpence tricked Bill Jones and pushed the ball aside for Fielding. Fielding made ground before centring accurately to the far post and McIntosh leapt over Hold and nod the ball into the back of the net. Everton nearly had another just after, Crossley turning over the top another Fielding centre, and Everton won two corners in the space of a minute as they tried to cash in on their advantage. The use of the long ball was doing nothing, Liverpool on one leg, and only the anticipation of Spicer enabled him to hold off Fielding as Fielding was racing though to an Eglington pass. Everton's speed of action had Liverpool chopped again, McIntosh flicking the ball to inside left for Hold to take a quiet shot which flashed just outside. Then Rankin's kick was headed on by McIntosh for Hold to race away but the ball dropped straight into the heads of the incoming and falling Crossley. There was no letting up by Everton who had set up a struggling pace and were keeping to it. And it was grand to see the manner in which Everton repeatedly switched play to Fielding unexpectedly. There is no doubt that Fielding was one of the great man of this struggle. Final; Liverpool 0, Everton 2. Official attendants 48, 668
EVERTON'S SHOCK TACTIC WON THE DAY AGAINST LIVERPOOL
January 20, 1951. The Liverpool Football Echo
A victory well and truly won by an Everton much-superior in every way to their rivals. Some of the winners football was excellent. The Liverpool attack apart from the first ten minutes was non-existent. It was completely subdued by the Everton defence. Thus the season's Derby games are balanced, Liverpool having won the Goodison game. It was Everton's forwards which won, them the day, but one must not forget the work of those behind in this complete triumph.
Liverpool Nil, Everton 2
By Stork
Liverpool; Crossley, goal; Shepherd and Spicer, backs; Heydon, Jones (WH), and Paisley, half-backs; Woan, Balmer (captain), Stubbins, Haigh, and Liddell, forwards. Everton; Sagar, goal; Moore and Rankin, backs; Grant, Jones (TE) and Farrell (captain), half-backs; Fielding, Hold, McIntosh, Potts, and Eglington, forwards. Referee; Mr. A. C. Denham (Preston). Liverpool won the toss and elected to defend the Kop goal. They needed with a swift raid, in which Stubbins and Liddell took part but the Scot's final pass to his inside colleagues went astray, and this sent Everton on a goal raid, but McIntosh was involved in an offside decision. Hold found himself in position when a ball cannoned off his chest down to his feet and after dribbling his way through to within the penalty area he transferred the ball to Fielding and in his defensive role Spicer away a corner. This was perfectly placed by Fielding, and as the ball came swirling into the Liverpool goalmouth the tall McIntosh reared his head and the ball was nodded to the back of the net in two minutes.
History Repeated
Thus history was repeated for in the corresponding game last year Everton ignored within a minute. This was undoubtedly a pleasant surprise to Everton, but Liverpool were soon challenging for an equalizer. The corner they gained, however did not produce the desired result for there was no one on the far side of the Goodison goal, who could turn the flag-kick to good effect. There were many tense moments at both ends, and when Jones the Everton centre half, failed to gather a ball there was extreme danger for Everton for Baines came rushing through at top speed and it seemed that Sagar was bound to be brought to duly, but the Liverpool captain was ultimately dispossessed. Play was soon in the Liverpool half again and Eglington tried a right-footer which passed outside.
End-to-End Play
When Eglington was down his wing, many thought he should have been granted a corner kick but the referee was right on the spot and decided against it. From the goal-kick Stubbins who was at this moment well in the rear, picked up the ball and dribbling his way through he cleverly side-footed the ball to Haigh, but the youngster, having to make his pass quickly, scooped the ball up in the air and to an Everton defender. Nevertheless it showed the trend of matters, for first it was one goal and then the other which came under the eye although neither goalkeeper had so far had a save of any importance to make for I don't consider Crossley had any chance when McIntosh got his goal. The play was exceedingly fast, and when Hold picked up a loose ball he veered to the right before he delivered his low centre across the Liverpool goal but Crossley got down on the ball and saved.
K.O. For Liddell
Hold came second time, but this time he found his shot cannoned out after McIntosh had made a reasonably good opening for him. Liddell was knocked out when a centre by Fielding caught him in the stomach and he had to receive attention from Trainer Shelley. He was soon back and Moore with a free kick lobbed the ball into the Liverpool goalmouth but it was speedily cleared, and the next movement of note was a goal kick by Sagar which emphasized just how this game fluctuated. So far Haigh and Woan had not shown up very brightly, but when the inside man tried a long pass out of his "friends" he was just a little too strong of the leg, and the ball passed out. Potts was working like a Trojan and when he slipped a neat ball out to Eglington the danger to Liverpool was paramount. In fact, it produced a corner kick, but this proved valueless.
Paisley's Jugging Act
It was interesting fare, and often Spicer with a big clearance kept the ball almost parallel with the side-line, it enabled Liddell to challenge Moore but his attempting header to bring the ball to boot was just a shade too strong. Bobby Paisley ticked the spectators fancy when he did a juggling act with the ball on his head, the only unfortunate part about this trick was that the ball eventually passed over the line. If anything Everton had looked the more dangerous side, and when Fielding passed right over to Eglington, this fleet-footed Everton member cracked in a short-range shot, which Crossley pushed round his post for a corner. The Liverpool goalkeeper did another good job in almost the next second when patted down and cleared a hook shot by McIntosh
Sagar Out of Work
I don't think Sagar had a single shot in the first 20 minutes of the game, but when he did come into action, it was a long header by Stubbins which was really not trouble-come to him. Jones (T.E.) was finding Stubbins a tough hit a crack, and to be perfectly frank, the Liverpool man had the better of things thus far. Then we had a mild-sensation in the Everton goal when Liddell centred low down and Sagar fumbled the ball, which brought back memories of some of a week ago. Fielding had a shot blocked and then Crossley was very thankful to see Spicer turn an Eglington centre high over his own bar.
Everton's Advantage
Everton were using the ball to a better advantage than their rivals who were more individual raiders than a collective whole. McIntosh, who was on the ground just inside the Liverpool penalty area, pushed the ball away with his hands and when Liddell tried to bore his way down the middle he found Jones the stumbling block. Potts was keeping Eglington well piled with takable passes, and Eglington's responded with some very good centre, one of which could have very easily produced a goal to Hold had the inside right had the necessary time to take more deliberate aim. He was challenged however almost immediately he got possession. Woan showed his centring ability when he put one into Sagar's hands and then the next thing of note was another Everton corner, and Eglington centre to Hold who headed wide.
Desperate Defence
The pressure of both sets of forwards was sometimes so hot that only desperate defence got the respective sides out of their difficulties. Everton seemed to specialize in corners and they took two more in quick succession but neither proved worthwhile. Potts appeared to be on the fringe of a goal after he had started the movement, and then found himself with the task of trying to beat Shepherd in a race for the ball. The Liverpool man won it to prevent what would have been, I feel sure, a certain goal. Hereabouts, Everton were playing some top-class football. One movement over on the far side of the field was a sheer delight and made Liverpool's effort look rather feeble. Bill Jones was one of the towers of strength in the Liverpool defence with able assistance in Paisley and Heydon, but still Everton were able to win corners. The speed of the Everton attack was one of its successes and Liverpool's Jones realizing this made a quick pass to his goalkeeper to avert trouble for himself and his side. Liverpool's new combination of Haigh and Woan linked together to provide the former with an opportunity to test Sagar with a header. Eglington shot straight across the goal face into the Kop and this was the final incident of a half which had been interesting with Everton the superior.
Half-time; Liverpool nil, Everton 1
Liverpool are acknowledged a 20 per cent better side when they are kicking towards their favourite goal, in the Kop and but for a slight misunderstanding they might have produced the equalizing goal in the first minute of the half, but as one left it to another the fine opening was missed although Woan did come along with a hard shot that passed wide.
"Mac" in the Wars
A corner to Liverpool following on and then the Everton left wing with knife-like precision swept through the Liverpool defence and eventually the ball was transferred to Fielding whose long centre appeared to be passing out until McIntosh coming up from nowhere made a header into the side netting. In his effort the Everton centre forward went tumbling over the concrete wall behind the goal and was injured, so seriously, it was thought at one time, that the stretcher was called but fortunately was not required, and "Mac" was soon back in the battle area.
Moore v. Liddle
In fact he had a short, sharp tussle, with Paisley for possession won, it only to put his pass to Fielding a shade too far back. Everton were still pressing their cause, whereas the Liverpool forward line could not get moving and even Liddell found that young Moore was a vastly improved full back. At all events he fell victim to Moore more than once. Potts completely switched the point of attack when he booked a long ball out to Eglington which had the Liverpool defence spread eagled but the Irish winger did not do justice to Potts good work. Everton were still the dominating party and a Fielding centre was headed further on by Hold, but neither Potts nor Eglington could connect up with the ball before the Liverpool defence gathered to cut out what looked an obvious danger.
Trumph of Defences
Woan had a shot outside, but so far Sagar task in the Everton goal had been pleasant one. Try how they would the Liverpool forwards could not beat down Everton's youthful defence. Jones (T.E.) had settled down to more confident play than had been the case in the earlier moments in the game, while Rankin and Moore had stood steadfast to the calls that had been made on them. By the same token Bill Jones and his comrades had stood defiant against some very determined advances on the part of the Everton attack. Liverpool fans were still yearning for a goal but the promise that their desire would be fulfilled was not hopeful unless there was a big change in Liverpool's attacking power.
"Mac" Does It Again
McIntosh started a movement and finished it with a goal. This is how it all came about. He beat Jones and Spicer and then calmly slipped the ball out to Fielding, who delivered a hanging centre close to the Liverpool crossbar. Mac had taken up position and once again his head applied the finishing touch to mark up Everton's second goal at 64 minutes. It was a goal very similar in its character to the first one, and those who are inclined to blame Crossley should remember that there were three Everton men standing almost alongside him. Crossley almost immediately afterwards tipped one over the bar from Fielding. It was all Everton hereabouts and Hold was only foiled at the last fraction of a second by Crossley as he (Hold) to slip the ball beyond the Liverpool keeper. Hold came a second time and Crossley had a act smartly to keep Hold's header from crossing his line. A free kick against Everton was more helpful to Everton than Liverpool for the kick was so quickly cleared that Fielding was able to dart off and put in a long centre which Crossley dealt with. It is only stating a fact that there was only one team in it now, and there had been almost from the start. But for Shepherd Everton would have made it, three nil, for a McIntosh header had beaten everyone else until Shepherd took the ball on his knees before he went on to kick the ball off the goal line.
Jones to the Rescue
Fielding, who had been more fiery today, lashed one into the side netting and from the goal kick Crossley only half hit the ball and it went to McIntosh who quickly took the chance with Crossley out of goal but Bill Jones stepped into the breach to save the situation. Everton were as dominating today as Liverpool had been in the season's first Derby game at Goodison, but when Woan beat TE Jones and swept across a good length centre there was a distinct Liverpool threat of a goal. The best they got however, was a corner and like so many corners today it produced nothing
Goal-Laden Centres
Hereabout Liverpool came a little more into the game but it was only a flash for Fielding was soon on the job once more sending those goal-laden centres to that far side of the Liverpool goal, but this time Crossley reached up and pulled the ball down from under his bar. Final; Liverpool nil, Everton 2. Official attendance 48,688.
EVERTON RESERVES PRESS
January 20, 1951. The Liverpool Football Echo
Maloney Shines for Liverpool
Everton Res;-O'Neill, goal; Clinton and Saunders, backs; Donovan, Lindley, and Melvlle, half-backs; Harris, Hampson, Catterick, Buckle, and Parker, forwards. Liverpool; Ashcroft, goal; Lambert and Parr, backs; B. Williams, Hughes, and Maloney, half-backs; Payne, Baron, Done, Mcleod, Briersley, forwards. Referee; M.R.A. Lloyd (Southport). Great interest was shown in this Central League "Derby", today when both teams fielded strong sides. Liverpool had the English international Laurie Hughes at centre League, and had also on view the amateur left half, Joseph Maloney. Liverpool were the first to become dangerous and following good work by McLeod and Brierley, the latter parted to Done who was a shade too slow to seize the opportunity it was an exciting game, with both defences sorely taxed in the 20 minutes, Everton gained the lead when Laurie Hughes was unlucky in heading into his own goal. Maloney made a fine debut. He was responsible for many and moves that were not fully accepted by the forwards. There was no doubt that Everton with their one goal advantage, were the more dangerous. Ashcroft doing extremely well in preventing the Blues from increasing their lead. Liverpool were doing their utmost to gain the equalizer, but credit must be meted out to Clinton and Saunders for their good defence play. Half-time; Everton Res 1, Liverpool Res Nil.
After the resumption Everton took up the offensive. Following work between Parker and Buckle the latter drove in a shot which was well timed by Ashcroft. The goalkeeper were kept constantly on the move. Hughes had Catterick well bottled up.
WHAT EVERTON DID TO THEIR OLD DUTCH
January 22, 1951. The Liverpool Daily Post
By Leslie Edwards
"We've been together now for 40 years
And it don't seem a day too much.
This by design or chance, was the appropriate musical greeting to Everton and Liverpool, at Anfield, but after 90 minutes hard plugging against the grain Liverpool might well have wanted to re-write the second line to read "and it seems just a day too long. " For Everton this match could not last long enough; the further it went the further they rubbed in the conviction that they were the better side. Better by far, than two goals to none suggests. From the moment a rather autocratic referee pointed to the coin he had spun and directed Balmer to retrieve it from the pitch (which Balmer did) Everton were in command. The zest of a headed goal by McIntosh after two minutes play set them on the right road and they never deviated from it, playing superbly, I thought, and showing greater speed to the ball, better use of it, and certainly a combined front which made the Liverpool attack look a mass of loose ends by comparison. Fielding's corner produced this spell-binding McIntosh header and though it can be argued that Crossley should have got to it first one recalls that the Dean in his day was won't to score similarly and there was never condemnation of goalkeepers when he did. If the spectators –there were 48,000 of them –maintains that every corner or centre is the goalkeeper's by right irrespective of what curve and spin a Fielding cam put on them, then Crossley was Faulty. But can one expect this of any goalkeeper, however good? The answer must be no.
Beyond Reach
Although they had chance after chance to make their position more solid, It was not until the sixty –fourth minute that Everton put themselves beyond reach of an equalizing goal. McIntosh, with one of those sharp turns which come unexpectedly from a man of his size started it and when he headed Fielding's centre home, the Liverpool marking or lack of it was such that three Everton forwards all stretched their necks for the ball with not a semblance of red in the neighbourhood. Save for a goal line save by Shepherd (whose body had earlier denied Hold a goal, McIntosh would have gone to his hat-trick. It took a full stretch save by Crossley to stop McIntosh's second effort to get his third goal. Whether this was a good game depends on your angle in judging it. From the Liverpool one it was as moderate as any for a long time; from Everton's it was almost too one-sided to be great; yet the winners did everything asked of them and by taking two points eased a League position which looks misleadingly comfortable. When McIntosh came from Blackpool at an absurd fee by present standards he was instrumental in saving his side from Division 11. Now he has proved himself beyond all doubt as the cheapest and best buy his club ever made. His positional play, his ability to hold the ball and spread it disconcertingly through the defence are his strong suits. He linked a fine line well and with Potts digging up chances far back. Hold making his usual forward showing and Eglington hardly putting a foot wrong, it was not surprising the Liverpool defence toiled desperately and without confidence. Which brings me to Fielding. Here is a player unrecognizable from that of twelve months ago. His outer berth gives him room for thought room for manocurve and opportunity to conserve his energy for special occasions. This was one of his most telling games, with its variety of tactics –once he went to inside left –and his earnestness to act in defence against Liddell if necessary. As if a better attack were not enough, Everton had from Farrell, Jones and Grant inspiration, hard tackling and ability to place the pass which the Liverpool half-backs could not match. Yet to my way of thinking it was the inability of Liverpool forwards to link up which made the match so one-way. Woan had a bright start and a bright finish, and Liddell as ever, seemed the one man to pull the game round, but success cannot always be commanded by a five some in which so many units are not functioning properly.
Too Many
Maybe Liverpool are suffering from too many inoculating of youth and will need to recall the tried and trusted of their staff. With Crossley, Heydon, Haigh and Woan all brought into League football within a few months, it is probably too much to expect them all to blossom into fully-fledged League propositions. Their promise is there, beyond doubt. After McIntosh, the game's outstanding figure I thought, was Rankin the Everton left full-back. For a man of his size he is extra-ordinarily good in the air, not only in his leap, but in his judgment. His kicking was a delight, too and twice when the game was virtually over did Woan get round this sturdy little frame. The one Liverpool player to credit himself fully was Jones W.H. But for him Everton may well have won by a big margin. Jones came nearest to giving his side, the calm assurance and confidence which they seem to lack having no truly commanding figure with them. True McIntosh got two goals, but they were against Liverpool as a side rather than against Jones in close combat. Not only was Jones superlative when the odds were against him, he was sporting and fair as ever – a trait which makes him the most truly balanced footballer I have ever known. Sagar, in his 18th match of this character, had only an easy header to field and a few pickups to make a tribute to his defence and condemnation of Liverpool's failure to produce shots. Outplayed as they were they should have shot oftener and better. Balmer's drifting of the ball the wrong side, for Liverpool, of the post not long after McIntosh had scored his first goal was a vital mistake, but we must not discredit him for being live enough to make the chance possible. Altogether a memorable meeting of rivals and neighbours and no one could say that we suffered from the prevailing epidemic of foul pest.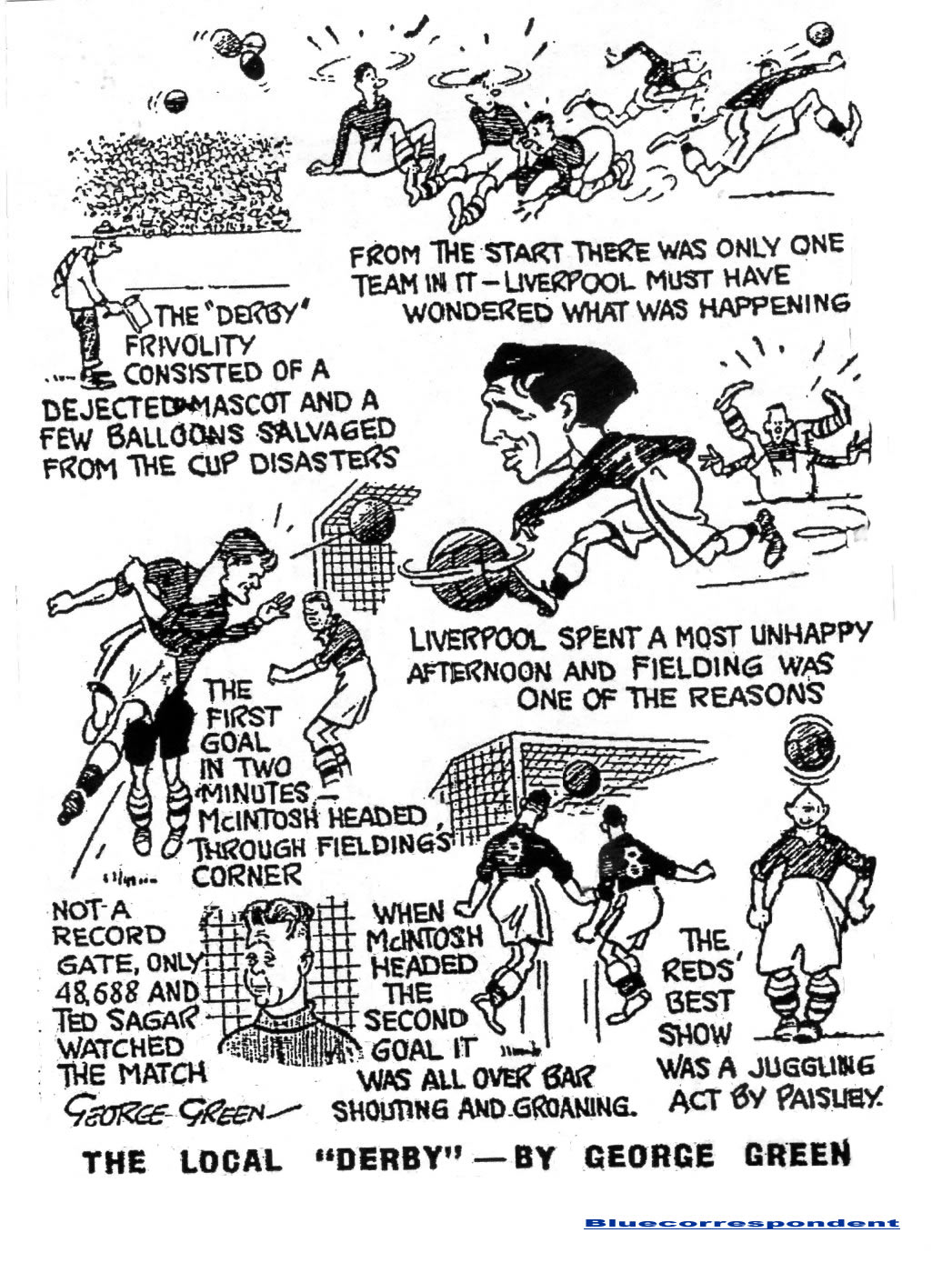 EVERTON RES 3, LIVERPOOL RES 1
January 22, 1951. The Liverpool Daily Post
Without question Everton Reserves were good winners over Liverpool in the Central League game. They were the more balanced side and made full use of their chances. What put plenty of confidence into them happened in the twentieth minute when Laurie Hughes, the Liverpool centre half, put through his own goal. Liverpool made valiant efforts to retrieve matters and were successful in the sixty-fifth minute, through Briersley, after Baron had hit the crossbar. After this Harris best forward on the field, regained the lead for Everton in the eight-fifth minute. Four minutes later Harry Catterick with a picture goal, settled the issue. Joseph Maloney, Liverpool amateur left-half back showed much promise.
EVERTON PACKED, THE PUNCH
January 22, 1951. The Liverpool Echo
Speed, Strength and Superior
Tactics Won The Day
Ranger's Notes
Manager Cliff Britton isn't one to wear his heart on his sleeve. He concealed his early-season anxiety under a poker-like exterior and to the casual observer seemed apparently unaffected by Everton's improvement around the Christmas period, but even his armour was not proof against the Anfield evidence that the Blues are rising above adversity. His satisfaction was effected in the beaming and can free countenance when the final whistle went. As for the spectators, their reactions depending on whether they were Everton or Liverpool supporters. If the former they smiled in company with the Goodison chief if the latter the went home downcast at a Liverpool display which made Everton's look perhaps a trifle better than they really were. As this was only Everton's second win over the Reds in ten post-war games none can say that success has come out of turn. Liverpool followers do not begrudge the victors their credit but many of them are beginning to be a trifle perturbed at the Anfield outlook. While Everton have had their worries and disappointments they are now definitely on the upgrade. The reserve is the case with Liverpool. The Reds weakness is still lack of punch in attack. That is nothing new. It has been obvious for a long time. far too often they have only three men up when an attack is being launched. You can't hope for much that way and when Liddell is "blanketed" the prospects are bleaker still. There was a bit more "bite" about some of the first half exchanges than we have had in previous post-war "derby" games. Most of it appeared to come from over enthusiasm ad rugged defensive tackling than anything else, bar two somewhat petulant instances of dispute as to the exact location of a free kick. These were the only blemishes on a game which if not up to the high standard of some previous "Liverton" tussles was at least not without its attractions and which was fought out at top speed from start to finish. Liverpool will have to do much better than this if they are to keep even their somewhat undistinguished position around the middle of the table. None of their attackers had the guile or craft to beat the quick tackling Everton defenders, except on rare occasions, their half-backs did not serve up that vital supply of passes without which even the best forward line must always b battling against odds, and the rearguard was never in command of affairs in the way in which it used to be until comparatively recently. Everton set a cracking pace from the first minute, and when a partial mistake by Crossley let in McIntosh for a quick goal the Blues established that psychological advantage which is a great help in any games but particularly in such a keenly-contested affair as a "derby" fixture. The final score in no way flattered the victors. The margin could have been much greater without doing any injustice to the Reds whose paucity of forward punch was reflected in the fact that Sagar had never to save a shot worth mentioning. McIntosh led the Blues line with determination and spirit and was well back up by all his colleagues. The two wingers were excellent. Potts was a fine schemer and if Hold occasionally was erratic in his shooting at least he had to go whenever the chance arose. But for Shepherd kicking off the goal line McIntosh would have achieved a hat-trick performance. Crossley has played so well in earlier matches that one regret having to attach any blame to him but I though he was again partly to blame for McIntosh's second goal. He has not yet completely mastered the art of cutting out a high cross ball. While it is a difficult job to know when to dash out in such cases, luck usually goes with pluck and properly timed the odds are on the goalkeeper if he goes in a "muck or nettles" spirit. Everton added to their other attributes the determination to b always first to the ball; greater accuracy in their passing and above all a fighting spirit which pace used to be more of an Anfield than a Goodison commodity. Their wing halves were better in support than Liverpool's pair and with Grant and Moore sometimes aided by Fielding putting the stopper too Liddell the sting was taken out of the Reds attack. Stubbins again languished for lack of adequate support and rarely got an opening when he and the odd man or two who happened to be up with him were not outnumbered, In any case, he took too long to get the ball under control and was usually smothered by Jones before he had it to his liking. Halgh did not live up to expectations, though he should not worry unduly about that for it was a testing game and his first "derby" which is always a bit of an ordeal for the best. Woan was up against a shiff task in Rankin, yet the former Bootle winger showed by his occasional flashes that he has it in him to make good in due course. He gets his centres over very strongly.
Might Have Been a Draw
Spicer was the best of the home backs, for Shepherd could not cope with Eglington's speed. Heydon specialized in some canny "stabbed" passes in the first half, and was not Everton's lively inside forwards. Bill Jones could rarely be seriously faulted. While this was a game which Everton might well have won even more convincingly than they did, it still remains a fact that the two goals which gave them victory might have been prevented and the points divided though had it so turned out Everton could justly have claimed another unlucky rub of the green.
TOMMY LAWTON DOUBTFUL
January 23, 1951. The Liverpool Echo
Goodison Friendly
Everton Outlook Further Improved
By Promise of Reserves
Rangers Notes
Although it is early yet for any definite decision, there is unfortunately, considerable doubt whether Tommy Lawton will be able to lead the visiting attack when Notts County play their friendly with Everton at Goodison Park on Saturday. Lawton twisted his knee badly in the Cup-tie against Southampton a fortnight ago, and while he is making satisfactory progress his recovery is rather slow. Even should he be somewhere near complete fitness by the week-end, Manager Eric Houghton might prefer not to risk him in a game in which there is nothing at shake, but give him an extra week's rest to have him thoroughly right when the County resume their League engagement. In the other positions County have nobody really doubtful, though one or two players are under treatment for minor knocks. The side will be chosen on Thursday. If Lawton is absent it will be a big disappointment to Everton supporters, who have been looking forward to another view of their old favourite. Everton have good news of Lello. He is making satisfactory progress at the Wolverhampton rehabilitation centre, and will conclude his course at the end of the week. His return to complete fitness will further lighten Manager Cliff Britton's load, while thee excellent showing of some of the Central League players is another encouraging feature of the Goodison outlook.
Brighter Future
Norman Kearsley recently signed on amateur forms from Runcorn, has proved a good capture and has been doing so well that he may shortly be added to the professional staff. Joe Harris the former Marine player, who came on a moth's trial at the start of the season, has been winning praise for his performances at outside right and with others like Donovan, Melville, Hickson, Parker and Hampson all showing good and improving form. Everton can face the future with far greater confidence than at any period for the past couple of seasons. Manager Cliff Britton has had a hard row to hoe but he has done a good job of work, and even if the present side, which has now played eight successive fixtures unchanged, does happen to suffer enforced alterations due to injuries, the youngsters he has been nursing are likely to fill the bill as satisfactorily as those who have already been "blooded" this season. Another encouraging bit of Goodison news is that Gwynfor Lewis, the Blues' promising 19-year-old Welsh centre forward; will be out of the Forces in readiness for the start of next season. In short affairs at Everton seem destined to take a very decided turn for the better. It was be a welcome relief for the board and Manager Britton and above all, a tribute to the painstaking labour of the latter. Even when things have looked their blackest he has never lost faith in the ability of his players to rise to their task. His judgment is now being vindicated.
LAWTON MAY PLAY
January 24, 1951. The Liverpool Echo
Ranger's Notes
Although when I spoke to Notts County early yesterday, they was a grave doubt Lawton being able to turn out in the friendly match against Everton on Saturday, today's news from Meadow Lane is a bit brighter and it is hoped that after all, Lawton may be able to play. He has resumed light training today and is expected to lead an attack which contains some well-known players in international Frank Broome, the former Villa and Derby forward , and 22-year-old inside right Jack Sewell a Buchley "discovery" who was with the F.A. team in Canada last summer. At outside left the County expect to include Bob Crooches, a local school master who came into the first team this season and who is rated one of the fastest players in the game today. Leon Leuty, the £23,000 early season Central League capture from Bradford is troubled by a leg injury and may not be playing and in the defence a prominent personality is long service player-coach, Liverpool born Bill Corkhill, who although a veteran has been giving some sterling displays this season.
TOMMY LAWTON IN TEAM CHOSEN TO OPPOSE EVERTON
January 25, 1951. The Liverpool Evening Express
O'Neill In Goal for Blues
By Pilot (Don Kendall)
Tommy Lawton, the former England and Everton centre-forward, is making an all-out effort to get fit enough to lead the Notts County attack against Everton in the friendly at Goodison Park on Saturday, and had made such progress that he is in the selected team. Tommy has been forced to miss two matches because of a knee injury, but he has been in training this week, and when I telephone Mrs Lawton assured me that Tommy was looking forward to playing before the old friends again, nothing would give Tommy more pleasure said "Mrs Lawton.
EVERTON'S ONE CHANGE
January 25, 1951. The Liverpool Echo
Ranger's Notes
There will be one change in the Everton team to meet Notts County at Goodison Park on Saturday. This is necessary owing to Ted Sagar's teeth trouble. The Everton goalkeeper had several teeth extracted on Monday and it has left him with a sore mouth. This is the first change in the side for nine games, O'Neill will take Sagar's place so that the team reads;- O'Neill; Moore, Rankin; Grant, Jones, Farrell; Fielding, Hold, McIntosh, Potts, Eglington.
The Reserves side to visit Sheffield Wednesday includes two newcomers to Central League football. Goalkeeper R.M. Taylor, who has been on loan to Marine and J.S. Buckley, who has been shaping exceedingly well in the "A" team. Lello resumes after an absence since Christmas Day. R.M. Taylor; Clinton, JS Buckley; Donovan, Falder, Lello; Harris, Lewis, Catterick, Hampson, Buckle.
Notts County Twleve
Tommy Lawton is among the 12 players from whom Notts County will chosen their side for the friendly against Everton at Goodison park on Saturday, but Leon Leuty is a definite non starter due to injury. The team will be selected from; Smith (R); Deans, Rigsby; Robinson, Baxter, Adamson; Broome, Sewell, Lawton, Johnston, Crookes, McPherson.
GOODISON FRIENDLY
January 26, 1951 The Liverpool Echo
Ranger's Notes
At Goodison Park, we have the usual appeal of a visit from Notts County last year's champions of the Third Division South, who are now holding a reasonably fair position in the second Division table. The main object of Everton's arrangement of this game was the pleasure it would gave the home folk to see Tommy Lawton in action again. Goodison fans still have a warm corner in their hearts for the former England leader. Latest news from Nottingham today is that Lawton is practically certain to turn out. He has made a big improvement in the last few days and is himself anxious to play. While there will be nothing at stake, this match promises to provide a nice afternoon's entertainment and some good exhibition football with most likely another victory for Everton further to enhance their growing confidence. Everton; O'Neill; Moore, Rankin; Grant, Jones, Farrell; Fielding, Hold, McIntosh, Potts, Eglington. Notts County; Smith (R); Deans, Rigsby; Robinson, Baxter, Adamson; Broome, Sewell, Lawton, Johnston, Crookes, McPherson.
Eddie Wainwright is making satisfactory progress following the fractured leg he sustained a couple of months ago, and visits the club specialist today to have a fresh plaster –cast fitted.
NOTTS COUNTY HAD NO LAWTON
January 27, 1951. The Evening Express
Deputy McPherson Showed Craft, Helped in Early Goal
By Radar
McPherson deputizing for Lawton, showed unusual promise came firmly into the game, and Johnston gave them the lead in 28 minutes. Everton found the lively ball an obvious handicap and it was not until seven minutes after the interval that the now familiar Fielding-McIntosh due produced an equalizer from McIntosh. Even after this County were more direct in their methods but Potts placed Everton in the lead in 70 minutes from a penalty. Johnston equalized 8 minutes later. The announcement over the loud-speaker that Tommy Lawton was unfit to lead Notts County attack in today's friendly game against Everton at Goodison Park was a bitter disappointing to spectators who had braved the bitterly cold weather. McPherson deputized for Lawton thus making his second appearance in the County senior side. The only change in the Everton line up compared with the team which defeated Liverpool was the appearance of Jimmy O'Neill in goal in place of Ted Sagar recovering from the effects of a visit to the dentist. Everton; O'Neill, goal; Moore and Rankin, backs; Grant, Jones, Farrell; Fielding, Hold, McIntosh, Potts and Eglington. Notts County;- Smith, goal; Deane, and Rigby, backs; Robinson, Baxter, and Adamson, half-backs; Broome, Sewell, McPherson, Johnston, and Crook, forwards. Referee; Mr. J. Platt of Northwich. About 15,000 spectators saw Everton's Eglington taking charge of a McIntosh pass to force a corner at Dean's expense, but the Irishman, in trying to "find" Fielding, could only place this on top of the goal netting. There were early indication of an unusually lively ball, and a rather treacherous surface, and when the Everton left thank indulged in a bout of inter-passing it was the bounce of the ball which finally beat Eglington rather than anything also. Five minutes had passed before the County forwards swung into action and then they moved in nice style without calling on O'Neill. Next McIntosh moved to the inside left position to swing the ball far to the other flank, but it was going too fast for Hold. The initial thrill came following a Fielding-Grant-Potts link up, which resulted in Crookes lashing the ball behind for a corner to prevent Fielding making his centre. Smith punched Fielding's corner high in the air and Hold hit it on the volley only to see it crush against Rigsby and go behind. A mistake by Fielding inside his own half allowed Crookes to burst through almost unchallenged, but his hastily hit shot swerved away.
Hold's Miss
Everton's next excursion brought about another and even more remarkable escape for the County, McIntosh cleverly side-footed Grant's lobbed pass square to Hold, but from no more than eight yards he lofted the ball sky high. Adamson the County left half revealed a lively sense of opportunism when he moved into the open space to let go a fierce rising drive which hurtled a yard outside the near upright. The crowd, which must have been in the region of £5,000 by now, were quick to appreciate a nice angled header by McPherson which was too near the billet for O'Neill's liking without unduly exerting themselves Everton were the more effective force, but this was not Hold's lucky day so far for he drove straight at Smith from point blank range following an Eglington corner. The best scoring effort so far was a 15 yard pile driver from Potts which Smith edged over the top. McPherson was showing enterprise and craft in his leadership and now he took Sewell's return pass in his stride and forced O'Neill to go down on his knees to save by the foot of the post. County took the lead in 28 minutes and much of the credit for the goal must go to McPherson for his canny back header which enabled Robinson to slip the ball through to the unmarked Johnston who, from close in beat O'Neill all the way. It might easily have been two in the next minute, for veteran Frank Broome produced a stinging shot which O'Neill had covered. County were allowing much the superior ideas and a four pronged movement ended with McPherson taking the back-header for his colleague to run to. This time it was Broome who hit one of most phenouous shots I have ever seen. It thundered against the woodwork before O'Neill had moved. From the rebound Crooks headed in and O'Neill earned praise for his swift leap and sure goal. A magnificent save by Smith as he dived sideways prevented McIntosh equalizing with a header from Eglington's corner.
Half-time; Everton 0, Notts County 1.
McPerson Pleases
Everton's initial thrust on resuming saw Hold sweep the ball out diagonally to the right that Fielding's centre, almost a shot, ended in the side netting. Everything County's McPherson had done so far had borne the hall-mark of class. Smith had to deal near the post with a cross drive from Grant but this was not Everton in their brightest mood. Gradually Everton began to assert themselves, and Fielding's took into the centre of the goal area endured a brilliant header from Eglington to which Smith went full length to punch behind in magnificent style. But the corner proved fatal to County, for Fielding placed this deadly for McIntosh to leap over everyone else and head out of Smith's reach –Time 62 minutes. County were not done with, and McPherson hit one hard along the ground. The diving O'Neill was beaten but Moore kicked clear. Territorially there was not a great deal to choice between the sides at the moment but County were definitely the more direct in their methods and they were causing Jones and his colleagues more than a deal of concern. Everton next raid produced a scrimmage near the penalty area when Eglington lobbed the ball into the middle, Baxter was ruled to have handled and Potts right foot from the spot gave Smith no chance. Johnston equalized near the end for Notts County.
EVERTON IN GAME OF CRAFT
January 27, 1951. The Liverpool Football Echo
Friendly Brings Good Football
By Stork
Everton; O'Neill, goal; Moore and Rankin, backs; Grant, Jones, Farrell; Fielding, Hold, McIntosh, Potts and Eglington. Notts County;- Smith, goal; Deane, and Rigby, backs; Robinson, Baxter, and Adamson, half-backs; Broome, Sewell, McPherson, Johnston, and Crook, forwards. Referee; Mr. J. Platt of Northwich.
EVERTON IN GAME OF CRAFT
January 23, 1951. The Liverpool Football Echo
Friendly Brings Good Football
By Stork
Everton; O'Neill, goal; Moore and Rankin, backs; Grant, Jones, Farrell; Fielding, Hold, McIntosh, Potts and Eglington. Notts County;- Smith, goal; Deane, and Rigby, backs; Robinson, Baxter, and Adamson, half-backs; Broome, Sewell, McPherson, Johnston, and Crook, forwards. Referee; Mr. J. Platt of Northwich. Much of the lustre went out of this friendly game at Goodison Park when it was announced that Tommy Lawton, the former Everton and England player, was unable to play for Notts County. Almost up to the last moment he was expected to turn out against his former club. There was a fair crowd considering this was more likely to be an exhibition game than anything else. Just prior to the start there was a threat of snow, and it was bitingly cold. It was soon evident that we were going to see some good ball play and Everton produced some really top-class football during the first five minutes, without the anxiety or fear that a mistake would perhaps mean a heavily penalty. The ground while looking well, was topped with a slippery surface. It was all Everton, and the play was enjoyable because of its science. Hold should have scored when McIntosh slipped the ball sideways to him, and all the ball needed was a slight touch but Hold tried power rather than direction, and the ball went sailing over. The County came more into the picture and one shot went whizzing outside the upright and a header by McPherson was very close to the mark following good work by Crookes. Hold was having wretched luck with his shooting for again he found his way barred by goalkeeper Smith, who knew little or nothing about the save. The best shot of the day so far came from Potts, Smith making a magnificent one-handed save when turning the ball over the bar. It was difficult to keep track of the Everton forwards for they took up all sorts of positions to delude the County defence. As so often happens the side which had done least in attack went on to open the day's scoring. Johnson scored for Notts County in the half hour. It was a well-made goal, too, for Broome, McPherson and Johnston all had a hand in its making. The County were much more open in their game. They exploited the long pass to eat up the ground more rapidly than did Everton. Nottingham with a goal in their pocket, became a more convincing side and Broome hit one of the most ferocious shots I have seen for a long time.
Grand Save
Near the interval, Everton won a corner, and Smith had to make a grand save from Potts.
Half-time; Everton nil, Notts County 1
Everton were more straight forward on resuming and Eglington came near to heading the equaliser when he directed the ball to the far side off the County goal, but Smith made a grand save pushing the ball round for a corner. This proved fatal for McIntosh got his head to Fielding's flag kick and the ball was in the net at 53 minutes. This half became more suggestive of a league match for Everton cut out a lot of finery and got on with the business but they had their anxious moments for the County were out to show that there was not such a big gap between Second and First Division football. Potts scored for Everton after 72 minutes. The goal came from a penalty. Johnston scored for Notts at 80 minutes.
SHEFFIELD WEDNESDAY RES V EVERTON RES
January 27, 1951. The Liverpool Football Echo
Sheffield Wed Res; McIntosh, goal; Jackson and Swift, backs; Henry, Kenny, and Seenley, half-backs; Finney, Thomas, Dooley, Jordan, and Rickett, forwards. Everton Res; R.M. Taylor, goal; Clinton and J.F. Buckley, backs; Donovan, Sadler, and Melville, half-backs; Harris, Lewis, Catterick, Hampson, and Buckle, forwards. Referee Mr. N.C.A Downes (Birmingham). The Everton defence did well to prevent the home team from taking the lead before half-time. Taylor, an amateur goalkeeper from Southport, showed good judgment in saving three fierce drives from Rickett. Everton's fewer attacks looked dangerous and Buckle, Lewis and Catterick had good efforts stopped by McIntosh. Half-time; Sheffield Wednesday Res nil, Everton Res nil. Two minutes after the interval Rickett scored for Wednesday.
THE DIFFERENT FRIENDLY
January 29, 1951. The Liverpool Daily Post
By Stork
Everton 3, Notts County 2
Friendly games are usually milk and water affairs when the rival teams set out to make an exhibition of it, but the Everton-Notts County fixture was different. In the first half hour Everton set out to demonstrate their football skill and some of the combinations they produced were the essence of the craftsman's art. Further goals should have rounded off their play for their were there for the taking. Hold might have had two and would have done had it not been for lucky interventions and McIntosh could have added to the tally. Then this pretty-pretty display was knocked cock-eyed by a Notts County goal at the half hour. Notts had been more direct with the few chances at their disposal and I could visualize them as a more than useful side with Lawton and Leuty in the team. They pitted their long game against the more intricate Everton methods and it brought them success. Johnston hot a grand shot into the net and Broome had a great oblique drive –the hardest I have seen for ages –saved by O'Neill. Everton altered their methods in the second half, being more open, and McIntosh and Fielding countered Johnston's goal when McIntosh headed Fielding's corner beyond Smith. This was the third goal in succession by the same combination. When Potts rammed home a penalty shot the outlook was brighter. But Notts were still worthy opponents not far removed from First Division standards and Johnston leveled the scorers. The winner came in the last minute when Notts County seemed to allow Potts all the time in the world to make his moves before firing the ball past Smith who was facing a driving snowstorm. There was great disappointment when it was announced that Lawton would not play. He had a capable deputy however in McPherson, Broome is still a more than useful player. Deans played Eglington exceedingly well.
• Sheffield Wednesday Res 2, Everton Res 0
• Ellesmere Town Res 1, Everton "A" 4
• Everton "B" 14, I.C.L (Widnes) 0
WON ON TIME
January 29, 1951 The Liverpool Echo
Ranger's Notes
How wide is the gap between First and Second Division? Not a lot if Notts County's form against Everton is anything to go by and it must not be overlooked that they were without Lawton and Leuty. What they would be with these two stars in the team only the Midland "fan" knowns (writes Stoke). There was a groan when it became known that Lawton was not to play but even his absence was forgotten after the game had been in progress half an hour. The methods of the two sides were vastly different, yet equally effective. Everton, finessed the more and their play was good as a spectacle and as a means of making goal openings, but the County's more open methods took them to the same objective in double quick time. With the slightest bit of luck Everton would have taken an early three goal lead, but bodies twice stopped Hold from rattling the ball to the back of the net. It seemed obvious that Everton intended to make an exhibition of this game, but they were brought to the realization that the County had no such intent when they rubbed out all Everton's classical play with a goal and a number of near misses. The Fielding-McIntosh link up is becoming a feature of Everton's attack. They worked it successfully against Liverpool and produced it again against Notts –Fielding's centre to the far post and McIntosh's head did the rest. The tempo increased in the second half so that we saw something resembling a League game with a penalty goal (Potts) thrown in. It was only a handling case, true but showed the keenness to prevent a score. Notts got level again also through Johnston and in the swirling snow, Potts, with one minute to go, calmly ambled forward –no one denied him –and cracked the ball into the County net. I have seen some fierce shots during my long association with football but none more so than the one Broome hit from 25 yards out –Lawton never hit a harder one and it looked a certain goal until O'Neill saved by touching the ball on to the upright and was ready for the return header that came his way.
SAGAR IN TRAINING
January 30, 1951. The Liverpool Echo
Everton's Blackest Line
Eight Defeats in a Row in Games Against Portsmouth
Ranger's Notes
Everton expect to be at full strength again for the visit to Portsmouth on Saturday, when the Blues will be doubly anxious for victory, not only to redress the balance of their post-war record against Pompey, but also to improve their League position. The Southerners have rubbed it in against Everton pretty strongly since football was resumed five years ago. Of their nine previous meetings Everton have won only one, a 1-0 victory at Goodison Park in 1946. Since then the results have been; 1-2, (a), 0-2 (h), 0-3 (h), 0-4 (a); 1-2 (h), 0-7 (a), 1-5 (h) the last being the game here on September 23 last year. Everton's record against the Fratton Park club is their poorest against any post war opponents. The summary reads;- Play 9, won 1, draw 0, lost 8, for 4, against 30, points 2. With Everton on the up-grade, however, and Portsmouth not showing the form expected of them this season, the Blues may get a bit of their own back this week-end. Pompey's hope of equalizing the feat of Huddersfield and Arsenal by registering three successive championship victories is now out of the question but recently they have been showing a little more consistency, and have won four and drawn one of their last five league matches. In between was sandwiched a Cup-tie defeat by lowly Luton, struggling to avoid relegation in the Second Division. Ted Sagar reported at Goodison yesterday for training after his recent teething trouble, and is practically fit again. With a clean bill of health elsewhere the selection of the side for the Southern trip should be a simple matter.
EVERTON'S FURTHEST FLUNG FAN
January 31, 1951. The Liverpool Daily Post
By Leslie Edwards
I wonder whether footballers playing for clubs with great traditions realize what heritage they carry all over the glode? Considered Everton and their farthest-flung followers, Mr. P. Tilston, who writes to me today –notepaper appropriately, edged with blue –from 635 West Avenue, 28 Los Angeles. The last time he saw Everton was in 1913, when he made his last trip home but he is as full of enthusiasm for them as he was when he went first through the turnstiles on a schoolboy's ticket in 1894 or 95. Living in a city where –the camera lens is greater than the League table Mr. Tilston finds no challenge to his football authority. So he argues with himself. That is why he wrote. He want to satisfy the argument with himself that he can still name the original twelve teams of the Football League. He gets them all right except two. For Sheffield Wednesday and Small Heath which he lists, he must substitute Aston Villa and Accrington. At this time and at his distance from the centre of the home of football it is not surprising he does not know the out of Small Heath was born the present Birmingham. Mr. Tilston is wrong too in thinking that Everton are the only team which have not been n Division 1 since the start. They were relegated of course in 1929-30, Sunderland not among the originals have never been out of Division 1 since they joined hence their burst of purchases recently to maintain that honour.
Out of the Cellar
Everton's position at one time this season caused Mr. Tilson some loss of sleep. He says he is glad to see them come out of the Division cellar. Final question relates to the 1894-95 team and where they are now. The team, as my correspondent recalls it read; Hillman, Adams, Arridge; Boyle, Holt, Stewart; Milward, Chadwick, Southworth, Latta and Geary. Well, Geary celebrated his eighty first birthday recently; Southworth is still playing the tuba with a Philharmonic orchestra and "Daddy" Holt was last seen at Reading looking hardly a day older. Arridge died about two years ago. Our only reciprocal request from Los Angeles is "Any chance of burying up the sunshine and warmth we have not had here for so long?"