FOOTBALLERS ON THE TRACK
Cricket and Football Field - Saturday 02 July 1910
Apropos the reference to Ernest Whiteside's prowess on the running track, I notice the St. Helens Cycling Club introduced a novelty for their sports meeting on Thursday, in the shape of a sprint race for professional footballers. This was a splendid draw, for the respective merits of such men as Todd and Flannagan, for instance, have been a debatable point for some time. The entries included among others L.B. Todd, Joe Miller, and McPhail (Wigan), Tom Johnson and Neville (Leigh), Barr and Harris (Broughton Rangers), Stevenson (Everton), Parkinson (Liverpool), Turtill, Flannagan, Barton and Manchester (St. Helens), and other Northern Union players. Barr covered the 100 yards in the quickest time, 10 1-5 secs; Parkinson 2, Stevenson 3. There was a strong wind behind the runners.
NUGGETS
Cricket and Football Field - Saturday 02 July 1910
Cooke the old Tranmere Rovers and Everton player, now assists Jack Elliott at Goodison. Where has Joe Lofthouse gone to?
Bert Sharp is having a moderate season with Tunstall in the Staffordshire League, but playing for Bootle against Pudsey Britannia he scored 70 not out. Frank Sugg was also a liberal contributor to the Bootle total of 218 for four wickets scoring 94.
Cooke, who is to help Elliott to get the Everton players into condition, came to Everton from Tranmere Rovers. He had his playing career shortened as the result of an accident.
If Berry can maintain the South African form in League football, his services will be valuable to Everton. For an outside man he has shown remarkable aptitude for scoring goals against the "Springboks."
Much as Evertonians deplore the loss of Jack Sharp, they are not wholly despondent for, say they, have we not a chance of securing Simpson of Falkirk and failing that there are Pinkney, Berry and Michaels, also Val Harris, who can shine there?
LIVERPUDLIANA; BY RICHARD SAMUEL
Cricket and Football Field - Saturday 09 July 1910
July is the favourite holiday seeking period of the football directors and his secretary alike. At present Mr. W.C. Cuff is taking a well-earned respite this week-end.
LIVERPOOL V EVERTON TIT-BITS
Everton are to visit the Liverpool ground twice during October-once under League auspices and once in the Lancashire Senior Cup ties. For the return League match of the season the two great Merseyside rivals were drawn to meet on the opening round date of the English Senior Cup Competition. However, the clubs have now mutually arranged to meet at Goodison on December 27th-the day after Boxing Day. This is practically certain to be kept as a local holiday and thus everybody will be in a position to enjoy this prospective treat to the full.
A NEW TOP ON
The work of re-rooting the Anfield-rd goal stand on the Liverpool ground is proceeding apace, and it is expected that it will be completed in august.
FOOTBALL BRIEFLETS
Cricket and Football Field - Saturday 09 July 1910
Do the Everton club intend putting up a new stand at the Walton end of the ground? The present roofless stand is an eyesore. It will be remembered that the roof was blown off during the great gale and was not replaced.
LIVERPOOL COUNTY COMBINATION
Athletic News - Monday 11 July 1910
The annual meeting of the arranging of fixtures and other business in connection with the Liverpool County Combination competition was held in Liverpool last Friday. Three clubs had withdrawn, namely Everton "A", Liverpool"A" and St Helens Recreation Combination. Four teams were elected to the First division, which will now comprise thirteen teams.
NUGGETS
Cricket and Football Field - Saturday 23 July 1910
Bert Sharp was not too happy in his first appearance in North Staffordshire League cricket, but latterly he has found his best form, and last Saturday knocked up a brilliant 75 for Tunstall.
FOOTBALL BRIEFLETS
Cricket and Football Field - Saturday 23 July 1910
The "Football Fields" interesting figures of football club's finances show how little of the hugh incomes benefit charities. Both Liverpool and Everton might do something for hospitals which are beneficial to and partly supported by their numerous admirers.
Everton last season gave 1,000 pounds as a joint benefit to two of their players. Why not this season set apart a match for the Hospital Saturday fund? Such a match would be patronized by hundreds who rarely visit their ground, and the good example would probably be followed by Liverpool.
St. Helens Recs, are to be congratulated on effecting the capture of J. Crelley, the well-known full-back, formerly of the Everton Club. The news of the capture has created great jubilation in association circles, and it is absolutely certain the Recs have up to the present the finest eleven the club ever possessed.
LANCASHIRE V. LEICESTERSHIRE.
Yorkshire Post -Friday 29 July 1910
(By our Reporter.)
The first match between these counties this season was commenced yesterday at Leicester glorious weather, and before good company. Lancashire made two changes in the eleven which defeated Sussex on the previous day, Ralph Whitehead and Cook taking the places of Makepeace and Dean. The latter presumably was being rested because of the heavy work that has fallen him lately, and also in view of the return match with Yorkshire, which commences next Monday. Leicestershire also mode a couple changes. Sir Arthur Hazierigg and Mr. Sharp standing out of the team in favour of Lord, a member of the Leicestershire ground stall, who is making his first appearance for the county, and Turner, the well-known Everton football player. Turner was run-out for 22
JACK SHARP'S BENEFIT


Cricket and Football Field - Saturday 30 July 1910
Feature of a Notable Career
For Lancashire; 11,850 and 369 Wickets
Jack Sharp's benefit match is to begin on Monday at Old Trafford. We wish him good weather and three full days of cricket, with a sporting finish and a victory for Lancashire like there was in the recent match v. Notts on the same ground. Then will a worthy professional gain a great forward for good service, and the public will get their money's worth to boot. Popular to a degree, worthy to rank with any gentleman who ever stepped out of a pavilion, a good fellow on and off the field, diligent in all things from cricket to golf and from football to business, he has earned the respect of many thousands. He has done well out of football benefits; but he has thoroughly earned this one from the Lancashire County Club, for in 12 seasons up to this morning he has scored 11,850 runs for the county and taken 369 wickets. First time has he topped the coveted mark of a thousand runs per season, and he ought to repeat the performance this "summer" Sharp is a consistent bat, rather than one of the flash-in-the-pan chaps, for whilst the records tabulated below show some tall scores, including centuries every season since 1903; he is generally to be depended upon for a good innings. Crisp in cutting and driving with hurricane force, he has more than one good stroke, and spectators cannot fail to admire the shrewdness with which he whips the ball along the carpet well wide of the fielders.
It is a feature of Sharp's cricket that he knows well how to keep the ball low. It was one of the arts that he practiced at home as a lad, for space was circumscribed and hitting low was the only way in which the ball could be kept out of a cider maker's yard, where there was a cranky proprietor and a still crankier dog, which made it dangerous to go hunting for "lost ball."
There is a brightest about Sharp as international cricketer and footballer, as participant in County cricket or League and Cup football, which reflects Jack Sharp off the field. He is pleasant and breezy to a degree. Everybody notes at once his sunny disposition and his sunburnt face but then all the lads of Herefordshire seem to be friends of the sun. Isn't it so? Least ways, one is driven to that conclusion when one saunters through the rich acres and luscious vales of that pretty county. When he bowls also, there is crispness about his work; but this season not so much has been demanded of him with the ball as many Lancashire patrons would have liked, in the absence of Brearley.
Facts and figures
His record up to and including the present match with Leicestershire has been as follows;-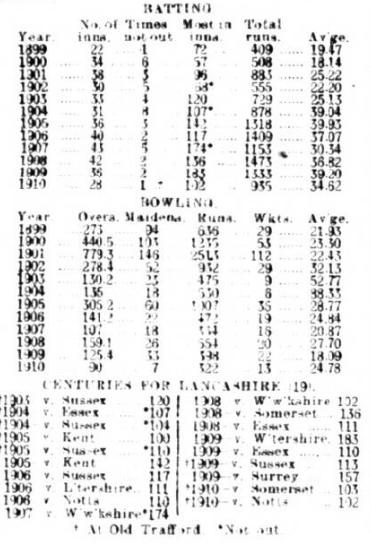 BOWLING FEATS
The fact that Sharp has only had one or two good years with the ball seems odd when one remembers how much he used to bowl when he was on the ground staff at Aigburth; but he generally preferred willow-wielding. Still, it seems to be only for want of more opportunity in County games that he has not more wickets. Usually he comes on nowadays when batsmen are nicely of, but in his greatest bowling season of 1901 he and Sidney Webb bowled unchanged right through the Lancashire match v Kent, at Old Trafford. In the same season he took nine Worcester wickets in one innings for 77 runs, and eight for 51 against Middlesex. At Liverpool against Hants he was credited with six for 47; and against Notts in 1902, when he was only brought on as a last resource, he tumbled out the last five men for 59 and the Notts total for the innings was 329. Again in May of 1903 four Lancashire bowlers conceded 100 runs for two wickets against Essex, yet Sharp after that took seven wickets for 35 runs. The same month saw him clean bowl four of the Australians for 27. Last year at Lord's he captured six wickets for five runs with 20 deliveries after lunch. It always looks as if a man of this calibre ought to be of more regular double-barreled services to the Red Rose team. However, if the authorities are satisfied as of course they must be seeing that he has scored such piles of runs and gained a benefit perhaps one may change the subject.
A TELEGRAM FROM LANCASHIRE COUNTY
One day in June of 1899, Jack Sharp was playing at Rossall School when a wire came asking him if he could get over to Old Trafford to appear against Surrey. He went, and started with a score of 57, making an eight innings stand of 115 in conjunction with A. Eccles. His second contribution was 16, or 73 for two innings. Opposed to the same club against which, as recently as Thursday, he enjoyed himself a bit, he made 72 in July of that self-same season of 99, and later on quilted the bowling of F.S. Jackson, E. Smith, Rhodes, Hirst, Wainwright, and Haigh to the tune of 50. Altogether it seemed as if Lancashire had found a promising player, who could score a few, and who finished 1899 with 29 wickets for nearly 22 runs each. He nearly doubled his bag of wickets in 1900, but the average cost was 23 runs. Of other bowling feats by Sunny Jack, mentioned has already been made.
Batting brilliancy
In the bright career of a man who has avenged almost 1,000 runs a year for 12 years (including the present unfinished season), there are obviously some red-letter events. Nineteen times he has passed the three-figure mark, 10 of these occasions being on foreign soil; and none of us who saw the last of his centuries will ever forget the occasion, for his 102 played an important part in the great hustle which ended in the defeat of Notts. Sharp was thus one of the honoured players who yesterday week received a souvenir each from the County Committee for participating in the great struggle.
The Hereford-cum-Liverpool man, who was born in Ciderland in 1878, does not dawdle over his work. It isn't "the nature of the baste" Take his 183 at Stourbridge last year. He was only four hours over it, and seemed likely to record his first double-century but for an lbw decision in favour of Simpson-Hayward. Sharp played for his country against the Kangaroos last year, and it was not his fault that the mythical ashes went back to the Antipodes, for he was only centurion in the England sides of the whole campaign. Truly, that was a distinction which older hands at Test match cricket might be proud of.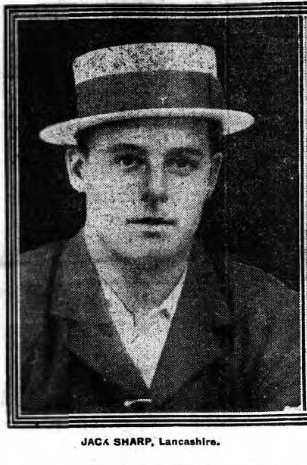 AIGBURTH AND LEYLAND EXPERIENCES
It is good to hear Sharp express such great praise and gratitude for the good done to him by Mr. Stanning and the Leyland C.C., the oft-called nursery of Lancashire County. Before he went to the garden of Lancashire, however, he was at Aigburth. Mr. Roper, the Liverpool secretary was a great friend to the lad fresh from Hereford, but on the ground the professionals had to bowl three or four hours a day, which led to Sharp losing his battling ability, and it took a year or two at Leyland to recover that power.
Landmarks of Earlier Days
One of the first prizes that came the way of Jack Sharp was offered by a boys' paper, and he secured it by making 208 not out when he was only 14 years old. It was for Hereford, when he was such a stumpy little lad that among the crowd at the finish he could not be seen, and he was thereupon placed on show on the top of a table, the centre-piece of hero worship.
That good start in his teens was followed by other signs of reliability, but he was still only a lad when the M.C.C turned up short to play Herefordshire, and amidst the great amusement of the M.C.C seniors =, he was given a place on the suggestion of the Hereford skipper. The youngster made a good catch, scored nine in the first innings, six not out in the second, and his side won by a wicket. Mr. Morgan, of Bath, was captaining the M.C.C and he was so pleased that he gave "Mr. Sub" a bat. Sharp has it yet, and money wouldn't but it. He was only a lad, too, when he played for the Colts against his county. One of his opponents was his schoolmaster, Mr. E. Baker, who in school practice matches would often go in first and carry his bat through. However jack caught the boss out in the big match, and scored 34 runs. But what he can't decide to this day is whether, on being cheered when he arrived at school next day, the applause was for catching the master of for scoring 34.
AN OLD TRAFFORD JOKE
Sharp tells a story of an ambitions player who wanted to be selected for England, or for the Players v. Gentlemen, and he made such a public avowal o his wish that some of the Red Rose men decided to take him down a peg. One day he received a telegram asking if he could assist the Professionals at Lord's and he jumped up in wild glee, calling out, "I've got my blue," The Lancashire men congratulated him in a fulsome fashion, but the recipient of the Pink paper never suspected anything. The head groundsman bombastically declined to let him off, and there was a threat that the Club President would be seen. On returning to the dressing-rooms Mr. Victim, as we will call him, noticed that the telegram had been handed in at Old Trafford, not in London. He never found out which of the other professionals was the culprit.
BITS OF ADVICE
Sharp says that of all games cricket is the one in which there is no room for swelled head, for a man may get a duck the day after scoring a century; six or seven wickets cheaply one day, and none for 150 on the morrow. Considering the way some players are passed over, he thinks they are pretty free from the complaint. "The life of the professional is not all that it is painted," is one of his pithy sayings. He does not grumble at his own luck, but he points out that hundreds fail where one succeeds. "By all means play any games you can, but never give up your employment." Of course, it wasn't what prosperous Jack did himself. He was articled to two jobs, kept stopping away, and was generally found playing cricket, for his ambition was to be a notable professional at the summer game. "A man cannot keep up cricket and football combined for about 10 years, and go the racket," is a hint to any young player who thinks he can be a hero on the field and a fool with the glass.
SHAP, PERE
Sharp's father, like Jack of Both Sides, himself is one of the most pleasant men on Merseyside and as often as not one can find him in the sports depot over which the name of the cricketer-footballers appears. Sharp, pere, has a book containing newspaper cutting about every match that his distinguished son has played in. And no wonder he is on enthusiastic for he watched and encouraged the lad from earliest years, although he did not always see how the sons used to gallop the father's horses to the fields, to save time, which was spent in playing football. Many a bout they have had even by moonlight.