EVERTON'S HILIDAY MOOD
Athletic News - Monday 02 May 1910
Bradford City 2, Everton 0
By Woolwinder.
There was a marked difference in the character of the operations by the respective sides at Valley Parade. There was no flavor of the end of the season about the work of the home team. To a man they were energetic and alert, and in all respects outclassed their opponents. There was no more commanding figure on the field than Speirs. Next, Comrie claims attention. He afforded Freeman little latitude, and showed judgment in distributing the ball, whilst both Hampton and Robinson gave a rare account of themselves. Within five minutes of the start the first goal was scored. Robinson had put the ball to Slemin on the left, and the Irishman promptly crossed inside to Spiers. The latter received the ball just outside the penalty area, and though Scott went down to save, the pace was so hot that he could not hold the ball, which went off his hands over his shoulder and into the net.
Sharp's Last Match (?)
The second goal came after fifteen minutes play, Bond scoring from a penalty owing to Makepeace having handled. Everton were artistic enough in midfield, but there was a lack of unity and forcefulness in their attack at close quarters, so that they were always thwarted at the critical moment. But for the judgement displayed by Scott, the home total would have been increased. It was stated before the match that sharp had said he was playing his last game. Be that as it may, he did not seem anxious to distinguish himself. Freeman was on view most of the time, but rarely went in search of something to do. Young never ceased in his tolling, but he had little support from the others. Bradford City; Maskery; Campbell, Chaplin; Hampton, Comrie, Robinson; Bond, Rutter, O'Rourke, Speirs, and Slemin. Everton; Scott (Walter); Clifford, Balmer; Harris, Borthwick, Makepeace; Sharp (captain), White, Freeman, Young and Turner. Referee; Mr. H.P. Lewis, Rotherham.
BRADFORD CITY 2 EVERTON 0
MAY 2, 1910. The Liverpool Courier.
EVERTON'S FINALE.
BEATEN AT BRADFORD.
Everton brought a disappointing season to a close with a defeat of two goals to nil by Bradford City at Valley Parade. It is a big drop from the second to the tenth place in the League table, and it is a rather unique experience for Everton to complete a season's work on the wrong side in respect of goals scored for and against. Their full record is played 38, won 16, lost 14, Drawn 8, goals for 51, goals against 50 –points 40. These figures contrast by no means favourably with those of last year, when Everton came next to the champions Newcastle. Then Everton won 18, Lost 10, and drew 10 games, and had a goal average in their favour of 82 to 57. The falling off has been due in great measure to the weakness of the attack. Freeman has not been the sharpshooter he was last season, and all round the Everton front line have lost much of their old-time deadliness in front of goal. Indeed, this was a feature of their final game of the season at Bradford. Probably it was owing in some degree to the lack of incentive, in view of the fact that neither team had anything material at stake. The Bradford City players, however, had something to spur them on, for the "signing" process was not to commence until dinner had been negotiated after the match. Hence, on the part of several of the men, it was scarcely surprising that a little extra effort was imparted to their work.
THE GOALS.
The game itself calls for nothing in the nature of detailed criticism. Bradford City were value for their victory. Both goals were forthcoming in the first twenty minutes of play. The first was the outcome of smart work by Slemin, an importation from Ireland, for he it was who gave to Spiers, the latter defeating Walter Scott with a shot, which he could only partially stop. The other goal came from a penalty kick, against Makepeace, whose handling of the ball was much more accidental than intentional. However, the referee considered it was an incident deserving of punishment and Bond, who took the kick, gave the "penalty Kick" no chance of saving. The Everton forwards rarely looked like scoring. At the same time Sandy Young treated the spectators to some of his bewildering manipulation of the ball. He would beat two or three opponents in his own imimitable style, but as for troubling the opposing goalkeeper Sandy had little thought. It was all very delightful, though not effective from a scoring point of view. Still the whole game was scarcely regarded a serious. It was the last, which Jack Sharp will participate in for Everton as a professional. The famous cricketer was responsible for two or three dashing runs along the wing, but naturally he was not inclined to take any risks in his finishing efforts. Teams: - Bradford City: - Maskery, goal, Campbell, and Chaplin, backs, Hampton, Comrie, and Robinson, half-backs, Bond, Butler, O'Rourke, Spiers, and Slemin. Everton: - Walter Scott goal, Clifford, and R. Balmer, backs, Harris, Borthwick, and Makepeace, half-backs, Sharp (Captain), White, Freeman, Young, and Turner, forwards. Referee HP. Lewis.
EVERTON RESERVES 3 ST HELENS TOWN 0.
May 2 1910. The Liverpool Courier.
Lancashire Combination Division One (Game 38)
EVERTON AGAIN CHAMPIONS.
By defeating St Helens Town by three goals to nil. Everton gained the championship for the third year in succession. The Blues fairly overwhelmed for Glassmen, and if their finishing work had been on a par with their midfield play, the score would have reached well on to double figures. In the initial half Lacey scored two goals, while Mountford scored in the second moiety. Lacey and Pinkney constituted a splendid wing, and were a constant menace to the visitors' goal, while further behind Weller and Stevenson stood out prominent as clever and resourceful defenders. Teams : - Everton: - Berry, goal, Stevenson, and J.C. Bardsley, backs, Allan, Gooda, and Weller half-backs, Pinkney, Lacey, Gourlay, Mountford, and Michaels, forwards. St Helens Town: - Black, goals, Yates, and Peters, backs, Morris, Appleby, and Stott, half-backs, Longford Buff, Barton, Tadur, and Hewitt, forwards.
SIGNING ON PLAYERS.
May 3 1910. The Liverpool Courier.
Everton have signed on a number of players for next season, but there are still some of last season's players whose signatures have not been secured. Amongst the latter are Coleman, Lacey, and Allan. It appears that there is a difference between Coleman and the club. A big offer is reported to been made by Fulham for the transfer, but it is though unlikely that he will go to that organisation. The following players have signed: - William and Walter Scott, and Berry; Clifford, Macconnachie, Balmer, Meunier, and J.C. Bardsley; Harris, Taylor, Makepeace, Borthwick, and Weller; A. Berry, Pinkney, White, Freeman, Young, Turner, Gault, Gourlay, Mountford, Barlow, and Thompson.
EVERTON PLAYER FOR SUNDERLAND
Sunderland Echo-Tuesday 3 May 1910
Yesterday afternoon Mr R. H. Kyle, the Sunderland secretary, secured the transfer of ''Tim Coleman", the Everton inside right forward. Coleman has been two seasons with the Everton Club, and has rendered them excellent service. He played with the Evertonians when they visited Roker Park few month ago, and pave a remarkablv fine display. Prior to joining Everton. Coleman was a member of the Woolwich Arsenal team, and earned a high reputation in the south as a scorer. While with Woolwich was also capped against Ireland in 1907. The amount the transfer fee is not stated.
COLEMAN LEAVES FOR SUNDERLAND
May 3, 1910. The Liverpool Echo
REVIEWING THE SEASON.
Coleman was yesterday afternoon transferred to Sunderland F.C.
Here we have a surfeit of Cup-tie fare. The Everton club has in recent years been fighting incessantly, once the Cup has been set going, for possession of "the tin pot" and one begins to inquire. Is it not high time that Everton, with all its resources and finance, won the League. The League, after all, stands for all that is best in football being the hardest means of finding the best club in the country during the season. It is an age since Everton won the League, and then their success was not of the greatest moments, because the League was they a small affair, with few clubs as members. Come, Everton, the League if you please. The club has on in whole had an admirable season, that is combining Cup with League matches, and running between the two fences the club has been perpleased as to how best to keep both going smoothly, and the selections to may way of thinking, has shown ability in the selectors' minds, and a due appreciation of the heavy work failing upon their first team men. The Blue blood was prominers in the cup series by good victories over Woolwich Arsenal, Middlesbrough, and Sunderland, and then came their end before a team that could hardly help winning at Old Trafford. Their Cup tie defeat was not a disgrace. Whereas Liverpool called from eighteen men for the first team, Everton took in thirty players, this being due in some cases to regular members being injured, but more particularly through cup ties and the consequent postponement of League fixtures' till late in April, when matches were played at the "orange" rate of three for seven (days). The goal getting carnality of the Blues has not been pronounced and without a doubt is forward that Everton have been moderately served this season. This forwards have taken forty-six out of the fifty-one goals scored, and Freeman share has been twenty-four (two). Having fixed a high figure of thirty-eight. I think Freeman has been expected to do too much. True he has at times played in like his speedy self, but remember that in the last season he has given passes across to the wings, the like of which he never gave a season before, also remember that the record score led to men and not a man. Coleman whose appearances were few were features of the five scored five, the inside forwards did not shine in, White got four (Six), Young scored twice, so did A. Berry, Mountford and Gourlay
Macconachie, Makepeace, and Val Harris appeared regularly for Everton. In goal William Scott has had one of his best seasons from a playing point of view. His injury was a most unfortunate affair. At back the "finding" of Bob Clifford and the first the sterling work of Robert Balmer and later the class form of Macconnachie made the defence reliable against all corners. The half-backs line has lived up to Everton's tradition, which was strength if you like, Jack Taylor, Makepeace, and Harris have always been "they if wanted" and they were required as often as possible. Borthwick, Pratt, Lacey, Allan, Gourley, Stevenson, Weller, and the amateur Bardsley, have shown ability when promoted to the first team and with Pinkney there is a smart outside right to follow Sharp, as well as Mr. Arthur Berry. By the way the man (he is aged twenty five years). I should imagine who played for Everton at centre half on Saturday Goode the Birmingham Trams representative, I saw him at green lane Athletic ground last year, and remarks at the time that he was the business. Inquiry however, said that he would not sign for any League club.
OLYMPIAN'S CORNER
Cricket and Football Field - Saturday 07 May 1910
EVERTON DISAPPOINTING
Once again did Everton fail to realize expectations in the League struggle. For a club of such wealth and powerful playing resources as Everton to finish outside the top half of the table is a thing which can scarcely be labelled satisfactory, despite the club's hard fighting in the Cup-ties and the accidents befalling two or three the team's most valued members. Everton's greatest weakness last season was lack of scoring power. When you take Freeman's 22 away, there is not a great deal left distribute among the other thirteen forwards. Indeed, the latter did not average two goals per head! The time seems to have arrived when Everton must needs emulate Liverpool, and introduce new scoring blood into their attack, seeing that Sharp has retired and Coleman emigrated, whilst "Sandy" can scarcely be termed "young" much longer. William Scott, Macconnachie, and Makepeace were ever valiant and cultivated defenders, whilst Taylor did nobly until he received two bad injuries. White was useful, if lather dainty. But the Everton Combination team housed forwards of the type who may make things hum a wee bit in the coming days.
LIVERPUDLIANA; BY RICHARD SAMUEL
Cricket and Football Field - Saturday 07 May 1910
CONERNING EVERTON
Everton's League exploits paled somewhat by comparison.  They set out very well, but following their October home defeat at the hands of Liverpool, the Toffees gradually, yet alarmingly slipped back from the League's leadership to a mid-table position, and at the "half-way house" they have dwelt right to the end of the chapter. Two things tended to upset the team. First, Taylor was badly injured at Newcastle on Sept. 25th, and the club could not find a centre-half equal to him. Secondly, the outside left position was a source of semi-weakness and anxiety almost throughout the season. Indeed it may be said that the Everton attack as a whole was more Ineffective last season than for a great number of years past. Their goal register tells its own tale in this connection, and if Freeman's bag is taken away there is shown an appalling paucity of penetrative power and powder. Some people said there was rather too much anno domini in the forward line. Perhaps so. Be that as it may, Everton 17 times scored the odd goal only, and on ten occasions got none at all. Turner, from whom so much was expected, did little until the last week or two. He was badly damaged on the thigh, I know, in the very first match. Some said he wasn't always trying, and wanted to get back to Leicester, but as he has signed on for another term with Everton, what will his adverse critics now say, I wonder?
THE OTHERS
At inside left, Sandy Young did everything but score goals, which should be the very first dish in a forward's inventory.  Freeman gave satisfaction on the whole, but scarcely showed his former' season's terrific powers of pace, I thought.  Coleman never genuinely settled down to sustained work; perhaps a change of air will enable him to avoid knocking the goalkeeper over when firing at the goal. Sunderland have secured artist in more ways than one. "Wattle" White played many artistic games (and would make an ideal Novocastrian), whilst Mountford, Lacey, Barlow, Arthur Berry, Gourlay, and Pinkney all came in useful at the season's acute stages. With regard to the half-backs Makepeace and Harris left little loopholes for adverse criticism, although Makepeace (like Tom Booth) has yet to find his feet in International battle. John Taylor was badly served by Dame Fortune, and his club, as well as the player, suffered severely thereby. Of the younger-men Allan and Borthwick demonstrated their usefulness, whilst Pratt also did well of the reserve half-backs. Macconnchie was the great man of the full-back division, although both he and Balmer were handicapped off and on, through ill-health. Fortunately Clifford came out very satisfactorily in the new role of full back. With respect to goal few clubs can point to a better trio than the two Scotts and Berry. The team did very well in the Cup ties until Barnsley crossed their lines, whilst the reserve players must be congratulated on winning the Lancashire Combination Championship for the third year in succession. There is no reason why Everton should not make a bold beginning again next season, given first-class recruit or two, and in this latter direction the management are strictly on the qui vice just now.
JACK SHARP'S RETIREMENT
I have purposely left any reference to Everton's captain until the end. He on Saturday played what will probably constitute his last game as a professional footballer. Sharp has been endowed by nature most splendidly in an athletic sense, and this he has attached an ability to play the man and get the best out of himself from all standpoints.  He is still wonderfully well preserved for a man who was a First League performer 13 years ago. He has done great things for Everton, and won many a game off his own bat so to speak, when at the top of his football playing fame. I well recall his joining Everton in the summer of 1899, and I happen to hold the letter which he forwarded to the late Mr. "Dick" Molyneux, giving particulars re his own pedigree, etc. He came to Everton with the intention of bettering himself, and I think most people will agree that he has succeeded in doing so. Subjoined I give particulars re the number of league games and goals scored by Sharp during his association with Everton, the which may prove an interesting little souvenir for those who care to cut it out.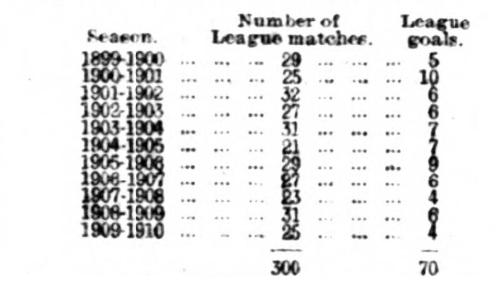 His only "Hat-trick" with the ball for Everton was recorded in 1905-6 v. Sheffield United at Goodison-this is also the club he made his League debut against in Everton colours.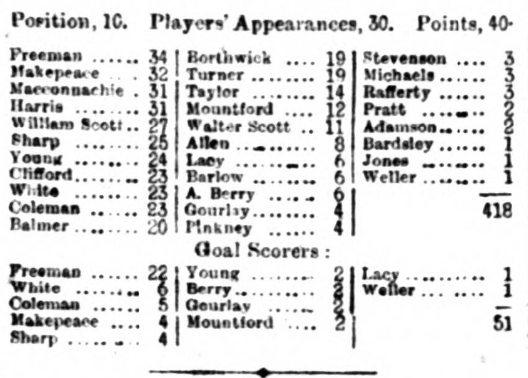 NUGGETS
Cricket and Football Field - Saturday 07 May 1910
How would Coleman have suited Bolton Wanderers?
Everton Reserves' defeat of St. Helens secured for them the Combination championship for the third successive season.  It also, we presume secures for the Combination secretaries their summer trip to Landudno for the arrangement of next season's fixtures.
No report of the final at Goodison Park was complete without a word of praise for the Everton management.  Mr. Cuff may be excused blushing after receiving so many compliments on his arrangements.
Jack Sharp made his final bow at Bradford.  Evertonians wish his display had been more in keeping with his brilliant past.
The only Everton forward to play up to his form was Young, who fairly mystified the Bradford defenders and delighted the spectators by brilliant footwork, of which his comrades made little use.
Everton's chequred season wound up at Bradford in tame fashion, and a defeat for the Blues of whom Young, Harris, Makepeace, and Scott alone appeared to take things seriously.
Llewellyn Davie signs for Everton
Hull Daily Mail -Tuesday 10 May 1910
Llewellyn Davies, Wrexham, the Welsh international left half-back, has signed a professional form for Everton. He played as an amateur until last season, when signed a professional form for Wrexham, and was elected captain the senior team of that club, was capped for all three last season's internationals,, and has also played for his country in previous years in the amateurs, as well as the usual international matches. During last j season Davies played in his best form. Prior joining the professionals Davies wai a Northern Nomad.
WELSH INTERNATIONAL FOR EVERTON.
May 10, 1910. The Liverpool Courier.
Llewelyn Davies, Wrexham, the Welsh International left half-back, has signed a professional form for Everton. Davies played as an amateur until last season, when he signed a professional form for Wrexham. He was capped for all three of last season's Internationals, and has also played for his country in previous years, both in the ordinary International and amateur matches.
CHARLIE IS BOOKED FOR BOLTON WANDERERS.
Dundee Evening Telegraph -Thursday 12 May 1910
Negotiations Almost Completed.
Our Aberdeen correspondent telephones today; I have it on the authority that Charlie O'Hagan 'has not only decided leave Aberdeen but that the transaction for his transfer has been practically completed. The Bolton Wanderers Executive have been in communication with the Aberdeen officials, who are now resigned to the fact that they are to lose the services of O'Hagan. Other First League olubs were after O'Hagan, who has a fixed transfer Bolton applied for his services in the middle of the season, but Aberdeen refused negotiate, and O'Hagan felt incumbent to Bolton. Fulham would have liked O'Hagan's signature, and would City. O'Hagan should do well Bolton. He has seen service in other English teams, including Everton, Tottenham, and Middlesbrough. is clever plaver, one of the best inside men that has ever represented Ireland in international exchanges.
GAINSBOROUGH FORWARD FOR EVERTON
Sheffield Daily Telegraph-Friday May 13 1910
Edward Magner, one of Gainsbrough Trinity's last season's centre forwards, has been transferred to Everton. Magner, who is 22 years of age, had not the best of health while associated with Trinity, but several times showed good form. In the previous season he scored 63 goals for West Hartlepool Expansion
EXTER SIGN PRATT
Manager Chadwick has been successful in signing on a right half-back, named Pratt, who was last season with Everton playing in their Combination side.
J. Crelly will, in all probability, return to Everton, the managership of one of their minor League teams having been offered him.
Cuff and Kirkwood in Scotland
LIVERPUDLIANA; BY RICHARD SAMUELS
Cricket and Football Field - Saturday 14 May 1910
Taking the case of Everton first, one finds that with four or five exceptions the Goodison management have re-signed all those who assisted in First Division matches during 1909-10; also three players in Berry, Meunier, and gault, who over a like period rendered signal service to the Combination team's calls.  Altogether some 28 men have been signed for 1910-11 and a perusal of the names shows that there should be a goodly time in store for the Everton club. 
EVERTON'S PLAYERS
Let us glance briefly at what Everton have signed and sealed for service 15 weeks hence.  For goal there are Williams and Walter Scott along with H.C. Berry.  I hold that few clubs can point to a better trio of guarding's than Everton.  The two Scotts have proved their worth and I have a very high opinion of Berry's abilities.  A former ex-Rugby players, berry is physically a beau ideal of what a goalkeeper should be, for he stands 6ft 6 ½ ins and weights 13st 5lbs.  He fields the ball beautifully and the one thing he needs is opportunity.  Given that, I feel convinced he would make a big name for himself. 
The Everton full back list is made up with Balmer, Clifford, Macconachie, Meunier, and J.C. Bardsley. 
The abilities of the first three named need no mention here.  True, Balmer had a rather poor time last season, but this was primarily due to injury and ill health.  Clifford and Macconnachie are rather too much alike, however, to give unalloyed satisfaction I fear, and one yearns for the infusion of a wee drop of the McCracken blood as a foil to such a master of "unsuitability" as Macconnachie. 
Bardsley is training on, but a back who has rather taken my eye is J. Meunier, who came to Everton three years ago from Southport Central.  Perhaps he will get his chance next season.
HALVES AND FORWARDS.
Turn we now to the half-back department.  The names here read; Harris, Taylor, Makepeace, Borthwick, Allan, Weller, and Davies.  The first three are the "old firm" They are a goodly trio, albeit Harris, I thought lost some of his effectiveness in the last month.  Borthwick causes the directors to hope on re-developing into a tip-top centre half, whilst Allan's pertinacity as a tackler won all hearts in the late season's closing weeks. Weller is big and strong, if still a trifle crude.  Davies-Llewellyn Davies-is a Welsh capture from Wrexham, signed on Monday and as he was thrice capped for Wales last season, he must be the possessor of no little ability.  His position is left half, and with Everton he should find ample means to further improve his talents.  Davies was Wrexham's captain last winter, but previously played as an amateur for various concerns.  He stands 5ft 8 ½ inches, and weighs about 11st.  His is therefore not so big as his old-time burly country man Charlie Parry., who was the Abbott of the Everton team in the Club's Anfield-rd days.  But if he proves as effective as did Parry, we shall soon learn to count him most valuable. 
In attack Everton will have the call on the following; Outside right.  A. Berry and Pinkney; Inside right White and Lacey; Centre forward; Freeman, and Gault; Inside left Young and Gourlay; outside left, Turner, Mountford, G. H. Barlow and Frank Thompson the young Cliftonville amateur. 
To my mind, it is in the forward department that Everton reads lacking, if at all.  Sharp's boots will take a lot of filling, whilst both inside positions can do with something good to fall back upon.  Outside left has been a weakness for some time, but perhaps Turner will come out in his true colours next season.  Mountford has many adherents, and Thompson may prove another Harold Hardman.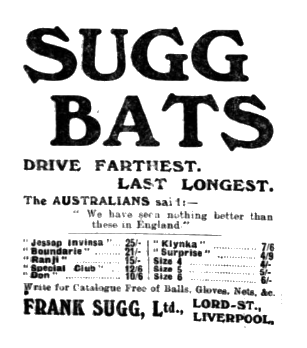 NUGGETS
Cricket and Football Field - Saturday 14 May 1910
William Scott is finding the recovery of his injured hand a much more tedious process than expected, and the Everton goalkeeper is still going about with the crippled member in bangages.
Everton are on the lookout for a really first-class inside forward, which probably accounts for the rumour that McMenemy may next season be seen at Goodison Park.  Probably he will but it will be for one match only, viz, when Scotland meet England there.
Stevenson and Parkinson have arranged a match to decide which is the fastest player in the Everton and Liverpool teams.  The public are not informed if these two players have proved themselves the speediest representatives of their respective teams and one or two names are mentioned as likely to beat either of the pair.  Tim Coleman has gone to Sunderland.  No better forward ever wore on Everton jersey.
Everton have so far made few captures and last season's reserve men will have good chances to secure League honours if, after a three months rest, they give promising exhibitions on resuming training. 
Everton's list of International players did not contain a representative of Wales last season, an omission which has now been remedied by the signing on of Llew Davies, of Wrexham, who appeared for Wales in all three of last season's internationals 
Everton for next season badly want forwards.  What are left are only a mediocre lot.
GLEANINGS
Athletic News - Monday 16 May 1910
Everton Designs –The Everton Secretary, Mr. W.C. Cuff, has been prospecting during the week in the east, he has secured Magner, the Gainsborough centre-forward, and (writes Junius) I understand that an international outside-left, a League centre half-back and a famous Scottish player are the objectives of Mr. Cuff's mission.
Penalties awarded in League season 1909-10 in all clubs was 224 penalties, with 148 scored and 76 missed, Sharp scored 2 in the League and one in cup not included, and Harry Makepeace scored two, Everton scoring 100 percent of spot kicks.
Dundee Evening Telegraph -Wednesday 18 may 1910
Representatives from Everton, Messrs Cuffe and Kirkwood—the latter at one time played for East Stirlingshire, but is now a Director at Liverpool—were given permission by Falkirk to approach Jocky Simpson, tho famous outside right, but they were unsuccessful in their objective, and had to leave without any business • being done. Almost immediately thereafter it was announced that Simpson was to remain at Falkirk, probabh because the terms given him there were better than those promised him in the South
Parker's Sudden Change.
Dundee Perth, Forfar, and Fife's People Journal-Sunday 8 May 1915
How many are aware that Bobby Parker was almost a Third Lanark player before Rangers signed the present Everton centre forward? He was on the point of being fixed up for Cathkin when he changed his mind at the very last moment. What a star we missed, eh? Mr. Tarbat had heard of the Possil boy's prowess, and soon had him at Cathkin for a trial. After the game Bobby was called up the stair. Everything seemed be going smoothly; the cash, forms, and terms were all right; but our Directors were flabbergasted when Parker laid down the pen dry. "I don't want to sign," he kept repeating, then bolted down the stairs. Bobby afterwards told that he was seized with a sort of panic. His whole thoughts had been centred in the game had just finished, and I often think he would have been a "Warrior " had he time for a little longer reflection such weighty subject for a young player.
FOUR HOURS' PLEADING.
Dundee Perth Journal-May 16 1914
Mr. Cuffe's Most Eventful Man-Hunt."
SIGNING BROTHERS WILSON.
I've met Mr. W. C. Cuff, the capable Everton manager, who has made such big capture Galt, quite few times of late. I thought his experiences in his search for talent might be interesting. I wasn't disappointed, most exciting man-hunt?" repeated Mr. Cuffe. Substitute eventful' for exciting,' and I fancy was when I signed the brothers George and David Wilson a few years ago. . Happened like this: Everton wanted the two 'Tynecastle footballers—and you know the saying that when the Goodison Park people want certain players they usually get them. Well, to Edinburgh Mr. Dan Kirkwood and I travelled —not once, but four times, ere got anything like a good chance to talk to our men.
Our Quarry "Warned"
"And had some talking do, I tell you; in fact, it only after an hour's eloquent persuasion that induced the players to enter hotel with us! Our chief obstacle was the fact that our mission had leaked out, and the Tynescastle supporters had got at' our quarry —actually made them promise to have nothing to do with us! However, once inside the hotel thought the battle was won. But, upon word, it had only begun! For four mortal hours we coaxed, cajoled, flattered, and the tale' as it never was told before. And all to purpose, as were beginning to think.
What Did the Trick. "
Just when -we were beginning up hope the Citadel capitulated. That subtle argument, you won't be away forever, you know, and a few hours can take you home you don't like it,' &c., did the trick—plus the bawbees,' course. Naturally, Kirkwood and I were jubilant over the result—but Phil Kelso and at least a couple of Glasgow managers weren't! I must say that had I been alone the job I would have failed; but the fact that there were two of us pleading for hours at a stretch strengthened each of us considerably. Moral support, I would term it—but shut your notebook, arid come and have a snack went.
NUGGETS
Cricket and Football Field - Saturday 21 May 1910
Everton and Blackburn Rovers were both anxious to sign on Simpson, Falkirk's English outside right but he settled all doubts by resigning for his old masters.
Makepeace has soon had to stand down from the Lancashire eleven, but either he or Whitehead would have been a preferable choice to at least one of the selected eleven against Yorkshire.
Billy Balmer now figures on the Liverpool cricket field.  So vigorous was his battling at Anfield last Saturday, that to his own amusement as well as the crowds, the cry of "Penalty, penalty" was often heard.
Evertonians would like to see Simpson of Falkirk in a blue jersey next season, for on last season's form Pinkney and Berry are scarcely up to the Everton standard yet.
Evertonians think that Coleman should have been retained for another season.  It is not the filing of play good football that is the reason of his departure.
JACK SHARP'S BENEFIT
Cricket and Football Field - Saturday 21 May 1910
 An Appeal by Mr. A, N. Hornby
In his capacity as president of the Lancashire County Club, Mr. A.N. Hornby has issued a circular letter calling attention to the Yorkshire match at Old Trafford on August Bank Holiday and following days for the benefit of jack Sharp, in which he invites the hearty co-operation and support of those members and lady subscribers, and the public generally, who have for so many years seen and read of Sharp's valuable work for the County.  We gladly give publicity to the following statement;-
The Committee desire to support the appeal of the President of the club for a generous recognition by cricketers generally of the great services which Sharp, one of the best all-round cricketers of his day, has rendered to his adopted County.  They feel that the time has arrived when according to precedent, Sharp should receive his reward and they ask the Members and the public to support them by their attendance and their subscriptions, in order that the benefit may be worthy of the service  rendered and of the County. The Lancashire v.  Yorkshire match will this year be played at Old Trafford on August 1st, 2nd and 3rd (Bank Holiday and following days). The fixture with Yorkshire towards the close of the season is one which often assumes almost national importance, and the Committee are hopeful that the engagement of 1910 will result in another strenuous struggle between the two neighboring counties. Still comparatively young he is in his 33rd year- Sharp has won distinction on many playing fields. It is something to his credit that he has represented his country at cricket and football. For several seasons he has captained the Everton football team. As a cricketer, he is another product of the Leyland "nursery" which has done so much for Lancashire.  He was drafted into the county eleven in June, 1899. singularly enough as a bowler, yet in his final match, described, as he then was, as a |prominent Association Football Player." he assisted Mr. A. Eccles to add 115 runs for the eighth wicket, against Surrey. Another notable partnership was in 1907, against Warwickshire, when Tyldesley and Sharp put together 220 runs for the fourth wicket.  His best year as bowler was that of 1901, when he took 112 wickets, and established his reputation as a batsman during the same season by securing 883 runs. During his 11 years active association with the County, Sharp has performed invaluable service.  In County matches alone he has secured 10,953 runs, as the result of 381 completed innings, and he has taken 357 wickets.  To this must be added his excellent work in the field.  He has scored quite a number of hundreds for the County, his highest contribution being 183 last season against Worcestershire, at Stourbridge.  The year 1909 was in many ways his greatest as a cricketer.  He not only scored four separate centuries for the County, but he played on three occasions for England against Australia; he headed the English batting averages and scored the only hundred for his country in the five Test matches. Still young and full of enthusiasm, the picture of a well-trained and careful athletic, there should be many more years' service before him for the County.  It is felt that enough has been said to justify the Committee in appealing for a generous response to the appeal now put forward.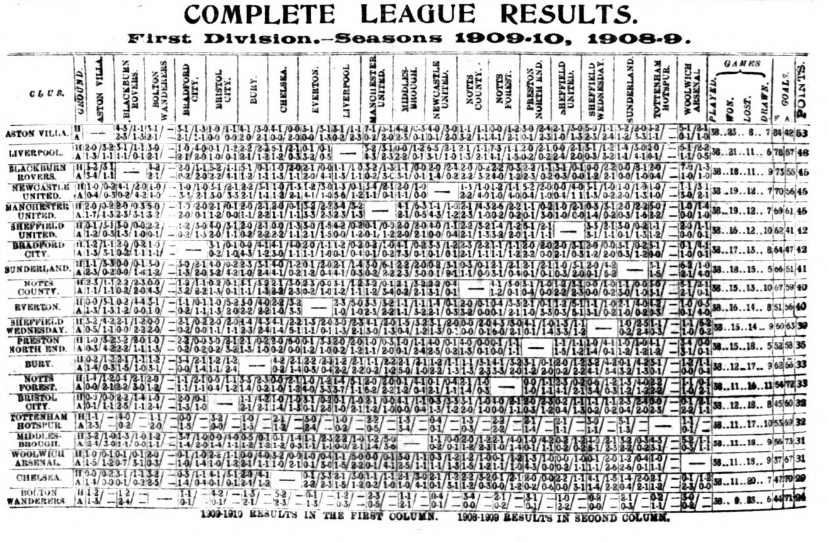 NUGGETS
Cricket and Football Field - Saturday 28 May 1910
W. Balmer is enjoying a game of cricket when weather permits.  The ex-Evertonian believes in hitting hard, but he is not likely to join Sharp and Makepeace in the County eleven, not this season at all events.
Everton are usually first in the field with their balance-sheet, but this year Liverpool anxious no doubt to let their supporters know the satisfactory state of their finance are first to publish their interesting budget.
Everton will start next season with weakened forward line, Freeman without Coleman can hardly be expected to score as many goals.  White is only fit to act as sixth forward, and Pinkney has not had enough experience.  He is merely an apprentice yet, Sandy Young is not so youthful as he was.  As regards Turner great things are expected as also from Gourlay the dashing centre forward or inside left.  A class centre half and full back are also required to strength the defence.  So writes a Liverpool reader.
Sharp is evidently short of practice and his football friends were disappointed by unusual quietness at Aigburth.  A century from his bat or that of Makepeace would have been much appreciated.
Pinkney and Lacey will be poor substitutes for Sharp and Coleman.
Would the fact of Everton's late captain stealing runs when batting for Lancashire constitutes Sharp practice asks a reader.  Such punsters should be punished well with a bat of choice.
After a football trip on the Continent, G.H. Barlow the Everton left wing player, has donned the flannels for the premier cricket eleven of Wigan.
Although Simpson has signed on again for Falkirk, Everton people are still in hope of his being seen at Goodison next season.
Sharp on Thursday, had not once succeeded in reaching the 30 mark.
Makepeace is far from showing his true form.
EVERTON'S SOUND POSITION
Athletic News - Monday 30 May 1910
By Junius
The Everton club issued their balance sheet ON Saturday last, and a profit of £434 16s. 1d.is thereon disclosed. This amount may seem somewhat insignificant for organization like the Goodison Park club, which usually reckons its profit in thousands of pounds, but there is an item on the expenditure side which explains the figures. For special outlay on improvement of ground amount of £45600 has been written down, this with the exception of players wages and transfer fees being the biggest item In the expenditure column. The total Income of the club amounted to the huge sum of £19,278 2s. 2d. made up principally from gate receipts, £15,620 2s, 7d; proceeds of away matches, £2,828 I8s 5d. and season tickets, £502 Is. 6d. Last year the gate receipts amounted to £15,012 7s. 5d.; away matches, £748 6s. 5d. and season tickets, £473 1s, 6d; and the total income this season exceeds that of twelve months ago by £2,712 0s. 10d. Expenses in addition to the item of nearly £5,000 already mentioned, include players' wages and transfer fees, £5,885 17s. 6d benefit matches, £1,000: gate division to visitors, £1,577 4s, 11d, travelling expenses, £1,016 4s, 1d; training expenses and trainers wages, £520 15s, 9d; the total being £18,843 6s. 1d. the club is enabled to carry forward to the credit of their profit and loss account £19,468 2s, 11d. After having written off for demolition and depreciation of stands, etc, the sum of £8,461 2s, 3d.