EVERTON 1 NOTTS FOREST 0
November 2, 1907. The Liverpool Courier.
EVERTON'S LATEST VICTORY.
Nottingham Forest have no reason to be enamoured at Goodison-park. It was through a defeat on that ground in the dying days of the season that the Foresters were relegated to the Second Division of the League. Having spent eight months with second rate clubs, Nottingham Forest have regained their old standing. Having once again earned their place in the charmed circle, one would have through that when next they reappeared at the Goodison-road enclosure they would have endeavoured to show the powers of which they are capable. If Saturday's exhibition was anything to go by they are not a whit better side than they were two years ago. Granting even this, what about Everton? Well, they played far below their reputation. Indeed, the game was one of the most uninteresting that has been served up in Liverpool for along time past. Individual players naturally lose their form at times, but when two opposing elevens are so much out of gear as was the case in the match under notice excuses are indeed difficult to find. It is the wise part to race the situation, and disappointing though it may be, the only reflecting one can draw from the game is that the poverty of real ability was such that neither side deserved a point. Still, in League warfare a couple of points attach to each game. These fell to Everton, who many a time and often have played a hundred per cent better, and yet have been deprived even of the solatium of sharing the honours.
THE ONLY GOAL.
Neither side was at full strength. Everton, for instance, had Taylor back again though Abbott and Settle had to be replaced by Chadwick and Mountford, the latter making his first appearance in the League team. At the last moment Nottingham Forest were called upon to make several changes owing to injuries to Morris, Needham, and Green. They had intended to try their sharpshooter, West in the centre forward position, instead of which Shearman had to be selected in the pivot of the attack. Whatever the changes were the play was singularly devoid of interest. There is no necessary to describe it in any detail. The attacking forces of both sides were sadly off colour. Everton indulged in more pressure than did their opponents, but the absence of combination or any of the finer points of the Association code was sadly lacking. The only goal of the match fell to Everton through Mountford. Taking a pass from Makepeace, the reserve team man put in a fine shot with all its cleverness it would not have scored only for an unfortunate mull on the part of Linacre, who otherwise kept a clever goal. Once Linacre kept out a commendable effort by Young, and in the later stages West after getting clean through with only Scott to beat made a sad mess of a glorious opportunity. But it was a terribly disappointing game to watch, and no one was grieved when in theatrical parlance, the curtain was rung down.
THE PLAYERS.
As will be gathered from the general weakness of the play, little of a complimentary character can be written about the players themselves. The forwards on both sides were primarily to blame for a scrambling exhibition. Neither set gave any idea of combination worth a rush. West was the best of the visiting vanguard, though he especially in his encounters with W. Balmer –both were to blame –was not too much inclined to abide by the rules of fair football. On the Everton side, Young had a day off. Hardman was not too well served, Mountford was inclined to be slow and individualistic, Sharp was not himself, and Bolton was erratic, and worse than all, showed a tendency to argue with the referee always a dangerous proceeding. Makepeace was easily in the forefront of the halves, and young Balmer the better of the backs. Scott was safe in goal, even though he was penalised a few yards from goal for carrying the ball. Indeed, the liveliest incident of the game arose over this somewhat unusual kind of free kick. All the players seemed to be on the goal line, but still the Foresters were unable to improve upon the opportunity given them. The visitors were best served by the defence. Apart from that fatal mistake. Linacre proved himself a smart goalkeeper, while Maltby at left back, and Hughes and Wolfe in the middle line rendered good service to their side. Teams : - Everton: - Scott, goal, W. Balmer and R. Balmer, backs Makepeace Taylor (Captain), and Chadwick, half-backs Sharp Bolton, Young, Mountford, and Hardman, forwards. Notts Forest: - Linacre, goal, Dudley and Malby, backs Hughes, Wolfe, and Armstrong, half-backs, Hopper Marrison Sherman West, and Spouncer forwards. Referee H. S. Bamlett.
A S RAMBLE AT GOODISON
Athletic News - Monday 04 November 1907
Everton 1, Nottingham Forest 0
By Junius
When the Foresters of Nottingham last visited Goodison Park they were trembling on the verge of the Second Division, and had to face Everton, who the previous Saturday had won the English Cup. They failed to rise to the occasion, and went under and on Saturday their visit Goodison Park provided the worst exhibition seen on the ground this season. And yet the Midlanders were undeservedly beaten by a goal-the only one scored in the match. Everton again tried Chadwick at left half back, for the first time included Mountford at inside left, vice Settle. The ex-Burslem youth had gained his promotion by his excellent performances with the Reserve eleven, and by a stroke of fortune he was enabled to register the solitary goal of the afternoon. He was assuredly favoured in the accomplishment of this feat, for the shot which proved fatal to Linacre was not a difficult one to stop, but the custodian, who got to the ball and seemed certain to clear it, most unaccountably failed. Notts introduced Wolfe to the centre half back post, and owing to Morris being unable to turn out, with a damaged ankle, the forward line was rearranged, and Shearman led the attack. The term attack is rather a strong word to use in this connection, for the efforts of the Foresters scarcely justified such an expression, and feebler work near goal I have rarely witnessed. It is little consolation to them to state that the Everton five were no better; indeed, the two sets of forwards were ragged in their movements, disjointed in their attempts at combination, and puerile potteries when it came to question of shooting. Had they displayed any deadliness at close quarters, the Foresters might not have fallen.
ENFERVATED EVERTONIANS
Only fifteen minutes had elapsed when Mountford received from Makepeace and dribbled in, when it was generally expected he would transfer the ball to Hardman. Instead, he tried his luck with a ground drive, and as already stated, gained renown thereby. After this success the standard of play deteriorated gradually, yet very, consistently, and although both sides secured ample opportunities of scoring they failed to profit by them. The Midlanders had a splendid chance of equalizing after the change of ends, for Scott was penalized for an illegality in clearing, and a free kick was awarded the visitors near the posts. The players crowded round the post in unescorted medley. The ball came out to Maltby, who was unmarked, and he drove it yards wide of its intended billet. Everton played feeble and ineffective football, and with the exception of Makepeace the team cannot be said to have sustained their reputation. One cause of the disjointed and haphazard nature of their play was the extremely moderate work of the half backs, and it was only on the right wing that cleverness and skill were forthcoming. At times Taylor checked the Forest advances in his characteristic style, but his passes almost invariably went to an opponent. Chadwick has seldom been seen to such disadvantage, his tackling was weak, while he maintained no touch with the men in front of him. We looked in vain for that harmonious working between half backs and forwards which has in the past been such a notable feature of Everton's standard of football. In match it was a negative quality. A natural consequence was that the forwards were not properly attended to, but I must say that even with the chances they did secure feeble use was made of them. Young was completely off colour. Sharp was not properly fit, his damaged thigh caused him to leave the field in the first half, and afterwards it was the subdued, not the scintillating, Sharp that we saw. As a matter of fact the whole front rank performed moderately, sans skill, sans vigour, and sans everything. The defence was fairly good, alternating in quality, and Scott was seldom tested. This was, however, not due to the exceptional brilliance of the defenders in front him, but was entirely the result of the inept efforts of the Forest forwards.
FRAIL FORESTERS.
Whatever failings I have attributed to the Everton vanguard must be laid to the charge of the Forest forwards, and, only one of the five showed any knowledge of where the Everton goal was located. West stood out as the best of the bunch; he made chances for himself, and he once nearly beat Scott. This in itself is sufficient to single him out from the rest of the front rank. How he missed the one glorious opportunity of the game, when he could not utilize an open goal is to me a mystery. It was, however, a stupid idea of his to get at loggerheads with Bolton, which necessitated the intervention of the referee. We must have seen the Foresters at their worst, for their aimless advances, and feeble finishes conveyed the impression that they never would score a goal. Without being unduly prominent the half-backs got through their work with a fair measure of success, and Wolfe was never seriously menaced by Young, though Armstrong appealed to me as the most capable performer. Further behind, Maltby played a capital game, kicking sturdily and giving evidence of creditable powers of interception. He was the strong man in defence, and Linacre with the exception of his one unsuccessful effort –fort I consider that he ought to have stopped Mountford's shot – kept goal well. Everton; Scott; Balmer (W.), Balmer (R.); Makepeace, Taylor, Chadwick; Sharp, Bolton, Young, Mountford, and H.P. Hardman. Nottingham Forest; Linacre; Dudley, Maltby; Hughes, Wolfe, Armstrong; Hooper, Marrison, Shearman, West, and Spouncer. Referee; H.S. Bamlett, Gateshead.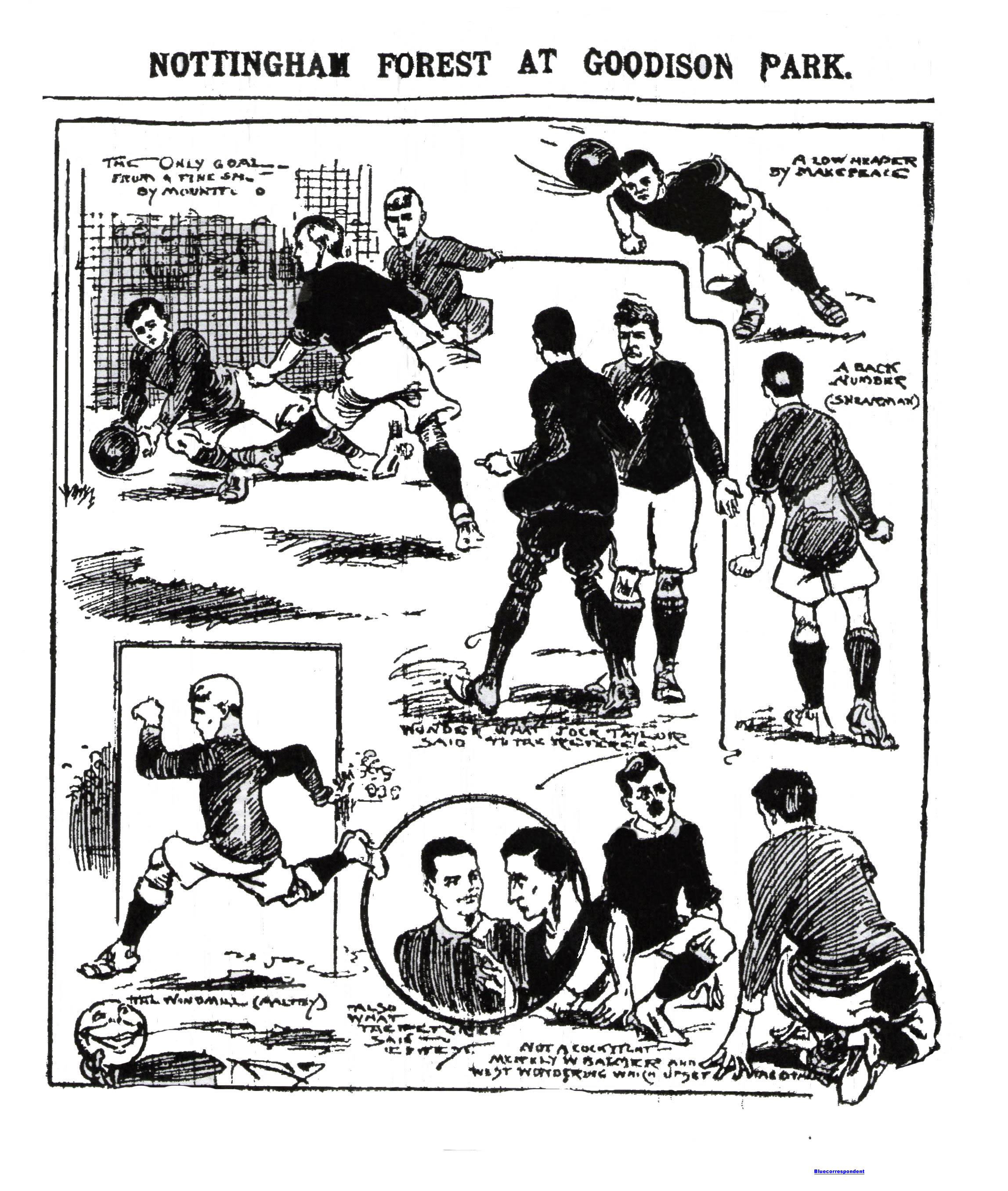 ROSSENDALE UNITED 0 EVERTON RESERVES 4
November 4, 1907. The Liverpool Courier.
Lancashire Combination Division One.
Everton accomplished the best preformance of the season on Saturday, when they defeated Rossendale United on the latter's ground by four clear goals. Few visitors to Rossendale return with even one point, so that Everton's performance is all the more praiseworthy. The Goodison-park men were, however, determined to spare no effort in order to maintain their position at the head of the table, and as a result Rossendale had no chance. True the home lot fought gamely, and the only goal in the first half was that scored by McConnachie. After the chance of ends, Everton wore the opposition down, and put on three more goals. It was a great victory, and thoroughly well deserved. The Everton defence was all that could be desired, the halves never allowed the home lot to settle down, while the forwards not only combined grandly, but never neglect any opportunity for a shot at goal. It was this all round excellence that enabled the visitors to secure such a splendid success, for the United showed themselves to be a clever and plucky team.
MANCHESTER UNITED 4 EVERTON 3
November 11, 1907. The Liverpool Courier.
The few thousands who journeyed from Liverpool to Clayton to witness the struggle had they confidence screwed up to the top, the more so because their club was fortunately able to put their strongest eleven into the field, Settle, and Abbott returning in place of Chadwick and Mountford. And, moreover, all the men were fit, so that the Everton prospects were good. Manchester United's house too, was perfectly in order, "Sandy" Turnbull being again back in the front line.
A FAST FIRST HALF.
It was a very interesting game to watch, although the football was not always at the same high level. The greasy state of the ground was a heavy handicap, and no doubt contributed to the numerous mistakes that were made. But there were some very brilliant flashes on both sides, and as for excitement –well there was plenty of that, especially in the second half, when one of the most extraordinary transformations ever witnessed in the course of a match took place. We had some very spirited play in the first half, some enthusiastic ding-dong sort of work which kept the attention of the 40,000 spectators well fixed. The United might with luck have scored earlier than they did if Wall had not missed a lovely centre from Meredith, but they had not to wait long, for Meredith made the most of a brilliant pass, and beat Scott completely. In less than a minute Everton had drawn level. It was a most surprising sequel. As soon as Young had started the ball from the centre, it was passed and repassed between Bolton and Sharp, for the former to get pass Burgess and score with a rising shot. Two goals in about a minute was a somewhat sensational tit-bit, and was quite liking of the crowd, the partisans in which were now on good terms with each other. The game after this grew keener every step. Some of the Everton players were inclined to be a little more forcible than was called for, and once W. Balmer came under the ban of the referee for sending Wall heavily to grass in a glaring manner. It was strongly resented by the home supporters, who said many things the reverse of pleasant. A little later Wall, owing to the effects of the shaking he had received, had to leave the field.
THRILLING.
After a somewhat tame opening in the second half, matters suddenly took an unexpected turn. The pace of the first half had caused the players to slacken their efforts, but they soon came to it again and renewed vigour. Once Makepeace used his hands in stopping a shot from Wall, and fortunately for Everton it happened just outside the penalty area. And now for more sensations, Roberts getting possession from a corner neatly dropped the ball into goal over the heads of a bunch of players and scored. Almost immediately Meredith after a fine dash, passed to Wall, who scored No 3, and the next minute the old warhouse getting past Abbott and R. Balmer with the utmost ease again placed the Wall in possession, and he headed pass Scott. Three goals in about four minutes not unnaturally led to a scene of enthusiasm not often reached, even on a football field, and with this substantial lead it was considered that the United were quite safe. Everton, however, were not done with, their marvellous capacity for gathering themselves together for a might stroke asserted itself, and in the closing stages of the game in which the play could only be faintly recognised owing to the rapidly oncoming darkness. Settle scored with a fast cross-shot, whilst Hardman further improved the score, and Everton at the finish were only one behind.
THE TEAMS COMPARED.
There was certainly not a goal in the difference in the quality of the play, and although the United secured the win they were not man for man better than Everton. The missing of chance applied equally to both sides, and amongst these, too, were some easy ones. These were lost oftener than not through over anxiety amongst the forwards, when perhaps a cooler method might have been successful. The Manchester team is certainly a very clever and resourceful one, and their combination and thorough under standing between one another are amongst other good features of their play. But Everton, in their short passing movements were frequently irresistible and in this respect some very fine passages, were witnessed. Hardman and Settle were the most effective of the wings, the former being very often brilliant, and with one or two exceptions when, for instance, Holden once proved too good for him, he came out on top against the opposition. Sharp, whilst not taking advantage of all his openings, played an attractive game. Bolton was in excellent form, whilst Young initiated some good movements, and passed out well. The display of the backs was not free from weak points, but Taylor worked throughout like a Trojan. The play, of Meredith, Wall and the two Turnbulls, stood out prominently as regards the United front line, and Roberts at half and Holden at full back played a sound game. Teams: - Manchester United: - Moger, goal, Holden, and Burgess, backs Duckworth, Roberts, and Ball, half-backs Meredith, Bannister, J. Turnbull, A. Turnbulll, and Wall, forwards. Everton: - Scott, goal, W. Balmer, and R. Balmer, backs Makepeace, Taylor (Captain), and Abbott, half-backs, Sharp, Bolton, Young, Settle, and Hardman, forwards. Referee Tom Robinson.
HIGH CLASS GAME BY MANCHESTER AND EVERTON
November 11, 1907. The Liverpool Echo
For the second week in succession the leaders of the League won by 4 goals to 3. Manchester United have taken such a big lead that it will be a matter of doubt for some time whether they will be headed during the remainder of the season. If they are not passed there will be a wonderful performance in three days of even play, much competition and many injuries. Mr. J.J. Bentley the president of the club is naturally highly slated with the team and compares them with the old Preston team to say 1888 and with Sunderland and with Villa of 1899. Having seen all these three clubs at their best I should hesitate before saying the United were individually or collectively better than Sunderland or Villa in their prime. The Manchester United Club can be termed "great." That is undeniable and in fact it was a second week of the season that I mentioned that they were most likely to win the championship. Further than that term "great." It would not go –at present at any rate. The main reasons of their success are I fancy that they have an exceptionally reliable half back line and a forward line capable of utilizing the many opportunities provided by that master forward, Willie Meredith. Meredith is inimitable; he worms through the narrowest spaces and juggles with the ball along the line without even losing command over it. He is the wonder of the season, yet he has detractors. All clever and popular men have their detraction. Fancy a man being senseless enough to take me to task for mentioning recently that men of the stamp of Meredith, Sharp, Raisebeck and others were not paid in accord with their deserts. This correspondent asked whether Meredith was 18 carat. Well, there is not a club in the county who would not if offered, accept his services. At Clayton on Saturday, Meredith opened the score forced a corner from which Roberts scored, raced off again and passed to wall, who scored and a minute or so later the same movement was worked with success. That is Meredith. He works the opening and passes to the man who at the moment is best placed. Not even the careful attention of Abbott and Robert Balmer could keep him in check. Everton put up a very game fight in fact, it is generally conceded that not on the play of the first half they should have been leading. F.E.H in his commentary, says;-
Everton rallied in a way that delighted their supporters. Hardman being especially prominent and ten minutes from the finish Settle scored with a glorious oblique shot. This gave the visitors heart of grace and they speedily followed up the advantage with another goal, this coming from the toes of Hardman. In the remaining few minutes they tried desperately hard to add a fourth but the home defence was not again to be shaken. So ended a memorable battle, in which both sides covered themselves with glory. No one played badly. William Balmer unfortunately was guilty of a very reprehensible display of temper and the way in which he fouled Wall in the first half was altogether unjustifiable. It is not the first time that we have been forced to call attention to Balmer's weakness and he ought to count himself lucky in not being ordered off on Saturday. On the other hand, Brother Bob played a splendid defensive game against heavy code, his tackling being especially good. Taylor worked hard as did Abbott but Makepeace was undoubtedly the best of the halves. All the forwards played stylish football. Hardman and Sharp shinning, while Bolton and Settle revealed –their true form. Young was too well watched by Roberts to do much damage but he fed his wings finely. Scott kept a good goal and could not be blamed for any of the four shots that passed him.
EVERTON'S EFFORT
Athletic News - Monday 11 November 1907
Manchester United 4, Everton 3
By Jacques
Every team they meet now burns with an audible desire to beat Manchester United, and on Saturday Roberts and his men found themselves fiercely and skillfully opposed by Everton, who at Clayton were only beaten 4-3 after a contest abounding in thrilling incidents. That the people of Manchester anticipated a supreme effort by Everton was evident from an assembly of probably 35,000 folks.
Splendid First half
Everton, at full strength, gave a fine exhibition of high class football, and were on ever terms with the League leaders at the half-way stage. It seemed to me that, though there was little in it, the Goodison Park men were the cleverest side up to the interval. Their footwork was prettily accurate, and they moved a superb pace and with rare precision on turf slippery and soft. They played so well that it was a great pity certain members of the side should, in some way, spoil the effect of the team's cleverness by introducing unnecessary vigour to an extent that kept the referee's whistle going frequently, caused James Turnbull and Roberts to limp, sent Wall off the field in evident pain, and finally resulted in William Balmer being spoken to by the referee and hooted from the ring. The second half of the match was much cleaner. The two goals came in the opening portion were scored inside two minutes, for no sooner had Meredith slipped past Robert Balmer and forced pass Scott, than the Everton inside forwards bewildered the United defence with a superb bout of passing that worked the ball to the feet of Bolton, for the inside right to take quick aim and baffle Moger with a fast high volley that passed just inside the goal post. These goals came after half an hour of strenuous football.
Thrilling Five Minutes
Everyone felt that if Manchester United were to win the game they would need to rouse themselves to a supreme effort, and though they had Wall with them again when they returned to the field they gave no signs of doing anything of the kind for some time. Everton doing most of the attacking and both sides seeming to be feeling the effects of a hard game on heavy turf. But after a quiet spell Meredith was seen flying along on the right wing with the ball at his feet, and though Everton knew it not this was the signal of their doom. For Meredith work a corner kick, and dropping the ball into the goalmouth saw Roberts carefully place it over the heads of a group of players into the net. In the next five minutes the United reached their best form. Led by Meredith, the Manchester forwards, twice in quick succession, tore through the Everton ranks. Each time Meredith swung the ball well across the goal, and each time Wall met it and scored. In five minutes the whole appearance of the game changed, and instead of the scores being one each, the United at the end of those few thrilling moments gave themselves the commanding lead of four goals to one. For a time Everton played as if the heart were knocked out of them, but with the United slackening, the light growing dim, and hundreds pressing towards the gates, Settle shot a splendid goal. A minute later Moger lost possession of the ball on the goal-line, and saw it rushed into the net, while he on his knee, and facing the goal vainly tried to hold it. There were but a few minutes left, and the Manchester men retaliated warmly, nut nothing further was scored.
Four Fast Forwards
No forward in the country has played better than Meredith this season. I must awar5d the palm to him. Well fed by Duckworth and Bannister, he was a source of the greatest danger and trouble to Abbott, Robert Balmer and Scott. Both Turnbulls played hard, and also made mistakes, and Wall, though he did clever things and scored twice, suffered from the knocking about he received. Roberts was about the greatest of three excellent Manchester half-backs though I thought Bell and Holden should have had a better understanding with regard to Hardman in the first half, the latter, before the interval being given a great deal of room. I do not expect any match in the county had four so fast outside wing forwards as Meredith, Wall, Sharp and Hardman, and of course, this meant work for the defence of either side. Except for matters I have alluded to I should say Burgess was about the best back on the field, and that all four were good. Moger played very well, though he might have saved the third Everton goal, and Scott was in no way to blame for the defeat of his side. Makepeace I liked the best of a sound and vigorous Everton half-back line, though Taylor, too, played very well. Sharp, Bolton, and Makepeace worked beautifully together prior to the interval and the line were very dangerous. Young lying well up and being keen and clever, though he had more than one or two free kicks given against him. The left wing were also smart, and Hardman found a lot of sprinting and hard work for Holden. Everton certainly proved much the best team seen at Clayton this season. Manchester United; Moger; Holden, Burgess; Duckworth, Roberts, Bell; Meredith, Bannister, Turnbull (J), Turnbull (A), and Wall. Everton; Scott; Balmer (W), Balmer (R.); Makepeace, Taylor, Abbott; Sharp, Bolton, Young, Settle, and H.P. Hardman. Referee; T. Robertson, Glasgow.
EVERTON RESERVES 2 MANCHESTER UNITED RESERVES 1
November 11, 1907. The Liverpool Courier.
Lancashire Combination Divison One. (Game 11)
Everton maintained their even course of victories by defeating Manchester United by two goals to one. To be candid, they hardly deserved to win, and it was only by the aid of a penalty kick that they were enabled to gather the full points. During the greater portion of the first half the Blues were outplayed, United's defence being unbeatable. Early on Manzies opened Manchester's account, and at half-time United deservedly led by one goal to nil. On resuming Jones and Woods hustled the visitors' backs to some purpose, and Jones ended the movement by defeating Broomfield, and later the same player, added the winning point from a penalty kick. The United played a hard game right up to the finish, and were rather unlucky to retire beaten. Sloan was as usual, very reliable, the backs were steady; while MaCoonachie was in capital trim, among the halves. The forwards for a long time were rather easily held, and were by no means in their usual good shooting trim. The visitors all round were in good form. Broomfield preformed finely in goal, while the backs, Stacey and Mclarney –the former in particular –were the best-seen in Combination fixtures at Goodison this season. Everton: - Sloan, goal, Strettell, and Crelly, backs, Adamson, MaConnachie, and Chadwick, half-backs Donnachie, Graham, Jones, Winterhalmer, and Woods, forwards.
EVERTON TRANSFER WILSON TO NEWCASTLE
November 13, 1907. The Liverpool Echo
Within a short space of time yesterday, a season and a quarter, George Wilson the big and clever forward has signed forms for the Everton, Portsmouth, Belfast Distillery, and Newcastle United Football club. Wilson left Everton at the end of last season through a dispute, and signed for Portsmouth as also did his brother David. Everton objected, the reason being that they had offered him the maximum wage. The Football Association decreed that Wilson must remain an Everton player, and an appeal from the player was fruitless, the F.A's dictum still being "You are an Everton player." The only means of getting a game other than with Everton was to go over to Ireland. This George Wilson did, and he joined Belfast Distillery. It has been apparent for some weeks, however that something was in the air, and that Wilson desired to join an English League club. Therefore the news announced this morning that he had been transferred by Everton and Belfast Distillery, so Newcastle United will not create a surprise. Newcastle have been angling for Wilson for some time. They can do with such a clever forward but must have paid a big figure for him, as both Everton and the Belfast club had to be considered in the matter. The Everton officials are good businesslike men, and they have I believe made a handsome profits in the Wilson transaction. They could never really hope that they would between players and club would be healed and that Wilson would again wear the blue jersey and they were wise in parting with him. Belfast had not to pay a penny piece for Wilson's transfer and Everton are certain to have handled the transfer in view of the rule which comes in force on January 1, 1906, and by which the highest sum allowed for a change of colour will be £350. The brothers Wilson cost Everton something like £800 and from an unofficial but trustworthy source "Bee" learns that the sum agreed to be paid Everton is £1,000 thus equaling the famous Common fee. Everton's bank receipts have recently greatly increased for it was only at the end of October that a big sum was received from Chelsea for Rouse's signature. Newcastle have done very indifferently so far this season and the acquistation of Wilson should help to bring the forward line to something approaching its former excellence. Chatting this morning with Mr. W.C. Cuff, the Everton secretary I was imformed that the report was quite correct. Mr. Cuff said he had just received a telephone message and everything had been fixed up satisfactory. Mr. Cuff further stated that nothing would have induced the board to part with Wilson had they not been absolutely convinced that he was determined never to play with the club again. It had become very tiresome. Quite a lot of clubs were after Wilson's transfer and among then were English League (both division), Southern League and Scottish League clubs." Mr. Cuff was unable to state the fee received but mentioned that it was "satisfactory." In view of the keen competition for Wilson's services and also the fact that clubs can now rarely sign a ready made brilliant footballer. I should imagine that all previous transfer fees have been beaten and that the sum received was score than £1,000.
Linesman Report
Everton are reporting a linesman to the League. This is a novel departure. Players, referees, etc, often come up for judgment –rarely does a linesman, especially on the ground of wrong decisions. However one rejoices in the attitude takes up by our Liverpool Club for lax linesman have all too long slept soundly and not been aroused. This case may across them. In the last three matches seen on our local grounds a referee has corrected a linesman's decision. A throw-in in often vital. Take Saturday's game at Clayton for instance. Manchester United had scored one goal. The ball afterwards passed over the line and the last to touch the ball Mr. Thornton who Mr. Foster was on the line, siganlled for the United to throw in. The Everton players appealed and without avail. The ball was thrown-in and straightway was passed to Meredith who raced off and centred. Roberts scoring. The Everton club are convinced the linesman's error was the cause of the second goal and in no carping spirit but simply in the instance of the game, they are reporting the linesman confirmed. The team to meet Blackburn will not be chosen until tonight.
EVERTON 4 BLACKBURN ROVERS 1
November 18, 1907. The Liverpool Courier.
ROVERS BEATEN AFTER A GOOD FIGHT.
POINTS FOR EVERTON.
As was generally expected, Everton successfully disposed of Blackburn Rovers at Goodison-park. It was, however, by no means a runaway affair, as the score –4 goals to 1 –might sugged, for at times the Rovers gave the Blues a very anxious time, and the latter were of these occasions extremely lucky not to have goals registered against them. But Everton superiority, and smartness prevailed and they thus succeeded in securing the full measures of points, a turn of events very welcome after the defeat of the previously week. The scoring in some respects was akin to that at Clayton, too, for as there it was one goal each at half-time, and then after crossing over Everton. Like the United put on three goals. The Rovers, unlike Everton in that match, failed to increase their lead. On Saturday; although they certainly deserved to do so. Hardman's services were not available on Saturday, and so the directors, pursuing the policy of giving a trial to promising players of the Reserves team, called up L. G. Woods, who has been showing good form of late with that team. This was the only change in the home eleven from the previous week. The Rovers were well represented, but they had no Bradshaw, the outside left, this position being given to Bracegardle.
GAME FULL OF INCIDENTS.
The game was witnessed by about 20,000 people, who were prevailed to see some good flashes of play, and particularly amongst, the forwards on both sides. They had not long to wait either before they saw some scoring. Though W. Balmer miskicking near his own goal, credited a very anxious moment. Scott tried to make amends by rushing out and kicking away, but unfortunately, it struck Robertson, and bounded of him into the net. The equalising goal came about two minutes later, Settle getting the leather on the rebound from Crompton close to goal, and netting it very promptly. This success was loudly cheered. Then followed some very exciting incidents, in which the Everton forwards showed up prominently, giving McIvor a hot time in the Blackburn goal. He had several shots to negotiate, and it was wonderful how a lighting shot, which struck the upright, with some force missed scoring. Bolton, and Sharp were combining with good effect, and it was interesting to see Wood, the recruit, moving along with the experience of an old hand. It was evident he was keeping a strict eye on the international, Crompton, and the latter found this out. Makepeace at this point was doing really splendid work. The Rovers now played with more dash than hitherto, and they often led severe attacks on the home goal. How it escaped on occasions is surprising. A shot from Latheron hit the upright, but nothing more was scored up to the interval. The second half was entered upon with rare spirit. Sharp, with a long shot, causing the Rovers custodian to save. Next a movement in which Woods had a very large share resulted in Bolton putting Everton ahead. Woods proved himself smarter then Heywood, and passed to Sharp, who placed his partner in possession, for him to score. The Rovers front line was not so nearly dangerous as they had been in the first half. Their backs, however, offered a stubborn defence. Cowell keeping Sharp in check. The game was now being played in semi-darkness, and as the fog came on it was difficult to see the movements of the players right to the end of the game. Before this, however, Everton had increased their score by two goals, Youing and Settle being the scorers.
WOOD'S CAPITAL DISPLAY.
The form of the home team was such as to please the crowd, and the victory was a popular one. Everton worked, hard for it and deserved it. Their forwards were frequently in a dashing mood, and made raid after raid on the Rovers' goal, which was often in danger. They made progress by excellent footwork, in which Bolton, Settle, and Woods shone most effectively. Sharp was not as brilliant to be usually is, he being too well watched by Cowell. Of Woods' display it is pleasing to refer to it in very praiseworthy terms. If he did not show us the same brilliance as Hardman, he nevertheless fully justified his selection. Whenever, he got the leather, and that was often, he showed resource in sticking to it and working his way to a favourable opportunity to pass to colleagues. He was quite a match for Crompton more than once, and that says a great deal for the youngers. Makepeace was by far the pick of the half-back line neither Taylor nor Abbott being up to their customary standard. There was room for improvement at back. Scott preformed well. The Rovers forwards were speedily and combined well.
Teams: - Everton: - Scott goal, W. Balmer, and R. Balmer, backs, Makeapeace, Taylor (Captain), and Abbott half-backs Sharp, Bolton Young, Settle, and Woods, forwards. Blackburn Rovers: - McLvor, goal, Crompton, and Cowell, backs, Heywood, Walmsley, and Houlter, half-backs, Whittaker, Robertson, Martin, Latheron, and Bracegrindle, forwards. Referee W. Gilgryst.
TRANSFERRED AT LAST
Athletic News - Monday 18 November 1907
It would have been appalling to think of George Wilson, the Scottish International forward, leading the life of an exile in Belfast, had there not been the consoling possibility that by example and precept he would raise the standard of skill in the Irish league. But a brief period has he been suffered to fill the role of the schoolmaster abroad, for Wilson is now destined to wear the black and white livery of Newcastle United. That is the climax of the unfortunate dispute which began shortly before the Final Tie for the Association Cup last April. Everton and Wilson parted company, and as the club determined to hold his transfer he found a sphere for his activity with Belfast Distillery. Indeed, in October George Wilson, who had a qualification about as flimsy as that of many a county cricketer, had the unblushing effrontery to wear the green shirt of the Irish league against the English League. Even then it was mooted that he was about to join Newcastle United. If that were so Everton did not know of the proposal, and Newcastle United declare that the negotiations commenced on Tuesday, October 29. When the Newcastle directors make up their mind to have a player they are never happy until they get him. They are as keen as the Jew who is fascinated by the lustre of a diamond. They have twice sent a deputation to Belfast, twice to Everton, and once to Edinburgh, but they have secured their prize. The price of the transfer is naively said to be under 2,000 thousand. We think so, too. Still, as there were two clubs to negotiate with we should not be surprised if George Wilson has cost 1,600; 1,000 to Everton and 600 to the Distillery. There were others willing to outbid Newcastle, but Tyneside is nearer Scotland than either Teesside or Thames-side. A Sherlock Holmes may discover a hidden meaning and a fuller application in this sentence. In case there is a November fog, we may say that Middlesbrough and Chelsea had their cheque books handy. But Newcastle United know how to stalk big game, as McCombie, McColl, McCracken, and Wilson all prove.
Irish impressions of the transaction
Athletic News - Monday 18 November 1907
Our Belfast correspondent writes;- When George Wilson appeared in Irish football his advent was heralded with a skeptical view, which, to say the least of it, was astonishing. Perhaps the fact that a player "on whose head" a price of 1,000 thousand was put by Everton had a lot to do with this, for though a certain amount of intelligence is exhibited by the football fraternity, their general knowledge of "official football" is negative in quantity. His work in Belfast was more of the exhibition order than the sustained effort of a brilliant footballer. The news that he had played brilliantly for the Irish League against the League at Sunderland only confirmed the idea that Wilson was merely in Belfast "working out his own salvation,: Thus Irish football takes leave of a man who really was but a square peg in a round hole." What the Distillery made out of him in more ways than one is hard to say. At the outset his presence added materially to their gate receipts and as he came to them without a penny for transfer fee, and they have benefitted materially by his going to Newcastle United they have no reason to feel languished at their acumen and his departure. Nor will the Irish public miss him for his heart was either at Lochgelly only England.
Wilson's Impending Debut
Athletic News - Monday 18 November 1907
Some ardent spirits were in hopes that George Wilson would play for Newcastle United against Bury, but this was not possible, because all the official papers had not been received by Frank Watt, the secretary of the Northern club. Besides Wilson is a man-not a football machine –and he needs a little leisure at his home in Lochgelly. We should think it natural that the United would desire that Wilson should make his debut as a Tyneside man in a home encounter. Some fifteen months ago he played at St. James's Park for Everton, and last April he appeared on this enclosure for Scotland, but on each occasion he was at outside left. His most subtle and seductive football is seen when he comes inside, for he is most difficult to dispossess, though he never retains the ball having once drawn his adversary. Then it is that spectator realize the truth of the adage that it is always two to one on the man with the ball. We should say that Wilson's style will blend with that of Newcastle. He should dimplish the cost of his transfer if he helps his new club against Birmingham next Saturday.
BIRMINGHAM'S NEW CENTRE
Athletic News - Monday 18 November 1907
Ezra Holmes (Ex-Everton)
Ezra Holmes, who made his first appearance for Birmingham on Saturday, acting as pivot in place of W.H. Jones, whose foot is still troubling him, did not lose much time in getting into harness, for he was not signed up until Thursday night. Ezra Holmes, who has been playing centre forward for Gainsborough, was born at Wombwell, Yorkshire, on October 26, 1887, and is 20 years of age. At 15 he began to play with Wombwell Main Colliery, this being his introducing to football. He was three seasons with them, and assisted them to win the Barnsley Minor League, and the Barnsley Beckett Cup, and the Mexborough Montague Hospital Cup. Then Holmes played in four games with Sheffield United; he received these trials the year before he went to Gainsborough for two seasons. He also had a couple of games with Everton, playing as an amateur. He was an inside right before he went to Gainsborough, but he played inside left for that team, and of late has been officiating in the centre. He has scored half a dozen goals for Trinity this season, and it is interesting to note in connection with his transfer that Wigmore and McRoberts came out as centre forwards at Gainsborough, and were years ago passed on to Small Heath )alias Birmingham). They rendered great service to the Midland club, and are both like Charley's Aunt-still running. Holmes, who stands 5ft 8in., and weighs 11st 3lb., has gained some reputation as a good fast bowler in Wombwell. And they ought to know a craftsman of this kind in Yorkshire.
AN UNDERSTUDY TO H.P. HARDMAN
Athletic News - Monday 18 November 1907
Leonard G. Woods was called upon to fill the difficult role of substitute for Harold Hardman in the match against Blackburn Rovers at Goodison Park on Saturday. Born at Prescott, twenty years ago, and educated in Liverpool, his first essays as a player were with a club named Riversdale, and his connection extended over five seasons. As members of the West Derby League this team almost monopolized the championship year after year, and Woods, who played outside left, was a prominent factor in the acquisition of these honours. He represented the South against the North in Inter-League fray, and scored two of the goals credited to the former. Then for a season he assisted Fairfield Old Boys, who were connected with the Second Division of the Lancashire Amateur League. As these fixtures were limited, he played on the otherwise vacant Saturdays with Garston Church. This club disbanded, and at the age of eighteen Woods joined Garston Gas Workers, who were members of the Wirral Senior League, and assisted them to win the premiership and also the Pyke Cup. After a season's stay, he signed for the first time a professional form for St. Helens Town, and last year was a regular performer in the team at outside left. In the away match with Oswaldtwistle Rovers, which the "Saints" won by four clear goals, he scored all the points. He was only one season with the Town club when Everton secured his services, and on Saturday last, against the Rovers, he was promoted to the first class. Though evidently suffering from fright in the early stages, he improved as the game progressed, and two goals came from his centres. He stands 5ft 7in, and weighs 10st 12lb. When an amateur he won several prizes as a sprinter over distances varying from 100 yards to 220 yards.
THE CULT OF EVERTON
Athletic News - Monday 18 November 1907
Everton 4, Blackburn Rovers 1
By Hurricus
It is seldom that I am disappointed when anticipating a good game on a visit to Goodison Park, the home of the only double-deck converted stand in the world of football, and though the opponents of the renowned "Blues" on Saturday were only the much-criticized Blackburn Rovers team, I do not desire to see a much better contest, which fact is one way of paying a compliment to the aforementioned Rovers, who, were, by the way, habited in the proverbial scarlet of the blood-thirsty pirate. They commenced as though they had come for another victory, for they got a goal three minutes from the start, but unfortunately for their prospects the home team equalized within a minute. Both goals were obtained in somewhat similar fashion-with the assistance of the defence. Latheron and Bracegirdle got away very smartly from the start, and forthwith called upon Scott to exercise his skill. Back they came again. W. Balmer made a tremendous lunge at the ball but missed it. Scott came out in a hurry and kicked the ball against Robertson, from whom it rebounded into the net. Scott looked at Balmer, Balmer looked at Scott, and then offered a mutual regard for each other. Then straight away at the other end Crompton was the culprit and Settle the scorer, so that there must have been a jelling between the two right backs that one good turn deserved another.
Bolton's Novelty Goal.
But there was no more scoring up to half time, and the Rovers were fully entitled to share the honours. Bolton gave Everton the lead six minutes after the resumption in a wonderful manner. Woods centred the ball right across the goalmouth; Sharp who was almost on the touch line, headed in, and Bolton, who was stood against the post with his back to the goal, just hooked the ball over his head and into the net to the surprise of the players, himself included probably. Having established the lead the Everton men gradually asserted their mastery, and from a corner by Woods, which he himself forced, Young secured the third goal, and "in the gloaming "Settle made up the quartette somewhat readily after good work by Sharp. Thus end the record of goal scoring. My opening remarks will have converted an idea of the run of the game, and it seemed rather a pity that the Rovers should have been beaten by such a margin. Their fieldwork in the first half compared very favorably with the fine movements of the home side, but whereas McIver was being continually tested, Scott had comparatively little to do. In the second half they were overpowered; but if a week's training at Blackpool can make them play for 45 minutes as they did at Goodison Park on Saturday the possibility is that another week at the seaside will make them continue their good work for 90 minutes, and a still further week may instill some fire into their shooting. Everton were good all round. They put in a new outside left in Len Woods, who last season was with St. Helens Town, and if hardly up to the standard of his colleagues, he was not exactly a failure, and had a hand in two of the goals. Young was in his best form, although he only scored one goal. He lay well ahead, but possessed sufficient intelligence to keep inside and was well supported by Settle and Bolton. The latter's mission was to feed his partner, but Settle had a roving commission, while Sharp made it his special business to make straight for goal whenever he had the opportunity, and there was well watched though. The forward line was indeed excellent, with Young the leader in a double sense.
The Artistic Makepeace
The palm at half-back must be awarded to Makepeace, who gave a most skillful and cool exhibition of pure football, and is undoubtedly an artist. Taylor was a worker and seems as good as ever, while Robert Balmer was the better back, his kicking being well judged, Scott kept a sound goal, and McIver could not be blamed for the defeat, as he kept out some fine shots. One attempt by Young, however, would have bowled him over had it struck him, but fortunately for his health the ball struck the foot of the post with terrific force and rebounded; it was the best shot of the match. Crompton and Cowell, as a pair of backs were magnificent, which is the correct word for the occasion. I have said more than once that they had no superiors in the League, and Saturday's display further confirmed my opinion. Cowell has never played better, and well as Sharp played, whenever it came to a match between two, Cowell was invariably the master, even in speed. Heywood, who was a most successful left back when I saw him last, is not so good at right half, but Walmsley again impression me favorably, while Houlker had some rare tussles with the home right wing, and he did not come out with discredit to his reputation. There was a pleasing improvement forward with Whittaker again the shining light, as he appears to be every week. Robertson was also more active than I have seen him, while Latheron bustled about and generally made headway. Bracegirdle, however, did not seem to get along very well on the outside left. The Rovers were playing against a side that would have defeated any opponents on Saturday. Everton; Scott; Balmer (W), Balmer (R); Makepeace, Taylor, Abbott; Sharp, Bolton, Young, Settle, and Woods. Blackburn Rovers; McIver; Crompton, Cowell; Heywood, Walmsley, Houlker; Whittaker, Robertson, Martin, Latheron, and Bracegirdle. Referee; W. Gilgryst, Manchester.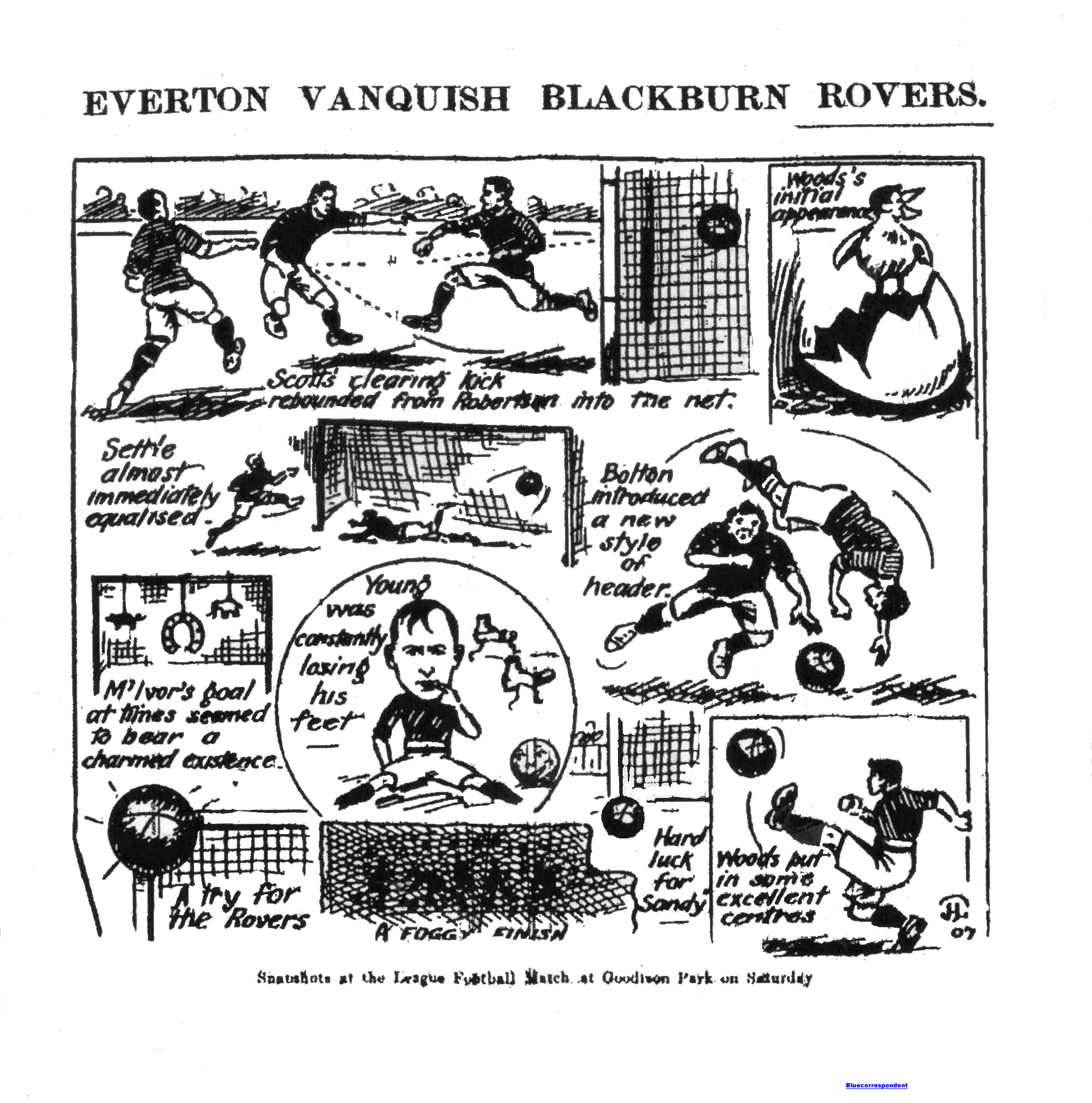 THE WILSON CASE SETTLED
Athletic News - Monday 18 November 1907
By Junius
The announcement of the transfer of George Wilson to Newcastle has provided one of the sensations of the week. Ever since rupture between player and Everton, Goodison management have been besieged by applications for permission to approach Wilson. Naturally a big transfer fee was paid, and Everton received 1,000, while another 600 was handed over to the Distillery club. This is a tremendous price pay for a footballer, and to me the sum appears altogether out of all manner of reason Everton have been very fortunate in receiving big fees for their migrating players, for they obtained a cool thousand for Rouse. I had hoped that Wilson would have been prevailed upon to come back to Goodison, but despite all attempts at conciliation none were successful. Wilson can look forward to a tremendous reception if he comes with the Tynesiders to Anfield on 14th of December.
DARWEN 0 EVERTON RESERVES 2
November 18, 1907. The Liverpool Courier.
Lancashire Combination Division One (Game 12)
Everton added two more points to their record at the expense of Darwen. The peaceful valley were Everton played absolute football, and did not need encouragement from the large crowd, but they were no match for the leaders. Everton showed fine football all-round, Sloan and Stevenson being sound defenders Chadwick a capable half, and the forwards both speedy and clever. Graham scored in the first half, while Mountford put on another after the change of ends. Everton gaining a good victory in two clever goals . Everton: - Sloan, goal, Stevenson, and Crelly, backs Adamson, McConnachie, and Chadwick, half-backs, Donnachie, Graham, Jones, Mountford, and Winterhalmers, forwards.
A Knotty Point from Newcastle.
Athletic News - Monday 25 November 1907
For the moment that illustrious Scotsman, George Wilson, is metaphorically suspended like Mahomet's coffin, between heaven and earth. As a football player hath not where to lay his head, but probably an abiding place will found for him. Newcastle United, Everton, and Belfast Distillery are apparently all satisfied, but the Football Association are not satisfied. In some quarters the Association are regarded as implacable, and in others the executive officers are looked upon as far from complacent. This is the penalty of seeing that the rules which the clubs have made are being enforced, not only to the letter but in spirit in which they were conceived. The Football Association have for the nonce refused to register George Wilson as Newcastle's player. The authorities, desire to be convinced that he has any more right migrate from Everton to Newcastle via Belfast than to remove from Goodison Park to Portsmouth by a direct route. If some our ultra -amateurs were not so busily engaged manufacturing pernicious phrases to hurl at the leading members of the Council we should have heard shriek* concerning the shackles of slavery in which the poor professional lives. But these Pecksniffs of sport have not time to waste in sympathy for George Wilson, one of the Caledonian mercenaries.
GEORGE WILSON POSITION
Athletic News - Monday 25 November 1907
But is George Wilson being hardly treated? That is the question to answer. Last spring Everton and George Wilson each had a grievance, and they parted company. That is the fairest and most impartial way to state the situation. Everton did not want to lose the services of such a player, and offered him the limit salary of £4 per week. They reported to the Association that they had proposed such terms. Wilson refused them, and desired to go to Portsmouth. Now rule 30 in the Official Handbook says: "Clubs shall be entitled to retain players to whom they are prepared to pay the maxim wages, unless the players satisfy The Council that there are special grounds for allowing them to change their clubs." The Council were not satisfied that such special grounds existed as were required, and he was not allowed to join Portsmouth. It is idle to say that this is unfair to the player, because Wilson must have known, or at least ought to have known, all the obligations he incurred when he became attached to Everton, who certainly did not pay a transfer fee which would work out at about £100 per month for his services, in addition to his salary, under the impression that he would not play for them after one season. So Wilson, who presumably did not feel that he could remain with Everton under the same conditions as all other players, went out of English football. He allied himself with the Distillery, and now seeks to return to the land of the Saxon and play for Newcastle United. The three clubs concerned are agreeable Everton because they cannot smooth over the difficulties, Distillery because they have been compensated, and Newcastle because they are willing to reimburse Everton for their loss and to conciliate the Belfast club. Of course, Newcastle United have only agreed to give Wilson the statutory salary, but the F.A. want to know why the £4 per week at Tyneside is preferable to £4 per week on Merseyside and one year passed towards which would qualify for a benefit at Goodison Park, where they admittedly server the players well. Is Wilson to be around to evade Rule 30?
A Matter of Equity.
That is the point at issue, as we understand it? The F.A. are perfectly justified in demanding that they shall be satisfied that special rounds exist for the registration. At the same time we must not overlook the fact that Everton have withdrawn their opposition to his removal because they find the player obdurate. Whatever Wilson s grievance was it cannot be denied that he has already suffered considerable loss and inconvenience because he would not receive any summer retainer, and he must have sacrificed salary ever since this commenced. We should say that if a man and his master cannot settle their differences the servant ought not be deprived of the opportunity of earning a livelihood. The clubs are entitled to protection, but so are the players. The rule was drawn up to stop the migration of profession without just cause ; not to act as an impediment to a man who conceived that he had a just complaint. If the F.A. be satisfied that Newcastle have not paid Wilson more than £10 as a consideration for his signing a form and have not in any way promised him more than £4 per week we cannot see that they can prevent the change he now contemplates in view of the altered attitude of Everton. The F.A. have a right know that Wilson has not gone behind the rules, but once satisfied on that matter they will surely be glad to register his name as a Newcastle player. Wilson is not an "outlaw defiant."
A BIG BOON FOR BOLTON
Athletic News - Monday 25 November 1907
Bolton Wanderers 3, Everton 0
By Tityrus
Bolton Wanderers surprised Everton, themselves, and their best friends by the astonishing victory which they gained. The conditions were what our friend, Mr. Mantalini, would have described as moist and unpleasant. The light was as capricious as a lady's temper. The ground was difficult to turn on, and the ball must have been slippery, as Burns says and heavy. But the Boltonians were not disturbed by any of these circumstances. They triumphed over nature and their foes, and called on my mind the capacity of the Wanderers on the saturated surface of the clay soil at Pike Lane. But, I wonder whether the Wanderers are guilty of the sincerest form of flattery –imitation. Are they endeavouring to follow the example of Manchester United, and keep the ball on the grass? That seemed to be their purpose, and they succeeded to such a degree that they not only won the match but they showed high-class football. No doubt the conditions were unfavourable, but Bolton must persevere in well-doing. They must strive to control a lively ball with equal facility. If they become so skillful, then other teams beside Everton will experience the bitters of defeat.
Three Glorious Goals
This, the most decisive victory of the Wanderers during the season, was largely due to "Our Albert" as the local people say when they are talking of Shepherd. In the main he was responsible for all the goals. The first of these was registered at the end of 26 minutes. Shepherd away on the right wing made the most of a pass forward and with a supreme effort gained such a position that danger was seen ahead. At the exact moment he centred right in front of goal and White arriving simultaneously shot a pretty goal-pretty because he showed sufficient resource without finicking to deceive Scott. Eleven minutes later, Shepherd, who had again veered to the right made a low swift, long drive into the mouth of goal. This was a surprise shot and passed over the line, even though Scott partially stopped the ball. This was an illustration of the contention that it is wise to tempt Fortune -especially with the ground and ball so conductive to mishaps. Strive as Everton would they could never make any impression on the defence of Bolton, and in the second half they failed to even convert a penalty kick. Sharp was entrusted with the place-kick and netted, but for some Evertonian over-stepping the line -at least that appeared to be the case to me - the operation had to be repeated. Then the Lancashire raised the ball almost to the height of the bar, and Edmondson saved his charge amid a round of cheers. In the gathering gloom it was extremely difficult for spectators to follow the game with exactitude, but five minutes from the close Shepherd dribbled between the backs down the centre and appeared to draw Scott out of goal. I thought that the Everton custodian once saved his charge before White registered the third goal.
From this summary it must not be surmised that Everton were entirely outmaneuvered and overplayed. Before Shepherd inaugurated his thrilling solos the visitors showed some delightfully crisp, captivating, and telling football in the course of which James Settle tested Edmondson with a cunning header, with a high drive, and with a lightning shot, but all in vain. Indeed, they contested the game well- particularly in the first half, but quite contrary to last season's form, and the general work of this campaign. Everton were distinctly mastered. Their intermediate line could not check the advances of the vanguard led by Shepherd, and their backs found that their attempts to volley and place a moving ball were far from reassuring. Bolton were the superior combination in every department.
Shepherd the Soloist
Football is one of those things which, as Lord Dundreary would say, "No fellah can understand." Here are Bolton situated towards the base of the table, and I have seen them play two wonderful games against Manchester United and Everton. On the other hand, Everton are up on the heights and on the only two occasions that I have watched them they have been thoroughly mastered. This is a riddle. Here's to Bolton! "I looks towards you and I likewise bows." Play in this glorious style-half-backs and forwards co-operating with real footwork –and reward will surely arrive. The last time I saw Shepherd I said that he was more of a hindrance then a help, as teens of place-kicks were given against him for breaking the law as to on-side. In this match he was the inspiring force and soul of the whole team. Save once, against Aston Villa on a somewhat similar heavy ground and in the never=-to-be-forgotten Inter-League match at Chelsea, I have not seen him keep in the game to the same extent. Nor did he require all his play and position manufacturing for him. Well served by Clifford, he proved that he could initiate movements and he was ever on the spot at the crucial moment. He is a powerful, trustful centre, lacking in the finer arts of the game, but a strong finisher, difficult to dislodge, and a good shot. Besides, when he is not on the ball he is like Appleyard in that he takes the attention of his opponents. It is always advisable to keep one eye on Albert Shepherd, if the other be ranging the shores of Newfoundland in the style of Captain Bunsby. White was very serviceable, if rather on the slow side. McEwan and Stokes are both strong and quaint on the wing. But they are prone to overelaboration, and as I think an often fatal double-deck before making their centre. Greenhalgh is a glorious worker, and Clifford a man who has improved his style. Baverstock and Stanley were almost as safe as the bank of England. Once Stanley entirely miskicked, and at times he was too robust in tackling Sharp. But both backs were reliable when most pressed. They had fine intuition in reaching the ball, and over and over again Baverstock, without apparent effort, neatly trapped the ball away from the very toes of such masters as Settle and Young. Edmondson is absolved from all criticism.
The Everton Vanguard
Notwithstanding these events the Everton front rank constituted a force. Greenhalgh and Baverstock never knew when they had finished with Harold Hardman. If his power were equal to his perseverance what a splendid footballer he would be! Settle's skill in the circumstance of a boy's hoop is still extraordinary. Some of his passes and touches and shots were calculated to arouse enthusiasm. The same words could be writ with equal truth of Young, who, as usual, is at his best in the first half of the season. Bolton and Sharp were often to the fore, and Sharp's square centres off the line were the most telling efforts of their kind in the match. Makepeace had the most arduous pair to face and was the most industrious and successful man in his line –his pace saving him again and again when he was at first outwitted. Robert Balmer was the better of the backs, for his elder brother could not control the ball as I have seen him. For two illustrations of goalkeeping against Shepherd and White –one in each half –Scott deserves hearty commendation. Possibly on a warmer and better day for custodians he might have prevented one of the goals, but even so I should be sorry to suggest that any blame attaches to him. Everton did not make excuses, and their directors praised the referee. A tribute from the losing team is a testimonial, and I endorse it. Bolton wanderers;- Baverstock; Stanley, Greenhalgh; Clifford, Boyd; Stokes, Marsh, Shepherd, White and McEwan. Everton; Scott; Balmer (W), Balmer (R.); Makepeace, Taylor, Abbott; Sharp, Bolton, Young, Settle, and H.P. Hardman. Referee; Mr. H.S. Bamlett, Gateshead.
BOLTON WANDERERS 0 EVERTON 3
November 25, 1907. The Liverpool Courier.
EVERTON'S DEFEAT AT BOLTON
SHARP PENALTY KICK SAVED
Everton had a sorry experience at Burnden park. For the first time this season in a League match they failed to score, and Bolton Wanderers secured a couple of points by the pronounced margin of three goals to nothing. This was revenge, indeed, for that English Cup-tie debacle last season, when triumphed on Saturday. The Wanderers are one of the clubs who have fared badly in their long list of encounters with Everton. Out of 32 League engagements between the clubs Everton had claimed no fewer than 20 victories, and had to their credit 43, out a possible 64 points. All the more welcome therefore to the Wanderers was their signal success. On the play they were good value for the maximum points though there was by no means so much difference between the teams as the result suggest. A win for the Wanderers by two goals to one would have been a truer reflection of the game. The ground was heavy going, and what is more according to the admissions of their consistent supporters, played a far stronger game than they have yet exhibited this season. It was Everton's misfortune to meet the Wanderers on their day out. If Sharp had converted that Penalty kick, who knows what might have happened in the dark, but this is rather anticipating.
INTERESTING PLAY.
Considering the state of the ground, and the terrific showers of hail, and rain, which fell during the progress of the game, the play reached a far higher standard than was anticipated. The teams faced ten minutes earlier than the advertised time, and it was just as well that they did, for it was the game guilded in darkness, which made it impossible to follow the course of the ball with any accuracy during the closing stages. Everton at the start were the more aggressive side. Settle in particular testing upon Edondson with excellent efforts, but once the Wanderers settled down they were the more dangerous. Short passing on such a ground was not calculating to bring success and it was in this respect that Everton suffered in comparison with the Wanderers, whose forwards backed up splendidly by a resourceful set of halves, when the ball cross from wing to wing. Their first goal was the outcome of judicious work on the part of White, who manuerved cleverly until he obtained possession from which he was enabled to place the ball into the net, quite out of Scott's reach. Then shortly before the interval, the irrepressible Shepherd took the ball on the run, and with a long shot, behind which was plenty of power registered the Wanderers second goal, the ball apparently slipping through Scott's hands. In the second half the Evertonians claimed more of the play, but Edmondson on was unbeatable and he was well supported by his backs. Baverstock and Stanley. There was a lack of vim about the Everton forwards when in the vicinity of goal, and the consequence was that though they had the pull in the matters of forceful tactics, shots at goal were not too frequent. Clifford brought down Young in the dreaded area and the circumstances attending the negotiation of the penalty kick had a pressing effect upon the team. Sharp was entrusted with the kick, and placed the ball into the net, but unfortunately Bolton had transgressed the rules by getting over the line too soon. The result was that the referee ordered the kick to be taken again. This time Edmondson got his hand to a rising shot, and the Wanderers escaped with a corner, which prove abortive. After this Everton never looked like putting the game out of the fire and in the darkness another goal fell to Bolton, White putting the finishing touch to the work by Shepherd.
CONCERNING THE PLAYERS.
Although on paper Bolton Wanderers gained an easy victory, Everton did not deserve to be so decisively thrashed. Granted that the Wanderers had the better of the first half. Everton enjoyed more of the play later on. The defeat was not due to any particular weakness on the part of the Everton representative; rather was in the outcome splendid determination and cohesion for which the winning team deserves the highest commendation. Greenhalgh, Clifford, and Boyd were a maginificent trio of halves, and it was to their efforts that the Wanderers were mainly indepthed for their victory. On the other hand the visiting half—back line was not up to concert pitch. Taylor being the weakest of the three. Neither were the brothers Balmer in their happiest vein. Scott in no way let his side down, he had little if any chance with the shots that beat it. The forwards were all right up to a point, and if anything the left wing was more prominent than the right. Young was handicapped by a nasty tap on the ankle otherwise Edmondson might have been more frequently called upon. Teams : - Bolton Wanderers: - Edmondson, goal, Baverstock, and Stanley backs, Greenhalgh, Clifford, and Boyd, half-backs, Stokes, Owen, Shepherd, White, and McEwan, forwards. Everton: - Scott, goal, W. Balmer, and R. Balmer, backs, Makepeace Taylor (Captain), and Abbott, half-backs, Sharp, Bolton, Young, Settle and Hardman, forwards. Referee M.S. Bamlett.
BOLTON MUDLARKING
November 25, 1907. The Liverpool Echo
Everton have now lost five league matches. They have been beaten by the odd goals in three matches (Bristol, Manchester United, and Chelsea) by a margin of two goals by Liverpool and the latest is the worst –a three goal margin favouring Bolton. Bolton have become desperate; they had lost home and away matches till their supporters had become pessimistic. Albert the Great stored up a fund of good deeds for Everton's especial benefits and on Saturday these good deeds made goals. The Wanderers gave Everton no quarter playing with splendid determination all through the team. Edmondson kept a grand goal, whilst the halves found a form which had recently been sadly wanting. White scored two of the goals and was in fine form through Shepherd also touched a high level in midfield and made the openings for White. Shepherd's goal was by a shot which almost knocked Scott into the net. F.E. H adds to Saturday's complete and brief commentary the following;-
Although beaten, Everton were by no means disgraced at Burnden Park, on Saturday. True it is that the Wanderers come out of their shell in the most astonishing fashion –and that they are a good team there can be no gainsaying –but their superiority over Everton was certainly not in the ratio of three to nothing. In the second period of the game the Evertonians were distinctly the cleverer side and they were rather unfortunate in failing to score from a penalty. Still, although they footwork was much prettier and neater to watch than that of Trotters –who fairly revealed in the mud, by the way –the latter are entitled to full credit for securing a timely victory and avenging two bitter defeats. Their sudden return to form furnished one more example of the curiosities of the game, for it was agreed by common consent the game began that Shepherd and company had little more than "a dog's chance" of carrying off the palm. The second period was marked by a great improvement in Everton's work. They had evidently tumbled to the fact that the Wanderers style of play was the more profitable, and they acted accordingly. The result was that the Trotters were outmancurved as their own game, but still goals were not forth-coming. Clifford grassed Young in the penalty area. Sharp was entrusted with the kick and taking careful aim; he netted the ball. Bolton was observed to be over the line at the time, and the referee promptly ordered the kick to be retaken. Once more Sharp adjusted his sights and put in a fast rising shot, but this time Edmondson effected a marvelous chance; and so one more lost opportunity was added to the long list. The Everton forwards all played well though their shooting was not as accurate as it ought to have been. Settle was in rare trim, and it was no fault of his that his side did not score. He was undoubtedly the best of the quintet. Abbott and Makepeace both did a vast amount of hard work, but Taylor was frequently caught napping, and was at times quite unable to keep the volatile Shepherd in check.

EVERTON RESERVES 5 BOLTON WANDERERS 2
November 25, 1907. The Liverpool Courier.
Lancashire Combination Division One (Game 13)
Everton accomplished a splendid performance on Saturday in defeating Bolton Wanderers by 5 goals to 2 and this notwithstanding that they placed with ten men nearly all the game, Graham retiring hurt shortly after the commencement. Play in the first half was all in favour of Everton. Macconnachie and Mountford each defeated Davies in fine style, but Ryder responded with a clever goal for the visitors from a centre by Whitby. This encouraged the Wanderers but after several efforts, Jones managed to trick the defence and left Davies helpless. The Wanderers improved considerably in the second period, but Sloan was only beaten once, by Ryder, while Everton maintained their advantage by scoring twice through Winterhalmer. Everton played splendid football considering the heavy ground and their shorthandeduces. Sloan was safe and the backs reliable. Booth played a clever game, but McConnachie was the pick of the halves. The forwards combined and shot well, as the Bolton defence can testify. Davies was in difficulties more than once, and preformed very moderately. The backs played well, but the halves were not very serviceable, while the outside forwards missed opportunities. Everton have now scored half a century of goals in combination matches . Everton: - Sloan goal, Stevenson, and Crelly, backs, Booth MaConnchie and not-Known half-backs, Rafferty, Graham Jones Mountford, and Winterhalmers, forwards.
EVERTON F.C. MAKE THREE IMPORTANT CHANGES
November 27, 1907. The Liverpool Echo
There has been an unusually large number of goals recorded against the Everton club this season. Three times three goals have been put in the hour and half play, four goals have been scored against the Everton defence on three occasions, one of these was the Lancashire Cup tie with Burnley, and only three matches are on record where they has been a clean sheet. The cause of this unhealthy state of affairs was pretty apparent. The half-backs though not up to the standard of the last two seasons, were certainly not to blame and the goalkeeping admittedly made one or two errors. At the same time one must not forgot how many times Scott saved the situation by an almost super-human effort. No it has been pretty plain that Everton were weak at back. The brothers Balmer, who through the latter half of last season could not possibly be improved upon individually, or as a pair have not been showing to advantage for some time. They have been given a lengthily trial, and it will not come as a surprise to my readers to know that one of the defenders is being affected. Many letters have been sent to me on the subject and I have refrained from publishing them. One such was received this morning and it reads;-
"I notice that a correspondent is advancing the dropping of one of the Balmers, in favour of Crelly. He said that in every match one of the brothers made some bad mistake, and I suppose he is hinting to the incident on Saturday at Bolton when R. Balmer put the ball back to Scott and White scored. As one who was there, I can state that it was the only thing Balmer could have done, and the pools of water and ploughed up mud stopped the speed of the ball which on proper turf, would most certainly have gone to Scott. The team at Bolton deserved a couple of goals, the work of the three inside forwards being grand." The directors however have viewed the situation differently. There must be some great weakness somewhere when a team holding fifth position on the ladder by points of seven wins and two draws has 25 goals against them. Bury have also 25 against and going lower down the list one finds that low Bristol City, Blackburn Rovers, Sheffield United, Sunderland, Chelsea and Birmingham have a larger figure in the columns. I think the directors are view in making a change at back at this stage. Birmingham have a such a poor team that this is the best period to alter the placing. Crelley is to take Robert Balmer's place, and MaConnachie who has been playing very well with the reserves is to appear at centre half instead of Taylor. Another who is resting is John Sharp. The cricketer of recent date has not been a bright star he has been troubled with leg injuries and he will doubtless appreciable the rest and still soon be sound again and eager for the fray. The full team reads;- Scott; W. Balmer, and Crelley; Makepeace, MaConnachie, and Abbott; Donnachie, Bolton, Young, Settle, and Harold Hardman. This eleven will come much comment among football folk during the next three days.
The Reserves team is due at Chorley. The tam will do duty; Sloan; Strettell, and Stevenson; Adamson, Booth, and Chadwick; Rafferty, Graham, Jones, Mountford, and Winterhalmer.
EVERTON RECEIVE THE DESPERATE BRUMS
November 29, 1907. The Liverpool Echo
Everton are at home this week, and have ample opportunity for amending their goal record, which was besmirched last week at Bolton. Personally I have not seen a team play such poor football as Birmingham have shown this season. They are weak in every department except goal where Dorrington is now operating instead of the uncertain Robinson. Without that smart centre, Jones, or Mounteney the front line is hardly worth the name of attackers. Each is proem to individualism and each is fearful of shooting. At half they are a moderate trio, two of them having seen their best days and the third being a commoner and at back there is not much reliance to be placed. After the week's very heavy defeat the ex-Small Heath men will be desperate and this is the real danger Everton have to face. When clubs get into the depths of distress as the Brums have done, they strain every nerve to best admittedly superior clubs, and Birmingham were ever a determined club. Everton must not take note of the lowly position of their opponents but must "go" the whole distance. On paper form there is hope for the Blues of Brum for did not they beat Bolton 2-1 on November 16 and did not Everton lose at Bolton last week 3-0? This will encourage the visitors, and it should be borne in mind by the Walton players when Mr. D. Hammond lines them up at 2.30. Furthermore the heavy rains of the last few days will have made the turf heavy. What will be the effect of the rivals Blues: The visitors long passes, swift dashes and get-ahead at all costs manner will not be affected, one would imagine. Will Everton forsake the short passing endorsement and adapt themselves to the heavy going by swinging the ball out from wing to wing? If they do not there will be equally times ahead, and Birmingham may take the opportunity of covering themselves not only with mud, but also with glory. Three men will be watched keenly, Crelley, MaConnachie and Donnachie have been seen in the first team before, but tomorrow is a special occasion. Wood's also may play, as there is a doubt about Hardman being able to turn out. Birmingham are making three changes. Mounteney is well enough to reappear and King drops out of the forward line, W.R. Corbett replaces Glover, Hartwell making way for Wigmore at centre half –Dorrington; Corbett, Stokes; Beer, Wigmore, Corman; Paeddow, Tickle, Green, Mountency, Eyre.
HOW FOG AFFECTS FINANCES OF FOOTBALL
November 30, 1907. The Liverpool Football Echo
Pigeon flying was out of the question today. So was football. Fog beats all, and we have much to be thankful for, that its visitations have been so few and far between. It seems today to have made up for lost time. It seems an age since so many matches were abandoned through fog. The last time as far as I can recollect was about six years ago, and even then the effect was not so far reaching. Many matches were abandoned then, thought today almost every match seems to have shared the unfortunate fate of Everton. It is most extraordinary that in some of the reports one comes across such expressions as "Played before 15,000 spectators in fine weather the sun shining brightly," and the weather was all that could be desired." It was a very waste day for poor Lancashire and Cheshire sport loving people. I met a belogged set of juniors who had gone astray. They had it appeared booked for a Southport engagement, the ground lying somewhere about Birkdale way. Asking their train they were put into an Aintree train, the porter having imagined that they wanted to go to Kirkdale. They travelled slowly through the white mist and spend an hour or more on the electric train till lights appeared and the cry. Exchange Station was heard. They had travelled to Aintree and back, and were then at the original starting point. Fog is an immensely expensive thing for football clubs. It runs away with a packet of money; and clubs get nothing in return. I was chatting today with a director who was lamenting the appearance of the fiend fog. He pointed out that Everton match would mean another journey for the Birmingham men, and under the rules they would get no compensation for the vexatious journey. Had the game been started and intercepted and finally abandoned then the teams would share the "gate" at the second match. In the Liverpool match for instance the play was started and continued for some time before fog stopped them. When next Liverpool go to Bury to replay the match (it will be replayed in its entirely) the taking at the entrance will be equally divided. In the case of Everton and Birmingham however, there is a different procedure, consequent upon the Everton entrance not having been opened to the public. Everton will take all the money and Birmingham will be at a loss for some twenty fares, and including food and other necessaries.