WHY DO EVERTON DO BETTER AWAY THAN AT HOME
November 2, 1951. The Liverpool Echo
Fear of Making Mistakes Before Own Supporters May Be Root Cause
Ranger's Notes
If only Everton can reproduce at Goodison tomorrow some of the form they have shown in their last three away matches they should gladden the hearts of their supporters with that overdue home victory. The Blues have done better on their travels than several clubs much higher in the table. There must be a reason for this. I think it is largely psychological. The side strikes me as being so nervous of making mistakes before their own followers that (1) confidence goes completely in defence, (2), the forwards become over anxious and (3) team spirit inevitably suffers. Once again I would plead with Everton followers not to let any dissatisfaction they may feel translate itself into discouragement of the team while the game is in progress. As I've said so often your wholehearted support is vital. It means a great deal to the players. All right O know! So it's the only way you have of showing your dissatisfaction? Actually, it isn't. There are others, though this is no place to advocate them. The point is that anything which induces "nerviness" in the players is only delaying what presumably all spectators desire namely an improvement in results and the standard of play. You can do your bit to help. Will you? Everton; Leyland; Jones, Lindsay; Donovan, Lindley, Farrell; McNamara, Fielding, Hickson, Buckle, Parker. Bury; Goram; Griffiths (W.), Massey; Greenhalgh, Hart, Bardsley; Simm, Daniel, Plant, Bodie, Hays.
RENEW LEAGUE DUEL AFTER 20 YEARS
November 2, 1951. The Evening Express
Bury at Goodison Tomorrow
By Pilot (Don Kendall)
The clock will be put back 20 years at Goodison Park tomorrow, when Everton renew acquaintance with old Lancashire rivals in Bury. Bury have not been at Goodison in a League game since 1929-30 season when Everton were last in the Second Division, but they did come here in a cup-tie in 1933 only to lose 3-1. Bury have never found, the ground fortunate for them; in fact, they have won only three times here. Still that is no true guide to what may happen, for Blackburn Rovers had a pretty dismal Goodison record and yet came here a few weeks ago to win. Everton have been showing their best form in away matches and have gained four points of the last six played for on tour. Small wonder that with Tommy Eglington still injured, no change should be made. Any team good enough to bring back a point from Luton has earned its keep," for another week, and you can rest assured that Everton will not make changes in a successful team unless necessity demands.
Point-A-Match
Bury also unchanged from the side which drew with Doncaster Rovers came with a point-a-match record and obviously are a danger. Times have changed so far as Everton are concerned, and in the last three home games all of which have been lost the failure has been in defence and not attack. In Maurice Lindley, there is something of the fighting quality which gives that extra touch of confidence and I do not expect to see those "gaps" again. If the forwards continue with their "shoot-on-sight" plan this should provide the Blues with their first Goodison success since September 5 when the Forest went under by a goal. It is a long time to wait for a winning cheer, but I think this is the occasion. The kick-off is three o'clock. Everton; Leyland; Jones, Lindsay; Donovan, Lindley, Farrell; McNamara, Fielding, Hickson, Buckle, Parker. Bury; Goram; Griffiths (W.), Massey; Greenhalgh, Hart, Bardsley; Simm, Daniel, Plant, Bodie, Hays.
EVERTON IN THE RIGHT PERSPECTIVE
November 3, 1951. The Liverpool Daily Post
By Leslie Edwards
Maybe Everton's position is not really so bad as some of us think and maybe the thought that worse things are happening in Korea puts the problem in true perspective. Certainly the serious remarks of one follower of the club does not. He said, "Perhaps now that we have a Conservative Government we may do better, we have rarely been away from the foot of the table since 1945 when Labour came in.!
At Goodison Park today Everton get another home match reprieve and who does not hope that they will take it and end, for all time, their sliding tenancy? Bury are not the most attractive of sides, but any side not strong enough to win at Goodison Park will be attractive in our present position for that reason they are welcome. Another chance to see centre forward Hickson will be much to be liking of people with Everton's interests at heart. He is said to be not ready for a place in first class football, but everything he has done in the first team has proved him to be the livest of prospects.
Never in Doubt
One cannot ask anything of Everton nowadays, except their continued earnestness to succeed – and this has never been in doubt –and that they will try to play here as they obviously do when they go away.
SECOND'S LAPSE IN FINAL FLOURISH GAVE BURY A SURPRISE POINT
November 3, 1951. The Liverpool Football Echo
Everton 2, Bury 2
A goalkeeping error robbed Everton of their first victory at Goodison Park since September 5. When they took the lead at 19 minutes success appeared to be certain but a few minutes from the end Leyland made a grave mistakes. A draw was, perhaps a fitting result, for Burt had worked hard for their half share. Everton; Leyland, goal; Jones and Lindsay, backs; Donovan, Lindley and Farrell (captain), half-backs; McNamara, Fielding, Hickson, Buckle, and Parker, forwards. Bury; Goram, goal; Griffiths (W.), and Massey, backs; Greenhalgh, Hart and Bardsley, half-backs; Simms, Daniel, Plant, Bodie, and Hays, forwards. Referee; Mr. C. Fletcher (Northwich). Everton were hoping for a long delayed home win at Goodison Park today. Not since September 5 have their supporters tasted the joys of victory. By a strange turn of fortunes wheel Everton's best has been served up away from home. It was anything but a nice day for the rain in the morning and just before the game had its effect upon the attendance. There was no change in either side, but there was one for the referee was Mr. C. Fletcher, of Northwich, who took the place of Mr. F. Thirlman, of Preston.
He Who Hesitates!
Bury had a great opportunity of drawing first blood when Bodle swing across a gorgeous ball to Simm. Here was a ready-made opportunity for a shot had there been no dalliance on the part of the winger, but that little hesitation cost Bury dearly. It enabled Lindsay to jump in with a clever tackle just as Simm was about to shoot. Plant was wandering around just as Hickson was doing. When he went but to the right wing he scooped in a centre that Leyland punch away and Bodle tried to improve with a volley shot that had too much loft about it. Hickson made an langular shot which hit the woodwork. Some thought it would have been a better move to have pulled the ball back to give his inside man a better opportunity. It was a very close thing for Goram. McNamara had not had many chances, but when he did get one it was a winner. He got the ball just outside the penalty area, ran in a few yards and then slipped across a low centre which Buckle threw himself at and headed the ball wide of Goram. Almost in the next minute Goram had to throw himself full length to a rather slow shot by Parker. It may have been slow, but it was right on the mark and the Bury goalkeeper just got it away. Everton were now pressing strongly and Fielding but one up for McNamara, who decided that a shot was the best bet. He made it, but it slewed wide and neither Buckle nor Parker could get in touch with it. Everton did not enjoy their lead for long for at 21st minute Bury had equalized through Daniel. It was a quickly made goal for the first move was made by a full back who made a long kick upfield and Bodle neatly slided the ball forward with his head right across goal. Daniel came rushing in and although Leyland tried to cut down the angle to the Bury man, Daniel was able to drive the ball into the net. Goram was twice charged by Everton man when he was in possession and then did a little bit of bumping on his own account and the referee had to have a little talk with one or two of them. Shortly afterwards Goram lost his foothold as he was about to move across to a McNamara shot and was fortunate to see the ball pass wide. Leyland had to act swiftly when Plant took up another header near goal, but the Everton goalkeeper finally won the duel.
Missed the Target
Hereabouts Bury were testing Everton and Bardsley with a long shot missed the target by a wide margin, while Leyland did a big-leap, unnecessarily I though in making a catch from a long lob. Bury were finding their men very well or was it they were running into position better than Everton probably the latter, furthermore they had no hesitation in trying a shot and Bardsley once again came forward to try his luck. At this point Bury were the more dominating side. Leyland had to make a save from the Bury right wing and when he was about to dispose of the ball with a bounce found the turf took away the bounce and he had to follow up and complete the save. Bury's tackling was very keen and they were much quicker off the mark, but when Fielding ran close in and pulled the ball back there were possibility of a second Everton goal. It did not come because Buckle was unable in collect the fast moving ball.
Half-time; Everton 1, Bury 1
Leyland's goalkeeping had not been at all convincing today, and he was rather fortunate in the first minute of the second half when he got his arm to a shot by Plant and turned it round for a corner – a rather lucky save. For some minutes there was not much to take note about, but then came a free kick for Bury. Bodie took this, and failed to find a way through a wall of Everton players lined up against him.
Crowd Yearns for Goals
There was a stoppage for an injury to Massey, but he soon recovered and Lindley stepped in to halt a Bury attack. At this stage there was little to enthuse about. It was honest enough, but the crowd wanted something more – goals, and for preference to Everton. Fielding by some tricky foot-work got himself loose from the Bury tentacies and offered Buckle a chance but the latter's header was collared by the Bury defence. Donovan lofted the ball into the Bury penalty area. Fortunately for Bury there was no Everton forward near to turn the chance to good account, and when Parker kept his hold on the ball after resisting several challenges, the best he could get was a corner. Hickson shook his head when he missed an opening by shooting outside. Lindsay gave Parker a takeable and another corner came Everton's way, but like most corners these days it was easily disposed of. Leyland stopped a grand shot and then had to grab the ball a second time. Everton were pressing but they could not drive a hole in the Bury defence, which covered up remarkably well.
Passes go Astray
There was a possible chance when Parker dispossessed the goalkeeper who had just cut out a cross from the right. The danger however was average. It was surprising the number of Everton passes that went wrong, time and again they gave the ball to the opposition. A Hickson-McNamara line-up almost produced a second Everton goal, Hickson neatly slipped the ball inside for his wingman and McNamara hit a fast shot that sped just outside the far post. An inch or two and it would have been a goal, as Goram was posted at the other end of the goal at the time.
Two Goalmouth Thrills
Plant gave Leyland a hasty ball to deal with and Buckle failed to seize an opening. A long ball from Tommy Jones puzzled Goram so much that he decided to give away a corner rather than take any undue risks. Goram, having made another save tried to throw the ball out to his wing half, but it stuck in the mud, Hickson came down on him like a ton of bricks but Gorman was able to clear. Fifteen minutes from the end Everton were awarded a penalty when goalkeeper Goram threw himself at Hickson and almost knocked the legs from under him, Buckle scored from the spot at 79 minute. This was a blow to Bury and a joy to Everton but there was still some time to ho and Bury took up some of it by hitting back. Just when an Everton victory seemed certain, Leyland made the biggest mistake of the game. He allowed a shot by Bardsley to pass through the hands over his head into the net. He knew he had tried for he dropped down on his knees in despair. I notice he received a pat on the back from the captain Farrell as he went down to the depths. Final; Everton 2, Bury 2.
• Everton "A" 5 Marine Res 1
HUDDERSFIELD RES V EVERTON RES
November 3, 1951. The Liverpool Football Echo
Huddersfield Town Res; Mills, goal; Green and Laws, backs; Lonsdale, Higgins and Morgan, half-backs; R. Taylor, Wonersley, Duthie, and Simpson, forwards. Everton Res; Dunlop, goal; Clinton and Rankin, backs; Grant, Woods, and Lello, half-backs; Gibson, Hold, McIntosh, Cummins, and Easthope, forwards. Referee; Mr. J.W. Hunt, Matlock. Everton Reserves were the better side, and soon took the lead, Lello scoring from a free kick. Seven minutes later McIntosh scored again with a brilliantly taken shot. After 35 minutes Clinton scored from a penalty awarded for handling. Half-time; Huddersfield Town Res nil, Everton res 3.
BUCKLE'S PICTURE GOAL FOR BLUES
November 3, 1951. The Evening Express
Quick-Action Bury Draw Level in last Minute
By Pilot (Don Kendall)
Two goals by Ted Buckle, enabled Everton to take the lead twice against a fighting and accomplished Bury at Goodison Park today, and set the crowd wild with enthusiasm. He scored in 16 minutes, but this goal was wipped out by a good one by Daniel and it was 10 minutes from time before Everton, who had pressed throughout the second half, regained the lead by a penalty for a foul by goalkeeper Goram on Hickson. This Everton was not the perfect combination, but they won the hearts of the crowd by their marvelous spirit and fighting qualities. The ground had to be forked in places because of the heavy rain. This was the first meeting of the clubs under League auspices for 20 years. Everton; Leyland, goal; Jones and Lindsay, backs; Donovan, Lindley and Farrell (captain), half-backs; McNamara, Fielding, Hickson, Buckle, and Parker, forwards. Bury; Goram, goal; Griffiths (W.), and Massey, backs; Greenhalgh, Hart and Bardsley, half-backs; Simms, Daniel, Plant, Bodie, and Hays, forwards. Referee; Mr. C. Fletcher (Northwich). There was an Everton thrill at the outset, Hickson picking up from a throw in to beat two men before trying to but Buckle through. Griffiths was only too pleased to concede a corner, Simm and Daniel by quick inter-passing put Farrell and Lindsay out of the game but Leyfield advance a yard to make a safe catch off the centre. Fielding initiated the next Everton attack, but Buckle took a quick chance with his right foot and the ball went over. Hickson ran through at inside left to centre as he fell. Massey turned the ball behind for another corner from which Hickson headed inches over the top. Quite a bright opening this, with plenty of high speed; high powered football. Hays sent in a curling centre, which Leyland fisted out for Lindsay to clear. Keeness to make the quick intervention on a slippery ground caused Everton three times to allow Bury possession. When Plant shot, Leyland was in position, Everton went away for Hickson to make a good effort from the inside right position.
Clever Combination
The game was played at a tremendous pace, with Bury impressing as a quick-actioned clever combination. Bodle slipped through when the ball cannoned back to him and his disagonal pass put Simm on good ground. Simm was preparing to cut in for a shot when he was brilliantly tackled by Lindsay. A faulty clearance by Lindsay let in Plant whose centre was fisted out by Leyland for Bodle to shoot over Fielding lofted the ball forward to Hickson who from outside-right centred close to goal, the ball striking the top of the post before going behind. Everton took the lead in 16 minutes when Buckle brought his season's total to nine. Buckle took his chance, magnificently in a picture goal. Fielding started it with a pin-pointed pass along the floor to McNamara, who made a waist high centre from the line, and Buckle running in, crouched to steer the ball into the corner of the net with his head. Peter Farrell ran across to shake hands with Fielding, who had made it all possible. So Everton were leading at Goodison Park for the first time since the match against Rotherham on September 8. Parker almost made it two when he came to centre-forward to hit a right foot shot along the floor which Goram at full length, edged away for a corner. Everton forced another corner on the right and such was the keenest to make contact that Parker and Hickson finished up in the net as the ball landed in Gorman's hands. In 22 minutes Bury drew level through Daniel, with a three point goal. Plant made the initial move when he tested the ball down for Bodle to slip it across to Daniel. It seemed that Daniel had let it go too far for it was almost going over the goal line when he shot with his right foot to turn it into the roof of the net. It was rather a remarkable shot for he had no more than a foot in which to shoot. Everton came back fighting and Parker hit the side netting. The quick, long ball into the goalmouth was proving troublesome to Bury. As Goram caught the ball Hickson ran in to challenge, Goram knocking him in the chest with the ball casing him to fall. McNamara tried a 30-yard shot which skidded by the post. Bodie almost produced another goal when he passed the ball for Daniel to nod it forward for Plant's benefit, but Leyland dived on it, lost possession but recovered.
Bury Attack
Bury had been having the better of the game for a spell but now Fielding moved to outside right and he tried to push the ball back inside to Buckle but it went just a shade too fast, Bury were immediately back attacking. Buckle and Fielding were working hard in defence and attack, Leyland's double fist away from Simm's corner went to Hays who tried to shot in but he was yards wide. Fielding's corner struck McNamara and run to safety. Half-time; Everton 1, Bury 1.
Only a quick dive by Leyland prevented Bury from taking the lead immediately on resuming for a bouncing ball skidded and bounced high over Lindley. Plant was on it in a split second. He made a quick shot along the floor which Leyland turned behind for a corner. Fielding came bursting across to outside left, Parker got in his way, receiving a blow in the face to fall flat. Both Parker and Fielding needed attention. There was a sporting gesture by Daniel, for he booted the ball out of play so that Parker could have immediate attention. The speed of the Bury forwards was finding Lindley short of speed on occasions and only Farrell pulled Everton out of a difficulty, before Lindley fouled Plant on the edge of the penalty area.
No Shots
Fielding's centre saw Parker leap up but he hardily got hold of it and in fact turned the ball on to Buckle's head and it flashed to the far post. Everton attacked for fully five minutes but unlike recent games there was no shot forthcoming, so brilliantly did Bury cover all approaches. In a sudden breakaway Plant made a cross shot which Leyland saved at full length and then the harassed Hickson tried a quick one from a narrow angle, but the ball flashed into the crowd. Parker forced his second corner in three minutes. The crowd protested when Massey in the penalty area put his arms around McNamara. The crowd roared encouragement to the Blues who almost snatched the lead when a quick centre saw Goram and Parker challenge for the ball, Parker succeeded in getting it and turning it back across the goal, but it went away to touch. Farrell was penalized for obstruction just outside the penalty area and the short corner by Simms was nicely fielded by Leyland. Their was a thrill when from Donovan's headed pass to Hickson the ball was turned back for McNamara to make a first time shot which whizzled by the far post. Everton were lucky to escape a handling offence for Lindley in one of Bury's few raids, I admitted the way in which Everton kept fighting and their willingness to chase every ball. Leyland did well to hold a centre from Hays and then Jones almost scored for Everton, Goram turning his shot aside for a corner. With ten minutes to go Everton were awarded a penalty after McNamara and Buckle had pushed the ball through and Hickson and Gorman ran for it. Hickson managed to get his foot to it but Goram charged into him and knocked him flying in his face from behind. Bury protested the award and Buckle glided the ball into the corner easily and accurately to but Everton ahead. Hickson got the ball into the net from a 20 yard shot just as the whistle sounded for offside. Within one minute to go Bardsley equalized with a lobbed shot which Leyland allowed to pass over his head into the net. Final; Everton 2, Bury 2. Official Attendance; 25,659.
EVERTON LONG FIVE YEAR PLAN TO BE CARRIED THOUGH TO SUCCESS
November 3, 1951. The Evening Express
Club's Approach to the 1951 Position
Pilot Goes Behind The Scenes
The lowly league position of Everton is the most burning football topic Merseyside has experienced for two decades. Club followers are asking, nay demanding, that something be done to change the fortunes. Their demands include "anyone's head on a salver." They want results –at once. Instead of taking part in a free-for-all dissecting of the club of glorious traditions, I have made it my mission to go behind the scenes at Goodision Park to find out the Everton remedy and secure the Everton viewpoint. Here is what I found:-
Disappointment at some of the misfortunes of the present season, but there is a determination to boot out the unhappy days of the season by glorious attainment in the objective. That may sound only like a front, but after delving into the facts of the case, I believe as do board who rule the destinies of Everton that success will be delivered but for this season or the next but five or 10 seasons. When Manager Cliff Britton began his duties at Goodison in October 1948 he came around with a scheme for the future of the Everton club –the development of the youth talent of Merseyside and with the full backing of his employers he has been given every opportunity and encouragement to pursue that future. It was a policy which could not be executed to bring immediate success and, in fact has brought in with relegation, yet in principle it is a policy which they believe assures the future.
The Britton plan had been working now for exactly three years, and there are many people who are prepared to write off the three years all so much waste time and who would start something now. In my mail have been criticizing the directors, the players, Manager Cliff Britton and myself.
Mr. Terry Jones, of Liverpool criticizes me for "getting to close with management which he regards as lack of spine. What are the alternatives to the Everton policy? As a matter of fact, the only alternative as to go into the market and spend money on already made players. That is nothing new and it is no more a guarantee too success than the probability of the fortunes of unsure good weather. I will give proof of that in a moment. By going into the buying market which is talent starved and uncertain period in football's history may be making for trouble, the club's playing resources in doubt by the purchase of one or two players secure better results, not the effect would be to push promising youngsters back three years. What is the point of having five junior teams if Everton has not the intention and courage to use the products? That is a fact which Everton appreciate. The club concern themselves for the immediate future, but when the sunlight comes they are still left without resources which ensure concerns in the future. Look at the present first Division clubs, and you will find ample proof for the Everton contention that it is far better to have a constant supply of young players than it is to go here, there and everywhere for players about whom there may be touch of the "gamble." The clubs which have sent less than any others, Bolton Wanderers, Arsenal, Manchester United, Tottenham Hotspurs, Portsmouth and Charlton Athletic, are the leading six clubs in the Division. The clubs which have spent most cash, Huddersfield Town, Fulham, Chelsea are the bottom three clubs, while another club with the spending policy, Sunderland, are only fifth from the bottom. Stoke City made two purchases following their disastrous start and immediately struck form which has taken them to sixth from bottom. In the second division the three cheapest to build clubs, Sheffield United, Brentford, and Rotherham United, are leading the field, where as the three clubs which have spent more on players than any other Blackburn Rovers, Coventry City, and Hull City are the three bottom clubs. That to my mind shows that to imagine buying players ensures success is merely living in hope.
Manager Cliff Britton argues; "A club which is continually buying players is no nearer to success and by the purchases of players, it means that the youngsters on the books are never going to get a chance of progress. What is more the young players who have made the grade and are in process of establishing themselves are pushed right back immediately a newcomer is drafted into the team." If Everton secured a high priced player he would of necessity have to be played. I agree with Manager Britton when he asserts that the securing of high-priced stars far from solving difficulties is more likely to increase them. "That is why we at Everton," said Mr. Britton "intend to place our full trust in the ability of the players who are at present given the task of point-winning and to adhere strictly in the policy of building from youth. The importation of players who are expected to be stars put every young player back two of three years and that I regard as a retrograde and not progressive step." If the young players know that the way to the top is open to them, they get the feeling that there is something for which to work and strive. Mr. Britton asked, "With out that assurance to every player how else could we instill into them that enthusiasm which leads to spirit.
How true that is, Sunderland have spent freely on players, many of whom have since left the club; that goes also for Hull City, while some players whom Manchester United secured at cost have also left. The United have not felt the loss to the same extent as Sunderland, and Hull City. Interterelice with the development of the young talent will not, and repeat, will not be allowed to happen at Goodison Park. For three years there has been a continuous flow of eager and accomplished youngsters to Goodison. They have been groomed in the Everton way, and with the love of Everton being instilled into them as well as football lore. Those players are Everton thought and through, and while many have not yet reached top class they will, and will prove far better than the signing of players who must be old or near-old players. No club will part with youngsters of ability. Think deeply over these words of Manager Britton; "What is the popular thing to do is not always the wise thing to do, and to change our policy now would, in my opinion, be disrupting the whole system we have laid down and –without any guarantee that we could do better by securing the right players at a time when every club in the county is seeking stars." It is the determination of Chairman Mr. W. R. Williams, his colleagues and Manager Cliff Britton to let the present players know that the Everton trust is in them; that the club has the courage to place its destiny in the hands of those players that every youngster on the books will be given the right away on the road which will lead to fame. I do not think Everton would turn down the chance of signing say a first-class personality, whom they know would help them, but they still refuse to interrupt the flow of cultured players of the "assembly line." It has been argued that Everton, when last they fell into the Second Division, brought players to get them out. That is not so; in fact, the reserve is the case. Everton did invest money in a desperate and unavailing effort to avoid relegation but it was those same players who swept them through to promotion the next season. Everton today possesses players who would command high fees in the transfer market and who are already fancied by several clubs. That, in itself, I proof that the talent is at Goodison Park. Talent why the whole place ripples with it. Take the centre forward position. We have experienced men like Catterick, and McIntosh now being established Dave Hickson, and the young Vizard. They have now been supplemented by the former Liverpool Youths star, Cronin, who is playing brilliantly with the "A" team and within a fortnight Glyn Lewis will have like Cronin, finished his Army career. That means at least six centre forwards and yet Everton are being asked to sign more.
Summarized, the Everton outlook is that they will not hesitate to sign key men, but that they are not going to undermine the confidence of the present players or make those players feel insecure in any way. Everton, are however, going to intensify their drive to ensure that their long-term policy successful, rather than change to a short-term policy. Mr. Britton states "There is now a steady flow of youth and ability in the club. It has risen through the junior teams to the Central League side, where the standard of play, besides the results, have seen better than for many seasons. These young players are pushing upwards and are ready to burst into the first team." I appreciate that the position at the moment is urgent, but contend that it is better to provide against a repetition of unhappy times in the future. There must be a policy of constructions and it would be asking for more trouble for Everton to pull down the new structure, which already has a strong foundation."
EVERTON HAVE NOT MADE AN APPROACH
November 3, 1951. Evening Express
Wrexham Talk Links Name of Spruce with Blues
By Radar
Talk has been going the rounds in Wrexham during the week, linking centre-half George Spruce with Everton. The talk has no foundation in fact. The tall Chester product, who has quickly regained his best form, following five-weeks lay-off owing to injury, has been "vetted" by severe senior clubs, in the past, but I have manager Peter Jackson's assurance that there has been no approach regarding Spruce from Goodison Park.
EVERTON EARN PLAUDITS AWAY BUT FEW POINTS
November 3, 1951. The Liverpool Football Echo
By Ranger
One significant factor about Everton's performances this season has been the improved form they have shown away from home as compared with their Goodison Park displays. They have obtained as many points on opponents grounds as at Goodison –though they have played one away match more –and letters I have received from exiled Merseysiders on several occasions pay tribute to the good football they have served up on their travels. Recently I gave a letter from a Nottingham resident formerly regular Evertonian and born not far from Goodison, who said that by general consent of Notts folk Everton were the best side they had seen this season. Exiles from our city temporarily resident in other towns where the Blues have played during the past two seasons or so have occasionally written me in similar strain. There must be a reason for this? What is it? The ingredients of a winning side –apart from players of the right class –are confidence and team spirit, freedom from the threat of barracking with its consequent fear of doing wrong and concrete encouragement from the folk who throng the terraces. The whole think is very largely psychological. Recent results would appear to indicate that Everton are "nervy" before their own spectators. That is not a good thing, though it is understandable. Away from home they can play a more natural game, without worrying about what the crowd is thinking and saying. Goodison followers can help the side by making it clear while the game is in progress that they are behind the players to a man. That can be shown easily enough by the volume and nature of the encouragement given the team. One presumes that the main desire of those who attend Goodison is to see Everton do better, first with regard to actual results and then with regard to the standard of entertainment the crowd gets in return of its money. If that assumption is correct, then those who resort to means of showing disapproval while the game is on are deliberately hindering what they profess to desire.
INDELIBLE PICTURE
November 5, 1951. The Liverpool Daily Post
Everton 2, Bury 2
By Leslie Edwards
One picture of abject misery will live in my memory of Saturday's Everton v. Bury (2-2) match –Leyland the Everton goalkeeper on all-fours clasping his head in both hands against a dim and drenched back-cloth of some of the 25,000 present. Leyland did not need to look round to see whether the much barracked Bardsley's looping, lethargic sort of shot had passed over the cross-bar or under it he sensed this too well. This was the goalkeeper blunder of blunders, costing Everton victory and the measure of confidence winning at home would have created. Maybe, Leyland after earlier misjudgment in policy and handling was too anxious; maybe he stood too far from his line. The brutal fact emerges that instead of making a catch he elected to try to put the ball over the bar. His back-arching leap was so mistimed he just did not connect. So Everton, twice in front, only drew and, one way and another it seemed that they got their due reward. A drew, I thought was fair. All the goals had distinction of one sort or another. The one from Buckle's thrusting forehead was a magnificent one, because he had to fling himself yards to get it, and because Fielding's incisive invitation to McNamara to centre was so readily and ably taken up. Next Leyland seeming to be transfixed in foot and mind, delayed his decision to move out so fatally Daniel miraculously reached the ball first and then turned it in down a difficult angle for the equalizer. Goram was involved in the penalty by which Buckle made it 2-1 when he chased Hickson the man in possession to the edge of the penalty box and there dived across Hickson's feet from behind.
No Other Course
I do not think intent to foul was in Goram's mind but the referee had no other course than to give a penalty. Had Everton won no one could have been very enthusiastic about them. Yet, Lindley had a good game; Buckle was always live and dangerous and Fielding judged his long passes well on going made difficult by top-water which rose in the wake of the ball as it sped low over the pitch. Leyland his other mistakes apart, took absurdly long to appreciate the pitch would not allow him to bounce the ball prior to kicking it from hand. Rightly or wrongly I formed the impression that Bury could have won had they been less negative when at 1-1. They played good football in patches and Bardsley and Bodle were as effective as any Everton forwards. Hickson, this time, I fear was disappointing. Dash he has in plenty, but on this treacherous turf he was often much at sea.
HUDDERSFIELD RES 0 EVERTON RES 4
November 5, 1951. The Liverpool Daily Post
Goals For Defenders
Everton Reserves were clearly superior in the Central League game and had a dangerous centre forward in McIntosh. It was remarkable that only one of their four goals –the second by McIntosh –came from a forward. Lello scored the first from a free kick, Clinton claimed the third from a penalty, and a late free kick from Grant completed the score.
EGLINGTON'S PROGRESS
November 5, 1951. The Evening Express
Pilot's Log (Don Kendall)
Tommy Eglington, the Eire international outside-left, will be fit to resume for Everton next Saturday, when the Blues make the long trek to Swansea Town. This is important and joyous news for the Evertonians, but is offset rather by injuries to others. Eric Moore, the right back, goes today, for an examination on his injured knee, which might mean a cartilage operation. Such as right half back Jimmy Cross has to undergo. An operation for Moore may not be necessary, but neither the club nor Eric are taking any chances. Moore injured the knee during the closing stages of the game at Leicester City on September 29, which was the day of Everton's last victory.
The bright news regarding Eglington is of vital importance, for his absence from the Bury game on Saturday was, in my opinion one of the reasons why Everton did not win. Take it from me Tommy would have had a "field day" against this Bury right defensive flank. Ted Buckle tried valiantly to do the work of two men, and so compensate for Tommy's absence, but that was beyond even the powers of this big-hearted player, who, I consider, gave on of his greatest ever displays. Buckle promised the fighting spirit and will to succeed, which runs throughout the Everton team. No task was too insignificant for them; no task was too big. Not all struck their best form by any means but it was the sheer honesty of Everton which gripped you and tended to wipe out the disappointment of having victory, snatched from their grasp with only seconds remaining. The crowd was quick to appreciate the lads were giving everything they had, and the almost continuous cheering which encouraged the players throughout the second half was like old times at Goodison, it proved that the people are with the players to a man and that the players are going to give the people what they want –success. To see the lightly, built Buckle throwing his heart and body into it with such zest and with the others following suit was one of the grandest things we have seen at Goodison for a long time. Congratulations, Ted, on a grand example of team mindedness and to all for their grim determination tom wipe out memories of recent failures.
Shocks
If ever a team seemed booked for defeat it was Bury, who were losing 2-1 with one minute to go, Bardsley then hooked a harmless lob towards goal, and with Leyland unable to make up his mind what to do, the ball passed between his hands, over his head into the net. That sort of thing happens to Everton these days. Leyland had a particularly unhappy day, for he failed in two things when Daniel equalized. Buckle's header after grand building up by Fielding and McNamara. Leyland should have sent out Bodle's pass long before Daniel could catch it on he goalline, and having named that chance by, he failed to close the foot gap through which Daniel shot. It was like the Bardsley goal, a case if inexperience. I felt sorry for three other players. They were Tommy Jones, who the barrier he tired could not get distance with the clearances; Dave Hickson, who was bumped all over the place and denied a goal by the ball, in the last inches, curling outside instead of inside, and Wally Fielding, who suffered because the faulty anticipation of his colleagues. Fielding provided dozens of passes, but as no one anticipated them, they were made to appear as so many wantonly wasted passes.
Covering
Maurice Lindley had his "where am I "moments against a darting Plant, and with a greasy ball, which bounced high one moment and "stuck" the next, but I thought Lindley had a really good game in his fighting way, and if he made a mistake you always found Farrell. Donovan, Lindsay, or Jones covering him. That is one of the things I think about this defence, but it was typical of the Everton teamwork. Jones was okay except for weak kicking; Lindsay had a splendid game once he got over a testing opening en minutes; Donovan, like Farrell took a long time to secure a grip, but had a magnificent last 30 minutes, when, as a matter of fact, he was unrivaled. Farrell put so much honest energy into it that his constructive work suffered. In attack Buckle, Fielding and Hickson were splendid, but Parker was unhappy because he lacked ball control of the ability to "kill" it quickly (McNamara had this faulty), and had no power of selectivity, Parker never seemed to know whether he should be centre-forward in one of the inside positions or on the wing. The result was he was hardly ever in neither. McNamara too, came inside more then he should have done so that both wings were spoiled, as wings yet this once again shows the Everton eagerness to make every minute of every game a minute in the cause of Everton. On reflection, no one would deny Bury their point. They deserved it, even if the manner of securing it was disappointing. The result matters less than the fact that Everton have the earnestness and no little ability. Keep moving that way, lads.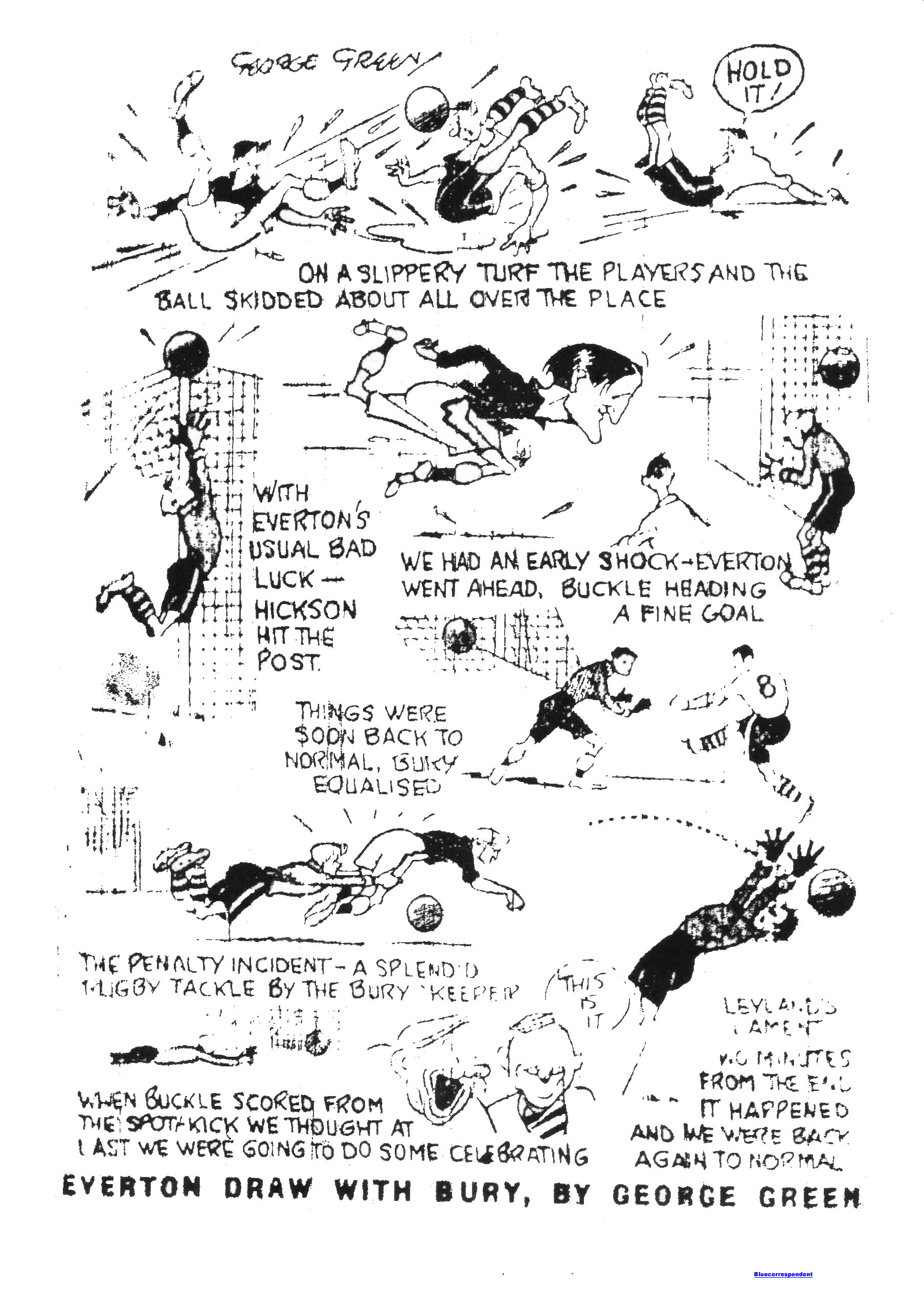 LEYLAND'S BLUNDER
November 5, 1951. The Liverpool Echo
By Stork
The old song has it "There is no place like home" but after Saturday experience Everton are not ensure about it. They have not won a game at Goodison Park since September and the hoodoo seen to be laid, one of their most dependable members made a fray mistake which enabled Bury to take a "half." A goalkeeping cannot effort to err. As the last line of defence there is no margin for error, but like us all Leyland is only human and when a simple lob came his way a few minutes from the end of the game there seemed little danger that Leyland would not take the dropping ball with ease. He misjudged it and went over his head into the net. The crowd was stunned; Bury elated, but young Leyland was the unhappiest man on the ground. He flung up his hands in despair and drop on his knees in his anger. He was bewildered and bemuse fully realizing that he had let his colleagues down I felt heartily sorry for him as he left the field with bowed head, but was pleased to see Farrell step across to him and give him an encouraging pat on the back.
Worth A Draw
That was a nice gesture, but I doubt whether it wiped out the memory of the goal from Leyland's troubled mind. All goalkeepers suffer a similar fate at some time or other, but even that knowledge would be of little compensation to the Everton goalkeeper. His side battled bravely against a more than useful Bury side, who twice came from behind to level matters and in my opinion were worthy of their draw. The morning rain had made the ground, slippery, and the ball was soon "greased" to make it difficult to control. In the circumstances the football was not at all bad. Not so good as we would like, but entertaining enough to keep the 25,000 spectators glued to their spot to cheer an Everton triumph for that was how it looked fifteen minute from the end. Disappointed? Of course they were. Personally I thought a draw was a fair reflex of the game; Bury were fast quick shooters and fighters from start to finish. To twice pull back Everton's lead was a distinctly good performance, and some of their football was of good class. Everton were far from perfect. Too many balls were "given" to the opposition, while near goal –and they were near enough to Goram quite a lot –they did not punish him with shots as they should have done.
Confidence Lacking
They attacked practically throughout the second half –a half which fell far short of the first "45" –but fell easy prey to the dour and quick –tackling Bury defence. Enthusiastic enough, of course, but there was no smoothness about their play. They seemed to lack confidence in themselves at least they do not seem to be nearly so determined as they are when away from home, where they have received high praise for their displays. It is curious twist of fortune but it has got to be remedied in some way or other. How? That is not pigeon. Each and every player does his best, but the team is not just £clicking" at Goodison Park. The second half was scrappy and uninteresting for Bury, also had fallen away a lot while still holding on to a point until Buckle's penalty goal appeared to be a match winner. Buckle's first goal was a grand one in its taking and making for Fielding laid on the pass which enabled McNamara to send the ball soaring to Buckle's head. I though Daniels goal was a bit "flucky" while Bardsley's equalizer was a gift to this talented half back and Bury's best shooter. I sincerely hope that Leyland's lapse will not affect his confidence although I was not impressed with his handling of the ball on Saturday. Eric Moore also injured his leg at Leicester is to see a specialist today. There is a fear of cartilage. Tommy Eglington is certain to be ready for the Swansea match.
EVERTON RESERVES MEET THEIR MAIN CHALLENGERS ON SATURDAY
November 8, 1951. The Liverpool Echo
Ranger's Notes
One slightly consoling feature of the Everton outlook is that all the Blues side bar the first eleven are sitting pretty on top of their respective leagues including the Central League side, who on Saturday have one of the season's star attractions in the visit of Wolverhampton Wanderers reserves. While most Everton followers would not worry unduly where the rest of the sides were placed if the first team was heading the Second Division for their main interest lies with the premier eleven, the fact that the clubs other teams are doing well encourages hope of better things at some future date. The Central League side has a point in hand of Wolves Reserves but the latter have played one less game. Saturday's meeting at Goodison Park should provide a stiff struggle and possibly the best second team gate of the season exceeding the 7,000 who turned out for the junior derby against Liverpool Reserves. Everton have lost only two reserve matches when they were away to West Bromwich Albion and Blackburn Rovers. Three games have been drawn – all at home –and ten won, giving them 23 points out of a possible 30, with a favourable goal average of 35 to 13, seven of their 15 fixtures the side has prevented the opposition scoring at all, and on four other occasions they have had only one goal against. The Central League eleven is a good training ground for future first teamers for the strength of the opposition is usually pretty good. Already Everton have utilized the services of 29 players in this competition this season and though some are old servants like, Grant, Lello, Lindley, Saunders, Catterick, McIntosh and so on the majority have been young up-and-coming lads who are being gradually acclimatized to a higher standard of football than they have hitherto been accustomed to.
EVERTON'S CHANGES
November 9, 1951. The Evening Express
By Pilot (Don Kendall)
Everton pay their second and last trip to South Wales, where they face Swansea Town at the Velchfield, and will attempt to smash the unbeaten record of the Swans. This will be only Everton's second visit to the ground. They won there in 1930-31. The Blues set out this morning by road, and stop overnight at Abergavenny. They start for home immediately after the game and stop the night at Hereford. Everton will be without Jack Lindsay and Maurice Lindley, both of whom pulled muscles in training and failed to come through fitness tests this morning. This means that Everton make four changes and Tommy Clinton and George Rankin will be at full back, both making their first appearance of the season. The inclusion of Clinton means that Tommy Jones is released to take over again at centre half, while there is one forward change Tommy Eglington returning to outside-left to the omission of Parker. The team is; Leyland; Clinton, Rankin; Donovan, Jones, Farrell; McNamara, Fielding, Hickson, Buckle, and Eglington.
BLUES AT SWANSEA
November 9, 1951. The Liverpool Echo
Ranger's Notes
Everton away to Swansea meet a team which has the reputation of being amongst the most difficult of all Second Division sides to beat on their own ground. Swansea may not be a star studded lot, but they have that incalculable fighting spirit which often runs so strongly in the ranks of the less fashionable clubs. Not unnaturally these lesser lights regard it as a definite feather in their cap to take two points from former First Division teams, and the Swans will be keen to add to their laurels at Everton's expense. The Blues have fallen from grace this season, but with all their fallings there has never been any doubt about the genuineness of the players efforts on the fields. The ball has not always run kindly for them. If the luck changes tomorrow and starts going Everton's way the Goodison lads may get some reward for their long journey. Everton's away form this season has been than that shown at Goodison Park, where some of the team seem plagued with nervous. Greater solidity in defence and more steadiness in front of goal are Everton's main requirements at the moment. When they can forget the vital need of points and play their nature game the longed for improvement may come and with it an encouraging ascent up the League ladder. Everton have had to make three changes in defence. Lindsay and Lindley are both suffering from pulled leg muscles and failed to pass a fitness test this morning. Rankin comes in for Lindsay at left back and will be partnered by Clinton. Jones moves to centre half, Eglington returns at outside left following injury. Everton; Leyland; Clinton, Rankin; Donovan, Jones, Farrell; McNamara, Fielding, Hickson, Buckle, and Eglington.
Wolverhampton Wanderers are sending a particularly strong reserve side to meet Everton at Goodison Park (2.45). It includes several first teamers and Everton will have to be right on their toes to win this attractive Central League game. Everton Res; Dunlop; Saunders, Anderson; Grant, Wood, Lello; Gibson, Hold, McIntosh, Cummins, Easthope. Wolves Res; Parsons; McLean, Guttridge, Swinborne, Stewart, Baxter; Hancock, Broadbent, Whitfield, Walker, Clews.
LEYLAND HELD FIRM-AND EVERTON MADE A GRAND RECOVERY
November 10, 1951. The Liverpool Football Echo
Swansea Nil, Everton 2
Everton's brilliant second-half recovery earned them an unexpected victory, but the foundation of this success was laid by Leyland's superb first half display, when he stood along between the aggressive Swansea forwards and goals. Hickson was a grand leader but Buckle was the cleverest forward in the line. Swansea Town; King, goal; Keane, and G. Beech, backs; Clarke, Kiley, and Williams, half-backs; O'Driscoll, Lucas, Turnbull, Allchurch, and Bellis, forwards. Everton; Leyland, goal; Clinton and Rankin, backs; Donovan, Jones and Farrell (captain), half-backs; McNamara, Fielding, Hickson, Buckle and Eglington, forwards. Referee; Mr. G. Pankhurst (Warwich). After 21-years Everton paid their second visit to Swansea. The weather was sunny but the ground holding after a week's rain. Swansea had Kiley in place of Watson at centre half and Lucas moved up to inside right with Clark at right half. Play opened tamely. Keane repulsed Everton's first attack and then Eglington was offside. In Swansea's first assault Kiley placed free kick to Allchurch to head into Leyland's hands. Buckle started an Everton attack which petered out and then Leyland's had a jump to hold a centre from O'Driscoll. A timely interception by Jones held up Turnbull and Leyland saved brilliantly when O'Driscoll centred. Swansea were the more aggressive team in these early minutes with Leyland constantly in action.
Narrowly Over
In a sudden raid by Buckle and Eglington a cross pass from the latter left Fielding with a chance but King saved a point blank drive in masterly fashion. Everton returned to attack quickly and Hickson shot narrowly over after a clever run. In the 14th minute Farrell brought Lucas to earth in the goalmouth, but Allchurch shot tamely wide of the post from the penalty kick. Buckle was temporarily injured but quickly recovered to see Leyland save from Turnbull and hold a grand drive from Allchurch. Swansea were so dominant that little was seen of Everton's attack but Leyland was the busiest player in the game. In 22 minutes from a raid on the right McNamara shot wide of an empty net, but the ball had previously crossed the dead ball line. These raids were of a spasmodic variety. Swansea being easily masters of the situation. Everton were seriously over-played and only the good defence of Jones and the final work of Leyland enabled them to be on level terms.
Only A Respite
Swansea had a shock when Hickson raved past Kiley, but Keane made a partial clearance which Kiley completed. This was the first occasion for over ten minutes that Everton had been dangerous. It was only a temporary respite or Leyfield was in action again and only a timely tackle by Clinton prevented Allchurch from walking the ball into the net. Allchurch picked up a pass from Turnbull but his fierce shot from an acute angle few across the crossbar. Everton's attacks were still brief and lacking in co-ordination and it was left to the Welsh forwards plus Leyland to provide the thrills. In another intense attack Leyland brilliantly saved a rising shot from Turnbull. It was all Swansea but they could not outwit the solid Everton defence, and Leyland was unbeatable under the bar. Clinton was keeping a tight watch on Allchurch and repeatedly foiled the Welsh international. Near the interval Swansea attacked hotly and only a masterly exhibition by Leyfield prevented Everton being in arrears at half time.
Half-time; Swansea Town nil, Everton nil. Clinton repulsed Swansea's first attack after the restart. A temporary threat by Eglington was disposed of then Rankin conceded a corner which Jones cleared.
Ruled Offside
Turnbull was ruled offside and a dash by Hickson was stopped by Kiley conceding a corner which King safely fielded. Hickson was prominent with individual bursts at his stage, but lacked support. Neither side had produced play of the first half quality but matters livened up when Rankin blocked a Turnbull shot, and from his clearance Eglington and Hickson raced through for Eglington to shoot badly with a difficult chance. Fielding came into the picture with a smart dribble but spoiled the opening with a poor pass. Buckle had his chance of the match. Put through by Hickson, he ran on, but shot straight at the advancing King. Finally an exciting scrimmage was cleared by Keane. At this period Everton were displaying their best form of the game, but the forwards lacked punch against a Swansea defence inclined to rank. Swansea picked up after a trying ordeal in defence and the Everton goal had a series of escapes Farrell finally clearing. Play went from end to end and again Hickson was through but shot at the advancing King to give Swansea another lucky escape. Then Allchurch went through but was robbed by Clinton who with Farrell was putting up a grand defence. It was anybody's game at this stage, Everton having staged a fine recovery and in 63 minutes Buckle scored for Everton. He picked up a faulty clearance and beat King with a fast shot from 25 yards. Six minutes later Hickson put over to McNamara whose lobbed centre was headed by Beech to the waiting Fielding, who calmly lifted the ball over King's head to give Everton a second goal. Everton were bow masters and another Hickson dash almost brought another goal, Fielding hitting the bar, with King beaten.
Now Shaky
Donovan and Farrell at half-back, and Fielding and Hickson attack were continually beating Swansea whose defence was now decidedly shaky. It was Swansea who were confined to brief raids from one of which Bellis into Leyland's hands. This a brilliant clearance by Beech, stopped Fielding from scoring, in the closing minutes King saved a great shot from Hickson more by instant than judgment. Final; Swansea nil, Everton 2.
• Everton "A" 1, Haydock C&B 1
EVERTON IMPRESS AT SWANSEA
November 10, 1951. The Evening Express
Second Half Goals
Home Shot Miss Penalty
By Radar
Everton fought out a tremendous battle with Swansea Town at the Vetchfield today. For the first half Swansea, a strong built side, were in command and Allchurch missed a penalty after 14 minutes. Leyland although unsure of his heading of the greasy ball on occasions, affected at least three brilliant clearances. After the interval Everton were the more effective, and after Buckle had missed a comparatively simple chance, he gave the "Blues" the lead with a characteristic 15-yard left-footer in the 63rd minute. Fielding added a second six minutes later. Swansea Town; King, goal; Keane, and G. Beech, backs; Clarke, Kiley, and Williams, half-backs; O'Driscoll, Lucas, Turnbull, Allchurch, and Bellis, forwards. Everton; Leyland, goal; Clinton and Rankin, backs; Donovan, Jones and Farrell (captain), half-backs; McNamara, Fielding, Hickson, Buckle and Eglington, forwards. Referee; Mr. G. Pankhurst (Warwich). There was an early thrill in the Everton goalmouth when Kiley lobbed a free kick towards the penalty spot. Allchurch connected with his head, but Leyland was nicely positioned to save chest-high. In quick succession, King and Leyland were called into action to cope with high centres. Next we saw Leyland make a miracle save from Allchurch. Swansea right-winger, O'Driscoll, dropped the ball into the goalmouth, and a strong leader from Allchurch which was going away from Leyland looked a certain winter. Leyland calculated his dive perfectly, however, and succeeded in deflecting the ball round the post at full length. For a time Swansea had the bit between their teeth and Leyland caused the crowd to gasp when he mishandled Clinton's short back pass. Happily he was able to recover quickly. So far the Everton forwards had not be able to take advantage of Fielding's astute prompting and Leyland again caused heart-burn when he fumbled a harmless looking ball. Again the Everton keeper was able to redeem himself, despite the close attention of Turnbull.
Fierce Drive
The initial Everton effort came when McNamara got the better of Beech and let go a fierce rising drive, which King pulled down with supreme confidence. In the penalty area melee after 14 minutes Farrell was ruled to have pulled down Lucas unfairly. Despite Everton's protests, a penalty was the award it seemed harsh, but justice was done when Allchurch screwed the spot kick a yard the wrong side of the upright. This, despite the fact that the Welsh international had deluged Leyland into driving the wrong way. Still, Swansea continued to be incisive and Leyland had to go down low to deal with a short-range shot from Allchurch. Leyland again saved the day when he leapt outwards to punch a close in Bellis centre clear as Turnbull flung himself in an effort to connect. Buckle who had received a knock in the ankle in the opening minutes was for the time being continued at outside left and he saw McNamara short drive deflected behind for a corner, when the ball rolled loose as the result of Hickson's challenge to King. A tendency to stray offside had ruined several Everton raids, and how it took the combined skill of Kiley and Keane to foil the thrustful Hickson. Everton were now having an equal share of the attacking but Allchurch went close with a storming point-blank left-footer from Turnbull's through pass. Leyland had to save an accurate shot on the turn from Turnbull. Allchurch was a persistent danger, and after Hickson had shot wide, the Swansea inside;-left forced Leyland to go full stretch to smother a low shot from 12 yards. Half-time; Swansea 0, Everton 0.
The resumption was quiet but Rankin was glad enough to concede a corner when Bellis took over from Allchurch who leveled a long centre, which would have been easy meat for the in running Driscoll. At the other end, Kiley came dangerously close to deflecting the ball into his own not when he turned Hickson's centre behind for a fruitless corner. It was as well that Kiley did take safety first measures for Eglington had run cleverly into position and would have undoubtedly coveted Hickson's offer. Clinton just managed to get his body in the way of a Turnbull shot from Bellis's lob into the far side and away went Everton, for Eglington to drive in a swerving shot wide after Kiley had intercepted Hickson. Everton should undoubtedly have taken the lead when Hickson slipped Rankin's clearance beyond Kiley, to offer Buckle a glorious chance, Buckle controlled the ball neatly with the head, but his final shot was smothered by the advancing King, this was an unfortunate miss. The ball was not cleared, and King raced to the corner flag to be penalized for a foul on McNamara. A corner was the only reward Everton gained from the free kick. Leyland had to race out of goal to take charge of the ball when Farrell sliced his kick, but it was the Everton captain who was the savlour when Allchurch, through on his own, looked a certain marksmen. Hickson's speed took Kiley by surprise when he raced on to a Leyland clearance but again the Everton leader was unfortunate, for his shot cannoned against King and was scrambled clear. Allchurch again went close with a flying header, which sailed past the foot of the far upright as Leyland flung himself desperately across. Everton, however, had always been promising a goal this half and they took the lead in the 63rd minute. Kiley only half-bit his clearance from the edge of the goal area and Buckle typically turn gave King no semblance of a chance from fully 15 yards. A perfect sample of opportunism. Swansea's reply was an accurate header from Turnbull which Leyland saved confidently enough right on the goal-line. Everton were not denied, and Hickson just failed to make contact with McNamara's far flung cross after Feilding had "held" the ball it, enable his collision to move into position. This was a prelude to a second goal to Everton –in the 69th minute. Hickson's pass from the extreme left was heeled into the middle by McNamara to leave Fielding with only King to beat. Fielding used his head, waiting for King to leave his goal and calmly lobbed the ball over him and into the roof of the net. The entire Everton side had confidence in itself now and Fielding rock the crossbar with a corking 30-yarder, which had King beaten all over the place. Final; Swansea 0, Everton 2.
EVERTON'S GALAXY OF YOUNG TALENT
November 10, 1951. The Evening Express
By Pilot (Don Kendall)
Following my article of last Saturday, on the position of the Blues. "Ever Hopeful Blue" (Liverpool 4) sees the possibilities of Everton's build-from-youth idea, and wants details about the scheme and players. Here are some vital factors for those who, like myself, cannot see the youngsters, in action often because of Football League engagements. Everton, at this moment, have just under 100 junior players undergoing by-weekly training and coaching. They have every Saturday 55 players actually in teams, and another ten standing by as reserves. Everton do not contend that all will eventually make the grade, but that a reasonable number will do so. The players attend Goodison Park on Tuesday and Thursday evenings for tuition and training under the Head Trainer Harry Cooke, Assistant Trainer and Head Coach Charlie Leyfield by Coaches Gordon Watson, Stan Bentham and Billy Borthwick, and under the supervision of Manager Mr. Cliff Britton and Mr. Harold Pickering. The players are passed on from coach to coach to ensure that they go through the whole of the teaching and the methods of getting fit. There is track work before going into the gym and then the lads go underneath the Gwladys street stand for ball practice. Ball practice is done at Bellefield during the light evenings, but in mid-winter it is all done at Goodison. As a matter of fact, when the season permits these youngsters, at bellefield have precisely the same preparation as the senior players, except that the training periods are reduced slightly. The players ages range from 15 to 18 but are graded not so much by ages as by ability. Naturally age is a primary consideration but by no means a ruling aspect just the same as a player being enough if he is good enough so is a player old enough if he is good enough. Naturally, however age is borne in mind regarding the amount of training given to a player.
For those who in addition to "Ever Hopeful Blue," want to know something of the lads being groomed at Goodison here are just a few who show sufficient promise to justify optimism. The young professionals are Dick Taylor, (goal) John Anderton and John Sutherland (backs), Ken Birch (half-backs), Eric Rabone (outside rights), who joined the R.A.F, yesterday, Jim Harris and Edward Thomas (inside rights), Colin Vizard and Gerry Tansey (inside lefts), George Darlington and Norman Kearsley (outside left). Make a note of these amateurs and if you follow their progress, as I have done over the years, you will get quite a lot of fun and will know more about your club and its players. In one group there are good prospects such as Peter Fairclough (goal), Bryan Brookfield and Bryan Capper (wing half-backs), all of whom were school-boys 18 months ago, Jack Tomlinson (outside left), Tommy Cronin, and George Kirby (centre forwards), jack McKinlay (Left half) Bill Parker (centre half), and Charlie Whiteside, (wing half-back), Parker and McKinley are a wee bit order than the majority and in fact, ready to be upgraded. That has happened already to Whiteside. Then we have Ken Rea half-back and school-boy player Jimmy Irving (left back former Ellesmere Port schools players Bryan Caldwell (goalkeeper) and Les Houghton (centre half). Passing to another group we find Billy Ericson (wing half of full-back), Peters Mayers (outside-right), Neil Harvey only 17 and former Chester school boy, Alec Farrell (inside left), Ken Hayes and Jimmy Gregory, the former England schoolboy internationals. Grogory will, I may add, be close to Everton after Christmas when he leaves school. Go further and you will have Tommy Marsh (right half, Cyril Hatton goal), Peter Chamberlain and George Saunton (inside right), Bryan Davies, (inside left), Alan Darlington, (Runcorn Schools), John Parker (Liverpool School), Dennis Wilson and Brian Ratcliffe (Flintshire Schools), Jimmy Bowness (Liverpool schools). Len Hughes and John Cook (Liverpool schools), Frank Parnell, Allen Danien and Terry Stephens, all former Birkenhead Schools. The lads are drawn from a wide area and while many today had the going beyond them, and reach some other sphere, a number are destined to go far. Everton say that they could not have a more promising or happier set of lads.
EVERTON RES V. WOLVES RES
November 10, 1951. The Evening Express
Everton, the league leaders, had a great attraction today with the visit of the Wolves, who are one point behind them. At first, Wolves had the better of play. In the eleventh minute Whitfield gave the Wanderers the lead with a neat header from Clews perfect centre. The visitors increased their lead when Whitfield again nodded past Dunlop in the 24th minute. In the 43rd minute Everton deservedly reduced their arrears when McIntosh headed in a beauty from a free kick. Half-time; Everton Res 1, Wolverhampton W Res 2.
EVERTON RES V WOLVES RES
November 10, 1951. The Liverpool Football Echo
Everton Res; Dunlop, goal; Saunders and Anderton, back; Grant, Woods, and Lello, half-backs; Gibson, Hold, McIntosh, Cummins, and Easthope, forwards. Wolves Res; Parson, goal; McLean and Guttridge, backs; Swinbourne, Stewart, and Baxter, half-backs; Hancock, Broadsent, Whitfield, Walker, and Chews, forwards. Referee; Mr. F.S. Jackson (Preston). The early exchanges were strongly contested and Dunlop made a fine save from a free kick by Hancock. Whitfield put Wolves ahead after 11 minutes from a Chew's centre. In the 25th minute Wolves who were superior side, increased their lead from a header by Whitfield. Everton were awarded a goal by McIntosh in the 43rd minute heading out of Parson's reach. Half-time; Everton Res 1, Wolves Res 2. After the resumption Everton set out vigorously and Gibson was unlucky with a well directed drive. In the 65th minute Wolves increased their lead through Swinborne who gave Dunlop no chance with a long range shot.
FIELDING PERFECTION PASSES
November 12, 1951. The Liverpool Daily Post
Swansea Town 0, Everton 2
Fieldings superb artistry and alertness changed Everton's attack from a haphazard formation before the interval into a slick well-oiled machine in the second-half against Swansea Town at the Vetch Field. A more mature player these days, Fielding had to a large extent, reverted to his original style of holding the ball and beating his man before slipping through those "on a plate" passes. This is paying dividends to a side which inspired by Leyland's brilliance weathered the storm of Swansea half superiority and took almost one sided control in the second-half. And victory was a feat seven other Division 2 sides had failed to accomplish at Swansea this season. This young side rates great credit for yet another unexpected away success but it was a game which could easily have gone the other way.
Severely Taxed
In the opening half hour Swansea adapted themselves readily to the slippery turf and greasy ball and the Everton defence was most severely taxed. There was a tendency towards indecision but not to such an extent as formerly and the longer the game went the stronger the grip the Everton half-backs secured. It was obvious from the start that Everton were alive to the potentialities of Welsh international Ivor Allchurch and it was here that young Donovan proved his value. He stuck to Allchurch like a leech in the end the Welshman was virtually snuffed out of the game. Even so Leyland was called upon to effect at least three magnificent saves in the first half and it was on his inspiration that the side's success was built.
Penalty Miss
Ivor Allchurch failed from a penalty in the 14th minute, Everton began to come into the game as the dominant force. Prompted by Fielding, the forwards and Hickson and Buckle in particular, carved holes in the Swansea defence. Buckle despite a knee injury scored the first goal with a splendid left foot shot in 63 minutes and Fielding sealed an outstanding display with a well-thought-out second six minutes later. Clinton, who improved the longer the game continued Jones and Farrell were other successes in a side which revealed encouraging fighting spirit and team work.
WOLVES TAKE OVER
November 12, 1951. The Liverpool Daily Post
Everton Res 2, Wolves Res 3
Before a splendid crowd Wolverhampton Wanderers took over the leadership of the Central league after being the dominant side in a thrilling game, Whitefield was a clever leader for the Wanderers and the two goals he scored had Dunlop well beaten. McIntosh also showed his proweless and headed in both of Everton's goals, being ruled off side previously for another excellent attempt. Anderton made quite a creditable debut for Everton inspite of having to keep an eye on Hancock, the international. Swinbornue scored the visitors third goal.
• Allerton Scouts 0, Everton "C" 12
• Everton "A" 1, Haydock C&B 1
RECORD SMASHED
November 12, 1951. The Evening Express
By Radar
Everton's feat in smashing Swansea's ground record was one of the best of the day, and the foundations were laid by the brilliant goalkeeping of Harry Leyland. Thus did he prove himself worthy of "another chance" after his Bury mistake, and it showed that the Club was not so wrong either. Here are colleagues Radar's comments on the success. "There is marked evidence of a new spirit in the Everton camp." This was made obvious by the manner in which the young "Blues" overcame the Swansea Town hurdle at Vetch Field. From start to finish the entire side fought with everything it had, emerged unscathed from the early Swansea and finally ran out clear-cut victory by a margin of two clear goals. And with luck-allied to a little extra goal-from steadiness –it could easily have been five. Fielding once again turned in a masterly exposition of inside-forward generalship. "There was the first half brilliance of Leyland, the solidity and spirit of Tommy Clinton, turning in his best-ever performance for the senior side; Donovan's final mastery over the dangerous Allchurch in a highly competent display by the young Irishman, and the welcome return to form of skipper Farrell. Add to that the continued promise of Davy Hickson, speedy ever harassing opposition defenders but still luckless in his finishing, and the opportunism of Ted Buckle and there is much to give rise to optimism. "McNamara was inclined to hold on the ball over-long and to try to beat his man too often, while Eglington was rather more subdued than usual. Rankin found it difficult to accustom himself to the pace after such a long absence and was inclined to be caught on one leg but this was a success in which all played their part. #
EVERTON ON UPGRADE
November 12, 1951. The Liverpool Echo
Ranger's Notes
Prepare for a distinct rise in Everton's fortunes between now and Christmas. Recent performances away from home capped by Saturday's smashing of Swansea Town's home record, gives justifiable cause for optimism. In view of the team's persistent lack of success at Goodison this may be difficult to imagine but there is evidence of a new will to win and a "We'll show them." Even at Swansea there were still certain performances which required remedial measures, yet taken all round this was an efficient performance by the team as a whole; bring with it meritorious victory. This prolonged spell at the outset, it was a question of all hands to the pump in the defensive sense. Swansea with the quick moving, creative Allchurch always an danger, threatened to swamp the Everton rearguard. It was hereabouts that young Leyland, who repeatedly saved brilliantly earned his bonus. Swansea big chance came when they were awarded a penalty but Allchurch steered the greasy ball wide, and from them onwards the Welshmen's scoring efforts were marked more by deception than anything else. Gradually Everton half backs began to control the game, Donovan gaining a grip of the game and the Swansea attack. From the start of the second half it became obvious that the Everton forwards magnificently directed by Fielding meant business. Goals came from Buckle and Fielding and with luck there would have been at least three more. Hickson's enterprise and dash, allied to continued improvement in leadership made the wonder all the more why he was ever omitted from the side. Buckle was ever alive to the half chance, and the inside trio generally packed far too many guns for the Swansea defender, although McNamara did not respond its progressively as their might have done to Fielding's prompting. Clinton looked the soundest right back Everton have had so far this season while Jones and Farrell revealed marked improvements on recent outings. The only factor to mar Everton's pleasure was a knee injury to Buckle, but it is hoped that he will be fit for the Goodison clash with Coventry on Saturday.
EVERTON DELAY CHOICE
November 15, 1951. The Liverpool Echo
Ranger's Notes
Top Scorer Buckle Has a Knee Injury
Injuries have once again delayed the selection of the Everton team to meet Coventry City at Goodison Park on Saturday. The casualty is Ted Buckle, Everton's top scorer, who seems to have found his proper niche in the side. Buckle, who has scored 11 goals brushed a bone at the side of his knee at Swansea and while the injury is yielding to treatment it may not be until tomorrow that it will be definitely known whether he will play at Goodison Park. This would be a big blow, for the former Manchester United forward has been showing excellent form since he changed over from the right of the left wing. He has immense power in his left foot for so frail a player, while his prosperity to be in the right spot to snap up the half chance has been most noticeable this season. I was glad to hear that Harry Leyland had such a grand game at the Veitch Field on Saturday, for his unhappy experience of the week before against Bury was enough to undermine his confidence. It did no such thing, and he gave a brilliant display between the Everton "sticks." I wonder would it be possible for Everton to play all their games away from home this season? Not since September 5 have they enjoyed the sweets of victory at Goodison Park. Strange, isn't it? A team is expected to win its home games no matter what it does away, if Everton had done half as well on their own soil as they have away they would be well up the table. Perhaps the tide will turn on Saturday. There was distinct promise of better things to come in South Wales for it was no small feat to besmirch the Swansea home record as they did.
Coventry Tests
Before Coventry City's team to visit Everton is selected, Don Dorman and Peter Hill will have fitness test tomorrow. It is expected they will pass and that Dorman recently signed from Birmingham, will return to right half, and 20-year-old Hill will be introduced into the attack. Hill, who was released from his Army this mouth, joined Coventry's ground staff on leaving school and made his League debut the season before last. He scored two goals in five games. Last season in played only once, but appeared in several representative matches for the Army.
EVERTON OUT TO SMASH BOGY
November 16, 1951. The Evening Express
Seek First Saturday Home Win This Season
By Pilot (Don Kendall)
Everton set out tomorrow to smash the Goodison Park bogy. They face, for the first time in the Football League, the Midlanders, Coventry City, and will be seeking their first Saturday home win since Mid-February when they defeated. The Blues only home win this season were reported on Wednesday –against Brentford and Nottingham Forest –and the boys on the terraces are just waiting to let those cheers go. I do not think they will he disappointed this time, for the City have won only once away (at Blackburn) and have lost all the remainder. Everton's great win at Swansea Town last Saturday, where the Blues could do more than the Scottish Internationals could accomplish –hold Ivor Allchurch –should it take for a £50,000 attendance. The public appreciate that these Everton players really have the bit between their teeth and are fighting every inch to join the leaders instead of languishing with the bottom of the table.
Need
The victory at Swansea will have provided a rich tonic for the lads, but they need right now that vital "shot in the arm" which a Goodison win would provide. There is no doubt that Ted Buckle will be missed, for he has amazing striking power.
HOME VICTORY OVERDUE
November 16, 1951. The Liverpool Echo
Everton Should End Luckless Goodison Sequence Tomorrow
Ranger's Notes
One of the major puzzles provided by Everton this season has been the big difference between their form at Goodison Park and that displayed in away matches. They have reversed the normal order of things and given better display on their opponents grounds. Tomorrow they have the opportunity of putting a stop to the rot. A home victory is certainly very much overdue. I was against Nottingham Forest on September 5 when Everton supporters as had the pleasure of heralding the receipts of maximum points. Since then only two have come their way out of the last five Goodison games. This rate of progression no matter how well they may continue to do away is not likely to give them any great lift in the table. Yet any side which can win at Leeds, Leicester and Swansea –none of them easy clubs to beat on their own ground –should be able to do better than Everton have when the advantage of the support of the crowd is on their side. On paper Coventry hardly look a very formidable obstacle. They have lost seven of their eight away matches in none of which have they succeeded in scoring more than one goal. One cannot keep the overworked and provocative "if," out of any assessment of Everton's chance, tomorrow. It's and buts always hedge about any side which is going through such a ticklish spell as Everton but if only they can serve up tomorrow the same fighting spirit the displayed at Swansea plus strong shooting like that against Blackburn Rovers there should be no doubt about the ultimate outcome. Not that victory will be easily attained Coventry are in a much worse position than Everton and are bound to struggle hard for the points. Desperation often provides the sour which enables lowly sides to upset calculations when least expected Everton, however will be spurred on themselves and so far as one can judge on comparable form this looks like a home victory. A win tomorrow could easily set the Blues off on an improved spell. To know that they have at last broken the Goodison hoodoo would give them a greater faith in themselves and that is a big asset to any side. Welsh international Bryn Allen for transfer at his own request, is returned to Coventry City's attack. Allen replaces Hart and except for 17-year-old. Lot Harvey who remains at right half for injured Dorman. Coventry are at full strength. Everton; Leyland; Clinton, Lindsay; Donovan, Jones, Farrell; McNamara, Fielding, Hickson, Parker, Eglington. Coventry; Taylor; Cook, Mason; Harvey, McDonald, Simpson; Warner, Allen, Roberts, Christholm, Lockhart.
"WELCOME HOME" FOR EVERTON TOO, AT GOODISON TO-DAY
November 17, 1951. The Liverpool Football Echo
Everton 4, Coventry 1
By Stork
It was "Home, Sweet Home for Everton today. For the first time since September they gave their followers the joy of victory. A victory well and truly won. Coventry were handicapped by an injury to their centre half, but Everton had scored two goals before that happened. Fielding was the mater mind of the Everton line, with Hickson proving a grand foll to Fielding's promptings. Everton; Leyland, goal; Clinton and Lindsay, backs; Donovan, Jones and Farrell (captain), half-backs; McNamara, Fielding, Hickson, Parker, and Eglington, forwards. Coventry City; Taylor, goal; Cook and Mason, backs; Harvey, McDonnell, and Simpson, half-backs; Warner, Allen, Roberts, Chrisholm, and Lochheart, forwards. Referee; Mr. A.H. Holland (Barnsley). The early kick off had it's effect upon Everton's game with Coventry at Goodison Park today so that the crowd was only moderate. Nevertheless there were indications that it would improve as time went on. Everton made no change from the team announced during the week, but Coventry had two alterations, one positional, Cook dropped back from right half to right back and Harvey came in at right half. Everton were seeking their first Saturday home win of the season and they started off on the right foot for within a minute they had taken a goal lead through Hickson. The speed at which this goal was made had the Coventry defence in a tangle from the outset. The initial movement was made by Clinton, who headed the ball on to McNamara the Everton winger slipped the ball inside and McDonnell, should have cleared. He hesitated what time Hickson rushed in, and when two other Coventry defenders tried to rescue the position they were completely out-positioned and Hickson, from an oblique angle, shot to the far side of the goal with his left foot and goalkeeper Taylor was left with no chance whatever.
Nearly A Second
This was distinctly encouraging and Hickson might have added a second goal when he centred close in and Taylor had to make a save. Had Parker been a little more alive to what was happening he might have been up there to bring further worries to Coventry. Everton were still pressing and Donovan first, and then McNamara went close to penetrating the City defence while a little later Eglington almost on the goal-line forced Taylor to yet another save.
Testing the Defence
At last Coventry got into something like a rhythm and they tested the Everton defence particularly when Lockhart made a good length centre which might have brought serious damage to Everton had his colleagues been allowed to connect with the winger's centre. Then there was a case of Lindsay's passing back to Leyland –a rather tricky sort of business which fortunately for Lindsay, came up trumps. Hickson was proving a versatile leader he distributed the ball well, and one pass to Fielding culminated in the latter making a long shot with power, but without the correct direction. At this point the City were doing much better and Allen sent Warner off. The winger obliged with a nice centre that Chisholm should have left to another but he was not to know that Lockhart was so close at hand. A moment later Clinton stopped a shot and Jones stepped in to complete the action.
Another Goal
The Everton goal had an escape when Lockhart who had come right across field to the outside right position, got the better of Jones but in his anxiety he took the ball too closely to the Everton goal and Leyland came out to smother his shot. Straight from this Everton launched an attack and Fielding with a long pass up field gave Parker a fine chance. The inside left had to beat down a challenge by Harvey. Having done this he shot with great power and deliberation to beat Taylor to pieces, Time -15 minutes. A free kick against Everton caused the Goodison defence one or two troublesome moments, and then Lindsay got his body in the way of a Fierce Harvey drive while Leyland must have kept his eye on the ball when Lockhart made a square shot which the Everton goalkeeper dealt with in a very capable way.
A Costly Affair
A free kick given against Fielding proved a costly affair. For when McDonnell took the kick he sent the ball swirling towards the Everton goal. Leyland came rushing out and attempted to punch the ball away but failed to make contact, and this let in Chisholm who promptly hit the ball into the back of the net. The game was held up while Hickson and McDonnell received attention. The Coventry centre half went on the wing, but in his very first action he went down again. McDonnell came back but was limping badly, and proper to his return Hickson had been tripped by Chrisholm and obviously resented such play. Eglington shot wide of the far post, I think it was more intended as a centre than a shot, but Taylor was determind to make sure by following the ball closely as it passed outside.
Plenty of Shots
Warner brought Leyland to his knees with a low shot, and then Fielding placed one wide of the mark. Still we had seen much shooting, not all of it good, true, but it showed the desire for more goals. Hickson's fire caused the Coventry defence a heap of trouble. When he and Cook went up for the ball together there was a head crash and once again the game was held up while the respective trainers did their work. Hickson seemed to be the greater sufferer. With three minutes remaining of the half, Fielding once again laid on the pass which produced another goal. He put the ball clear to everyone to McNamara whose long centre travelled right across field to Hickson, who leapt an enormous height to get his forehead to the ball and guild it to the far side of the goal. Taylor got his hand to the ball, but could not keep it out. It was a really brilliant header by Everton's young leader, but every credit is due –to those who had a hand in carving the opening for him. Just before time, Fielding whipped another shot over the bar from McNamara side-footed pass. Half-time –Everton 3, Coventry City 1. McDonnell, who, by the way is the former Everton half back was still on the wing when the game was resumed, but it was obvious that he would not be able to do much for he was limping along and at times seemed as though he was in pain. A free kick to Everton in the first minute saw Peter Farrell shoot-out side. The next few minutes saw the Coventry defence on the collar, and when Parker slipped a neat ball into the middle Hickson was there but alongside him was a Coventry man. This caused the Everton leader to shoot hastily so that the ball went spinning into the crowd. Eglington showed a clean pair of heels to the City and them scooped over a ball that Parker missed but Mason got his head to it and headed it outside. The corner was fruitless. Hickson made two headers, the first a downward one which Taylor collared but the city goalkeeper had no worries about the next one which went soaring over the bar.
Good Luck Escape
Eglington tried a right footed shot which finished behind the goal. With Taylor well out of his goal they seemed a possibility that a fourth goal would be Everton's portion but more by good luck than good management the Coventry goal escaped. It had been all Everton for some time but even so he could not say that Taylor had been overworked. Coventry naturally missed the tall strong McDonnell in the centre half position for his deputy. Harvey had neither the height not weight to cope with the Everton inside forwards. Everton made it four at the 65th when McNamara headed home a Parker centre. Prior to the goal, Parker had a hard drive punched out by Taylor, but the ball went straight back to Parker who lifted across to McNamara who had the simple task of heading into the net. One could never tell who was a centre half for Coventry, I saw three men in the position in the space of a few minutes and when Parker made his way and passed, Cook them failed to get the ball to prevent the ball going to McNamara. With such a commanding position it seemed that Everton would lay he Goodison Park bogey which they have not won since September.
All Everton Now
Fielding was in one of those dominating moods and after beating Chisholm with a flick of the foot he went on to deliver a long shot which caught and cleared. It was all Everton now for the Coventry attack was being completely held and had been so for the major part of the game. The City did make one or two raids but Leyland had a comparatively free afternoon. A corner to City did not help them any, whereas Taylor had to cut out a nice effort by Fielding. Chisholm tried a high-powered drive, which Leyland dropped on, but Everton were soon back battling it out with Coventry defence. Chisholm came along with another good shot which Leyland took well. Leyland made another save and McNamara made a shot off the mark with a few minutes to go.
Final Escape
Just on time Taylor punched the ball off the head of Parker to save his side a 5th goal. Donovan then came along with a really top-class shot which hit the upright and flew right across the face of the goal. Definitely a let-off for the City. Final; Everton 4, Coventry City 1. Official attendance 29,945.
BURY RES V EVERTON RES
November 15, 1951. The Liverpool Football Echo
Bury Res; Kirk, goal; Fairclough and Hayman, backs; Moore, Wood and Slynn, and Harlett, half-backs; Dale, Fletcher, Gordon, Connelly, forwards. Everton Res; O'Neill, goal; Saunders, and Anderton, backs; Grant, Woods, and Lello, half-backs; Gibson, Potts, Cronin, Cummins, and Easthope, forwards. Referee; Mr. W. Ratcliffe (Leek). Everton missed an early chance of going ahead when Easthope failed to take advantage of an opening by Cummins. Later Cronin just missed, following a centre from Gibson, and then Grant from 25 yards, hit an upright. O'Neill neatly turned, over the bar a dropping shot from Hazlett and then a minute from the interval Gibson put Everton ahead with a shot that went in off the post. Half-time; Bury Res nil, Everton Res 1. The visitors were not long in supplementing their lead. Potts running in from the wing and deceiving Kirk with a dropping shot. Just previously Lello had shot wide but in the 58th minute Gordon scored for Bury. A minute later Slynn missed a penalty, O'Neill saving his shot which came straight at him.
A RUN OF SUCCESS WOULD SOON LIFT EVERTON, BUT NO ROOM FOR COMPLACENCY
November 15, 1951. The Liverpool Football Echo
By Ranger
If Everton have beaten Coventry City today and registered their first home victory since September 5, the fact that they have at last broken the "hoodoo" which has dogged them so long at Goodison should give them greater confidence for the immediate future. But if they haven't then they will still have a struggle ahead. In any case win or no win, much still remains to be achieved before the side can be regarded as coming up to the expectations of their followers or the standard which used to be regarded as the Everton criterion. Apart from the top two or three clubs in the Second Division and two or three at the bottom, the general level of the rest is so much of a muchiness that a run of success would soon life Everton considerably higher, and there's nothing more calculated to give zip and belief to a team than to see itself gradually "going up." But should that run of success elude them I thrust that occasional Victoria like that at Swansea heartening though they may be, will not result in feeling that all is well again, and that there is no particular need for the board to bestir itself. In past years we saw Everton saved a couple of times through the fallings of others rather than any strength or virtue of their own. It just happened that there were other bad sides and that these failed to strike a vein of success at the right time. Then came last season when it was Everton who failed and others who struck a run of better fortune. As I have said, before the worst thing that happened last season was the Blues run of success around Christmas and the beginning of the New Year. By February as I said at the time it looked as though they were safe. I added the proviso them "providing they continue as they have being doing of late. Unfortunately –they didn't. Which is why I am referring to the matter now. Anybody can be wise after the event. The critic who points out the dangers at a time when a lot of people do not consider they exit at all is apt to the rather unpopular. That doesn't worry me. So long as I think danger exists either at Goodison or Anfield, then so long will this continue to say so. I do hope that any period of temporary success which may be just around the corner is not going to blind those responsible to the needs of the moment. There we can let it rest for the time being. The next month or so may clarity the outlook.
Although laid up with flue during the past week, I have had a telephone chat with Harry Catterick and Oscar Hold, who are anxious to get away from Everton and both of whom are suffering under a feeling of injustice due to the fees placed upon them. They feel that these are such that at their age the chances of getting fixed up elsewhere are slender. Let us take Catterick first. Harry has been a grand club man. He has been with Everton fourteen seasons signing in 1938 when he was 17 years of age. He started as an amateur so cost them nothing. He has never given the club a moment's trouble all these fourteen years. A couple of seasons ago Catterick was approached to go to Bogota. Unlike some of those who did a midnight hit, he took the straight course and advised the club, and finally turned the offer down. Events proved that he took the wise way but that time the offer looked tempting. Nobody, knew then that the Bogota bubble was going to burst so quickly. Catterick, however, felt that after his long service he could not let Everton down. He was thanked by the then chairmen for his straight forwardness, and honesty. Catterick tells me that never before in his years at Everton has he felt that he has not been getting a square deal, and sympathetic treatment. Today he is not so happy about the position. True, his wages go on, but he is rarely playing. The idleness is doing him no good in playing and certainly not helping him to get away.
Unhappy Player Is No Help
Everton have always been noted hitherto for considerate action where the older players are concerned and especially when a man has served them as faithfully as Catterick. I don't know the exact fee they are asking for him. But if it is such that the player's chances of getting away are then perhaps prejudged then perhaps the board will consider the position. This Stockport player would do some Third Division side a world of good. Plenty would jump at the chance of getting him at a figure they could afford.
The same applies to Oscar Hold, who wants to get down South if possible. Hold has not been an Evertonian long, but he has been a genuine trier, whenever he has played and has given them value for the comparatively small sum they paid. Here again I cannot say definitely what fee is being asked though a certain figure has been named to me. Rather than keep an unhappy player on their books –and Hold assures me that he is very much that –one would think it would be best to let him go at a figure which Some Third Division club can afford and save his wages rather than keep him idle.
EVERTON NET IN 30 SECONDS
November 17, 1951. The Evening Express
Hickson (2), Parker and McNamara Were Among The Goal getters
By Pilot (Don Kendall)
Everton scored their first Saturday home win in the Second Division and their first since February 19, when they defeated Coventry City at Goodison Park today. The fact that Everton have now broken the Goodison bogey should do them the world of good and the stream of goals from the Blues delighted the spectators as much as the brilliant leadership of Dave Hickson who helped to two, including one in 30 seconds. Everton's task was made lighter by the fact that McDonnell, their former Colt, was injured and operated at outside left after 20 minutes. Fielding's creative skill had much to do with the success of the attack in a rather one sided game. As Liverpool also won, the Merseyside teams gained their second double of the season on the same day. Everton; Leyland, goal; Clinton and Lindsay, backs; Donovan, Jones and Farrell (captain), half-backs; McNamara, Fielding, Hickson, Parker, and Eglington, forwards. Coventry City; Taylor, goal; Cook and Mason, backs; Harvey, McDonnell, and Simpson, half-backs; Warner, Allen, Roberts, Chrisholm, and Lochheart, forwards. Referee; Mr. A.H. Holland (Barnsley). There was a sensational start Everton being a goal ahead within 30 seconds thanks to a grand effort by Dave Hickson. It was the right wing which developed quickly and the ball was slipped in along the floor for Hickson to take possession just inside the penalty area in the inside left position. With Eglington in position for the quick pass Hickson sprinted forward and then just as he was tackled he booted a fierce shot just inside the post from 10 yards. The direction of the shot was sufficient to dispel any hopes that Taylor might have had for it was well away from him. Hickson was soon back worrying the City again leaping high to head back McNamara however Taylor made a quick intervention. Taylor then had to fist over the top a curling centre from Eglington and following the corner Donovan headed into the goalmouth and Parker, with a flying header was inches over the top as he finished in the net. Roberts gained advantage of a bouncing ball which left Jones on one foot, but Clinton came over and he relieved by passing back to Leyland. Lockhart came inside to seize on the ball which bounced past Jones but he shot too quickly and was wide. Lindsay and Leyland between them dispelled the Warner menace, but when Warner struck again, his long centre led to Lockhart twice endangering the Everton goal with tricky centres. The first Leyland fisted out, but this was returned and with Roberts trying to shape for a shot Jones managed to kick the ball away when things were looking none to-comfortable. Lockhart was over the place and now he came to outside right to bore through on his own looking a certain sitter. Leyfield came out and went down for the ball at the crucial moment to take charge. In 15 minutes Everton were two up through Parker with a Fielding made goal. The ball was swung quickly to Fielding in midfield, and he made ground with the ball in perfect control before placing it low into the goalmouth and Parker coming paralled with the goal-line, simply dashed it into the net with his left foot. Everton were playing exhilarating football characteristic of a team on the crest of a wave and after a brief Coventry raid and been held up with a tackle which brooked no argument. Eglington raced away and from close range hardly seemed to know whether to shoot or centre, but in the end he hit the ball much too hard and it went far beyond the goal.
City Fight Back
The City fought back well, Farrell being penalized on the edge of the penalty area, but the close up free kick brought no work for Leyland although he had to go down quickly to catch Lockhart's in-swinging corner. In 20 minutes Coventry reduced the lead though Chrisholm. Fielding was penalized for a foul from the half-way line and Mason lobbed the ball into the goalmouth. Leyland cane out too quickly in his effort to fist away and so was unable to get hold of it and the ball run to Chisholm who tricked it over the line. There was not much intent about this scoring effort, in fact it was not a shot at all. There was however, no one in the goal to deal with it once Leyland had come out. McDonnell had to go off following a tackle by Clinton, being attended to on the touch-line and the crowd became irate when Hickson having beaten Chrisholm now at left-half was brought down from behind. McDonnell was off for five minutes and then returned, limping at outside left. Coventry enforced new line up saw Mason at centre half. Lockhart was playing the role of the moving forward but these upsets naturally affected Coventry's combination and Everton were playing the better football. Everton had lost some of that opening sparkle but gave the appearance of being the more accomplished side, Donovan being quick to become a sixth forward. Hickson cleverly out headed Mason and pushed the ball through for Eglington only for Simpson to dash over and concede the corner to save the goal. Hickson was injured in fact knocked flat out like a boxer but a little attention and he was all right again. A beautiful Fielding pass saw McNamara and through but Simpson stuck out his boot to dispose the centre, which certainly had a goal look, Everton restored their two goal margin in the 42nd minute when Hickson headed a picture goal. Fielding trapped the ball on his instep at the half way line and slipped the ball out to McNamara who had all the time in the world to ensure accuracy with his centre, McNamara placed this towards the far post and Hickson, leaping high, took it on his forehead and placed it beyond Taylor into the net.
Half-time; Everton 3, Coventry City 1.
McDonell came on again but still at outside left. The City now had Cook at centre half and Simpson at right back Everton had a free kick just outside the penalty area and although Farrell's shot penetrated the barrier, it missed the goal and the diving Taylor by no more than a foot.
Blues Mistakes
Everton had been prone to making silly defensive mistakes and now one by Farrell was followed by another by Lindsay, but luckily there was good covering and so now damage was done, but the unnecessary pass in "home territory" was asking for trouble. Parker when he moved to outside right almost laid one on for Hickson whose quick shot flashed into the crowd and only a quick intervention prevented Eglington's fast centre reaching McNamara. From the corner Hickson headed it well but it bounced off to become the City's property, Eglington and Fielding paved the way for Hickson to being McNamara into play. McNamara made a nice-centre to which Hickson dived full length for his header but the ball caught him on the crown of the head and went over the top. Hickson was there, there and everywhere, bringing terror into the hearts of the City and he forced a corner by the corner flag on the right from which McNamara slipped through to make an angled shot which Taylor did exceptionally well to turn aside. Everton were taking a long time to make doubly sure against the injury battered City, whose team changes had stripped them of any combined ideas and they were now just a struggling force, but still always dangerous with their sudden raids. Everton made it four in 65 minutes through McNamara, but this was Parker's goal all the way. Parker broke through to try a fast shot which the out running Taylor beat back to him. The ball ran a little wide, but Parker gained possession and instead of trying another shot centred perfectly for McNamara to head it into the net with the utmost ease and accuracy. Hickson and Cook were in collision and the spectators did not like it when the referee spoke to Hickson. Donovan hit the post with a terrific shot off Fielding's pass, the ball rebounding to safely. Official attendance 29,945. Final; Everton 4, Coventry 1.
BURY RES V EVERTON RES
November 17, 1951. The Evening Express
Smart play by Cummins gave Easthope the early chance of a shot, but he only half hit the ball and Dickson finally headed over. The visitors held the advantage for some time, when Connolly shot following a Bury attack Woods headed clear. Twice the Bury goal escaped luckily, Cronin was only a fraction out following a centre from Gibson and then Grant hit the upright from 25 yards, the ball finally flying across goal and going out of play. In the 44th minute Gibson put Everton ahead with a shot which went in off the post. Half-time; Bury Res 0, Everton Res 1.
Everton "B" v. Prescott C Res
Lewis scored for Everton after 30 minutes play. A minute later the same player scored again and Harris put on number three. Half-time; Everton "B" 3, Prescot Cables Reserves 0.
A VICTORY WITH A RESERVATION
November 19, 1951. The Liverpool Daily Post
By Stork
It was grand to see Everton slap on four goals into the Coventry net at Goodison Park, on Saturday, and thus lay their home bogey, which has been worrying their supporters. It was heartening, but I would advise those who think this victory is the end of Everton's worries to hold their cheers. True, they deserved their win, but I am not unmindful of the fact that Coventry had their centre half back McDonnell injured after twenty minutes and a passenger for the remainder of the game. Everyone knows what it means to break the balance of your machine; the other cogs fail to run smoothly; extra strain is placed on them and eventually tells its tale. City were just recovering from the shock of two quick Everton goals when McDonnell met with his mishap. In Hickson Everton have found a striking force who can keep his line running nicely. But he alone could not have done what he did. He had a Fielding and a McNamara to aid him in his work. Fielding is at the peak of his form. He and McNamara framed both Hickson's goals, the first in 30 seconds; a brilliant shot to the far side of the goal; the second a header worthy of a Dean. McNamara an Parker scored the other goals to show us that there is more power in the forward line, in fact there are indications that the policy of youth is going to pay dividends. There is still a hard road to travel, but Everton are putting their feet down more firmly than hitherto. It was a fast game without being a classic. Coventry were full of enthusiasm and endeavour but they never had the skill of their rivals although they made one or two calls on Leyland. In the main Everton defence was equal to most calls. There was one exception. When McDonnell took a free kick, Leyland came rushing out to punch away only to miss it and so let in Chisholm to score. For the record here are the goals; Hickson (30 seconds), Parker (15 minutes), Chisholm (22 minutes), Hickson (42 minutes), McNamara (65 minutes).
BURY RESERVES 2 EVERTON RES 2
November 19, 1951. The Liverpool Daily Post
Lucky Draw
A free seemingly comfortably winners Everton Reserves, with goals from Gibson and Potts lost a 2-0 lead in the Central League game at Bury and were subsequently rather lucky to draw. Bury appeared to find inspiration after Gordon had scored and through Slynn shot straight at O'Neill from the penalty spot a minute later, Connolly got a deserved equalizer ten minutes from the end.
• Everton "B" 7, Prescot Cables Reserves 1
EVERTON END "HOODOO"
November 19, 1951. The Liverpool Echo
Hickson Live Wire of Attack
Ranger's Notes
Two goals down in fifteen minutes and a passenger to the visitors for three quarters of the game is enough to knock the stuffing out of even a good side. It was a nice win for Everton, the visitors of course, were disorganized to a big extent by the injury which caused centre half McDonnell to become a left winger passenger for just over an hour. Not only did it take much of the sting from the resulting four-man attack, but left the defence more vulnerable, for nobody seemed able to fit into the breach. At times it was difficult for the onlookers to know exactly who was supposed to be centre-half. Nevertheless making all allowances for Coventry, Everton could do no more than win, and that they did convincing enough. Had it not been for a couple of bad misses and some not so glaring they could have made the margin even more flattering.
Credit Shared
One thing this game proved is that Hickson, at least on that showing should never have been dropped because of one bad match. He was the live wire of the Everton attack, taking his first minute goal with a grand drive to the only unguarded part of the net and getting his second with a brilliant header –again credited to the one goal where Taylor could not reach it. Hickson shares the credit with McNamara who provided the centre in each case, while Fielding stakes top marks for a fine display of generalship and a series of defence –splitting passes. Parker also got a goal –thanks to Fielding's offering –and provided the centre which made the fourth goal for McNamara so that altogether with Eglington also in good form. Everton had good reason to be satisfied with their attack. The defence also did all that it was called upon to do with reasonable confidence but without being quite as dominating as one would have expected against a forward line so handicapped as Coventry's.
Clinton's Advance
The only costly slip was that of Leyland's which presented Chisholm with the visitor's lone goal. Clinton proved that his advancement to senior status has not found him wanting, but Lindsay was not quite as immaculate as usual. Jones's task was not a particularly difficult one and neither was that of the wing halves. Donovan was unlucky not to add his name to the day's scorers for his terrific drive in the closing stages deserved a goal instead of a cannon-back to safely off the floor of the post when Taylor was hopelessly beaten. Everton played almost copy book football for the first 20 minutes. Then the game fell away from its earlier standard. Though the Blues were always on top and never seriously challenged there was not the same smoothless and sure touch about some of their later work, true it was effective enough and often had the visiting defence in a tangle but it was marked more by hard graft and fighting effort than their earlier situations and stylish play.
Heartening Win
While this was a heartening victory, many folk will want to see what happens when the opposition is stronger before deciding that all fears can be finally laid to rest Coventry are about the worst side we have seen at Goodison this season. If they hadn't had Chisholm they would have been much worse still. Chrisholm was a great fighter and a rare worker, even if inclined to be a little tough at times, as also were one or two others –and not all visiting players. No matter what the provocation, there is no excuse for some of the acts of retaliation we saw. Fortunately, none had any serious consequence. They looked worse than they really were, but they added nothing to the spectators enjoyment. We can do without that sort of thing. One admitted McDonnell for his courage in sticking it out to the bitter and after his injury. Whether it was wise, however, is another matter. He could do partially nothing and may have aggravated his injury and lengthened the period necessary to get himself fit again.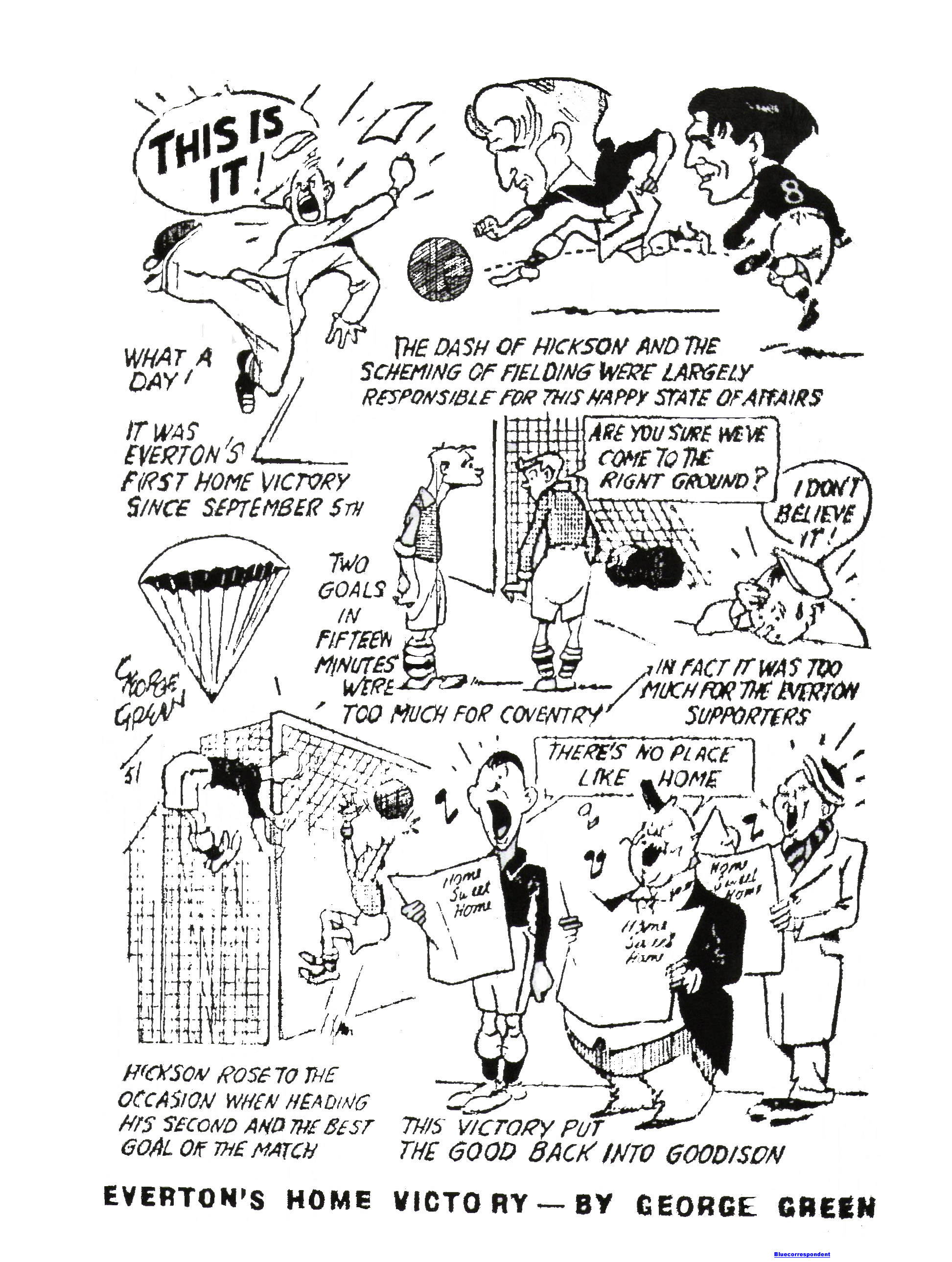 FORWARD CHARM
November 19, 1951. The Evening Express
Pilot's Log (Don Kendall)
Everton beat Coventry City 4-1 at Goodison to provide us with the second Saturday this season when both our seniors have won. May there be many more. The fact that Everton scored their first Saturday home win since February 19 should do them a power of good in the restoration of confidence. The 4-1 score does not adequately measure Everton's superiority over Coventry City even allowing for the fact that City had only 10 men, but the long run of non-success at Goodison made this an instance in which the victory mattered even more, than the manner of victory. The luck has been smashed at last and the psychological effect will be marked. The Blues provided much forward charm at Goodison, where they had Coventry "stone cold" and two goals down over before McDonnell was injured. Hickson and Parker saw to that with good goals. City had a gift to them for a brief period, but it all ended with McDonnell's injury, and from then it was merely a case of how many for Everton. Everton provided glorious forward charm and effectiveness. Wally Fielding was the fountain of most of it; in fact, he has comes right back to hit a new high. He will get goals too, if he keeps tee-ing up his shots. Dave Hickson's was a thrilling contribution of considered virility and leadership. His headed goal was a gem. Parker had his best Goodison game since Birmingham's visit and McNamara and Eglington suffered only because of lack of selectively when it came to the final touches. They just could not secure a balance between the fast ad lobbed centre. Donovan was splendid and so was Clinton behind him. Tommy's an epic of the kind so it must have been to overshadow Lindsay. Jack was guilty of similar "crimes" by Peter Farrell. Both too often used the short pass in their own dependence. Apart from this both did well, and Tommy Jones was sound after taking time to get back into centre half ways. That was only to expected considering the rampart switching between centre-half and full backs. Leyland's only blemish was in mis-fisting the free kick which brought Chrisholm his goal. Parker and McNamara got Everton's other goals in a game which again emphasized this new and fixed determination of the Everton lads to show the world." They are doing it all right.
BLUES HOPEFUL
November 23, 1951. The Liverpool Echo
Ranger's Notes
Everton have done so well away from home during the past couple of months that their hopes of at least a draw at West Ham have solid backing. The attack all season has been showing improved form compared with last year, and particularly in the last half-dozen games when there has been not only a willingness to shoot much more frequently but also greater strength and accuracy behind their efforts. The shakiness in defence which was apparent a little while ago has also been checked at least partially if not completely and all things considered, the prospects are decidedly better than they were at the start of last month. There is still a good way to go yet however before the position in the league chart can be regarded as satisfactory. Although well down the table the points difference which separates Everton from the leaders, is not unduly great. There is a level standard amongst most of the Second Division sides these days which makes it possible for a sustained run of success to lift any club up the table at a fairly rapid rate. Conversely, this level of equality means that such a run is more difficult of attainment than it otherwise would be and with Sheffield United now slipping back it looks as though the struggle at the top is going to be keener than ever. At the moment there is no sign of another of the runaway promotion successes which we have had in recent years. West Ham; Gregory; Wright, Kinsell; Parker, Allison, O'Farrell; Woodgate, Barrett, Hawkins, Glazzard, Andrews. Everton; Leyland; Clinton, Lindsay; Donovan, Jones, Farrell; McNamara, Fielding, Hickson, Parker, Eglington.
Both Keep "Mum"
Everton's name has been linked with a desire to sign Harold Bell.
EVERTON FOUGHT BACK AFTER SENSATIONAL FIVE MINUTES
November 24, 195. The Liverpool Football Echo
West Ham 3, Everton 3
By Contact
West Ham;- Gregory, goal; Wright and Kinsell, backs; Parker, Allison and O'Farrell, half-backs; Woodgate, Barrett, Hawkins, Glazzard, and Andrews, forwards. Everton; Leyland, goal; Clinton, and Lindsay, backs; Donovan, Jones and Farrell (captain), half-backs; McNamara, Fielding, Hickson, Parker, and Eglington, forwards. Referee; Mr. R.J. Leafe (Nottingham). West Ham played their new Dundee winger, Andrews, and Everton were unchanged. There was a high wind, a heavy pitch and some light rain at the start. A fine Parker pass to Woodgate and a Woodgate centre was a move of great menace to Everton, but fortunately for them Glazzard completely mistimed his shot. A Kinsell free-kick, for which Leyland and others went up almost produced a goal, as with the goalkeeper on the ground the debutant Andrew's steered the ball with his head only a few feet wide of an empty goal. Gregory was fortunate after failing to connect with a Fielding corner kick but only because Fielding, who was able to do on to the ball as he pleased. Lindsay twice got himself out of difficulty's neatly, and in Everton's best notable combined move so far. Hickson hooked the ball in from the wing, Gregory taking it high overhead and then fairly flattening Parker with a charge.
Sharper Team
West Ham were the shaper team to the ball and in one of Everton's many spells of defending, Donovan was injured and needed attention. At 15 minutes West Ham scored sensationally. Lindsay, in clearing the ball, gave full back Kindsell the ghost of a chance of beating McNamara for possession. Kinsell made it and slung in from 40 yards, a lopping punt which Leyland attempted to catch overhead. To his utter dismay the ball slipped through his grasp and dropped gently a few feet over the line. An Eglington volley from a free kick might have produced the equalizer but the chance was muffled. At 18 minutes West Ham scored again. Another long punt a free kick by Harrison was glanced into goal brilliantly by the head of Woodgate. A minute later and Fielding, picking up the ball slap in front of goal, with Gregory and Hickson on the ground after a clash of bodies, rammed in a shot to make it 2-1 and within another minute Gazzard, profiting by Everton's indecision in dealing with a Kinsell free kick tapped the ball over the line to make it 3-1 –three goals in as many minutes. Woodgate followed up by hitting the foot of the post from an Andrew's free kick. Gregory showed himself to be a good and confident goalkeeper when Everton despite their load of worry revived sufficiently to set up attacks. He took one glancing header from Parker dramatically and with admirable positional sense. Parker had a wonderful chance from a McNamara flick but after closing in the went step or two too far and Gregory was able to go down and smother his shot. Parker too, was close with an angled shot after running half the length of the field. Half-time West Ham 3, Everton 1
Fallen Flat
Hickson and Allison, who were having a battle of their own were spoken to early in the second half. The game had fallen rather flat, but a Fielding volley had Gregory perplexed. He did not deal with it confidently and seemed relieved to find he had conceded only a corner and not a goal. Though 3-1 down, Everton were now playing well on heavy greasy going. McNamara and Eglington all but schemed what would have been a first rate goal. Eglington difficult-to-hit shot veering right across the face of the goal. Kinsell who appeared to have a body injury had to leave the field but was able to return. A glorious dodging run by Woodgate whose speed was his great asset against Lindsay caught the Everton defence all at sea and they were lucky that his close-in shot just beat the far post. Parker, from a Farrell-Fielding approach made it 3-2 by the simple expedient of shooting between Harrison's outstretched legs. Gregory was "not at home," having mis-handled Eglington's fast centre. Time 77 minutes. A blunder by Farrell and Lindsay almost let West Ham in for another soft goal but fortunately they did not have to pay full penalty. The Everton defence by this time indeed the side as a whole, were fighting back well, and West Ham were made to look unimpressive. ]
Grand Save
Gregory had to make a grand save on the line from a Hickson header –a centre by Eglington –to keep his side in front. It became all Everton now with West Ham unable to form an attack or keep the ball out of their own half for any length of time. Leyland did well to catch rather late Woodgate shot, but that was West Ham's only respite for the time being. At 89 minutes Hickson scored for Everton. Final; West Ham 3, Everton 3.
EVERTON RES V ASTON VILLA RES
November 24, 1951. The Liverpool Echo
Everton Reserves; O'Neill, goal; Saunders and Rankin, backs; Grant, Woods, and Lello, half-backs; Tomlinson, Potts, McIntosh, Cummins, and Easthope, forwards. Aston Villa Reserves; Jones, goal; Canning, and Binall, backs; Lamb, Proudler, Norman, and Pace, backs; Higgins, Jefferis, Simpson, Bullock, forwards. Referee; G. Ollerton (Preston). Everton were the better side and they deservedly took the lead after 20 minutes Tomlinson placing a centre for McIntosh to score. Jones in the Villa goal was having a busy time and Lello scored a second for Everton after 40 minutes. Half-time; Everton Reserves 2, Aston Villa Reserves 0.
FOUR GOALS IN SIX MINUTES
November 24, 1951. The Evening Express
West Ham and Everton in Quick Scoring Bout
By Radar
Defensive instability again cost Everton goals against West Ham United at Upton Park today. A slip by Leyland enabled Kinsell to score a gift goal for West Ham in the 15th minute and this led to a three goal in a three minute spell. Woodgate added a second with a brilliant header in the 19th minute; Fielding scored for Everton immediately afterwards and Gazzard scored a simple third – this should have been stopped –within another minute. Everton fought back well after the interval, and Parker scored a second in the 57 minute, but even so the Everton goal survived luckily several times in a thill-a-minute struggle. With a high wind blowing across the heavy pitch, conditions were not conductive to good football. There were several attractive Cup-ties in the West Ham vicinity and this obviously had its effect on the attendance. West Ham;- Gregory, goal; Wright and Kinsell, backs; Parker, Allison and O'Farrell, half-backs; Woodgate, Barrett, Hawkins, Glazzard, and Andrews, forwards. Everton; Leyland, goal; Clinton, and Lindsay, backs; Donovan, Jones and Farrell (captain), half-backs; McNamara, Fielding, Hickson, Parker, and Eglington, forwards. Referee; Mr. R.J. Leafe (Nottingham). Set the face the wind, Everton soon found themselves on the defensive after Lindsay had made poor use of a free kick. Barrett delivered a perfect ball through from well inside his own half and Woodgate made progress quickly before slipping the ball inside from near the line. Gazzard was offered a perfect scoring chance, but he muffed it completely and the ball was scrambled clear. West Ham's new boy, Andrews earned a cheer shortly afterwards for a studied header, which flew a yard wide of the near post. The first time Everton went on the move Hickson veered away from Allison to flick the ball forward and Kinall was happy to concede a corner to baulk the in running McNamara. Gregory was only able partially to clear Fielding's corner, and eventually Everton inside right to take a pot shot, which was entirely lacking in accuracy.
Near Thing
For the most part United were in command at this juncture and when Woodgate showed Lindsay a clean pair of heels, Barrett came near by converting his short square pass. Barrett was responsible for one praiseworthy effort –on acrobatic header which passed too near to the upright for Leyland's liking. Gregory dealt unceremoniously with Parker's quick challenge as he was dealing with a hard centre, half shot from Hickson who had taken over from Fielding well up on the left. Parker, in fact came up against an impressive barrier, which sent him flying. Donovan was slightly damaged in helping to repel another determined West Ham raid, but was soon back in action. A tragic slip by goalkeeper Leyland present United with a gift "lead" in exactly 15 minutes. McNamara too, must shoulder some of the blame. The Everton winger held back from the tackle when Kinsell stepped into intercept Lindsay's clearance, Kinsell from fully 20 yards, tried a "bow at the shot" which Leyland inexplicably allowed to touch over his hands and then drop into the net. This was a prelude to a remarkable scoring spell, which produced three goals in three minutes. Woodgate added a second for West Ham with a brilliant low header from Allison's free kick. Time 19 minutes. Everton went away almost directly for Fielding to reduce with a vicious right footer, after Gregory had failed properly to cut out a Parker centre. Within another minute Glazzard had taken advantage of failure –to get the ball away quickly from a Kinsell free kick, and scooped the ball into roof of the net from four yards. We had thus had four goals in six minutes in this remarkable game.
Fiery Shot
This was not the end of this storming session of thrills, for Woodgate came close to increasing United's lead further, with a fiery snap shot from the inside-left position. Fortunately the ball struck the foot of the post and rolled behind. For fully five minutes after this Everton monopolized play, treating the 20,000 spectators to delightful pattern-weaving. In fact, Gregory, although not too happy with the heavy, greasy ball, foiled Hickson and company three times in quick succession, notably when he pulled down a splendid Parker header from Fielding's centre just underneath the bar. Parker should have reduced the lead all the same when a gem of a side flick by McNamara left him with only Gregory to beat. Parker took his time, but his shot was directed straight at Gregory who was able to smother it. Eglington came over to inside right to try a swerving shot, which sailed quickly across the goal-face. With Everton still masters, Kinsell had to be helped off the field for attention to a twist, but he was absent only a couple of minutes. The pitch was churning up badly but the pace did not slacken and Woodgate caused a gasp with a fierce cross-shot about which Leyland knew little. McNamara did likewise from an even more acute angle. Half-time; West Ham 3, Everton 1
First incident of note on resuming was Hickson's challenge to Allison near goal, but his claim for a corner went unanswered. Directly afterwards, Everton thought they should have been awarded a corner, for Hickson's angled shot appeared to be deflected behind by Allison. The light was not too good as Fielding volleyed the ball into the goalmouth from an astonishing angle, Gregory without knowing much about it managed to edge the ball behind for a corner. Next, Eglington drove in a loose ball powering, but it was three yards off the target. In the 57th minute, Parker scored a second, flicking the ball over the line from no more than two yards, Gregory having failed to cut out a brilliant Everton centre almost from the corner flag. Certainly Everton were to be praised for their spirited fight-back. Only a magnificent full-length save by Gregory prevented Hickson from leveling the score with a grand flying header. Again Eglington was the man who provided the centre point. Leyland was called upon to make a spectacular leap and catch to save a Woodgate "special" but he need not have bothered, as Hawkins was ruled offside. There were some breath-taking incidents around the Everton goalmouth with Leyland none too sure in his handling. Fielding had a short range drive excellently saved by Gregory at full-length and with the white ball now in operation. Hickson equalized for Everton almost on time. Final; West Ham 3, Everton 3.
EVERTON RES V ASTON VILLA RES
November 24, 1951. The Evening Express
Everton tried 17-year-old Jeff Tomlinson at outside right. Everton took the initiative, Tomlinson sending across a lovely centre which Jones well judged. Villa made two break-aways then, in the 20th minute the Blues went into the lead, McIntosh scoring from a well-placed centre by Tomlinson. Everton's approach work was excellent, but unsteadiness in front of goal spoilt a number of chances. In the 40th minute Lello headed in to increase the home lead. Half-time; Everton Res 2, Aston Villa Res 0
Everton continued to dominate and McIntosh was unlucky with a powerful drive. The Villa strove hard to reduce their arrears. Final; Everton Res 2, Aston Villa Res 0.
Everton "A" v. S. Liverpool Res
South Liverpool found their men better than Everton but Cronin scored for Everton after 30 minutes play and Darlington headed a second. Half-time; Everton "A" 2, South Liverpool Reserves 0. Final 3-0
• Liverpool "B" 1, Everton "B" 3
• Everton "C" 17, Maghull BC 0
WEST HAM 3, EVERTON 3
November 26, 1951. The Liverpool Daily Post
By Leslie Edwards
Everton have gone five matches –three of them away without defeat. That is substantial reason for believing that the tide is turning. This West Ham point was a especially good one because it showed Everton to have more confidence –and courage. Three-one down in the first 20 minutes they did not crack, but diligently set to work to repair their position. Against the flood of early West Ham supremacy, in a half-gale on a mud which offered insecure foothold they plodded on with conviction to drew level almost with the last kick. West Ham, who could scarcely raise a gallop for the last half hour, were fatally indecisive and young Dave Hickson, reveling as he does "on the angle" cracked home a lovely shot, via the underside of the bar to complete an extraordinary recovery. One Everton director, overjoyed by this magnificent retrieving offered handshakes all round. Someone peremptorily commanded; "Sir down –you did not score!" Had Everton saved a point after being 3-1 down in the ordinary way they would have done well going to 3-3 when they had conceded three goals in the space of a few minutes proved them to have great belief in themselves. Things moved so fast and so devastatingly against them in the early minutes they seemed fated to lose. At least one of West Ham's goals was a contribution, and it was well that Fielding gave his side a goal –one on which to base their hopes for the future. Parker after taking a McNamara pass in a bit too close re-established himself with an opportunist goal when the other defence, too, showed it was not faultless and then came the thrusting Hickson to settle West Ham's hopes finally. If the game had run five minutes longer Everton I think would have won.
Size and Style
This Everton attack –one of great contrasts in size, experience and style –played better than since the fruitful days early in the year. Eglington had verve speed and was always usefully employed spreading his passes far and wide. Fielding, now a great worker besides a great footballer, was the general and guvnor to whom all applied "in case of doubt." If there was any reason for dissatisfaction it was in a defence which became bogged down through its own errors in the early moments when West Ham seemed full of fire and ability to convert chances. But Lindsay studiously looked for creative channels and it was no fault of his that Kinsell was able to pick up his pass and convert it, almost immediately into West Ham's first goal. Donovan, too showed special interest in building up as against breaking down. Jones had a good match, Farrell was liveliest and best when he sensed that his side might snatch something quite of reach at one time. But for the big and quick and usually sure Gregory in goal West Ham might have been in graver-danger of losing. For West Ham it was a game of two completely different phases. Until they built their lead did little wrong, once Everton starting to rock them with the accuracy and smootherness of attacks on a horrible surface, they were made to look ordinary. Everton's young men of today make one feel positively old –and surely that is a good sign. Somewhere "round the corner" is that Everton paradise in which every-one can be buoyantly happy instead of aggravated by the side's inability to do its best at Goodison Park. Speed the day.
BLUES' COURAGE
November 26, 1951. The Evening Express
By Radar
Everton's glorious fight back to equality at the Boleyn Grounds dispelled any lingering fears that the players have not the courage essential to success. They have at plus. We have seen evidence of it time after time; in fact no team has, due to tantalizing defensive slips, been forced to fight so many uphill battle. Twice two goals down did not daunt this band of fighting loyalties.
"It is true to say that this Everton never knows when it is beaten, Kinsell, Woodgate and Gazzard had scored for West Ham inside 21 minutes with one from Fielding sandwiched in between. From then onwards the Blues, who played excellent football, considering the high wind and greasy surface, were immediately the superior force. Immediately the superior force. Apart from one spell after Parker had scored in the 57th minute. United were rarely seen in an offensive vein for the rest of the game. It was not until the closing minutes that the earnest Hickson secured the chance for which he had been so earnestly seeking, but when it did come he made no mistake. And everyone agreed that Everton were full value for a half-share. "Give full praise to a side which so splendidly came from behind, but one cannot gloss over the fact that the old defensive faults were still apparent in the early stages. Leyland, not confident in his handling of a slippery ball, should, I thought, have saved Kinsell's 30-yarder, although McNamara ought to have tackled the West Ham full back. Woodgate's goal could not reasonably have been prevented, but I thought Jones should have got the ball away before Gazzard had time to hook the third into the net. "Clinton had quite a sound innings, and Lindsay took the measure of the speedy Woodgate in the second half. Despite a worrying leg injury, suffered early on Donovan turned in another excellent performance and was in my opinion the most effective half-back. With the wind at their backs after the interval the Everton forwards invariably had West Ham's defenders disconcerted with Eglington the scinitiating, wandering raiders who takes the star marking Parker and Fielding were industrious throughout although Fielding did not quite reach his brilliant standards of recent weeks. "Hickson, too, was always on the move and alert to the half-chance, while McNamara, if still somewhat tender in the tackle, contributed some valuable wing work. The side still has its shortcoming but is compensating for this by pulling together as a team. Recent performances should gave that vital extra confidence.
COURAGE AND SPIRIT
November 26, 1951. The Liverpool Echo
By Contact
One cannot praise Everton too highly for their recovery at West Ham one can hardly be critical enough about the defensive mistakes which created first of all, the position from which they extricated themselves. How did they come from 3-1 to 3-3? By applying themselves with courage and spirit to the task and by persisting in forward play nicely linked and so effect that if the match had gone another five minutes they would probably have won. Certainly West Ham in that last half hour were unrecognizable from the side which began so well and looked at one stage to have a five or six victory in the offing. Everton have been indulging too often in costly goalkeeping mistakes. Here West Ham enjoyed a 20-minute revel in which they were made to look better than they really were. Once Everton settled down to attempt to pull the match round they were completely on top except in one further spell in which easy goals almost came again, and finally young Dave Hickson who is nothing if not a "goer" saved the day by brushing through to take an angled chance with characteristic to Everton. This was not his best game, but that dramatic goal coming as it did almost with the last kick, was a handsome flourish to the side's refusal to be beaten.
Brighter Outlook
Tom Eglington got over the sticky mud better than most, and was forever delivering the ball to the spot where it hurt West Ham most. Allied with Fielding's further display of football wisdom and artistry the Everton line functioned well indeed, and with better shooting might have had their three goals long before the end. As a line the attack moved splendidly and once the shaky spell was left behind Donovan and Farrell and Jones all working tremendously hard played their supporting parts. Lindsay's throughout use of the ball was fine and it was no fault of his that Kinsell and not McNamara picked up the pass to give West Ham that first goal, one which could never have arisen but for the goalkeeper's misfielding. The Everton average age has come down remarkably in recent times, and now the side has gone five matches –three of them away –without defeat, the Goodison prospect is more encouraging. The side will have a further test on Saturday when Sheffield United are here. Why players cannot reproduce at home form which has given them a far above average return in points from away matches is a mystery. Maybe once they break the ice they will keep it broken, Everton supporters pine for this day as much as the players.
EVERTON SHOULD WIN
November 30, 1951. The Liverpool Echo
Sheffield United Side Hard Hit By Injuries
Ranger's Notes
The visit of Sheffield United to Goodison Park tomorrow while presenting Everton with a difficult task should not prove beyond their capabilities if they can hit their best form. Sheffield have slipped back a little after opening the season in such devastating fashion whereas Everton having overcome their earlier jitters should now be able to face any side with considerably more confidence than was the case a couple of months ago. Sheffield have been rather badly hit by injuries and the absence of Hagan in particularly takes some of the sting from their attack. Though well on in the veteran stage, Hagan is still a great tactician and a splendid ball player. Everton's recent improvement has been more marked in attack than in defence. The forward line indeed, has shown excellent approach work all along even when some has been frittered away by inaccuracy in front of goal. Latterly this failing has been overcome to a large extent. If Manager Cliff Britton can now tighten up the defence to the required point then the worst may be over. The process of maturing young and comparatively inexperienced players is one which cannot be buried. Under their five year plan it may take longer to put Everton back in the First Division than many would like. Having set its hand to the idle, however, it seems the club intend to carry on with it and let things take more or less a normal course. Sheffield United have scored more goals this season than any other Second Division side, and are a formiable combination when at full strength. Leading scorer is Alf Ringstead, the former Ellesmere Port and Northwich Victoria right winger. Outside left Hawksworth is another wing marksman of outstanding ability. These two between them have scored 22 goals this season which is very good going. The Blades attack will be lead by Len Browning the former Leeds United centre-forward who was transferred to Bramell Lane for £14,000 only 10 days ago. The return of O'Neill to the Everton goal in place of Leyland who has made one or two expensive slips of late brings back a young custodian who impressed in the early part of last season and then seemed temporarily to lose confidence. With the experience he has since had in the Central League side O'Neill should have no fears about being able to make the grade now. Sheffield United will not definitely know their side until later. They are waiting to the last possible minute to ascertain whether Shaw and Brook will be fit. They know already, however that Hagan, Latham and Cox all regulars until a fortnight ago, will still be unavailable which is a heavy blow. Everton; O'Neill; Clinton, Lindsay; Donovan, Jones, Farrell; McNamara, Fielding, Hickson, Parker, Eglington. Sheffield United (from); Burgin; McLafferty, Hitchen; Johnson, Toner, Shaw; Ringstead, Smith (F.A.), Browning, Brook, Hawksworth, Hoyland.
PROMOTION FAVOURITES AT GOODISON PARK
December 30, 1951. The Evening Express
O'Neill's First Division Two Game For Everton
By Pilot (Don Kendall)
Jimmy O'Neill, the young Dublin-born goalkeeper, takes part in his first-ever Second Division match, when he plays for Everton against the promotion favourites, Sheffield United, at Goodison Park tomorrow. This makes five Southern Irishmen in the team. This is the only change, and the Blues will be endeavoring to complete a run of six successive games without defeat. It will take some doing for the "Blades" are the highest scoring team in the Division having topped the half-century of goals. Tomorrow the United will be without such stars as Jimmy Hagan, Lathom and Cox, but will have on parade their new centre forward Len Browning, who was signed from Leeds United a week ago. Everton if reproducing recent form, should get among the goals. The Everton attack is moving pretty smoothly these days and there is no rein chance to shoot. This issue, however, depends more on defensive solidity. The 'Blades' are as befitting their name, an incisive force with every forward keen to "have a go." However, with Everton having already smashed the Goodison "hoodoo" I fancy they will record their fourth home win of the season in a game starting a 2.15 p.m. Everton; O'Neill; Clinton, Lindsay; Donovan, Jones, Farrell; McNamara, Fielding, Hickson, Parker, Eglington.