EVERTON 4 LIVERPOOL 2
October 1 st 1905. The Liverpool Courier
EVERTON'S TRUMPH.
LIVERPOOL AGAIN FAIL AT GOODISON PARK .
The first of the season's League encounters between our two great Association teams has come and gone. Everton were the favourites of fortune, and whatever may be argued about luck of hard lines the fact, remains that the honours fell to the Blues by four goals to two. For such an absorbingly interesting game more favourable weather could not have been desired, for while there was little advantage to be gained by winning the toss, the spectators were enabled to view the proceedings in comfort considering the tremendous crowd of enthusiasts. Taking about crowds, how busy it is to indulge in excessive estimates. If the Everton enclosure will accommodate 55,000 spectators, and may well be forgiven for having assessed the crowd at 50,000. Yet this turned out to be far beyond the mark. The official figure after allowing for sharholders, and complimentary tickets give the attendance at just 40,000-not a bad crowd by any means, but still not 50,000. The gate receipts worked out at a little over £1,189, which is a record for a League match at Goodison-park. Two points and a nice contribution to the exchequer-what more could the Everton club desire. Moreover had not the directors the distinction of entertaining in their handsome new offices, the Lord Mayor of Liverpool.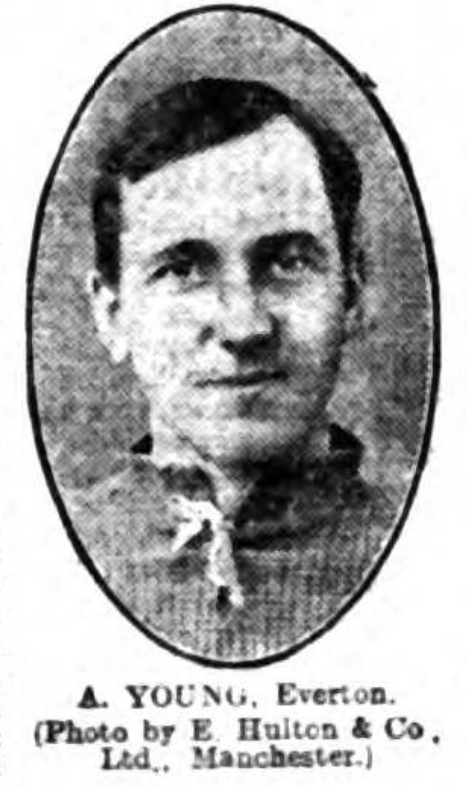 THE GAME.
As for the game, it was by no means as one-sided as the final score would appear to indicate. The enforced ensence of Dunlop proved a terrific misfortune for Liverpool for Murray who filled the vacancy shaped in a most disappointing fashion. Except in the matter of defence Liverpool were quite equal if not superior to their rivals, and it was unfortunate for them that the splendid work of the forwards and half-backs should be neutralised by unaccountable weakness in the rear division. Liverpool started in very incisive style, and but for some fin goalkeeping on the part of Scott, they must have taken the lead in the first quarter of an hour. As it was a goal scored by Goddard, which was disallowed on account of offside, was in the opinion of many a perfectly legitimate point. The first real breakaway on the part of Everton was successful, Settle taking advantage of some hesitancy by the Liverpool full backs and opening the score by a really fine shot. The lead was increased owing to a most injudicious place of work on the part of Murray, who in kicking back, forced Doig to concede a corner. This led to Abbott registering the second point. Just before the interval Hewitt cleverly placed the ball pass Scott, and although Everton were leading by two goals to one at half-time, this was more than their play merited, and did not accurately represent the general run of the game. The second half produced an almost similar state of affairs, for Everton scored twice, through Hardman and Sharp, and though the latter deserved credit for his fine effort in running half the length of the field, the opportunity again arose through the culpability of the Liverpool left full back. There was considerable doubt about the legitimacy of the second goal awarded to the Anfielders, for Hewitt, off whom the ball glanced into the net from Goddard centre, was palpably offside. Whether the ball touched an Everton player in its transit or not is best known only to the referee, who turned a deaf ear to the appeals of the Everton players.
CRITICISMS OF THE PLAYERS.
Comparing the two lines of forwards, Liverpool were the more aggressive and dashing in their methods. The remarkable improvement demonstrated by Hewitt in the centre no doubt exercised a beneficial influence in the attack, and several well meant efforts near goal missed by the merest margin. On the left wing Raybould played a splendid game, furnishing Cox with numerous opportunities. Which were ably utilised by the extreme winger. Goddard was responsible for many fine runs, and the forward play all round left, no room for dissatisfaction. The Everton front rank also showed signs of improvement, and they made the most of the chance, which came their way. The left wing was the most prominent, Hardman especially causing the Liverpool defence much anxiety. There was not the same tendency to confine the play to the inside man though sharp, with the opportunities which Murray afforded him was not so much in evidence as he has been in these encounters, even when opposing Dunlop. Young was good and bad by turns, especially conspicuous. In the intermediate line Taylor gave a splendid exhibition, and like his vis-à-vis, Raiseback, got through a tremendous amount of work. Abbott and Makepeace shaped creditably though the former, as usual found Goddard a particularly warm handful. Bradley showed some of his best stoke form and Parry was seldom at fault despite the fact, than he had to face the most dangerous part of the Everton front line. Everton were immeasurably superior at full back, for Crelly gave one of his finest display, his tackling being wonderfully clever young Balmer did well although at times he was rather erratic. Mention has already been made of Murray, and even West seemed influenced by the weakness of his partner for his play was not so crip, as usual. Neither was Doig, seen at his best, though one save from Sharp, who had beaten the rest of the defence, was a sample of his old form. Scott once more demonstrated his worth, and when the attack of Liverpool was at its height, he came to the rescue repeatedly with some really brilliant clearances. Summing up the game Everton were fortunate to win by such a decisive margin, though they were clever enough to take full advantage of every opening. With Dunlop in the team, the probability is that Liverpool would have gained a share of the honours. As it is they have failed to record a League victory at Goodison-Park since September 1898.
EVERTON NEWS
Athletic News - Monday 02 October 1905
Quito the greatest assembly of this season was seen at Goodison Park, when 39,000 people watched the renewal of the struggles between Everton and Liverpool. The receipts, £1,169, and a victory by four goals to two, must have been exceedingly gratifying to the Everton executive. Everton could scarcely have had a stronger team, whereas Liverpool were without Dunlop, who must still be regarded as their best back, and Parkinson, who had the splints removed from his broken arm on Saturday. Still, a month must elapse before he can play. The Everton ground presented a fine spectacle. There is no better appointed in the whole country, and it something to know that had rain fallen 24,000 people could have been accommodated under cover. And yet some people talk about requiring indoor football!
As an illustration, of the art of football, the match was by no means an indifferent example, but Liverpool had a sorry time owing to the feebleness of their defence when the forwards rushed the position. Had the barks been reversed Liverpool would probably have won with ease, but as it was all the fine work of their speedy forwards, and the exertions of their tireless half-backs, were simply neutralized by sheer folly. Everton played so well that they took full advantage of this weakness, and kept hammering away at the spot whore the fault lay. This was strategy.
HAPPY MOMENTS FOR EVERTON
Athletic News - Monday 02 October 1905
By Tityrus
Flushed with success over their friends the enemy from Anfield, gratified by a hugh assembly at Goodison Park, and proud in the possession of a penalled oak board-room, the directors of Everton were a happy family on Saturday. They beamed a thousand benisons on creation –and truly the Evertonians had excelled, effervesced, and exalted themselves. It is gratifying to prevail in such match by so ample a margin as 4-2, but when Liverpool are the slain the triumph is all the more calculated to appeal to a sense of vanity. To be the most powerful combination in the City of Liverpool is in itself a distinction. Everton were entitled to the honours of the day. Primarily their defence was more reliable when subjected to severe pressure than that of the Anfielders, who simply lacked backbone. I should not like to say that Everton presented an impregnable front to the rush of speedy and determined forwards. But the difference between these antagonists was most marked when the backs were compared, for Liverpool had not a man of the resource of Robert Balmer, and Everton, happily for them, had not a back so liable to be flurried and outpaced as Murray. It was most unfortunate that Parkinson, Liverpool's centre, could not play, but the unavoidable absence of Dunlop was utterly and entirely irreparable, for Murray was not equal to the strain which the Evertonians took excellent care to concentrate on his wing. At half-back it would be difficult to give a supremacy to either side, taking the players in groups, but at the same time the victors had not a man of the outstanding merit and unflagging energy of Raisebacks,I should think that eleven Raisebacks would be a tough team to tackle, but even Alexander, The Great centre half-back, could not turn this tide of battle. And he worked as if he were Hercules engaged in one of his twelve tasks. Nor was there much margin for comparison between the forwards, but there was one essential difference –the Evertonians did crown their work. When backs waver and a goalkeeper does not know what to expect, of course the Everton sharp-shooters are certain to prevail. The game was fought in a gallant spirit, despite a few lapses from the path of rectitude. Interest might not have been maintained at fever heat, because the game was too one-sided, and because Liverpool gave the game away, but, nevertheless, on a the game away, but, nevertheless, on beautiful autumn day, for the conditions were ideal, we never saw any slackening of speed. There was more mutual reliance about Everton, who at once bore down on Doig, but Hardman's effort only served to call out the powers of Cox, who made a lovely centre, which travelled just wide of the far goal-post from where he shot. But the Liverpool men experienced a fright when Murray headed towards his own goal, and Settle was trying to run round him. He weaved his way past him, but Bradley came to the relief, and Cox darted away like a greyhound. Dashing between the backs, and eluding a foot cunningly outstretched, Cox boded danger, but Balmer passed back to Scott, who threw the ball over the heads of the players. It was a gentle, lady-like clearance, but it served. Still Liverpool were not brushed away. Robinson returned, and with a nice ground pass gave to Hewitt, who sent in a rocket which Scott with one hand turned over the bar. Corner kicks followed, and both Parry and Goddard came near to reducing the goal. But so near and yet so far is a phrase peculiarly applicable to sport. Young, with a fine sweep to the wing, sent Sharp ahead. Beating Murray, the outside right swung over to the other side of the field, and if Hardman could have controlled the ball he must have scored, but there was a rebound, and Doig dispelled all fear. Still Liverpool were not brushed away, pool seemed the more likely to win, and Goddard did find the net, but he was adjudged offside-some said by a yard-when he took Robinson's pass. There could not have been more in it than a yard. But there was a transformation, for at the end of eighteen minutes Settle scored. When he gained possession about the penalty kick parallelogram he was absolutely unmarked, and after a little maneuvering he crashed in a ground-drive which would have nipped off the tops of the daisies had these was left so free that he had nothing to do but shoot, and his effort was electrifying. Goddard, Raybould, and Cox tried to reduce this lead, but failed, whereas Everton obtained a second goal at the close of 25 minutes. Murray was not particularly harassed when he passed back to Doig, who missed the ball, and a corner kick ensued. This was placed neatly, and Abbott scored with a smart shot, for Doig had run out to the loose scrimmage and the goal was untenanted when the leather was hurtled through space. This goal was absolutely given to Everton by a series of mistakes. The Liverpool position had more narrow escapes, but just before the interval the visitors had some consolation, for when Co crossed to Goddard there was danger toward. At first I thought that Goddard was inclined to toy with the ball, to dally with fortune, but having drawn the defence he transferred to Hewitt, who promptly scored in splendid style. So at breathing time Everton led by 2-1. Possibly Liverpool had some hope of making a hard fight now that they had the stimulus of a goal, and they gave Scott cause for anxiety. But just when the "Reds" seemed full of rally and were buzzing round Scott like flies round a meat-safe, Sharp proved true to his cognomen, and was away to the other extreme like a flash. He centred, and Hardman, who was allowed every latitude by West, headed a most simply goal inside three minutes from reversing. Cox was very aggressive and kept troubling the "Blues" with his long passes, and Scott must have been pleased to turn a shot from this thrilling left-winger outside the post and over the line. Indeed, Liverpool attacked nobly on several occasions and both Bradley and Raisebeck took away some of the whitewash on the posts, while Robinson had a rare effort charged down. Still, what profit was there? It was all cry and no wool –especially when Murray allowed Sharp to slip past him just on the centre line. Sharp had none to stay his speedy flight goalwards. He rushed on with the ball at his toe, and when Doig advanced Sharp scored easily. It was well done – and so with 25 minutes to play Everton were leading 4-1. Truly all was over, but Liverpool never relaxed a muscle. When the prospect was blackest, Cox, Goddard, and their comrades tried most bravely to make the score look better, but Abbott and Balmer were stalwarts. Yet the Anfielders had some smoothing syrup when Goddard shot hard, and the ball striking Hewitt bounded at a tangent into the net. This was the last of the goals, but one might be pardoned for thinking that Hewitt was off-side. When so much happens in so little space it is difficult to tell, but there was a justifiable suspicious as to the validity of this goal. So Everton won by 4-2. Robert Balmer was the sheet-anchor of Everton's defence. Nothing was so pronounced in his exhibition as judgement and clean kicking of the ball to his own men. The half-backs were a strong and steady line. While I admired the dourness of Abbott for unceasing effort, for sheer hard and sustained tackling, I must give the palm to Makepeace. When Cox is moving with winged feet it is not easy to keep pace with him and cope with him. But Makepeace never flagged. If beaten he came back. It was a manly duel, and I took at Makepeace as one of the coming half-backs. The home left was the strongest flank, for he was such a factor in plying Hardman and in bobbing up serenely in any situation. Settle is a man who always seems to have time and the space to do what he wants. Young was fond of finesse, but he is a great player, ever dangerous near goal, and always help his wings. He now and again as way to temptation to keep hold of the ball too long, but Young is one of our best centre forwards and I say this was a great exhibition for Scotland, Sharp scintillated now and again, and at times most conspicuous and that he might have had much more from McDermott. As I have already said, Liverpool had a flabby defence. It was a jellyfish performance; thoroughly invertebrate, and nobody could have been more sorry than Murray, who was either unnerved by the occasion, or else he has a lot to learn. Bradley, the ex-Stoke man, was ever on the alert to repair his mistakes, and he played a sound and untiring game. But Raisebeck was a host in defence. Like two single men rolled into one, the only fault I could find with him was that he so continually fed Cox on the left wing. He never seemed to consider any other player. The result was that Cox was always on the alert, and he had a fine partner in Raybould. Hewitt can shoot and is a trier, but he does not pay sufficient attention to his wings. Robinson works, but lacks methods. Goddard was only fairly successful, but he is slow to shoot. Everton; Scott; R. Balmer, Crelley; Makepeace, Taylor, Abbott; Sharp, McDermott, Young, Settle, and Hardman. Liverpool; Doig; West, Murray; Parry, Raisebeck, Bradley; Goddard, Robinson, Hewitt, Raybould, and Cox. Referee; A. Green, West Bromwich.
The Battle of the Mersey.
London Daily News - Monday 02 October 1905
The meeting of Everton and Liverpool at Goodison Park aroused tremendous amount of interest. Everton, after an exciting game gained somewhat easy victory at the finish. Everton were the first to press, but Liverpool retaliated, and for about a quarter of an hour they had the better of matters. Then Settle and Abbott scored for Everton, and Hewitt for Liverpool. Hardman and Sharp obtained further points for Everton soon after the resumption, and Goddard, for Liverpool, sent in a fine shot which rebounded from Hewitt into the net.

HANLIN SIGNS FOR BRISTOL CITY
Octoberb 6 1905. The Liverpool Courier
A meeting was held at Nottingham yesterday, Mr.J.J.Bentley presiding, Bristol City has signed Hanlin late of Everton, and the fee was fixed at £50.
EVERTON'S ILL LUCK
London Daily News - Monday 09 October 1905
At Sheffield the United beat Everton by three goals to two. Everton were the first to press, Young scoring in a quarter of an hour, but Donnelly equalized after three minutes' play. Drake gave the United the lead before the interval. Play was very fast following the resumption. After McDermott had made the scores level again, both sides adopted the one back game. Owing to injuries the Everton goalkeeper was unable to turn out in the second half.
UNFORTUNATE EVERTON
Athletic News - Monday 09 October 1905
By Nemo
A rare game between Sheffield United and Everton was witnessed at Bramall-lane on Saturday by some 16,000 spectators. Life and bustle pervaded the play from the first moment to the last, and of exciting incidents there were many. Five goals were scored, and the Sheffielders getting three of them won a narrow victory, for which they worked skillfully and well. But if the home side carried off the spoils the visitors had a fair share of the honours, and more than their share of misfortune. I do not suppose for a moment that everyone will agree with me, but I think Everton did not deserve to be beaten. At the end of the first quarter of an hour Sharp swung the ball gloriously over from the Everton right, Hardman, on the other wing, pulled it back almost off the line right in front of goal, where Young, well placed, had nothing to do but put it into the net, which he did. When another quarter of an hour had gone Brown, darting down the centre, passed out to the right, and there was a great race between Donnelly and Scott, who rushed out of goal. The pair crashed into each other, but the United forward got the ball into the net, and equalized. It was several minutes, however, before the Everton custodian could rise from the ground, and he was quite lame in his right leg, and of no more use to his side-a dire misfortune. Scott stayed on the field until half time, but it was with the greatest difficulty that he limped between the posts and was quite helpless to prevent the Sheffielders gaining the lead, when Lang put in a pretty square centre, and Drake directed the ball just inside the post, the damaged custodian being unable to make any ground. So United led at the interval by two to one. Crelley went between the Everton posts in the second half, the visitors with ten men playing the one-back game. Very early the Lancastrains drew level, Sharp making a smart run on the right wing, and chasing the ball dragged it back almost from the line, and screwed into goal where McDermott put the finishing touch. With the scores equal there was a stern struggle. With a man short Everton fully held their own until about ten minutes from time, when one of many determined dashes by the United wing bore fruit, Lang centring, and Brown giving Crelley no chance at a neat header. In this manner the Sheffielders won a capital game by three goals to two. I have rarely seen a contest wherein the teams proved more evenly matched. Both played with great skill and so much dash that at one period the referee had to be very keen on fouls to prevent play degenerating had terribly hard lines in losing so important a player as their goalkeeper, the Sheffielders for their part must be congratulated upon a very smart feat in beating so fine a side as the Goodison Park men, for be it remembered the Bramall-lane brigade were below strength with both Needham and Johnson on the injured list. The places of these absentees were creditably filled by Parker and Forester, of the reserves, the latter especially playing a clever game against such a skilful foe as the speedy Hardman. With Bernard Wilkinson back in his place in the centre and for the first time in his career filling the honourable positon of captain, the United half-back line was good. So also was that of Everton, and even more so, for the visitors' middle line had a share in the excellent combination which marked the aggressive movements of their side. Makepeace, indeed, did particularly well against Lipsham, the brilliant left winger of the "Red and Whites" who has not met so difficult a foe at Bramall Lane this season. There was some fine back play, with Benson adding still further to the good name he has worthily gained for himself in Sheffield during the few wees he has been here, and R. Balmer playing magnificently for Everton, especially in the second half, when he had no companion. There was a difference in the play of the forwards of the two sides. United did well by brilliant bursts, wherein Brown in the early of the game, and Lang and Donnelly later on greatly distinguished themselves. Everton were the cleverer side in combination, and whenever Sharp got away with speedy runs and glorious centres the United defence had to look spry. It seemed to me that Leivesley the United custodian had the more difficult task, and some of his saves in the early part of the game, when the Everton front rank were going great guns, were very fine. Scott did very well indeed before he was hurt. Crelley, who kept Everton's goal after Scott's retirement, had not much to do, but twice he saved his citadel very cleverly. It was one of the best games seen in Sheffield this season. Sheffield United; Leivesley; Groves, Benson; Forster, Wilkinson, Parker; Lang, Donnelly, Brown, Drake, and Lipsham. Everton; Scott; R. Balmer, Crelley; Makepeace, Taylor, Abbott; Sharp, McDermott, Young, Settle, and Hardman. Referee; A. Green, West Bromwich.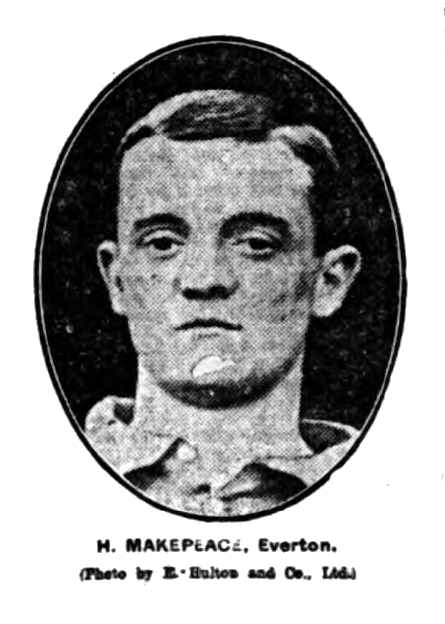 EVERTON AT SHEFFIELD
Athletic News - Monday 09 October 1905
Everton's defeat at Bramall-lane will be noted amongst the Everton players for one curious occurrence. Never before has young Robert Balmer been on the losing side when assisting the League team, and the United have thus broken a meritorious record. Balmer had begun to consider himself a sort of mascot, and regarding the conditions under which he has at various times taken part in the defence, his run of successes is most creditable. Next Saturday he will probably figure in the intermediate line, for Makepeace is chosen to assist the English League eleven against Ireland at Hyde-road. It is pleasing to note that Makepeace's authorities, and especially as he is a Liverpool born footballer. He, Crelley and the two Balmers are notable examples of the native product in the Everton camp, for what is a team when the goalkeeper is injured?

SHEFFIELD UNITED 3 EVERTON 2
October 9, 1905. The Liverpool Courier
SCOTT INJURED, J CRELLY GOES BETWEEN UPRIGHTS FOR SECOND HALF
Somehow of another Sheffield seems to be a place where Everton are bound to meet with misfortune. Last season there was a tremendous game at Owlerton-park, when in consequence of football of the most brilliant description, they gained a commanding lead at half-time of 5 goals to 1. At that period of the game everything pointed to a great victory for the Goodison-road organisation. Then Scott who was in goal was injured, Abbott was called upon to fill the breach, and just on time, Wednesday team managed to share the honours of a remarkable game. On Saturday last Scott was again in goal and was again unfortunate. This time he strained the muscle of his thigh, and although he remained at his post, until the interval, he was quite unable to do himself justice. It is morally certain that if he had been fit and well he would never have allowed Sheffield United a second goal to count. It was a simple shot, but Scott leg prevented him effecting a clearance, which under ordinary conditions would have been comparatively easy. During the second half, Crelly tried his hand at goalkeeping and did not do at all badly. He had no chance with the winning goal, and on one occasion at least he saved his charge in galliant style.
THE GAME.
It will be seen that Everton had all the worse of the luck. Up to the time of Scot's injury the Blues were unquestionably the superior team. They had more method about their plan of campaign, and inspired one with a feeling of confidence in their ability to annex a couple of points. As a matter of fact, they were a goal to the good at the end of fifteen minutes play. Young succeeding in an effort to convert one of Sharp's ideal centres, it was when the equalising goal came that Scott and Donnelly were in collision, with results disastrous to the Everton custodian. Although he kept manifully at his post he was obvious handicapped, and Drake with a header close in gave United the lead. Undoubtedly on the play Everton did not deserved to be in a minority of 2 goals to 1, for all round they were the cleverer side. In the absence of Scott they were compelled during the second portion to adopt the one-back game. With Crelly in goal young Balmer had considerable extra work thrust upon him, but he rose to the occasions in masterly fashion. The United forwards were respectably pulled up for offside, while the Evertonians whenever they had a chance made tracks for the Sheffield goal in commendable style, Quite early on in the second half a beautifully worked centre from Sharp enabled McDermott to place the sides on a level footing. For some time Everton although a man short, had quite as much of the game as their opponents, and it was unfortunate for them when ten minutes from time, Brown obtained what proved to be the winning goal.
THE PLAYERS.
Of course Scott's absence during the second half of the game had a deterrent effect upon the side. They started in a manner which was suggestive of victory, and the system of long passes which they adopted was disconcerting to the United defence which with the veteran Needham away was not too strong. Young Balmer gave one of his best exhibitions. Always resourceful, he was a tower of strength, and practically never made the slightest mistake. Crelly, as has been indicated rendered his side good service in both positions in which to figured. Makepeace was the most conspicuous in the half-back line, while the forwards were seen to greater advantage than has been the case this season. Young was tricky, and distributed the play with great judgement McDermott too was more like himself and with Settle always ready to seize in opening it will be understood that the Everton attack was effective, seeing that both Hardman and Sharp were in their happiest mood. The United though lucky to win, imparted any amount of determination into their play, but they are scarcely the team of old. Indeed it was quite disappointing to visit Bramell-lane, and miss the familiar figure and powerful influence of Ernest Needham.
EVERTON RESERVES 5 ATHERTON CHURCH HOUSE 0
October 9, 1905. The Liverpool Courier.
Lancashire Combination Division One. (Game 7)
Owing to many of the clubs being engaged in the qualifying competition for the English Cup there was only an attentunated programmes of matches in the Lancashire Combination. After the rest of the previous Saturday the Everton team appeared at home against Atherton Church House, and as they had previously beaten the Churchites it was not executed that they would have much trouble in improving their record. Such was the case, for at no time did Atherton cause their opponents defence any anxiety, and in the end Everton gained a very easy victory by five goals to nil. Birnie opened the scoring with a grand goal after half an hour's play, and it was from his centre that Oliver was able to add a second goal. This was the state of affairs at the interval, and after the change of ends Oliver, Cook, and McLoughlin put on further goals. Everton showed a decided improvement on recent displays, and after a somewhat uncertain start the forwards finished well. Birnie was always to the fore, and in this player, Everton have secured a promising winger. The halves were fully equal to the task of keeping the visitors forwards in check, and as a result the defenders had an easy task. The visitors showed plenty of vigour, but all round compared unfavourably with the home team . Everton: - Collins, goal, Hill, and Hannon backs Black, Chadwick, and Donaldson half-backs, Irving, McLoughlin Oliver, Cooke, and Dilly forwards.
EVERTON v NOTTS COUNTY
Yorkshire Post and Leeds Intelligencer - Monday 16 October 1905
This League match was played at Goodison Park before 12,000 spectators. Several changes on both sides were made. Collins and Oliver made their first appearance, and Booth resumed after his suspension. Notts were short of Reilly, Mainman, and Humphreys. Everton started, and in the first minute forced a corner, and after goals were scored by Settle, Oliver and Abbott, Gee scored for Notts. Interval score; Everton 3 goals, Notts County 1. In the first half Dean was injured, and was absent for the best part of the first 45 minutes. On resuming Everton held the advantage, Iremonger was prominent for the visitors. Dean scored for Notts through a mistake by Crelly. Oliver scored two more goals for Everton, who won easily, Hardman scoring another goal. Result; Everton 6 goals, Notts County 2.
EVERTON'S GREAT VICTORY
Athletic News - Monday 16 October 1905
By Junius
Last year Everton defeated Notts at Goodison by 5 goals 1, after a game in which the Midlanders were outplayed at all points. The recent visit of the latter to Liverpool ended quite as disastrously, and there was again a margin of four goals between the teams. Perhaps the most important feature from a local point of view was the substitution of Oliver for Young at centre forward in the Everton team. The clever young Scot has not been in the best of health since he came to Liverpool, and every year he experience the same trouble in becoming acclimatized. Collins made his first appearance for Everton in a League match, owing to Scott not having sufficiently recovered from the injury he sustained at Sheffield. Oliver will doubtless be given another trial in the centre, after scoring three goals against Notts. He is not as smart in taking the ball from every position as Young, but he is always brustling about the goal posts, and is the proper type of leader to work in accord with a couple of clever wings. He has scored seven goals for the Combination team this season, so that the three he secured against Notts brings his record up to double figures. If Oliver can find the net from the perfect chances which Sharp bottle, and Hardman send across he will maintain his post for some time
NASTY KNOCK FOR NOTTS.
Athletic News - Monday 16 October 1905
By Junius.
A boisterous breeze kept many people from Goodison Park, and there would only be about 12,000 present to witness the downfall of Notts County. At the last minute Everton decided to play Collins in place of Scott, who had not completely recovered from his Injuries the previous week at Bramall lane, but the Notts team as originally chosen was altered in four particulars, though In one instance—that of goalkeeper—it is doubtful whether the customary keeper, Reilly, could have performed more efficiently than Iremonger. Strange though it may seem, judging from the final figures, Everton were only prevented by the Notts custodian from achieving a record victory. Seldom have I seen so many easy opportunities of scoring mulled as in this match, and though Everton got the ball into the net six occasions, they might very readily have doubled their total. Oliver made his first appearance in League football, and he certainly fulfilled the mission for which he was chosen, namely, that of turning to account the centres from those smart artists on the extreme wings, Sharp and Hardman. Three goals fell to him, and might just as easily have made the number into half dozen. Oliver is worth trying again. He goes for goal, and that It what Everton require. In the first half Everton practically monopolized the attack, and the game was very one-sided. Settle started the scoring after Iremonger had affected capital clearances from the inside left and Oliver, and shortly afterwards another judicious pass from the same player gave the new centre forward a chance which he cleverly utilised after brushing between the Notts full-backs. Half-an hour had elapsed ere Notts made any appreciable headway, but then Gee received a long pass from Green, and though apparently offside, went on and beat Collins with oblique drive. This stimulated Everton, for Abbott immediately gained possession, and working past the backs gave Iremonger no chance with his final shot, which the custodian scarcely saw. Thus Everton led at the interval by three goals one. For a time, Notts seemed likely to do better in the second half, and after a severe spell of defence during which Iremonger repeatedly saved his side, and Oliver missed the easiest of chances, Harrison got the better of a tussle with Crelley, and sending across to Dean the latter went clean through and made the scores almost level. Another capital attempt by Gee enabled Tarplin to head In, but Collins cleared at the expense of corner, and this was the end of the Notts attack. Sharp who had been running away from the Notts' backs just as he pleased, raced down and centred to McDermott, who might easily have scored. He sent forward to Oliver, who was distinctly offside, and the centre scored. In my opinion this goal ought never to have been allowed. However it counted, and a few minutes later Sharp again ran down, and this time Oliver beautifully hooked the ball into the goal from the right winger's centre. Green made a desperate effort to reduce the adverse margin, but close on time Sharp once more made headway, crossed to McDermott, who in turn placed Hardman in possession, and the latter coming into the goal mouth made no mistake in shooting. Thus Everton found themselves winners by double the half time figures. There no disputing their superiority, and, the form they displayed at Goodison, Notts are by no means a strong side. Their half-backs were terribly weak, and Emberton alone showed any capacity for keeping the Everton front rank under control. In fact, but for the excellent work of Iremonger, Notts would have received one of their most pronounced defeats. Everton, on the other hand, were able to break away almost often as they wished, for whenever Sharp obtained possession a goal seemed almost certain to follow. This was the most incisive portion of the Everton attack, and Sharp enjoyed a regular field day. Four of the goals gained by the home team were directly due to his brilliancy. Oliver displayed any amount of dash In the centre, and though he missed one or two easy chances, he did remarkably well, taking his play all through. He kept the wings going, and was always ready to receive a centre, either from Sharp or Hardman. McDermott was weak, and Sharp, who was the finest forward on the field, received most of his openings from the halfbacks. His runs and centres were too much for the Notts defence, which simply could not hold him in check. Settle was also seen to great advantage, and the Everton forward display was distinctly exhilarating. The halfbacks were in fine trim, especially Taylor, and it is astonishing how the veteran displays such consistently good football every week. Abbott was likewise in one of his most aggressive moods, and the goal he scored was one of his best efforts. Booth made welcome reappearance, and while skilful as ever in midfield, he was just as remiss near goal. Robert Balmer played particularly fine game at full back, his kicking being clean, and his tackling effective. Collins had little to do in goal, and I should like to see him well tested before expressing an opinion of his abilities. Notts were never really in the running, and their defeat cannot be attributed to Iremonger. The wonder is that he was not beaten oftener. I should rather say that the heavy reverse was due to the half backs, who were of little use either to their own forwards or in tackling the Everton front line. They were easily baffled, and with Montgomery too slow to hold sharp, and Griffiths Inclined to be erratic in his returns, it will be easily understood what a trying ordeal Iremonger had to undergo. Neither were the forwards much more decisive in their movements, and Dean, despite his injury which kept him out of the game for fully twenty minutes in the first half was one of the most dangerous in this line. Gee performed well after the interval, but as a team Notts did not imbue one with any feeling of their greatness. Everton;- Collins; R. Balmer, Crelley; Booth, Taylor, Abbott; Sharp, McDermott, Oliver, Settle, and H.P. Hardman. Notts County; Iremonger; Griffths, Montgomery; Emberton, Wainwright, Craythorne; Harrison, Dean, Green, Tarplin, and Gee. Referee; N. Whitaker, London.
J.T. ROBERTSON
Athletic News - Monday 16 October 1905
There are two Robertson with Chelsea, the new club whose palatial home is in the West of London. I believe Jock of that Ilk, of whom I write, a little all corners man, with golden hair and a pale, sharp face, has come South to strike ile. He certainly takes a cheery view of the morrow already, though we are on the very even of a new season, and talks of his club marching into the First League after the fashion of Woolwich Arsenal. It seemed all very strange to hear this young man speak with boyish enthusiasm of the stormy voyage he and his fellows have embarked upon, for judged by appearances, he is a pronounced pessimist. His clean shaven face has seriousness writ in every line; first impressions suggest that he is forever expecting some terrible happening. Talk to him, however, and instead of an intensely severe persons you discover a bright, genial chap, with a big bump of humour.
A DIFFERENT AGE
A player like Robertson takes one back to a different age, and one cannot resist the temptation to compare the past with the present. Professional football is all so very different now. To the shrewd man of business it has immense possibilities. If a player has just that necessary touch of commercialism to enable him to realise the opportunities which are offered, then he will never regret that he has joined the ranks of paid footballers. Robertson has left Glasgow, where as one of the leading lights of the Ranger, he placed himself at the very top of the ladder, to build for Chelsea a team that will do credit to football generally and the great Metropolis in particular. His great national shrewdness has taught him that a successful team in London has unlimited scope, and though he knows full well that all new clubs must inevitably have a big fight before they can claim to justification, Robertson, essentially a "spot." Is prepared to take all the bufferings to be encountered. He has won as much success, if not more than usually falls to the lot of a player, but he is still the level-headed man he was when as a mere youth he left Greenock Morton to play for Everton in the 1895-6 campaign. Here is the keynote of Robertson's character. His parents decreed that he should be a boiler-maker first and, if he had the leisure, a footballer afterwards. Robertson, though early in life was one of the embryonic internationals who chased the big ball in the public parks around Dumbarton, where, by the way, he was born in 1877, recognized the wisdom of learning a trade, and reliqiously finished his apprenticeship. From the day he first played for the Greenock Club he knew instinctively that he would drift into professional football, but he always insisted on having two strings to his bow.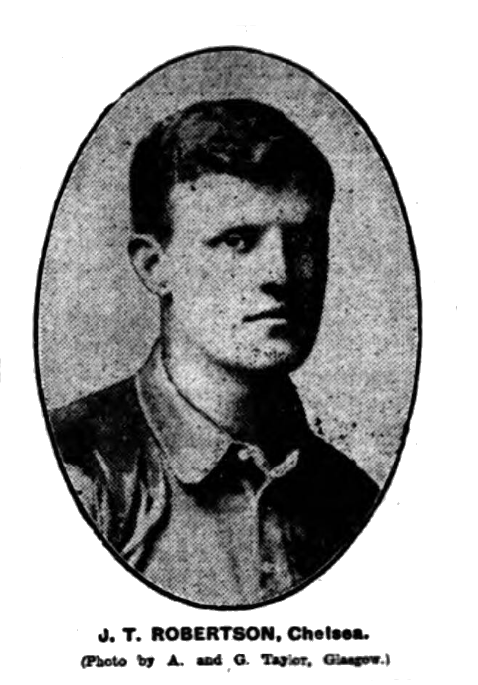 CHARACTERISTIC
This provision in case of accident is characteristic of most of the old Dumbarton players, and it is pleasant to know that the Chelsea manager upholds the best traditions of the famous school in which he was trained. Of his abilities as a player little need to said. One might almost little need be said. One might almost speak of him as the Steve Bloomer of Scotland, for he has a house full of caps. He has represented his country on sixteen occasions, and has appeared in six Inter-League games. There is nothing thrilling about the style he affects. There is no hustle or bustle about his methods. He is cool and calculating; a half-back with an immense power of anticipating what his opponent is going to do. In mufti he is not the man one would select for a hard, punishing game, but he is by no means the midget he appears to be. He stands 5ft 8in, high, and weighs a little over 11st. careful in his mode of living, but far from fastidious –he is neither a teetotaler nor a non-smoker-he is always fit. He is just the type of man to have at the head of a young club. Capable of great work, a man who must always be working, he unconsciously keeps enthusiasm alive. Those who have never met the Real professional player at home would scarcely suspect Robertson of being a paid footballer. He is intelligent and smart, and has a soul above football. And, talking about those people who have a weaknesses for decrying the footballer, Robertson tells a good story. In a match at Sheffield he was accidentally struck in the eye by an opponent, and left the field with a very blackened and much damaged optic. The next day he was appearing in another match, and after he had dressed and was leaving the ground he was very much amused to hear one gentleman say to his friend, "What a pity about that Scotch player with a black eye. Worst of these bally footballers, you know. That chap (indicating Robertson) got drunk last night and was run in. He is out on bail." As Robertson put it, "Some folk regard footballers as so many barbarians." Let me conclude by saying that Robertson is quite a little gentleman, and an ornament of a great game. B.B.
EVERTON 6 NOTTS COUNTY 2
October 16, 1905. The Liverpool Courier
NOTTS COUNTY ROUTED
EVERTON'S HALF-DOZEN GOALS
It is many as long day since the Everton League team secured such an easy victory as was the case on Saturday. A score of 6 goals to 2 is formidable enough, but it by no means represents the superiority of the winners. As a matter of fact Notts County ought never to have been allowed to obtained either goals, and as for Everton, with the glorious openings which presented themselves there would have been nothing surprising if their harvest of goals had run into double figures at least. Although goals were prolific, the game was too one sided to excite the real interest of the football enthuistant. Doubtless it was exceedingly pleasant to the home supporters to find their favourites so successful in plotting the ball into the net. But the feebleness of the opposition detracted largely front the merit of the performance. On Saturday's form Notts County are a very weak team indeed. It is true that they were demoralised by the absence of three of being regular players, but except for a few minutes just after they had gained their second was they never seemed to possess the slightest heart. Certainly they never suggested in the remotest degrees the possibility of a repetition of their surprising performance at Roker-park.
ONE SIDED GAME.
As has been indicated, the game throughout resolved itself into practically a continuous onslaught from the part of the Evertonians. Just after starting the County forwards exhibited one of two pretty passing movements, but it was a mere flash in the pan. Everton's superiority was not marked, and it was only what was expected when Settle, after ten minutes play scored the first goal to be followed by a second from Everton's new centre forward Oliver, who added his name on his first appearance to the list of League scorers with a really capital shot. A little later Dean retired injuried, and the County position was worse than ever. Play was of a scrambling nature, and probably through taking matters too easily Everton allowed their opponents to credit themselves with a goal. Following a free kick against Balmer for handling the ball, went out to Gee, who found the net, while Everton were vainly appealing for offside. This had a rousing effect upon the Blues, the result being a brilliant goal from the foot of Abbott. Dean had sufficiently recovered to turn out after the interval, but there was no diminution in the bombardment of the Notts goal. Looseness on the part of Crelly was responsible for a soft goal, and then for a brief period the Lacemen looked liking making a fight of it. Once they were swept back they had a sorry experience. The Everton attack pressed home in irresistible fashion, and though splendid opportunities were thrown away, Oliver scored the fourth, and fifth goal. Hardman the sixth, and the rout of the County was complete. BRILLIANT FORWARD PLAY.
Everton pronounced triumph was associated with two first appearances in the League team, Collins who deputised Scott had so little to do that it would be unfair to form an estimate of his abilities, although one was not struck with his judgement in dealing with the two shots which beat him. Oliver, however, made an exceedingly satisfactory debut. He has a lot yet to learn, especially in the direction of attending to his wings, but there is one thing that can truly be said about him. He is full of dash, and eager to seize every opening for a shot at goal. This is the kind of centre forward that Everton requires seeing that the wingmen are quite clever enough to supply him, with opportunities. Anyhow he is to be congratulated upon his performance in accomplishing what is regarded as the hat trick in football. Tom Booth reappeared after a period of enforced ideaness, and naturally was rather overshadowed by his colleagues in the half-backs line. Neither Balmer and Crelly was greatly troubled on account of the feebleness of the Notts front line. Unquestionable the feature of the game was the grand display of Sharp, who was in his most versatile mood, and the manner in which he rounded his men and centred right into the goalmouth was a treat to witness. The left wing too, was responsible for many brilliant moves, McDermott alone in the front rank falling to attain his real form. Teams: - Everton: - Collins goal, R.Balmer, and Crelly, backs, Booth (Captain), Taylor and Abbott half-backs Sharp, McDermott, Oliver, Settle and Hardman, forwards. Notts County: - Iremonger, goal, Griffiths, and Montgomery, backs, Emberton, Wainwright, and Leytham, half-backs, Athersmith, Green Dean, Tarplin and Gee, forwards. Referee M.Whittaker.
MAKEPEACE PLAYS FOR ENGLISH LEAGUE
October 16, 1905. The Liverpool Courier
The English League beat the Irish League by four goals to nil at Manchester on Saturday Makepeace Everton's right half, played a useful and consistent game in his first inter-League match.
FRANK BRETTELL
Bournemouth Daily Echo - Tuesday 17 October 1905
I hear that Frank Brettell, until recently manager of Plymouth Argyle team has become converted to Rugby, and is an enthusiastic follower of the local Rugby team
Frank Oliver
Oliver, the young Southamptonian, who went from Brentford to Everton made an auspicious debut for the Merseysiders League eleven on Saturday. He scored three goals and kept his wings together excellently.
Thomas McDermott
McDermott, the Everton forward, has been transferred to Chelsea. "Mac" played a brilliant game against the Saints, when the latter met Everton in the cup ties last season.
EVERTON PLAYER TRANSFERRED
October 18, 1905. The Liverpool Courier.
Thomas McDermott, the well known and clever inside right of Everton, has been transfer to the Chelsea club. Mr.Jack Robertson, the manager of the club, and one of the directors, came down to Liverpool on Monday evening, and made all the necessary arrangement, with the Everton officials, and McDermott will now sport the colours of Chelsea. He ought to prove a great capture for his new masters. McDermott first team was Cambuslang Hibs, from which team he was from transfer to Dundee, he has played many fine games for Everton, and at his best is undoubtedly one of the finest exponents of the dribbling code.
TOMAN TO OLDHAM
Manchester Courier and Lancashire General Advertiser - Friday 20 October 1905
Toman, the ex-Stockport County, Everton and Burnley centre forward, who broke a leg while assisting the Goodison park club a few seasons ago, has signed for Oldham Athletic.

STOKE CITY 2 EVERTON 2
October 21, 1905. The Liverpool Football Club
The Everton team journeyed to Stoke today in order to meet the Potters on their native. Two games between these keen rivals are always fast and exciting, and the present meeting was invested with exceptional interest by reason of the fact that last season's Everton goalkeeper L.R.Rouse, was once again appearing with the Staffordshire club. The journey to Stoke was made in excellent style, and a tremendous crowd put in an appearance to witness this match. Everton evidently being prime favourites in this part of the county. The weather was beautifully line, and there was every promise of an exciting tussle, when the teams turned out. There were two changes in the Everton ranks from last week. Scott going back in goal, and Taylor partnered Jack Sharp, in place of McDerrmott, who is well known gone to Chelsea. Under these circumstances Booth took centre half. There was only one change in the home ranks. Holcroft being replaced by Hall. There were 12,000 spectators present when Stoke having lost the toss, kicked off with their backs to the sun, and against a slight breeze. The teams line up in the following order . Everton: - Scott, goal, R.Balmer, and Crelly, backs, Makepeace, Booth (captain), and Abbott, half-backs, Sharp, Taylor, Oliver, Settle, Hardman, forwards. Stoke: - L.R.Roose, goal, Sturgess, and Benson, backs, Baddeley, Holford, and Burgess, half-backs, Fielding, Rouse, Gallimore, Hall, and Miller forwards. Referee J.H.Smith . After the opening exchanges, the Evertonians ran-down magnificent on the left, and a corner was forced off Sturgess. Hardman lobbed the ball right into the goalmouth, and an exciting bully ended in another terrific bombardment, and after the goalkeeper had cleared two capital shots a third corner accured to the Evertonians. The could not however, succeed in piercing the home defence, and at length Holford gave relief with a timely punt that but his forwards in possession. They raced away in fine style, on the right and from a pass by Fielding, Gallimore had an open goal in front of him, but he shot over the bar. So far the play had been very even and exciting, and though Everton opened strongly, they were now being pressed by there opponents. Both young Balmer and Crelly, however, behaved excellently and a spell of midfield play was succeeded by the three Everton inside men getting away and Settle making his way through, was just about to shoot, when Sturgess cleared his line with a magnificent kick. Open by followed for a time, and both sides were visited in turn without anything-material happening. In the course of one advance on the part of Stoke, the referee was struck full in the face by the ball, but the crowd only laughed at his discomfiture. Even play ensued, but gradually Everton by superior tactics got down into the Stoke territory, only to see the movement spoil by Abbott shooting high over the bar. On another occasion Jack Sharp got away in excellent fashion, but Taylor was just too late to meet the pass, and Benson, who a moment before had been badly hurt, was able to clear. After this some exceptionally fine footwork on the part of the visitors' halves and forwards was witnessed and Oliver had an open goal, before him, when he shot yards wide of the mark. The pace at this time was not quite as fast as at the commencement, but it was exceedingly bright and entertaining. Sturgess making a miskick gave Taylor a fine opportunity, but "the old war horse failed" to take advantage of it. The game at this period was going altogether in favour of the visitors, but the Stoke defence though a trifle shaky at times was not to be beaten, and at length the long spell of pressure was relieved by Baddeley who gave the right possession, but Crelly pulled him up, Sharp then go away in splendid style, and centred well, but Oliver was too late to finish the movement. Another breakaway on the part of the left wing ended in Hardman sending in a swift ground shot, which Rouse got down to very cleverly. After this the Stoke took up the running on a most determined fashion, and on one occasion Taylor broke up a particularly dangerous combination. Still they pressed, and from a centre by Millar, Rouse headed into the goalmouth, Scott partially cleared, but the Stoke man got the return and shot again. The Everton custodian was completely beaten, when Crelly stepping in very luckily, and kicking the ball away. Still the danger was not over for Gallimore rushed up and shot strongly but the ball travelled over the crossbar. Midfield work followed and Sharp got down in his most characteristic fashion, but he was pulled up at the last moment by Benson and the movement ended in the ball eventually going over the line. Play at this time was rather on the slow side, but some excellent work by Makepeace put the Evertonians once more in possession. A series of throws in spoiled their advance, however, and Hardman was distinctly at fault in allowing Burgess to rob him when he was in a good position More play near the centre line ensued and then the home lot progressed on the left, but they were spoiled by Miller coming into collision with Balmer, the result being that he was rather badly winded, and as a consequence the game was delayed for some time. On resuming there was almost immediately. Another delay caused through Rouse and Abbott coming in contact, and the Stoke players received such a injury to his mouth that he was compelled to leave the field, for a time. At this period of the game the home lot were enjoyed rather the better of the argument, but their combination was very crude, and as a consequence many excellent chances went a begging. Still they kept desperately near Scott's charge looked like scoring when Baddeley shot high over the bar. Everton attacked in turn, and Oliver put in a shot, which Rouse fisted clear. The Evertonians returned to the attack, and Settle when close in was badly tripped but nothing came of the free kick, which was granted. A brilliant run down the wing on the part of Sharp, who had completely beaten, when Burgess rushed across and cleared magnificently, succeeded even play. Give and take play followed, but Everton were always smarter than their opponents, and at times some superb football was seen on the part of the three inside men, and one smart movement ended Settle dropping the ball right into Roose's arms. The little international shortly afterwards came into antagonism with Holford, and the crowd showed district hostility to Settle, but after all it was only a storm in a teacup. Even half back and forward play gave Everton the upperhand, and Hardman, after beating Burgess shot strongly, but Roose was not to be caught napping, and he cleared in his usual masterly style. Just before the interval, the Evertonians put on pressure, and a fine movement of the home forward line looked like ending in something tangible, when Oliver was pulled up for offside. Settle was prominent with a brilliant individual run but Holford intercepted his final shot at the expense of a fruitless corner. Still the visitors kept pegging away, and Booth tried to give Everton the lead with a long shot, which passed only an inch on the wrong side of the crossbar. Just before half-time Balmer in making a return, struck Makepeace violently, in the face with the ball, but the plucky little half back was soon all right. Sharp was then prominent with a magnificent sprint along the wing, and Sturgess was beaten, when Benson nipped in and cleared. Half-time Stoke nil; Everton nil.
On crossing over the game was continued at the same ding-dong pace, and though it was rather loose in character it was always fast. The next moment of importance was a breakaway on the part of Sharp, who passed to Oliver, but the Everton centre was far too slow to take advantage of it, the result being that Roose was able to clear. Again the Lancashire captain ran down the field at top speed, and this being his initiatory movements led to success, he swinging the ball right across to the left, where Settle very cleverly screwed it back again to Oliver, who beat Roose, with a short swift shot, the famous amateur custodian being apparently taken by surprise. After this reverse the home team played with great streniouness, but they found themselves opposed to a splendid trio of halves, always watchful and alert. The home side consequently began to try pot shots, and Sturgess once sent one from long range skimming the crossbar. An attempt on the part of the Everton left ended in Hardman being left in a capital position, but he dallied too long, and Burgess was able to clear. In the subsequent stages of the game the Potters had rather more of the play than before, but there was the same lack of cohesion and after Baddeley had put the ball high up in front of Scott, Rouse rushed in and ought to have scored, when he shot wide. Play after this was rather of a desultory character, but at length Stoke attacked strongly on the left and Fielding headed in a warm shot, which Scott dealt with very cleverly. There was more play in the open, and then an advance movement on the part of Everton ended in Abbott putting in a magnificent long shot which literally scraped the top side of the crossbar. End to end play was again the order and a neat movement on the part of the Stoke left wing terminated in Miller putting in a splendid shot which seemed to bother Scott, but the Irish international succeeded in throwing clear. Everton were next in evidence on the right and a free kick close in looked ominous for Stoke. The Everton captain saving at the expense of a corner. This however, was safely disposed of. The breakaway on the part of Everton left ought certainly to have ended in a second goal for Taylor had the net absolutely at his mercy when he shot ridiculously wide. Then Stoke took up the attack in the same dogged and persistent fashion, and one movement was exceedingly dangerous, but Makepeace finely saved the situation at the expense of a corner. This led to a tremendous bombardment of the Everton goal. Half a dozen were put in quick succession, but at length the pressure was relieved. This, however, was only temporary, for the home forwards returned again in fine fashion. The ball was cleverly put back to Halford, who put in a long shot that scored a really magnificent goal. The excitement was now increase and the enthusiasm of the crowd grow when the Potters again advanced against their opponents. They were quicker and more deadly in their shooting now than ever, an onslaught ended in hall notching a second goal a few minutes from the end. Immediately before the finish the Evertonians made super efforts to make equalising goal, and so determined were they that twenty seconds before the final sounding of the whistle, Hardman succeeded in notching the ball, and a most exciting game concluded in a draw of two goals each.
SENSATIONAL STRUGGLE AT STOKE.
Athletic News - Monday 23 October 1905
By Onward.
It does often fall to the lot of the average football spectator to witness so thrilling a contest as that served up by Everton and Stoke at the Victoria Ground on Saturday. By almost the last kick Everton snatched a draw after looking certain losers, as they had only ten minutes previously appeared certain winners. With bright autumn weather 12,000 people lined the enclosure, accounting for gate receipts to the amount £306. Rarely during a long experience of League football have I seen play more sternly contested. Everton, who had a stiff breeze at their backs, showed the neater and more skillful footwork at the outset, but lacked the necessary incisiveness, On a good many occasions they had the Stoke defenders in trouble, well within shooting range, but, as a matter of fact Roose was not more than twice seriously troubled before the interval, and on these two occasions the talented Welshman acquitted himself cleverly in saving shots from Settle and Hardman. One of the most thrilling incidents was when Sharp raced away with a clean field and Charles Burgess flashed across from the other wing and cleared both ball and man. The Stoke forwards, who were not by any means idle, had chances of scoring, and Gallimore, Rouse, and Hall all missed possible openings. Everton were seen at their best in the opening part the second half. We had several prettily executed forward movements, and at the end of nine minutes Sharp outmaneuvered and outpaced Benson to finish with a fine centre, which allowed Oliver to enhance his reputation as a goal getter. The ex-Brentford man shot hard and true, and Roose had no chance. For a long time play was very equal In character, each goal being attacked in quick succession, and so fiercely fought was the game that there were quite a number of stoppages owing to minor injuries. Fred Rouse had a glorious chance of putting his side on equal terms, but missed with only Scott to beat. Stoke were labouring hard against the collar, but so stubborn was the Everton defence that it was not until nine minutes from the finish that Holford scored an equalizing goal amidst a storm of cheering. Stoke had rearranged their attacking forces about the middle of this half, Hall going centre and Gallimore inside left, and this change was quickly operative for good. After they had equalized Stoke attacked so fiercely that the Everton defence was heavily taxed, and three minutes from the finish some brilliant work by Miller and Hall culminated in the latter shooting a grand goal. There was an extraordinary scene of enthusiasm, but Everton declined to be beaten, and Hardman scored from a corner, with Holford a temporary absentee, in the last half-minute of the game. There was only just time for Stoke to return the ball to the centre when the whistle blew. The players on both sides were extremely keen, and they are to be congratulated on the pluck and determination they exhibited. Stoke delighted their followers by their recovery in the final stages, while that whole-hearted final effort by Everton in the last half minute is deserving of the highest commendation. On the Stoke side, Roose was at his best. All his saves were impressed with the hall mark of class. Charles Burgess was an outstanding figure in the Stoke defence, his fine clearances and resolute tackling commanding admiration. His partner, Benson, who has not been in the best of health recently suffered by comparison, and Sharp frequently had him in difficulties. Amongst the half-backs, Holford was preeminent, and set a rare example of untiring energy when defeat appeared certain. His equalizing goal was a fitting reward for the sterling efforts he had put forth. The forwards were, on the whole, disappointing, but they atoned for many shortcomings by their efforts in the last quarter of an hour. Miller was greatly neglected until the second half was well in progress, but when plied with passes the old "Wolf" middled with unfailing judgment, and Stoke's second goal was the outcome of his effective wing work. Hall was happier when moved to his accustomed position, and Gallimore seemed more at home after changing places. There was a lack of understanding on the right wing when Fielding and Rouse were frequently out of position. In fact, it was at times difficult to tell who was the inside and who was the outside man. In awarding praise to Everton, pride of place must be given to a superb half-back line. I most congratulate Booth on playing so fine a game on his return to his old position. He was always a commanding figure, and he was flanked by a couple of sterling players in Makepeace and Abbott. Scott did many smart things in goal, and was ably supported by Balmer and Crelley. I have rarely seen the latter play better. The star performer in the forward line was Sharp, whose sparkling runs and clean cut centres were always a source of danger. Harold Hardman was not as noticeable as usual, and although the footwork of the whole line was skillful, the efforts in front of goal left something to be desired. It was great struggle. Stoke;- L. R. Roose; Burgess, Benson; Baddeley, Holford, Sturgress; Fielding, Rouse, Gallimore, Hall, and Miller. Everton; Scott; R. Balmer, Crelley; Makepeace, Booth, Abbott; Sharp, Taylor, Oliver, Settle and H.P. Hardman. Referee; J.H. Smith, Doncaster.
Sensational Scoring at Stoke.
London Daily News - Monday 23 October 1905
Everton opened strongly at Stoke, obtaining three corners in succession. Stoke retaliated, and Rouse nearly scored, that player just afterwards retiring hurt. Everton then took up the attack, Roose saving from Hardman. After the interval a brief attack by Stoke was followed a goal for Everton by Oliver. Stoke then dashed to the other end, but House missed. Holford equalized with a fine low shot about nine minutes before the finish, and Holford gave Stoke the load. However. Hardman from a corner kick, got a second goal for Everton.

EVERTON RESERVES 3 STOCKPORT COUNTY RESERVES 2
October 23, 1905. The Liverpool Courier
Lancashire Combination Division One. (Game 8)
BENEFIT MATCH AT GOODISON-PARK.
The match between Everton and Stockport County had been set apart by the Everton directors for the benefit of the widow, and eight children of the late George Farmer who, as one of the members of the team in the old days, did much towards bringing Everton to the front. It was gratifying to see a larger attendance than usual, and it is to be hoped that the funds will benefit considerably. Those who did not attend the game may still send their contribution to the fund. The game was a keenly contested one, but Everton always had a bit in hand, and finally won by three goals to two. During the first half Everton showed a marked superiority forward, and McLoughlin and Dilly each scored a fine goal. Collins effected brilliant save, but he had little to do in comparison with Worsley. The home side crossed over with a lead of two goals, and McLoughlin augumented the total with a magnificent goal. The visitors however, finished better this half, and succeeded in scoring twice, with the result that Everton gained the points by a narrow margin. McLoughlin gave a fine display for Everton, and was always dangerous. Dilly also led many raids, and his goal was a beauty. Black was the best of the halves, while Wildman was a sound defender. The visitors proved a capable side all round. Everton: - Collins, goal, Wildman, and Hannan, backs, Black, Chadwick, and Donaldson half-backs, Bernie, McLoughlin, Oliver, Cooke, and Dilly forwards.
EVERTON'S OFFER FOR AN IRISH FORWARD.
October 24, 1905. The Liverpool Courier
No less than seven directors cross the channel to visited Belfast on Saturday, to witness the performance of Donaghy, Derry Celtic forward from Edinburgh, Hibernians, and Young of Linfield club's. The club were represented were, Everton, Fulham. Everton immediately offered Linfield £300 for his service. The latter declined negotiations. Tom Robertson confirm Young as a greatest player he has ever seen.
EVERTON 3 BOLTON WANDERERS 1
October 28, 1905. The Liverpool Football Echo
The pilgrims from Bolton are not looked upon by Liverpool supporters of League fixtures as a recherché district the same way that several other clubs are in fact, their want of success so far in discharge engagements would at first glance lead their student of form to conclude that Everton had "an easy thing" on this afternoon in entertaining Bolton Wanderers. As a rule the partisans' of the Blues do not support by their presence foregone conclusion. As a matter of fact the Trotters have one match lost four and divided points three. Last Saturday they lost to Birmingham after playing a resolute game, though their shooting was mediocre. The Wanderers are one of the original clubs, which constituted the League, but they have had their experiences of second Division Company from which they emerged at the termination of last season. Their defence now is however, but a faint reflection of the palmy days of Sutcliffe, Somerville and Jones. Past form pointed distinctly to the Goodison-park improving their goal average this afternoon, as the teams have met in Liverpool on fourteen occasions. Everton winning ten, losing three and drawing one. The weather was fine, but somewhat gloomy, and about 10,000 spectators were present. The Lord Mayor Mr. John Lea, was also an interested spectator. The following were the teams : - Everton: - Scott, goal, W.Balmer, and R.Balmer, backs, Makepeace, Booth (captain), and Abbott, half-backs, Sharp, Taylor, Oliver, Settle, and Hardman, forwards. Bolton Wanderers: - Davies, goals, Taverstock, and Struther, backs, Robertson, Freebairn, and Boyd, half-backs, Stokes, Marsh, Sheppard, White, and McEwan, forwards. R.G.Young, referee. The Everton skipper was unfortunate in endeavouring to guess the spin of the coin, and Oliver had to kick against the wind. An attack soon came from the homesters, Sharp getting away and centring, but White got the ball way at the second attempt. Then the Wanderers set to work with extraordinary determination, and after a passage down the left and centre the ball went to the right wing from whence Stoke called upon Scott to clear. A corner was gained by Bolton, but this having been disposed of the Blues made a passage up the field, and as long pass went to Sharp who dashed along the touch line, but was at the last moment shouldered off the ball, and a corner which for towed was safely negotiated by the visitors. After Abbott and Hardman had tried in effectually to break through the Trotters guard. Stokes received from Fairbairn, and the insider, initiated a hot attack, which very nearly proved successful as Sheppard and Marsh joined in the fray, and both the Balmers were within an ace of being beaten several times. The Trotters resumed the attack with great persistency, and W. Balmer only just cleared. After this the Blues made a feeble effort to break through and a corner resulted, but Oliver could not convert. Away went the Bolton right in grand style, and Scott saved a stringer from Marsh. But the Trotters were not driven out, and their energy was so unabated that reward came at last, when White beat Scott with a glorious shot. After the restart Abbott put in a tremendous shot, which missed by a trifle. Long kicking by the brothers Balmer put Sharp on the run, but he was pronounced offside, and a further free kick against the Evertonians gave the Trotters no particular advantage. From the kick out the Everton forwards broke away a line, and went sweeping up the field in grand style, and when close in Settle received the last pass, and judging the situation beautifully placed the ball in the corner of the goal' giving no chance whatever. Restarting Oliver received a pass from Sharp, and being tackled by Freebairn passed back to Abbott, who tried another of the expresses, but found Baverstock in the way. Play was suspended for a few minutes while White was undergoing repairs Baverstock took the free kick for Bolton, but Makepeace prevented any further intrusion. The visiting got the best of the throw in, and were making progress when Abbott checked them. Then followed a foul against Makepeace but Bolton did not gain any advantage, and an ineffective advance followed by the Blues. Resolute tacking by Bolton had led up to the home attack, but Struthers cleared and thus opened up another was from the Wanderers front. The home defence was distinctly shaky and had all a long offered poor opposition on the Bolton rushes. Both Balmers were now well beaten by the Bolton right and centre, but were a clear course Stokes shot with terrific force only to put the leather outside. A nice clearance by R.Balmer and a pretty serve by Booth and then Settle, and Hardman were engaged in an attempt to work their way through the opposing line, but Hardman was too age, and ran the ball out. Another forward move by Settle and Oliver was spoiled just outside the penalty line owing to a foul against Bavenstock, and from this Abbott endeavoured to drive the ball through a crowd of opponents, but failed. Just afterwards Oliver broke away grandly, and was sailing onwards for goal in beautiful fashion when he was tackled by Struther, which was passed out to the left, but there was no comrade up in time to receive his pass. The spectators were much surprise to see the Blues so frequently held up by the despised, Trotters, but there was no gainsaying the determination and energy infused into their attack, and unfortunately, the Everton backs always seemed in difficulties under pressure. At last Sharp looked like improving the Everton account put in a well judged centre, but Oliver got too far down in receiving. However, immediately after the cricketer forced a corner, very cleverly of Struther and although the goal was packed, Davies cleared smartly, but after a little finessing the leather come to Bootle and the gallant skipper sent the leather towards the Bolton citadel with uninistalable power Davies never saw which way the leather went until it was netted, but Booth was afterwards given offside, when the ball was set in motion again play came from the home left, which point the ball went to Oliver, was missed a chance in front of goal. Their a lovely spell of passing was given by Settle and Hardman, but so strong was Baverstock's defence that they failed to pierce their way through. The ball went back to Abbott who plied the left wingers again and on this occasion Oliver join in, but neither of the trio could get in a shot at goal. Eventually Baverstock got the ball away, and Stokes made a dash down his wing, overcoming at opposition with the exception at the goalkeeper, Scott responding gallantly when called upon. The home forwards broke away, put this was of short duration, and Bolton pressed forwards again. The Wanderers were making strenuous efforts to equalise before the interval, and Sheppard, Marsh, and Stoker combined in line style, so that again was the Everton defence severely tested. On the occasion they came, out of the ordeal with credit though they could not prevent pressure being brought to bear on Scott, who had to leave his charge to cope successfully with the energetic Marsh. A free kick against Bolton for tripping Scott, led to a dash away, but it did not lead to anything of a tangible nature, and the same was being contested in the centre when the whistle announced the interval. Half-time score Everton 1, goal, Bolton Wanderers 1. Sheppard commenced the second half, and Bolton's right soon got to work. After one repulse they went down strongly, and Marsh shot for goal, R.Balmer clearing. A couple of free kick in favour of Everton caused the Bolton territory to be invaded, and Oliver received the ball in a good position. but fell. However, he quickly received himself and passed to Taylor, who tested the goalkeeper, but not very strongly. Scrummaging play followed a throw in by Abbott, but Hardman, getting the best of matters, shot across to Sharp, but the Bolton centres paid the cricketer too much attention, and he did not improve matters. Scott after W.Balmer saved a smart' advance of the "Trotters" left with a punt, and a minute after Davies fell full length in dealing with a grand drive from Booth. The Wanderers then turned on full steam, and for some time the pressure with difficult to deal with; but Makepeace played a great game, and his tackling was most effective. Stokes came with a rush, and beating Makepeace and Balmer, passed smartly to Marsh, who did not take the pass properly, and made a mull of it. The Bolton rights wingers were making a bold bid for goal when a foul was given against Marsh, and then for a short time each end was visited, in turn, owing to free kicks to either side. Sharp was making his way for possession in Bolton quarters when he was pronounced offside, but a corner soon came from the same wing, although this produced nothing better than a scrambled in front of goal, however, better matters prevailed in the course of further attacks on the Bolton goal, the forwards working grandly together and being kept well at work by the half-backs, one pass from Booth to Settle enabling the latter to shake the crossbar with a grand shot. A grand piece of work between Booth, Settle, Oliver, and Taylor led to the Trotters custodian rushing out to save, but he was rather severely handled, and temporarily knocked out. A shot from Settle forced a corner from Davies, which was cleared, and Sharp afterwards kicked over the bar. Oliver them missed a fine chance of gaining the lead by allowing Davies to nip out, and take the leather from his toe as he was entering the goalmouth. This palpable miss did not lessen the grim determination of the Blues, and they kept up a dogged attack, which ultimately resulted in Taylor giving his side the much deserved lead. Stakes broke away and beat W.Balmer, but Booth fell back and cleared. This led the way to a shot, from Oliver, which was saved by Davies, after very fine work in the centre, Hardman crashed the ball in, and Davies only saved at the expense of a corner, from which Sharp dropped the ball over the bar. Their Settle passed to Oliver who failed to score after which Booth, had a free kick, and Taylor passed to Settle, who missed by a foot. Better things however, were in store for the home side, and Settle received the ball from the right, and being practically uncovered had no difficulty in finding the net, registering Everton third goal with a beautiful shot, with a quarter of an hour to play and a lead of two goals the Evertonians did not relax their efforts for a moment, and took every opportunity of harassing their opponents defence, one centre of Hardman's causing consternation in the Bolton camp as Oliver dashed up to try to score, but the backs closed in and smithers got the ball away. Following this a strong attack, by the visitors who had rather hard lines at this time. The homesters were soon back at the other end where Davies had to save several times from Sharp, who shot grandly. The closing stages witnessed several rushes by the Bolton men, but were resolved by the Everrton defence although the home goal had a narrow escape after Stokes, following a free kick had centred the ball. final Result Everton 3, goals, Bolton Wanderers 1.
EVERTON v. BOLTON WANDERERS.
Yorkshire Post and Leeds Intelligencer - Monday 30 October 1905
Played at Goodison Park, before 15,000 spectators. Bolton opened well, and after ten minutes White scored for them. The visitors were, however, not in possession of their lead long, as Settle equalized for Everton a few minutes later. Crelly was absent from the home team, the Brother's Balmer playing backs. Interval; Everton 1 goal, Bolton 1. Everton had the best of matters in the second half, but it was not until nearing the finish that Taylor put them ahead after a fine dribble. Settle shortly afterwards put on a third goal for the home team, who had the best of matters to the finish. Result; Everton 3 goals, Bolton Wanderers 1 goal.
FRANK OLIVER
Athletic News - Monday 30 October 1905
Everton's Ponderous Pivot.
The Wanderers of Bolton have won one match in two months—form which suggests the possibility of trouble next spring. Everton beat them on Saturday by exactly the same score as when they last appeared at Goodison Park. The Wanderers showed good football for a time, but Everton were smart all the time, the Balmers and Booth being in such a humour that goals were very difficult to get. White was the first to find the net, but Hardman equalised, and in the second half the two inside men, Taylor and Settle, added goals. For the first time since his introduction Oliver did not penetrate the goal, but he showed many clever touches. Frank Oliver, who for the past three weeks has filled the position of centre forward in the Everton team, was born at Southampton 1885. He will only be 21 years of age next January, so that he possesses the inestimable advantage of youth, and has thus ample time to develop his powers. When a lad of 12 be played centre forward for Bevistown School during two or three winters, but it was six years later ere he became attached to a club of any note. Then he joined a Southampton Junior League team named Bassett, and as centre forward gave evidence of possessing goal-scoring proclivities. In representative League fixture with Bournemouth he was chosen leader of the front rank, and scored two of the four goals gained by his side The following year he became connected with Southampton, and played in the reserve team practically during the whole of that season, which further enhanced his reputation in the art shooting. When not quite twenty years old he was persuaded to join Brentford, and assisted the Southern Leaguers' first team throughout the greater part of last winter. At the close of the season he was recommended to Everton, and started the present campaign at Goodison Park. In trial games he showed fair form, exhibiting plenty of dash, and when Young found himself unable to continue playing owing to the state of his health, a month ago, Oliver was given the opportunity of displaying his worth in first-class company. His initial appearance against Notts County at Goodison on the 14th inst. Was a success in one respect, for he scored three goals, and although one of these was an offside point, such a performance ensured for him another trial. At Stoke, a week later, he opened the scoring, and it was not surprising therefore that he was selected to play against Bolton on Saturday. He has much to learn, and lacks the polish of a clever pivot, but he knows where the goal posts are, and may prove a useful man amongst the expert performers in the Everton front rank. He stands 5ft. 11in., and weighs 11st, 1lb.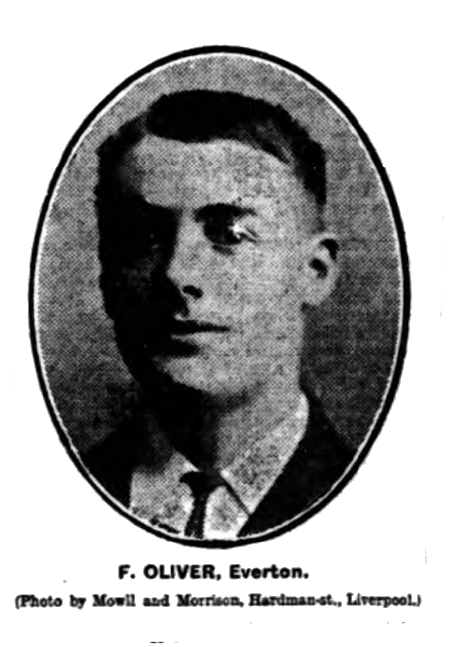 EVERTON'S STEADY PROGRESS
Athletic News - Monday 30 October 1905
By Junius
Three years have elapsed since Everton met Bolton Wanderers in a League match at Goodison Park, and by a curious coincidence that prevailed over their visitors by precisely the same score as on the previous occasion. Only five of the men who played on December 27, 1902, were in the team on Saturday. Crelley was unable to turn out owing to an attack of sickness, and the brothers Balmer constituted the defence in the full-back division for the first time this season. I cannot say that the Everton forwards were effective, and Oliver failed to justify the good opinions expressed about him on his first appearance. Neither is Taylor proving the ideal inside right. Taylor is willing enough, but Anno Domini must be considered, and this will, I fancy be too much for the veteran.
BOLTON BEATEN AT EVERTON
Athletic News - Monday 30 October 1905
By Junius
Despite the fact that Bolton hare fared very moderately since their readmittance to the First Division, a goodly number of their followers invaded Liverpool, and made their presence felt amongst the 15,000 people who witnessed the success of Everton by 3 goals to 1. At the last minute Crelley was compelled to stand down owing to sudden indisposition, and the brothers Balmer constituted the Everton full back division. Bolton were at full strength, and they opened in such fine style that defeat seemed out of the question. Their attack was whirled against the Everton defence with the force of a tornado, and the splendid dash of the forwards was rewarded by a fine goal from White, after McEwan had cleverly worked for the opportunity. Bolton were seen at their best during the first half hour, and well was it for Everton that their backs and custodian proved cool and reliable under such pressure. After the fury of the Wanderers' onslaught had spent itself, then came the turn of Everton, and Abbott placing wide to Hardman enabled the latter to cross to Settle, who ran in and equalised. The Bolton players had set themselves too severe a task. They were gradually worn down, and their attack became less effective as the game progressed. Near the interval Booth missed the netting by inches, and Everton were just beginning to assert their superiority when breathing time arrived. They resumed just as if no break, had occurred, and after twenty-five minutes some clever work by Hardman gave Settle possession, and the inside left transferred to Taylor, who beat a couple of opponents and scored. Settle added a third shortly afterwards, though he seemed suspiciously offside, but the referee had no doubt on the point. Everton should have placed two more goals to their credit, but Oliver was awkward in dealing with the centres from either wing, and easy chances of increasing the lead were lost. Near the finish Bolton came again, and McEwan shot over the bar from close range, but nothing further of a tangible nature resulted. Everton did not play one of their best games, and especially was this the case in the forward line, where signs of weakness were chiefly noticeable. Oliver exhibited a tendency to indulge in trickiness instead of making straight for the goal, with the result that he was unable to accomplish what he has done in his recent matches—that is, score freely. Neither was Taylor seen to advantage at inside right; but it can hardly be expected that the veteran will prove a suitable partner for Sharp. He strove with determination and persistency, but he was not a success. Hardman was the most prominent of the forwards, some of his crosses to the inside men being very clever. Sharp, on the other extremity of the line, ran and centred finely, and better use should have been made of the chances he afforded his comrades. Settle played capitally, and his two goals were excellent efforts, giving the custodian no opportunity of clearing. Everton's strength lay at half-back, where Booth gave a splendid display, tackling finely, and infusing any amount of life into the forward movements. Both Makepeace and Abbott performed ably, the speed of the right winger being frequently in evidence. He and McEwan had some rare tussles, and there was little to choose between them. The brothers Balmer were never at fault, both kicking cleanly, and rarely allowing their opponents to get in a shot at Scott The custodian's hardest task was during the early stages of the contest and one clearance from Marsh at point blank range was a grand effort. All his difficulties came together, and in the second half he was rarely tested. Had Bolton been capable of maintaining the form that they showed in the early stages they could not have lost. M'Ewan gave a clever performance on the extreme left, and Stokes indulged in some brilliant footwork, but after the change of ends, the extreme right winger was seldom in evidence. I admired the way Bolton entered into the fray, for they seemed possessed of an energy born of desperation, but it did not last. White and Marsh were responsible for several fine efforts, and against a shaky defence must have prevailed. Of the half-backs, Boyd was most in evidence, but Freebairn played surprisingly well, and had the measure of Oliver. The full backs kicked sturdily, but were Inclined to be erratic under pressure, and Bavenstock gave the impression of being the more reliable defender. At times Struthers returned most judiciously, and couple of long drives into the Everton goal nearly gave Stokes a chance of placing his side ahead. Davies was in no way to blame for the defeat; in fact he had far more to do than Scott, and several of his saves were smartly achieved. Everton; Scott; W. Balmer, R. Balmer; Makepeace, Booth, Abbott; Sharp, Taylor, Oliver, Settle, and H.P. Hardman. Bolton Wanderers;- Davies; Baverstock, Struthers; Robertson, Freebairn, Boyd; Stokes, Marsh, Shepherd, White, and McEwans. Referee; Mr. R.T. Johns, Hanley.
BOLTON WANDERERS RESERVES 0 EVERTON RESERVES 0
October 30 1905. The Liverpool Courier
Lancashire Combination Division One (Game 9)
The match between Bolton Wanderers and Everton proved a tame affair for the greater part of the game, and to give a record of the match we should have to enumerate a long list of missed opportunities. In the first half the visitors could claim an advantage so far as midfield play went, but when near goal they failed badly. Much of this was due to Cook who frequently failed to keep on side, with the result that several good movements were thus spoiled. He managed to hit the upright, and the crossbar, but was offside on each occasion. In the second half the Trotters had rather the better of the exchanges, but they finished as badly as Everton, and in the end neither side could secure a legitimate point and the game was drawn. Both goalkeepers had very little to do. Hannan played well at back for Everton, while Black was always conspicuous among the halves. Dilly and McLoughlin were the better of the forwards, who were however, good and bad in turn. Bolton like the visitors, were weak on front of goal. The halves were good, and the back sound and sturdy defenders. Everton are now making progress in the competition, and their record has improved considerably of late. Everton: - Collins, goal, Wildman, and Hannan, backs, Black, Chadwick, and Donaldson, half-backs, Bernie, McLoughlin, Dilly, Cook, and Grundy, forwards.