RETURN OF EVERTON BACKS
October 2 nd , 1931. Liverpool Post and Mercury
By John Peel.
For their match against Blackpool, at Goodison Park, on Saturday, Everton are making a few changes compared with the team that lost to the Arsenal. These alterations, in the main, are occasioned by the recovery after illness and injury to players, Williams, who has not played in the Senior team since he was hurt last season in the Welsh International match, has now recovered, and he will make his first appearance this term as partner to Cresswell, Bocking dropping into the second team. The wing half's Clark and Thomson, have recovered from illness, and displace McClure and McPherson.
In the Arsenal match Dunn received an injury to his leg and is not quite fit, so that White comes into the side as partner to Critchley. The team is Sagar; Williams, Cresswell; Clark, Gee, Thomson; Critchley, White, Dean, Johnson, Stein. The Reserves team to visit Blackpool in the Central League is Holdcroft; Bocking, Lowe; Britton, Griffiths, Archer; Worrall, Cunliffe, Reed, Fryer, Rigby.
BLACKPOOL AT GOODISON.
October 3 rd 1931. Liverpool Post and Mercury
By John Peel.
Association rules is the visit to Goodison park, a club which has not altogether enhanced its reputation in its short sojourn in the First Divison, but today the team, representing the seaside club will make Everton play at the top of their form. The Goodison park team has under gone Four changes from last Saturday, recognised first team members having recovery from illness and injuries, and so Williams, the former captain of the side, returns to the team for the first time this season, following the injury sustained in the Welsh International match near the close of last season. Thomson resumes in the wing half position in place of McClure and McPherson. Dunn drops out owing injury, and while partners Critchley, Blackpool will led by the dangerous Hampson, and additional interest in centred in the appearance, of the former Everton players, O'Donnell and Wilkinson. The kick off is at 3-15, and the teams are; Sagar, Williams, Cresswell; Clark, Gee, Thomson; Critchley, White, Dean, Johnson, Stein. Blackpool; Maggs; Grant, O'Donnell; Watson, Longsden, Tuffnell; Wilkinson, Upson, Hampson, McCleklland, Lax.
EVERTON 3 BLACKPOOL (Game 3103 over-all) –(Div 1 3061)
October 5 th 1931. Liverpool Post and Mercury
Blackpool Test Everton.
Johnson's late Goal, decides issue.
By "Stork."
It took Everton a long time to overcome Blackpool, who, to most minds, were not considered strong, and in the end Everton had to fight hard to obtain an odd goal to give them the full points. Blackpool were imbued with a fighting spirit, and their determination caused Everton many unsettled moments. They actually scored the opening goal; led at the half stage only to level matters in the first two or three minutes of the second half, and then held on until Everton threw the whole of their weight at their defence and scored a winning goal at the 78 th minute.
Superior Craftmen.
It was not a brilliant game, but there could be no disputing that the Goodison Park side were the superior craftsmen in the matter of scientific football, 'yet here they were fighting for a winning goal. It was Blackpool's open play, which made them a dangerous side. They turned the play with one kick, whereas Everton wanted to do it with two or three. Whatever luck they was in the game in doubtedly went to Blackpool, for there were occasions when Maggs, their goalkeeper, had the greatest fortune in getting in the way of shots that were bound for his net. Twice the ball rattled against his legs when he had no idea as to its whereabouts and he was well beaten when White headed on to the crossbar. Still, there were times when he made great saves, one in particular from Clark, who had driven in a swift shot. It was in defence that Blackpool showed their strength, O'Donnell save a sound exhibition at left back. At one point he was inclined to be ultra-clever, and was made to suffer in consequence and if a goal had come from Critchley's centre no one else would have been to blame for that goal, but O'Donnell, Blackpool's goal could have been prevented. Their first was made possible owing to a weak clearance from which McClelland scored the ball and sent it flashing into the net. The second was the direct result of bad tactics. Blackpool were attacking in hearty fashion, and to help the stave off the pressure Johnson fell back among his defenders. A pass went astray however, and McClelland scored.
Johnson Makes Amends.
Johnson made ample amends with two goals. His first from a penalty which might easily have caused trouble. Longden undoubtedly "armed" the ball, and the referee had no hesitation in awarding a spot kick. Then the trouble started. Johnson deputed to take the kick, placed the ball on the spot, but was immediately surrounded by Blackpool players. It was a case of trying to unsettle the shooter. Two minutes passed before the Blackpool players would stand off, then Dean objected to the position of the goalkeeper, who seemed to be standing in front of his goalline. Mr. Rycroft had a word with Maggs before Johnson scored. Wonder what the English selectors would have thought about the opposing centre-forwards? They were there, but they could hardly select Hampson, on this showing, for the Blackpool centre played a poor game. I doubt he had more than two shots, and he was not nearly so good as Dean as a distributor of the ball. Dean was luckless with his shooting. But he did considerably more than Hampson, who was not "shadowed," nearly so effectively by Gee as Dean was by Longden. Longsden, standing at Dean's should almost throughout, headed the ball in every conceivable way so long as he kept it away from Dean, which meant that Dean had few chances.
Sporting Gesture.
White was the one Everton forward to take a first time drive, and apart from his goal he had many worthy efforts. He and Critchley made the better wing, but Johnson worked hard in all parts of the field. He got the winning goal from the inside-right position. Gee and Clark were the best half-backs, for Thomson seemed to lack his usual fire. Cresswell and Williams were a sound pair, and Sagar, on his present form, cannot be moved. There was one sporting gesture by Hampson, when Sagar, after catching a high ball, fell, but Hampson refrained from tackling him. Standing looking on until the goalkeeper rose to his feet; then he challenged him. Lax, the young Lincoln outside-left, impressed, but the Blackpool defence was its strong point. Teams; Everton; - Sagar, goal; Williams and Cresswell, backs; Clark, Gee, and Thomson, half-backs; Critchley, White, Dean, Johnson, and Stein, forwards. Blackpool; - Maggs, goal; Grant and O'Donnell, backs; Watson, Longden, and Tuffnell, half-backs; Wilkinson, Upton, Hampton, McClelland, and Lax, forwards.
BLACKPOOL RESERVES 2 EVERTON RESERVES 1
October 5 th 1931. Liverpool Post and Mercury
Central League (Game 8)
Everton Reserves were not very convincing in attack at Blackpool, and much useful work was thrown away by faulty finishing. Blackpool held the upper hand in the first half, but after the interval Everton rallied strongly and Rigby scored, after two goals had been disallowed for offside. Griffiths, Britton, Fryer, and Rigby were outstanding players. Everton; - Holdcroft, goal; Bocking and Lowe, backs; Britton, TP Griffiths, and Archer, half-backs; Worrall, Cunliffe, Reed, Fryer and Leyfield, forwards.
Everton "A" 2 Bootle 6
Liverpool County Combination.
At Stopgate Lane. Robinson gave a fine display in goal. The visitors took the lead after ten minutes, Everton replied strongly, and the Bootle goal had narrow escapes. Walker, McGovern and Webster making good efforts. The Visitors opened strongly after the interval and had the bulk of the play, and further goals were scored by Jones (penalty), Brown (2), Milward, and McKenna, while Webster and Holmes netted for Everton. The visitors fully deserved their success it was Everton's first defeat.
NO ROOM TO MOVE
October 5 th 1931. Evening Express.
Dean and Hampson have a thin time.
Blackpool make Everton fight.
By the Pilot.
Two England centre forwards were mastered in the match between Everton and Blackpool at Goodison Park, which the Blues won by the odd goal in five. With Hampson and Dean leading the respective attacks it was expected that the English centre forward problem could be partially solved, but instead we saw two centre half-backs, who laid claims to representative recognition. Gee and Longden were the men, who were holding up these two goal scorers, a dominated the centre of the field that much of the fire and life was taken out of the attacks. Gee enhanced his reputation in this game, and Longden, a converted forward, showed that he can "police" a player thoroughly. He was not such an accomplished intermediate as Gee, in fact, Dean had a much better game than Hampson. It is true to say that Dean did some justified individual raiding early on and always led the line with skill and judgement, but his scope was limited owing to Longsden's unceasing attention and quick intervention. These duels were the features of this game, which carried much that was trilling, but a lot which failed to satisfy the carving for scientific endeavours.
First time tackling.
The first half was remarkably fast, and Blackpool were adapting to the first-time tackling and meaceuvre. They were lively and snappy, and though Everton displayed the greater thought and deliberation, they lacked directness in method. Everton's work was patchy, take the attack, for instance. The left wing work was good, though Stein hardly received so many chances as usual. This was due to the fact that Thomson had an off day, and Johnson had to fall back in order to cover. Dean was a zealous leader, and White display brilliant shooting ability in the first half, after which he faded away somewhat. Critchley's touch line work was excellent, but his old fault of indifferent finishing ruined his display.
Clark Shines.
Thomson seemed uncertain of himself, Clark considerably strengthened the middle division, his attacking work in the second half being superlative. Williams made a successful, though not perfect, return, and Cresswell shared with Jack O'Donnell the back honours, Sagar was good in goal. Magg made some glorious saves in the Blackpool goal, and Tufnell's compensated for the lack of inches. McClelland was the best forward, with Lax and Wilkinson dangerous wingers. There have been many better games at Goodison Park.
EVERTON'S THREE'S."
October 6 th 1931. Liverpool Post and Mercury
By John Peel.
A strange coincidence attached to Everton League games so far this season, has been the number of occasions in which the figure three has figure in their results. To date the Goodison park side has played nine games, and on seven occasions the winning side has scored no more or less than three goals. The results of these games giving Everton's score first are; - Birmingham (h) 3-2; Portsmouth (a) 3-0; Sunderland (a) 3-2; v. Derby County (a) 0-3; v Liverpool (a) 3-1; v. Arsenal (a) 2-3; and Blackpool (h) 3-2. On each of four of the seven occasions one play secured the three goals. The two exceptions of which "3" did not appear in the result were played at Goodison Park, where Manchester city prevail by 1-0, and Derby County were beaten 2-1.
THEY MEET AGAIN TOMORROW
October 6 th 1931. Evening Express.
Everton and Liverpool both bent on vengeance.
By Ijay.
Although the teams have not yet been chosen for the Everton v. Liverpool Lancashire Senior Cup second round match, to be played at Goodison park tomorrow, two things are certain. The first is that there will be changes in the Liverpool side, from that which has figured in the last two League games, and the second is that the holders of the trophy will make a double-edged bid to keep their grip on the bauble, and at the same time take their revenge on Everton for their recent League defeat at Anfield. The strange thing is that Liverpool seems to play better football in these "Derby" games when the match is staged at Goodison Park. In this same competition last season Liverpool beat their rivals by 5-0, and went on to win the final of the competition at the expense of Manchester United by four clear goals. In tomorrow's game, therefore both clubs have a score to pay off, and being on vengeance bent should provide a close interesting game. Dean is now likely to be allowed the room that Bradshaw gave him in the League match. On that occasion the Everton leader scored three goals –his only success so far this season. Both clubs will choose their teams at their weekly directors' meeting tonight.
TODAY'S CUP-TIE AT GOODISON.
October 7 th 1931. Liverpool Post and Mercury
The Lancashire Senior Cup, second round Cup-tie at Goodison Park, today between Everton and Liverpool is likely to provide another match, with the sides strongly represented. In the Everton team the only changes are that Lowe takes' the place of Cresswell and Rigby comes in for Stein at outside left, for Liverpool Charlton partners Done in place of Lucas and with McPherson resuming Wright goes to centre-forward. The Kick off is at 3-15, and the teams are; Sagar; Williams, Lowe; Clark, Gee, Thomson; Critchley, White, Dean, Johnson, Rigby. Liverpool; - Scott; Done, Charlton; Morrison, Bradshaw, McDougall; Barton, Hodgson, Wright, McPherson, Gunson.
PENALTY GOAL FOR LIVERPOOL
October 7 th 1931. The Evening Express.
Johnson missed penalty for Everton.
By the Pilot.
The second round Lancashire Senior Cup-tie between Everton and Liverpool did not attract a large attendance, there being only about 4,000 present when the teams took the field. Riley was in goal in place of Scott. This was the only change in teams as announced. Teams; Everton; Sagar; Williams, Lowe; Clark, gee, Thomson; Critchley, White, Dean, Johnson, Rigby. Liverpool; Riley; Done, Charlton; Morrison, Bradshaw, McDougall; Barton, Hodgson, Wright, McPherson, Gunson. Referee W. Bunnell (Preston).
The opening move when Dean neatly robbed Bradshaw a few yards forward and let go a high shot, which was well off the target, brought to memory the Anfield game between the clubs. Everton took the lead in eight minutes, White's quick shot bringing the point. From Critchley's centre the ball dropping nicely for White to crash into the roof of the net from point blank range, Riley having no chance. McPherson's heading was good when he screwed in a Barton corner, but Sagar intercepted by the post. A wry kick by Thomson led to the Liverpool forwards sweeping down in a line, Wright unfortunately took the ball off Hodgson's toes just as the South African was about to shoot. Crithcley and Clark combined nicely for Rigby to try a header, and when Thomson adopted the swinging pass Critchley cut in and fired against the post, the ball travelling behind.
Wright checked.
From Critchley's corner Johnson ran through, but could not get direction on his right foot shot and the ball cannoned against an opponent. Critchley's speed and ball control was a feature, a feature, and now he ran to the line and placed clean across the goalmouth with no one there to do the necessary. Next Johnson got in the way of one of White's "expresses." It was noticeable that Bradshaw rarely left Dean's side. Bradshaw was injured in the face in collision with Dean, but was soon able to resume. Liverpool should have drawn level when Hodgson and Barton had an open goal, following good work by Gunson. They got in each others way, so that Hodgson in his haste, placed straight to Sagar. Everton's tackling was tenacious. Critchley was having a field day. After one centre had traveled too far, Riley came out to gather the second. In half an hour Liverpool were awarded a penalty when Gee fouled Wright as the centre-forward was shaping for a shot. Done took the kick and equalised. Morrison left the field limping while the kick was being taken. Morrison was forced to retire from the game, and Barton went right-half.
Dean Neglected.
Dean was having an unhappy time, due to the fact that he never got a good pass. The Liverpool attack was the more dangerous, but their defence was not so good as that of Everton. Right on the interval Everton had a free kick on the edge of the penalty area, and Johnson's shot looked like a scoring effort until Riley flung himself out and flung the ball away. There was a scramble, in which McDougall handled and Everton were awarded a penalty. Johnson took the kick, but placed outside. Half-time Everton 1, Liverpool 1. Gunson placed into Sagar's arm when Liverpool resumed. Morrison was back in his customary position, but limping. Last report.
EVERTON 2 LIVERPOOL 3
October 8 th 1931. Liverpool Post and Mercury
Tale of Three Penalty Kicks
Liverpool Win County Cup-Tie.
By "Bee."
Lancashire Senior Cup-ties do not often produce much enthusiasm or interest, but the meeting of Everton and Liverpool, at Goodison park provided five goals, much novelty, and some unusual features, the most notable being three penalty kick offences, two of which gained goals and the other a bad miss by Johnson, who gave up the spot kicks when Everton got a second chance. This time White's shot struck the foot of the upright, rolled along the line, and touched Riley's foot to turn over for a goal. White scored the one good goal in ten minutes, including a round of wise work with a very good shot. Gee brought down Wright for a penalty kick . Done, the full back, scored. At half-time all square, and Everton had a chance to make a goal with the last kick from " spot " Johnson kicking wide. In the second half Hodgson scored twice, and White was entrusted with a further penalty kick , this time for hands against McPherson –a goal already described, Hodgson's winning goal was the most curious. It was a centre from the left and the ball dropped to Hodgson's back and landed into the goal without the score's knowledge!
Twists and Turns.
Thus the game had peculiar twists and turns. Yet for a cup-tie of the character it was quite good sport, and there was a doubt about the result to the final sound of the whistle by Referee Bunnell, whose only troublesome moment in the matter of heat was when Wright was spoken to about a foul, the referee, as is his custom, offering the offending player a sweet to charm the evil influence away. For such a game as this first team must be played. Here and there a reserve man was included, and with good result, especially where the Everton defence was concerned, Lowe, ex-Southport, making a fine defensive game and tackling with a fine sense of touch and time; in fact, there could be no fault with the Everton defence, in which, Sagar did many big things. At half-back, however, Everton were not steady, Gee being below par, and Thomson seeming to still find the effects of his influenza illness, curbing his normal game. The Everton forwards started off in a manner suggestive of a further defeat of Liverpool, but they were unsettled and over-finessing in their style; they were poor in front of goal, and only White and Johnson lived up to their names. On the other hand, Liverpool merit high marks, for their persistence and for their gradual improvement. Where they had seemed to have little chance they became stronger and stronger, and finally called the tune. A little steadiness in front of goal and they must have won handsomely, instead of a mere goal in front. Their football earned them a high marks in the second half at a time when they had to change Barton and Morrison positionally through Morrison's injured leg. It was then we saw how well Morrison can play as a forward on the wing –and how he can shoot-and also how well Barton can shape at wing half-back.
Riley's Saves.
Riley took Scott's place in goal, and was never at faulty, while some of his saves of the rare header from Dean-who did little if anything else –were especially worthy Done and Charlton the latter a reserve team back, did their part well with a ball that was very wet after the heavy rainfall and rarely passed their kick while Bradshaw kept a hold on Dean, and made judicious passes. This was probably McDougall's best game, thus far this season, and the forwards line shaped very differently from the display they gave at Chelsea at the week-end. McPherson out through injury, had come back to link up with the left wing, and Wright was moved aside a pace to centre-forward, and a striking game he played, indeed he has been the outstanding forward of the side this season. He carried the war into the opposing camp, and if Barton had not been called up, for reserve duty the attack would certainly have shown the type of game they played at home against Middlesbrough. Gunson was the most dependable forward on the field, curling his centres cunningly and once running in to ask for a sure open goal account, but Wright elected to shoot at Sagar. Clean football with a bit of bite in it at times, and although there were three penalty kicks, two were for handling cases and there was no suggestion of anything other than the usual sporting game between these two local sides. Teams; Everton; Sagar, goal; Williams and Lowe, backs; Clark, Gee and Thomson, half-backs; Critchley, White, Dean (captain), Johnson and Rigby, forwards. Liverpool; - Riley, goal, Done and Charlton, backs; Morrison, Bradshaw (captain) and McDougall, half-backs; Barton, Hodgson, Wright, McPherson and Gunson, forwards. Referee Mr. W. Bunnell, of Preston.
GOAL THAT SURPRISED THE SCORER.
October 8 th 1931. Evening Express.
But it put Everton out of Lancs.cup
By the Pilot.
Hodgson scored a goal at Goodison Park yesterday and did not know it. That goal gave Liverpool a 3-2 victory over Everton in the Lancashire Senior Cup. The goal came in this manner. Sagar jumped up to fist a centre from Gunson. Hodgson was in attendance, but when Sagar jumped Hodgson turned his back to the Everton goal. Sagar punched hard enough but instead of the ball sailing away up the field of play, it struck Hodgson on the back of the head, bounded up and then dropped slowly into the back of the net. Hodgson stood still for a moment or two looking round bewildered. He had no idea where the ball had gone, but you can imagine his joy when he found it in the net. No one could grumble at the result neither could they complain that there was not plenty of thrills. The game will be remembered as "the tale of three penalties." Everton were awarded two spot kicks, and Liverpool one. Johnson missed the first for the blues and White was entrusted with the second. He scored, but not until the ball had struck an upright, then Riley's prostrate body, and rolled slowly over the line.
Red; s Superior attack.
Everton shaped like a winning team only during the first half an hour. During that time White gave them the lead and Done penalty brought matters level. When Johnson missed from the spot the Blues fell away, and with the Liverpool attack playing better football than at any time this season, the result was never in doubt. Hodgson gave the Reds the lead from a goalline scramble in the second half, but White's penalty again levelled matters. Then came Hodgson's freak goal to settle the issue. Liverpool's forwards work was delightful in its speed, precision and accuracy. Wright was a grand leader, who was alive to every possiblity, and received fine support from McPherson and Hodgson. Gunson too, did well, but the fault of the line was their poor finishing. In the haste they blazed at the ball and sacrificed for pace. Still, had it not been for some marvellous goalkeeping by Sagar I think Liverpool would have won by a margin of two or three goals. It was noticeable that the Reds adopted entirely different measures to those used in the recent league match between the clubs. Bradshaw "policed" Dean so effectly that Dean had a really unhappy day. The Liverpool halves kept better position than did the Everton trio, though Gee was always working well and Clark did many good things with the ball. McDougall was a rare spoiler and an artistic dribber, but Morrison was handicapped by a leg injury in half an hour. Williams and Done were the outstanding backs, and Riley made some superb saves in the Reds' goal, although he was not so busy as the brilliant Sagar. This was undoubtedly Liverpool's day. They were balanced and always dangerous, whereas the Blues were scrappy and much slower on the ball.
Everton teams.
Everton visit Bramell lane on Saturday to oppose Sheffield United, and will play the same team which defeat Blackpool. This means there are two changes as compared with the team, which lost to Liverpool in the Cup-tie. Cresswell returns to left back, and Stein resumes at outside left. Everton; Sagar, Williams, Cresswell; Clark, gee, Thomson; Critchley, Dunn, Dean, Johnson, Stein.
Everton Reserves entertain Sheffield United Reserves at Goodsion Park in a Central league match and will be strengthened by the inclusion of Bocking, McClure, McPherson, and Martin. Everton Reserves; Holdcroft; Bocking, Lowe; McClure, Griffiths (T), McPherson; Worrall, Martin, Reed, Webster, Rigby.
BLADES AND BLUES AT GRIPS TOMORROW.
October 9 th 1931. Evening Express.
Sheffield better –by .74 of a goal!
By the Pilot.
Sheffield United's record is better than Everton's by .74 of a goal. Could there be a truer indication of a stern, even struggle when the clubs meet at Bramell-lane tomorrow. The Blades lost at home to Portsmouth on the opening day of the season, but since they have lost but one can match and dropped four points. There was a time when Everton could invariably count on a point as the result of their, visit to the three-sided Bramell-lane ground, but on their last two visits they have returned defeated. The scores since season 1924-25 have been (Everton's score first); 1-1; 1-1; 3-3; 3-1; 1-2; 0-2.
It is worthy of note that the United claim the good record of never having figured in the Second Division since gaining promotion at the first time of asking in 1892-93. They are a sound combination with an exceptional centre forward in Jimmy Dunne, the former New Brighton player, who has been selected to captain Ireland against England on October 17. Dunne scored no fewer than 41 goals last season, but this campaign he has yet to open his account. If Gee marks him as well as he did Hampton, then Dunne may not break his "duck" tomorrow. Everton, if they will adopt quick, incisive football tactics have a splendid chance of gaining a point. They will be at full strength, Cresswell and Stein returning to the side. Everton; Sagar; Williams, Cresswell; Clark, Gee, Thomson; Critchley, White, Dean, Johnson, Stein.
SHEFFIELD UNITED 1 EVERTON 5 (Game 3104 over-all)-(Div 1 3062)
October 12 th 1931. Liverpool Post and Mercury
Smashing win for Everton.
Skilful display at Sheffield.
By "Bee"
Everton will not be more convincing in any game this season. They beat Sheffield United by a margin (5-1) that was heavy, but was not one whit too severe in fact; if White had been in his customary form in front of goal they could have been a sensational margin –double figures at least.
White was twice so close to goal that it was inconceivable how he could miss. One time he seemed to be feeling that an offside decision must arise, but a forward of his long experience should have more thought for himself than to think of a whistle that had not been sounded. I mention these facts because this was perhaps the only minor blot in a successful day's outing to the cricket-cum-football ground of the Sheffield United club. It had been said that although Dunne, their crack football forward, had not scored a goal for United, the Sheffield side was in better trim than for many years, during which they had suffered the pangs of relegation threats. Actually, Sheffield were never in this hunt on a summer's day.
Skill and Art.
The crowd of about 20,000 spectators realised from the start that skill and art had carried the day. It was only a question of how many goals would accrue and the fact that Dunne headed his first goal of the season near the end of the game to break his League "duck" was of no special importance, although it was a pleasure to see, because the player was at least a moving force in the Sheffield attack and was only needing someone by his side to do normal things to be his usual definite self in front of the Everton defenders. However, Dunne's challenge, like his goal came far too late.
Everton had scored through Johnson early on, and this stimulated them to the belief in themselves that it is vital with some of these Everton footballers, some of whom do not realise how severe they can be with shot and charge. Johnson's goal was quite a nice one, made by the cunning and the speed of the variable Critchley, who has so many critics who never appear to forgive.
Critchley's Fine Efforts.
It is only necessary to point to the fact that Critchley was responsible for a three goal lead at half-time, Dean heading one goal, and Stein heading the another, all through the method by which Critchley swept through the Sheffield defence, especially Green, who seemed to be labouring against this fleet-foot wing forward. Only once did Critchley centre moderately; for the rest he dominated the game, and Johnson's passes from the left flank to the extreme right-hand corner were models of wisdom and distance. Critchley's centres in the opening half were the means by which the winning side took a margin that allowed them to concentrate upon the best kind of football. The best had not been too good for Everton, but the marginal number gave them a chance to show Bramell-lane exactly how they could mow down the meadow and the Sheffield defenders at one and the same time. Even allowing for the provely of the home defence (Kendall not included) Everton must be given high praise for their whole-hearted able exposition of fine football. There was method, there was science and pleasure from their game –to themselves, and to those looking on, it was class football that earned the day. Everywhere an Everton men went he elected to keep the ball on the ground and combination in the corner of his eye. Therein lay the secret of this smashing victory. Actually Everton rode easily through the second half, yet in that period Dean got two very beautiful goals –a solo notion, in which he had to take charges and watched for the outcome of the goalkeeper.
Dean's Artistic Touch.
Dean never lost touch with the situation and travelling on he finished off his work with that seemingly hard task –putting the ball late an empty goal. He was angled, he was obliquely placed, he was bothered by defenders –that is why his place shot was so competent. Added to that was his final goal –a brilliant shot; and the marvel was that he did not score the three goals in a period of a quarter of an hour. Dunne's first goal of the season came to Sheffield near the end of the game, and it mattered little except that it was well headed and was the reward of perseverance in a bad attack. The former New Brighton player has not touched his goal-raking records of a season ago, but it is plain to see the reason. One cannot name a single Sheffield player as having done his normal work; their attitude seemed to suggest they feared the Everton side and knew their possibilities. The endeavovour was the home side but they were altogether too uncertain with their passes and shots, and the centre half-back could never cope with Everton's inside forward trio. It was too one-sided a game to be interesting; yet the way Everton played engaged those who like the finer points of play and the combined effects, which seem to have been sunk in the deluge of crash and grab raids. Good football will always bring its own reward. Everton have now seen this dictum proved. It is impossible to omit any name on the Everton side but it must be said that, apart from the inspiration of Critchley and the great work of Johnson. Dean and others, Thomson seemed to be still suffering from the effects of flu. Gee and Clark were particularly able, and Williams was quite on a par with Cresswell, which is high praise indeed. Teams; Sagar, goal; Williams and Cresswell, backs; Clark, Gee, and Thomson, half-backs; Critchley, White, Dean (captain), Johnson and Stein, forwards. Sheffield United; - Kendall, goal; Thorpe and Hooper, backs; Gurney, Carrigan, and Green, half-backs; Gibson, Barclay, Dunne, Oxley, and Oswald, forwards.
EVERTON RESERVES 5 SHEFFIELD UNITED RESERVES 3
October 12 th 1931. Liverpool Post and Mercury.
Central League (Game 9)
A really fast encounter was the outcome of the meeting at Goodison Park. The Sheffielders started of briskly. Read scoring a brilliant goal within two minutes, and then up to fifteen minutes from the interval the Yorkshire side bothered Everton's defence considerability. Cheesemur than went off with a back injury. To the interval Everton did some real snappy attacking and when Rigby equalised it was a point well deserved. Rigby scored a brilliant second goal after resuming and although the United were again at full strength there was no holding Everton's lively attacking force, which was aided by a sound middle line. Read equalised for Sheffield, but Everton's Reed (centre-forward), playing a much-improved game than on his first appearance here, put the home side in front again. A penalty successfully taken by Adey made it 3 all, but Worrall and Reed scored a fourth and fifth to give Everton a sound victory. Rigby, Griffiths and Bocking were the most prominent on a convincing all round display. Everton; Holdcroft, goal; Bocking and Lowe, backs; Britton, TP Griffiths and Archer, half-backs; Worrall, Martin, Reed, Webster and Rigby, forwards.
Blundellsands 3 Everton "A" 1
Liverpool County Combination
At Blundellsands. Everton had quite as much of the game as their opponents, but their finishing was poor. Leyfield was outstanding and Davies had a couple of good efforts splendidly saved by Maycox. Price scored the only goal of the first half near the interval. Fryer equalised soon after resuming, but later Dempsey with a couple of good goals gave the home side the lead. Maycox, McGough, and Walmsley played well for the home side, and Parker, Jackson, Parry, Leyfield did well for Everton.
DAZZLING DIXIE DEAN
October 12 th 1931. Evening Express.
His Reply to F.A. Selectors.
Everton's Brilliance at Bramell Lane
By the Pilot.
Dixie Dean, the Everton centre-forward, gave a dazzling display against Sheffield United at Bramell lane. He was the vital force in the Blues' attack the methodical and virile leader of a football machine that worked with clocklike precision. He gave an emphatic answer to the F.A. selectors, who passed him over for the first international game, and proved that he is still England's greatest leader. One was able to compare him with Dunne, Ireland's centre-forward, and Dean stood out head and shoulders above him. His three goals were masterly efforts. This 5-1 victory revealed Everton in all their glory. They gave a display of perfect football, and gained such a strong position that they were able to ease up considerably in the second half and yet mould the United as easily as the potter moulds clay. The Sheffield directors were loud in their praises. "One does not mind losing to a team of Everton's calibre," said one to me after the game. "They are in the best team seen at Bramell-lane for two years." This is high praise, indeed, but the Blues were worthy of it.
Secret of Success.
The secret of their success was that they have learned the lesson which they have had driven at them since the season started. This is that the long, quick pass can be equally as scientific and pretty as the short pass but a great deal more effective. From the outset they scorned the over elaboration which follows the tip-tap passing methods, and swung the ball about with an ease and accuracy which had the United guessing all the time. In addition they varied their methods so that the home men never knew what to expect. Everton for a space of five minutes at the start and a few minutes immediately before the interval, the Blades were never "coloured" with Everton, who were faster on the ball, in though, and in action. The improved United were made to look elementary by the exactitude of the Blues' manceurve, and by swinging the ball about from flank to flank the machine appeared to be much faster than it has been this season. The understanding was superb, and I particularly admired the manner in which the half-backs considered the requirement of the men in front. Dean was irresistible. His shrewd side touches with head and foot, his leadership, and finishing was as anything he has ever accomplished. He received excellent support from the hard-working White and Johnson, who exploited every move. Crithcley shared the forward honours with Dean and it is a fact that only once did he fall to get across a gilt-edged centre. Critchley was unstoppable. I need add no more. Clark was the pick of the three sound intermediates, who used their brains in all phases. Gee saw to it that the dangerous Dunne got few chances, and Thomson came back to his real form following his illness. So good was the general teamwork that the defence had an easier time than usual, but no exception could be taken with the exhibition of Williams, Cresswell, and Sagar. Johnson and Stein secured Everton's other goals, and Dunne's goal for Sheffield was his first of the season. Dean is now Everton's leading goal scorer.
CAN EVERTON DO IT?
October 13 th 1931. Liverpool Post and Mercury
By John Peel.
Will Liverpool's record of being the only team to win the second Division one season and go straight through to carry off the First Division championship the next be equalled this season? This is a question, which naturally arises when one sees last season's promoted clubs –West Bromwich Albion and Everton leading the First Division. It would be a wonderful distinction for Merseyside if the Goodison Park men did accomplish this feat, and judging from their display against Sheffield United, at Bramell-lane, they certainly have a big chance. Liverpool established their record in season 1905-06, finishing four points ahead of Preston North End. The nearest to this record was by Manchester United secured promotion from the second division in 1905-06, finishing eight in the First Division the next season, and carried off the championship the following campaign. Next to that performance rank is that of Sheffield Wednesday, who after gaining promotion in 1925-26, won the title of champions three seasons later.
EVERTON'S VITAL GAME.
October 14 th 1931. Liverpool Post and Mercury
By John Peel.
A vital match in the First Division race is that to be decided at Goodison Park, on Saturday, between Everton and Sheffield Wednesday, and it is a pity therefore, that internationals call should prevent the Sheffield side fielding their full strength. Bvlenkinsopp, the full-back, and Strange, the halt-back, are powerful units in the Hillsborough combination, and the "Blades" will undoubtedly stuffer a handicap with these players assisting England against Ireland. Everton have "escaped" a calling up notice and they will therefore, have the advantage of being able to field the team which won so convincingly at Bramell-lane last Saturday. At the same time Sheffield Wednesday possess capable reserves to fill the vacant places and one of the best matches of the season is anticipated. If Everton win they will gain a distinct advantage in the race. The teams are; Sagar; Williams, Cresswell; Clark, Gee, Thomson; Critchley, White, Dean, Johnson, Stein. The Reserves side to oppose Stockport County in a Central league game, at Stockport will be; Holdcroft; Bocking, Lowe; TP McClure, Griffiths, Archer; P. Griffitsh, Martin, Reed, Fryer, Rigby.
EVERTON CHANCE.
October 17 th 1931. Liverpool Post and Mercury
By John Peel
The levelling up process in the First Division has become marked. There does not appear to be a great deal between the leading teams. The meeting of Everton and Sheffield Wednesday at Goodison Park today should provide a key match although it is unfortunate that the Sheffield club should be without the services of Blenkinsopp and Strange, two of their most able backs. Everton have gained second place, and they have a great chance today to hold on to it. Whatever happens, it will be a hard struggle. The places of Blenkinsopp and Strange will be filled by Catlin and Robson, Davison plays at centre half, and Stepheson resumes at inside left. Robson the former Everton half-back, will oppose his old side. Since their return to the premier circle in 1925-26 the Wednesday have twice won the championship and in their visits to Goodison park have gained three out of eight points, the results being (Everton, score first) 2-1, 3-2, 0-0, 1-4. The clubs in all home met 26 occasions, Everton winning 15 to 3. The kick off is at 3-15 and the teams are; Sagar; Williams, Cresswell; Clark, gee, Thomson; Critchley, White, Dean, Johnson, Stein. Sheffield Wednesday; Brown; Beeson Catlin; Robson, Davison, Smith; Hooper, Burgess, Ball, Stepheson, Rimmer.
EVERTON 9 SHEFFIELD WEDNESDAY 3 (Game 3105 over-all)-(Div 1 3063)
October 19 th 1931. Liverpool Post and Mercury
Five for Dean.
How Everton Reaped Rich Harviest.
Everton gained a sensational victory over Sheffield Wednesday, at Goodison Park, by the remarkable score of 9-3. Such a result could hardly have been anticipated by Everton's most sanguine supporters. Yet Wednesday were so completely overplayed that Everton's success was no greater than they deserved. True, Wednesday were without three of their regular side in Blenkinsopp, Strange, and Leach, and while this trio would certainly have made a difference, Everton displayed such irresistible form that it would have taken a very good side indeed to prevent them winning, whatever the opposition.
Dean's Great Work.
The goal scorers were Dean (5), Stein, White, Critchley and Johnson, for Everton, while Rimmer, Hooper, and Ball scored for Sheffield. Everton led at the interval 2-1, but it was obvious from the start that they had the measure of their opponents and the interval score flattered Sheffield. Afterwards Everton reaped a rich harvest, chiefly through the splendid work of Dean, who was in his most sparkling and dangerous form. As a schemer, shooter, and provider of openings, Dean had rarely been more completely satisfactory. He was irrepressible and the Sheffield defence had a sorry experience. At times fog threatened to blot out the players and it was not always easy to follow the finer points of the play. Under such conditions frequent shooting was the policy that paid and Everton neglected few opportunities.
Defence Overwhelmed.
Fast on the ball and challenges at every point, Everton never allowed the Wednesday to develop a plan. In fact, the Sheffield defence was so often overwhelmed and always hard worked that their own forwards got few chances by comparison with Everton's glut of openings. Everton maintained the initiative and made capital use of it. Chances came as the result of well considered movements accurately developed and carried through with speed and skill. There was not a weakness in the side, Sagar kept a safe goal, and when occasions rose responded with neat clearances, Sterling work came from Williams and Cresswell. In the matter of positional play and accurate placing, Cresswell was a class by himself. Thomson, Gee, and Clark made a sound and solid middle line, while the forwards, splendidly led by Dean made an attack that was efficient in everylink.
Brown's Games.
Although beaten so frequently Brown made a number of fine saves, while Smith worked hard in the middle line, but the forwards, owing mainly to the lack of support from an overworked defence, had a task that was beyond them. Teams; - Everton; - Sagar, goal; Williams and Cresswell, backs; Clark, Gee and Thomson, half-backs; Critchley, White, Dean (captain), Johnson and Stein, forwards. Sheffield Wednesday; - Brown, goal; Beeson, and Catlin, backs; Robson, Davison and Smith, half-backs; Hopper, Burgess, Ball, Stepheson and Rimmer, forwards .
STOCKPORT COUNTY RESERVES 1 EVERTON RESERVES 0
October 19 th 1931. Liverpool Post and Mercury
Central league (Game 10)
At Stockport. The winning goal was scored by Barber, the Stockport centre-half, eighteen minutes after the interval. Everton were never allowed to settle down, and had a bust time storming the raids of the Stockport attack. Everton were served in defence, but the forwards lacked cohesion. Everton; - Holdcroft, goal; Bocking, and Lowe, backs; TP McClure, Griffiths, and Archer half-backs; P. Griffitsh, Martin, Reed, Fryer, and Rigby, forwards.
SHEFFIELD WON'T FORGET SATURDAY
October 19 th 1931. Evening Express.
They found Everton on the goal standard.
Do you know the secret?
By the Pilot.
Do you know the secret of Everton sweeping 9-3 victory over Sheffield Wednesday? It is just this. The deeply ingrained slow, close-passing methods were unrooted and in their place were implanted fast swinging unhesitant transfers. But this is not all. These menceuvres were not merely fast they were accurate. The new style was thrilling; it dazzled Wednesday and spectators alike; it brought the biggest crop of goals ever seen in a league match at Goodison Park. The old time daintiness was deserved, but this was exhilarating football. There was rarely a flaw, and the Everton machine operated with extra machinery smootness. Faster football could not be imagined, but this was chiefly due to the Blues passing faculty for keeping position, making moves and being precise in their transfers. Fog tended to dim the view of this wonder Everton, and and not all the spectators could get a good view of the nine marvellous goals, but all could see that it was first-time, accurate shooting which brought about the Wednesday's downfall. It was the heaviest defeat the Sheffield side had received since 1912, when Aston Villa beat them 10-0.
Individual skill.
Let me say that the Wednesday were over disgraced, in fact as individuals they contributed some really menacing football. This is proved by the fact that in the first half they held the Blues to two goals to one, and even after standing 6-1, got two goals. It was a combined force, however, that they were overshadowed by a team which on the day's showing was as near perfection as it is possible to get. Everton's teamwork was the deciding factor, and in the circumstances one hesitates to single out players for special praises. They appreciated each other's requirements and helped each other, and behind all was the desire to play as Everton with the necessary willingness and sacrifice personal glory.
Dean's nap Hand.
One mist pay tribute to the wonderful shooting of Dixie Dean, who bagged five goals in grand manner. Dean was certainly as his best, and I say emphaticiously that not even during his 60 goals season did he play better. Stein and Critchley were right on their mettle, and Johnson and White were sound cogs in an attacking machine that was relentless in its collaboration and finishing. The Everton half-backs succeeded in reducing Wednesday front line as a disjointed force, and were general masters of the individuals, although Stephenson required plenty of attention. In defence Williams and Cresswell were as sound as the proverbial bell, for anticipation and positional play having beyond reproach. Sagar had a quite day, so well was he covered. It is a fact that had Brown not been at his best international form in the Wednesday goal, Everton might have had many more goals. He stood as the main guardian and had no chance with all of the scoring shots. This was the greatest display by an Everton team seem since the war. Not just in their championship season did they produce such form.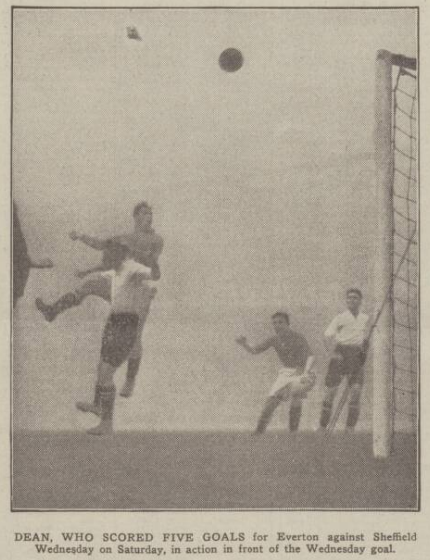 THE FOG MATCH
October 20 th 1931. Liverpool Post and Mercury.
By John Peel.
Everton's remarkable victory over Sheffield Wednesday is still a topic among local enthusiasts, and there seems to be a kind of competition regarding the point of how many of the twelve goals individuals witnessed. I heard a conversation after the match, which seems to crystallize the view of a great many onlookers who were up in the top stand. A spectator observed to his companion. "Well, you have seen something you have never seen before –twelve goals in a First Division match," The reply was, "I haven't seen twelve goals I saw three and heard nine." It appears that the bulk of the spectators on the lower levels had a good view of all the goals, while the people in the big stand where the Press box is situated were looking through the mist, the distance rendering the fog much thicker than at other points.
Third "Nine" This Year.
Saturday's score was Everton's third nine this year. It will be realised that the "Blues" beat Plymouth Argyle 9-1 in January at Goodison Park, and later on Southport suffered a similar fate in the sixth round of the cup. At the present time Everton seem to have adopted the right plan of forward movement, and the part Critchley is playing is a great factor in the scheme for it is a recognised fact that if Dean gets the ball from the wings in a proper way, there is no more dangerous centre-forward in the land. I have always held the view that when Critchley mastered the art of centring the ball in the right way and at the right time he would prove a distinct asset to any club. He seems to have developed in the direction desired, and he has only to maintain such form to reach the pinnacle of his profession. Stein, too, has the ability, and with the wingmen doing their share, the inside forwards can be depended on to do the rest.
NO GLOOMY DEAN THIS.
October 20,th 1931. Evening Express.
Dixie Spurts from 0 to 12 in four weeks.
By the Pilot.
A little more than four weeks ago Dixie Dean, the Everton captain, had not a goal to his name. Now he is tieing for fifth place amongst the sharpshooters of the whole country. In four matches he scored 12 goals, and in the First Division this brings him into equal leadership with Waring (Aston Villa), who like Dean, is a product of Tranmere Rovers. The Everton leader is now only four goals behind the country leader –Pearce (Swansea Town), who has 16 goals. Dean's average is 1.2 goals a match. In addition, Dean is now the highest scorer among the Merseyside and district players, having overtaken Williams (Crewe) and Bamford (Wrexham), who stand on the eleven mark. The best club record to date goes to Newton and Hammond, of Fulham who have collected 20 goals between them. Ellis Rimmer, of Sheffield Wednesday and formerly of Tranmere Rovers is not only the highest scorer of his club, but has scored more goals than any other winger in the League.
Appended is the list of leading scorers in the four Divisions of the Football League;
Division one; Dean (Everton) 12 Bradford (Birmingham) 7
Waring (Aston Villa) 12 Jackson (Chelsea) 7
Blackmore (Bolton) 9 Johnson (Everton) 7
Bowers (Derby) 9 Glover (Grimsby) 7
Boyd (Newcastle) 8 Hine (Leicester) 7
Rimmer (Sheff Wed) 8 Camsell (Middlesbrough) 7
Richardson (WG) (WBA) 8 Ball (Sheff Wed) 7
Hulme (Arsenal) 7 Bastin (Arsenal) 6
Lambert (Arsenal) 7 Hodgson (Liverpool) 6
Wright (Liverpool) 7 Smith (Leicester) 6
Houghton (Aston Villa) 7 Stephenson (Sheff Wed) 6
Second Division
Pearce (Swansea) 16 Haddieton (Bolton) 8
Keetley (Notts Co) 10 Lindsay (Bury) 7
Little (Plymouth) 9 Keetley (Leeds) 7
Wallbanks (Barnsley) 8 Smith (Millwall) 7
Pynegar (Chesterfield) 8 Dickinson (Notts Forest) 7
Division Three (Northern Section)
McNaughton (Gatehead) 12 McConnell (Carlise) 8
Williams (Crewe) 11 Hall (Lincoln) 8
Bamford (Wrexham) 11 Watson (Carlise) 7
Wellock (Darlington) 10 Duncan (Hull) 7
Jennings (Chester) 9 Lumley (Hartlepool) 7
Waterton (Southport) 7
Division Three (Southern Section)
Bourton (Crystal P) 14 Barnet (Watford) 9
Newton (Fulham) 14 Varco (Exeter) 8
James (Watford) 13 Morris (Swindon) 8
Hammond (Fulham) 12 Trotter (Torquay) 8
Lane (Brentford) 11 Clarke (Crystal P) 8
Kyre (Boroumbe) 10 Robbins (Cardiff) 7
Simpson (Crystal P) 10 Goddard (QPR) 7
TUSSLE OF GIANTS
October 21 st 1931. Liverpool Post and Mercury
By John Peel.
Everton against Aston Villa. A match at any time between these clubs is regarded as a tit-bit, but when they meet on Saturday I expect the spacious Villa Park will be taxed to the utmost capacity. The teams are at the top of their form just now, and the fact that Everton have played havoc with the Sheffield teams will appeal to the Midland followers, who are likely to turn out in force to see whether their favourites can put a stop to the Everton gallop. It is a match piquant possibilities, and there are those who believe that even the Villa may fall before the Everton rush. Only the match itself, however, will settle arguments.
Rival Centre-Forwards.
One feature of special appears stands out, and that is the fact that the two best centre-forwards in the country will be in opposition. Waring and Dean are undoubtedly players, who impart dash to their footcraft, and this game will afford an excellent opportunity of comparing the style of the men. Waring will step on the field as England's centre-forward, but Dean may prove that he is still a greater leader them his former colleague at Prenton. Everton will have the same team as that which trounced the Sheffield clubs, viz; Sagar, Williams, Cresswell; Clark, Gee, Thomson; Critchley, White, Dean, Johnson, Stein.
Villa Escape Injuries.
With the exception of last Saturday, when Waring and Houghton were called away for International duty, Aston Villa have been able to play an unchanged team, so that the team should be a real combined force. They have been fortunate in their men escaping injuries, with Waring and Houghton back in their places, the Villa side is likely to be; Biddlestone; Smart, Mort; Gibson, Talbot, Tate; Mandley, Breseford, Waring, Walker, Houghton. At Portsmouth last Saturday the Villa rallied to score three goals in the last twenty minutes.
Everton Resevres.
Everton Reserves meet Preston North end at Goodison park in a Central league game, Kick-Off at 3-0'clock and the home side will be; Holdcroft; Common, Lowe; McClure, Griffiths, Archer; Griffiths, Dunn, Reed, Martin, Rigby.
ENGLAND CENTRE FORWARDS IN OPPOSITION
October 23 rd 1931. Evening Express
To continue goals race at Villa Park
By the Pilot.
Two former Tranmere Rovers centre forwards and both English Internationals will be opponents at Villa Park tomorrow, when Aston Villa and Everton meet. They are Dixie Dean and Pongo Waring, and interest is added by the fact that at the moment they are the joint leaders in the race for First Division scoring championship. To date each has scored 12 goals. Tomorrow's task is one of the hardest of the season, for the Villa are unquestionably one of the greatest sides in the country. The only teams to defeat Villa this seasons has been Liverpool and Sheffield Wednesday. This gives us a splendid line to "form" Everton won at Anfield, where the Villa went under by two goals to nil, and the Blues wonderful victory over Sheffield Wednesday remains fresh in our memory. Everton have not taken a point from the Villa since season 1927-28, when they won both matches 3-2. The following season the Villa won 2-0 at home and 1-0 at Goodison Park, following this up with wins by 5-3(home) and 4-3 (away) in 1929-30. Everton's turn has certainly come, and by the manner of their victories over the Sheffield clubs I do expect them to come home defeated tomorrow. Everton; Sagar; Williams, Cresswell; Clark, Gee, Thomson; Critchley, White, Dean, Johnson, Stein. Aston Villa; Biddlestone; Smart, Mort; Gibson, Talbot, Tate; Mandley, Beresford, Waring, Walker, Houghton.
EVERTON CHANCE AT VILLA PARK
October 24 th 1931. Liverpool Post and Mercury
Both the Albion and Everton are away from home, and that in itself renders their task difficult, though the Albion at Bolton have the advantage. Everton are set a very stiff task at Villa Park. Aston Villa are one of the most polished and at the same time one of the most dashing side's in the country, and they will endeavors to check the forward rush, which brought Everton 14 goals against the Sheffield clubs. It was said after the Sheffield Wednesday debacle that Everton would have beaten any side on that form. They will need a repetition today to win, at Villa Park, and I have no doubt the players will be all out to accomplished that object, but whatever happens it should be a great match especially as the sides will be at full strength. Special interest will be centred in the displays of Waring and Dean, the former colleagues each of whom will try all he knows to convince the selectors that he is the man to lead England. The fine set of half-backs to oppose the forward lines skilled, in every phase of the game, and the battle for supremacy is sure to hold the attention of the big crowd likely to be seen at the palatial Midland enclosure. Teams; Sagar; Williams, Cresswell; Clarke, Gee, Thomson; Critchley, White, Dean, Johnson, Stein. Villa; Biddlestone; Smart, Mort; Gibson, Talbot, Tate; Mandley, Beresford, Waring, Walker, Houghton.
ASTON VILLA 2 EVERTON 3
October 26 th 1931. Liverpool Post and Mercury
Everton go Top
Backs Turn the Scale
How Everton won at Aston
Houghton penalty miss
By "Bee."
Everton rose to the top of the League by means of a victory of 3-2 at Aston, the magnificent home of the Aston Villa club, who gathered together 55,000 people on a dull but fine day. It was a meeting of the former Birkenhead centre-forwards that helped to make this game a financial success, yet neither man could be said to be outstanding. Rather was each centre-forward made to realise that he had to face two men at a time. Waring was purposeless; he dribbled awkwardly, and his impetuosity cost him something. On the other hand Dean kept unruffled, and all his work carried a mark of high football artistry. He had to work in confirmed space, and chiefly by the heading off the ball, yet when he could use his boot his passes were the acme of sense and wisdom. He was, short, a valued helper in a side that had become wielded together with firmness, and much football ability. The better side won –Aston Villa said it –and there could be no argument about the difference the two sides, and the noteworthy difference between the defenders –Everton's pair safe in tackle and kick.
Unsteady Backs.
The Villa backs were unsteady and unsound; each blundered to help Everton to a goal, and even the goalkeeper, Biddlestone caught the uncertainty stage, and began to fumble the ball mysteriously, whereas all through the second half when the Birmingham side was pilling on their effort, Sagar was quite secure, daring and clean in all he did. It was in defence that the great difference arose, and Everton won through the solidity and stoldness of their backs, together with the tight hold Gee kept upon Waring. It was difficult to play at Aston. There was a strong wind blowing, and it is worthy of mention that Everton played better when facing it than when having its alleged help. The ground is situated in such a manner that the ball is made to swerve and away unaccountably and that no doubt accounted for the fact that the game did not touch high lights, albeit it would not account for some of the unfair and foulest things done by vexed players –players of these clubs ought to beyond kicking a free kick away from the appointed spot. The there was an argument over a penalty kick. Referee Smith of Ashton-under-Lyne, saw what he believed to be a fair tackle. He said it was fair, and told the players to play on.
Justice Met.
Cresswell took the ball near the half-way line by hugging the touch line when play was stopped, and the referee suffering the clamouring of the players –for which offence they could be sent off the field –yielded so far as to ask a linesman his verdict. And that was how the referee changed his own close up view. He gave a penalty kick, and Houghton, the international winger shot feebly. So justice was met, and Everton won after leading by two goals and suffering a 2-2 register at three quarter time. Goals had been scored by Critchley, who was facing the best half-back on the field –Tate –and the first came from a defences blunder; the second through the help of White's header. Both goals were well taken. The Villa got their first point through Houghton, who took up a momentary defensive error in placing; Mandley scored the next in a scrimmage with the aid of his shoulder-neither nice goals –whereas Everton's had been the result of very definite shooting and well-placed goal shots. It all became a question whether Everton could last out. They got a third goal through five men sharing an attack, and Smart suffering a heading fault; Dean shot and the rebound was taken by White in no uncertain fashion, and that was how the game ended. The Villa were not themselves, temperamental or in a football sense. Walker was not himself; Gibson played badly first half and plainly not well; Talbot played the policeman, a part and used his elbows a good deal, and Beresford and Mandley were the only forwards to do themselves justice. Waring getting into a knot. With the home side failing in defence it was surprising there were not more goals to register, but at least it must be said that Everton played the more like a team at the top of the chart, and they earned the right to be beside Derby in having won at Derby, where few visitors escape with out concession of both points.
Cross Passes.
Everton played much good football, and the half-backs were sound, Johnson found the wind more trying than most because he is the man planned to make the cross-field passes. His passes did not reach the man, and Thomson was good without being quite his own rugged self. The defence was the stout part of the team that was well together and suffered a rattling process where none could have been expected. Stein did much good in the first half and well yet collect some goals, and White did a lot of forward work that stamped him as a nature footballer. He had the half-back's facility for tackling and the forward's ability for using the ball –and he shot instantly. It was a hard game throughout, sternly contested and Everton won well if by a small margin. Perhaps we expected too much of the teams in the circumstances. Teams; - Everton; Sagar, goal; Williams and Cresswell, backs; Clarke, Gee, and Thomson, half-backs; Critchley, White, Dean (captain), Johnson, and Stein, forwards. Aston Villa; - Biddlestone, goal; Smart and Mort, backs; Gibson, Talbot and Tate, half-backs; Mandley, Beresford, Waring, Walker, and Houghton, forwards.
EVERTON RESERVES 1 PRESTON NORTH END RESERVES 4
October 26 th 1931. Liverpool Post and Mercury
Central League (Game 11)
The score at Goodison Park did not exaggerate Preston's superiority, for if North End had accepted the chances offered Everton would have been overwhelmed in a game that was the losers' most disappointing display this season. Everton certainly gave Wolf (a great goalkeeper) plenty of the ball, but their attack lacked spirit and cohesive collaboration. The halves were never wholly convincing in their support, whilst the defence was very uncertain and lacked understanding. Holdcroft had a poor match Preston displayed what Everton could not –fast open progressive advances with a snappy finish, and goals come from Scott, Farrell (2), and Gillespie. Rigby's scored Everton's goal in the closing minutes. Everton; - Holdcroft, goal, Common and Bocking, backs; McClure, TP Griffiths and Archer, half-backs; PH Griffiths, Dunne, Reed, Martin, and Rigby, forwards.
Blundellsands 1 Everton "A" 3
George Mahon Cup
The faster combination play of Everton was too much for Blundellsands. Worrell netted two goals for the visitors, and Mayfield added a third. Roberts scored Blundellsands only goal. Outstanding players for Everton were Parker, Chedgzoy, and Worrall and for Blundellsands Roberts, and Worslay, Maycox was a good goalkeeper.
Cup Tie At Goodison Park
Everton and Southport meet at Goodison Park, on Wednesday in the first round of the Liverpool Senior Cup, Kick-off at 3 o'clock. Southport last season were the first club other than Liverpool and Everton to win the cup since 1896-97, and are sure to make a great effort to retain the trophy. Everton last won the cup in 1927-28, and are desirous of again being the holders. Both clubs are expected to field strong sides.
FACTORS IN EVERTON'S GREAT WIN.
October 26 th 1931. Evening Express.
Brilliant defence and shooting.
Dean is England's best leader.
By the Pilot.
Defensive brilliance by Williams, and unhesitant shooting, were the prime factors in Everton's great 3-2 win over Aston Villa at Villa Park. There is no doubt that Everton's defence, with Williams playing his best game since joining the club, was a vital factor. The Villa had more of the game from a territorial point of view, but they never, at any time, constituted a menace, so, good did the Blues' rear divisions cover and intercept. Coupled with this, the team had an attack, which could adopt first-time methods in meaceouvre and in shooting. In other words, Everton deservedly won because they were opportunists in the first place and "stone-wallers" in the second. Dixie Dean gave definite proof that he is England's best centre forward. Mr. John McKenna and other members of the Football league were able to compare Dean and Pongo Waring, and there is not the slightest doubt that Dean won the honours. Neither scored it is true, but Dean leadership was a vital point in Everton's triumph, whereas Waring was never happy against an intrepid defence which never faltered. After the game I discussed Dean with Jack Devey the former Villa and England centre forward, and he said; "In three seasons perhaps Waring will be as good a leader as Dean. There is no centre forward in modern football with the same faculty for shrewd leadership as Dean, and it is remarkable that England should have any double. Waring is a good player, but he is not a Dean yet." I give this opinion because it is from one of England's greatest leaders. They did not enjoy so much of the game as the Villa from a territorial point of view, but this was the chief difference –Everton always looked likely goal-getters, whereas the Villa rarely displayed the ability of overcoming Williams and Company. The Villa laboured and schemed doggedly all though, but rarely gave the appeared of ever getting on top. On the other hand, whereas the Blues got under weigh they really spelt goals. This was not a classic encounter in the light of clever, intricate football, but it was one of the hardest games I have seen for a long time. It was honest plugging football from start to finish, with the Blues the masters. It is true they had some luck when Houghton missed with a penalty, but on the other hand, there was a distinct doubt about Mandley's goal, which, with Houghton's equalised two fine early goals by Critchley. Sager told me Mandley pushed the ball through with his arm. I thought so at the time. White secured the deciding point. The Everton forwards were quick, sharp and unhesitant in their shooting. They played unselfishly and thoughtfully with the maximum of speed under Dean's fine guidance and virility. The five sowed the sees of victory and gained a winning position.
Williams Inspires.
Then they called on the defence to hold it. The rear division answered magnificently. Cresswell was another who played with brains yet daring, and was always in position to cover whenever Williams went to master Waring. Williams accepted this as his especial task and did it well. Sagar made many fine saves in goal, and Gee was concerned with some resolute defensive work. Clark and Thomson rather slower than usual in recovery, but this was the only fault in a fine all-round combination which, on this display, merits their exacted position in the League.
Story of Everton-Liverpool Double
Liverpool 1-0 2-0 2-1 2-2 3-2 half-time 2-1 Hampson missed a penalty, Final 3-2
Everton 1-0 2-0 2-1 2-2 3-2 half-time 2-1 Houghton missed a penalty, Final 3-2
EVENLY BALANCED
October 27 th 1931. Liverpool Post and Mercury
By John Peel.
It is noteworthy that Everton are due to meet Huddersfield Town on the Town ground on the day of the International-League match, and while Everton will lack the valiable service of Dean, the brilliant back Goodall will be away from the Huddersfield defence, so that the scale in this match will be evenly balanced.
The teams are first and second respectively at the moment in the table.
Liverpool Cup-tie.
Southport will endeavour to lower the Everton colours in the Liverpool Senior Cup, first round tomorrow, at Goodison Park, when the kick-off 3 0'clock. The Everton side will be J.H. Corry; Common, Lowe; Britton, McClure, Archer; Worrall, Dunn, Reed, Martin, Rigby. The goalkeeper is from the "A" team.
Newcastle United are at Goodison Park on Saturday, when the side which done so well of late well again turn out; - viz, Sagar; Williams, Cresswell; Cresswell, Clarke, Gee, Thomson; Critchley White, Dean, Johnson, Stein.
FORMER FOOTBALLER FINED
Sheffield Independent - Thursday 29 October 1931
John Gilbert Cock (38), estate agent, of Brunt Ash Hill, lee, popularly known as "Jack" Cock, the ex-Millwall footballer, was at Greenwich yesterday fined ten pounds for being under the influence of drink while driving a motor-car in Blackheath and a further ten pounds for dangerous driving. He was also ordered to pay 2 2s costs.
EVERTON RESERVES 1 SOUTHPORT 3
October 29 th 1931. Liverpool Post and Mercury
Liverpool Senior Cup Round One
Southport Earn Cup Victory
Everton side beaten at Goodison Park
By "Bee."
Southport beat Everton Reserves at Goodison park, yesterday by 3-1, in the first round of the Liverpool Senior Cup. It was not a good match because there seemed to pervade the Everton team an idea, that they could beat their Third Division brethren at any moment. Actually this never looked likely because Southport playing well, and arousing themselves to earnest effort, got a lead and earned their victory. They won through goals by Hill (2), and Cowen. Generally speaking, Everton provided the tip-tap, but the pass that followed it was rarely sound and Reed, the home centre-forward, had few changes. It is true that he and Dunn hit the woodwork, but if Southport had been a trifle fortunate in front of goal their excesses of attacks must have brought them a handsome lead by half-time. As it was the game spluttered for a few minutes in the second half, when Worrall scored for the home side, but after that Southport took up the reins again, and won readily not handsomely.
Forwards Decide.
The difference between the two sides was the difference in attack. Everton had a wing pair that tried hard, but the inner forwards were not inclined to busy themselves. Archer, McClure, and Britton did many bright things against a forward line that was "well together" and Common and Lowe had a rather thankless task, because the more they put the ball up the field the more certain it would come back through a mistake by one of their own men. Having paid Everton the compliment they carried –in goal the amateur Corry did quite well and was not to blame for any deficit –one has to say that the Southport team played with a degree of art and ability that did them proud, Baker's best work came late on when Everton's inside forwards began to shoot to show that they could deliver the shot; Baker was safe, and in front of him were two stern backs. Vincent was rugged and was flanked by an able wing half-backs. The front line was quick and not haphazard; they formed the backbone of the team, although they were forwards, Waterson was not so prominent as usual and missed one easy chance through not going right into the goalmouth. However, the team all round bore itself ably, and well and earned the right to be at home to Tranmere Rovers in the next round of the Liverpool Cup. Everton;- J.H. Corry, goal; Common and Lowe, backs; Britton, McClure and Archer, half-backs; Worrall, Dunn, Reed, Martin and Rigby, forwards. Southport; - Baker, goal; Robinson and Seagraves, backs; Vincent, Holme and Hills, half-backs; McConnell Waterson, Cowan and Ison, forwards.
EVERTON'S OPPONENTS
October 30 th 1931. Liverpool Post and Mercury
By John Peel.
There are few more attractive visitors on Merseyside than Newcastle United, who are due to engage Everton in a League encounter at Goodison Park tomorrow. During Post war games Newcastle have captured seven points as the result of three victories and a drawn at Goodison Park. The results of the meetings (Everton's score reading first); 4-0; 3-0; 2-3; 2-2; 0-1; 3-0; 1-3; 3-0; 5-2; and 5-2, in all the clubs have opposed each other at the Park on twenty-eight occasions, as a result of which the Novocastrians have secured ten victories and have shared the points on two occasions.
EVERTON'S RICH AUTUMN HARVEST
October 30 th 1931. Evening Express.
Chance to Reap Maximum October points.
By the Pilot.
Everton can make another record tomorrow. But they must beat Newcastle United at Goodison Park to accomplish it. The Blues are the only club in the Football league with full points from the October matches to date, and they have a run of four successive victories. It is remarkable that the club which comes neatest to Everton's record for October is Newcastle United. The United lost at Bolton on the first Saturday in the month, but have since defeated Middlesbrough, and Manchester City at home and Blackburn Rovers away. Their list of "Victims" is not such an imposing one as that of the Blues, who have defeated Blackpool and Sheffield Wednesday at home and Sheffield United and Aston Villa away. The United, like Everton have yet to participate in a drawn match.
Unchanged sides.
Another coincidence is that both clubs will field unchanged teams; in fact, Everton rely on the side which has played in all the October matches, so that White and Williams have yet to be in a Goodison Park side which has conceded a point this season. Newcastle are playing good football at the moment, and all their forwards are figuring among the goal scorers. It is singular that their leading scorer is Boyd, the winger, who, has obtained eight goals. Allen, the centre forward, secured from Sheffield Wednesday, has only found the net on three occasions, but he is leading the line skillfully, and much of the club's success can be traced to his good play. The team tomorrow will include Davidson, the former Liverpool centre-half, who had the distinct of displacing the international Jack Hill, last campaign. I believe that the Blues have only to reproduce their recent form to win. I feel they are fully capable of this. Everton; Sagar; Williams, Cresswell; Clark, Gee, Thomson; Critchley, White, Dean, Johnson, Stein. Newcastle United; McInroy; Nelson, Fairhurst; McKenzie, Davidson, Waever; Boyd, Richardson, Allen, McMenemy, Lang.
Everton and Blair.
With reference to the rumour that Everton would sign Blair, the Clyde back, this week-end, Mr. T.H. McIntosh, the Everton secretary, states "We are not negotiating for Blair at the moment and shall not sign him this week-end."
STRAIN ON EVERTON
October 31 st 1931. Liverpool Post and Mercury
By John Peel
Having secured the top most place in the First Division, Everton will make every effort to keep it. There is where the strain comes in. all teams are out to beat the leaders, whoever they may be, so that Everton must be keyed up to concert pitch all the time if they are to maintain their supremacy. They oppose old rivals in Newcastle United at Goodison Park today, and though the North-Eastern team are not so powerful as they were, the side commands the highest respect. Everton, no doubt, will endeavour to complete the month of victories, for if they win today it will be the fifth success of October. The players must be fired by their run of goals, and may be expected to improve their record. Newcastle are to include the former Liverpool centre half Davidson, and his duel with Dean should provide a feature. The kick off is at 3'0 clock, and the teams are; Sagar; Williams, Cresswell; Clark, Gee, Thomson; Critchley, White, Dean, Johnson, Stein. Newcastle; McInroy; Nelson, Fairhurst; McKenzie, Davidson, Weaver; Boyd, Richardson, Aben, McMenamy, Lang.