SUCCESSFUL DEBUT BY LEYLAND
October 1, 1951, The Liverpool Daily Post
By Stork
Leicester City, Everton 2
Leicester City had their home record besmirched by Everton on Saturday, but to some extent have themselves to blame for their downfall. Forwards who will take their chances have no excuse. Before Everton had scored at the 17th minute, Leicester had at least three opportunities to beat Leyland. Small and Dryburgh were the chief offenders having missed their way Leicester had nothing to complain about when Everton strode forward and snapped up a two-goals lead against the run of the play. Everton did not want the ball teed up, but shot instantly an opening appeared. That is why they won, for after McNamara's goal, the City lost heart and fell away. Buckle's goal knocked Leicester spinning yet the home side staged a revival in the second half and it took some stern defence by Everton to retain their lead. Leicester by this time had cut out some of their finesse; they went by a more direct route to goal and scored through Rowley, after which it became a stern battle between the Leicester attack and the Everton defence.
Initiative Lost
Everton handed the initiative to their opponents and when Leicester were awarded a penalty, hopes of an away victory dropped to zero. Fortunately, Rowley made a hash of the spot kick by tamely shooting the ball outside. Young Leyland in the Everton goal did a grand job. One save alone stamped him as a coming prospect. Had he been beaten by Rowley's header just before the interval he could not have been blamed. The ball was speeding away from him but he leaped sideways and turned it aside. He made other fine saves and his punching was confident and secure. He made a highly successful debut. What I liked about Everton was the fact that they made openings and took them so much so that Anderson, the City goalkeeper had several difficult tasks to perform. He was completely taken by surprise when Buckle scored with a volley that flew into the net just under the bar. Eglington's part in the victory was a tremendous one. He used his speed to great effect and provided the passes to reproduce the goals Buckle was little behind him and while McNamara did many good things, his goal apart I rated the left wing superior. Peter Farrell suffering from a heavy cold had to give way to Donovan who did quite well, but Lello has not yet fully recovered his confidence. He was often chasing the shadow and missing the substance. Lindsay captain for the day, was a classical defender with Moore much improved on recent games. He was twice injured and eventually had to go on the wing.
EVERTON RESERVES 2, LIVERPOOL RESERVES 0
October 1, 1951. The Liverpool Daily Post
Everton took all the honours in this junior local "derby" game, at Goodison Park on Saturday, where a splendid attendance saw a match that was full of thrills. Everton proved the more constructive side and should have won by a greater margin. Crossley did well in the Liverpool goal and apart from saving a penalty from Easthope came to his side's rescue on many occasions. O'Neill in the Everton goal was quite alert as also was Forshaw at centre half. McCurley led the Liverpool line well and Maloney and Smith also did well. Easthope and Hickson scored Everton's goals.
• Earle 1, Everton "A" 4
• Everton "B" 1, Earle Res 0
MOORE'S INJURY
October 1, 1951. The Liverpool Daily Post
By Leslie Edwards
Moore's injury at Leicester came in the incident in which Everton were involved in a penalty award. It is doubly aggravating because Moore has thigh and knee trouble and must be considered a doubtful for the time being. The Everton party met at Leicester, Bobby Irvine, their old Irish inside forward, who has been working in the Leicester postal service for the past sixteen years. He looked little older than when he used to do his sixpenny-piece dribbling at Goodison Park. Everton director Fred Lake main prop of the Marine club for so many years is ill, having under taken a scouting duty unaware that he was suffering from onmeumonis.
HIGHLY ENCOURAGING
October 1, 1951. The Evening Express
By Radar
"Nothing is more calculated to give a team confidence in its own ability than a convincing away success, and Everton's deserved victory at Leicester –their second away win of the season and City's first defeat at Filbert Street- should do just that for the Blues. Especially pleasing of course, was the Leyland debut. There was no point on which he could really be faulted. "Until he was injured in the second-half, Moore was a much more confident and competent defender than at Cardiff and John Lindsay, appointed captain for the day, rarely put a foot wrong. He had plenty to do, too, especially in view of the fact that Lello who had been playing as well with the reserves, never seemed to find his feet in this game. "Donovan, introduced at a late stage because of Farrell's indisposition was excellent in everything he did, and Jones for the most part had Hine "in his pocket." The attack particularly in the half hour before the interval, was in its brightest mood. Eglington a quick silver carried too many guns for the Leicester defence, and Buckle was the eager, persistent sharp-shooter, McNamara made the most of the delicate Donovan-Fielding promptings. "Parker held his line together excellently.
MR. F.W.LAKE DEAD
October 3, 1951. The Liverpool Echo
Everton Director and Football Administrator
Mr. Fred W. Lake, the Everton F.C director and one of the best known figure, in Merseyside football circles, died this morning, at his home, 18 Kimberley Drive Great Crosby. He had been alling for some considerable time. Mr. Lake, who became an Everton director in 1945 put a lifetime into the game. As an amateur he played for several clubs in the district including Orrell and Northern Nomads, and was for many years the guiding influence in the success of Marine. His long association with the Crosby club was in the capacity of hon. secretary, chairman, president and then life member. He had been president of the Liverpool County Combination for the last two years and previously held many other offices, including that of chairman. Previously, Mr. Lake had a short spell, as a director of Tranmere Rovers and had been an honorary scout for Everton travelling many thousands of miles reviewing players. Mr. Lake retired in 1947 after 41 years with the Ocean Accident Guarantee Corporation in Liverpool. He leaves a widow and two married daughters.
BLACKBURN SATISFIED
October 3, 1951. The Liverpool Echo
Ranger's Notes
The team that gained Blackburn's first win of the season against Notts County has been chosen to visit Everton this week-end. That is the first time the side has not been changed since the beginning of the season. Team; Patterson; Holliday, Eckersley; Campbell, Kelly, Bell; Glover, Graham, Harris, Nightingale, Wharton.
EVERTON ONE CHANGE
October 5, 1951. The Liverpool Echo
Moore Out, But Farrell Has Further Fitness Test Tomorrow
Ranger's Notes
Everton have to make at least one change against Blackburn Rovers at Goodison and a second will be made if Farrell passes a fitness test tomorrow. The change already definite is due to Moore not being fit, following thigh and knee injuries received at Leicester. Saunders who takes his place will be making his first senior appearance of the season. Should Farrell also be unable to play, Lello will continue as his deputy. Elsewhere the side is the same as last week. Everton will find the Ewood Park side not so poor as their record suggests, and the Blues will need to be at their best to ensure the full points, so vital to keep them away from the lower rungs of the league ladder. After suffering a spate of early season injuries, Blackburn are not only getting back to something nearer normal strength but in the past three weeks have added new-comers to their side in outside right Glover, centre half Kelly and inside left Nightingale at a total cost of around £30,000. After getting only a single point from their first eight matches the Rovers have taken three from the last couple of games including a draw against Luton at Luton which was no mean performance. Kelly has stiffened the defence considerably and when Nightingale has settled down to an understanding with his colleagues Manager Jackie Bell is hoping for greater effectiveness in the attack. Nightingale is not only a good schemer but also a strong and bustling type of player who should do the Rovers more than a bit of good. Jackie Campbell former Anfield winger of early post-war days, will be watched with more than usual interest, for he has been earning high praise as a sound and solid wing half. Everton; Leyland; Saunders, Lindsay; Donovan, Jones, Farrell or Lello; McNamara, Fielding, Parker, Buckle, Eglington. Blackburn Rovers; Patterson; Holliday, Eckersley, Campbell, Kelly, Bell; Glover, Graham, Harris, Nightingale, Wharton.
OLD LANCASHIRE RIVALS AT GOODISON
October 5, 1951. The Evening Express
First Clash in Div 11
By Pilot (Don Kendall)
Everton renew acquaintance at Goodison Park tomorrow with the old Lancashire rivals, Blackburn Rovers, for the first time for three years. The Blues have never yet faced the Rovers in a Second Division game, although they were both original members of the Football League. The Rovers now resume as the bottom club in the division. It was not until last Saturday that they won their first match of the season. That followed the sensational last minute signing from Huddersfield of Albert Nightingale who will be paying his second visit of the season to Merseyside. A few weeks ago Albert played at Anfield for Town. The Rovers will not be viewing this trip to Goodison in a particularly optimistic mood, for they have not won at the ground for 37 years. It is just 21 years ago that the Rovers contrived to pick up a point at the ground. In my opinion the Rovers who have gained only one away point out of 10 (as the result of a 1-1 draw at Luton) will gain nothing tangible on this journey for Everton are now sweeping into form as witness their exceptionally good if unavailing play, against Birmingham City and their grand win at Leicester. Apart from Birmingham's win the only other club to have secured any bonus from Goodison visit have been Sheffield Wednesday and Rotherham United, who both forced 3-3 draws. Everton's recently composed attack, with Parker in the centre and the opportunist Buckle at inside left will be functioning again, and we shall be seeing the young goalkeeper Harry Leyland in action here for the first time in a League game. Eric Moore is not fit and George Saunders will be at right back. Peter Farrell will have a fitness test in the morning, following a leg injury received in training and if it will return to left half for Lello. Everton; Leyland; Saunders, Lindsay; Donovan, Jones, Farrell or Lello; McNamara, Fielding, Parker, Buckle, Eglington
GEORGE BURNETT TRANSFERRED
October 6, 1951. The Liverpool Echo
Signed Today By Oldham Athletic
By Ranger
George Burnett, Everton's goalkeeper for whom the club have been open to receive offers for the past month was today transferred to Oldham Athletic. He will play for them against Accrington Stanley this afternoon. Burnett a former Liverpool School boy player born in Litherland, joined Everton as an amateur in his early teens, and signed professional in September 1938. Although to some extent he has been unfortunate in being contemporary with Ted Sagar, Burnett has had a fair amount of first team experience and during the war was the club's main standby. He has given some splendid displays and should shine in the Third Division. Although he has asked to go on the transfer list a couple of times in past seasons he has always been ready to give his best when required. Two years ago he actually signed for South Liverpool and was due to make his debut for them a couple of days later but owing to Sagar being injured South agreed to tear up his contract and he returned to help Everton out of an awkward predicament.
BLACKBURN'S NIGHINGALE SANG IN GOODISON PARK –BLUES LOSE
October 6, 1951. The Liverpool Football Echo
Everton 0, Blackburn 2
By Stork
Everton unfortunate to lose. They had practically all the play in the second half, but the equalizer would not come. Leyland made three wonder saves in the space of two minutes, but it was not enough. Everton hit the woodwork. They had shots kicked off the line, in fact they did everything but beat Patterson. Everton; Leyland, goal; Saunders and Lindsay (captain), backs; Donovan, Jones and Lello, half-backs; McNamara, Fielding, Parker, Buckle, and Eglington, forwards. Blackburn Rovers; Patterson, goal; Holliday and Eckersley, backs; Campebell, Kelly and Bell, half-backs; Glover, Granham, Harris, Nightingale, and Wharton, forwards. Referee; Mr. K.A. Collinge (Sale). Peter Farrell was the one absentee from the Everton side announced during the week. He had a fitness test during the morning but failed to pass out, so that Lello retained his position at left half. The Blackburn team was unchanged and in view of their improvement in recent weeks, Everton realized that their task was not going to be an easy one. The attendance was good without being outstanding, and once again John Lindsay captained the side in Farrell's absence. Everton made a promising start through the agency of their right wing pair, Fielding and McNamara and the wingman made good use of the material Fielding provided for him with a good centre that only failed because a Blackburn man took possession of the ball. Blackburn's reply was soon cut short by Jones and once again we saw Everton on a goal mission and they produced some nice football to get in the Rovers penalty area. Twice McNamara crashed his centres against Eckersley when he looked to have the beating of this England full back. The Rovers attack failed to cause the Everton defence any heartbreak but when Wharton worked his way beyond Saunders there seemed to be trouble brewing until Jones covered up and put the ball into touch to save any further danger. The odds had been with Everton thus far and when Buckle worked his way towards the Blackburn goal he provided Parker with a magnificent opening. The centre forward responded with a shot that Patterson did well to turn out of goal. He (Patterson) had advanced out of his goal and it looked 100-1 against the keeper having the slightest chance. Nevertheless it only goes to show that Everton has shooting ideas these days where at one time this was their falling. Eckersley was injured and had to receive attention to a head wound shortly after this and Glover made a powerful shot from near the corner of the penalty area which went whizzling outside. Eglington's speed was amazing. He seemed jet propelled when he passed Campbell and Holliday and then opened up a centre for McNamara to head goalwards but not dangerous so.
Blackburn Improve
Another Rovers shot flashed outside, but Blackburn would consider themselves a shade unfortunate when two through passes only just failed to reach their objectives. Hereabouts the Rovers were doing rather better, and Leyland had to pull down a shot by Wharton when he was severely harassed. Eckersley was finding his cut eyebrows a wee bit troublesome so had some plaster put on the injury. Eglington, well looked ager by Buckle and Parker, got another opportunity to cut through the Blackburn defence but his passed wide if both goalkeeper and woodwork.
A Complete Surprise
They quite frequently had the Everton defence wondering and somewhat harassed but it came as a complete surprised when they scored at the 22nd minute. It was, however a nicely made goal which had its starting point from Campbell, the former Liverpool winger, now half back for the Rovers. He pushed a nice ball through to Graham who in turn slipped it along to Nightingale standing on the penalty line. Without hesitation the Rovers new man –this was his second appearance –cracked in a strong shot which simply flew into the Everton net. Everton were not unduly perturbed for they hit back immediately and Parker had the greatest misfortune when he saw Kelly head out of goal with Patterson standing alongside him. Holliday showed a trace of nerves when Everton attacked on the left flank for he headed behind his own goal. Lello once came up amongst his forwards to ofter Parker a chance but Patterson was able to deal with the Everton centre forward's header without any great difficulty.
Two Goal Thrills
Hereabouts we had two sensational happenings one in either goal. The first was a shot by McNamara which had everyone beaten, the ball, however hit the upright and as it came down Patterson knocked it away. The other thrill was in front of Leyland he and Saunders, through a misunderstanding let in Wharton who from about six yards out shot wildly over the bar. When Fielding got his chance the Rovers keeper could have done nothing about it, but his left half Bell, was able to assist him by heading the ball out. The power behind the shot might be judged by the fact that Bell was completely knocked out for a minute or so. The Rovers paid quite a lot of money for Nightingale. They nearly got some of it back when he made a gliding header that seemed to have the beating of Leyland, but the Everton goalkeeper made a sprinkling save to keep Everton still in the game.
Half-time; Everton nil, Blackburn Rovers 1.
Blackburn Rovers started off the second half with a bang and within two minutes Leyland had made three miraculous saves. Had any one of the three beaten him no one could have complained for they were all worthy of a goal. His first save was from Glover when he dropped on the ball like a bullet to prevent it crossing has line. His next was a save from Wharton. He got his right hand to this and turned the ball on to his crossbar from whence it flew to safely. Then along came Harris with a scorching shot almost from point blank range, but Leyland parried the ball away, and received a wonderful ovation for his great work. It had certainly been two minutes of anxiety for Everton but the Rovers had theirs when Everton made their first move of the half and Buckle slashed in a shot which struck Patterson on the foot so the goalkeeper saved without knowing it. A little later Eckerskey headed away when McNamara tried his luck for the equaliser. Everton were trying hard to produce a goal but the Rovers defence was just as determined that they would not get it. It is along time since I have seen so many shots luckily turned away. When Buckle tried a right-footer his shot seemed net bound until it struck Kelly's midriff and put him down for a count. Apart from the first two minutes of the half, Everton had been well on top, but one could never take liberties with the Rovers for they rounded off their quicks raids with shot of sorts. Nevertheless it was Everton who were now calling the tune.
A Swallow Dive
McNamara once kicked round the ball when he attempted to make a shot and straight from this the Rovers moved forward and Leyland had to do a swallow dive to save an oblique shot by Wharton. After Granham had shot well over the Everton crossbar Buckle lobbed in a very tame shot which caused Patterson no trouble whatever. Fielding had his trousers torn to ribbons but carried on for some time before he got a new pair. There was a quiet spell when play was midfield and neither side had a shot with any great power or direction. I think Kelly should get the Order of Merit from his colleagues for another save when he put his head to a fierce McNamara shot which bowled him over once again. Fielding and Buckle enabled Eglington to move of and beat Holliday to send along a centre that simply screwed out to be netted. Patterson saved in quick succession from McNamara and Fielding but Everton were certainly out of luck. With two minutes to go, Blackburn were awarded a penalty for a foul by Donovan on Nightingale. Graham was entrusted with the kick and he gave Leyland no chance. Final; Everton 0, Blackburn Rovers 2.
BLACKBURN ROVERS RES V EVERTON RES
October 8, 1951. The Liverpool Football Echo
Blackburn Rovers Res; Johnson, goal; Ashworth and Chadwick, backs; R. Clayton, Holt and K. Clayton, half-backs; Anderson, Wright, Hargreaves, Jones and Brown, forwards. Everton Res; O'Neill, goal; Clinton and Rankin, backs; Grant, Forshaw, and Melville, half-backs; Gibson, Hold, Catterick, Cummins, and Easthope, forwards. Referee; Mr. L.A. Sowden (Manchester). Hargreaves put Rovers ahead from an Ashworth free kick after three minutes. Everton's most dangerous shot for 30 minutes was by lively Gibson. Then Easthope whipped the ball just over and Catterick had a drive kicked off the line. Erratic shooting spoiled many good Everton raids. Half-time; Blackburn Res 1, Everton Res nil.
O'Neill twice saved brilliantly from Wright, who flashed in a free kick and then shot hard from 25 yards. Catterick, taking a neat pass from Hold, shot tamely at Johnson. Wright scored a second for the Rovers after 15 minutes and a third two minutes later. Blackburn Res 3, Everton Res 1
• Everton "A" 1 Cromptons Recs 2
• Hoylake Ath Res 0, Everton "B" 2
BLACKBURN TAKE BOTH POINTS
October 8, 1951. The Evening Express
Everton Shooting Met No Luck
Always Rovers' Player Handy To Stop Blues Scoring
By Pilot (Don Kendall)
Blackburn Rovers scored their first Goodison Park victory in 37 years when they defeated the Blues through Nightingale's 22nd minute goal, and Graham's 88 minute penalty goal. The Rovers were the stronger and faster side but had all the luck in the world in defence, for three scoring shots were actually cleared off the goal-line and three more stopped further out. Yet Everton had themselves to blame to a certain extent, for Parker missed two absolutely open goals though slowness and his first miss seemed to inspire the Rovers when things had been going badly for them. The most gratifying features from Everton's point of view was the brilliance of Leyland, their young goalkeeper. This was Everton's second home defeat of the season and only Roberts' second win of the season. Everton were without their captain Peter Farrell for the second game in succession. Farrell received a kick at a trial during the week and failed to come through a fitness test this morning. The Rovers who have not won at the ground for 37 years, included their recent signing, Kelly, Glover and Nightingale, beside Jackie Campbell, the former Liverpool player. The Everton players wore Black armlets in memory of Director Mr. Fred Lake, who died during the week. The Blues were once again captained by Jack Lindsay who lost the toss and so had to defend the new goal double decker. Everton; Leyland, goal; Saunders and Lindsay (captain), backs; Donovan, Jones and Lello, half-backs; McNamara, Fielding, Parker, Buckle, and Eglington, forwards. Blackburn Rovers; Patterson, goal; Holliday and Eckersley, backs; Campbell, Kelly and Bell, half-backs; Glover, Graham, Harris, Nightingale, and Wharton, forwards. Referee; Mr. K.A. Collinge (Sale). Eckersley made a quick recovery to hold up McNamara and when Eglington centred McNamara's header from an awkward position offered no terrors in the Rovers. There was a thrill when Buckle picked up in midfield and ran 25 yards before slipping the ball through to Parker who had moved to the inside left position. Parker shot hard and true, but Patterson dived and beat the ball away for a corner which produced a good header from McNamara which went just over the top. Eglington's speed carried him past Turnbull and Holliday and he slipped the ball back to the in-running Buckle, but it was done a little too quickly and even Buckle's pace was not sufficient to enable him to make contact. As Saunders long clearance was dropping into the hands of Patterson, Parker was obstructed as he ran in, and to Everton had an indirect free kick on the edge of the goal area, which Fielding lobbed over a bunch of players towards Parker. As Parker leapt up to head Holliday coolly turned the ball behind with a flick of his right hand and the referee was one of the few who did not see it. The Rovers responded with a Nightingale shot which went behind off Jones back but Glover threw the corner away by placing behind.
Leyland Cheered
Leyland earned cheers when he leapt into a bunch of players to make a glorious catch of Wharton's centre. Then Eglington flashed past Holliday again following Jones' quick clearance but his centre was punched over the top. The referee got in the way of an Eglington pass and this set the Rovers in motion, Nightingale making a sinuous dribble before allowing the ball to run behind. The spectators gasped when Holliday lobbed the ball into the Everton goalmouth and Leyland ran out to catch in the glaring sun. The Ball bounced off Leyland's chest; but fortunately run away from Harris who had followed up, and Jones was able to enable Leyland to recovery and clear. In 19 minutes Everton threw away a glorious chance of taking the lead. Buckle moved to outside left; drew Kelly and then pushed the ball back along the floor for Parker, absolutely on his own in the penalty area. Parker failed to control it and the ball went off his toe to become the property of the out-running Patterson. This was a ghastly miss. In 22 minutes the Rovers took the lead when Nightingale knocked a few more thousands off his transfer fee and it was Jack Campbell who had once longed to play for Everton who made it all possible. Campbell made a 12 yard midfield burst, and after withstanding two tackles pushed the ball across to Nightingale who took his time in manoeurving and then scored with a glorious shot into the top corner of the net with which Leyland had little chance. It just shows the price a side has to play for missing easy chances. Holliday took no chances with Fielding's centre and he headed behind for a corner which led to sustained thrills for although this was partially cleared it led to a quick Buckle centre from which Parker headed in strongly. Patterson was beaten but Eckersley standing on the goal line headed the ball out to receive pats on the back from his colleagues. Next Lindsay centred for Parker to head outside. There was plenty of fun and games; in fact we had two instances more reminiscent of Rugby scrums than a soccer game as players scrambled for the ball in close possession. Nightingale was a live wire in attack but when he was robbed Everton went away and Eglington centred for McNamara to hit a left foot shot against the post. The ball was dropping down over the line when Kelly kicked clear. Everton were making silly mistakes which tended to even things up. Donovan's lob to the goalmouth was edged back by Parker for Buckle to take a shot on the volley and which had more power than direction.
Rovers Escape
The Rovers had another lucky escape when after a move between Donovan, Parker and McNamara, Fielding hit his best shot of the season. It was going home when Bell flung himself across and got his head to it to suffer a knock-out, but it saved a certainty. Glover placed a corner short for Nightingale to make a magnificent header. The crowd relied "goal" but they reckoned without Leyland who sprang across to hold the ball to his body. Half-time; Everton 0, Blackburn 1.
Nightingale's goal was his first for the Rovers and right on the restart the Rovers almost increased their lead and would have done so only for Leyland. Glover made a grand shot along the floor but Leyland dived to make a magnificent catch. The Rovers kept it up, Graham flashing the ball across for Wharton to make a strong header which Leyland and managed to turn against the post and Saunders completed the clearance. In Everton's first attack of the half only Ill-luck deprived Buckle of an equalizer for his shot had the "net" label, but a hopelessly positioned Patterson moved across to his left and found the ball rebound from his knee. While Everton may have been the more precise football side there had been a certain slowness in defence and they were neither as strong nor as speedy as the Rovers who were amazingly quick with their interventions. The Rovers certainly know how to pack their defence and when Eglington centred Parker headed in well but although Patterson was out of the picture Eckerley was there once again to head off the line. It was the old story –every defence having a day out when facing Everton. Donovan's burst down the right wing brought anxiety to the Rovers but Fielding instead of shooting thought it best to reply on Eglington who found his shot rebound from a defender, and although Lello followed up with a shot this landed in the arms of Patterson. There was a Blackburn body in the way of everything. Brilliant combination between Fielding and Eglington brought a corner which Patterson turned away to McNamara. Lello tried one from the centre but Patterson caught it firmly. Leyland made a glorious flying catch off Wharton's centre before the referee had a word to say to Graham. Which was the third time he had spoken to Blackburn players. Fielding was bowled over and his trousers ripped by the studs but the reform awarded no free kick. Fielding made a point of going to the referee and showing the stud marks on his high. McNamara burst through on the inside of Eckersley and from just outside the penalty are let go a mighty left foot but there was the head of Kelly to take the full force and save yet another goal. Parker was next too slow to take an open goal and McNamara came in to make two true shots which crashed against the bodies of Blackburn players which seemed to be everywhere. This Blackburn defence was amazing. I have never seen such luck in my life. McNamara's corner dropped short, and Fielding hit a wonderful right foot shot which was a goal all the way, but the ball stuck the flying Campbell on the knees and bounced to safety. Two minutes from time Nightingale was brought down on the edge of the penalty area by Donovan and Graham scored from the penalty. Final; Everton 0, Blackburn Rovers 2. Official attendance 40,336.
BLACKBURN ROVERS RES V EVERTON RES
October 6, 1951. The Evening Express
Forshaw' opening tackle let in Hargreaves whose low shot beat O'Neill to give Blackburn the lead in the three minute. Everton retaliated with a nice interchange on the left through Tommy Cummins who forced the Rovers keeper to give away a corner. Half-time; Blackburn Rovers Res 1 Everton Res 0
O'Neill after making three brilliant saves in a row saw the ball beat him twice in the 15th and 17th minutes to put Blackburn three up. Both these goals were scored by Wright. Clinton scored for Everton from the penalty spot after 80 minutes. Final; Blackburn Rovers 3, Everton Res 1.
A BRAVE SHOW BY BLACKBURN
October 8, 1951. The Liverpool Daily Post
By Stork
Everton 0, Blackburn Rovers 2
Of the six games, played at Goodison Park, this season only two have been won a poor, return for a side which has hopes of gaining promotion to the First Division. Yet, I feel Everton were decidedly unlucky to lose even allowing for Blackburn Rovers improvement for they had more than their share of the play and produced some nice football. If this game seen by 40,000 had been judged on points Everton would have won handsomely. Practically all the second half they were hammering the Rovers' defence in a great endeavour to pull the game out of the fire. Shots hit the post, cannoned against the goalkeeper and twice a defender saved his goalkeeper when heading shots out. I take no account of a save by the goalkeeper for that is his job, but when he is beaten and the save made by others there is an element of good fortune about it. Blackburn and Everton are in a false position considering the football they produced. Some of it was really excellent. Blackburn certainly put up good cover when it was needed and any defence is entitled to a little luck, but the Rovers had more than their share.
Save of the Match
Patterson made the save of the match when he held Fielding's high-powered drive, but there were times when fortune smiled upon him. McNamara's shot hit the post, Buckle's struck Patterson's foot, another by Fielding laid out Bell, another was stopped by Kelly neat the goalline. Yes, the Everton forwards did everything but get the ball beyond Patterson. Blackburn's goal was a good one in its making and its delivery. Moves by Campbell and Graham and Nightingale's wonderful shot sizzled into the net out of reach of Leyland. Their second goal was from the penalty spot by Graham two minutes from time. Donovan had brought down Nightingale and the referee had no hesitation in making his award. Blackburn's best spell was immediately after the interval. They threw in everything they had and young Harry Leyland rose in his might to make three sensational saves in two minutes. He dropped on Glovers shot, punched Wharton's header against the upright, and then parried Harris shot from point-blank range. It was two minutes of high-powered action. Nightingale is going to make a difference at Ewood Park. He is a slick worker, but it was the defence which enabled them to win their first game at Goodison Park for 37 years, I could see little wrong with Everton unless it was a little slowness from the centre forward position and an occasional hesitancy by McNamara.
SOME REDEEMING FEATURES
October 8, 1951. The Liverpool Echo
Blues Lose Again
Shooting Was Much Better, But Rovers Dropped an Iron Curtain
Ranger's Notes
It is asking a lot, but Everton supporters who can temporarily forget the club's lowly position and the fight which faces them in the future ad glance at the League table makes clear had not a great deal over which to grumble after Saturday's display even though it meant the second home defeat of the season. It wasn't for want of real endeavour or team spirit that Everton lost. Blackburn, as I indicated in my pre-match review area a much better side than their position indicates. If they continue in that strain they will soon start climbing. Everton will play worse in some games and still win, but their position in the intrim is getting "sticker" than ever. No points are awarded for hard lines or territorial supremacy. Everton can improve their placing only by what goes on the score card. Saturday's result was something of an injustice. The Blues deserved a point at least. Not for years have I seen a game where so many strong shots were prevented from bringing just reward either by the woodwork, defenders clearing off the goal-line or the ball hitting an opponent who knew little or nothing about his rescue act. And the Blues were nearly always the sufferers.
Chances Were There
Even allowing for this, however, they had enough chances to neutralize Nightingale's superbly-taken first goal for his new club and Graham's conversation of a rather doubtful penalty award. This latter was the third in successive games against Everton. With more snap and quicker thinking, Parker might have had a hat-trick. Others were similarly wasteful of good chances, and though there was far more shooting than I have seen from Everton this season, there were still too many occasions when a first time shot was the obvious thing and a pass came instead –sometimes straight to the opposition. Blackburn gave the home side a lesson in instant shooting and not all the narrow escapes were at the visiting end. Leyland made three splendid saves in a couple of minutes early in the second half and altogether put up a most promising home debut. Saunders gave a good display and Lindsay as usual played a sound constructive game. Some of his long cross-field clearance-cum-passes to McNamara were a sheer delight. With one accurate point he frequently opened up a new avenue of attack. There was nothing seriously wrong with the half-backs though Lello appears in need a little more match practice before quite reaching his old form.
A Great Effort
McNamara was unlucky with some of the hot drives which in spite of being generally well held by Eckersley he managed to put in Eckerley's work all through had the stamp of class. Fielding delivered one wondered acrobatic shot with both feet off the ground and another which knocked out the half-back who headed it away. If Fielding would take on the mantle of marksman a little oftener it would be a good thing. When he hits them right he can equal most players for strength of shot. Somebody must get goals and Fielding can succeeded if he will shed a fraction of his desire to serve up the chances for others and have a go himself instead. Buckle and Eglington led the Blackburn right flank a real dance in the first half hour. Later Buckle faded out, but Eglington's speed was always a trail to Holiday. Everton should meet with better fortune if they can maintain Saturday's form. Sooner or later the run of the ball must favour them. But in the meantime they are slipping down into dangerous waters. There are rocks ahead. We know all too bitterly from the experience of recent seasons how hard it is for a struggling side to overcome the psychological effect of a lowly position and a run of ill fortune. If it to be hoped that yet another similar experience is not to be our lot. Although Blackburn's manager Jackie Bestall, jocularly indicated to Manager Cliff Britton that there were some Everton players he would like, and also inquired about others for whom the club is open to receive offers no negotiations are pending. Everton have no intention of playing with any players apart from those previously named.
Harry Potts resumes training tomorrow, after being absent from the last five games. He has had an injury resembling "housemaid's knee" ligament behind the knee.
BLACKBURN HAVE EYES ON EVERTON PLAYERS
October 8, 1951. The Evening Express
Ewood Interest in Harry Catterick
By Pilot (Don Kendall)
Blackburn Rovers are prepared right away to make substantial offers for some of the Everton players they defeated at Goodison Park on Saturday. Manager Jackie Bestall said so to Manager Cliff Britton after the game. And there is Rovers' interest in Harry Catterick. The offer was made in my presence and I know that Jackie meant it. He and his directors are more than satisfied with the five-figure fees they have paid to Luton Town, Airdie and Huddersfield Town for Glover, Kelly, and Albert Nightingale respectively and are determined to continue the policy. It would not take you a moment to spot the Everton players Ewood covets but Manager Britton's knowing angle was sufficient for Jackie to drop the subject except in the case of players who are in the market. Everton are out for strength and not to dispose of it. Still, no one blames Manager Bestall for trying and his offer was in itself quite a tribute to Everton which he and Trainer Jackie Waddle admitted were so unfortunate to lose. Manager Bestall is quite certain that both teams will finish high in the table, both on the number of shooting chance they created today," he said, "Any teams that can do it so often must be good," Manager Britton agreed but what puzzled the Everton "chief" was that after his lads had erupted the openings and had beaten Patterson with their shots, that something could bob up to keep the ball out of the net. "I can appreciate shots stroking bodies," said Cliff to the little circle, but for three shots to strike fellows in the face beats me. It beats everyone," How true.
"We've been experiencing that all the season, said Jackie. "Doing all the pressing; players all the good football and yet the ball has refused to go into the net. What you've been through today is what we've had all season." "Yes, and we've had it for three years," replied Cliff. That is perfectly true; but this occasion you had to see it to appreciate it, not that I place the Everton defeat to the factor alone.
GLOOMY DAY
October 8, 1951. Evening Express
Pilot's Log (Don Kendall)
The consulting thought for Everton is that they have brought forward a most promising goalkeeper in Harry Leyland; that they have all the poise and arts of a really good learn; that they are, for the most part, ready to have a go at the shooting chances they make and that the Rovers often saved goals by more luck than judgment. Yet the faults remain without a doubt. Just as Ted Sagar had to take the blame for the Birmingham conquest, here a fortnight ago, so must John Willie Parker shoulder the responsibility for failing to send the Blues on the high-road to success at a time when they had the Rovers in a state of utter bewilderment. Buckle from outside left slipped the ball into the penalty area which was occupied by Parker and goalkeeper Patterson alone. No one else was a round. It was a million-to-one on opening, but Parker failed to "kill" it and the ball went off his toe to the delighted Patterson, who could not believe his luck.
Fielding
It happened again when Eglington offered one on a golden platter to Parker, who was so slow either to master the ball or shoot that by the time he passed his colleagues were covered. Granted that Parker was as keen and willing at other times as were his colleagues to shoot. Fielding had two certainties kept out by luck McNamara two, and Parker and Buckle one apiece which reminds me. Not since he first came here have I seen Fielding shoot so accurately or with such power. Go on Wally remember Buckle and Balmer and his them whenever you can. I felt sorry for Tommy Eglington, who did so much which should have brought success and for McNamara who found Eckersley to superlative form and had little real chance. Buckle had a grand first-half, but like so many in the modern Everton back's stamina. Yet it was surprising that this physically inferior Everton should have given the Rovers such a drubbing. The Rovers knew they were stronger, and were quite content to defend once the electric Nightingale had given them the lead. Rovers I though, had the pull at wing half, and in speed in defence, while allowing for some delightful contributions from Saunders and Lindsay at times, Harry Leyland's goalkeeping delighted everyone. Let me pay tribute to the Liverpool Jackie Campbell, who at right half, really scintillated for the Rovers. He made the first goal which came immediately on Parker's first miss, and eventually played Buckle out of the game. One of the Everton highlights was the brilliant close-passing between Fielding and Eglington. While the only thing really wrong with this game was the result, I am still convinced that two "key" men could transform Everton into an all-conquering team.
GOODISON DUEL WITH IRISH ELEVEN TOMORROW
October 9, 1951. The Evening Express
The Football League sets out to complete a double hat-trick of victories over the League of Eira when the teams meet at Goodison Park tomorrow. Victory, too, will enable the League to preserve a 100 per cent record against the Irishmen.
FARRELL BACK IN THE EVERTON SIDE
October 11, 1951. The Evening Express
He and Eglington are Again Capped by Eire
By Pilot (Don Kendall)
Peter Farrell, the Everton captain, returns to the team on Saturday, when the Blues play their first ever Football league game against Queen's Park Rangers. Farrell takes over from Don Donovan at right half. This will be the only change and Peter's return coincides with his selection to play for Eira against Germany in Dublin next Wednesday when Tommy Eglington, the Everton outside left, also will play. Farrell had to miss the Blues' League game at Leicester because of a chill, and last week he injured a leg when playing in a private trial at Bellefield and so could not play against Blackburn Rovers, Donovan has been in the team since August. Everton; Leyland, Saunders, Lindsay; Farrell, Jones, Lello; McNamara, Fielding, Parker, Buckle, Eglington.
Everton will e taking some reserves on the trip for on Monday they play their annual match with the Army at the Aldershot Command ground. Neither Farrell nor Eglington will play, but Rankin the Everton back will play against his own club.
EVERTON'S ONE CHANGE
October 11, 1951. The Liverpool Echo
Ranger's Notes
Farrell, Fit Again Returns to Half-Back Line Donovan's Place
Everton make one change in their side for Saturday's visit to Queen's Park Rangers. Farrell returning to right half in place of Donovan. Farrell has made a quick recovery from his knee ligament injury, and with Lello now getting nearer his old form, the half-back line should be further strengthened by Farrell's return. Donovan officially described as being "rested" has no need to look back with regret on his entry into English football. He has shaped promisingly and chances of gaining further senior experience will come his way in due course. Everton; Leyland; Saunders, Lindsay; Farrell, Jones, Lello; McNamara, Fielding, Parker, Buckle, Eglington.
Queen's Park also make one change, involving two positions Addinall returns to lead the attack and Smith reverts to his normal position. Queen's Park Rangers; Brown; Pollitt, Powell (G); Clayton, Chapman, Farrow; Waugh, Smith (C), Addinall, Gilberg, Shepherd.
Everton Reserves (home to Blackpool); O'Neill; Clinton, Rankin; Grant, Lindley, Melville; Gibson, Potts, Hickson, Cummins, Easthope.
This will be Harry Potts first appearance since his injury and is in the nature of a "try-out"
Army Game
On Monday Everton play the annual game against the Army at Aldershot. The Army team convicting entirely of young players of Football League experience, includes George Rankin, the Everton back; Team; Anderson (Leicester); Banks (Bolton), Rankin (Everton); Glen (Aberdeen), Twentyman (Carlise), Fenton (Blackpool), Jackson (Leyton), Taylor (Barnsley), Smith (Chelsea), Cameron (QPR), Parry (Derby)
Everton Caps
Queen's Park Rangers make forward changes, Smith moves to inside right for Cameron, unable to get leave, to allow Addinall, now recovered from injury to lead the line. Team; Poppitt; Powell, Clayton, Chapman, Farrow; Waugh, Smith, Addinall, Gilberg, Shepherd.
Eire have selectors chose their team to meet Germany in Dublin on October 17. Farrell and Eglington were almost automatic choices out, although their clubmate Donovan also came under the interscope it was felt that he was not quite "ripe" enough to displace an experienced a campaigners as West Ham's Moroney.
NORMAN GREENHALGH
October 11, 1951. The Liverpool Echo
Ranger's Notes
Norman Greenhalgn, former Everton full-back is now installed at the Winslow Hotel, opposite the Goodison Park ground. Formerly the licensee was Jack Borthwick, the Old Everton centre-half of 40 years ago, and since Jack's death his window held the licence. Now Mrs. Borthwick has retired and Norman Grenehalgh has taken over. Norman at one time toyed with the idea of going into football management. He will find the job of mine host a less anxious one, I think.
EVERTON OUTLOOK
October 12, 1951. The Liverpool Echo
Ranger's Notes
Everton pleased most of their followers by last week's display against Blackburn Rovers, but while such performances are encouraging the shark fact remains that two home points were forfeited. True the Blues were unlucky to lose and they will meet few sides better than Blackburn on this evidence, but with only three points obtained from the last 12 at stake Everton have now slipped back to a position in the table which is beginning to look a bit ominous. Queen's Park Rangers may not be a sparkling side, but they are dour fighters on their own little ground where they have not yet suffered defeat. Their attacks is very ordinary -11 goals in 11 games –but the defence has a better record than Everton. The return of Farrell to the Goodison intermediate line should add a little fight and fire to the side and if the forwards will shoot as often and as hard as last week, the Blues may well added a third away victory to their list. On last week's form, and particularly if there is a little more quickness in accepting reasonable chances, this is not beyond their capabilities. Everton; Leyland; Saunders, Lindsay; Farrell, Jones, Lello; McNamara, Fielding, Parker, Buckle, Eglington. Queen's Park Rangers; Brown; Poppitt, Powell, Clayton, Chapman, Farrow; Waugh, Smith, Addinall, Gilberg, Shepherd.
GOALS, GOALS, GOALS –AND THERE WAS EVERTON FIGHTING EVERY INCH
October 13, 1951. The Liverpool Football Echo
Q.P.R. 4, Everton 4
By Stork
Queens Park Rangers; Brown, goal; Poppitt and Powell, backs; Clayton, Chapman and Farrow, half-backs; Waugh, Smith, Addinall, Gilbert and Shepherd, forwards. Everton; Leyland, goal; Saunders and Lindsay, backs; Farrell (captain), Jones and Lello, half-backs; McNamara, Fielding, Parker, Buckle, and Eglington, forwards. Referee; Mr. J.G. Williams. Everton made only one change, Farrell coming in for Donovan at right half-back. Queen's made no change, as per programme but Addinall returned after a fortnight's injury. Everton immediately went off and in the first second Buckle had a shot at goal after Fielding had put him through. Buckle was challenged just as he was about to shoot and the ball struck a Queen's defender and went for a corner. This was capably dealt with by Brown who swept McNamara's flag kick away from goal. Queen's Park Rangers struck back immediately so we had tense goal incident in the space of a minute. The Everton defence was a little unsettled but managed to clear the difficulty when Saunders successfully dispossessed Shepherd. A five minutes Everton took the lead they promised they would. Fielding gave Parker a return pass at outside right and the winger's long centre went straight to Buckle's pass and from there hit the back of the net. Buckle almost repeated the performance but Brown got to the ball and cleared. For some time, the Rangers set up an attack which kept the Everton defence on its toes, and when Gilberg took a shot on the run of the ball swung wide of the far post. Parker was moving to all quarters –right or left –but it was Rangers who were more dominant at this point and at 15 minutes they had equalized through Shepherd, who shot the ball well out of the reach of Leyland. It was not a hard shot but a well-placed effort. He almost got a second a few minutes later. There was plenty of excitement and when Buckle shot through the Queen's defence there seemed a possibility of another goal but the ball went wide.
A Corner
Shepherd was seeing plenty of the ball, and doing well when he got it. Brown neatly flicked the ball over his bar, but his best save was from McNamara who from the inside left position gave him a hot handful to deal with. He turned the ball out for a corner. So far, little had been seen of Eglington. When he did get a chance, he was pulled up for offside. There was plenty of life in the game, with speed and sound long passing and when an opening arrived, Rangers were more capable of taking it up. Shepherd who again in the right spot when Smith passed to him and again the outside left drove the ball clear of Leyland's left hand. Queen's were more trustful and Smith made a mighty hit but the ball flew outside. Shepherd was a dangerous winger. He had another shot –this time with his right foot and Leyland could not afford to take risks so he turned the ball outside. I think it would have gone out in any case.
Spell of Attack
Everton had a short spell of attack, but Rangers chief asset was their quick time, but they were taken by surprise when Eglington gave Parker the opportunity and the Everton centre forward made no mistake in the 36th minute. Lindsay kept another shot out of his net when he hooked the ball away, and it went into Leyland's hand. It was bad luck for the shooter Smith. The home crowd were delighted with the fare presented, but more particularly with the efforts of their own side. Parker almost gave Everton the lead with a gliding header from a Fielding centre. The pace was maintained right up to the interval, and McNamara put the ball into the Rangers' goalmouth, and after Brown had some difficulty in clearing, Buckle came tearing up and with a terrific shot saw his effort blocked out. Half-time; Queen's Park Rangers 2, Everton 2.
After the Rangers had made a short visit to the Everton goal area Everton through their left wing did well without penetrating the Rangers defence. Fielding was the promoter but his two passes were not taken up. The Rangers were distinctly unlucky when Smith cut in against the angle of the woodwork. The ball was eventually cleared but it came back to Gilbert who shot wides. There was no doubting the enthusiasm of the Queen's side. They put everything they knew into the play. The Everton defence had been under severe pressure for some minutes when Gilberg's offered Waugh a chance and he took it by shooting out of the reach of Leyland at the 55th minutes. Everton got an indirect free-kick from which McNamara headed outside. Queen's Park were right on their toes but for once in a way Shepherd overdid his dribble. Again Everton drew level this time through a penalty award for hands. Buckle made no mistake from the spot although Brown tried hard to reach the shot. It was cut and thrust by both teams, and a Parker link-up with McNamara's looked promising and within a few minutes Eglington from the inside right position completely beat Brown with his left foot shot. The crowd were certainly having their fill of thrills. This took some sting out of the Rangers, yet they never gave up battling and Gilberg tried to produce another equalizer. Eglington forced Brown to another good save and Buckle had a hard shot which passed high over. Everton had now got the upper hand of the Rangers. Leyland, however, had to drop on a shot from Gilbert. Queen's had taken a little time to get over Everton's fourth goal, but they did and the Everton defence had to be dour in their handling of the fiery forwards. Addinall headed against the crossbar from Shepherd's corner kick. Gilbert scored Queen's Park fourth goal at 85 minutes. Final; Queen's Park Rangers 4, Everton 4.
EVERTON RES V BLACKPOOL RES
October 13, 1951. The Liverpool Football Echo
Everton Reserves; O'Neill, goal; Clinton and Rankin, backs; Grant, Lindley, and Melville, half-backs; Gibson, Potts, Hickson, Cummins, and Easthope, forwards. Blackpool Res; Hall, goal; Shimwell, and Prith, backs; Proctor, Crossland, and Robinson, half-backs; Hobson, Mudie, Stephenson, Slater, and Withers, forwards. Referee; Mr. G. Clark (Altrincham). Everton had out Potts and Lindley, following their injuries. The Blues took an early lead Cummins sending in a strong shot that cannoned off Shimwell into the net. Everton were much the better side, but Withers equalized. The Blues were now dominant and Clinton from a penalty regained the lead. Gibson with a capital shot increased the home lead. Half-time; Everton Reserves 3, Blackpool Reserves 1.
Everton were in confident mood, one of the features being their positional play, which had the visitors defence perplexed on many occasions. The visitors who were always dangerous were successful in reducing their arrears through Crosland.
EVERTON SCORE IN SIX MINUTES
October 13, 1951. The Evening Express
Buckle's Two Fine Goals in London Draw
By Radar
Everton's first-ever League duel with Q.P.R produced a high-scoring game, in which the opposing attacks invariably held the mastery, at Loftus Road today. After taking the lead through Ted Buckle in the sixth minute, Everton found themselves twice in arrears but fought back splendidly to take a 4-3 lead. Buckle (2), one from a penalty; Parker and Eglington, were the marksmen for Everton and Shepherd (2) and Waugh scored for Queen's Park in a fast, thrilling game, in which defenders were invariably in trouble. The only previous time Everton had played on this ground was two seasons ago, when they defeated the Rangers 2-0 in the third round of the F.A. Cup. Queens Park Rangers; Brown, goal; Poppitt and Powell, backs; Clayton, Chapman and Farrow, half-backs; Waugh, Smith, Addinall, Gilbert and Shepherd, forwards. Everton; Leyland, goal; Saunders and Lindsay, backs; Farrell (captain), Jones and Lello, half-backs; McNamara, Fielding, Parker, Buckle, and Eglington, forwards. Referee; Mr. J.G. Williams.
Everton played in their first-change colours of white shirts and black shorts for the third successive away game. They went straight to the attack, Buckle taking over from Farrell, made direct progress, but was tackled from both sides when about to shoot. Nothing came of the corners, and Rangers were quick to reply. With both Lindsay and Jones in trouble it was fortunate that Farrell was able to drop back and hook the ball out of the danger area. For a time Everton were top-dog and a quick forward pass by Lello enabled Parker to let go a shot which was just off the target. It was no more than they deserved when Everton went ahead in six minutes. A picture goal, too. Fielding and Parker inter-passed on the right for Parker, who had moved to the wing, to cut inside Powell and drop a choice centre to Buckle. Up went Ted, to steer the ball perfectly out of Brown's reach into the net.
Heading Chance
An auspicious start after last week's disappointment, it could easily have been two within a minute. This time Eglington's cross offered Buckle a similar heading chance but Brown was not to be caught napping. He saved right on the line. For a spell Rangers took command and the Everton defence had to put in some desperate work. In fact, the "Blues" were lucky to escape an equalizer when Shepherd drove in a fierce left-footer, which had Leyland beaten, but was forced off the line by Jones. The Everton defence now looked completely at sea, and it came as no surprise to see Rangers draw level on the quarter hour. Poppitt took the ball well upfield before transferring to Addinall. The Rangers centre-forward slipped it to Gilberg, whose quick pass was steered wide of Leyland's reach by the in-running Shepherd. It was almost incredible to see the Everton a rearguard so utterly thrown out of stride, and in the next minute Shepherd struck the post with Leyland hopelessly beaten. The ball rolled along the goalline and was scrambled away. Buckle was unlucky when he shot just past the post as he was sent sprawling. Twice in quick succession McNamara leapt into the picture. He leveled a dropping header, which Brown just succeeded in edging over the top. Then the Everton right winger had a mighty long drive from the inside left position. Brown was just able to fling himself across and turn the ball around the post. This was indeed a game in which the respective attacks were masters. Next time Rangers went on the move they took the lead. Inside right Smith did the preliminary work, outwitting Lindsay before flicking the ball to Shepherd, in the open space. Shepherd cracked a low left-foot shot into the far corner, Leyfield having no chance. Shepherd might easily have had a hat-trick as a result of further scheming by Smith and Gilberg. There was immense power behind the winger's cross-shot, but it seemed to be swerving outside the post. Leyland, however, took safety measures and punched behind at full length. In this fast game Q.P.R were faster to the ball. In the 36th minute, Everton gained quality, thanks mainly to poor clearance by Chapman. This went straight to Eglington whose quick pass into the middle left Parker with an open goal. Parker made no mistake with a savage but perfectly placed low shot into the corner of the net. This Everton attack was certainly moving well, and after Lindsay had cleared off the goal-line from Smith, Parker caused the Rangers supporters to gasp with a chest-high header which flew over the angle. Next Buckle but another tremendous drive, but the ball struck Farrow on the back.
Half-time; Q.P.R 2, Everton 2
The pace in the first half had been a cracker, but the opening phases of the second were strangely quite. Fielding twice over hit in his passes in attempting to send Eglington away. In fact, the first raid of note did not come until play had been in progress five minutes. Then only a near miracle enabled the Everton goal to survive. Waugh's volleyed centre, which was not properly cleared, started the trouble. Eventually Shepherd slipped a short ball backwards from the line, for Smith to hit it on the instant. The ball cracked right against the upright with terrific power and with Leyland beaten to the stride. It bounced back into play and was finally driven wide by Addinall as he shot on the turn. Leyland had all his work cut out to cope with a slow shot from Shepherd as Rangers threw everything into attack. The Everton defence just could not withstand pressure and the inevitable leading goal came in the 55th minute. Waugh drove home a fierce right foot drive after Saunders had cleared off the line. This goal was the direct outcome of a mistake by Lindsay, who allowed Gilberg in dispossess him, only five yards from the post. Everton came close to drawing level again as the result of a brilliant solo run by the right-winger. Fielding went down low in McNamara's cross near the goal line and his head beat the driving Brown all the way. Unhappily it was hurled a foot the wrong side of the upright. The equalizer came in the 63rd minute. Fielding who had crossed in the right wing, did not get hold of his centre properly, but it struck Farrow on the hand and the referee awarded a penalty. Buckle made no mistake with a spot kick. Once again Everton had the bit between their teeth. Eglington beat brown with a studied angle shot, to make it 4-3. Time 66 minutes. Final; Q.P.R 4, Everton 4.
FORWARDS HIT PEAK FORM
October 15, 1951. The Liverpool Daily Post
By Stork
Queen's Park Rangers 4, Everton 4
The old order changes. For most of last season and for the early part of this, it was the Everton forwards who came under fire because of their inability to score goals when the openings had been engineered. Now it is the defence which is lacking in confidence. Against Blackburn the attack was incisive and unlucky not to score. Again, at Loftus Road, the forwards cut through the Rangers' defence time after time. But behind them the defence rocked unsteadily in the face of pounding attacks. It was slack in marking and uncertain under pressure. Had the Everton defenders played with customary confidence the visitors must have won. This was hectic cut-and-thrust football at its best with goals, many near misses and the post struck a number of times. Thrills came thick and fast with the crowd roaring encouragement, and the game was as good a spectacle as the Rangers spectators can hope to see this season. Everton played slightly the better football for the Rangers relied upon speed and enthusiasm more than the subtle move to produce goals. They put up a tremendous battle and in the last five minutes when Everton were leading by the odd goal, managed to find that little extra which enabled them to get a point.
Buckle Will Stay
The Everton forwards have never played better as a line and Buckle was outstanding. He scored two goals but that was not his only score. He made fine passes, was speedy off the mark and has I think come to stay at inside left. McNamara was another to take the eye. He played like a veteran while Parker was fast and a great purveyor of the ball. This left Fielding and Eglington. The Irishman was not so dominant as usual but Fielding supplied the material for his advance guards. This line scored four goals, through Buckle (2), Parker, and Eglington. Four goals away from home is enough to win most matches, but Rangers while not so studious in style, were rampant in pace and thrust. Leyland was not so sure in his handling of the ball. He pushed two balls out to the opposition to slam back into his net, but to be fair he was not covered as well as he might have been. Rangers had their bad luck, for they also hit the post, had the ball kicked off the line, and had one goal worthy shot stopped by an Everton man who could have known little about it. Shepherd was their most dangerous forward.
EVERTON RES 4 BLACKPOOL RES 2
October 12, 1951. The Liverpool Daily Post
Everton were well worth their win over Blackpool in a match that created plenty of interest. Hall excelled in the visitors goals and saved his side from a heavier defeat. Potts, who returned to the side following injury did not come up expectations, but Lindley at centre-half had a good game. The Everton marksmen were Cummins, Clinton (Penalty), Gibson and Hickson. Withers and Crossland scored Blackpool's goals.
EVERTON'S THRILLER
October 15th 1951. The Liverpool Echo
By Stork
For a few seasons now it has been the Everton forward line which has been under the microscope, often being lashed for their ineptitude near goal, and in most cases it has been warranted, for they have failed with the easiest chances and the burden left to the defence. The rearguard has carried the banner so long that one goal such a belief in it that it became a common cry "If only the forwards would gave it fair backing there would be little wrong with Everton. Then came the day when the order was reversed. Against Blackburn Rovers the forwards showed they could shoot yet the team was beaten. The forwards were not to blame. Nor were they to blame at Loftus Road on Saturday, where they scored four goals, could easily have had others but for the woodwork; in fact, gave a heartening display only to be let down by their defence. Granting that Queen's Park Rangers were a fiery lot, they could have been subdued by a defence which had sound covering tactics. This Everton never had; in fact it was in one of it's uncertain moods. Slack marking was the root cause. Watch the Arsenal or Burnley cover up. There are few loopholes left open by either. There were far too many gaps left by the Everton defence at Loftus Road and "Queen's" forwards sneaked through them Leyland was smitten by the "uncertain bug," for he twice patted out the ball to the opposition. Leyland was not so sure in his catching of the ball as he has been, but his colleagues in front of him did not give him much assistance for they were more individualistic than a collective force.
Enthusiastic
Rangers were an enthusiastic thrustful lot. They may not have been so artistic in their framing of an attack, but how they could go! Speed and more speed was their strong point, and it brought about the downfall of the Everton defence, which was often far flung and never together. It was a pity that this section of the team should falter just when the forwards had decided to ease their position. They the defenders were not asked to shoulder the full burden as so often has been the case this season. It was a grand game to watch. A thriller from start to finish, as hectic as any cup tie I have seen with Everton the more methodical football side opposed to an opposition that trusted on speed and bustle to offset the more intricate moves of its rivals. The Everton attack was good in every way. It was full of shots and headers, capable of outwitting the opposition by good class combination, fighting back when in arrears aye, doing everything a forward line should do. One was as good as the other, but if I were asked to name the most successful my finger would point out Buckle not because of his two goals, but for his general play. He seems to have found his true niche at inside let and did not "fade" towards the end, McNamara was another successes. He played like a veteran winger, while Parker was 100 per cent better than I have seen him at centre forward. He was faster, sound with his head and good with his feet.
Always a Menace
Eglington was quieter than usual but always a menace Fielding was always doing something useful behind the line, so you see the front line could hardly be faulted. Lello has not reached his peak, being tender in going into the tackle. Saunders had the Rangers's best forward to deal with Shepherd a swift worker and a grand shot. Lindsay complained to me before the match that he had severe toothache. This may have affected his play for he was not the Lindsay we know he can be. Jones worked like a Trojan in a truly defensive style but the root of the trouble was that they were not together. Individually they did little wrong, but had no system to close down the door to the rampant Rangers forward line, who cut out the frills and went straight for their objective –goal. Four goals on an away ground is generally good enough but was not quite good enough against "Queen's" who got their equalizer five minutes from the end, just when Everton appeared to have the points in their pocket. I came home with Joe Mercer, the Arsenal captain, who tells me that he is to receive a benefit this week. It does not seen five years since Joe left Goodison Park.
DEFENCE INSTABILITY
October 15, 1951. The Evening Express
By Radar
"It was defensive instability that coast the "Blues" what would have been their third away victory of the season at Loftus Road, a point away from home is always something to give some satisfaction, but forwards who gave four goals on opponents territory can in all fairness, claim that they have done their part to ensure victory. Rarely have I seem a game in which the respective attacks were in completely in command –the result could quite easily have been 8-8, and the longer it went on the more obvious it became that Everton's most urgent need is a solid "holding" influence in defence. Despite the yeoman service of skipper Farrell- equally effective in attack –defenders who invariably cluttered together in front of goal simply had no answer to the quickly-executed Rangers raids, spearheaded by the left footed Shepherd on the left-wing. Saunders could not match Shepherds speed and Lindsay was no less unhappy facing Waugh. "Nor could Jones, more at home at right back on recent performances, close the middle to Addinall. Lello has yet to recapture his real form, and withal it was not surprising that the general shakiness communicated itself to Leyland, whose goalkeeping did not have the same confidence as in his first two outings. "Forward there was every reason for real satisfaction. The line, led with infinitely greater virility by Parker, moved with balance and always with the promise of goals. Buckle continued to prove himself worth his weight in gold in the inside-forward position, for he is ever alert for the half-chance. Especially pleasing too, was his quick direct progress and forceful shooting of McNamara.
TEAM WORL TOLD IN THE END
October 16, 1951. The Liverpool Daily Post
The Army 3, Everton 6
Giving their best post-war display in the first half at Aldershot, yesterday, the Army soccer team looked fully capable of making Everton go all the way for victory, but their defence cracked after an hour and Everton put on three goals in as many minutes. Better team work told in the end. Up to half time Leyland in the Everton goal had been kept as busy as Anderson in the Army one, if not busier, and in the first minute after the interval Smith (Chelsea) drove the ball against the Everton crossbar. After that the Army tired and were scarcely ever in the picture again. Once the Everton forwards found their real form the Army defence had no answer, apart from the brilliant goalkeeping of Anderson (who made what was unquestionably the best save of the match when he kept out a great drive from Parker early in the second half. Parker had started at outside right, but moved inside soon after the start.
Fielding Rewarded
The Army forwards were always lively and quick to shoot in the first half and were first to score. Their defence had no excuse when Buckle equalized within a minute, direct from a free kick as bad covering let his ground shot through for a gift goal. It was not until nine minutes from the close that Fielding was rewarded for his wholehearted effort with a goal. He ran through alone and drove the ball into the corner of the net well out of Anderson's reach. Hickson helped himself to three goals, two of them in the hectic scoring period midway through the second half. Buckle got the third goal. Smith scored two very good goals for the Army and the other came from Taylor, the Barnsley right.
LAWTON MAY PLAY
October 16, 1951. The Liverpool Echo
Ranger's Notes
Tommy Lawton, who has missed Notts County's last two games through bronchilis and a touch of fibrosis was out training this morning and hopes to be fit to play on Saturday at Goodison Park. Everton followers have long wanted to see Lawton perform against his old club, but have been unlucky, he missed the only game in which Chelsea appeared at Goodison, while Lawton was on their books and last season was not able to turn out in the friendly game when Notts County came to fill in a blank due to Everton's cup exit. He has played twice at Goodison since he left Everton, but these were representatives games, not League matches. He led the Football League attack against the Irish League on February 19, 1947 and in November of the same year played for England against Eire. Now that Lawton has passed out of the orbit of international and inter league games our only chance of seeing him is in League fixtures. If he is fit for Saturday he can rest assured if a warm welcome from his many admirers. Manager Eric Houghton will probably not announce the County side before Thursday, but he told me that he anticipates fielding a full strength team. All his injured players are now back in training. Last week Johnson and Brown were unfit as well as Lawton. In the place of Johnston on Saturday, Notts County introduced Jim Jackson, a 20-year-old local boy who has just come back after doing his National Service. Jackson's only previous senior appearance was two years ago when he had the misfortune to be hurt in the first two minutes and was off for the rest of the game. That must be one of the shortest debuts on record. Another newcomer to the Notts team on Saturday was Ron Wylie a former Scottish schoolboy international who has been with the County for some years now and has come up through their junior sides. During Lawton's absence the County have had Frank Broome the former Aston Villa player leading their attack. Broome is still going strong, although he is well on in the veteran stage these days.
Everton's Cup-Tie
Everton have arranged to play their first round Lancashire Senior cup-tie against Blackpool tomorrow week, October 24. It takes place at Bloomfield Road, kick-off 2.45.
EVERTON LEAD
October 16, 1951. The Evening Express
Pilot's Log (Don Kendall)
Everton have now taken over the leadership of the Central League from Wolverhampton Wanderers who were beaten by Sheffield Wednesday by two goals on Saturday, while Everton were winning a Goodison Park thriller with Blackpool 4-2. The Blues now have a point lead, but the Wolves have a match in hand. The high standard of football being provided by Everton Reserves is creating keen interest and attendance are rising. There were 7,000 spectators for the recent "Derby" at Goodison with Liverpool, and 4,000 saw the Blackpool game. The next two home matches provide excellent attractions for on Saturday week come Sheffield United, and then on November 10 you will have the chance of seeing the Wolves themselves on parade.
UnBeaten
Three goals in three minutes in the second half put Everton in a strong position against the Army at Aldershot, and they were the dominating side as their forwards cut cleanly through the Army defence. Scores-Everton; Buckle (2); Hickson (3), Fielding; Army Parry; Smith (2). Everton thus maintained their unbeaten record in these games.
LAWTON LEADS NOTTS COUNTY'S ATTACK
October 19, 1951. The Evening Express
First Comptetive Game Against Everton
Tommy Lawton, the famous England centre-forward and member of Everton's 1938-39 championship side, will tomorrow play his first competitive match against Everton, when the leads Notts County at Goodison Park. It will be Tommy's first game at the Park since November 5, 1947, when a Chelsea player at the time, he led England in their 2-2 match with Ireland scoring the second goal. Lawton is sure of a warm re-welcome. This will be the first competitive meeting between the clubs for 25 years, and the County have a pretty dismal record against the Blues, who have gained more points both here and at Meadow Lane. The four goals by Everton at Rangers last week indicates a change in fortune, and if the forwards continue to play as well as they have done in recent games they should go a long way towards accruing the Blues third home win of the season. Only Brentford and Nottingham Forest have been defeated here, while the County's only away win so far was their 3-1 success at Hull City. The County have the superior playing record, but while they have power in attack, I doubt the ability of their defence to hold Everton's well varied and quick striking attack. Everton will field the team which drew at Queen's Park Rangers. Farrell and Eglington having come through Wednesday's international in Dublin without injury. Everton; Leyland; Saunders, Lindsay; Farrell, Jones, Lello; McNamara, Fielding, Parker, Buckle, Eglington. Frank Broome failed to pass a fitness test today and the Notts County team is unchanged, except that Lawton returns. Notts County; Smith; Southwell, Deans, Brunt, Leuty; Robinson, McPherson, Jackson, Lawton, Wylie, Crookes.
EVERTON'S CHANCES
October 19, 1951. The Liverpool Echo
Everton Home Victory Overdue
Ranger's Notes
A home victory for Everton is overdue. They have taken only one point from the last three Goodison games though had justice been done they would have had at least one out of Blackburn Rovers. The improved form of the Blues attack has been one of the brightest features of recent games. Not so encouraging has been the occasional shakiness in defence. After having only a goal a match against them in the first six fixtures the rearguard has been penetrated 18 times in the subsequent seven games. This weakness has been one of the reasons why the club has not cashed in on the better shooting and increased virility of the front line. Though Notts County had six goals put past them by Luton, in their other games they have forfeited considerably less than Everton. Their defence has been changed but seldom and the players have a good understanding. The attack however, has slipped back after a good start and only one goal has been scored in the last four matches in two of which Lawton has been absent. The former Everton leader is now fit, and will play against his old club tomorrow for the first time since he left six years ago. If he is in his best form he will be menace.
Everton; Leyland; Saunders, Lindsay; Farrell, Jones, Lello; McNamara, Fielding, Parker, Buckle, Eglington. Notts County; Smith; Southwell, Deans, Brunt, Leuty; Robinson, McPherson, Jackson, Lawton, Wylie, Crookes.
NEXT FIVE WEEKS ARE VITAL TO EVERTON'S PROMOTION HOPES
October 20, 1951. The Evening Express
By Pilot (Don Kendall)
The next five weeks are vital to Everton's hopes of making promotion this season. If they fail to stage the eagerly awaited revival before the end of November, they can almost make up their minds to remain in the Second Division for another term. The opening has been disappointing in many respects, for points have been thrown away at Goodison Park, although away form has been fairly good. Everton this morning were two points below the points pre-match average, which is accepted as safe, but not likely to bring any honours. Last season Preston North End, after their disastrous start (much worse than Everton's has been), claimed 15 points from their first 13 engagements as compare with Everton's 11 points. The places the Blues in a four point worse position than were North End a year ago at this same stage of the season. From then on North End never looked back, and had five points to spare at the finish. It is far from impossible that Everton will make the promotion "boat" but unless they can avoid dropping more than two points by the end of November, then it will be well nigh impossible unless all their rivals collapse.
Apart from today's game with Notts County, Everton during this make-or-break period have to visit Luton Town, which is by no means a comfortable trip, then receive Bury (an improving side) at Goodison Park, before making the long trip to the Vetch Field to face Swansea Town. Coventry City then visit Goodison Park and the final game of the period is against West Ham –at Upton Park. Close examination shows that there is nothing really formidable about any of these games, except that against Swansea who have not yet been defeated at home. Luton Town have lost at home to Brentford who were beaten at Goodison Park, while Bury and Coventry should go away empty from Goodison. Bury have only two points more than Everton and Coventry two fewer. West Ham have only one point more than the Blues. On reflect on these five matches should move comparatively easy for any club which aspires to promotion. Well, if they cannot with them, then they hardly deserved promotion. It is now up to the players to show their mettle and reasons in their followers that confidence which if not lost has been severely shaken. That the Blues can score was proved at Queen's Park Rangers and the fact that they rattled home four should have given the players great strength. Now lads go out and show the followers that this was no mere flash in the pan, but that the tide of fortune really was turned.
Germany who were defeated by Irish 3-2 at Dalymount
It was grand to know that Tommy Eglington, the Everton outside left, was the most dangerous forward in the Dalymount game. Tommy did not get a goal we know but he worred the life out of the German defence, just as he is doing to most Second Division defences. Just now there are few better outside lefts in the country. Tommy has conquered hat lack of confidence in his right foot, and in fact more than 51 per cent of his goals have been scored with the right. Quite apart from shooting with the right, however, Tommy has become all the more menacing since he was taken to slipping inside instead of remaining fast to the wing. Everton have missed those quick darts through which Eddie Wainwright used to supply but with Eglington so keen to move inside the darts have returned and Tommy's speed is such that he is able to strike at the most unexpected spots.
LAWTON'S YOUNG MEN HAD DAY OUT IN GOODISON GOAL REVEL
October 20, 1951. The Liverpool Football Echo
Everton 1, Notts County 5
By Contact
Two very good Notts County inside forwards, Wylie and Jackson and some characteristic flicks of the head by Tom Lawton and at least two devastating defensive blunders by Everton meant that Everton lost handsomely to Notts County at Goodison Park, before the best crowd of the season. Everton; Leyland, goal; Saunders and Lindsay, backs; Farrell (captain), Jones, and Lello, half-backs; McNamara, Fielding, Parker, Buckle, and Eglington, forwards. Notts County; Smith, goal; Southwell and Deans, backs; Brunt, Leuty, and Robinson, half-backs; McPherson, Jackson, Lawton (captain), Wylie, and Crookes, forwards. Referee; Mr. H. Jackson of Leeds. Tom Lawton's return to Goodison Park captivated the fans and it seemed likely at the start that the gate would be the best of the season.
Lawton Signs!
Lawton got a fine reception and in his case the rule was waived whereby players do not give autographs on the field. Within a few moments 20 youngsters were having a field day gathering signatures. Within half a minute of the game starting trainer Harry Cooke came to the side line and handed Peter Farrell something which he put in his mouth. Everton started much on top with Fielding right in the picture and it was his high curling shot from as Eglington header which all but caught the nearly bald Smith napping. The Everton trap caught Lawton offside and just previously the old Everton player had been shown to be much slower than old when trying to plough through all on his own. There was no mistaking the artistry of his glancing header when opposed by Jones a moment later, and Leyland had to be on the quit vive to prevent him scoring. Everton were close to a goal when Saunders hit a big clearance to the vicinity of Eglington, running in, and Eglington headed the ball downwards towards goal where Parker and Smith made their moves to it simultaneously. The goalkeeper turned it away with a one handed punch but was damaged in the process and as he lay there clean "out" players and trainers obviously did not care to move him for a while lest they did further damage.
Blow To Everton
Everton became a goal down at 6 minutes when Wylie got the better of Farrell, who chased his man close to the six yards' line and was obviously not going to risk a tackle which would have involved a penalty. Wylie merely turned the ball in along the ground for Jackson to guide it carefully and unspectacularly for a goal. Leuty showed his skill with foot and head in beating Parker, and not for the first time McPherson used the unexpected long throw to surprise the Everton defence.
Finger-Tip Save
Smith, almost missed his punch of an Eglington corner but there was no mistaking the value of his save from Buckle, who shot from close in though the ruck, only for Smith to find an extra ix inches on his length of arm and stop the ball literally with the tips of his fingers. Twenty-eight minutes had gone when Everton suffered another blow. This time one of their own making. A quick header by Jackson left Saunders with the opportunity of passing back to Leyland, and he did it so tenderly the lurking Crookes by anticipating just such a mistake was able to hip in and guide the ball out of the reach of the oncoming Leyland. Everton's goal at 40 minutes was a strange one. Brought about by a beautiful through ball by Buckle, it left Parker, the scorer, with a deal to do. He brushed aside opposition, but the ball still would not come to his control, and he did well to turn it on to the post and thence over the line. Lawton and Leyland came into heavy collision as the goalkeeper made a catch from McPherson a moment later, and then Everton came through in a scrambling surge which looked more like a forward rush at rugby than anything in a planned game. So far Lawton had done little. Half-time; Everton 1, Notts County 2.
McNamara began the second half with a close in centre which Smith took to his sure hands and then Crookes had every chance of turning the ball soundly to Wylie for a third goal but succeeded only in producing a gift offering for Leyland.
From Lawton's Header
Parker's persistence led to Smith being denied possession and having to run back to goal, but Southwell stopped Parker at the cost of a corner. Notts County went to 3-1 five minutes after the restart, Lawton's part being to out-head Jones as a bouncing through ball came to leave Jackson little to do to beat Leyland as he rushed out. There were now about 45,000 spectators and this further blow to Everton at home was not at all to their liking, especially as the side in front was now starting to play almost impudently. The match which had never been wildly exciting became dull when Notts County appeared content to maintain their lead, and Everton could do little or nothing to change the situation.
McNamara's Drive
McNamara enlivened everyone with an on the run drive, in which he got hold of the ball solidly to create the greatest danger for Smith but that versatile goalkeeper handled this one almost as though it were a tennis ball, and paid little regard to the shot's tremendous pace. A moment later Eglington was just off the target with a low shot for which Smith had to go down full stretch. Much of Notts County's forward success was due to two inside forwards, Jackson and Wylie. Jackson is just 20 and was today making his second League appearance and Wyle, a former Scottish schoolboy international, is only 18.
Good Chance Missed
With the field cluttered up in the Notts County half a chance came to Parker to reduce the margin, but standing on his own with no one to beat except the goalkeeper he turned the ball wide. Robinson was damaged in collision with Fielding. A fourth and clinching goal came to Notts County after 65 minutes. How Jackson got it must remain a mystery. The Everton defence was slacked up against him he seemed to have the remotest chance, and yet he ploughed on and on, and then finally the clinch between him and Leyland turned the ball in Jackson's favour so that he had to go on and tap it into the most open of open goals. Smith brought off yet another great save this time from a Parker header which was going away from him, McPherson joined the revel and he and Jackson all but contrived a fifth goal, Jackson bring damaged in the process. Some consolation for the blow in the face which Jackson received in helping to get a corner came when he headed his side's fifth goal and his own fourth from McPherson's corner. The corner kick just right for Lawton to make a downward header and as the ball bounced in front of goal Jackson flicked it over the line with his head. Smith with a cleared left hand brought off a save in a thousand from parker when it seemed Everton must score.
Too Much For Them!
Walking out for the crowd who at this period some thousands of Evertonians just could not stand it any longer and made their departure. Smith in goal continued to stop all Everton shots with the utmost brilliance. Everton's scoring attempts in the last few minutes were accompanied by ironic cheering, a hard fact for players, still doing their best to retrieve themselves if only partly. Final; Everton 1, Notts County 5. Official Attendance; 49,604.
BARNSLEY RES V EVERTON RES
October 20, 1951. The Liverpool Football Echo
Everton Res; O'Neill, goal; Clinton and Rankin, backs; Grant, Lindley and Melville, half-backs; Gibson, Potts, Hickson, Cummins and Easthope, forwards. Referee; Mr. R. Ryalis (Sheffield)
Everton took the initiative but for most of the first half O'Neill was the busiest keeper. The Everton attack worked with better cohesion than that of Barnsley. Hickson crowned a splendid movement by scoring from approximately 20 yards with a high strong shot. Half-time; Barnsley Res nil, Everton Res 1.
• Liverpool Police 1, Everton "A" 4
• Everton "B" 3, Brabye 0
• Lytham Boys 4, Everton "D" 2
LAWTON'S WORK BEAT EVERTON
October 20, 1951. The Evening Express
Always Had The Defence Guessing
Jackson (4) And Crookes Scored for Notts, Parker Got Blues Goal
By Pilot (Don Kendall)
Tommy Lawton returned to Goodison today to play his first-ever game against Everton and contribute so much brilliant football in bringing about Everton's third home defeat of the season and helping 20-year-old Jim Jackson, playing in only his second game this season, to get four goals, including a second half "hat-trick." The Everton defence was never "coloured" against this brilliant County attack; in fact, Everton were completely outclassed, even when the goal chances were made Everton were unable to take them. The defence was so jittery that at least three of the first five goals looked simple and one was an absolute gift. Yet top-grade football such as that played by Lawton and company naturally makes goal-scoring appear simply. Everton; Leyland, goal; Saunders and Lindsay, backs; Farrell (captain), Jones, and Lello, half-backs; McNamara, Fielding, Parker, Buckle, and Eglington, forwards. Notts County; Smith, goal; Southwell and Deans, backs; Brunt, Leuty, and Robinson, half-backs; McPherson, Jackson, Lawton (captain), Wylie, and Crookes, forwards. Referee; Mr. H. Jackson of Leeds. Everton were the first to move per the Fielding-McNamara wing and then Lawton made a head glance of perfection before Parker's pass was turned in by Eglington to Fielding who tried a left foot hook shot which Smith caught under the bar. McPherson broke through to try and find Lawton with his centre, but Leyland came out to make the catch. The County attacked persistently but without finishing a shooting opening, thanks to excellent Everton covering. Then Lawton headed across the goal and Leyland ran behind the far post to save. Lawton beat Farrell in a close tackle and was aiming for a thrust through when Farrell recovered out paced Lawton and passed the ball back to Leyland. Quickness by Jones prevented Lawton from doing anything about a McPherson centre, but Lawton was there to make a short header into the hands of Leyland as the County kept up the pressure. Everton were taking a long time to get going against a County whose forwards were receiving magnificent support from wing half backs, Brunt and Robinson. The nearest to a goal came in Evertons' first real raid. The ball was swung across to Eglington who sent diagonally across goal. The ball bounced and Parker and Smith raced for it. Parker got there first, and his header passed a foot wide of the post while Smith crashed into him and was knocked flat but was able to carry on after attention.
County Score
Leyland dashed out to make a superb catch off a free kick and sent McNamara away on a fifty-yard run which brought a corner. From this Farrell made a grand shot which Smith caught under the bar and away went the County to take the lead through Jackson in 7 minutes. Crookes made it possible when he raced by Saunders and although Saunders caught him again, Crookes went on to slip the ball along the floor for Jackson to run in and side tap the ball into the net. This lead was richly deserved, for Everton passes were going astray rather monotonously, and they had not the fluency of progress which characterized the County. The County might have made it two but for the speed and determination of Jones when he nipped in to prevent Lawton getting to work with his head. Lindsay's long clearance became Buckle property by the edge of the goal area and although he had to manueceurve both ways before could get in his shot; it was going to the corner when Smith dived to make a magnificent save. Leuly completing the clearance. It was a tragic defensive error which presented "Crookes" with the second goal in 29 minutes, Saunders sought to relieve pressure by passing back to Leyland, being unaware of the proximity of Crookes, who sleezed the ball into the net before Leyland had a chance to come out. This was a gift and Lawton showed his delight by clapping as heartily as any spectator. Parker had a glorious chance which he came to outside right and with Fielding and Buckle running into position his task seemed simple. But he obligingly kicked the ball against Dean's face and immediately Everton were defending again. McPherson, showing better form than I ever saw him show with Arsenal, centred low from the goal line and Jones taking risks, booted the ball first time to put it beyond the post and not into the net so that the chance was worth taking.
Parker's Goal
In 41 minutes Parker reduced the lead with a goal which he knew little about. The ball was lobbed rather cutely and Parker ran forward to it as Leuty tackled him from behind, and Smith moved out.
Parker was unable to get hold of the ball but luckily for him, in dropping it touched his foot and just cleared into the net. Even Parker did not realize it was a goal until his colleagues ran in to congratulate him. The goal had served to revive the dropping spirits of the crowd, and they brought back the old Goodison man, but still the standard of Everton's football was well below the Plimsoll line.
Half-Time; Everton 1, Notts County 2
Crookes got away on resuming but Leyland dashed out to intercept the centre and then Parker beat Smith in a race for possession to force a corner from which Lello shot over. In 50 minutes the County had resumed they two goal lead, and although Lawton was not the scorer this was Tommy's goal all over. The ball was lobbed up the middle and Lawton jumped up easily to out-head Jones as he had been doing all day and flick the ball forward. Jackson had the alertness and speed to go through and turn the ball into the net comfortably as Leyland ran out on his hopeless mission. Everton were still well below the County standard but McNamara had hard luck when he raced in to his one from 25 yards which was speeding home when the bald-headed Smith flung himself across to make a glorious save. Everton kept it up, Buckle pushing the ball inside for Eglington to hit a great left foot shot along the floor which beat Smith but squeezed outside the post. Quite safe in their 3-1 lead as things were running the County were now walking through the game just as Lawton had been doing for the greater portion. Lawton did no more than was necessary, but boy, how he did do was winning the match. Everton should have reduced the lead when Lello slipped the through and Parker was clear on his own. Smith ran out and Parker side-flicked the ball outside of the post. Another simple goal made it 4-1 for County in 70 minutes and Jackson was again he score, allowing the ball to run into the net off his foot as Saunders and Jones became hopelessly tied up in their endeavours to hold off the County. Eight goals against in two successive matches –that is the dismal Everton story. In 76 minutes Lawton weaved his spells again and from his pass Jackson nipped in to head the ball into the roof of the net from the inside left position. Despite their disappointment, the Everton crowd were delighted with Lawton and no, with the position hopeless they were eager to see Lawton crowd his good display with a goal. Give Everton their due, they still kept plugging away, although they hadn't a chance, and three minutes from time the crowd gave Everton the slow handclap. It began in the boys pen. Final; Everton 1, Notts County 5. Official Attendance 49,604.
BARNSLEY RES V EVERTON RES
October 20, 1951. The Evening Express
Little was seem of the Everton attack, centre forward Hickson being subdued by Kitchen. Barnsley were continually on the attack, and from a corner by Deakin, Wood headed over. Easthope was dangerous on the Everton left, his centre causing concern to the home defence. Grant at right half arrived hard to get the Everton forwards moving but met with little success. The Barnsley team were proving too lively for the visitors who failed to reproduce the form which had taken them to the top of the table. Following clever midfield play Everton surprisingly took the lead when Hickson beat Allen with a terrific drive. Everton went near to increasing their lead on resuming when Gibson brought the best out of Allen. Hickson increased Everton's lead when he beat Allen with a ground shot following a pass from Potts which completely spead-eagled the Barnsley defence.
THIS EVERTON OF 1951 -
October 22, 1951. The Liverpool Daily Post
By Leslie Edwards
Everton 1, Notts County 5
The attendance on Saturday at Goodison Park, was a few hundred short of 50,000. Never has so great a crowd disappeared so quickly, the explanation being the exodus of thousands long before the end of the game lost by five goals to one. Revile these early home-goes as you will, the fact is that they could not stand seeing their team humiliated even further. And with the ground completely empty, save for parading police and St. John Ambulance men and for the handiful of Pressmen hard at work trying to explain this latest lapse, one could not help but ponder the irony of Everton's present situation –a ground second to none among clubs, supporters aching to see an even adequately successful team, and money to spare, if that means anything, to make good playing deficiencies. Why the followers of Everton must ask, should this once great club be in such a position? How is it that club's with little tradition, no money, no comparable ground, no comparable attendances, should succeed and continue to succeed, while Everton slide down and down to the point when one cannot ignore the possibility of the further drop in status?
The Answer is Not in One Sentence
The answer is not in one sentence, but it must be found and quickly, if the club are to regain their old place –their only place – in the game. Even followers of the club seem to be falling into the lethargic mood in which everything seems inevitable. The Goodison Park thousands shuffled away home on Saturday without a murmur, as though sensing the futility of protest. They, too, are baffled and bewildered by the mystery of Everton's failure. Believing that it is wrong to accept, almost complacently, the Everton position in 1951, and that a change in policy, however, belated may help, I put forward below, side by side, theories as to what I think is right and wrong at Everton. This is no pleasant assessments because all my personal contracts with Board ad players are happy and because my respect for the man concerned with the playing side, Cliff Britton, is second to none. But somehow, somewhere, the club are on the wrong track. The sooner they convince themselves of this, the sooner shall we see them back were they belong.
What Is Wrong
First, and with respect, question the policy of the club in tackling this second spell in Division 2. It lacks the sense of urgency. "Have patience –all will come tight" is sound, but when all is obviously not coming right surely you cut your losses and try other methods? Everton made no close-season signing of note and for that reason showed little awareness of the special needs of Division 2. That they have since failed to sign a player of consequence is not due to the fact that they do not want to but to failure to persuade anyone to row in with them to help pull the side's together. There are reasons for this which cannot be mentioned here. Everton might prefer to conform to the spirit and letter of Football laws and in any event have based their future on a five year plan in which they will stand or fail by production of players from their junior teams.
Can They Wait
This five year plan is a good one, it must produce results, it must produce good players at small cost, but can any club in Everton's present position afford to wait five years? If they cannot, how far will they have slumped in that period? Time is the essence of this contract just as it is of others. It is too much to hope that half a dozen young players all from the junior hothouse should become first-class Division 1 or Division 2 players in one season. It just does not happen that way. Most teams can carry without ill-effect two or three young men who are in the process of getting their final football polish. Over-balance the team with some others and any team moderately talented and fully experienced can command success. We have seen that often at Goodison Park this season. Are Everton over trained? Are they carrying too much tactical talk in their heads? Are they too concerned with not making a mistake and too little concerned with doing what they good sense dictates, irrespective of criticism which may follow failure? I mention these points because the public, for some reason, cotton on to them as points of discussion. Cliff Britton told me long ago that the training schedule was normal. Is it then, too severe too rigidly applied? The second half is the stage at which Everton usually go off the boil" They do not stay the course; they do not always show as much fight and stamina as one would like. Is the club happy? It always seems so to me. Why are some players who ask for transfer left idle in the stands? Because they may be needed in due course? Because the fee is so much greater than that paid for them originally? On playing policy many disagree with the too negative approach of the present team. Arsenal defence in depth so do Burnley. It does not succeed at Everton. Defence in depth looks a simpler operation than it is to carry out. The system has been tried and it is plain that Everton have not made it pay. It should give way to the more positive style natural to most players and lacking at Goodison Park since the pre-war days of success. No one can complain that Everton players have not done everything they can to get the team going satisfactorily. The effort is there for all to see. Players cannot put into the game more than their maximum talent and for this reason everyone who has worn the blue of Everton these past few seasons deserves praise. The club have had the squarest of deals from the men who represent them.
Too Kind
One reason for Everton's continued failure I am convinced, is that have been too kindly treated by newspapermen. The case has frequently been made out that they are the prime victims of misfortune. This has happened, but too often ill-luck has been used to cover the deficiencies of forwards unable to beat a goalkeeper from the easiest of chances. The full-back who kicks off the goal line is entitled to his word of praise if he has taken up position intelligently. Finally, one point about Everton history which is brought up now as argument that they are not so badly off after all. It is that in Everton's long history only one season, so far has been spent in Division 2. The sequel may be that only two seasons have ever been spent in Division 2, but that does not alter the desire of Everton followers for Division 1 Football again as quickly as possible.
What is Right
What is right? The club have in Cliff Britton, a manager whose honestly of purpose is beyond dispute a man who played the game supremely well and one who never stops study of football friends, new and old. He is backed by a Board who have given him almost complete control on the playing side. In his first season at Everton he and his key players turned the clubs course from relegation. Everton are rich materially and in experience. Most members of the Board have been long enough in the game not to panic, not to show spleen in defeat, not to give their manager the confidence he deserves. No club have better training facilities; none has a more earnest or more experienced trainer (Harry Cooke). Everything for the well-being of players is taken care of every chance is given to the young player to make good it he can.
Good Potentially
Donovan, Leyland, McNamara, Hickson, Parker, these are a few of the potentially first-class players who have been produced in a short space of time. With the known and accepted talents on the books one would suppose a successful team could be contrived. Instead it is obvious now, as it was at the start of the season, that two really outstanding players –one to consolidate a defence which is good to a point and another to hold the ball and the forward line –would be more than likely to change Everton from an unsuccessful into a notably successful side. Failing signings and everyone knows how difficult they are to make, Everton must rely on available resources. These may seem to be less valuable than is the case. No one can forget how well the Everton side of early this year played week after week. Fielding was conspicuously outstanding in a new role at outside right. There his sparse physique was not over-burdened indeed he played so well for so long one was tempted to liken his winging to that of Stanley Matthews. Fielding's control of the ball is superb his centring leaves nothing to be desired he is quite capable of making progress against the best. At centre forward Everton have in Hickson a man playing so well that people go joyously to Central League football specially on his account. Central league football is a world apart from Division 2 football, but it is not that Hickson has not shown his value in the first team. He had one very good game at Leeds, I am told, and the other at Goodison Park we saw for ourselves. Can anyone say after two promising first team games that Hickson is not worth his place while others of no greater promise are persevered with" Jim McIntosh too has always paid his way at centre forward and despite his constant in-and-out experience is probably good enough to get goals against Division 2 defences. Oscar Hold was good for a goal more often then not.
Wrong End
Football executives know their own know best but they must be prepared to be judged by their record and Everton's so far this season makes dismal reading. One hand we have talk of vital weeks in the promotion effort; surely that is looking through the wrong end of the telescope. The end of the League table occupying the attention of followers of Everton now is the relegation end. Notts County, by virtues of Tom Lawton's heady moving of the ball by the talent of two young inside forwards of promise, Jackson and Wylie, riddled Everton 5-1 with goals well-worked and others almost presented Granting goalkeeper Smith a very good game this latest Everton display was nothing to suggest that things will right themselves in time on the contrary it suggested that a change of policy is needed –and quickly.
BARNSLEY RES 1 EVERTON RES 2
October 22, 1951, The Liverpool Daily Post
Double for Hickson
Two opportunists goals by Hickson, Everton's centre forward gave his side a well merited victory at Barnsley, Easthope and Gibson were active wingers and Cummins shared in some well executed attacks. Everton were well served in defence by Clinton, Grant and Melville, while O'Neill did good work in goal, Jarman scored Barnsley's goal.
CRUEL TO BE KIND-OPEN LETTER
October 22, 1951. The Liverpool Echo
Ranger's Notes
Maybe was a case where one had to be cruel to be kind, but during recent disappointing season my aim has always been to endeavour to instill confidence into the side, not to destroy it. For a club of Everton's traditions and wealthy you are in a most humiliating position. I wish you could give see some of the letters I have from loyal Evertonians of lifelong standing. Many of your supporters seem almost heart broken. I have refrained from publishing these letters in order not to embarrass the club so long as there seemed a chance that a realistic attitude would be adopted to tackle an increasingly desperate situation. So far as I can see there is still no sign of that. Now having been tolerant inactivity and considerate of playing weaknesses long enough the time has come to speak more plainly.
Heads in the Sand
The Board seem still to be burying its head in sand. There has been far too much wishful thinking in the past. Too much hope has been placed in young players who lack experience. Many of these would have done well if introduced into a winning side. It has been too big a burden for them to shoulder in a team which has been getting hammer" and losing confidence. Also players who have previously proved not good enough have been recalled too often some of them even after the club has indicated its willingness to part. I know the difficulty of signing new players. Even if we accept that a certain amount of "finding" goes on, and that Everton will never lend themselves to that, I shall take a lot of convincing that more than a comparatively small proportion of transfers have been in that class or that some of the players others have signed could not have been obtained had the board prosecuted their search sufficiently energetically.
A Black Outlook
There is no need to give a list of the helpful signings made by other clubs. We all know them only too well. Two or three of these players would have put Everton on the high road to success. Unless there is a strong determined effort in the very near future the outlook is going to be blacker than ever. The lack of success must inevitably sap the confidence and spirit of the players still further. In the past too much optimism and complacency has followed in the wake of an occasional meritorious performance. I am not being wise after the event. Many a time in the past five years I have stressed what to most folk has been obvious. But practically nothing has been done. For years your playing staff has not been good enough. Last time I wrote you an open letter was over three years ago, when I forecast you would end up in the Second Division, unless something drastic was done. Many times in subsequent seasons I pointed out the writing on the wall. When you lost the last match of last season so ignominiously, and suffered at last the fate which had been threatening so long, I wrote that you would be in the Second Division a long time unless immediate strengthening signings were made. This is absolutely vital were the words which then appeared there. What has been done? Nothing.
This is no Joke
For the past few weeks, unthinking folk have been "joking" about the possibility of "Derby" games with Tranmere Rovers, Southport, and Chester at Goodison Park next season. It is no joke. It is a tragic possibility. It is up to you gentlemen. The ultimate responsibility for the season is the present. It is up to you. Yours Faithfully Ranger.
EVERTON DEBACLE
October 22, 1951. The Liverpool Echo
By D.R.P
The writing is on the wall at Goodison Park and ironically enough, it was a former Evertonian who underlined its presence on Saturday, for Tommy Lawton contributed in no small measure in what was a heart=breaking debacle. Although the County captain recipient of a great welcome, did not appear to be fully fit –he played with a large bandage on his thigh –his clever feeding of his colleagues and typical headed flicks made him a real thorn in the side of an Everton defence which was never on top of its job. Everton fell to the Second Division largely because of forward failings. Although certain deficiencies in attack still cry aloud for a remedy, the forwards are shooting with more regularity and reasonable accuracy, but lack of a dominant personality or two in the rearguard is taking a toll that whole hearted endeavour alone cannot balance. The forwards worked out some good chances and the bald-pated Smith certainly earned his money bringing off three grand saves. Yet that is what he is there for and Everton have only themselves to blame for missing some easy openings. Defensively they were never in touch with Lawton and his faster colleagues. Jackson had a real joy-day with four goals although the 18-year-old Wylie impressed more as a ball player. If is a long time since Farrell was so confused as he was by this young Scottish product. Crookes was left with a goal "on a plate" after an unfortunate error by Saunders while more intelligent positioning and shaper tackling might have prevented two other goals. County's players have obviously derived considerable profit from association with Lawton. Their headwork was excellent and their general liveliness and combination made one of the most attractive sides seen up here to date. Everton did not deserve to lose by such a margin but that counts for nothing in the League table.
EVERTON'S QUESTS GO ON
October 22, 1951. The Evening Express
By Pilot (Don Kendall)
Cliff Britton's day was no happier if as happy, for he was getting the news of Everton's third successive home failure. Cliff made the short journey to Burnden Park to see Bolton Wanderers and Huddersfield Town, but he said to me afterwards that he had seen nothing available which he considered would improve the Everton team. It is no use investing cash in players who are no better than those already on the books, and that is one of the reasons why Liverpool and Everton will be sure rather than sorry before they invest. When they do it will be in a "good un" rest assured.
Restless
The Everton followers are, however getting restless as we saw on Saturday with the barracking and slow handclapping while after the game a small deputation waited outside the ground to see Cliff. They went home when they knew Cliff was away trying to do that which they wished him to do –get some new blood. These Evertonians conlead that a couple of new players introduced now could make the basically good team into a genuine proposition. I have a deal of sympathy for this view, and feel that two personalities could transform the team but I am at one with the manager when he refused to spend just for the sake of spending. Panic on the field has cost Everton a few points this season, so left it not spread to the management. Everton are now only two points above the position which reads "Third Division" and it is, in fact, the club's lowest position in history. Let every supporter (and this goes for Liverpool as well) absolutely assured that the club is as anxious as any supporter to secure those vital players, but they will secure them only when they are satisfied the player is the right one and when there are no angles to the deal. Still I would stress the point to Everton that the position today has become as grave as it is urgent.
EVERTON AT BLACKPOOL
October 23, 1951. The Evening Express
Pilot's Log (Don Kendall)
Everton enter the Lancashire Senior Cup competition tomorrow, when they travel to Bloomfield road to oppose Blackpool in the first round. The team to do duty will be mainly of Central League strength, for the first team needs must be the first consideration and with the club having a few injuries, no chances can be taken with players who may be required for ither Football League or Central League duty on Saturday. There was a time when all clubs had to field their strongest possible teams for this competition, but fortunately those days have passed, and now the requirements of the County F.A are fulfilled if each club fields an eleven of such strength as not to bring the competition into dispute.
McINTOSH LEADS EVERTON ATATCK
October 24, 1951. The Liverpool Daily Post
By John Peel
Former Blackpool player, Jim McIntosh considered one of the best "buys" the Goodison Park club ever made, will lead the Everton attack against Blackpool in the First round Lancashire Senior Cup-tie at Bloomfield Road this afternoon. McIntosh who "guested" for Everton during the war, when a Preston North End player, but later joined Blackpool. He possesses a terrific shot, excellent ball control and can head a ball with fine judgment. Also in the Everton side today is Lello, who fills the left half position while Grant will be on the opposite flank. The team is –O'Neill; Clinton, Rankin; Grant, Forshaw, Lello; Gibson, Hold, McIntosh, Cummins, Easthope.
The eleven are practically those who have taken Everton's second string to the head of the Central League table and they have been playing so well together that they have every chance of making headway in the County Cup Competition.
EVERTON LOSE IN CLOSING STAGES
October 25, 1951. The Liverpool Daily Post
Blackpool 4, Everton 3
After being much the superior team for most of the game Everton fell away in the closing stages of their Lancashire Senior Cup-tie at Blackpool yesterday, and were beaten by the odd goal in seven. In the first half, particularly, Everton were repeatedly breaking through a hesitant home defence and if their forwards had not been so erratic in front of goal would have held a comfortable half time lead. Twice Cummins who put clean through but on each occasion he shot straight at Hall. Everton's crisp accurate passing repeatedly had the Blackpool defence in a tangle and their wingers Gibson and Easthope were their danger men. Gibson in fact rounded off a scintillating display by scoring two excellent goals. In the second half, however, Blackpool were much more workmanlike and thanks to an aggressive display by their young centre forward L. Stepheson, seized the initiative. In the last eleven minutes they scored two goals which decided this topsy turvy game.
Gibson Outstanding
O'Neill made several superb saves in the Everton goal, and Clinton and Rankin were sound full backs, but their half-backs did not give the forwards adequate service of the ball. Gibson was Everton's outstanding forward. McIntosh who gave an impressive display against his old club, scored Everton's other goal. Stephenson (2), Wright and Hobson scored for Blackpool. Everton probably think they are unlucky at losing the match, but their defence was mainly to blame for its inability to tackle quickly and clear promptly in those crucial closing minutes. Blackpool; Hall, goal; Firth and Robinson, backs; Proctor, Ainscough, and Adams, half-backs; Hobson, Smith, Stephenson, Wright and Withers, forwards. Everton; O'Neill, goal; Clinton and Rankin, backs; Grant, Forshaw, and Lello, half-backs; Gibson, Hold, McIntosh, Cummins, and Easthope, forwards.
SIGNED FOR EVERTON
B.G. Roberts, Ruthin British Legion F.C right half back who has been attracting the attention of English League club scouts, has been signed on amateur forms by Everton F.C.
YOUNG STARS PLEASE
October 25, 1951. The Evening Express
Everton's Cup-Tie
By Radar
Everton's interest in the Lancashire Senior Cup ended yesterday when they were beaten 4-3 by Blackpool after twice holding the lead, but there were several encouraging features about the work of the younger element in the side. Particular mention must be made of right winger David Gibson the former Liverpool County Youths' team star who proved that he has come on, by leaps and bounds since his one appearance in the senior side at Derby towards the end of last season. Not only did Gibson score two goals –Jim McIntosh was the other marksman –but he revealed speed excellent ball control ability to best his man and a pleasing strength in challenging for possession. In fact I believe that if his colleagues had exploited Gibson's mastery over Robinson to a large extent Everton might have won this game comfortably. Another of the youngsters to show progressive ideas was inside-left Cummin, a sturdy lad, who has plenty of ability to back up his strength on the ball. Until he received a knock on the leg Forshaw proved himself a centre half of distinct promise, while Rankin tackled, headed and kicked surely. There were plenty of thrills in this always interesting cup-tie in which McIntosh led his line enterprisingly against his old colleagues. Marks go so Blackpool for the way in which they fought back against a superior football force, yet it was only slight unsteadiness on the part of the Everton defence that enabled them to turn the game in their favour. A draw would have done justice to both sides.
HICKSON LEADS
October 26, 1951. The Evening Express
Everton Team
By Pilot (Don Kendall)
Everton will be without Tommy Eglington, their most consistent forward, for tomorrow's game at Luton Town. His thigh injury has not yielded to treatment and so he will be absent for the first time this season. Dave Hickson is recalled to lead the forwards, but the Eglington injury enables Parker to keep on duty –at outside left. Lindley returns to centre-half for Jones who goes right back for Saunders. Donovan returns to right-half for Farrell who crosses to left half for Lello. There is a slight doubt about Farrell, so Grant travels just in case.
In the reserves Dunlop appears in goal for the first time; Melville plays his first game at centre half and Charlie Whiteside a 17-year-old lade from Everton Valley makes his debut at right-half. Everton; Leyland, Jones, Lindsay; Donovan, Lindley, Farrell (or Grant); McNamara, Fielding, Hickson, Buckle, Parker. Everton Reserves; Dunlop; Clinton, Saunders; C. Whiteside, Melville, Lello; Gibson, Hold, McIntosh, Cummins, Easthope.
STRONG PULL NEEDED
October 26, 1951. The Liverpool Echo
Ranger's Notes
Everton away to Luton are as badly in need of points today as ever they have been in any post-war season. Can they get them against a side of Luton's calibre" On recent display's hope must be a weak and flickering thing, but so it was at the period last season when they went to Fulham and smote the Cottagers hip and thigh. A win tomorrow would be most welcome but more than an isolated victory is needed before Everton are out of the mire. Only a long and a strong pull can do it, and sustained form of an improved nature is a prerequisite of any upward trend. I hope the players will go into this game with all memories of past failings, cleared on their mind, and not cluttered in with theories and "blue prints." Let them go out and play their natural game as the run of play dictates and give of their best without fear of mistakes or their got sequences.
HICKSON BACK IN EVERTON ATTACK
October 27, 1951. The Liverpool Daily Post
By John Peel
Dave Hickson, who has been well among the goals with the Reserves side, is recalled to lead the Everton attack for to-day's Football league (Division 2) match against Luton Town, at Luton. A fast and thrustful player Hickson should add greater punch to the Everton attack which will lack the services of Eglington who is injured. Eglington's place at outside left is filled by moving Parker from the leadership of the line which otherwise is unchanged. At half back Lindsay returns at centre half in place of Jones who drops into Saunders place at right full back, while Donovan will be at right half for Farrell who crosses over to left half to the exclusion of Lello. As there is a doubt about Farrell, Grant travels as reserve and will step into the breach if Farrell is unable to play. Team will be;- Leyland; Jones, Lindsay; Donovan, Lindley, Farrell (or Grant); McNamara, Fielding, Hickson, Buckle, Parker.
Luton are in the fortunate position of being able to put in the field the team which was chosen previously early in the week. Taylor passed a fitness test and will have his first outing at left half, while Owen (centre-half and captain) has recovered from his ankle injury. The remaining doubt concerned Mitchell, who has been out of training through illness. He is now fit and will be at outside left.
EVERTON HELP TO REDEEM THEMSELVES WITH SPIRITED RECOVERY AT LUTON
October 27, 1951. The Liverpool Football Echo
Luton Town 1, Everton 1
Everton richly deserved their point. They worked many good chances in the first half, but their forwards were sadly remiss with their shooting. When Luton scored in the first minute of the second period, it looked as though they would run riot, but instead Everton made a grand rally to get on even terms again. Hickson was a lively leader and led the experience Owen quite a dance. In goal, Leyland was adequate and had no chance with the header that beat him. Luton Town; Stretton, goal; Cooke and Aneme, backs; Watkins, Owen (captain), and Taylor, half-backs; Davie, Moore, Stobbart, Davies, and Mitchell, forwards. Everton; Leyland, goal; Jones and Lindsay, backs; Donovan, Lindley, and Farrell (captain), half-backs; McNamara, Fielding, Hickson, Buckle, and Parker, forwards. Referee; Mr. J.R. Dunbar (Stapleford). Everton made six changes from the team that lost 5-1 to Notts County last week, it was the first meeting of the teams since 1933 and Everton's first visit to Luton. Luton made one change from the side that forced a draw at Doncaster. Jack Taylor, who usually plays at inside right, and who is their leading goal-scoring, turned out at left half the first time he had played in that position. Luton won the toss and set Everton to face the sun. Everton made the first raid, but it was at their end that the first thrill came Luton made ground on the left and the ball ran on to Davies, who seemed a certain scorer for Leyland was out of position. But Lindsay standing on the goal line, scrambled the ball away. Immediately, Everton got away and Hickson beat Owen and was in full cry for goal when Owen made a good recovery and dispossessed the centre forward on the edge of the penalty area. Opening exchanges were fast and furious and after Stobbart had shot over the bar, Parker emulated him at the other end. Fielding made a grand opening for Buckle who was bustled off the ball by Watkins. Mitchell forced a corner but he placed the ball badly and Jones cleared easily.
One Handed Save
Leyland did well when he made a great one handed save from a Moore drive. Davies gathered the clearance and centred again but Moore's header was cleared by Lindsay. Everton's forwards were nippy and gave the home defence plenty to think about but their finishing was not up to the standard of their approach work. Buckle missed a good chance when he shot straight at Streten from 10 yards. In their next raid, McNamara came through with the ball cleverly but he also shot straight at the Luton keeper. Play lost some of its early sparkle for a spell, but brilliant work by Davies saw the Everton defence in action again. Everton's policy was to shoot at goal hard and often and though Streten had not been seriously tested he had been in action more than Leyland. Most of the shots he had to deal with were long range efforts. Buckle had to receive attention from his trainer but was soon able to resume. Under pressure, Luton's defence showed signs of panic and was not as sure of itself as usual. Hickson who had been showing up well, and had a great chance to give Everton the lead after Parker had made an opening but, worried by Owen, he pulled the ball wide. Play continued to fluctuate from end to end but Everton looked more likely to score.
Chance Wasted
Another good chance was wasted by Buckle who blazed the ball high from a good position. Then a bad clearance by Owen went to Fielding, but he shot straight at the goalkeeper. Had the visiting forwards shown a little more idea with their shooting they might have been enjoying a two goal lead by now.
Half-time; Luton Town nil, Everton nil.
Within a minute of the restart Luton took the lead through a brilliantly headed goal by Davies. The attack started on the left when Taylor dropped a perfect pass into the goalmouth. Davies leaped up and headed the ball into the corner of the net. Luton piled on the pressure after this, but when Everton recovered from the shock they set up a full scale raid during which the ball bobbed about in front of the Luton goal with no Everton forward able to get it into the net. Attention by the trainer to an injury to Owen eased the pressure but Everton were showing plenty of fighting spirit and threatened to equalize. They got little change from the home defenders who were showing a more determined front this half. A run by McNamara came to nothing, but Fielding was unlucky not to equalize. Streten had all his work cut out to punch the ball clear for a corner.
Live Wire
Hickson was proving a real live wire for Everton and twice he was brought down in unceremonial fashion while heading for goal, but on both occasions appeals for a free kick were turned down. In a Luton breakaway, Leyland beat Stobbart to the ball in a thrilling race, and then Jones cleared off the line with the goalkeeper yards out of position. Luton called the tune for a time and Leyland was in the picture again when he dispossessed Moore when the forward looked a certain scorer. Everton still showing plenty of spirit, deservedly equalized in the 73rd minute when Parker headed in from a Hickson centre. This was only justice as they had sufficient play in the first half to have built up a comfortable lead. Both sides made determined bids on the deciding goal and Luton came near through Moore who jumped up to a high centre but just failed to reach it, Luton were having rather the better of these exchanges but their shooting was letting them down. A foul on Parker brought a free kick and Fielding, who was always a prominent was wide with his shot. then Everton piled on the pressure, again and Streten made some thrilling saves. Defences held just but Walkins produced the best shot of the match in the last minute when Leyland pushed it round the post for a corner which was cleared. Final; Luton Town 1, Everton 1.
• Hoylake Ath 0, Everton "A" 4
• Everton "C" 3, Villa 3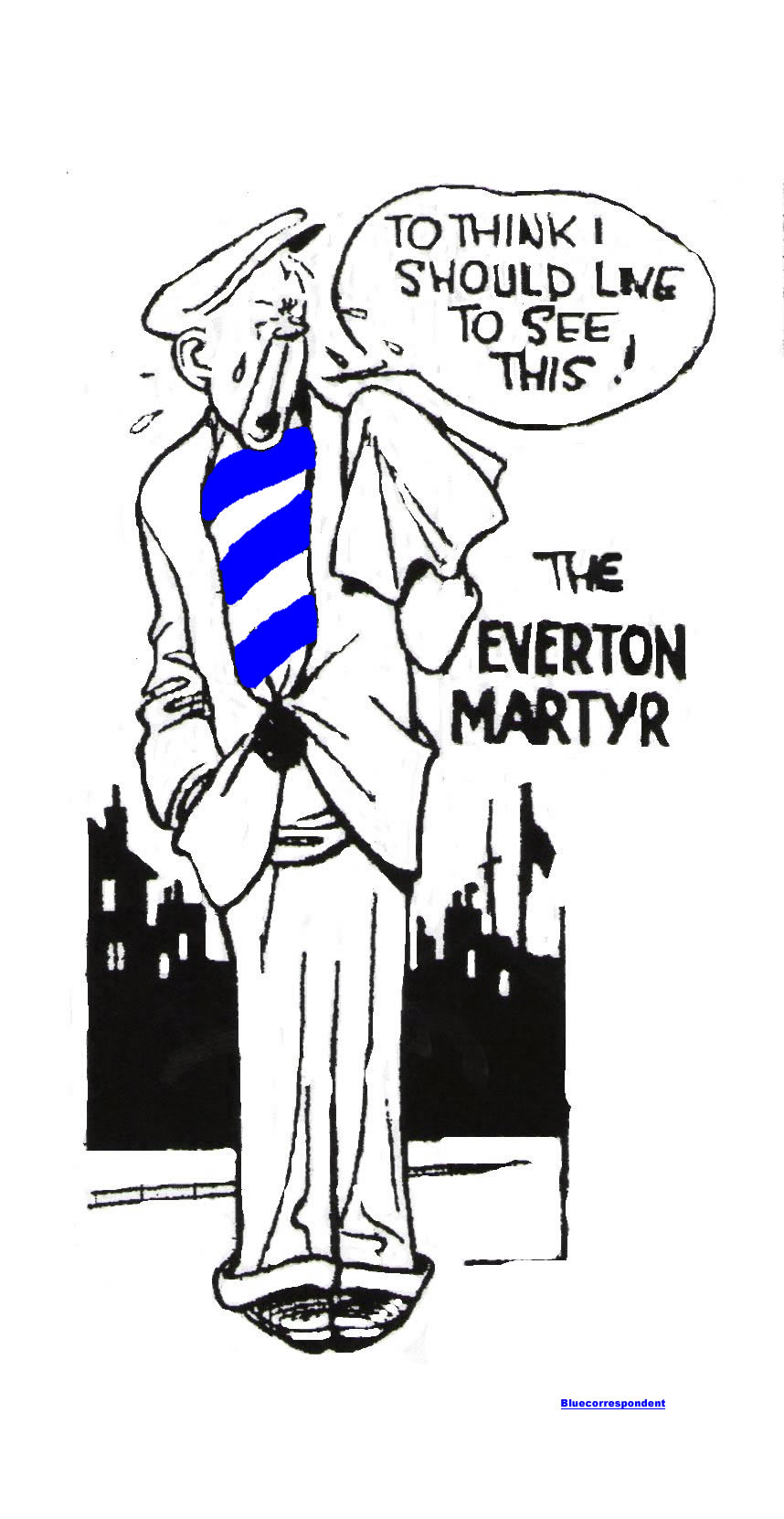 EVERTON RES V SHEFFIELD UNITED RES
October 27, 1951. The Liverpool Football Echo
Everton Res; Dunlop, goal; Clinton and Saunders, backs; Whiteside, Melville and Lello, half-backs; Gibson, Hold, McIntosh, Cummins, and Easthope, forward. Everton had Dunlop in goal and Whiteside at right half, both of whom were making their Central League Debut. In three minutes the United took the lead through Weatherspoon and two minutes later Oscar Hold had leveled the score. Everton had plenty of chances however the shooting of their forwards nullified their efforts. Half-time; Everton Reserves 1, Sheffield United Reserves 1.
BOARD WAS WARNED TIME AND TIME AGAIN AND MUST NOW BESTIR ITSELF
October 27, 1951. The Liverpool Football Echo
Directors Cannot Shirk Their Responsibities
Rangers Offers Plain Words On Everton
It is high time some searching questions were put to the Everton board of directors. For far too long things at Goodison Park have been allowed to drift from bad to worse. The Directors must take full responsibilities without equivocation. Their name implies their duties which are to direct the destinies of the club. Today are some questions which all followers of the club would like answering. Never has there been such disgust and dismay among Evertonians as we have today. All hopes of a quick return to the First Division have been unduly shattered –not that I ever had any myself. It has been plain from the start the side was nowhere near good enough to have the slightest chance of promotion.
The fears of the back of everyone's mind now in the anxiety of Third Division football at Goodison Park next season. This is no exaggeration. It is the plain concerned truth. And meantime, while this dark cloud has been gathering on the horizon, what have the Board been doing? That's what so many people want to know. Also what do they propose to do NOW? There can be no better provestatition. We have had too much of that in the pass. The questions everyone asks today are;
Would Everton have been in the Second Division today had the directors knuckled down to their obvious responsibities and not pinned them on the shoulders of one man?
Hadn't there been too much smug complacency too much of attitude of patience on a monument? For the club's present position must not the directors take much of the blame themselves? My position also must bear but it cannot all be placed on the shoulders by a long chalk, in my opinion, the responsibity should never have been delegated to one man alone. I consider that was neither fair nor wise. Shareholders and supporters are nothing with indignation and frustration. Many influential members of the former body are considering the requisition of an extraordinary general meeting to thrash out the whole wretched business. They are talking of tabling a vote of "No confidence" in the board, if they do, the directors cannot complain. They have allowed the club to drift towards disaster. Now the reckoning is coming, and they must face it. This time I hope they will come out into the open and answer the questions themselves. Last time there was an extraordinary general meeting it was left to the manager to answer the critics. He put up a good case and received a vote of confidence from the shareholders. It would be hard to put in a case today but to my mind it is the board who must answer their accusers, not Mr. Britton. In many respects I have the greatest sympathy for the manager. But his long term policy should have had a short term policy running alongside it. That, I think, has been the greatest mistake of all. The directors were selected to govern the club. Their primary duty, above all else, is to see that the playing strength is kept up to the standards required to preserve the clubs prestige and position in the Football league. This has not been done. Whose is the fault? What most folk would like to know is why the Board ever, in the first place, delegated its authority over team selection, transfer and other vital matters? Was it done to give peace of mind and save the directors from anxiety? Is it true that three years ago, when Mr. Britton was appointed, a statement was made by one director that "at last he could sleep soundly at nights, because now somebody was being paid to do the worrying."?
What are the directors there for? True, they are not paid for their services and many have done valuable work in the past when the club never had a manager. They still have duties and direct responsibilities. They must take the rough with the smooth. Their job, first and foremost no matter what authority the manager has is to preserve the good name and prestige of Everton. Have they done that? I leave readers to answer. The board cannot plead that the present dangerous position has come upon them unexpectedly. On September 23 last year my Football Echo article was headed "Plain words on Everton's precarious plight… danger looms ahead at Goodison …new blood needed to save the club's prestige." I wrote on similar lines on many subsequent occasions that season and also during this campaign. Then the season before the season before that, and still yet another season earlier the headline crop up time and again on the same theme. Here are just a few "Everton's desperate plights" …Goodison problems still unsolved…."Blues down to Third Division standard". … and so on. No the board cannot complain that it was not warned. It was time and time again. Indeed I began to get heartily tired of my own reiteration, like a voice crying in the wilderness but unable to penetrate the ears of those who had buried their heads on the sand. The time has arrived when at last the board must bestir itself. No longer can it carry on in the old happy-go-luck way. The playing staff has long required some good rich new blood. Now many folk are asking whether the directorate also does not require a similar transfusion. There must be a great deal more drive and vision and energy behind the club's plans if they are to avoid another relegation fight this season. It will need a wholehearted and concerted effort by all directors to put the club back where it rightly belongs. In short, the directors must direct. They must go out scouting with determination. They must follow up by personal contact any possible chance of obtaining new players of the right type. You cannot do that by telephone.
This will demand time, energy and perseverance. But it can be done. Other clubs get players. So can Everton if they go the right way about it. The fact that the club –rightly so –will not countenance "under the counter" measures is not, by a long way, the only reason signings have not been made. The public are getting tired of hearing the old excuse about seeing nobody better than those we have already." That is sheer bunkum. It has been stated that Bolton's match last week disclosed nobody better than Everton's present staff. If that is so, then Bolton's present pre-eminence must be one of the seven wonders of the football world. A tremendous task confronts the board. The primary aim is to rehabilitate the club. In the past some members of the directorate, through no fault of their own, have not been able to devote the time to the club's affairs that its precarious position demanded. Others have not been able to see matches as often as they would have liked. One sympathizes in every way with directors whose health does not enable them to do as they would wish. But the fate of Everton must be the primary consideration. There comes a time, cost what it may, when loyalty to the club must come first. It is no good taking it out of the players. Barracking and slow handclapping is futile. The players are pulling out every ounce of which they are capable. They should be encouraged, not derided. The board, too, should be able to reply on loyal support and similar encouragement once it shows that it is taking a realistic attitude to the present position. But if the old serene complacency is to remain rooted and the slings and arrows of misfortune and tolerance of rank bad play alike are to continue to be accepted without demur, while those at the head of affairs wait patiently for something to turn up, then steps must be taken to bring home to the board the fullest sense of their responsibility. What do my readers think of the situation?
PARKER SCORES AT 74TH MINUTE
October 27, 1951. The Evening Express
Gives Everton Valuable Point At Luton
By Radar
After holding their own in the first half against a stern tackling Luton Town force at Kenilworth Road today Everton found themselves a goal down within a minute of the restart. Davies, the Luton right-winger beat Leyland with a splendid header from Taylor's lob into the goalmouth, and from then onwards it was uphill going for Everton, whose forwards found the Town defence giving nothing away. Before the interval Everton had proved themselves the superior force with Hickson leading his line dashingly. In 74 minutes Everton's pressure brought its reward with an equalizer from Parker. Although the sun was shinning, there was a nip in the air and a stiffest breeze. Luton Town; Stretton, goal; Cooke and Aneme, backs; Watkins, Owen (captain), and Taylor, half-backs; Davie, Moore, Stobbart, Davies, and Mitchell, forwards. Everton; Leyland, goal; Jones and Lindsay, backs; Donovan, Lindley, and Farrell (captain), half-backs; McNamara, Fielding, Hickson, Buckle, and Parker, forwards. Referee; Mr. J.R. Dunbar (Stapleford, Nottingham). Everton were in their normal colours for the first time in the last four away games, and worn not to face the sun. The Everton defence was soon in trouble for Jones sliced the ball straight across the goalmouth, when the Luton left-wing went to work. The in running Davies headed in accurately, with Leyland at the other side of the goal but Lindsay was there to scramble the ball away. After Owen had beaten Hickson to a race for possession Watkins finalized another Luton raid by driving well over the top from just outside the penalty area. Luton came once again when Lindley slipped in trying to intercept a Davies pass to Stobbart. The Luton leader made ground quickly on the extreme right before leveling a sharp drive which sailed over the angle of the post.
Just Wide
The Everton forwards came into the picture after this. First Parker took over from Hickson to steer a similar shot to Stobbart –just wide. Then the alert Hickson let one go from an awkward angle. It thudded resoundingly against the concrete surround, no more than a yard from the near post. Davies worried the Everton defence when he outwitted Lindley and unleashed an excellent acute angled shot, but Leyland succeeded in turning the ball aside at full stretch –a great save. The game continued to swing quickly from one end to the other. Fielding caused the crowd to gasp when he hit a remarkable volley from Buckle's lob. It beat Stetten all the way, but dropped inches over. Everton would not be denied, and in the next minute Stretten had all his work cut out to cope with Buckle's first-timer from a canny Hickson square pass. The Luton forwards too, had business-like ideas and Stobbart crashed one into the side netting from almost a right angle. For a time the game descended to a scrappy level, with both sides making mistakes. Buckle had to call for attention to an injury to his left leg, and he resumed on the extreme left wing to see Owen clear in the nick of time, as McNamara leapt in to connect with a chest-high Hickson cross. There was a close call for Everton when Stobbart, who had moved to the right centred, and Donovan almost sliced the ball over his own line. A leading goal might well have come Everton's way when Parker slipped a choice ball through the middle, Hickson quickly challenged by Owen hit a various right-footer but it slewed narrowly away from the target. Leyland made a "present" of a goal-kick to Mitchell who swept the ball into the penalty area. Stobbart turned it back for Davies to try one first time, but it lacked accuracy. Buckle reverted to his original position, but the Everton attack was not moving with its earlier fluency. Half-time; Luton 0, Everton 0.
Within a minute of resuming Luton took the lead, Jones slipped in making his clearance and the ball rolled clear, for Taylor to lob it towards the par post. Davies went up above everyone else to head the ball well clear of Leyland's grasp and into the far top corner of the net. This was an unexpected blow for Everton, who for a time had to withstand fierce pressure. When Everton did return to the attack they had the Luton defence reduced to panic measures of a like nature and a McNamara centre flashed across the face of the goal with no one there to make contact. A rain of shots was charged down before the Everton bid came to grief Streten was unable to cut out another, McNamara centre from Farrell's free kick, but Buckle shooting quickly, drove wide. It required a quick interception by Farrell to beat Watkins when the Luton right-half tried to go through on his own. Ten Mitchell drove into the side netting. On one occasion Hickson tricked Owen perfectly and was moving into shooting position inside the penalty box when he was bowled over by Cooke. Hickson was injured in the process but was soon back in the thick of it.
Brilliant Save
The best effort so far was a powerful low right footer from Fielding which Streten saved brilliantly. Fielding took the corner but nothing came of it. Luton were moving aggressively again and Jones had to kick off the line when Leyland failed to catch a lob into the middle. For a time the Everton defence got truly into another of those jittery spells, Taylor widely lashed the ball over the top. Shots from McNamara and Parker finished wide of the marked, but deserved success came to Everton in the 74yth minute. Hickson from the inside left position and just inside the Luton half, nodded the ball through to Parker who took Streten by surprise by cracking the ball yards out of his frantic reach. Final; Luton 1, Everton 1.
EVERTON'S PRIORITY
October 27, 1951. The Evening Express
By Pilot (Don Kendall)
Everton intend to make the strengthening of their defence a No 1 priority in their bid to secure a position in the Second Division commentate with the standing of the club. They will make a centre-half of experience and power their chief aim, and for this they will be applauded by the thousands of supporters who, despite the 5-1 defeat at the hands of Notts County last Saturday, restrained from criticism, knowing as they do that Chairman Mr. Dickie Williams, his colleagues Manager Cliff Britton and the players feel more despondent over the lack of success than any supporter. Mr. Britton did not see the Notts defeat, as he was away trying to find the player he knows will right the wrongs. He failed but he will keep trying. So far as last Saturday's defeat is concerned and while agreeing that Everton frittered away numerous did the players "fall" for the Lawton tricks and traps.
The trouble facing the club is to discover not only the player they need to cement the defence but at the same time the club prepared to transfer such a player. That is a difficulty which must be overcome and without a moment's delay. Everton are in a competitive market, for they are not the only club seeking a star centre half-back. Why, Sunderland have been searching for such a player ever since the war, but without success. I know that Cliff Britton has been through the list of players a hundred and one times to try to spot someone good enough and –available I have tried it myself, but with the same result you will get if you do the same. The best ones cannot be secured. In the meantime Everton must have someone there and while Maurice Lindley and Tommy Jones are first class clubmen who gave their all in the cause of the team, neither is a specialist, for Jones is really a full back and Lindley a wing half-back. Yet the best centre half Everton have had for the last 30 years was a converted pivot. I refer to Tommy White, who was an outside right and centre forward before he became a centre half-back. England today relies in a "made" centre half-back in Malcolm Barrass. Now I do not support that plan, and proper the specialist such as Laurie Hughes, but is there a man who would say that Bill Jones of Liverpool is not a good centre-half? Certainly not. Yet Bill began as an inside forward and has gained England caps as a full back. I'll go so far as to name Bill as England's next best to Hughes.
It was not surprising that quite a few should let off steam following last week's defeat, but you will be surprised to know that not a single critical letter has been sent either to the club or Mr. Cliff Britton. I wrote that the team which faced the County was not good enough. That is the plain fact, and one which Everton realize, just as much as the players. The defeat was, however, rather exaggerated by the fact that most of the players seemed to have an "off day" all at once. The lads admit this, and they are not seeking excuses. Much has been said about Everton but nothing has been said which Everton do not already know and have known for a long time. Besides not one word has been sent to Everton which provides a solution. It amazes me that people are already talking of Everton as doomed to the Third Division. That after only 14 matches is about as sane as the person who, following Everton's defeat of Fulham on February 28, said, Everton are now safe" –safe-and with eleven matches still to be played.
There has been criticism of the methods employed by Cliff Britton. Those methods admittedly have not as yet brought the desired results, but I would prefer to remain with those who feel that the Britton methods will bring results. Cliff's trouble has been that he has been forced to include too many youngsters, good youngsters too; all at once. It has been a case of needs must when the devil has been driving. Knowing his outlook I am certain he would not have "blooded" so many of his brilliant (and I mean that) youngest so quickly. He takes the view that promotion too quickly can break a youngster's heart but he has been forced to do it.
Most of the criticism which I have heard have been against the omission of Dave Hickson, after his games against Leeds, Nottingham Forest and Rotherham in September. I feel too, that Hickson was omitted too quickly. Look at it this way, Harry Catterick started the season as centre forward and was given four matches on the run before being omitted. John Parker has been given no fewer than seven matches at centre forward without a break. Hickson had only four games and was then left out. Hickson can get goals and he never allows the opposing defence to settle for a single moment. He keeps them on edge just as Lawton did last week in his quiet way of moving to places nobody expected him to seek. It was the unorthodox of Lawton that stumped the Blues, and some of the unorthodox moves of Hickson could have a similar effect. Hickson played at Luton today, if he was not up to warranty, the Blues might like to ponder over another suggestion made to me and which bears analysis. It is to play Tony McNamara at centre forward. The contention is that he is a brilliant shot with either foot; can get up to a ball and has that touch of "devil" in him, I am not suggesting any team (I never do) but merely pass on points which have been made to me.
Everton will be re-greeting former First Division rivals at Goodison Park next Saturday in Bury. It is 21 years since the clubs last met in the League and that was in the Second Division. Bury tumbled into the Second Division the season before Everton first went down and have remained ever since. There has been one F.A Cup meeting since. That was in 1933 when Bury came to Goodison Park in the fourth round and were beaten 3-1. So in successive matches Everton are meeting clubs they defeated on the way to their last cup success. Luton today, Bury next week. Bury have staged a partial recovery this season after several shocks last term, when they were in danger of going into the Third Division for the first time. The club is managed by Mr. Jack McNeil, who did so much for Torquay United before coming north two years ago. Jack is a Scot, who was manager of Merthy for a time and he has earned a reputation for picking up stars in his native Scotland on a free transfer. Jack is the sort of manager who seems to be able to make bricks without straw.
EVERTON RES V SHEFF UNITED RES
October 27, 1951. The Evening Express
Everton the present leaders of the Central League had every hope of maintaining their position at Goodison Park, Jimmy McIntosh leading their attack. The game had a sensational opening for within five minutes two goals had been registered. Firstly Weatherspoon gave Sheffield the lead in three minutes then Hold equalized three minutes later. The Blues missed a golden opportunity when Gibson, from five yards out, could only balloon the ball over the bar. The United were the best moving side and Dunlop who by the way, was making his Central League debut, distinguished himself with many grand saves. Half-time; Everton Res 1, Sheff United Res 1.
EVERTON HAD THE ARTISTRY
October 29, 1951. The Liverpool Daily Post
Luton Town 1, Everton 1
Classical music's enigma variations" have nothing on Everton! The team's display in salvaging a point from their visit to Luton, would have confounded even the most severest of their critics. For the most part they gave the more direct Luton a "First Division" lesson in the arts and crafts of the game, and with slightly greater conviction in finishing would undoubtedly have recorded their third victory in the last five away fixtures. This was especially marked in the first half when too much of the shooting was leveled from long-range, although Streten, in the Luton goal, did have several fierce drives with which to deal. Yet it seemed when Davies leaped in to head a Taylor lob beyond Leyland less than a minute after the interval, as if all the good work would go to waste. For a time after this the Everton defence became inflicted with another of those jittery attacks which have become all too common. Never was the need of a commanding rearguard influence so patently demonstrated. Fortunately, the over-eager Luton forwards failed to capitalize. And it was then that Everton proved that they do no lack fighting spirit. Wave after wave of attacks were flung at Streten and his rugged-tackling co-defenders, but it was not until the seventy-fourth minute that Hickson cutely slipped the ball forward for Parker to crack a glorious volley well out of Streten's reach.
Masterly Fielding
A winner might easily have come Everton's way shortly before the end when Parker, who had drifted into the middle ran on to a short Hickson centre from the line. Parker hit it venomously on the instant but the ball sailed a foot wide. While there was much to praise in this Everton performance there is no room yet fro complacency. On the credit side, however, one must refer to the new life instilled into the attack by the dashing Hickson, who still has some rough edges which require rounding off, but who promises much. He is a trier all the way, reveals progressive football ideas, and is useful with his head. Parker contributed an improved performance in his original position on the left wing if lacking Eglington's speed but the outstanding individual in attack was Fielding, who gave a masterly exposition of inside forward artistry. Defensively, Farrell was a long way short of the best form, and this threw a great deal of work on Lindsay. Donovan had no peer on the field as a wing-half, and Lindsay served up his customary wholehearted display. Jones relishes the full back position more then centre half, and Leyland made no vital mistakes in goal.
NEWCOMERS IMPRESS
October 29, 1951. The Liverpool Daily Post
Everton Reserves 2, Sheffield United Reserves 2
Everton reserves did not give a good account of themselves against the clever Sheffield United side and were lucky to share the points in this Central League game. Hold and McIntosh both missed gilt-edged opportunities. Gibson being Everton's best forward. Dunlop made his Central League debut in the Everton goal and gave an impressive display, while Whitehouse who was also having his first game, scored a grand goal in the eightieth minute. Weatherspoon and Turner scored for Sheffield and Hold secured Everton's opening goal.
HICKSON PLEASES
October 29, 1951. The Liverpool Echo
Ranger's Notes
Everton followers who have clamoured for the return of Hickson would have been delighted had they seen the way in which the Ellesmere Port product shaped at Luton. He infused virility into the Blues attack, used his head well in both senses of the phrase and was always on the alert for the slightest possible chance. He also proved capable of taking hard knocks, which is a factor of important in a line which has sometimes been a little too "nesh." Another who took the eye was Donovan who had his most effective outing so far. He stuck to Davie like a leech and was always studious in his use of the ball on the ground. Highest individuals marks, however, go to Fielding, who turned in probably his best display ever. He was the creative genius in a side which was always promising goals and which might, with greater steadiness, have had three or four more. The speed and tenacity of Luton's tackling no doubt had something to do with Everton's general impetuosity and tendency to shoot from too far out. Everton are an entirely different proposition away from home than they are at Goodison, but the side is still no yet good enough. Defensive uncertainty and a tendency to panic under pressure will continue to cost them dearly unless a solution is found quickly. Farrell is a long way from his old self jus now largely because he is trying to do too much. The cares of captaincy also seem to weigh heavily on him. Lindley, although slow on the turn, never lets the side down and Jones's display at right back, was an improvement on recent performances. One pleasing feature was the way the side fought back after Luton's shock goal immediately after half-time and the tenacious manner in which they always sought to gain possession. Now it is up to the team to show some of their away form for the benefit of Goodison spectators.
BLUES UNLUCKY
October 29, 1951. The Evening Express
By Radar
Everton did no more than I expected in getting a point at Luton Town with a 1-1 draw. A goal away performance so often follows a home defeat. The players are keen to wipe out bitter memories and their fighting qualities brings success. It was so at Kenworth road, where Everton fought back to quality, despite having Ted Buckle nursing an injury. Here are the comments of Radar on the latest Everton "opus" The re-arranged Everton formation gained a well-deserved point, and would, with the slightest trace of fortune have brought back both. "Those like myself, who have seen the Blues regularly in action away from home, are at a loss to account for the teams lack of success at Goodison. Weaknesses there are in the side. The defensive tendency to panic under pressure is still marked and skipper Peter Farrell is not finding the going easy at the moment. But at least one must gave praise where it is due. At Luton there was no lack of fighting spirit after Davies had headed Town into the lead a minute after the interval. "Against resolute, hard-tackling defenders, the Everton forwards magnificently "equalized" by an inspired Wally Fielding, gave everything they had, and it was no more then they deserved when Parker hit home a quickly-made Hickson pass on the volley. "One of the nest moves of a game which produced its full quotes of thrills, almost brought a winner near the end. Hickson squared the ball from the line, and Parker, racing through the middle, drove a jet-propelled short-range drive a matter of inches the wrong side of the post. This was really bad luck for Everton were the masters in the arts and crafts of the game. "Individually this was Fielding's game. Wally has never had a better one. He was here, there and everywhere, carving out joyous passes for his colleagues, and he almost scored himself with two fierce shots, one in each half. Hickson undoubtedly justified his re-introduction. He still has faults but he is always on the go uses his head well, and knows how to use the short square pass to advantage. Parker seemed happier at outside left than in the middle and Buckle grated purposefully without striking his usual form from finishing viewpoint. –"McNamara was more effective before the interval but did some usual things. Donovan was another to justify his return to the side. He kept a tight rein on Davie, stayed the pace well, and gave due heed to the needs of his forwards. If beaten for speed at times, Lindley generally had control of the middle of the field, and Jones is undoubtedly happier in the full back berth. Lindsay suffered to some extent from the fact that Farrell failed to find his real form, but Leyland had no chance with the goal, and brought off at least two magnificent saves, one in the closing minutes. Six points from the last five away games is pretty good going. Now it is up to Everton to hit the target at home."
WAINWRIGHT
October 30, 1951. The Evening Express
Pilots Log (Don Kendall)
We have another Merseyside player in much the same position. This is Eddie Wainwright of Everton, who broke a leg playing against Derby County last season. With Wainwright too progress is slow. He is doing light training and has progressed to a little kicking, but it will be some time before he is available for duty.