EVERTON S PROFITABLE JOURNEY.
Athletic News - Monday 03 September 1906
[By Vulcan.]
Considering the tremendous heat, the contest at Ayresome Park was as fine one as could be desired 20,000 people seeing an exhibition of football which, on the whole, was very little inferior to the best seen at Middleborough for several seasons. The Everton club was represented by its Cup eleven, and the only changes on the home side were Campbell, of Clacknacudden, full back, and Shand, Inverness, half back, and it was mainly through the failure of these two men that Everton succeeded in registering their goals.
A FAST GAME
Everyone expected a moderate game, but one and all were delightfully surprised at the fare served up. Both teams set about their work with a nippiness and dash that at once aroused the liveliest satisfaction, and but seven minutes had gone by when, as a result of a delightful combined movement, Young found himself in front goal. Campbell hesitated before tackling, and Young, taking full advantage of this, whipped in a pretty shot, and, to the dismay of the home team, Williamson was beaten at short range. This, the first goal to Everton in their visits to Teesside, put the home men fairly on their mettle, and at the end of eighteen minutes the equaliser came, but it was most unsatisfactory to the visitors by reason of the manner of it. Barker took a free kick, and so accurately did he place the leather that it looked like passing just under the cross-bar. Scott however, got his fist to it, only to have the mortification to see it hit Makepeace on the head and rebound out of his reach into the net. It can only be termed a lucky goal.
FUTILE SHOOTING
Everton retaliated in grand style, Barker playing a fine game and checkmating his opponents on many occasions by plucky and persistent tackling and useful kicking. After each side had netted the ball to no effect, Bolton being off-side, and Bloomer having his negatived by reason of the ball being out before Thackerlay centred, Wilcox, by an effort of the very finest character, beat Balmer, and Scott, running out, the ex-Birmingham player tipped the ball round his opponents into the net. Middlesbrough's supporters were in high glee at this success, particularly as Wilcox had been so unlucky in his efforts for his side at the back end of last season. Just before the interval Bloomer and Thackerlay in turn failed badly when well placed, the first-named's failure being a very glaring one, and rather hard lines on him, as he had been doing brilliant work in the open. Glad were the players when the interval arrived, and the referee gave them an extra few minutes, which was appreciated.
A SENSATIONAL RESTART
The re-opening was sensational, for Settle inside four minutes drove in a low shot which Williamson got down to and turned out of goal only to see Bolton nip in and whip it into the net. Later the pace began to slacken, but incidents of an interesting and exciting character continued without any further scoring being done. Both teams were worth a point, and no one would begrudge either side what they got. In the mailer of defence Everton had a decided pull over the Borough. Balmer and Crelly have rarely done better work than they accomplished in this last half hour, when Middlesbrough were fighting' their hardest for the lead. The half backs were all good, with Taylor the pick, and Scott kept his charge will. Forward, Hardman and Young were in front of the others, both being very clever and fast. Sharp was very disappointing, whilst Settle was alternately fair to middling, with Bolton always a hard worker, but not so effective as usual, due, no doubt, to his partner's palpable weakness.
BARKER BRILLIANT
For Middlesbrough Williamson, in goal, acquitted himself splendidly, his being masterly display. Ratcliffe was sorely handicapped in having a poor man in front of him. The ex-Derby man did very well indeed, particularly as he was not sure of his partner Campbell. This player at times did very creditable work, but will have to improve if he is to keep his place. But it was big trial for two players like Campbell and Shand to be pitted against the English Cup winners in their first League appearance. Aitken did much capital work, but Barker, the local lad, was the shining light in the Middlesbrough defence, his form In having great throughout. The whole of the Middlesbrough forwards were in tip top form, and their brilliant consented movements were a treat to witness. Balmer, Crelly, and Taylor never relaxed their vigilance, although Makepeace and Abbott were by no means idle, it was the trio named that chief credit is due for escaping defeat. Middlesbrough— Williamson; Radcliffe, Campbell; Shand, Aitken, barker; Brawn, Bloomer, Common, Wilcox, and Thackerlay. Everton; Scott; Balmer (W.), Crelley; Makepeace, Taylor, Abbott; Sharp, Bolton, Young, Settle, and H.P. Hardman. Referee; P. Gardner, Leicester.
EVERTON RESERVES 3 PRESTON NORTH END 0
September 3, 1906. The Liverpool Courier.
Lancashire Combination (Game 1)
The Everton Reserves team opened the season in fine style, and if they can maintain the form shown on Saturday against Preston North End they should considerably improve upon last season's record. Despite the great heat the players put any amount of energy into their work, and this combined with all-round cleverness, enabled them to secure a fairly easy victory by three goals to nil. With the new recruits turning out, there was a capital attendance at Goodison-park. Everton put on only one goal –though Butler –but the margin in the favour at their favour at the interval did not represent their superiority. Indeed, only the fine work of Taylor in the Preston goal kept out the home attackers, and McBride's understudy was frequently applauded for clever saving. Once he got the ball away with players on both sides piled on top of him. During the second half, Everton again held an advantage, and after the visitors had allowed one golden opportunity to pace unaccepted, both Donnachie and Wilson put on points. Everton thus winning by three clear goals. The winners gave a promising account of themselves in every department. Sloan in goal, had little to do, but was very safe, and with Hill and Stevenson formed an impregnable defence. The latter showed much promise, and in this player and Hill. Everton possess two capable young backs. The halves were a sound trio, while the forwards went for goal in good style. Dorward worked very hard, and was unfortunate in not getting at least one goal. D.Wilson and Butler formed the better wing, though at times Donnachie and Graham showed pretty combination. Their defence best represented Preston. Taylor gave a grand display, as he generally does at Goodison, and it was mainly due to his good work that Everton did not add a few more goals to their score. Everton: - Sloan, Hill, and Stevenson, backs, Black, Chadwick, and Donaldson half-backs, Donnachie, Dorward, Jones, D.Wilson, and Butler, forwards.
EVERTON 9 MANCHESTER CITY 1
September 4, 1906. The Liverpool Courier.
EVERTON ROUTED MANCHESTER CITY.
MANCHESTER City will long remember their engagement with Everton at Goodison-park in the season 1906-07. They came to play their League match last night, and in the presence of some 10,000 spectators were completely routed, as the final score, 9-1, indicates. This score constitutes a record for Everton in a League match, their previous best being 7-1 against Sunderland at Goodison-park. Sympathy was extended to the City by the misfortune which befel them on Saturday when five of their players were rendered hors de combat by the terrific heat. Thornley and Kelso, who were amongst the number, had not sufficiently recovered to be able to take part in the game, their places being taken by Fisher and Norgrove. Everton made two changes from the team, which made a draw with Middlesbrough on Saturday. Booth supplanting Makepeace at half-back, and G.Wilson operating in place of Hardman on the wing. Teams: - Everton: - Scott, goal, W.Balmer, and Crelly, backs Booth, Taylor (Captain) and Abbott half-backs, Sharp, Bolton Young, Settle, and G. Wilson, forwards. Manchester City: - Davis, goal, Christie, and Norgrove, backs, Steel, Buchan, and Dorsett, half-backs, Stewart, Fisher, Grieve, Jones, and Conlin, forwards. Referee Fred Kirkham.
Taylor won the toss, and after some midfield play, the Everton left Wilson in particular, nicely dodged Stewart and Everton were given an opportunity. The City forwards came away and caused the home backs to be on the quivive, but Balmer cleared effectively. The visitors showed some promising work in the open, taking the ball down to the home end, while Balmer returned again, this leading to a corner for the Blues. From this Taylor scored the first goal about five minutes after the game had started. Some good work was put in by Wilson, who gave a pass to Bolton that player testing Davis with a good shot which was got away. The City made praiseworthy efforts, but they found the Everton defence too good. A promising move on the part of Stewart attracted attention. He ran down and placed the ball nicely to grieve, who, however, was robbed of it. Then Buchan, the centre half, got possession and sent in a hot shot, which only missed by inches. Stewart and Fisher combined well together on the right for the City, but were ineffective in the finish. An attack by the visitors looked dangerous for Everton, and the position was not improved through. Balmer missing his kick, the visitors having their first corner. The ball was got away safely, and play hovered in midfield a minute or two, when offside was given against Manchester. The next minute Everton were penalised for offside, and for a foul on the part of Settle. Manchester were given a free kick, after which Buchan made a further attempt at scoring, but his shot went wide. The play up to this stage was anything but exciting, but a few minutes later Young secured from a thrown-in and passed to Settle who netted the ball, thus increasing Everton's lead. Everton now pressed hard, and gave their opponents plenty to do. Only minutes or two more elapsed before Settle got possession from a pass by Young and banged the ball through, making Everton's third goal. Some good play on the part of Everton kept the visitors on the defensive, and there now came perhaps the warmest attack so far on the City goal. Wilson went down with the ball at his toes and managed to centre beautifully before Christie tackled him near the line. Davis caught the ball and saved, but hardly had he done so when Abbott scored the fourth goal from a smart centre by Jack Sharp. Shortly after Young gave to Settle, who missed the target rather badly. A corner fell to Everton, but was smartly got away. Then Everton got going again, and Bolton had an opening, but the shot went over. Immediately another corner accured to the Blues, and amidst a bunch of players in the goalmouth Young further increased Everton's lead with a neat shot, the game then standing 5-0. The visiting's were showing themselves many inferiors to the home brigade, both as regard's speed and resource generally. Bolton sent in a fast low shot, which Davis only managed to turn out by a great effort. At length the visitors had a look in at the other end, a circumstance which on account of its rarity was the subject of applause from the crowd. Nothing further occurred up to half-time, when the score was Everton 5, City nil. Upon the players entering the field for the second half the Manchester men received a rousing cheer, which for the first few minutes acted as a tonic to them. Everton not being allowed to leave their own half. Sharp, however, getting possession, raced along the line and put in a beautiful centre, which went begging. Everton were doing all the pressing, and Davis put in a couple of good saves. A pass from Young put Sharp in good position, but the "cricketer" shot wide. A moment later he made amends, forcing the Manchester custodian to fist out. Conlin and Dorsett were combining cleverly, and the latter had exceedingly hard lines, a shot of his, which beat Scott all the way just grazing the top of the crossbar. Sharp raced down, and when tackled passed to Young, who in turn put to Settle. The latter's shot was stopped by Davis, but Young, obtaining the leather, had no difficulty in increasing Everton's lead. The homesters, though having such a big lead, could not throw anything away, and on several occasions had it not been for sterling play on the part of Balmer the Mancunians looked like scoring. Abbott put in a hot shot, which struck one of the defenders, and Young reaching forward hooked the ball into the net. The visitors goal had a narrow escape a moment later, Young spoiling an opening by fouling the goalkeeper. From the ensuing free kick the representatives of Cottonopolis made a raid on the Everton goal. Grieve just topping the bar with a splendid shot. The Toffeeites were now somewhat relaxing their efforts and as a result, much of the interest went out of the game. The Spectators showed the utmost sympathy and enthusiasm over the Manchester team, and as a result of their support and the Everton players' apathy. Fisher cleverly beat the backs and had no difficulty in registering City's first goal. Spectators and players alike now seemed to regard the match as a hugh joke, and certainly there was nothing in the play to call for serious comment. The representatives of Toffee simply played with their opponents, and had they been so inclined could have put on goal after goal. Dorsett played a capital game on the visitors' side. Sharp tricked Norgrove and put in to Settle, who struck the upright, From the rebound Bolton tried a "pot" shot, which was successful. A moment later Sharp again centred and Young netted. Final score, Everton 9, Manchester City 1.
MANCHESTER CITY RESERVES 2 EVERTON RESERVES 8
September 4, 1906. The Liverpool Courier.
Lancashire Combination (Game 2)
Played at Hyde-road last evening, in fine weather, before a fair attendance. In the first portion the city lost Dennison and Chalmers, who were off nearly all the half through injuries, but they managed to score through Baldwin. Cook equalising and at half-time the score was one goal each. In the second half the City were hopelessly outplayed. Everton putting on severe goals against one. Result Everton 8 City nil. Everton: - Sloan goal, Hill, and Stevenson backs Black, Chadwick, and Donaldson half-backs, Donnachie, Graham, Jones Cook, and Butler, forwards.
NEW CENTRE HALF FOR WIGAN TOWN
September 8, 1906. Wigan Examiner
On Tuesday evening Wigan Town signed on a new centre-half in Stringfellow, a former captain of Leeds City, and who has figured with Everton and Portsmouth. Stringfellow has been selected to turn out with the Wiganest at springfield Park this Saturday when Wrexham Victoria will be visitors.

BANNISTER TO MANCHESTER CITY
September 8, 1906 Dundee Courier
Manchester City are scouring the country for players. They have been so far successful in their mission. Banister, a young centre forward from Everton has been signed.
JACK ROBERTSON ONE OF THE BEST
Aberdeen People's Journal-Saturday 8 September 1906
One of Scotland's greatest half-backs was "Jackie" Robertson, now playing Secretary for Chelsea. He used to play for Everton's Combination team, and from there went to Southampton, and then to Glasgow to play in an Anglo-Scots trial game. Herein he played a magnificent game at left-half, and was picked to play for Scotland against England. Here again he played a great game. Je signed for Glasgow Rangers the following season, and after being with them for about seven seasons, left to manage Chelsea, proving what a fine judge of a player he is by getting such a fine team together at the first attempt as was shown by their display in the Second League. "Jackie" was a fine half-back, a grand tackler, a beautiful placer of a ball, a fine shot –in fact, one of the finest halves of the last ten years.
MIDDLESBROUGH 2 EVERTON 2 (Game 549)
September 9, 1906. The Liverpool Courier.
CUPHOLDERS AT MIDDLESBROUGH.
A RECORD BUT HONOURS EASY.
If they did not commence the season with a victory, Everton accomplished something, which sets up a record as far as the clubs is corcerned. It is difficult to believe that the Cupholders had previously figured in four League game at Middlesbrough, without the solarium of a solitary goal. Yet such is the case. Moreover, it was only last season that they had ever obtained a point at tees-side, and this was due to the ability of the defence in frustrating the efforts of the home forwards. On Saturday Everton had the satisfaction of claiming couple of goals, but unfortunately for them, they allowed their opponents a similar privilege. At the same time in the first fixture on the card it is not at all a bad beginning to obtain a point away from home. There is no doubt either that in thus sharing the honours the Cupholders were not favoured by fortune. Indeed they were admittedly the cleverer team, and with anything like luck might easily have taken away both points, in which ease even Middlesbrough enthusiasts could scarcely have grumbled.
FIRST GOAL FROM YOUNG.
Middlesbrough was attached like all other football centres by the heat wave, and under such trying conditions, it is impossible to treat in all seriousness the performance of the respective sides. The mavel was that they managed to stay the full ninety minutes and to gave what under the conditions must be described as a most interesting and at times dashing exhibition. Although the Yorkshire club contains as many stars in the front line, it was apparent quite early in the game that the Everton were the superior combination in method and in judgement. The inside visiting forwards quickly got to work, and after a lapse of seven minutes Young made capital use of weakness on the part of Middlesbrough's new left-back. Campbell, and with a characteristic effort obtained Everton's first goal on Middlesbrough territory, that excellent custodian. Williamson being absolutely nonplussed. For some time after this the visiting attack were seen to great advantage, and the equalising goal came as a surprise to the 20,000 spectators. From a free kick Barker sent the ball well into the goalmouth. Scott punched it away, but unfortunately for Everton it struck Balmer in the stomach, and rebounded slowly over the line into goal. Even with this stroke of "bad luck" the Cupholders more than held their own until Wilcox unexpectedly got through all opposition and found himself with no one in front of him but Scott. That custodian hesitated a second or so too long before making up the mind, and although he ran out to meet, the ball Wilcox was too quick for him and easily placed Middlesbrough ahead. Thus it was that at the interval Everton were in a minority of two goals to one- a position, which by no means show the general run of the game.
THE SECOND HALF.
After a longer interval than is generally allowed the visiting team acquitted themselves in admirable style. As the result of beautiful work on the part of the left wing, Settle afforded a chance to Bolton, which this smart forward coolly turned to account. It was not at all surprising that in the latest stages of the game, the terrific heat told its tale upon both sets of players. For the most part play was confined to midfield, but there were a few occasions when strenuous efforts were made to secure the winning point. Bolton had very hard luck with a rattling shot, which struck the upright, when Williamson was completely beaten. Makepeace also missed by inches. Still the Middlesbrough forwards were not inactive, and it was largely owing to a splendid save by Scott that a last vigorous attempt by Brawn was nullified. It was quite a relief to both players and spectators when the whistle blew with the result –a draw of two goals each.
CONCERNING THE PLAYERS.
Despite the unnatural conditions, the Cupholders gave a most satisfactory exhibition, although of course mistakes were numerous. Scott in goal failed on all occasions to exercise the judgement expected from an international of his prominence, but it has to be remembered that when he was beaten he had to face a brilliant sun. Balmer and Crelly reached a creditable standard of excellence, while Abbott and Taylor were always sufficiently resourceful in coping with the attack of the Middlesbrough cracks. Makepeace was, for him, out of the picture, but this may be accounted for by the fact that a weak ankle was troubling him. Sharp for a wonder, was the least effective of the forward line. Hardman put in many excellent centres, and his work was all the more excellent centres, and his work was all the more praiseworthy, inasmuch as early in the game he received an injury in the chest, which caused him considerable pain. Young, Settle, and Bolton all acquitted themselves admirably and displayed the points of inside play to a nicety. On Saturday's form Middlesbrough have not a great team. On paper they have a strong forward line, but they exhibited a sad lack of understanding. Bloomer did some things, but the most prominent wing was that formed by Thackeray and Wilcox. Williamson kept a grand goal, but in Ratcliffe and Campbell –the latter a Scotch importation who was figuring in his first League match –the club does not appear to have secured fine backs who will shine against a powerful attack. Teams: - Middlesbrough: - Williamson, goal, Ratcliffe, and Campbell, backs, Strand, Aitken and Barker, half-backs, Brawn, Bloomer, Common, Wilcox, and Thackay, forwards. Everton: - Scott, goals, W.Balmer, and Crelly, backs Makepeace Taylor (Captain), and Abbott, half-backs, Sharp, Bolton, Young, Settle, and Hardman, forwards.
PRESTON'S FIRST POINTS
Athletic News - Monday 10 September 1906
In their first two matches Preston North End Reserve played very moderately, but on Saturday in the return game with Everton they put up a splendid fight, and won by three goals to one. The goals for North End were scored by Pearson, Danson, and Dawson, while Dorward scored for Everton with a penalty kick. North end play was the brightest and best they have shown so far. McMahon, a Scottish junior, playing full-back, performed excellently, and if light, he is clever and plucky. Cook also played strongly. The proceeds of the match are for Tod's benefit, and as over 5,000 people were present the result will be very satisfactory.
EVERTON'SADVANCES
Athletic News - Monday 10 September 1906
The Everton team created a new record on Monday last when they defeated the unfortunate Manchester City eleven by 9 goals to 1. They had previously scored seven and even eight goals in a match, but never before had they gained nine in a League fixture. Young was responsible for four of these, and the clever centre-forward has certainly made a brilliant start this season. Last year's his efforts were of a spasmodic character, though brilliantly concluded when he obtained the only goal of the final tie at Crystal Palace. But his play in the three matches already decided during this month has been incisive and full of energy, and besides keeping his wings judiciously employed. Young, as his record shows, has been very busy near goal. The regrettable injury to Settle will keep this clever player out of the field for some time, as the break is a complicated one.
PRESTON UNLUCKY AT LIVERPOOL
Athletic News - Monday 10 September 1906
By Reynard
Preston North End have not won a League game at Goodison Park since 1897, and if they have had many similar experiences to those on Saturday I can well understand that they feel a little depressed about their engagements with Everton. They were beaten by a goal to none, but fully deserved a point, as the run of the play would have been better represented by a goalless draw. The game was not productive of much science, and, considering the calibre of the teams at variance, the afternoon's sport was disappointing. Probably the fact that each team lost a man before the interval had something to do with the frequent break-down of combination, while another disturbing factor was the referee. Mr. Pollitt has yet to become famous, and on Saturday's form I am afraid will be a long time about it. He gave one the impression that the home team always secured the benefit of any doubt, and when Everton were awarded the goal that won the match it was the opinion of many that the ball was not put over the line. My point of vantage was every bit as good as Mr.Politt's, and I certainty sympathized with Preston.
OLD CLUBMATES AS RIVALS CAPTAINS
There were about 25,000 spectators present when the two Johns, Taylor and Bell, old club mates and now rivals captains, decided the choice of ends. The advantage fell to Everton, who were able to play with the sun at their backs. Quite early several fouls occurred, but not one caused any serious danger, and it was not until there had been a lot of throwing-in on Preston's right wing that either goalkeeper had cause for anxiety. Hunter stopped the Everton front line, and set his own forwards going, with the result that Bond was well within the danger zone when he sent the ball on to Balmer, who rejoiced in the right winger's slip. Nearly eight minutes had gone when Everton swamped into the Preston penalty area, and a lively scrimmage was in progress when a penalty kick was awarded against Tod, who was decidedly indignant about the decision. Settle was responsible for the kick, but when h shot low to the right McBride jumped across and cleared at the expense of a corner, which came to nothing. After this there was signs of temper among the players, and the irritation was not allayed by the frequency with which Mr. Pollitt chose to caution various individuals. This kind of thing can be carried too far, and I was surprised that a goal many of the spectators seemed to rejoice in it; indeed some of them shouted as loudly for men to be sent off as about anything else during the afternoon
THE WINNING GOAL
The home goal had a narrow escape from Bond, who was quick enough to leave colleagues and foes behind. Hill, however, made tracks from the left, and Scott sought an earlier acquaintance by coming forward than would have been the case had he remained under the bar. The consequences were disappointing for Bond, who proved unequal to dealing with frontal and flank attacks delivered together. At the other end Young managed to make a cross-shot, but it was not good enough to beat McBride, who, however, was all but beaten by a splendid long shot from Booth. The ball was under the bar when McBride jumped up and intercepted it. He fell awkwardly with the ball close in front and Bolton rapidly drawing near. It was a near thing, but the goalkeeper was first, and the finishing touch to a really fine save was applied. It was not long after this that the important event of the afternoon occurred. It was from a free kick that Everton obtained a foothold at close quarters. Hardman was the first to shoot, and in the referee's opinion nothing more was necessary, for he immediately pointed to the centre. The ball, however, was met very soon after it left Hardman's foot, and as the Evertonians continued to shoot and the Prestonians to repel it was evident that the ideal existed even among the players that the ball had not been over the line. I have already said that I was not in agreement with the referee.
TWO ACCIDENTS
It was in the first half that Everton were deprived of the services of Settle, who had the misfortune to break a finger on the right hand. Matters were equalized when Rodway, the Preston back, fell so awkwardly as to injure both knees, and when the teams renewed hostilities after an interval of a quarter of an hour it was only a ten a-side contest. The second half was a ragged affair, and Everton were lucky to escape having a penalty kick against them, for within almost as many minutes three free kicks were awarded Preston, two practically on the all-important line, and the other only a couple of yards away. In this half Lockett was Tod's partner. Donnachie often got the better of him, and it was on that wing that Everton gave the most trouble. In shooting, however, they were deficient; the shots were either so crooked that they went very wide, or so straight that McBride was able to regard his task with a light heart. Preston, too, were inaccurate, and with free kicks for fouls and off-side rather numerous, there was not much real interest in the play, and neither side could claim any superiority.
THE PLAYERS REVIEWED
Both Scott and McBride did well, but the Preston man being provided with more chances than the other custodian, was the brighter star. Tod was the best back on the field, and the half-backs on each side were good without being brilliant, Stringfellow, Preston's latest acquisition and an old Evertonian, creating a favourable impression. Of the forwards, Young was Everton's best, while on the other side Bond and Wilson were the most prominent. Bond was responsible for what seem to be the most brilliant effort made by any forward. It was in the first half, and with remarkable cleverness he dribbled into the centre and tricked several opponents. He seemed to be going right through the defence, and he was close to goal when the ball went too far for Bond to complete the effort. Smith was lying handy, but he shot straight at Scott, and as he did during nearly all the ninety minutes, disappointed his club's supporters. Still he was only one of about fifteen men who failed to show up top form. Everton; Scott; Hill, Balmer; Booth, Taylor (captain), Abbott; Donnachie, Bolton, Young, Settle, and H.P. Hardman. Preston North End; McBride; Tod, Rodway; Mclean, Hunter, Stringfellow; Bond, Wilson, Smith, Bell, and Lockett. Referee; Mr. H. Pollitt, Manchester.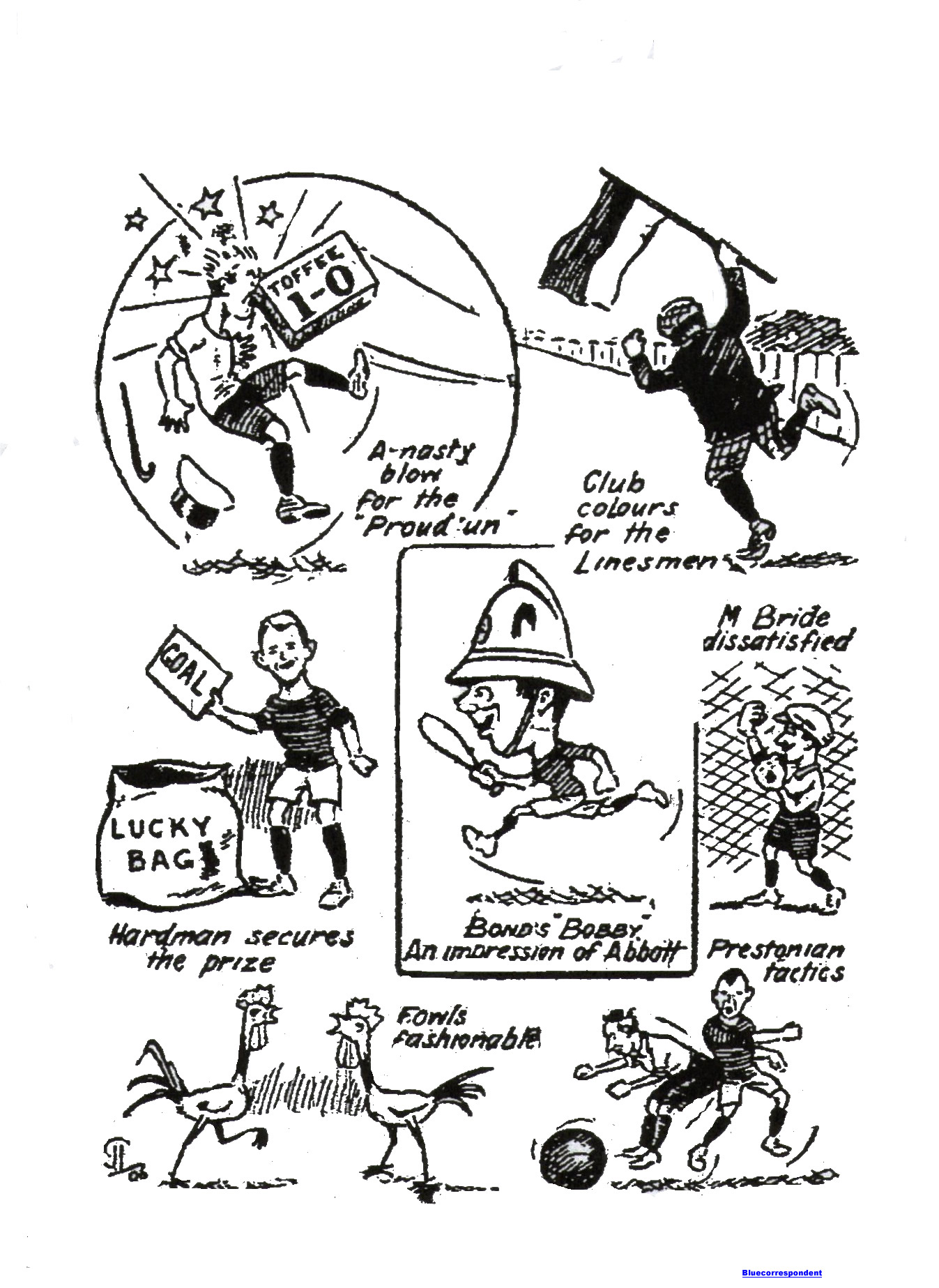 EVERTON 1 PRESTON NORTH END 0
September 10, 1906. The Liverpool Courier.
EVERTON DEFEAT NORTH END.
TWO PLAYERS INJURED.
SETTLE PENALTY MISSED
History repeated itself at Goodison-park on Saturday Everton triumphed over Preston North End by a goal to nothing. Indeed it is remarkable that this should have been the third season in possession that Everton have beaten the old rivals by the odd goal. As a matter of fact, not since 1897 have the Preston team been successful in a League match on Everton's enclosure. However, this may been there is no gainsaying the fact that North End are a popular team in the City. Upwards of 25,000 people witnessed the game on Saturday, and although it was characterised by some unnecessary shady tactics, it provided an interesting and exciting ninety minutes play. For the greater part of the match each side was deprived through injuries of the services of a player. Settle had the misfortune to break a finger while Rodway in failing damaged his knees so badly so badly that he, too, had to leave the field. Fortunately, from the point of view of the spectators, neither team resorted to the one-back game, nor regarding the play as a whole the result was a fair reflex of the merits of the contestants.
INJURIES AND FOUL.
Taylor beat his former comrade, John Bell in the spin of the coin, and this enabled the Evertonians to start with a brilliant sun behind them. Right from the commencement the pace was fast and well sustained. Early on Everton had a fine opportunity of opening the scoring, seeing that they were awarded a penalty kick , for a foul on Young. Settle who took the kick, drove the ball straight at McBride who cleverly succeeded in averting disaster. It was immediately after this that Settle had perforce to retire, but the conditions were quickly equalised when Rodway in charging Donnachie, missed his man, and hurt his knee. Lockett fell back, and although the forward line were somewhat upset there was no appreciable difference in the strenoueness with which the game was fought. Hardman had the satisfaction of scoring a goal for his side, and although McBridge protested there was no doubt about the legitimacy of the point. As will be gathered, this was the deciding goal. At the same time both goalkeepers had some capital shots to save, and both acquitted themselves in masterly fashion. The second half in particular, was to a great extent spoiled by the frequency with which the referee had to pull up the players for unfair tactics. North End in this respect were the greater offenders, and although, perhaps naturally, some of the Everton players retaliated, it is a pity that a team like North End should cause the referee such trouble in carrying out his duties.
THE PLAYERS.
The absence of such players, as Sharp, Makepeace, and Crelly was not felt to any great extent, each of the reserves rendering admirable service. Hill, although beaten occasional, pleased by reason of his prompt recovery, Booth played quite in his old form being the best half-back on the field, and Donnachie was an efficient substitute for Sharp. He undoubtedly is a tricky outside right, and with a little more speed would be one of the best men in the country in that position. Scott in goal was full or resource, and gave the impression that he could deal comfortably with all sorts of shots that might be sent into him. Balmer was as usual safe both in his kicking and tackling, but neither Taylor nor Abbott was seen to the best advantage. Young was the pick of the forwards, Hardman after Settle departure, being somewhat at seas. For North End, McBride was the outstanding figure. Rodway did some good work prior to his injury, and afterwards Todd and Lockett defended splendidly. The halves were rather too vigorous in their methods and as for the forwards Bond, except now and again was too well watched to become dangerous. The veteran John bell put in some masterful touches, but he cannot go the pace like he used to do. However, is still a capable skipper and it force to be reckoned with on the football field. Teams: - Everton: - Scott goal, Hill, and W.Balmer, backs, Booth, Taylor (Captain), and Abbott half-backs, Donnachie, Bolton, Young, Settle, and Hardman, forwards. Preston North End: - McBride, goal, Todd, and Rodway, backs, McLean, Hunter, and Stringfellow, half-backs, Bond, Wilson, Smith, J Bell (Captain), and Lockett, forwards. Referee H.Pollitt.
PRESTON NORTH END RESERVES 3 EVERTON RESERVES 1
September 10, 1906. The Liverpool Courier
Lancashire Combination (Game 3)
Everton and Preston North End have soon concluded their season's fixture, with the result that they finish all square, so far as points are concerned. Everton have a slight advantage, having won the game at Goodison by three clear goals and lost the return match h at Deepdale on Saturday by three goals to one.' It was rather curious that each club made two changes from the side that met on the previous Saturday. Everton had to find substitutes for Hill and Donnachie, who were called upon to assist the League team, while Preston had a couple of new players in McMahon and Bond, the latter a young brother of the international outside-right. It was a hard fought game from first to last. Preston commenced so well that they put on a couple of goals in the opening half through Pearson and Dawson, and this early lead in the end brought about their success. Dorward got a goal for Everton from a penalty, and only splendid goalkeeping by Taylor prevented an equaliser. For some time it looked any odds that Everton would draw level, but then Danson got another goal for Proud "Uns" and this decided the issue. Taylor kept goal finely for the winners while Sloan, the Everton custodian, as defended well. The home side had an advantage at back, and their sound defence enabled them to pull through. Among the visiting forwards, Cook Dorward, and Wilson, were the fore, while Dawson, and Preston were conspicuous among the Preston forwards, who went for goal in fine style. The match was set apart for the benefit of Todd and about 6,000 people were present. Everton: - Slaon, Strettell, and Stevenson backs Black, Chadwick and Donaldson half-backs, Graham, Dorward, Cooke, Wilson, and Butler, forwards.
CUP FINAL REVERSED
Athletic News - Monday 17 September 1906
Everton rarely show to advantage at Newcastle, and seldom have they brought points away from the United's ground. The Tynesiders, doubtless, would feel a certain amount of satisfaction in avenging the defeat of last April by precisely the same score, but Everton's reverse by such a narrow margin is by no means a discreditable performance, for the Northerners are in rare form. There will only one change in the team to face Notts County this evening. Settle, of course, cannot play, and Hardman it far from well; in fact, he has not recovered from injury sustained on the opening day of the season. Booth introduced, give Makepeace chance of resting, and the brother? Wilson will constitute the left wing.
CUPHOLDERS BEATEN AT NEWCASTLE
Athletic News - Monday 17 September 1906
By Northumbrian
Newcastle United avenged their defeat in the English Cup final last April at St. James's Park on Saturday, when they achieved a brilliant triumph over Everton by an odd goal—the margin that decided the issue in favour of the Lancastrians at the Crystal Palace. Divorced from all the glamour of their previous meeting at Sydenham, the Novcoastrians, as well as the Cup-holders, entered the lists as cool, scientific exponents of Association football, and their masterly performance stood out in striking contract to their impotent display at the Palace. The enthusiasm of Northern footballers seems to have increased tenfold during the current campaign, as witness the presence of 40,000 people at St. James's on Saturday. In two home matches the treasury of the United has been replenished to the extent of nearly £3,000, and it is no wonder that they can well afford to spend a few hundred pounds in acquiring first-class talent Like Finlay Speedie, of Glasgow Rangers, whose capture on Friday created no little sensation on both sides of the border. Two change were made in the Tynesiders' eleven that so cleverly banqueted Birmingham. Will Appleyard, who was severely injured about the knees at Birmingham, stood down in favour of Soye, the ex-Southampton player, whilst McWilliams having quite recovered from a nasal wound, resumed his position at left half. Soya had on his left brown, who signal his debut for the "Magpies" by performing the hat-trick against Birmingham and that sequent their admirers anticipated that the ex-Sotonian would constitute a valuable and aggressive unit in the Tynesiders combination. The Everton combination embraced Hugh Bolton, transferred from Newcastle United last season, and David G. Wilson, a smart left wing secured from Hearts of Midiothian.
A CRACKING PACE
A westerly wind swept across the field, so that Everton gained no material advantage when they won the toss and elected to defend the Leazes Park goal. Both teams started off with such reputed gladiators right at the top of their form, and all their efforts glowing with heroic ardour the game was crowded with excitement and interesting incident. Rarely have I seen forty-five minutes' football that sparkled with so much brilliant and strenuous footwork. Newcastle United at once invaded the Cupholder's lines by their marked superiority in concerted movements, in which Howe and McWilliam maneuvered the ball with consummate skill, but overelaboration allowed the opposing backs to prevent any dangerous marksmanship. Soye and Brown early came into prominence for a dashing effort, and, when Gosnell drove the ball with lightning force at twenty-yard range, Scott was well beaten. However, the foot of the upright diverted the flight of the ball. The United forwards largely monopolized play with their artistic footwork, which was invariably finished with a vigour and dash that promised a score. Rutherford stretched himself out for a lengthy dribble on the touchline and tested Scott with a capital shot. Subsequently both Brown and Gosnell stood out prominently, and the former made a terrific shot at short range, after the ball had been judiciously placed to him by Howie. For twenty-five minutes prior to the interval Everton stoutly challenged the Tynesiders, both in point of speed and skill. The forwards and half-backs operated more stylished and effectively together, and Sharp, at each essay at goal, aimed with unerring accuracy; indeed, twice it was really miraculous how Lawrence gathered his lightning volleys. Young and G. Wilson also creditably emulated the example of Sharp but their shots were always safely negotiated by Lawrence.
A MARKED DETERIORATION
The second half bore no comparison whatever to the preceding play, but during the progress of some loose, fluctuating exchanges the Tynesiders always held the upper hand, and deserved the maximum points earned by a capital goal scored by McWilliam with a low shot that flew into the net whilst Scott was, I thought unsighted. Newcastle United were, naturally, jubilant at their triumph, and this, the third successive League victory over Everton, demonstrated that the Lancashirians were somewhat lucky to capture the English Cup last April. Soye was zealous enough as the pivot of United's vanguard, but lacked ability to hold the ball, and was not successful in his marksmanship. Rutherford and Gosnell were the pick of a fast, progressive forward line that was splendidly supported by McWilliam, Veitch, and Gardner the former being the shining star of the team for his striking versatility and iniquitousness. Both Carr and McCombie tackled and kicked with fine judgement and power, though McCombie once or twice was a trifle charlady. Lawrence won fresh honours by his superb defence. When they settled down, Young and his colleagues exhibited admirable form. Sharp filled the eye most by his pretty dribbling and shooting, and the Wilsons shaped uncommonly well in dribbling, but either utilized shooting opportunities profitably. Abbott was the strongest of a useful half-back line, and Balmer and Crelley, if somewhat uncertain in kicking, tackled fearlessly and always had a capable custodian behind them in Scott. Newcastle United;- Lawrence; McCombie, Carr; Gardner, Veitch, McWilliam; Rutherford, Howie, Soye, Brown and Gosnell. Everton; Scott; Balmer, Crelley; Makepeace, Taylor (captain), Abbott; Sharp, Bolton, Young, D. Wilson, and G. Wilson. Referee; Mr. J.T. Ibbotson, Derby.
NEWCASTLE UNITED 1 EVERTON 0
September 17, 1906. The Liverpool Courier
GREAT GAME AT NEWCASTLE.
CUP FINAL REVERSED .
Everton again failed on Saturday, as on eight previous occasions, to register their first League success at Newcastle. They were only beaten by the odd goal, but it sufficed to give Newcastle United a couple of points, which, under the circumstances, were exceptionally welcome. There is no need to recall the incidents of that memorable English Cup-tie Final at the Crystal Palace. Sufficient is it to mention that on that occasion Everton achieved the height of their ambition in winning the greatly coveted trophy at the expense of the more fancied Newcastle organisation –it was curiously enough, by a goal to nil –has rankled in the minds, not only of players, but of the thousands of loyal supporters which the famous club on the banks of the Tyne fortunately has at command. What more natural, therefore than that Everton's League visit was eagerly anticipated. Revenge was dearly wanted, and to cut a long story short Newcastle gained their heart's desire by exactly the same score that proved their undoing at Sydenham. Apart from the issue of the game, the home club directors can rejoice in a magnificent "gate" of anything about 50,000 people, and the spectators will be able to bear in mind an intensely interesting game played under most perfect conditions as regards the weather and on a patch which could not possibly have been improved.
A GRAND FIRST HALF.
Indeed, it is only on rare occasions that such delightful football is witnessed in League warfare, as was the case on Saturday, especially in the first half hour of the game. It was a real treat to the vast assemblage who, to their credit be it said, warmly recognised the niceties of play, exhibited by both sides. The Crystal Palace display was absolutely ragged compared with that served up by practically the same sides on Saturday. True, Everton had a new left wing in the brothers Wilson, and Newcastle tried in their forward line Brown, and another centre forward, Soye late of Southampton, but, to all intents and purpose it was the cup final over again. And what a terrific pace at which the game started. The footwork, too, was tricky' clever, and scientific to a degree –full of neat touches, -delightful low passing, brilliant shooting, and goalkeeper of absolutely the highest quality. For some time United were undoubtedly the more successful manipulators, and it was during this anxious period for Everton that Scott showed a resourcefulness in goal which imparted just that requisite degree of confidence to his colleagues. Appreciating that the goalkeeper was safe as a rock the visiting attack gave of their best. The halfbacks placed the ball with unerring accuracy, and the forwards, though naturally mistakes were made harassed the Newcastle defenders with the delightful pertinacity. Lawrence however, like his vis-à-vis, could do nothing wrong. He performed like the great goalkeeper that he is, though on one occasion, after McCombie by slipping had left the younger Wilson with a clear course, he was distinctly lucky in diverting the ball to the outside of the post. At half-time neither side had scored, but the absence of goals, in no way detracted from a first half full of life, and incident and sterling play.
THE WINNING GOAL.
The second portion of the game failed to reach the high standards of the opening half. Doubtless the pace had told its tale, and the game was somewhat ragged, but only in comparison with the earlier movements. There was the same determination and plenty of fine work, but it was not of the same order. For some time Newcasrle unquestionably could claim the advantage, but the Everton defenders were untiring in their efforts. It looked as if after all neither defence would be beaten when only twenty minutes remained with the score sheet clean. Then, however, came the deciding goal quite unexpectedly from the foot of McWilliams, United had been attacking on the right wing without their movements being suggestive of danger. A throw in was awarded them well up the field. The ball went out to alert McWilliam, who, seizing the opportunity in a twinkling rounded one or two of his opponents and from the twenty yards range flashed in a shot which just touched Balmer in its progress and found a resting place in the net, with Scott unsighted. This proved to be the deciding goal, though in the last minute of the game a second's hesitation on the part of Sharp lost Everton a glorious chance of dividing the spoils.
THE PLAYERS.
It was a magnificent contest, in which the victors were little if anything, superior to the losers. There were, of course mistakes on both sides, but in such a strenuous trail of strength –fought out too without anything approaching ill feeling –these may well be forgiven. As already indicated both Scott and Lawrence in goal distinguished themselves. The Everton backs -W.Balmer and Crelly – were more reliable than the Newcastle pair McCombie and Carr, but the half backs were after all the shining lights. While McWilliam was the pick of the United trio. Abbott was the most prominent on the losing side, with Taylor a good second. Soye Newcastle's new centre forward, did not create a very favorable impression, but the wingmen were full of resource. George Wilson overshadowed his elder brother, many of whose passes were ill-timed, and with Bolton not attaining his usual standards, a good deal of work fell upon Sharp, and Young. Altogether, even with two points dropped, Everton have no reason to be disappointed with the result of their first appearance this season at St.Jame's park.
Teams: - Newcastle United: - Lawrence, goals, McCombie, and Carr, backs, Gardner, Vietch (Captain), and McWilliam, half-backs, Rutherford, Howie Soye, Brown, and Gasnall, forwards. Everton: - Scott goal W.Balmer, and Crelly, backs, Makepeace, Taylor (Captain), and Abbott half-backs Sharp, Bolton, Young, D.Wilson, and G. Wilson. Forwards. Referee J.T. Robinson.
EVERTON RESERVES 8 OLD XAVERIANS 0
September 15 1907. The Liverpool Football Echo
Liverpool's premier amateur organization opposed Everton Combination at Goodison Park, this afternoon in a friendly combat. The teams faced each other as follows : - Everton : - Depledge, goal, Strettall, and W. Stevenson backs, Black, Chadwick, and Donaldson halfbacks, Dorward, Cook, T.Jones, Thomas, and Butler, forwards. Old Xaverians: - Davies, goal, Board and Keating backs Healy, McEntegact, and Rothwest, half-backs, McKenna, Aaron, Kilburn, Pratt, and Hall, forwards. The Old "Uns" commenced operations, and the first forward movement came from Dorward, who was well served by Cooke, the former putting in a shot, which Davies cleared. McKenna and Aaron failed to make the best use of a good position and at the other end both Jones and Thomas were guilty of mulling when in favorably placed. During the next few minutes play was contested in neutral terrority and there was much kicking to little purpose on the part of the visitors. Then came a glorious chance for the Old Un' to notch the initial point which was wretchedly used. McKenna forced a good position off Stevenson, and Healy glided the sphere across the Everton goalmouth, only to see Kilburn and Pratt completely miss the ball, and to place it past the post' from a ridiculously easy position. Cooke and Jones made a good effort to open Everton's account, but the visitors' defence successfully defended Jones attend. Shortly afterwards however, the ex-Prescot youth got in a fine straight drive, which Davies well saved but he was handsomely beaten a moment later by Cooke. Hall just missed the mark, with a screw shot. Thomas headed over from a smart centre by the home right winger. Then Jones beat Davies all the way from a nice pass by Cooke. Thomas, Butler, and Jones were all concerned in a movement, which only failed by the narrow margin. Jones taking advantage of slackness to the visitors defence slipped away and added a third goal for the Blues. Half-time Everton 3 goals Old Xaverians nil. After the interval the visitors were completely out-played, and Jones (3), Jones and Cook scored for Everton. Final Everton 8, Old Xaverians nil.
EVERTON 2 NOTTS COUNTY 2
September 18, 1906. The Liverpool Courier.
Everton met Notts County in a League match at Goodison-park yesterday afternoon, there being about 10,000 spectators. There was one change from the side, which lost at Newcastle, Booth taking the place of Makepeace, while Notts made two alterations. Green coming in as centre forward in place of Poppitt, while Chalmers figured at centre half vice Mainman, who was injured on Saturday. The teams were - Everton: - Scott goal, W.Balmer, and Crelly backs Booth Taylor (Captain), and Abbott half-backs, Sharp, Bolton, Young, D. Wilson, and G. Wilson, forwards. Notts County: - Iremonger, goal, Jones, and Montgomery backs, Emberton, Chalmers, and Craythorne, half-backs Dean Humphreys, Green, Tarplin, and Gee, forwards. Referee Mr. A. J. Barker. Everton having lost the toss, Young kicked off and Notts were the first to get away, Balmer kicking out from Dean. From the throw-in the County came along again, and Scott was forced to handle twice. Abbott brought relief and the Wilson getting possession, Bolton should have scored. Not to be denied the "Blues" attacked earnestly, but Bolton being offside spoiled a promising move. The Wilsons were showing good form, and in a concerted movement with Young looked like scoring, when Sharp was given offside. Balmer badly miskicked and Scott cleverly saved a corner. So far Notts were having quite as much of the game as Everton. A foul against Green was got rid of, and Green-obtaining possession tricked Balmer and then tamely put behind. Taylor fouled Green, and from the free kick the latter player parted to Tarplin who netted with a splendid shot, which struck the underpart of the crossbar. Jones, the North full back, tested Scott with a long shot but eventually from Young's pass G.Wilson tricked two opponents and finished with a perfect centre. Iremonger, however, was not be caught napping and cleared a performance he was called upon to repeat twice in succession a few moments later. G. Wilson gained a corner, and from that Iremonger granted another corner. Yet a third fell to the home side, who now began to show their true form, bombarding the County goal for some time, Young got through in good style, but his final shot went well over the bar. Bolton was proving himself the weak spot in the Everton forward line, his attempts at passes to Sharp being very poor. Crelly was applauded for some clever tackling, and putting the ball to G. Wilson that player raced along and had hard lines with a magnificent shot, which grazed the upright. Gee looked like getting through when given offside, and immediately afterwards Scott had to fist out. Chalmers fouled Young in the penalty area, and Abbott taking the penalty kick equalised with a shot quite out of Iremonger's reach. After a series of throws in Notts attacked strongly, and Dean, with an open goal, missed badly. Balmer cleared when a goal seemed certain and then Young struck the upright with Iremonger at the other side of the goal. However, he soon improved upon this, for Sharp centering he cleverly gave Everton the lead. Right from the kick off the County made for the Everton goal, and from a melee in the goalmouth Humphreys scored while Scott was on the ground. Dean centring, Gee headed outside when he had only Scott in front of him. Half-time Everton 2, Notts County 2.
The first item of interest upon the resumption was a dash by Young and a clever long shot by Balmer. Bolton once again badly missed while Balmer on two occasions miskicked, Scott having to come out to clear. From a foul Everton were going for goal when Young used unnecessary roughness towards Jones. Young again fouled Montgomery, but the free kick brought the County no relief, G. Wilson and Taylor having shots at goal. D. Wilson, and Young nearly got through, and Jones luckily charged down a terrific shot from G. WILSON. Bolton once more was to blamed, when Taylor had put him in a scoring position. Everton were having much the better of the game, but from a corner, Notts came near scoring. Scott having all his work cut out to save. Young was trying hard, and at one time after beating three opponents he was unlucky in having his shot charged down. Scott saved cleverly, and Young when getting through was fouled, the referee at this period finding himself in bad graces of the crowd for some of his decisions. To the finish play for the most part was greatly in favour of Everton, who however, could not make no impression on the Notts defence, and the match ended in a division of the points. Final Everton 2, Notts County 2 goals each. The game was in striking contrast to that in which Everton participated at Newcastle last Saturday. There was a plenitude of vigour, but as an exhibition of Association football it left much to be desired. Still Notts County enjoy the satisfaction of having played four matches without sustaining defeat.
EVERTON 1 ASTON VILLA 2
September 24, 1906. The Liverpool Courier.
THE VILLA'S TRIUMPH.
EVERTON FAIL TO SATISEY.
Everton disappointed a crowd of about 35,000 people at Goodison-park' on Saturday when they had to acknowledge a two goals to one defeat by Aston Villa. The form exhibited on the Monday afternoon game with Notts County when the points were divided was not calculated to impress their supporters with a feeling of confidence in the side. At the same time there was the usual hope that when the Villa were met they would rise to the occasion and gave a display quite up to the high reputation which they have so long held in the football world. The conditions too, were altogether favourable for a fine exhibition of the Association game. There was a big crowd to spur on the players to their efforts, the weather was delightful, and the turf in as perfect a state as could be desired. Nevertheless Everton failed, and moreover, no one could begrudge the Villa their victory. This is only the fifth occasion upon which the famous Aston Villa has achieved success in League warfare with Everton in this city, and doubtless the triumph would be all the most welcome to then seeing that many well-known faces' were absent from the team which, with the exception of George, discarded the claret and light blue jerseys in favour of red.
FEATURES OF THE GAME.
Each club made one change from the sides, which represented them in their proceeding games. Makepeace came in again for Booth, while Garratty had his first chance of the season for Villa as inside right. Incidentally be it mentioned that he may be said to have justified his inclusion, inasmuch as to him belonged the honour of registering the second goal, which gave his side the victory. Everton started off in a fashion which raised great hopes of success, and if only quite early on a terrific shot from Sharp' had entered the net instead of grazing the post, there might have been a different story to tell. But this and other good efforts went astray, and the Villa finding their feet, the Everton defence had a bewilding few minutes. This culminated after play had been in progress rather less than half an hour, in Hampton scoring a lovely goal, the outcome of a delightful concerted attack in which Boden rendered his forwards excellent assistance at the critical moment. It was not at all pleasant to the Evertonians, who, despite energetic attempts, were still in a minority at the interval. Still, one remembered how the Blues have so often indulged in brilliant second half expositions, and so the crowd kept on wishing for the best. This time the Evertonians were unable to make much impression on the Villians, and when Garratty put on a second goal chiefly through a mistaken on the part of Makepeace, it was all up, as the popular saying goes, "bar the shouting" Everton, to their credit be it said, struck to their work, and great was the cheering when following a free kick, Abbott with his head directed the ball into the net. George having left his goal in a vain effort to obviate disaster. The Blues were not yet done with, and Sharp, after a grand run, gave G. Wilson the chance of a lifetime, which to the chargin of the spectators, he threw away in reckless style. Thus Everton dropped a couple of points.
HOW THEY LOST.
Faulty forward play was undoubtedly the reason of Everton's downfall. There was a want of balance and incisiveness in their methods. Yet they had more chances of scoring than the Villa, and it was tantalising to see fine opportunities thrown away time after time especially after one or other of the line had put in capital work. How the younger Wilson failed to equalise passes one's understanding. Still, he was not the only sinner. Bolton is not yet the Bolton of last season, and Young slipped about too much to be effective as a centre forward. Sharp was the best of the quintette. The brothers Wilson do not constitute a wing of the class of Settle and Hardman. On the halves, Makepeace was not in his happiest vain, although he put in some clever touches, but generally speaking, little fault could be found with the defence. On the Villa side, Walters and Bache formed the more effective wing. Boden and Greenhalgh were a tower of strength in the half-back line, and Howard Spencer still shows all his old judgement and resource. Teams: - Everton: - Scott, goal, W.Balmer, and Crelly, backs, Makepeace, Taylor (Captain), and Abbott half-backs, Sharp, Bolton, Young, D. Wilson. And G. Wilson, forwards. Aston Villa: - George, goal, Spencer, and Miles, backs, Greenhalgh, Boden, and Codling, half-backs, hall, Garratty, Hampton, Bache, and Walters, forwards. Referee W. Bailey.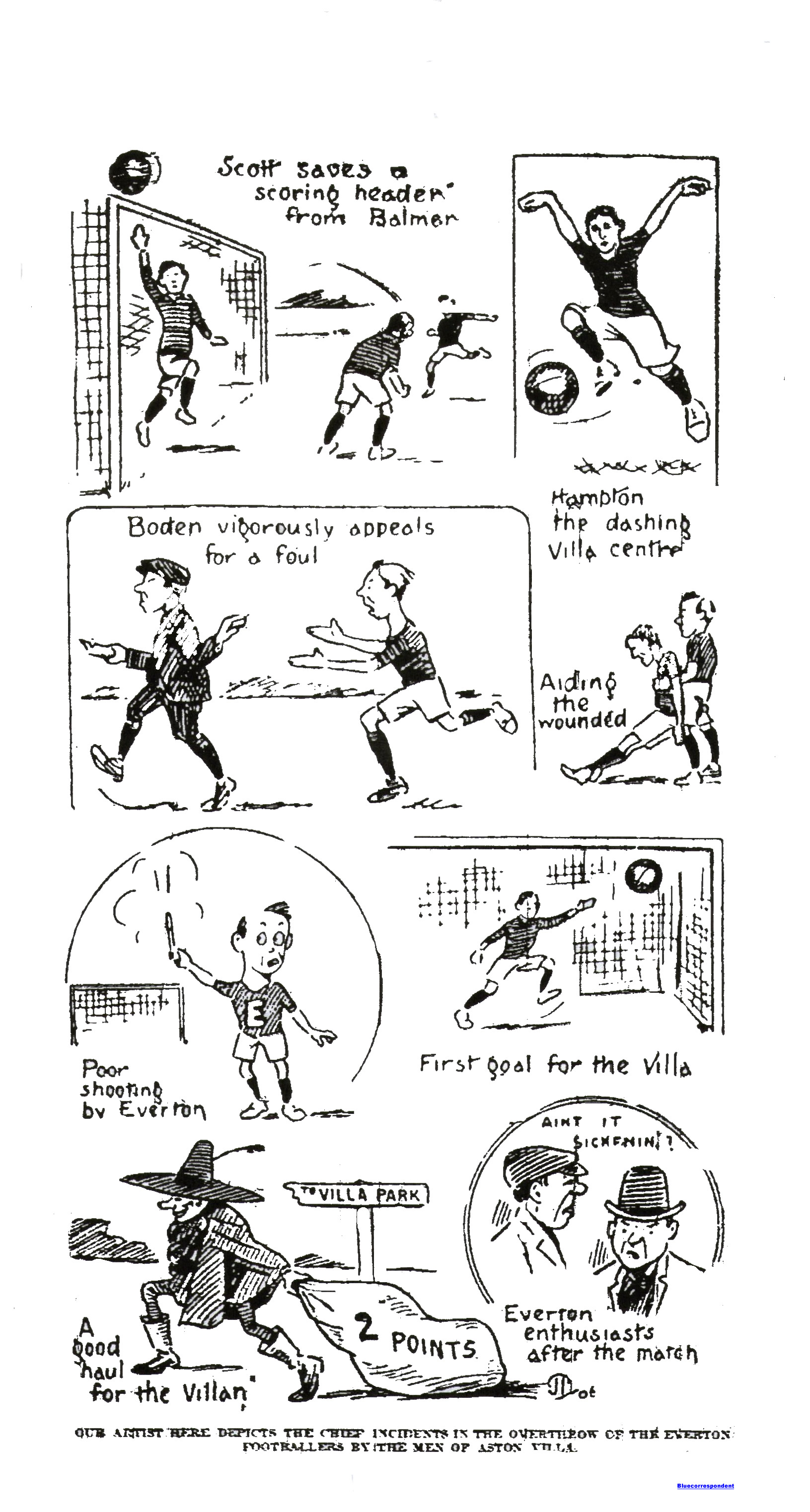 ACCRINGTON STANLEY RESERVES 2 EVERTON RESERVES 3
October 24 1906. The Liverpool Courier.
Lancashire Combination (Game 4)
Everton accomplished a capital performance in beating Accrington Stanley on the East Lancashire club's ground by three goals to two. True, the Stanley team is not so powerful as last season, as owing to their success in winning the championship they lost many of their players. Nevertheless the team club has got together this season is a capable one, and requires a deal of beating. The Everton forwards played a splendidly during the first half, and had not the Stanley defence been very sound the victory would have early secured a good lead. As it was Graham opened the scoring, followed by another goal by Jones, before Sheridan notched a point for the Stanley. Everton well deserved their lead at the interval, but afterwards the home side had more of the play. However, Butler scored for Everton, and although Sheridan headed another goal, the visitors held their own well, and won as stated. Everton deserved the points, being a sounded team all round than Accrington. Sloan had no chance with the goals and saved some good shots. Hill defended well, while the halves did sound service throughout. The forwards were clever and shot well, when they got an opportunity. Turner, Hampson, Garside (the old Liverpool player) and "paddy" Sheridan (who is not unknown at Goodison-park) best represented the home side. Everton: - Sloan, goal, Hill, and Stevenson, backs, Black, Chadwick, and Donaldson half-backs Donnachie R Graham, T. Jones, Cook, and Butler, forwards.