EVERTON RESERVES 1 BLACKBURN ROVERS RESERVES 3
September 1 st 1931. Liverpool Post and Mercury
Central League (Game 2)
Blackburn Rovers accomplished a fine performance in defeating Everton at Goodison Park , for the home side, indulged in much attacking, that was dangerous, but the visitors particularly in the closing stages, appeared able to provide the more accurate and sharper finish. An evenly contested first half showed each goalkeeper revealing sound judgement. After Roscamp had two goal disallowed for offside, Rigby scored for Everton after Crawford had edged away a shot from Martin. Eight minutes after the resumption Groves scored a good goal. Soon afterwards Talbot added a second, and later Roscamp a third. Turner and Groves, on the Rovers left made the most effective wing, Carter was a convincing half, Holdcroft, Common, McPherson, and Martin were conspicuous for Everton. Everton Reserves; - Holdcroft, goal; Common and Lowe, backs; McClure, TP Griffiths and McPherson, half-backs; Critchley, Martin, White, CR. Webster and Rigby, forwards.
Everton unchanged.
Everton go to Portsmouth tomorrow, and the side will be unchanged from the team which defeated Birmingham viz., Sagar; Bocking, Cresswell; Clark, Gee, Thomson; Griffiths, Dunn, Dean, Johnson, Stein.
EVERTON'S TOUR
September 1 st 1931, Evening Express.
Everton, will satisfied with their return to the First Division, have decided to play the same team that defeated Birmingham on Saturday against Portsmouth at Fratton Park. Today the Blues leave on a long tour, which takes them to the extreme south and then to the far North. Tonight they will stay in London and then journey down to Portsmouth for the match tomorrow, returning to London the same night. This will be Portsmouth's first home game, and they will be playing the eleven with which they finished fourth from the top last season. On Thursday they will make the long trek to Sunderland in readiness for the engagement at Roker Park on Saturday. During their stay in the North they will visit the sea for walks and will return to Liverpool on Sunday. Fratton Park may be regarded as one of Everton's happy hunting grounds for of the three matches played there they have won two. The results from 1927-28 to 1929-39; 3-1, 0-3, 4-1. They will have to reveal; their best form to gain a point tomorrow, for Portsmouth are considered one of the cleverest teams in the competition, and started well by defeating Sheffield United at Bramall-lane by two goals to one. In addition to the chosen team, Archer and White will travel to Portsmouth as reserves. The same team has been provisionally chosen for the match at Sunderland on Saturday. Teams: - Sagar; Bocking, Cresswell; Clark, Gee, Thomson; Griifths (P), Dunn, Dean, Johnson, Stein. Portsmouth will put out the team which beat Sheffield United on Saturday; Gilfillan; Mackie, Smith; W. Nicholl, Allen, Thackeray; Forward, Smith, J. Weddle, Easson, Cook.
EVERTON'S TEST.
September 2 nd , 1931. Liverpool Post and Mercury
By John Peel.
Everton and Portsmouth in their previous meetings set a high standard, and another good game should be witnessed to-night. On Saturday the Southern side defeated Sheffield United at Sheffield, and Everton will find difficulty in holding their rivals. The teams chosen are; Everton; Sagar; Bocking, Cresswell; Clark, Gee, Thomson; Griffiths, Dunn, Dean, Johnson, Stein. Portsmouth; Gilfillan; Mackie, W. Smith; Nicholl, Allen, Thackray; Forward, J. Smith, Weddle, Easson, Cook.
DEAN'S ANKLE BETTER .
September 2 nd 1931. Evening Express.
A chat with Dunn .
By the Pilot
En Route with Everton for Portsmouth.
Although Dixie Dean jarred his ankle in the last few minutes of the match with Birmingham, and a swelling resulted, I am able to tell you that, thanks to the careful attentions of the club doctor and trainer Cooke, Everton's captain will lead his men on the field at Fratton Park this evening. I have just been having a chat with Jimmy Dunn, who made such a wonderful start on Saturday with a hat-trick of goals. "Dean's cuteness in heading the ball back to me and his unselfishness made the openings possible," he said. "With a man like Dean leading an attack, I think it often pays to hang back a little. He seems to be always well up for the centres, and sometimes the ball drops back, which enables me to have a pot." They are a happy band, these Everton players. There is not the slightest doubt that they have that invaluable quality –team spirit. They return to London tonight, and set out for Sunderland tomorrow morning. There is every confidence that today's match will bring at least another point to the Blues. Everyone appreciates that it will be a desperate struggle, but Everton have the will to win. Messrs A. Coffey, J. Sharp, C. Hayes, and Dr. C. Baxter are the directors in charge with Secretary T.H.McIntosh. Mr. McIntosh tells me that the sale of members' season tickets this year is always a record, but the total number of season tickets disposed of is not so high as when Everton were in the First Division last.
PORTSMOUTH 0 EVERTON 3 (Game 3096 over-all)-(Div 1 3054)
September 3 rd , 1931. Liverpool Post and Mercury.
Hat-trick for White.
Everton's fine away win.
Portsmouth in shackles
By "Bee."
Everton, without Dean, won 3-0 at Portsmouth. It was a solid victory, hard earned, showing the visitors as possessing stamia and the fine football ideas. White, deputising for Dean, scored all three goals. Thus Everton, in two matches, have had a hat-trick performer, and although the match was a trifle difficult to handle at times by the deputy referee it was a rough game. The referee had been appointed linesman, but was called in to take the main position and a doubt about a penalty kick to the home side, together with the doubt about the ball striking the underpart of the crossbar, led to much discussion. Everton should have been three goals to the good at half-time. They had to be content with one, taken by White, who headed beyond the goalkeeper with a touch of Dean traceable in his manner of taking a header. The goal was the outcome of a perfect bit of foraging by Johnson and a centre by Griffiths, who had apparently felt the importance of the occasion. However, this part success for Griffiths encouraged him in the second half to produce more effective work, and the pity of it was that his two easy chances of the first half had not been accepted, so that the match held on the slender thread of one goal margin for half an hour longer. The match developed into an interesting and exciting bout, because Everton, after starting with machinelike forward work, thanks chiefly to Dunn, concluded with Everton very hard pressed, and the defence worried and worked with an insistence that seemed certain to bring a goal.
Disputed Point.
Mr. Thomas, of Walsall, was a missing link. Whether he missed the trin or not no one can knew, and a linesman, Mr. Zects, of London, took his place, and Arthur Knight, the international footballer, who has played with Portsmouth, went on the line. All these things seemed to upset the even temper of the players, and Portsmouth never really overcame the remembrance that they had a ball to the underpart of the crossbar and no one could say whether the ball actually went over the line or not. It was the referee's duty to decide and his answer was favourable to Everton. Portsmouth, unsettled, themselves needlessly, became at this point their left winger, Cook, was playing his customary dodging game. For over an hour the stress upon Cresswell was enormous, and his response was perfection. He seemed to play a more than usually inspired game, and thought out the excessive dribbling methods of the Portsmouth side like the artist he is. It is not too much to say that Cresswell held the fort of Portsmouth and won for the Merseyside fort a glorious victory. But this victory was not made secure until the seventy-fourth minute, when White again scored, this time with a shot to the left portion of the goal. Stein having given an excellent centre and thus made up for his rather stolid work of the first half.
Everton's Ground Passing .
Dean through a damaged ankle that he bathed in the sea without being able to thrust the injured member, was unable to play. White had not the height of Allen, the sturdy centre-half, from Bournemouth, but White at least is strong with height and weight, and has wise discretional moves that call for combination. Everton, in fact, were all for ground work in the first half, and many of their combining notions bore fruit. The effect of them would have been heavier had not Griffiths failed with two simple positions for scoring in the first half. Nothing would go right for Portsmouth at the opening stage. Bocking kicked away Jack Smith's testy shot, and the best shot of the day –from Easson –cracked its way just outside the upright. Portsmouth lost because they were prey to Cresswell's clear thinking, and near the finish White for the second time in the match had a chance to take a goal; the first time he failed, but in the fading moments of play he succeeded very definitely, still favouring the left hand corner. Thus Everton had worm down a team that threatened to draw even any moment when the score was 1-0. One must give praise to the whole of the winners' play and their lustiness in their most trying moments. Few defences would have stood up to such persistent pressure. Portsmouth started to be practical when the game was won, and Smith made two fine drives, which Sagar fielded. White went to outside right owing to injury just before the finish of a hard game, in which Thomson acting captain for the first time, had a wealth of work and deserved special praise. Portsmouth were poor at centre forward, where Weddle has not progressed, and on the rightwing Forward has lost favour. The defence however, did their work well, and on the winning side it was impossible to miss the security of Gee, and his use of the ball. Teams; - Everton; - Sagar, goal; Bocking and Cresswell, backs; Clark, Gee and Thomson (captain), half-backs; Griffiths, Dunn, White, Johnson, and Stein, forwards. Portsmouth; - Gilfilan, goal; Mackle and W. Smith, backs; Nicholl, Allen and Thackeray, half-backs; Forward, J. Smith, Weddle, Esson, and Cook, forwards.
EVERTON'S TASK
September 4 th 1931. Liverpool Post and Mercury
By John Peel.
Sunderland are always worthy of the highest respect at Roker Park, and Everton will find strenuous opposition there tomorrow. So for Everton have gained maximum points, and they will have accomplished a smart performance if they master Sunderland, who will be represented by; Middleton; Murray, Shaw; Morris, McDougall, Hastings; Eden, Gallacher, Gurney, Devine, Connor.
Everton may again be without Dean as his ankle is not quite sound, and White who did so well at Portsmouth, is likely to turn out again.
PROBLEM OF CENTRE FORWARD POSITION.
September 4 th 1931. Evening Express
Rain Holds –up Training at Roker.
By the Pilot, at Roker-on-sea with Everton.
Everton are uncertain about who will lead the attack in their important match with Sunderland, at Roker Park on Saturday. When this page went to press, there was a possibility of Everton having to send to Goodison for a third centre, and further information on that point, if any will be found on the back page. The two centre-forwards in the party, Dixie Dean (captain) and Tommy White, who obtained a hat-trick against Portsmouth, are both on the injured list. Dean'' ankle injury sustained against Birmingham is mending but slowly. He can walk, and run, but feels the strain still. Kicking might aggravate the injury. White, who received his left thigh injury at Portsmouth, just after he had secured the third goal, has a muscle stiffened. He has difficulty in walking easily. An awkward position for Everton. At present the Everton party has its headquarters at bracing Roker Bay. It was hoped that today could be spent in sea-bathing, walks, and light training, but the weather has put a stop to open-air work. There is a high wind here and a heavy sea running, while it has rained increasingly since we arrived from London yesterday. Consequently, the players were taken by Trainer Cooke for hot sea-water baths. There is optimism in the Blues' camp that tomorrow's match will bring another point at least. The rain has made Roker Park ideally suited to their style of play. Mr. C. Hayes and secretary Tom McIntosh are in charge of the party here, and it is expected that Mr. E. Green, the vice chairman, will join us this evening, when the players will be taken to a theatre. So far the tour has gone off without a hitch, but not without a touch of comedy. The tube nearly did for us in London yesterday. We had to make our way by underground from the Strand to King's Cross. We boarded the train at the Strand and duly changed at Leicester Square, setting into another train for King's Cross, as we thought and found ourselves back at the Strand Station. Fortunately we had plenty of time to catch the Express north.
EVERTON AT SUNDERLAND
September 5 th 1931. Liverpool Post and Mercury
By John Peel.
After beating Birmingham and Portsmouth, Everton are faced with a severe test at Roker Park. Dean is expected to turn out as his ankle stood the test yesterday. The Everton forward will find a strong half-back line led by McDougall, and the attack will be tested to the full. Sunderland too have lively raiders and a keen tussle is likely to be the outcome. A draw would be satisfactory to Everton. Teams; Everton; Sagar; Bocking, Cresswell; Clark, Gee, Thomson; Griffiths, Dunn, Dean, Johnson, Stein. Sunderland; Middleton; Murray, Shaw; Morris, McDougall, Hastings; Eden, Gallacher, Gurney, Devine, Connor.
SUNDERLAND 2 EVERTON 3 (Game 3097 over-all)-(Div 1 3055)
September 7 th 1931. Liverpool Post and Mercury
Everton's Hearty Display
Sunderland surprised at Roker
Weak links of the day
By "Bee."
Everton played one of their heartiest game at Sunderland's ground, and for the third successive match the Goodison players got three goals, and for the second time in the short season's period they sacrificed two goals-the first case being versus Birmingham. The last game was a hard one to win. It had seemed that Sunderland were to be swept off their feet. Everton took a two goals lead, and Sunderland had plainly been unsettled by such a turn, after their mid-week success against Birmingham. Everton were value for their lead because they had a steady notion of combination, whereas the Roker attack was uneven. If Connor could not be held by Clark and Bocking it was left to Cresswell and Sagar to hold out, with Dunn and Johnson and the half-backs giving unstinted help. Devine was possibly a better raider than Connor, and this in spite of the fact, that Devine was off the field for some minutes through damage sustained when gee tried to leap over him, and got him "studded." As I say, Sunderland were dependent upon their left flank. Cover that corner and the home team could do nothing tangible.
Eden makes a Mark.
It was Eden who scored right on half-time to make Everton realise that they had to battle to the end to win this hard game in a gale of wind and with some sunshine as a hindrance. Connor certainly provided the most thrilling solo to make Eden's goal, but Eden, having tasted a goal, was wont to make shots too far out, and finally he lost his confidence and passed upward, where no fellow-player was situate, nor yet could reach. Without denial, the display of Everton bore touches of that combined influence that makes the attack so engaging. But they were mere spasmodic efforts; the call to defensive arms was so urgent in the second half that the team almost forgot how to produce the even-swinging ground passing movements that made the side go so well at Portsmouth. Yet one had to admire the way the Everton defence got out of their difficulties. They were hardly ever flurried in the harassing period when Sunderland were going all out for a 2-2 result. One goal to the home side at that period would have meant a tremendous lot to the verve and nerve of the Everton players. The game looked like turning Sunderland's way when Dunn deliberately (I thought) handled in the penalty area, what time he had his back to the referee, Mr. Walden of Derby.
Last minute Goal.
Finally Stein, who had a moderate second half came up to take a pass from Dean and appearing to offer a centre he scooped the ball beyond Middleton's reach. That made the game 3-1 for Everton, and all seemed over. To show the persistence of Sunderland one must state that the best shot of the match was the goal got by Gurney in the last moment of play. So Sunderland scored in the last moment of each half, and Everton were thankful Sunderland's forwards kept their shooting boots so unemployed till the minute had pass by. Everton deserved their success in spite of their trifling faults. For instance, neither of the wingmen did himself justice. Griffiths finds the First Division half backs difficult to master. He has good notions and a hard shot, but he not quickened to the First Division, style at the moment. His goal was a definite piece of work, taken instanter, and the ball was hit with accuracy in timing and direction, that had been missing from his game at Portsmouth. Stein had a good first half and then petered out. It was a breezy day and a breezy game, so that it would be unfair to be hypercritical, especially as Sunderland in spite of all their second half relish of attacks, never really looked like gaining even a draw for their labours. The chief breeze came through the crowd of 35,000 spectators taking exception to the methods adopted by Clark and Bocking. Bocking brushed into Connor, and Clark had a lot of cat calls against him for what one can only term the ungainly means by which he tackled the famous left-wing pair. Clark has not, in the matches I have seen, produced the attacking phase he showed in trial games –and that was his greatest asset. Perhaps with the heavier grounds he will resume. Sagar and Cresswell played a quietly effective game.
Cresswell's Bright Ray.
Cresswell, was not the super man he had been, but he played as well as necessary, and when the second half deluge arrived we then saw Cresswell in his own bright ray, Bocking lending him solid support, and Sagar being safe –when called upon. At half-back Gee was best, because he had a resolute, matter of fact centre forward to face. Thomson appeared a trifle laboured, and had to thank Johnson for his help as well as the opening goal of the day. Dunn was the centre of the most exciting bit of play during the day –he tried to hook a ball over everyone's head after Middleton had got out of his area to take a ball from Dean's head. Middleton fell back and handed the ball out for a corner –a save as unexpected as it was remarkable. Middleton also stopped a strong shot from Dean, a header therefrom, and a surprise shot by Griffiths, yet he failed at the crucial moment of Stein's deciding goal. The wind played tricks, and possibly Middleton is to be pitied rather than blamed for the occurrence. Sunderland were not at all convincing at half-back. The Liverpool boy, Morris was below par, and while the deputy for Gallacher –Keeton by name –did much good work in the open, he suffered the common fault of the Roker players –he lacked sting near the goalmouth. Shaw was strong at full-back and the forward line was fitful. Devine was the best of the line. Connor's centring rarely came to a rational point of advantage to his line. Eden was similarly uncertain in his finish. The game was not a great one, but it was hard, relentless, and pulsating. However, Everton have for the third successive game scored three goals, and their extensive away programme of the first six weeks have already been made to look an easy matter. The team are to be congratulated upon their fighting qualities. They have proved by this game that the suggestion of their inability to fight back is unwarranted. Teams; - Sunderland; - Middleton, goal; Murray and Shaw, backs; Morris, McDougall, and Hastings, half-backs; Eden, Keeton, Gurney, Devine and Connor, forwards. Everton; Sagar, goal; Bocking and Cresswell, backs; Clark, Gee and Thomson, half-backs; Griffiths, Dunn, Dean (captain), Johnson and Stein, forwards. Referee Mr. Walden, of Derby.
EVERTON RESERVES 2 BIRMINGHAM CITY RESERVES 2
September 7 th 1931. Liverpool Post and Mercury
Central League (Game 3)
Martin missed penalty at 2-1
At Goodison Park. The home side did enough attacking to have yielded about four or five goals, evening allowing for their sturdy reliability of the Midlanders defence. Everton formulated their attacks convincingly, and invariably made advances through Rigby or Critchley supported by sound work from the halves, but it was in the goal area that Easton failed hesitancy permitting the Birmingham defenders to clear. Martin in the centre played well in the first half, but later scented enable to work smoothly. Martin opened the score, Kearing equalised and after the interval Webster gave Everton the lead. Martin then missed from a penalty, and Keating levelled the score with a penalty. Everton's halves played well throughout. Everton Reserves; - Holdcroft, goal; Common and Lowe, backs; McClure, TP Griffiths, and McPherson, half-backs; Critchley, Cunliffe, Martin, Webster, and Rigby, forwards.
EVERTON TAKE THE "WIN" OUT OF WIND.
September 7 th 1931. Evening Express.
A Lesson in adaptability
a-Sunder-Land.
By the Pilot.
Everton revealed their astounding adaptability at Roker Park on Saturday, when they exploited weather conditions to the complete confusion of the Sunderland side. It was like this. A strong end-to-end wind came through the openings between the high stands and banks and played all manner of capers with the ball. Everton had to face this handicap in the opening half, but they adopted the correct tactics, from the start Low, short passing was the order of the day. There was fore thought and deliberation in every movement, and though the Sunderland men were often in the Everton half, their play had no apparent methods and movements went away. Playing against the wind Everton scored two goals and practically set the seal on victory. True, Sunderland got one before half-time, but throughout they misjudged the caprices of the wind. They were never able to make the accurate pass, and invariably played the ball too strongly. They were not together as a team; and as time went on Sunderland became very much a Sunder-land. Everton had most danger to fear in the opening period from the Roker wing men, and Thomson and Clark were hardly happy. It had been allotted to Clark the duty of stopping Connor, one of the cleverest players I have seen for a long time and he became robust. His play lacked its customary smoothness in consequence. Thomson took time to settle down, but after the interval was a force to be reckoned with all the time. Gee, as a matter of fact, stood out among the half backs, and allied neat construction with deadly destruction. Dean has yet to score his first goal of the season, but his work at Sunderland was equally as valuable as goals. His leadership was the acme of skill and though. He played well within himself, but opened up the game grandly, and was eager to draw attention to himself and away from others. Everton's best forward work came from the inside men, Johnson and Dunn, who were superlative in the manner of their foraging and opening creation. They worked like Trojans and always kept the indifferent Sunderland half-backs on the run. Stein was good in the first half, and Griffiths gave his best display to date, his goal being a wonderful shot. Cresswell was the best back on the field.
EVERTON'S ELEVEN
September 9 th 1931. Liverpool Post and Mercury
By John Peel
Everton have started in a fashion, which suggests that they will again take a high place in the season's records. They have set the pace, and a standard, which will be difficult to live upto. On Saturday they are at Goodison Park to meet Manchester City, a side which has in recent years invariably tested Everton to the full. The kick off is at 2-15 and the Everton team is unchanged, viz., Sagar; Bocking, Cresswell; Clark, Gee, Thomson; Griffiths, Dunn, Dean, Johnson, Stein.
EVERTON SIDE UNCHANGED
September 9 th 1931. Evening Express
Manchester City's visit to Goodison.
Everton make no changes from the side, which won at Sunderland, for the match with Manchester City at Goodison Park on Saturday. Everton, and particularly Johnson, are hoping to register another hat-tricky victory with Johnson as the scorer. The Barrow man was formerly with Manchester City. Team; Sagar; Bocking, Cresswell; Clark, Gee, Thomson; Griffiths (P), Dunn, Dean, Johnson, Stein. The Reserves team to oppose Manchester City Reserves in a Central League match at Maine-road on Saturday will be; Holdcroft; Common, Lowe; McClure, Griffiths ()), Archer, Critchley, Cunliffe, White, Martin, Rigby.
Everton's £607 for Charity.
Everton F.C's practice games gate receipts were £607 2s 3d. The amount has been allocated to charity as follows;
£ s d
Stanley Hospital 115 0 0
David Lewis Northern Hospital 63 0 0
Royal Southern Hospital 63 0 0
Royal Infirmary 63 0 0
Bluecoat School 52 10 0
Bootle Borough Hospital 31 10 0
St. Paul's Eye and Ear Hospital 21 0 0
Liverpool Eye and Ear Hospital 21 0 0
National Institute for the Blind 15 15 0
Wallasey central Hospital 15 15 0
The Children's Industry, Myrle-street 12 13 0
The Liverpool Dental Hospital 10 10 0
Liverpool Child Welfare Association 10 10 0
Wallasey Cottage Hopsital 10 10 0
Liverpool Police Aided Clothing Fund 10 0 0
Women's Hospital Shaw-street 7 7 0
National Lifeboat Institution
Liverpool Branch 7 7 0
Liverpool Home for Incurable 7 7 0
Liverpool Maternity Home 7 7 0
Liverpool S.P.C.C 5 17 3
Hospital for Diseases of the Heart 5 15 0
Liverpool Cancer Hospital 5 15 0
Bootle Police Aided Clothing Fund 5 5 0
Waterloo General Hospital 5 5 0
Walton and District Nurses Association 4 15 0
Dr. Barnado's Homes 4 15 0
West Lancashire Mental Hospital 4 15 0
Liverpool Discharged Prisoners
Aid Society 4 5 0
Total £607 2 3
EVERTON'S OPPONENTS
September 11 th 1931. Liverpool Post and Mercury
By John Peel
Manchester City's visit to Goodison Park, tomorrow, makes their twenty-fourth appearance there under League auspice, but they can only boast of having secured maximum points on three occasions during the previous meetings, whereas Everton have fourteen victories to their credit. During Post-war games the City have captured seven points out of a possible eighteen, the results of the games (Everton's score reading first), being 2-0, 3-0, 2-2, 0-0, 6-1, 3-1, 1-1, 2-6, and 2-3.
MANCHESTER CITY AT EVERTON
September 12 th 1931. Liverpool Post and Mercury
By John Peel.
Everton are to oppose Manchester City at Goodison Park, in recent years the City have given of their best here, but Everton have started in such away which has to suggest that their power will approach that of last season, and their supporters expect another victory today. The Manchester side has gained three points from four matches, and they will be out to day to show that their reputation for high speed and skill is not undeserved. I believe they will test Everton to the full and the margin at the finish is not likely to be great. The Kick off is at 2-15, and the teams are; Sagar; Bocking, Cresswell; Clarke, Gee, Thomson; P. Griffiths, Dunn, Dean, Johnson, Stein. Manchester City; Langford; Ridley, Barrnett; Busby, Cowan, Bray; Toseland, Wrighton, Halliday, Wilson, Brook.
EVERTON 0 MANCHESTER CITY 1 (Game 3098 over-all)-(Div 1 3056)
September 14 th 1931. Liverpool Post and Mercury
Everton Yield Points.
Halliday's goal decides.
Everton sustained their first defeat of the season when they yielded both points to Manchester City by the only goal, scored by Halliday, at the end of six minutes' play. Taking the contest as a whole perhaps a draw would have been a more equitable verdict, because although Everton were out played in the first half, they put up such a splendid fight afterwards that City were rather fortunate to held their lead at the end. No side could have fought harder than did Everton in their second half, and only the tenacious City defence, in which Langford was always conspicuous with daring and clever work and Cowan a valuable helper, kept Everton from drawing level. There were times, however, when the City defence had a fair measure of luck, as when Langford made saves about which he knew little.
Clark's Shot.
Clark put in the best shot of the match that looked certain to score, yet by throwing up his left hand Langford was fortunate enough to touch the ball over the bar, and when Griffith put a ball that was going away from the goalkeeper Langford, by a supreme effort, pushed the ball away for a corner. There were many thrilling incidents in the second half that emphasized the deadly nature of Everton's hard luck. It was in the first half that Everton did badly and were seen in a poor light compared with City'' bright sparkling play. City started well and might have scored through Tilson following a slip by Bocking even before Halliday scored with a beautiful shot which no goalkeeper could have stopped.
Few Chances.
City moved with fine precision, made accurate passes, and their speedy wingers kept the Everton defenders fully employed. The Everton forwards got few chances in the first half and what they did get were generally spoiled by poor shooting. Afterwards it was as different story. The half-backs got a far better grip on the game and with strong virile attacks kept their own forwards well supplied, with the ball. The forwards responded with clever incisive work that certainly deserved a goal. When the City backs were beaten, as often they were, Langford stood between Everton and an equaliser. Rarely did the City forwards break through, and Sagar had little to do, but he made some capital saves in the first half and altogether gave a safe display. Bocking was rather too easily outmanceurved especially in the first half, but the improved afterwards. Cresswell was good all through, and his fine positional play saved the defence many awkward situations. Frequently he took up passes intended for Halliday, and the City centre had a poor match apart from his goal, scoring effort. Like the rest of the side, the half-backs revealed their best work in the second half, when they subdued the lively City forwards and kept the attack well in their opponents quarters.
Work of Dean.
Dean had to face the rugged Cowan, and although the Everton centre often found himself hemmed in and surrounded by opponents, he gave some delightful chances, and was himself a dangerous shooter. Both Stein and Griffiths put across some good centres late on, but the inside forwards found difficulty in holding the ball and creating openings. Langford was outstanding on the City side, efficient help coming from Ridley and Cowan, while in Toseland and Brook they had steady and clever wingers. Teams; Everton; Sagar, goal; Bocking and Cresswell, backs; Clark, Gee and Thomson, half-backs; Griffiths, Dunn, Dean (captain), Johnson and Stein, forwards. Manchester City;- Langford, goal; Ridley and Barnett, backs; Busby, Cowan, and Bray, half-backs; Toseland, Wrighton, Halliday, Tilson and Brook, forwards.
MANCHESTER CITY RESERVES 2 EVERTON RESERVES 0
September 14 th 1931. Liverpool Post and Mercury
Central League (Game 4)
Tommy White Penalty missed.
Though Manchester, at home, were on top in the second half, both their goals resulted from mistakes by Holdcroft, who, otherwise kept a good goal. Redding scored in the 45 th minute, and Roberts in the 90 th minute. White failed with a penalty kick. The Everton defence being outstanding, but the forwards were slow and laboured. Walmsley, Felton, Gregory, and Payne were the pick of the home side. Everton Reserves;- Holdcroft, goal; Common and Lowe, backs; McClure, TP Griffiths, and Archer, half-backs; Critchley, Cunliffe, White, Martin, Rigby, forwards.
Peasley Cross 0 Everton "A" 0
Liverpool County Combination.
At Peasley Cross, before 2,000 spectators. Peasley Cross give quite a good exhibition, and experienced bad luck in failing to score. Everton played clever football, Leyfield at outside left being particualrly prominent. Both goalkeepers –Corry (Everton), and Monttreth (Peasley Cross) –played well. in addition to Leyfield, Chedgzoy and Davies were prominent for Everton, while Peasley Cross were well saved by Triolett and Little.
EVERTON WILL NEED TO PLAY BETTER.
September 15 th 1931. Evening express.
Even though Derby's Record is Poor.
Everton will need to show an improvement on their form against Manchester City if they mean to escape defeat at Derby tomorrow, although, on paper form they should be good enough to bring back one league point. we can take a line on form through Manchester City. Three days before they defeated Everton, Manchester City beat the County at Maine Road by three clear goals. Everton have scored nine goals against five in taking six points out of a possible eight, whereas Derby county have won only one match –their sole points –and have scored only six goals against 12. Manager George Jobey allowed some of his star players to go to other clubs, but only because he believed he had the necessary young talent to fill the vacant places. At present these young players are in the settling down stages, and once they have fitted in to the Derby style they will make their presence felt. Everton do not select their side until this evening, when it is not likely that any changes will be made despite Saturday's defeat. This should be a great game to watch.
EVERTON'S VISIT TO DERBY
September 16 th 1931. Liverpool Post and Mercury
By John Peel.
Everton are to travel to Derby to oppose the County, who have so far been unable to turnout a smooth-working combination. They have won but one game out of five –the defeat of Manchester City. Earlier in the campaign the County, therefore, are likely to be in desperate mood, and they hope to master Everton, who, however, are not dismayed by the defeat on Saturday, and the same team as against the City is to do duty, it should be a tight game, and Everton may make amends for Saturday's lapse. The County are making no fewer than four changes, the wing half-back positions being filled by Nicholas, and Jessop. The teams are; Everton; Sagar; Bocking, Cresswell; Clark, Gee, Thomson; Griffiths, Dunn, Dean, Johnson, Stein. Derby; Wilkes; Cooper, Collins; Nicholas, Barker, Jessop, Crooks, Lewis, Bowers, Ruddy, Mee.
DERBY'S FOUR CHANGES
September 16 th 1931. Evening Express
But Everton Content with same team
Whilst Everton are not making any changes for tonight's match against Derby at the Bramell ground, the County have made four alterations from the side that suffered defeat last Saturday. Collins returns to left back and Nicholas and Jessop displace McIntyre and Malloch in the wing half positions. McIntyre, by the way, is the County captain. In the attack Lewis appears at inside right in place of the injured White. Incidentally, the County side will be an all-English one. This makes 16 changes in the Derby team in less than a fortnight. Everton have an excellent opportunity of registering their third away victory and maintaining their 100 per cent away record. I expect them to do so. Teams; Everton; Sagar; Bocking, Cresswell; Clark, gee, Thomson; Griffiths (P), Dunn, Dean, Johnson, Stein. Derby County; Wilkes; Cooper, Collins; Nicholas, Barker, Jessop; Crooks, Lewis, Bowers, Ruddy, Mee.
DERBY COUNTY 3 EVERTON 0 (Game 3099 over-all)-(Div 1 3057 )
September 17 th 1931. Liverpool Post and Mercury
Hat-trick by Bowers.
Everton beaten at Derby
By "Bee,"
Everton were deservedly beaten by 3-0 at Derby, last night, by a team that recaptured its old-time fire albeit their star winger, Crooks, was not employed to any extent until the last quarter of an hour, thus being due to the in-and-out display of Lewis, the Welsh international, who was uncertain and extremely clever in turn. The game was a very interesting one, well handled by Referee Cartlidge, of Burslem, a game that bore no malice and produced a wealth of good football, although in the second half Derby were so much the better that the game became rather one-sided. Bowers took the main honours. He scored a hat-trick, while his positional rival Dean was slow and measured and chiefly concerned with headers towards his inside forwards, who often were spending their time helping the defence and not forcing the pace. Everton elected to play a skilled game against a big centre half-back and rugged wing halves and the stoutest defender on the field, Copper.
The Sturdy Cooper.
Copper, did more to win the game than Bowers, because Copper was at his best when Everton were doing their best. Yet, in view of the fact that Bowers scored three times, and hit the crossbar with such power that he nearly wrecked the woodwork, there was no argument and no "ifs" and "buts" about the spoils going to the better side. Everton were clever, but Derby were clever and sharp, and the winners were the more hearty side. They worked with a vigour that may have seemed crude, but it certainly stopped Everton's machinery, the forward line of which lacked sparkle and decision near goal. Wilkes had a quite a comfortable innings, whereas Sagar, an intelligent and daring goalkeeper, might well have been labelled with six goals. From an Everton point of view, Sagar was quite the success of the day.
Penalty Turning Point.
Cresswell played remarkably well until he could not resist the urge to touch a ball with his hand, a ball that was spinning away from him. The penalty kick was the turning point of the game in which Gee had played a stout-hearted game, and Stein and Johnson overbalanced the right wing pair, who were moderate from quarter-time onward. Clark did many good things, and each of the half-backs produced a strong shot as if to be an object lesson to the forward line. Stein was the most consistent of the losing side's forwards, but some compared with Mee and Bowers, and at times Crooks in the way they went away with the ball without frolic and finesse. Everton tried to weave their way through the defence, and their passing, while pretty enough, brought not the necessary shot, without which all combination is null and void. Yet the game was a good one, lasting in its pression and personal praise of Bowers and Sagar.
First Half Features.
The first half was full of interesting movements and points. Everton throughout this half played the more cohesive game, yet they had not the chances that came Derby's way. There was an easy combined and practical manner of movement on the part of the visitors, who, however, ran into a stalwart English international back in Cooper, so that a number of their attacks failed within the penalty area. On the other hand, Derby were distinctly dangerous on the left, and Crooks occasionally flashed away to show that he has not lost the form some imagined had escaped him this season. The main incidents of the first half were a fine trick dribble by Stein, followed with a centre that Dunn shot into the hands of Wilkes. Bocking erred let in Bowers, and then recovered his position. Jessop, a half back made a brilliant drive that Sagar had forethought, and the goalkeeper made a catch at the top angle of the bar. Everton than had quite a spell of attack, but when the ball came to Johnson's right foot –which is his wrong foot –so that a shot of no power was recorded. Clark, also a half –back, tried a shot, and suiting the habit, Thomson tried a drive with the free kick that Wilkes could not get near so that he was fortunate when the ball skimmed outside. Wilkes was not idea, but he had nothing like the work that came to Sagar, yet his one-handed save from a good header by Griffiths with Stein on top of him prevented a score. Then followed the most important incident of the first half. The home left wing got through and the ball was put across by Ruddy along the ground, and it was pleasing to find Sagar able to just tip it out of the reach of two forwards who followed up. They ran on, but the ball ran behind half a yard, the incident being wound up with a shot by Crooks with a ball that ran round the left post.
Dean's Object Lesson.
Dean, well covered and well considered by a sporting defence in a sporting game, made one of his headers the acme of accuracy, showing the 12,000 spectators how to deflect the ball to make it pass at express rate. Wilkes jumped across to catch the ball, after which the greatest shot of the match arose from Bowers, who responded to Crook's centre and pass with a ravishing shot that struck the crossbar with a bang whitewashed the ball, and threatened to dismantle the goal posts. Sagar slipped another ball from Bowers, and the final incident was a header by Dean on the crossbar. Sagar had to be attended to through a jab in the throat a second after the resumption, but later he made an astonishing save from Bowers. Back came the ball, and Bowers headed a goal after Ruddy had made an overhead shot. This was the first goal in just over the hour, and then Sagar made a flying leap in an endeavour to stop the second. It was then that Cresswell gave a penalty for hands. Cresswell apparently intended to trap the ball, which spun up and he urged it with his hand. As if to try to remedy his unnecessary error, Cresswell took a free kick, and struck the crossbar with the Derby defenders all at sea. Dean relieved the tension by making an attempt that was caught by Wilkes. Sagar, as well as the shooter Bowers, received long applause when the goalkeeper saved an intense left foot drive from the home centre-forward. Griffiths was slow to step in and take a fighting chance of snatching a goal. Derby had won their way ably and by sheer merit Bowers made his joy day complete by heading a third from a centre by Mee. Teams; - Everton; - Sagar, goal; Bocking and Cresswell, backs; Clark, Gee, and Thomson, half-backs; Griifths, Dunn, Dean (captain), Johnson, and Stein, forwards. Derby County; - Wilkes, goal; Copper and Collins, backs; Nicholas, Barker, and Jessop, half-backs; Crooks, Lewis, Bowers, Ruddy, and Mee, forwards. Referee Mr. Cartlidge, Burslem.
DERBY GIVE THE BLUES A LESSION
September 17 th 1931. Evening Express.
Go-ahead Football beats finesse.
Bowers' Hat-trick
By the Pilot.
Everton played the wrong type of football against Derby County. They suffered from a superiority complex and paid the penalty in the shape of a 3-0 defeat. They tried to be too clever, too intricate, too daunty. They wanted to show the County how football should be played. Subsequently it was Derby who gave the lesson, a lesson in go-ahead, unceremonious, swift menacing football. The Blues really had the game offered to them early on, but instead of getting down to their game in a businesslike manner they made short passes time after time without gaining an incite. Moreover, they tried to get within two yards of goal before having a shot. Derby took plenty of time to get going, but the Blues played into their hands by their super jugglery, when snappy work was demanded. The first half produced really excellent entertainment, and the Derby folk considered it the best game they had seen at the Baseball Ground for months. The County had more chances to score, and once Bowers hit the bar with a terrific shot. They were the better team in comparison for there were always obvious weaknesses in the Everton team apart from their general tactics.
Out of Tune.
The Blues fell right away after the interval, and rarely gave the watchers a taste of the football one expects from them. They were out of tune, out of touch. Derby swept through them, being much quicker on the ball and in using it. Bowers headed the first goal in 58 minutes, and when Cresswell needlessly handled a ball, which was travelling back to sagar with no one in attendance, Bowers converted the penalty. Bowers completed his hat-trick two minutes from time when he headed home Mee's centre. Only five of the Everton men came out of the match with honours. These were Cresswell, Sagar, Clark, Gee and Stein. The attack was at times impotent, Johnson opened promisingly, but faded right away, and neither he nor Dunn could do anything right, yet they persisted in the "keep it close" policy. Dean had a poor game, though it can be said of him that he always demanded attention –plenty of it. Griffiths accomplished little, and it was left to the alert Stein to bring any danger to the County goal with minimum opportunities.
Clark Shines
Clark played sparkling football throughout, despite the fact that he was ill an hour before the game. He had a high temperature during the rail journey and had to be massaged and rubbed with oils before he could go on the field. His ball control and feeding was one of the few Everton joys. Gee was a zealous worker whose destructive play was strong yet thoughtful. His heading was splendid. Cresswell shared with Cooper the full back honours, and one admired the manner in which he repeatedly covered up the indifferent work of Bocking, who was rarely found in position. Thomson, too, had an off day. Sagar had no chance with the shots that beat him, and he brought off some thrilling saves. His anticipation was at times uncanny. How Everton fell away may be gauged from the fact that of the 15 shots delivered in the first half the Blues made ten, whereas after the interval the County had ten shots to the Blues six.
EVERTON 'S CHANGES
September 19 th 1931. Liverpool Post and Mercury
BY John Peel
There have been many changes since the sides last met, but the combination have not secured in points of skill. Liverpool found the pace of their wing men of great value in the defeat of Middlesbrough, and it may be that they will exploit similar tactic today in the hype of unsettle the slower moving defenders from Goodison Park. Everton are unfortunate in not being able to place their strongest side in the field against Liverpool, for Thomson and Clark are suffering from Influenza. Two excellent substitutes are
available, however, in the sturdy McClure and McPherson. A third change is the return of Critchley at outside right in place of Griffiths. Liverpool will have the side that defeated Middlesbrough, and I believe they will finish on top, today. The Kick off is at 3-15, and the teams are; Liverpool; Scott; Done, Jackson; Morrison, Bradshaw, McDougall, Barton; Hodgson, Smith, Wright, Gunson. Everton; Sagar; Bocking, Cresswell; McClure, Gee, McPherson; Critchley, Dunn, Dean, Johnson, Stein.
LIVERPOOL 1 EVERTON 3 (Game 3100 over-all)-(Div 1 3058)
September 21 st 1931. Liverpool Post and Mercury
Dean at his best
Hat-trick which gave Everton Victory
55,000 spectators at derby Game
Dean beats Sandy Youngs Derby goal record of ten and goes to eleven.
By "Bee."
A great crowd of 55,000 productive of a sum of £3,228, saw Everton beat Liverpool by 3-1. It was at Anfield this latest record was put on the list of meetings between the two rival sides of the city and for once in a way Everton had to field deputies McPherson, and McClure for Thomson and Clark, both down with the flu –whereas it has so often been a case of Liverpool pleading poverty of reserves or the loss of a first team member at this inconvenient moment. Everton tired Critchley for Griffiths, this being the only tactical team change announced. Thus Liverpool with the memory of a surprise and goal-reaching result against Middlesbrough in the middle of the week, imagined that this was to be a further addition to their laurels and against their pet opponents from across the Park. The signs and portents suggested that while Liverpool had become live, Everton had gone dull and listless, thudding their way rather than threading their way through to goals. Dean had not scored a point throughout the season. He had offered some to his comrades, but there the registed stood. It had even been mooted that the captain of the side might be dropped. Dean might be left out of the Derby game. The thing seemed like sacrilege, but the selectors wisely denied the thought of sinking the pilot or dropping him.
Like a Giant.
Actually Dean has had a curiously unbalanced season. He has had ankle trouble that kept him out while White got a hat-trick performance at Portsmouth. Probably Dean smarted under the lash of critics, who had seen him play for nought at home games. Dean went into the game like a giant. He showed how he can still be the best centre-forward in the world if the chances are at hand. Little room is needed by this bulky man; he stood by the rival captain, Bradsaw, and seemed a tiny tot. Yet Dean went up to head balls that Bradshaw should have had, and Dean's head was first to connect with the ball. He got the Liverpool defence astir early, and they did not settle down for an hour; they became flustered, they took up awkward positions; there was no dovetailing between the backs, and all this time Dean was taking almost every chance offered to him. He had most of his chances to those deft and sure passes to Stein or Critchley that should make then young men handsome centres of the ball.
The Anfield Genius.
Dean's hat-trick was merely history repeated. On the same ground, against the same goalkeeper, he had performed a hat-trick, but the game had been a draw. This game could not be drawn because the Liverpool forward line was never moving sweetly. They had no round of passing. The right wing was pressing its way, but not finding its mark; Wright was still the geniue of the attack, and moving him from centre-forward meant that the line had no leader. Jim Smith floundered and flurried; a trifle nervous still and luckless with two shots he made. But them most of the Anfield shots could have been saved by a commoner let alone by a smart Sagar, whose standard of goalkeeping was shown to the public when Barton having taken the centre-forward, berth to attempt a smash and grab "half" share of the spoils saw his great shot handed out by Sagar with a fine sweep of the hands. Sagar was very good against a very bad attack, whose chief member was perhaps Gunson. The Wrexham man relished the way the opposing half-back held him, but for holding off nothing could compare with the Liverpool defence of the first half-hour. They stood wide apart and Dean at times was marked by neither pivot nor yet a full-back. The positioning was such that one could not realise it. Dean, alive to the arts of positioning, placed himself where he willed, and the skill of his hat-trick was centred in knowing when and how to shoot or head. His first goal came in a minute; Wright equalised from a position that looked like offside, but if it was then this was balanced by Referee Lines not remarking on McPherson's handling case in the penalty area. Less than half an hour was sufficient to make Everton forget the Wright goal and concentrate upon Dean. Yet Liverpool forgot to do this. Bradshaw frittered his way through riskily if prettily. Dean became a tackler as well as a forager and a forward maker.
Great Goals.
Dean headed a goal from the depised Critchley's centre with little space at which to aim, and he scored a further goal with that accuracy of placing that makes him put a ball to inches of the upright. No one forward places more obliquely or with more confidence. Gone was the lethargy, and lumpiness and fardiness of the mid-week game. This was a Derby Day to be won, Dean would win it. He had to thank Johnson for a lot of compelling work, and Critchley came back to favour with some sharp, incisive runs in which half-control counted for a lot. It would be fair to say, in fact that the Liverpool defence was out run and outgeneralled, but they contributed to their own downfall by false positioning. Jackson was the best and pluckiest of all the backs, but McDougall could do little right and the forward line's faultiness I have already named.
Cresswell and the Half-Backs.
Scott, like Sagar, was splendid, and Cresswell was the dominating easy factor of the field of defence. The Everton half-backs played as well as necessary, but it was necessary to be very skilled against such a forward five, and the bets feature from a Liverpool point of view was the fine rallying effort of the Anfield side late in the game –in truth, through the second half period. Yet even then there was wanton waste with shots Barton and Smith particularly. How, then could they hope to reach the score set up by Everton's centre-forward and by the team's general excellence? Dean has now passed the long-standing record of the "Derby" games wherein Sandy Young stood attention at ten. Dean has eleven –with power to add to his number. He showed craft, speed, and safety first; measures on Saturday that made one wonder where he had hidden his reserves for the last two years. Dean was inspired and inspiring. It was good to see such earnest football from this young man and captain. Virility and superiority stamped him through the day's hard toil as the natural centre-forward, the best header the game has even today, and a genius in the art of placing himself in the proper position and –away from opponents! This was Dean's game.
Teams; Liverpool; Scott, goal; Done, and Jackson, backs; Morrison, Bradshaw (captain), and McDougall, half-backs; Barton, Hodgson, Smith, Wright, and Gunson, forwards. Everton; - Sagar, goal; Bocking, and Cresswell, backs; McClure, Gee and McPherson, half-backs; Critchley, Dunn, Dean (captain), Johnson, and Stein, forwards. Referee C. Hines, Birmingham.
EVERTON RESERVES 4 LIVERPOOL RESERVES 1
September 21 st 1931. Liverpool Post and Mercury
Central League (Game 5)
Everton defeated Liverpool in the Central League game at Goodison Park by 4-1. Not until 20 minutes after the interval, when Britton scored with a penalty to equalise a goal that Hancock had scored midway through the first half, did the home side reveal an evenly balanced attack, and then the Anfielders defence was subjected to continuous pressure. Prior to this rally Everton, the earlier play had slightly favoured Liverpool. Both goalkeepers were heavily worked. Williams, playing his first game for Everton this season following injury, was a reliable defender, with Griffiths (T), playing convincingly at centre-half, but the outstanding player was Britton. Britton's penalty was Everton's turning point. Cunliffe(injured) changed places with Griffiths (P), and from a Leyfield centre Griffiths (P) followed by scoring the winners' third goal, and Cunliffe headed the fourth. Holdcroft kept a good goal. For Liverpool, Riley, Steck, and Charlton made a steady defence. Hancock was the most convincing forward, with Scott, Hanson, and McRorie doing well. Everton; - Holdcroft, goal; Williams and Lowe, backs; Britton, Griifths (TP), and Archer, half-backs; Griffiths (P), Cunliffe, White, Martin and Leyfield, forwards.
Everton "A" 3, Blundellsands 3
Liverpool County Combination.
At Stopgate Lane. Everton did most of the attacking in the preliminary stage, Sims scoring, but Walmsley (2), and Dempsey scored for the visitors. The second half was keenly contested, and both defences were fully extended, Houghton and Fryer netted for Everton.
THE DEAN TOUCH MESMERISES LIVERPOOL
September 21 st 1931. Evening Express
A goal with each foot and one with his head.
By Ijay.
Dean's Day! It was Dixie of that ilk who was the deciding factor in Everton's 3-1 win over Liverpool at Anfield in their 61 st "Derby" game. This was Dean's "bag." A hat-trick of sparkling goals –his second in the Derby series. Everton's 100 th goal in these encounters. A new individual record eclipsing "Sandy Young's total of nine goals. It was a strange game in many ways, and there were several distinct phases of play. For instance, Everton made all the running in the opening half, and were full value for their interval lead, which would have been more pronounced had it not been for some wonderful goalkeeping by Elisha Scott. Then, in the second portion, Liverpool came into their own, but weak finishing and poor combination proved their downfall, and prevented them from making a better fight of it.
Too much latitude.
Liverpool contributed to their defeat in several ways but the chief was in allowing Stein, always a dangerous raider, far too much room to work in, with the result that every time he got the ball he had a clean run, and Done was practically helpless to check the advances. Everton were much the better balanced side, and they had no real weakness, but at least six of the Liverpool players were well below their average form. Bradshaw must bear a lot of the blame, although he improved considerably in the second half. He gave Dean too much freedom, and the ex-Tranmere player took full toll of his chances. There was often a big gap up the centre of the field, and Scott was given more work than should have been his portion. The Blues made progress through long, swinging passes to their two wingers, whereas Liverpool played much too close in their efforts to make their way up the middle of the field through the medium of forwards who lacked ball control and combination. Even in the second half, although down two goals, Liverpool should have seen the error of their ways and changed their tactics. There was still time then to avoid defeat, but the Reds did not rise to the occasion. There was actually a time when the Everton defence became flurried and uncertain under pressure, but apart from Wright, the Anfielders had no forward who could pick up several reasonable goal-scoring chances, to say nothing of a least two certainties that were offered to Barton and Smith.
Balance lacking.
Liverpool's outstanding feature was their courage and ability to make a fight of the game right to the end, for they never gave in despite the shortcomings of the front line men. It was balance they lacked when compared with their local rivals. They played football of the individual type in preference to the progressive methods of combined work. In the opening half the defence was beaten too easily and only Scott offered that brave front that we expected to see. Scott made a series of wonderful saves and many thousands in the 55,000 crowd still aver that he is the world's greatest goalkeeper. Done and Jackson failed to built up a working arrangement, and they could not give Bradshaw any help in holding off Dean. This was possibly brought about by the poor work of the halves, of whom McDougall was best, although he never produced his known form.
Outstanding Reds' forward.
Wright was the outstanding forward. He was here, there, and everywhere, and although I thought his goal was offside, he showed what an opportunist he is. I have already referred to Dean, who owed some of his success of the neat work of Stein and Johnson. Gee was a sound defender and did good service in getting rid of the ball first time to his forwards. The wing halves did their work in a quiet but effective manner, while Bocking gave a much-improved display. Cresswell was the star defender on the field, and his positional play and clean tackling and kicking were delightful to watch.
EVERTON SIDES TO MEET DERBY
September 22 nd , 1931. Liverpool Post and Mercury
By John Peel.
Everton are due to meet Derby County tomorrow afternoon, at Goodison Park, in the return League game. The side that beat Liverpool has been chosen namely; Sagar; Bocking, Cresswell; McClure, Gee, McPherson; Critchley, Dunn, Dean, Johnson, Stein. The Reserves side at Derby in a Central League match, and Everton are giving a trial to McCovern, a young forward of promise, and Worrall an amateur from the "A" team, is introduced. The side is; - Holdcroft; Common, Lowe; Britton, Griffiths, Archer; Worrall, McGovern, White, Martin, Leyfield.
DERBY COUNTY CHANGES.
September 23 rd , 1931. Liverpool Post and Mercury.
Everton are no doubt, vastly encouraged by their victory over Liverpool, and they hope to add two more points to their record in this, their seventh, game of the season. The home side will field the same team as at Anfield, while Derby are making two positional changes owing to Lewis having injury his knee in the Portsmouth match, Ruddy moves from inside left to inside right, and Ramage returns to partner Mee. The kick-off is at 3-15, and the teams are; - Everton; Sagar; Bocking, Cresswell; McCLure, Gee, McPherson; Critchley, Dunn, Dean, Johnson, Stein. Derby; Wilkes; Copper, Collins; Nicholas, Barker, Jessop; Crooks, Ruddy, Bowers, Ramgae, Mee.
EVERTON TAKE LEAD IN 30 MINUTES
September 23 rd 1931. Evening Express.
Johnson scores from a penalty.
By the Pilot.
Everton played the team that defeat Liverpool against Derby County at Goodison Park today, but the County brought in Ramage at inside left in place of Lewis. I understand that Ben Williams captain of Everton last season, came so successfully through his test with the Reserves on Saturday that he will be available for first team duty as soon as required. Everton; Sagar; Bocking, Cresswell; McClure, Gee, McPherson; Critchley, Dunn, Dean, Johnson, Stein. Derby County; Wilkes; Cooper, Collins; Nicholas, Barker, Jessop, Crooks, Ruddy, Bowers, Ramage, Mee. Referee H. Carlidge (Burslem).
Johnson and Dunn tried hard to get Dean through before Mee got away from McLure's half-volley, and crossed a pretty ball which Bowers could not reach. Johnson raced back and enlisted Cresswell's aid to get the ball clear. Crooks, after a smart run on the Derby right wing, put the ball over the bar. When the Everton machine commenced working again, misunderstanding between Dean and Stein aided the County.
Stein's Effort.
Stein got through and his centre gave the County some trouble until Nicholas came to the rescue with a hefty lunge. Stein and McPherson combined well without able to obtain the vital opening. Next Stein beat Cooper in his stride and Wilkes had to come out to gather the centre. Everton had a narrow escape when Crooks accepted a pass through Ruddy's legs, raced across to the line, and made a sharp grand centre. There was no one up, however, to accept the chance. Bowers was making headway when McClure brought him down from behind, but Cooper's free kick rebounded from a bunch of Everton defenders. Derby were having the better of this game. Everton were rather lethargic and inclined to too much daintiness. A centre from Critchley was nodded back by Dean to Johnson, who kicked the ball first time with his right foot and forced Wilkes to go full length top make a magnificent save. Cooper relieved another stern Everton attack, by which Bocking set the home line going again, and after dean had just failed with a back-header he was ruled off-side when Critchley gave him another chances. In the space of a minute there were at least a dozen mistakes, both sides being at fault.
Penalty appeal.
Everton made a strong appeal for a penalty when Collins made a back header for Critchley while Nicholas was lying on the ground injured. The Derby trainer ran on to the field to tell the referee of the casualty. This was a poor game, neither side getting down to good constructive football. Rarely have I seen so much short passing that was inaccurate. Cooper raced back to nod a Critchley centre to Wilkes, but misjudged the distance, and the two had to scramble to prevent the ball running into goal. They escaped with a corner. Bowers shot from a distance to bring Sagar to his knee, but incidents were few in this encounter. The lively Crooks again bore through to the goal line, and lofted a nice pass for Bowers to kick a header, when Sagar easily saved. Dean raced through from McClure's pass, beat Collins, but Wilkes had advanced from goal and Dixie's shot cannoned against the knees and bounded up towards the net. Dixie gave chase, but sliced the ball in his effort to head home. Crooks next dropped a centre on top of the net. McClure pulled down Ramage on the edge of the penalty area, but Bowers shot to Cresswell's feet. Gee was spoken to when he swept Ruddy's feet from under him, and 30 minutes saw the Blues take the lead through Johnson's penalty. Dunn deceived the County in the manner of his pass to Critchley, and Dean looked all over a scorer as he ran through to head home the winger's perfect cross. Just as Dean was jumping to head he was sandwiched by Copper and Nicholas, and the referee unhesitatingly awarded a penalty. Johnson made no mistake with this. Bocking allowed himself to be robbed in front of the posts to give Bowers a chance, Everton being saved by the prompt intervention of Sagar. Everton did most of the pressing towards the interval in a game, which was improving steadily. Gee brought Wilkes to his knees with a shot from half-way line. Derby were eager to exploit the offside trick to hold up Dean, who was having a good match. The honours in this half had been Everton's but the football was rather too scrappy to be termed really entertaining. In addition there an abundance of pretty fouls.
Half-time Everton 1, Derby County 0. Last report.
EVERTON 2 DERBY COUNTY 1 (Game 3101-over-all)-(Div 1 3059)
September 24 th 1931. Liverpool Post and Mercury.
Everton Squeeze Through
Derby County's Rally
By "Bees."Everton found Derby County very difficult to hold, but the local side gained the points by the odd goal of three. The County side had youth, pace, and enthusiasm. They work swiftly and to the point –the goal area. There they did not fare so well as a week ago when they were conquerors by 3-0, and Bowers got the 3 goals. This time, in the return game, Bowers had little chance. Bocking, with his solid and sure style, is at the moment stronger than it has been for many seasons. There is a good working agreement between the backs. Cresswell's nochanlant robbery of the ball from Bowers, who was going hot pace towards goal, was typical of the man. Bocking was not so stylish, yet he was quite effective even if he was once nearly caught napping. Derby County were not out of the prizes when defence was concerned. Copper the international back gave another studied and studions display of five resolute kicking, but his forward line was unbalanced, and his team generally did not respond to his example, Mee for instance, hardly being seen through the match, possibly through the absence of his usual co-worker, Lewis, ex-Huddersfield. Everton were not exactly satisfying any more than the game touched high spots. There was a lot of poor football and needless delay on the part of Everton, and with Derby at times rushing at too great a pace to allow them a conclusive effort towards goal making the game dragged quite a good deal until Derby made a fighting finish. Derby got a goal through Bowers snapping up a half chance, when Sagar might have punched clear, but conceived the idea of trying to make a catch.
Johnson's two Goals.
Johnson, had got two goals in the first half, one a penalty kick , justified by the way Dean was pushed as he ran in to head the centre to goal. Johnson scored with ease –as should always be the case; but the second goal came through a melee and Johnson, with his right foot, drove in a ball that bumped and had little pace –it touched the upright before it crossed the line. So Everton led by two goals, and they imagined a vain thing –they thought the game was over. Derby County shook the Everton side. The home team began to fade out, and found themselves unable to catch that elusive forward. Centred were rained in with that excellent curl that Crooks applies, and although it must be confessed that Dean headed on to the crossbar with Wilkes –merely as a matter of recording the main event –the fact remains Everton were glad to get their victory over. Derby were altogether too menacing, and Ruddy with particully the last kick, had a great chance to make the score what it should have been 2-2. He drove straight at Sagar at a time when that young man had began to fumble the ball.
Sagar's Save.
Sagar had previously turned a shot from Bowers from the goal to a corner kick –a turning point in a game wherein the three goals were not of the enthusiastic type, nor yet well made. So that the game was like the goals –dull in its make-up. Everton's wing half-backs were not always satisfying, McClure was dogged, McPherson was dalian, Gee being best but falling into the error of giving needless free kicks. Oddly enough, it was Barker, the visitors centre half-back who had his name taken by Referee Cartlidge, of Burslem, for an offence hard to define. There were some stoppages, and Crooks had a nasty twist, and McPherson, and McClure were also damaged. It was hard football without conviction, and with little shooting. Each goalkeeper saved what one can only describe as a striking shot –Johnson and Bowers the shooters –and Everton's extreme wing men plus the energetic Dean were best of the winners' forward line –the most certain in their attacks, the most settled in their mode of play. Yet Johnson for half an hour played superlatively good football, artistic and skilled. The he faded out in common with many others of the side. Cresswell simple went through to the hitter and with his calm judgement and his delicious football. Derby' speed gained them nothing; their plucky and insistent finishing of the last half gained them one goal. They should have had two –they earned them. The Fates were not kind to Derby County. Teams; Everton; - Sagar, goal; Bocking and Cresswell, backs; McCLure, Gee, and McPherson, half-backs; Critchley, Dunn, Dean (captain), Johnson, and Stein, forwards. Derby County; - Wilkes, goal; Copper and Collens, backs; Nicholas, Barker, and Jessop, half-backs; Croosk, Ruddy, Bowers, Ramage, and Mee, forwards.
DERBY COUNTY RESERVES 1 EVERTON RESERVES 1
September 24 th 1931. Liverpool Post and Mercury
Central League (Game 6)
Not until late in the game was there any excitement from either moves of Derby or Everton in the Central league match at Derby, and then all the fine things were done by Holdcroft in the Everton goal. Twice he succeeded with daring dives at the feet of opponents. White took the credit for Everton's goal by charging the goalkeeper in possession over the line, and Robson equalised with a header. – Everton; - Holdcroft; Common, Lowe; Britton, Griffiths, Archer; Worrall, McGovern, White, Martin, Leyfield.
BLUES' ONE PURPLE PATCH
September 24 th , 1931. Evening Express.
But the rest of the game was colourless.
Timely change in tactics.
By the Pilot.
Why the Kick-off in the Everton v Derby game, at Goodison Park yesterday, was arranged for 3.15, when there was sufficient light to make the match an early evening affair, I don't know, but certainly the gate suffered. It was surprising after Everton's return to winning form to see a crowd of less than 20,000 at so important a match. Had the kick off been fixed for some time around 5-30 p.m. thousands of workers would have been glad of the opportunity to cheer on the Blues. As it was the astomsphere was listless, and so was the play. For the first half hour there was hardly a cheer. Everton once again took a long time to realise that fast, open football is much more effective than the dainty tip-tap variety. In the early periods of the encounter they persisted in trying to carve out openings down the middle for a well watched Dean and their general tactics savoured of the short pass. This helped a quick-lacking side like the County. It took the Blues exactly half an hour to arrive at the conclusion that the best policy was to exploit the extreme wingers, and utilize the far-lung pass more. When they did it they quickly forged ahead, and gained the winning position, and a 2-1 victory. This was not a good game. In the first half both sides prone to miskick and slice passes, and there was all too much pretty fouling, pushing, and obstructing. Johnson gave the Blues the lead in 30 minutes with a penalty awarded when Dean was patently sandwiched by Nicholas and Cooper. Johnson added the second in an hour, shooting through near the post after Dean had drawn attention from the scorer. Shortly after this goal Dean headed against the bar, and that effort seemed to rouse the County to such an extent that they crammed on every stitch of canvas, and the game resolved itself into a battle between the visiting attack and the Everton defence. Sagar made his one mistake in 77 minutes when he tried to catch a centre instead of punching away, and the hefty Bowers bundled the ball of his arms and into the net. Derby were then on their toes, and Bowers and Crooks were menacing raiders who worried and worked as if inspired.
Rock-like defence.
They met the solid rock of Everton's defence, however, and Sagar redeemed himself with three brilliant saves. He should have been beaten in the last minute, but Ramage fired straight into his arms from an easy position. Dean had a good day, though he invariably had three men around him. He had the happy knack of drawing attention to himself and away from others. Johnson was a zealous forager, who was ever on the look-out for openings. Stein and Critchley displayed pretty footwork, but Dunn was not at his best. The half-backs took time to strike their real game, especially in feeding. Gee was the best. Cresswell was the best player on the field –a cool, calculated defender whose tackling was superlative. Bocking, too, was a tower of strength, and held the Derby left wing in subjection. The County were rather unbalanced, but were well served by Wilkes, Cooper, their best man –Barker, Crooks, and Bowers.
EVERTON'S NEW FORWARD.
September 24 th 1931. Evening Express.
Gordon Reed signed.
18 years old Marksman from the North-East.
By the Pilot.
Gordon Reed, though only 18 years of age, has earned the reputation of being one of the best goal-getting centre forwards in the Northern-Eastern League. Last night he scored a hat-trick for Speenymoor United against Darlington Reserves, and immediately after the match Everton succeeded in securing his transfer. Reed's fame as a marksman quickly spread around the Football League clubs, though he only joined Spennymoor this season. Wolverhampton Wanderers and Bolton Wanderers were anxious to sign him, but Everton were first in the field and paid what will be a record fee for the Spennymoor club. Reed is well built being 5ft 9ins, and 11 st . He will probably play for Everton Reserves on Saturday. Everton have decided to make no change in the team, which defeated Liverpool and Derby County for their visit to Arsenal on Saturday. Everton; Sagar; Bocking, Cresswell; McClure, Gee, McPherson; Critchley, Dunn, Dean, Johnson, Stein.
MEN WORTH £60,000 IN ONE MATCH.
September 25 th 1931. Evening Express.
Everton's biggest test of the season.
By the Pilot.
When the Everton and Arsenal teams line up at Highbury tomorrow afternoon, £60,000 worth of football talent will be on view. No other match on the card tomorrow will provide an aggregation of players of such great market value. It should be a great game. Everton are drawing big crowds whenever they go, and tomorrow's match attendance may exceed 60,000 spectators. This game will be a big test for Everton. If they gain a point they will do well. The Blues have won their last two games and naturally are satisfied with the same eleven. If they are to extend the brilliant London Club, however, they will have to play a stronger game than they did against Derby County. Quicker parting with the ball and more certainly in front of goal are necessary. From a spectator point of view this should undoubtedly be one of the outstanding games of the season, for both sides can be relied on to play football of the highest class. Cresswell, is playing as well as ever, and it will be interesting to see how he fares against the scheming of Jack and James and the dashing methods of Hulme and Lambert. Bastin, who cried off for the Blackpool match in mid-week, owing to injury, has been reported fit, and has been chosen. The Arsenal, therefore, will have their strongest possible team in the field. Roberts the former Oswestry man, will no doubt play a leading part in the great match, and if he holds Dean he will have done all that is asked of him. Everton; Sagar; Bocking, Cresswell; McClure, Gee, McPherson; Critchley, Dunn, Dean, Johnson, Stein. Arsenal; Preddy; Parker, Hapgood; Jones, Roberts, John; Hulme, Bastin, Lambert, James, Jack.
Reed to lead Reserves attack.
Reed, Everton's new centre-forward from Spennymoor United, will lead the attack for Everton Reserves against Oldham Athletic at Goodison Park tomorrow. McGovern, another newcomer from Chester, will be at inside right in place of Martin, who has strained a thigh muscle. Everton Reserves; - Holdcroft; Williams, Lowe; Britton, Griffiths (T), Archer, Griffiths (P), McGovern, Reed, White, Leyfield.
EVERTON TACKLE HIGBURY START
September 26 th 1931. Liverpool Post and Mercury
By John Peel
The Arsenal started in rather shaky fashing when the calibre of the team is taken into consideration, but they seem to be coming back to their best now, so that Everton today, many experts opposition of the liveliest character. Although they defeat Derby County on Wednesday, the team as a whole did not play suticiently well to suggest that they will be good enough to beat the Arsenal at their best. An improvement, will be necessary, particularly in the wing half position. If the flying Hulme and the skilful Bastin are to be held. The Arsenal are undoubtedly a team of combined power and skill, and Everton, it would seem, must needs be at the top of their form to gain a point. Dean and his colleagues may be depended on to make a bold effort to lower the colours of the "stars" and whatever the result a highly attractive game is likely to be seen at Highbury. Everton; Sagar; Bocking, Cresswell; McClure, Gee, McPherson; Critchley, Dunn, Dean, Johnson, Stein. Arsenal; Preedy; Parker, Hapgood; Jones, Roberts, John; Hulme, Bastin, Lambert, James, Jack.
ARSENAL 3 EVERTON 2
September 28 th 1931. Liverpool Post and Mercury
Arsenal Forward Snap
Everton Deservedly Beaten.
By "Bee."
Arsenal, a brainy football side, ably managed and controlled and selected, beat Everton at Highbury before 50,000 spectators by 3 goals to 2. The margin is kind on Everton; it doesn't indicate that Bastin hit the upright and that Hulme struck the post with a great drive; it does not breathe the fear of the Everton defenders every time the Arsenal forwards started their mission –which is not goals –at any rate in the first instance; they take the ball as far up to goal as Everton's line likes to, but with this difference. Where Everton forwards dwell upon their going, Arsenal never stand upon the order of their going –they go-and they take the ball with them. They make a three-piece suite in combination. Everton make a two piece, slaves to convention. Arsenal will not be enslaved by anyone –least of all the powers that be. There are three sectors; the inter-twining of the names need not be given to explain this trinity, but one can do no better than say it is a mingling of kindred spirits as between Jack, James, and Bastin, with Hulme, the express dashing flying winger and Lambert the allaged cumbersome centre-forward, who is put where he is for a purpose –and no more is expected of him.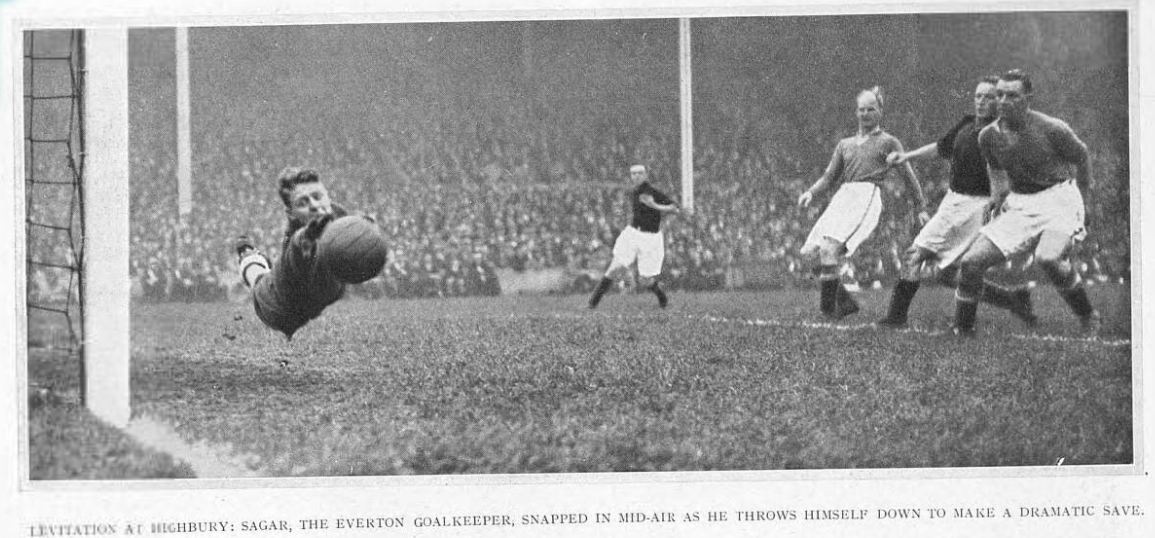 The Right Blend.
The blend is there; the brain is there; as Cresswell said after the game. "You cannot beat this side by charging; you can't get near them to deliver your charge; you must apply brains, and if they beat you, well they are the better side." They were the better side, but fate was kind to Everton in more than one direction. Everton played well for half an hour. They got a goal lead, but it was rather lucky, for Critchley's gentle handling added to the ball's progress. They were worth a goal –but a better frame of goal than this. The next moment Critchley took up the gap opened by the unwise Hapgood, who was wild with an attempted clearance. Critchley shot. But he was angled and possibly was angered when he realised that Dean, calling for a pass, could not have escaped making the margin two goals to nought. This was the turning point of the play. The game had been lost by this lack of forethought and wisdom.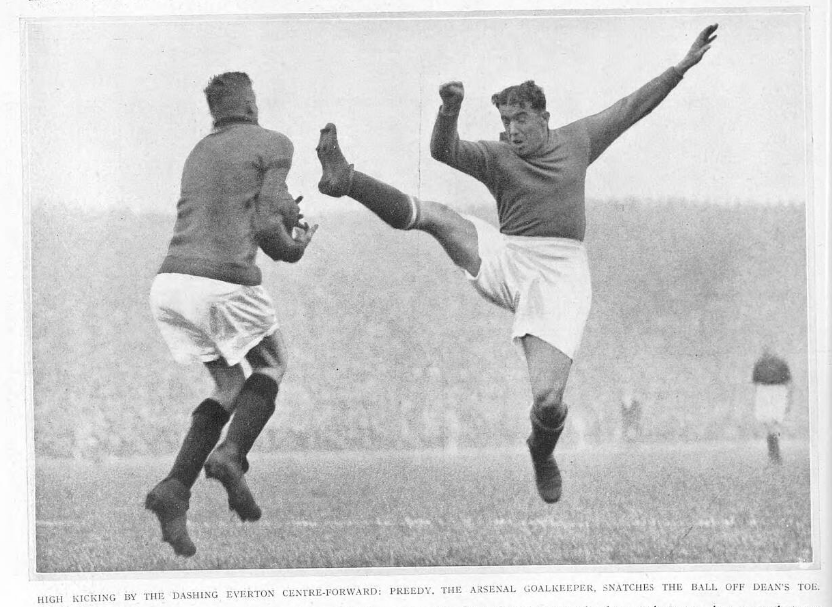 Two in Two Minutes.
Arsenal scored two goals in two minutes. The first was an oddity; Sagar, although half-covered by a crowd of players, actually touched the ball more surely than he had done in the game versus Derby county on Wednesday. Hulme had lobbed it, but it might be that Sagar put through his own goal. It was a blow. Stern Sagar, relentless in his daring and beautiful in his leaps towards the high ball, had his moments of frailty. One minute later Jack had scored from Bastin's seemingly offside post. Arsenal now sparkled, but Cresswell thought he would take his fair share now, and while he was the towering back of the afternoon, Bocking did a lot of serviceable work. James and Jack, in quick moves, turned the game 100 yards. They don't know the word "space." The pair bewildered, and while Cresswell held on to his delightful scientific tackling exhibition, there was a chance for Everton. A goal was all they needed. Critchley offered it. Dean accepted it, but Everton had run to seed; the cost had been too great; a game that had been offered them in the first half hour was now refused them. Arsenal played fine free football and every time they were forward one feared a goal. It was no surprise when it arose through Lambert, but the quaint changeability of the game was shown by the fact that after this Bastin inclined to have a shot at goal. This outside left is one of the hardest hitting youngsters in the game. He drove in three "cannon balls," and Sagar saved them so well that he left the ground with a rare volley of applause, and the crowd the day's wobbling game, Critchley missed a chance of scoring through slowness with the last kick. So Critchley had got a gaol he should not have got, had not got a goal, he should have got, and he given Dean the vital goal that made a draw possible.
The Better Side.
Man for Man, Arsenal were incontestably the better side, the more rousing, the more deadly in their practicability. The losers wing half-backs had moments of inspiration, but they also had long spells when they did not work the ball swiftly. Dean was slow first half, but warmed up to the second half, and Johnson after a fine half-hour, faded away a trifle, yet had his chances to score goals, whereas Dunn was generally a provocative inside winger, roaming, warting work, but not happy in the "return pass," –the absence of shots was noticeable. That was where Arsenal were strong, they missed goals, but at least they shot insistently, and much of their jugglery was of a fine football character. A good game; a game in which Gee did well; and the home team had a third back, Roberts, of Oswestry, playing to orders and resting on his full-backs, but receiving heading work in abundance through Everton not having the ability to realise the call for a positional change –centre forwards Dean became grits for Roberts. Teams; Arsenal; Preedy, goal; Parker, Hapgood, and Roberts; backs; Jones, John, half-backs; Hulme, Jack, Lambert, James and Bastin, forwards. Everton; - Sagar, goal; Bocking and Cresswell, backs; McClure, Gee and McPherson, half-backs; Critchley, Dunn, Dean (captain), Johnson, and Stein, forwards.
EVERTON RESERVES 1 OLDHAM ATHLETIC RESERVES 0
September 28 th 1931. Liverpool Post and Mercury
Central League (Game 7)
A goal scored by Reed after 18 minutes of the second half following some good work by White, gave Everton victory at Goodison Park. Everton on the whole, were a poor attacking force, lacking cohesion and understanding. The home defenders were sound. Griffiths, Williams, and Lowe frequently frustating the efforts of an attack that could at times prove very dangerous. Everton introduced Reed at centre-forward and McGovern at inside right, but neither could be said to have maid an auspicious debut; Reed was a trifle slow, whilst McGoven seemed completely out of touch. The game's outstanding incidents were Holdcroft's save from Pickergill and Britton's clever solo dribble from his own half, during which he beat three opponents and the goalkeeper, and then put the ball against the crossbar. Everton; Holdcroft, goal; Williams, and Lowe, backs; Britton, Griffiths (T), and Archer, half-backs Griffiths (P), McGovern, Reed, White, and Leyfield, forwards.
Whiston 1 Everton "A" 1
Liverpool County Combination.
In a well-contested game, a draw was a fitting result. In the first half Constantine gave Whiston the lead, after the interval Chedgzoy equalised from a free kick. Fryer was Everton's best forward and Jackson and Hannant defended well. Sutcliffe, Walker and Taylor were prominent for Whiston.
HITTING THE HIGH SPOTS AT HIGHBURY
September 28 th 1931. Evening Express
Arsenal and Everton in classic display.
The "W" formation –two styles.
By the Pilot.
It was a game, which does football good. No match could have been more attractive or thrilling, and if all teams set out to give such expositions of real football as Everton and Arsenal did then football would become more popular than ever. Sir Samuel Hill-Wood, the chairman of the Arsenal club, made these remarks to me, following the classic display provided by the Arsenal and Everton at Highbury. Let me say at once that all agreed with his views. It was a game, which will long be remembered. The only unsatisfactory phase of the encounter, from my point of view, was the actual scoring. No fewer than three of the goals were of the doubtful character. Still, even if some should have been disallowed, it would have been unjust had the Arsenal not triumphed. They were a good football side the same as Everton, but they played the more inspired football and arrange though it may seem their "W" formation was not so exaggerated at that of the Blues. Everton were certainly the better team for the opening period. They were much quicker on the ball, and made use of the quick, sharp pass to splendid advantage. Critchley told me after the game that he did not handle the ball when he opened the score in 26 minutes. It was after the Blues had jumped in front that the might Arsenal machine began to run with oil-like smoothness and vitality. Ere six minutes had elapsed they were in front.
Sagar –Two Phases.
Sagar's was a remarkable case. In the first half he was uncertain, and nervous. Rarely did he field the ball cleanly. Yet, in the second half, he gave one of the finest exhibitions of goalkeeping I have ever seen. He got back his confidence and how he beat out some of the tremendous shots by Bastin will ever remain a mystery. Everton's attack was not as good as that of the Gunners. Dean found Roberts a master of Interception after the first 30 minutes and rarely had a chance. Still, he was called on to play the lone hand up the field, whereas Johnson and Dunn should have kept up more for their path to goal was much easier. Jack and James certainly exploited the "W" formation, but they were always in position when shooting was the game. Everton could well take a leaf of the Gunners tactic book. McPherson was the player whose about opening up Everton's game late on, when the others were inclined to be too cramped in their efforts to save a point. McPherson used the wingers well, and this was the only method, which would have brought success.
Cresswell the Master.
McPherson played really well, and Gee was a dour intervenor for an hour when the pace began to tell, Gee, by the way was playing under the strain of a severe cold. McClure was really unhappy. He fell easy prey to the brilliant James-Bastin wing and was prone to "take the dummy." In the circumstances Bocking's display behind him was good even though the Arsenal left wing remained the danger spot. Cresswell was clearly the master of every football artifice, and the outstanding personally on the field. It was he and Sagar who were given ovations by a sportsmanlike crowd at the close. London liked Everton's style and their football. It was good, but not as good as that of the Arsenal. The Arsenal played three backs, but the methods of Jack and James made this a success. Bastin was the best Gunner, and others to shine were James-Jack, Parker, Jones, Roberts, and Hapgood. Mark my words, Arsenal are going to make a fight to retain their title of champions.
UNDER-OBSERVATION
September 29 th 1931. Liverpool Post and Mercury
By John Peel.
Several First Division clubs have been taking an interest in the Northern-East recently. Everton, as announced last week have signed on Gordon Reed, an eighteen year old centre forward, from Spennymoor United in the North Eastern League and have engaged on trial Leslie Hannant, a right back, who has played for Stanley United in the Northern League.
Everton and Scottish Players.
But evidently clubs have not deserted Scotland when looking for players, for two Everton officials were over the border at the week-end, and Arsenal have had two Scottish players under review. Everton are said to have watched a centre-forward.
ANOTHER TRIALISTS
September 29 th 1931. Liverpool Post and Mercury
By John Peel
Leslie Hannah
Several First Division clubs have been taking interest in the North-East recently. Everton as announced last week, have signed on Gordon reed, an eighteen year old centre forward from Spennymoor United, in the North-East League, and have engaged on trial Leslie Hannah a right back, who has played for Stanley United in the Northern League. Meanwhile Everton officials were over the Border at the weekend to watch a Scottish Centre-forward.