EVERTON 2 SHEFFIELD WEDNESDAY 1
September 1 1932. Liverpool Post and Mercury
Dashing Finish by Everton
Wednesday Beaten After Great game
Johnson's Two Goals.
By "Bee."
Everton had hard work to win 2-1 against a side they beat last season 9-3 in their championship reign. Sheffield Wednesday are among the brightest and best teats of any of the league sides, and they were no exception to this remark, yesterday when 33,000 people were kept enthralled to the finish. Brady Starling the Newcastle man, shot a goal while Everton defence looked on and waited an offside decision. Johnson equalised and there the score sheet stood until five minutes from the end. Then Johnson who had been making stupendous endeavouring to relieve Dean of the surplus amount of dashing and heading and charging, started a movement which for about the third time in as many minutes helped Critchley to a centre, Johnson scored from that centre, and the home crowd possibly soon forget that Rimmer had headed against the crossbar, and that Williams standing on the goal-line had prevented Sagar conceding another goal. In fact it was my view, that Sheffield Wednesday were unfortunate to be losers. They had been the more dependable side; their swing and passes made a hole in at least one part of the half-back line, but White brought in place of Gee (injured), did his part nobly, and late on, in the stress of the game, was able to punt the ball far up and get length others could not hope to reach.
Dean's Efforts.
Everton were straggling and struggling, whereas Wednesday were playing delightful football, and by playing Leach at centre-half, that is to say third back in modern football ways they were closing the way of the home forwards, who were not up to receive Dean's head back efforts. It was a backward header that gave Johnson his first point and for nine-tenths the game no one took the eye more than Stein, who was more than usually resolute and quick thinking as well as quick of action. From a football point of view this was a great game to watch because Referee Charlies Lines of Birmingham took charge of every one and refereed well, and the players did their part nobly. There was a goodly amount of healthy charging, which nowadays finds little favour but here lent that zip to the game so essential to stir up the public pulse.
Strong Shooting.
The shooting of Sheffield Wednesday was stronger that that of the home side, and Sagar and his valiant backs had to be stern and clever to withstand the Wednesday attacks. Ball was an awkward centre-forward, Rimmer a fleeting gliding winger, and with little Hooper showed the way to wing the slopes of Goodison. Hooper, also used corner kicks with fine judgement, and from one of these Rimmer, the Tranmere man, headed against the crossbar. Williams did the work of three men and Cresswell in spite of two rather severe crashes, played his nature game, which is always so delicious. Still as a pair they were no better than the international, Blenkinsopp, with Walker as his comrade. Where the Everton pair earned the greater marks was in the fact that they were much more testily employed, especially when Sterling, was meandering around and acting Key man.
A Great Duel.
The work of Leach was naturally a defensive type purely, but at least he and Dean provided a great duel in heading and tactics, and he was one of the features of a great match. Dean's only shot of note was a stunning one, Breeddon was as secure to this as he was master with his goal kicks. Which lacked length, Strength and direction. Critchley had one of his worst days, his greatest difficult being to keep his feet. Yet when he starts to combine none can excel his generalship or his accuracy of touch. Centreing however, was not his forte last night, in fact the whole forward line was not linked up as one would wish, there was a lack of practicability near goal, and an adesence of shot when one could and should have been allowed. However, a stupendous effort by dean was followed by Johnson's rally, in which pace was revealed in his make-up that one had not believed possible, and Critchley showed his appreciation by helping the centre to the man of the last quarter of an hour –so Johnson netted and Everton won.
McClure's Close Dribbling.
Everton got the goals and Wednesday the praise. McClure had many strenuous rallies, and was chiefly notable for his close dribbling, but he, like his flank, did not rise to great heights, and at half-back none did more uniformly good work than Malloch, ex-Derby county, and Strange. Wednesday will beat more clubs than beat them. It was just one of those games where the ball finally runs untrue for the side that has been on top for half an hour and looks like winning in the last 20 minutes. There are many such games in the course of the year; therefore we can extend out sympathy to a the all round side that played so well, and did so much that was good to the eyes even though it was against the local favorites. Everton: - Sagar, goal; Williams and Cresswell, backs; McClure, White, and Thomson, half-backs; Critchley, Dunn, Dean (captain), Johnson, and Stein, forwards. Sheffield Wednesday: - Breedon, goal; Walker and Blenkinsopp, backs; Strange, Leach, and Malloch, half-backs; Copper, Sterling, Ball, Hughes, and Rimmer, forwards.
EVERTON AT HOME AGAIN
September 2 1932. Liverpool Post and Mercury
The Programme includes some particularly attractive pairings, and I have no doubt the meeting of Everton and Birmingham at Goodison Park will rank among the keenest of the afternoon. The Midland side on Saturday were unfortunate to lose the services of Cringan with a broken collar-bone, and the team did well in the circumstances to hold the Arsenal to a goal. The St. Andrew's side usually gives a sturdy display, and Everton, after their hard tussle with Sheffield Wednesday, may expect strenuous opposition. In view of the fine form displayed by Sheffield Wednesday, Everton did well to win the mid-week match and they will be all out today to improve on that success. Everton field the same team as on Wednesday, and the following will line up at 3.15: - Everton: - Sagar; Williams, Cresswell; McClure, White, Thomson; Critchley, Dunn, Dean, Johnson, Stein. Birmingham: - Hibbs; Booton, Randle; Stoker, Morrall, Fillingham; Briggs, Grosvnor, Smith, Bradford, Curtis.
ATTACK IN OPEN ORDER!
September 3 1932. Evening Express
Sound Advice for Everton
By the Pilot.
Attack in the open order! This is the soundest advice one can give to Everton following the lesson of their two opening matches, one must needs look ahead and in order to do so faults have to be eradicated. Everton's chief fault, so far, has been a district penchant for crowding in on each other when the opposing goal area is reached, on other words, I have noticed that the attack, which last season gathered 116 goals by open methods, is inclined to scrap those good tactics for a closer and not so effective order. The fault is not exaggerated, but mention it because there is always the danger of it becoming so. There is too much inclination to make the extra pass which more often than not proves fatal. The forwards are making ground extremely well. There is a delicious smootless about their movements, but the desire to make sure is robbing them of the freedom of shots. So much for the faults.
Outlook Bright.
The outlook, to my mind, is a good, and it speaks well for the Reserves strength when one recalls the good showing of Tommy White against Sheffield Wednesday. He played his part well. Then the blues have another centre-half coming along who in view of the large crop of injuries, might easily find himself in the first team before many weeks are out. This is young Grififths, the baseballer, he was the outstanding personality on the field in the opening Central league game, and I knew that some of the directors would have taken the plunge right away and promoted him to the first team. Rumours has it that the Blues are likely to make important captures in Scotland and Wales. As yet the club make no announcement and deny that any signing is impending. I mention this to set rumours at rest. Mr. George Evans the new club director, came in for a shower of congratulation on his election, he should be an asset to the club for his knowledge of football is wide and he has Everton at heart. This means a lot, anywhere here's wishing him a long and happy association with the champions.
NOT LIKE THE REAL EVERTON.
September 3 1932. Evening Express, Football Edition.
Disappointing First Half at Goodison: "Brums" in the Lead.
By the Pilot.
Everton met the pointless and goalless Birmingham at Goodison Park today, the Blues fielding the team that defeated Sheffield Wednesday. Birmingham had to make two last minute change, Briggs and Fillingham being unable to play. Horsham and Firth deputised. Everton: - Sagar, goal; Williams and Cresswell, backs; McCLure, White, and Thomson, half-backs; Critchley, Dunn, Dean (captain), Johnson, Stein, forward. Birmingham: - Hibbs, goal; Booton and Randles, backs; Stoker, Morrall, Firth, half-backs; Horsham, Grovsenor, Smith, Bradford, Curtis, forwards. Referee Mr. . Thompson, Northumberland. There was a high wind, which was bound to affect play. Everton gained the benefit of a strong sun in the first half.
The Game.
Everton were the first in action, Critchley and Stein doing work without the inside forwards having a chance for the direct shot. Critchley twice beat Randall in his stride, and he finished in commendable fashion. Morrall, however, was quick to intercept at dean's expense. Everton monopolised the game, and now Stein ran straight through on his own, only to find his shot collide against Button, and when Dunn shot on the rebound Hibbs was there to save.
Dunns' Great Drive.
Stein was way again, and when Dean just missed the centre Critchley drove against the side netting. Critchley and Dunn broke through and Dunn, shooting off Critchley's toe, struck the bar with a magnificent drive. Following excellent work by Stein, Critchley had two chances to step in with first time shots while Dean held off the opposition only he appeared to lack the confidence to finish, and by stopping the ball was crowded out. Twice Sagar had to run out and gather but, generally speaking, the game was Everton's except in regard to finishing. The Birmingham defence was rarely comfortable. Dean shot outside after tricking two opponents. Bradford hooked over the top after Williams and Cresswell had been caught well out of position. Next Sagar held a sharp header from Smith, which preluded the biggest thrill so far.
A Close Shave.
Williams impeded Sagar when the goalkeeper ran out, but nothing happened. In the next few seconds, however, Williams again got in the way of Sagar, and the ball ran to Bradford, who shot towards the vacant net. It looked odds on a goal until Sagar dived backwards and made a great save almost on the goal line. Hibbs turned around a shot from Dunn, who was Everton's sole marksman, but who made the mistake of shooting from too long a range. Birmingham were showing distinct improvement, while Everton were going back, and Dean was limping. Some of Everton's passing was purely elementary and their football became unconvincing. It was a mistake on McClure's part which led to the opening goal in 30 minutes, for he made a back pass for Sagar, but Cresswell had to chase it and turn it to touch. Stoker threw the ball in direct to Grosvenor, who scored with a swift ground shot which entered the net just inside the far post. Dunn and Critchley brought improvement when they won an opening for Dean, whose quick shot flashed by the post.
In The Net, But –
In the next raid Stein netted, but only after the whistle had gone for a foul against Dean. Everton improved towards half-time, and in an effort to retrieve the lost position, Thompson joined the forwards. Still, no shooting chances occurred, thanks to quick covering by the visitors, although Hibbs had to pull down a dropping centre from Stein. Horsham ballooned the ball from a clear opening after good work by Curtis; then Sagar cleanly gathered a close-in header from Smith. Just on the interval Johnson fired wide from the edge of the penalty area. Half-time Everton 0 Birmingham 1.
NO CHANGES AGAINST SUNDERLAND
September 7 1932, Liverpool Post and Mercury
The Everton team selected last-night to meet Sunderland at Roker Park on Saturday, shows no change from the side which lost to Sheffield Wednesday. Clark, who has been troubled with an injured knee through being hit by the ball when playing cricket, will make his first appearance of the season with the reserve side at Goodison Park against Birmingham.
EVERTON 4 BIRMINGHAM CITY 1
September 5 1932. Liverpool Post and Mercury
Changed Tactics at Goodison.
Everton at Their Best in Second Half.
By "Stork"
Everton kept us in suspense for nearly an hour in their game with Birmingham, whereas they should have settled the issue very early in the day, but there was a frailty about their shooting which made one wonder what had happened to the forwards of last season. However, they won in the end by 4-1. The Birmingham defence was not the root cause of their failure to take an early lead, for, truth to tell, Randles and Booton were readily beaten by the wing men, but Hibbs was uncommonly quiet, yet all the play was taking place under his very eyes. Critchley should most assuredly collected goals, for he was spoon fed, and could and did prance round Randle, but having done that he simply petered out through hesitancy, and in the end and was the only forward without a goal point to his name. Birmingham had been under the hammer for 30 minutes, then through a simple error, they took a goal in 31 minutes, and held on to it until the 53 rd minutes. Grosvenor's shot was a fine one, but only a feeble pass back by McClure like reaching the goalkeeper –a hurried clearance by Cresswell, a throw-in, and then a goal. In the first few minutes of the second half Everton had showed more bite and greater accuracy in their shooting than throughout the whole first half. They crammed on all sail –different tactics to those previously employed –and hustled the Birmingham defence. It took us back to last season, when Everton crushed the opposition by the aid of a forward line, which had found ways and means to get goals. It was not a one man show on Saturday, for while Dean had a hand in the making of one or two of the goals, every forward, with the exception of Critchley, found the net, and he, if any, should have had more than one.
Altered Tactics.
Birmingham have an England goalkeeper under their bar, but even Hibbs could not withstand Everton, s tactics of the second half. There was "punch" in every move they made, whereas previously there had been nothing but class football without goals, and the net result of all this finesse was a goal in arrears. There must have been a conference during the interval, for when Everton opened up the second session it was plain that they had altered their tactics. They cut out artistic play, and went out for solid football and four goals came in the short space of 17 minutes. There might have been more for Everton had the Birmingham defence on the run, but through the ball cannoning against a defender, or a save by Hibbs, the score was kept down to four. It was, however, a clear enough margin.
Dean's Goal.
Dean supplied Stein with an opportunity which no forward could allow to go by. Then Johnson, from far out caused Hibbs to fumble a ball and allowed it to spin out of his hands and travel over the goal line. Dean scored a third from a Dunn centre, and a fine goal it was, and then Dunn marked up the fourth as a result of smart play by Johnson and Stein. It was a strange game, for Everton did not suggest such a victory by their early play, but once they got back to their old time formation, all up and all ready with a shot no defence could stop them, and Birmingham's rear line was not as easy one to overcome, at least not until Everton started their big push. There was no man afield whom I liked more than Johnson. I have never seen better passes than those, which he put out to Critchley, and he and Stein made a brilliant pair. Dean found Morrall's height a trouble, but Morrall was not one whit better than White who was one of the big men of the Everton team. He shot down the middle to the Birmingham inside forwards, and at the same time found time to sweep the ball out to his wings and up the middle to Dean. It was his pass to Dean, which brought the first goal. He was undoubtedly the best of the Everton half-backs. Williams was not convincing in the first half, for his enthusiasm caused him to interfore with Sagar, but eventually he came along to play a grand defensive part. Cresswell was always the cool, calculating defender, while Sagar must be heading for international honours by his consistent goalkeepers. Of the Birmingham team I liked Stoker and Morrall of the half-backs, and Curtis and Grovsenor of the forwards. The inside right was a schemer. Booton and Randle held their own for a while, but when Everton's full strength was levelled at them they were simply crushed out. Teams: - Everton: - Sagar, goal; Williams and Cresswell, backs; McCLure, White, and Thomson, half-backs; Critchley, Dunn, Dean (captain), Johnson, Stein, forward. Birmingham: - Hibbs, goal; Booton and Randles, backs; Stoker, Morrall, Firth, half-backs; Horsham, Grovsenor, Smith, Bradford, Curtis, forwards. Referee Mr. . Thompson, Northumberland.
STOCKPORT COUNTY RESERVES 1 EVERTON RESERVES 1
September 5 1932. Liverpool Post and Mercury
Central League (Game 2)
The result was a fairly true reflex of the exchanges at Stockport. Both goals could have been prevented had the defence got the ball away when the opportunity occurred. McGourty scored with a high shot after 40 minutes. Smith equalisiing two minutes after the interval. The Everton defence was usually sound, but Stevens was the only forward who suggested danger. Cunliffe shone occasionally.
SHEFFIELD WEDNESDAY 3 EVERTON 1
September 6 1932. Liverpool Post and Mercury
Everton Upset By Surprise Goal.
Sheffield Wednesday The Shaper Side.
Oranges Thrown at referee
By "Bee."
Everton were beaten by Sheffield Wednesday last night, after giving an unsteady exhibition, the game while being stern and severe, never reproducing the art these two teams offered to Goodison spectators a week ago. Everton seemed to be upset by a goal in ten minutes to Leach. Sheffield Wednesday's half-backs have a habit of shooting, but when a corner is being taken and there is a collection of players in the goal area it is well nigh impossible for a centre half-back to gain a goal because he cannot see the "wood for tress." Leach, of Sheffield Wednesday, has a new habit of getting into the goalmouth to accept a corner kick from the experts Hopper and Rimmer, but he got his goal in ten minutes after forsaking his usual custom. He had drifted out to the right wing, and from fairly long range made a strong shot. The ball had to escape several players and the woodwork. The ball went at a great pace beyond everything, and striking the foot of the post, the ball cannoned into the back of the net.
Fast Forwards.
It was a goal of a thousand, but it set Sheffield Wednesday in good heart, and it had the effect of demoralising Everton, who did not play well together, and while not enjoying any good fortune in the run of the ball, or the course of play, the home team proved faster and more combined, and much more deadly in front of goal. To me the outstanding incident of the evening was the uncommon happening of Cresswell going out of his place, in defence to the half-way line, and serving Dean and a pass to Stein. Stein took almost too steady aim at Breedon, and the ball from the rebound came to Dean's foot, and although the visiting centre was unsettled and unbalanced, he shot on the turn to the part of the goal that seemed empty, and to his astonishment Blenkinsopp, on the goaline kicked away. In the second half Wednesday got on top again by sharper methods, keener incisive raids, and again, more definite efforts for a goals, and in this period Sagar was inclined to over-reach for the ball when it was centred towards his goal. He was often able to touch the ball without gripping it. The result was that a number of his semi-saves became shooting chances with the goalkeeper off his feet and unbalanced to stern the shot.
Sagar Deceived.
As in the first half, so in the second half, Sheffield Wednesday scored in ten minutes a goal made in a curious fashion as was the first, because when Burgess went his winding way in a long dribble he had got into a table and was beaten when the ball fell just right for Ball to shoot well to the left of the goal, Sagar going down to it rather late. The Everton scoring machine broke down before men of the stamp of Leach, Blenkinsopp, and Walker, but there was a rally and engaging finish owing to Stein making another of his fine centres, and Dean using his head as Dean alone can do. Thus ten minutes from the finish and Everton lethargic, a goal to the visitors made a transformation and Everton became a new force, although practically they still had Johnson and Dunn playing far beyond the regions which makes them such powerful forwards. In short, Johnson's brilliance was usually for the benefit of three always he held up by a crowd of defenders. It seemed to me also wrong not to play Stein with almost indecent frequency because Stein in each of these meetings with Sheffield Wednesday has been able to dribble through at will, revealing his best form and his deadliest work. At last Stein, in a rallying finish tried a shot and struck the side net. In fact, Everton had shown more spirit and sense of the word attack in the last ten minutes than at any point of play.
Spectators and Referee.
There was plenty to admire, but the game at one point broke into disperse owing to an injury to Ball, the referee more than any player getting the blame in the finish. This was in memory of Referee Line's refusal to grant Sheffield Wednesday a goal in a Cup semi-final two years ago, and the Wednesday's supporters have never forgotten it. Oranges were thrown at the referee while Ball was being attended to and the referee called in two policeman to ease the situation, which fortunately did not grow into anything more than a "boo." However, right on the close of play Rimmer, the former Tranmere Rovers forward enjoyed his headed goal against Sagar after Hopper had centred with unerring accuracy. So Everton left beaten 3-1 a score that was by no means foreign to the way both teams had played. Everton lacked snap and decision, and their forward line was a shadow of last season's machine-like side.
Call For The Old Methods.
A year ago Everton were playing no better than they played at Sheffield last night, so that while there is no need to be despondent over a defeat away from home, there is a call to the Everton team to stiffen their resources, and to resume their best attacking vein, with all the forward sup the field, not fearing a goal against, but aiming at getting three for every other sides one. It should be said that White played another excellent game at centre half back, and that Sheffield Wednesday had not a weakness. Teams: - Sheffield Wednesday: - Breedon, goal; Walker and Blenkinsopp, backs; Strange, Leach, Malloch, half-backs; Hooper, Sterling, Ball, Burgess, and Rimmer, forwards. Everton: - Sagar, goal; Williams and Cresswell, backs; McClure, White and Thomson, half-backs; Critchley, Dunn, Dean (captain), Johnson, and Stein forwards. Referee Mr. Lines, Birmingham.
EVERTON RESERVES 3 SHEFFIELD WEDNESDAY RESERVES 3
September 6 1932. Liverpool Post and Mercury
Central League (Game 3)
At Goodison Park, last evening Everton were 3 goals in front in 15 minutes, but the Wednesday revived and were soon on level terms. The feat was almost entirely due to Law, who at centre forward completed a brilliant hat-trick. In many senses Everton have only themselves to blame for not making the issue safe in the first half, when they had territorially much the better of the play. As it was the finishing left a lot to be desired. Griffiths (P) in particularly missing many excellent opportunities. In addition, both Everton backs, Common and Lowe, were none too steady under pressure, and it was mainly the work of the halves especially Britton, that took the eye. Cunliffe and Stevens were the lest of the forwards. Cunliffe, Griifths (P) and Leyfield. Scored foe Everton.
EVERTON LEAVING IT TOO LATE.
September 6 1932. Evening Express.
Reason For the Defeat at Hillsborough
Leach Masters Blues' Attack.
By the Pilot.
Everton are leaving it too late. In their last two games they have not revealed their true form until the second half. Against Birmingham they managed to win, but against Sheffield Wednesday at Hillsborough, last night, they paid the penalty by a 3-1 defeat. More points will be lost unless they remedy the fault. Everton served up poor football for an hour at Hillsborough, and during that time the Wednesday secured a two-goal lead –a deserved lead. As soon as that second goal went into the net, however, Everton stirred themselves. In the second they were a different side, producing a much better class of football and, as a matter of fact, providing the choicest movement of the game. The Wednesday were forced back on defence, and when Dean reduced the lead with a brilliant header it appeared as if Everton would snatch a point.
Champions Defied.
Yet there was one man who defied the Champions. That was Leach, the tall centre half. He kept the lively Blues' attackers at bat during that vital period and right on time the Wednesday broke away –for the second time since their second goal –and with Cresswell slipping, Hooper centred for Rimmer to make it "game and rubber." Leach, more than any other player, beat Everton. He was indifferent in attack, but as a defender had no equal. Not once did Dean out-head him, and from the moment that Leach scored the first goal he was complete master of the situation. Hooper was the lively raider of the winners and led Thomson a merry dance in the first half. Thomson improved later while Cresswell was good throughout. Williams also had a good game, but once again McClure's wanderings affected his positional play.
Pick of Half Backs.
White was the pick of the half-backs and is settling down into a tenacious tackler an good ball distributor. Of the forwards, only Stein was consistent, and it was he who led the storming raids of the Champions late on. Dean was always a dangerous man who rarely overcame the towering Leach, and Johnson was the better of the inside forwards, Critchley again disappointed. Sagar, I though, erred when two goals were scored, but otherwise did well. Everton played well enough to give the Wednesday a fright, but they allowed the Sheffielders to maintain the mastery for too long a period. The Champions twice went close early on, but it was not until 75 minutes that they gained their first corner. In the second half, just after Ball had scored the Wednesday's second goal. , Spectator threw an orange, which struck Strange. The referee immediately drew the attention of the police to the incident.
CLARK'S FIRST GAME.THIS SEASON
September 7 1932. Evening Express
Everton Half-Back to have Test with Reserves Side.
By the Pilot.
Archie Clark, the Everton right half and members of the championship, will have his first game of the season on Saturday. He will play for the Central league team against Birmingham at Goodison Park. Clark received a blow on a knee while playing cricket, and fluid developed following light training. His appearance with the Reserves a try-out. If he pulls through all right then we may expect his return to the first team against Manchester City on Saturday week. Meanwhile the directors have decided to make no chances in the constitution of the first eleven. For they matches at Sunderland on Saturday. If the side plays as will as the game with Sheffield Wednesday on Monday, they should at least bring back a point. Everton: - Sagar; Williams, Cresswell; McClure, White, Thomson; Critchley, Dunn, Dean, Johnson, Stein. Lachie McPherson has made such good progress, following his cartilage operation, that he will be leaving the nursing home any day now.
PLAYER JOINS TEAM BY AEROPLANE
September 8 1932. Liverpool Post and Mercury
By John Peel.
On the occasion of an important cup-tie years ago, Jack Taylor, the Everton half-back, was delayed on his way to join the team. There was not a train that would get him to the venue in time so Taylor promptly arranged for a "special" and he duly reached the ground to help his side to victory. Times have changed and nowadays players who are held up in this way have a quicker way of covering space in order to fulfill engagements. Gibbons, the former West ham player, was unable to get away from London, by train to assist his new club, Bristol Rovers against Southend last evening so he travelled by aeroplane to Filton aerodrome and thence by car to the Rovers ground and helped his side to win by 3-1. There were seven games decided in the Southern Section. Cardiff, led well by the former Everton player McCambridge, made a hard fight of Bournemouth, but lost by the odd goal.
GEE'S KNEE TO BE PUT IN PLASTER?
September 8 1932. Evening Express.
X-Ray show Need for Strengthening Treatment.
By the Pilot.
Everton's international Centre-backs, Charlie Gee, may need to have his injured knee placed in plaster of Paris for a short time to strengthen the ligaments. The knee has been X-Rayed, and obviously will need further treatment before Gee can resume training. At the same time it is believed that gee's injury will rapidly be righted and it is possible that he may be available for duty again much sooner than was anticipated. It is expected that McPherson, who has been under an operation for Cartilage trouble, will leave the nursing home this weeken while Bocking who has also been suffering from a leg injury, is making excellent progress. He will not be available this week end.
EVERTON LIKE ROKER PARK
September 9 1932. Evening Express.
Unbeaten There in last four visits
By the Pilot.
Roker Park, Sunderland, is on eof Everton's lucky ground's. They have not been beaten their since 19126-27, in the last four visits they have gained six of the eight points at stake. 2-1, 2-2, 2-2, 3-2. Everton will be at Roker Park again tomorrow, and I think they have a good chance of picking up their first away point of the season. Sunderland have been without Benny Yorson their brilliant centre-forward from Aberdeen, for a game or two owing to illness, but he is expected to befit for tomorrows match. Sunderland have secured three points from their four games to date. At home they have beaten Manchester City 3-2, and drawn with Aston Villa. That was on Wednesday. In away matches they lost 1-0 at Aston Villa and 6-1 against the Arsenal. Everton make no changes, and if the right flank can come up to the standard of the left, then, I think the Champions have a fine chance of success. My advice to them is o keep the attack open by swinging the ball from wing to wing. Sagar; Williams, Cresswell; McClure, White, Thomson; Critchley, Dunn, Dean, Johnson, Stein. Sunderland; Middleton; Murray, Shaw; Hasting, McDougall, Devine; Davis, Vinall, Yorston (or Murray), Gallacher, Connor.
BLUES DISAPPOINTING –BUT NO NEED FOR PANIC.
September 10 1932. Evening Express.
Faults The Champions Can Easily Remedy.
By the Pilot.
If Everton do not show improvement on their early form they will not retain their title of Champions of the Football League. It cannot be denied that the start has been disappointing, although they have averaged a point per match. There is no need for the panic cry of "What is wrong with Everton?" but certainly the team combination for which the club has become famous has not revealed itself as much as one would desire. Everton must realise the fact that a quick start is half the battle. They have not played this way so far. Rather have they come on the field with an attitude of "We can win in our own time," instead of "We will win right now." The players are capable of getting to the top of the League, but there must be more balance in attack and the right flank must take its full share of responsibility. Critchley gets any amount of feeding from the left. Stein is entitled to as much from the right, yet rarely does he receives a cross-field pass. This move must be exploited. If it is all one way, opposing defences perceive it in a trice. Another thing, Dean is deserving of more through passes on the floor. I have seen few such transfers go his way so far, and if a ball has been sent down the middle it has invariably been in the air. These are faults, which the champions can easily remedy. If it is done I am sure there will be a return of that smooth, even collaboration which characterized their work last season. Now is the time for the Champions to get into their stride, for they have some tremendously hard matches in the offering. They must remember that Manchester City –their real bogey team –will be at Goodison Park next Saturday, and then comes the visit to Highbury to tackle the Arsenal. It behoves the team to have settled down into balanced preconceived football methods by then, for it is the winning of these vital matches which counts so much in the gaining of honours.
NO REST FOR FULL BACKS NOWADAYS
September 10 1932. Evening Express.
Effects of the New Offside Rules
Newcastle United "Napoleon"
By Warney Cresswell (Everton's International Full-back)
There are not many peaceful moments for a full back in first class League football these days. He must be mentally and physically alert, on his toes, throughout every 90 minutes. Indulgence by him in a sleepy spilt-second is certain to bring trouble in a sudden and awkward form to the team. When the offside rule was changed and the defenders were forced to use their brains in quick time instead of relying on the useful help-the one back game, the legislators undoubtedly increased the attractiveness of the game for the average spectators.
"Good Old Days."
Through we realise the alteration in the rule was for the best, we full backs cannot help, in our weaker moments, pinning for "the good old days," when a fast and aggressive opposing forward line could be foiled by a judicious step or two up the field while a capable comrade walked behind to cover the move in case of an accident. The most famous and ablest exponent of this masterstroke was Bill McCracken, the wearing the Magpie jersey of Newcastle United. He stop so many forward lines, stone cold, that the authorities had to kill the rule or McCracken might have killed the game. No fair critic blames McCracken. He depended on brain-work and the belief that the average forward was stronger in footwork. Newcastle's Napoleon made his mistakes of course, but he had a knack that almost amounted to genius for defecting the exact moment when an opponent with the ball would make the crucial pass of the movement. That was the time for Bill to make a few paces brightly to the front and throw the whole procession off-side.
Rule Revolutionized.
Bill McCracken became the most successful full back of the time and revolutionized one of the principle rules of football by the discovery that there was a lot of not so bright people in most forward lines in these days. Would Bill with his clever brain, find the players of the nineteen-thirties as easy to deceive, supposing he and the old offside rule could return together? The strapping lads now autographing professional forms for the leading clubs are eager to solve for themselves the problems that arise on the football field. What is more, they think in a hurry and keep on the move. New ideas are continually coming into the game nowadays. Football seems to be keeping step with the rapid progress of this modern life.
Quicker Pace.
The wide-open game created by the new rule has made tactics more audacious and individualistic. Crowds enjoyed the quickened pace and greater excitement. It has been said that the outside wing men have the cushiest jobs. But there is plenty for them to do in the revived football. They are now almost as busy as their inside comrades, and the chances for scoring that fall at the feet of the fleet-footed artists on the touchline are the sort that often win matches, and which no player wants to miss. What type of player has most benefited by this freer trade for forwards? Well, many new ways of approaching goal have been opened to the leader of the line. All the quick-moving and quicker-witted centre forwards and the able strategists who operate at the inside positions have grasped this splendid chances. Some of the more conservative players preferred the old pattern-weaving ways best, and have found it difficult to adapt themselves to the new style. But the success of such good footballers as Dixie Dean Hughie Gallacher, Jimmy Dunn, "Pongo" Wareing, a leaders of the line, and the throughful and attractive play of the scientific, Billie Gillspie, brilliant under both rules; Alex James, E. W. Hine, now of Huddersfield, Billie Walker, and Bob Barclay, proves that football is still improving, even though it has become header work for men at certain stations.
The "Evergreens-"
When the World War began I was still at school, but joined the Army in 1915, and while on leave played for Tottenham Hotspur, and S. Bernard's Scotland. When the free transfer from the big club, the Army, was given us, I joined South Shields and since then have played for Sunderland, Everton and England. Unhappily the active career of a first-class professional is all too brief; and the constant speeding up of the game tends to make it shorter. The deeds of certain "evergreens" should, however, act as an example to the youngsters. Their prolonged careers show how a player can continue to hold his own in the game beyond the normal period if he takes the trouble to keep fit for twelve months out of twelve. Such "immortials" as Bill Meredith, Bob Crompton, Howard Spencer, Johnny Goodall, Billy Walker and Syd Puddefoot played some other active game in the summer months and went to their football as fresh as paint and as keen as schoolboys. If I were given a second chance-what the old cup fighter called a "replay" –I should certainly be a footballer again. A man cannot hope for anything much better than to do the thing he likes best with a bunch of cheery comrades and to meet opponents, most of whom are good sportsman. Long may the big ball keep rolling on.
Jimmy Dunn's Five Years' Services.
• Jimmy Dunn Everton Scottish international inside right will have completed five years' service for the club next April.
• Have Everton ever regretted parting with Tommy Lewis, the present Wrexham outside left? Lewis has certainly made his mark in Northern Section football. Few know that he is almost as good as left half as on the wing. He is built for the job, too.
NO THRILLS AT ROKER
September 10 1932. Evening Express, Football Edition
Stein Gives Everton the Lead
Sunderland Equalizes on the Interval
By the Pilot.
Everton were at Roker Park today, where they had not lost in their last four visits. Liverpool definitely have had a representative at Sunderland this week. Their quest is Gurney, the Sunderland centre-forward, who is at present deputsing for the injured Yorston. At the moment however, Sunderland cannot, and will not part. When Yorston is quite fit again there might be business doing. It was a windy day. The sun ousted the rain. Messrs E. Green, and J. Sharp were the directors in charge of the Everton team. Sunderland were without Connor and Shaw, in addition to the injured Yorston. Teams: - Sunderland: - Middleton, goal; Murray and Ives, backs; Hasting, McDougall and Edgar, half-backs; Temple, Davis, Gurney, Devine, and Gallagher, forwards. Everton: - Sagar, goal; Williams and Cresswell, backs; McClure, White and Thomson, half-backs; Critchley, Dunn, Dean (captain), Johnson and Stein, forwards. Referee Mr. A. J. Caseley (Wolverhampton).
The Game.
The winning of the toss was a vital factor, and Dean got the benefit of the wind. For fully four minutes the ball was repeatedly placed into touch. Then Gallacher broke away only to fall a victim to White's stern tackles. Critchley fed Dunn and ran into a good position, but Dunn delayed his pass and was robbed. Critchley next just failed to break through from Stein's centre, and though Dunn retrieved, he blazed to the roof of the net. Middleton had to fist away, and Critchley centred for Dean to head before Dunn drove outside. The Devine-Gallacher combination won a corner off Cresswell. Then Everton's right flank was wrongly pulled up for offside when getting clean away. The football was palpably slow and lacking in thrills. Middleton had to be quick to intercept Dean when Williams pulled up the speedy Gallacher at the crucial moment. Following a free kick, Gurney nodded the ball down to Devine, who drove over from a comparatively easy position.
Liverly Critchley.
From the opening play I came to the conclusion that the champions had only to play their ordinary game to win. Sunderland were slow in intercepting. McClure was seen to be limping following a kick. Critchely was lively raider, and in close passing with Dunn bared through and fed Johnson. Stein got away and when Ives tackled him he appeared to handle. Stein recovered and got in a centre from which Dunn placed into Middleton's hands. With McClure receiving attention from the trainer, Gallagher got through again, and his centre swept across the front of the Everton goal. Temple failed badly with the final header.
Middleton "There."
Middleton's fist again saved Sunderland when Dean was going up to a Critchley corner. Then Gurney fired wide after Temple had created the opening. It continued poor and uninteresting football, and the 25,000 spectators had little to cheer about. Dean foraged with success, and from the cute Stein forced Middleton to turn a rising shot over the bar. This led to the opening goal in 25 minutes. Stein took the corner and he curled the ball in towards goal. Middleton appeared to have the ball covered, but in attempting a one handed punch he clean missed the ball, which landed in the back of the net. The Champions broke through again and Ives seemed to handle Dean's Pass, but the referee ruled that the ball had struck his chest. Next came a Sunderland claim for a penalty when Thompson shouldered the diminutive Temple as he was racing through. The Roker men looked manacing from Temple's corner. Sagar had to beat up a hot shot from Gallacher, and then fist away as the ball dropped. Temple got away again, and fell as he was tackled by Thomson. There was another claim for a penalty, which met with the same fate as the others. Dean was racing in to get a swift cross from Stein when McDougall shouldered him off the ball. Gurney turned around to hit the side netting from Temple's pass.
Gallacher's Effort.
From Hasting's close in free kick, Williams allowed the ball to pass, thinking it had run behind, but Gallacher threw himself in and headed the ball only inches wide. Johnson had a fine drive intercepted before Dunn headed straight to Middleton. Stein and Johnson got through, only for Murray to tackle Johnson just as the inside left was going to tap the ball into the net.
A Narrow Escape.
It was then Everton's turn to have a narrow escape. The ball was placed in the goalmouth, but Devine turned it to Gurney, who was standing right under the post. Gurney shot quickly, but Williams flung himself at the ball and Cleared. Dean tried to bore through from Johnson's pass, but was crowded out by Middleton. Right on the interval Temple scored for Sunderland. Gurney got away on the right, and squared the pass to Temple, who ran in to score by the near post.
Halt-Time Sunderland 1, Everton 1
Sunderland beat the Champions
"Gift" Gurney Goal.
Unsettles Everton
Wearsiders Second Half Spurt
Sunderland over kick owing to the wind several times on resuming Temple lost a chance from a free kick through this. Stein contributed a couple of thrilling runs, without being able to find his colleaguers with his centre.
Sunderland Lead.
Ten minutes' after the resuming Sunderland took the lead in a remarkable manner. Cresswell appeared to have a wide pass to Temple covered, but Temple turned round him and shot at the advancing Sagar, Sagar couldn't hold the ball, which twisted away to Gurney, who had no difficulty in placing the ball into the empty net. The goal had the effort of unsettling Everton, and they were kept mainly on the defensive.
Temple's Gallant Effort .
Temple made a galliant effort when he swerved in and Shot with his left foot. Sagar dived and turned the ball round the post. It was not until 20 minutes after the interval that Middleton had any serious work to do. Then the cleverly turned Stein's header round the post with one hand. Sunderland went further ahead in 68 minutes through Gallacher. The winger got into Gurney's pass, with the Everton right defensive flank completely out of position, and beat Sagar with a swift ground shot. Sundertland 3 Everton 1.
EVERTON RES V. BIRMINGHAM RES.
September 10 1932. Evening Express.
Birmingham displayed the better football during the first half, but their finishing left a lot to be desired. Everton seldom moved towards with their usual freedom. Stevens and Griffiths missed. The best shot of the first half was a long drive by McGourty, which sailed just over. After 35 minutes the Everton defence set an offside trap failed and Barrowgood ran through to give Birmingham the lead. Half-Tome Everton 0, Birmingham 1.
SUNDERLAND 3 EVERTON 1
September 12 1932. Liverpool Post and Mercury
Everton Well Beaten.
Incidents That Spoiled Game.
By "Bee."
Only Sunderland could be satisfied with their victory at home, on Saturday, when a number of the reserves helped to beat Everton 3-1. The win would pleased them, and the fact that they beat a team styled champions would give them a degree of pleasure until they ruminated on the general character of play –which was the lowest I have seen for many years. There was no apparent reason for this debacle. It was not football; it was debate, hot-tempted tackles; the complaints to the referee became continuous. Perhaps something that happened a year ago at this Roker ground had not been forgotten. Whatever it was, the match went out as a bad example of football; the worst game I have seen for three years. Here and there Referee Caseley looked stern and spoke a word of warming, but he was unable to keep time or notebook with the number of deliberate kicks that were dealt out by one and another –not in a tackle, but in premeditation.
Fisticuffs Threatened.
A player would wait his moment, and then deliver his foul through by a kick. Linesmen seemed to have been blinded. They never once reported the things so patent to those on the grandstand. Twice a linesmen signalled a throw-in, play went on, and the linesman did not insist upon the ruling being carried out. All this time, the players were getting still further out of hand, and finally Stein and Hastlings collided and there was a general hub-bub. Fishcuffs were threatened, players surrounding the ringleaders, and finally Devine had to be dragged away from the mob. In the first half, the referee had not seen eye to eye with spectators with the writer when Edgar was put down twice in the penalty area. The wind was certainly the troublesome factor at Roker, but the play degenerated into something that was appealing where two such clubs are concerned. It was little short of disgraceful and lack of control was one of the major reasons for the game turning the way it did. Football was at a discount. Everton winning the toss had the value of the gale at their backs, but gave a pretty spineless exhibition. Rarely did they shoot and Stein's goal came from a corner kick. Middleton should have saved –Stein scored direct from a corner kick. One moment from half-time and Temple had squeezed the ball between Sagar's leg and the upright. Sunderland, with the wind at their backs were a much more deadly attacking forced. They moved off soace by either wingmen, Gallacher having a good innings against McClure, and Temple showing good judgement in the cross-shot.
Gallacher's Neat Point.
Everton had missed their chances, Sunderland took theirs, and it was no surprise when the home team won 3-1, abielt the defence got in a tangle when Gurney got the lead, all there defence-men being unsettled as to what should be done with a situation not possessing great difficulties when one remembered that a goalkeeper can use his hands. Finally Gallacher got his deserts, scoring a neat goal after running close in. Everton played like a dispirited team; they lacked initiative and forward strength, yet their extreme wingmen were the only men on the side who showed their best form. The line lacked punch, and Dean had an off-day when facing the fair and able McDougall. It is better to close on the note and forget the badness of the game, same that one rebuts do credit to McDougall, Temple, Gallacher, Murray and perhaps Gurney of the winning side, which side lacked the services of such stars as Yorston and Connor. If the wind spoiled the match the handling of the game certainly led the players to imagine they were in a stadium. This sort of alleged "football "cannot be tolerated in Everton's camp, whatever Sunderland may say to their men, who forgot themselves and played the man instead of the ball. Teams: - Sunderland: - Middleton, goal; Murray and Ives, backs; Hasting, McDougall and Edgar, half-backs; Temple, Davis, Gurney, Devine, and Gallagher, forwards. Everton: - Sagar, goal; Williams and Cresswell, backs; McClure, White and Thomson, half-backs; Critchley, Dunn, Dean (captain), Johnson and Stein, forwards. Referee Mr. A. J. Caseley (Wolverhampton).
EVERTON RESERVES 0 BIRMINGHAM CITY RESERVES 3
September 12 1932. Liverpool Post and Mercury
Central league (Game 4)
The football served up at Goodison park was of a very mediocre quality, and the only interesting feature of a dull game was the scoring of a "hat-trick" by Birmingham's outside-left. Thoroughgood. Too much aimless kicking ruined the standard of the play, through it is possible that in the high wind few of the players could do themselves justice. Clark, who was making his first appearance this season since his injury at cricket, accomplished one or two nice moves. Archer-Leyfield and McGourty did well, but the Everton team gave a disappointing display. Tremelling effected several brilliant saves. Thoroughgood score done in the first half and two in the second –all the result of opportunism. Everton: - Holdcroft, goal; Common and Lowe, backs; Clarke, Griffiths (h), and Archer, half-backs; Griffiths (tp), Birkley, Stevens, McGourty, and Leyfield, forwards. Birmingham: - Tremelling, goal; Liddle and B. Smith, backs; Price, Fillington, and Calladine, half-backs; Horseman, Lane, Smith, Argue and Throughgood, forward. Referee H. Prevett.
Everton "A" 0 Runcorn Reserves 2
Liverpool County Combination.
At Crosby. The visitors deserved their win, although they had to thank their goalkeeper, Molyne3ux for his brilliant display Runcorn led at the interval through a goal by Davock who scored from a breakaway after 35 minutes. Everton had several chances, but shot wildly while L. Bryan made the issue safe by adding a second for the visitors. Jackson, Chedgzoy and Webster were prominent for the home team, while Molyneux, Davock, Neale, and L. Bryan were the visitors' outstanding players.
CHANGES MUST BE MADE IN EVERTON'S TEAM.
September 12, 1932. Evening Express, Liverpool.
Roker Park Display Worst For Three Seasons.
By the Pilot.
I anticipate changes in the Everton team for the match with Manchester City at Goodison Park on Saturday. Everton at Sunderland gave their worst display for the three seasons, and they lost their third match in succession 3-1. Even during the campaign in which they suffered relegation they did not serve up such indifferent football. Four points is their "bag" from five matches. This is not championship form. The directors must make changes. The team has had a good run, and the directors have been sufficiently considerate to refrain from alterations. No doubt they did not want to undermine the confidence of the players. Such a procedure cannot last week after week, however, and when the Board meets tomorrow evening I expect action to be taken. Only four men in the side played well at Sunderland against a team, which, I thought, was a comparatively easy one to beat. They were Stein, Critchley, White and Williams.
Critchley Back in His Stride.
Stein was as good as any man on the field and I was delighted to see Critchley getting back into his real stride. He played sound football in every phase, and I admired the manner in which he got his centre across without hesitation. White was a sound pivot without quite reaching the heights of previous games, and Williams was a splendid back who labored under the handicap of never knowing what McClure, in front of him, was going to do. Sagar could not be blamed, though he was not as sure as usual. There you have Everton's few good points in a game, which everyone will be pleased to forget. There might have been four penalties and there was a host of rough play. The inside forwards –Dunn, Dean and Johnson –were rarely seen, and throughout the game they did not deliver a single shot which brought any worry to Middleton. It was left to the wingers to bring any danger to the Wearsiders. Thomson contributed some useful touches, but was not up to standard, and McClure was prone to leave the ball for the man. Cresswell dallied far too much. It was because of this that Temple was able to help Gurney to Sunderland's second goal. Once Everton had taken the lead –Stein scored' direct from a corner – I thought they were bound to win, but instead they fell away so badly that the Sunderland officials, after the match, remarked "Surely that was not Everton?" They had ample justification for such comment. Temple equalised just on the interval, and Sunderland's third goal was scored by Gallacher. There was only one consoling factor about the game. It was this. Everton must take the up-grade now, for they cannot play worse. There was a futureless, and totally uninspiring exhibition. Clark, the right half-back, apparently came through his test with the reserves satisfactorily.
BRITTTON TO MAKE DEBUT AGAINST MAN CITY
September 14 1932, Liverpool Post and Mercury
By John Peel.
Britton the right half-back whom Everton secured from Bristol Rovers in June 1930, is to make his debut in the first division league match against Manchester City at Goodison Park on Saturday. This is the only change made in the team, defeated at Sunderland last Saturday McClure standing down to make room for Britton, who had an unfortunate experience at the opening of the 1930-31season, for he had a collarbone broken in his first practice match for his new club. Later Britton made ten appearances for his side in the Second Division, but did not play in the senior division last season, so that Saturday's game will be his first experience of football in the top class. A clever and resourceful exponent, Britton is regarded as a player, who would have been in the front rank before had Everton not been so well off for half-back. The team to face Manchester City will be Sagar; Williams, Cresswell; Britton, White, Thomson; Critchley, Dunn, Dean, Johnson, Stein. McClure is the reserve side to visit Maine-road while McGourty is placed at inside right to Birtley. The team is; Coggins; Common Lowe; Archer, Griffiths, McClure; Birtley, McGourty, Stevens, Webster, Turner.
EVERTON HALF-BACK'S DIV 1 DEBUT |
September 14 1932. Evening Express
Britton to Play on Saturday.
By the Pilot.
Clifford Britton, Everton's young right half-back, will make his debut in First Division football when he appears against Manchester City at Goodison Park on Saturday. He take the place of McClure, who has been chosen for the Central League eleven. Britton, who joined Everton from Bristol Rovers in 1930, and played on Second Division games for the Goodison club, is a scientific player, with splendid attacking propensities. He is not robust, but keeps good position and has fine control over the ball. The remainder of the team is unchanged. The inclusion of Britton is the first voluntary alteration the directors have made this season. Clark I might add, requires more training. His knee injury prevents him from doing anything nut light work, and he needs sharpening up before he will be fit for the First Division game. Everton; Sagar; Williams, Cresswell; Britton, White, Thomson; Critchley, Dunn, Dean, Johnson, Stein.
Gee Enters Nursing Home for Operation.
Knee Injury Worse Than Anticipated.
Serious news for Everton! Charlie Gee, their international centre half back, entered a Princes Park, Liverpool, Nursing home today for an operation on his injured knee. The operation will be preformed tomorrow. Until the operation has been preformed it is not possible to gauge the times that must elapse before Gee will be fit enough to resume training, but even in the best circumstances the period is likely to be at least six to eight week. Gee's knee was injured last season but appeared to make good progress during the summer, and Gee played for Everton in their opening game against West Bromwich Albion. Since then however, he has been under treatment by specialists. The operations was deemed to be necessary in consequence of the lack of satisfactory progress. McPherson, the half-back, who was operated on for the removal of a cartilage, is now out of the home and making excellent progress.
GEE TO ENTER NURSING HOME
September 15 1932. Liverpool Post and Mercury
Charlie Gee the Everton centre-half back yesterday entered a nursing home, he is suffering from knee trouble. McPherson left hospital yesterday, and is now going on all right, and McClure were injured as a result of Saturday games, but their recovery is only at matter of a few days.
MANCHESTER'S "UNKNOW" GIANT.
September 15 1932. Evening Express, Liverpool
To Keep Goal at Goodison Park.
By the Pilot.
A Football "Unknown" is to keep goal for Manchester City against Everton, at Goodison Park on Saturday. He is a young giant named Nicholls from the Potteries. A fortnight ago he was playing with the City "A" team, and when it is considered that the Manchester club have goalkeepers like Langford and Higgs (the former Barnsley man) on their books, it was generally assumed that Nicholls this season would not rise to greater heights than the "A" team. Yet in the space of two weeks he is to face the fast and clever Everton forward line as the pick of the City's goalkeepers. Nicholls joined the Maine-road club from Bilston United during the close season. This is the only change made by Manchester compared with the eleven defeated by the Arsenal. Manchester City: Nicholls; Cann, Dale; Busby, Cowan, McMullan; Toseland, Marshall, Syme, Tilson, Brook.
Everton a Left Half-Back.
Everton have engaged Joe Mercer, an 18-year-old left half back from Ellemere Port. Mercer, Everton's acquisition, is the son of Joe Mercer, the former Notts Forest centre half, and he will play left half in the Everton Reserves side against Manchester City at Maine road on Saturday. He is 5ft 9 half inches, and 10st 7lbs. He will take the place of the injured McClure.
JOE MERCER SIGNS FROM ELLESMERE PORT
September 16 1932, Liverpool Post and Mercury
By John Peel.
Everton have secured a young left half-back Joe mercer from Ellesmere Port. He is the son of the former Notts Forest centre-half back and will play for the reserve side at Maine road to-morrow in place of the injured McClure. Standing 5feet 9 and a half inches, Mercer weights 10st 7lbs.
Manchester City's Visit
Tomorrow Manchester City are the visitors to Goodison Park, and as they have made it a practice of recent years to take away maximum points, they will be keen to do like wise on the occasion. This will mark the twenty-fifth meeting between the clubs at Goodison Park under League aspices of which Everton have fourteen victories to their credit to the City's four, while six games have been drawn. The City met with their biggest success in 1928, when after being a goal in arrears they won 6-2, Johnson the present Everton forward then leading the City attack and scoring five of the six goals. The results of the games between these rivals since the war (Everton's score reading first) are: 2-0, 3-0, 2-2, 0-0, 6-1, 3-1, 1-1, 2-6, 2-3, and 0-1.
David Bain
Hull Daily Mail-Friday September 1932
Rochdale A.F.C. have signed David Bain, inside forward, who has previously assisted Everton, Manchester United, Bristol, and Halifax Town.5.
EVERTON AT HOME
September 17 1932. Liverpool Post and Mercury
By John Peel.
Everton's form so far does not suggest the emulation of the feat of Liverpool and other clubs of winning the championship two years in succession, but there is time to improve. The high scoring efforts of last season have not so far shown themselves, and it would seem that opponents have solved the problem of how to keep in check the plan which proved so successful last term. Manchester City are the visitors today to Goodison Park, and they are likely to test the champions to the full. On the other hand, Everton feel that they can do better and they will be out today to demonstrate that their play at Sunderland was not a true reflex of the ability of the team as it stands at present. Britton, the young half-back from Bristol Rovers who has done good work with the Central League side and in the Second Division, is introduced to the senior side in place of McClure. A much-improved display is looked for, and I expect Everton to take both points. The kick off is at 3-15 and the teams are: - Everton: - Sagar; Williams, Cresswell; Britton, White, Thomson; Critchley, Dunn Dean, Johnson, Stein. Manchester City: - Nicholls; Cann, Dale; Busby, Cowan, McMullan; Toseland, Marshall, Syme, Tilson, Brook.

My Favourite Story (By W. CFESSWELL, of Everton)
Hull Daily Mail-Saturday 17 September 1932
FOR some mysterious reason the goalkeeper had let a very long, and . rather soft shot beat him. How on earth did you manage let that one pass you?" asked the full-back. " Well," said the goalkeeper, it was like this. That shot came from such long way that the ball had already passed ten of you, and when it came to me I hadn't the heart to stop it."
MANCHESTER CITY OUTPACE EVERTON.
September 17 1932. Evening Express, Football Edition
A Goal in Error and a Hurricane Dean Equaliser.
By the Pilot.
Britton, the former Bristol Rovers' half-back, made his First Division debut at Goodison Park for Everton against Manchester City. The City had the young Bilston United goalkeeper, Nicholls, in goal for the first time. The City had won on their last three visits to Goodison Park.
Teams: - Everton: - Sagar; goal; Williams, and Cresswell, backs; Britton, White, and Thomson half-backs ; Critchley, Dunn, Dean (captain), Johnson, and Stein, forwards. Manchester City: - Nicholls goal; Cann, and Dale, backs; Busby, Cowan, and McMullan half-backs; Toseland, Marshall, Syme, Tilson, and Brook, forwards. Referee Mr. W. B. Bristow, Stafford.
The Game.
The City had to face the sun, but they were early into their stride without being able to bring any extreme pressure on the home defence. Everton took time to get going, but when Johnson fed Critchley the winger got across a flying centre, which Nicholls came out and picked up before Dean could reach it. Marshall missed a golden chance for the City after Brook had left the Everton defene standing. Marshall failed to connect when it was a comparatively simple matter for him to nod home the centre.
Sagar In Action.
The ball came to Toseland, who swiftly returned it along the floor, and Sagar dived out to save. Critchley made ground from Dean's pass, and the ball was wept across for Stein to place near the far post. It was a testing moment for Nicholls, but he tackled it in fine style, turning the ball around the post as Dean bundled him into the net. In the next moment the City had some cruel luck. Cresswell made a bad clearance kick, and Tilson received just outside the penalty area. The inside left ran a few yards forward and crashed a great shot against the bar. It rebounded to Syme, who worked to the right and struck the upright with a brilliant rising shot. Everton responded with a fast shot by Stein, which Nicholls cleared at full length. Everton were by no means convincing; in fact in the first 15 minutes it was the City's game. Dean beat four players inside the City goal area, and finished up with a point blank shot, which Nicholl's saved in brilliant fashion. Just before Dale had diverted a swift Critchley centre just by his own post. Everton showed gradual improvement, Britton doing particularly well in attack. It was following some good work by him that Stein wriggled between two opponents, but found his shooting path closed.
City Score As Usual.
Following the usual course of events between these teams at Goodison Park the City were the first to score with a shot that should never have counted. Toseland, the scorer, centred from the touch line, and the ball dropped slowly towards goal. Sagar seemed to have the ball well covered, but he had come out from goal, and the ball dropped over his head into the net. It was a costly mistake, but Sagar more than compensated in the next few moments when he flung himself out to turn aside two terrific shots from Marshall, then caught the ball in mid-air as he dived for Tilson's header. Then City continued the quicker side on the ball but Everton fought back to good purpose, Dean, Johnson, Stein and Critchley flashing the ball across the face of the City goal with the defence hopelessly positioned. Nicholls easily picked up White's distance effort.
Busby Injured.
Busby ran across to the far side of the field to tackle, but he fell heavily and was led off the field, apparently with a shoulder injury. Marshall took over the half position, still Everton continued the inferior combination the City being much more exact in their work, and getting down to it with more zest.
A Weak Link .
Nicholls saved a fine shot from Dunn when the equaliser seemed a certainty, but Dunn had been the weak link in Everton's forward line, missing one great chance after Dean's pass had given him a clear road to goal. Just on the interval the home defence was slow, and Tilson headed straight across the goal. Immediately after Stein broke through on the left, beat Cann in his stride, and finished up with a terrific left-foot shot which rebounded off Nicholl's knees. Dean was right on the spot to place into the empty net.
Halt Time Everton 1 Manchester City 1 .
The City had been the better team in the first half. Everton were giving a rather indifferent display, and played with decision, both in attack and defence. Critchley and Stein had been Everton's best in attack and Britton had played well. It was a good game, with the City a yard faster on the ball.
Everton Break City Spell
Dean's Two Goals Decide.
Blues' Command in Second Half.
Busby resumed after the interval with his shoulder bandaged. It appears that he had badly strained the shoulder. Everton forced three successive corners, thanks to brilliant work by the wingers, but the only real shot was from Dunn, who blazed over the top. Everton took the lead in 49 minutes following one of the best movements of the game. Johnson fed Dunn, who quickly turned the ball up the middle to Dean. Dean was challenged on both sides, but he neatly flicked the ball for Stein to race to the goalmouth and centre. Dean was right on the spot, and he gave Everton the lead with a header, which bounced to the ground on the way to the net. The City should have had a penalty when brook's centre struck Thomson on the arm. This was not the only handling offence Mr. Bristow had missed, Everton had taken command of the game and were playing with greater confidence. Dean headed over the top, and Nicholls made a mighty save when Crithcley cut in and let go a terrific rising shot. Nicholls excelled again when he beat away a rising shot from Stein, after fine work by Dean. He also parried a low shot from Dunn. It seemed to be Nicholls who "cornered" the applause, and now he made a grand save from critchley. At the other end Brook had a chance for the equaliser from Syme's pass, but shot against the side netting. Sagar saved well from Toseland, and in a thrilling race for the ball Nicholls beat Dunn through coming well outside the penalty area. Final result Everton 2, Manchester City 1.
EVERTON 2 MANCHESTER CITY 1
September 19 1932. Liverpool Post and Mercury
Goalkeeper Shine at Goodison, Everton Stop City's Run of Success.
By "Stork."
Two goals by Dean proved sufficient to beat Manchester City, who had for several seasons won at Goodison Park; yet one could not be satisfied by their display, although it is only fair to say that if it had not been for goalkeeper Nicholl's, Everton goalcrop would have been much heavier. Neither the City nor Everton are playing as well as they did last season, for while there was plenty of good football displayed there seemed to be a tameness about the teams which have in the past produced thrill upon thrill and usually a victory for the Mancunians. One, however, must not forget that the afternoon was summer-like. The heat of the day was not conducive of over-exertion, and but for more flashes the game jogged along on "go-as-you-please" lines, and more than once there was a call from the crowd to the players to "buck up." The City's pace has invariably been too great for Everton, and the from line full of shot, but it did not many convey the idea that it would walk through the Everton defence as it has so often done before, and yet there was only one change in the attack. That change, however, may have merit a whole lot, for Halliday, even not at his best, would have done much better with the chances that came than did his deputy Syme. The City possesses wing men who can make a centre-forward if the ability is there, but Syme never once caused a lot of trouble. He had two great chances, but misfired with them both
Epic Struggle.
The first half was an epic struggle. Both side splayed clever football, albeit Everton's science became a stop-block to their prospects for they were over indulgent in the matter of the pass, when a shot was what was really needed. Still they were slightly better than they adversaries; in fact, if it had not been for Nicholls, Everton would have been a goal or two up very early on. As it was they were a goal in arrears inside the half-hour, and what a goal. It was the simplest seen for many a year, and Sagar must be wondering even now how he came to misjudge such an innocent looking lob as that which Toseland swept in from the touch line. It seemed to me that Sagar came out too far thought he could catch the ball, only to find it travel out of his reach and drop into the net. That goal set Manchester afire. For the next few minutes they flamed up and Sagar made amends for his error by making three great saves one in particular which will live in the memory, for he had to fly across his goal to get Marshall's first time drive. Sagar, however, was well beaten when Tilson and Syms hit the crossbar and upright respectively. Sagar, however, held in Manchester when they were heading for a goalrush, and had the Everton defence in a knot. Everton had their opportunities, even allowing for the smart work of Nicholls in the visitors' goal. They were hesitant when they found themselves in front of the City goal and it was not until half a minute from the interval that they obtained the equalizer. It came in this manner. Stein with a powerful shot, aimed for the far side of the goal; Nicholas got across to the ball, but could not hold it, and Dean who had run up, was left with the ball at his toe. Only a few yards out, he crashed the ball into the net.
A Neat Goal.
The game was only four minutes' old in the second half when the Dean, Stein combination marked up a second point. The winger's centre was only head high, and Dean nodded it downwards and a goal was assured for Nicholls could not get to the ball. That goal sealed Manchester's fate, but it was Nicholl's who kept the score down to two goals, his sure stamping him as a goalkeeper of more than averance ability. He is only nineteen years of age, and this was his first match in senior football, but on this showing he is likely to go far. Britton is of the true Everton type and he did extremely well, for he looked up with Critchley and made a fine wing. He seemed to tire late on, but to my mind was the best of the half-backs. White was a solid defender along with Thomson, and Williams was the backbone of the defence. The forwards were variable. Johnson has been better and Dunn has not struck his true form. The wingmen were the saving grace of the line with Dean working hard against a half-back who knocked him about more than a little. Teams: - Everton: - Sagar; goal; Williams, and Cresswell, backs; Britton, White, and Thomson half-backs; Critchley, Dunn, Dean (captain), Johnson, and Stein, forwards. Manchester City: - Nicholls goal; Cann, and Dale, backs; Busby, Cowan, and McMullan half-backs; Toseland, Marshall, Syme, Tilson, and Brook, forwards. Referee Mr. W. B. Bristow, Stafford.
MANCHESTER CITY RESERVES 1 EVERTON RESERVES 1
September 19 1935. Liverpool Post and Mercury
Central League (Game 5)
On the game Everton were unfortunate to drop a point at Maine-road, a disputed penalty goal near time by Gregory neutraising Steven's earlier score. Coggins, Common and Lowe were a fine defence. Halliday having a few chances. Play was not particularly skilful, the shooting being scrappy, through Birtley and Stevens did good work with McGourty. Everton: - Coggins, goal; Common and Lowe, backs; Archer, Griffiths (h), and Mercer, half-backs; Birtley, McGourty, Stevens, Webster and Turner, forwards.
Liverpool Trams 1 Everton "A" 3
Liverpool County Combination
At Knotty Ash. Trams had as much of the play as heir opponents, but their finishing was poor. Mather scored for Trams in the first minute. From a corner Griffin equalised then Campbell added a second and third for Everton. "A" Jackson McKay Campbell and Nash were Everton "As" outstanding players. Parru, Spicer, Mather Wolger and Tweedy were prominent for Trams.

A GOAL THAT MADE ALL THE DIFFERENCE
September 19 1932. Evening Express
Everton Lay The Manchester City Bogy
Critchley Back in Form
By the Pilot.
It will never be known how much the injury suffered by Busby, Manchester City's right half back, affected the turns of events, but it is a fact that Everton's 2-1 victory at Goodison Park was laid on the foundation of an equilising goal scored while he was receiving the trainer's attention. Up to that time the City were masters developing attacks at a cracker' pace and breaking up Everton's counter moves with sharp, relentless tackling. After Dean's equalising effort, the setting of the story was entirely different Everton for the most part definitely were on top and Dean's head laid the bogy of the City's long run of success at Goodison Park. Everton won. They deserved to win –but only just! It was like this. Toseland's goals was a fluke. He made a bad centre from the touchline and the ball travlled towards goal, Sagar appeared to have it well covered, but for some unaccountable reason it dropped over his hands and head into the net.
Nicholls' Fine Debut.
Everton's goals –both by Dean-were excellent efforts, and had it not been for the marvellous goalkeepering of young Nicholls the Manchester debutant, they might have scored many more. Coming away from the match a shrewd judge remarked to me. "That boy will be a second Albert Iremonger." Well, he is built on Iremonger lines –tail, lithe and agile –and he can fields and keeps position with the judgement of a veteran. Nicholls defied the Everton forwards in the second half at a time when the City appeared beaten by the "cracker" speed they produced in the early period. Critchley played his best game of the season, and not once failed to find his men with a centre or corner kick. I am delighted that he has shaken off that uncertainly for he is a bonny winger on his day. Saturday was one of those days. Stein was another deadly forward displaying splendid ball control and finishing his work cleanly. Although White was the outstanding half-back, Britton justified his inclusion and his constructive play was a feature. Williams and Cresswell were often outpaced in the first half, but kept a tight grip on the City attack later, while Sagar, except for his one mistake, played brilliantly.
MCGOURTY DEBUT
September 21 1932, Liverpool Post and Mercury
McGourty the young Scottish forward from Patrick Thistle is to make his debut in the english league football on Saturday. When he is to assist Everton against the Arsenal at Highbury. This is a severe test for the player, but he has shown such great promise with the reserves that there is confidence in his ability to fill the inside-right with distinction. A player who has filled the two inside perth. He should do well with Critchley, whose usual partner Dunn received a knee injury in the match against Manchester City on Saturday. McGourty thus has an early opportunity of distinguishing himself. The new player for Dunn is the only change.
JIMMY DUNN SUFFERING FROM KNEE INJURY
September 20 1932. Evening Express.
Examination by Club Doctor .
By the Pilot.
Here is the health bulletin from Goodison Park today: - Jimmy Dunn suffering from knee injury: Charlie Gee, making excellent progress following his knee operation; Lachie McPherson, able to walk with the aid of a stick following the removal of a cartilage; Archie Clark showing steady improvement.
Jimmy Dunn complained of a soreness of a knee after the match with Manchester city and the directors have decided that he be examined by the club doctor. Mr. T. H. McIntosh, the secretary assures me that Gee's operation has been a complete success and that the international centre half is making splendid progress in the nursing home. McPherson operation could not have been more successfully carried out. McPherson looks in the point of condition. He thinks that in a few days time he will be able to walk without a stick, but, naturally, he will take no risks. His has been a remarkable recovery. The directors meet this evening to select the eleven to oppose the Arsenal at Highbury on Saturday.
EVERTON WILL MEET ARSENAL'S BEST.
September 22 1932. Evening Express.
Roberts Resumes at centre-Half.
By the Pilot.
Everton will be called upon to face the best team the Arsenal can place in the field, when they visit Highbury on Saturday. The Arsenal make no changes from the side which conquered Bolton Wanderers Roberts, the former Oswestry playing resuming at centre-Half in place of Haynes.
Everton Cup team .
Everton have selected their eleven to meet Burnley at Goodison Park next Wednesday next in the Lancashire Senior Cup at Goodison Park. Cresswell and Stein will be rested. An interesting experiments is the playing of Jack Archer, the former Walsall left but, at right half, Turner appears at outside left and Bocking comes in at left back. McGourty will preserved with an inside right. Everton: - Sagar; Williams, Bocking; Archer, White, Thomson; Critchley, McGourty, Dean, Johnson, Turner.
EVERTON OPPONENTS.
September 23 1932. Liverpool Post and Mercury
By John Peel
Arsenal well be at full strength against Everton, in the League match at Highbury, tomorrow, Roberts, the international centre half-back, resuming in place of Haynes Roberts has been out of the side some time through injury. The team is: - Moss; Parker, Hapgood; Jones, Roberts, John; Hulme, Jack, Coleman, James, Bastin.
Everton and October.
Followers of Everton must be wondering when the Goodison "scoring machine" is going to function again. Perhaps, as last year, October will produce a goal rush. By the end of September last year Everton had played eight League matches and gained 10 points with victories over Birmingham and Derby County at home, and Portsmouth, Sunderland, and Liverpool away. They were defeated by Manchester City (home) and Derby County and Arsenal (away). This season Everton have won three games at home and lost three away, and wind up the month's League games as last season –with a visit to Arsenal where they were beaten 3-2 a year ago. Everton have lost their three away games to date by 3-1.
No "Goal Rush."
Last season, between the end of September and the beginning of December Everton played nine League matches, winning eight and drawing the other –at Huddersfield, where neither side scored. They defeated in turn Blackpool (home) 3-2, Sheffield United (away) 5-1, Sheffield Wednesday (home) 9-3, Aston Villa (away) 3-2, Newcastle United (home) 8-1, October, and then after the draw with Huddersfield, had three victories in Novemeber –Chelsea (home) 7-2, Grimsby (away) 2-1 and Leciester (home) 9-2. Everton begin the October League games with a visit from Liverpool. This Blues won both League matches against their neighbours last season, 2-1 at Goodison and 3-1 at Anfield. But Liverpool won the F.A. cup-tie 2-1 at Goodison Park and also the Lancashire Cup match there 3-2.
EVERTONTO BREAK HIGHBURY SPELL?
September 23 1932. Evening Express.
By the Pilot.
Everton have not brought a point from Highbury since season 1926-27. Tomorrow they will be making their fifth attempt to break the spell. The Champions won 2-1 in season 1926-27, but the scores in the Arsenal's favour since have been 3-2, 2-0, 4-0, 3-2. Will Johnny McGourty, the 20 year old Scotsman, make for improvement? McGourty will be making his First Division debut, taking the place of Dunn (injured), at inside right. McGourty is a natural footballer and one of the few half-backs who have been comverted into forwards. In the junior football days he was a clever centre half, and it was only when he moved up into the senior circles that he chose the inside forward position. His inclusion will be Everton's only change, and the Arsenal are bringing back Roberts, the former Oswestry player at centre half. Everton: Sagar; Williams, Cresswell; Britton, White, Thomson; Critchley McGourty, Dean, Johnson. Stein. Arsenal; Moss; Parker, Hapgood; Jones, Roberts, John, Hulme, Jack, Coleman James, Bestin.
• Match Advertisement in Express. Central league match at Goodison Park Tomorrow (Saturday) Everton v Bury, Kick off 3-15. Admissions 6d Boys 3d. stands extra (including tax)
13 TH MINUTE SHOCK FOR EVERTON
September 24 1932. Evening Express, Football Edition.
Critchley Rounds Off Brilliant Move to Score His First Goal This Season.
By the Pilot.
Although Everton still required their first away point of the season, they were considered a star attraction at Highbury, where Johnny McGourty was introduced to English League Football. Among the 50,000 spectators were many from Liverpool. I heard here today that Southport are expected to make an important forward signing. Arsenal: - Moss, goal; Parker and Hapgood, backs; John, Roberts, Jones half-backs; Hulme, Jack, Coleman, James and Bastin, forwards. Everton: - Sagar goal; Williams and Cresswell, backs; Britton, White, and Thomson, half-halfs, Critchley, McGourty, Dean (captain), Johnson, and Stein, forwards. Referee Mr. T. Crisp, (Leicester). Mr. J. H. Thomas, the Dominions Secretary, was among those present.
The Game
McGourty was robbed when Cresswell nicely intercepted before Dean sent Stein away. The winger's sharp centre from the line was headed away by Hapgood. Williams' attempt to make a back heel tackle failed, and Coleman was able to get the way for James to place wide. Tremendous enthusiasm was displayed, and the atmosphere was akin to be a cup-tie. Arsenal were quick to allow the ball to run to Moss to relive pressure. Coleman ran almost to the goal line before shooting into Sagar's arms. Critchley headed outside from Stein. The Hulme made a sharp, short centre, which Sagar cut out in brilliant fashion. It was good football. McGourty who had been rather nervous in his work, let go a great drive from 25 yards. Moss managed to scramble and hold it. Arsenal claimed the first corner, and the ball wriggled back to Coleman, whose quick shot collided with two opponents.
Dean on the Trail.
Dean was next on the trail, putting in a thrilling down-the-middle chase only to be beaten on the post by Parker, whose bust of speed was surprising. Williams lobbed a tricky ball down the centre, and Moss fisted away from Dean at the precise moment. The ball ran to McGourty, who elected to come forward instead of taking a pot shot. His effort crashed against opponents. Dean tried to help through a Johnson effort after Jack had netted a second after the whistle had sounded for offside. Everton kept up the work –it was warm work too –and Stein skimmed the bar from just outside the area.
Arsenal Lead.
In 13 minutes Arsenal took the lead through Coleman. It was a Hulme goal in every sense, for he dribbled delightfully, cutting inwards and outwards, and finally bursting away like a hare to cross straight in front of goal. Coleman was there, and though his first shot rebounded off Sagar's legs, it his Coleman's shins and bounded into the net. Hulme went roving again only to centre against Williams. Critchley got away on good ground, and from his accurate pass Stein headed into Moss's hands. Everton drew level in 20 minutes Critchley getting his first goal of the season –and with his left foot! It was a well worked goal, one of the best bits of football in the game so far. Dean turned a short pass back to McGourty and got the return he wanted. He veered to the right, drawing two men with him. At the crucial moment he slipped the ball to Critchley, who scored with a brilliant cross-shot.
Nearly-
Arsenal nearly went ahead again in the next minute when Bastin's header from Hulme left Coleman in position. Sagar was already beaten, but as the ball was running to the net White came along, full pelt, and kicked away. Everton were playing as well as any game this season and though the football was hard, rather than classic, it was full of thrills. Sagar was seen in a rousing scramble against two opponents. The home defence covered well against strong Everton attacks, in which the wingers were prominent. McGourty and Critchley secured a fine working understanding with short passes, which ended in Critchley driving against the side netting. Jones forgot the new rule relating to foul throws, and White shone with some glorious swinging passes to the wing. The game was evenly contested at a red-hot pace. Britton took-Critchley's place, but the ball came back for White to shoot over. Parker made two brilliant interventions when Dean was about to crown more fine constructive football with shots. White was penalized for a foul on Hulme near the corner flag. Sagar was there with a ready fist to avert danger. Roberts was keeping a sharp eye on Dean, being quick to cut out menacing air passes down the middle. Hulme was a fine Arsenal raider, but Sagar was alert to all his centres.
Half-time Arsenal 1, Everton 1
This had not been highly scientific football, but for excitement it always held interest. Everton had played well, and more then held their renowned opponents. McGourty had opened nervously, but did well with the ball on the floor. White and Williams had been fine in defence. There was a menace in everything Hulme did.
Thrilling Football at Highbury
Arsenal defence in the Run
Fine Everton Combination
Everton open the second half as if they had nothing to beat. The Arsenal defence was kept running hither and thither in the face of fine accurate passing excited with delightful coolness. For shots troubled Moss, but he fumbled a long one from Cresswell, and Dean almost whipped it through. James almost became to shot, but Coleman ran in and hit it over the bar, a narrow escape. Critchley contributed a fine run, shooting straight at Moss, the goalkeeper nearly kicked through, and when McGourty stepped aside Britton let go an "Express" with which Dean let go an "Express" with which Dean could not connect owing to its speed, has he done so it would have been a goal. It is no exaggeration to say that Everton in the first 20 minutes of the second half had been all over the opposition. 75 minutes Jack scored fore Everton. Full Time Arsenal 2 Everton 1.
ARSENAL 2 EVERTON 1
September 26 1932. Liverpool Post and Mercury
Narrow Win for Arsenal
Everton played well enough to draw.
By "Bee."
Everton lost to Arsenal by the margin of a goal, and on the game that 55,000 people saw, they did not deserve to be beaten. They had earned a draw. They had not played superbly, but at least they had played well enough to get Arsenal into difficulties. The draw seemed probable to the point when Jack Scored, but right on time, with but a second to go, Everton netted through Dean after there had been two well contested corners, and two saves by Moss. The crowd was stupefied that the last netting should no count. No one but the referee could say why the goal had been disallowed. Johnson, and Dean protested, but the referee Mr., Crewe of Leciester, was among the players at the time of the offence and he reckoned he saw everything that happened. So Everton left a trifle disgruntled, and certainly not favoured by fortune, as they had earned a draw. The game had two district measures; the first half was full of class movements and a joy to see. After that it became tame and the players doubtless tired under the strong sunrays and through the fast play of the first half. Of shooting there was not a great deal, but Sagar saved the one shot sent in by Alec James –a delicious piece of timing. On the other hand Everton, although pressing so hard all through the second half, did not show up too well in the shooting department.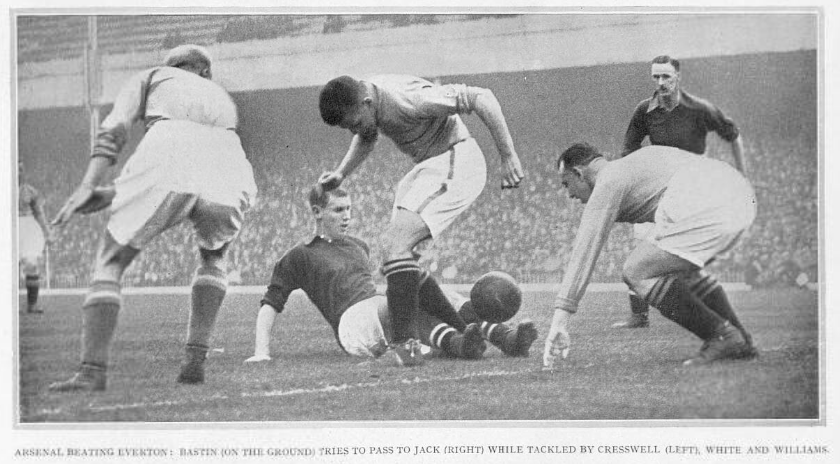 Hulme's Clever Move.
Indeed, most of their work was by a pass a centre, and Roberts then took charge of Dean, as well he can having superior height, and much heading ability. The goals scored were clear-cut cases. The first came to Arsenal through their decision to make Hulme a cricketer and a long thrower take a "line-out." He threw the ball far, called for the return, got it, and after a dribble inwards he leaned towards his rightful position and drifted back to outside right position, where he enabled Coleman to score in fifteen minutes the ball being helped to goal by a defender. Everton's equaliser was a neat goal, and finished off with a splendid left foot shot by Critchley. McGourty the Patrick player, making his first appearance in English football, used the forward and through pass with fine judgement. Dean was tackled, but was able to send the ball along a little further –by the drifting process –and there followed a crack shot by Critchley. Honours even, and the game finely contested, yet not so good as the former meeting of the two clubs. Actually Everton looked like winning the game from half-time onwards.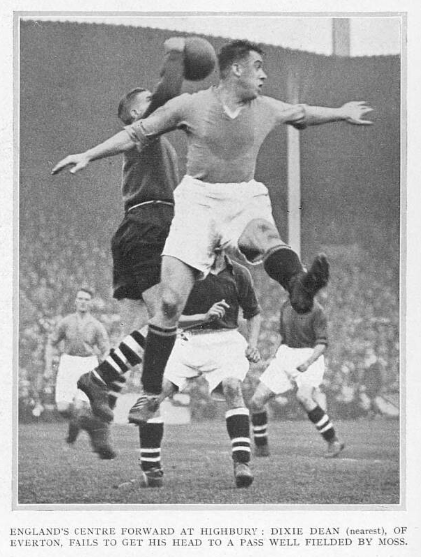 Play to the Whistle!
At three quarter time, however, the Everton defenders stood still, requesting an offside decision against Jack or Coleman, or both, Coleman stood perfectly still –as still as the unwise defenders, and Jack went on to half smother his shot, but as he was facing the goalkeeper, Sagar had no chance and the ball was spooned into the net. Even then, with thirteen minutes to go, Everton fought resolutely, and if not well connected together by the inside forwards, they were assuredly the attackers in chief, and Arsenal went stale and inept in fact, it can be said that Britton had an excellent day against the famous Alec James, who was often seen looking for scheming moves, but being enable to go far before he was dispossessed. Hulme was the fierce forward of the day. His runs were not all speed he was as successful as Bastin was commonplace against Britton, and the dour Williams. Coleman did not link the line too well and Jack was variable and chiefly successful in that he got the vital goal after he had been languishing at outside right through injury. The Everton half-backs played their parts extremely well and all three deserve credit for their fine feats, but the forward line still lacked finish and point. The line did not keep "line." Dean was out-headed by the tall Roberts whose third back principles suit the Arsenal just as definitely as the meandering of Jack and James.
Stein's Good Work.
Stein was best because he was so commanding when he started his runs and centres, but with the Arsenal defence as it is formed up –three backs –the difficulty of a centre-forward being alone to receive the centre is obvious. Johnson early on was doing a lot of delightful work, close dribbling and passing. Later he fell from the picture, but many times he sent his partners away, but had not the pace to go up and continue the attack. McGourty's debut was a severe task for a boy 19 years old. He has the fine artistry of his footballing race, and unfortunately most of his passes went too far forward. However, his through pass to Dean was a goal-making effort, and his general style, suggests that he is sure to be a valued member of the side. However, without their punch in attack against a fine defender like Hapgood and a worthy warrior like Parker. Everton's half-backs took the honours here and Arsenal got the points, and Everton were in no wise disgraced by the verdict. In fact, they still claim they draw this game with the final effort. The referee says an Everton forward pushed out his arm –punched is the term he uses –and so the goal become invalid. It was a pity because no one could have caviled at a draw. Teams: - Arsenal: - Moss, goal; Parker and Hapgood, backs; John, Roberts, Jones half-backs; Hulme, Jack, Coleman, James and Bastin, forwards. Everyone: - Sagar goal; Williams and Cresswell, backs; Britton, White, and Thomson, half-halfs, Critchley, McGourty, Dean (captain), Johnson, and Stein, forwards. Referee Mr. T. Crisp, (Leicester).
EVERTON RESERVES 4 BURY RESERVES 1
September 26 1932. Liverpool Post and Mercury
Central league (Game 6)
Everton, in so decisively defeating Bury, accomplished a performance of outstanding merit –becauses for more than three –quarters of the game they were without centre-forward Stevens, who was compelled to retire with a body injury following a collision with the Bury defenders. This loss Everton keenly felt, for prior to the injury Stevens had opened the score, sent in a couple of great shots, and once hit the upright with a header. Bury opened well, but fell away, and the more the game progressed the more the Bury forwards deteriorated in the matter of snappy, accurate finishing. Cunliffe and Turner added further Everton first half goals. After the interval the visitors practically monopolished the pressure, but poor forward work and the brilliant Everton defence prevented goals till the eight-fifth minute, when McFadyen scored. Turner scored for Everton one minute from the finish. Clark, Griffiths and Mercer were conspicuous in a good Everton side. Everton: - Coggins, goal; Common and Lowe, backs; Clark, Griffiths (h) and Mercer, half-backs; Birkley, Cunliffe, Stevens, Webster and Turner, forwards. Bury:- Harris, goal; Bradshaw and Clipson, backs; Edmonds, Matthieson, and Grass half-backs; Earl, Vernon, McFayden, Eggleston and Armstrong forwards. Referee F. Richardson.
Everton "A" 4 Skelmersdale United 0
Liverpool County Combination.
Although Everton won deservedly at Crosby, they were rather flattered by the score, and it was mainly due to an excellent defence –in which Jackson and Holdcroft figured prominently –that enabled them to maintain a clean sheet. In addition to this, the finishing of the Skelsemersdale forwards left a lot to be desired, and only Bamford on the extreme left provided real danger. The defence, too, was inclined to be shaky under pressure, though Boardman in goal made numerous capital saves. Two goals were registered in each half, Davies, Mason Leyfield (who was the outstanding success in the home team) and Campbell being the order of the scorers.
ARSENAL GAIN THE POINTS-
September 26, 1932. Evening Express.
But Everton Claim a Moral Victory
By the Pilot.
A goal against them which, in my opinion, was offside. Three justifiable penalty appeals turned. A goal disallowed in the last minute apparently because Thomson's hand touched an opponent in heading the ball. These happenings had a direct bearing on Everton's 2-1 defeat by the Arsenal at Highbury on Saturday. "There is no doubt that we were lucky to win today. It was a fine game between two good teams, and a draw would have been a more fitting ending." In these words Sir Samuel Hill-Wood, chairman of the Arsenal, summed up the match. Everyone at the game will agree with Sir Samuel's view. Arsenal scored through Coleman in 13 minutes before the interval Critchley crowned the best piece of football in the game with a great equaliser. In the second half Everton were easily the masters. Yet, the Arsenal defence contrived to hold out until 78 minutes, when James slipped the ball down the middle. Coleman was offside and Williams tackled him. Coleman did not move.
Offside?
When James played the ball Jack, in my opinion, was also a yard offside, and when the ball reached him he hesitated expecting the whistle. It did not sound, and he walked on unchallenged to scrape the ball just inside the post. I am certain Jack was offside when James played the ball. Had it not been for a fine goalkeeping of Moss, Everton would have won in the closing minutes. How he saved a long free kick from Cresswell, and a header from Dean, will remain a mystery. Everton gave one of their best displays of the season, and made the Arsenal stars look poor by comparison. They alone could hold the ball, and manceuvre for position, whereas their opponents appeared lacking in confidence, and got rid of the ball as if it were a hot potato. Each member of the Everton side played well, with Williams, Cresswell, Britton, White and Stein outstanding. Dean was a fine leader who, though rarely able to escape the attentions of Roberts, drew sufficient attention to open up avenues for others. McGourty can be pleased with his debut. He played cool, clever football, and always gave a colleague the back pass for which he had positioned himself. He played a vital part in the security of Everton's goal. Britton has never played better, but it was as a team that Everton impressed. On this form they will certainly rise in the table. Arsenal took the points, but it was a moral victory for Everton.
• Advertisement in Express. Lancashire Senior Cup, 1 st Round at Goodison Park. Wed, Sept 28. Everton v. Burnley. Kick off 5-30. Admission 1/0 Boys 4d. Stands extra including tax. Booked Seats, Sharp's, Whitechapel. All Pay.
GREAT DERBY BATTLE OF BLUES AND REDS
September 27 1932. Evening Express.
63 rd League Game on Saturday
Liverpool Have Not Won at Goodison For Eight Years
Can They Break The Spell This Time.
By the Pilot.
Everton and Liverpool will meet at Goodison Park on Saturday in the 63 rd Football League "Derby" game. Liverpool are out to break Everton's remarkable run of success in these encounters. Not since February 12, 1927, have the Anfield won one of the games. They have not won at Goodison Park since Oct. 4, 1924. Everton have proved the more successful in the series. They have claimed 28 victories against Liverpool's 18 and 16 games have ended with honours even. Everton victories are diverted –14 being secured at home and 14 at Anfield. They have been seven draws at Goodison, and nine draws at Anfield. Everton also lead in regard to goals, for in all matches they have scored 103 against 83 by their opponents, the ground totals being 55 to 41 at Goodison Park and 48 to 42 at Anfield. In only ten seasons his either club succeeded in capturing all four points at stake. Everton have accomplished this on six occasions and Liverpool on four occasions. Liverpool's brightest period was immediately after the resumption of League football after the war. Yet Liverpool have fared better in these "Derby" matches at Goodison them at Anfield since the first meeting away back in 1894. The Reds have won 10 matches at the Walton ground and only eight at Anfield. Let us glance at the records.
Four Seasons Without Defeat.
They went four seasons without defeat taking 13 of 16 points at stake. But with the advent of Dixie Dean, Everton's international leader, the order was changed. Dean is certainly Liverpool's bogy man. On three occasions he has performed a hat-trick against his rivals from "across the park," but the Reds can take consolation from the fact that these feats were accomplished at Dean has an individual record of 11 goals in the series a total which has never been surpassed. The previous record was held by Sandy Young, of Everton, with nine goals. If Bradshaw can hold Dean on Saturday he will do much to set the seal on victory. Dean always contrives to reserve the deadliest shooting for these games. Take last season, for instance. Up to the time the team met on September 19 Dixie had not even scored a goal, yet in the first half he had placed three past Elisha Scot. It is remarkable that only in four matches has either team scored five goals. Everton did it twice –in 1909 at Goodison and in 1914 at Anfield, and Liverpool's nap hand were secured at Anfield in 1922 and 1925.
"Derby" Debuts.
It is possible that three players willaking their "Derby" match debut on Saturday. They are Crawford Liverpool's centre forward and Britton and McGourty, of Everton. Both clubs will make their team selections this evening, and I am certain that after Everton's brilliant display at Highbury, no change will be made. Consequently Everton should line up: - Sagar; Williams, Cresswell; Britton, White, Thomson; Critchley, McGourty, Dean, Johnson, Stein. The game at Goodison Park will not be the only "Derby" match to be decided on Saturday, for the Reserves elevens meet in a Central league match at Anfield, And the "A" teams clash in a County combination fixture. Central league; Everton; Coggins; Common Lowe; Archer, Griffiths (h), Mercer; Griffiths (p), Cunliffe, Steins, Webster, Turner. Liverpool; Riley Done, Lucas; Savgage, James, Henderson, McRorrier, Hancock, Crawford, Roberts, Taylor
"A" teams; Everton; Hoildrcroft; Jackson, Jones; Chedgzoy, White, Lythgoe, Tolley (of Stubbs), Birtley, Davies, Fryer, Leyfield. Liverpool; R. Scott; Hallam, K. Neale; Hannby, Smith, Roberts; Gandy, Croppo, McCracken, Rogers, Hanson.
TEAMS FOR DERBY
September 28 1932, Liverpool Post and Mercury
By John Peel.
Everton and Liverpool renew their tests on Saturday, when the teams meet at Goodison Park in the first of the League games. It is always difficult to weight up form in these matches, and in view of the play so far this season the issue would appear to be more open than ever. Last season Everton won both the League engagements, but Liverpool brought off the surprise of the season in the cup-tie after dean had scored in the first minute. The sides were chosen last night, and while Everton are replying on the team which did duty last Saturday, Liverpool introduce Wright, who has recovered from his injury, at centre-forward, in place of Crawford. The teams chosen are:- Everton; - Sagar; Cresswell, Williams; Britton, White, Thomson; Critchley, McGourty, Dean, Johnson, Stein. Liverpool: - Scott, Steel, Jackson; Morrison Bradshaw, McDougall; Barton, Hodgson, Wright, McPherson, Gunson. The Everton Reserves team to meet Liverpool Reserves in the Central league game at Anfield on Saturday will be: - Coggins; Common Lowe; Griffiths (hs), Mercer; Griffiths (ph), Cunliffe, Stevens, Webster, Turner.
Everton Cup-Tie
The Everton team to meet Burnley in the lancashire senior cup-tie to-night, at Goodison Park, kick off 5,30, will show a change from the side, McClure takes the place of White at centre-half, White received a slight injury in the Arsenal game, and although he is not able to play tonight, he is expected to take his place in the local derby game. The side is against Burnley: - Sagar; Williams, Bocking; Archer, McClure, Thomson; Critchley, McGourty, Dean Johnson, Turner.

EVERTON 6 BURNLEY 1
September 29 1932. Liverpool Post and Mercury
Lancashire Senior Cup Round Two
Everton Score Six Goals.
Burnley Easy Victims in Cup-Tie.
By "Bee."
Lancashire Senior Cup ties may not be in favour with the senior clubs, but at least they do enable Liverpool people to see clubs they would otherwise not see. Such a case was that when Liverpool played New Brighton. Yesterday evening 2,000 spectators were enabled to see Burnley where they would have had no chance, and two men at least of the visiting side caught the public imagination. One Crompton at outside left, a good mover, and a stocky little player who was cool and convincing for an hour, the other his partner Jones who has the easy going style that his predecessor had –Rob Kelly. Everton won by 6-1. Jones was a sheer delight from an artistic point of view, and he continued to the bitter end to do things in his own scheming way added to which was a fine fast drive. Unfortunately, the standard set by Conway in the Burnley goal was not kept up; he was at fault not often, but sufficient to show he has to learn by experience. Dean got three goals, Turner, Critchley, and Johnson adding points, but oddly enough Burnley had taken the lead.
Near The Goal-Machine.
It is curious that Everton should have played four home games won them all, yet in each instance they were a goal to the bad in the first half. The Everton forwards got nearer their goal-machine yesterday than for some months. Admittedly they were playing a second Division side, yet even that does not blot out the niceties by which they made their way to goal and the fierceness of their shots. Turner, the outside left from Luton, gave two strong centres –his forte –which led to goals, and Dean got his first with a crashing shot, the goalkeeper not being able to see the ball. Turner made it 2-1 after half-time, then dean got the goalkeeper at fault, following with a score through Turner's agency. Johnson made the fifth through ground and grand passing by Archer and McGourly, and finally Critchley made the half dozen through Johnson's skilled play. Smith scored Burnley's only point through Jone's serve in. Sagar was lamed in one of his many dashing saves. McGourty was not unduly prominent, his forward or through pass again being too strong. Johnson was as ever a provider, and the home backs rarely in distress, although they had to face a rather bustling centre-forward in Smith. Forrest was their best half-back, with Bowsher standing up to his severe task with great fortitude, and displaying good heading and feedingJopes stood out in the forward line. Considering the disparity in the score-sheet the game held the public well to the end. Teams: - Everton: - Sagar, goal; Williams and Bocking, backs; Archer, McClure, and Thomas, half-backs; Critchley, McGourty, Dean (captain), Johnson, and Turner, forwards. Burnley: - Conway, goals; Whilligan and Richmond, backs; Manns, Bowsher, Forrest, half-backs; Reynolds, Harker, Smith, Jopes, and Crompton, forwards.
MONEY LOST IN CUP-TIES
September 29 1932. Evening Express.
Is The Lancashire Senior Contest Worth While?
Risk To Players
By the Pilot.
Is the Lancashire Senior Cup competition worth while? Liverpool lost money over their tie with New Brighton. Manchester United were out of pocket in their tie with Blackburn Rovers. Everton made a small profit from their tie with Burnley. Just imagine it. The match between Everton, the League Champions and Burnley, at Goodison Park, yesterday, attracted only 2,000 spectators and the receipts were little more than £100. And Everton had to pay £22 in bonuses out of their share. ! What compensation is this for the risk the club runs in injuries to their star players. It would be equally as profitable for the clubs and the Lancashire F.A. if the competing clubs were allowed to play their reserve elevens. This would obviate the great risk of the league sides being weakened by injuries to players. In yesterday's match, which Everton won by six goals to one, Sagar, their brilliant goalkeeper, received a nasty knock on the leg. The injury is not serious, and Sagar will take his place in the eleven to meet Liverpool on Saturday, but it might have been worse. The club doctor examined him today, and expressed the opinion that he would be fit to play on Saturday.
McGourty's Example.
The score exaggerated Everton's superiority, and had Burnley been able to finish in the same manner as they developed their movements, the Champions would have had to fight harder for the right to enter round two. A point which struck me about Everton's play was that Dean received more through passes on the ground than in any game this season. McGourty was the man who set the example, and others followed. I hope they keep it up. The defence was excellent against a nippy forward line, in which Jones the inside left was the "Star." I might add that if certain folk had their way a couple of seasons ago Jones would have been an Everton player at this moment. When Smith gave Burnley the lead it meant that each visiting team to Goodison Park this season has scored first, and then lost. Goals Dean (3), Turner, Critchley and Johnson turned the tide in Everton's favour.
• Advertisment in Evening Express. League Match at Goodison Park. Saturday Next. Everton v. Liverpool. Kick off 3-15. Admission 1/- Boys 4d. Stands including tax. 12,00 seats Available. Pay at the turnstile.