McNAMARA CLASHED THE CYMBALS FOR A SECOND
September 1, 1951. The Liverpool Football Echo
Leeds United 1, Everton 2
By Stork
Everton's young men showed fine promise. The experience should be beneficial in the future. Everton deserved their victory. Eglington's "pair" apart, they should have had other goals. Leeds United;- Taylor, goal; Dunn and Milburn, backs; Kerfoot, McCabe and Burden(captain), half-backs; Harrison, Iggleden, Kirk, Miller, and Williams, forwards. Everton; Sagar, goal; Jones and Lindsay, backs; Donovan, Lindley, and Farrell, backs; McNamara, Fielding, Hickson, Parker, and Eglington, forwards. Referee; Mr. T.L. Wood (Bury). Everton are gradually introducing their younger members to senior football. Today at Leeds they had two debutants in the side, Dave Hickson and Tony McNamara. It was hoped that they would bring greater striking power into the attack which has been the great fault so far. Leeds were heavily hit by injuries their greatest loss being Charles, their international centre-half. Kirk, the centre forward, is usually centre half. Gates at Elland Road have been falling and today they was only a moderate attendance. Everton quickly took a corner but it caused the Leeds defence no particular worry and was speedily cleared. At last the United framed an attack which was full of promise until Burden, the former Chester player and now captain of Leeds shot outside. Fielding and Donovan conspired together to get McNamara away but the winger's centre was not strong enough and was easily collared by the Leeds defence. Iggleden intercepted a Parker pass to Eglington and immediately rushed towards the goal but the Leeds visit was a brief one. A nice movement on the Everton right ended when Hickson tried to score the ball in from an impossible angle. A much better effort was made by McNamara which brought Taylor down to his knees to save. Leeds were improving and Sagar had to have two tries at a Harrison drive taken well out from the inside left position. The United forwards were inclined to shoot from too far out. Kirk after getting possession, made a present of a pass to Farrell who got the Everton machine in motion. Eglington helped on the good work with a nice ball to Parker whose centre went to safely behind Hickson. Sagar was confidence itself when he dealt with a Miller drive. Farrell, Fielding and Donovan linked up well to make a way for McNamara but the winger after two attempts to centre won a corner. He placed this right into the goalmouth to Taylor who was challenged by Parker. Another Parker centre was troublesome to the Leeds defence.
Like a Ton of Bricks
When Fielding scooped the ball into goal Taylor was just in time for Hickson was coming in like a to of bricks. When the Everton forwards changed positions, Hickson from outside left crossed a nice ball which eluded McNamara by a hair's breath. Fielding had moved over and was plainly annoyed with himself when he slewed the ball behind. More Leeds shots finished wide of the mark and then we saw a Farrell-Eglington move end with McNamara heading into Taylor's hands. A Burden shot was cut out by Fielding and Taylor had no great task to catch McNamara's corner. Parker picked up an Eglington pass and shooting with his left foot there was just a possibility of the ball handling into the net. Taylor dived across his goal to turn the ball out. It was the nearest thing to a goal we had seen thus far. McNamara with a centre-cum-shot saw Taylor pull the ball down from under the bar. A corner won by Leeds after 37 minutes proved fatal to Everton, for Williams corner kick was taken up by Harrison who slipped the ball inside for Miller to hit it first time and the ball rocketed into the net via the crossbar. McNamara was putting too many of his centres right to the goalkeeper and Taylor was particularly good in his handling.
Desperate Tackle
Lindsay made a desperate tackle to dispossess Kirk, but the Leeds pressure was only halted temporarily for the United leader came along with a header which caused Sagar no anxiety. There was a strong claim by Leeds for a penalty for hands against Donovan but the referee would not listen to it.
Half-time; Leeds United 1, Everton nil
The first notable incident in the second half was a shot by Hickson, which was going away from the goalkeeper, but Taylor moved fast to make it save. The United had a chance when Williams sneaked into the centre, and then shot blindly outside from close in. A flick header by Parker to Eglington looked hopeful until the Irishman shot straight at Taylor. A Free kick for a foul on Hickson, was taken by McNamara, Taylor saving. When Eglington picked up a loose ball on the right he moved in and shot with the right foot the ball passing into the net of the upright at 51 minutes. A defensive clearance by Jones caught McCabe napping, Hickson was off in a flash and it became a race between him and Taylor. The honour went to the goalkeeper for he managed to get himself in the way of Hickson's shot. A second goal was not long delayed, however, for following one of the best movements of the game, Eglington scored at the 56th minute. This nicely frame goal was started by McNamara with a pass to Hickson, who transferred the ball to Parker who laid on a perfect opening for Eglington who was in the centre forward position. After Leeds had attacked for a spell, Everton were offered a third goal when Parker ran through beat Dunn and then looked where he should put the ball –he gave it to an opponent. A great chance wasted.
Leeds Vim
Leeds were attacking with vim but the Everton defence prevented it from putting Sagar in peril. Eglington beautiful ball for Parker whose first shot crashed against the goalkeeper. His second was saved by Taylor. The Leeds attack strove might and main to probe the Everton defence and one shot from Milburn was safely tucked away by Sagar. McNamara did many useful things, one in particularly when he offered Parker a chance which was not taken up his attempted shot passing outside. Hickson also showed ideas although up against a strong centre half. When Sagar saved from Harrison he let loose of the ball regained possession only to have it kicked out of his hands, his fingers being hurt as a result. Harry Cooke later went across to have a look at it. Kirk wih an overhead kick lifted the ball over. Eglington was after a third goal when he hit a scorcher with his left only to see the ball deflected to safely. Just on time McNamara crossed a ball with Taylor out and no one at home. Hickson rushed up to touch it over the line, and just failed. Final; Leeds United 1, Everton 2.
BURSCOUGH V EVERTON "A"
September 1, 1951. The Liverpool Football Echo
Kearsley scored twice for Everton and Dunlop, the Everton keeper saved a penalty from Lynn. Despite Burscough pressure the Everton defence held out. Half-time; Burscough nil, Everton "A" 2; Final; Burscough 2, Everton "A" 2.
• Everton "B" 1, Burscough 1
EGLINGTON ON THE MARK
September 1, 1951. The Evening Express
Scores Twice to Give Everton a Grand Victory
By Radar
Everton unlucky to be a goal down at half-time, struck back in great style to take the lead from Leeds United at Elland Road today. Miller gave Leeds the lead in the 37th minute, following a corner and Everton rather fortunately escaped a penalty award when Donovan appeared to handle in the area. Eglington was Everton's marks man in both cases. He scored the first from the inside right position after 51 minutes, and the second when he moved into the middle five minutes later. McNamara and Hickson showed up promisingly, the former particularly, and with greater experience should prove valuable acquisitions. Everton had two 21-year-old forward debutants in their side. They were David Hickson who scored five goals for the Central League side in mid-week and who came in to lead the attack in place of Catterick and outside right Tony McNamara. These were the only changes in the side narrowly beaten at Brentford, but they made Everton –who were in search of their first away victory –one of the youngest teams in English League football. Leeds were without Welsh international centre half John Charles and McCabe switched from right half to deputise with Kerfoot, coming in for his first appearance of the season. Authey Powell, the former Everton inside forward, who has had to give up the game for health reasons was at eland Road to greet his old colleagues. Leeds United;- Taylor, goal; Dunn and Milburn, backs; Kerfoot, McCabe and Burden(captain), half-backs; Harrison, Iggleden, Kirk, Miller, and Williams, forwards. Everton; Sagar, goal; Jones and Lindsay, backs; Donovan, Lindley, and Farrell, backs; McNamara, Fielding, Hickson, Parker, and Eglington, forwards. Referee; Mr. T.L. Wood (Bury). Everton playing in white, gained a corner in the first few seconds, but it was cleared. Then Taylor had to leave his goal to catch a long range centre from Donovan. Lindley atoned quickly for a miskick when Leeds took over the attack, for he stepped in to force clear Harrison's short-range lob into the middle. Leeds come again after Parker had hooked a shot wide. Parker was penalized for an unintentional handling offence just inside his own half, and eventually Burden drove the free kick across the face of the goal, with Kirk making a determined but unsuccessful effort to connect with his head.
Headed Wide
Next, McNamara who had started nervously negatived a choice Fielding pass and Leeds broke away, for Lggleden to head wide from Harrison's cross. Fielding and McNamara co-operated for McNamara to push the ball through for Hickson, but Everton's new boy just failed to make effective contact. Everton had been the more impressive force so far, and McNamara showed idea when he took a long clearance under control, cut in, and leveled an accurate low footer which Taylor took confidently to his chest. Now it was United's turn. In quick succession, Burden and Miller delivered powerful shots just wide of the mark and Harrison cut inside to let go another one, which Sagar mishandled, but managed to retain his hold on the ball. In drizzling rain Hickson was applauded for a nice angled pass to Parker who had moved to the wing. Parker resisted Dunn's tackle sufficiently to make his centre but there was no one in position to made use of it. This was see-saw football so far and Sagar was next in action to bud down Miller's drive from the edge of the penalty area. Following good work by Fielding and Donovan, Everton forced a corner via McNamara and Taylor although pulling the ball down, had difficulty in evading the eager Parker's attention. Everton were showing progressive ideas and when Fielding booked the ball to the edge of the goal area Hickson failed by inches to deflect it beyond Taylor with his head as he leapt forward. The same applied to McNamara when he dived at a Hickson centre. The ball eluded Milburn as well, but Fielding turned it behind. Burden the former Chester player, was woefully wide his shot from the edge of the penalty area, and a much better effort was McNamara's header from a well placed Eglington's centre.
Right on Target
McNamara moved in intelligently to meet the cross and his header was right on the target. In fact Taylor was rather fortunate to find himself so nicely positioned to save. Hickson revealed a rare turn of speed when he rounded McCabe high on the right, but I thought he might have tried a shot instead of lobbing it into the middle. Taylor had to go full length to parry a Parker drive and he only just managed to get the tips of his fingers to it. This was undoubtedly a more lively Everton, and Taylor had all his work cut out to haul down a testing McNamara centre from just underneath the bar. It was all against the run of the play when Leeds went ahead in 37 minutes. Fielding's persistence enabled him to check Burden as the Leeds captain threaded his way through, but only at the expence of a corner. Williams dropped this at the feet of Harrison beyond the far post and the United winger squared this first time into the middle. Miller raced in at top speed and cracked the ball home with a vicious shot, which struck the bar before finishing up in the net. Sagar had absolutely no chance with this one and it led to sustained pressure, during which Sagar had to go down low to pick up a Kirk header. Leeds claimed emphatically for a handling offence against Donovan shortly afterwards but the referee would not entertain the idea. Half-time; Leeds United 1, Everton 0.
Everton resumed on a brighter note and first Hickson and then Eglington forced Taylor to save, Hickson, with an acute angled drive which gave Taylor a deal of trouble. Leeds then took a turn and Iggleden, Williams and Kirk all tried shots which carried power, but not accuracy. Next Eglington tried to capitalize on the productive work of Parker and Hickson, but Taylor saved his shot easily by the foot of the near upright. The next Everton excursion saw Eglington from the outside-right position lob the ball into the middle, but no one anticipated the run of the ball and it became a gift for Taylor. With 51 minutes gone, however, Everton drew level, and it was Eglington who did the trick. He moved forward, now at inside right, held off two defenders and from well outside the penalty box tried a low shot. It did not look dangerous and Taylor clearly thought it was going to pass outside. To his surprise the ball struck the foot of the post and rolled over the line. This was just what Everton needed and another Eglington shot immediately afterwards was mishandled by Taylor, but he was able to regain position. Everton now brimful of confidence, kept up the good work and they took the lead in the 56th minute. Again Eglington was the marksman. The goal was the result of a splendid four-point movement in which McNamara, Hickson and Parker collaborated. Ultimately Parker pushed it back for Eglington to take full advantage of a perfect opening. His rising drive from near the penalty spot left Taylor helpless. A Burden drive which slewed away from goal was the best Leeds could produce for a long time, and Everton should have increased their lead when Hickson sent McNamara away at outside left. Final; Leeds United 1, Everton 2.
EVERTON RES V NEWCASTLE RES
September 1, 1951. The Liverpool Football Echo
Everton res;- Leyland, goal; Clinton and Rankin, backs; Cross, Forshaw, and Lello, half-backs; Gibson, Hampson, Vizard, Cummins, and Easthope, forwards. Newcastle Res; Lowery, goal; Duncan, and Batty, backs; Lackeruy, Stokoe, and Robledo (E), half-backs; Robinson, Houlahan, Coulter, Paterson and Cameron, forwards. Referee; Mr. J. S. McLoughlin (Manchester).
Everton included in their side today at Goodison Park 18-year-old Vizard who led the attack. Everton were the more methodical side, but in spite of repeated raids found two good backs in Batty and Duncan. Vizard was well held by centre-half Stokoe. Half-time; Everton Res nil, Newcastle Res nil.
The second half opened with Gibson and Hampson combining well, the latter finishing a fine movement with a low drive. The United used the offside trap frequently and unsettled Everton's attack. Final; Everton Reserves nil, Newcastle United Reserves nil.
EVERTON'S TEAM IN PROCESS OF GRADUAL REJUVENATION
September 1, 1951. The Liverpool Football Echo
By Ranger
The first fortnight of the new season's football has run true to tradition in that it has been full of topsy-turvy results and queer reversals of form. Unfortunately, it also has failed to show up Everton in the light we would have liked. Though the Blues played some good football against Sheffield Wednesday last week, they have still a long way to go before we can look upon them as prospective championship contenders. Three points from four matches is not so hot, and though it is early days yet, points lost at the start take an awful lot of making up later in the campaign. A good beginning is also a big psychological asset to any side. Today, at Leeds, the Blues introduce two debutants in Dave Hickson and Tony McNamara, making three youngster's "blooded" already this season. Last campaign Everton tried out many of their other young players such as O'Neill, Jones, Gibson, Hampson and Parker. It is obvious that Manager Cliff Britton is building with a long-term policy in view. As I said here a fortnight ago, I think the time will come, though not this season, and maybe not next, when Everton will have a team capable of having a long spell of success. This will be when the present young players, plus others, who are certain to get their chances in due course, have absorbed experience and been nursed to stardom. For a long time Everton have been, relying on older servants, many of whom have had ample chances to prove their worth but have failed to come up to expectations.
Entire Reconstruction
Today the side is in process of almost entire reconstruction. It is a job which calls for patience and understanding on the part of supporters. When Everton do get back to the First Division they must if humanly possible, have a young and virile team which will not only keep them there, but avoid the constant years of anxiety, which we have suffered since the war. I think I would rather see them stay in the Second Division a little longer than have them get back and be struggling again in the old despairing way. It may be a fairly long job, but to my mind the board and their manager are working on the right lines. Time will show how things pan out. In the meantime we can only wait and see.
Strategic Weakness?
There is one point, however on which I join issue with the present Goodison system of strategy. Many a time of recent years I have referred to Everton's defensive back-pendalling. It is still very much in evidence. Last week we saw a Sheffield Wednesday half back who got the ball just inside his own half permitted to retain command of it unchallenged almost to the penalty area, where he delivered a sizzling shot which almost scarped the paint off the top side of the crossbar. While it is true that by chasing back towards goal instead of making an immediate fight for the ball the defence can pack the penalty area my view has always been that the first job of a wing half, or an inside forward if he is near enough is to endeavour to dispossesses the man with the ball. He might of course, be beat in a dribble or his opponents baying drawn him may pass to a colleague. But at least there is then time for an attempt at recovery. To see inside forwards and wing halves scuttling back like scared rabbits bolting for their holes is not an encouraging sight. Assuming that the danger is cleared and the ball booted back up field there is nobody there to gave the required support to the centre forward or extreme wingers.
Faint Heart no Good
When the extreme wingers also chase back as they do far too often then the chances of a successful counter attack are still more slender. Just as faint heart never won fair lady, a side which appears scared of getting a goal against is not going to win much either. Given me the Tottenham dictum any time. Another snag about a packed penalty area is the far greater likelihood of a shot striking somebody and being deflected out of Sagar's reach, or of his being unsighted. Any goalkeeper will tell you that if he could dictate the run of play he would rather have the minimum of men in front of him, so that he can get a clear sight of the shooter.
EVERTON'S NEW BOYS FITTED IN
September 3, 1951. The Liverpool Daily Post
Leeds United 1, Everton 2
It was a happy Everton party which left Elland Road on Saturday night not only because of the victory, but because the young men of the side had comported themselves so well. This angurs well for the future. The experience gained should be of immense value to them in the days to come. In recent weeks there has been a lack of spirit in the side. Not so at Leeds. The fight was on for the full ninety minutes. Leeds have a forward problem, as can be judged by the fact that they played a centre-half as leader of the attack. The return of Charles will be helpful, but even so strong a player as he will not lift Leeds out of the doldrums. Had to face up to the same thing. Striking power was needed, so they introduced two youngsters into the line in the hope of providing it. Had they taken half a dozen goals Everton would only have got their deserts. Nevertheless the line showed not only thrust but skilful combination. McNamara and Hickson got better as the game progressed, the centre forward delivered some beautiful passes to his comrades. How often have we condemned Eglington's right foot? Yet it was his right which did the damage. His first shot plainly misjudged by the youthful goalkeeper. Taylor who, thinking the ball would pass out, watched it hit the inside of the post and go to the back of the net. His second following nice by-play by McNamara, Hickson and Parker, left the United defence stone cold. Parker's final pass to Eglington screamed to be netted.
McNamara's Skill
Parker should have scored, McNamara should have marked one up and so should others. Had they done so Leeds would have been thrashed. They fought hard enough, but they shot from too far out and Kirk was hardly a success at centre forward. The meandering of Hickson often pulled McCabe out of position, McNamara was inclined to pull his centres too close to the goalkeeper at first but later indulged in wing football which had such an experienced full back as Milburn worried. But he must not try to beat two opponents when one will suffice. He lost a glorious chance because of this. Nevertheless he had a splendid debut. Hickson had a good second half. He spread the ball nicely while his dash to get across to McNamara's centre in the last second of the game when Taylor was "not at home, and an empty goal to put the ball into, went unrewarded by a split second. Fielding kept the ball moving sweetly, looking after the younger members, while behind Lindley was always in the thick of it. Donovan has come to stay, and the pairing of Jones with Lindsay is proving a hugh success. Jones was brilliant alongside his cool partner. Sagar had not a lot to do. He had no chance with Miller's goal.
UNDOUBTED PROMISE
September 3, 1951. The Evening Express
Pilot's Log (Don Kendall)
"Manager Cliff Britton and the Everton directors who made the journey to Elland-road, were justifiably delighted but of even greater importance and encouragement to them was the undoubted promise revealed by Dave Hickson and Tony McNamara in their first league outing (writes Radar).
McNamara has the built, ball control and a quick thinking brain to develop into a top class winger and if he was a little slow in the tackle at times, I attribute this to nervousness more than anything else. "Hickson, who was unlucky not to score in the last seconds of the game, when McNamara centred from an incredible angle, took time to find his feet, but was improving the longer the game progressed. He is no slave to the centre of the field, knows how to move away from a centre-half and in the second half, in particular he slipped out some delightful passes to his wingmen, apart from giving further proof of his sharpshooting ability. "It was easily the most encouraging performance I have seen from Everton this season. They set about their job with a will in the second half, and they owed much to the opportunism of Tommy Eglington, who was on the goal trail from the start. "Tommy's second goal from Parker's short pass, was a real snorter. Fielding was the unobstructive creator of openings, consistency placing his passes on a six pence, and Parker contributed his own essential share in this Everton win. "Sagar, Jones and Lindsay were a confident defensive trio, and Lindley successfully closed the middle of the field to the earnest Kirk. Donovan used his height usefully in a defensive sense, and his use of the ball was excellent, while Farrell's was his customary whole-hearted display."
YOUNG EVERTON
September 3, 1951. The Liverpool Echo
Ranger's Notes
I am not the sort of critic who flies off the handle over one display, but I have to admit that I was impressed by the play of the Everton youngsters who contributed to the team's success at Leeds. True it was left to the old hands, Tommy Eglington to register the two goals, but the "boys" played their part handsomely in this long-delayed away victory. For some time now I have been complaining of the lack of fighting spirit in the Everton team. Hey were too easily affected by a goal against and often handed over the initiative to the opposition. It could have happened at Elland Road, for Leeds scored the first goal but that goal had the opposite effect. It produced greater endeavour from Everton and not only did they set out to clear off the deficit, but went on to give the United a much bigger defeat than the actual score denotes. (Write Stork).
Had Everton scored five goals it would not have been flattering for they had by far the better chances, made by better football than that of their adversaries who found the Everton defence so tough that they elected to shoot from too far out. Miller's goal was a good one, laid on by their best forward Harrison but in the main the remainder of their shots were ably handled by Sagar. Everton have not had an outside right since the days of Torry Gillick I think they have found a worthy processor in young McNamara, the Liverpool lay. This tall laddie with the raking stride was apt to put his centres too close to the goalkeeper but he rectified that fault and became a nuisance to the experienced Milburn. One word of advice Tony. "Don't try to beat two opponents when one will do. " Hickson improved as the game progressed and eventually forged a link with his comrades which should have resulted in further goals, while he might have had a goal himself in the last second of the game when he chased a McNamara centre as it travelled a yard in front of the empty Leeds goal. He just failed to make contact and a goal. He had a hand in Eglington's second goal. Both Hickson and McNamara can claim a successful debut to senior football. When Miller scored I wondered what the reaction would be with these young Evertonians. Would it plick the heart out of them? The answer is no with a capital "N". They fought back challenged the Leeds defence and won through. The score does not give Everton full marks for their superiority. There was more enthusiasm in the side and even Leeds were battling for the equalizer one did not feel scared as so often has been the cast. They gave one a feeling of confidence in their ability to withstand the United's endeavour and on the foundation of victory was laid. There have been many jokes about Eglington's right foot in the past is a worthy weapon of destruction at Elland Road for it was with this "swinger" that he cracked home his two goals from the inside right and centre forward position respectively. Fielding slipped the ball here and there but I would like to see him follow up a little more. Parker still a little on the slow side put up the perfect pass for Eglington's winner. So much for the attack. What about the defence. No faults there. A steadiness under pressure that was heartening with Lindley a stumbling block to Elvy, and Donovan maintaining his promise although I though he gave a penalty away (not awarded) when he handled inside the box. His passing most times was done on the "floor." Tom Jones was excellent. He had no peer as a defender and along with methodical Lindsay formed a barrier which kept the Leeds forwards away from Sagar. Harrison was the United's best forward. I would like to see this newly formed Everton given a lengthy trial, for there are possibilities about it.
SAME TEAM OPPOSE FOREST
September 3, 1951. The Liverpool Echo
Ranger's Notes
It's a nice feeling and I hope we enjoy it many times in the months ahead Manager Cliff Britton was satisfied with the form of his two debutants at Leeds and also that of Donovan, though he was cautious enough when I chatted with him last night to retain from any glowing prognostications. All he would say that the newcomers "showed signs of being able to give useful service to the club." For the first time this season Everton say "same again" for team selection. With no injuries to worry about at Leeds and the first away victory safely enterened in the records, the Blues will field an unchanged eleven for Wednesday's home match against Notts Forest. As Rotherham are visitors to Goodison on Saturday, Everton meet former Third Division opposition in successive home games. Two victories look a possibility though neither side will be easy victims for both have started off in good style. The psychological benefit to Everton of two more wins would be decidedly helpful in giving the team that belief in itself which goes a long way. Everton; Sagar; Jones, Lindsay; Donovan, Lindley, Farrell; McNamara, Fielding, Hickson, Parker, Eglington.
NOTTM. FOREST AT GOODISON
September 4, 1951. The Liverpool Echo
Ranger's Notes
Last time Nottingham Forest were in this city they lost 4-0 to Liverpool in a replayed Cup-tie in January, 1949, their second cup visit in successive years. In those days Forest were a Second Division side, but relegation overlook them. Two seasons however, were sufficient to see them prove a cut above Southern Section class, and last campaign they galloped away with the championship and returned to the higher sphere. The Forest side has been considerably remoulded since they lost to Liverpool at Anfield just under three years ago though Walker, Thomas, Gager, Scott, and Johnson are still with the club. Newcomers in attack are Ardron formerly of Rotherham, who this season has averaged a goal a game in five matches, Capel, ex-Chesterfield and Collindridge the former Sheffield winger or centre forward. Forest have won two of their three away matches to date, against Rotherham and Birmingham and defeated Southampton at Nottingham. Their two reverses were at home to Cardiff City and away to Southampton. The attack nicely balanced and effective has scored 11 goals in five outings but that the defence is liable to human frailty was evident at Southampton where the Saints slipped five goals past Walker. Tomorrow's game will be Forest's third away fixture in succession but after their good win at Birmingham on Saturday they will be a little more confident than might otherwise have been the case. Everton however, will not be behind in this respect. They showed a new fight back spirit and confidence at Leeds which augur well for the future and though there is a modicum risk in "blooding" so many young players at the same time Everton must obviously start obtaining for the future without unnecessary delay. There will be large crowd at Goodison tomorrow to see how the new Evertonians. Thus with an unchanged side the Blues are expected to give an good account of themselves. Forest make one change compared with Saturday, bringing Walker back in goal in place of Canning. Everton; Sagar; Jones, Lindsay; Donovan, Lindley, Farrell; McNamara, Fielding, Hickson, Parker, Eglington. Nottm Forest;- Walker; Whare, Thomas; Orr, Gagar, Morley; Scott, Kelly, Andron, Capel, Collindridge.
CLOSE FOR EVERTON IN POOR GAME
September 6, 1951. The Liverpool Daily Post
Everton 1, Notts Forest 0
By Ranger
A goal to Parker at the 50th minute gave Everton two points in a game which lacked thrills and polish and was note worthy more for its aimless kicking and misplaced passes than for anything over which the crowd of 33,613 could really enthuse. Play at times was as flat as the efforts of an amateur bugier in the stand whose key efforts caused even the usually tolerant spectators below to turn round and remonstrate. What good marks could be awarded went almost exclusively to defenders, most of whom on either side, had the measure of the opposing forwards. True, drizzling rain had made the top surface treacherous, but this was no excuse for some of the disappointing forward work, and certainly not for the succession of passes which went to an opponent instead of a colleague. The visitors were the more aggressive side in the first half, and but for two splendid saves by Sagar off Orr and Collindridge the Forest might well have been in from at the interval. Their attack, particularly on the right flank, where Ardron and Collindridge interchanged positions cleverly was always ready to shoot. The only drawback was that too often they tried long-range efforts, which though on the mark had little hope of beating so capable a custodian as Sagar. By comparison, Everton were very shot-shy in this period though from time to time they carved out nice chances. Their only really strong shot was a stinger by Parker which was worth a goal. The rest were either off the target or so lacking in pace they had little hope of finding the billet intended.
Too Intricate
In the second half Everton leveled up matters, or rather, it would be more accurate to say that Forest lost their shooting boots, and fell into the error of the home side in trying to work the ball too close, which played into the hands of the Everton defenders. As so often happens the winning goal came straight from an attack at the opposite end. A long punt was slipped through to Eglington, who took it so far ahead that it seemed it must elude his grasp and cross the dead ball line. By a superhuman effort, however, the winger managed to get over a centre which bobbed about a couple of seconds before Parker out-headed Orr and beat Walker with a downward flick. Both players were hurt in the process when their heads clashed and had to receive attention, Parker going to the dressing-room with a cut over the eye. On his return he changed places with Eglington.
Lindsay Heads Away
In the closing minutes Forest almost snatched a point when a Collindridge centre eluded Sagar and Lindsay headed away a yard from the line. A little earlier Orr had another grand shot tipped over the bar, and Fielding had missed a good chance of increasing Everton's lead when he elected not to go forward after a miss-pass by Gagar had left him unchallenged on the edge of the penalty area with only the goalkeeper to beat. A pass to the wing enabled the Forest defence to close its ranks when a quick burst through would almost certainly have been crowned with success. Everton's main honour's went to Lindley, sound and cool at centre half; Lindsay and Donovan, who sought always to make good use of their clearances and in lesser measure Jones and Farrell. Hickson was a great trier even after he had suffered a leg injury following a collision with Walker but McNamara though showing bright idea's at times, was on the slow side. This left Parker the most likely scorer, for Eglington apart from one strong effort in the second half, rarely found a way pass. Whare who, along with Gagar was a tower of strength in the Forest rearguard. Everton; Sagar, goal; Jones and Lindsay, backs; Donovan, Lindley and Farrell (captain), half-backs; McNamara, Fielding, Hickson, Parker, and Eglington, forwards. Notts Forest; Walker, goal; Whare and Thomas, backs; Orr, Gagar, and Morley, half-backs; Scott, Kelly, Ardron, Capel, and Collingdridge, forwards.
• Everton "B" won 4-2
PROMISE WITHOUT PUNCH
September 6, 1951. The Liverpool Echo
Ranger's Notes
After last night game at Goodison Park I was entangled in a discussion in which one acquaintance maintained that it was a good game and in a par with most First Division matches and the other that it was little better than good average Third Division fares. Personally I cannot support the first contention and should hesitate to do so condemnatory as to agree with the second. Maybe a middle assessment is about right –that it was very ordinary Second Division fare, undistinguished by any outstanding brilliance and only relieved at times from something approaching boredom by brief flashes of a promise that was never fulfilled. The few purple patches were cut-numbered by spells of aimless kicking and faulty passing and on this showing neither side measured up to the standard expected. I thought Forest slightly the better team in the first half, certainly there could be no argument that they were the more frequent shooters ever if most of their efforts were from such long range that they must have been decidedly optimistic, if they expected to beat a custodian of Sagar's calibre by shots of that kind. Everton's only really strong shot in the first half was a Barker effort though some went close, and still more were either off the target or too tender to stand a chance.
Deserved A Point
Matters were evened up in the second portion, not so much because of any impressive improvement in Everton's shooting but rather due to Forest's changed tactics and their much closer play, which saw them trying an extra move instead of a first time shot. Parker's goal at the fiftieth minutes served to bring Everton two points though on the balance of play I reckoned Forest deserved a half share. It was Eglington's speed which enabled him to keep the ball in play and provide the goal-laden centre in taking advantage of which Parker bumped his head against Orr's so heartily that both players had to receive attention. Collindridge nearly snatched a point from the wreck by his angled shot cum-centre in the last few minutes which Lindsay headed off the line. If Hickson and McNamara making their senior home debut, did not exactly cover themselves with glory at least they did enough to warrant further chances. Hickson is a grand worker and wholehearted trier and though he has much to learn looks quite promising. He can certainly hustle the defence more than somewhat. McNamara had some bright ideas but lacked the speed to make the most of them. That may come in time, Donovan was the best of the new boys I like the way he keeps the ball on the turf and tries to use it to advantage.
Punch Still Needed
In defence Lindley was sound, Lindsay again the studious and precise back who scorned to simply bash the ball away and hope for the best and Sagar made some splendid saves when Forest were in their most aggressive mood. Forest's best in defence were Gager and Orr, the latter a persistent shooter – and a strong one – while Collindridge and Andron particularly in the first half looked the most likely to get a goal if any body did. Cooliness and co-ordination may weld this Everton side into a good striking force in time, but there are still points where greater punch is needed and good approach work should not be wasted by weak or ill-directed marksmanship. Also too many passes last night found an opponent instead of a colleague. All the building-up work in the world is of no use if the opposition is presented with the final pass to make clearance easy.
Everton will not announce their side to meet Rotherham at Goodison until tomorrow, but Hickson (thigh injury) and Parker (cut eyelid) are expected to be fit.
John Willie Parker
John Willie Parker Everton's inside left who last night scored his first goal in the Football league game, and after the match had to have two stitches inserted in a cut eyelid sustained in a collision with Orr, Forest's right half as Parker headed in the winner. A native of Birkenhead, he signed professional for Everton in December, 1948 and made his senior debut last March.
EVERTON DESERVED THE 1-0 VICTORY
September 6, 1951. The Evening Express
Speed to Possession is A Division 2 Essential
By Pilot (Don Kendall)
Everton came through the test with Nottingham Forest at Goodison Park last night without serious injury. There are a few knocks which should, however yield to treatment. The team to meet Rotherham United will be announced later. The Blues 1-0 victory was deserved after a game we shall not long keep in memory, for it was destruction to commend for so long. The goal which won it was noteworthy, for it was scored by John Willie Parker. This was his first Football League goal, and he had to thank Hickson and Eglington for the chance for this headed effort. Parker scored not without prize, for he received a bang in the face as he headed home and cut an eyelid. This had to have two stitches. Hickson who made such a promising home debut suffered a bump on the left thigh, but that is about all in the injury line. Everton can feel pleased with the showing of their youngsters, and Donovan in particular. This boy has the mark of supreme class. Hickson has most of the attributes. He is exceptionally strong on the ball; distributes it in the style of a real leader, heads well, and is quick to take a shooting chance. This lad will go places.
Lindley Supreme.
Hickson found difficultly in opposing the rigged Gagar, who came second, when compared with Maurice Lindley as a pivot. I rated Lindley the best of the 22, with Lindsay not far behind. They produced those little touches of Everton traditional football, so did Donovan and the rather nervous McNamara in the second half. McNamara was troubled by the fast moving ball, and will do better when he learns to take the back on the inside. Eglington was the mainspring of the attack, for Fielding too often was a split second late in moving to the ball. Parker too was that wee bit slow, but both produced more ground football craft than any of the Forest could show. Jones I prefer at right back, for he was soundness itself after early errors. Farrell made this a particularly hard task by his own entucetness and Sagar's positional sense saved him a lot of trouble. Yet Sagar himself was beaten once by the slipper ball. A centre from Collindridge looked like an easy catch but the ball appeared to spin between his hands and it was fortunate that Lindley was on the line to head away and prevent what would have been the equalizer, Forest did not deserve. Everton can make up their minds that speed to possession is going to be an essential in the Second Division Football which at times bare the Third Division label.
HOLD RE-SIGNS
September 7, 1951. The Liverpool Echo
Ranger's Notes
Oscar Hold, who a month ago asked to go on Everton's transfer list, re-signed to day and leads the Central League attack against West Bromwich at the Hawthorns tomorrow. Hold still wishes to get South, however, and Everton are willing to consider offers for him.
Rotherham's Faith
For the second time in four days Everton entertained a club promoted from the Third Division at the end of last season, Rotherham United being tomorrow's visitors to Goodison Park. The Yorkshire club ran away with the championship of the Northern Section last season thanks to a combination of solid defence and on the target shooting by the forwards who scored 103 goals in 46 games. Rotherham are pinning their faith this campaign to the same side as that which gained them their higher status. There is not a solitary newcomer in the team and so far they have utilized only 13 players. Two temporary changes have been made in the attack owing to injury. The whole of the rearguard has remained unaltered so that they have started where they left off last season when the same defence was fielded in no fewer than 44 of the season's 46 league engagements which must be a record in modern football. Rotherham's centre forward Jack Shaw, leading scorer in all four divisions last season with 37 goals, has started well this term, and though Rotherham will not find it easy to get goals this winter as last, they will take some holding when on form. While Everton's display on Wednesday was not up to expectations the defence generally had a sounder look and the introduction of younger men in the attack has brought new verve and enthusiasm. Whether or not Hickson and his colleagues can outwit the rugged United defence and get to grips with Bolton remains to be seem but persistent shooting allied to speed in the tackle and improved use of the ball could bring the Blues third third successive win. Everton; Sagar; Jones, Lindsay; Donovan, Lindley, Farrell; McNamara, Fielding, Hickson, Potts, Eglington. Rotherham; Bolton; Selkirk, Nobie; Edwards, Gibson, Rawson; Grainger, Williams, or Wragg, Shaw, Guest, Rudd.
EVERTON CAN EMULATE LIVERPOOL
September 7, 1951. The Evening Express
Three Wins in Eight Days Bid
Potts Returns
Everton tomorrow play their first ever match against Rotherham United when, at Goodison Park they will endeavour to emulate Liverpool's feat of last week and record their third victory in eight days. The Blues in their drive towards a promotion challenge position, have defeated Leeds United (2-1) and Nottingham Forest (1-0) and having accounted for last season's Southern Section champions, they tackle the Northern Section champion. This should represent an easier task, for not only is the Southern Section rather superior to the North, but on the opening day of the season, Forest went along to Rotherham and won 2-1. Yet Forest lost at home to Cardiff City 3-2 and Rotherham went to Cardiff and won 4-2. That makes form a little topsy-turvy in keeping with the start to the season for we have seen Liverpool lose at home to Portsmouth and yet bring back points from Burnley, Chelsea and Arsenal/ such thing cannot be reconciled.
Consistency
Rotherham are the most consistent of all post-war Northern Section clubs, being runners up three seasons out of four before lifting the title last season with a team of locals, with only one exception. A proportion of the team to play tomorrow used to work in the pits, and none cost anything in transfer fees, so we should see two of the day's cheapest Second Division sides in action. United have doubts about Jack Shaw, their centre forward and leading scorer, and inside-right Williams who, however, are expected to be passed fit at today's tests. Everton will have Harry Potts back at inside left following injury and taking over from the injured Parker. The game starts at three o'clock and United are sure of a warm welcome on their first visit to Goodison. Everton; Sagar; Jones, Lindsay; Donovan, Lindley, Farrell; McNamara, Fielding, Hickson, Potts, Eglington. Rotherham; Bolton; Selkirk, Nobie; Edwards, Gibson, Rawson; Grainger, Williams, or Wragg, Shaw, Guest, Rudd.
Hold Resigns
Oscar Hold, the Everton forward re-signed today, and will lead the Central league attack against West Bromwich Albion tomorrow.
EVERTON CIRCULATE PLAYERS
September 8, 1951. The Liverpool Football Echo
By Ranger
I understand (telephones Ranger) that Everton have circularized certain clubs stating they are willing to consider offers for four players –namely Catterick, Burnett, Falder, and McIntosh.
This does not mean that these players are on the transfer list, but only that if acceptable offers were made Everton would be prepared to consider a deal. Final word of course, would rest with the players themselves. In addition to these four, Everton have already intimated their willingness to consider offers for Buckle and Hold!
VICTORY CHANCE LOST BY EVERTON'S BACK-PEDAL DEFENCE
September 8, 1951. The Liverpool Football Echo
Everton 3, Rotherham 3
By Ranger
Everton paid the penalty of their own complacency and their backing away tactics in defence. Rotherham twice got on level terms and were given a belief in themselves, which they might never have acquired had Everton not allowed them to assume the initiative. Everton; Sagar, goal; Jones and Lindsay, backs; Donovan, Lindley and Farrell (captain), half-backs; McNamara, Fielding, Hickson, Potts, and Eglington, forwards. Rotherham; Bolton, goal; Selkirk, and Noble, backs; Edwards, Gibson and Rawson, half-backs; Grainger, Guest, Shaw, Williams, and Rudd, forwards. Referee; Mr. A. Brown (Middlesbrough). Everton for the second time in four days entertained a former third division side in Rotherham, last season's Northern Section champions, who came with exactly the side which had played almost unchanged all last campaign. The game opened on a most unusual note for in Everton's first attack we saw the remarkable happening of two balls on the field at the same time. One of them was a practice ball which had been booted back into play by someone unknown. It almost struck the match ball as Everton bore down on the visiting goal. Eglington won the crowds applause early on with one angled shot which had travelled on the wrong side of the far post and another centre which looked laden with danger but actually the ball had gone behind and the referee rightly awarded a goal kick. The first time minutes produced three corners, two to Everton –which brought no scoring effort in their train –and one to Rotherham, which Shaw headed a yard over the bar. Rudd indulged in a tricky dribble which got the Everton defence in a bit of a tungle until McNamara came to the rescue near the corner flag. At the ninth minute Everton took the lead through Hickson. Eglington started the movement, slipped the ball inside to Potts who tried a shot which struck a defender. The ball cannoned sideways to Hickson who seized his chance, like a flash –though he looked to me to be in an off-side position had the ball not come off a defender. Bolton got his hands to the Everton leader's strong right foot shot which was from about eight yards range but he could not stop it entering the upper part of the net. This incidentally is Hickson's first goal for the Blues in senior football. Everton got the ball into the net a second time after 15 minutes but offside was obvious so that McNamara who had added the finishing touch was robbed of also getting his first goal of the season. Everton were serving up some clever combination and Rotherham seemed to be feeling the occasion somewhat. This is the biggest ground on which they have played so far in League football, and one could not wonder if it was taking them a little while to become acclimatized. A Fielding shot from 12 yards was only saved by Bolton at the second attempt. It had plenty of sting behind it and from the Everton point of view it was good to see Fielding "having a go."
Eglington's Field Day
Eglington was having a field day against Selkirk who could make nothing of the winger's speed but despite Everton's superiority it was obvious they could not afford to hold the opposition too cheaply. Indeed when Rotherham got away through a long clearance down the middle, and Shaw had eluded Lindley, the visiting centre forward should have done much better than tap the ball tamely into Sagar's hands. Rotherham were playing an off-side defensive game, and three times Everton fell into the trap, Hickson twice being a victim, due to his desire always to be up and doing. Donovan who had made good use of the ball on many occasions, now set McNamara going in an attack which promised good things only to have the sting taken out of it when they play was pulled up for a foul. It was ironic that Donovan, who hitherto had not put a ball wrong should now produce a pass to the opposition which set Rotherham off on the best combined move they had produced so far. They took the ball three parts of the length of the field, without an Everton man touching it, only for Guest to head over the bar.
Rotherham Press
Rotherham came again immediately afterwards and Shaw when boring through on his own, was heavily grassed by Lindley just outside the penalty area. Noble's free kick brought a corner from which the Rotherham left back headed towards the foot of the far upright where Sagar saved the situation at the expense of another corner. Everton after their grand opening spasm had now faded out of the picture so much that they were hardly in it at all. Rotherham seemed over-eager and lacked someone to hold the ball and split the defence before parting with it. Half-time; Everton 1, Rotherham nil.
Everton got a gift goal at the 48th minute. Potts was the scorer with a shot which Bolton stood, and was then obviously thinking it was going out, and nobody was more surprised than he and the scorer when it cannoned into the net off the upright. Potts engineered the opening by his persistence when he harassed Noble and found the ball dropped in front of him. Almost straight from the kick-off Rotherham had pulled back this goal and Everton's fondness for retreating in the face of an attack was almost solely the reason. Edwards, the Rotherham right half, was allowed to take the ball well up without being challenged. Finally he slipped it to Shaw from whence it landed at the feet of Guest who scored with a weak toe-ender which went through Sagar's legs from four yards distance. Two minutes later Rotherham were on level terms, Shaw scoring at the 53rd minute when the Everton defence again was not as quick in tackling s it should have been.
Rotherham Rampant
This was a real turn round and no mistake. In the closing stages of the first half I had felt that Everton were taking things far too easily with only a goal lead, and their old fault of backing towards Sagar instead of presenting an immediate challenge was no help. Rotherham had now sensed that they could win a match which at one time looked certain to go against them and they were throwing everything into attack. Shaw a lively leader –though no livelier than Hickson –had a chance to make it 3-2 but failed to get in his final shot properly, and straight away Everton dashed away to the other end and put themselves in front. A free kick against Edwards was slipped out by Farrell to Eglington whose accurate centre provided McNamara with his first goal of the season. This, however, was not the end of the sensations. Yet another goal came within 60 seconds and once more Everton's fatal habit of backing away in defence allowed Edwards, the right half back, to get in a shot which, although from some yards outside the penalty area, deceived Sagar, probably because he was unsighted. The crowd certainly had plenty to keep them on tip-toe, five goals in 12 minutes was enough to satisfy anyone, even though there had been a touch of fortune about some of them. Everton had got the ball into the net again, Hickson being the successful marksman, but the referee had seen an infringement for hands and in spite of Everton's strong protests had disallowed the point
Too Self-Satisfied
Everton had only themselves to blame for only being on level terms. They had been far too self satisfied with their lead, and had allowed Rotherham to regain the initiative when they might easily have retained it themselves. Hickson was Everton's most dangerous forward. He gave Gibson and the backs a rare running about and chased even the most remote chance with a Liddel like determination. It was a real cat-and-thrust stuff all the way now by both sides each fighting hard for the lead. Two Everton attacks saw Eglington shoot across the face of the goal instead of testing Bolton and then straight away the next incident was Eglington chasing right to the other end to assist Lindsay in tacking Grainger near the corner flag. This game which had started as though it might have been a class exhibition by Everton had now developed into something alike of a desperate cup-tie with endeavour and determination and more in evidence that anything else. Eglington with another possible opening shot straight at Bolton from fairly close range while Potts with almost as good an opening, lifted the ball tamely into the goalkeepers hands. The remaining minutes were still packed with thrills, but to the credit of both defences neither panicked and it was good to see Lindley at one end of Gibson at the other stick to pure football and get the better of an opponent by skill rather than aimless shooting. Official attendance 44,838. Final; Everton 3, Rotherham 3.
WEST BROM RES V EVERTON RES
September 8, 1951. The Liverpool Football Echo
After 51 minutes Corbett scored for Albion and Leyland saved repeatedly for Everton. When Hampson did get away he brought Heath to his knees but the ball was scrambled away, while the goalkeeper just fingered a shot from Gibson for a corner. Final; West Brom Res 2, Everton Res 1
• Everton "A" 5, Prescot B.L. nil.
EVERTON FEATURES
September 8, 1951. The Liverpool Football Echo
By Ranger
If Everton have not exactly sent their followers delirious with joy at least they have done enough to show that they are likely to maintain a reasonably respectable position in the table. This will give them a breathing space to bend on the building of a team which when moulded and shaped and replete with the requisite experience, should be able to put the club back in its rightful sphere and revive the old traditions. Hickson obviously requires a few rough corners smoothed off before he fills the bill entirely, but he has promise, and is the type likely to harass opposing defences more than some leaders for he is no slave to orthodox ideas. McNamara needs speeding up before he can be regarded as the complete answer to the outside right berth, but Donovan pleases me more each time I see him and should make the grade when he has more experience behind him. One encouraging feature at Goodison has been the splendid start made by the Central League side. unbeaten up to this morning, with four wins and two draws and a goal average of 14 against 3, the Blues second string has been going great guns. Apart from Lello, McIntosh and Saunders, the rest of the Central League team averages only about 21 years of age, which is another optimistic sign. There are 19 year-olds of promise in Forshaw, Woods, Gibson and Cummins; smart 20-year-olds lads such as Leyfield and Easthope, a 17-year-old in Vizard who will not be hurried along but allowed to mature in his own time, and others with youth on their side in Hampson (22), Moore (22), and Clinton (22).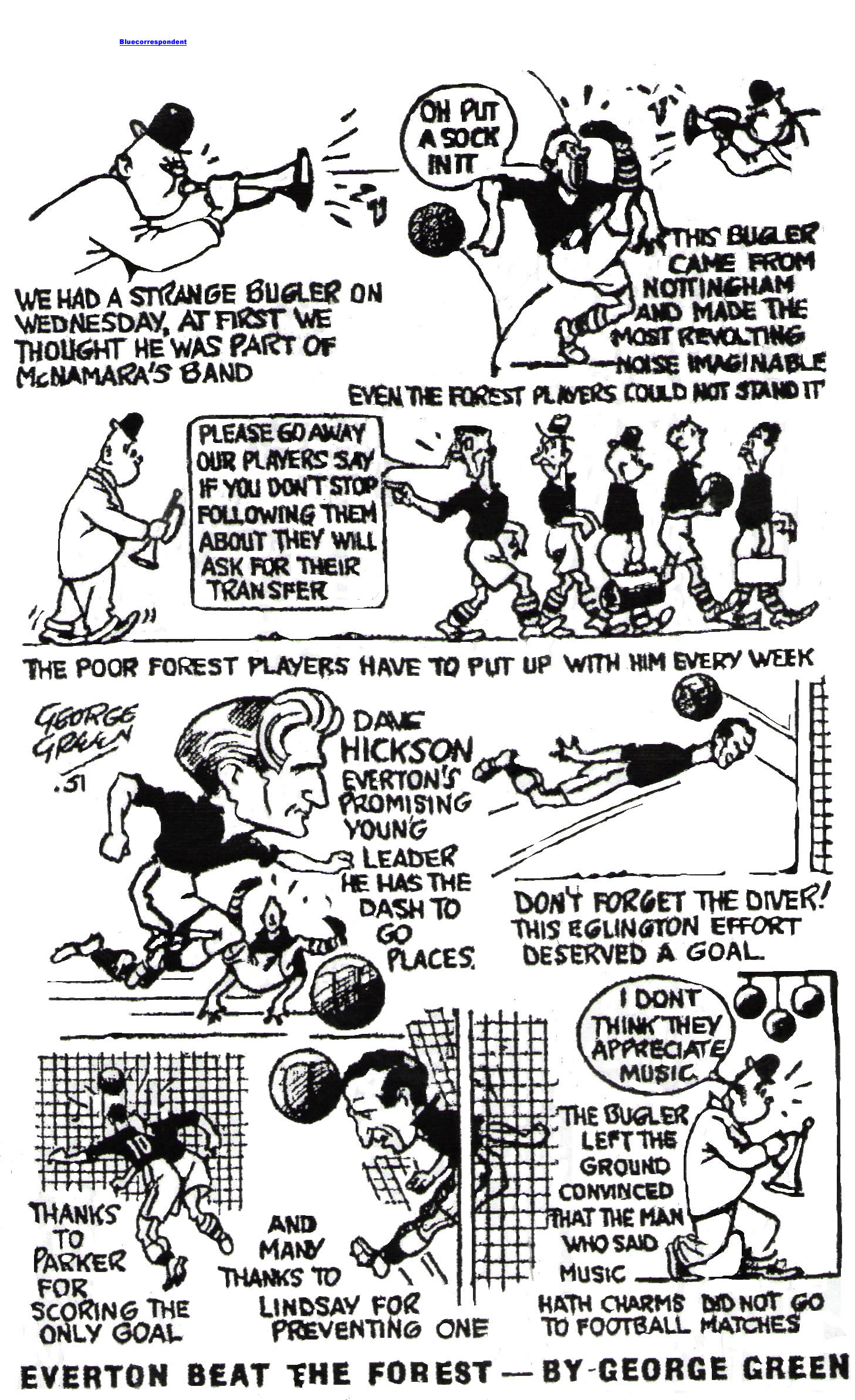 RUSH OF GOALS AT GOODISON PARK
September 8, 1951. The Evening Express
Five Scored in 13 Minutes
Hickson and McNamara Open Their Football League Accounts
By Pilot (Don Kendall)
Rotherham United sprang a surprise with a glorious fight back in a goal-packed thriller with Everton at Goodison Park today, for after losing 2-0 they fought back to equality and then equalizer again when Everton regained the lead. It was a game of sensation producing five goals in 13 minutes in the second half –three to the United, while Hickson and McNamara each scored their first Football league goals. Everton opened magnificently but fell away once Hickson had given them the lead and Rotherham developed into much more the faster and incisive side, their rally being aided by indifferent goalkeeping by Sagar, who actually allowed the third equalizer to pass under his body into the net. This was one we never expected –that Rotherham should ever do this to Everton at Goodison Park. Rotherham fully deserved their point –in fact they might have got two. Everton; Sagar, goal; Jones and Lindsay, backs; Donovan, Lindley and Farrell (captain), half-backs; McNamara, Fielding, Hickson, Potts, and Eglington, forwards. Rotherham; Bolton, goal; Selkirk, and Noble, backs; Edwards, Gibson and Rawson, half-backs; Grainger, Guest, Shaw, Williams, and Rudd, forwards. Referee; Mr. A. Brown (Middlesbrough).
Everton provided the opening thrills when Potts pass between the legs of Selkirk enabled Eglington to go on, but Gibson headed away. Then Eglington went through again to dash a fast, low centre across the face of the United goal. Eglington was being exploited freely and now Fielding got him away but he allowed the ball to run behind before centring, so that Hickson galliant headed effort was in vain. Eglington forced the first corner of the day off a perfect pass from Farrell but Gibson was there again to take charge. The United flashed into the game with a perfect piece of work by Shaw at outside left. He turned the ball inside for Williams to dash through, Jones turning the ball behind for a corner from which Shaw headed over. McNamara was passing with much greater confidence and effect than against the Forest on Wednesday and, following co-operating with Fielding, Bolton to dash out to keep Potts at bay. Everton took the lead in 8 minutes when Hickson celebrated with his first goal in the Football league.
No Chance
From the wing Eglington turned the ball inside for Potts who shared to go through for a shot but Gibson tackled him quickly, Potts held his ground, and just pushed the ball through for Hickson to go on and score with a right foot shot from seven yards into the top far corner to give Bolton no chance. This was not a difficult opening by any means but the crowd were delighted at the way in which Hickson took it and also with the way in which Rotherham were trying to demonstrate that they are a football side, and not merely kick and rush. Only the quickness of Bolton prevented Hickson taking another when Lindsay's long pass enabled Potts to head the ball forward and the electric Hickson was there only a split second after Bolton. McNamara got the ball into the net after persistent work by Hickson, but the whistle had just sounded for offside –wrongly I thought, for Selkirk was standing on the goalline when McNamara made the vital pass. Hickson made a magnificent headed attempt off McNamara before McNamara slipped the ball back perfectly for Fielding to come in and make a brilliant right foot shot which Bolton saved with equal brilliance. An attempted close passing movement between Potts and Eglington was broken up by Selkirk. Everton continued to play the best football we have seen from them this season, both wingers being magnificent. A long through ball bounced over Lindley and Shaw was able to go on only for his intending low centre to become an easy pick-up for Sagar. United had a penalty line free kick for obstruction, but from this Williams headed behind. Lindsay was really magnificent in the way he held up Grainger coolly beating three men before feeding Eglington, who whipped the ball straight across the field to McNamara. This centre was equally accurate Rotherham being only to pleased to concede a corner to hold off Hickson. From this McNamara almost had his first goal for his cross-shot was no more than a foot off the mark. Everton had one of these typical periods when they tried to be too clever and the lack of directness allowed Rotherham latitude to defence. Potts hook pass saw Fielding go forward unchallenged but Fielding sportingly drew back when Bolton ran out to parry.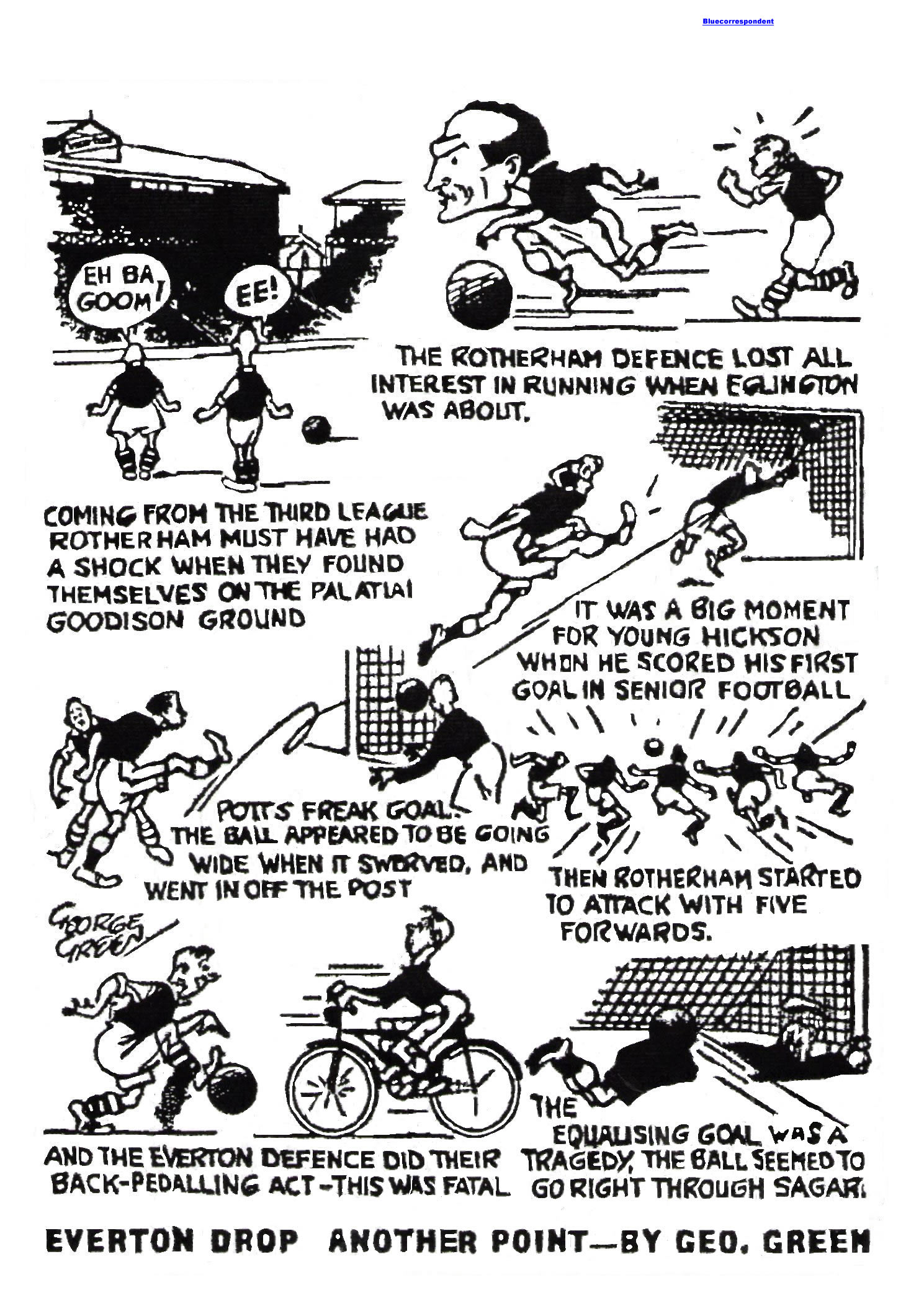 Potts Heads Over
McNamara back-heeled the ball down the wing and raced on magnificently only to be fouled. He recovered his balance and went on so that Everton were actually penalized by the referee's award of a free kick from which Potts headed over. Everton had been held up more by United's perfect exploration of the off-side game than by actual defensive ability, but a couple of decisions were hair-line to say the least. The Blues falling to show conviction in the use of the ball saw Rotherham sweep away through Shaw and Rudd, and from Rudd's centre Guest was much too near with his header for Everton's comfort. From Edward's quick lob to the middle, Shaw tried to sweep around Lindley who, however, brought him down just outside the penalty area and Everton formed a barrier so that all United got for it was a corner. Full back Selkirk came up for a goal almost got the equalizer, Sagar diving across to turn it aside for another corner. United had another free kick just outside the penalty area, but Grainger's shot was too high and wide. Everton had certainly fallen away considerably after their splendid opening, just as if they had taken too much for granted. They were overdoing the short pass and although it was pretty to watch it was lacking in effectiveness. Half-time; Everton 1, Rotherham 0.
Selkirk put paid to Hickson's attempted burst through on resuming, but it was Hickson's quick pass which produced the second goal in 47 minutes. Potts leapt through at this and although challenged by Gibson managed to get in his low shot which most people including goalkeeper Bolton imagined would pass beyond the far post. It did not, however, for it struck the foot of the post and bounced into the net to the disgust of Bolton. It was a trifle unlucky to say the least, for the ball seemed to turn just at the end. Hickson raced on to Fielding's pass and although strongly challenged he plugged away and actually got in his shot, but this was lacking in power. In 51 minutes the United struck back hard with a beautifully taken goal by Guest. Credit for this goal, however goes to Edwards, the right half, who burst through on his own got to a goal position and then slipped the ball to Shaw who side-passed it for Guest to score easily from close range. Within three minutes the United were level through Shaw, and there is no doubt that slackness on the part of the Everton defence contributed. Grainger ran through splendidly and pushed the ball across Sagar went out and down to it but failed to get hold of it and the ball ran out to Shaw who, with Sagar out of goal, placed it into the net with his right foot. This showed that no lead is unassailable against these unknown quanties, especially when they have the ability of Rotherham. Lindley was absolutely in a flat spin when Shaw went through on his own and Shaw moved to his right almost in his own time to make a right foot shot which Sagar saved low down. In 58 minutes we had another "first-ever" for Tony McNamara scored his first Football League goal. Eglington was racing through when Selkirk fouled him and from the free kick Farrell slipped the ball forward to Eglington who passed it square into the goal-mouth and McNamara whipped it into the net with his left foot. Then in two minutes Rotherham had scored again to make it 3-3. It was Edwards who made and took this great goal for as he did in making the United's first goal he ran through on his own but this time decided he would shoot which he did from just on the edge of the penalty area, Sagar went down with the ball well covered but he allowed it to slip under his body and into the net. The five goals came in 13 minutes and the ball was again in the net from Hickson, but it was disallowed either for hands or offside. The Everton passing lost its accuracy and attempts to develop attacks were more often than not starting those lightning raids by United, a contributing factor to which was the fact that the Everton half backs were inclined to fall back so that as soon as the ball came out of an attack Rotherham almost had "the field to themselves." As soon as Donovan and Farrell began to think more of attack the United were in trouble, McNamara being baulked when he was shaping for another. Eglington centred across the face of the goal before Hickson's pass put him through, but he shot beyond the far post. With Fielding and Potts so far back in the field there was no hope of Eglington's centre becoming a winner. Everton gave the indication that they were more concerned about saving one point than making it two. Final; Everton 3, Rotherham United 3. Official Attendance 44,838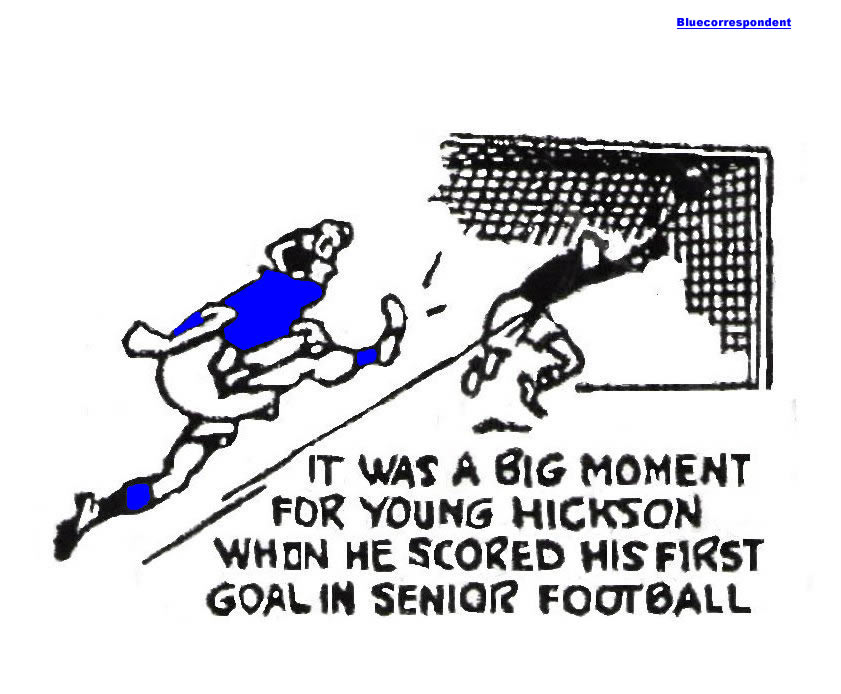 THEIR TORNADO DIED OUT
September 10, 1951. The Liverpool Daily Post
Everton 3, Rotherham 3
By Leslie Edwards
Rotherham United were known to followers of Everton, until recently, as that good little Third Division side so ably managed by Reg, Freeman. They were expected to provide something of a Roman holiday for the 44,000 who graced palatial Goodison Park. When the game began it looked as though they would be gobbled up by voracious opponents who began in such rampaging style. Rotherham must have felt they were playing against a tornado, with the hurricane gusts coming in left, via Eglington. But what a transformation was worked after Everton had led 1-0 at the interval. And how nearly this display of cheek by this side of miners and minors went to providing not one point, but two. There is something wrong in a side that can lead, 1-0, 2-0, 2-1, and 3-2 in each of two matches (the scoring was identical against Sheffield Wednesday too) and still only draw 3-3. The crowd and other critics may think they know the reason, which may be due more to Everton's well-known propensity for fading, than to their too negative defensive tactics which allow wing half backs to bring the ball through, unchallenged. Once they weathered the storm of Everton's riotous first half –a goal was little enough reward for such football –Rotherham, gusty wind in their favour, had their chance. Despite the fact that they went still further behind, one always had the feeling that they would make a match of it, and so it proved. Like Everton they scored goals which should not have been; indeed all the goals had a tinge of freakishness.
Unwelcome Stranger
It was a game memorable in more ways than one. First, we had, almost immediately, the odd appearance, with play in full swing, of one of the practice balls –presumably one which had been returned, belatedly, from the terrace. Then came Everton weaving pretty patterns and finishing so well Rotherham's slow and cumbersome full backs were all but swamped. Finally the game contained quick goals (a first in each case for Hickson and McNamara) and Potts first this season. Add refereeing of such promptitude that the innocent side was twice penalized by the quickness of a decision and the galliant revival of Rotherham and you have indication of the game's entertainment. Whatever may be said of Everton they have at least discovered a centre-forward of much quality in Hickson. He has the Mortensen trick of delivering a shot when none is expected; he has life and spirit and a good head and more important, the desire to take advice from his captain. Until he ran himself tired –Hickson looked very good, indeed. But even better was the Rotherham centre forward Shaw, so full of tricks and, sharp and unexpected weaving that Lindsay was always threatened at close quarters.
Good Finishing
Rotherham for a time, looked almost amateurish and Everton held them almost contemptuously, but once they got the strength of the lush green turf (their first half passes were always two yards too slow) they put up some splendid football and finished more than adequately. Half-back Edwards may have had moments of indecision in defence, but in possession he strode through confidently, first to provide Guest with a goal and later to take one himself with a low but fast shot which Sagar did not survey quickly enough. Shaw got the goal his talented played deserved.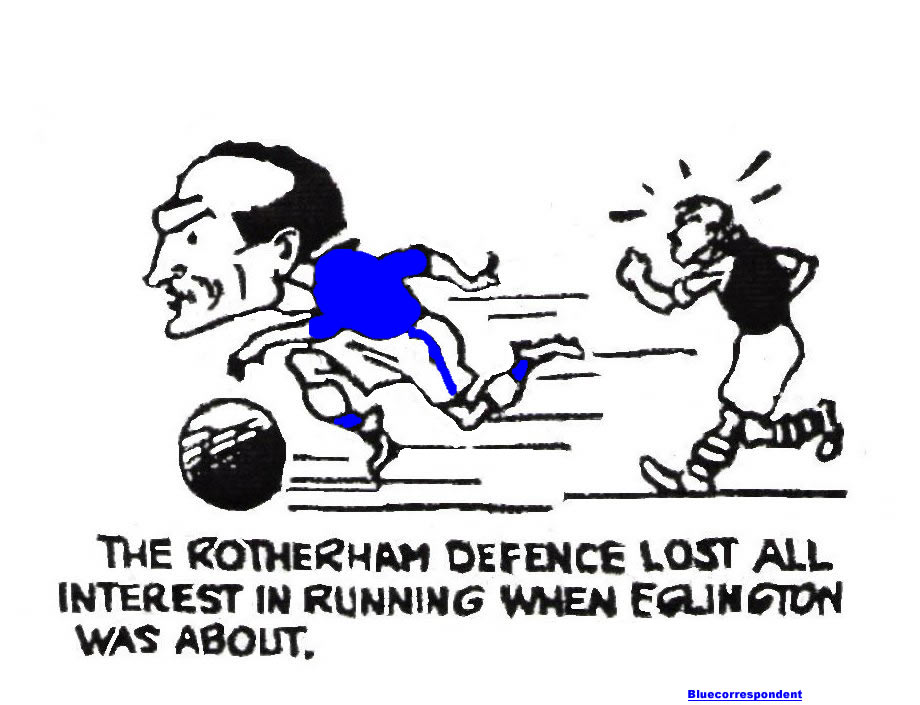 CENTRAL LEAGUE
September 10, 1951. The Liverpool Daily Post
West Bromwich Albion Res 2, Everton Res 1
West Brom Albion Res; Heath, goal; Hewson and Hilton, backs; Williams, Horna and Wright, half-backs; Griffin, Carter, Nicholls, Jenkins and Corbett, forwards. Everton Res; Leyland, goal; Clinton and Rankin, backs; Cross, Forshaw and Lello, half-backs; Gibson, Hampson, Hold, Cummins, and Easthope, forwards. Referee –Mr. J.A Turner (Willenhall). Cross made Heath save at full length, and when Gibson broke through the goalkeeper again cleared. Weak finishing saved Everton goal and with Leyland beaten Rankin kicked off the goalline. Towards the interval the Everton defence was hard pressed. Half-time; West Brom Albion Res nil, Everton Res nil.
Everton set a fast pace in the early stages but gradually fell away. Six minutes in the second half, Corbett scored for Albion. Rankin equalized in 78 minutes but Corbett again put the home side in front. Leyland, Forshaw and Cross were outstanding.
Everton "A" v. Prescott B.I.
Everton had slightly the better of the opening exchanges and Darlington gave them the lead after 20 minutes play. Maxwell for Prescot put over the bar with a fierce drive. Half-time; Everton "A" 1, Prescot B.I. nil.
EVERTON DEFENSIVE TACTICS HELPED ROTHERHAM TO A HALF SHARE
September 10, 1951. The Liverpool Echo
Ranger's Notes
Everton away to Notts Forest on Wednesday, have nobody very doubtful though Fielding has a rather painful shoulder injury. Everton's initimation that they are willing to consider offers for Catterick, McIntosh, Falder, and Burnett in addition to Hold and Buckle is yet another indication of the trend towards the reconstitution and rejuvenation of the Goodison side. Everton's banner in the not so distant future is going to rest more than ever in the hands of youth. The three debutants who have already come in this season are shaping well. Just how far the club can continue to put its trust in young players remains to be assessed in the light of events. Up to a point the policy is good, but there could a time when the aggregate lack of experience in the side, no matter how promising the players may be might outweigh the advantages. Despite some of the disappointing aspects of Saturday's draw against Rotherham. It was at least consoling to see that the Blues did not panic when the visitors were pilling on pressure and had drawn level after twice being in arrears.
Cannot Be Hurried
They still tried to play good football, which is the right attitude. So long as they do that experience will come in time. The seasoning of a young player is something which cannot be hurried though some absorb their lessons more quickly than others. Not so gratifying was the continued back pedaling tendency of the Everton defence. It has been referred to here so often before, in previous seasons as well as this one, that I have feared folk might think I had a bee in my bonnet regarding it, yet to my mind it was largely the reason Everton got only one point instead of two from Rotherham. With a two goal lead the Blues should have thrown everything they had into attack, which, no matter what anybody says I still reckon the first principle of defence instead they not only allowed Rotherham to sweep them aside by the sheer persistence of effort, but helped to make it easier for the Yorkshiremen by giving them nearly half the field to work in unchallenged. It was bad enough to watch the home wing halves and inside forwards retreating to the penalty area, but when we also saw the extreme wingers tackling an opponent near their own corner flag one wondered how they hoped to stage a counter attack to relieve the pressure. To my mind so long as Everton persist in their present defensive strategy they are not only going to find goals harder to get themselves –because their attack is not up together –but they are going to forfeit more than they need do, for the way to the Blues goal is too often left open right to the edge of the penalty area.
BLUES TOUR
September 11, 1951. The Evening Express
By Pilot (Don Kendall)
Everton's tour began tour, not only embraces tomorrow's return with the Forest at the City Ground, but will include Saturday's game at Nininan Park against Cardiff City. Everton have the chance tomorrow of competing their first "double" of the season for they defeated the Forest at Goodison last week by a Parker's headed goal. There was little in the play of the Forest last week to suggest that they will reverse the score, provided the Blues do not assist their cause by readily adopting a defensive role. The greatest asset of the young Blues is their artistry in attack and the cute exploitation of their wingers. Against the Wednesday, Brentford, the Forest and Rotherham, the Blues have been at their best when taking the initiative. If they realize that tomorrow and treat ultra defence with disdain, they should score their second away win of the season. Harry Potts has a recurrence of his knee trouble, and Parker returns to inside left for the Forest game, but Everton are taking 12 players on the tour. Everton (from); Sagar, Jones, Lindsay; Donovan, Lindley, Farrell; Grant, McNamara, Fielding, Hickson, Parker, Eglington.
AFTER THE DOUBLE
September 12, 1951. The Liverpool Echo
Ranger's Notes
Everton away at Nottingham Forest, will find themselves facing a side which is gradually gaining a belief in its own ability. The Midlanders put up a good show at Goodison last week, and with home advantage will make Everton gallop a bit if they are to bring back even one point. Forest's attack is a fairly well balanced line with striking power down the middle and on both flanks, particularly the Collindridge-Capel wing. Last week Orr and Morley the wing halves, were also persistent shooters, even if from too big a distance to have much hope of success. That indeed was Forest's biggest failing all round. They would have been far more dangerous had they held the ball a little longer and reduced the range. Everton in some recent matches, have been like those foreign stations, one occasionally gets on the wireless. They come in at first strong and hearty, their fade away to a whisper and afterwards alternate between periods of strength and weakness in most tantalizing fashion. The Blues have been just like that. The sooner they can maintain their first half-hour's form for the full 90 minutes and decide at the same time that occasional risks are justified if they bring victory, the sooner shall we see them assume supremacy and provide the sustained spell of success for which we have been hoping. Everton will take 12 players with them, and decide the exact composition of their side later. Potts is not fit. Team from; Everton; Sagar; Jones, Lindsay; Donovan, Lindley, Farrell; Grant, McNamara, Fielding, Hickson, Parker, Eglington. Forest will not choose their team until this evening. There are likely to be at least two changes, one in each department of the side. Kelly who played inside right at Goodison last week will be a definite absentee.
POINTS FOR FOREST
September 13, 1951. The Liverpool Daily Post
Everton Take The Honours
Notts Forest 2, Everton 0
Nottingham Forest won the points, but it was Everton who won the honours as far as artistic football was concerned. In fact, Everton deserved to win through their precision passing, an object lesson in contract to the bad distribution of the home wing halves and inside forwards. Only miracle saves, and these not by the goalkeeper, stopped Everton from holding a winning lead by half time and in addition to all their misfortunes in front of goal, they were handicapped by an injury to Lindley, off the field for nearly ten minutes after half an hour and another ten minutes after the interval. With a badly cut head, Lindley galliantly came back twice and with blood streaming from the wound was still capable of holding Forest's one dangerous forward. This was Ardon, who headed in goals at 52 and 70 minutes, both from accurate passed by right winger Scott, who operating at inside-right in the later stages was the only Forest forward able to control and use the ball.
A Joy to Watch
Everton's movements were a joy to watch. Both among defenders and forwards, they indulged in accurate short ground passing which never failed to find the man to whom it was directed. Time after time Forest supporters rose in admiration and paid tribute to some splendid football. During Lindley's two absences either Jones or Farrell was covering the pivotal position and even when with ten men, Everton by excellent use of the ball, never looked to be overborne by numbers. Their worst pieces of ill fortune were when full backs Thomas and Whare both headed away from under the cross bar with the very shaky Walker beaten each time, and on a third occasion Thomas blocked an effort by Fielding which looked a certain scoring shot. Fielding was a masterpiece in the inside forward's role of constructive player and due to his shrewed promptings, both wingers got a good supply of the ball. Hickson roamed intelligently to the wings. This was a travesty of a result. Notts Forest; Walker, goal; Whare and Thomas, backs; Orr, Gager and Morley, half-backs; Scott, Leverton, Ardron, Johnson, and Collindridge, forwards. Everton; Sagar, goal; Jones and Lindsay, backs; Donovan, Lindley and Farrell (captain), half-backs; McNamara, Fielding, Hickson, Parker, and Eglington, forwards. Referee; Mr. A.E. Ellis (Halifax).
BLUES UNLUCKY
September 13, 1951. The Liverpool Echo
Ranger's Notes
Everton's defeat was completely at variance with the whole of the play at Nottingham last night where the Blues were distinctly unlucky to lose. Indeed they would have won "deservedly but for three full backs saves on the goal-line by Forest's pair of youngsters, Whares and Thomas. With Walker very shaky in the home goal in complete contrast to the excellent work of Sagar. Everton's forwards, by beautiful passing movements were always threatening to score until the machinery of their defence was cracked opened by an injury to Lindley. He went off the field for ten minutes after half-an-hour and was again off for ten minutes on the restart with a badly cut head, but gallantly resumed with blood streaming from the wound. It was all against the play when Ardron, Forest's dashing leader, headed in twice from passed by Scott in 52 and 70 minutes. While the visitors might have snatched a point had Parker taken advantage of two clear cut openings, it was their good-approach football which largely roused the admiration of the Nottingham crowd. With Fielding a tactical and shrewd inside forward, and Donovan a lively attacking wing-half, Everton had Forest running the wrong way until those two headed goals turned the match.
EVERTON AT NINIAN
September 14, 1951. The Liverpool Echo
Ranger's Notes
Everton's task at Cardiff will not be easy, for few sides gain anything tangible from their visits to Ninian Park. Nevertheless Everton gave as good as they got at Nottingham on Wednesday even if the shooting was again below par, and this display augurs well for tomorrow's encounter if only the Blues can but the right finishing touch to the rest of their work. I have lost count of the many times I have had to use that latter phrase. The Welsh club's resolute defence will present a stern front to Hickson and his forward colleagues, while Farrell's co-defenders can look out for squalls if Welsh international George Edwards and the other Nininan Park forwards strike their proper form. Provided the Everton defence moves swiftly into the tackle, instead of allowing opponents to cover uninhabited ground, and the attack does its stuff properly, a point may come their way. Maurice Lindley is doubtful owing to his injury and if he is unfit Jones will return to centre half with Moore at full back. Grant and Buckle will also be considered. Everton (from); Sagar; Jones, Lindsay, Moore; Donovan, Lindley, Farrell, Grant; Buckle, McNamara, Fielding, Hickson, Parker, Eglington. Cardiff City; Rutter; Sherwood, Baker; Montogomery, Williams (G); Tiddy, Williams (R), Grant, Evans, Edwards.
Everton Reserves (home to Stoke City); Leyland; Clinton, Saunders; Cross, Forshaw, Lello; Gibson, Hold, McIntosh, Cummins, Easthope.
WHY THEY MISSS MATCHES
September 15, 1951. The Liverpool Daily Post
Footballers miss matches for the strangest reasons. They are dropped, unaccountably or they are injured in a previous game, of they have toothache of an appointment at the church. Or, like Joe Smith, now manager at Blackpool, they pare their toe nails so ham-handedly they get blood-poisoning. And now we have up-and-coming, fifteen years-old Alan Woods, of St, Helens, putting himself in hospital for two days and missing his Saturday game merely because he ran from Everton's training ground, at Bellefield, West Derby, too enthusiastically. With others of Everton's amateurs Wood was sprinting for the dressing-room on Thursday evening, but failed to see a strand of thick wire stretched in his bath. The abrasions to his body were so severe he had to be taken to Alder Hay hospital. He is due to leave there today.
Far away at Cardiff the Everton first team party suffered a shock too. Lindley and Hickson were yesterday found unfit. Their absence means quite a deal of rearrangement in the side to meet Cardiff City this afternoon. J.W. Parker leads the attack with Ted Buckle at inside left, Moore comes in at back in place of Jones who takes Lindley's place at centre half. Everton must win this match if they are to have such hope of getting out of Division 2 this season. The points they have lost so far, makes it all too certain that they must take a back seat in football again, for the time being.
EVERTON'S NEW FORWARD LINE FAILS AT CARDIFF
September 15, 1951. The Liverpool Football Echo
Just Would Note Buckle-To
Cardiff 3, Everton 1
By Ranger
As a spectable this was poor stuff. There was too much close work and too many faulty passes. Everton's new line-up in attack was not a success and the defence lacked confidence. Even Sagar let in one of the simplest goals imaginable. Cardiff City; Hughes, goal; Rutzer, and Sherwood, backs; Baker, Montgomery, and Williams (G.), half-backs; Tiddy, Williams (A.), Grant, Evans and Edwards, forwards. Everton; Sagar, goal; Moore and Lindsay, backs; Donovan, Jones and Farrell (captain), half-backs; McNamara, Fielding, Parkers, Buckle, and Eglington, forwards. Referee; Mr. S.M. Roger (Shrewsbury).
Everton made an unexpected change in their attack, Parker being at centre forward in place of Hickson, with Buckle coming at inside left. Lindley's injury at Nottingham forced a defensive change, with Jones returning to centre half and Moore coming in at right back. Cardiff started off in whirlwind fashion, and in the first minute it needed a split second save by Sagar to tip over the bar a splendid header by Evans. This was Cardiff only move of note for some time, however, for almost at once Everton took command and served up some entertaining combination though without worrying Hughes until a Buckle header from a corner went close. Buckle again sent Eglington away, this time for the winger to beat two men close in before he was robbed at the last second by a smart recovery by Hughes who had come out of position and left his goal unguarded. Parker, who played with a bandage over his injured eye was proving a resourceful and energetic leader, though he meant have done better on one occasion than lift the ball rather weakly into Hughes hands from an angled position when Buckle had placed himself ideally for a centre.
Game Deteriorated
After its bright opening, the game soon deteriorated into a poor and unappetizing display with a lot of scrambling football and a succession of misplaced passes. Cardiff came with a wet sail, and for some time penned Everton in their own half. Twice the visitors goal escaped by the grace of the Cardiff forwards –who shot tamely at Sagar when a well directed drive would almost certainly have brought bout Everton's downfall. One shot from Baker the right half, had Sagar beaten but passed narrowly outside the post.
Struck Defender
Parker cleverly sidestepped Montogomery and then "weaving round quickly, delivered a strong shot which fortunately for Cardiff, struck a defender and ran to safety. Buckle, at last, elected to go through on his own and beat two men cleverly but the hoodoo was still on Everton's shooting department, and his final effort found a resting place high up in the crowd behind the goal. The football in the last twenty five minutes had sunk to a very low level and failing a decided improvement in the second half the game would not rank very high in the season's records. Half-time; Cardiff City nil, Everton nil.
Both goals had narrow escapes in the first five minutes after the resumption, Sagar saved brilliantly from Edwards who a moment later, put across a shot from a free kick which beat the whole defence and went harmlessly over the dead ball line. Eglington had hard luck when he took command of an awkwardly bouncing ball which had received Montgomery and cracked a real pile-driver which hit the crossbar with Hughes beaten. Tiddy had resumed for Cardiff but was still limping rather badly and had his left knee heavily bandaged.
Scrappy Play
A free kick against Lindsay saw Baker put in a strong shot from 25 yards, which Sagar plucked out of the air in confident fashion. It was a good job Sagar looked confident because very few players on either side seemed cast in similar mould, and the play was still scrappy aimless and without any real constructive moves. At the 60th minute a foul by Lindsay brought a rather lucky goal to Cardiff, Baker took the kick, a few yards outside the penalty area, and Sagar appeared to have the ball well covered when Farrell and Jones attempted to make sure. Whether one or other of them actually touched the ball I cannot say, for Ninian Park Press box is behind one goal, and this incident took place at the far end. In any case the major credit goes to Baker for his strong effort. Five minutes later Cardiff were two up when Grant sized on a long clearance by Rutzer which had been helped on its way by Baker, and dummying his way passed Jones placed the ball out of Sagar's reach in spite of the latter's despairing leap across the face of the goal. It looked as though Cardiff who earlier had appeared no more likely to score than Everton had now got the visitors where they wanted them. The Blues reconstituted forward line had not been a success or anywhere near it. Montgomery had blotted Parker out of the game after the first 20 minutes, and Buckle was the only man now who looked likely to deliver anything resembling a scoring effort. Donovan who had quite a good first half had now tried and was not using the ball as he had done previously. It was Buckle again who came near to retrieving some of Everton's lost reputation with a grand header from a corner which Hughes safely caught. Buckle had been the most forceful man in the Everton attack, despite Eglington's speed, and it was fitting that he should reduce the lead at the 72nd minute. Farrell, who had robbed Williams (R.) slipped the ball through to Donovan who neatly flicked it to put Buckle in possession and he side slipping Montgomery in clever fashion, rammed home a strong shot from 20 yards which beat Hughes all the way.
Even Sagar
It was only in keeping with this match of many mistakes that the usually reliable Sagar should make one which even a novice would seldom perpetrate. Evans, drawing a bow at a venture, shot from fully 35 yards range out near the touch-line. The ball bounced a few yards in front of Sagar who positioned himself to collect it with no one within eight yards of him, but it bounced right over his out-stretched hands into the net. Sagar may have been blinded by the sun, which Everton were now facing, but even so this was one of the flukiest goals I have seen for a long time. Sagar partially redeemed himself a moment later when Williams (R.) burst through the defence and looked a scorer until the Everton keeper got his body in the way. Everton were now fighting back with a little spirit but were still holding the ball far too close and passing and re-passing in a pretty –pretty way which made hardly any ground worth speaking of. Final; Cardiff City 3, Everton 1.
EVERTON RES V STOKE RES
September 15, 1951. The Liverpool Football Echo
Everton Reserves; Leyland, goal; Clinton and Saunders, backs; Cross, Forshaw, and Lello, half-backs; Gibson, Hold, McIntosh, Cummins, and Easthope, forwards. Stoke City Reserves; Yoxall, goal; Mould and Bourne, backs; Hampson, Bridget, and Giblin, half-backs; Meredith, Pickup, Whiston, Clewes, and Ormston, forwards. Referee; Mr. H.E. Lamers (Blackburn). Everton opened confidently and after three minutes Hold gave them a lead. Stoke were a clever side and several dangerous moves were broken up by the fine display of Forshaw at centre half. In the 25th minute Hold increased a home lead following splendid individual play by Gibson. Half-time; Everton Reserves 2, Stoke City Reserves nil.
Gibson had the hardest of lines in not increasing the home lead. In the 58th minute Easthope obtained a third for the Blues with a good shot. Final; Everton Res 4, Stoke City Res nil.
EGLINGTON HAS HARD LUCK
September 15, 1951. The Evening Express
Defensive Lapses Cost Everton Two Goals
By Radar
Defensive lapses cost Everton two goals early in the second half today against Cardiff City at Ninian Park-their first visit to the ground for 21 years. In the first half, which started entertainly but deteriorated as the game continued, defences generally were in command. But 14 minutes after the interval and following an Eglington shot which struck the bar, Baker, the Cardiff right-half gave City the lead with an acute angler free kick, which was misjudged by the Everton defence. Grant added a second four minutes later, but Buckle opened Everton's account with a beautiful left foot drive in 70 minutes. John Willie Parker made the first appearance as leader of the Everton first team attack when he took over from Dave Hickson. Jones moved to centre half to deputise for Lindley, who is making progress towards recovery from the head injury he sustained at Nottingham on Wednesday morning, and Moore was included at right back. The other Everton change was the appearance of Ted Buckle at inside left. Despite rain throughout the night and part of the morning, the pitch looked in excellent condition. There was a stiffest breeze blowing. City; Hughes, goal; Rutzer, and Sherwood, backs; Baker, Montgomery, and Williams (G.), half-backs; Tiddy, Williams (A.), Grant, Evans and Edwards, forwards. Everton; Sagar, goal; Moore and Lindsay, backs; Donovan, Jones and Farrell (captain), half-backs; McNamara, Fielding, Parkers, Buckle, and Eglington, forwards. Referee; Mr. S.M. Roger (Shrewsbury).
Cardiff were first to take the initiative through Tiddy, but Rowlands Williams was slow in appreciate the possibilities of his winger's pass and Moore was able to step in and clear. A poor past by Buckle saw the City attack to get in again and after one shot had been charged down, Evans sliced the ball out to the extreme right. Tiddy's well placed centre was headed in strong by Elfie Williams and it seemed as if Sagar was beaten but at the last second be shot up his right arm to turn the ball over the top. A close shave.
Raid by Blues
McNamara spear-headed the initial Everton raid, he eluded Sherwood but the fast centre was intercepted by Williams, McNamara however regained possession but his lobbed centre was forced away by Rutzer. Cardiff had been facing the sun and the City defence did not look at any time comfortable when Fielding went across to link up with Eglington. Between then they gained a corner at Rutzer expense, but all it produced was a bad header from Buckle which Hughes saved with ease. Sagar dealt equally comfortably with an Edwards centre, which the wind carried towards goal, and a free kick to Cardiff shortly afterwards was repulsed before Sagar could be brought into action. Hughes saved a slow shot from McNarama and Roland Williams cut inside to try one with his rght foot, but it lacked direction. This was fast entertaining football and it was fortunate for Everton that McNamara had been back to lend a helping hand when Sagar was only able partly to turn aside a Tiddy's corner. McNamara's short pass to Donovan was the starting point of a move which came within inches of producing a leading goal for the Blues. Eglington took over from Donovan, inter-passed with Fielding and cut in towards goal. Despite Rutzer challenge the Irishman managed to get his foot to the ball no more than five yards out but he could not get the necessary power behind it, and Hughes was able to pick up.
Parker Unlucky
If not precise in their methods Cardiff were fast in movement and were swinging the ball about to prevent the Everton defence from setting down. Parker was desperately unlucky when he leapt above everyone else to contact with a high Eglington cross to the far post. Parker's header beat Hughes, but landed on top of the angle of the woodwork, bounced in front of goal, and was booted clear by Rutzer. Everton too, had their moments when Edward's free kick dropped just outside the goal line, only for Rowland Williams dazzled by the sun, to turn round and unable to get it. In fact, Cardiff looked the more forceful side at this stage against an Everton defence which was not as decisive in the tackle as it might have been. When Tiddy got away from Farrell, his centre, which Sagar had well covered was partiously diverted behind by Donovan, following which right half Baker beat Sagar with a hook shot, which fortunately passed beyond the far post. For a time Everton, who were wearing their white shirts came into the picture as an attacking force but the nearest they came to beating Hughes was Buckle's volley from an Eglington corner –and even this finished high over the bar. A free kick to Cardiff beyond the ten yard line produced a fierce drive from Grant but it swerved will outside. Fielding was working hard in an effort to introduce movement into his line but so far with no real degree of excess. In fact the football generally had deteriorated and the defences had the mastery.
Great Chances
With Tiddy off the field receiving attention to an injury, Donovan slipped thought a perfect ball to offer Buckle an excellent chance but he hesitated at the vital moment and his left footer was charged down. Parker was unfortunate on one occasion when he shot the ball under control and wheeled round to hit it hard but find Montgomery just managing to block it. Half-time; Cardiff 0, Everton 0.
The resumption provided a quick thrill, for Edwards outwitted Moore and cut inside before leveling a powerful rising shot, which Sagar did exceptionally well to turn behind for a corner. Cardiff had Tiddy back in action and we saw Edwards drive a free kick directly across the face of the goal the ball beating everyone including Sagar. A promising Everton combined move broke down when McNamara received an unintentional rap on the leg. He soon recovered, to see Fielding sweep a pass from the extreme right into the middle. Montgomery failed to intercepted and Eglington swerved round the City centre half and let go a powerful left footer. It beat Hughes all ends up, but thudded against the top of the bar and was scrambled away. This was indeed wretched luck for Eglington. This was much improved from Everton and Rutzer was pleased to concede a corner to foil Eglington, following a delightful move in which four players co-operated. Jones was keeping a vigilant watch on Grant. In 59 minutes City were away to take the lead. Lindsay was penalized for a tackle on Tiddy high up in the right, Baker's free kick landed in the goalmouth and it was impossible to say whether it crossed the line before or after Farrell had touched it. Sagar appeared to be upset by the attentions of Evans as the ball came across. From the Press box I would be declined to say that the ball was "in" and that Farrell tried to scoop it clear afterwards. Everton came back strongly. Within four minutes however, Cardiff had increased their lead and it was the old hesitancy to tackle a player in possession which cost Everton this goal. Grant took possession of Rutzer's long-range pass and was given time to bring it down to his liking and then beat Sagar with a precision left foot drive low into the far corner of the net. Everton moved forward and Buckle was just off the mark with a fierce drive from the edge of the penalty box. Buckle made no mistake the next time, however. He took the ball perfectly in his stride down the middle and beat Hughes with a perfectly placed left-foot drive, which struck the upright midway before crossing the line. Both McNamara –a flying header –and Fielding went close with praiseworthy efforts soon afterwards. But Cardiff sent away to score a third –one of the most remarkable goals I have ever seen. Elfed Evans half heartedly drive the ball towards the goal from the extreme left, Sagar appeared to have it well covered when it bounced to air in astonishing height, sailed well over the arms and dropped into the net. Time 75 minutes. This was a blow if ever there was one, for Everton had looked enable of pulling the game out of the fire, and this was simply a "freak" goal for which Sagar could in no way be blamed. Cardiff 3, Everton 1.
EVERTON RES V STOKE RES
September 15, 1951. The Evening Express
Everton had to make alterations, one to first team injuries and McIntosh led the attack. They had an early success for within three minutes Hold gave them the lead with Jock Yoxall well beaten. The visitors were a very nippy side, but clever work by Forshaw prevented them from gaining their objective. Then in the 25th minute the Blues increased their lead through Hold after Gibson had paved the way. Half-time; Everton Reserves 2, Stoke City Reserves 0.
Everton played with great confidence after the interval and Gibson had hard lines in not increasing their lead. In the 58th minute however, Easthope scored a third for the Blues with a nice shot. Cummins added a fourth for Everton; Final; Everton res 4, Stoke City Res 0.
STILL LACK PUNCH
September 17, 1951. The Liverpool Daily Post
Cardiff City 3, Everton 1
By Ranger
Although Everton on territorial reckoning, just about deserved to bring home a point from their visit to Ninian Park, their general display was far from impressive, and the substitution of Parker for Hickson as leader of the attack did not have the anticipated strengthening effect. It was largely the same old story one which has had to be told and retold so often about the Goodison side. They started off well, and for 20 minutes were much superior to the home team. Had a Parker header which hit the bar early on gone into the net instead, it might have swayed the ultimate outcome, just as would Eglington's rocket-like shot which was similarly "robbed" of success by the woodwork a few minutes after the resumption. Both these narrow misses came before Cardiff had scored, and they seemed to take much of the heart out of Everton. Before half-time the visitors had lost a lot of their early effectiveness, and apart from one promising spell half-way through the second half, never looked like regaining it sufficiently to gravely trouble the Cardiff defence. Though Everton throughout played better football than the home side, who were rugged and scrambling, there was no finality about the vast majority of their moves. Too often a faulty final pass nullified all the building-up work which had preceded it, and too many of their assaults were built upon a close –passing link up which involved three or four passes to make as much ground as could have been achieved by one long cross-field move.
Idle Speculation
Fielding certainly endeavored in the first half to switch play about more freely and did it well but even he fell a victim to the "tight" combination which afficated the attack later, and which enabled the home defence always to keep its ranks compact and practically unbroken. It is idle to speculate on what might have happened had Everton's two near misses brought them goals. All that goes down in the records is that Cardiff scored thrice and only Buckle's grand goal stood to the visitors' credit. Everton's pretty "passing has no reflection in the league table. Cardiff's first goal, just on the hour, was the outcome of a free kick by Baker for a foul against Lindsay, which was deflected into the net off Grant as Farrell and Jones vainly tried to retrieve the position. The next two goals were good ones, Grant slotted home a beauty after hesitancy in the visiting defence and a nice piece of feinting had allowed him sight of the only spot where Sagar could be beaten and then Buckle fired in one which left Hughes just as helpless to save as Sagar had been. These came at the sixth-fifth and seventy second minutes. The third goal was the flukiest I have seen for a long time. A long-range centre-cum-shot by Evans from near the touch-line bounced far higher than any ball had bounced previously throughout the match, and Sagar, who had advanced to take it in the normal way, found it soar over his head and just scrape under the bar. I learned afterwards that it had hit a slight ridge of turf where the ground had been under repair, and far from Sagar being to blame, it was one of those freaks which happen only once in a thousand times. Everton have still more team planning to do on this showing. C Cardiff are not a good side, yet the Everton rearguard at times was hard pressed by very ordinary forwards and frequently failed to clear their lines with either confidence or crispness.
EVERTON RESERVES 4, STOKE CITY RESERVES 0
September 17, 1951. The Liverpool Daily Post
Central League
Everton again displayed fine tactics at Goodison Park against Stoke City who were well beaten. Gibson on the right wing gave a great display and was mainly responsible for two of the goals. Stoke had their dangerous moments but found Forshaw and Cross two clever halves. Oscar Hold scored twice, Easthope and Cummins being the other marksmen.
• Everton "B" 3, Liverpool "B" 2
• Muirhead United O.B. 3, Everton "C" 6
• Everton "D" 3 Reeds S&S 2
PATIENCE A VIRTUE
September 17, 1951. The Liverpool Echo
Ranger's Notes
Patience was never a greater virtue than in football, and one needs it when contemplating Everton's outlook and trying to visualize the day when the Goodison side will measure somewhere near the standards of old. Lest at some future date I be accused of being wise only after the event, let me put it on record again as I did at the start of the season, that I fear the Blues are going to have a job finishing up around even the middle portion of the Second Division table. Already, it is fairly clear that the faint hopes some of us secretly nourished even against our better judgment that they might regain their senior status this winter are about as likely to be realized as we are to see income tax halved in the next budged. Admitting that the Blues on territorial reckoning, just about deserved to bring back a point from Ninian Park, they were only up against a poor and scrappy side of very ordinary Second Division vintage. Even then, with Cardiff clearly lacking anything much beyond plenty of hearty endeavour, Everton rarely impressed after the first 20 minutes and for one brief period of supremacy in the second half. They are making heavy weather of the simplest things. Their defence still hangs off the tackle until it becomes a last and almost despairing move, and the forward line though often working the ball well, is taking three or four moves to do something which could and should be done in one –and expending triple the effort necessary. Earlier I spoke of patience I am afraid we shall have need of it. Events may prove me wrong, and as the season progressives the side may weld itself into a lively and resolute combination, but at the moment there seems to immediate sign of this happy outcome. I wish there was. The defence needs a dominating personality to command the middle unequivocally –Lindley so far has done that best –and the attack wants someone to weld the front line into a more vital striking force, plus the men to provide strong and frequent shooting from the three inside forward positions.
Lack of Stamina
At the moment the team appears to be lacking in stamina. It was the same at Cardiff as it has so often been for seasons past –a good and promising start fading out into only occasional spasms of thrust and the imitative surrendered to the opposition when it might never been retained. A couple of efforts which were frustrated by the woodwork –by Parker and Eglington –would undoubtedly have altered the whole complexion of the game had they resulted in goals for they happened before Cardiff had scored. But problematic "if's and buts" do not after the basic fact that this Everton team despite the genuine efforts of every player individually is not getting anywhere yet whatever may be the case later. Buckle's goal was a grand one and he always looked the most dangerous forward –so far as anybody looked dangerous –after Parker's early enterprise had spent itself. Cardiff's third goal viewed from the long range of the Press box at Ninian which is behind the goals at the opposite end looked to me at the time as partly due to a miscalculation by Sagar. When I spoke to Sagar later he explained that he had positioned himself to take the ball chest high but that it fell plump on a slightly raised edge of turf where the ground had been under repair and kicked almost straight up in one go and over his head. All his co-defenders agreed that nobody on earth could have foreseen such a thing to have happen so Ted who never shirks admitting responability if he himself had erred, must e absolved from blame on this occasion.
FREAK GOAL
September 17, 1951. The Evening Express
By Radar
"A 'freak goal, the like of which I have never seen previously was part of Everton's bad luck at Cardiff. Evans the Cardiff inside left drove the ball haphazardly towards goal from far out on the wing. Ted Sagar came out to take it to his chest and appeared to have it well covered. After striking the ground, it suddenly shot up into the air-well beyond the astonished Sagar's reach –and dropped beneath the bar. Sagar was not to blame. He did exactly what every other experienced goalkeeper would have done, and could not possibly have budgeted for its sudden ricochet.
"The vital point about it all was that Everton had struck back effectively after Grant given the City a 2-0 lead, had gained an excellent goal scored by Ted Buckle and in every way looked capable of at least saving the game if not winning it. "Not surprisingly this bolt from the blue,' rather took the wind out of the sails; in fact taking it over all, it was not a game in which the luck ran Everton's way. In an even first half Parker beat Hughes with an excellent header, only to see the ball strike the top section of the angle of the woodwork. Their soon after the interval and before Cardiff opened their account, Eglington let go a savage left-foot drive while also beat Hughes but crashed against the cross-bar and the rebound was forced clear. He much for the element of chance. Now it must be made clear that to a sizeable extent the Blues contributed to their own downfall. Grant's first goal –it was impossible to see from the Press box who touched the ball last –was the outcome of a defensive mix-up. In the case of the second, I thought the Cardiff leader should have been tackled first-time. As it was he had ample of time to bring the ball under control pick his target, which he did most tellingly. "Then there raises the question of that vital extra pass. Throughout Everton placed the emphasis on cultured attacking football –but they overdid it. To my mind they took too long to make ground, and eventually so many attacks petered out because the last pass was inaccurate. The less moved necessary in development the more likely it is that goal's will come. "I rated Donovan –until he tired a little later on –together with Farrell and Fielding the outstanding performances in this Everton side. Neither Moore nor Lindsay was able to quall the City wingers, although Jones put up a stout defence against the lively Grant. Parker revealed some nice touches without the necessary dash and thrust while this was not McNamara at his best. Buckle was always searching for the possible opening and took his goal well, but Eglington was inclined to spoil his work by retaining possession when he should have praised –and vice versa."
BIRMINGHAM DELAY CHOICE
September 20, 1951. The Liverpool Echo
Ranger's Notes
Birmingham City visitors to Goodison Park on Saturday are delaying selection of their side until this evening owing to injuries, although they hope the doubtful players will be fit to resume by the week-end. Manager Bob Brocklebank tells me that Cyril Trigg the former full back, who last season was the side's leading scorer with 17 goals and is now first choice at centre forward is back in training after missing the last two matches with a back injury. Bill Smith second most successful marksman last term is also training again and making good progress after a troublesome shoulder injury, but inside right Higgins who has been "under the weather "lately, is definitely a non-starter. Feeling that a rest in his native Ireland would do Higgins more good than anything else Mr. Brocklebank has sent him on holiday to Dublin. He will not be returning for another week. Apart from Higgins, Birmingham anticipate being able to turn out their strongest side against Everton and may preserve with Jack Badham in the attack. He has played in the last two games at centre forward during Trigg's absence after starting the season at centre half and then taking up the right full back position. The big crop of early season injuries plus the absence for a time of Arthur Aitkin's of "Z" training has been largely the reason Birmingham have got off to a rather disappointing start, all the more upsetting in view of the fact that they did so well last season. Manager Brocklebank however, is not unduly perturbed. He reckons that once the club can field a settled side they will improve especially as in some of their recent games the team has enjoyed a good measure of the play without just being able to click in the goal-scoring department. Everton also have suffered in similar fashion on some occasions. Like the Goodison side, Birmingham play football which is typical more of the First Division than the lower sphere. We saw what they could do when they were at Goodison Park last spring in the replayed semi-final tie against Blackpool. If they are able to reproduce form of that calibre on Saturday then Everton will be facing opponents who will not yield without a hard struggle, and who may possibly take a point which Everton can ill afford to sacrifice. Maurice Lindley returns to Everton's team following injury and Jones reverts to right back to the exclusion of Moore. Otherwise the team is unchanged. Sagar; Jones, Lindsay; Donovan, Lindley, Farrell; McNamara, Fielding, Parker, Buckle, Eglington.
Everton Reserves (at Manchester United)- Leyland; Moore, Rankin; Cross, Forshaw, Lello; Gibson, Hold, Catterick, Cummins, Easthope.
Everton Beneficiaries
Peter Farrell, the Everton captain, and Tommy Eglington were presented with their full benefit cheques by Mr. W.R. Williams the chairman of the club at Goodison Park this morning. Mr. Williams when handing over the cheques on behalf of the board said; "You have both given great service to the club during a testing period. I hope that it will not be long before the sun shines again." In thanking the club, Peter Farrell said; "They have been the happiest five years of my life." Eglington associated himself with the remarks of his captain.
BIRMINGHAM PLAY THEIR NEW FORWARD AT GOODISON
September 21, 1951. The Evening Express
By Pilot (Don Kendall)
The last time Birmingham were at Goodison was in the spring when their put up a great battle before losing the cup semi-final to Blackpool. The city have played two League games here since the war, winning 5-0 and forcing a goalless draw. Everton who still have to score their first post-war win and goal against the City will have John parker lading the attack for the first time in a home game. Parker had his first game in the position when the Blues lost at Cardiff last week. Buckle's shooting power is again being utilized at inside right. Maurice Lindley's returns centre half should have a steadying effect on the entire defence which will have Tommy Jones at right back again. Everton will be defending their unbeaten home record against a team seeking its first away win. Birmingham will have a new centre forward on duty. He is Tommy Briggs, who today was transferred from Coventry City, who in turn secured Don Dorman from Birmingham. Coventry paid their record fee of about £20,000 for Briggs when they signed him midway through last season from Grimsby Town. Recently he has been in goal scoring form for Coventry, Briggs was leading goal-score in the Football league in 1949-50 season. In Fornan's place at inside right South African Ted Purdon returns after an absence of three games. Green is injured and Badham goes back from centre forward to his more usual position at right back. Ferris constitutes at inside left for Smith, who is still being worried by a damaged shoulder. Birmingham; Merrick; Badham, Martin; Boyd, Atkins, Warhust; Stewart, Purdon, Briggs, Ferris, Wardle. Everton; Sagar; Tommy Jones, Lindsay; Donovan, Lindley, Farrell; McNamara, Fielding Parker, Buckle, Eglington.
EVERTON'S HAT-TRICK BID
September 21, 1951. The Evening Express
Pilot's Log (Don Kendall)
Everton tomorrow make a bid to complete a hat-trick o 1951-52 success over their keenest rivals Liverpool, when the "A" teams clash at Bellefield in a Liverpool County Combination match. The Everton Colts defeated Liverpool Colts 6-1 early in the season, and last Saturday at Bellefield, the Blues "B" team defeated the Reds "B" 3-2. Now Everton face the side leading the County Combination. The Reds have won six and lost two of the eight matches for 12 points, while Everton have two points fever with a match in hand. Everton have been beaten once, drawn twice, and won four times for ten points.
Everton Reserves travel to Old Trafford to face Manchester United Reserves for Central League points. Everton Reserves; Leyland; Moore, Rankin; Cross, Forshaw, Lello; Gibson, Hold, Catterick, Cummins, Easthope.
BRIGGS MAKES HIS DEBUT FOR BIRMINGHAM
September 21, 1951. The Liverpool Echo
Midland Side Sign Brigg, Who Makes His Debut at Goodison
Ranger's Notes
Birmingham City, visitors to Goodison Park tomorrow today signed Tommy Briggs the Coventry City and former Grimsby Town centre forward who was leading marksman in all four divisions two seasons ago with 35 goals. He will make his debut for his new club against Everton. Briggs cost Coventry £20,000 when he joined them last December but failed to settle down there and last month asked to go on the transfer list. Manager Bob Brocklebank has been negotiating for his signing for some time, but only completed the deal this morning. In part exchange for Briggs, Birmingham have transferred Don Dorman the wing half or inside forward to Coventry. Birmingham's last appearance at Goodison was in the replayed semi-final tie against Blackpool six months ago when they showed good constructive ideas without having the necessary striking power in front of goal to really impress. Briggs may be the answer to this problem. They are a couple of changes in Everton's defence for tomorrow's game. Linley fit again after the head injury he received at Nottingham resumes a centre half where he has so far proved himself the strongest candidate among those available. That allows Jones to return to the right full back position, which to my mind is his best berth.
The Old Story
The forward line remains the same as against Cardiff last week. At Ninian Park the attackers did some nice things at times but the old failing too much short-passing and a paucity of final shot in relation to the amount of territorial pressure took much of the string away. In spite of Birmingham's lowly position with only seven points out of nine games IU understand from manager Bob Brocklebank that they have been playing better than their place in the table indicates and he I hopeful that against opponents like Everton, who at least let their rivals play good football if they have the ability they may capture a point. Unfortunately, Everton's position is not so healthy that the division o spoils at home can be regarded with equanimity. Blackburn apart the Blues have only one point advantage over the six clubs below them two of whom have a match in hand. I hate to be too critical when the team is in process of reformation and rejuvenation and a certain amount of patience is called for, but we have had past lessons of the folly of complacency. I hope we are not to suffer again from the same cause. Everton; Sagar; Jones, Lindsay; Donovan, Lindley, Farrell; McNamara, Fielding, Parker, Buckle, Eglington. Birmingham City; Merrick; Badham, Martin; Boyd, Atkins, Warhurst, Stewart, Purdon, Briggs, Ferris, Wardle.
EVERTON PLAYERS TAKE COUNCIL
September 22, 1951. The Liverpool Daily Post
By Leslie Edwards
It is an inter-city day-to-day for Liverpool and Birmingham football clubs. Liverpool travel to the Midlanders city to meet Aston Villa and Everton receive Birmingham City a Goodison Park in a game which is essential for them to win if they are to have any hopes of gaining promotion this season. Despite the fact, however, that Birmingham are lower in the League table than their opponents, having gamed only seven points out of nine matches their record at Goodison is a fairly good one and the home club are not likely to find that a victory today can be gained easily. The Everton players were this week given permission by Cliff Britton the club's manager to hold a council of their own to talk over past matches in an effort to sort out things for the future. Perhaps some effect of that conference will be seen today. The Everton team shows some reorganization, Jones returns to his old position at right full back, Lindley comes in a centre-half and McNamara is being given another run at outside right. In an endeavour to strengthen their attack Birmingham yesterday signed centre forward Tommy Briggs from Coventry City. He was leading marksman in the League two seasons ago with 36 goals and he will make his debut for his new club at Goodison today. The teams are; Everton; Sagar; Jones, Lindsay; Donovan, Lindley, Farrell; McNamara, Fielding, Parker, Buckle, Eglington. Birmingham City; Merrick; Badham, Martin; Boyd, Atkins, Warhurst, Stewart, Purdon, Briggs, Ferris, Wardle.
EVERTON TOUCH A NEW LOW IN THE GAME AGAINST BIRMINGHAM
September 22, 1951. The Liverpool Football Echo
Everton 1, Birmingham 3
By Contact
Everton, with a bright start, but little finish, touched a new low at Goodison Park where Birmingham a side which has been conspicuously unsuccessful so far, won by three goals to one –one of them from a penalty awarded against Ted Sagar for using his elbow. While Everton were promising, Gilbert Merricks, the Birmingham goalkeeper, put up some saves which must go far to earn him another England cap. Everton; Sagar, goal; Jones and Lindsay, backs; Donovan, Lindley, and Farrell (captain), half-backs; McNamara, Fielding, Parker, Buckle and Eglington, forwards. Birmingham City; Merrick, goal; Badham and Martin, backs; Boyd(captain), Atkins, and Warhust, half-backs; Stewart, Purdon, Briggs, Ferris, and Wardle, forwards. Referee; Mr. R.S. Lloyd, (Oswestry). Birmingham played Briggs, their new centre forward, which left Badham free to resume at right back and the South African Purdon was at inside right. Everton had McNamara at outside right, Lindley at centre half and Jones at full back again. Parker opened with a delicious right wing run in which he edged the ball twice past Martin with the outside of the left foot and finished with a centre so square that it passed behind all his partners. Badham came through spiritedly in the outside right position, but here again the centre failed and within a moment Fielding was hitting over the top a shot from the edge of the penalty box. Only weight of numbers crowded out Parker in a down the centre dribble. The best move of the match was one in which Lindsay delivered the most perfect of passes for Buckle, which led to Buckle hitting over an accurate centre to Parker, whose fierce header was too high. Birmingham's reply was sensational. Half-back Warhurst, from 30-yards out, struck the foot of the post and before Sagar and company had time to set themselves for what was to follow, Purdon had moved two yards to the left of the ball to hit it home just inside the post. He ended this shot by turning a somersault. This goal was at five minutes.
Right Aim, But –
Everton were live and good in attack though Birmingham had improved astonishingly since their goal came. Parker, with a downward glancing header, obviously aimed at just inside the post, but found the ball slewing wide. The Everton attack was functioning really well against a rather slow and cumbersome defence, and it was not the least surprising when the way was opened up for Parker to hit a big shot from 20 yards range, Merrick making for this sizzling effort and finding it rebound from the top of the post back to play. Fielding was a persistent if unlucky, shooter, and when Everton wingers Eglington and McNamara indulged in a combined operation, McNamara finished with a header which Merrick held on the line rather gingerly. Merrick brought down the house with a wonderful catch from a Eglington centre when there seemed no hope of him getting up high enough to field the ball. Farrell far upfield tried a pass which failed, and the immediate result was a Stewart-Briggs down-the-centre thrust with Briggs firing the ball across the face of goal, beating the far post by a matter of inches. An excellent Buckle run and a picture pass to Parker seemed certain to bear fruit but with Merrick awaiting a big shot the shooter only half hit the ball. A judicious clearing throw by Merrick, a flick of the foot by Wardle and the fact that Briggs won the ball in a clinch with Lindley, meant that Briggs went on to hit a really solid shot, Sagar catching it as it swerved away from him as he moved to the left. Birmingham now had something of a grip on the game, and the more Everton tried to do the right thing the more certain was it they failed and caused their followers to become disgruntled.
First Stoppage
First stoppage in the game was when Boyd got the full force of the ball from Buckle at a range of a few yards but he soon resumed. Birmingham were inches from conceding a penalty when Boyd caught Buckle's upraised shooting boot, his right in the case just outside the penalty box, and Merrick somehow got two hands to Buckle's terrific shot and was live enough to deal with McNamara's direct header from the rebound. Though unorthodox and certainly very slow in the early moments, the light-haired Purdon, a typical Springbok type, showed tremendous promise. He certainly has physique and good ideas.
Half-time; Everton nil, Birmingham City 1
Eglington had been doing pretty well as he liked with Badham, but the man who will always be remembered for his marking of Matthews here in a cup-tie started the second half with two first-rate tackles when Eglington was in full flight. Wardle too, playing almost at full back, indulged in a long dribble in which the ball seemed to be tied to his toes. McNamara jack-knifed himself into the air to make a header from an Eglington centre, yet once again Merrick got his trusty knuckles to the ball and turned it for a corner. Merrick did well again a moment later when Fielding not finding himself placed for a big shot, drove the ball to the goal angle, and caused Merrick to concede yet another corner. Badham damaged himself making a clearance and while he was being treated trainer Harry Cooke took a look at Maurice Lindley's plastered head. Sagar, not quite connecting a Stewart corner, Briggs poked out his foot to make a shot as he fell backwards and turned the ball just wide of goal. Sagar moved slowly to a fierce shot by Ferris but got there in time to get the ball down and collect it at the second attempt as it bounced near the line. Everton had a tremendous escape when Briggs ponderously came in from the edge of the penalty box and lobbed the ball across the face of goal. It almost seemed as though the ball was over the line when Jones headed away, and fortunately for Everton, Purdon and company were so flabbergasted they made poor use of the clearance.
Misunderstanding
Farrell, with a shot that Merrick got over the bar as it bounced on the half volley did further service for his side and then little Stewart caught the Everton defence in a tangle of misunderstanding and shot wide when it would have been almost as easy to shooting into the net. Twenty minutes after the game had been restarted there was drama in the Everton penalty box which led to Everton going 2-0 down. Sagar caught a high ball down the centre and was challenged by Stewart. The referee undoubtedly saw Sagar stick out an elbow in the vicinity of the Birmingham winger. From the centre circle he signaled a penalty, and Sagar's protests and those of Peter Farrell went for nought. Sagar got his hands to Wardle's shot from the spot, but could not turn the ball into the top netting. Right from the restart Everton went down in a swarming right wing move, for Buckle to score with a right foot shot amid tremendous enthusiasm at 68 minutes. The temper of the game was not improved by these incidents and in the case of one decision in Birmingham's favour at least four Everton players disputed the award. Eight minutes from the end Briggs justified the sum of his transfer fee by being live enough to chase Ferris's pass to beat the outcoming Sagar by a fraction of a second and turn the ball in at an angle into an empty goal. This looked to be the end. C certainly spectators left in their thousands. Lindley's head cut had been opened up again and Birmingham although leading comfortably, went close to increasing their advantage. Final; Everton 1, Birmingham 3.
• Everton "A" 5, Liverpool "A" 0
MAN UNITED RES V EVERTON RES
September 22, 1951. The Liverpool Football Echo
Manchester United Res; Crompton, goal; McNulty and Byrne, backs; McLLvenny, Jones and McGlen, half-backs; J. Scott, J. Walton, Ritchie, Birch, and Bond, forwards. Everton Res;- Leyland, goal; Moore and Rankin, backs; Cross, Forshaw, and Lello, half-backs; Gibson, Hold, Catterick, Cummins, and Easthope, forwards. Referee; Mr. C.A. Sharp (Chinley). Everton Reserves set a cracking pace, and Catterick soon swung in a shot but found Crompton ready, and later he might have done better than Spoon, his shot high over the bar. Swift raids by wingers Gibson and Easthope gave the Manchester defence many anxious moments. Catterick opened the visitors account after 35 minutes with a grand drive and later only a brilliant save by Crompon prevented him being successful again.
BIRMINGHAM SHOCK FOR EVERTON
September 22, 1951. The Evening Express
Purdon Scores in Seven Minutes
Merrick Brilliant Against Sharp-Shooting Blues
By Pilot (Don Kendall)
Brilliant goalkeeping by Gilbert Merrick and two fortunate goals followed by Briggs' opening goal for the City brought about Everton's first home defeat of the season. Birmingham City defeating them at Goodison Park today 3-1. The result was a travesty for Everton were much the superior side pressing for fully three parts of the game; shooting brilliantly and playing good football, but nothing would go right for them in front of goal, Sagar looked on as the first goal was scored against the Blues, and the second came from a penalty awarded against Sagar. Buckle reduced the lead for Everton's first post-war goal against the City and then Briggs went through for a third goal, Sagar being slow to come out. Not as bad for Everton as it appears. Everton; Sagar, goal; Jones and Lindsay, backs; Donovan, Lindley, and Farrell (captain), half-backs; McNamara, Fielding, Parker, Buckle and Eglington, forwards. Birmingham City; Merrick, goal; Badham and Martin, backs; Boyd (captain), Atkins, and Warhust, half-backs; Stewart, Purdon, Briggs, Ferris, and Wardle, forwards. Referee; Mr. R.S. Lloyd, (Oswestry). Boyd won the toss and defended the Stanley Park goal to gaining the advantage of the breeze. McNamara made the opening burst, trying Warhurst and Martin into knots only for Parker to be ruled offside. McNamara raced through again leaving Atkins sprawling on the ground. McNamara tried to turn the ball back along the floor, but pulled it a little too much, and it become City property. Lindley and Lindsay put paid to Birmingham's first thrust before Parker adroitly back-heeled the ball for Fielding whose 20-yard shot went over the top.
McNamara's Effort
Farrell and Eglington put Parker through delightfully but Parker instead of showing first time tried to dribble past Atkins and fell victim to the quick intervention of Badham. This was the usual bright Everton opening almost bringing a goal to McNamara when he moved inside for a left-foot shot from the edge of the penalty area which skimmed past the post. Buckle went away at outside left and centred magnificently for Parker to come leaping in with a header only an inch over the top. Everton had opened so promisingly, and had been so much in command that it came as a shock when the City took the lead in seven minutes through Purdon. Sagar was by no means blameless in this for he just stood out and watched when Warhurst moved up from left half to hit a terrific shot from 30 yards, which skimmed along the ground just like Liddell's goal at Anfield last week. Nobody did anything about it and it hit the foot of the post and rebounded into play. It seemed that the shot itself had shocked the Everton defence for there was loose covering and suddenly Purdon fully ten yards outside the penalty area jumped in with a shot which skidded along the ground and into the corner of the net before Sagar made a shape to save. It was a grand shot, but Everton should have done something about it. Football is a funny game –Everton pressing for the whole of seven minutes and then finding themselves a goal down. Parker should have equalized in the 15th minute when Buckle moved to outside left and centred to the far post. Merrick was beaten to the centre, and Parker had his own time in which to head in but his effort went against the side netting. Briggs out-headed Lindley at the second attempt and pushed the ball through for Stewart who looked a likely scorer until Jones moved ever with the winning intervention. Everton had bad luck when McNamara accepted a square pass from Farrell and let go a 20-yard right foot shot that crashed against the post and bounced back into play. This was a typical example of Everton's willingness to shoot, they were letting go at everything, Lindley's long pass was flicked into the centre by Parker to give Fielding a great chance of bursting through, but he shot outside. Everton were not playing like a losing side and they continued to do practically all the attacking. McNamara swung the ball out to Eglington and was in position to head the return downwards and just inside the post, Merrick having to dive across to save.
Merrick's Save
Next Eglington made a 30-yard run to reach the penalty area and then lobbed over a centre to which Merrick leapt and pulled down. Eglington was playing 'ducks and drakes' with Badham and now he beat him twice and centred for McNamara to push the ball back to Fielding. Fielding's shot was charged down and away went the City for Ferris to help Briggs to an angled shot which turned away for a corner. Buckle took over from Fielding, who glided the ball through for Parker to force Merrick to a diving save. The City, for whom Purdon and Ferris changed places for a spell, gave us some football of an Everton vintage for a short period and Everton began to show some affects of their early brilliance and speed. Still Lindley had the pace to keep Briggs off the goal standard before Badham thinking that long range shooting was paying dividend, tried one from his own half that only just went over the top. Briggs pushed Lindley over unceremoniously and went on with a right foot shot which Sagar held to his chest. Donovan brought the ball forward before sweeping the ball out to Eglington, who raced away, cut inside and let go a magnificent left foot shot, which Merrick dived to hold. Everton were still calling the tune and Fielding had a quick shot kicked out by Martin before Eglington slipped the ball through to Buckle, who was in the act of shooting, when Boyd tapped his heels and brought him down. This was a yard outside the penalty area and almost brought a goal. Eglington made as if to take the kick, but jumped over the ball and Buckle hit a terrific shot about which Merrick knew nothing, yet it was Everton's luck that the ball struck Merrick's first and cannoned out again to McNamara, whose header was saved by Merrick. Half-time; Everton 0, Birmingham 1.
Whatever the result of the game Birmingham owed a debt of gratitude to Gilbert Merrick their goalkeeper, for he made another when Eglington's centre was headed in by McNamara. This looked a goal all the way, but Merrick made a jack-knife leap and turned the ball over the top with one fist. Parker almost broke through but the ball ran a little too far for him and was picked up by Merrick. When Fielding hooked the ball in it was dropping into the net, but Merrick flicked it over the top. What a goalkeeper. From the corner McNamara jumped in with a header which just passed outside. Briggs almost got his opening goal for the City when he stood back to Stewart's corner which Sagar missed. Briggs' quick shot just past beyond the post. Ferris tried to take Sagar by surprise with a grand 25-yarder, but Sagar saved splendidly although the force of the shot knocked him off his feet. This was a remarkable game for Everton were doing all the attacking and yet getting no luck with the eager and accurate finishing. But for Merrick they would have been leading. Everton had a free kick just outside the penalty area for hands, but Eglington's shot crashed back off the barrier of players. The Everton defence attacked, but for the most part it was a case of Everton's attack challenged the strong City rearguard. Farrell took over from Eglington at outside left but was fouled and Merrick jumped out to pull down Eglington's free kick and unceremoniously knock over Boyd to make certain he gained possession. For a full minute the ball bobbed about in the City goalmouth, but every path and every shot was blocked until Buckle headed outside.
An Escape
The City were unlucky when Briggs moved to outside right and made a half centre-half shot from a narrow angle. The ball passed over Sagar and dropped towards the net, but Jones dashed across and headed out. From the Press box we could see that the ball was fully a foot over the line before Jones headed it. This was the first bit of luck for Everton in a game which had been there in all but the score. The City should have scored again when Lindsay's pass back to Lindley was much too gentle and Stewart had all the goal to shoot at from eight yards. Stewart shot quickly as he fell and the ball hit the concrete wall. In 69 minutes the City were awarded a curious penalty which brought them their second goal through Wardle. The ball was lobbed forward for Sagar to make an easy catch. Stewart ran in to challenge Sagar and seemed to foul the goalkeeper so that when the whistle went everyone through it was a free kick to Everton. The referee, however, awarded a penalty and showed by signs that he had given it against Sagar for in resisting the challenge of Stewart he had used his fist toward him off. Sagar almost saved Wardle's left foot shot, the ball striking him and bounding up into the roof of the net. The referee was subjected to long booing but the boos changed to cheers the next minute when Everton reduced the lead through Buckle. Fielding whipped the ball out to McNamara, who raced to the goal-line and turned the ball back for Buckle to flick it into the net. With five minutes to go the ball was slipped up the middle, and Sagar and Briggs went for it. The odds were of Sagar for Briggs had to turn whereas Sagar was running on to it, but Briggs got there first and he pushed the ball past Sagar and into the net. Final; Everton 1, Birmingham C 3. Official Attendance; 37,138
MAN U RES V EVERTON RES
September 22, 1951. The Evening Express
Manchester opened with some strong attacks only to be beaten back by the sound defensive play of Moore, Forshaw and Rankin. Leyfield was on the alert to save from Birch. Everton in their first move almost caught the United defence napping. Gibson and Catterick being almost through when Jones came to the rescue of the home team. The next Everton moved followed a corner and when Cummins headed in Crompton saved at the foot of the post. A couple more attacks by the home men came next but the visitors were soon on the attack again, when Catterick with a first time shot, just grazed the United bar. A good centre by Easthope was headed over. After 33 minutes the visitors took the lead, Catterick scoring with a grand shot. Half-time; Manchester United Res 0, Everton Res 1.
In the second half Everton continued to hold their own. Gibson dropped a centre under the United bar but Crompton fisted out. Final; Manchester United Res 0, Everton Res 1.
EVERTON MUST BUY, NOW
September 24, 1951. The Liverpool Daily Post
Everton 1, Birmingham City 3
By Leslie Edwards
No one has patience with too vocal followers of football clubs and their "sack the lot" but the time has arrived when Everton must strengthen their team or lose the good will of their supporters. The story that players are not to be had does not wash. For weeks there have been transfers of players of ability, men of known repute who have proved valuable to their new sides. Everton have done well indeed to introduce to Senior football three or four young men who will develop in due course, but it is asking too much to hope that all will suddenly blossom as tip-top performers within weeks of their baptisms. It is argued that Everton were unfortunate to lose this match. The truth is that they were beaten on merits by a team which looked slow and uncertain until they unexpectedly produced a leading goal. Sagar was never in a position to move to the truly monumental drive with which Warhust struck the foot of the post. I doubt whether he had much chance to sight or anticipate the prompt return of the rebound by the light-haired South African Purdon. This goal kept Birmingham in front until after the interval and when Sagar was rightly penalized for unlawful tactics against Stewart at sixty-five minutes. Wardle from the penalty spot made it 2-0. Buckle, who seems the only Everton forward these days with any punch immediately reduced the lead, but shortly before the end Briggs won a race against Sagar and contrived to turn the ball into an empty goal.
Lithe, Businesslike
While Everton were at their most promising in the first half they were denied rewards by the remarkable goalkeeping of Merricks. This little, businesslike, player who sports a moustache my yet sport the England "cap" he deserves though he is one of the few goalkeepers who has never been known to wear one in a match. Most of Everton's shooting was from such long range and was so wide. Merrick was not bothered when he did have to move to shots on target he did so quickly with a sure pair of hands. Conceding this the Everton attack did not use, as it should the chances it made. There was no lack of skill or enthusiasm or speed in the approach but there was a noticeable absence of confidence and penetration at the business end of movement. The Everton defence, too sometimes tangled against a Birmingham attack which seemed to have little threat until they gained confidence and began to believe in themselves –Briggs newly signed was a slow at the start but at least used the ball well Purdon showed so much promise he may yet prove to be the best South Aftrican ever brought to this country. His low passes were beautifully made and his heading was equally good. Stewart at outside right was lively but not punishing near goal and Badham now back in his old role as full back was not daunting by Eglington's fercy wheeling; indeed the more the same progressed the more Badham got the upper hand.
Penalty Incident
Sagar was foolish to become involved in an incident which meant a penalty decision, in vain did Farrell and other protest. With Wainwright not likely to be fit for two months and Potts still likely to be nursing a knee injury for another fortnight. Everton's position has deteriorated. They are missing their way not because they are playing so badly but because they lack, in certain positions players of scoring ability and size. These they should get, now.
EVERTON RESERVES WIN
September 24, 1951. The Liverpool Daily Post
Manchester United Res 0, Everton Res 1
Everton Reserves brought off a good win at Manchester on Saturday. They were stronger at forward where Cummins and Hold were the chief schemers Catterick obtaining the only goal of the game, proved himself a capable leader while Forshaw at pivot gave the home attack little scope. Crompton in the home goal, was lucky not to have been beaten more than once.
EVERTON LOSE
September 24, 1951. The Evening Express
Pilot's Log (Don Kendall)
The reason for Everton failures is one of the greatest mysteries I have ever encountered in the game. Granted, Everton are not the complete side, yet they revealed themselves as a superior football side to Birmingham, dominating the proceedings for 90 per cent of the game, developing well, revealing the finer ideas, operating faster and more accurate shooting more often and never once giving up the fight, although things are against them. It was football which with merely ordinary luck would have won any game against any opposition. The chief reason why Everton lost was that Gil Merrick was a superhuman goalkeeper, but even against that they should still have succeeded and deservedly. The most inaccurate thing about the game was the score. The Birmingham officials were amazed that such a good football force should get so little reward. What more can Everton do but play good football, attractively and shoot willingly and well? Maybe they are not physically strong, but that has nothing to do with basic skill and the skill is there for all to see.
Perfection
Well, the most disappointed of all were the players themselves, who Merrick apart, just could not find any reason that things should have gone against them. The City people advanced one reason in saying; "Gill Merrick won this game for us and if he is no capped there is no justice in football." Well after this result I'm beginning to wonder if there be justice in the game. Let me itemize two moves which were, in my opinion, nothing short of perfection. Just after the interval, Eglington picked up a peach of a pass, moved forward and centred hard to the far post. McNamara leapt up with meticulous timing and took the centre on his forehead to make a golden header. Merrick leapt upwards as he turned and tipped it over with one hand. The execution of that effort was grand. Then the goal. Fielding swept out a pass to McNamara which spilt the City defence like a clever splitting a coconut and Tony took it in his stride, swept around Martin and from the goalline slipped the ball back fast along the floor. Ted Buckle ran square across goal from left to right and while running, and all in one movement, flicked the ball into the net. It was precise rhythmic football from A to Z. Jones and Lindsay were much superior backs to Bedham and Martin; Lindley fared far better against Briggs than Atkins did against Parker; the City's Warhurst and Boyd had nothing on Donovan and Farrell (although not one of Peter's best days); the Blues had rich service on the wings from McNamara and Eglington, whereas the City wingers were held in subjection. Ted Sagar had a nightmare game, I can picture him being one of the first to say "Sorry, lads," to the colleagues. It was a pity that this grand player should have had his "off day" just when the team was operating so well. Hard luck, Ted. His display was made to appear worse by comparison with the marvelous work of Merrick. What of Jon Parker? I rated Parker a great success; sound in leadership, effective in the air, a massive of the short flick to either side, but a little off song with his shooting, because he never got one shot "on the meat." Fielding foraged zealously for the whole 90 minutes and Buckle was the lucking menace to City security always on the quit vive for the half chance. That neither of these inside men have the physique for the sharp individual burst through in the Eddie Wainwright style was why so many of those Parker flicks did not mature into goals. This is no attempt to whitewash Everton after their latest failure, but a genuine endeavour to find the reason for failure and to be helpful. One cannot but believe that such high standard football will eventually bring success, but the trouble is that for the major portions of the last three seasons the Blues have been playing such football and getting no results. That is what makes it so exasperatingly serious.
FATAL LPSES
September 24, 1951. The Liverpool Echo
Stork's Notes
It is only too true that while any other player can get away with mistakes more often than they are turned to account, an error by a goalkeeper nine times out of ten costs his side a goal. This was unfortunately the case at Goodison Park on Saturday, when Lapses by evergreen Ted Sagar, enabled Birmingham to gain two points when on the balance and quality of the play, Everton deserved at least a half-share. Why Sagar should choose to deliver a virtual short arm jab at Stewart when he could have dodged round his diminutive opponent without any undue difficulty is impossible to understand. Certainly the offence met with its due punishment in the shape of a penalty and Wardle conversion from the spot –despite Sagar's galliant attempt to turn the ball out and partially redeem himself by saving a goal if not erasing the memory of a distasteful incident which was heightened by some unofficial pleading to the referee was nearly if not quite the final straw. The referee acted rightly in awarding a penalty. No player is allowed to strike at another and the incident could have been put in its proper perspective had the Everton players accepted the decision and refrained from appealing to Mr. Lloyd. Incidentally, Wardle's first goal for Blackpool after having been signed from Grimsby was a penalty against Sagar and Saturday's effort was the first time he has found the net for Birmingham. Buckle raised dying hopes with a well taken goal in the next minute, but Brum weathered an all-too brief Everton storm and a third goal in the dying stages from debutant Briggs when Sagar appeared slow to come out to Stewart's pass. Clinched the issue. The final result was somewhat of an injustice to Everton. The defence had its shaky moments but by speedier tackling instead of continual backing away broke up many movements in their initial stages and the forwards revealed a refreshing willingness to shoot, albeit with scant regard to direction on occasions and some clever combination.
McNamara's Best
Buckle seemed more at home on the left and McNamara had what must have been his best senior outing to date. He was unfortunate with a shot that hit the post via Merrick's finger tips and several other efforts brought good saves from one of England's best goalkeepers. Lindley had an excellent match despite the Briggs menace and Jones demonstrated that full back suits him for better than a pivotal role. Unhappily neither Donovan nor Farrell showed the form of which we know then to be capable, and midfield honours went to Birmingham largely through the inspiration of the lanky Boyd. Badham who heads the ball as well as any full back in football stood out in defence and Purdon and Briggs were excellent forwards. The latter did all one could expect of him in his first game and his clever lob shot after drawing Sagar a few yards out in expectation of a centre was worthy of a goal. Whether or not the ball was over the line cannot be decided upon from the main stand, but it certainly appeared so. The snowy haired –Purton also took the eye with some perfect football. If he can be steered up this South African looks to be a real find. His goal after Warhurst had hit the post with a shot struck with so little effort but such power as to give rise to unpleasant thoughts of what might have happened had he tried more, found the far corner of the net so far away from Sagar that I thought he could not be blamed for not getting across so it in time –an opinion at variance with that of the majority.
LEYFIELD IN GOAL
September 26, 1951. The Evening Express
By Pilot (Don Kendall)
Now over to Everton, where Leyland makes his debut in goal for Sagar who, as a matter of fact, was under medical treatment yesterday. Leyland only became a professional on August 1 last year, and has been playing brilliantly for the successful Central League team. Eric Moore returns to right-back in place of Tommy Jones, who is required for centre-half because Lindley reopened the head wound he received at Cardiff. Lello, who has not played since the opening game of the season at Southampton has now played himself back to fitness and takes over from Peter Farrell at left half-back. Farrell in turn, passed to right half-back in place of Donovan, while the forward line is unchanged. Everton; Leyland; Moore, Lindsay; Farrell, Jones, Lello; McNamara, Fielding, Parker, Buckle, Eglington.
Junior Derby
There will be a grand attraction at Goodison Park, where Everton face Liverpool in the Central League "Derby" hoping to supplement their Colts "B" and "A" victories this season. O'Neill; Clinton, Saunders; Cross, Forshaw, Melville; Gibson, Hold, Hickson, Cummins, Easthope
Liverpool Reserves; Crossley; Whitworth, Shepherd; Heydon, Smith (JB), Malomey; Payne, Balmer, McCurley, Haigh, Brierley.
LEYLAND'S DEBUT
September 26, 1951. The Liverpool Echo
Stork's Notes
Everton have made several important changes in their team to visit Leicester City at Filbert Street on Saturday, but in their case they mainly concern the defence. The most important one is the introduction to senior football of Harry Leyfield, the 21-year-old local born goalkeeper, who takes the place of Sagar. Leyland has had a long term at Goodison Park for he joined the staff as an amateur in 1947 and had a couple of games in the Central League side before he was called up for military service part of which he spent in Hong Kong. He signed professional in August 1950, and has been showing excellent form, and so far this season has played in every second team game, and has conceded only six goals in nine games. When I saw him in the public practice game at Goodison Park he was the hero of the match, and I said then that he was ready for top-class football. He is the type who takes complete control round about the penalty area and has the build suitable to a goalkeeper, for he stands 5ft 10 ½ ins, and scales 12st 6lbs. The second outstanding change is the return of Cyril Lello to left half. This is Lello's second game for the first eleven this season. To accommodate Lello, Farrall moves over to the right, and Tommy Jones takes over from Lindsay at centre half. Moore, who played his last game against Cardiff City is back in his old place at right back. The forward line is the same as that which played against Birmingham last Saturday. Team; Leyland; Moore, Lindsay; Farrell, Jones, Lello; McNamara, Fielding, Parker, Buckle, Eglington.
Reserves team against Liverpool at Goodison Park is; O'Neill; Clinton, Saunders; Cross, Forshaw, Melville; Gibson, Hold, Hickson, Cummins, Easthope
Liverpool Reserves; Crossley; Whitworth, Shepherd; Heydon, Smith (JB), Malomey; Payne, Balmer, McCurley, Haigh, Brierley.
EVERTON QUESTS GO ON
September 27, 1951. The Evening Express
By Pilot (Don Kendall)
Everton are intensifying their drive to encourage their young players by upgrading them, does not mean the quests for additional players of experience have been ended. Everton were represented at Ibrox Park last night where the Scottish league played the Irish League in the opening representative match of the season. There is nothing like firsthand knowledge, Scotland has not yielded many players in the post-war seasons, but where the "heads" of the game gather so do our clubs. The elevation of Harry Leyland to Everton's first team, has created tremendous interest throughout Merseyside. The bold choice have set the games alight and so far I have not heard a single criticism of the move, much as the Evertonians regret that the choice of Leyland means the passing over of such a great servant as Ted Sagar.
Improvisation
Leyland went to Everton almost from school, and was making good progress in 1947, so much so that he played in one Central League match –against Liverpool Anfield. Leyland then had to go into the Army, but having completed his service, resumed his career at Goodison Park and went on improving. This season in the Central League games Leyland has been beaten only five times in nine matches. It is true that six goals have been scored against him. But the first was an "own goal" with which he had no chance. Leyland seems to have the stature and ability to develop into a really class goalkeeper. As these players get their opportunities so will others when they are "ripe" and the vacancy arises.
AN OLD SCORE
September 28, 1951. The Liverpool Echo
Stork's Notes
Everton have never before met Leicester City in a Second Division game, but are old rivals in First Division company. It was Leicester City who played a big part in Everton's relegation in 1930 for defeat at Filbert Street practically sealed their fate. Thus, Everton have an old score to wipe out. I have heard so many different opinions about last Saturday's game against Birmingham that I don't know whether I am standing on my head or feet, but one thing you cannot get away from, and that was Merrick in the Birmingham goal did a man's job with half a dozen miraculous saves. That does not suggest that the forwards were not doing their job; quite the reverse. For once in a way the defence let them down; Sagar had one of his off days which comes to everyone. Ted will be missing tomorrow afternoon for he gives way to young Harry Leyland, who will be making his debut in senior circles. Leyland has had only six goals scored against him in the Central League team, and when I saw him he made an immediate impression. He lived up to all the good things which had been said of him. He will have the full confidence of the "lads" for they have all told me that he was a grand young goalkeeper. The forward line remains intact. The return of Lello should bring greater construction into the half back line which finds Farrell on the right and Tommy Jones back in the centre. It is bound to be a hard game for Everton, but a win is not impossible even at Filbert Street. I have not seen Everton for some weeks and am looking forward to seeing them lift two points from the Midland club. Everton; Leyland; Moore, Lindsay; Farrell, Jones, Lello; McNamara, Fielding, Parker, Buckle, Eglington.
SIXTH YOUNG DEBUTANT
September 28, 1951. Evening Express
By Pilot (Don Kendall)
Everton's sixth young debutant of the season, Harry Leyfield, will take over from Ted Sagar at Filbert Street against Leicester, and he has only to reproduce the steadiness and thoroughness of his work with the Central League team to make this a celebration debut. This will be the first meeting of the clubs in the Second Division. The ground has never been particularly fortunate for Everton, but this may prove an exception, for while the City have been playing good football, they have a tendency to drop vital points, four of their last five games having ended in draws. Main danger to Everton security is Arthur Rowley, brother of United's Jack, and Bertie Barlow, always a "headache" to the Blues when he played with Portsmouth. Tommy Jones will be at centre half again with Eric Moore at right back, and I regard the return to left half of Cyril Lello as of the utmost importance. Here is a player of culture but with that strength of tackle and interception which will bring power just where it is needed. The same eagerness to shoot as Everton revealed against Birmingham will, I fancy, bring some measure of reward, especially if the half-backs take an early grip on the proceedings. Everton; Leyland; Moore, Lindsay; Farrell, Jones, Lello; McNamara, Fielding, Parker, Buckle, Eglington.
EGLINGTON THE MASTER IN AN EVERTON AWAY VICTORY DECISIVELY WON
September 29, 1951. The Liverpool Football Echo
Leicester 1, Everton 2
By Stork
This was a victory well and truly won because Everton took their chances in the first half when they were by far the better side. Leicester City are inclined to be over elaborate near goal. They missed at least three goals on account of this and although they fought hard in the second half and reduced the lead, that penalty miss took the heart out of them. Leicester; Anderson, goal; Lever and Webb, backs; Baldwin, McArthur and Halton, half-backs; Small, Worthington, Hines, Rowley, and Dryburgh, forward. Everton; Leyland, goal; Moore and Lindsay (captain), backs; Donovan, Jones and Lello, half-backs; McNamara, Fielding, Parker, Buckle and Eglington, forwards. Referee; Mr. H. Beacock (Scunthorpe).
There was a last minute change in the Everton team for the game at Filbert Street, Leicester, today. Captain Peter Farrell developed a heavy cold yesterday, and although it was hoped that he would be fit for the game today, it was found that although his cold had improved, it had left him weak. Thus, Donovan came in at right half. John Lindsay was acting captain for the day. The City team was unchanged. It was a grand day. The City went into the attack and in the first minute the Everton goalkeeper, Leyland was called upon to save a hard drive by Halton. For some time Leicester were in command. They attacked strongly and when Small centred right across field there seemed a glorious opening for someone, but Rowley and Dryburgh seemed to get in each other's way with the result that neither took the opportunity. The first time that Everton went away Buckle and Eglington cut a hole in the City defence and it was rank bad luck that there was no once close enough to accept Eglington's final offering. So far the football had been of good quality. It was fast and entertaining and although the City promised so much they took vary little. After Fielding had a shot headed over, by Baldwin, Leicester were back in their goal search and Baldwin headed over. Then Worthington put in a shot which Leyland parried away and then finally disposed of. City had the more dangerous side, and as so often happens it was the team that had had the ball all the attack which fell victim of a quick raid. I would give major credit for Everton's goal scored after 17 minutes by McNamara to Eglington, for he moved up to the inside right position and slipped the ball nicely to Fielding, who pushed it further along to McNamara. I did not think it possible that Mac could score from where he did for he was at so atrocious angle but he did what I thought he could not do. He hit an oblique shot that sped into the City goal at lightning pace.
Tried To Walk In
One of the City's main faults was that they wanted to walk the ball into the net. They wanted to make that extra pass to make doubly sure, but that brought about their downfall for it was there that the Everton defence stepped in. Everton gave them a first class example as to how goals should be made without any great finesse. Again it was Eglington who played a big part in the goal which Buckle scored at 26 minutes. Buckle took Eglington's pass on the volley with his left foot and swept it into goal via the underneath side of the crossbar. Everton had not had nearly so many openings as the City but they were much quicker in accepting a chance. Parker and Buckle had the City defence all at season in a combined effort and Parker, who had drifted on to the wing, pushed across a centre that eluded Lever and left Buckle with a great chance, but he did not quite get a true kick of the ball which travelled, only slowly towards the City goal, so that the referee could close in and clear. Everton were now dangerous. The Parker-Buckle combination was once again in action and Anderson had to thump out a short range shot from Buckle. Eglington's speed was too much for Lever and Baldwin for he was able to cut through like a hot knife through butter so that the City defence was often at its wits end to know how to deal with this scintillating forward. Once again the City forwards lamentably when they got another glorious openings. Small will never have a better chance than this, but he wildly slashed the ball over the bar. Eglington was having a great innings for today he was no slave to his wing, but moved into the middle much to the discomfiture of the City defenders. With half a minute remaining for the interval, Leicester made a string bid to reduce the lead and we saw Harry Leyland make a really magnificent save Rowley had headed the ball right away from him, but with a sideward leap, Leyland got his hands to the ball and turned it over. Half-time; Leicester City nil, Everton 2.
Everton had to face the sun in the second half which had only been in progress a matter of minutes when Eglington was hurt, fortunately, not seriously. Everton would consider they were a little unfortunate not to have chalked up goal number three when Fielding put Parker through. The Everton centre forward ram the ball close in before he finally shot. This gave Anderson time to get across his goal, but even then he was a shade lucky to see Parker's shot rattle up against his knees and away to safety. City had cut out a lot of intricacies which had got them nowhere in the first half. They attacked with strength and when Dryburgh lobbed across a high centre at 59 minutes it landed straight on the forehead of Rowley, who simply had to nod his head to make a goal. Though Leyland made a brave attempt to keep the ball out, he was unable to do so. At this point it was Everton who were defending for all they were worth. A goal margin from home is very narrow. There was a slight stoppage for an injury to Lindsay and immediately after his return Leyland was responsible for a nice save from a long shot by Halton. Leicester were fighting hard to maintain their home record and the Everton defence had to put in some hard work to keep the now more direct forwards in check. Parker made a weak shot outside and then there was another stoppage for an injury to McNamara. Everton were mot playing now with quite the same rhythm and it was the City who were calling the tune. Jones came across to the wing and by neat ball control defeated two opponents in quick succession to clear out the enemy. Parker won a corner for Everton. This was taken by Eglington, whose flag kick just passed beyond the reach of Parker and went to Donovan, who lifted the ball over the bar. Anderson had to make two quick save from Eglington and Parker respectively. This was a time when Everton had recovered some of their first half thrust, but still the City had the more drive and Moore had to step in to save a dangerous situation when the forwards came down in a bunch. Leicester had themselves to blame for not equalizing when they were awarded a penalty kick for hands by Moore, although this was rather a harsh decision for the ball seemed to strike the Everton full back's hands as he was falling. Rowley had the job of taking the spot kick, but he made a feeble attempt to score his slow shot passing low down outside the upright. Moore was injured in his affair and slier suffered another knock after which he had to go on the right wing, limping badly. The City were attacking strongly when the final whistle went. Leicester City 1, Everton 2.
BLUES' TWO GOALS IN NINE MINUTES
September 29, 1951. The Evening Express
McNamara, Buckle Score
Leyland's Fine Keeping
By Radar
Quick moving accurate football earned an impressive Everton attack two first half goals, against Leicester City at Filbert Street today. Although Leicester held the initiative in the early stages, Everton, for whom Eglington was in an inspired mood, took the lead through McNamara in the 17th minute, while Buckle, the sharp-shooter of the Blues attack added a second with a brilliant left-foot volley after 26 minutes. City missed three open goals before the interval. Even so, Everton went worthy of their half-time lead, for they were immeasurably the superior football force, even if the defence did not always look too secure. Both teams missed opportunities in the second half, but Rowley reduced for Leicester with a header from Dyrburgh's centre in the 59th minute. Leyland, Everton's goalkeeper debutant had no reason to be dissatisfied with his initial showing. Everton had to make a late change Peter Farrell, the team captain was suffering from the effect of a heavy cold and had to cry off, Donovan coming in as a late deputy. This was a big day for 21 year-old Harry Leyland, who made his first senior appearance in the Everton goal, while Tommy Jones moved to centre-half for the injured Lindley, with Moore coming in at right back. Cyril Lello resumed for his second senior outing this season. Leicester were unchanged for the fifth successive game. There was a strong contingent of Everton directors who made the journey to Leicester, and they were glad to renew acquaintance this morning with Bobby Irvine, the former Blues' inside forward who now lives in Leicester. Leicester; Anderson, goal; Lever and Webb, backs; Baldwin, McArthur and Halton, half-backs; Small, Worthington, Hines, Rowley, and Dryburgh, forward. Everton; Leyland, goal; Moore and Lindsay (captain), backs; Donovan, Jones and Lello, half-backs; McNamara, Fielding, Parker, Buckle and Eglington, forwards. Referee; Mr. H. Beacock (Scunthorpe).
John Lindsay captained Everton who were in white, and sat Leicester to face the strong sun. It was the City, however, who had complete change in the first five minutes. In fact Leyland was soon given the opportunity to show his paces and he dealt completely enough with a low drive from Halton, following a free kick from Jones tackle on Hines just inside the Everton half. Leicester kept it up and Hines headed well wide of the mark from Dryburgh's pass after Small and Baldwin had done the prelimary work.
A Corner
The first time Everton went into action Eglington and Buckle paired off neatly, but weak partially headed clear Eglington's inviting centre. As it was, McNamara was able to take possession and swung the ball into the goalmouth again for Buckle to force a corner off Anderson, but this came to nothing. It was not long before City were on the campaign again, and twice in quick succession Moore cleared from near the goalmouth from left-winger Dryburgh. Eventually relief came to Everton when Dryburgh perfectly positioned tapped the ball high over the top, obviously to Leyland's relief. Leyland was again called upon, this time to deal with a long-range shot from right-back Lever and immediately afterwards he saved a point-blank shot from Leicester's Worthington at the second attempt. For a time
The Everton defence was sorely penned, but we had seen signs that this Everton attack might do some real damage, and with the game 17 minutes old they went away to take the lead. Fielding, who had already slipped through several nice passes, sent McNamara on the goal-trial, and despite Webb's challenge, he cut inside and beat the advancing Anderson with a fierce cross shot from an unusually acute angle. Straight from the restart Leicester made tracks via their right-flank but Leyland was again equal to the call when Worthington from far out leveled a deceptive half-shot half centre. Despite Leicester's aggression, no one could deny that Everton's attacking football had been more methodical up to this stage and twice in as many minutes they came close to increasing their lead. In the first instance Baldwin just managed to foil Eglington's attempt from the inside left position to slip the ball through to the waiting Parker. Then Parker receiving the ball on the edge of the penalty area, moved slightly to his right, and then hit an accurate rising shot which struck the angle of the post and was fisted behind for a corner by Anderson. When the City swung to the attack again both Donovan and Jones were responsible for timely interventions, after which Dryburgh had the Everton defence in two minds, but when he eventually made his pass Rowley had moved into an obviously inside position.
Delightful Football
The Everton forwards continued to play delightful football which always looked like bringing goals and a second one came in the 26th minute. Eglington receiving the ball two thirds of the way inside the Leicester half, did not hesitate but slipped the ball inside for Buckle to hit a ferocious volley which beat Anderson all the way, struck the post and dropped into the net. A brilliant piece of opportunism on the part of the alert Buckle. In fact, so far the rather ragged City defence just did not have any answer to the Buckle meanderings, and he was again in the picture shortly afterwards. Firstly he was a little slow to move forward to Eglington's square pass, and this delay enluded Lever to charge down his shot and the next time his left-footer was directed straight at Anderson. Leicester had undoubtedly started off most confidentially but those quick Everton blows had taken much of the sting out of them and the Everton defence had now settled down to its fro. After Fielding, taking a leaf from the Buckle book, had fired one yards over the top, Hines moved out to the right, but Leyland had no difficulty in taking his fast centre to his chest.
A Free Kick
Lindsay came to Everton's rescue when Rowley hooked the ball in along the ground after Fielding dropping back to help his defence out of difficulties, had conceded a free kick. Rowley's shot beat Leyland, but Lindsay, fortunately had dropped back and was able to clear off the goal-line. There was some danger for Leicester when Buckle slipped down the middle after taking over Moore's thoughtful long-range clearance and transferred to Parker. Luckily for City Parker finished weakly, driving into the concrete surround when a short pass into the middle would probably have produced better results.
Half-time; Leicester City 0, Everton 2
Everton took up the initiative and Anderson had to leave his goal hurriedly when McNamara lobbed the ball into the middle and Parker only managed to half-connect with his head. Anderson managed to catch the ball before Parker could reach it for a second attempt. Eglington bobbing up at inside right, fell rather heavily but was able to resume after attention, and he saw McArthur step in to intercept when McNamara was threading his way through and looked a likely scorer. On one occasion Lello, who had not had too happy a game so far, went up among his forwards to deliver a left footer which slewed two yards of the target. In the 59th minute, Leicester reduced their arrears and the marksman was Rowley. An inaccurate pass by Moore when he went up to the half-way line led to Drybough gaining possession and his accurate cross was deliberately steered home with his head by the waiting Rowley. The same pair almost repeated the score within the next minute, but this time Rowley's header went a yard over the top. This was anybody's game, now, but Parker was slow to appreciate the possibilities of an unexpected chance when a long upfield clearing gave him the chance to go through on his own. He halted long enough to allow Lever to come back and partially charge down his shot. Leicester were now all out for the equalizer and the Everton goal survived more by good luck than good judgment, on several occasions notably when the fast-moving Dryburgh drove in a surprise shot from long-range. It went through a rack of players and passed a yard the wrong side of the bar. With eight minutes remaining it seemed has if tragedy had again overtaken Everton for Moore, in tackling Small, who had crossed to the far side of the field appeared to fall on the ball and touched it with his hand. Referee Beacock immediately awarded a penalty but from this Rowley drove a yard outside with a low left foot shot. Dryburgh went close just after this and the Everton defence did not look any too happy at this juncture. Everton had Moore a limping passenger on the right wing in the last five minutes. Final; Leicester City 1, Everton 2.
EVERTON RES V LIVERPOOL RES
September 29, 1951. The Evening Express
At Goodison Park. Everton; O'Neill, goal; Clinton and Saunders, backs; Cross, Forshaw and Melville, half-backs; Gibson, Hold, Hickson, Cummins and Easthope, forward. Liverpool; Crossley, goal; Whitworth and Shepherd, backs; Reydon, Smith and Maloney, half-backs; Payne, Balmer, McCurley, Haigh and Brierley, forwards. Considerable interest was centred upon this junior local derby game. Here was a splendid attendance Everton were out to continue their sequence of victories over their nearest rivals. Hickson leading their attack. Liverpool were the first in evidence and after Brierley had got over a nice centre, O'Neill had an easy chance of clearing. The Blues seen settled down and following several raids Cummins drove in from close range for Crossley to save finely. The home goal had a reckless escape when McCurley let fly from 10 yards, O'Neill bringing off a capital save at the expense of a fruitless corner. Everton next had the monopoly of the play and for a time the Liverpool goal bore a charmed life. In the 20th minute the Blues stepped into the lead, Easthope getting through to gave Crossley no chance. It was a hectic game with Everton being the more constructive side, Hold on one occasion having hard lines with a superb shot that was cleverly judged by Crossley. Liverpool made valiant attempts to get on level terms and it was mainly due to good work of Forshaw that prevented the reds from achieving their object. In the 40th minute Hickson increased the home lead after Easthope had paved the way. Half-time; Everton res 2, Liverpool Res 0.