HEADING FOR A GOAL RECORD
January 1 st 1931. Evening Express
Everton and Tranmere out to beat 128
By the Pilot.
Everton and Tranmere look like breaking all goal scoring records in the Football League. At the moment Everton have registed 70 goals in 22 matches, an average of 3.181 goals a match. Tranmere Rovers claim 69 goals for a like number of games with an average of 3,136 goals a match. The highest number of goals ever obtained by a club in Football League football is 128. These were secured by Bradford City in season 1928-29, the year they won promotion from the Third Division (Northern Section). Bradford City's average for the 42 games was 3,047 goals a match. Therefore; although it is always hard to keep up such a good average as Everton and Tranmere Rovers have at the moment over a long period, I think Bradford City's total will be pulled by at least one of the present leaders.
Scored in every match.
Everton, so far have scored in every match played in the Second Division, and Onoda only on three occasions have they failed to found the net more than once. They scored one goal against Cardiff City, at home, and against Barnsley and Bradford away. Their total has been contributed to by no fewer than ten players, with Dean and White as the highest scorers. Tranmere's Rovers 69 have been obtained by 7 of the Rovers, three of whom, Kennedy (J), Watts and Dixon, have to date scored 60 between them. Arsenal and Aston Villa are close on the heels of Everton and Tranmere Rovers 68 and 67 respectively, but the Villa have played 23 matches. This seems to be the season when all records are destined to be beaten –points as well as goals.
Sport Pie.
Everton have decided not to undergo special training in preparation for their Cup-tie with Plymouth Argyle on January 10.
EVERTON'S BID.
January 1 ST 1931. Liverpool Post and Mercury
By John Peel
Everton are favorably placed for the task of gaining promotion. Their lead is such that their supporters believe that the goal will be reached, as anticipated, at the first time of asking. Today Bury are the visitors to Goodison Park, and though the Gigg-lane club are likely to make leaders go all the way, the Evertonians are, I believe strong enough to add 2 points to their record. Dean and his colleagues appear to have struck their best form. It is particularly pleasing to note that Dean is regaining that high standard of play, which earned for him at an early age international honours, and he has only to keep it up to lead England once more. The ground, after the soaking it received earlier in the week, benefited by the comparatively dry spell, and if the rain kepts off today the going should not be too difficult and a lively game is anticipated. Everton will be without Griffiths, who was injured last week, and Gee takes his place. The kick off is at 2-30, and the teams are; - Everton; - Coggins; Williams, Cresswell; McPherson, Gee Thomson; Critchley, Dunn, Dean, Johnson, Stein. Bury; - Hardy; Chester, Bradshaw; Porter, Bullock, Robinson; Robbie, Hope, Smith, Grass, Amos.
EVERTON 3 BURY 2 (Game 23)-( Lge Game 3075-over-all)-(Div 1 3052)
January 1 st 1931. Evening Express.
Everton's Year Start.
Goodison Park Surprises.
Dean 25 th And McPherson's First Goal.
By the Pilot.
Bury renewed acquaintance with Goodison Park after a lapse of one season in the return Second Division match with Everton. At Gigg Lane on Christmas Day the Blues managed to draw after being two goals down 16 minutes from time. Griffiths was unable to play owing to the thigh injury received against Plymouth Argyle, which may keep him out of the team for a week, but this allowed Gee, the former Stockport pivot, to make his first appearance at centre half. This change and Williams, for Lowe were the only ones from the teams which met at Bury. Teams; - Everton; Coggins, goal; Williams (captain) and Cresswell, backs; McPherson, Gee, Thomson, half-backs; Critchley, Dunn, Dean, Johnson, and Stein, forwards. Bury; - Hardy goal; Chester, and Bradshaw, backs; Porter, Bullock, and Robinson, half-backs; Robbie, Hope, Smith, Grass, and Amos, forwards. Referee; W. Harper (Stourbridge). There were 30,000 spectators present. The ground had been swept of some of the mud, but the remaining in the centre was so thick that the players sink ankle deep in it, and it was impossible to mark the field out evenly. The sun shone, and so did Critchley, for the winger opened proceedings with ascirtillating dash through on the right, but Dunn's first timer crashed against an opponent and away went Robbie to level a low centre, which Williams intercepted neatly. Stein caused a thrill when he rounded Chester in wonderful style and cut through to aim for the far corner. It looked a goal from start to finish, but Hardy dived out to make a fine save at the expense of a corner. From this Dunn headed inches wide of the post and after Williams and Cresswell had been put to their wits ends to outwit Robbie and Smith, and Robbie had won a corner, Stein again outpaced Chester, and his shot swerved in deceptively, Hardy having to fist around the post.
Lively Struggle.
The corner led to a desperate scramble, kicking, shouldering, buffering and slipping, and the mud won in the end. This was real, exciting fare. Dunn was dribbling on the proverbial sixpence when he was bowled over, and from the free kick on the edge of the are, McPherson tried to reach Dean, but Chester headed out in the nick of time. Bury lacked dovetailing between departments, but the forwards were dangerous when they broke through, the Everton defence having to be extremely lively. Critchley was having a good game, and after Stein had headed back one of his centres, Johnson and Dean got in each other's way and a possible chance was lost.
Dixies 25.
Dean reached his quarter century of goals, when he gave Everton the lead at the 17 th minute. The ball stuck in the mud in midfield and McPherson lobbed it up the middle to Dunn. A mere flick was all Dunn contributed, but it had the effect of outwitting the Bury defence, and putting Dean through unchallenged. Dean ran on to score at will, though Hardy's saving attempt was so good that he touched the shot en route. Everton were on their toes, next, Gee doing some fine work, and Johnson and Dunn both hit the referee with well intentioned passes. Everton had an escape when a lob from Porter was misjudged by Coggins, and after striking the bar the ball fell in the goalmouth, Coggins quickly covering his mistake. Robbie tried to take Everton by surprise when he dropped a centre close into goal. Goggins turned the ball against the crossbar before cleaning. The game was always lively, but the Bury backs were hardly a match for Everton's speedy forwards. Dean was injured, and Referee Harper attended to him in professional style before the trainer's arrival. Dixie was soon right again. Hardy ran out to kick away from Stein in further pronounced Everton pressure before Johnson let go one of his best efforts, a left-footed rising shot, which Hardy tripped over in dramatic fashion. Smith threw away a good chance for faulty shooting after Robbie and Hope had won him an open goal, and when Dean went through on his own he disappointed by weakly placing behind. Cresswell came a cropper in the mud, and to prevent Bury getting through punched the ball this way and that while lying prone, but the free kick came to nothing. Dean displayed perseverance when he beat five men and ran through to shoot, but the ball touched Bradshaw's foot and ran for a corner. Just before the interval Smith placed high over the bar with a long drive.
Half-time Everton 1 Bury 0.
There were early thrills in the second half for following Cresswell free kick there was a hectic scramble, but Hardy was enterprising enough to run out and put paid to it all. Stein raced through from Dean's pass, and his low centre was snapped up by Dunn, who looked to be a scorer until Bullock turned his shot aside in the nick of time. Everton were attacking when Johnson's pass hit Referee Harper on the elbow, causing him to drop his whistle in the mud.
Referee controlled game with a Kanderchief.
Dean ran forward to cause Hardy to save low down, but the referee had his whistle clogged with mud, and controlled the game with a handkerchief until a linesman gave him another one.
Bravo, McPherson.
McPherson' secured his first Football League goal for Everton by driving home direct from a free kick after 67 minutes. Dunn had been fouled on the edge of the penalty area, and McPherson lobbed the ball in deceptive style to the goalmouth. Bradshaw misjudged the flight and so did Hardy. They ran out from goal, but the ball dropped over their heads into the net. Robbie charged Thomson right into the crowd.
Bury score.
In 69 minutes Bury, in their first really serious attack this half, reduced the lead through Smith. Amos prevented Williams from clearing out on the touch line, and Grass outwitted the Everton defence with a fine centre, which Smith headed in while on the run. Bury kept up the pressure, and Robbie equalised in 72 minutes. Williams conceded a corner unnecessarily, for Coggins had the ball covered and this lead to a fierce passage at arms in the Everton goalmout. Thomson received but instead of clearing first time played with the ball, and as it bounced Robbie dashed in to score with a grand drive to the roof of the net. Everton were not lasting well, and as the end approached Bury were doing most of the attacking. Everton had a free kick on the edge of the penalty area for pushing, but Hardy tipped Cresswell's shot over the bar. Gee scored a third for Everton right on time.
GEE LAST MINUTE GOAL
January 2 nd 1931. Liverpool Post and Mercury
Everton beat Bury in Hard Game.
Dunn Two Assits and Critchley One.
Bury Hit Crossbar twice in First half.
By "Bee."
It is given to few centre half backs to make their debut in senior football, or in new colours, and to score a vital goal that brings victory instead of a drawn result. This was what happened at Goodison Park, yesterday, when Everton won their return game, with Bury 3-2 after being 2-all one minute from the finish. Critchley spotted the ball for a corner kick and took it very slowly, and with much deadliness for Gee to head through a mass of dirt-ladened players. And that is how a coupling incident was ended, for on Christmas Day Everton, after being two goals down at Bury, had got two goals, in two minutes, and yesterday Everton had taken a lead of two goals per Dean and McPherson and were "riding easy "-perhaps too confidentially.
Two Goals in Two Minutes.
Bury fought back never stopped trying, and finally got two goals, in two minutes about the seventy minutes period. Smith headed the first from a left wing move and Robbie crashed the second goal. After that Bury were unmistakably the superior side. They had got a notion of how to loft the ball, to escape the sea of mud. Everton were rattled, and nervy, and though they fought gallantly, it must be said that one's sympathise went with Bury in such circumstances, and it was really hard fortune for them to lose the game in the last moment of play. The standard of play had been quite good considering the barrier of the ground, which was a mass of churned up mud. The ball had to be driven hard to make shy progress and the decent bits of turf on the wings were not used successfully in the second half, Stein having little or no chances to show his pace, as he had proved he could in the first half, when hardy, the former goalkeeper of the Everton club, stopped him getting two goals.
Hardy's Display.
Hardy took his usual risks by kicking away instead of handling, but he kept goal well until the free kick awarded to Dunn and taken by McPherson who made a half-lob and Hardy was deceived by the flight of the ball, which passed over his hands into the net. Dean's goal in eighteen minutes was the result of a pass upward by a half-back, and the ball dropped dead at Dean's foot. Dean did much fine close dribbling against Bullock; in fact these duels in the middle were the salt of the first half. Chester, after being outrun, completed a fine day's work, but it was in finding touch that Bury sank their chances. They kicked into touch in the last few minutes, and it was one of these wild Innges for safety's sakes that led to the corner that caused the winning goal. Playing at home must be worth a goal lead to Everton these days, and knowing the mud-heaps as they did they seemed to tire or become over confident in the threequarters stage –it struck me, that they imagined two goals lead was ample. It was nearly their undoing, albeit Bury were not good in front of goal and had not taken their easy chances.
Good Fortune.
Coggins had little or nothing to do all day, yet he was helped by the bar angle first per Porter's shot and finally through Robbie's excellent drive. Therein lay Everton's good fortune. Hardy had kept out many shots. Coggins had few if any yet he had twice been "angled" by a very difficult ball, and had paid the penalty of a goal. Gee, acting for Griffiths, was an able forager, but like some others, he tired near the finish, and it was at that point that J.R. Smith was most dangerous. Grass was not prominent till he missed two reasonable chances, and Robbie was distinctly the best forward on the losing side.
Teams; - Everton; Coggins, goal; Williams (captain) and Cresswell, backs; McPherson, Gee, Thomson, half-backs; Critchley, Dunn, Dean, Johnson, and Stein, forwards. Bury; - Hardy goal; Chester, and Bradshaw, backs; Porter, Bullock, and Robinson, half-backs; Robbie, Hope, Smith, Grass, and Amos, forwards. Referee; W. Harper (Stourbridge).
EVERTON PLAYER TRANSFERRED
January 2 nd 1931. Liverpool Post and Mercury
McCambridge Goes to Cardiff City
The Everton last night transferred WG McCambridge the Irish International inside-left to Cardiff City, and he will play for his new club against West Bromwich Albion tomorrow.
McCambridge went to Everton last March from Ballymena, he played for his County against Wales and Scotland last season, and was watched by several clubs. The fee paid by Everton was said to be the highest ever received by the Ballymena club. He stands 5ft 9 and half inches and weights 9 and half stone. McCambridge played at inside-left for Ireland against Wales at Belfast last February and in the same month assisted his Country against Scotland at Glasgow, within a fortnight he was playing for Everton. McCambridge has played some fine games in the central league this season, and at Blackpool he obtained five of his side seven goals.
GEE-O-A-L! –AND JUST IN TIME
January 2 nd 1931. Evening Express
A Trip Everton Might Take From Bury
By the Pilot.
Gee! What a finish. Everton and Bury were two goals each at Goodison Park with a minute to go. Bury were kicking out. They kicked out wrongly and Everton had a corner, Critchley took it perfectly and Gee burst through a bunch of players and shouldered through the winning goal. Bury deserved a point for their great second half rally after being two goals down eighteen minutes from time. They scored two goals in three minutes and continued right on top until they made a tragic error of trying to save a point by kick out. McPherson scored his first Football league goal for the Blues by netting from a free kick in the second half, and Dean's successful effort was his 25 th of the season. Everton have proved themselves mudlarkes, but they must take the tip from Bury and keep a little reserve up their sleeves.
Those Downy Swans.
Everton will find them Warlike at the Vetch.
Two Everton players at least will enjoy the club's visit to Swansea. For Williams and McPherson, it is virtually a trip home for both players were favourites before they established themselves at Goodison. The Welsh team are a great side at home –they lost only one game there and have gathered 18 out of a possible 22 points –and Everton are faced with one of their hardest tasks of the season. Gee continues in Griffiths position at centre-half, which means the Blues will field the same side which defeated Bury yesterday. A victory for Everton will leave them with a long lead, and therefore an easy mind for their Cup-tie next week. Swansea's great strength is in defence, and they have conceded but six goals more than Everton. It should be a great clash between the Welsh defence and the Everton forward line, which has scored more goals than any Football league side in the country. I believe the Blues will be good enough to avoid defeat. Everton; Coggins; Williams, Creswell; McPherson, Gee, Thomson; Critchley, Dunn, Dean, Johnson, Stein.
Sport Pie
• Everton have transferred Jimmy McCambridge, their Irish international forward, to Cardiff City, and he will play against West Bromwich Albion at the Hawthorns tomorrow.
• Everton now hold five points lead over their Second Division rivals, all clubs having played the same number of matches.
• Central league Match at Goodison Park Tomorrow (Saturday), Everton v West Bromwich. Kick off 2.30. Admission 6d, Boys 3d. stands extra (including tax).
GOODISON GAME OFF
January 3 rd 1931. Evening Standard.
Everton Reserve match against West Bromwich, due to be played at Goodison Park, has been postponed owing to the state of the ground.
SWANSEA TOWN 2 EVERTON 5 (Game 24)-(Lge Game 3076 over-all)-(Div 1 3052)
January 5 th 1931. Liverpool Post and Mercury
Forwards Shine at Swansea.
Everton Show Their Best Form
By "Bee."
It has been the fashion for Second Division sides to flash and thrust in the first of their games with Everton. The leaders in all their away games, until Saturday, have formed the habit of stemming the torrent and winning by waiting. After the game against Plymouth at Goodison Park and Saturday's game at Swansea they have been forced to realise that there are exceptions to these Second Division processes in the initial stages of play. Everton played so well in the first half that they made the Welsh team look more commoners. Their half-backs could not hold or cope with the ability of the Everton forwards, who were in their daintiest and therefore, their deadless demeanor. Probably the Everton forwards enjoyed the novelty of working a ball on a ground that was in an extremely good condition, which is a state quite foreign to Goodison Park.
Goal in First Minute.
The fact was soon made evident that Everton were in their best form, and were apparently keen to take a big leeway, so that they could rest on their oars when they tired against a team that has had no midweek match. The final score of 5-2 was no exaggeration of Everton's superiority, but it does not tell the public how manfully Swansea battled in the second half. The game was apparently won when Everton scored in one minute. It was seemingly ended when Everton led by three goals, but the inspiration of a goal to any Welsh side is electric, and R. Williams scored a first goal near half-time and this served to light the way to the Swanseas side. Their football may have been crude in front of goal, yet their persistency and pluck to the finish was praiseworthy. In fact, they made a deep impression in the second half, and it needed Everton's best defensive lung to starve of further goals, especially as the somewhat damaged McPherson and the overstrained young player Gee could not cope with two heavy engagements in three days. While it is quite true to say that Everton could have got four goals in the first ten minutes, it is equally a feature of the play that Swansea should, and could have got two or three, but for hasty finishing and wretched direction in shooting.
Williams Stands Out.
It was a triumph of the arts of the game over the artisan of the game. Swansea did everything in a full-blooded manner, whereas Everton forwards got their goals by the flick and sleek move of the draughtmen. The goal order was Stein 1 minute, Dean 6, Critchley 30, R. Williams 35, Dean 65, Easton 70, Johnson 88. There was no better back on the field than Milne, even if we allow that Ben Williams against his old side was in his more rugged mood –an earnest defender and an everlasting worker, and a man who inspires team spirit. One may say of Williams –"Here is a club man." Swansea were chiefly faulted in the forward line, where R. Williams their useful centre, showed inclination towards temper, which created free kicks in front of goal; while on the winning side the frost rank lived up to the title of front rank, Thomson was Everton's best half in a line that was not altogether satisfying . Teams; - Swansea Town; - Ferguson, goal; L. Williams, and Milnes, backs; Sykes, Handford and Miller, half-backs; Lindsay, Easton, R. Williams, Armand, and Bell, forwards. Everton; - Coggins, goal; Williams (captain) and Cresswell, backs; McPherson, Gee, and Thomson half-backs; Critchley, Dunn, Dean, Johnson and Stein, forwards.
SKELMERSDALE UNITED 3 EVERTON "A" 3
January 5 th 1931. Liverpool Post and Mercury
Liverpool County Combination
Colier –the Skelmersdale United centre forward, performed the hat-trick, but the visitors were capital raiders, and after being two goals in arrears, rallied to share the points. Davies (2) and Chedsgzoy scored for Everton. Skelmersdale Boardman, who has signed for Burscough and his place was taken by Cronk, Hayes, their left winger, was injured and Skelmersdale played the best part of the second half with ten men.
SWANSEA COULD NOT STOP THEM
January 5 th 1931. Evening Express.
Everton Forwards Work Like a Machine.
By the Pilot.
Five forceful forwards finishing finely. That sums up Everton's sparkling 5-2 victory at Swansea, a graveyard of many hopes. I cannot recollect such perfect forward work as that of Dean and Co., on Saturday. Right from the kick-off they developed a flawless understanding and bewildered the Swansea defence. It was football of the copy-book variety. I do not blame the Swans for being so overrun. There can be few defences, which could have repelled the Everton forward line as seen in this exhilarating "cocktail" to the forthcoming cup-tie. Individually brilliant, the Everton forwards combined with wonderful precision. Short-passing or long passing, it all came alike to them. They interchanged positions with remarkable foresight, and yet made it look all so effortless. The Everton half backs, too, gave ideal support, but the crowning piece was the marvelous triangular work of the left wing –Stein, Johnson, and Thomson.
Gee's One Fault.
I admired the home side for their pluck, but it required a great deal more to stop Everton, who, as a Swansea official remarked to me after the game, "Were far too good for the Second Division on that showing."
Swansea people think a lot of Ron Williams, their young centre forward. He was made to appear small fry when ranged alongside Dean, who was a fine leader. Gee was a forceful robust pivot whose only fault was a tendency to get out of position and McPherson had a good first half. Thomson was the pick and I cannot remember him having been guilty of one error. I have seen few things better than his inward pass to Johnson.
Thoughts of Other Days.
Ben Williams' display made the spectators think of days when he wore the all-white attire. His tackling was beautifully timed and ruthless, he kicked a pretty length and had a fine understanding with his colleagues. Cresswell was the studious defender who ability to look two moves ahead enabled him to make interception save the tackle. Coggins had three or four nasty shots to deal with, but was another master in a team of masters. Swansea had a good goalkeeper in Ferguson, and a brainy back in Milne. Miller was the best of the intermediates, and in attack Bell and Armand were better than the right flank composed of the ex-Merseysiders, Easton and Lindsay.
Now for the Cup-tie.
Everton began their Cup-tie preparation today, the players going for a gentle walk in the charge of Hunter Hart.
Sport Pie
• Everton are in the proud position of having won more matches and scored more goals than any club in the Football League. They have obtained full points on 17 occasions, and have secured 78 goals.
• Mr. Dave Ashworth, the former manager of Liverpool and now manager of Lianelly, went across to Swansea on Saturday to renew acquaintance with his Everton friends.
• Some of the spectators at Swansea were not typical of the general body, who obviously appreciated Everton;s cleverless. When Trainer Harry Cook went to attend to Stein for an injury clinkers and small stones were thrown at him, cutting his left ear and hurting his back.
"WE SHALL WIN," NOTE AT GOODISON.
January 6 th 1931. Evening Express
Griffiths and Rigby Still Under Treatment.
By the Pilot.
"we shall win." This is the confident expression of all the Everton players, with regard to their cup tie with Plymouth, at Home Park on Saturday. The Blues have every reason to be optimistic about their journey to the west. Already they have defeated Argyle twice this season, and, incidentally, registered their biggest victory against them. Unlike other seasons, no special training is being given to the players. "We are just carrying on in the usual way at home," said Mr. Tom McIntosh, the secretary today. "There is absolutely no change whatever in the procedure."
The team will, I expect be much the same as that which has gained nine out of the last ten points played for. Two first team men are on the injured list –Griffiths and Rigby. Both are suffering from foot injuries, and while it is doubtful whether Rigby will be fit if required, Griffiths is making good progress, and there are hopes he will take the field. The Everton directors will meet tonight to consider the question of the team.
Plymouth won't be tired this time.
Plymouth Argyle are confident that the score of nine goals by Everton, when the Argyle visited them last month, will not be repeated. All are confident of being able to extend the League leaders to such purpose that victory will go to the Argyle. Owing to the lightness of weight Argyle may be hampered. They will miss the effective thrust of such a centre-forward as Bird, but otherwise, with the rearrangement of the forward line and the half back division, Argyle hope to reverse the result of the home game with Everton. Enthusiasts say that the crop of goals in the match at Goodison Park was largely attributed to the state of the ground, couple with the fact that the Plymouth team had travelled to Liverpool during the night, after their strenuous game with Cardiff City on Boxing Day.
Sport Pie
• B. Howard Baker, Liverpool, will keep goal for the Corinthians in their cup tie with Port Vale at Crystal Palace on Saturday.
CAN EVERTON COMPETE "HAT-TRICK."
January 6 th 1931. Liverpool Post and Mercury
By John Peel.
Everton have already beaten Plymouth Argyle on two occasions this season, by 3-2, in the opening game at Plymouth and 9-1 at Goodison park on Saturday week. It is expected therefore, that when they visit Home Park on Saturday for the cup-tie they will compete the "hat-trick" of victories at the expense of the Devon team. There can be no two opinions as to the excellence of the Everton side just now, and though cup-ties and League matches are different propositions the Goodison men should win at the first time of asking. They gained a triumph at Swansea on Saturday against a side that had previously suffered only one home defeat and won eight out of eleven games. Bury got six goals at Plymouth on Saturday, and I think the Everton attack will again prove too good for the Argyle defence. But the visitors must not take too much for granted.
McCLURE'S CHANCE.
January 7 th 1931. Liverpool Post and Mercury
By John Peel
Everton have made a surprise change in their team to meet Plymouth Argyle at Plymouth. McClure the North-Eastern half-back, who has played in several League games, being preferred to Britton and McPherson at right half-back. McClure is a robust type of player whose style in a cup-tie may be calculated to be effective. Griffiths, who has been on the injured list, is fit again and returns to centre-half in place of Gee. These are the only changes from the side that beat Bury 3-2 and Swansea 5-2. The team is Coggins; Williams, Cresswell; McClure, Griffiths, Thomson, Critchley, Dunn, Dean, Johnson, Stein. That side should be good enough to win.
Plymouth's Doubt.
The players travel to Plymouth on Friday, after the usual home training. The Plymouth team is at the moment doubt over players who are injured. Bird, the centre-forward and who played at Goodison Park on December 27 th , is likely to be an absentee owing to a thigh injury, but Titmiss the left, back and captain who did not play against Bury on Saturday when the Argyle lost six goals will turn out. The Plymouth players are training at Dartmoor.
"WE HAVE DONE IT TWICE, WHY NOT AGAIN?"
January 8 th 1931. Evening Express.
"What we have accomplished twice this season we can do a third time. We are playing better today then we won at Home Park in August, and even allowing for improvement in the Argyle ranks, I think we are certain to win at the first time of asking."
Ben Williams, the Everton captain, said this to me when I visited Goodison Park to see the Blues preparing for their cup-tie at Plymouth. "I cannot see the Argyle defence stopping our forwards if we play anything like we did at Swansea." The froshbound ground and the fog did not deter the players in their training and under the care of trainer Harry Cooke and his assistance, Andy Tucker, they enjoyed their work.
Own methods.
The players each have their own particular methods of training, and, knowing the brilliance of the Argyles left wing –Black and Leslie –I watched Williams and McClure with more than ordinary interest. Williams wonderful double-tackle and McClure's sturdy clean shoulder charging are bound to be a menace to the Argyle forwards. Critchley and Stein are the fastest players on the books. Critchley is a matter of inches in 100 yards faster than Stein.
Dean on the Mark.
Dixie Dean demonstrated how he acquires accuracy in shooting. He was shooting into goal from all angles and distances with unerring precision. He showed me his training boots, too. Old, patched, torn and tattered, Dixie would not part with them. Why? You may ask. Well, they are the boots with which he broke all goal-scoring records in season 1927-28 with 60 goals. Dixie will not pension off his old favourites. Tommy Johnson revealed in training a marvellous shot with both feet, hitting the ball when it was about two feet from the ground.
"Somewhere in Devon."
Plymouth Argyle go into the country today and will not return until just before the match. A quiet spot "somewhere in Devon" has been selected, but its exact location is being kept a secret. The exact composition of the Argyle team will most certainly be a last –minute affair, and it is doubtful whether it will be decided until the players get back into the dressing room from their stay in the country.
An interesting position has arisen with regard to the leadership of the attack. It is now possible that the directors will be able to make their choice from either Vidler of Bird. Vidler pronounces himself fit from the knee injury he sustained early in October. Bird, who was thought to be out of question after his injury at Barnsley last Thursday, has made a surprising recovery, and announces himself as perfectly fit. Thus the forward line will be; - Grozier, Bowden, Vidler, or Bird, Leslie, Black. The halves will be the same as played at Everton, namely, Mackay, Pullen, Hardie, with McKenzie, kept in reserve should his service be required at the last moment. There is some doubt about the left back position. In the hope of holding the speedy Critchley it is thought possible that Bland will be retained there in preference to Titmuss, the captain, who has just got over an attack of tonsillitis. Roberts will be at right back and Cann in goal. Cann, Mackay and Black are the three players in the side who have not missed a match this season.
EVERTON NOT SUPERSTITIOUS
January 9 th 1931. Evening Express.
13 players travel to Plymouth
It is evident that Everton believe they not superstitious. Can Everton record their third successive victory over Plymouth this season? League form suggests they can and will, but the Cup is full of shock results. The Blues must leave nothing to chance. The Everton players were given a cordial send off at Lime-Street Station today, when they set off to seek their Cup fortune in the West. The train left at 9.10 and was due to arrive at Plymouth at 6-30. After their game with the Argyle, the Everton men journey to Weston-Super-Mare, and after spending the night there, they return to Liverpool where they are due to arrive at 6-50 on Sunday evening. Mr. A. Coffey, Dr. Baxter (directors), and Mr. T. McIntosh (secretary) travelled with the men. Gee and Rigby accompanied the team as reserves. Griffiths is a doubtful starter, as his ankle injury, received against Plymouth Argyle in December 27, still troubles him. The injury affected him when he turned on the field, but he said he was hoping to play in the tie. Gee will deputise if Griffiths is not fit. Ben Williams, the captain said; "We are certain to win." The thaw should soften the ground and make it to our liking."
Mr. McIntosh, said; "Our players have a good chance of pulling through. There is just a doubt about Griffiths being fit to play.
Everton's Third Win?
Two League victories over Plymouth have given the Everton players great confidence. The Blues' great away record suggests that they have an excellent chance of reaching the fourth round. Plymouth are a hard side to beat at home, but the tonic of a previous victory there will not be wasted on the players. Plymouth's preparation have been restricted owing to the conditions of the ground, which was badly churned up last Saturday and is now completely frozen. Intervals of sunshine have failed to thaw the ground, and 50 tons of sea sand are being spread over the pitch, while steam rollers are endevouring to flattern the surface of the ground. Ball practice has been out of the question, and the Argyle players have restricted their training to sprints and physical exercises. The team were taken away yesterday to a quiet spot on the moors to rest and get completely for Saturday's match. A definite selection will not be made until Saturday, but Bird will probably lead the attack in preference to Vidler, owing to the hard state of the ground. Everton's team will be; - Coggins; Williams, Cresswell; McClure, Griffiths, Thomson; Critchley, Dunn, Dean, Johnson, Stein.
Sport Pie
• If Everton draw at Plymouth tickets for the replay at Goodison Park on Wednesday will be on sale on Saturday night and the following week.
• Central League match at Goodison park Tomorrow (Saturday)Everton v Blackpool, kicks-off 2-30. Admission 6d, Boys 3d. Stands extra (Including tax).
PLYMOUTH ARGYLE 0 EVERTON 2 (FA Game 127)
January 12 th 1931. Liverpool Post and Mercury.
Everton's Treble
Dunn's Gallant Effort After Injury
Plymouth Make a Rallying Finish.
By "Bee."
Everton won at Plymouth Argyle's fine ground and thus made new history. They have beaten Argyles three times this season –twice in the league 3-2 and 9-1, and now in the cup-tie 2-0. And the hardest match of the three was the cup-tie, which was a desperate but clean battle right to the end. It was a spendid match to watch, because both sides forsook the supposed cup-tie style and depended upon their usual league fashion of play to carry them through. Although there was a margin of two goals for the visiting side, the result does not give a fair idea of the work Everton went through to catch this lost thread of cup victories. They had to work desperately hard to win the this fine sporting game, and moverover, Plymouth come into the congratulations because they fought very ably against the deficit of two goals obtained in half an hour. They had their chances, they did not take them. When they were fighting hardest near the end of each half, Coggins was producing his best form.
Argyle's Early Fault.
Argyle were at fault early on when they should have given the defence no chance of saving. This was most noticeable, when Crosier missed fair opportunities, and when Leslie, the acting captain for the absent Titmuss, failed to take a definite shot from an easy position when the score was 1-0. This was a turning point of the game. It is good to place on record the novelty that there was not a fool given all through the first half. The great failure of the match was the fact that Dunn stayed the distance. He was thrown, heavily in the first half, and late on got a second bang on the affected part and this time the full extent of the injury was realised. He was found to have a cracked collar bone and although it seemed madness for him to stay on the ground, he returned in the second half and went right through to the finish, giving a bright exhibition of usefulness, even when he knew that every kick of the ball meant a twinge of bain to him.
Dunn's First Time Methods.
Dunn was expert in his dribbling, and his provisions of the first half, but I verily believe he was more useful in the second half as a "passager" because he did everything first time, each time his ankle pass or his direct push forward meant that an unmarked player received the ball so that he could take it. Dunn also got a valuable goal. He scored with a beautiful gliding header into the right-hand side of the net from a corner taken by Critchley –a corner given by a linesman after the referee had ordered a goal kick. The second goal arose through a well judged pass by Gee, who was called in at the last minute owing to Griffiths finding his damaged ankle not respond to the trial of the morning. Griffiths had said he was fit to play, but arriving, at the ground he had found a swelling, and so wisely decided to give up. Gee came in, and continued the good work he started a few weeks ago. It was his pass right out to the wing that let in Stein. A back attempt to trip Stein, who leaped up, and escaped the foul, and close in to make an angled but studied and stunning shot that left the capable Cann helpless. The game was not won; it was only just beginning –Plymouth saw Dunn ambling about with his arm strapped up, and they believed they where they had failed in the first half they could not improve and make good. Their efforts on the left wing were very able and their half-backs all through had a good innings but Crosier was off his game, thanks to the way Cresswell and Thomson kept him closed down.
Cresswell's Polished Display.
This was one of the secrets of success, because Cresswell gave one of his easy, polished display, taking the ball off the toes of the opponents and heading and clearing with his accustomed brilliance. Williams was little less below him, but did not stand out in the same bold manner that Cresswell and Coggins stood out. I have mentioned Gee. He is very good with his head and uses his wing half-backs with passes that must be valuable. He keeps the ball on the ground. McClure had an excellent first half and then petered out a trifle, but he too, was sound in his use of the ball, which is the main art of half-back work. More than all, however, in the berth there had been need of a tackle and an attempt and McClure provided then both. In the forward line there was brilliance for half an hour by Dunn, and the line altogether worked with a fine positional power, and some good shooting, but after that Dean got a hurt and the line became ragged, which was not surprising because the link of the line had to lie back towards the half-back portion. Stein was perhaps, the most dangerous forward, albeit Critchley did well for a time, and both wingers had the speed and craft to carry them through. Plymouth made a grand rally in the last twenty minutes, and remembering they hit the woodwork twice, it will be conceded that they put up a very good fight in a match that had many congratulatory notes and very few jars –the worst being the injury to the best of the side, Dunn. Teams; - Plymouth Argyle; - Cann, goal; Roberts and Bland, backs; Mackay, Pullen, and Hardie, half-backs; Crozier, Bowen, Bird, Leslie (acting captain), and Black, forwards. Everton; - Coggins, goal; Williams (captain) and Cresswell, backs; McClure, Gee, and Thomson, half-backs; Critchley, Dunn, Dean, Johnson, and Stein, forwards.
Winners Return
Last night when Everton arrived home they were received by a big crowd of enthusiastic supporters and some officials who had not been able to make the journey. Three of the players Dunn, Dean and Williams –went straight to Dr. McMurray for attention.
EVERTON RESERVES 6 BLACKPOOL RESERVES 2
January 12 th 1931. Liverpool Post and Mercury
Central League (Game 21)
Everton's interval lead of four goals, and the manner in which the home side had so completely overplayed Blackpool throughout the first half, gave promise of an overwhelming victory, but Blackpool after the interval were a much sterner opposition. The winners first half goals came from White (3), and Martin, and had all the opportunities offered been accepted Everton's lead would have been of much larger proportions, for Blackpool were unsteady at half-back and the heavy greasy ball was proving a handicap. After the interval the Seasiders enjoyed a good proportion of the pressure and deserved goals were scored by Broadhurst and Ritchie, but Leyfield, who had been one of Everton's most prominent raiders, added two more goals for the winners. A good victory.
Everton "A" 4 Southport High Park 3
Liverpool County Combination
At Stopgate lane. The visitors scored first through Ball, but Davies gave Everton the interval lead with two splendid individual goals. The same player immediately following the resumption added a third goal, thus completing the "hat-trick". The visitors however, scored twice though Hulmes but Davies netted the winning goal near the end.
DUNN HAS NOT BROKEN A BONE
January 13 th 1931. Evening Express
Good News for Everton.
May be Ready for Cup-tie
By the Pilot
Jimmy Dunn, Everton's Scottish International forward, has not fractured a bone in his shoulder. This encouraging news for the Goodison Park club and players followed an examination by a specialist in Liverpool yesterday. Better still there is a possibility he will be fit to play the cup match on January 24 against either Crystal Palace or Reading. Dunn was injured in the closing stages of the first half or the third round tie with Plymouth Argyle at Home Park. During the interval he was examined by the Plymouth club doctor and Dr. Cecil Baxter, an Everton director, and his shoulder was strapped up.
PREVIOUS TILTS WITH THE PALACE
January 13 th 1931. Liverpool Post and Mercury
Everton draw Crystal Palace or Reading
By John Peel
If the Goodison side has to visit Crystal Palace, it will recall other previous Cup games. In the 1906-07 season Everton beat Crystal Palce 4-0 after a 1-1 draw. They were the holders of the Cup, and reached the Final for the second successive season, only to be beaten by Sheffield Wednesday. In the First round of 1910-11 Everton again beat the Palace 4-0, this time in the South, but in the first stage of 1921-22 the Palace won at the Everton ground by 6-0 and created the sensation of the season.
"Playing with One Hand."
That was the occasion when someone spread the story that fern would keep goal for Everton with one hand. It is true the goalkeeper had a damaged hand, but I happened to know that the Palace players rather resented the suggestion that the game was regarded as such a good thing for Everton that the goalkeeper could "play with one hand." Still, it was a hint, which they took, and they never failed to shoot when anywhere near goal. The score told its own tale. But whether it be Reading or Crystal Palace, I think Everton will prevail this time. The Palace by the way, have won nine of the ten home Third Division matches this season and dropped only one point there.
KEY GAME THAT OPENS DOORS TO PROMOTION
January 14 th 1931. Evening Express.
Everton's One Change Against Throstles
Williams Chosen but –
By the Pilot.
Martin for Dunn and Gee to continue at centre-half and McClure to play his first League match this season. These are the features of Everton's team to meet West Bromwich Albion at Goodison Park on Saturday. This game is Everton's key-match of the season. The Throstles are Everton's most dangerous rivals. At present they are five points behind the Blues for a similar number of games. If Everton win their lead will be increased to seven points, and this would make their championship prospects reasonably secure. Ben Williams, the Everton captain, who injured a leg muscle at Plymouth, and was expected to be out of the game for some time, has made such a good recovery that he has been selected to play. Personnel, I had the impression that Williams's injury was pretty bad, and although he has been chosen I should not be surprised if Everton did not risk him on Saturday in view of the forthcoming cup-tie. Griffiths, who had to call off at the last minute at Plymouth and Arthur Rigby, who was injured in the match against Wolverhampton on Novemeber 8, will be given a trial run with the Central League team on Saturday against Birmingham. Dixie Dean was another Plymouth casualty, receiving a nasty kick in the face from Pullen, the Argyle centre half, but though the flesh was cut inside his mouth he is ready for Saturday's engagement at Goodison Park. Dunn is certain non-starter. Today his satisfactory progress was continued. Everton's team; Coggins; Williams, Cresswell; McClure, Gee, Thomson; Critchley, Martin, Dean, Johnson, Stein.
EVERTON'S CHANCE TO MAKE SURE
January 17 th 1931. Liverpool Post and Mercury
By John Peel.
One of the most interesting tests of the day is promised at Goodison Park, where West Bromwich Albion oppose Everton in what might easily prove the deciding match for the championship of the Second Division. The teams are first and Second in the table, with Everton holding a lead of five points and a victory today, therefore, would mean a commanding lead. Form is deceptive, but the handicap is undoubtedly in favour of Everton, for their opponents had a strenuous two hours' Cup-tie in midweek, and must replay again on Monday. On the face of it, Everton ought to win. It is bound to be a strenuous game, on a heavy ground. Everton bring in Martin in place of the injured Dunn. The kick off is at 2-45 and the full teams are; - Everton; - Coggins; Williams, Cresswell; McClure, Gee, Thomson; Critchley, Martin, Dean, Johnson, and Stein. West Bromwich Albion; - Pearson; Shaw, Trentham; Magee, W. Richardson, Edwards; Glidden, Carter, WG Richardson, Sandford, and Wood.
EVERTON 2 WEST BROMWICH ALBION 1 (Game 25) (Lge Game 3077 over-all)-(Div 1 3052)
January 19 th 1931. Liverpool Post and Mercury
Dean's Goal Decides.
Everton's Hard Fight With Albion.
Although West Bromwich Albion's thoughts may have been centred on todays Cup-tie with Charlton, they put up a very strong fight at Goodison Park, and Everton, with a little to spare, just about deserved their 2-1 victory, the winning goal being obtained by Dean seven minutes from the end. As expected, the contest provided a very satisfying display of sound and clever football. At times the Albion stood out as a smart attractive side with sterling defenders, and clever forwards, but they lacked the driving power such as Dean infused into the Everton attack. Without doubt Dean was a protent factor in Everton's success. He was the power behind the machine, and it was a characteristic Dean effort that provided the winning goal. Early in the game Critchley might have given Everton the lead when he sent a fine shot against an upright, and the ball spun back across the goal for Pearson to effect a lucky clearance.
Formidable Attacks.
Both sides had plenty of chances before Glidden scored for the Midlanders following a free kick against Gee at 26 minutes. Throughout the Albion defenders played with admirable courage and determination, and although the Everton forwards developed a number of formidable attackers they could now find an opening. Sixteen minutes after the interval, however, Martin equalised and Dean provided the opportunity when he sent Martin through with a clever header. If the Midlanders had a fault it was that they relied rather too much upon their defence and Everton having once drawn level went for the lead with great spirit. Seven minutes from the end came just such a chance as Dean lives for. A long punt down the centre from a free kick, a quick dash by Dean, and the ball flashed into the net before Pearson had time to prepare his defence. Some of the sparkle went out of the Albion side before the end, although occasionally they threatened to be dangerous. They fought with commendable spirit, and the game was one of the best of the season.
A Masterly Leader.
Everton had a sound, and efficient defence, the cool, heat, and effective work of Cresswell being admirably balanced by the dashing, resolute methods of Williams. They made a splendid pair. Gee was useful without being outstanding in the centre, and both Thomson and McClure did much good work. Dean was a masterly leader, and he was well supposed by Johnson, but Critchley and Stein rather spoiled their good efforts by poor finishing. The Albion had a splendid pair of backs in Shaw and Trentham, and while Glidden and Wood were capital raiders, the inside forwards lacked dash and the power to finish well. Teams; - Everton; - Coggins, goal; Williams (captain) and Cresswell, backs; McClure, Gee, and Thomson, half-backs; Critchley, Martin, Dean, Johnson, and Stein, forwards. West Bromwich Albion; - Pearson, goal; Shaw and Trentham, backs; Magee, Richardson and Edwards (W), half-backs; Glidden, Carter, Richardson (WH), Sandford, and Wood, forwards.
BIRMINGHAM CITY RESERVES 3 EVERTON RESERVES 2
January 19 th 1931. Liverpool Post and Mercury
Central League (Game 22)
Griffiths Carried Off
Everton Centre Half Again Injured.
In the Central League match at Birmingham, Everton were beaten in a rough and tumble game by 3-2. In the first minute Griffiths, the Everton centre-half, had a recurrence of his ankle injury and was carried off. A last minute goal by Calladine gave Birmingham the victory. Firth (2), for Birmingham, leyfield, and White for Everton, also scored. The visitors were unlucky to lose. They had a full share of the game, Webster, White and Sagar were prominent for Everton. Birmingham were best served by the defence; in which Tewkesbury and Randle shone. Everton; - Sagar goal; Cook and Lowe, backs; Britton, Griffiths, and Tower, half-backs; Wilkinson, Webster, White, Rigby, and Leyfield, forwards.
PALACE OUGHT NOT TO WORRY EVERTON
January 20 th 1931. Evening Express
Revenge after 9 years?
Dunn not Yet a Certain Starter.
Londoners Summed Up.
By the Pilot.
We have waited nine years for this chance of revenge for that 6-0 defeat in the first round of the cup and we shall take it, mark my words. –Mr. Tom McIntosh, the Everton Secretary. We are not so silly as to say that we shall beat Everton, but at least we shall try and you can be certain that we shall give them a good game –perhaps better than they imagine. –Stan Charlton, the Crystal Palace Captain. My own opinion, after seeing Crystal Palace beat Reading at Stamford Bridge yesterday, is that Everton should win comfortably. Crystal Palace are not as good a team as Plymouth Argyle They have a habit of waiting for the ball to come to them instead of stepping in first time and making it their own, and when developing attacks their sole idea appears to be "give it to Simpson." The result is that the young Scot's task is made all the more difficult. In a short space of time every opponent knows where each pass will be directed, and they can concentrate on fighting Simpson.
Great Leader.
Simpson is a clever, dashing leader and one of the few Palace players who can take the ball cleanly. How much better it would be for the Palace, however, if they made more use of two good wingers in harry and Clarke. Understanding and dovetailing, except between the full backs, is not up to the standard of a team such as Everton, and the Palace ideas of progress struck me as being rather stereotyped. In a nutshell, Crystal Palace are good in defence, have a strong centre half, a first class centre forward, and two wingmen who can take chances. Charlton, the captain, told me after the match that I had not seen Palace at their best. Perhaps not, but even allowing for 33 per cent improvement, I shall think Everton much the better team. Charlton, by the way, is Lancashire born. He knows Everton – he played against them when he was with Oldham Athletic. He has no illusions concerning the disparily between the two teams, but he holds the opinion that no match is lost until it is won, and that Crystal Palace, even though they had three hard struggles with a poor team like Reading, will play better football against a team like Everton, who always develop the finer phases of the game.
EVERTON'S TEAM.
January 21 st 1931. Liverpool Post and Mercury.
By John Peel.
Everton's chances of making further progress in the competition have been enhanced by the fact that Dunn, the Scottish International inside right, has been chosen against Crystal Palace. Dunn had an arm in a sling last week as the result of the injury he received in the third round tie at Plymouth, but he is reported fit again, and will take the place of Martin, who played against West Bromwich Albion on Saturday. Dunns inclusion will add strength in the attack. The team will therefore, be the same as at Plymouth namely; Coggins; Williams, Cresswell; McClure, Gee, Thomson; Critchley, Dunn, Dean, Johnson, Stein. This side should be good enough to finish on top. The Palace were beaten at home on Saturday, by Bristol Rovers, but League matches and Cup-ties are different propositions. Still, it took the Palace five and half hours to dispose of Reading, and Everton ought to be capable of winning at Selhurst at the first time of asking. The players travel to London on Friday afternoon. Everton visit Port Vale on Monday for the return League match unless a Cup replay is necessary in midweek.
Britton as a Forward.
The Everton team to meet Stockport County Reserves in the Central League match at Goodison Park will be; - Sagar; Cook, Lowe; McPherson, Hart, Towers; Britton, Baxter, White, Rigby, Leyfield. It will be seen that Britton the half-back is fighting at outside right, and that Hunter Hart is at centre half. The kick off is at 2-45.
WILL THAT CORK BOTTLE, EVERTON?
January 21 st 1931. Evening Express.
Mascot That has Not Failed Palace.
By the Pilot.
Will a champagne cork prove Everton's Cup bogy? The officials and players of Crystal Palace think so. The men from Selhurst Park have one as a mascot. It will be in Trainer Jone's pocket for Saturday's match between Everton and the Palace. Trainer Jones was given the champagne cork some weeks ago by a well wisher, and whenever he has carried the cork in his pocket during a match Crystal Palace have not lost. As a matter of fact, the absence of the cork might easily have enabled Reading to beat the Palace in the last round. Trainer Jones explained this to me at Stamford Bridge on Monday. "On Saturday morning, before we played Bristol Rovers in the League match, the cork was missing" he said. "I made a frantic search everywhere, but there was not a sign of it. "The game was played and we lost our ground record by two goals to nil, one of which was scored by one of our players. "Knowing we had to play Reading again in the Cup on Monday, I was worried. I know I had to find the cork. It did not turn up through Sunday, but on Monday I searched an old pair of trousers, and there was our lucky tailsman. "I took it along to the match, and we won. I have faith in my old cork, and am going to make sure I do not lose it again."
He proudly showed me the cork and put it away in his bag ready for Saturday.
Faith in Simpson.
The Palace officials and players are optimistic about their chances of success, against Everton. They attack great faith in the goal scoring powers of Simpson, who, by the way, is a Scot, not an Englishman as so many imagine. Simpson was formerly with Hearts of Midlothians and spent two seasons with St. Bernards before moving to Kettering, from which club he was secured by the Palace.
What Palace Players Think.
Imrie (who is likely to play in goal in place of Callender who was injured on Monday); if our boys in front can get a goal we shall win.
Crilly. (right back); There is not a great deal of difference between Third Division (South) and Second Division football. We hope to prove that against Everton.
Charlton (left-back and captain); it is chiefly because Everton play real football that I think we have a good chance. we like opposing men of ability.
Rivers (right half). The Stein song will not be sung on Saturday.
Wilde; (centre half); After the match they will be saying, "Where was Dixie Dean?"
Greener (left back); Given our fair share of luck we shall at least hold Everton.
Harry (Outside right); The better the opposition the better we play. Everton will not have it all their own way.
Turner (Inside-right); I am an optimist.
F.A. Cup Fourth round –Crystal Palace v Everton Saturday Jan 24 th Tickets for the above match will be on sale at Sharp's Whitechape; Cook's Lord Street; and the official Goodison Park up to Thursday evening. Prices, 5d, 9d, and 3s 6d.
Dunn is certain to Play
Side that Beat Argyle to tackle Palace.
Jimmy Dunn's Scottish international inside right, will play against crystal Palace. Dunn fell on to his right shoulder during the previous cup match with Plymouth Argyle, and though it was at first feared he had broken the collar bone, the bone was badly bruised. The arm was strapped up and such excellent progress was made that the straps were taken off during the weekend, and he will be fit to take his place on Saturday. Consequently the same team which defeated Plymouth will be on duty. Gee, continues at centre-half –Griffiths injured himself again on Saturday at Birmingham in a Central League match –and McClure is at right half. The players will travel to London on Friday, and Martin, who deputised for Dunn against west Bromwich Albion, will be on reserve. Team; - Coggins; Williams, Cresswell; McClure, Gee, Thomson; Critchley; Dunn, Dean, Johnson, Stein. While I was at Goodison today, Dunn's shoulder was being messaged by trainer Harry Cooke. Dixie Dean told me that every kick on Saturday was going to wipe out the big defeat in 1922. "I have no doubt that we shall beat them easily. I don't think they are up to our standard." Was his definite view. Ball practice will be concluded tomorrow and then the players will take it easy until the journey on Friday.
PANIO DAY BADGES AS EVERTON MASCOTS
January 22 nd , 1931. Evening Express.
Dixie Dean wants to score six goals against the palace.
And believes he can do it.
All the Everton players are wearing Panto Day immunity badges. Will they act the part of mascots and keep them immune from defeat when they visit Crystal Palace in the F.A.Cup on Saturday? The players believe they will. Dixie Dean is optimistic. He say's he is going to score all those six goals, which will wipe out the bitterness of the 6-0 defeat of 1922. One thing is certain. Eleven men, trained to perfection, will carry the Goodison banner on the fourth stage of the journey to Wembley.
Training completed today.
By the Pilot.
Everton completed their preparation today with some heading practice, and they will not see a football again until they step on the field at Selhurst. "All fit" was the message I received when I visited Goodison Park. Dunn was being treated by Harry Cooke, who is taking no chances about his shoulder not being perfectly. With a plentiful supply of oils the shoulder was slowly swinging Dunn's arm around, massaging the while.
What they say.
Here are the views of the Everton players and officials on the match; -
Ben Williams (captain); I think Everton will win. We have the ability and team spirit.
Warney Cresswell; Everything ties for a victory for Everton, and if we can steer clear of bad luck we will pass on to the fifth round.
McClure; it does not worry us, we will win.
Charlie Gee; Besides preventing Simpson getting goals I shall try for a goal myself.
Jack Thomson; it looks a good win for us.
Ted Critchley; We are told that the ground is large, and that will suit us. I think we shall prove too good for the Londoners.
Jimmy Dunn; as long as we do not worry about it, but just take things slow and surely it will be our match. I want to get a couple of early goals, as we did against Swansea, and them we shall go all the windows in at Crystal Palace.
Dixie Dean; Crystal Palace –and Pipe down Palace,
Trainer Harry Cooke; it's Everton for round five.
Tom McIntosh (Secretary), I think the utmost reline in the boys, and we will win.
Gee, who is taking tips from Dean and Griffiths in regard to heading, says that Simpson cannot score unless he gets the ball. Ben Williams and Warney Cresswell are unperturbed by the reports from Selhurst that the Palace have two fine wingmen. Warney is already thinking moves ahead. Clarke, smiles and says; "Wait and see."
EVERTON'S BID.
January 24 th 1931. Liverpool Post and Mercury.
By John Peel
Merseyside's hope is centred in Everton, and on their displays during the season they are worthy representatives of a great centre of football. The exacting School of the Second Division has had a hardening effect on the team's methods, as it were, and though the record of Crystal Palace in the Southern Section of the Third Division commands respect. I shall be greatly surprised if Everton are beaten. The team, fore and all, is well-balanced, and, with Dean returning to his best form, they seem to be in line, for the fifth round. Still Cup warfare is full of pitfalls, and Crystal Palace on their own ground at Selhurst will make a bold bid for victory. As Second Division leaders, Everton are undoubtedly a power, and with Dunn again in the side, I look to the Goodison team to win today. Crystal Palace, in addition to being without their regular goalkeeper, will lack the services of Greener, the left half-back, who has severely injured his knee. Teams; Everton; Coggins; Williams, Cresswell; McClure, Gee, Thomson; Critchley, Dunn, Dean, Johnson, Stein. Crystal Palace; - Imrie; Crilly, Charlton; Rivers, Wilde, Wilcockson; Harry, Turner, Simpson, Butler, Clarke.
EVERTON RESERVES 2 STOCKPORT COUNTY RESERVES 3
January 24 th 1931. Liverpool Post and Mercury
Central League (Game 23)
PORT VALE 1 EVERTON 3
January 27 th 1931. Liverpool Post and Mercury
More points for Everton.
Port Vale players breaks a leg
Lively Incident at Burslem
By "Bee."
Everton won again yesterday, and by beating Port Vale they made their position at the head of the League table still more "settled" towards the championship. It was a very hard game at Port Vale. Burslem turned out about 10,000 strong, and while the locals had a reserve left wing at their command, the leaders had their usual side, their captain, Williams, determining that he would play in spite of his undoubtedly poor state of health. Everton won 3-1, but the score does not tell how difficult was their task. Indeed the game was not won until very late in the ninety minutes of strenuous hard fought effort. It was not a dirty game, but it was essentially a very keen and hard game, and it must be conceded that the home side had all the misfortunes that were passing.
Spencers Misfortune.
They lost Spencer, their outside left, shortly before half-time with a broken leg –near the ankle. This was a severe blow, because in 1931 it is well nigh impossible for any side to win or even draw with depleted forces. Port Vale rallied under their difficulty, and they made stern endeavours to get on terms. The score at the interval was 1-1. It was well in the game when the leading goal was scored, and as Critchley scored with a smashing drive right on the close of play the score suggests something that was not justified by the way play went. Port Vale had beaten Everton at Goodison Park –their only home defeat -early in the season after leading by two goals, so Everton during the weekend, worked off two revengeful acts.
Unusual Incident.
Talking of revenge reminds me that this game was somewhat noteworthy in view of the incident that occurred during the early portion of the second half. McClure had made a strong kick towards keeping the ball out of touch. A Port Vale player fell at the same time and the ball struck him on the head. Possibly the local trainer, Holford, had his temperament troubled by the break which led to Spencer being taken to the local infirmary. At any rate, Holford no sooner reached the scene of the distress of this second occurrence than he did something to players not concerned in any injury to lead a linesman to take notice and report the occurrence to the referee, Mr. Smith of Ashton-under-Lyne. This was a strange scene –the second uncommon and almost unprecedented some Everton defence had suffered in the week-end, and while the one invasion was a comic one, this was more serious.
From this point there was a lot of spleen in the nature of the game. There were bumps of venom developing in the players minds, and the game as a consequence merely became hard and unruly rather then desperate. Port Vale merit sympathy and much appreciation for the way they fought against odds and a medicum of misfortune, but the standard of play taken during the whole afternoon showed Everton just on top of their rivals, whose backs played well and had a good goalkeeper at their backs. Everton all round played good, hard football, and as usual, were just about to show their second half revival, when the McClure incident occurred. The young half-back, who had done so well, was plainly upset by the course of events, and consequently he petend out a little, while Thomson ran into a strong and quick and virile right wing.
Gee's Surpreme Skill.
Gee, however, kept a tight hold upon the mercurial Jennings, and his display was quite the best he has given. He has a most startling confidence –and he has a belief in a ground pass that is not at all common. He passes to his wing half-back or to his full back, and when he gets into a defensive vein he does not merely kick away anywhere –he has control of the ball that allows him to move it hither and thither with Supremes joy and cleverest –if it is not overdone, as a work of defence rather than a habit of self complacence. So far so good –very good, indeed –that is the verdict in the case of his young, strong fast half-back, whose use of the ball in one of his greatest features. None did better in these bot raids than Cresswell, who has never had to steady and successful a season. Coggins was beaten once –he is playing his part manfully, and the ball that beat him sent in by Roberts was fast and touched the goalpost before it entered the net. It was a well-gotten goal by a lively forward line that swept the ball from wing to wing. After that the Port Vale forwards were unsteady in front of goal –none more so than Jennings, while Marshall fell into the same disfavour working the ball well close in, yet shooting moderately. There was much moderate shooting in the game. Everton were the chief sinners –rarely does Dean miss three gilt-edged chances of scoring such as he lt. slide by in this game. Once he had but to stretch out his leg to make the game safe. He also ballooned a ball badly, as did Stein, but Stein in this a quiet day for him had a shaking up through a throw towards the railings, which are far too near the touchline at this ground. Johnson was again our best and most consistent forward, and Dunn, having got over his fear about his shoulder, had a moderate first half, but kept Critchley moving very sweetly in the second half, and the sequel to this was a great goal scored by the extreme winger who like Stein, hits a ball very hard. Critchley's goal on time was the work of an artist and a finisher. Dunn helped him, and the scorer banged the ball into the net with such force that few of the spectators knew the ball was at the back of the net. Early Defeat Reversed.
Dean worried a good deal; he had to take strong defenders and he appeared to me a trifle rattled, and this is a means by which his surely in front of goal is lost. However, he scored the second point to take the lead eight minutes from the final whistle. Critchley having scored the opening point in simple and easy fashion in eight minutes through Johnson's kind invitation. By winning at Burslem, Everton repaid their early defeat from this side. It took them a long time to shake off this undoubtedly strong eleven, whose Round at centre-half has the height and the stretch to combat the best of forwards, and whose backs, Oakes in particular, are more than average Second Division backs. Oakes appeared tired through cup-tie effort at Birmingham. There is no doubt about his ability. Griffiths was the home side's best forward, with Roberts a good helpmate. It was Roberts was equalised the score in thirteen minutes. Everton will not have a more difficult match this season –I place it in front of the terrors that came through the home and away games with West Bromwich Albion. Teams; - Everton; - Coggins, goal; Williams (captain) and Cresswell, backs; McClure, Gee, and Thomson, half-backs; Critchley, Dunn, Dean, Johnson and Stein, forwards. Port Vale; - Davies, goal; Shenton and Oakes, backs; Cope, Round and Jones half-backs; Griffiths, Roberts, Jennings, Marshall and Spencer, forwards.
Revenge season?
By John Peel.
Is this going to be Everton's "revenge" season? They beat Crystal Palace on Saturday 6-0, and wiped out a 6-0 Cup reverse at home by the Palace nine years ago. Now they are drawn against Grimsby Town, a side they have never met in the Cup competition. But the Town won the League match at Goodison Park last season 4-2, a result that really meant safety for Grimsby and relegation for Everton. The Blues thus have something to wipe of the slate, and I think they will do it. Grimsby beat Scarborough, at Scarborough 2-1 in the third round, and defeated Manchester City at home on Saturday. Everton's 2-0 and 6-0 victories at Plymouth and Selhurst respectively should encourage them to dispose of the Fishermen and reach the last eight.
Sport pie
By the way other ex-Everton players are figuring in the Cup-ties, Davies (goal) and Houghton (inside-left), of Exeter City. Kendall (goal-keeper), of Sheffield United and Caddick (left-half) of Barnsley, were also formerly at Goodison Park.
EVERTON SQUARE ANOTHER ACCOUNT
January 27 th 1931. Evening Express
Blues' Chance of Beating Spurs' Record.
By the Pilot.
Everton's cry quits again! In these days they have squared they accounts. On Saturday they wiped out them memory of a six and cup defeat by Crystal Palace men nine years ago. Yesterday they beat Port Vale (3-1), who are the only side to win at Goodison Park this season. This was Everton's seventh so in Cup and League. In these matches they have set up the fine average of 30 goals for and seven against. The Blues with 42 points, now have a clear lead of seven in the Second Division. With 16 matches to play, they can secure in all 74 points. The record for the Second Division is 70 points, established by Tottenham Hotspur. Thus Everton can afford to lose three points and still beat the "Spurs" total.
Deadly Tackling.
Port Vale are one of the most difficult sides in the competition. Swift in thought and action, they tackle in deadlier fashion than any side I have seen this season. Everton's skill, and craft proved superior to them. Nothing should shakethem. The Vale were unfortunate in that their outside left, Spencer sustained a broken leg before the interval. The affair was quite applented. Eleven Midlanders had held their own with the Evertonians, but only just. Ten were overplayed for periods in the second half, and had Everton finished off their work with their customary execution the result won't not have been so long in doubt. Dean missed three of four fine changes. Dunn could get no power into shots from positions, which should have brought goals. In the second half, the Vale like most of the Blues opponents, were not quite so sprightly and Everton were often attacking. Yet their finishing was so indifferent that I thought a draw was certain. Dean left his atonement until eight minutes from the end, and Critchley got another. These goals represented the difference between the sides as matters stood, but should never have been left so late.
Gee Shines.
The Everton defence was a s strong a rock and I was delighted with Cresswell's coolness and keen judgement when Thomson was having a shaky start. Williams, too, was a deadly tackler and good kicker, as well did the pair cover that Coggins had a fairly easy time.
Gee was not only the Blues' best half-back, but the best player on the field. He has shown wonderful improvement since he came into the first team against Bury. He never once failed to make good use of the ball and the manner in which he controlled it with his head was superb. McClure tackled strongly, and Thomson adhered to strong football, once he had taken the full measure of the deadly Roberts-Griffiths wing. Johnson, who is playing at the top of his form, was again the outstanding forward. Inclined to be erratic in front of goal, Dean was a robust leader who was invariably demanding attention. This was an entaining game marred by too many free kicks.
Sport Pie.
• The gate receipts at the Port Vale-Everton match was more than £600, the second highest at the Recreation ground this season.
• Until Everton and Grimsby Town agree to the price to be charged for the forthcoming Cup-tie, no applications can be received by Everton for tickets.
CRYSTAL PALACE 0 EVERTON 6 (F.A.Cup Game 128)
January 28 th 1931. Liverpool Post and Mercury.
Dean's bag of Four.
Everton Revenge after ten years.
Players who stood out in Rout of the Palace .
Everton won 6-0 at the Crystal Palace ground before 36,000 spectators. The hundreds who went from Liverpool were able to say they had taken part in the act of revenge, for a famous defeat sustained by Everton at their own ground in 1922, when Crystal Palace pranced around the Everton stars and went home with the joy of a 6-0 victory. The result nearly wrecked the Everton board of directors, and some of the players caught the blow in the signing on season. On Saturday the two clubs came together again, and by a trick of fate Everton won by the exact margin that had been their grave failing –6-0. So was retribution complete. Candidly, the victory was always seemingly possible throughout the course of play, but when the game had gone to within five minutes of the full score no one present imagined the score could reach the half-dozen. It seemed impossible as well, as improbable, but so badly had the Palace team become after their labours and extra time against reading the previous Monday, that they tired to break-up point and the effect was to provide goals in the closing minutes Johnson, our best forward, spite score register, getting his full deserves when he scored with practically the last kick of the game.
In Suspense.
Everton do not know defeat, they played with the assurance and powerness hardly warranted, for this season; Palace were a poor side in most departments, and when Everton won the toss, and took the value of a very strong wind, there should have been more than a goal lead to the visiting side. It is quite true that Everton have so many of their games, through waiting and weaving out the first half fury of their winds but in moment play have begun to take a goal crop in the first half when they had the chance. Everton did not do this on Saturday, and as a consequence they kept their supporters on tenterhooks for a long spell. In fact I would go so far as to say they were unsatisfactory as a side. The defence was excellent throughout, but while the half-back line was included to dribble unnecessarily and closely when short. But methods should have been adopted the forward line did not knit properly. They were certainly not "hitting it," and this in spite of the admirable methods adopted by Johnson and the continued effort of the working centre-forward, Dean, who never created his endeavours to head a goal. Dean needed much watching, and well though he scored in the register –he took four, and with Wilde putting through his own goal he was stopped taking five out of the total of six –I would put Johnson down as having given his best game since he left Manchester City. He had the control and methods by which the Palace armour was damaged. Their backs always did well in the awkward circumstances of having a second team goalkeeper and a reserve half-back to pull them from their previously high estate. I think the home backs permit high praise. The goalkeeper had missed fire more than once; he had been effected by the occasion, and doubtless the name of Dean was a nightmare to him. He had made some good saves, and had his bit of fortune. But he could not take it with him. Reserves team goalkeepers called up for big matches in the cup series are either dramatic successes or arrant failures? Imrie was not a failure, he just did not connect, and his comrades felt that he might fail; hence their endeavour to shield him, which cost him a goal and nearly three.
Dean's Easy Goals.
Dean's goals came with some degree of easy. His first was a present from the half-back, McClure, who became a sixth forward, and getting the defence tangled, opened a way for Dean to head in. This was the vital goal of the day, (it came when Everton had become slip shod, and had remembrances of Cup-tie crashes that have been their lot in London after they have had most of the play. Once the second half had started we could see Palace had gone dry, they had some shots at Coggins, and found him very dependable, but the game soon lost its point and purpose. Dean took his second through a solo dribble of very few yards against two defenders and a bewildered goalkeeper, and the third followed a case of Wilde putting through his own goal in trying to stop the ball going to Dean. The Everton centre's this was a prime sample of his heading; his fourth was close in, and Johnson made the score-sheet bear a memorable margin –6-0. However, it must not go unchallenged. One wondered whether Dunn's reappearance had been hurried a week too soon. He seemed shy of the tackle, and much of his passing went astray. He had his shots at goal, and two were near the mark; the remainder were not successful. His partner too, had variable moments, and the poor moment rather frequently. Best of all was Johnson, with Dean's goal-getting ramp a personal triumphant against backs, who knew not how to stem the torrent of his goals.
Success of Young players.
The greatest pleasure of the tie was the way the young half-backs played. Gee at centre half, took quits a dominating influence over the crack Third Division goal-scorer, Simpson, a more than useful player who had no one to aid him in his side. One was clever, fast and his methods of passing was full of value. Not only did McClure make the first goal but formed a good link with the forwards, and possibly both these men did too much dribbling when they found they could weave pattering and show "forward" notions. It was a dangerous game, and the young men must remember that such artistry is not called for in the knock-out competition. At back, Cresswell and Williams did all that was necessary. Cresswell was a joy; Williams did specially well when one remembers he wanted to cry-off through an attack of the flu, on the morning of the match. He had so, go straight to bed when the game was over, and it is plain he will not be able to play in the League game at Port Vale today.
Everton's Extra Player.
Coggins Sentry
Coggins did four very special things, and will always remember the game for the outburst on the part of a spectator who leaped the rails and almost unseen by anyone, police in particular, took off his coat and hat and them threw the latter in the back of the goal as per goalkeeping notice and stayed sentry by Coggins for fully two minutes. The referee was called upon to decide what to do, and the man was removed. It was a funny situation in a game that had many dull moments owing to the character of play. Everton swept through the Palace with great easy later on, and that was how a escape that did not produce score than one goal. By fifty-four minute finally become a rout. I was a clean game; but Palace lost time of their best forward when Turner left the field five minutes before the end. He had been damaged some time, and as a consequence the home team had played their lively winger Harry as inside forward instead of outside right. Palace eventually outplayed had to bow to superior football, and much better finishing. Teams; Everton ; - Coggins, goal; Williams (captain) and Cresswell, backs; McClure, Gee, and Thomson, half-backs; Critchley, Dunn, Dean Johnson and Stein, forwards. Crytsal Palace; - Imrie, goal; Crilly and Charlton (captain), backs; Rivers, Wilde, and Wilcockson, half-backs; Harry, Turner, Simpson, Butler, and Clarke, forwards.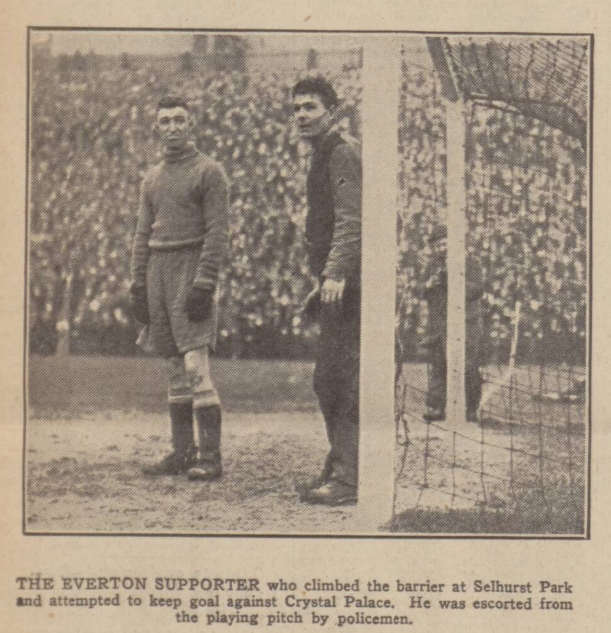 EVERTON ENTERTAIN BRADFORD CITY
January 31 st 1931. Liverpool Post and Mercury
By John Peel
The programme today is a most entertaining one, containing attractive features in all phases of the three codes, and the promise of fine weather will prove a spur to players and spectators a like. I can quite see that a day such as yesterday, for instance, will send increased thousands to Goodison Park, where, Everton undoubtedly one of the greatest forces in present day football are due to entertain Bradford City, a club which had reached the states of cup winners, only to decline in alarming fashion, but which is now recovering some of its old power. I expect a capital game, but Everton should come out on top. Williams is suffering from influenza and will not be able to appear. Cook has been called on to make his first appearance in the senior team. The kick off is at three, and the teams are; - Everton; Coggins; Cook, Cresswell; McClure, Gee Thomson; Critchley, Dunn. Dean, Johnson, Stein. Bradford City; Gill; Bicknell, Barkas; Moore, Summers, Bauld; Cochrane, Keetley, Hallows, Peel, Scrivens.