NUGGETS
Cricket and Football Field - Saturday 10 August 1889
Chadwick might have been given a trial with the ball a little sooner at Liverpool. Chadwick with three wickets for six runs against Liverpool was not bad business.
Chadwick wants to get back to Blackburn
Everton will have a red-hot team for next season.
Everton mean to make some of the League teams look out.
THE EVERTON CLUB AND GROVES
Cricket and Football Field - Saturday 17 August 1889
Mr. W.E. Barclay writes to Scottish Sports; - Sir- I regularly take your interesting paper, and in today's issue I notice a paragraph in reference to Mr. W. groves and this club.  You say "the Celtic will •          contest the case on Groves' behalf, and if Everton are silly enough to take the case into court, we will have a judicial opinion of this species of 'slave-trading, which will be of immense value to our clubs.  We ourselves were about to take council on the matter, but Everton have relieved us of the expense and trouble.  I can only gather from this that you are in possession of information about Mr. Groves which leads you to assume that he cannot, and will not play for Everton during the ensuing season.  However, I have a higher opinion of Mr. Groves than you appear to have.  I believe him to be an honourable man, and that, having signed a perfectly legal agreement, duly stamped and witnessed, to play for Everton, and for no other club or team, he will honestly carry out that agreement under which he has already received wages, for which I hold vouchers.  Besides, Mr. Groves signed the professional form of the English Association and is duly registered as a professional and therefore, as the Scottish Association does not recognize professionalism, he cannot possibly play for the Celtic, even if we commended, which most certainly we shall not do.  But I am convinced you are mistaken.  I repeat, I believe Mr. Groves means to fulfil his engagement like an honorable man, and, though attempts may be made to influence him in a contrary direction by promise and interested arguments, he will not give either you or the Celtic an opportunity of "fighting to the end, as the expensed of the forfeitous of his honour.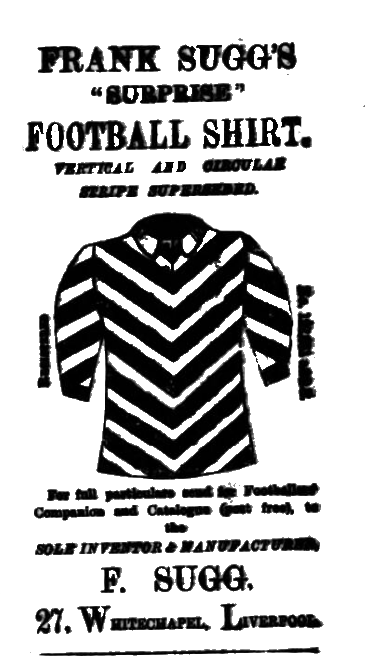 NUGGETS
Cricket and Football Field - Saturday 17 August 1889
What about the new Everton forwards for speed?  Chadwick and Brady will have to improve a few yards or Groves, Latta and Geary will leave them behind.
How can the Celtic expect Groves to play for them as an amateur when he has been paid by Everton and signed a professional form for them!
Everton Toffy has not been up to the mark lately, so they have engaged Hannah to look after it.
Bolton Wanderers v Doyle and Everton v. Groves will read funny.
Everton chorus' "Will he come?" From Scotland, of course.
The Bootle team will cost about half that of Everton.
Mr. Barclay known nothing about Groves' refusal to play for Everton.
EVERTON PROSPECTS
Cricket and Football Field - Saturday 24 August 1889
CHAT WITH MR. BARCLAY
By Mickey Free
Shure,  and it's rusty I've been growing during the summer months, and now that we are almost on the eve of the football season again I thought it about time to show that I was alive and kicking, and by way of breaking the ice, called on Mr. Barclay.  We had a long chat, and it was very evident that he has not had much rest during the close season.  To begin with, in answer to a number of questions, he said that the field seems in better condition than last year. Much of the old grass has remained, and therefore the turf will be better and more likely to sustain the wear and tear of a heavy season. While speaking of this, I would just like to call the attention of the spectators to the fact that more damage is done by their jumping over the barriers and trooping over the ground after a match than they could credit, and I call on all true friends of the club not only to abstain themselves but try and prevent others from doing it.  The barriers on the reserve side have been moved back four feet, so that there is now a good space between the touch-line and the spectators.  Another alteration is that ladies unaccompanied by members of the club will have to pay for admittance.  The players were next referred to.  The following have signed and are registered, none of them having previously signed for any other club.  Great stress was laid on the last sentence, as I believe a couple of clubs which shall be nameless made some claim to the services of two of them, but if they are well-advised the less they say about it the better, judging from what I have been informed of the matter.  R. Smalley, and C. Jolliffe, goal; Dick, Hannah (Renton), Doyle, Airdrie, and Grimsby, backs; Weir, Holt, and Farmer, half-backs; Brady (Renton), Chadwick, Geary, Latta (Dumbarton), and Groves (Celtic), forwards; with parry and Milward reserve forwards. 
But Mr. R, how about Groves?  He has not come.  No, but I expect he will.  The case stands exactly as I put it in my letter to Sport.  It is not only a mistake, but a misrepresentation, which has been made by several prints, that we hunted after groves.  It was almost a similar case to that of Gordon.  His services were offered on the same conditions as those already agree upon with another of the players, and he signed the registration form, which was at once dispatched to the Football Association.  He took money, for which I have receipt, and what is more his weekly wages have been remitted to him regularly since.  I am aware that extraordinary pressure has been brought to bear on him to prevent his fulfilling his engagement, but I can assure you we are not going to stand any more nonsense of that kind, and the case is now in the hands of a Scotch lawyer.  In Gordon's case we did not want to strain our relationship with the North end by obtaining an injunction against that player, but in this instance we will not be trifled with.  In addition to the steps mentioned we have informed the Scottish Association of what has taken place, and it will be instructive to see what action the upholders of amateurism will take.  We have got together a very promising amateur reserve, and with Davy Waugh as trainer, I certainly expect good results.  I am not so presumptuous as to expect that we will win all our matches, but we shall certainly lose fewer than last year. 
We do not intend going in for the Liverpool and District Cup, simply because we have more important business in hand.  Of course, you will have observed that we are in the 18 selected clubs this year. 
Oh, yes, I noticed that, and upon my conscience, I cannot understand why Everton were not in last year.  But, by-the-bye, I hope there is no truth in the rumour which I have heard- that you are about to resign the secretaryship? 
Yes, it is quite true, I have got through all the drudgery of getting a team together, arranging fixtures, &c., and now I feel that after the number of years which I have been connected with Everton in various capacities it is about time I was in a position of greater freedom and less responsibility.  It is rather unfortunate that Everton is also losing the services of the Assistant Secretary (Mr. Howarth), who is about to leave Liverpool for America.  The committee have appointed Mr. Molyneux in his place, and I have no doubt with this gentleman's well-known business aptitude that he will perform the duties devolving on him in a satisfactory manner.  Of course, I will give all the assistance in my power until someone be nominated in my place.  
This is a big loss, Mr. Olympian.  A secretary and his assistant, both men well up to their work, going together.  Many clubs would feel such a blow very severely indeed, but there is any amount of latent knocking about, and with a powerful committee I have no doubt they will pull along smoothly, although it is sincerely to be regretted that Mr. Barclay could not see his way to finish the season out.  The members of the club, honoury and playing, mustered to the tune of about 70 or 80 on Saturday last, and started from Woodside in wagonettes for the lovely little village of West Kirby.  We (I was there-when there is anything good about I generally am not far off) drove by the upper road, and every man in the company enjoyed it to the full.  As, I have taken up so much of your space already I dare not attempt a description of all that happened, not even the running fire of jokes with which the President (Mr. Houlding) garnished his speech when occupied in presenting the prize, which were numerous and valuable.  Suffice it to say that the general opinion might be summed up in the one sentence, "One of the finest and most pleasant outs we have ever had." 
NUGGETS
Cricket and Football Field - Saturday 24 August 1889
It is a certainly that groves will play for Everton this season.
Who will Doyle play for –Wanderers, Everton or Celtic?
Tranmere Rovers play Everton reserve on September 14.  Will they beat them this time?
That Partridge looked plump on Saturday from the side he put on while driving with Albert to the football picnic.  Everton's new players thought he was bossing the show.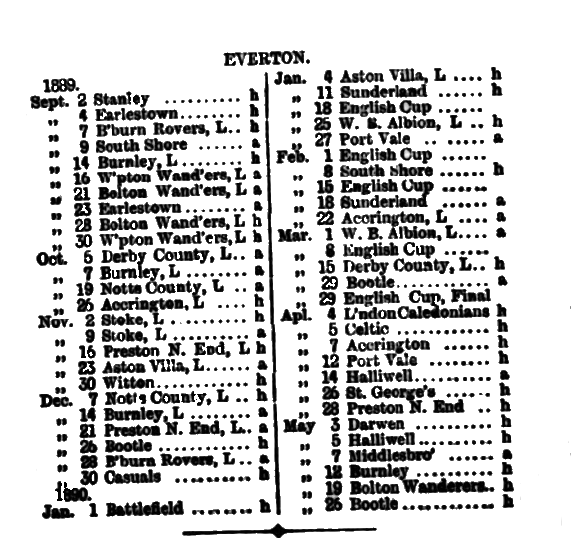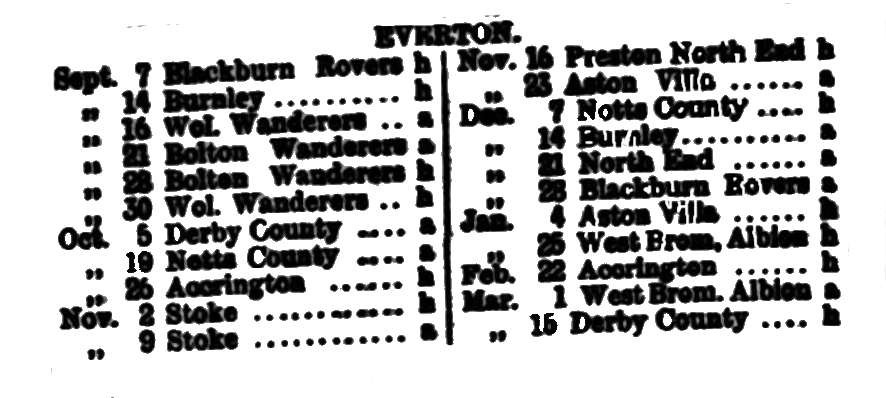 FIRST TEAM 3 RESERVES TEAM 0
August 29 1889. The Liverpool Courier
There could scarely be better evidence of the amasing interest roused at the present time by football than the large congregation of spectators, which rushed on the Everton F.C. ground at Anfield last evening. It was merely a practice game, a preliminary canter of the great "crack" who have been induced to come to Anfield this season. Yet close upon three thousand people paid to admission in order to watch closely and criticize the play of the team. It was arranged to play a match between the first, and reserves teams, and the following turned out for the respective sides: - First: - Smalley, goal, Hannah (captain), and Higgins, backs, Weir, Holt, and Farmer half-backs, Latta, Waugh. Parry, Brady, and Chadwick, forwards. Reserves: - Joliffe, goal, Nidd, and Hammond, backs, Barbour, Martin, and Howell, half-backs, Lindsay, Fenn, Orr, Tibbitt, and Milward, forwards. The reserves team showed up capitally against the superior side, and their combination was warmly praised and generally admired, many persons venturing the opinion that it was in many repects pretty than that of their more experienced adversaries. Although they pressed a good deal they were not fortunate enough to score, whilst three goals were placed to their discredit. Brady obtained two of the goals for the first team, while the other was put through from a scrimmage. Seeing that Doyle, Geary, and Groves were absent the first team, were seriously handicapped, and the game was hardly fair test of the capabilities of the organisation which will do duty during the approaching season. Brady Latta, and Hannah did not exhibit any brilliant flashes of form, but they appeared to give full satisfaction, it being considered that they were not showing their real form. Hammond, late of Edgehill F.C, judging by his play last evening, will prove a capital acquisition to the reserves team, and he will no doubt capably fill the void caused by the retirement of A.Chadwick. Howell formerly of Stanley F.C, also played well at half-back, and in case of necessity his services will no doubt be called into requisition, On behalf of the first team, another practice game will be held to-morrow evening, and when Doyle Geary, and Groves will probably figure in the team. On Monday the season will commence in earnest with a match against Stanley.
EVERTON FOOTBALL CLUB
August 29 1889. The Liverpool Mercury
At the invitation of the president (Councillor Houlding), the executive and players of both teams of the club were entertained to supper at the Sandon Hotel on Tuesday (August 27). The object of the gathering was primarily to inaugurate the coming season, bring into friendly contact the working members of the organization, and to introduce the new players, who have this season thrown in their lot with the club. It was also felt that the occasion should be taken to express the regret felt at the departure of Mr. T.C.Howarth, late assistant secretary of the club, for America and the appreciation of his past services. Amongst the invited guest were Messrs Jos. Williams, R.wilson, F. Currier, E.Berry, H.Hallard, Henderson, Clayton,, Jackson, R Molyneux, J.J.Ramsey, Brooks, and R.L.Stockton and DR,. Flynn. The tables being cleared, Mr Houlding took the chair, and the usual loyal and patriotic toasts having been proposed, Mr Houlding proposed the health of Mr. Howarth. He had known Mr Howarth in political and in other areas, and he felt that in all his under-taking he had made his mark. He hoped that in the future his position would be much entrust, and wishing him God speed, on behalf of the members of the club. He presented him with a handsome gold pencil case as a momento of their friendship. The toast was received with evident appreciation. Mr. Howarth suitably responded, and posposed the toast of the Everton Football Club, coupling with the toast, the name of the president Councilor Houlding. Mr. Houlding in responding said it gave him pleasure to meet his many friends, especially as they were all interested in the welfare of the Everton Club. He received at length the early history of the club, and its struggle until present time, contrasting the position it now occupied with that of its early days. In proposing the toast "The Executive Officers." He regretted that they should loss the services of Mr. Barclays and Mr Howarth, and wished every success to the new secretary. Mr Molyneux, and his assistant Mr. Joseph Williams. Mr. Robert Wilson responded on behalf of the executive, and Mr. Jackson also spoke, and was followed by Messrs. Ramsey, Molyneux, and Josh, Williams. The proceeding, which had been enlivened by the vocalization of several members were brought to a close by singing the National Anthem.
EVERTON PREPARING FOR THE FRAY
Cricket and Football Field - Saturday 31 August 1889
By Mickey Free
On Wednesday evening the Everton reserve stripped to face the first team for a practice match, and it was a caution to see the crowds of people who turned up to have a glimpse of the competitors.  Doyle, Geary, and Groves were absentees, their places being filled by substitutes.  A capital game was witnessed, the great surprise being the exceptional smartness shown by the young ones.  They all proved very speed and quick on the ball, Nidd being especially conspicuous in this department, and Hammond impressed me as having the making of a really good back.  The Seniors won by three to nil, one of the goals being a real beauty from the toe of Latta.  Speaking of this player I have been much amused by the remarks of some of the Scottish football papers regarding him since he came over the border.  The most ridiculous being that of Scottish Sport, i.e., "An overrated man."  Throth an' it is just instructive to compare that estimate of Latta with the following extracts from a sketch of his career given by the Scottish Referee last season.
Mr. Latta is a son of the Rock (Dumbarton, I presume) and has grown up under its shadow.  Nursed in such a cradle of the game, he has witnessed the prowess of those who have gained for their county a world-wide fame, &c., &c.  By consistency and determination he soon gained a place as outside right in the first eleven.  Since the season 85-86 Mr. Latta has played in this position, and has earned for himself the reputation of being not only the best right wing forward in the country, but as his selection to that place in the Scottish International eleven implies, the best in the country.  For his own club Mr. Latta has done a power of work.  He is one of the men who have contributed to build up its greatness.  How is that Mr. "Sports" Just another extract.  This season, with riper judgement, he has figured in the matches of his county against Ayrshire, Edinbro' Birmingham and Liverpool and District.  Mr. Latta's inclusion in the Scotch eleven is one of the best selections made by the seven.  Mr. Latta is powerfully built and fast on the ball.  He is of a modest, almost retiring disposition, and a total abstainer, beloved by his club mates and respected by all who know him. 
Begorrah, it's the owld fable over again, fox and the grapes.  With regard to Hannah, the man who is "about done" according to the same paper, it does seem strange that he should figure in the Scottish International against wales a couple of seasons ago, and was, if I remember right, in the Improbable v. probable for the team to face England last season.  He is only 24 years of age, is of fine physique, and looks anything but done.  Doyle and Brady both figured in England last season, and pleased the Bolton Wanderers and Burnley respectively as well as Sunderland and Grimsby, so I need say no more about these men.  Groves is admitted to be one of the best forwards in Scotland, and I shall be much disappointed indeed if I do not see him with the Everton jersey on by the date of the first league match. 
DINING THE TEAMS
On Tuesday, evening Mr. J. Houlding, the president invited the various officers, committee men, and both teams to dinner at the Sandon.  After dinner the usual loyal toasts were given with musical honours, and then the Chairman came to what proved the event of the evening, i.e., making a presentation to Mr. Howarth, late Assistant-Secretary, on behalf of himself and the Committee.  Mr. Houlding spoke in felicitous terms regarding the approaching departure of Mr. Howarth for America, where he goes to fill a three years' engagement in a position of great responsibility, and I am sure that all who have had the pleasure of Mr. Howarth's acquaintance will wish him a hearty God-speed.  Mr. Howarth replied in his usual fluent and happy style, nevertheless a feeling of regret appeared to pervade all present and their spirits were a bit damped, but only for a short spell, as Mr. Henry Hallard gave one of his sketches in such excellent style that the company were fairly convulsed with laughter.  Tuesday next will see us fairly under weigh. 
NUGGETS
Cricket and Football Field - Saturday 31 August 1889
Everton had a 19 pounds gate on Wednesday night.
Everton reserves are as good as they make 'em.
The Everton players have been seen at practice.  The youngsters shaped well. 
The Everton youngsters were a bit too speedy for the first team on Wednesday night.
Partridge (s)hooting commences at Everton practice on Monday.  Wonder if goal shooting will do ditto on the 7th.
From four or five thousand watched Everton practice on Wednesday, and there were quite as many outside.
Chadwick was counting the blades of grass when the ball rolled through his legs.