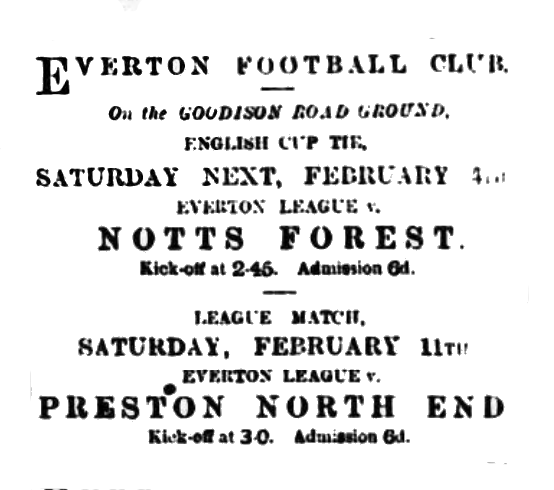 THE THEATRICAL FOOTBALL MATCH
February 3, 1893. The Liverpool Mercury
For four years past have the Everton Foo ball Club placed their ground at the disposal of a motley array of pantomime artists, who perform antics, which include burlesque football, for the benefit of the Royal Infirmary and the Stanley Hospital, and since the inauguration of the gala it has been growing in popularity. That this is so without a doubt was testified to by the large crowds which assembled in the new and spacious ground of the club in Goodison-road yesterday, in spite of the inclemency of the weather. Nevertheless the promise of good fun, such as has been seen in former years, was sufficient to draw a crowd of about 15,000 to the enclosure. The company of nummers assembled in front of St. George's Hall, and thence proceeded to the ground, and though many were constrained to stay away from the procession by the pouring rain, there was happily a goodly array, which was headed by two camels of the highest order. Arriving at the ground, it was found that already two temporary theatres, named significantly the Westminer and the Theatre Royal, were in full swing with variety entertainments provided by the artists at present engaged by Mr. Mathew Montgomery, manager of the permanent theatres bearing the above address. Simultaneously with the opening of these sides shows began the opening of pockets and the pouring out of money for article such as cigarettes, flowers, cigars, photographs, and other catchpennies, which were sold at twice or three times their value. All sorts and conditions of grotesque costumes, from Blue Beard to modern policemen, from the Wild man of Borno to nigger minstrels, from Eastern robes to Old English dresses, were to be seen flitting about, animated by well-feeling actors and actresses who recked not what they did so long as they brought money in. One pleasant feature was missed, however, and that was that the "gentle dew from heaven" forbade the wearing of the bright dresses by the ladies who last year lent such an air of gaiety to the scene. At two o'clock a serious football match commenced between the Everton Combination team – and very fitly is the word applied –and the reserve of the Blackburn Rovers. As it interested the enthusiasts, of course, it was a great success. But a very large number of those present were not enthusiasts and, consequently, the efforts of the two capable teams were hardly appreciated. Another factor which had something to do with this was that the artistes had thoroughly settled down to the pocket-rifling pursuits of the day, and as there was ever something fresh to attract the attention of the game. However, let it be said that during the first half the Rovers had slightly the best of matters and at half-time were leading by a goal to nothing. Hargreaves being responsible for the point. In the second half the game became very interesting, and the Everton lads began to show their superiority, Gordon and Hartley each scoring for the home side, the result being that Everton retired victors to the tune of two goals to one. This somewhat serious and business like part of the afternoon's entertainment being over, the fooling began in earnest. The Preston Morris Daners gave a most delightful dance and continued it all round the field. Their pretty costumes and graceful movements in their old English dances elicited rounds of applause. They finished up with Sir Rogers de Coverley, and then fell to with money boxes collecting pence. Mother Noblett and a Rotunda fat man started a game of football on their own account, and the camels were requisitioned. The old lady disported herself in delightful style by making several vain attempts to have a cheap ride, and on more than one occasion came down with no small degree of suddenness from her lofty pedestal. In the meantime considerable excitement was seen to be aroused in the far corner of the field. This was caused by the appearance on the scene of a "moke and shay" laden with vegetables of all kinds –carrots, turnips, cabbages, curly greens, leeks, and soon –presided over by a "coster" and his "donah" in the person of two Liverpool amateurs –Messrs, Austin Harford and E.V. MCKernan. The former gentleman, arrayed in a brilliant but nevertheless orthodox suit decorated with a mace of "pearlies," proved a jealous husband and an inimitable entertainer; while McKernana was gloriously attired in black ringiets, large straw hat, gorgeously coloured shawl, red skirts, and red stockings. "The greatest novelty on the field" was their cry, "Won't yer buy a coster's button-hole? Only 6d, a tunne," and when the autlers individual turned up his nimble six-pence, the button holo turned out to be a Brussels sprout decorated with maiden hair fern. Mr. Hartford also sang for 6s, for each performance the tender movements of a coster, acted with his wife to the hugh delight of the audiences. Many were the humorous incidents in their tour round the field, and so testify to their success it may be said that it took them fully three hours to accomplish the task. They were without doubts the success of the afternoon, and evidently collected more money than anyone else. There were also races for professionals in costume, and one or two of the ladies even turned out in costume. These events caused considerable amusement, some of the participators having considerable difficulty in travelling, owing to the weight and bulk of their dresses. The inflated fat men and the Karnos were, however, the cause of most merriment. Another rouser of hilarity was a match –whether it was bosing or running or otherwise it would be presumptuous to state –between the elephant from the Shakespeare Theatre and the Karno donkey. Their antics were marvellous, and the final breaking up of the elephant into two separate parts, and the annihilation of the donkey, left the issue in doubt as to which had won. It was at a late hour that the grotesque football match started, but the appearance on the field of Ally Sloper, Esq. (Mr. F.T. Parry), who acted as referee, soon gathered together the Everton League team, who by the way, had been edifying the people for some little time by ricks with the ball, which only showed the perfection to which they have been brought. Shortly afterwards the genial face of Mr. Tom Bush was recognised, his head and body being enveloped in a Mother Noblett gown, and he was followed by Messrs, Bainbridge and Ravenscroft in policemen's costumes, ostensibly for the purpose of removing any one who should conform to the rules of the game. If this was so, it must be said that the uniforms had the desired effect. The theatrical team numbered 50 or 60, among whom were conspicuous the Preston Morris Dancers, some of whom were almost a match for the Evertonians. After some wonderful scrimmages and extraordinary evolutions the weight of numbers told, and the ball was gradually sent down by mere weight of numbers and forced through the goal. Afterwards the Evertonians had a look in, and when once two or three of them got away it took the Threaticials all their time to stop them, and on several occasions the camels, who by the way were goalkeepers, were called out to use their skill. However, in the confusion the ball by some means or another got through the Theatricals' goal, and matters were equalised. On turning round more frolic ensured, and the Theatricals twice more scored –at least so it was rumoured. By this time it was considerably after five o'clock and the five hours gala came to an end. Happily during the afternoon the rain cleared off, and, though the wind was biting and the ground damp, it must be said that yesterday's sport compares favourably with that of previous years. The proceedings of the afternoon were considerably enlivened by the presence of a capital band under the direction of Mr. Fred Wright. The following was their programme; -March, "Hook Hababurg," Kral; Overture, "Light Cavalry," Suppe; Waltz, "Amorettentanzs," Gung'! medley, "Hilarity," Williams; polks," polks, Con Amore," Roise; gallop, "Tonnere," Larnothe; selection, "Pantomime,' Fred Wright; Mazurka, "La Czarine," Ganne; waltz, "Grenadiers," Waldteufel; selection, "babylonta," Williams; march in C, Burns; waltz, "La Tonta," kiefart; pola march, "Monte Carlo," kap's. The following are brief results of the various athletic contests;- 100 yards Gentlemen's Race; 1, B. Harrison; 2, F. Karno; 3, Ted karno. 50 yards Ladies Race; 1, Miss Albert; 2, Miss Matthews; 3, Miss Cloy; 4, Miss Carlton; 5, Miss Lloyd; 6, Miss Granville; 7 Miss Clarette. Quarter-mile Race; 1, F. Karno, Donkey and Elephant Race; 1, Elephant, Shakespeare (meesrs Vaughan and Holey). Character Race (old woman); 1. W. Scott; 2, Joe Burgess. Bicycle Race (One mile); 1, R. Clay; 2. W.F. Karno; 3, H. Brammell. Go-As-You Please Race; 1; Tommy Burns, 2, Joe Burgess.
THE GRAND VICTORIES
Cricket and Football Field - Saturday 04 February 1893
By Richard Samuel
Last week end the Everton team had a big job on hand, and they accomplished it to the entire satisfaction of their numerous supporters.  Ample proof of the popularity of the team was given on Monday, when six hundred made the journey to Blackburn to see them knock the Rovers out of the Lancashire Cup competition.  With the non-success of the team once again in a winning humour, their supporters turn up trumps.  The Everton club are indeed fortunate in having such a following, for one can excuses them from not following a beaten team on the score of expense, but the way they have turned up Saturday after Saturday at Goodison Park, only to meet with disappointment shows that the club enjoyed the staunch support of the public.  That the game at Stoke would be a stiff one was admitted all round, and the team is coming off victorious did a smart thing, although the goal is described as a "soft" one.  None of the Everton executive go the length of saying it was a good goal, but all the same they are satisfied, not only with the goal, but with the play of the team.  At the same time I think it is about the club's turn to partake of some of these "soft" things.  Looking back on the matches this season, the team have had vile luck, so it is just as well in acknowledging, the one to not forget the other.  It is pleasing to note that in winning the match at  Stoke the defence played a prominent part, and their record in recent matches is one that William, Howarth, and Kelso may well be proud of.  I have often heard of the brilliant saves of Williams, and Mr. Atkinson came to me again on Monday morning with the tale of this goalkeeper's doing at Stoke and Derby County, "Form !" says, he and I am glad to believe that  means tip-top form.  I thought, therefore, seeing Williams must be in such good trim, and having an idea that he would have full scope to display his abilities against the Rovers, I would make the journey to Blackburn on Monday last, and although I had to travel away from home to form my first acquaintance with it, I am none the less agreeably surprised at the form Williams showed between the sticks.  As I anticipated he had a lot to do –far more than his opponent on the other side-and now I think I know what this Derby form means.  Well, all I hope is that it will be kept up.  Bar accidents the executive will depend on the defence as constituted at present, and on Monday's form it is good enough for anything.  Whilst hardly as good as the Rovers up the field, both the defence and attack of Everton in close quarters left nothing to be desired and this to me is a new feature in the play of the Everton men.
HEYWOOD GOSSIP
Cricket and Football Field - Saturday 04 February 1893
Central v. Everton
These teams are to meet on the Bamford-rd ground on Tuesday evening next, and every arrangement is being made for a big crowd.  The match is in aid of the local relief fund, and it is being held under the patronage of the Major (Ald. Lawton).  The kick-off is timed for 6.30.  The ground will be lighted by Wells and electric light.  The scene from a spectator point of view is sure to be attractive and the financial result should materially help towards the alleviation of the suffering of those who are unfortunate circumstanced.
A BAD WEEK END FOR THE ROVERS
Cricket and Football Field - Saturday 04 February 1893
By "The Croaker."
If anybody had told me a fortnight ago that the Rovers would have a very hard job to knock two points out of the Throstles at Ewood, and that on the same ground Everton would beat them three goals to one, I should have recommended him to apply for a vacant cot in the Albert Asylum.  But its true enough, alas! And while I am writing this folks in Blackburn have so far fallen from their high conceit that they are feeling not at all sure that the team will beat Northwich Victoria today.  What is the cause of the crushing defeat for the Lancashire Cup?   There's not the slightest doubt that the fault lay with the forwards, who played a shilly-shally, please-let-me-pass sort of game in front of goal calculated to make the thousands of Evertonians present.
SMILE FROM EAR TO EAR
I am fully aware that some of the blame between Walton and Forbes, but two goals was by no means a formidable score to rub off when the strong wind was at their backs, and had Southworth and his colleagues only shot when they might it would have been all up with the toffee men.  But it was the old failing shown in stronger colours than ever, Jack Southworth was made a fool of by little Holt, and he hardly made a decent shot at goal in the hour and a half.  Sawers and Campbell sent in weak ones occasionally, Chippendale was all over the shop and Bowdler, barring his kicking  a goal with a burst ball, was never dangerous.  "If they would but shoot," people kept saying, but it was no go.  The shots Williams got all dropped into his hands as softly and gently as the sweep's pennyworth of rice pudding.
It set one thinking as to what could be the matter with the front rank.  When Southworth is away they don't seem able to win; when he plays he seldom gets a goal himself.  But for his pretty play in midfield and an occasional feeding of the wings- which bye the bye was not conspicuous on Monday – one is forced to the conclusion that he is not an ideal centre forward.  There is some excuse for Bowdler, who has not been well for some weeks, and who has a lot of travelling to do every match day; but there is none for Chippendale, who has fallen off a lot since Christmas.  We are to some extent accustomed to a bit of weakness in the front rank, but when our daring Scotch trio as half-back go wrong, we feel very bad.  And it went wrong against Everton, for at one period of the game Anderson, Dewar, and Marshall all seemed powerless as children to stop Geary, Chadwick, latta when they got the ball.  Such a dead silence among the spectators I never remember to have remarked at a match.  It seemed as though the possibility of failure in the English Cup contest had suddenly presented itself to their minds, and as much in dismay as disgust they forbore either to cheer or to jeer.  Let is draw the veil over one of the most painful exhibitions I have witnessed.  The only consolation we have for the licking is that it was chiefly administered by two Blackburn lads, Holt and Chadwick were the best men on the field. 
EVERTON V NOTTS FOREST
Cricket and Football Field - Saturday 04 February 1893
F.A Cup Second Round
Goodison ground looked its very best today, and that is saying something, for the Evertonians know how to give a smart appearance to their enclosure, and know how to impress the visitors with a sense of the real football enthusiasm which was enkindly by the sudden bound of their men into fame, and kept alive by the enterprise of an energetic executive and the skill of about as clever a lot of players as ever worked together.  But today an import English Cup tie is to be played, with Everton in a winning mood, and the consequence, Mr. Editor, was that from an early hour the spectators had trooped up literally in thousands, and now it is really a case of faces to right of us, faces to left of us, faces in front of us, and all of them wondered –full of animated interest, excitement, and even uneasy anxiety.  The stands are crowded with well-dressed people, the bright tints worn by the ladies relieving the somber lines of the more numerous make folk; the standing spaces are packed with human beings, who appear to have as little room to move in as sardines in their tins, and who can only sway to and fro as the general infection of excitement affects them.  And now as the players take up their places on the field and complete the vivacious picture with the strong contrast of the Foresters' red and the Evertonians' deep blue, the excitement and anxiety seemed to raise everybody to fever pitch.  There is a roar of conversation as the men take their places, and the one point is as to the chance of Everton over Notts Forest.  Everton do not stand quite so well on the League record as do their rivals, but it is pointed out that the Liverpudians are not really behind.  They have 22 points out of 22 matches, whilst the Forest have 24 out of 24.  Besides- and Everton faces broaden into one vast smile as it is said- "have we not beaten the Albion, who hold the cup; and have we not licked the Rovers, the best cup-tie fighters in the world, on their own ground?  This gives an infinitude of comfort, and every Liverpudians settles down as the players take their places, and hopes for the best-at any rate, they all do except a few gloomy ones from Anfield who do not say much but purse their lips significantly.  The Notts supporters are here in force, quite a crowd of them being conspicuous by their neat rosettes of red ribbon, and it must be said they are not despondent.  They take the Everton assertive confidence in good part and when they say "Well, our men will work and play, too"  they evidently mean it.  The Reds are first to appear, and are loudly cheered, but the Blues are of course still more heartily applauded.  Mr. Hughes soon has the men in position as follows;-  Everton; Williams, goal; Kelso and Howarth, backs; Stewart, Holt, and Boyle, half-backs; Latta, and Maxwell, right wing, Geary, centre, and Chadwick and Milward, left wing.
Notts Forest;- Brown, goal; Earp and Scott, backs; A. Smith, McPherson and McCracken, half-backs; McInnes, and Pike, right wing, Higgins, centre; and "Tich" Smith, and Shaw, left wing.   Geary starts the ball amid breathless excitement of the hugh crowd, which now numbers over 25,000.  The first bits of play are of the fastest order, and the ball visits each end amid the gathering roar of the partisans of the side whose goal is not being approached.  The backs on both sides are, however, at their best, and all attacks are frustrated.  Everton earn the first corner, but Milward puts it out and he repeats the trick directly afterwards.  Geary, Maxwell, and Chadwick put in some beautiful passing, and enthusiasm becomes intense as they seem likely to score, but Geary kicks over the ball and the chance has gone.  For some minutes Everton have much the best of it, but the Reds reply and Williams get two straight ones, the second from Pike being a scorcher.  Just afterwards Higgins is furnished with a beautiful opening, but shoots ridiculously, and Kelso saves directly afterwards from shots which come in like lightning from the left and centres.  Milward now rouses enthusiasm as he sprints away along the left and centres, and the hopeful shouts deepen into a stupendous roar as Chadwick and Geary dash up and rush the ball and custodian through exactly 16 minutes after the start.  The Reds appeal that the custodian was played offside, but the goal is very properly allowed.  Everton put in some magnificent passing just now and Latta gets in with a beautiful screw.  Edgar Chadwick takes the ball, but he hesitates, and as McCracken gets at him it seems he must miss it, but he puts in his kick cleverly and scores magnificently, the spectators going nearly wild with delights.  Play continues to be as pretty as the most captious could wish; but for a time we have nothing more than nice passing, until Pike gets the ball fully 25 yards from goal, beats Stewart and Holt, and scores with a shot it is worthy coming all the way to see.  Unfortunately Pike has twisted all the way to see.  Unfortunately Pike has twisted himself in the performance and goes lame, Stewart also hurts Tich Smith but he keeps on playing.   For a time the play is again pretty, but the Forest has best of it, and Williams seems certain to be beaten, but saves blindly, for which Everton is devoutly thankful.  Some of the Forest seem to think he was through and it looked like it, but the players keep at it, and presently Higgins raises the hopes of the Reds by the finest bit of work of the day.  He beats Holt, dodges Howarth, rushes past Kelso, and seems certain to score but shoots too soon, and Williamson manages to save.  Scott is now hurt and there is no doubt about it that Everton are not sparing anybody. 
But the interval now comes leaving the Half-time; Everton 2, Notts Forest 1.
Resuming, Milward was pulled up for offside when he was in a favorable position and Pike when he was in a favorable position and Pike going down barely missed.  Brown knocked a shot away from Chadwick, the game continuing, fiercely fought; at intervals fouls occurring, Everton won a corner, which was splendidly placed, Brown putting it through his own posts.  Stewart robbed Higgins on the point of shooting, and Howarth and Kelso is kept busy with the attacks from the Notts forwards, who were playing determinedly.  A delay was now caused by Pike putting the sphere over the hoarding.  Everton was proving the cleverest team, Scott and Earp being wide awake as the combination of the home forwards was dangerous.  Notts had a chance, but the ball went by.  The play was in midfield, each set the halves returning in turn.  Williams got down to a low one, and Everton was aided by a couple of free kicks.  Boyle took another, and Geary sent it across the goal, Latta just missing.  After fierce tackling by Smith and Earp the house team won another corner, Maxwell ending the work by shooting high over the bar.  Notts were pressing, and from a scrimmage in front of goal Shaw added the second for the visitors.  Chadwick put in some good shots, Brown's position being no sinecure. Geary scored just on the finish. 
Final; Everton 4, Notts Forest 2
SPECIAL
Perhaps it would have been impossible to get two teams more alike than the Forest and Everton in their style of play.  Both are dashy and flashy, both are clever, and the games they play are generally marked by that brightness which so suits the spectators.  There is ordinarily no dullness about them, and there was no dullness today; the play was as bright and interesting as it could possibly be.  Both sets of forwards played well, their passing very fine, but Everton were the more effective in front of goal, and it was here that they had the pull.  Both lots of half-backs were clever, but Holt took the cake, though McCracken was clever.  Howarth was the most effective of the backs, but Scott went very well, his only mistake being when he let Latta centre for the second goal.  Williams was very clever in goal, and though a bit lucky he deserves every credit, for his place was no sinecure.
ANOTHER SPECIAL
A very even and stubbornly contested game was slightly marred by an unusual number of fouls.  The Evertonians deserved to win.  The forwards were all good and Holt was the best of the halves.  Howarth was first-class, but Kelso was not as usual.  Williams acquitted himself admirably.  Brown was weak for Notts.  A. Smith did good work at half, and the forwards at times passed and shot brilliantly. 
NUGGETS
Cricket and Football Field - Saturday 04 February 1893
Bravo, Holt!
Only one team in it at Ewood on Monday.
Rovers were run off their feet by Everton.
The Everton surprise packet-Williams in goal.
The footlights at Everton just now are unusually bright.
Latest victims of Everton, Stoke and Blackburn Rovers, and both away from home.
Heywood Central v. Everton next Tuesday evening with electric light at Bamford-road.
Everton and Bootle were the only visiting teams that won matches in the Lancashire Cup ties.
The bill of fare was better at the Park than at Anfield, and each club met with their own desserts.
Only for the Evertonians present at Anfield last week the "gate" would have been quite up to the average.
Everton's record gate for the first round English Cup tie was easily beaten at Derby last Monday, 625 pounds being taken.
I am not quite sure, but I think you were very bad boys staying o'ernlight at Blackburn, Messrs Kelso and Stewart.
It seems to me a better way than sacking a man to stop his pay.  Andy Parry was stricken by losing a thick'un.
Expectation run high on the hopes of Everton for the English Cup.  Has the Forest dashed them to the ground?
When a club has a visit from their "nearest friends" they have a record gate, but still they claim another match.
How many of the Liverpool first team entered the saloon of Everton for Blackburn, and what were they doing there?
Old Jupiter Pluviua showed his watery favours on the Everton enclose on Thursday and thereby reduced the receipts considerably.
If it was such a slow shot that Rowley missed from Milward "it was time" that a little bit of good fortune should attend on the favourites (?) of fate.
Hannah perceptibly tired last Saturday, and is not a patch on the Hannah of three seasons ago.  Footballers are not like old wine; they fall off when age creeps on them.
Everton accomplished what no other team could perform in 10 years, viz, knocked the Rovers out on their own ground.  Darwan beat them some 10 years ago in the same competition.
The grand sight(?) for Associationists will take place sometime in march, when Swinton meet Runcorn at Goodison Park, for the benefit of the latter, who are feeling where the football boot another. 
Johnny Holt is still our champion centre half.
The Rovers showed the very reverse of their cup tie form on Monday against Everton.  Not a bit of go in them.
The receipts at the Monday Cup tie between the Rovers and Everton were over 200.  And yet trade is bad in Blackburn.
Everton did a smart performance by defeating Stoke on their own ground.
What price Everton for the Lancashire Cup?
RUNCORN BENFIT MATCH AT GOODISON
February 6, 1893. The Liverpool Mercury
The negotiations for the match, under Rugby rules, to be played at Goodison Park, by kind permission of the Everton Football Company, on March 15, in aid of the Runcorn F.C., and T.H. Davies Fund, have now been completed, and the contest, as indicated in last Monday's Mercury, will be between Runcorn and Swinton.
TODAYS MATCH
February 6, 1893. The Liverpool Mercury
The tie at Goodison Park this afternoon could scarcely have been made more acceptable, and its issue is shrouded in just sufficient doubt to give the match a piquancy of intense interest. The Notts Forest have reached the semi-final round of the annual competition twice, and have the advantage of Everton in this respect, but the "Reds" are one of the oldest clubs in the country. It is not past achievements, however, that weigh so much in adding importance to today's tussle, but up-to-day play. The Forest have met Everton twice in connection with the League and the results were that Notts draw when at Liverpool and won narrowly when at Nottingham by two goals to one. Notts Forest, in fact, have won six League matches straight away, in addition to a cup-tie and other games, and are thus a very clever team. Everton have also been going "great guns" of late, winning their last four matches, and momentous ones too. It is this fact which invests the encounter today with so much attractiveness and promise of great play, and another of those record "gates" may safely be anticipated. For those who wish to see the combat in comfort, and place cost as a secondary consideration, a number of seats (250) have been reserved, at a charge of 4s, each, the ticket for which can be had as Mawdsley's F. Sugg's the National Sporting Goods Company, or the secretary's office. There will be other local matches, and financial success of which, however, can scarcely be assured, and it will be subject for sympathy with Liverpool and Bootle that their respective contests with Stoke and Fleetwood Rangers should clash with Everton's cup-tie.
Everton v. Notts Forest, Goodison Park. Referee Mr. C.J. Hughes, Cheshire.
EVERTON 4 NOTTINGHAM FOREST 2 (FA cup gamme 11)
February 6 1893. The Liverpool Mercury
This cup tie, which was generally voted the most intersting of the round, was played at Goodison Park on Saturday, and was in every sense a brilliant event. The weather was suitable though the actors would doubtless have preferred less wind, and the ground was in good condition,, at least at the start, and until some of the turf began to kick-up. That the ''gate'' was a magnificent one goes without saying, and there would probably be fully 27,000 spectators for the coigns of vantage were more densely packed than at West Bromwich Ablion match a fortnight ago. Everton wore new jerseys, and their deep blue colour made a distinct and pretty contrat with the bright red of the Forest. Both teams had a hearty reception, especially Everton, given to the latter all the more lavishly and deservesdly on account of their recent good play. The players were as follow:- Everton, Williams goal, Kelso, and Howarth (captain) backs, Boyle Holt and Stewart, half-backs, Latta Maxwell, Geary, Chadwick and Milward, forwards. Notts Forest:- Brown goal, Earp and Scott, backs, Smith (a), McPherson, and McCracken, half-backs, Shaw Smith (w) Higgins, Pike, and McInnes forwards, Mr C.J.Hughes (Cheshire Assoiation) again officiated as referee, and, Everton having won the toss, he gave the signal for Higgins to kick off against the wind, prompt to time. Higgins followed up his initial kick by shooting outside at long range, when Stewart cleared out the attackers by driving the ball in the direction of Geary, who ran as far at the back. Everton were not to be beaten off yet, and Latta ran and shot in, when Milward was forced to run the ball out and Chadwick follwed by shooting badly across the face of goal. Relief was given to the Forest by Maxwell, who tripped an opponent, and was penalised; but the visitors did not present a formidable front, and Geary was quickly seen sprinting away, becoming so dangerous, as to exact a corner, from which Holt headed over the bar. Notts again got within range, but were driven off before essaying a shot. Boyle next took a free kick, which being well placed was neutralised at the expense of a futile corner. Howarth was soon in requisition, and checked the right wing, but danger was created owing to an Everton defender slipping at a critical moment. Higgins saw his opportunity, and shot in hard, but Williams held the ball firmly, and threw clear, a like fate attending a long shot by Pike. Notts were persistent, just now, and Kelso had twice to be quick in kicking. McPherson fouled Chadwick, soo afterwards but this was scarcely any assistance to Everton,, for Higgins went down but shot at randon. Kelso and Boyle each picked the ball out of scrimmage which ensued, and a length Everton changed the scene of operations, the left wing leading the way. Chadwick had a shot repelled, but he brooked no denail, and getting well up, he drove into goal, when the ball was scrimmaged into the net. A goal was awarded, and a great cheered greeted ''the first blood'' by Everton as the result of 16 minutes play. Before the excitement had abated Latta centred to Milward who scored a second goal with a terrific shot, out of the reach of Brown. Play toned down somewhat for the next few minutes, but Notts Forest were gaining in strength, and slowly but surly, invading Everton quarters in an aggressive mood. It was some time before they could level a shot at goal, and when they did it scored, Pike putting through, just under the bar near the left corner-a spendid effort, which thoroughly merited the point. a free kick to Everton led to a fierce tussle in front of the visitors goal, when Holt, after the ball had been driven against the opponents' leg once or twice put just outside. Smith got hurt a little later on but contined to play after a stoppage of the game. Williams, on resuming, fisted out from Shaw's good shot, giving a corner, when Everton were hard pressed. Howarth was just in time to divert a shot by Pike whilst the goal had a marvellous escape in the tussle which arose. Notts still attacked hard, but Williams was equal to all demands, and with the arrival of half-time Everton were leading by 2 goals tp 1. Kelso was at once called upon, on resuming, and he put in a kick which enabled Chadwick and Geary to move down in a pretty run, but Milward, who took the pass, was ruled off-side, Higgins replied with a flying shot, Kelso vainly trying to get at the ball in its flight, but it was of no consequence, as the aim was not quite accurate. The next intersting incident was a screwing shot by Chadwick. Then the Forest left wing gave trouble but were repulsed, and Brown had a trying ordeal to face, which he was not equal to. He was compelled to give a corner from Milward's shot, and this being neatly placed the ball was put into goal. Brown played the shot, but the sphere struck the post and bounced into the net. On restarting, the ball was kicked over the north-end stand, which led to some delay. Notts then returned to goal two or three times ina menacing manner. Several free kicks were given on either side, and the spirited play proceeded on even lines until Kelso missing the ball went for the man in a manner that did not meet with the approval of the referee. A free kick was of course given, which proved costly to Everton, as the ball was scrimmaged into the net. With only a goal to the good, Howarth strengthened his defence by bring Milward to his assitance. Everton, though having but four forwards, had rather the best of the subsequent play, and Geary heading a goal just before time, Everton were hailed winners by a loud cheer, of 4 goals to 2.
BURNLEY SWIFYS 0 EVERTON COMBINATION 6
February 6, 1893. The Liverpool Mercury
Combination play at Turf Moor before 2,000 spectators the homesters played with a slight breeze in their favour in the opeing half Everton had the best of the opeing half scoring one goal and croosing over with a 1 goal to nil lead. The visitors competely out played the home team during the second portion and ran out winners by 6 goals to nil.
EVERTON REVIEW
February 8, 1893. The Liverpool Mercury
It is pleasure to be able to announce the definite settlement of the Runcorn and Swinton match. Apart from the interest in the encounter naturally arising from the peculiar circumstances which have led up to the fixture –the severe financial handicapping of Runcorn, playing in a town of small "gate" power, and subject to heavy travelling expenses –the match offers unique features that will doubtless attract a peculiarly mixed attendance at Goodison Park. To see the champions of Lancashire and the champions of Cheshire on neutral territory, and in the very stronghold of the rival game, is like the worship of Mercury in the Temple of Apollo. No doubt the novelty will attract a goodly sprinkling of the Everton devotees, curious to see a game about which most of them know very little, and willing to have it brought to their doors and exponded by adepts. Nor is the Rugby-seeing following likely to miss an opportunity of seeing what is undoubtedly the first football ground in the county. The Everton management are already notorious for their generosity in charity and benefit matches, and this can do little to add to their credit, so well it is already established. But it is no usual courtesy to grant association ground for the help of a Rugby club, free of all costs, as the Everton committee are doing, and this fact deserves to be well known. We wish this unique match every success and a heavy gate for Runcorn. Everton emerge from a trying eek with flying colours, and are to be congratulated on their clever and consistent performance. Luck is ever a dominating influence in attaining success, and Everton just now are kindly treated by the Fates, drawn out of the hat first in each round of the English Cup Competition, and thereby secure choice of ground on both occasions; but their greatest slice of good luck is being enabled to put the same eleven players in the field for successive momentous contests. The men thus become familiar with each other, and can help one another to make effective use of their individual skill. If Everton can be so fortunate as to keep the same team intact, they will probably reach the final stage, no matter how they are drawn, an advance that will be but consistent with the repute of Liverpool as the greatest football centre, judged from the support given by the public in the country. the venue is apparently immaterial with the Everton team as at present constituted, for taking their last five consecutive wins, two were won on foreign soil, with only a Sunday intervening, even if their opponents were such powerful ones as Stoke and the Blackburn Rovers, both of whom had been showing excellent form. Everton, though the attack was about equally divided, weighting one half of the game with the other, thoroughly deserved their victory of 3 goals o 1 over the Blackburn Rovers in the Lancashire Cup tie on Monday, whichever side had the wind at their backs were for the time the aggressors, and, when assisted by the breeze, Everton scored three goals and the Rovers, on their turn coming, could score nothing, their only goal being gained with a burst ball, which would not have been allowed only the referee was not aware of the damage till after he had awarded the point. the team played up to a man, but the one player who can take credit for the quality of Everton's victory more than any other is Williams, who, at one period of the game, was kept busy for about 20 minutes repelling shots from all directions and doing it in a charmingly good and successful manner. Having accounted for the Rovers at Ewood Park, confidence increased in the ability of Everton to give as good account of themselves against Notts Forest on Saturday, and they proved that the belief was not misplaced. They again won with a margin of 2 goals; but, instead of 3 goals to 1, the score was 4 goals to 2 –figures that very fairly reflect the merits of the two teams. Still the game on Saturday was not the best seen of late. Everton worked their hardest all round, and so did Nottm Forest; but there were flaws in the time at times. The forwards gave some pretty movements in passing in open ground, but they were not so solid when they got close upon goal, and that they were not so is due in a great measure to the effective play of McPherson, who often proved a "thorn in the side" of both Geary and Maxwell, the centre half-back nipping many a sprint in the bud. However, there was no actual failure in the home vanguard, and their shooting was up to their average and better than that of their opponents, as a rule. All three of the half-backs played superbly, and so did Howarth. Kelso was not so successful. He did a lot of work in a masterly style, kicking strongly and correctly, but he was not uniformly surefooted, and missed his kick no and again. Williams sustained his good play in goal and could not be held responsible for the goals scored against him, and the other from a scrimmage. The Notts forwards were more powerful on the left wing then elsewhere, and the most successful in running and shooting was Pike, who is now only a locum tenins for H.B. Daft, the latter not being eligible on Saturday for a cup-tie, not having been registered sufficiently long with Notts Forest. The visitors, generally speaking, shot at too long range, or they might have been more effective. There was not much to choose between the Everton and Forest, half-backs, McPherson and McCracken especially tackling grandly. The back play of Scott and Earp was also high class, and Earp, with his powerful kicks, was almost as serviceable as his brilliant colleagues; but Brown added nothing to his reputation as a goalkeeper, and Nottm Forest certainly missed Allsopp, their usual custodian, but who was ineligible, having early in the season kept goal for Derby Junction, for a Cup-tie.
HEYWOOD CENTRE 0 EVERTON COMBINATION 1
February 8, 1893. The Liverpool Mercury
Everton played a match with Heywood centre last evening for the benmifit of the Heywood district fund. tHe match was played by artificial light, and there was a larfe aatendance. Play ruled even, and at the interavl neither side had scored. On the resumtion the Evertonians went away with a dash, and scored a magnifical goal. The central attacked,, and the Everton goalkeeper had the greatest difficulty in keeping out several stiff shots. An intersting gane ended Everton 1 goal, centre nil.
TODAY MATCH
February 11, 1893. The Liverpool Mercury
The Associationists of this district have of late enjoyed a succession o big events at Goodison Park, thanks to Everton's good fortune in connection with the English Cup competition, but popular as these contests proved, with favourable weather, that of today, when Everton meet Preston North End in their return League match, will be followed with equal, if not greater, zest. It will form Preston North End's debut at the new Everton headquarters and perhaps, mark a new departure, for Everton have never been able to beat North End in a League match at Liverpool, though they once won at Preston (in 18889-90) by two goals to one. They came very near winning at Anfield last year, as the result was a draw of a goal each; but in all other League games North End have won, including that of this season at Deepdale on Dec 3 with the emphatic score of five goals to nil. This Everton will endeavour to avenge, and as they have got into a winning groove they will not be without reasonable hope, though it is a great performance to achieve. Anyway, the Prestonians will find the team opposed to them today very different to the one which they routed in the mud in December last, and one that will fight every inch of ground.
Everton v Preston North End, at Goodison Park, Kick-off at three pm. A selection will be made from the following to play for Everton; Williams or Rennie, goal; Kelso, Howarth or Parry, backs; Stewart, Holt, Jamieson, or Boyle, half-backs; Latta, Gordon, Maxwell, Geary, Chadwick or Milward, forward.
Monday
Everton v. Sheffield Wednesday, Sheffield (League).
GOODISONIA
Cricket and Football Field - Saturday 11 February 1893
By "Black Rock"
That healthy and agreeable spirit between the representatives of the "Cambridge Blue Shirts" has decidedly manifested itself by remarkable achievements since I wrote you last; but, best of all, that indefatigable hard worker and director, Mr. J. Griffiths, writes me to the effect that, "this splendid feeling" still exists, and the players are very hopeful of continuing their successes, even against the renowned Preston team today, which said eleven ate their opponents next month in the second round of the Lancashire Cup.  Unfortunately Geary is feeling some very ill effects from Saturday's cup tie with the Forest, and may not have been able to take his usual position today, which will let in Gordon, who is not unknown in league matches.  The team has been spending this week in Hoylake, not in training proper, but in common resting, abstracting from the bracing ozone the fundamentals of health and strength.  There was another immense gathering of the patrons of the round ball when the Forest made their second bow to the Liverpool public.  Many junior teams scratched their matches, some Liverpool and District Leaguists preferred the easier part of spectators, to players, and these joined to the Liverpool and Nottingham sight seekers formed a grand total, slightly inferior to the number who viewed the victory of Sunderland.  Wonderful gates, you'll say, sir, ay and consistent which will certainly enable them to look forward for better things in 93-4.  When I return to the defeat of the Forest, I must unhesitatingly say that their style of play all round, although it did not command success, deserved not a margin of two goals in the minority.  With one exception –and it was he who occupied the most important yet thankless post-viz, Brown- the decade proved themselves as hard to beat as impartial critics could wish, and harder than the Everton men could relish.  The play scarcely ever lagged save for the numerous and annoying fouls in the second half which one might expect as the outcome of more than ordinary vitality.  Pike and McInnes were always alert, seizing every opportunity, and reporting progress by a well-defined understanding and, from this pair arose the most annoyance to Kelso and Williams.  Bob did not come out of the ordeal up to his usual standard; still he had the most dangerous wing, and the efforts of Pike in particular all through the game, plainly proved that he was a good tryer, and a thorough stayer.  Higgins had, of course, England's best centre half to face, and for once Jack was better than his usual master.  Shaw and "Tich" Smith must think a deal of Stewart, for he always accepted with thanks their kind invitations, which he repaid with compound interest.  Boyle received now and then a few smiles from the ladies (who by their constant attendance are becoming initiated into the points of the game) for some nicely-timed partially in the fostering line.  But often I observed other smiles from the other sex of a different nature, for he was found in front behind, when he should have been behind, in front.  Latta and Maxwell had consequently to go for the ball, and when they obtained it stayed not in the order of their going, but went.  McCracken lasted right up to the finish and ran A. Smith a close race for first place.  The last named player was the most energetic, and generally most successful, often emerging from the intricate net of Chadwick and Milward in a bounding style with the bounding sphere.  The home left-wing pair left little to be desired as far as earnestness of purpose is concerned, treating us at times to that International form which only has to be seen to be enjoyed.  Geary also exhibited some telling runs.  The visiting backs kicked clean and far, and, for their size and weight, displayed unflinching tackling of a very high order.  Howarth and Williams earned their money and the thanks of their friends the keeper playing with greater confidence than I have seen him.
NOTES
The accounts are not all in for the Theatrical Match, but it is expected that the two hospitals will benefit to the amount of 150 pounds each.  The extra reserved seats desired by some merchants in the city and granted by the committee did not produce satisfactory results last Saturday, and will not be continued. The idea was simply to oblige, not to make money.  Again luck has favoured our Liverpool League team, Sheffield Wednesday meeting them in the third round for the English Cup at Goodison Park.  The home team should win, as they are not the eleven that the "Blades" met and beat on the 26th of November last.  A trial of strength may be gathered from Monday's League match at Sheffield. 
CUP TIES
Cricket and Football Field - Saturday 11 February 1893
By Richard Samuel
Just now we are more interested in Cup ties than we have ever been before, and I venture to say the fever is not at its height yet.  The English competition so far is all right, and to be going on with, Everton have polished off two prominent cup fighters in West Bromwich and Notts Forest.  The latter have not figured so well in the competition in recent years, but a dozen years or so ago they were always to the fore, and were looked upon as one of the most dangerous clubs to face.  West Bromwich have won the respect in which they are held later, and although the games have been played at Everton, there is some grit in the team that has succeeded in wiping these two clubs out of the competition.  Eight goals to three is a pretty good margin in favour of Everton, but they had to work desperately hard to win the match with the Forest, and the tam did not enjoy anything like the advantage in the play as they did against west Bromwich.  There was not that all round excellence shown, for both forward and aft things were not as trim as they might have been.  The Forest were in the same boat, for they, too, had a weak spot, and that in a vital part, and there are goalkeepers who would have enabled them to effect a draw.  Talking of goalkeepers, I should think no club of any standing have had the trouble and anxiety over this position as the Everton executive over this position as the Everton executive have had this season.  And isn't it a responsible post now to what it used to be?  Why, in the old days, this position was filled by the sub., no matter where the vacancy occurred, and was generally looked upon as being of very little importance.  Saturday's game was so keenly contested, and the honours so equally divided, that really the only player who gained prominence were those that failed to weigh in satisfactorily.  And here again the two teams were on an equal footing in point of numbers.  The visiting right wing could make nothing of Stewart, and comparing their play with the other forwards, they were much behind when success, the only test that will stand nowadays, is considered.  In like manner, Geary and Maxwell suffered, for neither played up to expectation.  Kelso was a lot behind Howarth, but the Forest were the biggest sufferers in having a weak part in their defence, for Brown ought to have saved a couple of goals. 
A STIFF STRUGGLE IN PROSPECT
The next round promises to be as stiff a struggle as either of the others, but being at home will give the home supporters hope that the team will land in the semi-final.  It is strange that Everton should again come out of the hat first.  Sheffield Wednesday won the League match at Everton, and they may be depended upon to do their level best in the Cup-tie.  All the same, I think Everton will pull it off, for just now the team is in better fettle than they were on November 26th.  The teams meet in the return League match at Sheffield on Monday, and this should give us an insight as to which will win the cup tie.  Never before has the English Cup competition aroused such interest in Liverpool, and to many there are incidents in connection with the several draws which are looked upon as a good omen of the ultimate success of the Everton team.
EVERTON V. PRESTON NORTH END
Cricket and Football Field - Saturday 11 February 1893
Great Victory for the Home Team
Glorious weather favoured this fixture at Goodison Park today.  The match is one of the most eventful in the League fixture list, and the excellent performances of both clubs lent an added interest to the game.  Down in the city it was like a universal holiday, thousands thronging the cars and cabs, which proceeded in a continuous stream towards Walton-rd.  A perfect sea of faces lined the spacious enclosures of the Everton Club, estimate at the attendance ranging between 25,000 and 30,000. Truly there was a vast concourse, and everyone was on the tip-toe of expectation.  The weather was fine and summerlike, but a strong wind blew at times, which rather hindered the play.  The Prestonians had a large following, but the ill-pent enthusiasm of the great number of Everton supporters spoke volumes for the popularity of that club.  Recent performances of both clubs were adduced by their respective partisans and feeling on one or two occasions almost bubbled over.  The Everton spectators, in view of their favourable draw in the English Cup ties, were inclined to be most boisterous, but odd tumults of a trivial character soon subsided.  The appearance of the players on the field was the signal for a frantic outburst of cheering, the home men coming in for special recognition in this respect.  Both teams looked in the pink of condition, and after a little preliminary practice at goal shooting, the Prestonians found that they had to face the wind and sun, the players settling down in the following positions;-
Everton; Williams, goal; Kelso and Howarth, backs; Boyle, Holt, and Stewart, half-backs; Latta, Gordon, Maxwell, Chadwick and Milward, forwards.  Preston North End;- Trainer, goal; Holmes and Drummond, backs; Grier, Sanders, and Stewart, half-backs; Gordon, Ross, Russell, Beckton, and Cowan, forwards. 
North End kicked off and immediately made a raid, which was well repelled.  Everton pressed for a time, Stewart having hard lines.  Everton, with the wind to help them, kept up the pressure.  After some excellent play by Stewart, Latta sent in a curbed from the right which completely beat Trainer five minutes from the start.  After sharp play in front of the Preston goal the ball went behind, Everton keeping up a hot fusillade.  A corner to the homesters went over the bar, and the game assumed a more even aspect.  Tricky play by Holt called for approval but came to nothing tangible.  Another corner fell to Everton, after a brilliant dribble by Latta; Trainer relieved with difficulty, and Gordon shot outside.  Holmes was playing a champion game at back, and was more than once instrumental in averting danger.  Pretty passing by the North End forwards almost brought about the downfall of the Everton goal, Williams being lucky to escape disaster.  A foul fell to the homesters, the Prestonians' goal having a very narrow escape.  Boyle played finely, and with his help several hot shots were sent in.  North End played well against wind and sun.  Stewart saved his goal grandly, with Ross just in the act of shooting, and Williams saved finely shortly afterwards, with Russell on top of him. North End again had hard lines the wind carrying Beckton's shot away to the right. The Prestonians were now having a turn, and Everton acted for some time on the defensive. Hands to Everton relieved the pressure, and from the free kick Trainer was brought to his knees, the homsters claiming that the ball was through, but the referee decided otherwise.  Everton kept on the attack, Holt and Latta being conspicuous.  Latta again shot in Trainer'shands.  Pretty passing by Chadwick and Milward caused enthusiasm, but the cross over to Latta resulting in nothing.  Coming again, Milward scored a grand goal from Stewart's threw-in, Ross ad Kelso collided, and the game was stopped owing the latter being injured.  Everton were now reduced to 10 men, Kelso having to go off the field, and Everton playing with only four forwards. The game was now very even, pretty touches by the home left-wing coming in for commendation.  A corner fell to the North Enders, and with the approach of half-time play got rather rough.  Cowan had a glorious opportunity, but shot wildly past the post, North end pressing strongly.  Everton new felt Kelso's loss keenly, but shots from Beckton and Ross were grandly saved by Williams, who tackled them with exceptional coolness.  The crowd kept on increasing, and a change in the game was welcomed, Everton taking the ball to the other end in masterly fashion.  Gordon sent his pass too far and North End returned to the other goal again, but only to find Williams on the alert.  The visiting element in the crowd was very noticeable when North End smartened up, the visitors receiving every encouragement.  Towards the interval play deteriorated somewhat but livened up immediately again.
HALF-TIME; Everton 2, Preston North End 0.
Kelso is very warmly applauded on reappearing, Gordon and Ross exhibiting serviceable combination.  North End are dangerous, the Everton backs being called upon often.  Milward and Chadwick are near Trainer, the latter's shot just going outside as Latta floored the goalkeeper.  The home halves are strong, resisting with judgement and alacrity the visiting forwards.  The game is getting rough, and from a good run by Milward, Maxwell headed a third, to the utter surprise of North End and to the discomfiture of their present followers.  Saunders was now cautioned for fouling one of the Everton players, and immediately Trainer just got a low one from Holt away.  At the other end Gordon has just missed, and the play is still waging fast and furious. Just as we thought Preston would score, Holt chipped in between Russell, Cowan, and Ross.  Maxwell gave to Chadwick, he to Chadwick, who when well in front was brought up for offside.  Everton were causing Holmes and Drummond much anxiety for the home lot waste no time in firing at Trainor, who has again saved, and it appears that North End's forwards are much behind.  After really good manipulation by Chadwick and Milward, Latta shot in, and from the return Gordon scored.  Five minutes later Maxwell put through the fifth, and North End are near Williams, who has not touched the ball in this portion.  With ten minutes to play Russell gave Williams a long one, which he easily got negotiated.  North End are now done, Trainor failing to hold a long one from Chadwick.  The visitors were badly beaten.  Final; Everton 6, Preston North End 0.
THE BENEFIT MATCH AT HEYWOOD
Cricket and Football Field - Saturday 11 February 1893
The accounts of the benefit match Central v. Everton for the Heywood Relief Fund have not yet been squared up.  Forty pounds, however, have been handled over to the Relief Committee, and there is a likelihood of a further substantial amount being forwarded to the fund in the course of the coming week. 
NUGGETS
Cricket and Football Field - Saturday 11 February 1893
Everton had not the same luck in the Lancashire Cup ties as in the English.
Everton meet Sheffield Wednesday in a League match on Monday and in the English Cup ties on Saturday.
The lucky clubs in the English Cup ties are Everton and the Rovers.  Both have been drawn at home in each round.
What price North End playing their Lancashire Cup-tie with Everton at Goodison-rd?  It will be a new departure, though.
Everton has been the first club drawn out of the hat in each of the three rounds of English Cup ties-a singular coincidence.
Is Turnbull coming to Everton.
Keep your eye on Spikesley, Everton!
Most wonderful.  Everton came out of the hat first for the third time.
Why Boyle is preferred to Jamieson is a mystery to a great many.
"Nick" Ross's foot still bad.  How have the P.N.E, fared with Everton today?
Chadwick's exhibition in the second half against the Forest was simply grand.
Everton v. Notts Forest, in last Saturday's "F.F" was widely read and relished.
Maxwell in the second half was very poor, and McCraken fairly stopped him time after time.
Maxwell fed his wings quite up to his old form, but where he should shine has light was dull.
Everton's coffers are filling weekly.  Of course we all expect the greatest balance in the country when May arrives.
Some of the scrambles for the seats last week end at Goodison Park reminded me forcibly of fowls righting for food.
Pike was such a strong fish that Kelso failed to hold him securely. With the result he often got away in happy quarters.
Will Everton beat the "Blades" Thousands are asking this question, and opinions are not at all unanimous on the point.
Latta has given up his old and annoying habit of getting to the touch line before he shoots, and, consequently, better harmony an results accrue.
Various were the opinions given anent the Everton gate against the Forest, and a definite statement on that point would clear away a lot of doubt.
Everton were the last out of the Lancashire Cup draw, and the first out of the English.  Does this imply that they will win the former and lose the latter?
Everton were fairly off it on Saturday, and their performance does not cause great hopes to arise in the breasts of their supporters.  So my friend Patrick thinks.
Holt held Higgins for once in a way – a centre that is noted here for repeatedly tricking the little man.  Either "Sandy" has fallen off or Holt has improved.  Which?
There is always one consolation to nay league losers in the Cup ties, that they go away belonging to a richer club than they came.  Shouldn't this be sufficient!  Everton think so.
Everton's good luck in the English Cup has been altogether counterbalanced by their ill-luck in the Lancashire Cup.  After beating the Rovers away they are asked to beat North End at Preston.
A leading light in Liverpool football says it is the visiting clubs to Everton that draw, and compares the greater taking with a four penny were (Heywood Central) than the sixpenny one on the side of the park with Burton Swifts.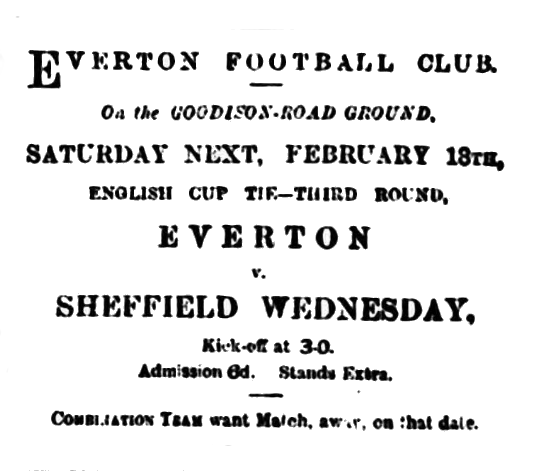 EVERTON 6 PRESTON NORTH END 0
February 13 189. The Liverpool Mercury
This return match North End having won the first game by 5 goals to nil, was played at Goodison Park on Saturday, and, the weather being fine, a vast attendance was arriving to thew scene of action. Long before the time for commencing, the enclosure was filling up nicely, and late comers had to be content with a view from roof of the stands of inside the touch line. Some failed to gain admission, and the surrounding house were utilised for gaining a distant view of play. The ground was in spendid condition, but somewhat cross winds was a unconvenience to the players. teams were :- North End:- Trainor, goal, Holmes, and Drummond backs, Grier, Sanders, and Stewart,. Half-backs, Gordon (j), Ross (jn) (captain), Russell, Beckton,, and Cowans forwards Everton:- Williams goal, Kelso, and Howarth (capatin), backs, Boyle Holt, and Stewart, half-backs, Latta, Gordon, Maxwell, Chadwick and Milward, forwards. Preston kick off, with the wind slighly against then, and with the sun in their eyes, and had the first shie at goal, Ross putting into Williams's hands. Kelso cleared out the raiders, but North End returned. When Stewart moving forward but could not get in a shot. Milward got the best of a tussle with F Cowan, and Chadwick ran on but Milward, who had stopped to attend to his leg gear, could not assit, and the effort came to nothing. Everton kept well up, However, and following a corner, Latta scored with a hard shot, the ball srikering the far post and bouncing into the net, with the game but four minutes old. This early success was of course, loyally ackowledgement, and amidst intense excitement. Everton returned to the attack in a most spirited manner, Gordon shot in beaufully, and during the severe pressure which ensuded a corners were conceded. At length Beckton was almost successfulin challenging Howarth, but the latter was just in time, and kicking up Chadwick passed out to Latta to no purpose, Everton again went for goal, but were not allowed to shoot, and J Ross and Jgordon joined in a quick movement, the former shooting wide. A foul against Everton let North End once more, but they were promptly driven off, and a chance was created for Maxwell, who made a dilatory, but fair shot. Chadwick also went a little wide, and the scene of interst changed is Cowan grew menacing on the left wing. He centred to Ross, who was smartly dispossessed by Stewart. Back went Cowan, when Kelso deemed it safer to kick out, and, from the throw in, Williams was called upon and kicked clean away. A free kick helped Everton to become aggressive, and Maxwell was not far cut in the shot. Boyle beat Cowan in a race a few minutes later, but Beckton took on to the movement, only to shoot across and out. Again North End were faulty in aiming at goal, and then Latta dashed off along the right, and shot. Trainer making a fine save. A corner was forced, and Everton attacked gradually for sometime, whilst a pretty movement by Maxwell Gordon, and Chadwick was flourished off with a spankling shot by Latta which deserved more success than it met with. A goal, however, was only momentarily delayed, as on Stewart throwing in Milward shot into the net from a terrific kick, giving Trainor no possible chance. Another hearty cheer was raised which had scarcely subsided ere a mishap before Kelso who was stunned through an accidental kick on the side of the head by Russell the right back had to retire, and Milward joined Howarth in defence. His give North End a chance of improving their positions, and they seemed likely to achieve something tangible soon after resuming, but only got a corner whilst Cowan shot outside when he had a fine opening just afterwards. Stewart,, of Preston, made better use of a shot as he reached Williams who stopped the ball. North End had yet another thrust, but Williams threw away on Grier shooting srongly and Ross might have been effective during renewed pressure had he not been too eager. Everton then cleared their lines and had much the best of the play up to the interval, which arrived without any addition to the score, and with Everton leading by 2 goals to nil. On resuming Kelso reappered and was heartily welcomed. Holt fastened on the ball at once, and Milward got well down, but to no purpose. Kelso and Howarth were then called upon to defend, and were safe the former intercepting twice. The Everton left wing now showed up strongly, returning in capital style several times, but Holmes somewhat spoilt their shooting. Holt Boyle, and Stewart continued to be very successful in the work at half-back, and kept their forwards well on the attack. On a corner being placedon the Everton left, Maxwell headed into the net North End were now hopelessy beaten, and seemed to lose heart. Holt was almost succesful with a low shot, and Everton attacked in magnificient style, whilst North End could never get beyond the home backs, except once, when Russell went astray from a long shi. The next goal came from Gordon's foot, on Milward centreing neatly, and Maxwell soon followed with a fifth whilst just before the whistle sounded for cessation of play, Chadwick obtained a sixth, and Everton thus won by the emphatid score of 6 goals to nil-the heaviest defeat North End have suffered in the League since its establishment.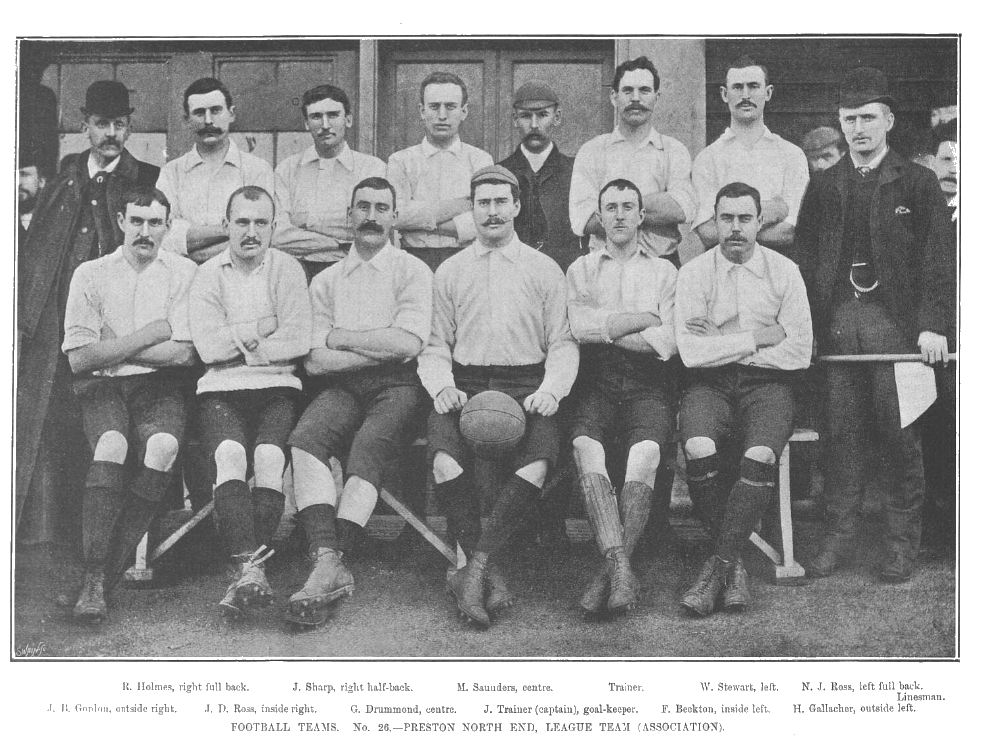 London Illustrated News
CHESTER 1 EVERTON COMBINATION 0
February 13 1893. The Liverpool Mercury
MATCH REVIEW
February 13, 1893. The Liverpool Mercury
Everton scored their greatest triumph in their whole career on Saturday, and are to be congratulated on the spendid achievement of defeating Preston North End by 6 goals to nil. Intersted centred in the combat and never was such a large gathering of spectators seen at a league match as that which crowded Goodison Park, capacious it be, to overrthrowing. Hindreds could not obtain admission, whist others found accomadition inside the fence which skirts the field of play and on the roof of the stands. The adjacent housetops were also brought into requistion, and together the scene was an imposing and animating one. The spectacle quickened the pulse of all present and, the sun shinning brightly during the greater part of the time, the crowd enjoyed their sport under the most happy auspices. The ''gate'' realised £725 10s 9d., upwards of 28,000 spectators passing though the turnastiles. In addition to these there were the members subscibers, and ''compimentaries,'' and thereb would thus be quite 30,000 people present. North End were over popular, and have always drawn''big houses'' but it was not their fame alone that served as the magnet. It was the recent strong play of Everton that gave so much seat to the event, on the strength of which the match was generally conceded to be a very open one, with Preston North End slightley the most fancied as winners with the exeception of N.J.Ross on the one side and Geary on the other, the teams were at full strength,, and so they met on pretty equal terms. Everton had the good fortune of choice of ends and turned their backs to the sun and the wind during the first half. They got into a remarkably fine and firm stride from the kick off and when Latta opened the scoring account within a few minutes of the start it was the result of some clever dashing all-round play that at once gave assurance that North End had at length met their match. Everton even inproved as the game went on, assertising their superiority in every department, and at the end of the intensely intersting and spirited game a vociferous cheer signalled their emphatic victory not a showed of fluke characterising one of the six goals scored. Everton were compelled to put up with ten men though Kelso retiring hurt, for the last quarter of an hour of the first half, but even when short handed they more than held their own. The rout was complete. Still the game never took a monitonour turn of Everton maintaining a bombardment the effective shots as a rule being the result of speedy raids. Everton were conscious that Drummond was a vulnerable spot in the North End defence, and aided by the somewhat cross wind, they brough special pressure to bear on the left back during the first half. N.J.Ross was certainly missed, but his presence could not have altered the issue the scoring might have been curtailed. Holmes was not much more successful than Drummond out he had a terribly earnest pair to face in Chadwick and Milward. Neither did the half-line of Preston come out well,, Sanders particularly proving weak. The forwards never played up to their reputation, Russell being almost repeatedly outwritten by Holt, whilst the wings were literaslly clipped by Stewart and Boyle. In fact the Everton half-backs were seen at their best, good as they have been in the proceding matches and the ease with which they beat the Preston giants created immense enthiusiasm. Howarth and Kelso got though their work so effectively that Williams was never hard pushed,, and only had about four shots to attend to, none of which had much power behind them. Geary was absent though injury to a thigh received in the Notts Forest match, but his inclusion could scarcely have improved the Everton vanguard. They combined spendidly, their passing being well timed, and so selfishness was seen whilst they infused surprising dash in the work and shot with great keenest and accuracy. There was no unevenness in their play for though Latta Chadwick and Milward gave one of their most brilliant expositions Maxwell, in the centre, and Gordon as Latta partner were every bit as serviceable. The condition of the men was an important factor in their favour, their staying powers speaking eloquently of the advantage of execise at Hoylake and the Attendance-paid them by their popular and efficient training. The superiority of Everton on Saturday well invest the Lancashire cup tie between the same teams on march 11 with increased importance, and, though this will be deciced at Deepdale Everton should have no misgivings of being capable of scoring another win. To-day they play their return League match with Sheffield Wednesday at Olive grove, and this will serve somewhat as a reheasal of the English Cup tie between these clubs at Goodison Park next Saturday.
EVERTON V. PRESTON NORTH END
February 14, 1893. The Lancashire Evening Post
By the "Lothian Lasser
Who-o-o-o-p!! There is blood on the moon this time for sure, and we must call upon North End to average themselves the next match they have with Everton. The insult must be wiped out in goals. Let North End train jealously to that end. Although it was pretty freely announced that Everton were going to win, it was in the best of spirits that North End's supporters welcomed their team as they entered the ground. Trainer swore that he wouldn't let more than half a shot through (we've since concluded that he meant half-a-dozen). However, we were to realize that North End is a more promising team than a fulfilling one. We felt rather less assured of the result when Nick Ross did not turn out to play. We shook when North End lost the toss, and kicked off against a sun and wind –and Everton. Ross almost instantaneously tested Williams, and call forth a wild shrink of joy from their supporters, which was prolonged into a coronas of despair when Latta beat Trainer before five minutes had passed. We thought North End would soon draw level, but our faces fell when we saw carrying all before them, except Holmes and Trainer, who somehow stuck in their throats. A goal kick enabled North End to break free, but Kelso stepped in and foiled them. A free kick punished Paddy Gordon for a dirty back charge; but North End could make no progress as Everton fairly amazed every man-jack of them by their dashing play. They returned under difficulties and caused Williams to save, but Everton came away brilliantly, and for many minutes shots of all sorts rained in upon Trainer and his backs. By dint of great exertion North End shook of their tormenters, and play took a turn to midfield, where North End showed up very well. Setting their teeth North End showed up very well. Setting their teeth hard the wily Evertonians dashed back, and before the bold North Enders knew what time o' day it was Chadwick had beaten Trainer again with a greased lightening shot. North End though it time to be shaping, and were getting within range of Williams when they were pulled up by someone getting hurt. When the vast body of spectators proceeded to jell, "Chuck him off," "Dirty Russell," and to hoot, we knew it must be their own man, because they don't hoot when a visitor gets hurt. It turned out that Kelso had run at Russell with his knees up, and he had met his match. He retired, and Milward took his place, being very soon called upon. A goal kick removed North End, and the Everton had another try, which "Genial George" nullified by bouncing Maxwell and heading clear to his forwards. Cowan and Beckton went off prettily, and North End rushed a corner, from which they pressed, but were too slow in front of goal. Williams saved twice, when, if we'd been playing, he'd have been banged, not only through his own goal, but through the net. This state of things didn't last long, and North End being again hemmed in Drummond showed his detractors that he can still play and be the best man for his side. He was simply impassable, and half-time came with Preston in the minority by two goals. The game was in full swing again, and Kelso in his old position before we knew where we were. Midfield play ruled at first, and Moses distinguished himself by jumping at Maxwell and being penalized accordingly, North End got down, and Jack Gordon screwed in well, but Cowan missed it. Ross got tripped up in goal and never appealed, so that he couldn't be quite himself, for it was a real dirty trick, worthy of the "Penalty." In another stirring tussle, "Mo" sat on the ball, but Everton "Mo (w) ed him down (pun, please), and rushed away triumphantly, only to be flabbergasted by the ubiquitous Moses dragging Stewart down by the neck. Trainer next fell on the former line, and when he allowed himself to be passed a third time a few seconds later he deserved to have tin back to fall on. North End started off well, but "Mo" the iniquitous, this time got himself cautioned. Cowan and then Gordon were next on the job, and Jack Gordon beated Howarth, giving North End a wonderful chance, which Judy Holt basely stole from them, and North End were got rid of. Then Gordon made Holt feel smaller than a mustard seed, and the first and second views (especially the second) of the encounter of the long and short Jacks struck the spectators comically. Before the laughter had died away cruel Trainer let Paddy Gordon, of all persons! Beat him, and only for Georgie sprinting across and stopping their little game temporarily. Maxwell soon worked number five, and maddened into a sudden spurt of forward number five, and maddened into a sudden spurt of forward activity, North End caused Williams to save. From this clearance Chadwick tried a long shot, which rolled through Trainer's hands and feet; one who upheld the honour of the tam, and Gordon and Holmes were the only others who played anything near their reputation. The North End halves were very much "opt" but Everton played well all through and it is no undeserved tribute to Mr. Love, their trainer, to say that they are the best trained team in England. There are few crumbs of comfort, indeed, for that erring team of Preston's.
SHEFFIELD WEDNESDAY 0 EVERTON 2
February 14 1893. The Liverpool Mercury
Everton visited Sheffield Wednesday yesterday in order to decide their return league match with the Wednesday Club, who, it will be remembered, won when at Goodison Park on November 25, by 5 goals to 3. The day was dull in the extreme, and with rain falling the ground was of course rendered soft and heavy going. The attendance was only moderate, and numbered but about 5,000. Stewart and Kelso was given a rest, both having received injuries on Saturday, but not of a seroius nature, and the teams were accordingly as followed :- Everton:- Williams goal, Howarth (captain),and Parry, backs, Boyle, Holt and Jamieson half-backs, Latta, Gordon, Maxwell, Chadwick, and Milward, forwards. Sheffield Wednesday- Allen goal, Brandon (t), and Darrock backs Brandon (h), Betts and Chalmers, half-backs, Davies, Brown, Rowan, Woolhouse, and Macintosh forwards Howarth was fortunate in winning the toss, and Sheffield kicked off aginst the wind, which blew somewhat obliquely. The home team had first turn at attcak and after the ball had kicked over Davies shot in. Williams catching and throwing away, Jamieson was again beaten by the right wing but Parry cleared. Jamieson than showed some imrpovement, and the Everton left made headway. They were repulsed, but returned at once and on Milward centring T.Brandon put into his own gaol, and give Everton a point fove minutes from the start. Wednesday replied strongly on their left, and had a shot, when Parry cleared beautifully. Latta next shot outside as did Macintosh at the other end. Sheffield closed in again with spirit; and attacked solidly, but Everton defended equally well. Parry stopping a hard straight shot right in the goalmouth. A nice piece of passing, initiated by Holt enabled Latta to Shoot into the net from Milward's pass but the latter was ruled offside, and the point vetoed. Everton, thanks to good work by Holt, Boyle, and Howarth, brough further pressure to tear on goal, but the mud spoiled the passes of the forwards. Gordon shot wide from long range, and then Chadwick forced a corner, which was followed by a free-kick to Everton, but nothing could be made of the opportunites. Macintosh created a diversion by sprinting off, being raced by Howarth, who was successful in causing the ball to be run out. The Everton left got well down, but Brandon beat Chadwick smartly, and Rowan ran clear and passed to Wollhouse, who shot finely; but just outside. Brown had the next chance, which he made a tame use of, and the players fitted quickly up and down, the home forwards requiring a lot of attention in the dashing efforts. Latta ran end centred to Maxwell, who passed to Milward instead of taking a shot himself. Milward promptly put into the net, but was certainly offside, and the goal was disallowed . Brown gave a great trouble by closing in and shooting when Howarth in trapping the ball, and putting it aside, was penalised nothing serious arising from the free kick. Everton once more invaded their opponents' territory, but could not present a strong line, and were easily driven off. The Wednesday were more dashing, and but for a couple of marellous saves by Parry, must have scored. As it was Chalmers went only a shade too high from a spendid kick, whilst Davies had the ill-lcuk to hit the near post from a capital shoT, Sheffield continued to be crisp in their raids, and once more Parry's foot rescued his sie. He next headed, and this threw Chadwick in the way of the ball, he shooting into Allen's hands from a long range. Jamieson was weak in his attempt to arrest progess of Davies and Brown, but luckily Parry was as sound as a bell. Nearing half-time Everton showed better combination in front, and Maxwell took a good aim, Milward being too quick in making for the goalkeeper, who used his hands with effect. Williams saved from Woolhouse, who had received from the rigth wing, and after Parry had stopped another shot, and the ball had been put over the visitors goal, the interval arrived with Everton leading by a goal to nil. On resuming Parry, Howarth and Boyle in succession had to be quick in their kicks, so well did the home team follows up, and then Milward; from Maxwell was prevented just in the nick of time from shooting. Parry gave a corner, whick Boyle neutralised. Everton retaliated by also forcing a corner, from which Jamieson put outside Rowan got quickly under weigh, and was within an ace of scoring, but Williams throwing himself on the ball, justed repelled it. The Everton backs had again to be smart to clear, and made chances for their forwards, but these could not respond. Milward tried his utmost, and got good support from Chadwick but there was a weakness in the centre. Milward was next penalised for fouling an opponent. From the free kick Wednesday attacked the right wing being dashing in their movements, and Williams's charge became the centre of interst, a shot hitting the bar. Latta next ran and shot against the far post. The play took a more even turn for a time, and Jamieson made atmends for his prior fault by heading to safe quarters on two occasions. Latta from one of these clearances found himself in command, and running near in and centreing. Milward was ready, and banged into the net. Immediately following Parry headed narrowly over the bar. Wednesday made further attempts to score, but their shooting fell off from what it had been, they often nkicking at too long a distance. Brown, however, aimed spendidly a little later, but Williams punched towards Boyle, who headed away danger. The home men were not to be repulsed, and made another strong but futile raid. Latta was badly fed from the centre but still the left wing xcontributed a grand past but Chadwick unfortunately have hands. On resuming Milward screwed right across the mouth of goal, but Maxwell was unsussessful in his efforts to reach the ball. Almost every men now looked to be tiring. If anything, Everton were the fresher of the two teams, and had most of the remaining play, winning a hard game by 2 goals to nil.
FURTHER IMPROVEMENT AT GOODISON PARK
February 15, 1893. The Liverpool Mercury
Having agreeably discovered last Saturday, that the capacious ground of the Everton Fottball Club was not equal in accomodation to be demands on ''blue ribands'' days the exective, we are requasited to announce having decided to at once commence banking up the space on the Goddison-road side. By the means it is calculated that at least 40,000 spectators could be admitted to the grand. With a fair prospect of all seeing the play. The English council was not overlook the fact the Liverpool is the most popular centre of Association Football, and so, perhaps be induced for allot one of the international's or English Cup semi-finals ties at Goodison Park.
TODAY'S MATCH
February 18, 1893. The Liverpool Mercury
Everton will tackle Sheffield Wednesday at Goodison Park. With fine weather the Everton ground will be sure to be packed to overflowing, for "form" supplies striking testimony of an open game. There is no disputing the fact that the Wednesday team is one of the best in the country, and, though they will be without Brady, they will yet be found a powerful and well-balanced combination. Everton and Sheffield Wednesday have met twice this season in the League, and have divided the honours, each having won when away from home, and both having aggregated in the two matches five goals –results which lend a charm to the play in the "rubber" game to day.
Everton v. Sheffield Wednesday, Goodison Park, Referee Mr. Armitt Leek
GOODISONIA
Cricket and Football Field - Saturday 18 February 1893
By "Black Rock."
North End Receive a Novel Thrashing
I have seen some large musters of men before, but such a gathering of the hive of humanity as was present last week end fairly surpassed my greatest anticipations.  From the Press seats one has a grand, imposing, yet strange sight –a sea of faces rising terrace-like from the north, west, and east, whose apparent white visages peer out prominently from the dark below, as if portraying the more excited pulsings of their hearts.  A huhhub of noise, a clattering and chattering of tongues, in the scribes' immediate vicinity, and in the seldom still moments may be heard a rumbling of whispers from the congregation afar.  These were continued until a sudden and spontaneous burst of applause welcomed the combatants on the field of battle.  Geary was not quite fit to take his usual position for Everton, and North End certainly missed the services of the redoubtable Nicholas.  We all expected a close and tough fight, for, have not Everton simply swept all before them since January 14th, not only surprising their superiors, but astonishing their own supporters!  And were not the "proud team" of Preston, with their so-called "old cracks" treading on the heels of the champions in the League race?  I need not detail the points.  I turn to my notes, and I see plainly marked "Everton pressing," and every attempt characterized by stirring cheers to better things, then "North End pressing;" but I have no mention of many deadly aims, or serious uneasiness to Williams, who had no need to handle three times in the first half, Howarth and Kelso being smart enough for the opposers when the halves were passed, which was not so often as to say they were weak.  There is no question about it, North End met their match in every department, the home trio especially playing havoc with the visiting forwards, and the constant activity and good understanding of the Park quintette, producing an intensity of attention on the Preston defence.  Holmes worked wonders, and Drummond, though often nonplussed by "Alex's" maneuvers, sent the assailants away empty-handed time after time, but, with the halves weak, Saunders especially, what can two do against five?  The efforts of Gordon ad Ross were praiseworthy at times, and Beckton and Cowan, aided by Russell, strove very hard, but their efforts were swamped by the overpowering dash of Holt, Stewart, and Boyle, who appeared to revel in robbing, and in relishing the discomfiture of Russell and Ross.  With two goals behind Preston seemed settled, and, from the kick off, they exhibited something like their old form in combination, and, when we all expected them to score, Kelso met with a heavy fall over Russell.   For the remainder of this half Milward took his place, and did all he had to do very nicely.  But he was missed from his accustomed position, as Latta sent across a low one, and the easy chance was thrown away. Just before half-time Chadwick was very conspicuous by a magnificent individual effort, and it is due to Holmes, not to Grier, that the shot did not find its way to Trainer.  It was thought, on resuming, that the visitors would yet rise to the occasion, with the help of the freshening wind. But no, instead of improving they deteriorated, and not more than thrice could you call an assault they made of a serious nature.  Stewart made the measure of Gordon, Holt waited for Russell, and the others were well attended to if they got near the Park keeper.  True, we saw Gordon send in a strong shot now and then, and the left wing doing some fair work, but the cations were anything but sustained, and their visits were not the outcome of anything like what we looked for.  Jack Ross, who was linesman, was laughing at the efforts of his comrades, and yet he must have felt it severe, that they were so much overplayed. North End received their greatest defeat since the formation of the League.  They played a disappointing game, and could not cope against the all-round superior exhibition of Everton.  Every man on the winning side performed his quota splendidly; and to one-Gordon- should be awarded an extra good word, for his display with Latta was of a high order, in fact, the best of the season in first-class company.  Six to nil!  Go think of it, and try to think; can Everton lose on the 11th March?
Everton Victorious at Sheffield
After the brilliant victory of last Saturday all the interest was centred in the meeting with the "Blades" and the fact that Everton won by two goals to none gave increased satisfaction as to the probable result of the cup tie.  The laurels of victory were not obtained, however, without a determined effort for the Sheffielders are undoubtedly formidable opponents on their own ground. The combination of the forwards, and indeed the all-round excellence of the Everton players, which led to their brilliant achievement over North End was again prominent, although the Sheffield men proved extremely difficult to overcome. The first part of the game was uncommonly even, and the piece of good luck which gave Everton their first goal, by T. Brandon putting through his own goal, did not tend in any way to lessen the fierceness of the struggle.  The second portion was simply a repetition of its predecessor, except that before the proceedings terminated the pace had slowed down to a marked extent, and both sets of players appeared to be somewhat exhausted. Milward put on the second point for the Goodisonians from a pass by Latta.  Too much praise cannot be bestowed on the Wednesday for the splendid resistance they offered to the Everton forwards, but the back division of the winners had by no means an easy task, the "Blades" being very active and making some dangerous raids.  The Evertonians are no doubt now satisfied in having atoned for the five to three reverse they experienced in the first League encounter with Wednesday, but there is no mistaking the fact that they are a much more improved team at present than they were then.  Although they have no chance of the League championship they will undoubtedly make a bold bid for the cups, and if they have succeeded this afternoon they will have reached a higher point than they have ever done before. 
A BIG SURPRISE
Cricket and Football Field - Saturday 18 February 1893
By Richard Samuel
There is no mistaking the earnestness with which the Everton players go about their work at the present time, and the results as seen in recent matches are very gratifying.  What is the cause of this transformation need not be discussed.  It is quite sufficient for all to know that it is there, and as long as it remains the team will pass muster.  It was the absence of this earnestness to a very great extent which nullified the otherwise good play of the men in their matches up to Christmas, and although its absence drew from me some severe statements at the time, I am not inclined to discuss the cause of its appearance.  It would do no good.  We have a right to respect it and it is for the directors to provide the ways and means for producing it.  It was there on Saturday last, and in addition the men showed all the cleverness for which they are noted, with the result that North End had to submit to a humiliating defeat.  Old hands as the Preston men are they could not withstand the dash of the homesters.  Right from the kick-off the Everton forwards got in their stride, and went away with such a swing that it would have taken all the steadiness of the best defence in England to check it.  They did not meet with it, however, and hence the success.  Drummond, instead of being decisive in his actions, seemed bent on playing the man, and had he cleared the attack from Latta as he ought to have done, the ball would have been up the field instead of in the net.  He did not play at all a bad game on the whole, but in this respect he failed where Ross would have succeeded.  A goal so early on means a lot, and there was no holding the homesters back.  In all departments they were superior, but prominence must be given to the half-back line.  With the Everton forwards playing the best game I have yet seen them, it was only to be expected that the Preston halves would have a warm time of it, but I for one did
Not expect such a collapse as Grier, Saunders, and Stewart presented.  They were simply not in it, for they puffed and blowed, and floundered about in a manner which would have disgraced a second rate team.  The home halves were just the opposite, and all through they were as successful as their most ardent admirer could wish.  This in itself is sufficient to demoralize any team, and it is no wonder that even North End should go down heavily under such circumstances.  The home forwards were a cleverer lot, especially in front of goal, and to get six goals with trainer in good form is a feat which any set of forwards might well be proud of.  I cannot say much for the North End forwards, for on the few occasions they got within shooting distance they made very poor attempts.  It was a splendid win all along the line, and obtained by superior play. 
POOR BOOTLE
Bootle have found out that the new home of the Everton Club is too near Hawthorne-rd.  What has been in Everton's favour in the cup ties played at Goodison Park has been disastrous to the Bootle club, so much so that the executive considered it advisable to give the team a rest rather than risk a loss by playing at home.  Through the cup ties at Everton the support given to the Ardwick match was meagre, whilst the club did not draw sufficient to pay the guarantee to Fleetwood Rangers, small as it was.  I am afraid it will be dickery up with the club this season.  It must be apparent to everyone that the club will never be able to stand over a 20 pound wage bill every week, to say nothing of the heavy travelling expenses associated with the second division of the League.  I think myself that a team could be got together that would pays it way in the Lancashire League, but I am afraid there will be a difficulty in finding anyone courageous enough to take it up.  Everything about the show seems dead, for the first general meeting of the shareholders, which was held on Tuesday evening, was very tame.  One cannot help but sympathize with the directors as they trot out the same old story as their predecessors.  It is money, money, money.  The shares have not gone off at all well, and it is really evident the public of Bootle are not prepared to take any risk on their shoulders.  As Mr. Morton said, it is a question of the few catering for the many.  I have over and over again recommended the executive joining the Lancashire League, and I am still of the opinion that it would have been better if they had not gone into the second division of the League, and as I have said, I think a team could be got together composed principally of Liverpool lads, that would hold its own in the Lancashire League and pays its way.  The club cannot compete with Everton, so it is no use going in for expensive players.  Therefore, if a club has to exist it must be on the lines I have laid down.
EVERTON V.SHEFFIELD WEDNESDAY
Cricket and Football Field - Saturday 18 February 1893
Partisans of both clubs have looked forward to this match with a vast amount of interest, for, taken altogether, both teams have done well in their League fixtures, and the vagaries of football form are quite on a par with the many occasions on which the Yorkshire lot have flashed into brilliance.  Recent form pointed to another big performance by Everton, who have lately carried all before them, and their faithful followers looked eagerly forward to them making their initial entry into the semi-final of an English Cup tie.  Watching the Evertonians punting the leather about but a few hundreds yards away from the Old Stanley ground on the Stiles, and seeing them play in the blue jerseys, which is bygone days were synonymous with the name of Stanley, conjures up a host of reflections on the early days of Liverpool football when Everton, Bootle, and Stanley waged close war for the local pot, and before the first mentioned club assumed the leviathan proportions which it has now attained.  Well, well.  Bootle is but sickly now, Stanley has fallen away altogether; Everton alone has been successful in the battles with the giants of footballdom and has brought renown to the old city whenever the game is played.  Harking back to our subject, a glance at the League table will show that Everton have an advantage in the matter of points, which they did not possess a short time back, though as regards the League, the performances of both clubs have been fairly even.  The Sheffield team have hardly this season played up to their usual cup tie form, whilst on the other hand, Everton cup tie form, whilst on the other hand, Everton have been more successful than in any previous year.  The teams were;- Everton; Williams, goal; Kelso and Howarth, backs; Boyle, Holt, and Stewart, half-backs; Latta, Maxwell, Geary, Chadwick, and Milward, forwards.  Sheffield Wednesday;- Allan, goal; T. Brandon, and Mumford, backs; H. Brandon, Betts and Chalmers, half-backs; Brown, Davies, Rowan, Woodhouse, and Spikesley, forwards.  
Goodison Park represented a very animated aspect long before three o'clock the time fixed for the kick-off, a great number lining the spacious enclosure.  Great enthusiasm was displayed by the Sheffield supporters who formed a large proportion of the crowd, thousands of them having been travelling from the cutlery town since early morning. Three train loads of spectators left Sheffield about nine o'clock, numbering in all about 5,000.  One enthusiastic Sheffield gentleman paid the return fares of some twelve supporters, these being especially chartered to carry big flags urging the Yorkshiremen on to victory.  Spikelsey turned out for the first time since the Burnley match.  Owing to the crowd last week displaying a penchant for viewing the match from the roofs of the stands, these latter were patrolled by policemen on the lookout for any such enthusiasts.  Everton had been training since Tuesday at Hoylake, and the team was the same as last Saturday, with the exception of F. Geary, who reappeared in the centre.  Brady's suspension prevented his playing, and Mumford appeared for Darrock at back.  Fully 26,000 spectators witnessed the kick-off, and Everton winning the toss kicked off with the wind.  Everton had the first look in, and Chadwick scored within a minute from the start with a beautiful shot, amidst intense enthusiasm.  A foul to Everton was splendidly taken by Brandon, but came to nothing.  Everton passed magnificently, but got too far up and Latta sent over the line.  Another foul fell to Sheffield, but Kelso sent up the field, the ball travelling to the other end.  Holt lost nothing, playing like a demon, and putting his side on the attack repeatedly.  Wednesday improved, but a grand attack initiated by Latta resulted in hard line, and the ball going just behind.  Boyle had the best of a tussle with Spikesley, and Geary had hard lines with a grand shot which struck the bar, Chadwick sending behind immediately afterwards.  Aided by the wind Everton kept up a tremendous pressure, Allen just saving another hot one from Geary.  Holt got kicked on the face, which was covered with blood, but played up gamely. Williams had his first shot to save and was not found wanting kicking away comfortably.  Everton were playing a finished game, another attempt by Chadwick just going by.  Hands to Everton resulted in very hard lines, the ball being headed just over.  Sheffield meant business, and notwithstanding the home team's pressure played hard.  A corner fell to the homesters, but Maxwell just sent wide.  This was followed by another, but the pressure was eventually relieved by a goal kick, Latta again sending behind just after.  Latta, coming again, completely outwitted the backs, but again had hard lines, and another shot from Milward shared a similar fate.  Sheffield broke away occasionally, but in desultory fashion, though their play in midfield was good.  A brilliant effort by Milward was badly finished by Maxwell, who sent over when right in front, Chadwick sending over again immediately afterwards.  Occasional runs were got in by the Wednesday, but again the scoring came from Everton, Geary heading through splendidly and giving Allen no chance.  Sheffield had a spell of attack following the kick-off, but Howarth at length relieved, Spikesley just missing with a nice oblique shot.  Spikesley made one or two big efforts hereabouts but was closely watched, the Sheffield men having a good look in.  The home half-backs were very tenacious and terribly hard to shake off, whilst both backs kicked and tackled well.  Kelso not being averse to giving a few hard knocks.  The Everton forwards imitated a pretty passing movement, which was eventually broken up by Mumford, who stepped into a close pass and relieved.  Play waged more even, the Wednesday making some determined efforts to score, which culminated in Kelso bringing down Spikesley when the latter was about to shoot.  Johnny Holt had a bandage round his forehead, and with a yard and a half of linen floating, from his head, considerably puzzled Rowan.  Sheffield made some ugly rushes which came to nothing, and Maxwell getting the ball passed on to Latta, who made a smart run, his shot being cleared by Brandon, who interposed his knee.  The visitors got down again, but the strong wind blowing against them mollified their efforts.  Strong cries of "Play up, Wednesday," came from the Sheffield contingent of spectators, causing a sarcastic Everton supporter to remark, "Play upon, Thursday; you're a day late, here,"  The crowd was momentarily augmenting, and before half-time could not have fallen very far short of 30,000, the big ground presenting a most animated scene.  After the visitors had another turn Boyle transferred operations to the other end, where Everton pressed hotly.  From a corner Maxwell almost got through and the game continued in front of Allen, who had a very warm time of it.  Shouts of encouragement from the crowd urged Everton to big efforts, but they could not get through.  With the interval approaching Sheffield were also trying, and both sides were playing a vigorous and determined game.  Another corner fell to the homesters but they did not improve upon it, and half time arrived without any additional goals being scored.
Half-time; Everton 2, Sheffield Wednesday 0
On restarting, Kelso robbed Spikesley when near Williams, and Rowan was heartily cheered for robbing three opponents.  After Williams had saved twice, Everton went to the other end, Latta shooting across the goal.  Play still ranged near Allan, keeping Brandon and his defence busy.  Good understanding by Stewart with his left wing was much a admired, and two fouls against Everton looked ominous.  A corner was gained from the second, and Williams neatly negotiated the shot.  Milward compelled Allan to use his hands, Tom Brandon saving a second attempt.  Sheffield did better than in the first half, Howarth and Kelso being often called upon.  An off-side goal by Latta came next, and the Sheffield goal had some narrow escapes, 'Allan continually knocking the sphere away.  Rowan than had a chance, but Howarth was bad to beat.  Falls were frequent, providing some homour for the large assembly.  Williams did well with one from Davies, and then Chadwick and Milward went running to the other end.  The visiting halves could do little with the home forwards, and many were the false cries of "Goal" their exhibition giving every satisfaction.  The Sheffielders did not relax their efforts, but they dallied too long when in close quarters.  From another centre by Latta, Milward scored, but he was clearly offside.   Davies, Rowan, and Brown put in some good work, but they were seldom dangerous, the home halves upsetting their good intentions.  Maxwell, after a neat run, struck the post, and the forward play of Everton caused many pleasurable comments, Latta continually beating Mumford.  From one of his shots Allen fouled Milward, Mr. Armitt awarding a penalty kick, Kelso adding a third goal from it. 
Final; Everton 3, Sheffield Wednesday 0.
Special
The all-round exhibition and general excellence of the home team was much marked the halves and backs showing great powers of judgement and the forwards passing and shooting always at the right time and very quickly.  The Blades supporters admit being beaten by a better team, and Allen surely performed his quota to the satisfaction of his side.  Tom Brandon and Allan were very good but Mumford was none too grand. 
NUGGETS
Cricket and Football Field - Saturday 18 February 1893
Everton's dark cloud has had a real golden lining
Goodison Park ought to be a certainty for one of the semi-finals
Everton have not looked back since Stewart joined the ranks.
The Everton half-backs kept the Stew(art) pretty well Boyleing.
Everton's display in the second half was an eye-opener to the Deepdale excursionists.
The gentlemen in charge of the extra reserved stand at Everton were kept fully employed.
The Goodison men's combination was not much cut of Gear(y) although their regular centre was away.
G. Mahon, the chairman of the Everton Club, is recovering nicely.  He witnessed the big victory last Saturday.
Brandon scored for Everton after he went forward, and tried to do likewise for Wednesday, but it would not come off.
Milward said that only for being rather bashful he would have shaken hands with Tom Brandon for so kindly scoring the first goal.
Copyright; Composed and sung by Everton excursionists returning from Sheffield;  Who Killed Sheffield Wednesday?; I said Everton; By Two Goals to none; I Killled Sheffield Wednesday.
Nothing succeeds like success.  Secret of Everton's great gates.
Milward played like a Trojan in Kelso's place, and fairly kept Preston at bay.
Who wishes the final tie to be at Goodison Park?  I don't; the why is plain.
Williams proved himself a brick at Sheffield, and one save of his was really a splendid effort.
The goal that Gordon got was the result of good play both by Latta, Maxwell and the scorer.
A wise move of the Goodison-rd, authorities to erect a terraced stand on the main entrance side. 
Everton are now third in the League-a splendid place considering their previous backward position.
If P.N.E. play their Lancashire cup tie at Goodison-rd, it will spoil the Bootle v. Liverpool gate entirely.
Who is the Everton League player who wears pale blue stockings and scarlet garters? Some ladies admired them.
The Everton management will kindly stop a repetition of climbing on the roofs of the stands before some fatality occurs.
The Wednesday proved themselves bad losers, and they vented their spleen on the "toffie" men by charging ruthlessly.
Spectators of Everton! Do not forget that there is a good eleven who occasionally play on the Hawthorne-rd enclosure.
Parry did so well with his feet, head and hands at Sheffield that the "Blades" are cut to the quick by his manipulation.
The great Brandon was not so grand on the field last Monday, when he allowed the sphere to pass by his ear through a miskick.
Ugly Mrs. Rumours has been busy again, this time that Everton bought North End over.  I thought only Bootle could do that.
If Bootle play Ardwick or Fleetwood Rangers while Everton are playing West Bromwich Albion or Notts Forest, where shall the spectators be found if both charge 6d for admission?
N.B.- I have this on good authority.  When the Bootle directors took up the task of carrying on the club Everton are reported to have said, if they would find the head Everton would find the tail.  Now please, Messrs McMahon, Griffithss, &c.
Who has won today?;  The best of critics cannot say,  So strange is football form.  But this I know, that Everton; Have bravely tried and their best done – Their friendship now is warm.
"Well played Tom!  Shouted the Sheffielders, when he dexterously tricked Milward' but a minute after the Evertonians promptly sent him flying a few paces amidst sarcastic cries of "Bravo, Tom!  Then a war of words waged wild and warm.
What price Everton for the double event?
It's a good thing for Everton that they migrated.
Football does not seem to be dying out so much Goodison Park way.
The Burnley finances are not bad, but they would have been improved if they had to meet Everton in the third round.
That Preston man fairly deserved his seat at Everton.  It was a hard struggle, but he managed it.
CHESTER V EVERTON
February 18, 1893. Chester Observer
To vanquish Everton Combination team twice in one season is no mean performance, and the Chester team are to be warmly congratulated for accomplishing this feat. The match on Saturday attracted a numerous assembly of spectators, and the utmost excitement prevailed. Chester were strongly represented, Ashton again making his appearance in the centre, after a few week's seclusion. The Evertonians brought about the strongest contingent that could possibly be obtained, and included a majority of players who have figured in the League team. The encounter was only a friendly one, but it was plainly evident that the Liverpool men were determined, if possible, to astone for their first defeat in the Combination by the Cestrians about six weeks ago. Although the Chester men were playing against the wind they forced the game at the commencement, and secured three free kicks close to the Everton goal. From the last one the leather was successfully rushed through, and this early success of the homesters was received with ringing cheers by the spectators. The Liverpool men then attacked strongly, and from a free kick Pay executed a fine save, although he was surrounded by the whole of the opposing forwards. It was quite refreshing to see the Cestrians in such good form, after their miserable display against Nantwich, and anyone who witnessed the latter match could scarcely believe it was the same team. The Cestrians were having quite as much of the game as their redoubtable rivals, and they shot splendidly, Parry and Collins having to defend vigorously. The Everton forwards, when they were fairly set moving, passed in clever style, but their shooting was far from accurate, while Wilson and Powell generally managed to dispossess them when they got too close to their fortress. Heys and Lewis put in some superb play, and once the latter, from a pass by Fleming, shot through, but the point was disallowed by the referee (Mr. Clare) for off-side, a rather questionable decision. Up to the interval the match continued to be of a ding-dong nature, but neither side could score, and the Cestrians crossed over one goal to the good. Everton led off in splendid fashion on restarting, and a dangerous run by Smith looked like being turned into account by Pinnell, but Powell cleverly frustrated the attack. Chester then took up the running, and Lewis, Ashton, and Heys made good attempts to lower the Everton colours. Rennie, however, was not to be beaten again. Even play followed for a time, and on one occasion a swift puzzling shot was sent in to Pay, the latter successfully dealing with it-a really smart save. Time was fast drawing to a close, and the Everton men tried hard to get on equal terms. Some dangerous rushes were made on the Chester goal, and it appeared as if they would succeed in drawing level, but the backs and goalkeeper were equal to the occasion, and came out of the ordeal with flying colours. The home left wing showed some neat work, and Lewis, receiving the pass, worked his way down the field, and transferring the ball to Ashton, the latter banged it through. To the manifest surprise of the spectators, the referee also disallowed this point on account of off-side. This was a decidedly erroneous decision, as, in the opinion of the majority of the onlookers on the stand side, Lewis was distinctly on-side when he secured the ball. However, as events turned out, it did not matter, as the Evertonians, try as they would –and they did try desperately hard at the finish –to score, the Chester defence cleared their lines in admirable style, and the homesters retired winners by one goal to nil. The Cestrians worked in splendid style al through, and fully deserved their victory. Pay was in good trim, and Powell and Wilson were in tip-top form. They were always in the thick of the battle, and both kicked and tackled superbly. The half-backs were seen to advantage, and all worked with precision. Porter had numerous passages of arms with Pinnell, and the sturdy Cestrian invariably came off successful. Astbury and Carter were also equal to the attacks of the opposing wing men. The forwards showed some neat passing, Lewis and Heys being very tricky, and Parry was kept continually on the alert. Ashton played a dashing game in the centre, and fed his wings perfectly. Fleming and Dighton also were smart, the latter showing considerable improvement on his recent displays. The Everton men were fairly and squarely beaten, and they evidently did not relish it, for towards the finish of the tussle they used their weight a great deal when they found they could not score, penalty kicks being frequently awarded against them. The backs and goalkeepers were strong, and Coyle showed sterling form at centre half. The forwards' passing was good, but their shooting was inaccurate. Smith, Murray and Pinnell were the best.
Chester v. Everton.
These combination teams met in friendly encounter on Saturday. Ashton started the globe, and after three free kicks had been awarded the Cestrians, the ball was shot through the visitors' goal after a slight scrimmage. The Liverpool contingent then assumed the aggressive, and Pay cleared a warm shot from Pinnell. The home lot-showed good passing, and Lewis and Heys made numerous attempts to score, but Parry cleared. The Chester custodian stopped a swift shot from Murray, and then a severe bombardment of the visitors' citadel took place, the defence having an anxious time. Deighton and Fleming showed some neat work, and shot well, and afterwards Astbury smartly checked the opposing wing. The Evertonians ran finely f=down the field, but Wilson and Powell, together with the trio of half-backs were conspicuous for some brilliant tackling. From a clever piece of play Lewis shot the ball through, but the point was not allowed for off-side. A lighting shot from the Everton left was brilliantly kicked away by Wilson and the home men again pressed, but all to no purpose, and the game at half-time stood –Chester one goal, Everton none. Resuming Everton attacked at the commencement and a dangerous run by Smith was cleverly frustrated by Powell. A good-pass from Heys was just shot over by Fleming. Heys and Jamieson had a tussle, and the former came out of it successfully, but his final effort went over. Lewis made a fine spurt, and Ashton, taking the pass, shot in, Rennie kicking away. Pay just cleared a difficult shot, and Murray had hard lines several times in not scoring. Lewis obtained possession, and in conjunction with Heys, executed a smart dribble. They passed to the centre, and Ashton put the ball through, but the point was disallowed for n infringement of the off-side rule. Some fast play then ensued. Deighton showed up prominently, and beat his opponents in meritorious style, but his shots did not take the desired effect. Porter relieved a heavy bombardment and a pretty run was effected by the Chester front ran. Rennie kicking out to save. No additional points were scored, and the game ended –Chester one, Everton none. The teams were as follows: - Chester, Pay, goal; Wilson and Powell, backs; Astbury, Porter and Carter, half-backs; Deighton, Fleming, Ashton, Heys, and Lewis, forwards. Everton: - Rennie, goal; Parry and Collins, backs; Jamieson, Coyle and Chadwick, half-backs; Ellis, McMillian, Pinnell, Smith and Murray, forwards.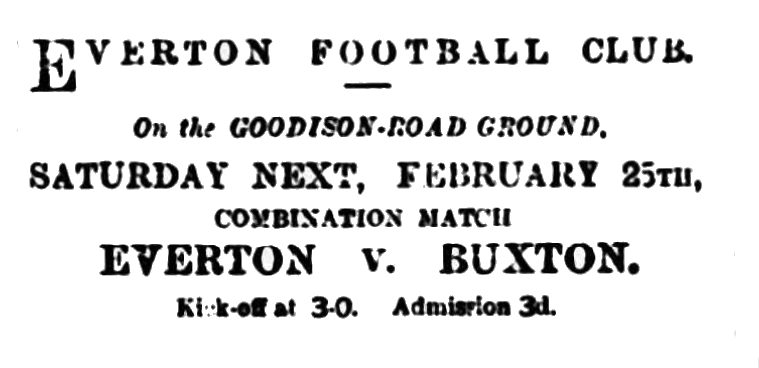 EVERTON REVIEW
February 20, 1893. The Liverpool Mercury
Everton are in the semi-final. They have just reached a higher post of honour than ever before, and even if they should make no further advance in the Cup competition –there are no grounds for believing they will not go further ahead –the present season will be a memorable and pleasurable one in the history of the club. That Everton have been lucky in securing choice of ground on three successive occasions in the cup ties has been a distinct advantage, but they have in turn had powerful opponents to contend with, and, after, making every allowance for the help they received in playing on their own ground and in the presence of sympathetic crowds, it must be conceded to be a brilliant performance to have defeated West Bromwich, Notts Forest, and Sheffield Wednesday in consecutive rounds, and scoring in the aggregate 11 goals to 3. As the next stage will be decided on neutral ground the chances are at least equal, and the partisans of Everton are quite justified in feeling sanguine that Liverpool will be represented in the final tie, even if the cup is not secured and brought to the "good old town," Everton did well during the last week in beating Sheffield Wednesday twice –in a League match at Sheffield on Monday, and on Saturday at home in a cup tie-and that they prevented their opponents scoring on each occasion was a fitting sequel to their great victory over Preston North End. They have thus scored 11 goals to nil in their last three matches. What better testimony of the sound defence of Everton could be furnished of the resource of the attacking division? The League match on Monday was a very hard game, the ground being ankle deep in mud. This impedimenta interfered with the passing of Everton, and it was stamina rather than skill which made for victory. Luck also had an influence, and what there was of this useful agency fell to Everton, especially when T. Brandon put into his own goal. The Sheffielders had more attempts at scoring, and were very good in their shots during the first hour, Davies being prominent and far too smart for Jamieson who was playing left half-back. The feature of Everton's play was that of defence, and Parry got through an enormous lot of heavy work in a masterly manner, some of his clearances, particularly in the early stages of the game, being almost miraculous. Howarth was also in fine feather, whilst Williams never made a mistake, though he had some ugly thrusts at goal to parry. Holt, Boyle, Latta, Chadwick and Milward were all in good form, but Jamieson, Maxwell and Gordon seemed hampered with the wind. Having beaten Sheffield at Olive Grove, Everton entered upon their cup tie contest of Saturday full of confidence, especially as they had their full team, which had been braced up during the four proceeding days in the exhilarating atmosphere of Hoylake. Wednesday were not quite so fortunate, as they were compelled to do without the assistance of Darrock, their usual left back, who had been seized with illness. Spikesley, however, reappeared, and this fact influenced hopefulness on the part of Sheffield. There was soon to be experienced a crushing blow to their faith, as Chadwick within three minutes found an entrance to the net, and from this early stage it was uphill work for the visitors. They plodded on, but always looked a beaten team, as Everton had about four fifths of the subsequent play, and won with great ease considering the calibre of their opponents. That the scoring was not greater was due in some measure to the unevenness of the ground, the turf having been disturbed in patches, thus rendering footing uncertain, and accurate passing and shooting difficult. There was some splendid passing, however, by Everton at times, but they could not, from reasons above mentioned, sustain the fine play of the Preston match. The half-backs, backs, and goalkeeper all gave a magnificent display and almost paralyzed the Wednesday vanguard. The amount of work that fell upon T. Brandon, Mumford, and Allen was thus formidable, and on the whole they achieved such distinction, especially Brandon and Allan, H. Brandon also played gamely, but the others were only moderate in their lacking or kicking and the weakness of the half-backs will explain much of the ineffectiveness of the visiting forwards. The game unfortunately took a rough tendency in the second half. The number of free kicks given to Everton proved who were the aggressors, and both Holt and Milward received nasty knocks on the head.
ENGLISH ASSOCIATION CUP THIRD ROUND.
February 20, 1893. The Sheffield Independent.
Everton v Sheffield Wednesday.
(By One of the Crowd).
The matches in the competition for the English Association Challenge Cup have a charm for the Football devotee. Peculiarly their own, and more enthusiasm is shown in the various contests through the succeeding rounds than is experienced in any League or even international game, although to play in the latter is generally admitted to be the footballer's highest ambition. If evidence of this was required it is only necessary to look at the "gates" recorded for the four matches on Saturday – 30,000, 25,000, 20,000 and 14,000 being given as attending. Everton and Sheffield Wednesday was a peculiarly attractive draw, as in their league games each team had won away from home and each side had scored five goals. Everton, it may be stated have been extremely lucky in their draws having been the first out of the bag on each occasion, and have on each occasion been able to dispose of their opponents at the first time of asking, while, on the other hand, Wednesday, as everybody knows have been so bumbugged by protests that they were never sure when they had won, and were not certain even of the team that would represent them in the third round until later on Friday night. Although Wednesday had done so badly in their two last matches, there was no lack of enthusiasm on the part of their supporters, and the M.S. & L Railway Company carried the large number of people to the scene of operations. The weather was anything but inviting on arriving at Liverpool heavy ran overnight being followed by frequent showers during the morning. This, however, was not sufficient to damp the ardour of the spectators, and from the time of the opening of the doors until after three o'clock a steady stream of spectators filled into the ground. It would be hard to find a ground with better accommodation then Goodison Park, and it is no exaggeration to say that 15,000 people can be placed under cover, and see the game. The citizens of Sheffield were early on the scene, and formed no small part of the hugh company assembled the colours of the Wednesday club being conspicuous in all parts of the ground. As time drew near for the commencement of hostilities the utmost excitement prevailed, but the crowd was very well behaved, and inclined to be humorous. Much amusement was caused by the frantic efforts two or three spectators to get on the top row of the already heavily packed stands at the Liverpool end of the ground, and their unsuccessful efforts were greeted with roars of laughter. The sweet music of the fog horn, the tinkling of bells, and the irritating sound of rattles could be heard all over the ground, and it was a relief to not a few when a tremendous shout heralded the advert of the Everton team in the arena at five minutes to three. This was repeated almost immediately when Tom Brandon was seen leading his men on the field, and great satisfaction was expressed when it was seen that the Wednesday captain was able to take his place in the team, although it was painfully evident he was suffering severely, and would not be able to do himself full justice. The game itself will be fully described by our own able football reporter, but still there are several incidents, which occurred during the afternoon, which may well be recorded here. When the game commenced it was quickly seen that the Evertonians were in thorough earnest, and the first goal, scored by Chadwick, was received with a yell of delight which would not have disgraced Oliver Grove. Both teams were loudly cheered by the spectators, and although the home contingent were certainly having the best of the play the followers of the Blues and white never gave up hope, when Everton scored their second goal the delight of the Liverpoolians knew no bounds, and it was confidently asserted that Everton would win by more goals than they defeated Preston by the previous Saturday. Just before half-time the Sheffield spectators made their present known in uncertain manner, but instead of a yell of delight it was a yell of execration levelled at one or two of the home team. The first was caused by one of the Everton backs fouling Spilkesley in a very dirty manner. One young gentleman sitting just at the back of "one of the Crowd" at once proceeded to yell himself boarse, and his voice was heard very little more during the game, except in a very subdued and modified style. The second was caused by an Everton man throwing out his leg and tripping Rowan deliberately barely outside the penalty kick line, the Wednesday centre having just tricked two or three opponents, and having no one in front of him except the goalkeeper. The free kick for this did not improve Wednesday's position, and at half-time Everton were still leading by two goals to none. While the teams were off a gentleman stepped on the playing pitch, armed with a shovel, and proceeded to knock down the lumps of turf that had been kicked up in front of the goal which Sheffield had to defended in the second half. One was suggested that he was leveling this part so that the Everton forwards, would not fall down, but, be this as it may, the other end of the ground was left severely alone, a fact that did not escape the attention of many of the Sheffielders, one or two of whom humorously offered their services in this direction. After a few minutes rest the teams returned to resume the contest, and Allen, the Wednesday goalkeeper, received a right royal reception on making his way to his position, and right well did the lengthy custodian deserve this mark of recognition, his goal-keeping being the best exposition that has been seen for some time, he got a reception of a different character later on in the game, it happened in this wise. Allan caught a good shot from one of the home forwards and quickly threw away, and then jumped up and caught Milward with his foot as the later was rushing up to charge him through. A few minutes previous to this, it may be added one of the Everton forwards (presumably Milward) had made a flying leap at Allen and hurt his arm with a nasty kick. No foul was given for this, although in addition to having his arm hurt, the Wednesday custodian was knocked heavily against the goalpost. Now, when Allen was guilty of a very similar thing, the referee took the extreme view of awarding a penalty kick, a decision which evoked no little surprise on the part of both players and spectators. It was heardedly argued that he could not do such a thing, but – he did. This was sufficient tom knock the heart of the Wednesday team, but they struggled manfully on to the end, when the official verdict was Everton three, Wednesday none. There is no disguising the fact that the better team won, and Everton are to be heartily congratulated on their greatly improved form, although it would be no work for them if they could induce one or two members of the team to show a little more gentlemanly spirit even when playing in an English Cup-tie. Feb 20 1893
And in presence of a vast throng of ardent admirers, the task the "Blades" had to face was indeed a great one. The Everton captain beat Tom Brandon in the spin of the coin, and selected what I called the Mear lane end, having by this choice a slight wind in his ends, having by this choice a slight wind in his faour. Rowland kick-off at three o'clock, and Brown did some tricky work, but Holt drove back the advancing Sheffielders. Then Everton attacked, and Milward sent in a grand centre, and gave Latta a good opening, but the outside right shot wide. The Evertonians kept the ball at the Sheffielders' end, and Chadwick put in a capitally scored first goal for Everton within a minute of the start. Wednesday then had a turn, Rowan leading the way and passing to the right, Davis, however, dallied instead of shooting, and good play by Holt soon transferred play, the Evertonians, midst loud cheers from their supporters, having the best of the play, and Geary putting in a clinking shot which grazed the crossbar. The Wednesday defence was severely taxed at the time, and Geary put in a splendid how fast shot, which, however, Allan saved very smartly on the line. At length good play by Woodhouse and Spikesley gave Rowan a chance, but he shot feebly, and Williams easily saved. Soon the Evertonians were busy attacking again, and once Chalmers cleared a dangerous attacks in the nick of time. The Evertonians shooting was not good at this time, but they narrowly missed scoring again from a rush following a free kick for hands, but the ball was headed just over the bar. The Wednesday right wing got alway, but a foul against Davis drove them back. Play was in favour of Everton very decidedly at this time, and a couple of corners to the Liverpoolian greatly endangered the Wednesday goal. A little later Tom Brandon kicked away just in time out of the mouth of goal, indeed, inspite of his injury, the Wednesday captain defended well, but could not kick strongly. Several times Wednesday tried to get away, but the home halves were very strong. The Wednesday goal had several very narrow escapes, but Allan saved marvellously, he kicked away a terrific shot from Chadwick, and then, from a clear opening just under the bar when a touch would have scored, he put the ball over amidst loud laughter from the crowds. There was a terrific bombardment of the Sheffielders goal, and shot after hot was fired into the goalmouth. For some time the visitors citadel escaped, H. Brandon and Betts working very hard, but after half an hour's play a long shot into goal was headed through in a rush, and Everton led by two to none. Play was very vigorous. The Sheffielders now made several breaks away. Spikesley put in one of his fast runs, and shot just across the goal. Brown also tried a long shot, but it went wide. A rush into the Blades' quarters saw Allen make another grand save. Wednesday, for once, made a nice passing advance, but were foiled by Holt. The Sheffielders, were playing better. They worked tremendously hard, especially Spikesley, Rowan, and Davis, but there was no combination in their attacks, and Woodhouse and Brown proved very inadequate partners to the fast outside men. Once Rowan got right through the Everton defence and seemed certain to score, when he was tripped, as far as could be judged, within the 12 yards limit. The Sheffielders present loudly shouted "penalty" and Wednesday claimed a penalty kick, but the referee awarded a free kick only, and after a struggle, the ball was put out. Everton attacked again just before half-time, and had several corners, but the defence prevailed, and the interval arrived with Everton leading by two goals. Allan, the Wednesday goalkeeper, was applauded as he left the ground. Score: - Everton 2 goals, Sheffield Wednesday 0 goals. When ends were changed Wednesday had the wind, and they were the first to attack, getting a throw in the home quarters, but without breaking down the defence of the Evertonians. Another advance by the Sheffielders ended in Brown shooting wide. Play at first was slower than it had been, but the Wednesday players at this point made several dangerous attack, Brown did some very pretty and tricky work, which finished in him giving Williams a capital shot to stop. This the Everton custodian just managed to do, and Brown was cheered for his effort. Then the Liverpool men darted off again, and Latta just missed. H. Brandon several times cleared by good play at critical moments, and Tom Brandon headed out a hot shot. Wednesday attacked with vigour, and from "hands" against the home side the Sheffielders all but scored, Brown heading in from the free kick, and Kelso only just clearing on the line, giving a corner. This failed to break the Everton defence, and a rush to the other end saw Milward put in a grand shot, which Allan cleverly saved. Then Wednesday came again, but Woolhouse shot over. Fifteen minutes from the change of ends some pressure on the Wednesday goal resulted in Chadwick shooting through again, but the referee disallowed Everton's point. For a case of off-side. Play grew vigorous, and some hot attacks were made on the Blades goal which, however, Allan repeatedly saved by some brilliant goalkeeping. The way he stopped several lighting shots, and avoided hurricane rushes of the Evertonians front ranks was loudly applauded. Maxwell had a grand chance of adding to Everton score, but shot badly. Play then grew for a time fairly even, and was vigorous enough for anything. A bit of clever play by Spikesley let in the other Wednesday forwards, and they did a bit of pretty passing, but were soon fouled and did not get much nearer goal, and it a rush Kelso cleared. Everton the best of some exciting play, but the game at this period was more even than in the first half, Holt did splendid work for Everton in foiling the Wednesday forwards, and at length Everton made several dashing attacks on the visitors' citadel, one shot striking the upright, Milward was hurt, but soon resumed. Everton now pressed, and a hot shot being put in Allan saved it. The Wednesday goalkeeper had been the recipient of some heavy charges, and as Milward was dashing at him he this time, unfortunately, lost his temper, and after throwing away the ball he kicked the Everton forwards. Upon this the referee came to the rather extraordinary decision that a penalty kick had been incurred, and Kelso, taking it, Everton added another point in spite of a great effort by Allan, who just managed to touch the ball. The home team thus led by three goals to none. Twelve minutes from the finish, Wednesday dashed away on restarting, but Williams saved a long shot easily. The Shefielders tried again, and Davis gave Williams a shot to stop, which the home custodian did by beating out. Everton were soon busy, attacking again, and were clearly not only on the score, but on the play the strongest ad clever team. In the last few minutes Everton pressed hotly, and the Wednesday goal had several narrow escapes. The home team did, indeed, got the ball through, but a clear case of offside nullified, the point. The ball would probably have gone through and scored a legitimate goal had not Milward, who was offside, justed touched it on the line. The Sheffielders made one or two spurts, but without getting really dangerous, and Everton had the best of the play to the end, which came with the score;- Everton 3 goals, Sheffield Wednesday 0. Teams:- Sheffield Wednesday:- W. Allan, goal; T. Brandon and A.C. Mumford, backs; H. Davis, R.N. Brown, A. Rowan, and H. Woodhouse, half-backs; F. Spikesley, Everton:- Williams, goal; Kelso and Howarth, backs; Boyle, Holt and Stewart, half-backs; Latta, Maxwell, Geary, Chadwick and Milward, forwards. Referee Mr. T. Armitt. The better team won, and but for Allens brilliant goalkeeping the score would have been greater. The victors played a strong and clever game all round. Holt was in fine form at a centre-half, and Chadwick and Milward were a brilliant wing. Though often passed by the speedy left wing of his opponents, H. Brandon played a capital game for Wednesday, and often saved the goal. Betts also played well and never tried. There was scarcely any combination among the Wednesday forwards, and this was due mainly to the poor display of the two inside men, Woodhouse and Brown, the other three working hard, but without good support. In spite of his lameness, Tom Brandon played excellently at back, but Mumford was weak. Allan's goalkeeping was superb, and on his day's form he was probably on superiors. Everton played the better game from start to finish, and fully deserved to win, but the game was not a runaway affair.
EVERTON 3 SHEFFIELD WEDNESDAY 0 (FA cup game 12)
February 20, 1893. The Liverpool Mercury
Kelso first evertonian to score from penalty spot
This tie was decided at Goodison Park on Saturday, and though the weather was threatening there was another of the large crowds for which the Everton enclosure has became fanous about 26,000 spectators patronising the important even't. the ground was on the heavy side of course, but until some of the turf became dislodged was in as good going condition as it possibly could be, considering the amount of rain that had fallen during the prevoius 24 hours. The teams were, Darroch being ill to play:- Everton Williams, goal, Kelso and Howarth (captain), backs, Boyle Holt, and Stewart, half-backs, Latta Maxwell, Geary Chadwick and Milward, forwards, Sheefield Wednesday:- Allen goal, Brandon (t), and Munford backs, Brandon (h), Betts, and Chalmers, half-backs, Davies, Brown, Rowan, Woolhouse, and Spikelsey forwards . Mr. Arnitt, give the signal for Rowan to commence operations prompt to time, and he kicked off against the wind. A few touches were indulged in neutral quarters, and then latta had the first shot which was not at all a bad one. Before the Wednesday men had time to breathe freely on their escape. Milward passed to his partner, and Chadwick shot in and scored grandly with the game only two minutes old. Everton thus took an early start, and a great burst of cheering welcomed this success. A free kick next fell to Wednesday, when T Brandon lobbed up to near the gaol but Stewart returned the visitors again tried to get at goal when Holt and Stewart neutralised their efforts and enabled the whole of the Everton forwards to join in a grand passing movement. This Mumford rendered abortsive by crushing the ball to be ran out on the right. The home van had another try, Latta screwing in beautifully and Geary just failing in his efforts to get the ball and drive into goal. Spikesley caused a momentary diversion, but was robbed by Boyle, and after some neat passing Geary hit the bar with a long hard shot. A corner followed, and then Geary shot well along the ground Allan just getting down to the ball in time. Holt who had received a kick on the head, which was bleeding freely. Kept on playing, and did some spendid work keeping the Sheffield from becoming too aggressive but they yet got in a shot, though a tame one, and one which Williams easily played. Holt once more disconcerted the opposing forwards, and Everton attacked strongly Chadwick shooting nicely and Latta heading narrowly over the bar. Wednesday made some progess on the right, but Allan soon made a good save from a spanking aim by Chadwick. Geary put outside from a scrimmage, whilst a corner was forced on the right. The Everton forwards were given no respite, so successful were their half-backs in supplying them with employment, but their final touches just now were a little too hard. Coming up again, Latta screwed a shade wide, and this was supplemented by Chadwick driving cross to Latta, but who could not quite reach the ball. Sheffield essayed a movement on the left, which Boyle promptly spoil, and Milward finding himself within range, shot hard, when Allan used his foot with effect. The ball returned to goal, and Maxwell well had a clear opening, but lifted onto the net. Allan made another save. Brown proving too weak for Stewart, lost possession, and the latter passing up, some quick close following up was flourished of by Geary heading neatly into the net, and cementing Everton's lead. The enthusaisum was again arosed to a high pitch, for Everton had nearly all the play. The Wednesday now woke up, Spikesley running and shooting capitally but he got no one take his passes. He also had hard luckwith a screwing shot. After Allan had attended to a good shot by Chadwick, a spell of even play enaged, culminating in Rowan sprinting off when he was fouled close in, but nothing came from the free kick. Then Everton swared around goal, shooting well and forcing corners without alterong the score, which at the interval, Everton were leading by 2 goals to nil. On resuming Geary and Maxwell for a time changed places. Sheffield attack on the left, without becoming dangerous, to which the Everton left promptly replied, also without the desired effort. The Wednesday undoublty displayed much improvement just at this period and at least caused play to be pretty evenfor ten minutes. Each goalkeeper being tested and shaping well. the play was thus rendered most intersting, but Everton by progess surely bore down their opponents, and settled down to a pretracted onslaught, shots flying in from all quarters. Receveing from the left wing Latta once put into the net, and on another Maxwell hit the far post. Latta shot was off-side. Latta next shot out from Chadwick, and on Milward rushing in to take the ball from the right wing, he received a kick from Allan, which was so unprovoked, that a penalty kick was given to Everton. This was entrusted to Kelso, who scored spendidly. Everton continued to have all the best of the game right up to the finish but could not again score, and hearty cheers signalled the whistle sounding. Thus everton winning play 3 goals to nil.
GOODISONIA
Cricket and Football Field - Saturday 25 February 1893
By "Black Rock"
Still another stream of people were seen last week end wending their way by divers directions the crowds of visitors from the outskirts of the city and suburbs, wagonettes from Wigan, merchants and clerks whose homes are in Southport, Preston, Blackpool, &c., breaking their journey by sojourning for a couple of hours, and bound for the now renowned ground of Goodison Park.  The occasion was the meeting of Sheffield Wednesday and Everton in the third round of the English Cup.  A surprise, agreeable, refreshing, and comforting, was in store for Evertonians, as Chadwick on the stroke of 3 p.m., sent the ball spinning into the net almost before one had time to dot down a point.  This was in truth a good omen, for the drawers of first blood in the first minute were the receipts of such cheers as only Evertonians can give, and such support that in variably stimulates.  Five minutes later the crowd was about to make themselves heard again, for Geary brought Allan to his knees, and he only cleared after much difficulty.  The front line of the guests were seldom near Williams, for they managed the halves, Howarth and Kelso 's tower forms, like the police sentinels on the roof of the stands were very conspicuous.  A second goal glided of Geary 's head, Maxwell and Latta attending with attention to their duty.  Two goals behind did not suit Sheffield, and Rowan, passing Holt, made a good attempt, and whenever Spikesley, Brown, or Davis were near the harbor they steered for, the home halves were always found in close company ministering to their desires in anything but a way to please.  The second portion was but a reputation of the first, the home lot enjoying most of the game, though only another major point was added, and this, by Kelso from a penalty kick given against Allan, who kicked Milward.  The game was well-contested up to the finish, neither side showing the white feather, but the methods of the visitors had none of that characteristic dash in front of goal which ends in success.  Allan had his hands full time after time and he and "Tom" Brandon did good work to advert defeat.  Mumford, who had to take Darrock's place could not cope with Latta and Maxwell.  H. Brandon did not do at all badly with the left wing.  Betts was not too dazzled with Geary's brilliance, the latter cutting up rather poorly-like the ground in the second half.  We all know that our light-weight flyer seldom comes off on heavy ground, hence his individual failure after the interval.  Right through the 90 minutes there was an intense earnestness in both teams, and as they last so well it clearly proves their good and fit condition.  Howarth an Kelso were particularly fresh at the finish the main pressure being withstood by the halves who fall in the way and style of any forwards they have met lately.  Williams still continues advancing, and his performance could not have been beaten by Jardine in his best days.  And so Everton's mottos is still "Excelsin."!!!
I hear that Everton are trying to secure some Sunderland player in the vent of the latter club's demise. Miller would be acceptable. 
ONE STOP NEARER
Cricket and Football Field - Saturday 25 February 1893
By Richard Samuel
When it comes to counting the steps, Mr. Editor, things are getting very exact, and really without going over a lot of ground justifying this, what I might call straight way of arriving at conclusions, I may say that we are in measurable distance of landing the English pot.  We had, and we had not, a big job in mounting the last step that was met with in the English Cup competition.  To begin with, Everton landed a good goal in the twinkling of an eye, and this was a point well-earned, with usual trimmings embellishing it.  Having smelly victory, the Everton lads made things warm for Sheffield.  There was no mistake about the intensions of the players, and the only thing I am afraid of is that against old stagers their best efforts will be thrown away.  Sheffield did very little considering their position in the League and their performances at various times.  Once Rowan, in the first half, worked well in conjunction with the right wing, and would probably have scored had not Howarth tripped him, but that was about the only decent chance they had.  Compared with the home team, they were not in it, although the score read only two goals to nil at the interval.  The second point was headed through by Geary, and was the result of a strong attack by the whole line of forwards.  The visitors were much more prominent on resuming, for Williams had two ticklish shots to deal with early on.  Then the play went on much as before –Everton having always a pull in every department.  There is no mistake as to which was the better team, for irrespective of the scoring (which happily was always on the right side), there was throughout the game quite enough passing done by the home side, and in all the exchanges sufficient alacrity shown to inspire confidence in the result.  That at least is what I thought, but whether the team will land the cup is another thing.   I cannot disguise the fact that I am afraid of the Rovers.  I saw them play against Everton, and what struck me most is their formidable half-back line.  When the two teams arrive in the final it will be ample time to state my views on the issue, and it is sufficient for present purposes to say that Everton won easy enough against Sheffield Wednesday by three goals to none. 
ACCRINGTON V EVERTON
Cricket and Football Field - Saturday 25 February 1893
Whilst Accrington are still floundering about the bottom position, and have failed to win a League match since December 31st, although they have made a draw with the Rovers, Everton have been astonishing their supporters by their brilliant exhibitions, both in the Cup ties and in the League, having worked themselves into the third position on the list.  This was anything but a good omen for the "Reds" but they took the field hopeful this afternoon, having re-arranged the team from that which did duty in the Lancashire Cup competition, and they also had the advantage of playing on their own ground.  The two new men, Hodge and Bowie, figured in the ranks of Accrington, but Everton relied on the same set of players, with two exceptions, who have successfully steered them into the semi-final of the English Cup.  Teams;- Accrington; Hay, goal; Hodge and Ditchfield, backs; Stevenson, Bowie, and Shuttleworth, half-backs; T. lea, Whitehead, H. lea, Kirkham, and Cookson, forwards.  Everton; Williams, goal; Kelso and Parry, backs; Boyle, Holt and Stewart, half-backs; Geary, Gordon, Maxwell, Chadwick, and Milward, forwards.  Mr. F.T. Norris.
The weather was exceedingly calm, there being an entire absence of any breeze, and the spectators rolled up in a most encouraging manner, more than ordinary interest being centred in the match.  The ground was hard, and appeared to be rather slippery, consequent on the recent frost. Howarth and Latta were notable absentees from the ranks of Everton, their places being filled by Gordon and Parry.  There would be about 5,000 spectators present when the proceedings commenced.  No sooner had Everton started the ball than Bowie interposed, but no headway was made by the forwards, and Everton forced the pressure.  Cookson was nicely outwitted, and, taking the leather down again, Chadwick made a splendidly judged shot, completely beating Hay.  From the kick off Gordon pounced on the ball, and gave Hay another teaser, which was only cleared at the expense of a corner.  Up to now.  Accrington had not a look in, the opposing forwards playing a fine game, and were bad to keep in check.  Williams had never been tested, and the backs had really little to do.  Hands against Holt gave the "Reds" a chance, but Stewart forced H. Lee to kick out. Milward centred finely, but Geary missed the chance, the same player kicking wide of the post immediately afterwards.  Cookson took a nice pass by Bowie, but Kelso was on him in an instant, and a throw-in near the visitors' goal was nicely cleared by Holt.  Whitehead and H. lea battled bravely against Stewart and Parry, but the two defenders were too much for them.  A free kick for the Liverpudians was very dangerous for the "Reds" but it availed nothing.  Whitehead was next conspicuous for a dashing piece of play, and Kirkham ably seconded his efforts by with bravely.  There was no mistaking the energy and determination which characterized the attacks of the home men at this juncture, and Holt was spoken to by the referee for shady tactics.  Whitehead put in a magnificent shot, which was admirably headed out by Kelso, the game being infinitely more even hereabouts the "Reds" being very smart.  On the scene of operations being reversed Chadwick shot splendidly, which Hay just managed to put over the bar, and from the corner the Accrington forwards took up the running and Whitehead made Parry concede a corner, which was grandly put in by Stevenson, and it took Parry all his time to clear from a header by Whitehead. Shuttleworth was hurt, and play was stopped for a short time.  From a goal kick Kelso was called upon, and at the other end Geary put a corner on the wrong side of the post.  A second point was obtained by Chadwick after a remarkably good dribble, and Milward put in an excellent run but finish up with a shot which was a little too wide.  This was followed by another attack by the Accrington forwards, but try as they would they were unable to score.  H. lea made another praiseworthy attempt, but it came to nought and the interval arrived with the visitors well ahead. 
Half-time; Accrington 0, Everton 2.
Ditchfield tackled Geary severely on resuming and after Hay had kicked from goal Accrington brightened up, and played remarkably well for at least ten minutes.  Kelso and Parry were, however, very safe, and repelled many dangerous shots.  Whitehead made a brilliant shot, and T. Lea had the hardest of lines in not scoring from a fine centre by his brother.  With Cookson in the centre the play of Accrington improved wonderfully.  A penalty kick against Ditchfield enabled Everton to score a third.  Chadwick executed a beautiful dribble and centre, Everton being quicker in their movements than Accrington, who took a corner, but they never looked seriously like scoring.  H. Lea had a grand chance of evading Williams, but he clean missed, the next item being a fine shot from Chadwick, who was very deadly, about having several hard lines.  Holt was ever to the fore for the visitors.  Geary kicked out wildly from a corner, and Cookson shot badly at the other end, and although Accrington afterwards got down they were disconcerted, and Everton won easily.  Final; Accrington 0, Everton 3.
TODAY'S MATCH
February 25, 1893, The Liverpool Mercury
There will be less excitement in Liverpool this afternoon than for some weeks past, as Everton League are away at Accrington, whither many will wend their way, a cheap excursion being announced. At Goodison Park, Everton will decide their first combination match with Buxton.
Everton v Accrington, Accrington, Kick-off at 3-30 p.m. The following will play for Everton; Williams goal; Kelso and Howarth, backs; Boyle, Holt, and Stewart, half-backs; Latta, Maxwell, Geary, Chadwick, and Milward, forwards.
Everton v. Buxton, Goodison Park, Kick-off at 3.30 p.m. The following will play for Everton; Rennie, goal; Chadwick, and Parry, backs; Coyle, Jones, and Jamieson, half-backs; Smith, Murray, Hartley, McMillian, and Elliott, forwards.
EVERTON AT GOLF
Cricket and Football Field - Saturday 25 February 1893
Golf is a game which footballers at any rate seldom trouble about, especially in this country.  The Everton players, however, who have for the past few weeks been in training at Hoylake, Cheshire, which is a great English golfing centre, have devoted a great deal of time and attention to the game, and many of them are now by no means poor hands at the "putting" game.  Hoylake furnishes grand training quarters, and the Everton officials have acted very wisely in selecting this village. 
NUGGETS
Cricket and Football Field - Saturday 25 February 1893
Fancy Everton will have made things lively this afternoon for Accrington?
What price the gate in the Everton v. North End match at Sheffield?
North End will miss Trainer if he isn't ready for the Cup-tie re Everton.
Allan lost his temper with the frequent charges of the Everton forwards.
Everton's trio of halves will take some beating.
Wages to players will tot us the nice little sum of 4,000 pounds Everton way.
Everton for advertising, the best in the world; but what great expense.
If Everton cripple Liverpool they will also cripple the old love, Bootle.
"Go back Stewart," shouted the spectators when he poached on Boyle's preserves.
Says Holt after getting hurt on Saturday, "it's only lent; somebody has to get it back."
Memorial cards for Sheffield Wednesday were sold and freely brought at Goodison Park.
The venue of the Everton v. North End in the English Cup tie does not please Evertonians.
What a paltry offer Everton made for the Lancashire Cup tie to be played at Goodison Park.
Howarth and Kelso wore such an air of confidence, ease, and security that was most surprising.
Jardine was up before the directors on Monday for introducing his friends on the ground last Saturday.
Better telegraphic arrangements are sorely needed at Goodison-rd. Now, Mr. Griffiths, we look to you.
A month ago Everton were disporting themselves in the last four.  Now they occupy the proud position of third.
Boyle's play was perfection, and that budding aspirant to international fame, Spikesley, was made to look small potatoes.
Latta was slightly hurt against North End, and it took Mr. Love all his time to get the popular right-winger ready for Saturday.
Would it not be better for Everton to open a door at either side of the reserve stand, and thus leave a clear passage in the centre.
Milward and Chadwick's selection has given great satisfaction, but Johnny Holt deserved his cap, and Howarth is going as well as ever.
North End have plenty of chance of avenging that defeat at Everton on February 11th.  They have a go at Everton in both Cup competitions.
Everton's opponents in the English Cup- West Bromwich Albion, Notts Forest, Sheffield Wednesday, and North End.  How's this for high?
Liverpool asked Bootle to play them for the benefit of Kirkwood, but the latter could not see their way to it.  I believe they have a good reason for refusing.
Who wouldn't be an Everton League player? 1 pound each man for beating Sheffield Wednesday at Olive Ground, and 3 pounds each for defeating the same team in the English Cup tie; also 12 new hats at 7s 6d each.
Overheard on Saturday at Everton ground.  Evertonian; "Well, what do you think of your lads now?" Sheffielder; "I think they should have scored only for Kelso's trip, but anyway we can take a grueling."  And they got one.
ACCRONGTON 0 EVERTON 3
February 27 1893. The Liverpool Mercury
This return match between these clubs was played at Accrington on Saturday, in the presence of 4,000 spectators, which included about 300 execursionists from Liverpool. The ground was hard through frost and had a thin coating of snow, whilst the weather was very cold. Both sides were different than usual in one or two respects, and wer as follow:- Accrington, Hay, goal, Hodge, and Ditchfield, backs, Stewart,, Boyle and Shuttleworth half-backs, Lea (t), and Whitehead right wing. Lea (h), Centre, Kirham and Cookson left wings. Everton:- Williams goal, Kelso and Parry, backs, Boyle, Holt, and Stewart, half-backs, Geary, and Gordon, right wing, Maxwell, centre, Chadwick and Milward left wing, referee Mr Fitzroy Norris (Bolton) Maxwell set the ball in motion but there was noadvantage in winning the toss as there was no wind to speak of. Everton opened full of promise, as Chadwick promptly had a shot which Ditchfield diverted, but before a clearance could be effected Chadwick dribbled cleverly and then shot into the net just under the bar, Hay being apparently unprpared for such a fine aim, though he shove his utmost to reach the ball. Gordon next screwed a little wide of the goal and hands against Holt offered a chance to Accrington of escaping. Which they did on the right, but Stewart caused the ball to be run out. Everton were quickly back at goal, when Milward centred beautifully, but both Gordon and Geary failed to reach the ball. Holt and Chadwick next dribbled close in, when the latter shot over the bar, as did Geary a minute later. Accurington found relief on their left wing, and Cookson moved near in at a spendid stride, Passing Boyle; but he had Kelso yet to reckon with, and got no further. He returned in a little while and was again foiled completely by Kelso. Geary then raced along the wing and sent a cross to Chadwick, whose kick for goal was met by one of the opposite backs. A free kick was given to Everton, but this was smartly neutralised and opened up the play somewhat, culmuaing in Kirkham driving hard and Williams cleanly catching the ball. An undesable incident now obtruded. During a Accrington free kick was given, against Holt,but nothing came from this. Them Kelso headed clear from Whitehead, then Everton had a free kick followed by Chadwick forcing a corner of Hay who punched over the bar. A corner was also given by Parry and Stevenson placed well, but Parry came to the rescue. Kelso and Boyle each kicked cudiciously when thwe home left wing grew threantening, and the play livened considerably, during which spirited moment several players received slight knocks, the play took at6 turn in favour of Everton, and after Everton forced a corner, Chadwick dribbled and passed to Maxwell who in return the ball back to Chadwick who scored a grand , with ten minutes stilo to go, before the interval. Cookson was tried at centre by Accrington on resuming. Everton reopened with a thrust to the left wing, when the ball cenrtre ,but Accrington were ready to prevent Maxwell putting into the net. The home team by means of hard kicking and smart play following up attack with great likehoodof success of hitberto but Kelso and Parry each intercepted completely every time it became necessary. Bowie had to withdraw, though an injurie, but the home though short handed were seen pressing and Williams had to use his hands. A sprint followed on the Accrington left when T Lea took a crossover, and had hard lines in hitting the end of the net. This proved to serve another reverse, for the home team, as Maxwell passed to Gordon who close in,, the latter beat Hay, put the whistle sounded for a foul against Ditchfield, the referee considering it inside the the 12 yards, making it a penalty kick ,, which was enthrusted to Kelso, who scored in grandly. Accrington could have no hope now of saving the game and a grand game finsided in favour to Everton by 3 goals to nil.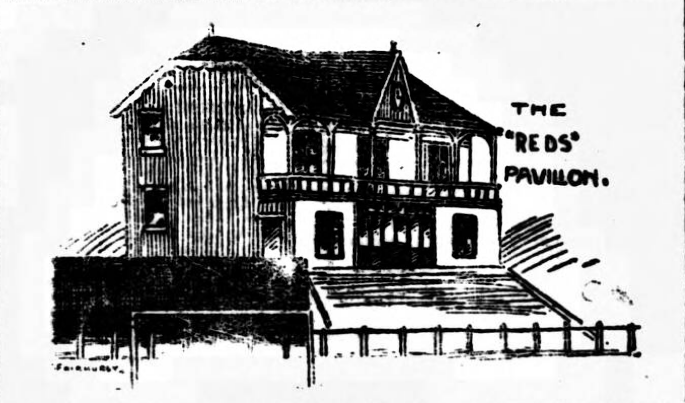 EVERTON REVIEW
February 27, 1893. The Liverpool Mercury
Everton judged through the later achievements of the respective teams, had a comparatively light task set them to emerge successfully from their return bout with Accrington, notwithstanding that the same clubs were pitted against each other at Goodison Park on Oct, 22 last the issue was an indecisive one, each side obtaining a goal. Accrington, however, took a downward turn with the commencement of the New Year, since when they have not won a League match, and failing to score in their three preceding matches to Saturday. Everton on the other hand, had never looked back from the 14 th of January, and defeating on that day the West Bromwich Albion, initiated a remarkable sequence of successes, winning on every occasion, though their opponents were all League teams. Everton then, were expected to win on Saturday, and they did so in a very easy manner by 3 goals to nil. The scoring was almost identical singularly with that of the previous week –a goal in five minutes, a second one half an hour later, and a "penalty " kick goal by Kelso in the second half. The game was not a brilliant one by any means, but the state of the ground, which was hard through frost and slippery, will explain the lack of sustained combination. There was plenty of animation, however, displayed, but it was more in the direction of a kick and a rush, though now and again some neat passing, especially on the Everton left wing, rejoined the play from being passed mediocre. MJilward and Chadwick, evidently determined to show their selection to play for England against Wales was thoroughly merited, were certainly the cleverer of the whole of the forwards engaged in the match, and were splendidly served by Maxwell, who passed most unselfishly and with capital taste, Geary and Gordon –Latta took a rest –were not familiar with each other, though both worked hard. The Everton half-backs were not at their best, but did all much so that the Accrington forwards nearly always seemed disjoined. Parry filled Howarth's place fairly well, but he was not so sure footed as usual. Kelso, however, played strongly all through, tackling and kicking with rare judgement, and mainly through his smartness Williams had very few decent shots to neutralize, but if the opportunities were rare, the clearance of Everton's goalkeeper were always brilliant. The Accrington men were dashing, but very ragged, the one man who played consistently well –and he was kept busy –being Hodge the right back.
EVERTON COMBINATION 5 BUXTON 1
February 27, 1893. The Liverpool Mercury
At Goodison Park, before 3,000 spectattors. Everton at once made a strong attack upon Chappale charge then Smith and Hartley scoring. Fletcher scored for Buxton, thus Everton leading by 2 goals to 1 at the interval Everton had the best of play during the second half, Hartley Elliott McMillan scored for Everton, thus Everton winning by 5 goals to 1.
Everton Team. Rennie goal, Chadwick and Parry backs, Coyle, Jones, and Jamieson half-backs, Smith Murray Hartley, McMillan and Elliott forwards.
Place 1 ST played 17, won 14, lost 2, drew 1, for 80, against 10, points 29