EVERTON 5 BURTON SWIFTS 1
January 1 1893. Thee Liverpool Mercury
This return match was played at Goodison Park on Saturday in the Presence of abaout 2,000 spectators. Teams Everton, Rennie goal, Howarth (captain) and Parry, backs, Kelso, Holt, and Stewart half-backs, Latta, Boyle, Geary, Chadwicl, and Milward forwards. Burton Swift:- Hadley goal, Furnis, and Berry backs, Spencer, Perry, and Sutherland, half-backs, Sissons Emery, Worrall, Dewey, and May, forwards. Everton lost no time in bring pressure to bear on the visitors goal. Geary early running down and shooting to find Hadley quite safe. Chadwick had a fair aim, which forced a corner, and then Holt dribbled a little and shot largely, the ball dropping out very high over the bar. Boyle who it will be seen was playing inside right to Latta nexted headed over from Chadwick's centre. Burton had to be content with a very occasional break away and following one of these , Stewart passed to Geary who ran in close, but was dooned to place outside. Worrall late of Wolverhampton tried to put his side on an attack but he found Parry unpassable, once or twice, and Latta had a couple of shots, from the second of which he drew Hadley out of the preserves in order to scooped the ball clear. The visitors then became threatening for the first time, a corner being conceded on a raid made by the left wing. This was satisfactority cleared, and was followed by a tight tussle in front of Burton goal, which terminated in Chadwick screwing a shade wide of the mark. Milward was soon conspicious for a speedy run along the wing and c capital centre but Farniss met the ball just too quickly for Geary to turn it into goal. The visitors caused another diversion by approaching goal, but the whistle went for offside before Sisson, who sent against the end of the net. Could shoot. Parry put in a timely kick without clearing as the Burton left wing returned, and Dewey drove at long range into Rennie's hands. Some pretty work by Everton followed, who after meeting with a denial at length scored. Milward running the ball through. Burton objected, apparenctly for Geary obstructing the Goalkeeper, but the referee gave the point. Everton continued to press. Latta just skimmed the bar from a pass by Milward, and Holt put into the net from a free kick but the ball had not been touched. Latta wass next very near from a sharp centre and then another shot by Latta bore fruit. Boyle heading out of the reach of Hdley, the interval arriving with Everton Leading by 2 goals to nil. The people changed ends with the players, so m uch did operations cling to one end and almost immediately Stewart first taking a free kick, lobbed in from the return and scored. In a few minutes Boyle crossed to Chadwick, who shot successfully the ball going into the net off one of the opposing backs. Everton could not be dislodged from goal, and once Milward put into the net in a magnificent style, but was deprivved the honour of the gaol though the whistle sounding for some informality. The play was inclined to run on monotompus lines. So comtonously were Burton kept on the defence. A pleasing feature of the Everton attack was some excellent shots by Chadwick, who essayed several good aims which deserved success. Latta centred and led up to the fifth goal, as on the shot being parried, Chadwick drove in and Geary hooked the ball with his left foot into the net. The Burton men were than near meeting with some encouyragement they obtained a corner, and scrimmaging closely, and well until the ball was headed away. tHey were soon back at goal, however, and this time reduced it, as Dewey ran in closely and put the ball narrowly inside the post. The subsequent proceeding were not characterized by much vitality nor was there any speed of particular energy on the part of Everton but they still held the whiphand, and won by 5 goals to 1.
GORTON VILLA 2 EVERTON COMBINATION 0
January 1, 1893
At gorton, the Villa kicked off uphill and immediately made tracks for Everton goal but at half-time neither side scored. On the restart the homesters attacked the visitors goal, and Clayton scored. Afterwards Myatt sent in a shot which hit the crossbar and the ball rebounding, Weaver headed throug. Result Grton villa 2 goals Everton nil.
Placed 1 st played 14, won 11, lost 2 draw 1, for 75 against 10 points 23.
EVERTON REVIEW
January 2, 1893. The Liverpool Mercury
Goodison Park was a popular resort at the Christmas holidays, and on each of the three entertainments provided at the capacious and comfortable enclosure the patronage bestowed was highly satisfactory. As last year at the Everton Club ground, the forenoon of Boxing Day was set apart for the display of skill, or unskill, as the individual once might be, of the practical lovers of football connected with the staffs of our contemporaries, the Echo and Express. The contest, if unique in some respects was an even one, since neither side could score –whether it was owing to the rawness of the forwards or the proficiency of the backs masters. The actors enjoyed their sport with the "Lothian lasses" to guard over their interests, and were gratified to perform before the Mayor of Liverpool, but still more pleased to learn that Newsboys' Home will benefit substantially. In the afternoon the old battle between Everton and Bootle was fought over again. It was ever a popular incident of the season. The whirling of time brings its round of changes and though it is but a season or two since Bootle were every bit as effective as Everton, of late there has been a parting and widening gulf –Everton advancing, and Bootle either remaining stationary or retrograding. Each club has been unfortunate this season, though both have left no stone unturned to emend and bring up their teams to a state consonant with the best traditions of the respective local organizations. It so happened that each in some of the preceding matches to last Monday had seemed to have struck the lost chord. Bootle having lost none of three games, and Everton won two out of three League contests and beaten narrowly –some would prefer to put it foully –in the third. The renewed encounter between Everton and Bootle on Boxing Day thus proved a much more attractive event than it would have done a couple of months back. The ground was well filled, which would mean that there would be about 15,000 present, and all of those would be ready to admit, no doubt, they had reserved for them an agreeably surprising game, which was carried on spiritedly from start to finish, and which terminated in a genuine draw. Everton had not their full team, but all save Hartley of those of the second grade impressed into the eleven gave a good account of themselves, and but for Hartley's inefficiency at centre the team would have been very formidable. Bootle however, showed no weak spot, and being evenly balanced and full of go they made an excellent impression. They threw much enthusiasm into the work, and combined and understood each other so well that it was a subject often broached during the progress of the game as to why Bootle should have done so wretchedly in many of their matches this season. The defence was sturdy and effective and the half backs commanded the ball judiciously; and if the forwards were a little rugged at times they were always quick on the ball and unselfish in their passes. Altogether Bootle must have enjoyed their Christmas. Their debut at Goodison Park was certainly proportion, and should stimulate to greater efforts. On Tuesday Everton easily defeated Moffatt by 4 goals to nil, and on Saturday, Burton Swifts fared no better, being overthrown easily by 5 goals to 1 –a result which carries its own comments. Though the Everton League team are spending the New Year holidays touring in the north, in order to play Newcastle East End today, Sunderland their return League match tomorrow, and Middlesbrough on Wednesday, the various events which form the local programme are of no mean order. At Goodison Park, to begin with, Everton and the Stoke Swifts meet in what has been described as "the fight for the Combination championship" and it is almost certain that whatever team wins this afternoon will secure the honours of pemiership, as the second strings of Everton and Stoke have outpaced their compatriots. That they are well matched, received confirmation on November 12 last, when, at Stoke, neither side could score in the drawn game that ensued; and as this occurred away from home Everton have the weight derivable from playing on their own ground thrown into their scale today.
EVERTON COMBINATION V STOKE SWIFTS
January 3, 1893. The Liverpool Mercury
These crack combination teams played their returned fixture at Goodison Park yesterday afternoon, before an attendance numbering between 6000 and 70000. The first game, played at Stoke in November, having resulted in a pointless drawm, considerable interest attached to yesterday's encounter. The Stoke centre started play, and a brisk movement was at once made for the home citadel, Chadwick coming to the rescue and placing his forwards on the attack, the Stoke goal having several narrow escapes from capture –a penalty kick falling to the Evertonians without result. A scrimmage in front of the Stoke goal ended in the leather being placed in the net, but the point was not allowed, the referee bringing the ball out and throwing up, when Gordon shot past Brookes. After a brief visit by the Stoke forwards to the home end, Everton renewed their attack, Jamieson sending in finely, when Brookes lifted the leather over the bar. The corner was easily accounted for, Stoke taking up the running and bringing pressure to bear on Williams, whose charge, however, was never seriously endangered, Everton then renewed their pressure, and Pinnel scored a second time. The Swifts had a good chance of scoring from a free kick, but the leather was sent high over the crossbar, the interval arriving with the score reading 2 to nil in favour of the Evertonians. When Pinnel restarted there were about 10,000 onlookers, who applauded the frequent attacks of the home forwards and also the capable defence of Brookes and his two backs shot after shot being grandly repelled. At length a magnificent attack culminated in a third goal for the homesters, Gordon heading through from a pass by Jamieson. Everton had the best of the play up to the finish, winning a poor game by 3 goals to nil.
SMART ARRIDGE
North Wales Chronicle - Saturday 03 September 1892
Our readers will, we are sure, be glad to know that Smart Arridge, of Bangor (the young Welsh International full back), has been appointed by the committee of the Bootle Football Club as captain of the team for the unsuing season. Prior to his departure for Bootle, he played for the Bangor town team. Smart Arridge is a capital fellow and no doubt he will prove himself to be an able captain.
NEWCASTLE UNITED 4 EVERTON 2
January 3 1893. The Liverpool mercury
The everton league team, accompanied by Messrs.W.R.Clayton Jgriffiths, and J.Bainbridge arrived at Newcastle before ten o'clock on Sunday evening, and stayed at the crown Hotel for the night for the first match of the tour undertaken with Newcastle United yesterday. The weather was bitterly cold, and about an hour before the match there was a heavy fall of snow, making the conditions of the ground much worse than it was through the downfall of the previous day. In order to have a strong a team as possible against Sunderland to-day it was arranged that Geary and Stewart both of whom are suffering and Geary took his plac. Everton were thus represented by the following players: Everton Jardine goal, Howarth (capatin), and Parry backs, Kelso, Holt and Collinson, half-backs, Latta, Boyle, Maxwell, Chadwick and geary forwards. Fortuately the snow had ceased by the time the game commenced and about 3,000 persons were present when Maxwell at the ball in motion. Everton lost the toss, and had to play up hill. Within the first minute a free centre from Chadwick gave Boyle a great chance of opening the scoring account, but his shot was charged down. The homesters raced away to the other end, and Wallace with only the goalkeeper in front of him shot over. Not to be denied the Newcastle men kept up a vigorous attack, and soon from a free kick Thompson headed the ball past Jardine. A couple of corners then fell to the home team, but the ball proved inproductive and ultimately Latta had a good turn down the field unluckily slipping when a good chance presented itself. For the next few moments the Newcastle men surrounded the Everton goal, which had sereval narrow escapres. Howarth playing an excellane defensive game. Latta subsqently sent in a good shot which the home custodian cleverly saved, and then operations were once more transferred to the other end. Thompson sent in a well directed shot which Jardine just managed to seize, and throw out, but in response to an appeal the referee decided that the ball had gone though and allowed a goal. The home forwards continued to demonstrate their superiority shots being simply rained in upon Jardine, but most of them at this stage went wide. Parry nearly headed the ball though his own goal, Jardine cleverly saving, but a momemt later Sorley with a clean opening easilt beat Jardine, a third time. Several corners were afterwards gained by the homesters but none of them were tutned to account and the Everton forwards had a brief look in. Geary finely centre the ball and Boyle had a spendid opportunity, but waited too long and his shot was charged down. Holt who had changed places with Collinson was cheered for some clever play on the wing, but the attempt to stop the onward rushes of the home forwards proved unavailing. They were constanly round the Everton goal, and Jardine had the greatest difficuly in preventing further disater. Maxwell deliberately tripped the act of passing the ball to Geary and just ran forward and shot the ball into the net the whistle blow for a foul. sOme pretty passing by the Everton men brought them within shooting distance of their opponents goal, and Chadwick made a grand attempt which Watson repelled. Wallace immediately afterwards sent in fine shot, Jardine over the bar, just as he was charged into the net. Ny Thompson. Chadwick vainly attempted with a good shoot to reduce the adverse score against his side, and all attempts of the Evertonians before the interval proved futile. Half-time result Newcastle United 3 goals Everton nil. The crowd had increased to between four or five thousand people when the gane resumed. Almost immediately Latta got possession, and finished up a spendid run with a shot that so completely bothered Watson that he put the ball through his own net. Geary a few momnets later shot over. The visitors forwards were now showing vastly improved form. Maxwell and Collinson both made good attempts to score., while Maxwell and Geary both missed by a few inches. Once more the homesters assured the upper hand and the Everton goal had a close share, Jardine saving almost misaculously. After a flying visit to the other end the Newcastle men again assurned the aggressive. Reay scored the fourth goal, a very confident appeal for offside being disrehguarded by the referee. Kelso afterwards sent in a stringing shot which Whitton, smartly saved and alterante visits were then paid tp each and without any result. Boyle tested Whitton with a good shot, and though he finally throw it out the Evertonians claimed that the ball actaually gone through, but the referee declined to entertain the appeal. The closing stages of the game were very fiercely contested. Everton by far the best of matters. From a centre by Geary, Maxwell compelled Whitton to kick out, and a minute later the goalkeeper was forced to grant a corner from Chadwick, Eventually Holt scored with a long shot. Whitton fumbling the ball. Everton pressed strongly after this, and sevearl times were within an ace of scoring but the defence of the home team was capital. At the end approached the visitors attacked with great determination and once put the ball into the net without any score resulting. The referee blew the whistle seven minutes before time, but Mr Griffiths, who was acting linesman drew his attation to his mistake, and he re-ordered additional time to be played. Everton hotly pressed, right up to the finish but could not score again. The final score being:- Newcastle United 4, Everton 2.
EVERTON V SUNDERLAND
January 4, 1893. The Liverpool Mercury
Everton continuing their northern tour, visited Sunderland yesterday to play off their return in a win for Sunderland by 4 goals to 1. The ground had been protected by straw and cleared of snow, but was still inclined to hardness. The weather was fair, but threatening, when the following teams took up their positions. Everton; Jardine, goal; Howarth and Parry, backs; Kelso, Holt and Stewart, half-backs; Latta, Maxwell, Geary, Chadwick, and Milward, forwards. Sunderland; Doig, goal; Portous, and Smellie, backs; Wilson, Auld, and Gibson, half-backs; Gillispie, Harvie, Miller, D. Hannah, and J. Hannah, forwards. The home team was the same that had beaten the Wolverhampton Wanderers the previous day by 5 goals to 2, Sunderland kicked off with the wind at their backs but the sun in their eyes. Everton opened on the left, but were repulsed, and Latta returned on the left, but were repulsed, and Latta returned and centred well without the desired effect. The home team shifted the venue promptly, and following a throw in on the left Miller got the ball into the net, it striking the bar in its onward progress, Miller from a throw in on the right headed well a moment later. Everton got down but were foiled before becoming dangerous, and were soon to be pressed hard. Jardine fisted out a good aim by Gillispie and then Latta brought down Smellie, which secured for Sunderland a free kick. This proved expensive, as Sunderland went to the face of goal, and Miller got through with a low hard shot near the right post. Everton got no relief, and Gillespie was dangerous, but Kelso checked nicely. The ball was next put narrowly outside the visitorss' goal, Geary doing the same a minute later, Smellie was just in time to cut up another raid by Everton; but a free kick fell to them, in taking which Stewart put into nice movement by Everton looked like bearing fruit, but Milward could not quite reach to put on the final touch, and Sunderland played brilliantly on the right. Everton replied in a good forward movement, which culminated in Milward beating Doig, from latta's placing but he was ruled offside, and open play ensued for about ten minutes. Then Geary was penalized, and from the pressure that arose Sunderland by quick working of the ball, despite a smart piece of heading by Howarth, forced it into goal, Everton tried hard to improve their position, but they were less dangerous than their opponents. Maxwell next shot in to Doig, but met with no success, and this led up to the best attempts by the Everton forwards, Latta, Maxwell, Geary, and Milward each touching the ball in a grand movement, the latter winding up with a splendid shot. Sunderland again took up the attack, when Miller lifted over the ball away timely once or twice, and Maxwell experienced hard lines from a pass by Chadwick, Latta was not far out, Sunderland were once more threatening, Parry, however, caused the ball to be run out, whilst Gibson put in a shot that was the visiting team, but shot at the end of the net, and the interval soon arrived with Sunderland leading by 3 goals to nil. Everton, who now had the wind, were really dangerous on resuming, as, following some good all round forward work, Chadwick sent in a real gem of a shot, but Doig caught the ball. More sparkling play by the Everton forwards met with no better success, and Sunderland were marvelously near scoring, Gillespie sending the ball grazing along the crossbar. The visitors were now seen to some purpose, though still destined to disappointment and shots were tried by Geary and Chadwick, but they came again. Geary ran and centred to Chadwick, who put to Milward near on goal, and the left outside scored Everton's first goal. It was soon to be neutralised, however, as from the restart a movement on the left was finished off by Gillespie beating Jardine. Geary ran down and shot ten yards from goal, but Doig picked the ball up. Maxwell came out conspicuously a little later on with a dribble and shot, and returning and sustaining the pressure a corner fell to Everton, which Milward utislied for a goal. The visitors quickly returned, a free kick against Auld helping them to get near in, when, after a few narrow shaves, they scored, Kelso putting into the net. Doig saved one from Geary, and a corner followed from the exciting play that ensued. Latta shot in finely, though without effect. Parry attended to shots from the left, one of which Gibson put over the bar. The spectators became boisterous as the game appeared of such an even character, Gibson put into the net from a free kick without the ball being touched, and with this escape Everton made a splendid attempt to draw level. Sunderland, however, were never slow in kicking out and though Everton had the best of the subsequent play, they had to retire beaten by 4 goals to 3.
EVERTON COMBINATION V. GLASGOW THISTLE
January 4, 1893. The Liverpool Mercury
Glasgow Thistle, who on Monday defeated Royal Arsenal, yesterday visited Goodison Park to play Everton Combination, the latter being represented by exactly the same eleven who on Monday defeated Stoke Swifts. The Scotch captain won the toss, and Pinnell started play against the wind, Gordon and Murray at once breaking away, but working the leather over the line. Russell effected a clearance from another attack, and Johnston shot well for Rennie, who saved neatly. Gordon took a pass from Jones and travelled smartly down his wing, finishing with a pretty centre, Pinnel mulling a good chance. Chadwick now came out with some good defence, and Everton were again placed on the attack, Neil fisting out handsomely, Mackie, Johnstone, and Allan went off in good combination, Chadwick being compelled to concede a corner, this being easily cleared. For a time Everton had the best of the forward work, Gordon and Murray exhibiting excellent dribbling abilities, while Elliott and McLaren also worked well together. Collins took a free kick from the front of Neil's charge, a brief scrimmage ending in Gordon taking a pass from Pinnell and scoring a very good goal. The visitors played up in most determined style to the interval, but so good was the work of the home defenders that Everton maintained their lead, ends being changed with the score a goal to nil in favour of the Combination. The second half was opened by a good attack on the part of the home front rank, Gordon and Elliott putting in some effective work on their respective wings, Neil's charge having several narrow escapes. Allan made several efforts to break away, but was constantly overshadowed by R. Jones, whose attentions were not at all appreciated by the Glasgow centre. Elliott and McLaren next took up the running but failed to pierce the visitors' defence, McCracken clearing, and going forward through the home defenders finishing up with a warm shot which beat Rennie. A grand struggle now took place for winning brackets, Elliott eventually succeeding in defeating Neil with splendid drive, the game ending soon afterwards in a win for Everton by 2 goals to 1. Teams;- Everton; Rennie, goal; Chadwick and Collins, backs; Coyle, Jones and Jamieson, half-backs; Gordon, Murray, Pinnell, McLaren, and Elliott, forwards. Glasgow Thistle;- Neil, goal; Rae, and Russell, backs; McCracken, Hannah, and Ross, half-backs; McPherson, Cunningham, Allan, Johnston, and Mackie, forwards.
EVERTON V MIDDLESBROUGH
January 5, 1893. The Liverpool Mercury
This the third and last of the northern tour matches of Everton was played yesterday, at Middlesbrough, in fair weather, though snow covered the ground. About 2,000 spectators were present. Everton were represented by the following;- Jardine, goal; Parry and Collins, backs; Stewart, Boyle, and Jamieson, half-backs; Latta, Maxwell, Geary, Chadwick, and Milward, forwards. Middlesbrough opened well on the left, when Black shot hard against the near post. Everton cleared, Maxwell leading the way, but he was not permitted to get near in, and the home team gave further anxiety to the visitors, some fine work on the right wing raising cheers. Nothing, however, came from the centre of McCabe and Everton got within range, hen Geary shot over. After more smart play by Middlesbrough Milward was brought down by McManus, which enabled the home team to clear and attack repeatedly, culminating in Lewis scoring. This reverse naturally raised the ire of Everton, who helped by good work by Jamieson, made attempts to score, the most likely shot being one from Geary. Middlesbrough were ever ready, and a splendid movement on the right and a long pass to Black realised a second goal. Everton then enjoyed a double success, as they scored two goals in the next five minutes, both shots coming from Latta, who on each occasion received the ball from Geary. Play continued to be fast, through the ground conditions were unfavourable. Middlesbrough were the next to be aggressive, and from a pass by the right wing McKnight dribbled and scored. No relief came to the visitors, and Blyth getting possession got the better of Jardine, who tried to scoop the ball, but failed to touch it. A free kick in front of goal fell to Everton, but the defence a moment later occurred to the home side. The visiting team were kept on the defence, and a rattling good shot forced a corner kick. The Everton backs had a harassing time of it, their long passes and sharp following up giving great satisfaction to the home supporters. The next goal, however, was the portion of Everton, as Geary fastened on the ball, ran down, and scored a beauty. The interval soon arrived with the score 4 goals to 3 in favour of Middlesbrough. The home team lost no time in getting to work on resuming, two dangerous shots being sent in. Latta got under weight, and a corner resulted, followed by good but futile work by Geary. The home team were more fortunate when their turn came a few minutes later, as after Black had driven against the end of the net on the left the right wing returned, Blyth scoring from a keen shot. The home team had a renewed attack, when Collins came to the rescue. Geary started a likely run, but McManna took the ball from him. There was no clearing of the lines, for Everton went up and pressed very hard, to be denied until Chadwick had scored. The homesters were near jumping further ahead, but Jardine was just in time with his hands. The Middlesbrough men nevertheless kept up the attack, and on Jardine running out and missing McCabe scored easily, the goal being then left free. Everton continued to have the worst of the game, but in the last few minutes Geary ran up gamely and scored. He tried cleverly to repeat the achievement, but was not so successful, and the final result was –Middlesbrough, 6 goals; Everton 5.
TODAY'S GAME
January 7, 1893. The Liverpool Mercury
Everton and Notts County meet at Goodison Park to decide their return match. Everton won when at Trent Bridge on December 17 by 2 goals to 1, and ought to win again, especially in the light of the close game they gave Sunderland in the North on Tuesday. If Everton ill-luck should once more dog their steps, they will be driven to an insignificant position indeed in the League.
Everton v. Notts County; Goodison Park, Kick off at 2.30 p.m. The following will play for Everton; Rennie, goal; Howarth and Parry, backs; Kelso, Holt, and Stewart, half-backs; Latta, Maxwell, Geary, Chadwick, and Milward, forwards. Thursday
Everton v. Notts Forest, Nottingham (League)
GOODISONIA
Cricket and Football Field - Saturday 07 January 1893
By "Black Rock."
I should say that the old year of '92 was wound up (never to go again) before the smallest array of spectators that the League team has had to perform before, and, also that the New Year opened with one of the largest gates on record (close on 10,000) for a Combination match.  Although Saturday's visitors –Burton Swifts (at home) –ran Everton to a goal on September 7th (the three goals falling to Geary), the people here would not "take on" last week in the face of a sixpenny gate.  The game was poor, like the lookin of the visitors.  It almost grew monotonous, so few were the flashes of the Burton front five, and so weak were the attempts of the halves.  Their strength lay in the backs and custodian, and to these should the palm be awarded.  The home trio-Stewart, Holt, and Kelso-played so well that they appeared to have time for a game between themselves (and they did) whilst Parry and Howarth stood sniffing the battle and the cold breeze from afar.  Sisson, on the extreme right, impressed a few in the first portion with some taking passing and well-meant bursts, but being on the very light side, his brilliancy died away before the late Burnley half.  Indeed, save for a very limited number of rushes by Worrall, Dewey and Sisson, the home forwards were playing pranks in attempting to score.  At last Milward got one through, Hadley uselessly claiming and protesting at Geary's obstruction.  Boyle headed a second from a good pass by Latta, and the 22 turned round – Everton needing no refreshments.  The second half was a repetition of the first, only mere so, and although Stewart, Chadwick, and Geary made the total into five, it should have run into double figures.  I must not forget to mention that, chiefly by the aid of Dewey and May, the visiting forwards broke through the sturdy phalanx gained a major point, which was hard worked for and deserved.
NOTES
There is no doubt the visitors were over weighted and nonplussed at almost every turn, and they have certainly deteriorated from their going of last season, when Everton playing at Anfield could only drew by a big slice of luck.  Dewey alone of the forwards wrought successfully right through.  The halves were continually beaten, and when beaten, well beaten.  Furniss and Berry were too good defenders, and Hadley will not lose his position for the five goals recorded against him.  The home backs –Parry and Howarth –had very little to do, but that little was done well, Rennie's position being almost a sinecure.  Stewart, Holt, and Kelso kept themselves and their opponents warm, and made the finest set of halves ever seen at Goodison Park.  The forwards played well to a point but shot badly.  Boyle made a fair promise as a forward, and I should like to see him again.  Much satisfaction is expressed at the brilliant victory of the Combination over Stoke's reserve.  Again, their defeat of Glasgow Thistle on the following day-Tuesday-clearly proves that the losses with Chester and Gorton Villa were not a true test of their form.  In conclusion I should like to say that the League team might have won against Sunderland had they not been engaged in a meeting with Newcastle East End the day before. 
EVERTON V. NOTTS COUNTY
Cricket and Football Field - Saturday 07 January 1893
The return today, between these teams took place at Goodison Park, where the chances were that a double victory would be obtained by the ex-Anfielders over the Lacemen, the first game on the 17th of last month ending in a defeat for the lambs on their ground by two points to one.  Everton; Jardine, goal; Howarth and Parry, backs; Kelso, Holt, and Stewart, half-backs; Latta, Maxwell, Geary, Chadwick, and Milward, forwards.  Notts County; Toone, goal; Hendry and Whitelaw, backs; Calderhead, Rholton, and Bramley, half-backs; Daft, Burke, Brace, Oswald, and McGregor, forwards.  The ground was snowbound and had to be cleared but there was a large company present when at 2.40 Geary started the game.  Notts pressed, Oswald shooting over, whilst later on Toone saved from Milward and Maxwell shot over, but eventually Toone succumbed to a rush, in which Milward was prominent, this being the only point scored.  Half-time; Everton 1, Notts County 0.
On restarting Notts pressed, until Milward raced brilliantly down the left, but although baulked, the same player a moment later beat Toone, while Chadwick scored a third.  A moment later on, Geary's pass, Everton had hard lines, and then Geary scored a fourth goal, Notts now being hopelessly beaten.  Geary scored a fifth, a sixth following.  Final; Everton 6, Notts County 0.
SPECIAL
Everton simply played splendidly, the forwards surprising everybody.  Latta and Chadwick shone in shooting, but Notts had a sterling defence.  In the first portion, Oswald and Company exhibited good combination, and Toone was a marvel, saving innumerable good shots.  Rennie was seldom troubled, Parry and Howarth doing what was necessary.  The visitors were overplayed in the latter stages, no less than five goals falling in the second half, making the final six to nil in the Goodisonians' favour.
NUGGETS
Cricket and Football Field - Saturday 07 January 1893
The Thistle lads gave Everton Combination a splendid game.  Their two centres are "up to date."
I understand a meeting was called last night (Friday), in order that Mr. Molyneux might know his actual position.  With what result?
Why didn't Gordon go to his Villa last week end?  He was seen very happy after the League match in the neighbourhood of Goodison Road.
Everton league, up to date, have won seven matches at home and six away, drawing the same number at the Park, and only drawing one away, at Blackburn. 
I am grieved to think Pinnell, that you, my paragon of peculiarities, will be ousted from your central position if McCartney has a look in at Goodison Park.
Where are the Alexandrians who used to support Bootle?  Perhaps they climb weekly to Everton's ground, whilst their own club is anxious for their support.
Murray and Gordon seem to have fallen in each other's ways, and mean to pile on the agony.  Their performances last Monday and Tuesday stand out agreeably prominent.
Now it is said that Mr. Molyneux is going to Sunderland, and Mr. "Tom" Watson coming to Everton.  Also, that Mr. Roche will succeed the Everton secretary.  What next?
What prodigious scoring at Middlesbrough!  It clearly explains that Jamieson, Boyle, and Stewart are not equal to Holt, and Kelso, with Stewart in his proper position –left half.
If Everton are not careful they will be amongst the last four.
Referee Lewis has reported one of the Burnley men for "slanging" him at Everton.
EVERTON V. NOTTS COUNTY
January 9, 1893. The Liverpool Mercury
This return League match was played at Goodison Park, when, notwithstanding the Arctic character of the weather, the attendance numbered about 10,000. The snow had been almost entirely removed from the field of play by the time of kicking off, and under the circumstances the ground was in capital condition, with the result that play ruled on the fast side. daft, McInnes, and Calderhead were not included in the Notts team, whilst Kelso and Jardine were omitted from that of Everton, the names of the players being as follows;- Everton; Rennie, goal; Howarth and Parry, backs; Stewart, Holt, and Jamieson, half-backs; Latta, Maxwell, Geary, Chadwick, and Milward, forwards. Notts County; Toone, goal; Whitelaw, and Hendry, backs; Harper, Wilkinson, and Shelton, half-backs; Bruce, McGregor, Oswald, Bucke, and King, forwards. Everton kicked off, and after a run up by both sides attacked all along the line, the backs cleared, and soon Oswald had a couple of shots – one being saved by Rennie and the other going over. Bruce followed with a fair aim, and it was some minutes before Everton cleared. Then Oswald was penalsied at midfield, and this enabled Latta and Maxwell to ove-on. The ball went to Chadwick, who led up to smart passing by the right wing, from which Milward shot at close range. Tone put the ball behind for a corner, but seemed to have stepped over the line. Everton returned beautifully on the right, from which direction centres were put. Jamieson shot in, but Latta could not quite reach the ball; then Geary drove just outside and Jamieson was near with a long one. The next item was a free kick by Stewart, who lobbed into the very mouth of goal. In the scrimmage Latta shot hard, the ball bouncing over from off a defender. Notts survived the ensuing pressure, and forced a corner on the right, which was easily cleared, and the home team were quickly at the face of goal again, Latta and Maxwell having run down. Several chances occurred, from the last of which Maxwell got too far under the ball, and put over the net. Notts were adepts at defence, closing their ranks with compactness when danger threatened. The play was much in favour of Everton, and if the Notts forwards did pass the home half backs, which was not often, Howarth and Parry were safe. Maxwell took the next likely shot, followed by a long one by Geary. Another terrific shot was tried, but the ball was accidentally repulsed by the visitors, and then McGregor raced off and parted with the ball, before he could be tackled, to Oswald, who kicked to skyward. A foul against Geary was no help to the visitors, who soon had to attend to a tough scrimmage in front of their goal. Geary could not be checked, and, driving in sharply, forced a corner. Then the long merited goal came to Everton. A free kick was conceded inside the Notts quarters, Stewart took it, and a most exciting scrimmage ensued, during which the ball was worked through several players having touched it ere Toone was beaten. Notts accepted the concession of the goal ungraciously and resumed with apparent reluctance. They were fairly penned now the half-back play of Everton, especially that of Stewart, being too clever for the opposing forwards. The shooting, however fail off somewhat and the interval arrived with the home team still leading by a goal to nil. Notts were early on the attack on resuming and though a foul was given against them, it was promptly neutralized, and Everton had to defend. Milward relieved in a dashing run, but he fouled Whitelaw –at least he was ruled to have done so – and the effort came to nothing. Notts returned on the right, whence some long shots were tried, which, though good, were cleared. Some nice work was put in on the right, from which Chadwick went narrowly over from a long shot. keeping well up, Stewart centred, and Milward, going to meet the ball, reached it comfortably and expeditionary "hooked" a goal. Notts could not get on the ball, and, some clever all-round passing causing the visitors defence to be harassed, Milward went just outside from Chadwick's pass, and then Chadwick, receiving from Geary, screwed in successfully along the ground. Everton were now in a safe position and the achievement was acknowledged by rounds of applause. Latta next beat Toone, but Notts appealed against the point, ad gained a favourable verdict from the referee. The movements of Everton continued to be irresistible, every man evincing unusual vigour, and, the half backs still keeping the forwards busy in the extreme, they had a merry time at shooting, the best which was done just now by Chadwick, who in particular had hard luck on several occasions. It was only at long intervals that the Notts forwards could create a diversion, and when this happened it was only to demonstrate how reliable Howarth and Parry were –in fact Rennie was entirely deprived of employment. The fourth goal was obtained by Geary from a free kick taken by Chadwick, and the centre forward was near penetrating goal on three occasions immediately following, but Toone was too quick to be yet further beaten. Maxwell, too, almost succeeded in charging the custodian through with the ball. Notts actually got within shooting distance nearing time, when Oswald tested Rennie, who was quite reliable. Beaing easily driven off, Notts were thrown hard on the defence, and Everton soon scored twice, one from the foot of Geary, and again from a scrimmage arising from a corner. In the subsequent play Toone had a most exacting time of it, but he kept out all the numerous shots, and when the end came Everton had won by surprising ease with the score of 6 goals to nil.
EVERTON REVIEW
January 9, 1893. The Liverpool Mercury
Everton, however heartily their many friends wished it otherwise, did not open the new year happily, but it was not altogether sadly. They lost against Newcastle United on Monday by 4 goals to 2; they lost against Sunderland on Tuesday by 4 goals to 3; and they lost against Middlesbrough on Wednesday by 6 goals to 5. On paper this reads despicably. To suffer three successive defeats is depressing, certainly, and must further tarnish the reputation of Everton; but there are palliations for one and ail of these reverses, though there was no philosopher's stone discovered in the north which could turn the base metal of defeat into the sterling gold of victory. On Monday the contest was with the Newcastle United –an amalgamation of the East and West End Clubs, which was affected a few weeks back –and Everton, who had a mixed team, with Holt, and Geary on the wing instead of the centre, found themselves in opposition to a cleverer team than they anticipated. The ground was covered with the still failing snow, and there was a most decided incline, down which the Newcastle men moved with headlong rushes, and were not long in taking a lead of three goals to nil, though one of the points should not have counted, for Jardine placed the ball round the post cleanly. It was now uphill work for Everton and though they improved as they began to understand each other and became more familiar with the eccentricities of the ground –pressing almost entirely during the second half –they were not capable of over taking the United score. The home team played a judicious game in the snow, always kicking hard, and thoroughly earned their victory. Everton of course were ever mindful of the great battle of the morrow, and wisely avoided any risks of being disabled. Again at Middlesbrough they were taken somewhat by surprise. Here the ground was also covered with a thick mantle of snow, no attempt having been made to clear the track. The home team, who have not a brilliant record for the season, were terribly in earnest; but Everton were not, at least not till the Middleborough men showed an alacrity at scoring. Then they woke up, and goals came freely, but if Everton scored two, the home team replied with one; and thus Middleborough, keeping ahead, won by 6 goals to 5, though Geary, from one of his flashes was very near equalizing in the last minute. The failure in his match on the Everton side were pretty general, the exceptions to the sweep of condemnation being Geary, Maxwell, and in a less degree, Latta. That Everton had "toe men worthy of their steal" received striking confirmation on Saturday when Newcastle United defeated the Bolton Wanderers by 3 goals to 1, and Middleborough vanquished the Corthinians by 4 goals to nil. And now to the great encounter with Sunderland. The outlook was rather gloomy on the Monday from an Evertonian point of view, for nearly every one of the players was more or less indisposed from cold or biliousness. Their conduct, however, was exemplary, and the worst patients –Parry and Milward –were fairly well cured by the time for commencing, the trainer having been kept from bed on Monday night attending to Parry, who had caught a severe cold. The ground, cleared as far as possible of snow, was in very good condition, and it was evident the game would be a fast and vigorous one. Everton started ruggedly. They won the toss, but thinking the sun, which was shinning brightly at the time of the kick-off, would be a greater impediment, turned their backs to it. The wind, however, which had briefly dropped, sprung up, and this was in favour of Sunderland, who took full advantage of it, and quickly scored twice, the first of which goals would not have been obtained had not the referee accidentally impeded Holt, when making the ball. Everton kept pegging away with great spirit, and having now quite as much of the play as Sunderland, were robbed of a goal by the ruling of the referee, as Latta screwed in, and Milward put through. It looked quite legitimate, and the ball would almost certainly have gone through had not Milard, "to make assurance doubly sure," helped it on. Sunderland scored again before half-time, and the situation was enough to crush all hope out of Everton, but they renewed the fight after retiring at the interval with even more vigour, and the home team had some of the warmest onslaughts to battle with they ever encountered. Everton put on full pressure to a man, and Milward gave the final touches to two goals. Then Sunderland got one from the right wing. There was a lot of time yet to run and Everton were almost fully occupied in trying shots, one of which (Kelso's) only took effect. With Sunderland but a point ahead the excitement became intense (palpably speading to the players,) and so hard were Everton to grapple with that even the mighty men of Sunderland were forced to kick out towards the finish. Harvie, it must e acknowledged, though not retiring, played with an injured arm part of the time, and was thus handicapped. The game was a grand one, and with average luck Everton would at least have made a draw. They all did well, the only fault that can be found –the sole discordant note –being the tendency of Parry early in the game to close in too much, and interfere with Jardine's view of the ball. From Sunderland to Notts County is a far cry, both geographically and in the matter of football fame, and that Everton should on Saturday defeat Notts County by 6 goals to nil at Goodison Park is but a fitting corollary. It came quite in the order of things to those who, like the writer, had the privilege of seeing Everton win at Trent Bridge and of witnessing their sterling play at Sunderland. It took Everton some time on Saturday to get into the proper stride, but when they did there was no equality between the teams, and never, perhaps has Toone had a more tedious ordeal to face then he did in the last 30 minutes. If he was beaten six times, he yet kept goal magnificently. His failure were but a proportion of his success. The Notts defence is not a strong point, but the half-backs were the rock on which Notts probably got stranded, for they failed to dispossess the home vanguard at nearly every attempt. On the other hand, the half-backs of Everton were the "fulcrum" from which the leverage of the forwards responded in unison, the shooting, particularly Chadwick's ranking more like that of the hadeyen days that have not yet, apparently, passed by forever. May it be confirmed against Notts Forest on Thursday.
EVERTON V. NOTTS FOREST
January 13, 1893. The Liverpool Mercury
The return League match between these clubs was played off yesterday at Nottingham. The fixture gained in interest from the fact that the previous game had ended in a draw of 2 goals each, and also on account of the close company Everton and Notts Forest were keeping, having the same number of points (18) at the time of kicking off, though Everton were actually in the best position, as they had played two less matches than the Forest. The recent improved form of each team, also added zest to the event, for whilst Everton had, in their last three League matches, been beaten by a goal by Burnley and Sunderland, but had defeated Notts County easily, Notts Forest had in succession won against the Wolverhampton Wanderers, the Blackburn Rovers, and Accrington, and it was then evident that the Liverpool eleven had a difficult task before them in order to secure victory. The ground was sot, consequent upon the thaw, pools of water being pretty generally met with whilst the weather was dull, rain falling just as play commenced. Teams; Everton; Rennie, goal; Howarth and Parry, backs; Stewart, Holt and Jamieson, half-backs; Latta, Maxwell, Geary, Chadwick, and Milward, forwards. Notts Forest; Allsopp, goal; Earp and Scott, backs; A. Smith, McPherson, and McCracken, half-backs; Shaw, Smith, Higgins, Pike, and McInnes, forwards. About 2000 were present when Higgins kicked off, with the wind slightly against them. Everton made ground, but the home right wing threatened until Parry, through slipping, checked the rush. A foul was given against Geary, and McPherson tried a long shot. Notts kept in front, and from a long cross, McInnes shot in keenly, but Rennie just managed to pick up the ball and throw aside. Milward lead a foriorn hope, and the Forests were quickly harassing the Everton defence. Howarth slipped a good deal, but the two shots sent in fortunately went a little wide. After Higgins had taken a bad aim, a neat bit of passing between the whole of the forwards was spoiled by a weak pass by Maxwell, but Geary returned, and Milward dashed along, only to see the ball go over the line. Notts replied on the right, where Howarth was forced to concede a corner, which, however, was abdly utilized. Jamieson seemed powerless to check Shaw and W. Smith with the result that play remained for some time in favour of the home team. Geary at length got into a likely stride, but he was sent to earth, sliding full length for some yards. The Foresters again attacked, and keeping their feet much better than Everton, were rather dangerous. Their shooting, though good, was not deadly and by dint of great exertions the siege was raised before damage was done. Once clear, a free kick fell to the visitors which was entrusted to Parry, who placed into the net at long range, but the ball had not been touched. Higgins, a few minutes later, shot straight, when Rennie caught the ball. A still better attempt ensued, however, at the other end, Latta taking a nice pass from Geary and shooting in at a terrific pace, but Allsopp saved grandly. Geary supplemented the splendid effort by a spankling running shot, but again Allsop gathered the ball brilliantly, and fairly stormed goal, but the bad footing rendered good work nugatory. The Notts left wing then got the mastery of Howarth, and looked likely to score, but the aim of McInnes was wild. A corner was forced on the Everton right, Latta, again racing down, passed over to Chadwick, who screwed against the net. Parry next came to the rescue of the visitors, and the ball being taken up on the right Maxwell was tripped. A free kick was awarded Everton, when Holt touched the leather to Stewart, who scored after play had been in progress 40 minutes. Notts at once became busy on the attack on restarting, and sent in several warm shots, which Rennie cleared wonderfully. A couple of free kicks fell to them, and from one of these McInnes beat Rennie and equalised, the goalkeeper protesting, on the plea of offside, in vain, Everton soon got to the face of goal, when McInnes ran away at great speed, Holt challenged him, but the forward got clear, though compelled to drive the ball out. The Forest closed in, and McInnes shot hard. Rennie stopped the ball, but could not throw away promptly. Higgins saw his opportunity, but Parry collared, lifting him off his feet. A foul was, of course given against the Everton left back, and an exciting scrimmage resulted, followed by several narrow shaves of capturing goal. Everton, however, staved off further reverse, and the interval came with a score a goal each. On resuming Everton commenced strongly on the left, forcing a corner. This Earp headed clear of goal, but Chadwick shot in, and tested Allsopp with a powerful thrust, the custodian running out to use his fist. Notts changed the venue, when Higgins shot twice rather rashly. Still they caused much anxiety, their quick passing requiring a lot of attention. Jamieson was very faulty, and the goal was in jeopardy, until Parry kicked the ball virtually out of the goal mouth. Again, the Foresters swooped down on goal, and but for Parry would almost certainly have taken a lead, their forward work being too smart for the visiting half-backs. The best shot came from Higgins, but went a little too high. Stewart and Holt easily overshadowed their colleagues when pressed, and cleared. Chadwick and Milward made a galliant effort to improve the situation and succeeded in locating play for some minutes in the vicinity of Earp and soon some shots were tried, though none were particularly good ones. Geary and Maxwell could make but little headway on the heavy ground, but Latta got in a nice run and centre, when Milward was apparently "out of court" and could not take the pass. Everton gained in energy, and play consequently became very keen inside the Notts quarters, but the kicking was not so uniformly hard as it might have been, once from a long, pass and repast between Latta and Milward the latter hit the end net, whilst another good aim followed from Stewart, who reached the face of goal, Geary started many runs, but invariably found himself expeditionasly robbed. Everton continued on the attack, it being seldom that Notts could cross the half-line and when they did Parry, as a rule, beat them off. In tackling Shaw, the burly back got hurt though soon all right; but, from a foul against Everton, Pike got the ball and shot, Shaw guiding into the net; and giving the Forest a leading point. Only a few minutes remained, and these were occupied chiefly in Everton making futile attempt to draw level, but they shot too lengthily and widely to be near effecting their object. Notts also were at fault in their directions on goal when they got a chance. Then the home team resorted to kicking out when penned, and the hard game resulted. Forest 2 goals; Everton 1.
TODAY'S MATCH
January 14, 1893. The Liverpool Mercury
The visit of the West Bromwich Albion to Goodison Park this afternoon is the principal attraction with Associationists –incident in connection with the League which gathers interest from the fact that the same clubs will be occupied next Saturday on the same clubs will be occupied next Saturday on the same ground in deciding their tie in the English Cup competition. West Browmich Albion, like Everton, have cut a somewhat disappointing figure this season, and are among the trail enders of the League, the points scored showing that the teams are about a match for each other. The game will doubtless be a keen one, and as the "Throstles" won the first match when at home, the issue should be reversed, but if this be the case it will be necessary for Everton to ultiises to the full every chance that occurs, for only last Saturday West Bromwich Albion actually defeated Burnley by 7 goals to 1.
GOODISONIA
Cricket and Football Field - Saturday 14 January 1893
By "Black Rock"
Even to see a club that drew with the famous Celts –the lately called "team of talents" –was not to me a sufficiently powerful inducement to wend my steps and pick my way through what were once "small white crystalline flakes."  Yet, did I go sir, down from the rocks of West Derby, to plain of snow below.  There did I learn, by observation, that onwards of 30 workers were clearing the nuisance from the field by means of horses and carts.  They succeeded somewhat successfully, but in the northern division there was a quantity left, and lots of fun was got out of it during the match. 
The Lament "Lambs" Lamentable
Everton have generally "bested" Notts, not having suffered defeat since January 2nd, 1891- the Goodisononian pets scoring 15 goals to 4 in the last six encounters, and 31 against 21 in all games since October, 1887.  The County came without McInnes, Walkerdine, Calderhead, and Bramley (I don't reckon Daft since the separation) and, although Widdlowson was present, he did not don the jersey.  Jardine and Kelso were absent on the home side, Rennie and Jamieson ably filling their places.  Geary started ten minutes late, and judging of Notts, especially by the initial stages, and up to half-time, we naturally expected s hard and close fight, so well did the eleven generally perform.  The visiting forwards were quick on the man and ball, dashing away at times with right, good pleasure, and replying on long shooting, to carry them through the game, and the ball through the net.  But as is said in billiards "the idea was good, but the execution bad."  Everton scored but once in this portion; yet had they slightly more enjoyment that the "lace town." Representatives.  The trio behind Oswald and friends were very much behind at times, and the International Shelton was constantly outplaced by Latta, and outmanceurved by Maxwell.  Toone had such more anxiety than Rennie, for although Hendry and Whitelaw set themselves to do their level best – it is well they did – the Liverpool quintette were galloping away in as good a fashion as I have seen for some time.  And our truly bright set of halves –Jamieson, Holt, and Stewart –repeatedly robbed the visitors.  Yet the home team had not all their own way, for Parry and Howarth had to ever be on the alert, as Oswald, Bruce and Burke gave and took, took and gave in no half-hearted a manner, considering the slippery state of the ground.  McGregor also made a few fine sprints, but he had more than his match in Jamieson, whose play drew many fitting encomiums.  Burke did not like the attentions of Stewart, and to this latter player is due the honour of the first goal, as he so accurately placed a free kick that it could not find its way out until it had safely rested past Toone.  Half-time was then called.  No refreshments were doled out, and if they can add more goals without them, as it seems they can (putting on three v. Burton Swifts, and five last week end) I should advise that they do a little penance for their after glory.  Off went Notts with a burst, bringing into prominence the backs and keeper.  But it was only a burst, which did not result in the blowing up of the caretakers.  Then –except they now and then appeared to receive inspiration from Rennie – did the gratifying portrayal of Everton's characteristic stamina (another exposition with Sunderland) become the pleasure of the last half-hour.  The Goodisonians (to use an expressive phrase) made rings around them, their halves being utterly disappointing to fair critics, and only their backs, with Toone, could offer a decent defence.  They were as pigmies to giants Lilliputians to Brobdignagians.  After Milward put on No. 2, they waned fast.  But after the third was chalked the home lot seemed to do as they liked, which meant bringing the total of six.  And thus they won a second six to nil victory, the first being over Newton Heath on Sept. 24th. 
Some Remarks
Notts went all to pieces soon after the restart, and although McGregor strained the sinews of his leg in this half, I don't think it would have made such a vast difference in the result.  Not since the visit of Accrington (Oct 22nd) have five representative scorers of a League club been seen to such disadvantage.  Oswald would be about the best, but even he was not good, Holt getting the best of him.  The halves were extremely weak, and I think Hendry and Whitelaw did very well when the continual strain by the home five is considered.  The latter earned the benedictions of the upwards of 9,000 spectators, Toone, although leaving a sick bed, played up to his reputation, saving on one occasion no less than four good shots in as many seconds.  Everton gave us a glimpse of what I heard they performed at Sunderland, the entire team going out, and in, to win, Maxwell, after his Sunderland success, once more partnered Latta, and the two combined in work to please.  Let us only hope that this form will be maintained, and then none need be fearful of the coming struggle with the holders of the English pot.  Everton meet the Rovers at Blackburn in the Lancashire Cup, and, as neither Rennie nor Parry is eligible, the club must rely on Jardine (who will have to improve on the form of his northern tour) and Kelso, who has shown much ability at back. 
UP AND DOWN
Cricket and Football Field - Saturday 14 January 1893
By Richard Samuel
The Everton directors were in a good humour on Saturday evening last; and well they might be.  It was a splendid victory, and, on the play, was well deserved.  Of course, on such an occasion Mr. Coates must have his joke and pun.  According to this inveterate joker the Everton ship went six knots in an hour and a half on Saturday.  I am afraid there has something happened to the ship since, for I see it met with an accident at Nottingham on Thursday.  The Forest played us a rare good game at the beginning of the season, and may be said to have had the best of the deal in the two games.  Unless matters turn out even worse than lately, there will be no alteration from the team which has done duty against the two Notts clubs.  Rennie is the "boss" goalkeeper at present, and I hope he will acquit himself well.  The club have suffered a lot through not having a reliable man to fall back upon, but they will have to be prepared to risk something on experiments.  Give the lad a fair chance if he has to be the regular man. 
EVERTON V. WEST BROMWICH ALBION
Cricket and Football Field - Saturday 14 January 1893
At Everton, before 12,000 spectators.  As a preliminary test to next Saturday's English Cup tie, much curiosity was evinced, especially as West Bromwich's victory over Burnley last week end was so decisive.  Everton; Rennie, goal; Howarth and Parry, backs; jamieson, Holt, and Stewart, half-backs; Milward, Chadwick, Geary, Maxwell, and Latta, forwards.  West Bromwich Albion; Reader, goal; Horton and McCulloch, backs; T. Perry, C. Perry, and Groves, half-backs; Bassett, McLeod, Boyd, Pearson, and Geddes, forwards.   Geary kicked off against a slight wind five minutes late.  Good midfield play characterized the first few minutes.  Both sets of forwards had a try, Howarth and Horton being prominent.  Rennie kicked clear a dangerous thing, with times to use his hands, and Reader was also called upon, just beating Geary.  Bassett and McLeod showed pretty effective work, whilst saved a long shot by McLeod a corner resulting, which Parry cleared.  The game became exciting, but the visitors threw good chances away by shooting.  Howarth and the halves defended well, and Maxwell raced the home forwards but missed.  Then the Bromwich men commenced a determined onslaught on the home goal, Rennie gaining three corners, which were well placed but cleared, parry distinguishing himself.  Next McCulloch and Reader were noticeable, Everton's attack being strong and well-meant.  The referee soon after was hooted for his decisions.  Geary sent in a splendid shot, but Reader cleverly saved.  Both Latta and Geddes were brought up for offside when in favourable positions.  After Rennie had put one out from Geddes, Milward and Chadwick put in a telling run, the latter's shot just going outside.  Reader again saved from Geary and Latta.  Horton was penalized for tripping Geary.  Half-time was then called with no score, reader receiving a deserved ovation. Half-time; Everton 0, West Bromwich Albion 0.
On resuming Ablion were first to be dangerous forcing a corner and causing Rennie to fist out two or three times.  Everton defended well and soon took up the attack with great determination, and for nearly the whole of the last thirty minutes Albion had to defend.  Everton shot well, but it was close on time when Maxwell scored.  Final; Everton 1, West Bromwich Albion 0.
NUGGETS
Cricket and Football Field - Saturday 14 January 1893
Rovers v Everton-what will the final be?
How do Burnley, Everton and Accrington like the Lancashire draw?
The loss at Nottingham was a tremendous sad loss to Everton's supporters here.
What a change Everton's defeat two days ago wought in the places of the League clubs!
The Rovers can expect a big gate by way of a change when Everton journey there on the 28th.
The directors will be guests of the Stewarts of the Everton F.C. next Wednesday (18th inst.) at the Black Horse Hotel.
When Dick Walsh heard that Everton meet the Rovers in the Lancashire Cup, he exclaimed, good-humoredly, "Good-bye, Everton."
Everton's theatrical match on February 2nd poises to be a hugh success as tickets are simply taken out, paid for, and pocketed.
What a lift that victory over Everton on Thursday gave to Notts Forest!  They will yet go up, and from present appearances their rivals appeared likely to go down.
Edward Charles and Co. have given an eight-day clock, value seven guineas, for the annual charity in Goodison Park.  Tickets, one penny each 9which is certainly cheap), may be obtained of the directors or Stewarts, on or off the ground. 
It is probable that Everton will beat the "Throstles" in the cup.
Maxwell played a faultless game and gauged his passes to Latta perfectly. 
When Everton win there are an unalcontents, but if they lose, then they are as troublesome as poor relations.
There appeared to be about two bosses to every worker on Goodison Park when the snow was being cleared away.
I should think the most conflicting criticism will be passed over the County representatives on their play at Everton.
Everton cannot play on soft ground.  Another proof was last Thursday when the Forest unexpectedly defeated them.
Mr. Harris, of the Liverpool Shakspere, says "his panto is the best ever placed before the public."  Rather thick.
King, of the County Rovers, did not aid the "Lambs" very much.  Everton's victory should shut some people's mouths.
"A very doubtful goal-that first one of Everton's and Toone's behavior with half-a-dozen sitting on his chest was admirable.
Chadwick, after a few falls in the snow, beat Toone with a snowball-beg pardon-grounder, who went full length in attempting to stop it.
Kelso and Boyle are not just yet killing themselves with hard work, and may be still left cooling themselves if Jamieson and Stewart keep up.
Fortune is almost as fickle a jade as the support of Bootle and Everton's spectators.  Some of the latter grumble and growl like a bear with a sore arm.
Harper, in trying to keep Milward off the ball, was sent rolling over.  'Twas a grand but awful charge to see for the modest sum of a nimble "tanner."
Toiling, rejoicing, sorrowing, on tour, at home, and away respectively.  And to think that the friends (?) of the County upset Everton's equilibrium!
"It was with no hopes of victory that Notts made the journey to Liverpool on Saturday to play the return match with Everton."  Vide Nottingham Daily Guardian.
Out of 14 matches played with Notts County Everton have won nine, losing four, and drawing one scoring 31 goals against 21.  Add to this 6-0 and Everton's star is still more in the ascendant.
The price of toffee has gone up since Everton beat the County.  Now, when will they be able to beat the Country? Such a feat hardly seems within their province.  (N.B. Puns for the New Year.)
Mr. Love-trainer of Everton –deserves a cheering word for the good work he has effected through the extraordinary time and labour given.  He actually sat up all night in Sunderland, looking after the comfort (?) of his men.
Everton v. West Bromwich Albion, Goodison Park.
Wrexham v. Everton, Wrexham (Combination)
Wrexham v. Everton
January 16, 1893. The Wrexham Advertiser
Played on Wrexham Racecourse, on Saturday, before a fair number of spectators. Everton won the toss, and Hughes kicked off for Wrexham. The home forwards rushed towards the visitors' goal, and the ball being returned against Trevor Owen, went just outside. Everton were dangerous with good passing. Jones kicked away a shot from Murray, and the same player directly afterwards grazed the post with a capital shot. A free kick for the visitors near the home goal came to nothing. A corner for Everton was cleared, and the home forwards visited the other end. Not for long, however, as Collins returned with a long kick. Jones dealt with a shot from Elliott in fine style, but failing to properly clear a shot from Hartley, he was beaten by Gordon, who thus scored the first goal for the visitors. From the centre kick, Everton again attacked, Jones having to stop several shots. Gordon eventually gave relief by kicking behind. A corner for Everton was got away, and the Wrexham men forced the play. From a free kick, some exciting play took place in the visitors goal, Williams saving shots from Trevor Owen and R. Davies. Another free kick followed directly afterwards, J. Turner just shooting over the bar. Everton were again, in the home quarters, and Hartley was well placed, but shot over. Everton kept up the pressure, and had hard lines in not scoring, Murray striking the post. Two corners for Everton were safely got away, and then Hartley scored the second goal for the visitors with a splendid shot. Directly afterwards, from a corner R. Jones put through a third goal. The home men played up well, but failed to reduce their opponents lead, and at half-time the score was;- Everton three goals; Wrexham nil. On crossing over Wrexham were the first to be dangerous. Hayes kicked behind. Hands for Wrexham near the Everton goal was cleared, and then Edwards was cheered for some good play. J. Turner and Davies worked the ball well towards the visitors goal, but Chadwick returned, and a free kick for the home team was not improved upon. Free kicks afterwards fell to both teams. Wrexham did most of the pressing, but found the defence too good. The game then took a turn, and Jones was called upon several times. Turner had a try, but shot wide, and the ball was speedily near the Wrexham goal. Elliott had an easy chance, but shot over. However, directly afterwards, Hartley shot a fourth goal. The ball had just been re-started, when Hartley secured, and taking it towards the home goal, passed to Elliott, who notched a fifth point. Wrexham strove hard after these reverses, lea, shooting wide. Turner, also had a try at goal, and then Williams nearly allowed a long shot from Lea to go through. S. Jones saved twice, and Gordon had a chance of scoring, but sent the ball outside. Jones was cheered for some clever saves, and then the home forwards again got away, but failed to make any impression on their opponents' defence. From a cross by Gordon, Smith shot the sixth for Everton an appeal for "off-side" being disregarded. The game from this point was even up to the finish, when the score was Everton six goals. Wrexham nil. The following were the teams; - Everton; Williams, goal; Chadwick and Collins, backs; Coyle, R. Jones and McLaren, half-backs; Gordon, Murray, Hartley, Elliott, and Smith, forwards. Wrexham; S. Jones, goal; Edwards and E. Williams, backs; Samuels, Hayes, and Lea, half-backs; T. Owen, Pugh, A. Hughes, J. Turner, and R. Davies, forwards. Referee, Mr. Roberts, Birkenhead.
EVERTON V. WEST BROMWICH ALBION
January 16, 1893. The Liverpool Mercury
The return match, Everton having lost the first game by 3 goals to nil, was played at Goodison Park on Saturday, and attracted about 12,000 spectators, the event gaining interest from the fact that the same clubs are drawn together in the first round of the English Cup competition, to play which they will meet again at the same ground next Saturday. The following were the teams;- Everton; Rennie, goal; Howarth and Parry, backs; Stewart, Boyle, and Jamieson, half-backs; Latta, Maxwell, Geary, Chadwick, and Milward, forwards. West Bromwich Albion- Reader, goal; Horton and McCulloch, backs; Groves, C. Perry, and F. Perry, and Geddes, forwards. Everton kicked off against the wind, and made progress, but were not permissed to get beyond the opposing backs. Bassett then early made his presence known by trying one of his characteristic runs on the right. He was checked by Parry, the clearance being affected by Howarth, and a nice movement by Latta, Maxwell, and Geary elicited applause, but Horton adroitly took the ball from the toe of Geary when about to shoot at close quarters. The Albionite now became really dangerous, and twice Parry kicked, though rather clumsily, and, returning a third time, Rennie had to save, using his foot in preference to picking the ball up. His kick, fortunately, was a good one, or he would have been beaten perhaps, for several men were closing in upon him. Geary relied in a strong run and shot, and Chadwick banged outside from the return. The visitors harassed the Everton defence during the next few minutes, but were not very dangerous, the best attempt being a bending shot by McLeod from a pass by Geddes. This was followed by a flying shot from the right, which exacted a futile corner, and more pressure ensued. The Everton defence left nothing to be desired, and holding out gallantly, Latta gave relief by sprinting along the wing and passing to Geary, who was prevented from shooting by the prompt interception of McCulloch, Milward returned on the left, when Chadwick was unceremoniously pushed off the ball, an incident of which the referee took no notice, and West Bromwich made a brief raid, Everton seemed to be improving every minute just now, and splendid combination opened up several possibilities of scoring, but the shots of Geary, Maxwell, and Chadwick were not quite accurate enough. A much more dangerous attempt came at the other end. Bassett screwed in, and Rennie seemed to have caught the ball when over the line, but the referee thought otherwise, and disallowed the point. A corner was given, and before relief could be given two other corners were conceded, whilst an additional good shot by McLeod was repelled by Rennie, Everton were shortly afterwards header scoring then hitherto, as Latta drove in at a terrific pace, but Reader paired the shot with his fist in brilliant style. During the shot with his fist in brilliant style. During the play leading up to this incident Latta, Maxwell , Stewart, Geary, and Chadwick had all tried their skill in shooting, and twice corners were necessary. Play dittoed up and down between now and the interval, which came before either side could score. A long delay occurred before restarting, the referee and he visiting team having retired, leaving Everton impatiently waiting in the cold. The home side, having the wind, attacked rather weakly at first though somewhat protractedly, and the Albion, without having been harassed, became more threatening, forcing a corner on the left, which was cleared only by great exertion. Milward came away with the ball and raced down, but was dispossessed by Horton. The visitors were soon back at goal, and some quick short passing in front looked likely to bear fruit, until Stewart came to the rescue and kicked aside. Parry helped in clearing, and Latta ran down strongly, when the whistle sounded before he could get his shot in. Everton, however, now settled down to a persistent onslaught. Geary was near getting through with a low hard shot, but Reader was just in time to stop the ball, and other shots of varying quality followed. By way of a chance Boyd ran and shot, and Rennie saved twice, and then Geary because very prominent for some sharp running and shooting, nearly always being a bit too high in his aims. Once he shot over following a free kick, and on another visitor being penalised, Stewart placed the ball into the net, but it had not been touched in its flight, and did not count. The run of play was all in favour of Everton, who caused great excitement as they closed in time after time in the most determined way and shot round the goal. A particularly fine attempt was one by Maxwell, but whose shot Reader equally well repelled. Many narrow shaves ensued, and at length Reader struck his flag as though he played a warm shot by Geary, he was not ready for the sharp return of Maxwell, and Everton thus scored a few minutes off time. They tried to increase their lead –and then Albion endeavored to equalize. They were beaten back, however, and an exciting match terminated in a win for Everton by a goal to nil.
EVERTON V. WREXHAM
January 16, 1893. The Liverpool Mercury
At Wrexham, Snow fell heavily during the early part of the day, rendering the ground very treacherous. Everton had the best of the play, and Gordon, Hartley, and Jones scored. Jones, for Wrexham, saved on several occasions. In the second half Everton again had the best of the game, and Hartley and Elliott scored. Result; Everton 6 goals; Wrexham nil.
EVERTON REVIEW
January 16, 1893. The Liverpool Mercury
Everton took part in two League matches last week, both of which had close finishes, and the net result is that they ascend four rungs of the League ladder. They are at present eight, and ought to at least retain that position, though it will be a difficult task. They have yet to meet Stoke, Sheffield Wednesday, Accrington, Wolverhampton Wanderers, and Burnley away, and Preston North End, Blackburn Rovers, Bolton Wanderers and Derby County at home, each of which opponents will be formidable, and will call forth the best exertions of Everton if the majority of the matches are to be won. The achievements of the Liverpool club during the past week were not of a reassuring kind, neither were they altogether disappointing. Everton visited Notts Forest on Thursday, and were beaten by 2 goals to 1, but a draw would have been the correct result had not the Forest been lucky enough to get the assent of the referee as a legitimate goal to one which was palpably off-side and irregular, McInnes taking the ball when waiting almost on the goal line. Still Everton were not seen to advantage. The ground was soft and slippery, and they could not adapt themselves to the mud so well as their opponents did, and were thus not so evenly balanced. Howarth, contrary to his previous consistent effectiveness, slipped as frequently as anyone and this was a recurring cause of anxiety, but Parry fairly reveled in the mire, and fully compensated for the occasional weakness of his partner. Holt sustained his reputation for hard and clever work, as did Stewart, but Jamieson was disappointing, and seemed too slow to cope with the Forest right wing. The forwards, too, could not combine readily, the three inside men being often powerless to make headway on the heavy ground, opposed as they were by three brilliant half-backs in A. Smith, McPherson, and McCracken. Latta and Milward got along all right, and some very dashing runs and fine centres were contributed by each. Rennie had a lot of work to attend to in goal, but became out of the ordeal with added distinction. He could not be held accountable for the goals scored, as one, he maintains, was off-side and both arose from scrimmages. Notts Forest were strongest in defence, the goalkeeper of Allsopp, the back play of Scott and Earp, and that of the half-backs being of a high order; but the forwards were conspicuous for wing movements rather than solidity, as Higgins appeared too slow for his speedy colleagues. The Forest, however, are a smart team, to run whom just now to a goal on their own ground is no insignificant performance, for they have in their last five matches beaten in succession the Wolverhampton Wanderers, Blackburn Rovers, Accrington, Everton. And Newton Heath. The return match between Everton and West Bromwich Albion, at Goodison Park, on Saturday, proved popular, and the larre company witnessed a game which, commencing tamely, developed into a most spirited and exciting contest. As usual Everton monopolized most of the attack, and it was rare that the "Throstles" crossed the half-way line during the last 30 minutes. This would tend to show that the shooting was poor, but it was, as a rule, just the reverse, and that only one shot took effect in the match, and that by the home team, is a tribute to the brilliant defensive tactics of the visitors rather than evidence of want of precision on the part of the Everton forwards. Rennie again shaped well in goal, but once he ran some risk in using his foot when he had plenty of time to take the ball with his hands. Howarth and Parry each gave a good display of defence and the half-backs were very successful. Jamieson improved marvellously upon his Thursday's play; Stewart worked hard and judiciously all through; and Boyle filled Holt's position most creditably, though he began somewhat weakly. West Bromwich were strongest in defence, for the forwards were too well attended to by the Everton half-backs to be frequently aggressive; but Bassett and McLeod managed to make themselves conspicuous for speedy joint running on the right wing. Groves, C. Perry, and T. Perry were not particularly brilliant, the home forwards beating them repeatedly, more especially in the second half; but when penned they joined Horton and McCulloch in magnificent defence, whilst Reader played the ball with all the style of a resourceful, experienced custodian, the only time he was beaten being from a rebound off himself. Altogether Everton were the cleverer team but some alterations wone necessitated in the cup tie with West Bromwich next Saturday, as Parry and Rennie are ineligible having played in an English cup tie for the Caledonians and Halliwell respectively. Their places, however, can be capably filled, and Everton stand an excellent chance of winning; but the Albion have a knack of coming out strongly in cup competitions, and if they are to be dethroned special preparation will be coessential on the part of the men chosen to represent Everton. The followers of football will appreciate the opportunity that is afforded them of showing in a practical manner their sympathy with the windows and children of the two firemen who lost their lives whilst fulfilling their dangerous duties at the fire in Juniper-street. A benefit match takes place at the Police Athletic Grounds, on Thursday next, between Everton and the Police Athletic and the commendable event is under the patronage and presence of the Mayor (Mr. R.D. Holt) and Mr. H. H. Hornby (chairman of the Watch Committee). Tickets may be had from any police constable, or from Mr. R. Nelson, Rose hill Police Station. The League campaign will be surrender next Saturday, and English Cup Ties, which are as follows will engross attention;- Everton v. West Bromwich Albion. Referee, Mr. Hughes • Liverpool played Western Manchester, (Notes) Manchester Russell and his conferee Burrows (who at one time played for Everton on the outside right under the name of Shaw) were a safe pair.
POLICE ATHLETIC 0 EVERTON COMBINATION 12
January 20, 1893. The Liverpool Mercury
This match for the benefit of the widows and children of the late fireman Berr and Watts was played at the Police Athletic ground Sheil road yesterday and was the means of drawing an immense crowd of spectators, numbering about 8,000. Prominent among the occupants of the stand were several memebers of the Everton directorate the Head constable debuty head constable and inspectators Hassell the latter having charge of all the arrangements. Everton placed a strong team upon the field. As the result shows, but the calls for little conments the home team not being a match for the speedior opponents. The Athletic were first to show up, but Murray quickly steered the leather through, Hartley following with another, and a caiatl screw from the left wing of Everton made the score 3-0 at half-time. Having the wind now in their favour the Police Athletic caused Thomas to use his hands on several occasions. Wynne eliciting appaush for his good effort. Gordon followed suit and shot though while Hartley supplemented with another a little later on. The visitors now began tp pile on the agony, and with McLaren claiming the sixth, Smith obtained three goals, Gordon two, and Hartley one making the total 12 to nil in favour of Everton. Teams Police Athletic, Lindley, goal, Ford, and Wynnes backs, Prston Aspinson, and came on, at halfback, Park, Sant Duncan, Nelson, and Stephens forwards Everton Thomas, goal, Parry, and Collins back, Nidd, Jones and Coyle, half-backs, Gordon, Murray, Hartley,, Smith,, and McLaren forwards. For the record,, hartley (3) Gordon (4),Smith (3) McLaren, Murray
TODAY'S MATCH
January 21, 1893. The Liverpool Mercury
The most interesting contest of the 16 which form today's programme is generally conceded to be that of Everton and West Bromwich Albion at Goodison Park, by reason of the fact that the Albion are the present cupholders, and that the clubs showed much quality last week on the same ground in a League match, which Everton won by only a goal to nil. This result has enhanced the uncertainty of the issue this afternoon, which is rendered still more obscured owing to the necessity of Everton making some changes in their team from that of last week, as Rennie and Parry, who then played, are ineliible for cup-ties. They have already represented Halliwell and Liverpool Caledonians in the English Cup competition, and no player can appear for two clubs in one occasion.
Everton v West Bromwich Albion, Goodison Park, Kick-off at 2.30 p.m. A selection will be made from the following players to represent Everton; Jardine or Williams, goal; Howarth , Kelso, or Collins, backs; Latta, Gordon, Geary, Maxwell, Chadwick, or Milward, forwards. Referee; Mr. A.Hall
GOODISONIA
Cricket and Football Field - Saturday 21 January 1893
By "Black Rock."
Everton's Win Over The Cupholders
The creditable gain of two points last week end was by no means achievement.  After the very disheartening failure at Nottingham it came as a badly needed tonic, which has since aroused the drooping hearts of many of the home supporters, and produced a tolerate amount of hope to repeat the performance of today in the set down English Cup tie.  But we know what pot-lovers West Bromwich are, and whoever bids farewell to the chance of appearing at the Oval, 'twill only be after a harden stubborn fight.  The respectable gate of 14,000 last Saturday dismissed, at least for a week, the bitter thought that the number of their true supporters was diminishing.  You see, we are so generally accustomed to large gatherings here that even a couple of thousand of a deterioration is much marked and moaned.  Holt was absent from the home eleven, and the visitors had to do without Nicholson, who is expected to be fit today.  Speaking of the match in its entirely, the Liverpool men deserved the narrow victory of one to nothing.  There was not much in point of pressure in the first half, as both goals were frequently visited, and in the spell of midfield play the guests were often as good as their hosts.  It was in the last 30 minutes or so, where the constant requisition of Horton, McCulloch, and Readers services were repeatedly demanded and received.  If the game was what we term good, it was not grand, for excitement was sustained by the audience and even appeared to tinge the actions of the actors.  This may account for the disappointing shooting of Geary who, for once in a way, failed to cause the guardian of the pass many misgivings of negotiation.  Still it was he who scored, and not Maxwell (as has been currently reported) the centre throwing himself wildly forward in goal before Reader could get away with a hard shot by Latta.  How handy would a telegraph board come in here, by which all might see in plain writing on a back surface the name of the dexterous or lucky scorer.  West Bromwich, on their form here, are a really good set of players, their forwards in the former portion exhibiting good enough football to score on many occasions, their halves being smarter than is usual on the ball, and their backs and goalkeeper three as good defenders in the midst of opponents as one could wish to see.  There was generally (when they got into their swing) more danger in their scorers' tactics in front of goal than in Everton's, and on one occasion they appeared to beat Rennie as that worthy allowed the ball to pass some distance through his legs, and on another gained three corners in succession, but which passed off a harmlessly, as those that fall to the lot of the home players.  No, sir, not yet has Everton added a major point this season from the ball passing over the goal line from an opponent.  Bassett, and his partner, McLeod were the means of bringing out the abilities of Jamieson, and so well did he perform that it is surprising he was not chosen for today.  Stewart was remarkable for fulfilling his own duties and aiding Boyle, who was now and then in a dilemma.  Indeed in every match that the ex-Burnley man has officiated he has given satisfaction, which is not at all easy now-a-days.  Howarth, whose kicking was remarkably clean and accurate had a bit of a misunderstanding with Parry, and it was by the merest shave that Rennie partially stopped the shot from Boyd, who had taken aa prompt advantage of the mistake.  However, "all's well that ends well," and this was the last visit of the visitors in the neighborhood of the home defenders. 
NOTES
West Bromwich forwards fell away soon after the interval, Bassett simply being useless, after Milward,  by a pure accident, fouling him.  His confrere, McLeod, slackened not his pace and was without doubt the hardest working of the frontline on his side.  The Perrys did nicely but Groves lasted the longest, his swift speed enabling him to re-capture after a loss.  Horton vied with Howarth as the best on the field, the former kicking with the neatness of Lang (whose style, I imagine, he represents), and with perfect fairness, McCulloch was ever useful, especially is close quarters and may be safely relied upon in front of Reader, who had much more to do than Rennie, and did it better.  Turn we to Everton, where Rennie was not up to his usual standard kicking when he should have handled- and clearing just, and just only.  I am afraid someday this personage will look very sheepish, if he will not pick up when he has the time and the opportunity.
NORE;  Always use your hands if you can.  Howarth I have mentioned, and his accomplish to save –Parry, did not waste much, his heading always coming off, and at the right time.  Boyle came up in the second half, but it was not here that his brilliance was particularly wanted.  Stewart and Jamieson were there when desired, and did accordingly.  Geary and Co. played excellently in the field, and I have no fear that West Bromwich (who have been training this week, I hear at Matlock) will return to the Midlands beaten, if the forwards only have utilsed a fair proportion of the chances that will surely have fallen today.  We will see.
A FAIR AFTERNOON'S WORK
Cricket and Football Field - Saturday 21 January 1893
By Richard Samuel
Two wins and one draw constitute the work done by our three principal clubs last Saturday.  Of course the principal event was the meeting of Everton and West Bromwich Albion at Everton.  Except for a few minutes at the commencement of each half, the game was splendidly contested.  Everton were generally on the attack, but in the few turns the visitors had the home goal tottered.  Three times in the first half came shots from McLeod and Bassett, which it took Rennie all his time to save never mind making any presence of clearing. In fact the second rolled through his legs and appeared through before he got it away.  I have some across several people who assert they were in a line with the goal, and out of the neutrals there is a diversity of opinion about it, so how can a referee be expected to decide such a tickle point satisfactorily?  Towards the close the homesters put on a lot of pressure, but do what they would the defence held them in check for a long time.  The visiting halves were often passed, but they kept on, and by the time the home forwards were in a shooting position they were at them again.  Against a really stubborn defence the Everton forwards have failed in previous matches, and their best scoring performances have been in games that were pretty open in general play.  Beyond some fine saves by Reader there was nothing brilliant in the Albion defence.  It was more downright hard and plucky work that characterized the efforts of the halves and backs.  To effect a score, first Milward and then Latta went centre-forward, but only about five more minutes were wanted when Maxwell fastened on a rebound shot of Latta's and scored.  Even in the short space of time left the visitors came away in one of their rushes and the home goal had a narrow escape.  The one goal margin in favour of Everton does not represent the play by any means, but on looking back and recounting the incidents of the game, it might have ended t'other way about.  What struck me most in the forward tactics of the visitors was their speedy and telling spurts, which somehow caused our custodian no end of trouble.  Reader had a couple of shots quite as difficult, and in every aspect the same that Bassett and McLeod put in, and he cleared them as easily as could be, and without any fumbling, and I should not be a bit surprised if the goalkeepers perform more than a usual important part in deciding the Cup tie.  I have never heard anyone cavil at the condition of the Everton men, but Lowe has had them well in hand during the week, and expects putting them on the field fit for anything (only scoring goals did I hear?)
The Combination team
This team appears to have again got into the knack of scoring goals, as Wrexham found out last Saturday.  The Everton executive would like them pitted against the Blackburn Rovers' Reserve in the Lancashire Cup-tie, seeing that both the Rovers and Everton have League engagements on that day, and Mr. Molyneux has written suggesting this course, and in his most flowery language pointed to the advantage of playing the match here instead of at Blackburn, just for the sake of the "gate" you know. 
A Scotchman resident in Notts, writing to a Scotch contemporary re the Notts v. Everton match classes Bob Howarth as, "Second rater now."
EVERTON V. WEST BROMWICH ALBION
Cricket and Football Field - Saturday 21 January 1893
Defeat of the Cup-Holders
Although the home team defeated the same eleven as figured today, last Saturday, from the acknowledged prowess and irresistible pertinacity of the Midlanders in cup-ties, the issue this afternoon was very open.  Everton appeared first, followed by the visitors, both receiving enthusiastic encouragement.  Teams;-   Everton; Williams, goal; Kelso and Howarth, backs; Boyle,  Holt, and Stewart, half-backs; Latta, Maxwell, Geary, Chadwick, and Milward, forwards.  West Bromwich Albion; Reader, goal; Horton and McCulloch, backs; Groves, and C. Perry, half-backs; T. Perry, Bassett, McLeod, Boyd, and Geddas, forwards.  Referee; Mr. C.J. Hughes.   A tremendous crowd, fully numbering 20,000, was present when Boyd kicked off, a cross wind blowing.  At once Everton rushed down, Milward sending in a magnificent centre, which just went wide.  Then Kelso, from a foul, took an accurate kick, Maxwell meeting and steering it past reader.  Only four minutes elapsed before amidst a hurricane of cheers West Bromwich in concert got near Williams, but Howarth was safe.  Geary ran away, passing to Latta, who beat Reader with a fast low one, two goals accruing in 12 minutes.  Truly sensational scoring. Milward next shot against reader who did well to clear, another narrow shave to the visitors.  Then Bassett put in one of his characteristic runs and centred, but Everton's defence was very sound, Holt playing perfect football.  West Bromwich tried with might and main to advance but they were always driven back, and Geary and Latta were near reader, the visitors' behind being somewhat mixed.  The game was stopped for a few minutes, Boyd charging Holt, who resumed.  The next moment Bassett was brought down by Howarth.  Falls were frequent and play desperate.  Williams handled for the first time, the visiting forwards improving.  McLeod, after a pass from Geddas, beat Williams.  The pace was a cracker at first but fell off slightly.  Latta was next seen spinning alone towards Reader amidst appeals for offside, the referee disregarding it.  Reader saved his shot, but the return falling to Geary close in he added No. 3.  Boyd was next hurt and the game proceeded, fouls coming intermittingly. 
Half-time; Everton 3, West Bromwich Albion 1.
On resuming the ball was quickly given to Geary, who scored, the referee disallowing.  After Kelso had beaten Boyle close in Reader saving three shots in a couple of minutes, Reader again handled from Geary.  Everton shooting splendidly.  The game was again stopped, this time through Milward being down.  Chadwick from a pass added the fourth goal.  A foul against Holt was cleared by the same player.  Horton brought Latta up and also Milward who was running through the Albion forwards were well catered for by Everton's halves, the former's combination being broken up repeatedly.  Still Howarth and Kelso were often on the move as the play ranged from end to end, Chadwick's final shot missing by a few inches.  Reader next handled and Everton were still pressing.  Williams had to run out and kick away a long shot by Person.  Albion were striving hard, Williams saving poorly.  Another shot from Boyd and Latta showed grand form.  The Albion had extremely hard lines, Williams getting the ball away by the merest shave.  Groves gave Williams another try.  West Bromwich were not passing better.  Another raid on Reader was ended by Royle shooting wide.  The visitors gained two corners.  A foul near Williams was safely dealt with.  The Albion played up towards the finish, but could not add to their score. 
Final; Everton 4, West Bromwich Albion 1
Everton all round did excellent, their forwards in passing, centering and shooting giving every satisfaction.  Their halves were quick, steady and ready, and the backs always accurate.  The Albion went in for shorter passing than the home team, which failed to come off.  Groves worked hard, but Bassett was disappointing, Stewart taking well after him.  Reader had twice as much work as Williams and did well.  Everton deserved victory.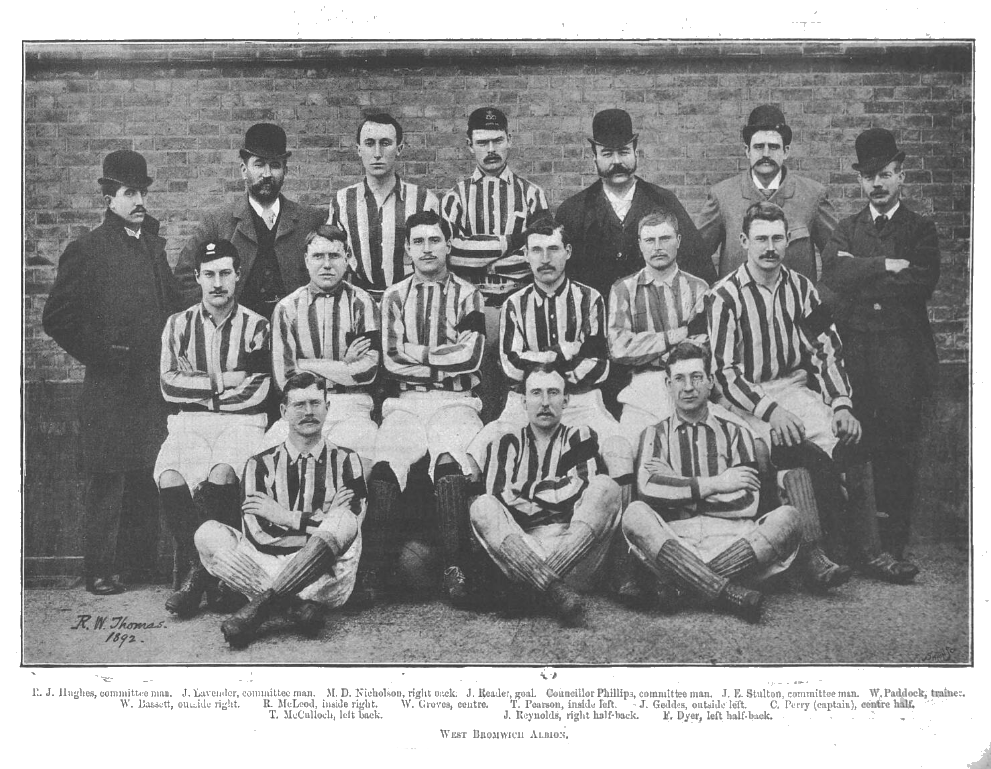 Illustrated London News
DAN DOYLE
Cricket and Football Field - Saturday 21 January 1893
Mr. Jackson makes fun of the Scottish Committee accepting as sufficient Doyle's apology for insulting Mr. Fitzroy Norris at Stoke, and goes on to say.  "Mr. Doyle, after his ordeal was chosen as one of the Scottish eleven against England last season.  It goes without saying that the English players will look forward with great pleasure to the prospect of meeting him again in the field on the first of April; and it is comforting to reflect that, even if our Association pronounces his excommunication, the sentence will not be taken as excluding him from international matches.  The game of football, over which associations are supposed to watch, cannot fail (whatever may be the case with the lives and limbs of the players) to benefit from the patronage of such noble exponents as Mr. D. Doyle." 
NUGGETS
Cricket and Football Field - Saturday 21 January 1893
There is likely to be trouble over the Rovers and Everton Cup tie.
Everton nade good-bye to the Lancashire Cup when they saw the tie.
"The Everton forward play never rose above the surface of mediocrity last week.
Another exposition of unsatisfactory refereeing was manifested at Goodison-rd, last Saturday.
Maxwell's efforts at shooting were painful to witness, and Geary kicked any amount of Rugby goals. 
Campbell has been sacked, and the heavy expenses are slightly reduced.  Time – and money saved.
Chadwick gets very slow, and if it were not for his inimitable dodging powers he would be simply useless.
Who is that ardent Evertonian who is giving two to one against the chances of his own club today?
Everton had three days' training this week on Goodison-rd, and the players were confident of winning.
I am sure you observed, gentle reader, the kind and marked attentions of an outside wing player yclept Latta.
All the Everton forwards scored against the burly "bobbies," Gorton and Hartley distinguishing themselves greatly.  Has one of the tribe's prophecies been fulfilled when he exclaimed; I ves promise you that they will sit on Everton?
The Everton team and committee were eager, sanguine, and confident that they would relieve the Throstles of another cup.
Stewart and Jamieson watched their wings well and nipped many good efforts of Bassett, Geddes and Co. in the bud time after time.
What a shout when Everton scored, and what a silence when Bassett broke away with a characteristic dribble in the last minute.
Everton always in the van for charity.  Mr. Molyneux last week gave the proceeds of a gate to Monsignor Nugent and Canon Lester.
Since the Rovers' reserve is anxious to meet Everton's why not play these teams in the Lancashire Cup tie?  I fancy Everton are willing.
Mr. Griffiths informs me that the theatrical match is threading its way along nicely, and adding everything on promises to be a hugh success.
The-er-independent and isolated style of Mr. Lowles at Goodison-road, put me in mind of the old historic days of amateurism.  Still Everton should feel grateful.
"Mum's" the word.  Geary received 30s a week as an amateur.  He said so himself, but, perhaps, he joking, or he's another –one of them – that deserved it.
Everton suggested that the second teams should play the Lancashire Cup ties, but the Rovers couldn't see it, especially as it would have to be played at Goodison Park.
The warmest tie of the day – Everton v. West Bromwich Albion.  I fancy the "Toffees" will be licked, if the relative cup tie fighting merits of both teams be considered. 
It is announced in the Liverpool evening papers that the team of Everton went to Hoylake to train privately.  This is absolutely untrue, as they took their breathings at Goodison-rd., where they dined daily.
Everton Combination 12, Police nil.  Eight thousand spectators.  "For the widows of the gallant firemen who perished at the Juniper-st fire."  There must have been some fun in watching the efforts of the "bobbies," who were run through so often.
I see it is proposed that Everton –who have justly won the title of the team of charity –should give a benefit to the representatives of the old Caledonian F.C., who are out of business.  Would it not be better to aid the labour out of work than a man out of play?
EVERTON V NEWTON
January 23, 1893. The Liverpool Mercury
Everton Combination team visited Newton on Saturday. They had the advantage of the slope during the first half, and scored twice Murray being accredited with both goals. Afterwards the home team scored the only additional point. Everton thus winning narrowly by 2 goals to 1.
EVERTON REVIEW
January 23, 1893. The Liverpool Mercury
By general ascent the tie between Everton and West Bromwich Albion was the piece de resistance, and this opinion was borne out by results. Why interest focused in the event is not difficult to discern. Primarily, it was because West Bromwich Albion are the present holders of the cup, and have often previously made their mark in the competition, having in their time been twice winners, once runners up, and on another occasion been semi-finalists. A secondary cause of zest in the combat was the close fight the teams had made only the week previously in a League match, and which Everton won by a goal to nil. A record "gate" with favourable weather, was prognosticated, and for once the prophets were right, for the takings amounted to a little over £570, which eclipses the sum received at the Sunderland League match at Goodison Park by a few pounds. The attendance would thus number about 25,000, or slightly less than that of the Sunderland contest, as on Saturday members and subscribes had to pay for admission. The scene was a most animating one, and the run of play being of the high quality the occasion demanded, the 21 st of January, 1893 will e a memorable one in the history of Liverpool football. Both sides had undergone special preparation for the event, the Albion at Enville and Everton in their own neighborhood, and the game was consequently one of the fastest imaginable. Everton lost no time in convincing their opponents, and spectators that they were in the pink of condition, and practically won the match within the first five minutes in scoring a smart, if a surprise, goal. Ten minutes later they went further ahead, and it was then uphill work indeed with Albion. The visitors kept plodding on, however, being too experienced men to abandon hope with more than an hour's time to run. They met with reward after 30 minutes' play, and confidence in Everton, if never abandoned, became diminished; but it was not for many minutes that anxiety was felt, for before the interval the home team had regained their two goals lead. The second half promised well for Everton, as they had what slight advantage there was in the wind; but it was some considerable time before they could again score; and this once achieved, victory was assured. West Bromwich never gave in, but it was evident long before the finish that they were a hopeless and disorganized team. Everton did well to a man, or they would not have been in their proud position to boast of having beaten the cupholders. They played with great dash, and kept from crowding too frequently, as they did last week, with good results, for each of the goals scored was the outcome of a quick pass and a prompt shot when attacking in loose order. If any department may be singled out as acting a conspicuous part in the cause of victory it was that of the Everton half-backs, who time after time broke up the combination of the Albion forwards with great skill, and Stewart back again on the left wing, in particular completely foiled Bassett and McLeod, this wing being unusually ineffective. Williams did not have much to do, but he shared satisfactorily in goal, though he might have cleared better the shot that led up to the goal scored against him. Howarth and Kelso gave perhaps the best exhibition of Everton defence this season, and the forwards ran, passed, and shot with great gusto, the right wing especially being invariably a source of terror to the Albion defenders, who were best represented by Reader, Horton, Groves, and C. Perry. The left wing of West Bromwich easily over-balanced the right, and the forwards were thus uneven.
EVERTON 4 WEST BROMWICH ALBION 1 (FA cup game 10)
January 23 1893. The Liverpool Mercury
These teams met in the first round of the first round of the English Cup Compettion at Goodison Park on Saturday, the event arousing the greatest interst with the result that the attendance numbering about 25,000. The ground was in good condition, and as each team had trained for the occasion a most spirited game was witnessed by the vast crowd. The teams were Everton Willaims goal, Kelso and Howarth (captain), Boyle Holt, and Stewart half-backs, Latta, Maxwell, Geary, Chadwick, and Milward, forwards. West Bromwich Albion:- Reader, goals, Horton, and McCulloch. Backs, Groves, Perry (c) Perry (t), half-backs Bassett, McLeod, Boyd, Pearson, and Geddos, forwards, Referee Mr. Hughes (northwich). The wind blew across the ground and there was not much advantage in gaining choice of side, but what there was at the outset favoured the visitors who kicked off. Kelso was at once called upon, and kicking strongly the Everton left wing to keep an aggressive attude but Latta could not reach the ball from Chadwick's pass and so a chance passed away. Kelso again fouled Goddes, who was forced to shoot astray, and once more the Everton left wing closed in, when Maxwell took a pass and scored easily a loud cheer greeting Everton;s early success. The Ablion soon got under weigh but Howarth promptly beat them off, and Everton, infusing great energy in their work, attacked strongly when a shot from the left put behind. A long kick by Kelso created another opening but turned to account, and then Howarth drove outside from a too powerful free kick. Geddos and Pearson next started a pretty run down, but Holt robbed them, and when the opposite wing returned Kelso speedily neutraised. Finding no means of closing in, McLeod shot wide from long range. Everton got well away from the goal kick on the left and the ball going to Geary he at the right moment passed to Latta who banged into the net. Everton had thus scored two goals in eleven minutes and great was the enthusain. The home team were soon back again when Latta put in and Milward shot hard and well, but Reader this time made a fine save near the post. The attack was contiued with much vitality, and Horton cleared at a most critical period. Milward drove in a few minutes later along the ground, and Reader saved with his foot, apparently aciddentally. A free kick fell to the visitors, but this was of no services, as Latta went flying along, and, centring, and, regaining the ball, shooting strongly. Reader ran out and diverted the shot. Boyd then charged Holt and the latter receiving a hard knock on the head, was stunned, and play was stopped whilst he recovered from the effects. Everton shortly following were awarded a free kick near in, when Holt put the ball to Stewart, who shot low but just outside goal. Bassett tried to improve the position of his side but was brought down by Howarth. Still the visitors remained in the home qyarters, and Geddos shot, Williams being called upon, for the first time. The Albion returned on the right and Geddos shot from Bassett pass. Williams only partially cleared and paid the penalty as McLeod saw his chance and took full advantae of it. The argin was now only a goal but Everton soon had another free kick near, goal, when Stewart shot against an opponent's leg. Latta, however, raced down immediately afterwards and passed to Geary, who scored. Maxwell keeping the men off. The interval soon arrived with Everton leading by 3 goals top 1. On resuming Holt gave hands, and Horton placing well danger threatening but Holt went to the rescue and got the ball clear. A corner followed to the visitors, and this being neutralised Everton went away on the left, and Milward shot bey Reader stopped it. A fine general movement by the Everton forwards next resulted in Latta shooting narrowly outside. Kelso then kicked up well, and Everton pressed severely but in vain. Geddos relieved in a spirited run without effect as kelso headed back. Still the Albion had evidently got into a better line, and gave considerable trouble, but the home defence was sound. Everton resumed once again the upper hand, and from now to the finish had nearly all the play during which Geary scored an offside goal, and Chadwick a legitimate one, a grand victory being gained by Everton of 4 goals to 1.
TODAY'S MATCH
January 28, 1893. The Liverpool Mercury
Everton will take up the League theme again today. They go to Staffordshire to fulfill their return League match with Stoke –a task which can only be described as arduous. Stoke, it will be remembered made a draw of two goals each with Everton when at Goodison Park on Nov 12 since when they have beaten Preston North End (at Stoke), Burnley, West Bromwich Albion, Sheffield Wednesday, Newton Health, and Burnley in the League; but have been beaten by Wolverhampton Wanderers, Derby County, Accrington, and Preston North End (return at Deepdale). Stoke are certainly very formidable when at home, for they have only lost one match when playing on their own ground, and then by a solitary goal by Aston Villa (a goal to nil). It is important, therefore, that Everton should estimate their opponents to day at their full worth, and he prepared accordingly. A win or loss may have far-reaching effect with them. It is more vital than even a cup-tie. Two points gained will greatly remove the danger of Everton finishing among the last three in the League; if they form one, of which there is the risk of losing their position in the first division, for each of the last three clubs will have to quality for the next year's rank by playing off with one of the three senior clubs in Division 2. In a general way the county of Lancaster will today e immersed in the first round ties of the country cup competition proper. Everton v Blackburn Rovers and Bolton Wanderers v Accrington are ties which have been deferred. There will also be a game at Goodison Park, Everton Combination there joining issue with Long Eaton Rangers.
Everton v. Stoke, Kick-off at 2.45 p.m. The following will play for Everton; Williams, goal; Kelso and Howarth, backs; Boyle, Holt and Stewart, half-backs; Latta, Maxwell, Geary, Chadwick, and Milward, forwards.
Everton v. Long Eaton Rangers, at Goodison Park, Kick-off at three p.m. A selection will be made from the following players to represent Everton; Rennie; Chadwick, W. Campbell; Collins, Coyle, Jones, Ross, Muir, Gordon, Murray, Hartley, McLaren, Elliot, and McMillan.
Monday
Everton V Blackburn Rovers, Blackburn (Lancashire Cup).
GOODISONIA
Cricket and Football Field - Saturday 28 January 1893
By "Black Rock."
The Great, Grand, and Glorious Victory
We've watch and we've waited, then loved or else hated.
Thy failures to show what we know thou can'st do;
We've noted thy troubles, in solids and bubbles.
From Anfield to Walton-our hearts have been true.
Still following closely, yet not too merecesly,
Quite happy to spring in thy joy of advance;
And now more than ever, we swear we'll ne'er sever,
If the song is sustained in the West Bromwich dance.
For we've drunk in the measure a treasure of pleasure,
We've sipped and we've nipped from thy four to one bowl;
The replenish the glasses, we'll drink to the issues
Who shouted for Geary to Williams in goal.
"Here y'are!" (As the bootblack says)  always ready and willing to give you a good shine for one penny, but
To The Football Field.
To see the multitudinous motly groups –from the dark-robed minister to the dirt-robed street boy, to see the impressible number of vehicles of every description, to hear the excited and most animating conversations, with the central figures laying down the law (after privately weighing up the pros and cons by contingencies and comparisons), to feel all this –and more-is but the odour of the football dish, if served to suit our palates.  And, last week end, it certainly was, for with the appetite keen, the digestion good, most naturally good humour and harmony followed.  The clicking of the club's clock registered slightly over 22,000 contributors, among whom were a fairly strong gathering of the Albion clan.  Both teams had undergone some hardships-for true training is not "all beer and skittles."  The districts of West Derby, Aintree, &c., saw the home lot taking their early morning constitutionals, after which, they partook at the same board of all those comestibles which go to form muscle and bone.  Now, this bringing together in pleasant association (and thereby loosening the petty jealousies, by strengthening the fraternal spirit), is more to my mind the secret of success than any other reason I might advance.  Again, as the hound is keener by temporary absence from the hare, so was indeed Everton, from the prevention of following their usual practice with the ball.  The game opened at a slashing pace, both elevens being as anxious to score as their supporters to cheer; and just as we had become comfortably settled, for as accurate returns to rapid advances, the acknowledged weak shootist –Maxwell-surprised himself.  Reader and all of us by flopping the sphere through the coveted corner.  Before Latta added No. 2, by a curling and curious shot, the Albion left wing, by their methods, were thoroughly in earnest, and meant business, but Kelso was always on the alert and if the cross went into the territory of Howarth, "Bob," with apparent nonchalance, returned their kindness, by sending the ball back with a hugh kick.  I imagine that the second goal-after nine or ten minutes play –was such an eye-opener to the Albion that, although they never lagged or fagged in their endeavours, the concerted understanding was conspicuous by its absence.  True, the home halves, especially Holt, who was simply reveling in robbing, and Stewart, who never left Bassett to be, as per usual, "the observed of all observers,"  if he could, drove back the cup-singers (?) with harassing promptitude, yet, I did not notice those flashing runs and quick neat passes, or banging attempts which are characteristic of the visitors
When a prize is at stake.  There is not the slightest doubt about it that the home defence was much superior and stronger than their attack, and resisted all their invasions, save on one occasion when Bassett sent to Boyd, he to McLeod, who found an unprotected spot in William's charge- a fitting termination for the continuous efforts.  On the other hand, take Latta and Maxwell, who would not be beaten when progress was the watchword; and Milward, and Chadwick, in such tenacity of purpose, that invariably commands success; and this quartette, joined to Geary, who made ample amends for the previous week's fiasco; and then one would notice that the general swing was pleasurably manifest.  The Albion improved by fits and starts, Everton kept up a continuous rattle which did not grate on the most sensitive.  Reader had always to be prepared (although his halves brought off many neat actions, and Horton was continually distinguishing himself) for the strain was so constant and regular, and the shooting uncommonly good.  Still, I should say the keeper did well with only four goals against them.  Some of his saves were thoroughly saves, and his well-known ability and safely in kicking out those abominably hated shots to goalkeepers, were done with the science of a master.  Williams had not a quarter of his work, and yet he did not leave the ordeal, as a custodian one would place much confidence in.  About eight minutes before the referee gave the usual order for stoppage of hostilities the Albion had these minutes out by sampling Williams.  They indeed deserved another goal, but the hardest of hard lines was their only reward.
REMARKS
The home lot, individually and collectively (if I except Boyle and Williams) performed wonders, and although I make these exceptions they are positively not weak.  Kelso once more came to the rescue, and, as usual, was as safe as Howarth, which is saying a great deal.  The prodigious and well-timed kicking of the last-named was a conspicuous trait.  Holt displayed international form, and Stewart has often been thanked for spoiling the usual spoiler.  All the forwards were ever forward in everything that they should do, and the amount of work put in would fill this column alone.  The best of the "Brums" were Reader and Horton at back (still I liked not the last-named player as on the previous week), and Groves at half.  These players did the most business in the best business like way.  The Perrys were fair, and fair only.  Geddes and Pearson invited attention among the forwards, and Boyd towards the close played up to his reputation.  The home team won not by any strange device, nor any other artifice, but earnest, honest, downright means.
A BIG VICTORY
Cricket and Football Field - Saturday 28 January 1893
By Richard Samuel
The cup tie between Everton and West Bromwich Albion created a great stir in Liverpool, and the roads leading up to Goodison Park presented an animated scene from soon after one o'clock.  All kinds of vehicles were called into requisition to convey enthusiasts to the scene of operations, and never before has Mere-lane worm such a lively aspect.  "Black Rock" will tell you of the game itself, but I should just like to have a say in the matter.  First of all, let me congratulate the Everton team on their performance.  It is no light job to tackle the Albionites in an English Cup tie, for no matter how the team have fared in other games they have generally risen to the occasion when fighting for the English Cup.  The Everton executive and the players themselves know this, and although the men underwent special treatment, it was done at home, and done well, for they were in splendid condition.  The game started at tip-top speed, and no slackness was apparent until the last few minutes of the game.  The Everton men played a superior game to their opponents at all points.  They not only had much the best of the play, but their efforts were more artistic, and their movements generally were more accurate, and their passing better sustained.  This was often demonstrated, for whereas West Bromwich would treat us to really beautiful and effective passing, it lacked finish, and often enough some big blunder would be made which spoiled all, for the home halves were always on the alert and to beat them meant play to be of the highest order.  It was not only in the nice touches which the centre and inside men were constantly serving up, and in which Maxwell excelled, but the dash of Milward and Latta gave a piquancy to the dish, which was thoroughly relished by the home supporters.  On all hands it is agreed that the men played about the best game of any that have done duty for Everton.  I daresay this is so.  At the same time we had none of those brilliant flashes and sharp low shots from Geary, which were the principal cause of the popularity and success, I may say, of the 1891-2 team.  The former can be dispensed with –in fact, the class of half-backs now-a-days won't stand it, but we could do with the revival of the latter accomplishment.  Individualism was absent on Saturday, for neither Geary nor Bassett was allowed any latitude.  In having Notts Forest as opponents in the next round the team are favourably drawn, especially as the game will be played at Goodison Park, and I think they will manage to get further in the competition.  The men are enthusiastic about their work, and mean to have something to show for it at the end of the season, and this is a good sign.  With the League Championship practically out of the question, there is only the English pot which has sufficient glory attached to it to satisfy them, and they are well supported by the Executive, who promise a good bonus to the members of the team if they bring it to Liverpool. 
EVERTON V. LONG EATON RANGERS
Cricket and Football Field - Saturday 28 January 1893
Everton met Long Eaton Rangers at Goodison Park this afternoon, and beat them by 5 to nil, scoring three in the first portion.  Locker and the backs were the best of the visitors.  Muir, late of Callie, was tried at centre half by the home team.  On receipt of victory over Stoke there was great jubilation by the 2,000 present, who clustered round the secretary's office.  Final; Everton 5, Long Eaton Rangers 0.
STOKE V. EVERTON
Cricket and Football Field - Saturday 28 January 1893
Stoke; W. Rowley, goal; T. Clare, and A. Underwood, backs; D. Christie, J. Proctor, and D. Brodie, half-backs; W. Naughton, W.A. Dickson, Baker, J.E. Evans, and J. Scholfield, forwards.  Everton; Williams, goal; Howarth and Kelso, backs; Boyle, Holt, and Jamieson, half-backs; Latta, Maxwell, Geary, Chadwick, and Milward, forwards.   These clubs played their returned League match at stoke, today, before 1,000 spectators.  Both teams were strong, Stoke playing Baker in centre in place of Robinson, who was injured at Accrington last Saturday.  Stoke, with the wind at their backs, had much the best of the opening play, shots at the Everton goal were frequent, and several shots were saved in capital style.  Everton were twice penalized for shady tactics, and they again narrowly missed scoring from a corner.  Geary, after a run by Latta, had the goal almost at his mercy, but his shot passed outside.  Milward got away but was charged down by Clare in the nick of time.  A few seconds later the same back came in for a round of applause for fine play.  Stoke again took up the running and kept the leather continuously in their opponents' quarters, but found the defence was safe.  Stoke maintained their advantage, though the Everton forwards played well.  Williams was twice brought to his knees in saving, while Rowley was not troubled.  Clare played brilliantly at the other end.  Howarth was also in fine fettle.  Just before half-time the Everton goal had another narrow shave.  Scholfield made a brilliant run, outpacing all opposition, the ball eventually passing out.  At the interval nothing had been scored by either side.
Half-time; Stoke 0, Everton 0.
Changing ends, the visitors showed up much better, and quickly gained a couple of corners, which came to nothing.  Geary was penalized for off-side, and Latta had hard luck with a fast shot which only just missed the post.  Holt sent in a fine long shot which Rowley saved, and this was followed by Everton being penalized for unfair tactics.  Good work by Baker and Laughton almost led to a goal for Stoke.  Everton scored a simple sort of goal through Milward.  Stoke made strenuous efforts to equalize, and a miss by Howarth almost let them in.  Kelso coming to the rescue Everton got three corners in quick succession, but nothing more was scored, and Everton won by a goal to nothing.  Final; Stoke 0, Everton 1.
THE THREATRICAL FOOTBALL MATCH
Cricket and Football Field - Saturday 28 January 1893
The Theatrical Football Match is now dignified by the title of gals, and I am pleased to say that everything points to a rousing success.  It takes place on the Everton ground on Thursday, February 2, commencing at 12 o'clock noon and finishing –so the Theatrical people tell me –at 12 night, in the different theatres.  There is no truth in the rumour that Joe Burgess and Martin Adeson will stand in the middle of the ground and "gag" against time.  –Roseycrante Jum.
EVERTON V. CENTRAL
On Tuesday evening, February 7th, Heywood central and Everton will meet at Bamford-rd, for the benefit of the Heywood Relief Fund.  Great preparations will be made for the match, and the ground will be lit up with electric and Wells lights. 
NUGGETS
Cricket and Football Field - Saturday 28 January 1893
Can Everton beat the Forest?  That, sir, is the question.
Have you sampled the Goodison-rd, Bovril?  The pressmen did.
Boyle started very weakly, and I opine that Jamieson is a better man
Are the Goodisonians pleased with the draw for the Cup?  Events will prove that. 
Holt performed prodigies.  Applause, without a pause, were given from jaws.  Oh, lors!
Who is most like "Johnny" Holt in his marvelously play" Another "Johnny" Holt. See?
Was the photograph so painful to the Albion out of doors, that caused them to lose the match?
Everton league go to Blackburn on Monday (Lancashire Cup tie)-an extension of one day granted.
To praise Everton's play after all the fulsome adulation expended on them would be like painting the lily.
Sequel of Everton and Burnley –Suspension of Nichol for a week- perhaps a fitting retribution for his conduct.
A bet of 2 to 1 on the Albion was offered and taken on the reserve covered stand after Everton had scored two goals.
Holt up to his tricks again.  After Milward's injury the "drop of the crathur" which "Daddy" received did him a lot of good.
If Everton only play with that irrepressible dash and vigour which characterized their exhibition of last Saturday, they should swamp the Forest.
If Everton have beaten Stoke today, I know some players who will meet with a pleasing obstacle ere they reach the bottom of their tweeds.
To see Stewart and Bassett in friendly conversation for a minute, and, in the next, to watch the half go for him, appeared very funny to the uninitiated.
The dog and poultry show was not held last Saturday at Goodison-rd, yet the number of fouls present would largely increase the exhibition this week.
'Twas rather amusing after the Cup-tie to hear some rabid Evertonians simply paralyzing one of their own supporters, who pretended to hail from West Bromwich.
Everton must be an interesting team, as several spectators from Lancaster, freely expressed their willingness of need be, to come even from the North of Scotland to see such a game. 
What price Everton for the English Cup, eh?
Weren't Small Heath suited at the intelligence from Barley Bank and Everton –rather.
Did that Fairfield youth reach Goodison Park on Saturday, or did he leave that fast trotting pony in Collinwood-st?
Everton have some warm matches on hand, Stoke today, the Rovers on Monday, and Notts Forest next Saturday, and all important games.
The Seacombe St Paul's secretary was seen last Saturday on the Everton ground watching the Everton team make the Throstles sing to the tune of four goals to one.
There were two features which were prominent in the cup tie at Everton, Geary actually charging an opponent, and Howarth being guilty of foul play.  At the former Latta smiled a great smile.
Everton showed champion form against West Bromwich.
EVERTON REVIEW
January 30, 1893. The Liverpool Mercury
Everton certainly seen to have caught the flood tide which leads on to victory. They have scored two significant wins on successive Saturdays, and that of Stoke, though only by a goal to nil, is scarcely of less importance to Everton, since it makes their forward position in the League almost assured, than that of the success over West Bromwich Albion in the Cup tie. The same men championed Everton's cause on Saturday as had beaten the Throstles, and which will be now dubbed the "cup team." In view of the heavy work on hand, the players had taken exercise at Hoylake during the latter half of the week, and they all looked the better for the three days' "blow." It boded no good for Stoke to find their opponents so well braced, but, in justice to the Pottery man, it must be admitted that, well-conditioned as Everton, were, "Jack was almost as good as his master." There was a stiff wind sweeping from goal to goal, and play tended more or less at one end of the field. Stoke pressed with the wind in the first half, but could not score, whilst Everton attacked, helped by the breeze, even more than Stoke had done, and scored, the result fairly reflecting the respective merits of the two teams. The strong point of the Stoke play was the defence. Proctor was particularly vigilant at centre half-back, as he required to be, and his supports –Christie and Brodie –rendered satisfactory help; but that Stoke were not more, severely beaten was due in a greater measure to the fearless, clean and sure tactics of Clare, who not only attended to his own work, but took upon himself some that should have been done by Underwood, though the latter was far from being a failure. Rowley saved several fine shots –notably one from Maxwell and another from Latta – was not uniformly so sprightly as of old, and succumbed to what looked a ludicrous shot. This Milward screwed in low down, the force of which had almost been spent ere it reached the face of goal. Rowley leisurely stooped to pick the ball up when it slipped from his grasp and passed into the net. There was some "side" on the ball, and this together with its striking against some sand which had been freely distributed over the ground, caused the ball to take an unexpected turn. It was a "soft" thing, to the Stoke spectators, and Rowley had never perhaps come in for so much adverse comment. The home forwards were not seen in combination often, as Baker, just transferred from the Wolverhampton Wanderers, proved a weak centre forward, and nearly all the good work of the wingmen was rendered nugatory on this account. There were no failures on the Everton side, and had there been any no doubt the narrow victory would not have been secured. Whilst all sustained the good reputation they made in the English Cup tie, Williams displayed a vast improvement, and, never evincing a shadow of nervousness was safe and decisive in all clearances. The same eleven have been selected to meet the Blackburn Rovers today in the Lancashire Cup tie, and, as an excursion tram is announced, many supporters will follow them.
STOKE CITY 0 EVERTON 1
January 30, 1893. The Liverpool Mercury
The return League match between these teams- the first game having resulted in a draw of two goals each-was played at Stoke on Saturday, in threatening weather and before 5,000 spectators. A strong wind blew from end to end. The teams were :- Everton ; Williams goal, Kelso, and Howarth (captain), backs, Boyle, Holt, and Stweart, half-backs, Latta, Maxwell, Geary, Chadwick, and Milward forwards. Stoke City:- Rowley, goal, Clare and Underwood, backs, Christie Proctor, and Brodie, half-backs, Naughton, Dickenson, Baker (debut), Evans, and Schofield forwards. Everton lost the toss, and faced the wind. Almost immediately after the start Holt was hurt having his left leg stepped upon when making for the ball. This led to a delay and, on resuming Milward tried to get down, but was pulled up before he could shot. Stoke took up the attack, and compelled Williams to give a corner, followed by a second on Schofield driving in near the post. He was again called up, so determined were Stoke, when he picked twice in capital style. Everton escape on the right, but the whistle sounded before the pass could be utlised. The home team were quickly at goal again. Which they were near capturing, as from the right wing but, the ball dropped from the bar but Williams caught it in its descent. A burst on the Everton right was replied to by an equaily smart one on the Stoke right, when Howarth prevented a likely aim. Everton passed up beautifully on receiving from Stewart, but Clare unceremoniously neutralised the fine play by smartly kicking clear, and Baker went away shooting straight into Williams hands. Several shots by Stoke followed in rapid succession-all good ones. The homwe team were certainly having the best of play at this perid for when Everton occassionally broke away so safe were the home backs that Rowley had no employment for a long time. A spell of midfield play intervened, during which Holt was reapetedly in command of the ball. Then Everton imroved, and harrassed the backs, but could not yet get in a fair shot. Holding out finely the defenders cleared, and then Williams had more hard shots to attend to. Forunately for Everton he was in good form., especially in dealing with those from Schofield and Baker. Milward put outside a little later, as the result of a grand forward movement, and on Latta getting the better of a tussle with Proctor Geary and Maxwell helped the ball on to Milward, who drove into the net, but the whistle had sounded before the shot had been consummated. The next intersting item was a fine centre from Scholfield, which spendid pass Naughton missed. Clare was soon cornered by Everton left wing, when Proctor went to his rescue, but the visitors combined grandly, and caused uneasiness to the Stoke defender. Boyle, however, missed his kick at a timely moment, and the opportunity was seized by Scholfield, who sprinted gamely until he came to kelso, when he was robbed. Play flucturated pretty evenly from now to the interval. Each side had shoots of no effect, if good ones, and ends were changed with nothing scored. Having failed to gain a point when assisted with the wind the Stoke supporters were not sanguine that the home team could save the match, but they at once revived hope by going straight for goal on resuming shooting in twice, on each of which occasion Stewart cleared. Returning to the attack they were foiled by Holt, who enabled Latta to go down and shoot over the line. Underwood was penalised whilst defending, and Holt took the place kick. He as usual put to Stewart, who passed to Boyle, but the latter lobbed over the bar. Maxwell and Geary were near penetrating from a scrimmage. This was supplemented by a by from Milward of excellent quality, but Rowley fisted out very coolly. Geary would not be denied until he had essayed one at long range and then Stoke breathed more freely, for the hot siege was at length raised; but it was only temperorary respite, as Maxwell following up his running kick, shot stronly, but vainly, in the right direction. Corners ensuned, and from one of these Proctor enabled the Everton quarters to be invaded. Holt scored off his opponents time after time, whenever Stoke started a raid in the centre, and Stewart was qually successful on the left, so Everton monopolished neary all the play, and good shooting was done all along the line, whilst the ball frequently went into touch, the throw in being invariable awarded to Everton. The defence was so stern that a drawn game appeared inevitable, but ten minutes before time Milward tried a screwing shot, which Rowley failed to arrest though the ball was almost dead when it reached the goal mouth. Everton was near scoring again once or twice. In the meantime Dickson and Baker had cjanged places. Milward next got hurt in a tussle with Naughton, and went half-back. Stewart going forward. Everton continued to show to adavntage, but could not score, and on Williams throwing out the whstle sounded, Everton having won by 1 goal to nil.
EVERTON COMINATION 5 LONG EATON RANGERS 0
January 30, 1893. The Liverpool Mercury
These teams met at Goodison Park, in the presence of about 2,000 spectators. Rose Muir ex caledonian made a first appearance for Everton, playing centre-half. The home team were much to clever for the vistors, and scoring 3 goals in the first half., added 2 more goals in the second, and won by 5 goals to nil.
Everton team:- Rennie, goal, Chadwick, and Campbell (w), backs Collins, Coyle, and Muir (ross), half-backs, Gordon, Murray. Hartley, McLaren, Elliott, McMillan, forwards.
BLACKBURN ROVERS 1 EVERTON 3
January 31, 1893. The Liverpool Mercury
This postponed cup tie in the Lancashire Senior Cup competition was played off at Ewood Park yesterday. The Weather was fine, with a rather brisk wind blowing from goal to goal. The ground was in excellent condition, sand having been shroved in the weaker spots. Everton were enabled to place the same team in the field that had done so well at Goodison Park in the English Cup tie with West Bromwich Albion and at Stoke in the League match; but the Rovers had to dispense with the services of Taylorwho is ineligible. The name of the players were accordingly as follows:- Everton- Williams, goal; Kelson, and Howarth (captain), backs, Boyle, Holt, and Stewaet, half-backs, Latta, Maxwell, Geary, Chadwick and Milward, forwards, Blackburn Rover- Walton, goal, Murray, and Forbes, backs Dewar, Anderson, and Marshall, half-backs, Chippendale, Campball, Southworth, Sawers and Bowdler forwards. Mr.S.Ormerod officiated as referee. The Rovers kick ogg against the wind, and Everton moved down, when Murray checked, and them Everton had to defend briefly, but allowed no shot. Milward got to the corner and centred, a foul falling to Everton off Marshall. Holt took the kick, putting to Geary who enabled Chadwick to land the ball into the net with the game four minutes old. Walton was called upon, and proved safe this time, and Everton found themselves hard pressed, but defended well and cleared, and were quickly having shies at the Rovers goal. Chadwick and Milward each shot over. Everton kept on the attack by means of long kicking without becomong very threatening, and then Chippendale raised the hopes of the home supporters by sprinting along, but Howarth dogged his steps and prevented a shot, the ball rolling over the goal-line. The Rovers kept in front, and after some pressure, Bowdler, beat Williams. Everton protested strongly against the lega;ity of the point, but Mr Ormerod gave his decision in favour of the Rovers, and, as the ball had burst in the tussle, a new one was neccesiateted. Immwediately on resuming, however, from a throw in by Chadwick, Latta banged in successfully and placed Everon once more in the van, they now attacked determinedly, forcing a corner on the left, and otherwise harrassing the home defence. The Rovers tried to escape on the right but, were prompty pulled up, and Maxwell who had run across, putting up to Geary, the centre forward ran in. he passed to the left, when Chadwick essayed a shot. A sudden burst on the Rovers right caused much anxiety to the Everton defenders, as Campbell and Chippendalegot the better of all opposition including Stewart Howarth, Kelso and Willams; but Boyle whipped in, and smartly spoiled the shot of Saywes, who was forced to drive outside. With this ecape, Everton took up the attack in capital style. Their action was most spirited and for some minutes they drove the ball in from all directions, the defence of the Rovers being severely taxed, but came at cleverly once from Geary's pass, Latta had a clear shot at goal, with only the goalkeeper to beat, but Walton caught the ball. Success was only deferred, however, as a couple of minutes later, Howarth took a free kick, and placed into goal Maxwell and Latta lying handy, the former having no difficulty in beating Walton. The interval was fast drawing near, but before it arrived Southworth shot outside and Holt retaliated by shooting in straight, and causing Walton to use his fist. Milward also dribbled round his opponents, and put into goal, but no one was up to flourish off the movement with effect. Everton returned, when hands cleared and at half-time the visitors were leading by 3 goals to 1. On restarting the Everton left wing tried to get through, but a powerful kick by Murray changed the venue, a foul against a Livepudian being of assiatance to the Rovers in Bringing pressure to bear upon goal. Before danger was very great, Latta and his supports caused a diversion, though it was only a momentary one, and Everton were than placed hard on the defence. A few good shots were the result, but those that went to the face of goal Williams parriued most effectively. The wind was a dominating influence, and the Rovers now having this accidentail assitance continually returning to goal, generally shooting correctly. Willimas and his collegues thus had a busy time of it. Dewar tried Williams with a rasper, but he cleared, whilst from a corner that followed the ball was headed on to the net by an Evertonian. The siege could not be raised, and Williams again came off conspicously, fisting out three times, in as many seconds. He again used his fist with a purpose to the left wing's shot, and then Anderson hit the bar, from a shy that deserved better result. As exultant cheer was given when Mr.Ormerod awarded a free kick to the Rovers, but it was changed to a howl when. On Kelso stopping the ball from the place kick, he refused to concede hands. It was remarkable how the Rovers clung round goal, Everton being unable to beat off the raiders. The home team put into the net from a free kick, but the ball had not been touched, and then they seened to have beaten Williams out of a severe tussle almost on the goal-line, but the referee was emphatic in his negative decision. The persistency amd failure of the Rovers attack became monotonous, however, exciting it may have been. At length the Everton left wing got under weight, when Murray kicked out, but Latta drove a outside from a returning raid. Geary started a run a little later, but was robbed by the sounding of the referee's whistle. The play became more open and Everton greatly improved their chances of ultmate success by their forwards having a turn and thus gaving their backs and half-backs a little breathing time. The Rovers went back in a rush, and a severe tussle ensuned, out of which ensuning melee Kelso and Stewart got the ball away. Geary replied by running firmly, but he was grassed, still Everton had a shot thus coming from Latta, but unfortumately Chadwick could not quite reach the ball, and divers it into goal. Each side was within measurable distance of scoring in the last few minutes, and the hostolities ceased Everton had thoroughly earned a victory of 3 goals to 1. In connection with the cup tie nest Saturday, in deference to request, the Everton executive have decided to reserve 250 seats at a special tarift.