DRESDEN UNITED V. EVERTON
October 1, 1892. The Liverpool Football Echo
(Combination).
Played before a large number of spectators on the Dresden ground today. Dresden kicked off with a slight wind in their favour, but the Everton forwards showed grand combination, and passed beautifully. Both goals were in turn besieged, but the defence on either side was good. The backs played a fine game and as the forwards on both sides played a fast and furious game they had plenty of work to do. Several splendid shots were put in by both sides, but a heavy rain fell during the first half, and this made scoring almost impossible. Everton played a grand game throughout, but the homesters were in good form and at half-time nothing was scored.
Final Result; Everton Reserves 3 goals, Dresden United 1 goal.
GOODISONIA
Cricket and Football Field - Saturday 01 October 1892
By "Black Rock"
Everton's First League Victory This Season
Played, Everton!  What you can you did, and to be candid, you did it well.  Close on 11,000 formed the animated fringe when Newton Heath came down.  And down they came a cropper.  The match was freely discussed at various football resorts during last week, and more than few were sanguine of emblazoning two points (the two must come in) on the new shield of the Goodisonians.  The home team had but one point of which to boast, the visitors, none; yet nobody ever dreamt that the margin would be so great, or the victory so decisive.  Six goals to nil!  What! You're not fearful yet, Liverpool!  Well, bide a wee, we may meet soon.  Readiness and steadiness is all.  I honestly tell you I was surprised with the "Heathens."  Even with a fair wind they did badly.  Even with the aid of Old Sol's teams, their light did not dazzle.  Their attempts generally consisted of a multiplicity of ways outside the focus.  Disconnected, disunited, unattached, unadvised the centre of gravity lost its power and the other satellites fell away.  There is but one exception-during the first 15 minutes –when Holt appeared to be chiefly engaged in the theory of Donaldson's style.  Then did the centre and outside wings-Mathieson and Farman –try acutely the strength of Pinnell, Howarth, and Collins.  But when the little man.
Put the theory into practice the power of the forward rank was weakened by the prodigy.  Everton's goalkeeper saved but twice in the second half, but neither occasion was very dangerous.  Stewart and his commanding figure was ever and anon battling with superior forces.  Errentz and the other half, Perring, were again and again nonplussed by the smart passing of Chadwick and Maxwell.  The best of their defence was warner, and, as I heard, he did not satisfy them, I may say that his goalkeeping was very creditably commented on by the Park populace.  The home team, especially the forwards, simply reveled in their work.  There was no indifference but earnestness, no Luke warmness but zeal, no carelessness but to shine, no anxiety but to score, and this they did until Warner appeared to be annoyed at their intentions.  Latta's goal from the kick-off was a beauty, and didn't the crowd shout?  Just a little.  Geary played one of his best games, and we know what that means.  His flashing runs, his shooting at long ranges, his unselfishness, was clever and enjoyable.  Maxwell repeated his Midlothian display, which is saying a great deal.  Chadwick was, and still is, the hardest worker in the team.  Latta was brilliant, but he shot too high, and Milward, I am pleased to write exerted himself with no common results.  Let this line renew this form next Thursday v. Queen's Park, and against Sunderland next Saturday, and their efforts will not be unavailing.  I have mentioned Holt above, and he is still the old robber.  Boyle bottled his wing, whilst our only Hope Robertson showed vast improvement.  The backs had little to do on the whole, and did that little well.  Collins is grandly developing, and Pinnell makes a good reserve custodian.  He is slightly nervous, but practice will drive this out of him. 
A Little News
Kelso is not too well, and Dr. Baxter sent him to Blackpool last Wednesday for a few days.  The committee have kindly defrayed expenses.  Thanks to the lumpy ground of the "Heathens" they almost repaid Saturday's loss by a victory.  This turf is also full of ruts, caused by bad drainage.  Short passing was out of the question, and Everton's play was like the ground- undulating.  It was Chadwick scored the goal, not Geary and soon after darkness put an end to the match sixteen minutes from time.  It will have to be replayed.  Jardine is expected to play today, and Kelso v. Sunderland. 
EVERTON IN FORM
Cricket and Football Field - Saturday 01 October 1892
By Richard Samuel
The Everton team were in their best humour on Saturday, as Newton Heath know to their cost.  Six goals to none, is a heavy beating, and was unlooked for by the visitors, as well as in expected by the Everton supporters.  By the bye, these new additions to the League are not going the great guns most people thought they would for their position in the League table, they are now occupying the places in point of merit, as they have done in previous years.  And yet we used to hear so much of two of three clubs being in the League that ought not to be in, and of two or three clubs not being in the League that ought to be.  Well, well the season is young yet, and although the new recruits have not given any startling evidence that they are superior to those clubs who have consistently been in the last four, much may happen before even Christmas, to say nothing of April 30th.  I am inclined to think that had Newton Heath scored a goal in something like even time, instead at their opponents, the game would not have read so one-sided.  After having tasted bleed there was no stopping the career of the Everton forwards, who suddenly jumped into the form of two seasons ago, and most clubs know what that was.  Although Newton Heath had more than a say in the proceedings, their play was not so artistic or affective as that of Everton; but we have only to go on to the Monday following to find that they are nothing like six goals behind Everton.  Such a disaster as that of Saturday may happen to any club, but the effect is not always so quickly modified as is the case with Newton Heath.  From a win of six goals to a draw of one goal is a great difference and is apt to set people thinking.  The beaten players excuse themselves on the state of the ground which according to one was "awful," and another said he did not know when he was kicking the ball whether it would not be a brick.  This is a little too thick and I think the players must have been brooding over the difference between the score of Saturday and that of Monday.  Owing to the match not being played out on account of darkness setting in, I expect the game will have to be played over again, which will give the Newton Heath directors time to get their table re-clothed. 
Everton Combination
Everton Combination team opposed Stanley at Goodison Park on Monday evening, and a very enjoyable and interesting game resulted in a win for Everton by 5 to 1.  Stanley drew first blood after a very pretty combined run, the ball going through off one of the Everton backs whilst attempting to save.  Shortly afterwards Stanley had the misfortune to loss the services of Dean, their left back, who was playing a superb game, and thus were very severely handicapped.  The Everton team, without doubt, is an exceedingly clever one, which many of the other clubs in the Combination will testify before the season finishes.  The play of Stanley rather surprised the Everton people, and they cannot understand why they should have done so badly this season, as by the play on Monday it took Everton all their time to obtain the lead they did.  We hope it is the beginning of Stanley's true form, and if it is, the other clubs in the L and D. League may look to their laurels. 
Goodison Stands to be Covered
It is expected that the stands behind each goal at Goodison-road, will be covered for the Queen's Park match on Thursday next.  All the spectators will be short of then will be hot water pipes and refreshments at half-time. 
EVERTON V ASTON VILLA
Cricket and Football Field - Saturday 01 October 1892
At Everton, before 12,000 spectators.  Dunning, Stokes, Evans, J. Brown, Hodgetts, L. Campbell, and J. Devey constituted the Villa team, who led the way.  Dunning was well received.  Villa won the toss.  Everton ran down cleverly.  Play was fast and furious.  Dunning just saved from Milward close in.  Pretty passing won the Villa a corner.  Jardine just saved a long shot, but hurt his leg in doing so.  The game was stopped for four minutes and rain now descended.  From Milward the goalkeeper saved.  Devey scored but the whistle had previously blown.  Holt defended grandly, Geary passing and sprinting finely, but Latta shot behind.  Both ends were visited, Everton having slightly the best of it. Jardine now threw away, and Everton made tracks for the other end, Maxwell shooting over.  Evans was playing a great game for the Villa.  Long passing by the visitors threatened Jardine's defence.  Maxwell and Latta ran down in a nice combination, but nothing accrued.  The referee was hooted for his decisions.  The ground was very treacherous.  Hope robbed A. brown and Geary shot splendidly, the custodian just putting it over the bar.  Chadwick centred beautifully, and Everton pressed hard amidst cheering, but could not score.  "Hands" against the Villa close in looked ominous, but Dunning kicked away.  A corner to the Villa eased the pressure, and then a beautiful long shot by Stokes into the goal compelled Jardine to give a corner.  Jardine saved again, and Latta raced off and barely missed the post with a grounder.  Howarth and Collins kicked well.  The Villa were now in Everton territory, and the defence was found to be sound.  A corner to Everton relieved matters, but a foul against the home team gave them another chance.  Dunning now saved twice in succession.  Cowan was showing grand defence. Milward next scored, but off-side nullified it.  Everton was still pressing, but could not score.  Final; Everton 1, Aston Villa 0.
NUGGETS
Cricket and Football Field - Saturday 01 October 1892
Who is Everton's new linesman? Don't know.  Why, it's Little Jim.
As it ought to be; The Everton Secretary at home looking after the shareholders' interests.
Geary did not get in a single corkscrew run on Monday.
Billy Stewart was more effective than Johnny Holt on Monday, whatever he was on Saturday.
On Saturday Everton ran Newton Heath off their legs, but on Monday Everton with a poorer team had all the best of the play.  Funny game, football.
Newton heath and Everton will have to replay their League match.  4.45 is much too late to kick-off and Mr. Morris is quite justified in stopping the game.
The match at Pike-lane was over at 5.11, and exactly half an hour afterwards the Wanderers' secretary had the result handed to him on the Everton ground.  Quick business.
Milward does everything sometimes that a player can do –except play.
Were Everton wishing for the shades of night on Monday, or was it otherwise?
Clever Warner stood in his corner, eating his Everton toffee; but he did not relish it.
The cheers at Everton last Saturday were enough to waken Barbarossa from his magic sleep.
At Geary's.  When Ross remarked that Liverpool were the finest team in England the lights went out.  Fact not fiction.
Those gentlemen (?) who persist in rising up in front of ladies and obstructing their view of the Everton matches need eviction.
Next Thursday the famous Q.P. will be at Goodison-rd.  If they play as they did on their last visit it will be worth the money.
If the Goodisonian five carry on the old game of last Saturday, every defence must yield –sterling backs and prince of goalkeepers.
Robertson is distinctly weak at half-back, and only shines as a member of the half-back division in the reflected light of his two confreres, Boyle, and Holt.
Are Everton getting a left-back?  Well, both Dunbar and Proudfoot (Clyde) have been mentioned, and two or three of the Committee want Doyle again.  It would take a great deal to shift him.
EVERTON V. ASTON VILLA
October 1, 1892. The Liverpool Football Echo
League Match –Division 1.
The excessive rain of the week has rendered the ground somewhat floppy, though it appeared in much better condition than would have been imagined. Jardine again took up his position in goal, and Collins was substituted for Kelso at left back. There was a large crowd, numbering some 12,000 when Geary set the ball in motion punctual to time, and Everton were early on the move, Latta and Maxwell racing up the right, and then transferred across to the left, Chadwick forcing a fruitless corner, which Dunning just save in time. Aston Villa then assumed the upper hand, and Holt conceded a corner. Cowan shot well in to Jardine, who saved the shot in magnificent style, though the effort rendered him hors de combat and necessitated the stoppage of the game for a short period. On resuming Everton assumed the upset hand, and Latta gave Dunning a severe handiful which the Villa goalkeeper successfully negotiated. The visitors raced to the other end, where Jardine succumbed to informality. The Villains still held the upper hand, and Hoggetts and Campbell indulged in some pretty play the former sending across to the other wing, but Collins compelled the invaders to beat a nasty retreat. Geary took up the running, and passed grandly to Milward, who, however, shot very tamely. The rain was coming down in torrents, but this did not appear to be any detriment to the players, both sides going it in ding-dong style, and Maxwell had a splendid opening but failed to get the desired direction. Even play was the order for some time, which culminated in a Birmingham men kicking over the line. Then Everton assumed an aggressive attitude, and after pretty passing between home front rank Geary elicited the plaudits of the crowd by a grand shot, which Dunning only just fisted over the bar. Thorn and the subsequent corner Latta was within an ace of scoring, and then Chadwick had very hard lines. After a continued onslaught on Dunning's charge by Everton, in which the visitors' goal escaped capture. The Villains made a flying visit to Jardine's end, forcing a corner, which, however, was well got rid of by the home custodian. Immediately Everton were away again, and Geary once more had very hard lines. Athersmith received the admonition of the referee for kicking Collins. The visitors attacked for a while, but Howarth relieved to half way. A free kick gave Aston a chance of which, however, they failed to take advantage and Milward forced an unproductive corner. Everton then attacked vigorously, their forward play in particular being simply grand, but the defence of Stokes, Evans, and Dunning was impregnable, and shot after shot was treated in the same cool manner. At last, however, Milward lowered the Villains colours, but was ruled off-side, and from a grand shot by Chadwick a corner was conceded which proved useless. Half-time; - No goals scored by either side.
After the usual interval Devey restarted Everton at once making for Dunning's end, but Milward's shot went outside. The "Blues" were having much the best if matters, as indeed they had throughout, and the outside left was given a fine chance for a score, but failed at the critical point. Geary was the next to test the abilities of Dunning whom he found it impossible to beat and shortly afterwards Maxwell shot into the visiting custodian's hands. For a while midfield play was the order, and then the home centre and inside rushed down, the former's shot going high over the bar. A foul gave Everton an opportunity, but Holt placed the ball badly, and Cowan relieved. Everton were now having matters their own way, and play was carried on entirely in the Villians half of the field. The ball however, was so heavy that it was impossible to get the desired direction and although times without number shots were showered in they all failed to hit the mark. At last Evans gave relief, and the Villains paid a visit to Jardine's end, where a profitless corner, however, was the only result. Everton were back again in a trice and Chadwick once more unsuccessfully attempted to capture Dunning's charge. A foul to the Villa was the next feature, but the Evertonians were back again in a second, and after Latta had just missed his aim, Maxwell raced up and scored, upsetting Evans in doing so amidst tremendous enthusiasm.
Final Result; Everton 1, goal, Aston Villa nil.
DRESDEN UNITED 1 EVERTON COMBINATION 3
October 1, 1892 The Liverpool Mercury
On the ground of the former, during the first half, of the game, both set of forwards played up grandly but at the interval no score had taken placed. Afterwards, however the defences were not so insuperable, as Everton scored 3 times and Dresden one. Everton team, Thomas, goal Coolins, and Chadwick backs McLaren, Jones, and Jamieson half-backs, Gordon, Murray Pinnell McMillan, Elliott forwards Placed 1 st played 5,, won 5, lost 0 drew 0, for 36 against 2 points 10
TODAYS GAME
October 1, 1892. The Liverpool Mercury
Evertonians are again favoured with a match at home at Goodison Park, and one that should arouse more than usual attention, since the visitors are Aston Villa, against whom Everton have a grievance for having defeated them by 4 goals to 1 at Perry Barr on September 10.
Everton v. Aston Villa, Goodison Park. Kick-off at four pm. The following will play for Everton; Jardine, goal; Howarth and Kelso, backs; Boyle, Holt, and Robertson, half-backs; Latta, Maxwell, Geary, Chadwick, and Milward, forwards.
Everton v. Dresden United, Fenton, Kick-off at 3.30 pm. The following will play for Everton; Thomas, goal; Collins and A. Chadwick, backs; McLaren, Jones, and Jamieson, half-backs; Gordon, Murray, Pinnell, McMillian, and Elliott, forwards.
Thursday
Everton v Queen's Park, Goodison Park
EVERTON REVIEW
October 3, 1892. The Liverpool Mercury
Everton are themselves again. They did not confirm their superior play of Saturday week over Newton Heath in the return with the Heathens last Monday; but they would probably have won again had time permitted and the light been better. Newton Heath had always been hard to beat on their own goal, and their rushing kind of tactics invariably prove more effective when indulged under the stimulating influence of the shouts of the Mancunians. However, it is certain that Newton Heath were the cleverer team during the first half, and that Everton could not get into a good stride, being for some considerable time in a minority by a goal. Afterwards, skill asserted itself over resolute dash, and Everton came up on level terms. With the score standing at a goal each, Mr. Fitzroy Norris promptly and properly put stop to the game, for the sufficient reason that he could not see the ball clearly, and therefore could not arbitrate with credit to himself. The match, of course, will not count as a League content, for the rules stipulate that full time must be utilised. The League Association will no doubt reprove the Newton Heath Club for deferring the kick off so long as to run the risk of being "benighted" for it is a serious matter to have to go through the ordeal of replying these hard and momentous games when the dates have been already allotted to other important fixtures. Nothing but fog or arctic weather should be permitted so interrupt the due observance of League engagements. On Saturday Everton were visited by their old rivals Aston Villa and bearing in mind the persistency with which rain fell before and during the play, the large company that assembled at Goodison Park testified to the popularity of the principals in the combat. The attendance would be about 15,000 for the "gate" receipts amounted to over £300. And the game proved ample compensation for the risks and discomfort attending a "wetting." By-the-bye, the Everton executive are fully alive to the necessity of affording as much covering as practicable to patrons in wet and cold windy weather, and it was observed on Saturday that the work of roofing the end stands and frontage of the reserved stand was in course of progress. When these improvements are complete, spectators will be enable to enjoy their sport without much anxiety of the consequences, be the weather never so unpropitious. To return to the play, Aston Villa had beaten Everton three weeks previously by 4 goals to 1, and there was thus the impetus born of a spirit of revenge to urge Everton to bring out all the resources they could command, in order to wipe out the black spot on their escutcheon. The teams compared with the first match varied somewhat. Everton made but one change –Robertson vice-Kelso –whilst Aston Villa displaced Ramsay. Dowds and Fleming in favour of Evans (back), G. Campbell (half-back) and A. Brown (forward). The game was slightly to the advantage of Everton during the first half, but greatly to their credit in the second stage. Still, so brilliant were the defensive tactics of Evans and Dunning in particular, with grand half-backs assistance from Cowan, that though they combined almost perfectly, and shot often and generally in the desired direction, only once could Everton score, a point that was the solo product of the splendid contest, and demonstrated how hard League games are to win. The home team gave one of their best displays and there seemed no man who did not excel, even Jardine making no slip, though he was crippled at the outset. Howarth delighted everyone in striking what was feared with him a lost chord, and Collins was every bit as serviceable. Each of the half-backs played the correct game, and the forwards responded splendidly, the only note of discord perceptible being Latta's lack of precision at times. The team stayed to a man. Aston Villa started quite as well as Everton, but the forwards could do little later until close on the finish, when they were certainly dangerous.
EVERTON 1 ASTON VILLA 0
October 3, 1892 the Liverpool Mercury
This return match,, the prevoius game having been won by Aston Villa with the score of 4 goals to 1. Was played at Goodison Park on Saturday, and excited great interst for though, the weather was not wet in the extreme, the attendance numbered 15,000.the teams were:- Everton, Jardine, goals, Howarth (captain), and Collins backs, Boyle, Holt and Robertson half-backs, Latta, Maxwell Geary, Chadwick and Milward, forwards. Aston Villa, Dunning, goal Stokes and Evans Backs, Brown (j), Cowan and Campbell (g), half-backs, Athersmith, Brown (a), Devey, Hodgett, and Campbell (l) forwards. Everton went well away from their kick off and attacked in earnest. Evans prevented a shot from Maxwell taking the intended course, but no clearance was effected, and soon Milward was almost in when close to the near post, but found Dunning just too quick for him. Aston Villa then got under weigh in a lively movement passing neatly and Devey shot correctly. This brought Jardine out, who is playing the ball wrenched his lately injured knee, and was temporaily disabled. The accident, of course dinned the prospects of Everton emerging from the contest successfully, as though Jardine held to his post, he could only limp about. On resuming. Everton moved down in capital style to the face of goal, when Milward essayed a good shot, but which Dunning saved from going through. Play was not allowed to settle in either quarter. Aston Villa next beat Jardine,, but the point was an irregular one, and mainly owing to brilliant play by the Everton half-backs the home tean again attacked Geary sprinting, but the shot from the right going the wrong side of the post. This run of the play continued to be of a most,, even and exciting character, the passing and tackling of each team being excellent. Notwithstanding the slippert state of the turf from the rain which fell. Jardine cleared an ugly one with his hands whilst Maxwell replied at the other end, but being challenged by Evans as constrained to shoot to high. The visitors vainly tried to get within range, but were hampered by the backs, both Howarth and Collins being evidently in spendid form, and it was well they were so, for Jardine in his grippled state, could not be expectedto face successfully a frequency of shots. Everton now attacked with more persistence on Robertson despoiling the play of Athersmith and A Brown. A move was initated by the home right wing, but this was neutralised by G Campbell and Evans. Geary, however, could not be held in check, and he let fly with a terrific shot, but which Dunning helped by his height, was just able to punch over the bar. During the pressure a free kick at a handy spot fell to Everton without an avail, and in a few minutes Everton were themselves thrown hard on the defence, and had to concede a corner. Aston Villa confined play for some minutes to the home quarters during which a long shot by Stokes caused Jardine to give a second corner. This the custodian parried and the ball travelled quickly down the Everton right wing, the spirt being finished off by a very low shot by Latta. Each set of defenders was requistioned, but near half-time Everton were very threatening. Dunning kept out one or two shots, but let one through from Milward,. This was of no consequence however, for Milward was rightly adjudged to have been offside. With the home team pressing, the interval arrived with nothing scored. Everton after the welcomed rest, for the pace had been cracker so far, went straight for goal, in a most menacing manner. Milward had a chance, but aside, and was again a little astray when a second opportunity quickly came his way. Geary next tried his shooting power, but found Dunning in the way, as did Maxwell, the latter putting into the custodians hand. Aston villa relieved the pressure somewhat, but could not get beyond the Everton half-backs, and were soon in trouble again, when Geary was far to shyward. A foul against the visitors when defending hard was no assitance to Everton. Cowan interpassing it was only now and then that the villians could cross the half line but though Everton attacked strongly, passing and shooting accurately the defence of Evans and Stokes, especially the former, was so clean and fearless, that Dunning was nearly always shieded.. for a considerable time, Latta was at this juncture conspicuous for strong play, but no two successive occasions he failed woefully with his sscrewing shots. When a cleanance was at length made, the Villa forced a couple of corners and these having been readly neitralized Latta had a further shot, but was once more at fault. Then came the long wished for a goal, as Maxwell receiving a pass brushed Evans aside and scooped the ball through. There was a quarter of an hour yet to run qwhen the point at length rewarded the efforts of Everton the advantage gained evoking a most enthusiastic demonstration. Everton subsequently were often adding to their score, but were repelled magnificently and in turn had an anxiuos time of it, as during the last few minutes the visitors were menacing. The defence was all right, however, and with players in Everton quarters the whistle sounded, to the relief of Evertonians to terminate a spendid contest and to heraid a victory of a goal to nil for Everton.
EVERTON V. ASTON VILLA
October 3, 1892
Everton 1, Aston Villa 0
At Everton, before 15,000 spectators. Everton were seen to great advantage for the first ten minutes, and their quick and effective passing completely upset the Villa halves and backs, but, fortunately for the Birmingham club, Dunning was in grand form, and kept his goal intact. A brief attack by the Villa caused the home supporters some anxiety, for Devey and his right were very smart in their tactics and before the attack was finished Jardine had to save a splendid shot from Cowan. Despite the rain, which fell heavily, the play was fast and accurate, and on the whole fairly even. The game was full of exciting incidents, and although Everton could claim a little advantage so far as passing went, the Villa were so true in their shots when they got down that there was nothing lost. Presently the venue of the game changed to the Everton end, but the home defence was good. Again Everton took up an aggressive attitude, but before the interval the visitors rallied, and play was even. At half-time there had been nothing scored. The play for a long time was in the Villa half, where Geary shot twice over the bar. The visitors' halves played a grand game under severe pressure, and upset the intentions of the home forwards repeatedly. The defence was so good that Dunning was only once troubled. A burst away by the Villa right gave the defence breathing time; but they were soon busy again, and from a corner the Villa goal was somewhat luckily saved. The Villa forwards made two good attempts to gain a foothold in the Everton half, but good defence of Collins and Howarth prevailed. Eventually the Villa attacked persistently, but Jardine was only once troubled. Although the play of the forwards was not so correct, the game was always exciting, and after some midfied play Maxwell scored. The game continued to be keenly fought on both sides, the home forwards attacking with great spirit, and had not Evans and Stokes been in grand form Dunning would have been in difficulty several times. No further point was, however, made, and the visitors were thus beaten by the narrow majority of 1 goal to 0. Everton; Goal, Jardine; Howarth and Collins, backs; Boyle, Holt, and Robertson, half-backs; Latta, Maxwell, Geary, Chadwick, and Milward, forwards. Aston Villa; Goal; Dunning; backs; Stokes and Evans; Half-backs, G. Campbell, Cowan, and J. Brown; forwards. Athersmith, A. Brown, J. Devey, Hodgetts and Campbell.
DRESDEN UNITED V EVERTON
October 3, 1892 The Liverpool Mercury
On the ground of the former. During the first half of the game both sets of forwards played up grandly, but at the interval no score had taken place. Afterwards, however the defences were not so insuperable, as Everton scored three times and Dresden once.
OUT-DOORS
"Behold Goodison Park. The half-dozen pictures we give of this splendid enclosure must serve instead of a long description of it. In any case to substitute pictures for words is our mission in journalistic life. At the same time no single picture could take in the entire scene the ground presents; it so magnificently large, for it rivals the greater American baseball pitches. On three sides of the field of play there are tall covered stands and on the fourth side the ground has been so banked up with thousands of loads of cinders that a complete view of the game can be had from any portion. "The spectators are divided from the playing piece by a neat, low boarding and the touch-line is far enough from it to prevent those accidents which used to be predicted at Anfield Road, but never happened. In the centre of the banked-up portion, but set against the walling of the ground is the secretary's office where Mr. Molyneux can sit ether to write out cheques in his easy chair or keep his eye on the uttermost extent of his vast dominions. The chairman (Mr. George Mahon) when play 1s on is accommodated exactly opposite and under his seat which is in the centre of the large stand, is a door leading to a passage and this is the handy way the players and referee in when the game is over, and at all events the latter personage can bid defiance to the angriest crowd. This is superfluous however, as Goodison Park spectators never throw missiles at the referee, for there is no better disposed crowd in the kingdom.
What, No Body Servant?
Inside the room, the scene is as shown in our pictures, the bathroom are models of comfort and convenience. Each of the two-rooms (one for visitors and one for the home team) contains a large double bath, not with shallow, but with perpendicular sides. The latest patent in gas water-heaters is shown at the end by the window with the marble hand-washing bowls at the side of it. The floor is a trellis work of planed boards, arranged so as to give the maximum of comfort to the feet. The gas backets are set off with opaque globes, which add a warm and pleasing softness to the scene; and even the shades above are of latest pattern. Tubbing being over the player passes through to the adjoining dressing room which is which is large enough to give even the stoutes full back all the elbow room he needs –and more. The seats are inclined to that comfortable hollow which induces you to sit a little longer than is absolutely necessary; even the pegs for your clothes are of an attractive design and there is a kind of raised platform on which your body servant if you have one, can give you a rub-down.
As shown in our drawing, there is a room again beyond this which can best be described as the place for "finishing touches." The referee has already been mentioned but a glance at the view of his room will show how he is provided for. It seems almost a pity there is not chance of a collar Rugby game on the ground for the room would stand a large amount of bombardment! But there are even further attractions for the august personage, for if he opens the outer door which is the middle one shown on the back of the entire stand he is face to face with the pretty girl who sells hot drinks. The stairs also shown in the same view lead exclusively to the Press stand and therefore the convenient way a busy reporter can run out with an urgent message is self-evident. "Truly we might spare pages over this modern arena but space forbids. Suffice it, however, to remark an inspection of the strong and substantial foundations alone shows how carefully the whole has been planned and if it only cost £3,000, it is £3,000 well spent and Mr. Prescott, the architect himself a worthy footballer once by the way) and Messrs Kelly Brothers the contractors may take all the credit for it they deserve. But the noble ground was not made with the simple wave of a magician's wand. It is the outcome of much thought and study and Mr. Mahon and the many willing co-workers he had can now look upon the result of their efforts with the utmost pride."
EVERTON LEAGUE V QUEEN'S PARK
October 6, 1892. The Liverpool Mercury
A match between these clubs will be played at Goodison Park today, commencing at 4-30 p.m. The band from the Boys Orphange will play selections of music before and during the match. The following is the Everton team; Murray, goal; Howarth, and Collins, backs; Boyle, Holt, and Robertson, half-backs; Latta, Maxwell, Geary, Chadwick, and Milward, forwards.
EVERTON 2 QUEENS PARK 2
October 7 1892,, The Liverpool Mercury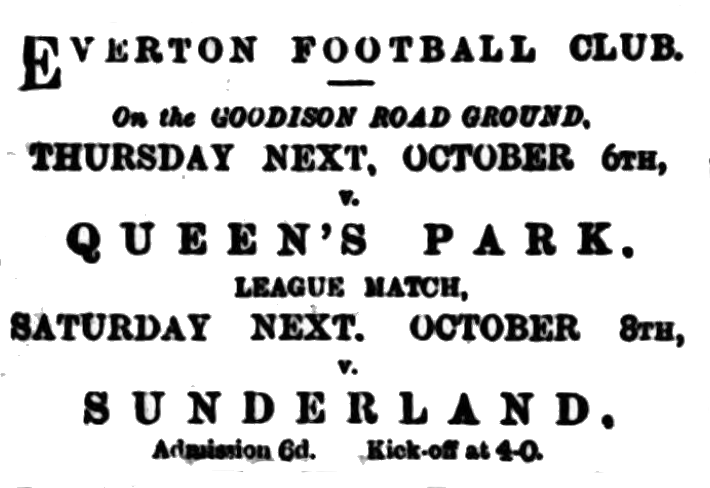 The weather was again on the bad behaviour yesterday,, but despital a steady drizzling rain the attendance at Goodison Park to withness one of the most popular of the home team's fixtures compared the Everton club is atttraoting to the new home, and it speaks volumes for the enthunisum of the Liverpoolians that a crowd of something like 11,000 persons can be secured on a week night to withness a friendly fixture. The home eleven were the first to put in an appearance and were followed almost immediately by the Queen's park , the celebrated ''spiders'' coming for quite an ovation. The teams were as follows:- Everton, Murray, goal Howarth (captain) and Collins backs, Boyle Holt, and Robertson, half-backs, Latta, Maxwell, Geary, Chadwick and Milward, forwards. Queen's Park:- Baird, goal, Sillers (d), and Freeman backs Gilliespie, Robertson and Stewart half-backs, Lambie Waddell Hamilton, , Martin, and Sellars (W), forwards. For the list it will be seem that Everton tried Murray vice-Jardine. While nthe Queens's were without Smellie and Brand, the absence of the latter causing a reararangement of the fronk rank, and making a place for Martin, a young player from the Minerra club. Everton won the toss, and the Scots, kicking off, at once bore down on Jardine understudy. The players seemed to get into their stride during the next minutes, and the play attained a pitch of perfection such as has not been withnessed on the ground previously. Spendid tackling and placing by the stropes gave the Evertonians cause for anxiety and Latta relieved and dashed away in characteristic fashion, only to meet some warm tackling on the part of Freeland, which caused him to finish badly. Once in the vicinity of the Q.P. goal however the Everton front line tooka lot of beating off and Baird received a couple of awkward handfuls. They found him all there, and after this bit of pressure W Sellars got away with a single-handed effort, which fairly made the rafters ring, the leather being just scooped past the upright, following this Murray was fairly peppered, but wittout result, and then Holt placed his men in possession. The pace slackened now, and then Milward all but got home with one of his electric shots, Everton became the aggressors, and Latta shaped bably at a chance while Geary did ditto almost immediately, only to let the Queen's front line break away to the other end. Here a corner kick was gained and well placed,, and for a minute the Everton goal was in jeopardy. Collins cleared, only to have his effort returned by the opposing halves, but by dint of hard work the other end was reached, where Sillors becamr prominent with excellent saves. Milward got nicely placed but before he could shoot, Gillespie banged him against the barricade. From a free-kick against Sillers a good opening was lost, the same fate attending a couple of wretchedly placed corners. Hamilton shot badly, and then Murray came through a most trying ordeal in covering a mistake from Dicky Boyle right in the goal mouth. This was follwed by a free-kick to the Queen's and after a most exciting period Sellar's ahot against the upright. The game still continued as brilliant as in the opening stages, and at half-time the teams crossed over without a point being scored. The opening stages of the second half ruled even, until Milward just missed the upright with a beauty. As per usual the stripes made headway after this escape, and off-side stopped Lambie as he was in a rare position. At this jucture Gillespie and Robertson collided, and a truce had to be called, and the burly Evertonians could resume. A foul against the Scots followed the toss up of the ball and again the Blues made tracks in the direction of Baird only to be pulled up short and they reached him. Sillers and his halves proving analmost impassable barrier. Tall kicking now followed on both sides, and Latta placed Maxwell in charge only to see that player shoot yards above the crossbar. The ''spiders'' were soon again in evidence, and this time Lambie wove his way round Robertson and Collins to some purpose, as he beat Murray with a grounder amid loud cheers. This reverse led up to the most brilliant football of the entire game, and the spectators were fairly kept on the tiptoe of ecpectancy so bold a front did the Queen's show. At last the Blues had a turn and Latta went off for all he was worth. Freeland was successfully mastered and the other Q.P. backs negotiated the pass badly with the result that a desperate scrimmage was formed in front of Baird the ecitement culminating in a mighty cheer when Geary planked the ball safely beyond the cuistodian's reach. The Everton boys were now in the best of feather with themselves, and for the next few minutes fairly made rings round the Queen's goal. Lambie relieved with a short run, but the blues came again, and Chadwick again fairly brought down the house by placing his team on the lead. The game seemed all over bar the shouting now, from an Everton point of view but a contingent of faithfully followers still cheered on the ''spiders'' presently some powerful tackliong by Tom Robinson let Lambie and Waddell away. Collins pulled them up, but a throw in was grained close up, followed by a swinging shot across the Everton goal to the left where Sellars came in with a rush and, brushing aside all opposition placed the ball safety in the net, amid a rousing cheer. But little time wasa now left, but eventhese few minutes were desperately fought out. Lambie was only collared by Howarth after all the others had failed, and from a lofty lounge Baird saved miraculously the whistle blowing amid great excitement, and the players being warmly cheered as they left the field the score reading Everton 2 goals, Queen's Park 2.
EVERTON 1 SUNDERLAND 4
October 8, 1892, The Liverpool Mercury
The visit of the League champions on Saturday, at Goodison Park proved a great attraction and thought the weather was wretched a number of 18,00o to 20,000 being present, the covered stands being crowed . the spectators owing to the three great stands being now covered, did not experience much unpleasentness when oncesettled in the enclosure, but the rain had made the ground slippery and heavy going. And the names whom follows, this had unpleasant conditions to contest against. Everton, Pinnell goal, Howarth, and Collins backs, Boyle, Holt and Robertson half-backs, Latta Maxwell, Geary, Chadwick, and Milward, forwards, Sunderland team:- Doig, goals, Porteous, and Smellie, backs, Wilson, Auld, and Gibson half-backs, Gillespie, Harvey Campbell, Miller and Hannah forwards. Mr John Lewis acted as Referee. The sun broke out brightly as Geary kick the ball in motion. It was passed to the left, and taken on by Chadwick who put across, but pass to Maxwell being badly utealised. Everton returned and Chadwick shot so puntedly that Doig conceded a corner. This was easily tided over and Sunderland initrated attack on their own account but the dashing movement was of no avail. As Hannah shot across the face of goal. Everton came out satisfactorily of midfield exchanges Howard making a capital save from Hannah. Latta then scrmbled along the wing, on receiving from Geary, and becoming threantening that Smelleygamely intercepted and unceremoniously kicked out. The game was most evenly fought for some minutes. Each side eccelied in passing, but not such as would scare the defenders, until Latta was agin seen striding it quickly and firmly, his centre beening neatly turned to good acount by Geary. Back went Everton in good line and again Geary was entrusted with the final touch of the movement, drawing Doig out to neutralise an oblique shot, which he did in a manner that assured Everton he would beover masted with much difficulty. Sunderland were enabled now to change the scene of interst, going forward on the left, but Hannan was too high with his hard shot. Everton went in rare fettlo so far, and did not permitt their quarters to be held with any persistency and renewed aggression, a fine joint run by Chadwick and Milward rasin much enthusuisan, especially when Chadwick caused a corner to be conceded. Latta quickly had an opportunity opened up to him, bit it was not to be, as he went yards of the mark. There badly appreciated chances no doubt induenced the issue. Sunderland gleefully learnt that shooting was not a strong point with Everton and then went down in nice formation tom give an successfully shot from a pass when the game had been in progess about 20 minutes, he beating Pinnell rathereasily. The advantage gained by Sunderland was cheered deservedly. Everton fully realised the serious turn of affairs for it was hard lines to be in a minority after having most of the play. They went at goal in earnest on restarting and pressed greatly. Latta first banged over the bar, to be followed by a more likely attempt by Maxwell but whose clever shot Doig punched aside,. Before many minutes had passed Sunderland forged further ahead, Wilson beating Pinnell from a long range. The home team looked greatfallen at this second disater but at once shook off feeling of despondency and for the next ten minutes returned to the attack frequently, but were generally erractic in their shots. Doig and his backs however, were as sound as a bell., and withstood all the ingenuity called up by Everton. Having held out, they were releived by a rush on the right whence Gillespie cooley added a third point for Sunderland. Everton were near scoring between now a nd half-time, but could not master the last line of defence, and at the interval were three goals to the bad. Rain fell heavily ere, a resumption took place and the ground became more sloppy than ever. Geary missed two fine chances during a pressure-put on by Everton, and them Gillespie essayed a magnicent run, leading up to a troublous time for Everton, but Holt ultimately cleared, and Geary had another wide-shie. Sunderland's next movement culminated in an-off-side goal, in reply to which Maxwell shot very creditably and so the game swayed first one side having a turn and then the other. There was no relaxing of energy especially on the part of Everton, but the heavy going became evident upon the players. The home team were to have yet another rebuff, as Campbell shot against the onside of the post, and the ball rebounded through. Everton got into a better formation towards the close, and Latta scored a beauty from a pass. They were very near once or twice more, but the efforts yoelded nothing and the hard fought game soon terminated in a clever win for Sunderland by 4 goals to 1.
TODAYS GAME
October 8, 1892. The Liverpool Mercury
The great event in the Association camp is the meeting of Sunderland and Everton this afternoon at Goodison Park, and the result will be looked for with national as well as local curiosity, for the sufficient reason that Sunderland, who were last year's champions, have not yet been defeated in a League match, the only check meted out being a draw imposed by Notts County. Everton have been seen in splendid form during their last few League matches, and again on Thursday, in making a draw with Queen's Park, and they will thus enter upon their present contest with enthusiasm and confidence, despite the formidable record of their undoubtedly clever opponents. They have too, a double reverse of last season to avenge, particularly that contretemps of Christmas Day, when, at Anfield Everton had the merriment of that festive time considerably toned down with a galling defeat of 4 goals to nil. Now is the time for erasing the black mark; and if the home team sustain the skill and staying powers seen in their recent play, they should just about win.
Everton v Sunderland, Goodison Park, Kick-off at four pm. The following will play for Everton; Pinell, goal; Howarth and Collins, backs; Boyle, Holt, and Robertson, half-backs; Latta, Maxwell, Geary, Chadwick, and Milward, forwards.
Chirk v Everton, Chirk, combination.
GOODISONIA
Cricket and Football Field - Saturday 08 October 1892
By "Black Rock."
There was a wholesome relish in the sight
Of 16,000 when the Villa came.
And hearty cheers which kept alive the right,
In football conversation of the game;
And who that boasts of sport would o'er abide.
'Mong parks or grounds where all is cold and still,
If he could find the "nimble tanner" guide
Where he might feel the fervor to o'en fill
With satisfaction great his hungry will!
I apologies to Mr. Undie for this outrage, but it is love that prompts.  On the 10th of last month, at Birmingham, the Villa took three clever goals out of our eleven, and though only one to nil separated the teams last Saturday, the victory was appreciably manifested through its keenness.  Much praise has already been bestowed on the 22 combatants, and, if I were to add more, individually, my expatiation would crowd out other ideas.
Generalizing
Up to half-time it was an equal and well-fought battle.  The hot pace increased excitement and the excitement increased the pace.  Now were Devey and Co, rushing with an almost irresistible rush towards Jardine.  Then were seen Geary and confreres like a whirl-wind on the old Bootle custodian.  Not that combination was absent, but it was quick, accurate, and threatening.  Everton's was more taking, being shorter; but the Villa's more dangerous.  From two or three wide crosses of Athersmith, Howarth was like his old self in disposing of that clever couple- Hodgetts and G. Campbell.  Both sets of halves were kept going, Cowan and Holt doing the most.  Dunning –whose display is the best of the season here – had unpleasant shots from all the forwards.  On the other side Jardine was not idle, a beautiful long, dropping shot from Stokes almost beating him.  And thus the game progressed.
Full of incidents, heart stilling to the visitor, but no goals were scored.  In the latter half- I should say up to 20 minutes from time- Everton pressed most and much.  But their shooting was off and often.  Corners came and fell, and goal kicks were numerous.  In mentioning corners, I do not think a single goal has bene recorded from one this season.  The public and the players seem very anxious for them, but to my mind they are too lightly disposed of.  Stokes and Evans kicked clean and well, the latter ponderously.  It was wonderful to see such activity under such weight.  Bootle didn't do that for you, Walter?  Good old Birmingham!  At fitful periods Athersmith raced down the right wing, but generally Robertson held him safe.  Boyle also grandly checked the other wing.  We all thought a draw would be the result when Maxwell, who possesses unflinching courage, got close in, beat Stokes, charged Evans, and dexterously did the trick that thousands were wishing for.  Then followed the usual salutations, on the field and off it.  From this major point the Villians had all the best of it, and it is well that "Bob" was really fit and Collins in a true vein.  The people roared "Time!" – certainly afraid of the visitors' strenuous exertions.  And thus ended one of the best contested games that I have witnessed.  All did well, and worked like champions who meet champions.  Milward is almost himself again, and Robertson and Collins will be bad to beat on their present form.  Geary did as he intended –to show some form against that splendid half, Cowan.  Chadwick, Maxwell, and Latta were a hundred per cent, but two of them must improve in shooting.  Holt and Boyle were there and always, and Jardine, though hurt, did his portion well.  On the Villa side Dunning is greater than the Dunning of Bootle, high shots and low shots seeming little to him.  The backs and halves are strong and stubborn, and the forwards, particularly Devey, Hodgetts, and Campbell need grand defence to stop them.  The ground did not suit Athersmith for his fine sprints, yet some of his glimpses were well executed.
QUEEN'S PARK AT GOODISON-ROAD
The Queen's were not favoured with Queen's weather last Thursday, the day being wet and miserable.  The turf was in good order considering the incessant rain we have had lately.  There would be about 8,000 present, who, no doubt, saw or heard of the famous game at Anfield a little over a year ago.  And the result was another draw –two goals each-which is a fair reflex of the brilliant, exciting, and immensely interesting play.  If it was not quite so scientific as the previous encounter it was certainly harder and more exhilarating.  So keen was it, that though the finest finesse and tactics were exhibited, the first half produced no blot.  The Queen's scored, then Everton, Everton ahead, and the Queen's equal.  What could be finer than this to enkindle enthusiasm?  What could be better than Sellar's individual outbursts, coupled with the fostering of Martin, who might have been his regular companion?  What could be grander than the solid phalanx of the halves and backs particularly Robertson and the captain, Donald Sellars?  Or the goalkeeping of Baird, who moved me on one occasion to ecstasy?  Or the accurate Hamilton, moving "as the two wings of a bird move, ever apart yet ever in union?"  And then to combat this what have we?  The artful dodging of Holt, the speed and skill of Boyle, and the serious fruitful business of Robertson.  If they were beaten, there were two sterling backs (for sterling they played) Howarth and Collins, the captain rushing in between the passes, and the latter successful with tenacious tackling.  It was truly a most enjoyable forty-five minutes, the game never flagging, never dull, but ever fast and ever pleasant.  Murray, of last season's Combination, did very well, in fact it could not have been beaten, but for failing to stop Lambie's shot which went under his legs.  Once he saved from Boyle, a dropping one, with a tremendous amount of screw on, a really marvelous piece of work.  He is almost sure to have played today v. Sunderland.  The forwards also lost none of their high repute, but please practice shooting.  After the match I heard that the teams would feast together.  But where, when, or what passed, I have not the slightest idea, for I only heard it casually.
Addendum
There is not a particle of truth in the rumour that Arridge will play for Everton this season.  Everton have neither bargained for him, nor Bootle offered him.  All will be able to see better now on the grand stand, as all the seats have been raised six inches, save the bottom tiers.  Perhaps Mr. Griffiths will be good enough to put a foot-board for the Press.  As it is it is not comfortable. 
EVERTON V SUNDERLAND
Cricket and Football Field - Saturday 08 October 1892
Fresh from a victory over the Celtic, the League champions visited Everton today.  After a week of wet weather the ground was fairly good, considering the circumstances. Ten minutes before the kick-off Everton appeared amidst much cheering before at least 18,000 spectators, and numbers were still streaming in.  Everton kicked off and immediately won a corner, which was just sent over.  Sunderland then ran down, but J. Hannah shot outside.  Geary had a struggle with Auld, an Howarth robbed Hannah smartly, after which great excitement prevailed as Latta ran down.  Smellie had no other alternative but to kick out.  Play now was mostly in midfield, two fouls going to Sunderland.  Collins now tripped Harvie near to the goal, and Latta made a good attempt.  Good football was exhibited by Sunderland.  Miller tried his foot, but it was useless, and Chadwick and Milward passed prettily, the result being that Everton almost scored.  Both ends were now visited.  Maxwell passed to Latta, who missed a magnificent chance, from which the game became fast, and from a good centre Campbell beat Pinnell, who had run out.  Pinnell saved cleverly twice and Everton had extremely hard lines at the other end.  Sunderland exhibited pretty and effective combination, and were very dangerous in front of goal.  Play slackened down for a little.  Latta centred again, but there was no one up.  Robertson played hard, and Pinnell just kicked away.  A long shot from Wilson beat Pinnell to the disgust of the spectators.  Everton had many chances, but their shooting was wretched, Pinnell was almost beaten again, appearing weak.  Play up, Everton, now resoundly from the field, but Sunderland pressed hard, Pinnell clearing from Miller.  Off-side pulled Everton up when near Doig, and Chadwick shot.  Both Geary and Latta missing a corner brought no better luck to the home team.  Miller made a splendid run and shot hard in., Pinnell saving poorly, and Gillespie scored No3. The same player then shot just over the cross-bar-a near thing.  Final; Everton 1, Sunderland 4.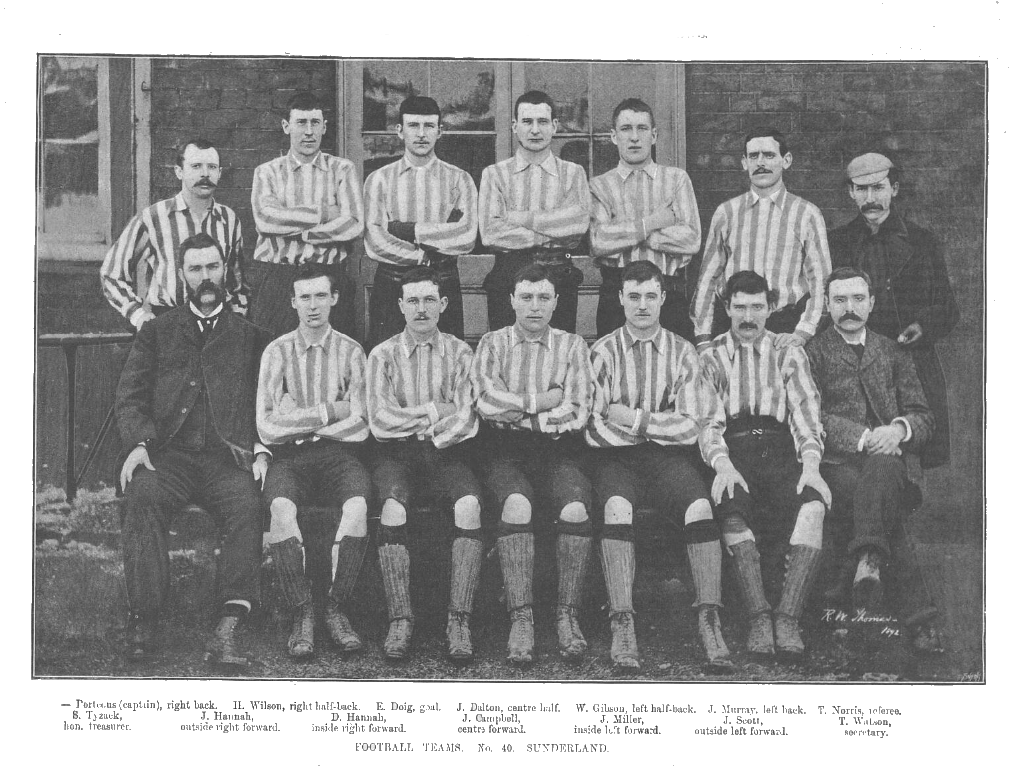 Illustrated London News
NUGGETS
Cricket and Football Field - Saturday 08 October 1892
Milward has too much beef on him, and Latta is a little off colour
Everton halves recked nothing but to wreck the "Villian's" hopes
Mr. W is again to the fore.  "Turned up" at Everton last Saturday.
Aren't the publicans in the neighbourhood of Goodison-road, reaping a rich harvest.
It would be a good thing to duck some of the Everton jackals and hyenas in a horsepond for their behavior to the referee.
It would be better for Everton if Latta and Milward wouldn't shoot at all but very seldom-I mean if they wouldn't attempt to shoot.
To Everton's League team;- You want shooting practice!  Shooting practice!! Shooting practice!!! Then will follow-Education! Improvement!! Success!!!
To Liverpool F.C;-
On! On! For though the public's gone
To the land of Goodisonia
They will return some day and then thy gates will pay
When football lose its away in Goodisonia
EVERTON REVIEW
October 10, 1892. The Liverpool Mercury
In our own district Associastionists have been enjoying a real good time of it of late – a sport of football baguette, in fact, at which all the choicest tit-bits of the great winter game have been served up in rare-style, Goodison Park being the venue, and the catering divided between Everton, Aston Villa, Queen's Park, and last, but no least, Sunderland. Liverpoolians have shown their appreciation of the bill of fare by rolling up in their thousands – hail, rain, fair, or shine –until the Everton money-bags must have reached bulkiness never before witnessed. Thursday evening's match, despite the adverse conditions under which it was fought out, was perhaps as brilliant an exposition as will be seen here this season, and terminated in a fitting manner. It also served to show that the famous Queen's Park club are stronger this season than they have been for some time –that they are going as well as in their most palmy days. Baird played up to the great reputation he has attained across the border, while Donald Sillers performed well, as one would expect the skipper of such a team to play. Once or twice, when Everton looked particularly dangerous, there seemed to be an-entire eleven of him dashing about in front. Freeland hung on to Latta like a "buir." The Halves came out in great form. All are three powerfully-built men, who know every inch of the game, and can play it. The re-arrangement of the forward line did not seem to affect the combination one whit. But if W. Sellars and Lambie can put in any more work when together than they did when separated, then that wing will want more stopping than most defences can give them. Martin might have been a veteran to judge by his play, while Hamilton and Waddell were always busy. Evertonians must have been delighted with the display of their team, and there can be no mistake about the fine condition the home players are in at present. Every man was working as if success depended upon his efforts and all combined to give one of those exhibitions of football art which have helped to fill all opponents with a wholesome respect for the name of Everton.
Sunderland, League champions of last year – who, since they have not been beaten so far, are qualifying for retention of the cup, and who came flushed with a significant victory at Glasgow on Thursday over Celtic –were welcomed as men of great parts should be at Goodison Park on Saturday. It was an uninviting day as regards weather, as most days have been of late, but this did not deter spectators from paying their respects to the champions, with the reasonable expectation of a grand contest, and thus it came about that one of the largest – probably the largest – concourses of the public at a Liverpool football match, assembled at the Everton Club's new and commodious headquarters. With such repellent, perhaps no other town in England could have furnished so large a company at a club match; but Liverpoolians are more fortunate than other people, for thanks to the enterprise and consideration of the Everton executive, three sides of the ground are undercover, and patrons can now indulge in their fascinating afternoon's recreation in comfort, be the weather what it may. The ground of course, was saturated almost to flooding, owing to the heavy rains, and the footing of the players rendered heavy and laborious, an impediment which militated against the continuity of skilful and speedy play. Everton opened full of promise, and seemed from the start to have taken the measure of their doughty opponents; but, if they attacked more frequently, they were not so emphatic in the moment of opportunity, and whereas Sunderland rarely missed the target they were aiming at. Everton seldom put within the four corners of it. The attacks were equally taken up, but, owing to greater precision and sounder defence, Sunderland fully merited the three goals by which they led at the interval. The position then held by the Wearsiders was practically unassailable, but Everton never gave in, and trying pluckily to improve their position they had perhaps rather more of the play afterwards than Sunderland, the producer of the stern and exacting work of the second half being a goal each, which gave Sunderland a victory of 4 goals to 1. This is only a slight improvement, from an Evertonian point of view, to that of Christmas Day last, when the men from Wearside won by 4 goals to nil. It will be generally admitted that the better team won on Saturday. They proved to be a sturdy, hardy, speedy set of men, and, presenting no dominating department, worked with charming cohesion, with every man in position, and each seeming to riddle the intentions of a colleague. They tackled well, they ran well, they passed well, and they shot well – in short, had a shade the pull over Everton in each department; and so it is not fair to blame anyone in particular of the home team. Pinnell, hardly came up to expectations, he relying upon his kicking too much; the backs succumbed to heavier duties than they had in the Aston Villa match, the halves encountered slightly their superiors in Wilson, Auld and Gibson, and the forwards compared unfavourably with their opposing van in passing and shooting. But still Everton were smart enough to bring into play all the resources of the winners.
NEWTON HEATH V. EVERTON
October 10, 1892. The Yorkshire Herald
These clubs met at Newton Heath yesterday before a fairly good attendance. The home team, aided by a strong wind, had the best of the opening play, and after some hard lines they rushed the ball through. Newton Heath had much the best of the game and when half-time arrived the score was; Newton Heath, 1 goal; Everton nil. On resuming, after Newton had almost scored, Geary put in a low shot which equalised. About ten minutes off time the game was stopped owing to darkness, the score being; Everton, 1 goal; Newton Heath, 1 goal.
CHIRK 0 EVERTON COMBINATION 3
October 10 1892 The Liverpool Mercury.
At chir. In ten minutes Gordon scored from a corner, for Everton. The play was most intersting. Everton having a shade the best of the game half-time Chirk onil, Everton 1 goal. Everton added 2 goals immediately after thr restart from Murray (2). Everton, Thomas goal, Chadwick and Coyle, backs, Jamieson, Jones, and McLaren half-backs, Smith Murray McMillan, Elliott and Gordon forwards. Chirk team, Morris goal, Postle, and Taylor, backs, Williams Evans, and Lloyd half-backs Owen (w), Merdith,, Owen (g), James, and Butler forwards. Place, 1 st played 6, won 6 lost 0, drew 0, for 39, for 5, points 12
EVERTON V. SUNDERLAND
October 10, 1892. The Liverpool Courier
The match at Goodison-park on Saturday was generally regarded as the most dangerous in which the Evertonians have to take part on their own ground. Although rain was falling lightly, the sun shone brilliantly when the game commenced at four o'clock in the presence of fourteen thousands spectators. Sunderland were fully represented but Everton were handicapped by the absence of Jardine. Everton having lost the toss, Geary kicked off, and a raid was immediately made upon the Sunderland quarters, the defence at the very outset being severely taxed. Early in the game Missed a chance of scoring from a fine pass by Chadwick, and the visitors soon afterwards began to make tracks to the other end, Howarth in particular distinguishing himself by his fine defensive tactics. Play continued for some time in midfield. Then the Sunderland forwards darted away at rare speed to the other end, and after harassing the Everton defenders for a time, Gillespie as the result of a fine bit of play on the part of Campbell, scored the first goal for the visitors, Pinnell having no chance of saving his charge. Everton were evidently undaunted by this reverse and they assailed the Sunderland goal with great vigour, Geary sending in a splendid shot which Doig cleverly stopped. Latta gained possession, and had a capital chance of scoring, but shot wide. Immediately afterwards Pinnell saved a shot from Hannah in fine style. After a further period of play round Pinnell, the Everton forwards broke away and Doig was called upon to fist out a shot from Maxwell. The visitors soon returned to the other end, and a second goal was at last scored from a long shot by Wilson, Pinnell fumbling the ball as it went into the net, Campbell next gave Pinnell a difficult handful to negotiate, and for some minutes there was a complete bombardment of the Everton goal, the visitors distinguished themselves by some grand forward tactics. A temporary break away to the other end only tested a few moments, and then the Sunderland forwards returned irresistibly to the charge, Campbell sending in a splendid shot, which Pinnell just managed to throw out a few yards, and Gillespie rushing up easily put it through, thus scoring the third goal for the visitors. Half-time result-Sunderland 3 goals; Everton, nil. During the interval a terrific shower of rain fell, the players temporarily retiring to the shelter of the pavilion. Here the rain had creased the players had resumed their positions on the field, and Everton were soon in their opponents' quarters. Milward furnished Geary with a good chance of shooting, but he sent the ball over. Still Everton pressed, and Geary had another rare opening, but again his shot went altogether wide of the mark. The pace had now become much slower, Sunderland taking things much easier than in the first half, while the Everton men were playing more erratically than before. Wilson was cheered for some splendid half-back play, repeatedly robbing Milward, and Chadwick when they seemed at all dangerous. Collns caused some merriment and draw down upon himself a reprimand from the referee for making the ball when it had gone out of play and throwing it at Harvey's head. A quarter of an hour from the end Sunderland scored their fourth point through Miller, Pinnell handling the ball in its progress. Just before the finish Milward and Chadwick initiated a grand run, and as the result of it Latta scored for Everton amidst tremendous cheering. From this point right up to the finish Everton pressed, but were unable to add further to their score. Final; result;- Sunderland 4, goals; Everton, 1 goal. From a statement to hand the full attendance is given as 26,000 persons, and the gate money £550.
EVERTON FOOTBALL GROUND
October 11, 1892. The Liverpool Courier
To the Editor of the Liverpool Courier
Sir –Whilst the Everton Football Club are improving their new ground, would it not be advisable for them to have some regard to the safety of the thousands who occupy the stands while watching the matches? I had what might have been a very serious experience on Saturday last. Whenever a struggle occurred in front of the Mere Lane goal the spectators at the back of the stand invariably pressed forward, with the result that those on the lower steps had to give way. Several ugly rushes were brought about in this way, during one of which the writer was knocked down, and but for timely assistances and the alarm a "man underneath" disaster would certainly have resulted. Is it not possible to put a rail of scantling in front of each tier so that the people at the back will not press on those in front? Perhaps there is not a better ground than that of the Everton Football Club in the Country, and it is a pity that it should not be made perfection itself by means of a little further outlay. –Yours, &c, R.J.W. October 10, 1892.
EVERTON V. SUNDERLAND. THE GATE RECEIPTS
October 12, 1892. The Liverpool Courier
We are informed that the exact account taken at Goodison Park last Saturday on the occasion of the League match between Everton and Sunderland was £547, the attendance numbering 23,000 persons. One remarkable feature of the match was that no fewer than 2,000 boys, admitted at 2d a head, were present, while there were about 1,500 free admissions, including season tickets holders and others.
EVERTON FOOTBALL CLUB
October 15, 1892. The Liverpool Football Club
Remarkable Increase Gate
When the Everton Football Club part company with the ground at Anfield and threw off shackles forged by the old committee, it was said by the supports of the latter that the club was doomed but the new management of the Everton F.C. knew much about football as football knows about them, that the Liverpool public were not founding at large and therefore not patronise the new ground at Goodison road but struck to the old love at Anfield road and the Sandon that consequently that this meant bankruptcy and ruin for those who had oppose the old club and so on. That this black prognostication has not befallen the present Everton Committee and the Club up to now will be gathered from a few figures and facts we are able to quote, and which will be thoroughly appreciated by those who have followed the old club in the ups and downs. The directors through their gross ignoring and good management have created a waste land into one of the finest athletic grounds in the country, and this since the close of last season, and have thus considerably enhanced the value of much of the adjacent property; by their businesslike mode of procedure they have also provided comfortable accommodation for those who visit the ground –good stands and shelter from bad weather, and so forth. True, the ground has not yet been roofed over the rainbow-coloured glass, nor carpeted with velvet pale; neither have spring-seated lounges with Edison's Latest patents, smoking saloons (with Cope's best cut and church wardens ad lib, thrown in), free-and-easy (with Patti and Santley for songsters) billiard and card tables (with the latest rules for plucking pigeons and beer-engines to supply "Beacon" refreshers, yet been created; but these necessary accessories to future football at Goodison-Park will be carefully provided and looked after when the present executive have learnt sense and have no further need to provide football for their patrons. At present, however, Goodison Park is going "great guns," as will be gathered from the subjoined figures (which are also facts). Compared with what was done at the old ground, when the takings at the "gate" were the envy of the whole of the League, the good for nothing who removed from Anfield road to Goodison-road are to be congratulated. In this case comparison is not odious. Facts are facts. Read and compare, and then say whether the present directors of the Everton club are failures. The visit of Preston North End to the old Everton enclosure in 1890 will not yet be forgotten, though we forbear to mention the goal struggle here. The gate then yielded £489, the best on record in the history of the Everton Club up to last Saturday, when these figures were beaten by £60. The following are authentic returns for the Everton ground, and, as taking at the gate, compare with last season and this;- 1891 1892
Sunderland *£378 00 £347
Aston Villa £162 00 £ 305
Notts Forest £436 00 £325
Newton Heath £418 00 £211
£591 £1,386
Played at Christmas Day *Not then in the League. The actual number who payed for admission last week was 23,000. The gross amount of gate up to Oct 8 (Last Saturday) reached £1,968 11s 2d, or about two-fifths of last season's receipts.
GOODISONIA
Cricket and Football Field - Saturday 15 October 1892
By "Black Rock"
Great was the crowd ad dirty the day,
When Sunderland stood in battle array.
Pent up with excitement amidst the boys' shrill cries of "Bovril chocolate a penny each," the enthusiastic footballer appeared to imbue his spirit into the casual and lukewarm.  And many of the unitiated came, saw and conquered their old spirit of procrastination, which, I warrant you, had woefully wondered at the wondrous weakness of the whispering and the whimsical.  The unusual, lengthened, unpropitious elements played and havoc with the ground (and this I beg to remind you went against our lighter team), reminding me by its appearance of the golden fringe of Arabia, and the dreary inner travelling beyond.  But to the game.  At five minutes to four off went Everton.  They knew perfectly well the weight and prowess of their opponents, and had resolved to sell dearly their known and appreciated prestige.  And their inaugural efforts thrust everyone (save some of the Sunderland's Committee who were present) into high glee.  The unlooked for and unusual amount of pressure they put on Porteous and Smellie was, to say the least of it, invigorating.  Both Milward and Latta enjoyed rare chances, but the enjoyment, or I should say the result of it, did not reach the multitude.  Boyle, Holt, and Robertson threw nothing away, but gave the sphere, and with it every facility to the home forwards.  But their aims ranged round the circumference, and scarcely reached the centre.  How different was the accuracy in this respect of the talented team.  It was now their turn, as Pinnell and the backs found to their sorrow, for, from a well-judged pass across the goal by Harvey, Gillespie scored No1.  This was truly trying, as up to this they were certainly beaten.  Still onward went the home team with vigour and dash, and nothing but the most miserable attempts at scoring resulted.  The visitors rallied, and, to our infinite disgust, Pinnell failed to save a shot from Wilson fully forty yards distant.  And thus No. 2.  Confusion was apparent on Everton's supporters.  Still Everton were not done with, and Geary made a good attempt from a peculiar predicament to find an opening.  There was witnessed some effective tackling by both sets of halves in midfield, which deserved the plaudits of the fair-minded spectators.  It was now near half the battle, when the only decent goal by the visitors was obtained by Gillespie, making it No.3.  And confusion marked us for her own.  Let it not be understood that Everton did all the pressing, though they certainly did most of it. The exchanges in midfield were many and tough, and well fought.  The visitors accuracy in front of goal was conspicuously superior to the home lot, and I should like to mention here, that both Collins and Howarth gave every satisfaction against their dangerous maneuvers.  The second portion saw a stiffest struggle, the power leaning against Everton.  Geary made a burst occasionally, but as a rule (and, as a man) Gibson and Auld chimed in and spoilt the spoiler.  To me it appeared, as if the former had particular instructions to pay to our scorer, and an obedient soul he proved to be.  This often let in Latta, who let out everywhere, except near Doig.  Both teams have splendid stamina, and, as the game wore on, the champions appeared the fresher.  Campbell and his quartette treated us to a bewildering bit of combination in which the sphere sped from Auld and Wilson, and thence to each of the forwards, with Everton as spectators.  It was deservedly cheered and encored.  To use the simile of a fried it was "as if the ball was tied to their toe by a piece of string."  Auld had a bit of shooting on his own account, and even Wilson and Gibson though they could easily defeat Pinnell.  Everton pulled up pluckily but dire misfortunate followed on their heels and even got round to their toe.  I should say they were as often near Doig as Sunderland were near Pinnell.  When (I think it was) Campbell scored the fourth goal, twenty thousand hopes fell below zero.  But seven minutes left, Everton caused some fluttering, and from some old dash Chadwick and Milward, Maxwell received the ball in front of goal, a pass (accidentally I think) to Latta, and the home eleven registered No.1.  The last few moments were terribly exciting, and nothing but grand goalkeeping saved the visitors.  And thus did Sunderland beat Everton.
Remarks
That the visitors were a better team few will doubt; that they were three goals superior none will advance.  The defences were both equally strong (if we leave out the goalkeepers), though I preferred the better understanding of the visitors' halves to their backs in cases of emergency.  Sunderland's forwards played a strong game, and a man seemed to be wherever the pass went.  The cause of the home team's defeat is due mainly to Pinnell, who should have saved three out of the four recorded against him, and partly to the wretched shooting of the forwards, particularly Latta.  I have spoken of this weakness before, and yet I see no improvement. 
The Crowd and The Gate
Most of us have been totally at sea in striking an aggregate of the numbers at Goodison-road.  From particulars kindly furnished here are those of last Saturday.
Adults and boys…23,240
Tickets…………………1,400
Total…………………..24,640
Which represents over 550 pounds.
How is this for a record up to date?  Murray was eligible last Saturday, but Hamilton, of the Q.P., badly "Knocked him," I am sorry to hear that Kelso is still very unfit for the field, and Jardine's leg shows no signs of improving.  Thomas, I hear, will be given a trial today. 
A DISAPPOINTMENT
Cricket and Football Field - Saturday 15 October 1892
Samuel Richards
Everton have done so well lately that it looked quite on the cards that they would come near repeating the 1890-1 season's performances.  Like most clubs they had to experiment in the early part of the season, and the defence had undergone some alteration, with the result that it is now considered good enough.  The forwards, too, have improved wonderfully in recent matches, and against Newton heath were as good as ever any set of forwards that have done duty for Everton.  Although they only scored one goal against Aston Villa the week before last, it was due more to the exceptionally smart manner in which Dunning kept goal than to any short coming of their own.  No fault could be found in their work, as they were very aggressive and despite a stubborn defence, found the goal frequently.  These exploits put the supporters of the club on good terms with themselves, and the confidence played in the team was pardonable if not justified.  Unfortunately accidents will happen, and the simple wrench Jardine received in the Aston Villa match may upset all those nice arrangements which include everything that is palatable to their inclinations in a football sense.  As it happened we had a preliminary bout with Queen's Park on the Thursday prior to taking on the Sunderland team.  Anyone that was present at both encounters must have been struck with the similarity in play and the general tenour of the game in both matches, with one disastrous exception.  On the visitors' side we had forwards, which were, no doubt, a shade better, at any rate.  With less work they found the goal more frequently, and the defender in each case was both big and good.  No matter in how favourable a light the play of a team shows itself in midfield it loses its charms if it is not effective in scoring goals, or at least in making a descent attempt, and thus putting something like a finish to the previous good score done.  This is what the Everton forwards failed to do.  They could make nothing whatever of the Queen's Park or Sunderland defence, whose height alone brought them out of many difficulties, and their strength did the rest.  Look at one period in the second half on Saturday, when Everton had a couple of free kicks inside the Sunderland lines and several consecutive corners, and all of them were cleared quite easily.  These facts are significant, and go to show that if the Everton forwards lack weight they must adopt some other expedient for securing success.  Although the tactics of the forwards need revising when opposed to such men as Robertson and Co, on the one hand, and Auld and Co, on the other, it is not here that the blame for the disastrous result of Saturday's game rests.  No one will say that Queen's Park deserved more than the two goals they obtained, yet in a game very much similar in character Sunderland are allowed to notch four goals.  The real difference lay in the goalkeepers, and, though Pinnell was considered the better man, from a first acquaintance with both of them I should say there is no comparison between him and Murray.  The latter not only did good work, but there was a business-like way about it which inspired confidence, and comparing the quality as well as the number of shots, Murray's performance was a much more meritorious one.  Pinnell kicked at shots several times when he should have handled; at other times he was very undecided what to do, and the Sunderland total might just as easily have been seven as four goals.  It is a big rise from the Reserve to the League team, playing with 40,000 eyes upon you, and as neither of them have been through the mill, it might reasonably be argued that the performances of the two might be reversed on another occasion.  Still, for present purposes there is no gainsaying that it was a misfortune for Everton that they had such an inferior man, as Pinnell proved to be, in goal. 
WEST BROMWICH ABLION V. EVERTON
Cricket and Football Field - Saturday 15 October 1892
On the ground of the former, before 8,000 spectators in dull weather.  Winning the toss Everton chose to play with the wind in their favour, and made a good start by bringing the ball into the home goal.  Bassett now got a pass, and with Mcleod made a good run and centre, but Reynolds shot outside.  Two corners in succession for Albion were well taken by Wood, but both proved fruitless.  A fine run by Bostock and a pretty pass to Pearson seemed to leave the visitors' goal at the mercy of that player, but his shot just grazed the crossbar.  Everton now lined up and made a series of attacks on Reader's charge, but could not score.  Two corners in succession now fell to the visitors, and were well taken by Milward, but Reynolds cleared piece of combination by the whole of the Albion forwards was smartly checked by Howarth and directly afterwards Thomas saved a grand shot from Wood.  A shot from Holt now made Reader give a corner by punching the ball over the bar, and in the next two minutes he was called upon to save several times.  Play was very fast when the whistle blow for half-time.
Half-time; West Bromwich Albion 0, Everton 0.
Resuming the Throstles began pressing and after seven minutes of hard play scored the first goal.  Three minutes afterwards Thomas was again beaten by Pearson, who notched number two.  A grand run down the centre by Bassett enabled Bostock to beat Thomas for the third time.  Everton now pressed, Milward making some smart runs and had hard luck in not scoring at all. 
Final; West Bromwich Albion 3, Everton 0
EVERTON RESERVE V. DRESDEN UNITED
AT Everton in dreadful weather, before fully 3,000 spectators.  The home team tried a new man in Taylor.  Gordon scored from a good pass by Smith in five minutes.  Allerton and Robinson put in good work for Dresden.  The ball was greasy, trusses and falls frequent, and many chances were lost by the home eleven.  Gordon again scored, and immediately Smith headed through but offside nullified it.  A spirited attack by the visitors was deservedly cheered.  Half-time; Everton 2, Dresden 0.
Final; Everton Reserve 5, Dresden United 0.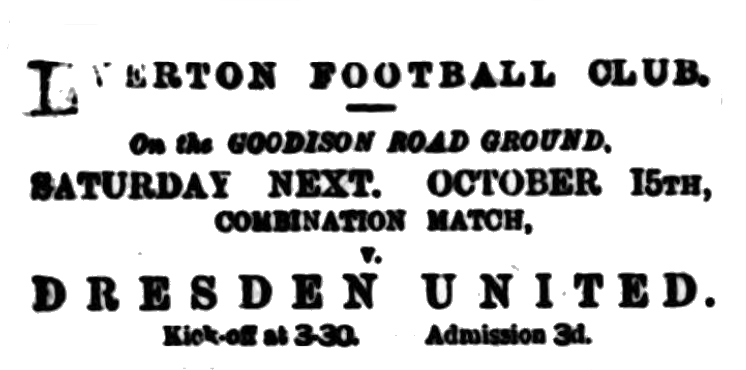 NUGGETS
Cricket and Football Field - Saturday 15 October 1892
When are the Everton directors going to pull together.
Frank Sugg was the best back on the field on Saturday.
Removing from Oakfield-rd, does not seem to have done Everton much harm.
Today Everton's Combination will smash Dresden's china
Why can't Everton beat Sunderland? Is it a case of "funk?"
And we all-Liverpool and Everton –meet in friendly harmony.
Goodison Park will soon be paid for if there are a few more 25,000 gates.
Maxwell was in the centre today and Geary inside right.  How has it worked?
The doctor's trap in Goodison-rd, was in requisition earlier than usual on Saturday.
Geary was ever watched too closely to score.  Gibson sprang upon him like an eighty-one ton gun.
The two Handsfords, of Kirkdale, have gone over to Everton, and will not disgrace the Combination.
Kirkdale are not the team they were last season.  No wonder.  The team of last season has gone to Everton.
Last Monday Jardine underwent an operation, and many will be sorry to learn he will not be fit for the sticks for some time.
It is the talk of everyone here about Everton's defeat by Sunderland, and poor Pinnell has not received a vote of confidence.
Sunderland must have known that Maxwell can't shoot, for they allowed him many a shot, which said attempts were ridiculous.
The Chairman made several ineffectual attempts to keep his cigar alight at Goodison-rd.  Something wrong with the match, I suppose.
Good old "Mike" Higgins! You would hardly credit it that he, the only one of the old school, is shinning at back and then at times sending the sphere through the coveted aperture. 
The crush was so great on the Everton grand stand last Saturday that the telegraph boys had the greatest difficulty to pick their way under the feet of the persons at the door.  This is not as it should be, for much valuable time was wasted.
If Everton can take 1,000 in three days they ought to be satisfied.
Two thousand boys were present at the Everton v. Sunderland match.  How is that for high?
Will the Everton directors now acknowledge that the club is in want of a class goalkeeper?
It is proposed that the Everton Committee provide the forwards with glasses so that they can see the goal when shooting.
TODAYS GAMES
October 15, 1892. The Liverpool Mercury
At Goodison Park, Everton combination, still unbeaten, have clever opponents in Dresden United, a Potteries club, which Everton defeated on the 1 st instant by 3 goals to 1. The band from the Boys Orphanage will play the following selection of music on the Everton ground;- March, "Killaloe," Mellur, Fantasia "I11 Trovatore," ; Verdi; Valse; "Little Huntsman," Otto Roeder; Polka; March, "Trafalgar," Clucas.
Everton v West Bromwich Albion, West Bromwich, kick-off at three p.m. The Following will play for Everton; Thomas; goal; Howarth, and Collins, backs; Boyle, Holt, and Robertson, half-backs; Latta, Geary, Maxwell, Chadwick, and Milward, forwards.
Everton v Dresden United, Goodison Park, Kick-off at 3-30 p.m. The following will play for Everton; Murray, goal; Dewar and Taylor, backs; McLaren, Jones, and Stewart, half-backs; Gordon, J. Murray, Pinnell, McMillian, and Elliott, forwards.
EVERTON REVIEW
October 17, 1892. The Liverpool Mercury
Another disaster has to be recorded of the Everton team, which, though not altogether unforeseen, will cause much disappointment among their host of supporters. In attacking West Bromwich Albion they had a most formidable task under any circumstances, but the difficulties of the situation were aggravated on Saturday by the necessity of again having to experiment in the matter of goalkeeping, added to which the ground of the Albion club, where the match was fought out, is of a sloping character, which must give the home team, to whom its irregularities are familiar a district advantage. These are palliations, but not justifying excuses, for Everton's latest failure. West Bromwich Albion possess a good team – perhaps as clever now as ever in the past –and it is a club with a noble history, as their position of English cup holders for the second time demonstrates. They have also done well in the League this year, having lost but one match (Bolton Wanderers, at Pike Lane), drawn with Newton Heath and Derby County, and beaten Wolverhampton Wanderers, Aston Villa, and Newton Heath (the latter away at Manchester), whilst lastly they have defeated Everton pointless. The aspect of the game presented the now familiar feature of Everton attacking the more frequently, and in this manner marking time whilst their opponents made successful if more infrequent raids on goal. The play during the first half was most interesting, and so good account of themselves had the several departments given that defeat to Everton at the interval seemed very improbable. But there was one phrase of the tactics of the Albionites evident during the initial period that should have prepared spectators for the denouement. This was the unmistakeable proof that Bassett on the outside right was in magnificent form, and had a responsive colleague in McLeod. The runs on this wing were always strong and generally menacing, but Robertson, Collins, and Howarth were severally in turn, or collectively, capable of neutralising the sturdy efforts during the first half. But it was when assisted by the slope that Bassett became master of the situation. He would know no denial in his powerful sprints, and, not attempting to score himself, invariably parted with the ball at a fixed certain spot, then to drive across in a slanting direction to the left, and leave the issue to one or other of his four colleagues who should first get at the sphere to divert it into goal. This was practically the one string on which West Bromwich played, and it proved sufficient. The three goals were all scored from the same kind of movement, and it was thus somewhat an individual success for Bassett, though there were many other bright, particular stars in the team, more especially Nicholson (back) Groves and Reynolds (outside half-backs) and McLeod, Pearson, and Wood, the latter, through an emergency man in place of Geddes, showing good promise on the outside left. Everton were all right at back, and also with Holt and Boyle, but Robertson could shine but little in opposition to Bassett. The left wing were in the way of the bulk of the attack, and did it very well, though they had often to strike their flag to Nicholson. Maxwell made a moderate centre, and Geary, who was not in good health, was only capable of mastering Groves occasionally, despite the yeoman work of Latta, who, however, was still at fault in his screwing shots. Thomas shaped as something of a novice, being naturally a little nervous, but he was not a complete failure, and bring of a firm build, should turn out a good custodian with experience. But whilst the grass is growing the steed is starving. Further, the forwards are not scoring goals. This is not the result of the ill-luck of Everton in having no less than three goalkeepers disabled. It is a serious fact that Everton have lost their charm in goal-getting. They have now more goals scored against them than they have made themselves in the League; and it would see that some drastic change must be effected in the vanguard and that without much further delay. On Wednesday, Newton heath are visited for the purpose of replaying their League match –a task not to be lightly undertaken in the full view of Newton Heath 10 goals to 1 victory Saturday over the "Wolves."
EVERTON V. WEST BROMWICH
October 17, 1892. The Yorkshire Herald
These clubs met on the ground of the latter. The commencement of the match showed that each club was in earnest, and the play became very fast, and continued till half-time, when no score had been affected. But the deciding portion quickly showed the merits of the visitors, as Wood scored and Pearson had two placed to his credit, the homesters having to acknowledge defeat. Score:- West Bromwich Albion, three goals, Everton nil.
WEST BROMWICH ALBION 3 EVERTON 0
October 17, 1892. The Liverpool Mercury
Everton paid their annual League visit to West Bromwich Albion on Saturday, where the weather was fair, though dull and threatening. A good attendance as things go at Stoney Lane was assoicated with the match numbering about 5,000, who withnessed a well contested game. Neither club was represented in the fullest strength. The Albion being with out Geddes (Hurt at Newton Heath last week), whose place was fill by H wood, , local youth whilst Everton gave Thomas a trial in goal. Jardine still unfig for duty the teams thus were composed of the Following :- Everton, Thomas (debut), goal, Howarth (captain) and Collins backs, Boyle Holt and Robertson half-backs, Latta Geary Maxwell, Chadwick and Milward forwards. West Bromwich Ablion:- Reader goals, Nicholson and McCulloch, backs Reynolds, Perry and Groves, half-backs, Barrett, McLeod, Bostock Pearson and Wood (h), forwards. After some minutes delay, owing to the tardy appearance of the referee, the home team kicked off up the slight hill but Everton went away with a bound and Geary had a chance. He slipped in the act of shooting, the ground being soft in front of the lower goal, and chance the first passed unprofited. The home defenders could not clear, howver, and Milward also did in eassying a shot of inaccuracy. Basset now got the ball at his toe and ran up grandly, finishing with a spendid centre which proved nearly fatal, and would have done had not Howarth rushed in at a moment of indesion by Thomas and taken the sphere virtually out of the mouth of goal. Everton surviving this bit of anxienty moved down in compact formation and to Latta fell the finishing touch, which was to bang among the people behind the goal line. The Albion came out strongly on the right wing Bassett served by Nicholson and Reynolds, and supported by McLeod, running close up two or three times and always getting in a shot being combated. This caused the Everton defenders to be on the rescue, and both Collins and Howarth were safe the latter especially neutralising dangerous thrusts. The home team continued aggressive the Everton half-backs being unable at this period to break up the Albion's combination, and the ball was returned from the mid-line to the direction of Thomas charge readily but the only ominous shot, so smart were Howarth and Collins, was one from Pearson who put narrowly over the bar with an oblique aim. Holding out thus manfully Everton assumed the attack on the left, but Milward, when about to shoot from a hardy position was tripped by Nicholson who was penalised. The free kick gave little trouble to the home defenders but in a few minutes Milward took spendid aim, the custodain being just in time to fist aside. Everton continued to shape well in front of goal, working nicely together and shooting fairly: but the Albion were more slow in packing their goal, and by no means made many clever clearances and shielded Reader rather effectively whilst Chadwick and Latta went over with too high shooting. Holt got slightly hurt in a collison with Pearson, but was all right again by the time play reopened, by the ball being thrown up at about midfield, and soon cleverly nibbled Pearson, who had got the better of Howarth. The cup-holders were now well on the ball passing sharply and truly before the halves could tackle then but Howarth and Collins made no mistakes fortuanately and having cleared with some excellement kikcing were afforded a respite by their forwards, who bought much pressure on the home goal, but got only a couple of corners for the energy. A fine overhead kick by Reynolds put Bassett and McLeod in evidence, but Collins upset their reckoning, and Chadwick and Milward going onward compelled Nicholson to concede a further corner. In quick time Wood got in a likely shot at the other end, but Thomas was quite reliable, and put well away to the left. This was about the second time the Everton goalkeeper had been called upon which is supplementary testimony of the success of the backs. During a renewed attack Holt, taclked gamely and following a free-kick, Chadwick went wide at a long range. Holt again put his forwards in command, and Geary had three shies at goal, all good ones, the third hitting the bar and gilding over. Woods next had a fine chance from a free-kick as a penalty to Robertson for fouling Bassett. But missed the ball worthy., and just before the interavl which arrived with nothing scored. Latta was hit on the hands with the bouncing ball just when about to shoot at a conventent spot. The game had been capiltailoy contested so far, but on resuming the Abionites gave prompt and telling proof that they knew how to take full advantage of the slope. Bassett was simply irresisitible in hos grand turn of speed and quick long centring and the second half had been in existence but a minute and Bostock tested Thomas who put tamely to the left wher Wood was ready to drive in again and effectively. The home team were serve in a renewed onslaught but this time held the raiders in check until Geary strode off to find Groves to wily and another spell of defence fell upon Everton, which was well executed. Some good half-back work by the visitors, especially Boyle, enabled the visitors to scale the hill for the first time, when Milward experienced hard lines in being adudged off-side at a favourable montment a decision that was generally through to be erroneous. Everton however, were not to be easily dislodged from the attack though they were not very not very threatening. Latta shot to high-in this defence he is destined, unluckily, to be consitent-and then Bassett rounded off again, and centring at his custodian spot, the left wing put through, but were ruled off-side. This disappointing was speedily atoned for, as Bassett shot in once more and Pearson headed out of the reach of Thomas between the posts. This second goal was a fitting reward for maguficent play by Bassett, who again drove in from the wing in a sloping direction but three of his colleagues in turn missed the ball. Everton scampered away as far as the backs, and then had to accept a third reverse, as Wood beat Thomas. The outlook was now gloomy one for Everton. They had nearly half-hour in which to retrieve their position, and were almost continually in their oppionents quarters,, but they lacked vitality at the opportune moments, and shot with aggainting tameness. West Bromwich Albion accordingly won by 3 goals to nil.
EVERTON COMBINATION 5 DRESDEN UNITED 0
October 17 1892 The Liverpool Mercury
At Goodison road in wet weather Gordon scored for the home team, after 10 minutes play. The game then ruled pretty even. A protest was lodged against the state of the ground during the interval, Everton had all the best of the game, in the second half goals being scored by McMillan (2), Gordon, and smith, result Everton 5 goals dresden United nil
Everton team, Murray goal, Dewar (j), and taylor backs McLaren, Jones and Stewart half-backs, Gordon Murray (j), Pinnell, McMillan and Elliott forwards .
NEWTON HEATH V. EVERTON
October 20, 1892. The Yorkshire Herald
This replayed match was decided at Newton Heath yesterday before 3,000 spectators. The ground was in bad condition, but the game was very fast. Latta scored for the visitors in the first five minutes, and he put on another soon after. Everton again scored, Latta being instrumental. Donaldson and Hood each scored for the home team. Half-time; Everton, 3 goals; Newton Heath, 2 goals. On resuming the home team made strenuous efforts to equalise, and from a shot by Perrins Farman banged it through. Just on time Latta scored a fourth goal, and though he was palpably off-side the point was allowed. Final score; Everton 4 goals, Newton Heath 3.
NEWTON HEATH 3 EVERTON 4
October 20 1892. The Liverpool Mercury
This replayed League fixture was brought off on the ground off the former club yesterday, afternoon in presence of between 3,000 and 4,000 spectators. The weather was not by any means favourable, while the ground presented a very unprepossessing aspect. The home team were with one exception –Mathieson vice Hendry-composed of the same players as rubbed it into the ''Wolves'' so unmercifully on Saturday, while Everton made rooms for three of the combination team. Prompt to time the folloing elevens lined up:- Everton, Robinson, goal, Howarth, (captain), and Collins, backs, Jameison, Elliott, and Boyle full backs, half-backs Latta, Gordon, Maxwell, Chadwick, and Milward, forwards. Newton Heath, Warmers goal, Mitchell and Clements, backs, Perrin Stewart, and Erants, half-backs, Farman, Hood, Donaldson Carson, and Mathieson, forwards., referee f norris soon set then going, and Everton at once made toward Warmer, and are many minutes, Chadwick had placed a couple of excellent judged corner-kicks without result. Donaldon broke away, but met with summary treatment from Elliott and howarth and a grand drive by Boyle gave Milward an opening which was left. The Heathens were by no means out of the wood yet, howver, and a clever sequence by the Everton front rank enable Latta to screw his first goal of the season, and put his team on the lead. This advantage the Blues seemed bent on retaining, as they set about the home defenders in rear style. Steady play by Stewart and Mitchell at length drove the attackers off and the Heathers got uncomfortably near Robertson when ''Hands'' pulled them up. A short break by Latta and Gordon was followed by a dash at Robertson. Who saved by falling on the ball and conceding a corner kick. From this the custodain had again to punt clear. The heavy ground in front of the goal upset the Everton front not a little, but they kept pegging away, and after a short cession of hostilities occassionwed by an injury to Maxwell-Chadwick presnted Warmer with a warm handful. The old ''Brum'' saved while on his knees, but only to see Latta fasten onto the leather and bang it past him, into the net. Rough and exciting play followed the second score for Everton, and after the railway men had made a good effect to get through, Latta shook himself clear and beat Warmer for the third time. Everything now pointed to a runaway victory for Everton, when one of those sudden onlooked for changes came overr the game. The rushing tactics of the Heathens at length bore friut, and from a desperate struggle in the goal, mouth Donaldson on at least got one safty home. This success was greeted with loud cheers, which were renewed a couple of minutes later when the Red ansd White came up with a headlong rush, and Hood beat Robinson, rather easily, thus altering the entire aspect of the play. Everton, in nowise disheartened were soon busy at the other end, and after Warmer had cleared with a swinging right-hander the half-time whistle sounded with the score Newton Heath 2 goals, Everton 3. Play in the second half, soon assumed a hammer-and-tongs description, and though Everton were the aggressors at first the Heathers were not long in getting up steam, and, once in front of Robertson, Donaldson let fly. The custodian fisted up in front of goal, and Farman coming with a rush from the right made the score 3 all. There could be no mistaking the determination of the home lot, to get on the lead at all hazards, and a minute later Hood hit the crossbar. The steady defence of Howarth and Collins did a lot to steady the Everton front rank, and they once more raised the siege round Warmer. Here a faulty kick by Clements caused the Newton heath custodian to throw out. Milward gained possession and experienced extremely hard lines with a raging shot which seemed to strike inside the crossbar and rebound. Fast play followed, and once Chadwick but got though. Then followed some exciting scenes round Robertson. The Heathens seemed to taily revel in the mud, and cheers on by their supporters, they swooped down past the Everton defenders, Robertson picked up and threw the leather up the field. Stewart returned, but the Evertonians again repeated the perforance while the attacking forces were swarning round him, and almost immdiately he had to punch a third shot away, this seemed to settle the changes of the Heatens and a clever concerted movement was made to the other end, only to find Warmer on the alert. So the game proceeded end to end rushes and long kicking being the order of the day until the last few minutes when from a scrimmage latta put his team on the lead wirth a smart heel shot. Off side was clamed unsuccessfully for the score, and the home team again attack in resolute style. The last minute or so was marred by some very unpleasnat incidents, but the Everton defence kept playing the ball, and when the whistle sounded. Newton Heath had to retire the losers of a must stubborn game, the final score reading- Newton Heath 3 goals Everton 4.
TODAY'S GAME
October 22 1892. The Liverpool Mercury
Evertonians will be more reconciled to the outcome of the match at Stoney-lane, last Saturday. This afternoon Everton are at home at Goodison Park, and there meet Accrington, who, with the exception of last year, when they were beaten by 3 goals to nil, and had always run Everton closely at Anfield, and, though they never there won, they once made draw, and on the two other occasions were but a goal to the bad. They have lost three League matches this season, but last defeat was at Sunderland, where they scored 2 goals against 4; but they have beaten Sheffield Wednesday, and drawn with Blackburn Rovers Bolton Wanderers and Stoke. A close contest may be anticipated.
Everton v Accrington, Goodison Park, Kick-off at 3 p.m. The following will play for Everton; Murray; Howarth, and Collins, backs; Boyle, Holt, and Jamieson, half-backs; Gordon, Maxwell, Chadwick, and Milward, forwards.
ANOTHER DISASTER
Cricket and Football Field - Saturday 22 October 1892
By Richard Samuel.
Birmingham, it appears escaped the deluge of Saturday last, but the Everton team did not expect a defeat.  I do not suggest that there is any connection between the two, but the facts are worth nothing.  The extent of the drubbing is nearly as severe as that inflicted on them last year by the "Throstles."  These Warbles of the Midlands must be in better feather at their own come stead than when they come up so far north as Liverpool.  I have only once seen them play a game in Liverpool consistent with what they have done against Everton at Stoney-lane, and then they just landed by a goal after a splendid game.  The inscription on the English Cup is sufficient proof that they are a team which can claim every respect from opponents, and this season they are also making a bold bid for the more exacting competition for the League Cup.  They made a good impression on the few Evertonians who journeyed down to Birmingham on Saturday, and one and all pronounce them an improvement on previous performances.  Their defence was grand, Rader, Nicholson, and the two wing halves especially.  The latter are a tricky couple, and this fully atones for what they lack in height and weight.  To Bassett may be given the chief honours in securing the victory, and it is really wonderful how deadly he was when we think what a failure he has been at Anfield on two or three occasions.  For such a "fly" customer he was allowed too much latitude by Robertson and this was the secret of his success.  Although he did no scoring himself, his quick runs and accurate centres were the means to this end.  It is the same tale of the last two weeks of the Everton forwards doing most of the pressing with no result, and it is really time they turned over a new leaf in this respect.  With the exception of Robertson, the halves came out of the ordeal well and very little fault came out of the ordeal well and very little fault could be found with the backs, Howarth playing his best game for the club so far.  Thomas, in goal was not satisfactory, but the lad did his best, and one cannot blame him, as it was plain he was nervous.  He has demonstrated with the Combination team that he is a good goalkeeper, but before he reaches the League standard he will have to gain experience, and confidence will follow.  This may cost the club much, but what can the Directors do?  Here they have Jardine and Williams laid up, and perhaps by the time they are fit for duty Thomas will be as good as either of them.  But it is the interval which causes some anxiety.  Could not the forwards rise to the occasion and obtain a goal or two in hand?  This would take a weight off his shoulders.
A WIN
I slipped over to Manchester on Wednesday to see what sort of a show the Everton team would make against the combination who upset form last Saturday by scoring 10 goals against the "Wolves."  The cause of this journey to Newton Heath was owing to short time being played on September 26th, and the League ordered the match to be replayed.  Neither the ground itself or the surroundings are inviting, but these are minor details.  Only fog or short time upset League engagements, and as neither interfered, the match was brought to a finish.  Mr.  Norris again adjudicated, and when hostilities commenced it was seen that Everton were rather poorly represented, Robertson being in goal, whilst Elliott took Holt's place, and Jamieson Robertson's position at half-back.  The first twenty minutes play was all in favour of Everton, and deservedly so, for all did their work well, and were far more successful in getting the ball than their opponents.  They appeared acclimatized right from the start, and it was rarely that the homesters made anything like a show in attacking.  Once Farman on the right put in a good centre, and Donaldson brought Robertson down in saving.  This was after a lot of pressure had been put on Warner's charge, and Elliott had scored.  The game continued all in favour of Everton, and another goal followed, being obtained by Latta, in much the same manner as Elliott had scored.  Warner saving a fast shot from Chadwick and Latta rushing up at the right moment and banging the ball through.  The Everton men continued to show to advantage, and Elliott was always prominent in checking Donaldson.  So the game progressed, and Newton Heath had thus far not shown anything like a disposition to score.  Grand defensive work was done by Stewart, the two backs, and Warner, but Latta again got a shot home, and it was a beauty-something like one of last season's.  It was now that the game underwent a complete change.  Right from the kick-off Heathens came down on the Everton goal, and a well-judged pass to Farman was skillfully centred, and Donaldson scored.  This success seemed to put fire in the play of the home forwards, and in a very brief space of time goal No.2 was put on.  The game was splendidly contested right up to the interval, Everton leading by three goals to two.  On resuming, the home forwards were very persistent in their attempts on the Everton goal, and it took Collins and Howarth all their time to keep them at bay.  Anyone who had seen the game in the first twenty minutes would hardly credit that the home lot were the same team, so different were their tactics, and instead of having all the worst of the exchanges they frequently ran round the Everton men, and Robertson had several anxious times.  Shot after shot was sent in, fortunately just a little out, but eventually Farman, who had caused Jamieson and Collins no end of trouble, drew level.  It looked a cold afternoon for Everton now, as the heathens were doing all the pressing, and the lively Farman was again in evidence with a spanking shot which hit the cross-bar.  Matters had thus developed most unpleasantly for Everton, but after a bit they rallied, and again took up an aggressive attitude, and to the close the game was splendidly fought, both goals having narrow escapes.  It was a few minutes from the finish that Latta scored the winning goal, and although the home side died hard they had to put up with a four goals to three defeat.  The Everton men played just the same game as when at home, but of the two styles that of the "Heathens" is the most telling on such a ground as that at North-rd.  Elliott played a splendid game as centre half.   Robertson kept goal very fairly, but his efforts were decidedly rough compared with the finished style of Warner. 
A BIG CONTRAST
Cricket and Football Field - Saturday 22 October 1892
By "Mancunian"
Saturday's game at Newton Heath was a pleasant one all round, no objections being made to a single goal, and there being only one foul all through, whilst on Wednesday the game was full of shady work and appeal.  Everton were without Holt and Geary and had Hope Robertson in goal.  Newton Heath had only one change from Saturday that being that Mathieson played instead of Hendry.  Everton made a grand effort at once, the home team playing very stiffly.  Corners were nicely placed by Chadwick, but they were got away after a sharp struggle.  But Everton came again, and after a couple of shots had been repelled Latta beat Warner at the second attempt.  Hood and Donaldson were unlucky in not scoring, Hope Robertson clearing a couple of grand shots.  Another goal was scored by Latta after the ball had been once repelled, and the same player beat Warner once more.  For the first time the home team woke up and Farman centring grandly Donaldson put on the first for them.  The second goal for Newton heath came from Hood, and it was beautifully worked for-the best goal of the match.  This brought half-time.  Warner had to save early on the resumption.  Then play was taken to the other end, and it was marvelous how the Everton defence kept the ball out, nearly all the forwards and halves having shots, and at last Farman equalized.  The same player gave Robertson a couple of hot ones, but nothing was scored.  At this time play was all in favour of the home team, Farman and Hood being very conspicuous.  Farman shot the ball past Robertson.  Offside was given against him.  It was a cruel decision, as the man was at least three yards onside when the ball was last played.  While Collins was appealing Farman got past him, and Howarth and Robertson were behind him.  This lost the match.  Shortly after the referee gave Everton a doubtful goal (again scored by Latta), Warner appealing for offside instead of trying to stop the shot.  For the rest of the time Newton Heath are desperate attempts to equalize, but nothing further was done, and so they lost a couple of points by a mistaken decision.  In neither team was anyone very conspicuous, but the weight of the Everton defence saved them repeatedly, as they cleared their opponents quite easily. 
EVERTON V. ACCRINGTON
Cricket and Football Field - Saturday 22 October 1892
THE VISIT OF THE Reds to Goodison-road this afternoon drew 14,000 spectators.  The Seaman's Orphanage Band walked rounded, playing spirited marches, a new feature.  Latta was absent owing to illness.  Accrington had the same team as Sunderland.  The game started ten minutes late.  In the first minute Gordon passed to Milward, who sent in a high shot which was rushed through amid tremendous cheers.  Immediately the Reds had hard lines, T. Lea just failing.  Everton through Geary and Gordon made a good attempt.  Alexander next sprinted finely.  Accrington were dangerous, then Everton showed speed and good passing.  From a fine centre by Geary, Ditchfield gave a corner, and Hay saved again.  Everton were next dangerous, Milward being noticeable.  Holt brought Lea down with scarcely fair tactics.  Fine half-back play followed on both sides, and the Reds attacked, Tattersall shooting behind.  Gordon and Geary worked well, and Ditchfield was very stubborn.  Maxwell had hard lines afterwards.  A misunderstanding between Boyle and Howarth let in Alexander, who shot poorly.  Soon after Maxwell shot from a good pass by Milward, but Hay gave a corner cleverly.  Accrington had another chance, Cookson putting out, whilst Hay again saved from Maxwell, who was always well up.  A foul to Everton was fruitless, and Accrington's shooting was very poor.  Whitehead, from a big kick by Ditchfield, ran through and scored in fine fashion, Murray having no chance.  Everton got near Hay, Gordon having hard lines, and a marvelous shot by Geary looked as if it had scored but Mr. Helme gave a corner –a truly wonderful save.  Then Accrington got dangerously near, Alexander putting in good individual work, and Murray had to save amid great cheers.  Geary rushed to the centre and beat many men, whilst immediately after Milward and Chadwick had extremely hard lines.  The Reds pressed severely, Howarth and Jamieson being conspicuous.  Half-time; Everton 1, Accrington1. 
Full time; Everton 1, Accrington 1.
NUGGETS
Cricket and Football Field - Saturday 22 October 1892
Everton were decidedly lucky to win on Wednesday. But their team way a very poor one.
Three of the five Everton backs danced attendance on Donaldson.  The other two easily accounted for the remaining Newton Heath forwards.
The Newton Heath spectators may be a bad lot, but on Wednesday they had a goal disallowed, and then Everton had one allowed and won the game while there was hardly a single hoot.
Everton are just now on a sliding scale.
Jones, of Goodisonia, is swift, speedy, and sure to rob opponents.  He is another good reserve.
Liverpool F.C. is the savior of their city.  Everton must hurry up and score, or they'll sup some sorrows more.
Chadwick and Coyle, both backs, played half, but not half-heartedly, against the North Staffordshire youngsters.
Everton have been practicing shooting.  I earnestly hope that old Tom Hay has been disagreeably surprised at their improvement.
Suppose the public flock to Anfield or Woodcroft Park, what will Everton and Bootle do then?  The latter clubs "cannot be too careful." 
How Everton can win League matches; Play their Combination forwards, with Murray in goal; and, if they can't score more goals than Latta and Co., -if I were Mr.Norris, of Bootle fame.
Notts County last season kept their ground during the winter in good condition by using straw.  Everton are also ready for the expected frost, as they have provided a sort of matting, which is better than straw for many reasons. 
E ver in thy form you'll do or die
V ery hard; but this what grieves –
E nt'ring in the game as if you decry
R emembrance of old glories.  Who conceives
T he past, and pardons the present? Not I,
O r any soul who feels what he belies.
N ame him, and gave him straight the lie.
I have heard; that Robertson was a success in goal, the Gordon fed Latta so well that the latter (no pun meant) scored four goals, that Collins and Elliott deserves –an increase of wages.  All at newton Heath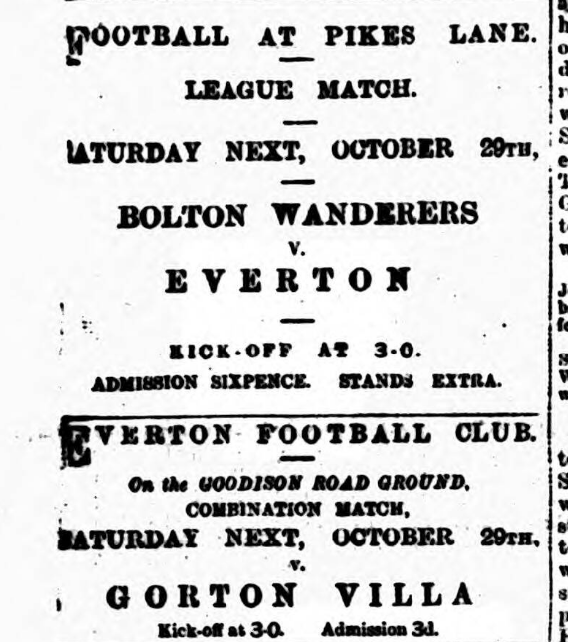 EVERTON REVIEW
October 24, 1892. The Liverpool Mercury
Everton and Newton Heath settled their League differences, so far as this season is concerned, on Wednesday afternoon; last. As is well known the Newton heath ground and appurtenances can by no means considered. These defects however, will no doubt be rectified to the near future, and pluck and enterprise which, have enabled the Mancunians to attain a foothold in the League being surely equal to the task of providing an enclosure more suited to the requirements o the game, and more in keeping with the up-to-date appearance of other grounds. As to the game itself, the 3000 odd who attended had ample value for their money – if not an science, at least in excitement. At first it looked as though Everton would canter home anyhow, latta "piling on the agony" to the extent of 3 goals, but Donaldson brought his men along in grand style, and getting one from a rough and tumble in front of Robinson, and Hood obtaining a second. Everton had only a goal in hand when ends were changed. The heathens soon got down to business on resuming and Farman caused it to be anybody's game when he made the score equal. The concluding portion of the play was desperately fought one, but Everton finished up with the balance on the right side, Latta again doing the needful, and thus capturing whole four goals to himself. The kick and rush method of the Heathens is admirably adapted to their ground; and in Mitchell, Stewart, Hood and Donaldson they have four splendid players. The latter is sure to make a great name for himself yet –if he will only control his temper as well as he can the ball. The changes in the Everton team might almost be looked upon in the light of an improvement rather than an alteration, and the combination trio –Elliott, Jamieson, and Gordon –displayed excellent judgement in eschewing all ornamental and fancy work. They set then older hands a good example, with the result that Everton were more deadly in their attack and more vigorous in there outplay than has been generally the case previously.
Everton following immediately upon their significant success at Newton heath, would doubtless tackle Accrington on Saturday full of confidence in victory, a sentiment in which the majority of their supporters shared, but they were only capable of realising half their hopes, and had to accept a draw of a goal each. This is a disappointment, which is intensited when it is remembered that for half the time the match was in progress Accrington had but ten men. H. Lea the centre half-back, having had to retire through injury. The visitors depended upon the same team which did very well against Sunderland the week previously; but for all that Everton always, even during the first half when the sides were numerically equal, played the better and stronger game. they attacked much more frequently than their opponents prior to the interval, and afterwards almost monopolised the pressure; but, withal the "thousands and one" chances that came their way, only the odd one was turned to account, and that occurred within the first three minutes of play. The Everton forwards are aggravatingly consistent in their failure at goal getting. What can be the cause, and how is it to be remedied? For it must be amended if Everton are to obtain the position they ought to. The executive have experimented with only about six forwards so far, and, as the ideal is far from being realised, more changes will be necessary. Wing and open work in generally well done but when it comes to the pinch of levelling at goal there is great deficiently in the attacking tactics, the shooting being too frequently weak or erratic. The other departments of the team are all right now. Murray had little to do on Saturday, but shaped better than any of the other emergency hands had done so far as he was tested, for probably no one would have stopped the shot that beat him, and he will no doubt give satisfaction until Jardine is well again, or until perhaps the Dumbarton recruit who is rumoured to have been secured arrives. The backs were in good form, and so were the half-backs, especially Boyle, while Jamieson did much capital work, and is certainly worthy of his promotions. Geary was in his element at outside right and completely overshadowed his colleagues, among whom Milward was the most serviceable, though his shooting proved alternately good and bad. The three inside men were moderate, and the centre man weakest of the lot, his failure at shots provoking the crowd to shout for his supersession in favour of Geary. The need of a strong, fearless centre is felt; and as Geary shaped so well at outside right perhaps it may work the desired charm if Latta should be tried once more in the middle. Accrington as a rule, could do little in opposition to the Everton half-backs, but when once these were mastered some smart, accurate passing was shown during the first half. Afterwards with a men short they were never troublesome. They had splendid backs, however, in Ditchfield and McLellan, and a trusty, resourceful custodian in Hay, who made brilliant saves whenever straight shots chanced to be essayed.
EVERTON 1 ACCRINGTON 1
October 24, 1892, The Liverpool Mercury
These teams played first of their two league matches on Saturday, at Goodison Park, the fixture attracting about 15,000. The teams were as follows:- Everton, Murray, goal, Howarth (captain), and Collins backs, Boyle, Holt and jamieson, half-backs, Geary, Gordon, Maxwell, Chadwick,, and Milward, forwards. Accrington :- Hay, goal, Ditchfield, and McCellan, backs, Shuuterworth, Lea (h), and Tattersall half-backs, Lea (t), Whitehead, Alexander, Cookson, and Kirkham ,
Joining the essemble of the public, the band of the seamens's orphanage unarched sound and tried playing poplar tunes, and received an great cheer. Play was delayed for 10 minutes, owing to the none appearance of the visitors. Everton at once moved down on the left, and after receiviung a check, each side taking a free-kick. Milward shooting into goal, near the corner, Hay caught the ball and seemed to carry it under the bar, and the referee, claimed the ball had cross the line thuis Everton took the lead after 3 minutes, Alexander next tried his prownes, going strongly down the centre but had to give in to Howarth who cleared, well and Everton became the aggressor once more. And Chadwick put his collegues on the ball at a threatening spot, but Milward put it over the goal lineyards wide of the mark. In a few moments Geary took a good aim without the desire result. The Accrington made a visit in a combination movement of much neatness but which was thrown away. Geary again shown a good turn off speed and outpacing his opponents and placed Maxwell who headed over the bar. The right wing continued to benefit and Geary and Gordon certainly made excellent chances, and in one movement Geary gordon Milward and Maxwell in turn touched the ball, in a spendid bit of play that was fittindly finished off with a good shot from Maxwell, but which Hay neatly brushed aside with his fist. The game lended greatly in favour of the home team, who attacked most determinedly but found the defender hard as a rock. Having been always on the alert to neutalise any of the shots that threatened his charge. It seemed that Everton must and a valnerable spot, and just when spectators were being used to one way traffic, suddenly the scene and imagination underwent a change as Alexander went off with the ball at his toe, and defying all opponents, would no be content until he had a shot at goal, which proved to be a good quality and thorougly deseved the success it met with. The comfortable win protural up for the home team now faded in heavy doubt, but Everton were alive to the seriuos turn in the situration and drove Accrington hard, on their defence, during which exciting period Hay stopped one from Geary on his knee and threw away. A claim that the ball had been pulled into goal did not meet the support of the refereee. The onslaught by Everton continued except on occassional breakaway by the visitors up to the interval. But with no tangible result, and so ends were changed, with the sides on equality-a one goal each. Everton on resuming made two ineffective raids, and then disater occuried to Accrington as H Lea got injured, and retired from the game. They had thus but four forwards and were not often enabled to take up the attack, and when they did they could not get beyond the backs. Everton were ever moving from the half-line to goal always to find themselves gamely repulsed or else to be unaffective in their shooting. Corners fell to them, but there were of no service. Milward too, when in good position, was pulled up by the sound of the whistle. Ditchfield fouled Milward shortly afterwards and was spoken to by the referee whist on Whitehead attempting to break away he was held by Bole who also was reproved. Geary was the hero of the day the monotony of the Everton futile attack being agreeable broken by some magnificent efforts of his on the right. Once Maxwell had an easy chance but mulled it badly by sending over, and the so exasperated the onloolers that the urged by their about that Geary should go centre. This he shortly did amidst cheers but it did not secure a further downfall to Accrington. Immediately following the change, the paly became briefy more open, and then Everton settled down to a persistent bombardment. It was wonderful how the defences stood the siege but they could not raise it. Just when the whistle was about to sound, and Gordon banged against the end net, and a draw of a goal each was rendered ineivtable.
FLINT 0 EVERTON COMBINATION 9
October 24, 1892. The Liverpool Mercury
At Flint, Everton started off and pressed and scored. Two more goals within the space of ten minutes were gained by Everton., and play settle down for a little while, when rain falling rendered the ground slippery. A fourth goal was added by Pinnell followed by two more goals previous to half time making the score six goals to nil. In the second half, Flint were seen to be a little better advantage, but failed to score, while three more goals were added for the visitors. Result Everton 9 goals, Flint nil.
TODAY MATCH
October 29, 1892. The Liverpool Mercury
Everton pay their annual visit to Pike-lane, the headquarters of the Bolton Wanderers, who are going very strongly just now, and who will be hard to overcome today. Everton, as will be seen from the names of the team given below, have amended their representation, which will include an new full back Foyer, and mat also embrace a fresh forward, with, it is hoped, better results than have hitherto ensued. For those who can spare the time to go to Bolton, there will be the customary cheap train.
Everton v Bolton Wanderers, Bolton, kick-off at three p.m. The following will play for Everton; Murray; Howarth, Foyer; Boyle, Holt, Jamieson; Geary, Gordon, Latta, Chadwick, Milward.
Everton Combination v Gorton Villa, Goodison Park, Kick-off at three p.m. The following will play for Everton; Thomas, goal; Chadwick and Collins, backs; McLaren, Jones and Robinson, half-backs; Smith, Murray, Coyle, McMillan, and Elliott, forwards.
SOUTHPORT NEW INFIRMARY
October 29, 1892. The Liverpool Mercury
The unfavourable weather on Thursday decreased the total receipts in connection with the foundation-stone laying demonstration, but the football match, Southport Central v Everton Combination, proved a great success. The gate was the largest recorded on the Scarisbrick New-ground enclosure, £40 14s, 8d, of which £21 goes to the new infirmary fund. The spectators were pleased with a rapid and even game – 2 goals each. On the grand stand at the stone-laying and among the other spectators the infirmary nurses collected £36 9s, 4d. The lurry in the procession received about £7, and the cyclists' parade a similar amount.
GOODISONIA
Cricket and Football Field - Saturday 29 October 1892
By "Black Rock."
The League games between Everton and Accrington have generally been vigorous in execution and even in their results.  Let us look at the last two season's figures;-
Season 90-91
Sept 27th, Everton 2 Accrington 1 (away)
Dec 26th, Everton 3, Accrington 2 (Home)
Season 91-92
Sept 26th, Everton 1, Accrington 1 (Away)
Mar 19th, Everton 3, Accrington 0 (Home)
Then, if we add a similar result for last Saturday, as that of the first game last season, the statement above appears to be greatly strengthened.  And so, it was with regard to the termination, but certainly not with regard to the termination, but certainly not with regard to the general  exhibition.  The sensational and brilliant manner in which it was opened by a goal –mainly due to Gordon and Milward-naturally led the thousands to infer that Maxwell and Co, were bent on retrieving some of the lost laurels and proving to the football world the utter absurdity of the everyday uncomplimentary statement –"they can't score,"  But, alas! The aspersion is truer than ever, and even the players themselves must now admit that their loss of victory is due more too bad play than bad luck.  As surely as Bootle have lost the majority of their matches this season through lack of staying power (which the credulous may convince themselves of by a retrospective view of half-time and full-time reports), so surely have Everton failed to win theirs through want of shooting accuracy. What think you, Mr. Editor, of five  famous forwards (I include Gordon, for he is a recognized power here) of the caliber of Everton, who, "could almost command their now price in any team" – to use the words of the old secretary –for fully forty minutes in front of goal, with numerous rare chances, and could not add a single point, may, more could not even give us but two or three apologies for trying to score? Sir, it was worse than hard and galling, it was veritably cruel.  But, enough of this.  As they are down for your town today, you will probably see them, and I only hope that the past may be blotted and forgotten, and a new leaf be opened in glowing colours in its stead.
To The Game
In the first period only (with their full complement) did the "Reds" display anything worth mentioning.  The swift and sure-footed Alexander was conspicuous clever, dispensing his goodness to the wings, who, on many occasions, by neat combination, got dangerously near Murray.  At other times, the centre ignored his partners, and got close up, before Howarth or Collins foiled him.  This policy of individual action I have seen occasionally used to advantage by some of our best centres, when respectably near goal, as the opposing backs are generally expecting the pass to the inside men.  Whitehead secured a brilliant goal after this means.  The G's on the right wing often got down in happy unison and, Chadwick feeding Milward, the latter exhibited rare speed, and a few good centres, but the true play of Ditchfield and McLellan was ever to the fore when requisitioned.  On one occasion, a lightning low shot from Geary drew great shouts of "Goal!" but old Tom Hay managed somehow to reach it, and clear to the satisfaction of the referee- Mr. Helme.  Our forwards confidently assert it struck the inside of the net, but whether it did or not, I only say that the judge could not see it, as he was some distance up the field.  The remainder of this period may be summed up, with some wretched passing (usually his forte) by Maxwell, decent tackling by the halves – save that by Holt, which was doubly dangerous –but whose judgement kicked accuracy in the background.  I will spare your sensitive natures the remainder of the League game, for it was unworthy of the name.  Certainly Accrington's trio of defenders , Hay, Ditchfield, and McLellan, deserve unstinted praise for saving the match, although in some measure the need is reduced when we consider the unsportsmanlike methods adopted. I refer to the "kicking out," by which "full-time" was a misnomer.
Comments
The Combination lads –Gordon and Jamieson –figured vice Latta (who met with an injury at Newton Heath) and Robertson, and proved worthy of the responsibility entrusted in them, though the forward could not do himself every justice, as he met with an accident to his ankle early on.  The latter uses his head as well as his feet, but this is little praise, as every player must do this.  Harry Lea was the best half of the visitors in the first period, but was an absentee in the second, from a severe wrench.  Murray never handled the ball throughout, and-Everton could not beat ten men.
Little News
Bell and McLeod will not be seen on Goodison-rd, this season, and so the wail of a Scot was rather premature. Now many may be disappointed, yet I often heard the questions,  "What will they do with bell?  Where will they play him?"  The forwards of Everton are capable of better things than what they have done lately- all will admit this – and Murray has proved himself able and willing to guard the sticks until Jardine is fit, which the latter informed me will be about a month.  But against these losses the obliging and hard-working Committee have secured a new back named Foyers, from St. Bernard's.  Finally, the Press accommodation will be removed to the front and greatly improved. 
WHAT "PELICAN" SAYS
When I first put eyes on Goodison Park last Saturday, I wondered –wondered, in fact, more ways than one, but we'll speak of that later.  I think I have been on most of the principal Association grounds in England, but, for space, the new premises of the Everton league just about take the biscuit.  Barring an awkward customer of a draught which the members of the Fourth Estate, perched up aloft, had to put up with from pigeon holes located in the same quarter, the arrangements from a spectators' point of view are both perfect and comfortable.  It seems a pity that such a fine enclosure should not have been allowed to rest for a season, so that the ground could have become thoroughly knitted together.  On Saturday it was more like a bog than anything else.  I think this had a lot to do with the poor display.  Good and effective football requires good material to play upon, which can hardly be looked for down at Everton this season. 
BUT WHAT A CROWD!
How apparent doth it become to Accrington when you see such a sea of faces as Everton can command, that the spoils are not equally divided.  Accrington at Everton can draw a crowd of 15,000, but Accrington at home conveys an altogether different meaning with 4,000.  And there you are.  Now about that football at Everton.  In the second half Harry lea was minus.  Result; Accrington played the last forty-five with ten men.  Everton pressed, but Accrington knowing how heavily they were handicapped made up their minds to defend, and defend they did.  Never saw such football.  It was positively sickening.  Why, it didn't even rise to the height of mediocrity, and the shooting of the Everton forwards was ludicrous in the extreme.  Although Accrington defended well, and in many instances were assisted by Everton's poor attack, it does not add credit to the Liverpool organiastion, when I say that they could not notch a solitary point.  On the afternoon's play they ought to have won comfortably.  I also think that Accrington could only have had their usual complement of players the game would have been more open and Everton might have won, but so might Accrington.  One thing is certain, we should have seen an abler exposition of football.  But there is no denying that Accrington deserve every credit for holding their own.  Now I'll tell you why I wondered.  First of all, I wondered why it was that Stevenson was placed outside left when H. lea was in the team.  Then I wondered why Cookson should be so selfish, and that Alexander (with hands in pockets) should stroll about more as a spectator than as a player.  I also wondered how it was that Everton, after all that pressure, couldn't score, and how it was that Holt was allowed to take all the free kicks from goal.  More wonder  to me was when Milward kicked Ditchfield, and that Geary should have been hurt directly on taking Maxwell's place in the centre.  All those incidents gave cause for wonder, but I can tell you if ever the conclusion of a game brought relief to the spectators, surely Saturday's did. 
A SURPRISED
Cricket and Football Field - Saturday 29 October 1892
By Richard Samuel
After the mid-week victory over Newton Heath, it was though the Everton team would have much difficulty in wiping out Accrington on Saturday.  That they did not succeed in its entirely is now a matter of history, and the only wing for congratulation is that the game ended in a draw.  In consequences, the red shirts of Accrington are to an Evertonian something akin to the red rag to a well-known quadruped.  How it came about "Goodisonian" will explain, and I don't envy him of his job.  The onlookers-on were quite satisfied with the earlier stages of the game, and well they might, for Milward put in some strong dribbles and accurate centres.  Although he was foiled in his first attempt he was soon on the job again, and with a shot that gave the other forwards, plenty of time to close in scored.  I daresay out Accrington way the referee will have caught it hot, but unless Hay was well out of goal he must have been through before he parted with the ball, for he was jostled a lot with the home forwards.  So well were the home lot shaping that it looked as if they could have afforded to be generous and waive the point, but as events turned out, that goal came in mighty handy.  The home men combined to monopolies most of the play, and the two wings did highly creditable work.  There was not much time wasted fiddling about, and the ball generally landed somewhere near Hay.  Although Cookson had put in one or two dribbles, he was inclined to be selfish, and Boyle and Holt had so far been good enough in preventing anything of a menacing character on the part of the Accrington forwards.  But it was not long before Whitehead got his head down, and caused some consternation by equalizing.  Consternation is a mild term to use.  The Everton men had been having all the play, and Hay had saved some rare good shots, whilst a few had only just missed their mark, and then off Whitehead goes straight from one of these numerous attacks and neutralizes the effect.  But it was a good goal, being the short, sharp, and decisive stampy.  He had not far to travel, but he bothered Holt and then got sandwiched between Lea, Howarth, and Collier, but wriggled out just as Murray came to their assistance, and the ball passed the custodian en route.  You should just have seen the faces of the four of them as they saw the ball in the net!  Before the interval the home side made another confident appeal for Hay being through with the ball before clearing, but the old 'un came out all right this time.  1-1 was the state of the poll at the interval.  The outlook was not particularly bright for the visitors on resuming, as H. lea somehow had twisted his thigh early on in the game and did not turn out, so Stevenson, who had been on the outside left, came half-back.  This just reminds me that Accrington could not have had their full team up, or I should think a full back, and an old stager at that, would not have been playing amongst the forwards.  However, despite continual pressure the visitors came out in a highly creditable manner.  But what a contrast in the shooting of the home forwards compared with their efforts in the first half.  I cannot help thinking but that it would have been better if they had allowed the game to have been more open.  But there is no telling.  Perhaps Whitehead would have been up to his little tricks again.  Putting aide surmises and coming to facts, I must say that the lustre of the forward play in the first half faded away completely in the second portion.  Milward and Geary continued to play well and centred repeatedly, and lots of scrimmages resulted therefrom, and that was all.  Lots of chances turned up – easy things for anyone like Whitehead, who saw his opportunity at a glare and took advantage of it.  But the indecisiveness of Maxwell principally, and of Chadwick and Gordon in a lesser degree, only brought out the thorough earnestness of the Accrington men in defence of their goal.  What if a team exercise pressure throughout the game if no goals result?  Nothing.  If League matches are anything they are practical in results in the eyes of the spectators.  It is very poor consolation to say we had all the play, when by their feeble efforts they never really deserved a goal.  Except occasion to turn a hair so erractic and feeble were the attempts at goal.  Thus ended a game so contrary to its early impressions. 
THE GOODISON PARK PETS
The Everton directors will have to do something to remedy the failing of the forwards to score goals.  It is strange that the goalkeeper and forwards are alternately blamed for the nonsuccess of the team.  That the directors will do their best to strengthen the weak spots I am convinced.  But, perhaps their best is very little.  There has been a lot of talk about McLeod, the Dumbarton goalkeeper, and Bell, for forward, coming down for today's match with the Wanderers, but I shall believe it when I see them and not before.  They say they have a clever reserve, and from what I have seen of several of its members they have not disgraced the League team by their inclusion.  Anyway, will the team as at present constituted continue to draw?  This is a problem the directors may have to face after the exhibitions we have witnessed recently.  I must confess that I am surprised that 14,000 people will turn out to see them.  Here we have within a few minutes' walk of each other, Liverpool, Everton and Bootle grounds, and whilst 14,000 to 24,000 will patronize Everton, the two latter, and the Callies, will only command 2,000.  Where lies the difference in the football?  From an outsider's view, I cannot see any preference for the Goodison-rd article as retailed lately.  I am one of those who, whilst recognizing that results do not always give a correct conception of the game, believe in their effectiveness, and I have seen much more interesting matches on the three other grounds named than several, and particularly the last one, on Goodison Park.  I believe, as a disgusted spectator himself, that if certain pet members of the team had to play a game of marbles they would attract seven or eight thousand spectators. 
BOLTON WANDERERS V. EVERTON
Cricket and Football Field - Saturday 29 October 1892
The first of the season's League fixtures between these old opponents cane off at Pike Lane this afternoon.  Our readers will remember that the clubs played the opening match at the Goodison-rd, ground, when the wanderers had the worst of it by a goal.  Since then the Bolton team have been much better than their Liverpool rivals, and have a superior League record.  The players were as under;-
Bolton Wanderers; Sutcliffe, goal; Somerville and Jones, backs; Paton, Matthews, and Turner, half-backs; Wilson, Wilcox, Cassidy, McNee, and Dickinson, forwards.  Everton; Murray, goal; Howarth and Collins, backs; Boyle, Holt, and Jamieson, half-backs; Latta, Gordon, Geary, Maxwell, and Milward, forwards.  Referee, Mr. J. Lewis.   The outlook from a weather point of view was anything but promising.  There was a stiff wind, and occasional showers threatened an immediate downpour if the breeze abated.  Everybody that was anybody seemed bent on finding a place on the stand, which was consequently crowded.  There were about 6,000 spectators.  Of the players announced Gardiner was absent on the home side, leaving the team exactly as it was at Wolverhampton; whilst Foyer (Everton's new back) and Chadwick were both missing.  The loss of the latter allowed for the introduction of Gordon in the front rank.  The wanderers had the half gale to face, for a start, with their backs to the town.  Milward was soon off down the left, but ran the ball out of play.  Sutcliffe having handled and got the ball away Geary gave him a teaser which he threw away in grand style.  Collins took a free kick from the touch line, and screwed the ball clean across and past the goal.  Geary put in another long and dangerous shot which forced an abortive corner.  Another corner came from an attempt by Holt which Somerville did well to get rid of any way.  The corner opened up lively work in which Paton was seen to advantage.  The Everton left threatened mischief, bringing out Jones, who kicked away in the direction of the church.  Play was almost entirely in the home half had the backs had ample opportunity for showing their skill.  A pass by Geary let in Milward, but he was relieved of the ball by Somerville, whilst directly of the ball by Somerville, whilst directly afterwards Jones pulled up the right wing, as he did Geary in the very next minute.  At length a dash by Wilcox and Cassidy roused the dormant enthusiasm of the crowd, but Howarth sent the ball flying over the line.  Jones took a free kick with splendid judgement, the ball dropping down just in front of Murray who gave a corner.  Back the ball went to the other end, sailing on the wings of the breeze with little effort on the part of the attacking force.  A nice pass by Wilcox enabled Wilson to place the ball in front of the visitors' posts, but the captain again came to the rescue.  Useful kicking by Somerville and Paton assisted their men considerably, but they could make little headway against the high wind.  A foul to the Evertonians was the means of securing their first goal, this being obtained by Latta with an oblique shot that gave Sutcliffe no chance. Hardly had the cheers died away when the score was equalized by Wilcox from an excellent corner by Wilson, this success giving rise to a noisy demonstration.  Some hard work by the wanderers' front rank carried then up the field again when a neat centre by Dickinson went a begging.  A determined shot by Latta was smartly neutralized by Sutcliffe, who was keeping goal finely under trying circumstances.  Everton were not now having so much of the play as they had in the first 20 minutes.  Geary was hurt by a trip but soon recovered.  Cassidy got through by a great effort and passed out to Wilson.  The last-named dropped the ball well up but it flew across the goal.  Matthews threw away an excellent opening by selfishness, of which he had been previously guilty.  A grand cross by Latta placed the ball right at the feet of Milward, who sent the ball in at a rear speed.  Sutcliffe cleared and the referee ignored a claim for a goal.  Now the Wanderers went great guns. 
They were simply irresistible.
Wilson went ahead single-handed and forced Murray to knock the ball over the bar.  From the corner the ball was scrimmaged through and Bolton were a goal to the good.  Not long afterwards good combination by the home wan swept them through the home defence, and Wilson missed the goal by the merest shave.  A foul was given against Cassidy, who appeared to come in for plain talk by the man in authority.  Dickinson won a corner from Howarth, but this only led to the Everton left pair galloping off and to the ball running out as it had often done before.  The Bolton defence was being tried once more, but each man stood the ordeal satisfactorily.  The sun broke out at this stage, and lent light and warmth to the proceedings.  Half-time; Bolton Wanderers 2, Everton 1.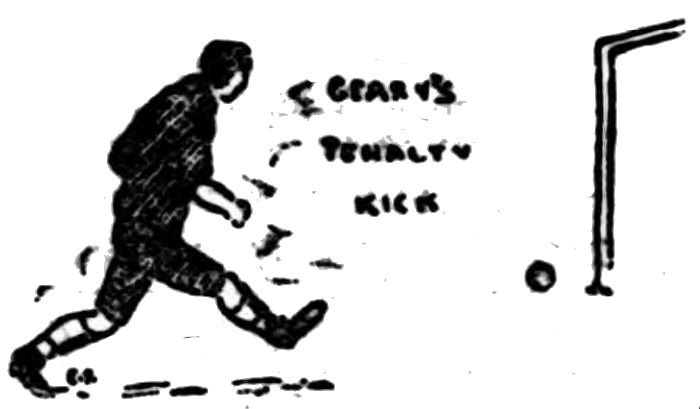 It was no mean advantage for the wanderers to have a goal in hand and the strong wind in their rear when the game was re-commenced, but the visitors fell to work with great vigour, Milward shooting against the post in one minute.  Wilcox relied with a rush, followed by a beautiful centre by Dickinson, which Wilson ought to have turned into a goal.  Hands against Matthew was badly utilized by Boyle from a favourable position.  Boyle came in for notice for hard and judicious work, after which we were treated to a new sensation.  Matthews fouled an antagonist and the referee, to the disgust of the spectators, treated it so seriously that he gave a penalty kick, which seemed to rile Jones, the Bolton skipper, to some purpose.  All the players retired beyond the 12 yards' mark and Geary took the kick, but what a failure! A more miserable attempt was never witnessed, the ball curling slowly away yards wide of the goal to the intense relief of the defending party and the indignation of the Everton followers.  For a time after this the ball was kept on the move, and a shout of jubilation went up as the Bolton total was raised to three by Cassidy.  This was mainly due to Jones, who passed the ball on to Dickinson and the latter to the centre forward, who beat the goalkeeper quite easily.  The Liverpool backs were kept on the move perpetually, the forwards rarely making a show worthy of the name.  Murray thumped out a hot shot from Cassidy.  Milward was twice jeered for handing on to the ball and ignoring his comrades altogether.  Sutcliffe came through a scrimmage in magnificent style with the ball in his hands, dropping it clean away down the field.  A fierce battle almost under the shadow of the crossbar was followed with interest, the outcome being a fourth goal for the Pikes-Laners, the final touch being imparted, we believe, by Wilson.  The next incident of note was an effort by Maxwell which made the bar rattle.  Latta missed an opening, and then came a big rush by the home forwards which resulted in Cassidy placing the ball on the wrong side of the upright.  Everton had several slices of ill-luck and could make little impression on the solid defence of the Boltonians.  Both Somerville and Jones were in champion form, Latta did a sprint and centre, but Sutcliffe again proved a stumbling block.  There was a keen tussle between Milward and Somerville, and after the ball was got away the left winger was found lying prostrate, but he was soon on his feet again.  Murray muffed and shot badly, but the ball fortunately went clear of his charge.  The spectators had enough of the game and were now leaving the ground in shoals.  They missed nothing, as the result remained unaltered, the visitors being badly beaten.  Final; Bolton Wanderers 4, Everton 1.
EVERTON RESERVE V. GORTON VILLA
Cricket and Football Field - Saturday 29 October 1892
At Everton.  Gorton Villa were 25 minutes late.   Everton immediately exhibited true combination, Murray playing neatly.  The visitors' goalkeeper saved three times finely, and McMillian then scored from a centre by Elliott.  Smith added No.2, but just previously Gorton Villa made Thomas save twice.  Pinnell put on a third, and after Jenkinson had cleared from Smith, McMillian scored No. 4 amid much laughter.  The strong wind aided Everton, and Gorton were kept busy defending.
Half-time; Everton 4, Gorton Villa 0
The second half was better contested.  The home handled a few times chiefly through Simpson, McClenahan, Wright, and Jenkinson were fairly effective, and the latter particularly solicited many cheers.  Most narrow escapes had the Villa's goal.  Pinnell was of much service.  Smith ran and centred accurately, and Chadwick was safe.  Everton used their weight as advantageously. 
Final; Everton Reserves 7, Gorton Villa 0.
NUGGETS
Cricket and Football Field - Saturday 29 October 1892
If Everton have secured McLeod they have paid for him.
Geary centred from the line, and neither Maxwell nor Milward could touch the ball past Hay
McLeod and Bell are both registered League players for Everton.  The latter was in Liverpool this week.
Milward would be more "sinned against than sinning" if he did not receive some good word for his performance.
Gordon and Geary are good friends and good partners.  Last Saturday was the first occasion on which they played together.
Accidents in Everton v. Accrington match – H. Lea thigh hurt; Gordon ankle twisted; Holt, shoulder knocked.  All for a draw.
Bootle Committee find it very hard to run their reserve, as their people would rather see Everton perform than support their own lot.
Maxwell was dropped for today, and P. – has the long-looked-for chance of justifying his selection. Has he been worthy of it?
Everton's turf must be very 'pringy when Gordon and Milward could kick it up for exhibition. The frost says- "I will soon stop it."
Whitehead succeeded again in running through the Everton defence and scoring.  The next time they meet (February 25th, 1893) he will be watched.
For bringing the ball in front of goal I question whether Everton have any superiors, but for administering the final touch Everton have no inferiors. 
Everton's Combination are even more brilliant this season than last.  See them;- Season 1891-2 for 47 goals, agst 6; 1892-93, for 53 goals, agst 2.  Surely there are splendid achievements, showing extraordinary accuracy in front and sturdy cleverness behind.
The lost of art at Everton-Getting goals.
Plenty of satire at Goodison Park last Saturday.
Which came out best, Everton's attack or Accrington's defence?
Are the spectators at Goodison-road getting value for their money?
Tom Hay got his usual compliment on turning over at Everton last week.
When will the Everton forwards learn the passing game and find the goal?
The Everton forwards were like old washer women when it came to shooting.
Would some strong and just measures place them in any worse plight at Everton?
Everton spectators thought that curly-headed Accrington half-back was rather rough.
If Everton forwards cannot score goals the next best thing to do is board up their own goal.
Every credit must be given to Accrington for their draw with Everton considering the position they were in the second half. 
There is still one solitary rattle carrier at Everton yet, and stranger still he is only a boy.  He follows Everton from one place to another just as any enthusiasts, but he knows "em all," he says.
BOLTON WANDERERS 4 EVERTON 1
October 31, 1892. The Liverpool Mercury
Fred Geary missed a penalty kick
This League match was played at Bolton in wet dull weather on Saturday and the presence of 7,000 spectators, the following being the teams. Bolton Wanderers:- Sutcliffe goal, Somerville and Jones, backs, Paton, Matthews, and Turner half-backs, Wilson, Wilcox, Cassidy, McNee, and Dickenson, forwards, Everton;- Murray, goal, Howarth (captain), and Collins, backs Boyle Holt and Jamieson half-backs, Latta, Gordon, Geary, Maxwell, and Milward forwards. Mr John Lewis was Referee
Chadwick was absent with an injured leg whilst Foyer the expected new back, failed to turn up giving as an excuse the illness of his wife, Everton had the advantage of the wind at the outset, and opened full of their promise attacking sharpy all across the line and culminating in Geary shooting into Sutcliffe hands. A free kick fell to Everton on the left, following which Gordon drove in so well that Sutcliffe was forced to concede a corner and a determined were the visitors just now that the corners were enforced. These were of no services, but Everton kept pegging away, particularly on the left, which only served to bring out the good defence of Somerville. The Boltonians tried to breakaway, but were held in check by the Everton half-backs, and returning to the face of goal once more, both Milward and Geary shot wide, whilst a third shot, also from Geary , was accidentally intercepted by Matthews who caused the ball to shoot of his foot at right angles. Sommerville then cleared, and for the first time the Wanderers got down, when Jones lobbed into the goalmouth Murray being just in time to clear. Milward followed by screwing a beautifuly but Sutcliffe picked up smartly and threw to a great length to the right wing then went down in a smart run, widing up with a spendid screw shot but which Howarth neutralised. Cassidy shot, and then Everton made a sereve raid, when in reach of goal Milward put outside but the return was taken up on the right, when on Sutcliffe using his hands to a shot by Gordon, Latta came in with a screw and scored with a swift obilque shot, which competely beat Sutcliffe , as it would have done probably with any goalkeeper. This was a good start for Everton, who had worked gamely for the reward, but the advantage was immediately equalised from the restart a corner was forced by Paton which was so well placed by Wilson that Wilcox had no difficulty in scoring from the scrimmage. Bolton attacck again, but could not get behind the backs and the next shot came from Latta, who got down from a free kick against Matthews and shot at Sutcliffe, but, he clear. Geary having tried a winning shot received a nasty knock in his head, which caused suspension in play for a few minutes, when play resumed. A free kick was conceded, Everton from which they attacked weakly. At the other end,, Bolton were more dangerous but the shot had no effect and in a minute also, Maxwell shot along the ground, and seemed to have put over the goal line, ere Sutcliffe handed the ball. No goal was awarded, however, and then came a further downfall to the Everton goal, Paton want away strongly, and Wilcox f=driving in, the ball was scrimmaged through. Everton were again thrown hard on the defence and the Wanderers returned several times to goal in brilliant style the applause of their suopporters was a mostdeafying. The visitors, however, defended stiutly, and when the siege was raised , it became conspicious, first for a good shot, and then, for fouling Matthews. Everton were threatening from now to the interval, but not clever enough to break down the spendid defence presented by the Boltonians, who changed ends with a lead of 2 goals to 1. The home team now had the wind at their backs, and were confident of success. They opened the attack, but were promptly driven back, Milward running down at a rear speed. Shot a striking the near post. Sutcliffe used his fist to a return shot, and Murray had a spell of anxiety but he was quick enough to meet a ticklish one from McNee. Everton left again dashed off forcing a corner, and during the tussle Matthews foul Geary inside the 12 yards mark in such away as to justify a Penalty-kick . This was entrusted to Geary, who made a mull of it, missing the kick, but in his behalf it must be said that he seemed somewhat hampered by Jones. Geary was, of course, chagrined at his ill success, but darted away on resuming, onlt to be pulled up before becoming dangerous. The Wanderers than had a turn, and raided frequently during which troublous moment Holt got the ball smartly once or twice out of a melee; but no effectual relief was afforded and on Dickenson passing to Cassidy, the latter screw in, the bvall passing through Murray's hands. Geary was penalised soon after restarting, when near in, and thus lost a chance. The following a long shot by Cassidy, to which Murray used his fist, but had to run the gaunlet of severe tussle in his goal. By way of relief to the monotony of Bolton pressure. Milward scampered off and shot narrowly behind, and then tried his luck again, but this time Somerville gave hands from which the ball was worked harmlessly over the line. Shortly afterwards a scrimmage arose from a long kick by Jones, during which Bolton scored their fourth goal. The subsequent play was even, without any alteration in the score, Bolton Wanderers thus winning by 4 goals to 1.
EVERTON REVIEW
October 31, 1892. The Liverpool Mercury
Everton have again been pegged back, and in a very emphatic manner too, as they were beaten at Pike's lane by the Bolton Wanderers by 4 goals to 1, which score corresponds exactly with those of the Aston Villa and Sunderland disaster. The team that did duty for Everton on Saturday was not the one originally selected, as Chadwick was absent nursing an injury he had suffered in the North v. Midlands League match on Monday last, and Foyer, the new back, excused putting in an appearance through illness of his wife. This led to some derangement of the forwards Maxwell partnering Milward, and Geary returning from outside right to the centre. The formation worked all right at the commencement, as, playing with a strong wind at their backs, Everton during the initial period played the better game; but the ground was heavy going, and Geary afterwards showed signs of fatigue, and got knocked about a good deal, so much so that he once or twice evinced an inclination to be so injudicious as to retaliate. Still Everton attacked more frequently throughout, as usual, than their opponents, but that scincisively, and thus the winners must be voted the cleverer team. They were solid all along the line. In Sutcliffe they have one of the most powerful, cool, and resourceful goalkeepers in the country, and upon whom Everton look with pardonably envious eyes. Both Jones and Somerville were giants in defence. The half-backs were also in keeping with the men behind them, and the forwards keen and progressive in their movements rather than fanciful and inoperative. They have a capital pair on the right wing in Wilson and Wilcox, and it was from these that the destruction to Everton's hopes was wrought primarily, whilst Dickenson, on the outside left, was also clever in centring, and all five joined in compact play when at close quarters, Everton, on the other hand, were weakly represented in goal, and probably the disparity between the skill of Murray and Sutcliffe in the key to the result, for while the latter always threw the ball to a great distance, the former used chiefly his fist, checking but not grappling effectively with the shots. Howarth played splendidly, and so did Collins as a rule, but his lack of speed severely handicaps him when it is necessary to get back quickly. Holt was strong all through, Boyle sustained his reputation, and Jamieson was good and bad by turns, which made it harden still for Collins, but they were certainly face to face with two clever and speedy forwards. Latta and Gordon were seen to such advantage on the right and Milward on the left, but then came a gap, at least in the second half. Both Maxwell and Geary shot feebly. The latter made a sad mess of a penalty kick, and it is to be regretted that the team did not line up as originally selected, with Latta centre and Geary outside right, where the latter did so well in the Accrington match. The change was made in deference to the captain, and results have not proved the soundness of his judgment.
Everton take on Caledonians at Woodgate Park today.
London Caledonian v. Everton League
The following team will represent the Caledonians in this match, to be played today (Monday) at Woodgate Park, commencing at 3.30 p.m. Whitehead, goal; Lyon and Parry, backs; Graham, Kirkwood, (capt), AND Farmer, half-backs; Deighton, Brothers, McCabe, Bryce, and Hastings, forwards.
EVERTON COMBINATION 7 GORTON VILLA 0
October 31, 1892. The Liverpool Mercury
This was the only combination match played on Saturday and took place at Goodison Park before a good number of spectators. Everton had the help of the wind during the first half, and kept up a strong pressure during which time they scored five goals. The game contined in favour of Everton, who added a 7 goal to nil victory to their remarkable list of successs. Smith (3) Roberts, Pinnell (2)
Everton team, Thomas goal, Chadwick and Collinson, backs McLearen Jones and Roberts half-backs, Smith, Murray, Pinnell, McMillan and Elliott forwards
Place 1 st played 8 won 8, lost 0 drew 0 for 51, against 2 points 16